In 2021, Disney debuted a new fireworks nighttime spectacular at EPCOT, "Disney Harmonious." It lights up World Showcase Lagoon and is one of the biggest shows any Disney park has seen.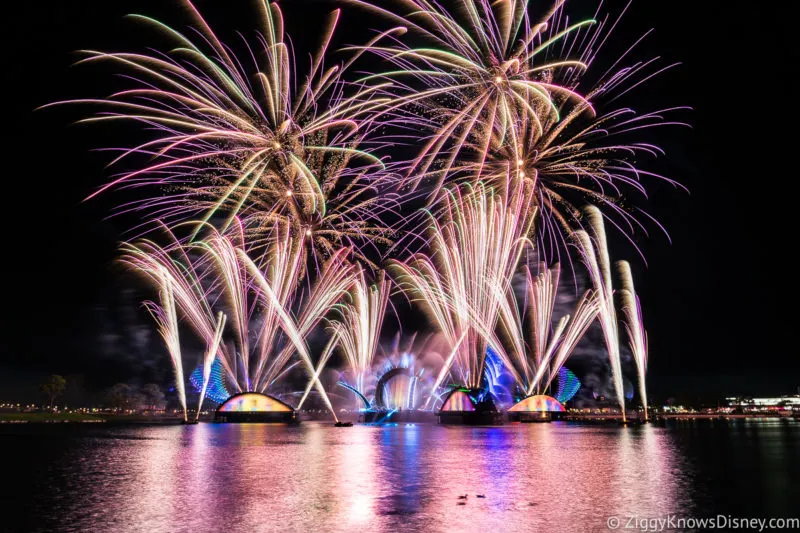 Going to EPCOT is always a must both for guests on vacation and locals, and one thing they share in common is watching the fireworks from World Showcase at the end of the night. In fact, fireworks are a must no matter which of the 4 Walt Disney World theme parks you are visiting.
In this post, we are going to go over all the information about "Disney Harmonious," the newest fireworks show in EPCOT.
Think of this as EPCOT Fireworks 101. We'll share the fireworks viewing times, all the songs and music from the show, all the characters, and films represented, plus all the new technology it uses such as the lights, LED panels, and the massive floats.
Lastly, we'll explain the best places to watch Disney Harmonious from in EPCOT, the dining packages, any FAQs you might have, and share our full review of the show including how it compares to other fireworks shows like the new Disney Enchantment at the Magic Kingdom.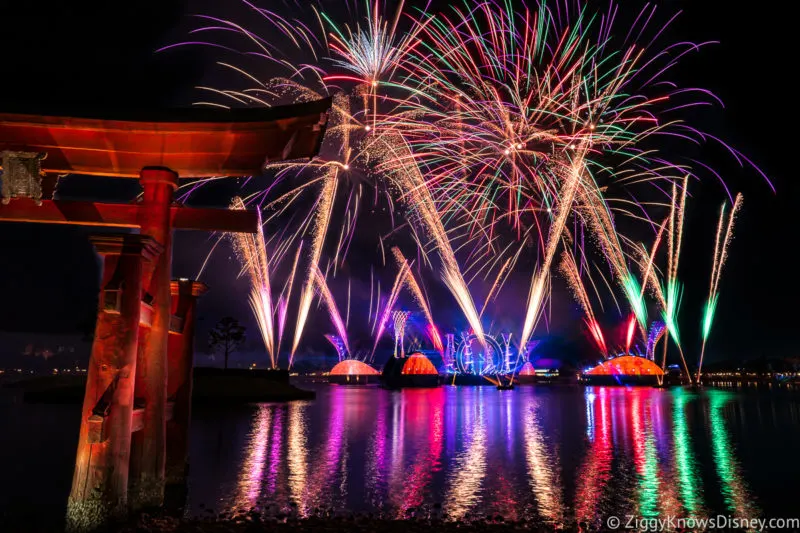 Even though it's been some time, many people are still missing Illuminations: Reflections of Earth as it was truly a special show that will stay in the hearts of many. Even though Disney Harmonious is no Illuminations, we're happy to have fireworks back at Walt Disney World as the parks just weren't the same without them!
Before we get started, don't forget to sign up for our FREE Weekly E-Mail Newsletter. We will update you with any changes to the nighttime spectaculars at Disney World, and share the latest vacation planning tips. You can sign up here: Join our E-Mail Newsletter!
(NEWS) Disney Harmonious Closing on April 2
For a few months, we've known about Disney Harmonious being retired in EPCOT, but now we know when the final show will be. EPCOT's Disney Harmonious will have its final performance on April 2, 2023.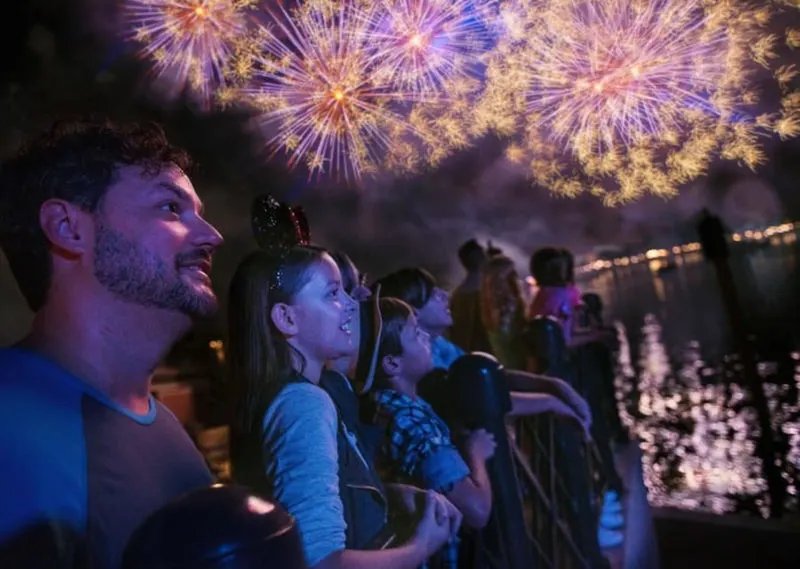 We also recently learned that EPCOT Forever will be temporarily taking the stage on World Showcase Lagoon, until the new, still unnamed nighttime spectacular Disney is developing eventually takes over.
We also got some really good news about those giant eyesores in the middle of the lagoon. Disney has officially announced that the fireworks platforms, fountains, and screens that were developed for Disney Harmonious are being removed from the lagoon and will not be a part of EPCOT Forever or the new show thereafter.
We will have more news about this in the coming weeks and months, so stay tuned.
(NEWS) New EPCOT Nighttime Spectacular Replacing Disney Harmonious
At the 2022 D23 Expo, Disney Parks chairman Josh D'Amaro announced that an all-new nighttime show will be replacing Disney Harmonious around World Showcase Lagoon as part of the Disney 100 celebration.
This comes as a mild surprise as Disney Harmonious has only been open for less than one year at this point and already Disney is throwing in the towel. On the other hand, the show has been an overall disappointment with fans so it's nice to see Disney listening when they see fans' displeasure.
No opening date was given for the new show, only that it will debut "later next year" (2023). We'll be hearing more about this new replacement soon so stay tuned for more info.
Disney Harmonious Overview
Location: EPCOT (World Showcase Lagoon)
Opening Date: NOW OPEN as of October 1, 2021
Closing Date: April 2, 2023
Attraction Type: Nighttime Spectacular with Fireworks, Fountains, Lights & Lasers
Show Duration: 21 minutes
Replaced: EPCOT Forever
Designer: Walt Disney Creative Entertainment
What Is Disney Harmonious?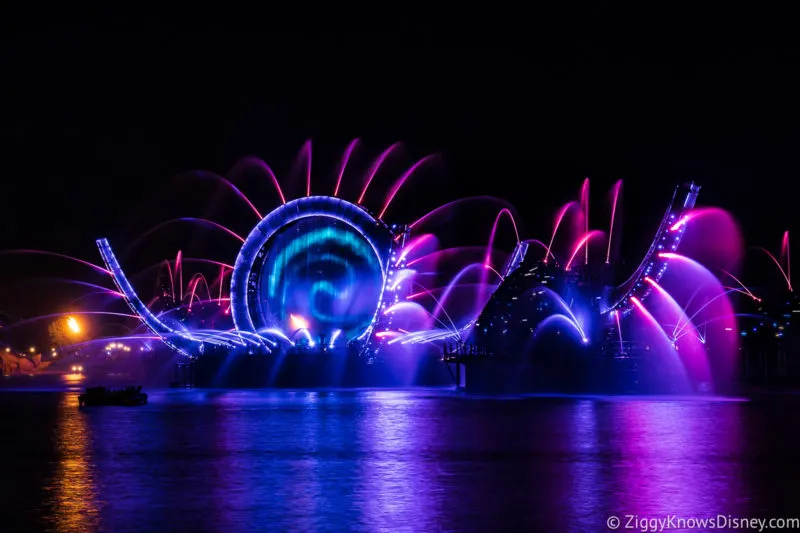 Disney Harmonious is a nighttime spectacular and fireworks show which debuted at EPCOT on October 1, 2021.
As you can tell by its name, Disney Harmonious focuses on music and it celebrates how Disney's songs inspire people from all around the world. A little different concept from Illuminations: Reflections of Earth, but similar at the same time the fact of trying to unite people together.
In fact, Disney Harmonious is a big shift away from anything EPCOT has ever had for nighttime spectaculars and is using the Disney characters as the glue to bring it all together. Your favorites from Aladdin, Moana, The Lion King, Coco, and more all make an appearance.
(Don't worry, we'll get more into using Disney characters in EPCOT later in our review)
If you look out into the middle of World Showcase Lagoon you can see the various technology on display to make this show happen.
"Harmonious" features massive floating set pieces, custom-built LED panels, choreographed moving fountains, lights, pyrotechnics, lasers, and more. It's no wonder that it took so long to get the show ready, this is the most complicated and intricate show Disney has ever developed.
The timing of this new show was for it to kick off the Disney World 50th Anniversary celebration with something special for EPCOT. Disney was preparing for "The World's Most Magical Celebration" for years now and they were hoping it would be the long-term successor to Illuminations: Reflections of Earth. More on this later.
Technical Info
5 Floating Barges on World Showcase Lagoon
A 5-story Water Curtain
8 54ft long arms choreographed to the music on the center barge
4 25ft high x 88ft long double-sided LED panels
Hundreds of moving fountains, lights, lasers, pyrotechnics, and fireworks
How Long is Disney Harmonious?
From start to finish, the Disney Harmonious nighttime spectacular has a show length of 21 minutes. That is almost twice as long as its predecessors EPCOT Forever (11 minutes and 20 seconds) and Illuminations: Reflections of Earth (13 minutes).
When did Disney Harmonious Open at EPCOT?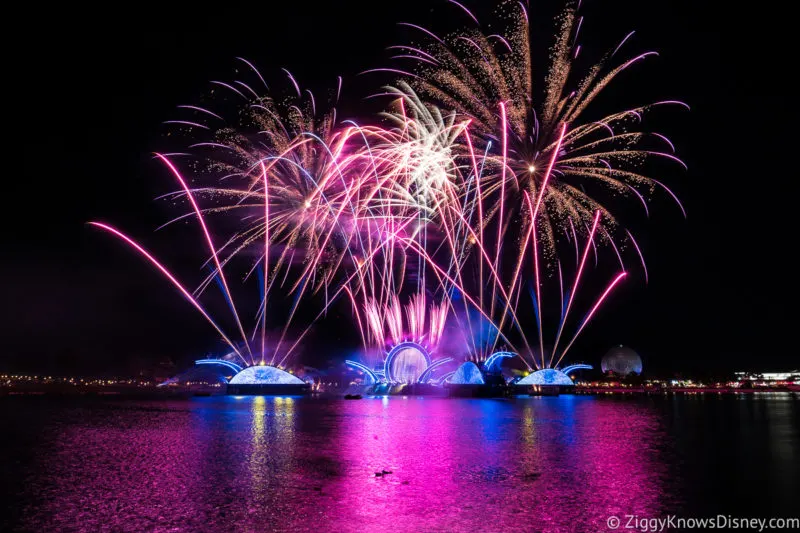 Disney Harmonious officially debuted on October 1, 2021, and is running at EPCOT nightly. It had a soft debut on September 29, 2021.
This show was announced back in 2019 and showcased at the D23 Expo. It was supposed to debut in Spring 2020 but was delayed significantly when the parks closed for 4 months as well as because of budget cuts.
The timing is right as it is a centerpiece of the EPCOT expansion project, as well as a selling point for Disney World's 50th Anniversary.
Now that fireworks are back in Disney World, this is great timing as many families will get to see the new show on their next visit. The previous EPCOT Forever Fireworks show had its final showing on September 28, 2021.
Disney Harmonious Hours
Firework shows at EPCOT run nightly but can vary based on the park's operating hours or special events happening on a given day.
Under normal circumstances, Disney Harmonious runs between 9:00 pm and 10:00 pm nightly.
From now through April 2, 2023, Disney Harmonious is scheduled to start at 9:00 pm each night.
Check the My Disney Experience app or the Walt Disney World website for the most updated times during your vacation.
Show Scenes & Music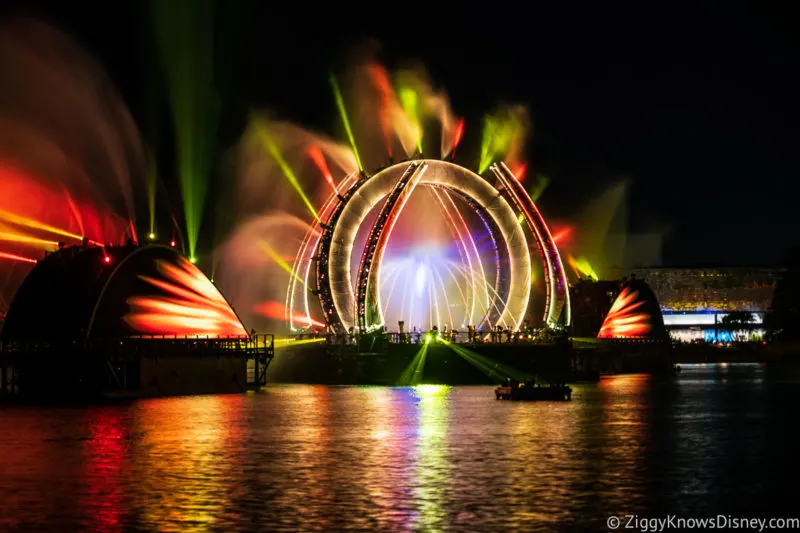 Of course, everyone loves the fireworks, but it's the music that makes a nighttime spectacular really special. The powerful melodies and memorable lyrics are what made Illuminations: Reflections of Earth our favorite Disney show of all time. So naturally, you are excited to see what the music is like for the new show.
Disney Harmonious features 15 songs in 13 languages and 240 musical artists. The music was composed to complement the fireworks and choreographed moving fountains. A new EPOCT anthem was also written for the show by Pinar Toprak.
The show is built in a three-Act structure. Act I invites guests to Gather around World Showcase Lagoon; Act II encourages people to celebrate the various cultures and countries of the globe, and Act III calls on people to Unite "to create a bright tomorrow."
Here is the list in order of all the music in the show:
Act 1: Gather

Gather Medley

Tulou Tagaloa (Moana)
Circle of Life (The Lion King)
The Bells of Notre Dame (The Hunchback of Notre Dame)
Vuelie (Frozen)

How Far I'll Go (Moana)

Go the Distance (Hercules)
Act 2: Celebrate

Arabian Nights (Aladdin)
I Wan'na Be Like You (The Jungle Book)
Reflection (Mulan)
Hakuna Matata (The Lion King)

Can You Feel the Love Tonight (The Lion King)

Prologue (Beauty and the Beast)
Out There (The Hunchback of Notre Dame)

Touch the Sky (Brave)
Remember Me (Coco)
El Mundo Es Mi Familia (Coco)
Dig a Little Deeper (The Princess and the Frog)
Act 3: Unite

Someday (The Hunchback of Notre Dame)
Disney Live Entertainment Executive Creative Director said: "Music is the heart of any celebration, and Disney music touches people's lives through powerful melodies and memorable lyrics that are inspiring—in any language."
Harmonious required over 110 recording sessions across nine countries. Musicians include Elisha Garrett, Ninet Tayeb, and American Idol finalist and three-time Grammy-nominee Danny Goke.
Bob Chapek Requested Disney Music Be Used in Harmonious?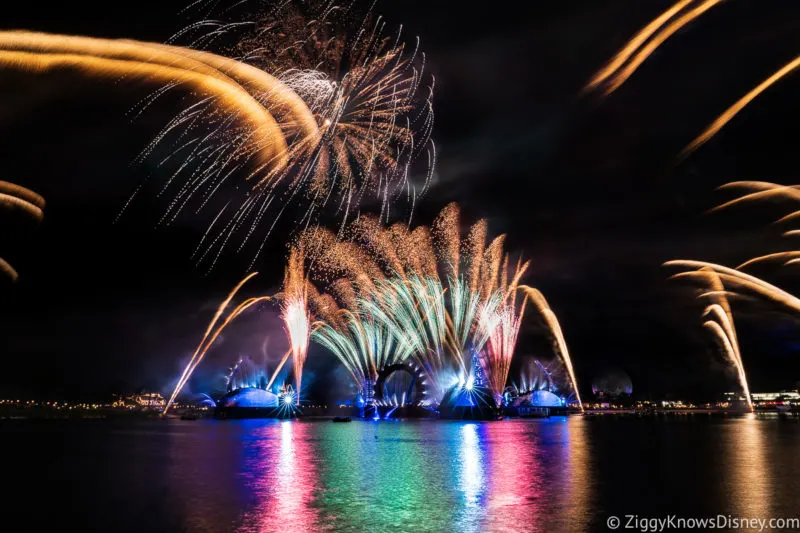 Many people are not warm to the idea of Disney characters being the central focus of an EPCOT nighttime spectacular and are wondering why there is so much IP in Harmonious. Well, now they have an answer.
In an interview done with Walt Disney Imagineer Steve Davison by Laughing Place, it was former Disney CEO Bob Chapek's idea to fill Disney Harmonious with Disney IP.
When talking about the creation of "Harmonious," Chapek said, "Why don't we do a Disney concert? Everyone loves Disney music." Davison then went on to take that concept and create a storyline to adapt within World Showcase.
So whether you love or hate the show, you now know how the idea came about. As we will discuss further in our review, in our opinion, it's comments like this continue to show the growing divide between Disney management and the fans.
Thankfully, since Disney Harmonious debuted, Bob Chapek is no longer the Disney CEO, and Bob Iger has stepped up to take his place for the next couple of years. Hopefully, management will listen to more feedback from the fans next time around.
Films Represented in the Show
Even though they couldn't fit songs from every film into Disney Harmonious, there are a total of 12 films represented with the songs, projections on the water screen, and on the LEDs.
Here is a list of all the films that have representation during Disney Harmonious:
Aladdin
Beauty and the Beast
Brave
Coco
Frozen
Hercules
Moana
Mulan
The Hunchback of Notre Dame
The Jungle Book
The Lion King
The Princess and the Frog
Those Ugly Barges in World Showcase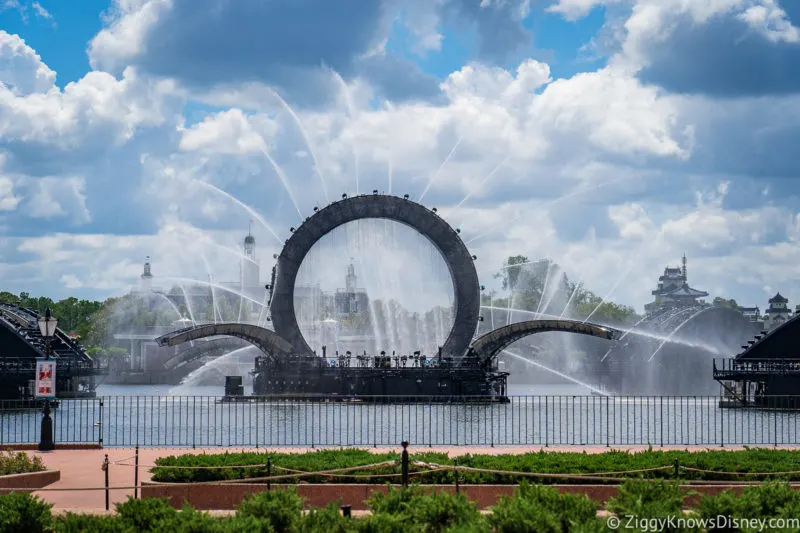 On your next trip to EPCOT, the first thing you may ask while strolling the promenade is "What are those huge, ugly things in the middle of World Showcase Lagoon??" Those my friend are the barges used in Disney Harmonious and they have been a controversial subject among Disney fans since their installation.
There are 5 barges used in Dinsey Harmonious, and just one glance reveals they are much bigger than the ones used for Illuminations: Reflections of Earth, in fact, they are gigantic.
The center barge is 6 stories tall and has a 5-story water curtain in the middle on which character projections are displayed throughout the show. It also has 8, 5-foot long arms that come off the side and move to the music (kind of) and double as fountains.
Surrounding the center barge are 4 "smaller" ones that are equipped with double-sided LED panels that display the Disney characters that go along with each scene. These 4 barges are still 25 feet high and 88 feet long.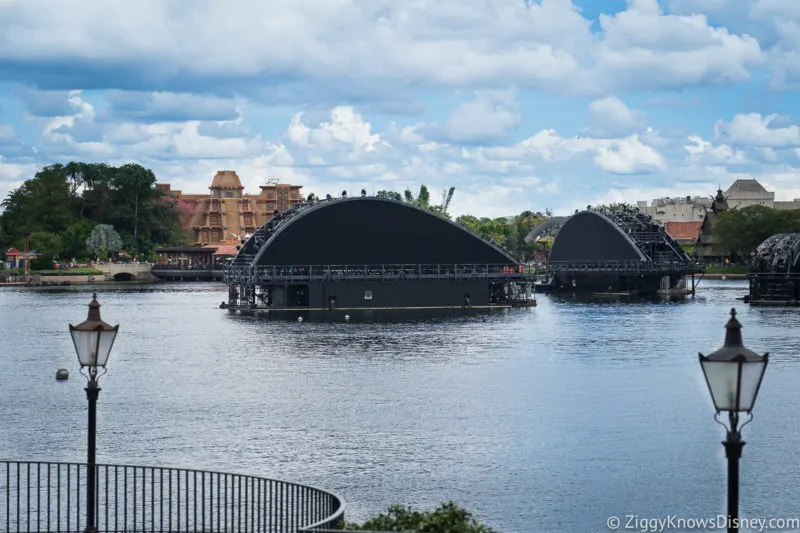 These elements are now crucial to Harmonious since the focus is only half on the fireworks and half on the water.
The problem with the barges, however, is that they are immobile and permanently fixed on platforms to the bottom of the lagoon. The barges for Illuminations were moved in before the show every night, and then when it was over they were taken off the lagoon.
Instead, with these barges always in the center of the water, they ruin the sightlines across to the other side of World Showcase. Seeing them in photos is bad enough, but when you actually visit EPCOT, you will see just how much of an eyesore they are.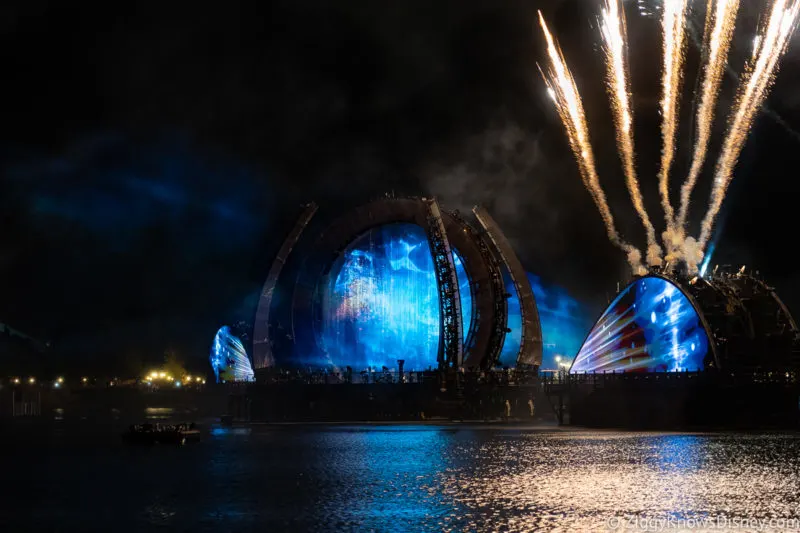 They also were supposed to function as a daytime water show, spraying the fountains which would somewhat cover them from view. Disney tried that for a very short time and it looks like they have given up on the idea as they don't turn them on anymore during the day.
Like most Disney fans, we are extremely disappointed by these monstrosities which take away from the once calm and peaceful ambiance of World Showcase. They are clunky, awkward, and a whole lot of other adjectives that have been said about them on social media which we will refrain from doing here since it's a family site.
Hey, if it's any consolation, at least they take some of the attention away from the giant building housing the Guardians of the Galaxy: Cosmic Rewind coaster on the other side of the park!
The good news is that Disney has announced that these barges are being removed from World Showcase Lagoon once Disney Harmonious ends in April, and it doesn't sound like they will be a part of the next show. One can only hope!
Review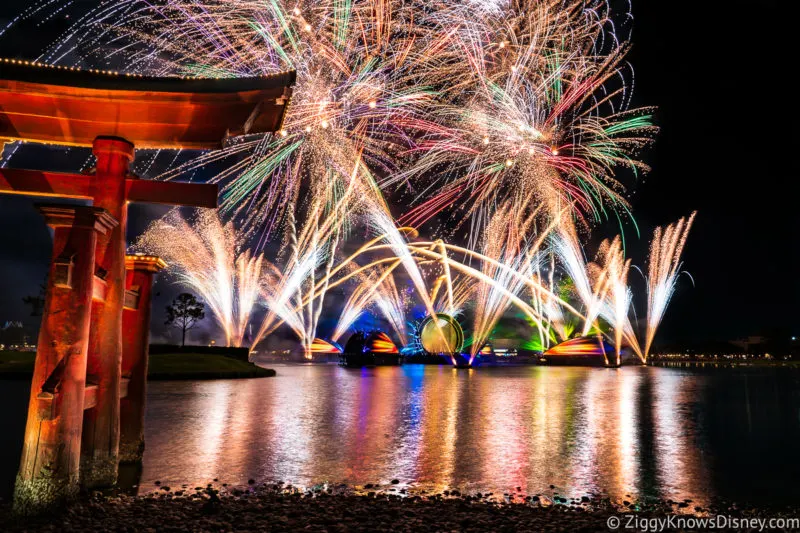 Honestly, we didn't know just how we would feel about Disney Harmonious when it finally debuted. On the one hand, we were excited to see the next generation of nighttime spectaculars in EPCOT after a stellar 20-year run from Illuminations. Seeing as Disney did such a fantastic job with Happily Ever After only a few years ago this gave us hope that the creative team had things under control.
On the other hand, we knew what we were getting into with Harmonious. It was doing the unthinkable and adding Disney characters as the focal point of a show in EPCOT, which we all know is a touchy subject with long-time EPCOT Center fans.
We also were not high on seeing those massive barges permanently parked in the middle of World Showcase, so it placed a lot of pressure on them to perform.
Is Disney Harmonious a worthy successor to Illuminations? Did Disney do a good job of introducing characters into the park? Are the barges so awesome during the show that it makes up for the mess they create during the day?
There are a lot of questions to answer so let's get into it…
Special Effects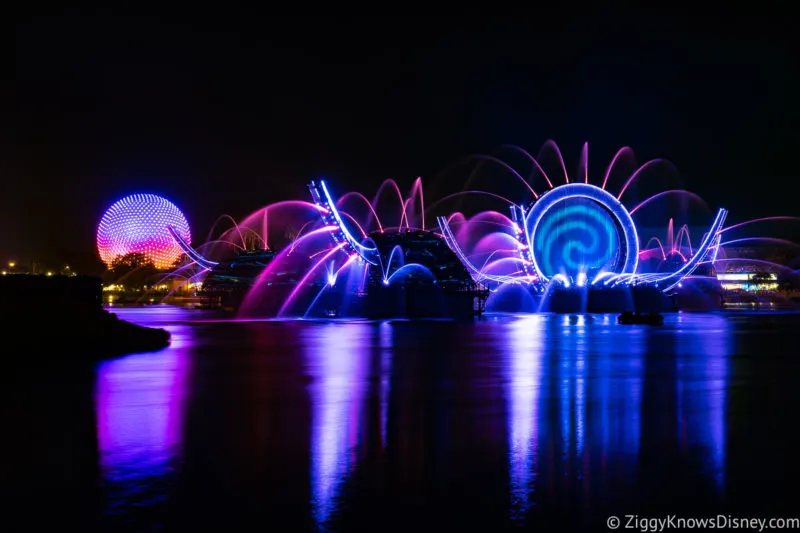 This one is a mixed bag. We have to admit that many of the special effects are really cool. The lasers, lights, and water effects are much more engaging than we originally thought they would be and draw your attention to the center of the show.
It definitely relies more on lights, lasers, and projections now than it does on fireworks and traditional pyrotechnics.
The water screens are nice and the projections inside are beautiful, but they are dependent on getting a view looking straight on. The plain truth however is that most of the views around World Showcase are not optimal spots to watch the show. The LEDs we just don't get. They are not very attractive, nor are the animations on the screens very interesting.
That's a shame when they spent so much money on these special effects. And if we have to suffer through looking at those glorified oil rigs all day long, they better make it worth it at night.
We also are not sold on the octopus barge in the center of the lagoon. Something about all those arms flailing about gives us the creeps.
Music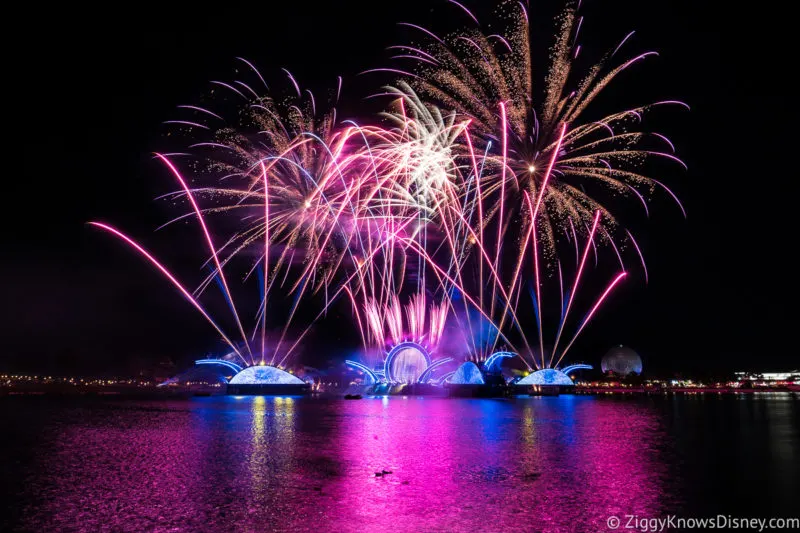 The music in itself here is very good. The fact they were able to get over 240 musicians together to work on this is quite a feat to be praised. The arrangements are solid and the team led by Mark Hammond and Walt Disney Imagineering Senior Music Producer and Creative Director Yaron Spiwak lead to some very pleasing music.
However, I'm wondering why many of the songs here are carry-overs from Happily Ever After. "How Far I'll Go," "I Can Go the Distance," "Out There," "Hakuna Matata." It's like they just decided to close down that show, bring it to EPCOT and add some fountains. Did I mention they are all worse versions of those songs?
Yes, they came up with a new EPCOT anthem and supposedly put it in the show, but it's not something you will be humming on your drive home, in fact, 95% of the guests will likely not even remember it was there.
Then there is the issue with all the different languages in the show. We get wanting to make it more unifying by including languages from all over the world, but at times it just didn't work and felt kind of messy. Maybe there is another way of doing it, like tying them into their countries and stories more, rather than just throwing them in there.
Character Integration & Flow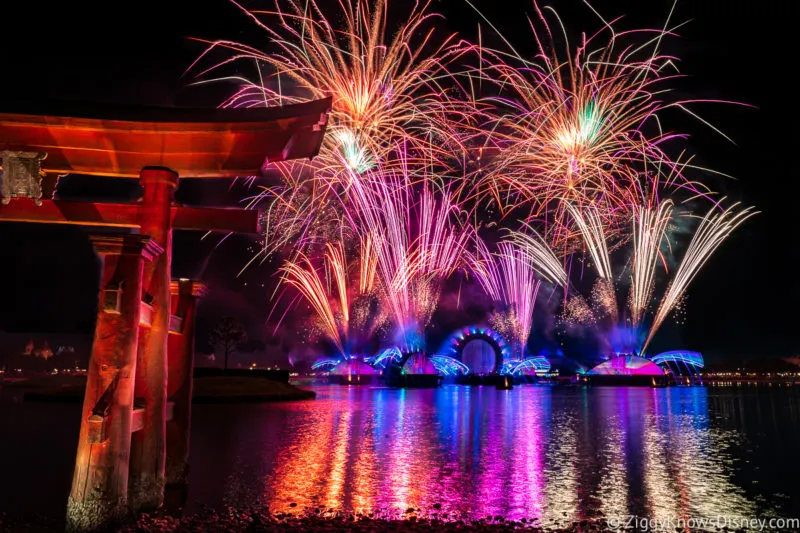 While some of the scenes are really cool and had us singing and bopping along, as a whole, Harmonious lacks cohesion and flows terribly from one part to the next. The pauses are too long and they feel awkward.
We feel like we are beating a dead horse here, but Disney's shift to everything-IP is getting old. Not that we are against characters, but we don't want them thrown into the show just because without adding anything to the actual story. Otherwise, we may as well be at the Magic Kingdom, and that's what this felt like.
The scenes with Coco and The Princess and the Frog were our favorites and we genuinely loved them. The rest felt like a discombobulated mess without any real flow, just sharp transitions from one to the next without any real meaning to the story.
Also, the characters have nothing really to do with EPCOT. Where do they fit in the story? Tell me why The Princess and the Frog, The Lion King, and The Jungle Book are represented other than they are popular and the latter appeals to older Disney fans.
The story is something Disney usually prides itself on, but it's clearly missing here. Harmonious is supposed to bring people from around the world together, but to me, it just felt confusing most of the time.
Original Yet the Same
We know it's strange to say since Disney went totally out of their way to do something so different from EPCOT fireworks shows of the past. In fact, it's more like a concert the way Chapek wanted it than a traditional fireworks show.
They spent all that time to come up with these new barges and change the direction of the shows here, likely for a long time into the future. However, we can't help from feeling that this is just a clone of Disney Enchantment on the water.
There is a mild attempt at making it about cultural unity and coming together, but the overall feel of the show is exactly like a show you would find at the Magic Kingdom, and today that means a bunch of random characters thrown together in a format of 'Disney greatest hits.'
Show Ending
The last thing that had us puzzled was the ending of the show. It was very abrupt and the first time we saw it we didn't even know it was over. It's lacking that big finale that we are used to, and the fact that the projections and fountains continue is confusing to the vast majority of people.
Every time we watch it we have people near us asking each other: "Is that it? Is it over?" That is one of the flaws the late Rivers of Light also had, though this isn't as bad.
Conclusion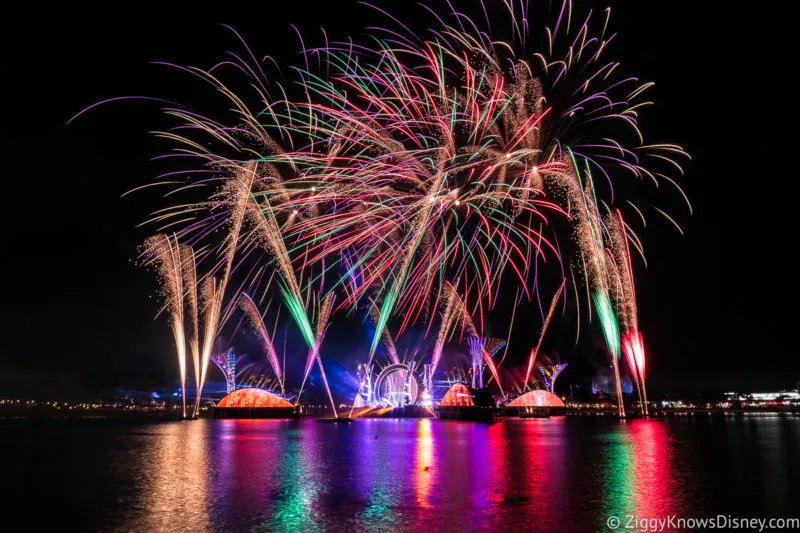 Even having an idea of what we were getting into, we still came away slightly let down with Disney Harmonious. While we praise its ambition, its repetitiveness, and awkwardness, lead us to feel that it could have been much more.
Between the exaggerated barges in the lagoon, the lack of flow to the show, and the fact that it is essentially a clone of a castle park nighttime show we feel that EPCOT deserved better. There was no tie-in to the park itself and it did not succeed in its attempt to be a show focusing on bringing people together.
We also don't think it's worth having the barges in World Showcase Lagoon, and if anything we think it's one of the primary reasons the show falls flat. They could have developed a better show using ones that could be brought in and out each evening like with Illuminations and saved a ton of trouble.
Overall, we think parts of Harmonious are really cool, but when put together it misses the mark. Bigger is not always better. We still recommend watching it for its entertainment value, but we have a hard time thinking we will look back on it years from now, viewing it as a classic.
Disney Harmonious vs. Illuminations: Reflections of Earth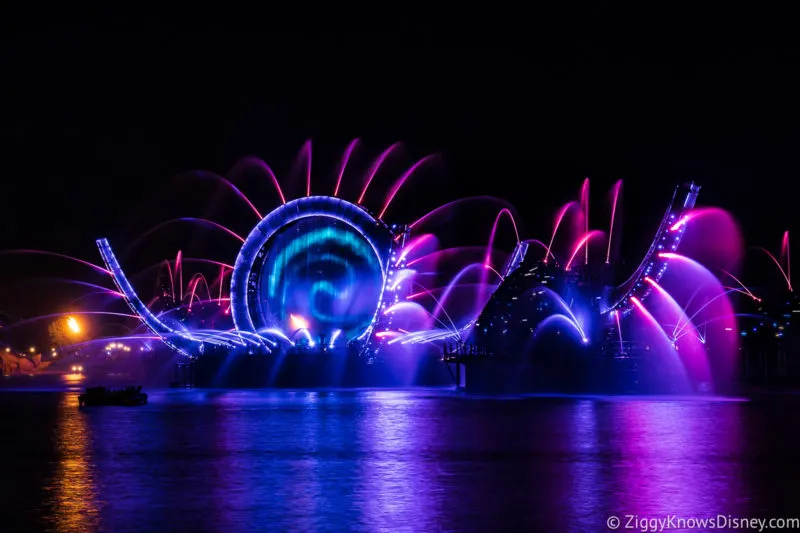 As much as I love Illuminations, we do realize that it had its day and it was time to go into retirement and make way for the next generation of Disney shows and experiences. That said, for all its technological advantages, we do not think that Harmonious overtakes Illuminations at all.
As self-proclaimed Illuminations superfans, we acknowledge that the classic show was not perfect. We admit that while the beginning and end are both magnificent, the middle was always a bit slow and dragged on. To us, however, the criticism stops there.
The music was incredibly arranged with a powerful message and most of the scenes flowed perfectly together, all leading up to the climactic crescendo at the end. Then once the show was over you could walk out of the park to "We Go On" and everything was right in the world.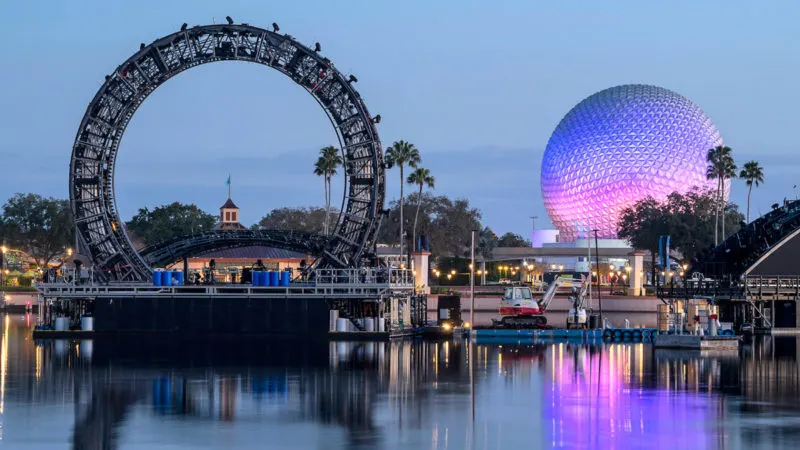 The music to Harmonious is mostly a mix of Disney tunes, with very little original music, and it lacks any inspiration.
Somehow, the creative team behind Harmonious forgot to fix the mistakes of Illuminations, while not reaching the high points of the previous show. The middle of it still drags, and it can't hold a candle to Illuminations as regards to flow or delivering its overarching message of unity.
We try to keep an open mind (we loved Happily Ever After from Day 1), but we find a hard time believing that many guests who objectively look at both shows would pick Harmonious. After well over a year now, it still hasn't resonated with guests any more than when it debuted and it's definitely not considered among the best shows Disney has done.
Disney Harmonious vs. Disney Enchantment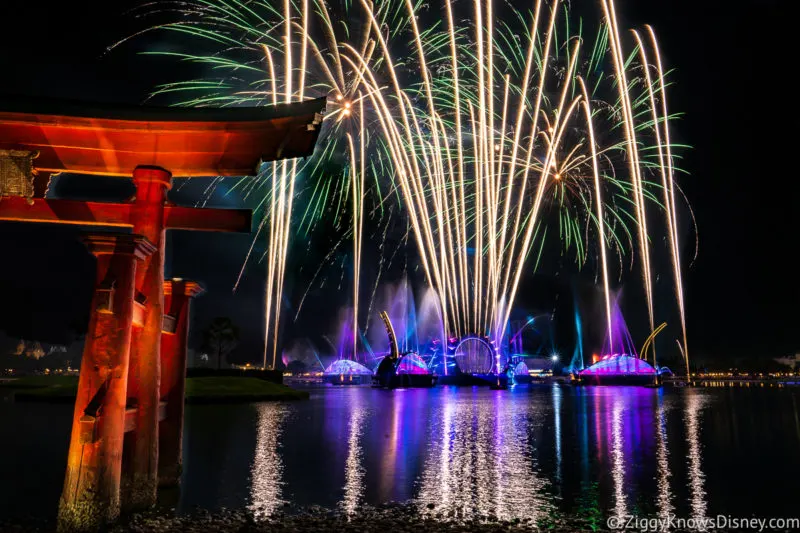 This one had us really perplexed and we are torn between deciding if we prefer Disney Harmonious or Disney Enchantment. Honestly, they are very similar and at times it feels like we are watching the same show.
Both shows rely heavily on the Disney characters to carry them. They do it with slightly different messages ("you are the magic" and "all people are unified") and they have different backgrounds (a castle vs. a lake), but the actual shows feel the same and flow the same when you watch them.
Both shows use most of the same IP leaving little to stand out as unique.
We almost respect Harmonious more, because while we don't like it as much as Illuminations, at least it tries to be different and there are a few things it gets right. Enchantment on the other hand to us feels like a complete knock-off of Happily Ever After, just not as good.
Everything about Enchantment to us was a downgrade from its predecessor and we are still trying to figure out the real reason for its existence. With Harmonious it was time for them to introduce a new show even if it doesn't surpass Illuminations.
I'd say we prefer Harmonious, but both of them lack originality in their storytelling.
How Long Will Disney Harmonious Run?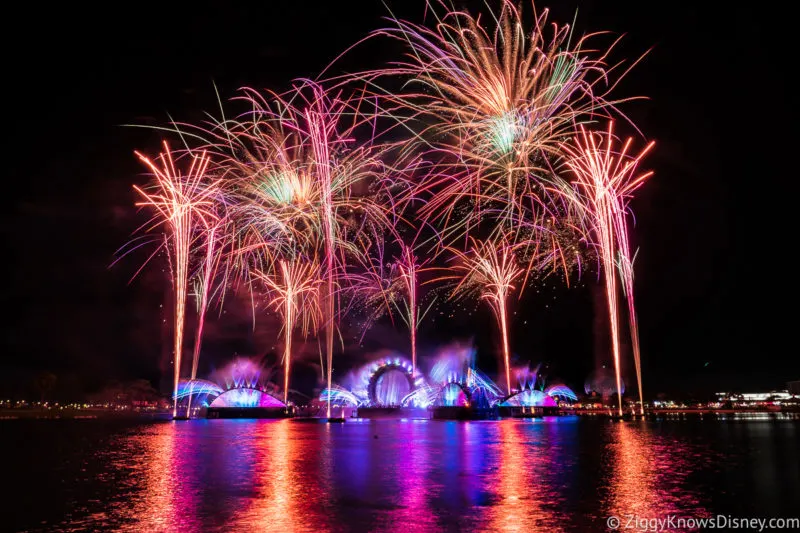 Originally, Disney Harmonious was designed to be the long-term successor to Illuminations: Reflections of Earth. That decision has since changed and Disney has officially announced that there is an all-new nighttime show replacing Disney Harmonious in 2023.
Before we get into that, let's look at the previous two shows before Harmonious, EPCOT Forever and Illuminations: Reflections of Earth.
The last two nighttime spectaculars had vastly different run lengths. Illuminations: Reflections of Earth debuted on September 22, 1999, and ran all the way until September 30, 2019. That's a full 20 years and one of the longest-running shows Disney has ever done.
EPCOT Forever on the other hand debuted on October 1, 2019, and had its last show on September 28, 2021. It was always designed to be a temporary holdover show until Disney Harmonious was ready, but the park closure and the pause on all nighttime spectaculars meant it only ran for a total of 9 months.
The original plans for Disney Harmonious was for it to be more like Illuminations rather than EPCOT Forever and they were hoping Disney Harmonious would last at least a decade. That of course never transpired and for one reason or another, Disney Harmonious is being replaced.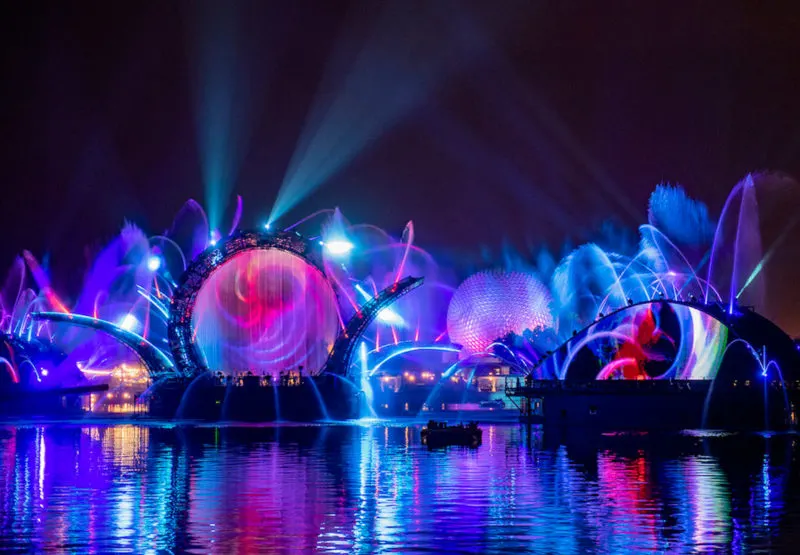 It's pretty crazy to think about all the time, energy, and money that went into creating Harmonious, only for the to disappear after a little over a year from its debut. We thought for sure that Disney would make this stay around for many years. Instead, it turned out to be a flop, almost like Rivers of Light at the Animal Kingdom.
So when is Disney Harmonious ending and when is the new show arriving?
Right now it's hard to say anything about the new show Disney hasn't really given any timeline for its debut. The only thing we know is that Disney Harmonious is leaving EPCOT after the 50th Anniversary is over, which is officially after March 31, 2023. Disney Harmonious will have its last performance on April 2, 2023.
The new show will be part of the Disney 100th celebration. Will it be full of Disney IP like Harmonious, or will it have a more original soundtrack like Illuminations: Reflections of Earth?
Only time will tell, and with April 2, approaching rapidly, Disney should be giving some more new info in the coming weeks. We'll have the latest when it's announced so stay tuned!
Best Places to Watch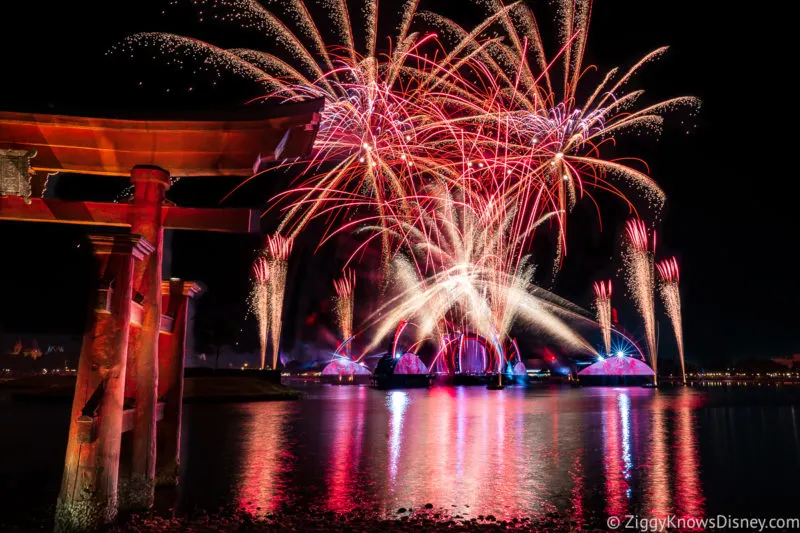 Watching the fireworks in EPCOT from a good spot in World Showcase is always good, but with this new show, where you stand is now even more important to the experience. You definitely will want to watch the water screens and LEDs which are a huge part of Disney Harmonious, not just the fireworks.
The problem is that, unlike Illuminations, more than half of the show occurs in the middle of World Showcase Lagoon. That means if you want to see all the action, you will need to find a spot with a clear view of the water.
This is not easy since the majority of countries in World Showcase have obstructed views without a clear shot into the lagoon, especially with the fountains facing them.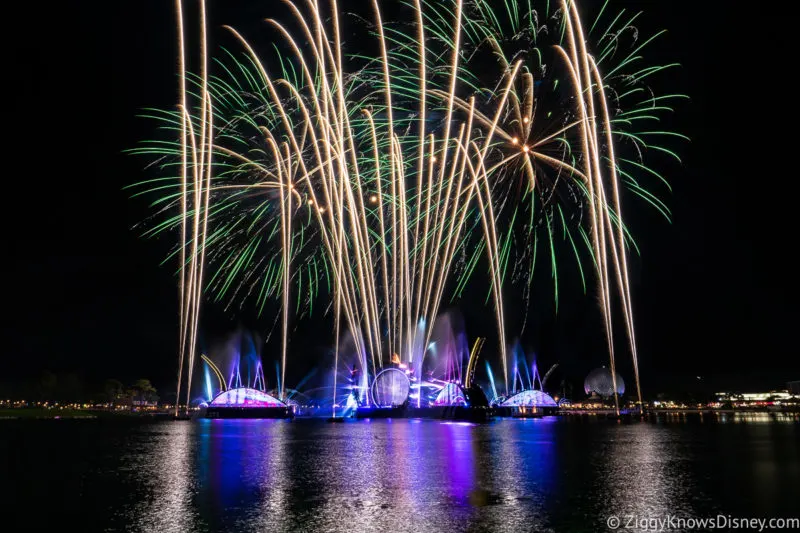 Over the years, we've watched the fireworks in EPCOT countless times so we have a good idea of where the best spots are and from where you will have the best angle. There are a few of them, you just need to know where to look…
Here are the best places to watch Disney Harmonious:
World Showcase Plaza – Even though this may be the least scenic place on the list, it offers the best view of Disney Harmonious. It's facing the exact the center of the lagoon which is perfect for seeing the water projections and LEDs.
Italy Isola (Italy) – This is perhaps the most scenic of spots and gives a good view of the screens on the water. The right side of this island is usually booked for special events but you should be able to get a view from the railing on the left side.
To the Side of American Gardens Theater (American Adventure) – This is another straight-on view of the show, but from the exact opposite side of the lagoon. Either side is good but there isn't a lot of real estate here so you'll have to camp out a good amount of time before.
Rose & Crown Pub (on the patio outside) – This is the most relaxing spot, but you will have to be eating at Rose & Crown during the fireworks to get a seat. Not a straight view of the barges, but it's good enough.
Tokyo Dining (Japan) – This was one of our favorite spots before the new show, and it's still great. Ask for a window seat in the dining room, or go outside on the balcony for an elevated view of Harmonious.
Pont des Arts Bridge (France) – This was higher on our list of fireworks spots, but with the new show you are on the side of the main fountain and can't see inside it.
Between Mexico and Norway – You can grab a nice spot between these two pavilions right on the walkway. It is low on seats and gets crowded though.
Germany Pavilion – There is a nice section in Germany along the water, and there are even benches if you are tired. The view of the barges is partially obstructed from here.
Harmonious Dining Packages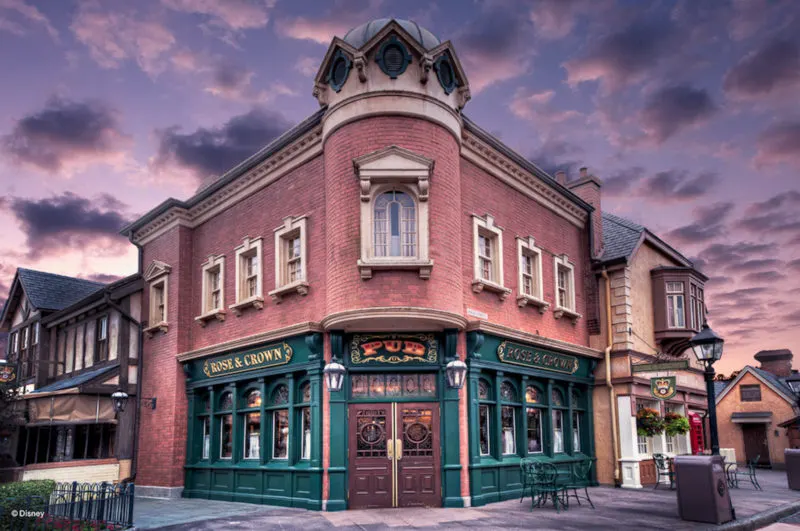 If you don't feel like waiting for a spot to watch the fireworks, there are packages that combine dinner at one of the restaurants in EPCOT with a view of Disney Harmonious.
Right now there are 2 options for Disney Harmonious Dining Packages:
Rose & Crown Fireworks Dining Package – Dine outdoors on the patio of the Rose & Crown Dining Room and enjoy excellent British fare. This package features a prix-fixe menu including one appetizer, entrée, dessert platter, and unlimited beverages.
Spice Road Table Dining Package – Here you are seated outdoors in a covered dining area that is reminiscent of a Moroccan seaside cafe. Spice Road Table offers a variety of Mediterranean small plates, including Grilled Lamb Kefta, House-made Hummus Fries, and Spiced Chicken. The Spice Road Table Dining Package includes two small plates, a dessert platter, and unlimited beverages.
While these dining packages are convenient, they each have different advantages and negative points about them. They cost extra money and they are more expensive than if you just were eating at the restaurant under normal circumstances. Of course, you are paying the premium for the view and the ease of everything.
Of the two packages, we prefer Rose & Crown because we enjoy the food much more there, plus we feel the view is a little better.
Advance reservations are highly recommended for all dessert parties and dinner packages and can be made on DisneyWorld.com or the My Disney Experience app.
Fireworks Dessert Parties
Normally, there are special dessert party packages guests can purchase for the EPCOT fireworks and they work similarly to the dinner dining packages here, and the dessert parties over in the Magic Kingdom.
Instead of having to wait for a spot around World Showcase Lagoon, these dessert fireworks viewing parties let you watch the fireworks show while enjoying some sweet snacks at the same time.
They are an extra cost and can be quite expensive, but may be worth it for someone who wants the convenience of having a good view without having to stand around for potentially hours to get that spot.
Unfortunately, Disney hasn't brought back the dessert parties yet for EPCOT, but they likely will do so at a later date. When they do, you can go to the Walt Disney World Website to book any of these experiences.
As soon as we know more we'll update you.
FAQs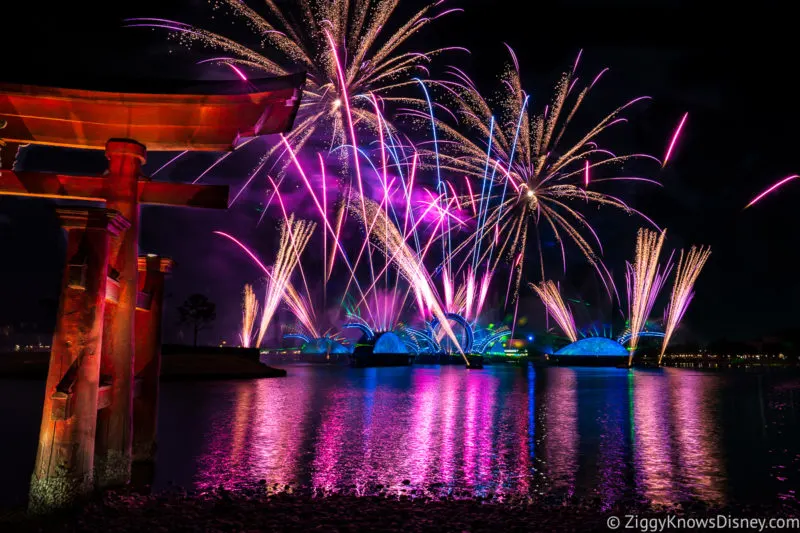 Here are the answers to some of your most common questions about the EPCOT fireworks and Disney Harmonious in particular:
Does EPCOT Have Fireworks Every Night?
Yes, EPCOT has a fireworks show on the schedule every night. Under normal circumstances, that show is Disney Harmonious and is open to all guests.
However, sometimes for special events, EPCOT will have a modified version of the fireworks show with a holiday tag added onto it. This happens on New Year's Eve and on the 4th of July.
It's unclear at this time if Disney will run a special version of Disney Harmonious for these events. As soon as we find out more we'll let you know.
What Time Should I Find a Spot?
How much time you need to start looking for a spot for the fireworks in EPCOT depends on what season it is, how busy the parks are when you visit, and how much you care about having a view of the fountains and water show.
As we talked about a few minutes earlier about the best places to watch the show, those spots with a good view of the water are few and far between, which means they go quickly. If you want a good view of the screens and fountains you need to stake your claim to a spot early.
If you are visiting during a slower time of the year and the crowds aren't too bad, we recommend starting to look for a place to watch Harmonious no fewer than 90 minutes before the start of the fireworks.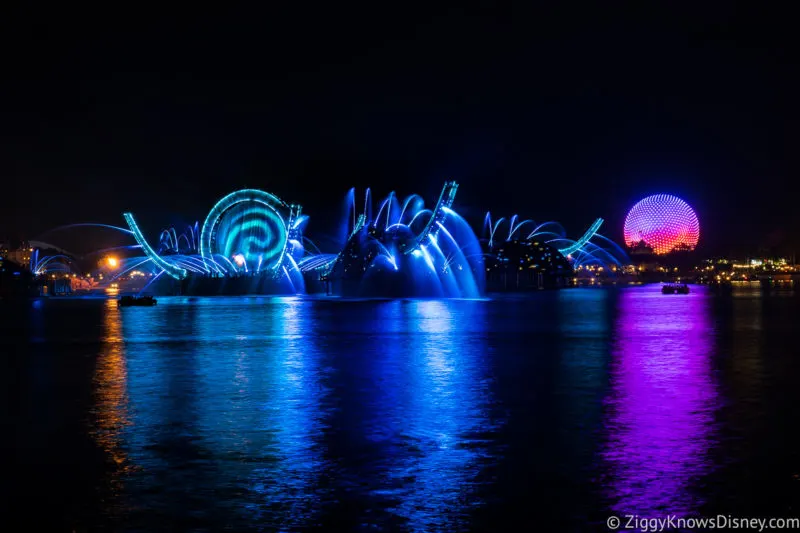 If you are going during a holiday or another really busy time of the year, it's going to be much more difficult. We recommend to start looking for a place as many as 3 hours before it starts, or more.
Of course, if you don't care about an obstructed view then you should be able to find something with a clear view of the sky 30-40 minutes before showtime. Again, just don't expect to have a great view of the barges in the lagoon.
Is Staying for the EPCOT Fireworks Worth It?
Even though we aren't big fans of the new Disney Harmonious show, we still think seeing the fireworks at EPCOT is a must during every visit for most guests.
Fireworks are always a highlight of any visit to Walt Disney World and it's no different here. We still recommend staying to watch the show as it is still entertaining despite its flaws. Of course, you'll have to decide for yourself based on your schedule and energy level, but we think you should make time for it if you can.
To make sure you have enough energy to stay for the fireworks, there are a couple of things you can do.
First, we recommend coming late to EPCOT, perhaps even making it your second park of the day if you are park hopping. Come for an early dinner in World Showcase and then start looking for a spot for the show. Concentrate on the attractions in EPCOT another day and just come for the show.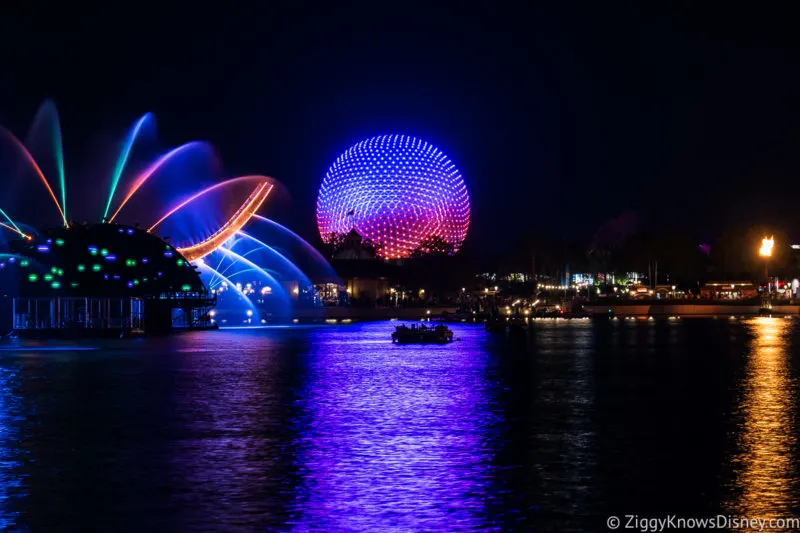 If you wanted to do all the rides in EPCOT on the same day as seeing Harmonious you can rope drop the park at opening and knock out most everything in the first 4-5 hours of the day. Go back to your hotel for a few hours to rest, and then return in the evening for Harmonious.
This is convenient if you are staying at one of the EPCOT-area hotels like the Boardwalk or Yacht & Beach Club, or a hotel on the Disney Skyliner.
Does EPCOT Do Fireworks in the Rain?
All attractions in EPCOT, including fireworks shows, continue running in most weather types whether it's raining or clear skies.
The only time Disney cancels the fireworks is when there is lightning or high winds. Those weather types make the conditions too dangerous for a nighttime spectacular, and in that case, they will not do the show.
If you don't want to avoid watching Disney Harmonious in the rain, we suggest you check the weather forecast ahead of time to get an idea if it's going to rain or not. If you have multiple days open to visit EPCOT, schedule the fireworks watching on the best day weather-wise.
Full Video
We waited until later on to post this in case you didn't want to be spoiled by the show. Here is the full video of Disney Harmonious:
Disney Harmonious Logo
Before the show officially opened, Disney released concept art for Disney Harmonious, which includes the show's logo: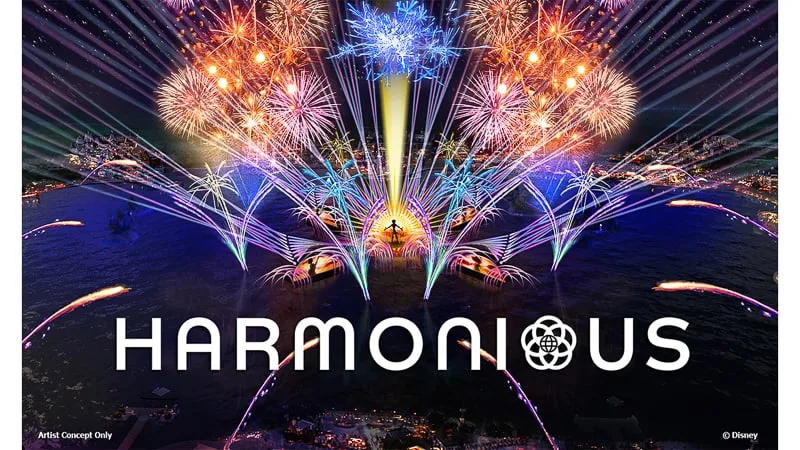 This art is identical to the concept art we've seen already, except it now has the Disney Harmonious logo in it. Does the "O" look familiar? You'll notice it's the classic 5-Ring EPCOT logo!
You also might notice that the "O" has now been changed to a lower-case letter, instead of the upper-case one that was in the title when the project was originally announced.
We absolutely are thrilled Disney has decided to include EPCOT's original logo in the design. It's only fitting that as the park continues to take steps into the future, that it doesn't forget its past, and nothing symbolizes this better than the EPCOT logo.
In the words of legendary Disney Imagineer Marty Sklar:
"The Epcot Center logo symbolizes unity, fellowship, and harmony around the world. Five outer rings are linked to form the shape of a flower–a celebration of life. The heart of the logo is the Earth, embraced by a star symbolizing hope–the hope that with imagination, commitment, and dedication, we can create a better tomorrow."
That brings to a conclusion our look at Disney Harmonious. We hope this guide will be helpful in planning your trip to watch it on your next visit to EPCOT.
For more information on planning your vacation to Walt Disney World here are some of our most useful posts:
Your Thoughts
I want to know what you think about the new Disney Harmonious fireworks show at EPCOT…
Do you like the show?
What changes would you make to Disney Harmonious?
Let us know in the comments section below!
If you enjoyed this article, as always I appreciate it if you'd share it with others via social media. I work hard at making this website into a useful resource for you and your family to plan your visit to the Disney Parks and I hope it can help you! Thanks 🙂