Have you ever wanted to eat in outer-space? Well, now you can have your chance to eat aboard a space station in Epcot's new Space 220 restaurant, in a dining experience that is truly out-of-this-world!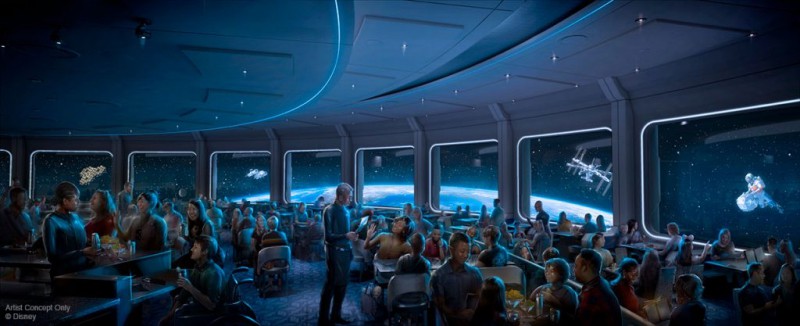 In this post, we are going to explain everything you need to know about the new Space 220 restaurant coming to Epcot in early 2020. We are going to share with you all the details we have so far including the opening, menu, how to make reservations and much more!
UPDATE 2/7/20:
Some time has passed since the last update, and we still are no clearer on when the Space 220 restaurant is actually opening in Epcot. Official wording from Disney still says "Winter 2020," but winter is passing by fast and it doesn't look like the opening is imminent.
Just when it seemed like we were close to the opening of Space 220 restaurant, it now looks like the opening date has been delayed until Spring 2020. There are some dates rumored for either March or April, but no one is sure right now what the actual dates are and Disney hasn't confirmed anything to this point.
A couple of months ago the job listings for Space 220 were saying "February 2020." Lately however, those have been changed and now read "Early 2020."
Disney has recently released a new Epcot Park Guide Map, which has the Space 220 restaurant listed. In the description, they confirm the opening date change as it reads: "Early 2020." That could be February, March or even further out but it leaves it open to interpretation to be later if necessary.
The latest construction on the outside of the building does hint that we could be seeing what the entrance looks like here in the near future though.
Besides the opening date being pushed back, the online job posting on the Patina Group website still shows Space 220 is currently hiring a bunch of new front of house positions.
These positions include hosts, a Restaurant Manager, Cook, Runner & Busser among other positions. They have, however, hired their new Executive Chef after the previous one bailed only months ago.
Losing the head chef at the last minute obviously was a big blow and led to the delayed opening. We still don't have an exact date yet, but we'll keep you updated. Keep reading below for everything we know so far about the Space 220 restaurant.
Restaurant Name Overview
Location: Epcot park, Future World, Mission: SPACE pavilion
Type: Table Service Dining
Price: $$-$$$
Cuisine Type: Out-of-this-world Food and Drink
Meals: Breakfast, Lunch, Dinner
Dress Code: Theme Park Attire
This space restaurant coming to Epcot will be a one-of-a-kind dining experience as guests dine in outer space, giving them the feeling they are on a space station watching the planets, stars, satellites and more pass by the giant dining room windows.
This new table service restaurant Space 220 will be located in a building right next to Mission: SPACE in Epcot's Future World, and will push the envelope of Disney themed-dining.
Walt Disney Imagineer Tom Fitzgerald said; "We know our guests love dining at Epcot – and the restaurants really are out of this world," now we're about to create one that takes that literally."
Space 2020 isn't run by Disney however and instead is run by the Patina group. They have a strong connection to Disney restaurants as they successfully run: Via Napoli, Maria & Enzo's, The Edison and Morimoto Asia. With a track record like that Space 220 should be in safe hands.
Let's take a look at what is going to make the Epcot space restaurant so special…
Atmosphere and Theming:
Themed restaurant dining doesn't get any stronger than this as Space 220 gives you the full illusion of eating in outer space. How does Disney make that happen? Let's take a look…
The "Space 220" Name Meaning
The name Space 220 isn't as random as it sounds. The name comes from the fact that this new restaurant is on a space station located 220 miles above the earth. That's a long way to travel for a meal, but the payoff sure looks worth it.
Arriving:
The arrival process to get to Space 220 might be the coolest part of the whole experience.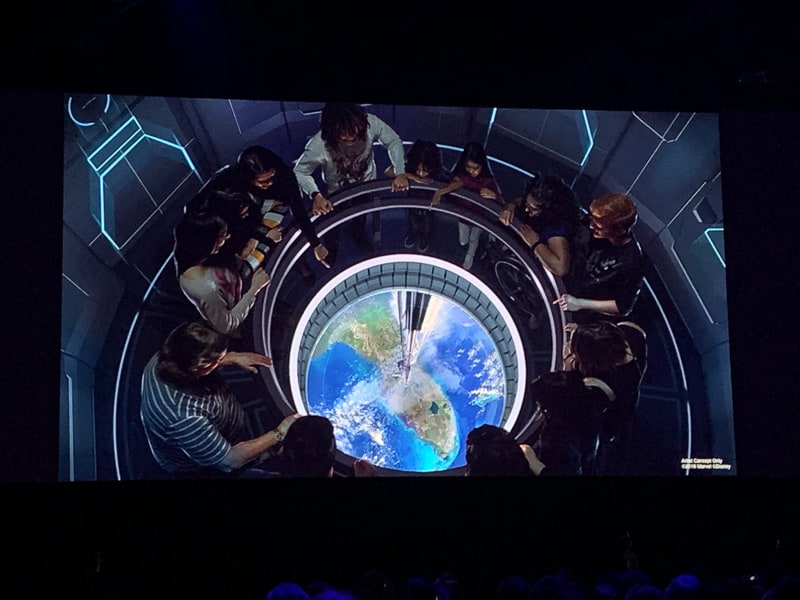 Things start outside off to the right side of the Mission: SPACE attraction. We aren't sure if there is going to be a receptionist outside, or if that will be located just inside the first doors.
To get to the restaurant, guests will board an elevator located on the right side of the Mission: SPACE ride. This is no ordinary elevator however as it simulates transporting you 220 miles above the earth, to the restaurant.
In fact, there will be "two fully functioning elevators with large digital screens to simulate the trip to the space station."
That's right, the elevator will have large digital windows which Disney says "will give guests real-time perspective as they travel high above the planet." I'm guessing that also means it will take into account the time of day and give us a daylight scene when it's still light out, and a dark scene when it's nighttime in Epcot.
Disney hasn't said how long the space travel part of the experience will last, I'm guessing 30 seconds to 1 minute most likely
Dining Room and Space Window
Once you step off the transport, you step into the main dining room for Space 220 which is dominated by its gigantic 250-foot digital screen like the one you see in the concept art which will simulate what it feels like to be looking out the window of a space station.
The dining room will seat more than 350 guests, and offer incredible daytime and nighttime views of our planet. Guests will see the Earth, stars, meteors, and all sorts of other celestial bodies. Really the possibilities are endless.
The fact that Space 220 will have "daytime and nighttime" views through the windows sounds really cool as the lighting and views will change depending on what time of day it is, adding another layer of detail.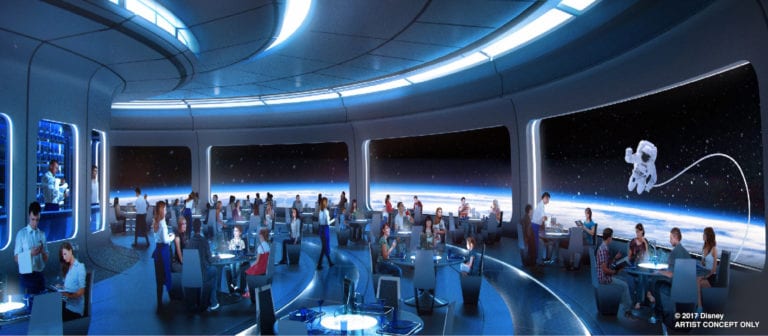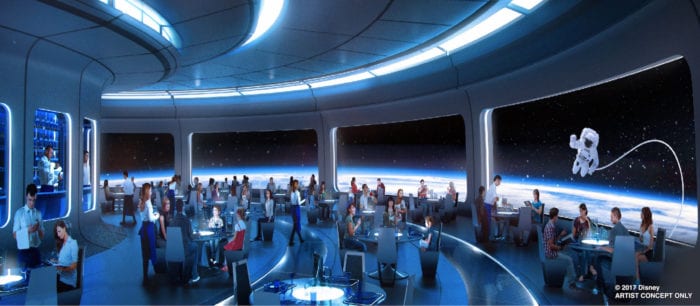 In fact, these windows coming to Space 220 are the same windows that we'll be seeing in the new Star Wars: Galactic Starcruiser hotel which will also give views into space from every window.
It looks like the major part of the seating is at tables, but there is also a bar which has seating there.
My only question is how they are going to make people feel like they are really in space, and at the same time not make people motion-sick, which isn't a good combination when you are eating.
Food and Drinks
No word on exactly what the menu is going to be yet but The Patina Restaurant Group is developing a brand new menu for Space 2020. What kind of food is it going to be?
Originally the menu at Space 220 was listed as featuring: "internationally-inspired cuisine." The language has now been changed to "modern American cuisine." We'll have to see just what that entails.
We do know that Space 220 will have more than 1,000 bottles of the world's finest wines and a wide selection of craft beer" on hand. I also hear space is the perfect environment for the wine aging process! 😉
In the concept art, you can't see too much of the food, but you can make out what looks like chips, and some kind of fruit or veggie dish in a glass.
While I don't think we'll have floating food in the dining room, Disney is most likely going to come up with some very creative ideas with variations of freeze-dried things, and who knows what else. I don't know how many guests will want a freeze-dried burger, but whatever they serve will no doubt be Instagram-worthy!
The Spinning Wall of Produce
Recently Disney explained that there is going to be what they are calling a "Spinning Wall of Produce" in Space 220. There is no concept art of this yet, but we are told that the produce will resemble what we already see here on the Earth, but with a space-twist to it.
If we're guessing, since you are in space, it's probably to show how they have been able to grow normal produce in space, instead of only freeze-dried food. This would explain why the menu is going to be "mostly normal" food that we are accustomed to.
Opening Date: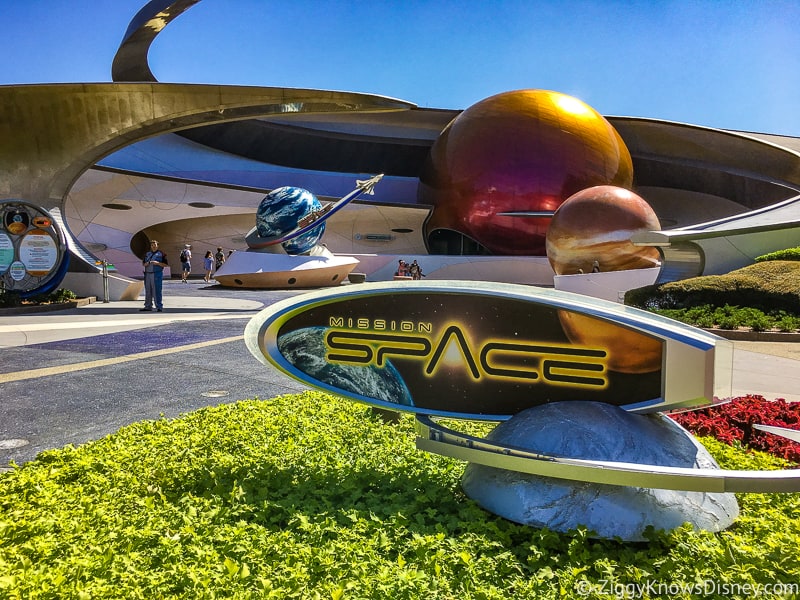 So far the Epcot space restaurant sounds fantastic, but the million-dollar question is: When is Space 2020 opening? Right now we don't have an exact opening date for the restaurant, and the latest rumors are anywhere from February 2020 all the way until sometime in the Spring 2020.
Earlier in 2019 Disney shocked us by saying that Epcot's Space 220 restaurant would be open by the end of 2019. Construction projects in Disney World, however, are always notorious for being delayed and as the Summer came and gone, the latest opening we've heard is still: "Winter 2019."
Winter, however, is a bit open to interpretation as technically it lasts from December 21 – March 20, 2020.
The most recent job posting online said that it will open in February 2020. Other rumors point to a late March or April 2020 opening, which already pushes it outside the Winter. These rumors are unconfirmed and should be taken with a grain of salt as no one really knows at this point.
Seeing as we are already into February and haven't been updated by Disney yet since the D23 Expo, it makes sense the Space 220 opening is going to get pushed into the Spring. Losing the chef plus the ground-breaking technology they're using makes a bit of a delay is to be expected.
Most Disney insiders, however, are saying that there is no way Disney will get this project finished in time to still be Winter, and we agree with that assessment. Again nothing has been confirmed and Disney is being very tight-lipped on the subject so we'll have to just sit back and see what happens.
We are extremely excited about this project and if you are trying to decide when to plan your trip, our post on Should I Go to Disney World in 2020 or Wait Until 2021? will help you make an informed decision.
As soon as we hear more about the Epcot Space restaurant opening we'll let you know!
Price:
Right now Disney is listing Space 220 in the $$-$$$ price range. That puts it at the upper Mid-High end dining tier. This puts it at the $30-50 range per person and similar to other Disney World restaurants like Boma or The Wave.
Dining Plan:
As of right now, we do not know whether the Disney Dining Plan will be accepted at Space 220, Disney hasn't announced that yet.
It's likely that since this is a table service restaurant, it will accept the Disney Dining Plan and be a 1-Dining Credit restaurant. We can't imagine a restaurant that will instantly be one of Epcot's most popular won't have the Disney Dining Plan.
It's possible that if it reaches the level of a Be Our Guest for example, that it could move into 2-Dining Credit territory, but we think that is unlikely and it will remain a 1-Dining Credit restaurant.
Discounts:
Tables in Wonderland – TBD
WDW Annual Passholder – TBD
Disney Vacation Club – TBD
Disney Rewards VISA – TBD
Disney has not yet announced what kind of discounts will be available at the Epcot's new Space 220 restaurant. If it follows the same pattern as most Epcot restaurants, it will eventually have the 10% Annual Passholder Discount and the 20% Tables in Wonderland Discount.
Those discounts might not be immediately available when the restaurant opens however so stay tuned for more info on this.
Location/Directions:
The Space 220 Restaurant is located in Epcot park in Walt Disney World, right next to the Mission: SPACE attraction and pavilion. This is also where the newly announced World Discovery is being built, so Space 220 will be part of that when complete.
To get to Space 220 from Spaceship Earth, head straight through the spine of Future World and turn left between Electric Umbrella and Mouse Gear and walk straight until you get to Mission: SPACE. Space 220 will be on the right side of the pavilion.
Hours of Operation: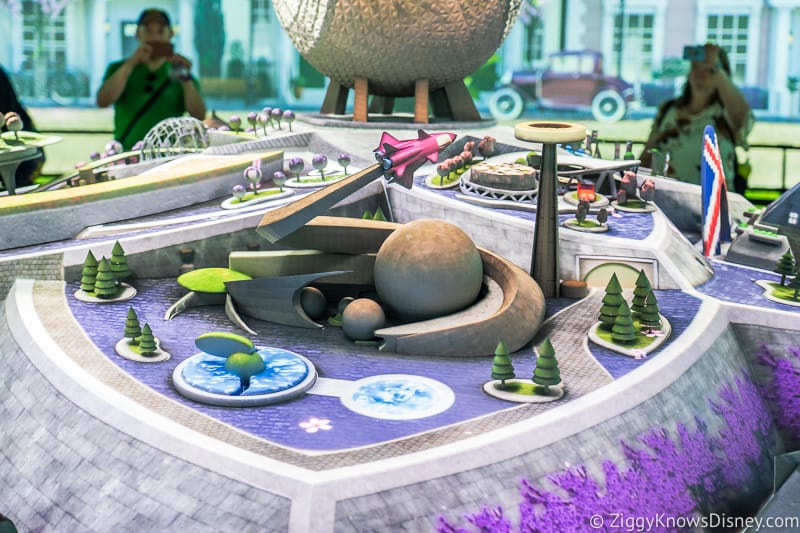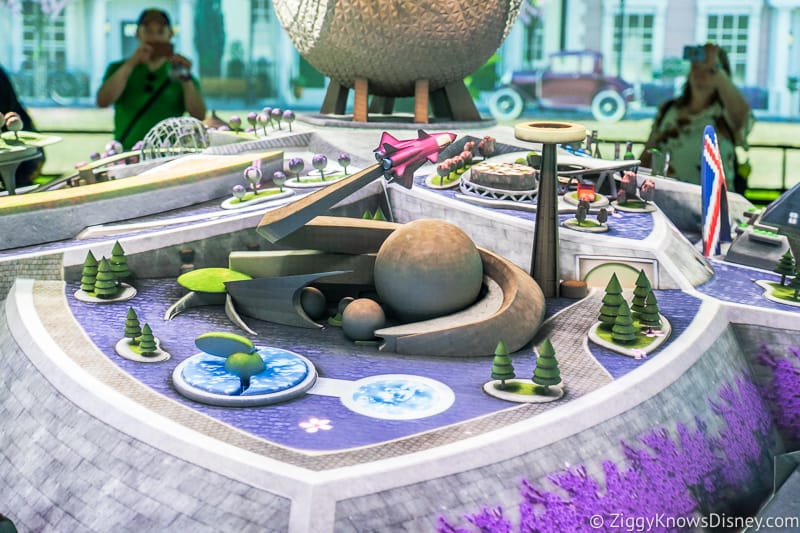 Disney has not yet announced the hours of operation for Space 220. However, from a recent Epcot guide map update, we do know it will be open for Breakfast, Lunch, and Dinner.
This confirms our original suspicion that the new space restaurant would serve all three meals per day. Disney is betting on Space 220 to be a huge success. They are investing tons of money into new technology to make this dining location the next "must-get reservation" in Disney World.
If the public likes it and Space 220 turns out to be a success like Be Our Guest, for example, they will fill tables from the time Epcot opens till closing. That's why I think it makes sense to serve all three meals.
Things could change in the future, but for now, we know we are at least getting all three meals for some time. Disney will then see how the public reacts to the new restaurant in Future World.
An estimate of Space 220 restaurant's hours:
Breakfast: 8 am – 10:30 am
Lunch/Dinner: 10:30 am – 9:00 pm (park closing)
Making Reservations: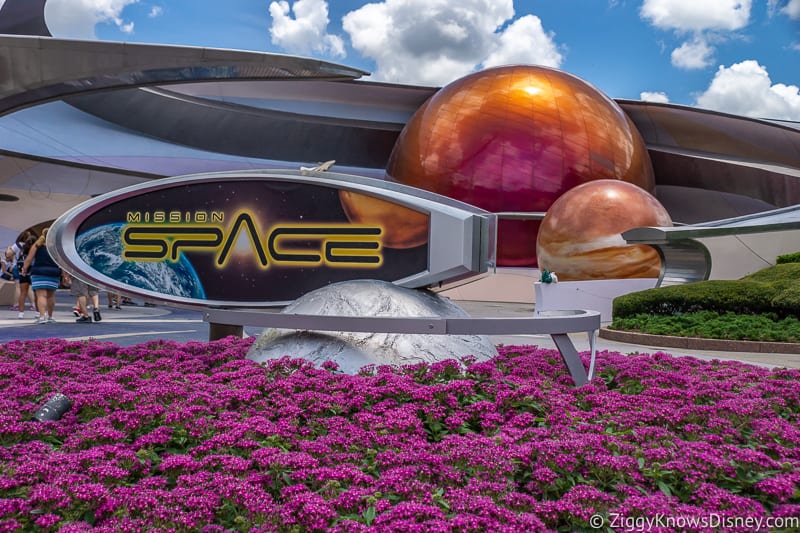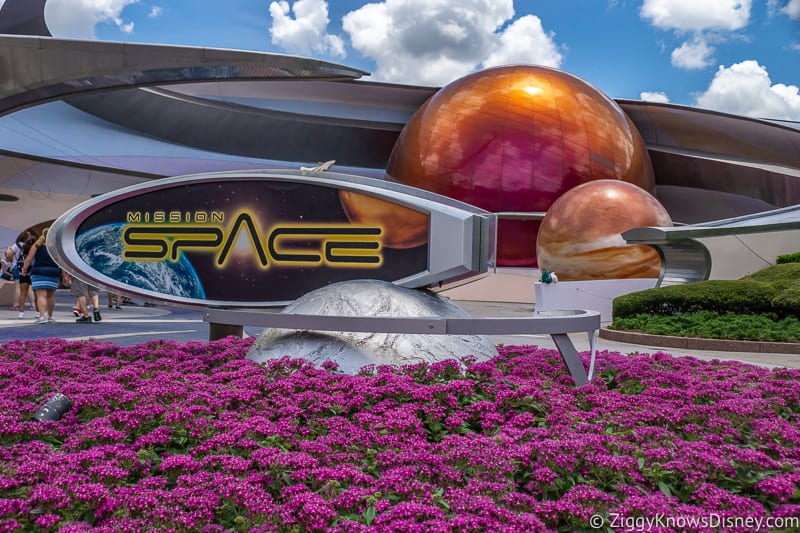 So as cool as Space 220 sounds, how can you make an advanced dining reservation and actually get to eat there? If this restaurant delivers on half of what it's promising to guests, it's going to be very difficult to actually book a table.
If you've noticed, Disney hasn't updated us yet on how the reservation process works and when you can start booking a table.
Most likely making a reservation for the Epcot space restaurant will work the same as any other restaurant in Walt Disney World either by booking through My Disney Experience, or calling central reservations for a party of 8 or more.
Reservations are going to be few and hard to come by. Think on the same level as trying to get an ADR for Be Our Guest or Cinderella's Royal Table. You'll have to be online or on the My Disney Experience app promptly at 6:00 am the day you want to book a table.
Also, don't expect to get the normal 180-Day booking window for Space 220 for the first couple of months when it opens. When Disney actually makes the announcement, there will most likely be significantly less advanced notice, maybe even 60-Days or less. For that reason, it's going to be crucial to notified right when Disney announces that reservations are available.
Also, try to make a reservation for one of the least crowded times of the year in Disney World in order to increase your chances of booking a table.
To make sure you're notified right away we recommend signing up for our free newsletter, where we'll notify you as soon as reservations go online along with any other Space 220 updates. You can do that here: Free E-Mail Newsletter
Must-Try Food/Drinks at Space 220:
The new Space 220 restaurant in Epcot is not open yet. Once it opens we will let you know what the must-try food items and drinks are.
Space 220 Restaurant Menu:
*(Last Updated 2/2/20) – If you have any Menu updates or corrections please let us know!
Lunch/Dinner Menu:
Disney hasn't yet shared any details about the menu for the Space 220 restaurant. As soon as some of the menu items are announced we will have them here for you, including prices and photos of the food and drinks.
Space 220 FAQ's:
Is Epcot Space 220 restaurant open?
No, as of now it is not open and we don't have an opening date yet except for February 2020.
Will my food float?
Even though you're aboard a space station, I'm betting that your food will not come off your plate and start floating around the room. However, I'm sure they will have some very creative dishes available.
How many seats does Space 220 have?
Over 350 people will fit into Space 220.
Is Space 220 hard to get reservations for?
The official reservation process hasn't started yet for Epcot's Space 220. However, seeing the unique concept the restaurant is built around, it's likely that it will be a big hit and one of the hardest-to-get-reservations in Disney World when it opens.
Will I get motion sick?
Obviously eating in outer space would be nauseating, to say the least, however, your experience at Space 220 will not be like that at all. There will be some special effects to make the space-dining aspect realistic, but it shouldn't be so much that diners get sick.
Review:
Space 220 restaurant is not yet open in Epcot. When it opens we will bring you a full review of all the food and drinks, plus a detailed look at the restaurant's atmosphere and theming.
We hope you enjoyed this look at the new Epcot 220 Space restaurant. Keep checking back here at Ziggy Knows Disney as we will be adding any new info as it comes out.
In the meantime, check out some of the other new additions and changes coming to Epcot in the next few years:
You can also read about what other new rides are coming to Disney World from 2020-2022!
Your Thoughts:
I want to know what you think about the new Space 220 restaurant coming to Epcot…
Are you looking forward to this new restaurant?
What type of food would you like to be served?
Let us know in the comments section below!
If you enjoyed this article, as always I appreciate it if you'd share it with others via social media. I work hard at making this website into a useful resource for you and your family to plan your visit to the Disney Parks and I hope it can help you! Thanks 🙂