Ever since it was announced that a Ratatouille Ride is coming to Epcot, Disney fans have been eagerly waiting for it to open. The new Remy's Ratatouille Adventure will shrink guests down to the size of a rat and bring them on one wild ride!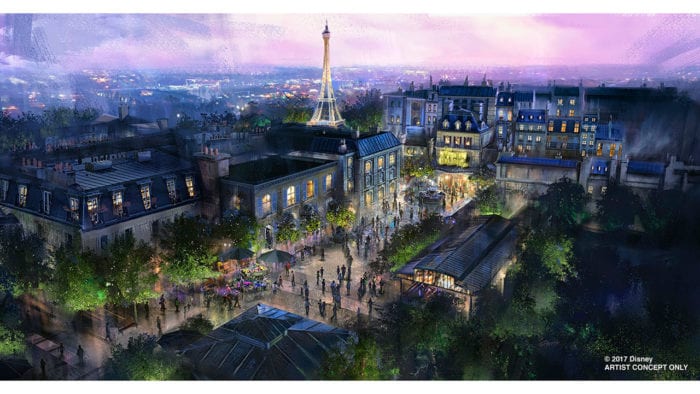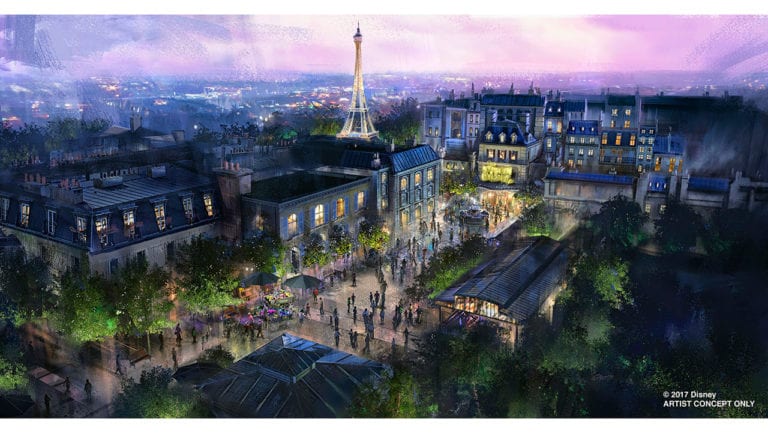 In this post, we are going to explain everything you need to know about Epcot's Ratatouille Ride including the latest news and updates as construction is still in progress. We're going to show you the ride vehicles, the attraction layout, share FastPass+ information and let you know when Remy's Ratatouille Adventure is opening.
We'll also talk about your best touring strategy for experiencing this new dark ride including tips, rope drop, what we expect crowds to be like and when the best time to visit the Ratatouille attraction is.
Just think of this post as "Remy's Ratatouille Adventure 101," where you can come to get any questions you have about it answered. Since it's not currently open, we'll do our best to answer them now, but we'll have a more in-depth look at the ride, including a full review once we get a chance to ride it ourselves.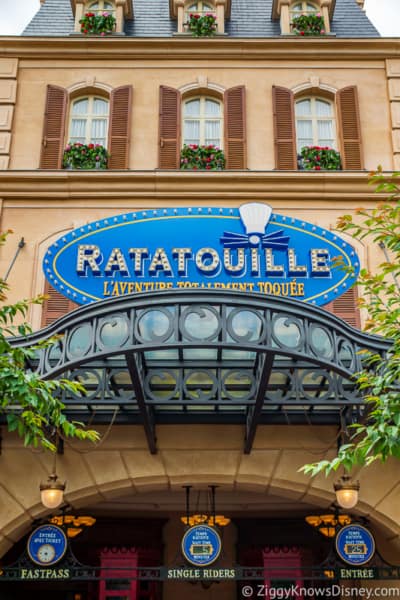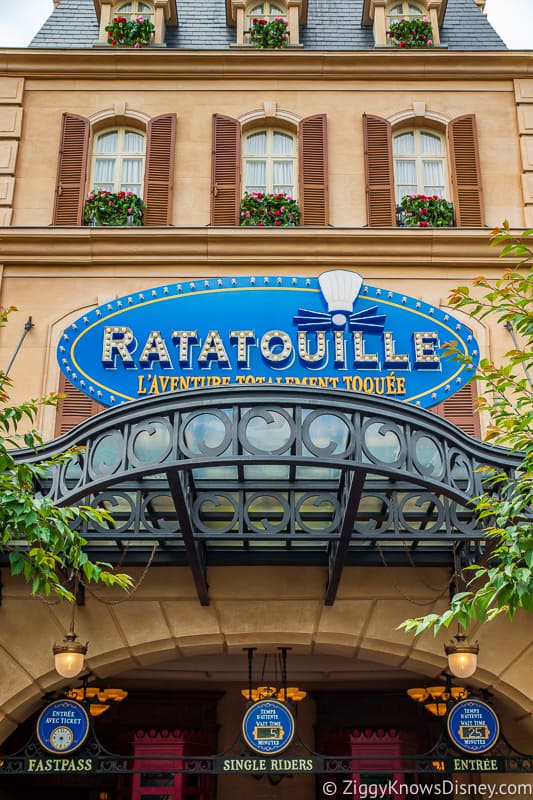 We've had the opportunity to ride the Ratatouille attraction in Walt Disney Studios Park in Disneyland Paris and we can say that we thoroughly enjoyed it. It isn't on the same level as most of the recent E-Ticket attractions Disney has done, but it is still an amazingly fun time!
It certainly makes the list of the best new Disney World rides coming in the next few years, and should be a great addition to Epcot when finished.
Remy's Ratatouille Adventure Overview
Location: EPCOT Park, Walt Disney World
Status: Under Construction – ETA: 2020
Ride Type: Dark Ride, Trackless
Thrill Level: Low
FastPass+: TBD
Ride Length: Approx. 4 Minutes and 40 seconds
Height Requirement: No Restrictions
Capacity: 6 riders per vehicle. Hourly capacity TBD
Latest News (7/22/20) – How Long is Remy's Ratatouille Adventure Delayed?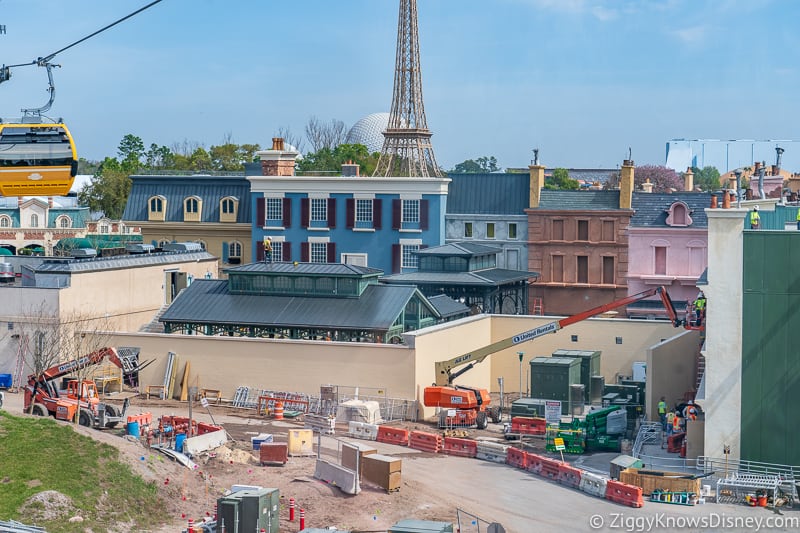 Originally, Remy's Ratatouille Adventure in EPCOT was supposed to open in "Summer 2020." Well, Summer is here and the attraction is still closed, so what happened?
As I'm sure you are already aware, Walt Disney World was closed for 4 months. During that closure period, all construction of new attractions was put on hold temporarily, including Remy's Ratatouille Adventure.
Thankfully, Walt Disney World has reopened, and with it, construction has resumed on the Ratatouille ride project, as well as many others. A quick ride on the Disney Skyliner will provide you a great view of how the project is currently progressing, not only to the attraction but the entire France expansion.
So now that things are moving again, when can we expect Remy's Ratatouille Adventure to open in EPCOT?
That's a complicated question, and not one that we have an immediate answer for unfortunately, but it's definitely NOT going to be in Summer 2020. All former signs pointing to Summer have been removed from the Disney World website and any other promotional materials. Disney hasn't said anything about it yet, which means they probably still don't have any idea.
Since construction on the Ratatouille attraction was stopped for 4 months, it's fair to say construction will probably get delayed an equal amount of time. If the ride would have potentially opened in June, it's safe to say that it won't open until at least October 2020.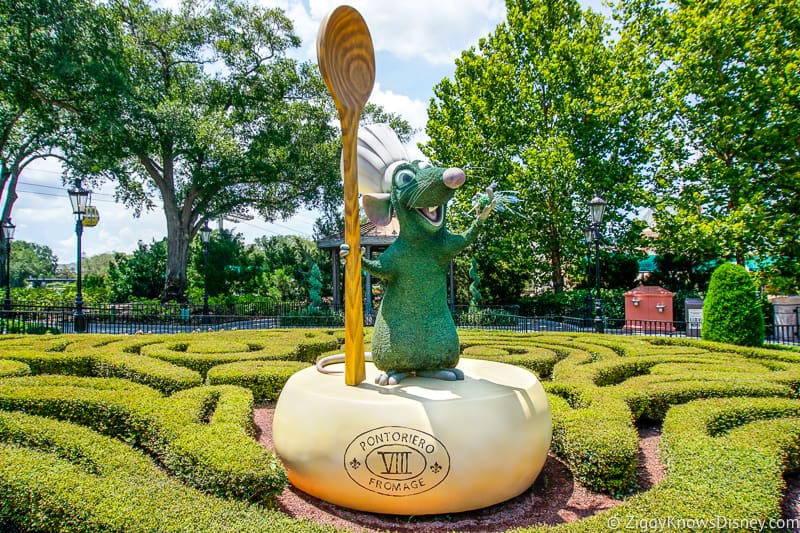 The answer isn't that simple, however. The real problem Disney has right now is a lack of guest attendance in the parks. Since Disney World reopened, the parks have experienced a record low in attendance with all 4 seemingly ghost towns every day. Part of that is because Disney has reduced park capacity, but that's only half the story.
A quick look online at the availability for Disney's new Park Pass system shows that besides Hollywood Studios, most parks still have space left even the day before booking for all ticket types. That means Disney is not able to fill the parks right now, even to the extremely limited capacity they are imposing.
Until guests start coming back to the parks, Disney is not going to open Remy's Ratatouille Adventure. While you would probably get a big influx of local guests for a day or two to check out the new ride, the embarrassment thereafter of having a new attraction go basically unnoticed is not what Disney is looking for.
Out-of-town guests are not going to be coming back for a while. Between travel restrictions, fear of getting sick and a terrible economy, many people are wondering if Disney World should be open at all right now. Either way, it's going to take a while for the crowds to start coming back, and Disney is going to be patient in choosing when to debut this new ride in EPCOT.
Keeping in mind that we have no insider information on the matter, our guess is that the earliest you could see Remy's Ratatouille open is December 2020. By then the current crisis might have slowed down, and the holiday crowds could help sustain the new ride. It could also be open by Thanksgiving if Disney wants to push it, but they will wait and see the situation first.
While it's a bummer that we still don't know how long the Ratatouille ride is delayed for, at least construction has resumed, and hopefully we'll be able to ride it by the end of the year.
We'll update you as soon as we get more info. Read on for an explanation of what the new ride in the France pavilion will be like.
What is Remy's Ratatouille Adventure?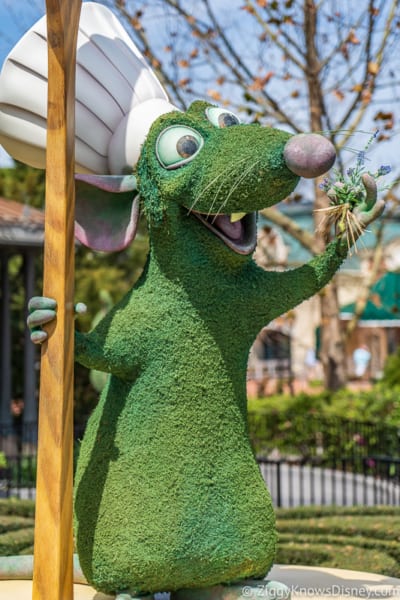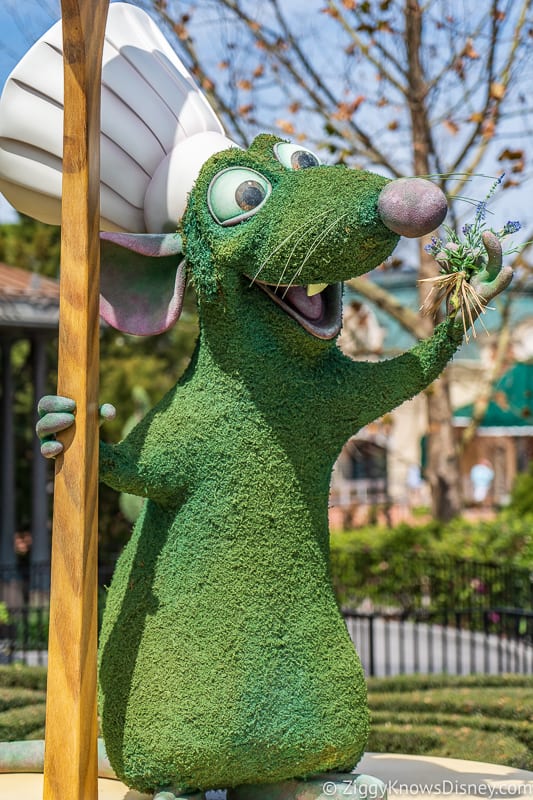 Remy's Ratatouille Adventure is a trackless dark ride attraction based on Disney Pixar's 2007 hit film Ratatouille. It shrinks guests down to the size of a rat in a 4D experience as they race through Gusteau's kitchen just like in the film.
If you've ever wanted to step inside the Ratatouille film, this is your chance!
Since guests are shrunk down to Remy's size, the entire attraction uses a combination of oversized props, set pieces and screen technology to make it feel like you are racing on the floor of the kitchen. The trackless ride vehicles are a key component, making the Ratatouille ride an unpredictable experience, different every time you ride.
Another big part of the 4D experience is the smells. Remy's Ratatouille Adventure incorporates the same smells you would find in a French kitchen as you pass by those items like ham, cheese, and fish.
Epcot's new Ratatouille attraction is definitely kid-friendly but will appeal to adults and teens alike. It sounds like a great addition to Epcot's lineup of attractions.
Where is it Located?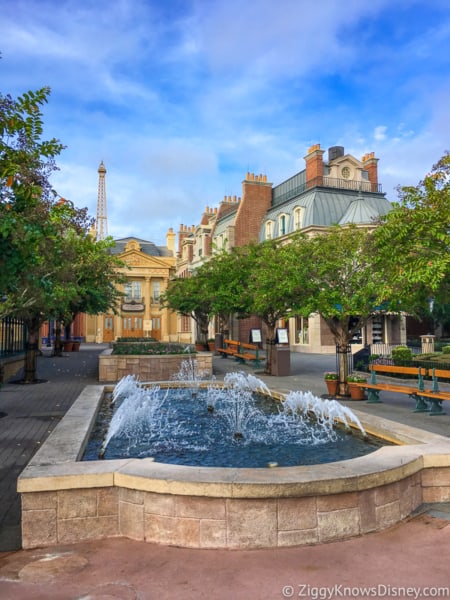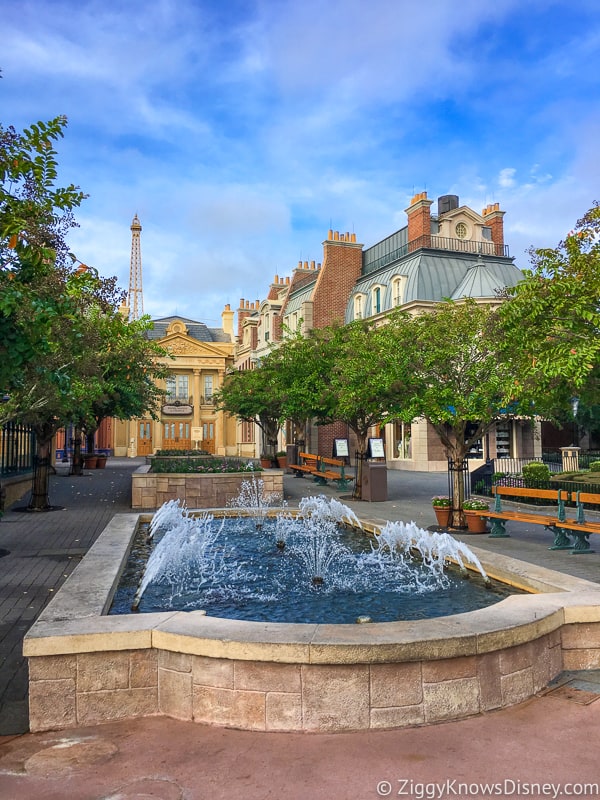 Remy's Ratatouille Adventure is located in the France pavilion in Epcot's World Showcase, in Walt Disney World, Orlando, Florida. It's in a brand new building and part of a new expansion project to the France pavilion, behind the existing area.
To get to the ride you arrive from World Showcase promenade and head to the far right side of the France pavilion toward the water. There Disney has built a new gate which takes you into the expanded area of the pavilion. Follow that and the attraction is at the far end of the plaza.
As you know, we are in the middle of Epcot's huge transformation project, and Remy's Ratatouille Adventure is going to be a huge piece of it.
No matter where you stand on the issue of Disney characters having a presence in Epcot, it's 100% clear that they are coming whether we like it or not. Disney is making a concerted effort to make Epcot more kid-friendly, and including a dark ride based on the Ratatouille franchise in France is an obvious choice and perfect location.
It also should be noted that this is a pretty monumental addition to Epcot. In fact, this is the first all-new major attraction in Epcot since 2007, and the first all-new one in World Showcase since 1988 when Maelstrom debuted! We don't count Frozen Ever After since that was built on Maelstroms' existing ride system, which means it's a big deal adding a Ratatouille attraction to the park.
Is This the Same Ride in Disneyland Paris?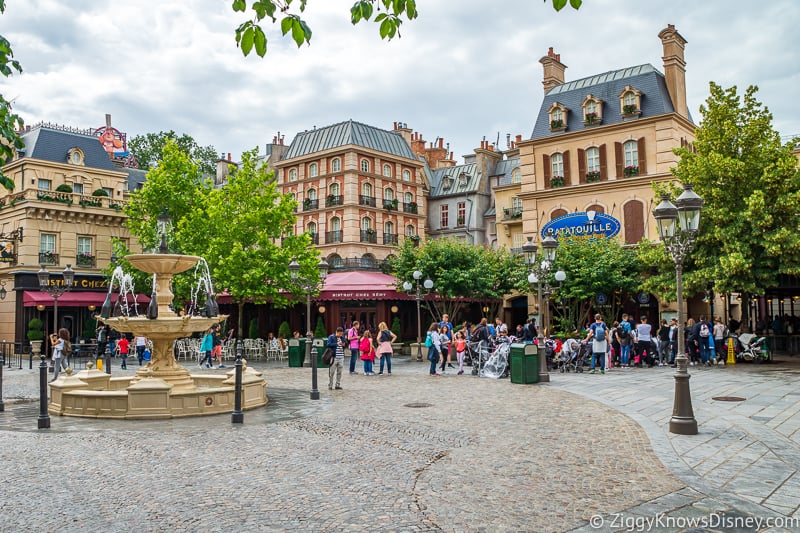 Remy's Ratatouille Adventure is an almost identical copy of an already existing attraction in Disneyland Paris named: "Ratatouille: L'Aventure Totalement Toquee de Remy," which opened in 2014. That attraction is located in Walt Disney Studios Park and the inspiration for the Epcot version.
We don't know at this point just how similar the Epcot Remy ride will be to the Disneyland Paris version, but it expected to be almost exactly the same. Both attractions use the same trackless ride vehicles, screens and many of the same set pieces for theming and special effects.
There will surely be some differences in the ride queue, with the Epcot version likely to be longer and more detailed. We hope Epcot's Ratatouille attraction improves on a few of the effects we felt were cheap-feeling in the original, improving the overall quality.
What is the Ride About? Story?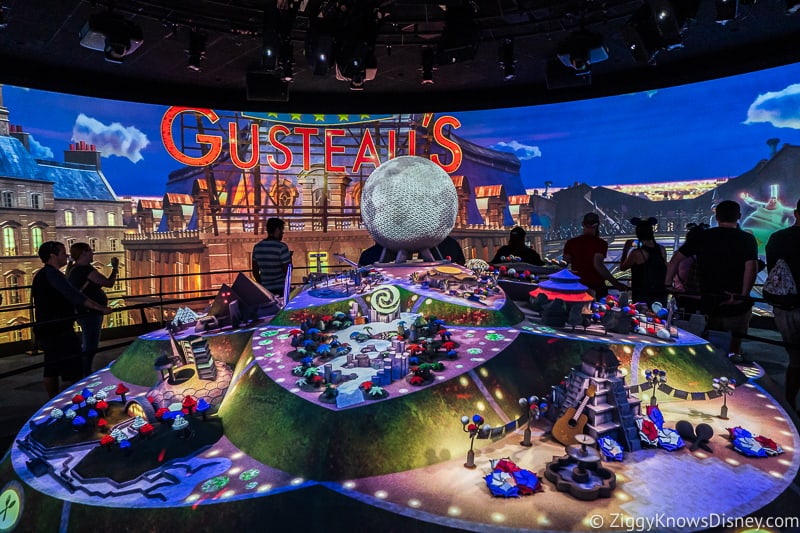 The story should be the same as in the Paris version. You shrink down to rat-size and follow Remy as he leads you on this wild and crazy journey into the dining room, under tables, through the walls and into the kitchen!
As one of Remy's rodent pals, you watch him fulfill his dream to become one of the most famous chefs in Paris.
The attraction is themed to Paris, and everything about it from the second you step in the queue sells you on that idea. Even the loading area is made to look like you are walking on a Paris rooftop. The giant desserts, sausages, and jars all help create the atmosphere of being in a restaurant.
Ride Length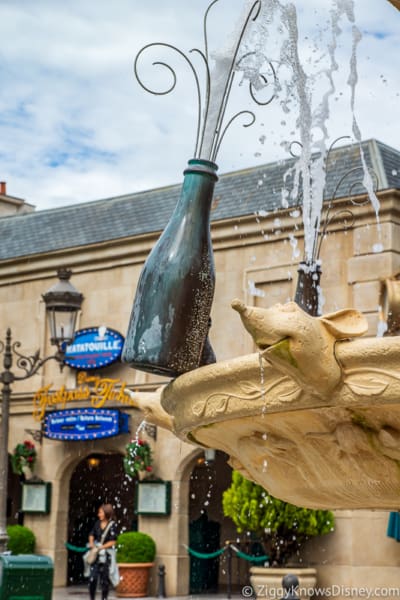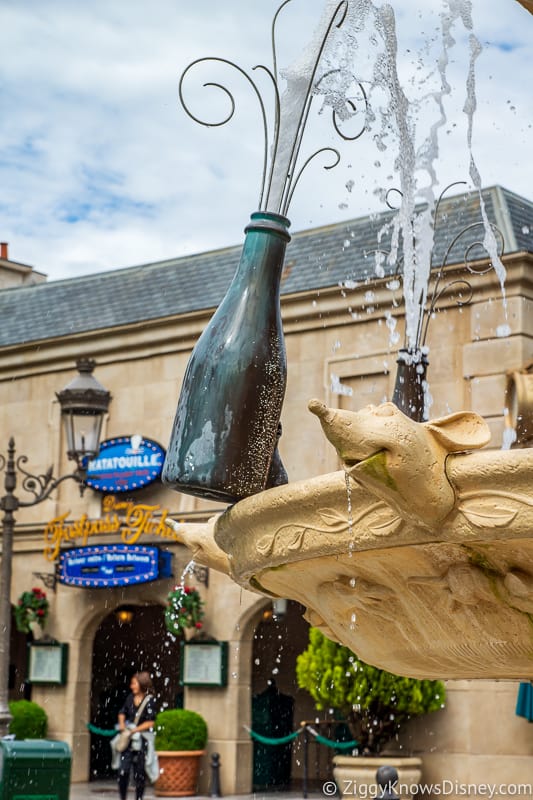 While we don't have an exact ride length for Remy's Ratatouille Adventure at this time, it is close to the Disneyland Paris version which lasts for 4 minutes and 40 seconds.
Comparing it to other Disney World dark rides, that would be significantly longer than The Many Adventures of Winnie the Pooh, Buzz Lightyear's Space Ranger Spin and Peter Pan's Flight, and just a few seconds longer than Mickey and Minnie's Runaway Railway.
Ride Vehicle
Remy's Ratatouille Adventure uses a trackless ride vehicle and is the third such type to make it to Walt Disney World. We saw trackless ride vehicles debut in Rise of the Resistance and then also in Mickey and Minnie's Runaway Railway.
Disney also released look at these new ride vehicles, actually in their environment inside the show building: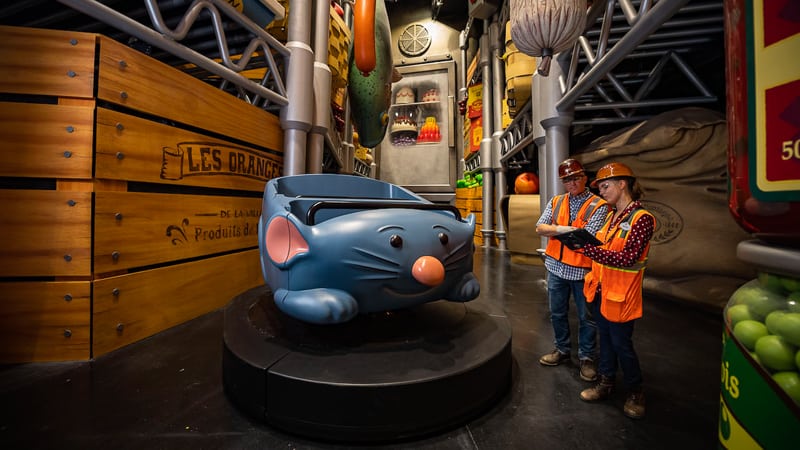 The beauty of a trackless vehicle is that it allows the attraction to function without the classic limitations of a tracked vehicle. Since there are no tracks on the ground, you have no idea where you are going to go next, making the ride much more spontaneous, unpredictable and ultimately more fun!
In fact, Disney has confirmed that the vehicles will behave differently each time you ride it, meaning every time will be a unique experience.
The ride vehicles are in the shape a rat, which signifies your transition from human to rodent form. They look something like the Tsum Tsum cartoon rats with oversized features.
Each vehicle has 2 rows of 3 people, for a total of 6 people per car.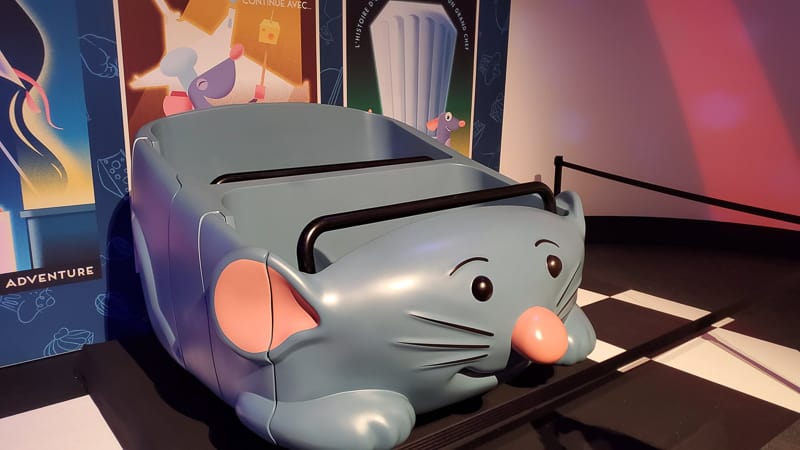 Guests will climb aboard these cute "rat-shaped" ride vehicles while they join Remy on a wild adventure through Gusteau's restaurant!
Height Requirement
Disney hasn't listed the official height requirement for Remy's Ratatouille Adventure yet, but most likely there will be No Height Requirement needed, and guests of all ages and heights can ride.
We are basing this off the fact that the Disneyland Paris version has no height restrictions, and since they are the same ride, that's what we can expect in Disney World.
How Scary Is the Ratatouille Ride?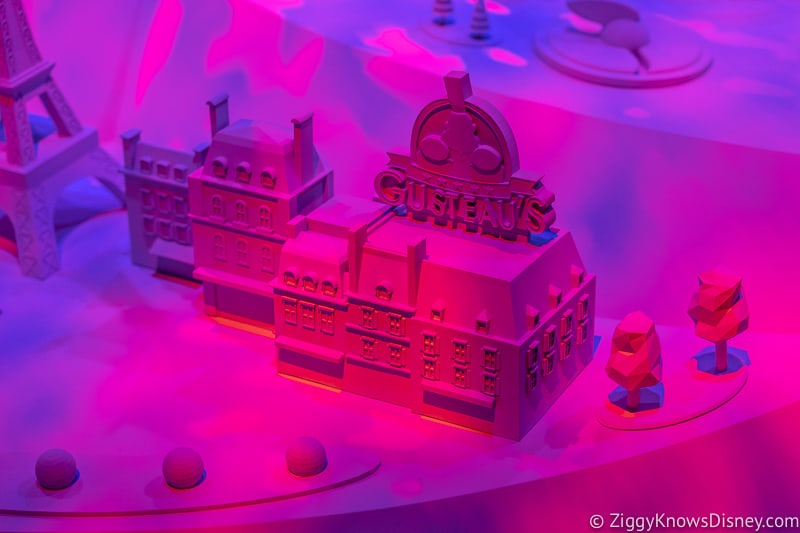 If you don't like frightening attractions, don't worry, Remy's Ratatouille Adventure is not a scary ride. It's a family-friendly ride and appeals to guests of all age groups so there isn't much to fear.
That being said, there are some 3D special effects that include water and heat throughout the ride. It also includes very large set pieces and a scene where you are chased through the restaurant with a meat cleaver. It could be startling to very small children, but most children should be fine and will absolutely love this ride.
If your children like Mickey and Minnie's Runaway Railway, they will also love the Ratatouille attraction.
Will this Ride Make Me Sick?
Remy's Ratatouille Adventure is not an overly thrilling attraction and there are no drops or inversions of any kind. That being said, if you get motion sickness very easily, it could be slightly bothersome.
The trackless ride vehicles go forwards, backward, side to side and rotate around at will and the fact that there is no track to look at means that you don't really know which direction the car is going to go in. Again, a good gauge is comparing how you feel on Mickey and Minnie's Runaway Railway. If you are good on that ride, this is basically the same thing.
Who Will Like Remy's Ratatouille Adventure?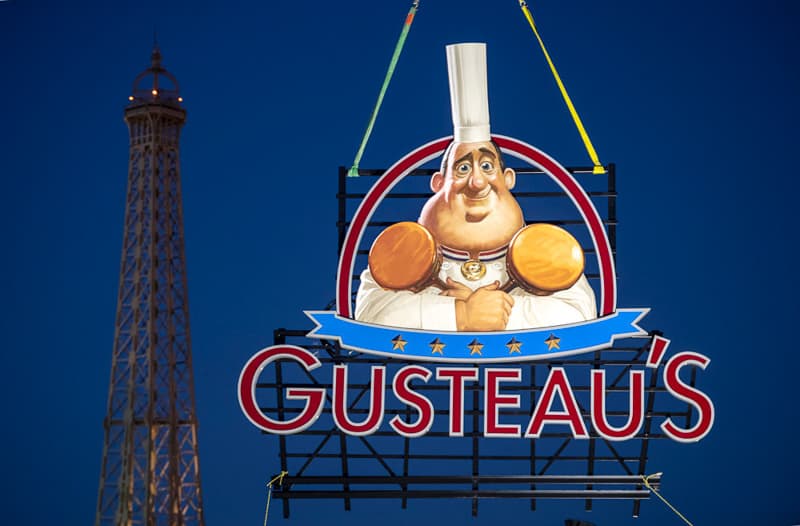 Everyone from young children to teenagers to adults should like Remy's Ratatouille Adventure. It's a family ride that appeals to all ages and groups of people, and will especially be a hit with kids and families.
Even if you haven't seen the Ratatouille film before, that's ok. You don't need to have any experience with the story of the film in order to enjoy the ride in Epcot.
Does Remy's Ratatouille Adventure Have FastPass+?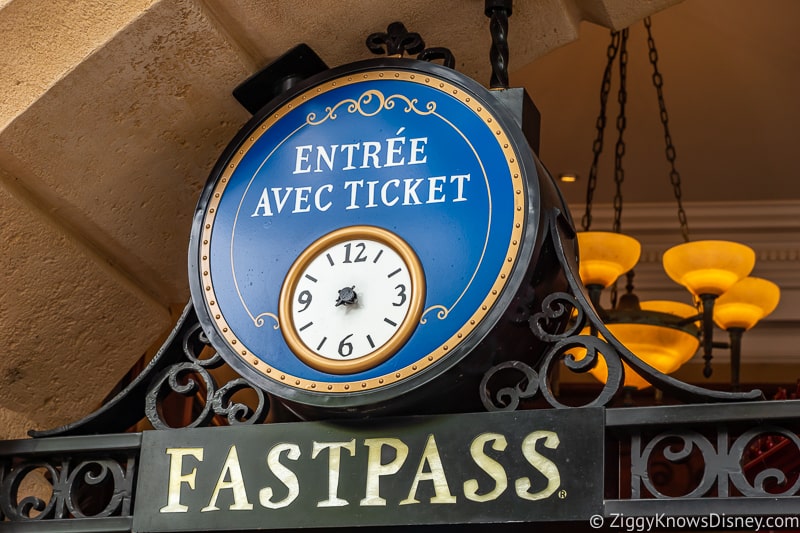 Up to this point, Disney has not confirmed if Remy's Ratatouille Adventure will have a FastPass+ option or not. We are extremely confident however that the new Ratatouille ride will offer FastPass+ at some point in the future.
Literally every major Disney World attraction is at least equipped with FastPass+ capabilities, even if they aren't always running it. The Ratatouille ride in Disneyland Paris already uses FastPass, so there is no reason to think the Epcot version won't do the same.
Our guess is that Remy's Ratatouille Adventure will be an Epcot FastPass+ Tier 1 attraction when it opens along with Frozen Ever After, Soarin' and Test Track. That means you will be able to choose only one of those attractions when making FastPass reservations.
Will Remy's Ratatouille Adventure use FastPass+ immediately when the ride opens? That is another story. Disney has made it a habit of not offering a FastPass+ option for new attractions initially when they open. It's very possible they could do the same thing with this new ride.
Either way, whenever the new Ratatouille ride in Epcot starts using FastPass+ it's going to be the attraction that's the most in-demand, and you should make it your top priority when making your FastPass+ reservations at the 60-Day window.
Will the Ratatouille Ride in Epcot Use Boarding Groups?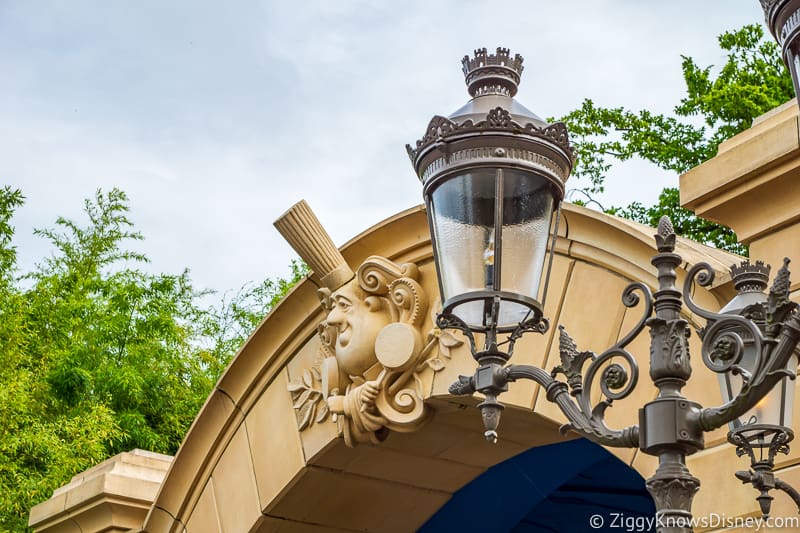 Right now Disney hasn't said whether Remy's Ratatouille Adventure will be using boarding groups or not. Boarding groups and the virtual queue became the only way to ride Rise of the Resistance after it opened up, and so far no other Disney World attraction has used them.
What we don't know is what will happen throughout the Disney World phased reopening. It's been rumored that many, if not all of the attractions in Disney World could eventually use boarding groups to limit contact with other guests. What Disney decides to do with the Remy ride or other attractions remains to be seen right now.
Does It Have a Single Rider Line?
Disney has not confirmed if Remy's Ratatouille Adventure will have a Single Rider line or not. Disney usually includes one for more big E-Ticket attractions, so it would make sense that they include one here too. Usually, guests wanting to use the Single Rider option get sent through the FastPass+ queue.
However, even if Disney builds the attraction with a Single Rider option in mind, it doesn't mean they will necessarily make it available to guests right away at opening. Rise of the Resistance is equipped for Single Rider, but they chose not to let guests use it immediately. We'll have to see what Disney decides here.
Does it Have Rider Switch?
Almost all Disney World rides have the Rider Switch option, so it's highly likely Epcot's Ratatouille ride will have one too. Disney hasn't yet said whether it will be available immediately or not so we'll have to wait and see.
Guest Accessibility
Guests who have special accessibility needs will also be able to experience Remy's Ratatouille Adventure. There is a special loading station for riders with disabilities which will give them all the time they need to board without disrupting the flow of the other ride vehicles.
At this time we don't know if guests will have to transfer out of their accessibility device or not. Our guess is they will have to, but we'll wait and see.
What Characters are in the Ratatouille Ride?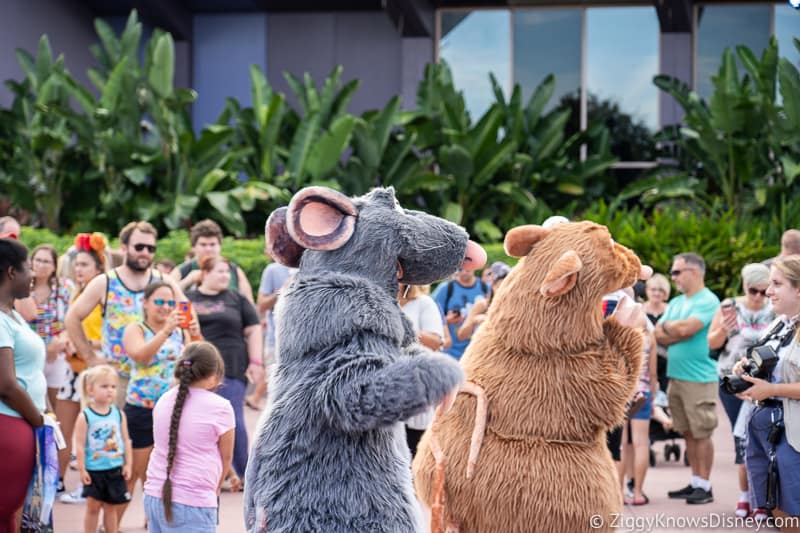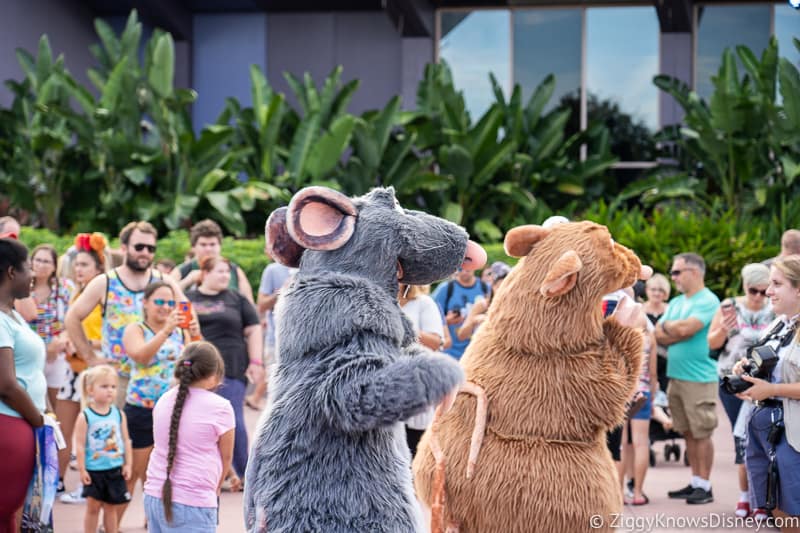 If you've seen Disney Pixar's Ratatouille movie, you will recognize many of the characters that are in the new attraction in Epcot. Some of the characters you can expect to find are:
Remy
Alfredo Linguini
Emile
Colette Tatou
Auguste Gusteau
Skinner
and more
When is Remy's Ratatouille Adventure Opening?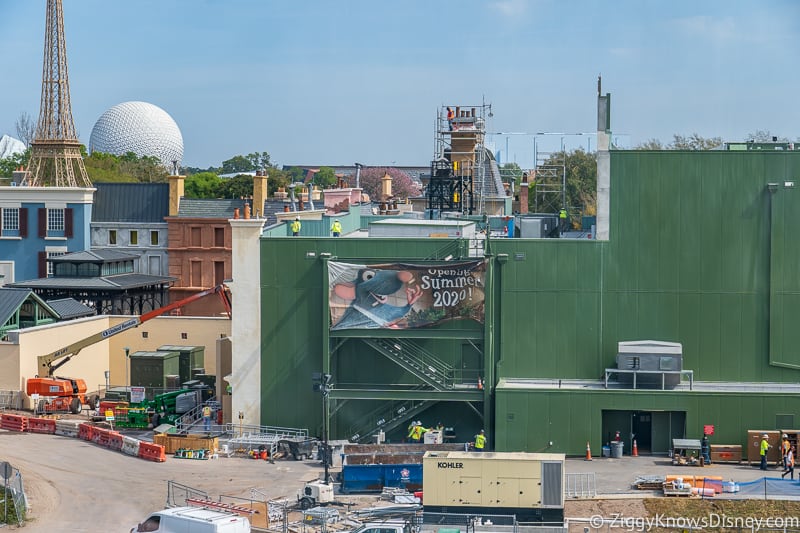 The big question everyone wants to know is "When is Remy's Ratatouille Adventure opening in Epcot?" While Disney hasn't yet confirmed the opening date, it's going to be later than originally planned.
Before the Disney World closure, the new Ratatouille ride was on pace to open in Summer 2020, with some rumors saying it would be ready in June or even in late May if everything went according to plan. That has now changed and the ride has been delayed.
It obviously is not going to be one of the Disney attractions likely to be cut during the parks closure, but it will definitely be affected by a delay, causing it to open later than expected.
A lot of the construction work has been done on the interior of the attraction as some members of the media have already been able to tour part of it on foot. Some more testing is needed before it's ready for the general public, as well as work to the attraction queue, and other small details added.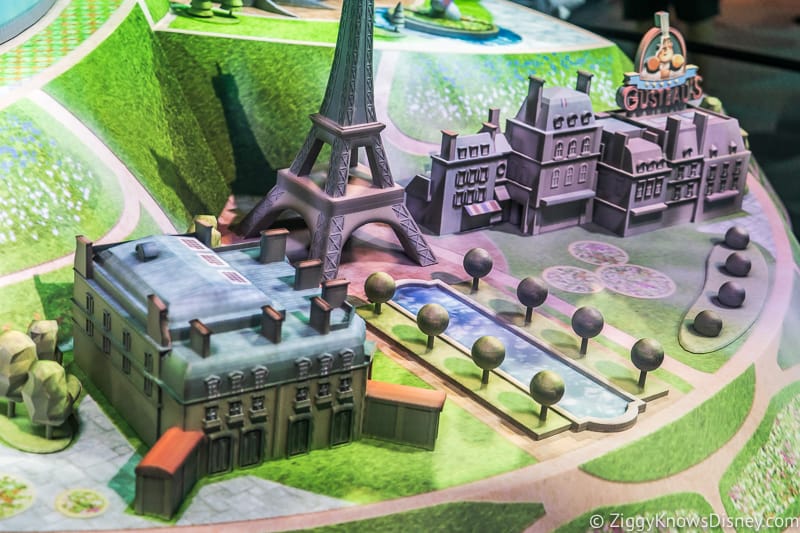 The new France expansion was also coming along nicely before the closure, and things have picked up since the park's reopening. Of course things like construction crews getting fully assembled and the supply line getting back to 100% in providing the materials necessary will have a factor.
The biggest reason for the delay though is the lack of park attendance right now and for the next few months.
For the sake of argument, let's say construction was delayed 4 months and it will take just as long to finish. Restarting the project in July now takes us to October as the earliest time we could see the ride debuting.
A more realistic date is for the holiday season at Thanksgiving or Christmas. That would allow the ride to open in what will be the "busiest" time of the year for the parks, and help to create at least some buzz around the new ride.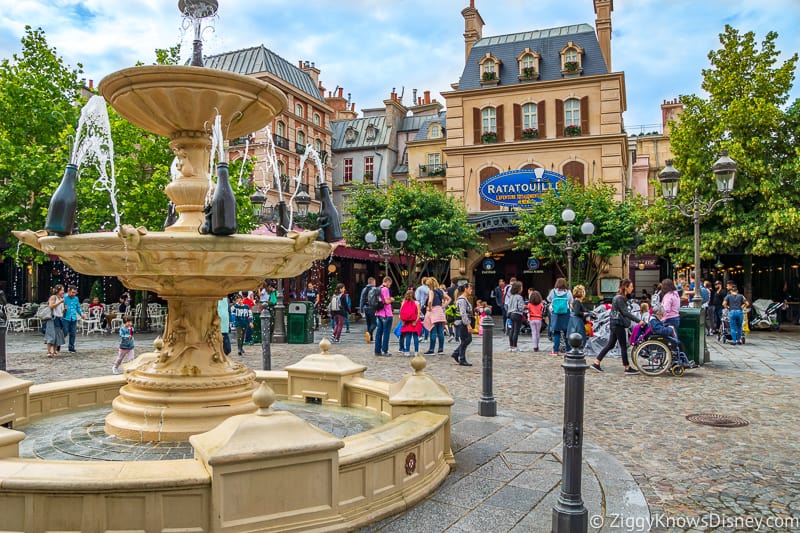 Disney is going to wait until just the right moment as they have to make sure they don't take another PR hit like they have been lately.
We'll keep a close eye on this for you and update as soon as we find out the official Remy's Ratatouille Adventure ride opening date.
If you want to be notified right away, don't forget to sign up for our FREE Weekly E-Mail Newsletter. There we bring you the latest updates on all the newest rides coming to the parks as well as vacation planning tips. You can sign up here: Join our E-Mail Newsletter
Will there be Annual Passholder Previews?
At times Disney has done Annual Passholder preview events or other soft openings for new attractions before fully opening them to the public. While that has happened before in the past, we think there might actually be some soft openings for Remy's Ratatouille Adventure.
Since overall crowd levels are going to be low in the parks for a while, Disney might use their most loyal group of guests as a mouthpiece to spread the word about the new Ratatouille ride. They could do soft openings for a while before having a big "grand opening" event where they invite the press.
Having some positive vibes circulating might help to draw other guests thinking about coming to Walt Disney World. If they don't do it immediately, Disney could do a delayed Annual Passholder event at some date in the future after the opening.
Disney is no longer on a time crunch to get this attraction up and running and will have plenty of time to decide about any preview events. Again, we'll let you know what Disney decides about this at a later date.
Wait Times and Crowds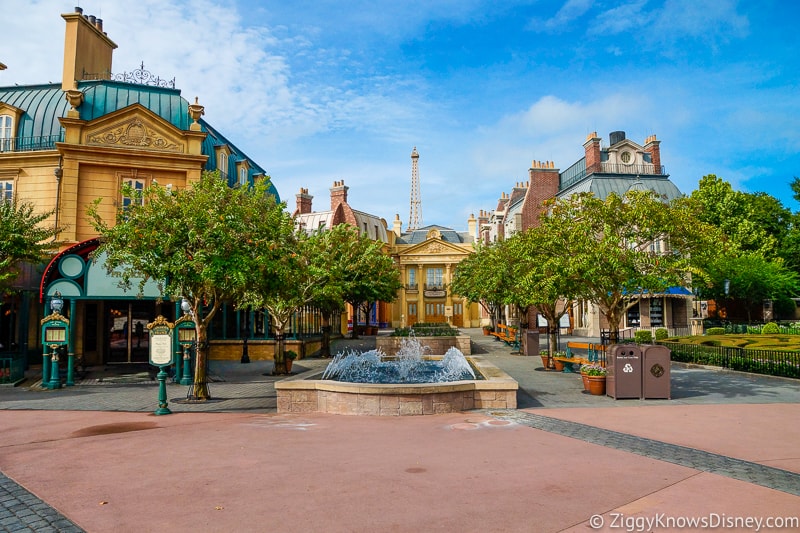 Whenever there is a new ride in one of the Disney parks, there is always an increased demand from guests wanting to experience it for the first time, and in turn a bump in overall attendance for that park. We expect Remy's Ratatouille Adventure to follow the same pattern and increase Epcot's attendance for a while once open.
Now don't get it confused, I don't think this attraction is going to be a huge success like Flight of Passage, and definitely not reach the levels recently seen with Rise of the Resistance. However, to pretend it won't have an impact would be naive.
For example, look at the crowds that came pouring in for Frozen Ever After back in 2016 and have carried steadily ever since. The Frozen franchise has a bigger following than Ratatouille, but I personally think Ratatouille ride is a better attraction than Frozen Ever After and will draw significant crowds.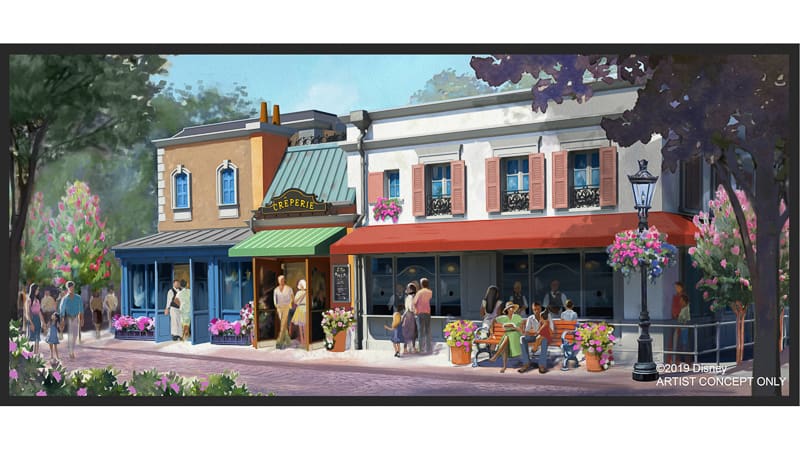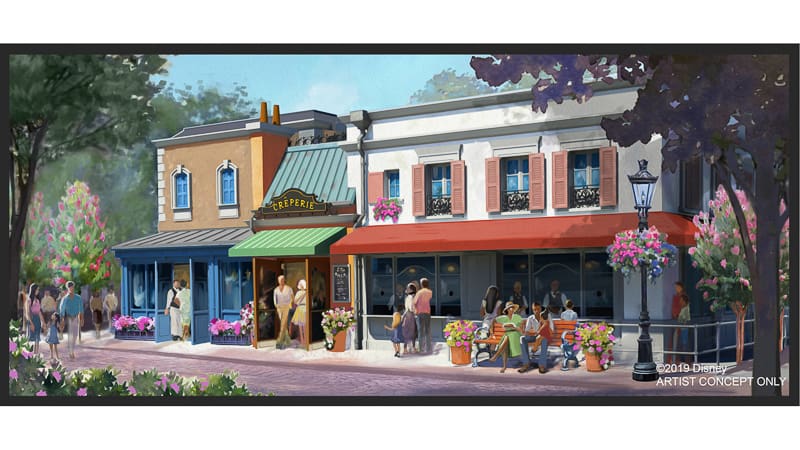 Another factor is that with the opening of this ride is a whole expansion to the France pavilion which includes a Crepes restaurant and shopping. This will also help drive crowds as they will want to see these upgrades in person.
As for Remy's Ratatouille Adventure wait times, expect to see lines up to 2-3 hours in the initial opening weekend, and then get reduced some once the newness of the ride wears off.
Predicting the crowd levels and wait times for Remy's Ratatouille Adventure is very hard to do at this point in time due to the current economic scene in the U.S. This ride will likely open when most of the world is struggling financially, which will limit the number of guests that will be able to visit right away.
It will no doubt get a surge of crowds at the opening, but what happens after that is connected to the overall attendance in Walt Disney World, which is bound to be slow for a while. Once crowds hit normal levels I think this will be a big attention draw for Epcot and should get a lot of people there.
When planning your trip to ride the new Ratatouille attraction in Epcot, make sure to consult our 2020 & 2021 Disney World Crowd Calendar. There you will find the dates that are least likely to be peak attendance.
Touring Strategy & Rope Drop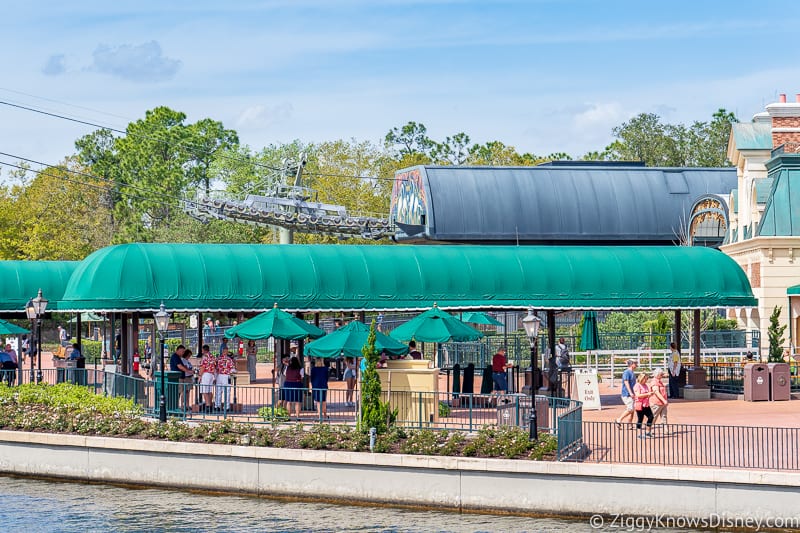 Obviously, at this point, we don't have all the information for making a complete touring plan for this ride because it's not currently open. Right now, it doesn't look like Remy's Ratatouille Adventure will have FastPass+ at the opening, which will play a big part in your overall strategy for riding it.
In that case, the strategy is simple…the best way to ride Remy's Ratatouille Adventure is to get there before EPCOT opens and rope drop it as your first attraction of the day.
What happens when FastPass+ comes back is the bigger question and the strategy changes slightly.
In that case, our first advice is to make getting a FastPass+ for the Ratatouille ride a priority in Epcot. It will most likely be included in the FastPass+ Tier 1 attractions and we think in the beginning it will draw more crowds than any other ride in the park.
If you can get a FastPass for it then you can go ahead and rope drop Frozen Ever After instead. If not, get a FastPass for Frozen Ever After and plan on rope dropping Remy's. No matter which of the two attractions you end up getting a FastPass for, your plan should be to rope drop the other. This will give you a big jump on your day and help you knock out the biggest Epcot attractions early on.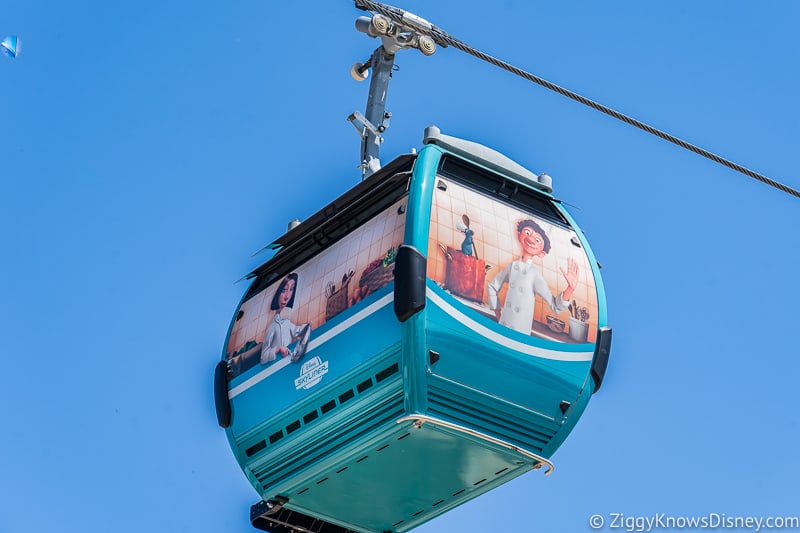 To rope drop either attraction, you are going to skip the Epcot main entrance and enter the park through the International Gateway entrance located in the back of the park, in between France and the U.K. pavilions. If you are going to the Ratatouille ride, you'll head right at the bridge and into France where there will be a line forming before the park's opening each day.
To get to the International Gateway you can't take a bus, those will drop you off at the front of the park. The most convenient option would be to stay at one of the Crescent Lake resort hotels like Disney's Yacht and Beach Club, Disney's Boardwalk Resort or the Swan and Dolphin. Those are all within walking distance from the back entrance.
It's also conveniently located right next to the Disney Skyliner station, which means any of the Skyliner hotels are also a good option to get you there (as long as it's operating early enough).
This will all change however once the new Guardians of the Galaxy roller coaster opens in Epcot at some point in 2021 and that will immediately become your number 1 priority for FastPass+ in Epcot, and you will then do rope drop from the park's front entrance. Until that happens, the International Gateway is your best option.
What Time Do I Need to Get to Epcot for Remy's Ratatouille Adventure?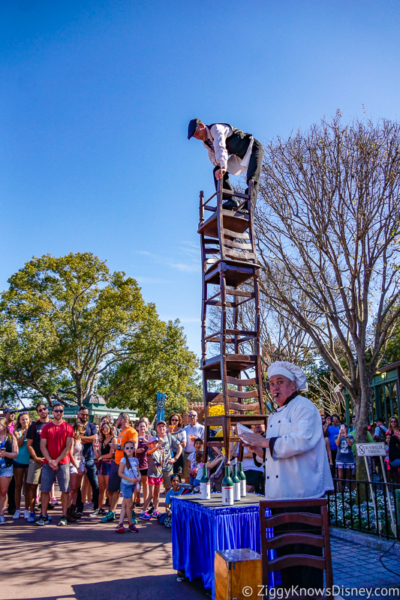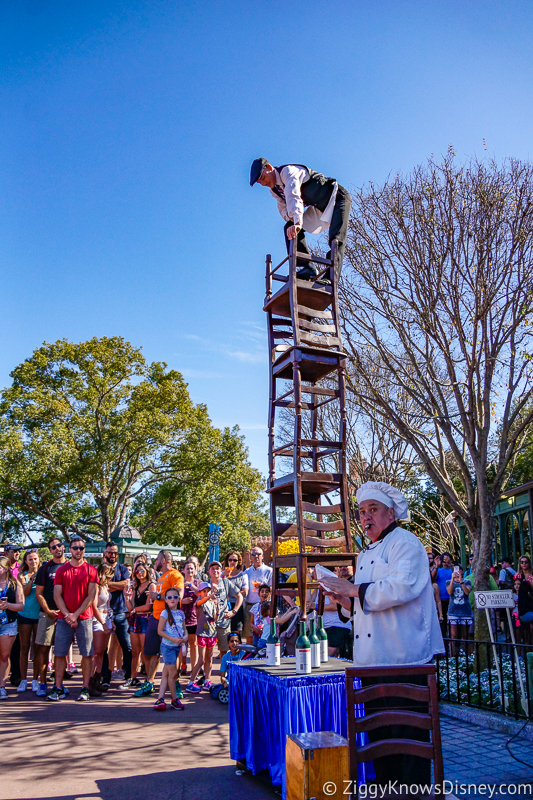 Whenever we are suggesting a rope drop strategy for the Disney parks, we recommend getting there 90 minutes before park opening. I know that sounds like a lot, but being one of the first people in line for the day will help you hit the most popular attractions early in the day and get much more done than you would be able to otherwise.
If you are planning on riding Remy's Ratatouille Adventure on opening weekend, we recommend getting there at least 2 hours before park opening as there will be way more guests than normal who are eager to ride for the first time. They might even open the park early that day.
We will update our strategy for riding this once it actually opens which will give us more insight into exact crowd levels, wait times and the best rope dropping strategy.
Should I Visit Disney World for Remy's Ratatouille Adventure in 2020 or 2021?
This was a much bigger question a few months ago, but now the answer has become a lot easier. The whole thing depends on whether or not Remy's Ratatouille Adventure will even open in 2020. There might not be too much time to visit in 2020 depending on what happens.
Before the opening was delayed, we would have said we recommend visiting this ride in 2020 if your goal is to see it at its peak. A Disney World attraction 99% of the time will never be better than it is when it first opens. All the animatronics, special effect, etc are usually working perfectly, and unfortunately, after a year or so, it's not always guaranteed they will be running the same.
That's why we always prefer to experience a new attraction right away.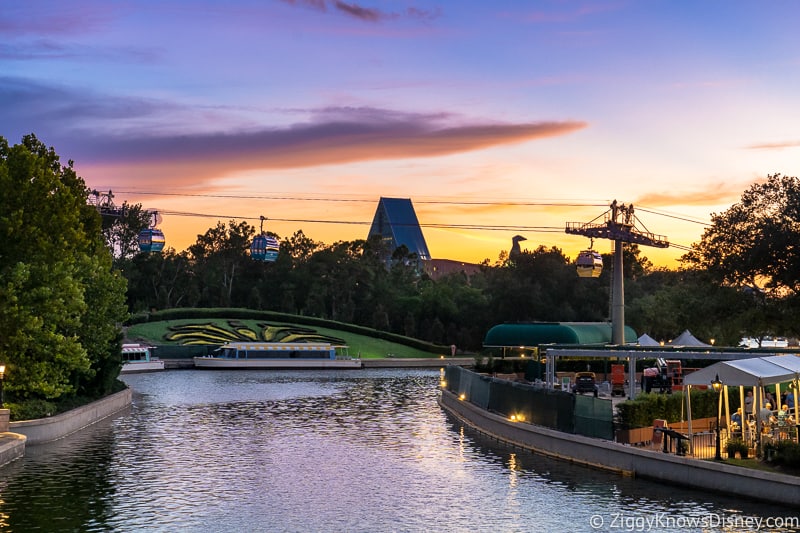 If the ride actually opens in 2020 then it might be a good time to visit Remy's Ratatouille Adventure because of the lack of crowds in the parks in general. Right now we are seeing record lows and after the parks, in general, are likely to experience lower than usual crowds for a while until things start picking up again in 2021.
Coming in 2021 will also have its benefits with more new attractions open by then and Disney World's 50th Anniversary celebration.
We wouldn't make a separate trip to Disney World JUST for Remy's Ratatouille Adventure as we suggested for Rise of the Resistance, but if you were already planning on going anyway, it may be good timing for you and it'll be the best condition you get to ride this attraction in.
To get a better understanding, read our post on Visiting Disney World in 2020 vs 2021, Which is Better? There we'll break down all the pros and cons to help you make the best decision.
In the end you might not even have a choice, since it's no guarantee that the Ratatouille attraction will be open in 2020. We are anxiously waiting to find out what will happen.
Once you figure out the year, we recommend reading our post on "When is the best time to visit Disney World?" We even have a month-by-month ranking so you can compare them all and make the best decision when to go.
Review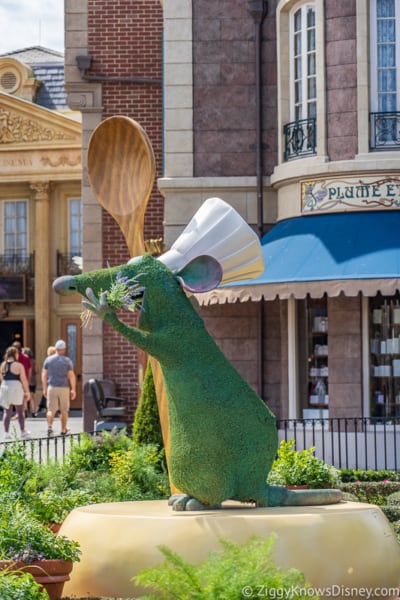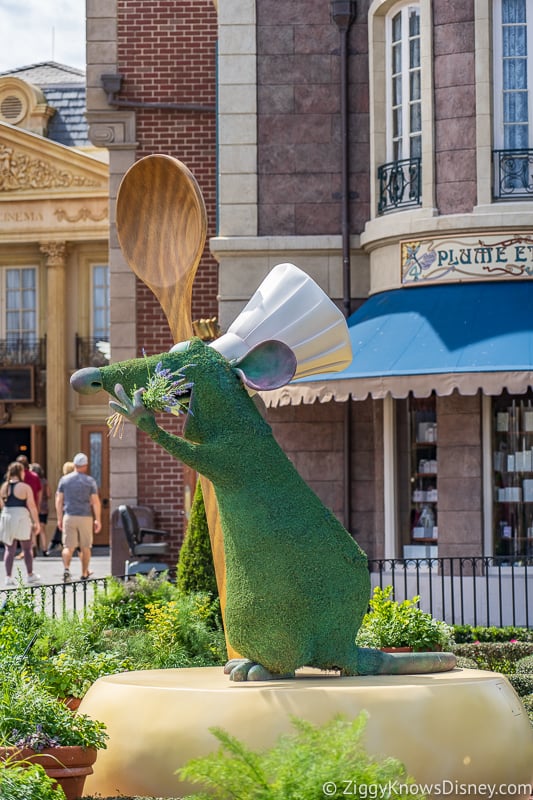 Since this attraction isn't open yet in Epcot, we don't have a review for you yet. However, we have been on the Ratatouille Ride in Disneyland Paris, which is almost an exact copy of the one coming to Disney World.
Our overall thought is that it's a very fun ride and great for families especially. We love the ideas behind the ride: shrinking down to rat-size, being chased through the restaurant, etc. That said, there are a few things we're not so crazy about and feel like could have been executed a bit better.
This new Remy ride is highly reliant on screen for its special effects, and while that can work, we feel like it could have been done better in the Paris version. I'm not against screens by any means, but they need to be done right. I think the way they are used in Na'vi River Journey and Rise of the Resistance, for instance, prove they can be an effective way of narrating the story in a Disney attraction.
We hope Disney improves on some of these small things and makes the Epcot version superior. We aren't convinced however this will happen, and we will most likely get an exact carbon copy, at least when talking about the actual ride part.
FAQs
Is the Ratatouille Ride in Epcot Open?
No, it isn't. At the moment we don't have an opening date for Remy's Ratatouille Adventure. It is supposed to open sometime in 2020, but Disney has not yet given a date. Realistically we are looking at a Fall 2020 or Winter 2021 opening after the delays in construction related to the park closures.
What Type of Ride is Remy's Ratatouille Adventure?
The new Ratatouille ride is a dark ride which uses a trackless ride vehicle, taking guests on a crazy journey through Gusteau's with Remy.
Does it Have FastPass+?
At this time we don't know if it will use FastPass+ immediately, but it will most likely be available at some point.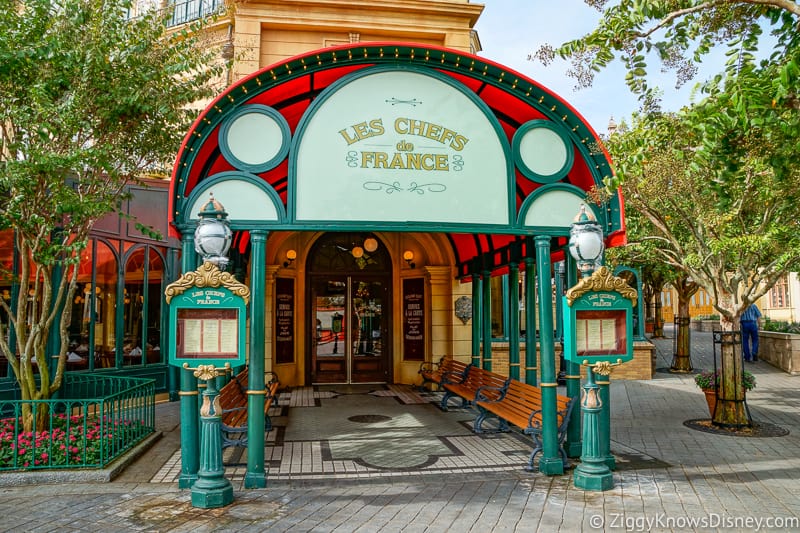 Overall, we like the Ratatouille franchise and think it's a perfect fit in Epcot's France pavilion. This is a good example of adding Disney characters to Epcot in a way that doesn't feel overly forced and overall we think it will be a great addition.
In the meantime, check out our latest France Pavilion Expansion Construction Updates where we show some of the work being done to the rest of the pavilion.
If you are excited about Remy's Ratatouille Adventure, there is even more in store in the coming years. Read about all the other new attractions coming to Disney World in the next few years!
Sign Up For Our Newsletter Today!
Your Thoughts
I want to know what you think about the upcoming Remy's Ratatouille Adventure ride…
Are you looking forward to this new ride in Epcot?
Where does it rank on your list of upcoming attractions?
Let us know in the comments section below!
If you enjoyed this article, as always I appreciate it if you'd share it with others via social media. I work hard at making this website into a useful resource for you and your family to plan your visit to the Disney Parks and I hope it can help you! Thanks 🙂