For better or for worse, the Genie+ service has totally changed the way guests visit the Walt Disney World Theme Parks, but we still get a lot of questions about it including: "How do I Purchase Genie Plus?"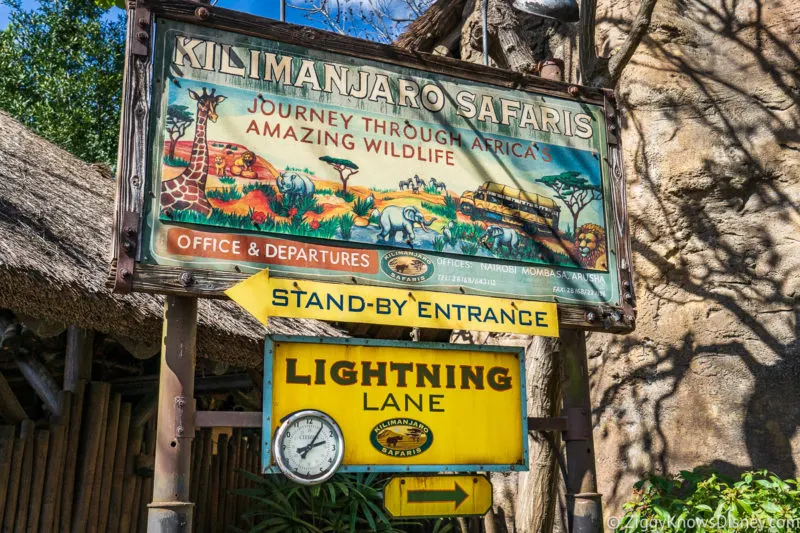 In case you haven't been to the Disney parks for a while, Genie+ is a new paid line-skipping service that replaced the old FastPass+ system. Yes, if you want to skip waiting in line, you now have to pay for it.
Thankfully, it's not too hard to set up. In this post, we are going to show you step-by-step how to purchase Disney Genie Plus, and then how to make Lightning Lane ride selections using it.
Whether or not you choose to use the Disney Genie Plus service or not, it's still important to have a good understanding of how it works since it will have a big impact on your upcoming vacation no matter what.
Along with this article, we highly recommend reading our Complete Guide to Genie Plus & Lightning Lanes. There we go into detail about the entire system, answer all your FAQs, and give you our best tips and strategies for using it.
Our article on "How to Purchase Individual Lightning Lane Attractions at Disney World" is also essential reading if you are just going to skip the lines a la carte.
Now that it's been a while since it came out, we've had a chance to use Genie+ quite extensively in the parks and it's our aim to make using it as easy as possible for you.
Also, don't forget to sign up for our FREE Weekly E-Mail Newsletter. There we bring you the latest changes to Disney Genie Plus and other Disney vacation planning tips. You can sign up here: Join our E-Mail Newsletter!
(UPDATE) Big Pricing Change for Genie+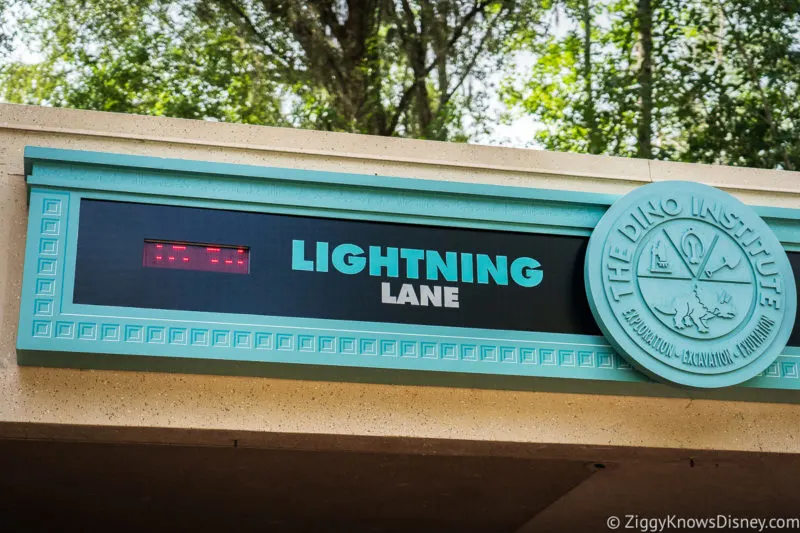 One thing has been consistent since Disney's Genie+ service launched in 2021, the prices are always changing, and now we are getting perhaps the biggest change of all, park-specific pricing.
Starting June 27, Walt Disney World introduced park-specific pricing for Genie+ with both Single-Park and Multiple-Parks options available to guests. This update is going to totally change how guests can use Genie+, let's look at what it means for your next trip.
The first big point is that each park now has separate Genie+ pricing. Before this update, no matter which of the 4 Walt Disney World theme parks you were going to visit that day, the price was always the same.
With this change, some parks will cost more and other parks will cost less each day (more on this in a minute). Prices are date-specific and based on demand, just as it is now, so if you are visiting during a busy time of the year, there is a good chance it will cost much more than during the off-season.
Here are the example prices for June 27:
Multiple Parks: $27 per person
Magic Kingdom: $27 per person
Hollywood Studios: $24 per person
EPCOT: $18 per person
Animal Kingdom: $16 per person
The other big change to take note of is that there are both single and multiple park options for Genie+. Before these changes, guests could purchase Genie+ for the day, and it would automatically be valid at any of the 4 parks.
Now, you have to decide if you only want Genie+ for one park, or if you are park hopping, you can purchase the Multiple Parks selection which can be used anywhere throughout the day.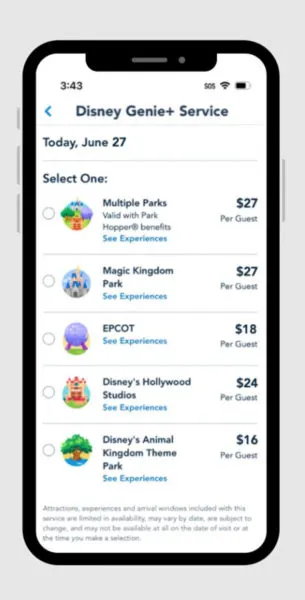 One thing to keep in mind is that if you have a park hopper and have purchased the Genie+ Multiple Parks option, you still cannot bypass the park hopper Genie+ rules. You still must wait until after 2:00 pm to book Genie+ at your 2nd park of the day.
Also, if any individual park sells out Genie+ for the day, the Multiple Parks option will also be sold out for the day.
Disney made the update official on the Disney World website Genie+ page:
"Beginning June 27, Guests at Walt Disney World Resort will now purchase Disney Genie+ service based on how they want to visit. Guests will be able to select either a single-park option or a multiple-parks option, subject to availability. With this update, prices may now be lower at some Walt Disney World theme parks compared to others."
Plans to offer Genie+ booking before the day of are still being planned for 2024, but are not included in the latest announcements of the changes in happening in June.
As for the total prices of the Genie Plus service, we are not sure how this latest announcement will affect the cost per day and if that will go to new highs. So far it's stayed within the previous range.
Starting October 12, 2022, Disney started implementing its new date-based pricing system for Genie+ at Walt Disney World, and it works similarly to date-based ticket pricing. This is still the case with these new changes, and now it is just like the ticket pricing, where prices are also different depending on the park you choose to visit.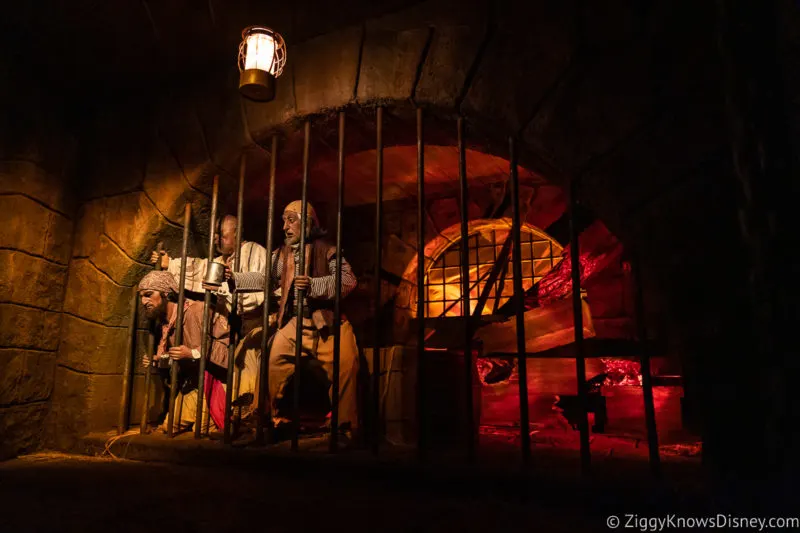 Genie+ changes on a day-to-day basis and ranges from $15-$35 per guest, per day (plus tax). That means it is no longer the flat $15 fee it was when it first launched, but prices carry depending on the demand that day.
For a while, it looked like prices for Genie+ would never come down at all, and just recently Genie+ cost as much as $35 per person. Then it dropped drastically to $18, then to its all-time low of $15 once again.
This is the first time since October 2022 that we've been under $20 per person, and honestly, we didn't think we'd ever get down this low again. And since falling, prices have remained between $20-$30 most days.
Theoretically, having park-specific Genie+ pricing should actually be a good thing for guests who would like to use it at the parks where it's not quite as advantageous to do so. The Magic Kingdom and Hollywood Studios are by far the two parks where Genie+ helps the most, and many people just skip using it at EPCOT and Animal Kingdom.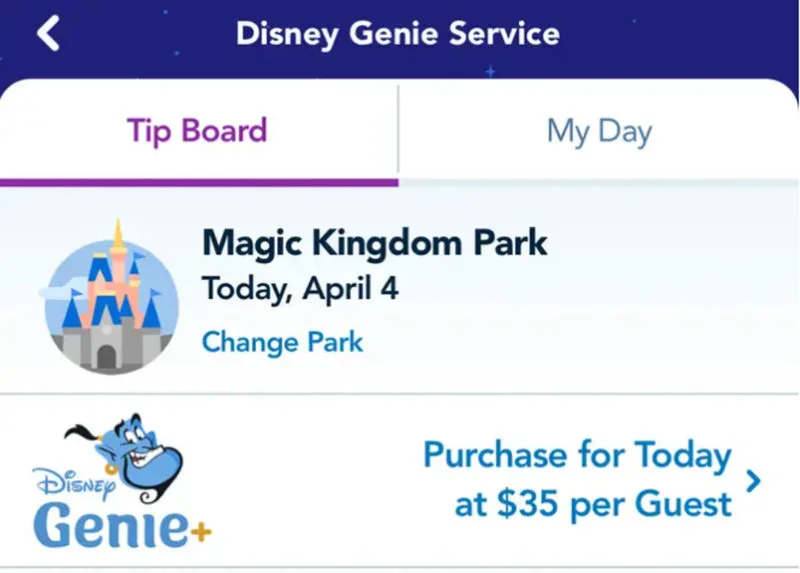 Now that it will cost less for those two parks, it's realistic to think guests will start to use it there a bit more, and it might make it worth the cost, or at least more than before.
As you can imagine, the price decrease for Genie+ is a most welcome change for fans who have been fed up with what seems like constant nickel and diming from Disney. Not too long ago, they announced price increases for hundreds of snacks at Disney World, as well as custom lightsabers at Savi's Workshop and droids at Droid Depot.
However, this drastic new change means that it is still actually possible to visit some of the Disney World parks and pay as little as $15 per guest per day. It won't be like that every day, or in every park, but right now we still know that $15 is still the floor for its pricing.
Besides the increase in Genie+ pricing, Individual Lightning Lane prices have also hit new highs in recent months with Rise of the Resistance reaching $25 per person, $3 more than the previous high of $22 each. But even those have come back down at times.
After all this, it's interesting to note that when Bob Iger came back as CEO, he expressed concerns over how expensive Disney parks are these days. However, in the months after, the price of Genie+ kept ramping up through the holidays and spring break.
Now it's likely that since guest demand is back down, so are the prices people are willing to pay. So if you have a trip coming up, the price you pay will depend on the demand for the service that day.
Genie+ has had so much demand that guests are often complaining that ride reservations sell out too quickly and they can't get as much done as they should for a paid service.
With a price decrease now in place, it means not as many people are buying so the number of rides you can do per day will be much higher than if you visited during the holiday. Yet another reason to consider buying it.
The only hard part is figuring out how to budget for Genie+ now. With price swings between $15 and $35 per person, per day, and each park having a different cost, it's not as cut and dry when calculating ahead of time how much you will need to pay.
With that price range, a family of four could spend as little as $60 per day or as much as $140 per day. That's a huge difference and it could definitely be a deal breaker for some families.
Keep checking back for more as we are sure this is not the last time we will see a price change in the near future. Keep reading below for detailed instructions on how to buy Genie+ and make ride reservations.
(UPDATE) Advance Booking of Lightning Lane Reservations Coming Soon to Walt Disney World
One of the most frustrating things about Genie Plus is the fact that you can't make ride reservations ahead of time and you need to wait until 7:00 am on the day of your visit to start. However, after recent announcements from Disney, that will be changing soon.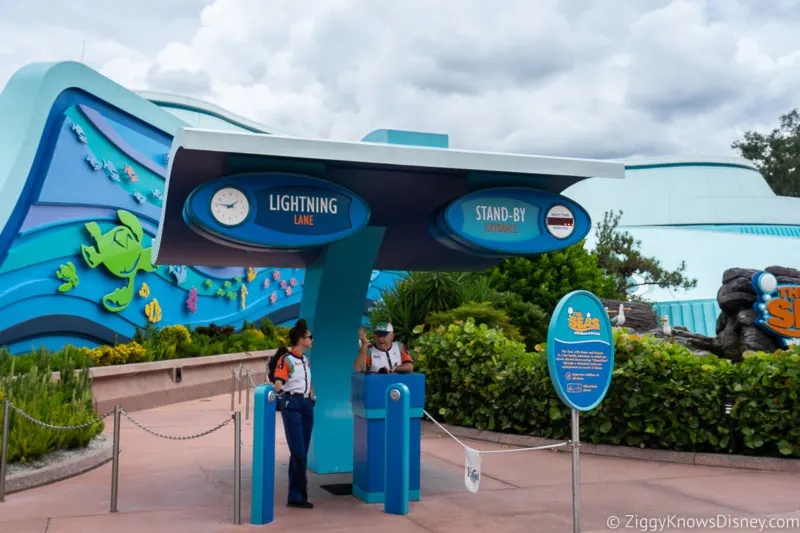 Disney has announced that it is working on ways to allow guests to start making Lightning Lane reservations before their visit so as to avoid the 7:00 am rush each day.
In a post on the official Disney World blog it says: "We have heard from guests that they would like ways to plan with Disney Genie+ service and individual Lightning Lane selections before the day of their park visit, and we want you to know we are working on ways guests may do this for visits in 2024.
Our goal is to give you the opportunity to spend less time planning in the park and more time enjoying your visit with friends and family. While we are not yet able to share specific details, we look forward to sharing more information at a later date."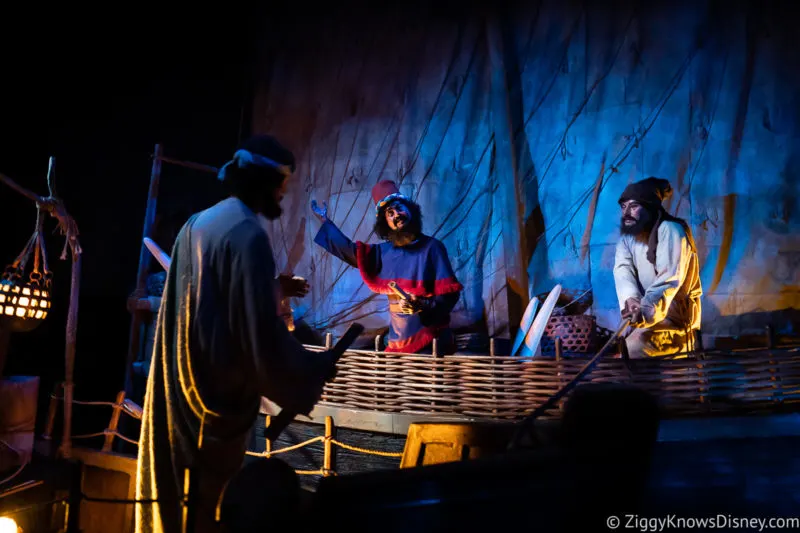 If this change occurs, it will be a HUGE upgrade for the Genie+ system and make it much easier on guests. If you remember, this would be similar to how FastPass+ ride reservations used to be made when guests could make 3 ride reservations up to 60 days before their actual visit.
Even though we are extremely excited, it's important to be cautious with this news. Disney did say that they are working on ways for guests to be able to make Lightning Lane reservations before the day of their park visit, but there are still a lot of unanswered questions.
How long before a park visit will we be able to make ride reservations? 1 day? 1 week? 1 month? Seeing as the new Genie+ system is more complicated than FastPass+, I'm certainly not getting my hopes up of being able to book Lightning Lanes 60 days ahead of time.
There is also the question of how many rides will we be able to book ahead of time. FastPass+ allowed you to make 3 ride reservations ahead of time, and then more as the day went on depending on ride availability that day.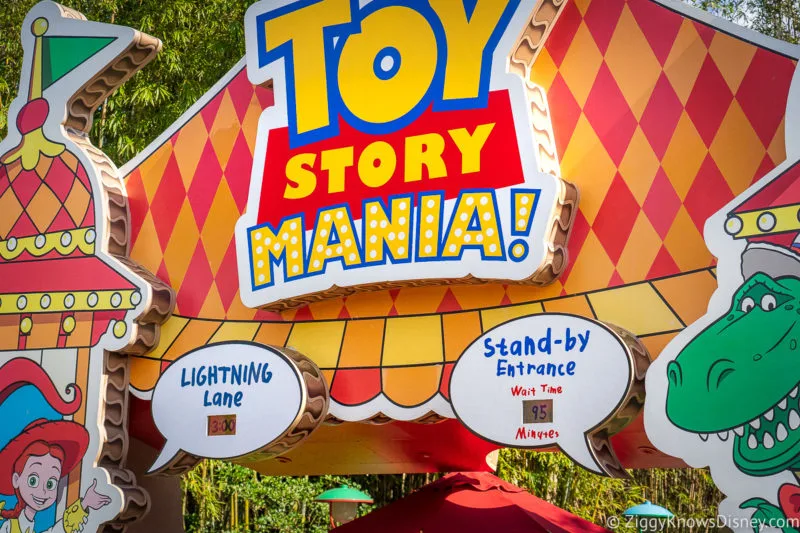 When Genie+ adopts advance reservations, will it just be for the first ride of the day so you don't have to wake up at 7:00 am to start booking, or will you be able to make multiple Lightning Lane reservations ahead of time?
Disney has also not mentioned exactly when this change is going to be taking place. As with many of Disney's announcements without a start date, we likely will have to wait months for this to actually be ready for guests to use.
Either way, we're very excited about this announcement and we think it's a great addition to Genie+. With prices falling recently back to levels we had when the service was first released, we think Genie+ is becoming more and more attractive to guests and a better value for the money.
We'll update you as soon as we learn more about advance reservations for Lightning Lanes. In the meantime, keep reading below for more info on the current prices and how to use Genie+ to get the most out of this service.
Ready to Start Planning Your Disney Vacation?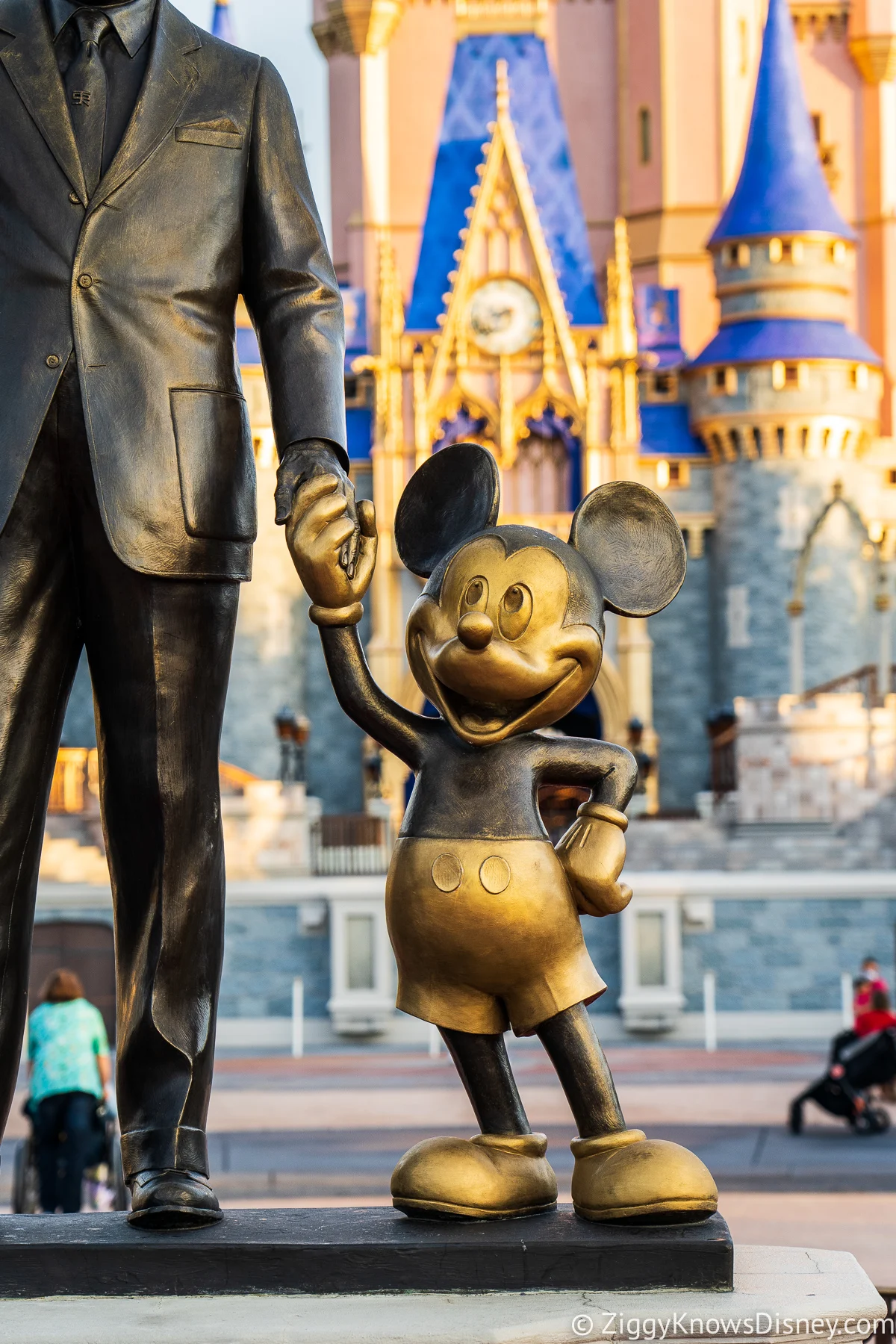 (UPDATE) Disney PhotoPass Ride Photos Included with Genie+ at Disney World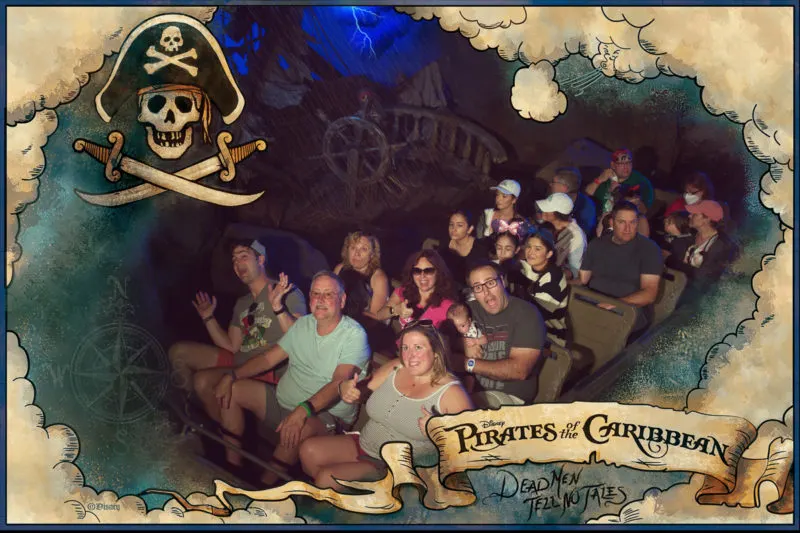 There have been quite a few changes to the Genie+ system over the past couple of years, and now that Bob Iger is back as Disney CEO, there are even more changes coming to the system which could increase how much value guests get out of it.
Starting March 20, 2023, Walt Disney World guests who purchase Genie+ for the day will receive complimentary digital downloads of attraction photos (on-ride photos). That's a nice bonus and it makes the hefty price of the Genie+ service a little more palatable.
The rides that have on-ride photos which will be included with Genie+ are:
Buzz Lightyear's Space Ranger Spin – Magic Kingdom Park
DINOSAUR – Disney's Animal Kingdom Theme Park
Expedition Everest – Legend of the Forbidden Mountain – Disney's Animal Kingdom Theme Park
Frozen Ever After – EPCOT
Guardians of the Galaxy – Cosmic Rewind – EPCOT
Haunted Mansion – Magic Kingdom Park
Pirates of the Caribbean – Magic Kingdom Park
Rock 'n' Roller Coaster Starring Aerosmith – Disney's Hollywood Studios
Seven Dwarfs Mine Train – Magic Kingdom Park
Slinky Dog Dash – Disney's Hollywood Studios
Space Mountain – Magic Kingdom Park
Splash Mountain – Magic Kingdom Park
Test Track – EPCOT
The Twilight Zone Tower of Terror – Disney's Hollywood Studios
What is not included are other photos from PhotoPass spots throughout the park such as in front of park landmarks or with the characters. If you want to take advantage of these other PhotoPass downloads, you need to purchase a separate package from Disney.
We'll be sure to update you as soon as any more details come out. We'll also keep you updated with any other tweaks to the system in the coming months as we are expecting more.
(UPDATE) Modifying Genie+ Reservations
What happens if you book a Genie+ ride but want to change the time, party size, or book a new ride altogether? One of the most recent updates to My Disney Experience allows guests to modify previously booked Lightning Lane selections without losing your current reservation.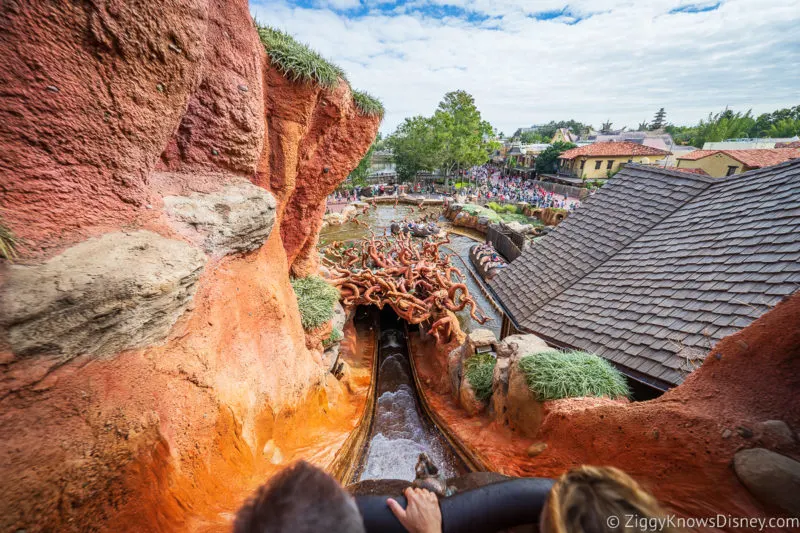 In the past, if you had already booked a Genie+ experience and wanted to modify it in any way, you had to first cancel the reservation and then start over, making a new reservation with the updated party or time.
The problem with that is that by the time you canceled the old reservation and then went to book the new one, chances are it was already taken by someone else, and now you have nothing. This happened to us more times than we can count.
Instead, this new way is a big upgrade and allows you to make whatever modifications you want to your current reservation, without running the risk of losing it and being left with nothing in the process.
Here's how it works (assuming you have already booked a Genie+ experience you want to change):
STEP 1: Log into My Disney Experience and view the "My Day" tab which shows any current plans and Genie+ reservations you may have.
STEP 2: Click on the three dots on the box for your current reservation. There you will be given 4 options: Manage Details, Modify Plan, View My Party, Get Directions.
STEP 3: Select "Modify Plan" which will show you other available times for that attraction or other available experiences you can replace it with.
STEP 4: Make your new selection.
STEP 5: Once you finish you will see the changes in the "My Day" section of your plans.
You can make modifications multiple times to the same experience, so even if you mess something up, you can change it, and change it again until its right (assuming the changes you want to make are still available).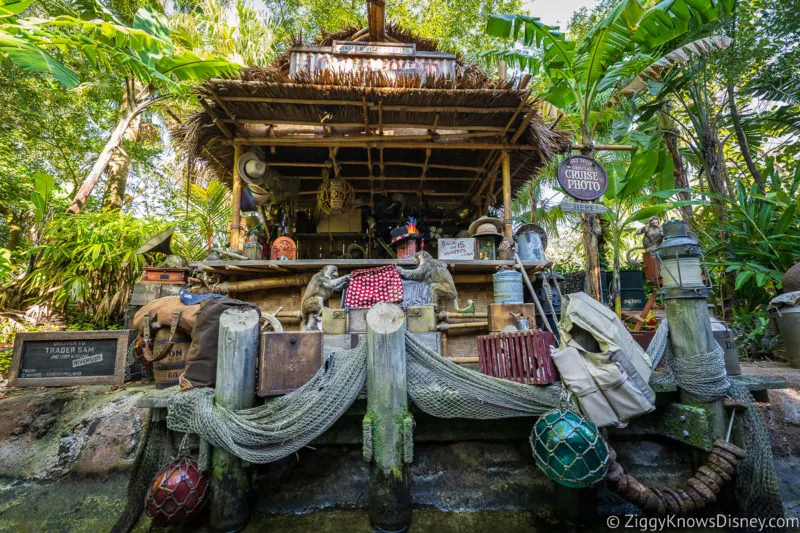 This new change to modifying Genie+ reservations is for both the Walt Disney World Resort and Disneyland Resort.
The only exception to this new rule is when you are using Genie+ and park hopping. For example, let's say you are going to the Magic Kingdom as your first park of the day and you book Jungle Cruise as a Genie+ selection.
If you change your mind and want to modify the current reservation and change it to another attraction in a separate park than your first park of the day, you need to cancel the Genie+ reservation and rebook completely.
Also, modifying Genie+ reservations has no effect on the 120-minute rule and it does not reset the timer. So even if your 120 minutes started one hour ago and then you make a modification to your Genie+ selection, you still have to wait another 60 minutes and there is no penalty.
Before You Buy Genie Plus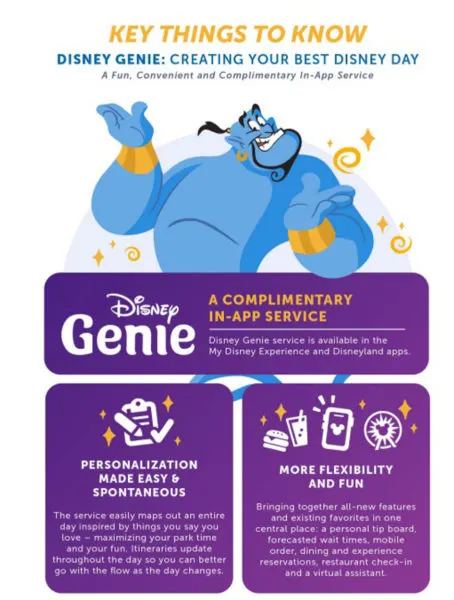 We're going to show you step-by-step how to buy Genie+, but before you do, there are some things you need to know. It's important to have everything in order before your day begins as it will make getting ride reservations much easier.
You Need Park Tickets
Before you can purchase the Disney Genie+ service, you need to first purchase theme park tickets. You can't buy Genie+ without them.
Guests with one-day tickets, multi-day tickets, annual passes, or tickets as part of a Walt Disney World Resort vacation package are all eligible to buy Genie+.
How Much Does Disney Genie+ Cost?
The biggest bummer about Disney Genie+ is that it is not free and you have to pay to skip attraction lines now.
Disney Genie Plus costs between $15 and $35 per person, per day at Walt Disney World (plus tax).
When Genie+ first launched, it cost $15 plus tax for a total of $15.98. Now Disney has introduced a date-based pricing system, and prices can vary on a day-to-day basis depending on demand. This means it's more expensive during the busier times of the year.
Check the My Disney Experience app on the morning of your visit for current pricing.
Guests are NOT required to purchase Genie Plus and it is totally optional. All members of your party are free to decide whether or not to use it.
For example, if one guest in your party buys Genie+, that doesn't mean everyone has to buy it. Each member can decide if it's worth spending the extra money or not. If grandma and grandpa don't go on a lot of attractions, it probably wouldn't be worth it to buy Genie+ for them, but for the kids, it might be.
Don't forget to look through the free version of Disney Genie and take advantage of some of its features like the free itineraries and attractions and restaurant recommendations.
Genie+ at the Disneyland Resort is more expensive than at Disney World and costs a minimum of $25 per person.
When Can You Buy Genie Plus?
So when can you buy Genie Plus? Before your vacation? On the day of your visit? At the park?
The answer to all those questions is: No, Yes, and Yes.
There is currently only one way to purchase Disney Genie Plus:
A Single-Day Purchase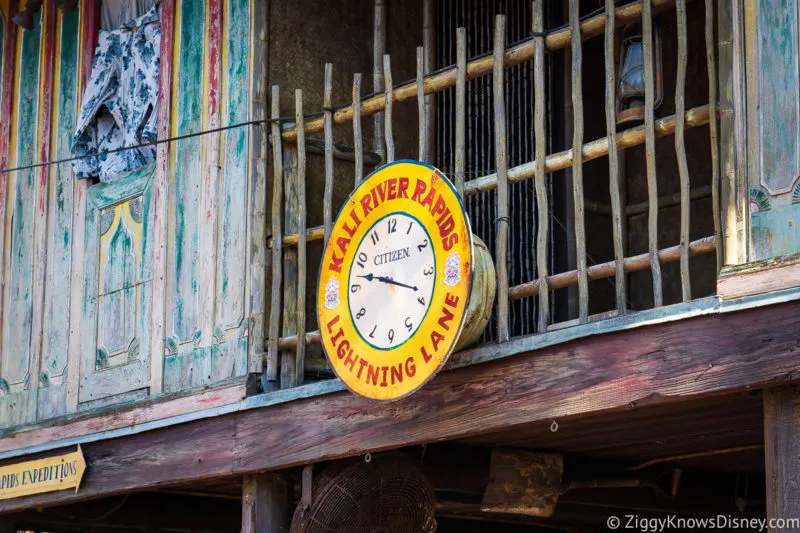 Single-Day Purchases – You can buy Genie Plus for one day of your vacation starting at 12:00 am on the day you plan on using it. For example, if you are going to the Magic Kingdom on June 1, Genie+ is available for purchase at 12:00 midnight on June 1.
You can continue buying Genie+ as a single-day purchase as much as you want throughout your vacation. If your vacation is 7 days and you want to buy Genie+ for 1 day that's fine. 2 days? No problem. Etc.
We recommend buying Genie+ BEFORE 7:00 am so that you are ready to make ride reservations at that time. Even though it's possible to buy Genie Plus when you arrive at the theme park, if you wait that long, most of the best ride reservations will be gone by that time.
Get it done before 7:00 am, or even after midnight if you are up late the night before.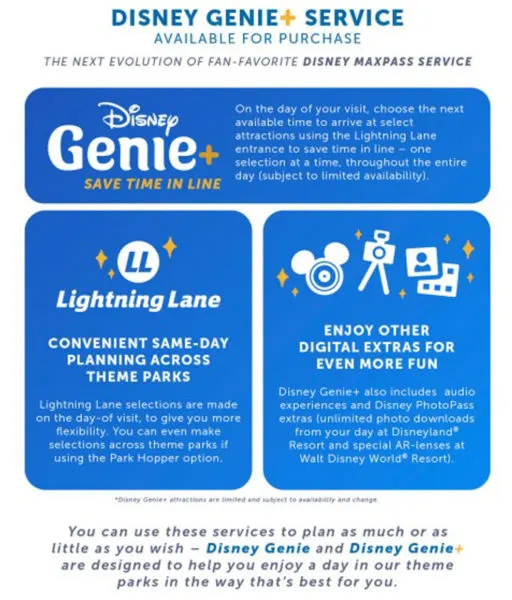 Vacation Package Ahead of Time – Genie+ is no longer available for purchase in advance as part of your Vacation Package and can only be purchased one day at a time and on the day of your visit.
In the past at Disney World, guests could purchase Genie+ ahead of time, though you were required to buy it for your entire vacation (which we never recommended).
At that time you could add Genie+ to your package at any time after you have purchased your theme park admission. You could choose to buy it on the same day you booked your vacation package, one week later, one month later, etc. It was up to you.
Now you can still purchase it for every day of your vacation, but you will have to buy it separately one day at a time. That means you can't purchase it ahead of time or as one package when you book your trip.
In the end, it's not really necessary anyway as Genie Plus is really only useful at one or two of the four Disney World theme parks (Magic Kingdom and Hollywood Studios). It's not necessary to purchase it for every day of your trip.
I guess if you wanted to wait the absolute least amount of time in line for rides each day, you could buy Genie+ at all the parks, but $15-$35 per person, per day, is too high of a price for the little return it gets you at Animal Kingdom and EPCOT.
Purchasing Genie Plus Step-by-Step
Download & Update My Disney Experience
When you decide to buy Genie Plus, the first thing you need to do is download the My Disney Experience app on your mobile device. My Disney Experience is crucial to using Genie+ and it is what you will need to buy it and make ride reservations.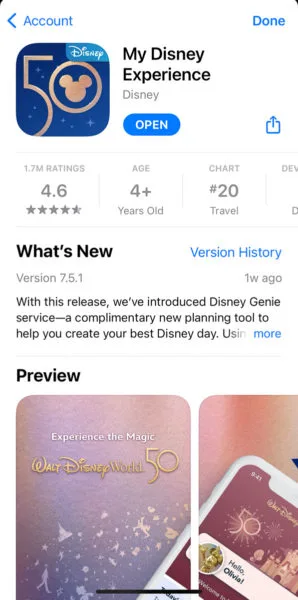 If you already have My Disney Experience installed on your device, make sure it is updated with the latest version. Disney releases updates on a regular basis and it's important to have the latest version so that all the features of Genie+ work properly.
If your apps on your mobile device are updated automatically, this should be done for you.
To update My Disney Experience manually go to the App Store on your mobile device, find My Disney Experience in the list, and download the update from there.
Purchasing a Single Day
If you are interested in buying Genie Plus for a single day of your vacation, just follow these easy steps.
STEP 1: Log Into My Disney Experience
Starting at midnight on the morning that you will be visiting the Disney theme park, you can purchase Genie Plus.
Open My Disney Experience on your mobile device and log in if you have not already done so.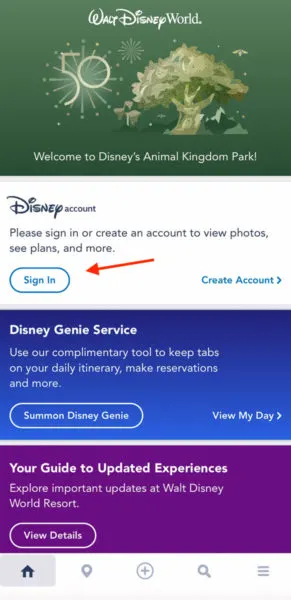 STEP 2: Open "My Day"
At the bottom right corner of the app, you will see the "Menu" button which has 3 horizontal lines. Click that.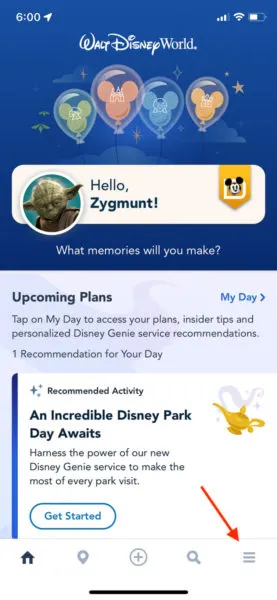 That opens a new screen with boxes. Click the box on the top right that says: "My Genie Day."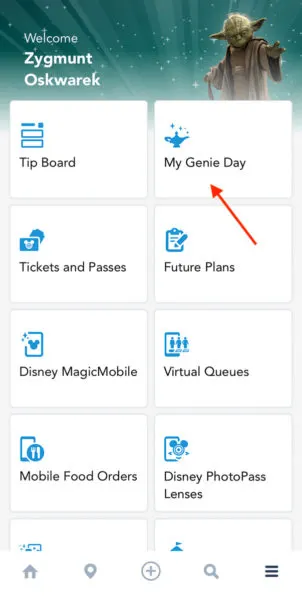 STEP 3: Get "Disney Genie+ Service"
Once the "My Day" tab opens up, click in the purple box almost at the bottom of the page where it says: "Get Disney Genie+ for Today."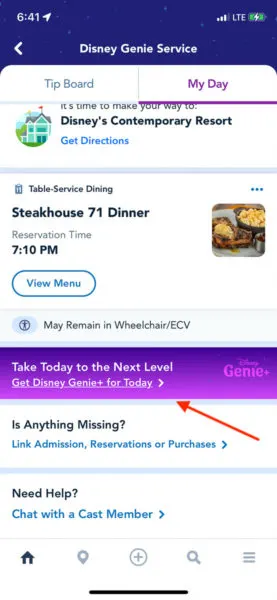 A new screen will open which explains some of the features of the Genie+ service including Lightning Lane entrance and Interactive Disney PhotoPass Lenses.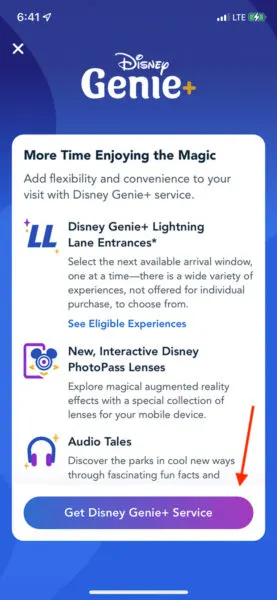 Click the button at the bottom of the page that says: "Get Disney Genie+ Service."
STEP 4: Select Party Members
On the next screen, you will select all the members of your group that are going to purchase Genie+ for that day.
The screen is divided into two sections, "Your Party" and "Anyone Else Going?" Make sure all the correct guests are selected in the "Your Party" section and then click the button "Confirm Party" at the bottom of the page.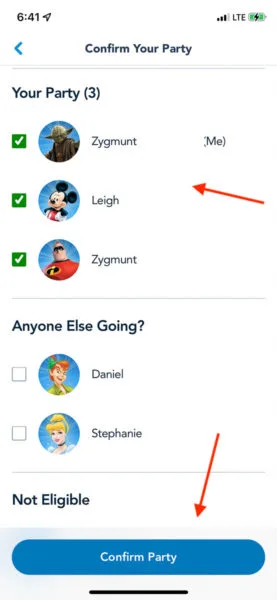 STEP 5: Review Details
On the next screen, you will see all the details of your purchase including the price.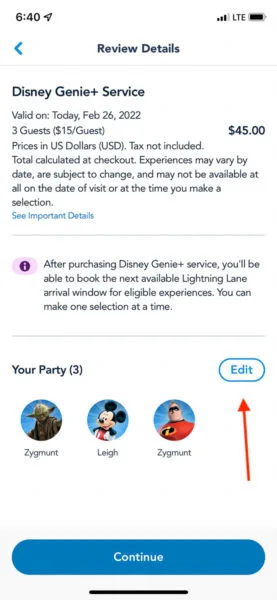 You will also see all the guests listed in your party. If you need to make any adjustments to the guest list, click the "Edit" button on the right side of the screen and add or remove the appropriate guests.
STEP 6: Confirm Information and Pay
The last step is to confirm all your information, contact info, and the cost.
You will notice that the final price includes tax. For example, when the price is $15, it's not $15.00 flat but $15.98 after tax is added. If you have a family of 4, at that price it would really cost $63.92 in total.
When it costs $25 per person, it's really $26.63 per guest, and if you have a family of 4 that means it will cost $106.52 total for the day.
You can pay for the Genie+ service by Credit Card, Debit Card, Disney Gift Cards, or Rewards Redemption Cards. When you choose your payment method, click "Purchase."
Once your purchase is made, you will receive a confirmation at the bottom of the screen. Click "Continue" to see more information.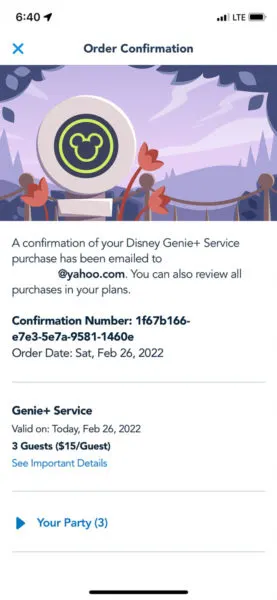 You also will receive an email with a receipt of your Disney Genie Plus purchase.
Buying Genie Plus for the Whole Trip
(Buying Genie Plus ahead of time for your entire trip is no longer possible at Walt Disney World, but it is still possible at the Disneyland Resort)
Making a single-day purchase is the easiest and most common way to buy Genie Plus. However, if you want to buy Genie Plus for your entire vacation, follow these easy steps…
While Booking Vacation Package
The first option is to add Genie Plus to your entire trip while booking your vacation package for a future trip.
When you are choosing your theme park tickets, you will see the option to add Genie Plus next to the various ticket choices.
Just remember that if you book Genie Plus this way, you are purchasing it for every day of your vacation. It also cannot be removed from your package once you choose it, so make sure that is really what you want before buying it.
Adding Genie Plus to Existing Tickets
If you already have booked a Disney vacation package or have theme park tickets, you can add Genie+ ahead of time for the length of your ticket.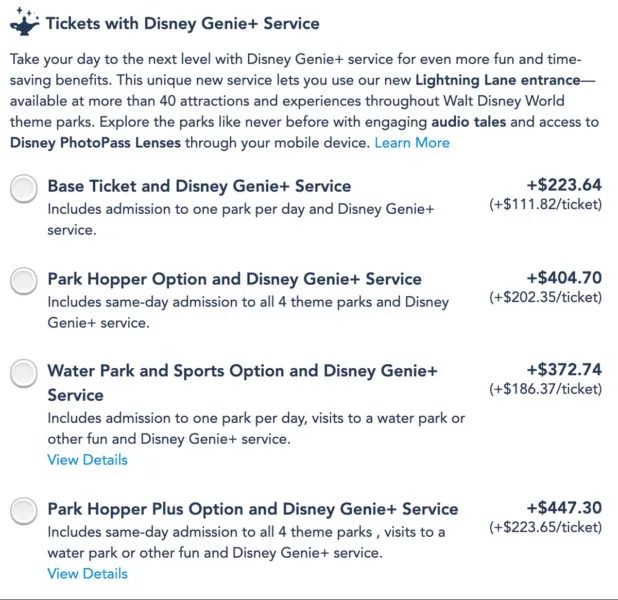 Follow these steps:
Go to disneyworld.com
Click the button "Sign In" and enter your username and password to access your account.
Hover your mouse over the button "My Disney Experience" on the right side of the screen and click "My Plans."
Scroll down to the "Tickets & Memory Maker" tab under "My Plans, Reservations, and Tickets."
Select "Change Ticket" next to the ticket you want to modify. Select every ticket in your party you want to modify.
You can also add the Genie+ service to your tickets ahead of time through the My Disney Experience app, by calling the Disney Reservation Center at (407) 939-5277, or by contacting your Authorized Disney Vacation Planner.
Best Way to Save Big $$$ on Disney Resorts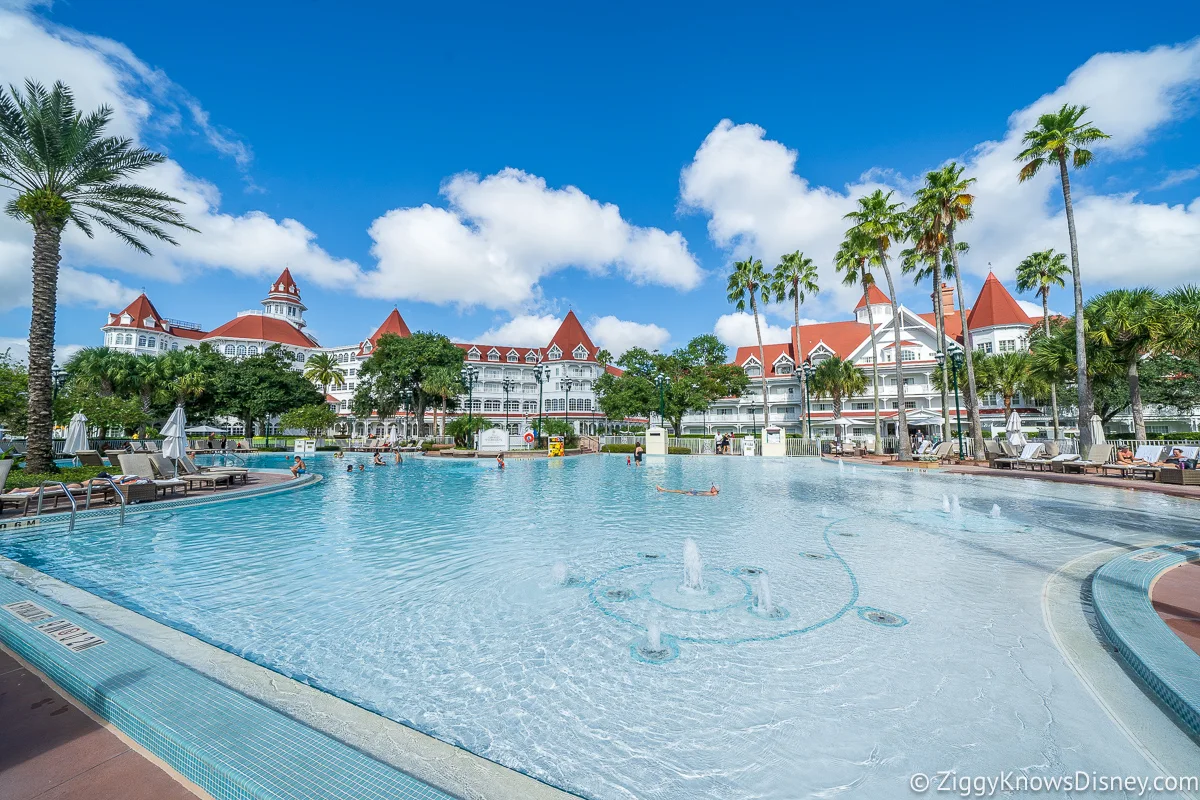 If you want to potentially save thousands of dollars on your next trip to Disney World, I personally recommend David's DVC Rentals. They consistently have the best prices and biggest selection of Disney Villas that will make you ask yourself: "How do they do it?"
Making Genie Plus Selections
Now that you have purchased the Genie+ service, the next step is to go ahead and start making ride reservations.
Genie+ ride selections begin at 7:00 am on the morning you are visiting the theme park.
The 7:00 am rule is the same for all guests no matter if you are staying at a Walt Disney World Resort hotel or off-site. It also doesn't matter if you are an annual passholder or a regular ticket holder, selections start at 7:00 am.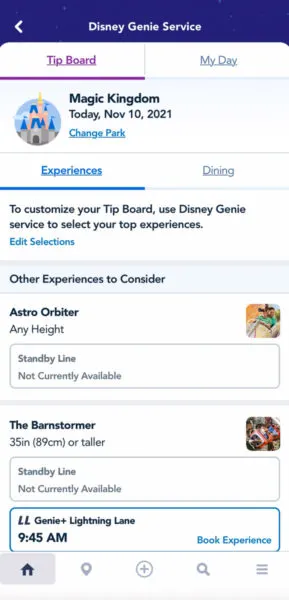 This is a big change from the old FastPass+ system where you could make ride reservations 60 days before your vacation began.
Just follow these easy instructions to make your Disney Genie+ ride selections:
STEP 1: Open Tip Board
At 6:55 am on the day you are visiting the park, open the My Disney Experience app and click on the menu button at the bottom of the page (the button with 3 horizontal lines on the bottom right).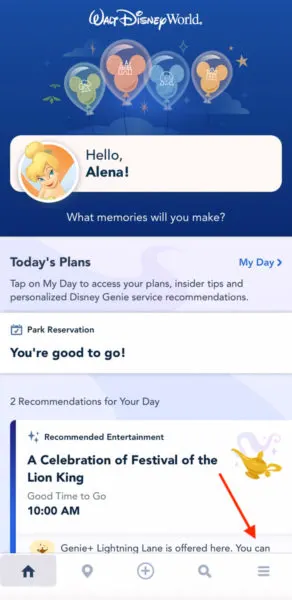 Attraction selections start at 7:00 am, but it's always good to be a few minutes early to get familiar with the layout of the app.
On the next screen click the "Tip Board" on the top left.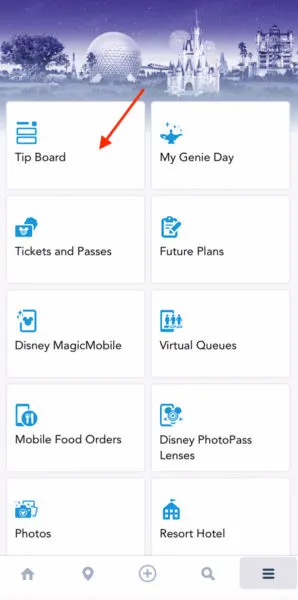 STEP 2: Select Attraction or Experience
On this screen, you can see the theme park you are going to plus all the attractions, shows, and dining options.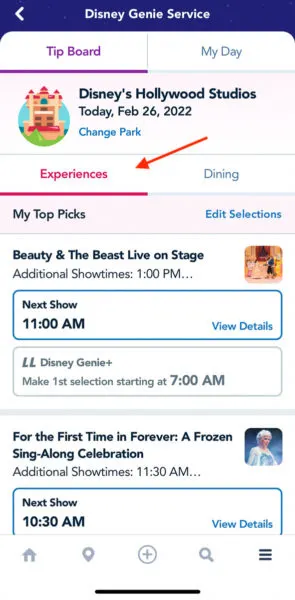 If the park selected is not the one you are going to that day, click the "Change Park" button and select the correct one.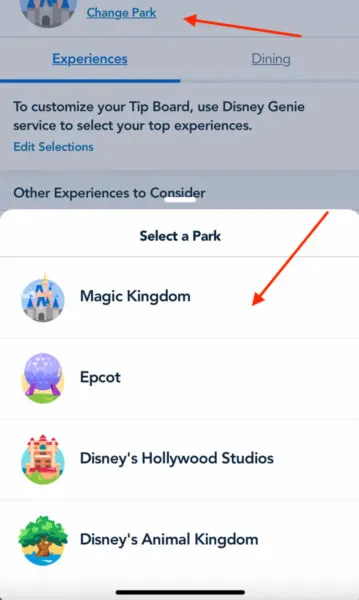 Scroll through the list of attractions until you find the one you want to book with Genie+.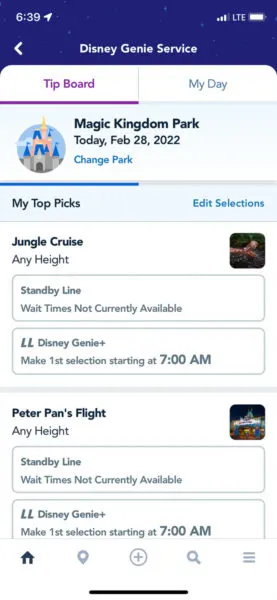 The standby line time and next available return time are listed.
If you want that attraction, click "Book Experience."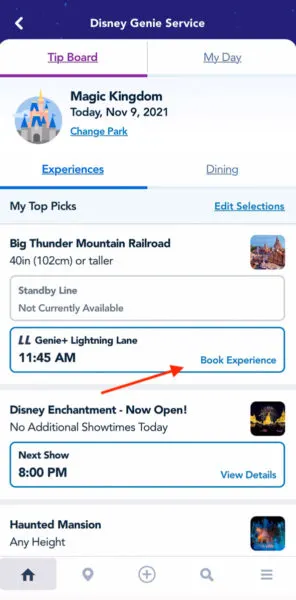 Attraction selections will be grayed out until 7:00 am. If for some reason the selections are still grayed out at 7:00 am, pull down on the screen to do a hard refresh.
STEP 3: Add Guests & Review Details
On the next screen, the attraction information is displayed including the return time.
Add the members of your party to the reservation that want to ride this attraction. If someone is not in the list, click the edit button to add them.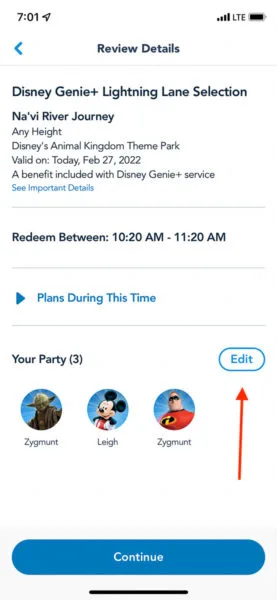 Click the "Confirm Party" button when you are done.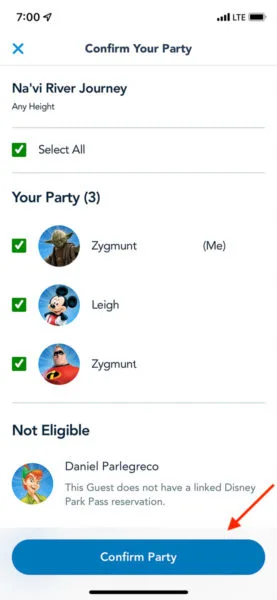 Make sure all the correct guests are in the party and then click the "Continue" button at the bottom of the page.
STEP 4: Confirm Reservation
On this screen, you will see your selection confirmation and it will show your redeem time for that attraction. There is even a cute animation with children wearing Mickey, Minnie, and Donald Duck hats as they are passing by.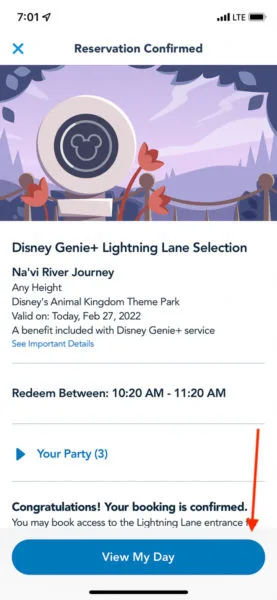 Guests have 1 hour to redeem a Genie+ selection. For example, if the next available return time was 1:00 pm, you have from 1:00 to 2:00 pm to redeem it.
You also are given a 15-minute grace period in case you are running late, so you really have 1 hour and 15 minutes from the time your return time starts.
Click the "View My Day" button at the bottom of the page to see all your booked experiences. Go to the "My Day" tab whenever you want to check what time your next Lightning Lane selection is.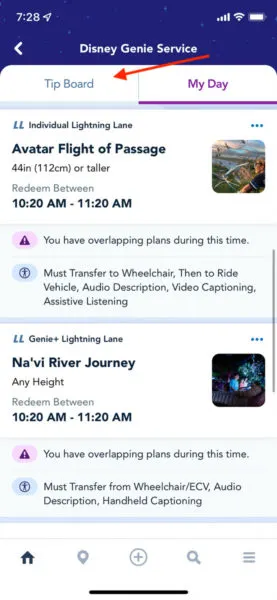 You can also see which Genie+ reservations you have booked by clicking on the "Tip Board."
STEP 5: Redeem Genie+ Selection
When your return window arrives, go to the attraction entrance and tap in using your MagicBand or park ticket on the touchpoint. When the touchpoint turns green, proceed through the queue.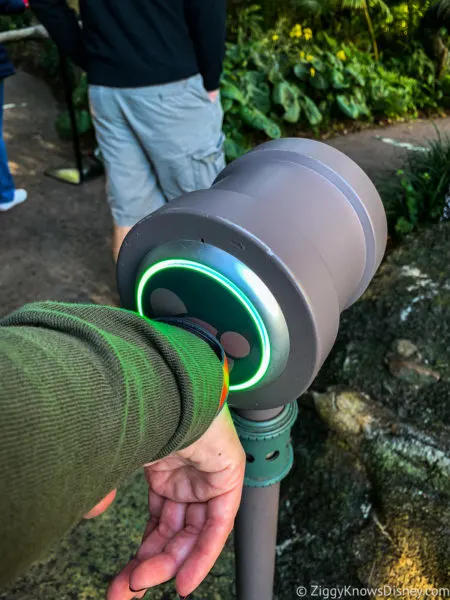 If the light turns blue instead of green, that means there is a problem. It could be that you are either too early for your reservation or too late. Just ask for assistance from a nearby Cast Member who will be glad to help you.
Some attractions have a second checkpoint later in the queue, and others only have the one at the line entrance.
IMPORTANT
We can't stress enough how important it is to make your first Genie Plus selection immediately at 7:00 am. Some of the best attractions fill up for the day even before the official park opening, and if you don't book them early enough in the morning, they will run out of selections and you will have to wait in the standby line.
So don't think you can sleep in and make your reservations on your way to the park. Get up early and take care of this.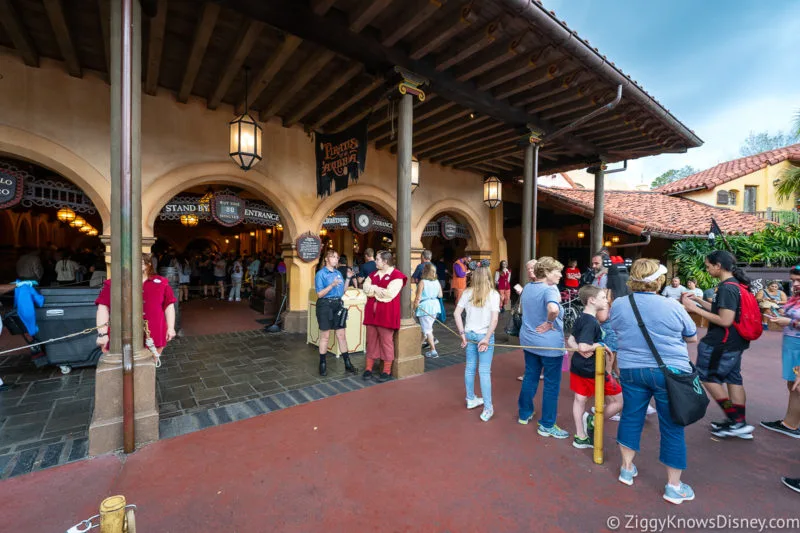 Here are a few of the most common questions when purchasing the Genie Plus service at Disney World…
When Can I Make My Next Selection?
Once you make your first Genie+ reservation for the day you must wait 120 minutes from the last time you booked at Genie+ attraction OR until tapping into the Lightning Lane for your current reservation, whichever comes first.
The only time the 120-minute rule does not come into effect is when booking your first reservation of the day BEFORE the official park opening.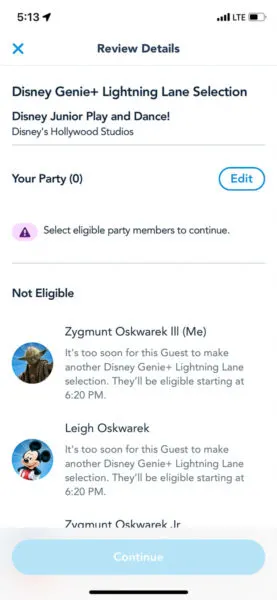 If you make a Genie+ reservation at 7:00 am, you have to wait 120 minutes after the park officially opens to make your next selection. If the park opens at 9:00 am, that means you have to wait until 11:00 am to make your next reservation, unless you redeem your reservation before that time.
If you redeem your current ride reservation before the 120 minutes is up, you can make your next selection when you tap through both touchpoints in the attraction queue.
Can You Book More Than One Attraction at the Same Time?
You can only make one Genie+ ride reservation at a time throughout the day and you have to wait 120 minutes between selections.
However, if your current Genie Plus selection has a return time that is more than 120 from the time you book it, you might be able to hold more than one Genie+ selection at the same time.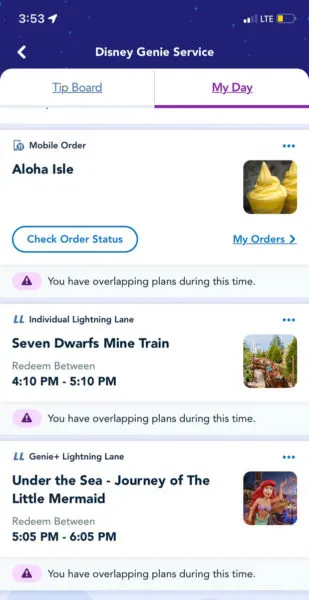 For example, if you book an attraction at 7:00 am with a 2:00 pm return time, at 11:00 am you can make your next selection (120 minutes after the park opens at 9:00 am) and you will still have your first reservation at the same time.
If your second return time is also after 2:00 pm, for example, you will get a third Genie+ selection at 1:00 pm (120 minutes since your last one), all before ever using the original selection you made at 7:00 am in the morning.
Sometimes it just works out that way and it will depend on which attractions you choose and what the return times are at the time of booking.
Does Disney Genie Plus Sell Out?
Disney has recently changed its policy and it is now possible for the Genie+ service to sell out on a given day. Disney stated that Genie+ is now "subject to availability," meaning the number of guests that can purchase the service in one day is limited.
The reasoning behind this is that Disney is "focused on delivering the best possible guest experience, and this adjustment will help manage the incredibly strong demand our guests have shown for Disney Genie+."
From our experience in the parks, on the busier days of the year, the Genie+ service will sell out at a given theme park, sometimes before 12:00 pm. So make sure to purchase Genie+ as early as possible (even at midnight the night before) to ensure you can use it.
Besides the service itself, reservations for the individual attractions definitely sell out each day. The most popular Genie Plus attractions sell out each day, sometimes only an hour or less from when the park opens.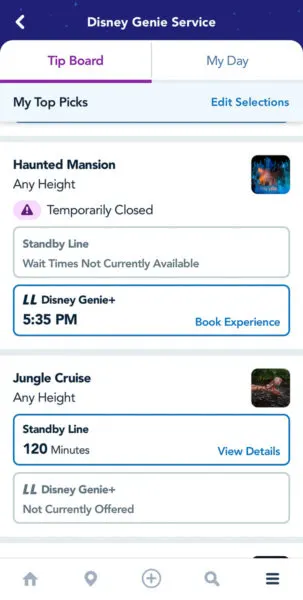 There is only a limited number of reservations for each attraction every day, and when they are gone, they are gone for good. That's why naturally, the most popular attractions sell out first.
Sometimes an attraction will still have availability near the end of the day, but it will most surely be an attraction you either don't want to ride or one you don't need a Genie+ reservation for.
Can I Add Genie Plus to a Complimentary Ticket?
The Disney Genie Plus service can be added to a complimentary ticket. However, you cannot add Genie+ ahead of time and you must do it on the day you are going to use the ticket.
You will need to add Genie+ at the beginning of each day you want to use the service.
How Do I Add Genie Plus to Existing Disney Tickets?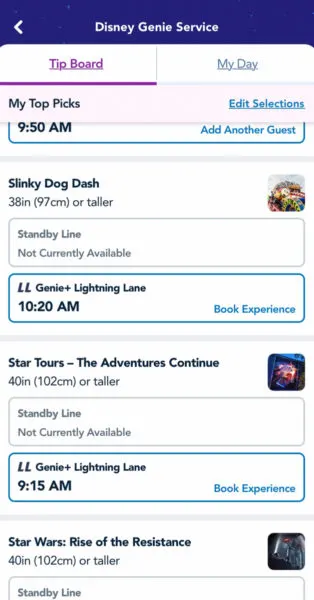 Yes, you can, but only on the same day you want to use Genie+. As long as you have a valid theme park admission and park reservation for that park, you can buy Genie+ for the day and add it on to your ticket.
In the past, if you had already booked a Disney World vacation package with theme park tickets, you could add Genie+ to your existing reservation. That means you could add Genie well before you even arrived at Disney World.
You did this through the My Disney Experience app, over the phone, or at the theme parks at the ticket booth or a Guest Relations location.
You would open the My Disney Experience Mobile App, and tap on the three horizontal lines in the bottom right corner (the Menu). Click on "Tickets and Passes." Then find your theme park ticket and choose "Change Ticket" to add the Genie+ service to it.
Sadly, this is no longer an option, and Genie+ can only be purchased on the day you want to use it.
That wraps up this step-by-step on how to buy Genie+ and use it at Walt Disney World. We hope it makes this whole process a little easier for you on your next Disney vacation. Feel free to ask any unanswered questions below and we will add them to the article.
If you are thinking about going to Walt Disney World in the coming future, here are some other popular articles where you will find all the info and tips you need to plan your trip.
Your Thoughts
I want to know what you think about purchasing Disney Genie+ and using it at Disney World…
Do you like Genie Plus?
What changes would you like to see implemented?
Let us know in the comments section below!
If you enjoyed this article, as always I appreciate it if you'd share it with others via social media. I work hard at making this website into a useful resource for you and your family to plan your visit to the Disney Parks and I hope it can help you! Thanks 🙂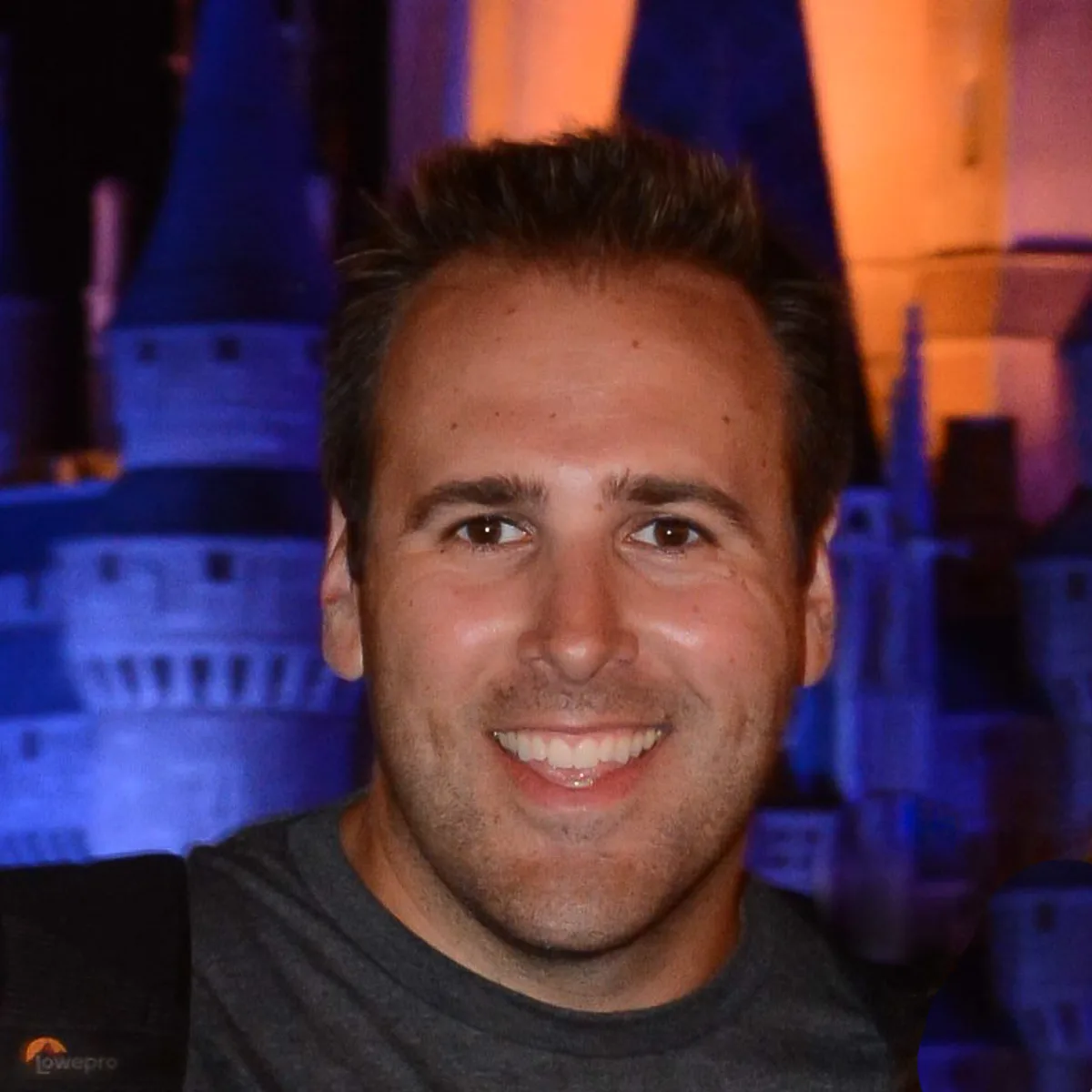 My name is Ziggy and I love Disney, everything Disney! I grew up on Disney and it has and continues to be a huge part of my life. I started young when my parents took me to Disney World when I was 18 months old. Little did they know that would be the first of an uncountable number of trips we would take. I have so many amazing memories going to Disney with my family and friends and it has been interwoven into my DNA.