One of the more exciting new projects coming to Disney World is the all-new Cherry Tree Land neighborhood that is coming to the UK pavilion in EPCOT, and with it a Mary Poppins attraction. Unfortunately, it looks like this project could be canceled or at least delayed for a long time…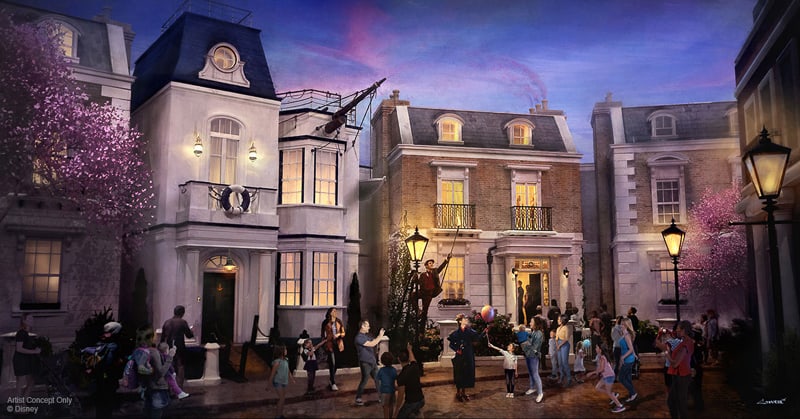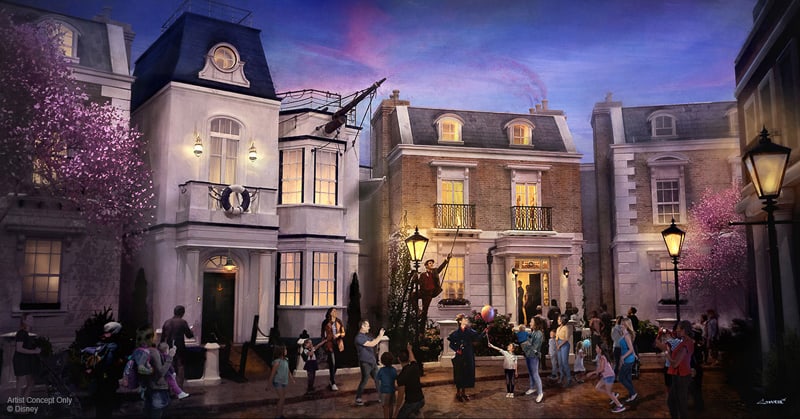 We know that the Mary Poppins project for EPCOT was announced at the most recent D23 Expo, but due to the park closures and big budget cuts throughout Walt Disney World, it might not be happening at all at this point.
One clue that things have changed is in the updated EPOCT Experience video in the Odyssey pavilion. If you haven't seen the video, it takes you on a visual tour of all the new EPCOT projects Dinsey is working on for the rennovation of the park.
In the video before the closure, there was a specific scene dedicated to the Mary Poppins area of the U.K. pavilion. You see Mary flying down on her umbrella and leaves scattering about as she lands. Even the buildings of the U.K. in the model have umbrellas, signifying the presence of Mary Poppins.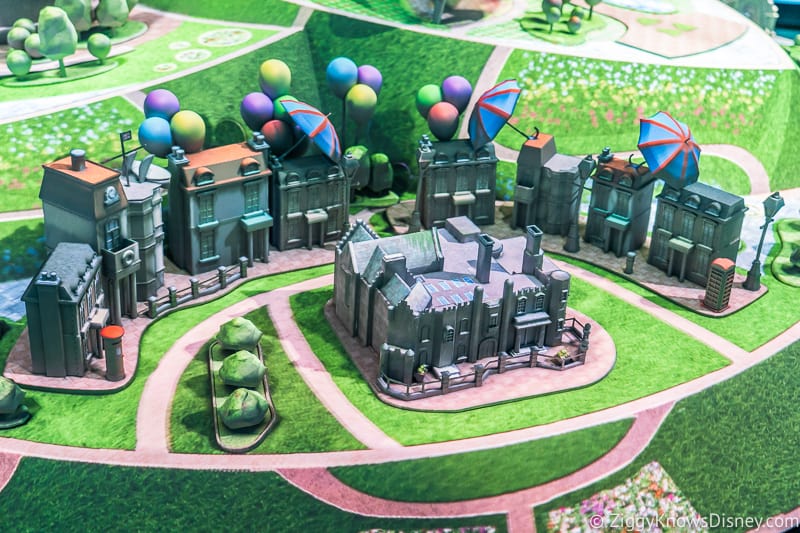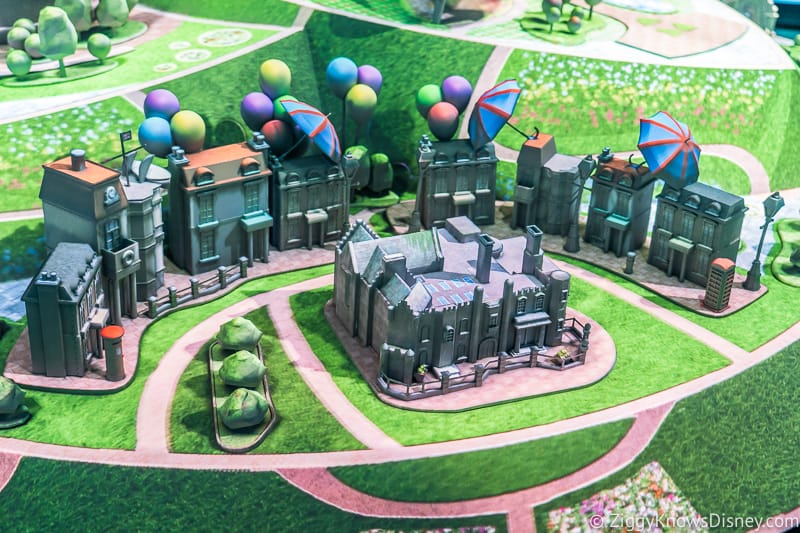 Unfortunately, Disney has updated that video and it no longer includes the Mary Poppins scene, nor the Spaceship Earth refurbishment either.
Disney has since given an official statement on the Mary Poppins project and Spaceship Earth:
"As with most businesses during this period, we are further evaluating long-term project plans. The decision was made to postpone development of the "Mary Poppins"-inspired attraction and Spaceship Earth at this time."
What can we gather from this update? We learned a couple of months ago from Disney CEO Bob Chapek that Disney would be making some big budget cuts on projects for the rest of 2020. In fact, in our post about the upcoming projects most likely to get cut after that announcement, we included the Mary Poppins attraction.
At this time, Disney has to concentrate on finishing the projects that are well underway and almost complete. Since they are bringing in a significantly lower revenue right now, priorities must be followed. Since the Mary Poppins project hasn't even broken ground yet, this was an easy choice for Disney executives to make.
Mary Poppins EPCOT Project Details
Before this announcement, what did we even know about the Mary Poppins project?
As described by Disney, guests will wander down the new Cherry Tree Land, the neighborhood from the Mary Poppins film franchise, and step in time right over to number 17, the address of the Banks family residence.
This new neighborhood looks gorgeous and is complete with all the details you would expect in such an area, including Admiral Boom's house. The concept art for it looks beautiful.
A Mary Poppins attraction has been floated around for some time now but it didn't even look like Disney was considering building it after Mary Poppins Returns didn't do as well as the company had hoped at the box office. Apparently it did enough business and the Mary Poppins character and franchise is beloved enough that Disney feels it would be a welcome addition to Epcot's transformation project.
Here is a look at some concept art for the ride: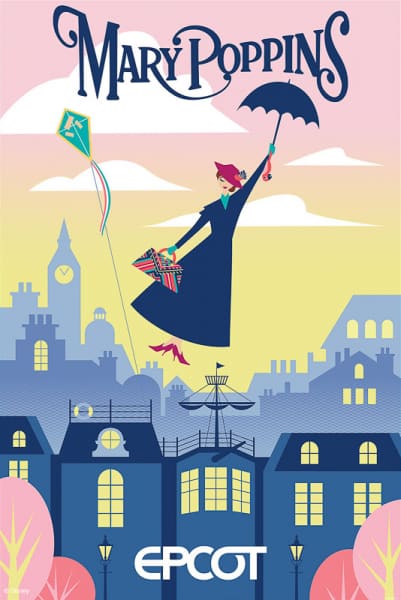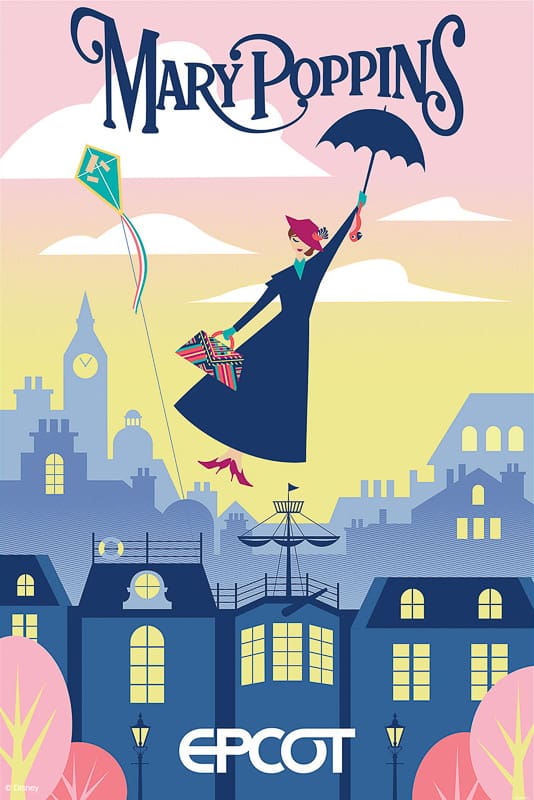 What Type of Attraction Would It Have Been?
Rumors about this attraction go way back and range from anything to a spinner ride to a dark ride. From the way things were said at the D23 Expo, it sounded like this was going to be a dark ride. Bob Chapek said you would step inside the banks house where your journey begins, so that sounds like a dark ride to me.
It's also it could end up being a walkthrough attraction of some kind.
After the latest news that the project may not even be going forward, wee think a dark ride is unlikely, unless they go ahead with construction years from now.
When Could It Open Now?
Does this mean we will never see a Mary Poppins attraction in EPCOT? Not necessarily.
Even before this latest news, we had no idea about when it was scheduled to come to EPCOT. No details about the name of the attraction or the opening date were given, but it was clear that the project was still a couple of years away.
Now with this latest setback that becomes even further down the road.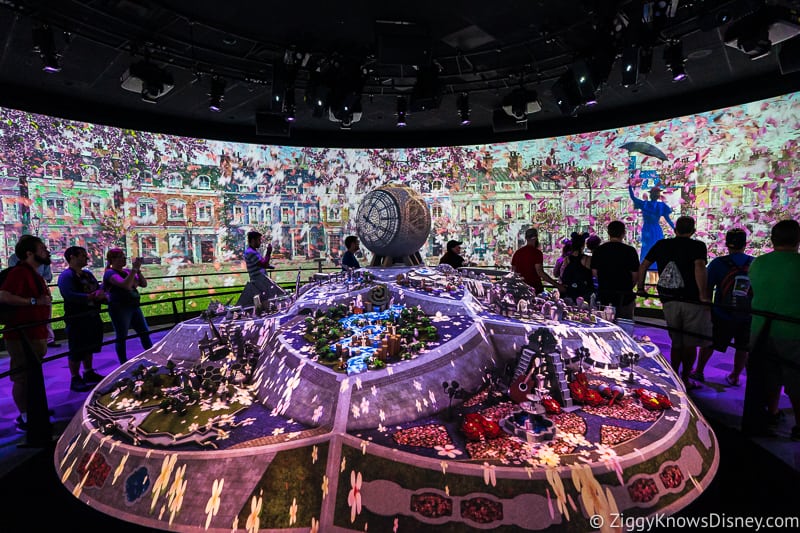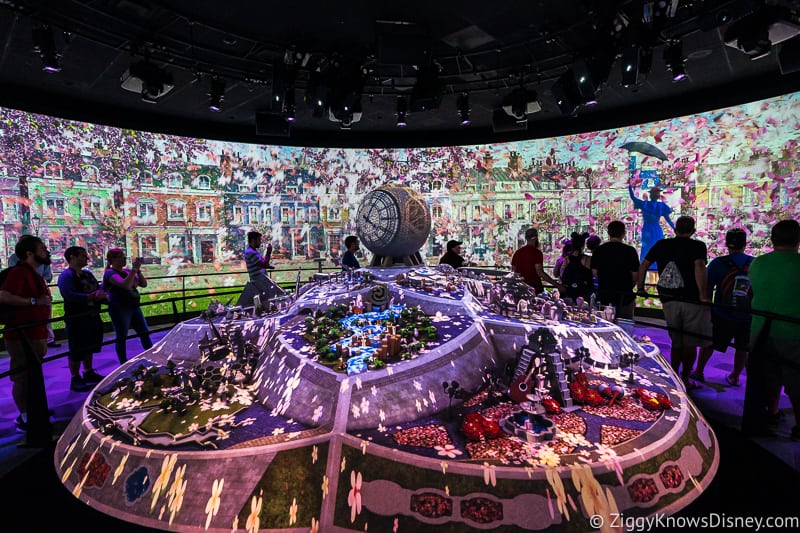 We have no insider info on the project, but according to Disney's statement, the Mary Poppins attraction is postponed for the time being with no specific intentions to build it right now.
Disney used the word "postpone," but looking at their history of past similar projects, it's hard to say what that means. Most of the time Disney doesn't just come out and say a project is canceled. First it's postponed, and depending on the circumstances, it's either picked up again or left on the Disney drawing board.
Now, that doesn't necessarily mean we will never see Mary Poppins in EPCOT.
Disney has been making a big push for more characters to come to EPCOT in recent years, and despite the economic hardship the company is currently facing, we still think this will be very much their goal moving forward.
As they always say, no idea ever really dies at Disney Imagineering. It will probably get put on the shelf for 3-4 years until the time is right and then move forward either in the way Disney already had in mind, or with some modifications to the project.
As soon as we hear anything else from Disney or other rumors about the project we'll let you know.
To hear about some of the other projects coming to Walt Disney World, read our post on the Upcoming and New Disney World Attractions, where we go over everything coming to the parks in the next few years.
Your Thoughts:
I want to know what you think about a Mary Poppins attraction getting canceled in EPCOT…
Are you happy about this decision?
What type of ride should it be?
Let us know in the comments section below!
If you enjoyed this article, as always I appreciate it if you'd share it with others via social media. I work hard at making this website into a useful resource for you and your family to plan your visit to the Disney Parks and I hope it can help you! Thanks 🙂