There were a ton of announcements at this past D23 Expo, but none of them was more exciting than a potential Magic Kingdom expansion including an area themed to Coco and Disney Villains!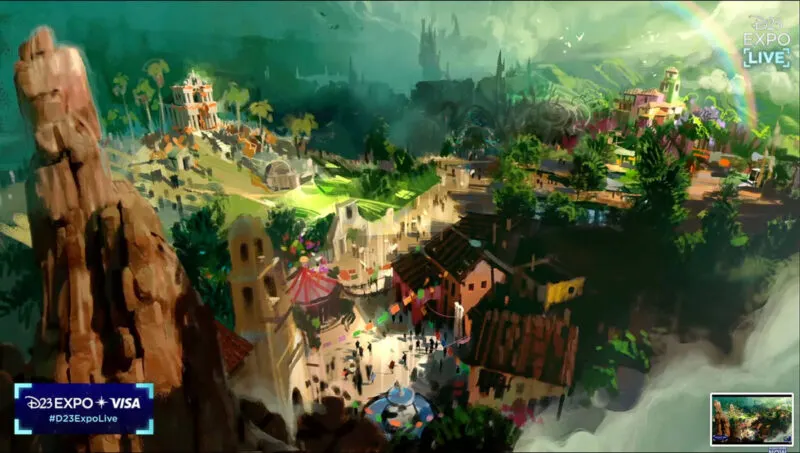 In this post, we are going to go over everything we learned about this expansion to Disney's Magic Kingdom that Disney is calling "Beyond Big Thunder Mountain" and set to go behind the existing Frontierland.
We will cover all the latest news, info, and rumors about this expansion, what land or areas could be included, what type of attractions it might have, and when it could potentially open.
This expansion behind Frontierland would be the biggest addition in Magic Kingdom history and add a significant number of new attractions, shops, and dining locations to a park that is in desperate need of more ride capacity.
Before we get into all the details so far, it's important to remember that everything Disney has mentioned about a Magic Kingdom expansion up to this point should be considered speculation as no definite plans have been announced.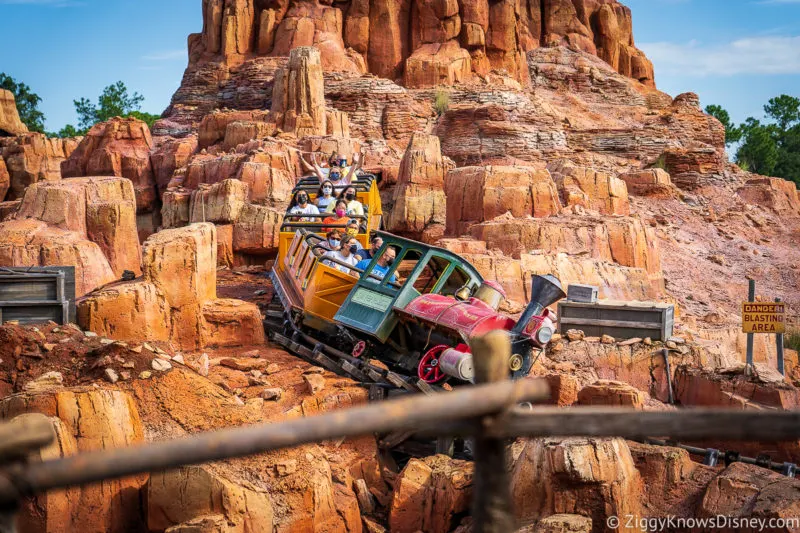 Everything about this project is what Disney is calling "Blue Sky" which means that Imagineers are developing ideas for this land, but nothing is written in stone. In the end, this may or may not happen, and what eventually comes to Magic Kingdom may look much different than what Disney has shared with us so far.
Also, don't forget to sign up for our FREE Weekly E-Mail Newsletter. There we bring you the latest updates on the new Magic Kingdom expansion as well as our best Disney vacation planning tips. You can sign up here: Join our E-Mail Newsletter!
Overview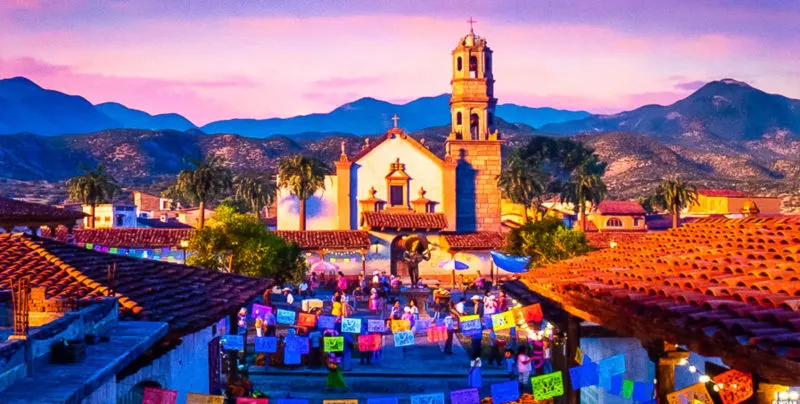 Disney's Magic Kingdom is the highest attended theme park in the World and the crown jewel of the Walt Disney World Resort, so when it shows strong signs of needing an update, you better listen.
The last big update here took place from 2012 to 2014 with a multitude of new attractions coming in during the new Fantasyland expansion. Since then it's been crickets (aside from the TRON roller coaster which we have been waiting 5 years for) and so it's not surprising that Disney is already planning the park's next expansion project.
Surprisingly, during the "A Celebration of Disney Parks, Experiences and Products: Yesterday, Today and Tomorrow" presentation at Destination D23 on September 9, 2023, Disney Parks, Experiences and Products Chairman Josh D'Amaro dropped some updates on the Magic Kingdom expansion project.
Bruce Vaughn, Chief Creative Officer at Walt Disney Imagineering, joined parks Chairman Josh D'Amaro for a special look at what's coming to the Walt Disney World Resort.
Just as they showed off plans for an Animal Kingdom expansion with Encanto and Indiana Jones, Josh D'Amaro and head of Disney Imagineering Bruce Vaughn talked about the ideas they are working on bringing to the Magic Kingdom and what it may look like in the coming years.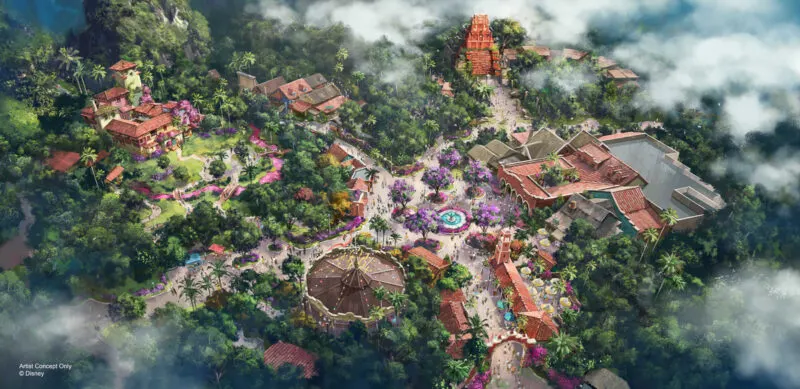 They once again identified the area "Beyond Big Thunder Mountain" as the next potential expansion in the park, and offered three potential themed areas to fill it, just like was done during the "A Boundless Future: Disney Parks, Experiences and Products" presentation at the 2022 D23 Expo.
Vaughn said, "last year, you said we're looking to tell stories beyond Big Thunder Mountain which is still true. I mean, there's a lot of room to play with around there. And we're looking at the possibility of adding new attractions, restaurants, shows, you dream it we're thinking about it. And like I said, the ideas are looking really great."
What really opened eyes and ears is when Vaughn said the Magic Kingdom expansion will be "the largest ever for the park." He indicated it would likely be bigger than the New Fantasyland expansion and on the same size and scope of Star Wars: Galaxy's Edge and Pandora: World of Avatar.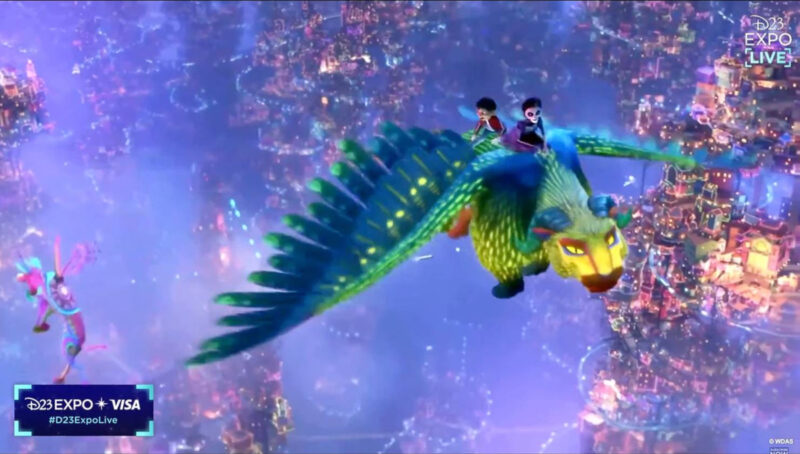 The last time Disney showed us ideas for the Beyond Big Thunder Mountain expansion, Coco, Encanto, and a Disney Villains land were all named as possible IPs to build around. However, now it looks like only Coco and Disney Villains are left as possibilities with Encanto likely heading to the Animal Kingdom.
D'Amaro responded to Vaughn's comments, "There's still a long way to go. But I just want all of our fans to know that we are about to go into overdrive at the Magic Kingdom. And I am looking forward to spending more time with your team as we keep refining these ideas to create something really special that every single person in here is going to love."
One thing they highlighted multiple times is that this project and concept art is all "Blue Sky" and just an "early concept exploration" of what could happen to this area of the park. They stated they are considering a number of ideas at the moment, and something else could very well come here instead.
However, it is pretty clear at this point that no matter what exactly is coming to the Magic Kingdom, SOMETHING is coming, and that is very exciting in itself.
Behind Frontierland Expansion Ideas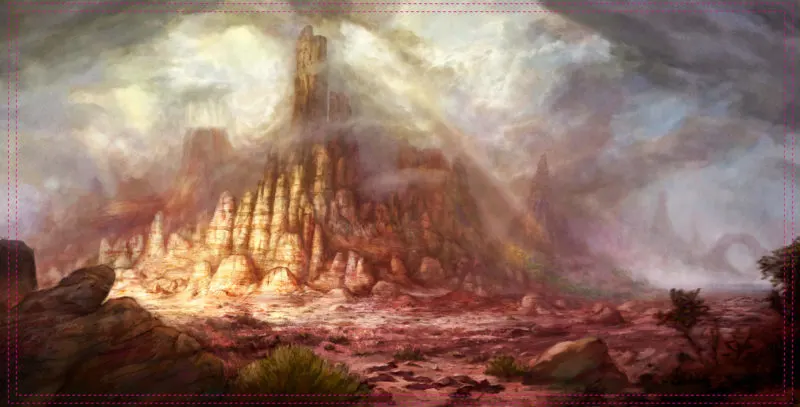 What still wasn't exactly made clear is if this expansion would be one land with one theme or multiple themes and franchises within the same land.
Here is a list of possible themes for this beyond Big Thunder expansion project:
Coco
Disney Villains
Encanto
The way I understood it was that Disney would choose ONE of these three IPs for the theme of this expansion area, but it also may have meant it would work all three franchises into one new land. Only time will tell what Disney decides to do.
Let's take a look at each of them individually and what we know so far.
Coco
During the discussion at the D23 Expo, Disney Imagineer Chris Beatty asked: "Have you ever wondered if you could travel to the other side of Big Thunder Mountain Railroad, what would be there?"
The first land they mentioned was themed to Disney/Pixar's 2017 animated film 'Coco.'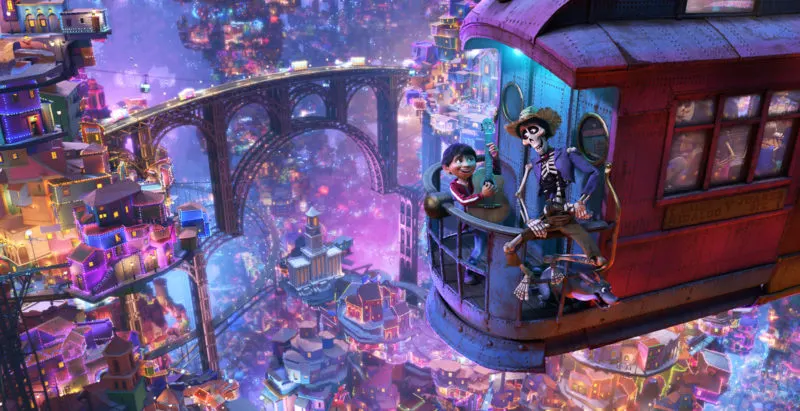 Beatty continued: "What if past Thunder Mountain there is a valley in front of us with the little town of Santa Cecilia Mexico and they're celebrating Dia de Los Muertos? And what if, what if, we could climb aboard the back of Alebrije and fly into the land of the dead, with our familia just like the Riveras in Coco? That's what COULD be out there."
This theme would work pretty well as it can easily be sold that a Mexican village lays beyond Big Thunder Mountain, which is located in the American Southwest or Texas or Arizona. Mexico makes sense here.
We didn't get too many details about the attraction, but riding on the back of Pepita the Alebrije would be an immensely popular experience. The only question is would it be more in the style of a Fantasyland dark ride like Peter Pan's Flight, or something more thrilling like Flight of Passage?
There would also be crazy potential for dining locations here, but it might be redundant at what is already offered at Pecos Bill's Tall Tale Cafe.
Disney Villains
Even though fans reacted very positively to the first two ideas, the one that got the biggest applause from the audience was a potential Disney Villains-themed land.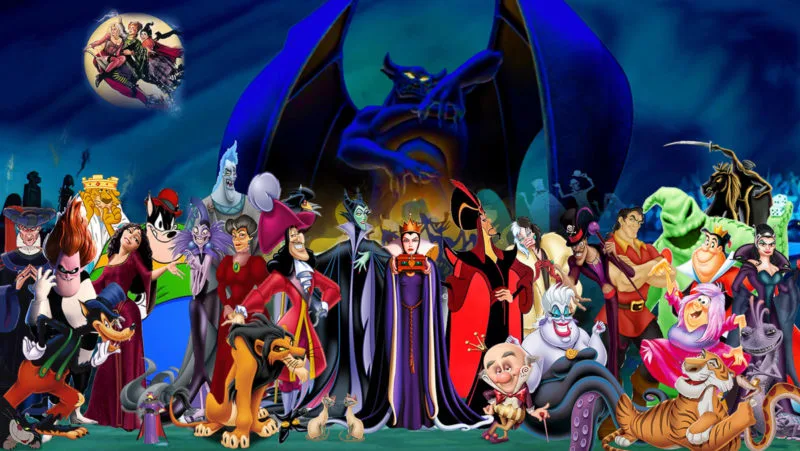 As she introduced the idea, Lee said, "We love to hate, and sometimes love to adore, obsessively love to adore…our villains."
This would make sense as ever since the Beastly Kingdom expansion got shelved at Disney's Animal Kingdom, Disney fans have been clamoring for years for something similar. An idea such as a Dark Fantasyland based on the most popular villains would be incredibly popular and they could even dust off some of the old designs for the Beastly Kingdom attractions to make it happen.
However, one thing that you'll notice is the Coco and Encanto-themed areas are much more defined in the concept art so far. On the other hand, the Disney Villains area is way off in the distance and much vaguer.
Unfortunately, this likely indicates that while Disney Villains is an idea Disney is considering, it's not as far along in its development as the other two. Though whether that means it's less likely to be built remains to be seen.
Encanto
Back at the 2022 D23 Expo, the other theme they discussed for this expansion was around Walt Disney Animation Studios' 2021 hit film 'Encanto," which tells the story of the Madrigal family who lives hidden in the mountains of Columbia.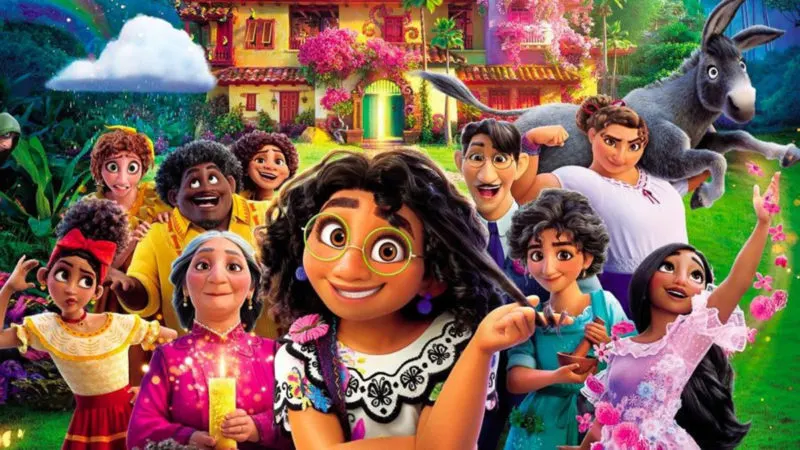 We don't think Encanto is coming to the Magic Kingdom since it looks like it's going to the Animal Kingdom instead, but here is what they said about it then.
Lee described the possibilities: "No one can bring a house to life like Disney Imagineering. What if you could walk into the Madrigals' casita…meet the family. What if Mirabel is your guide into all the wonder within those walls? Bruno's tower, Antonio's room? All of it! What if you could step up to a door and discover your own magical gift?"
Putting Encanto would likely be another popular choice with fans, but it is less believable from a geographic point of view. Mexico is just beyond the border of the American Southwest, but Columbia in South America is a whole lot further and it doesn't really make sense just to do a Latino mish-mash of cultures.
As for attractions, not too many details were given, but I do have to say riding on Parce's back through Antonio's Room or going on an adventure into Bruno's Tower do seem enticing.
Location
So whichever theme Disney chooses for this Magic Kingdom expansion, just where in the park exactly would it go?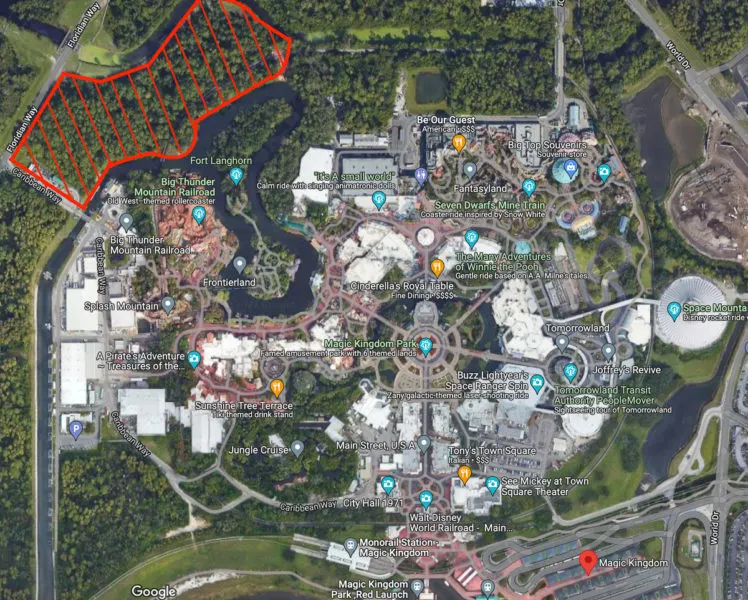 After the TRON roller coaster addition, Disney's Magic Kingdom still has 4 major expansion pads available to use for new attractions or lands. These are located behind Frontierland, behind Fantasyland, past Tomorrowland/Main Street U.S.A., and in Adventureland.
From the latest announcement, Disney seems to have earmarked the area behind Frontierland as the most suitable place to expand the park in the near future.
The area behind Frontierland is the largest expansion pad left at the Magic Kingdom, but also very difficult to get to and could create some big challenges for Imagineers.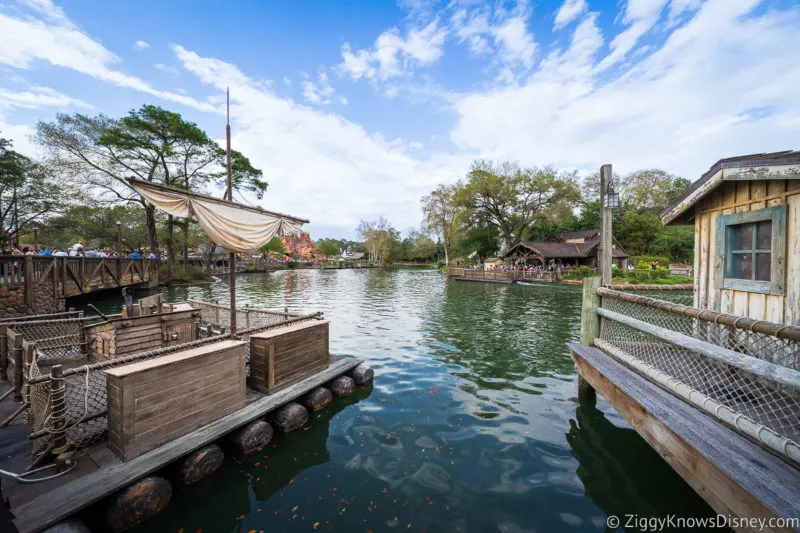 If you look at the map, the Rivers of America separate this plot from Frontierland, so a bridge would need to be built to allow access to guests. The bridge however would need to be moveable to allow the Liberty Square Riverboat to pass through.
It's also pretty isolated back there by itself, and it could create traffic flow problems. You always want at least 2 ways in and out of a theme park land so guests can move freely.
One solution would be to create a pathway around the right side of the Rivers of America and have it connect behind the Haunted Mansion and into Liberty Square. This would make it more accessible to guests with two entrances to the land.
It would also make it easier to connect to the other expansion pad behind Fantasyland if and when Disney ever decides to build on that area.
What Will Happen to Frontierland?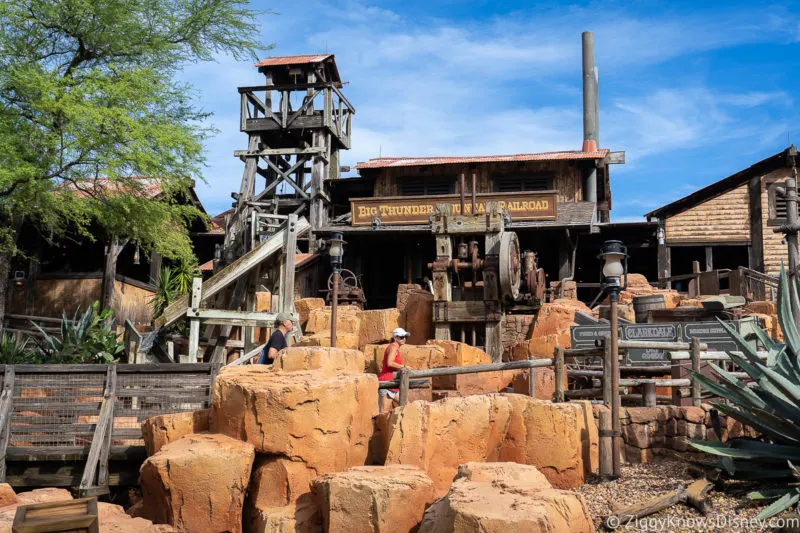 If this project goes through, not too much will change to Frontierland as it currently stands. Big Thunder Mountain isn't going anywhere, and Splash Mountain is still getting transformed into Tiana's Bayou Adventure as previously planned.
Anything included in this expansion with Coco, Encanto, and Disney Villains will go behind Frontierland, so the landscape of Frontierland will remain mostly how it is without anything getting moved..
There is, however, the possibility of this new "Beyond Big Thunder Mountain" expansion taking over the Rivers of America and part of, or all of Tom Sawyer Island. Disney may determine this is the easiest way to connect this new land with Frontierland and Liberty Square, and since Tom Sawyer's Island is the most underused area of the park, it would make sense.
When Will the Magic Kingdom Expansion Happen?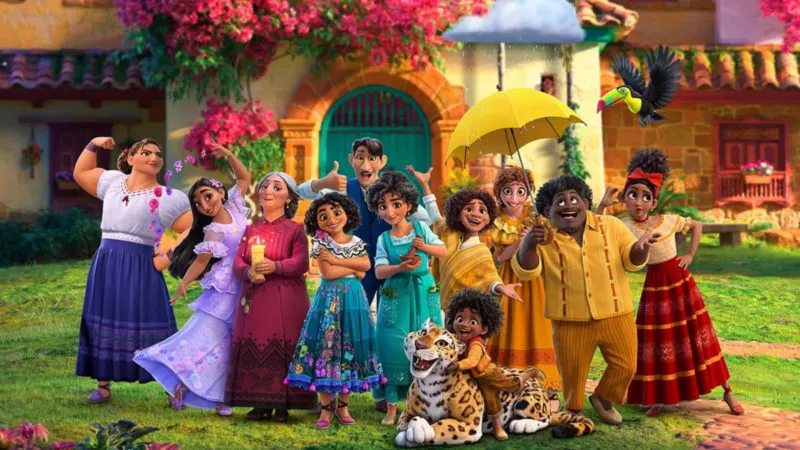 Right now we need to keep in mind that nothing regarding this new Beyond Thunder Mountain expansion at the Magic Kingdom has been approved by Disney brass, and what we've seen so far may never actually get built.
Josh D'Amaro, Jennifer Lee, and Chris Beatty went out of their way to make fans understand these are still ideas being thrown around behind the scenes. What actually is built will undoubtedly be vastly different from these early concepts.
If we were to guess, the Animal Kingdom expansion has a higher priority than the Magic Kingdom expansion. The fact that the Zootopia & Moana land concept art is further along tells us that we will probably have to wait a while longer to finally see something appear beyond Big Thunder Mountain.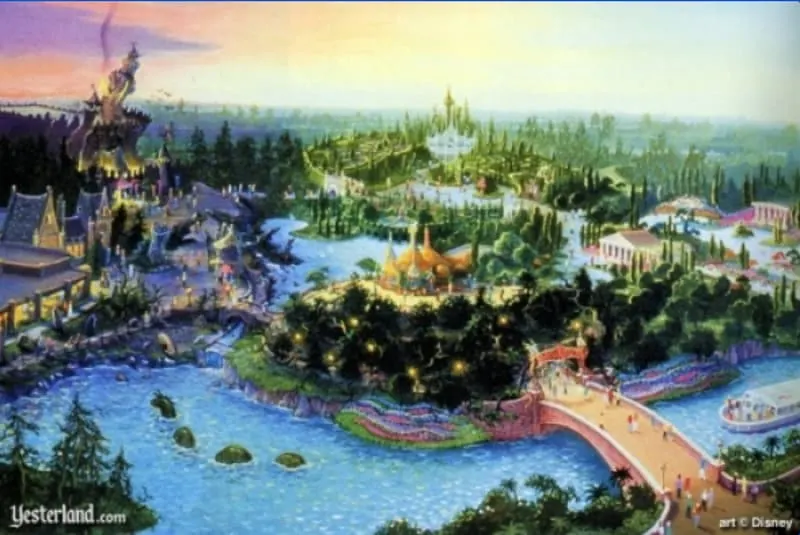 First Disney needs to decide how many different themes are going to be included in this new expansion and then which specific IPs that will be. After that, they will need to decide what attractions will be built, and get the approval and funding for those rides. That alone could take years.
Even if the Magic Kingdom expansion was already green-lit and construction was ready to start tomorrow, building a new land like this would take a minimum of 3-4 years, and that's if everything goes smoothly. For example, it took 4 years from the initial announcement to build Galaxy's Edge, and just over 3 years from the time construction began.
Since Disney is not ready to officially announce anything, it's going to be a while before you can visit a Disney Villains land or explore the environments shown in Coco and Encanto.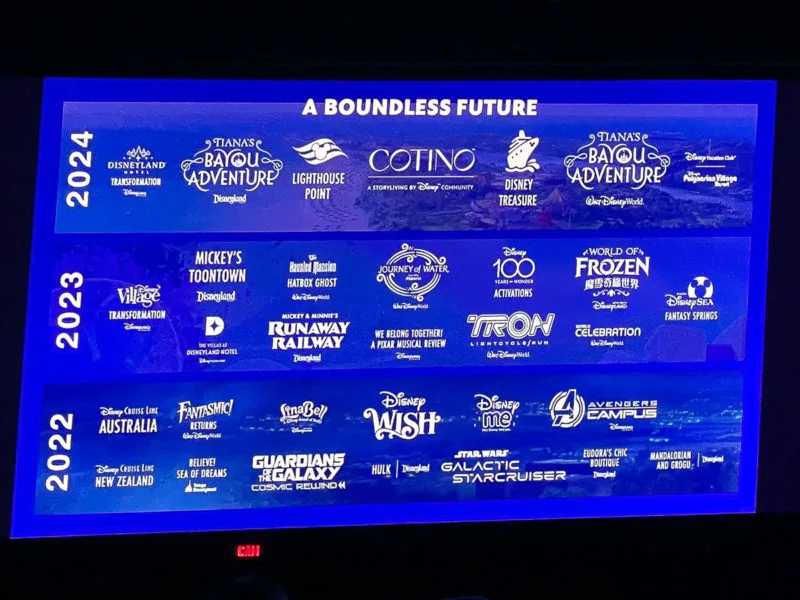 Our guess is that the earliest we will see an expansion completed at the Magic Kingdom will be 2028 or 2029. Since priority is being given to the Dinoland U.S.A. replacement at this time, that will probably have an opening date of 2027 or 2028, with the Magic Kingdom expansion coming a year or so later.
Neither of these expansions was included on the most recent Disney company timeline of upcoming Parks and Experiences projects, which tells us for sure we won't see any of this in 2025 or before.
My Thoughts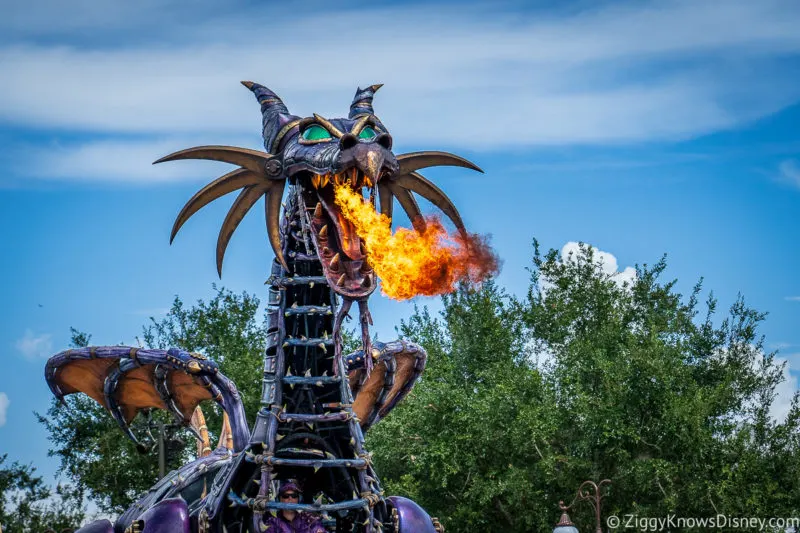 Just like with what we learned from the Animal Kingdom expansion, we are happy that Disney shared some info about this project too. No matter what happens with the Magic Kingdom expansion, it has to be considered a win for fans knowing that Disney is actively working to bring more enjoyable experiences to the current theme parks.
No, we aren't getting the rumored 5th theme park, and these two projects alone are not enough to outdo what Universal has going on with its new Epic Universe theme park, but it's a start. Disney isn't stupid and company executives know that Universal has gained some serious ground in the past decade, whether they publicly admit it or not.
Disney obviously is listening to the fans for once, and realizes that something needs to be done to get fans excited once again. Perhaps Iger and crew finally realize that the theme park end of the company is a huge money-maker and even more resilient than realized a few years ago.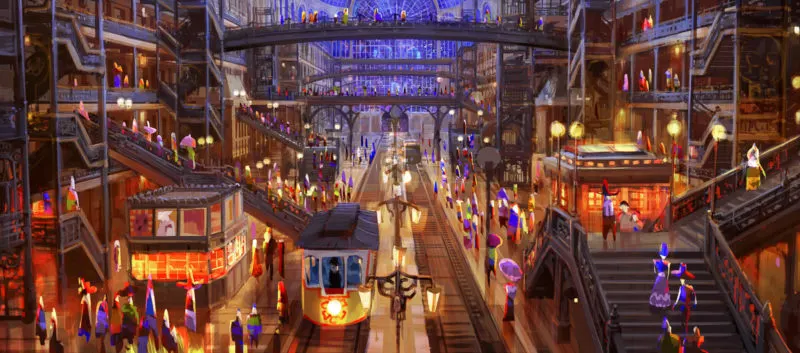 As for which franchise deserves to be included in this expansion, that is up to opinion. Thematically, we feel that Coco works better than Encanto since Mexico is just across the border and fits better with the story of the Magic Kingdom.
However, in the end, I'm not sure that Disney's Magic Kingdom is the best location for either of these properties. I personally think Coco would fit better in EPCOT rather than the Magic Kingdom. It's a slam dunk to do something with the franchise in the Mexico pavilion and breath life into that part of the park.
Ideally, Coco would come to the Mexico pavilion and Disney could overlay the Gran Fiesta Tour with a Coco-themed attraction like was originally rumored a few years ago. The only problem is that space behind Mexico is somewhat limited, and the new attraction may not fit in the current building, which makes putting it in Mexico a challenge.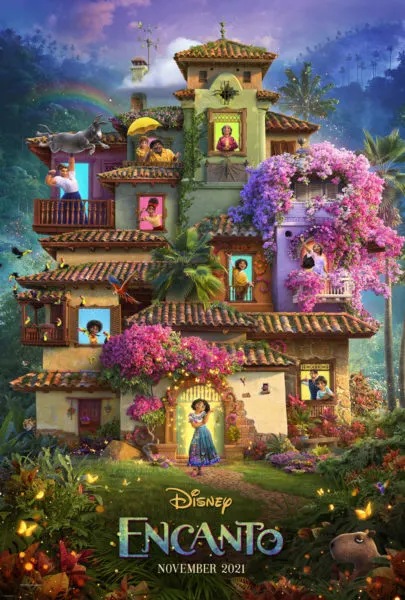 Encanto on the other hand looks like it is heading to Disney's Animal Kingdom as a headliner for the DinoLand U.S.A. replacement. We think this is a better fit anyway in the "Tropical Americas" land.
We also think Encanto would also be a better fit in EPCOT. It fits culturally, and it would finally give Disney a reason to bring a new country to World Showcase, along with another attraction for families.
Personally, we think the best fit for the Beyond Big Thunder Mountain expansion at the Magic Kingdom is a Disney Villains land. Thematically it works perfectly with the park, and a Dark Fantasyland would be incredible and play off the regular Fantasyland that's already there.
Although if we are being perfectionists, that may work better for the other expansion pad next door behind where Fantasyland sits.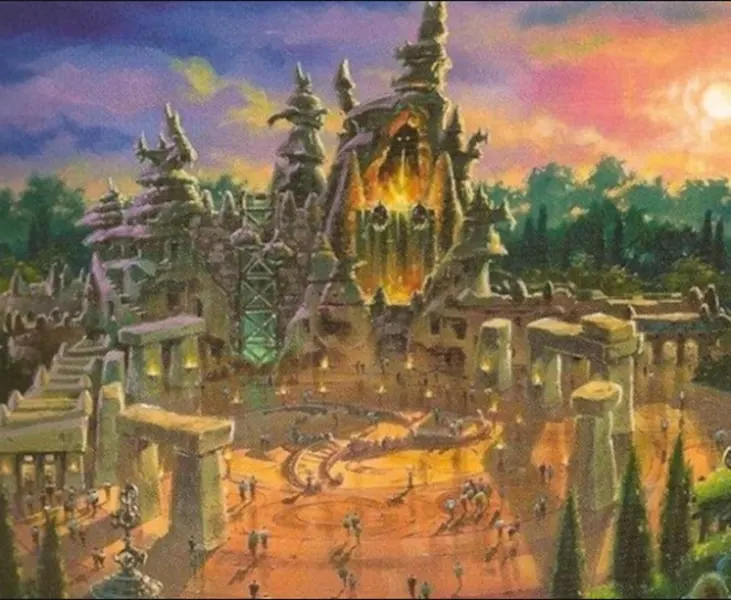 No matter where you put it, fans would be salivating to finally get a version of Beastly Kingdom after all these years.
We are also extremely excited to hear about the size of the upcoming project. Just knowing that they are aiming to build a land that is the same scale as Pandora and Galaxy's Edge shows me they are serious about bringing more quality attractions to the Magic Kingdom.
We can argue about which theme works better in this new land for the Magic Kingdom, but at the end of the day, it's a major win that Disney is investing big on its theme park business once again, and we have a lot to be hopeful for in the coming years.
Check our guide to all the new rides and attractions coming to Disney World to stay on top of all the newest developments once announcements are made.
That wraps up our look at the potential Magic Kingdom expansion. I'm sure we'll be finding out more info in the coming months so stay tuned for more!
If you are going to Disney World soon, make sure to read our Disney World Planning Guide for all the tips and info you will need to cover everything! Also, check out our Disney World Crowd Calendar so you know when the best time to visit is!
Your Thoughts
I want to know what you think about the proposed Magic Kingdom expansion with a land themed to Coco and Disney Villains…
Which theme do you think fits better in this Magic Kingdom location?
What are some attraction ideas for the land?
Let us know in the comments section below!
If you enjoyed this article, as always I appreciate it if you'd share it with others via social media. I work hard at making this website into a useful resource for you and your family to plan your visit to the Disney Parks and I hope it can help you! Thanks 🙂