Disney has announced that a brand new Country Bear Jamboree show is coming to Disney's Magic Kingdom and replacing the classic "Country Bear Musical Jamboree" in Frontierland.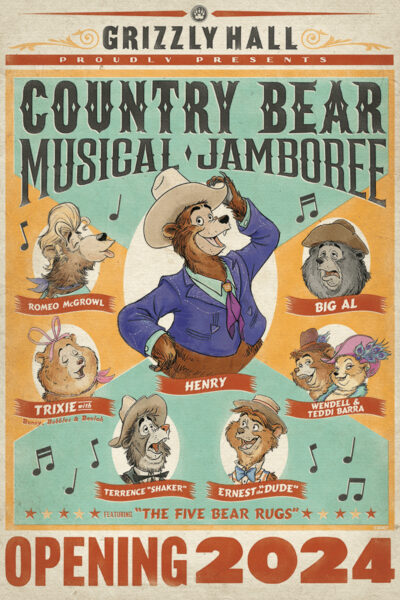 In this post, we will cover everything we know right now about the new Country Bear Jamboree show coming to the Magic Kingdom including what it will be about, possible opening dates, the closing date, and why Disney is getting rid of a Magic Kingdom opening day classic.
This first thing is I can't say that this news comes as a big shock to me. Let's face it, the line to see the current show hasn't been more than 5 minutes in a decade or more and it clearly isn't moving the meter for the current Disney World generations.
On the other hand, it's definitely sad to see a show leave that we love so much and that's been around in almost it's original form since 1971. We'll get into that more in a minute, but we understand the decision.
The announcement was made during the "A Celebration of Disney Parks, Experiences and Products: Yesterday, Today and Tomorrow" presentation at Destination D23 on September 8, 2023. Disney Parks, Experiences and Products Chairman Josh D'Amaro offered a sneak peek at the attraction, and everything else coming to the Walt Disney World Resort in the next couple of years.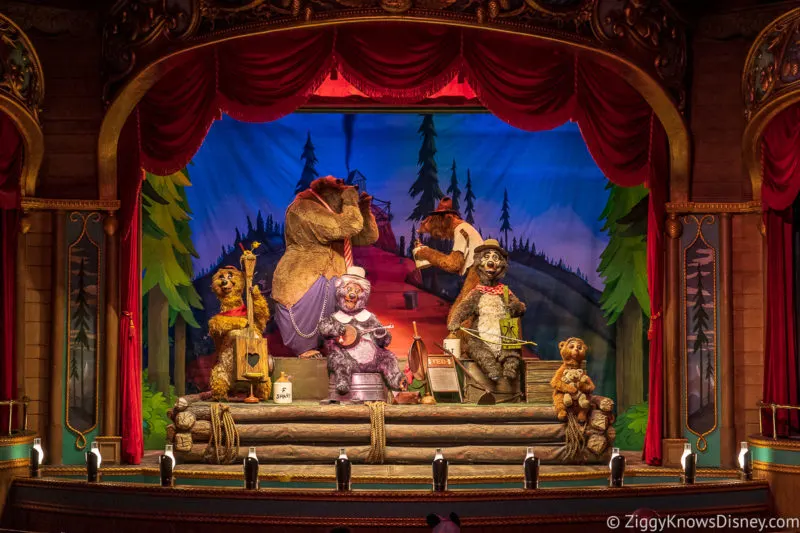 It was announced that the current version of the "Country Bear Musical Jamboree" is closing and a new version of the show will be taking its place in Grizzly Hall.
The good news is that the bears themselves are not going anywhere and will still be incorporated into the new show. That means you will still be able to see Big Al, Henry, Trixie, and all their friends, just in a slightly different setting.
Imagineer Chris Beaty says that the bears will be interpreting favorite Disney songs in various genres of country music. He said they are "envisioning the new experience as a homage to the classic musical revues in Nashville and they're working with Nashville musicians to get the authentic country sound."
What we are happy about is that the new Country Bear Jamboree won't be changing tone or style. In fact, it will still have the same fun and friendly tone that fans of the classic show enjoy, so don't think it's going to turn into the Hall of Presidents or something drastic like that.
Former Disney Imagineer Ethan Reed said that he originally pitched the idea for a new show in 2004 and he was the conceptual Creative Director on the project from 2018 to 2020 when everything got put on hold due to the pandemic and parks closure.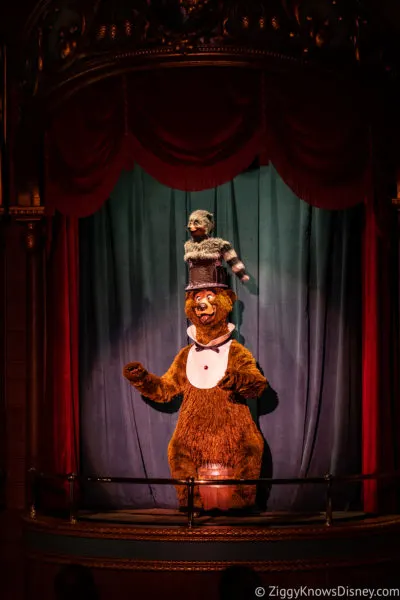 Rumors about a new show taking the place of the Country Bear Musical Jamboree have been circulating for years. Most were convinced that a completely different IP would come and take it's place, something with more ties to a popular film franchise and that young guests can relate to.
We may be in the minority here, but we absolutely love the Country Bears and it's one of our all-time favorite attractions at Disney World, and we are thrilled the bears are sticking around.
At the same time, we know that things can't always stay the same. Through the years we've seen some of our favorites leave such as 20,000 Leagues Under the Sea, Mr. Toad's Wild Ride, and more recently with Splash Mountain being reimagined into a Princess and the Frog attraction. As much as we loved these attractions, we understand that changes were needed (albeit for varying reasons).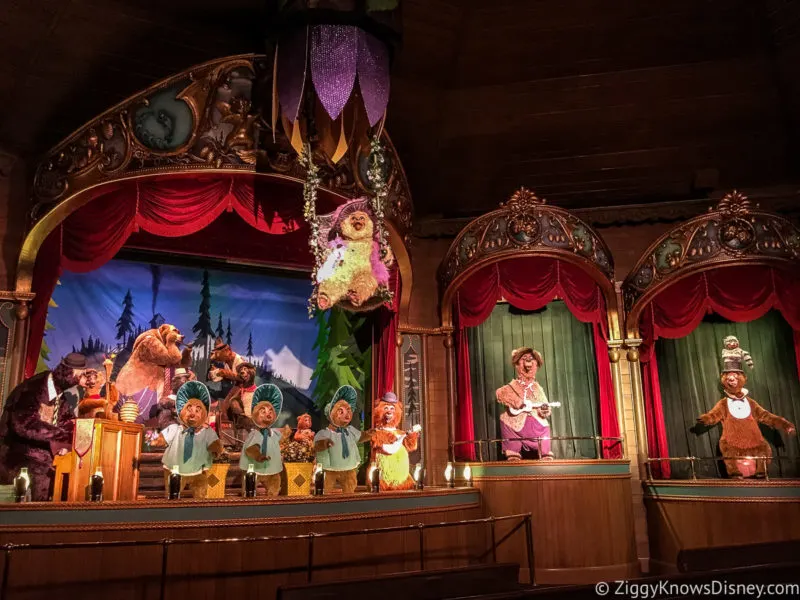 I'm not sure that any other show will be able to replace the original in my book. We've been watching these bears for over 40 years now, and we are just too nostalgic about them to have an unbiased opinion.
One of our favorite late-night Magic Kingdom activities is gorging ourselves next door at Pecos Bill's, then sitting down for a rivoting rendition of "Blood on the Saddle." (We have issues and are willing to admit that.)
The Country Bear Musical Jamboree offers a perfect blend of catchy music, witty humor, character-building, and the ability to "pick on" rural America in a way that is not offensive but actually endearing. I've never met anyone who was offended by the show no matter where they were from.
In any event, the fact that the bears are sticking around and will have the opportunity to leave a lasting impression on the younger generations the way they did for us, warms my heart. And hopefully that will be the case for decades to come.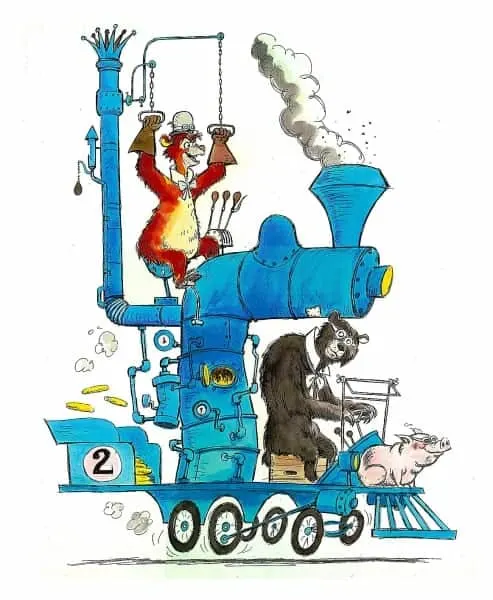 Who knows, if the new show is a smash-hit, maybe we'll even get that Country Bear ride that was once planned for Disneyland. I know, two Country Bear attractions in one park is pushing it, but I can dream can't I?
So when is the new Country Bear Jamboree show opening? Right now we don't even have an official name for the show, let alone an opening date. We also don't know when the original show will be performing for the last time. The only thing they did say is that it will open in 2024, but not much more than that.
It's hard to say what the timeline is here. They did announce this show at the Destination D23 event along with other projects that for the most part seem like they are close to being started. Besides the Animal Kingdom DinoLand transformation and the Beyond Big Thunder Mountain expansion, I think there is a good chance we will see everything else open in the next year or two.
The fact that plans for this show were in development from 2018 to 2020 tells me that most of the details have probably already been worked out and that Disney announced it shows that company executives have already signed off on the project, which is a great sign.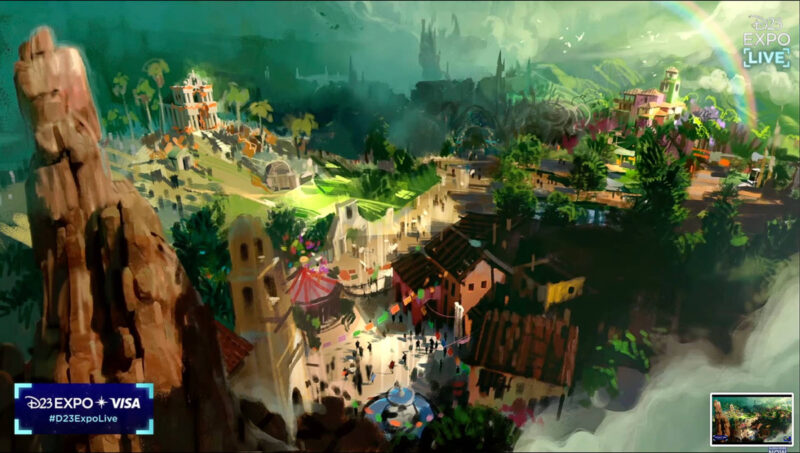 There is also some urgency right now to get visitors to the Magic Kingdom and Walt Disney World in general. Sure, the park got a big boost from TRON Lightcycle Run opening in 2023, but overall attendance numbers are down throughout all the theme parks.
The only other thing that is currently under construction at the Magic Kingdom is Tiana's Bayou Adventure, but that's not opening until Late 2024. In fact, that's one of the only attractions currently under construction at all at Disney World, so by announcing some of these other reimagined attractions (Test Track included), it gives guests something to get excited about.
And when the work does get started on the new Country Bear show, I would think the construction will not take very long. I don't imagine a complete overhaul done to Grizzly Hall itself, maybe some cosmetic changes, but for the most part, the structure should remain the same. In that case, work would mostly be on costumes, music, and getting the audio animatronics ready.
All that being said, I think it's realistic that the current Country Bear Musical Jamboree could close after the holiday season, maybe in Winter 2024 and work could commence immediately thereafter.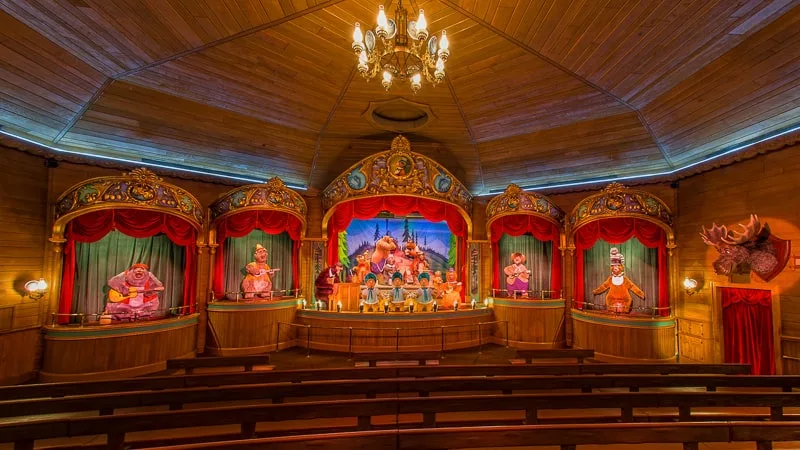 As for an opening date, I think Summer 2024 is possible, as long as construction actually does start in the winter. They did mention 2024, so we'll soon see how much Disney is in a hurry and which of the new attractions they announced will get priority.
We don't think anything can outdo the original, we just hope the new show gets the attention and care it deserves so that it will eventually be considered one of the best attractions at Disney's Magic Kingdom. We are slightly skeptical, but hopeful.
One thing is for sure, it will definitely be one of the most anticipated new attractions coming to Disney World in the next few years. We'll update you more here as soon as Disney shares some more details about the show, so stay tuned!
Also, don't forget to sign up for our FREE Weekly E-Mail Newsletter. There we bring you the latest updates on Walt Disney World as well as vacation planning tips. You can sign up here: Join our E-Mail Newsletter
In the meantime, here are some of our most popular planning guides for your trip to Walt Disney World:
Your Thoughts
I want to know what you think about a new Country Bear Jamboree show coming to Disney's Magic Kingdom…
Are you excited about it?
Would you prefer that stays the way it is?
Let us know in the comments section below!
If you enjoyed this article, as always I appreciate it if you'd share it with others via social media. I work hard at making this website into a useful resource for