Ever since Club Cool closed in 2019, fans of the beverage shop were wondering if it would be coming back to EPCOT. Many will be happy to know that Club Cool has now reopened in EPCOT in the new World Celebration and it has a whole new soda lineup!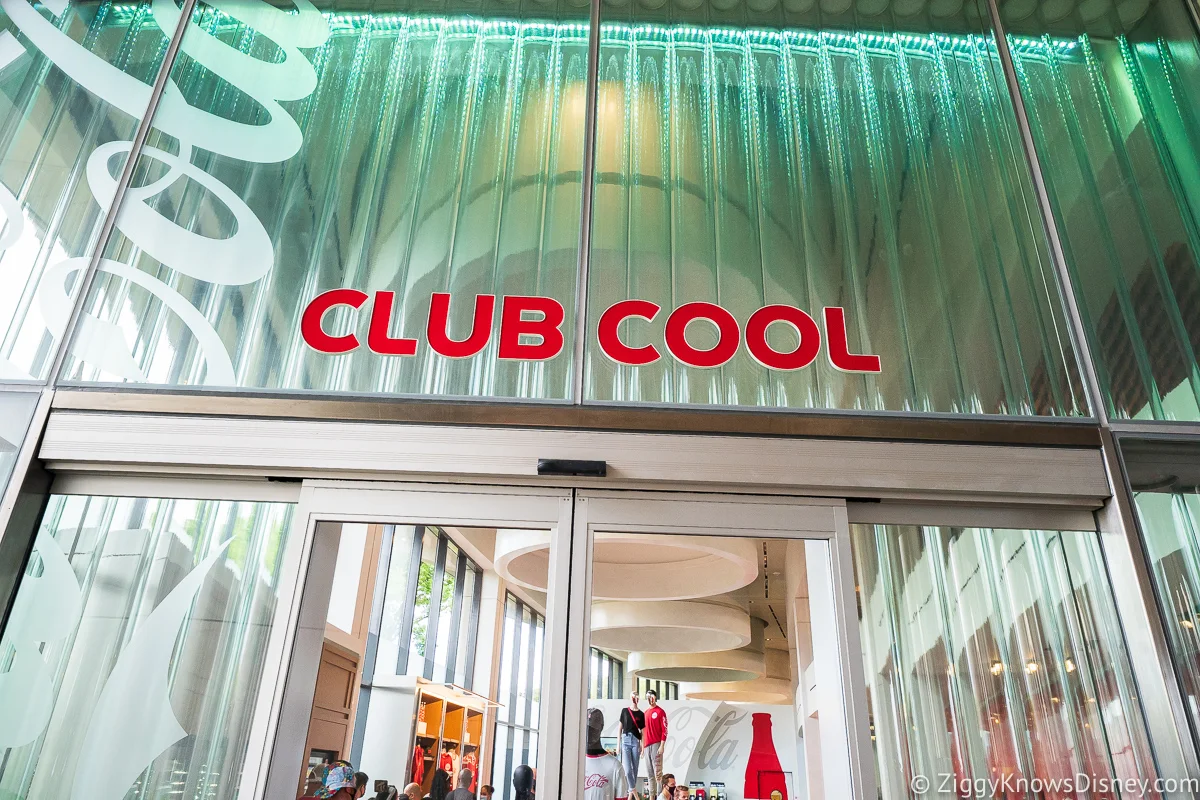 Club Cool has been a fixture of EPCOT's Future World for decades, and it's comforting to know that it will remain a big part of the EPCOT transformation project, even before it's complete.
In fact, Club Cool reopened on September 15, 2021.
Recently, we were able to visit the reimagined Club Cool and try out all the new sodas. In this post, we are going to give you a full tour of the new store with photos of the merchandise and a full list and review of every soda at Club Cool.
We will also talk about the queuing procedure and how to get into Club Cool.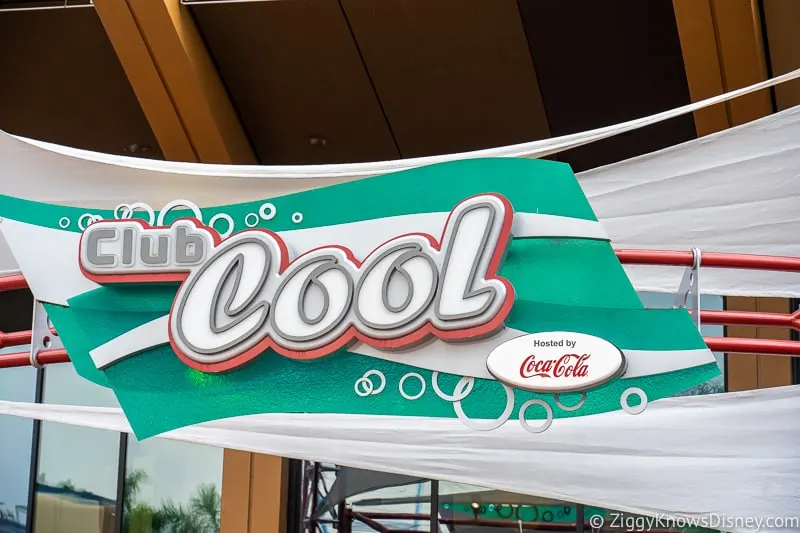 Club Cool is also still hosted by Coca-Cola, which makes sense seeing their long partnership with Disney.
Club Cool was famous because there were soda fountains where guests could get free samples of different sodas from around the world. The most famous of which was the controversial Beverly.
Thankfully, since that's what 99% of the guests went into the old store for, that has not changed. Club Cool still has Beverly, and a completely new lineup of sodas.
And yes, the soda at the new Club Cool in EPCOT is still FREE! That means you can taste as much of it as you want and not pay anything. There aren't many free things in Disney World, but Club Cool is still one of them!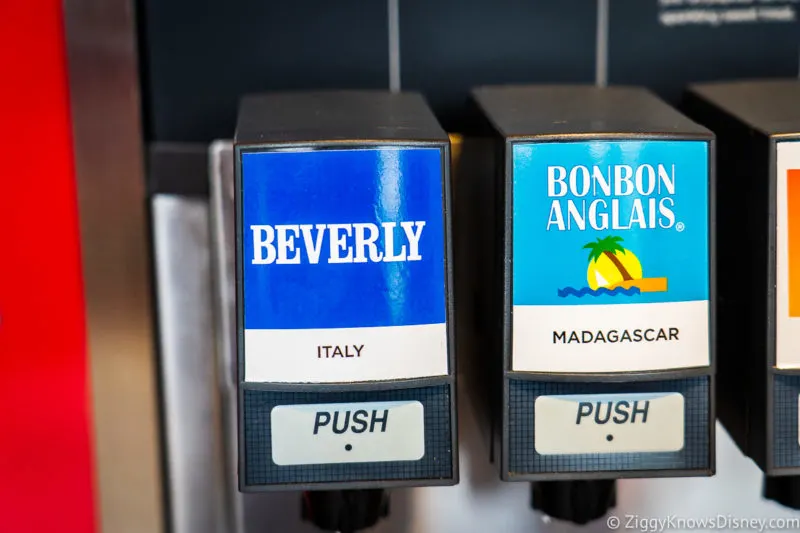 The old Club Cool was located in Future World West, however, this new location is a brand new structure and built in the center of Future World in the area of what will be called World Celebration.
Club Cool is located right next to Creations Shop, the replacement for the popular Mouse Gear store.
Before we start, don't forget to sign up for our FREE Weekly E-Mail Newsletter. We will update you with any changes to the Club Cool and share the latest vacation planning tips. You can sign up here: Join our E-Mail Newsletter!
Let's take a look at the new store…
Arriving at Club Cool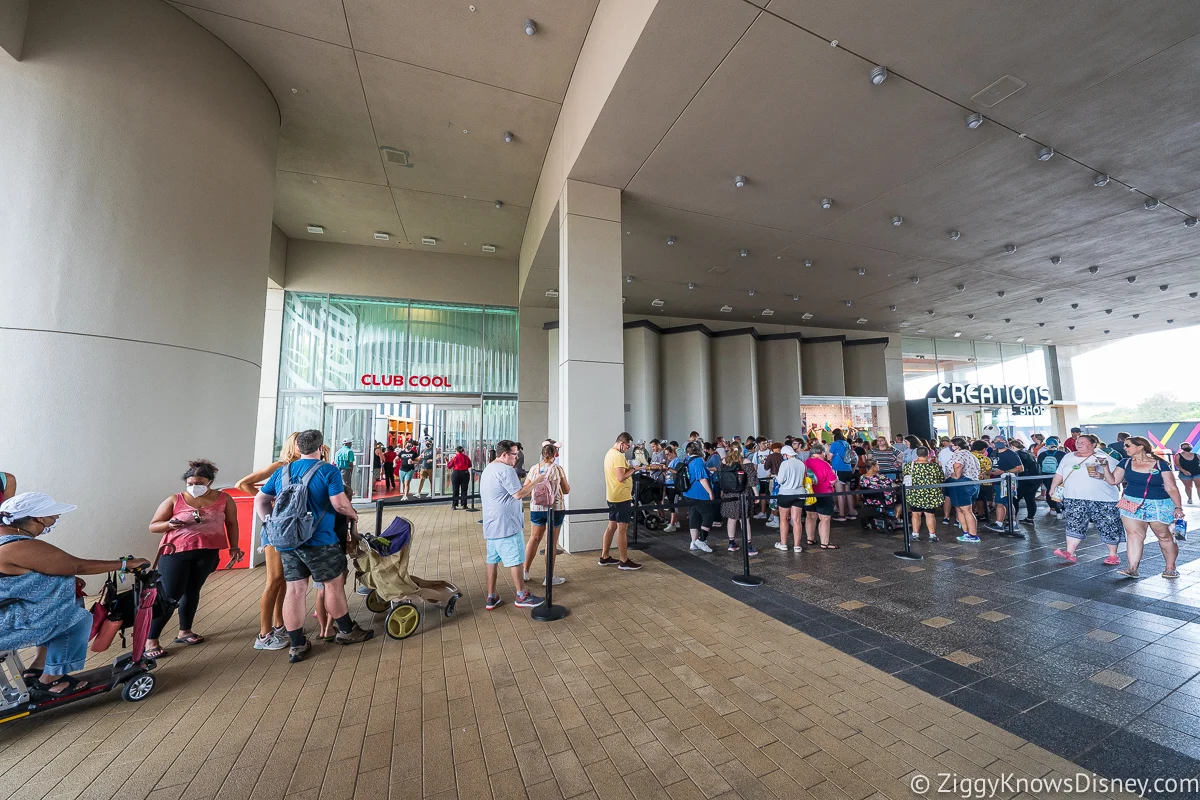 Since Club Cool is a fan-favorite and has quite the following, when we went on opening day there was a huge line formed outside the store. Disney is currently limiting the number of guests that can be in the store at one time. As guests leave the store, the next in line can enter. This eliminates over-crowding inside.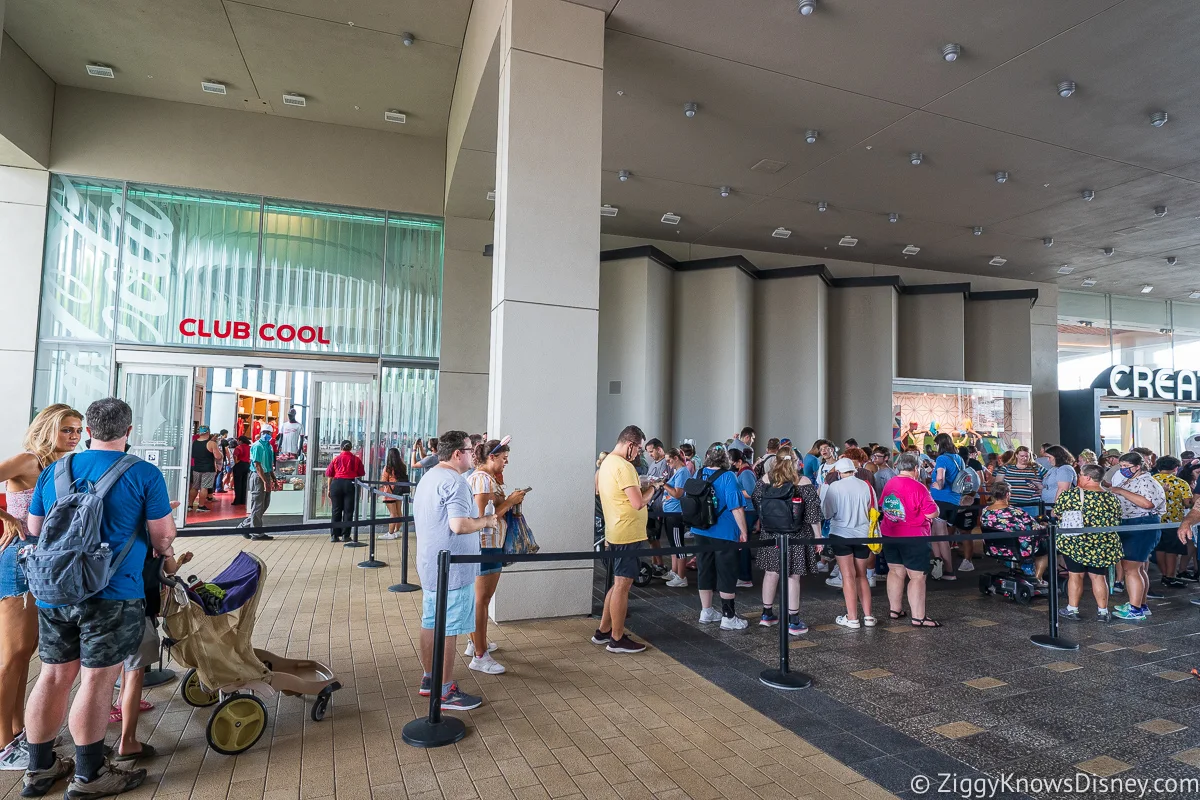 When we were there the queue to enter the store got as long as 45 minutes.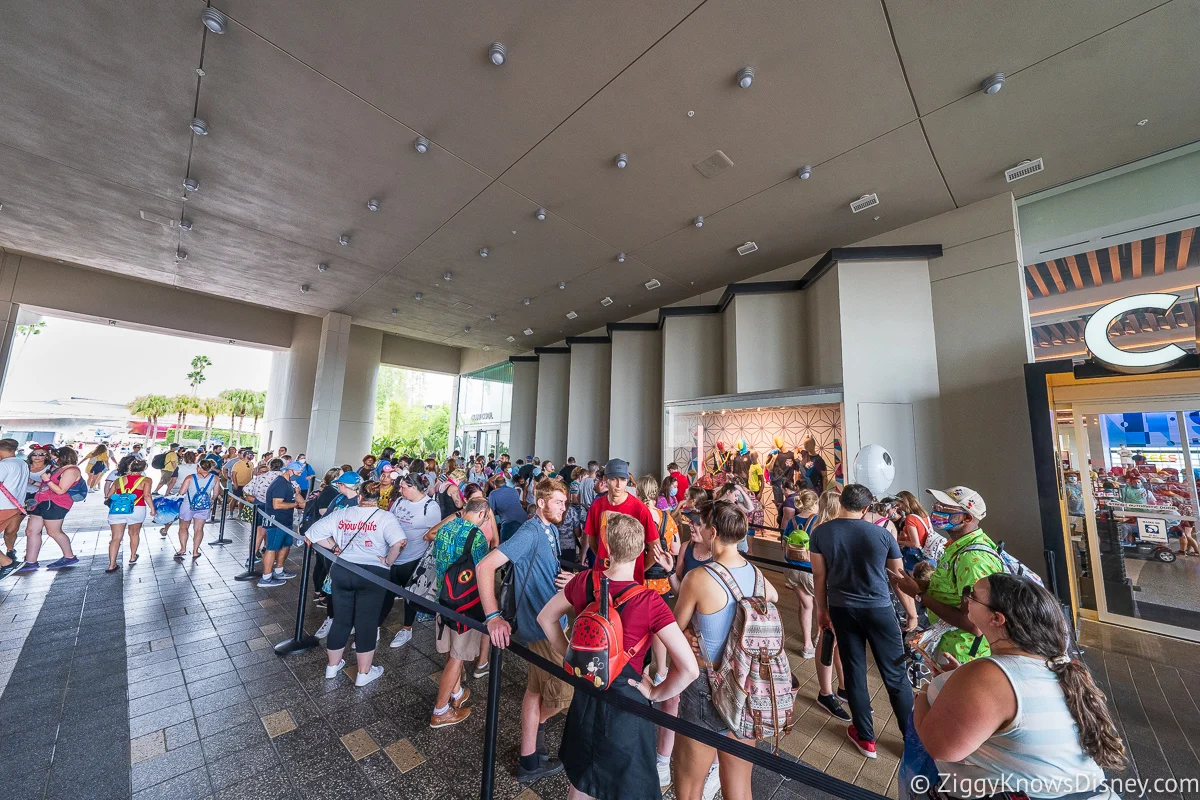 We don't expect it to always be that long, but at least for a while as people are coming for the first time, we expect there to be a queue outside to get in.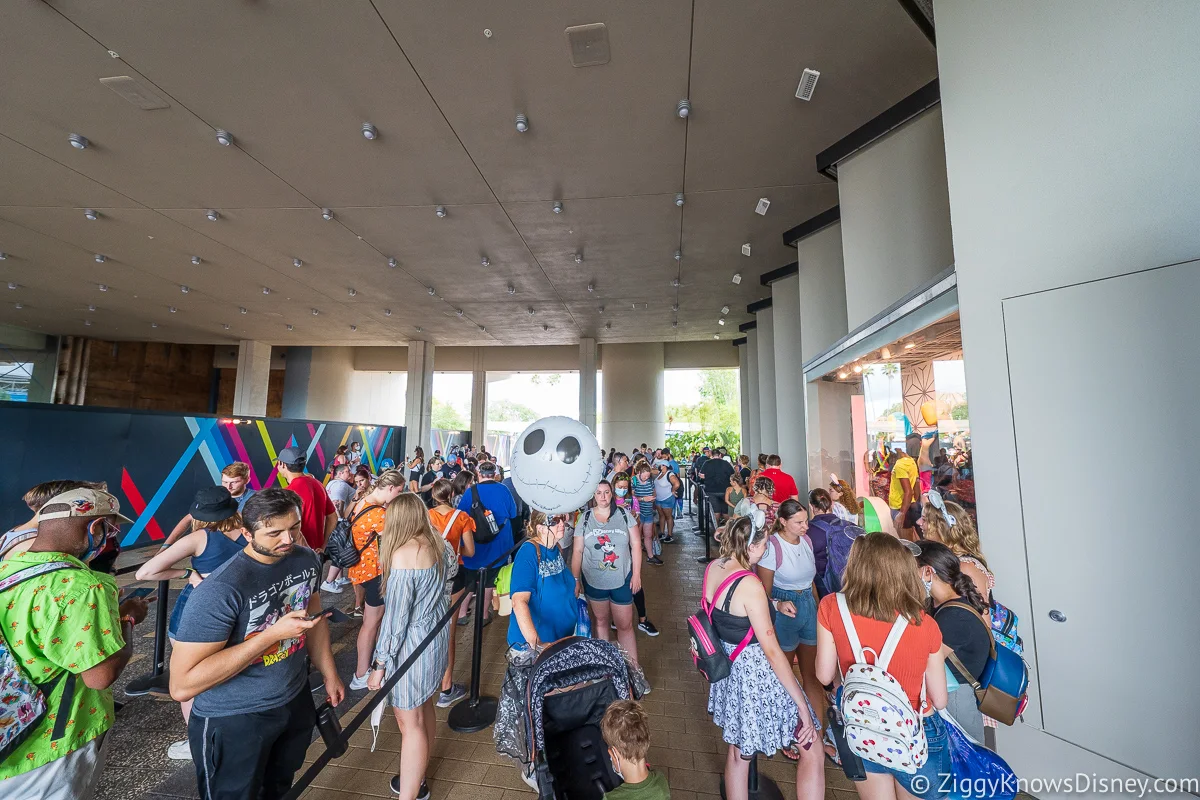 A cast member waits at the entrance and informs guests when they can enter.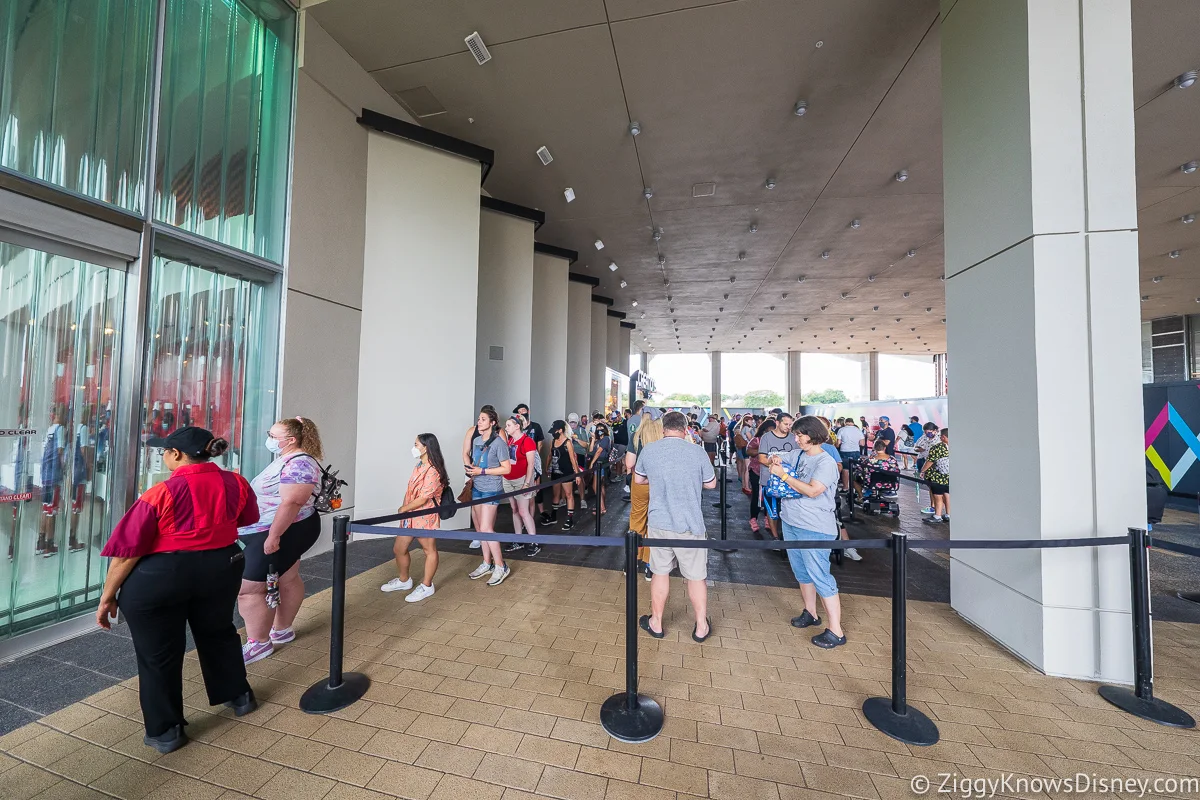 Right away you will notice the entrance. Does it look familiar to you? It should. The entrance to Club Cool is made from green-tinted glass and the red logo is inspired by the original Coca-Cola bottles.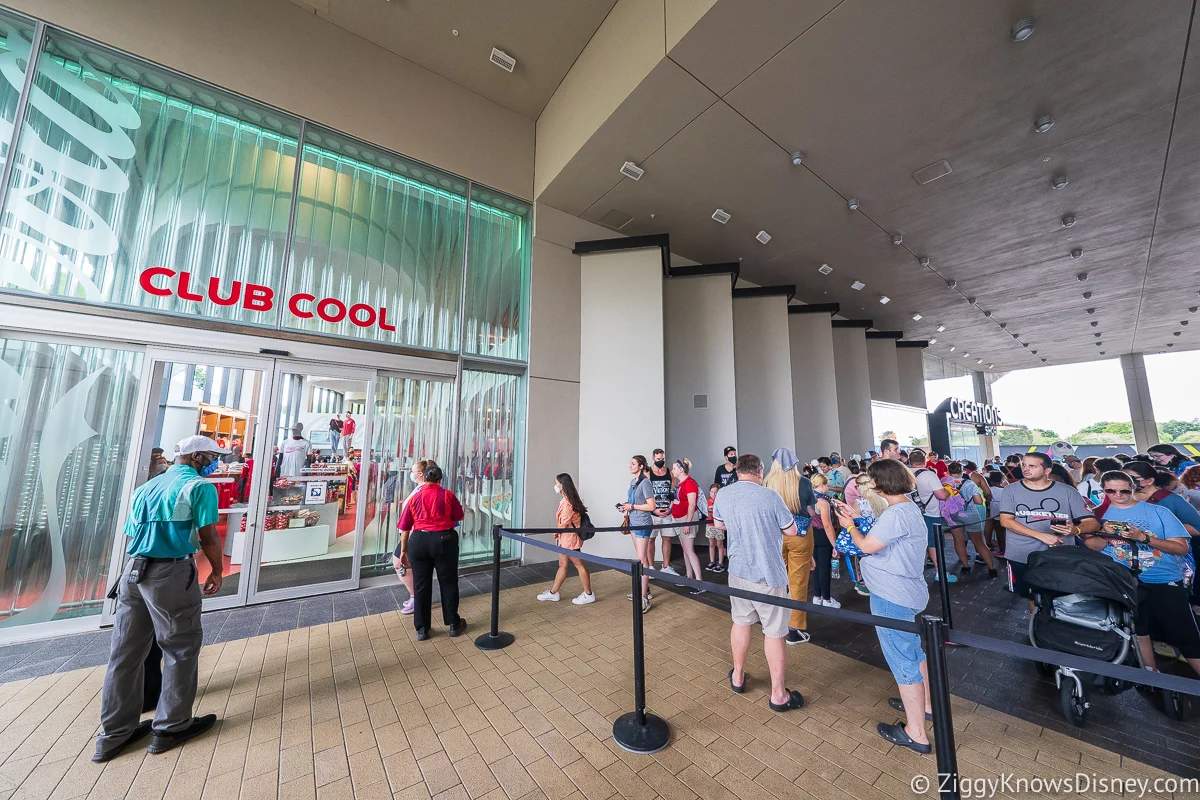 Can you see the green tint?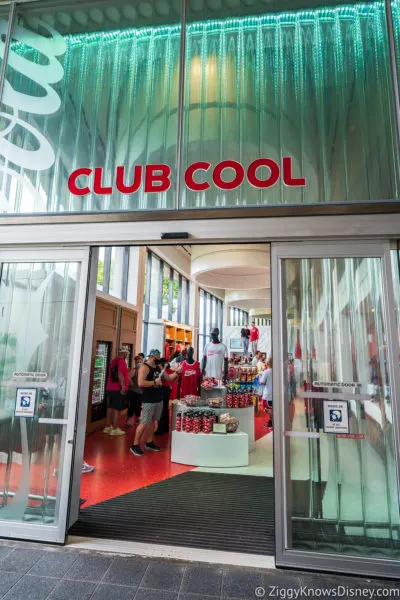 In recent months, Disney has given a sneak peek of the Club Cool entrance and it really lives up to the hype!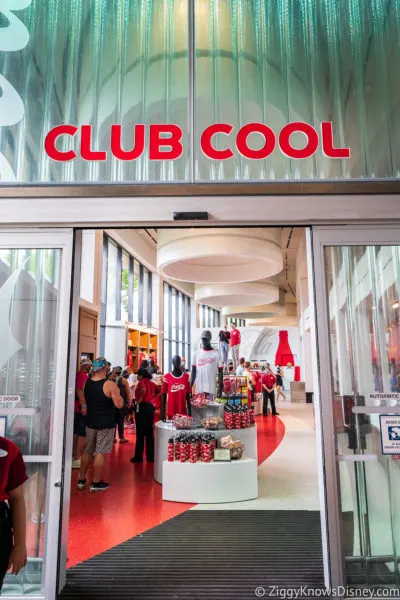 Disney Imagineer Zach Riddley said: "Club Cool is nearly BACK at EPCOT, and in that process of becoming, I'm proud to share a sneak peek at the new façade and marquee from the park this morning! This new portal features some fun touches that tie to EPCOT and Coca-Cola's design legacy."
"The Club Cool marquee uses our EPCOT World Bold font and looks amazing in bright Coke red! The façade was inspired by classic green-hued glass Coca-Cola bottles and features the iconic Coca-Cola logo fully integrated into this dynamic design. When complete, this will be a can't-miss destination."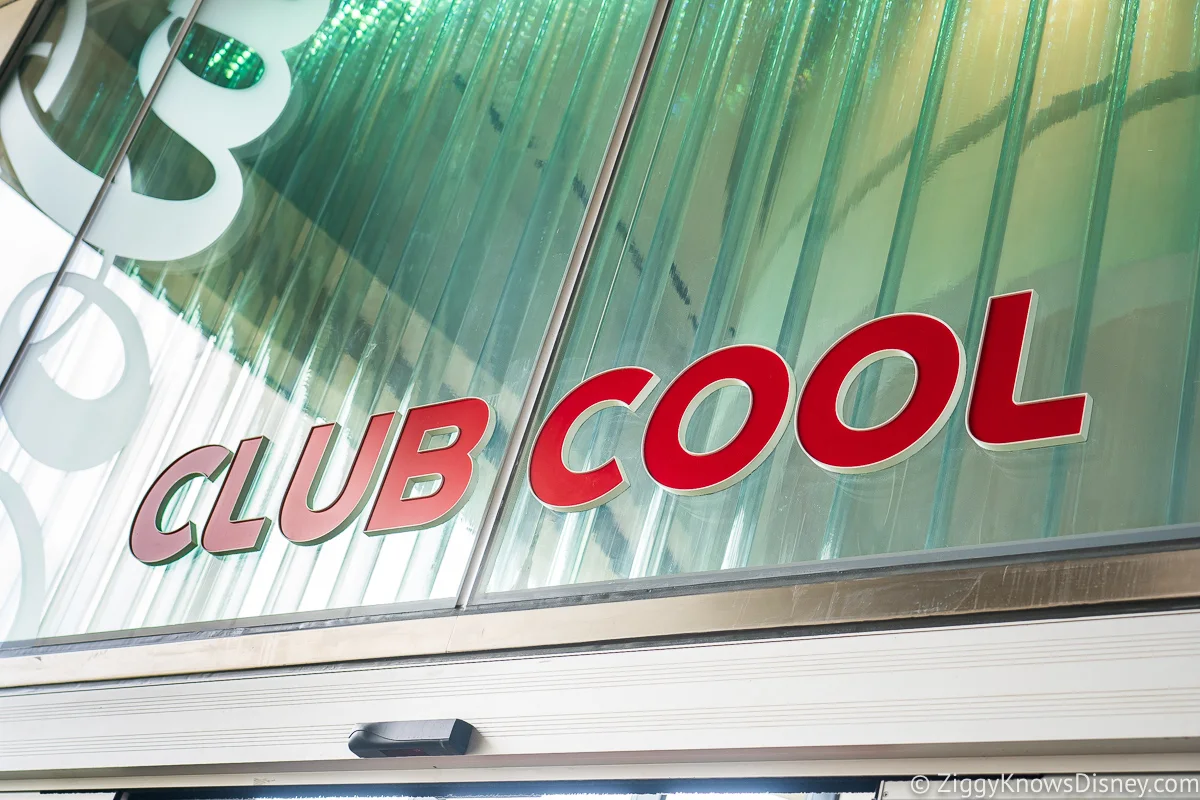 "Coca-Cola has been a part of the Disney Parks story since 1955 when ice-cold Coca-Cola was served at Disneyland! In 1998 the first iteration of Club Cool, Ice Station Cool, opened its doors here at EPCOT. Since then, we've continued to reimagine this location and it has truly become a part of the EPCOT experience."
We are certainly loving it! Now let's go inside…
Inside the Store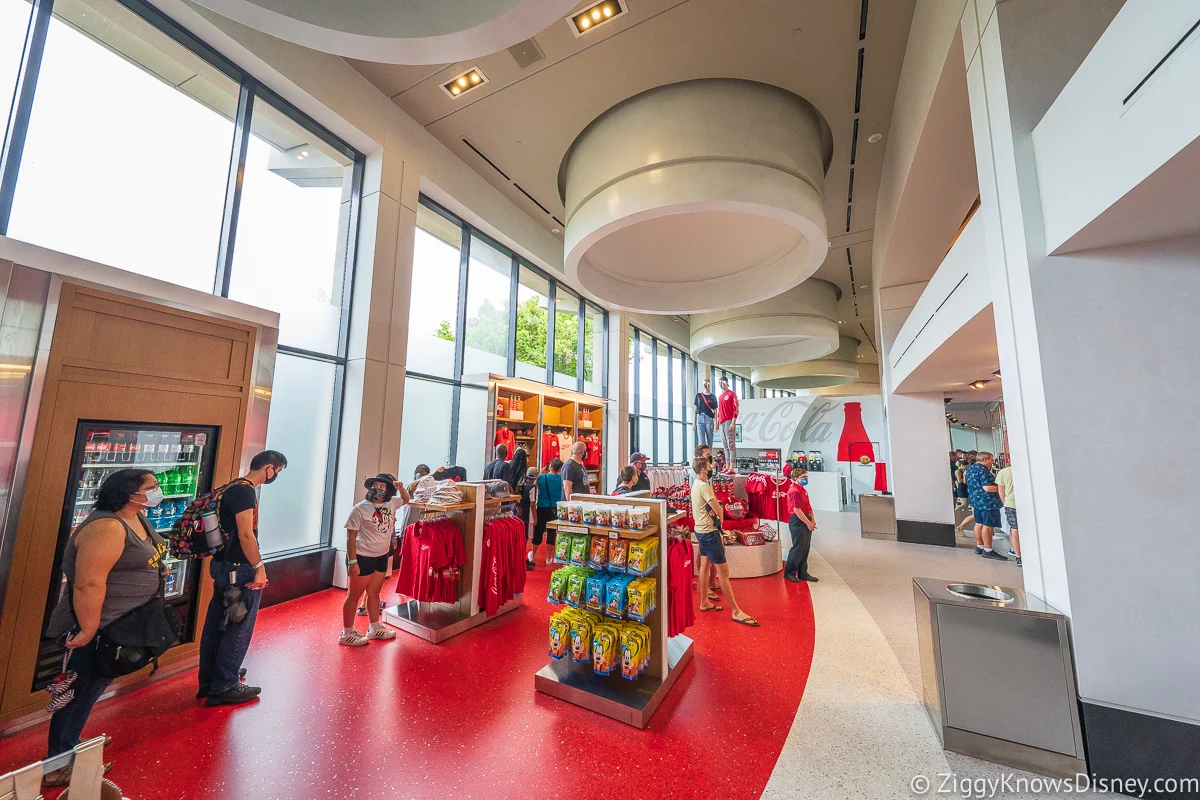 The color scheme for Club Cool is very simple, red and white. It has big open windows on the back wall which makes the space very bright and easy to see.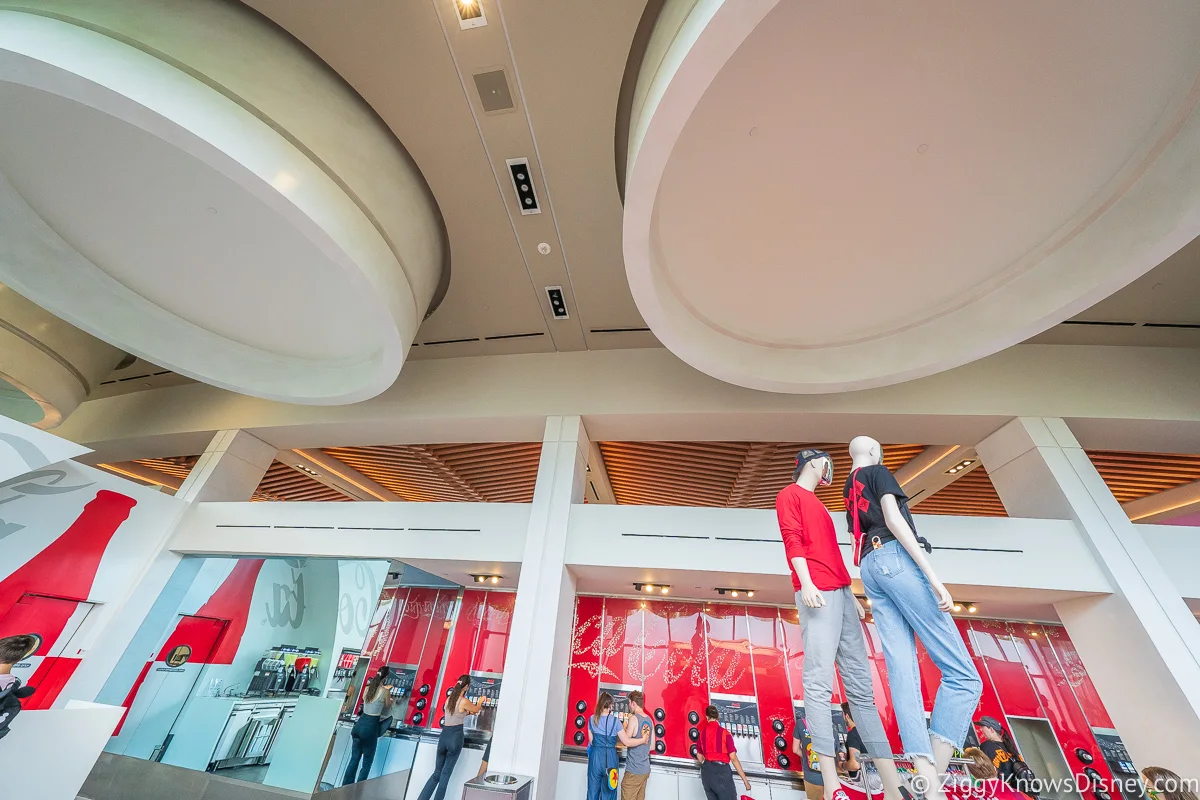 It also has very high ceilings adding to the openness of the store.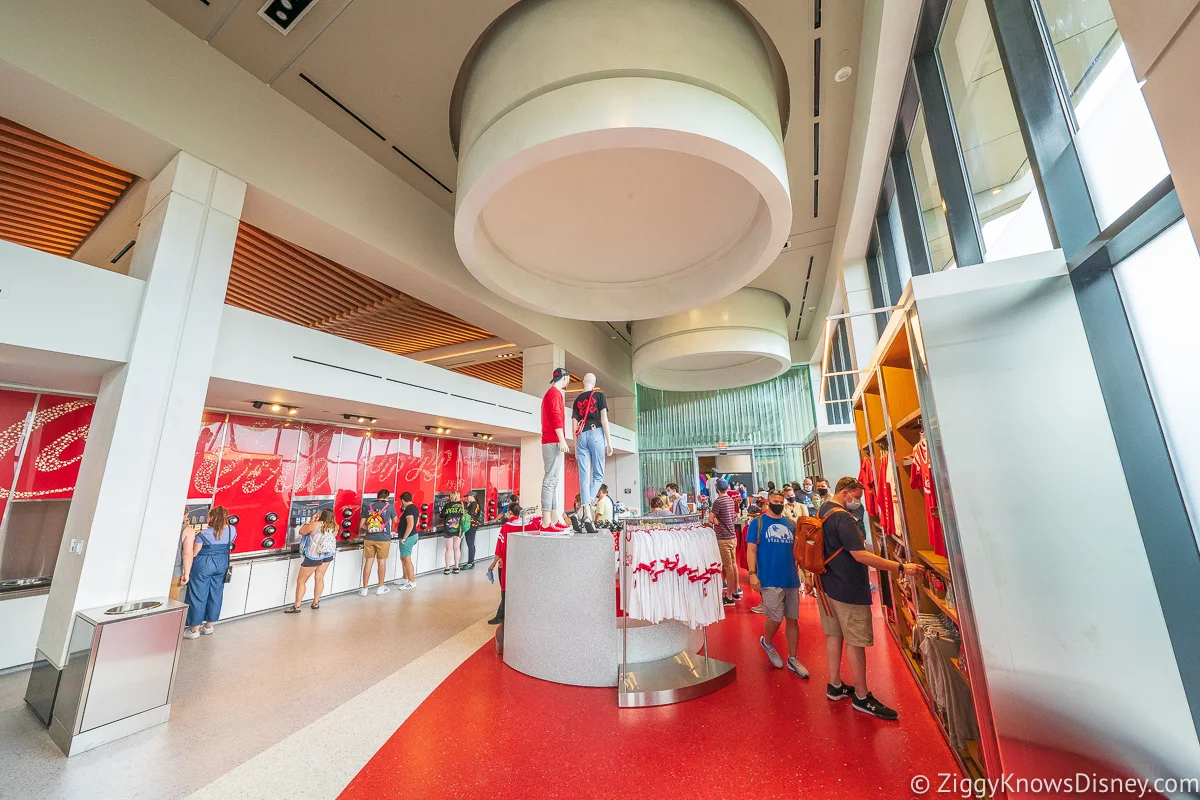 Even with limited capacity, the store can get very full at times. That's the line for the soda machines, but we'll get back to that in a moment.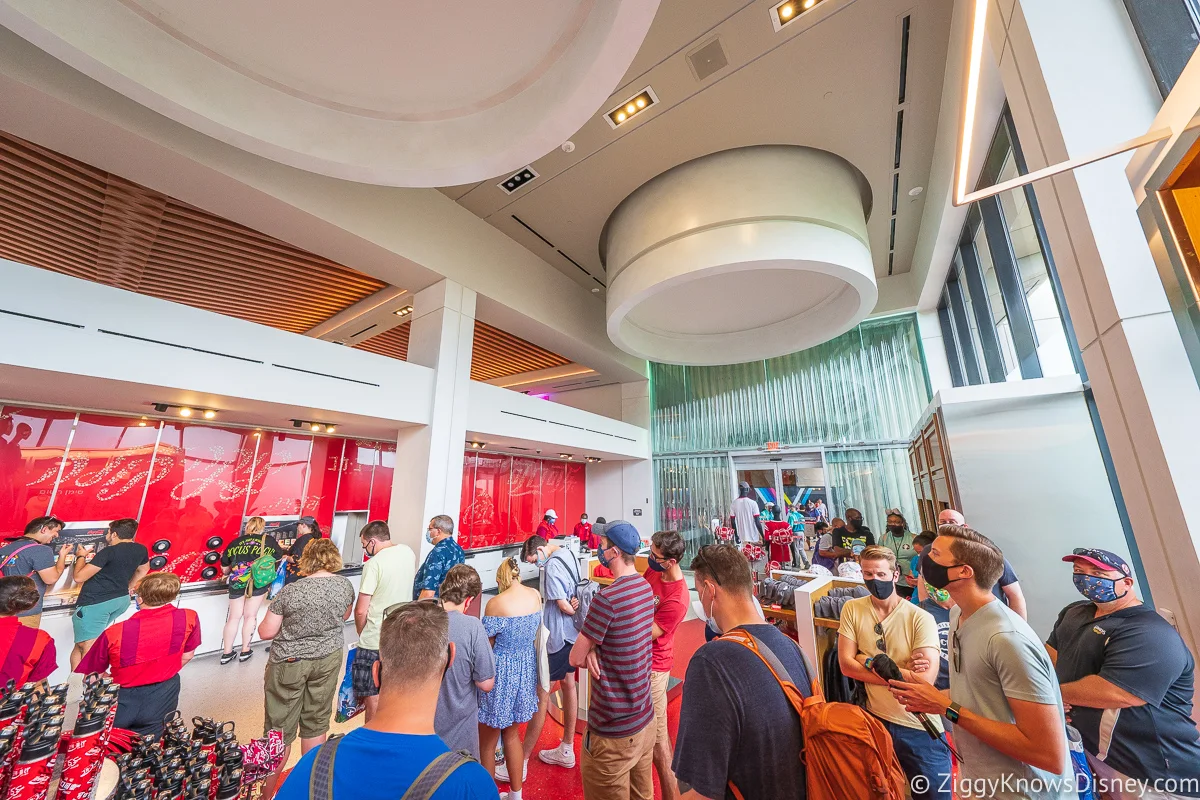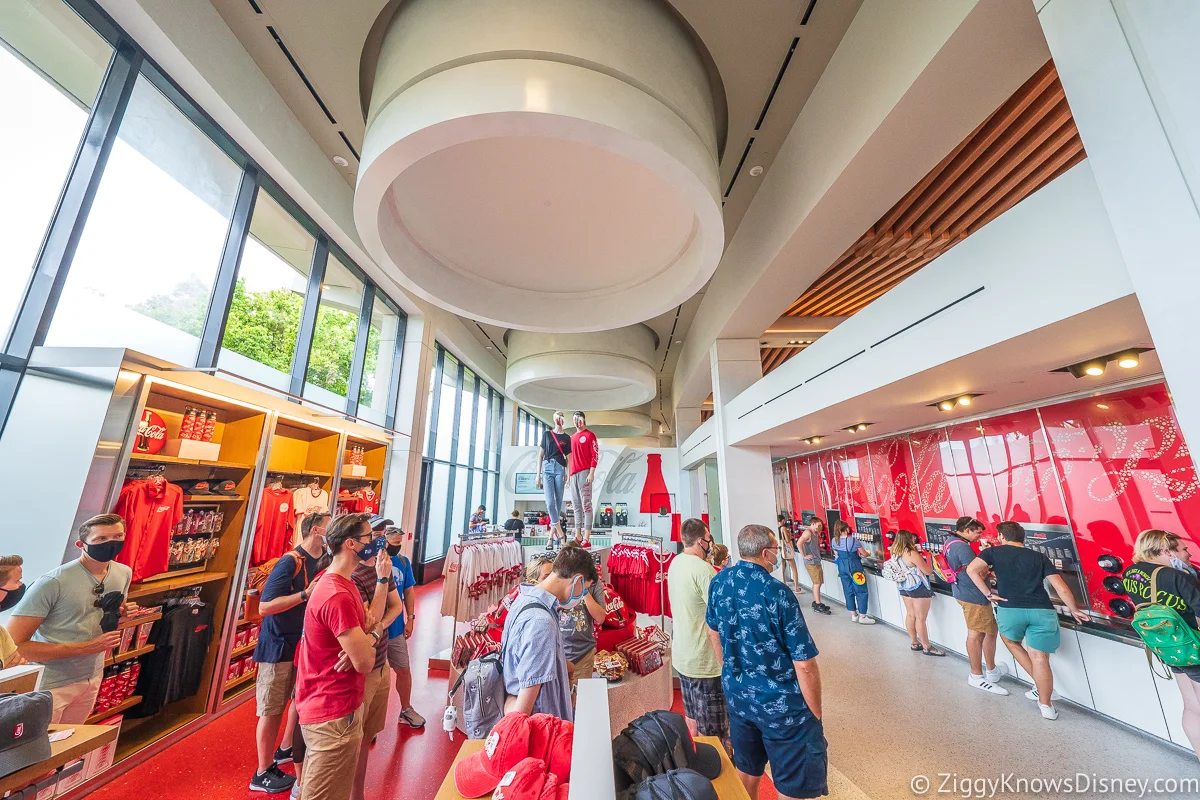 Merchandise can be found in the center of the store and along the left side wall with plenty of Coca-Cola stuff to buy.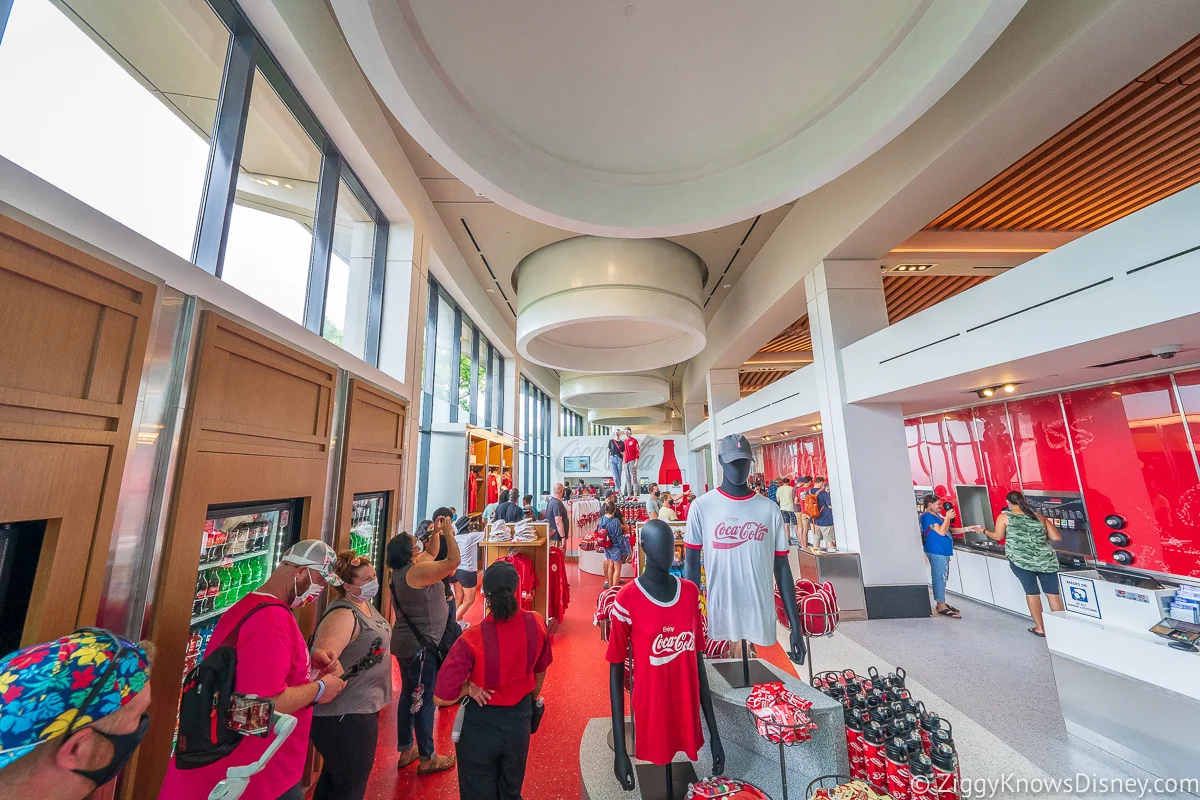 In the back of the store, you'll find a soda stand where you can purchase Coca-Cola products.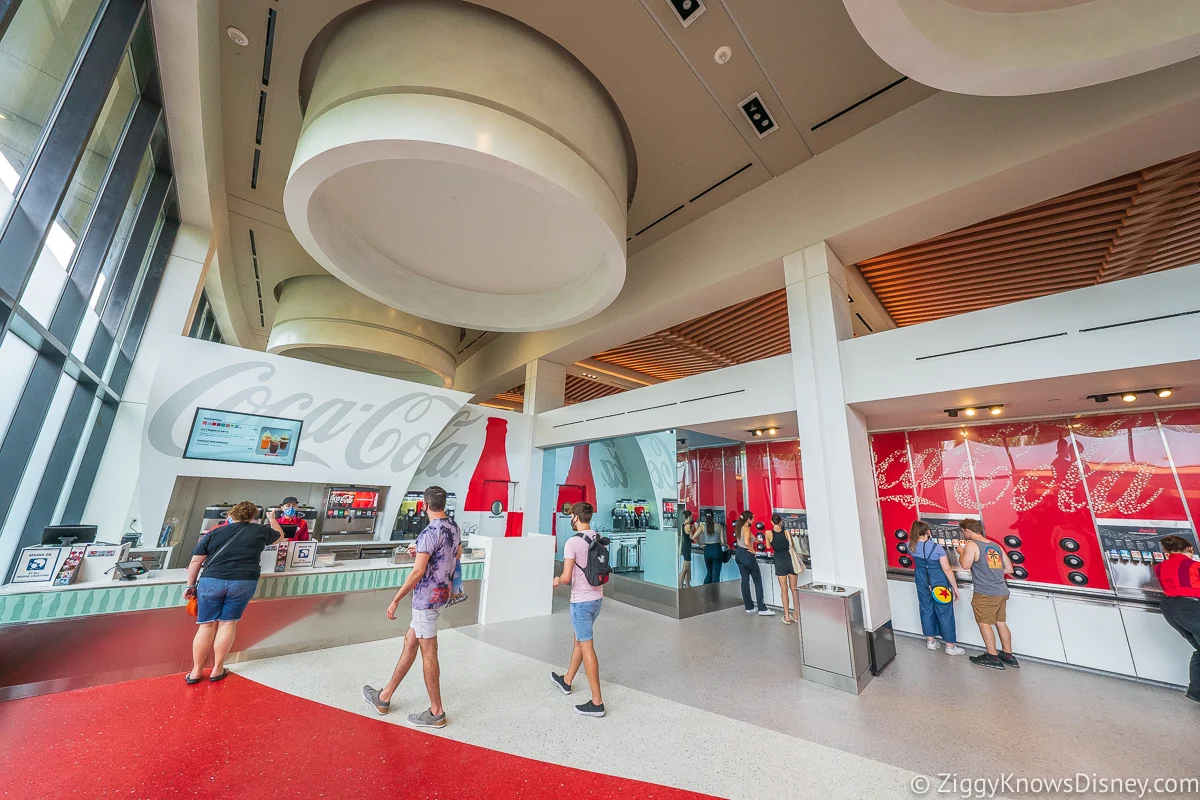 These are the normal Coca-Cola fountain drinks you'll find throughout the parks, as well as Ice Cream floats with root beer, Coke, and orange soda, perfect for a hot day in EPCOT.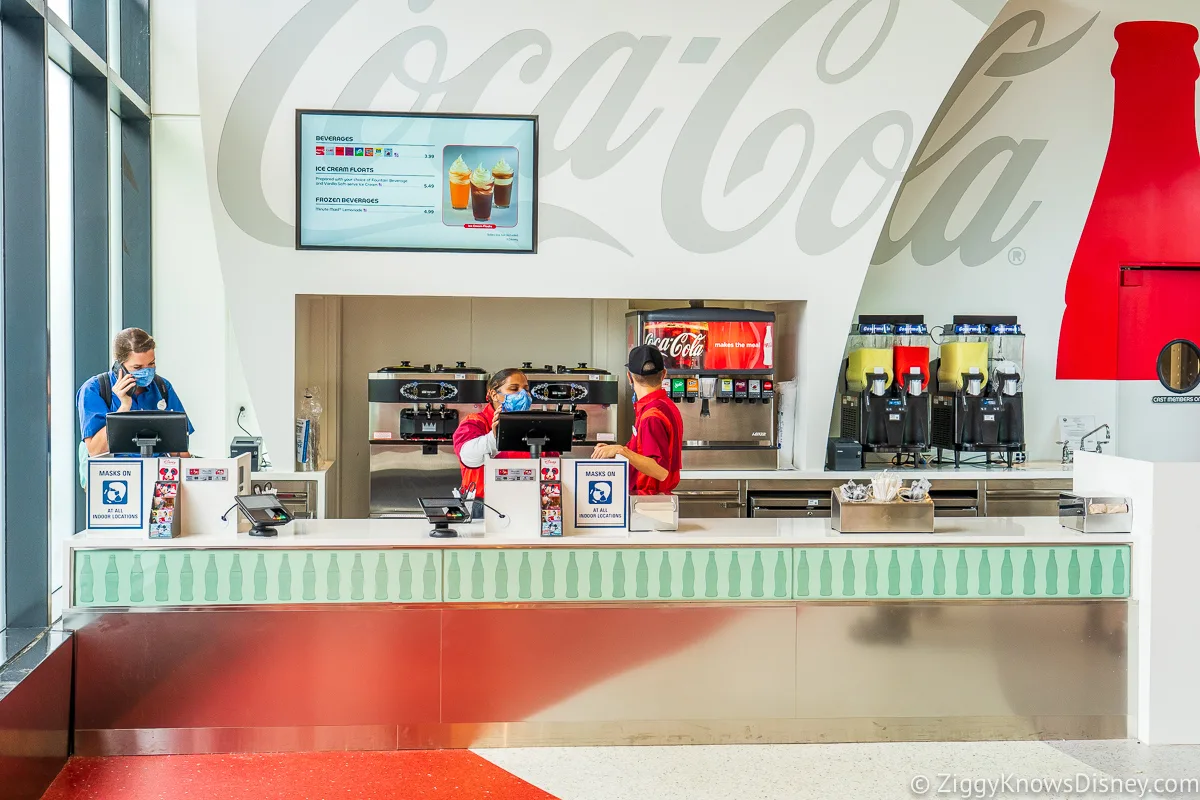 Merchandise
Here is a closer look at the merchandise in the center of the store: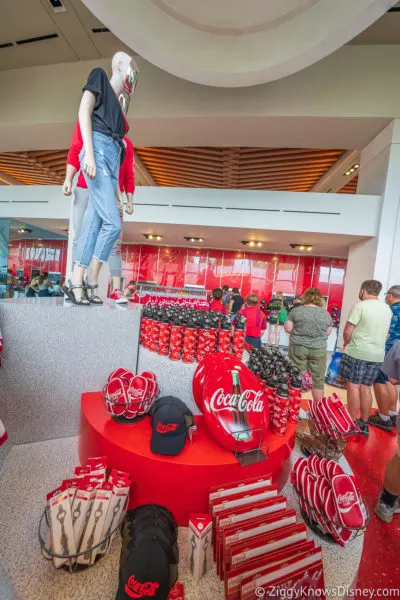 There is a big display in the center of the store with Coca-Cola hats, shirts, pants, and tumblers.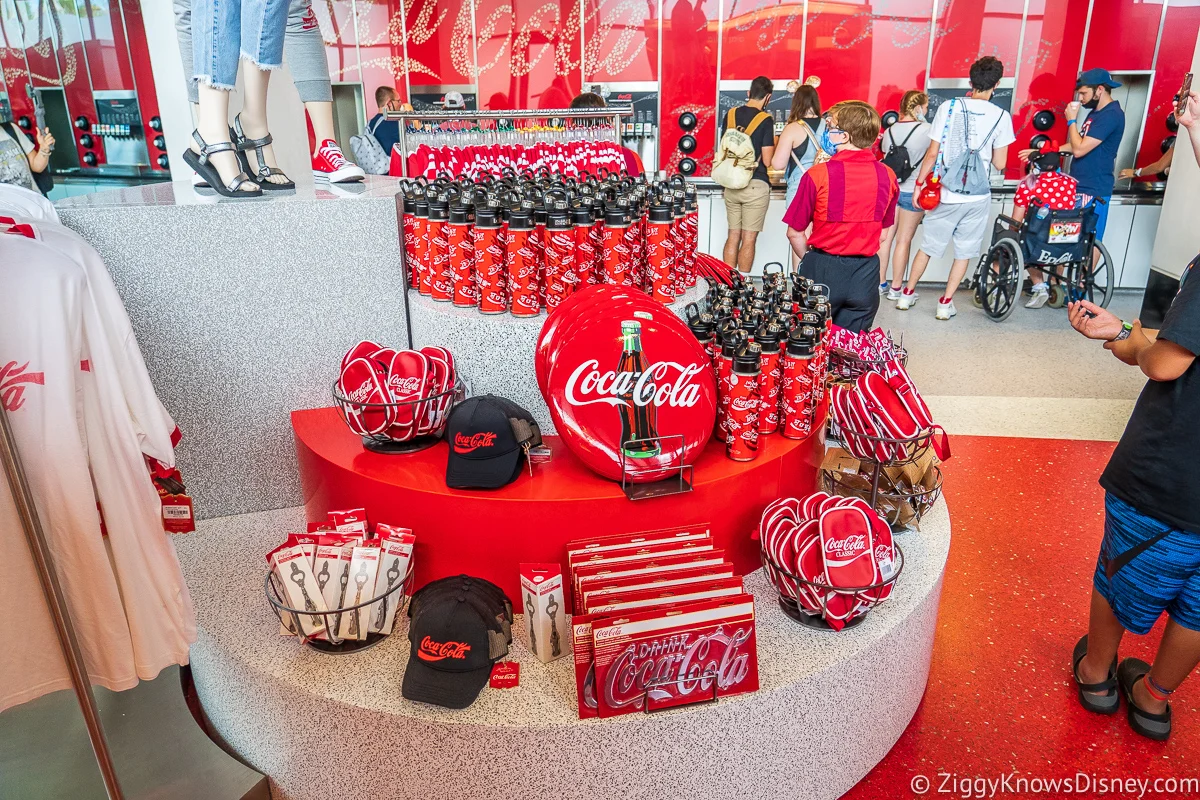 There is similar merchandise on the wall with plenty of Coca-Cola stuff.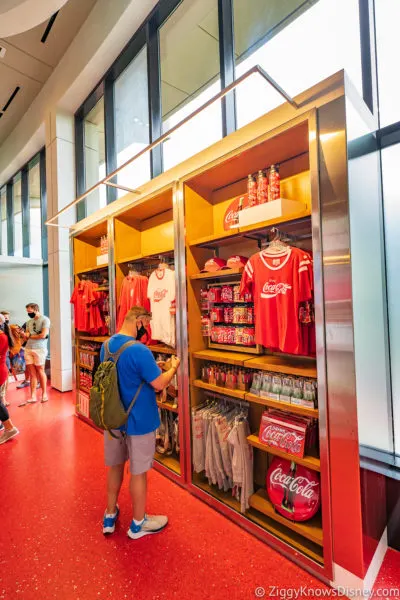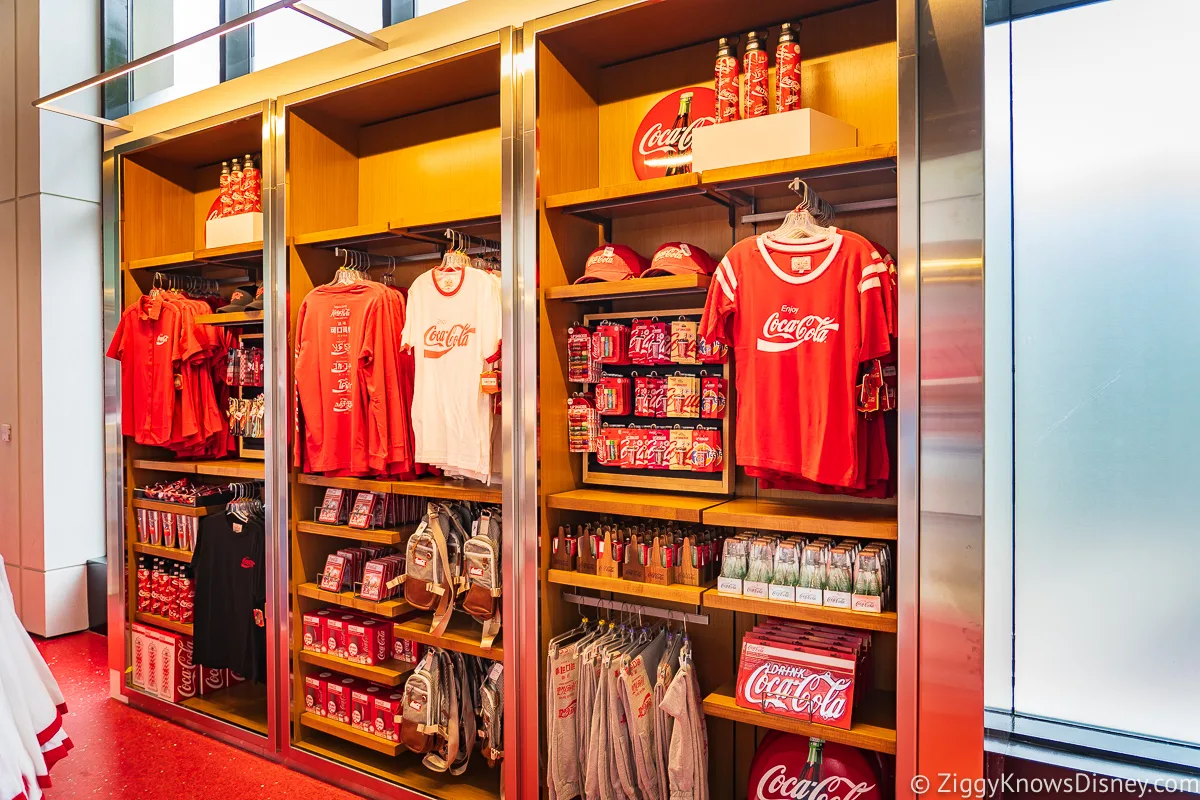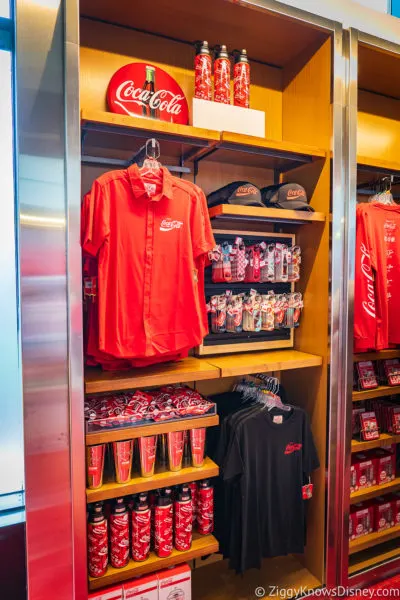 We really like this classic Coca-Cola shirt: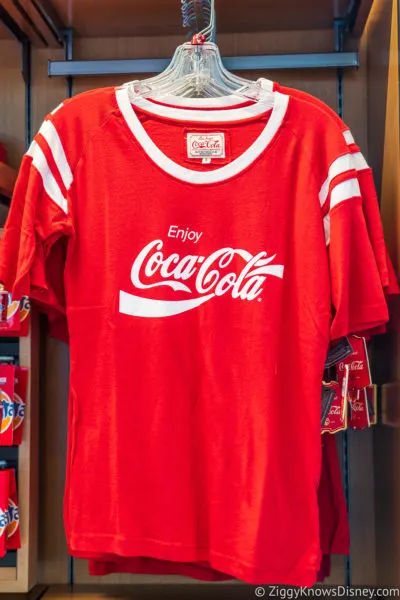 This is an international Coca-Cola shirt with the company logo in many languages.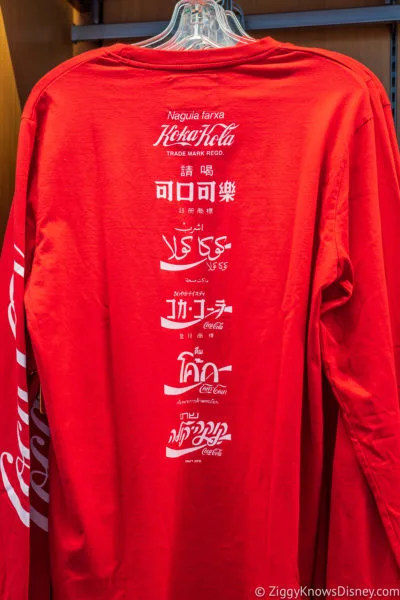 Lip Smackers from Coca-Cola and Fanta: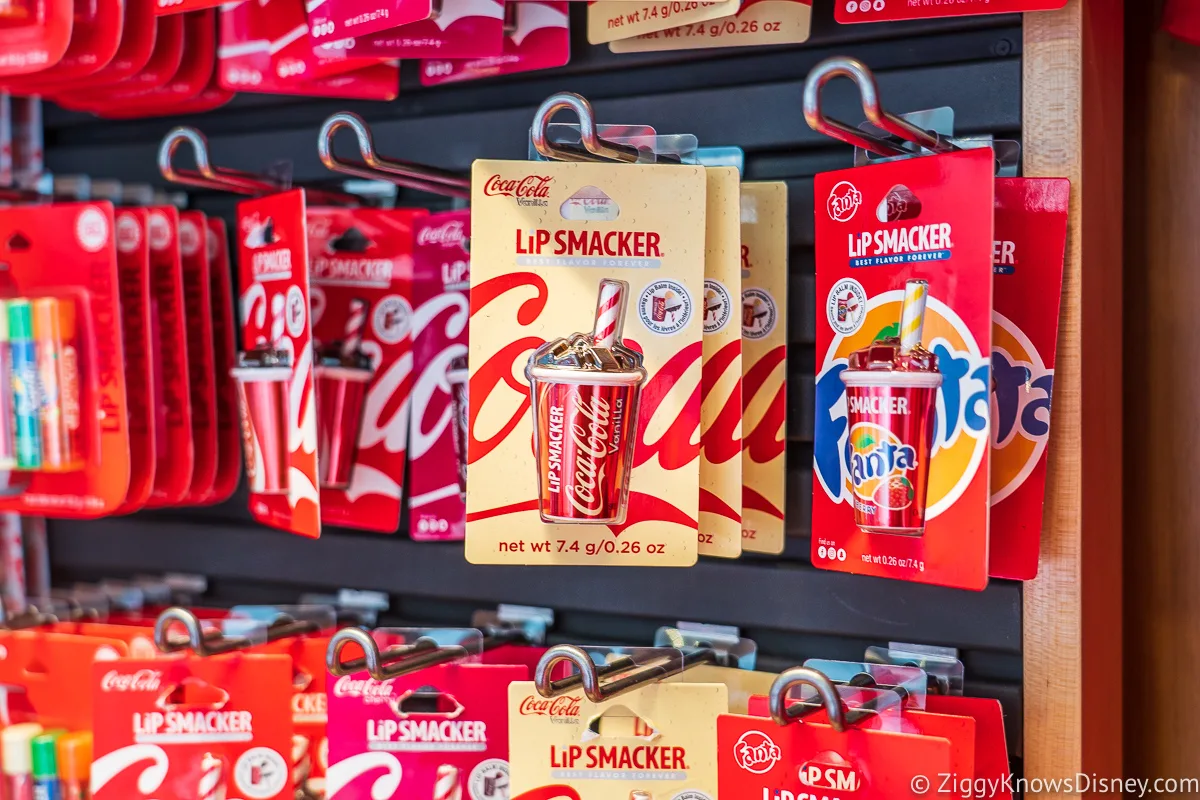 Coke Hats: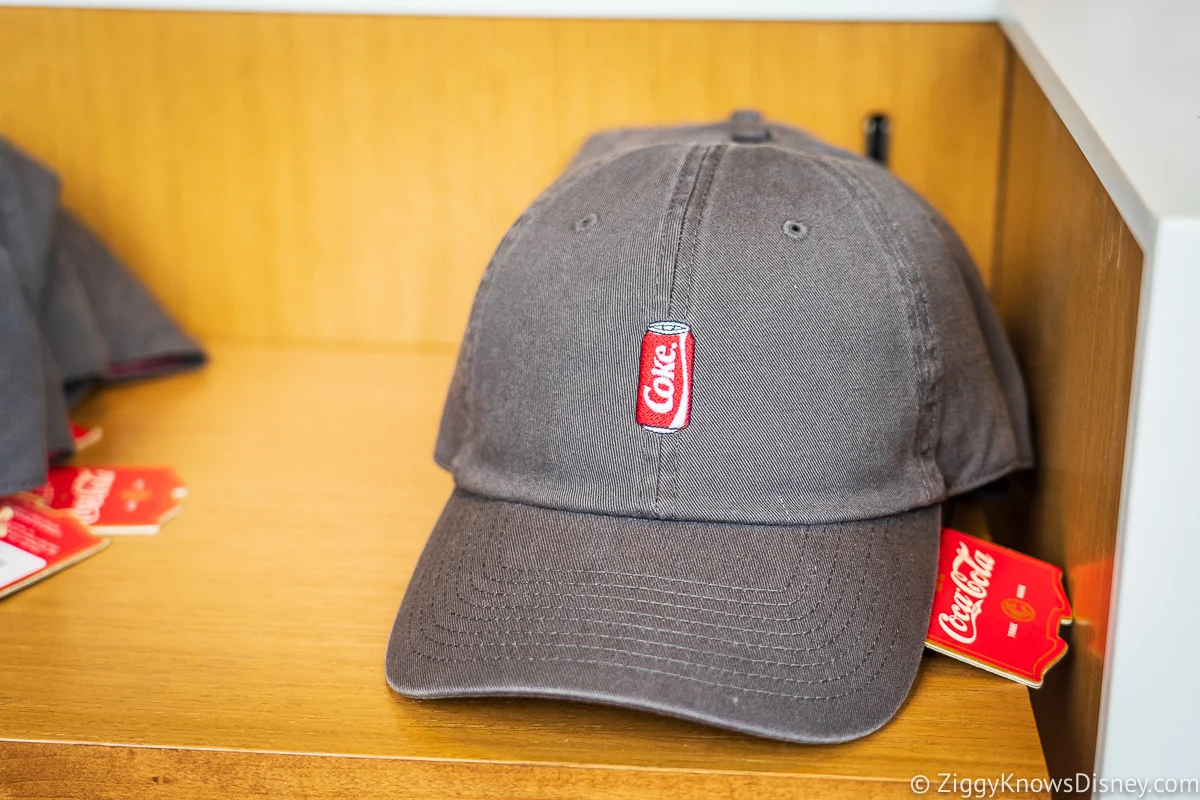 Those same mannequins from Creations Shop are also in Club Cool: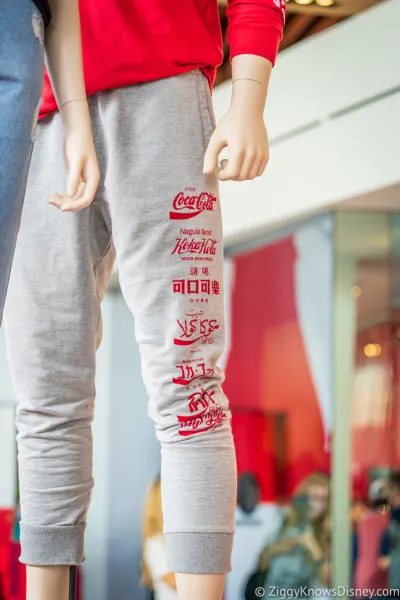 All the merch is nice, but we are really here for one thing, to drink some free soda. Let's get at it!
Soda Tasting
The line for the soda machines starts at the shop entrance and continues through the middle of the store.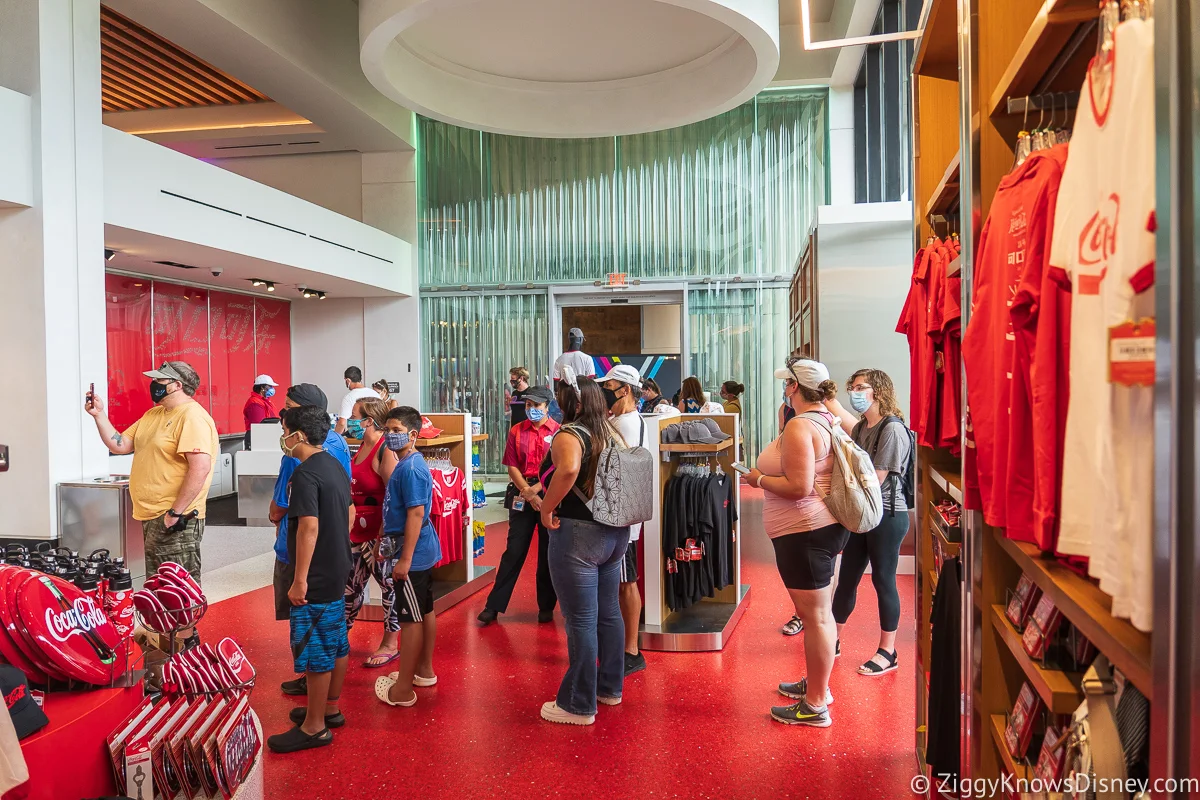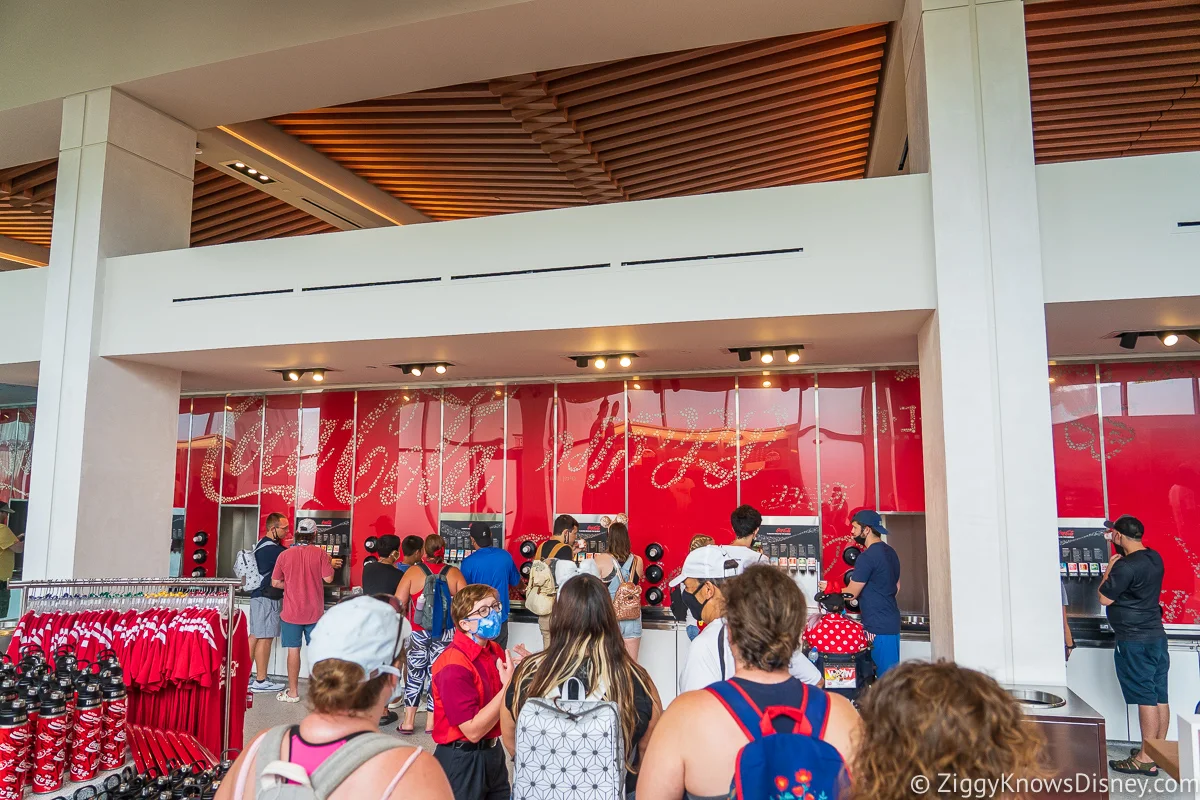 There are 6 soda stations in Club Cool and each one is self-serve. When it is your turn in line simply walk up to one of the machines, take a disposable paper cup, and start drinking.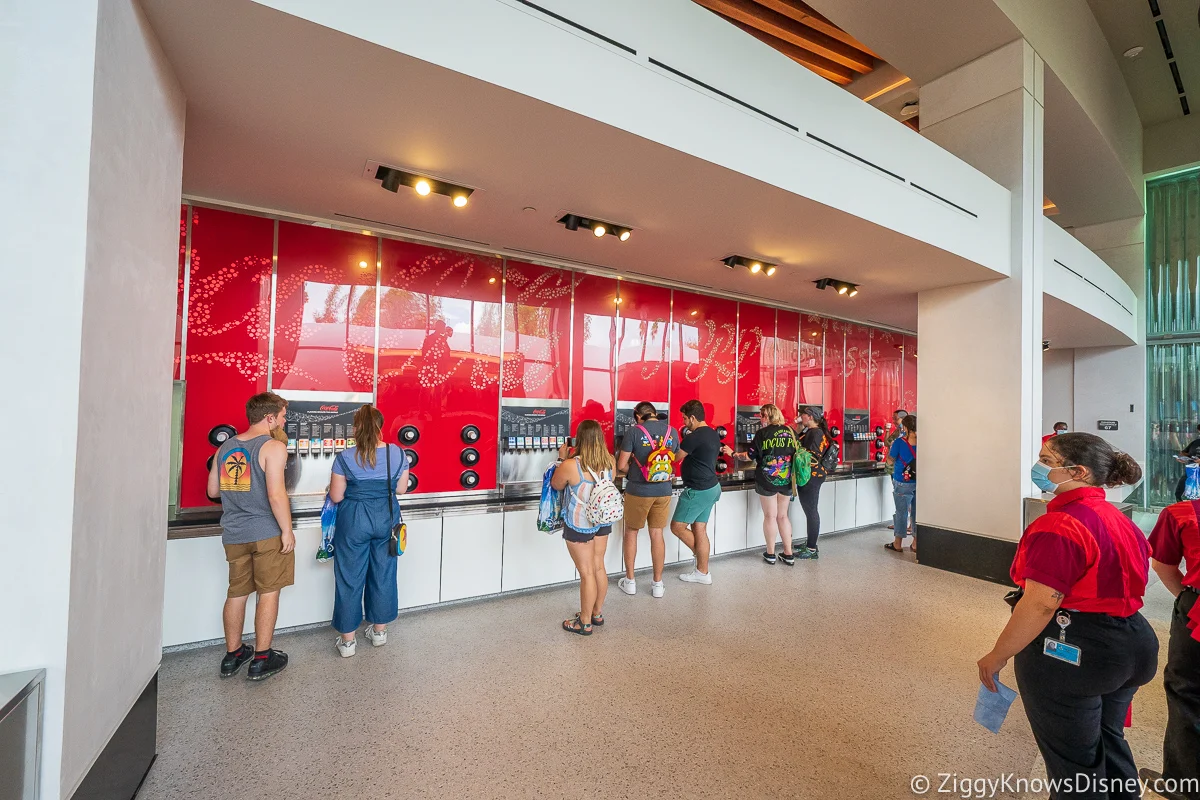 Only one party is allowed per soda station at a time. Don't worry, each machine has the same sodas available so it doesn't matter which one you go to.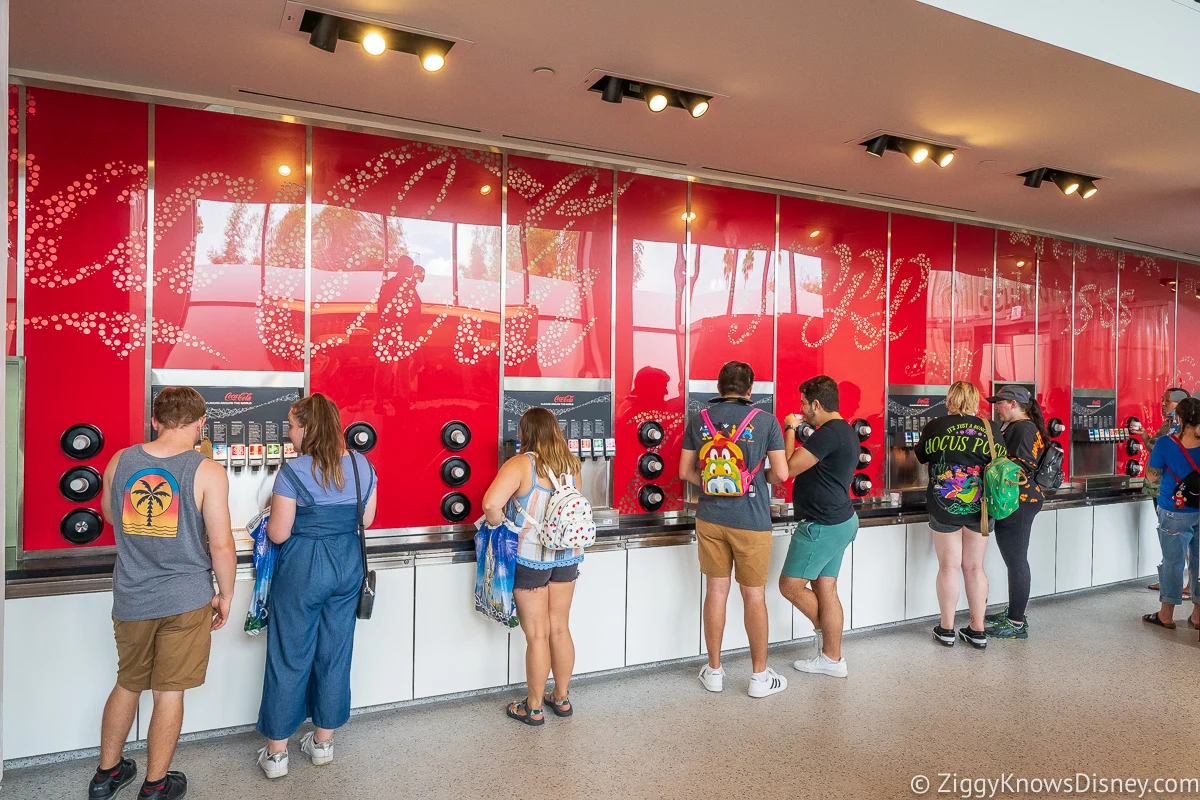 You may have noticed that the soda stations are only on one wall. At the old Club Cool, they were spread out throughout the store but here they are conveniently located together. Hopefully, that keeps the entire floor from getting sticky as the old Club Cool so famously was.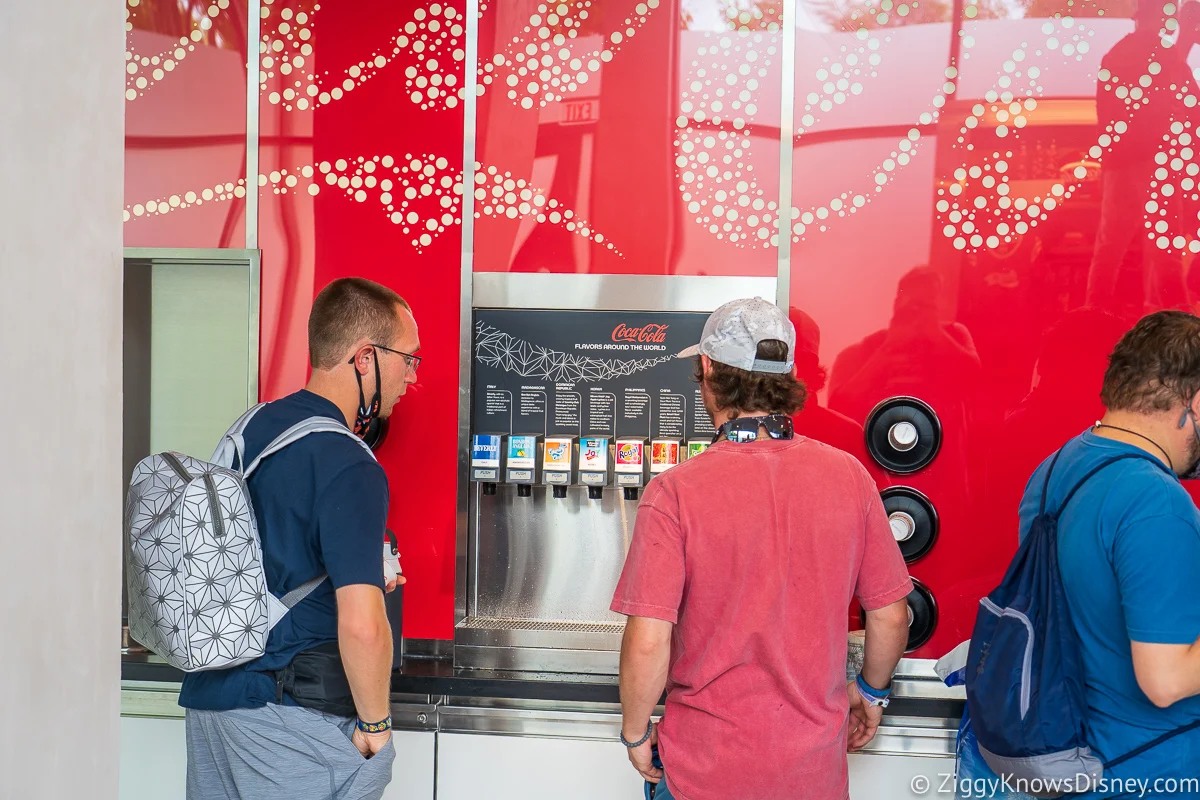 Cast Members were sanitizing the soda stations after each use to help things stay clean.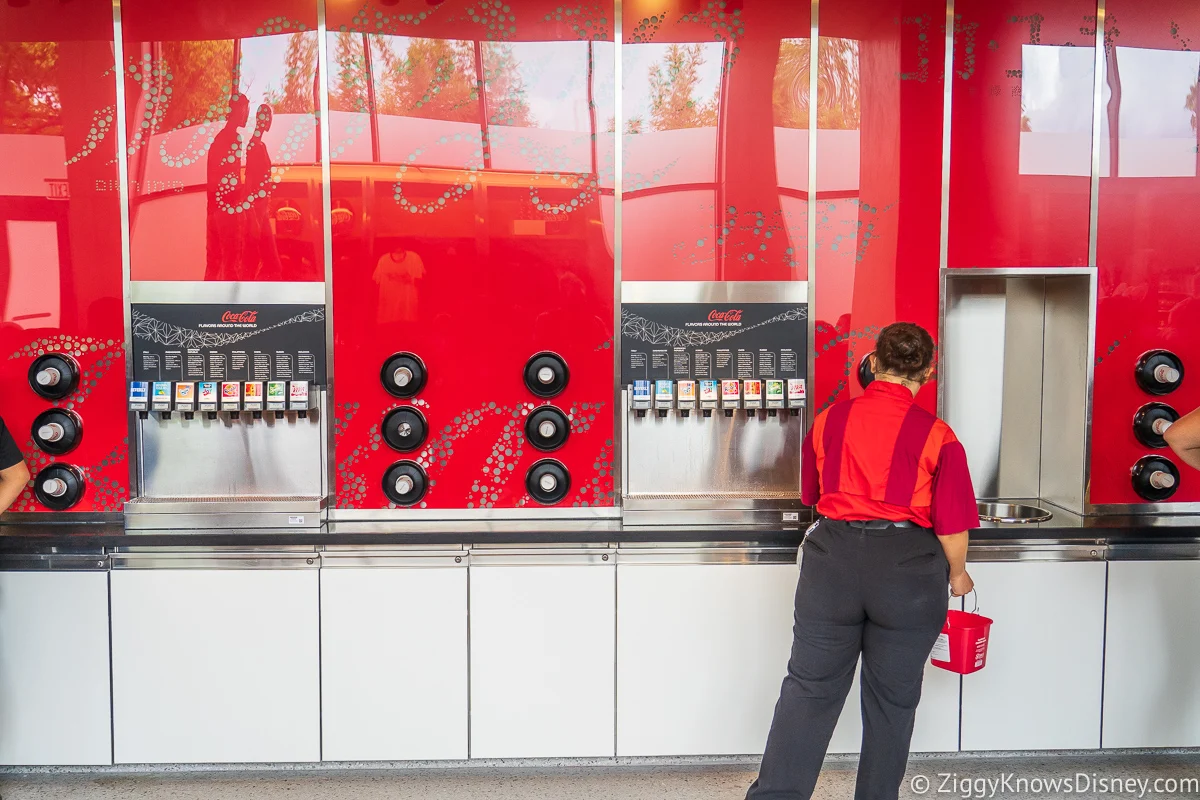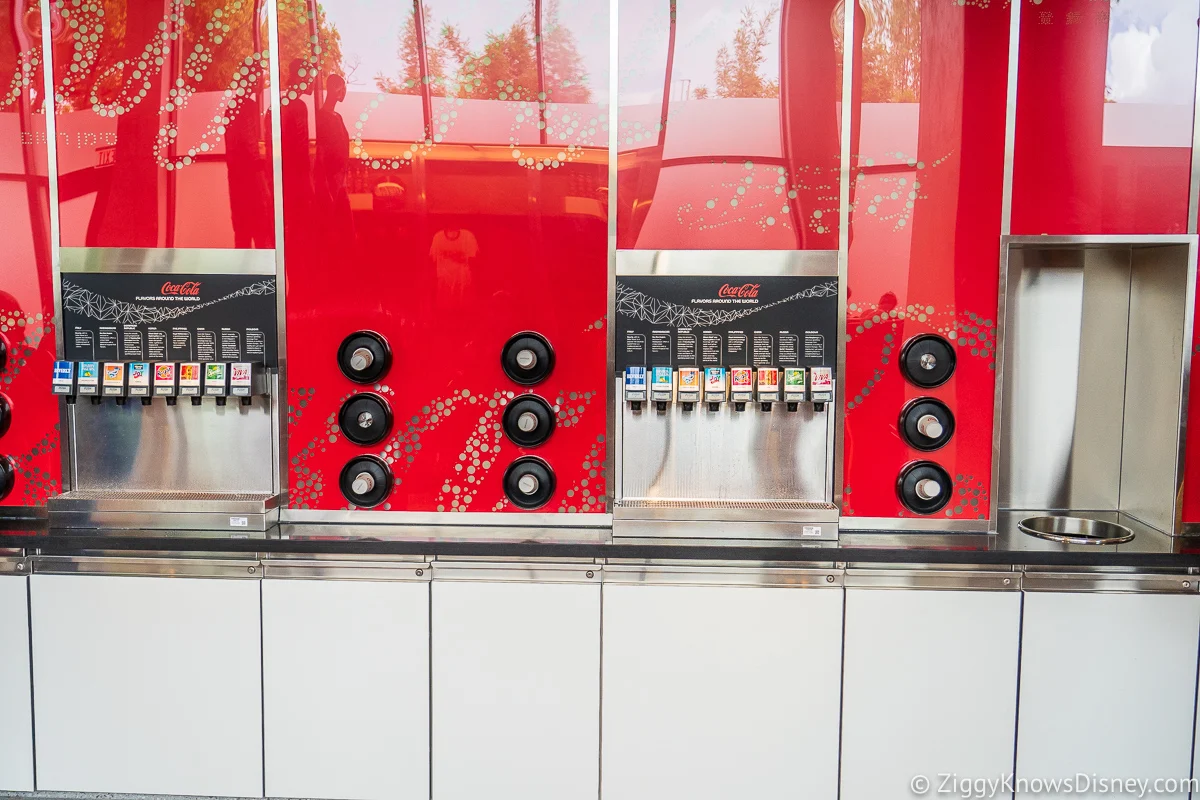 Now it's our turn!
Soda Flavors
The cool part about trying soda at Club Cool is that the flavors are from all around the world and not the normal soda flavors found in the United States. That means you get a chance to try some interesting flavor combinations you normally would never get to try.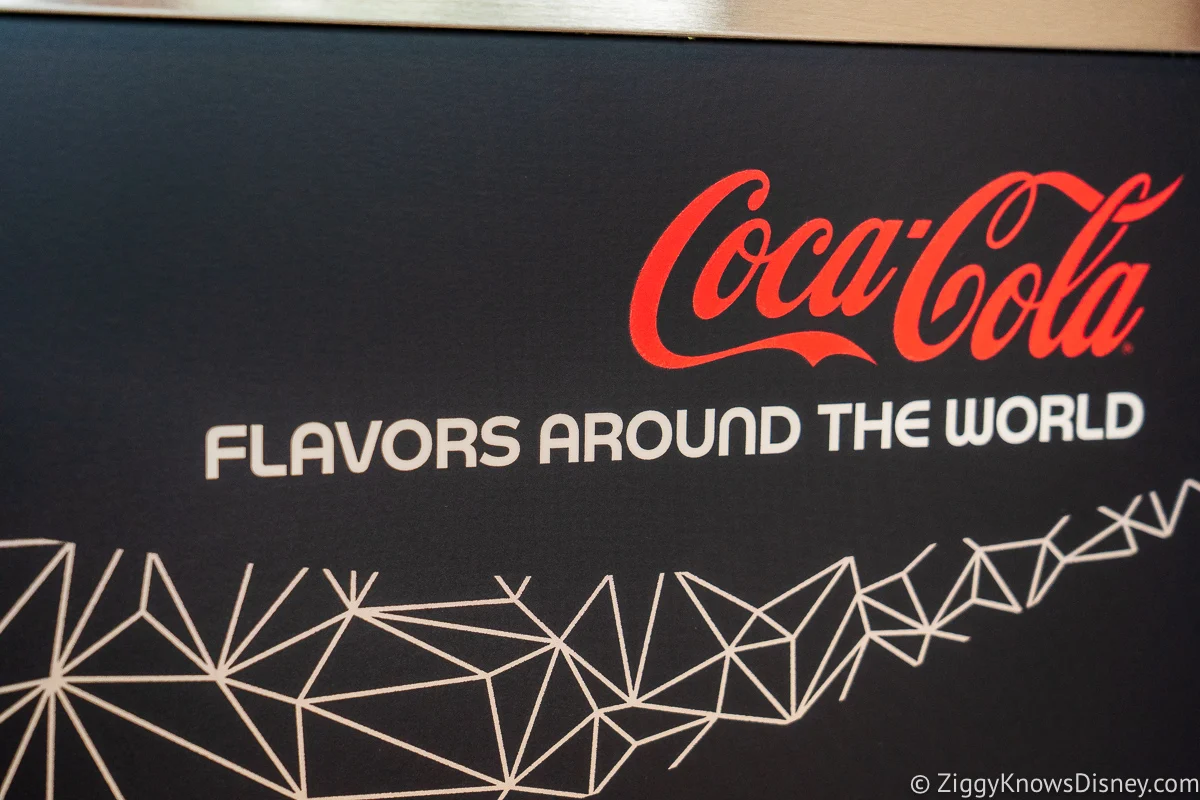 There are 8 flavors of soda at Club Cool:
Viva Raspberry – Moldova
Sprite Cucumber – Russia
Smart Sour Plum – China
Royal Wattermelon – Philippines
Minute Maid Joy Apple Lychee – Korea
Country Club Merengue – Dominican Republic
Bon Bon Anglais – Madagascar
Beverly – Italy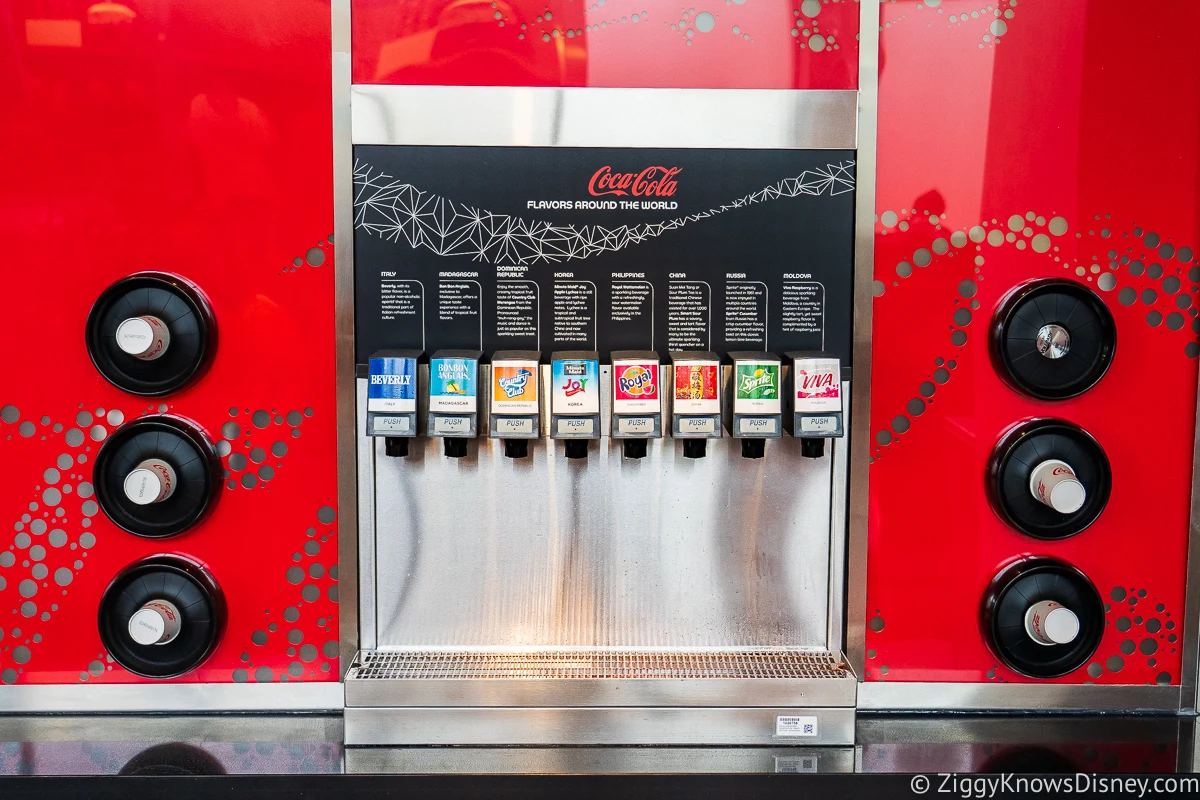 Of course, Beverly is the most famous soda at Club Cool and the only one left from the old lineup of sodas here.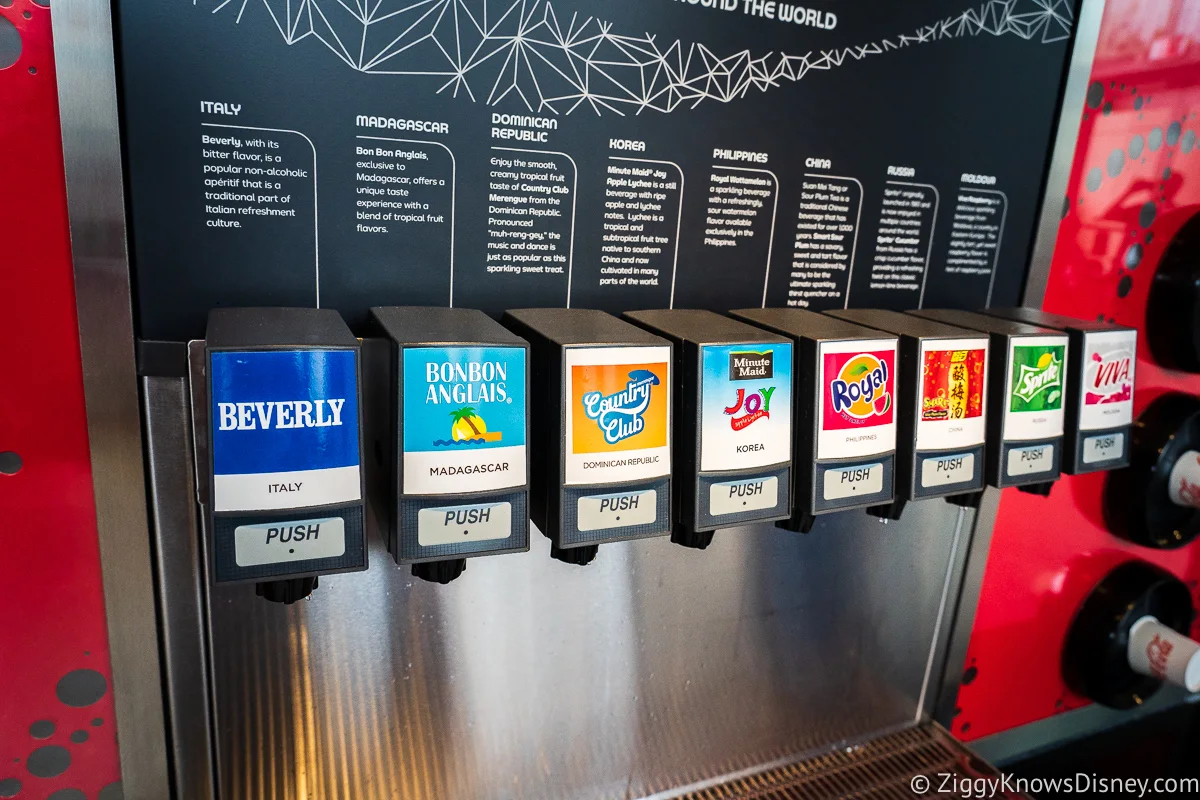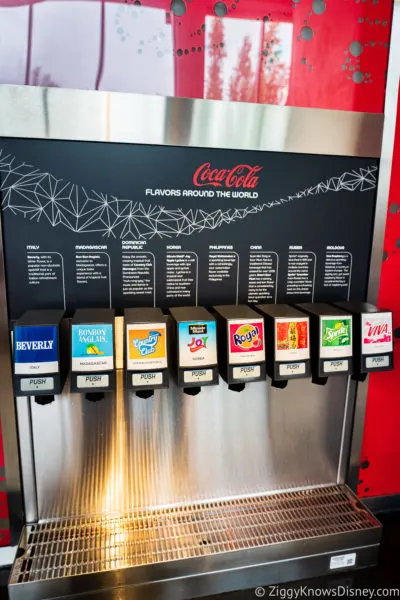 To each side of the soda stations, you will find mini paper cups, perfect for small tastes.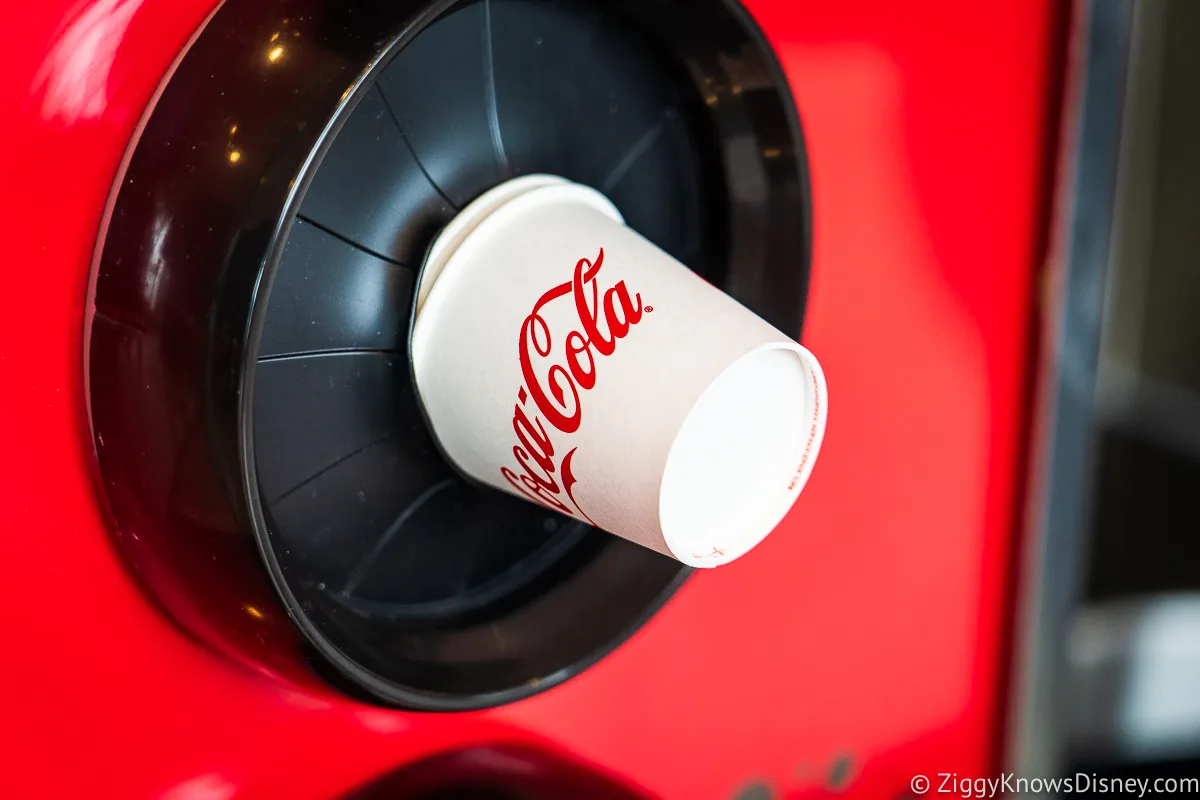 Guests can take small samples of each soda, and then keep refilling cups of their favorites. Again, the whole experience is free and you can drink as much as you want.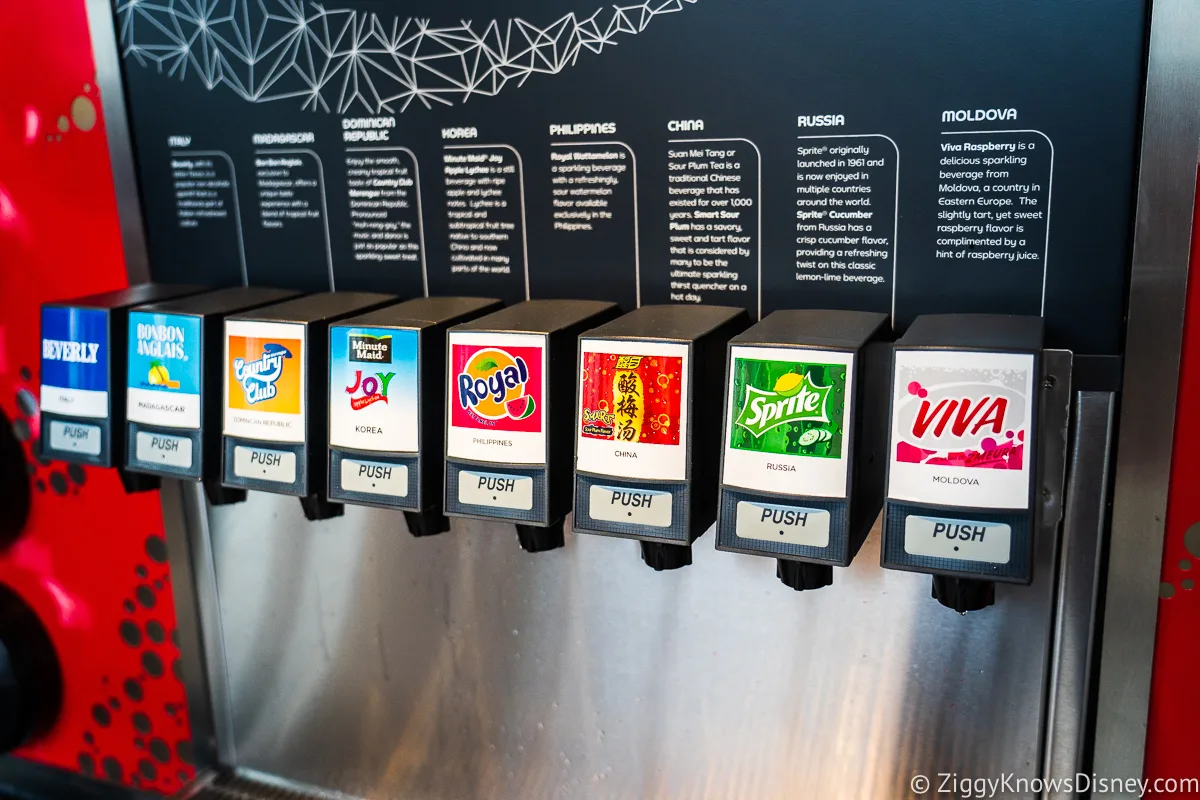 Let's look at each flavor individually…
Viva Raspberry – Moldova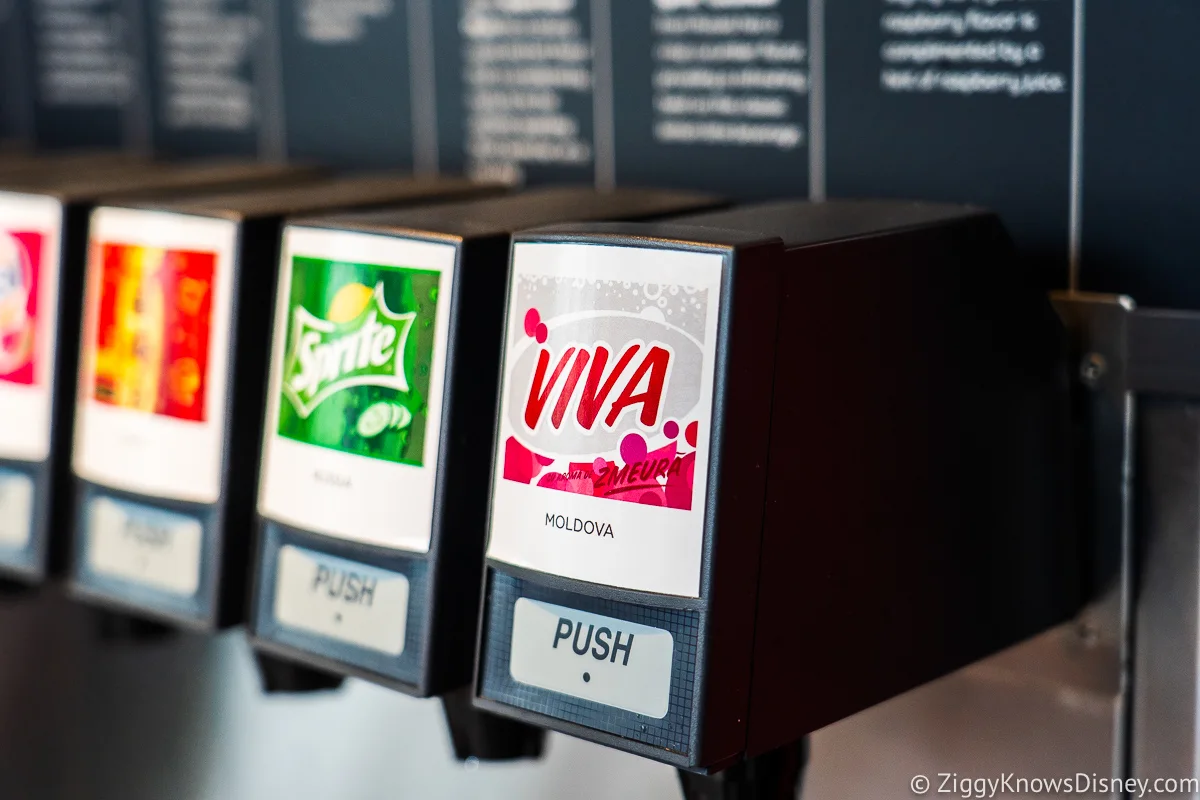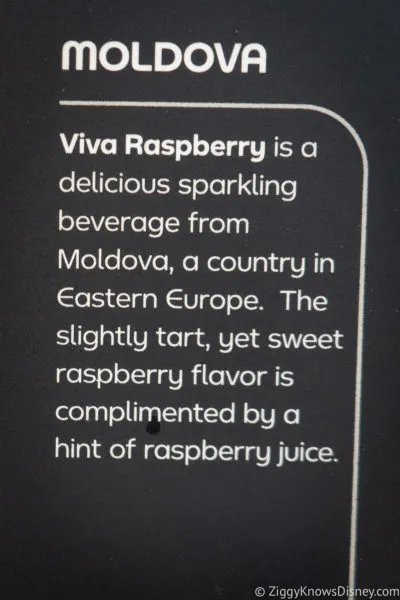 Viva Raspberry is probably our favorite flavor that we tried. It's sweet, but not overly, and with a little tartness as well. It has a strong raspberry flavor that we really enjoyed and we wish they sold it here in the states.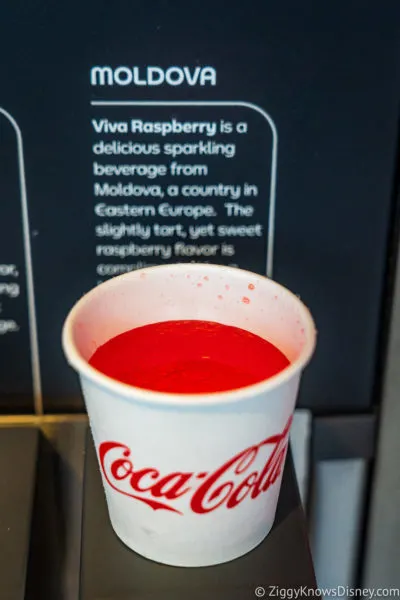 Sprite Cucumber – Russia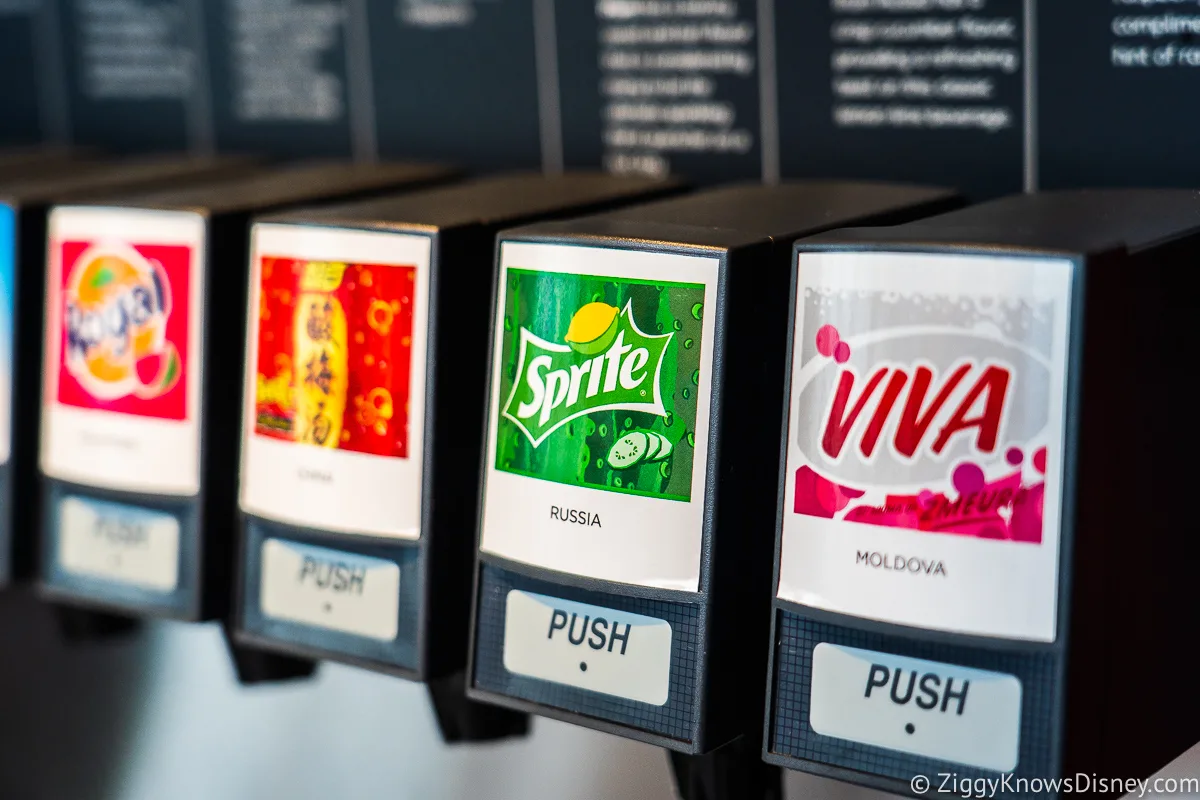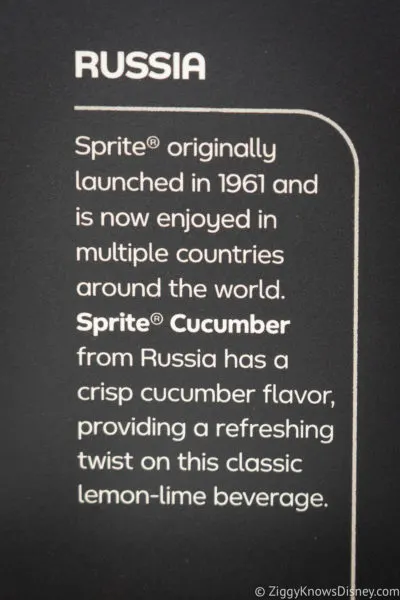 We didn't know what to expect with a cucumber-flavored soda. We enjoy water with a cucumber flavor, but sometimes it can be overpowering. This was not at all that way.
The cucumber flavor it had was very mild and the traditional Sprite taste still shined through.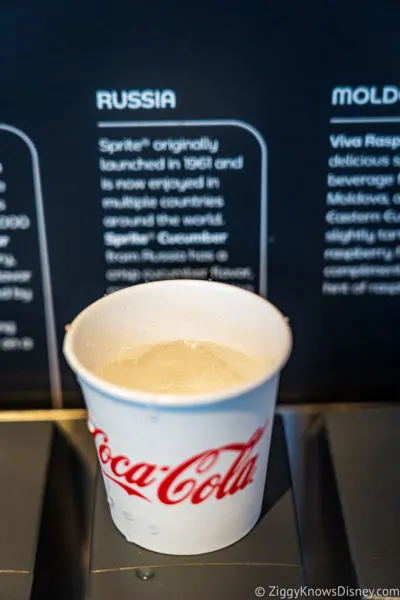 Smart Sour Plum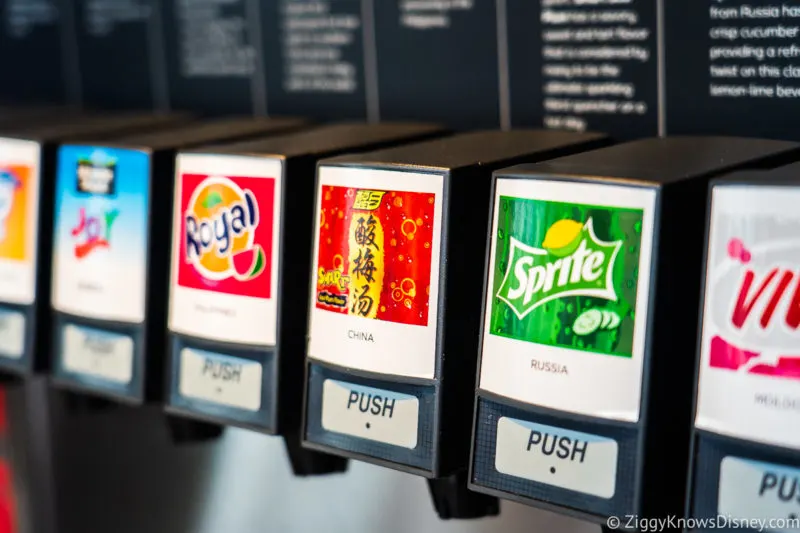 The most controversial flavor at Club Cool has always been Beverly, but that may be changing now with Smart Sour Plum from China.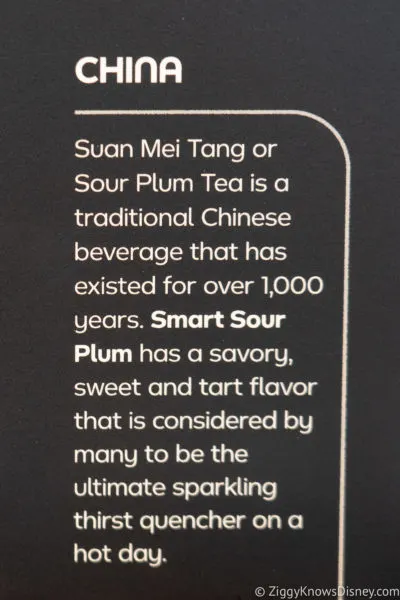 Sour Plum Tea is an important drink in Chinese culture and doesn't sound bad, but honestly, this tasted nothing like plum to us. In fact, it tasted more like BBQ soda. We weren't feeling this at all and we really hate this flavor!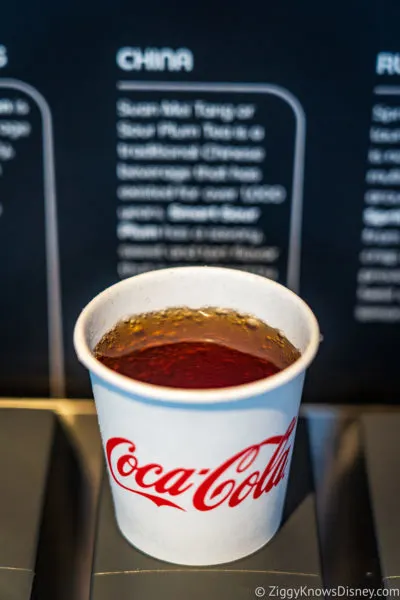 Royal Wattermelon – Philippines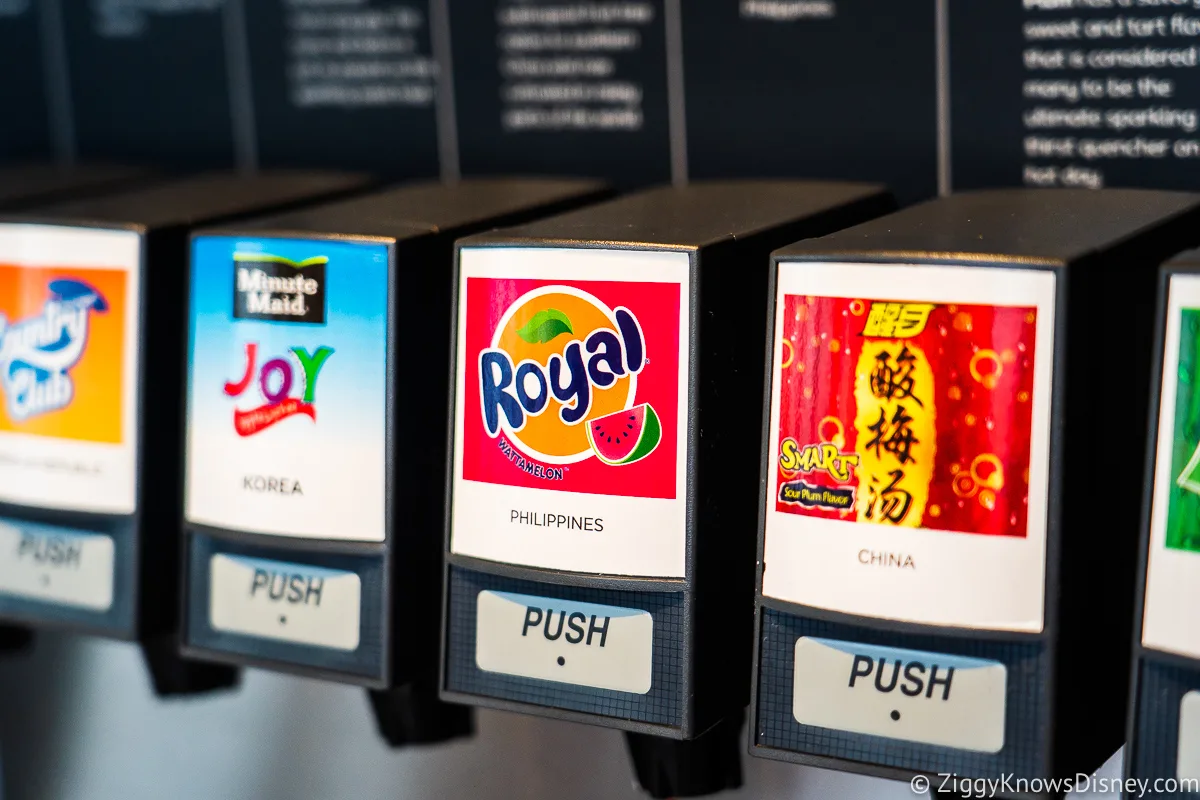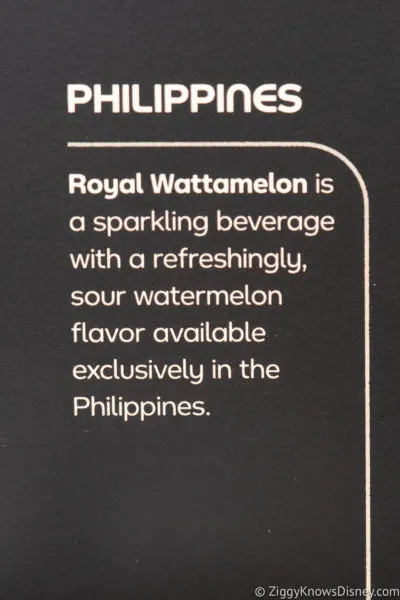 Royal Wattermelon is another flavor we really liked. It is definitely refreshing, and you can taste the watermelon, although it isn't overpowering. We think it has just the right combo of sweet and sour, making this another winner for us!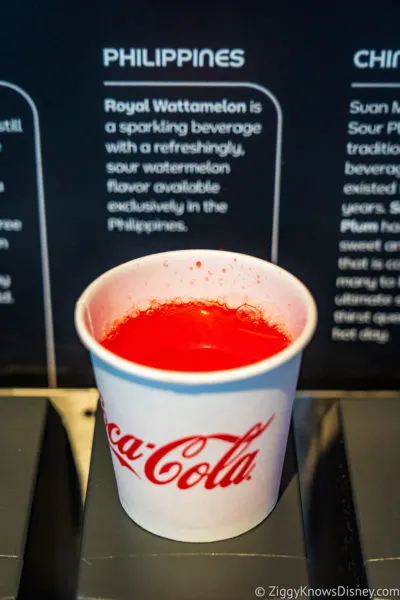 Minute Maid Joy Apple Lychee – Korea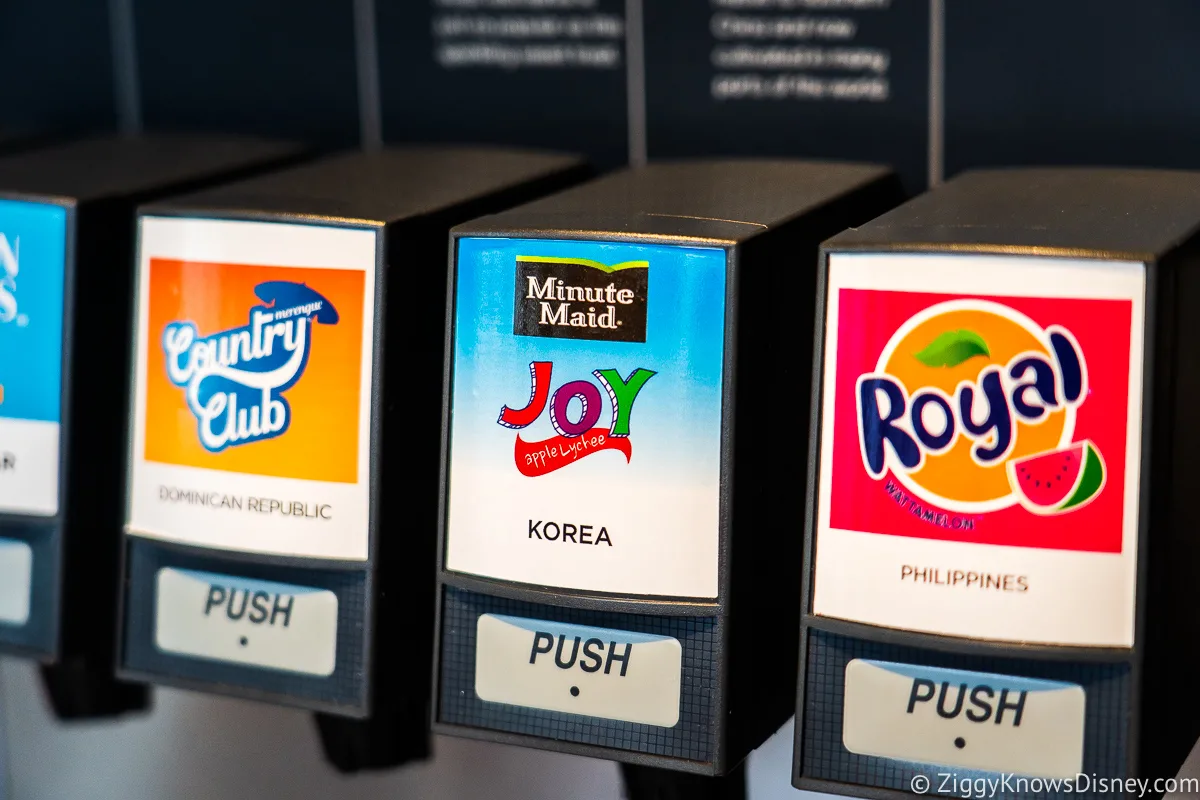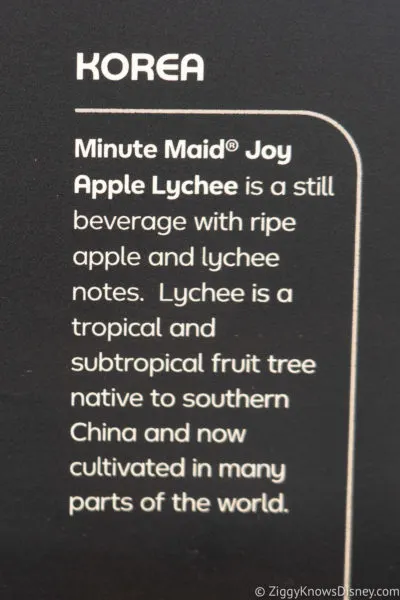 The Minute Maid Joy Apple Lychee was a very mild flavor. The apple notes are very subtle and blends well with Lychee. If you haven't tasted it before it's very floral and similar to a strawberry and pear combo.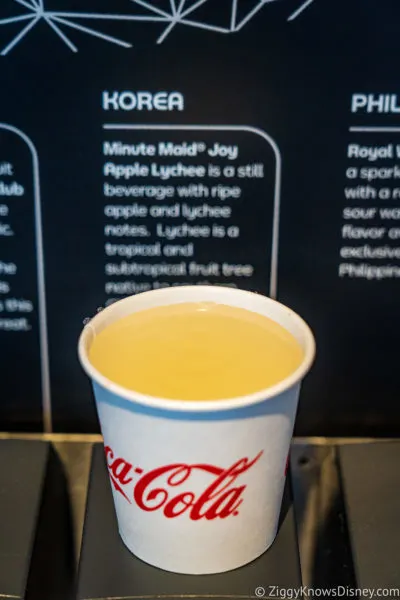 Country Club Merengue – Dominican Republic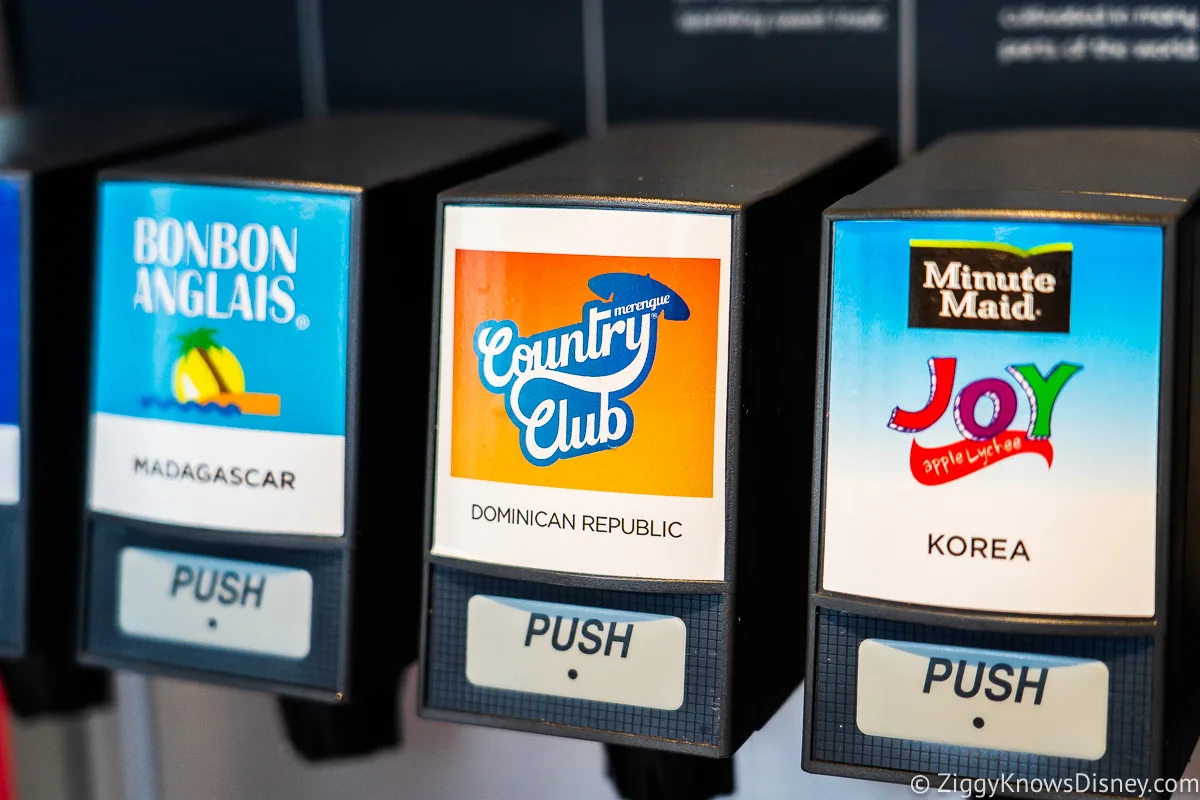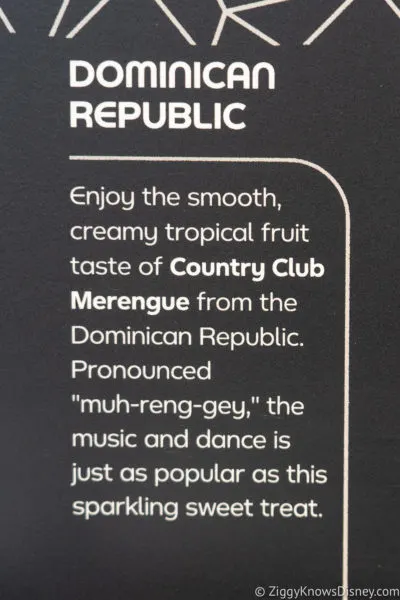 Country Club Merengue was good but very sweet. It has a tropical flavor we liked, but we could only drink so much of it before getting sick of the taste.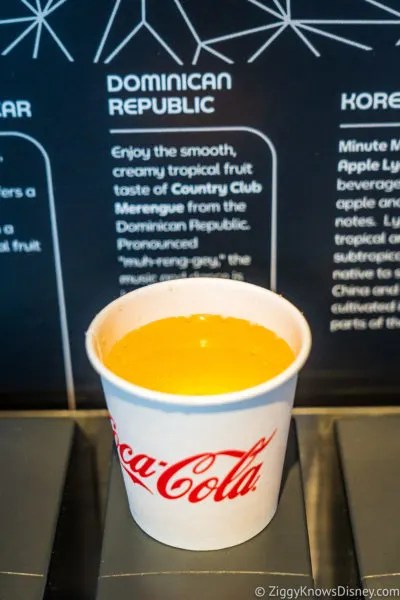 Bon Bon Anglais – Madagascar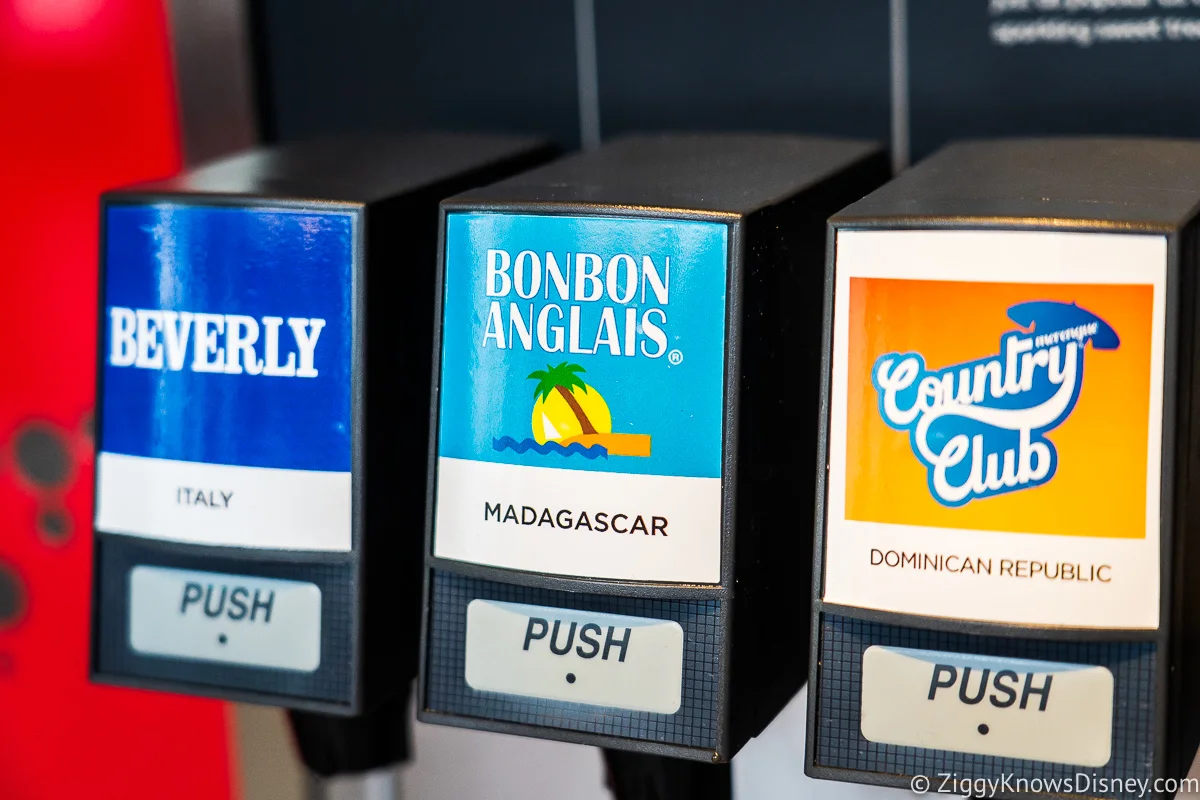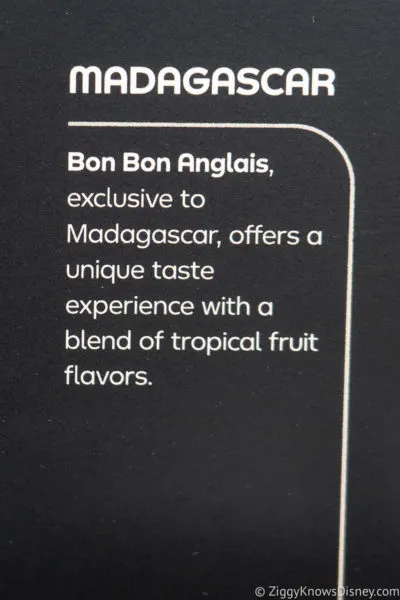 Bon Bon Anglais was another soda with tropical flavor, but not as strong as Country Club Merengue in our opinion, and we preferred it.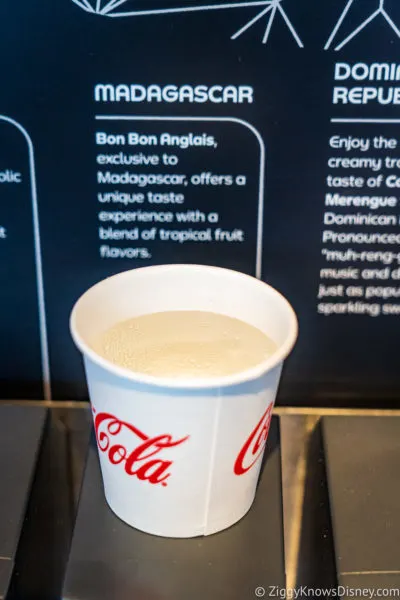 Beverly – Italy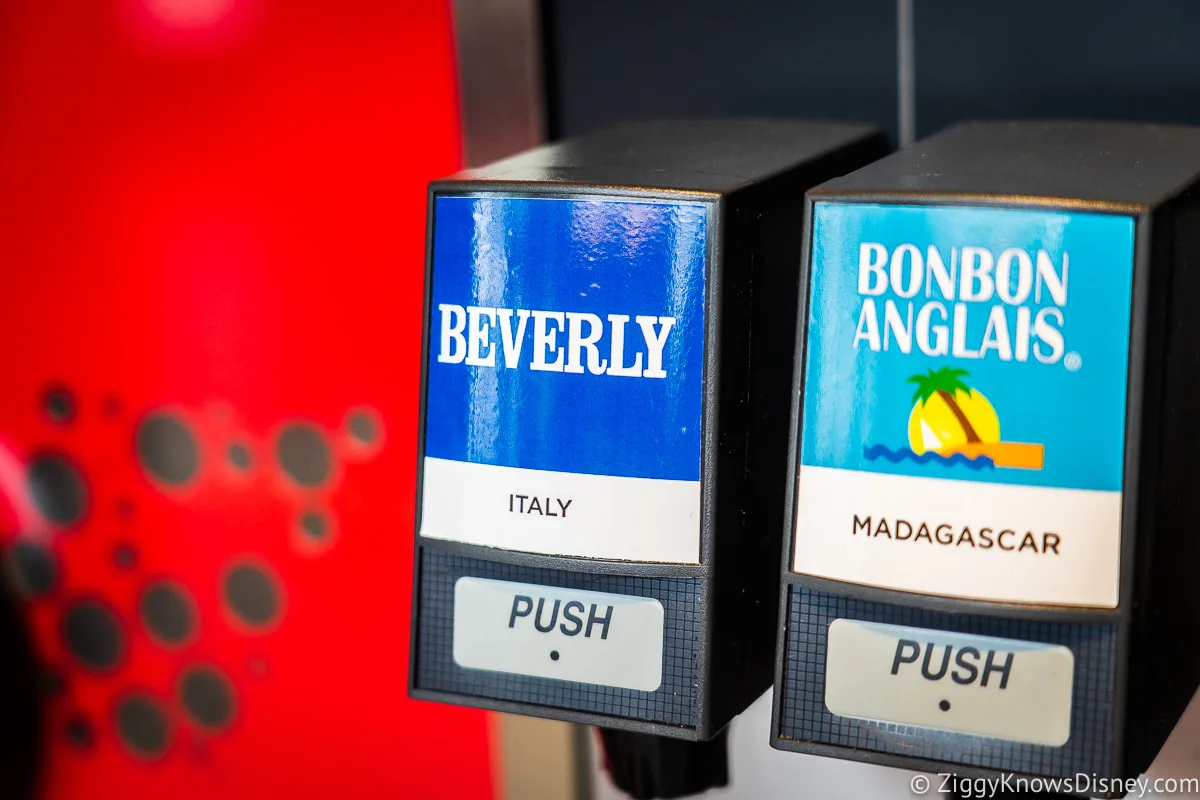 There is nothing left to say about Beverly that hasn't already been said. You either love it or hate it.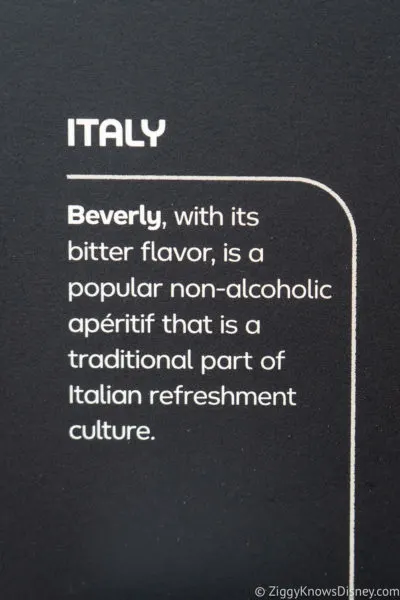 Beverly is an extremely bitter soda that is much more adapt to the Italian palette than the American one. having lived in Italy now for almost 10 years I can vouch that Italians aren't used to food or drinks being as sweet as in the United States, and they love that bitter taste.
Personally, I don't mind it in small quantities, but after a while it nauseates me and I prefer my soda a bit more on the sweet side than this.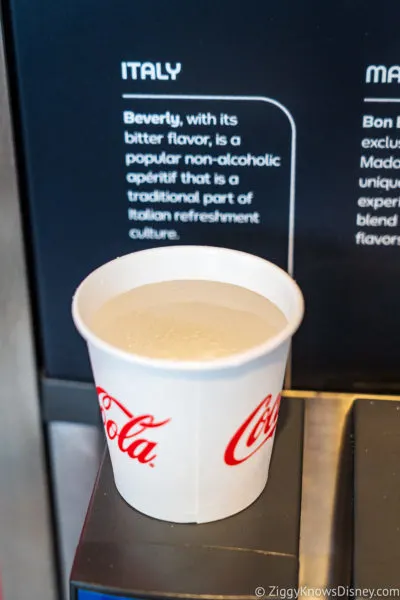 Overall we really enjoyed the new Club Cool! We thought the flavors were all well-thought-out and they all offered something different and interesting.
Club Cool is just one of the new projects happening throughout EPCOT park at this time. We've already seen the transformation of the new entrance just outside EPCOT's front gate with new "Leave a Legacy" walls, a new fountain, and a new nighttime lighting package.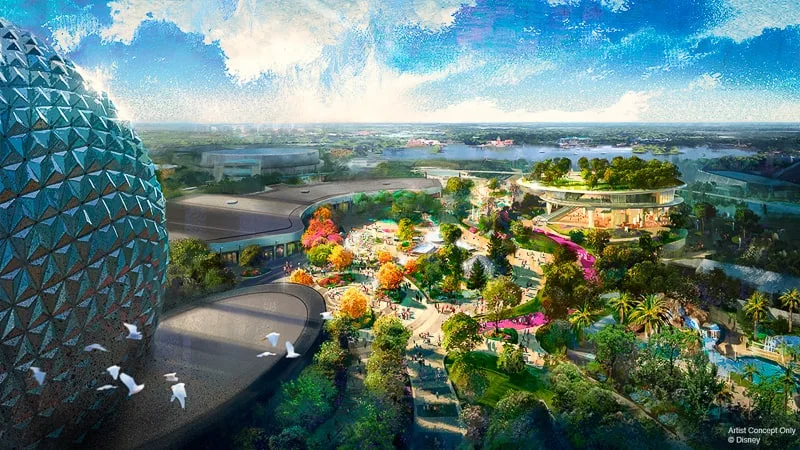 These enhancements are all part of the Disney World 50th Anniversary, designed to bring some serious upgrades to all the Disney World theme parks.
As Club Cool continues to evolve we'll update you on any changes and soda additions found here. As soon as we have more info on the new Club Cool we'll let you know, so stay tuned.
Your Thoughts
I want to know what you think about the new Club Cool in EPCOT…
Do you enjoy the new store?
What is your favorite flavor?
Let us know in the comments section below!
If you enjoyed this article, as always I appreciate it if you'd share it with others via social media. I work hard at making this website into a useful resource for you and your family to plan your visit to the Disney Parks and I hope it can help you! Thanks 🙂