EPCOT's popular shop Mouse Gear closed down back in 2019 for a complete refurbishment. Since then, Disney has opened its replacement, Creations Shop in World Celebration.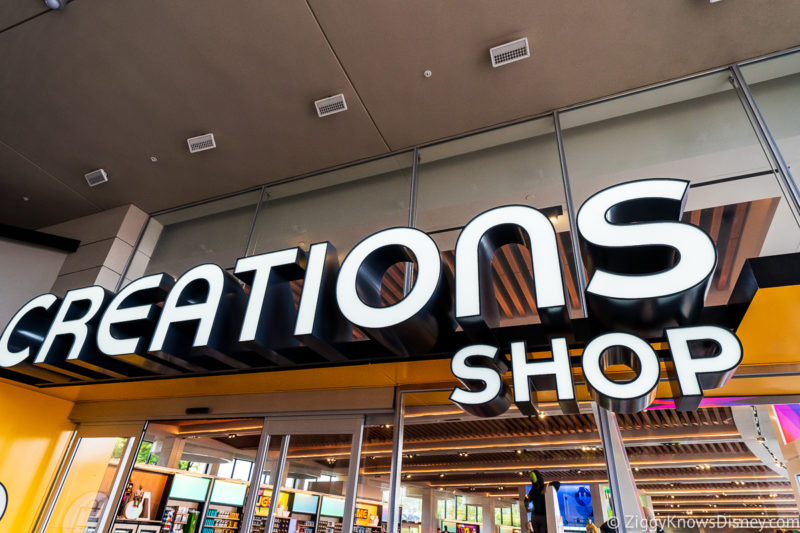 That's right, the construction work is complete and you can now visit EPCOT's newest vision of what a merchandise center should look like. Creations Shop opened in EPCOT on September 15, 2021, dropping the name Mouse Gear altogether.
In this post, we will give you a full tour of the Creations Shop in EPCOT including a look at the new 'Light & Color' line of merchandise, the interior of the store, and all the details like the hand-painted Mickey Mouse murals and individual Mickey statues.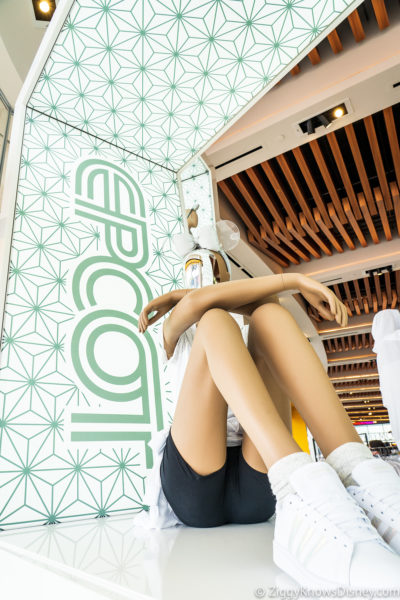 Once the huge EPCOT expansion is complete, it will be the main spot for merchandise in the front half of the park.
The store hours for Creations Shop in EPCOT are from park opening to park close each day.
Disney Imagineer Zach Riddley said: "Creations Shop features a bold, sleek design that creates a perfect showcase for the rich variety of items you'll find as part of your EPCOT experience.
It will be an open, bright, welcoming environment with huge glass walls that allow sunlight to pour in and make you feel like you're in touch with nature even while indoors. We are using color, materials and light in new ways with some unique EPCOT touches that connect back to this park's storied past while looking to the future."
Let's take a walkthrough of Creations Shop and look at the new space…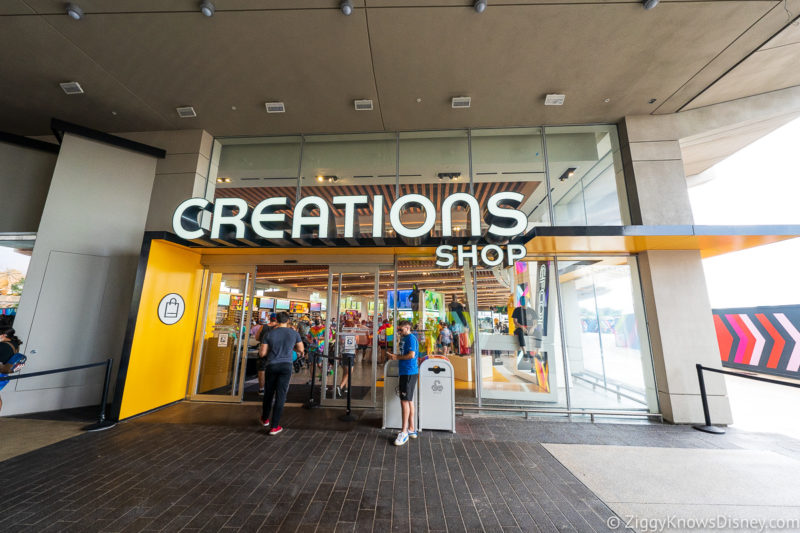 Just like before, there are multiple entrances to Creations Shop, 5 in total. This one is in the breezeway next to the new Club Cool.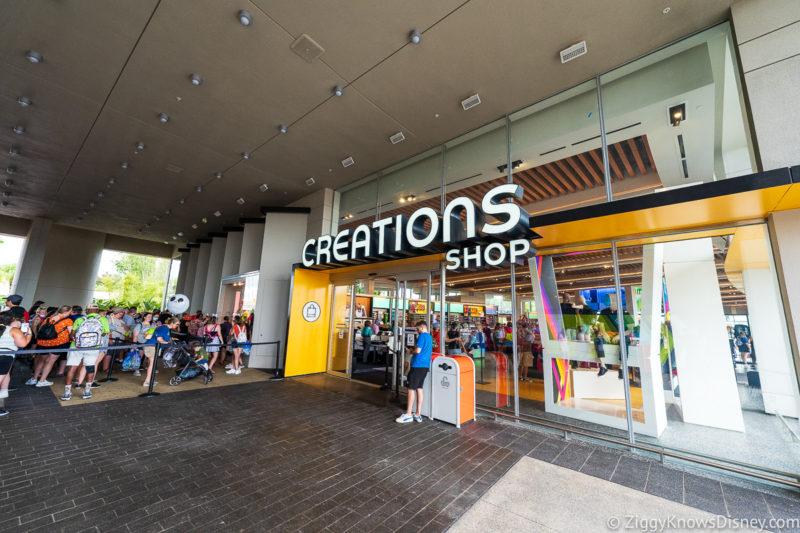 This is the entrance closest to World Showcase: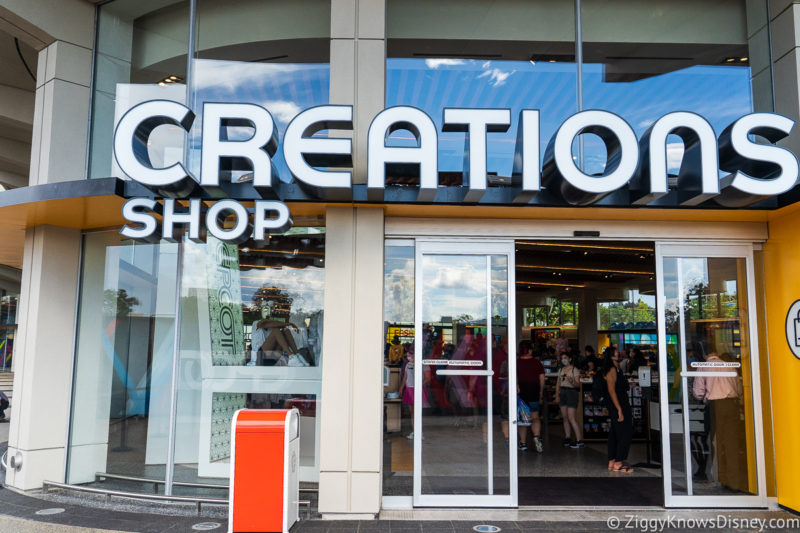 And another one connecting to World Discovery near Mission Space:
The entrances all have very large open windows and the same sign with white lettering.
On the outside of the shop you can get a preview of what's inside by looking at the window displays. References to the new EPCOT and Spaceship Earth are everywhere as you will see more when we go inside.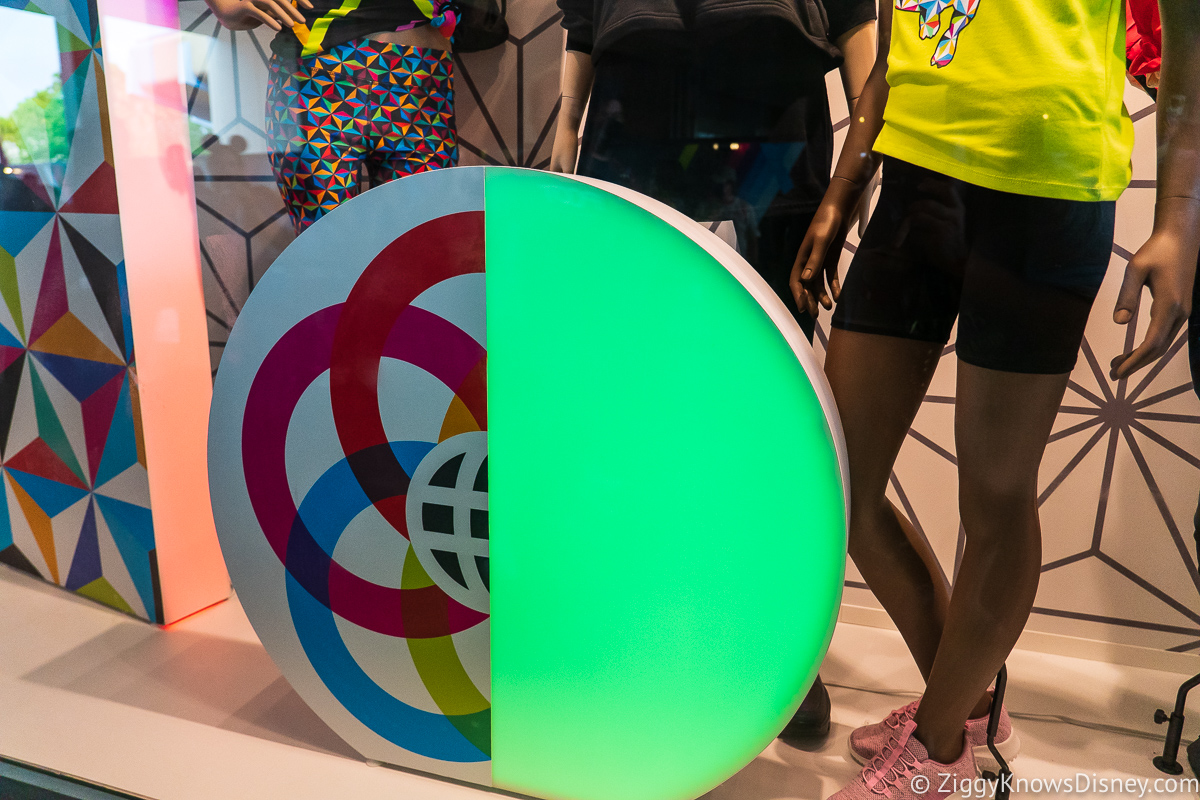 Right now the new "Light & Color" line is being heavily featured throughout the store and we get a preview of it from the window display.
I'm not sure what's up with all the faceless masks everywhere but it seems that each mannequin has its own color.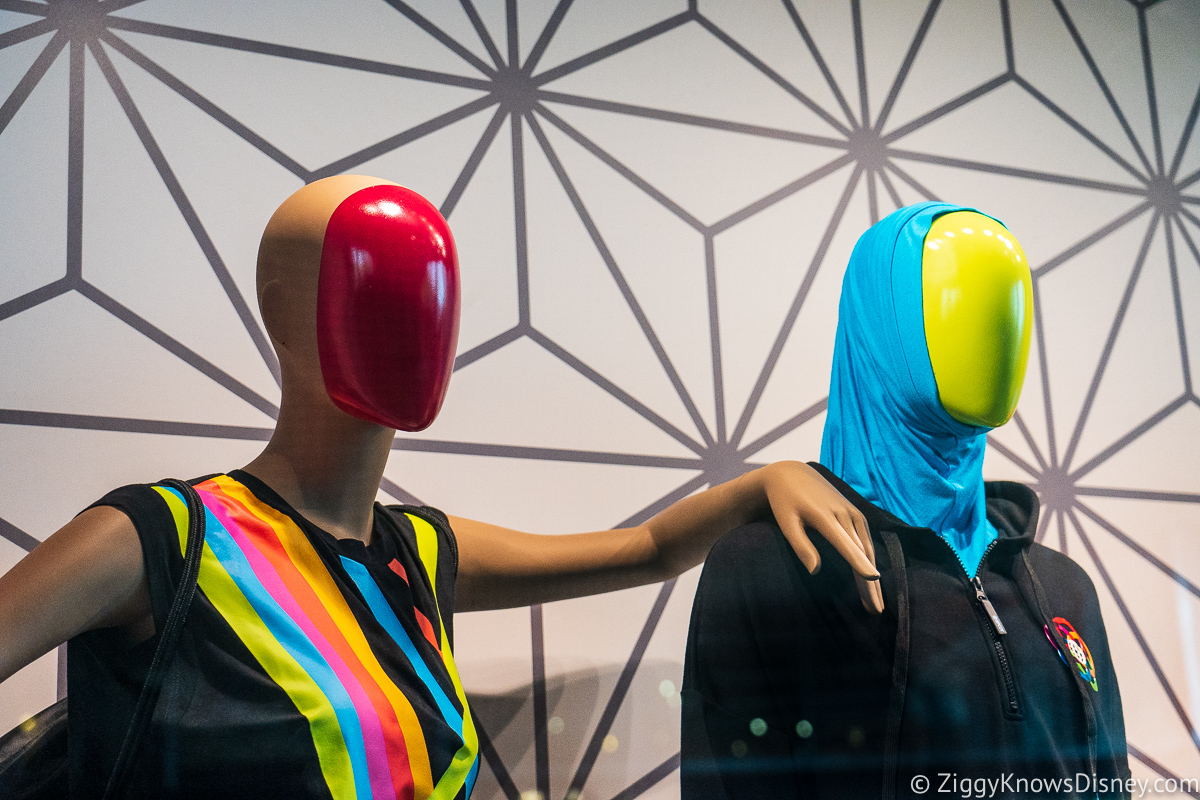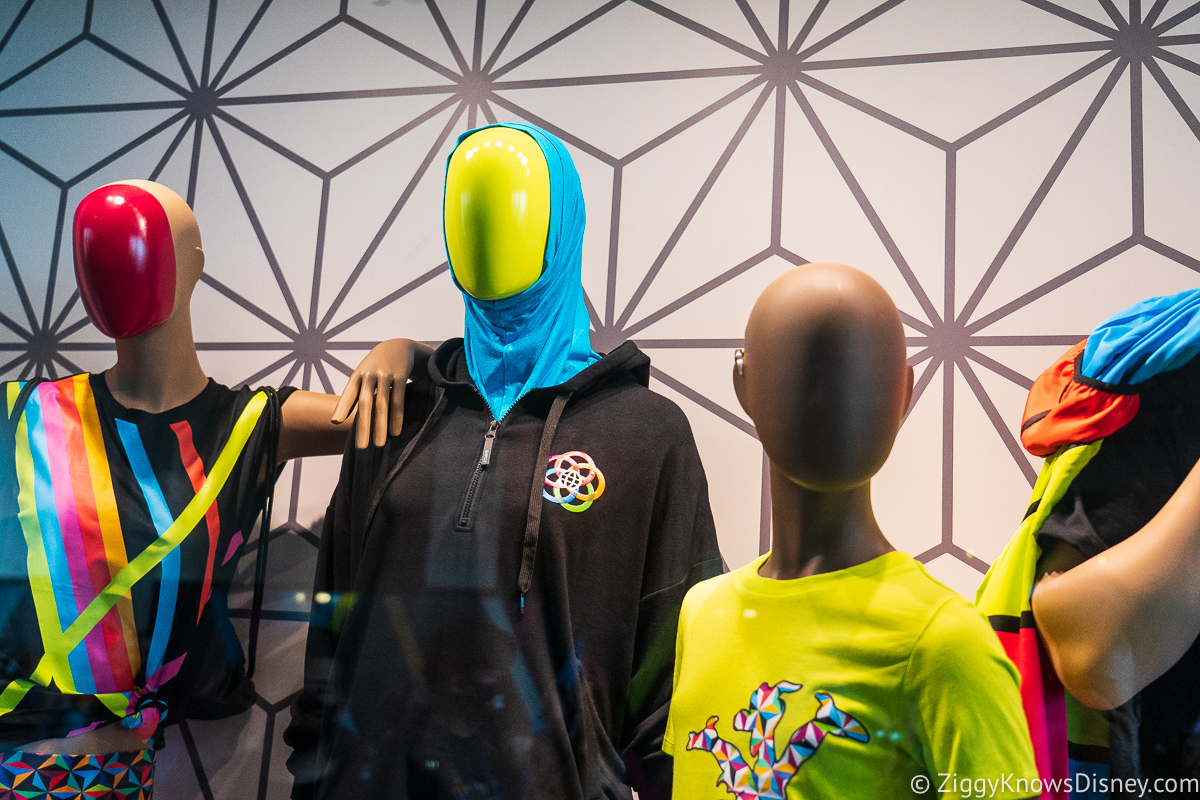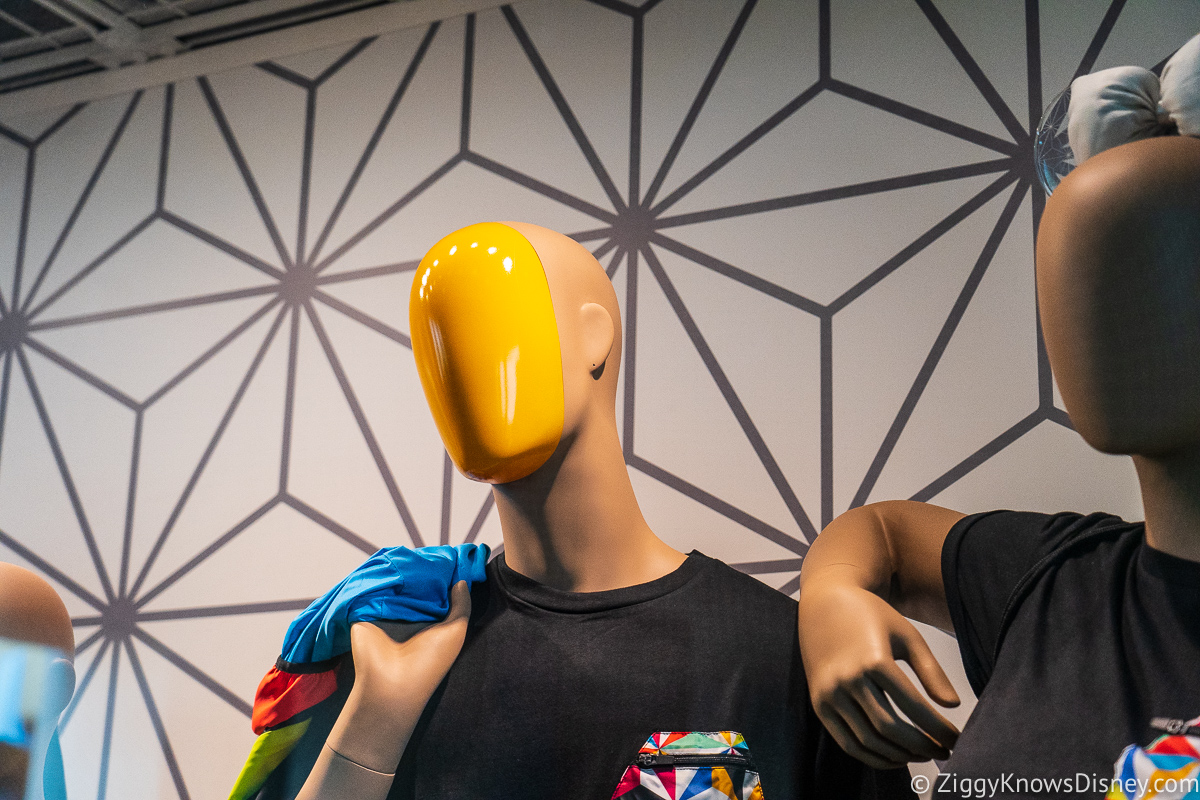 Let's go inside…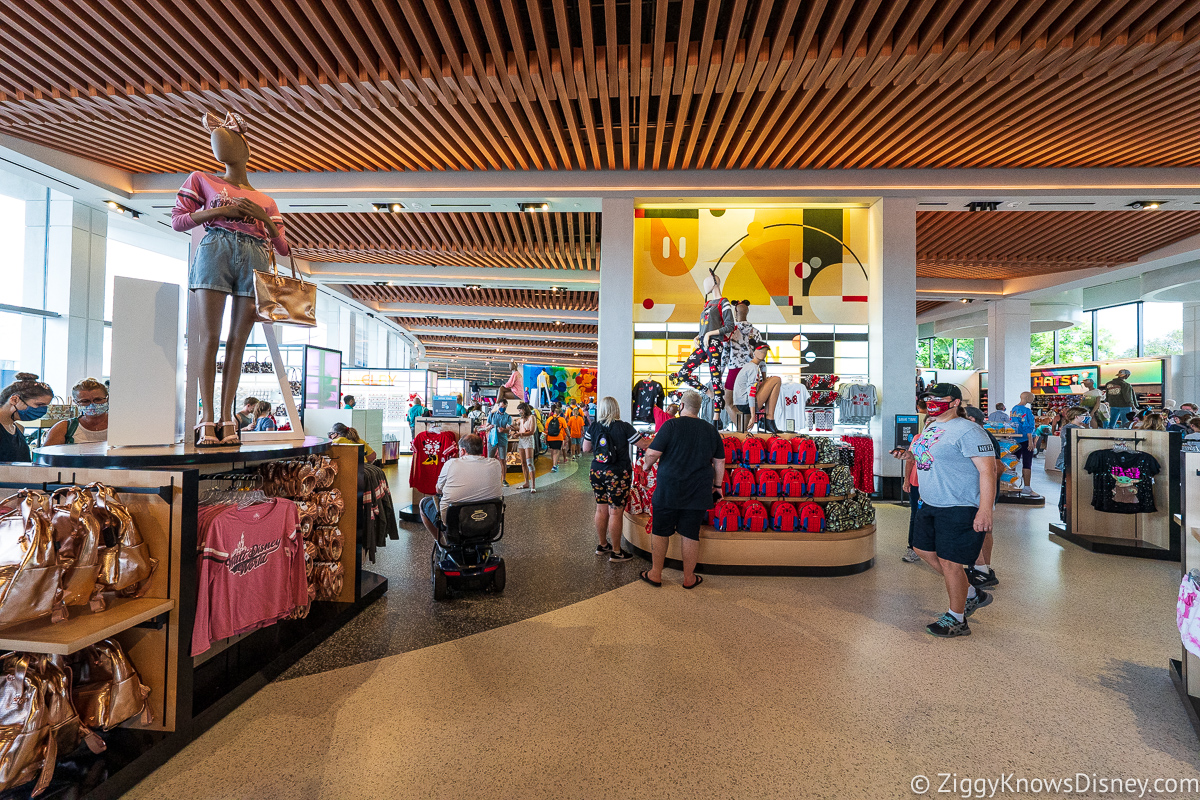 The first thing you notice when you enter is the layout and how open it feels.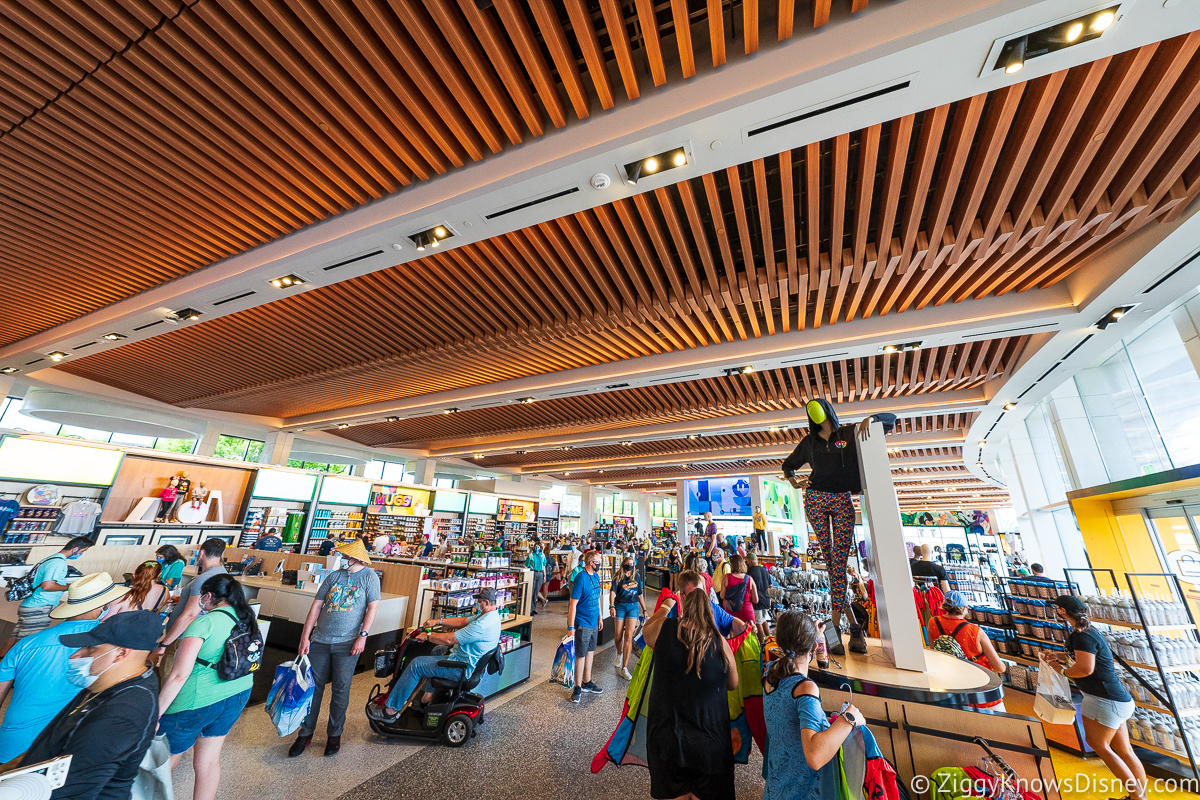 Mouse Gear had a much more closed and claustrophobic feel to it and you sometimes could get lost in it, much like the old World of Disney store in Disney Springs.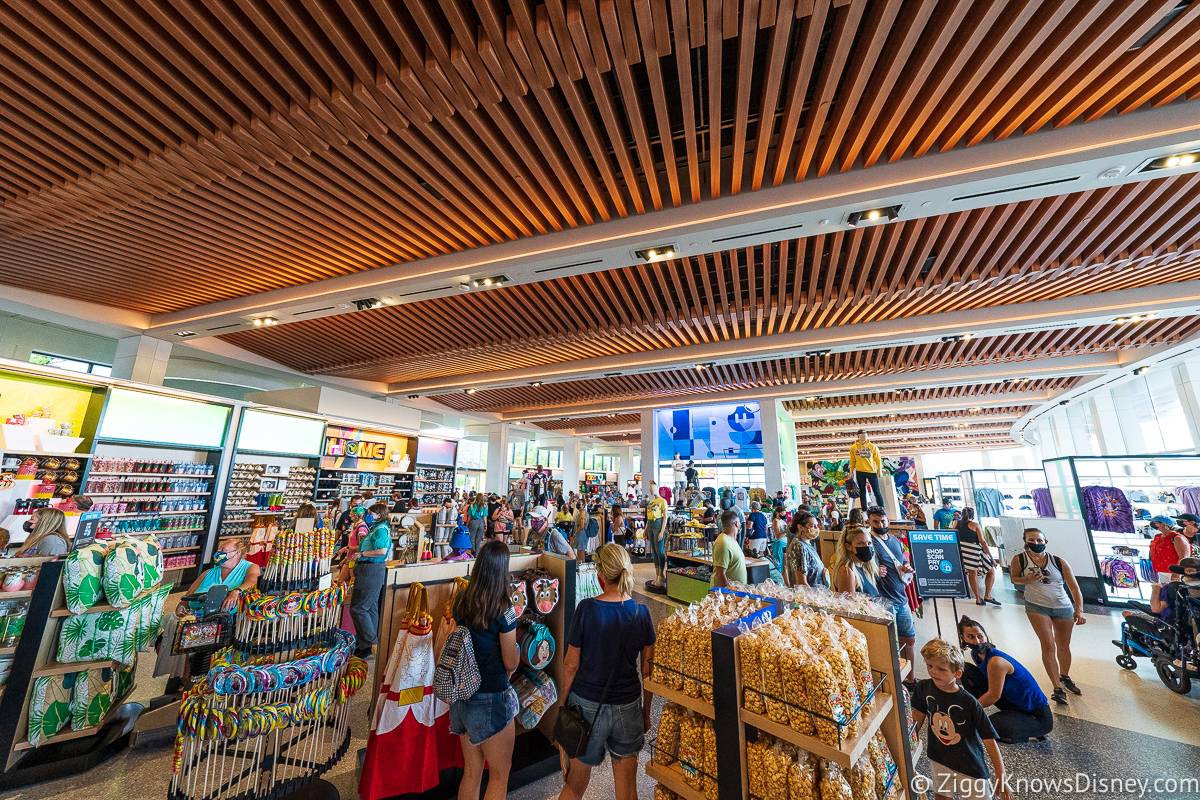 Creations Shop on the other hand is really easy to navigate and you can see straight through to the other side of the store with no problem.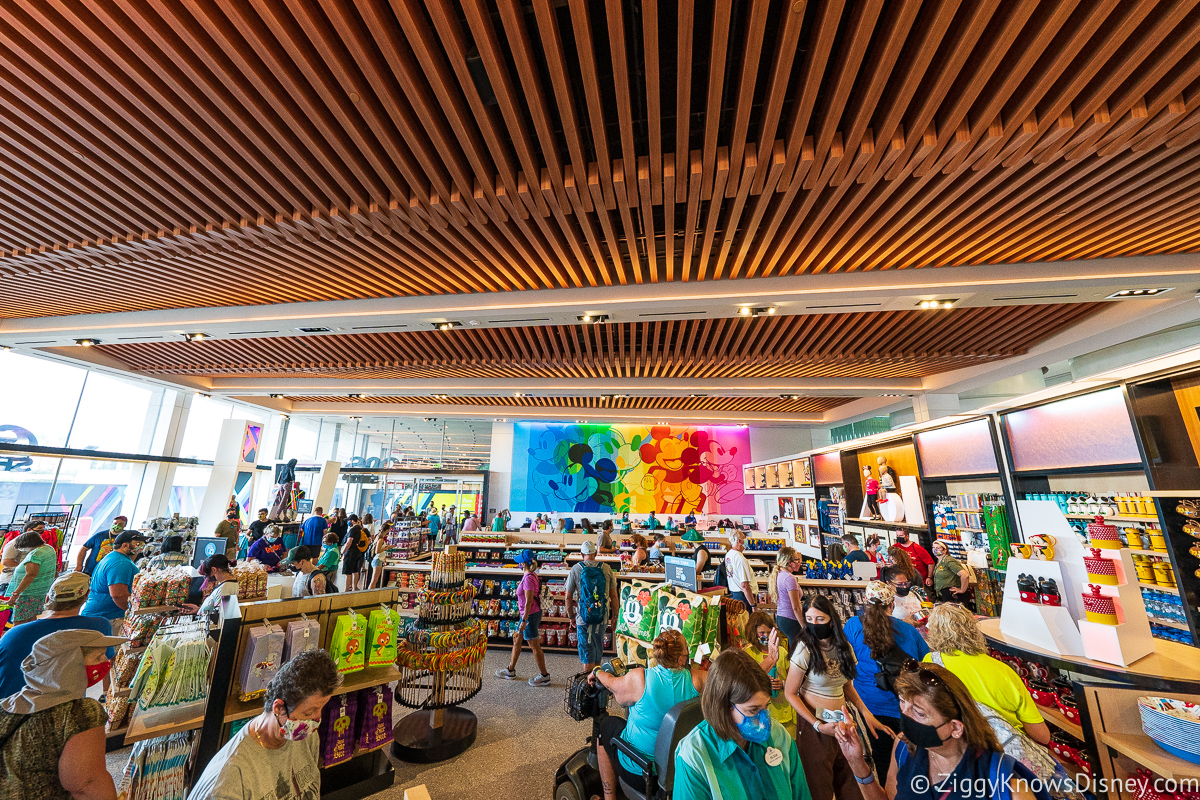 The room is also very light from the massive windows located on both sides of the store.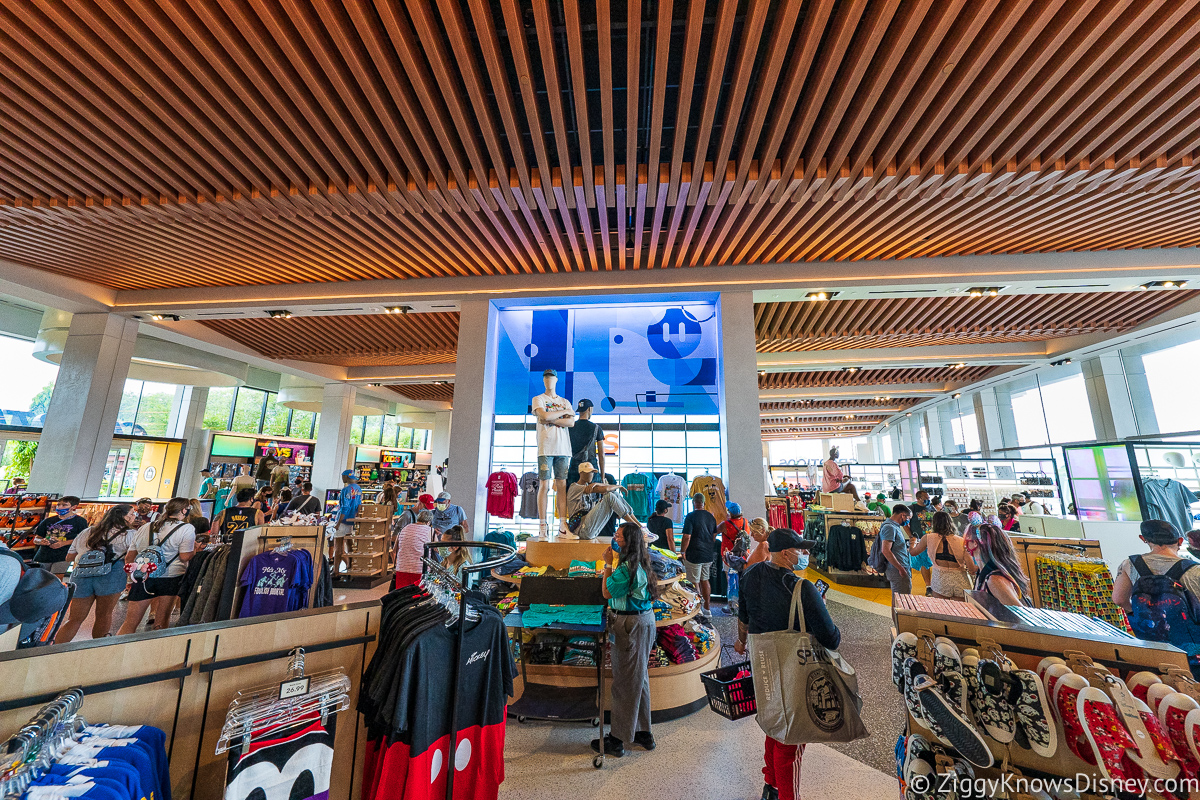 While these are all pluses and improvements from the previous store, we can't help but feel a bit disconnected from the store as a whole. There is little to no theming and it just feels a bit generic. Honestly, you could drop this store into the middle of any mall in America and not tell the difference.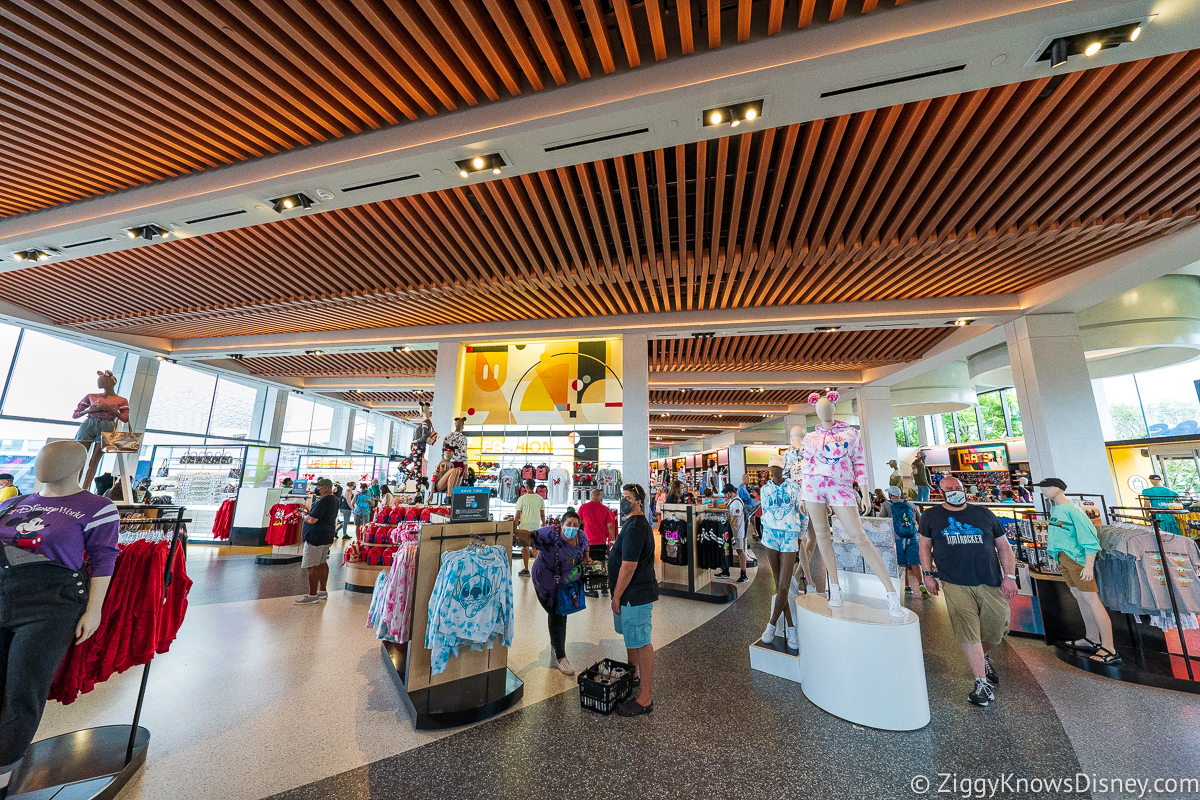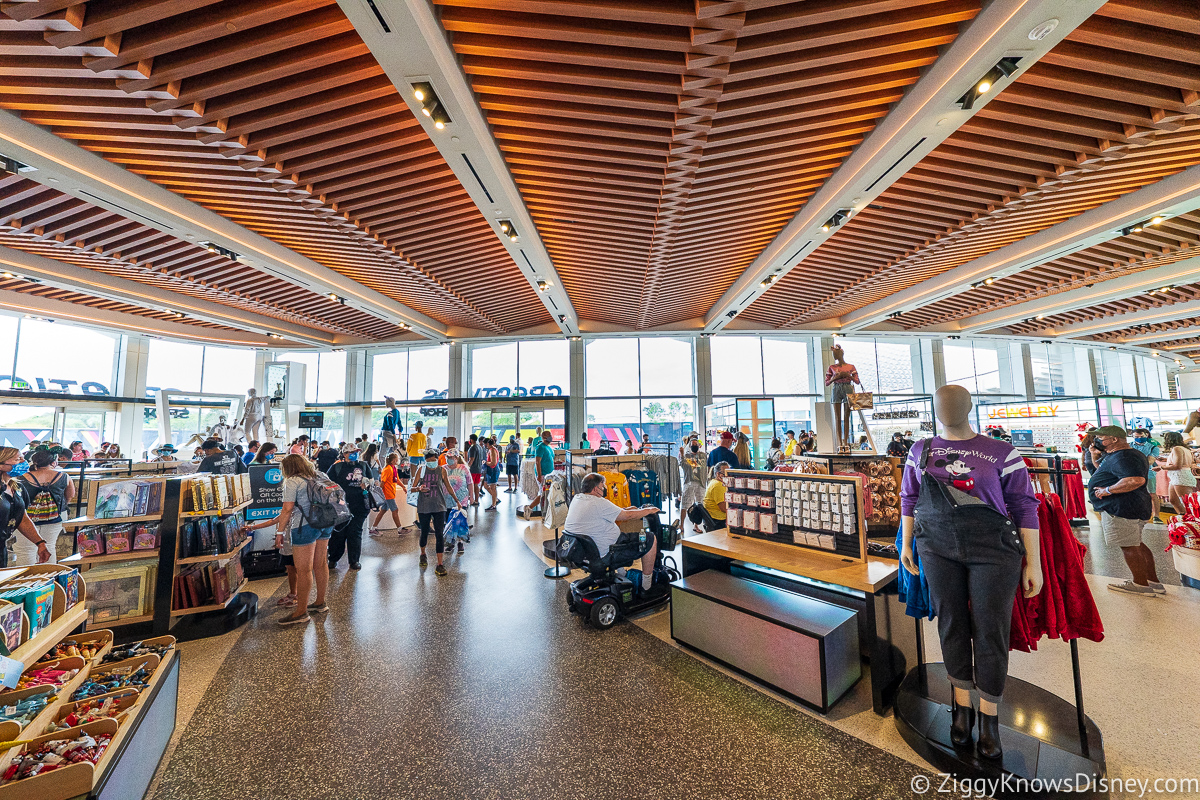 As you can see it's hard to get lost in here and everything is laid out very simply.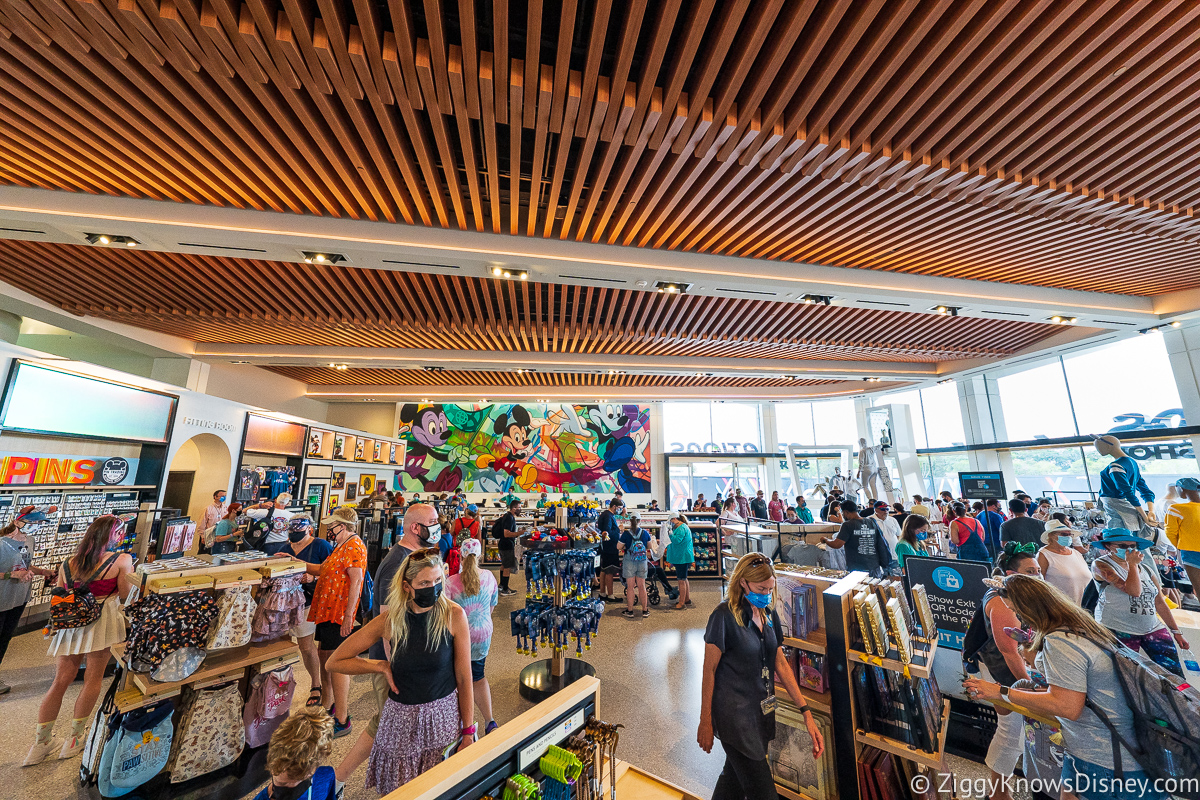 It looks pretty similar to the previously released concept art: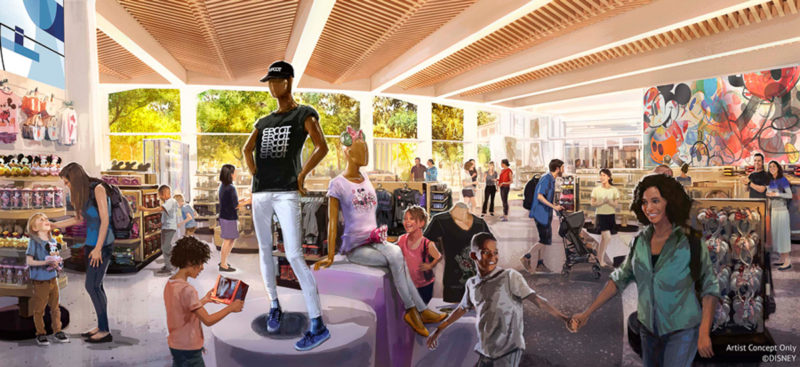 Let's take a look now at some of the merchandise you can expect to find when visiting Creations Shop.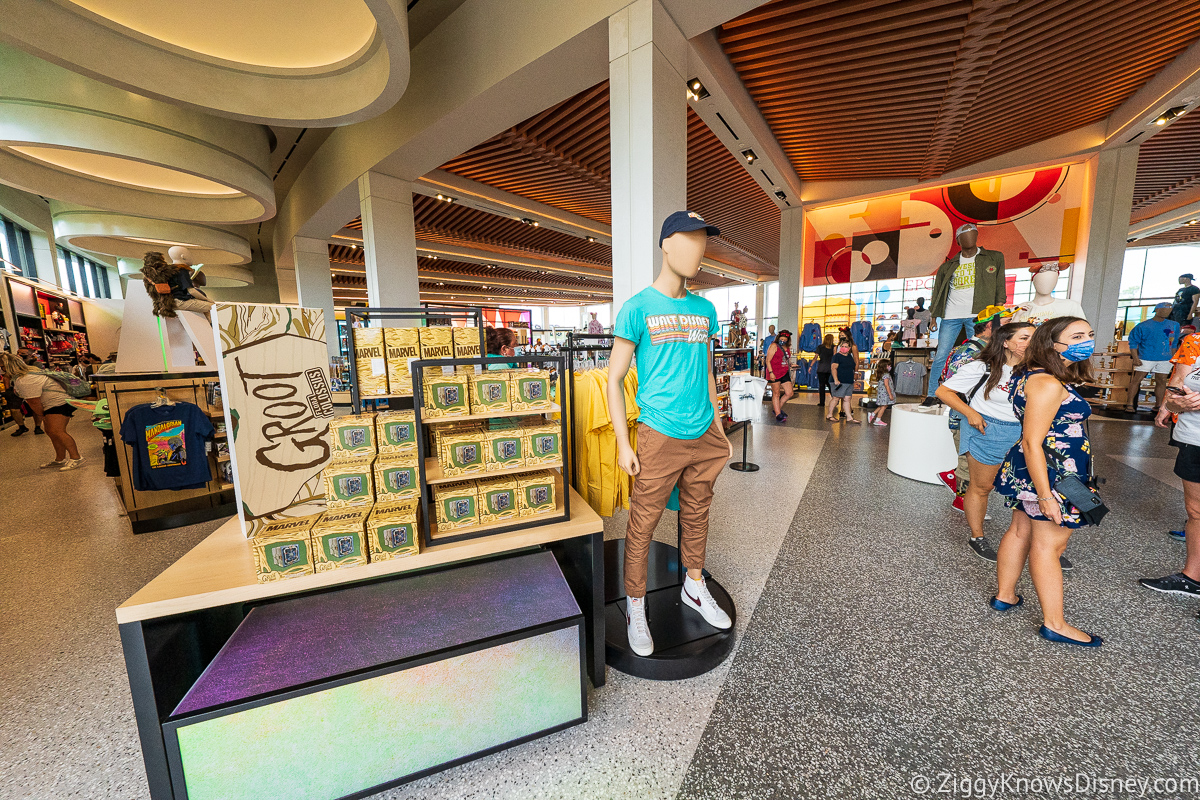 Each section is split up into different displays with big neon signs above which makes it easy to find what you are looking for.
Here is the Kids section: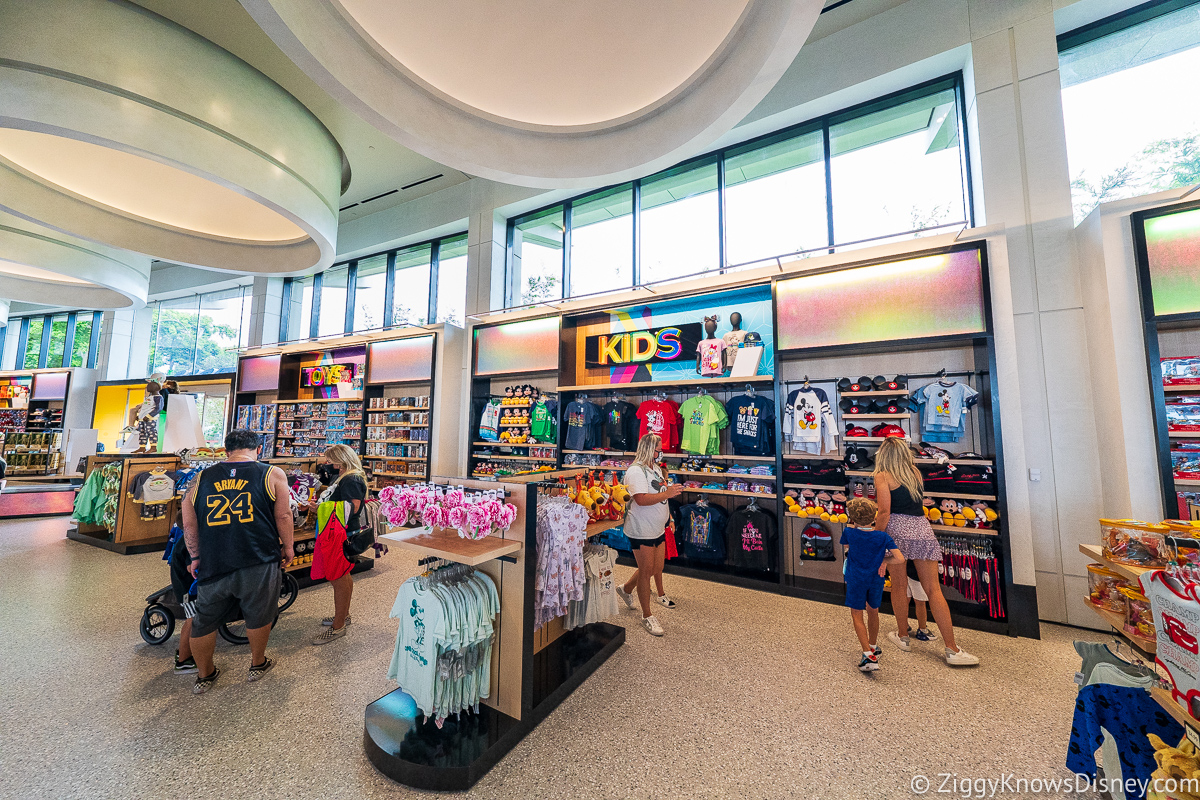 There is a lot of stuff for Marvel fans including these Spider-Man backpacks and t-shirts: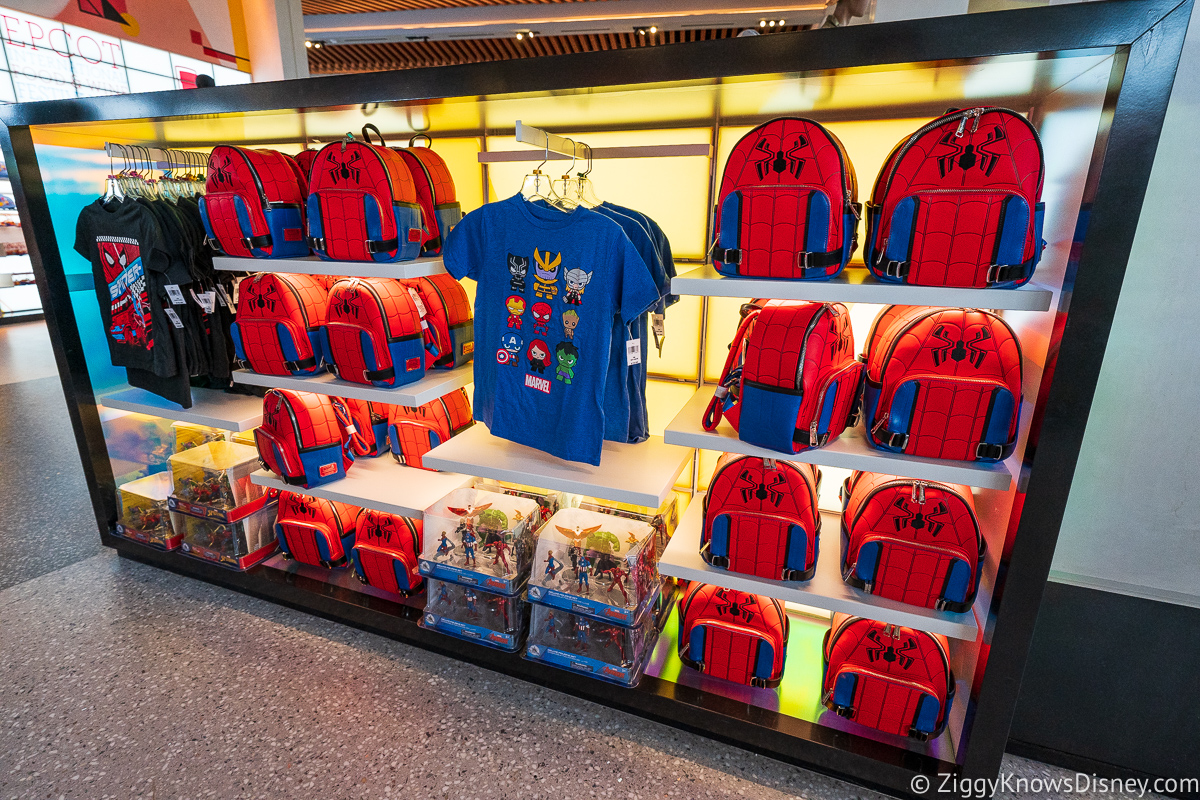 There is a whole section dedicated to Forky from Toy Story: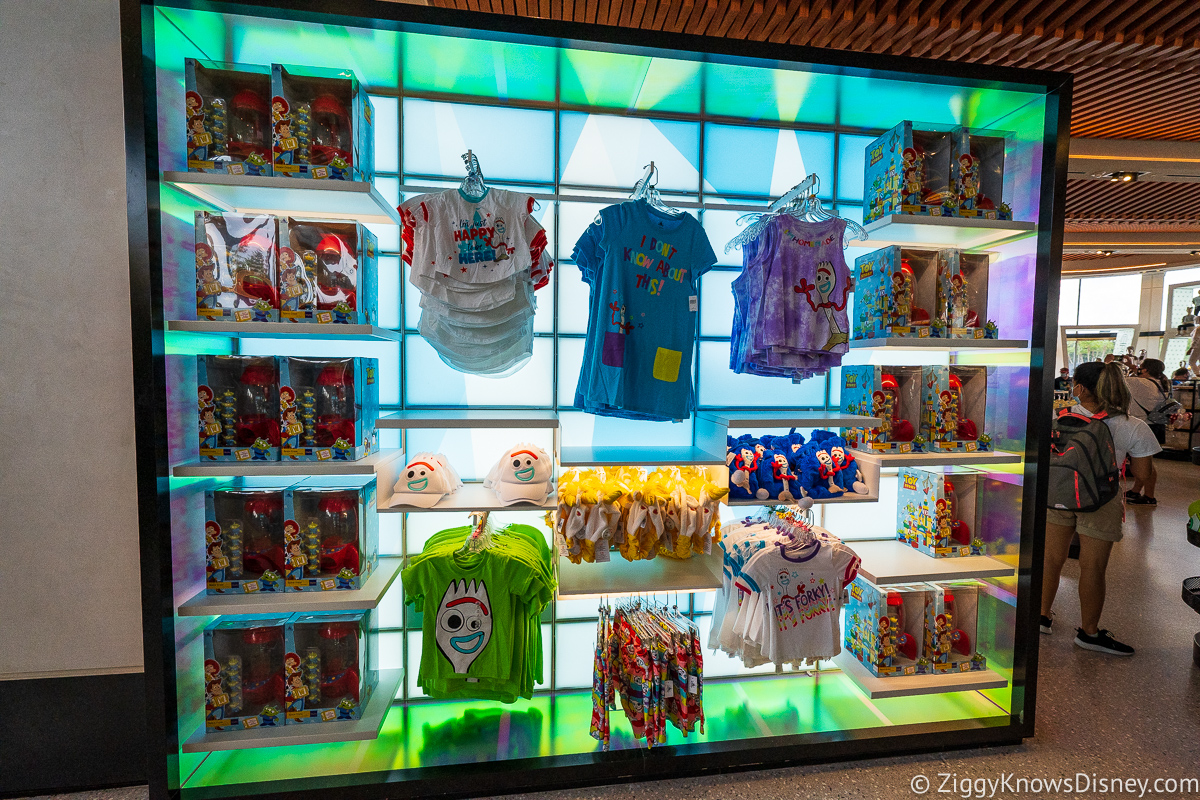 Next up is the Toys section: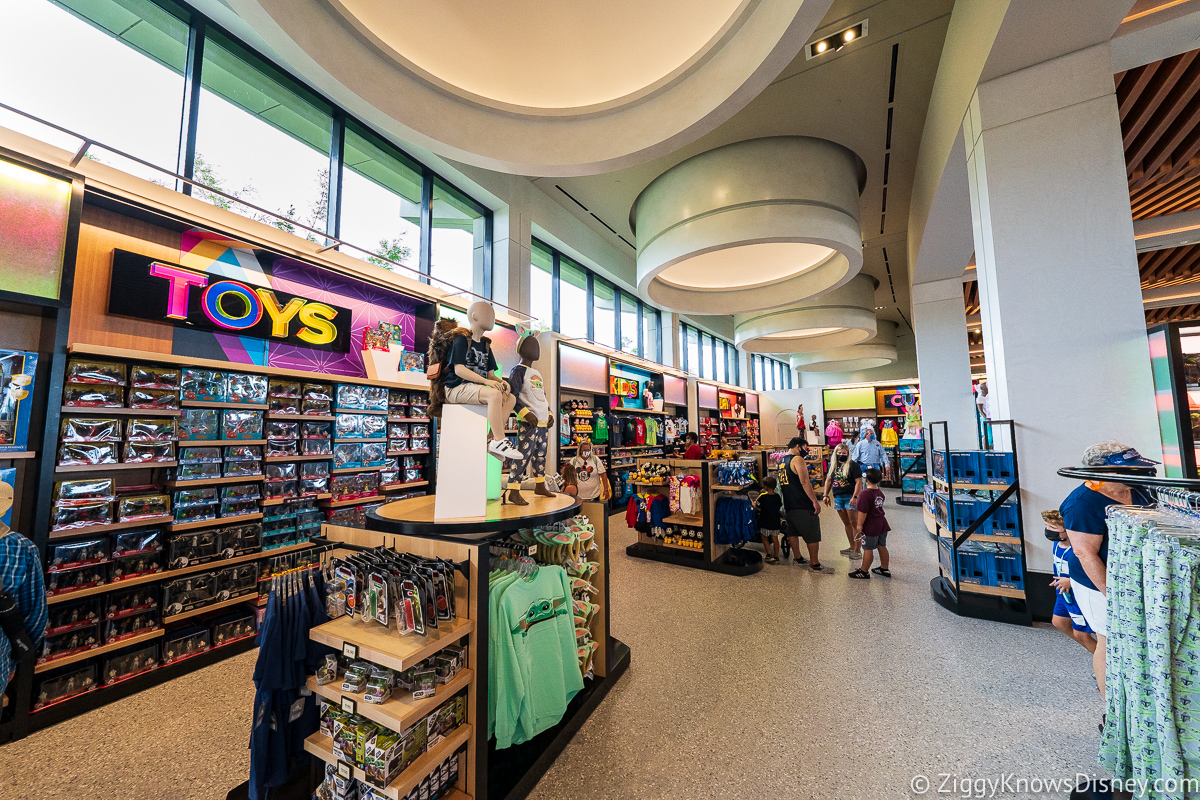 Dolls of your favorite Disney princesses are found here: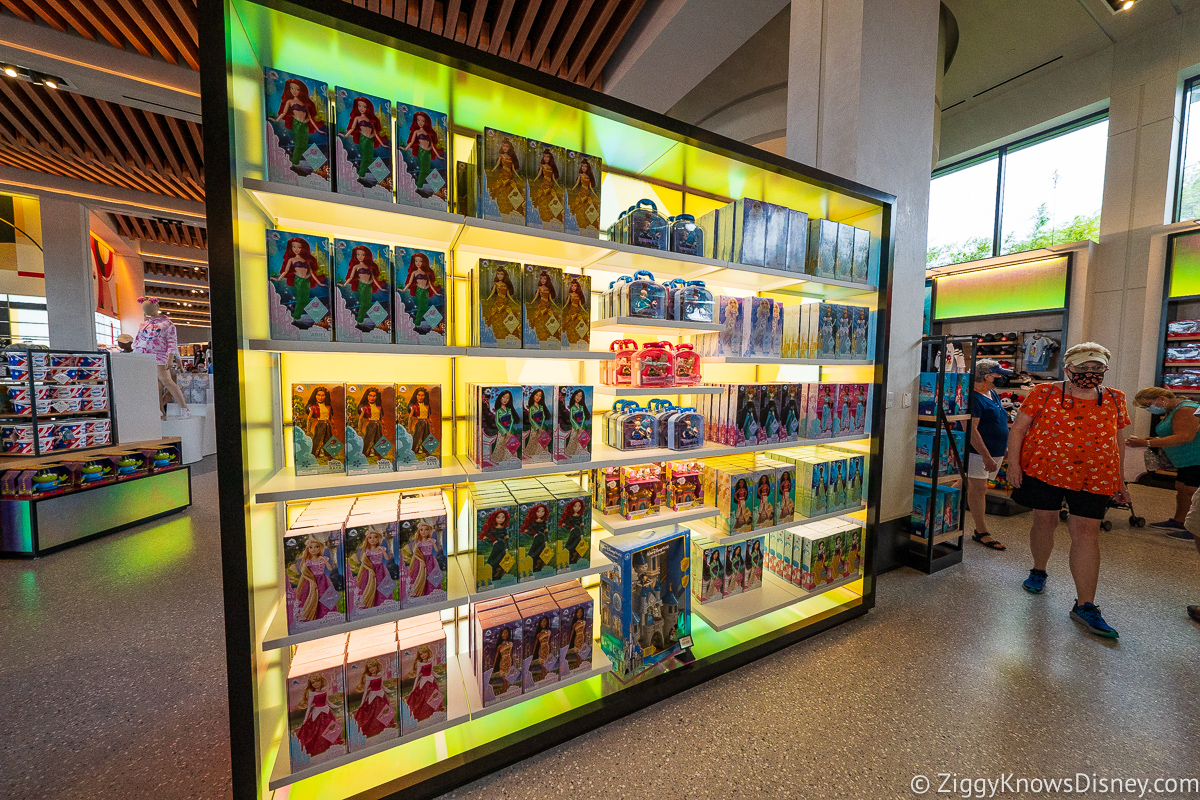 This is the Play section: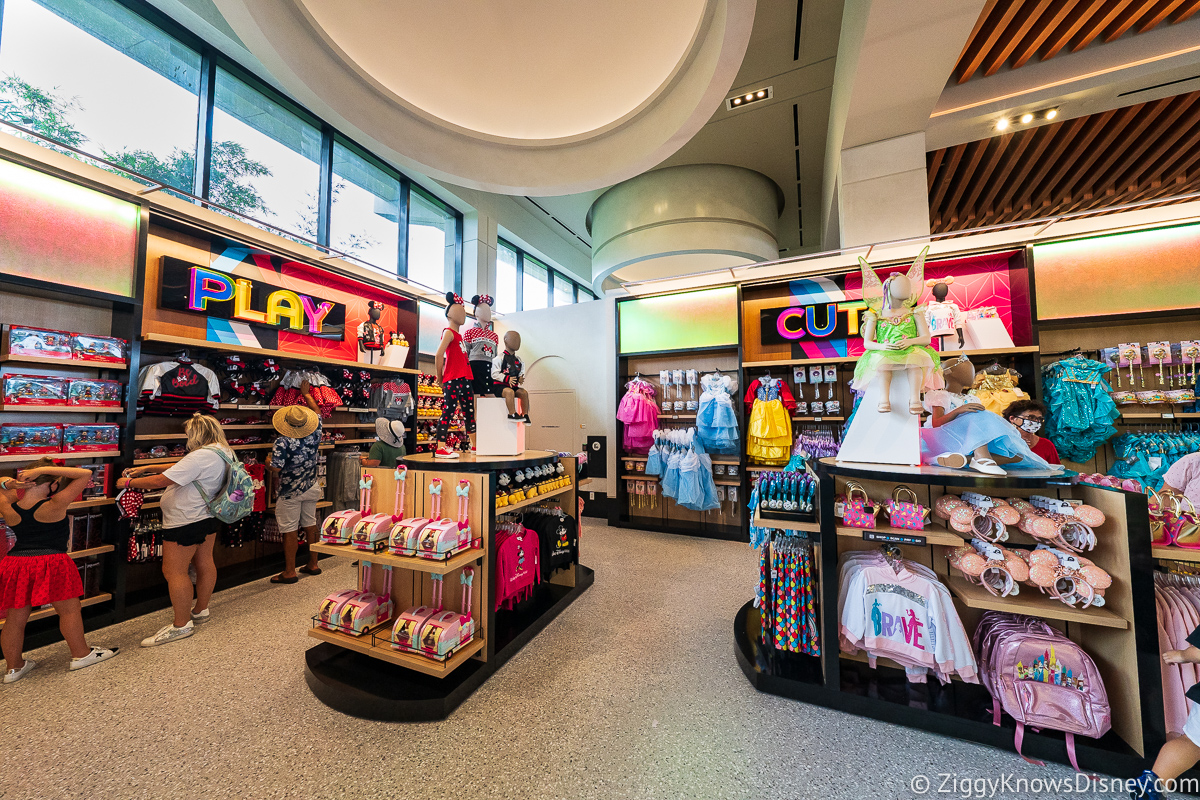 You can also find some cool Disney parks merchandise like this Walt Disney World shirt and hat.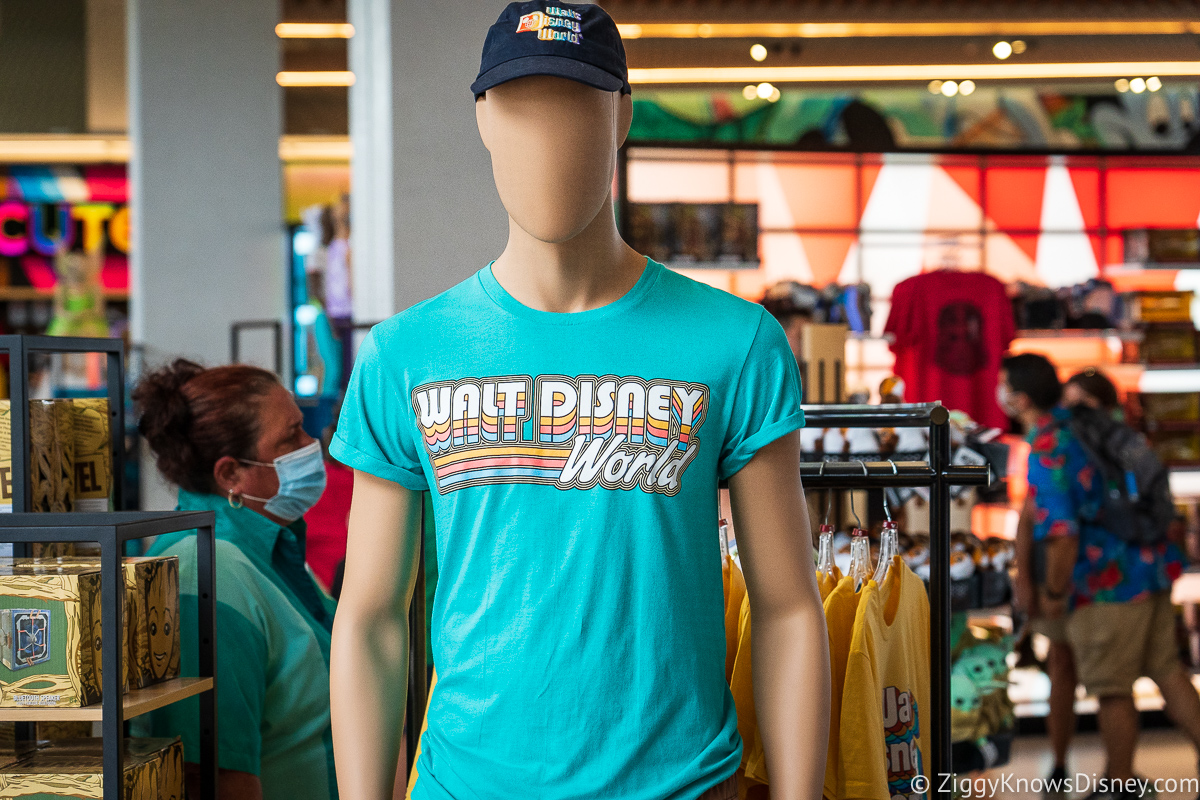 The Accessories section: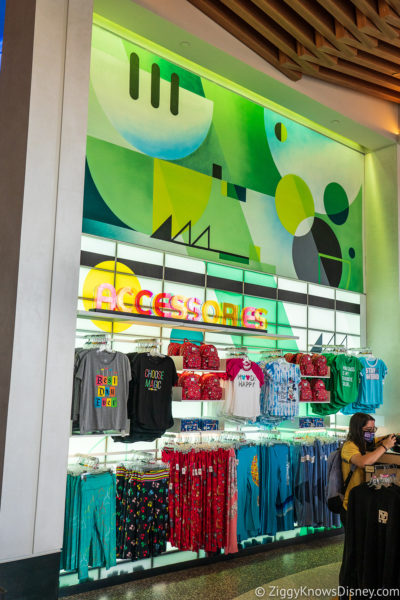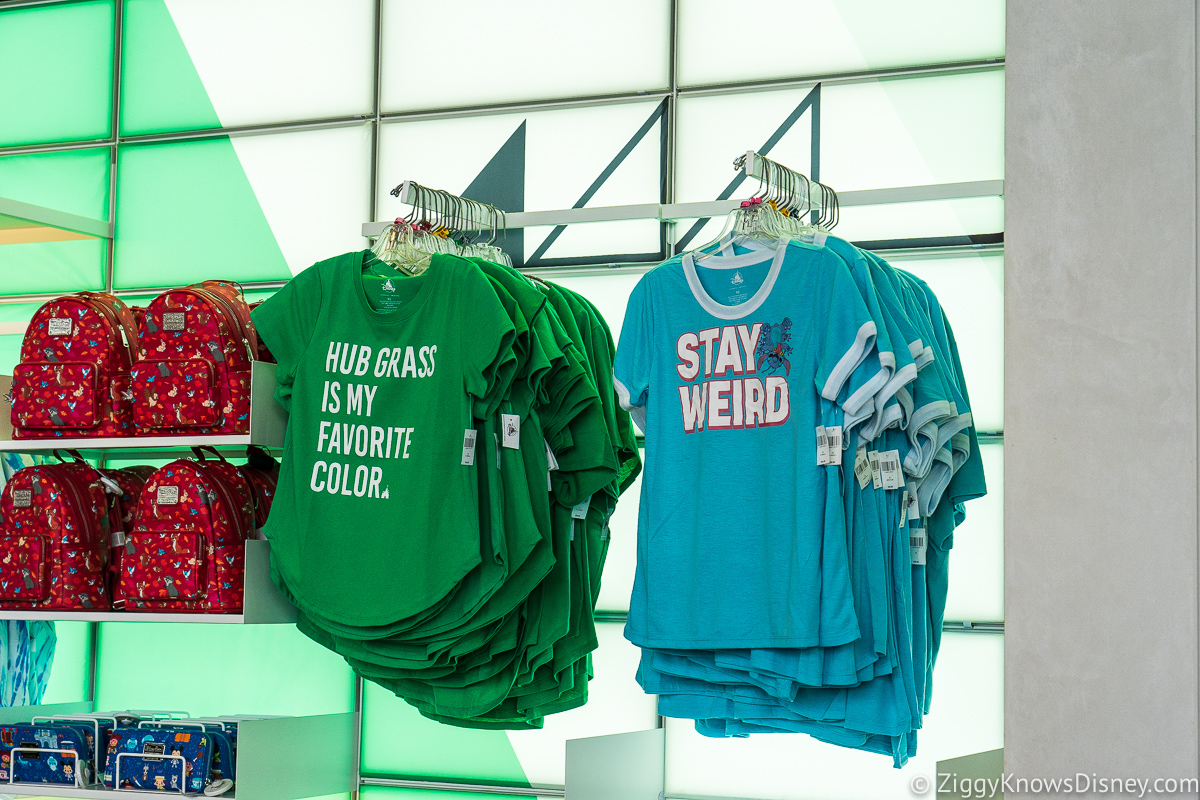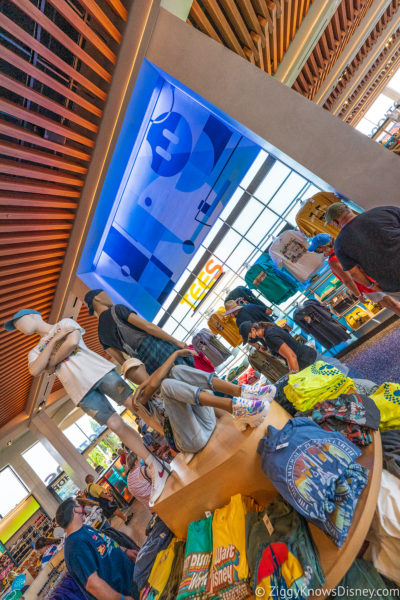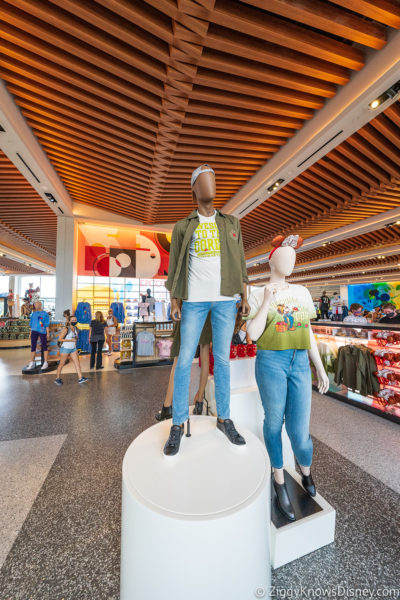 Dooney & Bourke Disney bags: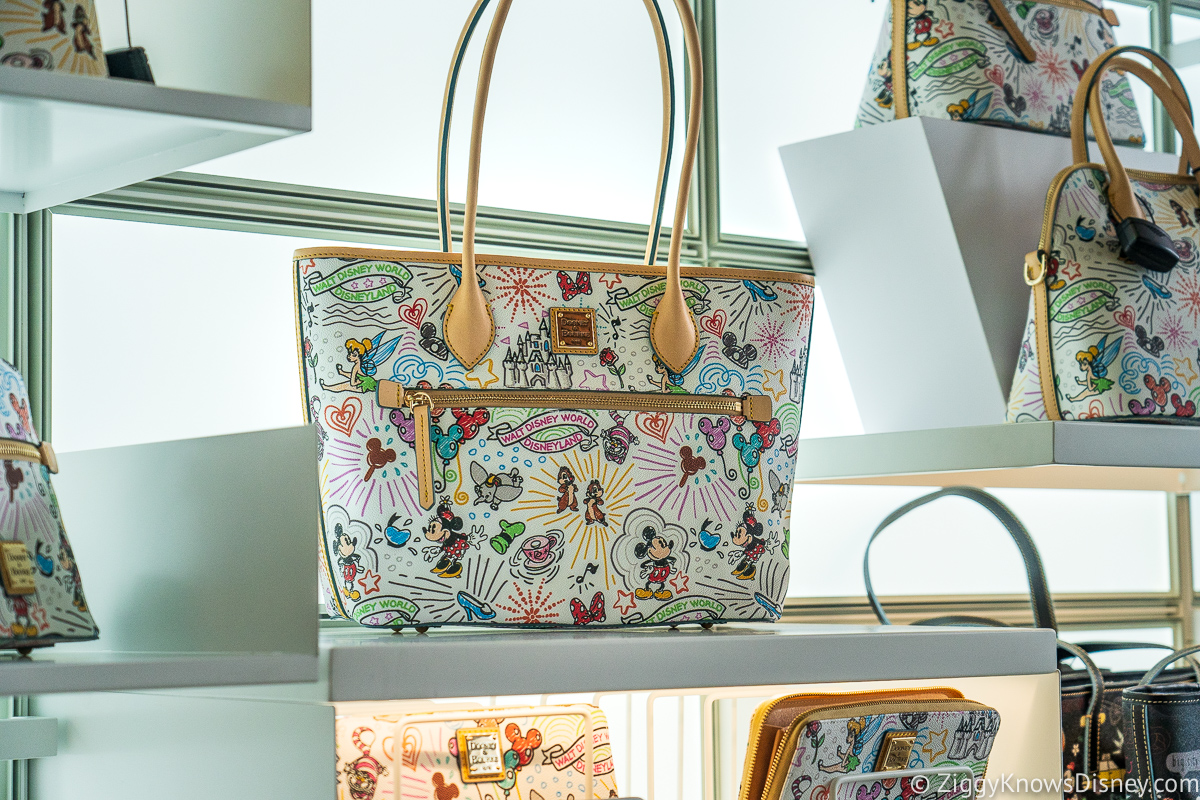 A display with all the mugs you can imagine: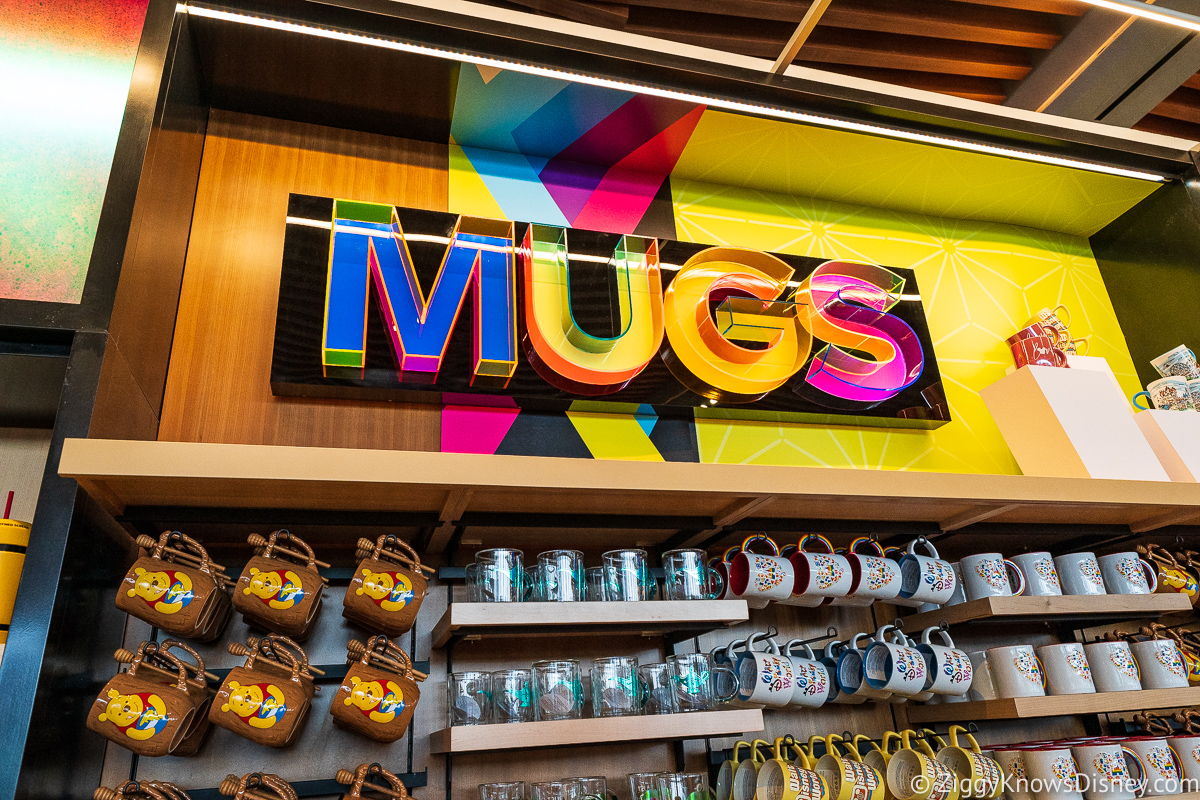 The Home section with practical gifts you can use: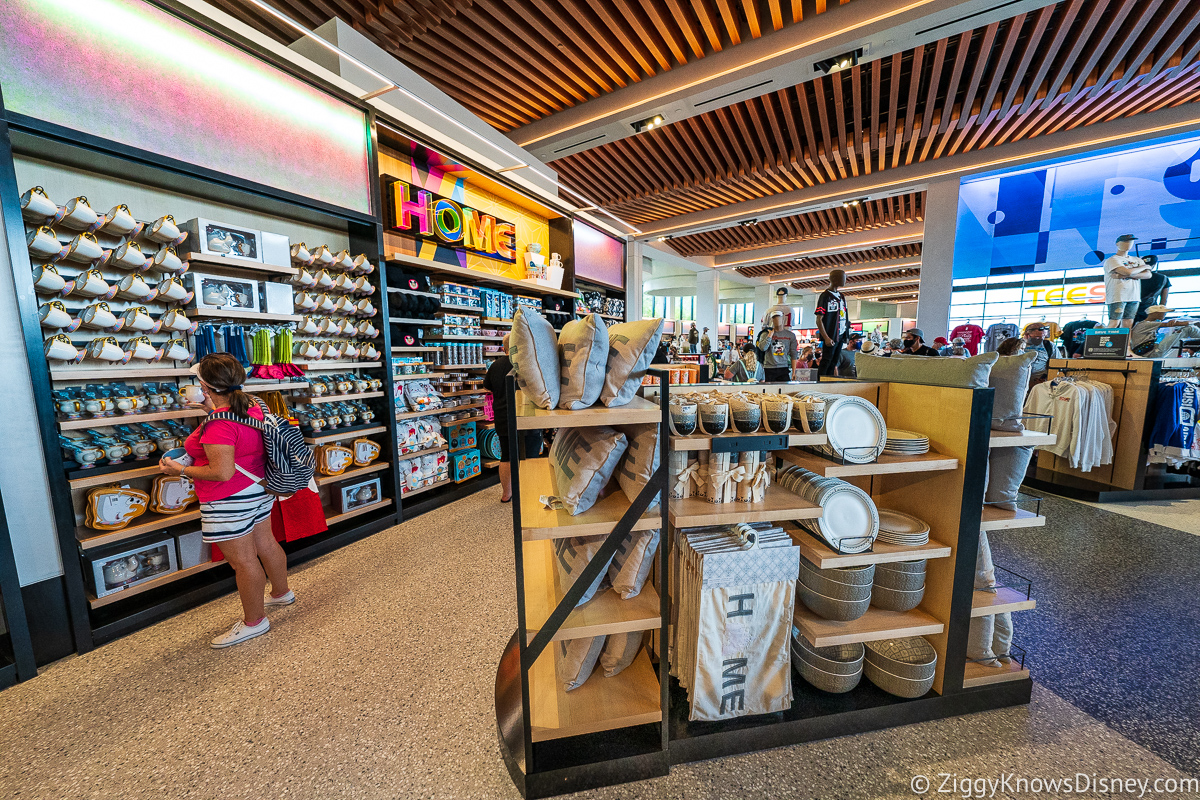 There is also a section of the store that is for seasonal merchandise and that changes depending on the holiday or time of year.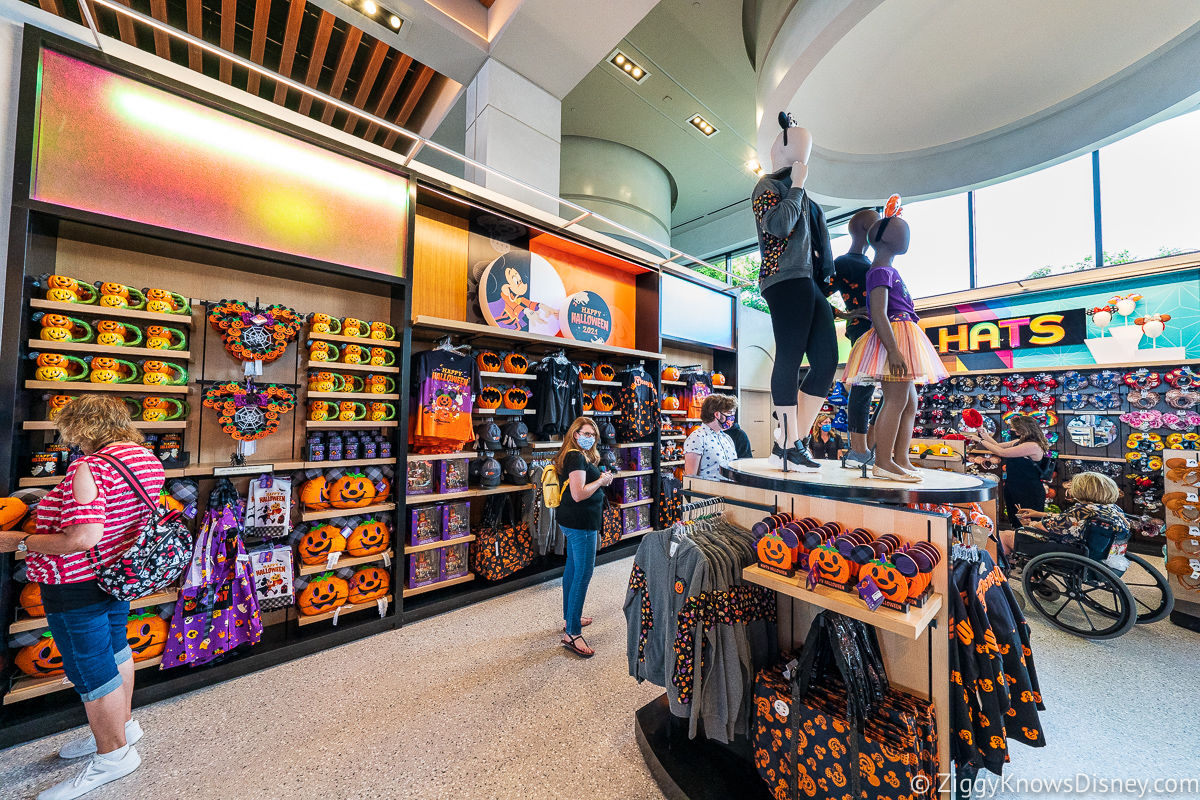 There is also an area dedicated to the EPCOT festivals like the Food & Wine Festival: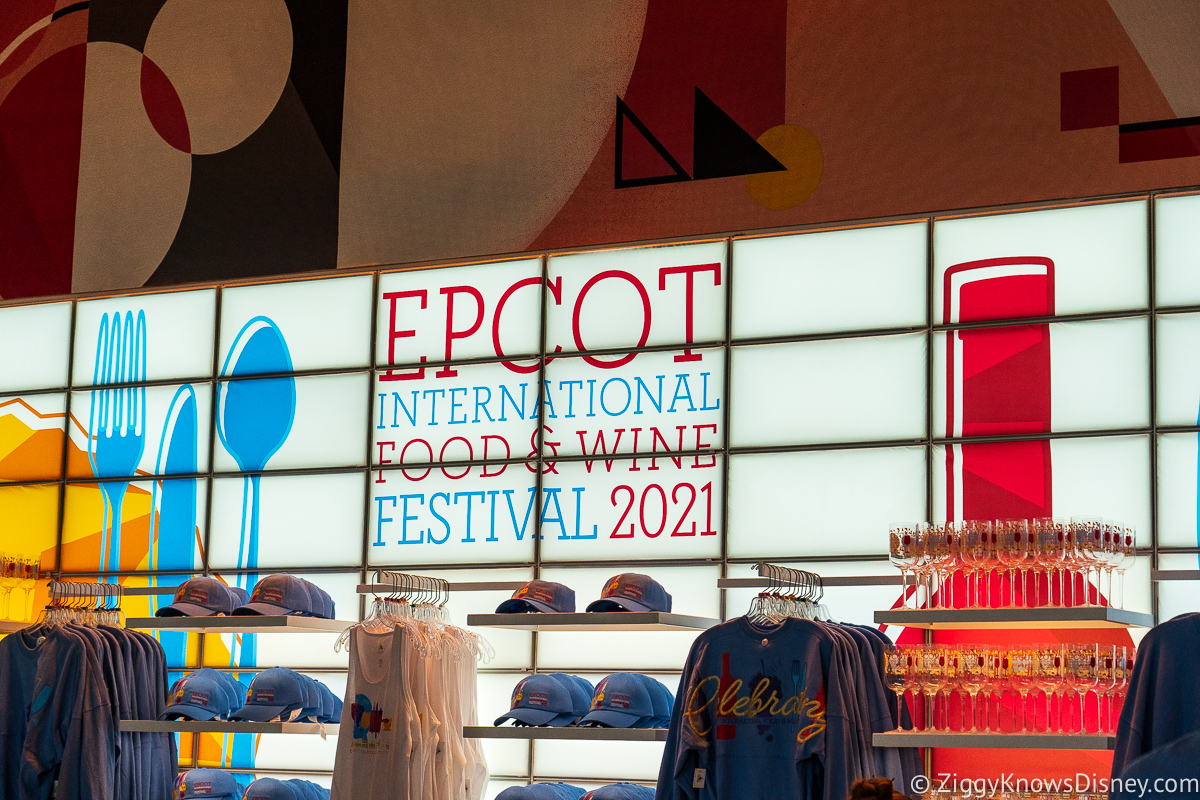 If you are looking for Mickey ears, you will find an excess here: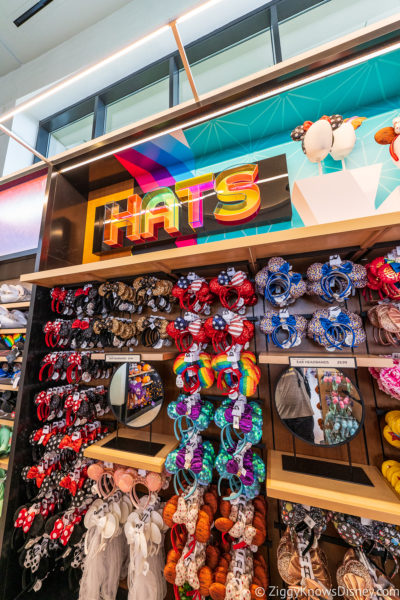 Now to the hottest collection of the moment, "Light & Color":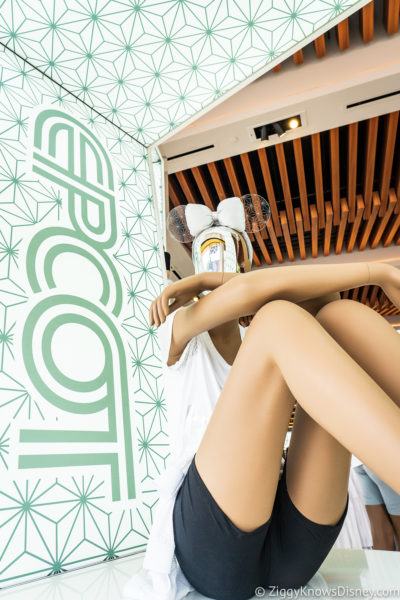 The line of futuristic merchandise was inspired by the transformation of EPCOT and will be prominently displayed in the store.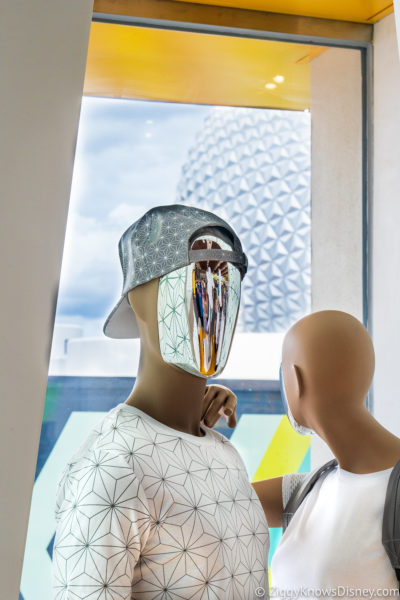 Due to its extreme popularity, the new "Light & Color" EPCOT merchandise was sold out within minutes of the store opening. Even with guests limited to the amount per item they can purchase, eBay sellers have been all over this buying up anything they can get their hands on.
Most of the merchandise has been restocked since.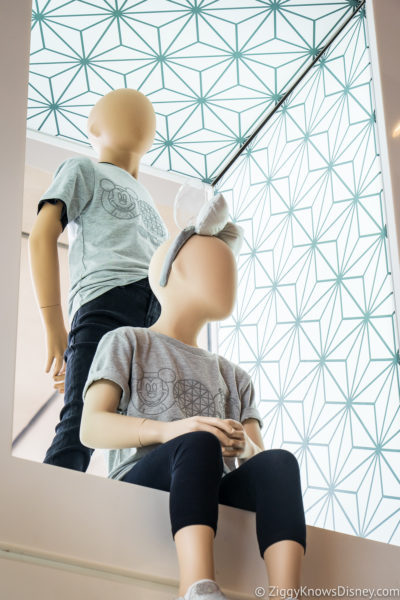 All of the clothes focus on light colors like white, with Spaceship Earth patterns mixed in.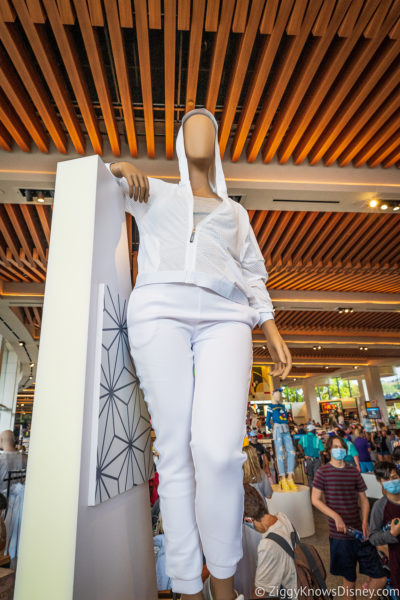 Here is a white t-shirt from "Light & Color."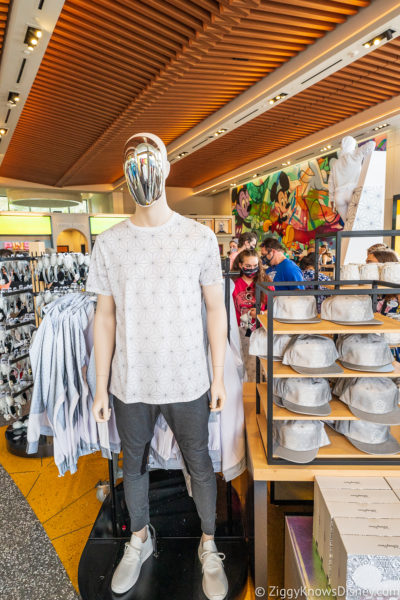 Jackets and hoodies were on display: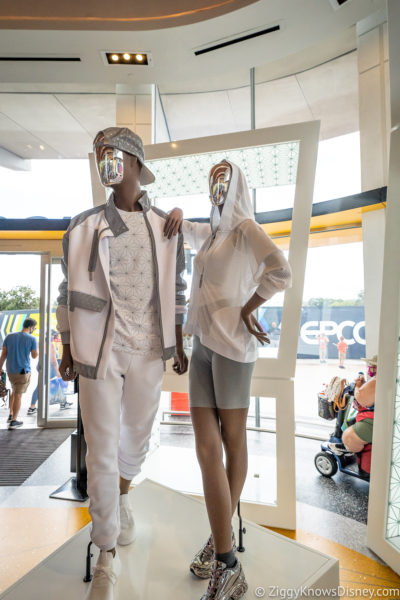 Here is a popular jacket from the collection: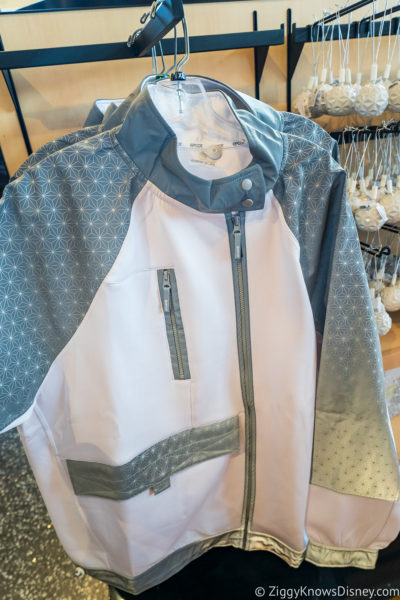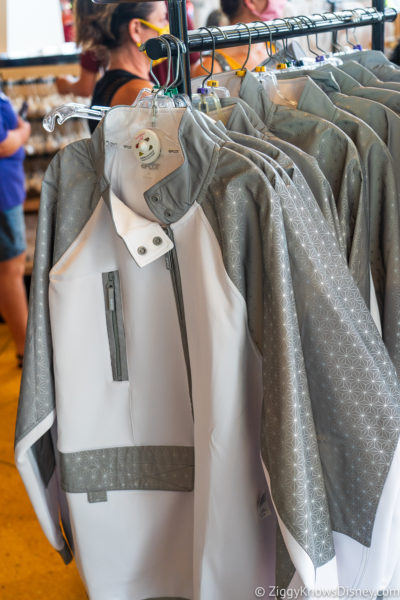 And the white EPCOT t-shirt: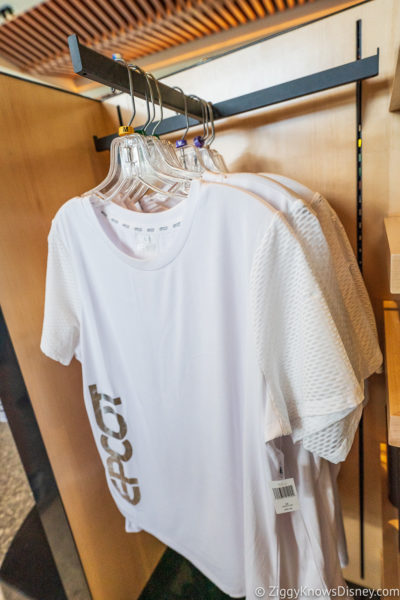 Jackets and hats: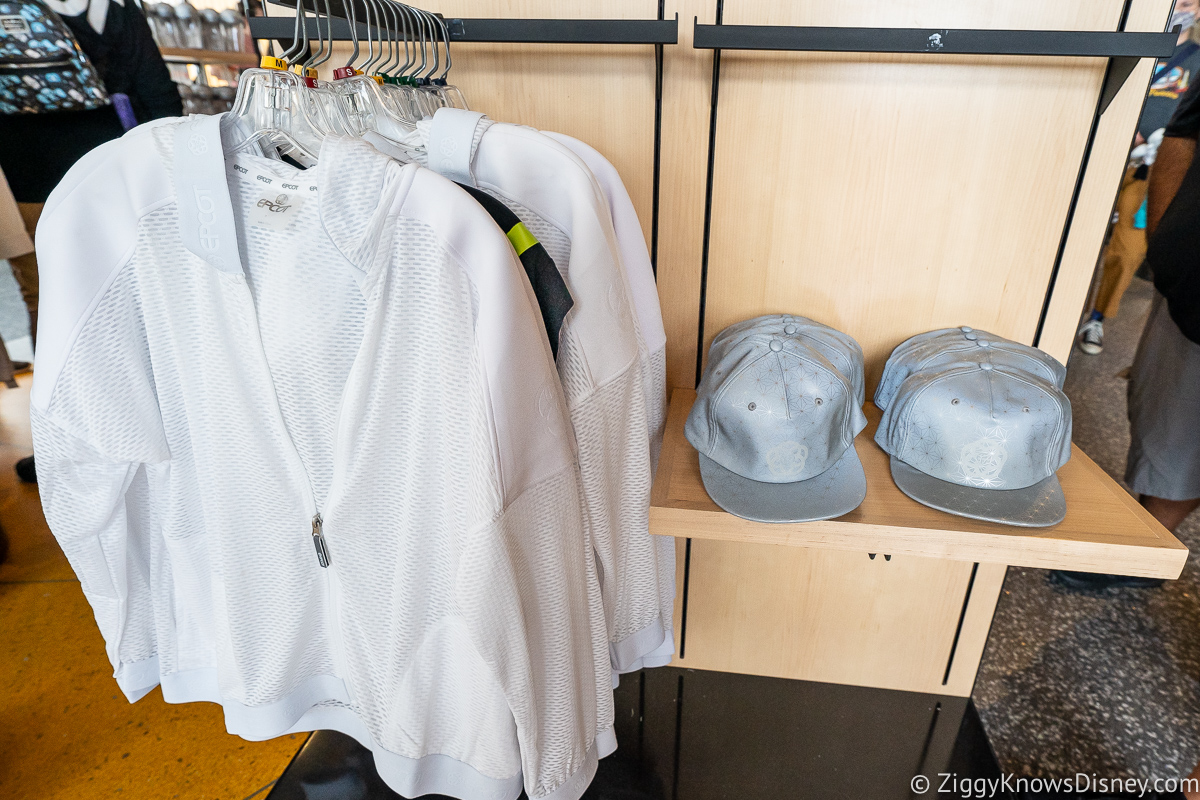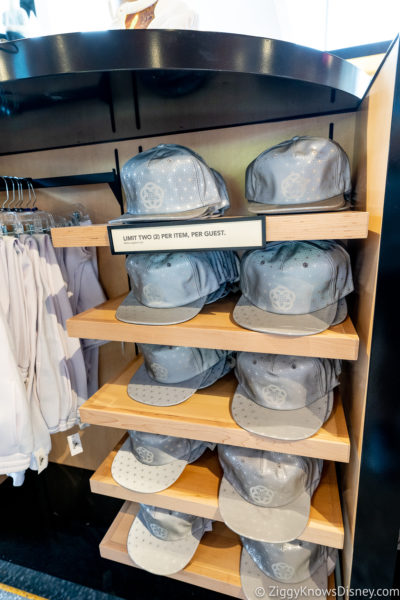 Those hats do look nice: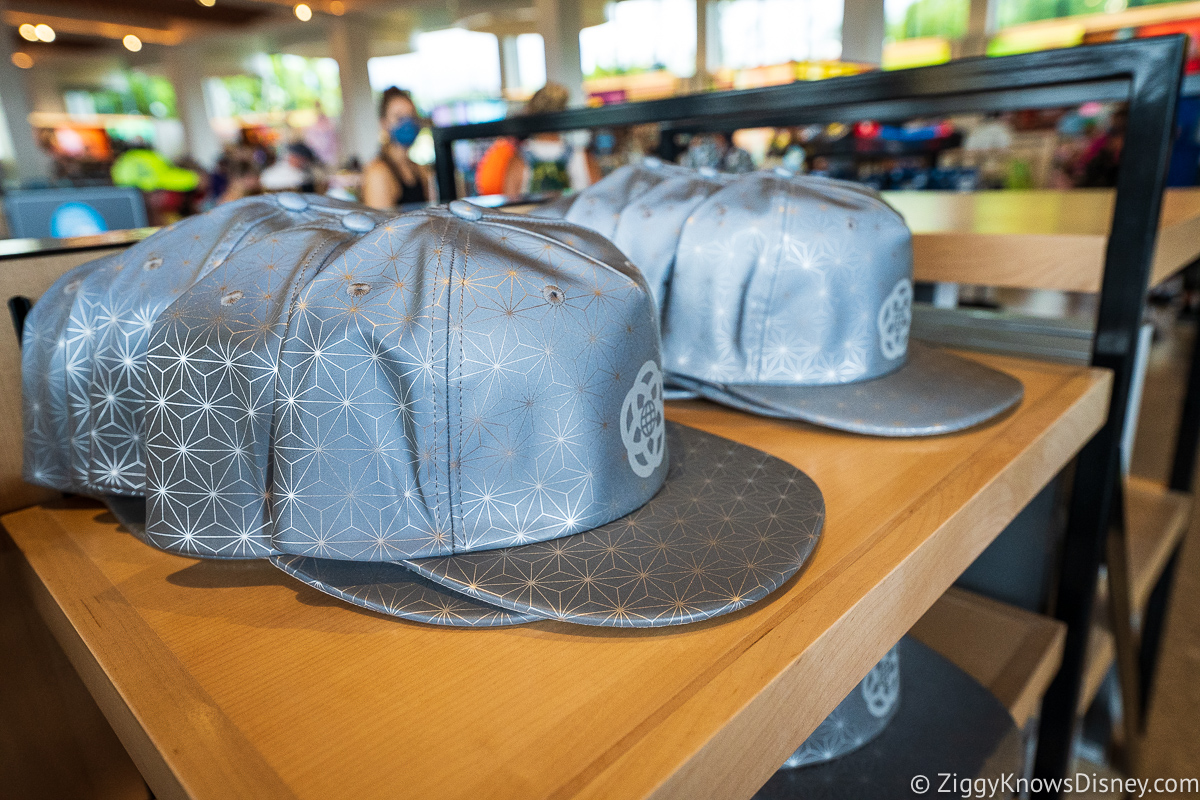 There are also Light & Color tumblers, puzzles, and shirts: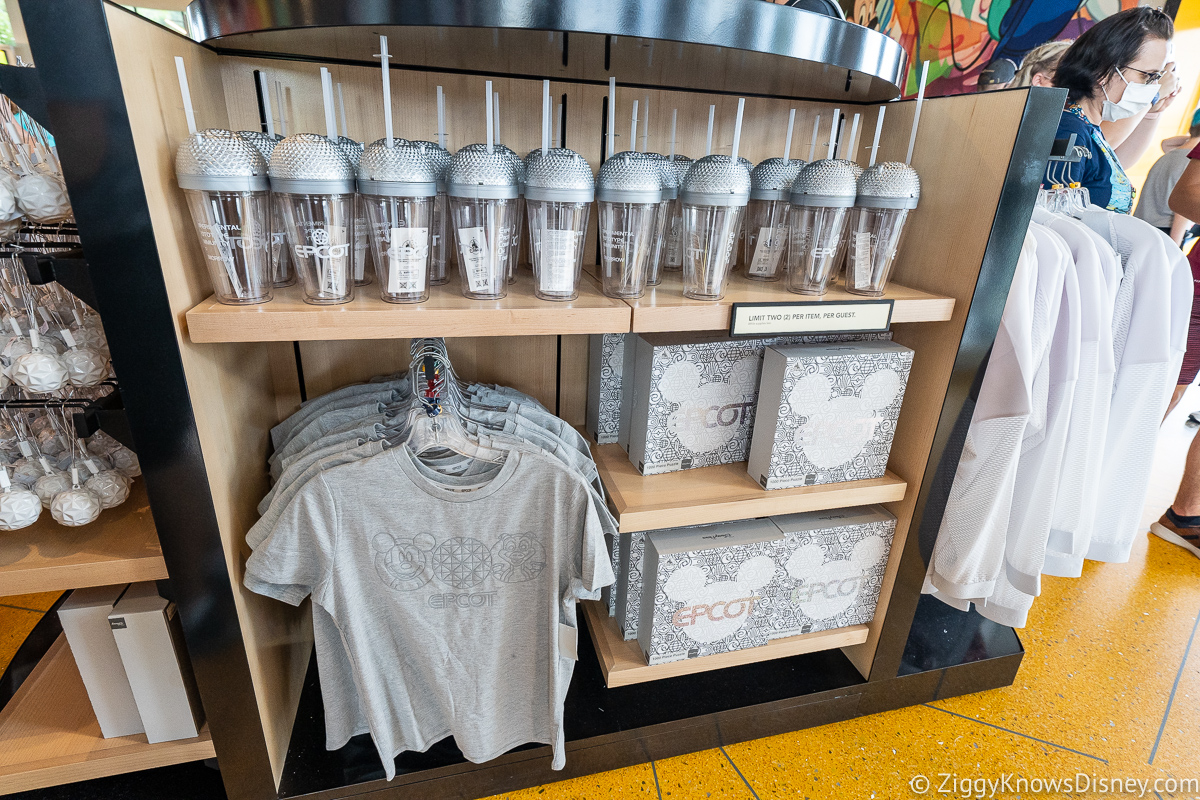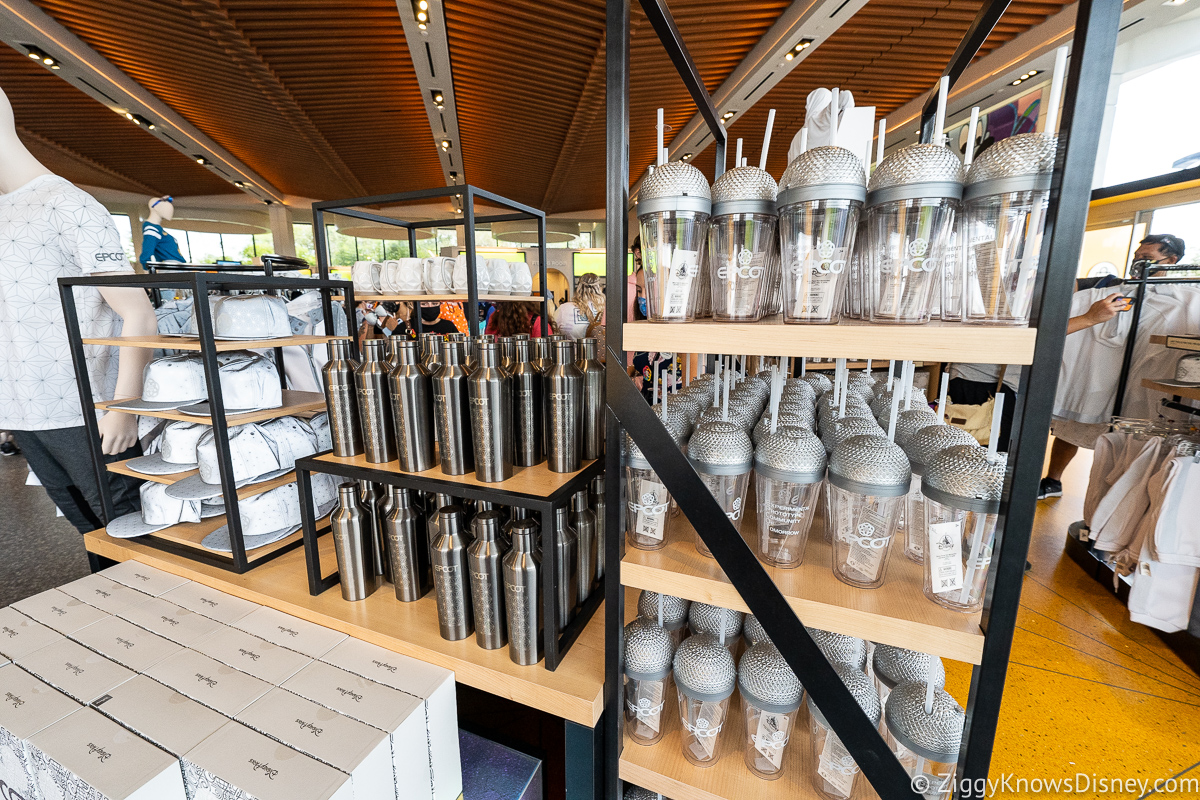 Spaceship Earth ornaments: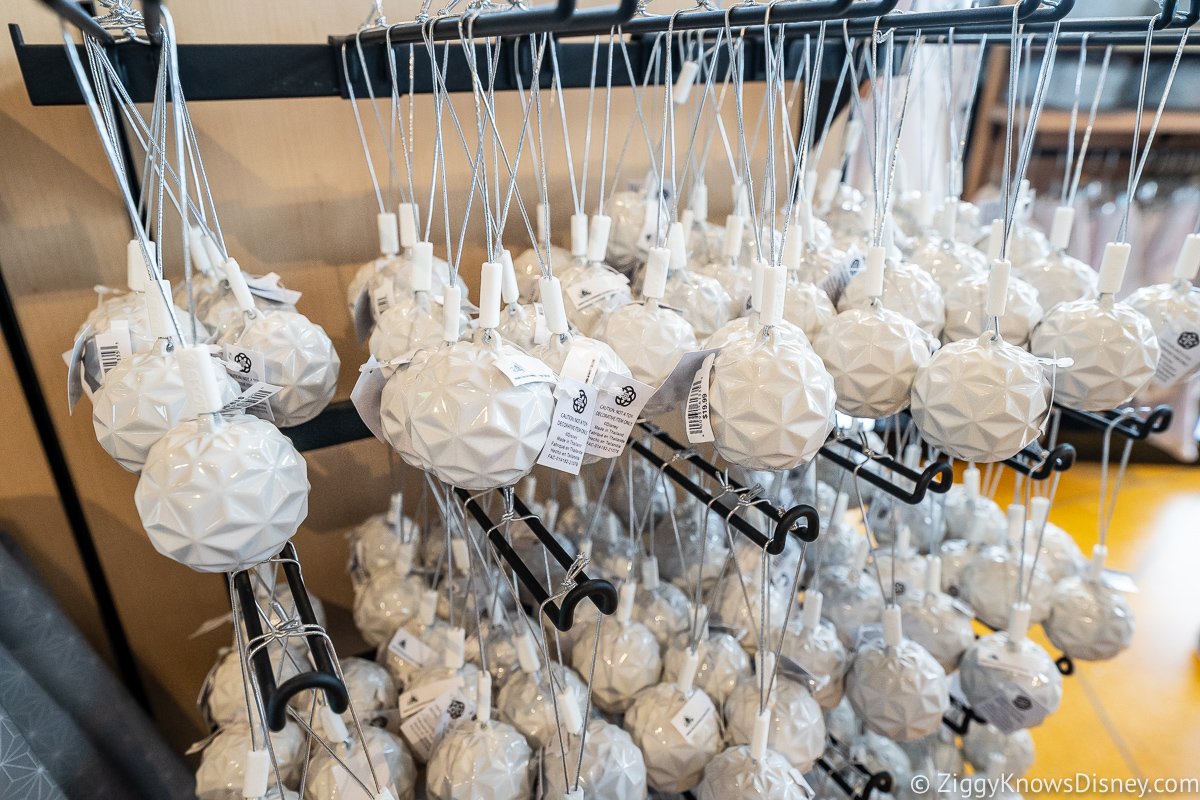 EPCOT 100 piece puzzle with all the different pavilion symbols: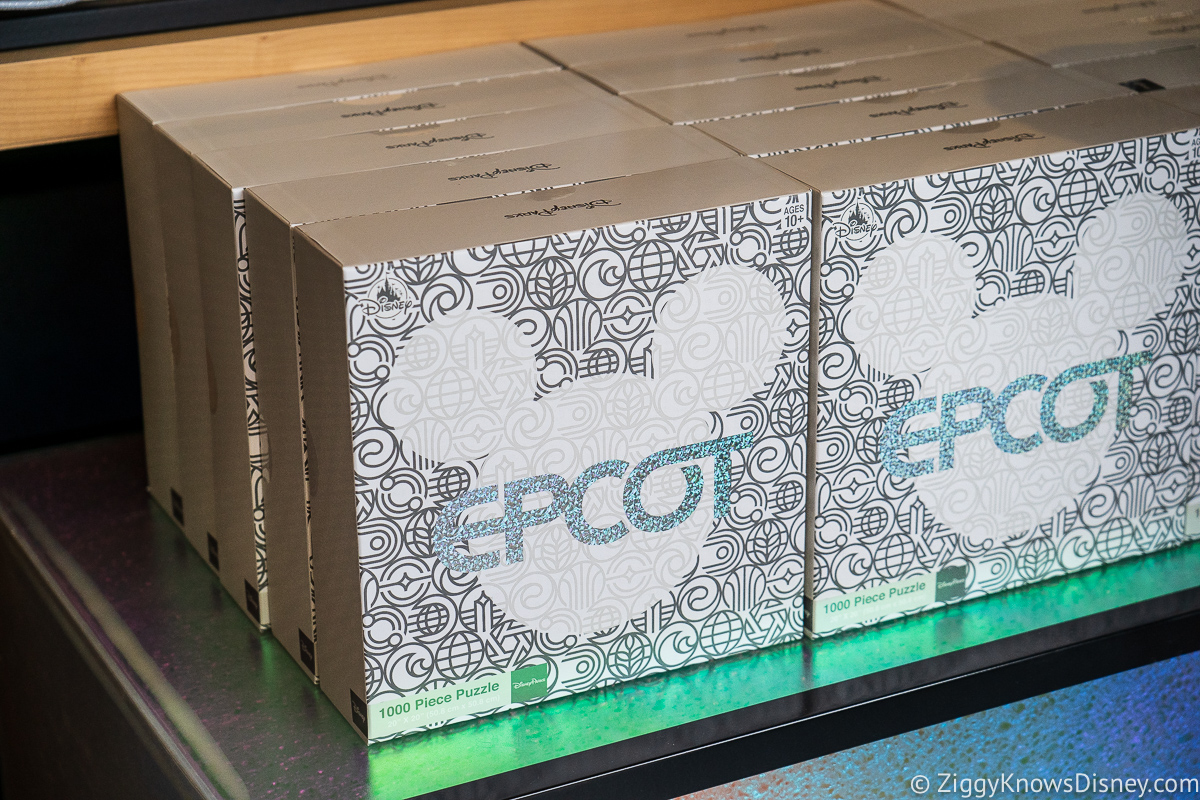 Spaceship Earth mugs: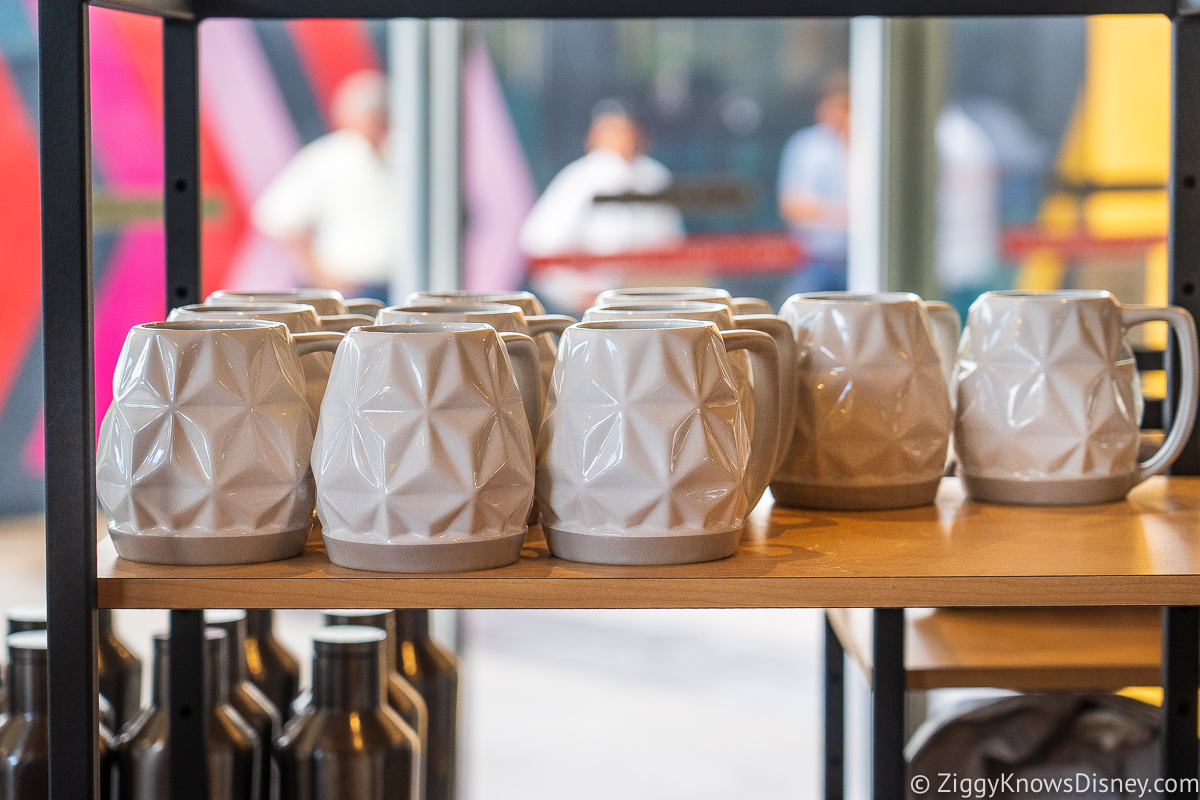 Now that we've got our stuff, let's go to the checkout: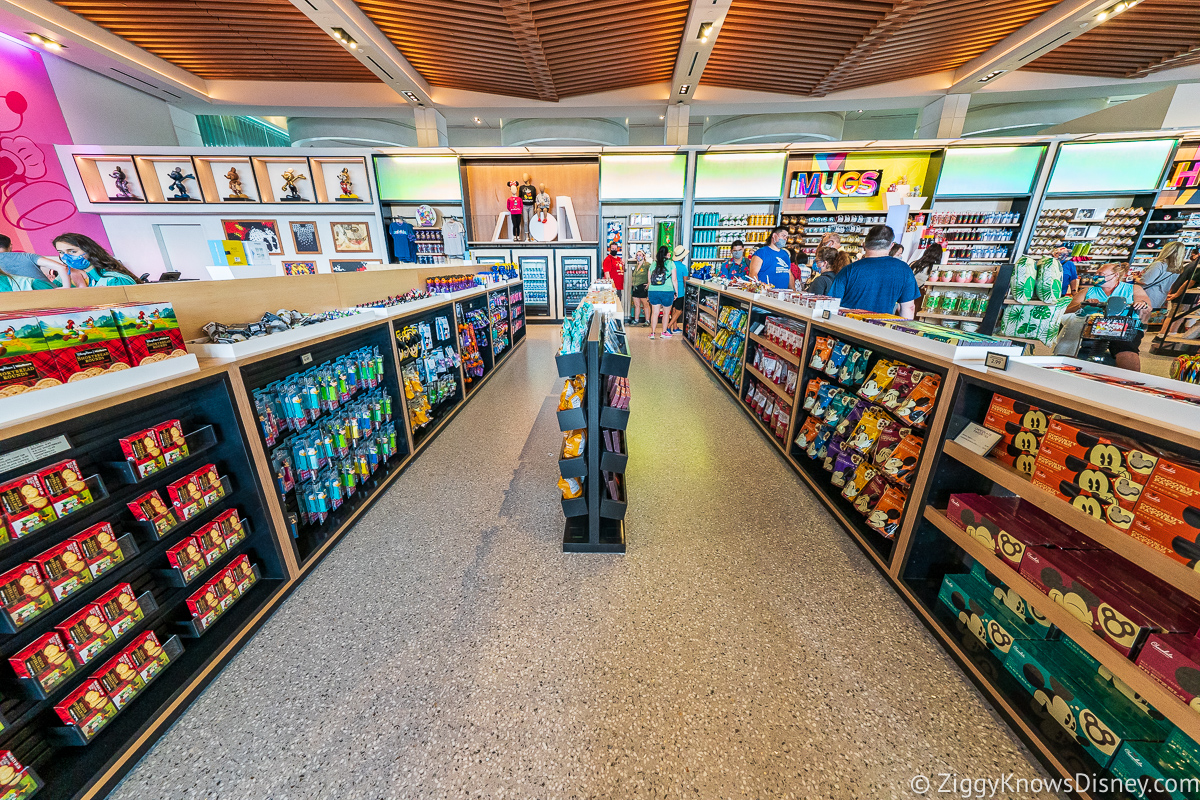 There are two sets of checkout areas, each on opposite ends of the store: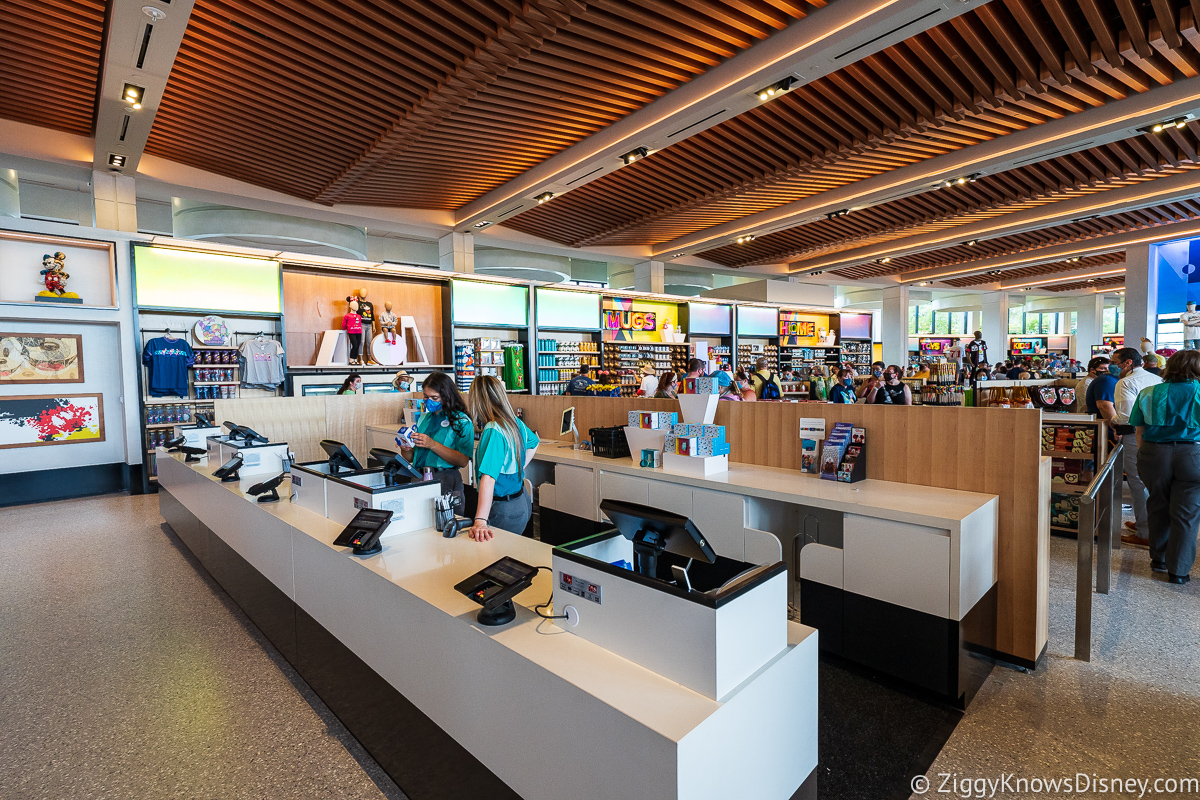 The highlight of the Creations Shop is its nod to Mickey Mouse. In the store you will find two giant, hand-painted murals of Mickey in action, as well as one-of-a-kind Mickey sculptures and paintings: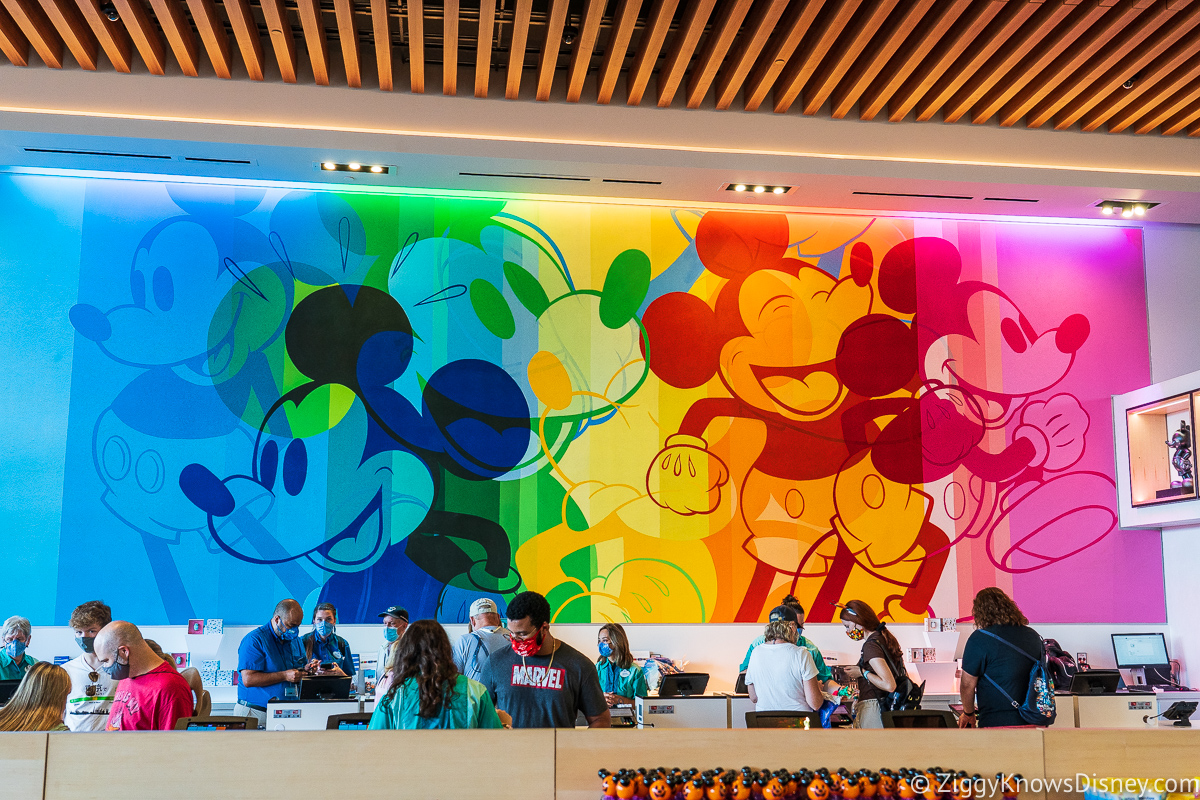 This one is our favorite: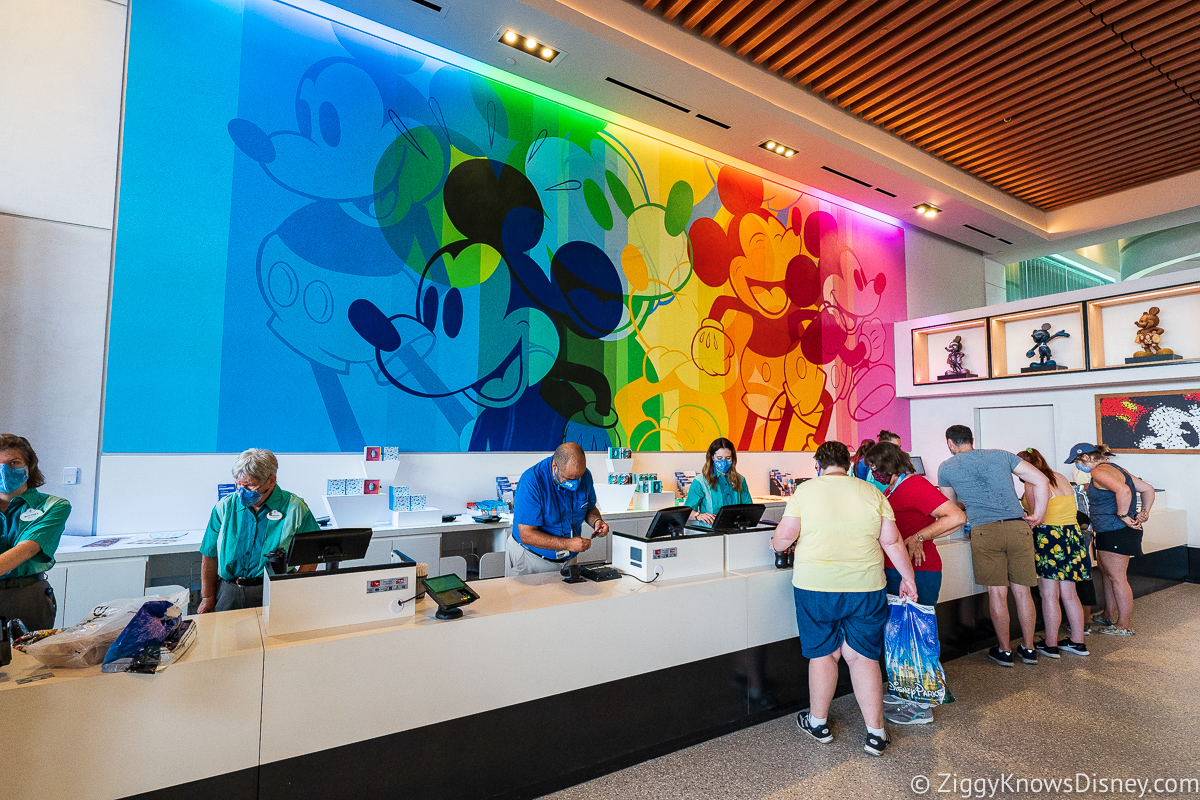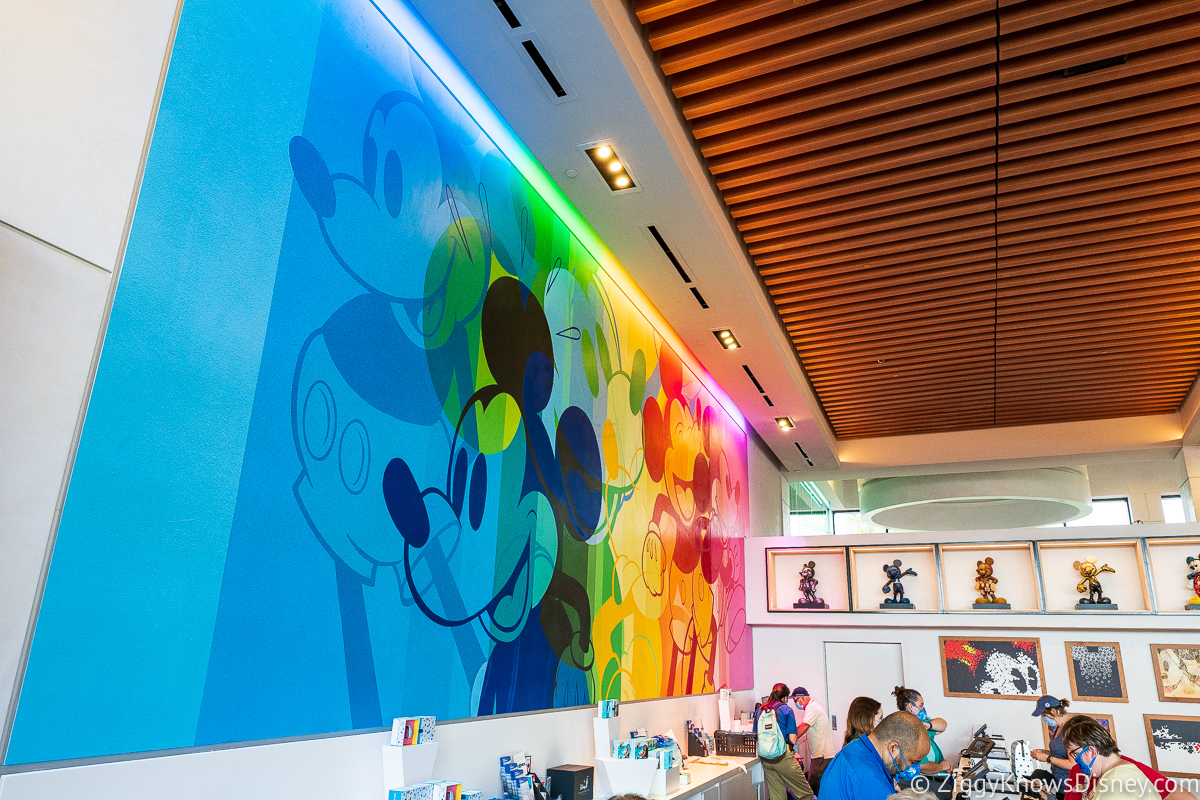 It's colorful and vibrant and shows Mickey in action: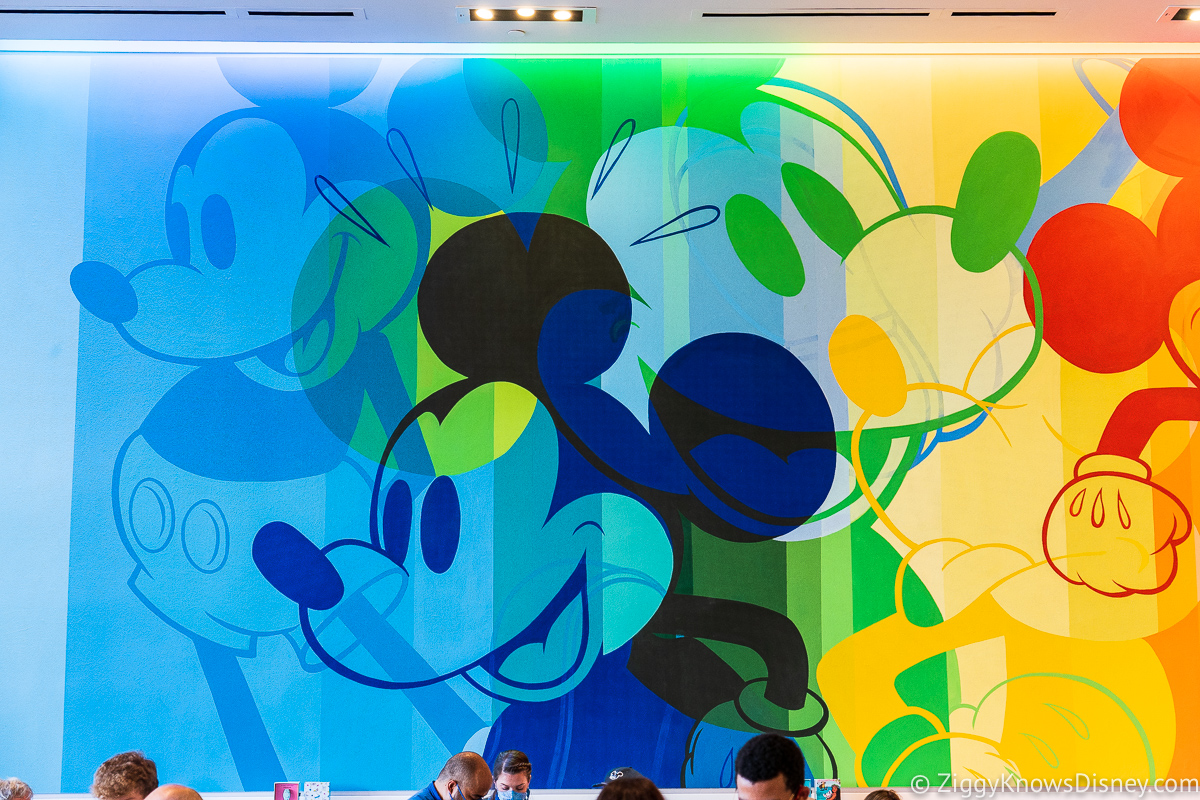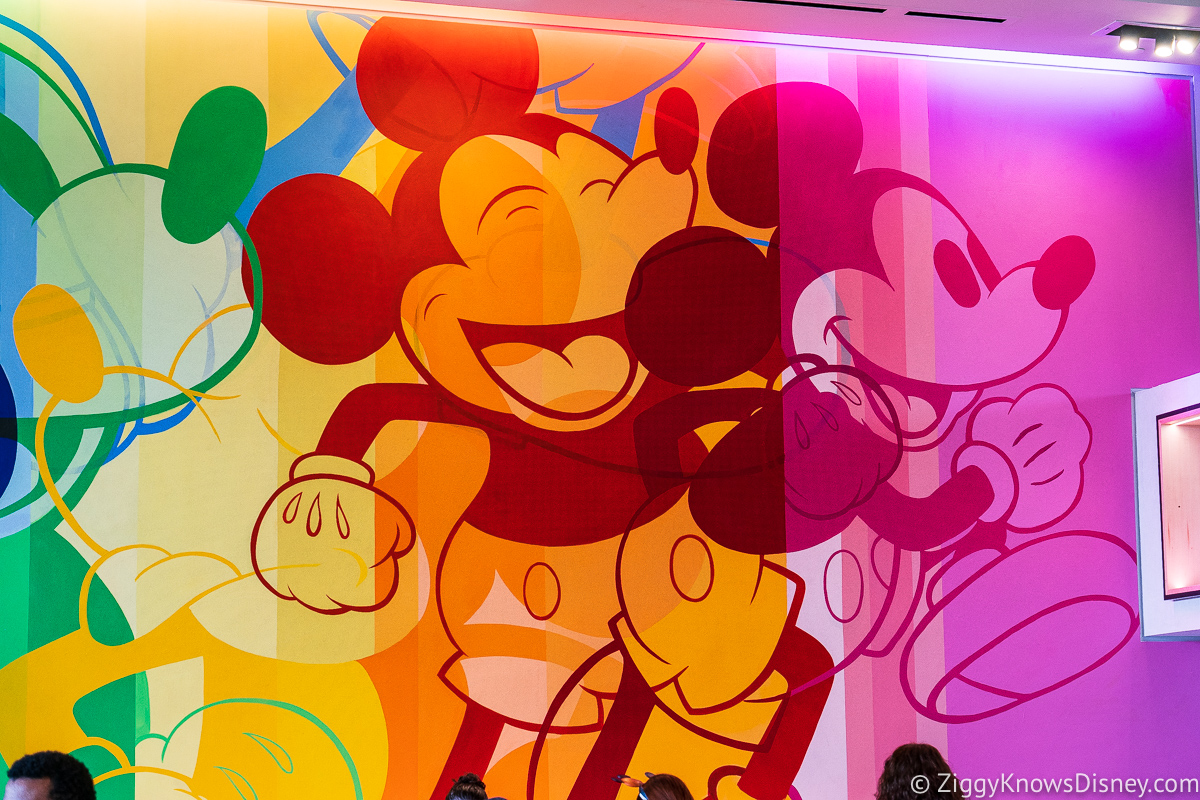 On the other side of the store, you can see a Mickey mural with a different style yet equally as fun and interesting: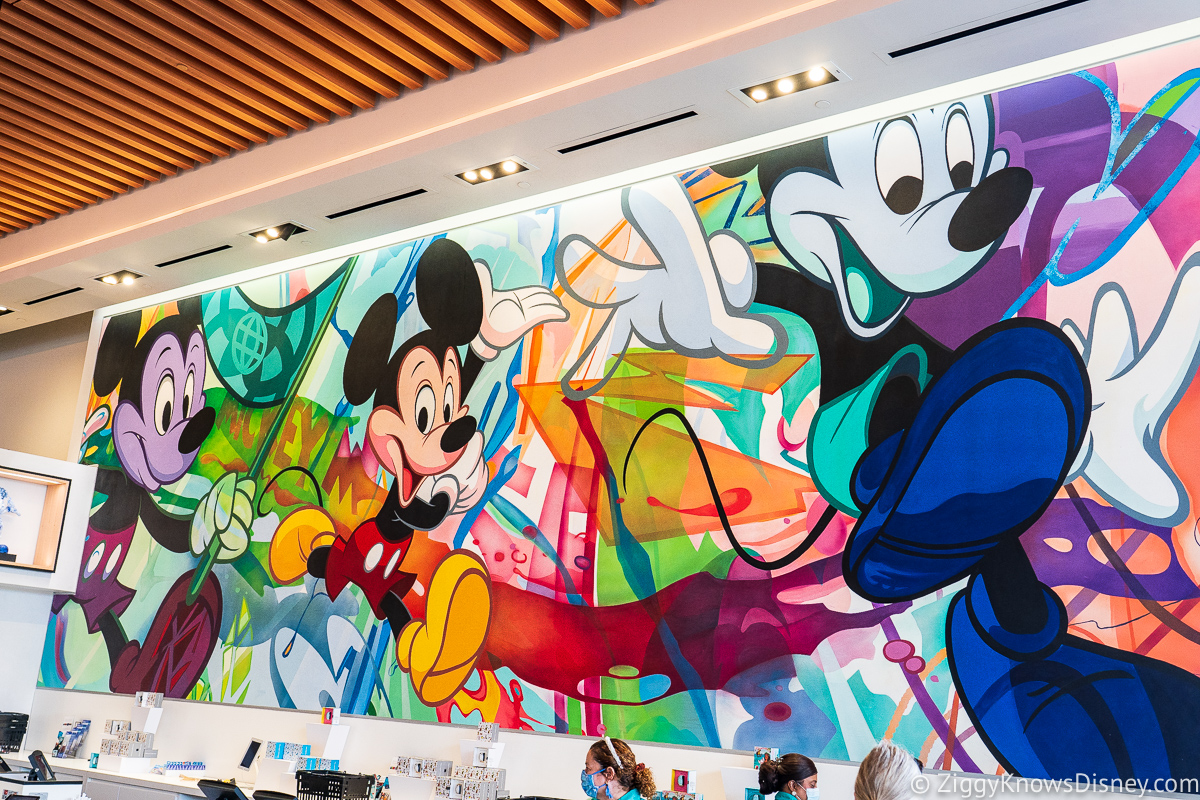 This one shows Mickey carrying an EPCOT flag and running through colored paint: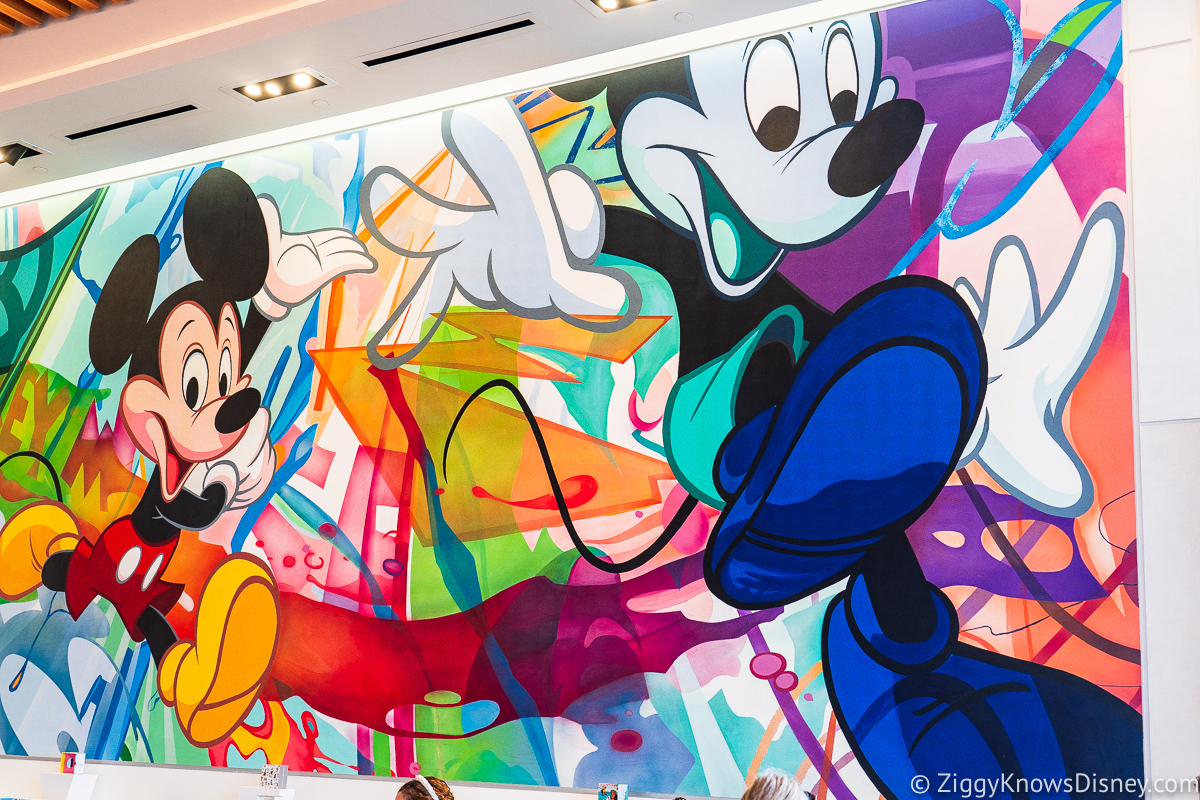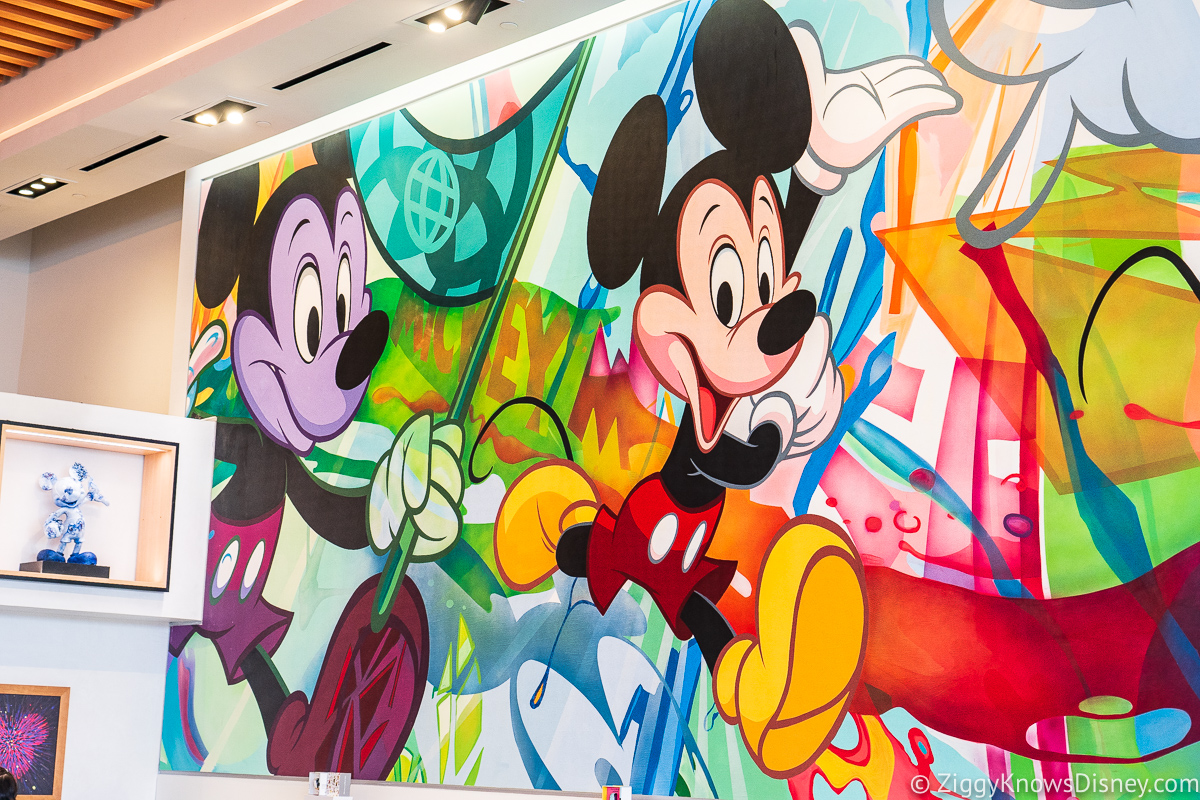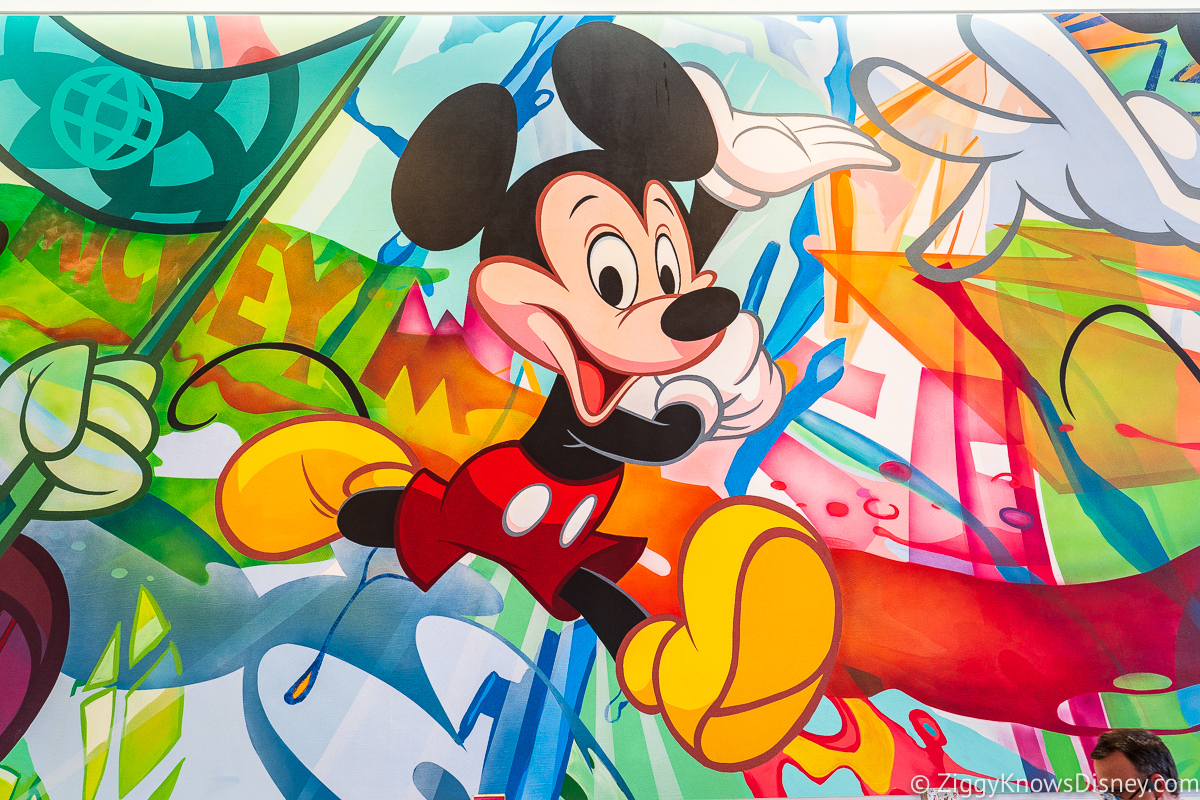 There is also some incredible Mickey artwork on the walls: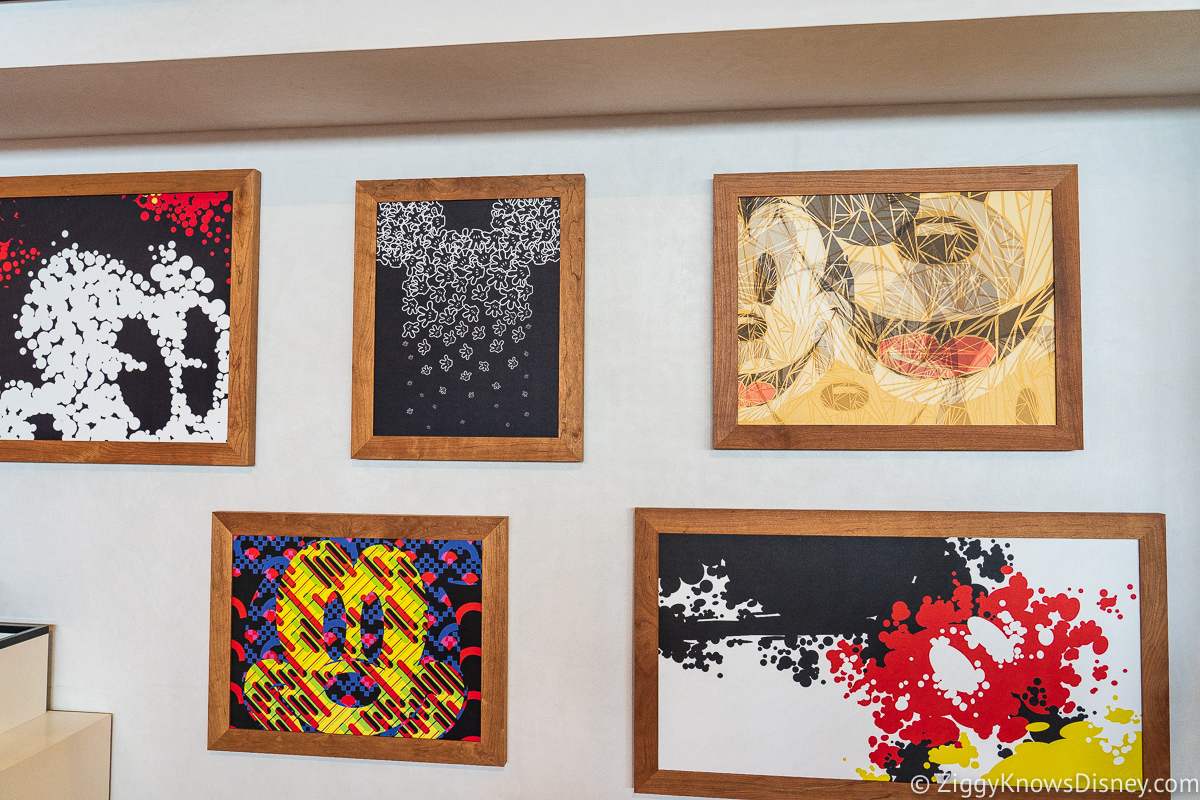 High above the registers, you will find hand-made Mickey Mouse statues. There are 10 total, 5 on each side of Creations Shop. This one is supposed to replicate a Mickey topiary: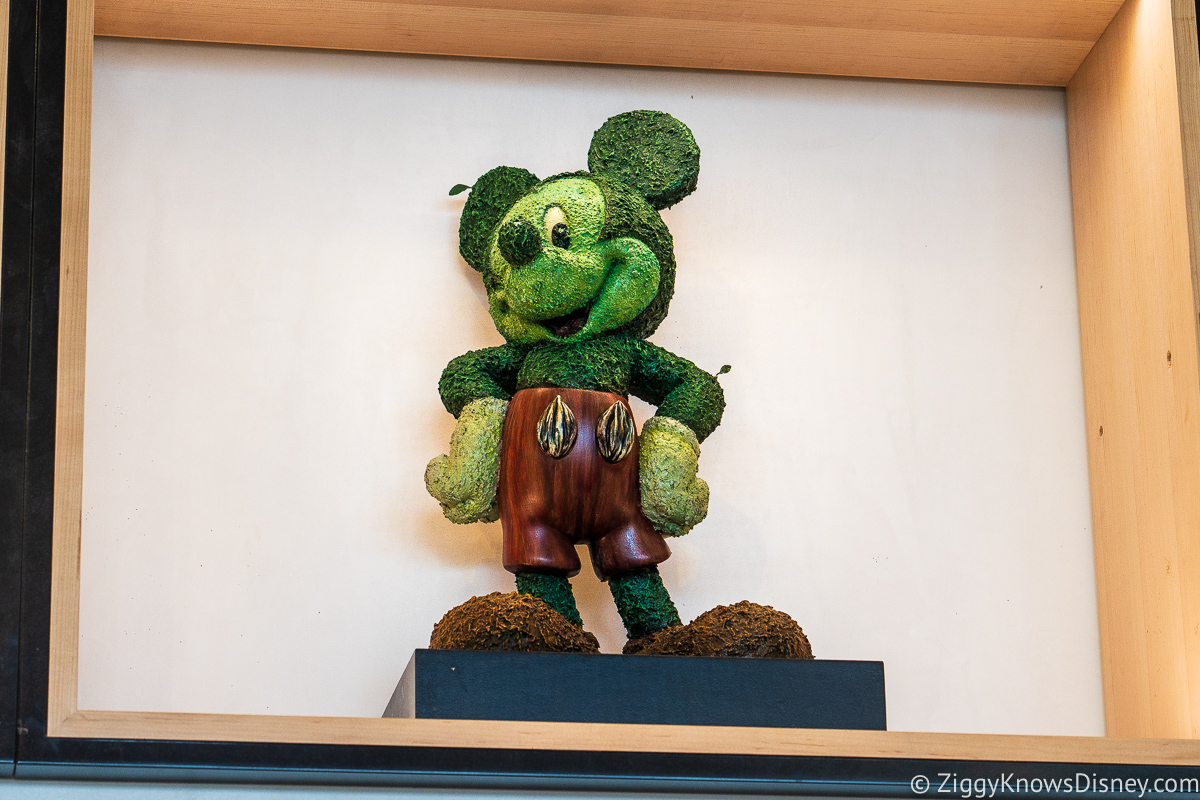 This one is more of a classic Mickey with a high-polished finish:
This Mickey is a little worn-looking: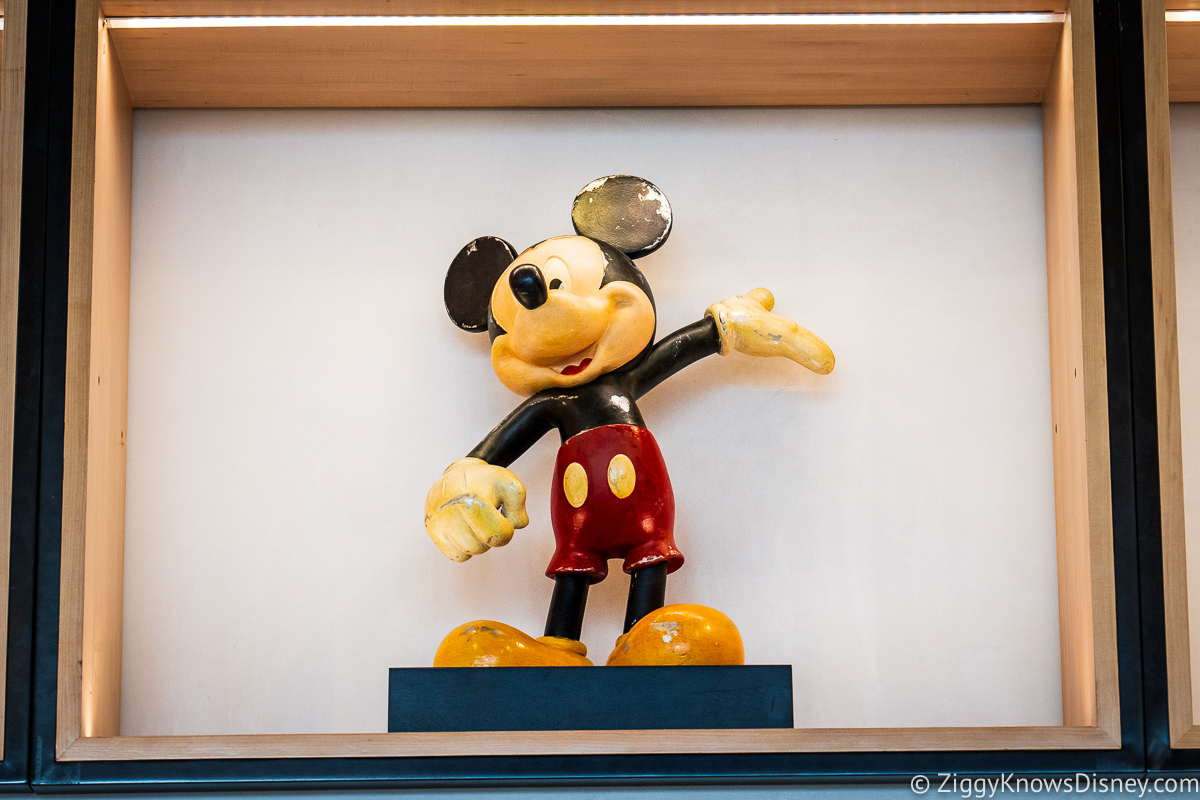 This Mickey is pretty funky and has a tie-dye look to it: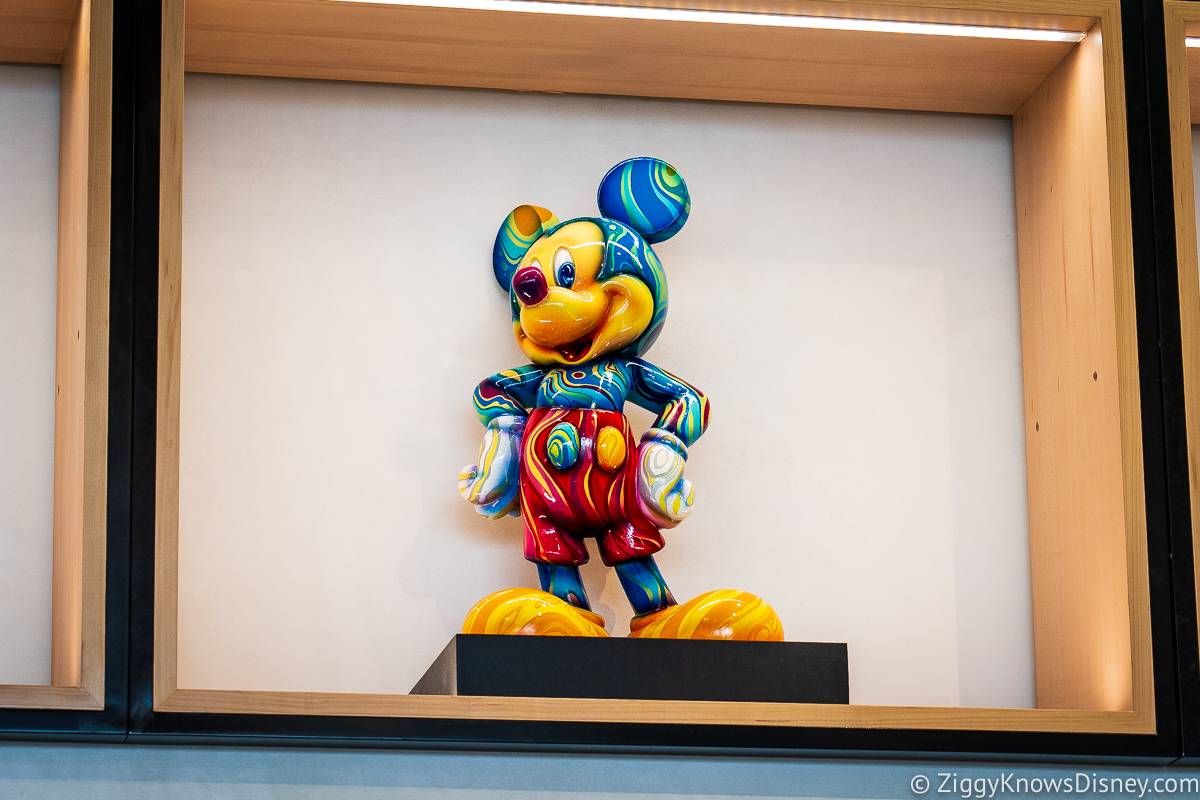 This Mickey is blue and has flowers and birds on it: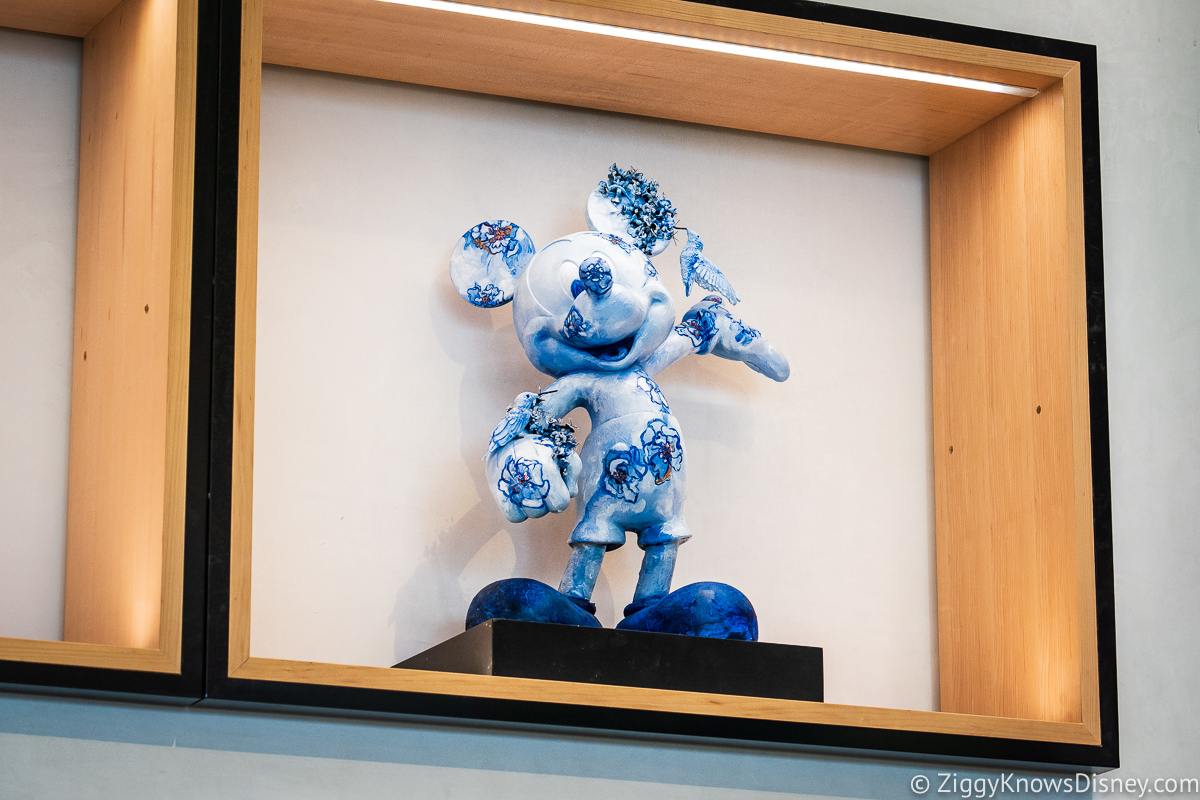 A wooden Mickey that looks like he's ready to go surfing: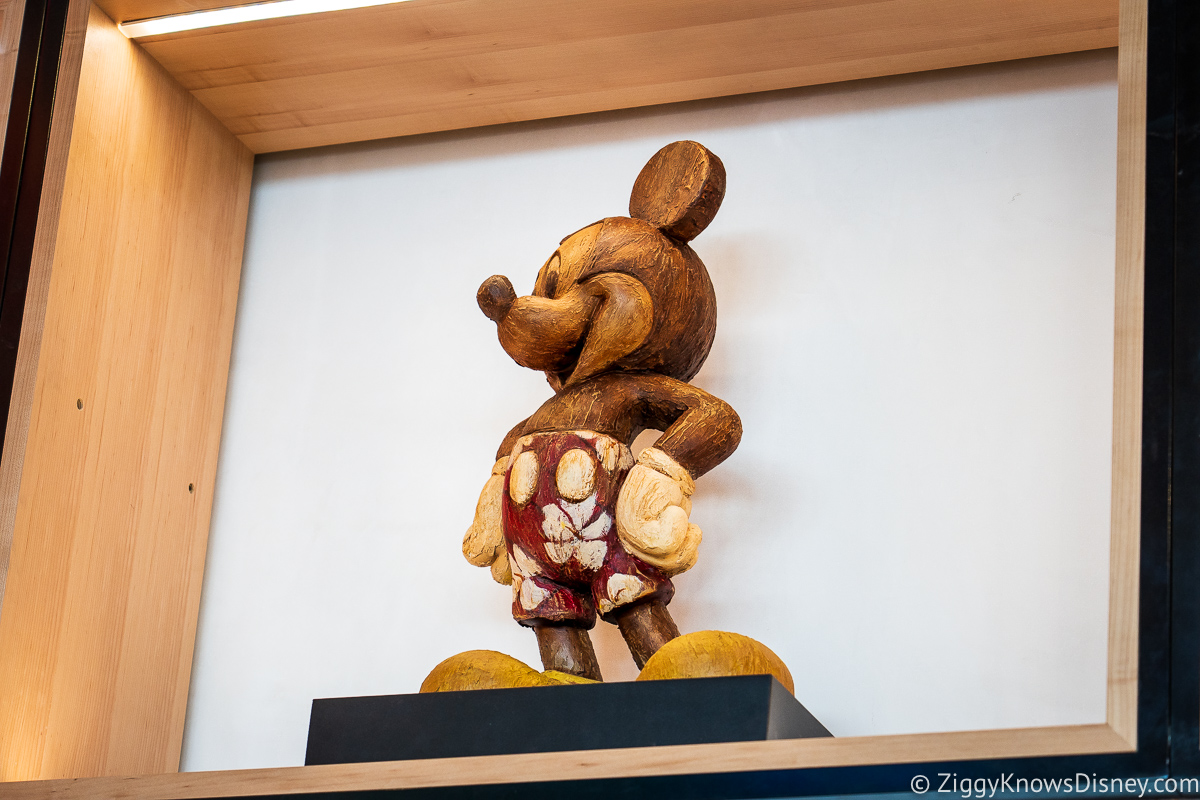 Dark blue Mickey: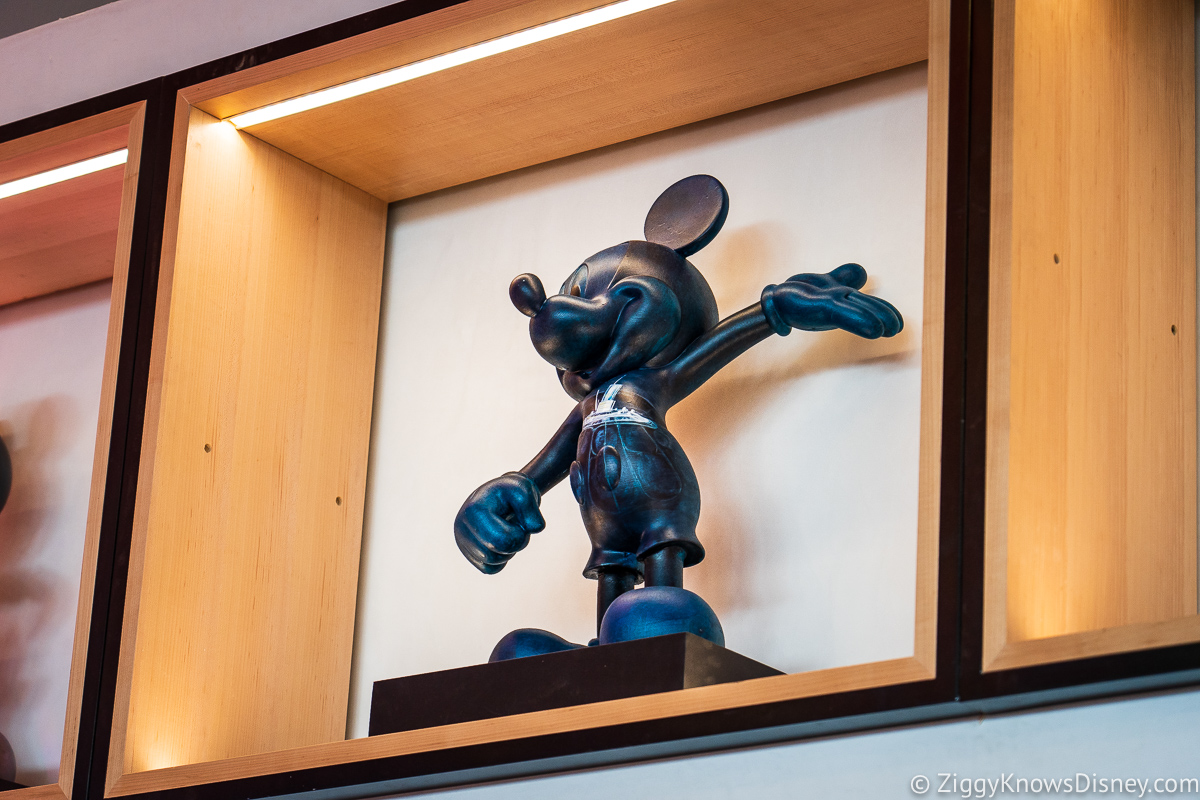 Silver Mickey: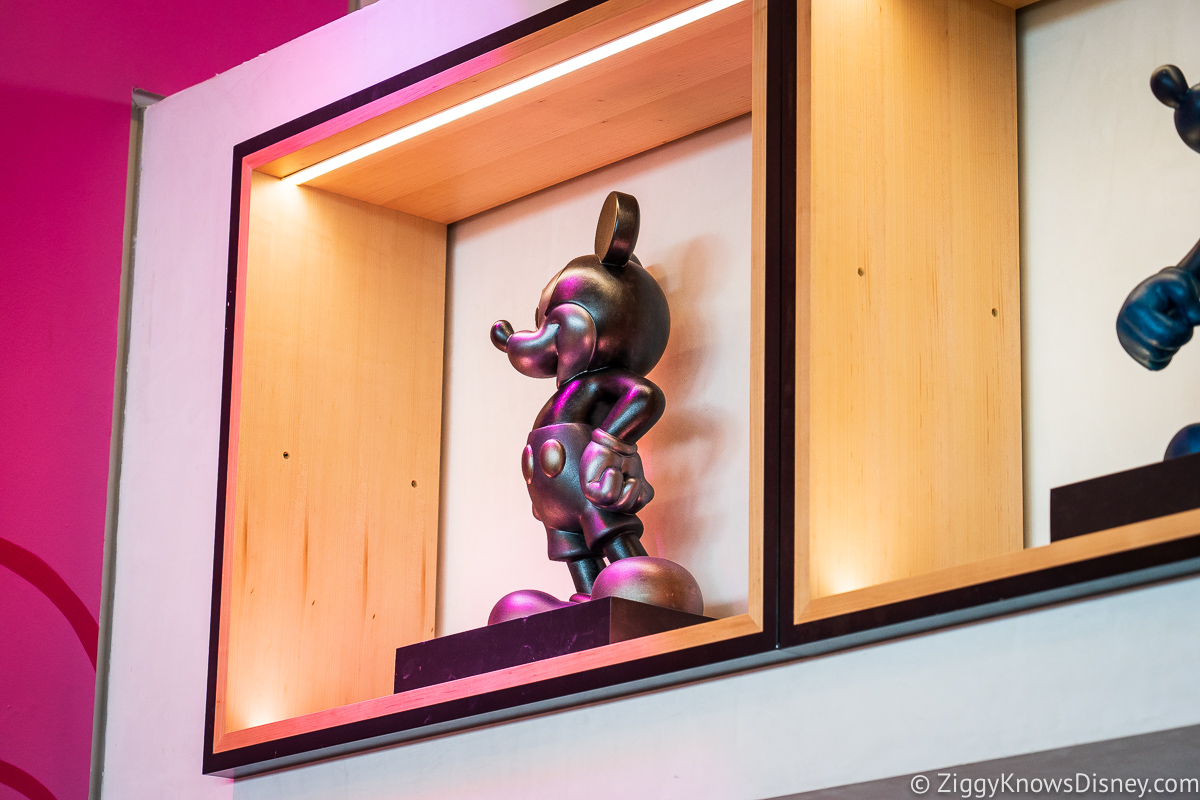 This is one of the coolest ones and is made of sparkles on the outside: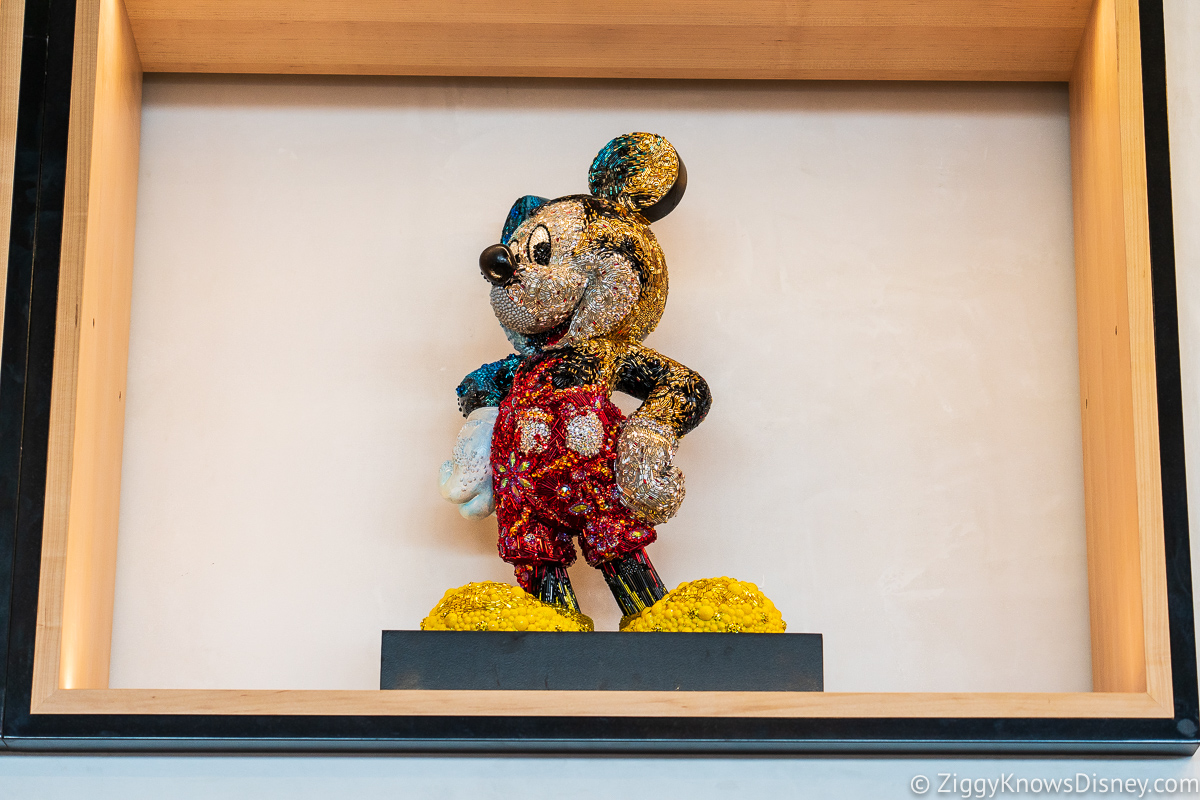 This last Mickey is half gold and half black-speckled paint: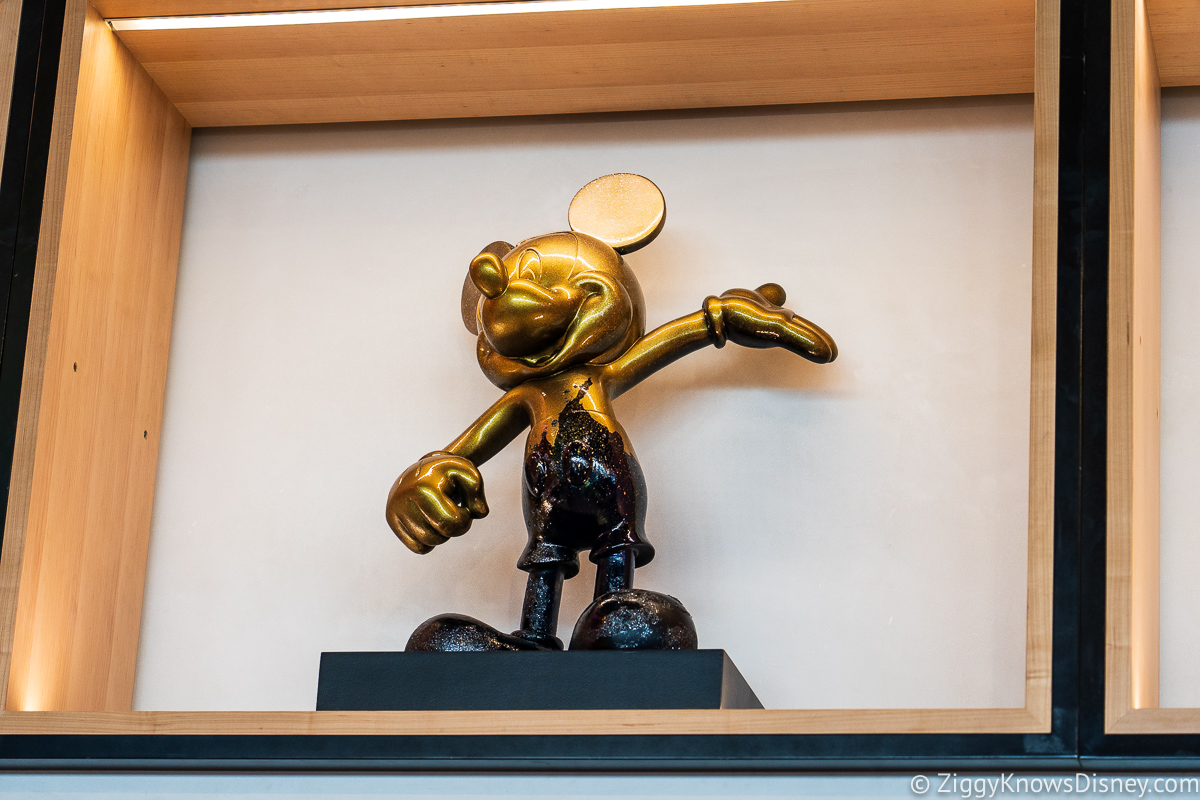 Overall, the Creations Shop is a nice space and we love the Mickeys found throughout the store. However, besides that, the rest of the space is a little plain and could have used a bit more theming.
We will admit it looks cooler at night when the store shelves emit light that goes along with the EPCOT lighting package outside and you can see them through the windows. The lights outside the store entrance at night are also pretty cool.
Creations Shop is sure to be a big stop for guests in EPCOT looking for just about any Disney merchandise and we look forward to seeing how the space develops.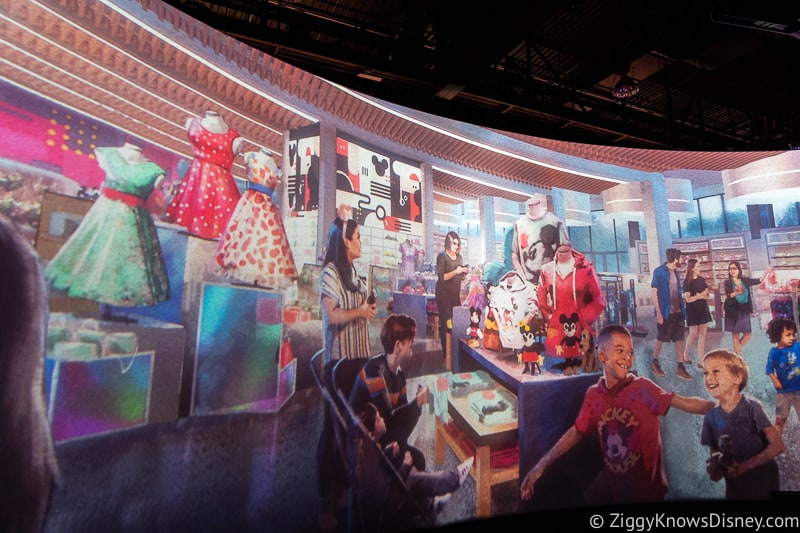 Since EPCOT is all about people and their hopes and dreams, the re-imaging of Creations Shop will inspire to make that a reality. This store is at the heart of the park's creativity and what the transformation is about.
The Creations Shop is right at the heart of EPCOT's 3 new neighborhoods in what was previously Future World and replaces the old Mouse Gear.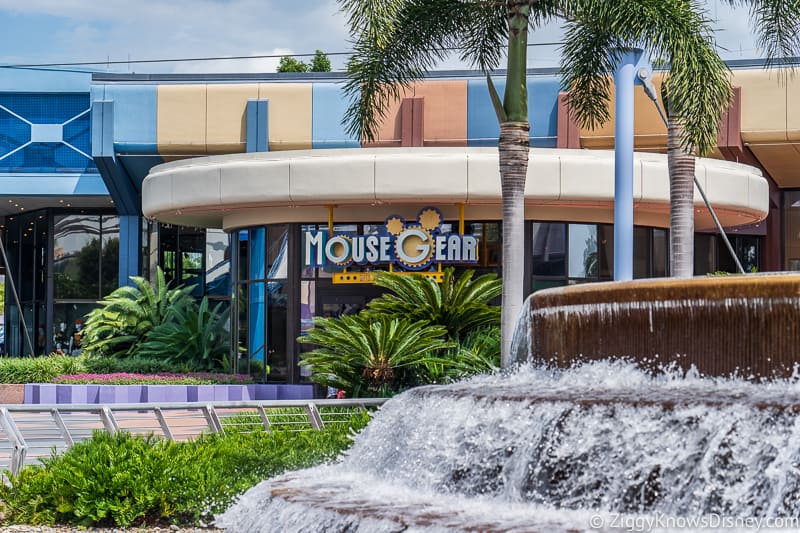 It makes sense that Disney completed the project in time for the 50th Anniversary of Walt Disney World, and we're happy to see that it will be done in time.
The immensely popular Club Cool is also back at EPCOT after closing down and is located right next to Creations Shop!
Stay tuned for more updates soon as things continue to change.
Your Thoughts
I want to know what you think about the new Creations Shop in EPCOT…
Are you looking forward to this new store?
What additions to the space would you like to see?
Let us know in the comments section below!
If you enjoyed this article, as always I appreciate it if you'd share it with others via social media. I work hard at making this website into a useful resource for you and your family to plan your visit to the Disney Parks and I hope it can help you! Thanks 🙂