Nothing says Paris like a delicious crepe. Whether savory or sweet, nothing leaves as much of an impression on your stomach as a crepe. Thankfully, that's exactly what's on the menu at EPCOT's new restaurant La Crêperie de Paris.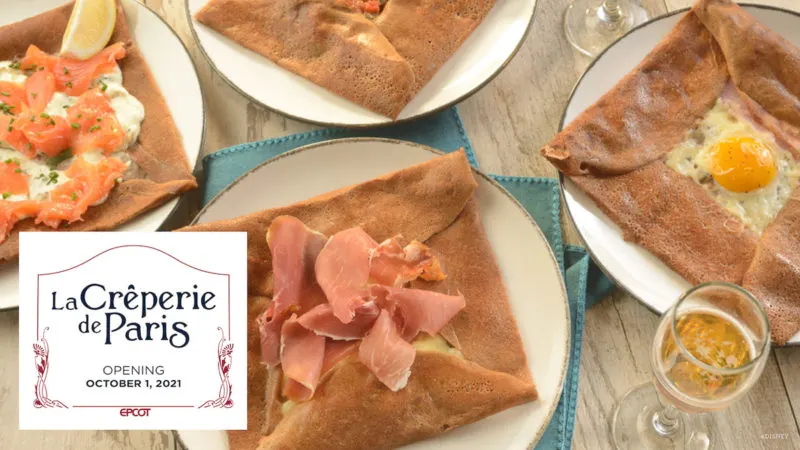 In this post, we are going to explain everything you need to know about La Crêperie de Paris. We are going to share with you all the most important info including the opening date, menu, photos of all the food, drinks, and more!
We'll also have a full review of the restaurant as soon as it opens!
La Crêperie de Paris Overview
Location: EPCOT (France pavilion)
Type: Table Service Restaurant/Quick Service Restaurant
Price: $-$$
Cuisine Type: French
Meals: Breakfast, Lunch, and Dinner
Dress Code: Theme Park Attire, Casual Dining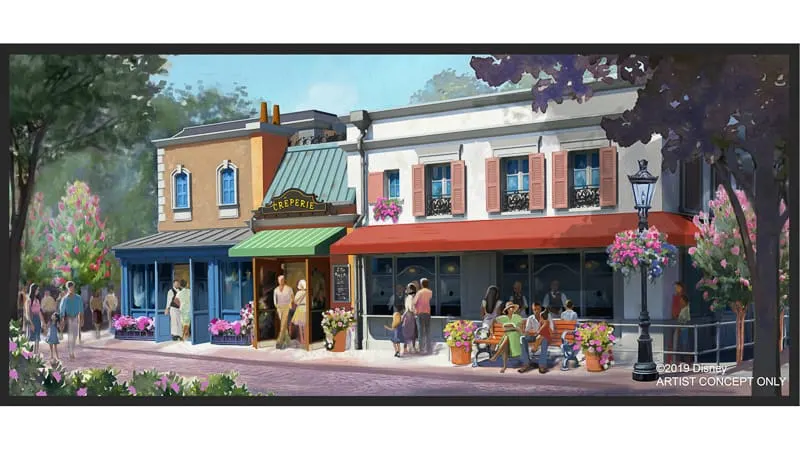 One of the best additions to EPCOT is the France pavilion expansion, and with it, an authentic crêperie featuring the cuisine of celebrity chef Jérôme Bocuse. The man in charge of La Crêperie de Paris is also behind the Chefs de France and Monsieur Paul restaurants in EPCOT, so you know things are in good hands.
The unique thing about La Crêperie de Paris is that it will be both a table service restaurant and a quick service dining location all in one. So no matter if you are looking for something fast to eat or a slower dining experience, you can find it here.
Of course, real authentic crepes are hard to come by outside of France, and that's exactly what La Crêperie de Paris is promising to bring to Walt Disney World. Both menus will feature savory crepes (galettes) and sweet crepes, with a wide variety of selections available.
I don't know about you, but I can't wait to try them all and see how they compare with the real thing in Paris!
Before we start, don't forget to sign up for our FREE Weekly E-Mail Newsletter. There we bring you the latest updates to La Crêperie de Paris as well as Disney vacation planning tips. You can sign up here: Join our E-Mail Newsletter!
Atmosphere and Theming
The theming at La Crêperie de Paris is exactly what you would expect when walking into a restaurant in Brittany, France, with a little bit of Paris mixed in.
The outside of the building is made of stone walls and blue-glass windows. Inside the décor and traditional staff, costumes add to the authentic atmosphere. Costumes are inspired by traditional crêperies, including the striped shirts and the red hat, known as a miki, traditional to Brittany's fishermen.
Food and Drinks
In the years before La Crêperie de Paris, the crepes in EPCOT were always disappointing and nothing like the real thing. That looks like it is about to change.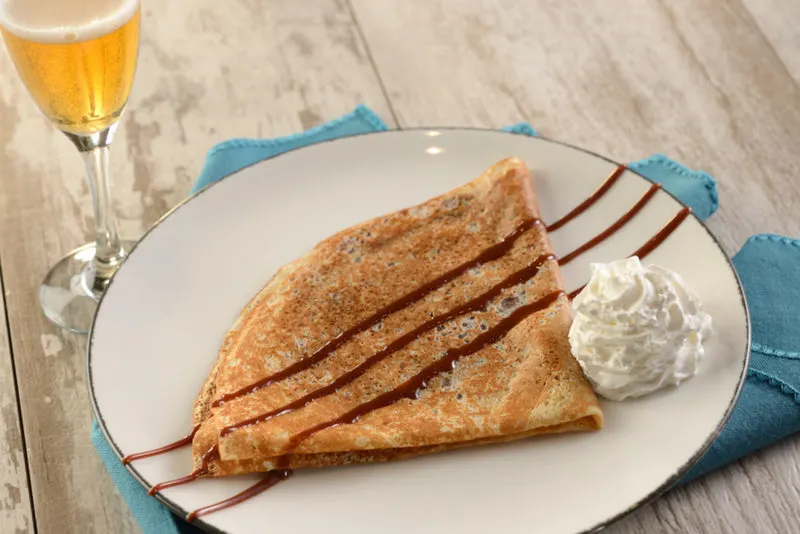 La Crêperie de Paris is trying to be as authentic as possible and is making the crepes and galettes very thin, as they should be.
The galettes are cooked at a high temperature, allowing the outside to become crispy and crunchy, perfect for a variety of fillings. If you have a gluten allergy, don't worry. The savory galettes are made from buckwheat imported directly from France.
Some of the savory options include ham, eggs, and Swiss cheese. Another option is "The Ratatouille," filled with tomato, zucchini, and eggplant and inspired by the "Little Chef" Remy.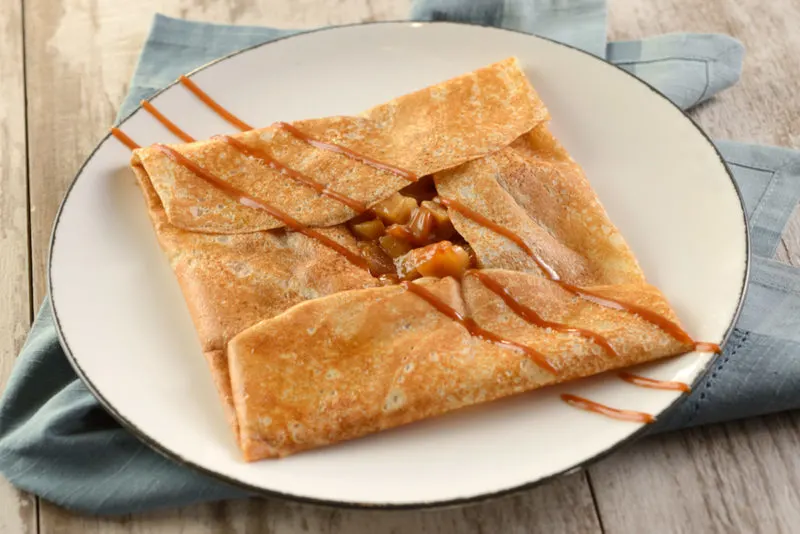 The sweet crêpes are also thin, crispy, and made from scratch. Varieties include the traditional "Gourmande", filled with house-made hazelnut chocolate spread, and the "Pomme", filled with caramelized apples and caramel beurre salé.
As if things couldn't get any better, you can even top your crepes with delicious house-made ice cream!
Besides traditional crepes, La Crêperie de Paris serves even more food and drinks that will give guests the traditional French experience.
Brittany hard cider is available in a sweet doux version and the less sweet brut and demi-sec. All the hard ciders are imported from France and made with apples straight from Brittany.
For a more complete experience, La Crêperie de Paris will offer
The restaurant will also offer a daily prix fixe menu that includes a choice of soup or a salad, one savory galette, one dessert crêpe, and a glass of hard cider, soda, or juice.
La Crêperie de Paris Menu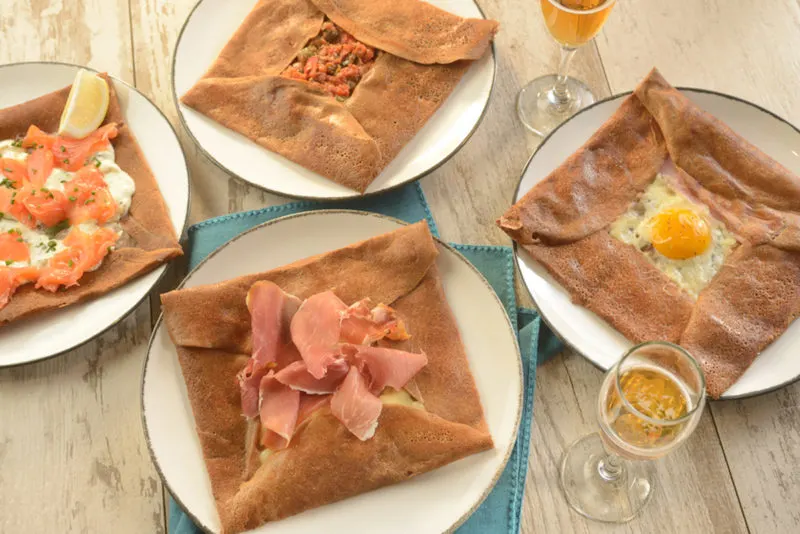 Crepes of course are the biggest part of the menu at La Crêperie de Paris, and they come in both savory and sweet varieties.
SAVORY GALETTES
Classique: ham, egg, Swiss cheese
Poulet: chicken, bechamel cheese sauce, mushrooms
Chèvre: goat cheese, spinach, walnuts
Saumon: smoked salmon, crème fraiche, chives, lemon
Ratatouille: tomato, zucchini, eggplant
Savoyarde: Raclette cheese, onions, imported Bayonne ham
SWEET CRÊPES
Gourmande: hazelnut chocolate spread, whipped cream
Banane: banana, caramel beurre salé
Melba: peach, red berries sauce, almonds
Poire: pear, chocolate ganache, whipped cream
Pomme: caramelized apples, caramel beurre sale
Crêpes À Emporter at La Crêperie de Paris Menu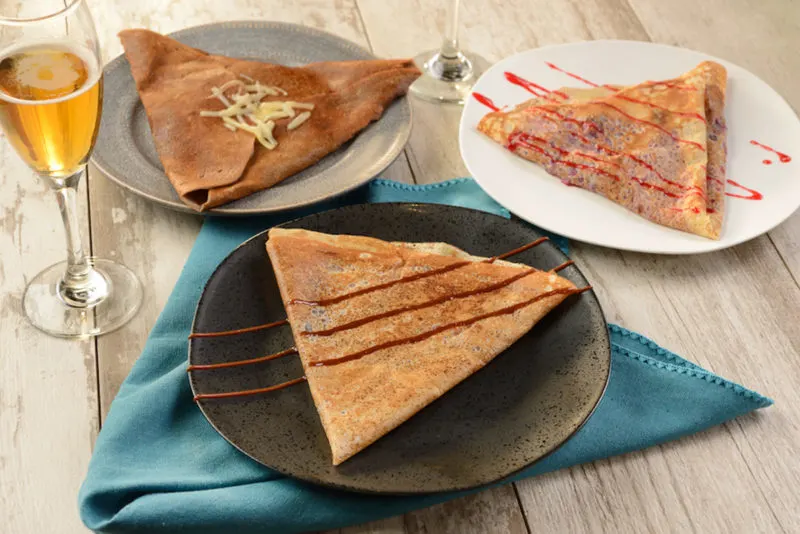 The walkup window Crêpes À Emporter at La Crêperie de Paris will have a limited menu with 3 savory galettes, four sweet crêpes, soft serve ice cream, and an assortment of ciders and wines.
SAVORY GALETTES
Cream of Brie Cheese Galette
Ratatouille Galette: tomato, zucchini, eggplant
Bechamel, Cheese & Ham Galette
SWEET CRÊPES
Butter & Sugar Crêpe
Hazelnut & Chocolate Spread Crêpe
Red Berries Crêpe
Vanilla or Chocolate Ice Cream Crêpe
Opening Date
Now that your mouth is watering, you probably want to know when La Crêperie de Paris is actually opening? Thankfully, we have an answer to that question.
La Crêperie de Paris at EPCOT is opening October 1, 2021. That's the opening day of Walt Disney World's 50th Anniversary and La Crêperie de Paris is the perfect way to celebrate the occasion.
Dining Plan
As of right now it does not appear that City Works Eatery & Pour House will accept the Disney Dining Plan. That is what the Disney World website says at this time, but we'll update you if this changes.
Discounts
Tables in Wonderland – TBD
WDW Annual Passholder – TBD
Disney Vacation Club – TBD
Disney Rewards VISA – TBD
Disney has not yet announced what kind of discounts will be available at the City Works Eatery & Pour House restaurant. If it follows the same pattern as most Disney Springs restaurants, it will eventually have the 10% Annual Passholder Discount and the 20% Tables in Wonderland Discount.
Those discounts might not be immediately available when the restaurant opens however so stay tuned for more info on this.
Location/Directions
La Crêperie de Paris is located at EPCOT park in the back of the France pavilion in World Showcase. It is part of the new France pavilion expansion project and is located right near the entrance to Remy's Ratatouille Adventure.
Hours of Operation
Disney has not yet announced the hours of operation for La Crêperie de Paris. However, since we know it will be open for Breakfast, Lunch, and Dinner, we have a good idea of what to expect.
When La Crêperie de Paris opens, EPCOT's hours are from 10:00 am to 10:00 pm. If park hours change, expect this restaurant to be open from park open to park close each day. The restaurant has the same menu for all three meals so no matter what time you go, the food will be the same.
An estimate of La Crêperie de Paris's hours:
Breakfast/Lunch/Dinner: 10:00 am – 10:00 pm (daily)
Making Reservations
When La Crêperie de Paris opens there will be no reservations required to eat here. Guests will be served on a first-come-first-served basis, and it should be a very popular location for the first few months so get there early.
Things could always change in the future and Disney can introduce Advanced Dining Reservations to this location, but at this time there are no plans to do so.
La Crêperie de Paris FAQ's
Is La Crêperie de Paris open?
No, not at this time. La Crêperie de Paris is opening on October 1, 2021, the same day as the rest of the new France expansion opens.
Is La Crêperie de Paris hard to get reservations for?
For now, reservations are not required for La Crêperie de Paris and guests will be served on a first-served basis. Reservations may be required in the future.
Review:
La Crêperie de Paris is not yet open at the France pavilion in EPCOT. When it opens we will bring you a full review of all the food and drinks, plus a detailed look at the restaurant's atmosphere and theming.
The expansion to the France Pavilion looks really beautiful and it will transport guests along the banks of the Seine, and through the small neighborhoods of Paris. La Crêperie de Paris is just one of the new additions to the France Pavilion, making my already favorite pavilion in Epcot's World Showcase even better!
Perhaps the biggest addition is Remy's Ratatouille Adventure, a trackless ride that shrinks guests down and into the kitchen of Gusteau's legendary Parisian restaurant with Remy for one wild ride.
We hope you enjoyed this look at the new La Crêperie de Paris restaurant. Keep checking back here at Ziggy Knows Disney as we will be adding any new info as it comes out.
In the meantime, check out our Disney World Restaurant Review page for a closer look at all the restaurants. Be sure to read our list of the Best Disney World Restaurants for our full rankings of all the top places to eat on your trip.
If you are going to Disney World soon, make sure to read our Disney World Planning Guide for all the tips and info you will need to cover everything! Also, check out our Disney World Crowd Calendar so you know when the best time to visit is!
Your Thoughts:
I want to know what you think about the new restaurant La Crêperie de Paris coming to EPCOT…
Are you looking forward to this new restaurant?
Which dish looks the best?
Let us know in the comments section below!
If you enjoyed this article, as always I appreciate it if you'd share it with others via social media. I work hard at making this website into a useful resource for you and your family to plan your visit to the Disney Parks and I hope it can help you! Thanks 🙂