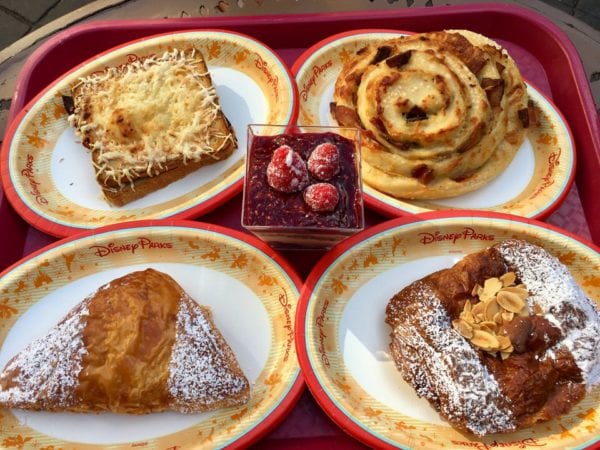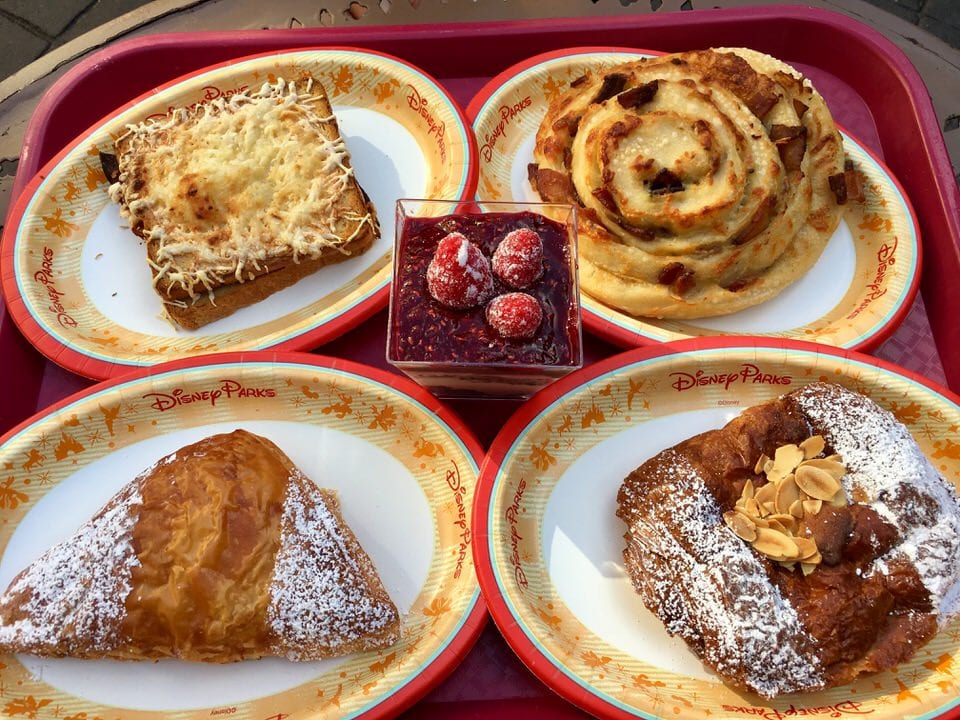 Bonjour my fellow food lovers…If you have ever been to France and experienced the bakeries there, then I'm sure my Les Halles Boulangerie Patisserie review is going to bring back fond memories.
Les Halles Boulangerie Patisserie is a Bakery in the France Pavilion in Epcot's World Showcase and it's modeled after your typical French Cafe you would find in a place like Paris. It's a place you can go morning, noon or night and always find something you will absolutely love. They have delicious Soups, Quiches, and Sandwiches made from freshly baked French Breads, not to mention a countless number of Croissants, Pastries, Tarts and other Desserts that will have your mouth watering from the second you step foot in the door.

They do accept the Disney Dining Plan and some items are Snack Credit eligible, while others you can use Quick Service credits on. It's conveniently located near the International Gateway entrance to Epcot, so if your coming from any of the Boardwalk area resorts it's a perfect stop on your way into Epcot.
Tip: Les Halles Boulangerie Patisserie is one of the only places in World Showcase that opens at 9am (most open at 11am), so head over in the morning while crowd levels are still low.
It's one of my absolute favorite places to go in WDW and I always end up eating way more than I should! I couldn't wait to go in and try as many things as was humanly possible this time for my Les Halles Boulangerie Patisserie review (naturally for the readers). Let's see what mind-blowing things they have this time…
Atmosphere:
I have to tell you that France is my #1 World Showcase Pavilion of all time! I absolutely LOVE it! The atmosphere is amazing and you really get the sense you are walking around a little Paris. The best way to arrive at Les Halles is to enter Epcot through the International Gateway. From there you head to the right over the bridge and France is your first country.
Immediately you will see the beauty of which I was referring to, such as this fantastic fountain, with blooming flowers all around it: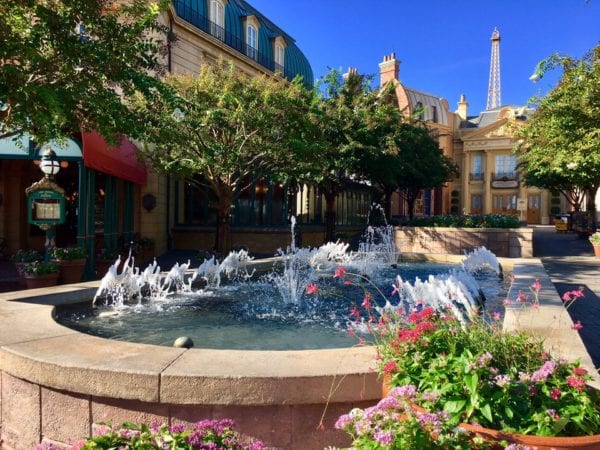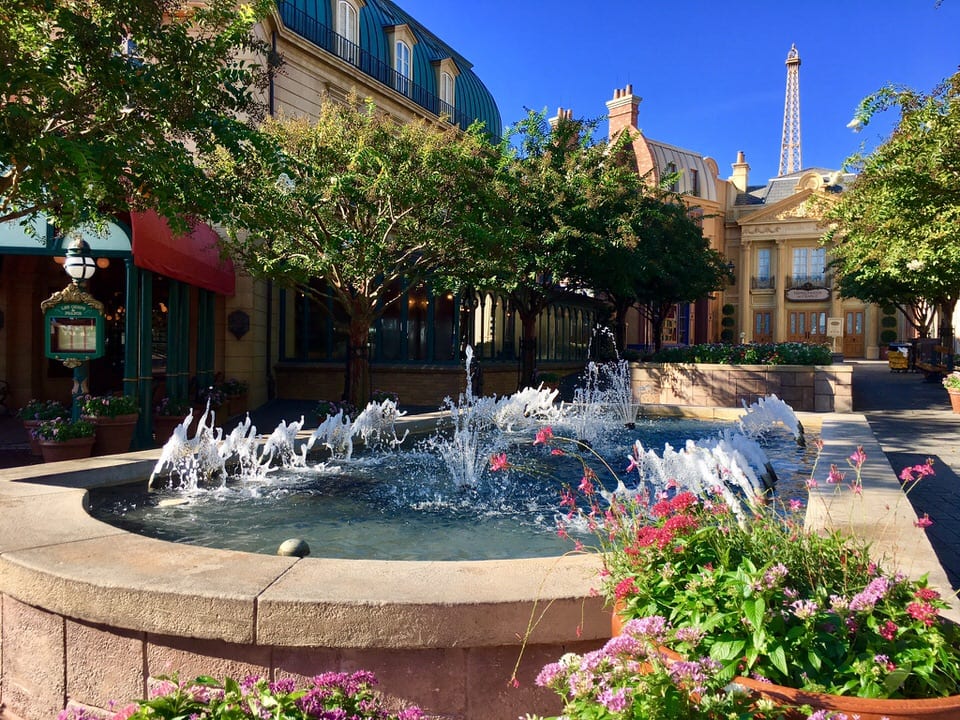 Once you have wandering around a bit, make your way over to the back left of the pavilion into the little alley way. At the end you will find the entrance to Les Halles Boulangerie Patisserie (I got really good at typing this name after doing it about 100 times!):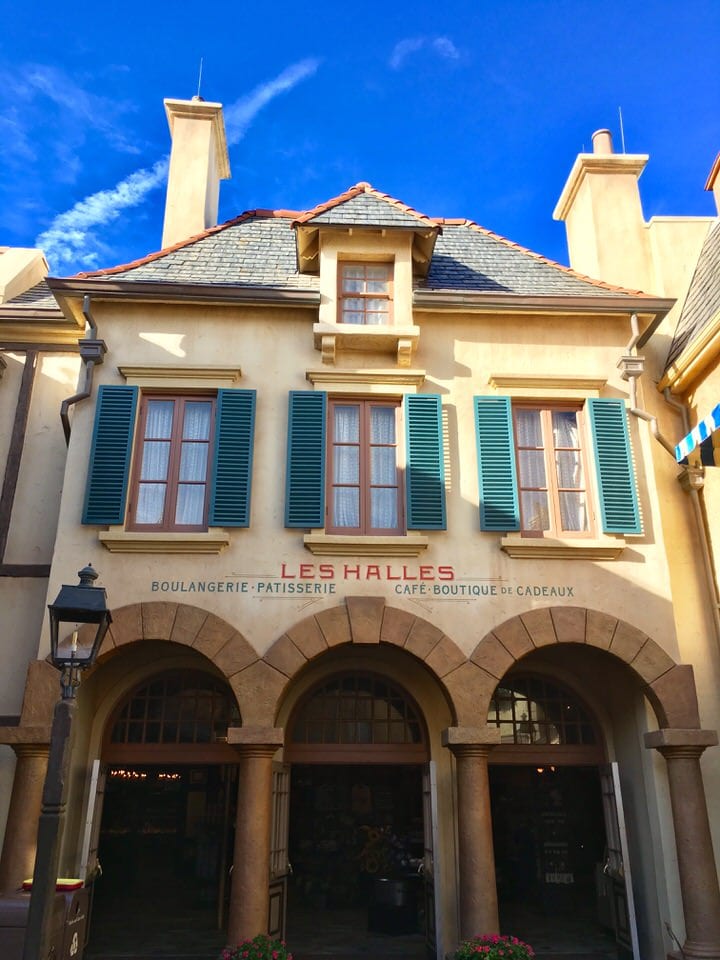 Seems like a building you would find in France, complete with apartments upstairs: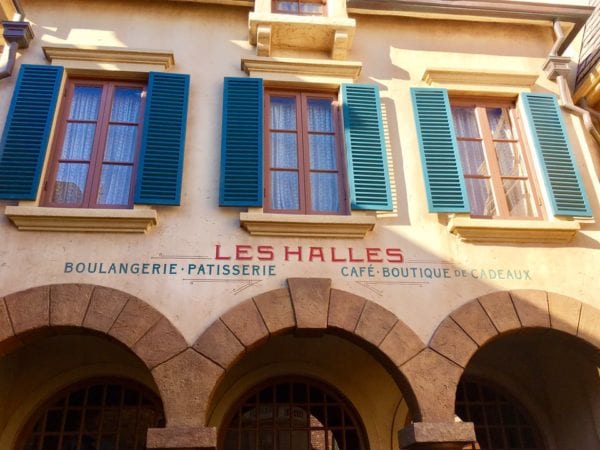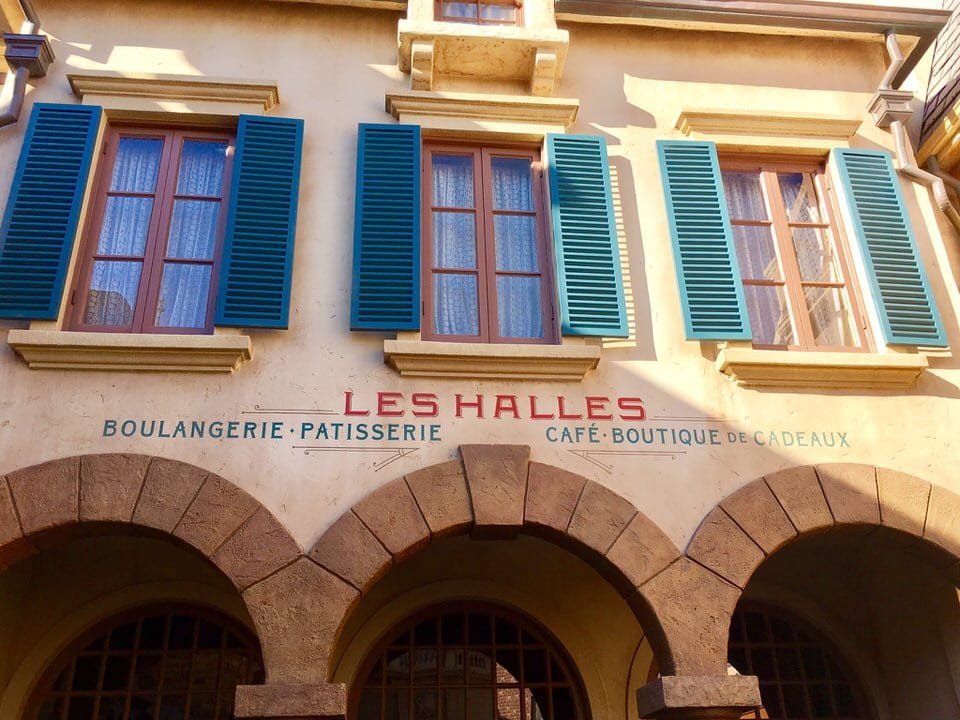 Beautiful flower baskets hanging below the windows: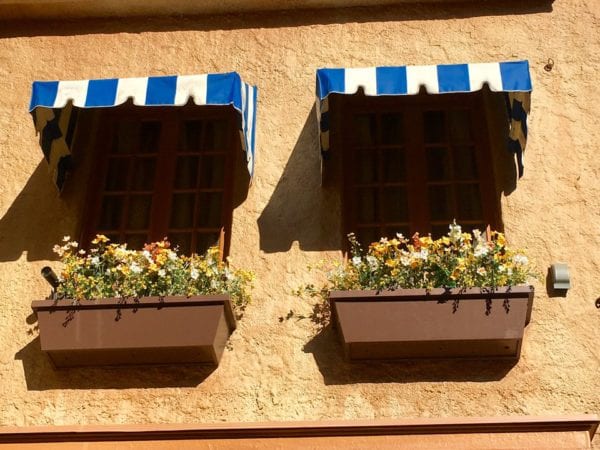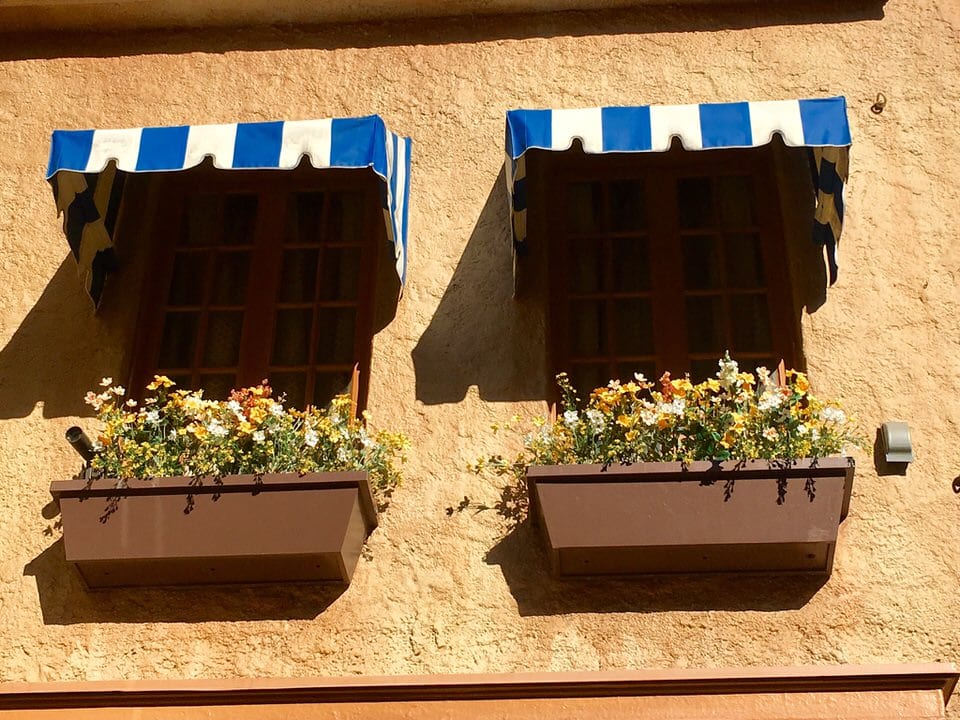 As you make you way in you will notice the huge arched doorways: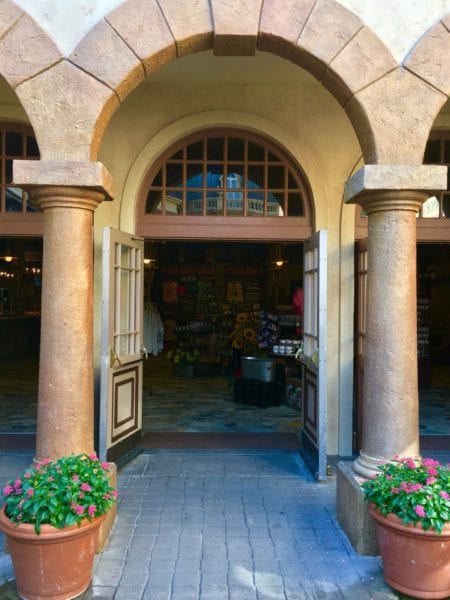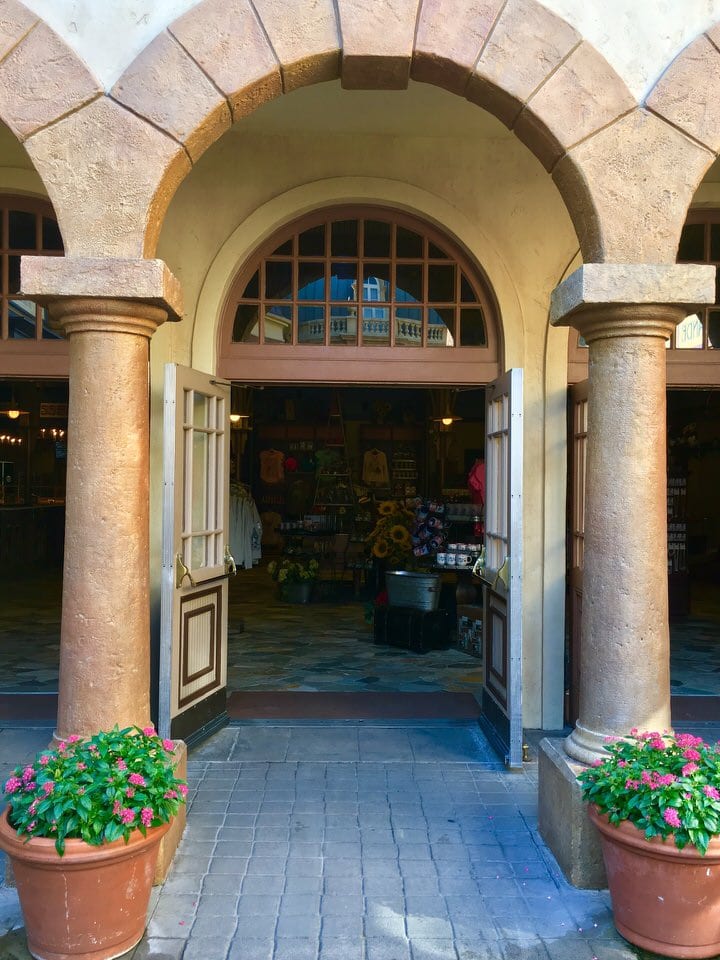 Les Halles moved locations a few years back when it used to be in the area where L'Artisan des Glaces is currently located. The current Les Halles space is much bigger and accommodates the crowds that come. We went early in the morning so it wasn't bad yet.
The eating area is modeled after the Train Station in Paris as you see the high arching steel beams across the space: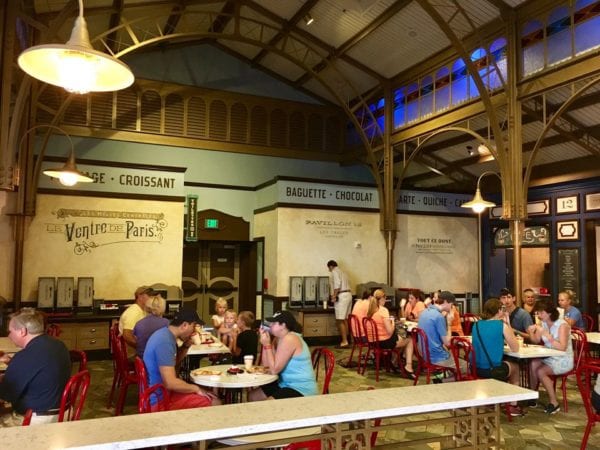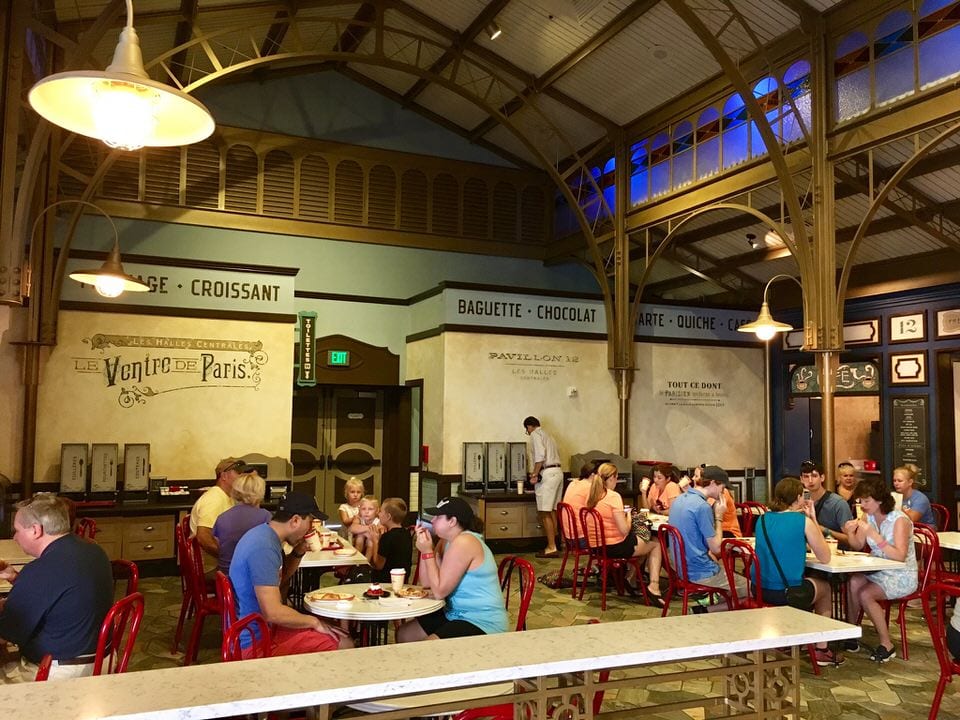 The space is quite big and has room for a lot of tables. It's also air conditioned which is great when the sun is beating down on you! If you prefer eating outside we passed a few tables in the alleyway on the way in: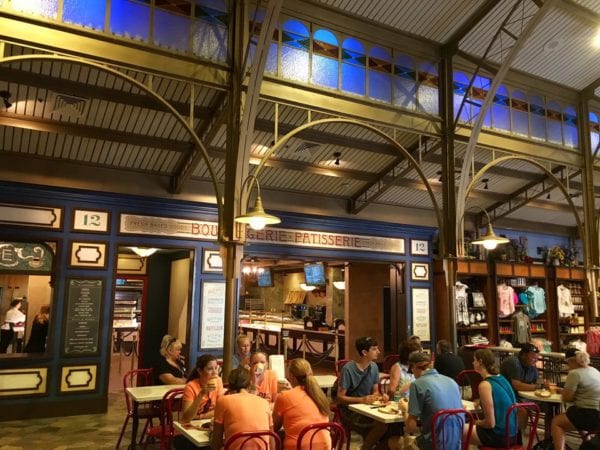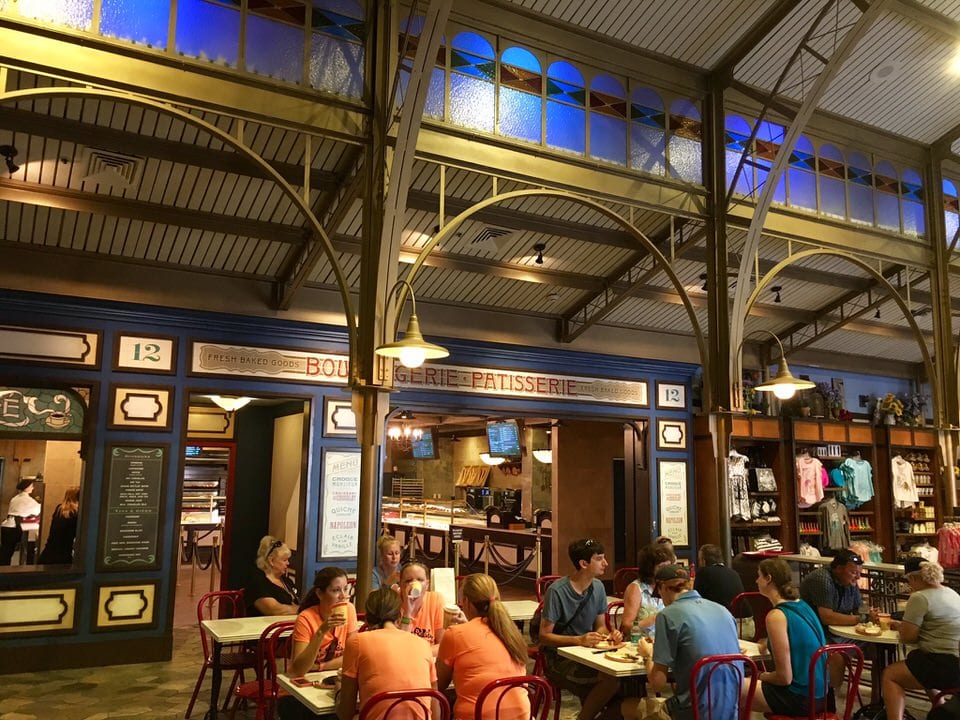 Yes I smell those Croissants fresh out of the oven too!!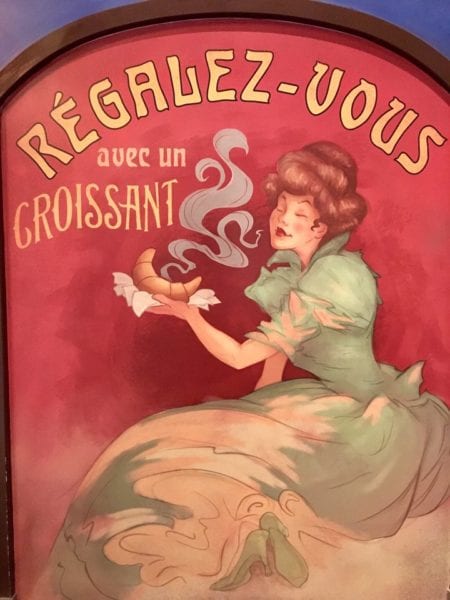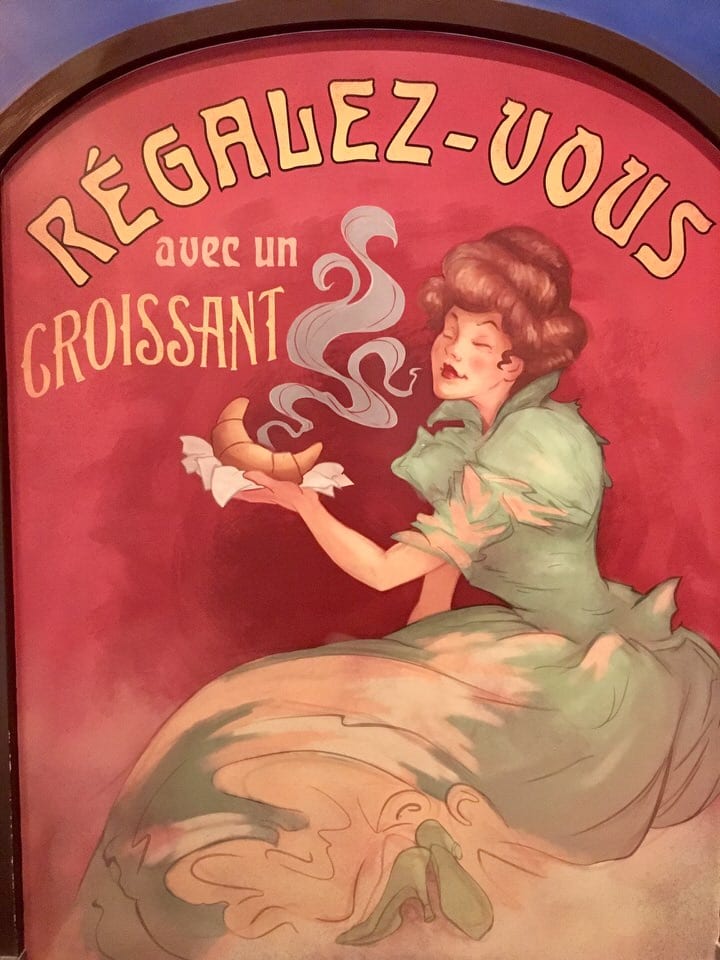 There are always some neat displays set up on your way in, this one of some colorful loaves of bread: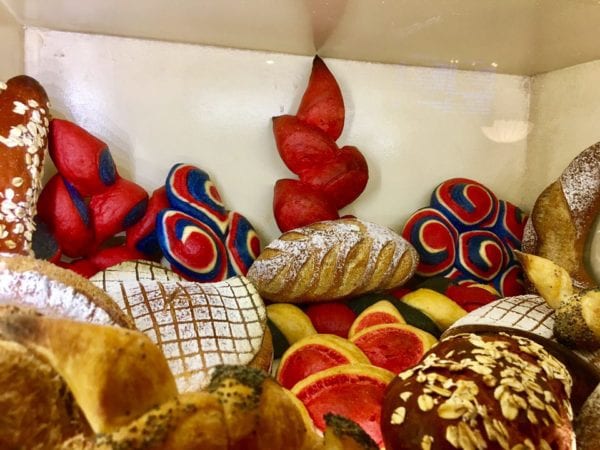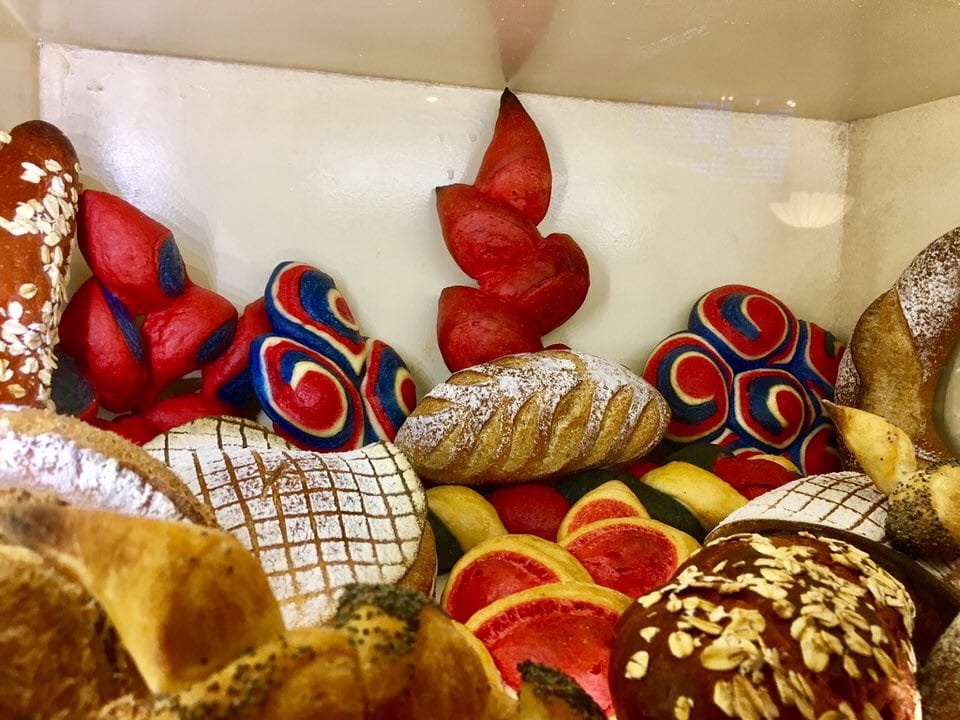 Macaron Towers!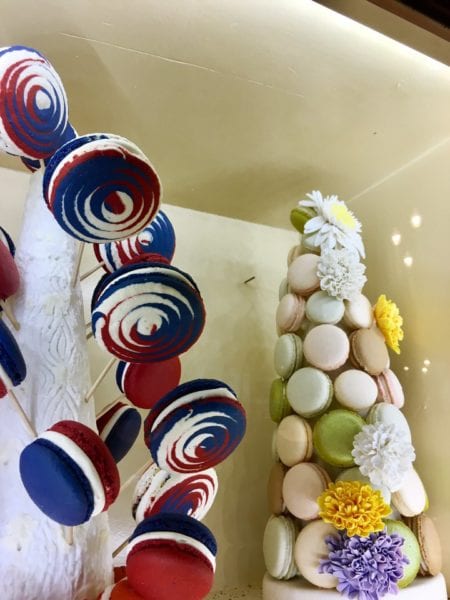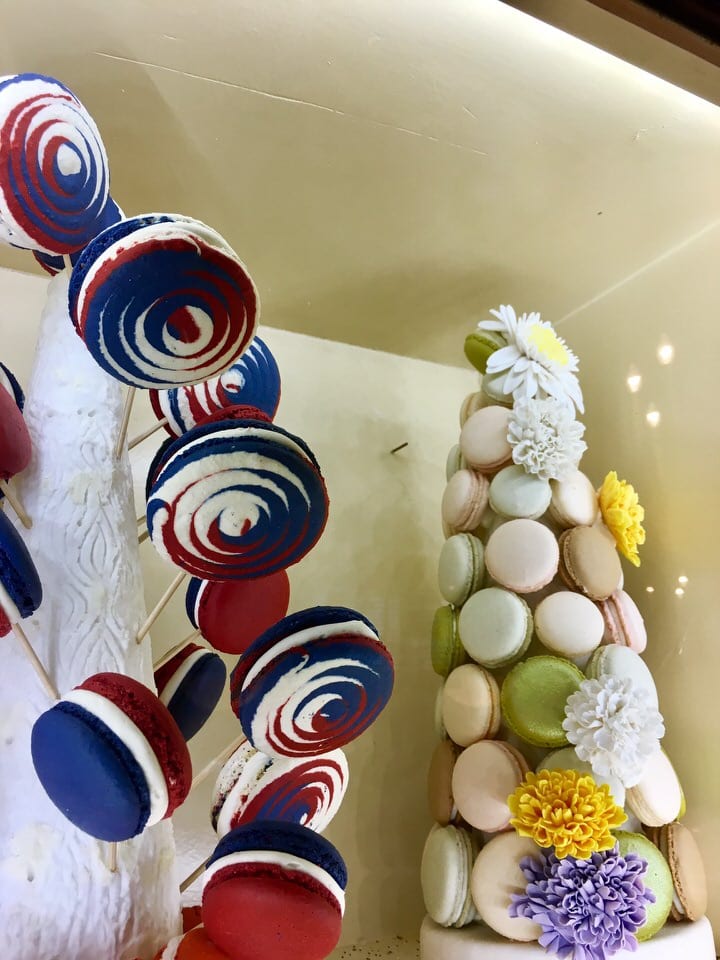 A scorpion seems a little bit strange for France, but whatever floats your boat I guess…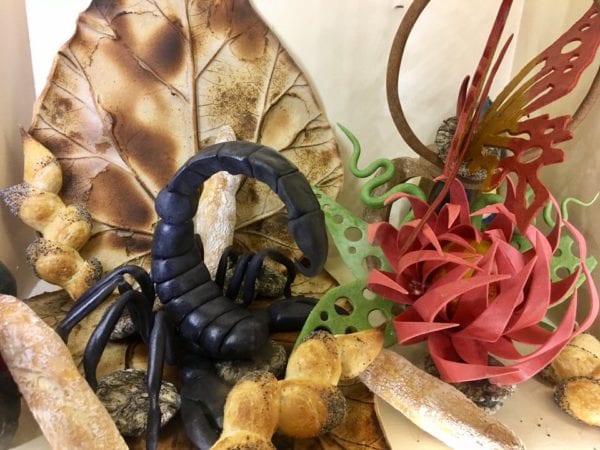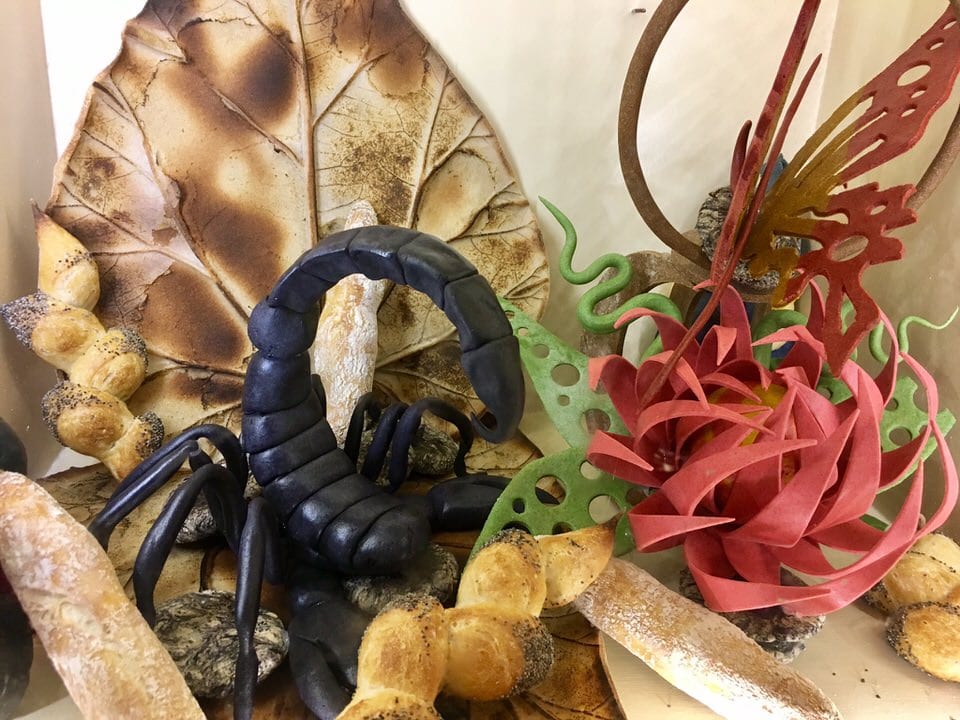 By this time the smell of all that bread and pastries is going to be killing you so lets just go in already:
Food: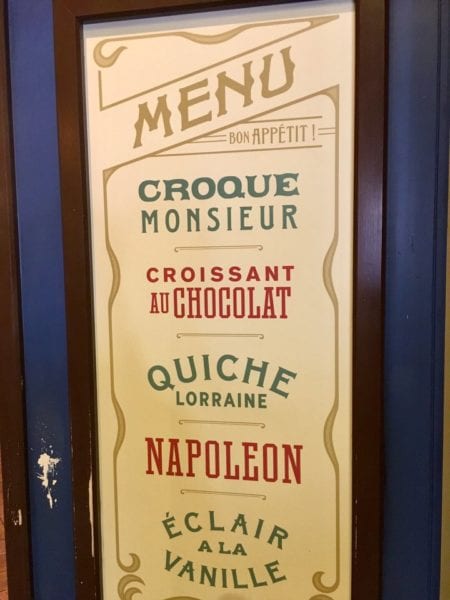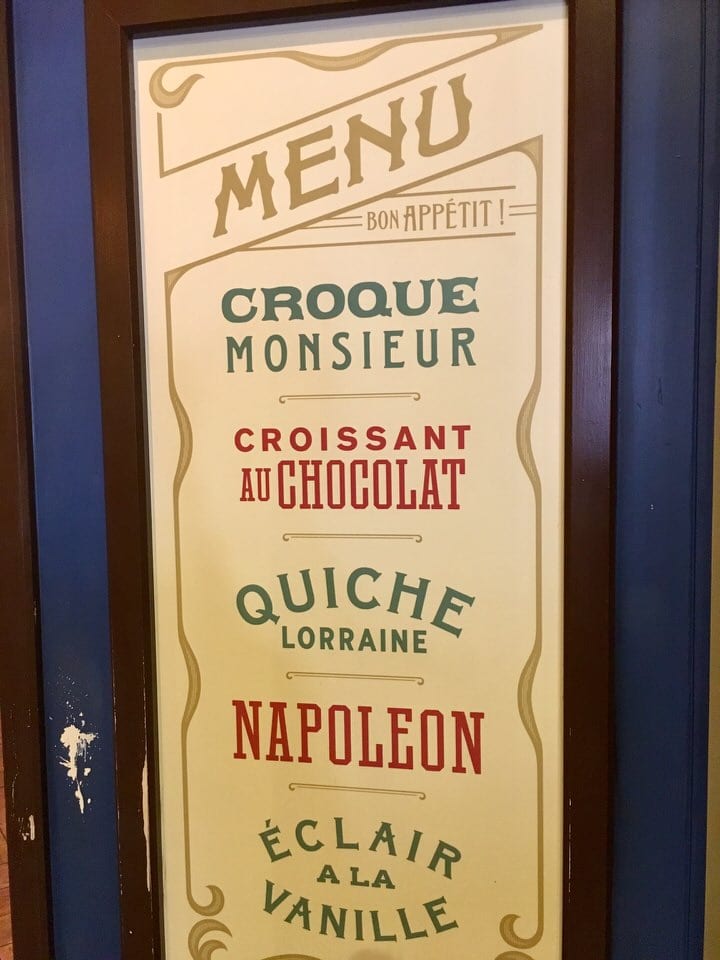 As you walk in you'll see that there is a big open space where you can look at all the mouth-watering food items lined up waiting for you on the counters. There are two lines, on the Left and on the Right. It doesn't matter which line you get in, I promise you will find the exact same stuff on both sides: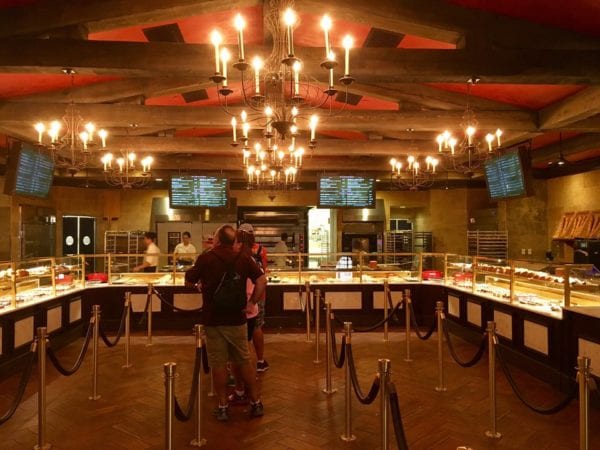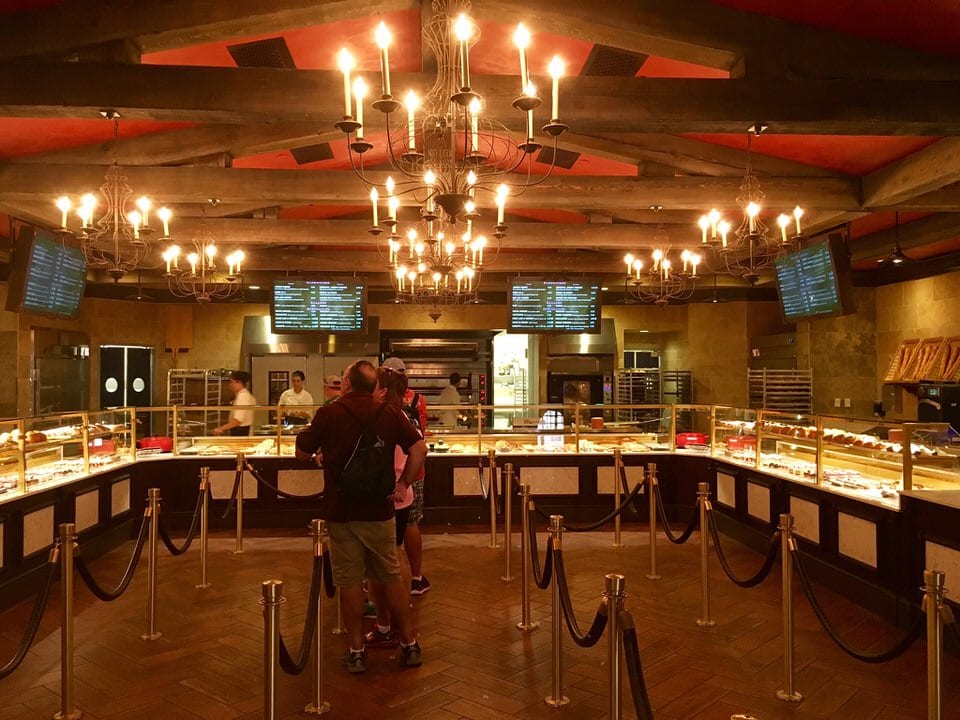 You will notice there is a quite extensive menu for Drinks. You can get Coffee, Cappuccino, Espresso, Tea, a variety of Soft Drinks like Juices, Soda or Milk. If you want to feel even a little bit better, the right side of the menu shows the alcoholic offerings with a few Wines, Champagne and Beer: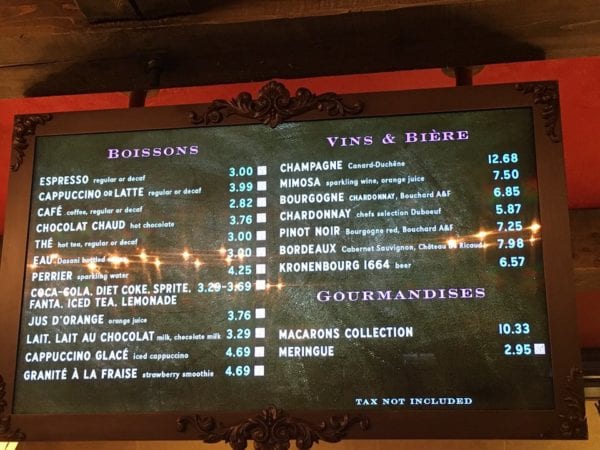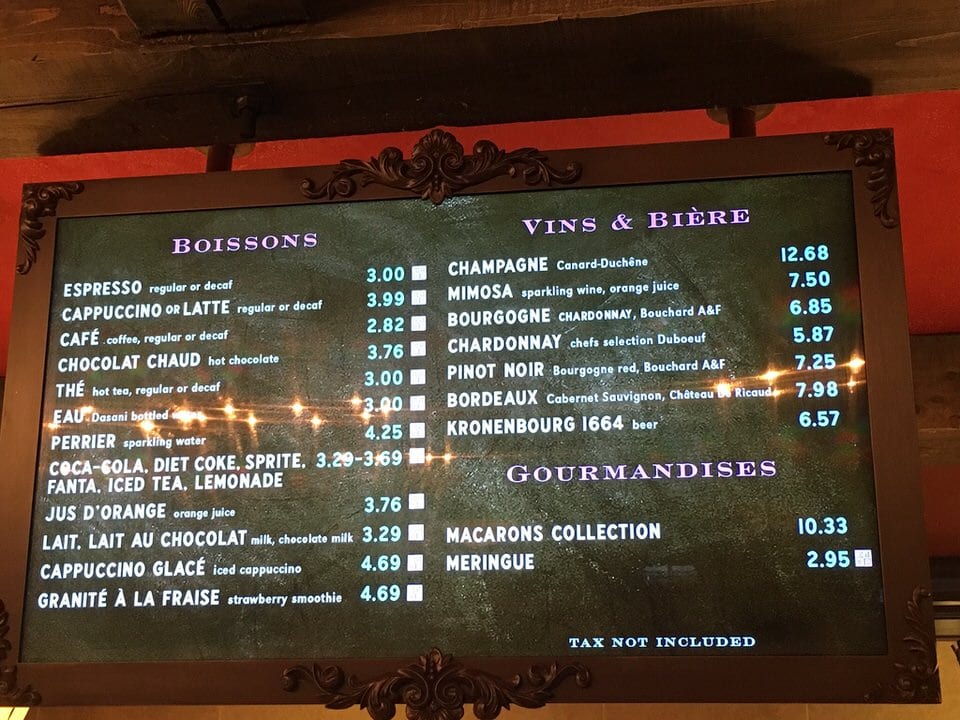 As I approach the counter it becomes clearer and clearer there is no way I'm staying on my diet today..everything looks ridiculous!! Lets start off with the Savory items first. Here we have a mix of Quiches, Pizza and Sandwiches: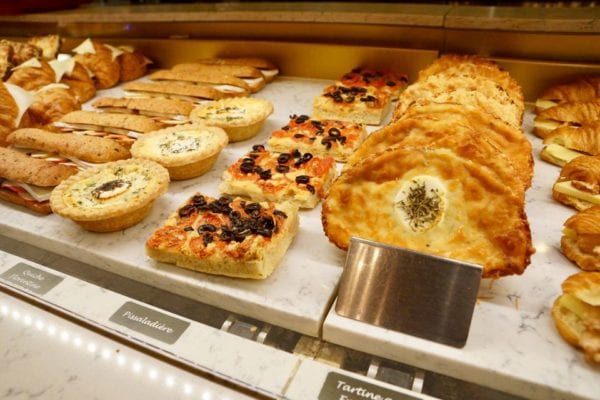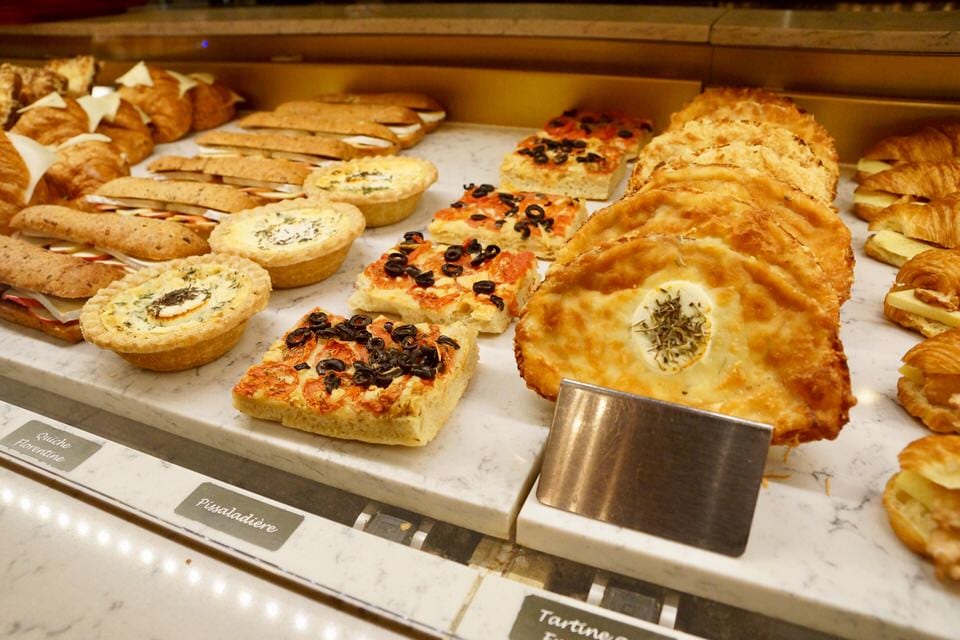 Focaccia style Pizza covered in tomatoes and olives: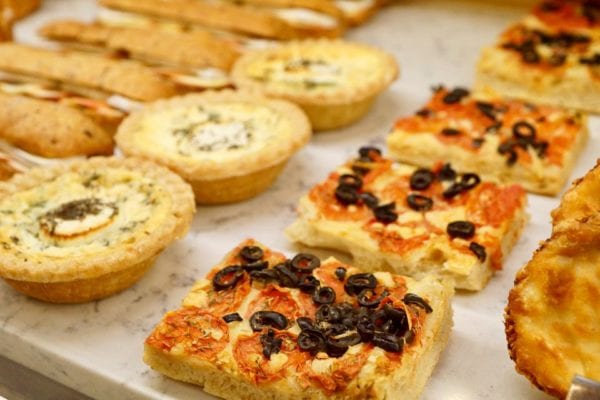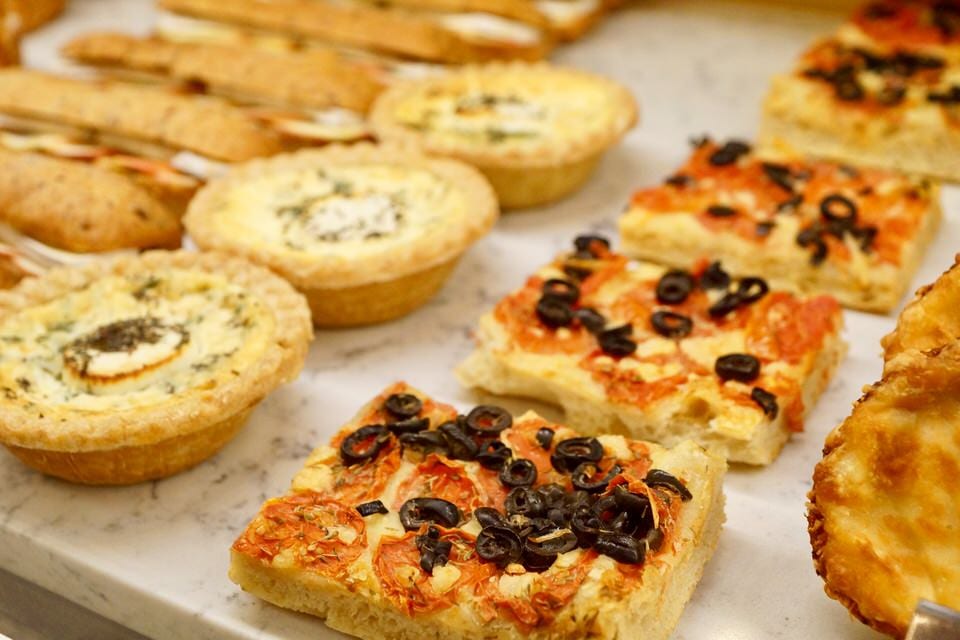 The Croque Monsieur is COVERED in cheese!!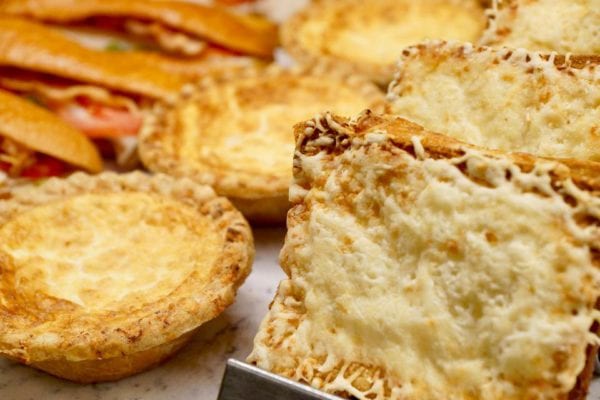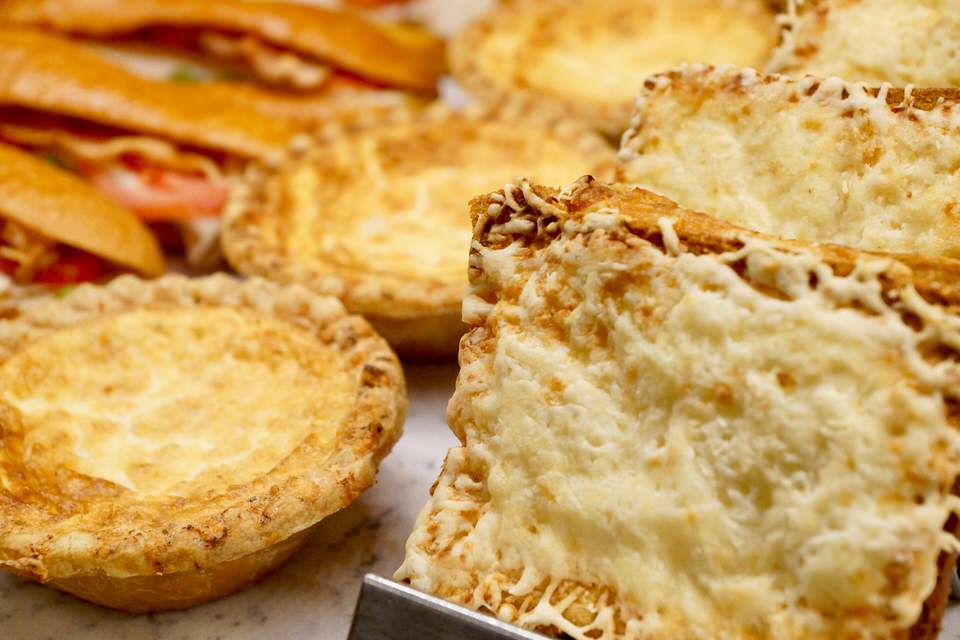 Two of the Sandwiches available are the Ham and Cheese and the BLT, both served on fresh bread: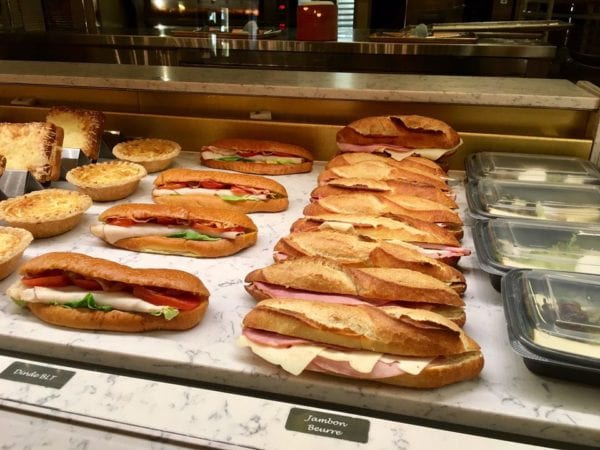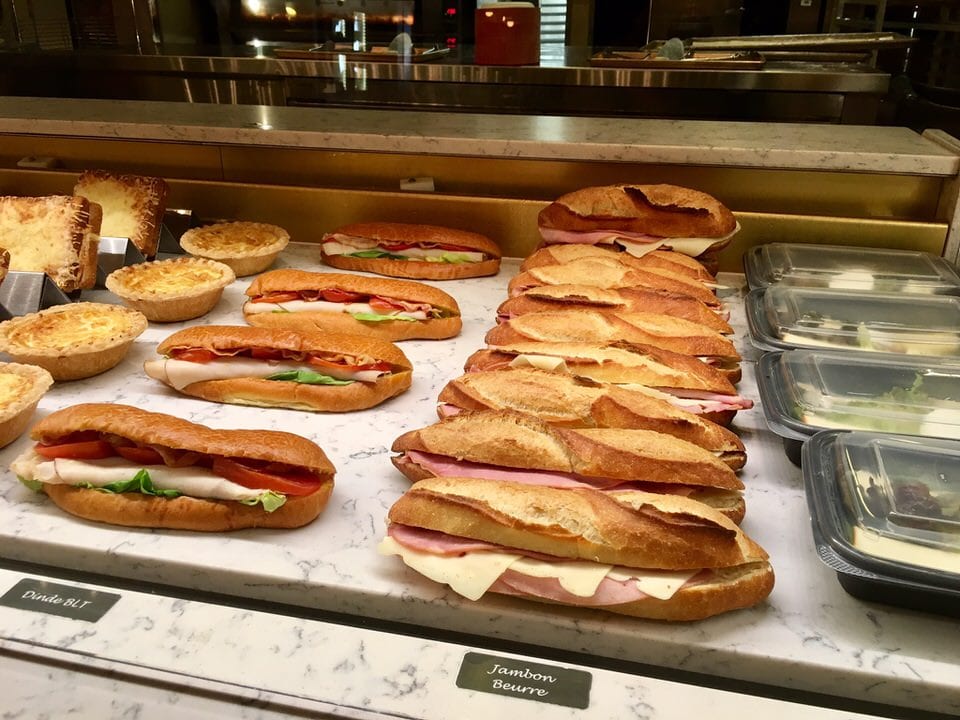 Some more sandwiches and the mythical Roule aux Fromages (Cheese and Bacon Roll):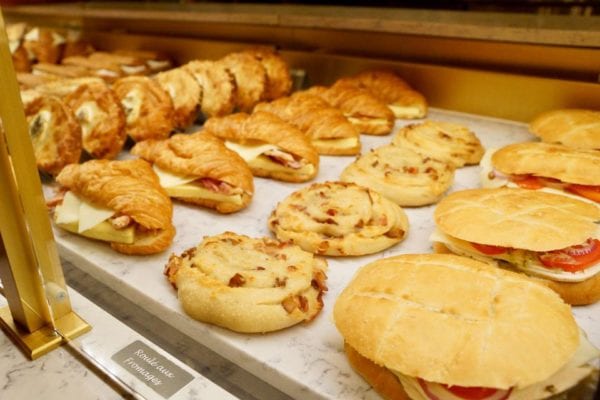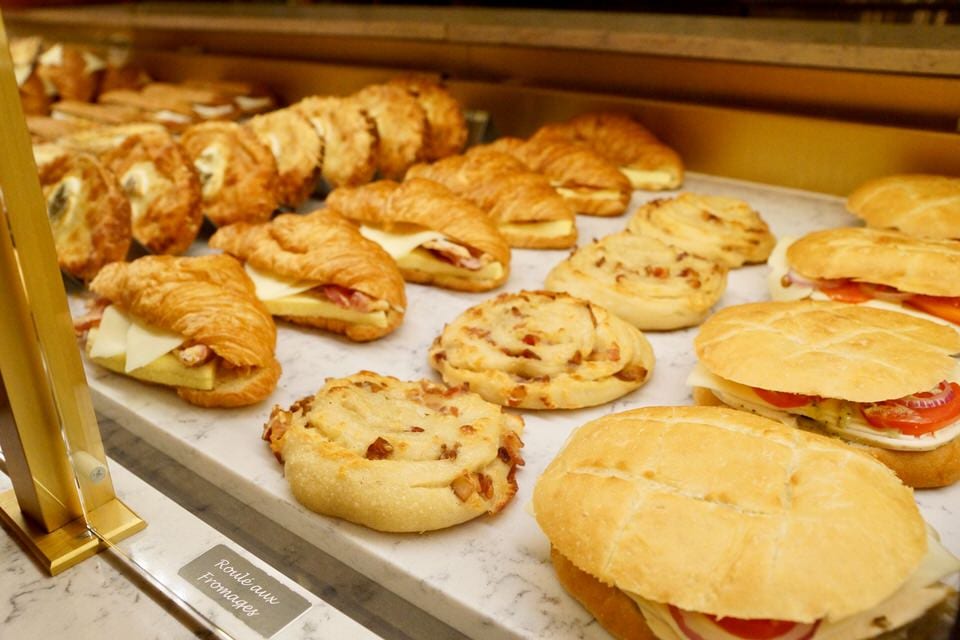 Ham and Cheese Croissant: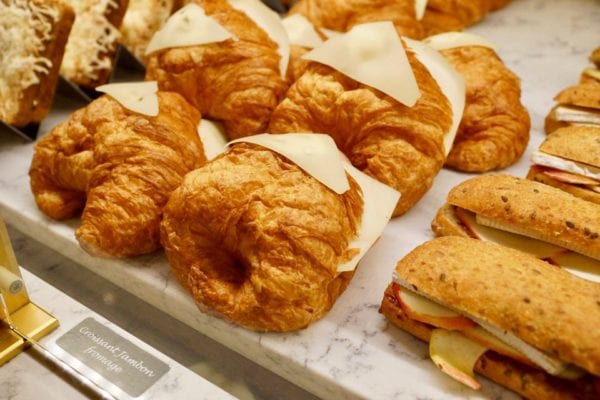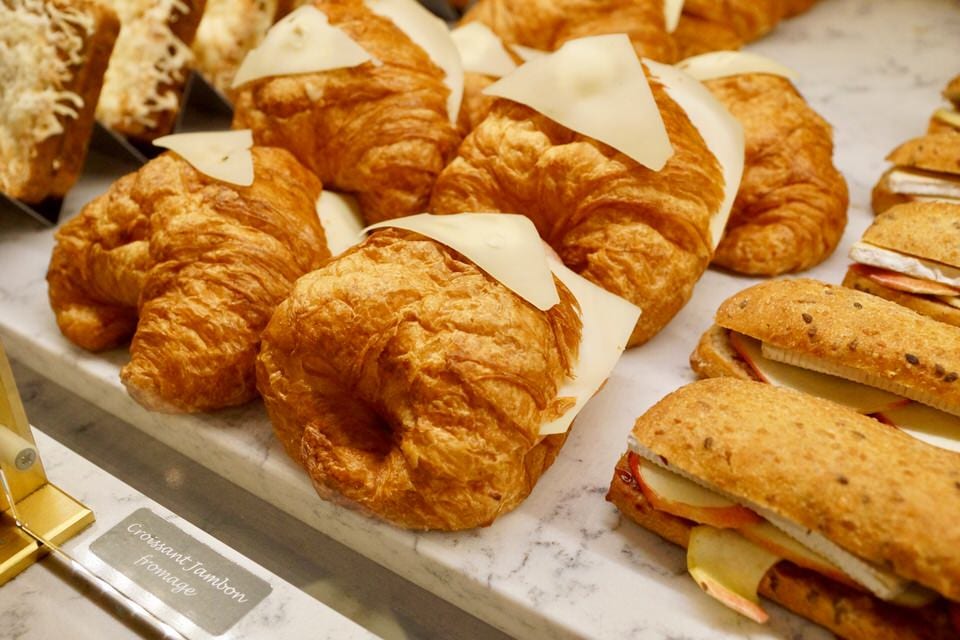 You can also enjoy some wonderful Soups while you're here, this day there was Potato and Leek or Lobster Bisque, both of which you can order in a freshly baked Bread Bowl!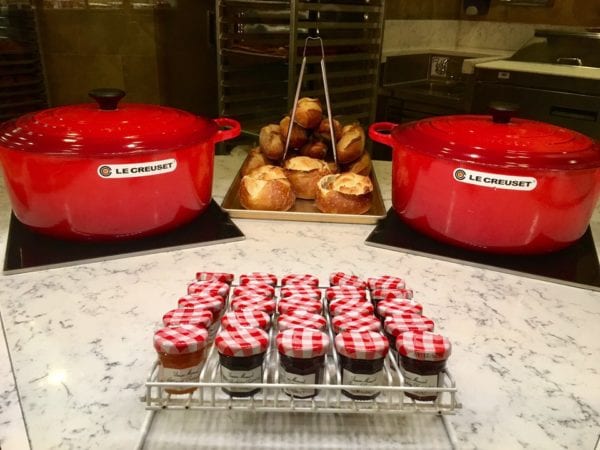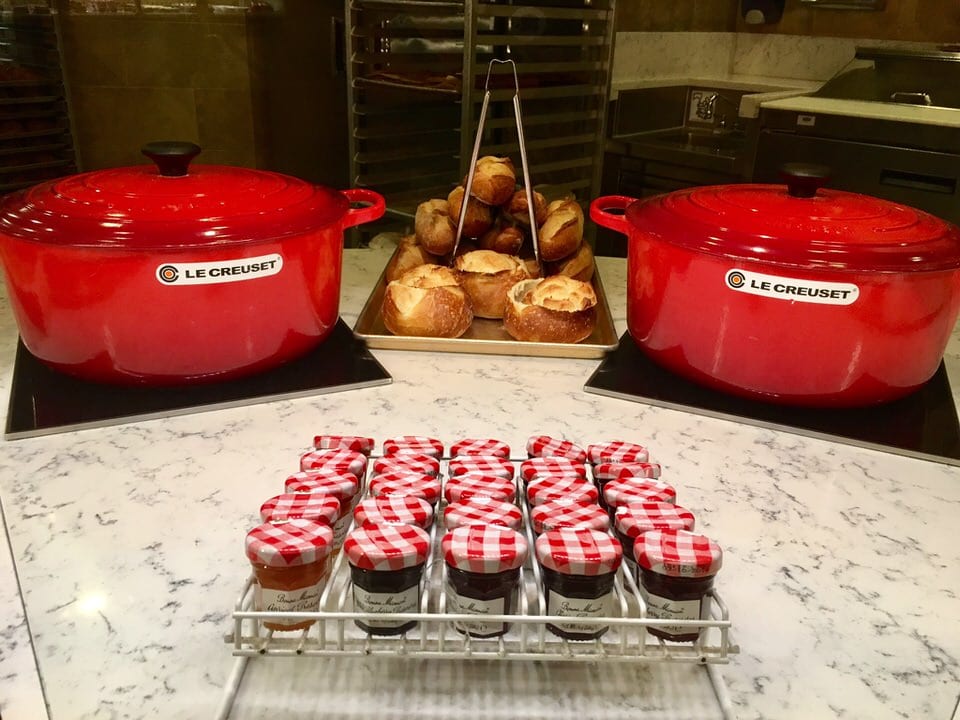 When I turn to see the Sweets I know I really in trouble…Wow! Each counter has an upper and lower level, the upper being more baked goods (Croissants, Beignets, Elephant Ears, etc), while the lower has more Mousses, Tarts and Cakes. Those Beignets are calling my name: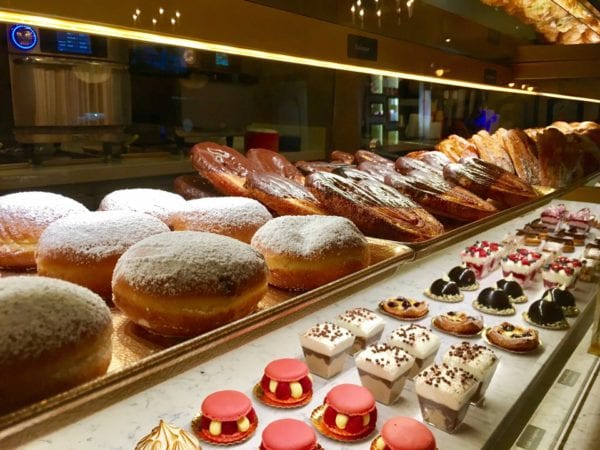 All the different Croissants look so good, Plain, Chocolate, Almond, you name it: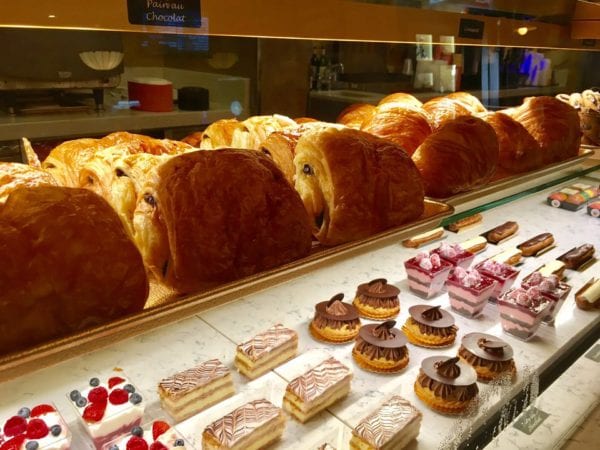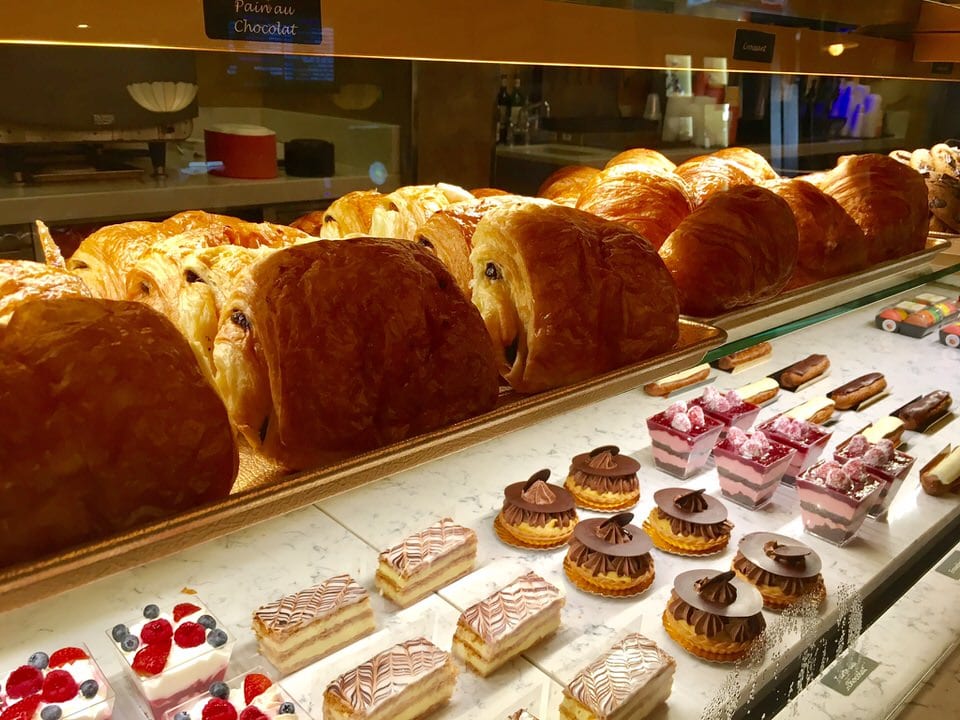 You can tell that the crust is so moist and flaky: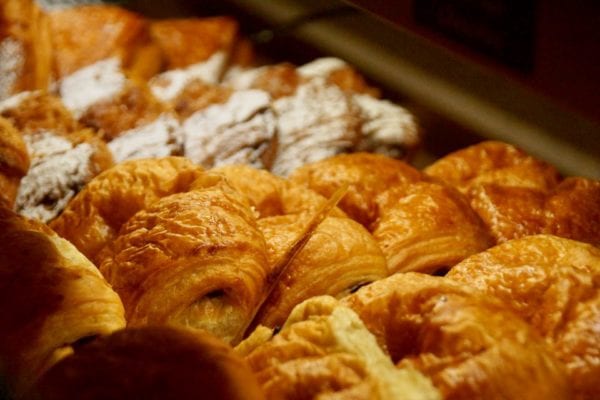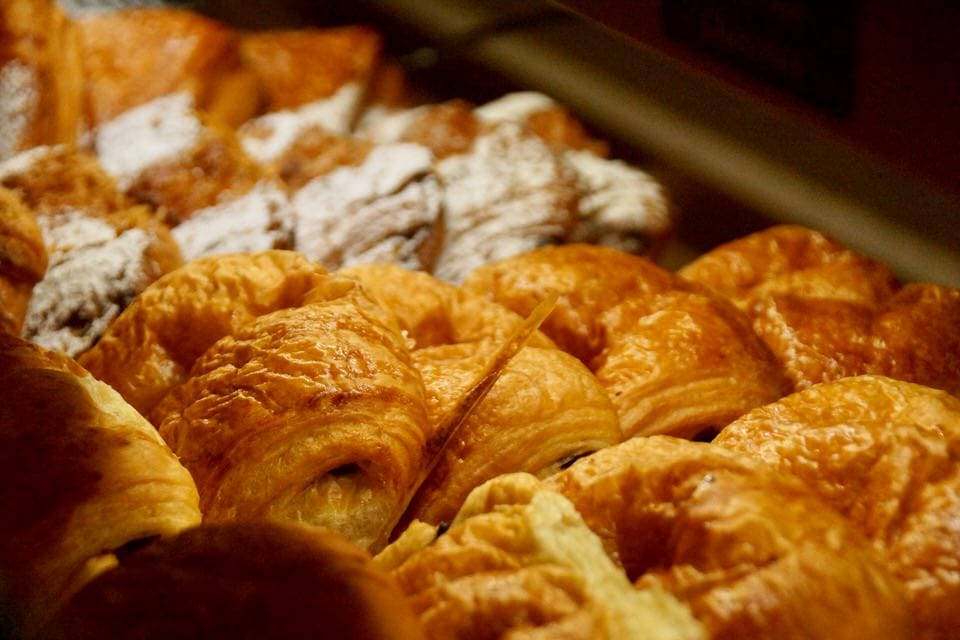 HUGE Elephant Ears along with Turnovers (Palmier and Frangipane):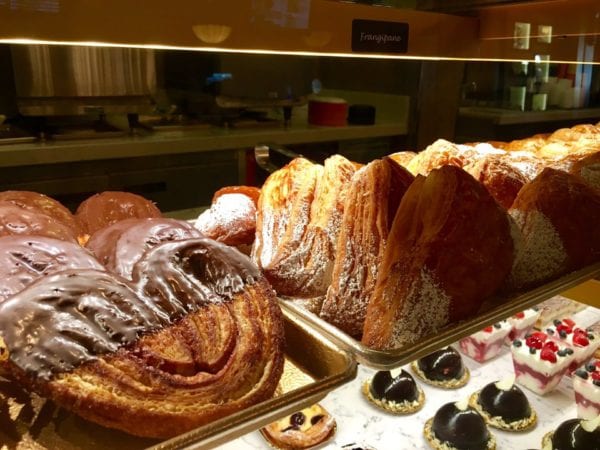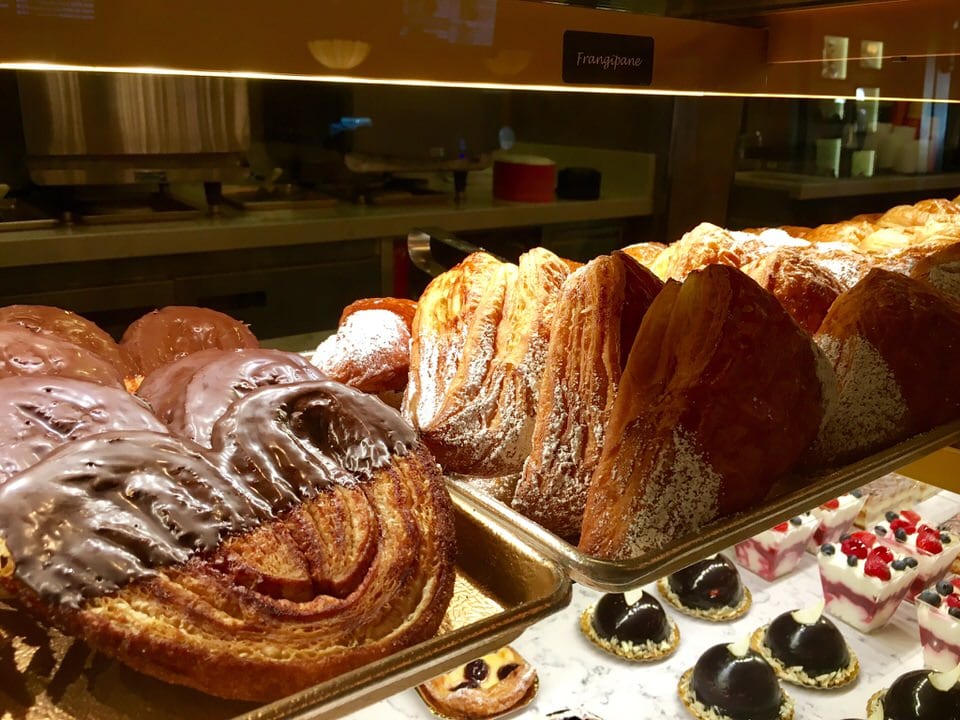 Below we have a 2 Mousses – Chocolate and Coffee or Chocolate and Cream, Lemon Tart and the Raspberry Macarons: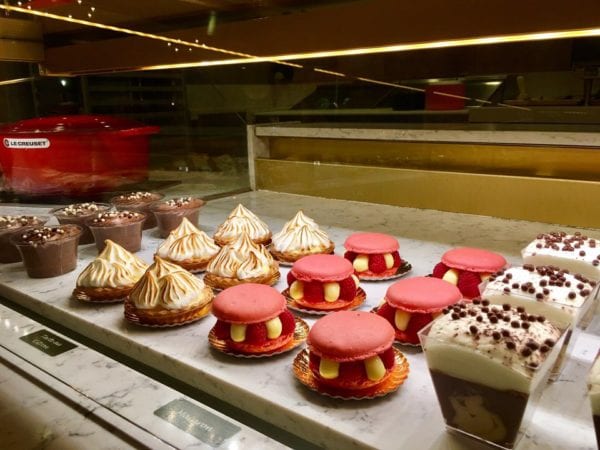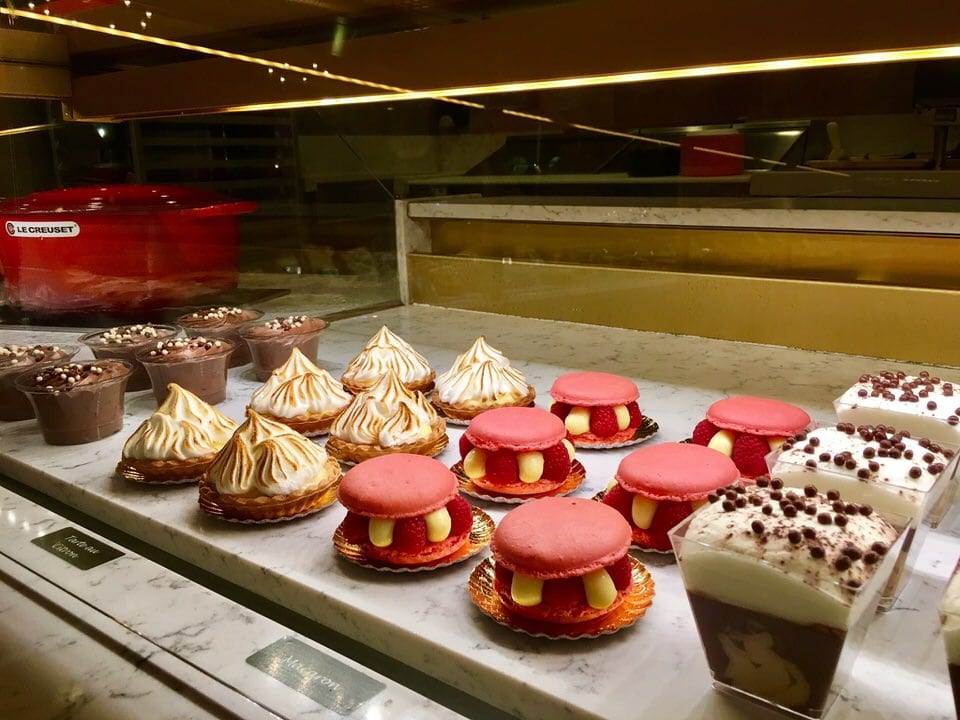 Closeup of the Raspberry Macarons, just oozing with cream: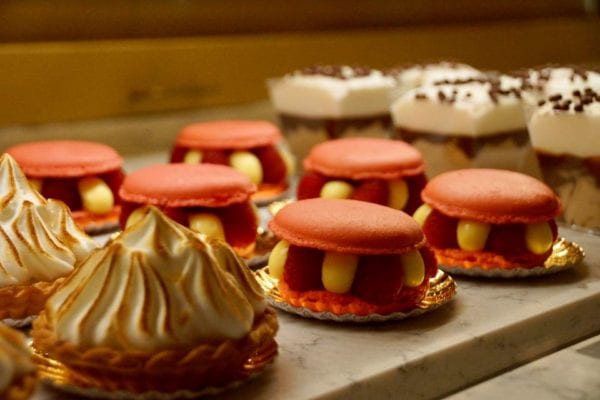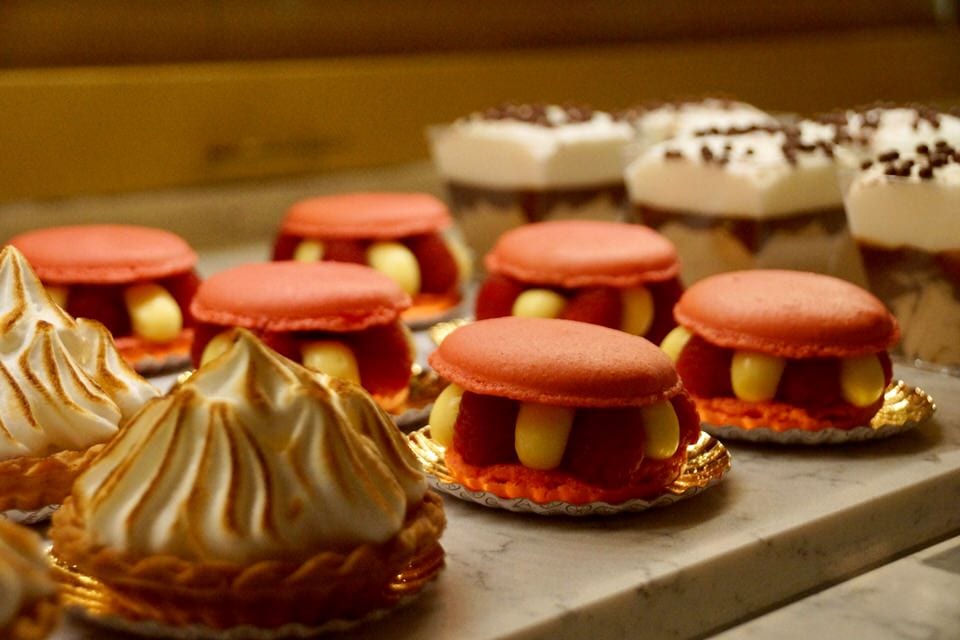 Here's a mixture of some more desserts: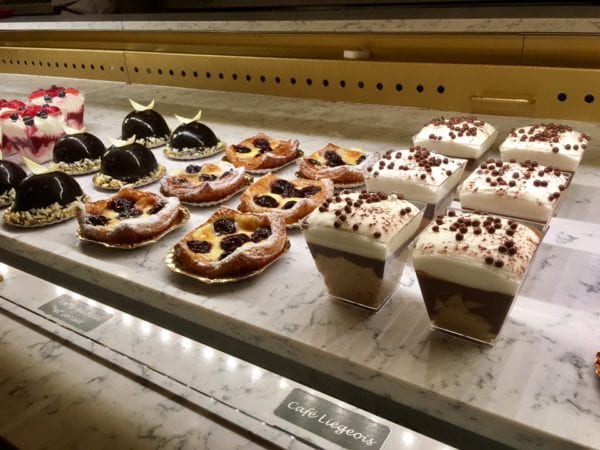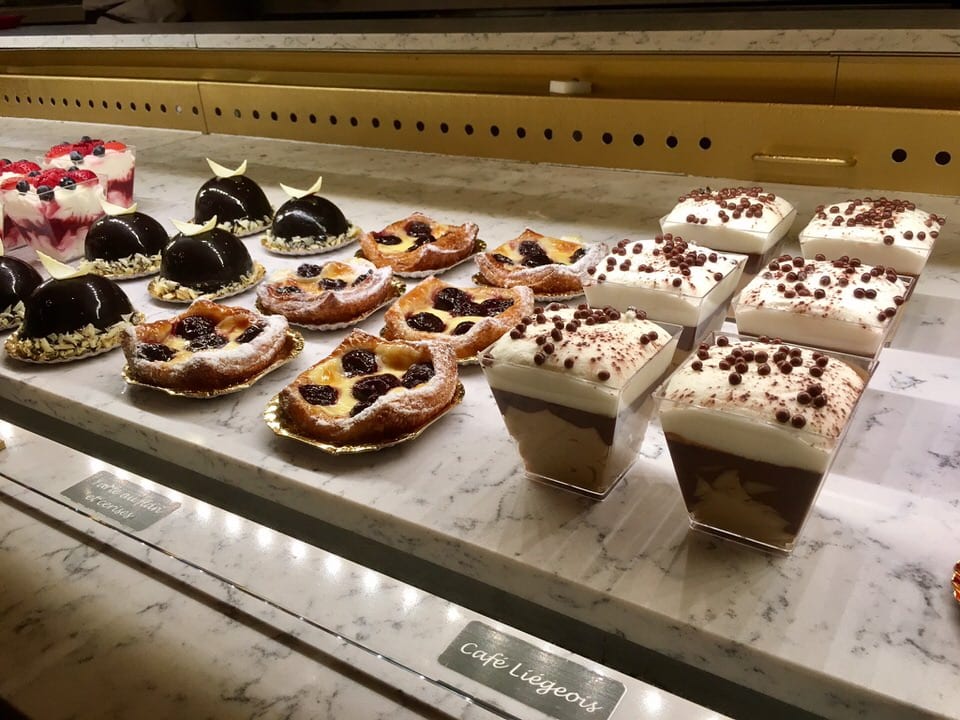 The Flan Tart with Cherries (Tarte au flan et cerises):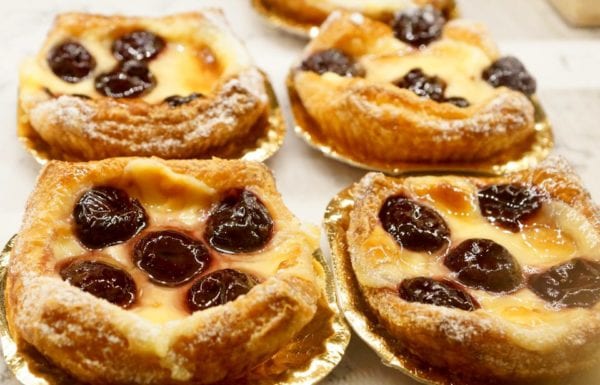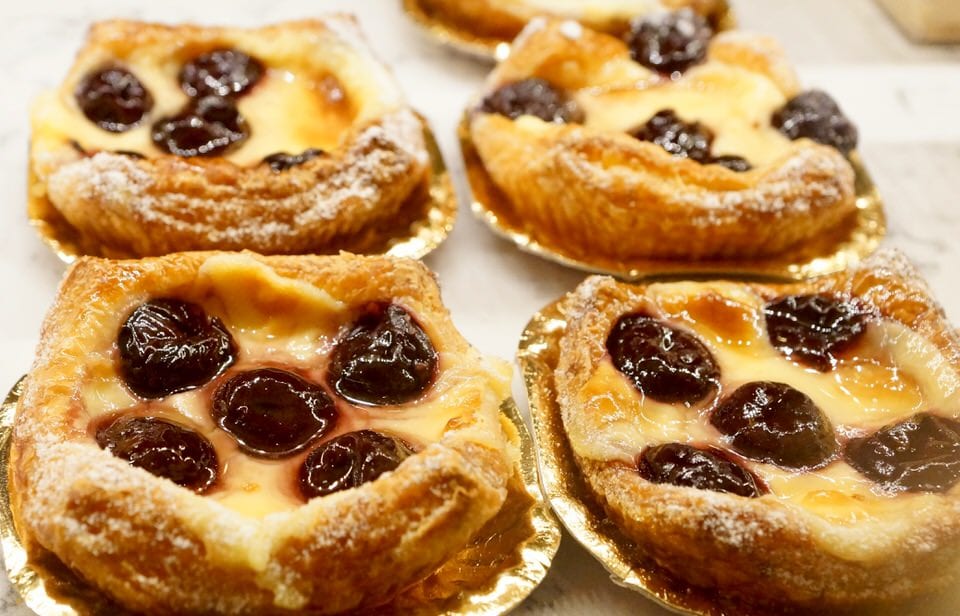 The Duo is a chocolate lover's dream, made from White and Dark Chocolate mousses: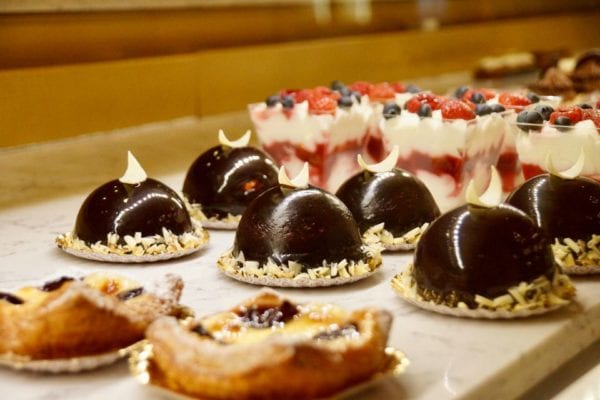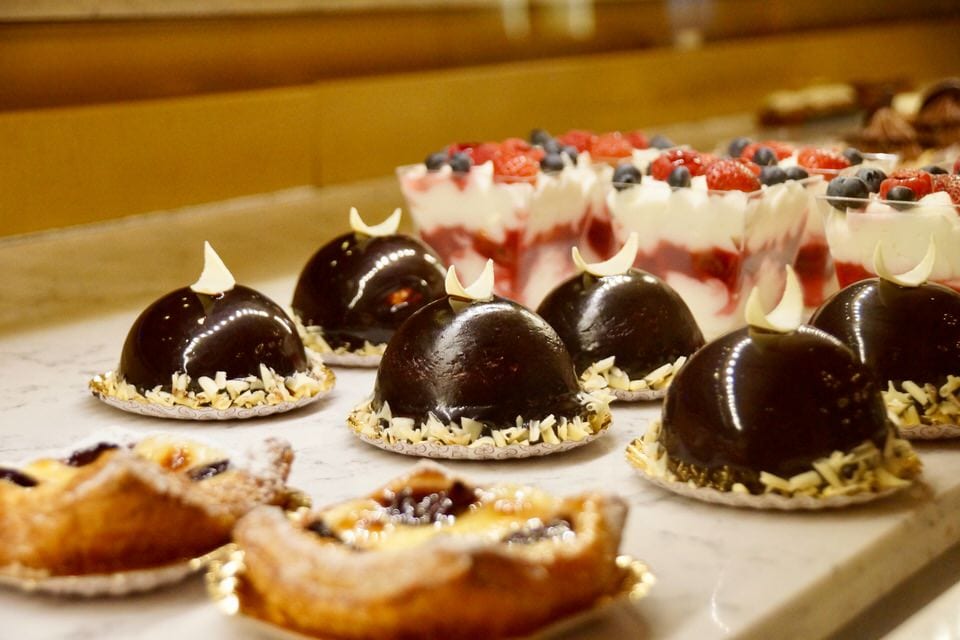 more sweets: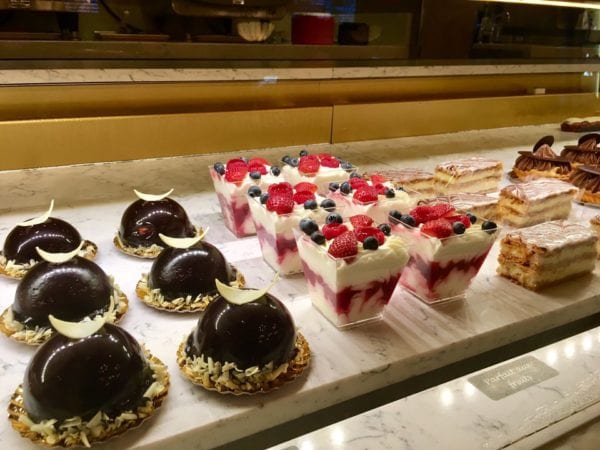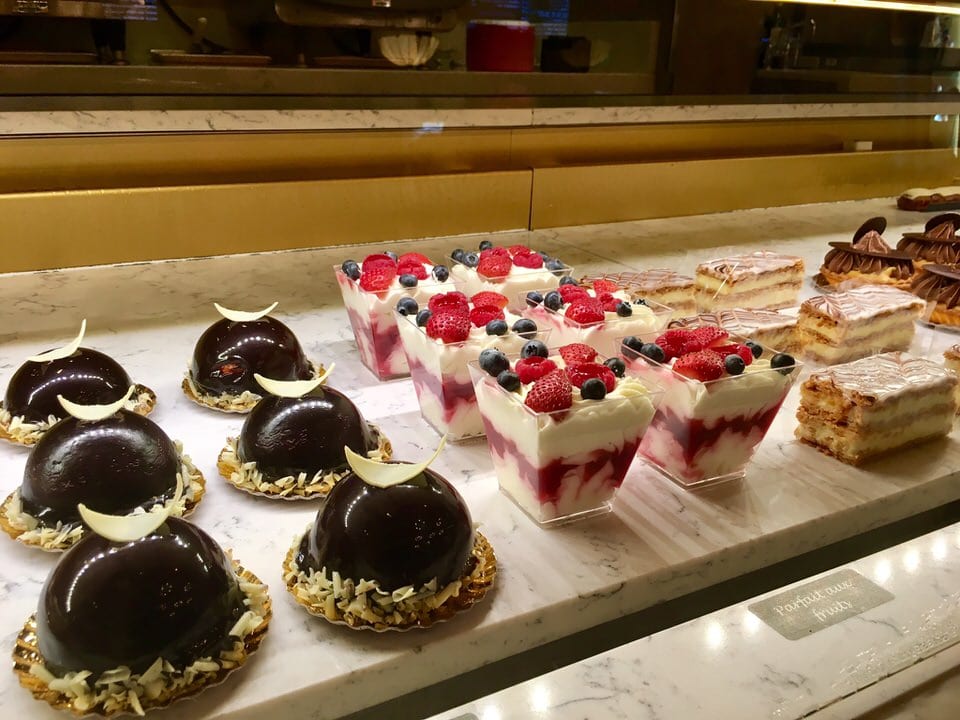 This is a Yogurt Mousse with fresh Berries (Parfait aux Fruits):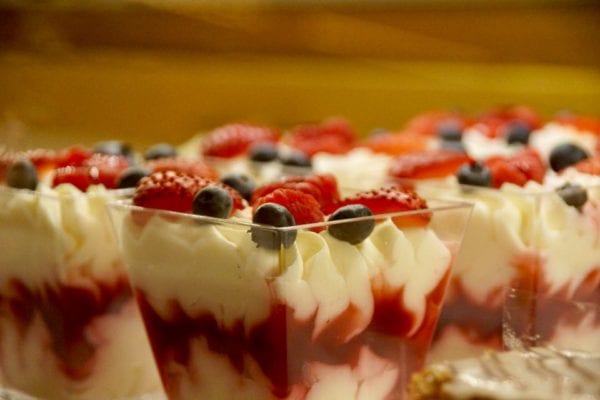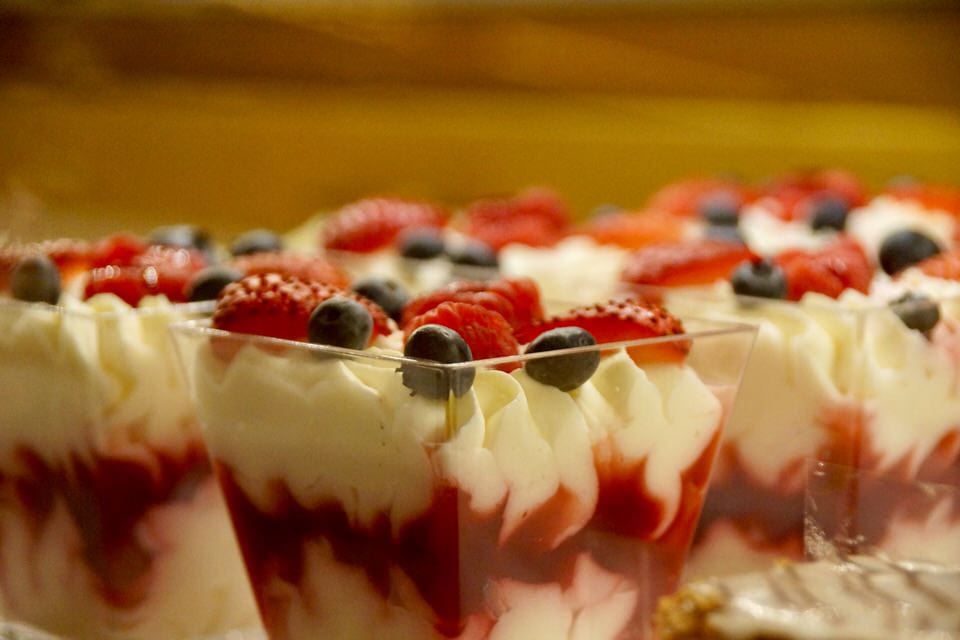 The Creme Brulee looks divine: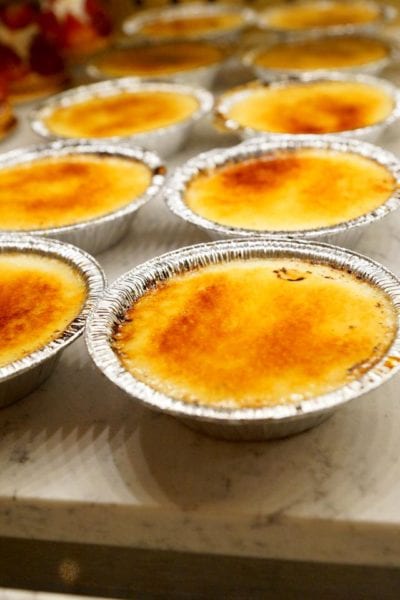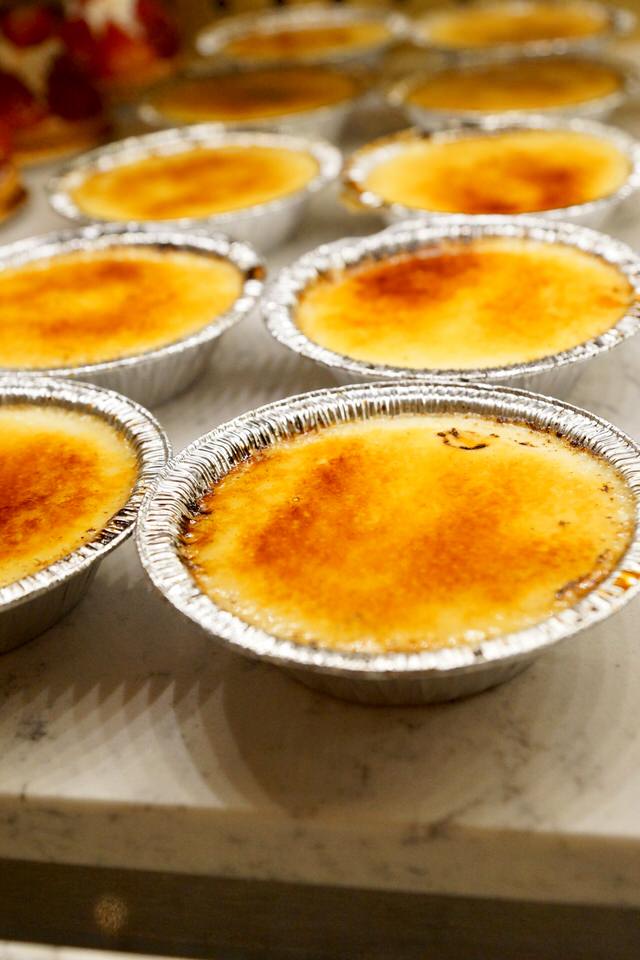 This time there was a special Opera Cake, again for chocolate lovers with a mix of dark, milk and white: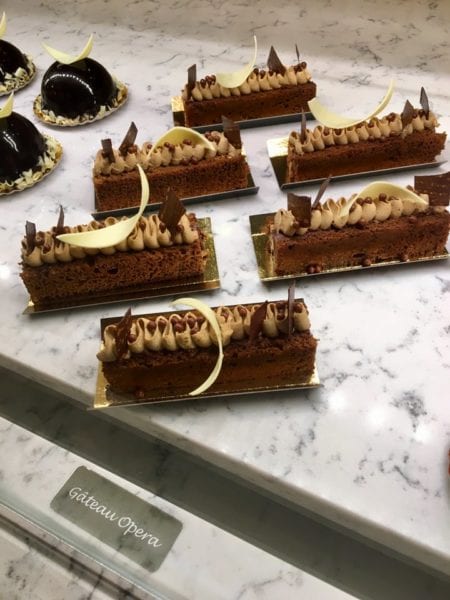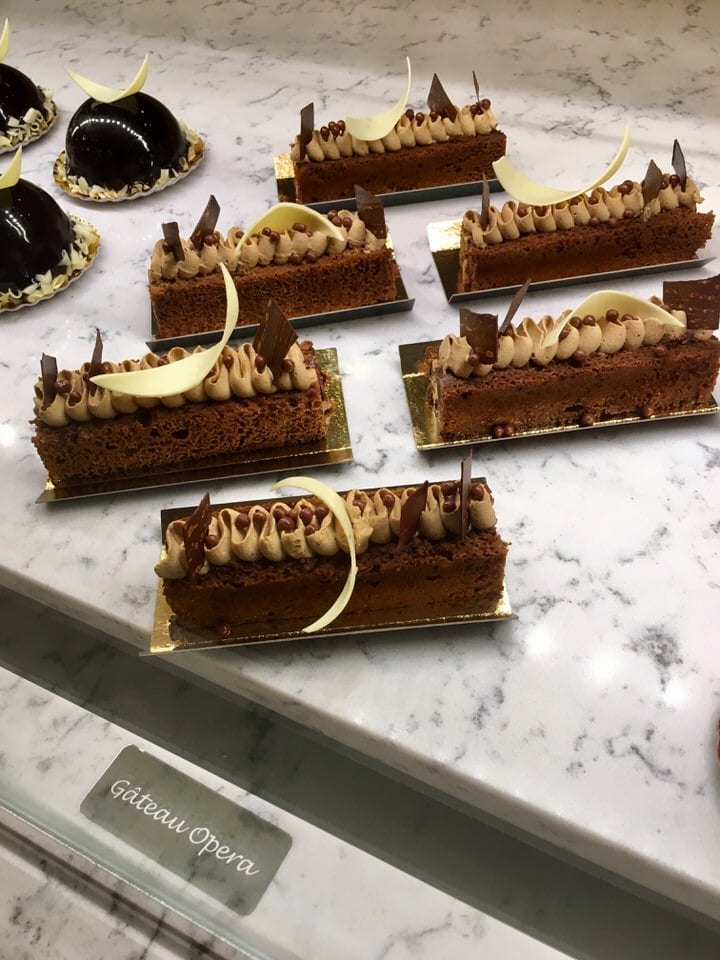 This is literally torture, I don't know how I'm ever going to choose between all this stuff: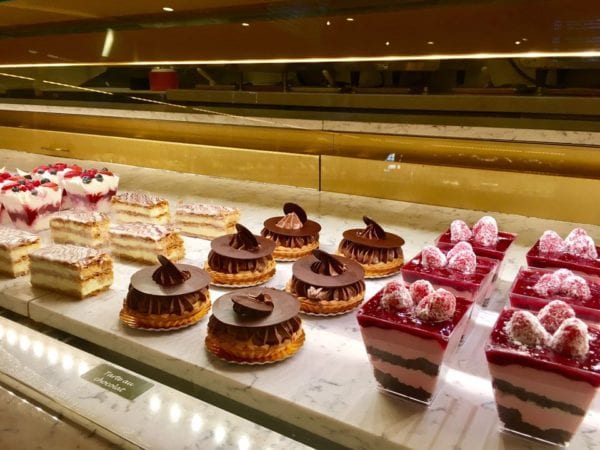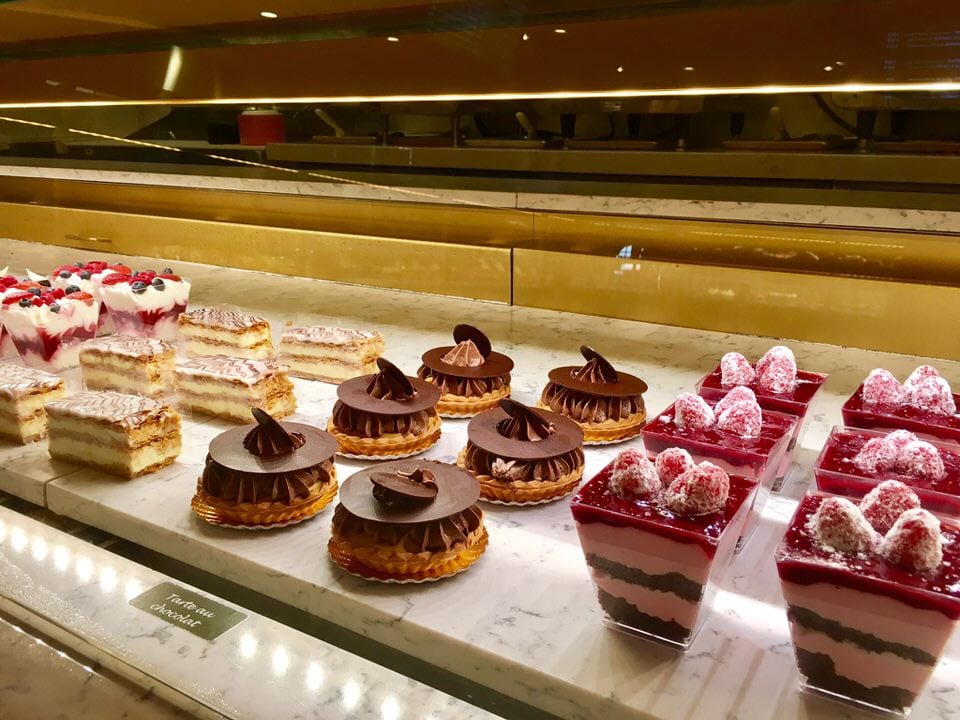 Caramel Cream and Chocolate Mousse: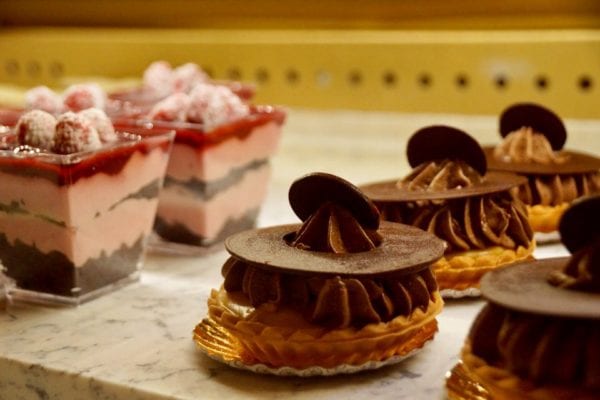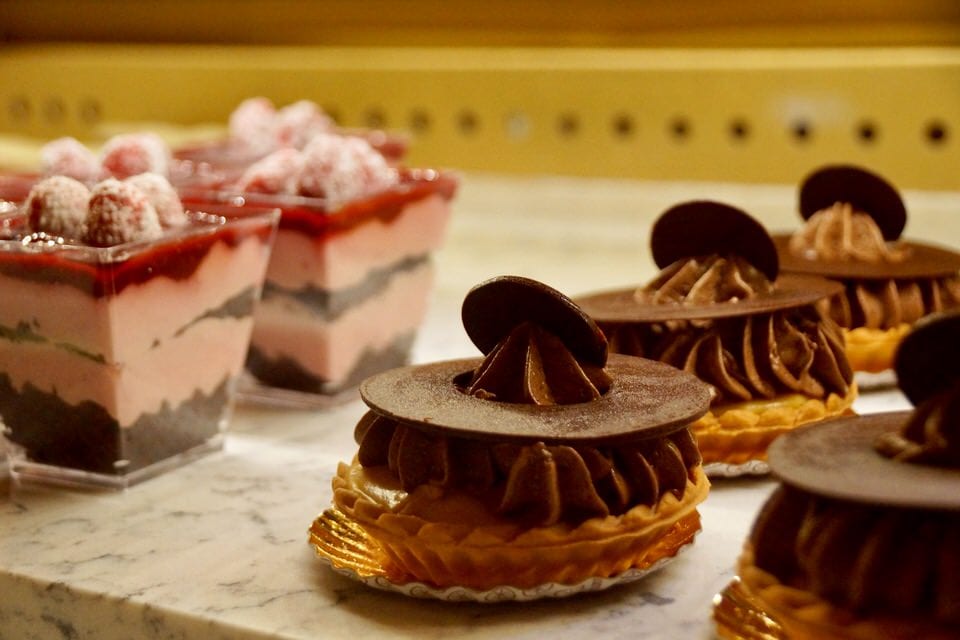 I HAVE to get these babies, Framboise – Raspberry Mousse with Chocolate Cake layered inside and fresh Raspberries on top: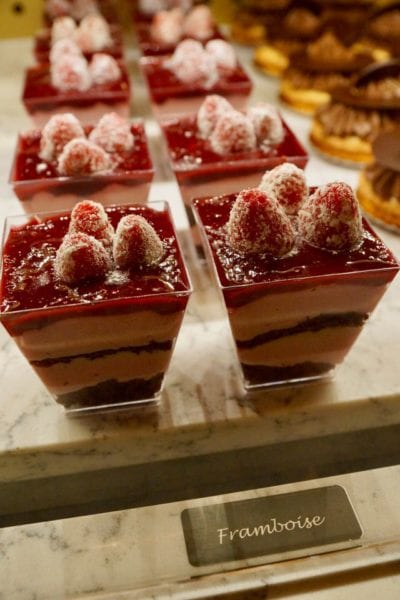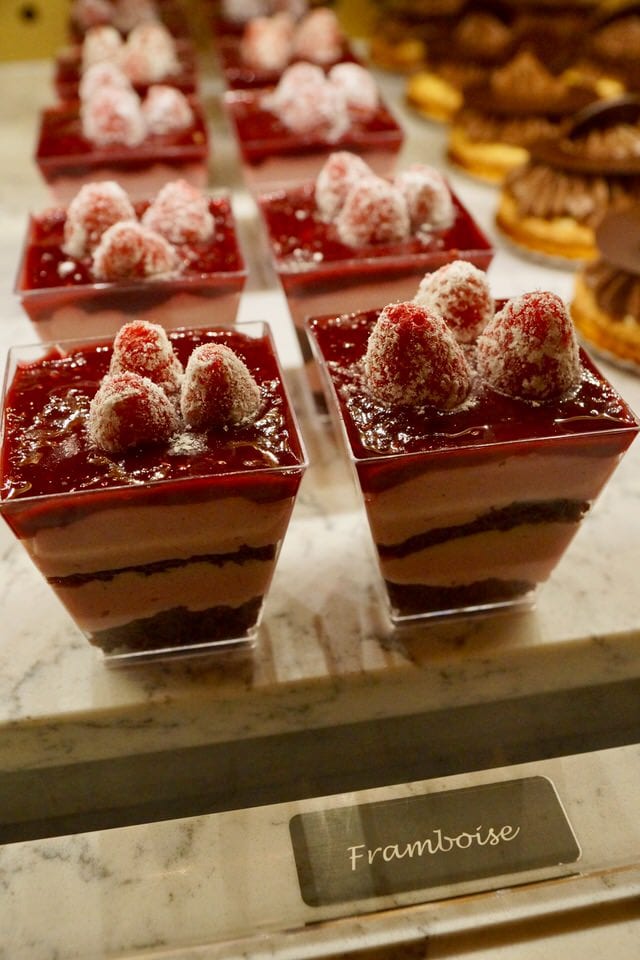 Your classic Napoleon. I'm still partial to the ones they had before Les Halles changed locations or the ones at the Trolley Car Cafe in Hollywood Studios, but these are really good too: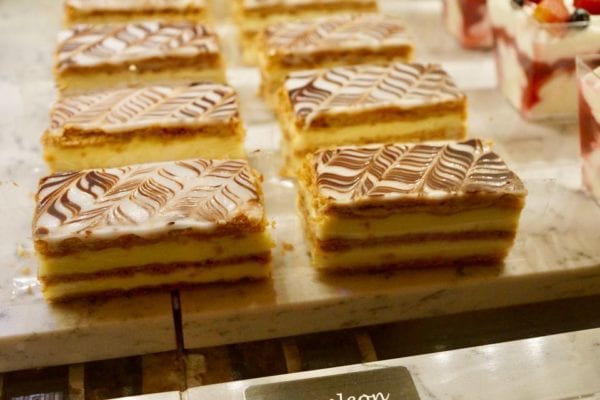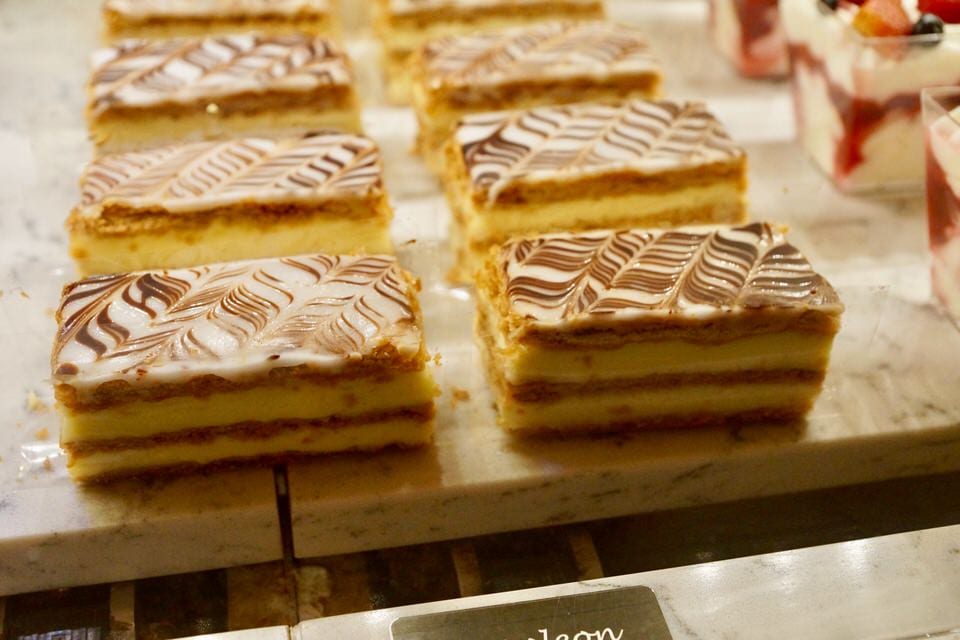 Of course White or Chocolate Eclairs: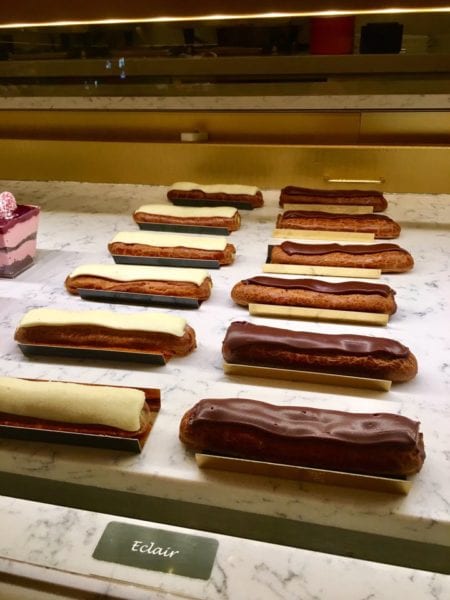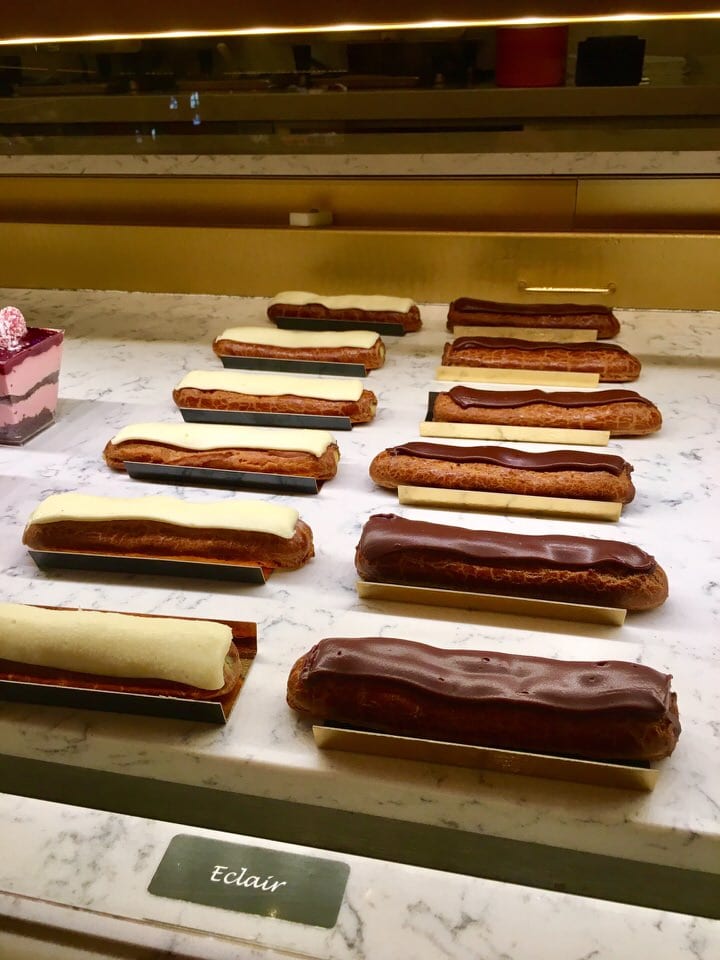 Fraises – Vanilla Cream topped with Strawberries: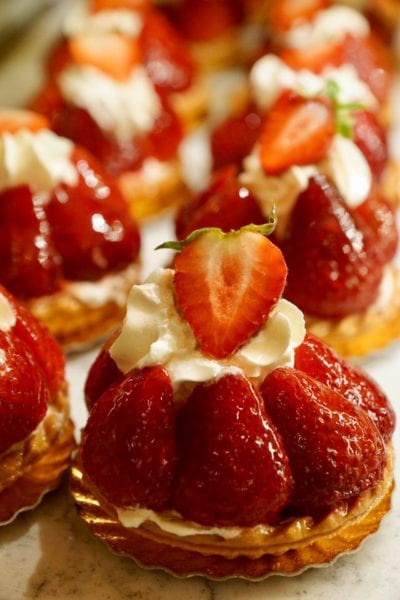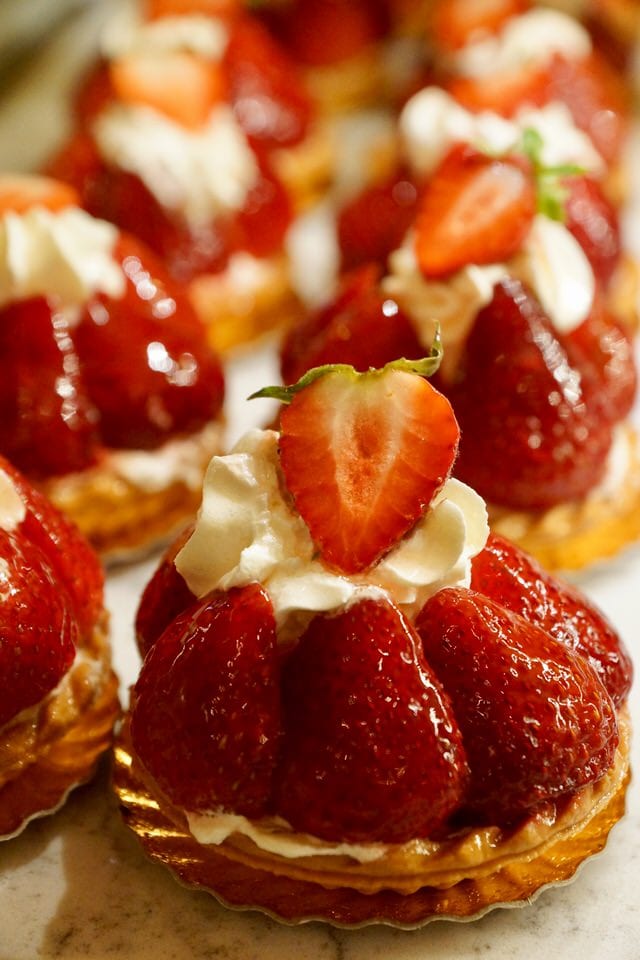 Lastly it wouldn't be a French Bakery is there wasn't freshly baked French Macarons. These come in variety packs so you can get a little bit of everything: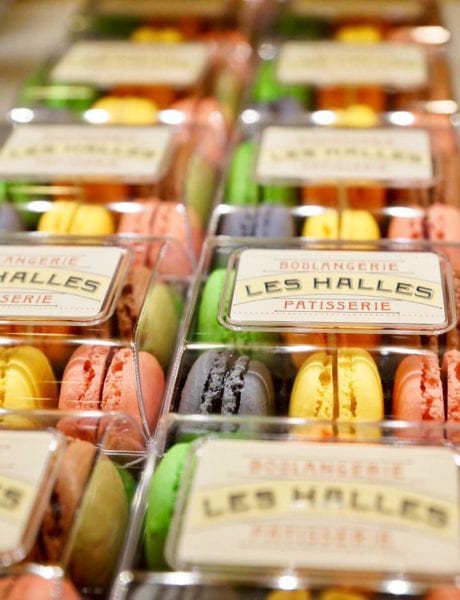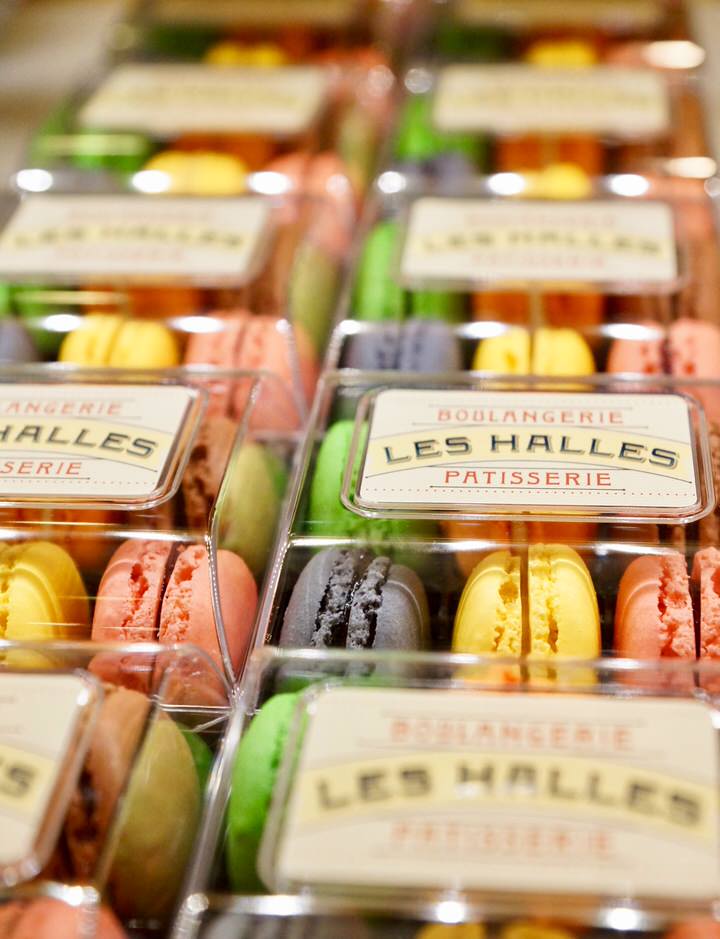 After many hours of deliberation, I've finally made my choices. I'm starting with savory and working my way to sweet.
First up was the Croque Monsieur – toasted ham and cheese in the middle of two slices of bread with more cheese piled on top: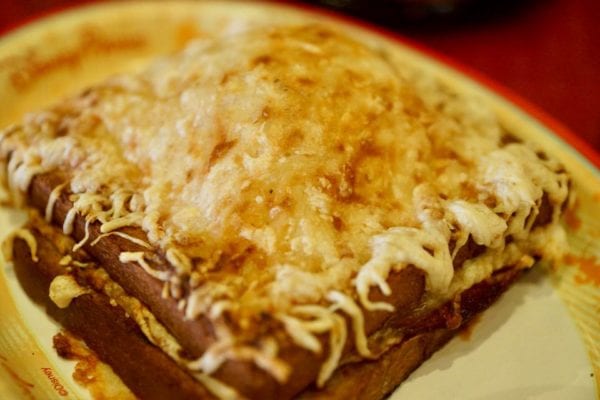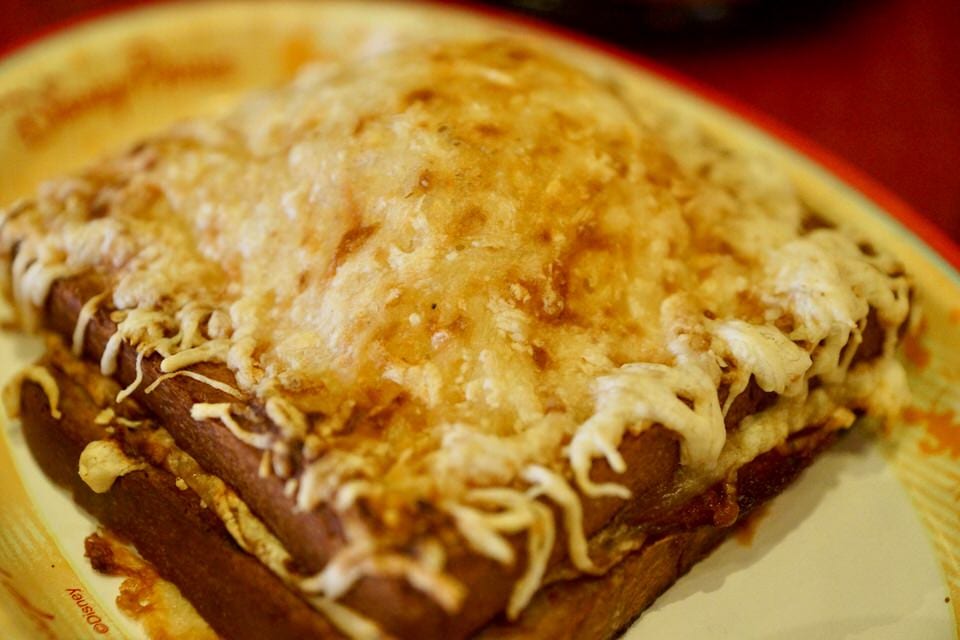 I have to say I liked it a lot, the bread was toasted perfectly, and the cheese was delicious, definitely a French cheese. I wish there was a bit more ham inside as I found only 2 thin slices, but that's the European way, they don't pile their sandwiches up like Americans do.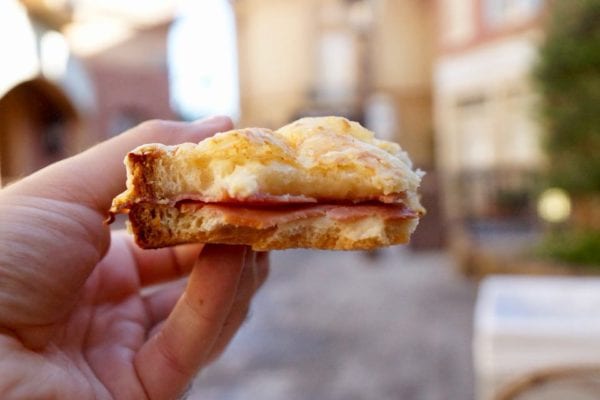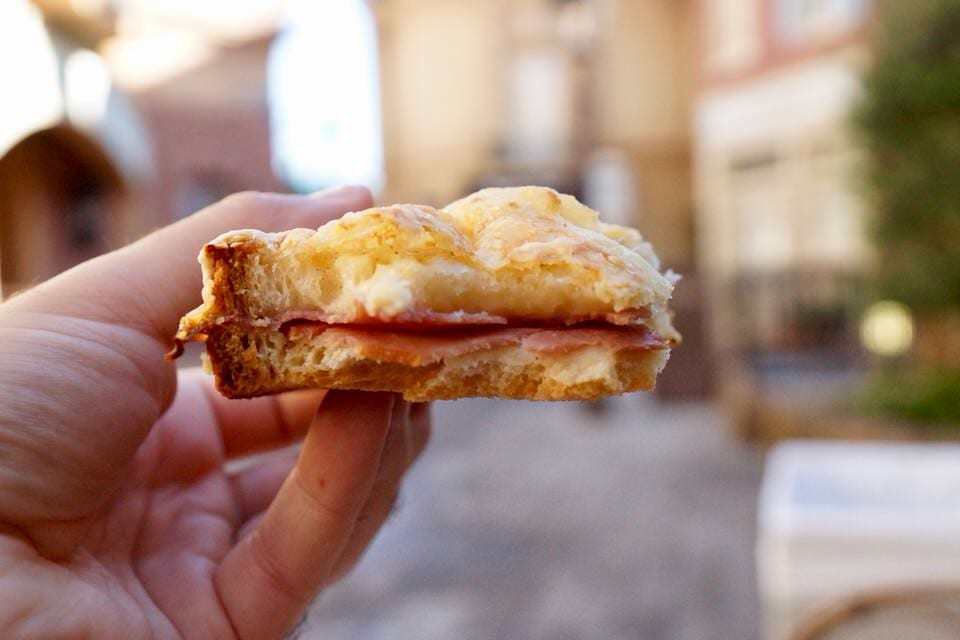 Everything was good but I was shocked when I saw the price on the receipt: $8.75 is a lot for what you get, I'm confused why this was one of the most expensive things on the menu, more than most of the sandwiches. Tastes great just be aware of the price.
Next is one of my ALL-TIME FAVORITE food items in all of Walt Disney World: the Roule aux Fromages (Bacon and Cheese Roll):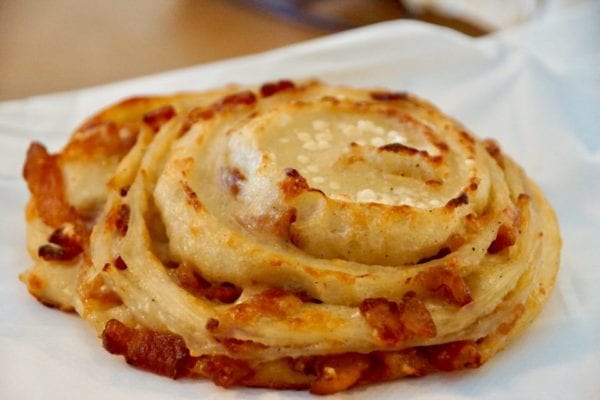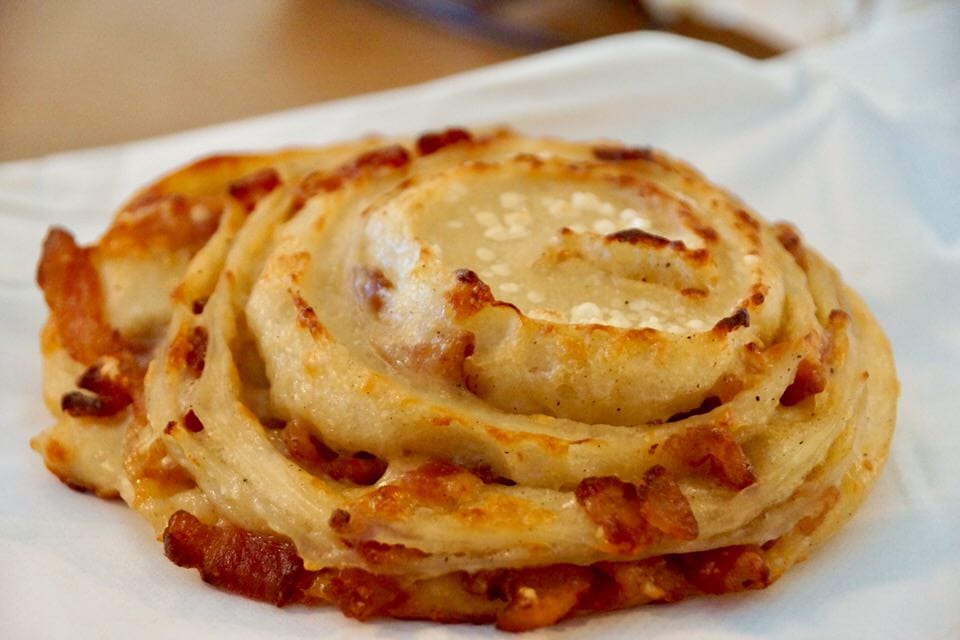 I absolutely LOVE these! I can never make a trip to Epcot without getting one, I need to find a support group or something. the Roule is HUGE and it's stuffed with cheese and bacon all around it: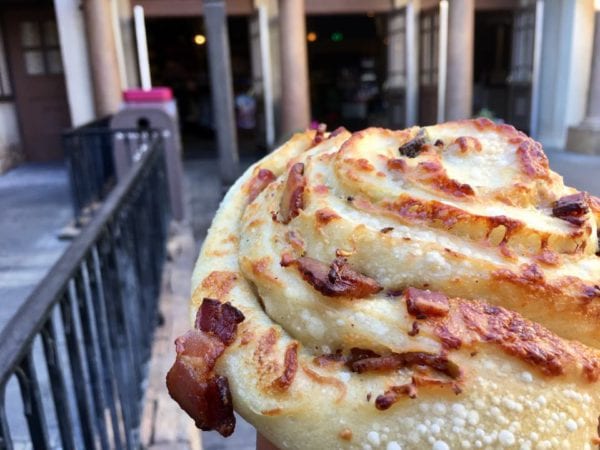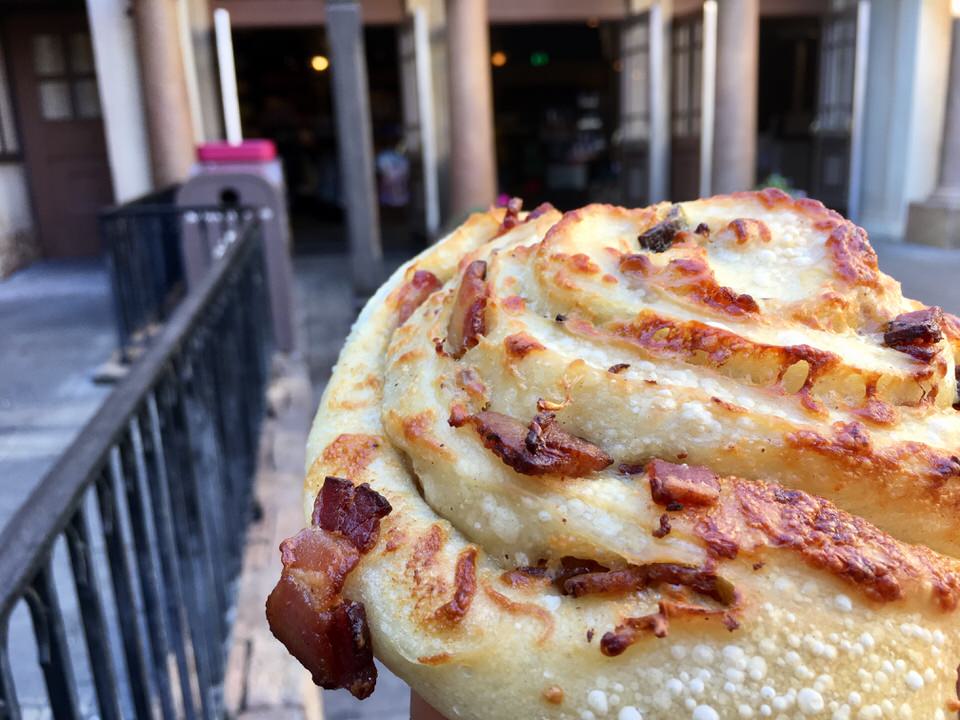 As you break it apart you'll see they spared no expense, putting bacon chunks in between the layers of the bread, and good pieces of bacon too which was nice and tender. The bread itself is soft and chewy. If there's one thing you need to order at Les Halls it's this!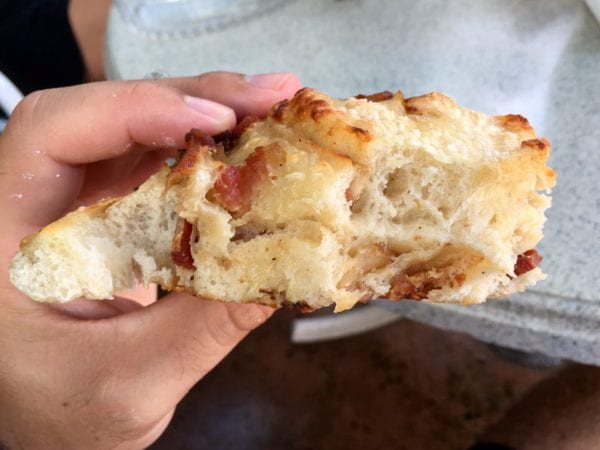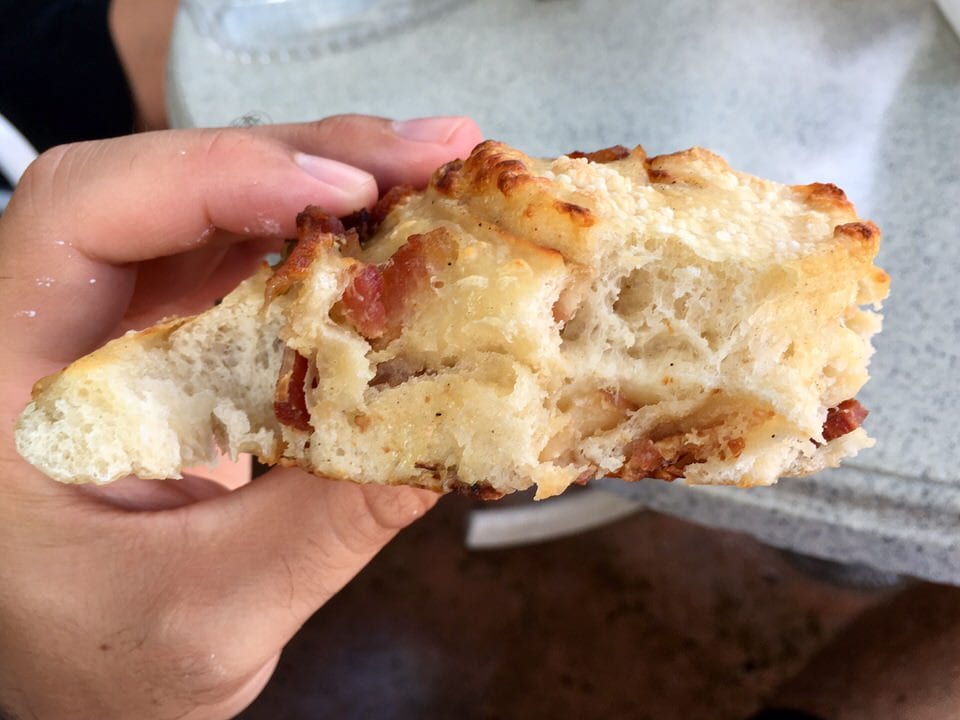 I'm always in the mood for a croissant so I tried the Chocolate Almond Croissant: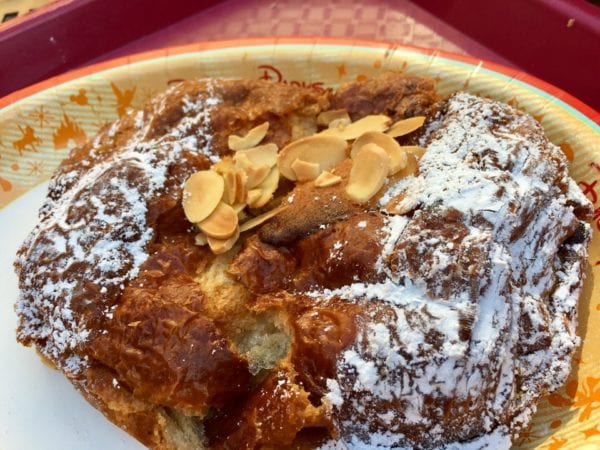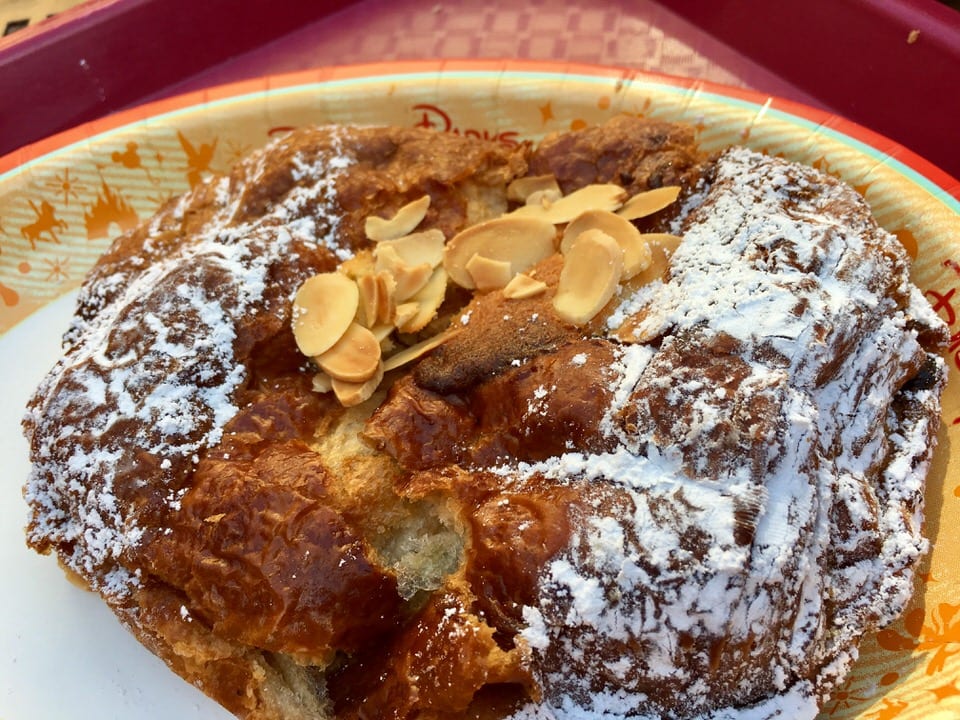 This was really good. The outside was nice and flaky with some toasted almonds on top. Inside was filled with almond paste and streaks of chocolate. Great option if you like these flavors!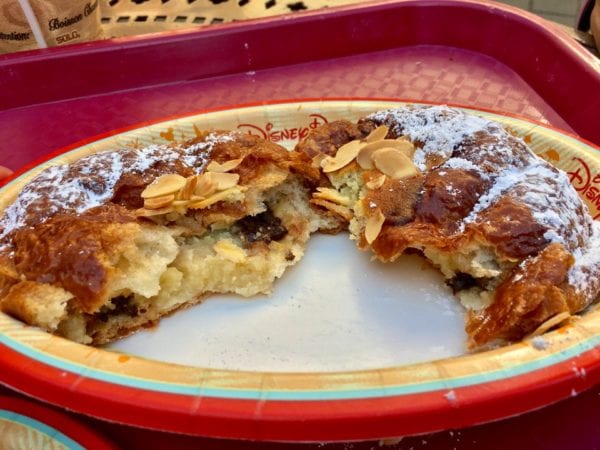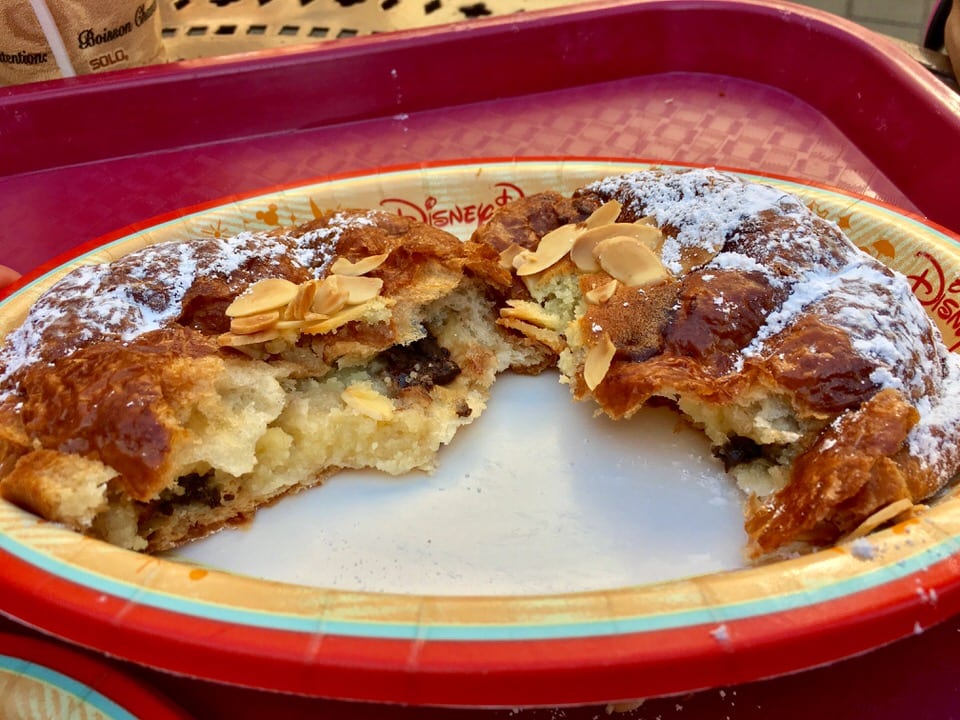 One of the first things that caught my eye when entering into the bakery was the giant Elephant Ears (Palmier) which are covered in cinnamon sugar and dipped in chocolate.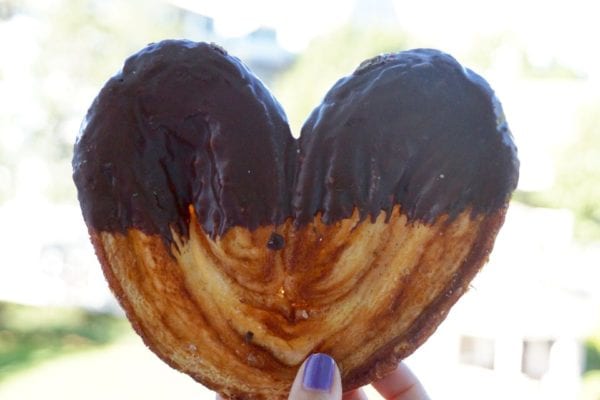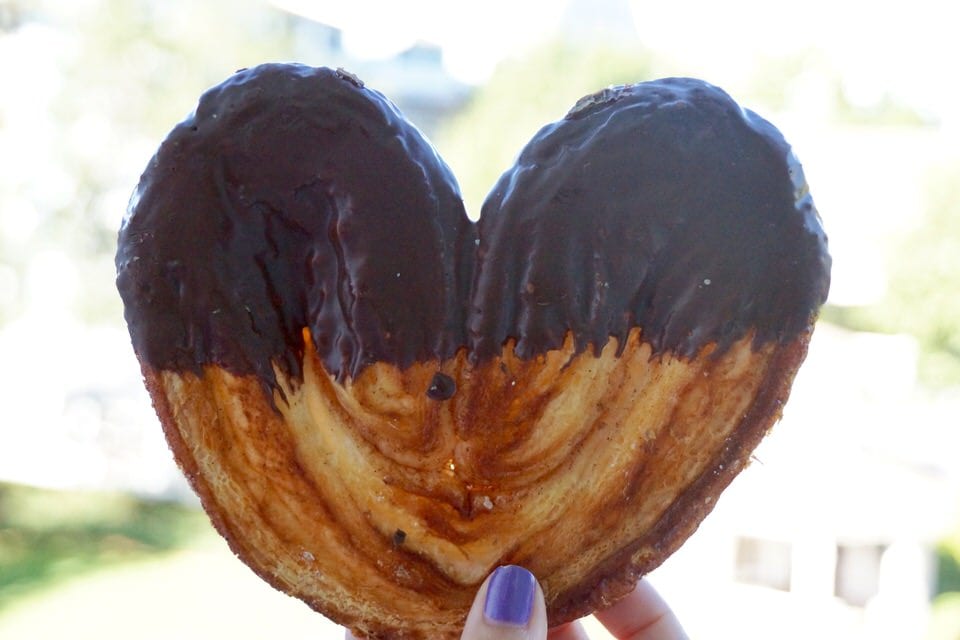 The size is huge and can easily be share by 2 people. I love the cinnamon sugary coating on the pastry and the way it flakes apart. One of my wife's favorites and another winner.
I wasn't sure about the Flan Tart with Cherries at first. I had seen this one many times but honestly it was my first time trying it. I love cherries, but usually flan isn't my go to dessert, maybe it's name or the way it jiggles when you move it freaks me out…idk hahahaha. I gave it a go: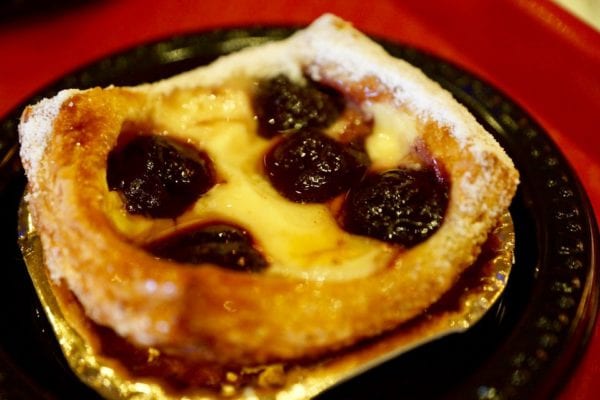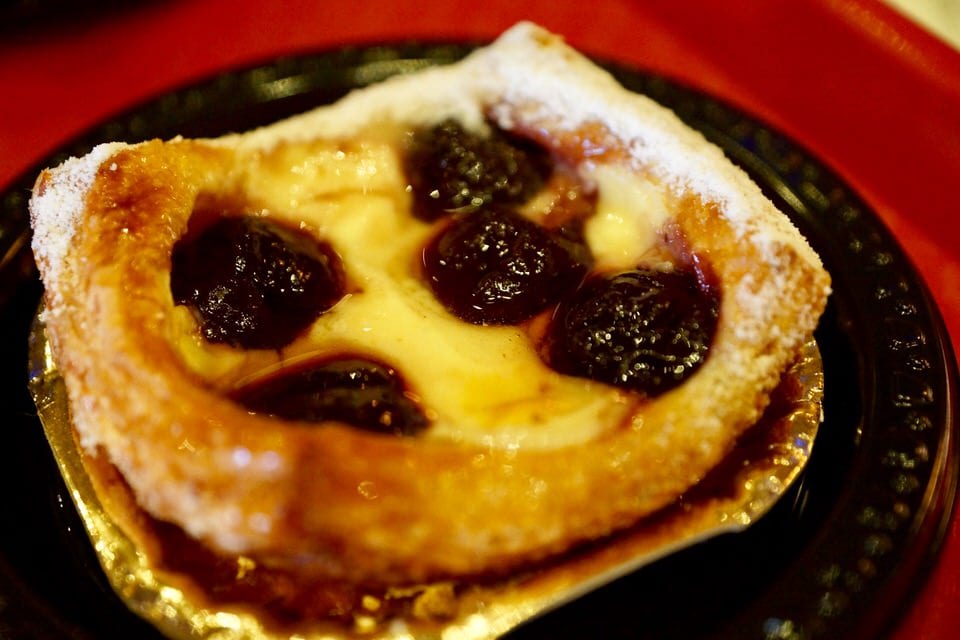 Man could I not have been more wrong about something! It was one of the highlights of the day for me. Loved the texture of the tart itself which was light and not too dense. I found out that I actually like flan too….it's light and had a custardy texture and flavor.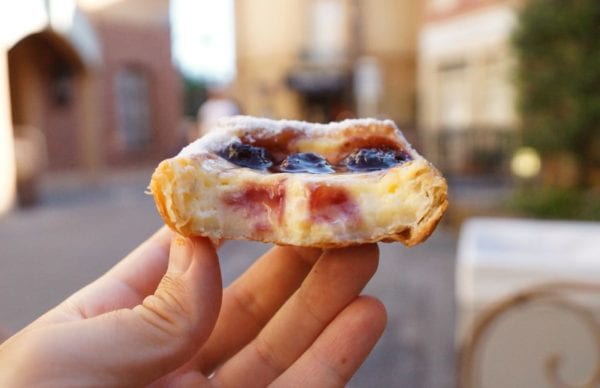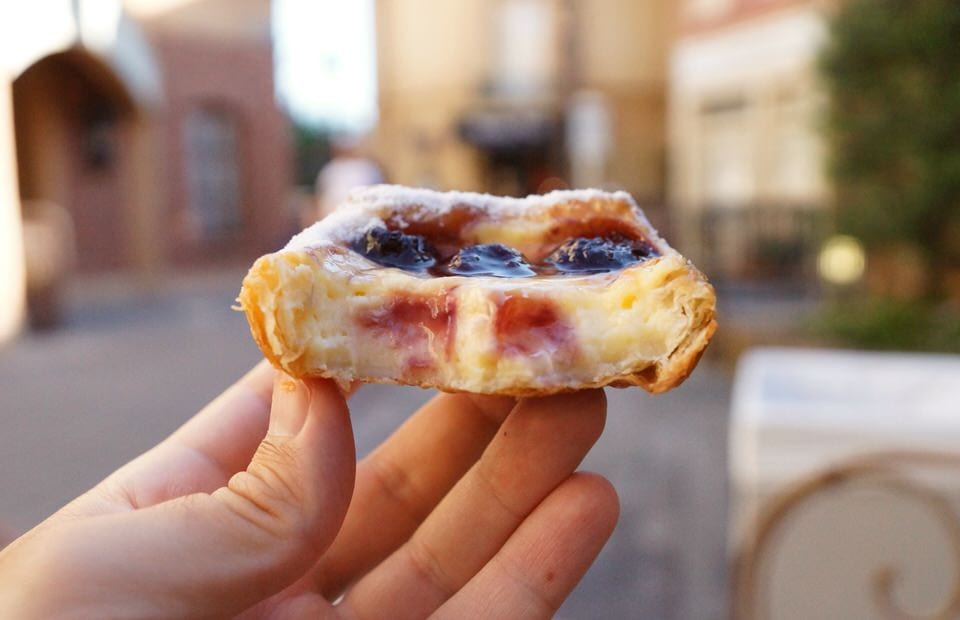 There were big cherries in there too which was an incredible pairing with the flan. Overall a winner and something I'm going to be getting many more times now!
The Lemon Tart was another one that I had never tried before and another one that I discovered I'd been missing out on for many years. It was sooo yummy!! The meringue topping wasn't too hard, but soft and a little like a marshmallow consistency. But it was the inside that won me over. The perfect blend of tart and sweet lemon flavors that reminded me of the lemon pies my grandmother used to make me. If you are a lemon fan this won't let you down!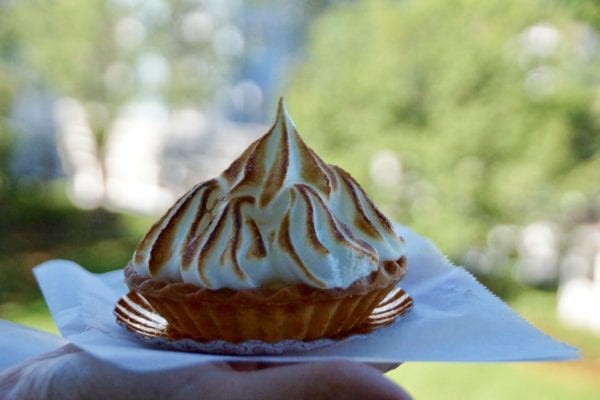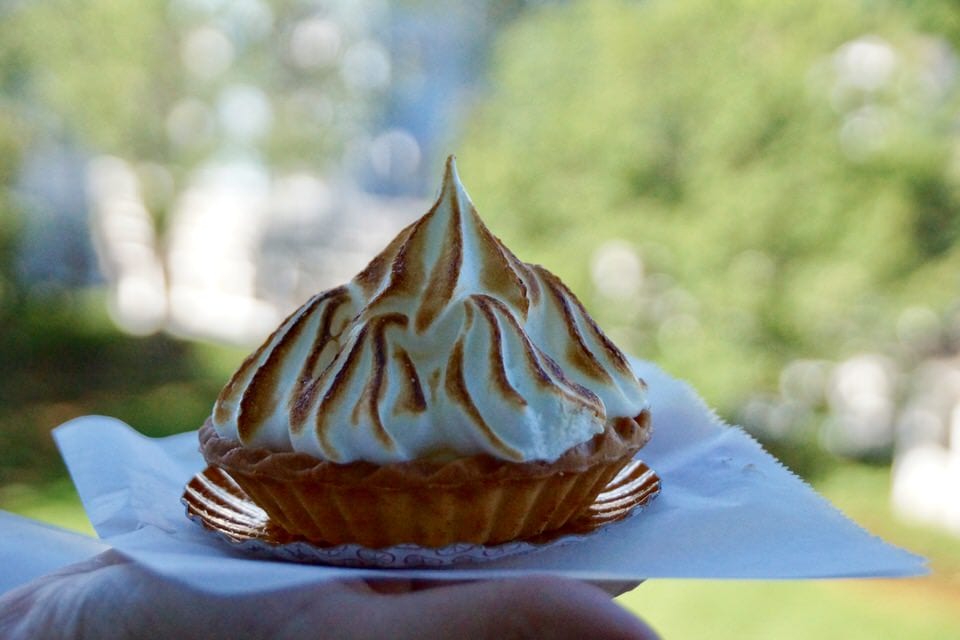 My sugar levels were nearing critical mass by this point but I powered through for you guys. I wasn't leaving without my Framboise – Raspberry Mousse, with Chocolate Cake layers and Raspberries on top: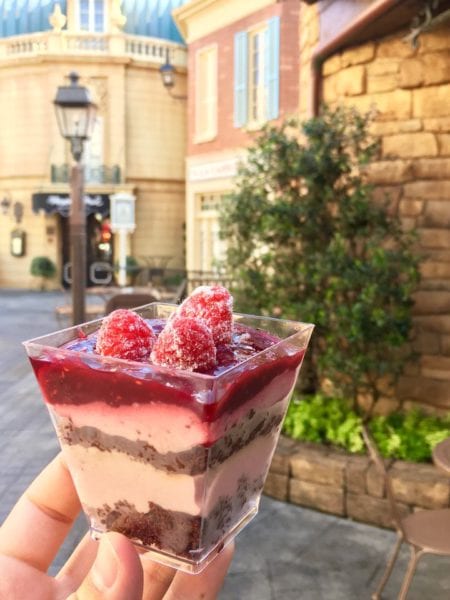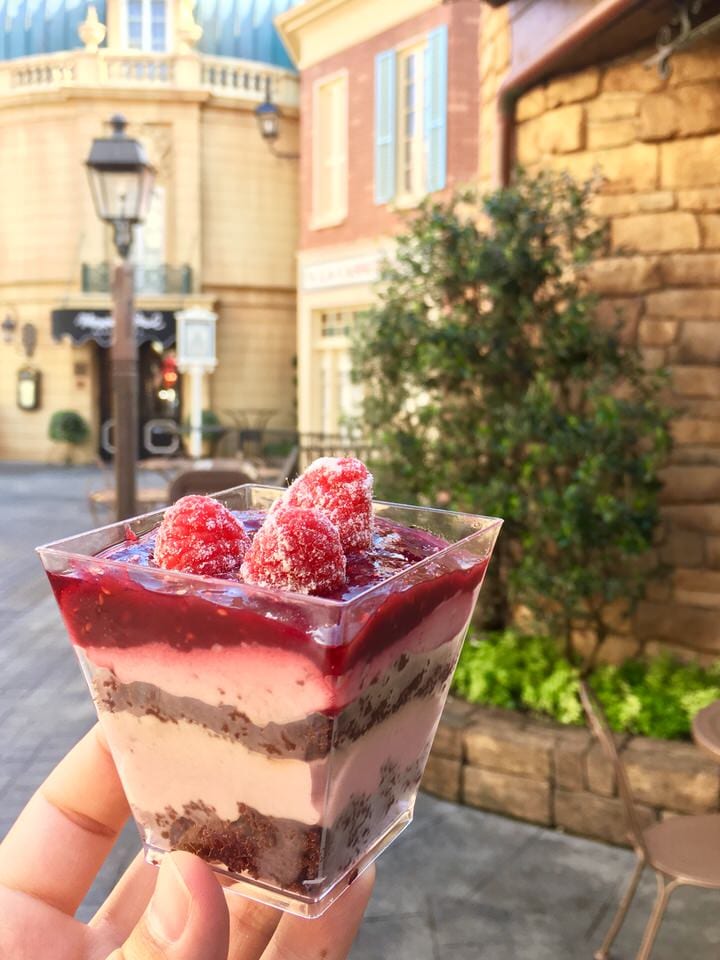 When I say love I mean I LOVE this! For a raspberry lover it's mind-blowing. The raspberry flavor is so intense and rich it's really incredible. The chocolate is nice too as they always go great together and it cuts the sweetness of the raspberries a bit. Look at this and tel you you don't want to try….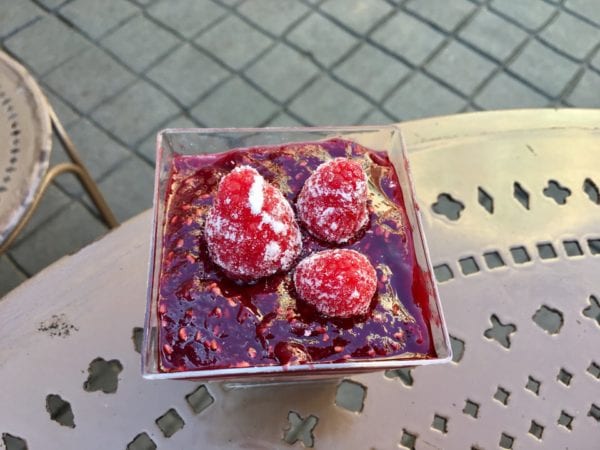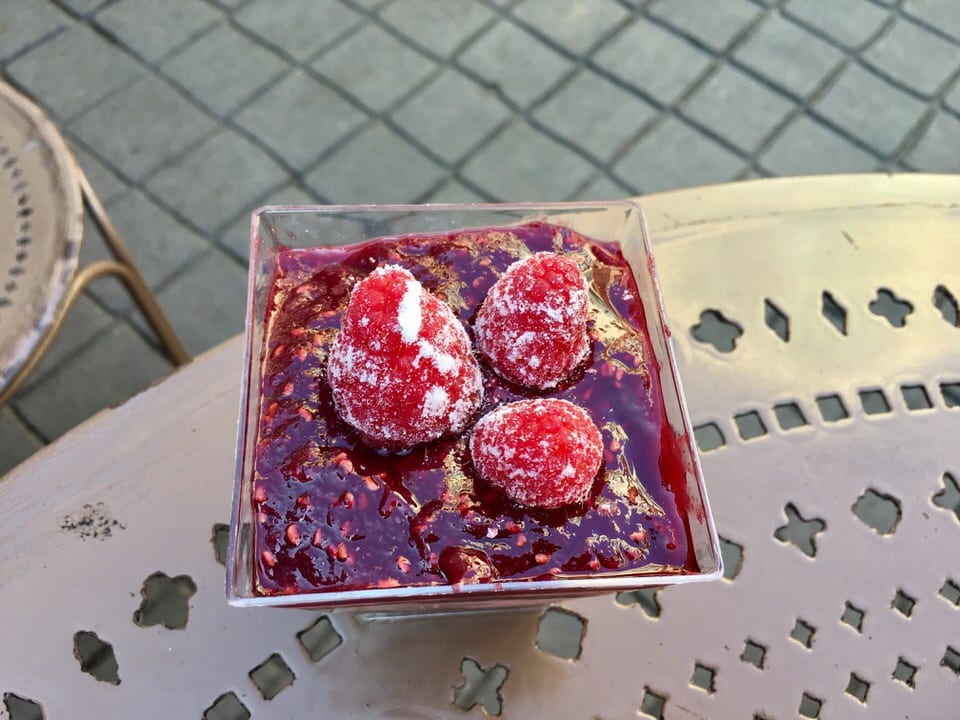 One of my favorite WDW desserts and my #1 at Les Halles, an absolute can't miss!
By this point I had reached my limit so we took the last couple things back to the Yacht and Beach Club pool to enjoy after a swim. I tried next the Frangipane (an Almond Turnover). Wow was this good. I keep saying all the pastries here are flaky, but it's so true, that's why I hold fast that French pastries are the best in the world because you would eat the pastry part without even any fillings because of it's rich buttery flavor!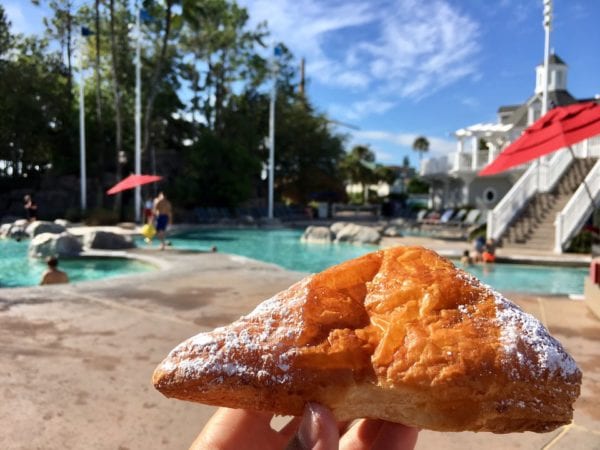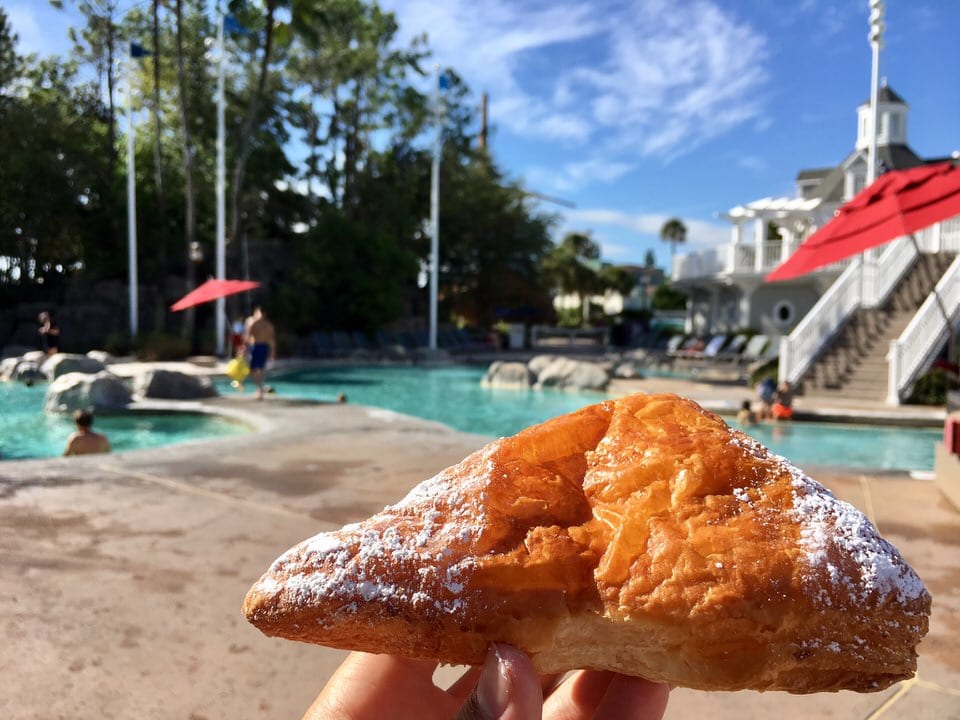 Anyways the Frangipane was incredible and there were no words for the rich almond paste waiting for me on the inside. If I had to choose between this or the Chocolate Almond Croissant from before I would easily choose this because I thought it was a bit lighter and I prefer the the almond flavor without the chocolate as the chocolate can be overpowering. Great choice.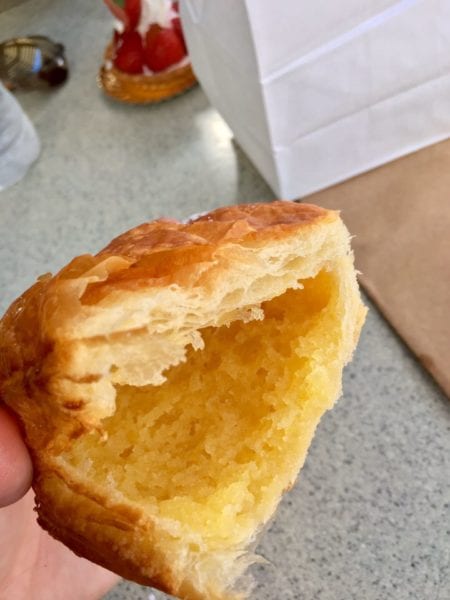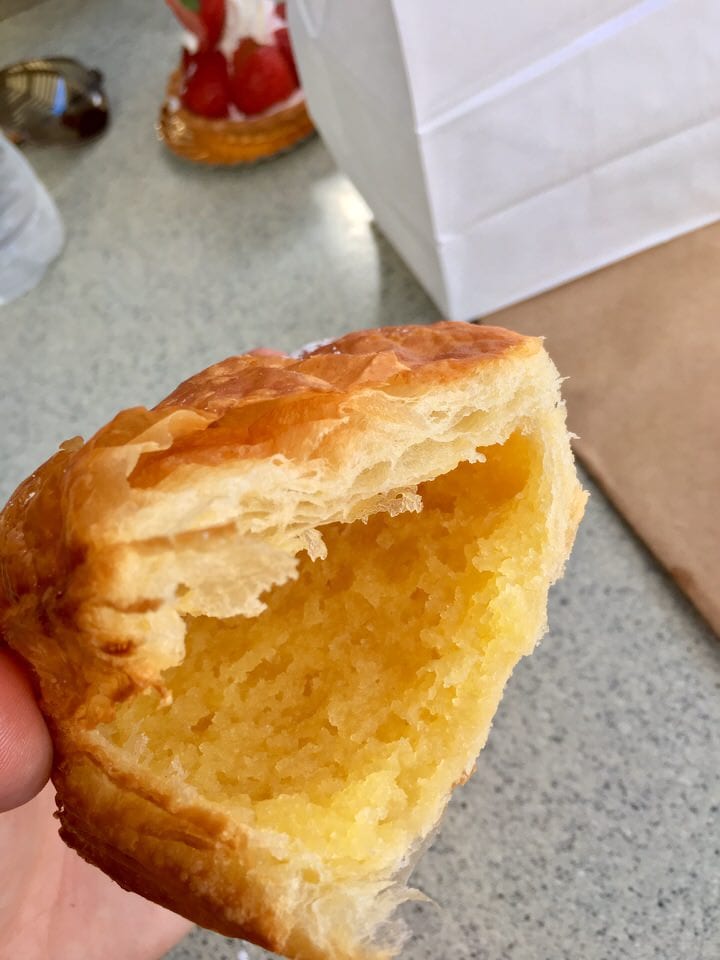 Last up was the Fraises – a Strawberry and Whipped Cream Tart: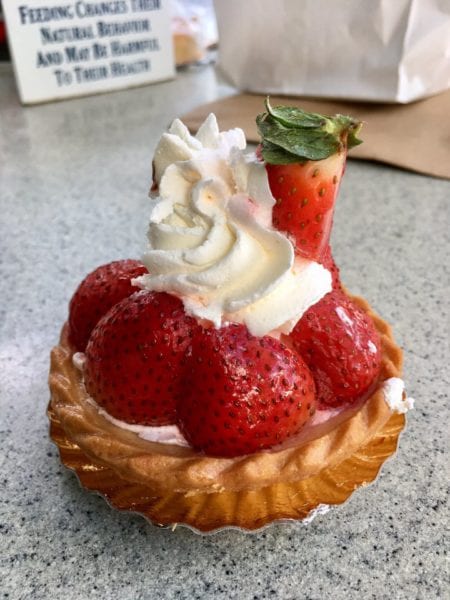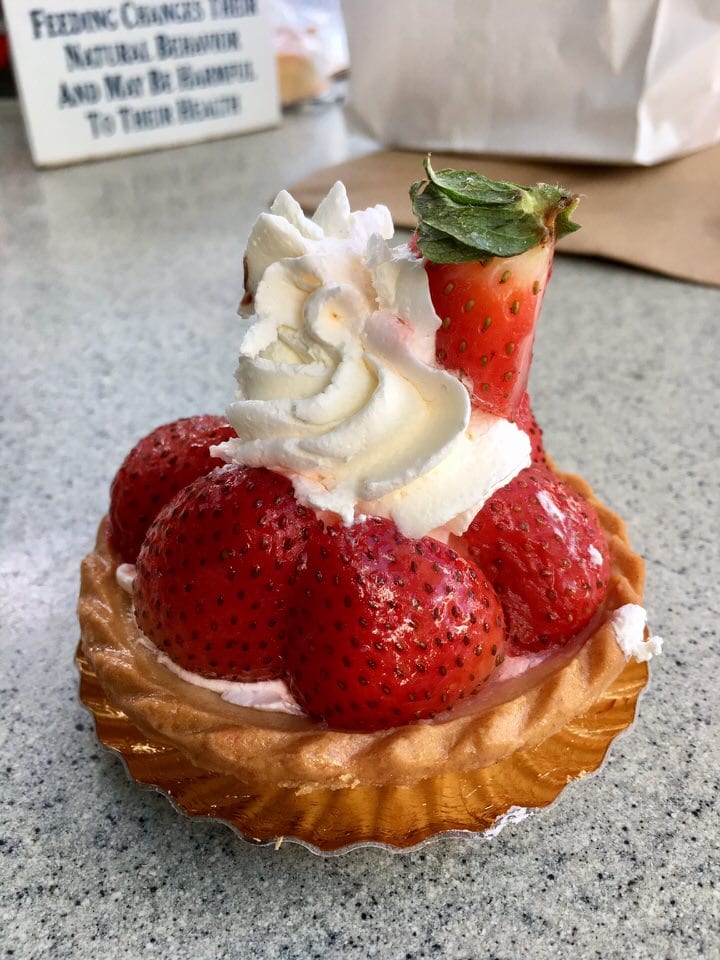 Another home run it was absolutely loaded with whipped cream. The cream itself was very very light, while the tart crust was a bit more dense than some of the others we tasted. They didn't skimp on the strawberries either which were nice and ripe. Another good choice.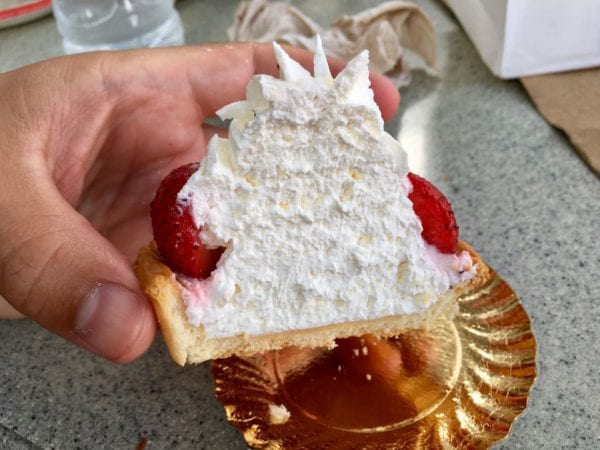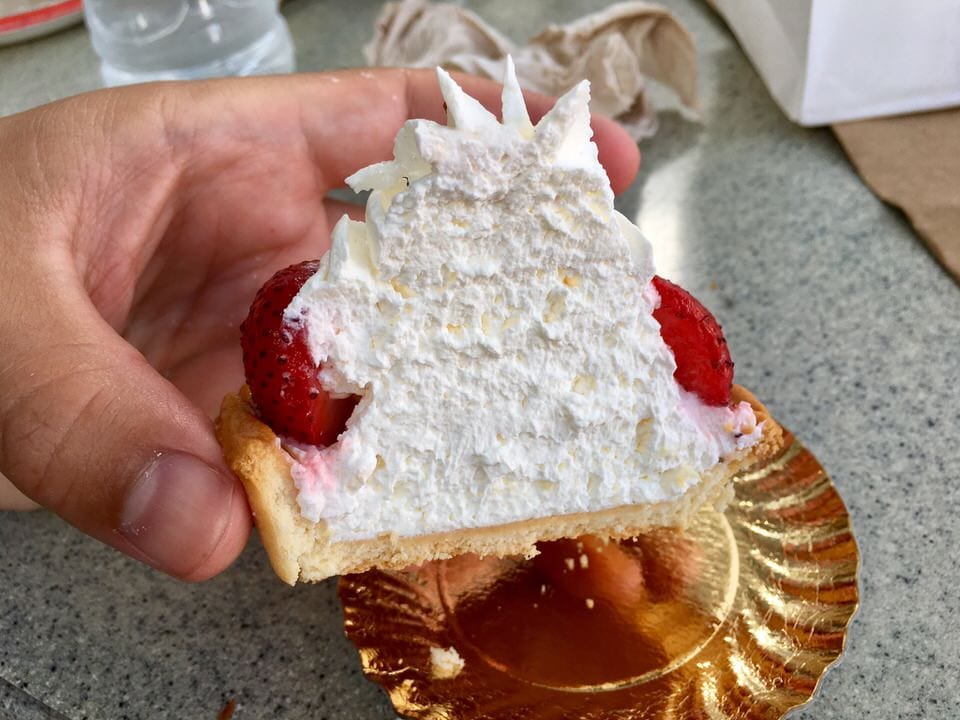 Summary:
Basically if you like bakeries Les Halles Boulangerie Pattisserie is your mecca. Everything about this place is amazing. The location being in the France pavilion immediately makes you feel transported to a little back alley somewhere in Paris. Then whether it's savory items you're looking for at lunchtime, or a sweet snack like a pastry or mousse, you absolutely will find something you love. This is the #1 Walt Disney World Bakery hands down, and it isn't close.
For savory items the Bacon and Cheese Roll is an absolute MUST TRY, it will literally blow your mind! You can't go wrong with any of the Soups or Sandwiches either, I would get something on one of their French Baguettes, they are irresistible.
For sweets there are literally dozens of options to choose from. Any of the Croissants a amazing as the dough is rich and flaky, the Frangipane is not to be missed. The Tarts and Mousses are to die for as well so it really just depends what mood you are in. I'm partial to the Framboise, it's my #1, but the Flan Tart, Lemon Tart, Chocolate Mousse and Napoleon are all excellent choices. It's as easy as closing you eyes and pointing, you won't be disappointed!
Every trip to Epcot needs to have Les Halles Boulangerie Patisserie in it and it's a place you will come back to time and time again until you try everything…then come back and get it all again!
Les Halles Boulangerie Patisserie is a is Open from 9:00 am to Park Closing Daily. The Disney Dining Plan is also accepted, and you can use Snack Credits or Quick Service Credits depending on what you order. There are no reservations.
Click here for the Les Halles Boulangerie Patisserie Menu.
I love to write Restaurant Reviews of Walt Disney World and I hope you found this one to be informative and helpful. If you liked this review then please visit my Disney Dining Reviews Page where I have many other Restaurant Reviews. I'm happy sharing with you what I love doing best…eating! ? I try to bring you the most thorough and unbiased reviews about the food and restaurants at Walt Disney World, so that as you are planning your vacation, you know the "can't be missed" places, and where you shouldn't waste your time. Hope you enjoyed this one and will enjoy many others in the future!!
Your Thoughts:
I want to know what you think about my Les Halles Boulangerie Patisserie Review and what your experiences are there. What's your favorite thing to order at Les Halles Boulangerie Patisserie Bakery? Where does it rank on the list of WDW Bakeries for you? Let us know in the comments section below!
If you enjoyed this article, as always I appreciate it if you'd share it with others via social media. I work hard at making this website into a useful resource for you and your family to plan your visit to Walt Disney World, and I hope it can help you! Thanks 🙂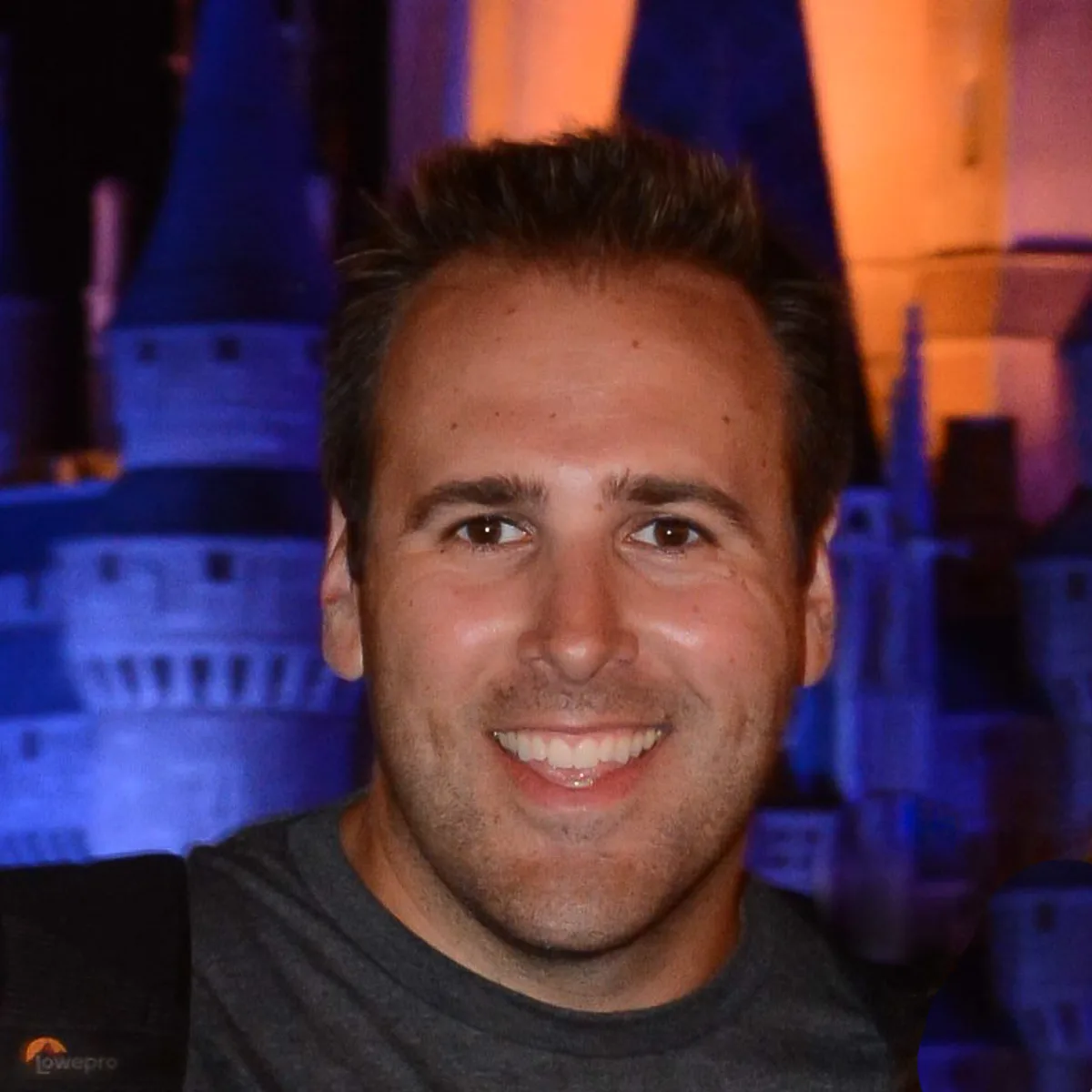 My name is Ziggy and I love Disney, everything Disney! I grew up on Disney and it has and continues to be a huge part of my life. I started young when my parents took me to Disney World when I was 18 months old. Little did they know that would be the first of an uncountable number of trips we would take. I have so many amazing memories going to Disney with my family and friends and it has been interwoven into my DNA.