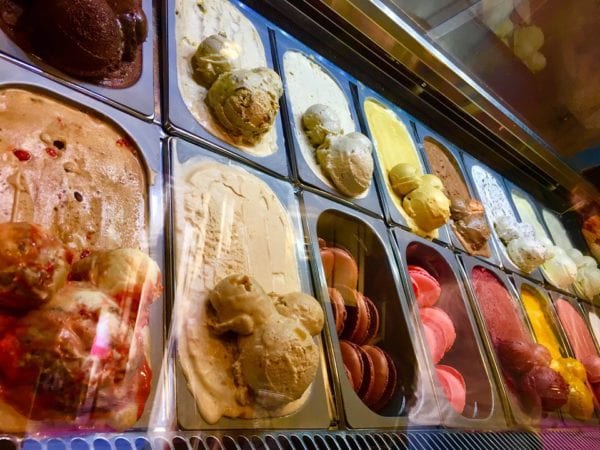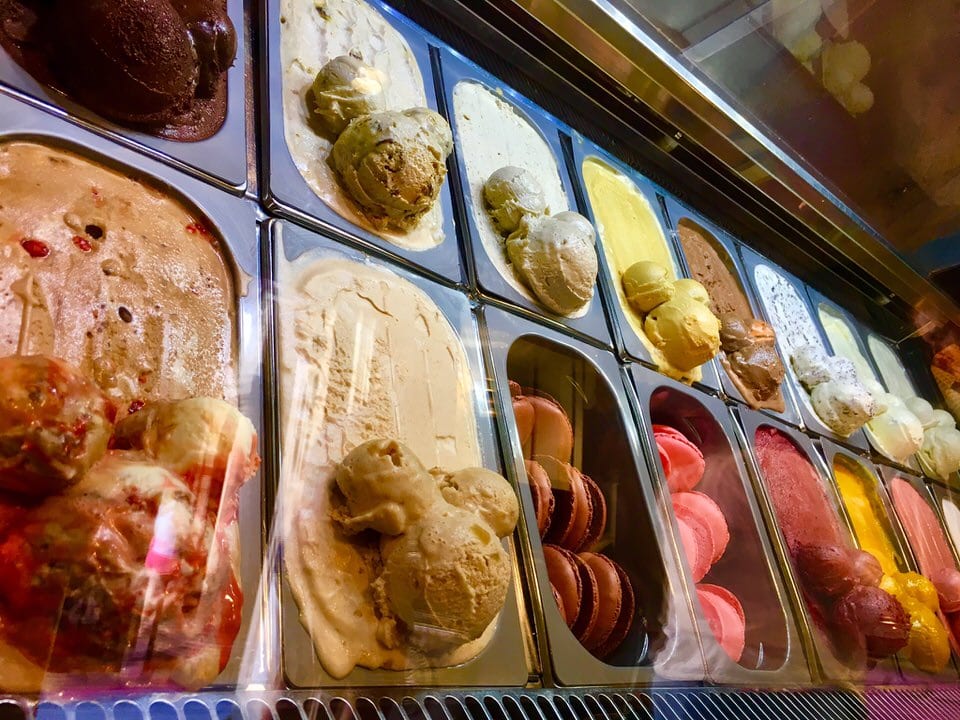 L'Artisan des Glaces is one of my absolute favorite spots in Epcot's World Showcase and is the best place to go if you are there and in search of Ice Cream. They have a great variety with 16 house-made flavors of Ice Cream and Sorbet, and also some other specialty treats including both Macaron and Brioche Ice Cream Sandwiches (more on those later). It's in the France pavilion and if it's been a long time since you've been to Epcot, then you'll notice that it's in the spot where the Boulangerie Patisserie used to be before it moved to its current location.
They do participate in the Disney Dining Plan using Snack credits, and you can get a 1-scoop Cone or Cup, but most of the good stuff isn't available as a snack credit. They also do NOT participate in Tables in Wonderland or give any extra discounts for annual pass holders.
So why do we love L'Aristan des Glaces? Let me count the ways….
Atmosphere:
Let me start by saying France is my absolute favorite pavilion in World Showcase. I think it's the best (with Japan coming in a close second) and L'Artisan des Glaces makes up a big part of that. I know it's really cliche: Paris, romance, blah blah blah, but I just can't help myself ok? I just love the atmosphere with the Parisian Bistro Chef's de France in the front, and being able to watch passers by. I love the fountain with its immaculately cured flowers always surrounding it. Isn't it beautiful?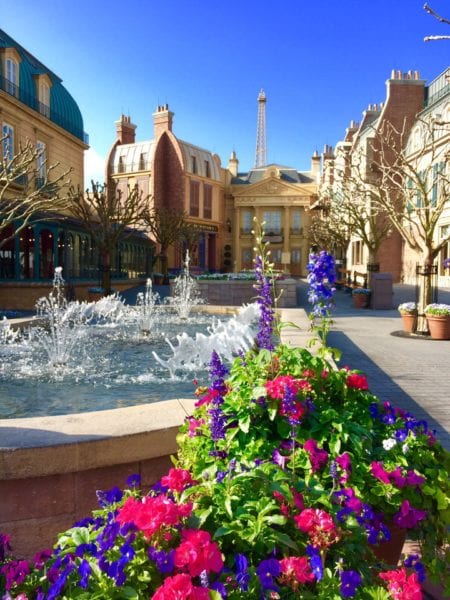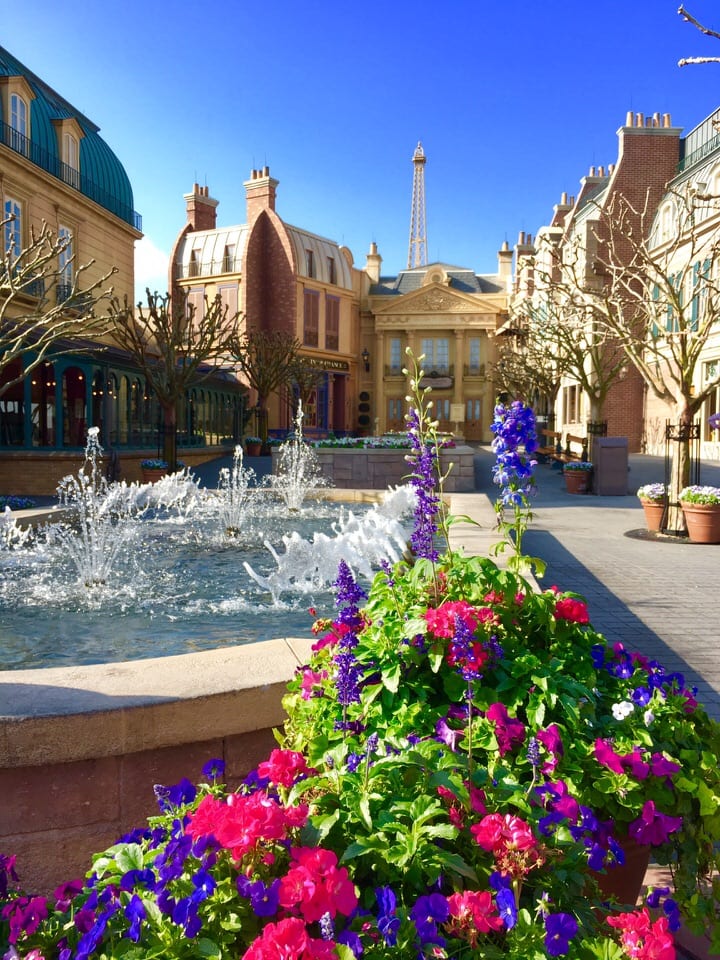 And then when you walk to the back of the pavilion I love how it's like stepping into a back alley somewhere in Paris. The only thing missing are the giant rats, yeah Disney made the movie Ratatouille for a reason.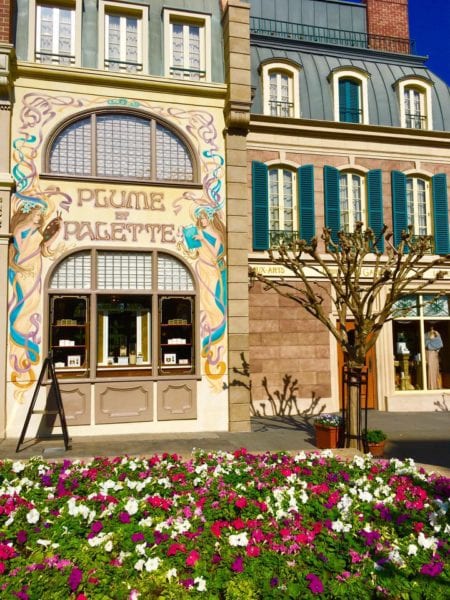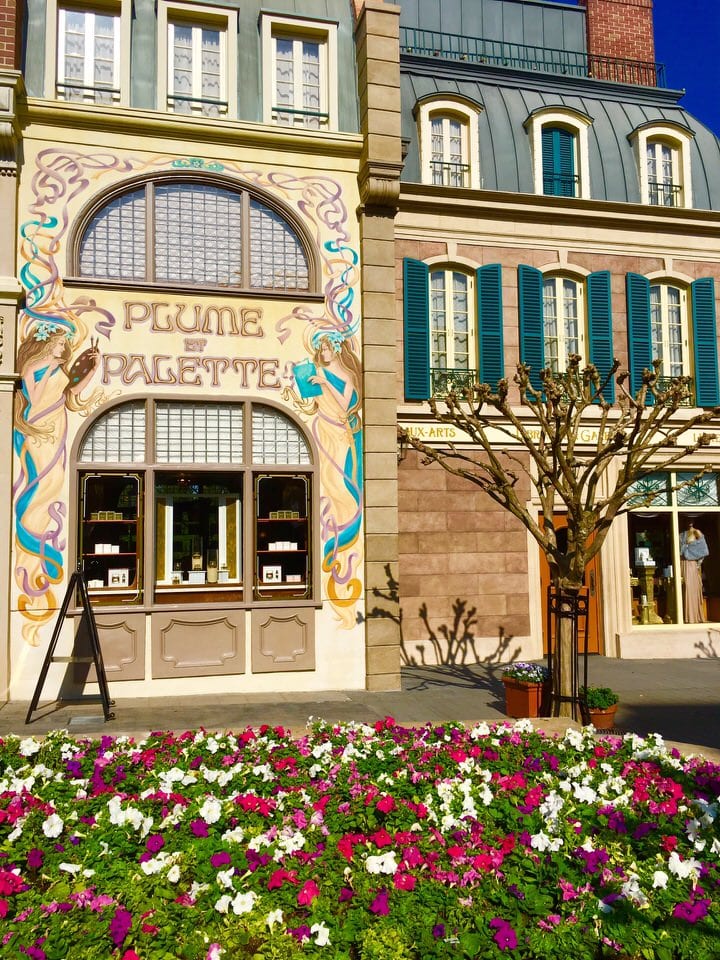 When you arrive in the alley you're immediately met with L'Artisan des Glaces. The windows will strike you and make you start to crave ice cream: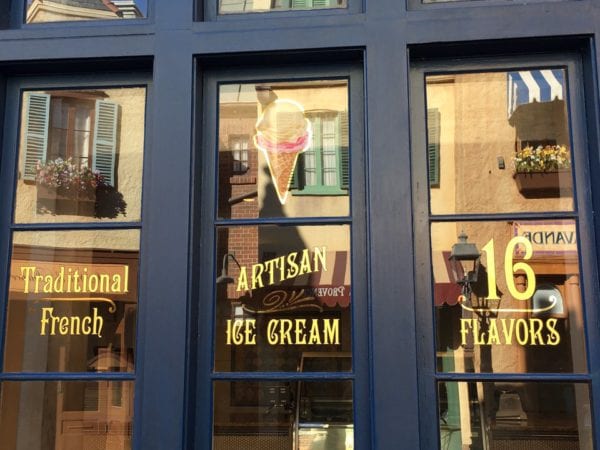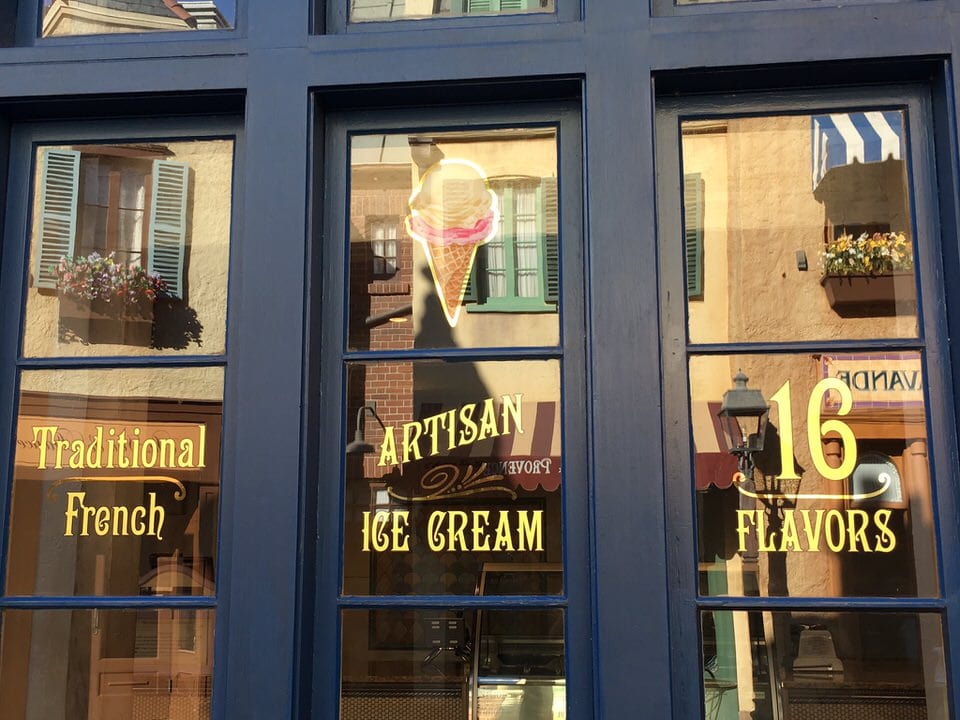 The smell of waffle cones cooking is drawing me in like a moth to a flame. I need to go in now: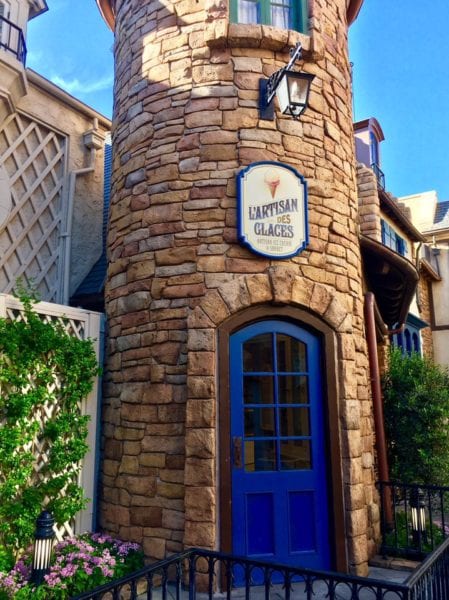 As you enter through the entrance you'll see the ordering counter ahead: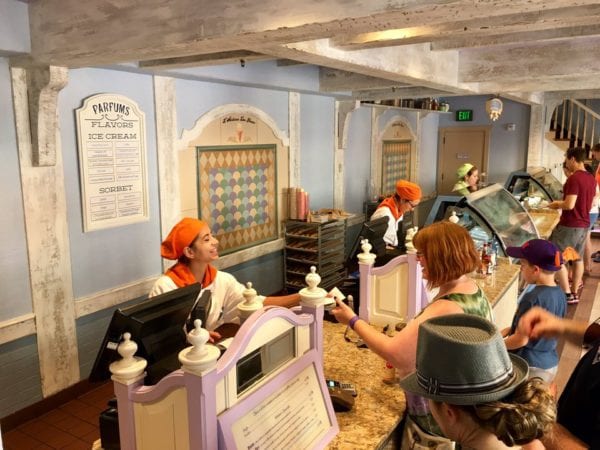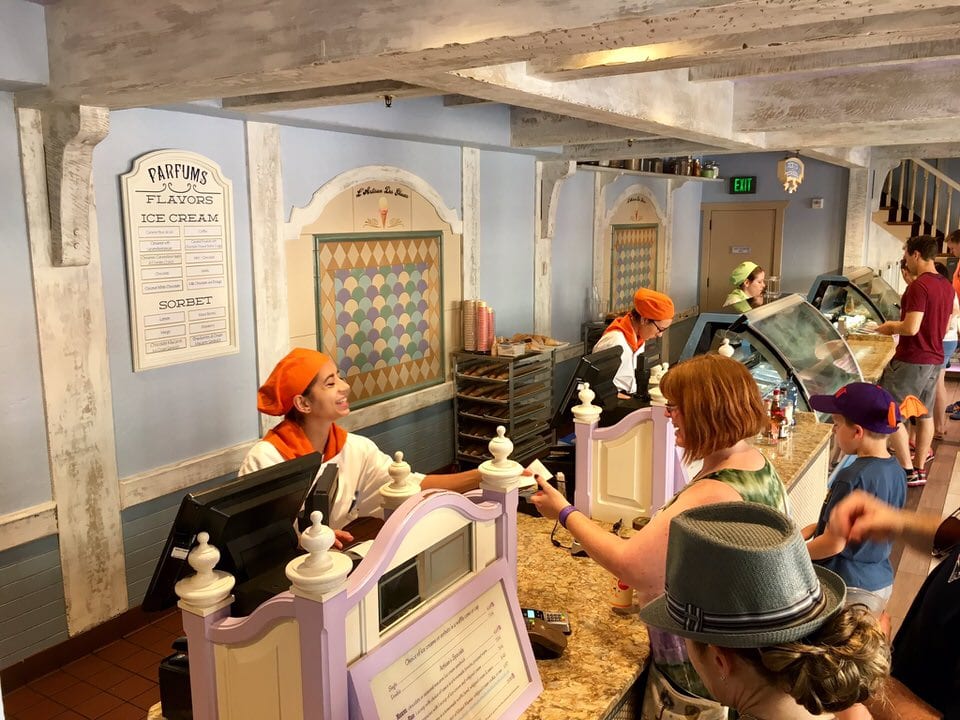 If it's at all a busy day in Epcot there will be a line, but it moves quite fast.
As I mentioned before L'Artisan des Glaces offers 16 flavors of ice cream and sorbets made in house. A couple of them rotate seasonally so depending on when you go you will find a couple changes but many of the flavors will be the same.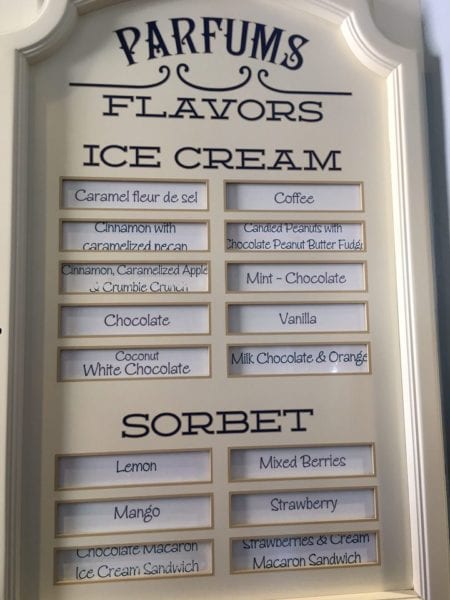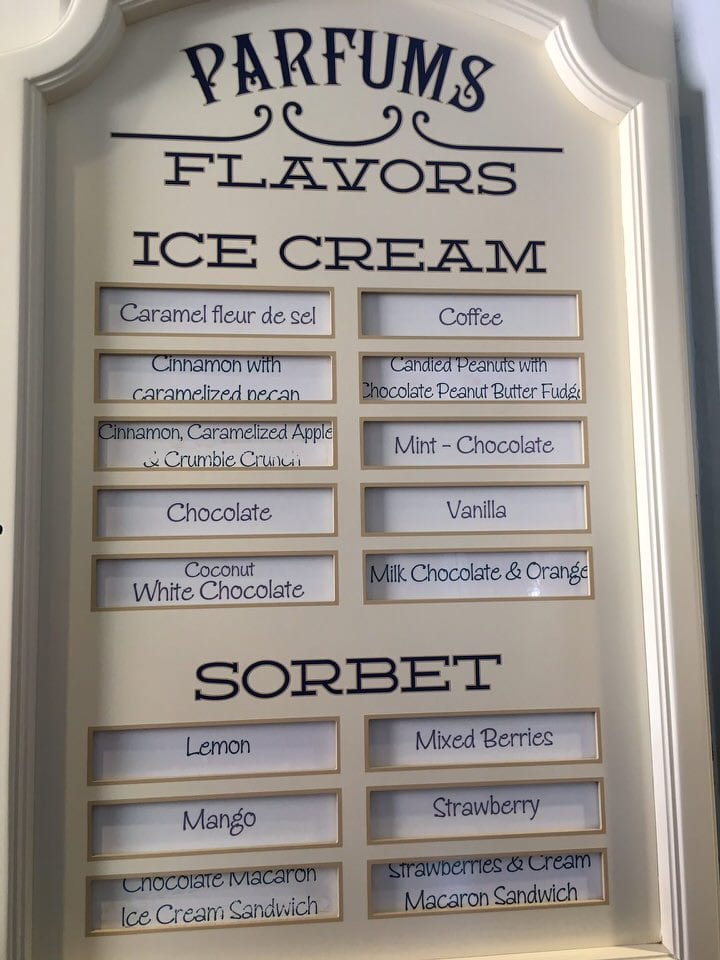 I don't want to read them on a list though, let's see what they look like up close and personal: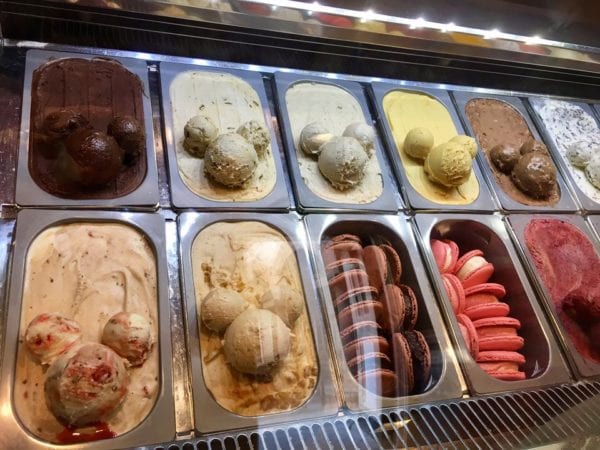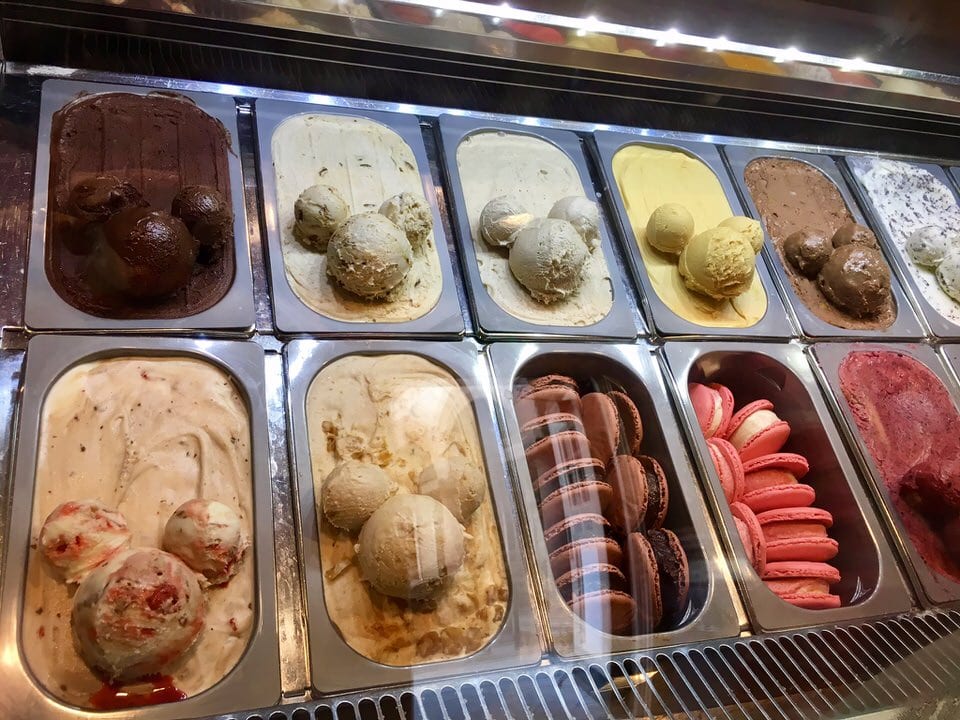 They all look sooo good. And the Mickey heads on the ice cream are the cutest thing ever!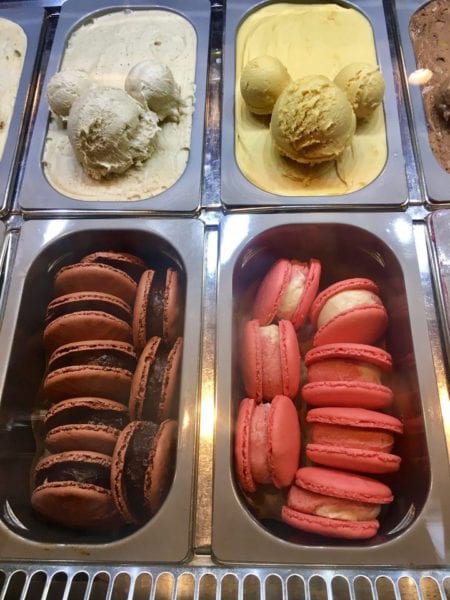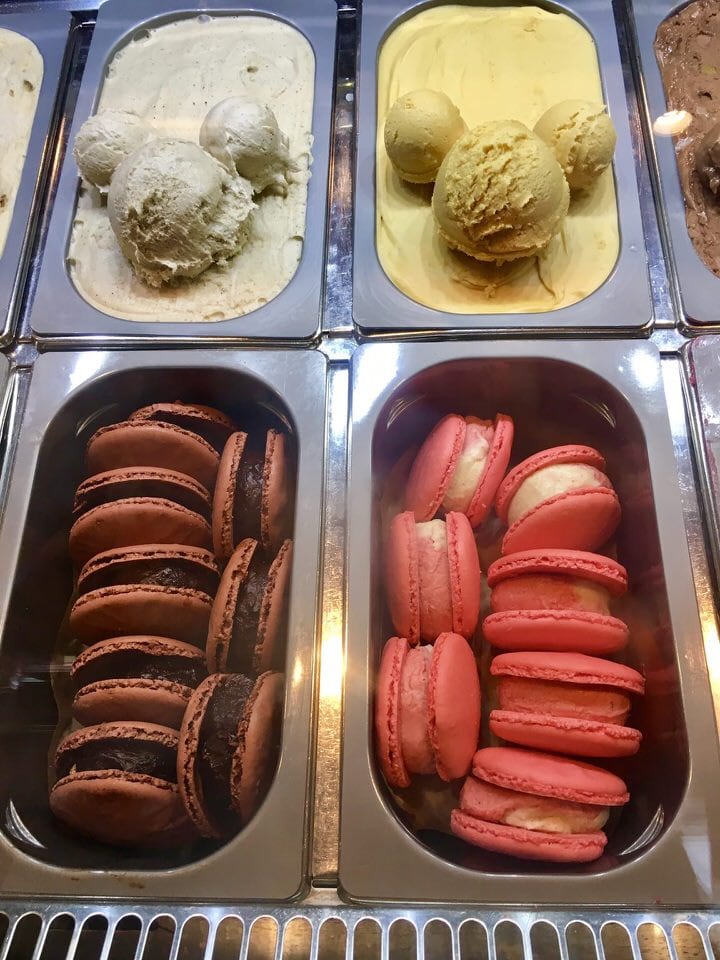 Yes those are Macaron Ice Cream Sandwiches. I don't know if those are a real thing in France, and I honestly don't care, it's the best idea ever!!
One of the cool things about L'Artisan des Glaces is that they make their own Waffle Cones or Waffle Bowls for the Sundaes in house, and you can even watch them do it!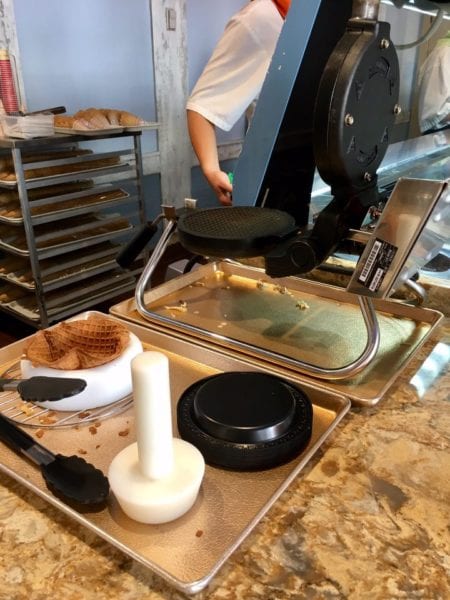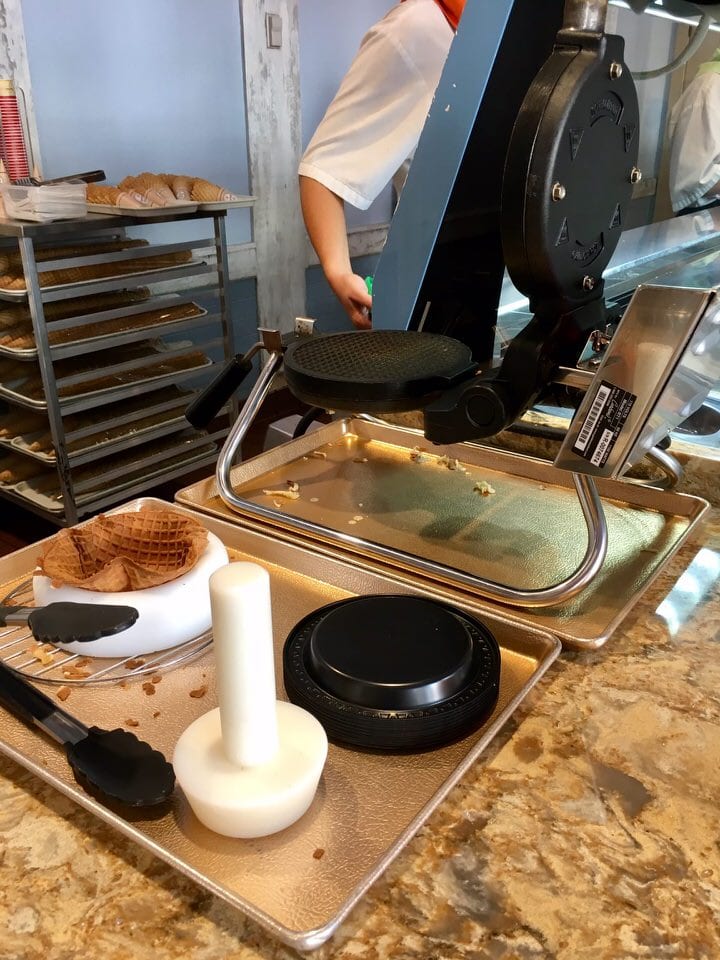 They start by putting the waffle mix into the press and leave it until it's ready to be flipped: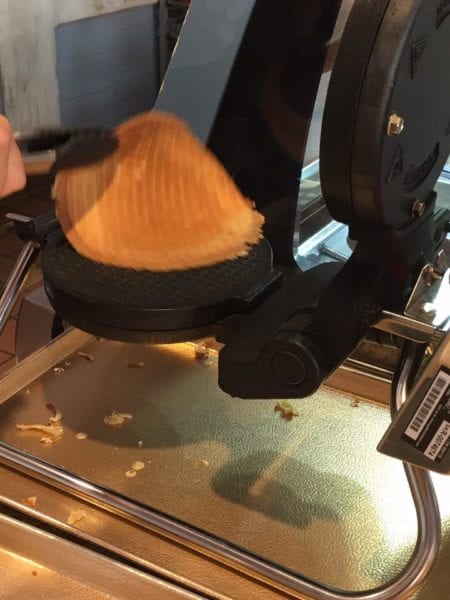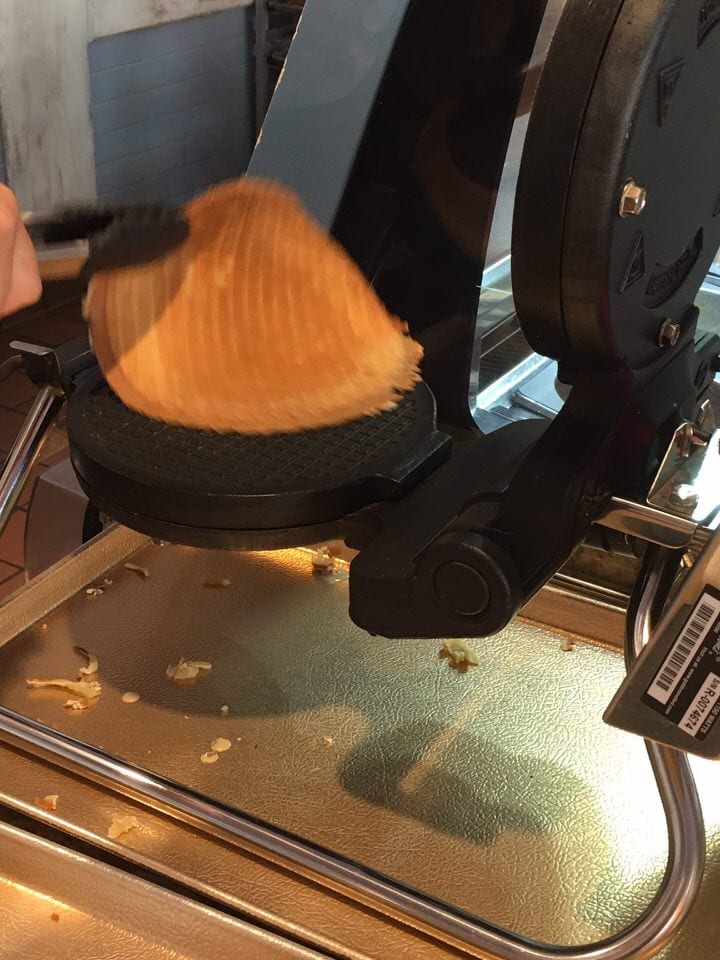 Next they pull it from the machine and lay it on top of a plastic bowl: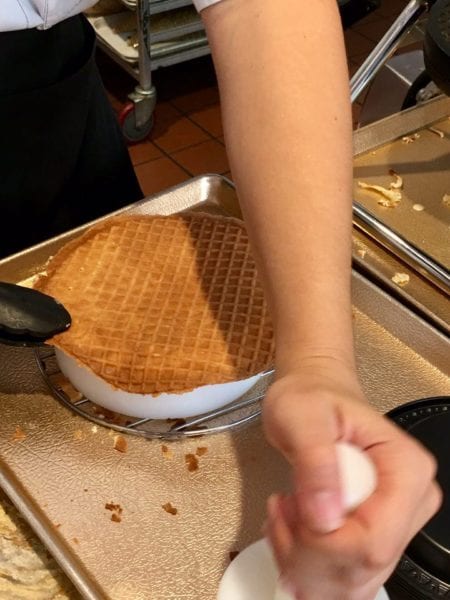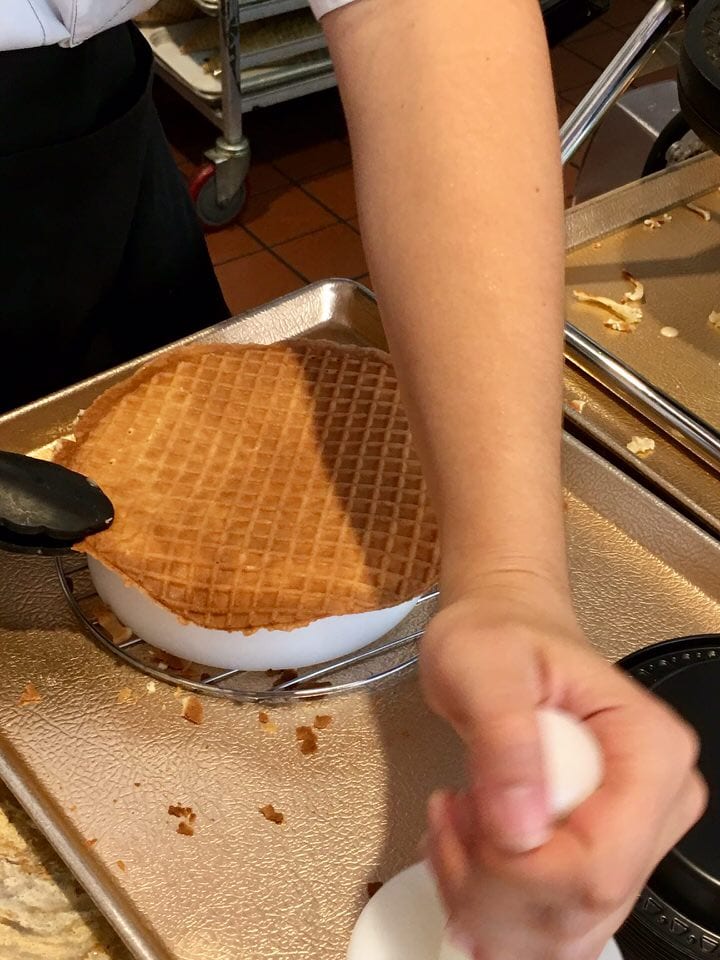 With a press in hand they push the waffle down inside the bowl: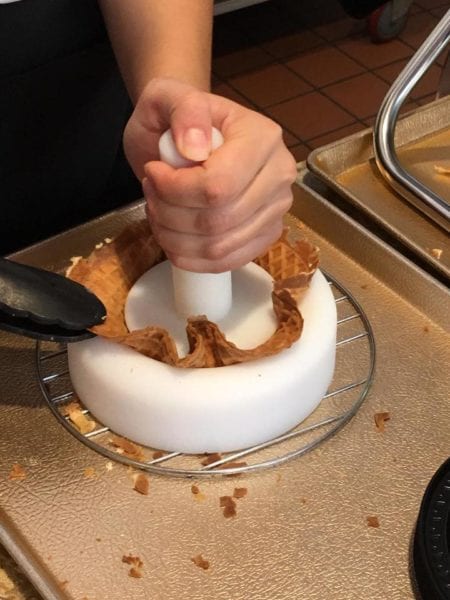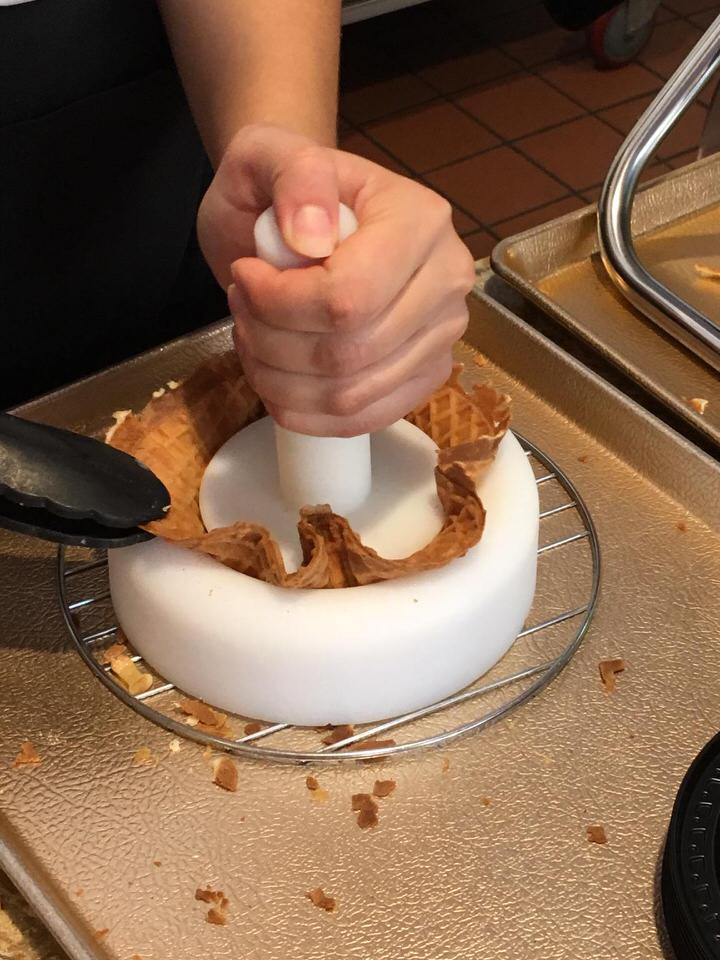 and then take it out with tongs: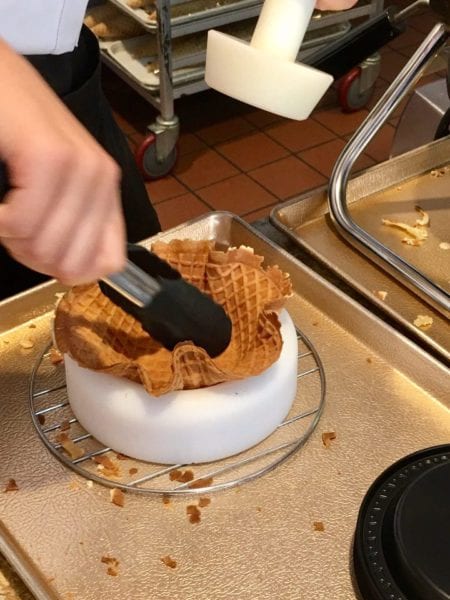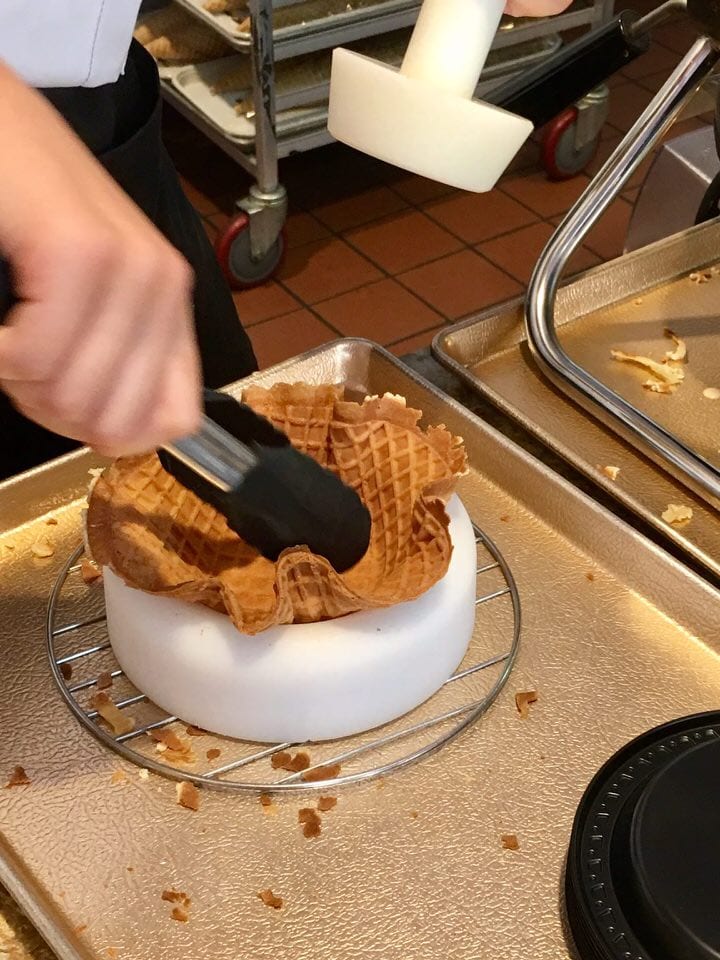 We wanted to try a variety of stuff so here's what we got…
Food:
First we tried the Caramel Fleur de Sel: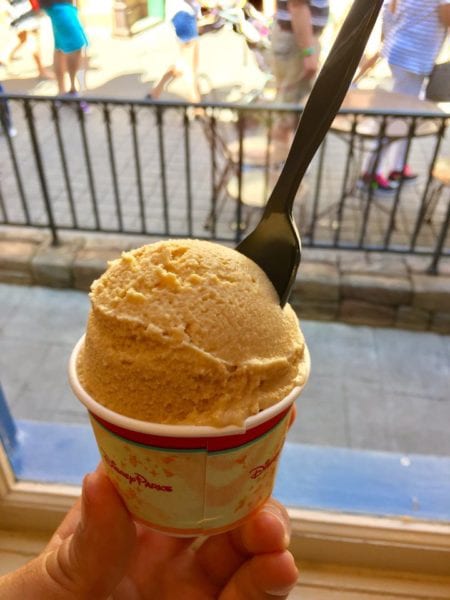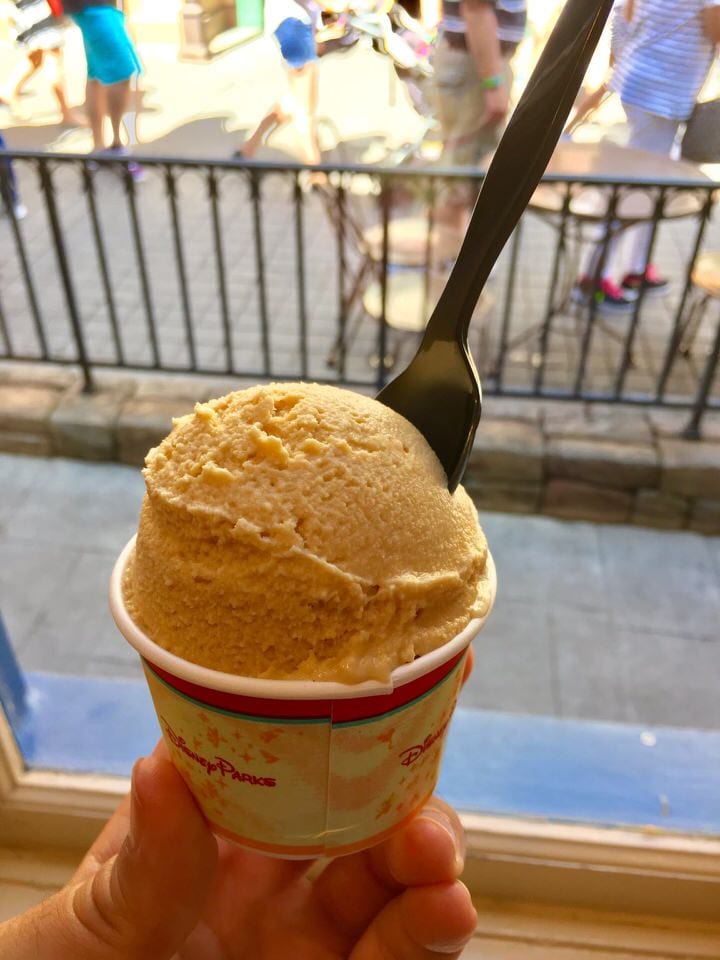 Fleur de Sel is translated: Flower of salt, So essentially this is Salted Caramel ice cream. The ice cream itself is really good. It's not icy tasting and is smooth enough too. It had a rich caramel flavor, so it you like that go for it!
Next was the Candied Peanuts with Chocolate Peanut Butter Fudge. I have a hard time saying no to peanut butter. This was different than I was expecting. I was expecting more of a peanut butter flavored ice cream and instead there were chunks of candied peanuts and peanut butter chunks in there. It was still good though and I love my fresh waffle cone!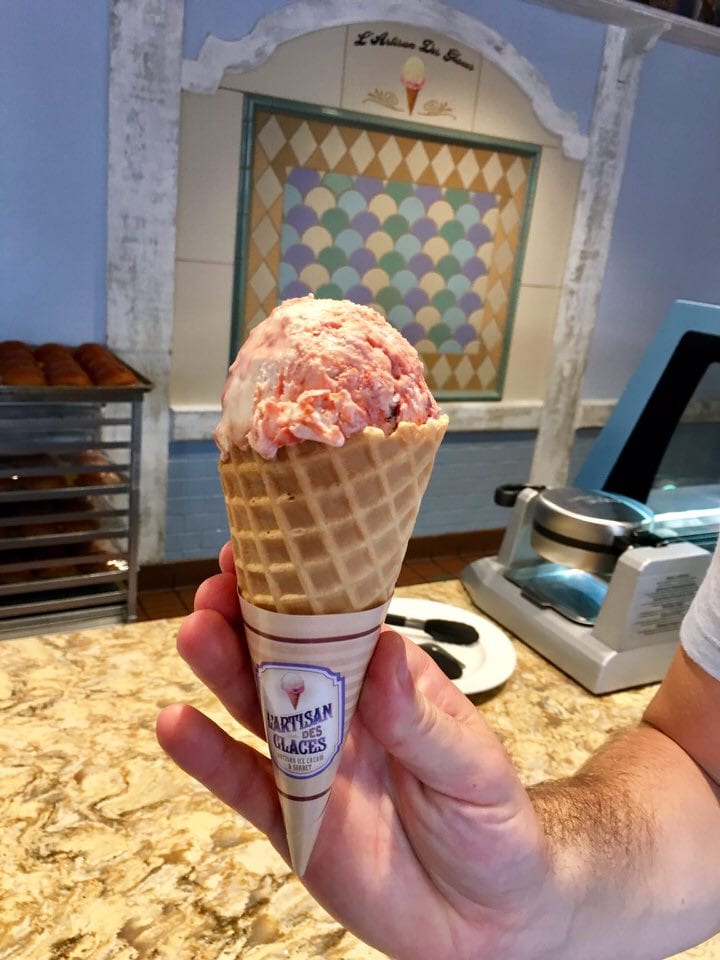 We also got Vanilla ice cream in a Waffle Cone: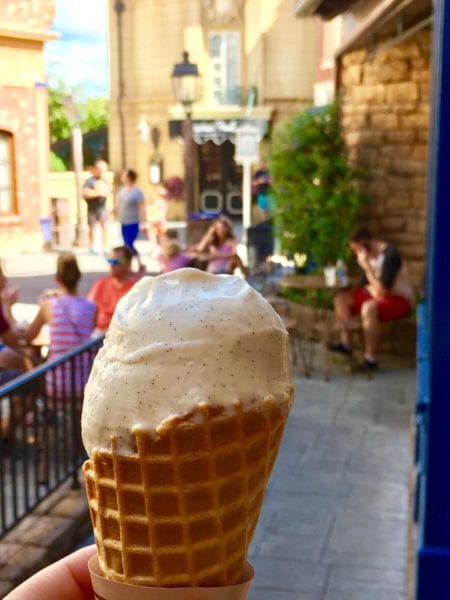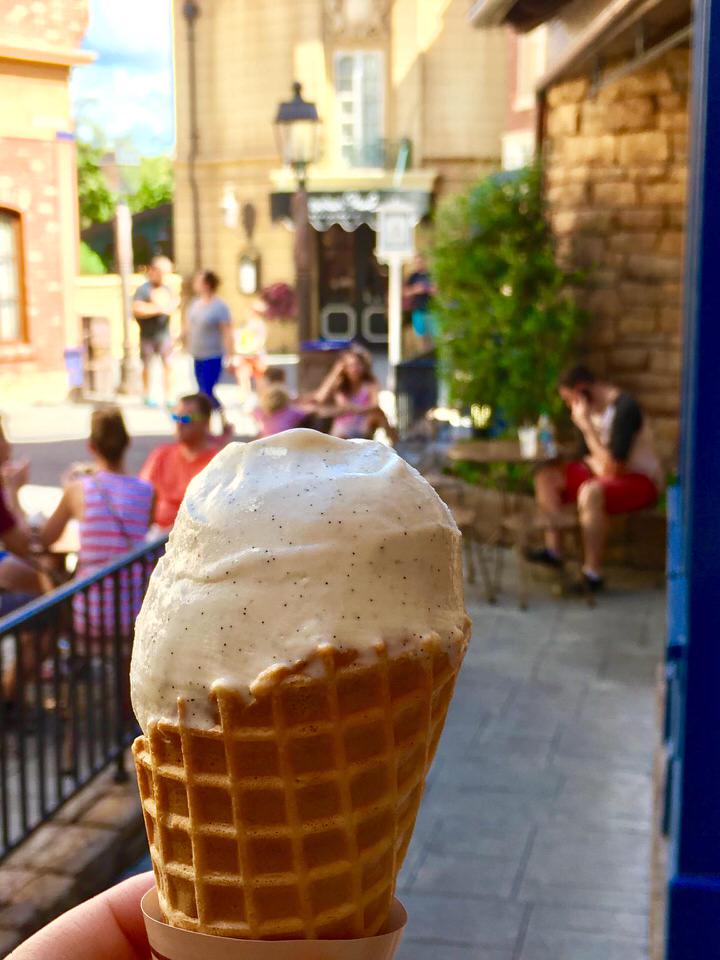 This was a really good vanilla. Of course it's what we refer to as "French Vanilla" and it has specks of vanilla in there. Definitely a strong vanilla taste. One thing to note too is they give you a nice size portion in the waffle cone, which I'm telling you is the way to go!
I was super excited to try this next one as I'd been eyeing it for some time now…..Strawberries and Cream Macaron Ice Cream Sandwich: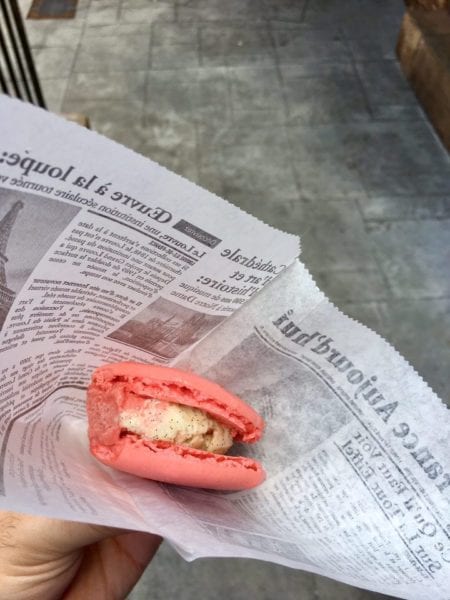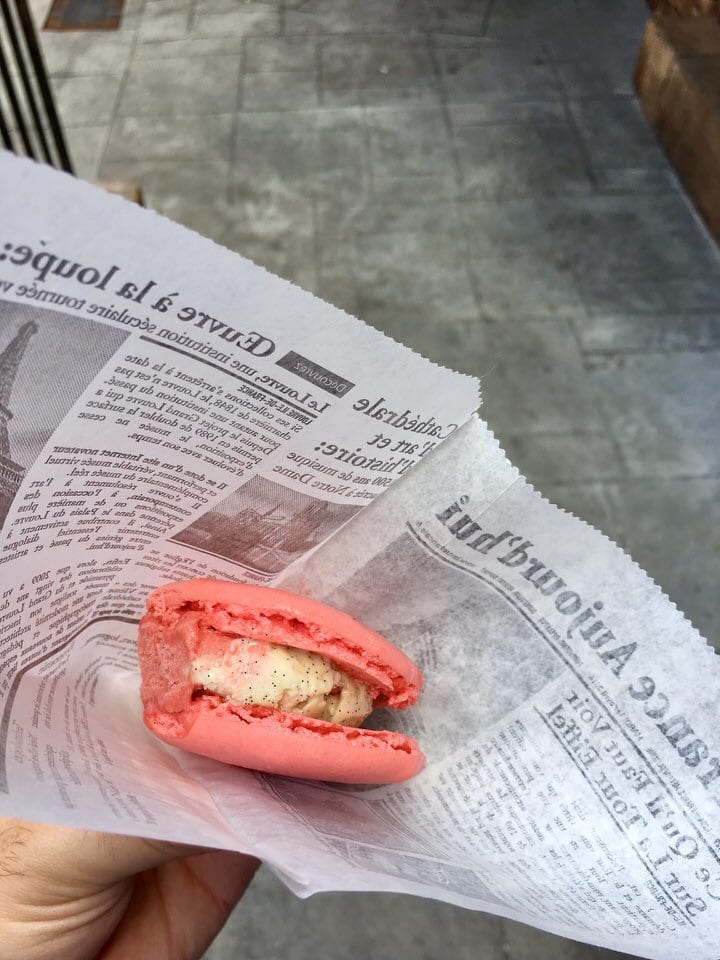 Whether or not you believe in love at first sight for people, let me tell you something: for food it definitely happens, and this was one of them. If you at all like French Macarons (I have to seriously question your judgement if you say you don't) you will LOVE these babies!!
The Macaron part is delicious, soft and chewy and a distinct Strawberry taste. Then paired up with the vanilla ice cream it's amazing! Thank me later 😉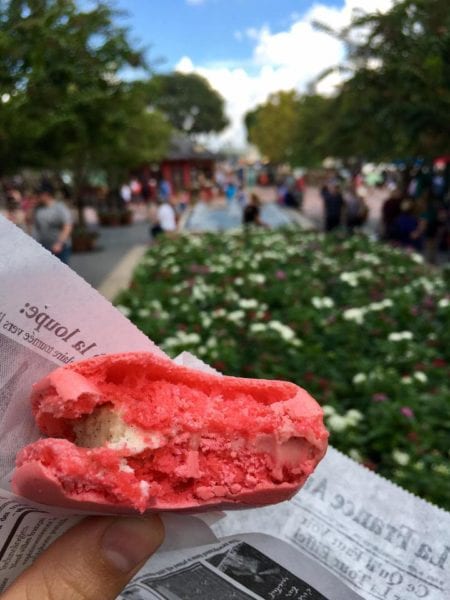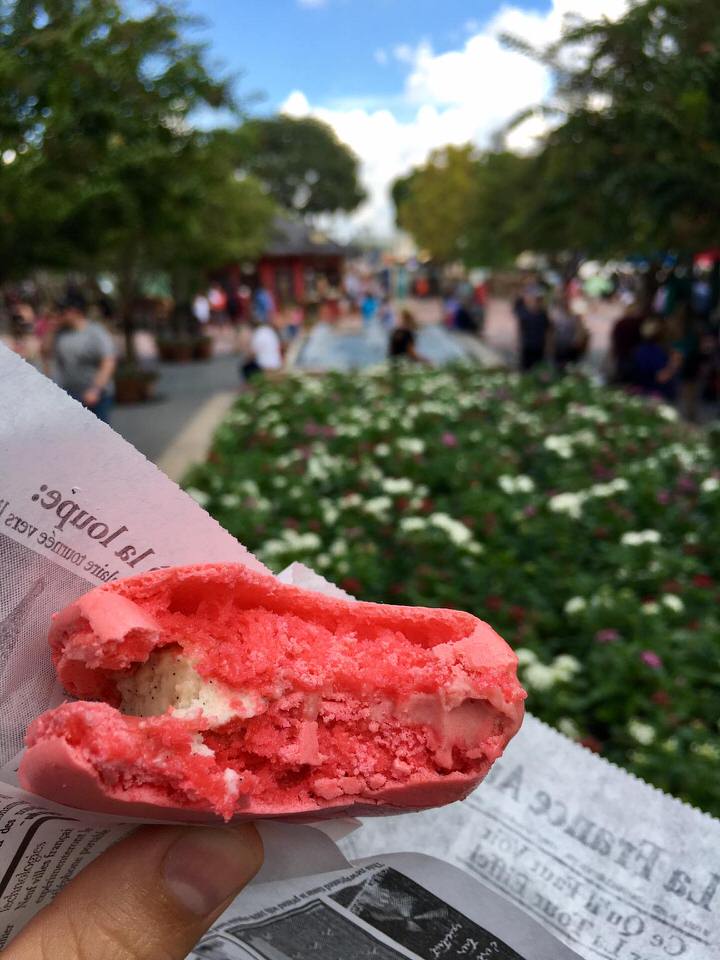 Lastly we tried something that we always come back for and that's the Croque Glacé, that's French for Brioche Ice Cream Sandwich. Basically they take one of the freshly baked brioche buns, which are soft and chewy inside and have almost a glazed outside to them, and they put it on the hot press with a big scoop of ice cream of your choice in the middle of it: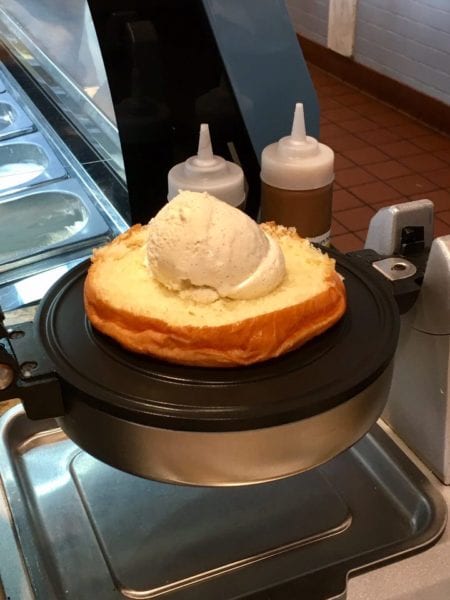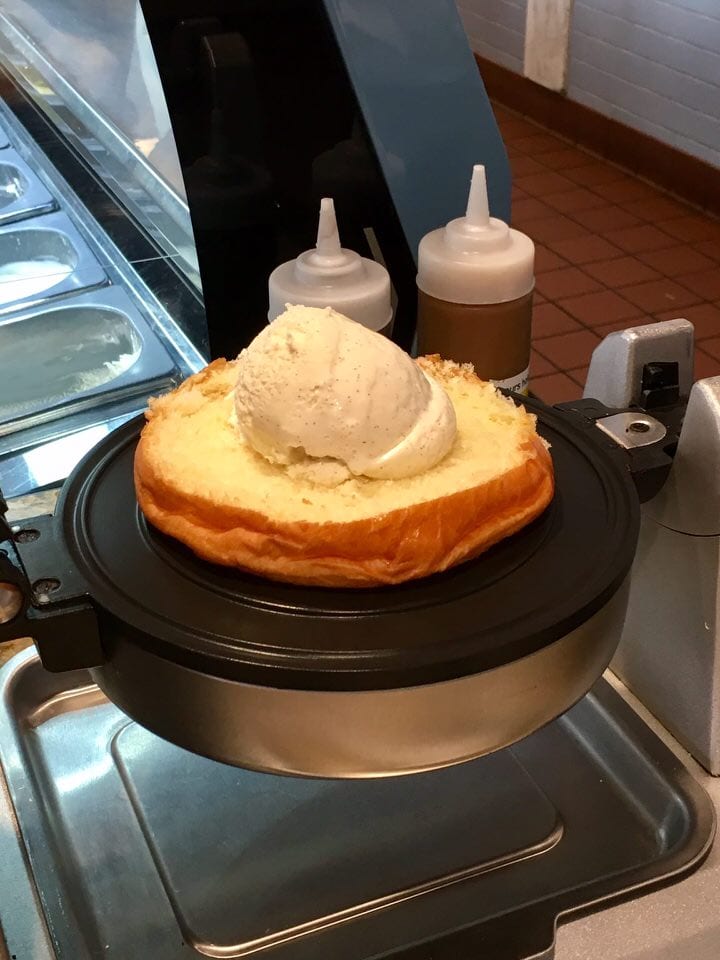 Then you can choose a sauce to spray over the top of it with, either Chocolate, Caramel or Raspberry. I choose raspberry: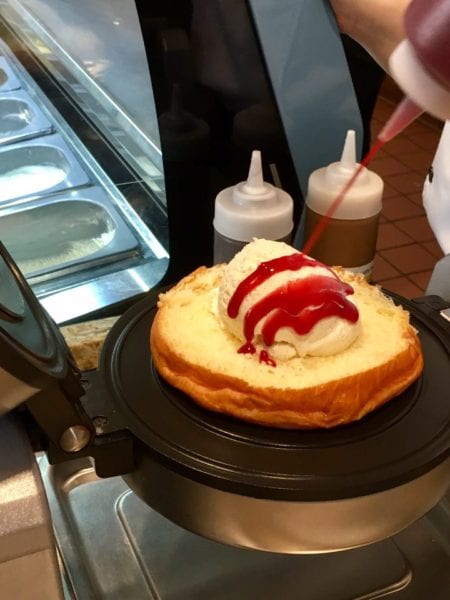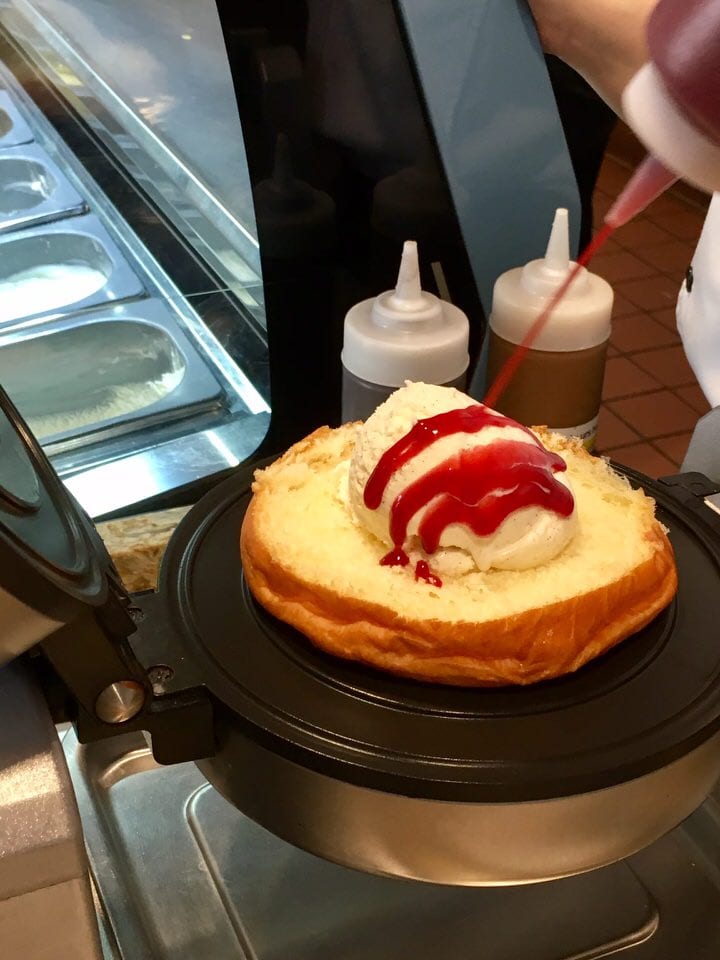 Don't skimp on that please: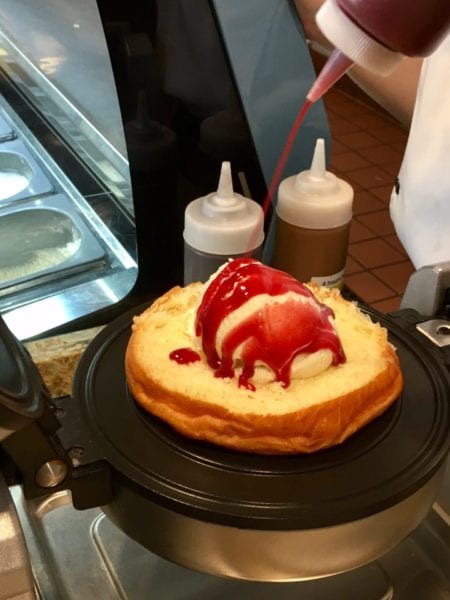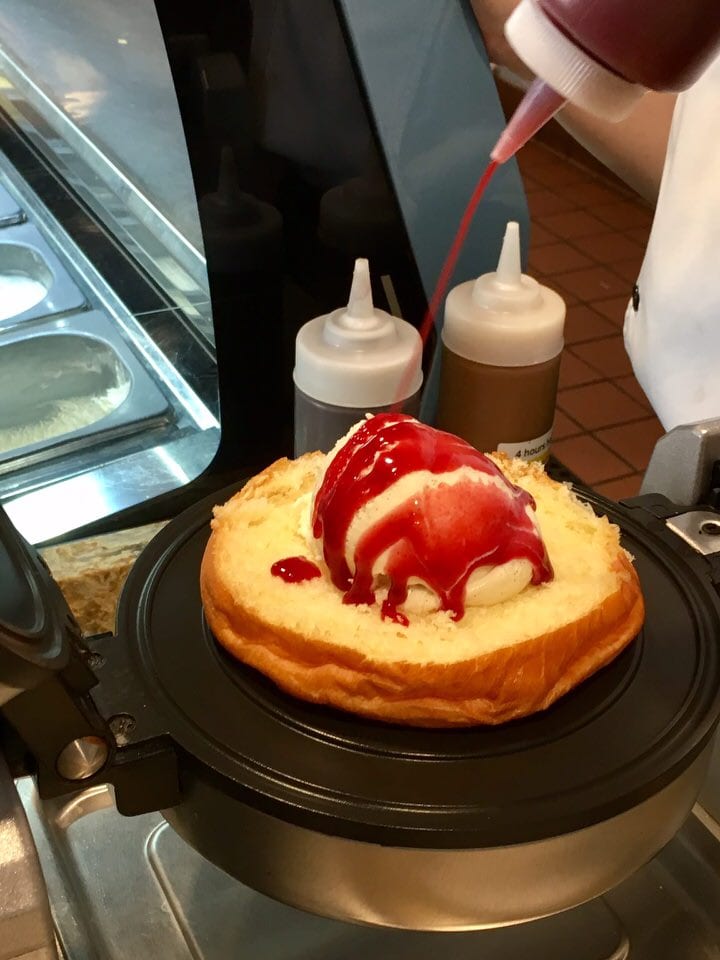 Now that it's all set to cook they close the top down: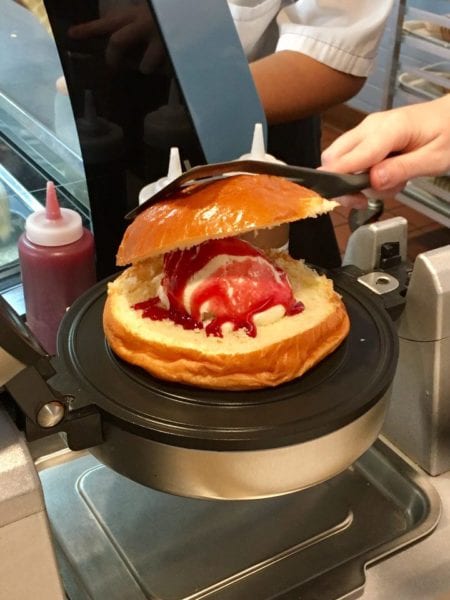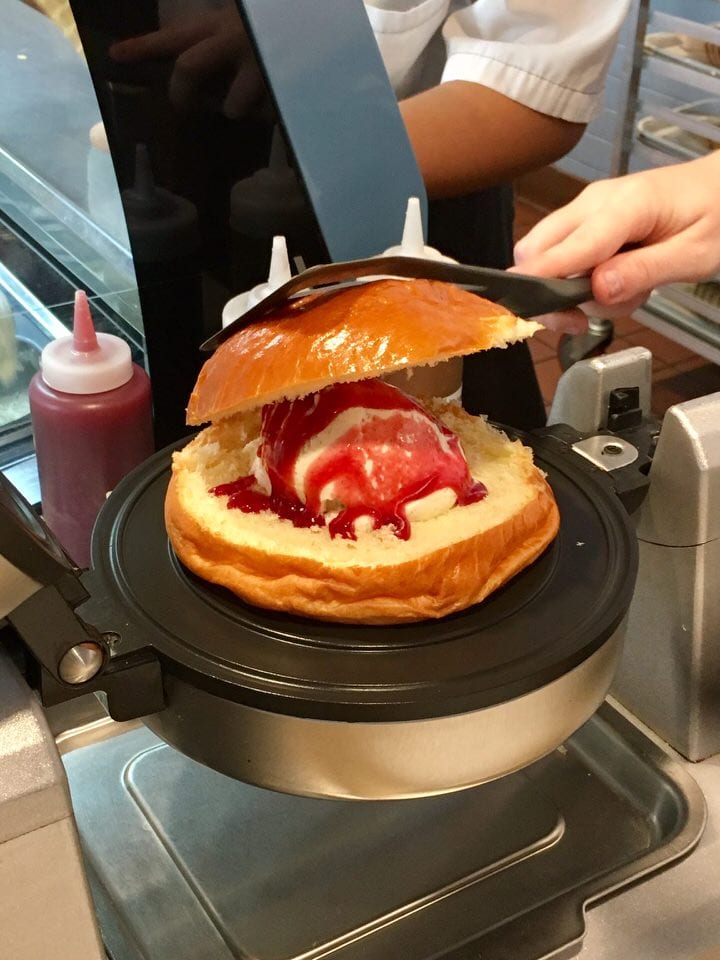 Once it's pressed for a minute or so you can see the final product. Everything is totally sealed in there with the edges being completely pressed down:
They wrap it up for me in some fake newspaper and I'm ready to chow down: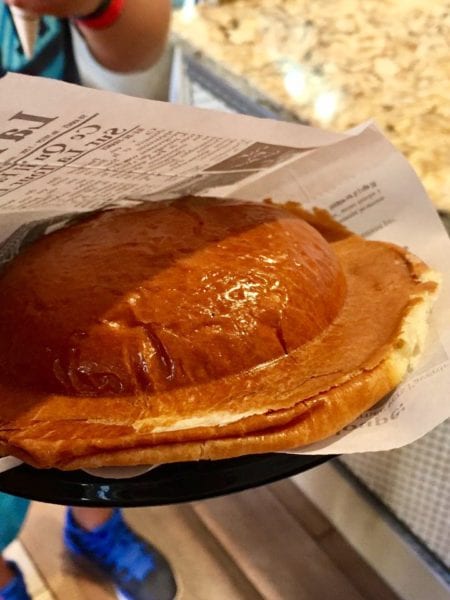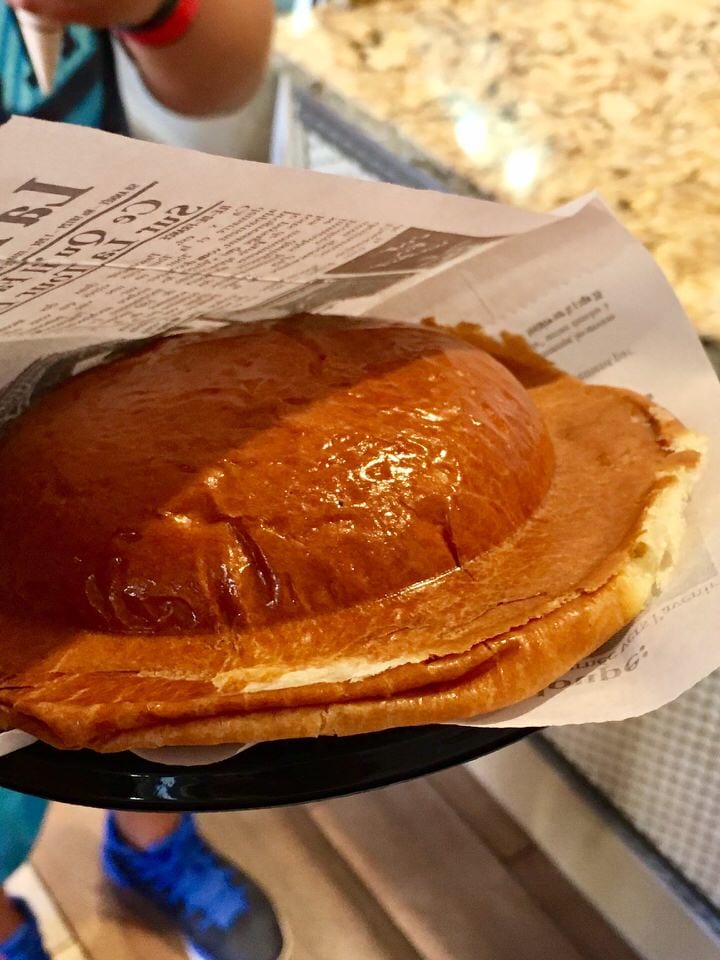 This is pure heaven I kid you not. It comes out all warm and the sauce and ice cream inside start to melt together. The outside which is a bit crisp, blends perfectly with the gooey inside. There's also just the right amount of ice cream and sauce inside where it isn't at all dry, but at the same time it's not pouring out of the brioche bun and melting all over you. Incredible: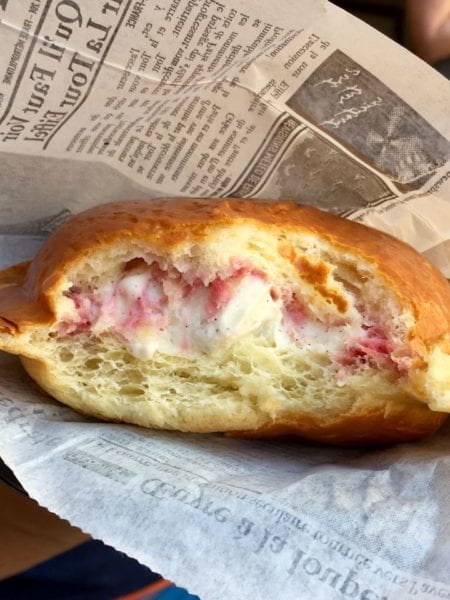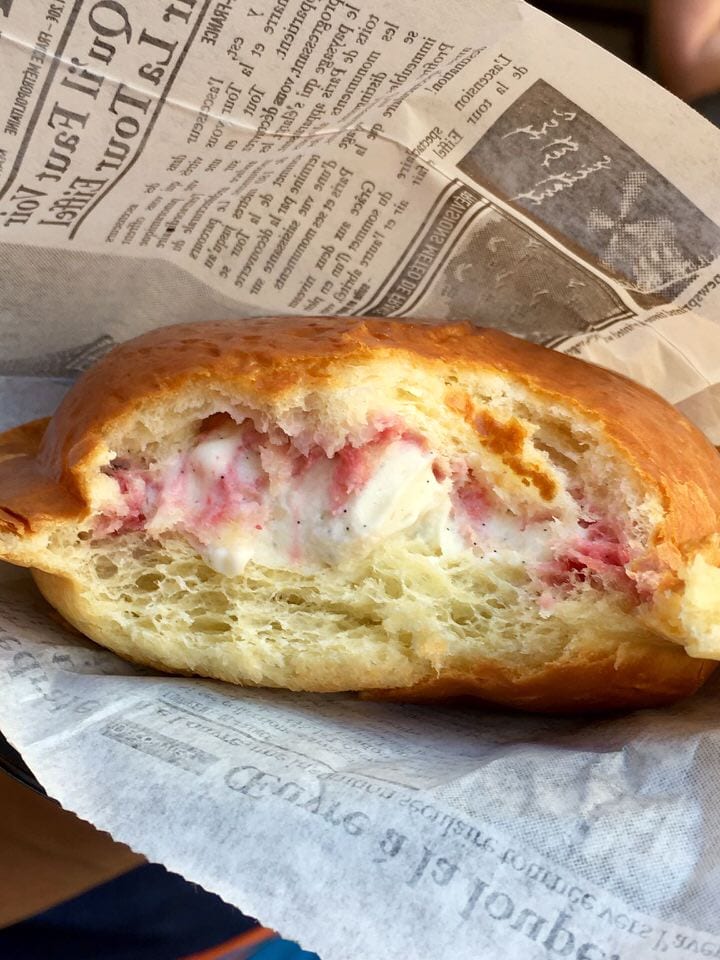 Once Nick got his hands on it it was hard to get it out: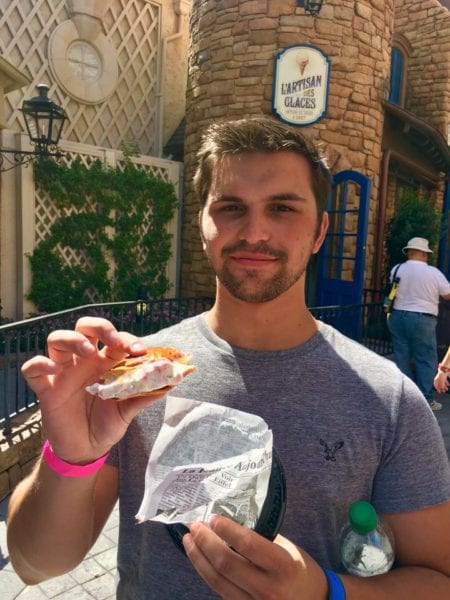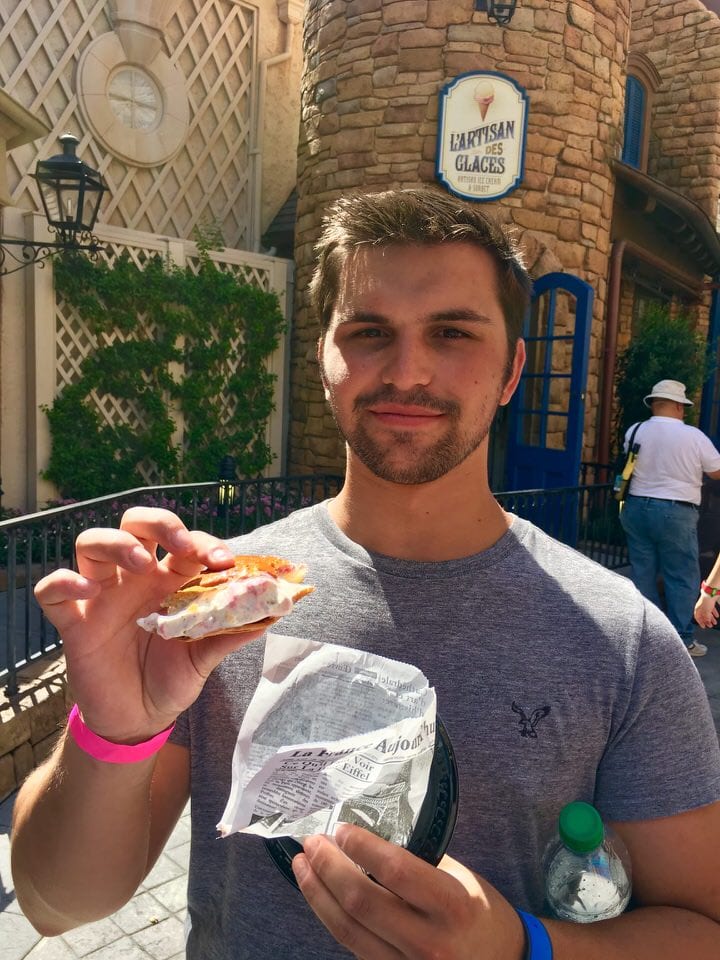 A must try treat and something you will want to get over and over again considering all the different ice cream and sauce combinations!
Summary:
Overall L'Artisan des Glaces is a truly amazing place and offers some interesting and exciting frozen treats options you can't get anywhere else. The Macaron Ice Cream Sandwich was mind-blowing, and the Brioche Ice Cream Sandwich was just out of this world. Both are absolute must tries!
One thing we didn't get to try this time for you is the Ice Cream Martini. What now? They put 2 scoops of ice cream, a shot of Grand Marnier and Whipped Cream into Vodka or Rum. I haven't tried it yet but I promise the next time I'll deliver for you!
Even if you aren't in the mood for anything different and are just craving a plain simple ice cream cone, again this is your place as the ice cream and selection of flavors is excellent and the waffle cones are great too! It's by far the best place for ice cream in Epcot and one of the top 2 or 3 in Walt Disney World.
L'Artisan des Glaces is open from 12:00 – Park Closing Daily.
I love to write Restaurant Reviews of Walt Disney World and I hope you found this one to be informative and helpful. If you liked this review then please visit my Disney Dining Reviews Page where I have many other Restaurant Reviews. I'm happy sharing with you what I love doing best…eating! ? I try to bring you the most thorough and unbiased reviews about the food and restaurants at Walt Disney World, so that as you are planning your vacation, you know the "can't be missed" places, and where you shouldn't waste your time. Hope you enjoyed this one and will enjoy many others in the future!!
Your Thoughts:
I want to know what you think about my L'Artisan des Glaces Review. What's your favorite item at L'Artisan des Glaces? Where do you think it ranks among other Ice Cream shops through Epcot and Walt Disney World? Let us know in the comments section below!
If you enjoyed this article, as always I appreciate it if you'd share it with others via social media. I work hard at making this website into a useful resource for you and your family to plan your visit to Walt Disney World, and I hope it can help you! Thanks 🙂