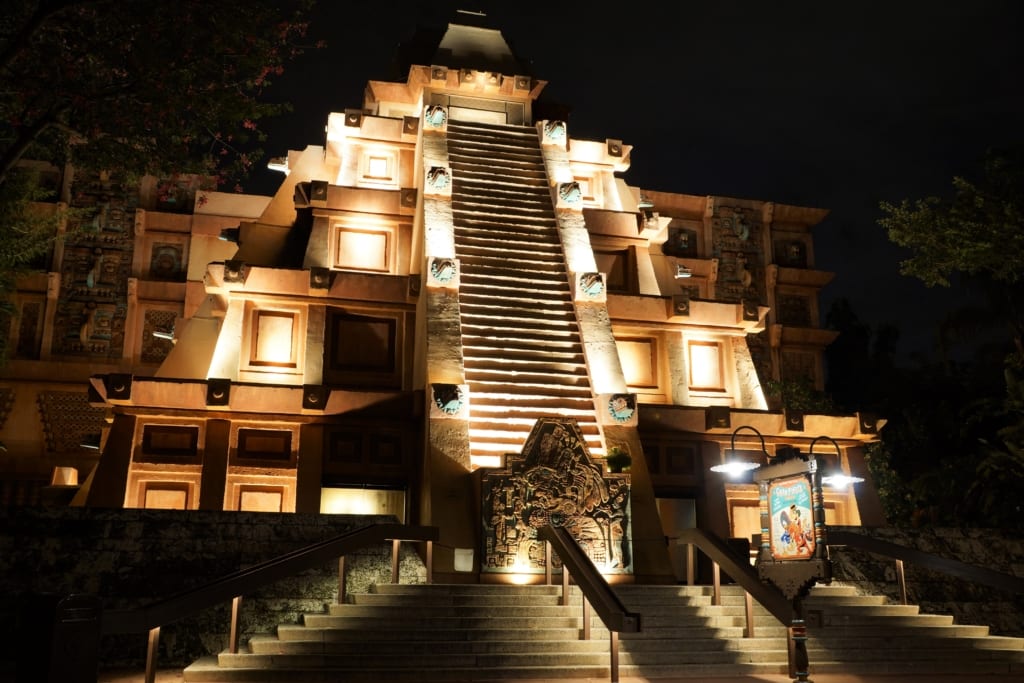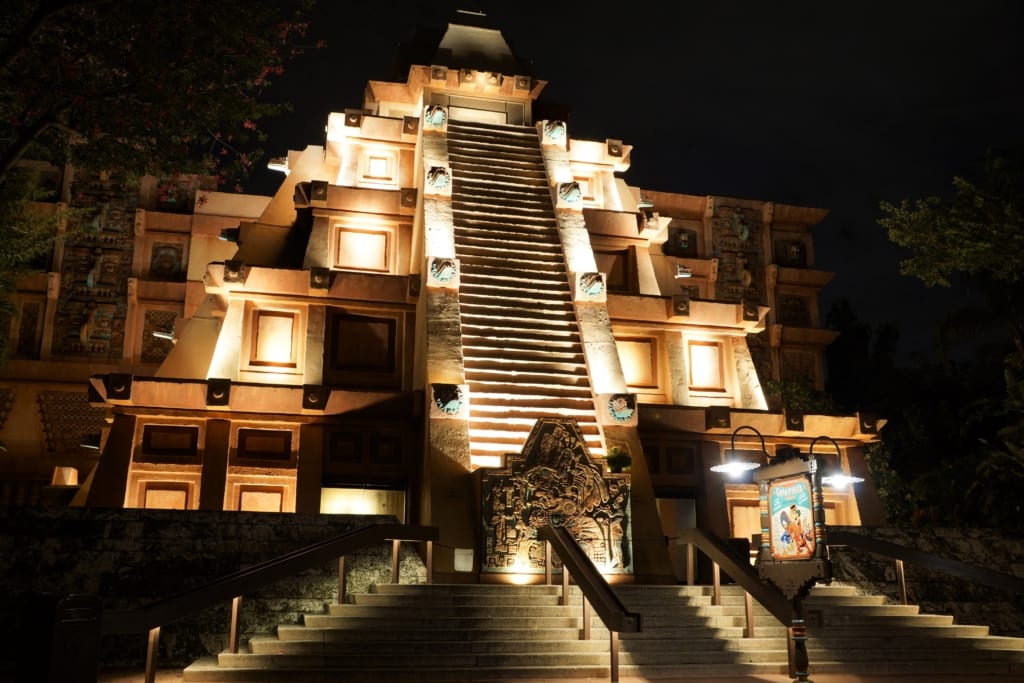 Recently we went to San Angel Inn to try what is one of Walt Disney World's most beautiful and atmospheric restaurants and at the same time one of the most controversial. Over the years San Angel Inn has gotten somewhat of a bad rap. I'll be the first to admit much of the time it has been deserved mostly because of its inconsistent food quality and service, but recently I've heard things have been looking up, so I wanted to take a look for myself.
San Angel Inn is a Table Service Restaurant in the Mexico Pavilion in Epcot's World Showcase which serves up "traditional Mexican cuisine" (I put it in quotes because in some visits in the past it's proven to be not so traditional Mexican cuisine). It's a 1 Dining credit option on the Disney Dining Plan, but doesn't offer the best use of credits as most of the Entrees are under $30.00. In general it's a relatively low-cost Table Service option in World Showcase, and it's quite casual restaurant so don't feel the need to dress up. It does participate in Tables in Wonderland which gives you a %20 discount on your food and drinks, which was very helpful to us as we had a decent sized group. It accepts ADR's 180 Days in advance and I recommend getting one as soon as you can, but it isn't one of the impossible-to-get-a-reservation places around the lagoon like Le Cellier for example.
Despite it's controversial status among WDW fans, there's no denying the atmosphere that it has, and in the past it's been worth a visit for even that alone. Since my last visit the place has undergone some changes so I figured now was as good as any time to do another San Angel Inn Review. Let's see what it's like…
Atmosphere:
The atmosphere at San Angel Inn is and has always been by far it's strong point. To be honest it's really amazing and one of the most romantic places for a dinner anywhere in Walt Disney World. The awesome part about it is it's an outdoor Mexican village that's located INSIDE the Pyramid in the Mexico Pavilion in Epcot's World Showcase. Yes an indoor outdoor restaurant.
You walk inside the Pyramid from the promenade on World Showcase and make your way to the back where you will find an Mexican open-market, where there's perpetual dusk, so you see just a little light on the horizon but the room is dimly lit which gives off a nice romantic atmosphere. There's another Mayan/Aztecan Pyramid in set in the background ( a pyramid inside a pyramid!!) as well as a smoking volcano far in the distance…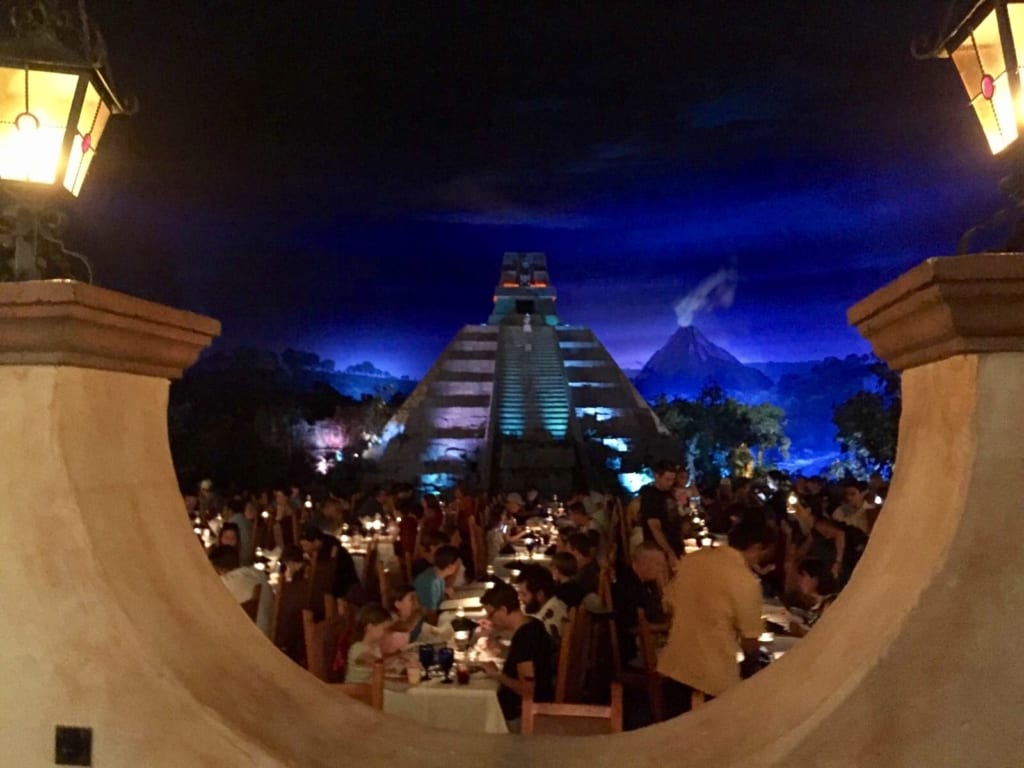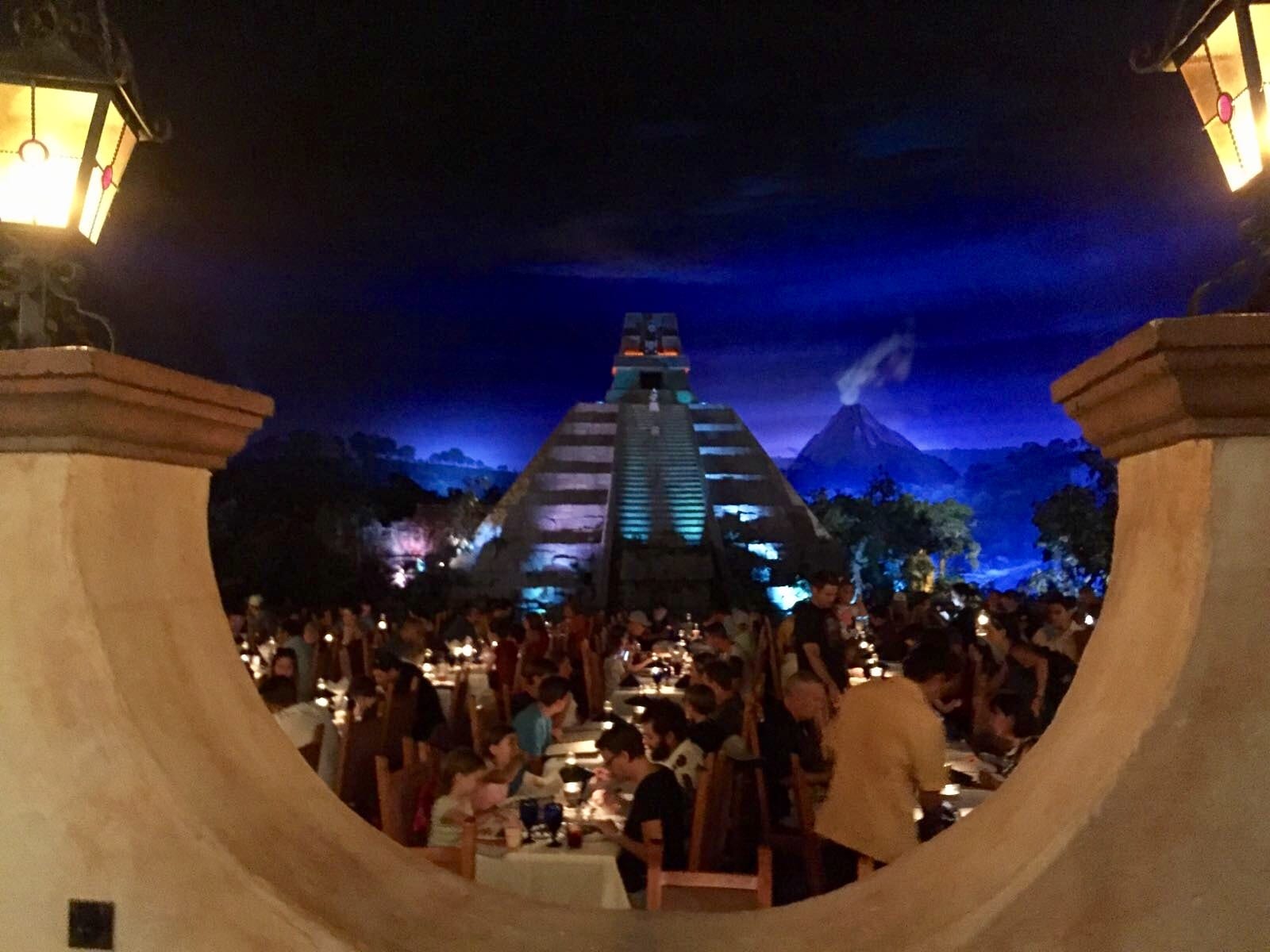 Go through the Entrance with the sign above: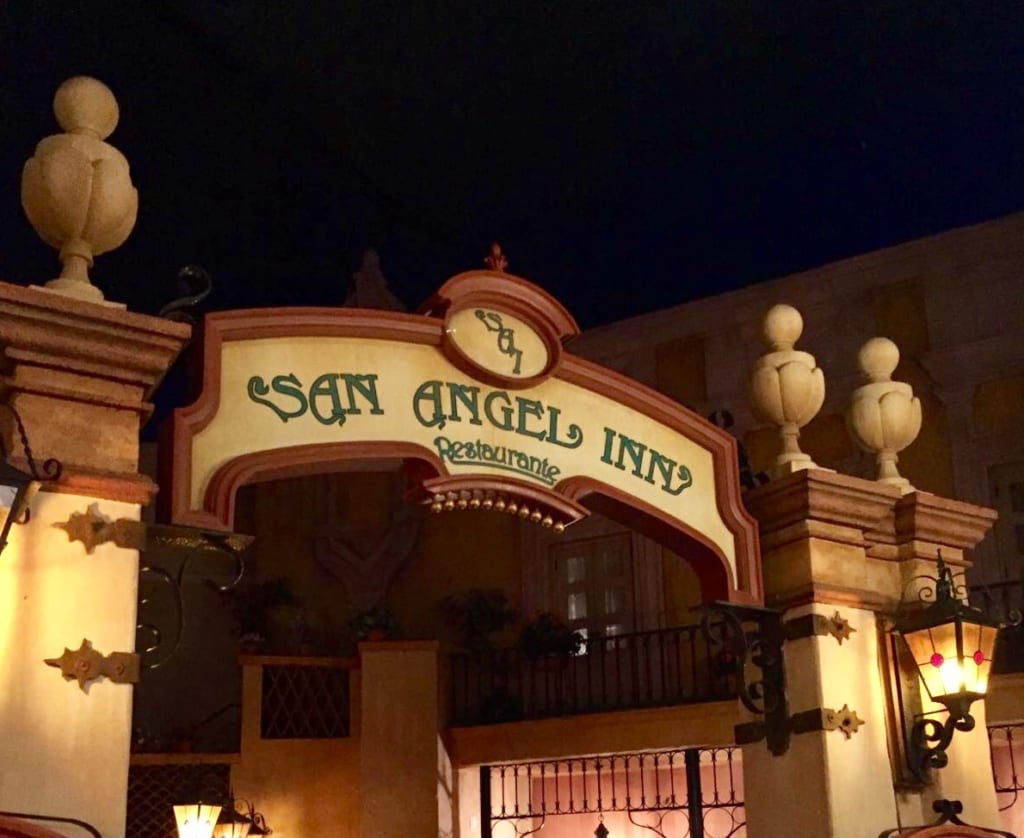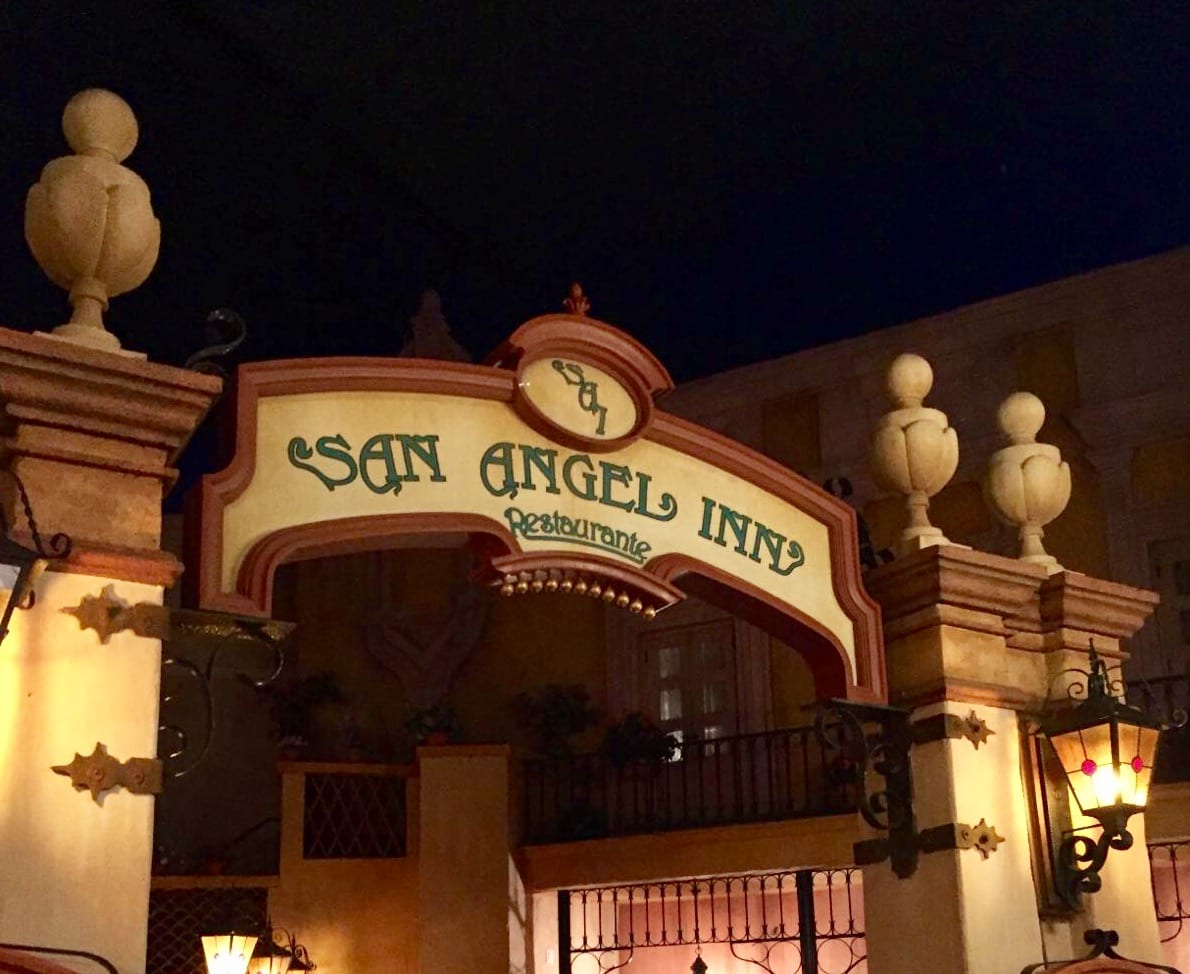 The marketplace is quite old as well as the restaurant which dates back to 1692 (so goes the story 🙂 However the San Angel Inn is based on a real restaurant of the same name in Mexico City.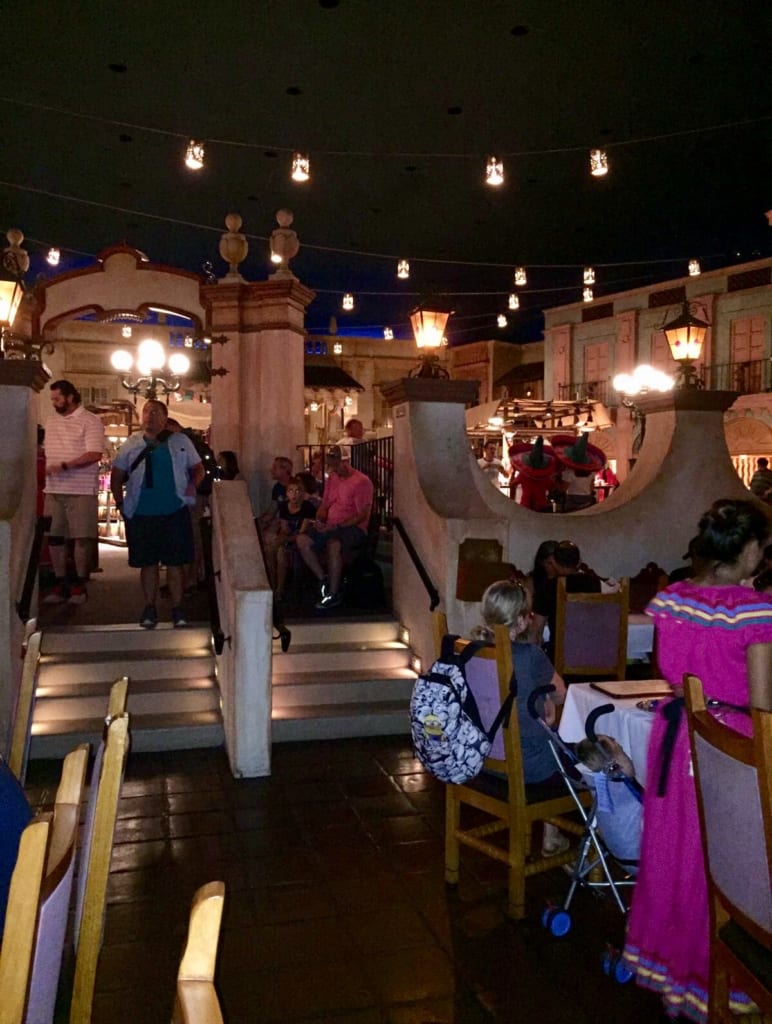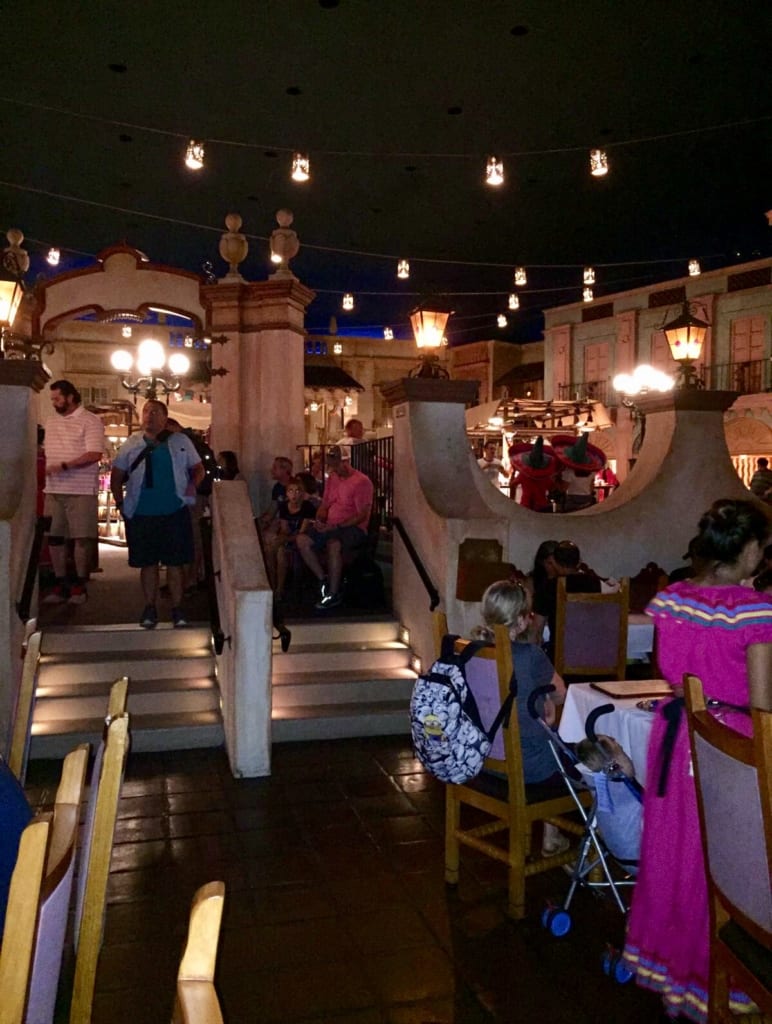 The whole scene is amazing. There's also a river that slowly moves by in between the San Angel Inn and the Pyramid which is part of the Three Caballeros attraction, The Gran Fiesta Tour: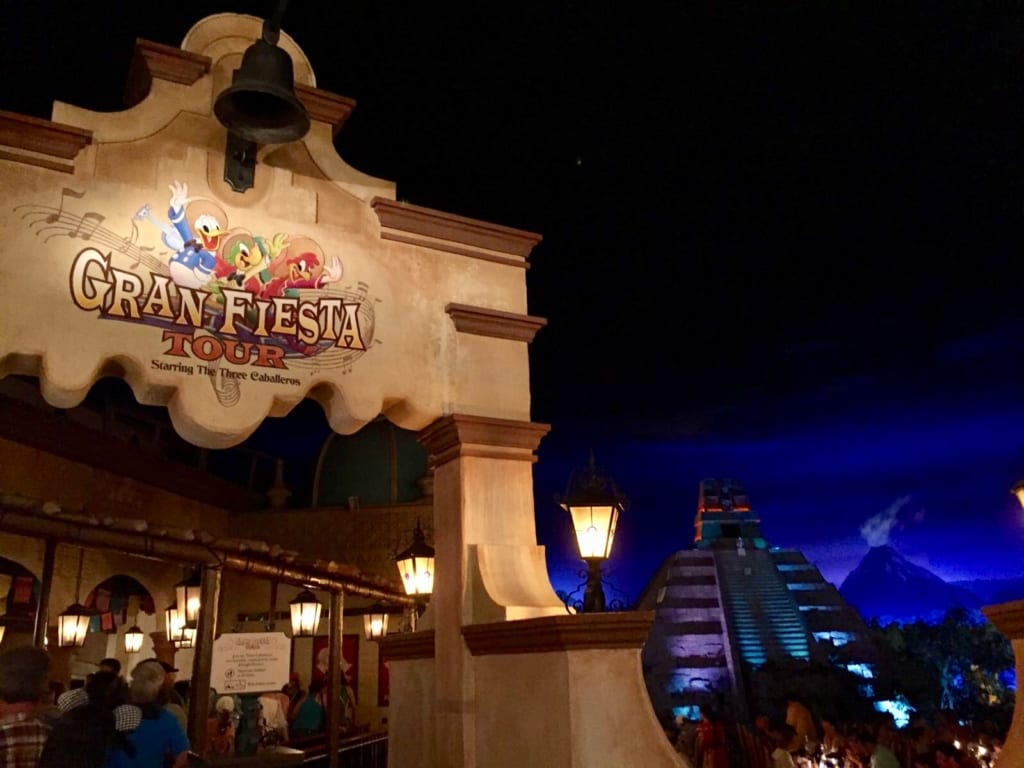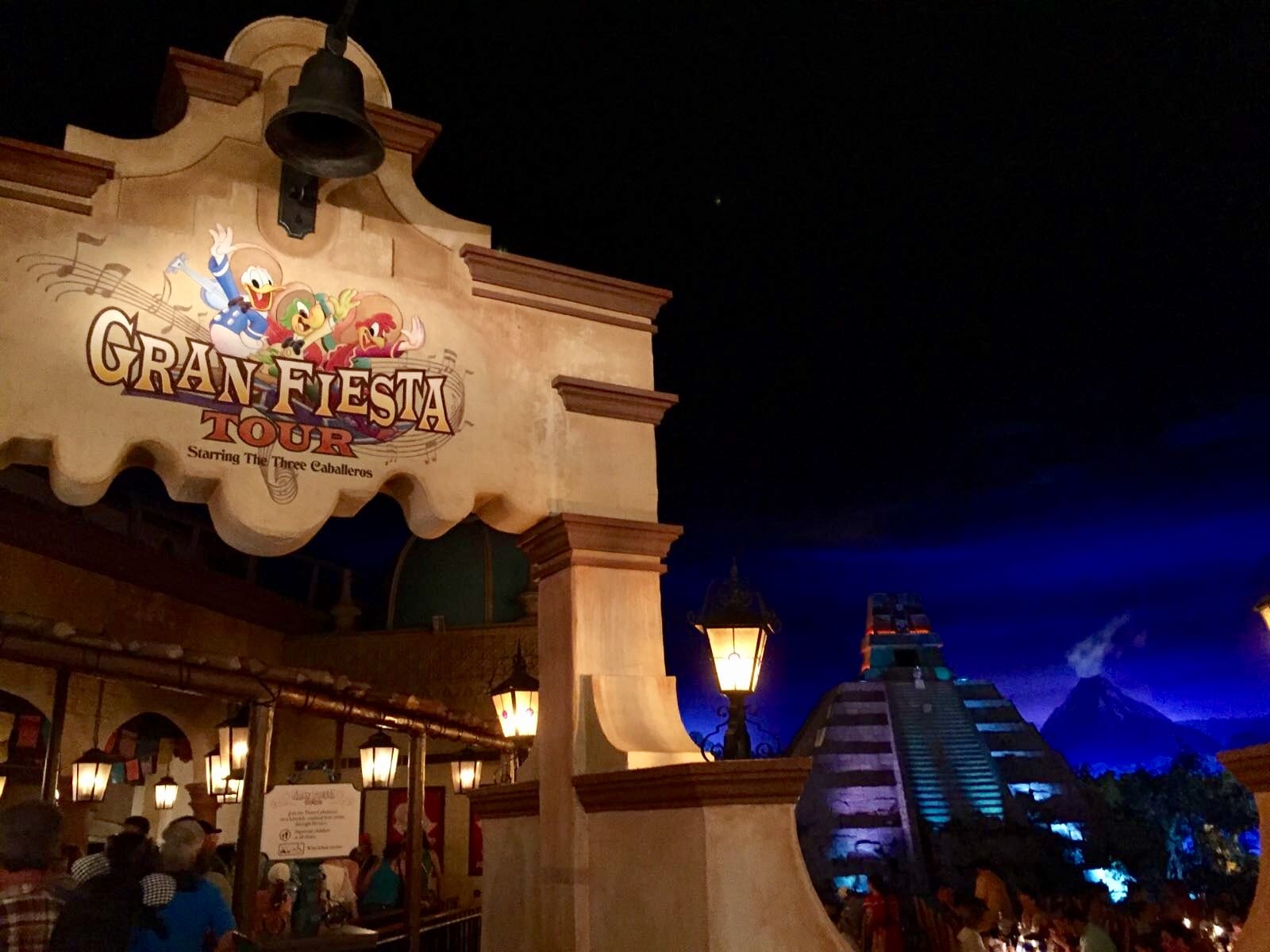 So if you arrive early or have time after, go ahead and take a ride on the boats that float by and check out San Angel Inn from another perspective.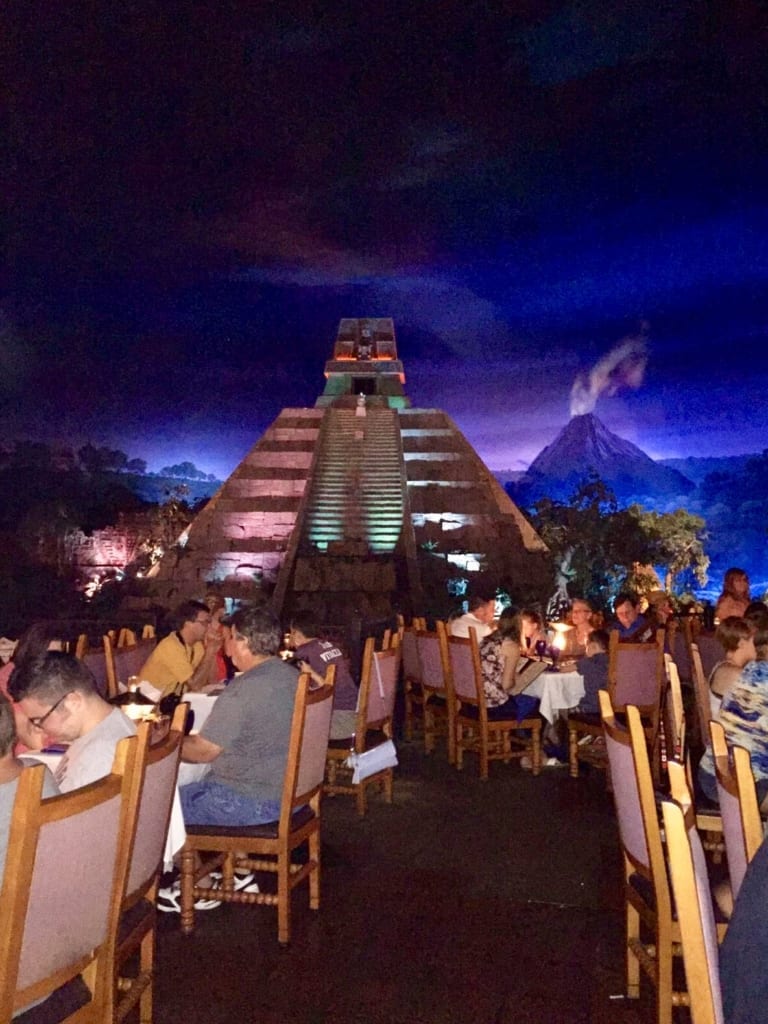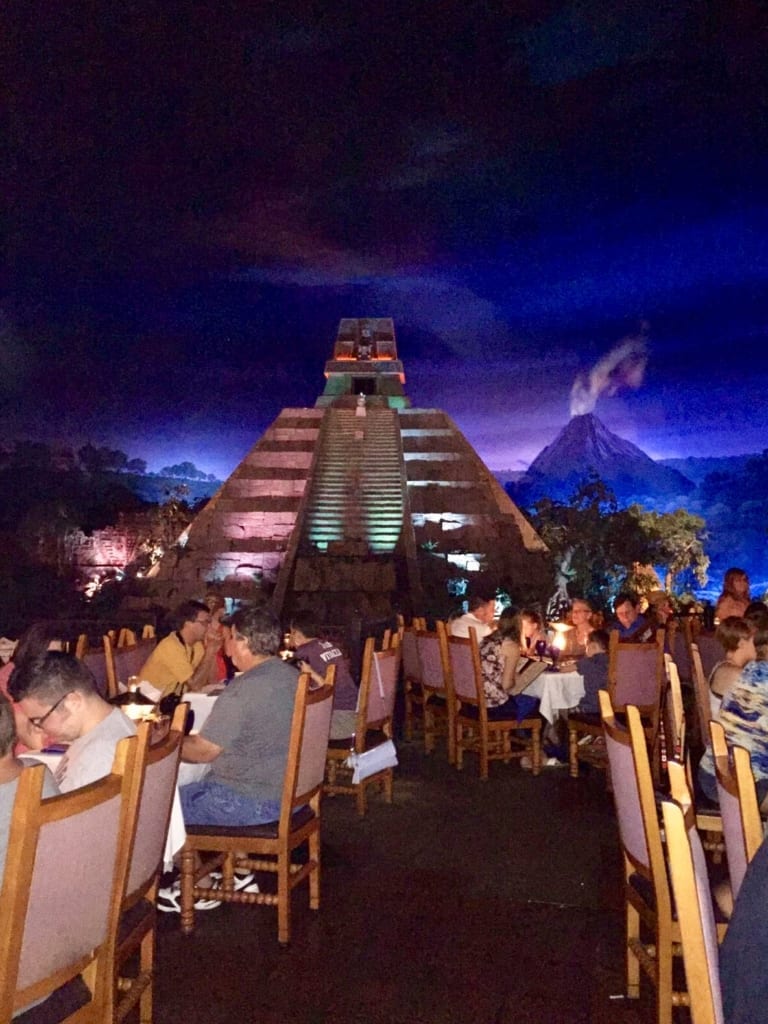 It really is a very unique setting and the only thing similar in a Disney park is the Blue Bayou in Disneyland California.
The feeling of eating in an open-air Mexican marketplace at night is awesome, you have the old Mexican style buildings surrounding you and lanterns dangling overhead.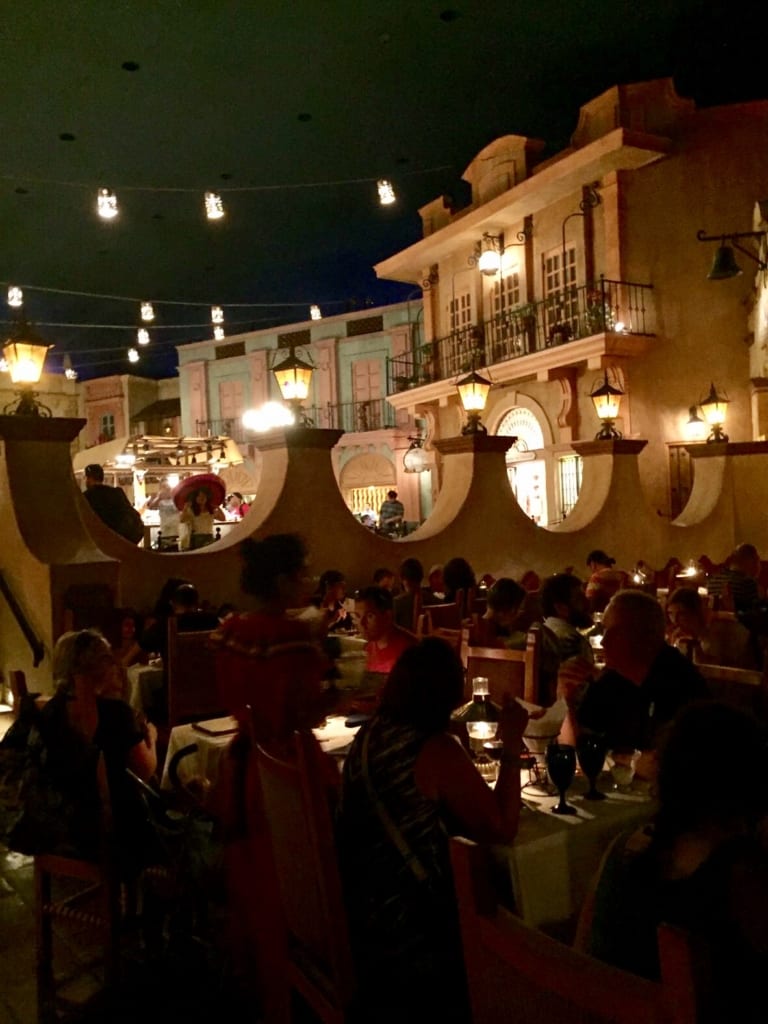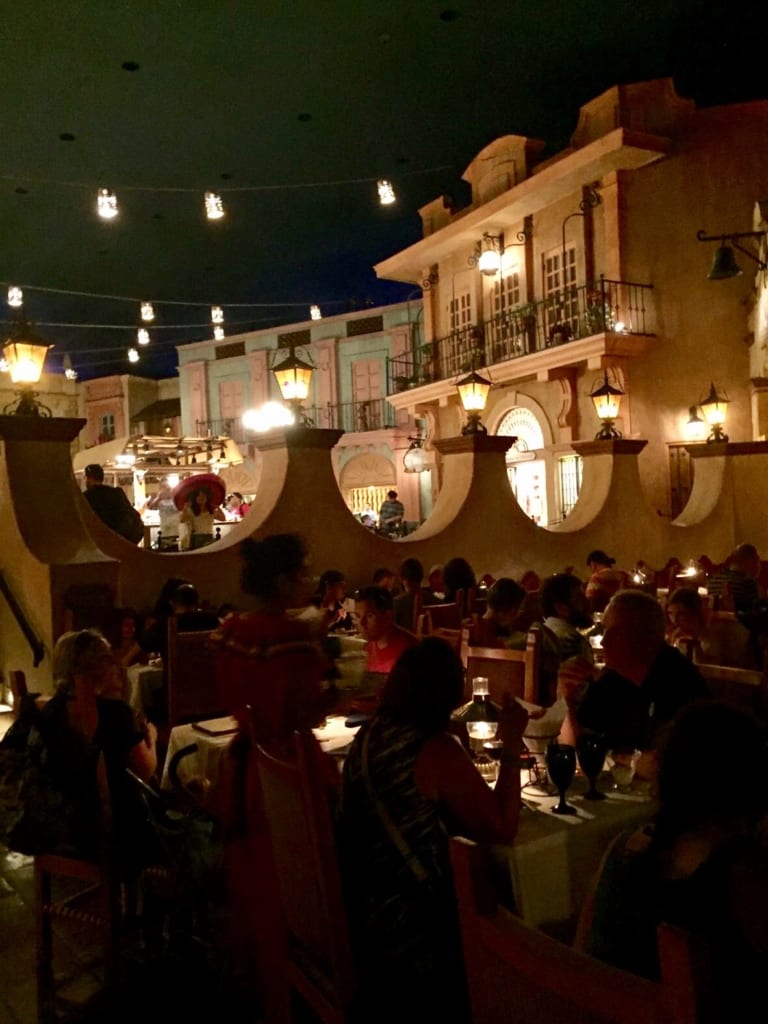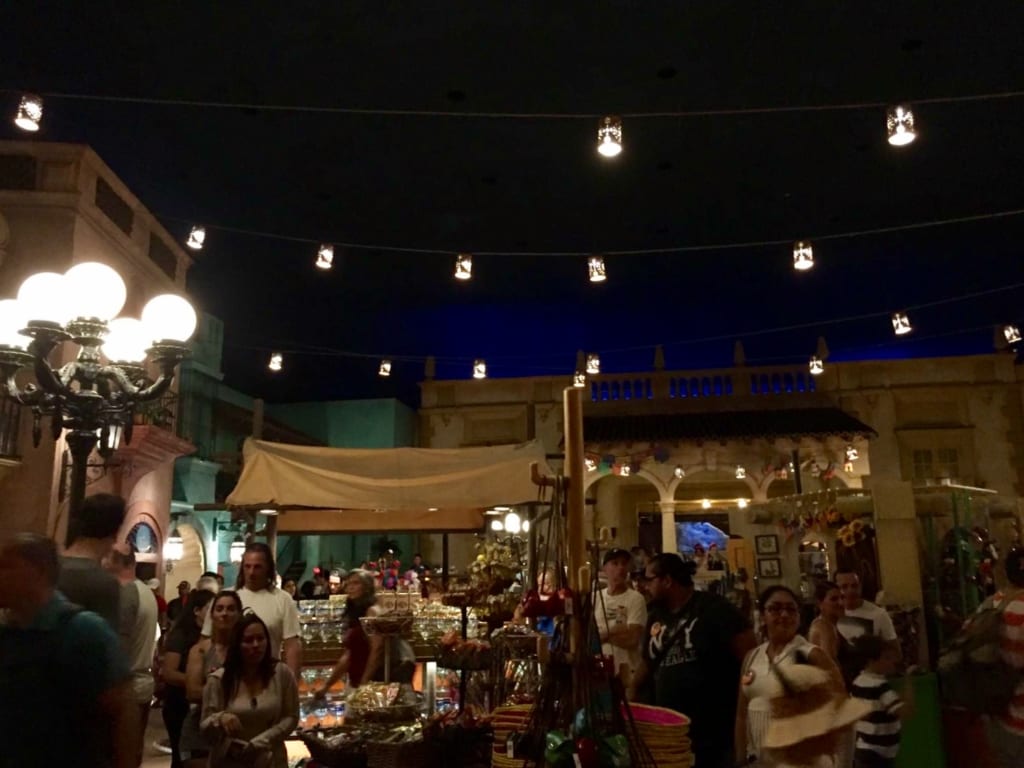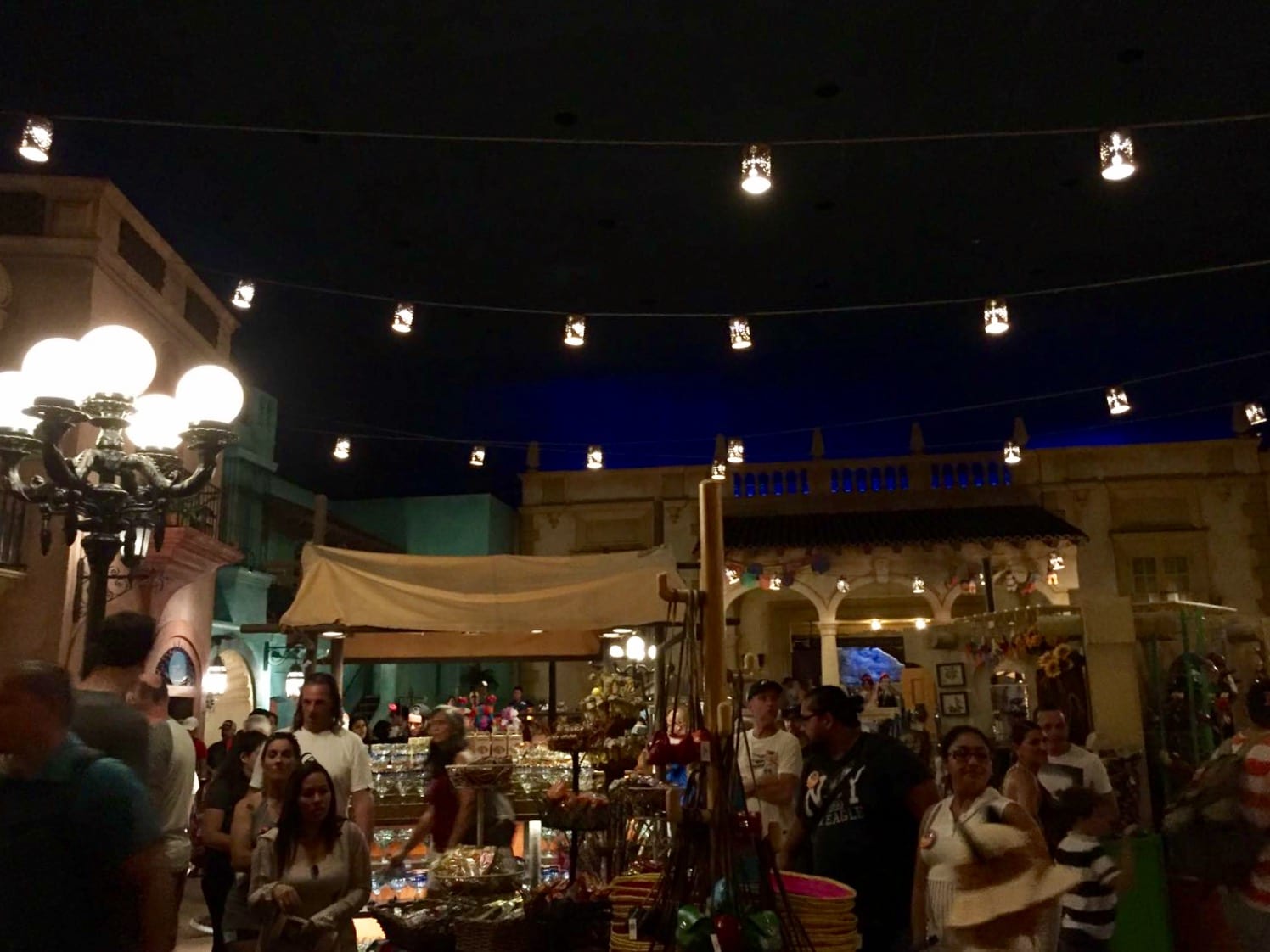 The only thing that's not so desirable about the seating is that many of the tables are really put in together tightly.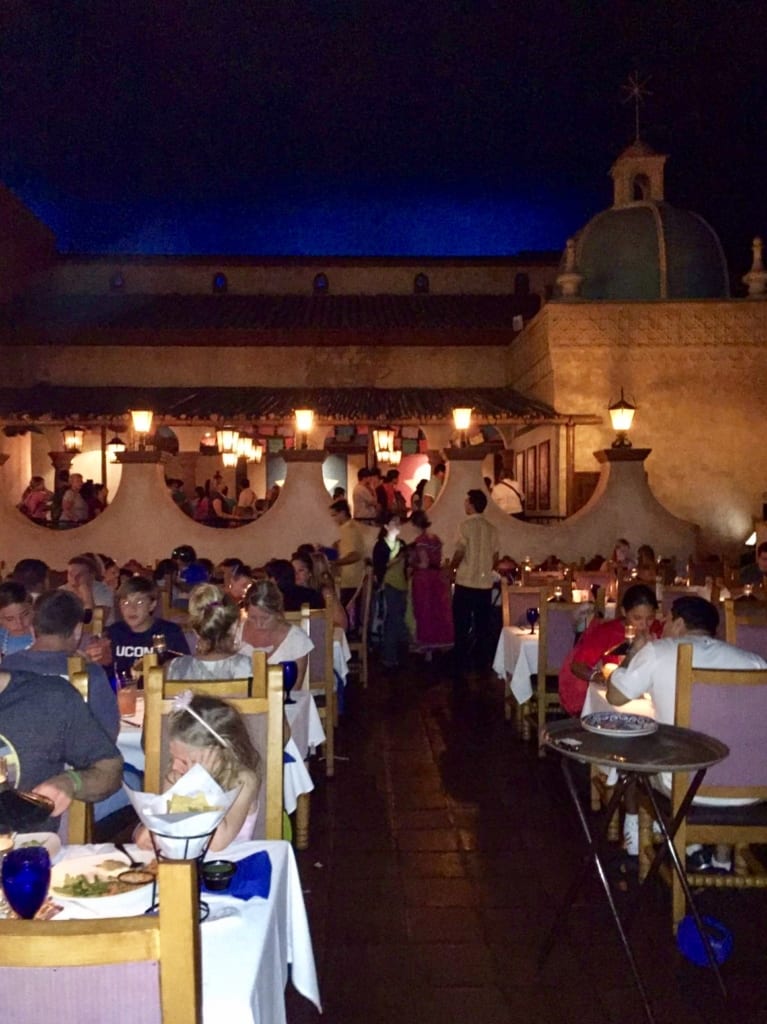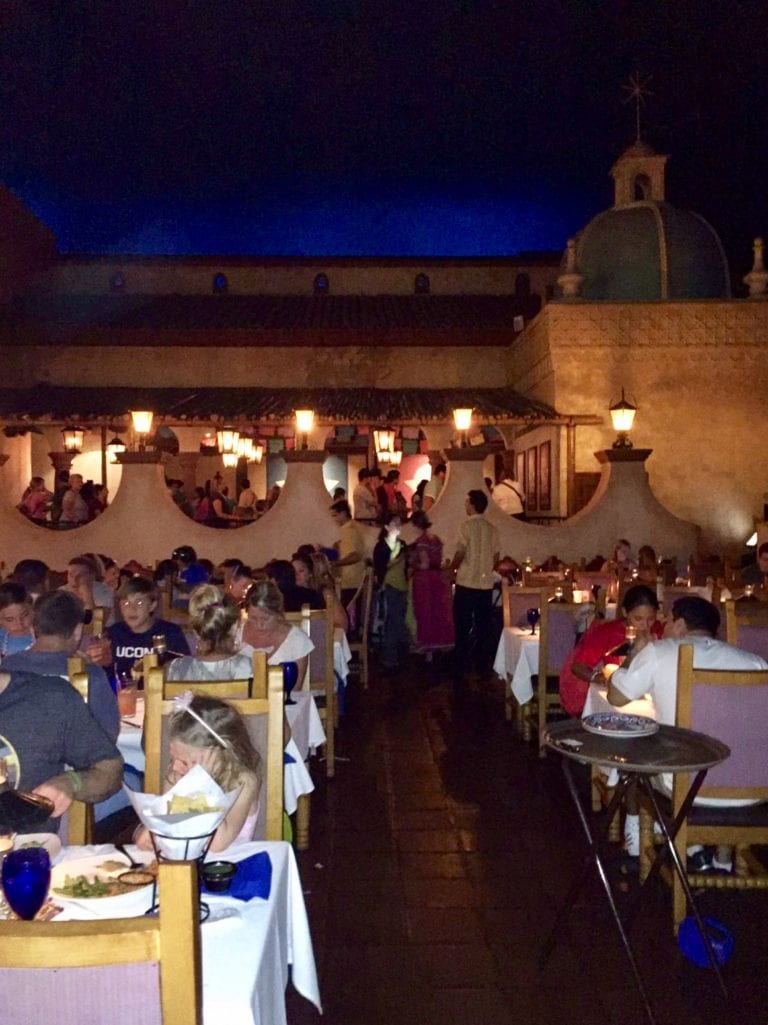 If you are here for a romantic evening with your significant other, then I recommend you to ask for a waterside table for 2. Trust me it's worth it!
You can see the detail on the old buildings that are surrounding San Angel Inn, and the beautiful balconies filled with flowers!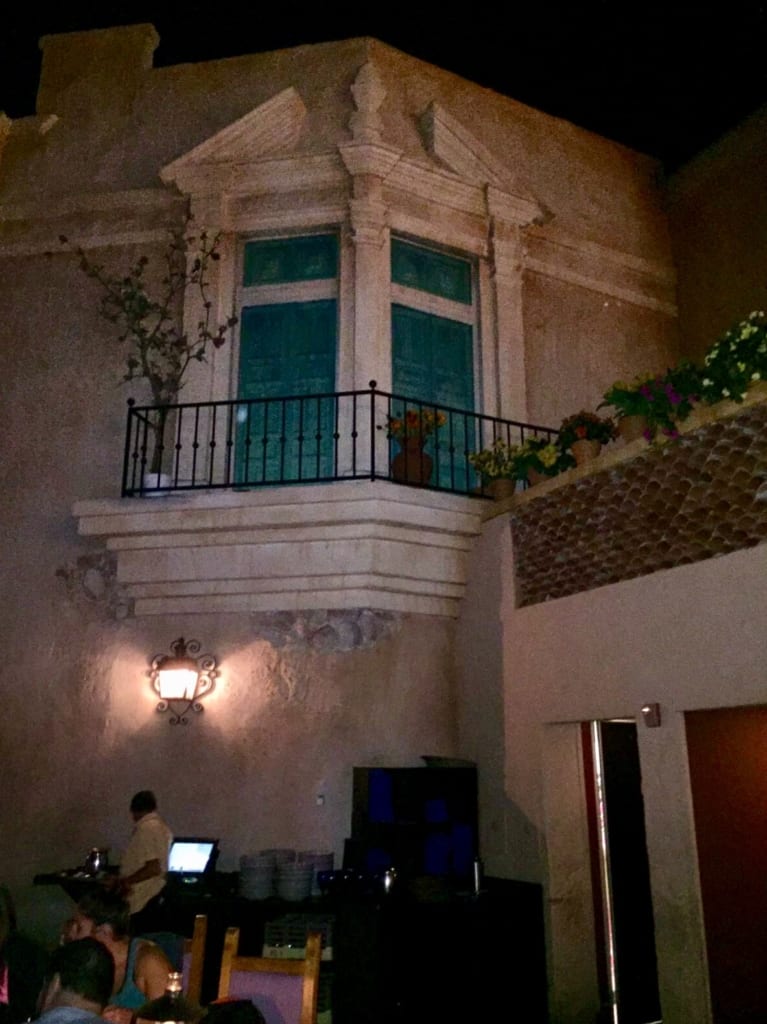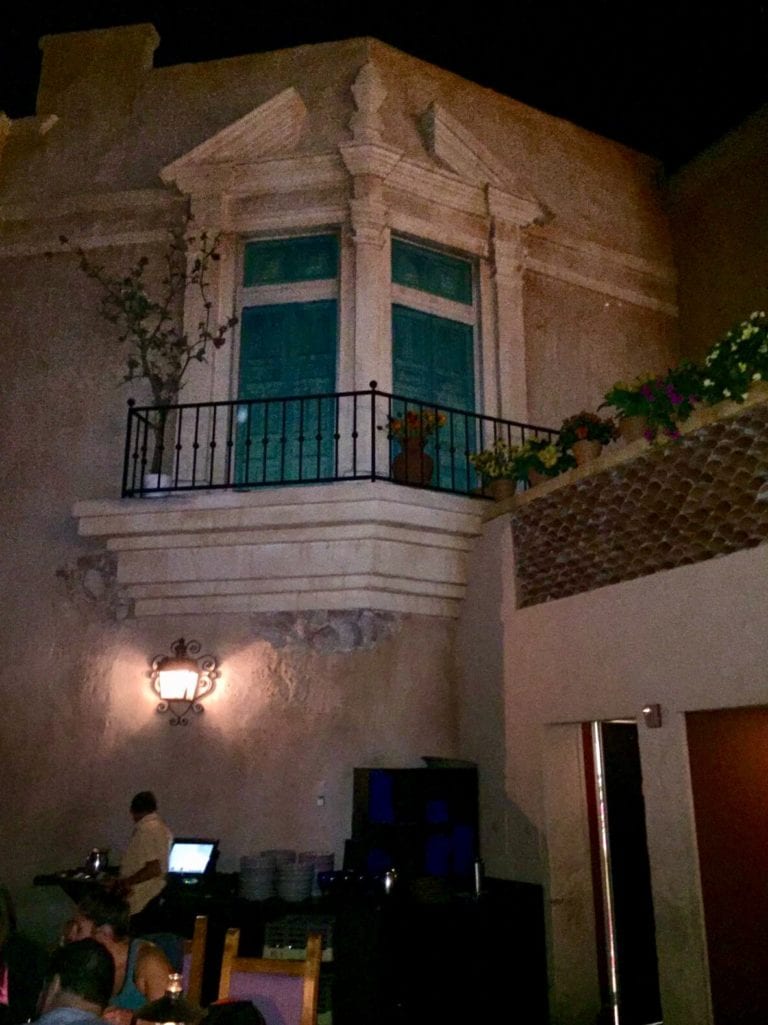 The place settings are new and I'm a big fan. The old ones were very brightly colored and kind of cheap and tacky looking, whereas these are much more elegant and simple blue and white, very nice: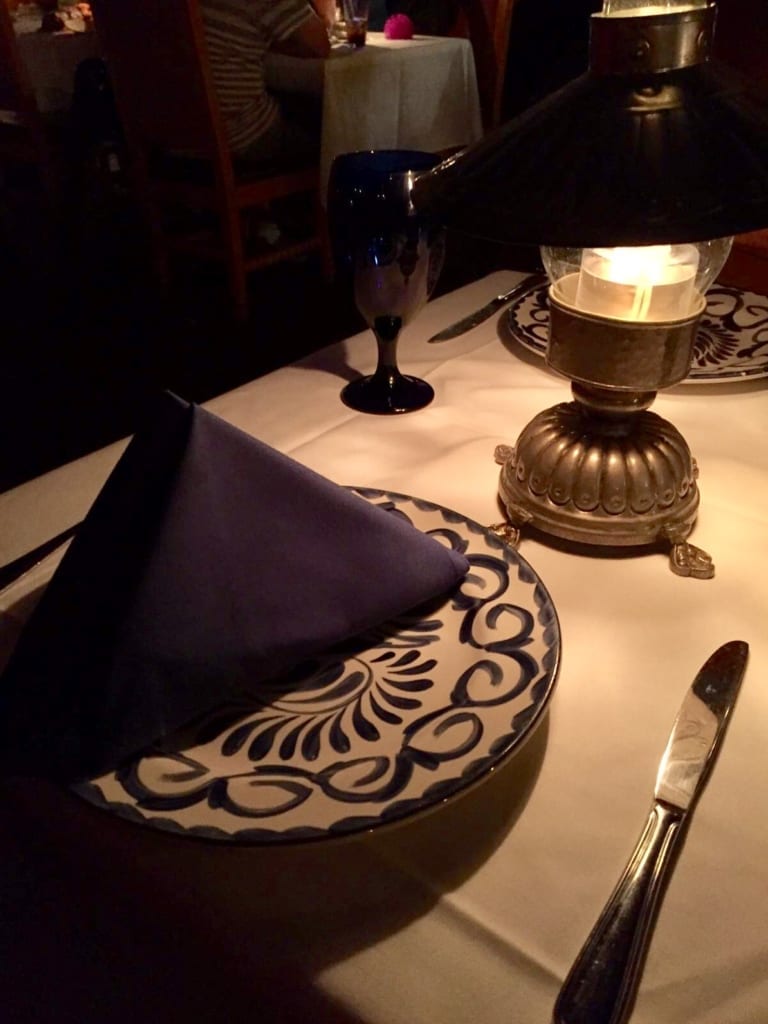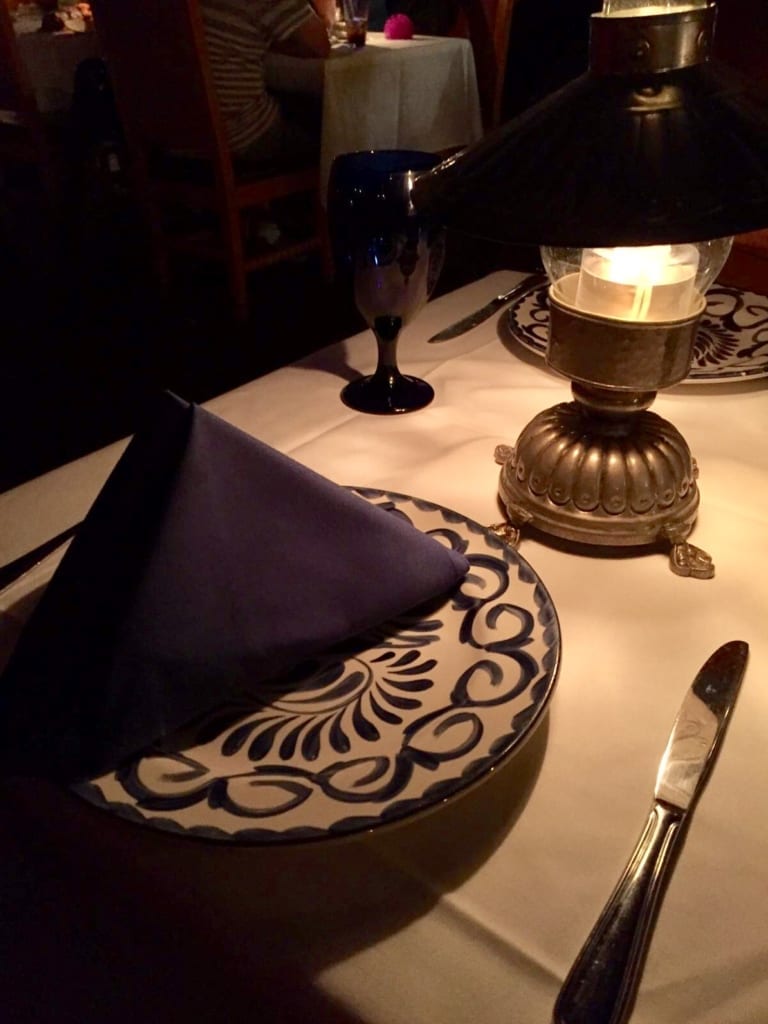 So far San Angel Inn hasn't let us down. But the beauty and atmosphere was never in question, let's get down to the food and see how it is this time…
Food:
You can find many popular Mexican dishes you probably are already familiar with here at San Angel and some unique or traditional dishes you might never have tried. Traditional Tortilla Soup is a crowd favorite, as well as the Tacos, Enchiladas and there are many Fish dishes too if you like seafood. My recommendation is to go with some kind of platter that lets you try a few different things.
San Angel Inn is also known of course for its hand-crafted Margaritas and Tequila of which they carry many top-shelf names. They even have a Tequila Flight if you are in the mood to do some tasting.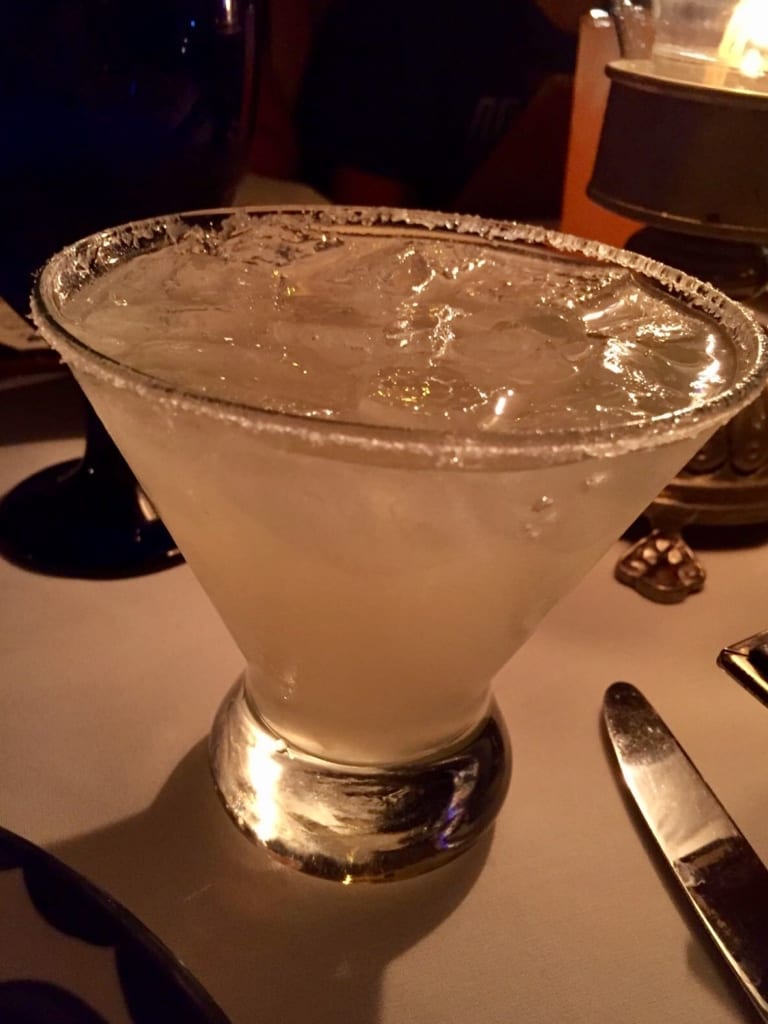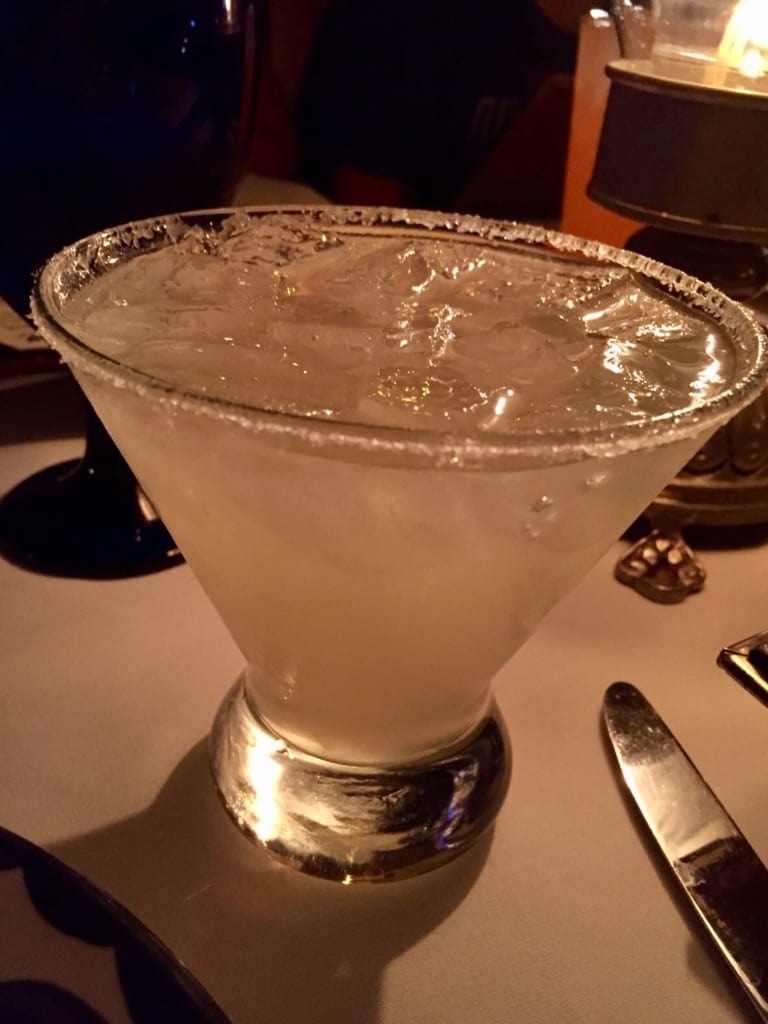 Unfortunately we got off right away to a very bad start as the service we had was terrible. The service was painstakingly slow the whole night and it wasn't even jam-packed with people.
As in every Mexican restaurant we were brought Chips and Salsa out, the only problem is that they were brought to us after our appetizers and main courses had already been served… 🙁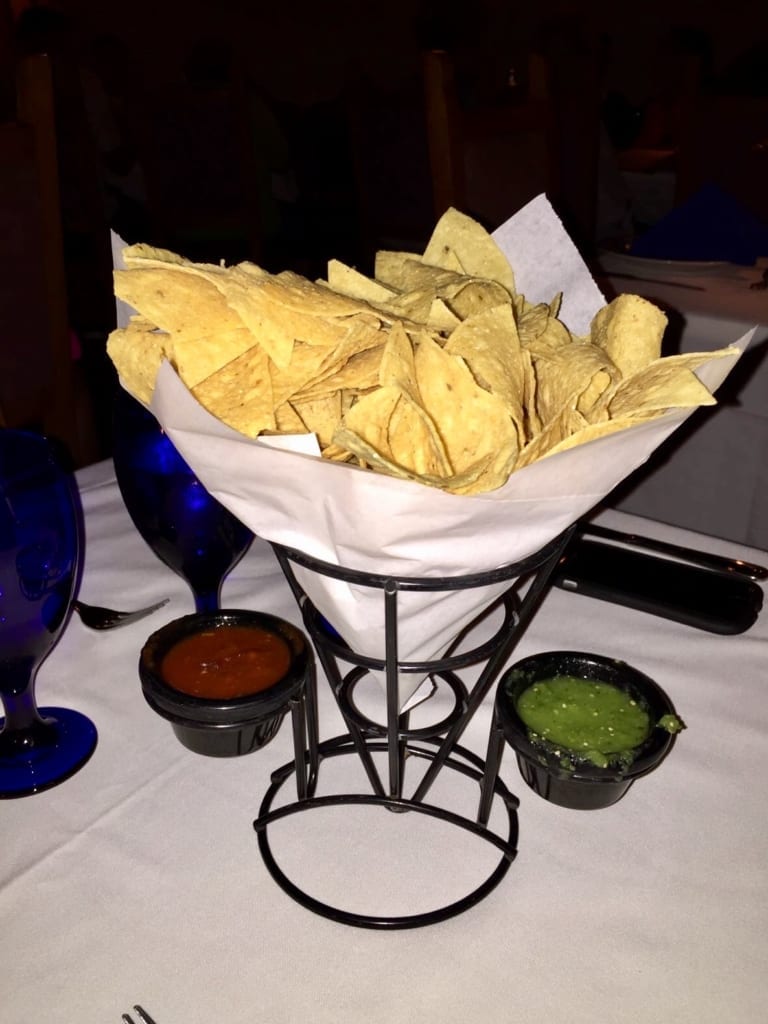 The chips themselves were quite good and were fresh, house-made tortilla chips, not just a bag of Tostidos. The salsa was equally delicious and we had two kinds: a spicy one and a mild. Really everyone loved both the chips and salsa, but it's a big mistake bringing them out to us essentially after our meal was done.
We ordered 2 appetizers: the always delicious Sopa Azteca, which is a traditional tortilla soup with fried tortilla strips and the Queso Fundido.
I would love to share a review about both of them with you, but unfortunately our waitress obviously forgot about our soup as it was never even delivered!
The Queso Fundido was quite remarkable however:
The melted blend of cheeses was out of control! Inside the cheese there is also Chorizo Sausage, Poblano Peppers and Onions and served with a stack of warm tortillas. We found it great to take a big spoonful of the fondue and spread it out over the tortillas! Best thing we had all night! The mix of cheese, sausage and veggies was soooo good! Definitely a must order!
For one of our Entrees we had the Carne Asada was a New York Strip Steak served with a Cheese Enchilada, Re-fried Black Beans, Peppers and Onions, Rice and Guacamole: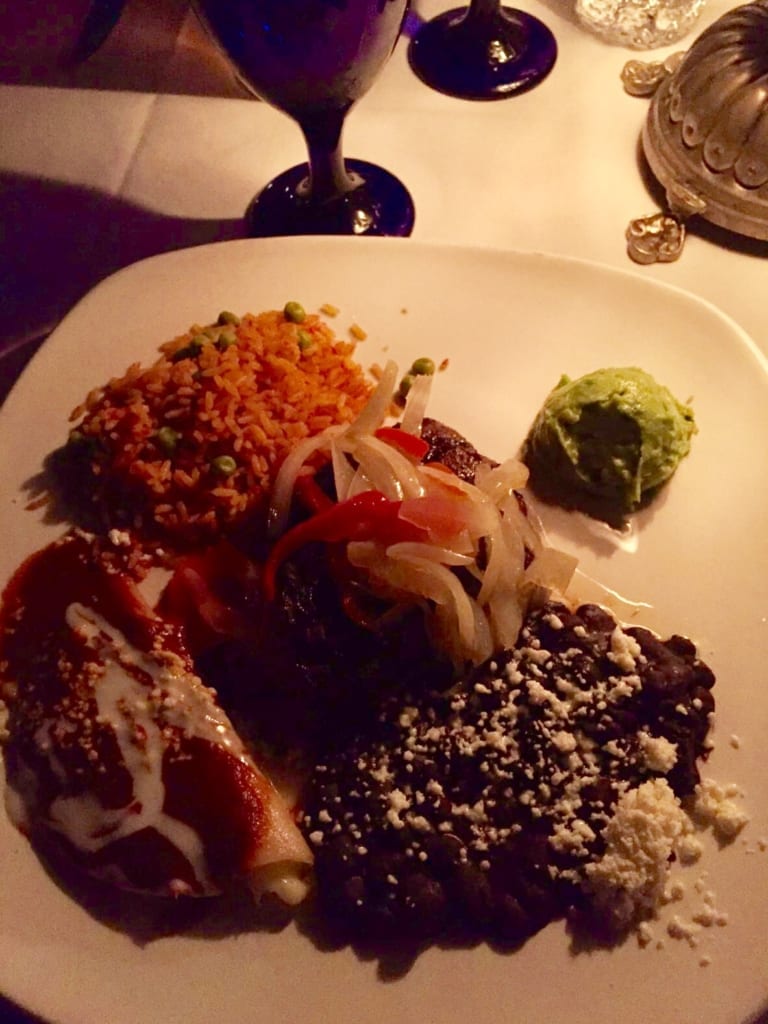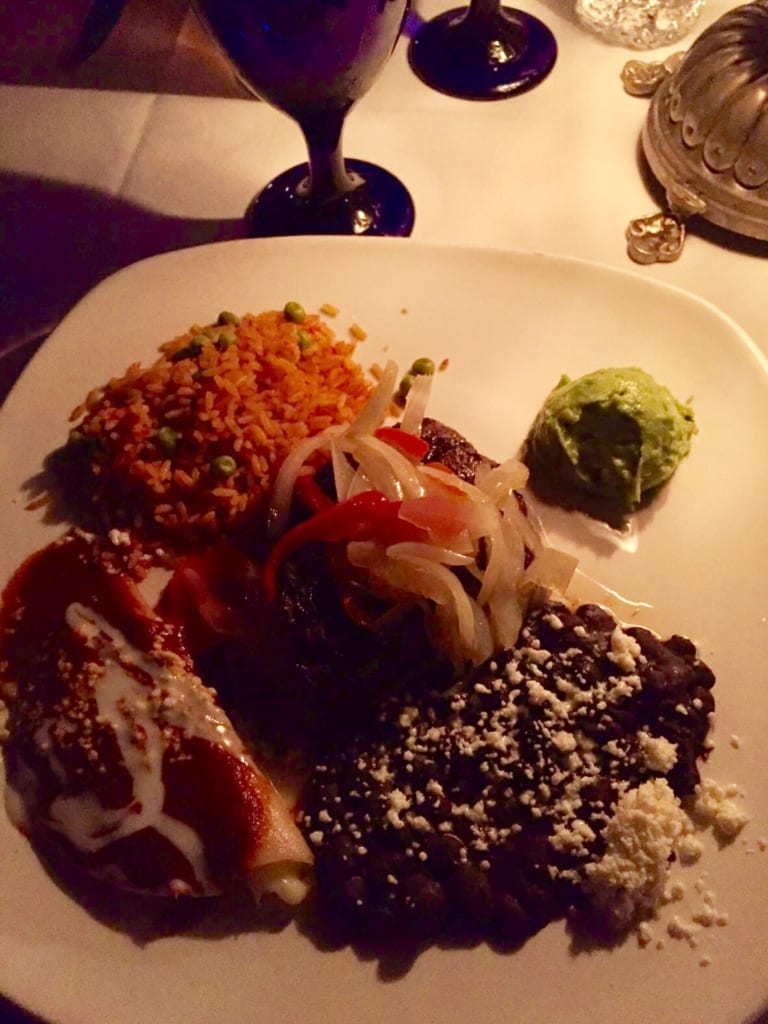 We were very impressed by this plate as all the flavors worked really well together. The Steak was cooked right. The Enchilada was very tasty, I just wish it had been a little bigger since it was so good! The rice was standard and the beans were actually quite good, especially since they put some crumbled cheese on top. The guacamole tasted very fresh as well. This was an excellent plate altogether as it was tasty and very filling.
We also got the Shrimp and Pork mixed plate which came with Mashed Yucca and a Corn-Potato Puree.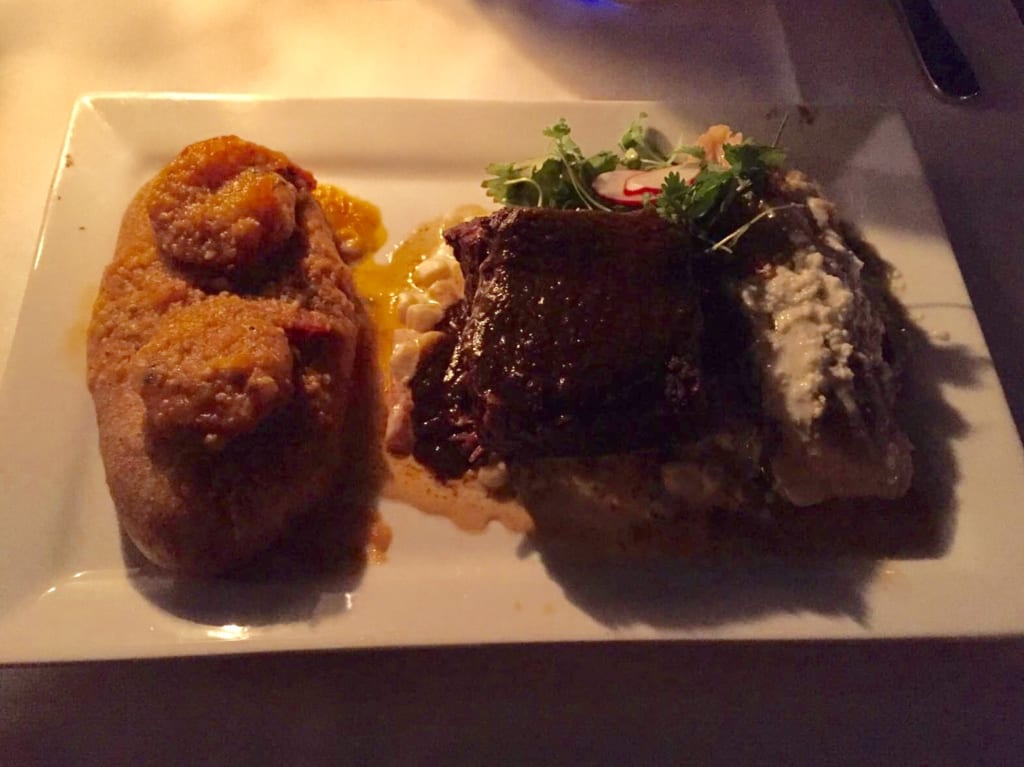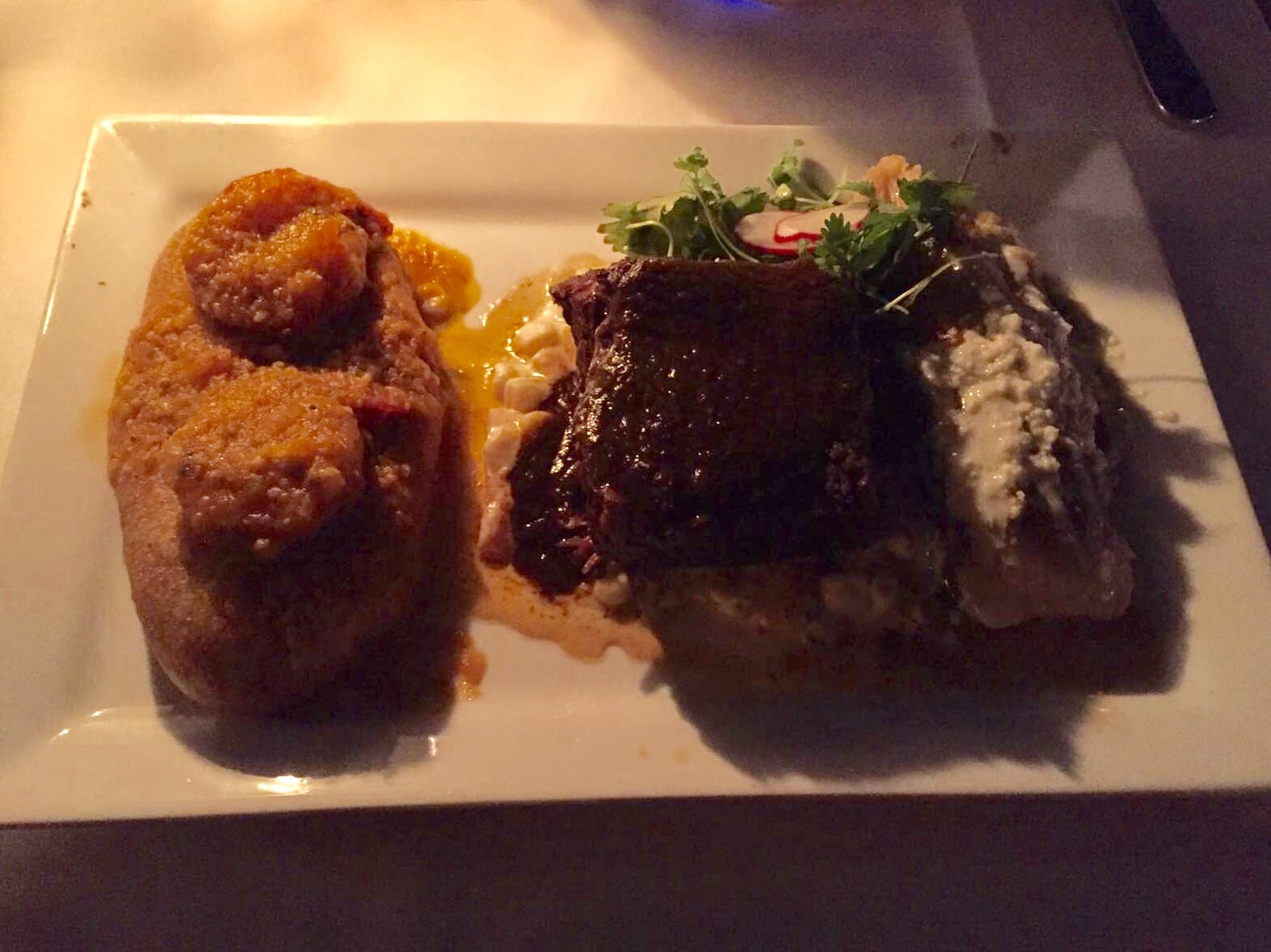 The Shrimp were very good, spiced nicely, but I thought they were a bit skimpy giving only 2 of them. The pork was very tender, flavorful and had some nice seasoning on it. The Corn-Potato Puree was ok, as well as the Mashed Yucca, which I'm not usually a huge fan of because it's a little bitter and stringy for me. Overall a decent offering, the pork being the best thing on it.
When dining at San Angel Inn you don't have to worry about too much spice as the dishes were all well seasoned, but not what I'd call spicy. I would say that in fact they are authentically prepared Mexican dishes that will appeal to a wide variety of people, children included.
After our bad experience with our waitress however no one was in the mood for dessert and preferred to go get something outside instead.
Summary:
The experience again at San Angel Inn left me with mixed feelings. Again I have to emphasize how bad the service was: slow as anything, didn't bring our Soup, brought the Chips and Salsa out AFTER our entrees. We we talked to the manager he told us that was his best waitress…. :0 If that's even remotely true I have no idea what to say! Usually I've found the managers of all the restaurants on property to be overwhelmingly helpful and apologetic if we have a bad experience, but he didn't even take anything off our bill for us, all he did to compensate was give us free chips and salsa to take home…
On the opposite spectrum, the atmosphere was incredible as always and I found the food to be much improved over the last visit. The Carne Asada was a great meal and a good value at under $30, even something that can be shared. The Chips and Salsa when they finally did come were amazing, and the Queso Fundido was outstanding! And the Margaritas never disappoint!
I won't say I'll never return to the San Angel Inn as the ambiance is too good and the food turned out to be quite good. But the terrible service has turned me off for at least a while. It's really a shame too as this place has a ton of potential. If you are looking for a unique Walt Disney World dining experience and you enjoy Mexican cuisine then you might want to give it a chance. Maybe you'll be luckier than me and get a decent waitress. Just be warned that if you don't like the service don't say I didn't warn you! 😉
San Angel Inn is a Lunch/Dinner restaurant and is open from 11:30am-4:00pm and from 4:30 to Park Closing Daily. The Disney Dining Plan is also accepted, it is a one credit dining restaurant. Reservations can be made via the Disney World website or by calling (407) WDW-DINE.
I love to write Restaurant Reviews of Walt Disney World and I hope you found this one to be informative and helpful. If you liked this review then please visit my Disney Dining Reviews Page where I have many other Restaurant Reviews. I'm happy sharing with you what I love doing best…eating! I try to bring you the most thorough and unbiased reviews about the food and restaurants at Walt Disney World, so that as you are planning your vacation, you know the "can't be missed" places, and where you shouldn't waste your time. Hope you enjoyed this one and will enjoy many others in the future!! ?
If you enjoyed this article, as always I appreciate it if you'd share it with others via social media. I work hard at making this website into a useful resource for you and your family to plan your visit to Walt Disney World, and I hope it can help you! Thanks 🙂
Your Thoughts:
I want to know what you think about San Angel Inn and your experiences there. What's your favorite food there? Where does it rank on your list of World Showcase Restaurants? Let us know in the comments section below! 🙂