Again this upcoming year one of our favorite events in Walt Disney World is back…the 2020 Epcot Festival of the Arts and this year is going to be bigger and better than before!  Where else can you eat food this delicious, but also looks this incredible??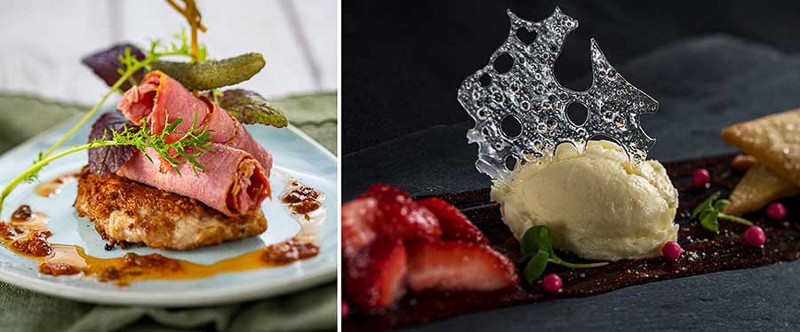 the 2020 Epcot Festival of the Arts is now underway and in this post, we are going to talk about everything you need to know about the Festival of the Arts including Menus, Dates, Tickets and more!
When is the Epcot Festival of the Arts in 2020?
In 2020 the Epcot Festival of the Arts will be celebrated for a whole 39 days from January 17th – February 25th and today Disney has released the first details about the Entertainment, Menus, Interactive Events, Workshops, Entertainment and more!
And don't forget the food!!  In addition to all the already yummy items over the past new year, Disney is debuting many NEW food and drink items, and each one looks better than the other!  Let's find out what you can find in 2020…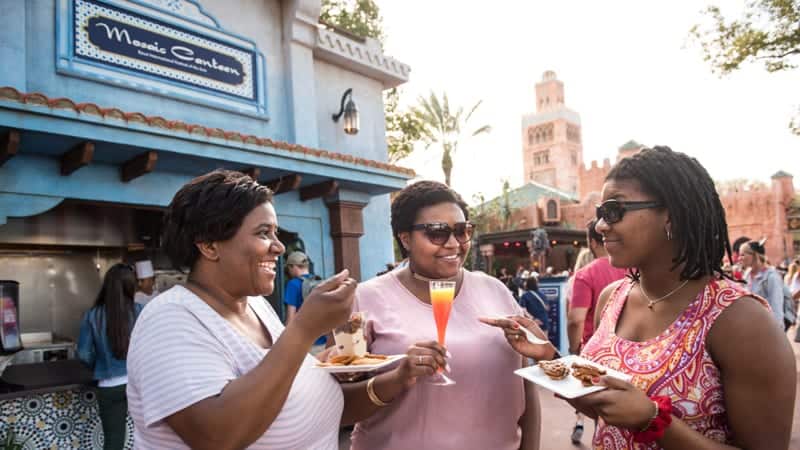 The Epcot Festival of the Arts is once again hosting the popular: Disney on Broadway Concert Series every night during the festival. Last year the hours were 5:45, 6:45 and 8pm so we expect something similar that that again in 2020.
Stars from Disney on Broadway will once again take the America Gardens Theatre stage singing, favorite songs from award-winning Disney on Broadway productions which last year included: "The Lion King," "Frozen" and "Beauty and the Beast."
We're anxious to see what this year's lineup will look like but expect it to rotate often so check the schedule for your favorite performances.
The Disney on Broadway Concert Series Dining Package can also be booked, allowing guests to enjoy a meal either at Breakfast, Lunch or Dinner in a nearby Epcot restaurant and then not worry about having to find a seat later and going to the priority seating instead. Information about Dining package reservations can be found by visiting Disneyworld.com or calling 407-939-3463.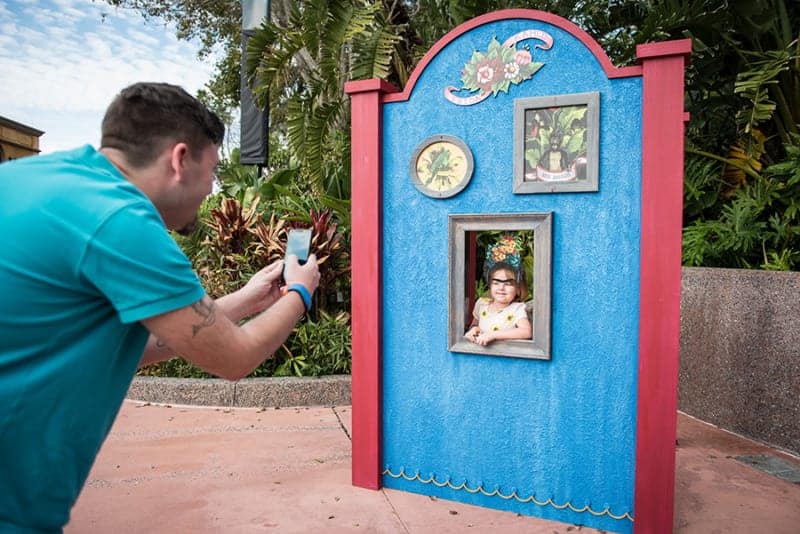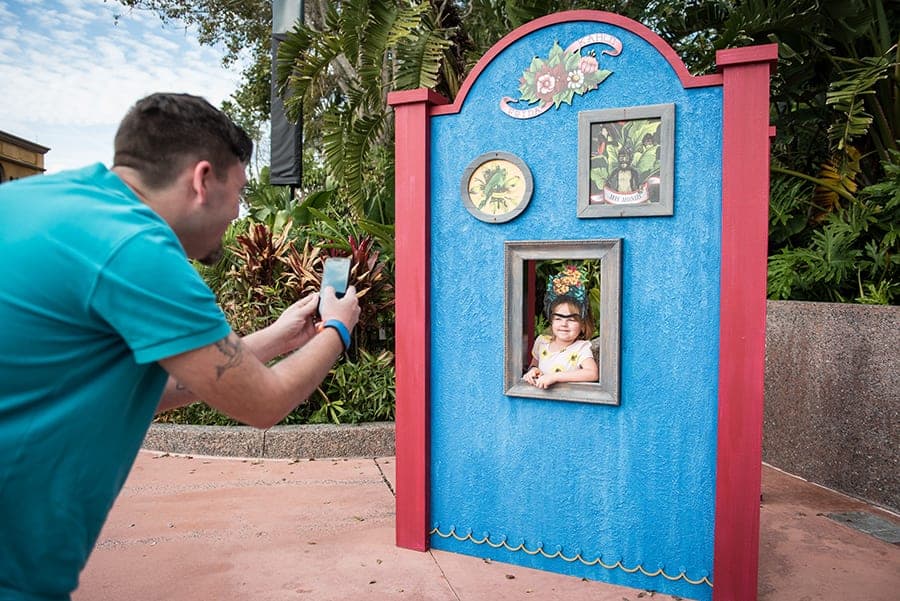 This year during the Festival of the Arts celebration there is going to be a whole bunch of new entertainment available for guests to enjoy as Epcot is in the middle of a big transformation project.
Some of the things guests will be able to experience during the festival in 2020 are :
A new "Beauty and the Beast Sing-Along" debuting in January 2020 in the France pavilion which will be in addition to Impressions de France. This new sing-along adventure is directed by Don Hahn, producer of both the animated and live-action versions of this tale as old as time.
"Canada Far and Wide in Circle-Vision 360" is debuting in January 2020 in the Canada pavilion with new scenes and a new story.
The Land pavilion is getting a new film, "Awesome Planet," in January 2020 showcasing the beauty, diversity and dynamic story of the planet.
And of course, when the end of the night is here, you'll want to cap it off by seeing the new nighttime show "Epcot Forever," which is debuting October 1, 2019. This new show will be replacing the beloved "IllumiNations: Reflections of Earth" which has its last performance on September 30, 2019.
2020 Epcot Festival of the Arts Menus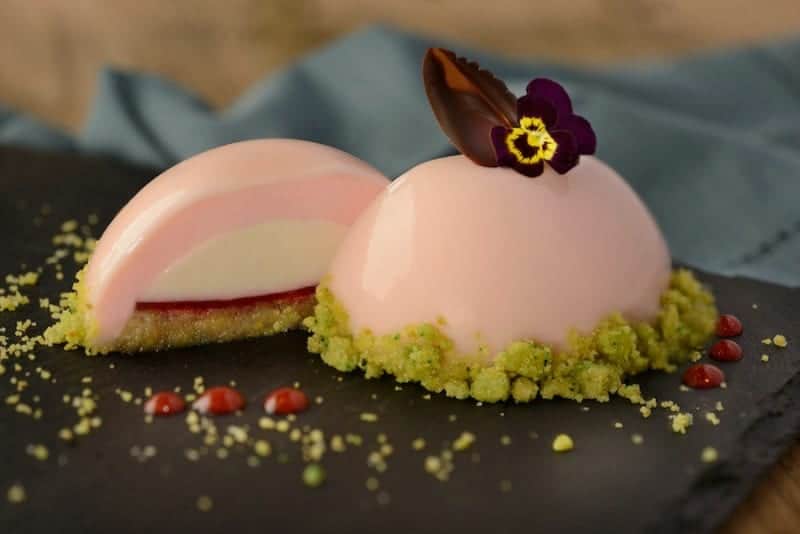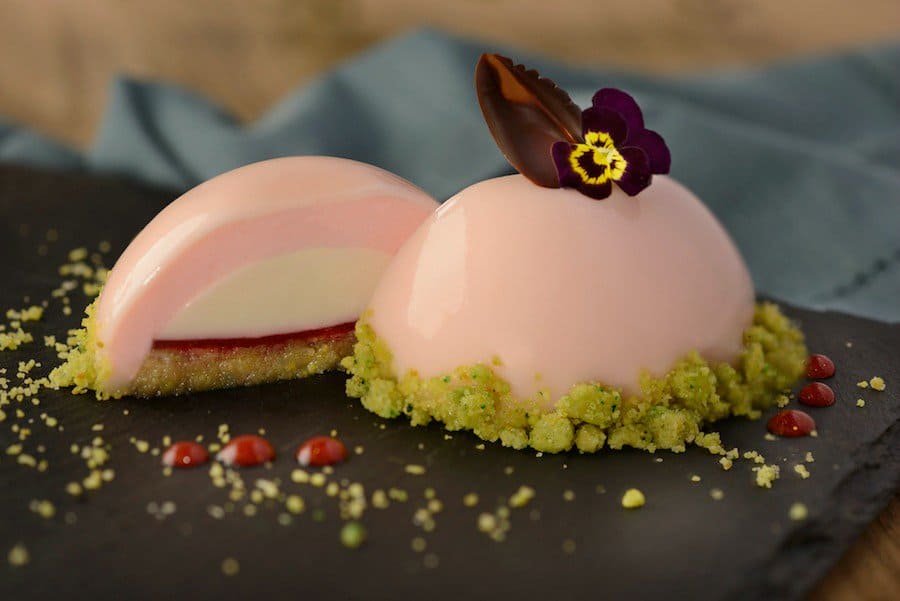 Great news, Disney has just released the full menus for the 2020 Epcot Festival of the Arts, and it looks like there are even more yummy snacks than ever!
Check out all the menus below to get a feel for what kind of food is served, and start writing down all the different items you are going to try once the festival starts!
Included in there are many NEW offerings that have my mouth watering already! The menu includes:
The Artist's Table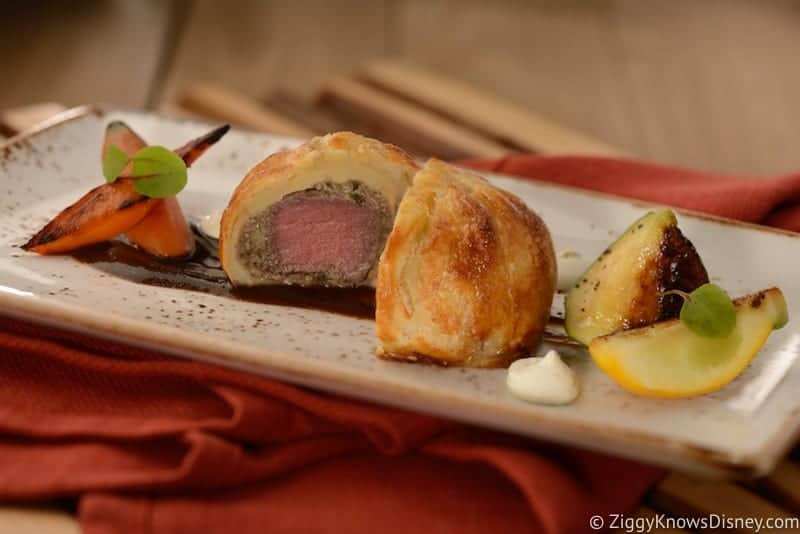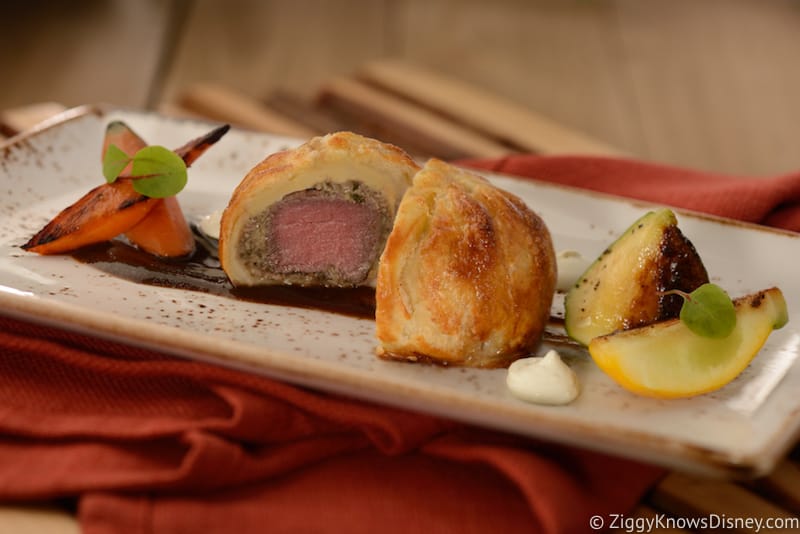 Food:
Beef Wellington with Mushroom Bordelaise, Fennel Cream, and Roasted Baby Vegetables (KA)
Pan-Seared Scallop with Chorizo, Roasted Red Pepper Coulis and a Parmesan Crisp (GF)
Artist Palette Jumbo Chocolate-Chip Cookie (KA)
Beverages:
Sipping Chocolate Flight: White, Milk and Dark (non-alcoholic)
Saugatuck Brewing Co. Neapolitan Milk Stout, Douglas, MI
Lexington Brewing Company Kentucky Vanilla Barrel Cream Ale, Lexington, KY
Lindemans Framboise Lambic, Belgium
Barrymore Rosé, Monterey County, CA
Carmel Road Drew's Blend Pinot Noir, Monterey County, CA
Symphony in Chocolate Flight: Mozart Cream Liqueurs paired with Sipping Chocolates
Chocolate and Beer Pairing Flight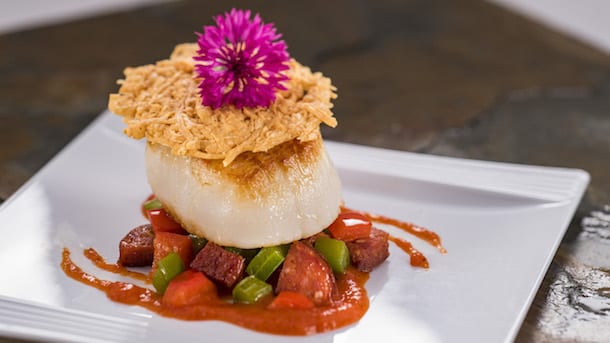 Block & Hans – The American Adventure
Beverage
Arendelle Aqua Lemonade: Frozen Lemonade with Monin Cotton Candy and Ole Smoky Blackberry Moonshine
Cuisine Classique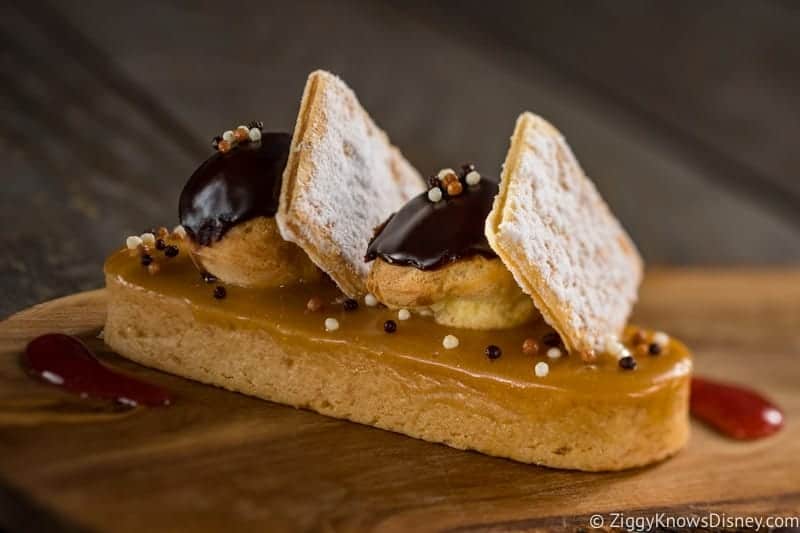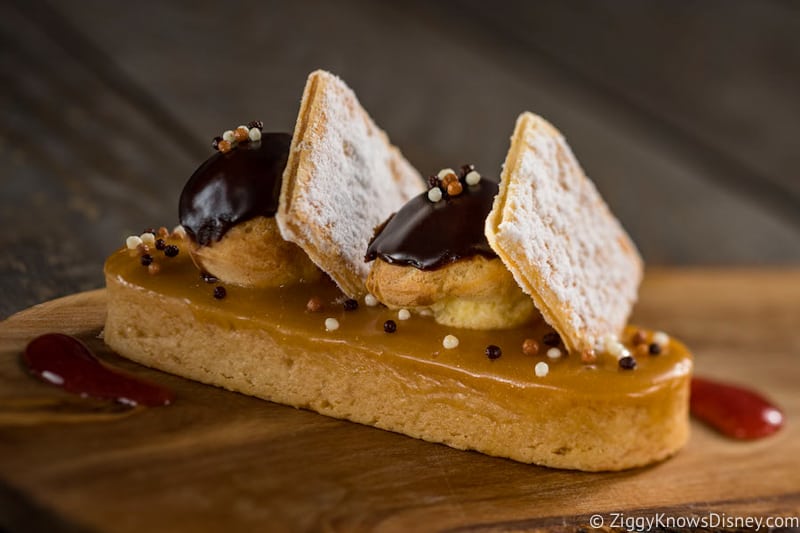 Food:
Red Wine-braised Beef Short Rib with Parsnip Purée, Broccolini, Baby Tomatoes and Aged Balsamic
Seared Corvina with braised Ratatouille and Lemon-Thyme Beurre Blanc (GF) (KA)
Saint-Honoré Tart: Caramel Cream Tart with Caramel Glaze topped with Cream Puffs
Artist Palette Jumbo Chocolate-Chip Cookie (KA)
Beverages:
Angry Orchard Rosé Hard Cider, Walden, NY
Concrete Beach Brewery Rosé Ale, Miami, FL
Frozen Rosé
Campo Viejo Rioja Reserva Art Series, Logrono, Spain
Domaine Savary Chablis, Burgundy
A Play on Rosé Flight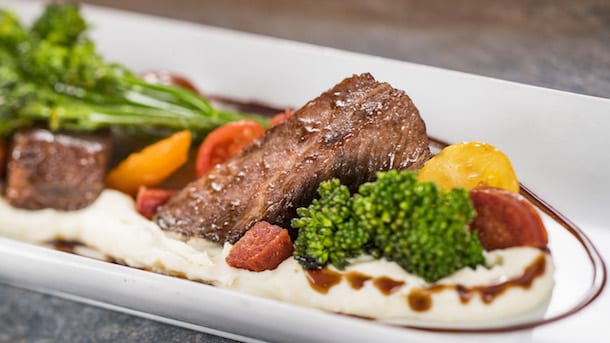 Decadent Delights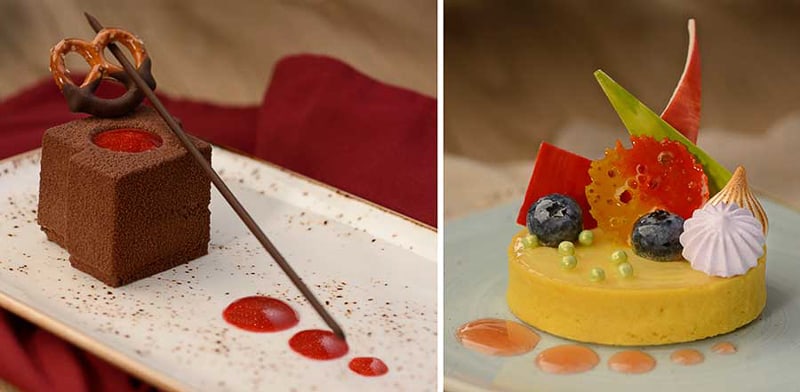 Food:
White Chocolate and Purple Sweet Potato Mousse, Caramel, Coconut and Maple Meringue
Chocolate, Peanut Butter and Pretzel Crunch (KA)
Lemon and Blood Orange Tart
Artist Palette Jumbo Chocolate-Chip Cookie (KA)
White Chocolate Figment Puzzle on an Artist Palette (KA)
Beverages:
3 Daughters Strawberry Blonde Nitro, St. Petersburg, FL
Breckenridge Nitro Vanilla Porter, Breckenridge, CO
Young's Double Chocolate Stout, England
Biagio Moscato d'Asti, Piedmont
Florida Orange Groves Winery Black and Blue Port, St. Petersburg, FL
Cold Fashioned Coffee Cocktail
Neapolitan Beer Flight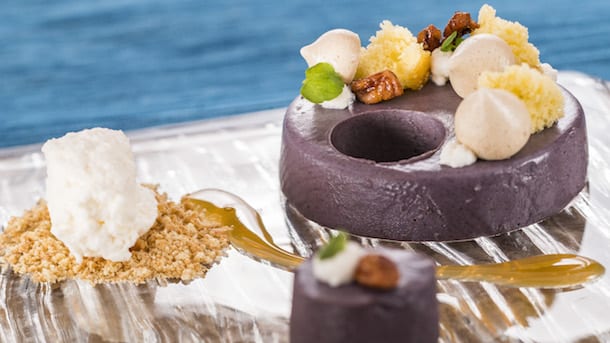 The Deconstructed Dish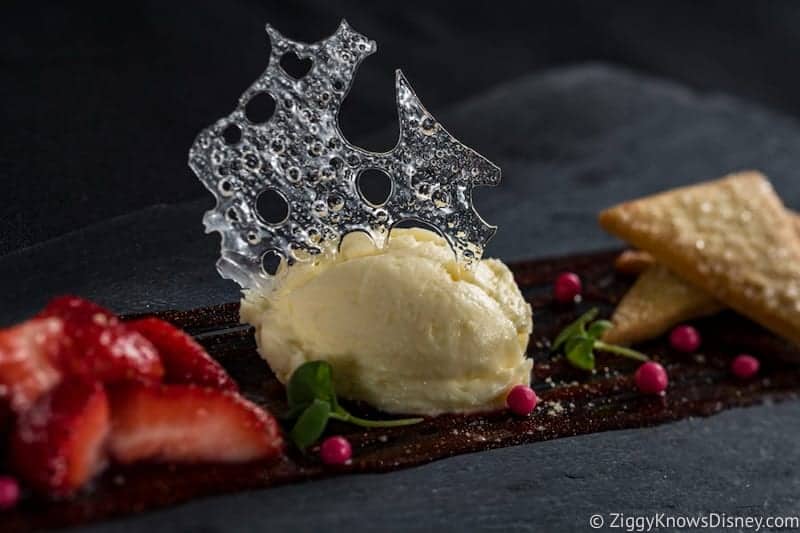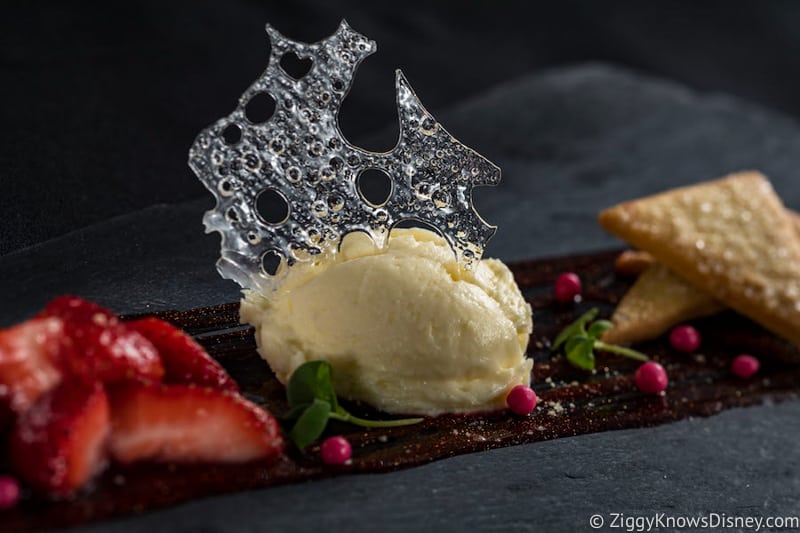 Food:
Deconstructed Reuben: Sliced Corned Beef, Rye-crusted Sauerkraut and Jarlsberg Cake with Broken Thousand Island Dressing
Deconstructed BLT: Crispy Pork Belly, Tomato Jam and Soft Poached Egg
Deconstructed Strawberry Cheesecake: Whipped New York Style Cheesecake with Fresh Florida Strawberries and Sugar Cookies with Micro-basil (KA)
Beverages:
Rainboba: Sparkling Water layered with Fruit Boba and topped with a Foam Cloud (non-alcoholic) (KA)
Deconstructed Breakfast: Twinings® Spiced Apple Chai Tea Shake garnished with Maple Syrup, a Waffle Crisp and Candied Bacon (non-alcoholic) (KA)
Imagery Sauvignon Blanc, California
Mad Genius Red Blend, California
Deconstructed Breakfast: Twinings® Spiced Apple Chai Tea Shake with Cream Bourbon, garnished with a Waffle Crisp and Candied Bacon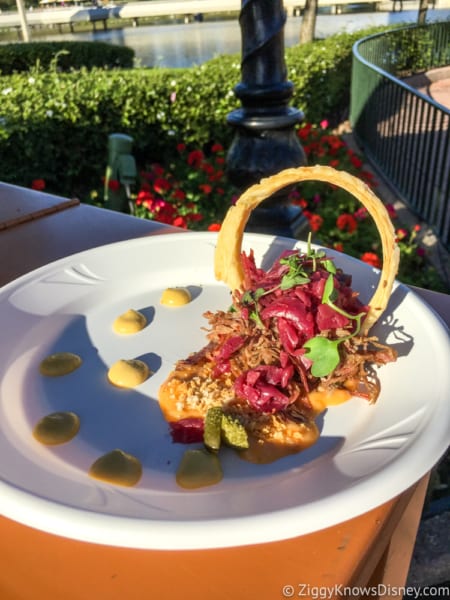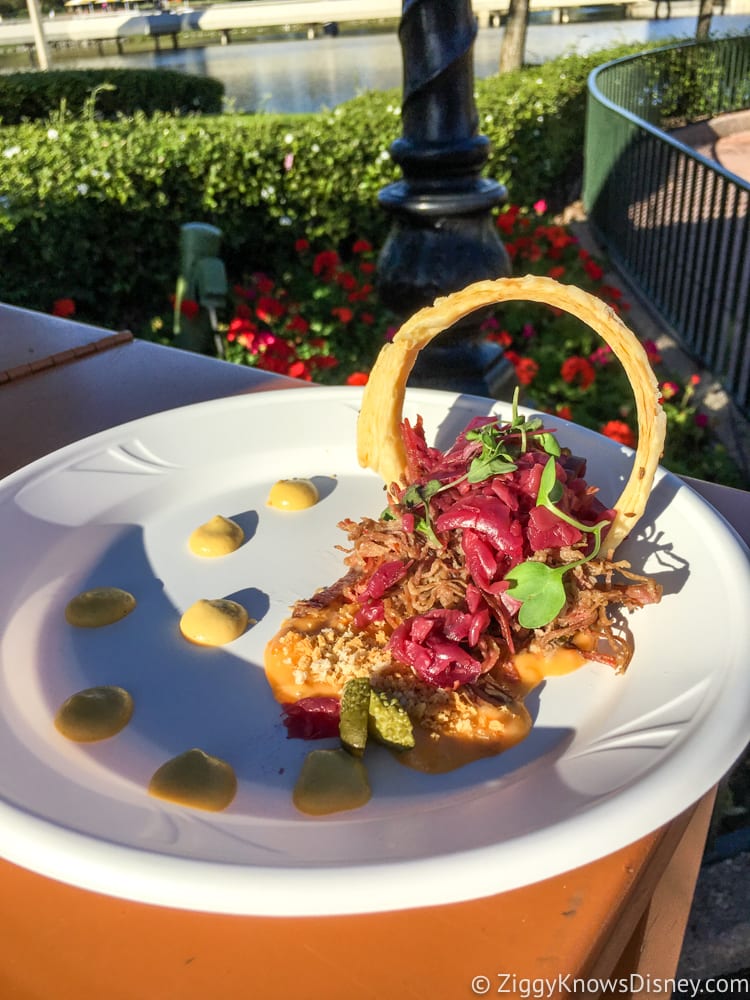 El Artista Hambriento (The Hungry Artist) – Mexico Pavilion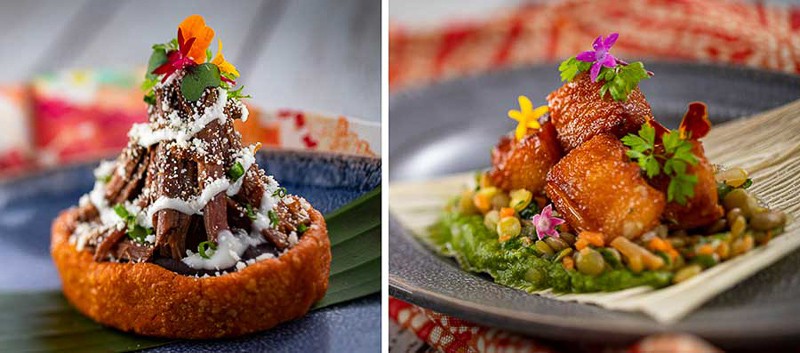 Food:
Sopes de Barbacoa: Braised Barbacoa Beef served on Fried Guajillo Corn Shell with Black Beans, Cotija Cheese, Mexican Cream and Chives
Agave Pork Belly: Pork Belly caramelized with Agave atop Pumpkin Seed Pesto Lentil Salad
Beverages:
Frida Banana Daiquiri: Mexican Handcrafted Rum, Banana Purée and Applejack (served Frozen)
Diego Blackberry Margarita: 100% Agave Tequila, Blackberry Purée, Fresh Jalapeño-Lime Juice served with Black Ant Salt Rim
Mexican White Sangria: White Wine, Fruit Juices and Sweet Cinnamon-infused Tequila
Fife & Drum – The American Adventure
Food:
Musical Float: Layered Strawberry, Lemonade and Blue Raspberry Slushy with Vanilla Ice Cream and White Chocolate (non-alcoholic) (KA)
Funnel Cakes – The American Adventure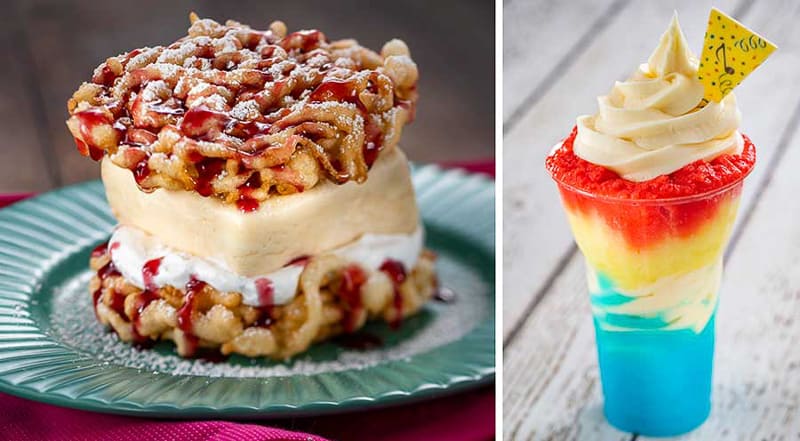 Food:
Peanut Butter & Jelly Sandwich Funnel Cake with Peanut Butter Ice Cream, Marshmallow Cream and Raspberry Glaze (KA)
Joffrey's Coffee & Tea Company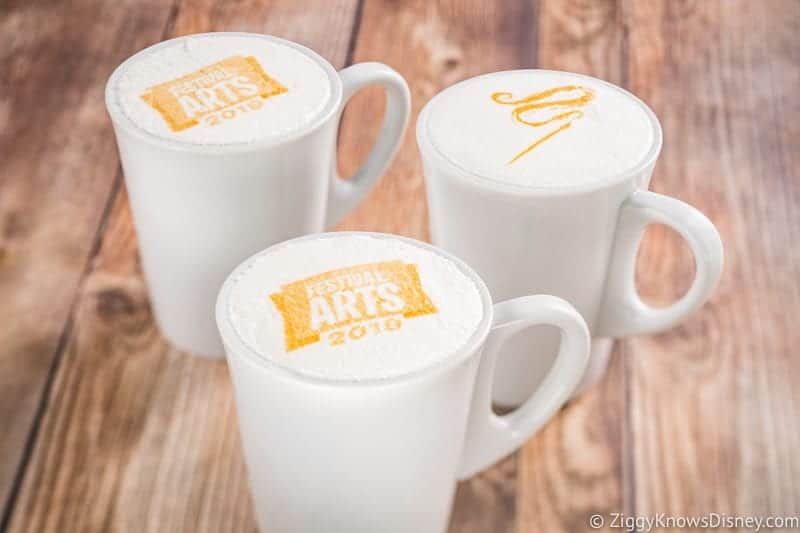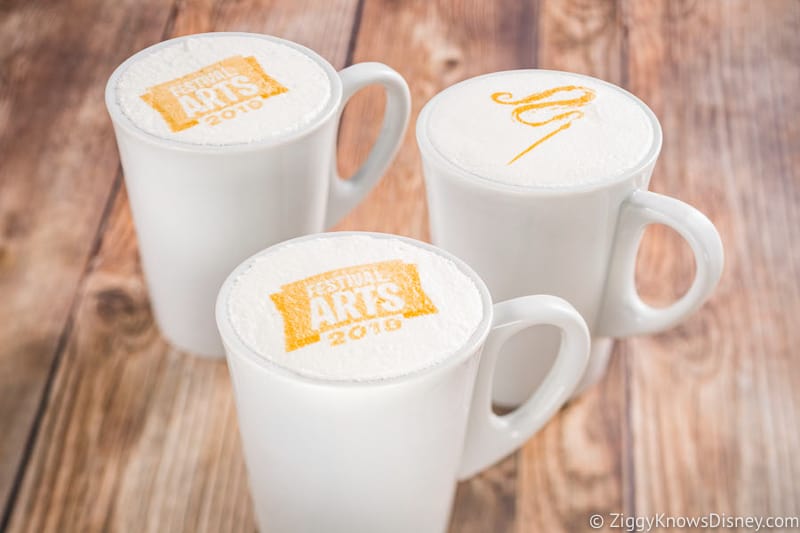 Beverages:

Canada: Impressionism Pairing: Blackberry Iced Latte topped with a delicious Blueberry Donut and Sweet Whipped Cream
Showcase Plaza: Renaissance Pairing: Iced Mocha Latte served with a timeless Glazed Donut and Sprinkles
Future World East: Modern Pairing: Coconut Iced Latte garnished with a decadent Chocolate Donut and topped with Whipped Cream and Sprinkles
The American Adventure: Baroque Pairing: White Mocha Iced Latte layered with a Red Velvet Donut and Sprinkles
L'Arte di Mangiare – Italy
Food:
Insalata di Gamberi al Limone di Zagara: Salad of Poached Shrimp in Sicilian Lemons, Arugula, Shaved Fennel, Avocado, and Citrus Dressing
Pollo alla Pirandello: Golden Chicken Drumstick stuffed with Ricotta Cheese and Pomodoro Sauce (KA)
Rossini: Prosecco Mousse with Strawberry Sauce (contains alcohol) 
Beverages:
Peroni Nastro Azzurro Pilsner
Prosecco, Villa Sandi
Moscato Fior d'Arancio, Montegrande
Corbinello, Montegrande
Pinot Grigio, Santa Marina
Merlot, Montegrande
Amaretto Bellini: Amaretto, White Peach Purée and Prosecco
Vodka Rossini: Vodka, Strawberry Purée and Prosecco
L'Art du Cuisine Francaise – France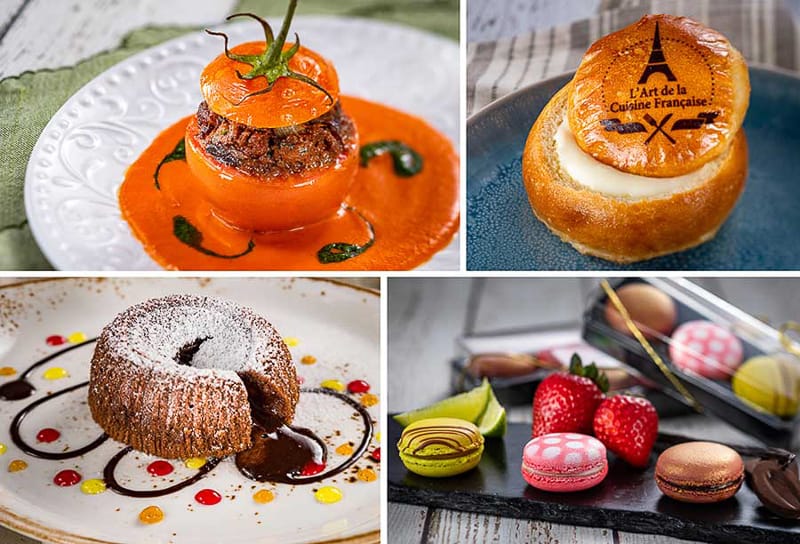 Food:
Crème de Brie en Petit Pain: Warm Creamy Brie in a House-made Bread Bowl (KA)
Tomate Farcie Faҫon Paul Bocuse: Tomato Stuffed with Braised Ribs Paul Bocuse-style
Moelleux Aux Chocolats Valrhona: Molten Chocolate Cake with Pure Origin Valrhona Chocolates (KA)
Trio de Macarons: Assortment of Three House-made Macarons in a Gift Box
Beverages:
Frozen French Martini: Grey Goose, Vodka, Chambord Liqueur, Pineapple, Orange and Grape Juice with Lemon-Lime Foam
Veuve du Vernay, Brut N°1, Limited Edition:French Sparkling Wine
Vouvray, Marcel Dubois, 2018
Bordeaux, Château Malbec, 2015
The Masterpiece Kitchen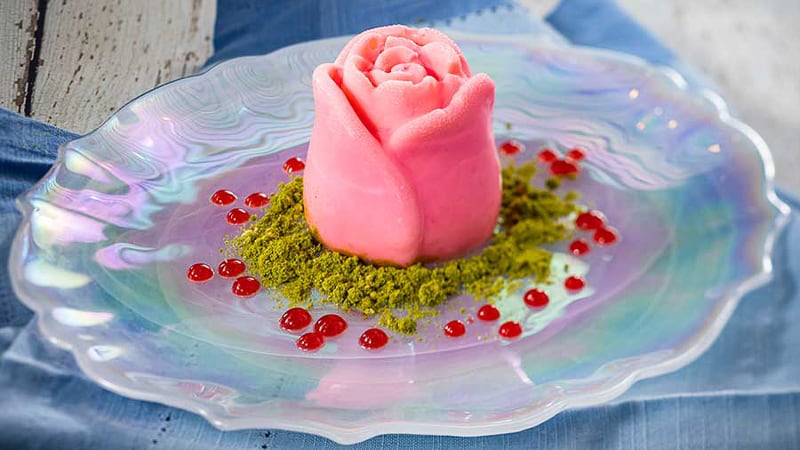 Food:
Wild Mushroom Risotto, Aged Parmesan, Truffle Shavings and Zinfandel Reduction (KA)
Smoked Salmon and Cream Gâteau with Egg Yolk Cream, Paddlefish Caviar and Micro-herbs
Charcuterie Palette with Artisan Cured Meats and Cheeses featuring Nueske's ® Applewood Smoked Beef
Vanilla, Rose Water and Pistachio Panna Cotta
Beverages:
Weihenstephaner Original Lager, Freising, Germany
Perrier-Jouët Belle Époque Brut Champagne
The Meeker Vineyard Winemakers' Handprint Merlot, Sonoma County, CA
Pinord La Dama Reserva Familiar Brut, Spain
Pinord La Dama Reserva Familiar Brut Rosé, Spain
Classic Sidecar with a Chocolate Twist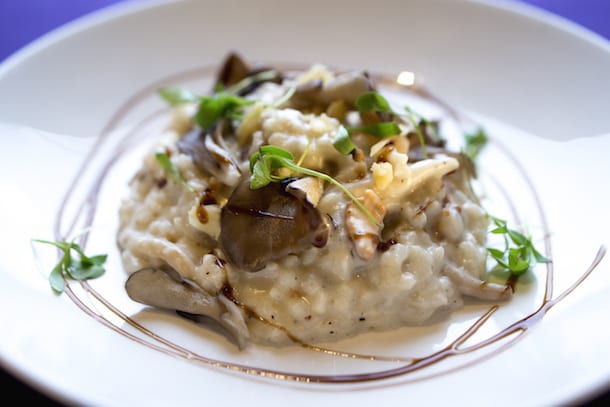 Mosaic Canteen – Morocco
Food:
Spiced Beef with Pine Nuts and Dried Cherries, Hummus and Pita Chips
Mediterranean Flatbread with Zaatar, Olive Oil Artichoke, Olives, Mozzarella and Feta Cheese
Chebbakia: Hand-twisted Strips of Fried Dough coated with Honey, Rosewater and Sesame Seeds
Beverages:
Casa Beer
Kabash Prestige White Wine
Embrace the Arak: Massaya Arak, Grapefruit Juice and Grenadine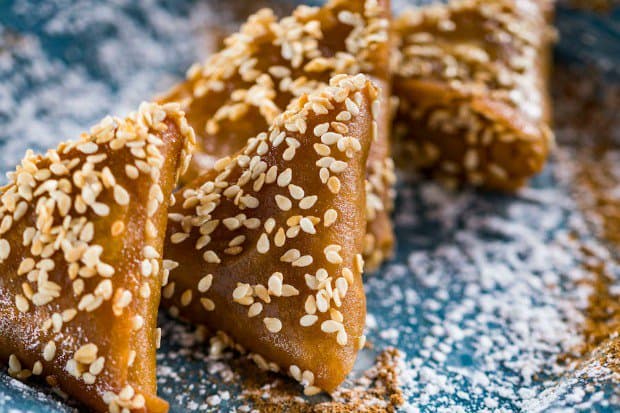 The Painted Panda – China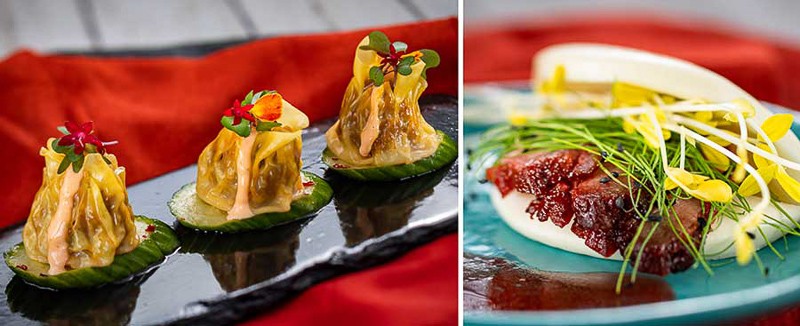 Food:
Spicy Beef Shumai
Char Siu Pork Bun
Beverages:
"Panda" Bubble Tea: Classic Milk Tea with Black and White Boba Pearls (non-alcoholic) (KA)
Jasmine Draft Beer
Fortune Cookie: ByeJoe Spirit, Amaretto, Coconut and Pineapple
Kung Fu Punch: Vodka, Triple Sec
Sea Butterfly: Butterfly Pea Flower-infused Cocktail with Lychee Syrup, Vodka, Light Rum and Magic Boba Pearls
Pop Eats!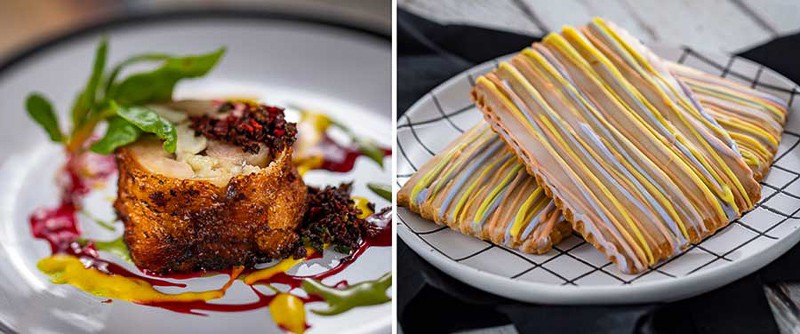 Food:
Sous Vide Chicken Roulade with Apples and Sage served with Warm Brie Fondue, Blueberry and Beet Gel and garnished with Beet Chip Crumbles (GF)
Shrimp Ceviche with Lime Mint Foam (GF)
Almond Frangipane Cake layered with Raspberry Jam and Belgian Chocolate (KA)
Pop't Art: Modern-design Sugar Cookie with Strawberry Filling (KA)
Beverages:
Blue Sky Black Cherry Boba Freeze (non-alcoholic) (KA)
#RainbowSherbetGlitterDreamAle by Playalinda Brewing Co., Titusville, FL
Popping Bubbles Cocktail
Tomato Soup Can Bloody Mary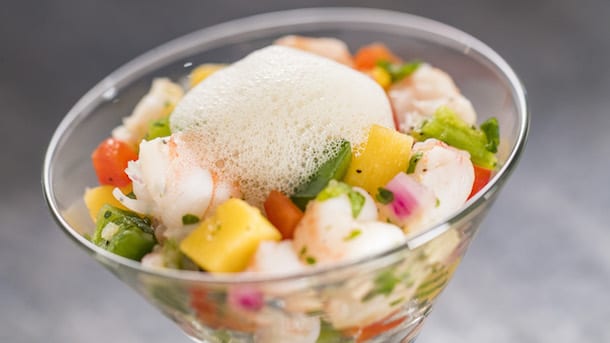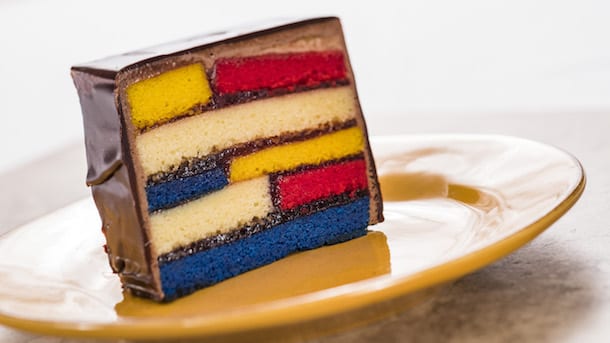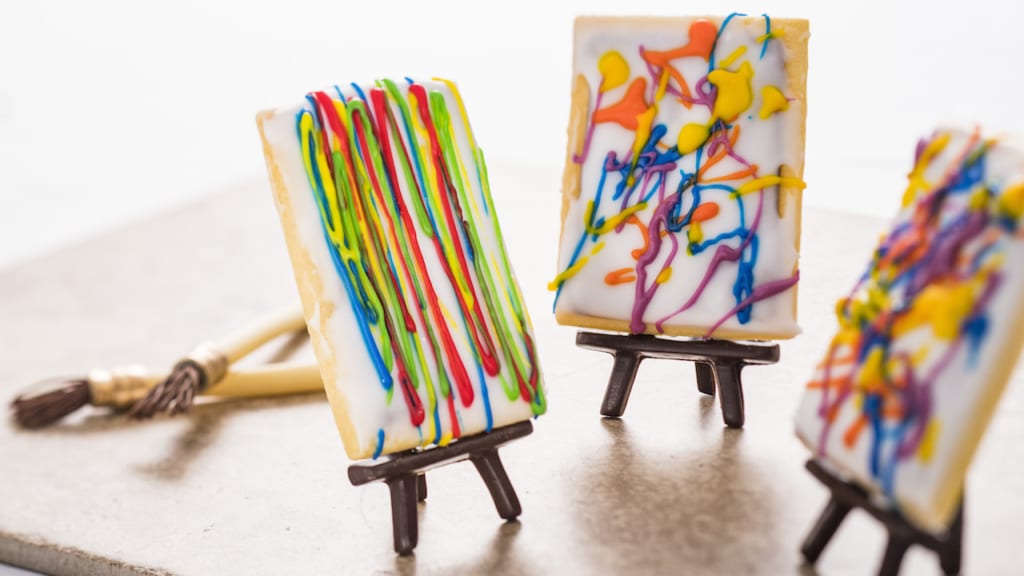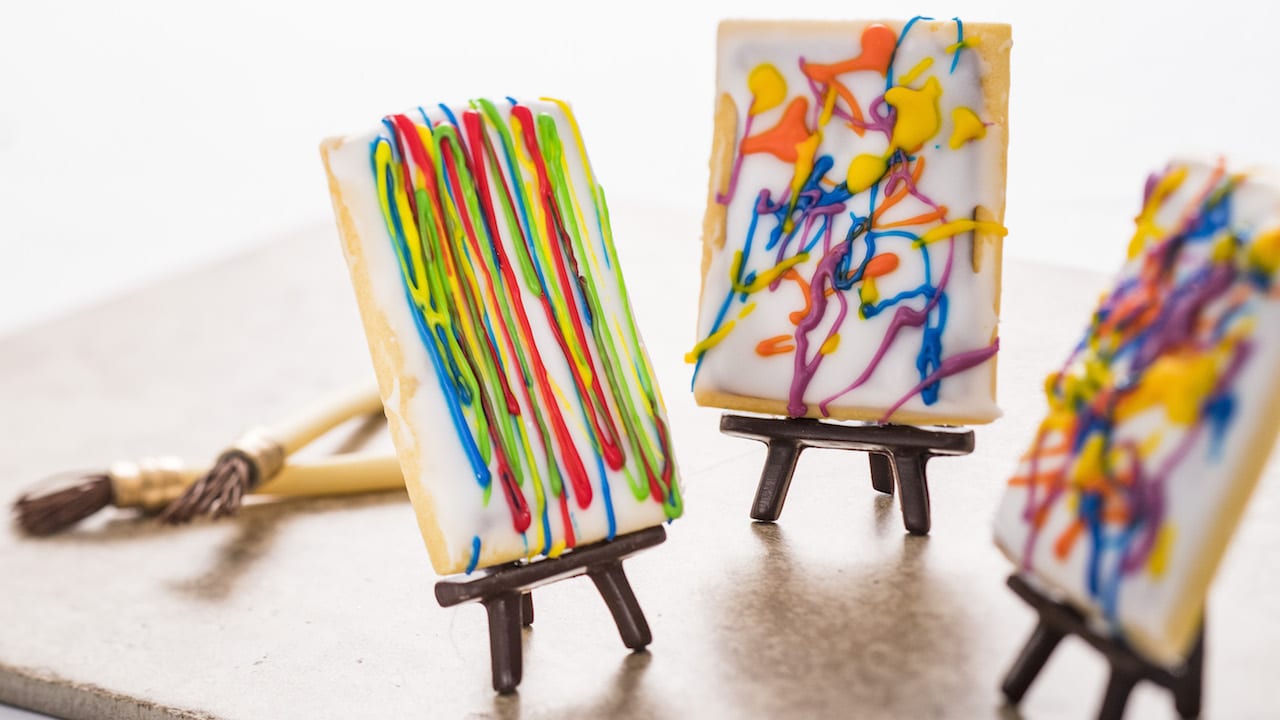 Refreshment Port – Showcase Plaza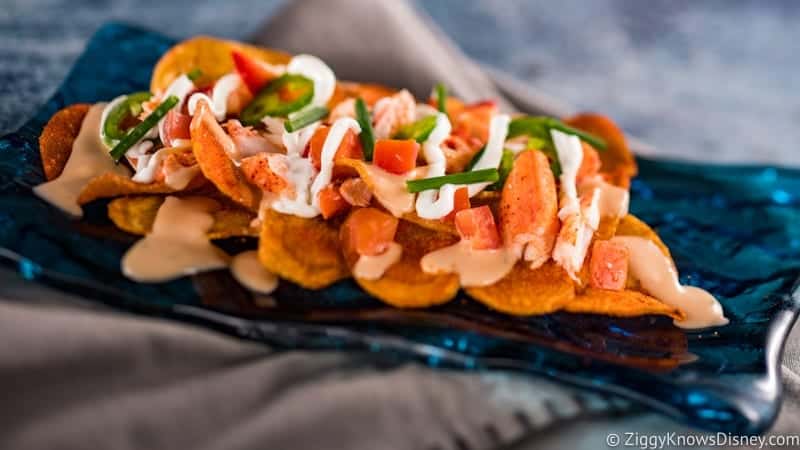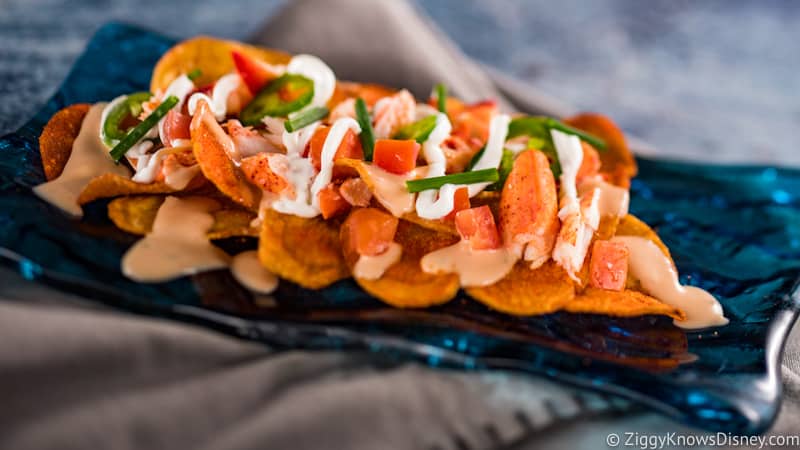 Food:
Lobster Chips: House-made Chips, Lobster, Lobster Bisque Cheese Sauce, Pickled Jalapeños and Citrus Cream
Beverages:
Ciderboys Zen Berry Apple Boysenberry Hard Cider, Stevens Point, WI
Spottswoode Sauvignon Blanc, Napa Valley, CA
Refreshment Outpost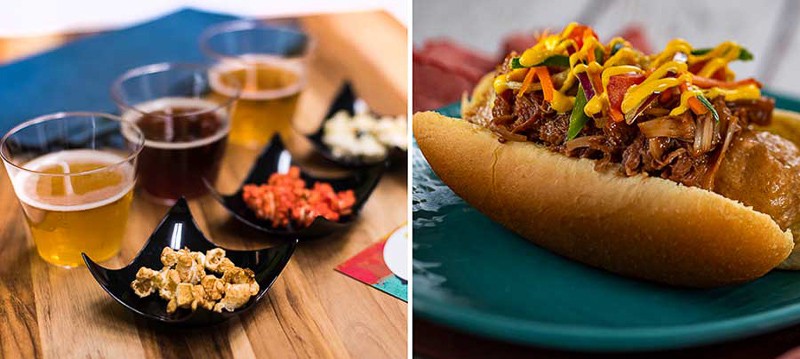 Food:
Plant-based Bratwurst with Spicy Turmeric Aïoli, Coffee Barbecue Jackfruit and Slaw
Paintbrush Churros: Cinnamon-Sugar Churros Dipped in Colorful White Chocolate (KA)
Beverages:
Barrel of Monks Brewery Endless Enigma Golden Pale Ale, Boca Raton, FL
Collective Arts Brewing Life in the Closus Hazy IPA, Hamilton, Ontario, Canada
M.I.A. Beer Company Malt Bach Brown Ale, Doral, FL
Popcorn Pairing Flight
Goshiki Table – Japan Pavilion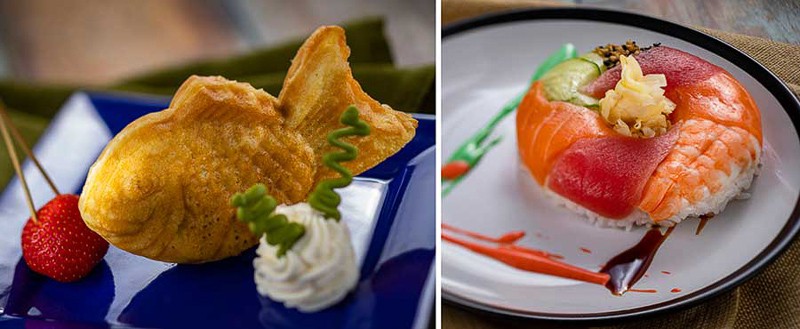 Food:
Taiyaki: Fish-shaped Cake stuffed with a Sweet Red Bean Filling served with Green Tea Chocolate and Whipped Cream Cheese (KA)
Sushi Donut: Donut-shaped Sushi featuring Salmon, Tuna, Shrimp, Cucumber and Sesame Seed over a decorated plate of Wasabi Aïoli, Sriracha and Eel Sauce
Vegetable Gyoza: Vegetable and Edamame filled Gyoza atop Truffle-mashed Potatoes, Shiitake Mushrooms, Pepper Strings and Tonkatsu Teriyaki Sauce (KA)
Beverages:
Nomi Masui Draft Lager
Masu Sake in a Traditional Personalized Wooden Cup
Nigori Sake Cocktail: Frozen Nigori Sake and Calpico accented with Strawberry and finished with Cotton Candy
Test Track Cool Wash – Future World East
Beverages:
Assorted Coca-Cola Slushies (non-alcoholic) (KA)
Activities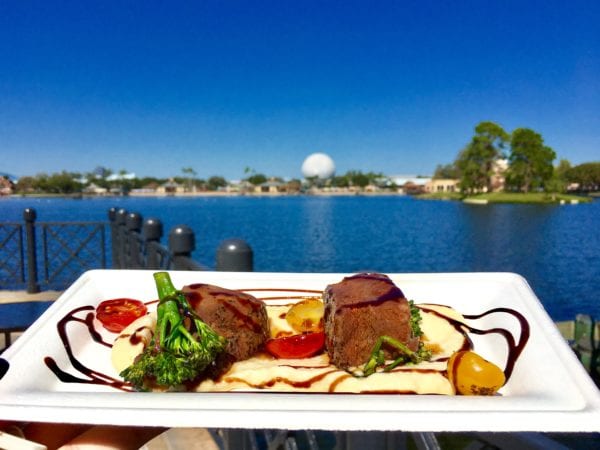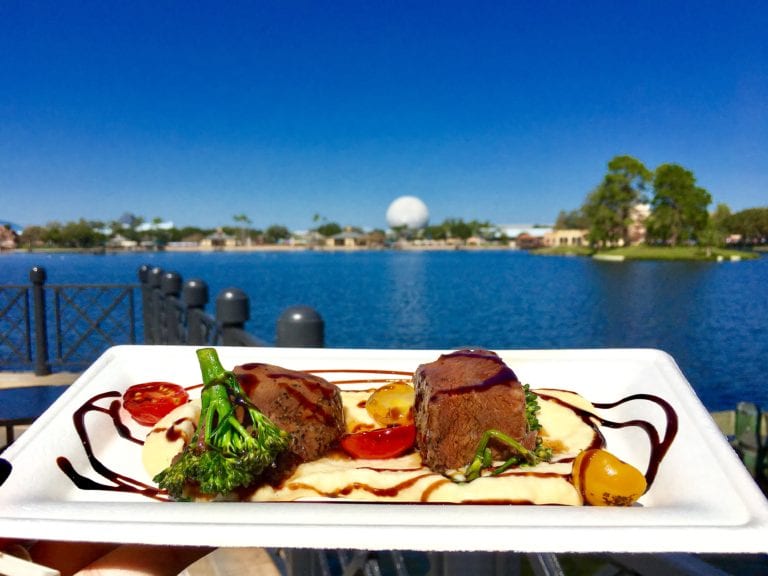 One of the coolest aspects of the Epcot Festival of the Arts is all the activities made for both young and old. Some of the highlights for 2019 include:
Everyone's invited to grab a paintbrush and help create a wall mural along World Showcase Plaza.
At the Artful Photo Opportunities, you can step inside masterworks of art and take photos with friends.
The Paint with a Disney Artist program invites guests to learn under the tutelage of a professional (offered select Fridays and Sundays, including continental breakfast, for an additional fee).
Performing artists are scheduled throughout the festival, demonstrating gravity-defying feats of strength, acrobatics, and many other skills.
International musical and variety acts will share their talents with guests, including the return of Bodh'aktan to the Canada stage and Delta Q, a new group performing in Germany.
Guests can join in the fun of Figment's Brush with the Masters Scavenger Hunt by purchasing a map at select merchandise locations.
A variety of workshops led by professionals will teach different artistic techniques, such as floral design, ink and paint, mixed-media art and more (offered Friday-Monday for an additional fee). As a memento of what they learn, guests will take their creations home with them. Details on workshop registration
will be released soon.
Complimentary 30-minute seminars will give guests helpful instruction for producing their own artwork at home.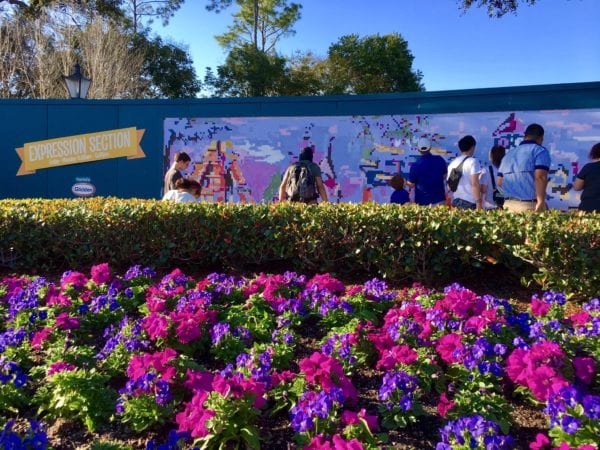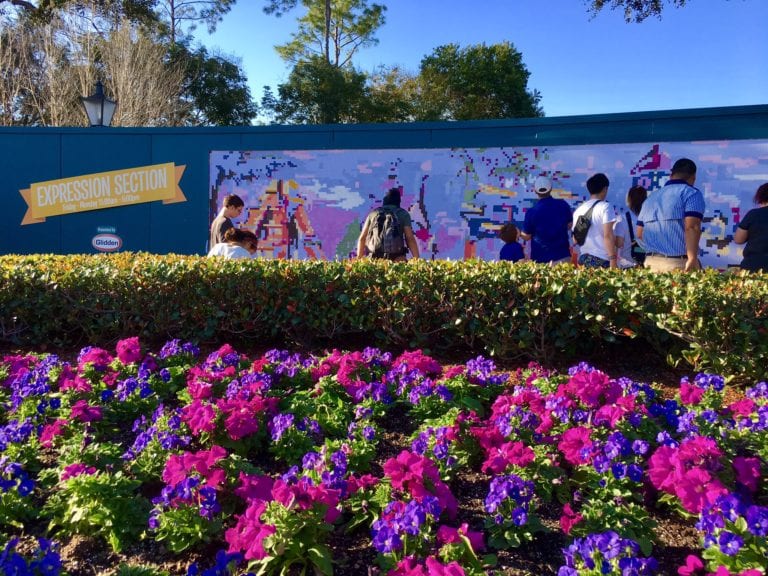 The Epcot Festival of the Arts is an incredibly fun time and definitely the most underrated Epcot Festival of the year. There are fewer crowds, the food is bigger portions than the Food and Wine Festival and there are so many cool exhibits and games to keep you busy. If you haven't been yet then I highly suggest you make 2020 the year to try it.
Read our Review of our First Visit to the Epcot Festival of the Arts event.
We'll keep updating you so check back for more info.
Your Thoughts:
I want to know what you think about the 2020 Epcot Festival of the Arts menus, dates and entertainment…
Are you going to the Festival of the Arts in 2020?
What are you most looking forward to?
Let us know in the comments section below!
If you enjoyed this article, as always I appreciate it if you'd share it with others via social media. I work hard at making this website into a useful resource for you and your family to plan your visit to the Disney Parks and I hope it can help you! Thanks 🙂
Source: Disney