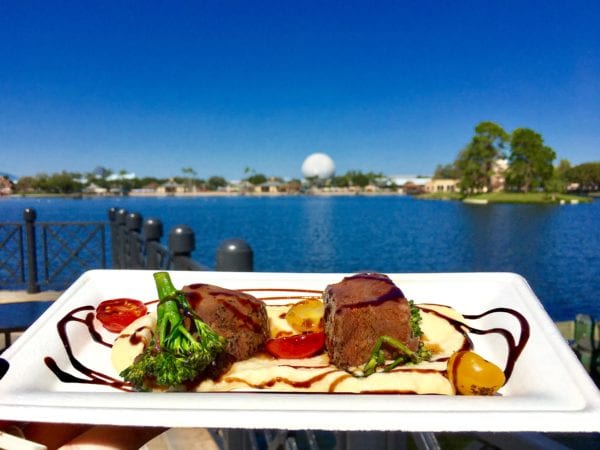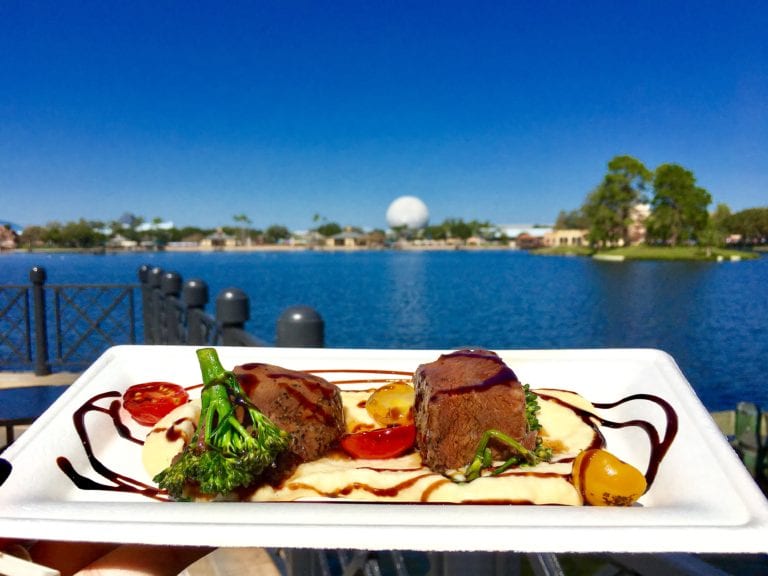 The brand new Epcot International Festival of the Arts is just wrapping up and in my opinion it was a smashing success. I honestly didn't know what to expect from it at first. It seems like every month now there's a new Epcot Festival, and some of them like Food and Wine have gotten very 'watered down' over the years and don't offer as much as they could or should. Back when the Festival of the Arts was announced, I was kind of thinking it would be more of the same. I was wrong. Festival of the Arts offered so much interactive stuff for guests to do it was incredible. I loved seeing the chalk artists on the street painting the sidewalks, I loved all the photo opportunities inside the paintings.
But most of all I loved the food. "Yeah, surprise, surprise Ziggy. We never would have guessed that!" I tasted tons of the offerings around Epcot and I was pleasantly surprised at the quality of the food. The first thing you probably noticed, especially if you are a Food and Wine frequenter is the price difference. Most of the items cost a couple of $ more than the options you will get at Food and Wine. However at the Festival of the Arts the price difference isn't a big deal, mostly because the portions are much bigger than Food and Wine portions are. Most of the Food and Wine options are great but I literally need to get like 6 of them to fill me up. Instead here I ordered about 3 and was good. So I liked that about the Festival of the Arts and wish that Food and Wine would make their Size/Cost Ratio a bit more reasonable.
Here's a link to the Full Menus from the Festival.
So here are in no particular order my Favorite Food Items from the Epcot International Festival of the Arts:
1. Pan Seared Scallop – The Artist's Table (Chorizo, Roasted Red Pepper Coulis, and Parmesan Crisp) – $6.25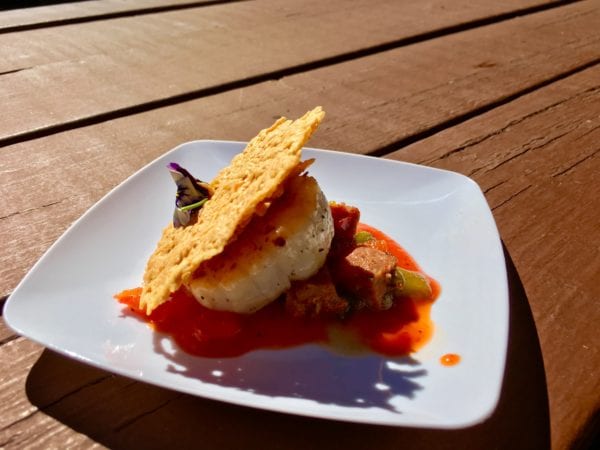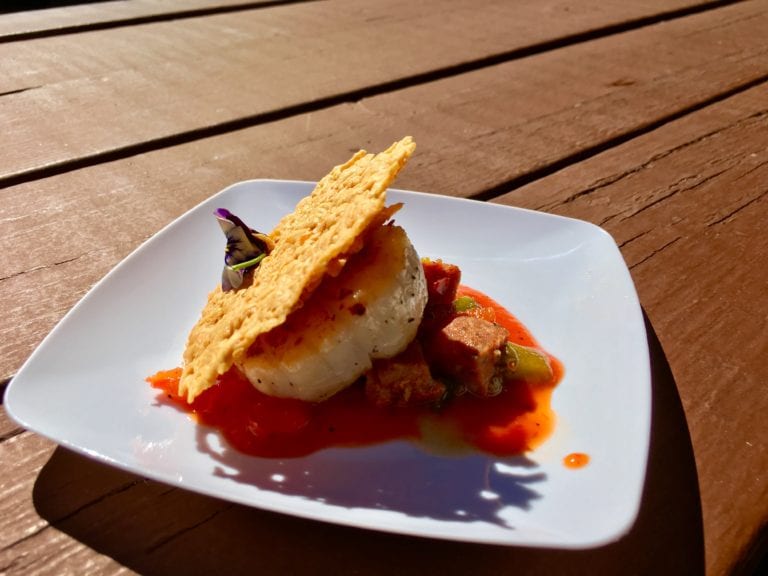 The Scallop is almost always one of my go-to items at any Epcot Food Festival and this was no different. It was a nice size scallop, just seared on the outside and tender inside. I liked the tomato sauce and pepper mix that was served with it, they added just a hint of spice to the dish that was great. There was a little bit of sausage in there too that was great. I love the idea of a Parmigiano Crisp on top of it, thought it was a great garnish(although it doesn't touch most of the Parmigiano crisps I've eaten in Italy). Overall great option.
2. Choriqueso (El Artista Hambriento) – $6.95 (Two Corn Tortillas served with Chihuahua Cheese, Red and Green Peppers over a Corn Tortilla and garnished with Poblano Peppers and Micro Cilantro)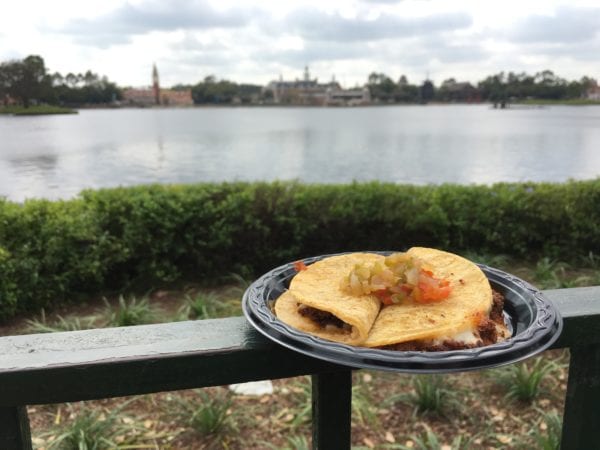 These bad boys are incredible. My friend Jess was the first to order them and when he let me have a bite I literally went running over to get in line and get some myself. The cheese inside these is incredible, and almost impossible to get outside of Mexico. The tortillas themselves were crunchy with at the same time softness and just a little hint of spiciness. Unbelievable a must get!!
3. Charcuterie Board (Masterpiece Kitchen) – $14.00 – with Artisan Cured Meats, Nueske's Applewood Smoked Duck Breast and Cheese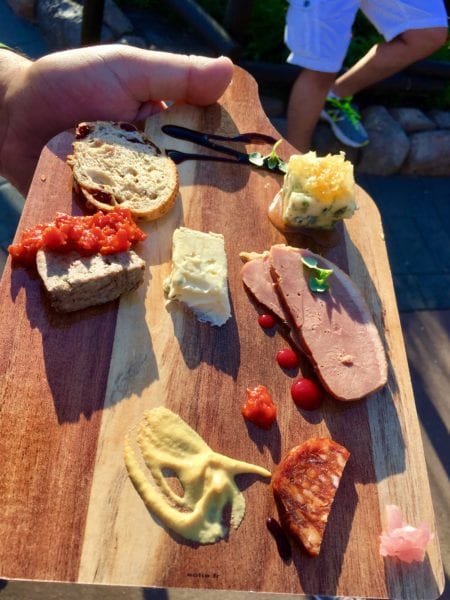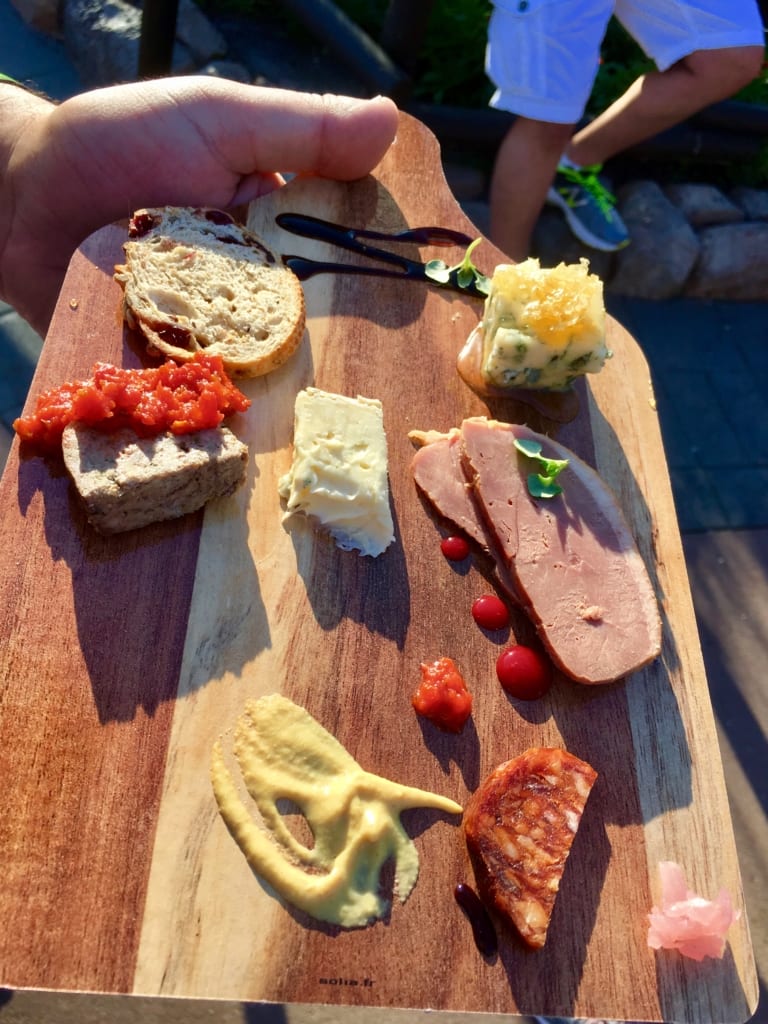 This was by far the most expensive thing on my list, but it was also one of the best. As you can see from the picture we started devouring everything before I could even get a photo. The Duck was amazing and my favorite thing on there, great smokey flavor. The blue cheese and honey was incredible, loved that combination, I wanted to slather that over everything. Extremely high quality for a festival booth like this and an excellent choice.
4. Triple Chocolate Mousse (Masterpiece Kitchen) – $9.25 – Chocolate Crunch, Dark Chocolate Sauce and Gold Leaf from a Disney Master Pastry Chef
All of the food at the Festival of the Arts had amazing presentation, but this one takes the cake. It was a triple chocolate mousse (White, Milk and Dark), which was super super smooth and rich. Underneath the mousse was a really awesome Chocolate Crunch thing, I would describe it kind of like a nestle crunch type texture but denser, had bits of rice and other good stuff in there. There were dabs of a dark chocolate sauce on the side and a chocolate sculpture with gold leaf on it (the gold leaf was for show as it didn't really have much taste. Even though I preferred the savory options at the Festival, this was my fav dessert.
5. Braised Beef Short Rib (Cuisine Classique) – $7.50 – Braised Short Rib with Parsnip Purée, Broccolini, Baby Tomatoes and Aged Balsamic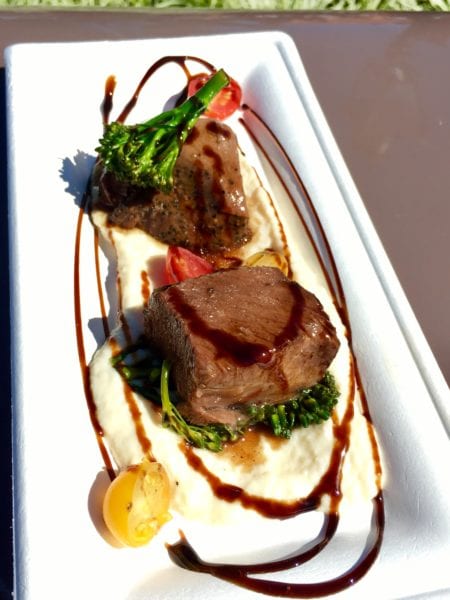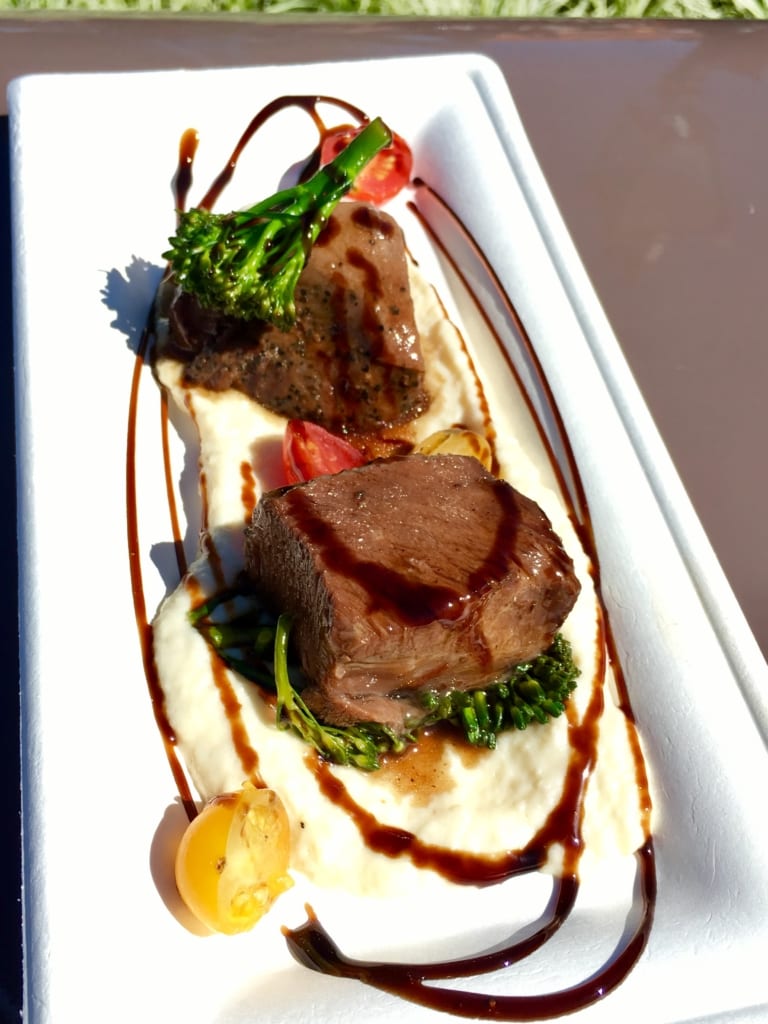 One of the best bargains of the Festival hands down. A nice size portion of two beef ribs. They were super tender and flaked right apart when I touched my fork to them. Loved the balsamic drizzle over everything, especially the parsnip puree. Really high quality which is the theme at the Festival of the Arts.
6. Huarache (El Artista Hambriento) – $8.50 – Flank Steak Guarache served with Black Beans, Salsa de Chile de Arbol, Frisee Lettuce, Queso Fresco, Red Cabbage, Shredded Carrots and Chipotle Mayo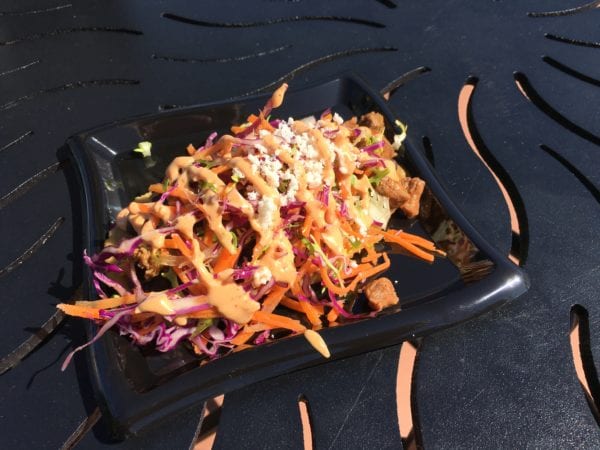 This thing was a beast, huge portion with everything overflowing onto my plate. Nice amount of steak, black beans and cheese. I don't even like Mayo and I devoured this whole thing. I thought all the flavors worked great together, with a little bit of tang from the sauce. Only downside was that I had a hard time getting it to my mouth because there was just so much food in there. Nice option that will fill you too.
So that's it, those are my picks for the best food from the 2017 Epcot Festival of the Arts. I loved the whole festival and I hope and expect to see it make a return next year as it seemed to be a huge success. I recommend it highly enough that I think it's worth planning a trip around. It's a great time of year with mild Florida weather and low crowds for the most part. I know I'm sure going to be back as it was one of the highlights of my most recent trip, and I always have to try the latest eats around World Showcase Lagoon! 😉
Your Thoughts:
I want to know what you think about the Food from the 2017 Epcot Festival of the Arts. What were your thoughts in general about the festival? What were your favorite food items/food studios? Let us know in the comments section below! 🙂
If you enjoyed this article, as always I appreciate it if you'd share it with others via social media. I work hard at making this website into a useful resource for you and your family to plan your visit to Walt Disney World, and I hope it can help you! Thanks 🙂