One of our favorite parts about the Epcot Flower and Garden Festival is always the food, and this year is no different. There are a total of 22 outdoor kitchens offering a wide variety of food and drink options to try. That's why we've come up with our list of the Best Snacks at Epcot Flower and Garden Festival 2020, so you know exactly what to try.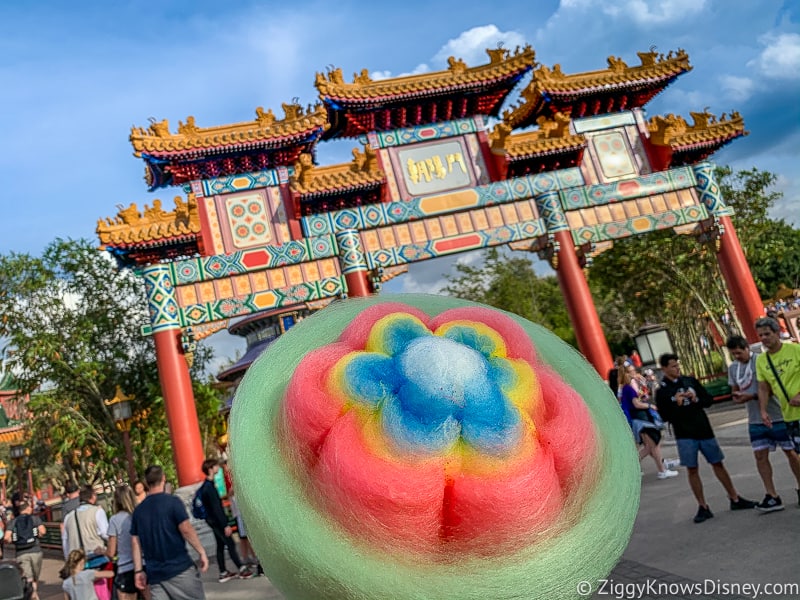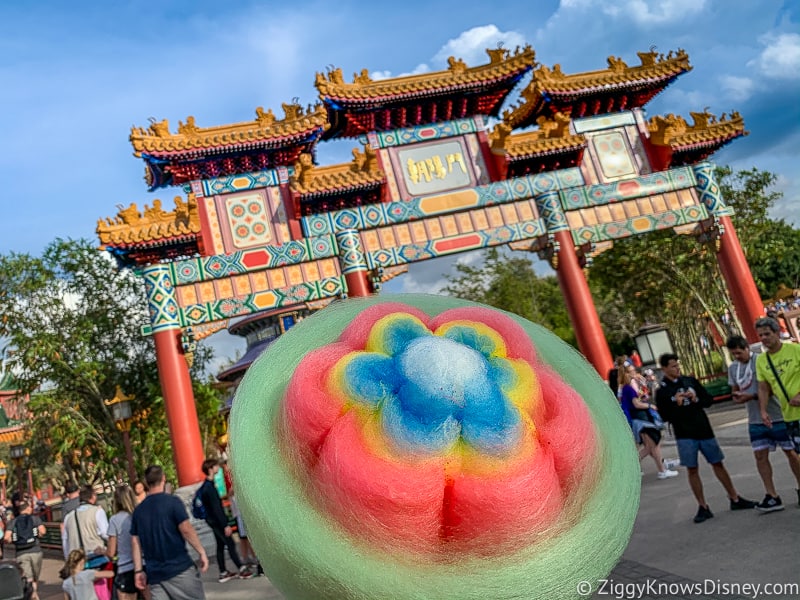 In this post, we are going to share our Top 21 Best Snacks at Flower and Garden including the best food and drinks, savory and sweet. Some of these options are brand new in 2020, while others are returning favorites from past years. We couldn't help but some of our all-time favorites as we've been waiting almost a whole year to eat them again!
Our list of best snacks is in no particular order, we just take you through the various outdoor kitchens in both World Showcase and Future World to find the tastiest treats at this year's festival. As always, World Showcase has the better selection, but we were thoroughly happy about the choices at almost every kiosk.
We've also tried to take cost into consideration in our best Flower and Garden snacks list to try and help you get the most for your money. Price was a factor, but if the food quality was high enough, we put it on our list. There are some pricey options, but overall we found them decent-sized portions for the money, especially in comparison to Food and Wine which always seems to have the smallest portions.
One tip that will help you to get the most out of your time at Flower and Garden is to share your snacks with others if possible. Yeah, I know what you are thinking, and I don't like to share my food either, but this is one of those rare times when it's actually better. We like to go with a group and try small amounts of all the food, then go back another time to re-order our favorites a second, third and fourth time!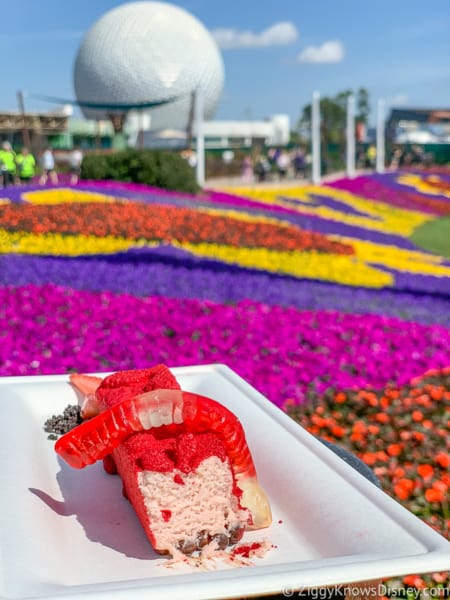 We aren't including any of the normal Epcot Snacks you can find throughout the year on this list. We are only including those specific to the Flower and Garden Festival and that are here during that time. If you are looking for what to eat while snacking around World Showcase on a normal day, check out our Best Epcot Snacks guide for our favorites.
For more info on the Epcot Flower and Garden Festival check out:
Without further ado, here is my List of the Best 21 Snacks from the 2020 Epcot Flower and Garden Festival, don't read on an empty stomach!
1. Tarte Tropezienne, Coulis Framboise – Fleur de Lys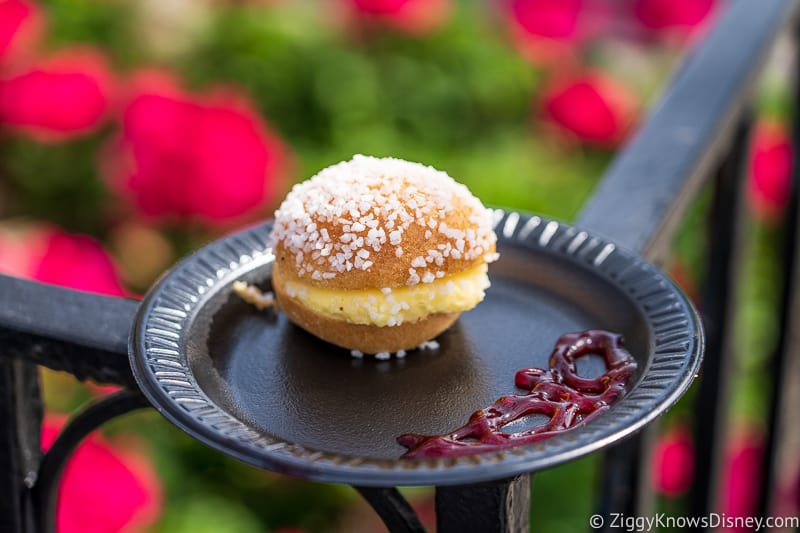 If there is one place in Epcot you can count on to find amazing desserts, it's France. Les Halles Boulangerie Patisserie is always a must-stop when passing through, and the France kiosk Fleur de Lys also has some must-try options. The Tarte Tropezienne is essentially a cream puff, but don't let its simplicity fool you.
The pastry part is an extremely soft mini brioche, and the inside is a fresh vanilla cream, very light and delicate. It's like a mix between a custard and cream. Our favorite part though was dipping it into the raspberry coulis that came on the side. Raspberry is one of our favorite dessert flavors and this is very similar tasting to the raspberry mousse they serve inside. Sweet, yet tart at the same time.
The Tarte Tropezienne is one of the cheapest snacks at Flower and Garden at only $3.00, and a light, non-heavy dessert.
2. Fried Cauliflower – Taste of Marrakesh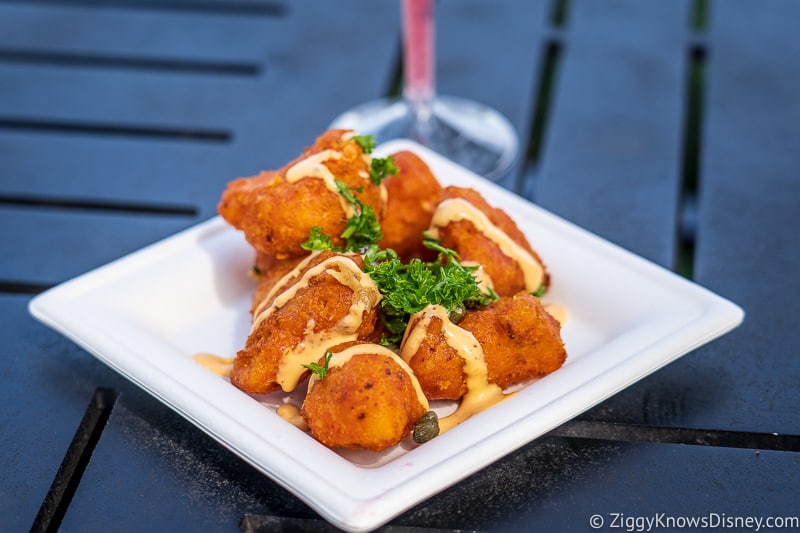 Let's say that we were pleasantly surprised by the Fried Cauliflower from Taste of Marrakesh. It is cauliflower bites, deep-fried and covered with Capers, Garlic Parsley and Chili-ranch Sauce.
While paying $7.00 for cauliflower might sound excessive to some, these little bad boys were soooo worth it! They have a perfectly fried batter on them that also is a bit spicy. Tons of flavor in each bite. Plus we just can't get enough of the chili-ranch sauce that comes on top.
Definitely one of the most underrated snacks at Flower and Garden, and something that should not be overlooked by any means.
3. Honey-Peach Freeze – The Honey Bee-Stro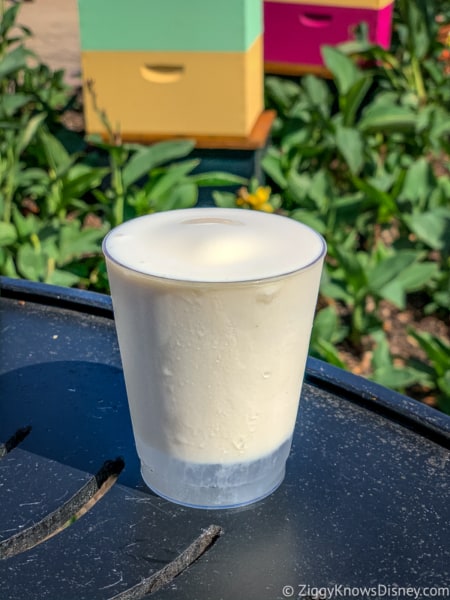 The Honey Peach Freeze comes in both non-alcoholic and alcoholic versions, we went for the alcoholic version this time around. It's a yummy combination of honey and peach flavors, both very present in this drink. It almost has the consistency of a shake, and again a great choice for the heat.
As we said, we got the alcoholic version which added blueberry vodka to it. The non-alcoholic version is very sweet, so adding the vodka we though really helped balanced everything nicely.
You can get it in a glass, but even better, get it in the Spike the Bee souvenir sipper instead!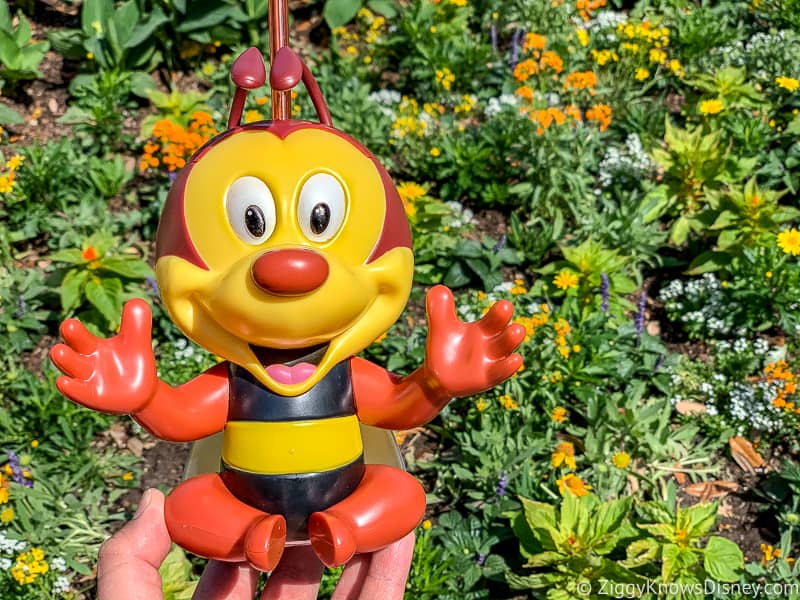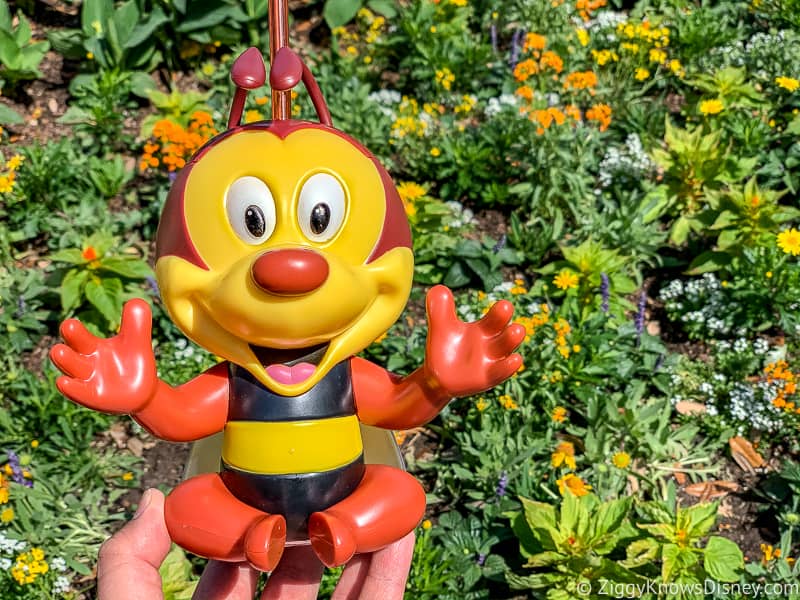 This is one of the best drinks at Flower and Garden, in one of the best souvenirs at the festival too!
4. Frushi – Hanami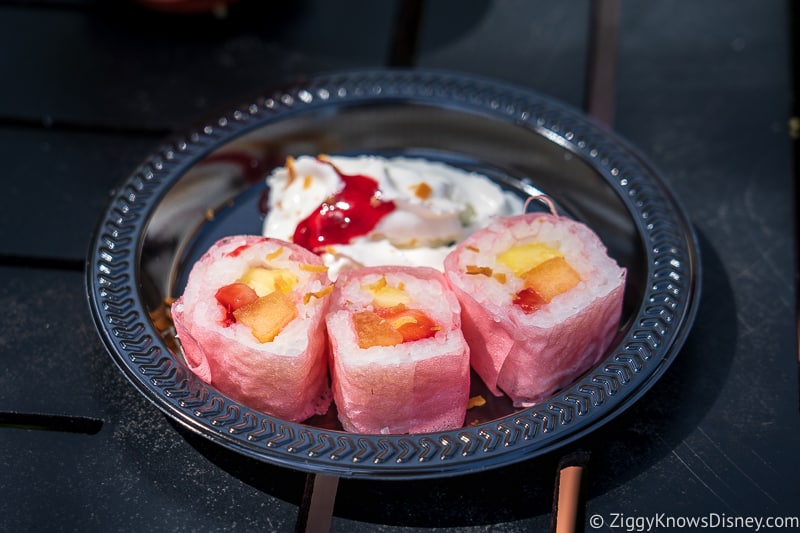 This is always one of Flower and Garden's most popular snacks and for good reason. But what is Frushi you ask? I was stumped at first too. It stands for Fruit Sushi. Instead of fish wrapped in rice and seaweed, you get little fruit pieces in its place.
This frushi uses Strawberry, Pineapple and Cantaloupe wrapped in Sweet Rice and Pink Soy Wrap served with Whipped Cream, Drizzled Berry Sauce and Toasted Coconut. I was a skeptic at first but it's really awesome and another light dessert and maybe the most creative snack you'll find. Give it a try and let me know what you think!
5. Southern Seafood Boil – Magnolia Terrace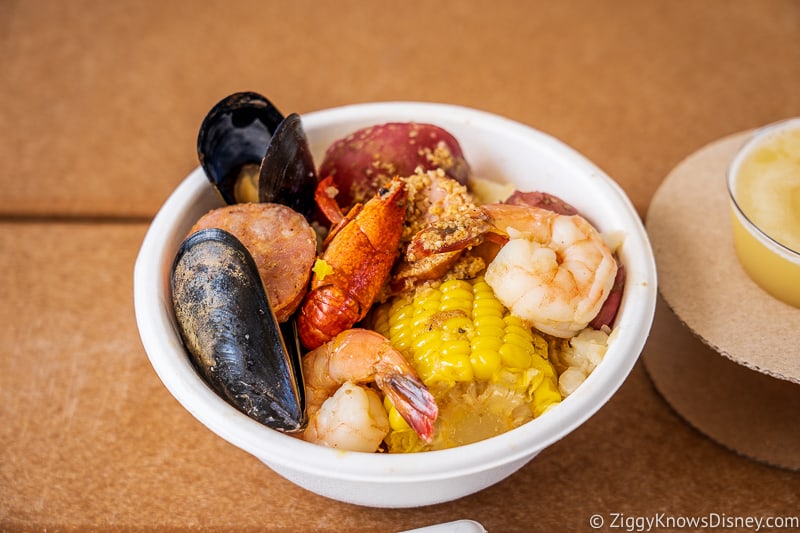 You wouldn't expect to find a decent seafood boil walking around Epcot, but Magnolia Terrace comes through this year and provides one of the most filling snacks you will try. This bowl is LOADED with corn, potatoes, shrimp, mussels, crawfish and andouille sausage.
It's not all potatoes either, the amount of fish is very generous for $8.00, making it one of the best bargains. If you are a seafood fan, Magnolia Terrace is a must-try!
6. Frozen Desert Violet Lemonade – Pineapple Promenade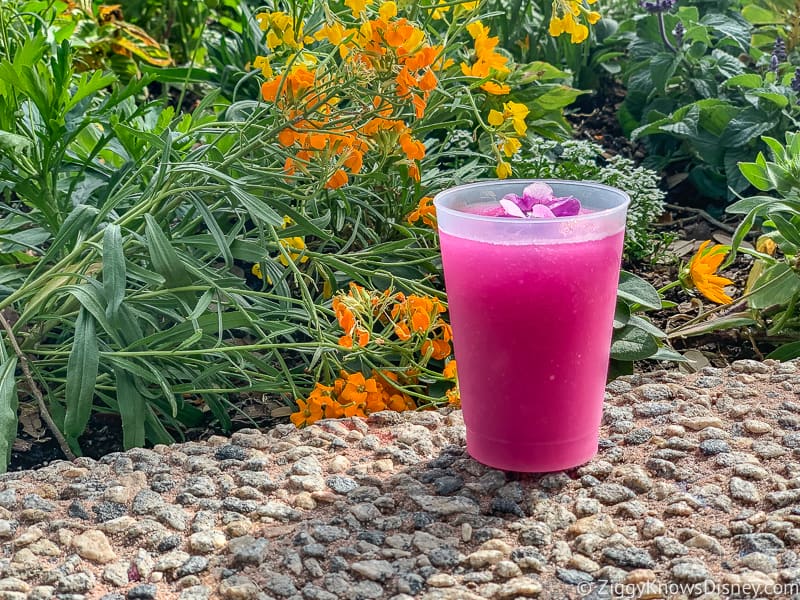 If there is a quintessential drink that you absolutely HAVE to try, it's the Frozen Desert Violet Lemonade. This is the perfect mix of sweet and sour and blends the flavors of lemon and violet (yeah, flowers) in a way that is beyond compare.
This makes for the perfect drink to carry around World Showcase, and one that you'll be coming back again and again for. I sincerely wish they sold this stuff by the gallon as I would guzzle it down like no one's business. Just get it, end of story.
7. Grilled Street Corn on the Cob – Trowel & Trellis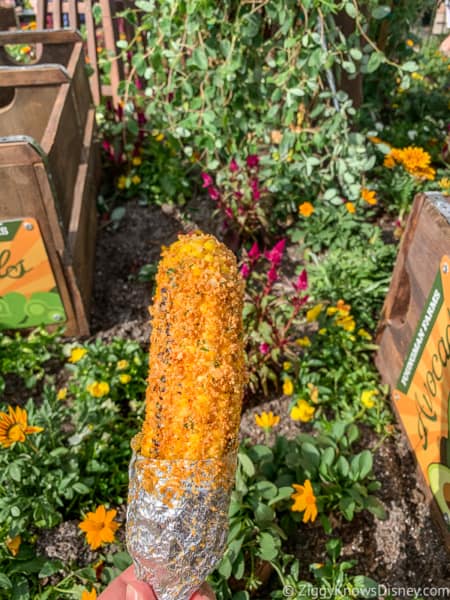 Disney has greatly increased the number of Vegan food choices in the parks over the last year, and the Grilled Street Corn on the Cob was definitely one of the best plant-based snacks at Flower and Garden. The corn itself is grilled up great, with a nice smokey flavor to it. It's then smothered in a savory garlic spread that is insanely addictive, and really makes this item what it is.
If you see a guy walking around World Showcase with one of these in each hand and trying to simultaneously down them, that'll be me!
8. Strawberry Mousse – Flavor Full Kitchen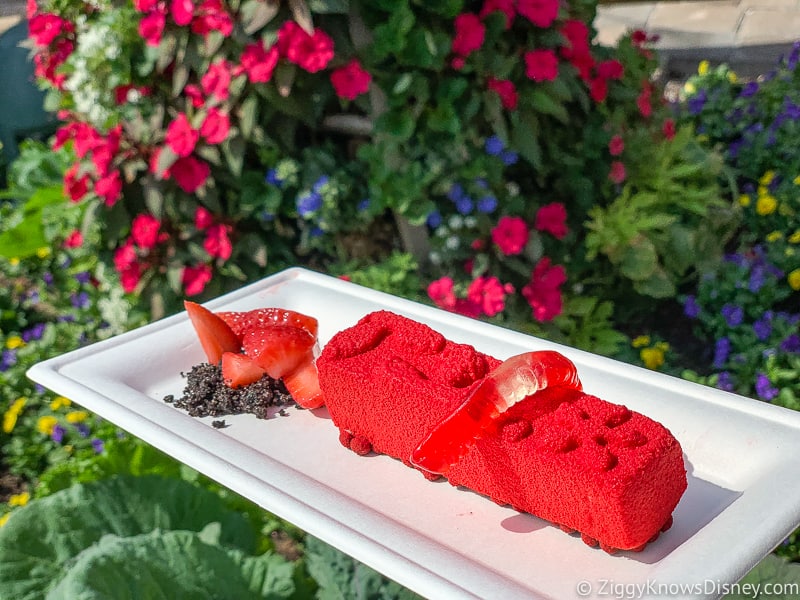 Who doesn't love chocolate and strawberries? This is a modern twist on that concept with this strawberry mousse and chocolate crisp pearls. This is one of the cutest snacks as we just love that gummy worm on top! The chocolate pearls are supposed to be like the dirt that the worm is crawling through. Trust me, it's a lot better tasting than it sounds right now!
The strawberry mousse is very smooth and almost has a whipped cream texture to it. It definitely is sweet and very rich, so you might want to share it. Definitely a very solid dessert and a kid-friendly snack.
9. Toasted Pretzel Bread – Bauernmarkt: Farmer's Market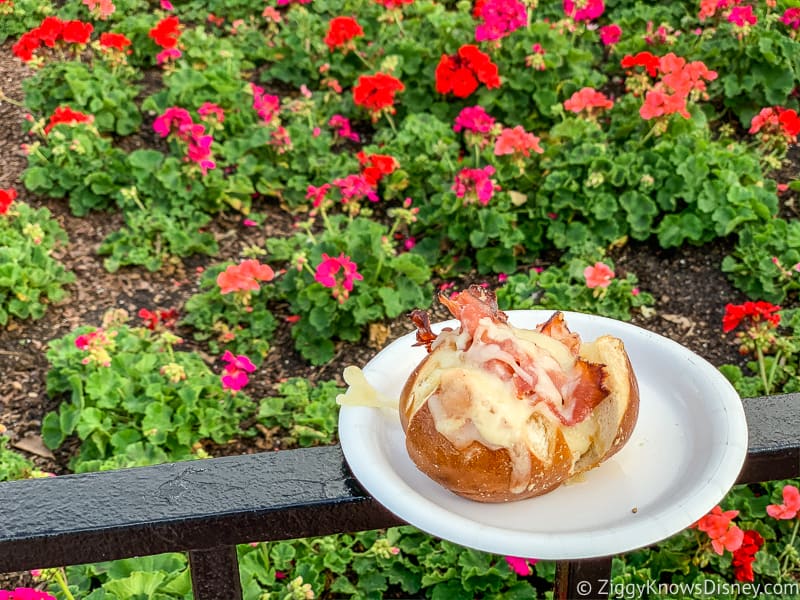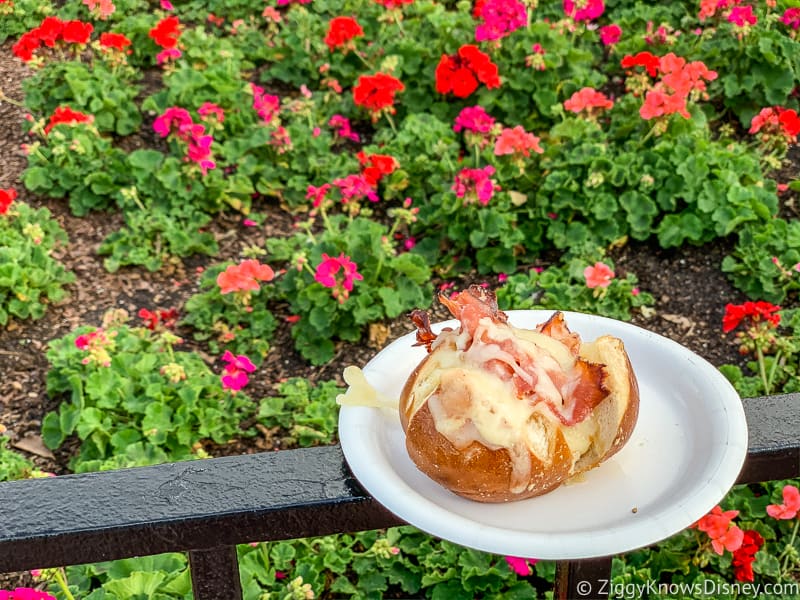 When I saw there was a Pretzel Bread topped with Black Forest Ham and Melted Gruyère Cheese, I knew this would was going to be one of my first stops at Flower and Garden. What is not to like about this really? It's the same taste at the amazing pretzel rolls they usually serve the brats on during Food and Wine, just opened up and covered in cheese and ham.
It's definitely on the salty side so keep that in mind and make sure to ask them for a fresh one where the cheese has just been melted. At $4.50, this is one of the best bargains this year.
10. Zeppole – Primavera Kitchen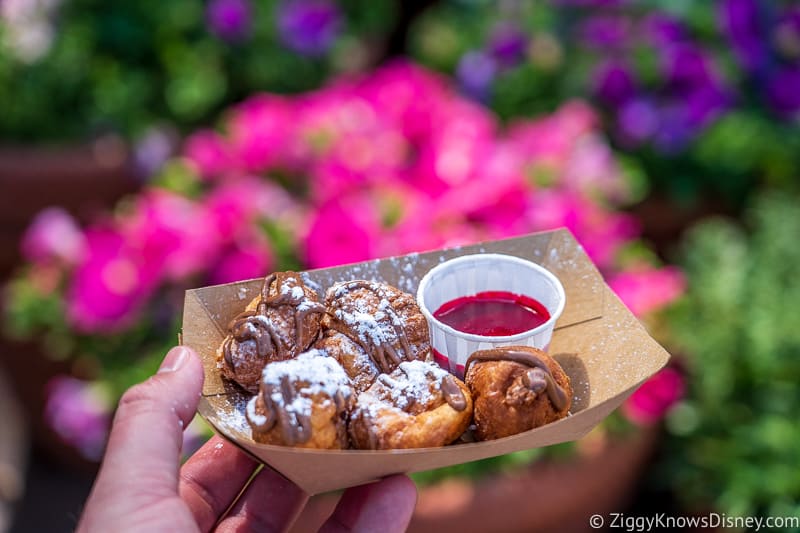 There are lots of desserts with raspberry this year, and I'm not complaining in the least. Our favorite snack at Italy's Primavera Kitchen were these Zeppoles. If you have never tried them before they are Ricotta Cheese Fritters, Powdered Sugar, Raspberry Sauce and Chocolate-hazelnut Drizzle.
The fritters are great on there own and don't need any dipping sauce if you don't want, but the raspberry takes it to a whole other level and is a flavor explosion. It is one of the most expensive desserts at the Epcot Flower and Garden Festival this year, but even so, we absolutely loved them!
11. Lobster Tail – The Citrus Blossom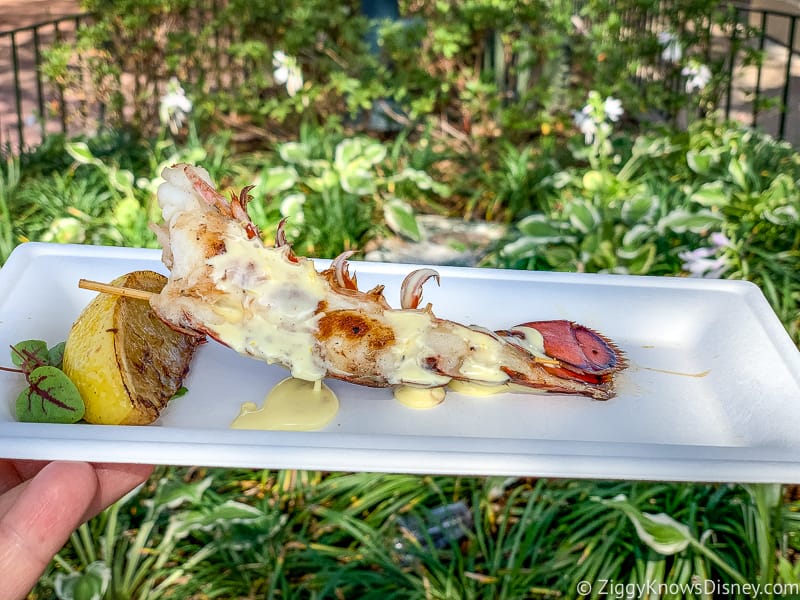 As if you had to convince me to try lobster….this was obviously going to make the list, and it's our favorite seafood snack at Flower and Garden hands down. The lobster tail is covered in a Meyer Lemon Emulsion sauce and served with a Grilled Lemon.
Honestly, I had never really tried the combination of lemon and lobster before, but I LOVED it! The lobster was succulent and a really good-sized portion for only $8.00. It was a little hard to get out of the shell and ended up being pretty messy to eat, but all that was forgiven because it's really one of the best things you will eat here this year, period.
Sign Up For Our Newsletter Today!
12. Local Wildflower Honey-Mascarpone Cheesecake – The Honey Bee-Stro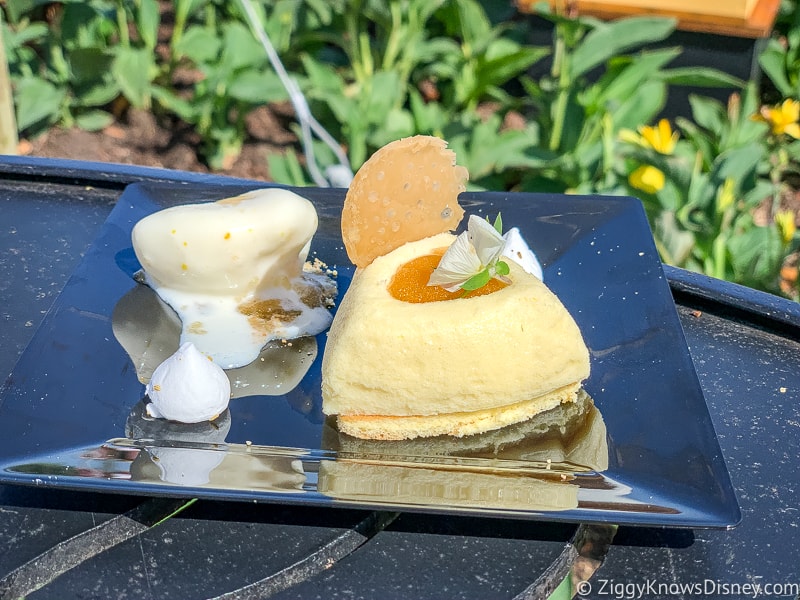 We're back at The Honey Bee-Stro again, this time for the rich and creamy Honey-Mascarpone Cheesecake. We very rarely say no to a cheesecake, but this is exceptional. It comes with Orange Blossom Honey Ice Cream on the side with Fennel Pollen Meringue Kisses.
Everything about it is great, and we loved the cold a light ice cream to balance out the cheesecake, just don't delay, it melts extremely quickly. The honey crisp on top was awesome too and we wish we could snag a whole bag of those somewhere. Definitely a can't-miss Flower and Garden snack if you are into sweets.
13. La Vie en Rose Frozen Slushy – Fleur de Lys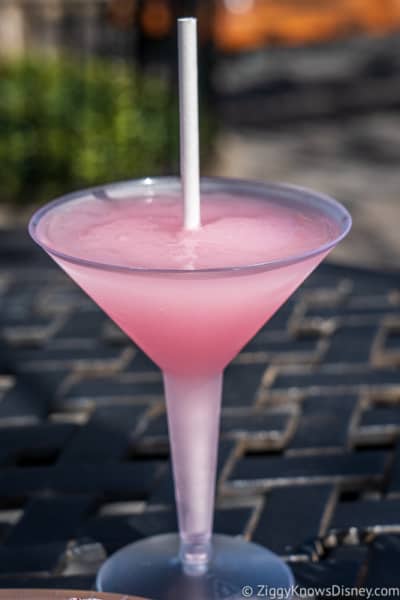 Of course no trip through the Flower and Garden Festival would be complete without trying one of the drinks in France. While the wines were good, we focused in on the delicious La Vie en Rose Frozen Slushy.
If you've ever had the La Passion Martini Slush from the France booth at Food and Wine, then this is right up there on that level of amazingness! It uses Vodka, Grey Goose l'Orange Vodka, St. Germain Liqueur, White and Red Cranberry Juice for a great combination of flavors.
You definitely feel the alcohol in this one, but without it being too strong. And it's also a great option when it's hot outside because the slushy is extra refreshing. This might be our favorite drink at Flower and Garden and you don't want to miss it!
14. Chilaquiles con Pollo – Jardin de Fiestas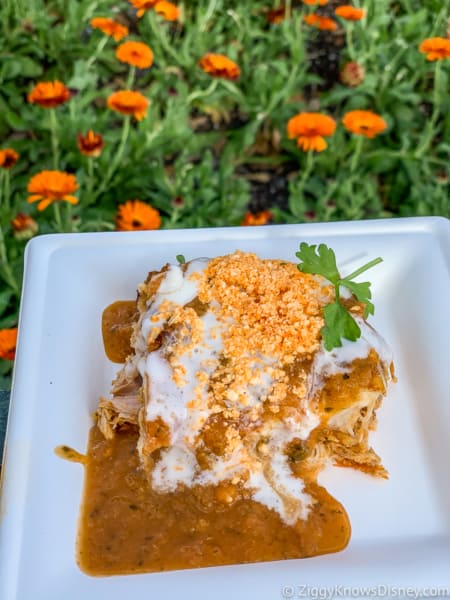 We have a love/hate relationship with the Mexico kiosks during the various Epcot festivals. We love Mexican food, but they usually end up being overpriced due to popularity. The Chilaquiles con Pollo is another story though, and a must-try snack at Flower and Garden.
First of all the portion size is HUGE and easily shareable. It's a Chipotle-braised Chicken and Tortillas served with Salsa Ranchera, Monterey Jack Cheese, Crema Mexicana and Guajillo Cheese. There are so many amazing flavors in here and it's like a Mexican lasagna if that even exists.
If we were looking for one savory item at the festival, the Chilaquiles con Pollo very well might be our #1 choice!
15. Pecan Cake – Magnolia Terrace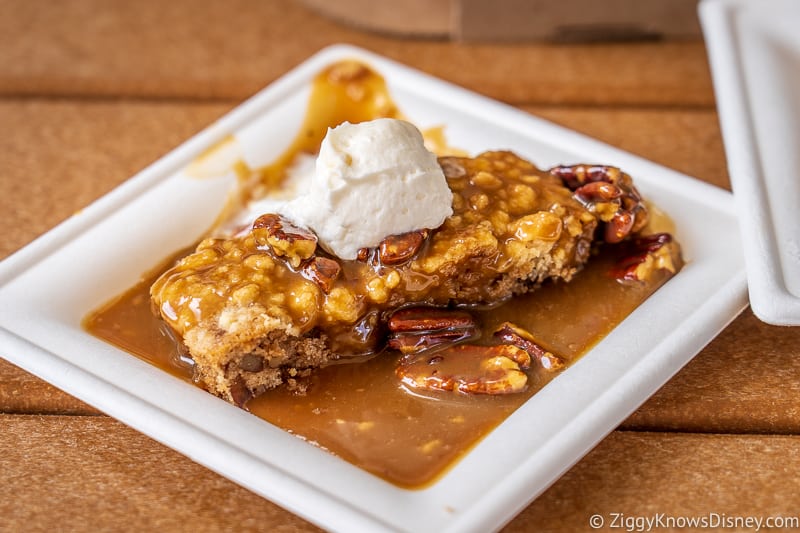 While the seafood boil was great, the Pecan Cake from Magnolia Terrace was outstanding! The cake itself was dense and moist and was topped off with Maple Whipped Cream made from Burton's Maple Syrup and doused in a caramel/maple sauce. There were also a good amount of pecans served with it.
This thing is really insane. One thing to keep in mind is that it is very sweet, so if you are a savory only kinda person, it may not be for you. But if you have a sweet tooth and love the idea of a pecan praline cake, this is just the snack for you!
16. Salmon Flower Ikura – Hanami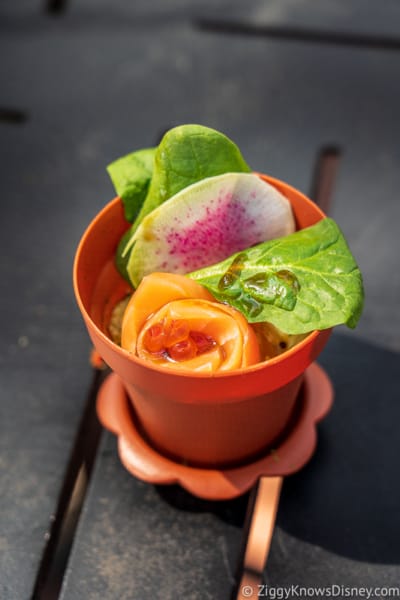 The Salmon Flower Ikura is the perfect snack at Flower and Garden for raw fish fans. It's Fresh-cut Salmon, Salmon Roe, Spinach and Watermelon Radish, all on top of Chilled Ramen tossed with Poke Sauce.
All the ingredients were very fresh here and this is one of the lightest and most gorgeous food items you will find in Epcot this year.
17. Orange Cream Shake – The Citrus Blossom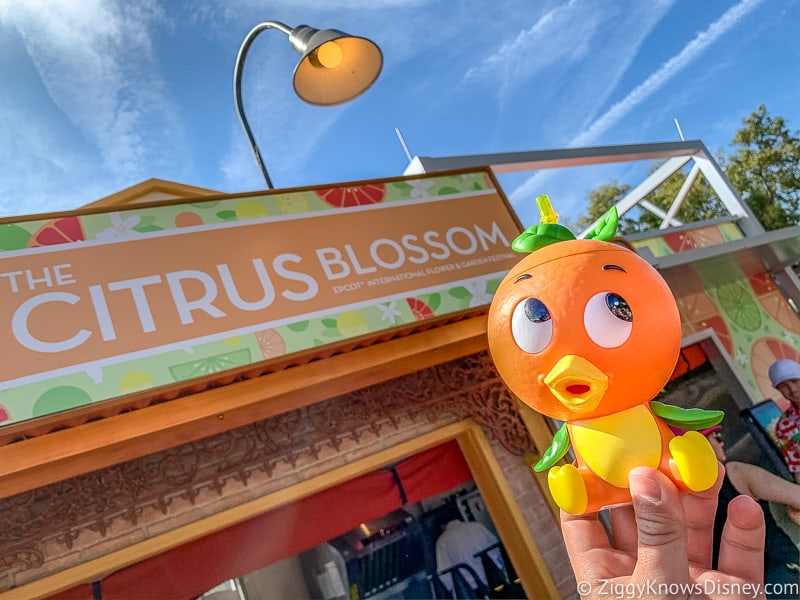 Like the Frozen Desert Violet Lemonade, the Orange Cream Shake is one of those drinks at Flower and Garden that you absolutely MUST get when you go. It really reminded me of a better version of an Orange Julius.
It's frozen, yet creamy and has the right balance between sweet and that citrusy taste. Don't forget to get it in the Orange Bird sipper cup. just get there early because the line is usually extremely long or they can even sell out.
18. Warm Cheese Strudel – Bauernmarkt: Farmer's Market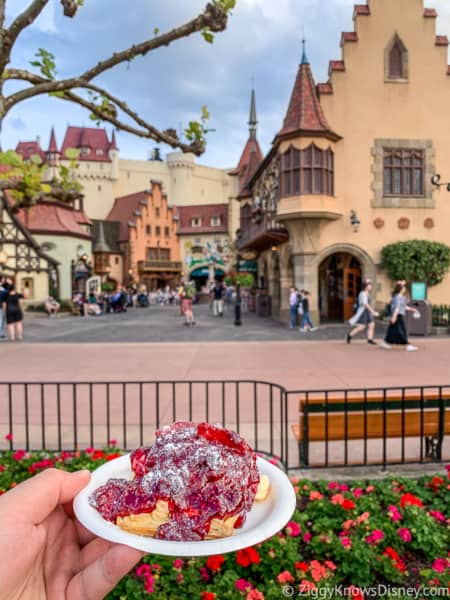 It seems like we've had an extremely high ratio of desserts on our list compared to other snack lists we've made, but they keep coming at us one after the other. The Warm Cheese Strudel was yet another sweet snack we can't resist.
The pastry underneath is served warm and still flaky. The cheese filling was good, but we loved the mixed berry topping most, and they pilled it on high. And all this for $4.50 makes it also a great portion size for the price.
19. Rosita Margarita – Jardin de Fiestas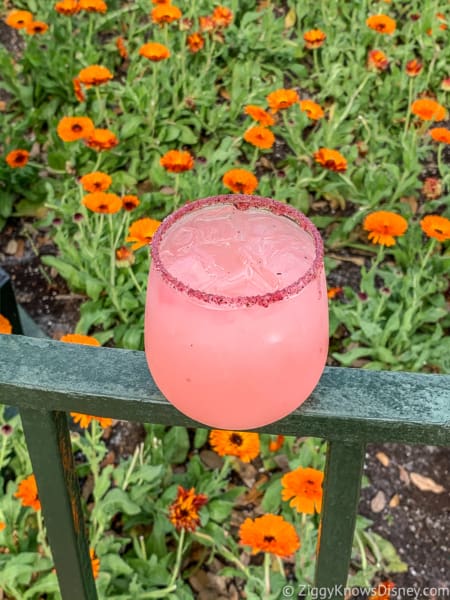 Who can stop in Mexico and NOT get a margarita of some flavor? Rightly so, the Rosita Margarita was one of our favorite drinks at Flower and Garden. This margarita uses Rose Petal Liqueur, 100% Agave Tequila Blanco, Lemon and Cranberry Juices served with a Rose Petal Salt Rim.
It's simple and the rose pedal flavor really shines through, with just the right amount of tart from the lemon and cranberry juices. Another amazing Epcot margarita served up and a must-try!
20. Eclair Chocolat Framboise – Fleur de Lys
Chocolate? Check. Raspberry? Double-check. Served together in a decadent eclair and this was probably our favorite dessert at the Epcot Flower and Garden festival this year. If you like the eclairs inside, this one will blow your mind.
Again, we are huge raspberry fans, and the elcair chocolat framboise doesn't disappoint one bit. There is tons of filling inside and it's the perfect balance of rich dark chocolate, with a tart/sweet raspberry combination. It's also one of the most beautiful snacks this year with the chocolate candy on top and gold shavings. Just perfect!
It's also pretty big and can be shared, if you're into that kind of thing.
21. Cotton Candy – Lotus House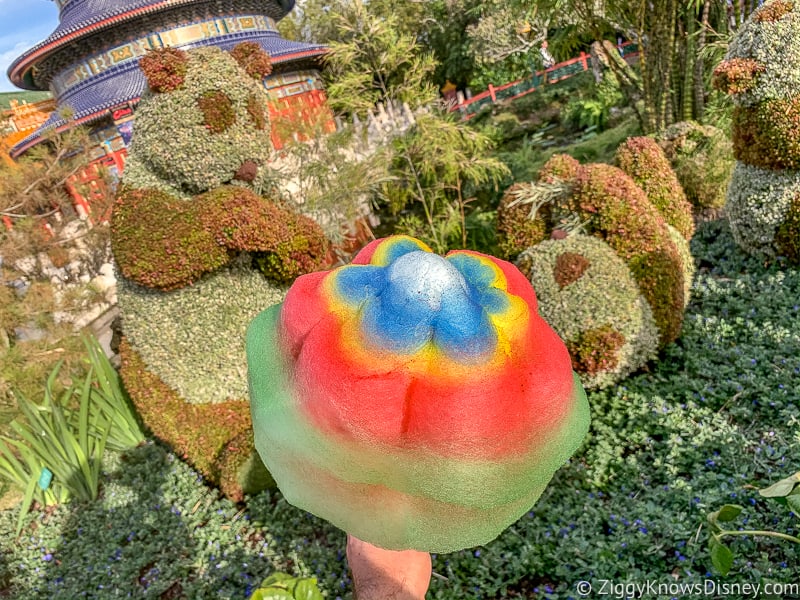 We saved our favorite Flower and Garden snack for last, the Handcrafted Artisan Cotton Candy from the Lotus House. The cotton candy itself tastes good, but nothing different than what you can find at any state fair. The thing that makes this cotton candy different is the presentation and how it's made.
As you wait in line, you can see the artisan cotton candy maker behind the counter spinning up all sorts of cool shapes right before your eyes. He makes everything from hearts to stars to butterflies. Each shape is layered with different colors, from the simple 2 layered ones, all the way to 5 layers.
When you get to the window, choose the shape you want and you get to see them making it for you. This is always a Flower and Garden favorite and you can tell by the line which is very rarely less than 20 minutes or more. It's also a snack that is perfect for your kids as they will love the whole show it provides. Don't leave the festival without one!
That wraps up our list of the Best Snacks at the 2020 Epcot Flower and Garden Festival. I hope you enjoyed it and I hope I didn't make you too hungry while looking at all the pictures. I hope I was able to help you get a better idea of what to get next time you go to the festival. Make sure to share your personal favorite snacks down below in the comments section.
Also, don't forget to sign up for our FREE Weekly E-Mail Newsletter. There we bring you the latest updates on the Flower and Garden Festival and all the other latest Disney vacation planning tips. You can sign up here: Join our E-Mail Newsletter
Your Thoughts
I want to know what you think about our choices for the Best Snacks at the Epcot Flower and Garden Festival…
Which snack is your favorite?
What dishes would you like to see added next year?
Let us know in the comments section below!
If you enjoyed this article, as always I appreciate it if you'd share it with others via social media. I work hard at making this website into a useful resource for you and your family to plan your visit to the Disney Parks and I hope it can help you! Thanks 🙂