One of the best parts about the EPCOT Flower and Garden Festival is all the topiaries you will find throughout the park. These living plants and were inspired by your favorite Disney characters and will entertain for hours.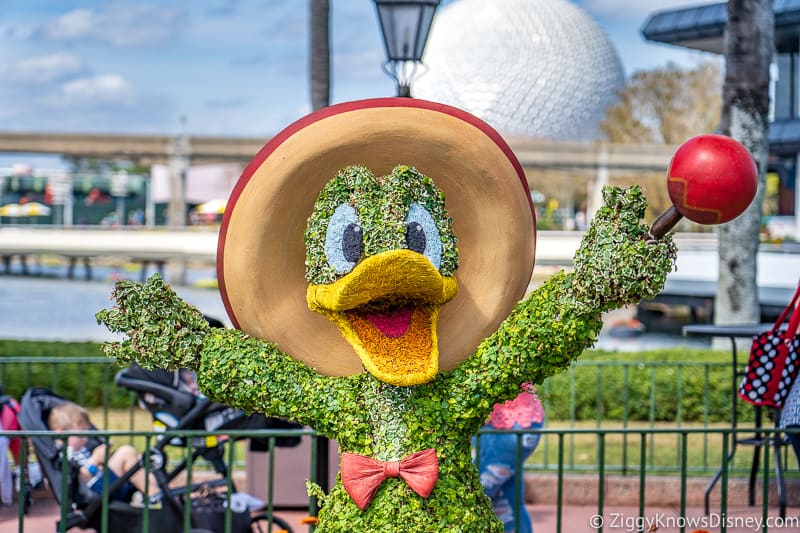 Come with us on a journey around World Showcase and Future World as we look at every single character topiary at Flower and Garden in 2021.
What are topiaries you ask? A Topiary is basically a plant that's been trimmed and maintained into a specific shape. In this case, the amazing horticulturalists working in EPCOT have taken real living plants and shaped them into Disney characters like Mickey Mouse, Donald Duck, Anna and Elsa, Simba and more.
The Flower and Garden topiaries are great to try and find and offer amazing photo opportunities for you and your family/friends. In fact, on the first day of the festival, it's our favorite to go around and count the topiaries and see how many are new.
There aren't any new topiaries this year, but 2 new topiaries from last year's Flower and Garden are back again in 2021. Chef Remy from Ratatouille is located in the gardens in France and there is a new Dragon topiary in Japan!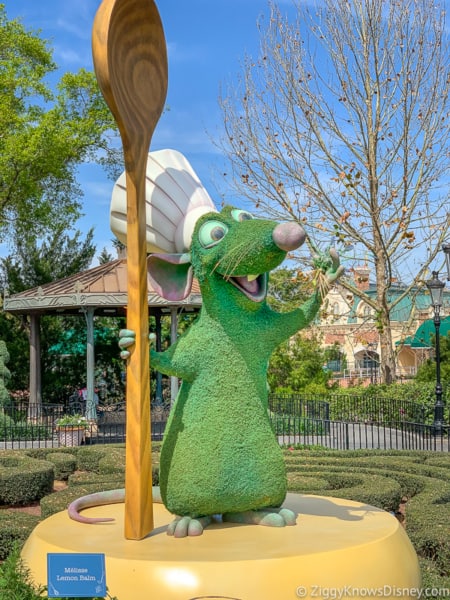 Below we have photos of all the topiaries from the EPCOT Flower and Garden Festival and we've organized them by location. Future World and then World Showcase. Let us know in the comments which one is your favorite this year!
Before we look at all the topiaries, make sure to also check the links below for more info about the Flower and Garden Festival including:
Let's see them already!!
Topiary List
Here is a quick list of all the topiaries at the 2021 EPCOT Flower and Garden Festival and where to find them:
Anna and Elsa – Norway Pavilion
Bambi and Friends – Future World East near Mouse Gear
Beauty and the Beast – France Pavilion
Buzz Lightyear – Future World East near Mission: SPACE®
China Zodiac Topiary Garden – China Pavilion in front of Nine Dragons
Donald Duck, Daisy Duck, Huey, Dewey and Louie – Showcase Plaza
Dragon Topiary – Japan Pavilion near Torii Gate
Figment – Future World West near Imagination!
Kermit the Frog and Miss Piggy – Between United Kingdom and Canada Pavilions
Lady and the Tramp – Italy Pavilion
Mickey Mouse, Minnie Mouse and Goofy – Between Future World & World Showcase
Pandas – China Pavilion
Peter Pan and Captain Hook – United Kingdom Pavilion
Pluto and Chip 'n Dale – Between Future World and World Showcase
Remy – France Pavilion
Simba and Friends (Rafiki, Simba, Mufasa and Sarabi) – Future World West
Sorcerer Mickey Mouse, Broom, Ostriches, Hippo and Mushroom – Main Entrance
Snow White and Dopey – Germany Pavilion
The Three Caballeros (Jose, Donald and Panchito) – Mexico Pavilion
Tinker Bell and Fairy Houses – United Kingdom Pavilion
Topiary Butterflies – Future World West
Troll – Norway Pavilion
Winnie the Pooh and Friends (Rabbit, Eeyore, Piglet and Tigger) – United Kingdom Pavilion
Woody, Bo Peep and her sheep – Future World West
Future World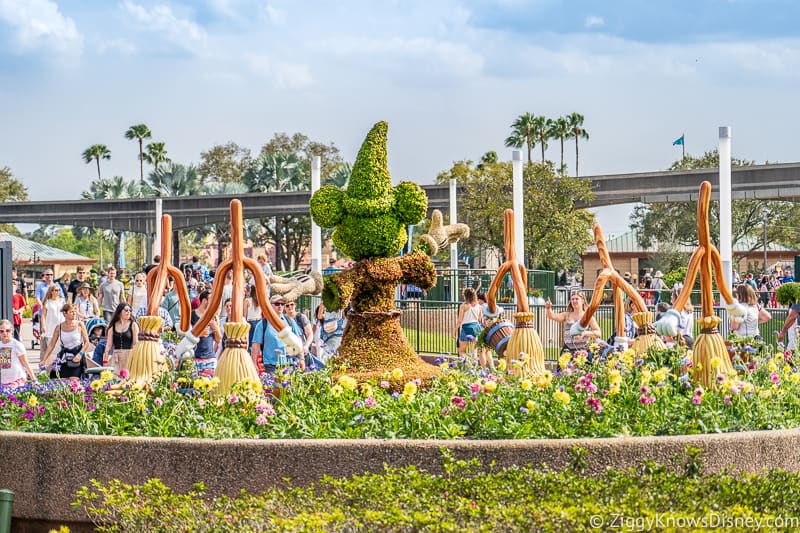 Main Entrance
We start off at the front entrance to EPCOT. Now usually, this is where one of the biggest topiary gardens is set up for the festival. However, since the entrance to the park is currently under construction, there are not as many topiaries here as you would find in other years.
Pluto & Flowers – Over to the left side of the entrance you'll find Pluto and his many flowers: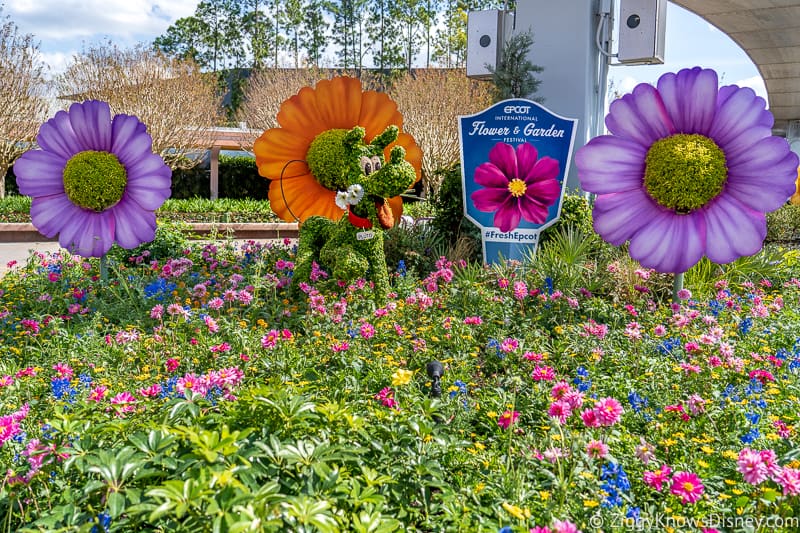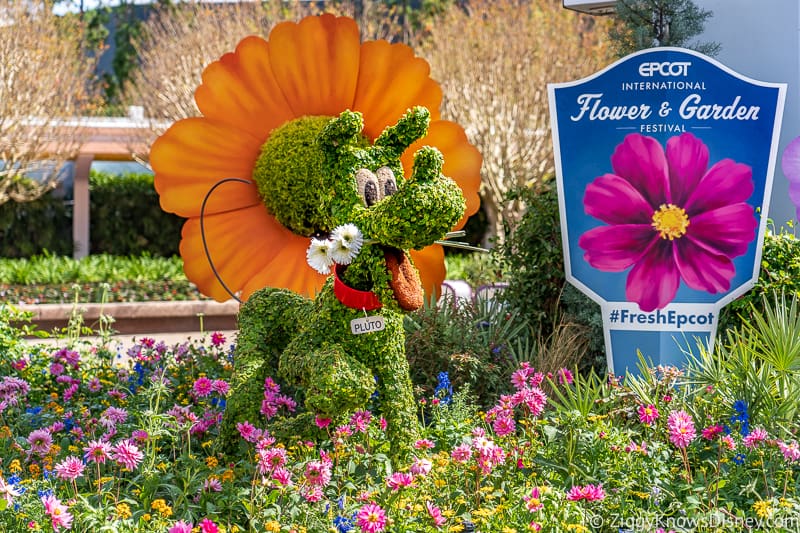 If you weren't able to spot him, he's the one carrying the flowers in his mouth!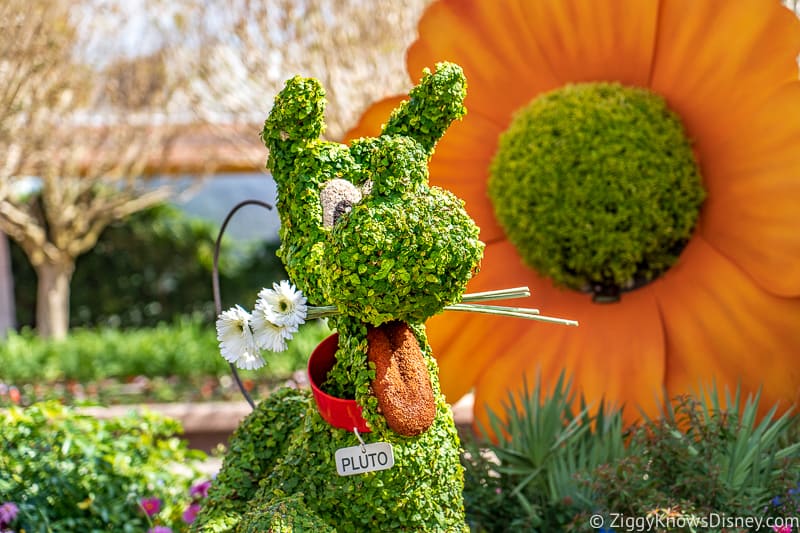 Walking further up towards Future World, you can see some orange and purple flowers in front of Spaceship Earth. The pedals are not plants, but the centers of each flower are real.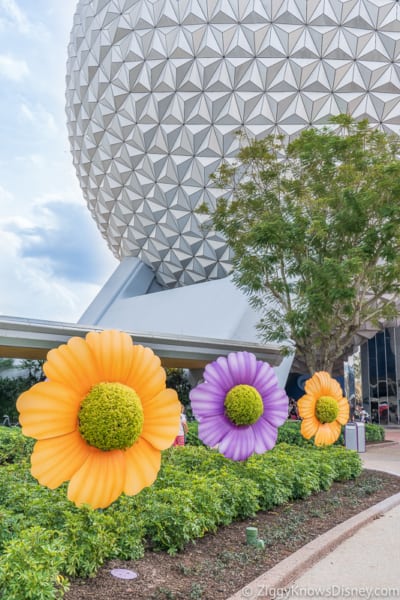 Future World East
You can go left or right at Spaceship Earth, and we're going left to Future World East. After passing the Guardians building, you'll run into the first group of topiaries on the right side.
Bambi and Friends – Bambi, Thumper and Flower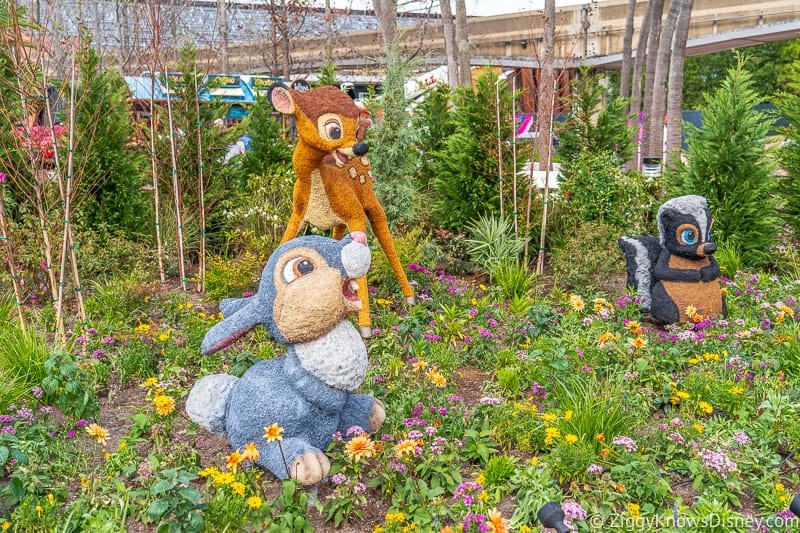 I really like the Bambi and friends topiaries because they are vibrantly colored. Many of the other topiaries are mostly green, instead, these are done to the characters' true colors.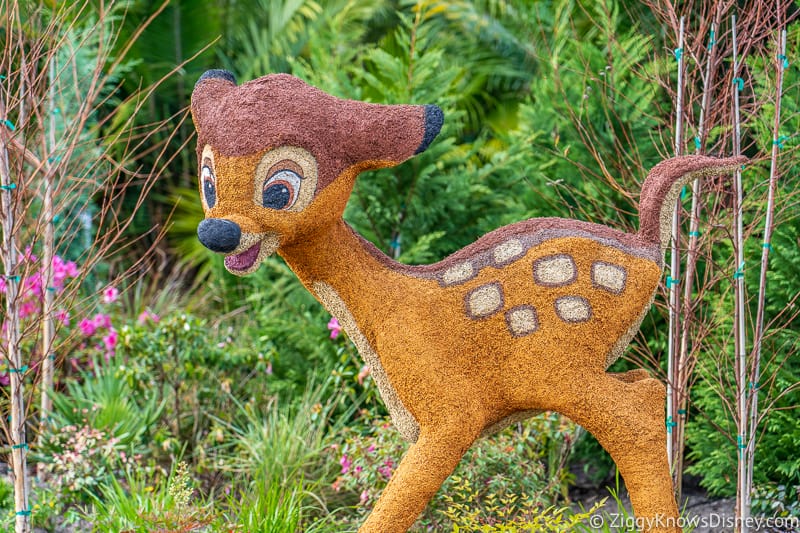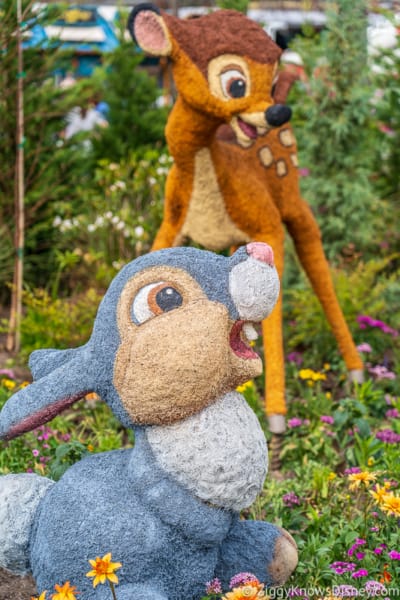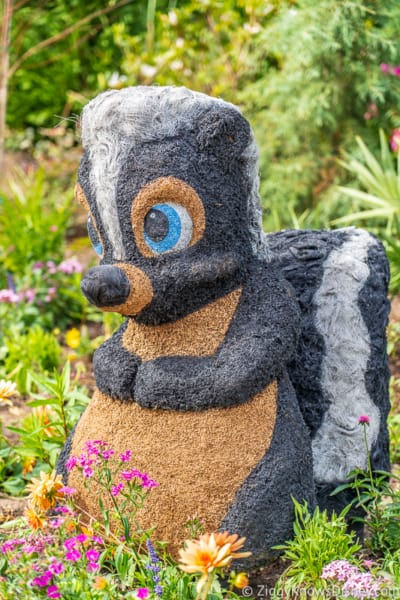 Woody, Bo Peep and her Sheep – Just past Bambi you'll find the first Toy Story reference with Woody, Bo Peep and her three sheep. Bo Peep has been around in the parks much more since Toy Story 4, so it makes sense they'd make a topiary for her at Flower and Garden this year.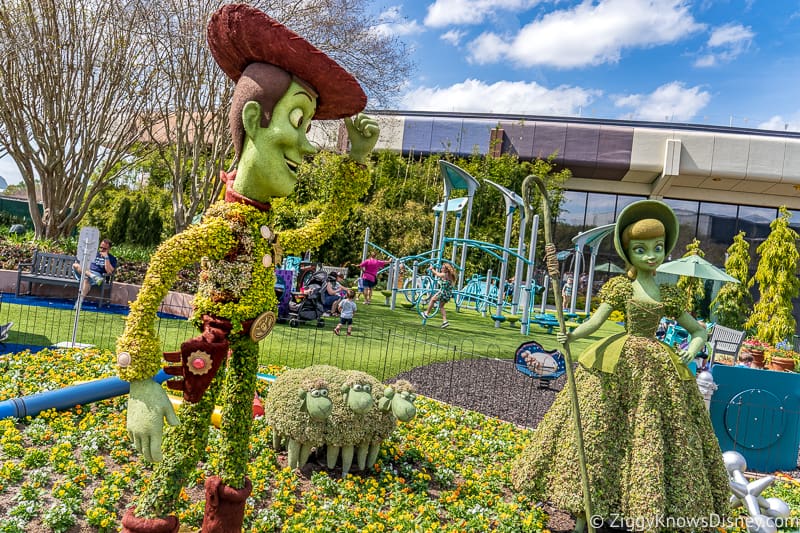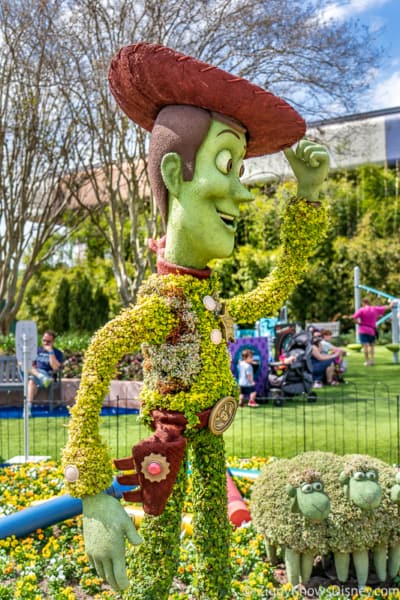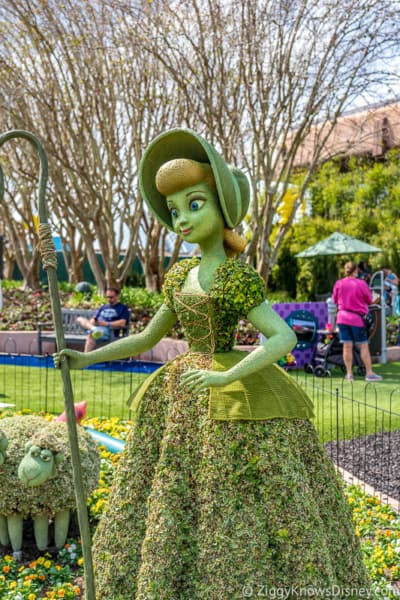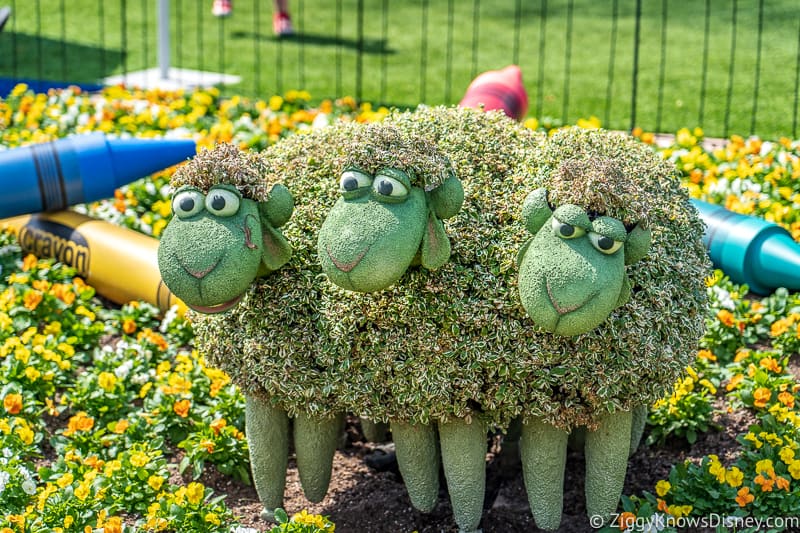 Buzz Lightyear – Walking toward Mission: SPACE you'll find the Buzz Lightyear topiary out in front of the pavilion.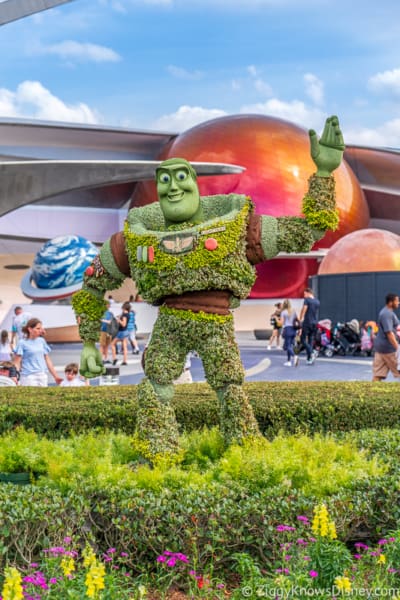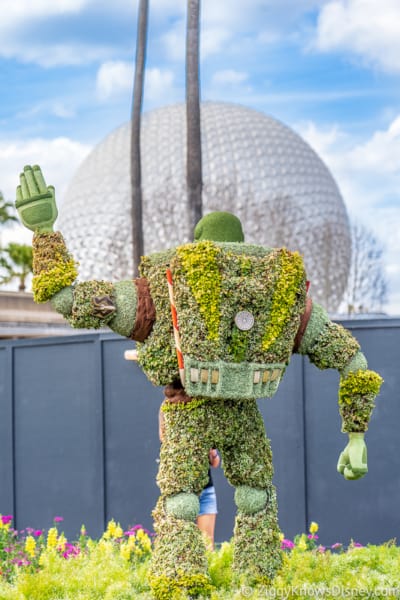 "To infinity…and beyond!"
Future World West
Sorcerer Mickey Mouse, Ostriches, Brooms and Hippo – Mickey Mouse is surrounded by his fellow topiaries from Fantasia.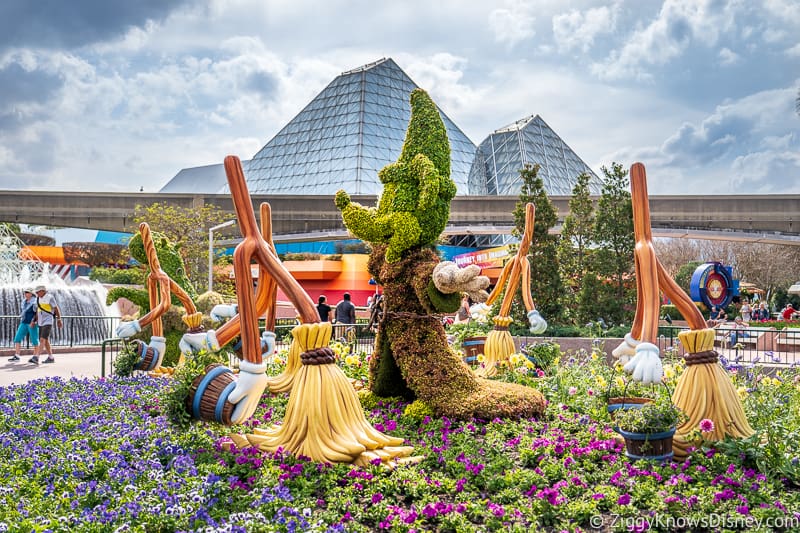 You can find them between The Land and the Imagination! pavilions.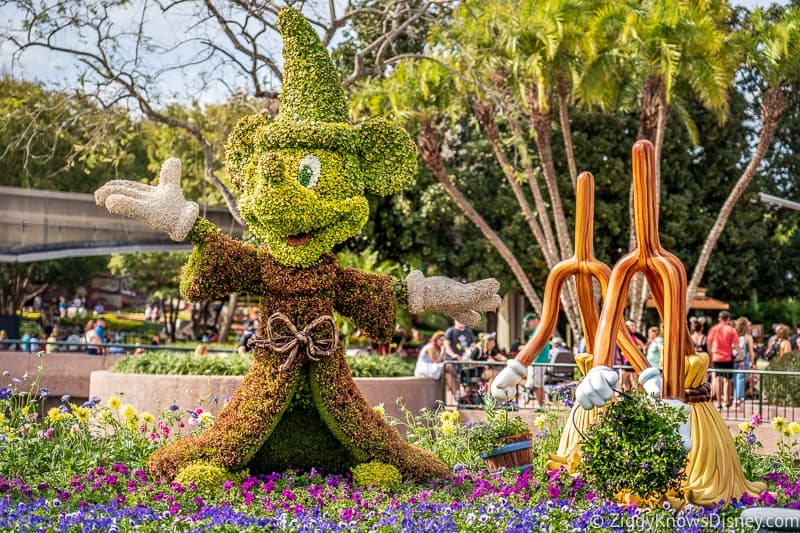 Even though the brooms aren't really topiaries, they are still really cool to look at!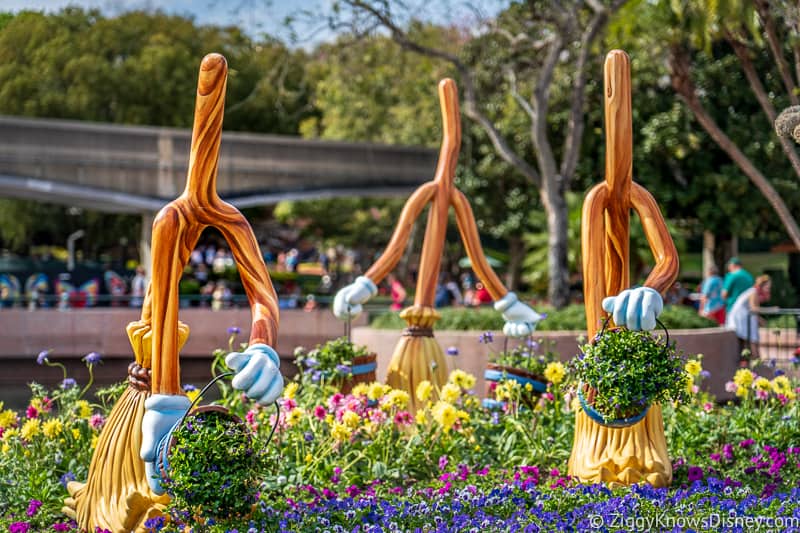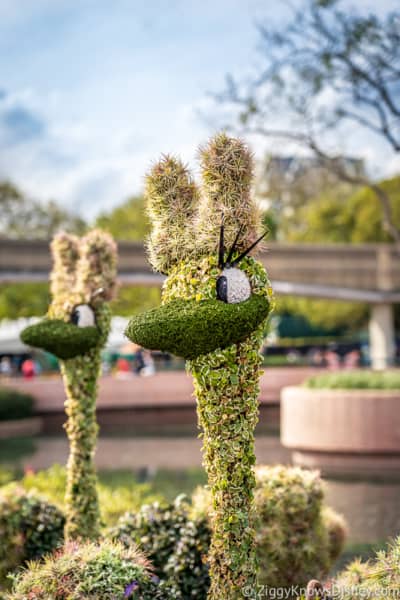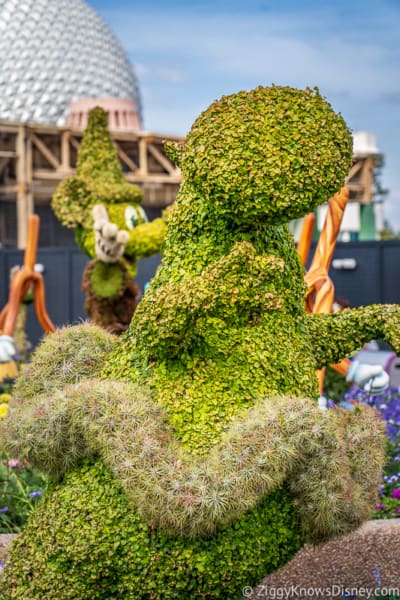 Figment – It wouldn't be an EPCOT festival without the park's leading dragon..Figment. YOu can find his topiary right in front of the Imagination! pavilion.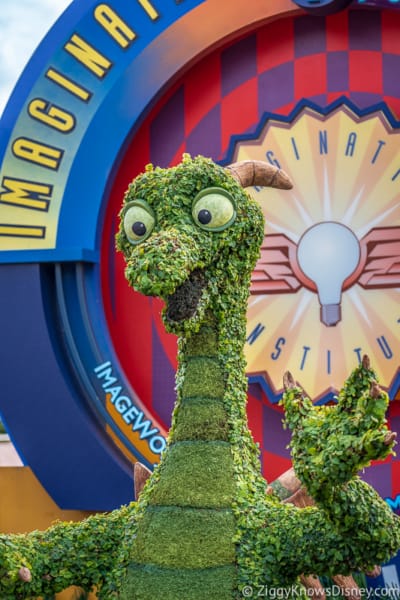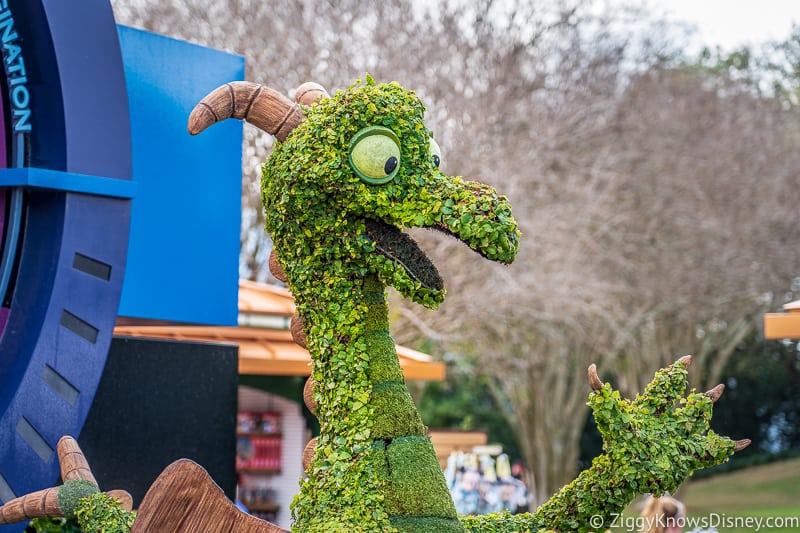 Butterflies – Over near The Land, you can't miss the beautiful butterfly topiaries which are located right outside the Butterfly Garden.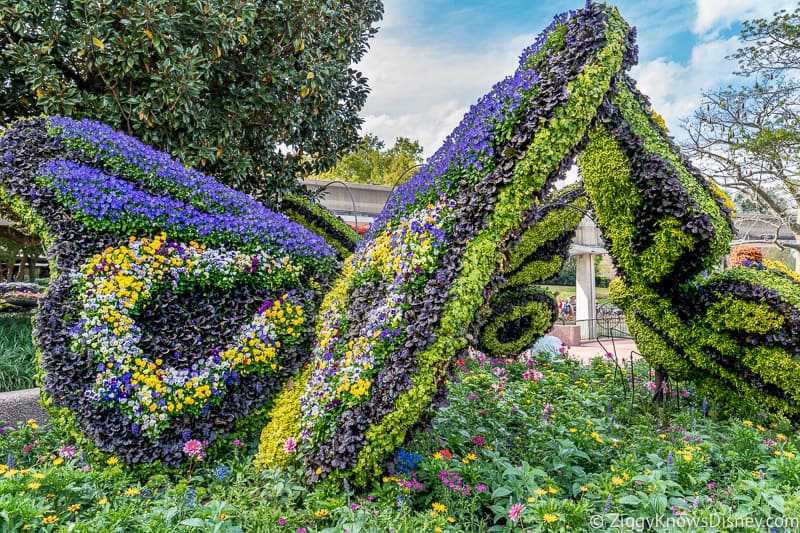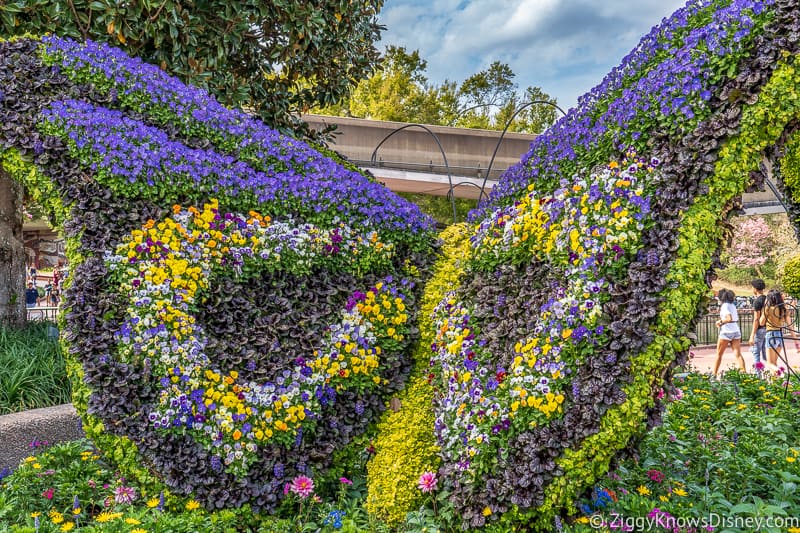 Showcase Plaza
Mickey Mouse, Minnie Mouse and Goofy – This topiary garden with Mickey, Minnie and Pluto would normally be found at the entrance to EPCOT, but since that is under construction, it's been moved out so Showcase Plaza on the way to World Showcase.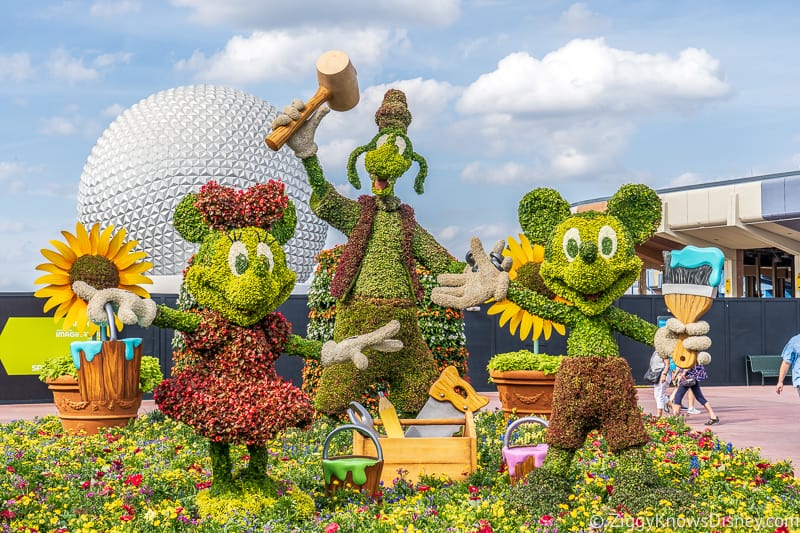 Mickey and the gang are even getting in on the joke and are all helping with the construction projects. The Mickey topiary is holding a paint brush: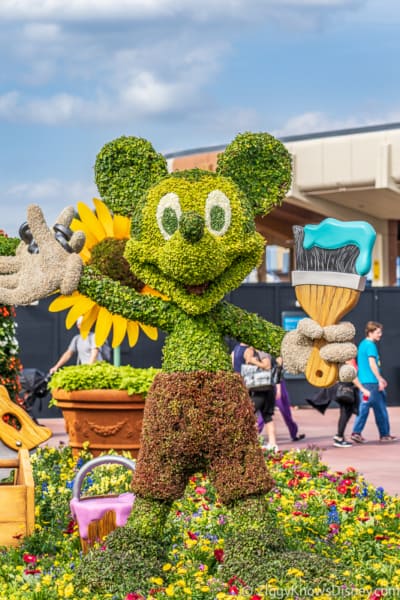 Minnie has the paint: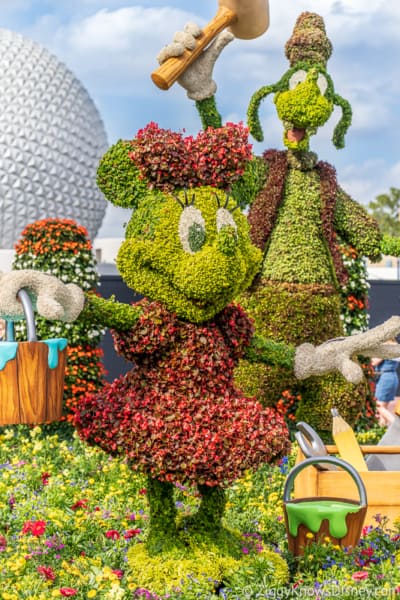 And the Goofy topiary has the hammer and nails, although I don't know if that's the smartest idea in the world to put them in his hands…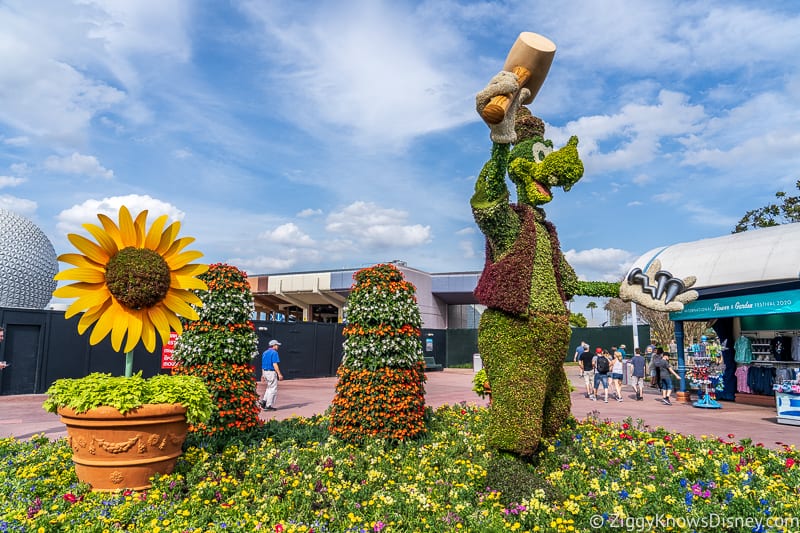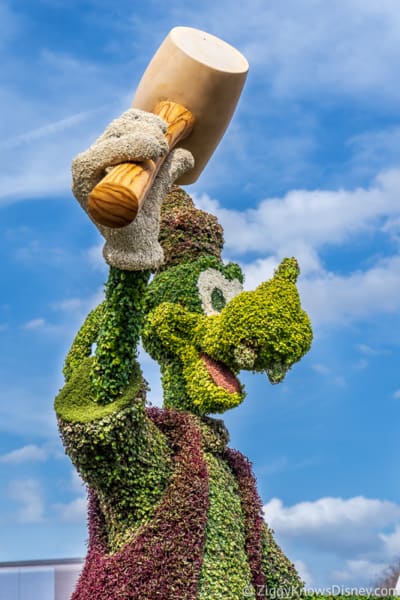 Pluto and Chip 'n' Dale – Just past Mickey and the gang are Chip, Dale and Pluto.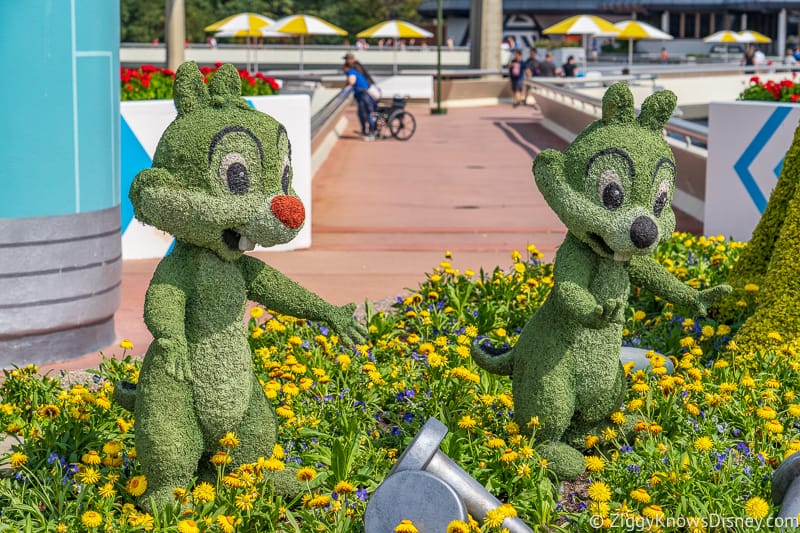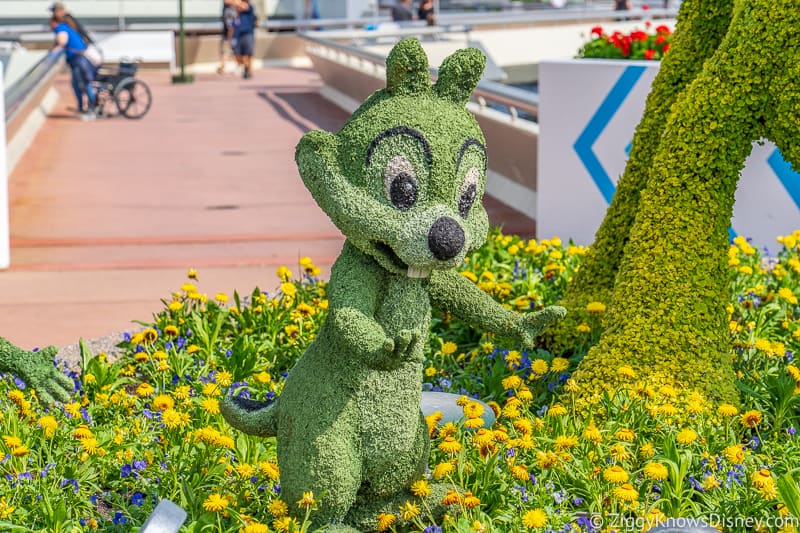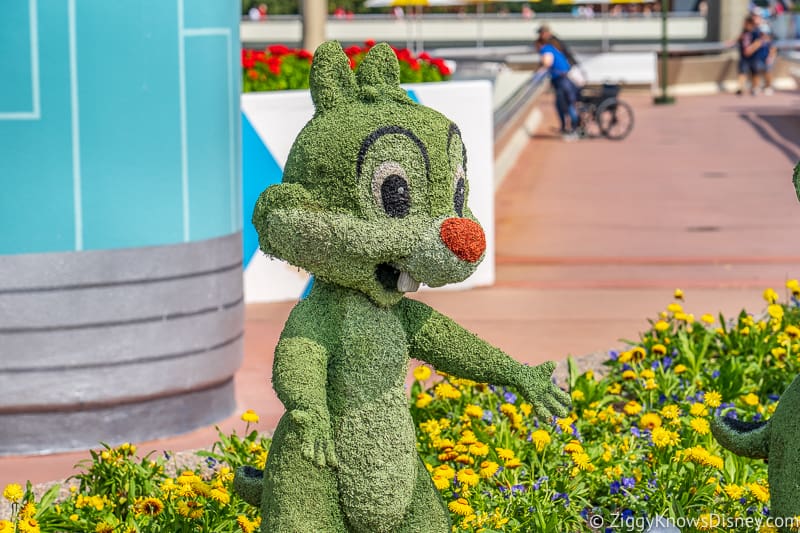 Even Pluto wants to help and probably realizes that Mickey forget the tape measure.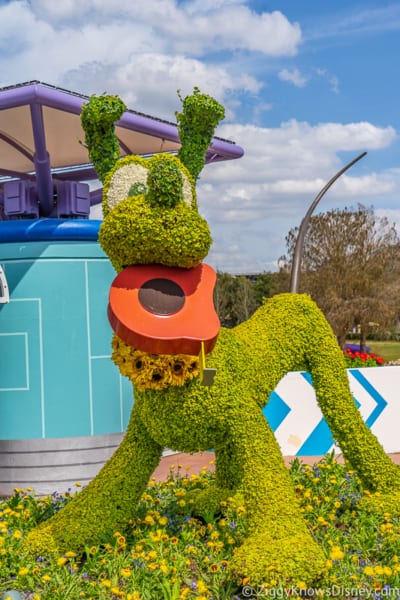 Donald Duck, Daisy Duck, Huey, Dewey and Louie – Right in the middle of Showcase Plaza are the Donald Duck, Daisy Duck and Huey, Dewey and Louie topiaries.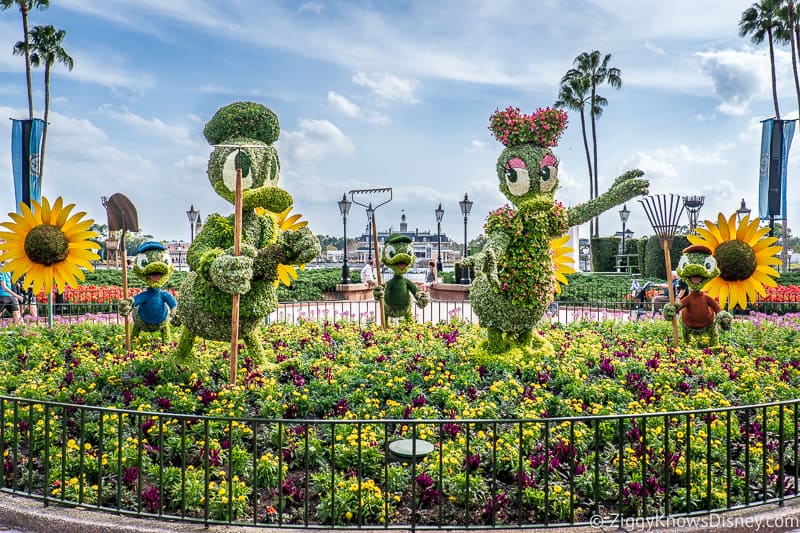 They are ready to do some gardening and each have some kind of equipment in hand to help them complete their tasks, except for Daisy…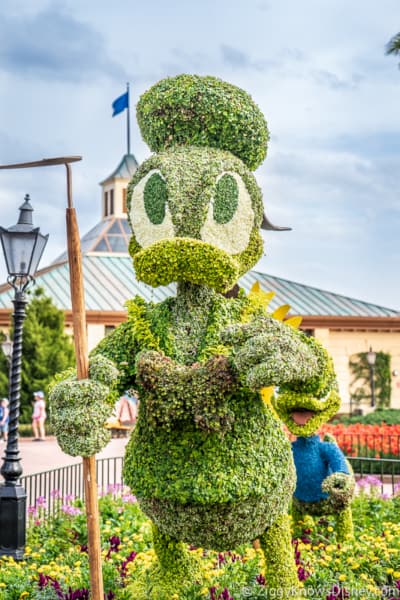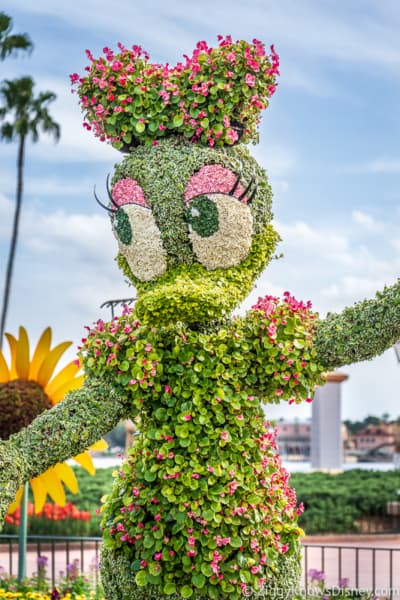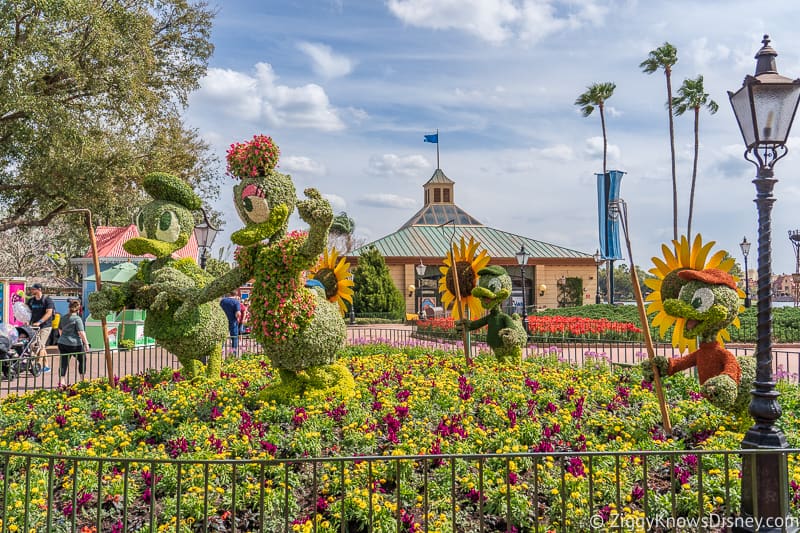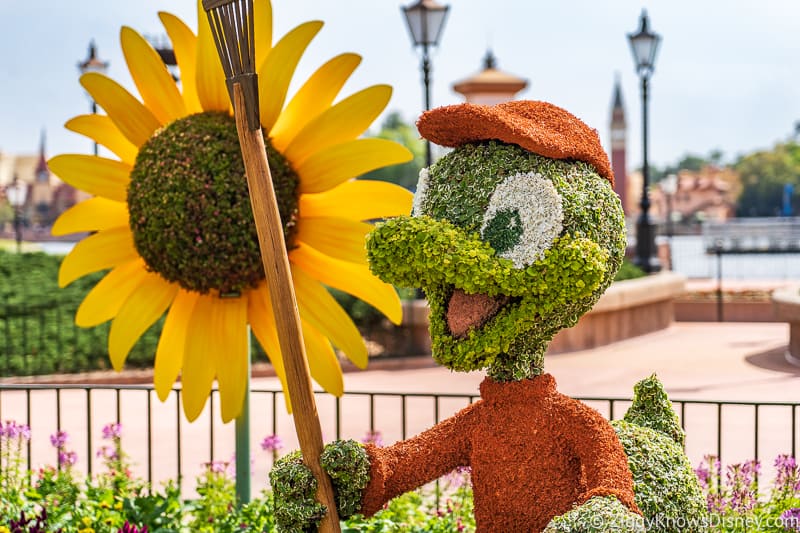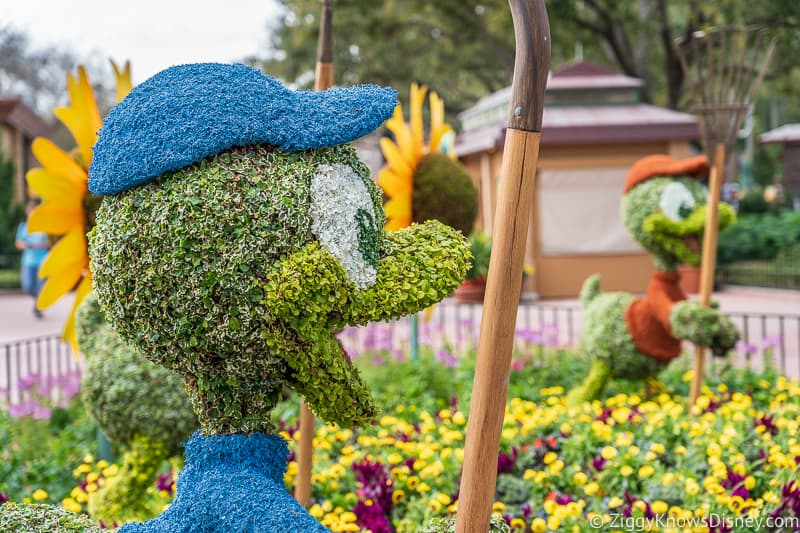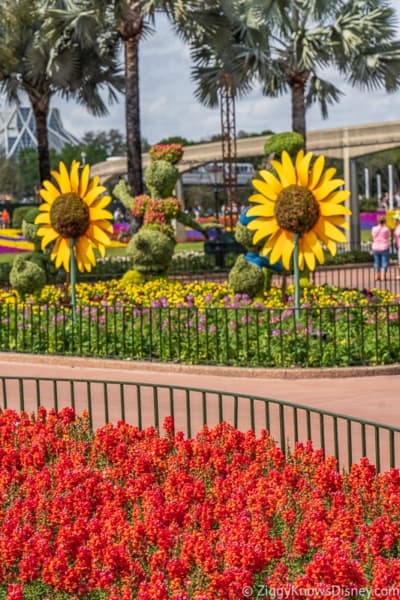 World Showcase
Mexico
The Three Caballeros – Wouldn't you know that Donald has also made his way over to Mexico to meet up with The Three Caballeros, Jose Carioca and Panchito Pistoles.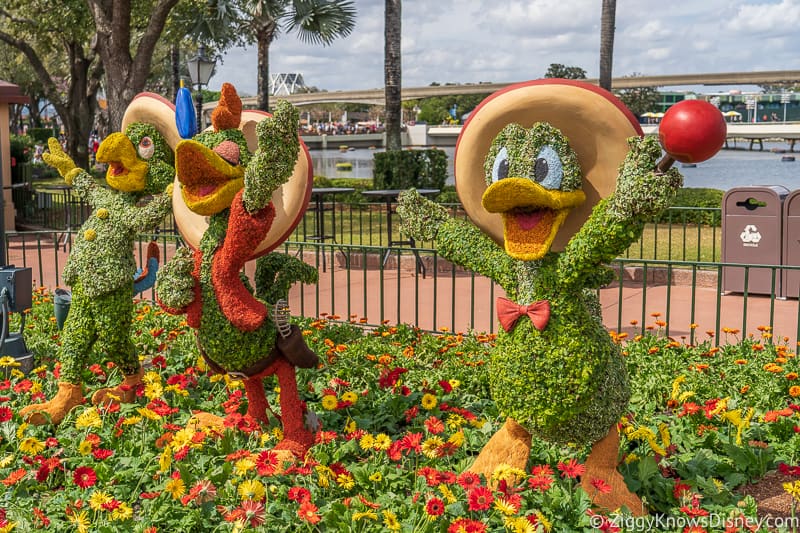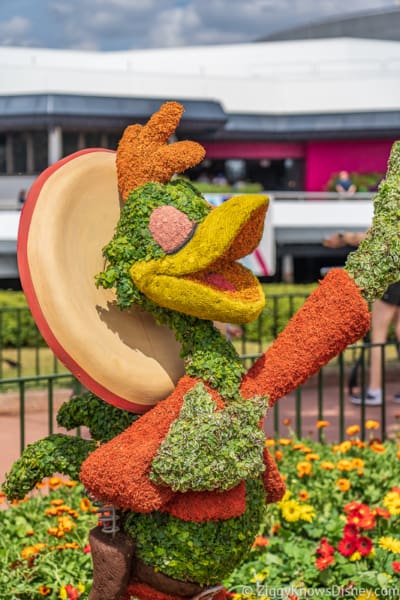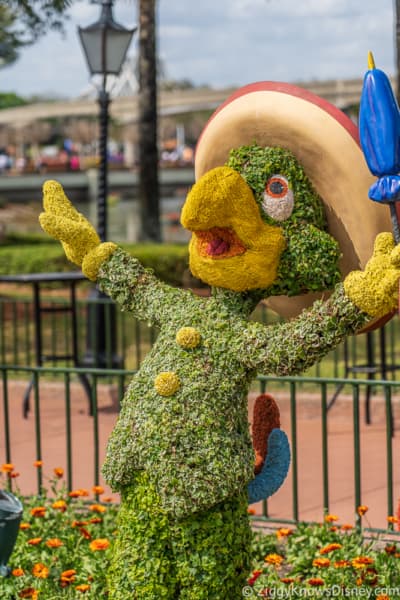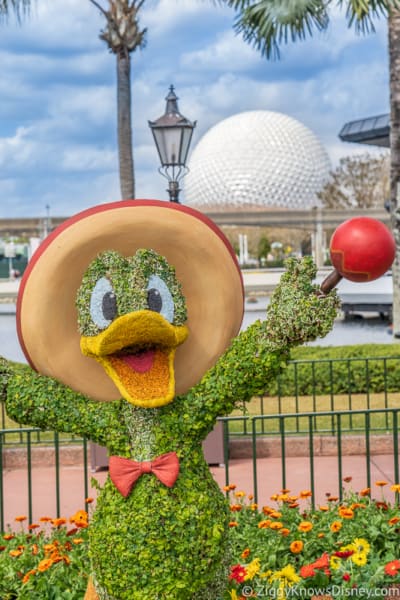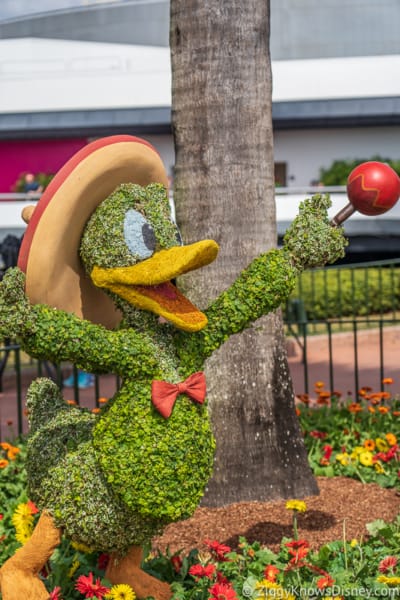 Norway
Anna and Elsa – Two of the most popular topiaries at the EPCOT Flower and Garden Festival last year were Anna and Elsa from Frozen. Well they are back once again in Norway, over by their character meet.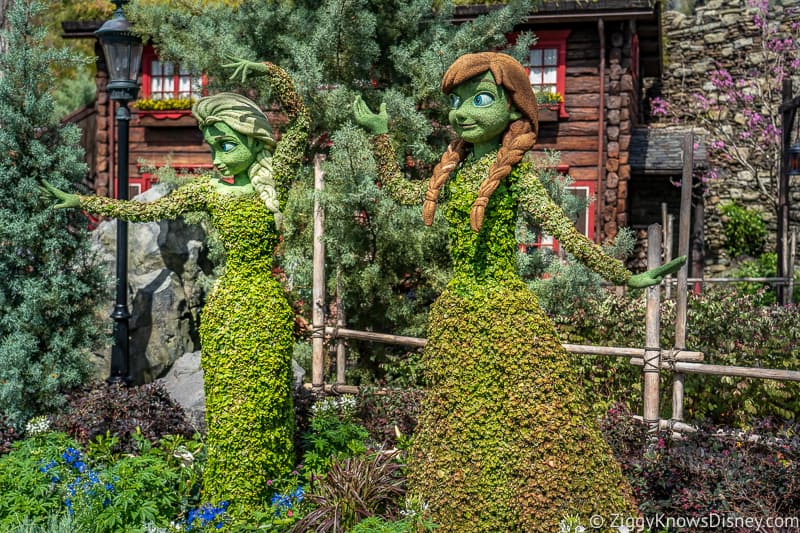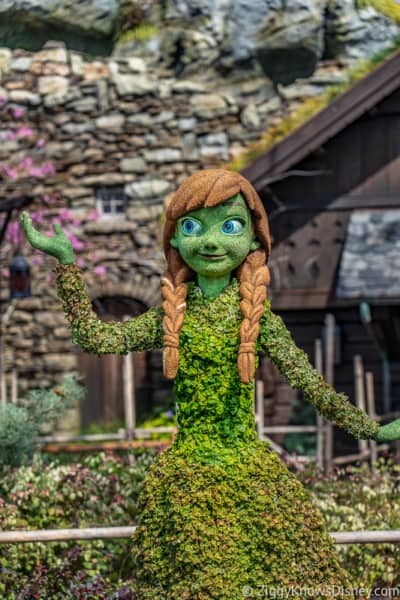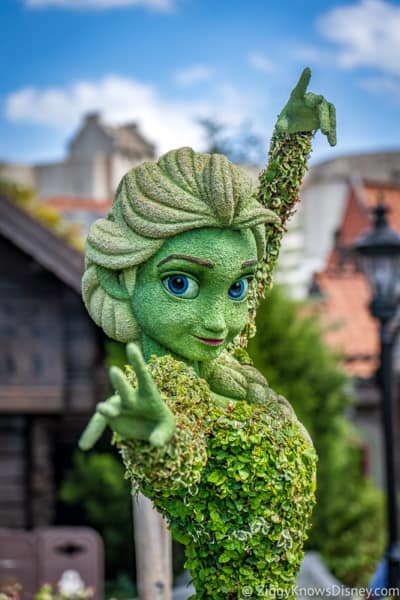 Troll – Out on the main promenade in Norway you'll find the Troll topiary.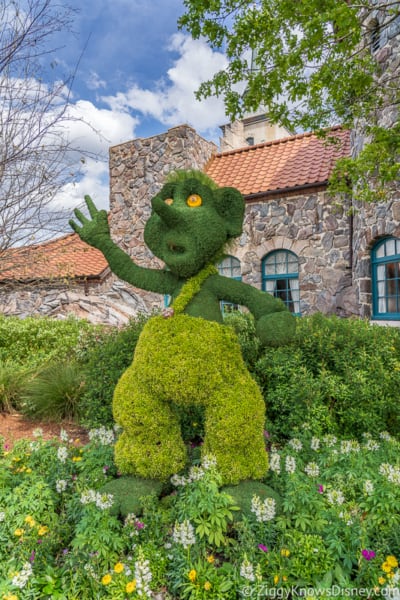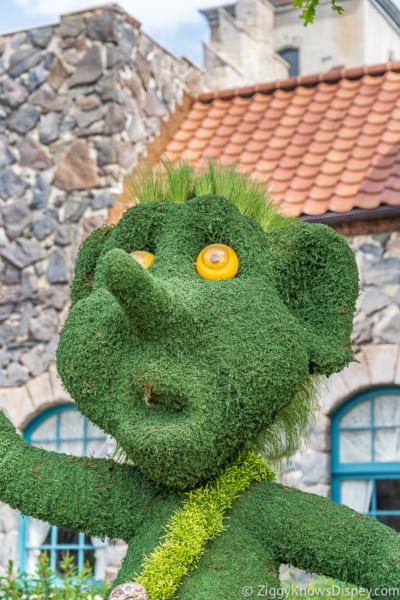 China
Pandas – These Pandas are so adorable and very well could be my favorite topiaries from the festival this year. You can find them in the China pavilion, laying out and eating some bamboo.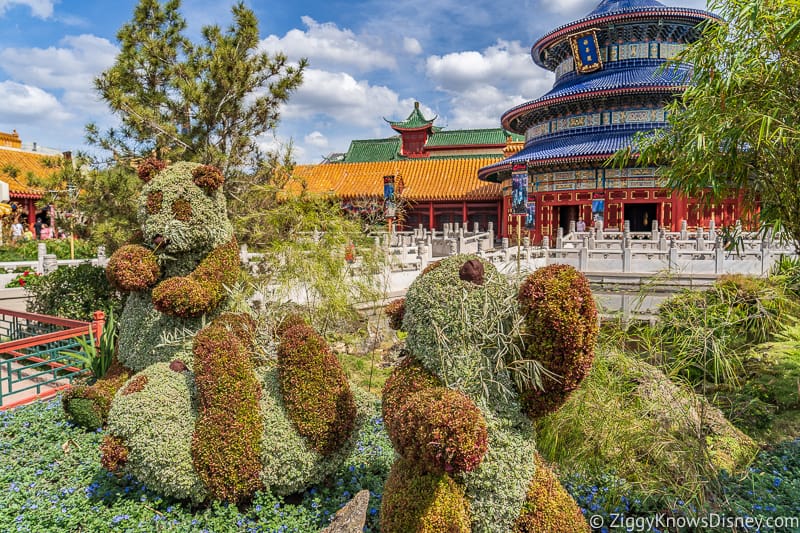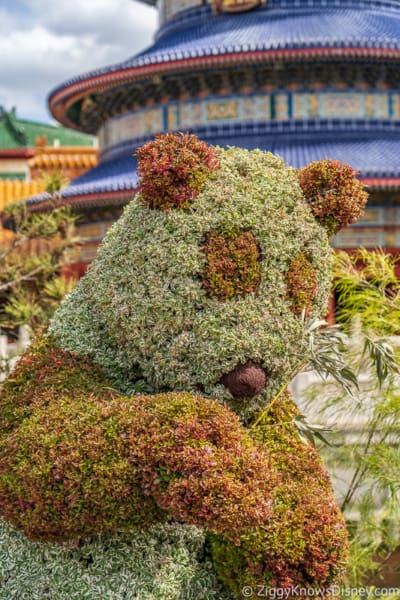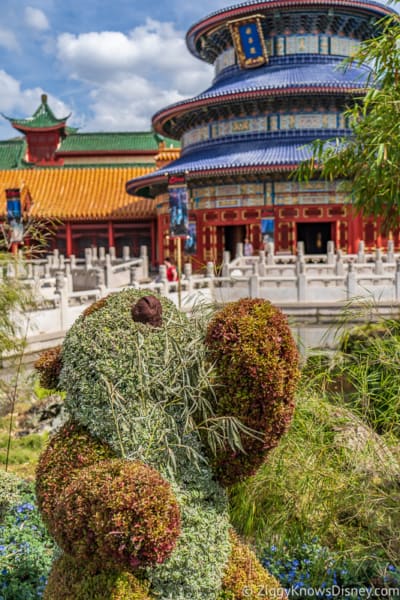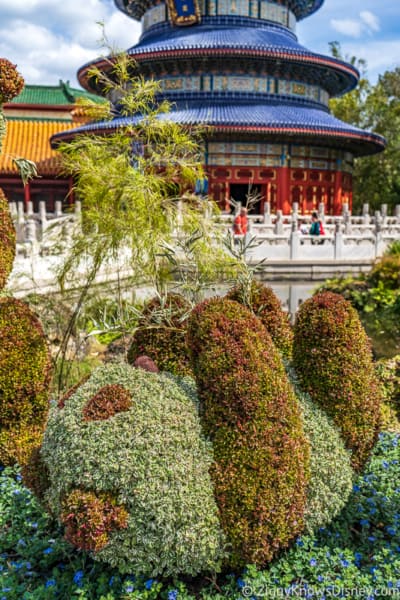 Outpost
Simba and Friends – Moving over to the Africa Outpost, you'll find the topiaries from The Lion King.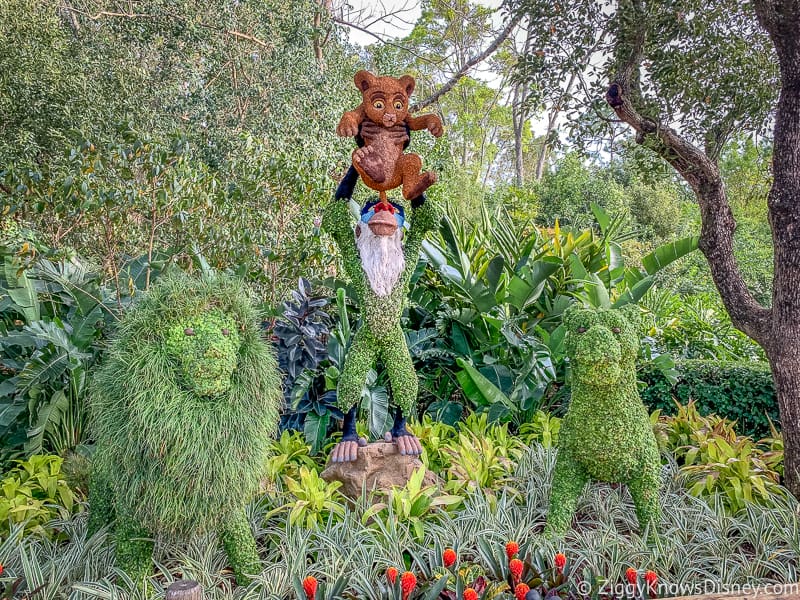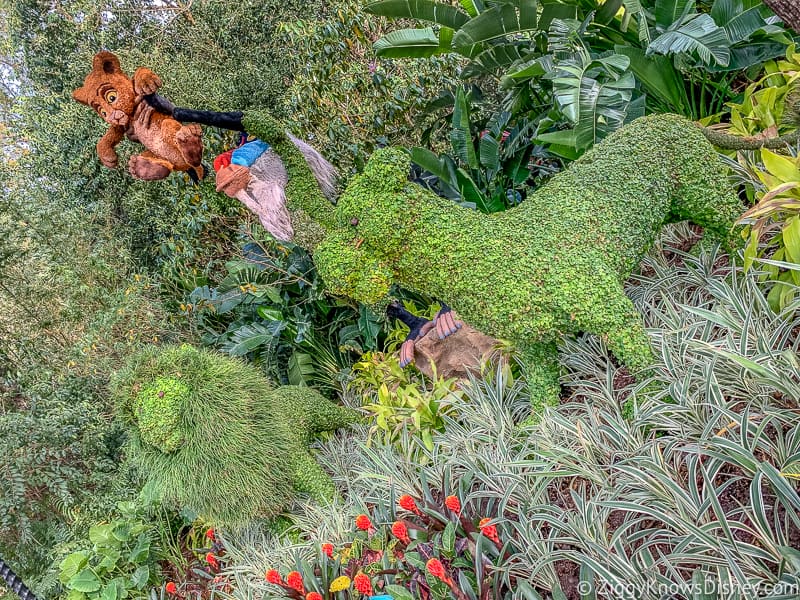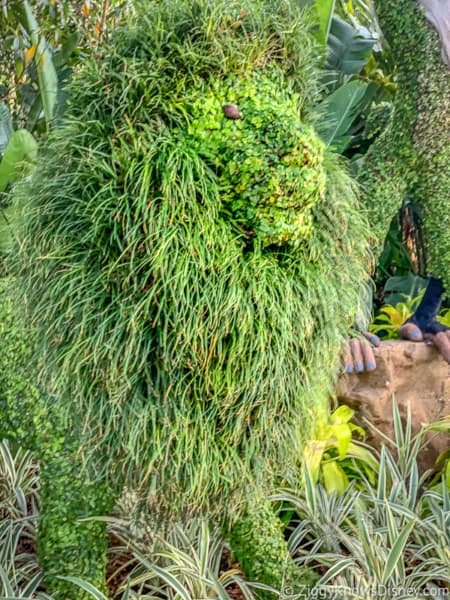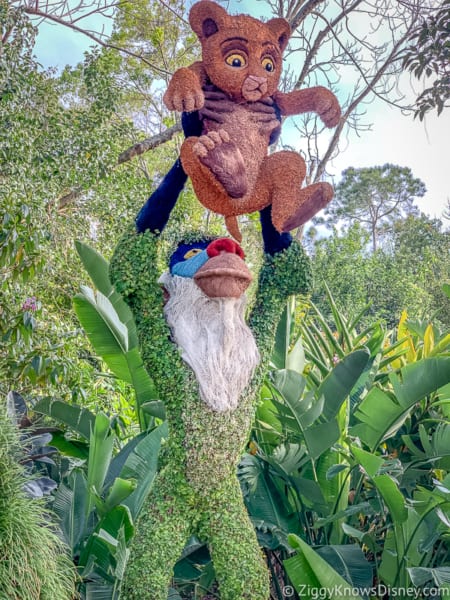 Germany
Snow White and Dopey – Snow White and Dopey get the nominations in Germany and you can find their topiaries in the garden right near the restroom entrance.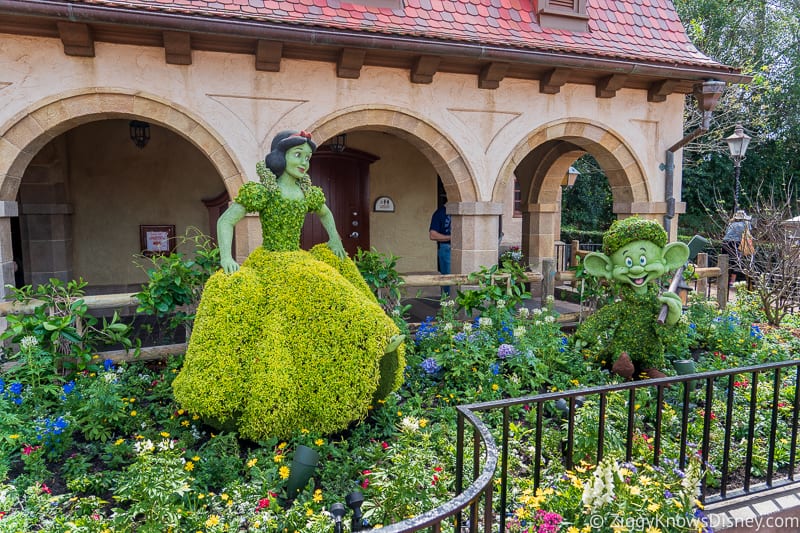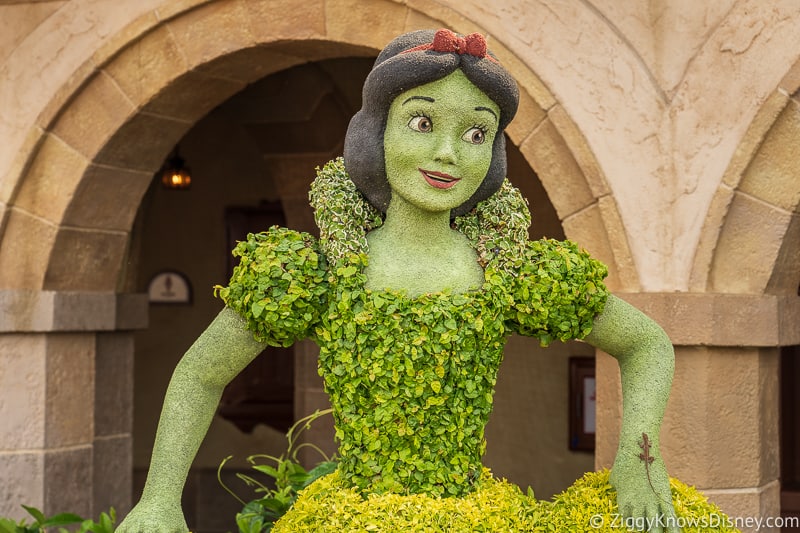 Italy
Lady and the Tramp – The Lady and the Tramp topiaries in Italy might have the best backdrop at the festival with a great view of the gondolas, World Showcase Lagoon and Spaceship Earth way in the distance.