One of the best parts about the EPCOT Flower and Garden Festival is all the topiaries you will find throughout the park. These living plants were inspired by your favorite Disney characters and will entertain for hours.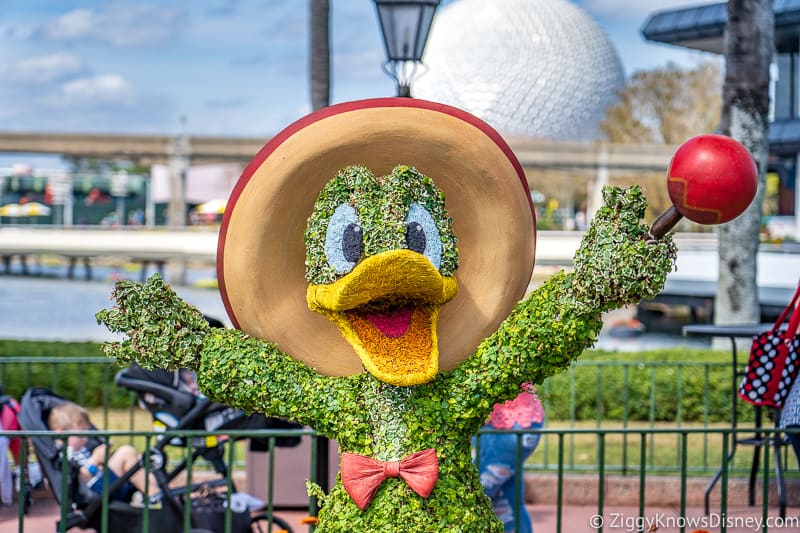 Come with us on a journey around World Showcase and Future World as we look at every single character topiary at Flower and Garden in 2022.
What are topiaries you ask? A Topiary is basically a plant that's been trimmed and maintained into a specific shape. In this case, the amazing horticulturalists working in EPCOT have taken real living plants and shaped them into Disney characters like Mickey Mouse, Donald Duck, Anna and Elsa, Simba, and more.
The Flower and Garden topiaries are great to try and find and offer amazing photo opportunities for you and your family/friends. In fact, on the first day of the festival, it's our favorite to go around and count the topiaries and see how many are new.
There aren't any new topiaries this year, but 8 new topiaries from past years are returning to Flower and Garden again in 2022.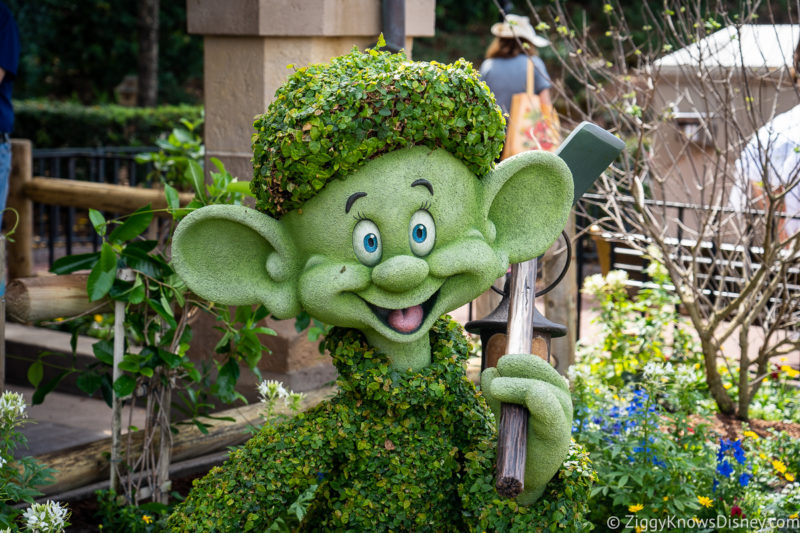 Lumiere and Cogsworth from Beauty and the Beast have returned to the France pavilion, and the missing Snow White and the Seven Dwarfs topiaries have come back to Germany.
Below we have photos of all the topiaries from the EPCOT Flower and Garden Festival and we've organized them by location. First the front half of the park, then World Showcase. Let us know in the comments which one is your favorite this year!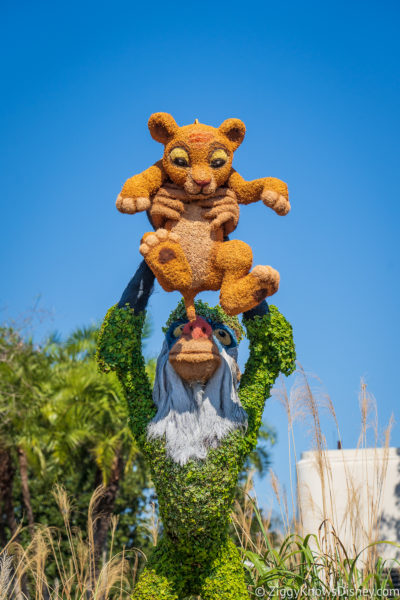 Before we look at all the topiaries, make sure to also check the links below for more info about the Flower and Garden Festival including:
Also, don't forget to sign up for our FREE Weekly E-Mail Newsletter. We will send you all the latest Flower and Garden updates as well as the latest vacation planning tips. You can sign up here: Join our E-Mail Newsletter!
Let's see the topiaries already!!
Topiary List
Here is a quick list of all the topiaries at the 2022 EPCOT Flower and Garden Festival and where to find them:
Anna and Elsa – Norway Pavilion
Bambi and Friends – World Nature near Imagination!
Beauty and the Beast – France Pavilion
Buzz Lightyear – World Discovery near Mission: SPACE®
Dragon Topiary – Japan Pavilion near Torii Gate
Figment – World Nature near Imagination!
Goofy Topiary and Walt Disney World 50th Anniversary Celebration Cake – Main Entrance
Kermit the Frog and Miss Piggy – Germany Pavilion
Lady and the Tramp – Italy Pavilion
Lumiere and Cogsworth – France Pavilion
Mickey Mouse, Minnie Mouse, Donald Duck, Daisy Duck, Huey, Dewey and Louie – Bridge to World Showcase
Pandas – China Pavilion
Peter Pan, Captain Hook and Tick Tock Croc – Between the United Kingdom and Canada Pavilions
Pluto and Chip 'n Dale – The American Adventure Pavilion
Pumbaa and Timon – World Nature between Imagination! and The Land Pavilion
Remy – France Pavilion
Simba and Friends (Rafiki, Simba, Mufasa and Sarabi) – World Nature between Imagination! and The Land Pavilion
Sorcerer Mickey Mouse, Brooms, Ostriches, Hippo and Gator – Entrance to World Showcase
Snow White and The Seven Dwarfs – Germany Pavilion
The Three Caballeros (Jose, Donald and Panchito) – Mexico Pavilion
Tinker Bell's and Fairy House Garden – United Kingdom Pavilion
Topiary Butterflies – Main Entrance
Troll – Norway Pavilion
Winnie the Pooh and Friends (Winnie the Pooh, Rabbit, Eeyore, Piglet and Tigger) – United Kingdom Pavilion
Woody, Bo Peep and her sheep – World Nature near The Land Pavilion
EPCOT Entrance
We start off at the front entrance to EPCOT. Usually, this is where one of the biggest topiary gardens is set up for the festival. However, this year, things are a little smaller than usual at the entrance to the park and there are not as many topiaries here as you would find in other years.
Pluto and Walt Disney World 50th Anniversary Celebration Cake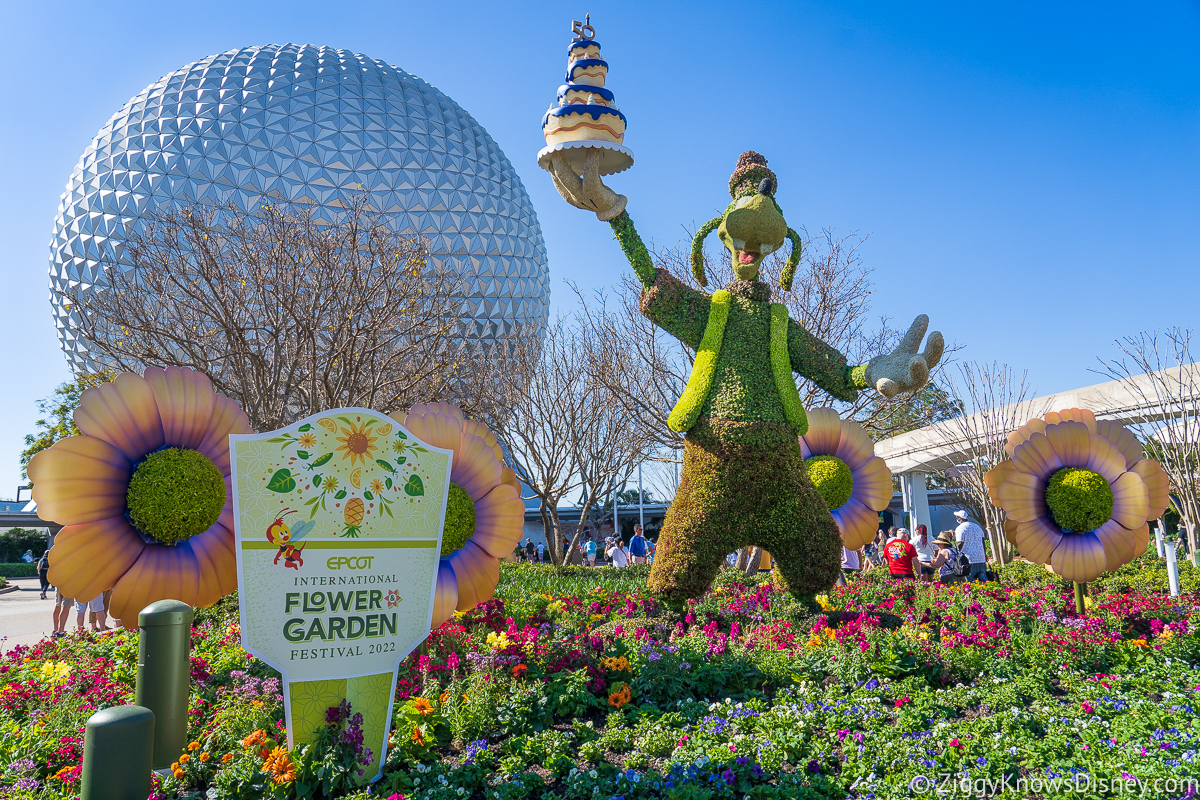 Goofy is alone this year and out front and center to greet guests the moment they step into EPCOT. In recent years he has held a big hammer in his hand to represent the construction going on in the park.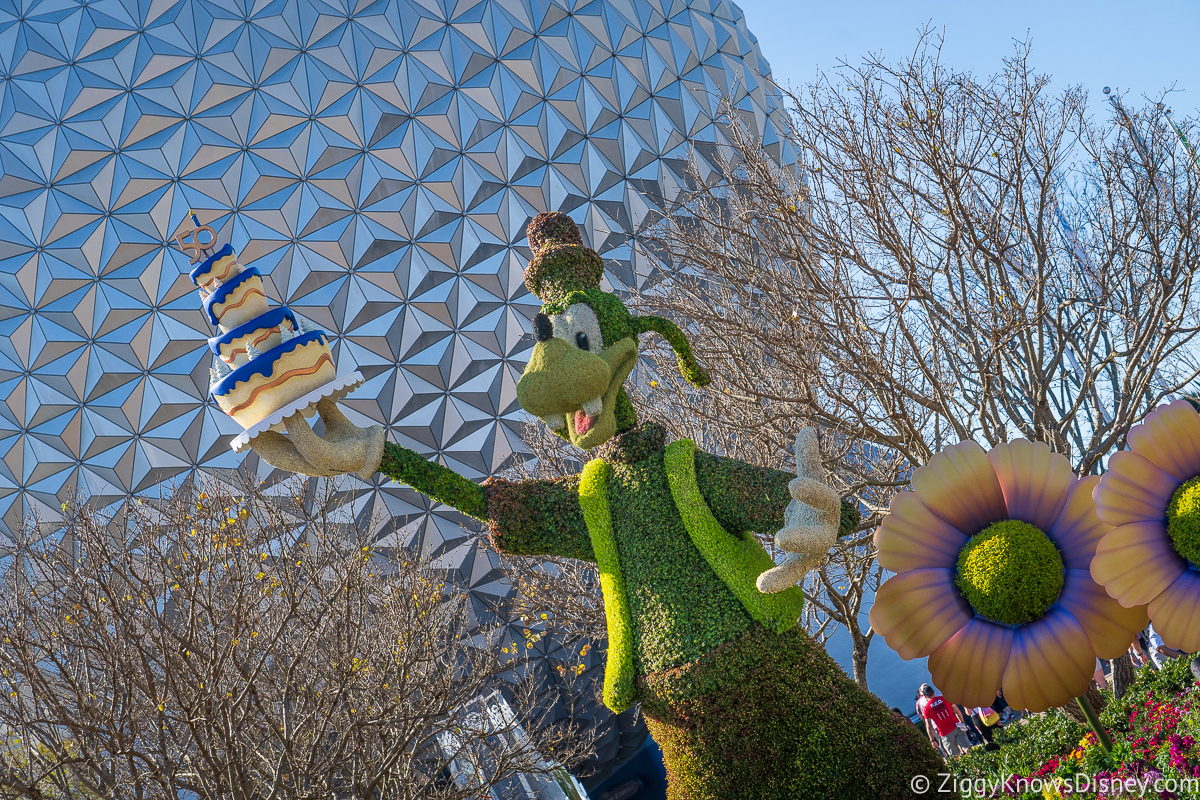 Instead, this year Goffy is holding a big cake in celebration of Walt Disney World's 50th Anniversary which is going on throughout the year.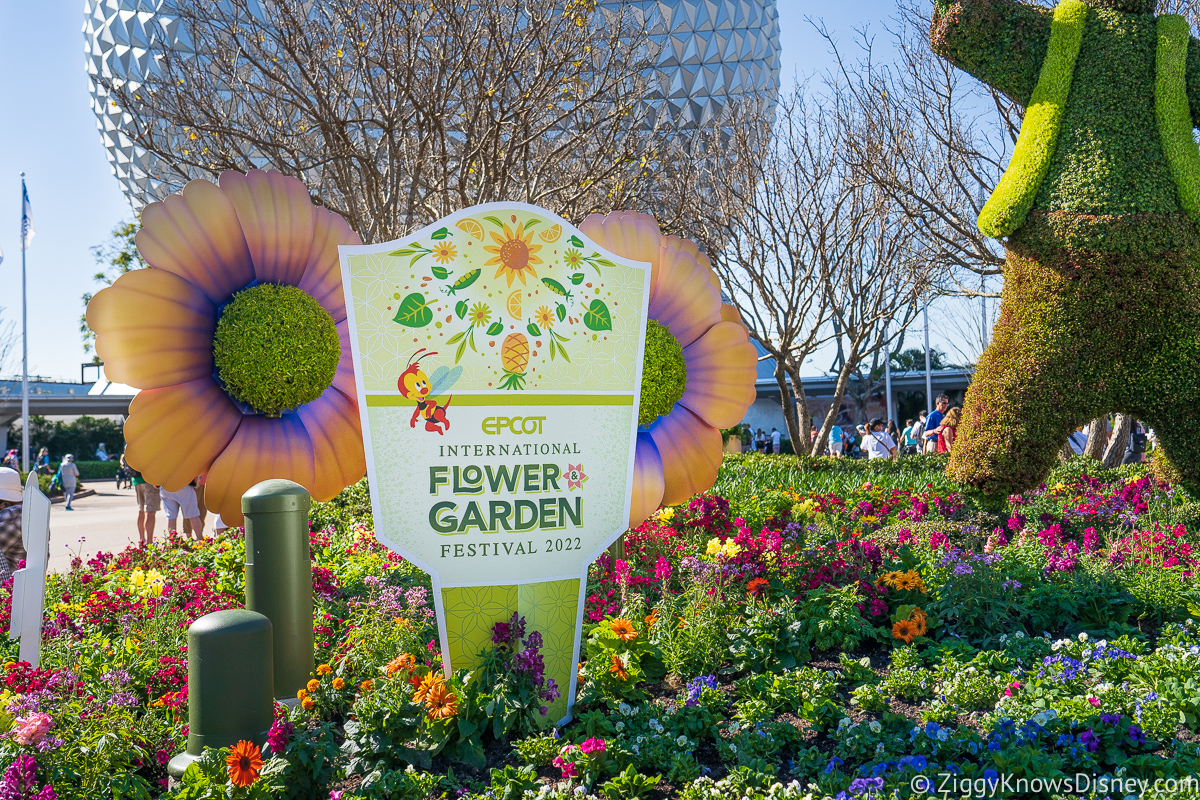 The flower display is pretty simple here this year and there is a big sign welcoming guests to the EPCOT International Flower & Garden Festival.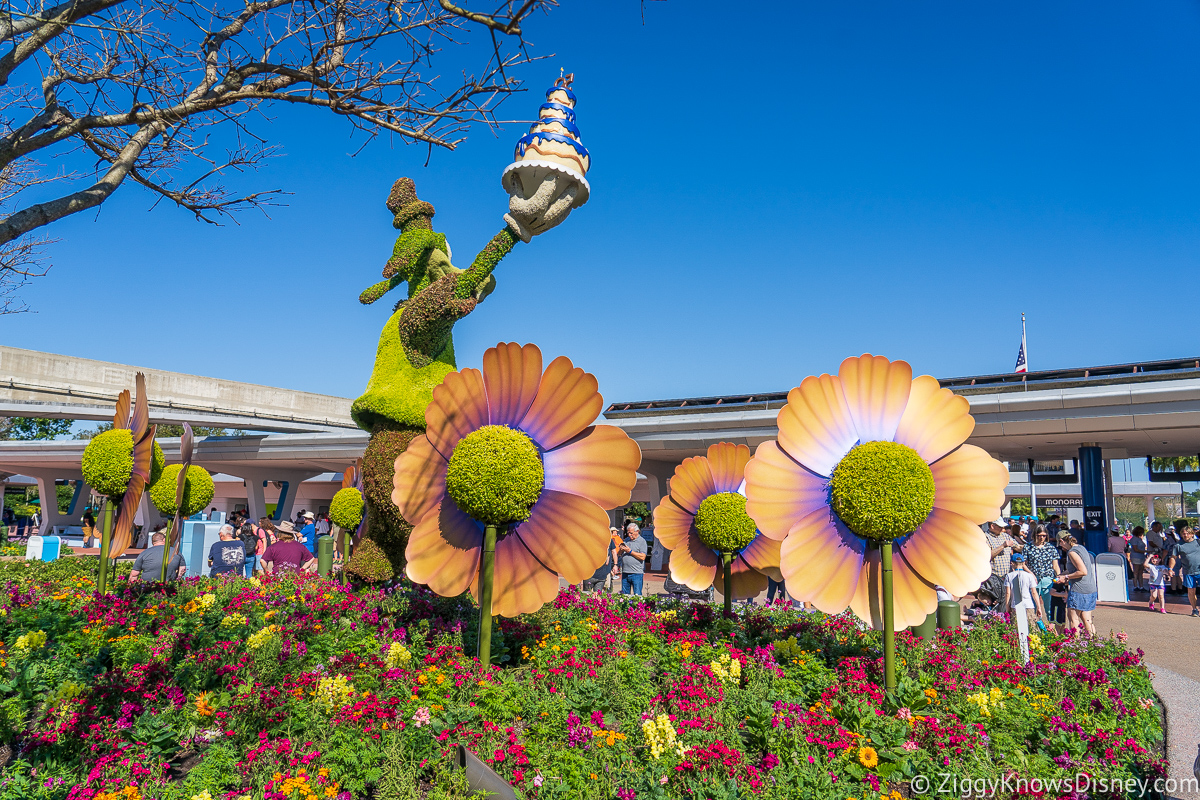 Goofy is standing in the middle of some large flower topiaries, and if we walk around the back of the display you can see them more clearly.
Butterflies – Once you walk past Goofy and still in the EPCOT entrance, you can't miss the beautiful butterfly topiaries which are on display under the monorail tracks.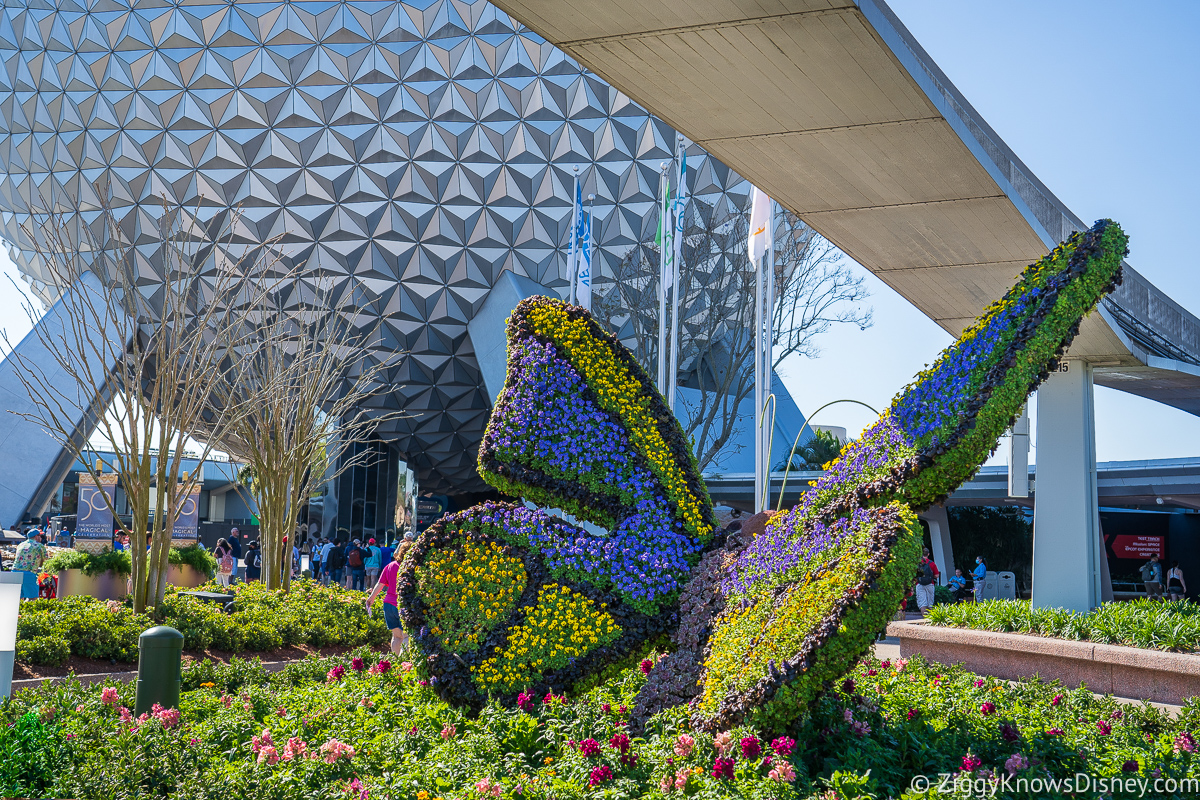 There are two big butterflies here, as well as more in other locations in EPCOT.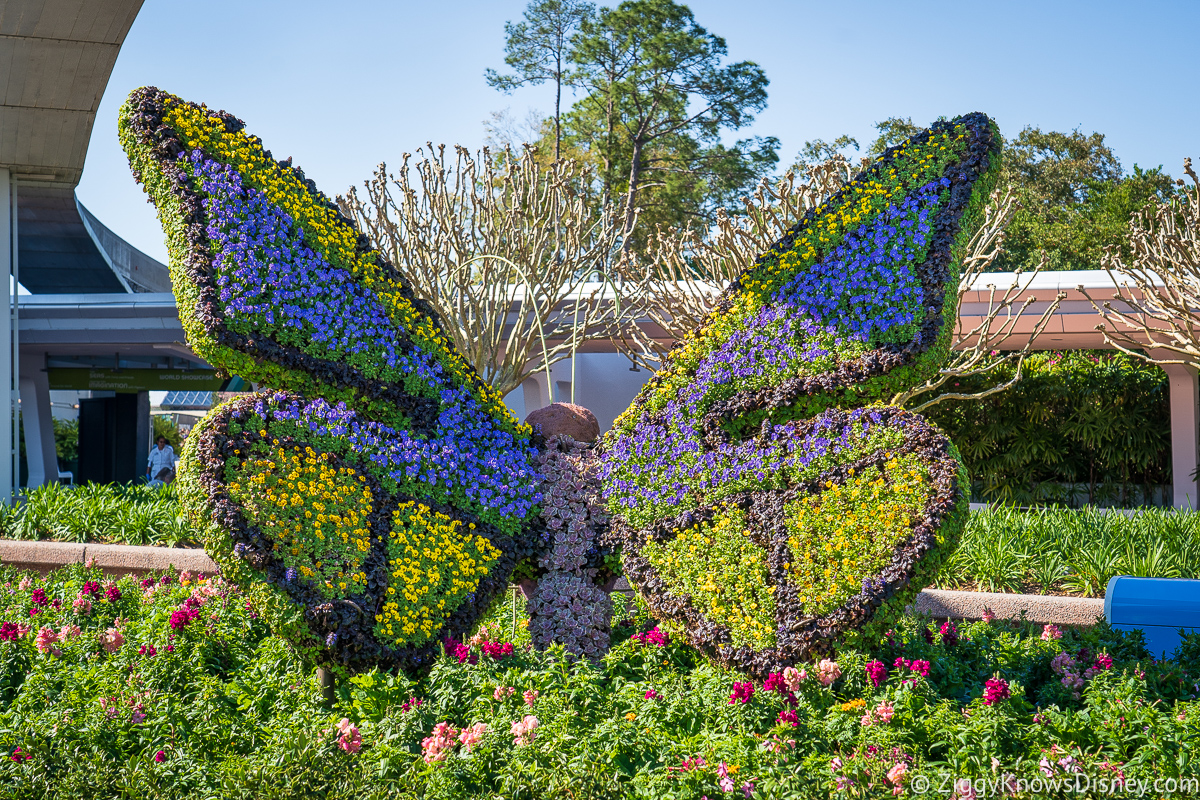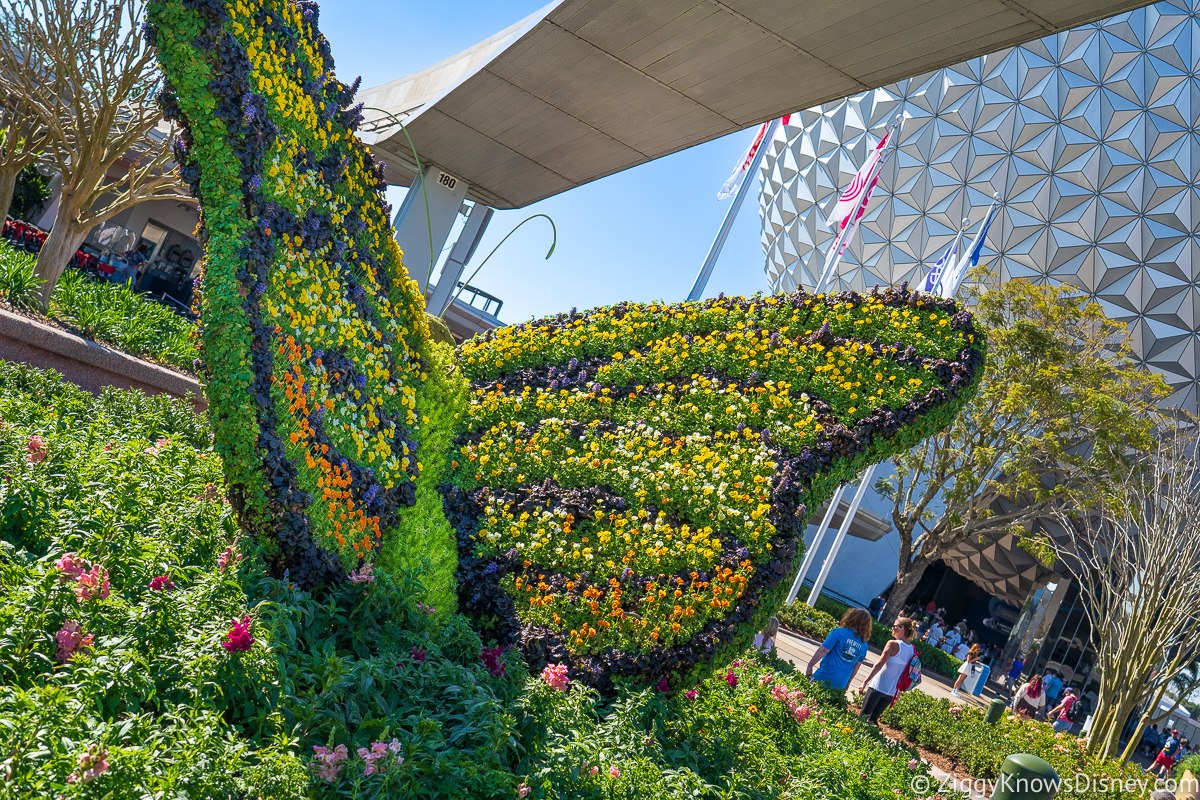 There are also a few more of those flower topiaries too.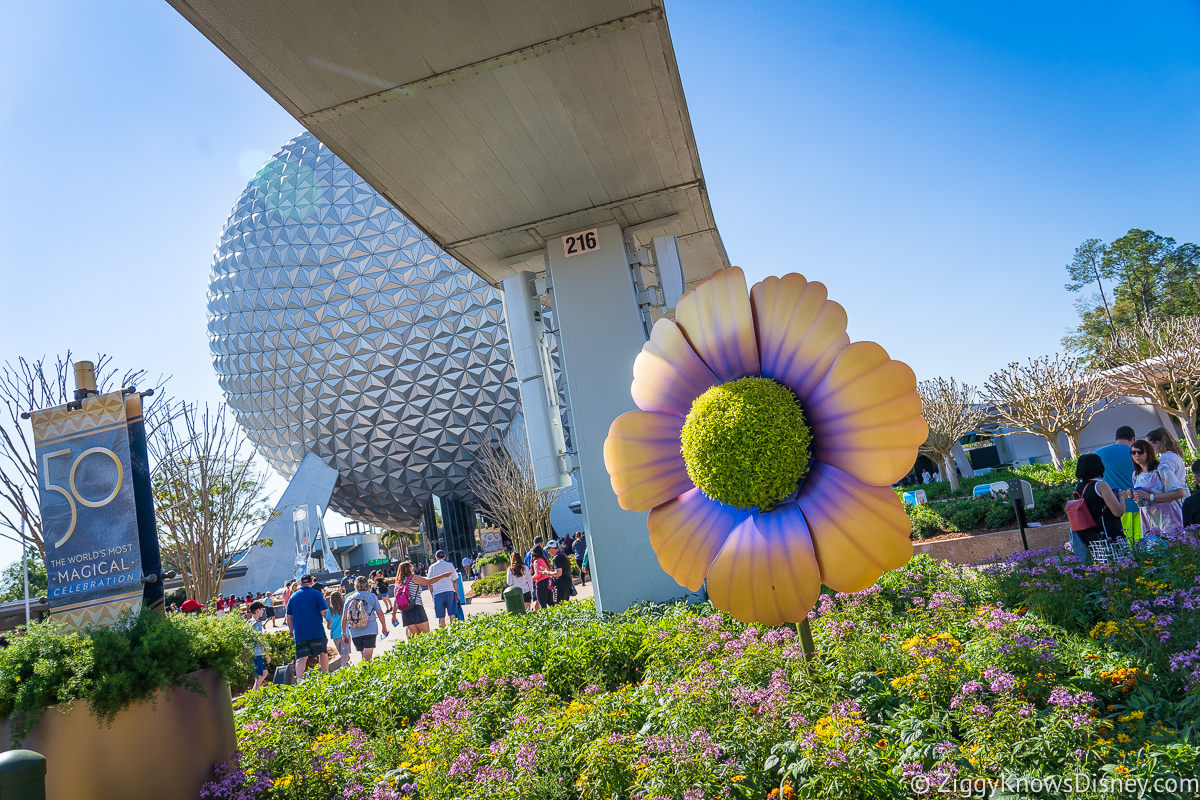 Now let's go underneath Spaceship Earth and head into the park to check out the rest of the topiaries.
World Discovery
You can go left or right at Spaceship Earth, and we're going left to World Discovery. After passing the huge building which is home to the new Guardians of the Galaxy: Cosmic Rewind coaster, you'll eventually make your way to the Mission: SPACE pavilion.
Buzz Lightyear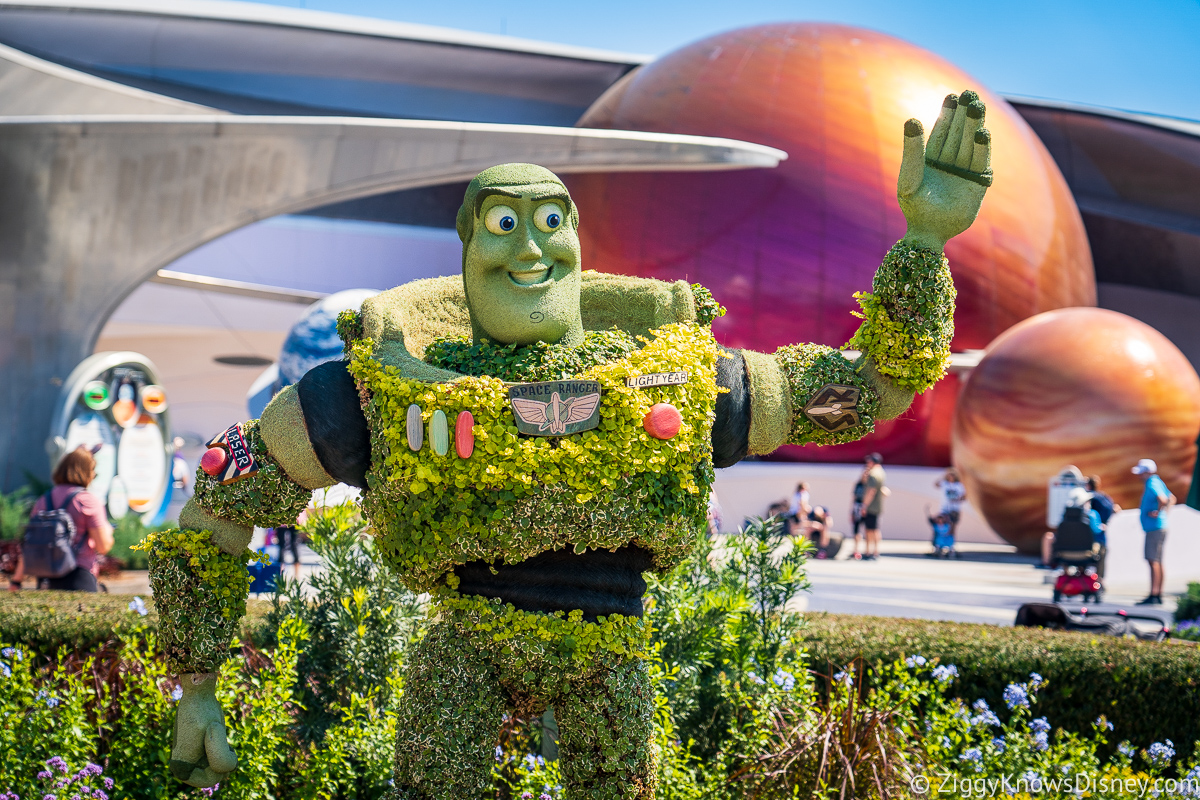 Walking toward Mission: SPACE you'll find the Buzz Lightyear topiary out in front of the pavilion.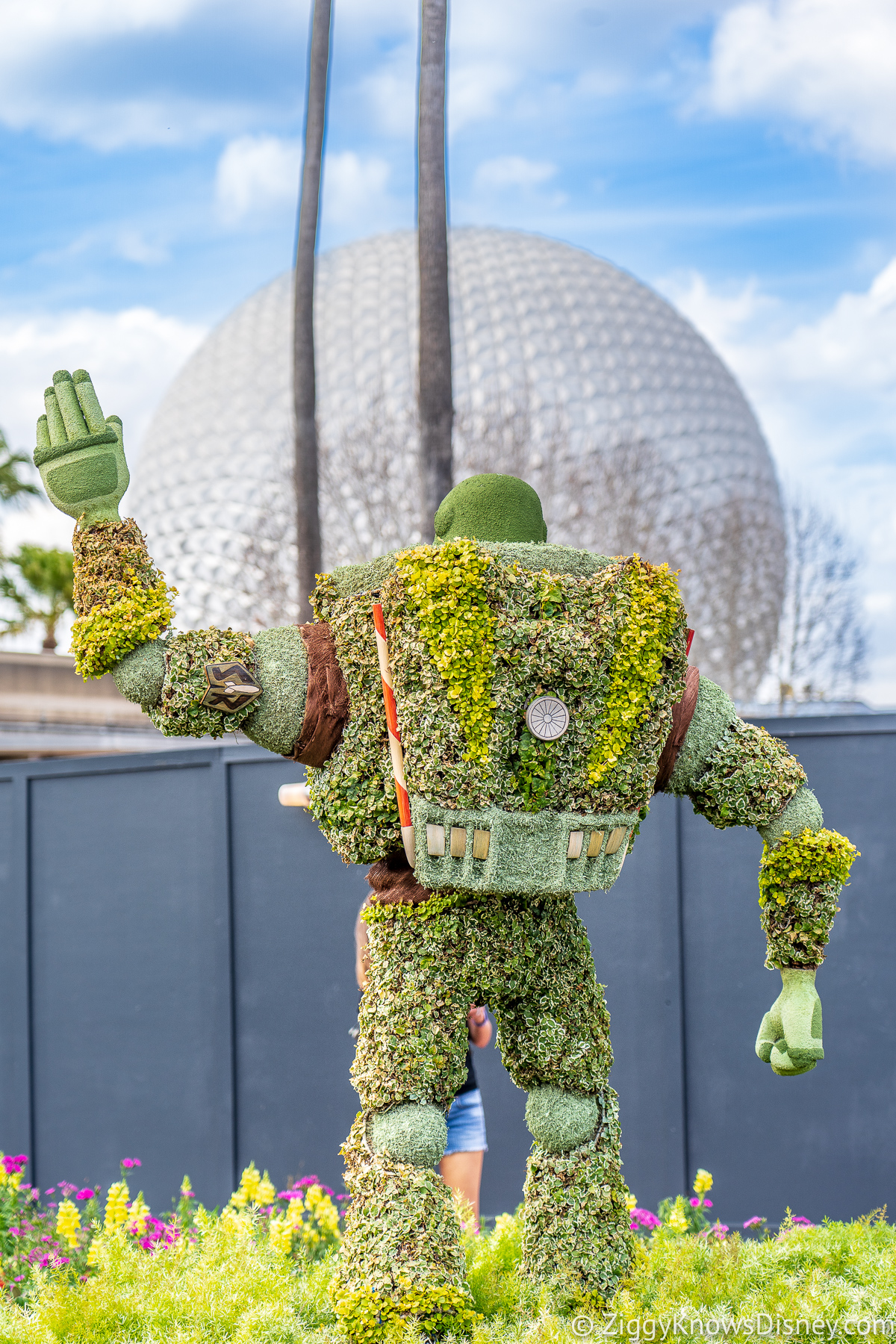 This is for sure one of our favorites and a timeless classic! "To infinity…and beyond!"
World Nature
Now let's head over to the other side of the front of EPCOT where there are many more topiaries to discover.
Woody, Bo Peep, and her Sheep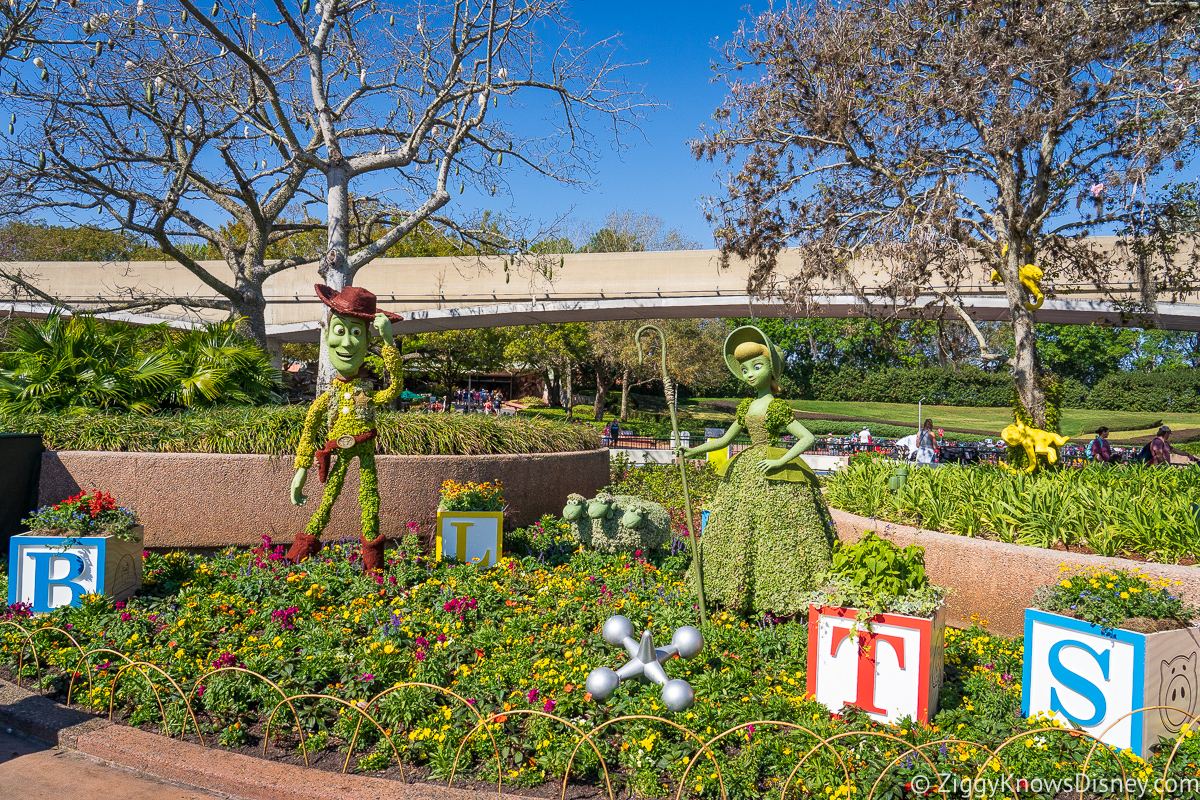 Just outside The Land pavilion, you'll find another Toy Story reference with Woody, Bo Peep, and her three sheep.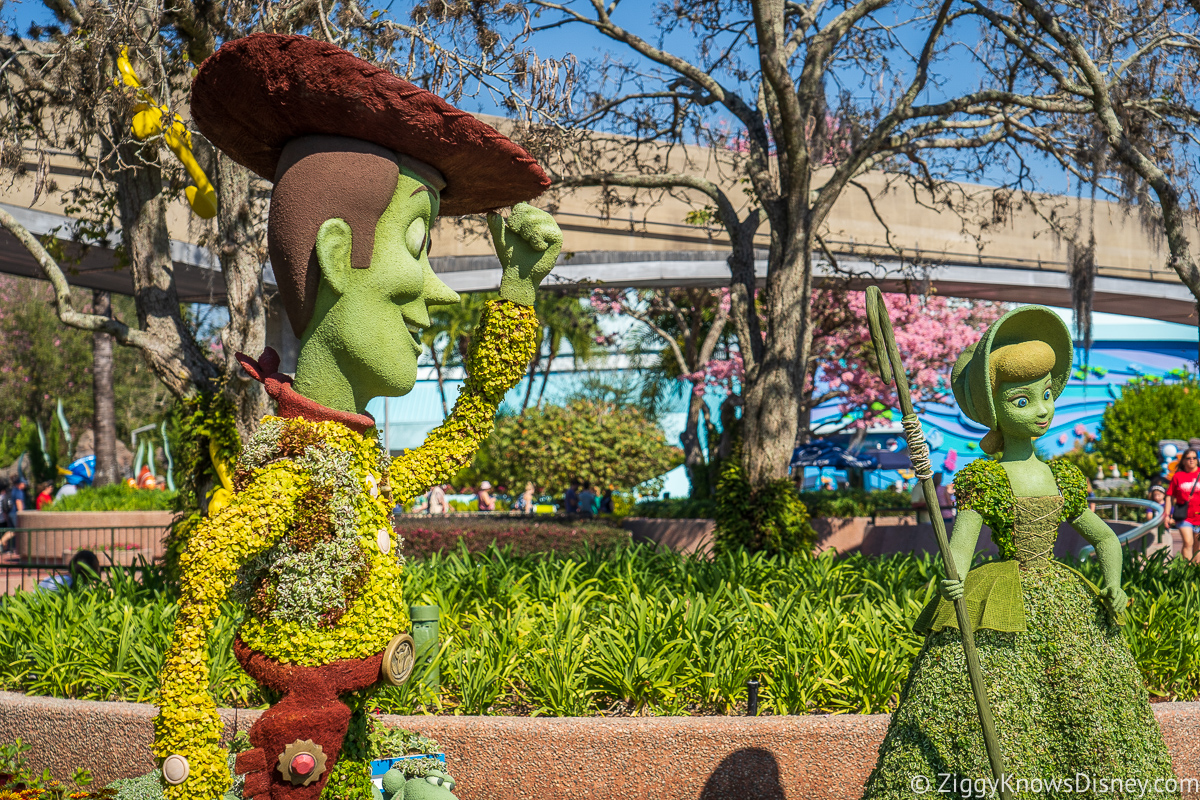 Always a gentleman, Woody is greeting Bo Peep with a respectful tip of his hat.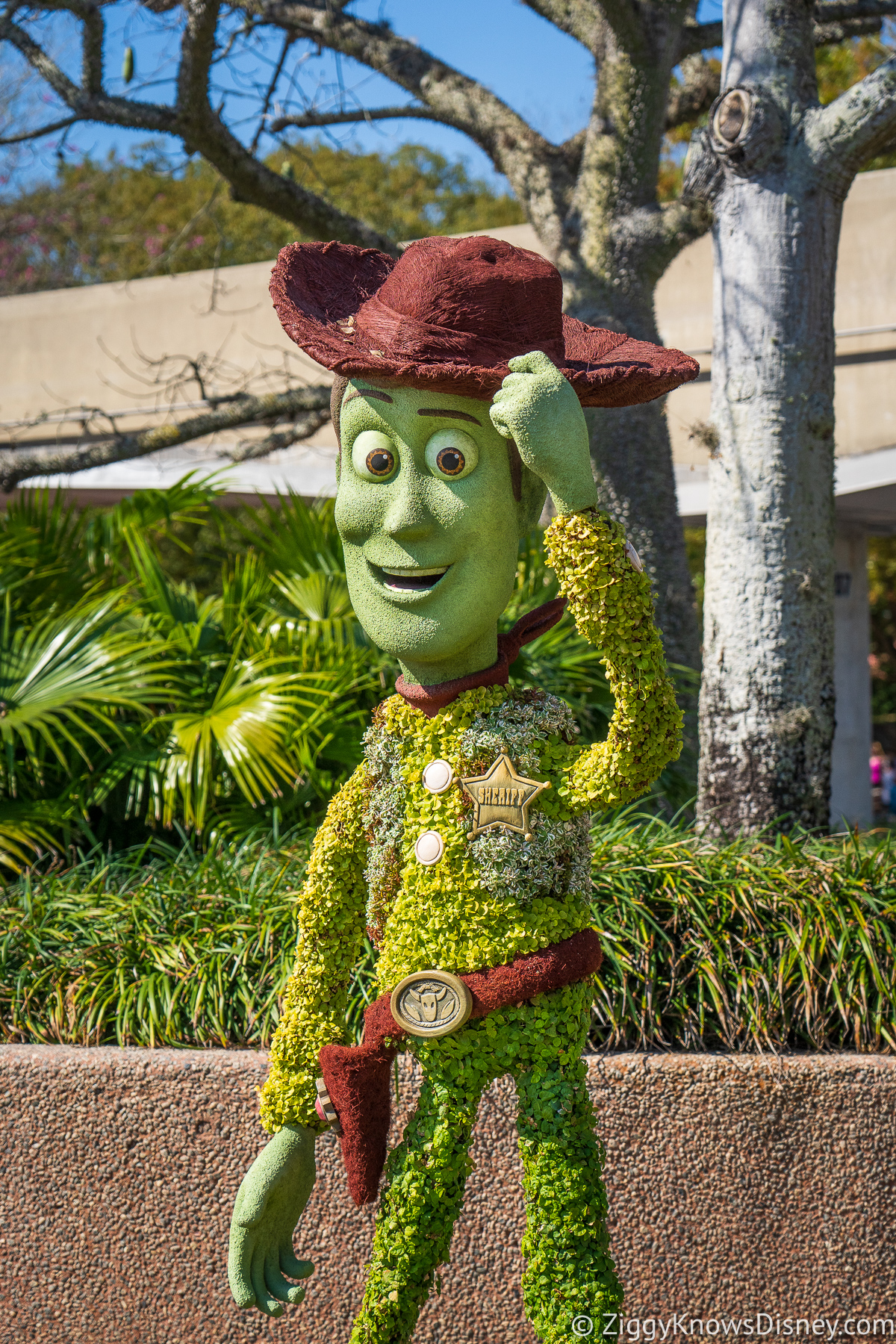 Bo Peep has been around in the parks much more since Toy Story 4, so it makes sense they'd bring her topiary back to Flower and Garden again this year.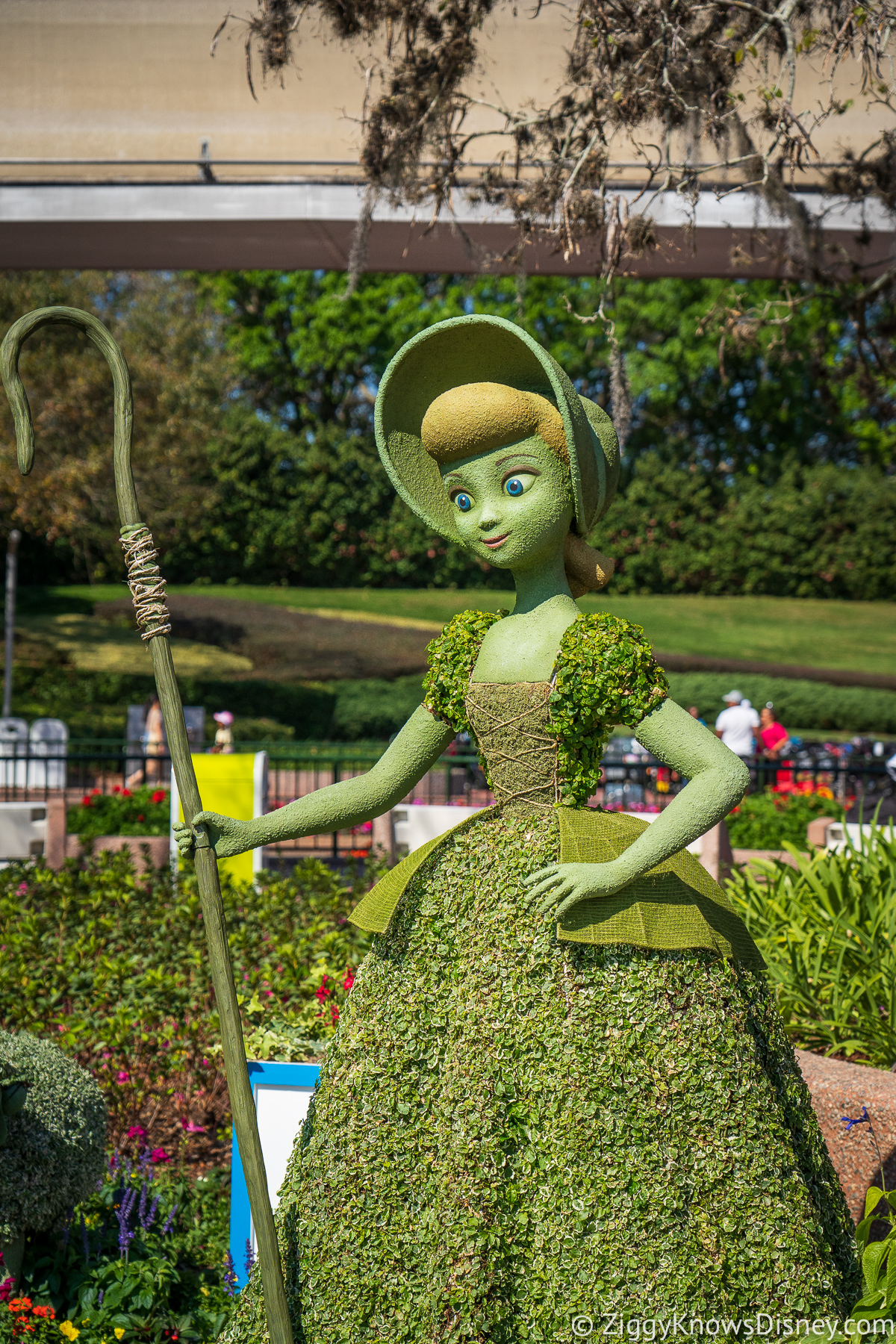 Don't forget the 3 sheep hiding in the background.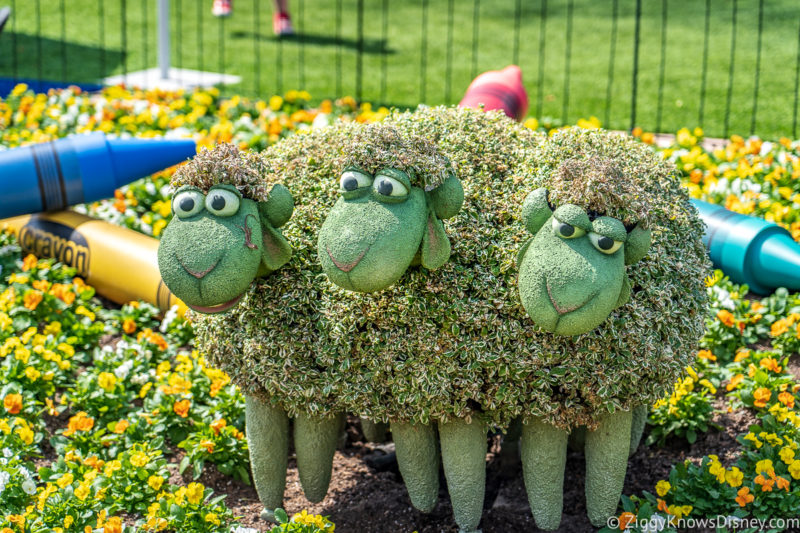 Bambi and Friends – Bambi, Thumper, and Flower (Near Imagination!)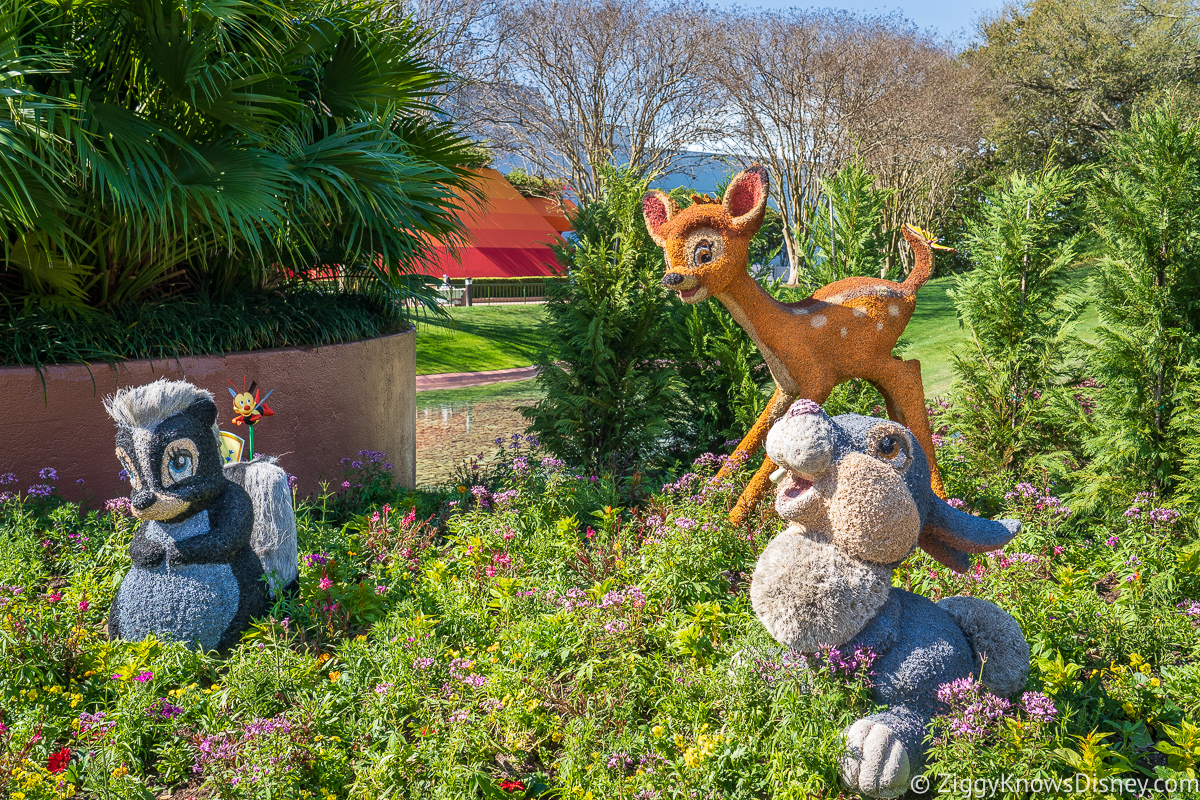 In between The Land pavilion and Imagination! you will find Bambi, Thumper, and Flower just outside the butterfly house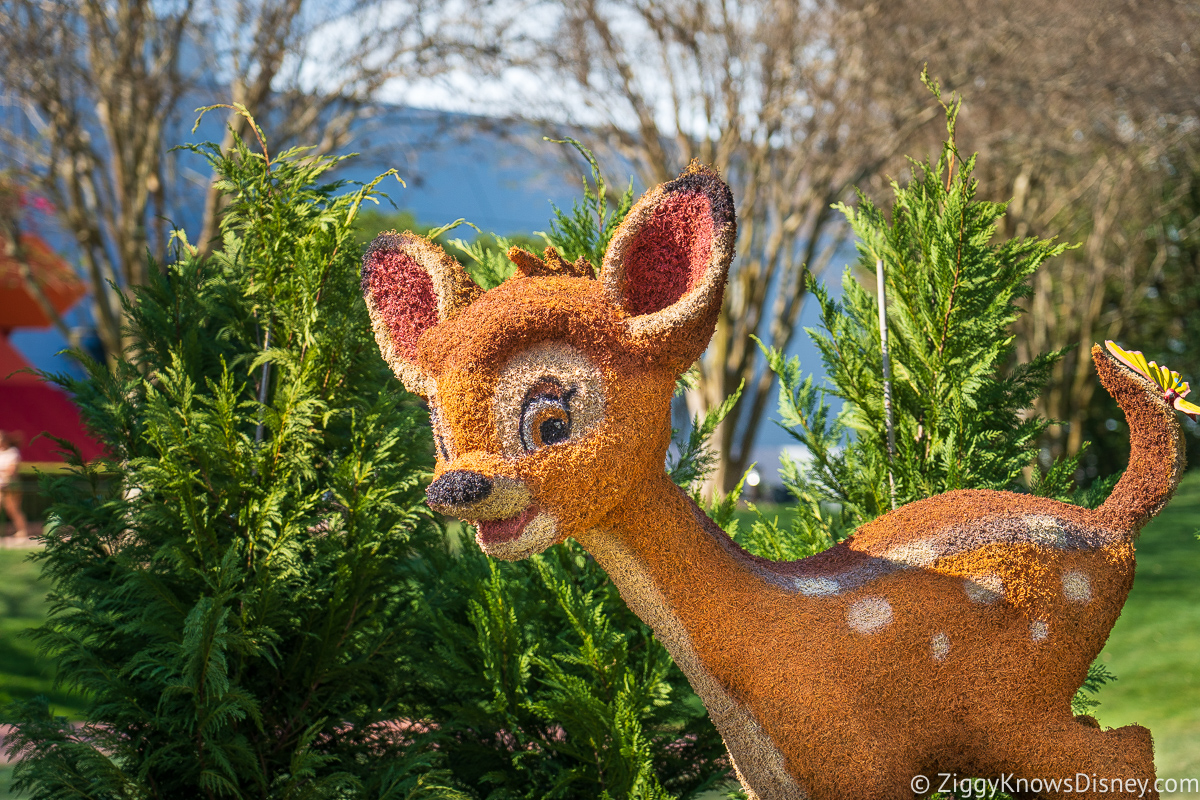 I really like the Bambi and friends topiaries because they are vibrantly colored. Many of the other topiaries are mostly green, instead, these are done to the characters' true colors.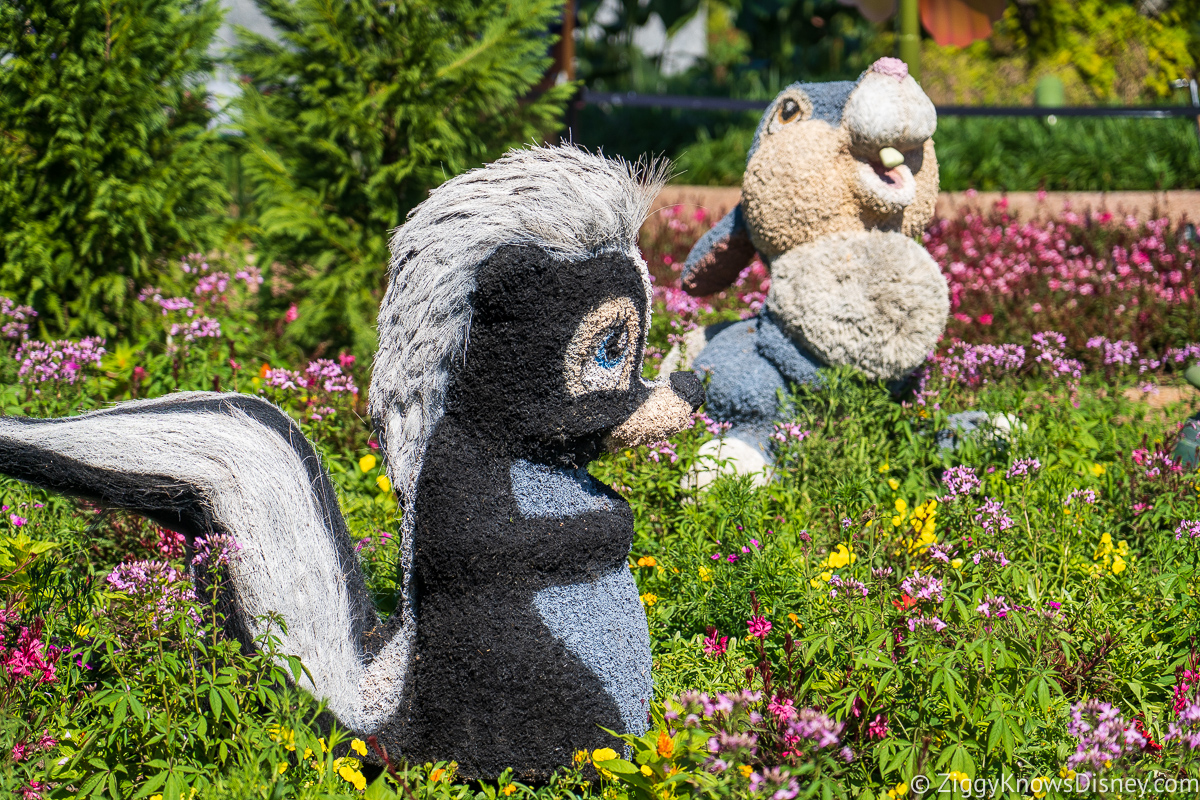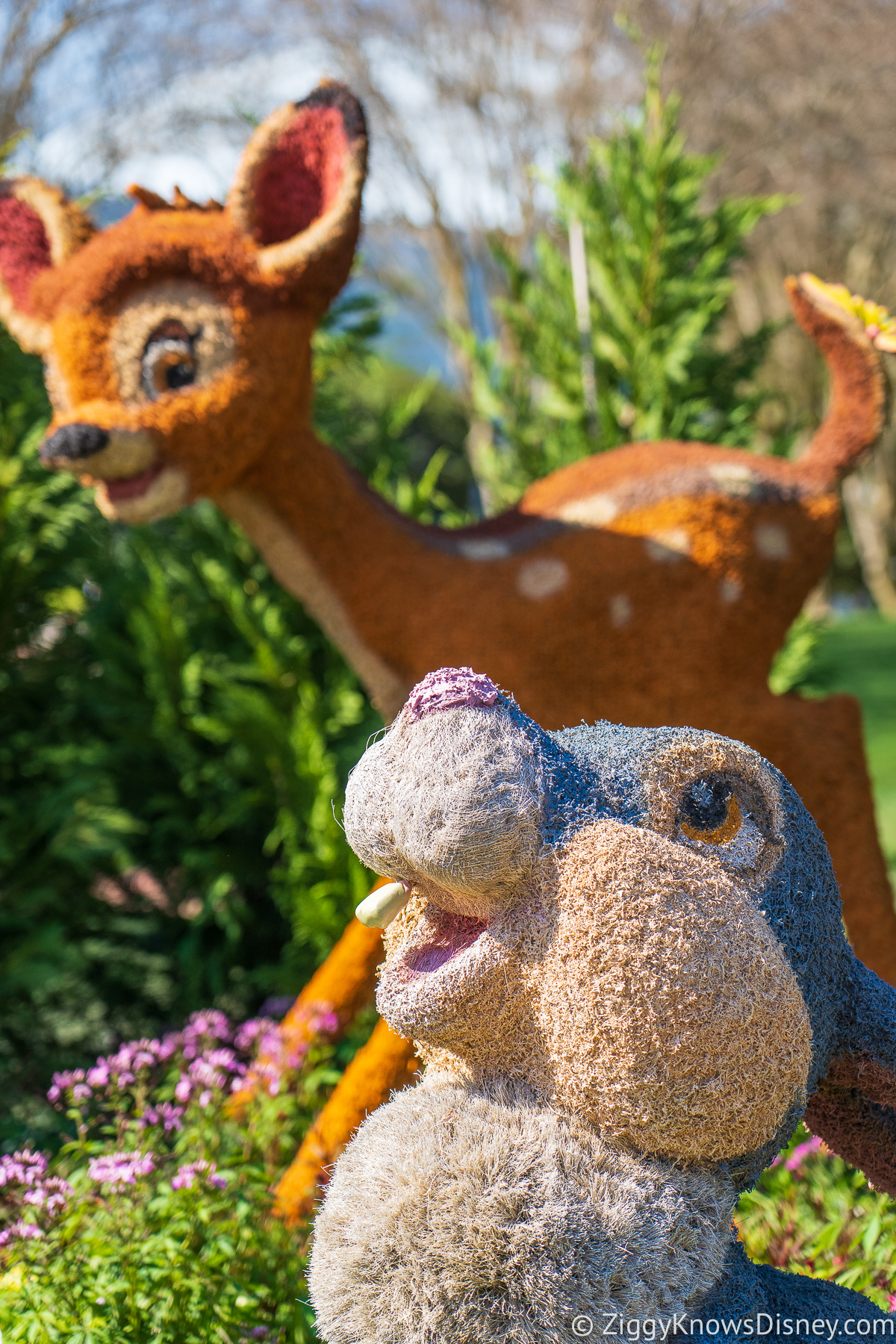 Figment
It wouldn't be an EPCOT festival without the park's leading dragon…Figment. As always, you can find his topiary right in front of the Imagination! pavilion.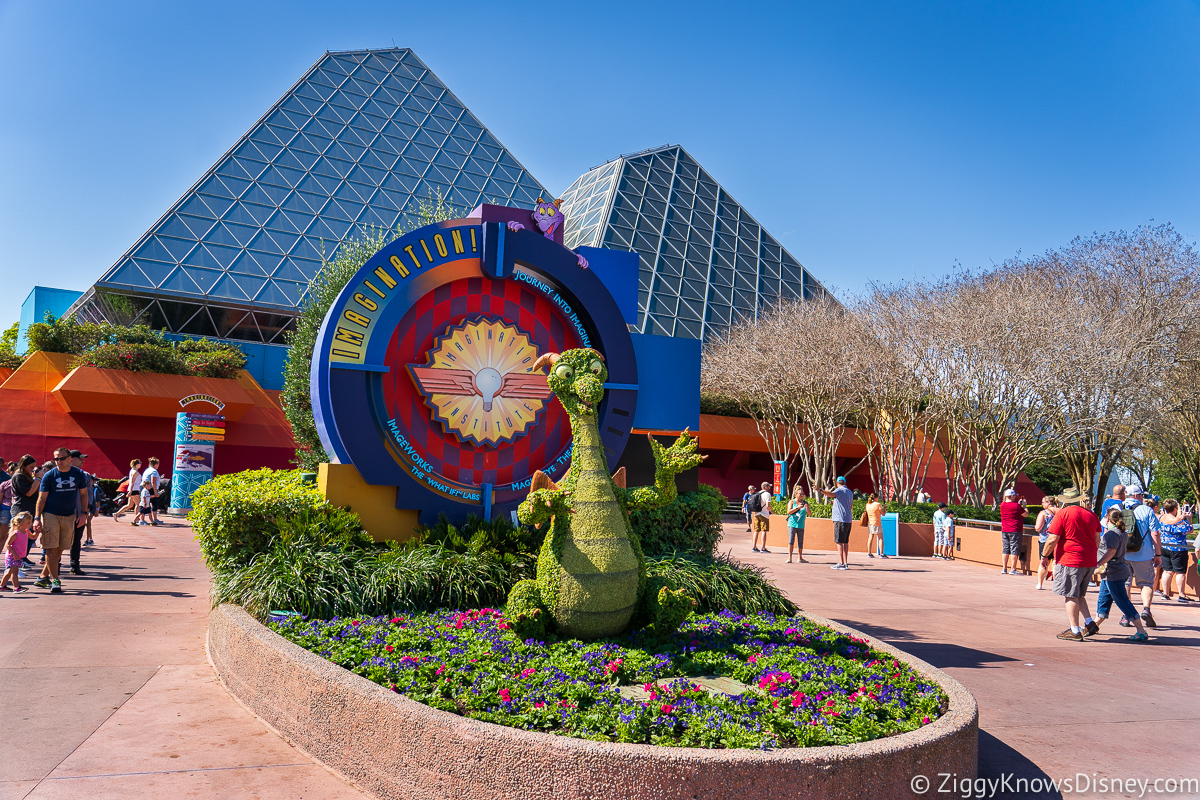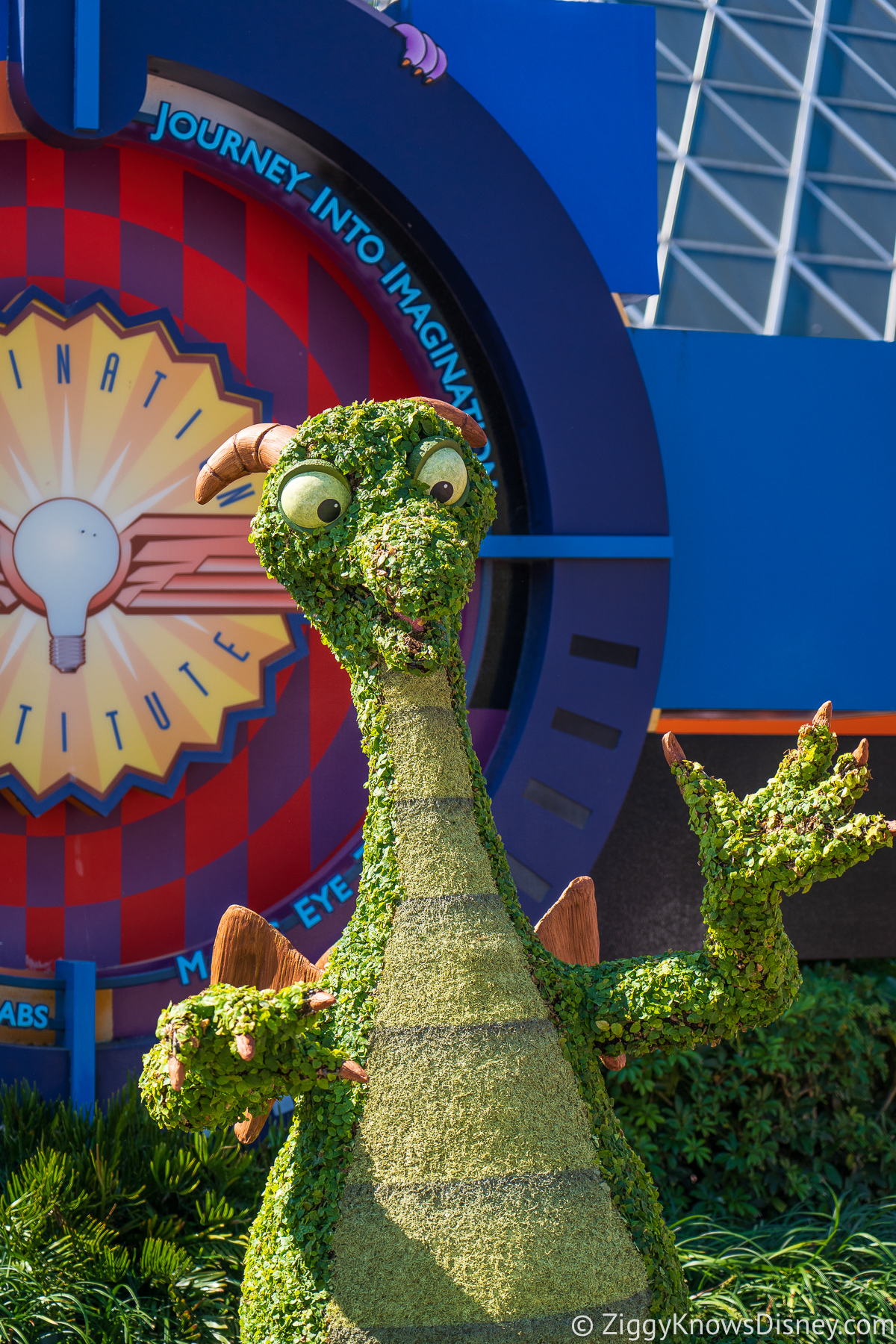 I don't know why, but he certainly seems surprised to see us!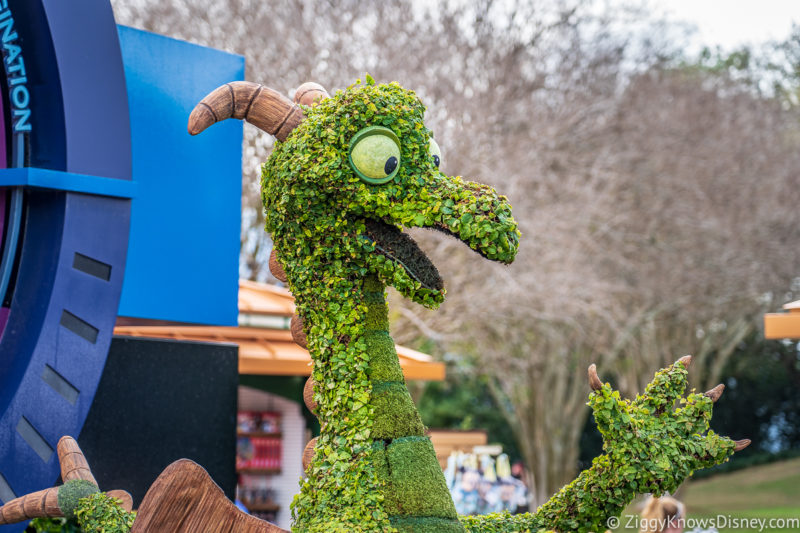 Pumbaa and Timon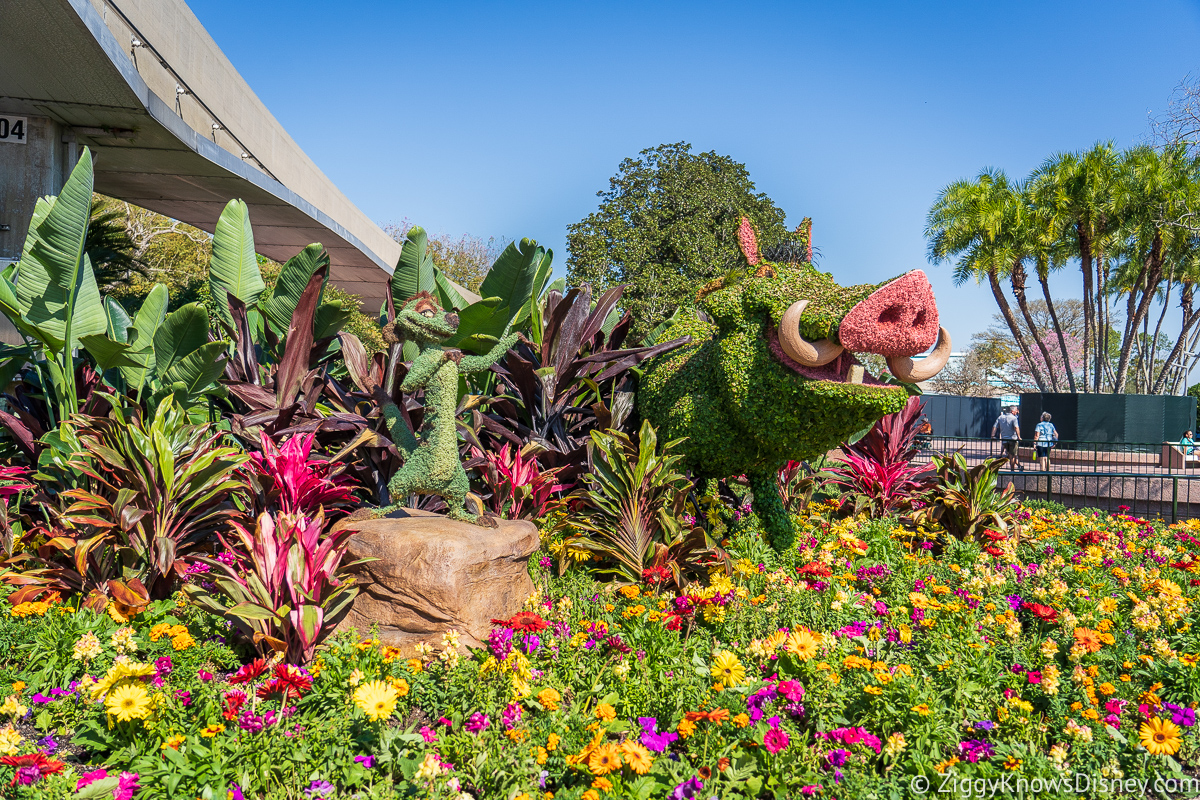 Heading past the Imagination! pavilion, Timon and Pumbaa and in the middle of a flower bed on the left side.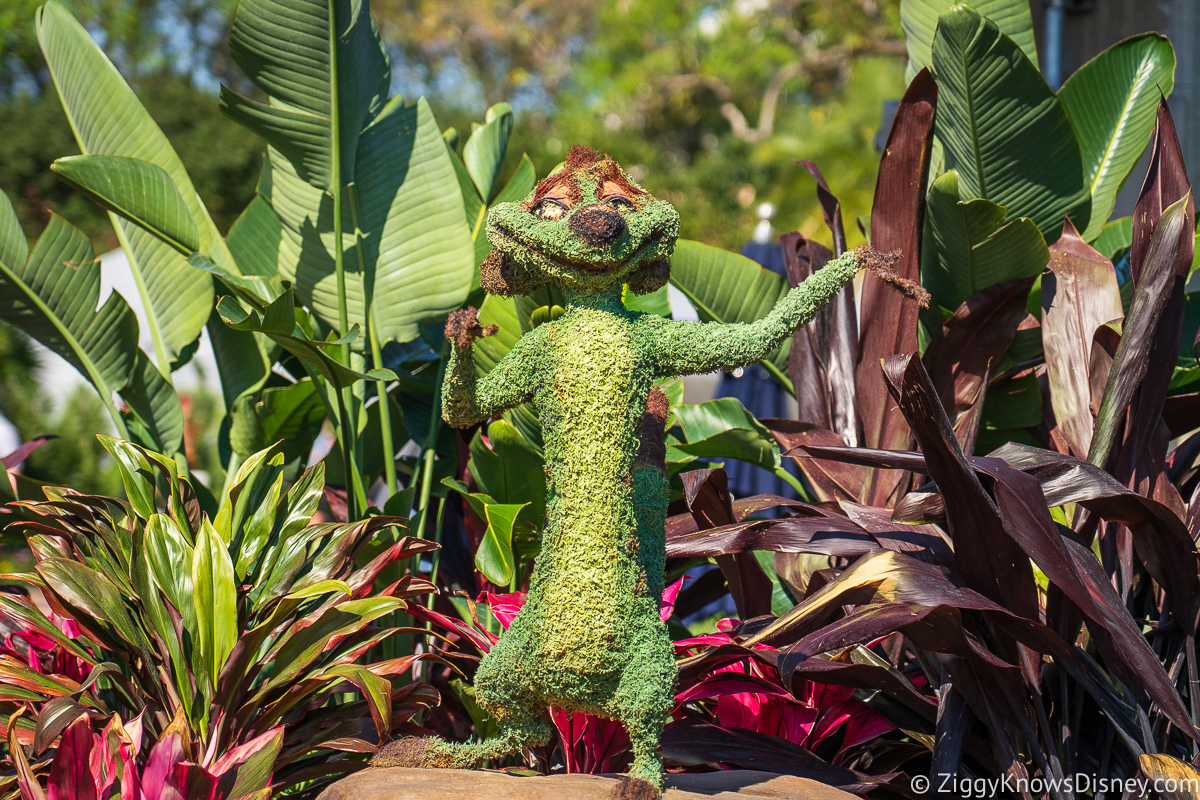 Timon sure looks like he is up to no good, doesn't he?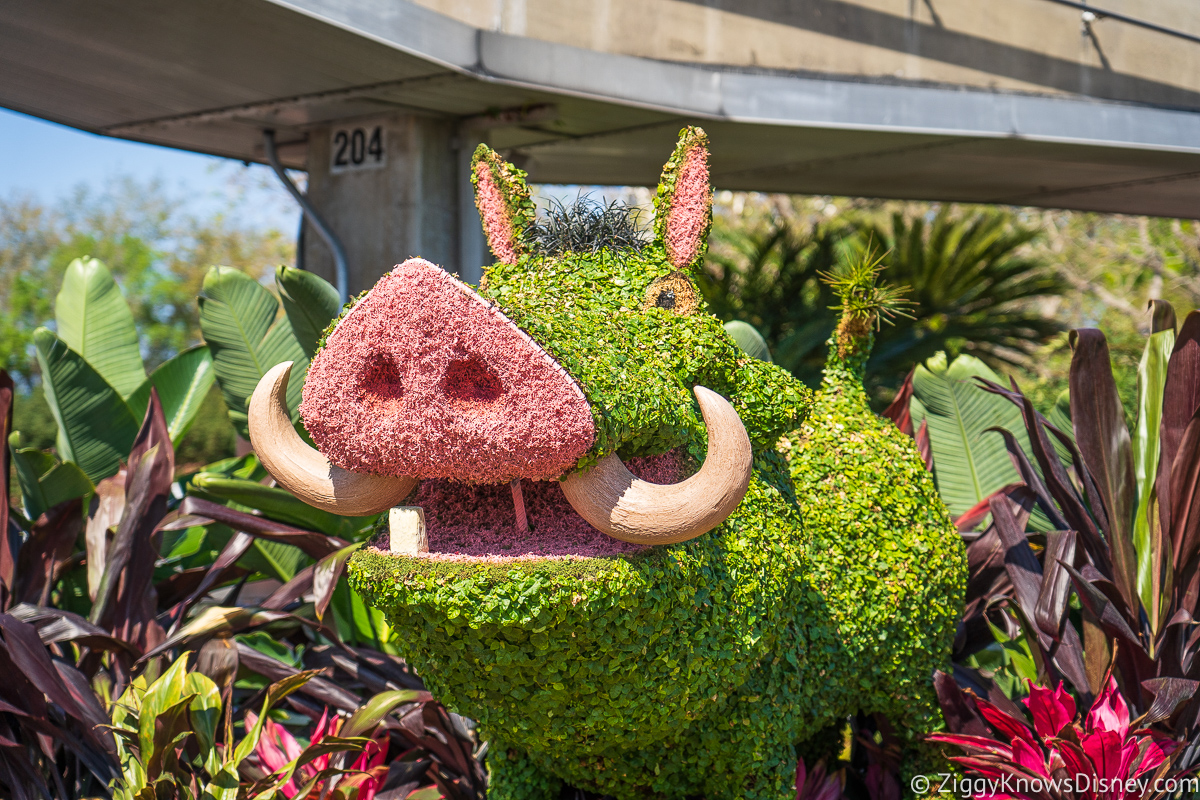 Pumbaa on the other hand just looks hungry!
Simba and Friends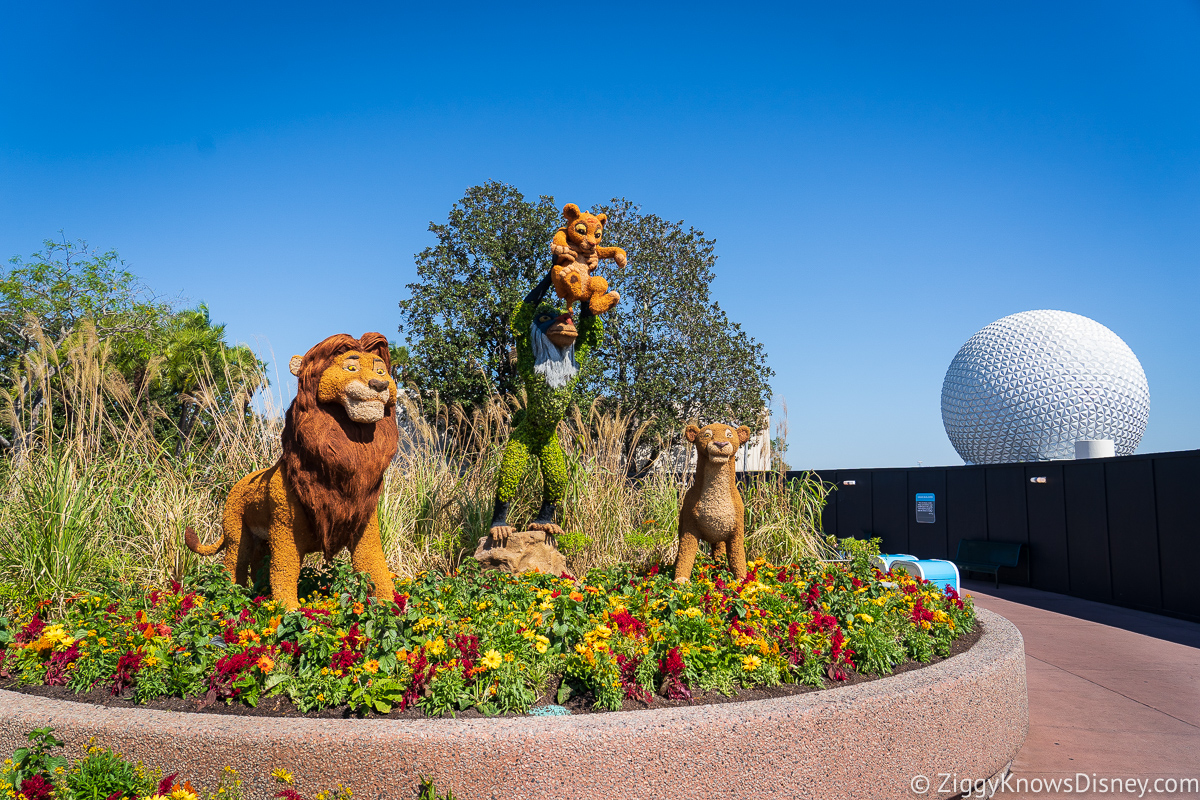 Just past Timon and Pumbaa we get to the Simba and Friends topiary display.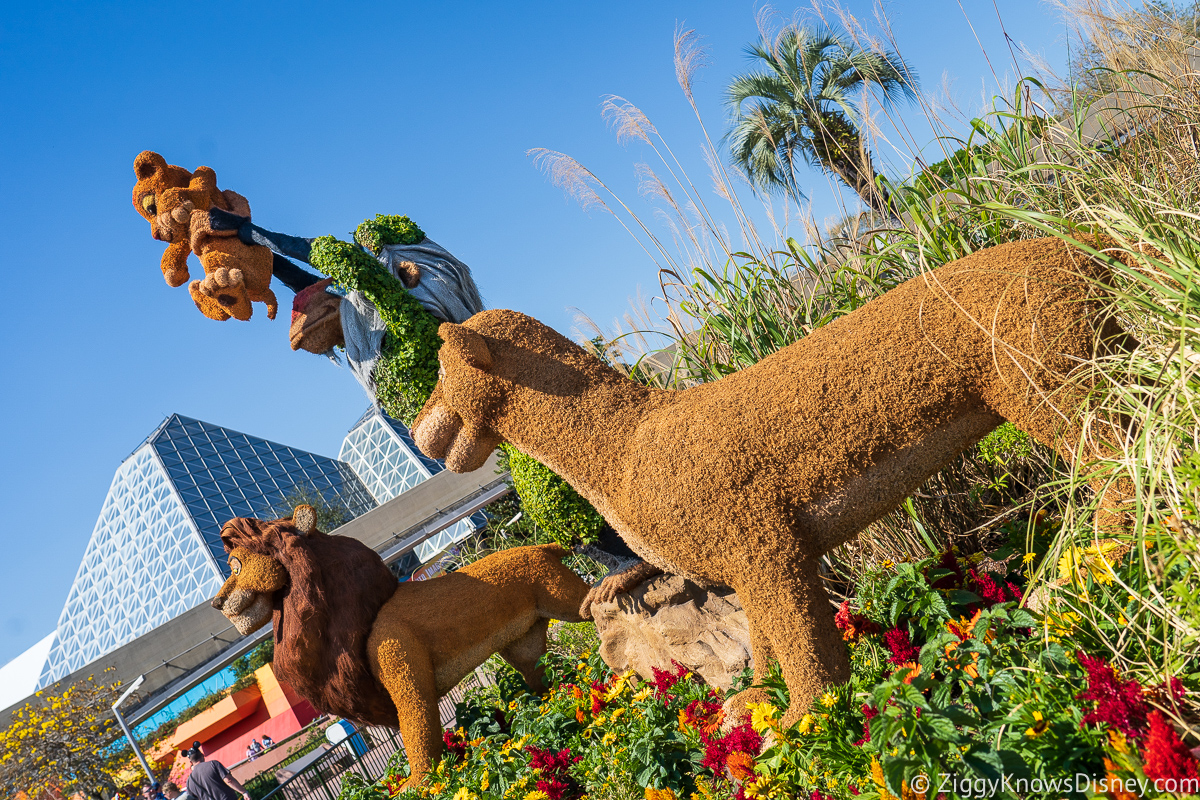 Here we have Simba's parents Mufasa and Sarabi on the sides and Rafiki in the center holding up a baby Simba.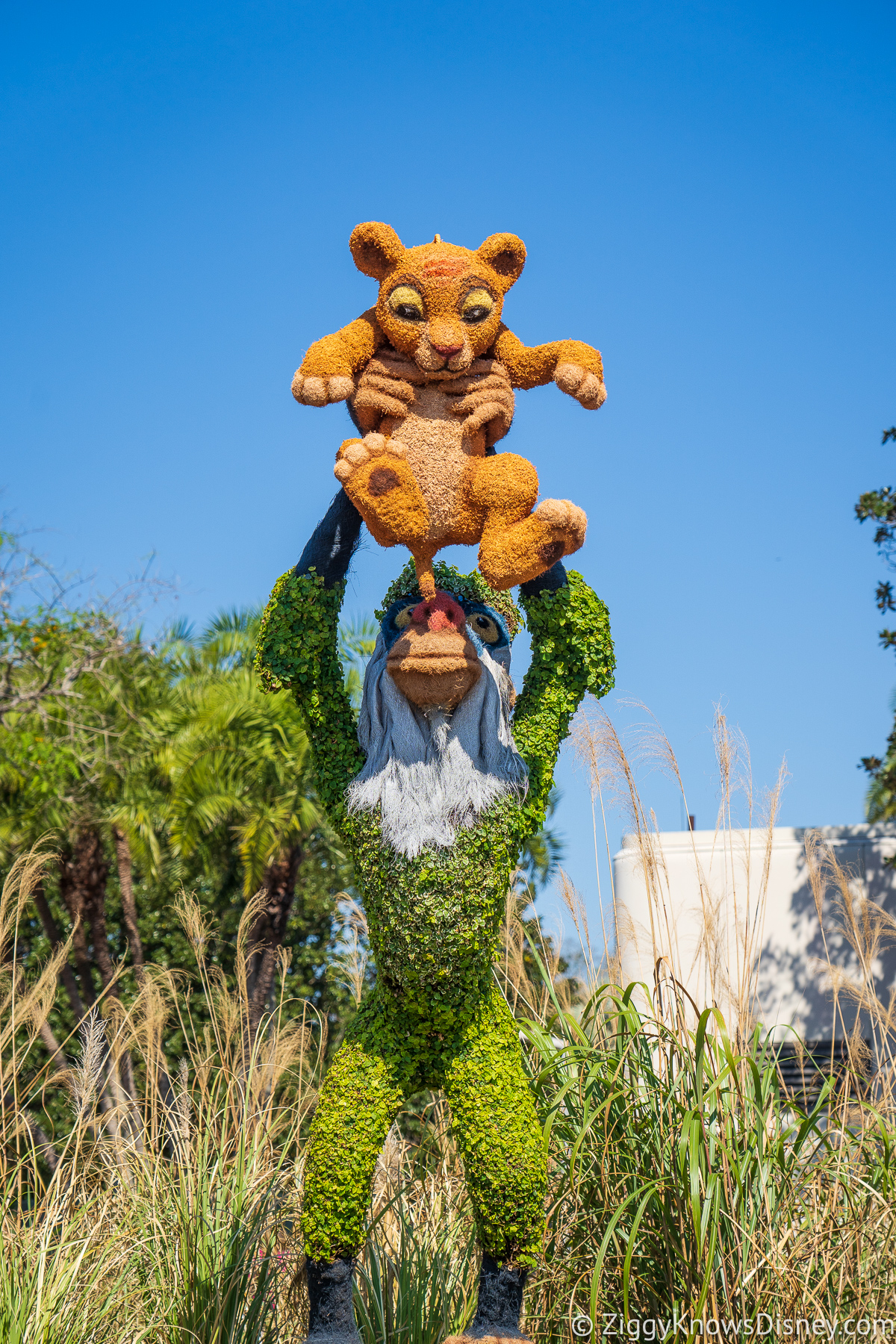 Baby Simba is so stinking cute!!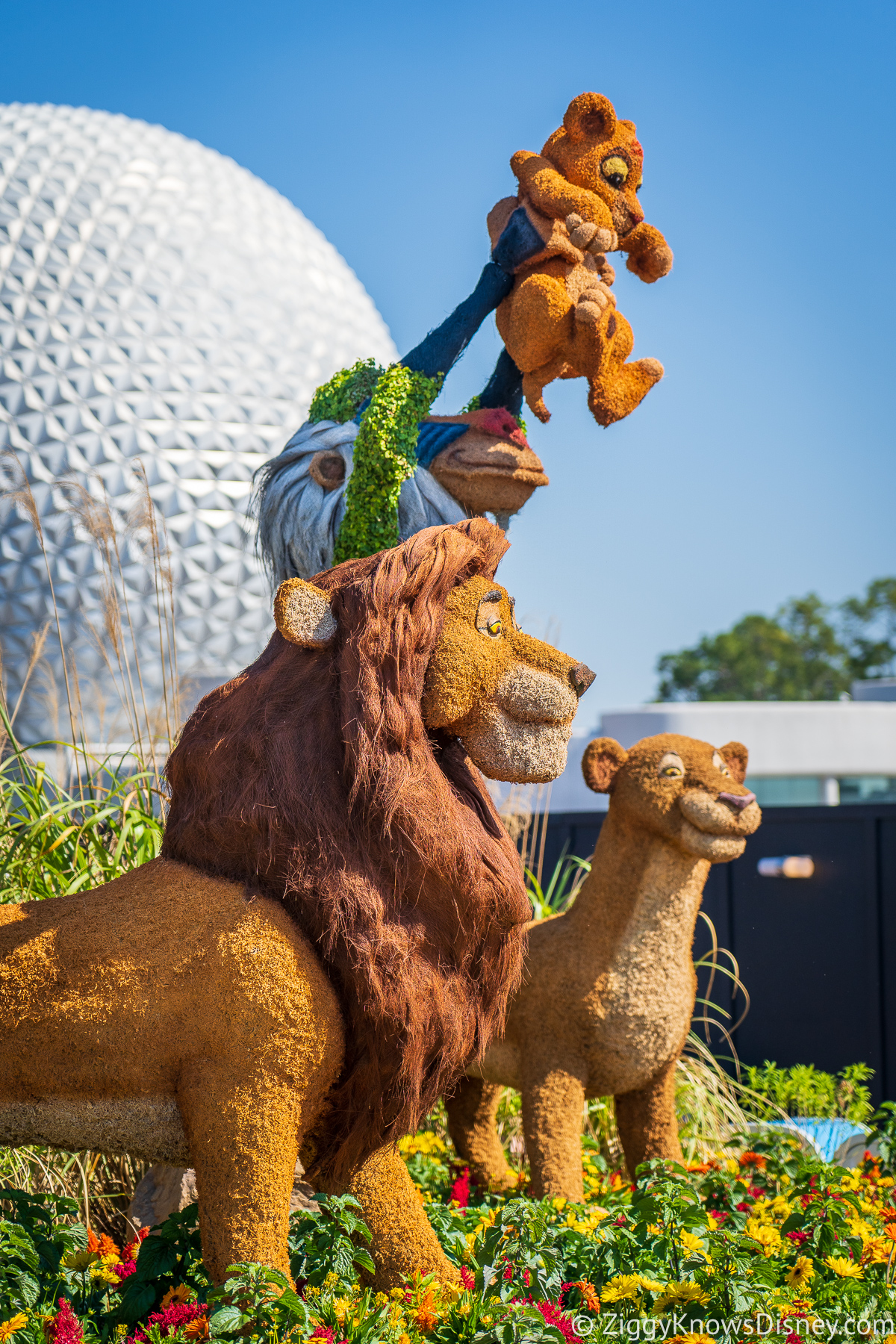 I like the setting here and with Spaceship Earth to the side of these topiaries, you can frame it for some cool shots!
Here is a close-up of Mufasa.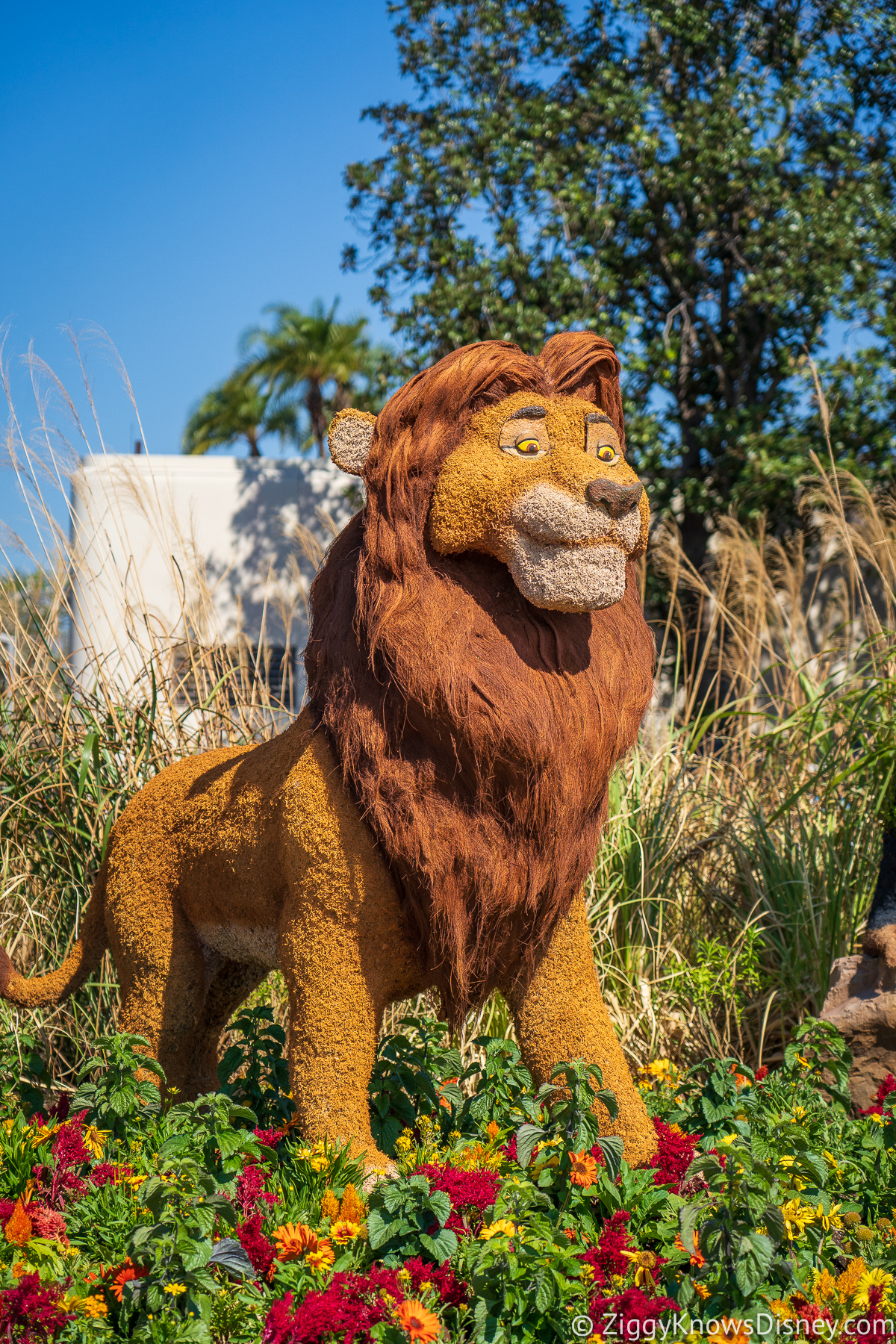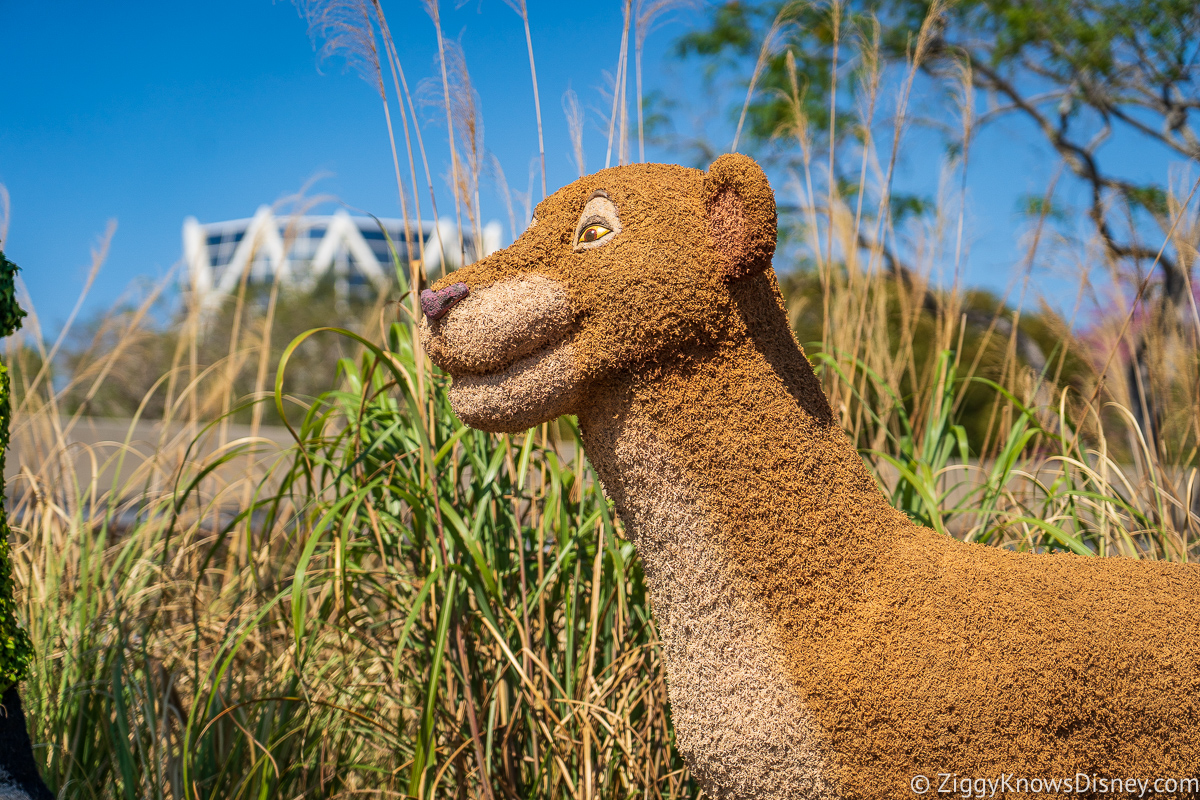 Bridge to World Showcase
Always a popular spot for some of the best displays of the festival, let's head on the bridge into World Showcase.
Mickey Mouse, Minnie Mouse, Donald Duck, Daisy Duck, Huey, Dewey, and Louie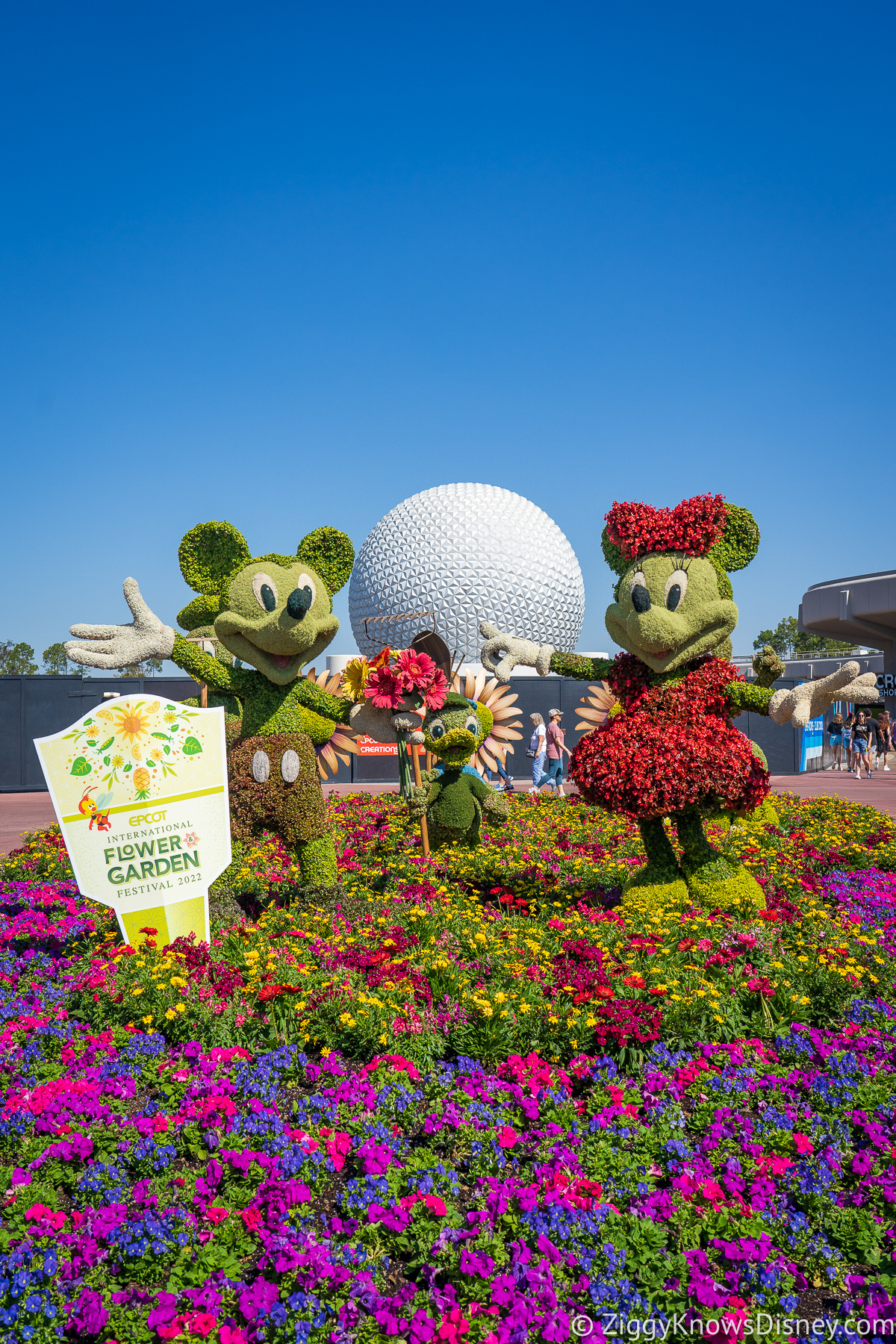 In past years, a topiary garden with Mickey and Minnie would normally be found at the entrance to EPCOT, but this year they are on the bridge going into World Showcase instead.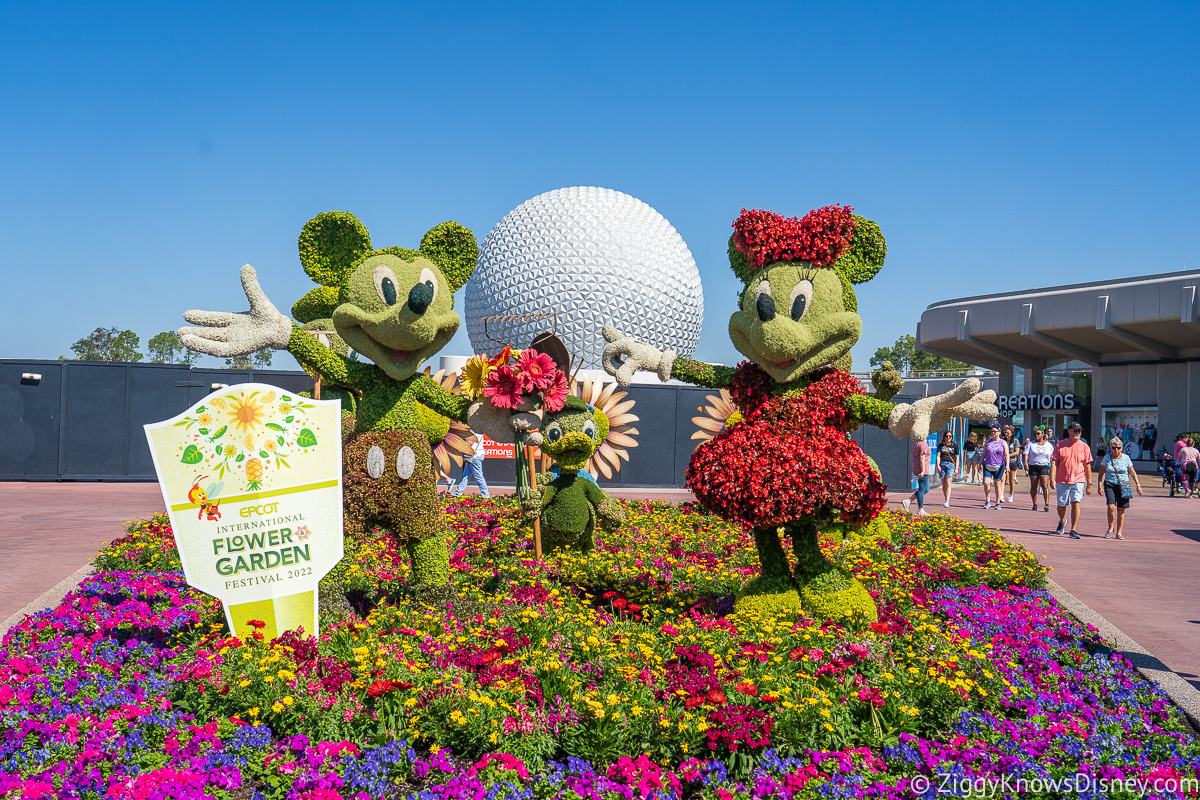 This is one of the highest traffic areas of the park so it's a good choice for one of the main displays. It's a really common photo spot and there is always a PhotoPass photographer waiting to snap the perfect picture of your family.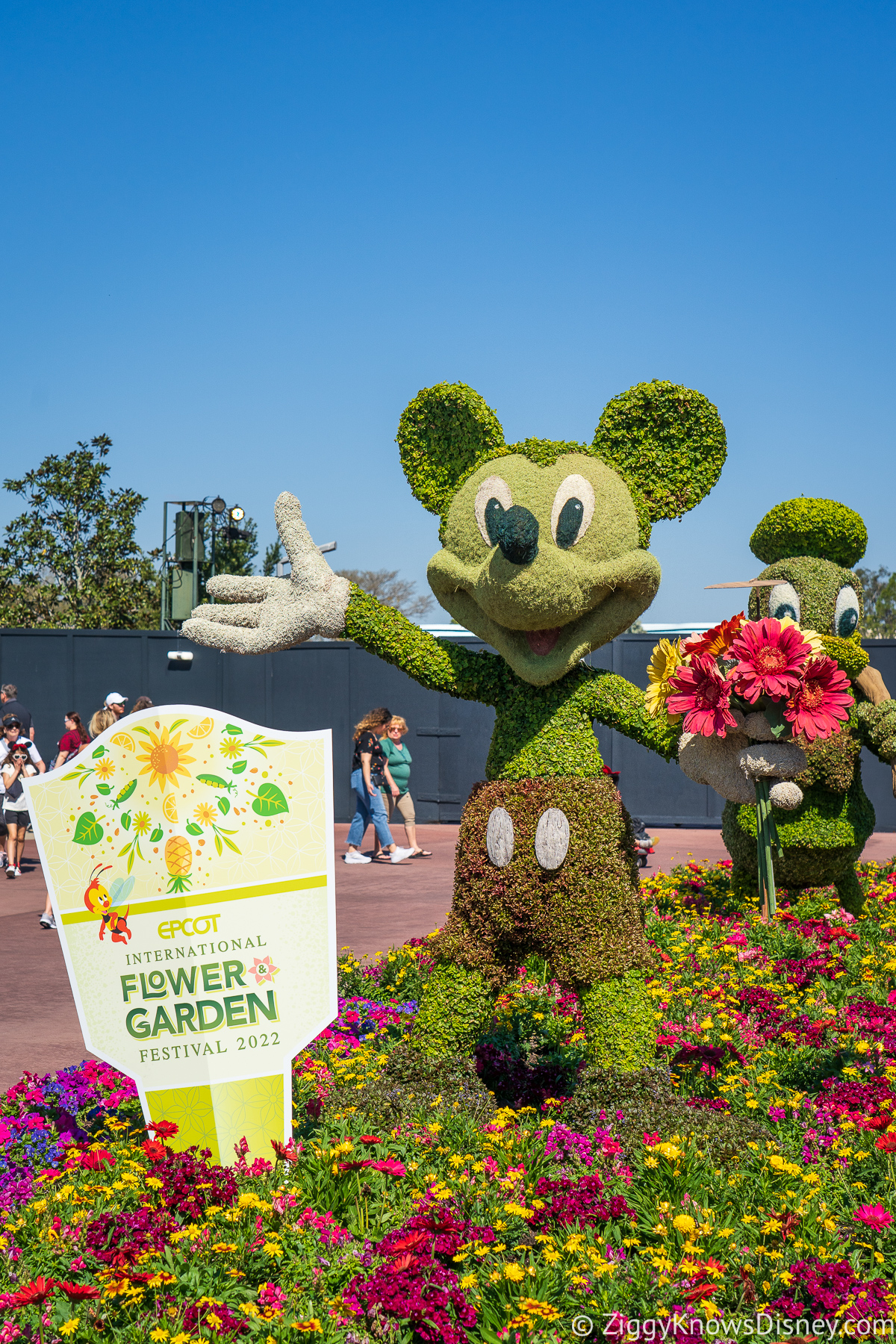 Mickey is aptly holding a bouquet of flowers in his hand.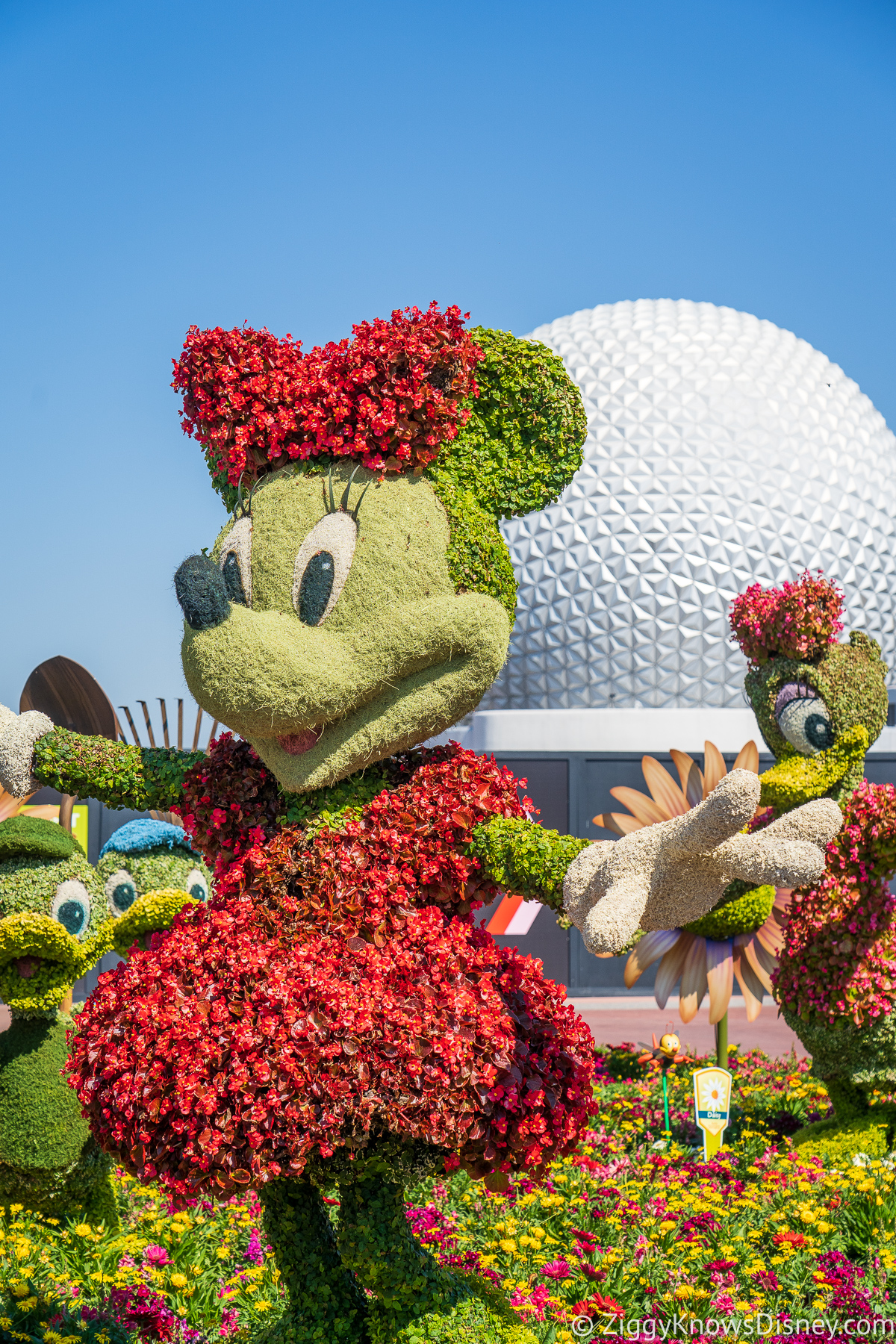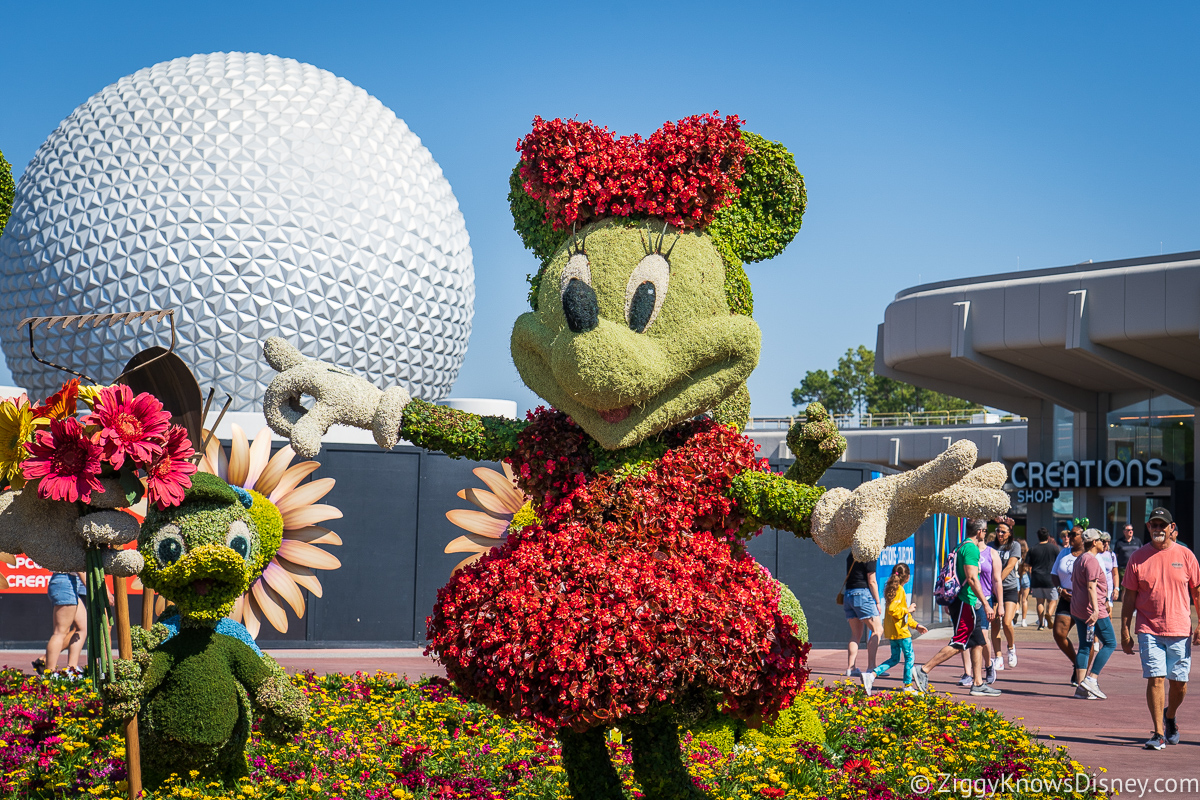 Minnie is looking amazing in her red dress.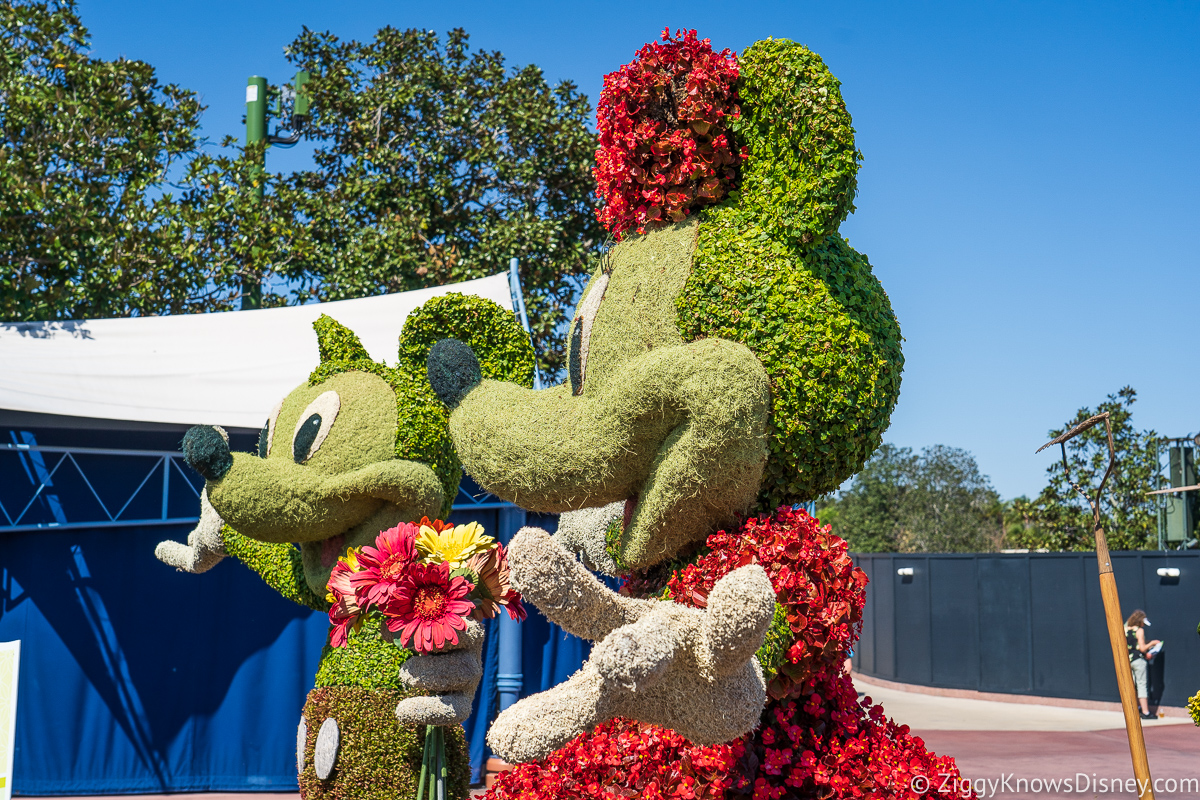 Looking past Mickey and Minnie we spot the rest of the gang.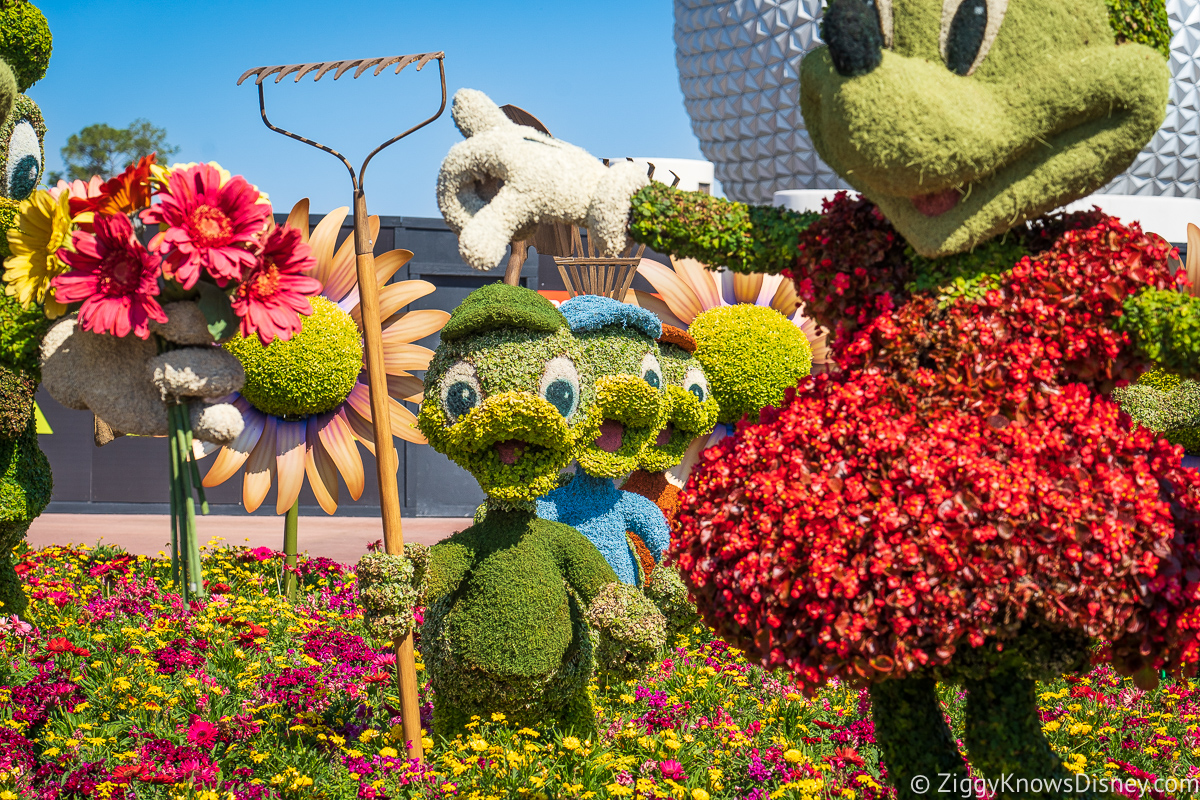 Donald is ready for some gardening, along with Huey, Dewey, and Louie.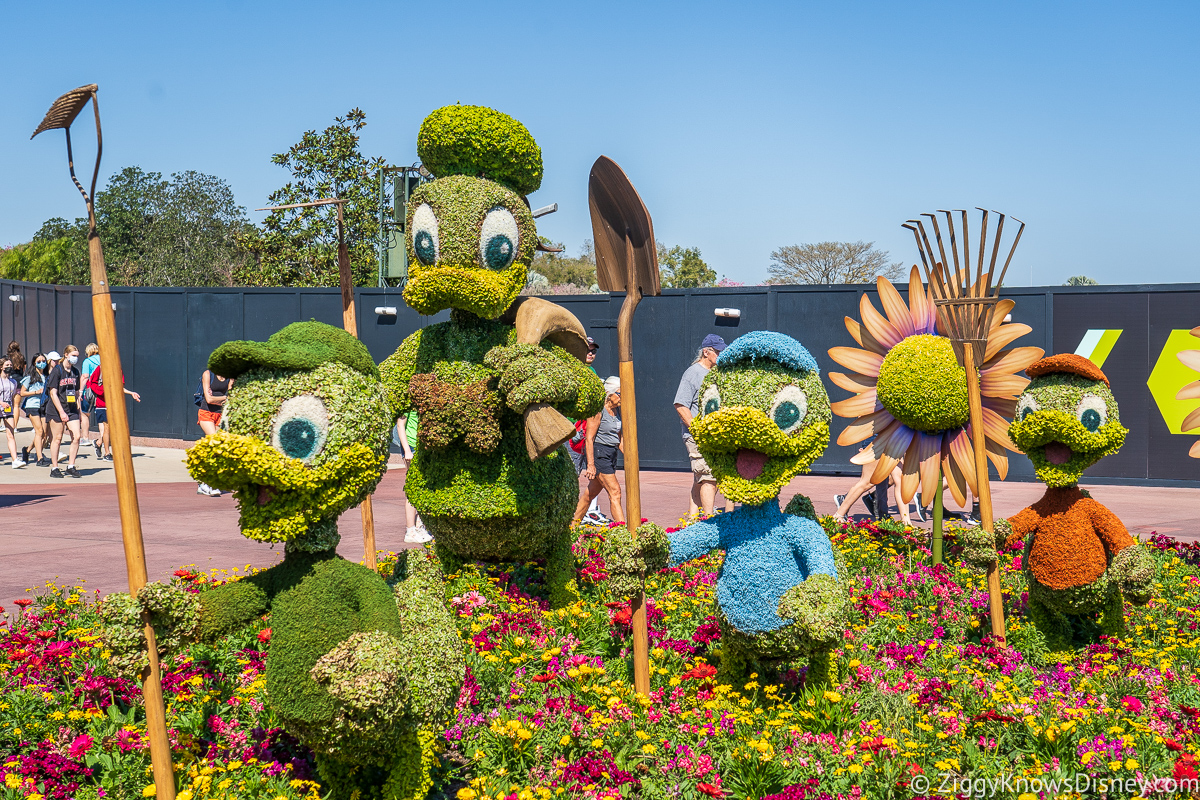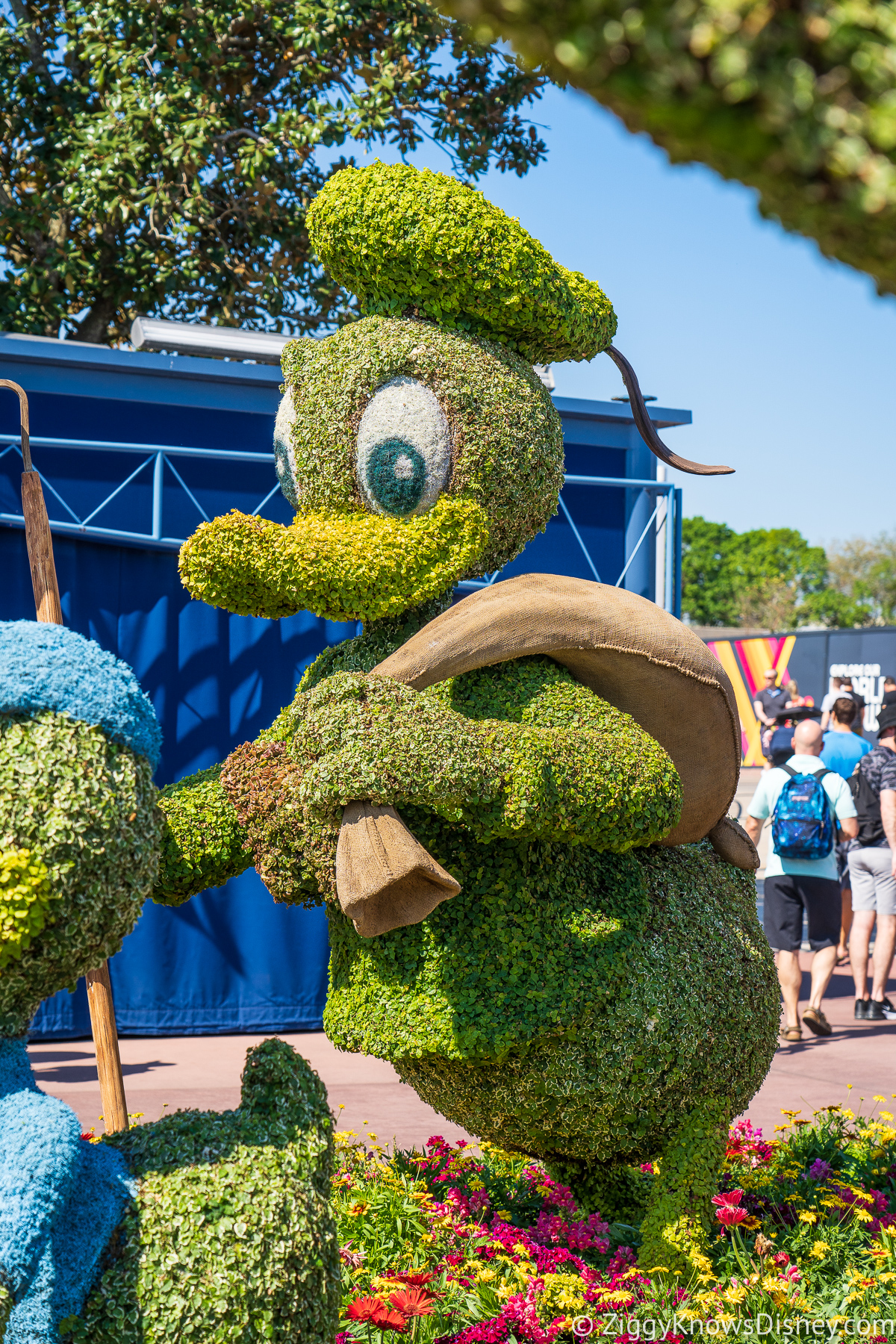 I'm not sure what Daisy is doing, but she looks stylish doing it!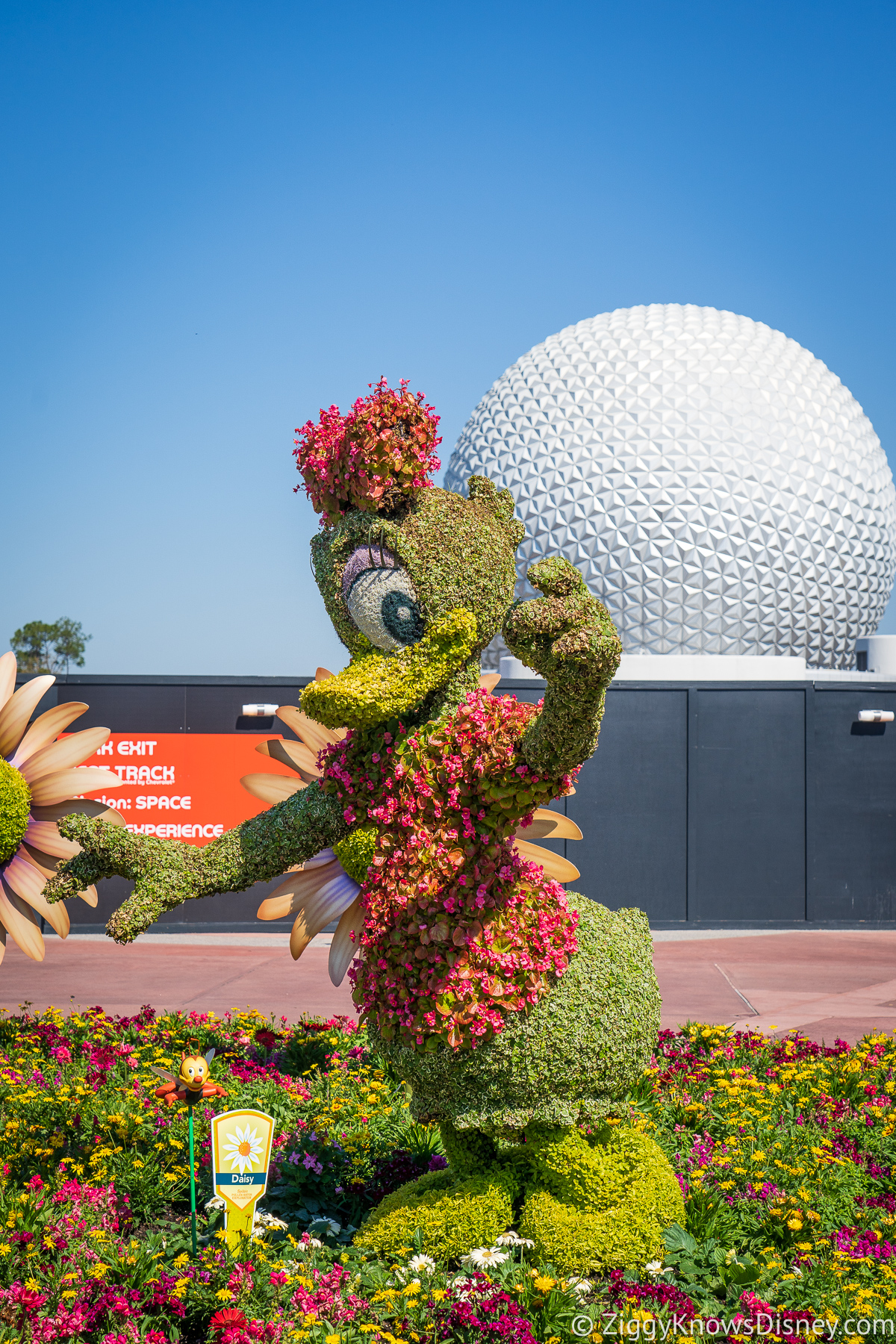 Butterflies (Blossoms of Fragrance)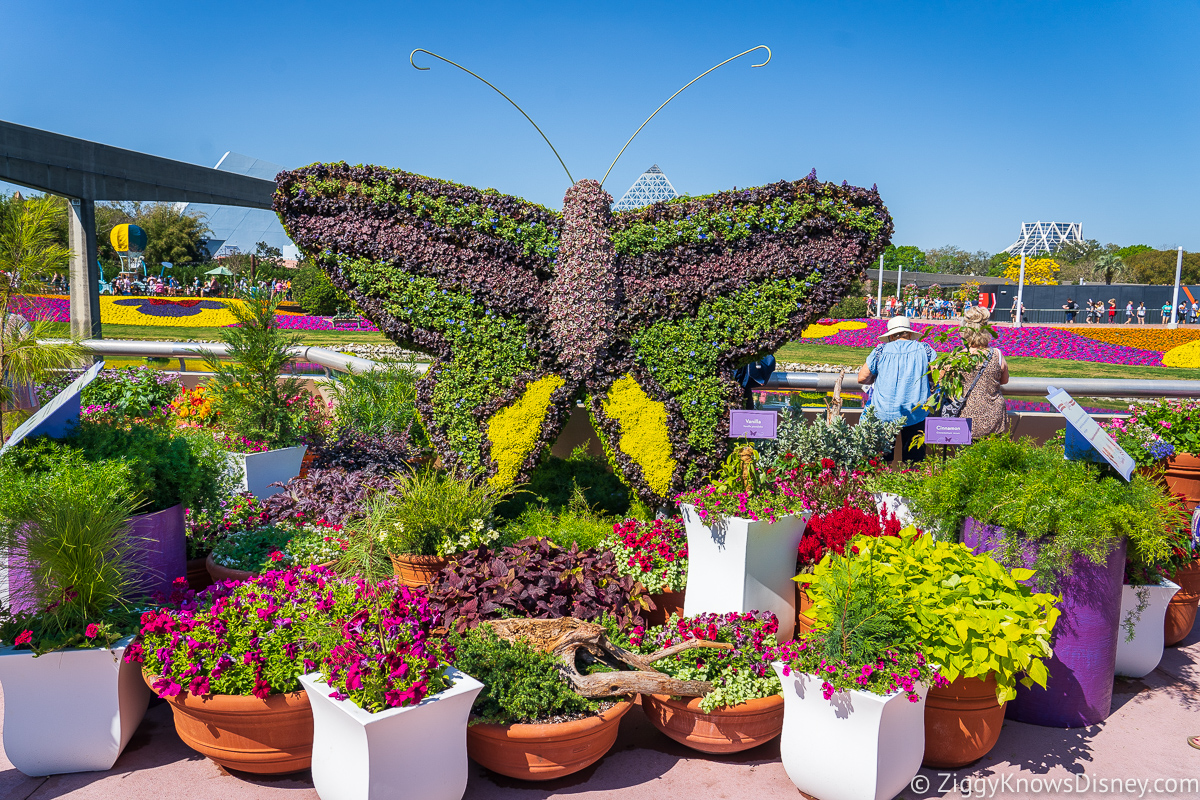 These butterflies aren't mentioned on the official list of topiaries, but we included them here since there are 3 big ones.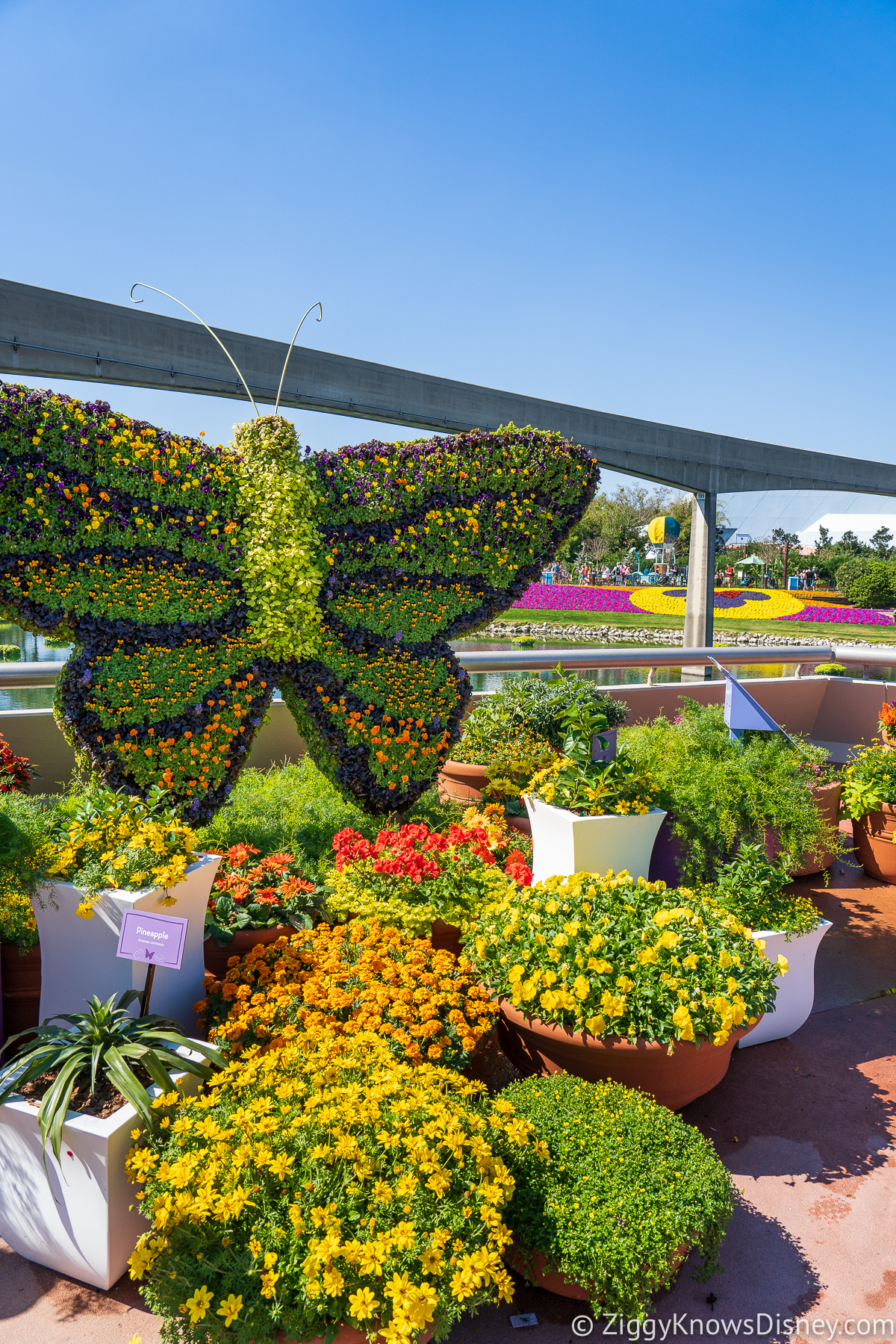 Each of the giant butterflies is stationed behind a massive group of flowers and near the various scent stations. Stop here and try these, they smell amazing!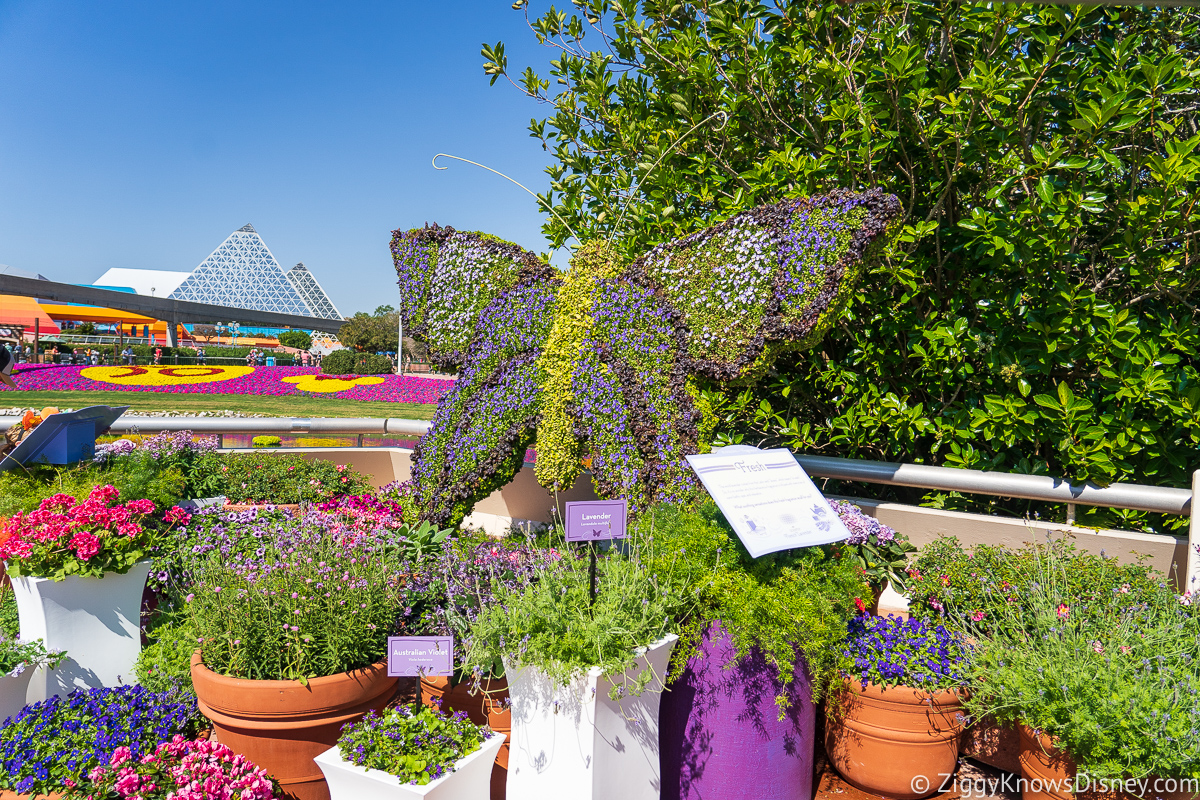 Sorcerer Mickey Mouse, Ostriches, Brooms, Hippo, and Gator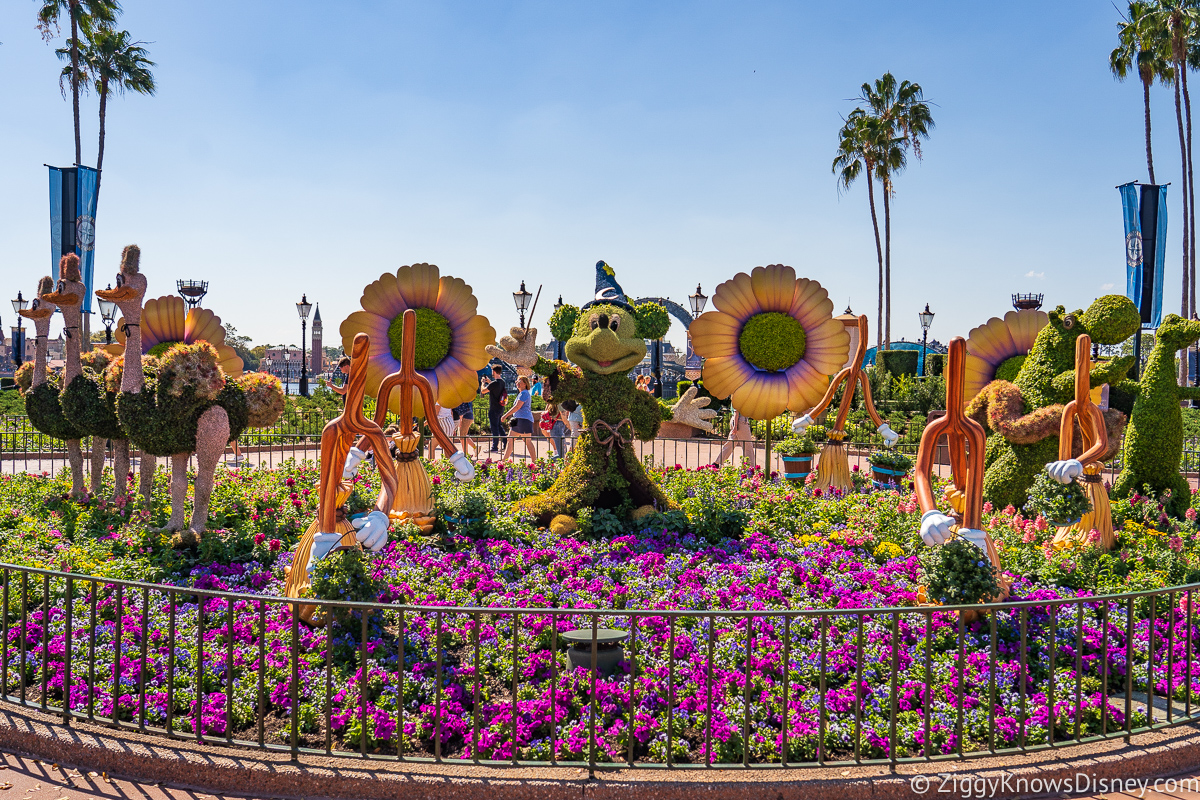 Once we get to the end of the bridge and to the edge of the World Showcase promenade, we see Sorcerer Mickey and his supporting cast from the classic film "Fantasia."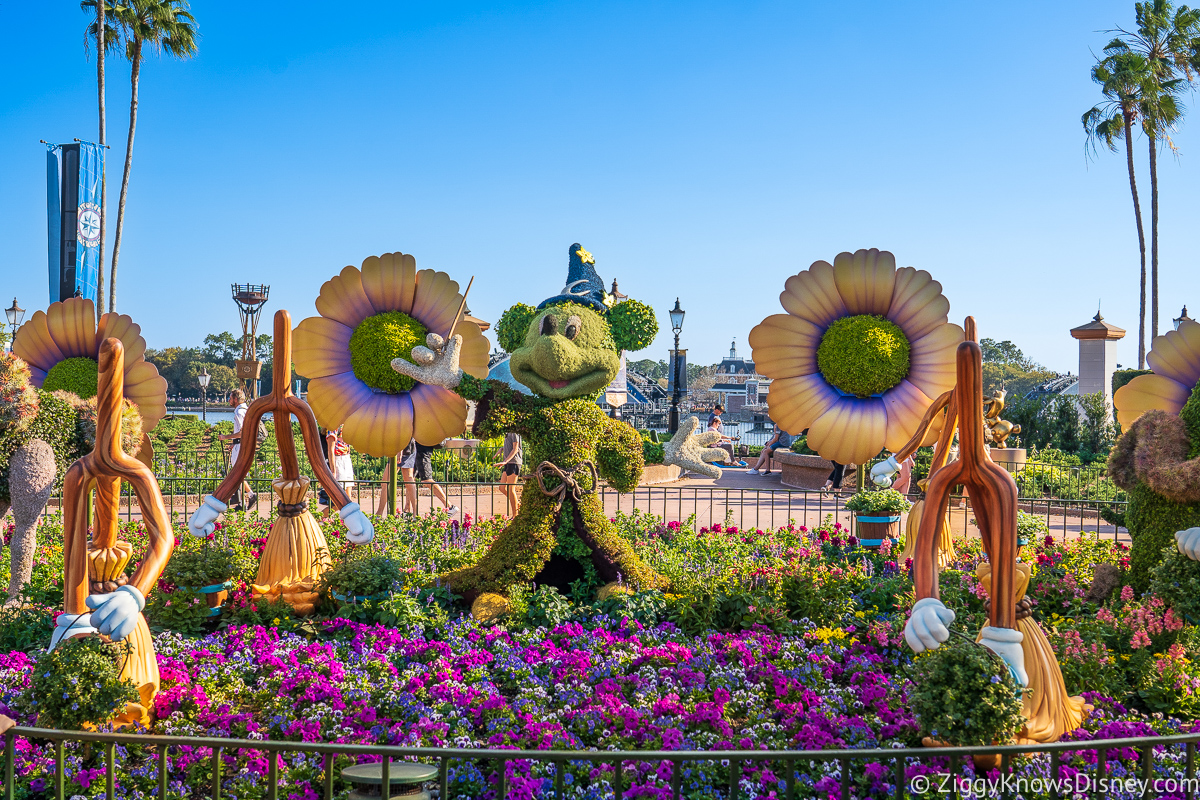 Mickey Mouse is in the center and surrounded by his fellow topiaries from Fantasia.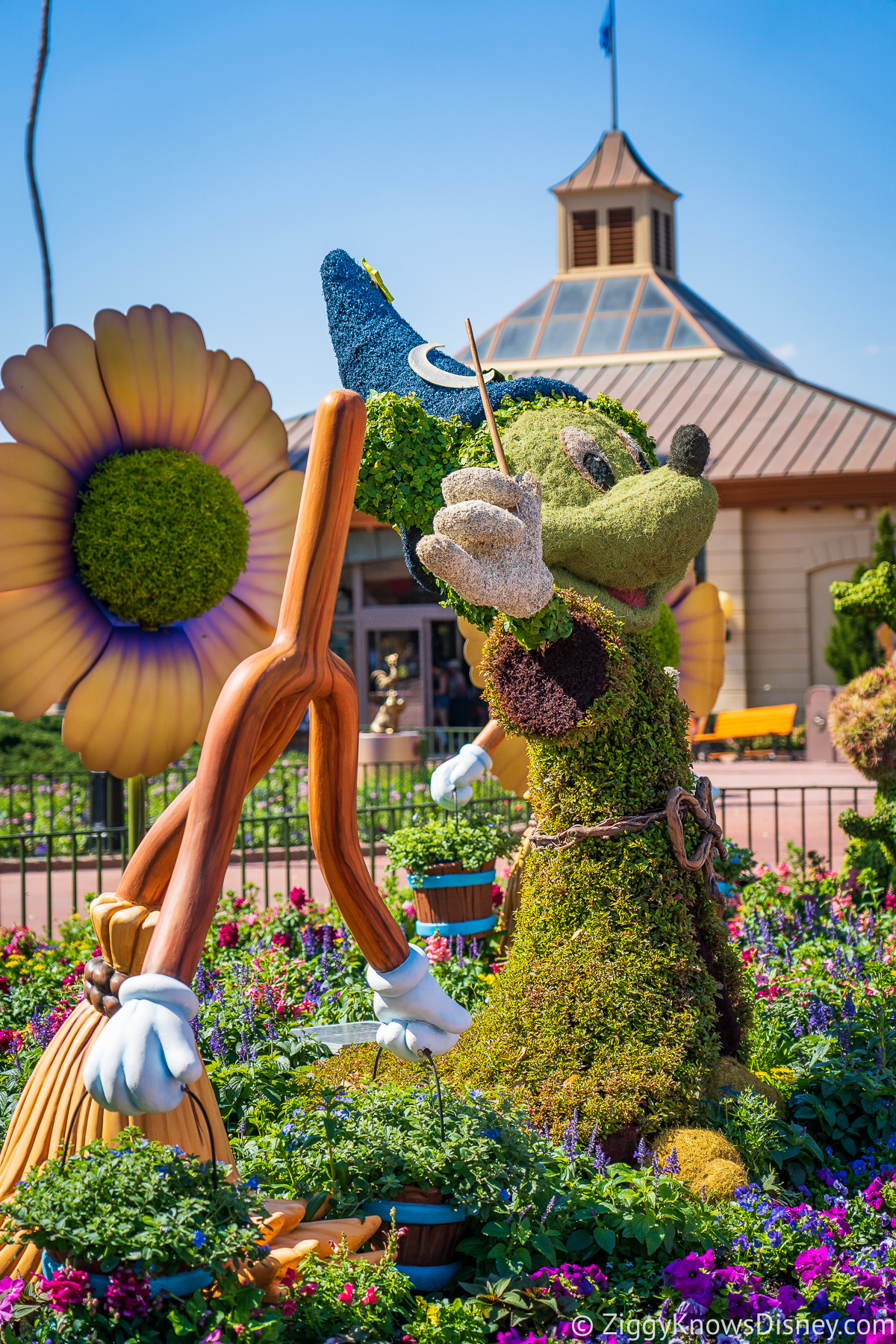 To one side are the ostriches.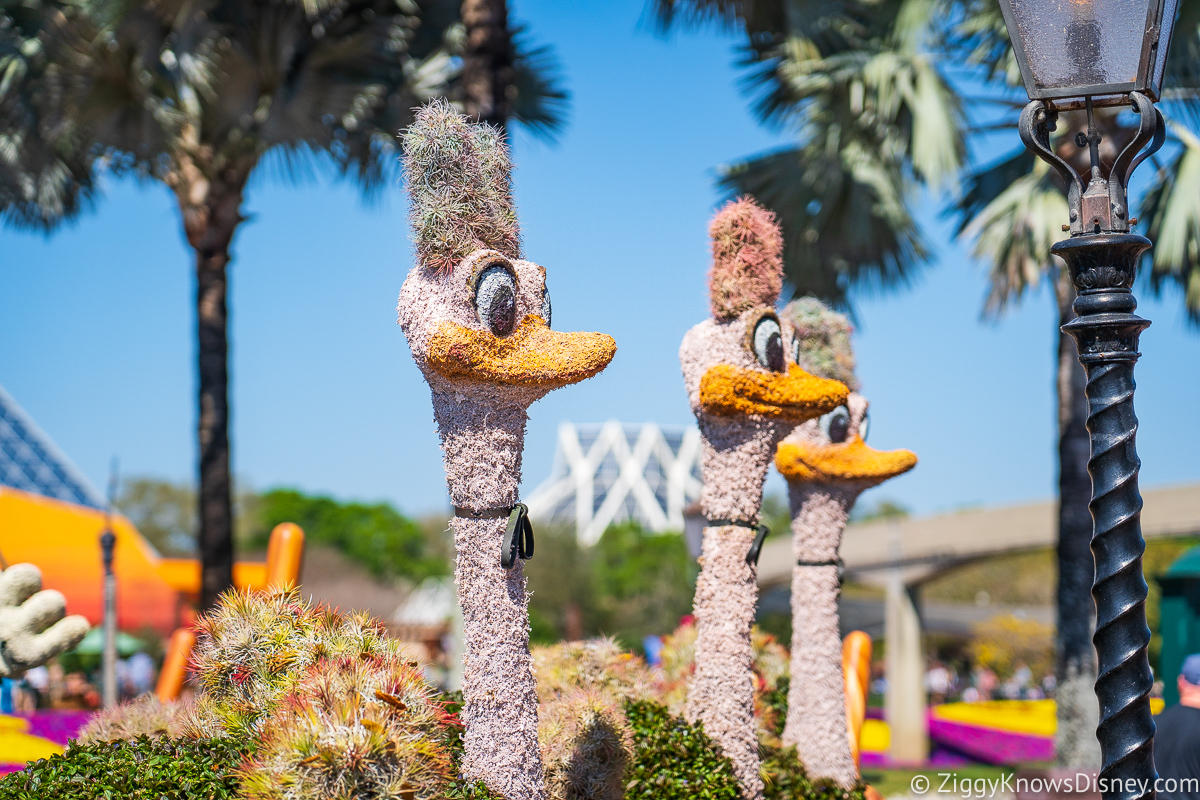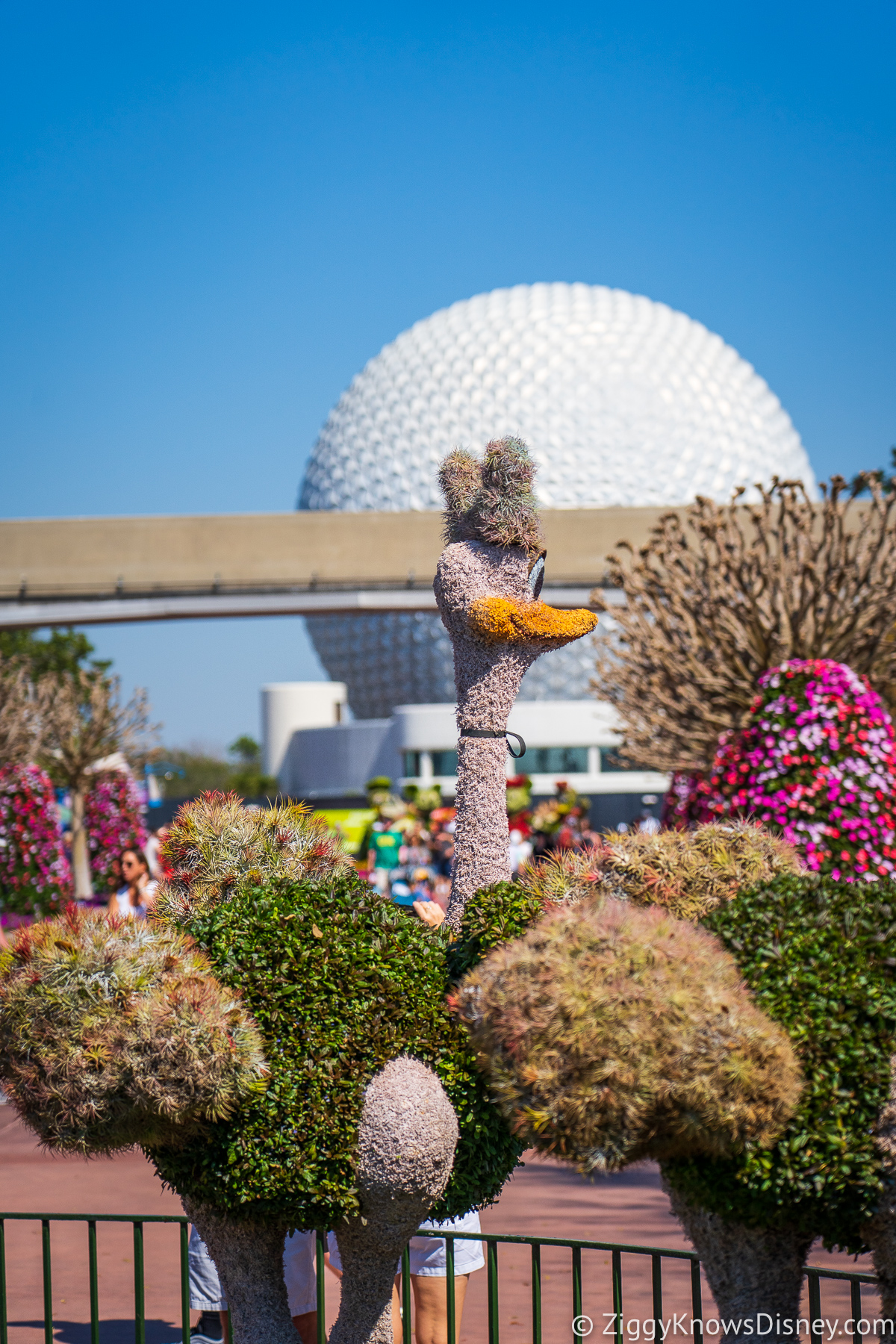 On the other side, we have the brooms who are planting flowers. Even though the brooms aren't really topiaries, they are still really cool to look at!
Just behind the brooms is the hippo.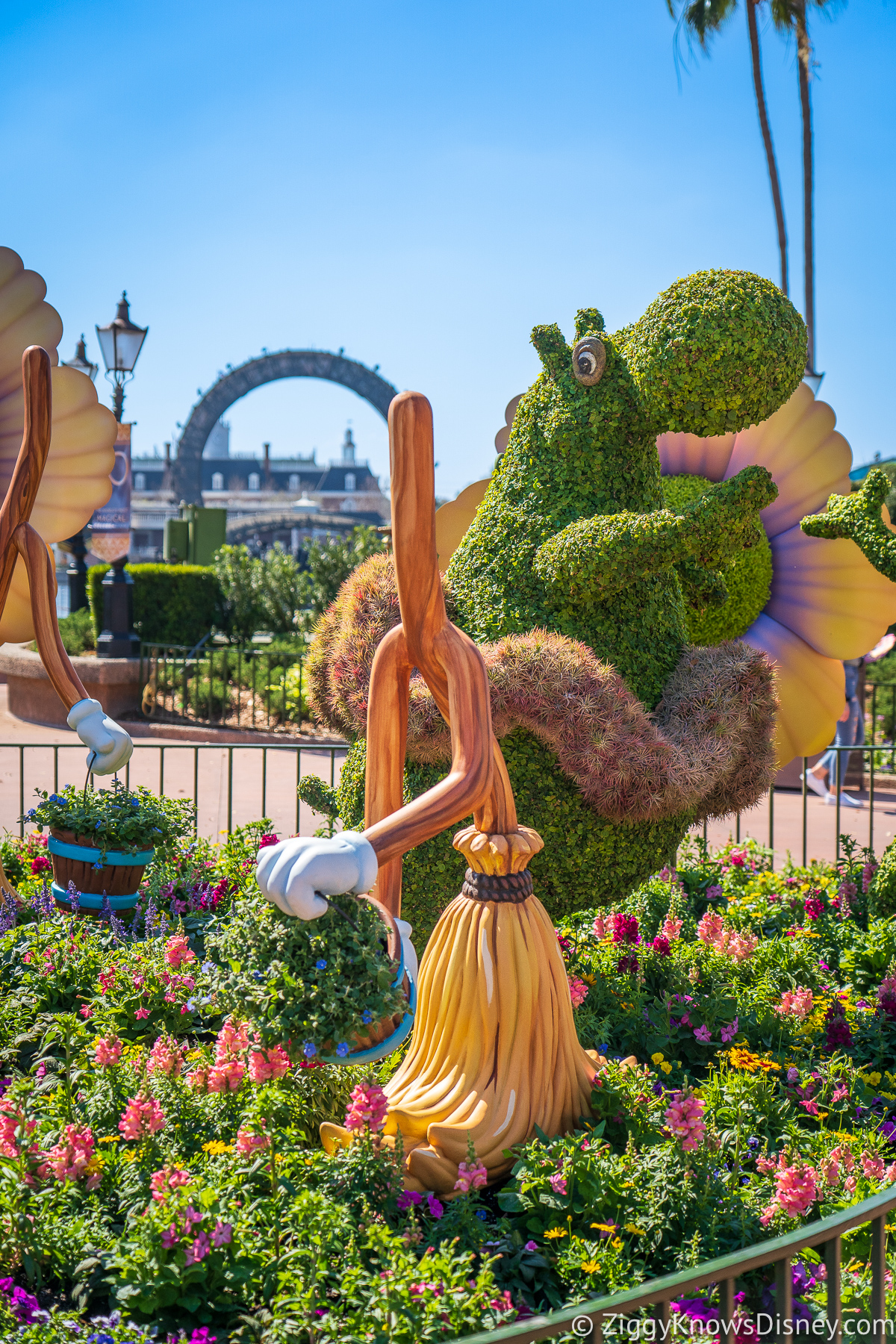 And the gator.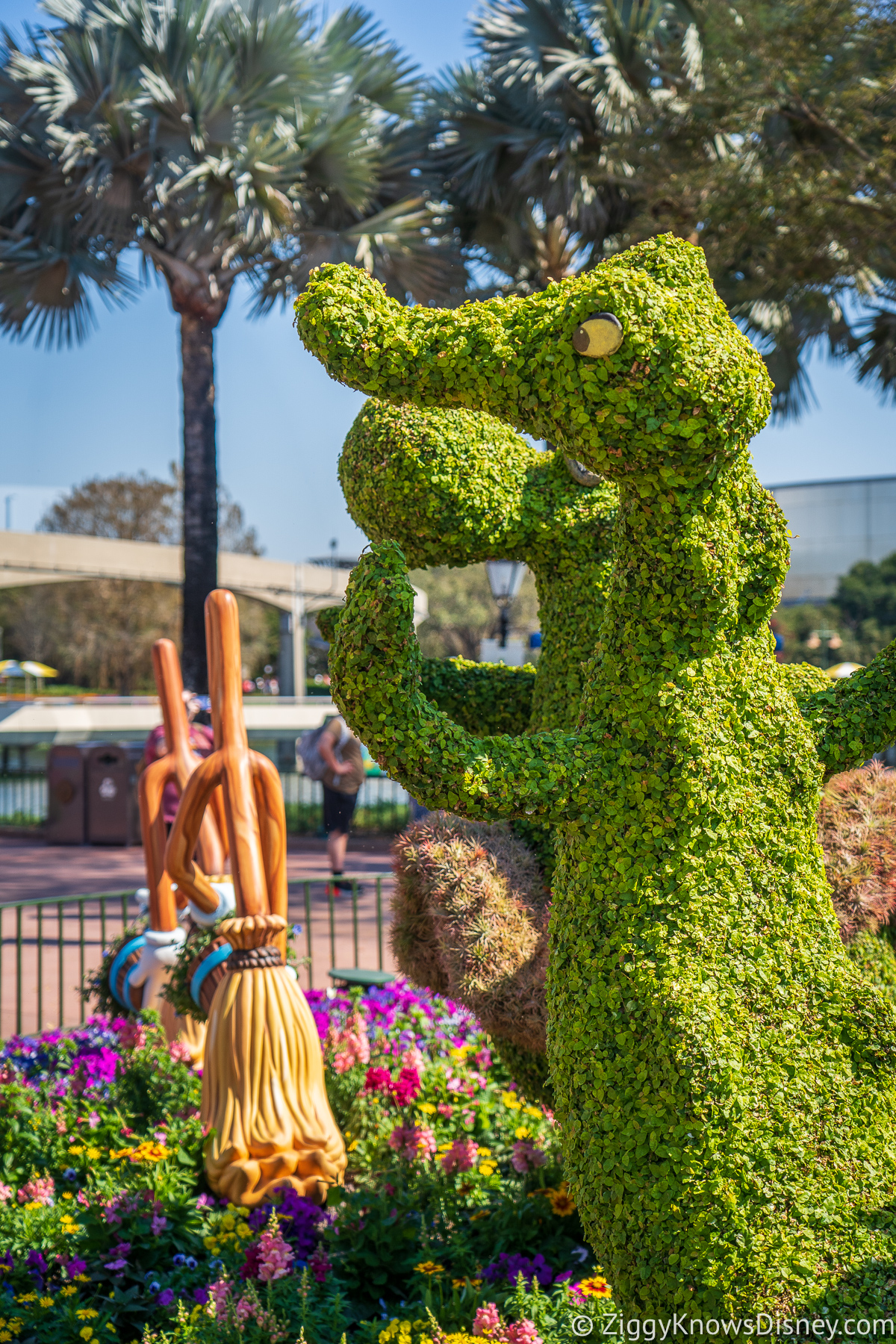 There is also a row of those same flowers found at the EPCOT entrance.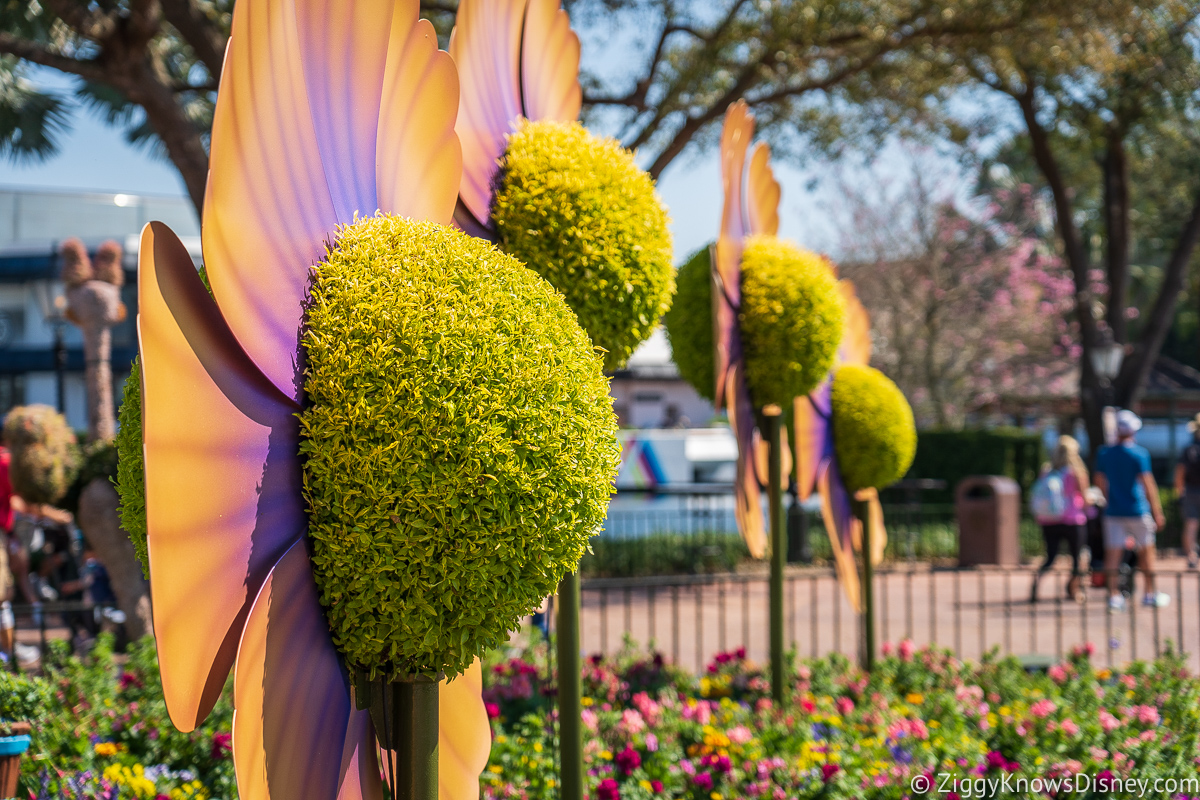 It offers some nice photo opportunities from the back depending on which direction the sun is coming from.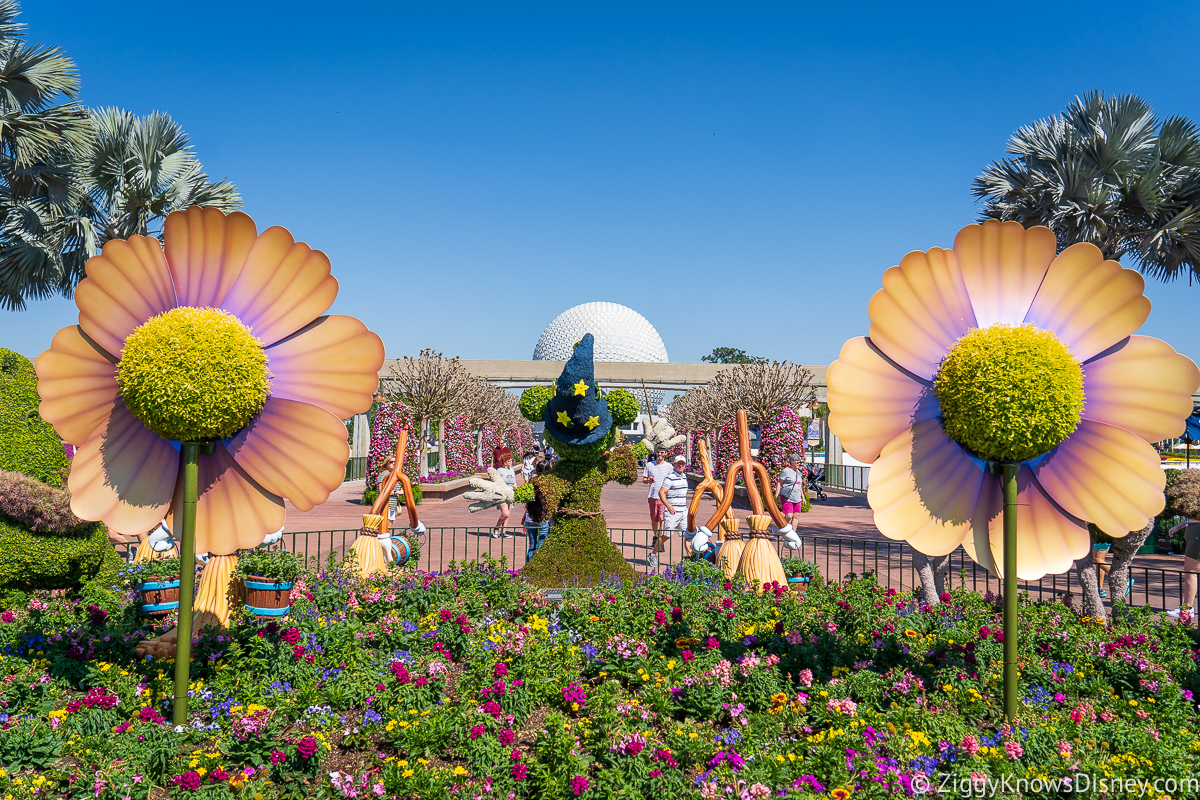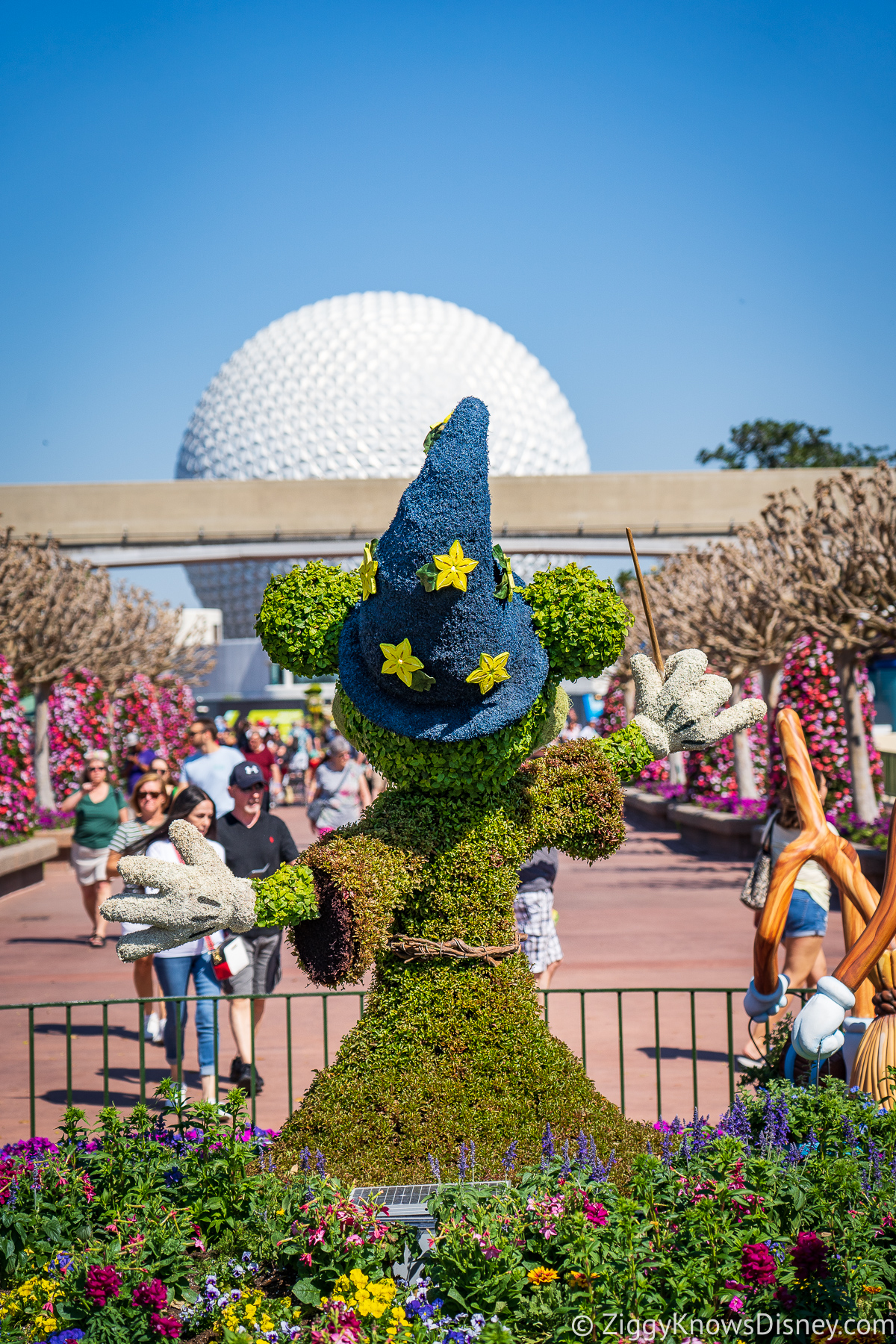 World Showcase
While there are a good number of topiaries in the front half of EPCOT, the vast majority are found around the World Showcase. We are going to go left and start in the Mexico pavilion.
Mexico
The Three Caballeros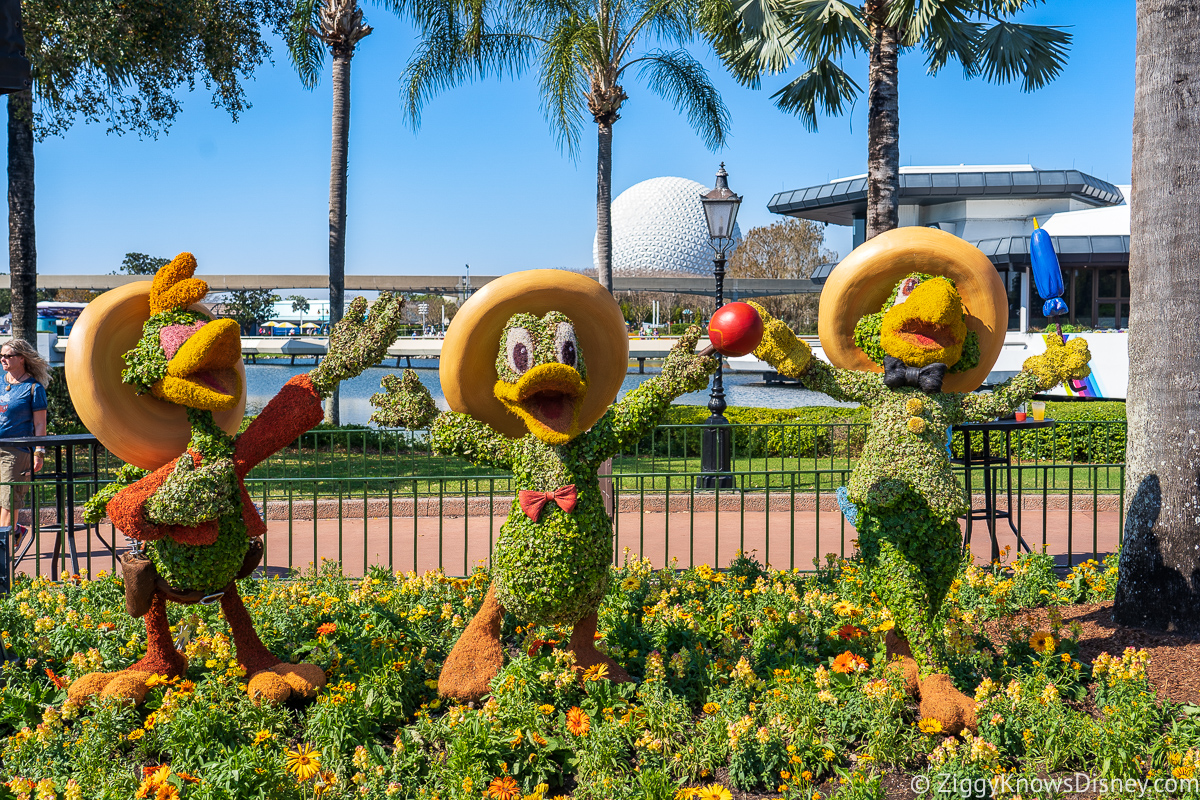 Wouldn't you know that Donald has also made his way over to Mexico to meet up with The Three Caballeros, Jose Carioca, and Panchito Pistoles?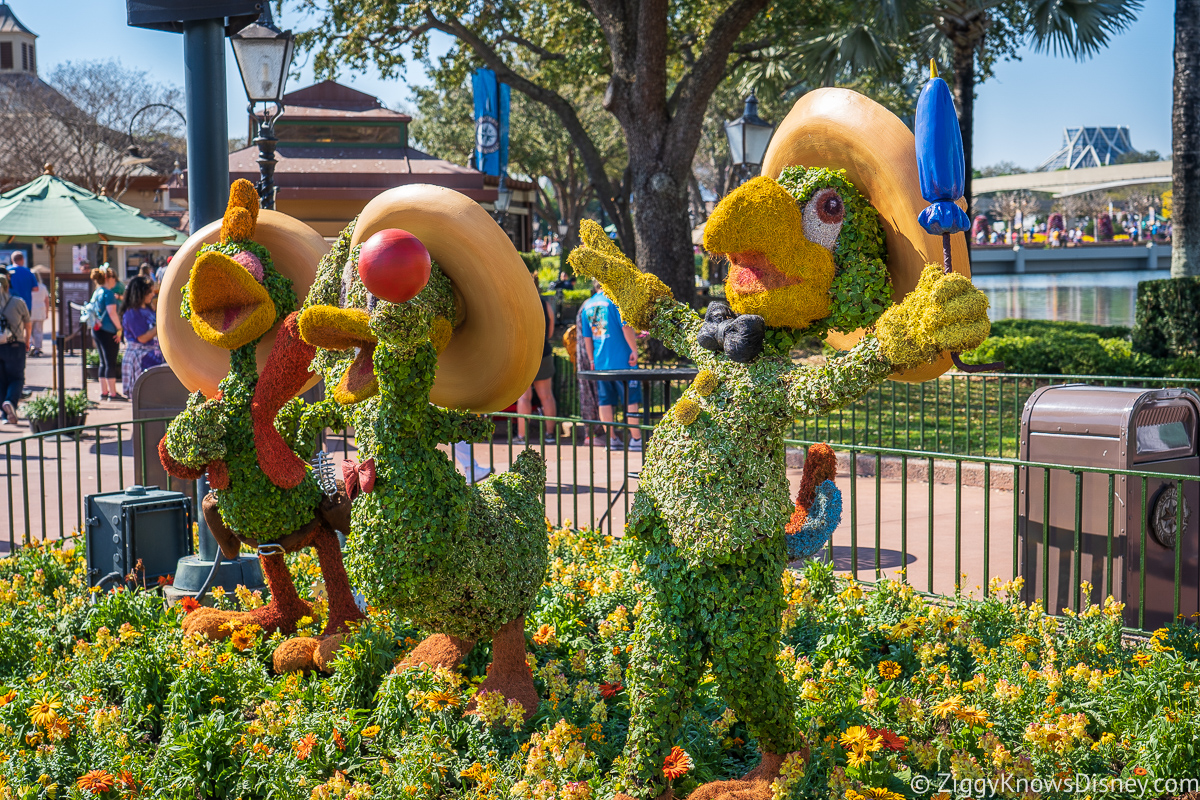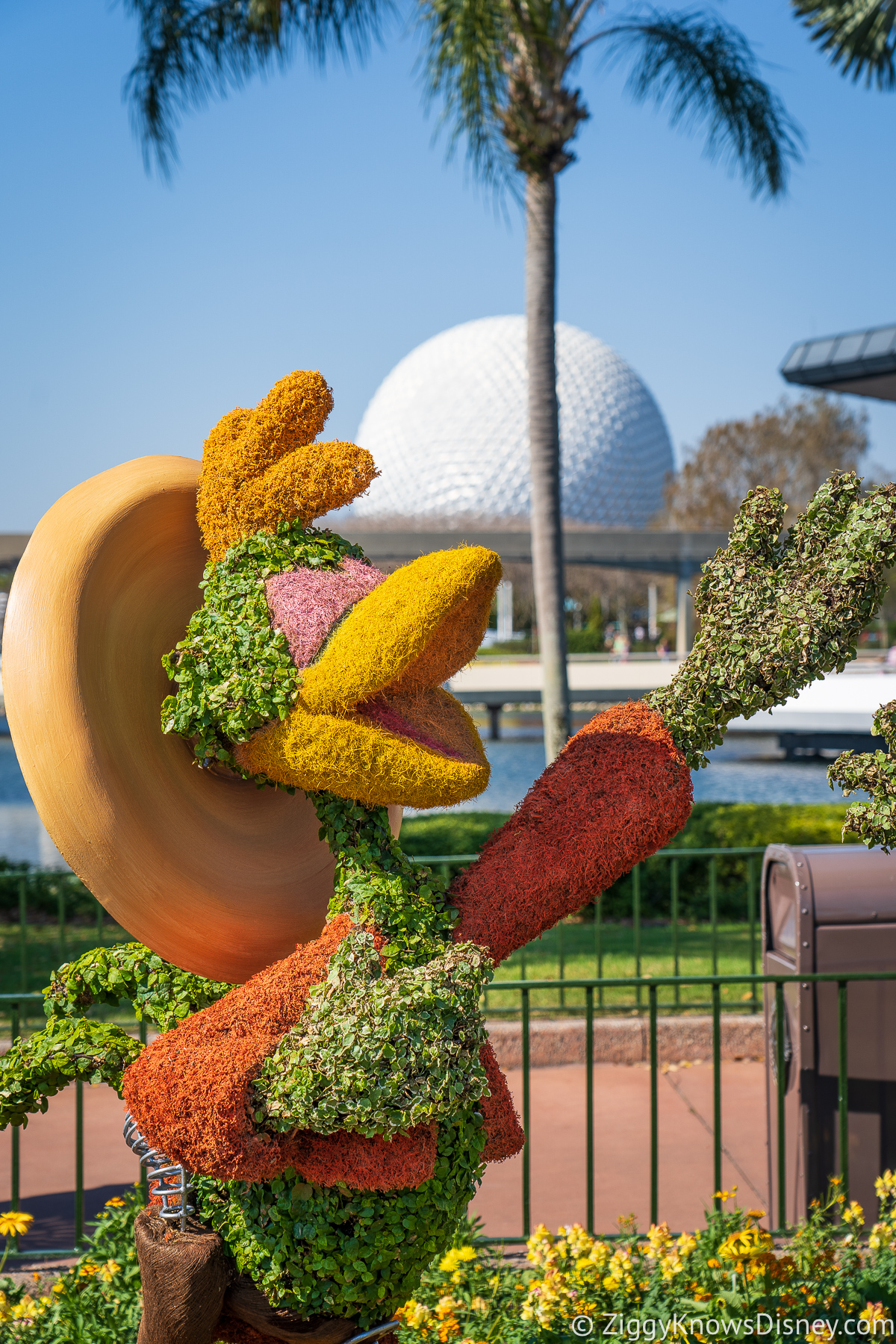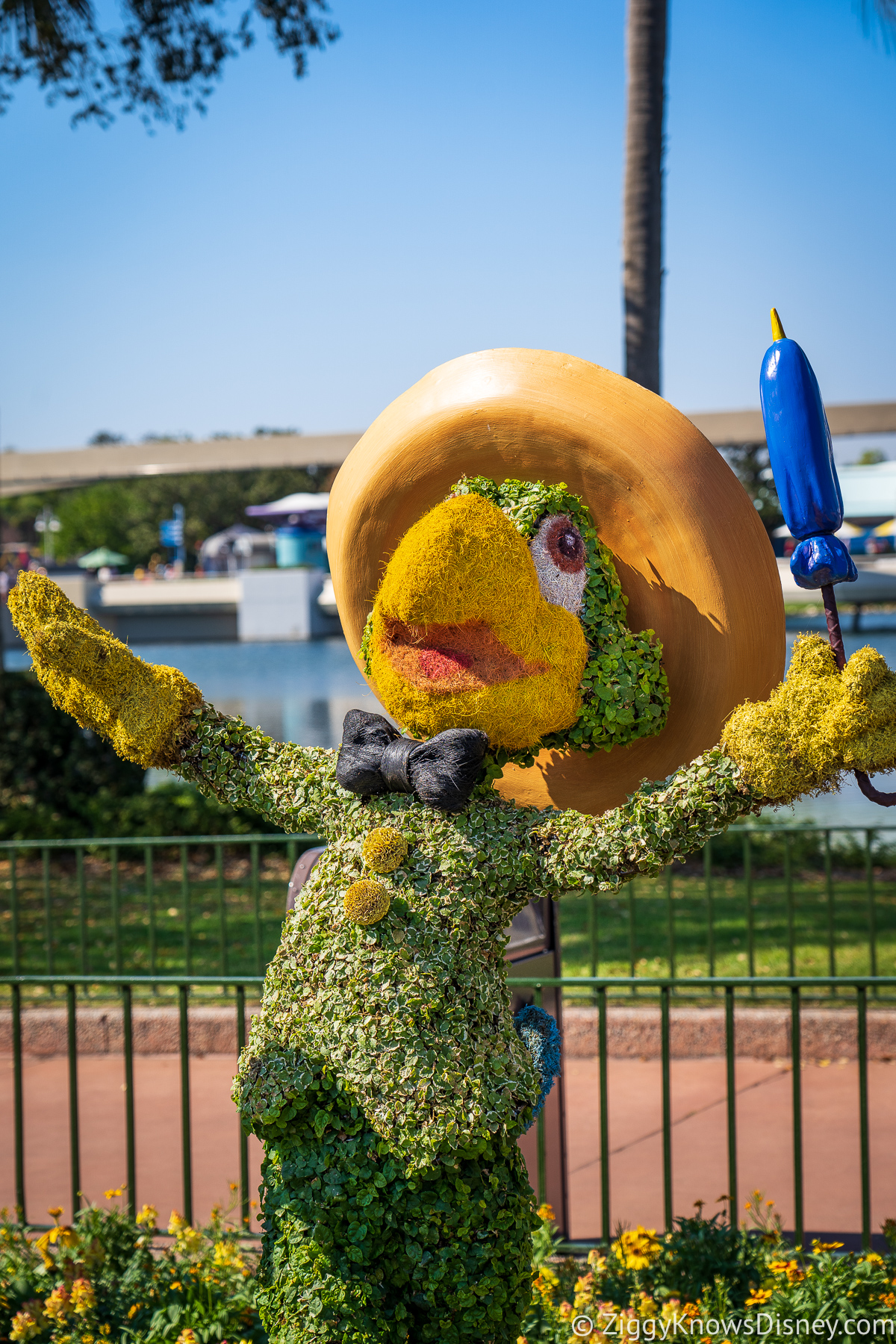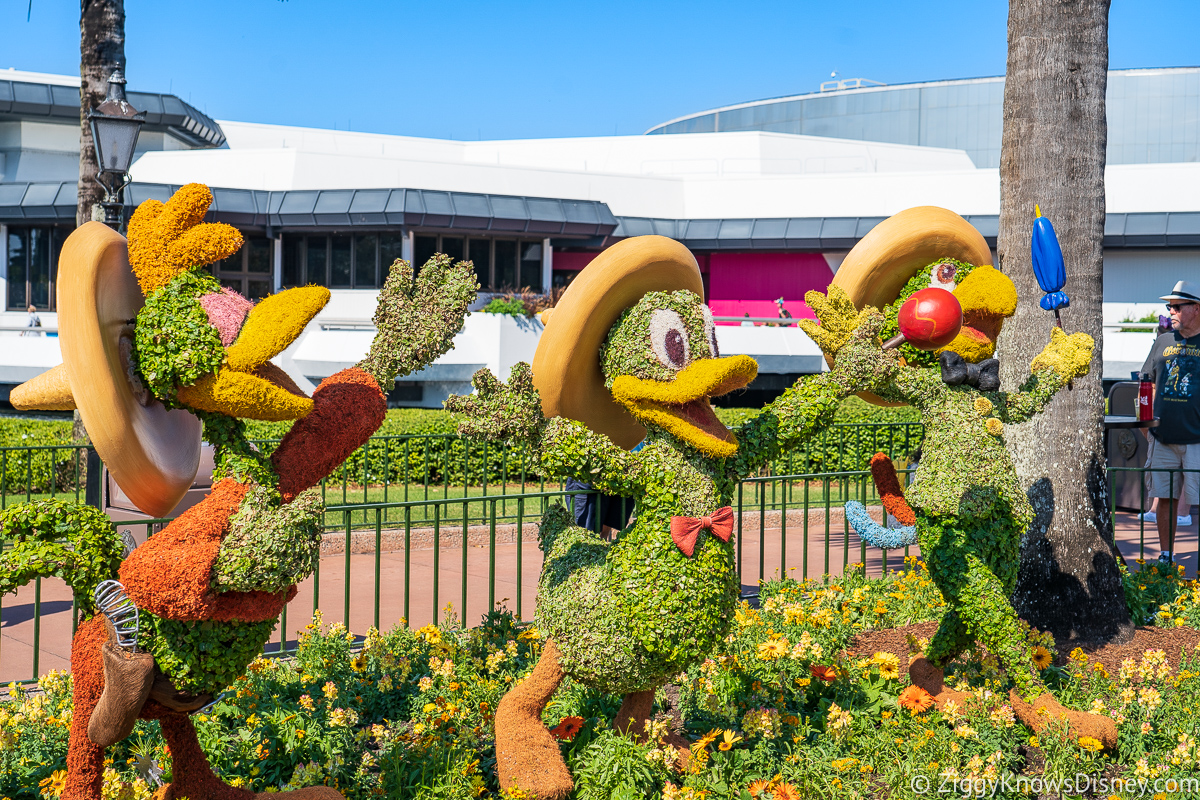 These three are always up to mischief.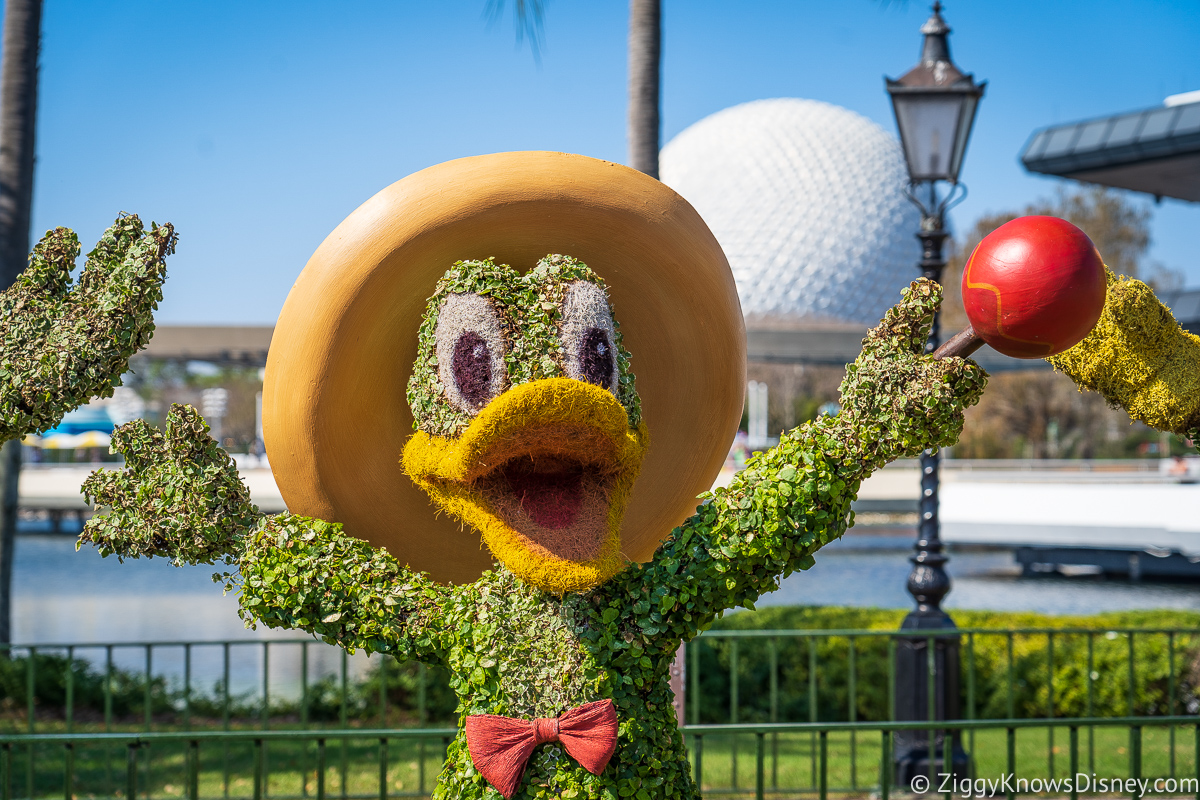 Norway
Anna and Elsa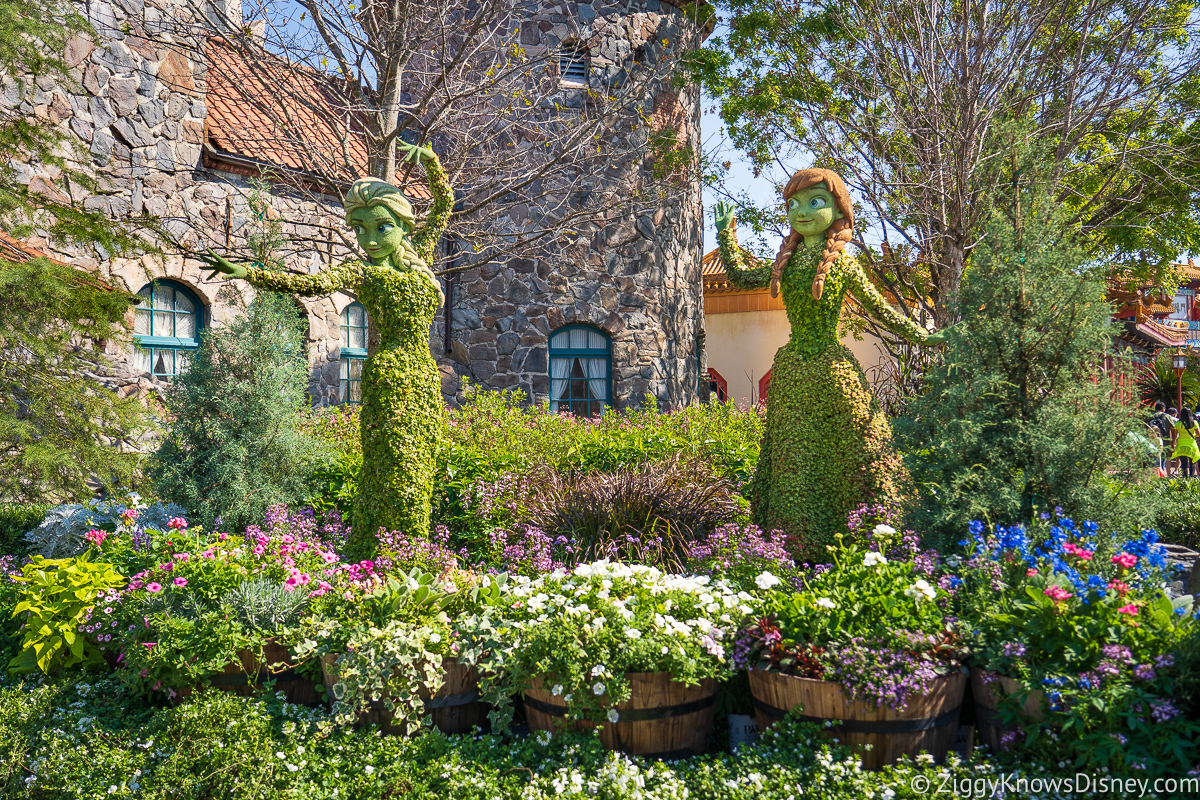 Two of the most popular topiaries at the EPCOT Flower and Garden Festival last year were Anna and Elsa from Frozen. Well, they are back once again in Norway, over in the front of the pavilion near the entrance to Frozen Ever After.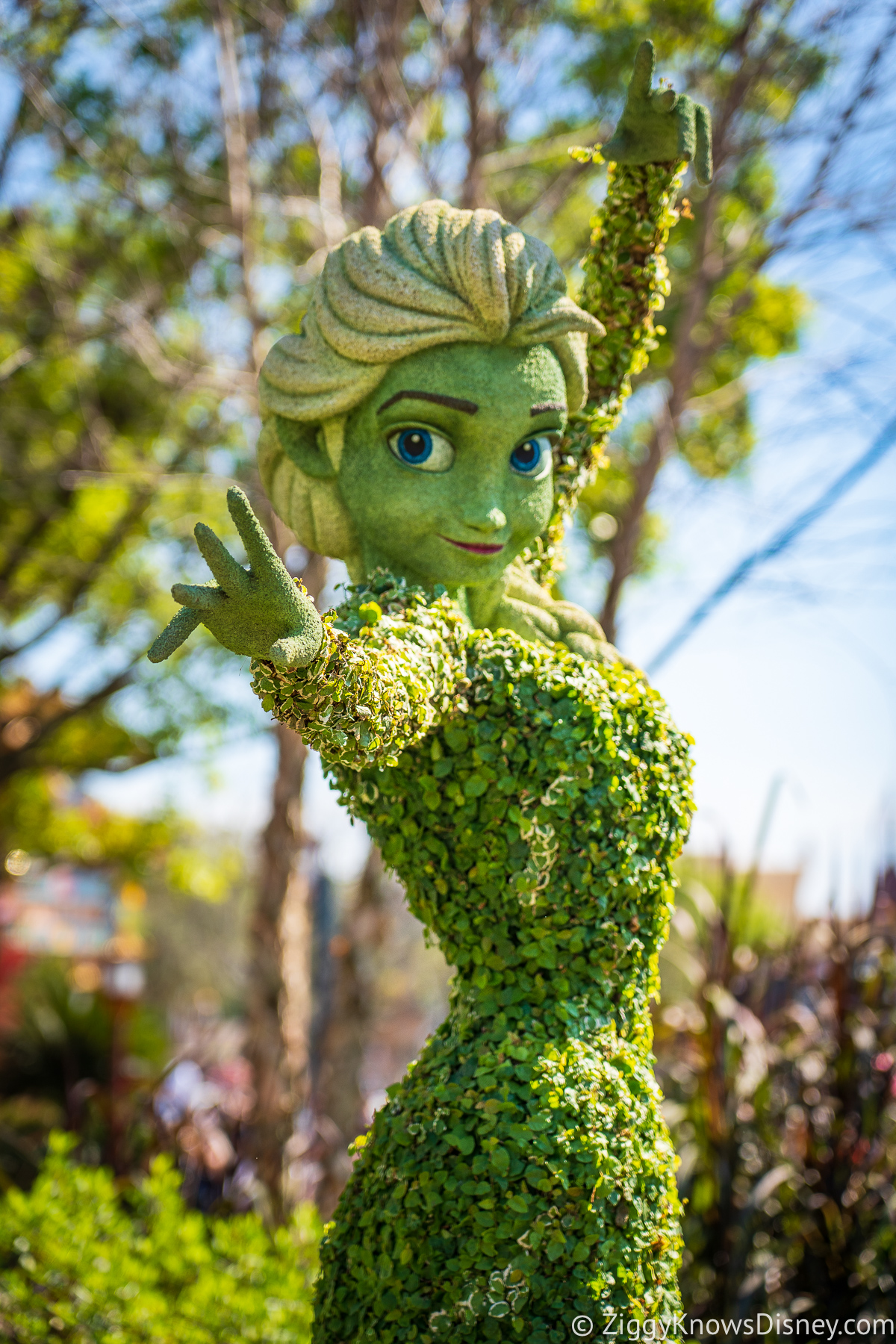 I love Elsa's pose here, that stare is stunning!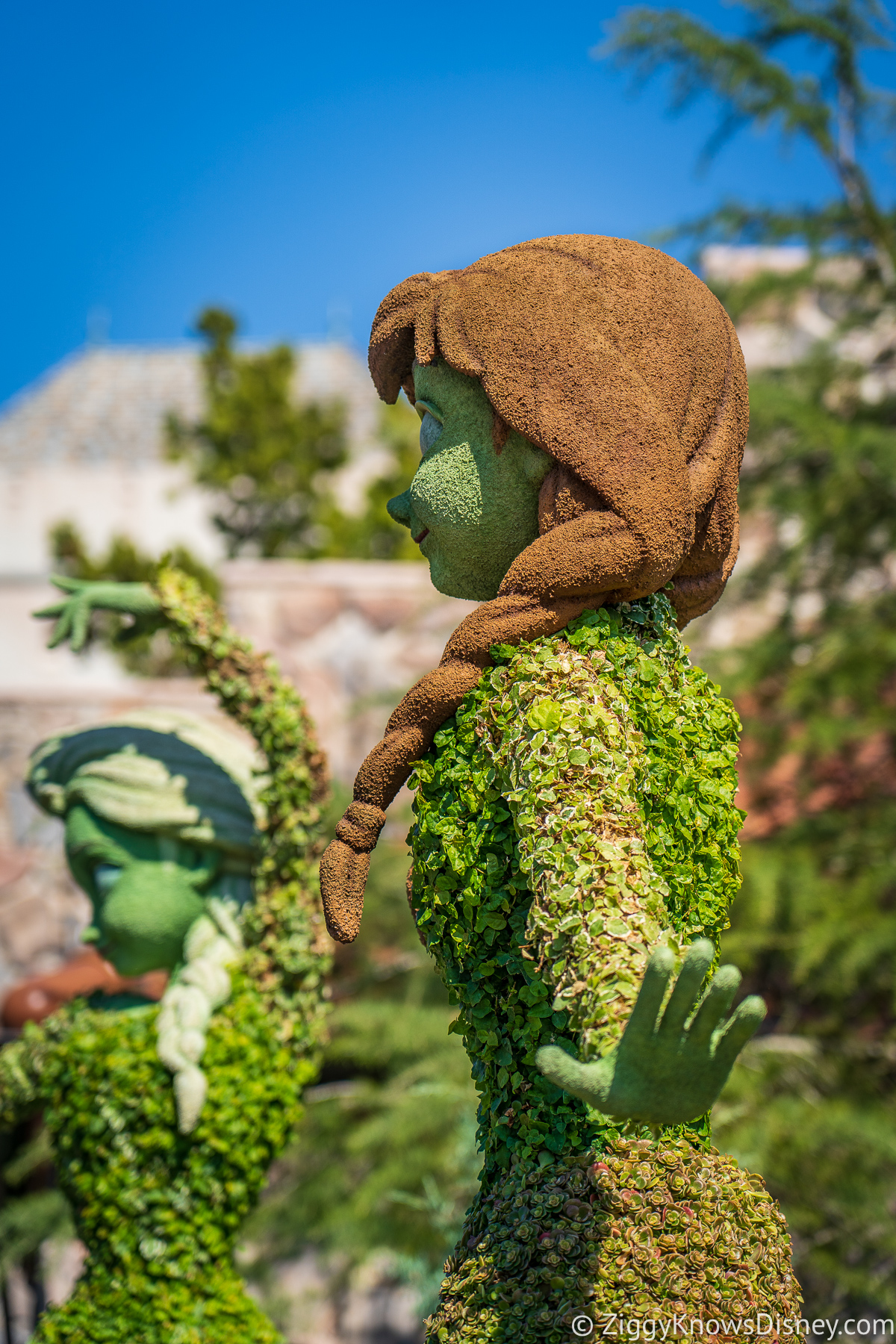 Troll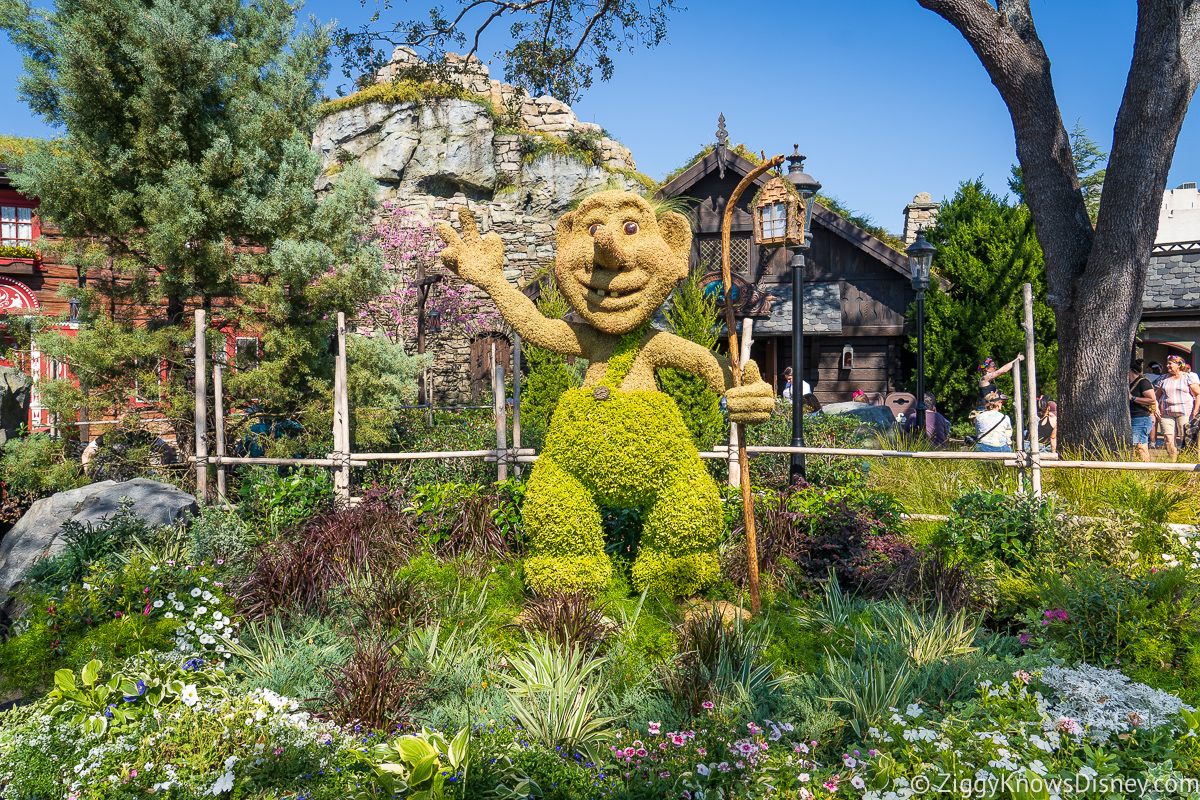 Over in the back of the pavilion near the Anna and Elsa character meet you'll find the Troll topiary.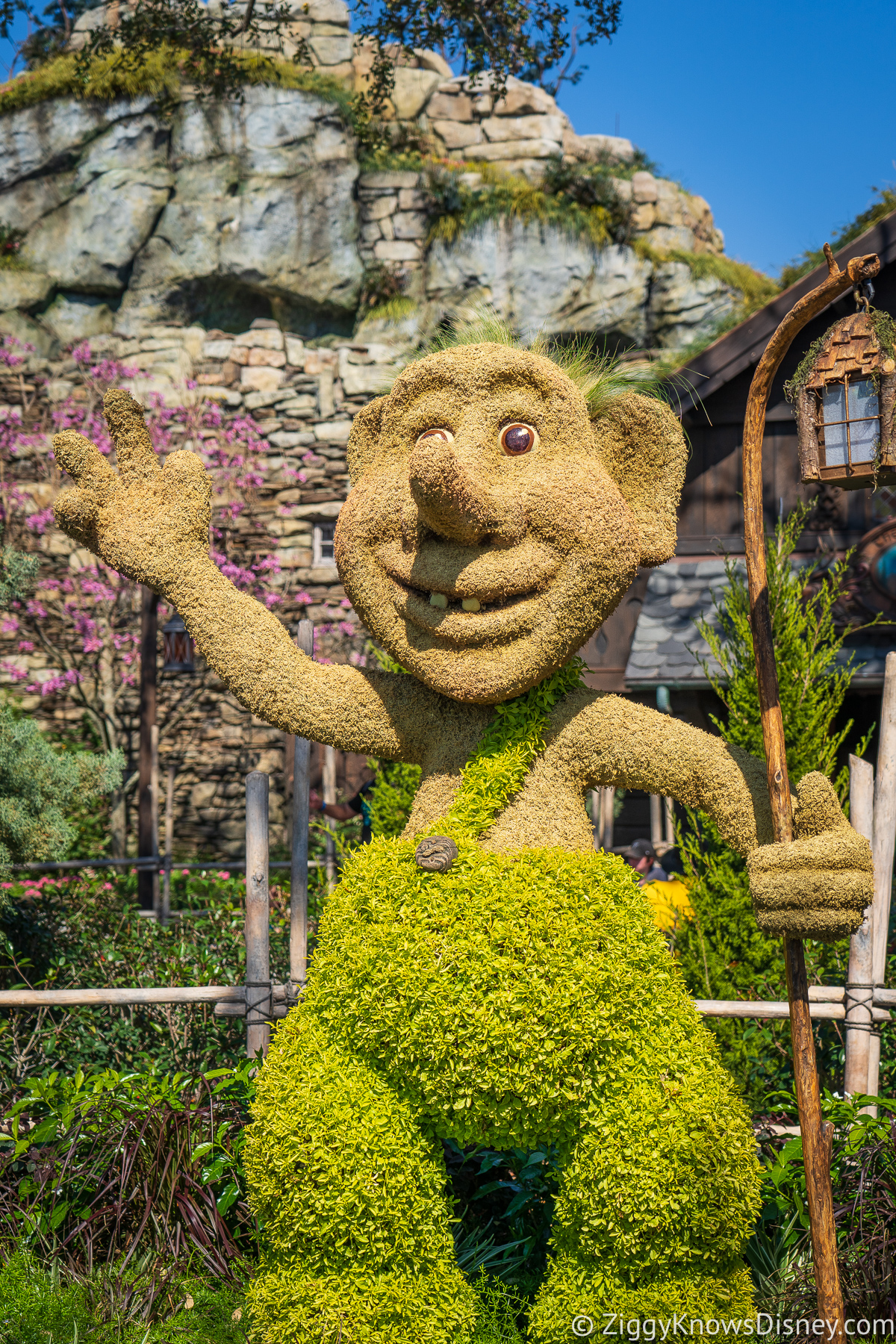 He is much happier looking this year compared with other festivals in the past.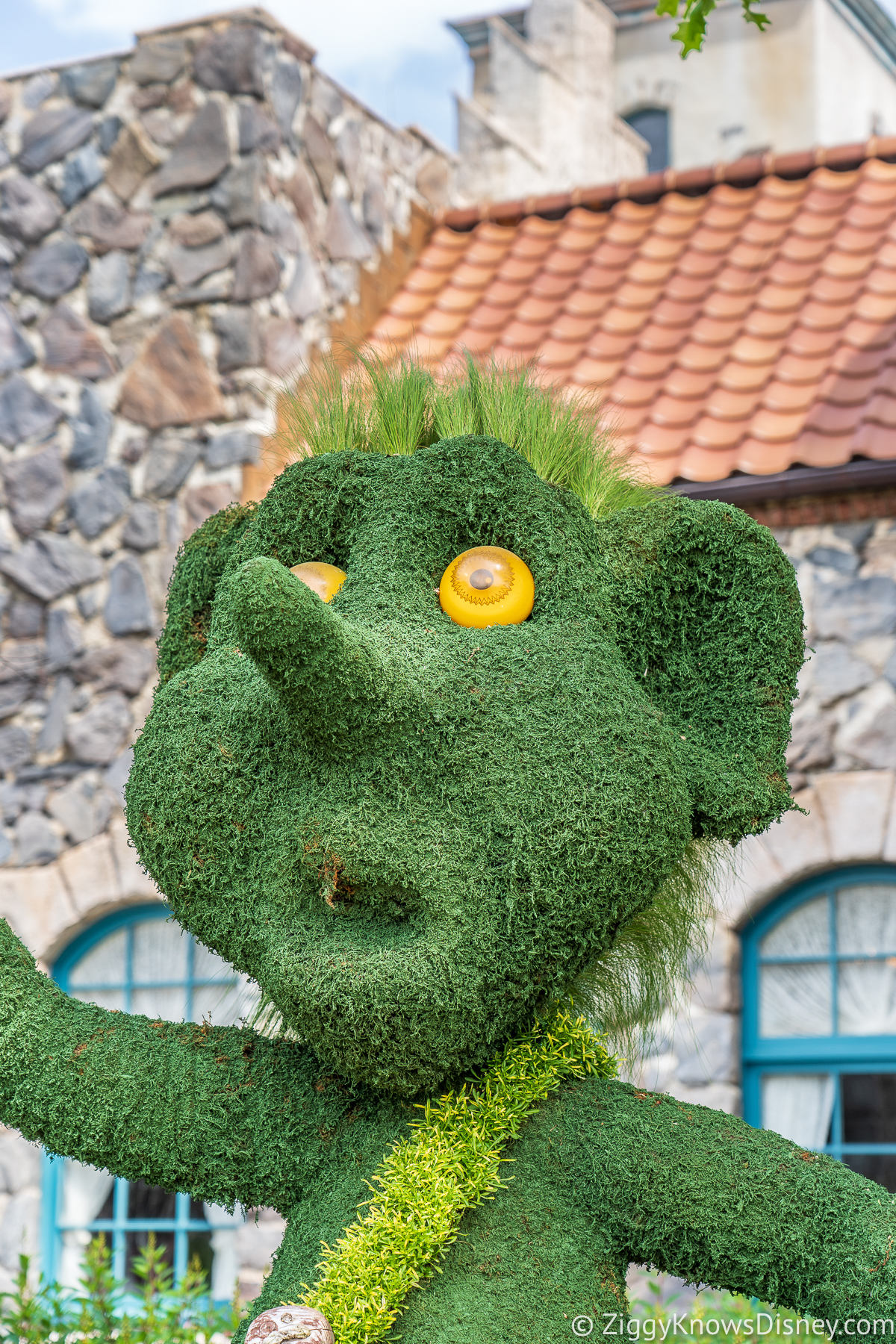 China
Pandas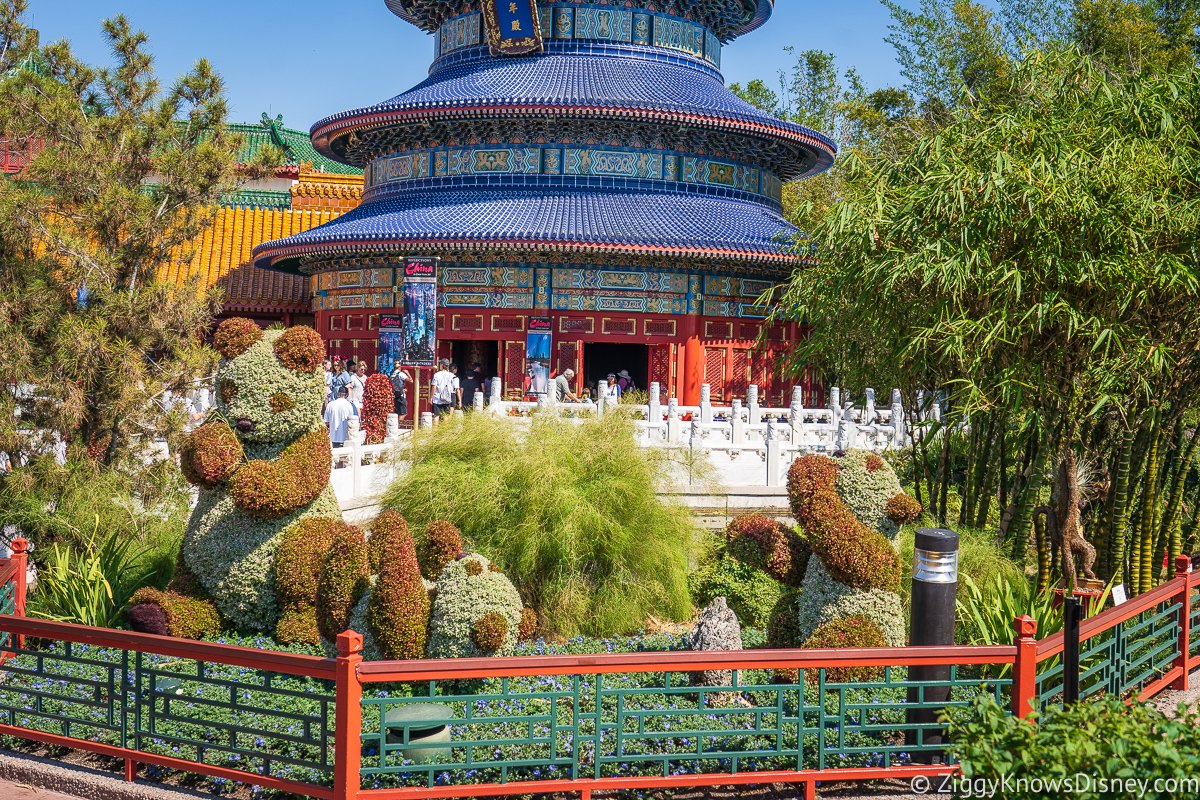 These Pandas are so adorable and very well could be my favorite topiaries from the festival this year. You can find them in the China pavilion, laying out and eating some bamboo.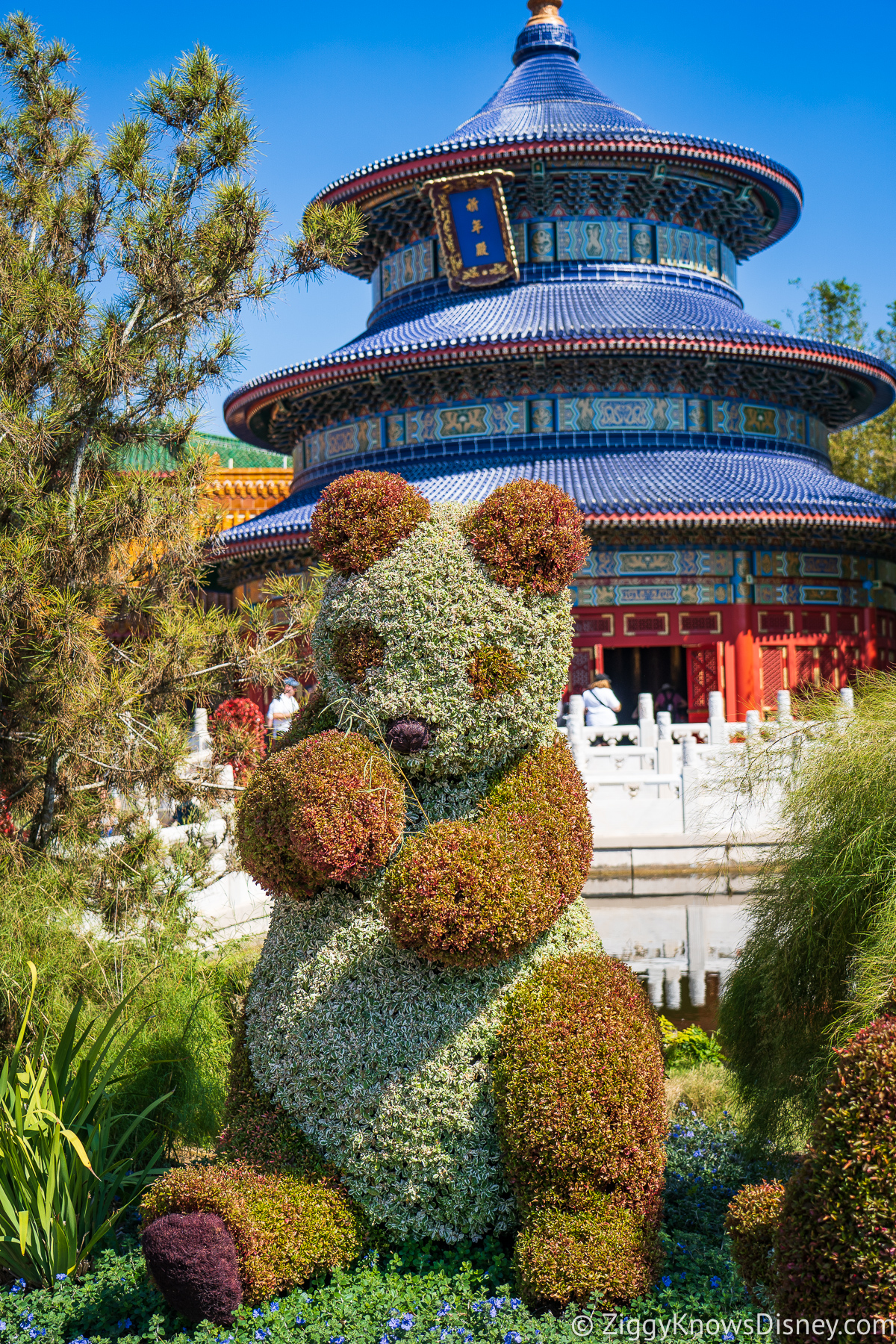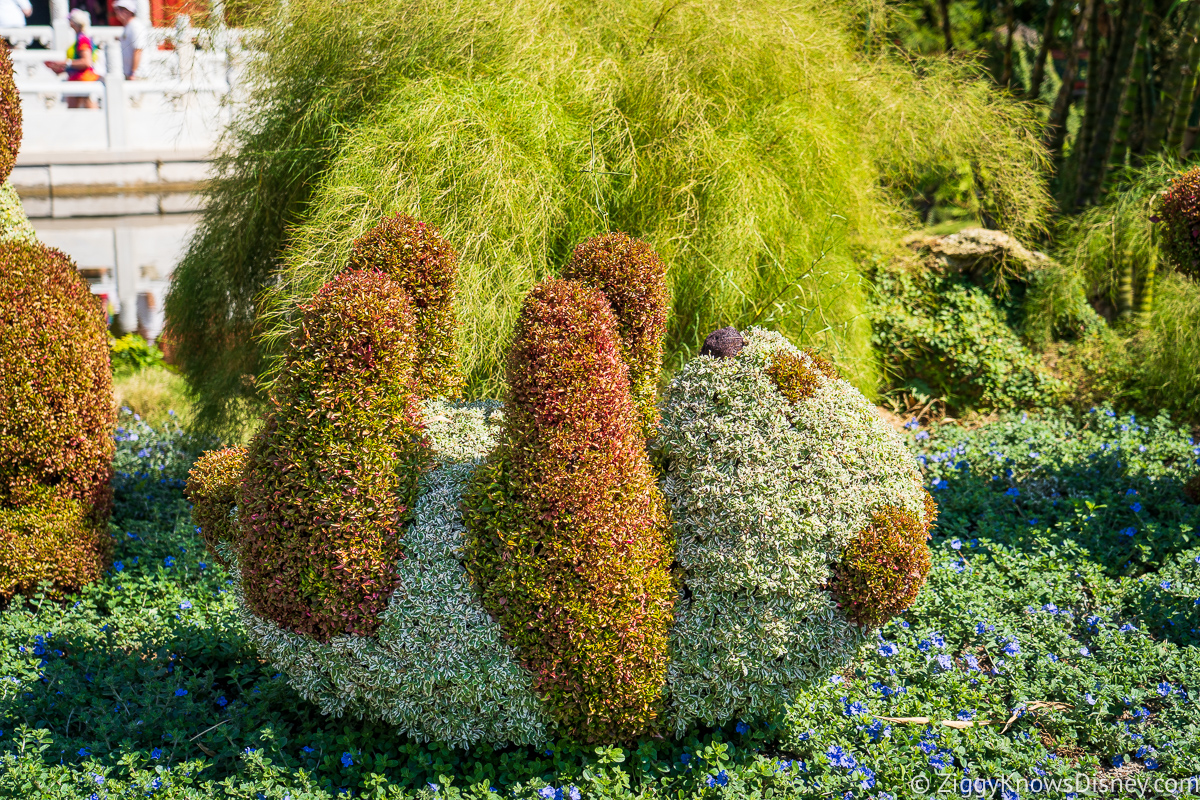 They are set up pretty much the same every year, just with slightly different poses.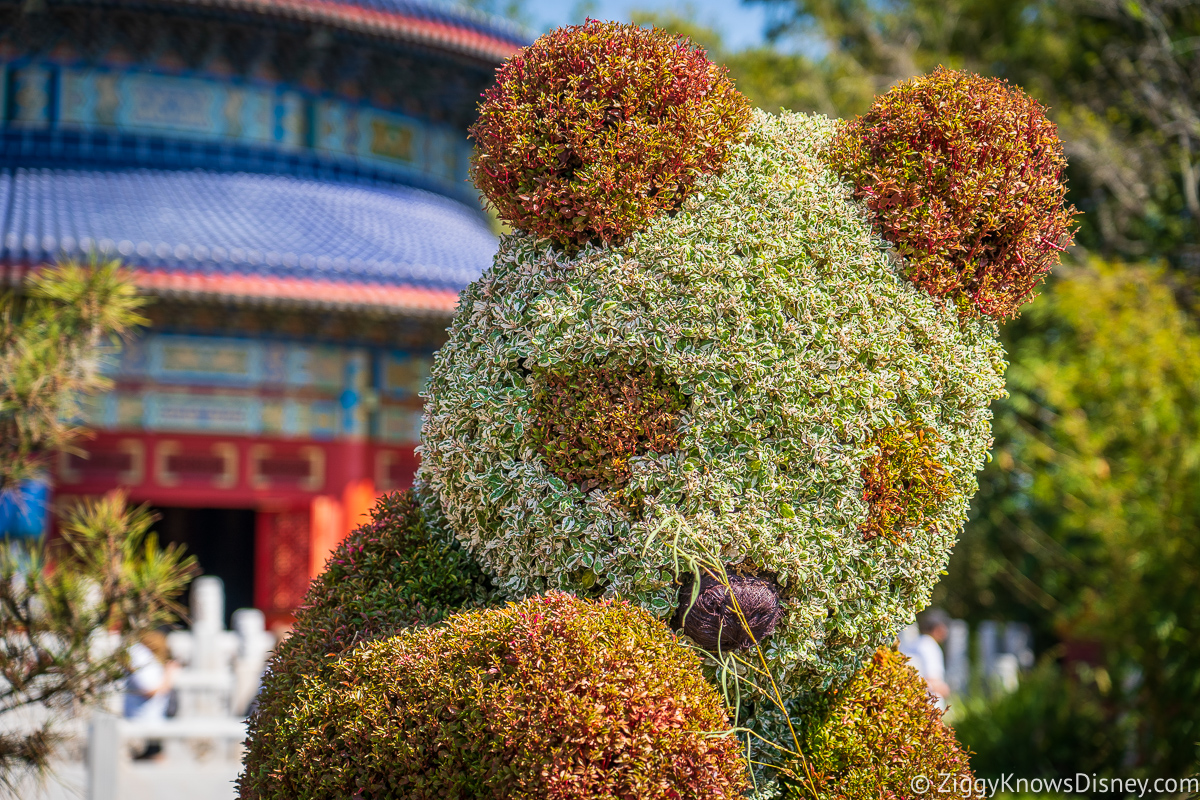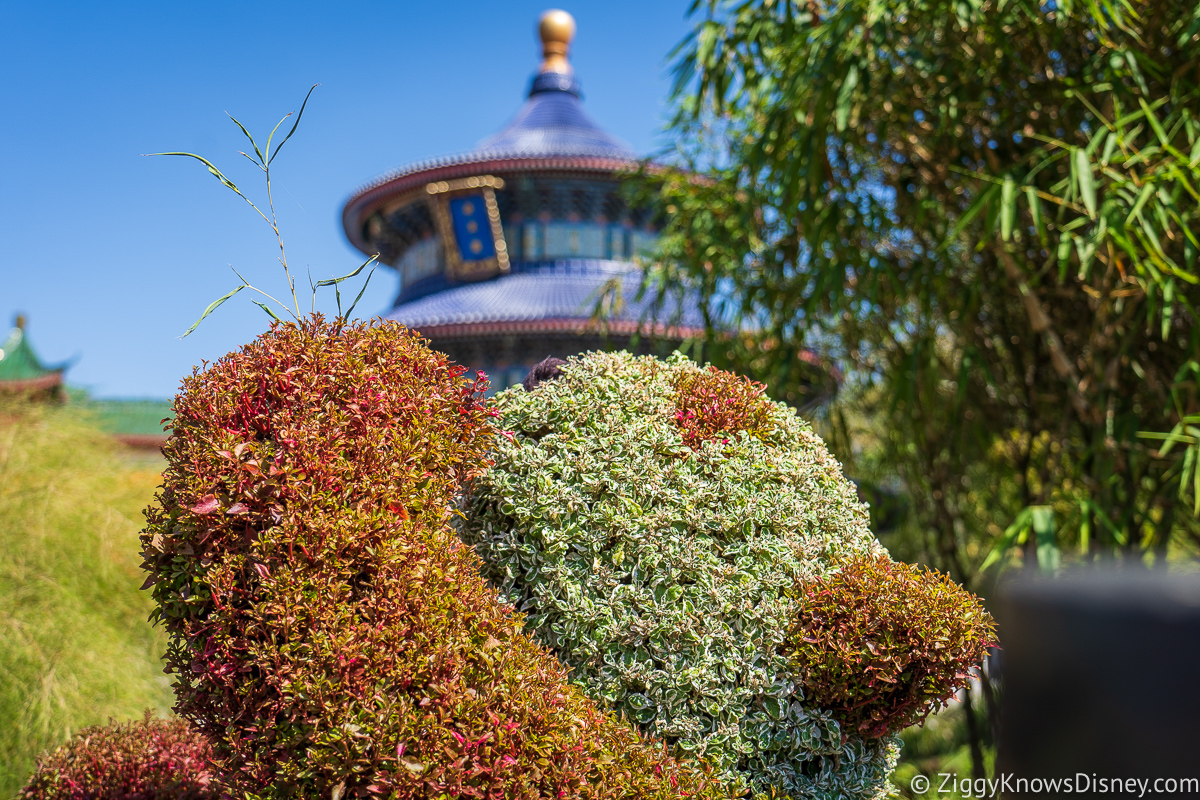 Germany
Snow White and the Seven Dwarfs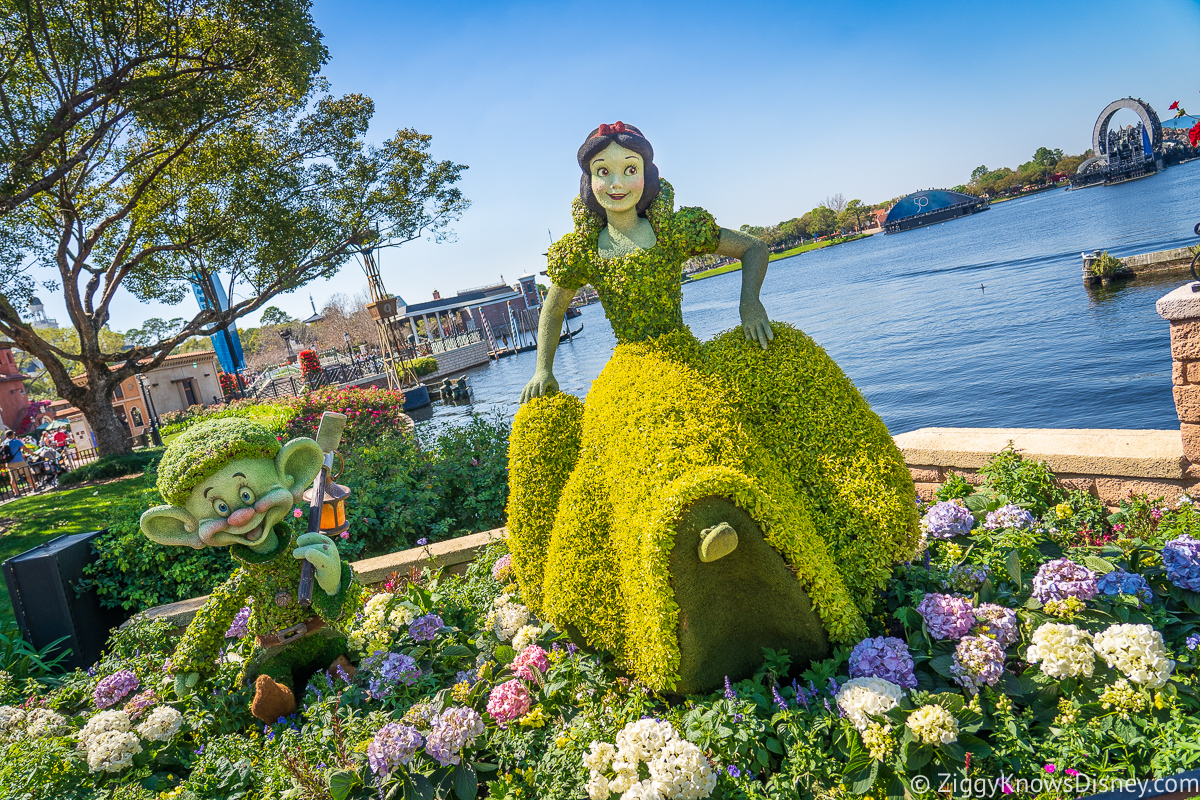 Snow White is always a mainstay in the Germany pavilion, but most of the seven of the dwarfs have been missing now for a few years. This year they are back!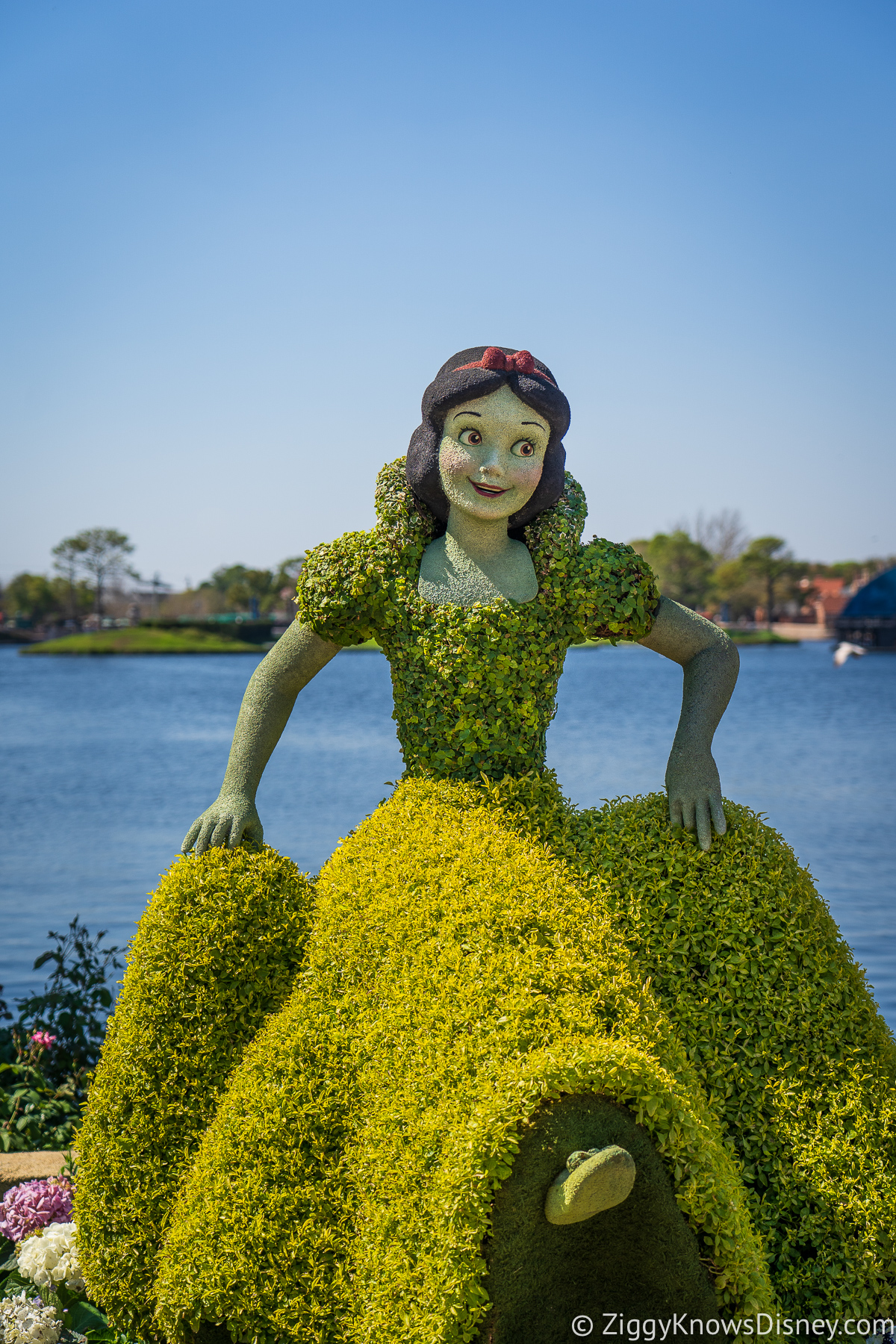 Snow White and Dopey can be found down on the edge of World Showcase Lagoon.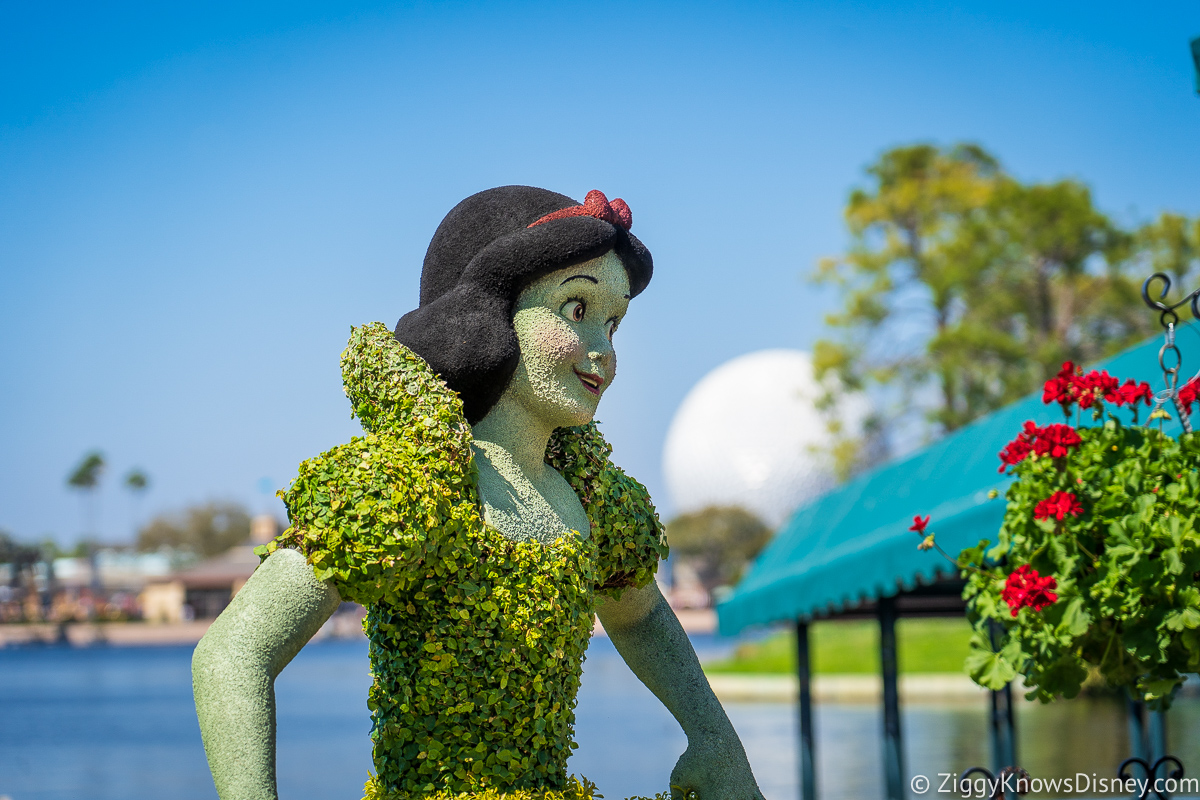 Snow White is as radiant as ever.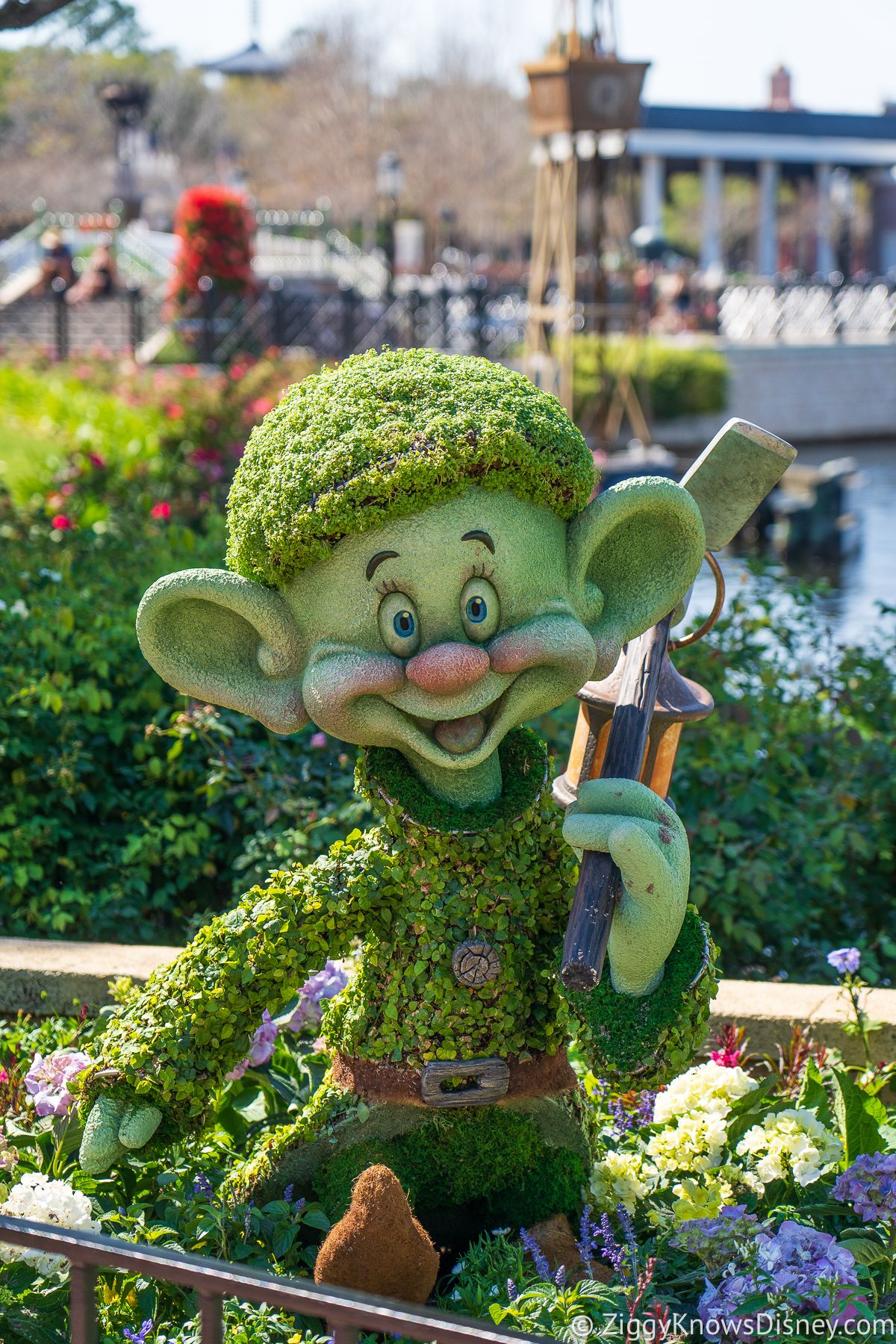 And Dopey always has a huge smile on his face!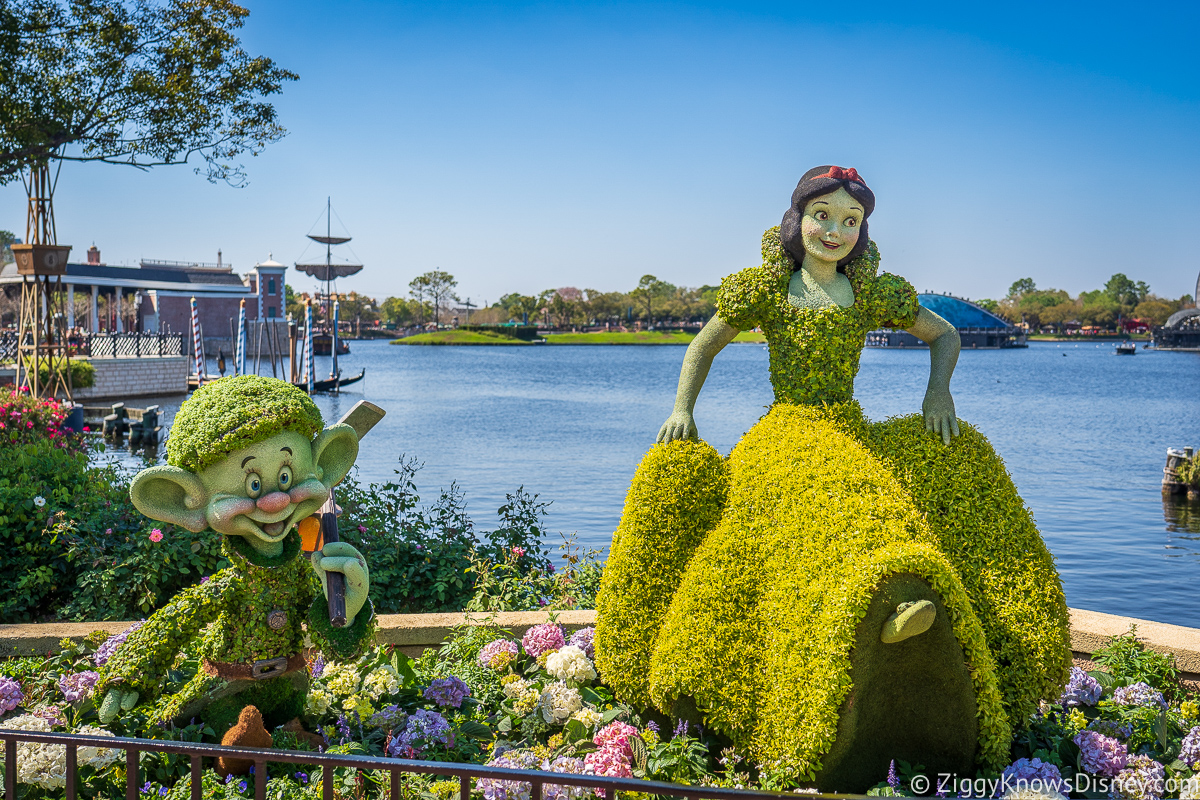 But just around the corner are the other 6 dwarfs!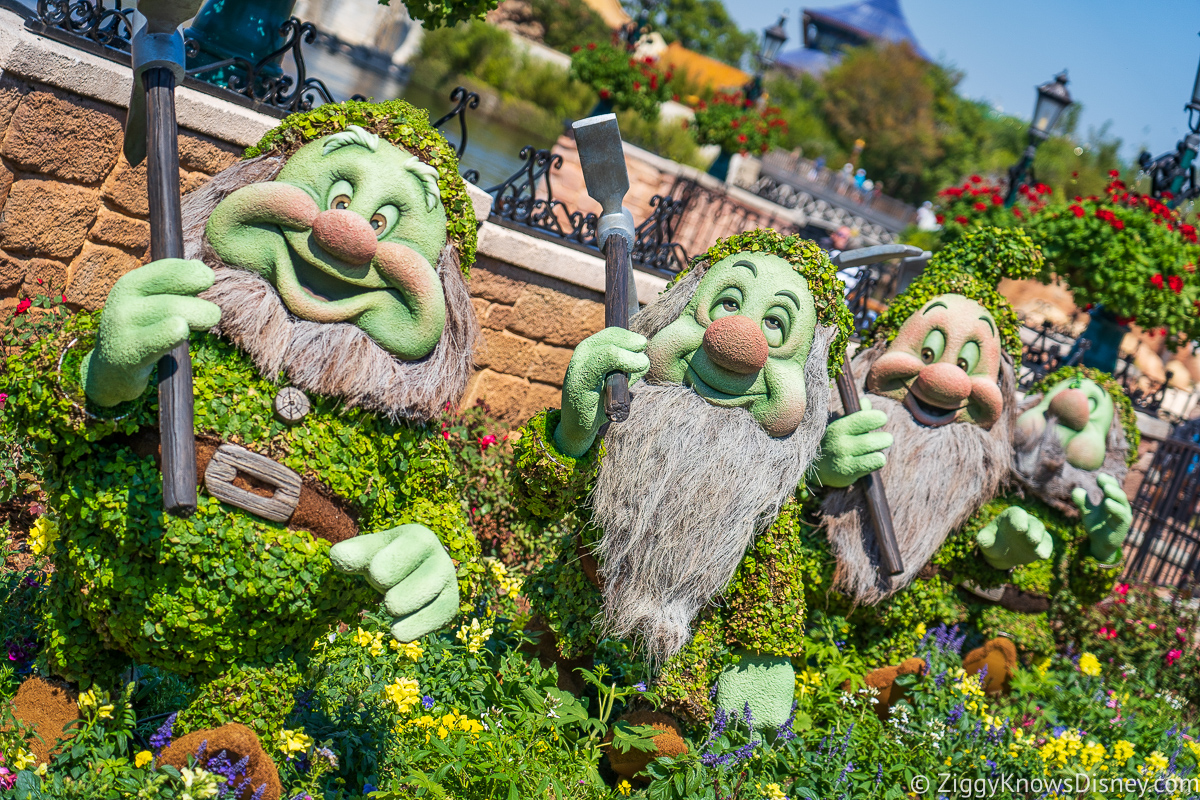 It's awesome to have them back as they really make the display complete when compared to other years when they aren't present.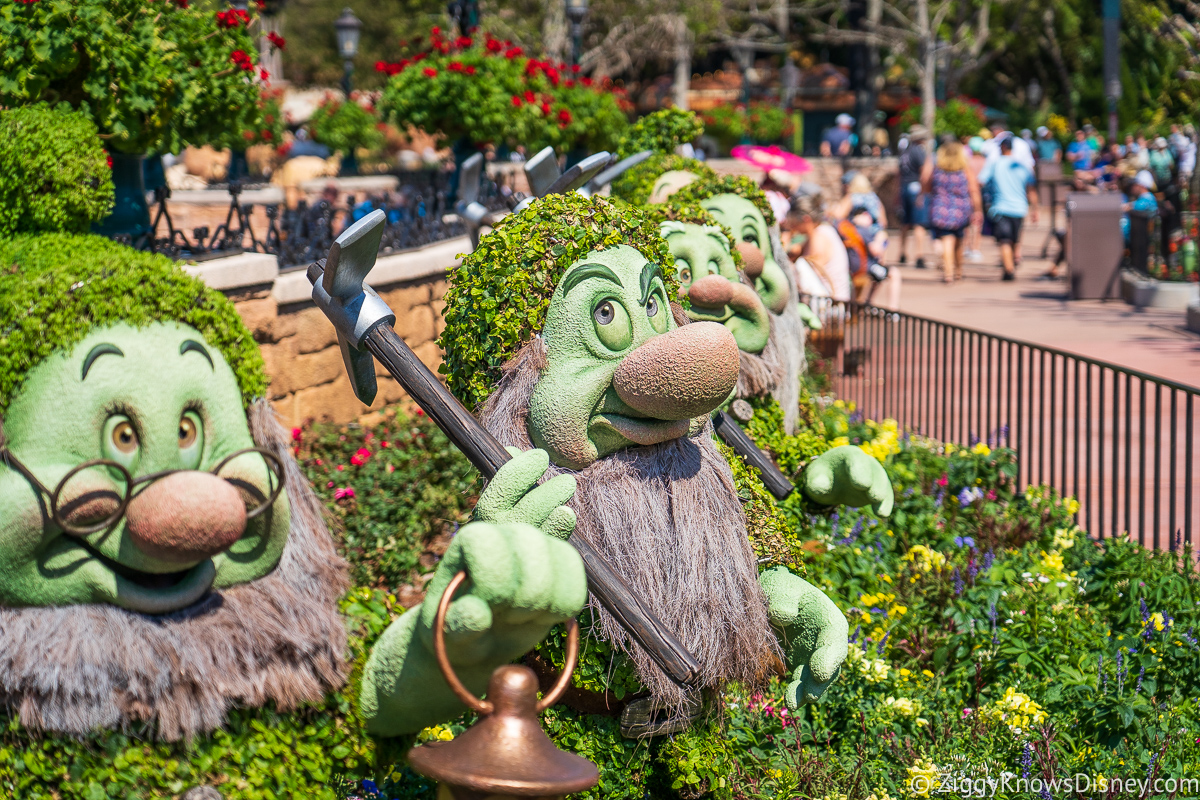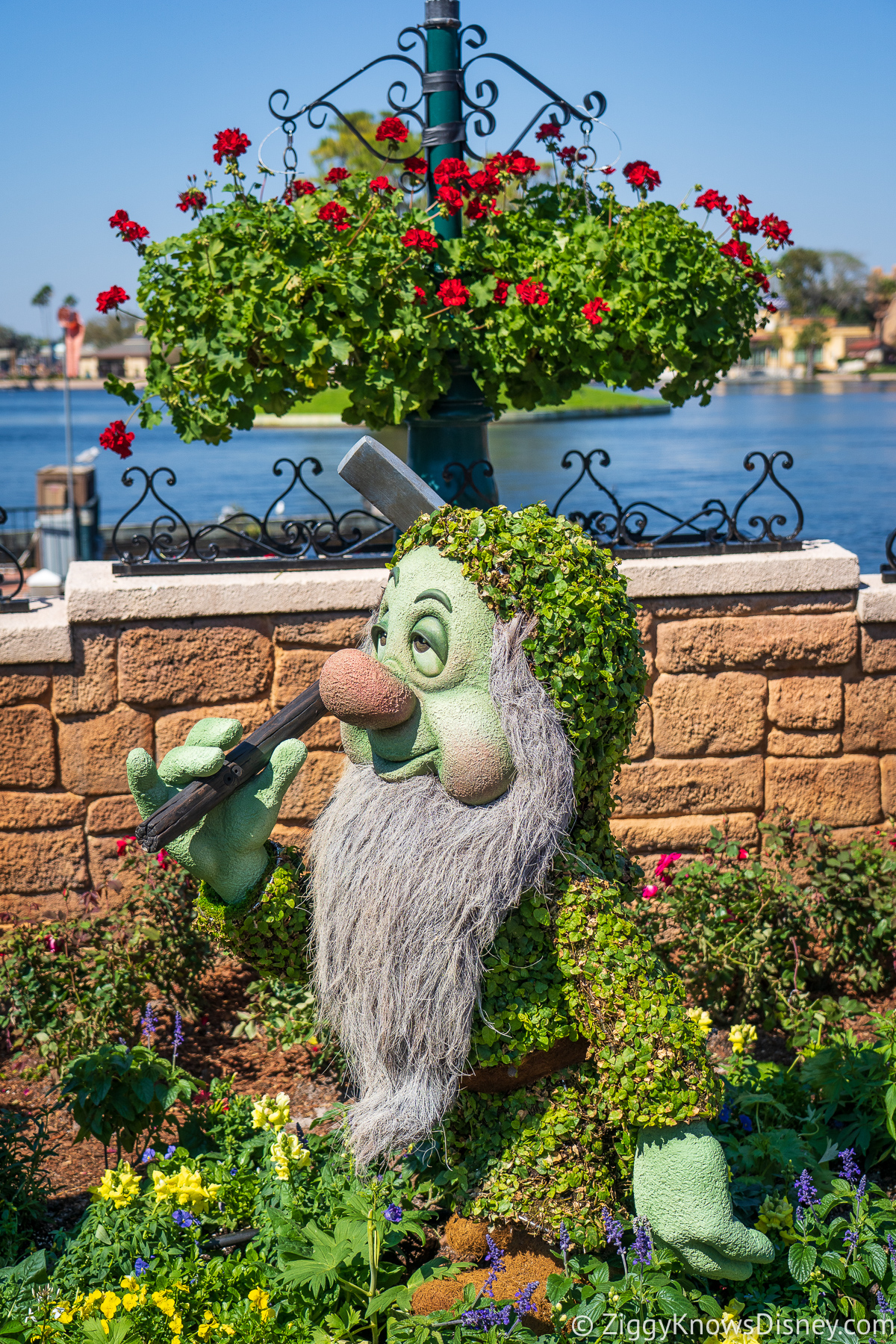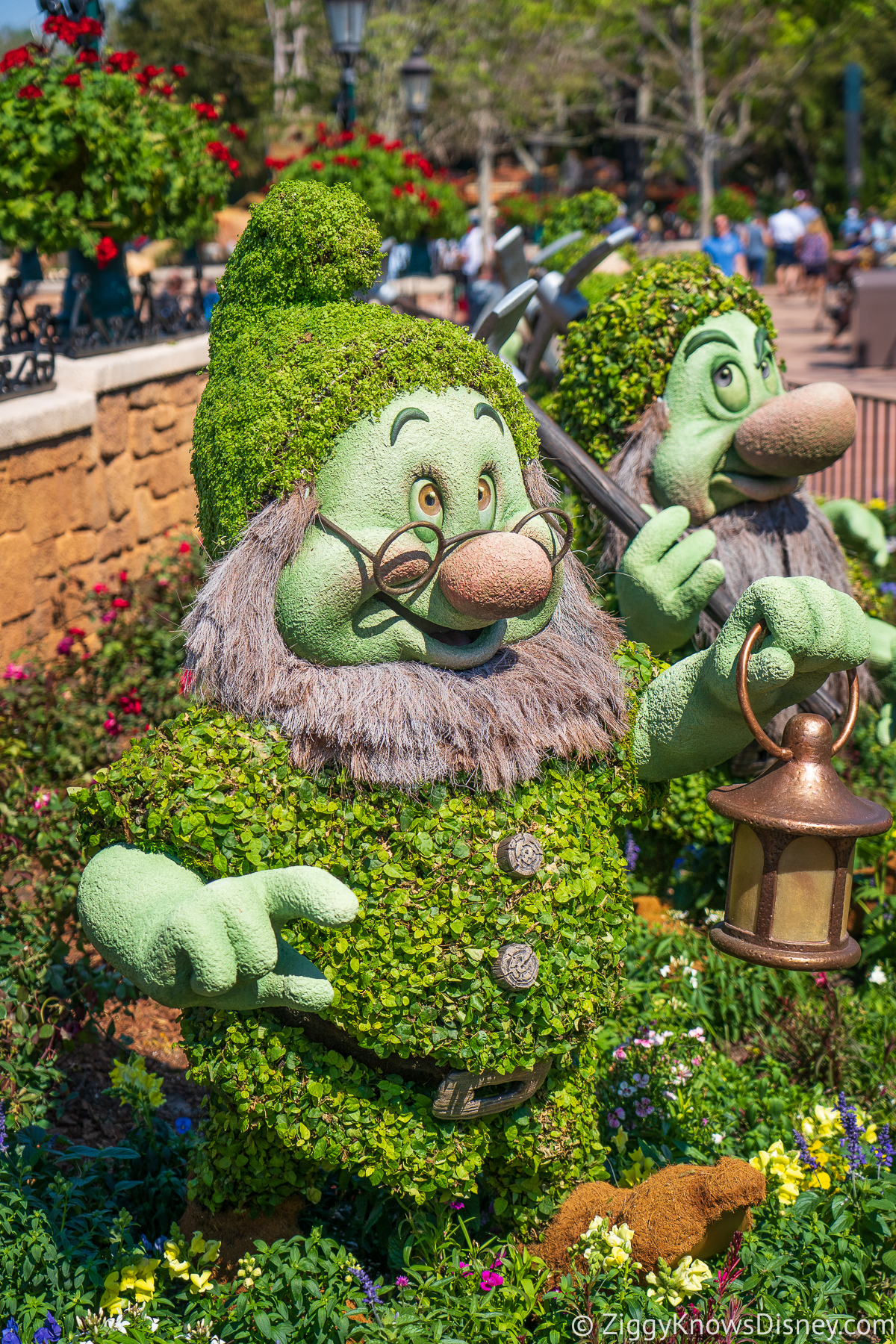 Kermit the Frog and Miss Piggy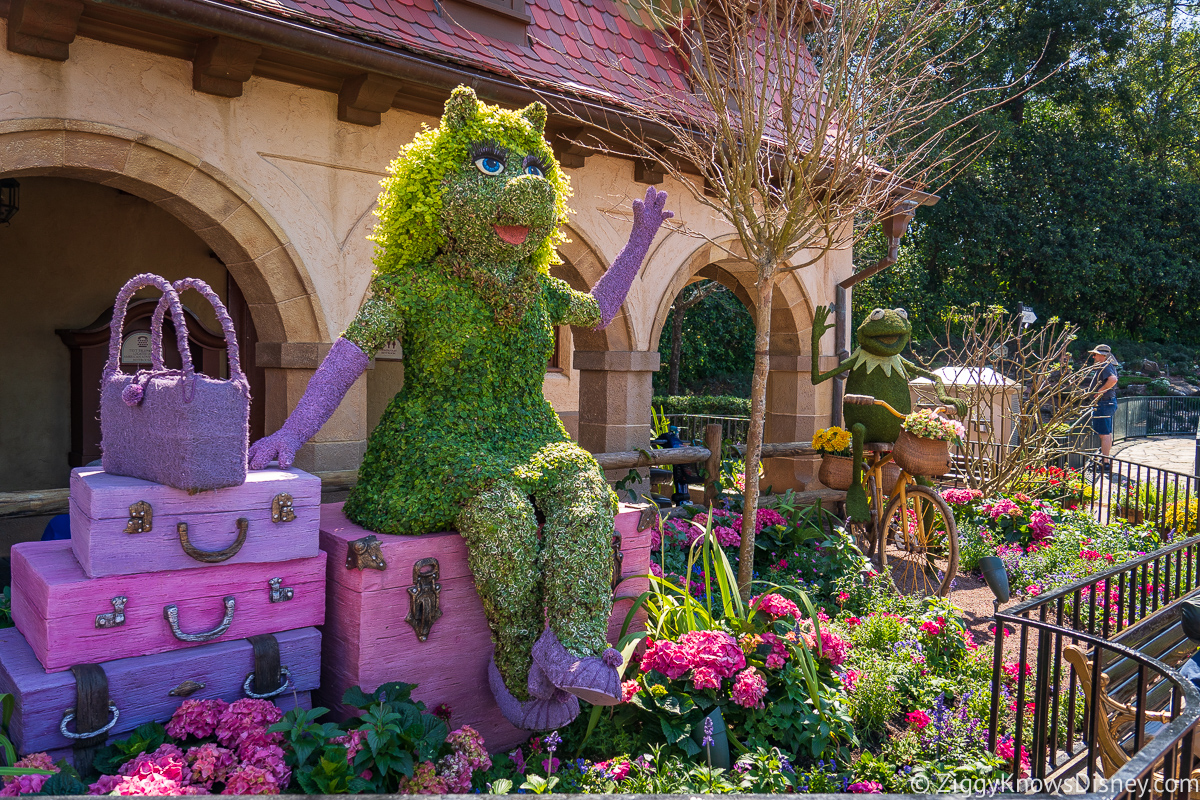 New to Germany are The Muppets, with Miss Piggy and Kermit the Frog topiaries. They are located right along the promenade in front of the Germany restrooms.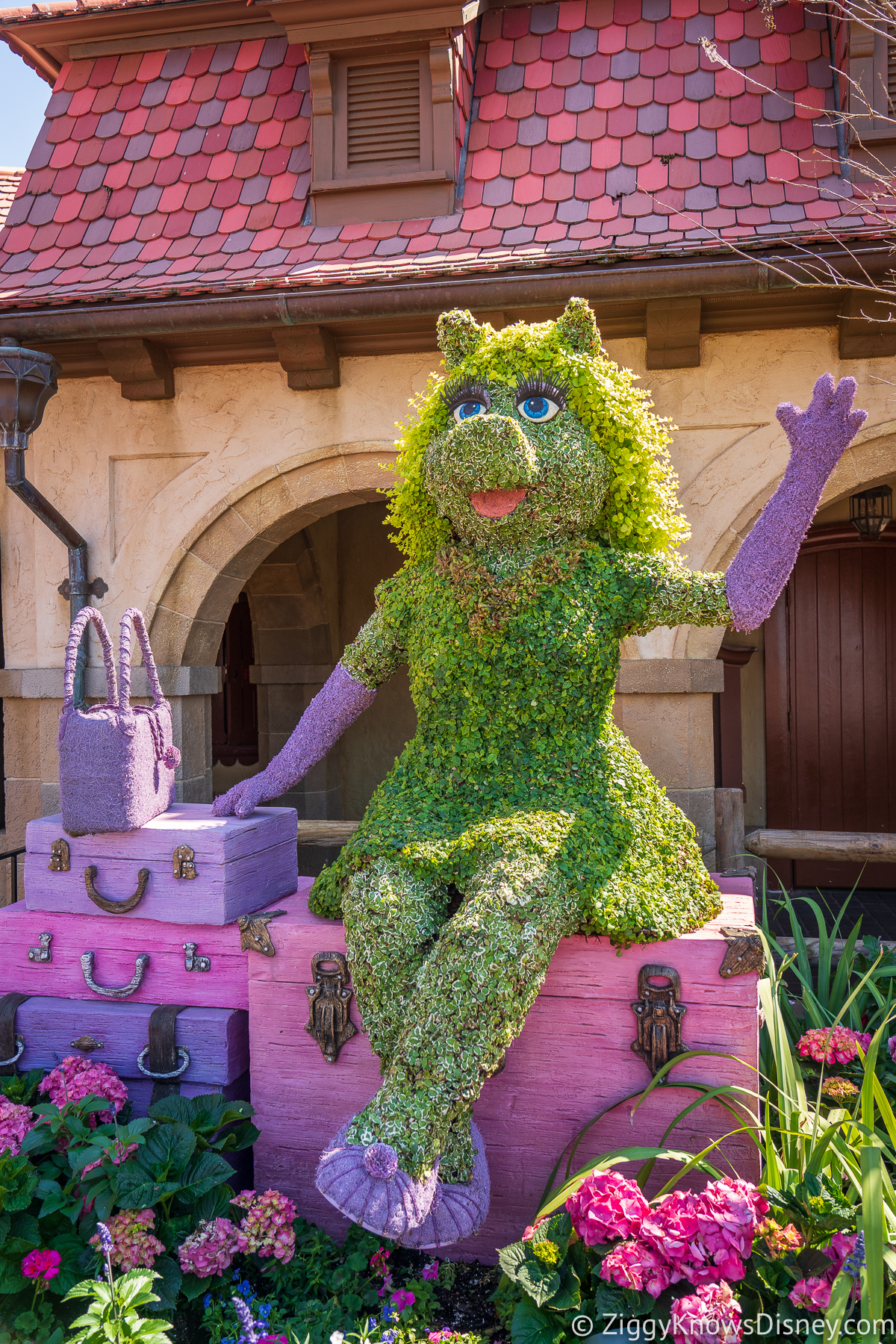 Miss Piggy has all her suitcases packed and she is ready to go! But where is she going?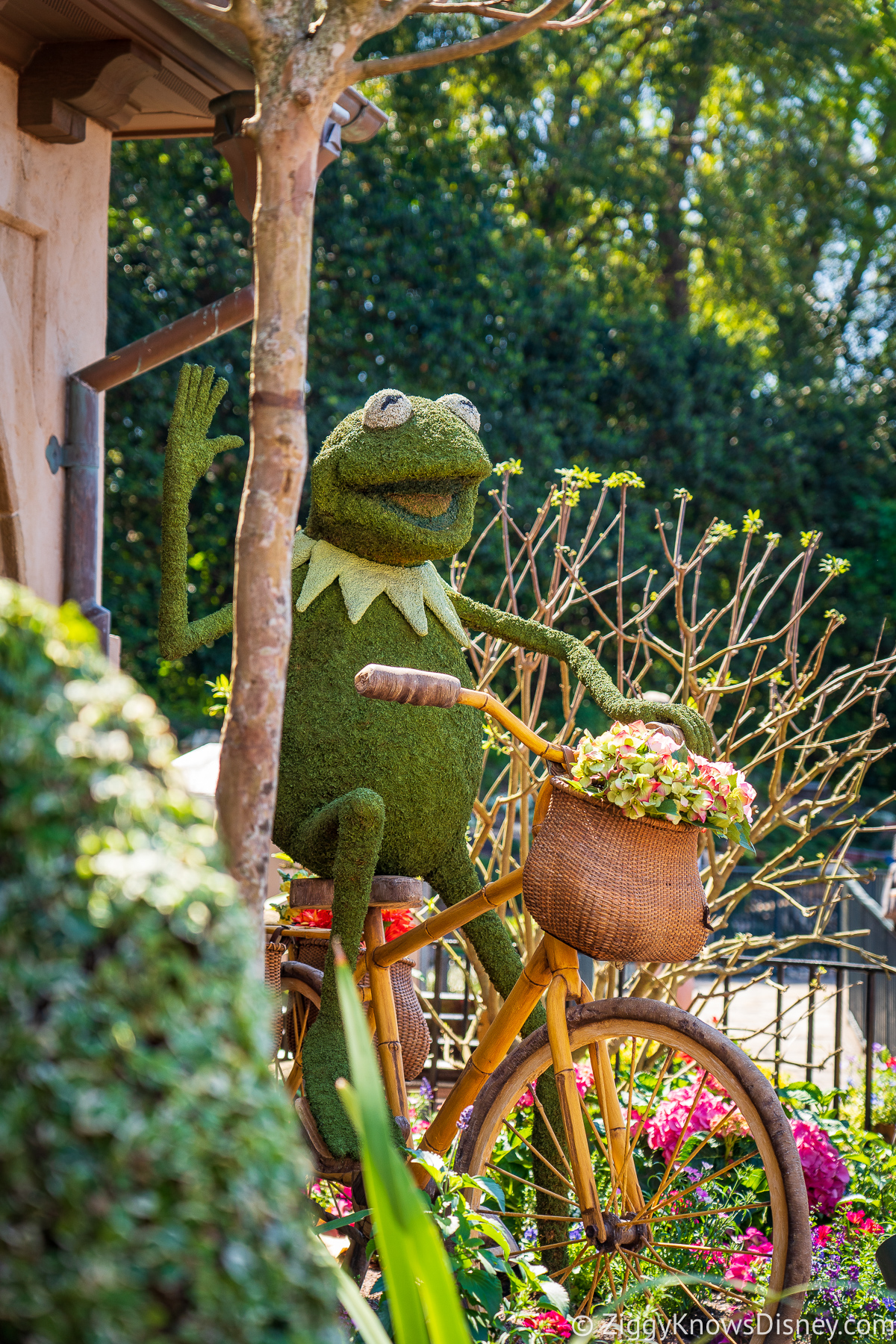 Kermit is right behind her and he's on his bicycle.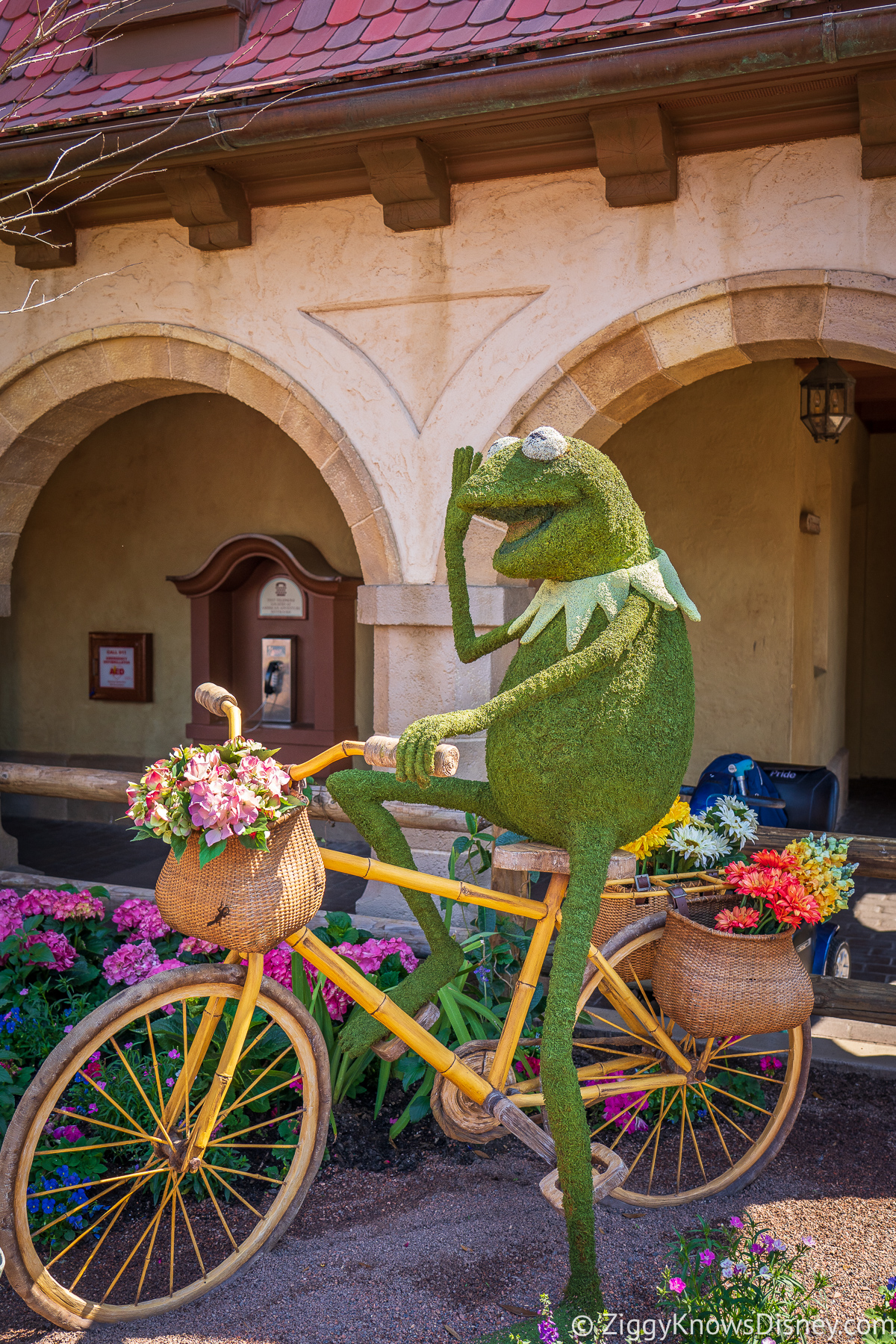 Italy
Lady and the Tramp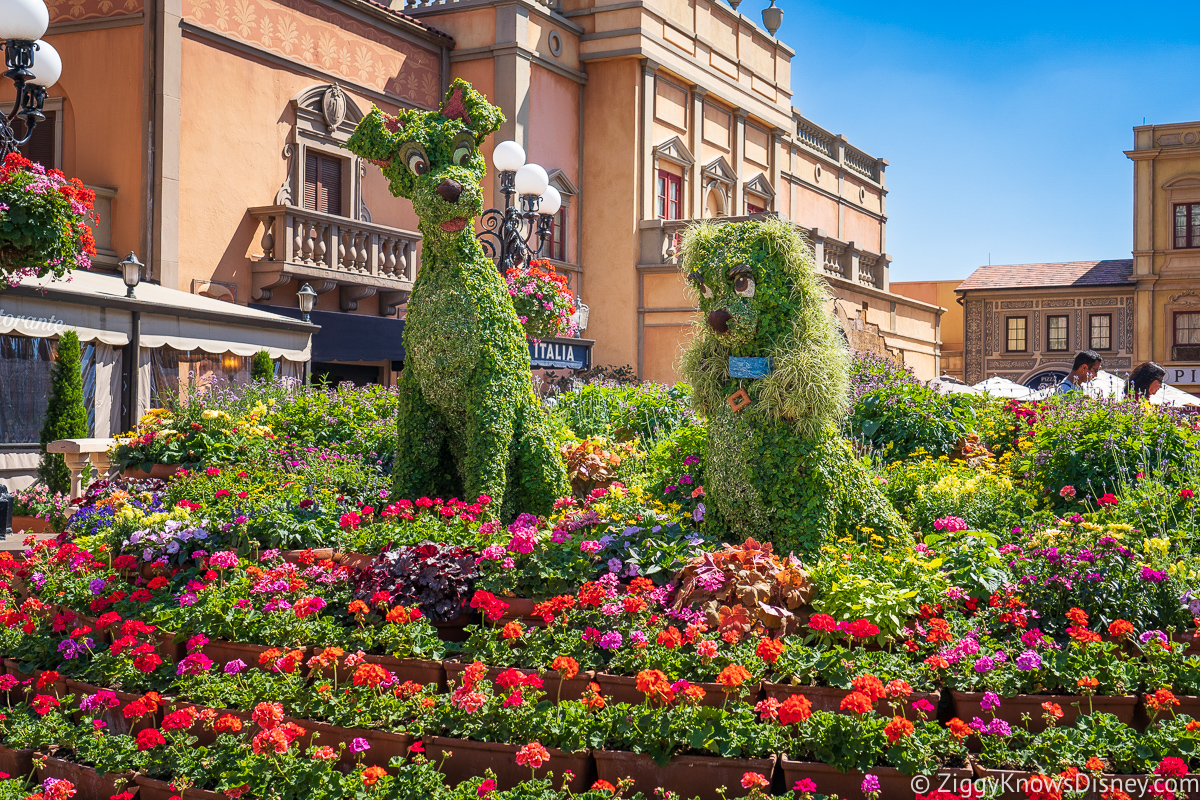 The Lady and the Tramp topiaries in Italy might have the best flower display at the festival as they are completely engulfed in bright red and purple flowers.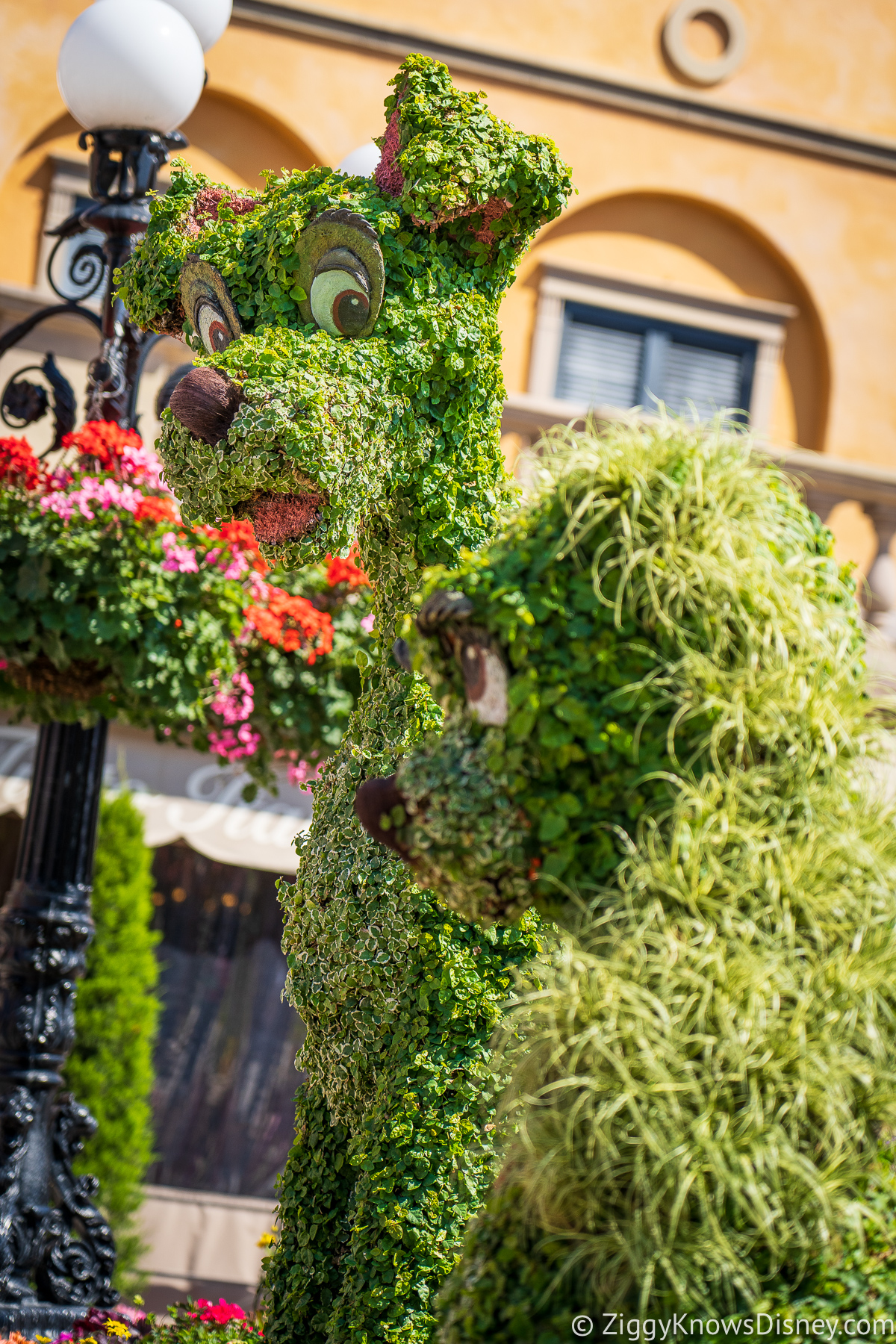 We prefer when they are located by World Showcase Lagoon, but being toward the back of the pavilion is also nice and a must-stop on the way to Via Napoli.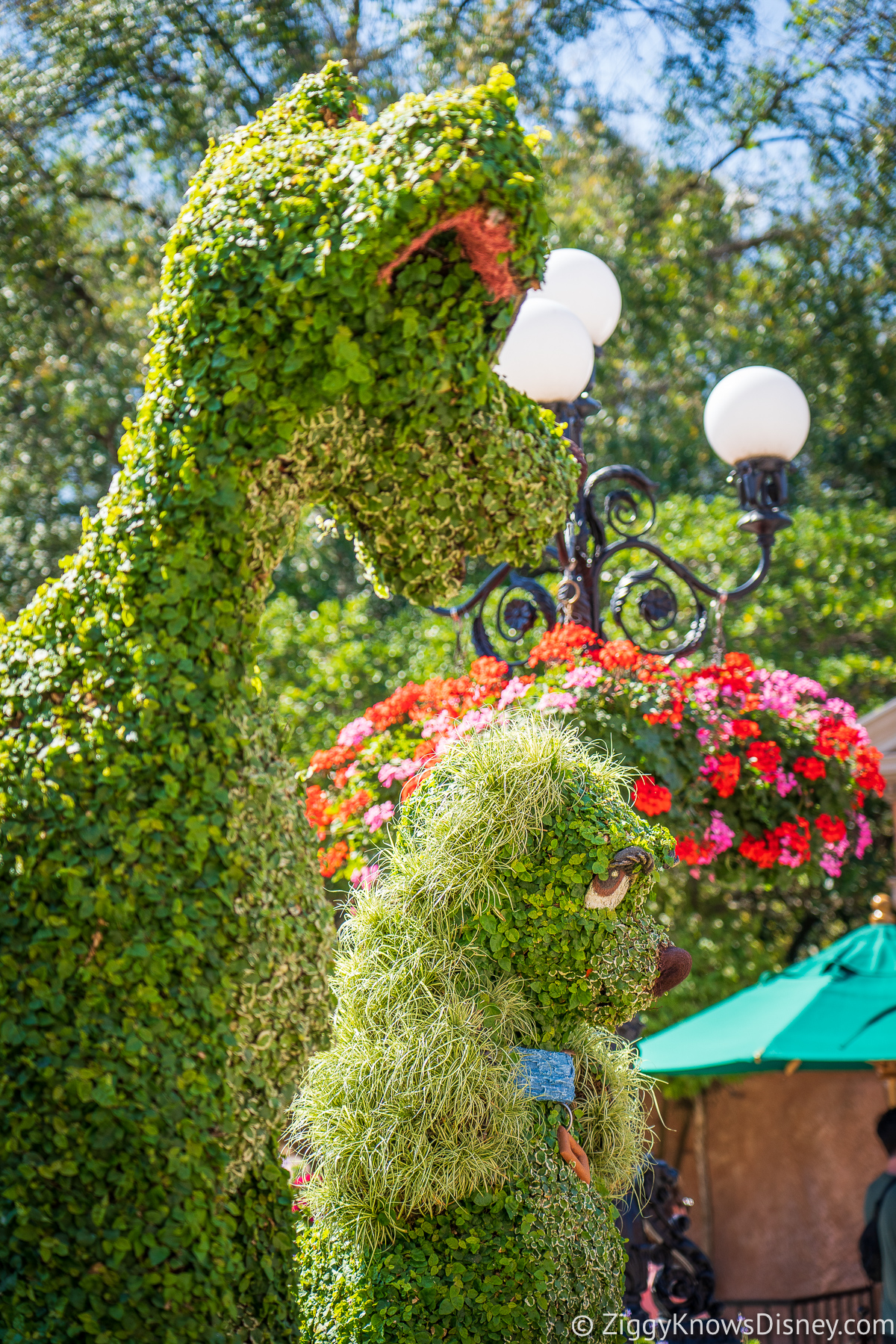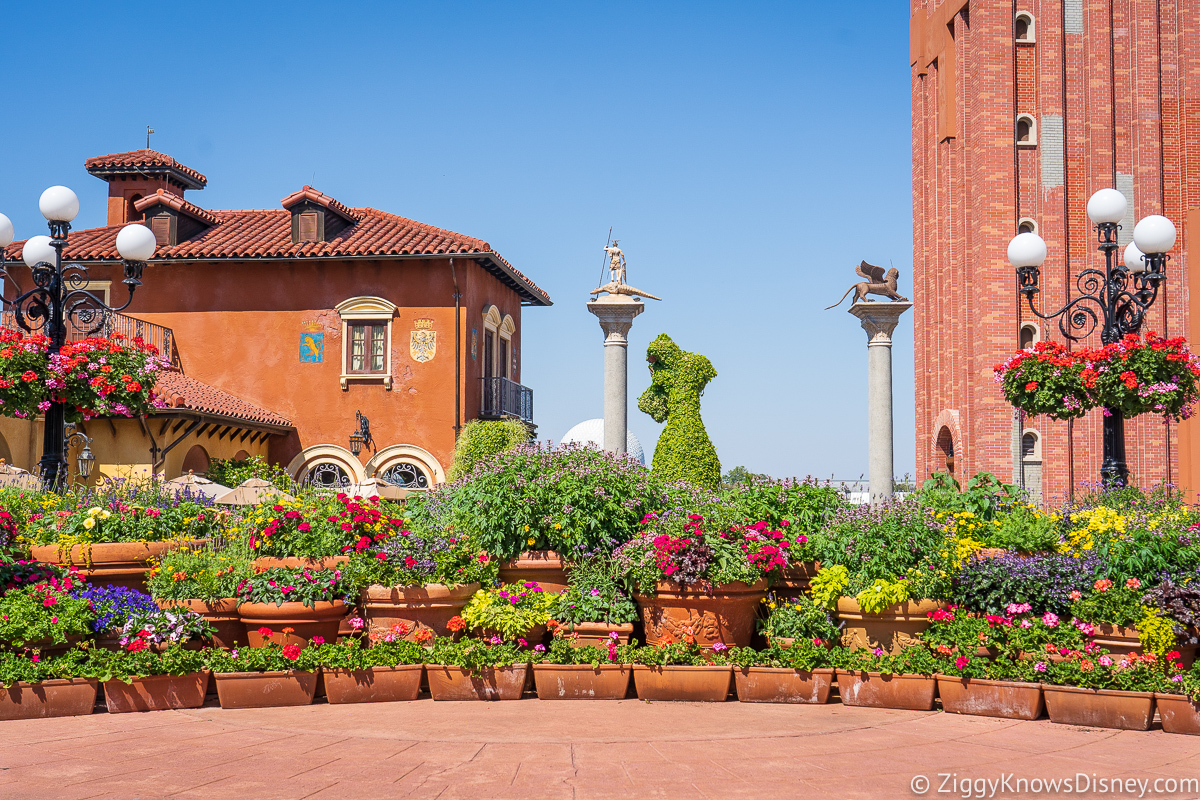 The American Adventure
Pluto and Chip 'n' Dale
Right in front of the Magnolia Terrace Marketplace are Chip, Dale, and Pluto.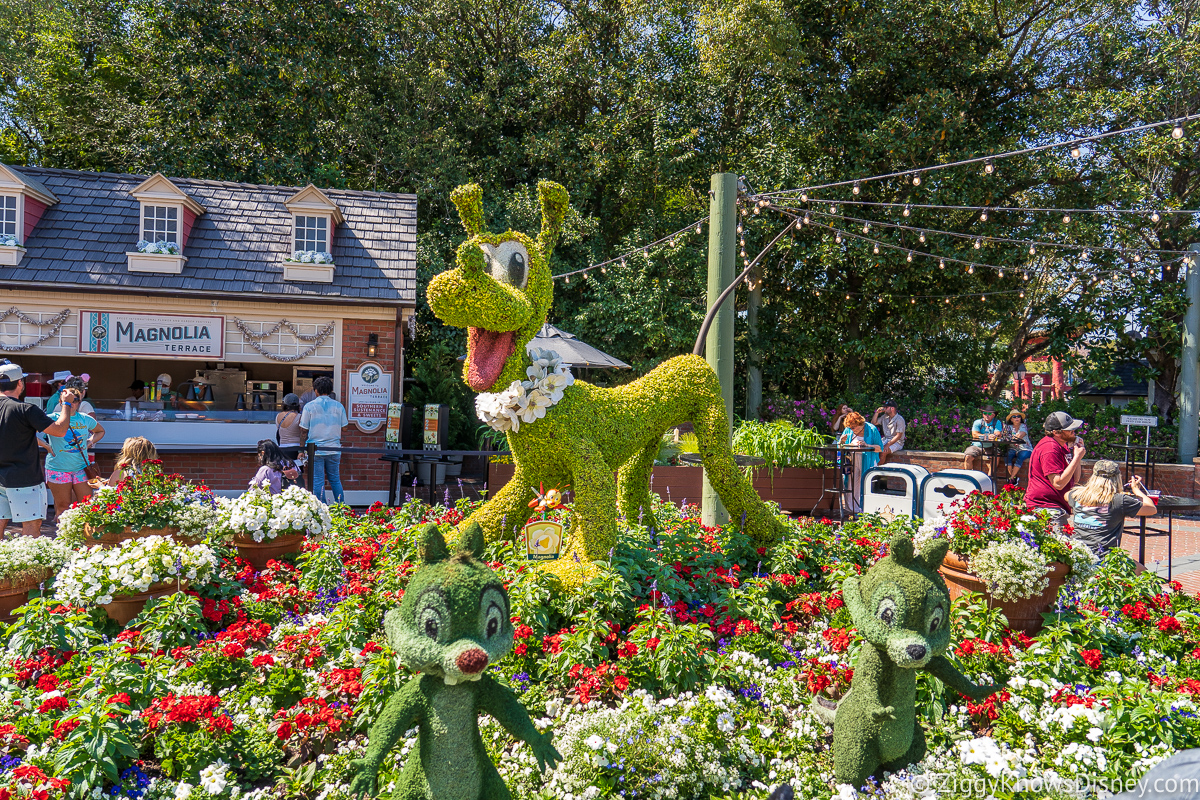 Pluto is right in the middle of the display with a white flower collar.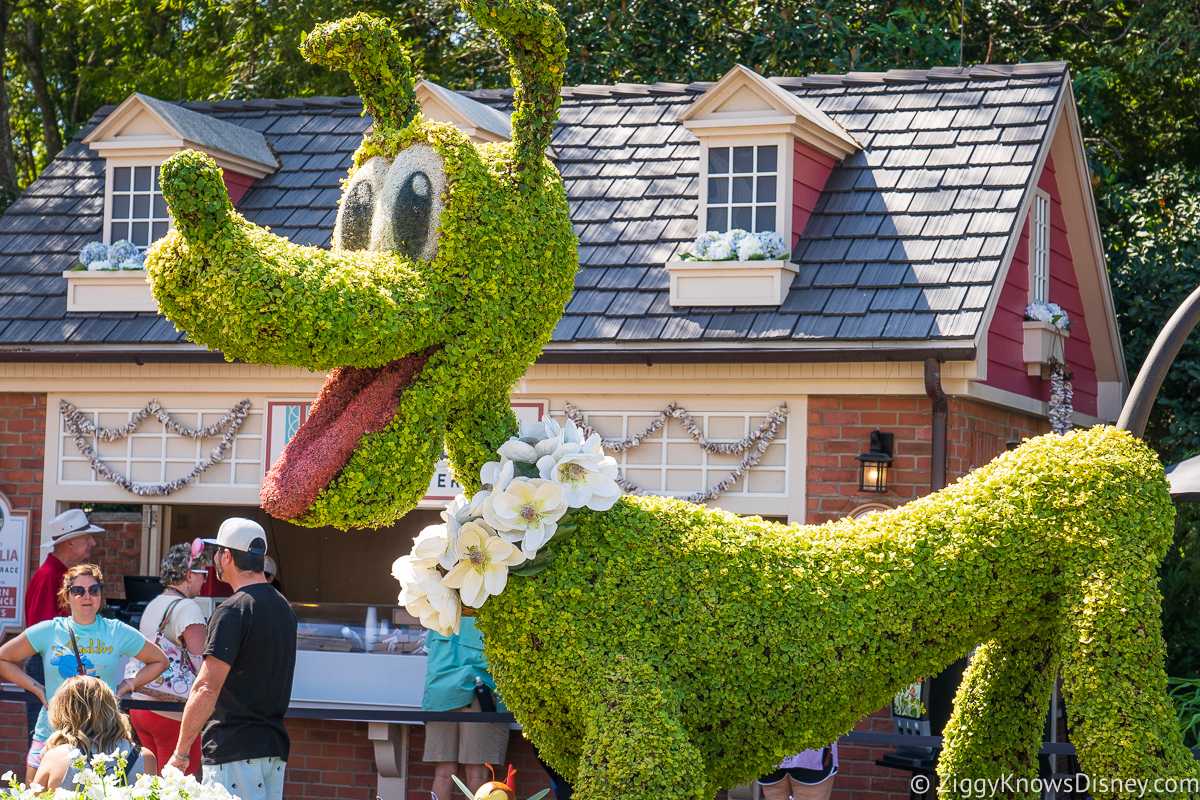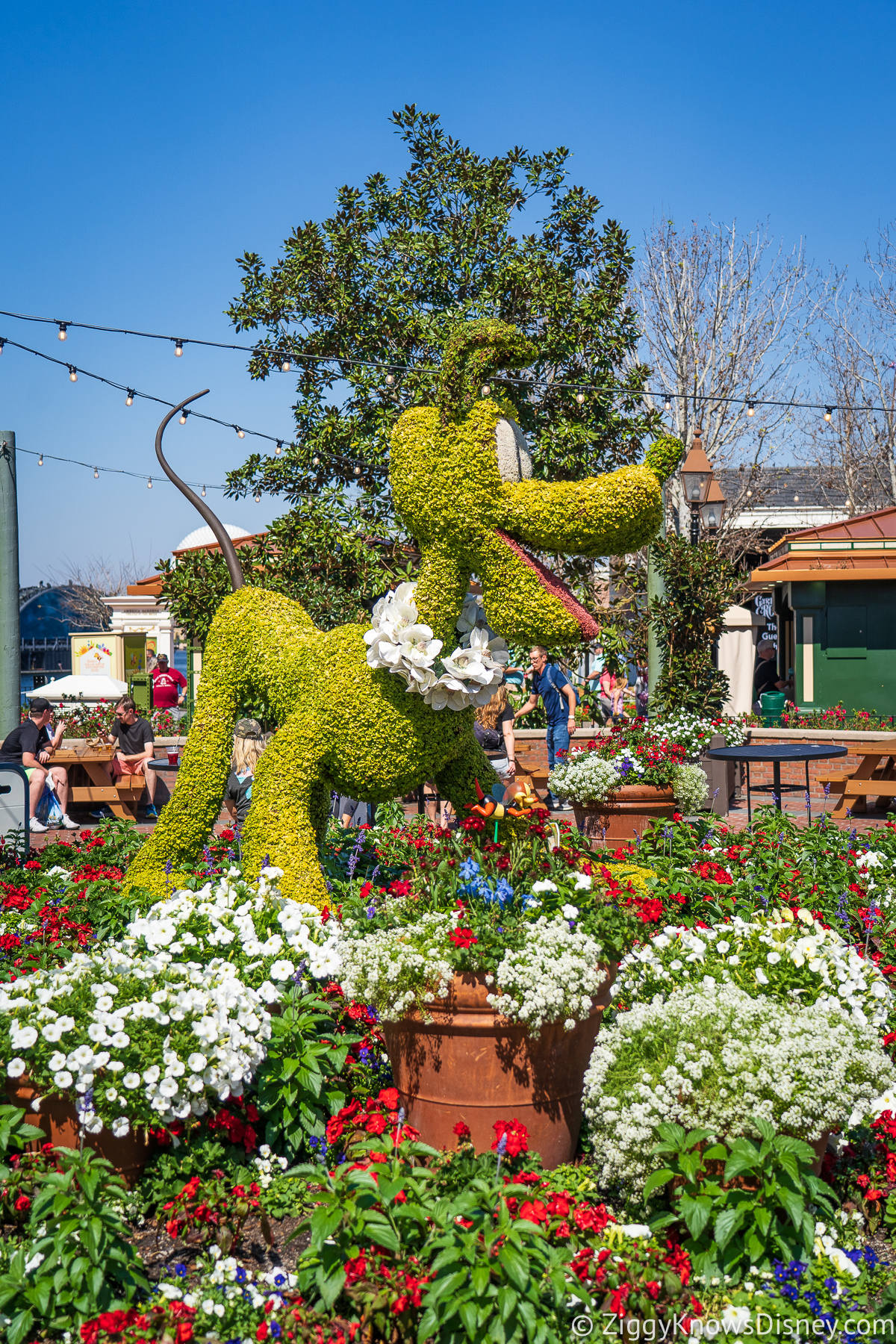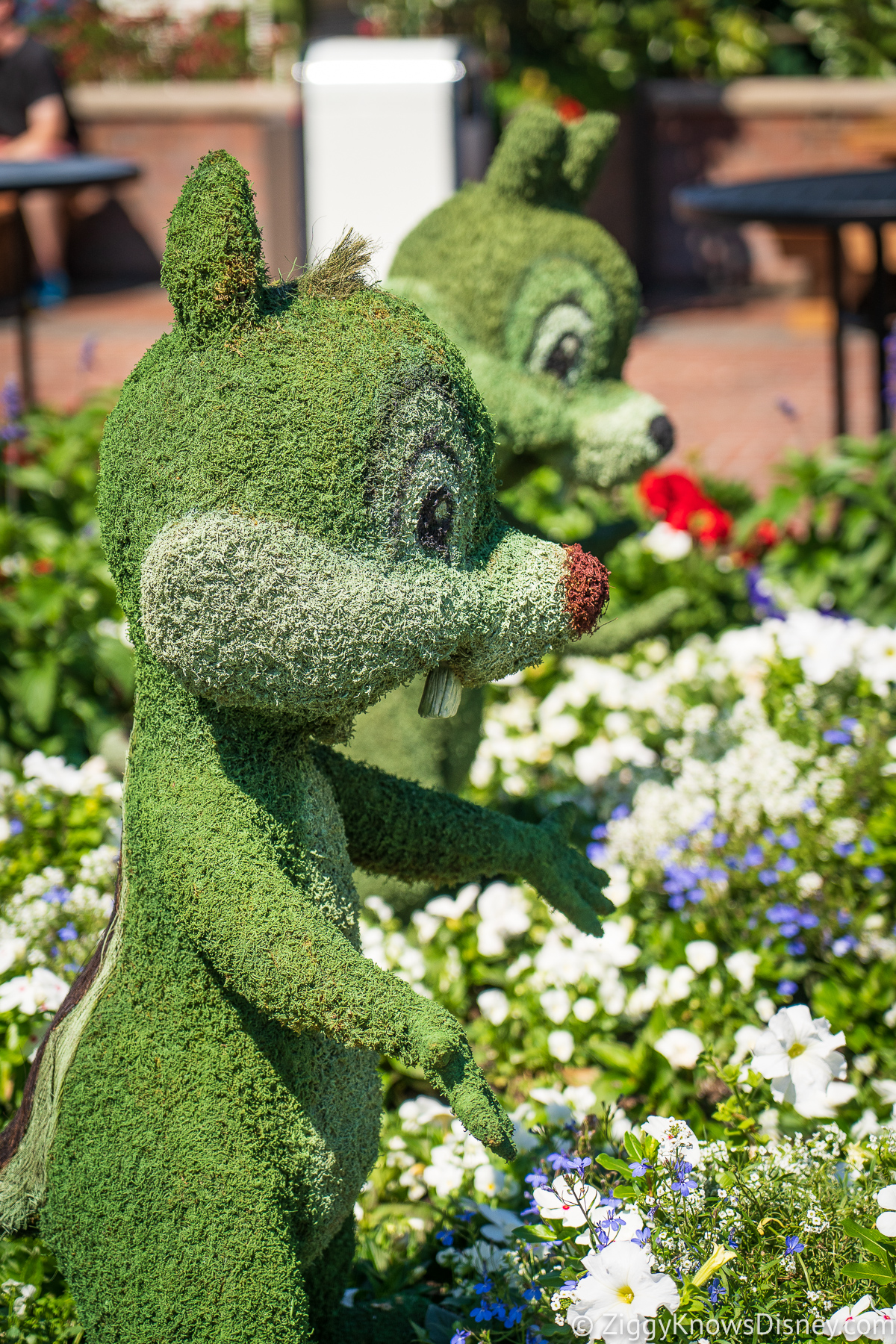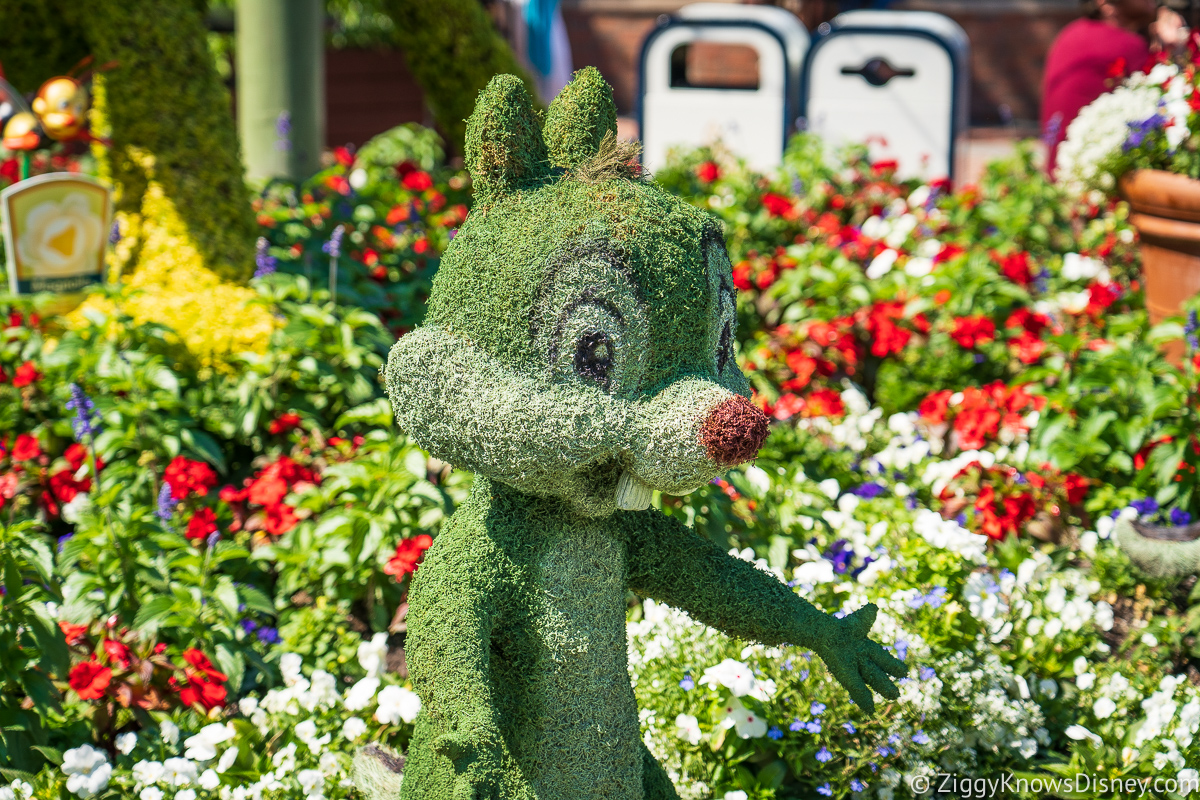 I'm not sure what exactly they are doing as Dale has his hands out like he's receiving something or someone, while Chip looks like he's pushing something away.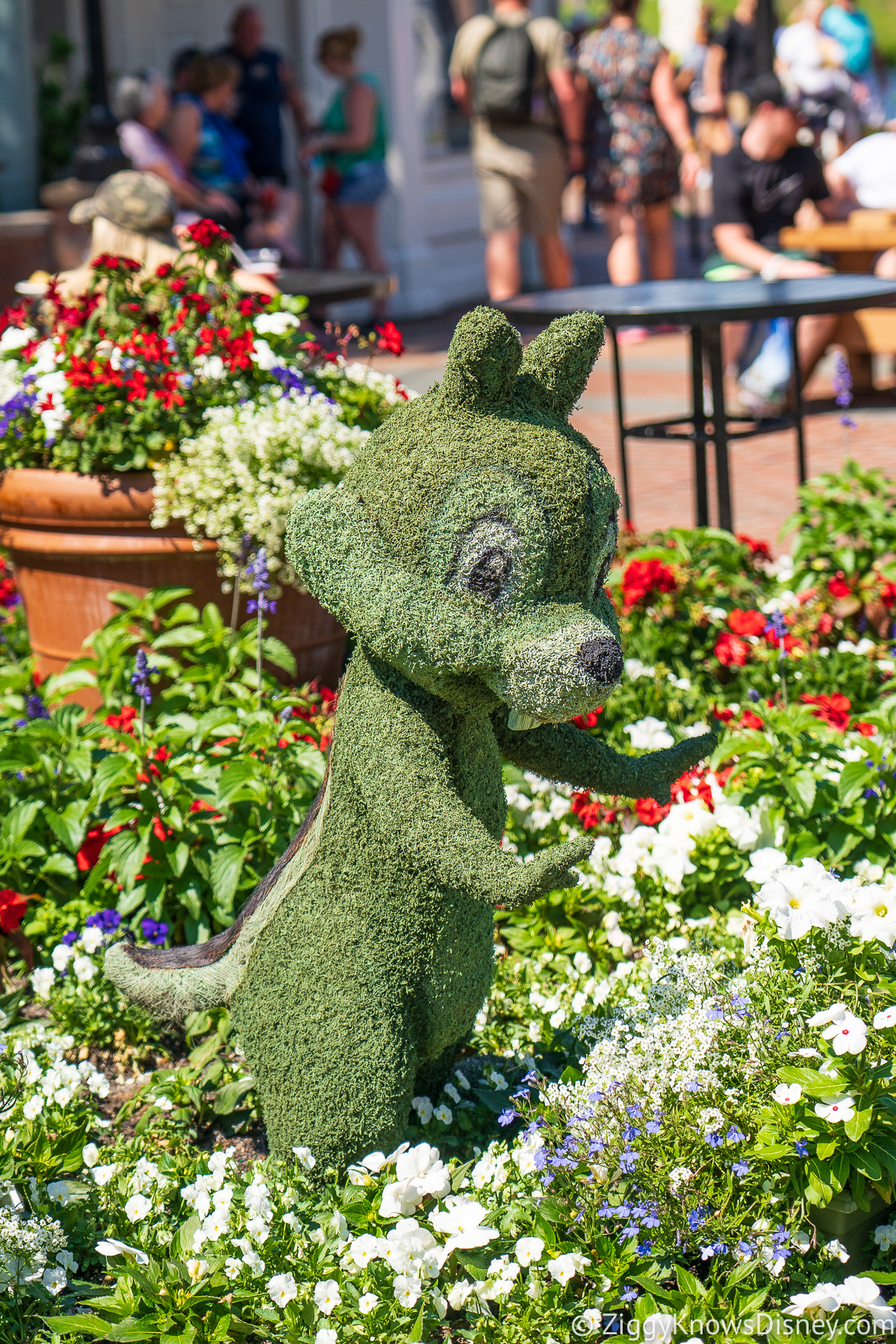 Japan
Dragon Topiary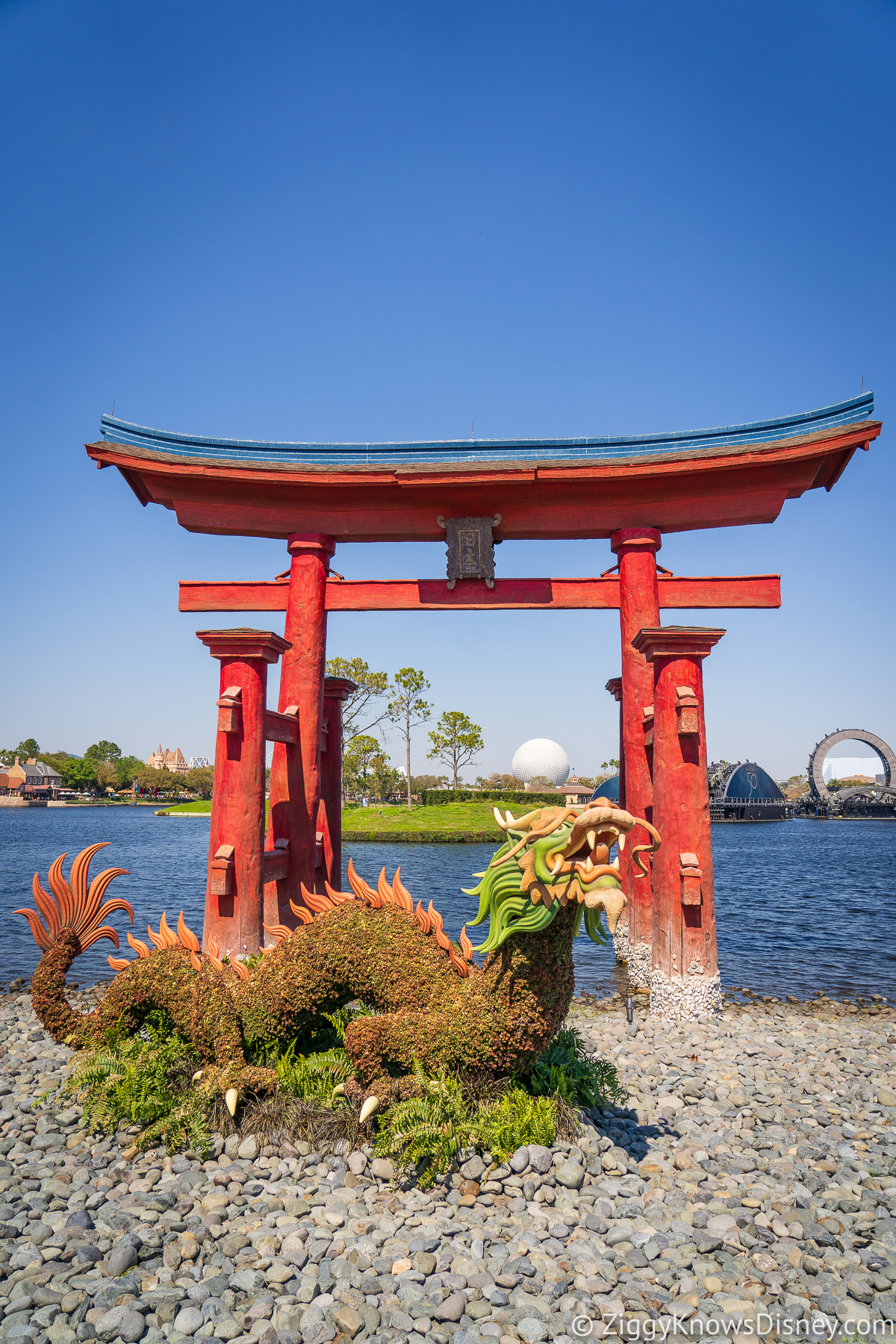 This is one of the two newer topiaries and can be found right along the water in front of the gate in Japan.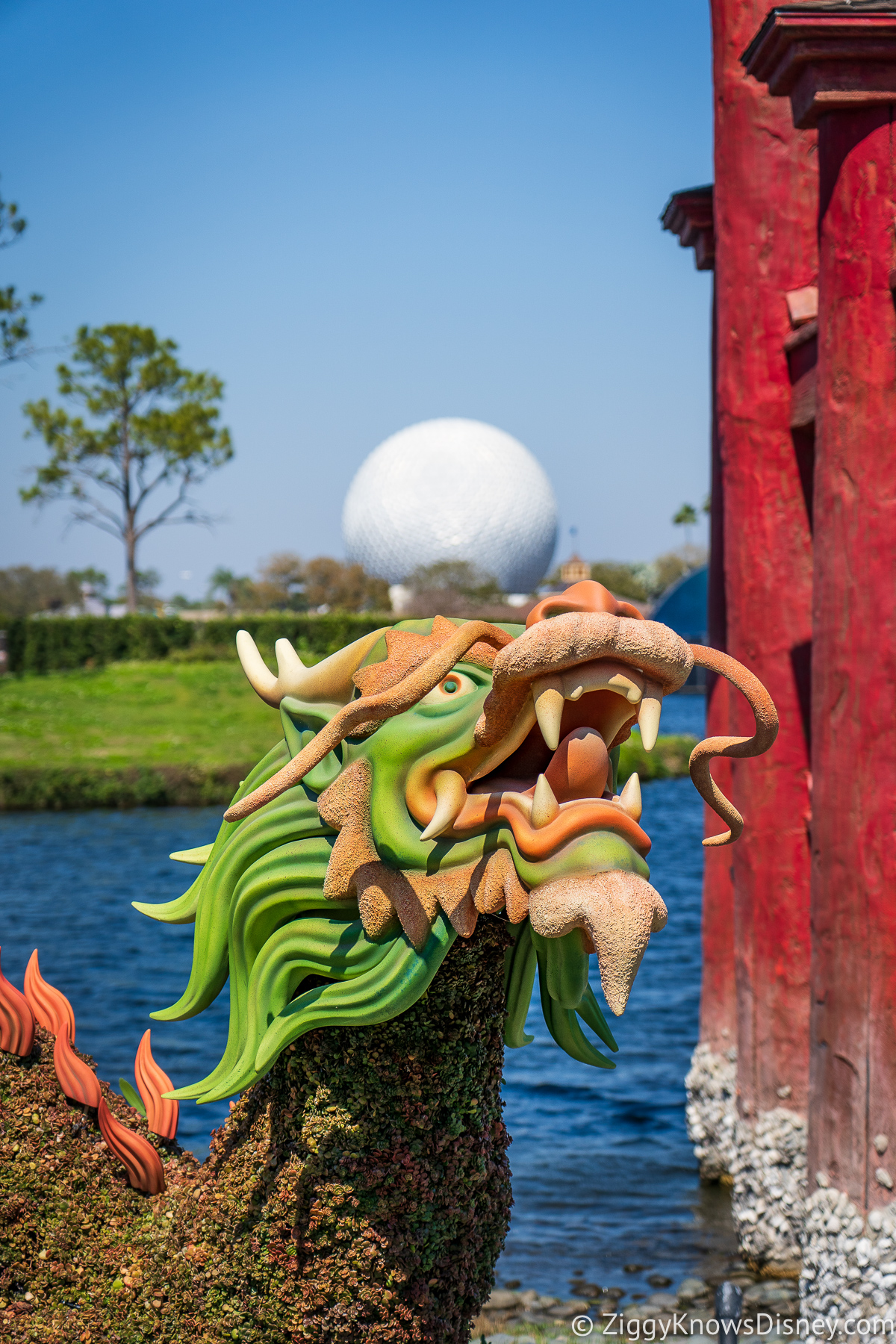 He's not connected to the Disney films, but he's really cool to look at!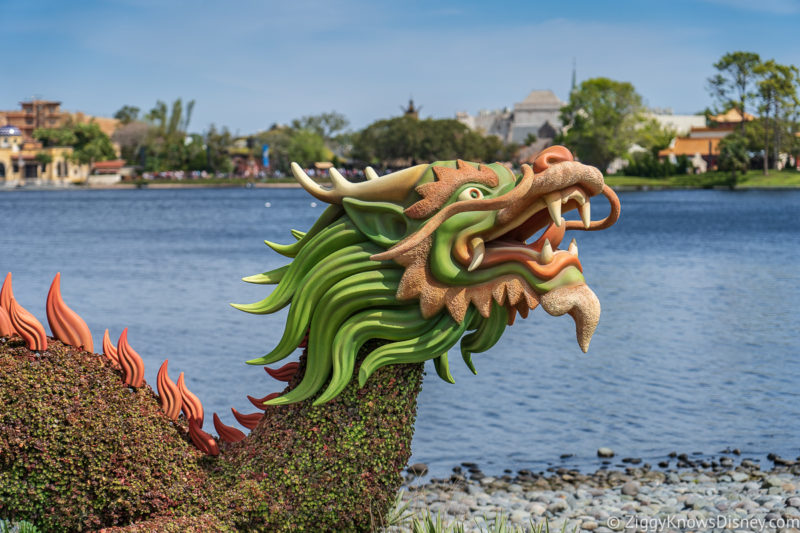 Between Morocco and France
Butterfly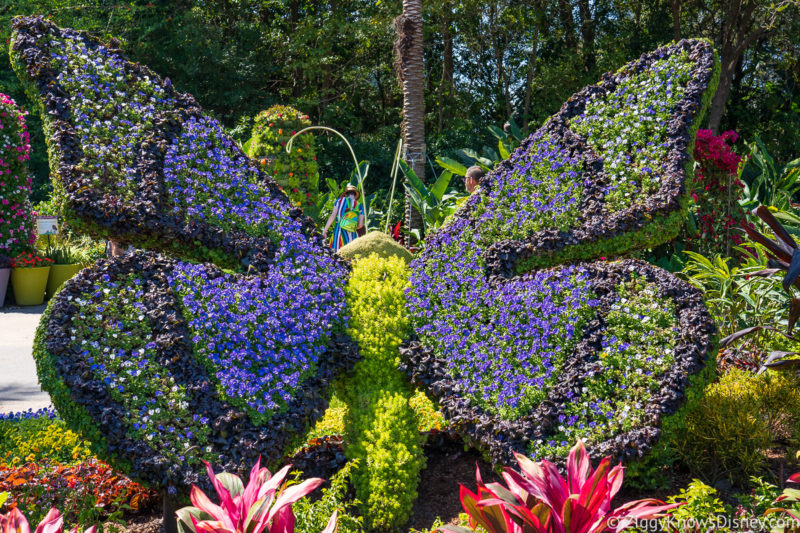 This is another "unlisted" topiary in EPCOT over by the seating area for the La Isla Fresca marketplace.
France
Lumiere and Cogsworth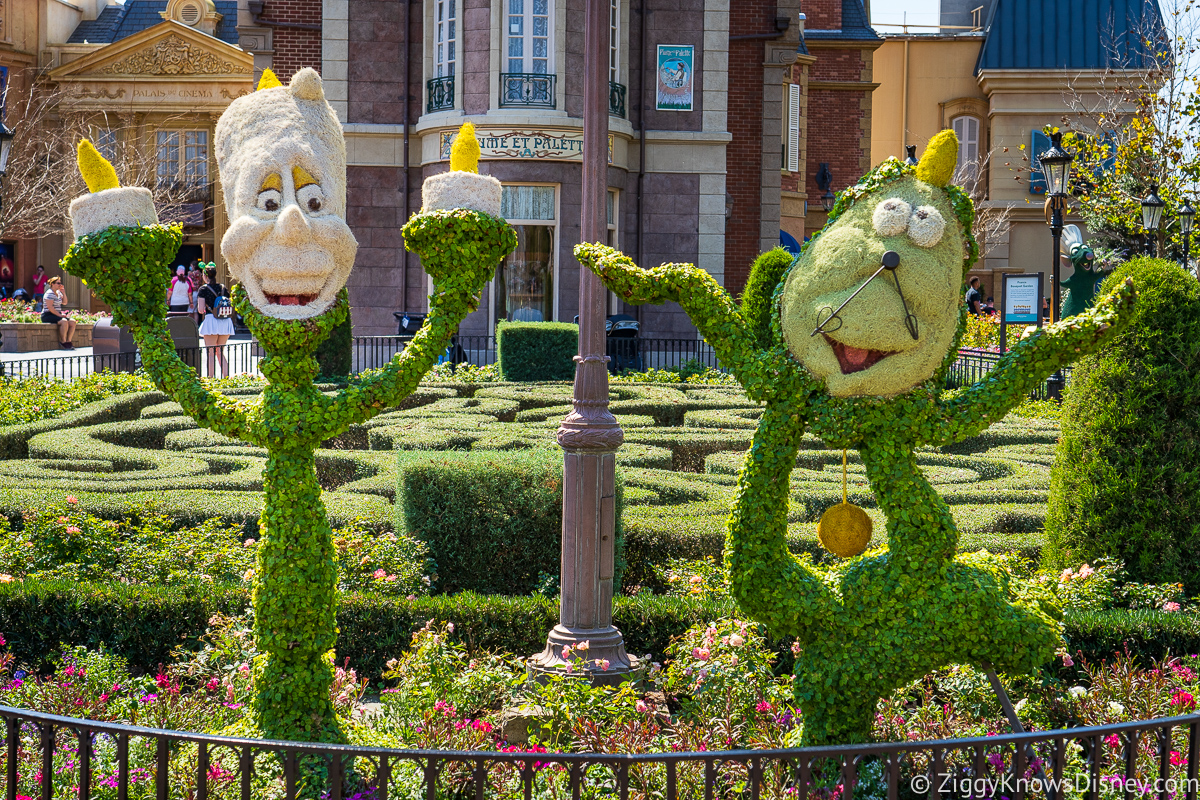 It's been a few years, but Lumiere and Cogsworth are finally back in France and located behind the food marketplace on the way to the expansion area.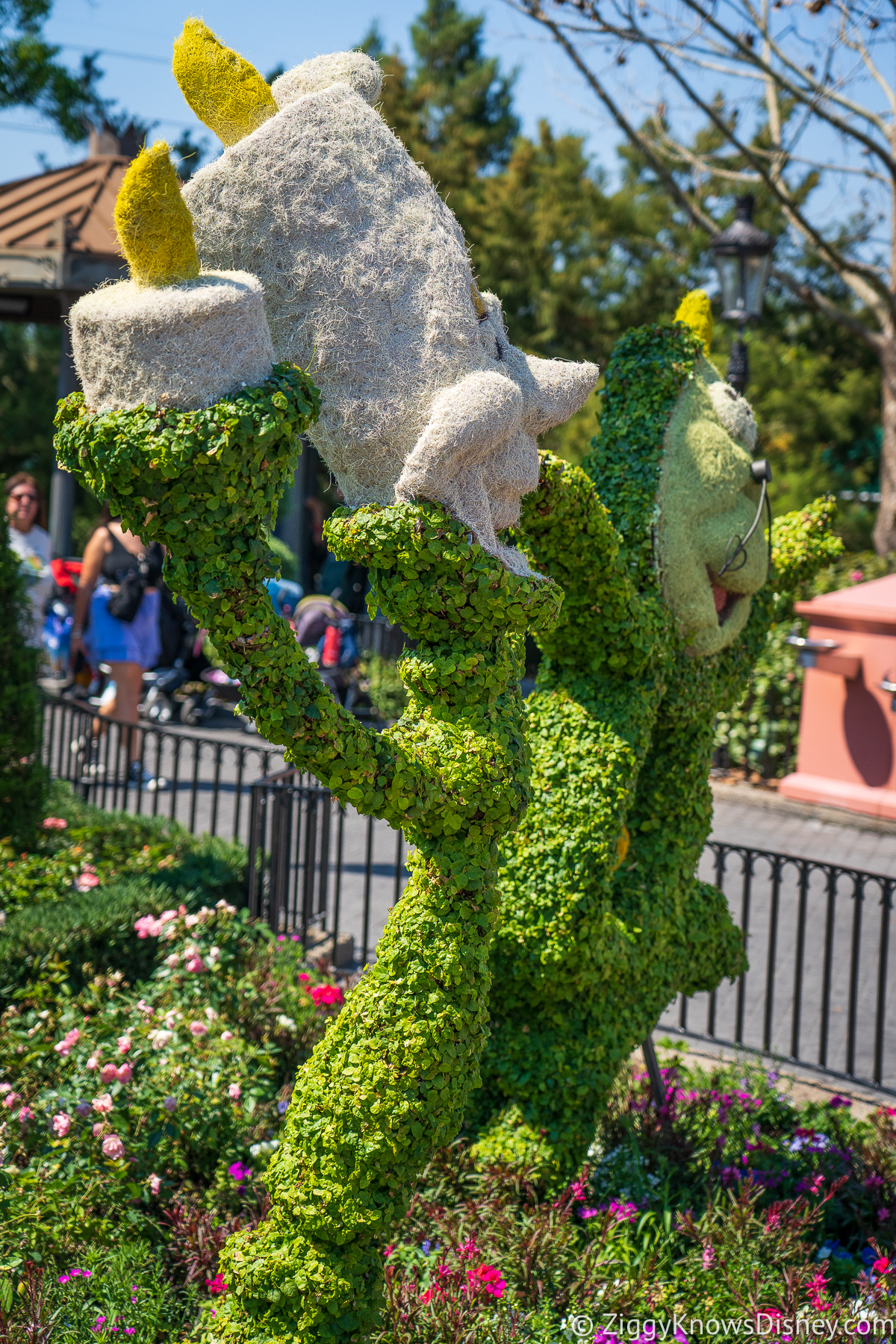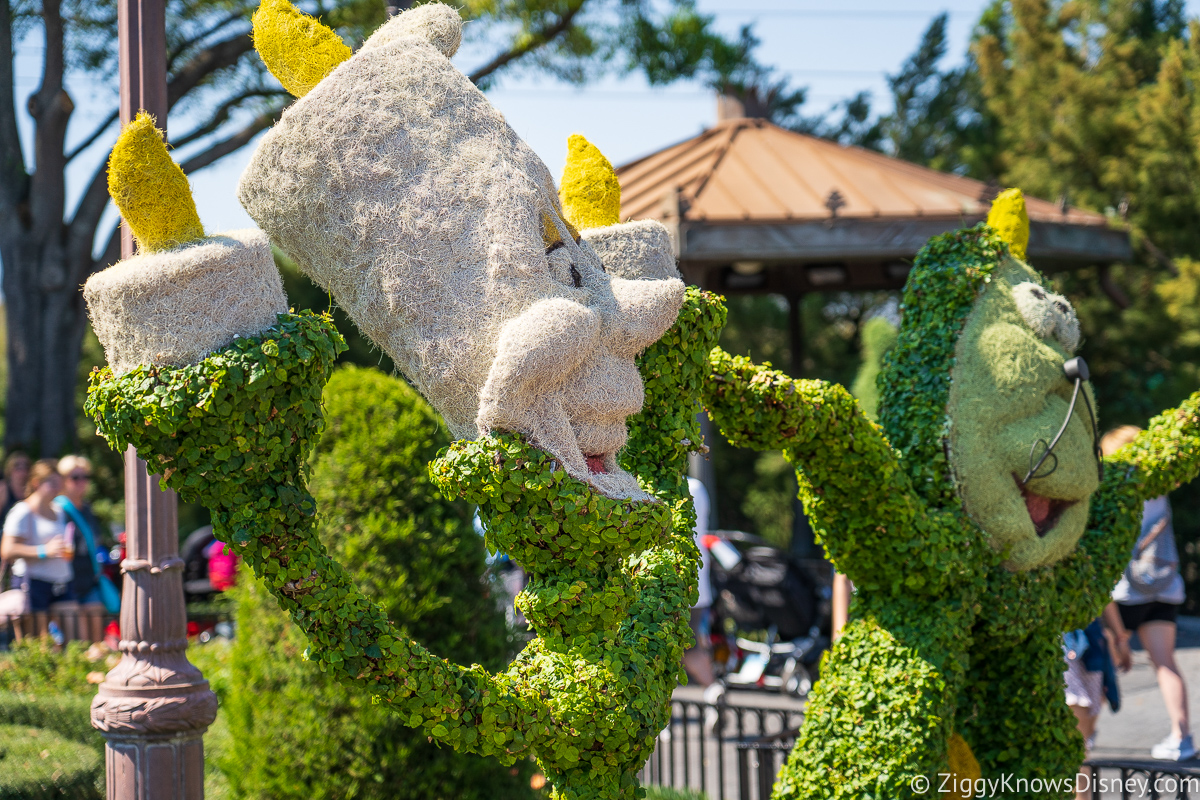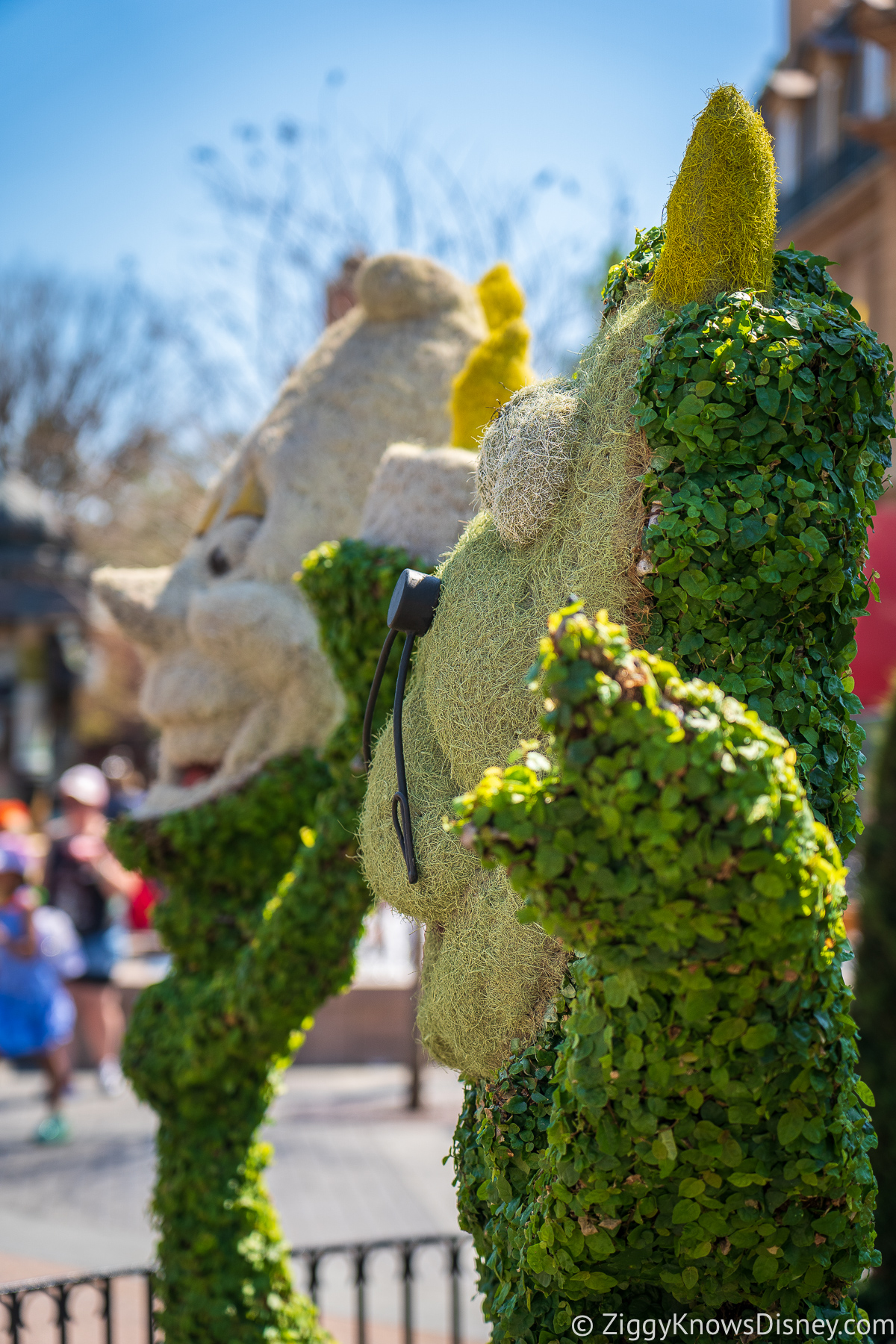 Beauty and the Beast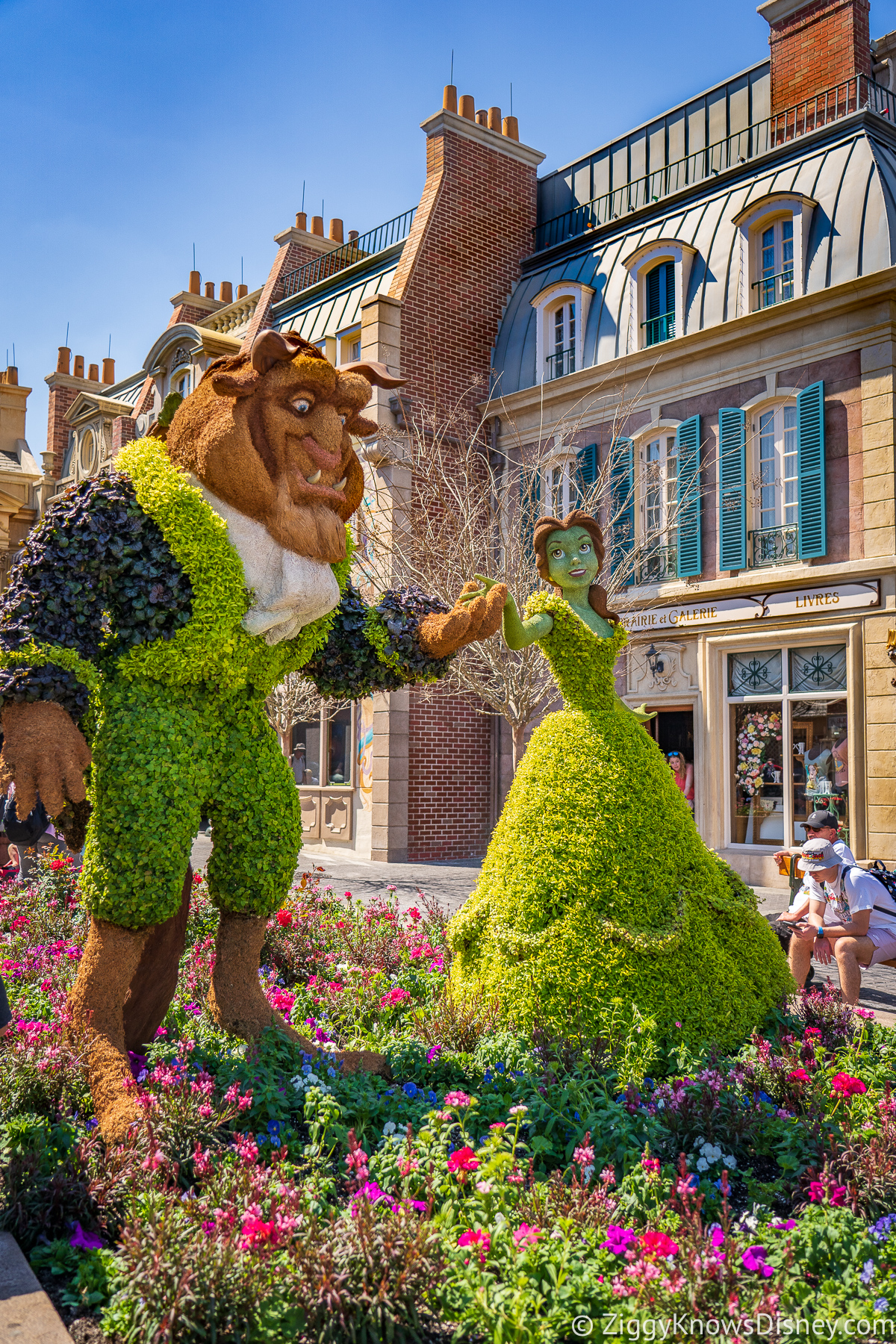 These are two staples at Flower and Garden every year, but they are always two of the most beautiful topiaries you will find!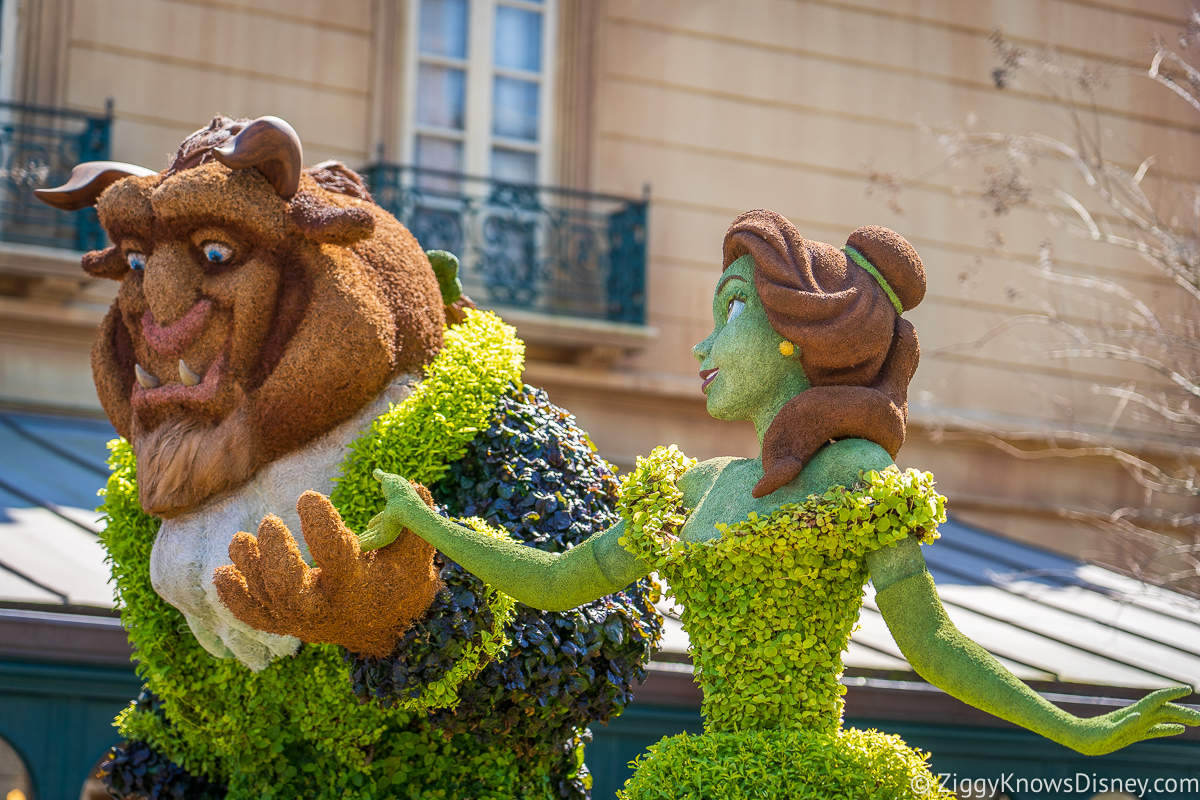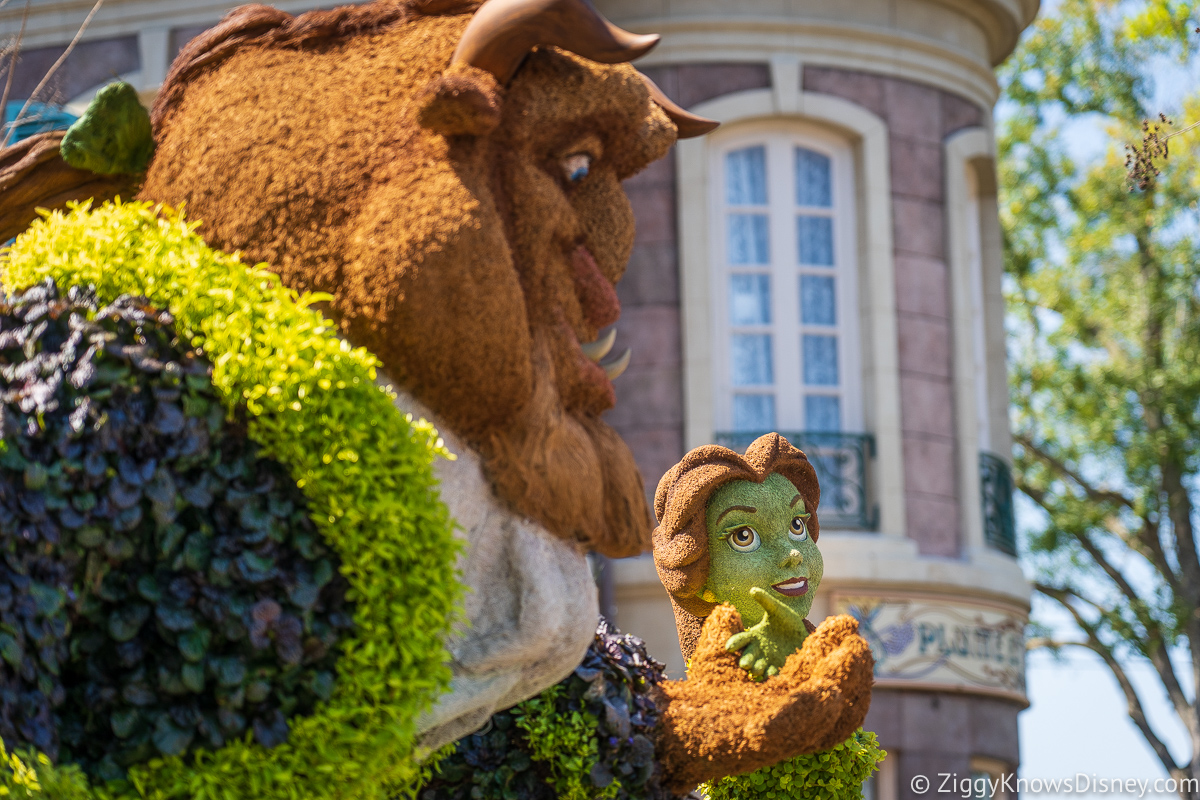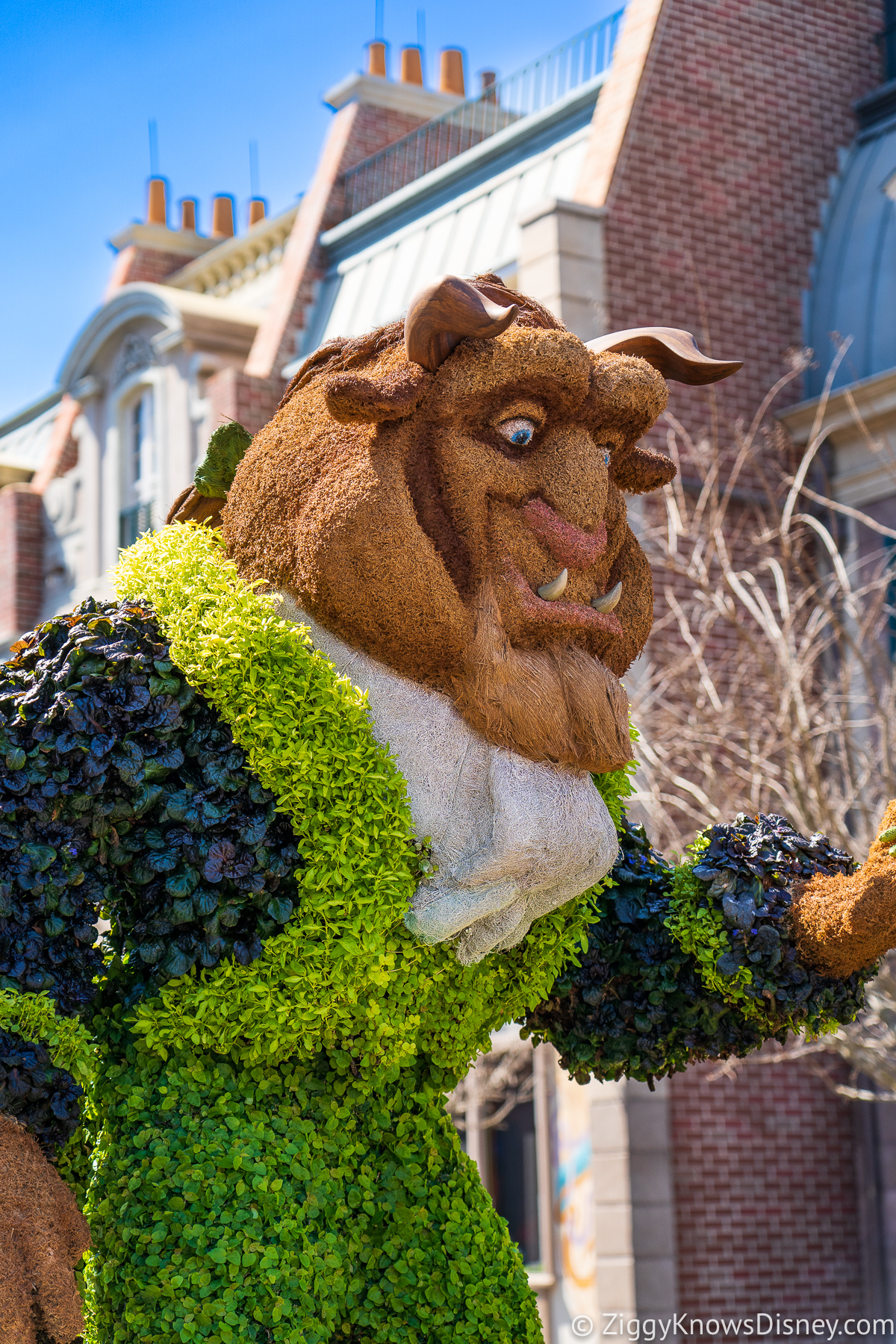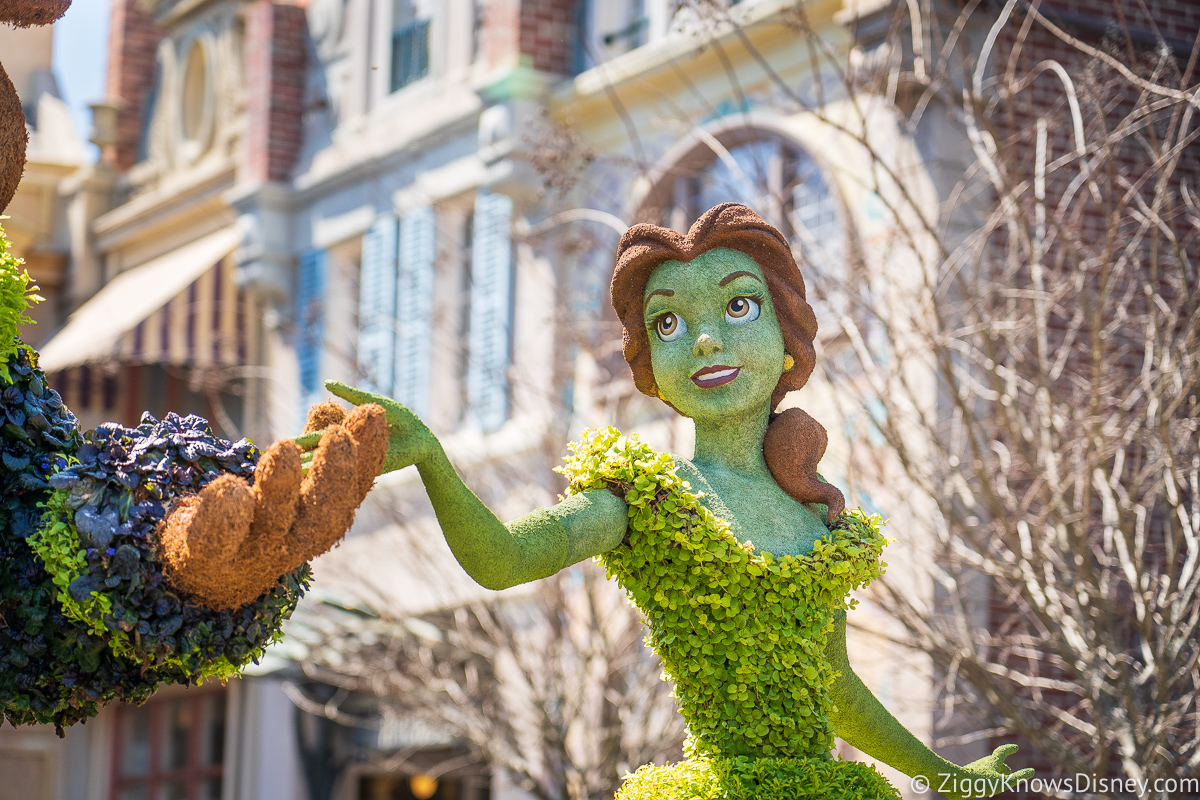 Chef Remy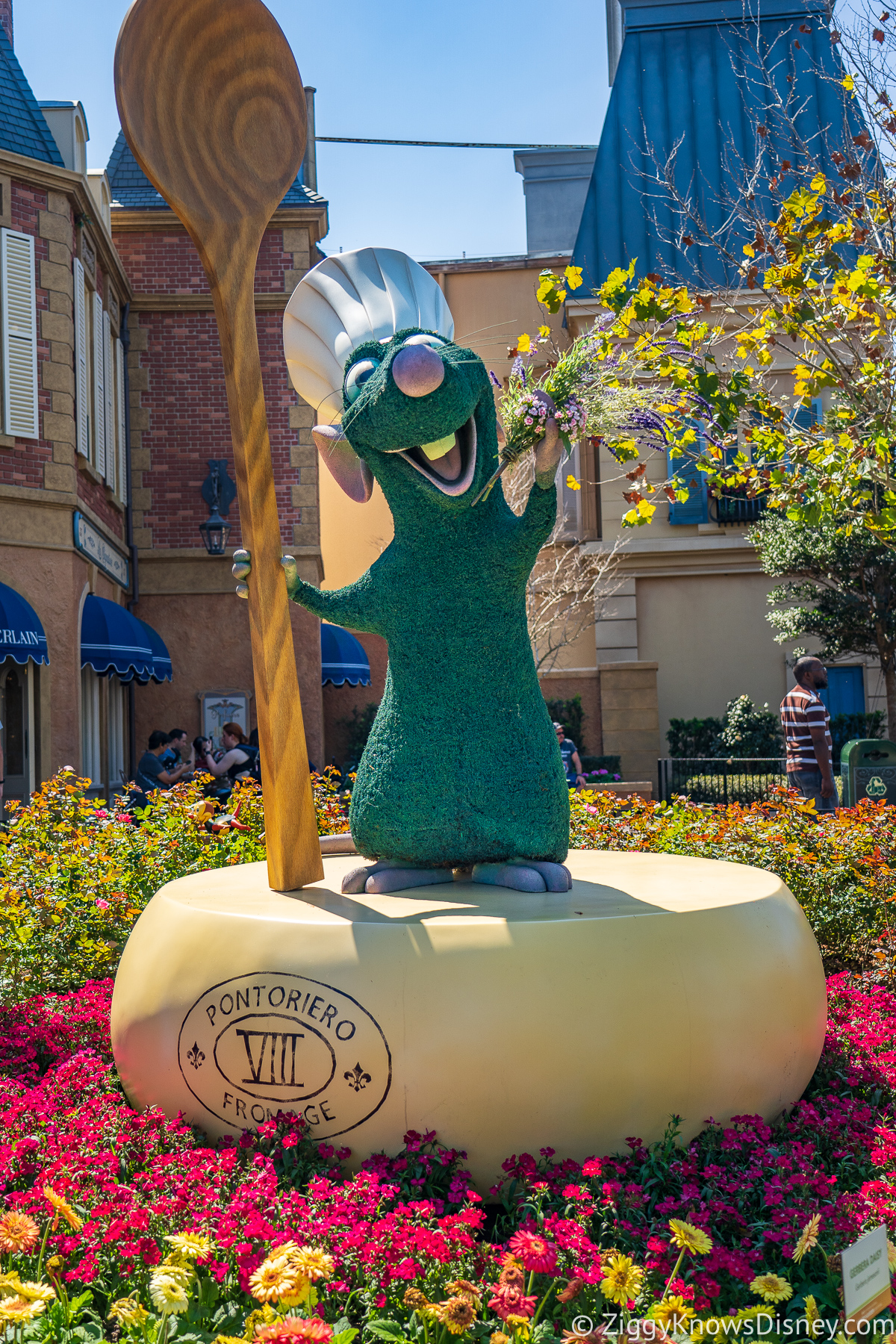 Of course, we can't forget Remy, another returning topiary this year. You'll find him in France, over near the entrance to the new France expansion, where you will find the new Ratatouille Ride.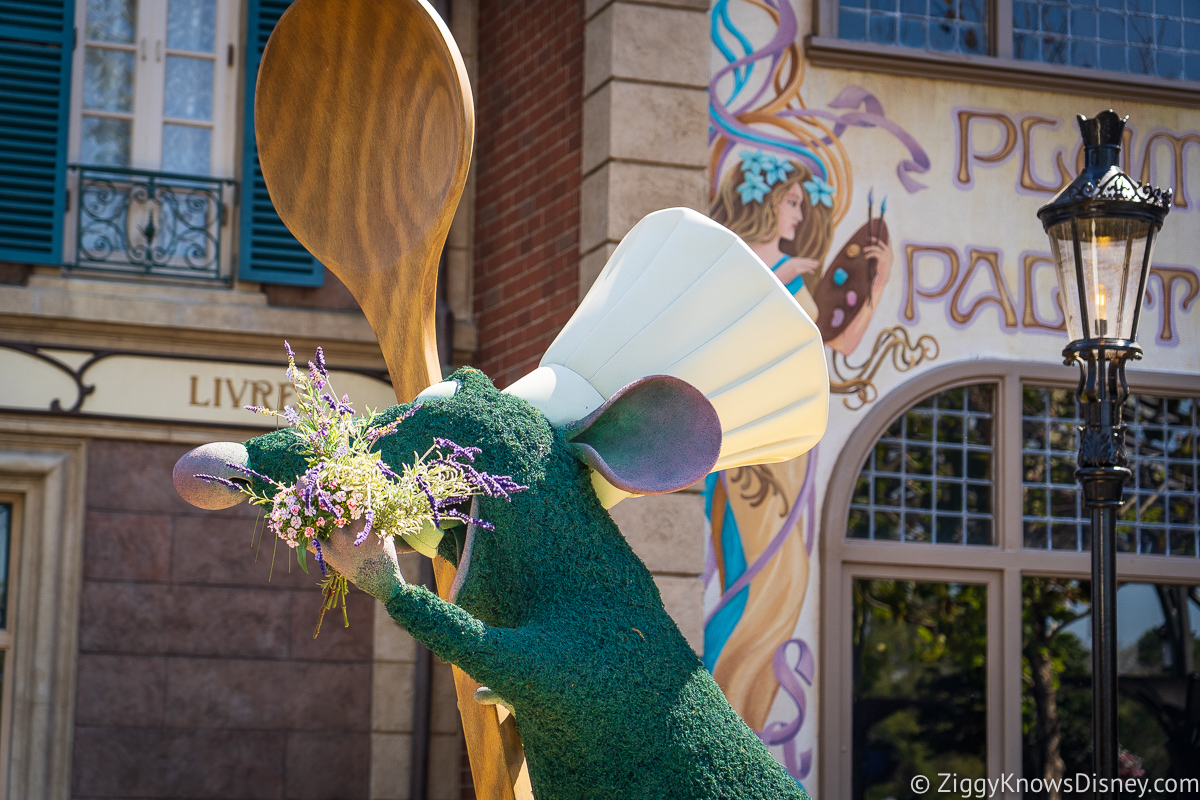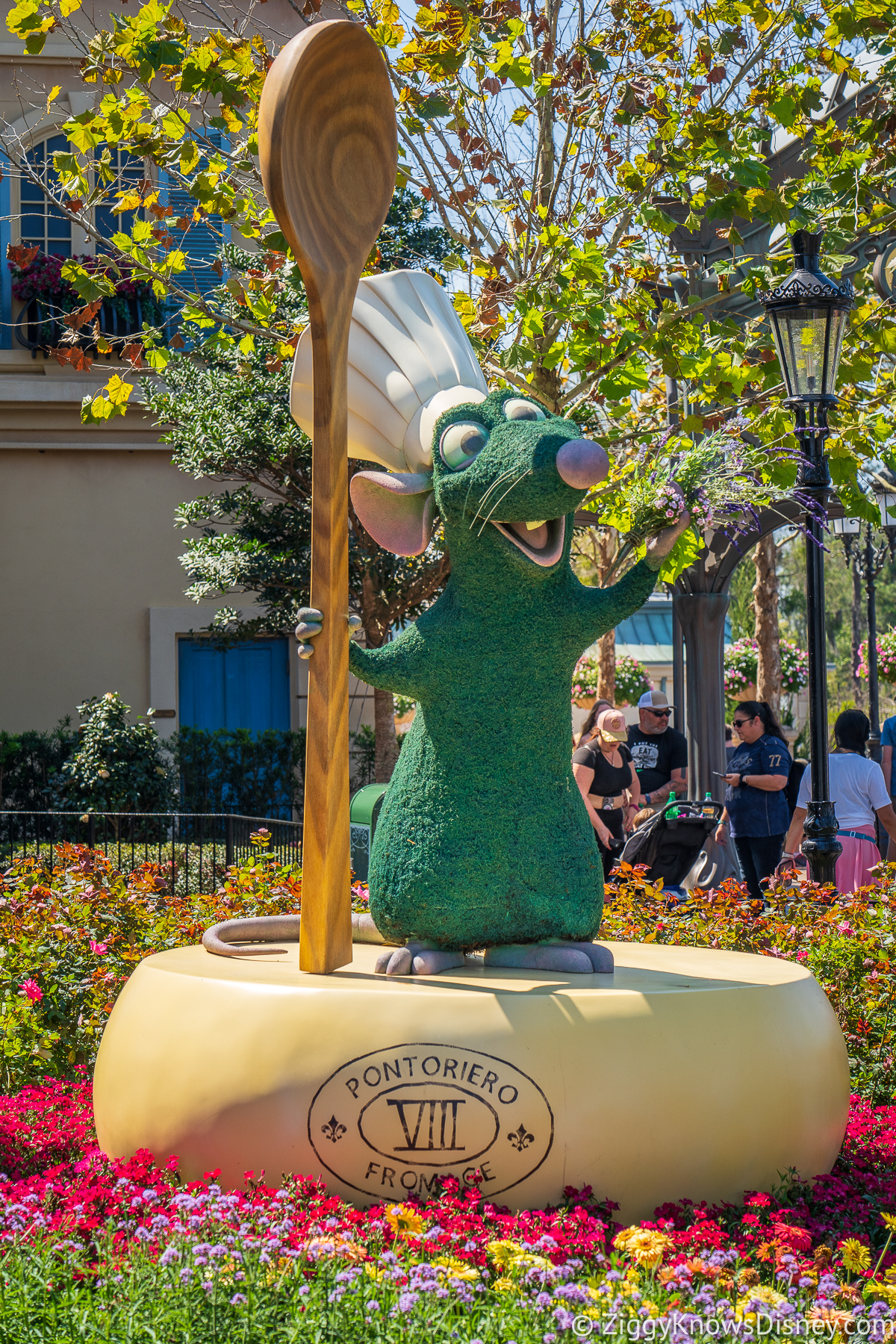 United Kingdom
Peter Pan, Captain Hook, and Tick Tock Croc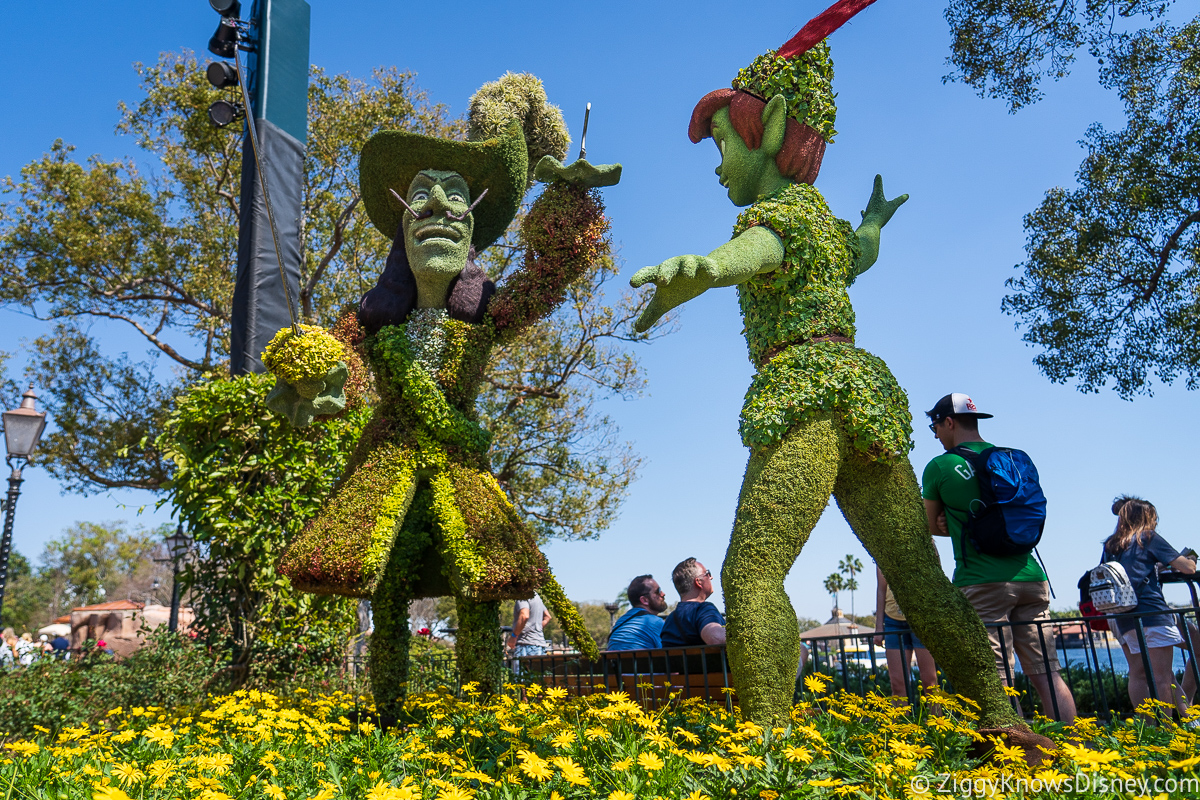 Leaving France and walking into the UK, you'll find Peter Pan facing off with Captain Hook.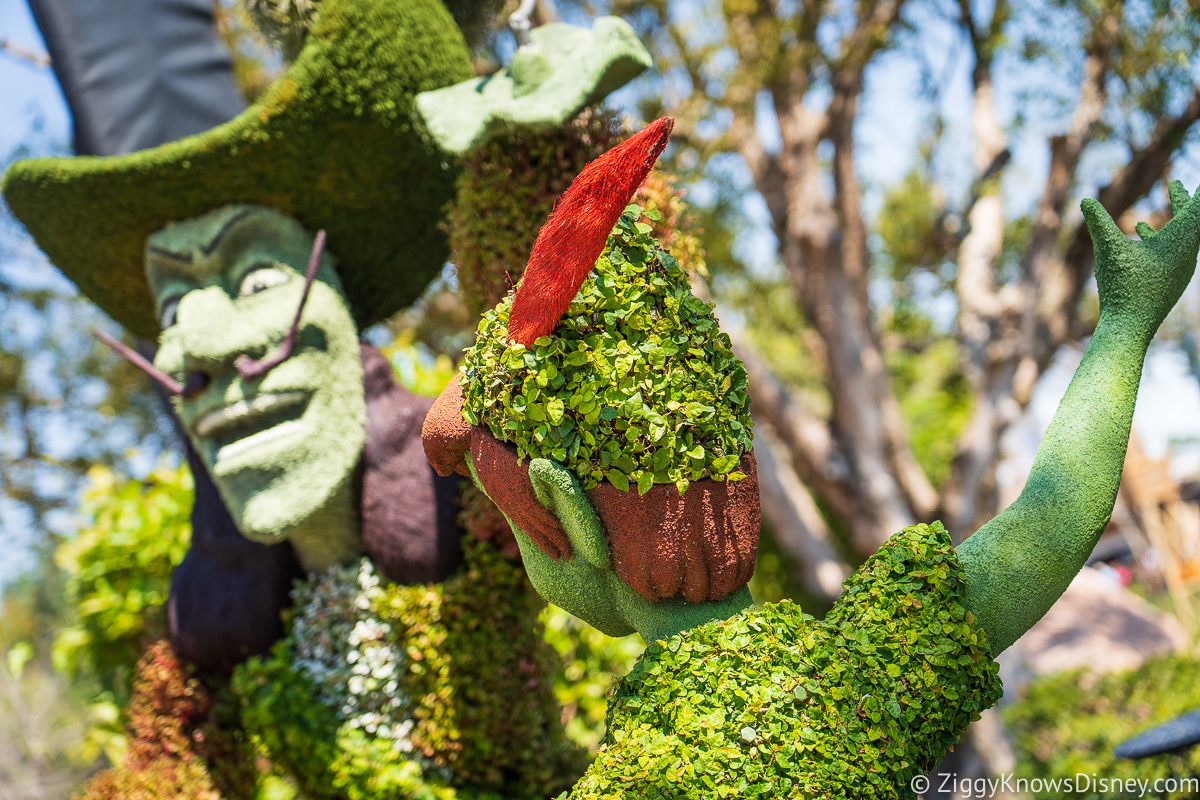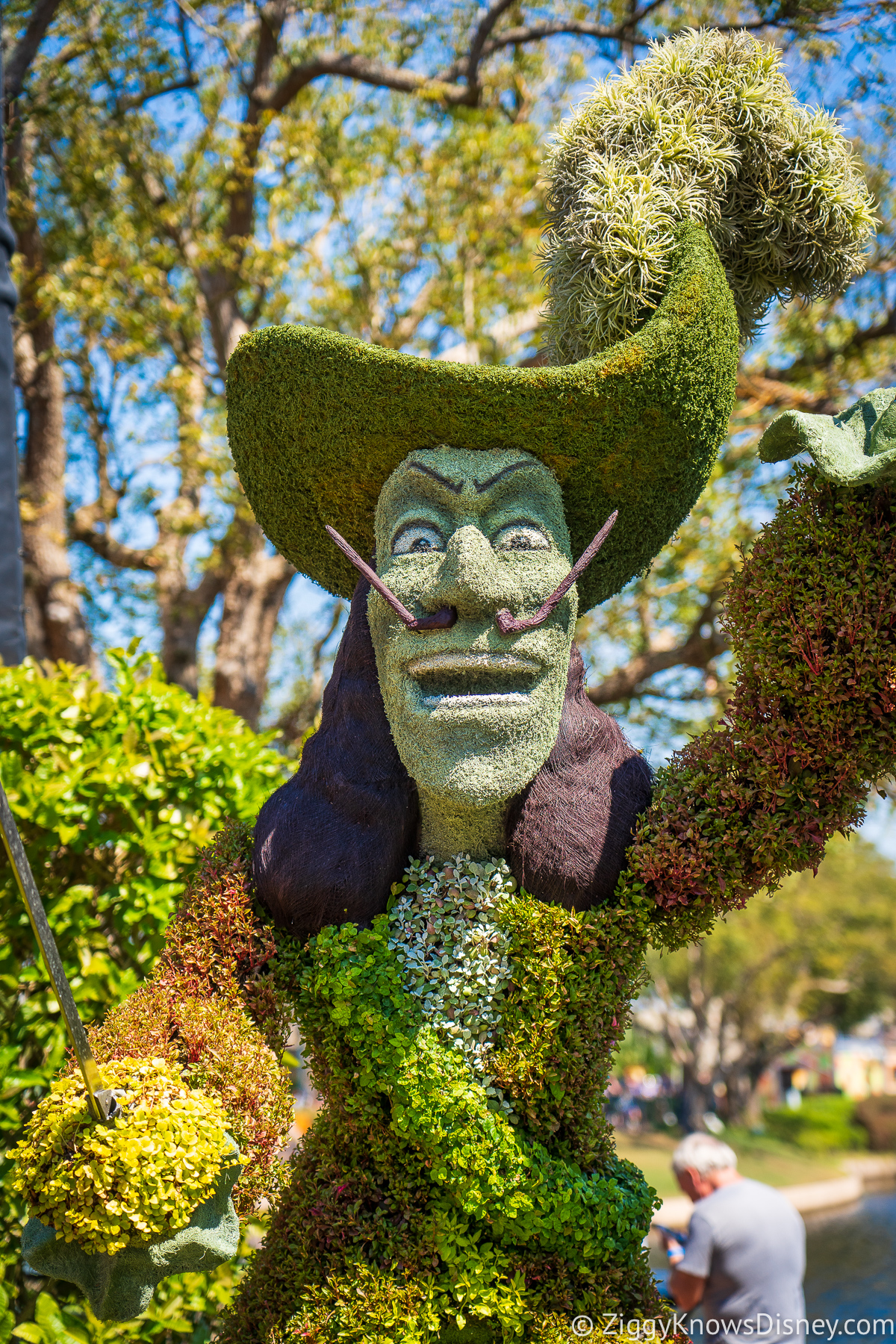 He isn't always here, but this year Tick Tock Croc is back too!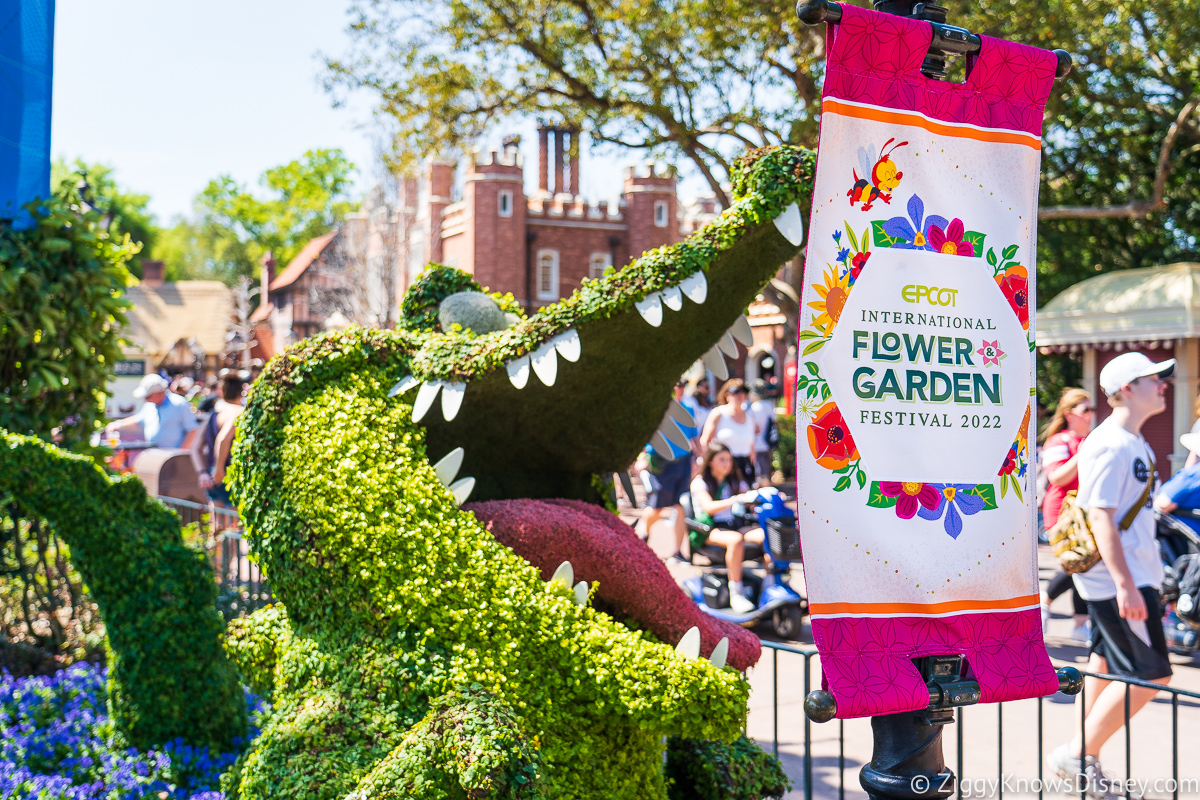 Captain Hook better watch out, he looks hungry!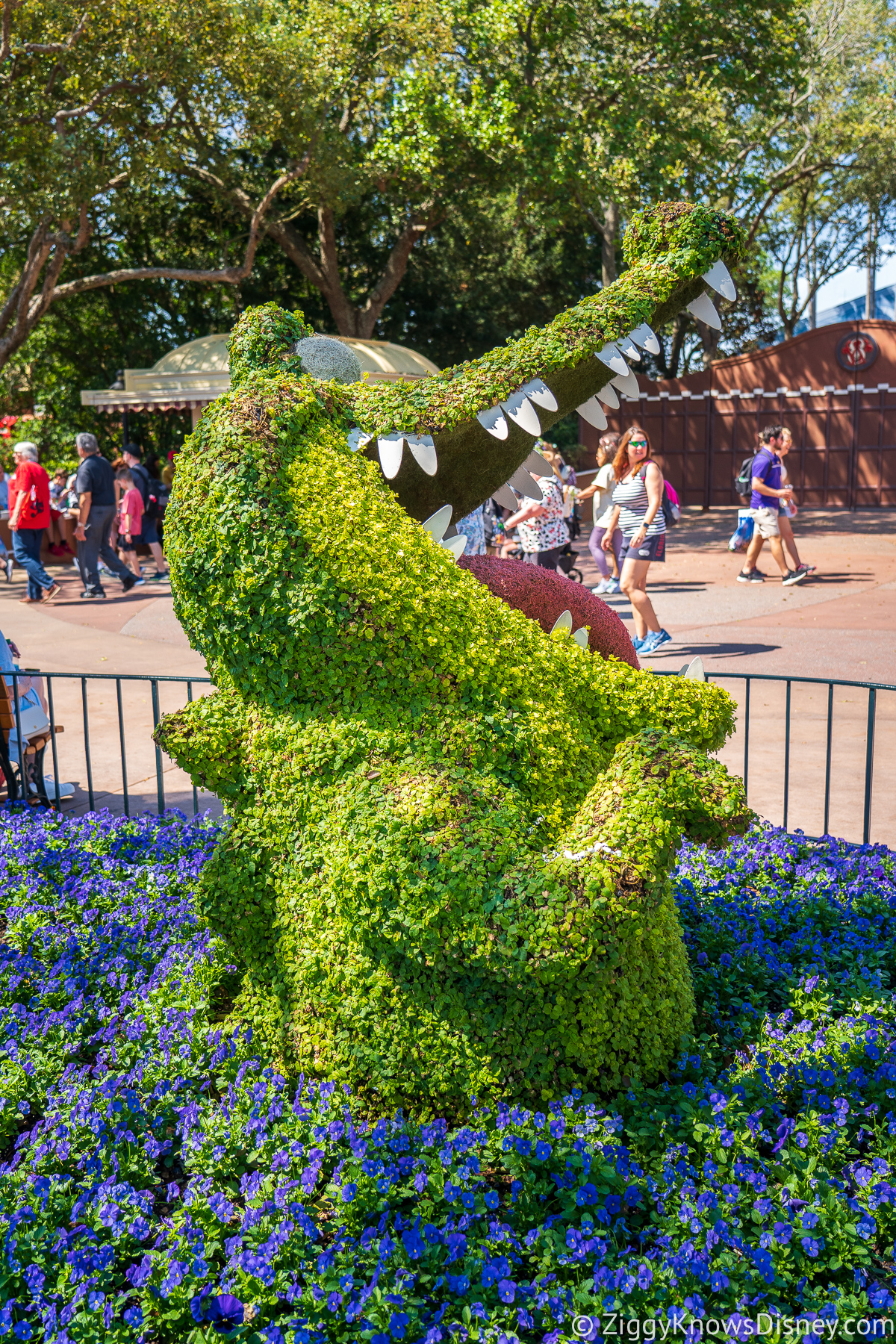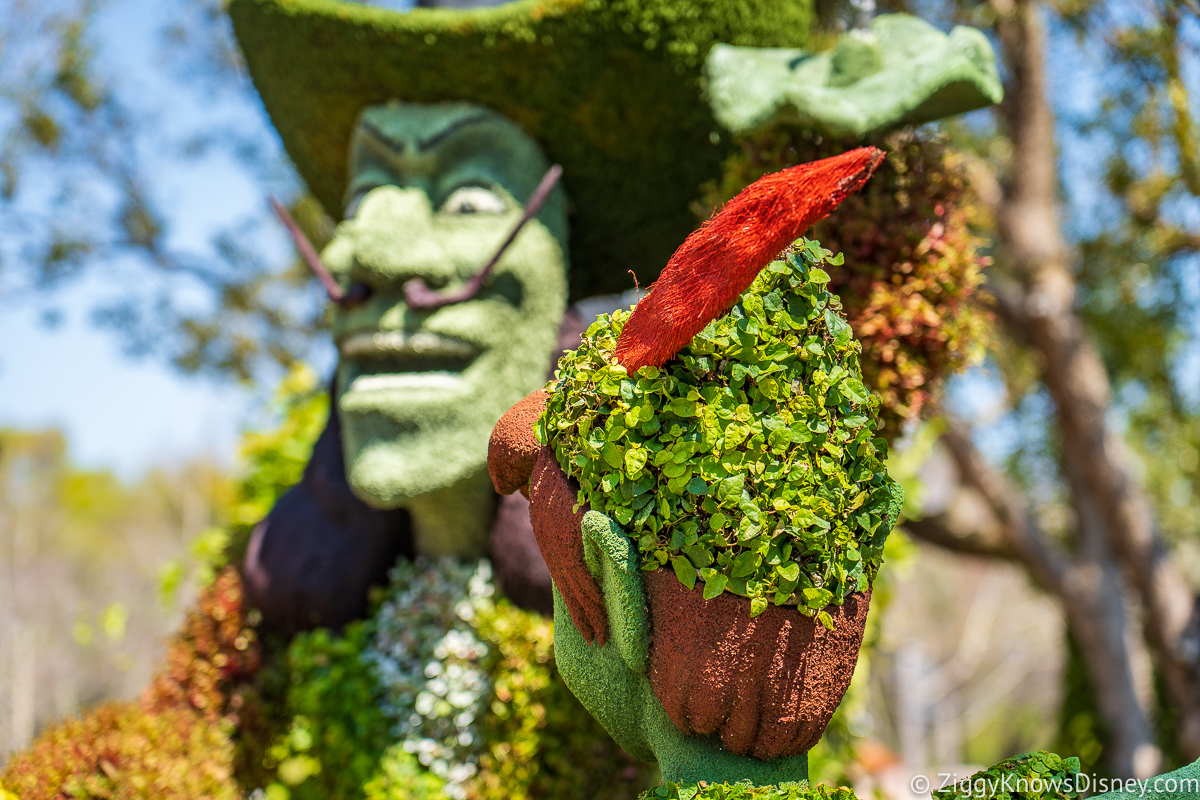 Tinker Bell's Fairy House Garden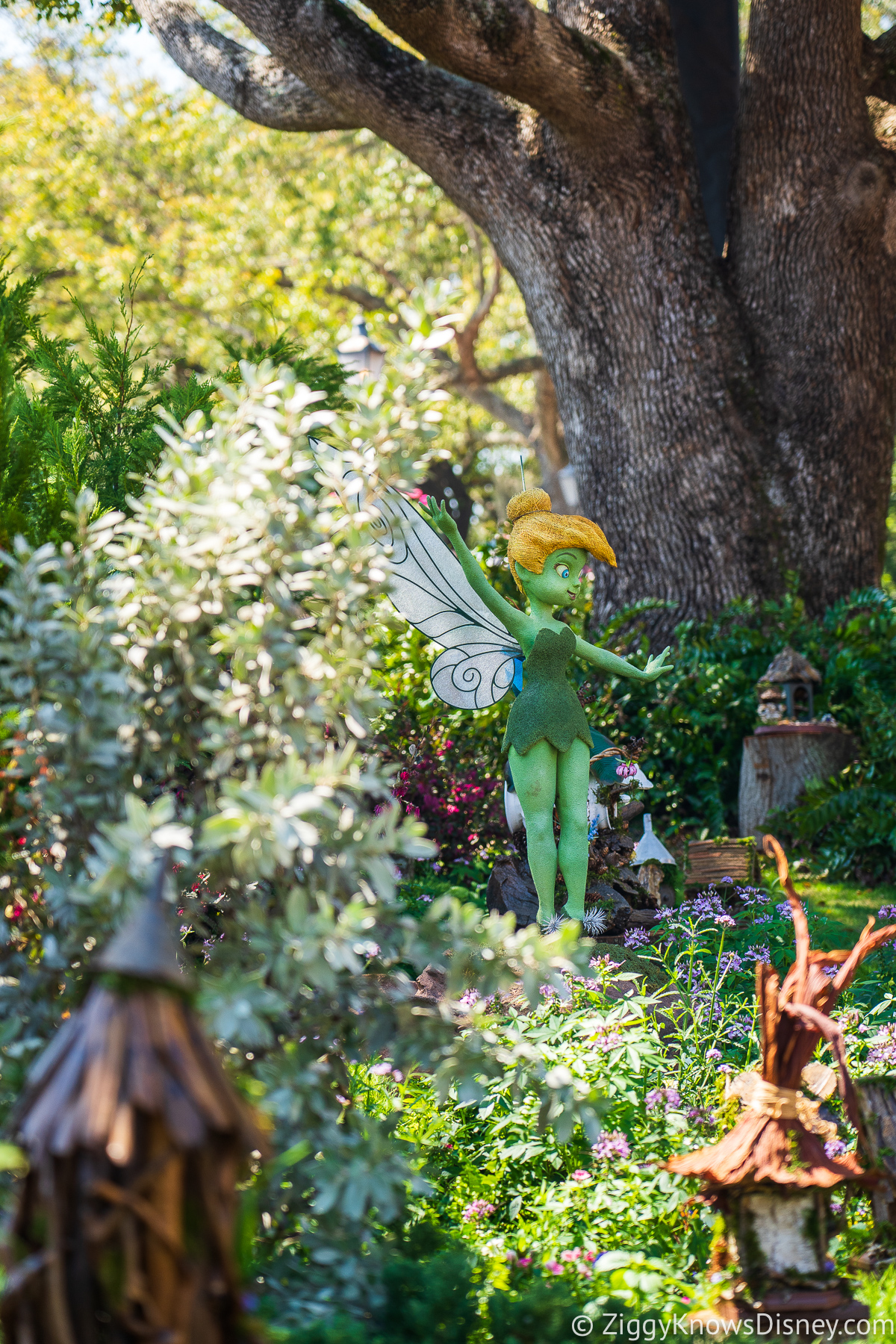 Tinker Bell isn't easy to find and you'll have to go near the Yorkshire County Fish Shop in the UK pavilion to see her and the Fairy Houses.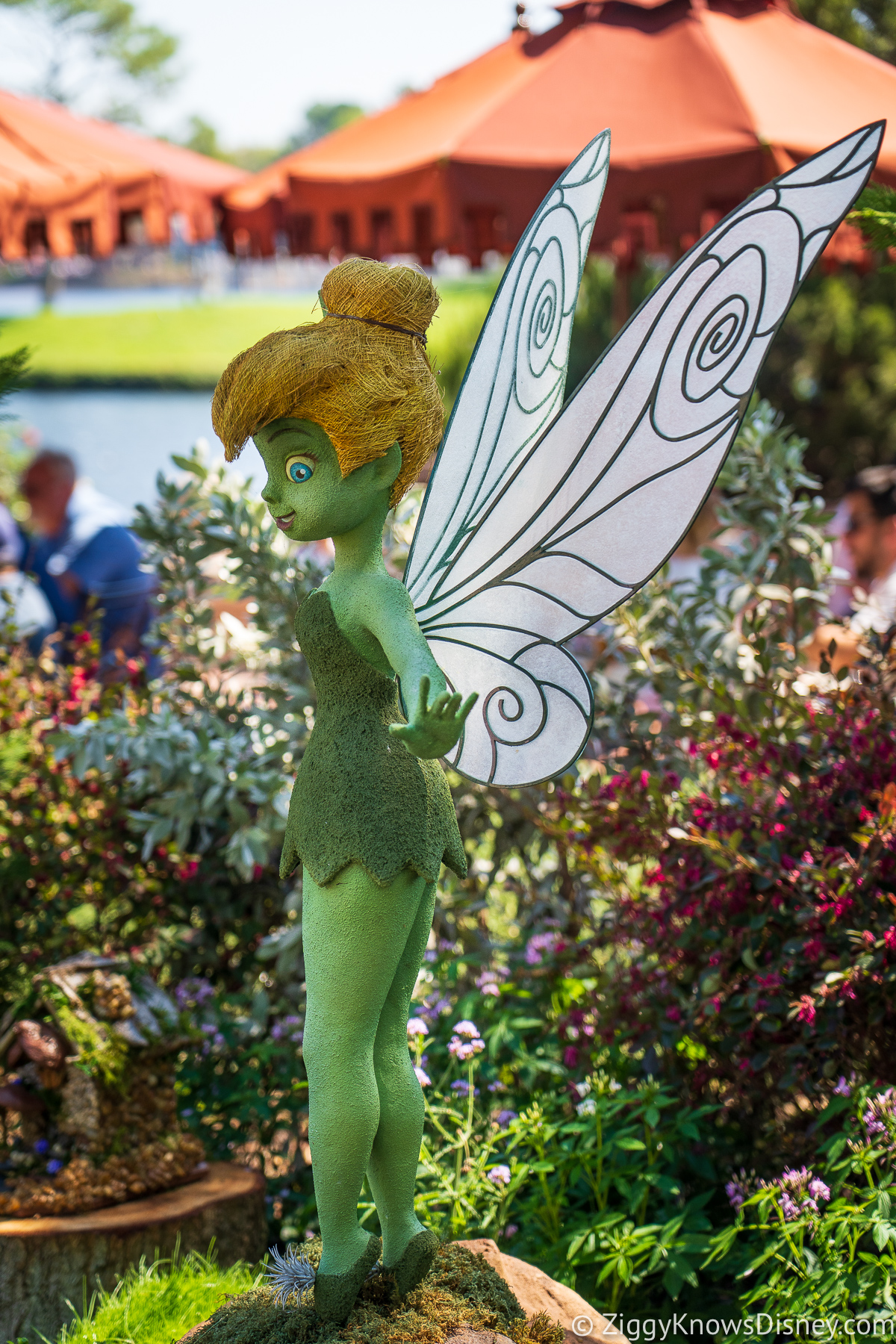 Winnie the Pooh, Tigger, Piglet, Rabbit, and Eeyore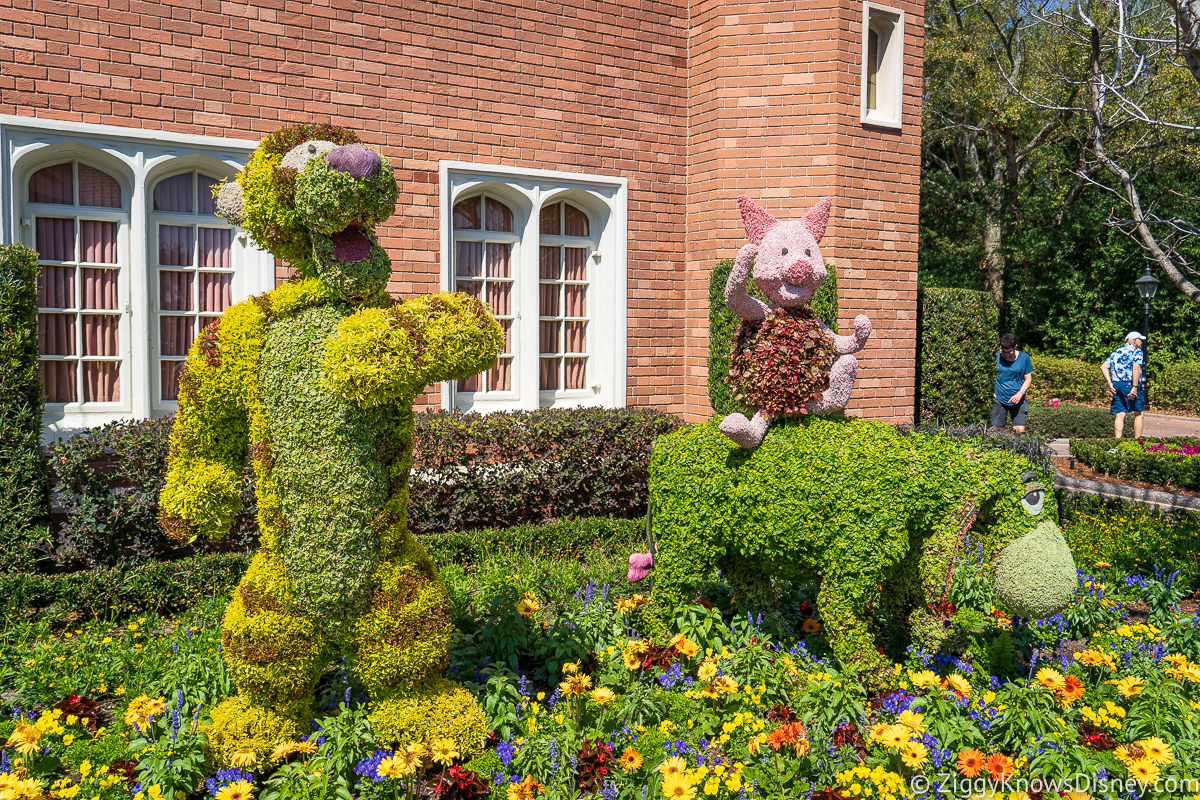 And last but not least, we come across Winnie the Pooh and his friends Tigger, Rabbit, Piglet, and Eeyore.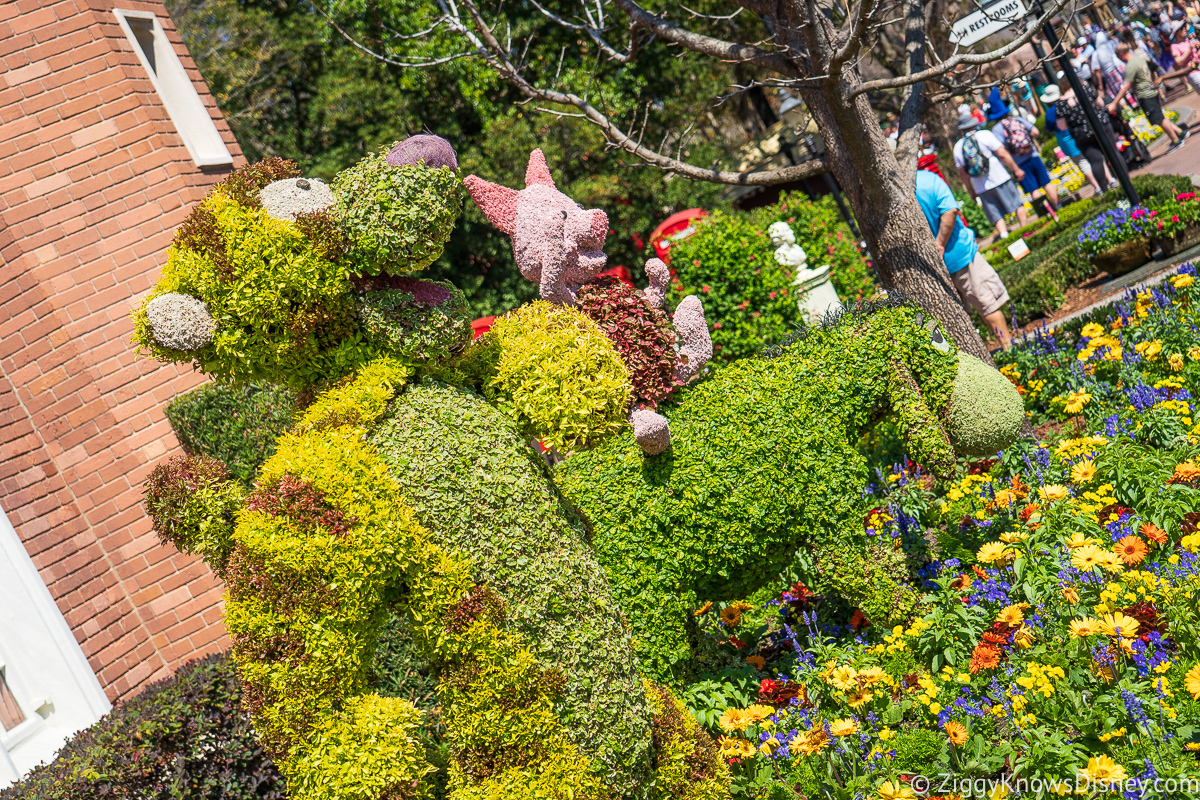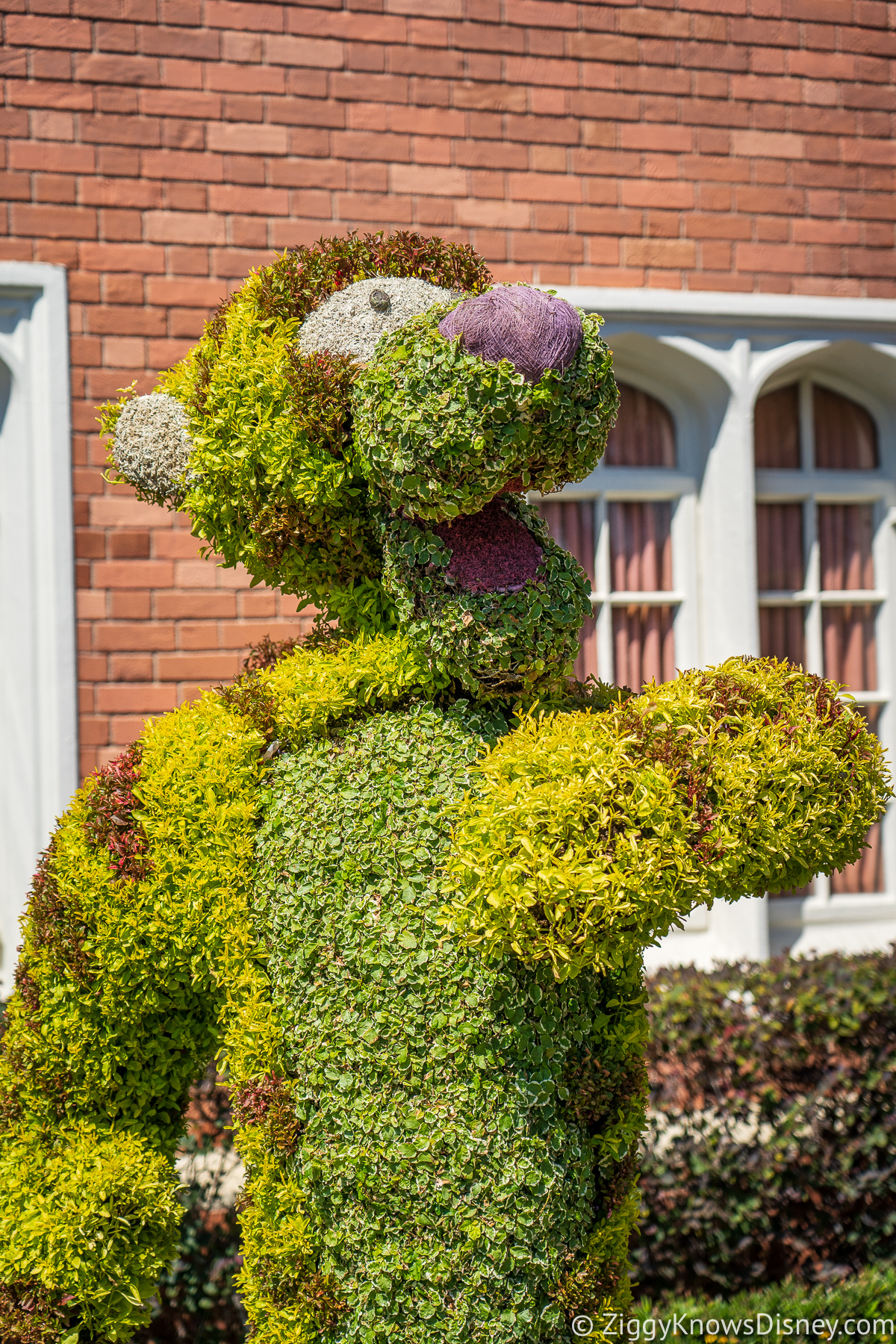 Tigger is always having a blast, and this year is no exception.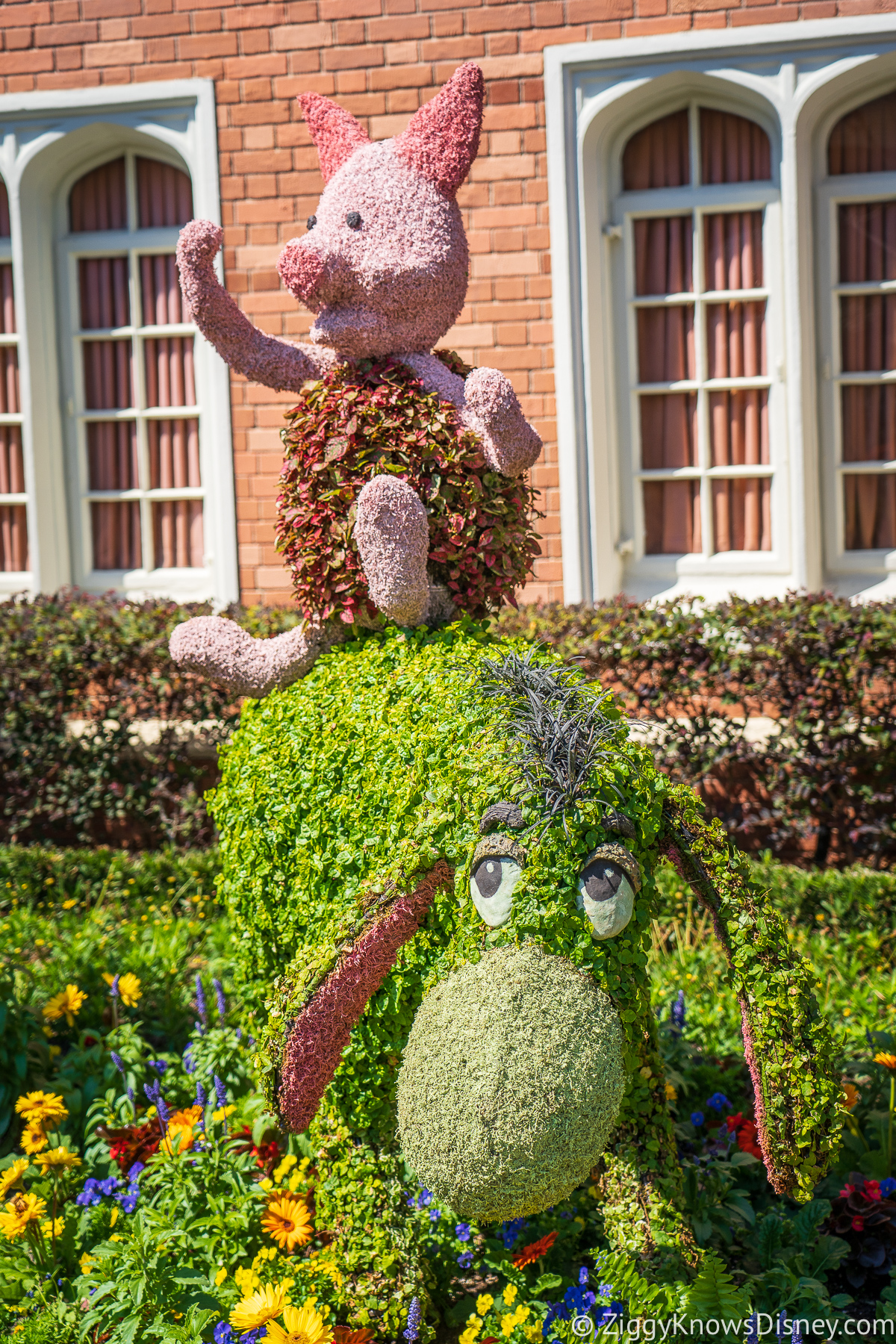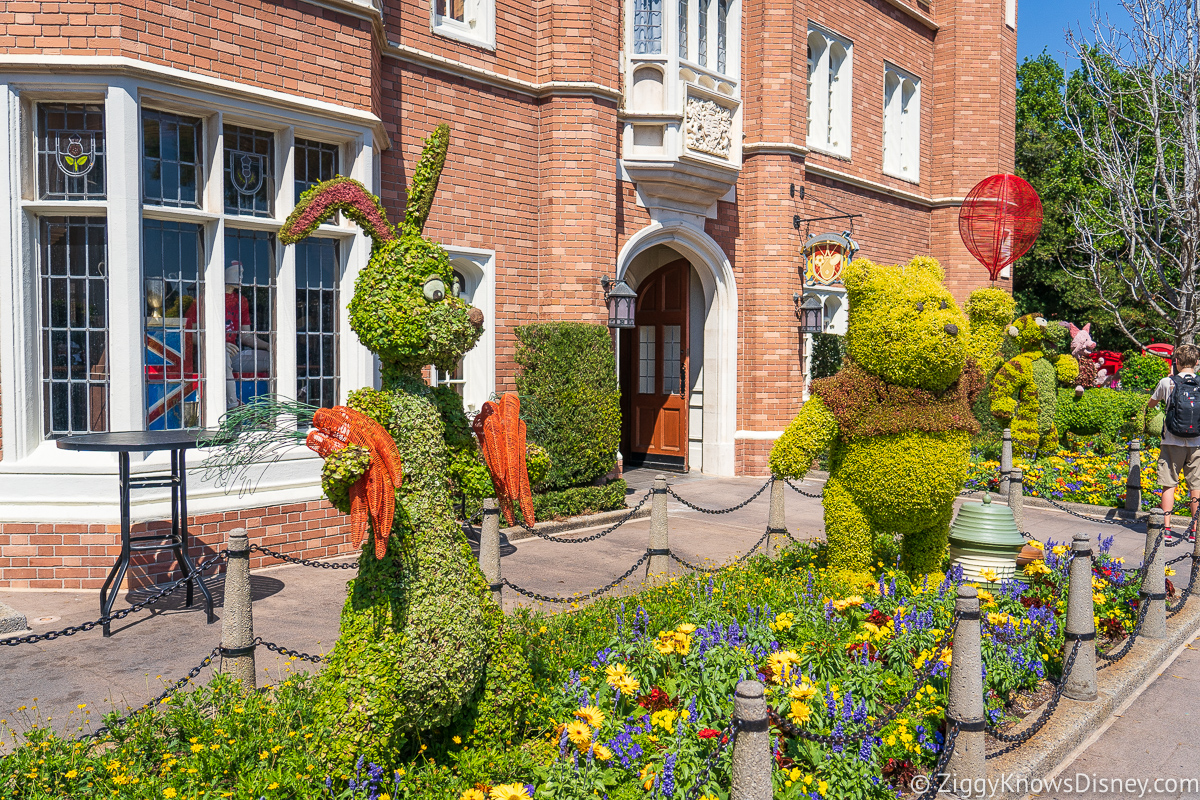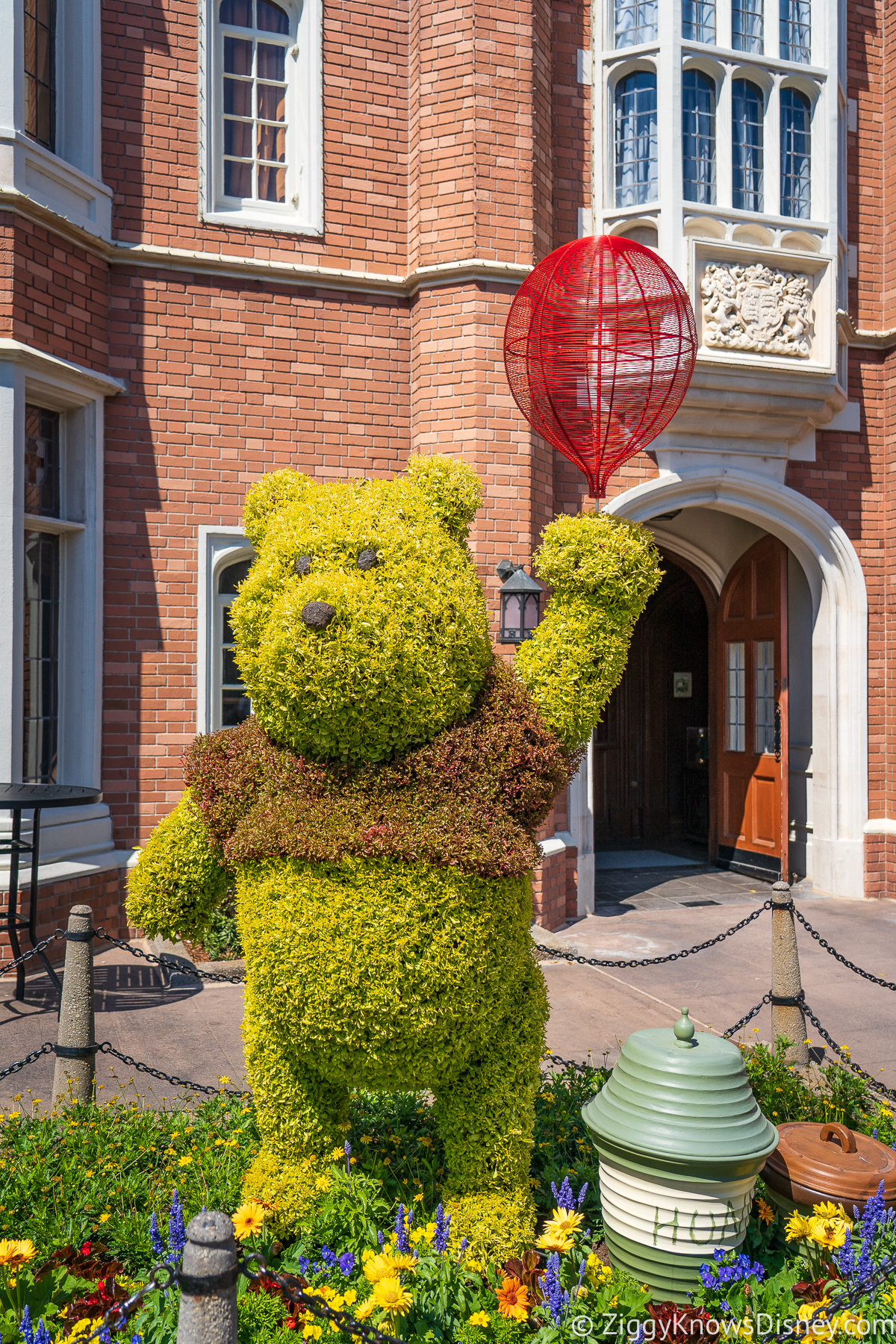 Don't let go of that ballon Pooh!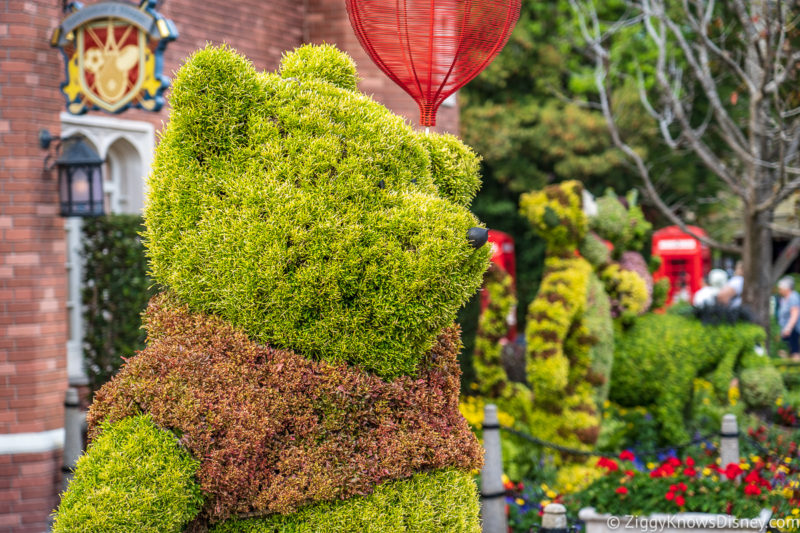 Of course, Rabbit has a bunch of carrots in his hand, and I doubt he'll be dropping those.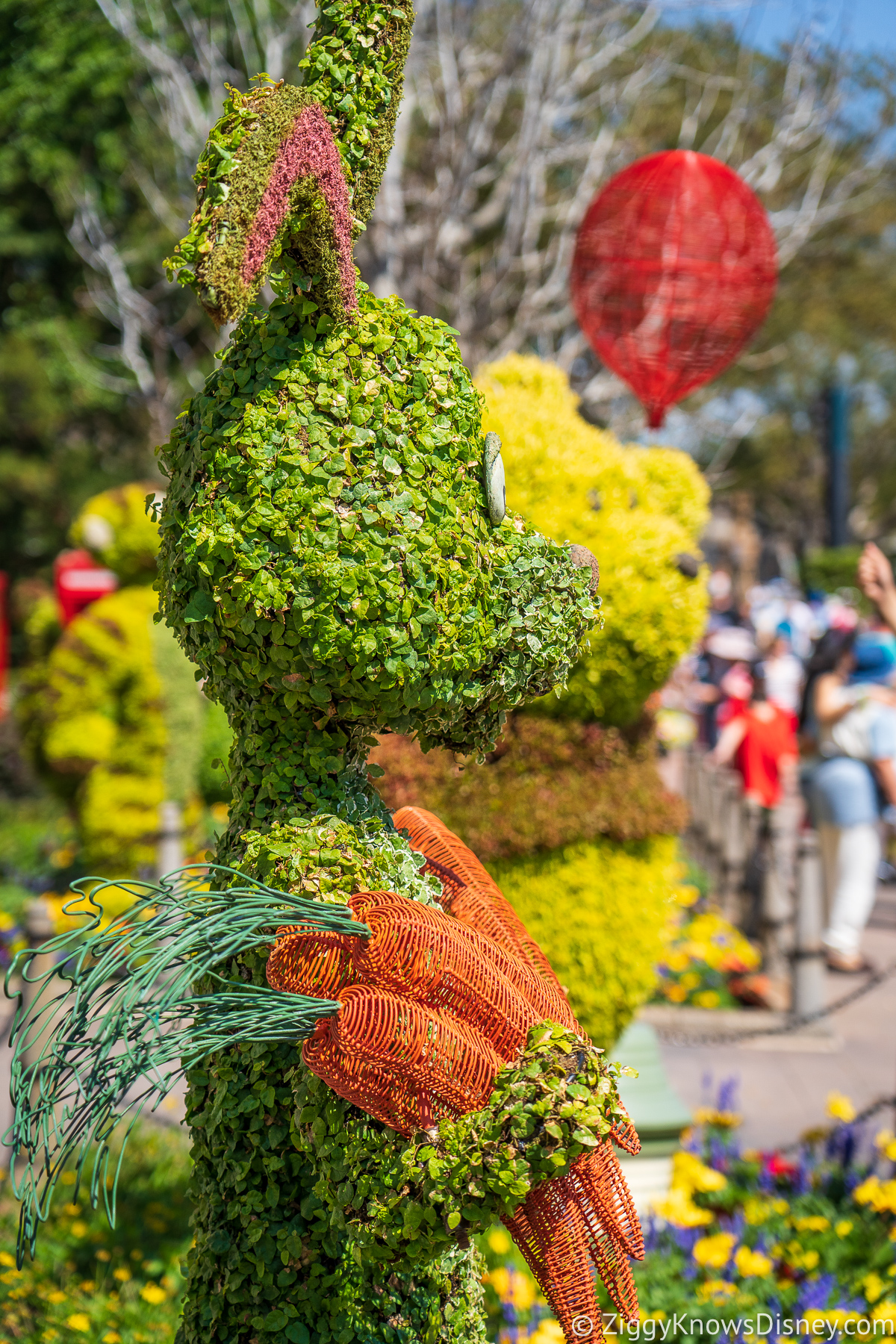 So that wraps up our look at all the topiaries at this year's EPCOT Flower and Garden Festival. Let's hope we all get a chance to see them again soon as they are truly amazing works of art!
Make sure to check out these helpful planning articles:
Your Thoughts
I want to know what you think about the topiaries at Flower and Garden…
Which topiary is your favorite this year?
What new topiaries would you like to see next year?
Let us know in the comments section below!
If you enjoyed this article, as always I appreciate it if you'd share it with others via social media. I work hard at making this website into a useful resource for you and your family to plan your visit to the Disney Parks and I hope it can help you! Thanks 🙂
Meet the Author of Ziggy Knows Disney!