Ever since we found out that the Star Wars: Galactic Starcruiser Hotel was coming to Walt Disney World, we couldn't wait to stay there. And after taking our voyage, we can confirm that it's unlike anything you've ever experienced before!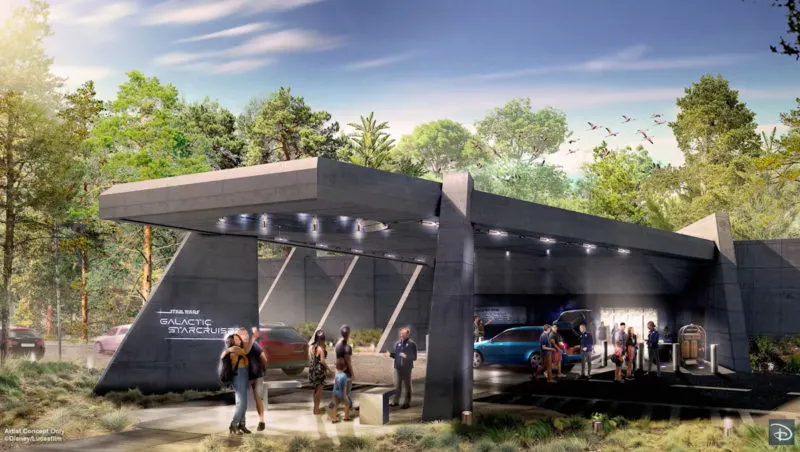 The fact is, booking a stay at your favorite Disney World hotel is never an easy process, and it's even more complicated when you are trying to get a room on the most unique hotel experience in Disney history.
(UPDATE) – The Star Wars: Galactic Starcruiser hotel is closing permanently on September 30, 2023. All new reservations have been temporarily for dates from now through the final voyage on September 28, 2023. Reservations will reopen on May 26 to first give guests with existing reservations after September 30 the opportunity to change their booking.
In this post, we will explain everything you need to know about making reservations on the Star Wars: Galactic Starcruiser Hotel. We'll tell you when you can start booking rooms, the entire reservation process, and what you need to have ready before you start.
We will also go through all of the FAQs about the booking process, changing reservations, cancellation policy, and our best tips for getting a room.
Even if you aren't successful the first time in scoring one of these hard to get rooms at the Star Wars Hotel, not all hope is lost. We'll give you some tips that might help you get a room in the end.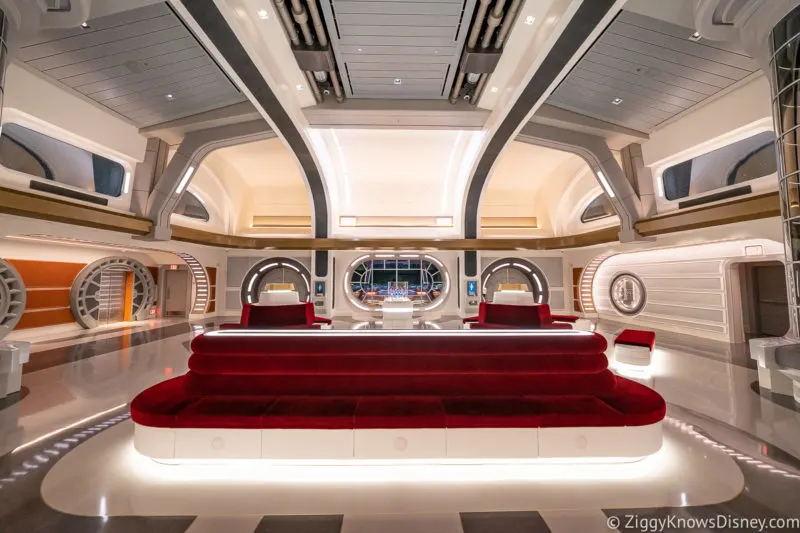 Reservations for the Star Wars: Galactic Starcruiser are NOW ONLINE and reservations can be made!
Thankfully, we were able to get reservations on the "maiden voyage" of the Galactic Starcruiser, and we couldn't have been happier to be among the first to experience this out-of-this-world adventure. It was a truly incredible experience that we can't wait for you to have.
From booking our reservations, we learned a lot of helpful tips in the process we want to share with you. It was extremely frustrating, but hopefully, we can make things much easier for you when you book your stay.
If it all seems too complicated and you need help, read why we highly recommend using a Disney Vacation Planner. It will make your life 10x easier!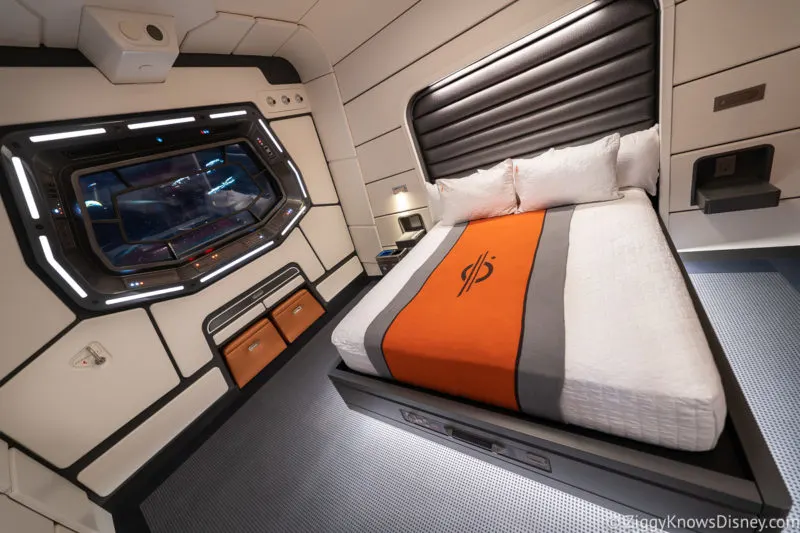 Before we get started, here are our most important posts on the Star Wars Hotel that will help you plan your trip:
Also, don't forget to sign up for our FREE Weekly E-Mail Newsletter. We will update you as soon as we know more info about the Galactic Starcruiser, and share the latest vacation planning tips. You can sign up here: Join our E-Mail Newsletter!
(NEWS) Star Wars: Galactic Starcruiser Reduces Voyages to 2 per Week in 2023
If you've been waiting to book your trip on the Star Wars: Galactic Starcruiser in 2023 or beyond, there are now fewer dates available. But it's not because the Galactic Starcruiser is filling up so much, it's because there are now fewer bookings made available each week.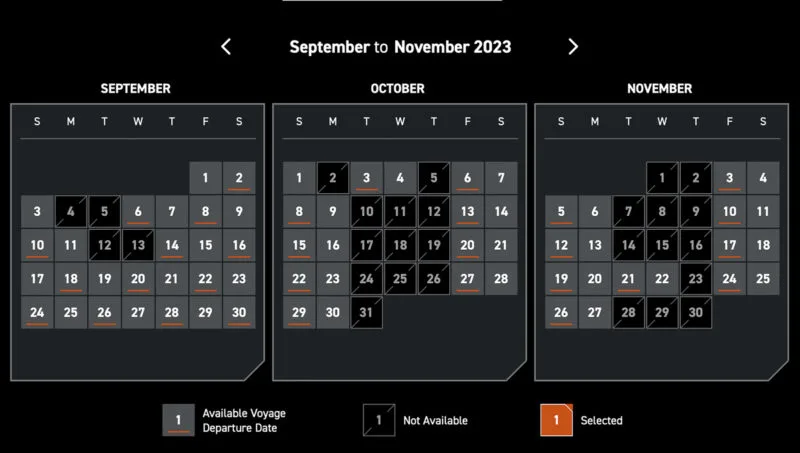 Disney has announced that voyages on the Star Wars: Galactic Starcruiser will be reduced from 3 per week down to 2 per week. This change is starting in October 2023 and moving forward, at least through December 2023.
In the above image, you can see the dates blocked off in October and November right in the middle of each week.
At this time the reservation calendar only shows bookings through December 2023, so we can't say for sure how many will be available in 2024, but it's almost a guarantee that they will keep the same 2 voyages per week schedule next year too.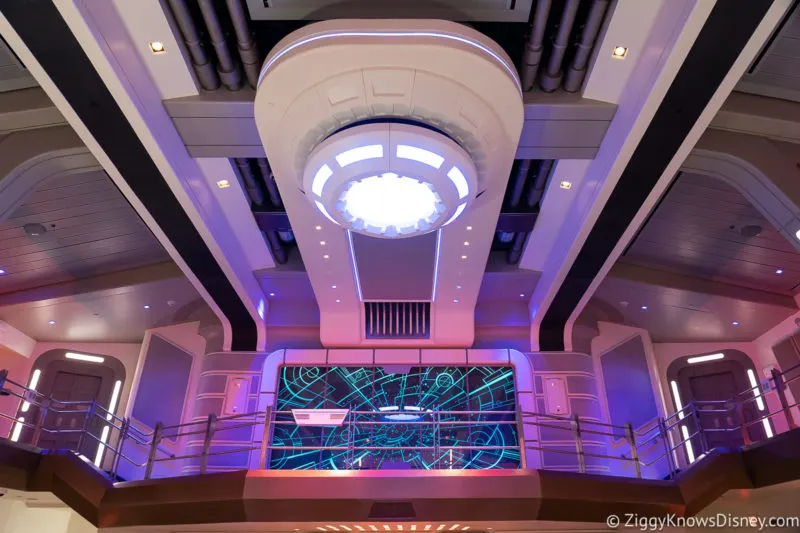 Disney issued a statement about the change in schedule for the Galactic Starcruiser:
…the schedule has been modified to provide two voyages per week, except for holiday weeks where we may have three voyages. We've been learning a lot during our first year of operation and have adjusted voyage dates to meet the needs of our guests.
In addition to the schedule change, the cancellation policy for Galactic Starcruiser voyages has been changed from 90 days to 30 days before your scheduled arrival date. That means you now can cancel up to 30 days ahead of time for a full refund.
This new change to the cancellation policy goes into effect immediately and includes previously booked voyages through September and new voyages from October to December 2023.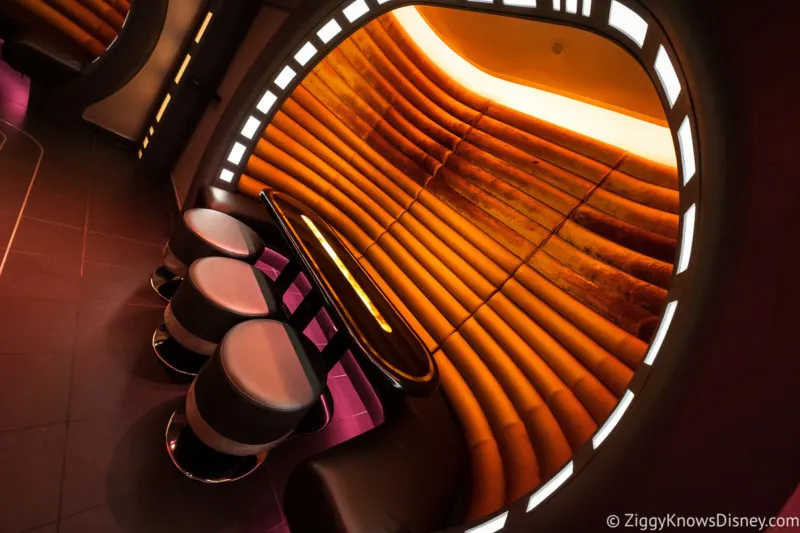 Up until now, reservations have only been available through September 2023, but now with this latest update, you can book the Star Wars Hotel through December 30, 2023.
The fact that Disney has reduced the number of bookings each week does not come as a surprise. If you've been following news on the Galactic Starcrusier as much as us, you know that while most guests who stay there rave about the experience, the majority of people simply cannot afford it due to its extremely high price (it starts at $4,809 for two guests)
So while the voyages during the first few months were completely packed out, there has been a significantly lower number of guests per voyage, which is putting a strain on the resort's profitability.
That's why it makes sense from Disney's perspective to make the change. They can have fuller voyages and reduce the number of cast members needed to run the experience. How this affects the overall experience remains to be seen.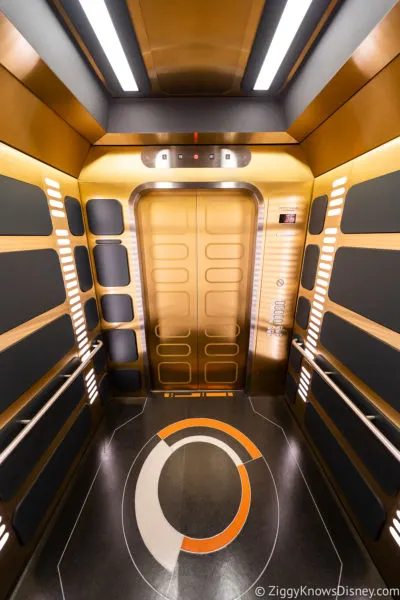 The best part about it is the actual cast members and their cohesion as a group. Some of them will no doubt have to be let go, which we hope doesn't negatively affect the quality of the experience.
What has not changed are the prices for the Galactic Starcruiser. Of course, if Disney really wanted to get more guests to stay here, they'd lower the prices. Sure, there have been some discounts here and there, but if you aren't a DVC Member, the best discounts require you to book a stay at another Disney World Resort hotel.
I'm sure there are more changes to come soon so stay tuned for more updates and keep reading for more info on what to expect when booking your stay on the Galactic Starcruiser.
(UPDATE) Discounts Now Available for Star Wars: Galactic Starcruiser
After almost a year of operation and with guest demand slowing, Disney has started offering the first discounts for the Star Wars: Galactic Starcruiser at Walt Disney World, but not all of them are for everyone.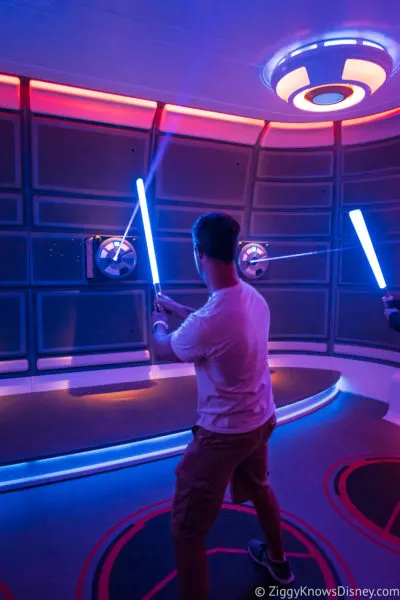 Right now, Disney has three different discounts available for the Galactic Starcruiser, one for the General Public, one for Disney Vacation Club Members, and another for Annual Passholders.
For the general public, guests can save $700 on a two-night Disney World Resort hotel stay, immediately before or after a stay on the Star Wars: Galactic Starcruiser. This offer is good for most voyages between February 5 and September 30, 2023.
The participating Disney World Resorts and prices are as follows:
Save $350 per night – at Disney's Beach Club Resort, Disney's Grand Floridian Resort & Spa, Disney's Yacht Club Resort
Save $250 per night – at Disney's Animal Kingdom Lodge, Disney's Boardwalk Inn, Disney's Contemporary Resort, Disney's Polynesian Village Resort, or Disney's Wilderness Lodge.
Save $150 per night – at Disney's Coronado Springs Resort
Again, these discounts on the other Disney World Resort Hotels are only available when booking a Galactic Starcruiser voyage, but if you were planning on going to the parks for a couple of days before or after your voyage, this is an incredible deal that cuts some of the normal rates for these resorts in half.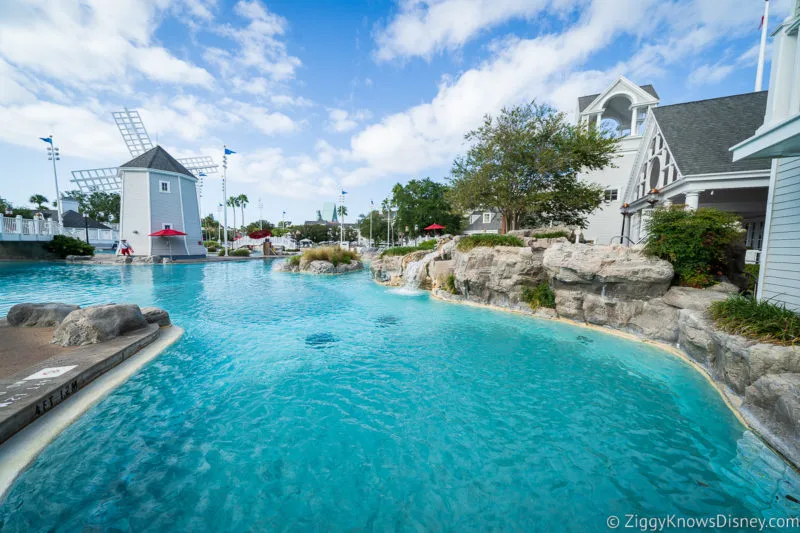 The second deal is that Disney Vacation Club members are eligible for a 30% discount off a member-exclusive voyage at the Star Wars Hotel.
Here is the breakdown of the Star Wars: Galactic Starcruiser discounted prices:
This offer applies to the following departure in the Summer of 2023:
August 19 – 21, 2023
To Register:
Important Details:
Members must be eligible for Membership Extras to take advantage of this special offer. Maximum of 3 cabins per Membership.
Star Wars: Galactic Starcruiser – Member Voyage can be booked using Points or cash. Not transferable or redeemable for cash and may be modified or withdrawn without prior notice.
Activities, entertainment, and Characters are subject to change.
Reservation is subject to Star Wars: Galactic Starcruiser terms and conditions—which can be found on the booking confirmation email received after booking—and the Disney Vacation Club cancellation policy.
There is no $95 transaction fee required for this Disney Collection reservation. You will receive a call requesting payment within 72 hours of completing your booking. If payment is not received within 72 hours following this call, Disney Vacation Club reserves the right to cancel the reservation.
Cancellation is valid up to 30 days prior to travel.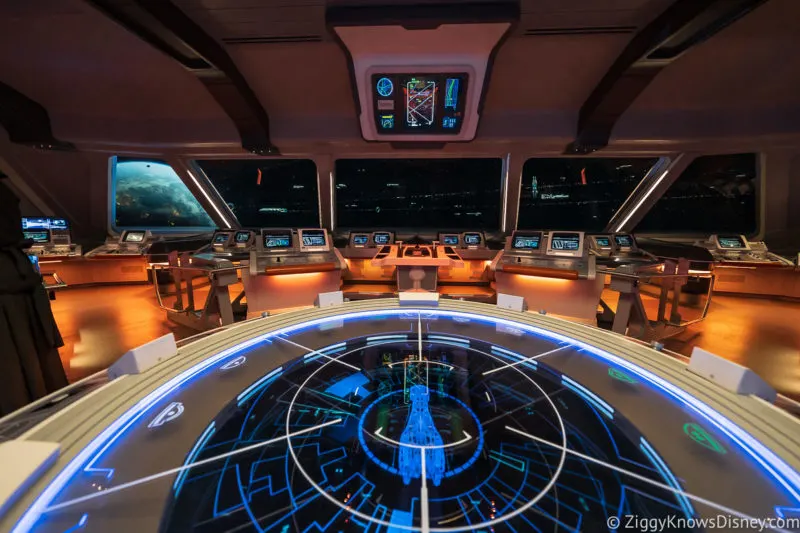 The third discount is for Annual Passholders who can save 30% on select Star Wars: Galactic Starcruiser voyages during Spring and Summer 2023.
Here is a list of dates for select voyages that can be booked with the 30% savings from April 15 to June 28, 2023:
April 15, 17, 19, 21, 23, 25, 27 and 29
May 1, 5, 7, 9, 11, 13, 15, 19, 21, 23, 25, 29 and 31
June 2, 4, 6, 14, 18, 20, 24, 26 and 28
Important Details:
The number of packages allocated for this offer is limited.
Savings are based on the non-discounted price a non-Passholder pays for the same package.
Passholder must present a valid Walt Disney World Annual Pass at check-in.
The offer is non-transferable.
Offer is only applicable for new reservations.
Limit one cabin per Passholder; Passholder must stay in the cabin.
Advance reservations are required.
Offer excludes Galaxy Class Suites and Grand Captain Suites.
This is pretty big news if you've been putting off going to the Galactic Starcruiser until it is a little less expensive, and this is a great chance. Disney started discounts with DVC members before offering them to the general public, and now annual passholders are included too.
Even though it is an amazing experience, we realize that because of the extremely high price, it's either too costly or only a once-in-a-lifetime experience which makes it out of reach for many guests.
It was easy for Disney to sell out the first wave of voyages and it's also understandable that demand for this has now started shrinking which means Disney needs to do more to entice guests to come.
We think this is only the beginning of the discounts, and that they will release even more to the general public in the coming months as we are already seeing. How deep they eventually get depends on how many people end up taking advantage of the current price cut.
Make sure to read our article How to Book the Star Wars: Galactic Starcruiser for more details on this new discount.
When Does the Galactic Starcruiser Open?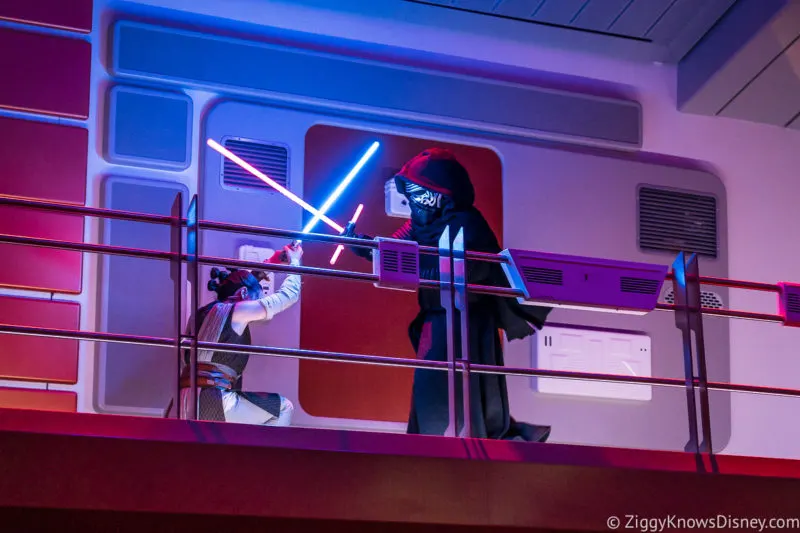 The Star Wars: Galactic Starcruiser is NOW OPEN. The first voyages for the Star Wars Hotel began on March 1, 2022, and reservations are available through December 2023.
Again, this is a highly requested experience and fans have been salivating over the opportunity to hang out with Star Wars characters, look out those fantastic space windows, and sleep overnight in a starcruiser for years now.
This has made getting a reservation all the more difficult for guests and many dates have already sold out.
When Are Galactic Starcruiser Reservations Available?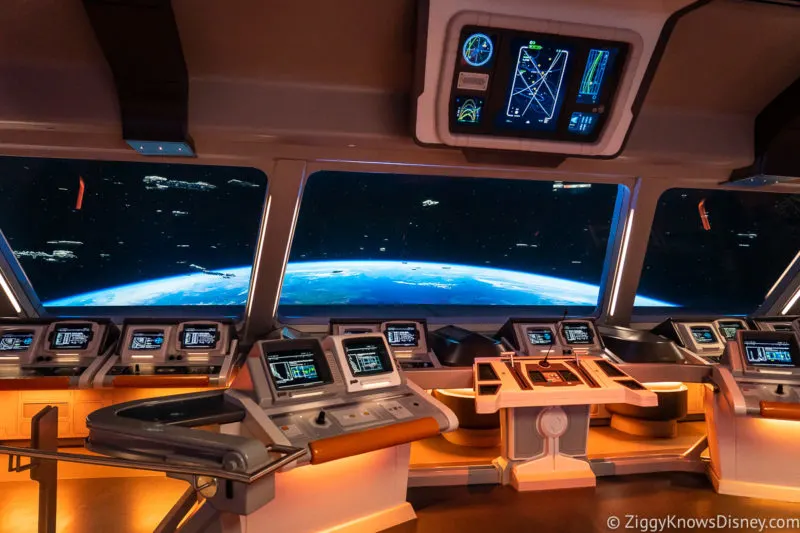 In order to make reservations on the Galactic Starcruiser, you first need to know when they start. So when are reservations available for the Star Wars hotel?
Reservations are already open and available to all guests at this time.
General Public Booking
General booking for Star Wars: Galactic Starcruiser hotel began on October 28, 2021. Currently, reservations are available for voyages departing from Now through December 2023.
Booking is available for the general public as well as Annual Passholders, DVC Members, Club 33 Members, and Golden Oak residents.
Some dates are already sold out months ahead of time so expect long wait times and limited dates available for some time.
What To Have Ready Before Making Reservations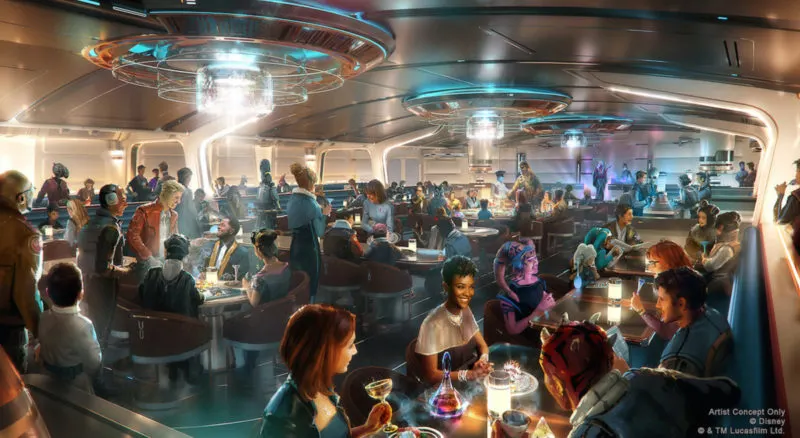 We will go into more detail later, but the booking process for the Galactic Starcruiser is a complicated one. That means it's important to have all your necessary personal details about your stay ready before you get on the phone with a Disney booking agent.
Here is a list of the most important things to have ready before you make reservations:
Voyage Dates – Due to limited availability, it's smart to have multiple dates ready. Just in case there is no availability for your first choice, we recommend at least 3-5 other dates that can work for your travel party.
Number of Guests – The number of guests in your party, even children and infants. This can be modified at a later time, but it's best to get the final number before you call (more on this later).
Guest Information – You need to have the full legal names, ages, addresses, and phone numbers of each person in your group, including children. Make sure you write this info down ahead of time if they are not in your immediate family and you don't know this info off the top of your head.
Number of Rooms – Decide how many rooms you need for your party. Some rooms hold up to 8, so even with a bigger party, you may be able to all stay together.
Room Type – There are 3 room types so choose which one you want between a Standard Cabin, Galaxy Class Suite, and Grand Captain's Suite.
Dining Preference – There are two seating for dinner, one at 5:30 pm and the other at 8:00. You must choose your preference, but keep in mind you are not guaranteed your first choice, it depends on availability.
Special Experiences – There is a special dining experience on the Galactic Starcruiser called the Captain's Table which can be booked. You also can make reservations for some off-ship experiences on Batuu like Savi's Workshop or the Droid Depot.
Other Walt Disney World Resort Hotel Reservations – If you are planning to stay at one of the other Disney World hotels before or after your stay on the Galactic Starcruiser, you can also make those reservations at the same time. Have these dates and resort name/s ready.
Again, having all these things is necessary, and having them already in front of you and ready to go is going to save you a bunch of time and stress when you get on the phone with Disney.
How to Make Reservations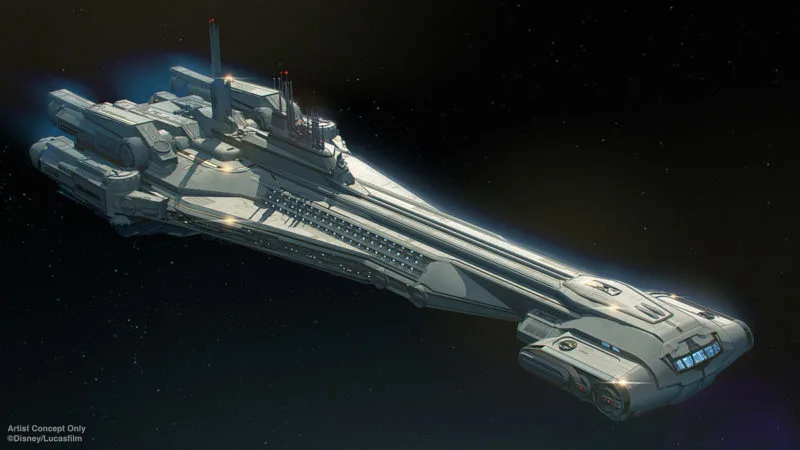 Now that you have everything you need, it's time to book reservations on the Galactic Starcruiser. Depending on what type of guest you are (annual passholder, DVC member, first-time visitor, etc) will determine how you book your voyage.
Let's look at the step-by-step instructions on how to do it:
Check Availability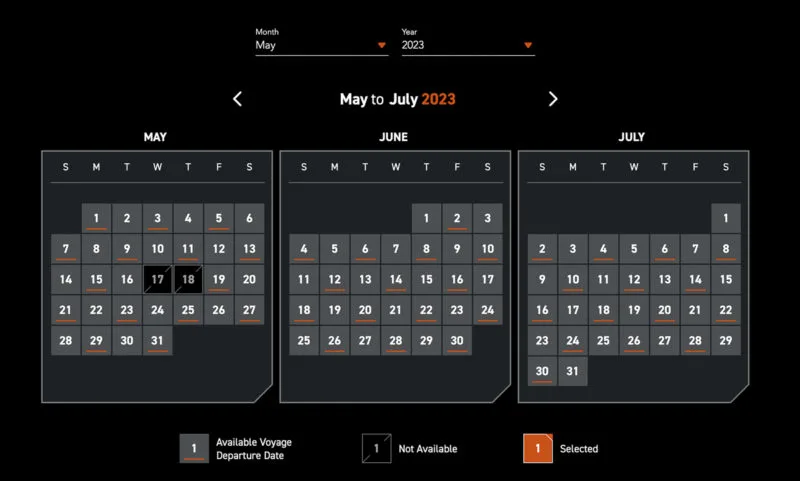 The first step in making reservations at the Star Wars Hotel is to decide your dates and check availability. It's pointless to get all excited about going and then call to book your stay only to find out from the operator there are no rooms available for those dates.
To check availability, look at the calendar on the Walt Disney World website. If your dates are not available you can click the button "Show Next Available Date" or search the rest of the calendar.
Phone or Online?
Unlike when booking reservations for other Disney World Resort hotels, the Star Wars: Galactic Starcruiser can only be booked by phone at this time. Making reservations online is not possible for anyone.
To book the Galactic Starcruiser guests can call Walt Disney World Resort Reservations at (407) 939-1936.
Will they eventually make reservations possible online? That is yet to be seen. Right now we are well past the first wave of reservations and online reservations are still not possible.
We think it's strange they aren't allowing it right now, and we would expect them to at some point in the future. We will let you know if this changes.
Step-by-Step: Galactic Starcruiser Pre-Bookings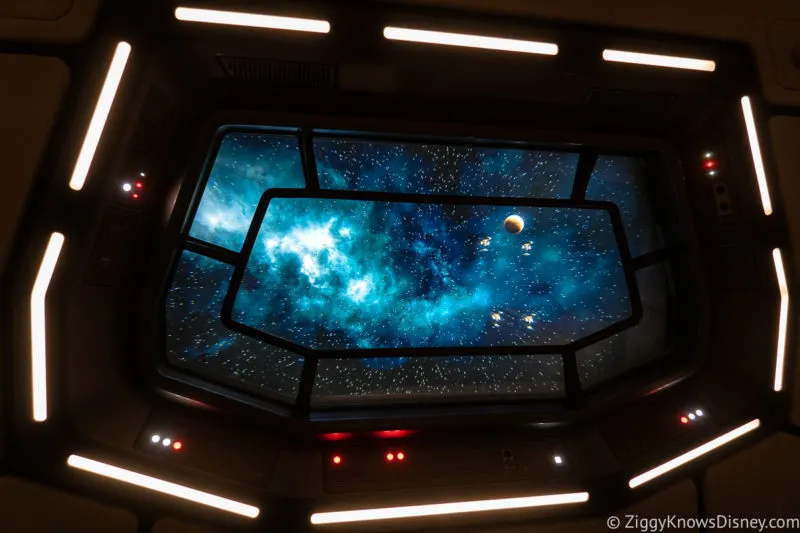 (Before opening up initial reservations to the public on October 28, select guests got a chance to book a stay early. Pre-Bookings are no longer necessary to make reservations. Here were the instructions for each group):
Disney Visa Cardholders:
From October 12-16, Disney Visa Cardmembers could book reservations over the phone by calling 407-939-5271. (This pre-booking window is now closed)
Annual Passholders:
From October 7-9, Annual Passholders could book reservations only over the phone by calling 407-939-5277. You then need to provide your unique AP code number for verification. (This pre-booking window is now closed)
DVC Members:
From October 7-9 DVC Members could book reservations only over the phone by calling 407-939-5277. You then need to provide your unique DVC code number for verification. (This pre-booking window is now closed)
Club 33 Members & Golden Oak Residents:
From October 5-6 members of Club 33 or Golden Oak residents could book reservations only over the phone. (This pre-booking window is now closed)

Step-by-Step: General Public Reservations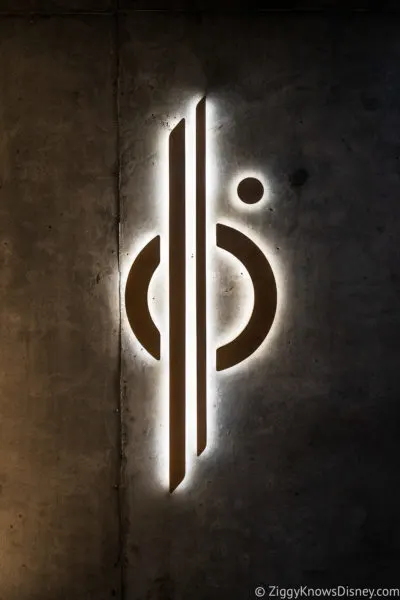 Starting October 28, 2021, the general public can start booking reservations onboard the Star Wars: Galactic Starcruiser hotel. Guests can call (407) 939-1936 as reservations are by phone only.
Especially when reservations for new dates are released, timing is of the essence.
The call center for Walt Disney World Reservations opens at 7:00 am EST each day. The phone lines will be BUSY, so it is extremely important that you are on the phone and ready to go a couple of minutes before that time.
Wait times for pre-bookings were up to 10 hours long. While you won't have to wait quite that long for general bookings, set aside a good portion of your day just in case. The phone line for Walt Disney World Reservations is very understaffed at this point in time and even calls on normal days can take 2-3 hours.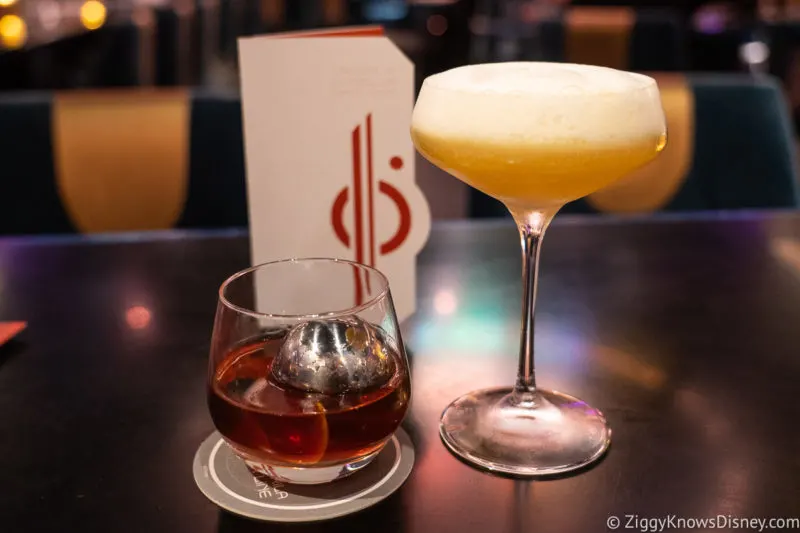 Again, that's why you need to call right away and not wait a second too late. Have that number already entered in your phone so all you have to do is click "Call" once 7:00 am comes around.
Once you get someone on the phone, they will ask for all your information, so have the list ready to go that we talked about earlier. Give them your payment and you are all done.
One thing that will save you a ton of time is by using an Authorized Disney Travel Planner. They can take care of all the reservations for you so you don't have to worry about any of this stuff. We'll go into why it's so important later in this post.
Star Wars: Galactic Starcruiser Payment & Deposit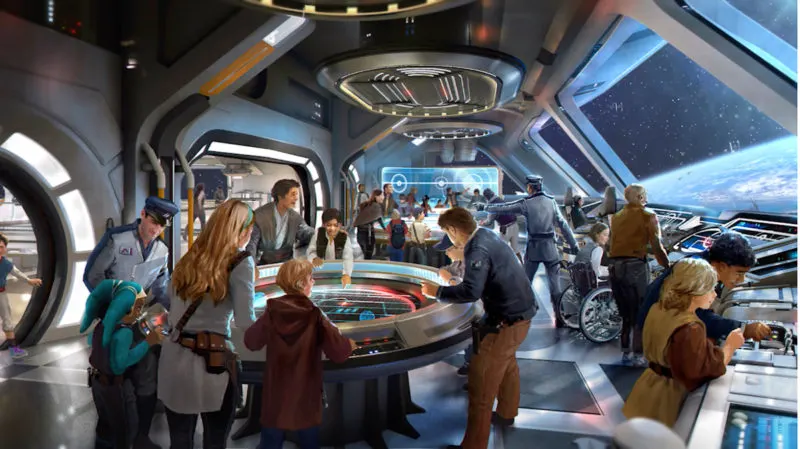 Whether you book your stay yourself or with a travel agent, you will need to give your payment information at the time of booking. Your deposit amount is determined by how far out you are booking your stay.
Reservations Made 31 Days or More Prior to Guest Arrival – Guests are required to make a deposit of 20% of the final price of the Star Wars: Galactic Starcruiser package.
Reservations Made 30 Days or Less Prior to Guest Arrival – Guests are required to make full payment of the final price of the Star Wars: Galactic Starcruiser package at the time of booking.
In either case, full payment for the Galactic Starcruiser is required 30 days prior to the guest's arrival date.
Also, your deposit must be made with a credit card, but your final payment can be made with a credit card, check, money order, bank wire transfer, or ACH.
It's important to remember that reservations are not confirmed until payment is received and you receive a confirmation number from Disney at your email address.
Cancellation Policy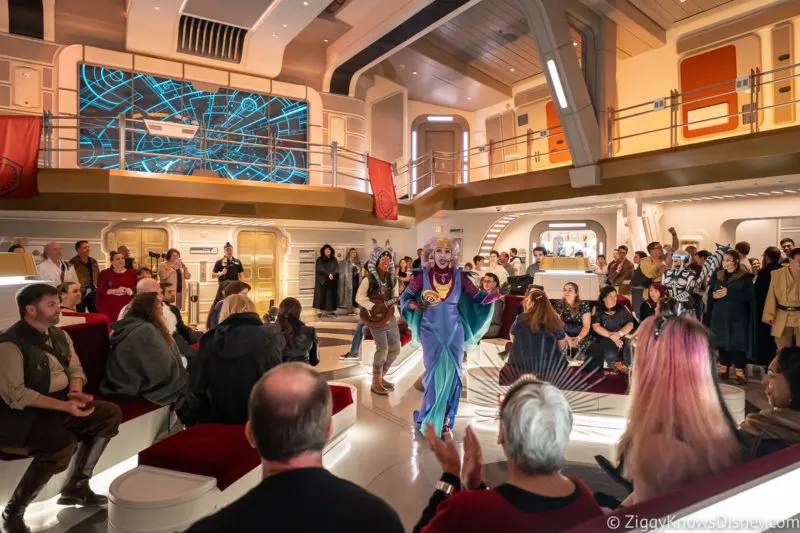 As always, it's important to know the cancellation of any Disney World vacation package you are booking, and since the Star Wars Hotel is one of the most expensive trips you will take, you need to know this ahead of time before booking.
Cancellations without occurring fees are possible, but it will depend on how far out you are from the arrival date for your trip.
Cancellations Made 30 Days or More Prior to Guest Arrival Date – A full refund is possible including the amounts already paid, minus cancellation fees assessed by third-party suppliers and non-refundable travel protection plan costs.
Cancellations Made 30 Days or Less Prior to Guest Arrival Date or No-Shows – No refund will be given in this case and guests will have to pay the full price of the vacation package.
Also, no refunds will be made for early departure and for unused or partially used admission tickets, options, or features, including meals.
Travel Protection Plan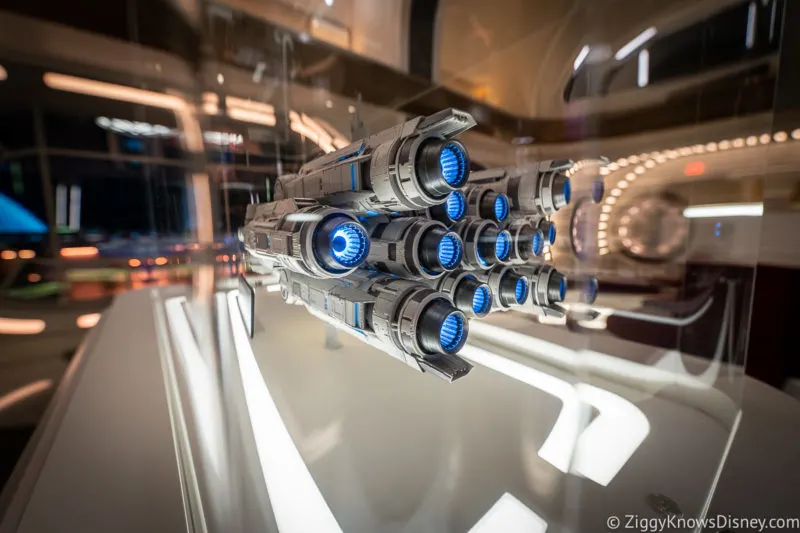 Since we are living in uncertain times and the current health crisis can affect anyone (or any other unforeseen occurrence for that matter), it's good to use an extra measure of protection when booking your stay at the Star Wars hotel. This can be done by purchasing the "Travel Protection Plan."
Disney is strongly encouraging the travel protection for the Galactic Starcruiser, especially because of its high cost.
The Galactic Starcruiser Travel Protection Plan is $82.50 per person and it covers
Trip Cancellation/Interruption (illness, loss of job, etc)
Trip Delay
Baggage Loss
Bag Delay
Emergency Medical Protection
Emergency Evacuation
Travel Accident
Rental Car Damage
The plan can be added at a date after you book your stay so you don't need to decide right then and there. The plan is also refundable within 14 days (30 days for Utah residents) after the date the plan is added to the package.
You can call 1-844-203-3123 to add the protection plan or ask for more information.
Normally, we don't add travel insurance to any trip we plan, but we can definitely see the usefulness when going to the Star Wars Hotel and think it's a pretty good idea. You definitely don't want to be on the hook for all that money, so just in case something unexpected happens you are covered.
Booking Changes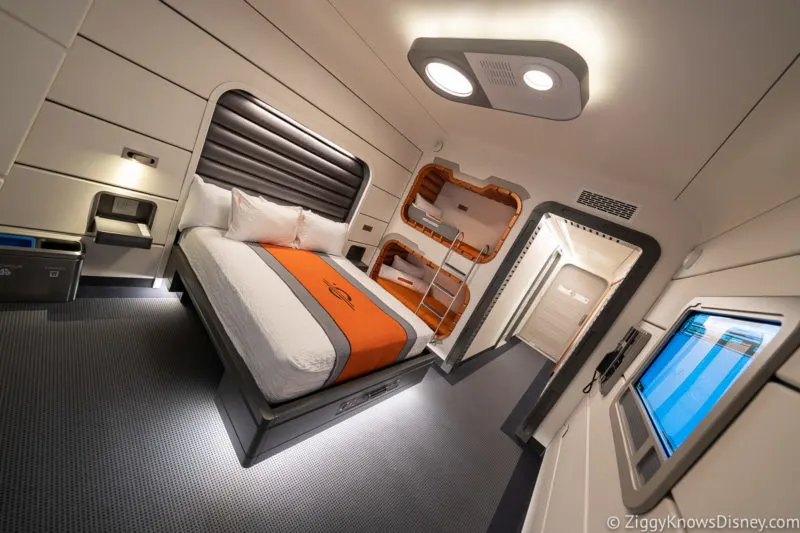 Making changes to your reservation after booking the Galactic Starcruiser hotel is allowed, but you are subject to some restrictions and potential fees.
Here are the details for the most common changes you might need to make:
Fees
If you make any changes to your Star Wars hotel reservations, be aware that you could be subject to fees. Any change in travel dates, guests, or room types is possible according to availability and the guest is responsible for paying the difference in any price increase or third-party change fees involved.
Date Changes
Guests can make changes to their original voyage dates free of charge as long as it is 30 days or more out from the departure date.
Changes in travel dates are NOT allowed 29 days or less prior to arrival without being subject to a $350 change fee, per change.
Can I Add More People To My Reservation After Booking?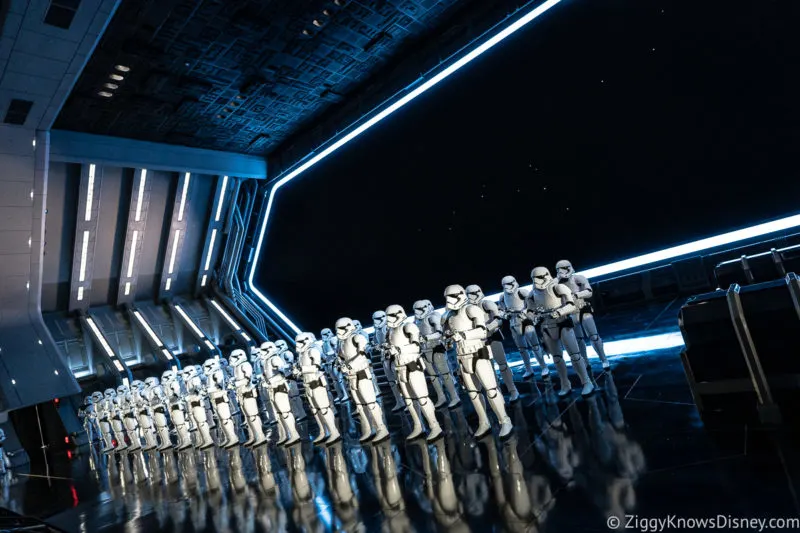 Yes, you can, but it depends on dining availability for those dates as well as room capacity/availability. The space in the dining room is limited so if the dining availability is at capacity for that voyage there would be no more space more additional members of your party.
Also, if you are trying to add more people to your reservation than can fit in your currently booked room size, you either need to book another room or upgrade to a bigger room size, both of which are dependent on availability.
We recommend deciding how many people will be in your party before booking your stay to avoid additional headaches.
If you do want to add additional guests after the original booking, we recommend doing that ASAP. The longer you wait, the more likely it will run out of availability.
Can I Change the Names on the Reservation?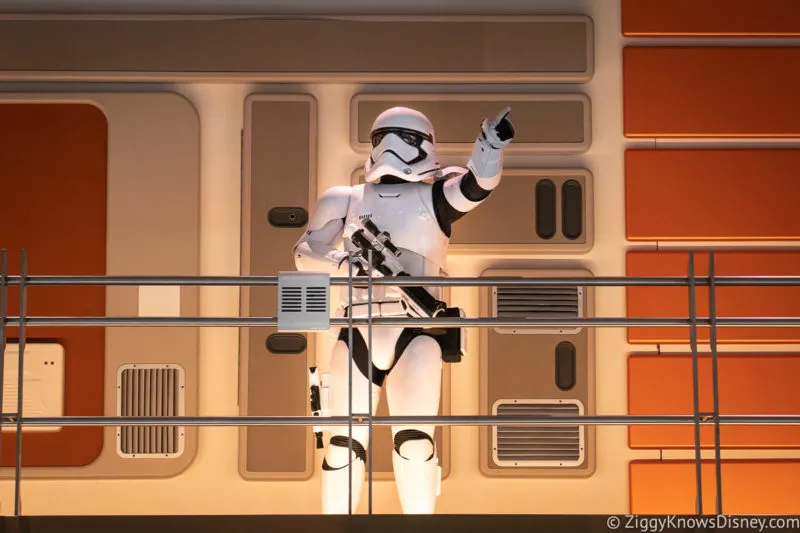 Yes, you can. Name changes on the booking are permitted up to 1 day before arrival, as long as the primary name on the reservation stays the same.
Also, you cannot transfer reservations or package components to another person. So if for some reason you cannot go, you can't give the room away to someone else. If you are the lead name on the reservation, at least you must go.
Can I Change My Room?
Yes, you can, but again this is subject to availability. For example, if you have 4 people but now want to add 2 more to make it 6, you will need to upgrade to a Grand Captain Suite if you all want to stay together.
Of course, there are few of that room type, so Disney can only give you one if it's still in the inventory.
Discounts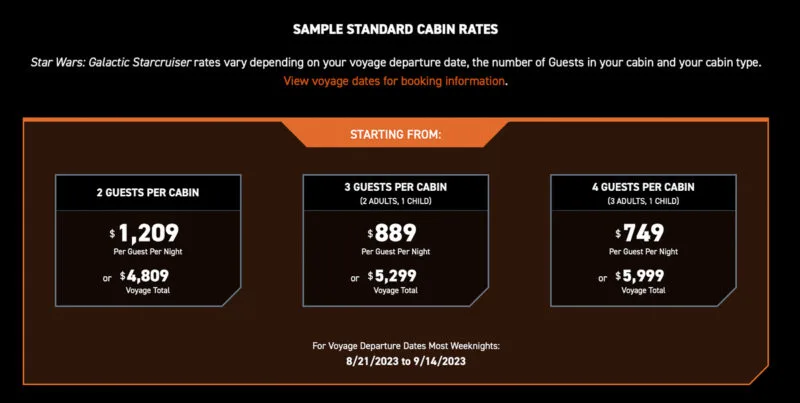 All Walt Disney World Resort Hotels have discounts at one time or another, some for annual passholders, Visa cardholders, or other ones in certain seasons of the year. Naturally, many readers want to know if the Star Wars: Galactic Starcruiser has discounts.
The answer to that surprisingly is yes. The Star Wars Hotel is now offering discounts for both the General Public and Disney Vacation Club owners only which they can take advantage of to save money.
The general public can take advantage of up to $750 in savings off a 2-night stay at select Disney World Resort hotels booked immediately before or after a Star Wars: Galactic Starcruiser voyage. This is a great deal and makes staying at the Deluxe Resorts much more affordable.
Disney held off from offering discounts for almost the entire first year due to the extremely limited supply of rooms and high demand from guests. Since then, bookings haven't been as full as at the beginning, so it makes sense that Disney would give some discounts in an effort to attraction more guests.
We also think it's possible that they will start offering more discounts to the general public if it doesn't hold the same popularity it currently has. Disney might be forced to lower room prices if there isn't a strong enough demand, but just how much they lower them and if they go more than 30% off remains to be seen
Of course, we will update in the future if Disney comes out with any more discounts here, and even though Disney doesn't want to help people save money, they may be forced to if customer demand dwindles.
Booking the Captain's Table Dining Experience

While your meals are included in the price for your stay onboard the Galactic Starcruiser, guests can splurge for an even more special experience at the Captain's Table.
The Captain's Table Dining experience takes place in the center of the Crown of Corellia Dining Room and is 32$ per person in 2022 and increases to $50 per person in 2023. This has to be paid upfront when booking your stay.
Here is how Disney describes it:
"Arrange to sit at the captain's table for an especially memorable dinner experience. Enjoy extra courses—the captain's favorite dishes—while seated in a prime location in the center of the Crown of Corellia Dining Room."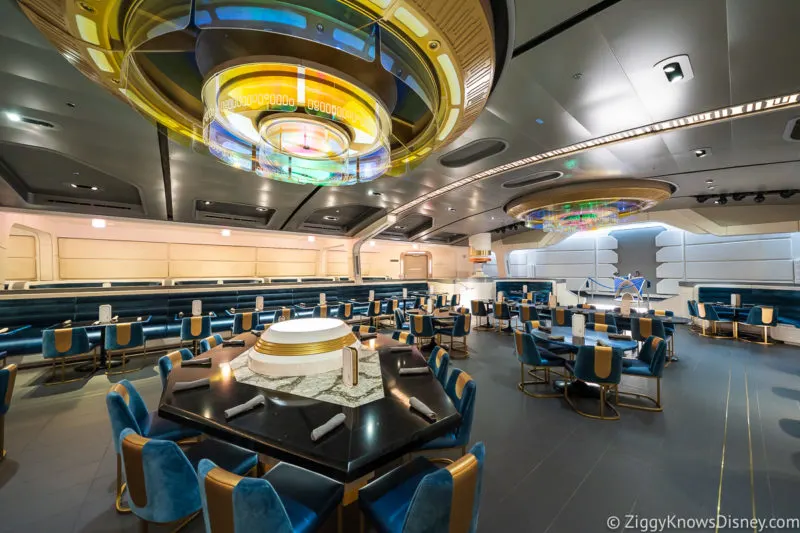 The Captain's Table is an exclusive meal and only holds 13 people max. Guests can reserve a place to eat here on one of the two nights of their stay. Of course, it depends on availability, and with so few places available on each voyage it's the most difficult experience to book at the Star Wars hotel.
TIP: Book this immediately! If it's not available for the dates you want to book your voyage, you can ask the Disney agent to tell you the next dates when it is available and see if that can work for you.
Book Other Star Wars Experiences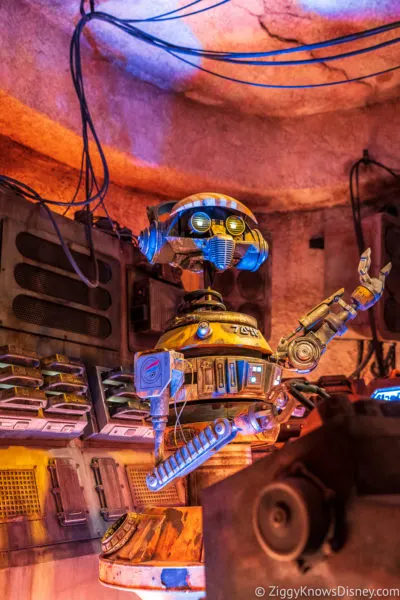 Besides the Captain's Table, there are other off-ship experiences you can book on your visit to Batuu in Galaxy's Edge when you make reservations at the Star Wars hotel.
Oga's Cantina – This cantina is a must-do for any Star Wars fan and looks like something pulled straight out of Tatooine. It has unique drinks plus an unbelievably fun atmosphere you need to check out!
Savi's Workshop – This is the custom lightsaber-building experience. Design and build your own lightsaber that you then can take home. This is very fun and the best souvenir available for a Star Wars fan.
Droid Depot – This is the custom droid-building experience. This is also very cool and lets you customize 2 base droid models in whatever creative ways you can come up with. Not as cool as the lightsabers, but also worth it.
All three of these are awesome if you have never done them before. We have more information on each of those experiences in the links so check them out and see which ones interest you and your family.
On top of those, you can also add the Memory Maker to your package onboard the Halcyon starcruiser. This is Disney World's photo package that lets you get your picture taken at the various stops throughout the parks so you can keep those memories forever.
If you don't already have Memory Maker attached to your theme park admission, we recommend it here. This is going to be a unique, likely once-in-a-lifetime stay and this package and Disney has some new and exciting photo ops onboard.
Link to My Disney Experience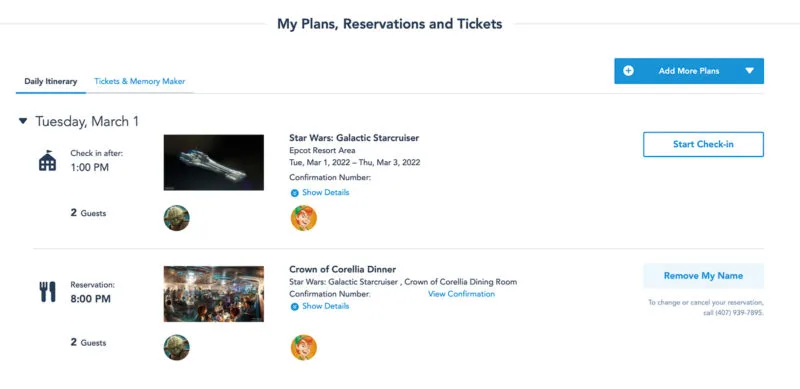 Once your reservation is confirmed, make sure to link it to your My Disney Experience account. It may be automatically entered, but if not you can add it yourself by using the reservation number in your confirmation email.
Check My Disney Experience to see if all the names of the people in your party are correct and if not contact Disney.
Booking for DVC Members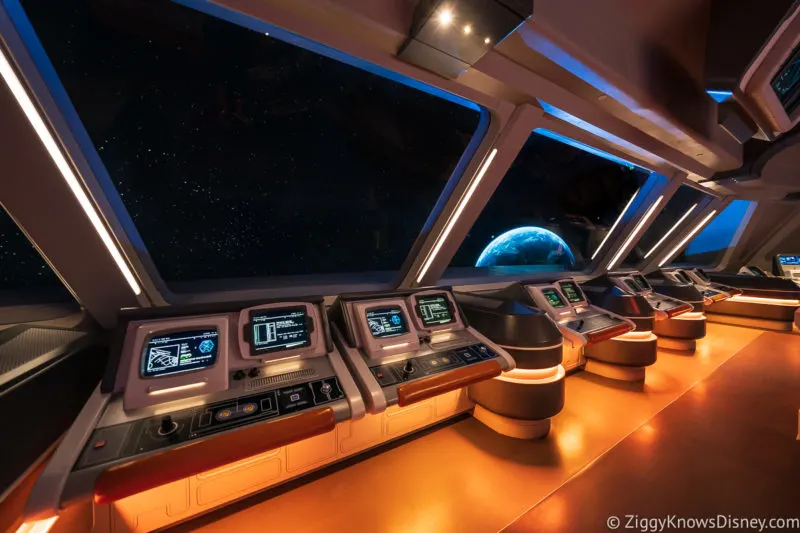 If you are a member of the Disney Vacation Club, then you will be interested to know that the Star Wars hotel also accepts DVC points as a form of payment just like the other DVC resorts at Disney World.
This is the most expensive resort use of DVC points that Disney has ever created! The number of points you spend will depend on what cabin type you choose and how many people are in your party.
Here is a look at the DVC Points Charts for the Star Wars: Galactic Starcruiser:
Standard Cabin – A 2-night stay starts at 295 points per person in the off-season, and goes as high as 349 points per person in the holiday season! Additional guests over the initial 2 are 86 points per adult and 60 points per child.
Galaxy Suite – A 2-night stay starts at 359 points per person in the off-season, and goes as high as 424 points per person. Additional guests over the initial 2 are 86 points per adult and 60 points per child.
Grand Captain's Suite – A 2-night stay starts at 502 points per person in the off-season, and goes as high as 623 points per person. Additional guests over the initial 2 are 86 points per adult and 60 points per child.



It's important to know that members must use DVC points for at least one guest in their party during the presale. All others may pay with cash if they wish. This will likely not be carried over once the general public sales begin, but members may still use DVC points if they want to.
Keep in mind that reservation changes made less than 30 days prior to arrival are considered a cancel and rebook and subject to cancellation policies. If any changes made less than 30 days prior to arrival result in a lower cost for the package, a non-refundable penalty fee of $350 or 43 Reservation Points is due at the time of confirmation.
So, with the incredibly high cost, is it worth it to use DVC points on the Galactic Starcruiser? Let's put into perspective just how expensive the Star Wars hotel is when using points.
If you were traveling as a party of 2 during the cheapest part of the year, it would cost a whopping 590 points to stay on the Galactic Starcruiser.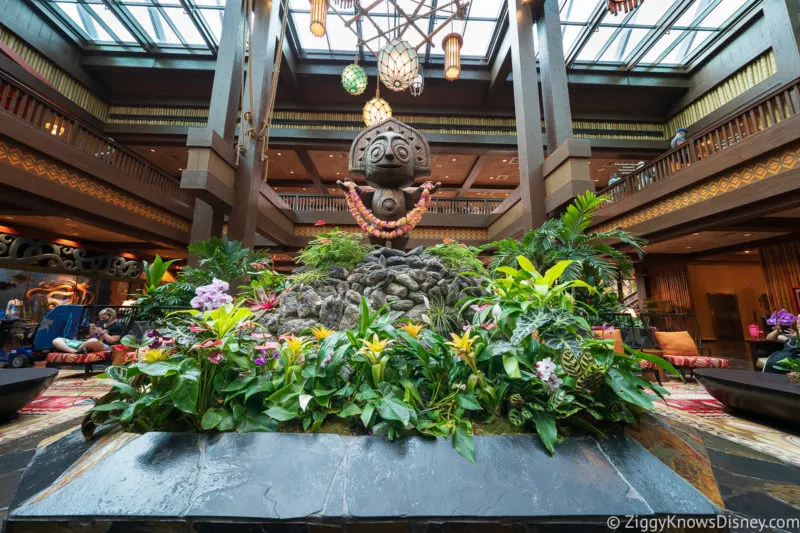 Instead, you could stay at Disney's Polynesian Village Resort, one of the most expensive resorts at Disney World, for the entire month of September and the first 4 days of October, a total of 34 nights, for only 578 points!
That also doesn't factor in a family of 4 which would cost as much as 762 points at the Star Wars hotel, whereas instead at the Polynesian it wouldn't cost anything extra.
In our opinion, the Galactic Starcruiser is not a wise use of DVC points, and it's much better to pay in cash. A 2-person stay will cost 590 DVC points in the low season which are roughly valued at 18 dollars per point. That means it will cost $10,620 to stay there.
Instead, if you pay for it out of pocket during the same season, it will cost you somewhere in the neighborhood of $5,000. That means paying for the Star Wars hotel in DVC points is going to cost you at least double.
Galactic Starcruiser Reservation FAQs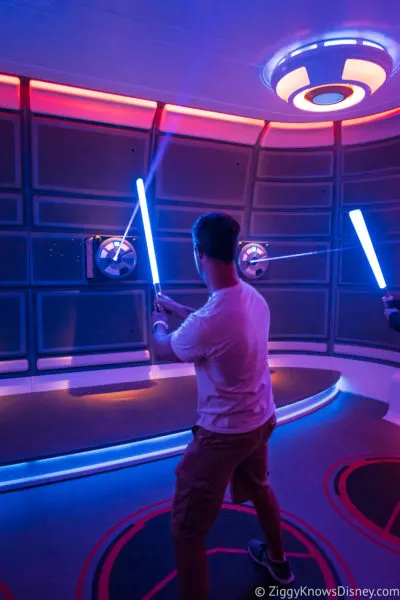 Below we have listed some of your most common questions about making reservations for the Star Wars hotel. We came up with as many questions as we could think of so I hope everything you need is there. If we missed something, drop us a comment and we'll add it here.
Can I Make Reservations Online?
No, unfortunately at this time the only way to book your stay at the Star Wars: Galactic Starcruiser hotel is by making reservations on the phone. I'm not sure exactly why online reservations are not available at the moment since all other Disney resorts have that option available.
I suppose Disney's computer system would have a complete meltdown if everyone tried getting online at the same time to book this (I'm half kidding here). I would imagine booking online will be available in the future, but for now, warm up your index finger because you need to do some fast dialing.
Can I Book More Than 2 Nights?
The maximum number of nights you can stay onboard the Galactic Starcruiser resort is 2. In fact, that's the only amount of nights because each package is a fixed 2-night stay. No fewer and no more.
It's not like a regular resort hotel where you get o choose the number of nights you want to stay, it's like a cruise in that the length of stay is determined for you.
Should I Book Other Disney World Resorts Before or After the Star Wars Hotel Voyage?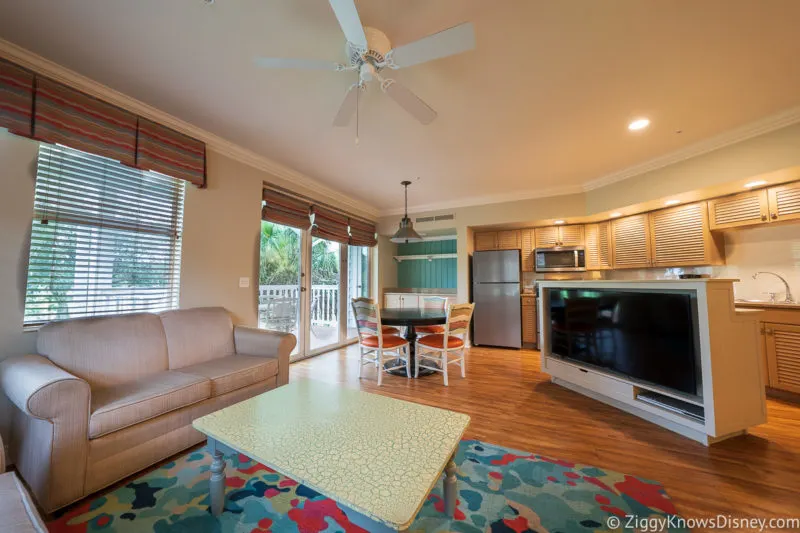 Disney strongly recommends booking at least one night at a Disney World hotel before your voyage begins on the Galactic Starcruiser, and we also think it's a very good idea unless you are an Orlando local.
The Galactic Starcruiser is like a cruise ship and guests have a 3-hour boarding window between 1:00 pm and 4:00 pm to enter the hotel. If you are coming from far away, especially on a plate, you do not want to take the chance of flying in on the same morning that your stay begins.
Disney has a strict no-refund policy within 30 days of your arrival, so if for some reason your flight gets delayed, you are sunk (unless you have travel insurance that is).
However, even if you can get a refund, you will miss your opportunity to stay here, and you will then have to start all over again with new reservations if you are lucky enough to get them. And who knows how far into the future you will have to wait.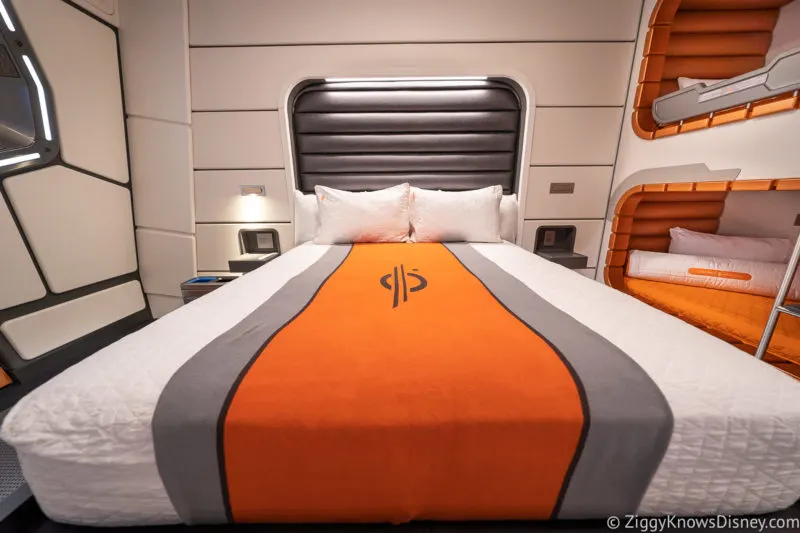 That's why we think it's best to be on the safe side and get a hotel, either at Disney World or somewhere in the area outside Disney.
Most guests coming from far away will likely make their voyage on the Halcyon starcruiser just one part of a longer vacation to Walt Disney World, and in that case, we recommend staying for as long as your budget allows you to.
No matter if you book your Walt Disney World vacation before or after the Galactic Starcruiser, the important thing is that you have a day or two to rest after your voyage on the Halcyon.
We were absolutely exhausted after our 2 days onboard and made the mistake of going to EPCOT the same day we got off the Starcruiser. The smarter thing to do is to have a pool day where you can just relax before going to the theme parks. Trust us, you'll need it!
Is It Better to Go With More People?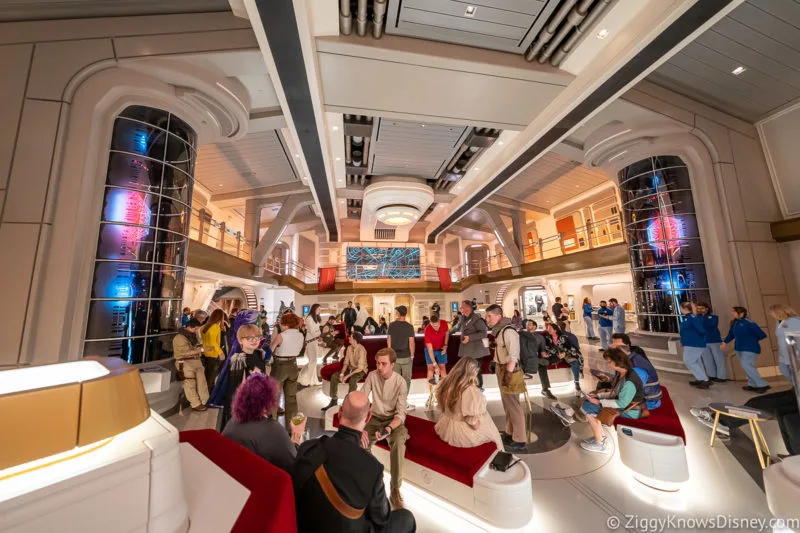 If you are talking strictly from a financial point of view, then yes. It is better to go with more people because you will spend less.
The Star Wars hotel works like a cruise in that you pay per person. The price does increase when you add more guests, but the more people you have per room, the less you pay per person.
We also think it's a really fun experience to do with your family and friends, so the more the merrier!
What is the Minimum Number of Guests Per Reservation?
The minimum number of guests per reservation is 2. Since the hotel is in such high demand, Disney won't let you book a room for only 1 person.
Pricing is based on double occupancy per room or more, just like on a cruise. So if in the event you did want to go solo, you technically could, but you would have to pay for two people. If you are willing to do that, you may as well bring a friend at that point.
What is the Maximum Number of Guests Per Room
That depends on what room type you have. The Galactic Starcruiser cabins hold anywhere from 4-8 guests.
Standard Cabins – up to 4 or 5 guests depending on the room layout
Galaxy Class Suite – up to 4 guests
Grand Captain Suite – up to 8 guests
How Many Guests Does the Standard Cabin Hold?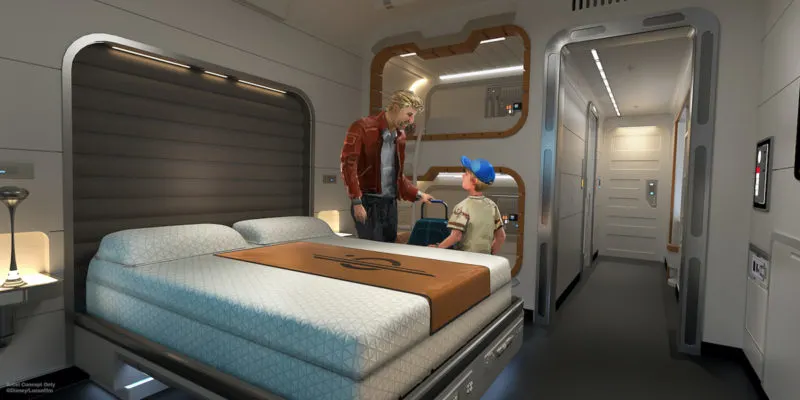 A Standard Guest Cabin holds 4 or 5 guests. There are actually 2 layouts of standard cabins, one with 1 queen bed and two bunks, and the other with 1 queen bed, 2 bunk beds, and 1 pull-down bed big enough for an adult.
Depending on which one you have will determine if your cabin holds 4 or 5. If you have 5 people in your party and are given a standard cabin, it will be the one that sleeps 5.
Are Connecting Cabins Available?
In most Disney resorts, you can request connecting rooms in case your party is big and not all staying in one room together. Unfortunately, that is a bit difficult here.
Connecting cabins are available on the Galactic Starcruiser, but on a "request basis only" when you book 2 rooms or more.
This makes sense since there are only 100 rooms in the entire hotel. It's likely to be booked solid every night, so it would be very difficult to move things around for guests to be next to each other. Don't worry, it's so small that you will only be a short walk away from your family and friends.
Can Friends or Family Visit Me During My Stay?
It depends if they are on the reservation with you or not. Only guests named in the reservation party prior to check-in and with a valid reservation can enter Star Wars: Galactic Starcruiser property.
This is different than other Disney World hotels where you just walk around the property and check out the grounds even without a reservation. The Star Wars hotel is exclusive and too small to let in guests not staying there, otherwise, there would be a line all the way down the street.
Reservation Frustrations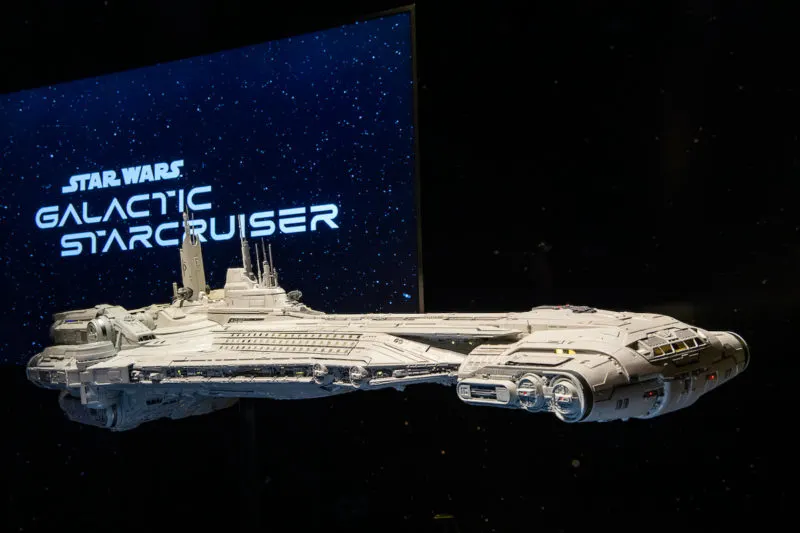 Even for those who are able to get a reservation at the Star Wars Hotel, the whole process can be very overwhelming and frustrating.
Guests repeatedly have called to book a stay and experienced numerous problems such as the line dropping, long waits, or never even being able to talk with an operator. Some of the wait times have been as long as 10 hours from the start of the phone call to booking a room.
You need to know this stuff going into it. Disney is very short-staffed at the moment, which compounds the situation. Don't think you can call and then in 30 minutes be off to work. When you call to make reservations, we recommend taking the day off from work as it could literally take all day long.
Use a Disney Vacation Planner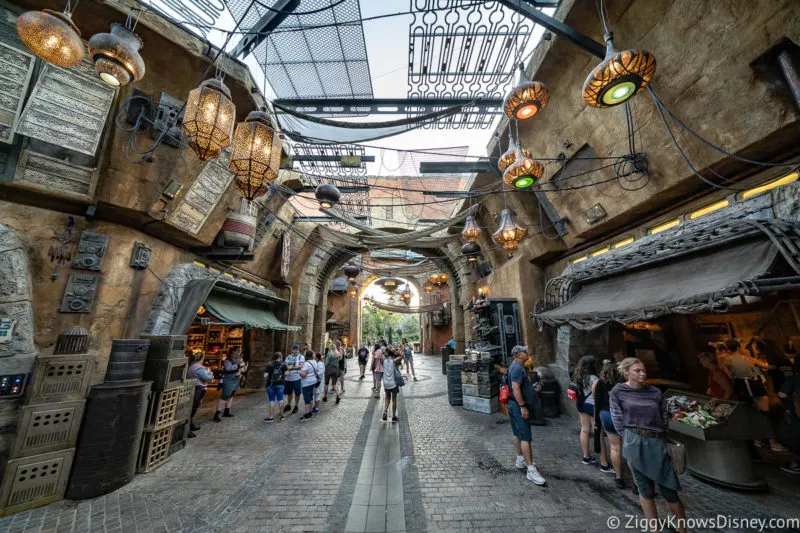 On the morning we tried calling for reservations, we never were even able to get through. We called over and over again only to get a voice message telling us to try again later. The only way we were able to get through was thanks to our incredible travel agent, otherwise, we wouldn't have been able to get a reservation!
As always, our recommended Disney vacation planner is René at Show You the World Travel. She was able to use a separate number for Authorized Disney Vacation Planners, and after 7 1/2 hours of waiting, she was able to book our stay for us!
If you need help planning your Disney Vacation you can contact René and her team for your stay on the Star Wars: Galactic Starcruiser or any other trip planning needs. All of the agents there are certified Disney Travel Agents and are super helpful with all your planning needs.
I honestly can't say enough good things about them and what they are willing to do for their clients, and the best part about it is they are FREE to use!
What If You Can't Get a Reservation?

So far the reaction has been pretty positive from fans waiting to book their stay and voyages have regularly been selling out months ahead of time. At times it's been chaotic for sure and if you have specific dates in mind you may not be able to book a room.
Even if you did everything right and followed our tips, you just might not be able to get a room for the dates you want. In that case, all you can do is keep trying.
Keep calling Disney every day to see if any spots opened up. Since it's such an expensive vacation, some people are likely to cancel because of life circumstances or not having the money to go.
As you might imagine, some people will back out the closer they get to the 30-day window when they have to make full payment on the room. It will then hit them just how expensive it is and that they can't afford it after all. That would be your chance to pounce and scoop up their reservation.
Again, that's why I strongly recommend using an authorized Disney vacation planner to book your stay at the Star Wars Hotel. They will be on top of it and will be much more likely to get a room than if you try yourself!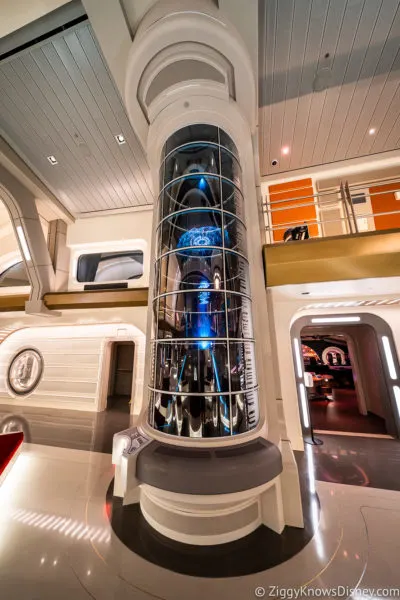 Right now, reservations are open through December 2022. At some point in the coming months, Disney will then release reservations for another 6-12 months (2023) and announce when those go on sale.
So far, this second wave hasn't been as hard to get reservations for since most of the really huge fans went go during the first wave. Of course, the more success the Galactic Starcruiser has, and the more positive reviews coming out from guests mean that potentially it could be harder to book, and there will be even more people trying to get in the next time.
As soon as we have more info on the next round of booking dates we will let you know along with an update on how they are going so far.
Is There a Waiting List for Reservations?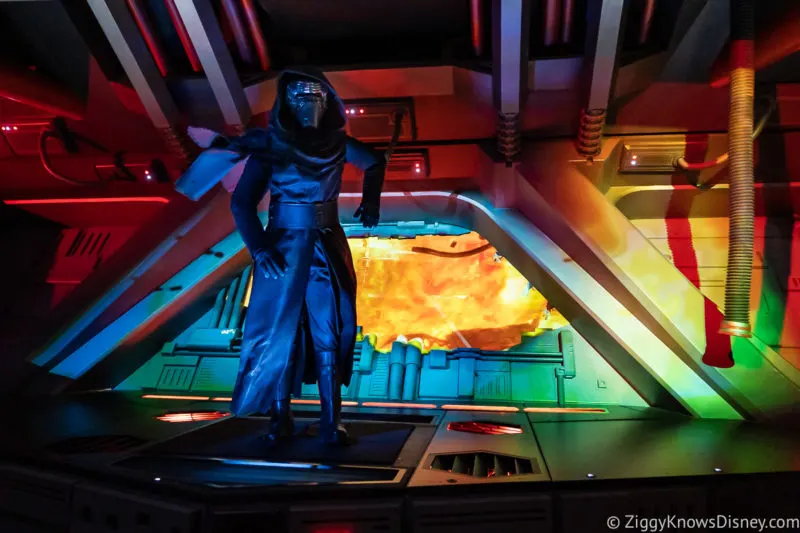 With all dates on the Galactic Starcruiser expected to sell out, many wondered if there will be a waiting list for the Star Wars hotel. Thankfully, at this time there is no need for a waiting list for reservations.
While it is possible if the demand overtakes the number of rooms available, we don't think it's likely to ever happen. The rooms are so expensive that it's not likely there will be such a strong demand that it massively overtakes the number of rooms enough to warrant a waiting list.
How would it even work? Would you have to put down a deposit to get on the list? Would there be some kind of verification process to weed out those who are not truly interested or don't have the money to go so they don't take up a spot for someone who really does?
Instead of a waiting list, what Disney has been doing when the rooms sell out is just making guests wait until the next round of dates opens up. Of course, we will let you know if a waiting list ever comes out, but we don't think it's likely.
If you have a hard time getting the dates you want, you might want to try booking during one of the least-crowded times of the year for a better chance. Check out our Disney World Crowd Calendar to help figure out the least crowded times.
For more information on planning your vacation to Walt Disney World here are some of our most useful posts:
Your Thoughts
I want to know what you think about the Star Wars Hotel reservation process…
Were you able to make a reservation?
What tips can you share for booking a room?
Let us know in the comments section below!
If you enjoyed this article, as always I appreciate it if you'd share it with others via social media. I work hard at making this website into a useful resource for you and your family to plan your visit to the Disney Parks and I hope it can help you! Thanks 🙂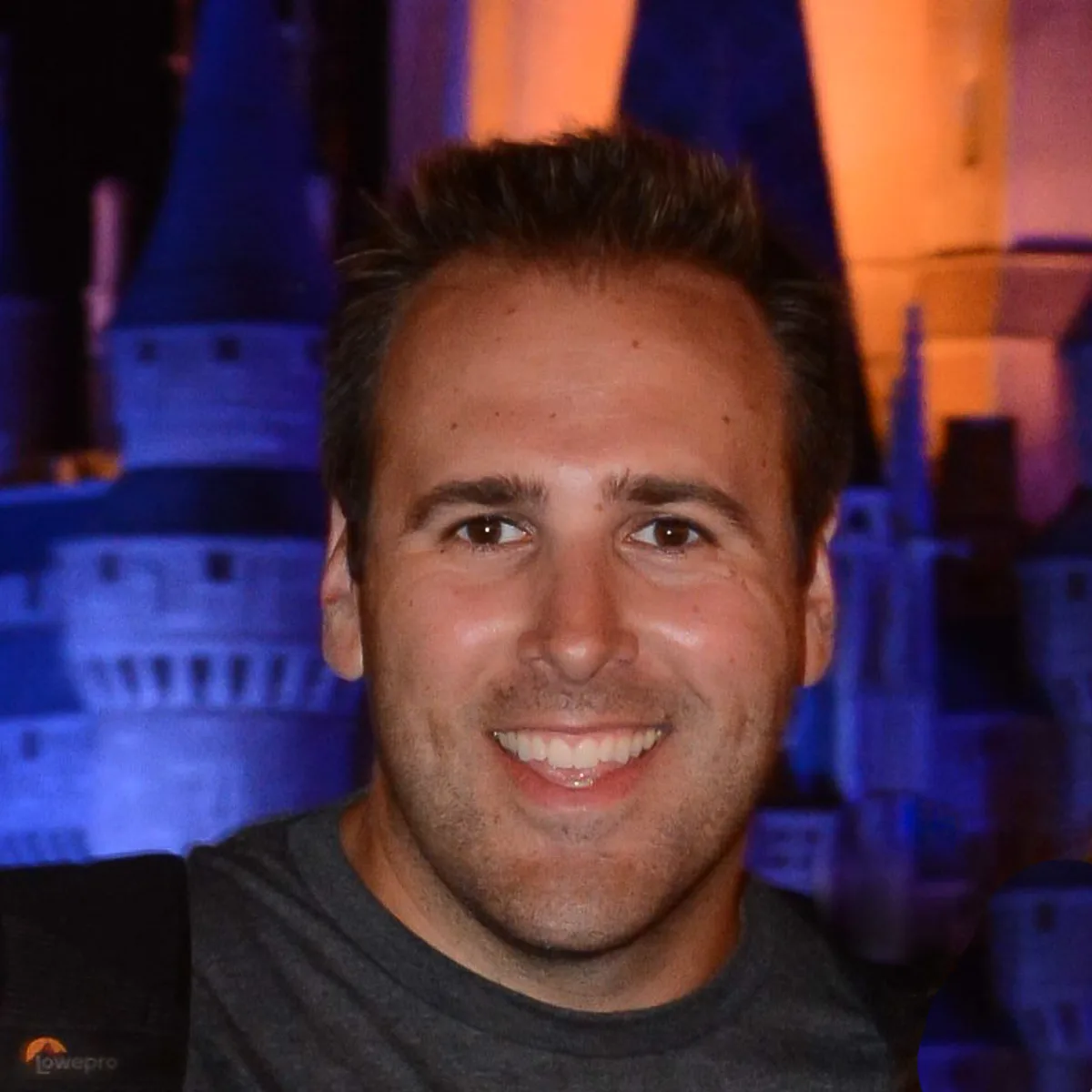 My name is Ziggy and I love Disney, everything Disney! I grew up on Disney and it has and continues to be a huge part of my life. I started young when my parents took me to Disney World when I was 18 months old. Little did they know that would be the first of an uncountable number of trips we would take. I have so many amazing memories going to Disney with my family and friends and it has been interwoven into my DNA.