The 2021 EPCOT Food and Wine Festival is here and with 27 different Food Marketplaces and many different snack options, it's hard to know what to get. Good thing we always try every item at the festival, and we put together a list of the Best Snacks from the EPCOT Food and Wine Festival so that you know all the food and drink to try, (and what to avoid) when you head over to EPCOT!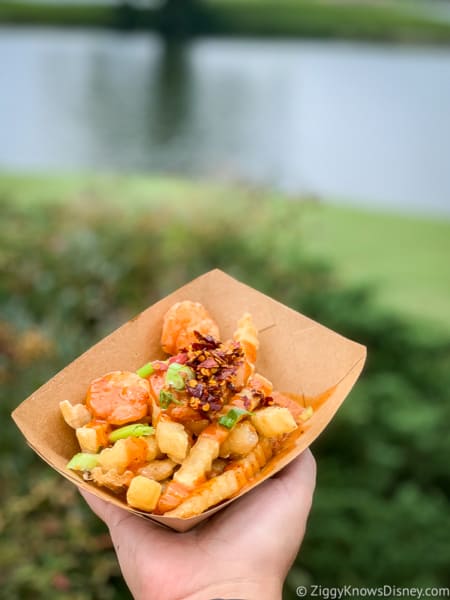 Trust me, it was quite an effort, but we did it for you! 😉
This list of the Top 10 Best and Worst Snacks at the EPCOT Food and Wine Festival ranks the items in no particular order. Some of the best snacks from last year's list made it again, but since there aren't as many marketplaces this year as usual, some of our favorites from last year aren't coming back in 2021.
Not to worry, we added a few of new items that we also really liked! In fact, three new items made our list this year.
While the snacks at the EPCOT Food & Wine Festival were still good, they have come down a notch from previous years. Obviously in 2020 there were extenuating circumstances which has resulted in not only fewer marketplaces, but fewer snacks on each menu.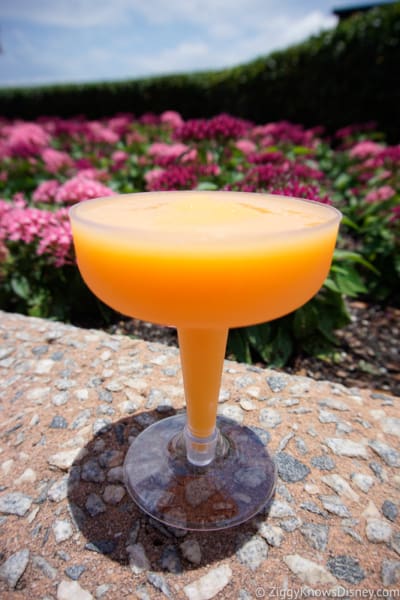 Since opening last year however, Disney has tried to mix it up by opening new marketplaces and more new snacks. We hope they continue to do this which can make up for this somewhat disappointing year for Food & Wine.
(Disney has yet to release the official menus this year, but this list of snacks form last year will help you get prepared.)
For more info on the Food and Wine Festival check out:
With that said, there are still a bunch of great snacks this year to enjoy, so here are my Top 10 Snacks from the EPCOT Food and Wine Festival (If you read on an empty stomach, don't blame me!) ?
The Best Snacks at the Festival
1.) Smoked Corned Beef with Crispy Potatoes: Flavors From Fire
Let's start out the list with what is quickly becoming a Food and Wine classic and possibly my overall favorite snack every year: the Smoked Corned Beef with Warm Crispy Potatoes.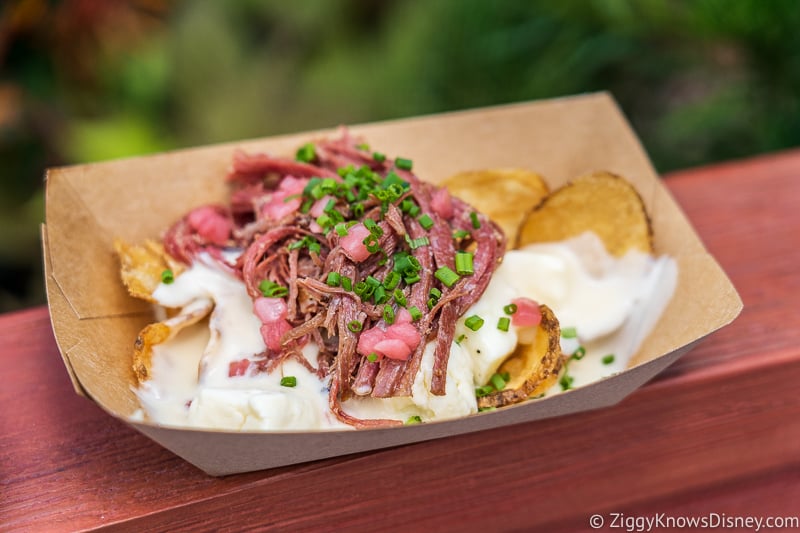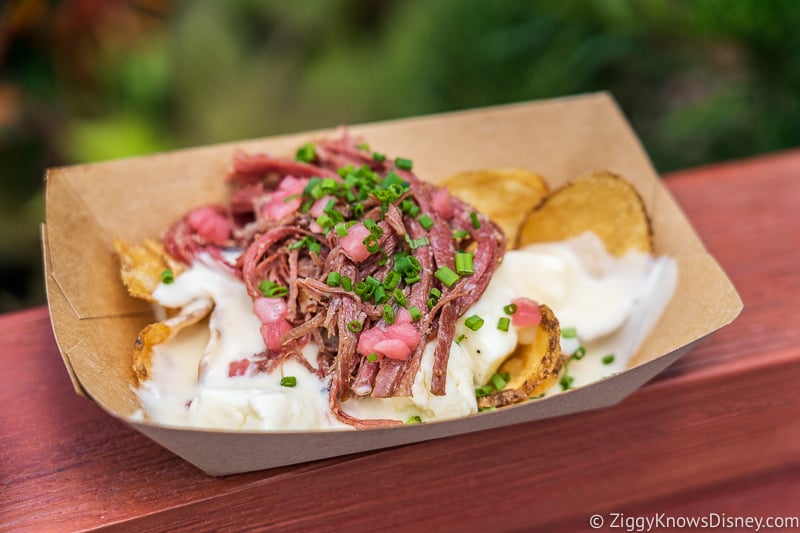 So I know I said at the beginning of the article that they aren't in order, but who am I kidding, I love the Smoked Corned Beef the BEST! Just think of the best handmade potato chips, warmed up in the oven and topped with an incredibly juicy and flavorful corned beef.
This year they've taken this dish to a whole other level over at Flavors from Fire by adding cheese curds on top too! Then if that's not enough, it's absolutely drowned in a killer parmesan cream sauce and chopped red onion!
If for some weird reason you end up going to Food and Wine and only decide to get one thing….make it THIS, trust me!
2.) Teriyaki-glazed Spam Hash – Hawaii
We loved the SPAM Hash in Hawaii last year, the year before that, and not much has changed! I really didn't think I could ever love SPAM so much, but they say love is blind right?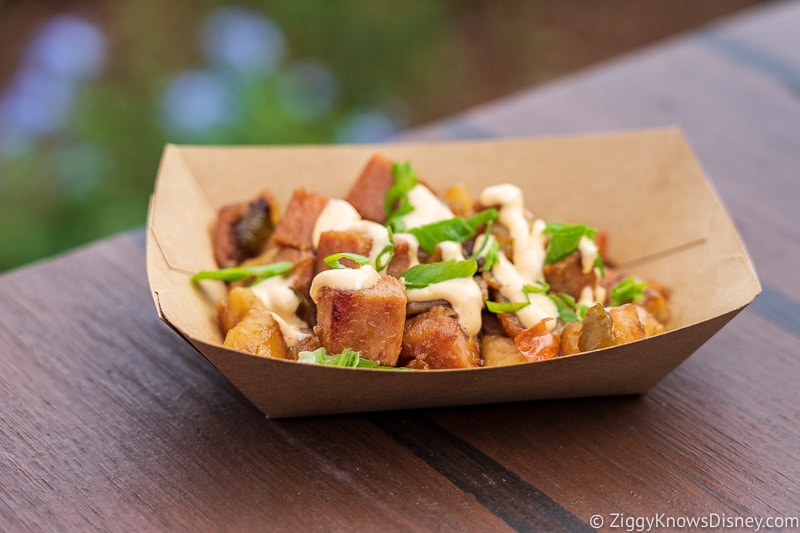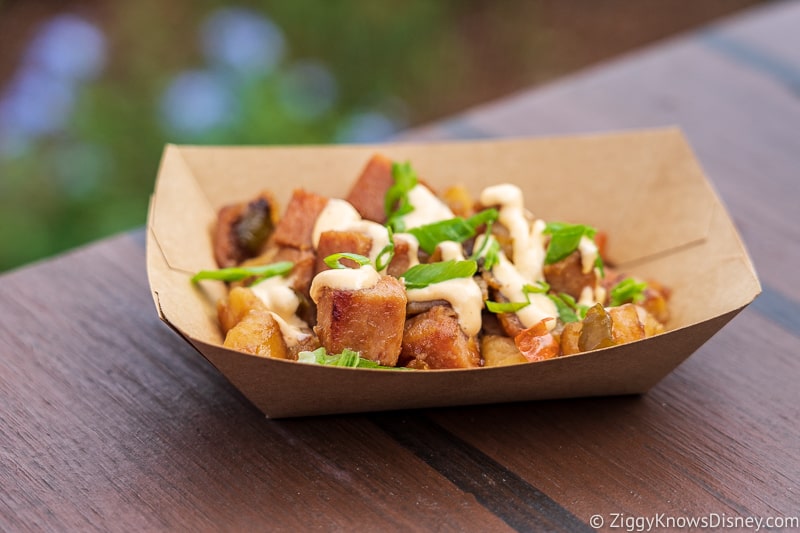 The great portion size of perfectly cooked potatoes and grilled SPAM. So much flavor in here as the SPAM is juicy and just packed with taste. the teriyaki and mayo sauces on top take this dish to a whole other level and everything just blends perfectly. Did I mention it's only $4.25?? Pass right over the Pork Slider and get the SPAM Hash instead and thank me later!
3.) Liquid Nitro Chocolate Cake Pops – Desserts & Champagne
While we were sad to see the Liquid Nitro Chocolate Almond Truffle disappear this year, we were equally as pleased to taste the Liquid Nitro Chocolate Cake Pops!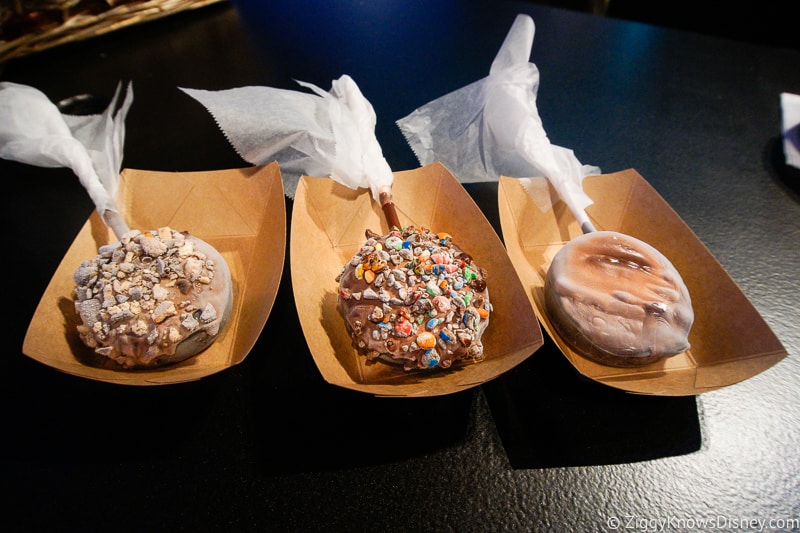 These things are HUGE and arguably the best valued snack at the Food and Wine Festival in 2020 at only $4.00 each! They come in three flavors, plain chocolate, Twix and M&M's, all of which are great. Since there is no difference in price we can't se why you wouldn't get one with the toppings.
Not only are they big, but they are also solid, with a healthy dip of chocolate covering each one. Very rich and decadent. The cool part is when they dip them in the nitrogen and they come out frozen solid.
We made the mistake of ordering all three at once, but no human can eat more than one so we suggest brining a friend of two to share these with.
4.) Gourmet Macaroni and Cheese – Mac & Cheese Hosted by Boursin Cheese
The EPCOT Food and Wine Festival always has a few versions of Mac and Cheese, but this year might be the best yet. The new marketplace aptly called: Mac & Cheese has 4 different flavors of rich and creamy Mac and Cheese.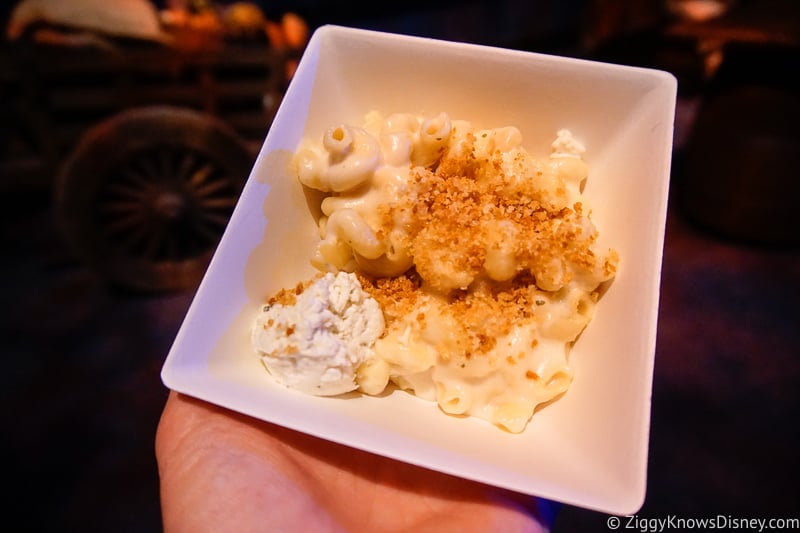 Even though there are 4 flavors, we have to go with the gourmet mac and cheese with boursin garlic fine herbs and topped with herbed panko. That is the most basic version they serve, but we think it's the one they do best.
It's a good size portion, and very very creamy. Just like something you would make at home, and one of our favorite snacks at Food & Wine this year.
5.) La Vie en Rose Frozen Slushy – France
Let's just say, walking around World Showcase Lagoon with one of these babies in your hand makes life a whole lot better. This drink from the France marketplace is amazing, and we always get it because it's super refreshing being a slushy, and it's really delicious.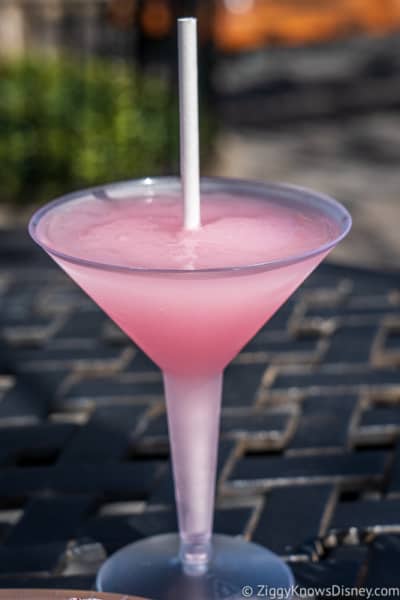 Usually during the Food and Wine Festival France has the La Passion Martini Slush, and the La Vie en Rose is a holdover from Flower and Garden. It's all the same because this one is just as amazing!
The combo of Vodka, Grey Goose l'Orange Vodka, St. Germain Liqueur, White and Red Cranberry Juice is enough to send me running to France in a heartbeat.
Hands down my favorite drink every year at Food and Wine! Vive la France!
6.) New England Lobster Roll – Hops and Barley
The Lobster Roll is one of our all-time favorite Food and Wine snacks, and they pack a lot of lobster in this baby!! Some places you go give you tons of filler, but this was practically all lobster in there!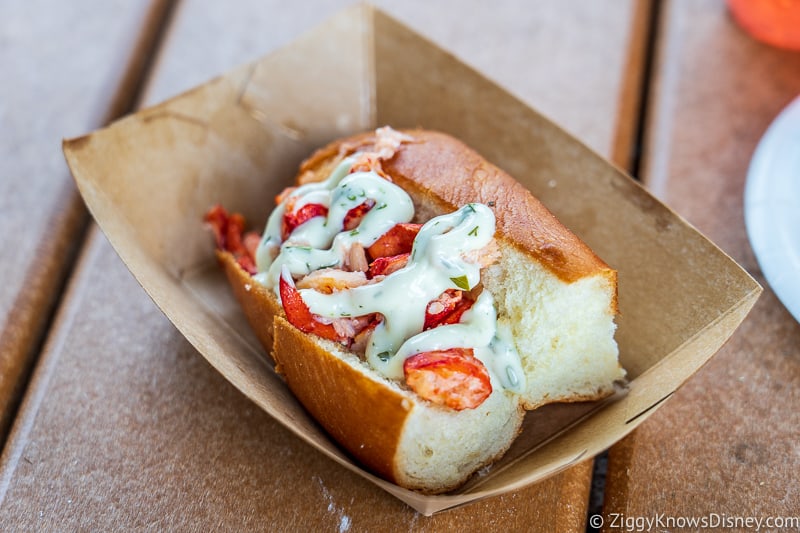 There is a very light seasoned mayo and butter mix that dresses the lobster, and some Fresh Herb Mayonnaise on top of that. We thought it was just the right amount, not overpowering the lobster taste.
Even though it costs $8.25, we think the amount of lobster they give you is well worth it and it's definitely one of the best snacks at EPCOT Food and Wine in 2020.
7.) Guinness Baileys Milkshake – Wine & Dine featuring Festival Favorites
I say the Guinness Bailey's Milkshake is like what every little kid would want but every adult gets to have!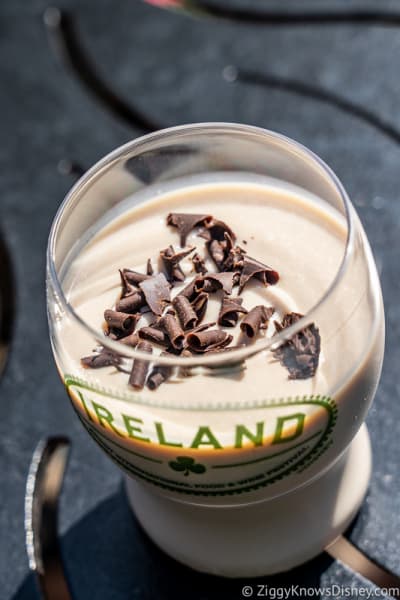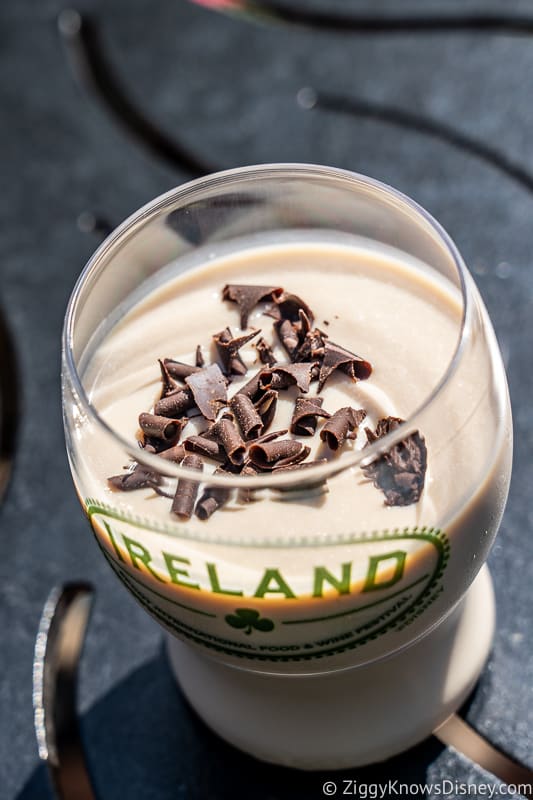 The shake is thick and creamy, a little less than a traditional milk shake, and the Bailey's, chocolate and Guinness together are an unbeatable combo. The chocolate shavings on the top are a nice touch as well!
This is a top snack for us almost every year and a great way to finish off your meal. It took us a few years to actually try it, but once we did we never go a year without getting it again!
8.) Wild Mushroom Beef Filet Mignon with Truffle-Butter Sauce – Canada
The Canada Marketplace only has two food items but both of them are stellar and things you absolutely have to get. While the Cheddar Cheese Soup is one of my favorite things ever at Walt Disney World, it really depends on what mood I'm in when deciding between that and this Filet Mignon.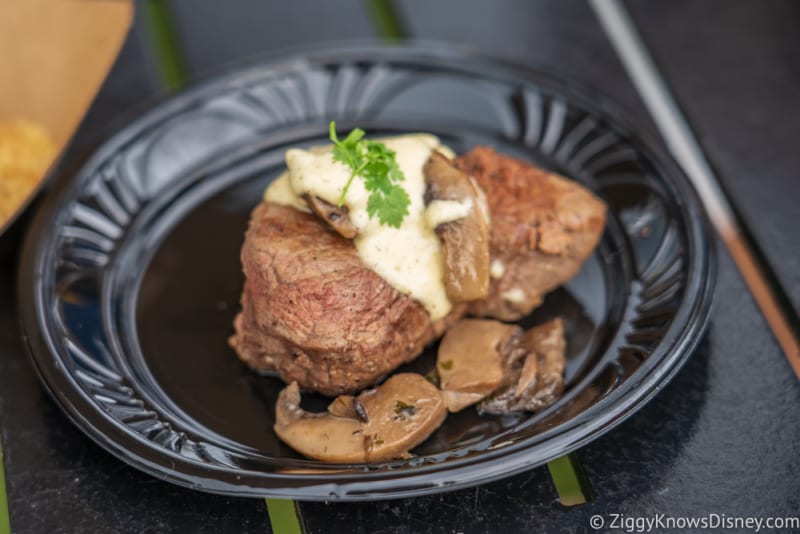 You might recognize this filet from Le Cellier, and it is in fact a smaller portion of the delicious meat you'll find there. Succulent and perfectly cooked, then covered in a rich truffle butter sauce is enough to make angels sing!
9.) Flancocho – Islands of the Caribbean
Sometimes you try a snack at Food and Wine and don't expect to like it nearly as much as you actually do, and the flancocho is definitely that snack for us!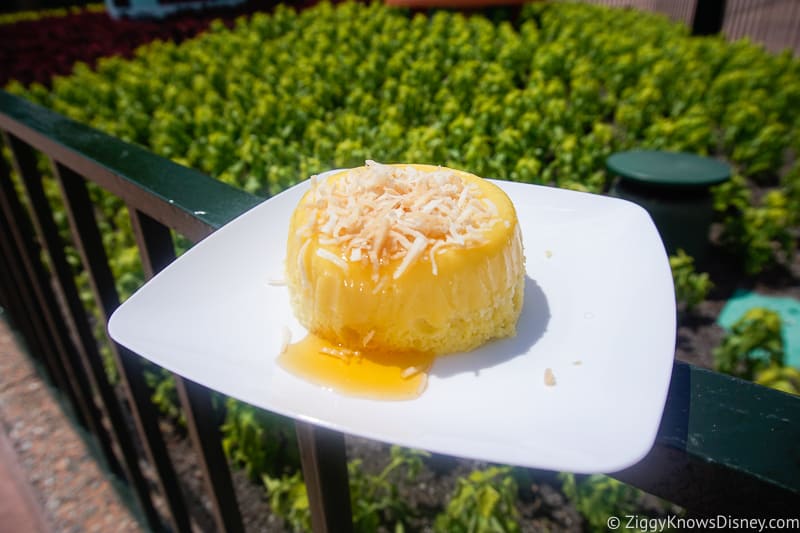 This might be our very favorite item this year, at least our favorite dessert. We've probably had 8 of them, I'm not kidding! It's a mix between cake and flan and also a liitttle cheesy. It's sweet enough, but not like you are eating a Krispy Kreme donut or anything. It's creamy without being gummy.
It's really indescribable and you have to try it for yourself, butt trust us on this one!
10.) Mango Smokey Margarita – Mexico
The mango smokey margarita is another amazing drink at Food and Wine this year and isn't to be skipped!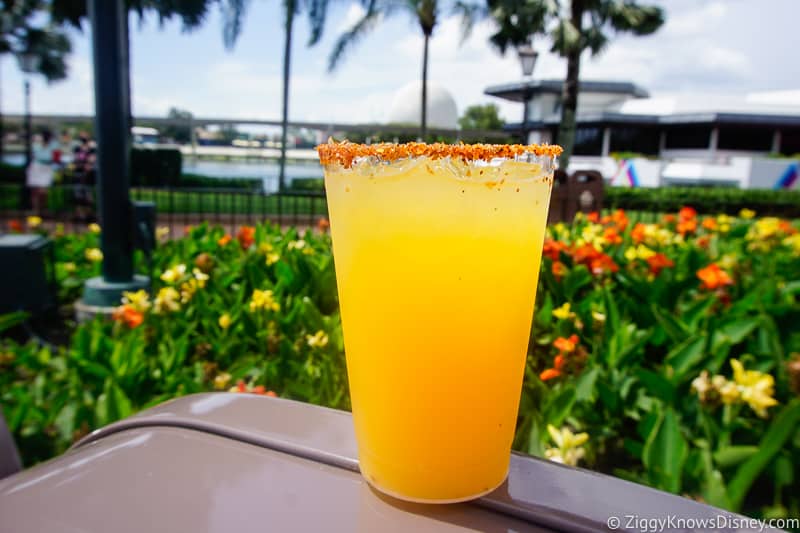 The margaritas in Mexico never disappoint, and this was no different. It actually is smokey and tastes like it's right out of a fireplace, which is a good thing! It's not super sweet and has a good kick to it, not like the mango margarita next door.
It has a definite hand-crafted taste to it, much like La Cava and is one of the best drinks at the EPCOT Food and Wine Festival this year.
The Worst Snacks at Food and Wine
Now while we do love the EPCOT Food and Wine Festival, that doesn't mean that everything is outstanding. The Food and Wine Festival is expensive and if you are going to spend your hard-earned money here it better be worth it.
That said, while there are tons of great options, there are some snacks you can skip too, so here is our list of the Worst Snacks at Food and Wine you should just skip:
1.) Lobster Macaroni and Cheese – Mac & Cheese Hosted by Boursin Cheese
Wait, didn't we just say that the mac and cheese was really good here? While we really like the gourmet mac and cheese and the buffalo chicken one too, we can't say the same for the lobster version.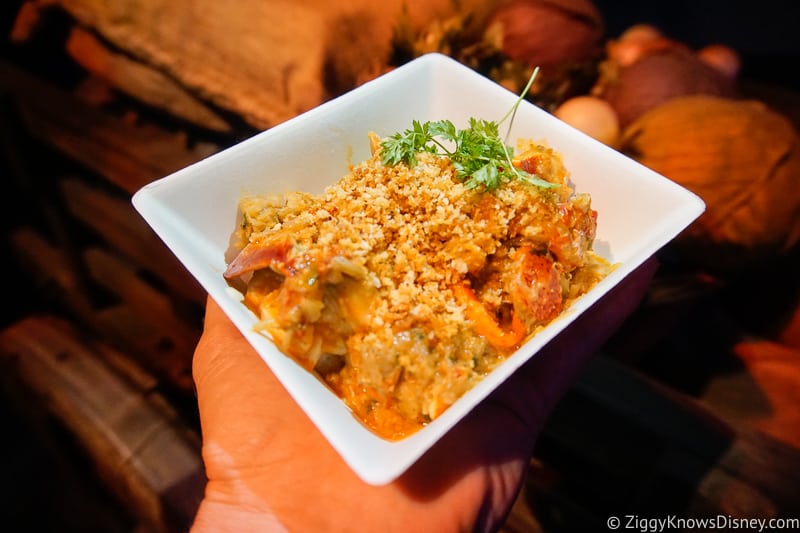 It has chunks of lobster and topped with Boursin garlic and fine herbs cheese sauce, a lobster cream sauce and herbed panko. It sounds amazing, but it just isn't.
I know that it has lobster on it, but it has an unusually strong fishy smell that we all thought was bad. We've heard the same from others on different days, so it wasn't just that batch. Honestly, the lobster mac and cheese from Aldi's would beat this any day of the week and it should be avoided.
2.) Bleu Spectrum – Wine & Dine Featuring Festival Favorites
The Bleu Spectrum is a weird one for us because we used to really like it, and we never say no to boba pearls, but this year it is really bad.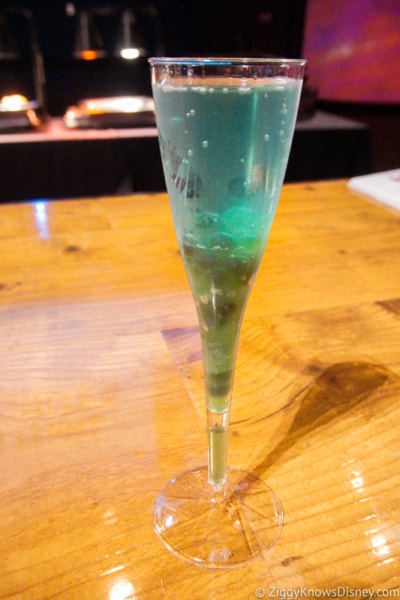 The color is amazing, but it just doesn't have the flavor you'd think it should have. It's like soda water with syrup in it.
Plus the bobas all got stuck at the bottom and we couldn't even get them out. That's our favorite part of the drink so we were not happy. Skip the Bleu Spectrum, there are dozens of other drinks we like more this year.
3.) Spicy Hummus Fries – Morocco
Believe it or not, the Hummus Fries from Morocco once made our list of the best New Snacks at Food and Wine, but it has really gone downhill since then and now lands on our list of the Worst Food at the festival.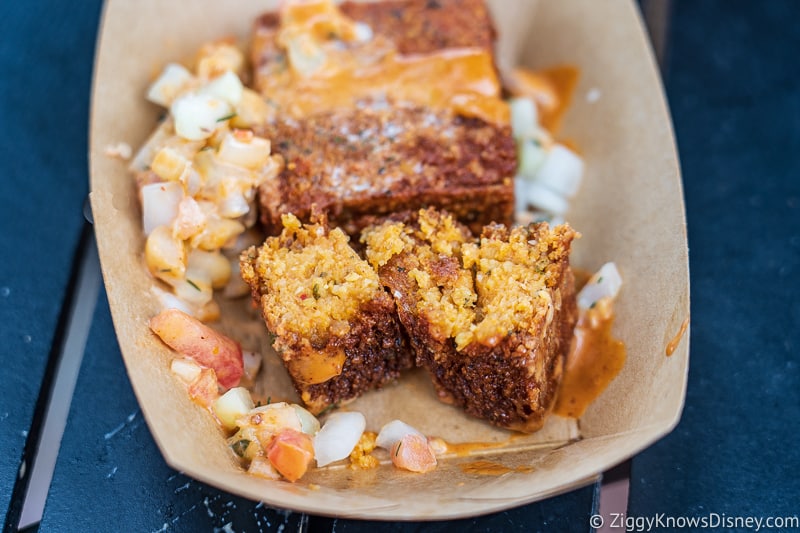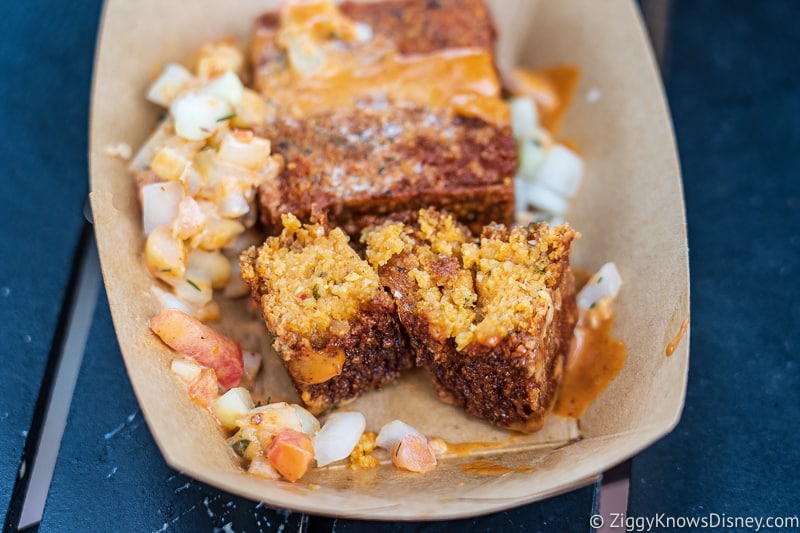 I love hummus and the cucumber and tomato garnish are very tasty, but it's the fries themselves that I didn't like. It's not the spice that I thought was right on, but they were just soooo dry! I really tried to choke these down, but without drinking a liter of water it was impossible for me.
Plus since they debuted a few years ago they have really jacked-up the price and now you have to pay $8 for hummus fries…$8! You could spend the same amount and get the delicious ribs from Italy instead for that price!
4.) Chocolate Pudding Terrarium – Earth Eats hosted by IMPOSSIBLE
There were some bad items at EPCOT Food & Wine this year, but the Chocolate Pudding Terrarium is by far the worst.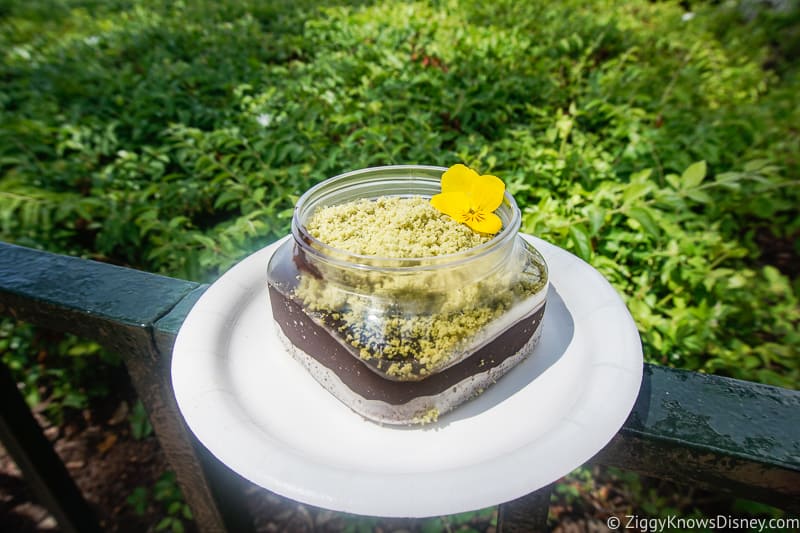 The matcha crumbles were hideous and the whole thing was gritty. We like matcha in tea but not like this. We would have used something similar to Oreos or graham cracker that dissolves, not this stuff that stays in your teeth like sand.
Disney was trying to create a dessert that resembles dirt, and let's just say they succeeded. This is the worst snack at EPCOT Food and Wine, hands down and you couldn't pay us to eat it again.
5.) Traditional Sicilian Cannoli – Italy
We are huge cannoli fans, but this just isn't very good. This is a "crisp" pastry filled with sweet ricotta, chocolate and candied orange.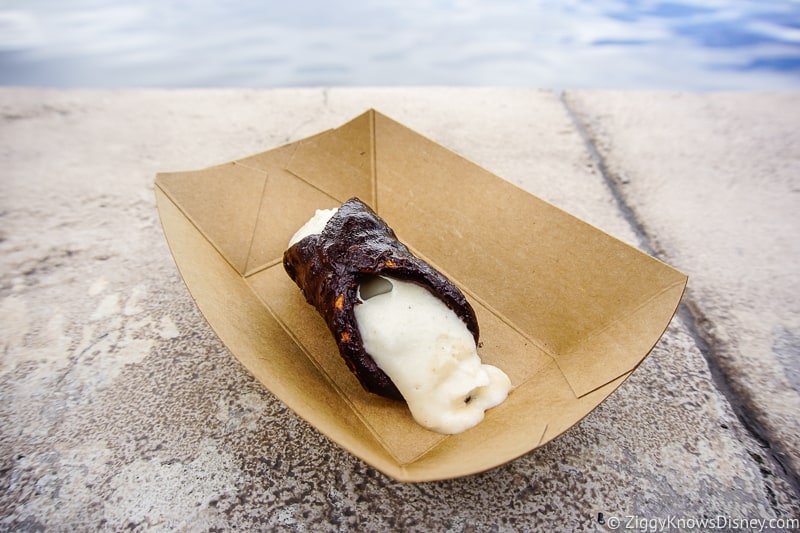 First of all, the cannoli is tiny, and for $4.25, we don't think it's a good value at all. There are plenty more desserts for the same money and twice as big.
Secondly, they describe this cannoli as "crisp," but being in the Florida humidity makes that almost impossible to achieve. The shell was also super dry and the chocolate was almost tasteless. The worst part was how quickly this thing melts, and the filling has a gritty texture to it.
6.) Charcuterie and Cheese Plate – Appleseed Orchard
I love a good charcuterie and cheese plate, but this wasn't it.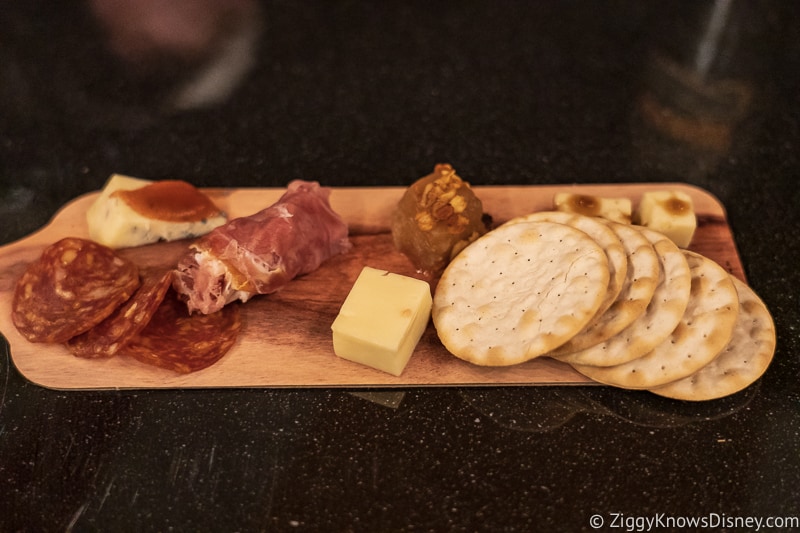 The only way I can describe this is: "blah." It did nothing for me. Very small portion and nothing special that you can't find in your local grocery store. Skip it please and get the Caramel-Apple Popcorn instead.
7.) Frothy Ramen – Japan
I don't even know what to say about the Frothy Ramen from the Japan marketplace. From the picture I'm sure you are thinking: "Why are there marshmallows on top of those noodles?" While it looks like that, it's actually the foam on top of them.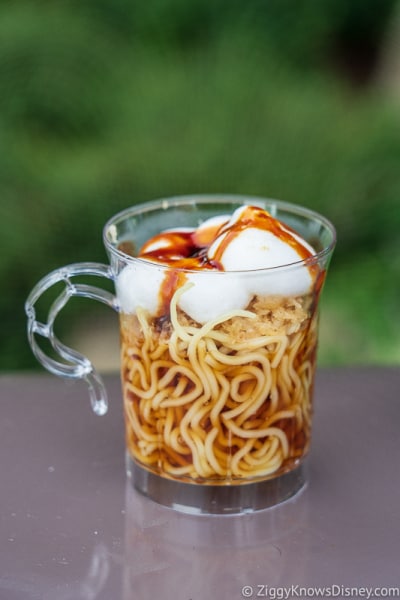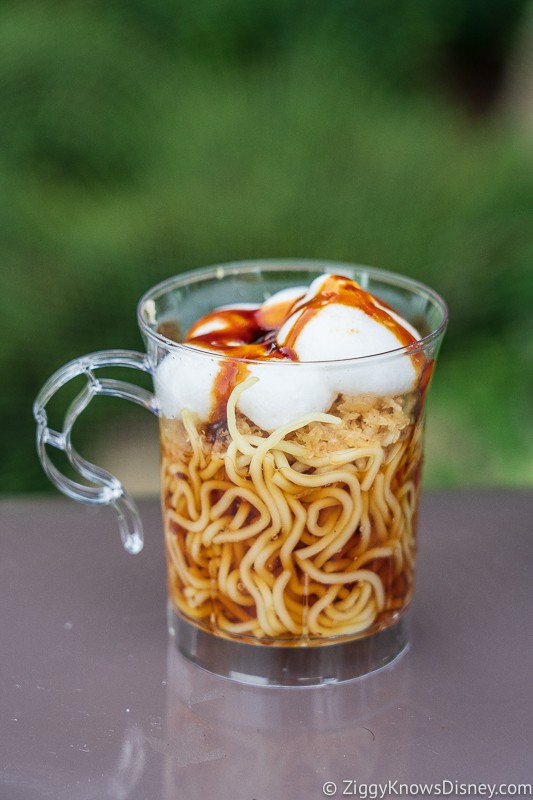 We were hoping this would have improved from last year, but that was not the case. Nothing about this dish was palatable. If it was warm we would have liked it, but the cold texture was unpalatable.
The only thing it's got going for it is that it will keep you cool on a hot day, that's it. Skip it, please.
8.) Mongolian Beef Bao Bun – China
It wasn't that the Mongolian beef bun was terrible, it just could have been so much better.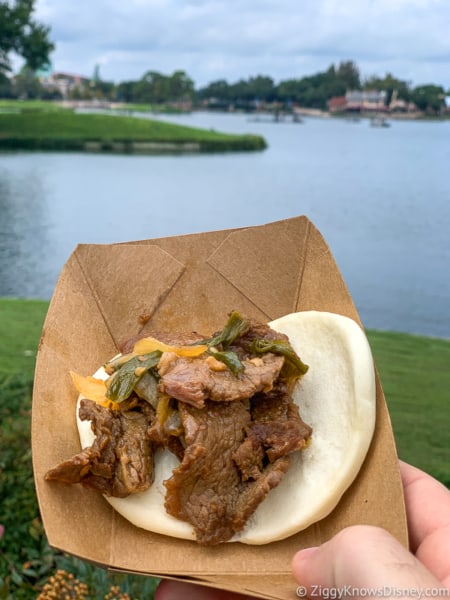 There was hardly any garnish and the beef was very dry, and the bao bun sucks up any liquid there was in the beef. We really expected more sauce as it needed something to make it moister. Please can you bring back our hoisin duck bao bun??
9.) Street Corn Funnel Cake – Funnel Cake
The strreet corn funnel cake is a great idea that falls a bit short on delivery.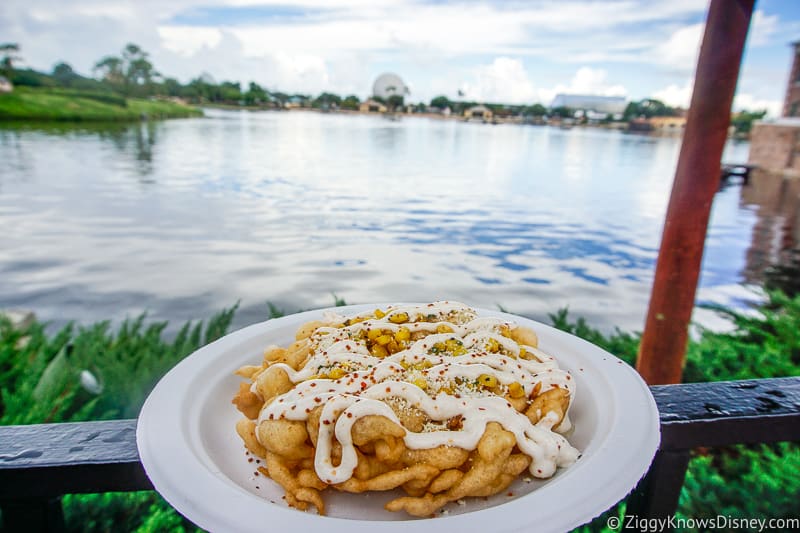 It depends on who is cooking it because we've had it at times when it was good, but others it was subpar. The dough was not cooked enough and it turned into a hot and doughy mess. We're willing to give it another try and if it is more consistant it could be much better.
10.) La Classica: Cheese Tortellini – Italy
Normally we love tortellini, but there was nothing special about La Classica in Italy this year.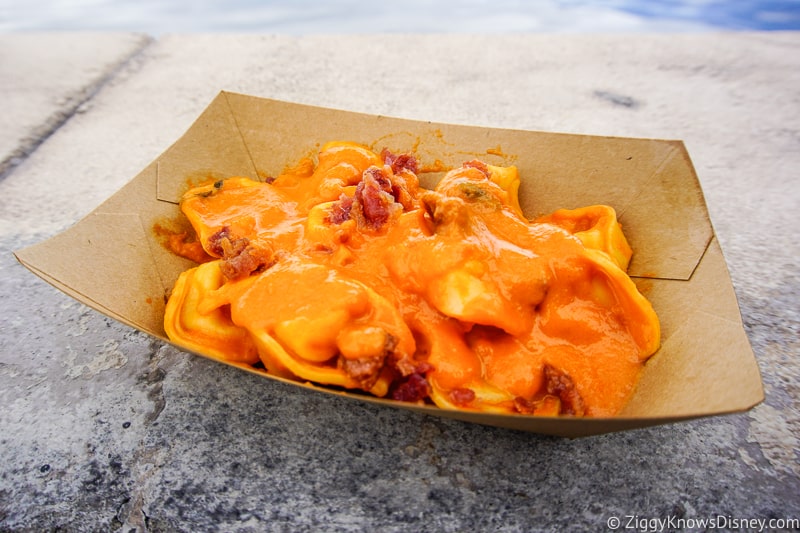 One the one hand, it it probably one of the biggest portions for a snack at Food & Wine this year, but that is the only thing this dish has going for it. The bacon is listed as "crispy," but it was very chewy and the vodka sauce was just not good, period.
Maybe it's from all these years of living in Italy that has me spoiled, but this is another snack at Food & Wine this year that you're better off just skipping.
That concludes my list of the Top 10 Best and Worst Snacks at the 2021 EPCOT Food and Wine Festival. I hope you enjoyed it and hope I gave you some good ideas of what to get when you get there yourself. Write to me and let me know what you thought of the food! 🙂
I want you to be able to have the best info on the EPCOT Food and Wine Festival so you have a great time and don't waste your time! Take a look at all of our EPCOT Food and Wine articles including:
MUST-TRY NEW Items at 2021 Food and Wine Festival (Coming Soon)
Top Food and Wine Booths (Coming Soon)
Your Thoughts:
I want to know what you think about my Best and Worst Snacks from the 2021 EPCOT Food and Wine Festival…
Which is your favorite item?
Which is the worst?
Let us know in the comments section below!
If you enjoyed this article, as always I appreciate it if you'd share it with others via social media. I work hard at making this website into a useful resource for you and your family to plan your visit to the Disney Parks and I hope it can help you! Thanks 🙂