The 2021 EPCOT Food and Wine Festival is here and with 32 different Food Marketplaces and many different snack options, it's hard to know what to get.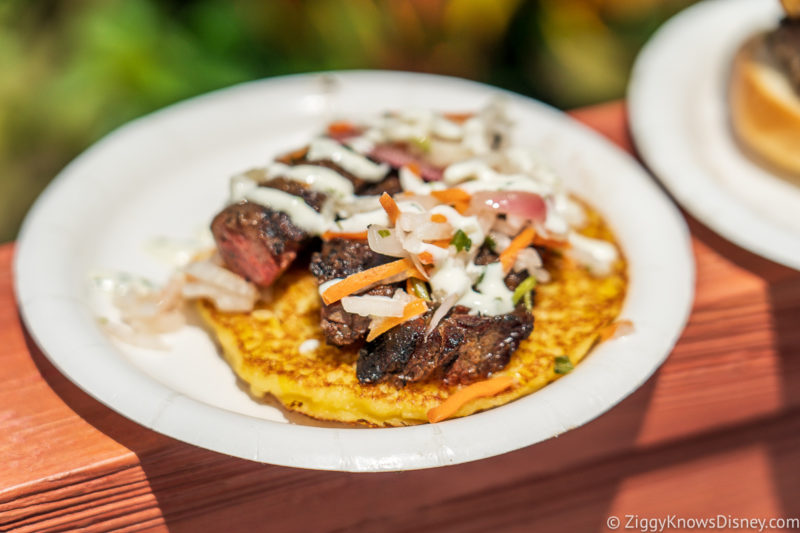 We always try every item at the festival, and we put together a list of the Best Snacks from the EPCOT Food and Wine Festival so you know exactly what to order and what to avoid when you head over to EPCOT!
Trust me, it was quite an effort, but we did it for you! 😉
This list of the Top 25 Best and Worst Snacks at the EPCOT Food and Wine Festival ranks the items in no particular order. Some of the best snacks from last year's list made it again, but since there were so many menu changes this year, some of our favorites from last year aren't coming back in 2021.
Not to worry, we added a bunch of new items that we also really liked! In fact, 18 new items made our list this year!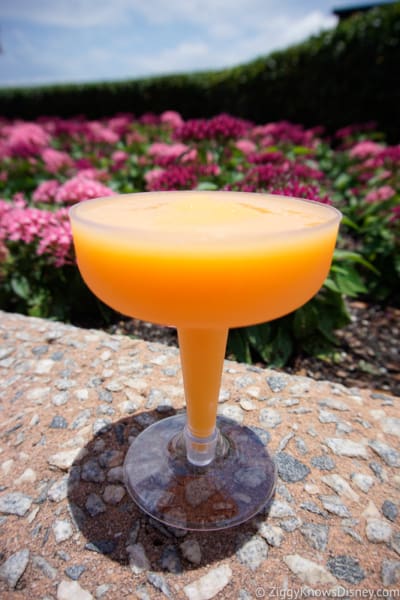 While the snacks at the EPCOT Food & Wine Festival are always good, we think this year they have really taken things up a notch from previous years. Last year there were extenuating circumstances which resulted in not only fewer marketplaces, but fewer snacks on each menu.
Since opening in 2021 however, Disney has really improved the quality of the festival by bringing in many new marketplaces and more new snacks. We hope they continue to do this which makes it worth visiting all the more each year.
For more info on the Food and Wine Festival check out:
With that said, there are still a bunch of great snacks this year to enjoy, so here are my Top 25 Snacks from the EPCOT Food and Wine Festival (If you read on an empty stomach, don't blame me!) ?
The Best Snacks at the Festival
1. Smoked Corned Beef with Crispy Potatoes: Flavors From Fire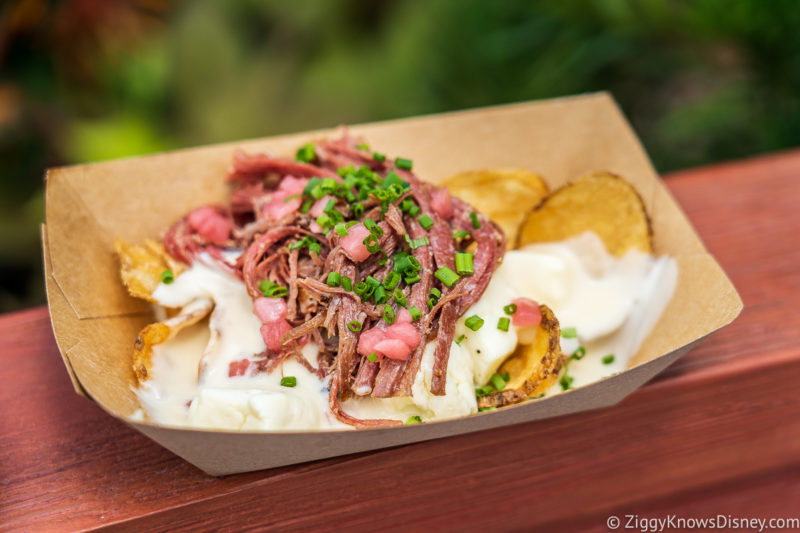 Let's start out the list with what is quickly becoming a Food and Wine classic and possibly my overall favorite snack every year: the Smoked Corned Beef with Warm Crispy Potatoes.
So I know I said at the beginning of the article that they aren't in order, but who am I kidding, I love the Smoked Corned Beef the BEST! Just think of the best handmade potato chips, warmed up in the oven and topped with an incredibly juicy and flavorful corned beef.
This year they've taken this dish to a whole other level over at Flavors from Fire by adding cheese curds on top too! Then if that's not enough, it's absolutely drowned in a killer parmesan cream sauce and chopped red onion!
If for some weird reason you end up going to Food and Wine and only decide to get one thing….make it THIS, trust me!
2. Crispy Chicken on a Sriracha-glazed Donut (The Donut Box)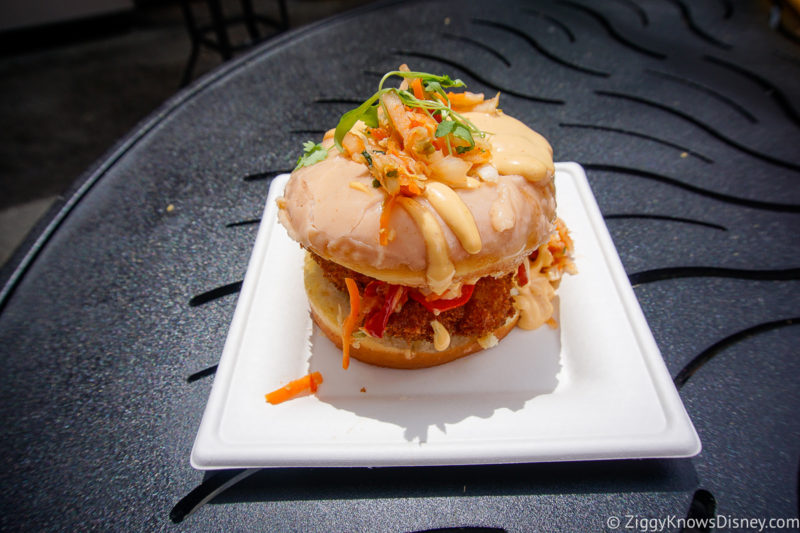 We didn't know what to expect from a donut made into a chicken sandwich but after one bite we were hooked! If the corned beef chips weren't at the festival this year, the crispy chicken on a sriracha-glazed donut would be our favorite.
The dough is the same as you would find for a regular glazed donut, soft and chewy. The top is glazed and the frosting isn't too thick, it's just enough. It has a little hint of spice but it's not overpowering by any means if you don't like the heat.
All this pairs amazingly with a fried chicken breast and coleslaw. This is comfort food at it's best. It's not as gratifying when the temperature is 100 degrees out, but we will be getting this every single time we visit.
3. Beignet aux Trois Fromages (France)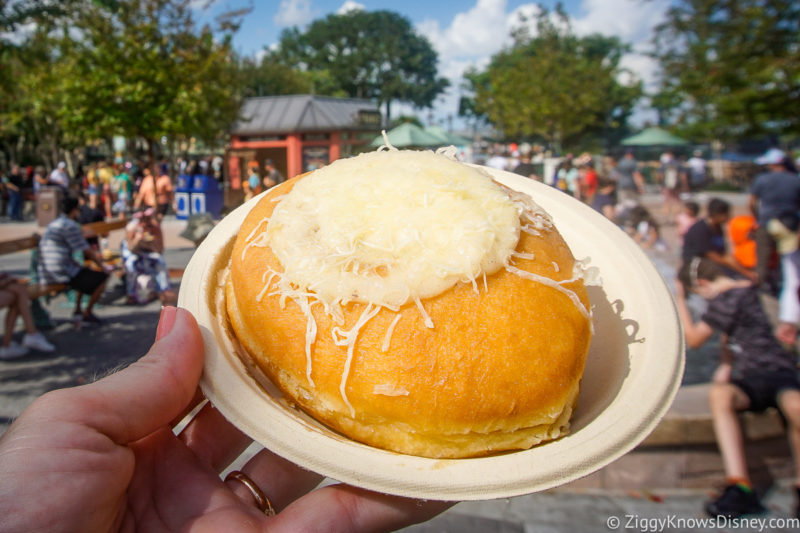 Who doesn't love a nice beignet? Although this one is probably not what you are thinking and it's actually savory and not sweet. The Beignet aux Trois Fromages is a warm beignet filled topped and filled with cheese!
We loved everything about this. The texture is similar to a donut but instead of cream inside it's filled with warm cheese. It's not exactly what we were expecting and it's more like a southern gravy than straight-up cheese sauce, but it was amazing! It's huge, rich and very filling. One of the best snacks to share with others.
As is the theme in this post, it's not the best snack to eat in Disney World in July, but it's soooo good!
4. Bloody Mary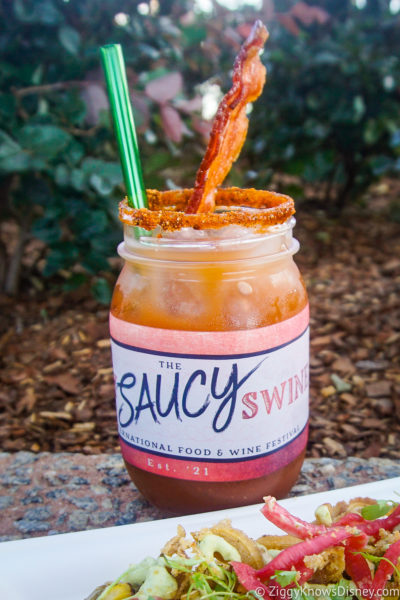 The Food and Wine Festival always has amazing drinks, and the Bloody Mary from The Swanky Saucy Swine (try to say that three times fast) was no exception.
It was everything we want from a Bloody Mary with a rich tomato flavor and just the right amount of alcohol. It's a nice sized drink for the money and they give you a giant piece of bacon sticking out of the top! You also get a real plastic straw with this one if you hate drinking out of the paper ones.
This one is a winner and one of the best drinks at the festival this year.
5. Apple Crumble Tart (The Appleseed Orchard)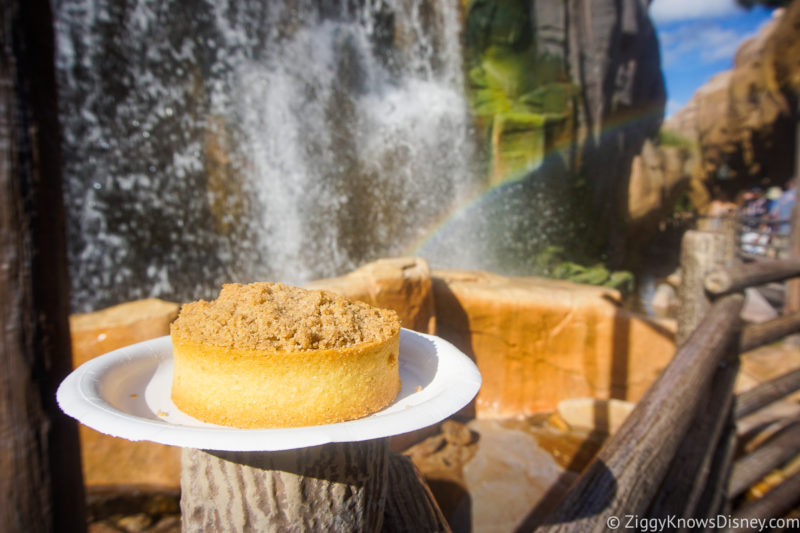 When the Fall comes we are always looking for good apple desserts and the Apple Crumble Tart is just what we wanted!
First of all, the photo doesn't do it justice, but this thing is HUGE! It's basically like taking a softball and cutting it in half, so it's good for sharing if that is your thing. We love the crust which was similar to an apple pie crust and it didn't fall apart when we cut into it.
The filling has nice chunks of apples and it has a great crumble on top which is loaded with brown sugar, butter and apple spices. Definitely one of the best snacks this year and a must-get for any apple fans.
6. New England Lobster Roll – Hops and Barley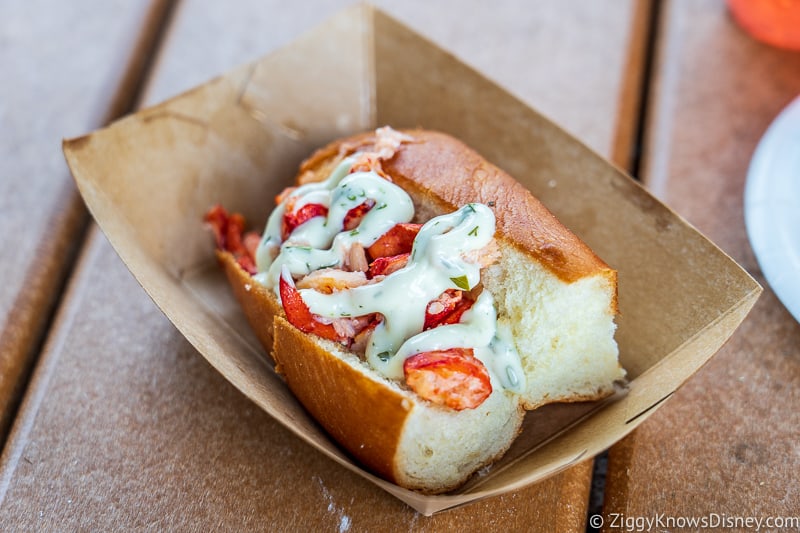 The Lobster Roll is one of our all-time favorite Food and Wine snacks, and they pack a lot of lobster in this baby!! Some places you go give you tons of filler, but this was practically all lobster in there!
There is a very light seasoned mayo and butter mix that dresses the lobster, and some Fresh Herb Mayonnaise on top of that. We thought it was just the right amount, not overpowering the lobster taste.
Even though it costs $8.50, we think the amount of lobster they give you is well worth it and it's definitely one of the best snacks at EPCOT Food and Wine in 2021.
7. Any Noodles (The Noodle Exchange)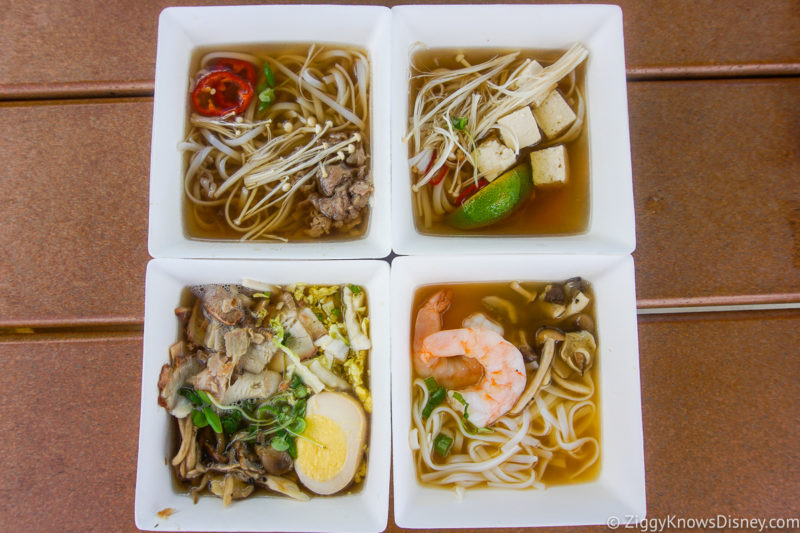 Ok, this is definitely one that we didn't think would land on our top snacks list this year, but boy did these noodles surprise us.
There are 4 flavors: Pork, Beef, Shrimp and Tofu, and all of them are great, though we found ourselves going back for more of the shrimp and pork the most. The broth is very flavorful and they give you a good portion of noodles.
The only complaint we had was about the tofu and that it tended to fall apart immediately. They should have used a firmer tofu, but this is a minor complaint. Whichever of the 4 flavors attracts you the most, order that one, you will like it.
8. Wild Mushroom Beef Filet Mignon with Truffle-Butter Sauce – Canada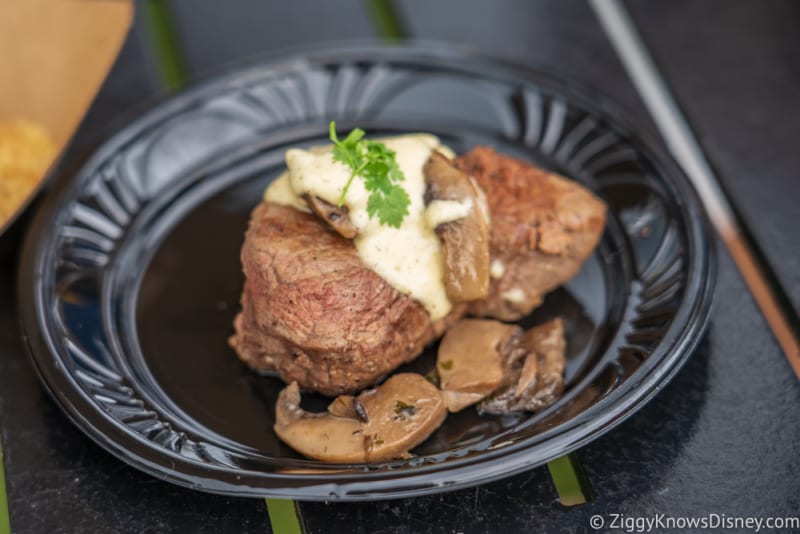 The Canada Marketplace only has two food items but both of them are stellar and things you absolutely have to get. While the Cheddar Cheese Soup is one of my favorite things ever at Walt Disney World, it really depends on what mood I'm in when deciding between that and this Filet Mignon.
You might recognize this filet from Le Cellier, and it is in fact a smaller portion of the delicious meat you'll find there. Succulent and perfectly cooked, then covered in a rich truffle butter sauce is enough to make angels sing!
9. Impossible Three Bean Chili (Earth Eats)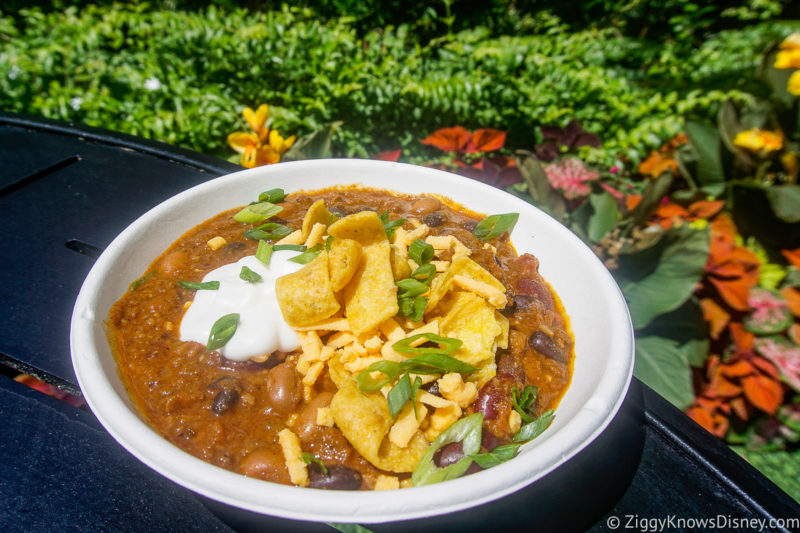 The Impossible Three Bean Chili is another item we normally wouldn't get. Because honestly, how good can a plant-based chili actually be? Surprise…really stinking good!
The chili is the perfect thickness and not runny. It's well seasoned, but not spicy so don't worry about that. I dare you to put this chili in front of any meat-lover without telling them it's plant-based. There is no way they will know because it tastes exactly like a real beef chili.
If you are on a vegetarian or vegan diet, this might end up being your favorite snack at Food & Wine this year!
10. La Passion Martini Slush (France)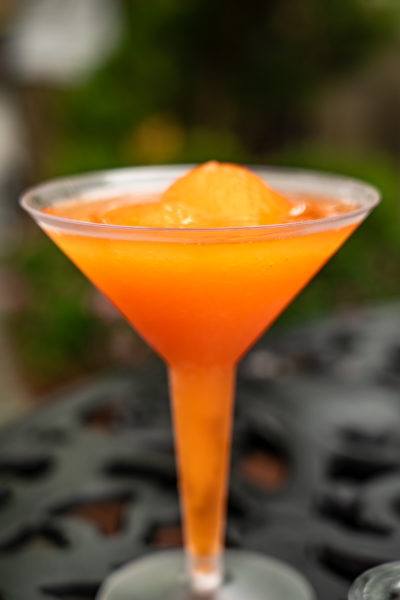 Let's just say, walking around World Showcase Lagoon with one of these babies in your hand makes life a whole lot better. This drink from the France marketplace is amazing, and we always get it because it's super refreshing being a slushy, and it's really delicious.
The combo of Vodka, Grey Goose Le Citron, Cranberry and Passion Fruit Juice is enough to send me running to France in a heartbeat.
Hands down my favorite drink every year at Food and Wine! Vive la France!
11. Chilled Crab and Avocado Parfait with Caviar (Rotunda Bistro)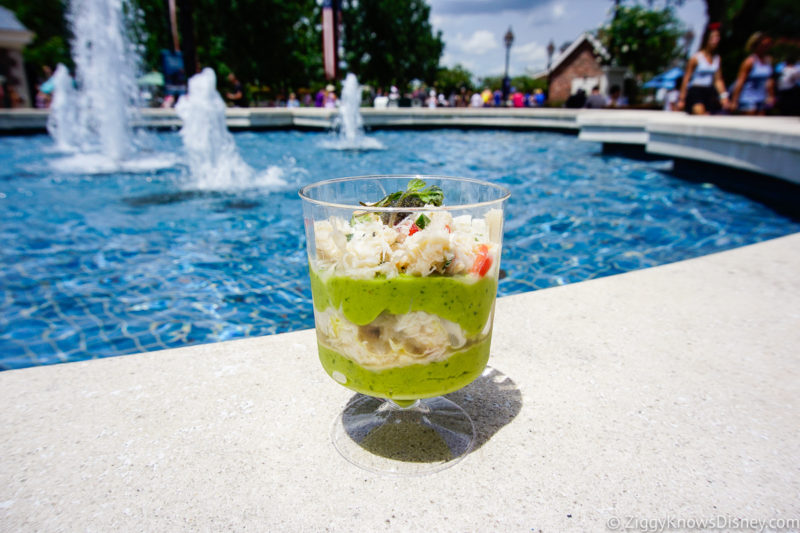 Especially at the beginning of the Food and Wine Festival when the weather is brutally hot, sometimes you don't want a big and heavy dish. You just want something light and refreshing to get you through.
The Chilled Crab and Avocado Parfait is just that.
We are huge avocado fans and that smooth texture mixed with real chunks of crab meat was a great combination. They were pretty generous with the ratio of crab in the cup too. We loved the presentation and the caviar on top was a nice touch.
Overall a wonderful snack and super refreshing for summer.
12. Teriyaki-glazed Spam Hash – Hawaii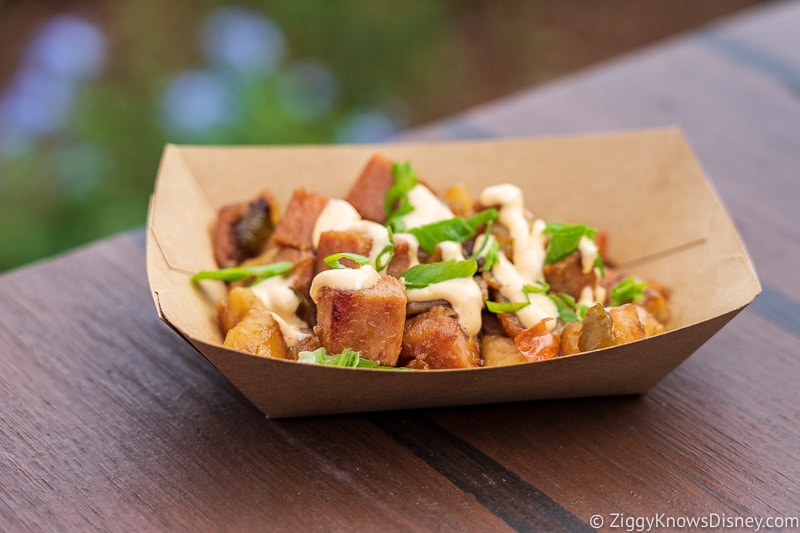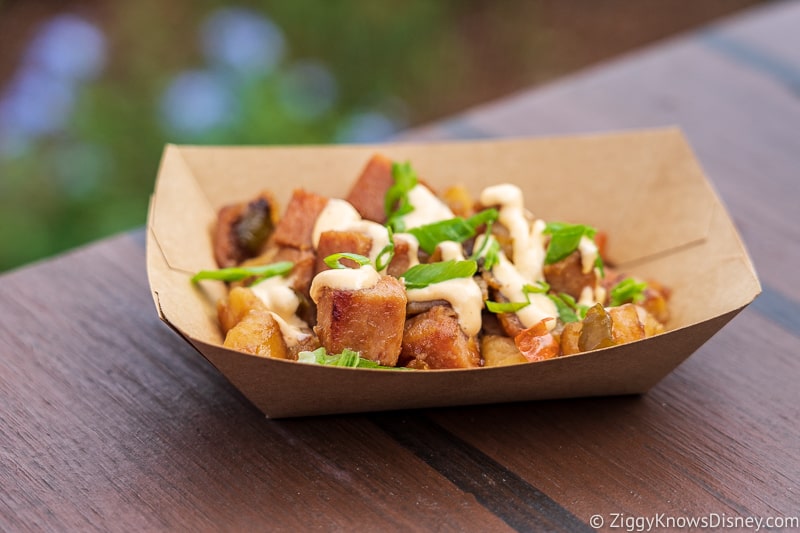 We loved the SPAM Hash in Hawaii last year, the year before that, and not much has changed! I really didn't think I could ever love SPAM so much, but they say love is blind right?
The great portion size of perfectly cooked potatoes and grilled SPAM. So much flavor in here as the SPAM is juicy and just packed with taste. The teriyaki and mayo sauces on top take this dish to a whole other level and everything just blends perfectly.
Did I mention it's only $4.50?? Pass right over the Pork Slider and get the SPAM Hash instead and thank me later!
13. Fig Cocktail (Tangierine Café: Flavors of the Medina)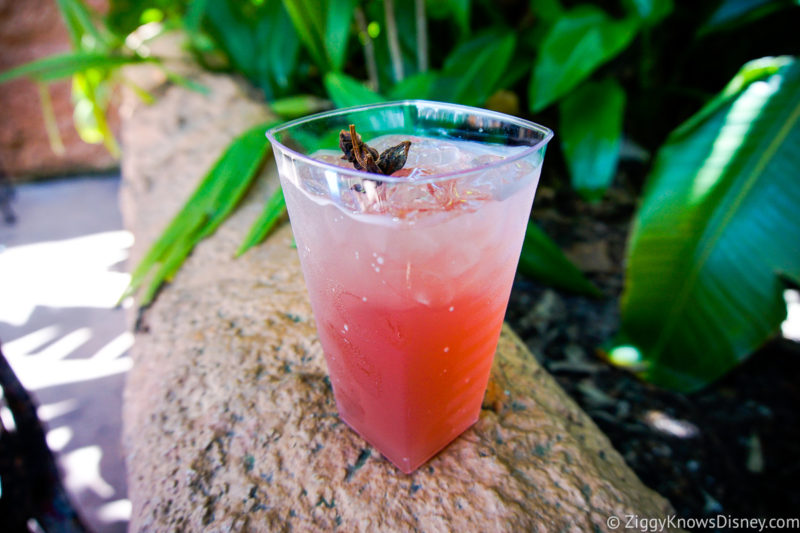 Anything with fig in it and we are ordering it so you can imagine how pumped we were to try the Fig Cocktail from Tangierine Café: Flavors of the Medina.
This was in our opinion the best drink at Food & Wine this year and a wonderful addition in Morocco. Even though you are paying $11.00 it was a good size, not like some of the others around World Showcase.
It was sweet, but not super sweet, and there was alcohol, but it wasn't too strong. Just the right balance of flavors and an all-around standout drink.
14. Braised Beef Poutine (Refreshment Port)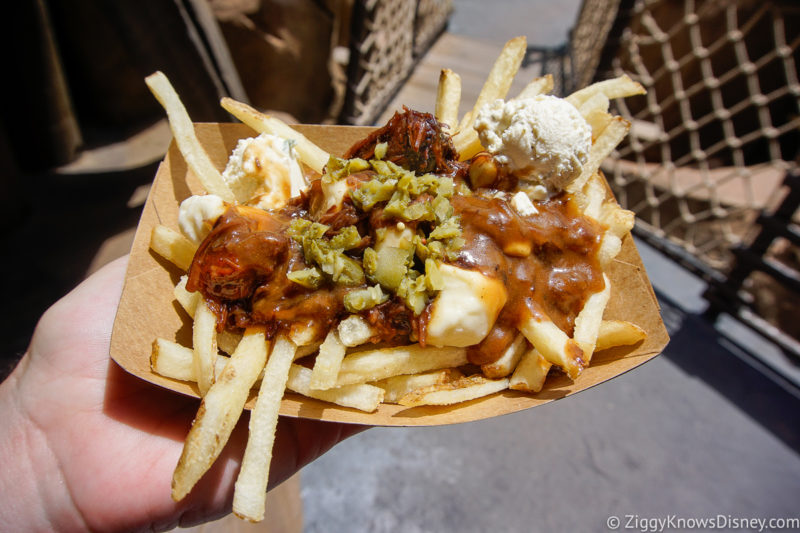 We've had this twice already which should be all that you need to know. The poutine is always good at the Refreshment Port and this one follows suit.
We liked the Boursin cheese which is almost like a whipped cream cheese only softer. The fries are loaded with cheese curds and then smothered in a savory beef gravy which was out of this world!
There is just so much food here it is undoubtedly the best value snack at the Food & Wine Festival and you will want to share it with 2 or 3 people.
15. Maple Bourbon Boursin Cheesecake (Refreshment Port)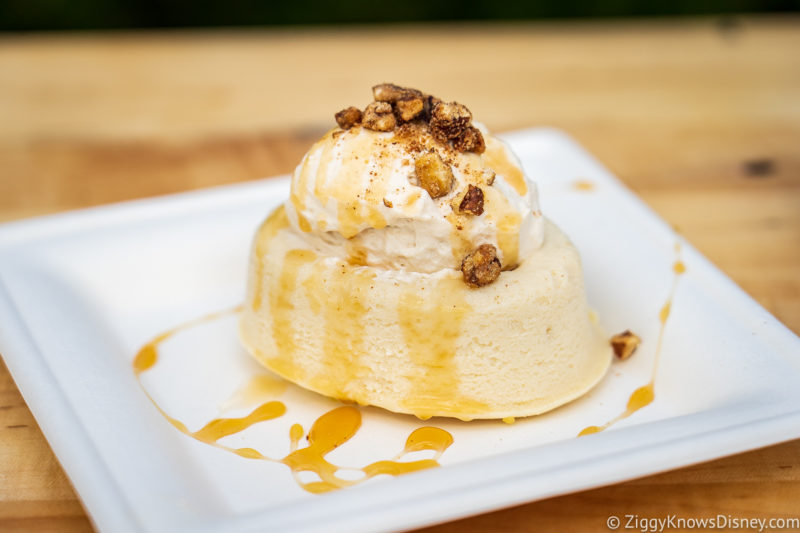 The Maple Bourbon Cheesecake was on our list for the best snacks at Food and Wine last year, and even though it's moved over to the Refreshment Port, it's still out-of-control good!
This was one of our favorites again this year and I was completely blown away at how smooth the Boursin cheese is and how well the sweet maple/bourbon worked with it.
It's the first thing that I had to go back to get on my second visit to Food and Wine. Pair this with a nice sparkling wine or mimosa from Shimmering Sips and prepare for a life-changing moment! Best dessert at Food and Wine hands down!
16. Roasted Porchetta with Pork-fat Roasted Rosemary Potatoes (The Swanky Saucy Swine)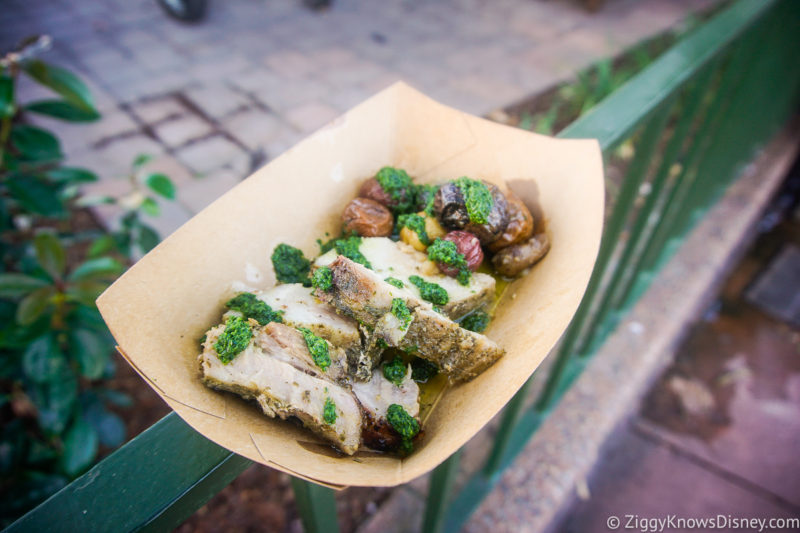 The Roasted Porchetta is another winning snack this year and one of the most filling and hearty. For just over $6 this was a steal as it was loaded with meat.
I don't think they actually used a baby pig like is traditionally used to make porchetta in Italy, but the meat was very tender and had a nice and crispy crust on the outside. Not dried out at all and loaded with flavor. We've had this one multiple times already and don't see why we should stop anytime soon.
17. Chilaquiles con Chorizo (Mexico)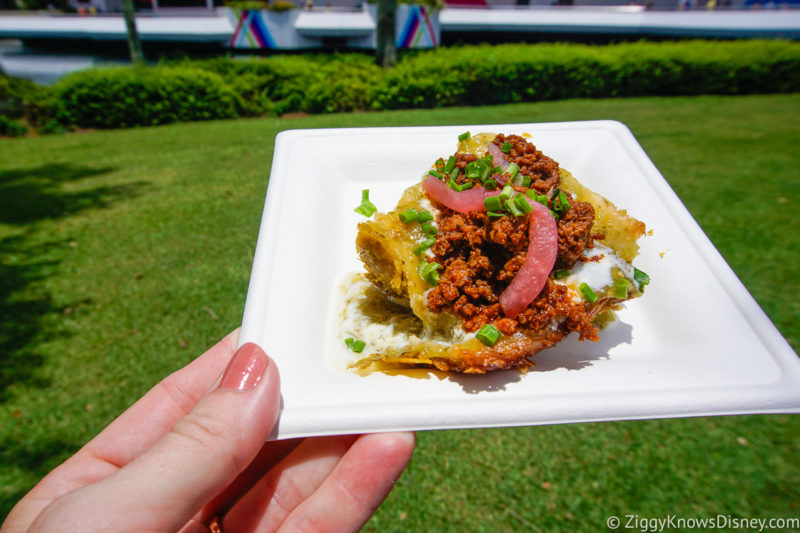 We loved the chilaquiles con chorizo from the Mexico booth this year and think it's a great addition. Typically a breakfast food, you can think of this as a Mexican lasagna of sorts.
It's made from corn tortillas that are layered with meat, cheese ad a wonderful salsa verde. It's not spicy so don't be worried about that and it's a very large portion and great for sharing.
We wish ours looked more like the photo in the Food and Wine passport, but it was delicious all the same.
18. Pistachio Cake (Tangierine Café: Flavors of the Medina)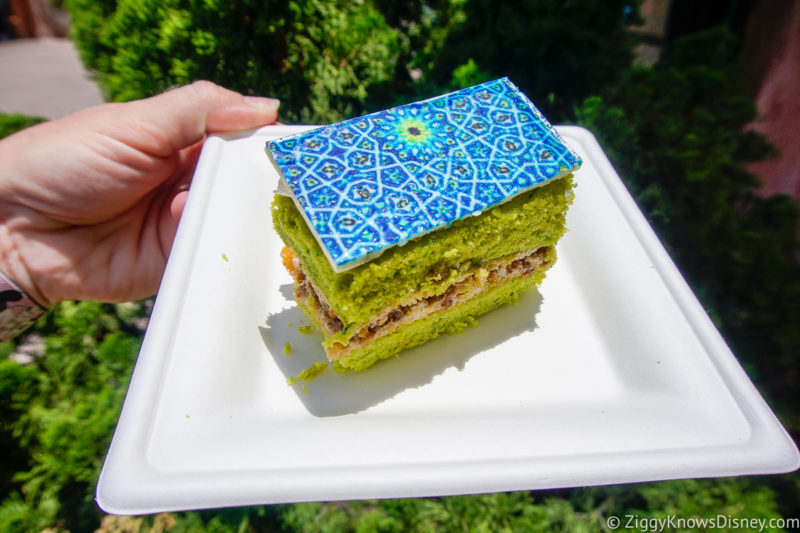 This is the epitome of a good dessert and one of the best sweet snacks this year. Living in Italy for many years, pistachio is one of our favorite flavors and we jump at the chance to get anything flavored with them.
The cake here was incredible. Moist but not dense. It had a fluffy texture to it that was just delightful and didn't crumble into pieces. Even though it looks like you would get a major toothache eating it, surprisingly it wasn't overly sweet.
Everything including the presentation here was awesome and yet another dessert that we'll be coming back for again.
The Worst Snacks at Food and Wine
Now while we do love the EPCOT Food and Wine Festival, that doesn't mean that everything is outstanding. The Food and Wine Festival is expensive and if you are going to spend your hard-earned money here it better be worth it.
That said, while there are tons of great options, there are some snacks you can skip too, so here is our list of the Worst Snacks at Food and Wine you should avoid at all costs:
1. Grilled Sweet and Spicy Bush Berry Shrimp (Australia)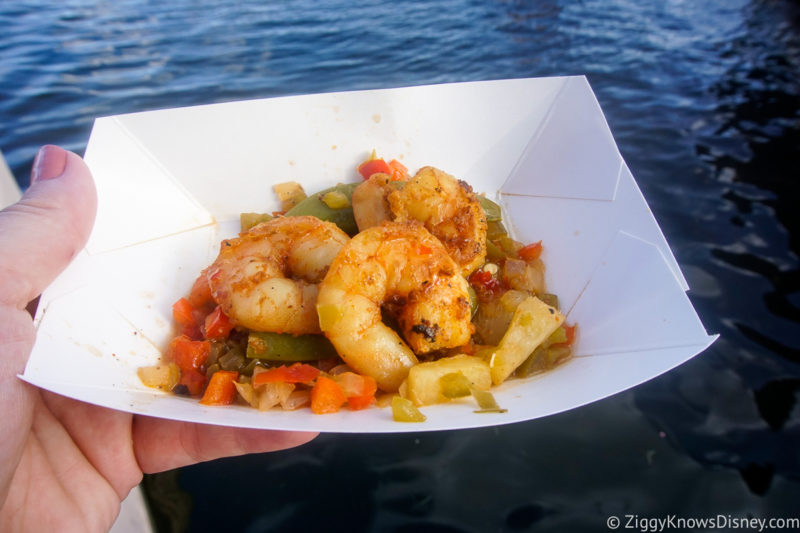 These shrimp weren't bad and it's actually a dish we have recommended in the past. Unfortunately, we just weren't feeling it this time around.
The portion size is not very big and it's not one we think is enough to share. The shrimp themselves are ok flavor-wise, but honestly looking at them you would expect more. The veggies were mushy and not crisp like we remembered them.
Overall this was disappointing and the lamb chop is a much better choice in Australia.
2. Mezzelune Croccanti (Italy)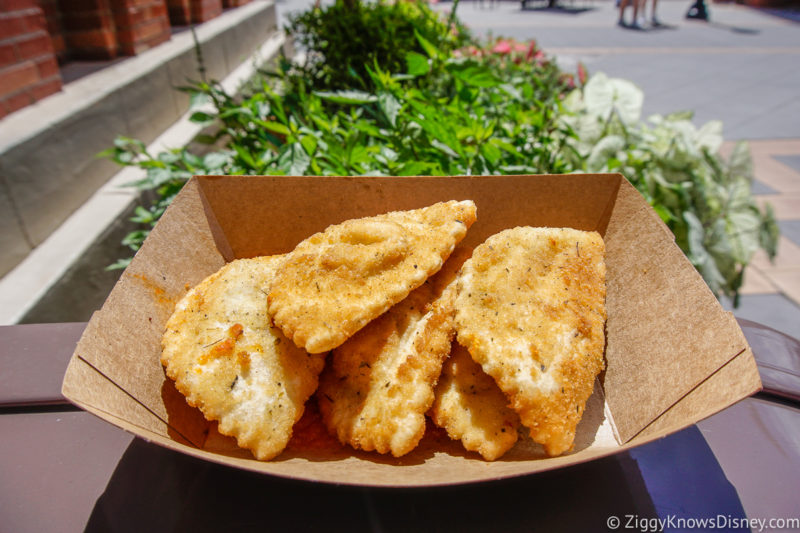 Our critique of the mezzelune croccanti isn't because we obviously are very used to authentic Italian food. In fact, we actually liked the taste of these.
They are like fried ravioli but better. They are filled with cheese and have a nice breaded coating to them. Think of them as half-moon-shaped mozzarella sticks.
Our problem with them though is the price. I'm not paying $12.00 for 5 ravioli when most of the other entrees at the Food and Wine Festival are half that price. Italy is always one of the most expensive, but this year the whole menu is ridiculous and we can't recommend anything there because of the prices.
3. Black Forest Donut (The Donut Box)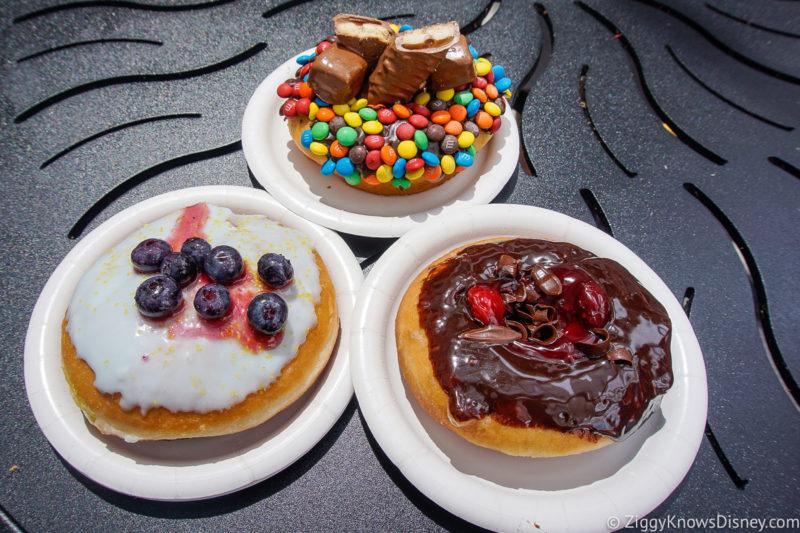 Disney should have thought this one out a little more before introducing it. Don't get us wrong, Black Forest is one of our favorite flavors and the combo of cherries and chocolate to us is right there at the top when it comes to sweets. The execution of this donut though was terrible.
It would have made much more sense if this was a donut with a cherry filling inside it, much like the lemon blueberry one. Instead it was a donut with the center missing and somehow they thought it would be a good idea to fill that hole with cherry filling.
Needless to say it melted all over the place in the heat and was a total disaster. Make this into a filled donut and we'll talk, but until then avoid it.
4. Tempura Shrimp Sando (Japan)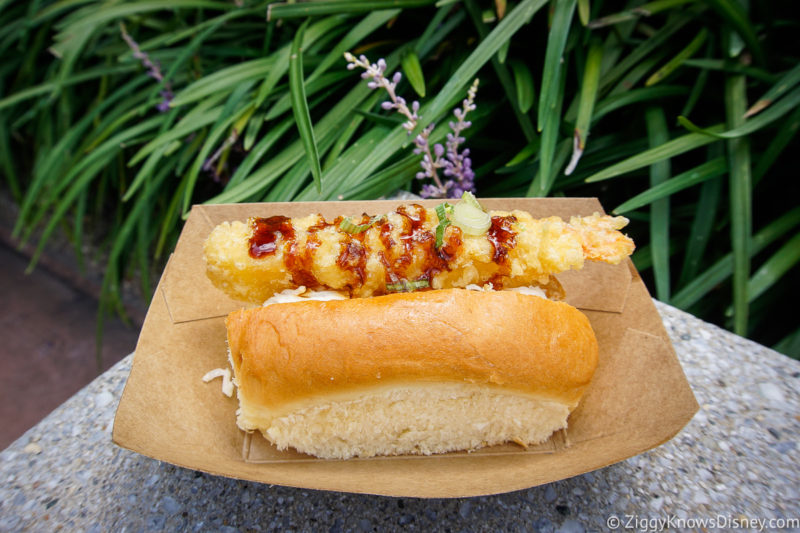 Another snack that sounds like a decent idea but is poorly executed. Ok, I love shrimp tempura as much as the next person, but this was pretty lazy in our opinion.
It's one piece of shrimp about the size of your finger on the same size bread as they use for the lobster rolls. One bite and the shrimp disappears while you are left with all that bread. No thanks, we'll pass.
Grab the sushi in Japan instead, it's one of the best they've had there in years.
5. Soy-glazed Sticky Ribs (The Swanky Saucy Swine)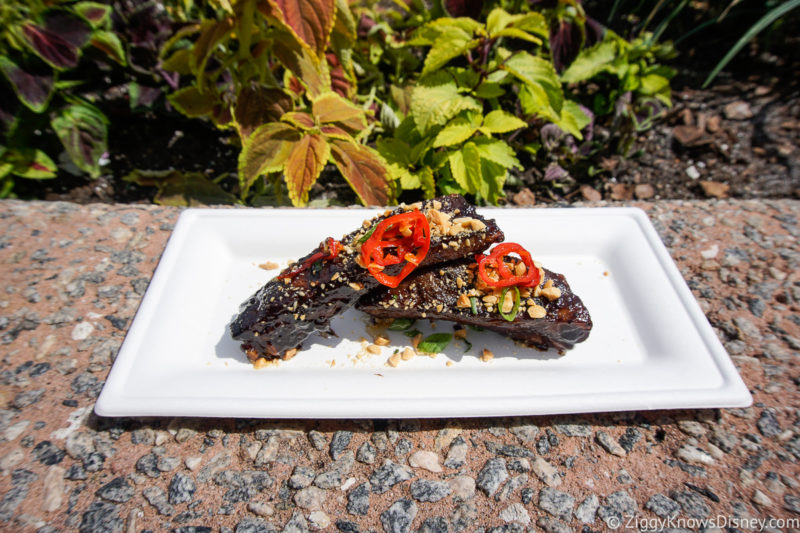 Usually we love ribs and it's hard to get us to complain about these. One look at them and they look incredibly flavorful. In reality, when we bit into them however, they were pretty flavorless.
They were pretty to look at but they were really just sticky without much flavor. They were tender enough, but it tasted like plain meat and obviously very disappointing.
If you are over by the Swanky Saucy Swine, order the Porchetta or the Crispy Pig Ear Salad which are both great.
6. Fried Falafel Pita (Tangierine Café: Flavors of the Medina)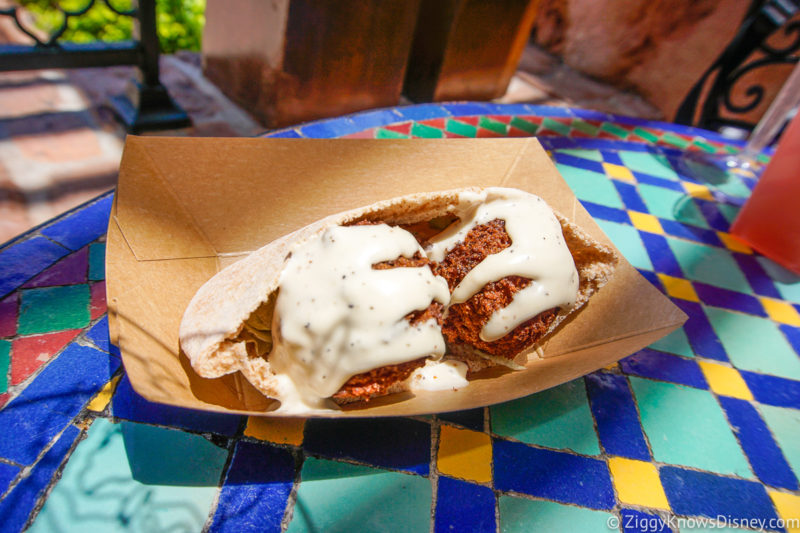 We have nothing against the falafel themselves, they were actually quite good. We just don't get the point of the pita bread. I mean it's almost like eating bread stuffed inside bread and it was way too much.
It would be different if they stuffed the pita with meatballs they they have in the past, but done like this for us is to avoid.
Anything else at that Tangierine Café is a better choice than these. Try the kebabs, all of which are a good size and have meat that is very tender and flavorful.
7. ZiRan Beef Bao Bun (China)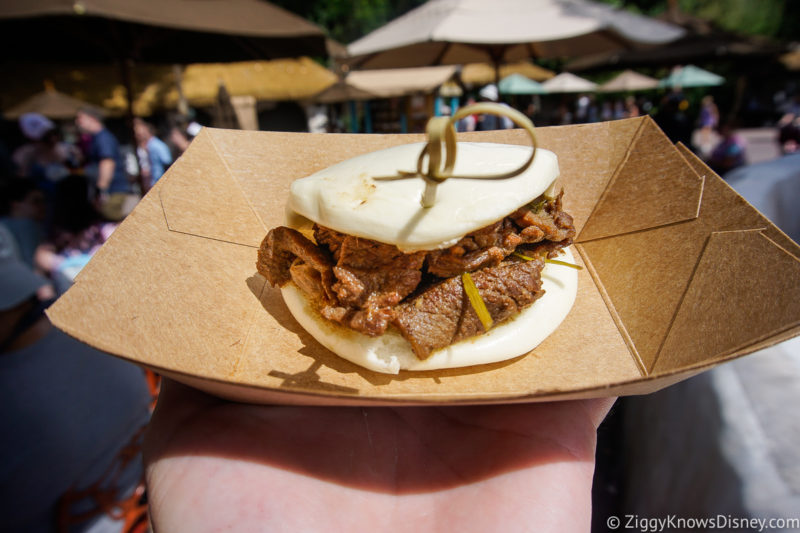 It wasn't that the ZiRan beef bao bun wasn't terrible, it just could have been so much better.
There was hardly any garnish and what was in there we found super annoying to eat around. It was very stringy and just not necessary. Put some onions or peppers in there instead please. The beef was ok, but we could have used some sauce to make it more flavorful.
Please can you bring back our hoisin duck bao bun please??
That concludes my list of the Top 10 Best and Worst Snacks at the 2021 EPCOT Food and Wine Festival. I hope you enjoyed it and hope I gave you some good ideas of what to get when you get there yourself. Write to me and let me know what you thought of the food! 🙂
I want you to be able to have the best info on the EPCOT Food and Wine Festival so you have a great time and don't waste your time! Take a look at all of our EPCOT Food and Wine articles including:
Top Food and Wine Booths (Coming Soon)
If you are thinking about going to Walt Disney World, make sure to read our Disney World Vacation Planning Guide. There you will find all the info and tips you need to plan your trip.
Your Thoughts:
I want to know what you think about my Best and Worst Snacks from the 2021 EPCOT Food and Wine Festival…
Which is your favorite item?
Which is the worst?
Let us know in the comments section below!
If you enjoyed this article, as always I appreciate it if you'd share it with others via social media. I work hard at making this website into a useful resource for you and your family to plan your visit to the Disney Parks and I hope it can help you! Thanks 🙂