The 2019 Epcot Food and Wine Festival is here and with 35 different Food Marketplaces and does many different snack options it's hard to know what to get.  Good thing we always try every item at the festival, and we put together a list of the Top 10 Snacks from the Epcot Food and Wine Festival so that you know all the best (and worst) food and drink to try when you head over to Epcot!  Trust me, it was quite an effort, but we did it for you! 😉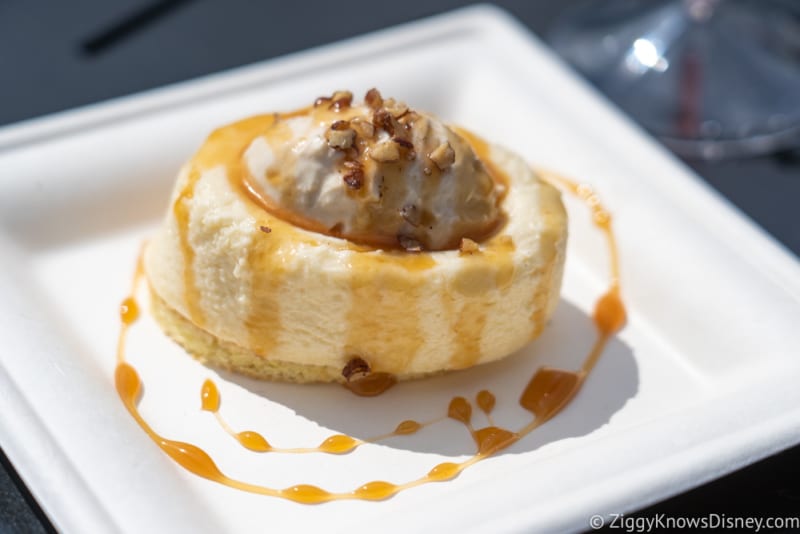 This list of the Top 10 Best and Worst Snacks at the 2019 Epcot Food and Wine Festival gives the items in no particular order.  Some of the best snacks from last year's list made it again, but there were a couple of new items that were so good in 2019 we had to add them too.  
Two of the items from my MUST-TRY New Items from the 2019 Food and Wine Festival made this list, showing how strong the existing menus were and how hard this was to crack!
For more info on the Food and Wine Festival check out:
Without further ado, here is my Top 10 Snack from the 2019 Epcot Food and Wine Festival (If you read on an empty stomach, don't blame me!) ?
The Best Snacks at the Festival
1.) Smoked Corned Beef with Crispy Potatoes – Flavors From Fire
Let's start out the list with what is quickly becoming a Food and Wine classic and possibly my overall favorite snack every year: the Smoked Corned Beef with Warm Crispy Potatoes.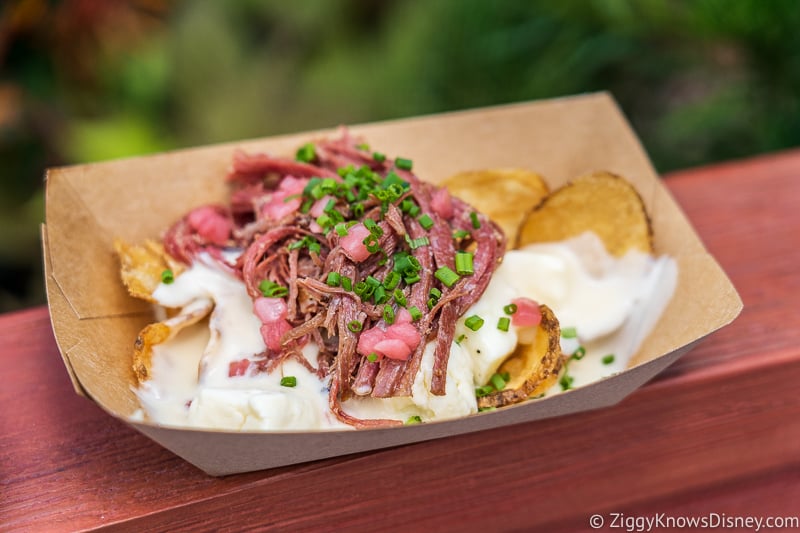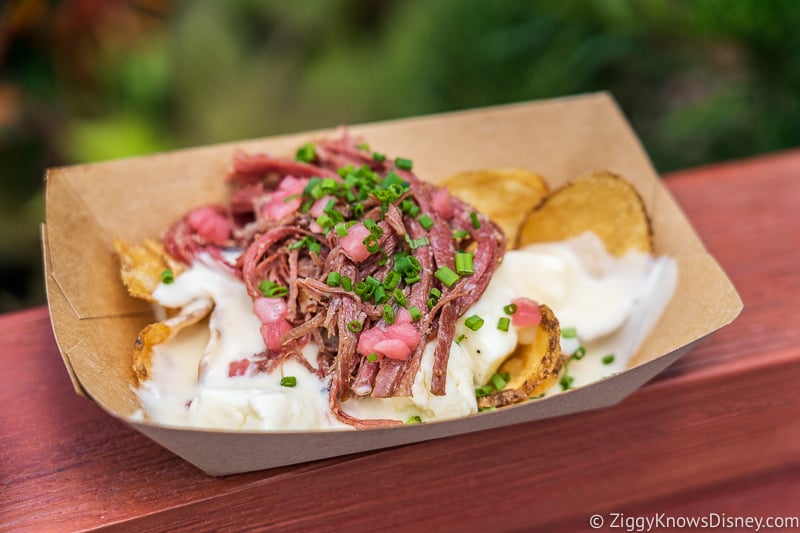 So I know I said at the beginning of the article that they aren't in order, but who am I kidding, I love the Smoked Corned Beef the BEST! Just think of the best handmade potato chips, warmed up in the oven and topped with an incredibly juicy and flavorful corned beef.
This year they've taken this dish to a whole other level over at Flavors from Fire by adding cheese curds on top too! Then if that's not enough, it's absolutely drowned in a killer parmesan cream sauce and chopped red onion!
If for some weird reason you end up going to Food and Wine and only decide to get one thing….make it THIS, trust me!
2.) Teriyaki-glazed Spam Hash – Hawaii
We loved the SPAM Hash in Hawaii last year, the year before that, and not much has changed! I really didn't think I could ever love SPAM so much, but they say love is blind right?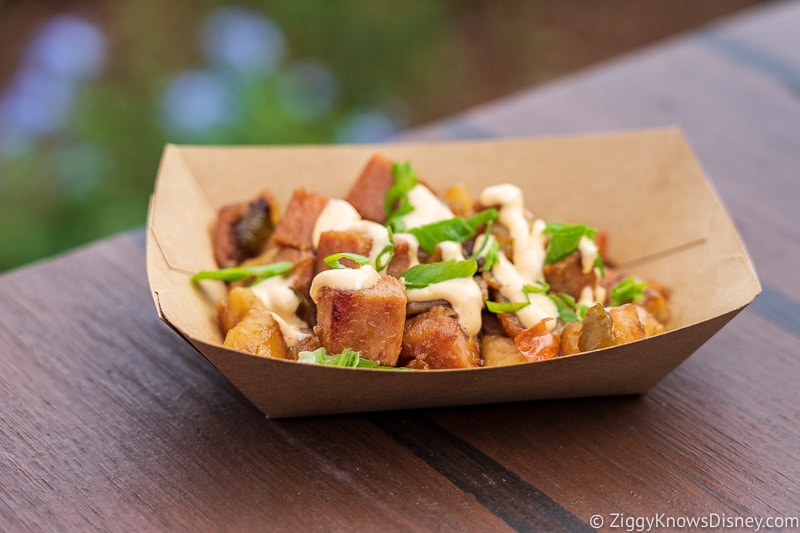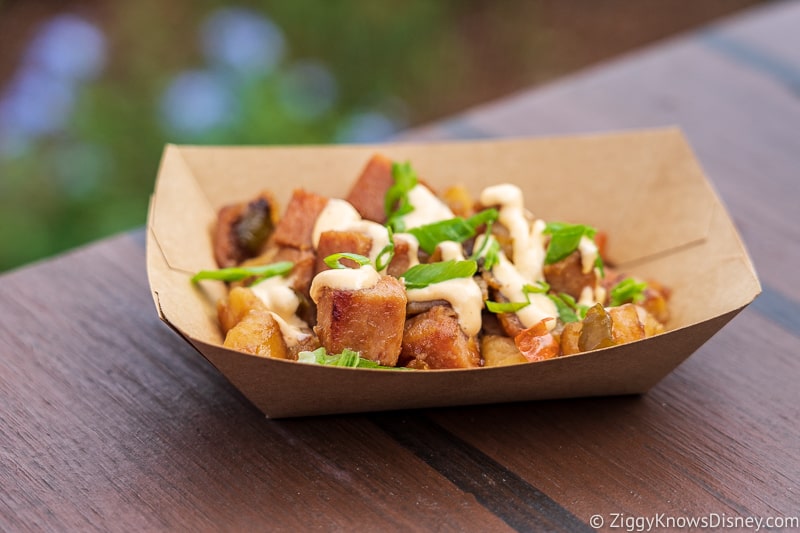 The great portion size of perfectly cooked potatoes and grilled SPAM.  So much flavor in here as the SPAM is juicy and just packed with taste.  the teriyaki and mayo sauces on top take this dish to a whole other level and everything just blends perfectly.  Did I mention it's only $4.25??  Pass right over the Pork Slider and get the SPAM Hash instead and thank me later!
3.) Costine di Maiale: Balsamic-glazed and Oven-roasted Pork Ribs – Italy
The Italy marketplace takes a lot of flack each year for high prices and ho-hum food, but this year it shed all that hate and wowed with this show-stopping, oven-roasted pork ribs.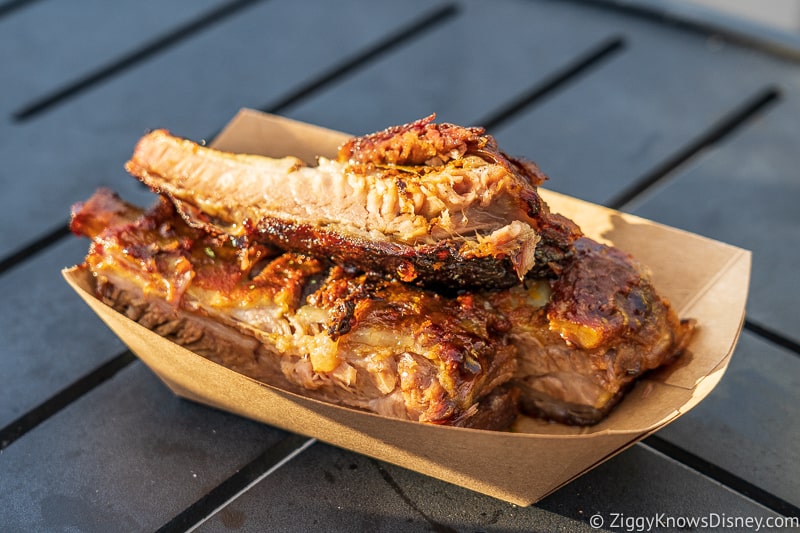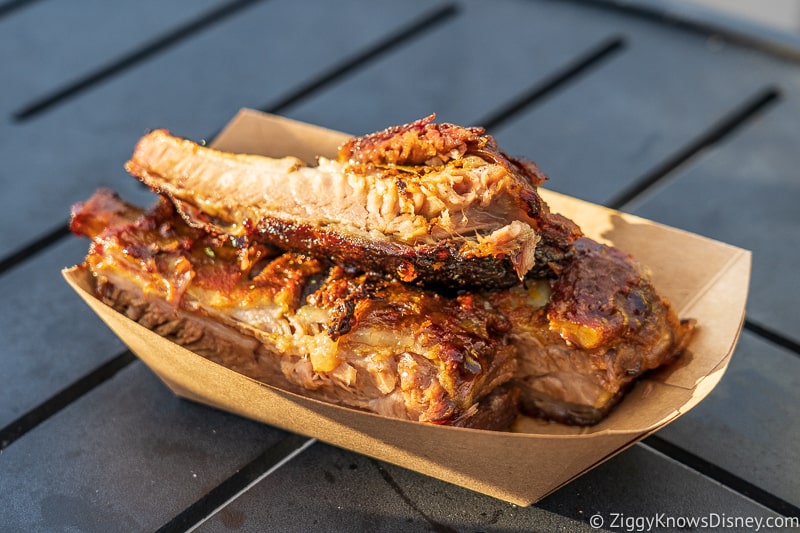 These ribs are going to get a lot of comparison to the ribs in China which are also new this year. The thing is that these ribs are bigger with more meat on them, more tender than the ones in China, and they give you 3 instead of only 2. All that and they only cost $8 instead of $7 (that's a good upgrade imo).
These ribs are spiced up perfectly and the meat just falls off the bone. We'll be stopping by Italy for one of the best snacks at Food and Wine over and over again this festival season, and you should too!
4.) Liquid Nitro Chocolate-Almond Truffle with Warm Whiskey-Caramel – The Chocolate Studio
How can you beat smooth chocolate mousse dipped into liquid nitrogen, then covered in a gooey caramel-whiskey sauce and sprinkled with white chocolate? You can't! Head over to The Chocolate Studio where you'll find this great option for chocolate lovers, and fans of just amazing desserts.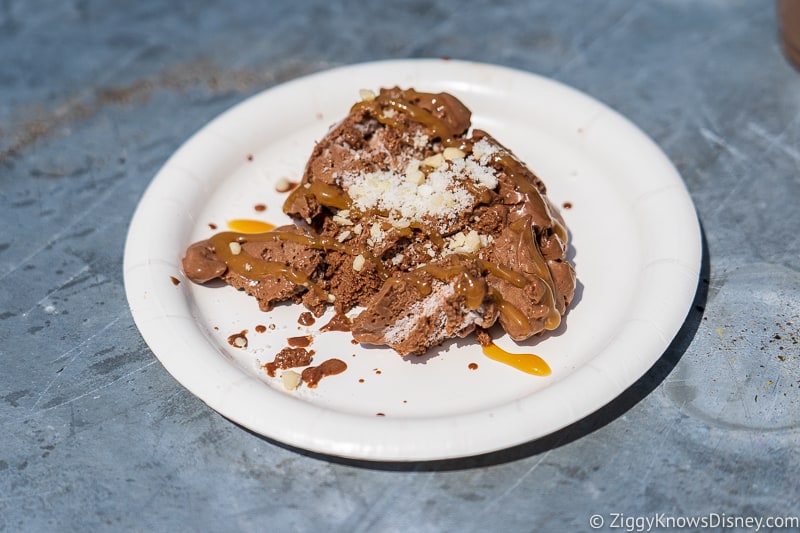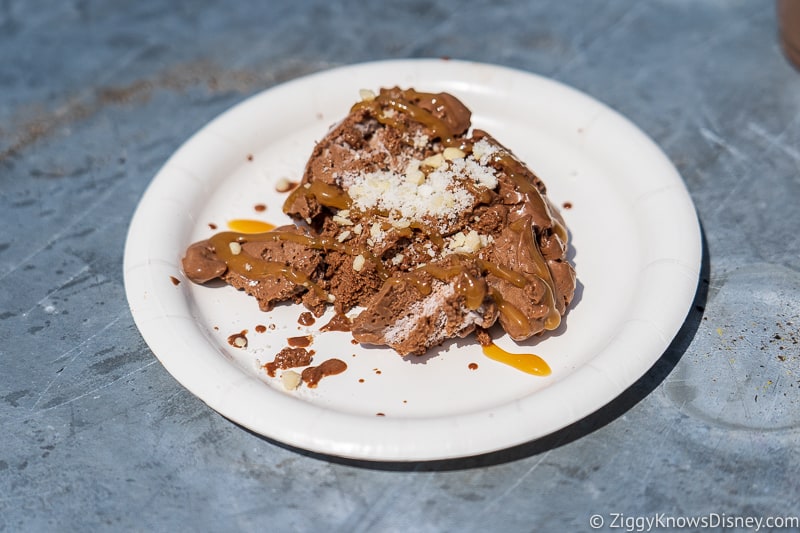 And the show to create this masterpiece is almost as entertaining as eating it…almost!  Watch as the chocolate mousse is dropped into the freezing cold liquid nitrogen, taken out and then cracked open revealing a still creamy center. Oh yeah, it's gluten-free too so dig in!  A perennial MUST-GET and one of the best desserts at Epcot Food and Wine.
5.) La Passion Martini Slush – France
Let's just say, walking around World Showcase Lagoon with one of these babies in your hand makes life a whole lot better. This drink from the France marketplace is amazing, and we always get it because it's super refreshing being a slushy, and it's really delicious. The combo of Vodka, Grey Goose Le Citron, Cranberry and Passion Fruit Juice is enough to send me running to France in a heartbeat.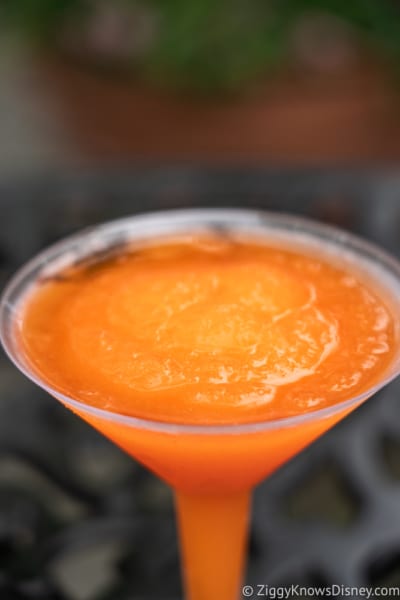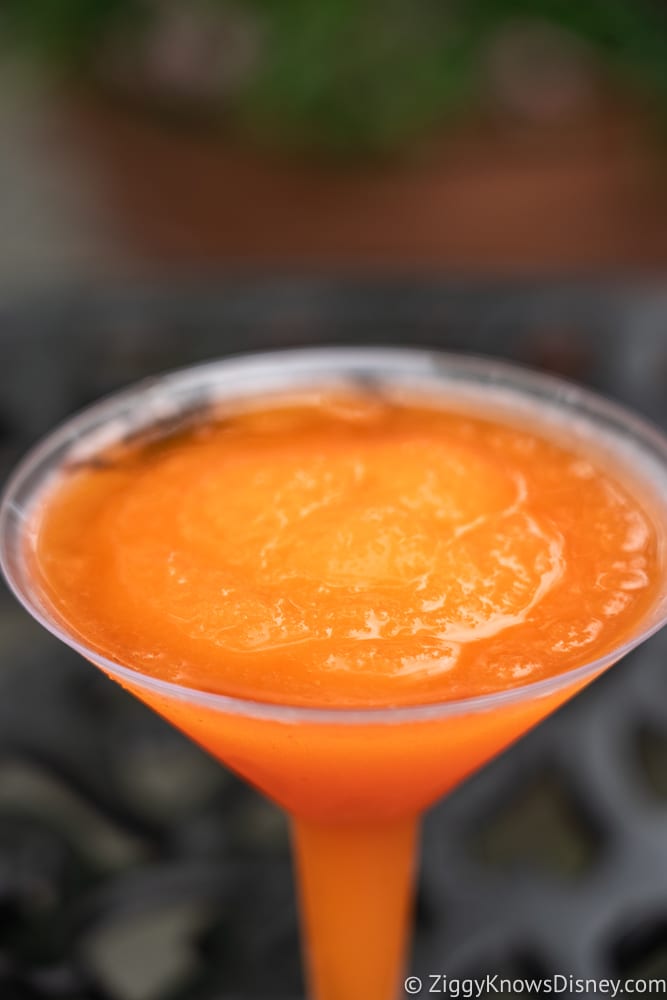 Hands down my favorite drink every year at Food and Wine! Vive la France!
6.) Warm Irish Cheddar Cheese and Stout Dip – Ireland
The safe bet is to go over to Canada and get the Cheddar Cheese Soup there, and while that still is one of our favorites, it's been passed up recently by this bowl of goodness in Ireland instead! Even though it was 90+ degrees out, we couldn't help but continue to drink this up.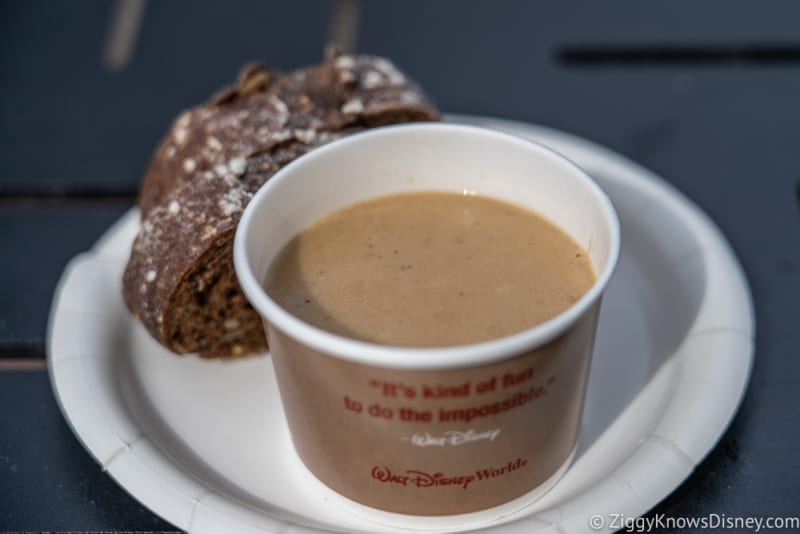 Super rich and creamy cheese flavor which is paired perfectly by the stout. And it leaves just a little kick in your mouth that leaves you wanting for more. The bread is great too that they give you to soak it all up. Where can I order a gallon of this stuff?
7.) Duck Poutine with Fig Demi Sauce and Brie Cheese Fondue – Refreshment Port
The Duck Poutine at the Refreshment Port replaces the sweet potato poutine from last year, and boy is it a big upgrade! First of all what is there not to like about poutine?? This though while some tell me is not technically poutine (because real poutine doesn't have cheese sauce but cheese curds), is a must-get in my book.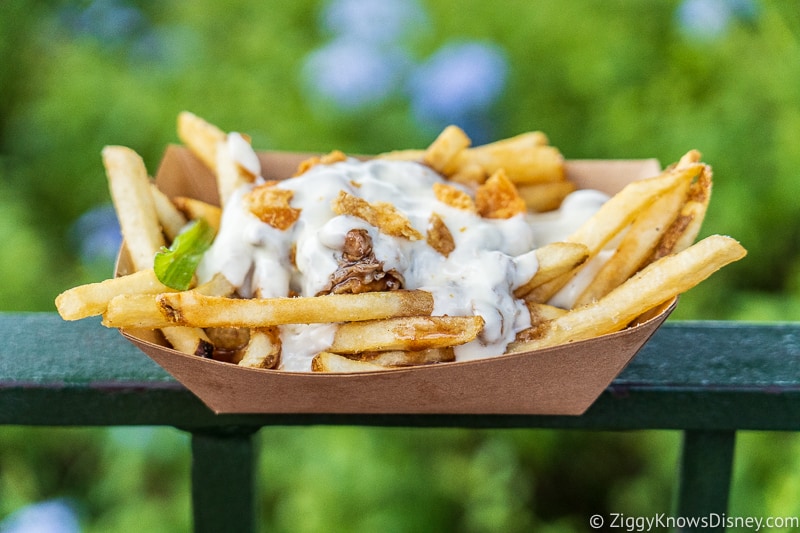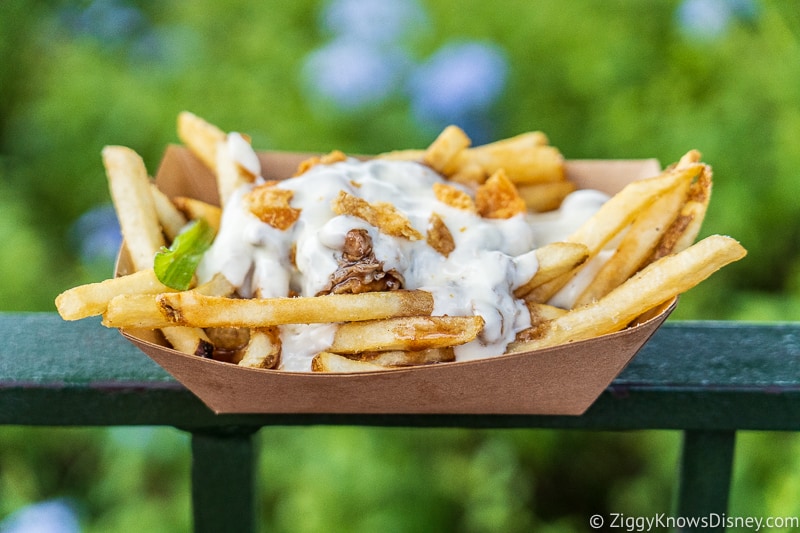 It's a big portion of fries that are doused in a fig-semi gravy which the duck was marinating in, then totally smothered in a brie cheese fondue. There wasn't a dry fry in the basket! They also heap a generous portion of duck confit on top, which has the consistency of a really moist pulled pork.
If you like French fries or poutine then you really don't want to miss this one!
8.) Wild Mushroom Beef Filet Mignon with Truffle-Butter Sauce – Canada
The Canada Marketplace only has two food items but both of them are stellar and things you absolutely have to get.  While the Cheddar Cheese Soup is one of my favorite things ever at Walt Disney World, it really depends on what mood I'm in when deciding between that and this Filet Mignon.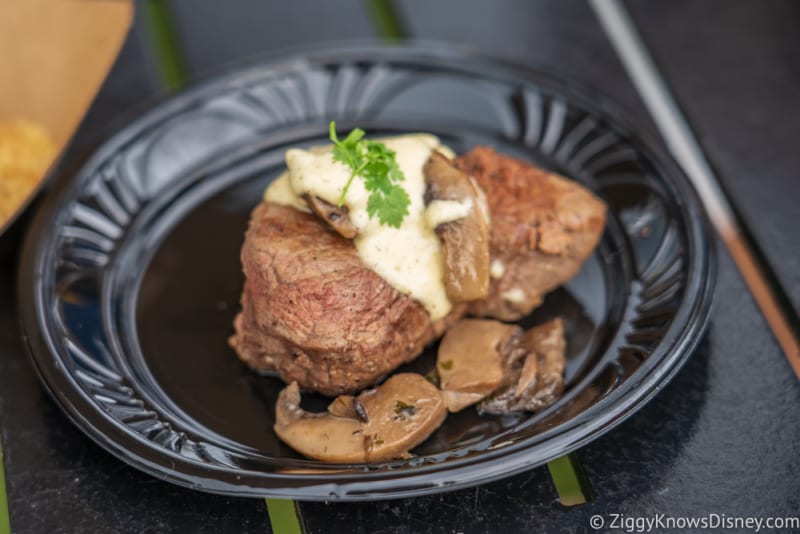 You might recognize this filet from Le Cellier, and it is in fact a smaller portion of the delicious meat you'll find there. Succulent and perfectly cooked, then covered in a rich truffle butter sauce is enough to make angels sing!
9.) Maple Bourbon Boursin Cheesecake – The Cheese Studio
The Maple Bourbon Cheesecake from The Cheese Studio was on our list for the best snacks at Food and Wine last year, and it's still out-of-control good! This was one of our favorites again this year and I was completely blown away at how smooth the Boursin cheese is and how well the sweet maple/bourbon worked with it.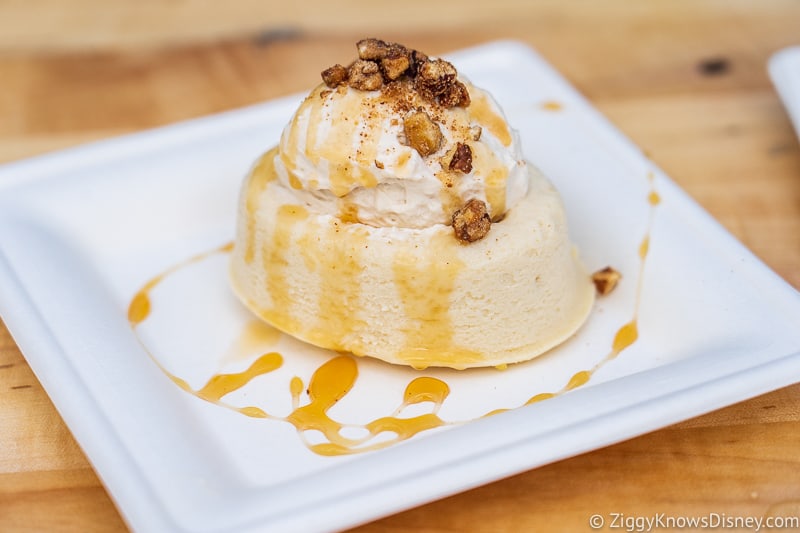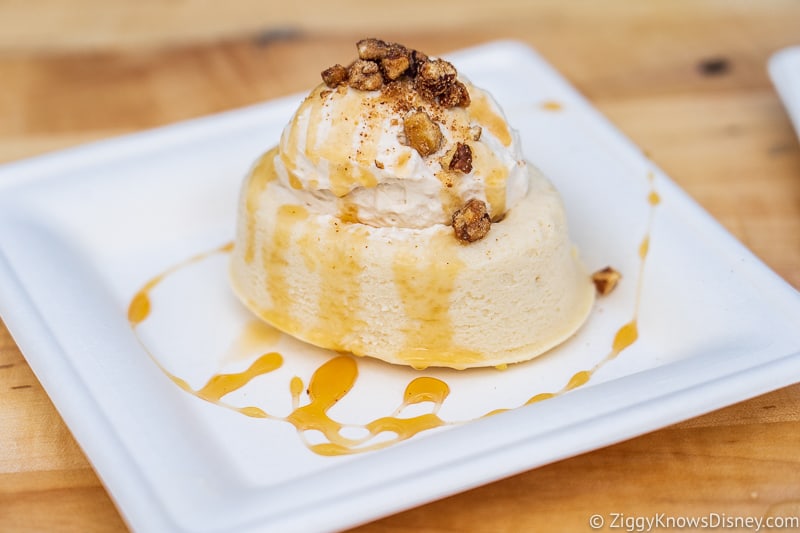 It's the first thing that I had to go back to get on my second visit to Food and Wine.  Pair this with the Blueberry Sparkling Wine at Cheese Studio and prepare for a life-changing moment! Best dessert at Food and Wine hands down!
10.) Baked Shrimp Scampi Dip – Coastal Eats
Garlic-lovers unite and come together at Coastal Eats for this awesome Baked Shrimp Scampi Dip at Coastal Eats.  Lots of shrimp chunks mixed into a cheesy, garlicky sauce and you dip it all on the sourdough bread that comes with it.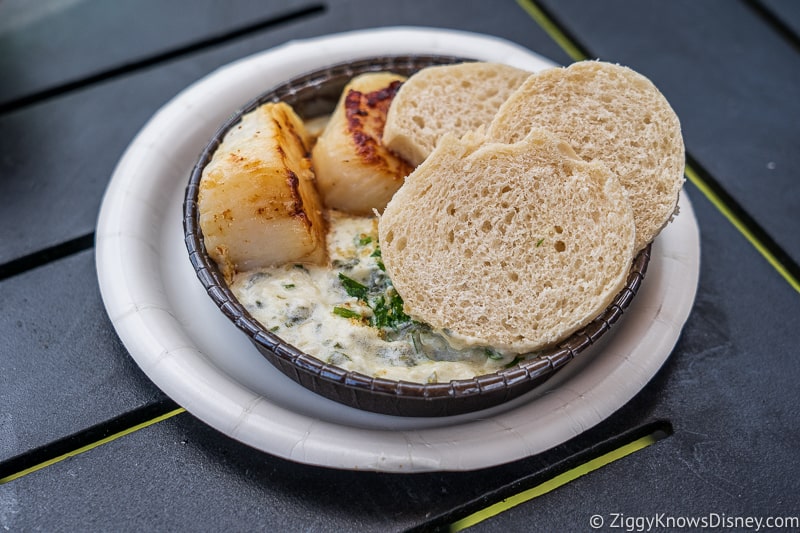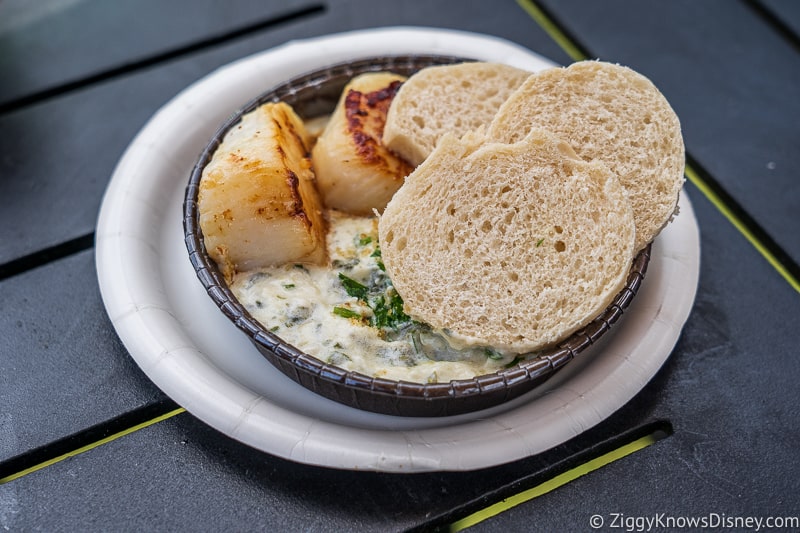 But if that wasn't enough, this year they wanted to improve the scampi dip even more, and they did that by adding Scallops!! These aren't small scallops either, but they are two jumbo ones that were the stars of their own dish last year. Now what was already one of the best snacks at the Epcot Food and Wine Festival last year, is even better!
I've never not cared so much if I was offending other people with my breath because it's THAT-good! Best seafood and best dip at Food and Wine all combined into one!
The Worst Snacks at Food and Wine
Now while we do love the Epcot Food and Wine Festival, that doesn't mean that everything is outstanding. The Food and Wine Festival is expensive and if you are going to spend your hard-earned money here it better be worth it.
That said, while there are tons of great options, there are some snacks you can skip too, so here is our list of the Worst Snacks at Food and Wine you should just skip:
1.) Wuxu Spareribs – China
So LOVE ribs, and as we mentioned, the ones from Italy were to die for. The Wuxu Spareribs from China, on the other hand, were just, ok. First I don't like that they replaced one of my favorite items from China last year in the Beef Pancake, but if these were actually good I wouldn't have minded so much.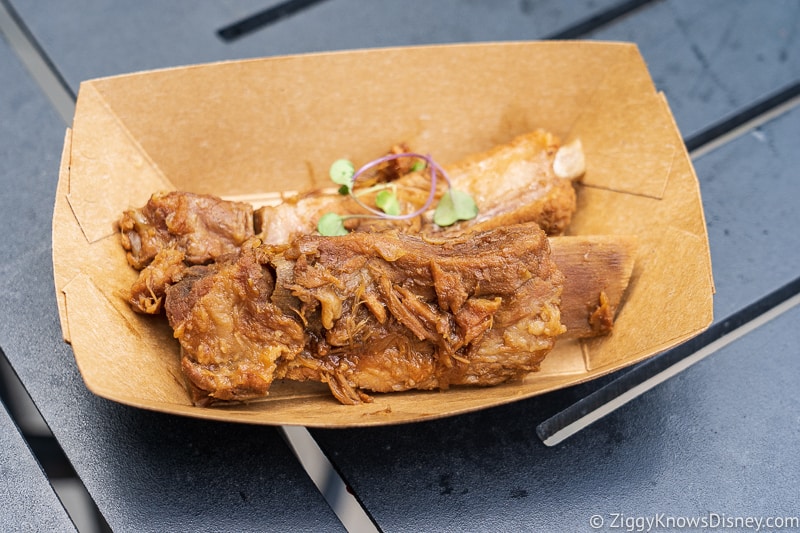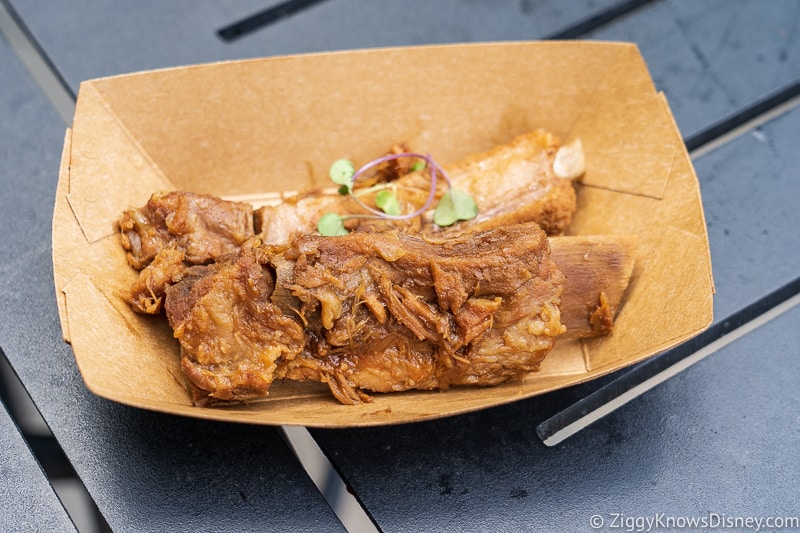 They were just too expensive for the amount of meat they give you, and the flavor just wasn't very good either. This is the difference between doing your ribs in the oven or boiling them, don't get them.
2.) Tostada de Carne: Braised Beef on a Corn Tostada – Mexico
From the minute I picked up this tostada from the Mexico marketplace, I didn't like it. It was hard to eat because the tostada was laid open and it was really hard itself. The portions in Mexico are always small for the money, but this was tiny for $6.95.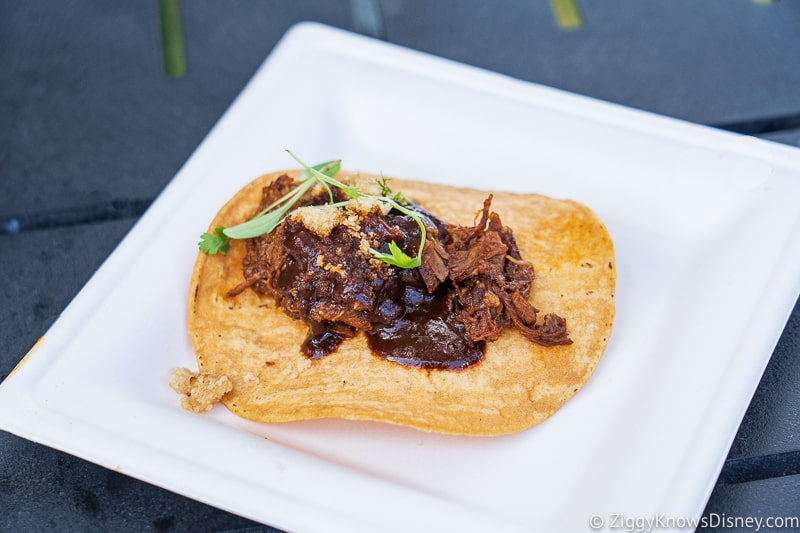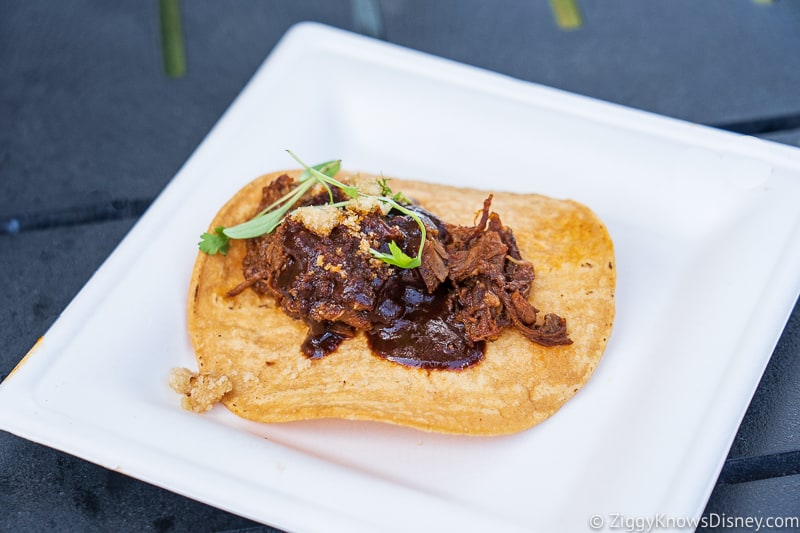 Besides there not being a lot of meat, it just wasn't good tasting, very bitter. In my opinion, you're better off going over to La Cantina de San Angel in Mexico and getting any of their food offerings which are all great and much bigger!
3.) Spicy Hummus Fries – Morocco
Believe it or not, the Hummus Fries from Morocco once made our list of the best New Snacks at Food and Wine, but it has really gone downhill since then and now lands on our list of the Worst Food at the festival.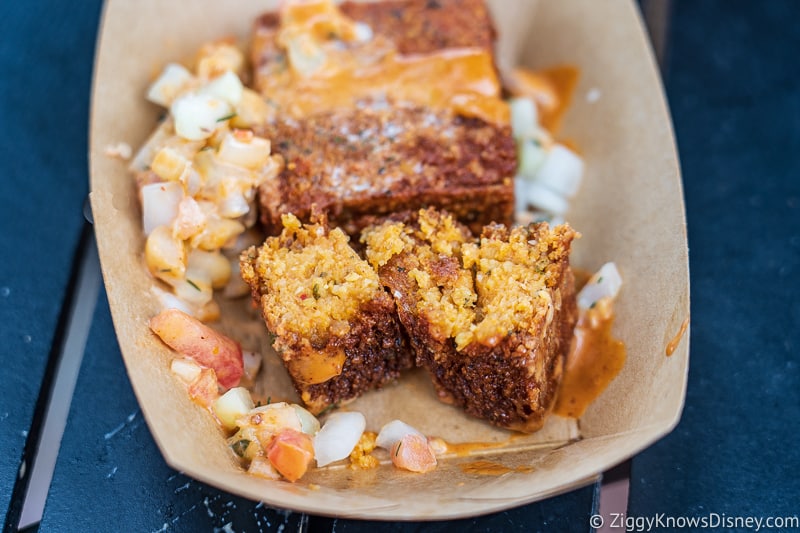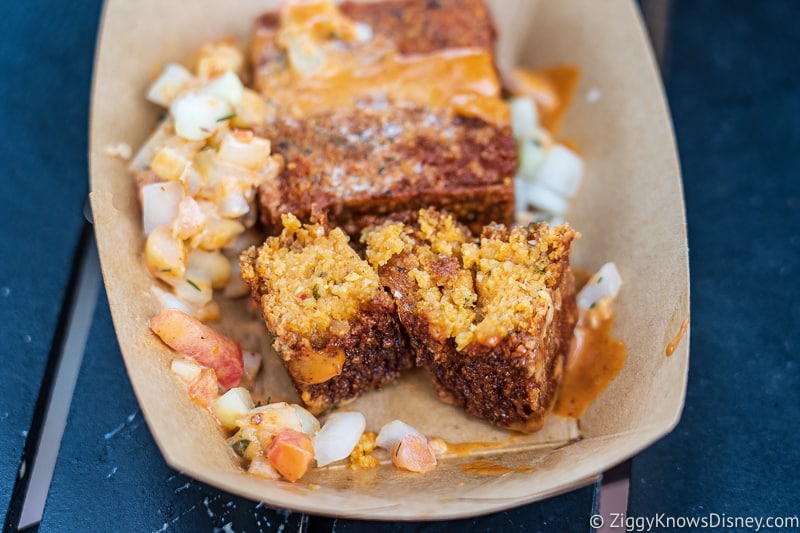 I love hummus and the cucumber and tomato garnish are very tasty, but it's the fries themselves that I didn't like. It's not the spice that I thought was right on, but they were just soooo dry! I really tried to choke these down, but without drinking a liter of water it was impossible for me.
Plus since they debuted a few years ago they have really jacked-up the price and now you have to pay $8 for hummus fries…$8! You could spend the same amount and get the delicious ribs from Italy instead for that price!
4.) IMPOSSIBLE Cottage Pie – Earth Eats
Where do I even start on the IMPOSSIBLE Cottage Pie from Earth Eats? It was downright, terrible. I consider myself a pretty adventurous eater and I normally try anything before making a judgment about it, but this was just bad all-around.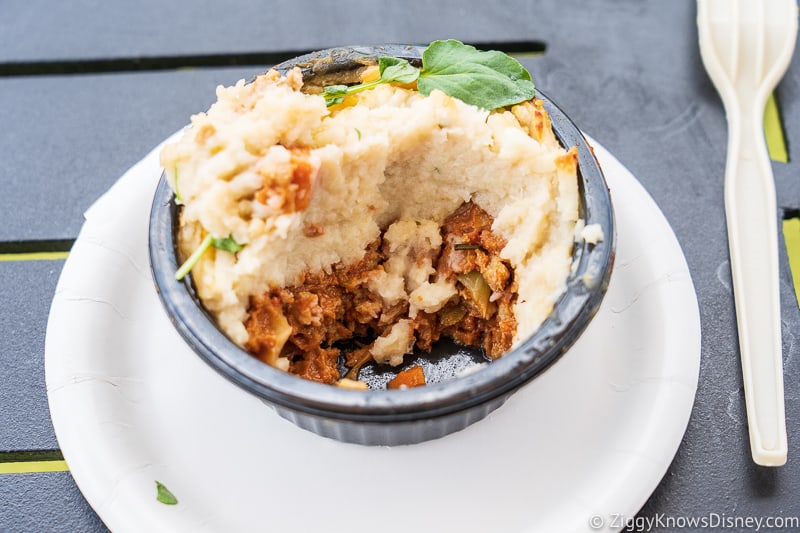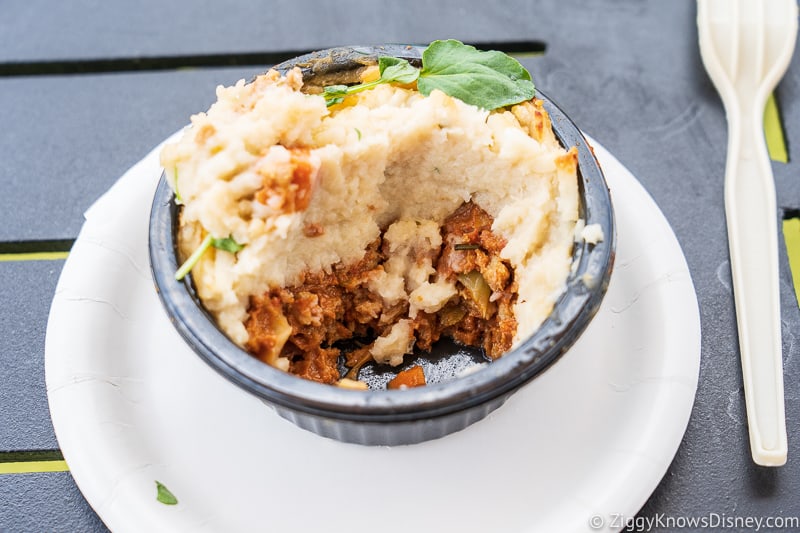 In contrast to the Impossible Burger which is also a vegetarian dish, the fake meat they put in here was un-eatable and tasted like mush. The potatoes on top weren't even good which shouldn't be hard at all. All this and the fact I waited like 10 minutes in the boiling sun just for it to cool down because of how much they heated it up.
This is probably the worst snack at Epcot Food and Wine, hands down!
5.) Kombucha – Earth Eats
I'm sorry to do this to Earth Eats, but what is often a pretty good marketplace was just bad this year by following up the Cottage Pie with the Kombucha flight.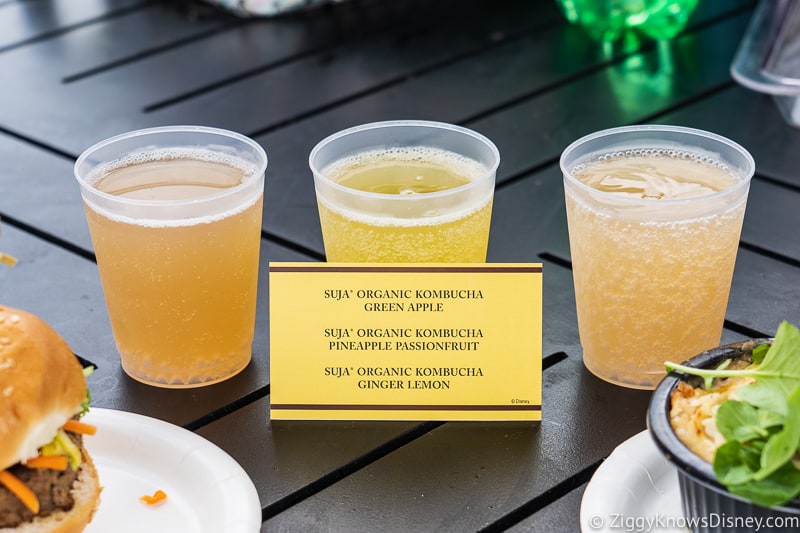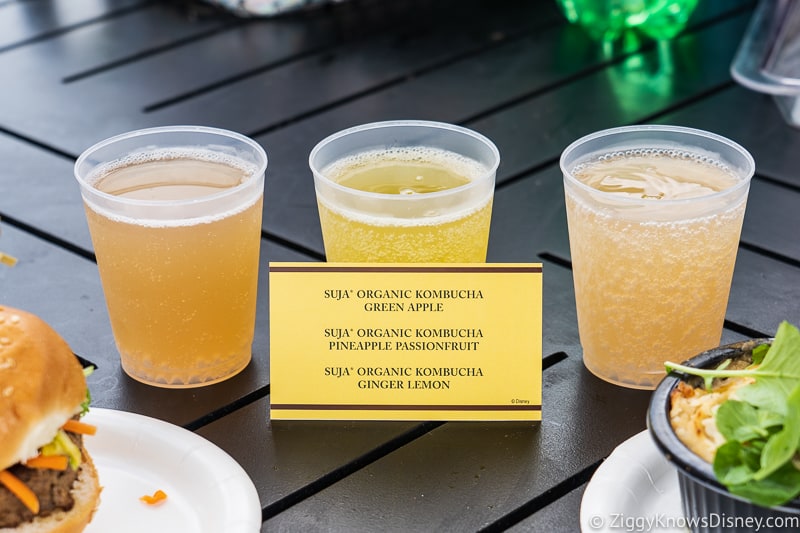 This is an acquired taste and it looks like I just haven't acquired it yet. You can definitely get a strong fermented taste, and it's really sour. I know it's super healthy for you and many people like it, I just wasn't one of them.
Not to mention you can pick up twice the quantity at your local supermarket for about half the price, so even if you liked the stuff, this isn't the place to get it.
6.) Butternut Squash Ravioli – Wine & Dine Studio
I'm the world's number one ravioli fan believe me, but the Butternut Squash Ravioli from Wine & Dine Studio are underwhelming, to say the least.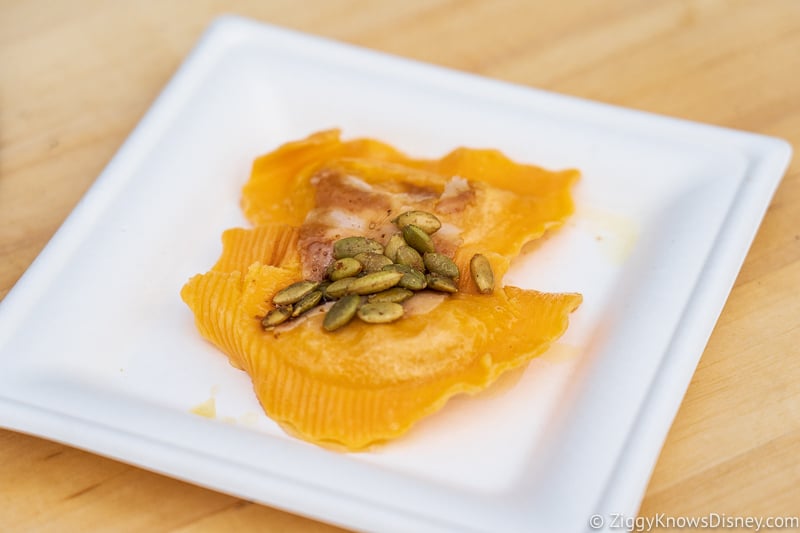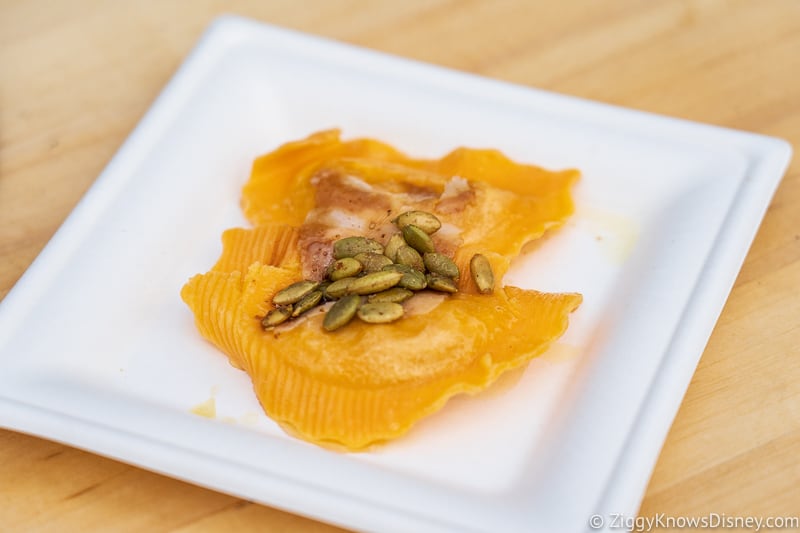 The portion is TINY, I mean seriously, you give two ravioli for $4.50?? That is highway robbery, in my opinion, no matter how good they are. Then there's the fact that they are just mediocre at best. They were overcooked and greasy tasting, and where the heck is our shaved parmesan cheese on top??
There are plenty of snack items I would recommend at Epcot Food and Wine, this is not one of them.
7.) Frothy Ramen – Japan
I don't even know what to say about the Frothy Ramen from the Japan marketplace. From the picture I'm sure you are thinking: "Why are there marshmallows on top of those noodles?" While it looks like that, it's actually the foam on top of them.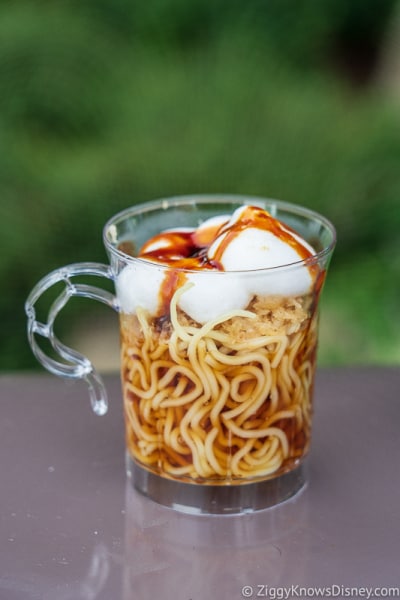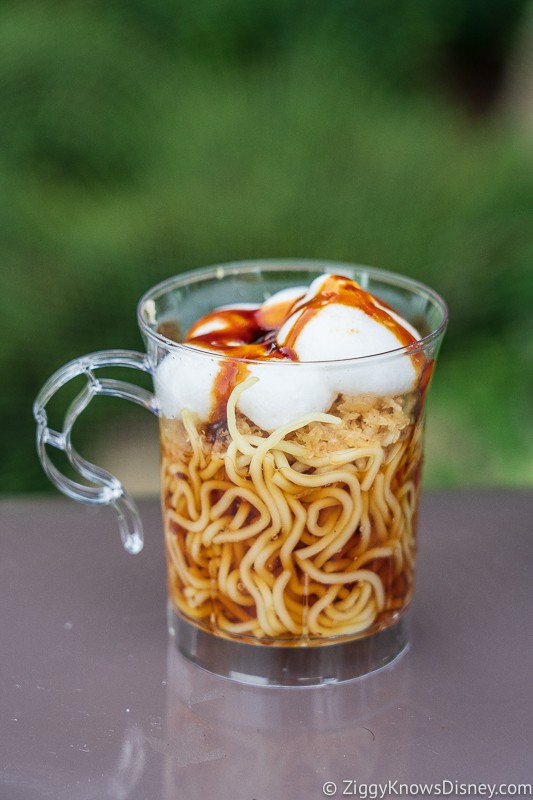 Nothing about this dish was palatable. The only thing it's got going for it is that it will keep you cool on a hot day, that's it. Skip it, please.
8.) Fondue Savoyarde: Fondue of Imported Cheeses – France
So I'm not so upset about the taste of the fondue from France as it was quite good, but there isn't nearly enough bread to go with it. We were literally left with half a cup of fondue left over and no bread to dip into it.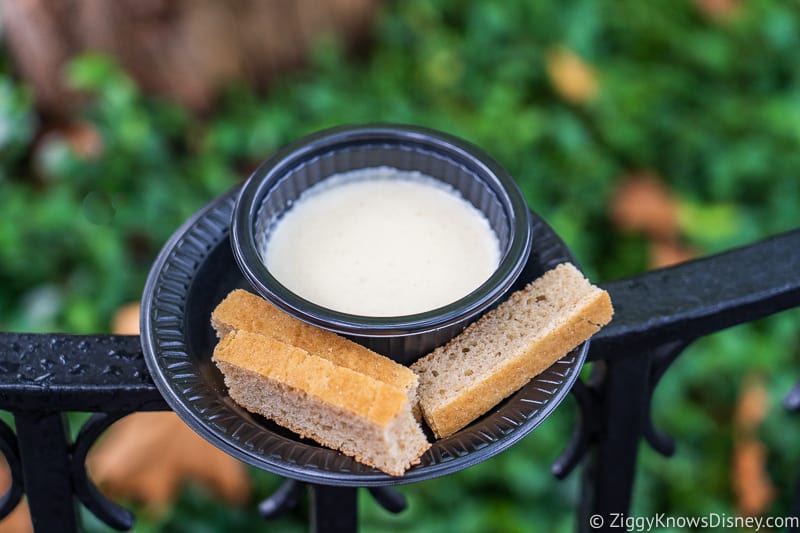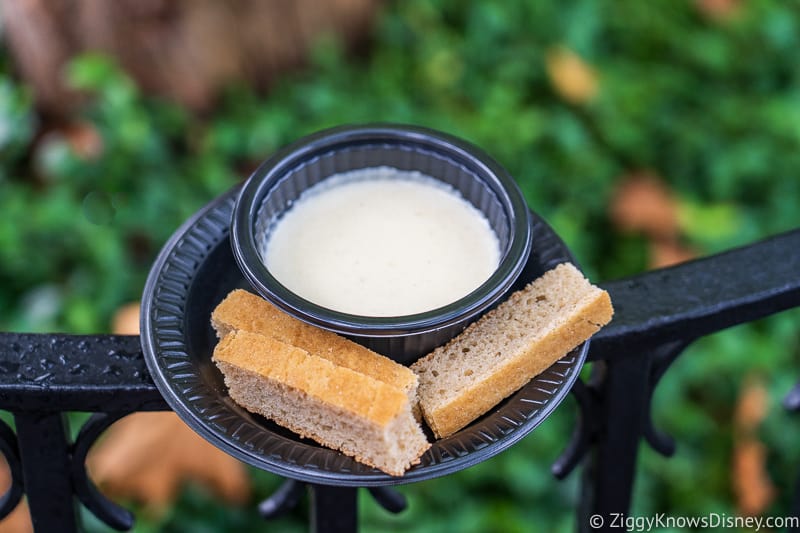 Also, why are they called croutons if it's just tasteless bread? And if you are going to give me bread with this fondue, there are many better tasting breads they make right next door at Boulangerie-Patisserie.
9.) Chocolate Picante – Flavors from Fire
Ok, this one might be the actual worst snack at the Food and Wine Festival. The Chocolate Picante from Flavors from Fire to me is just uneatable.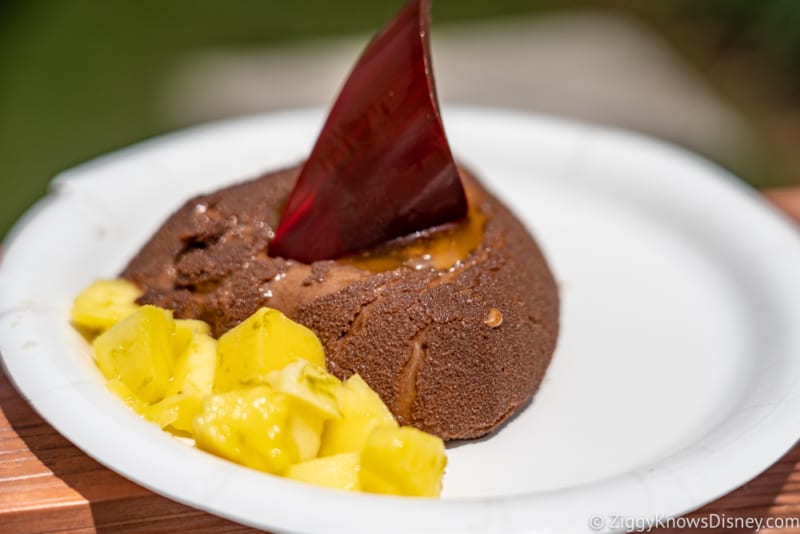 I get that some people want their chocolate spicy (maybe), but this was too hot. The spiciness over-powered the chocolate flavor and I had to drink a whole bottle of water just to get it down. There should also be more of the mango chutney to balance out the heat.
My least favorite dessert at Food and Wine and something I definitely won't be ordering again.
10.) Shrimp and Cold Noodle Salad – Thailand
To look at the Shrimp and Cold Noodle Salad from Thailand, it actually looks like a pretty good dish. Plus there's the fact that a cold dish can be beneficial in August in Florida, however, looks can be deceiving.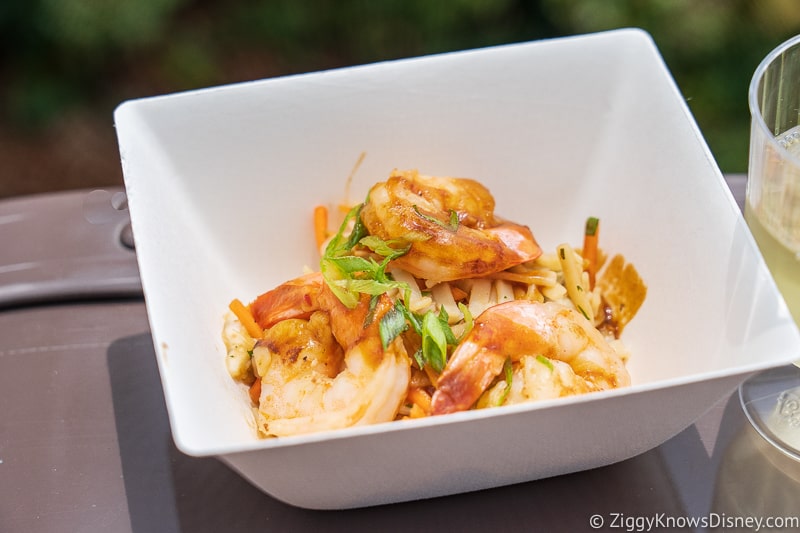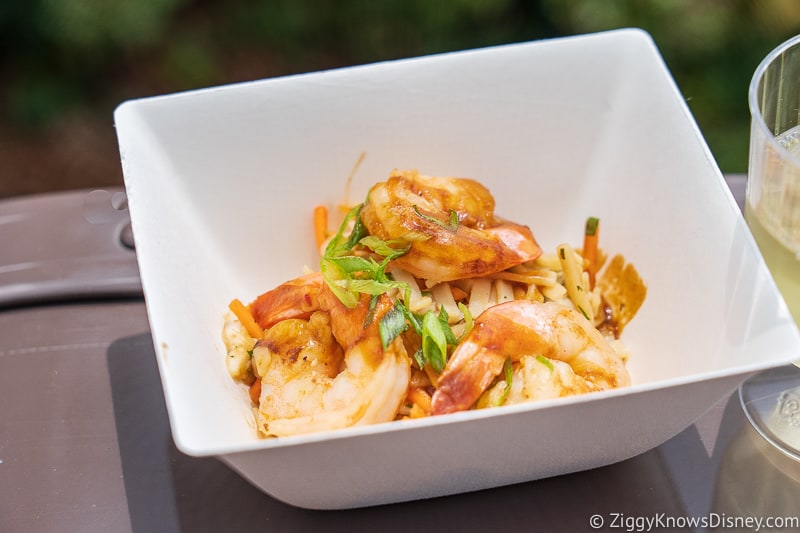 Honestly, the shrimp themselves weren't terrible, and there were three of them, but the noodles weren't good at all. I mean why are they bitter?? What happened to the amazing cold noodles served up last with the shrimp and scallop cake? Those were wonderful and had just a hint of lemon which made them delicious. These are not delicious and can totally be skipped!
That concludes my list of the Top 10 Best and Worst Snacks at the 2019 Epcot Food and Wine Festival.  I hope you enjoyed it and hope I gave you some good ideas of what to get when you get there yourself.  Write to me and let me know what you thought of the food! 🙂
I want you to be able to have the best info on the Epcot Food and Wine Festival so you have a great time and don't waste your time! Take a look at all of my 2019 Epcot Food and Wine articles including:
MUST-TRY NEW Items at 2020 Food and Wine Festival (Coming Soon)
Top 10 Best and Worst Snacks at Food and Wine (Coming Soon)
Top Food and Wine Booths (Coming Soon)
Your Thoughts:
I want to know what you think about my Best and Worst Snacks from the 2019 Epcot Food and Wine Festival…
Which is your favorite item?
Which is the worst?
Let us know in the comments section below!
If you enjoyed this article, as always I appreciate it if you'd share it with others via social media. I work hard at making this website into a useful resource for you and your family to plan your visit to the Disney Parks and I hope it can help you! Thanks 🙂