The Flavors from Fire marketplace is only 3 years old, but it already is a fan-favorite and it looks just as strong this year! It also is getting another menu upgrade to go along with favorites: Swine Brine and the Smoked Corn Beef with Warm Crispy Potatoes, which is one of the best things I've ever had at any Food and Wine Festival, period!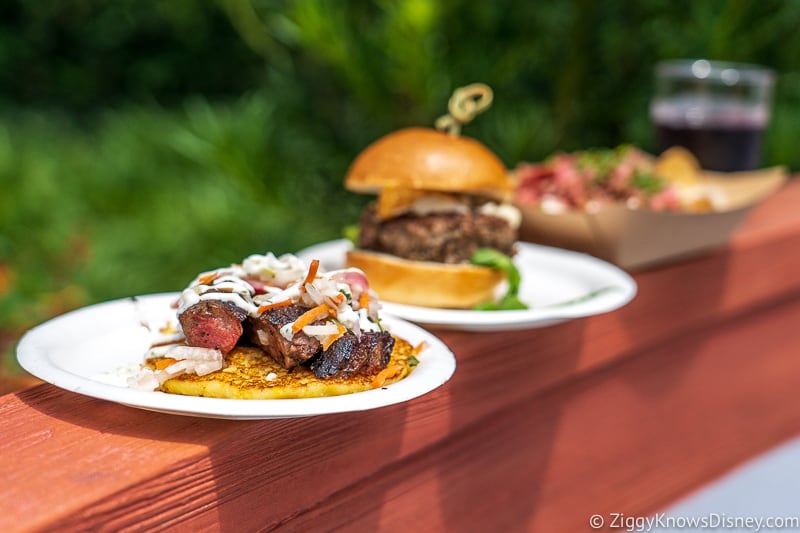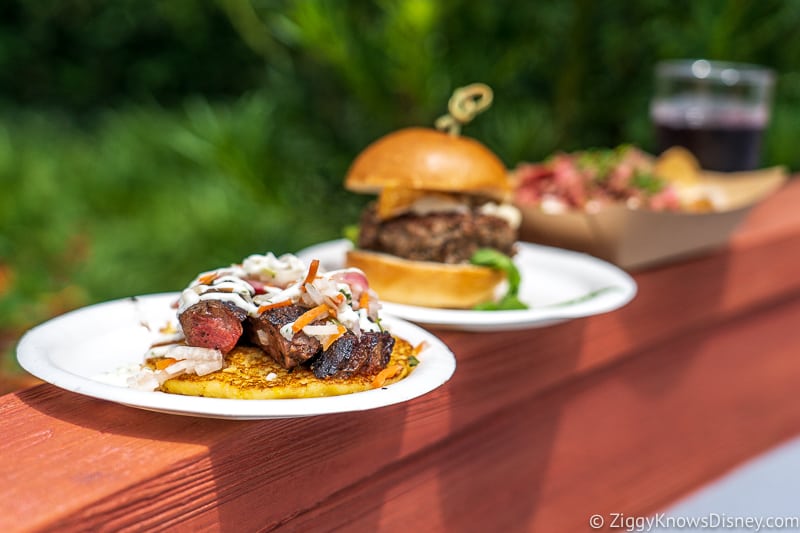 So we're super excited that Flavors from Fire is back again this year and we've prepared ourselves for the heat! Let's check it out in my Flavors from Fire Review: 2019 Epcot Food and Wine Festival….
Flavors from Fire Marketplace:
This is by far one of the most eye-popping Food and Wine Festival booths/marketplaces imo. The bright orange and red colors against the wood are incredible. Plus there are green plants everywhere too! Plus it has one of the best seating areas at the Food and Wine Festival! Too bad all the marketplaces didn't put this much attention to detail in theirs!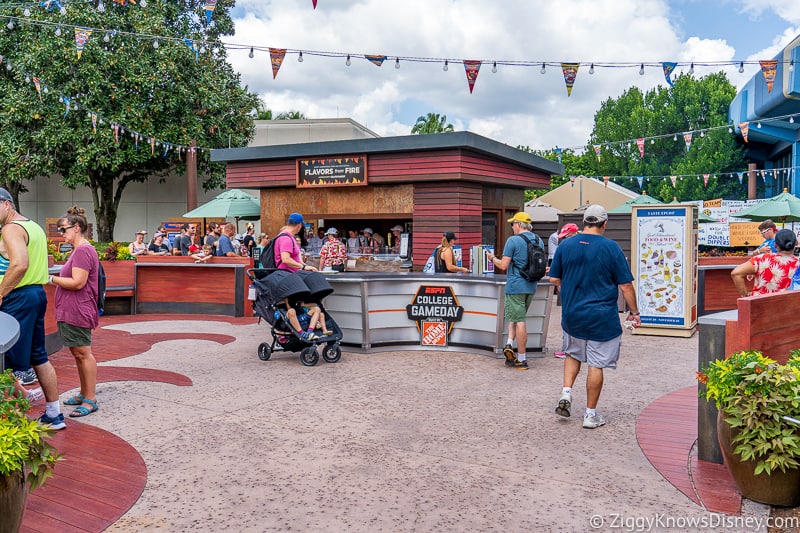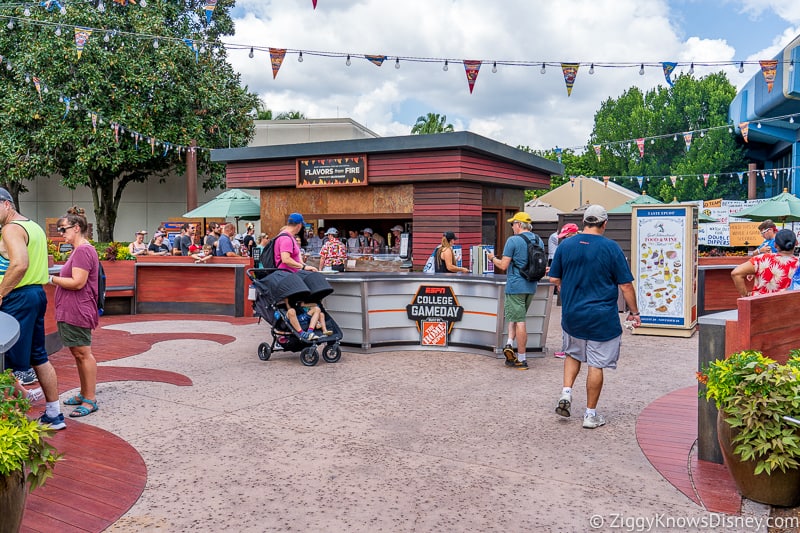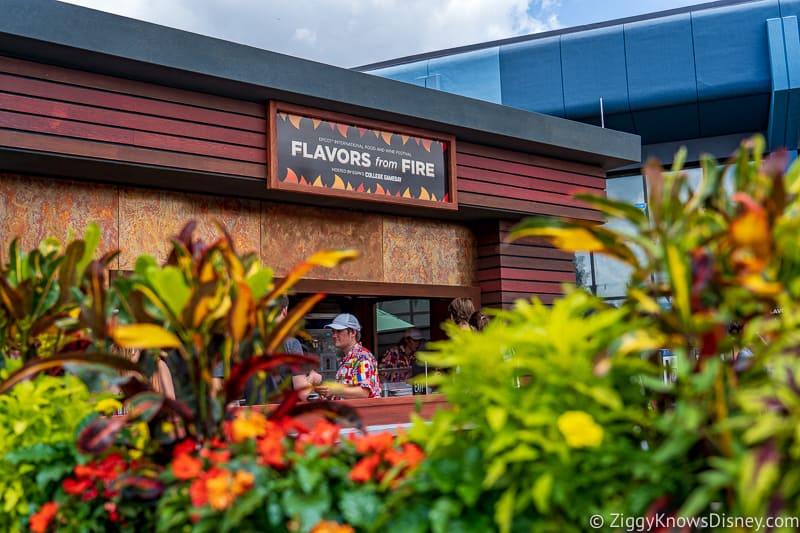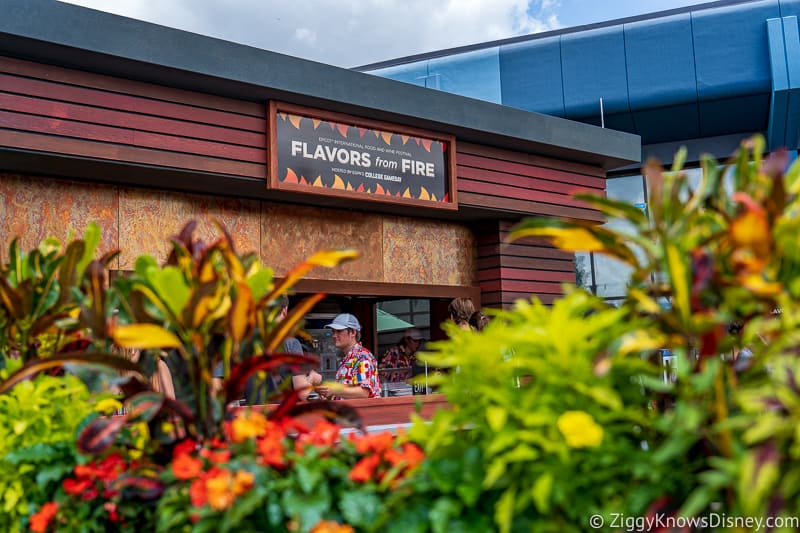 I love the explanations of the Flavors from Spice…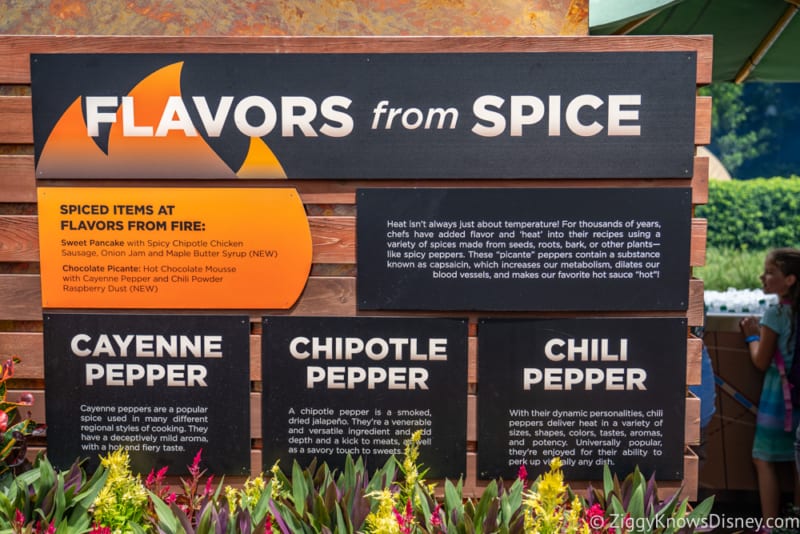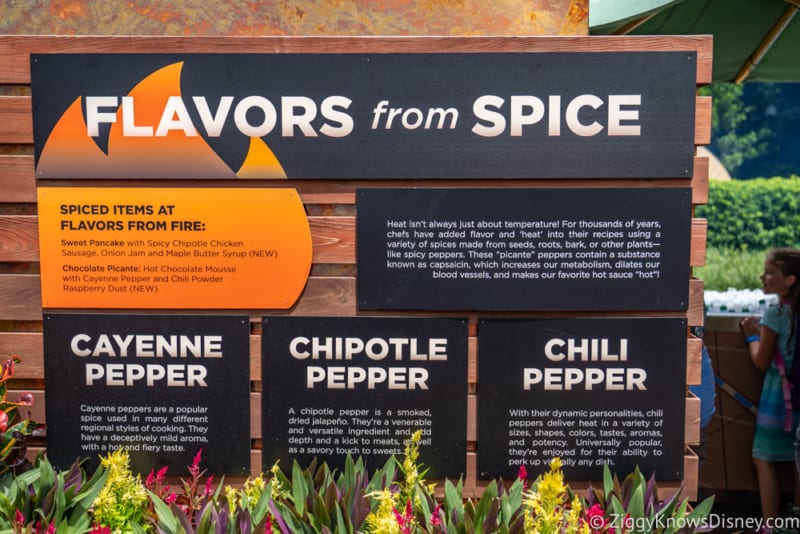 and from Smoke: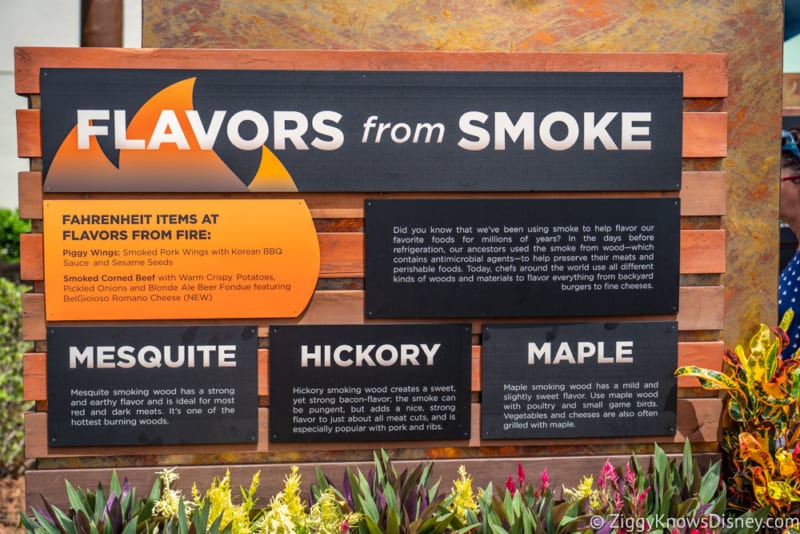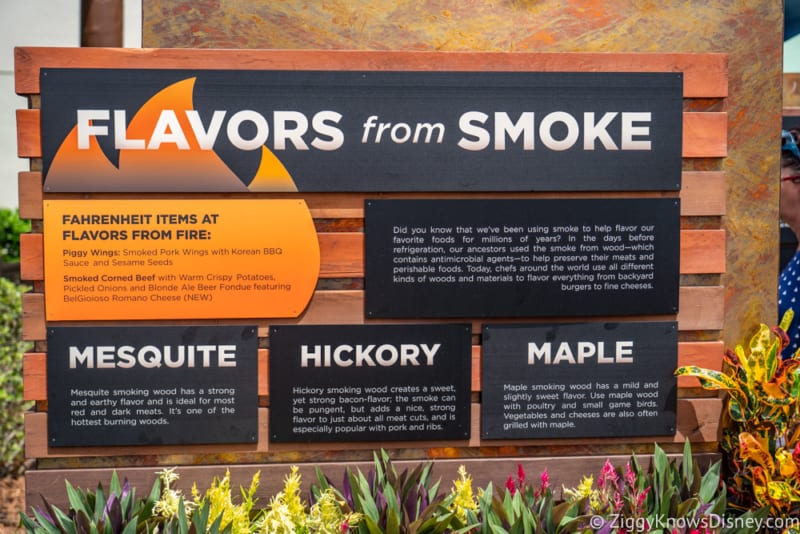 You can watch the grill masters go to work in the back of the marketplace: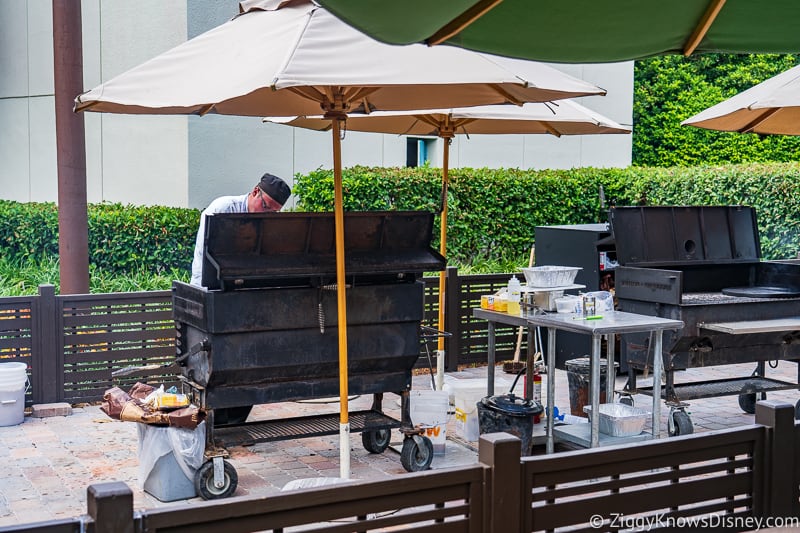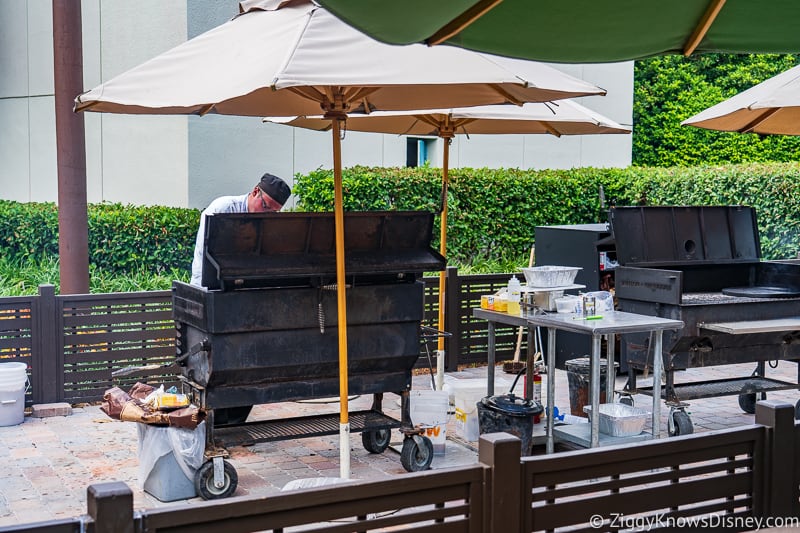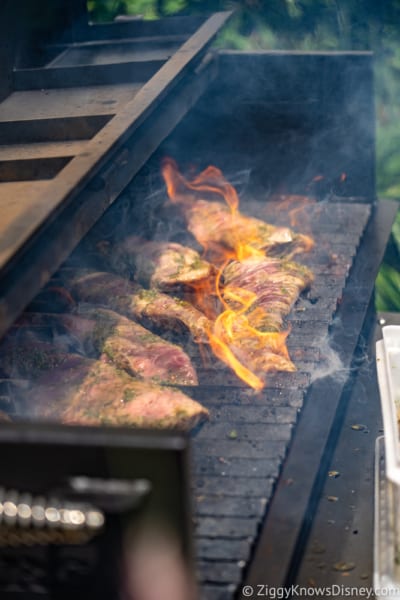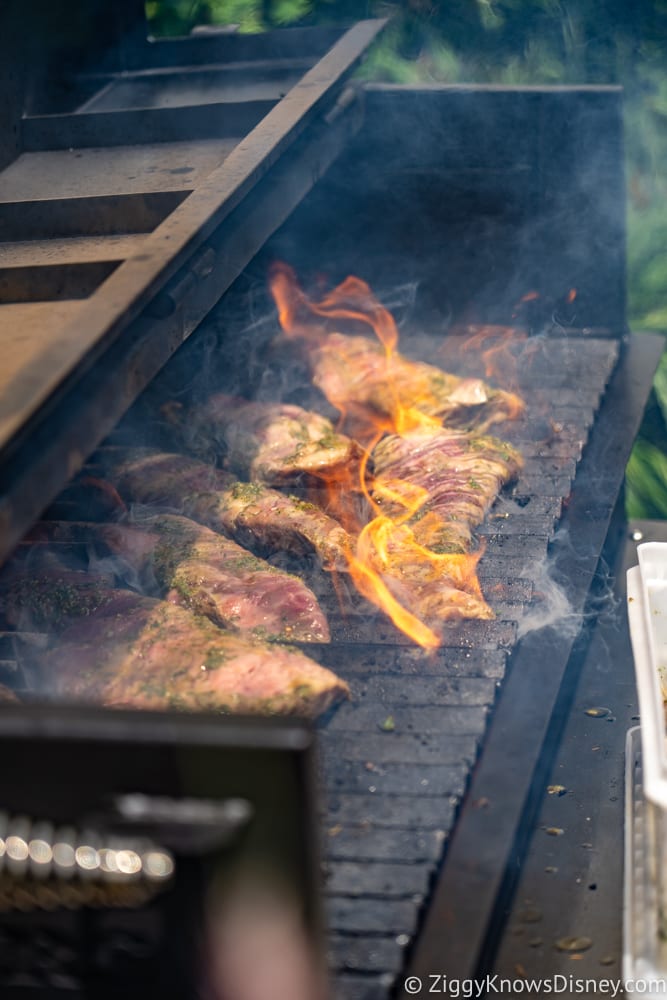 A look at the new seating area behind the marketplace this year. Only bad thing is it gets smokey there with the grills right next to it: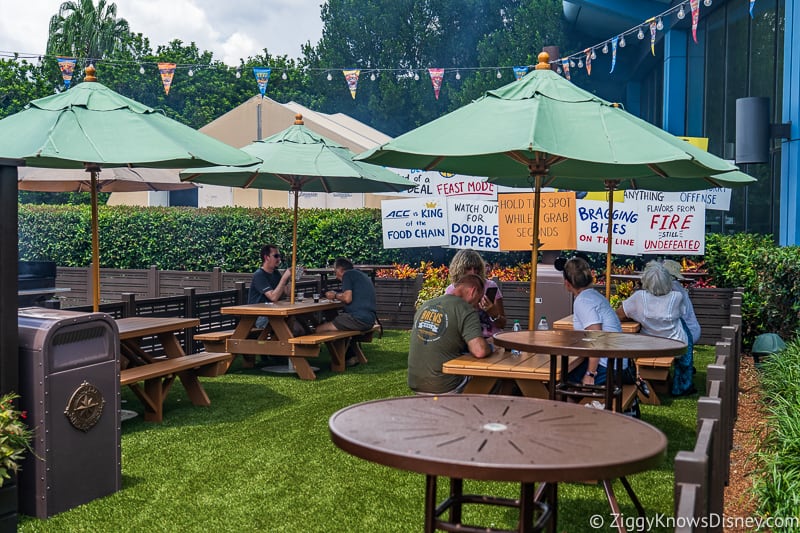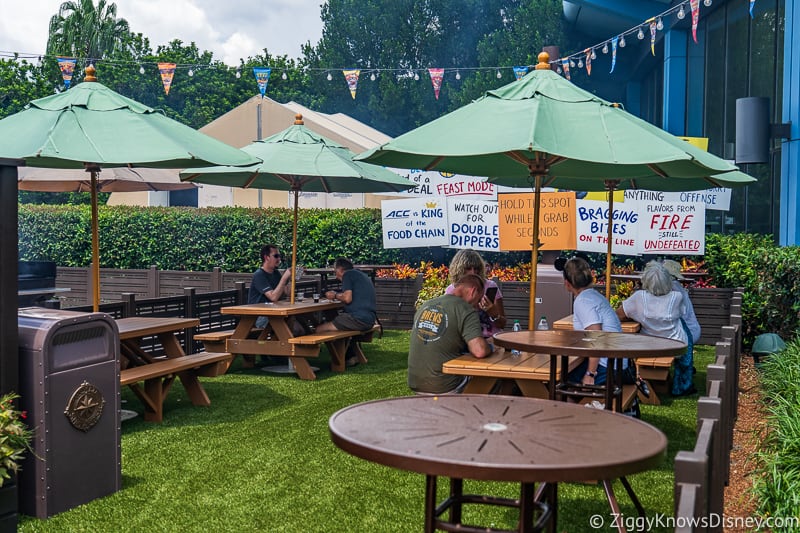 This year Flavors from Fire is hosted by ESPN College Game Day and they have made they're presence known…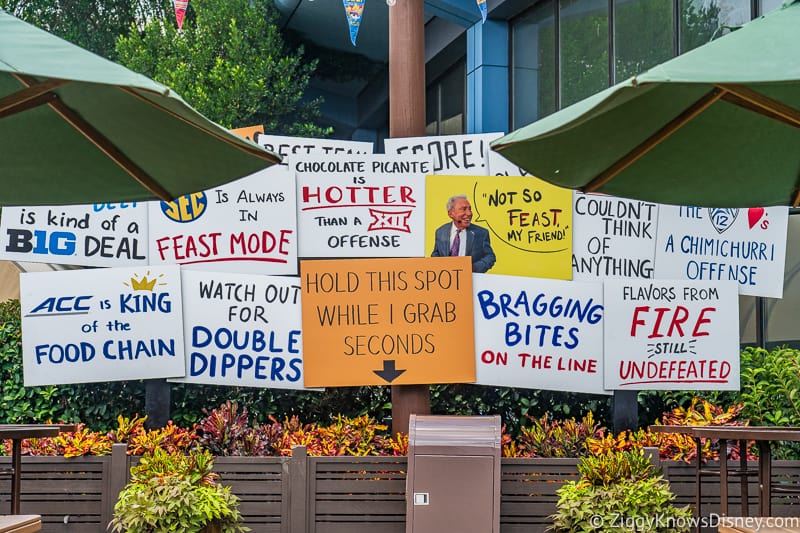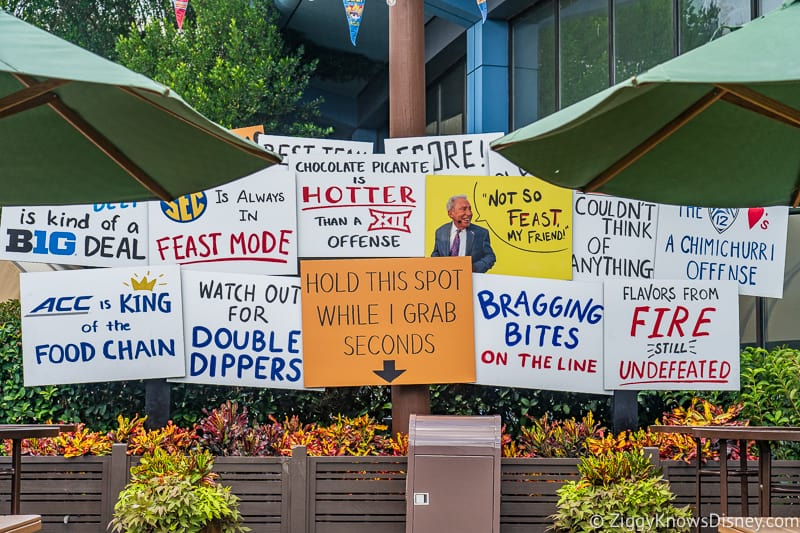 Flavors from Fire Menu:
An early look at the menu makes me think Flavors from Fire will be a strong contender once again for Best Food Marketplace at Food and Wine this year.
The Flavors from Fire Menu changed a bit this year and added one of my favorite new items from last year's menu, The Steakhouse Blended Burger. I'm not upset about what it replaced either because I honestly wasn't a fan at all of the Piggy Wings, so this is an upgrade imo.
My favorite item at the Festival remains the Smoked Corned Beef with Crispy Potatoes and I'm sure I'll be getting some healthy portions of that this year. I also look forward to eating the Charred Chimichurri Skirt Steak as this is another solid option.
I wish they would change the dessert here and get rid of the Chocolate Picante: Dark Chocolate Mousse, but I understand why they have to have something hot at this marketplace. Thank goodness the Swine Brine is still here too!
Food:
The Steakhouse Blended Burger: Blended Beef and Mushroom Slider with Brie Cheese Fondue, Arugula, and a Truffle and Blue Cheese Potato Chip on a Brioche Bun ($5.25)
Smoked Corned Beef with Crispy Potatoes, Cheese Curds, Pickled Onions and Beer-Cheese Fondue ($5.25)
Charred Chimichurri Skirt Steak on a Smoked Corn Cake with Pickled Vegetable Slaw and Cilantro Aïoli ($7.00)
Chocolate Picante: Dark Chocolate Mousse with Cayenne Pepper, Paprika and Mango-Lime Compote ($4.00)
Beverages:
Bell's Brewery Porter, Comstock, MI ($4.50)
Edmeades Zinfandel, Mendocino County ($5.00)
Swine Brine featuring Jim Beam Bourbon ($9.50)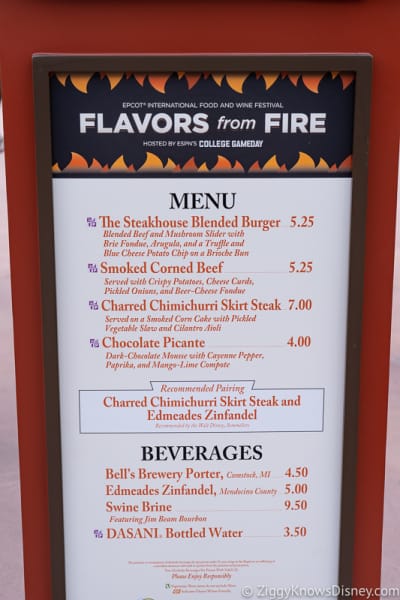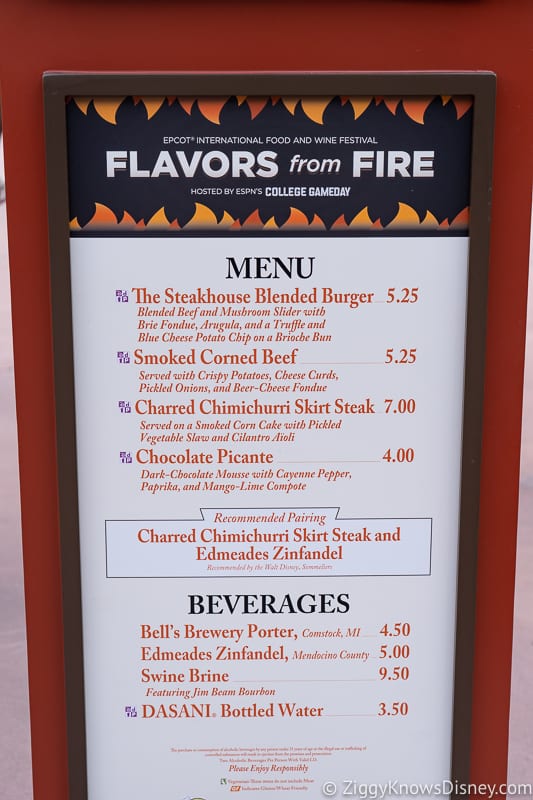 Menu Review:
The Steakhouse Blended Burger ($5.25):
The Steakhouse Blended Burger has moved over to Flavors from Fire because its former home (Earth Eats) has become all vegetarian options. Naturally it fits in right here!
Before I saw the Steakhouse Blended Burger I was expecting a super small slider, instead this is actually a pretty big portion! Burgers are hard to do for mass crowds so I was expecting something slightly under 'burnt to a crisp.' Thankfully that's nothing close to what I got!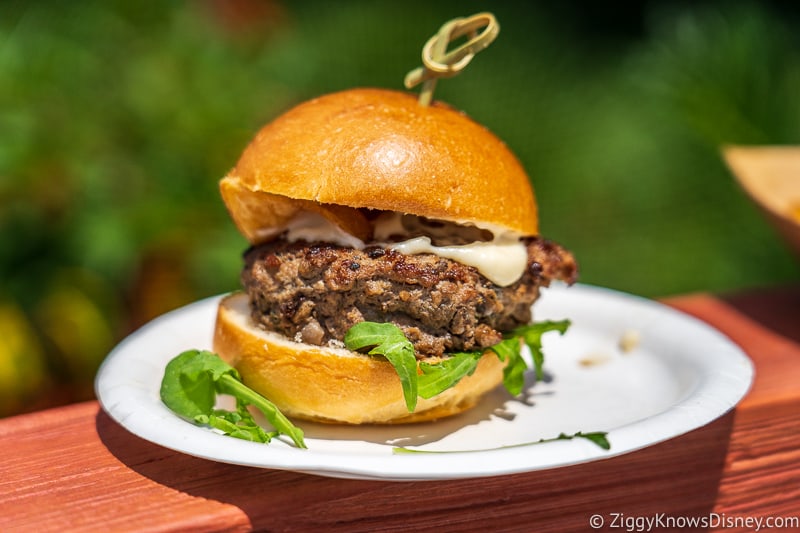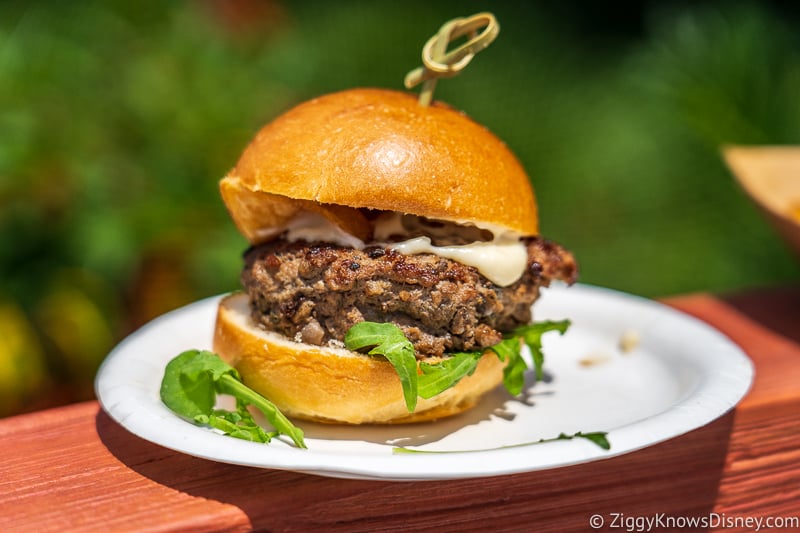 This burger was really juicy, the juice was dripping down my hand! It was full of mushrooms too and the gooey, gooey, brie fondue and blue cheese chip were an awesome contrast in flavors! Sometimes you just want a good ole fashion burger and thankfully this is so much more than that. Definitely give it shot, especially for $5.25!
Smoked Corned Beef with Warm Crispy Potatoes ($5.25):
Not taking into consideration price even, this is probably my #1 overall snack at Food and Wine. It's absolutely perfect in every way!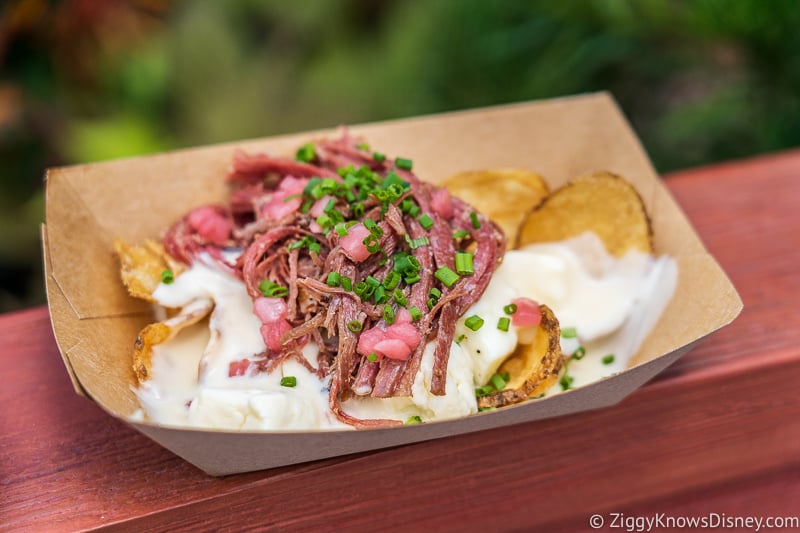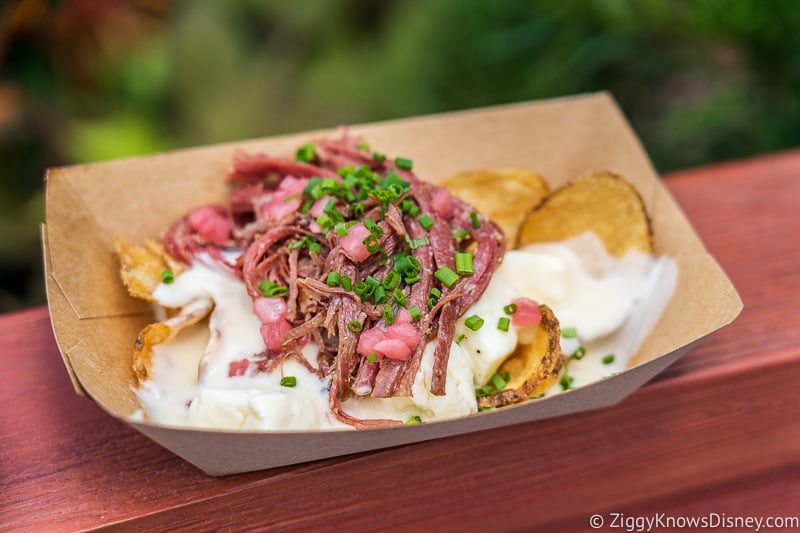 First, the housemate chips are amazing, crunchy and salted up nice. Second, they are piled high with tons of luscious smoked corned beef. They don't skimp on it either and this stuff just melts in your mouth.
Lastly, they smother it all in a creamy parmesan sauce that's to die for. Amazing value, excellent taste, this is a true gem of Food and Wine and not to be missed for anything!!
Charred Chimichurri Skirt Steak on a Smoked Corn Cake ($7.00):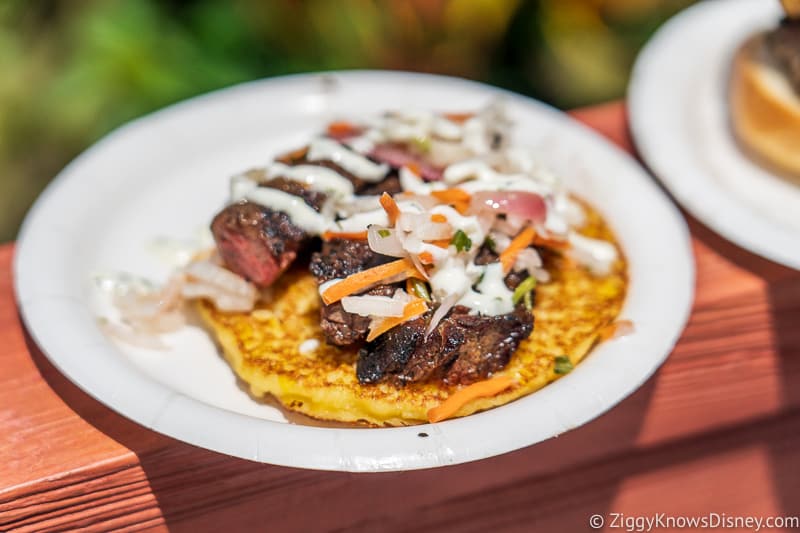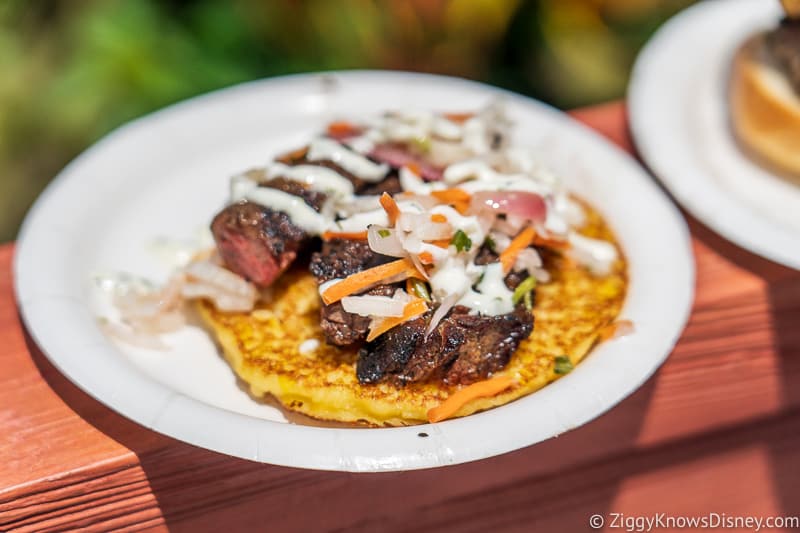 This is a carry-over from last year. Not a huge portion, but full of flavor! Pancake fans will love these little guys in one of the most unique offerings at Food and Wine this year! The steak is marinated in a chimichurri sauce and then cooked till perfectly pink. I thought the meat was very flavorful and juicy too.
I'd do without the slaw on top and find something else to accompany it with, but that's just me. Great new option and just one more thing to make Flavors from Fire an unbeatable marketplace!
Chocolate Picante ($4.00):
So in Italy lots of people love the combo of chocolate and chilis. I can see how they might go together, but for me, I'm just not feeling it.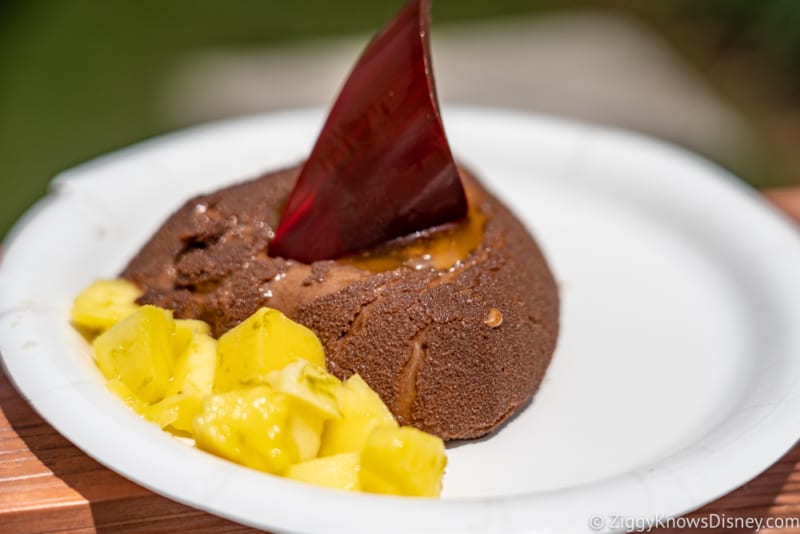 The chocolate was very decadent, and was almost liquid by the time I got it out of the heat. The mango was also a nice side to it and helped cool things down. But I'm just not a spicy dessert guy. My desserts need to be sweet…end of story. If you're the opposite then this would be perfect for you, it's just not for me.
Swine Brine ($9.50):
So a couple of years ago I scoffed at the idea of Jim Beam, apple juice, mustard, lemon juice, and rib juices all mixed together with a rib thrown in on top to make a cocktail. But I heard so many good things about it and finally tried it last year, and man was I surprised at the outcome. I loved it!!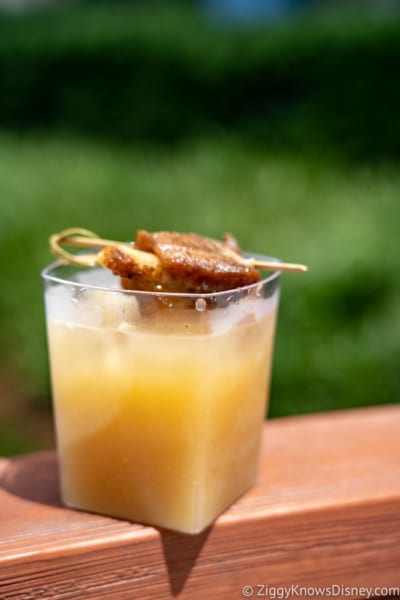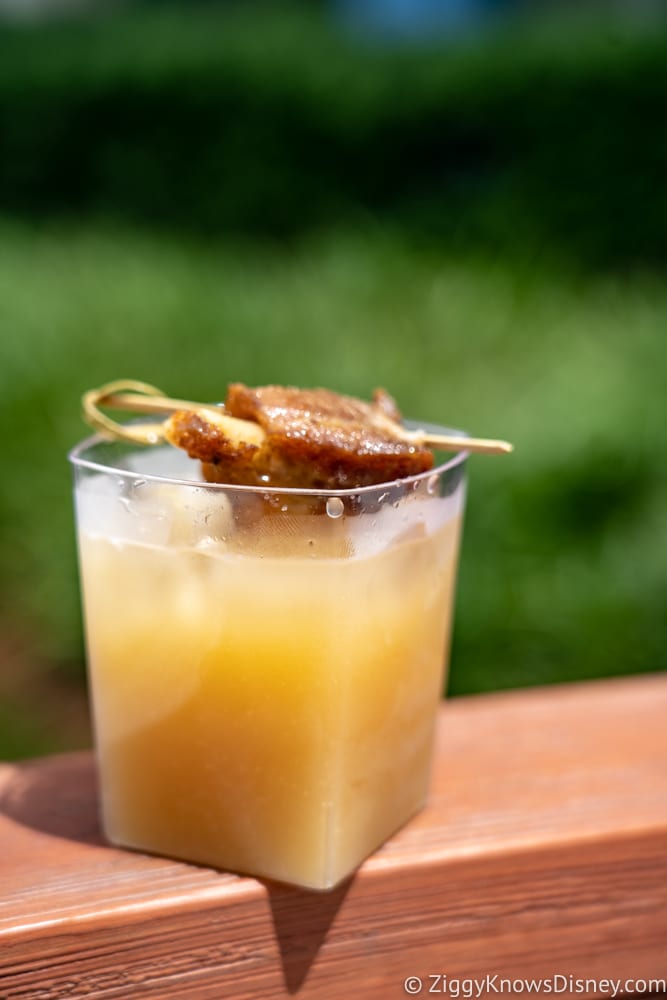 Things are the same with the Swine Brine this year, and all those ingredients I listed don't sound good at all, but somehow this thing just works, and actually had me craving more. I guess I could get used to this "dunking-ribs-in-your-cocktail-thing."
The only downside of the Swine Brine is that it's gotten so popular that they've raised the price by $1.25 this year, making it one of the biggest increases at the festival this year. We'll still get it because it's awesome though!
Edmeades Zinfandel ($5.00)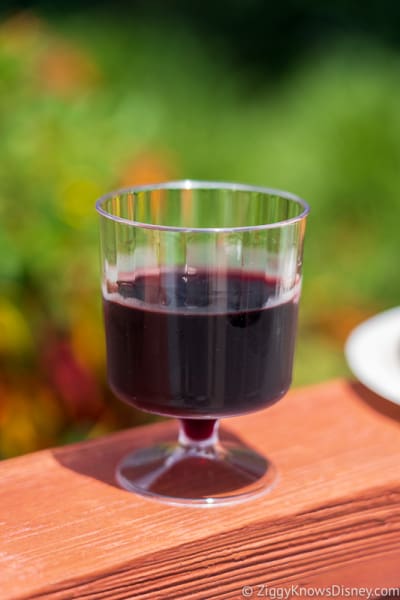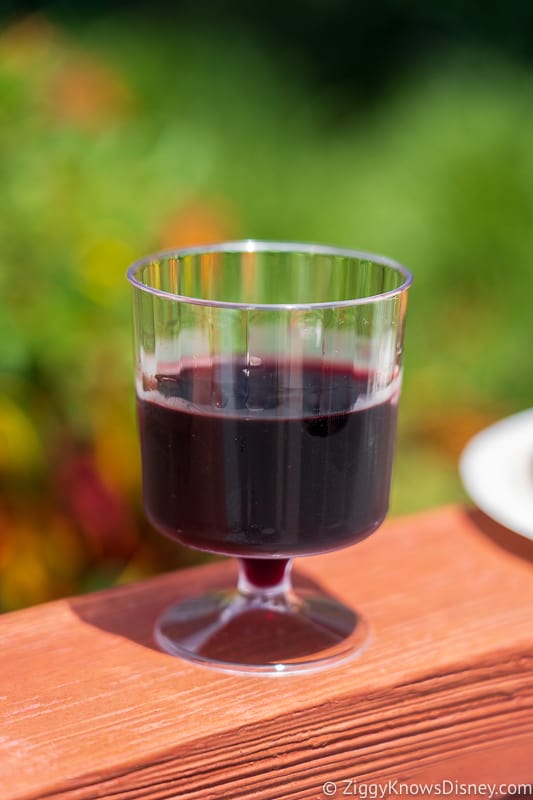 This Zinfandel we liked a lot. It had low tannins and was extremely smooth, yet bold at the same time. There were lots of dark fruits in there like plums and cherries, and it was definitely a favorite of ours this year.
Booth Summary and Grade:
We love Flavors from Fire every year, and this year it just went up another level after the Steakhouse Blended Burger was added to the menu. The Swine Brine was great, the Chimichuri Skirt Steak awesome, and the Smoked Corned Beef remains one of, if not our favorite snack at Foods and Wine.
It is in serious consideration for best marketplace at Epcot Food and Wine this year. Don't miss Flavors from Fire for anything when you go or you'l regret it!
If you have to get just one thing:
Smoked Corned Beef
Flavors from Fire Review

Overall Grade -

9.5/10
I want you to be able to have the best info on the Festival so you have a great time and don't waste your time! Take a look at all of my 2019 Epcot Food and Wine articles including:
Top Food and Wine Booths (Coming Soon)
Your Thoughts:
I want to know what you think about the Flavors from Fire Review at the 2019 Epcot Food and Wine Festival…
Which is your favorite item?
Which do you still want to try?
Let us know in the comments section below!
If you enjoyed this article, as always I appreciate it if you'd share it with others via social media. I work hard at making this website into a useful resource for you and your family to plan your visit to the Disney Parks and I hope it can help you! Thanks 🙂