Earth Eats is back in 2019 and with a new menu item too! This is the place to be for vegetarians at the festival, but it comes at a cost as our favorite item here is now gone (Steakhouse burger) We love to see when they mix things up and introduce new menu items so it will be interesting to see how this year stacks up.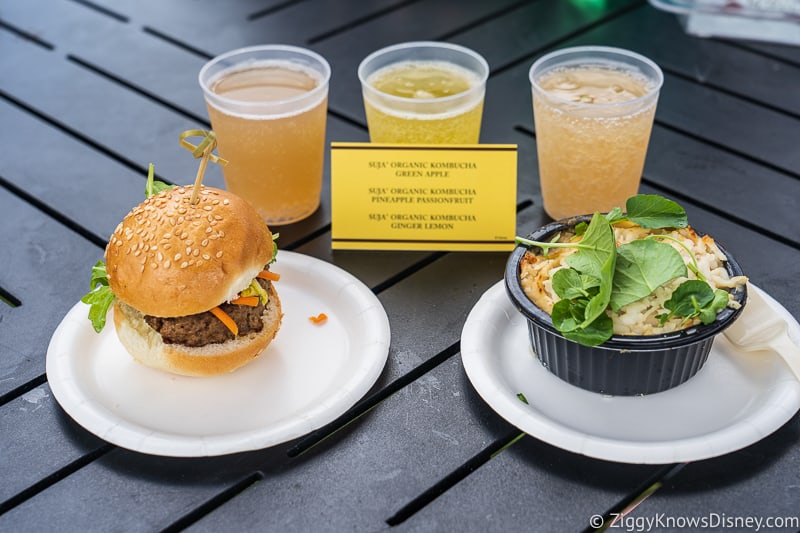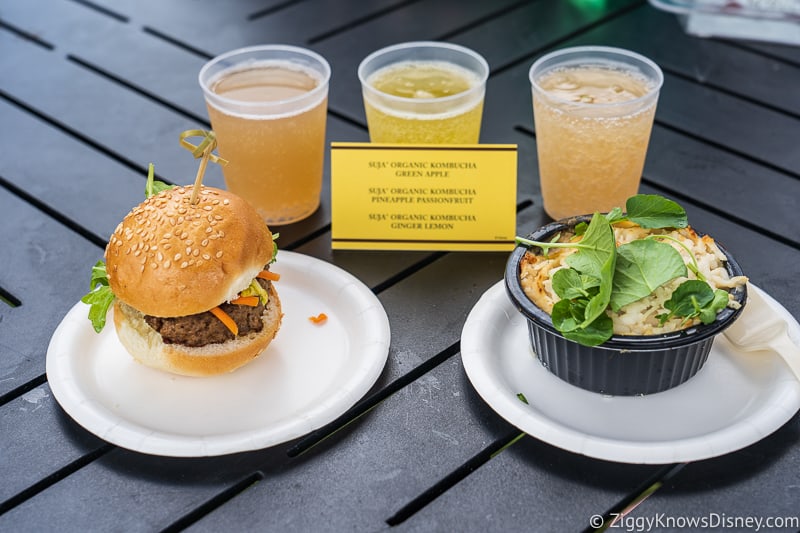 Was this a wise move to get rid of the Steakhouse Burger? Let's find out in my Earth Eats Review: 2019 Epcot Food and Wine Festival.
Earth Eats Marketplace:
Over in the corner garden of Future World West is where you'll find Earth Eats, right near Active Eats and Coastal Eats. I think this is one of the all-around best locations at the festival and it's recently been re-built with all new eating areas.
Let's check it out: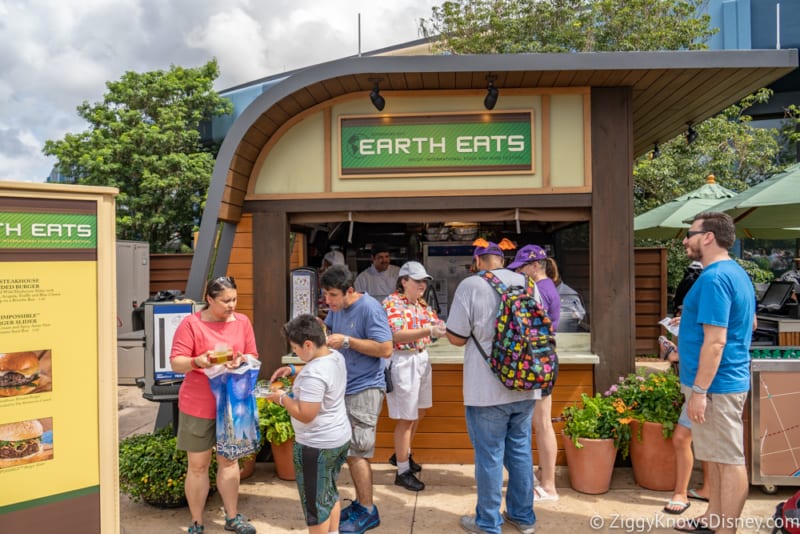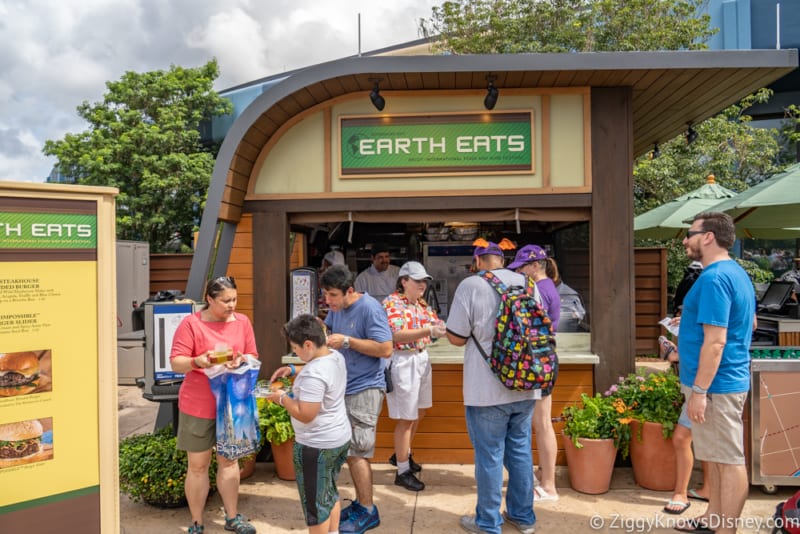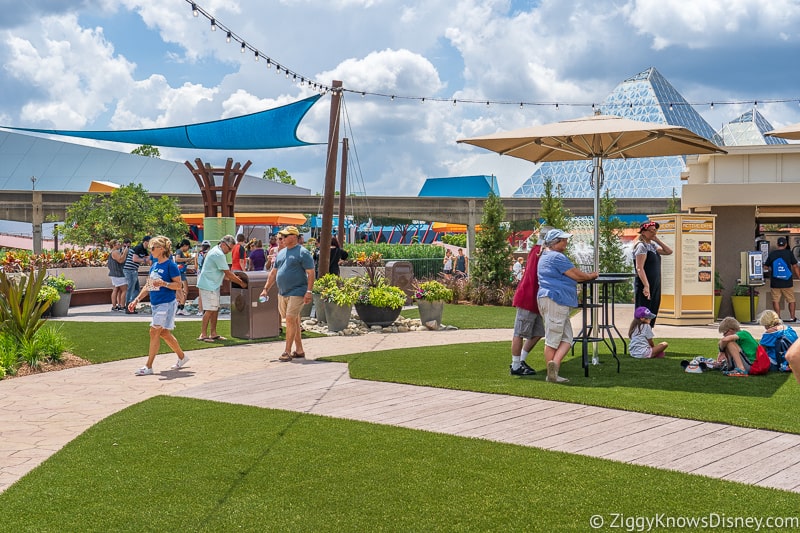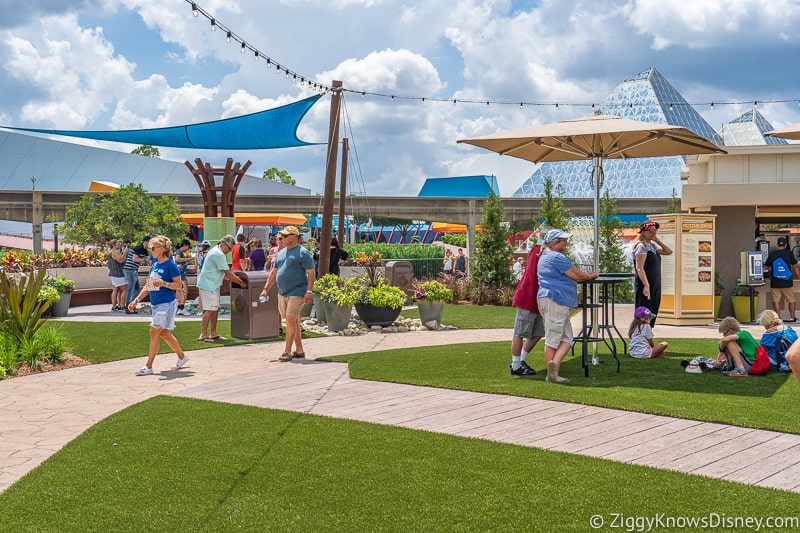 Earth Eats Menu:
Last year the Earth Eats menu had one vegetarian option (The IMPOSSIBLE™ Burger Slider) and one for meat-lovers (Steakhouse Blended Burger). This year they revamped the menu again and now both are vegetarian-friendly, while the Steakhouse Burger has gone to Flavors from Fire.
The menu still remains only at 2 food items, The IMPOSSIBLE™ Burger Slider is back again and with it a meat-less IMPOSSIBLE™ Cottage Pie.
To drink there is a variety of Suja® organic kombucha with green apple, pineapple passionfruit and mixed berry varieties, and even a flight.
Food:
The IMPOSSIBLE™ Burger Slider with Wasabi Cream and spicy Asian Slaw on a Sesame Seed Bun (V) ($5.25)
IMPOSSIBLE™ Cottage Pie: IMPOSSIBLE™ Ground Meat with Carrots, Mushrooms, and Peas topped with Mashed Cauliflower, White Beans, and Mozzarella (V) ($5.00)
Beverages:
Suja® organic kombucha green apple ($4.00)
Suja® organic kombucha pineapple passionfruit ($4.00)
Suja® organic kombucha mixed berry ($4.00)
Suja® organic kombucha Flight ($6.00)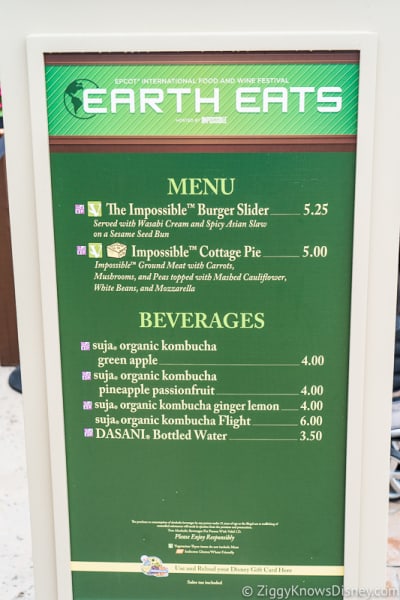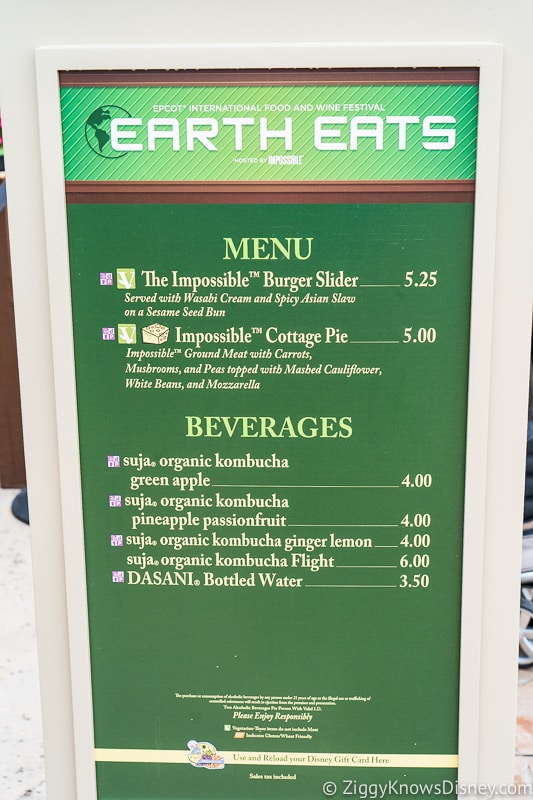 Menu Review:
The IMPOSSIBLE™ Burger Slider ($5.25):
I'll be honest, I wasn't looking forward to the Impossible Burger Slider at all. Just the thought of eating a veggie burger at a Food and Wine Festival seems to go against everything I believe in. Luckily this was actually pretty decent.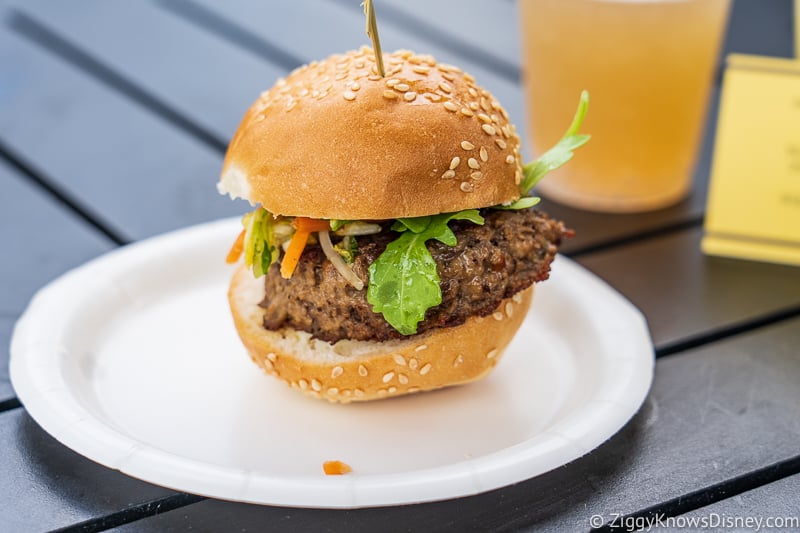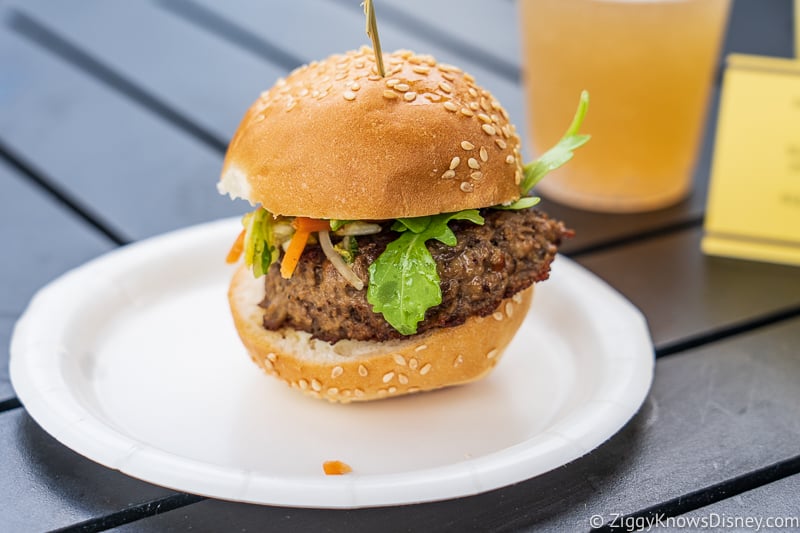 It was actually really juicy and not dry which I would have thought it would be. It was actually hard to tell it wasn't real meat. Also it was a decent portion. I think the Impossible Burger is a must-try for any vegetarians at Food and Wine, and even meat eaters will enjoy it.
IMPOSSIBLE™ Cottage Pie: IMPOSSIBLE™ ($5.00):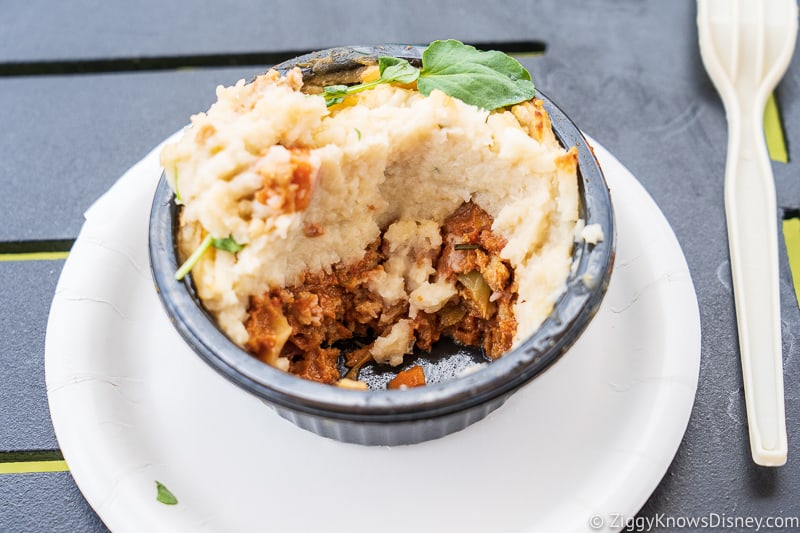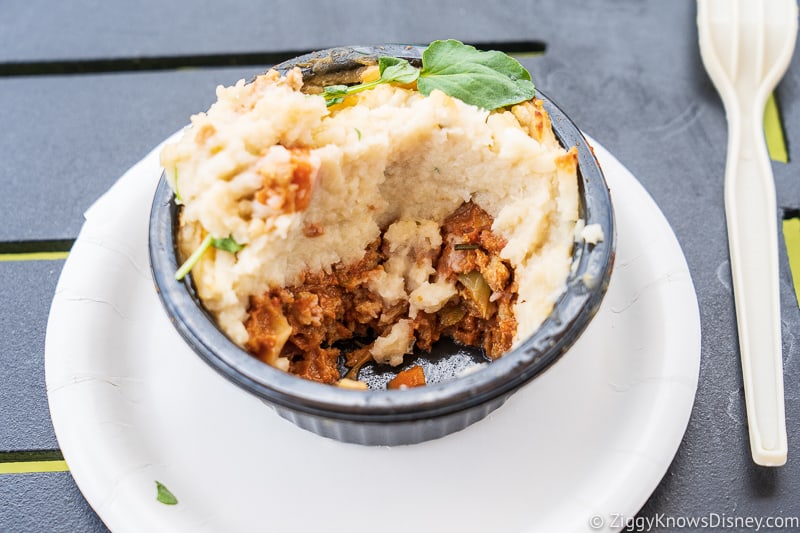 So the Impossible Burger was good, will the Impossible Cottage Pie follow suit? Nope, not even close, the Impossible Cottage Pie was Impossible to eat! This is supposed to imitate a meat pie with mashed potatoes on top and use veggies as the meat. It was terrible, even beyond terrible.
The meat-less base was really bad and I could only eat as much of it as you see in the picture above. It was bitter and just had a bad taste to put it nicely.
Last I checked mashed potatoes aren't meat, but somehow these didn't taste like real potatoes. They were thick and pasty and completely flavorless. Skip this if you know what's good for you!
Suja® organic kombucha Flight ($6.00)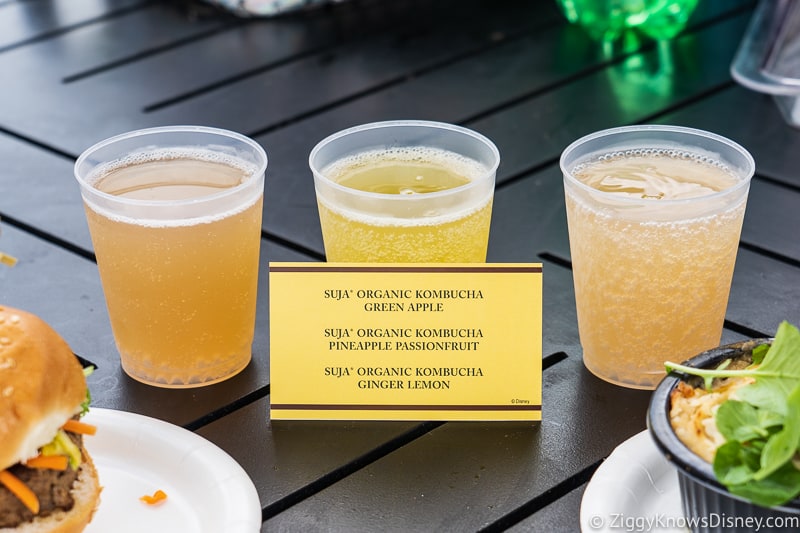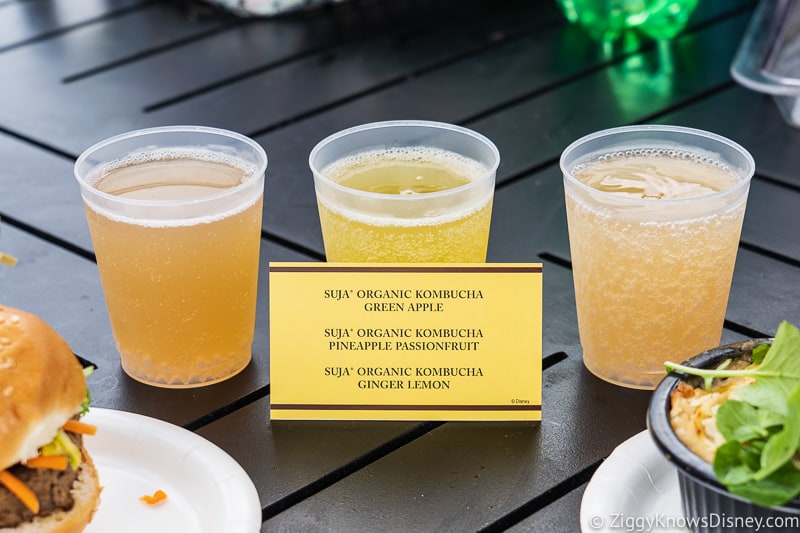 I had never had Kombucha before Epcot Food and Wine, and I can safely say I will never have it again after. Yes I know they are good for you, but we were not fans.
We got the Kombucha flight which has 3 flavors, green apple, pineapple passionfruit and mixed berry. I tasted moderate differences in each one from the other, but they all had a funky, fermented taste to them.
They also were super fizzy, more than even soda and all those bubbles I found annoying. All this on top fo the fact that it would cost less than half this price if you picked them up at your local supermarket. Not a good value at all at Food and Wine and even if you like them you should skip them here.
Booth Summary and Grade:
We used to be fans of Earth Eats, but in the last couple years the choices have gone downhill for us, and this year was the worst so far. We dropped our rating for Earth Eats significantly because of it.
The Impossible Burger is good, and one of the better vegetarian options at Food and Wine, but there is a better burger right next door if you eat meat.
The Impossible Cottage Pie is one my list of the Worst Snacks at Epcot Food and Wine this year and to avoid at all costs. And lastly the Kombucha doesn't taste good and is way overpriced from what you can get elsewhere imo.
Next year we'd like to see a 3rd menu item added, maybe a dessert, and the cottage pie and kombucha replaced before we'd come back willingly.
If you have to get just one thing:
Impossible Burger
Earth Eats Review

Overall Grade -

6/10
I want you to be able to have the best info on the Festival so you have a great time and don't waste your time! Take a look at all of my 2019 Epcot Food and Wine articles including:
MUST-TRY NEW Items at 2020 Food and Wine Festival (Coming Soon)
Top Food and Wine Booths (Coming Soon)
Your Thoughts:
I want to know what you think about the Earth Eats Review at the 2019 Epcot Food and Wine Festival…
Which is your favorite item?
Which do you still want to try?
Let us know in the comments section below!
If you enjoyed this article, as always I appreciate it if you'd share it with others via social media. I work hard at making this website into a useful resource for you and your family to plan your visit to the Disney Parks and I hope it can help you! Thanks 🙂