The Active Eats marketplace made its debut a couple of years ago and was a mild success. The Loaded Mac 'n' Cheese is what most people come here for, but how does it stack up this year and what else do they have to offer?
Let's find out in my 2019 Epcot Food and Wine Festival Active Eats Review….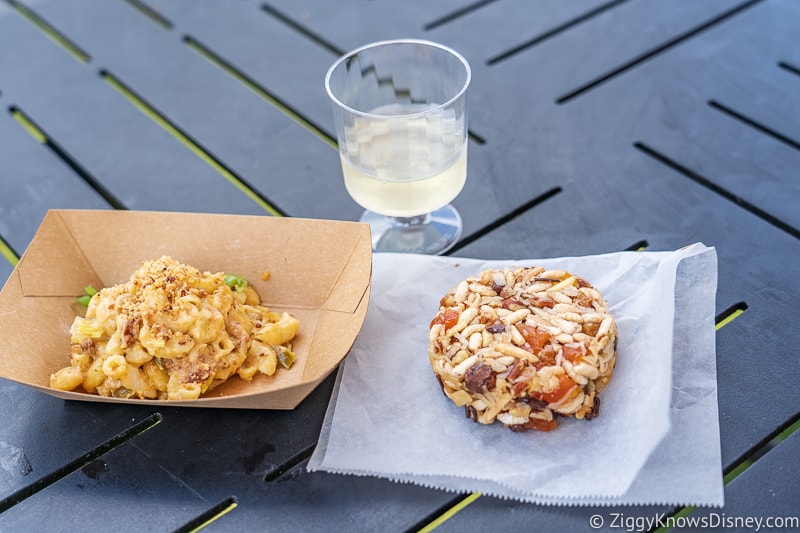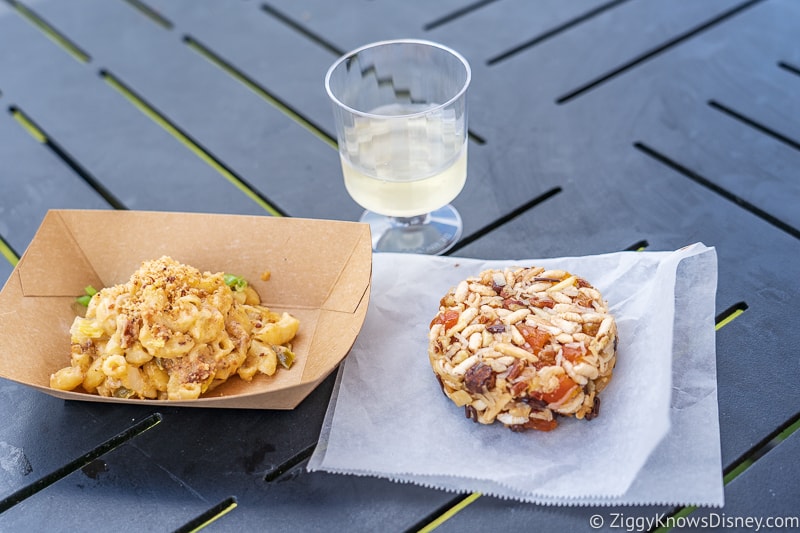 Active Eats Marketplace:
You can find the Active Eats booth in one of my favorite corners in Future World West, which was recently rebuilt. It shares a beautiful garden with Coastal Eats and Earth Eats. Let's take a look at the newly reconstructed area: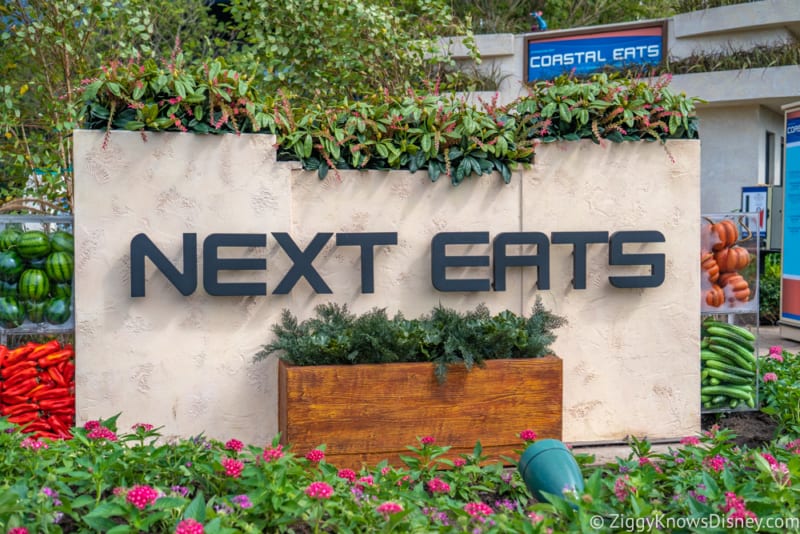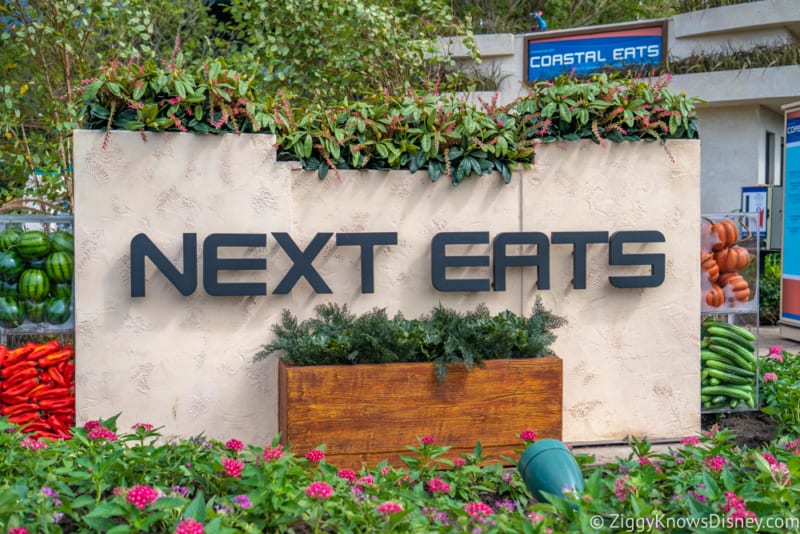 Here's the Active Eats Marketplace: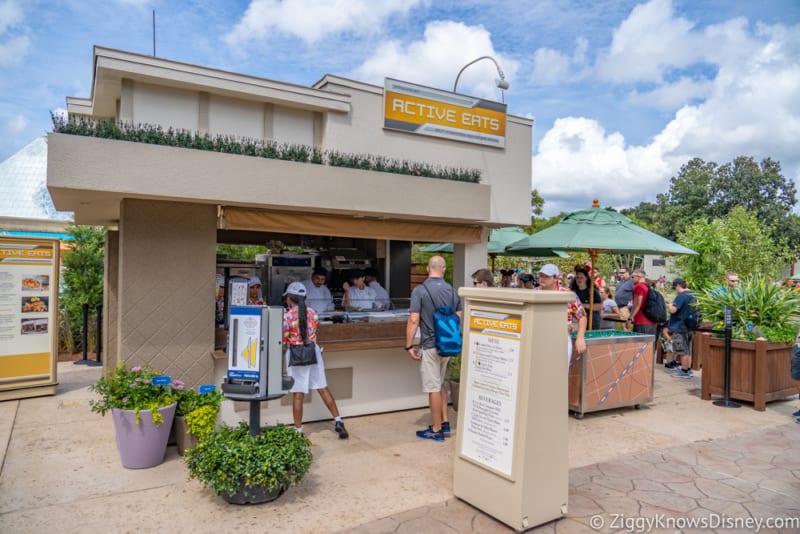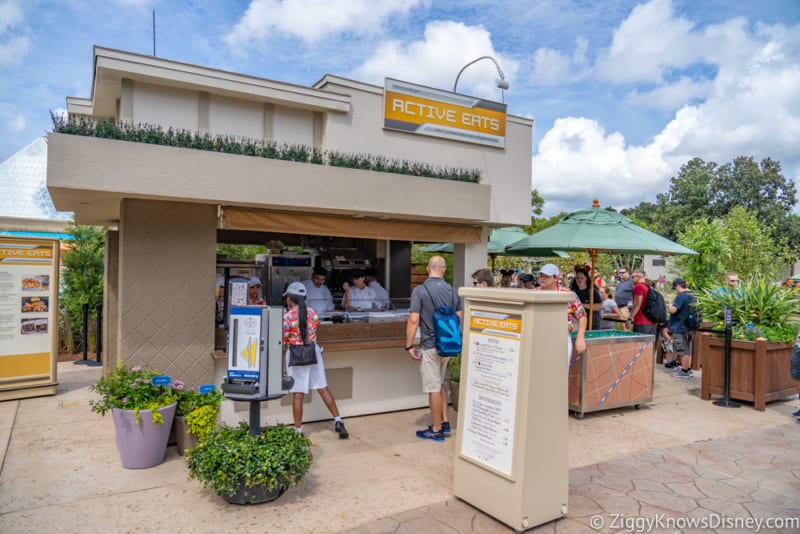 Seating area: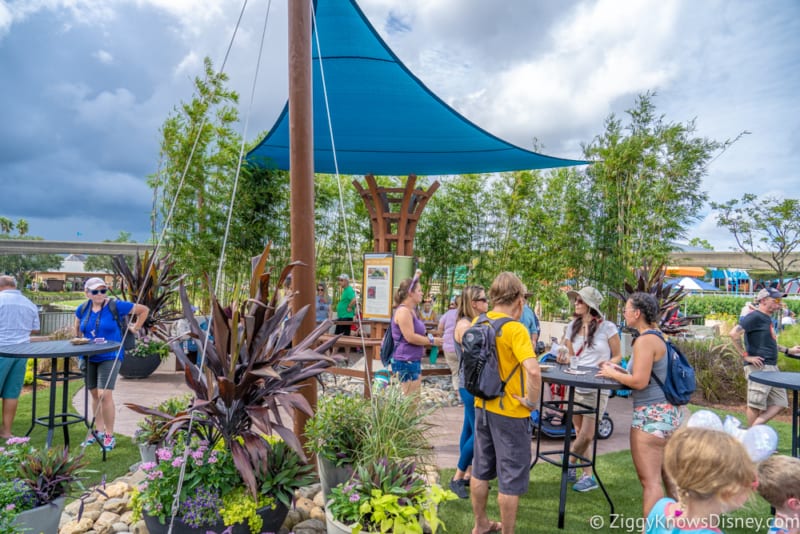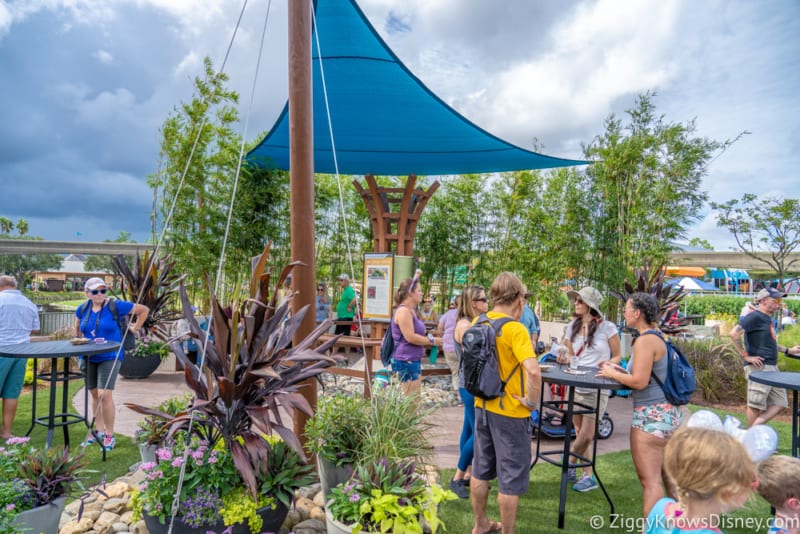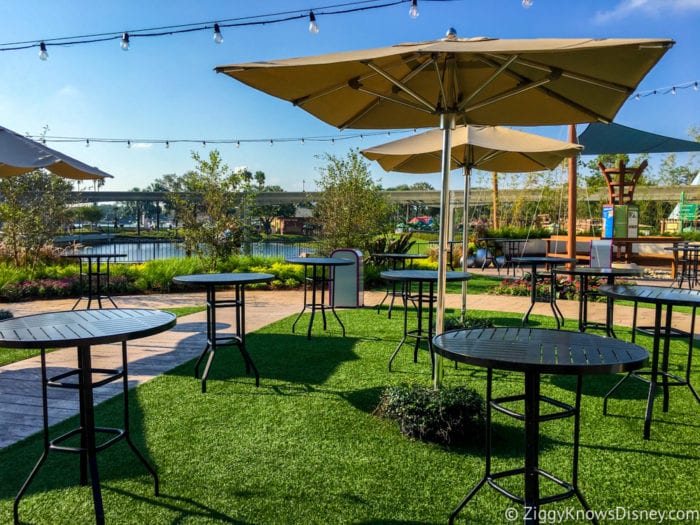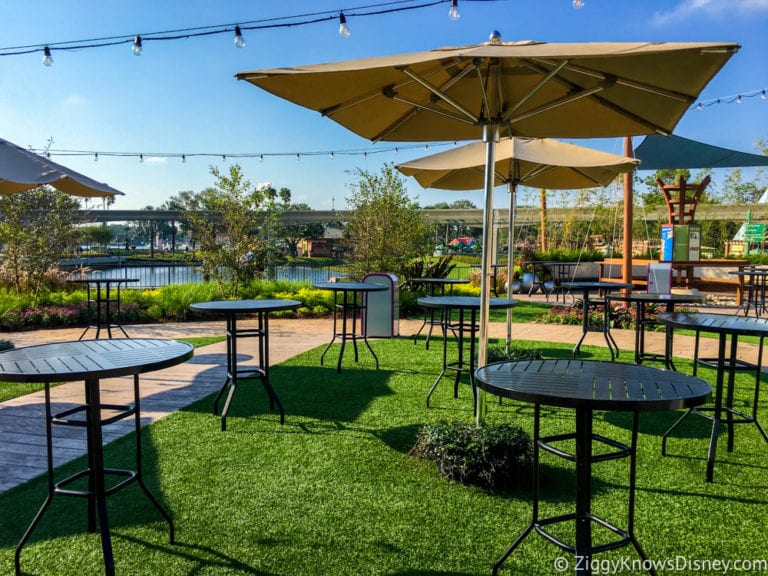 Active Eats Menu:
The menu for Active Eats in 2019 remains mostly unchanged from last year with only a small change in the dessert. Last year there were Energy Bar Bites with raspberry and coconut, this year the dessert has changed to one based on apricots, nuts and coconut.
Also the preparation of the Salmon is a bit different with this year's version adding quinoa and ancient grains instead of the lentils.
The prices didn't really go up that much either thankfully with a few of the selections like the Fruit Energy Bar and the Mac and Cheese only going up $0.25.
Food:
Loaded Macaroni & Cheese with Nueske's® Pepper Bacon, Cheddar and Leeks (KA) ($5.25)
Spice-crusted Verlasso® Salmon with UNCLE BEN'S® Quinoa & Ancient Grains Medley, Crushed Avocado and Sherry Vinegar (GF) ($5.75)
Fruit and Nut Energy Snack: House-made mixture of Apricots, Almonds, Pecans, Coconut, Puffed Rice and Chocolate Chips (V) (GF) ($4.00)
Beverages:
M.I.A. Beer Company HRD WTR Key Lime Hard Sparkling Water, Doral, FL ($4.50)
L'Ecole No. 41 Chenin Blanc Old Vines, Columbia Valley, WA ($6.00)
Evolution by Sokol Blosser Pinot Noir, Willamette Valley, OR ($5.00)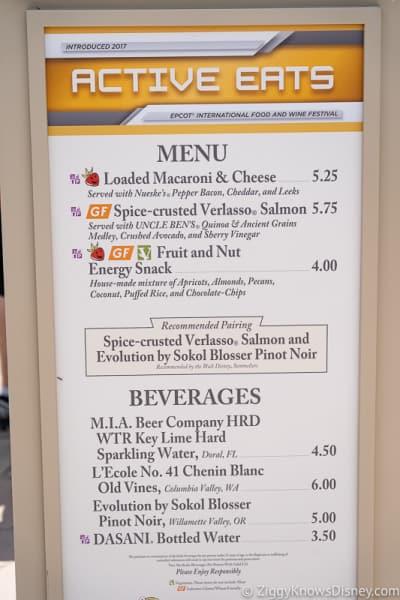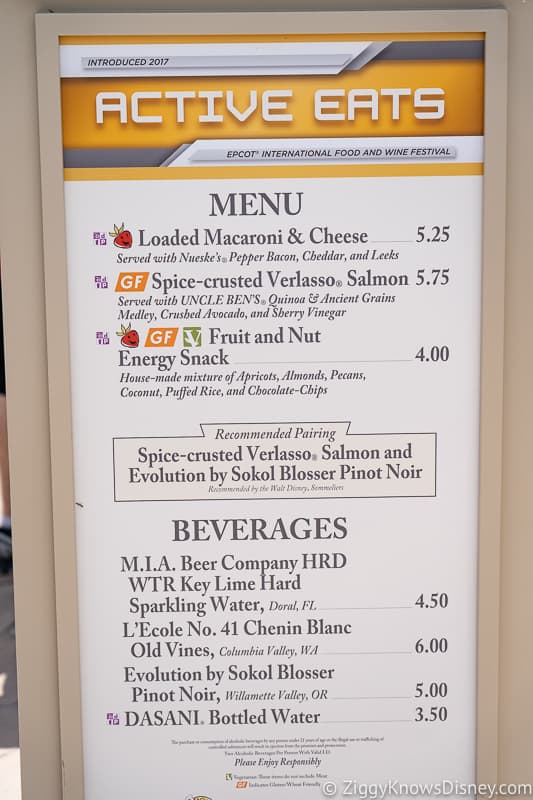 Menu Review:
Loaded Mac 'n' Cheese ($5.25):
So this used to be at the Farm Fresh booth in World Showcase, but it then moved over to Active Eats. We used to love it, but even last year the taste had changed and the portion size shrunk wayyy down. I didn't think it was possible but this year was even smaller.
You really want to like it considering in theory it has tons of cheese and bacon, but again the taste just wasn't that strong and it was just mildly good. There are better mac and cheeses elsewhere at the Food and Wine Festival so it's a skip for me.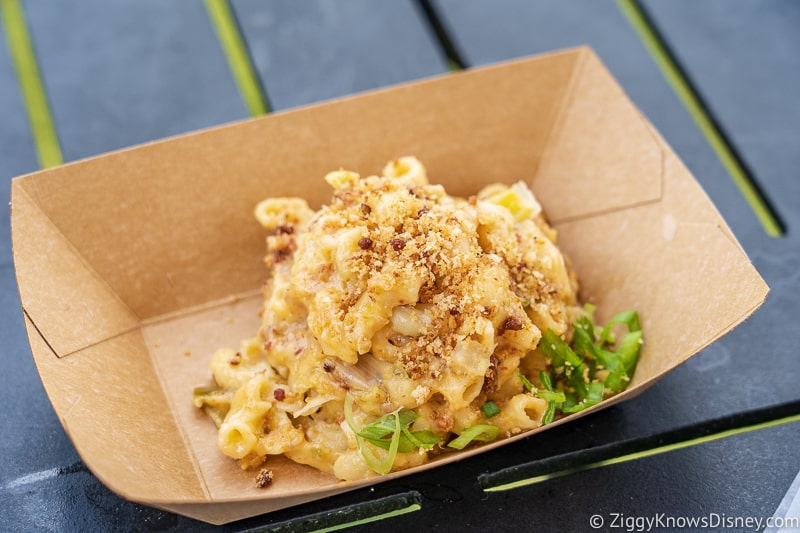 Spice-crusted Verlasso® Salmon ($5.75):
UPDATE COMMENT
Unlike the Loaded Mac and Cheese, I'd come back again for the Spice-crusted Verlasso Salmon any day of the week! The fish itself was not a huge portion, but it was very moist and full of flavor. I really like the seasoned exterior and the contrast of textures. Not easy to cook fish like this for thousands of people and they do an excellent job!
I think the version a couple of years ago was a bit better because I'm partial to the chimichurri sauce, but anyone who likes avocado will love this topping, and the quinoa was good too, a bit crunchy and added texture. Excellent option and one of the best fish dishes at the festival.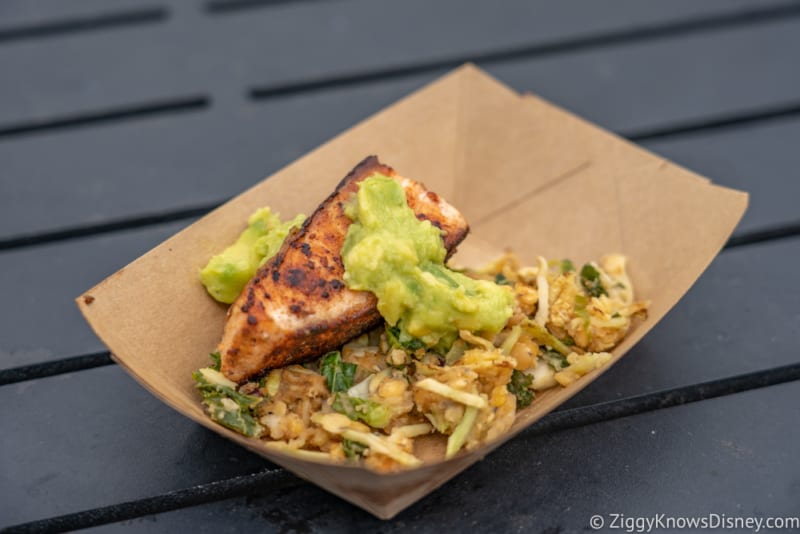 Fruit and Nut Energy Snack ($4.00):
I was sad to see the Active Eats Energy Bar Bites go away and was skeptical of the new option because apricots are a big downgrade for me in place of the raspberry.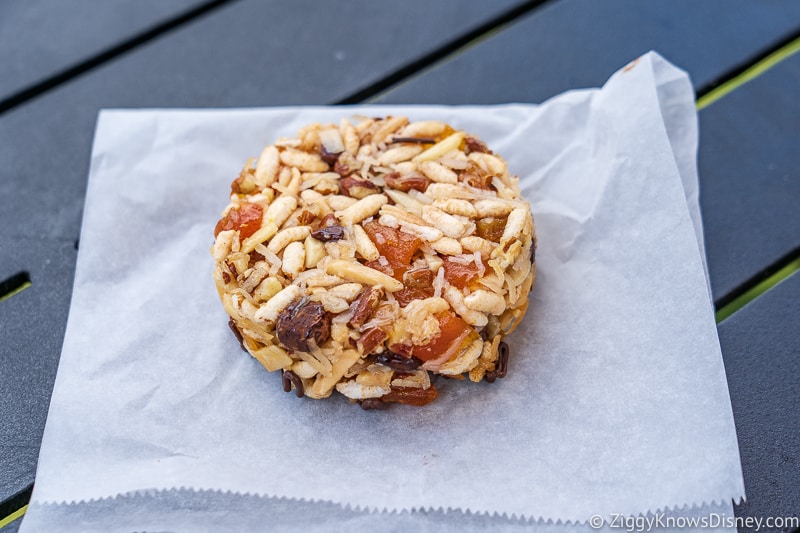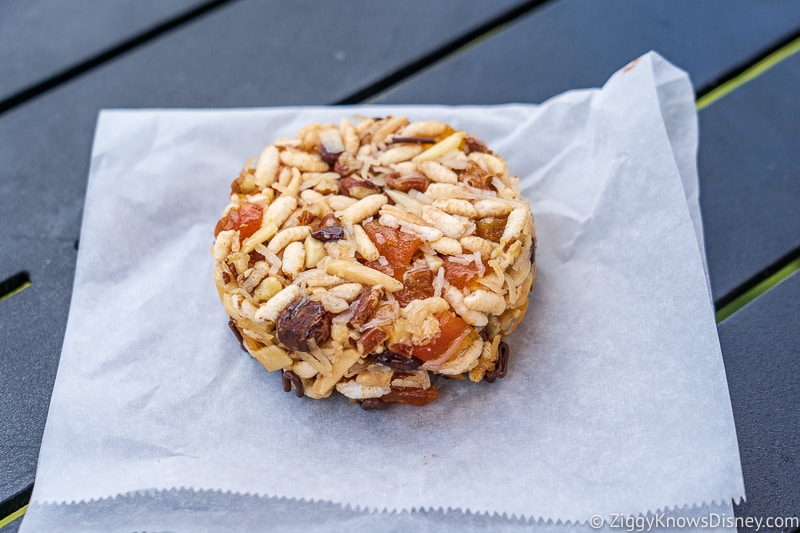 It's full of nuts, coconut, apricots, and even has a very small drizzle of chocolate on top which I forgot to take a picture of until it was too late…hahaha!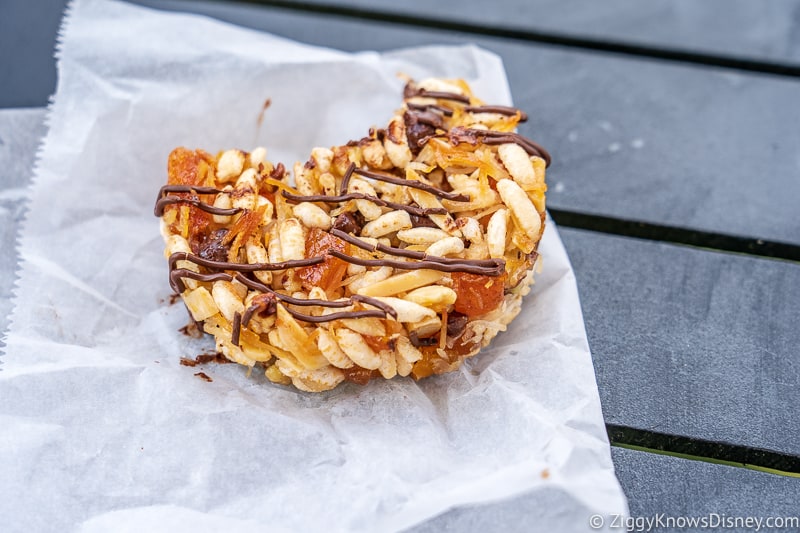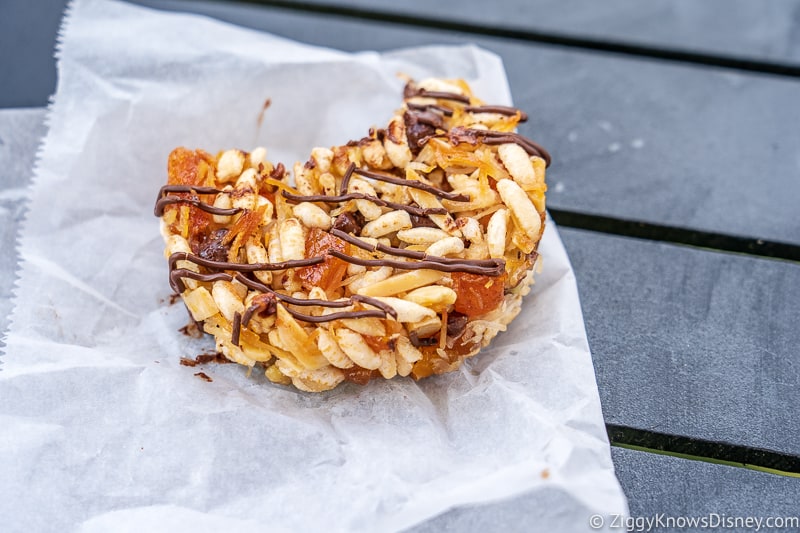 It feels very healthy which I guess is the point, but just not what I want to do when I come to Disney World. If I'm going to have a dessert I want it to count and this doesn't do it for me. Now if I found this in the supermarket and was looking for a healthy snack then it's a different story but it's just not what I was looking for here.
M.I.A. Beer Company HRD WTR Key Lime Hard Sparkling Water ($4.50):
I wasn't too thrilled with the Key Line Hard Sparkling Water last year, it tasted like I was drinking a mini seltzer for $4.25, and this year was no different.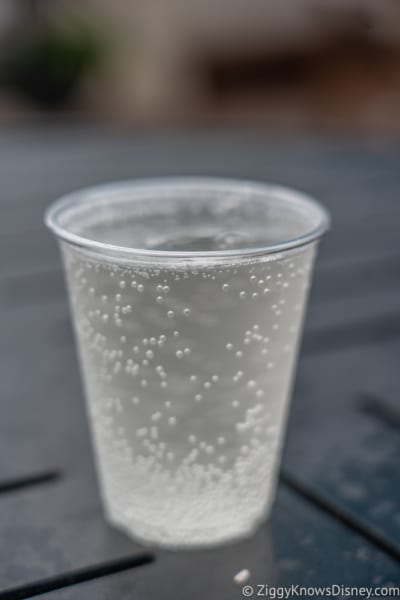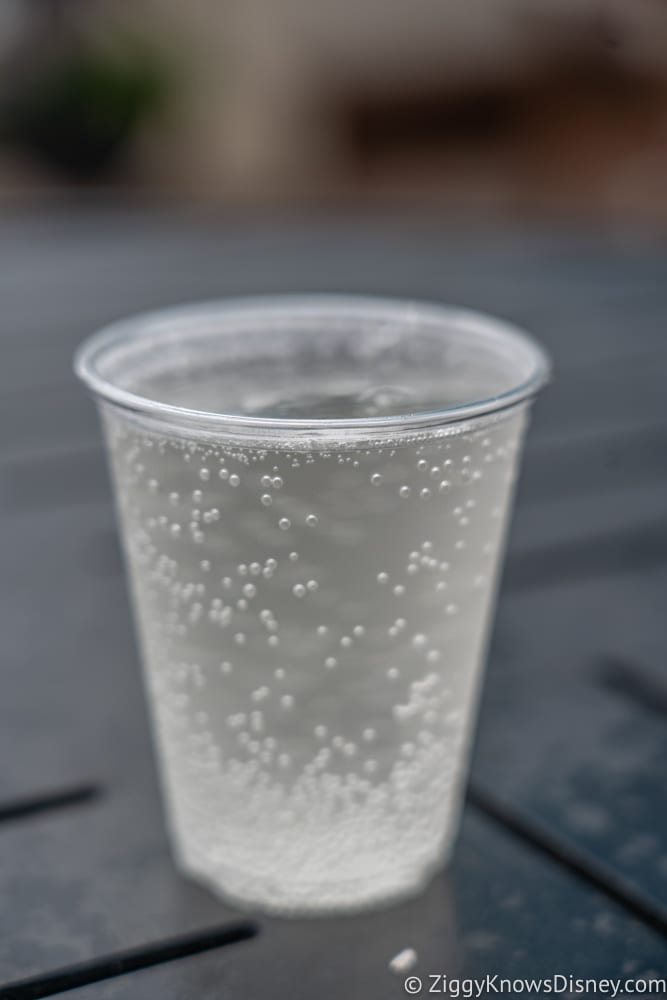 I could taste the coconut in there for sure, but it didn't seem like there was any alcohol at all. Overpriced and not really having much taste just doesn't do it for me…
Evolution by Sokol Blosser Pinot Noir ($5.00):
We had a few pinot noirs here at the Food and Wine Festival and this was one of the better ones. It was really delicious, it had a light, crispy, lemony taste, especially on the finish.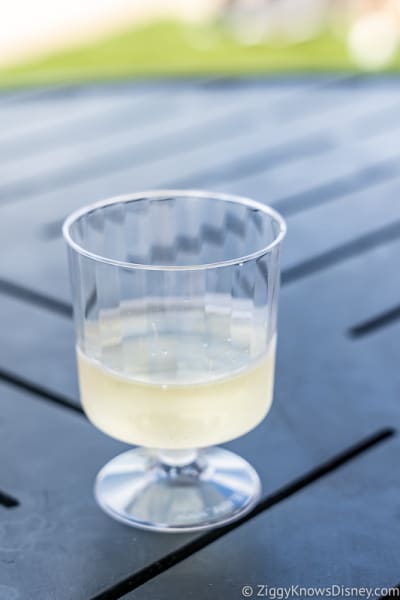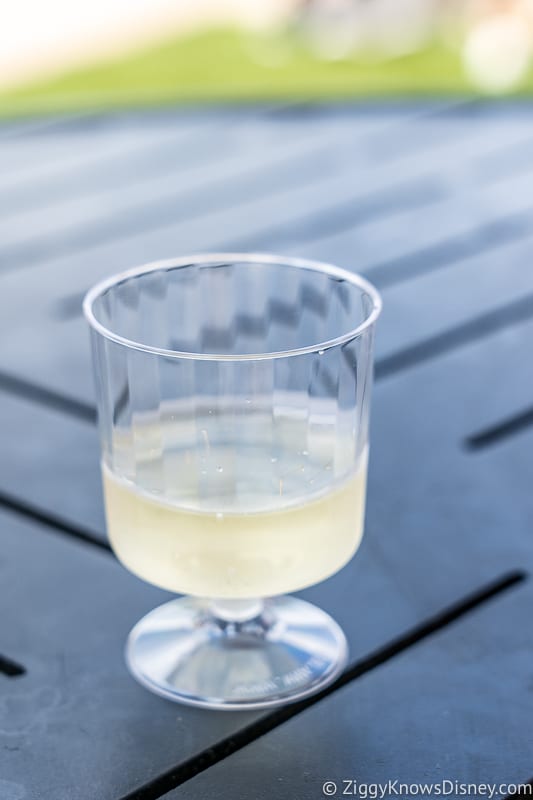 It's a very refreshing wine and something we'd happily drink again.
Booth Summary and Grade:
Overall I was a bit disappointed with the Active Eats marketplace this year. I didn't like the change in dessert to the new Fruit and Nut Energy Snack, I liked last year's better. The salmon was ok, but I think last years's was a tad better.
Still not a fan of their Mac and Cheese which is a shame because the dish has so much potential and was easily one of the best sellers on the first day. When the Pinot Noir is the best thing on the menu, you know you have problems. I'm dropping down the grade a little from last year, still with a lot of room for improvement to make…
If you have to get just one thing:
Evolution by Sokol Blosser Pinot Noir
Active Eats Review

Overall Grade -

6.5/10
I want you to be able to have the best info on the Festival so you have a great time and don't waste your time! Take a look at all of my 2019 Epcot Food and Wine articles including:
MUST-TRY NEW Items at 2021 Food and Wine Festival (Coming Soon)
Top Food and Wine Booths (Coming Soon)
Your Thoughts:
I want to know what you think about the Active Eats Review at the 2019 Epcot Food and Wine Festival…
Which is your favorite item?
Which do you still want to try?
Let us know in the comments section below!
If you enjoyed this article, as always I appreciate it if you'd share it with others via social media. I work hard at making this website into a useful resource for you and your family to plan your visit to the Disney Parks and I hope it can help you! Thanks 🙂