The African Marketplace was a standout in 2018 and we're excited to get back there this year and see what we find. The menu has completely changed from last year with 3 all-new offerings, so we're really excited to try this new version of the marketplace!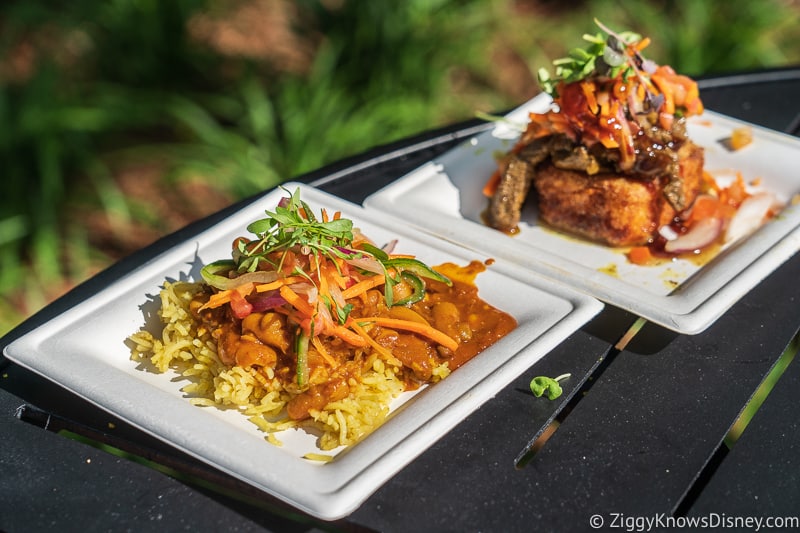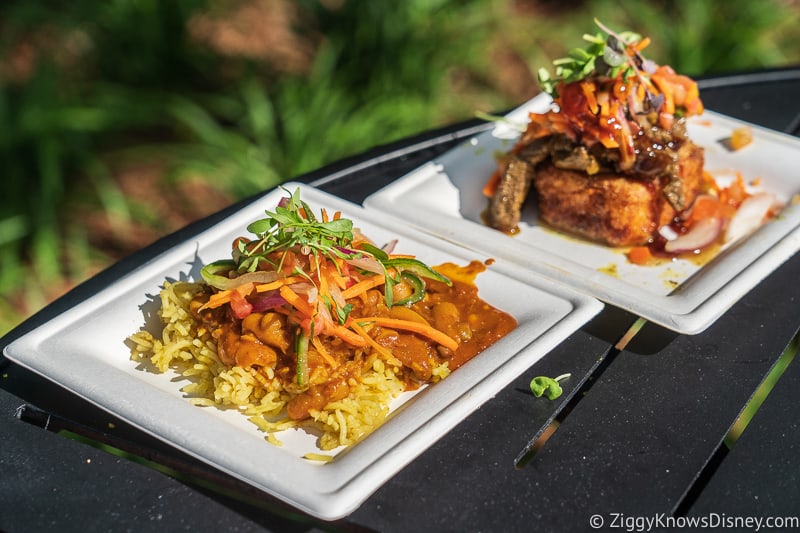 Let's check out my Africa Review 2019 Epcot Food and Wine Festival…
Africa Marketplace:
The Africa Marketplace is located on the far side of World Showcase Lagoon, but it's worth the hike over there. Plus it's in a gorgeous setting…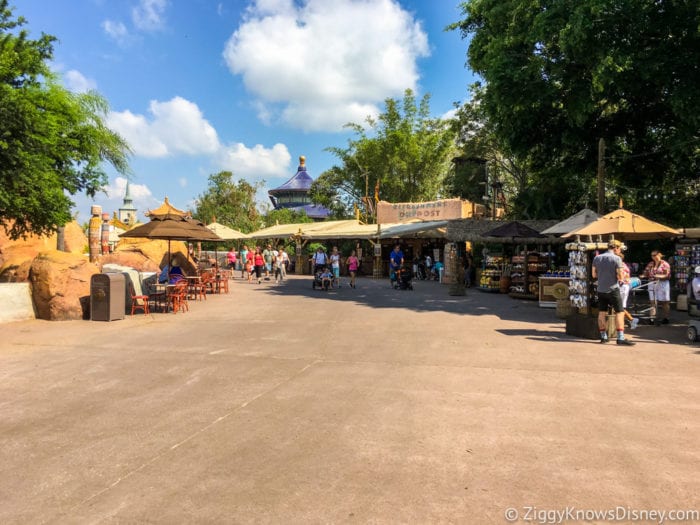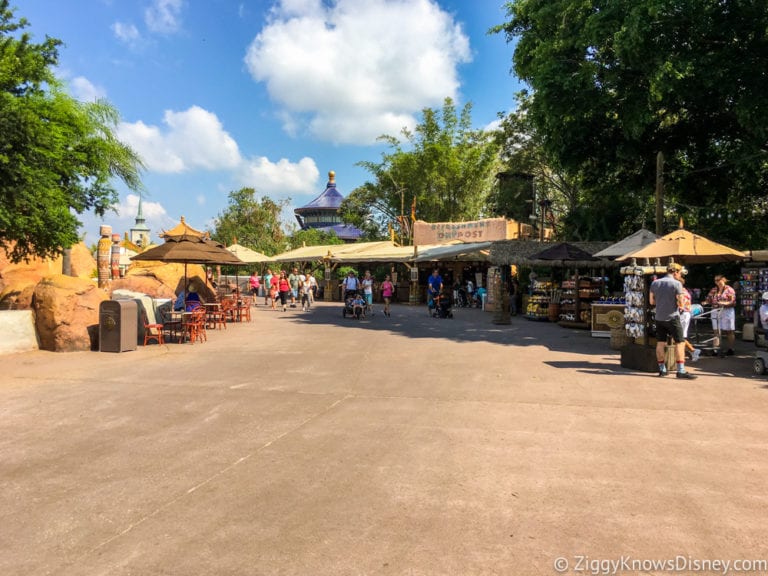 The marketplace itself is in a cute "hut" with typical African style construction: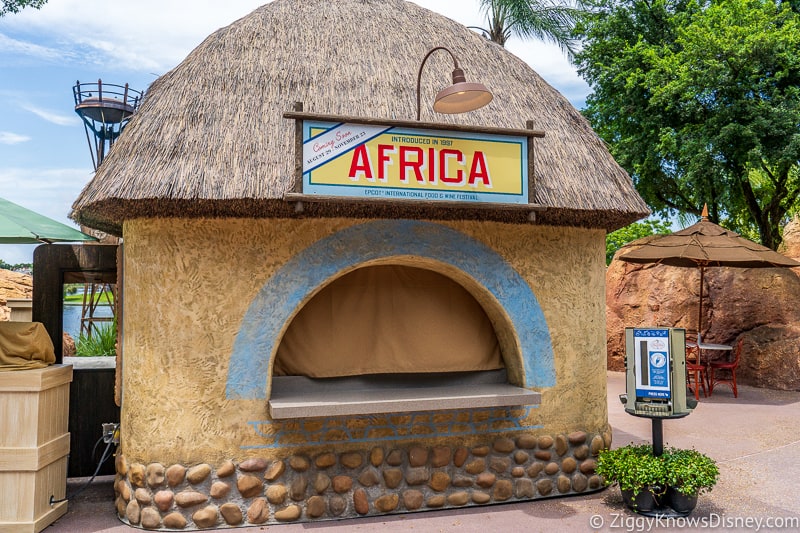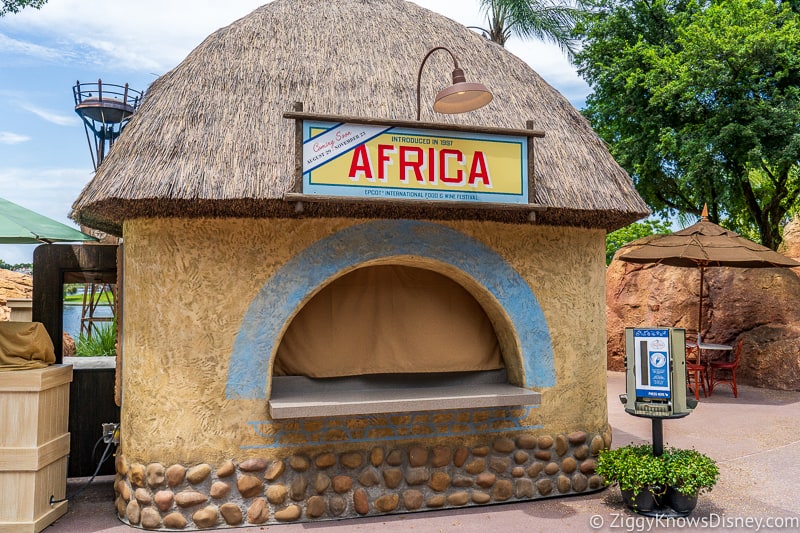 Africa Menu:
The Africa menu from 2018 was really strong and even made my list of the Top 10 overall marketplaces. Things have changed dramatically for 2019 though and they've added a 3rd food option back to the menu.
I'm sorry to see the Spicy Ethiopian Red Lentil Stew go off the menu, but they've added Spicy Kenyan Vegan Githeri and Piri Piri Skewered Shrimp instead. I was a big fan of the stew so hopefully these new items can match up. The Beef Tenderloin is back, though it's a little different this year too.
Just remember when going to the Africa marketplace things are traditionally spicy, so if you don't like that, this might not be the place.
Food:
Kenyan Coffee Barbecue Beef Tenderloin with Sweet Potato and Corn Mealie Pap and Kachumbari Slaw ($5.75)
Spicy Kenyan Vegan Githeri with White Beans, Pigeon Peas, Curry Rice Pilaf and Kachumbari Slaw (V) ($4.50)
Piri Piri Skewered Shrimp with Citrus-scented Couscous ($6.75)
Beverages:
Tusker Lager ($4.50)
Cederberg Chenin Blanc, South Africa ($6.00)
Jam Jar Sweet Shiraz, Western Cape ($5.00)
Groot Constantia Pinotage, Constantia ($7.00)
Wine Flight also available ($6.50)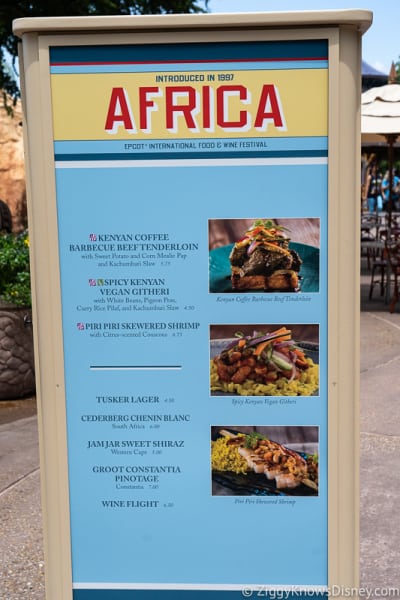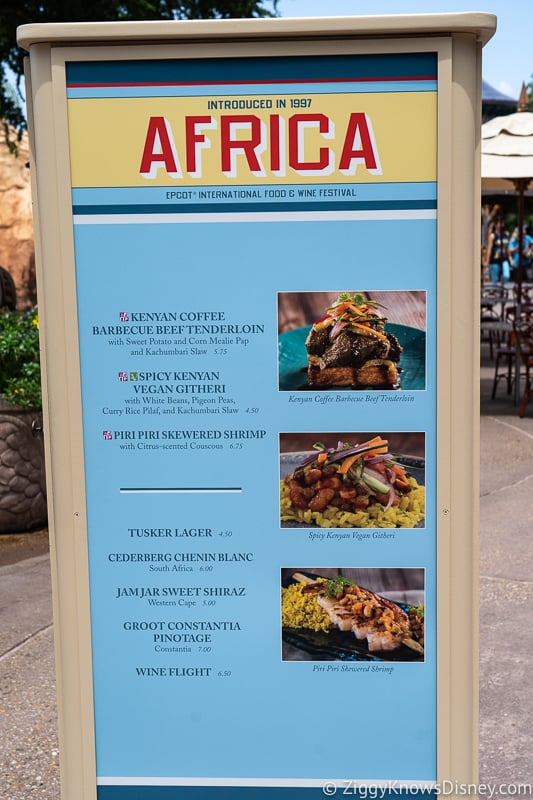 Menu Review:
Kenyan Coffee Barbecue Beef Tenderloin ($5.75):
So the beef dishes from Africa are always among my favorites, and this year follows that pattern. This is definitely spicy so be prepared. I happend to LOVE spice so this is one of our first stops! Lots of good beef in there, big chunks of it which is really tender and juicy, just as good as last year. Never disappoints.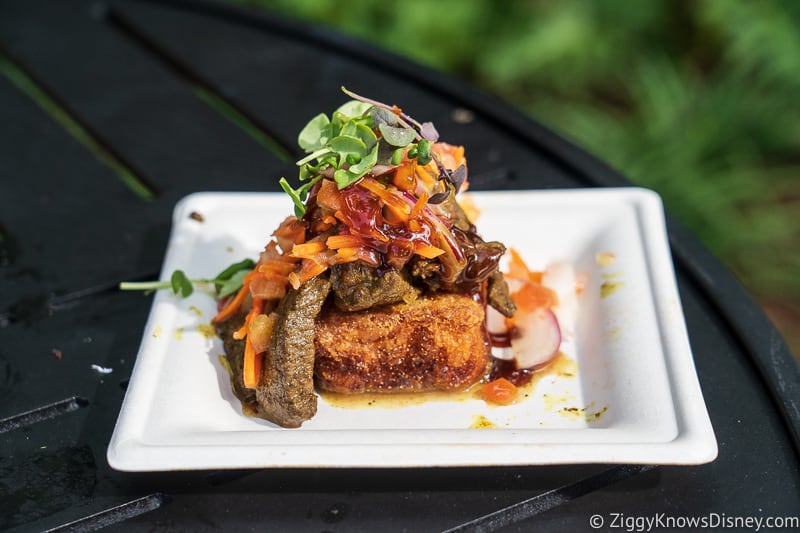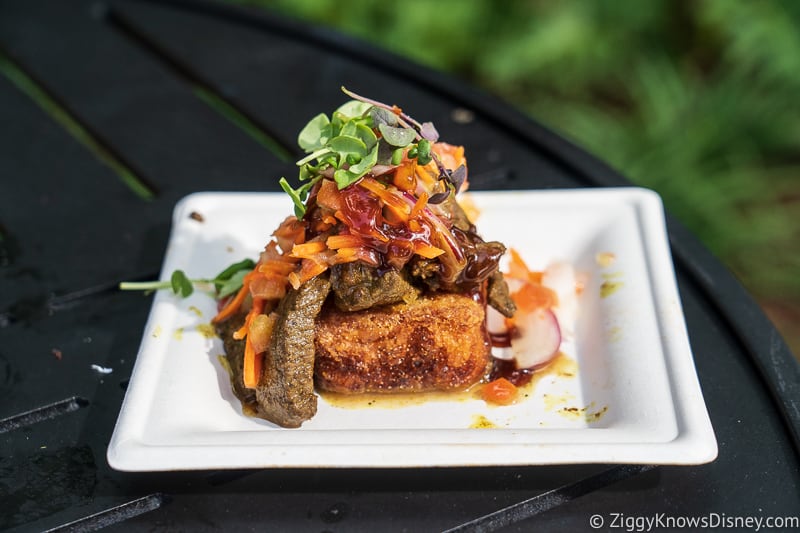 I also like the sweet corn cake that it's served on. It tastes like fried polenta which mixes perfectly with the beef. Good sized portion and not too expensive means I'm gonna keep coming to Africa for this!
Spicy Kenyan Vegan Githeri ($4.50):
Epcot Food and Wine Festival has a lot of vegan options including the Spicy Kenyan Vegan Githeri. So what exactly IS this dish?? Think of it as a spicy rice and beans, that pretty much sums it up.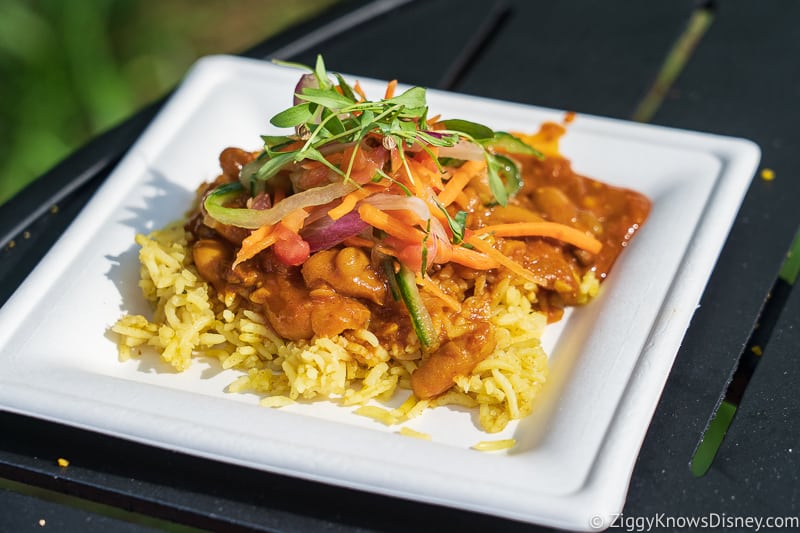 Like the Kenyan beef, the githeri is pretty spicy and not a dish you wanna get if you don't like the heat. It's fine nothing special and I wish they had kept the Red Lentil Stew from last year which was AMAZING! Can we bring that back please??
Piri Piri Skewered Shrimp ($6.75):
I was really excited to try the Piri Piri Skewered Shrimp when I saw it on the menu and just by looking at it I knew we were getting another spicy dish.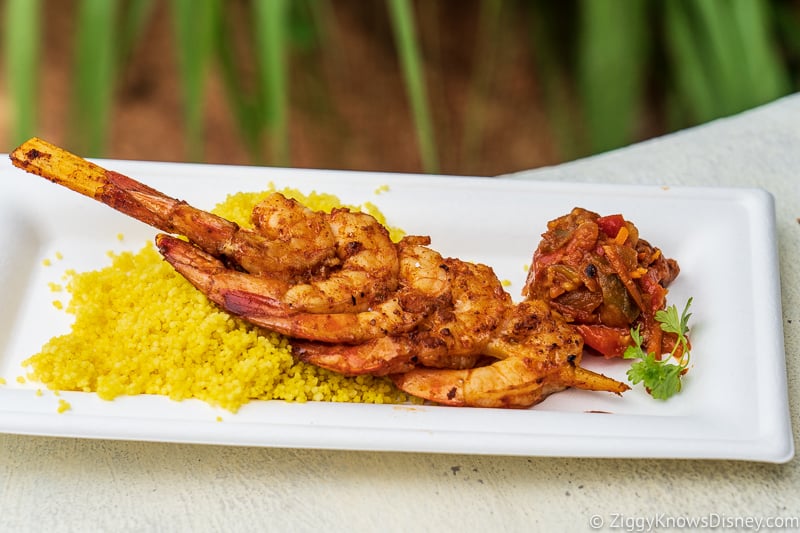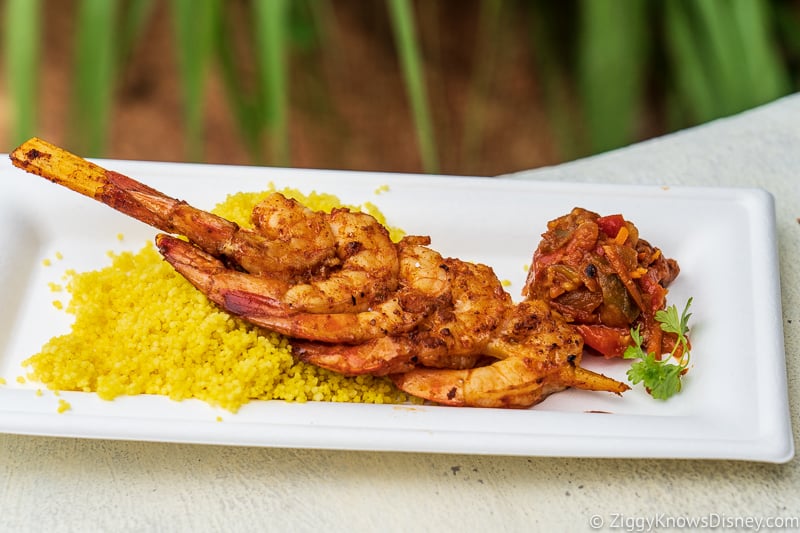 The shrimp were seasoned very well, not too spicy, but they were full of flavor for sure. I counted 5 shrimp on mine which is a good amount for the price I feel too. I would eat the shrimp again and again easy.
The Couscous on the other hand was really bland. I didn't taste the citrus-scent in it and I needed to drink a lot of water to swallow it all. They could have picked a much better side and I hope they do that next year, keeping the shrimp.
Wine Flight ($6.50):
One of the best bargains at the Food and Wine Festival is this Wine Flight from Africa. The Cederberg Chenin Blanc is quite crisp and holds you, quite different for a white.
The Jam Jar Sweet Shiraz is my favorite and is very sweet and delicious, lots of red fruits in there and goes down smooth and easy.
The Groot Constantia Pinotage was ok, not as good as the rest of them, not as mature but still drinkable.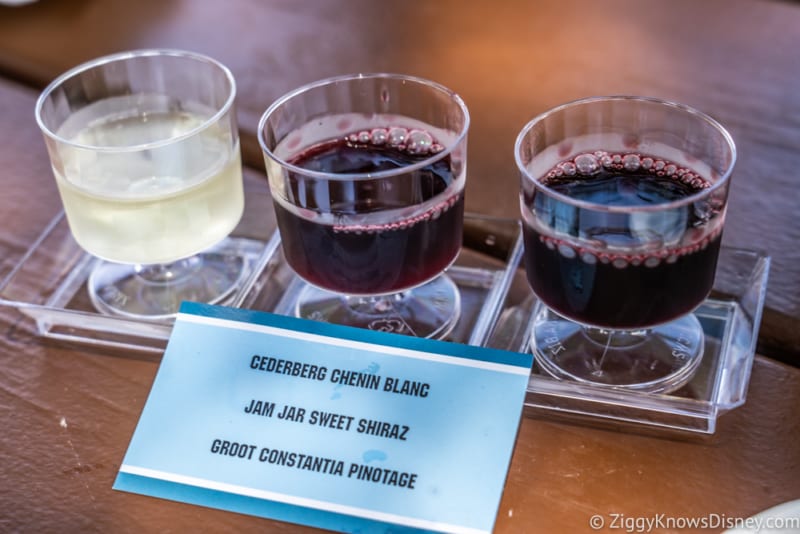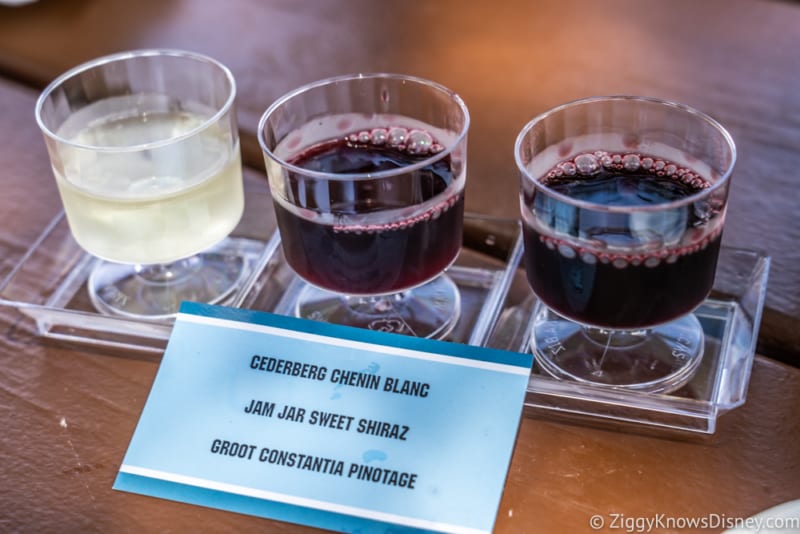 One of my favorite Wine Flights at Food and Wine, you definitely need to try it!
Booth Summary and Grade:
Africa for me remains one of the Epcot Food and Wine Festival's best kept secrets again this year. Both food options are really really good, and the wine flight equally delicious. I would say if you are a fan of spicy food then you have to try the Kenyan Beef, which might be your favorite thing all festival long.
I'm also happy they listened to my complaining from last year and added a 3rd menu item, and for that I'm bumping them up slightly from last year! Make sure you stop in Africa this year, you'll love it!
If you have to get just one thing:
Kenyan Coffee Barbecue Beef Tenderloin
Africa Review

Overall Grade -

8.5/10
I want you to be able to have the best info on the Festival so you have a great time and don't waste your time! Take a look at all of my 2019 Epcot Food and Wine articles including:
MUST-TRY NEW Items at 2020 Food and Wine Festival (Coming Soon)
Top Food and Wine Booths (Coming Soon)
Your Thoughts:
I want to know what you think about my Africa Review at the 2019 Epcot Food and Wine Festival…
Which is your favorite item?
Which do you still want to try?
Let us know in the comments section below!
If you enjoyed this article, as always I appreciate it if you'd share it with others via social media. I work hard at making this website into a useful resource for you and your family to plan your visit to the Disney Parks and I hope it can help you! Thanks 🙂