The Australia booth is always a Epcot Food and Wine staple, and it's so popular that it's menu hardly ever changes, until this year (why did you touch my Lamington?!). I always find myself stopping back again and again for some of my favorite dishes at Food and Wine!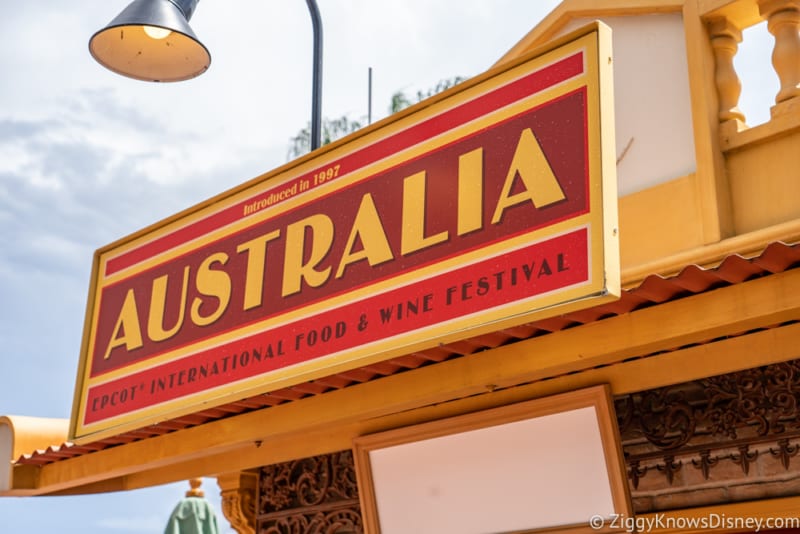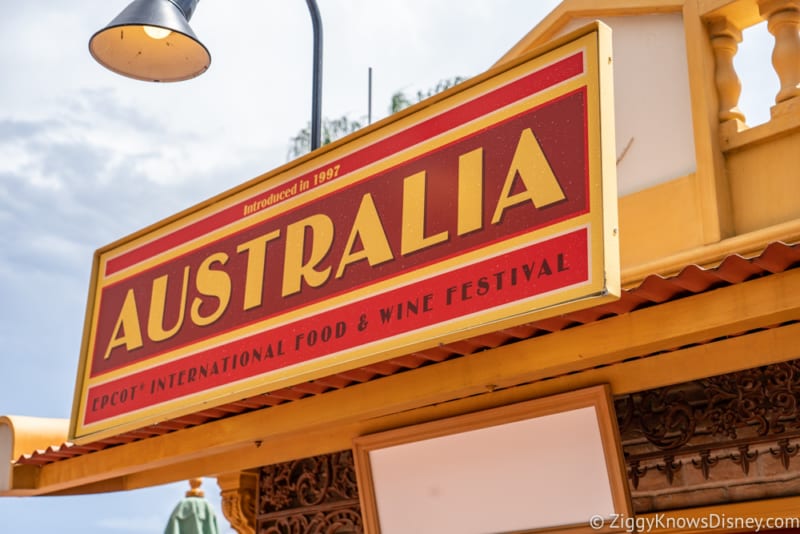 Let's see if the quality is still up to par in my Australia Review: 2019 Epcot Food and Wine Festival….
Australia Marketplace:
When you enter World Showcase from Future World go right and a couple booths down on the right and you'll find Australia! You can't miss it will all the red color!! Not much has changed since last year: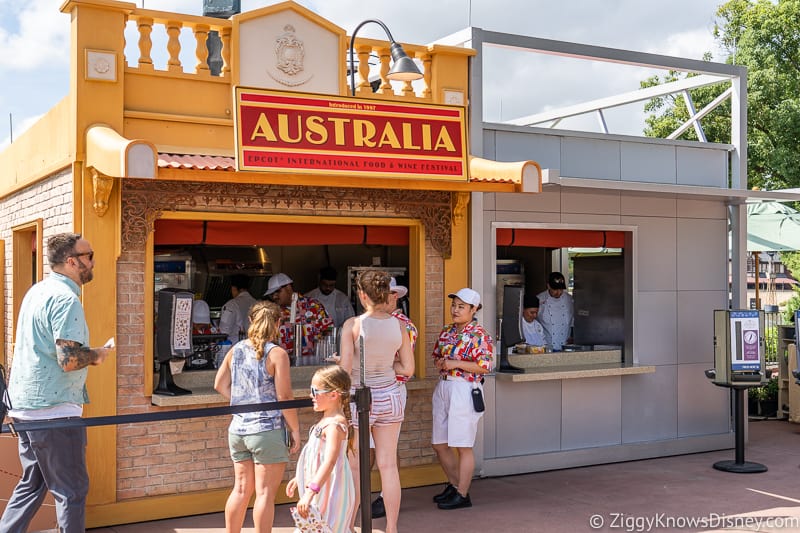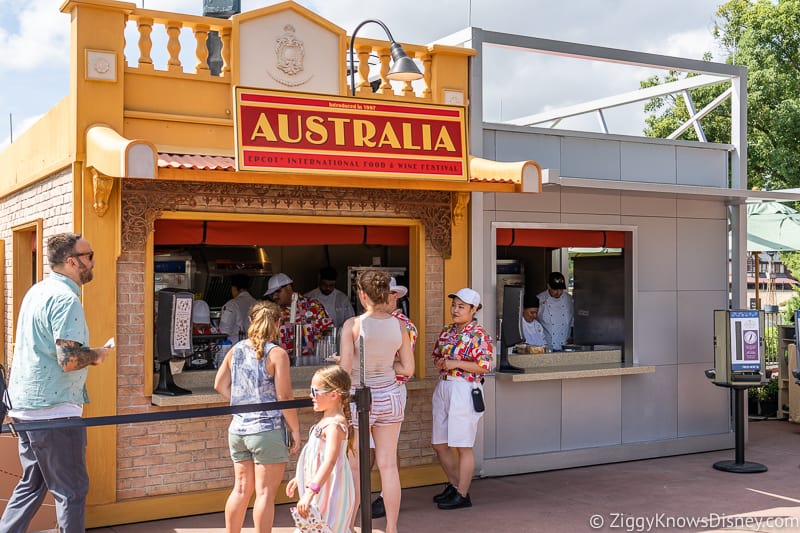 This is a high traffic area so at times it can be hard to get a seat…
Australia Menu:
So there is a really big change on the menu for Australia this year when usually the menu stays exactly the same. The Bush Berry Shrimp remain pretty much unchanged, but the Lamb Chop got an overhaul this year going from a mint pesto topping to Pistachio-Pomegranate Gremolata and served with a Sweet Potato Puree.
But the biggest change in 2019 is the disappearance of my beloved Lamington!! I can't believe Disney would get rid of this popular Food and Wine Dessert, but they did and they've replaced it with a Deconstructed Pavlova.
The shrimp went up $0.50 from last year, but the lamb chop surprisingly stayed the same which is nice to see.
Food:
Grilled Sweet and Spicy Bush Berry Shrimp with Pineapple, Pepper, Onion and Snap Peas (GF) ($6.00)
Roasted Lamb Chop with Sweet Potato Purée, Bush Berry Pea Salad and Pistachio-Pomegranate Gremolata (GF) ($7.75)
Deconstructed Pavlova with Pastry Cream, Citrus-macerated Berries and Lemon Myrtle Meringue (KA) (GF) (V) ($4.00)
Beverages:
Coopers Brewery Original Pale Ale ($4.50)
Hope Estate "Wollombi Brook" Semillon, Hunter Valley ($5.00)
Franklin Tate Estates Chardonnay, Margaret River ($6.00)
3 Rings Shiraz, Barossa Valley ($6.00)
Wine Flight also available ($6.25)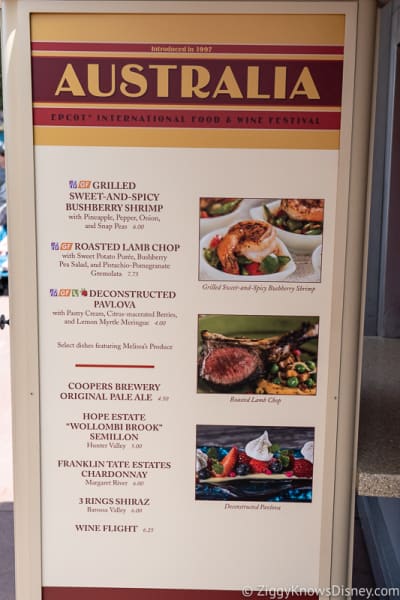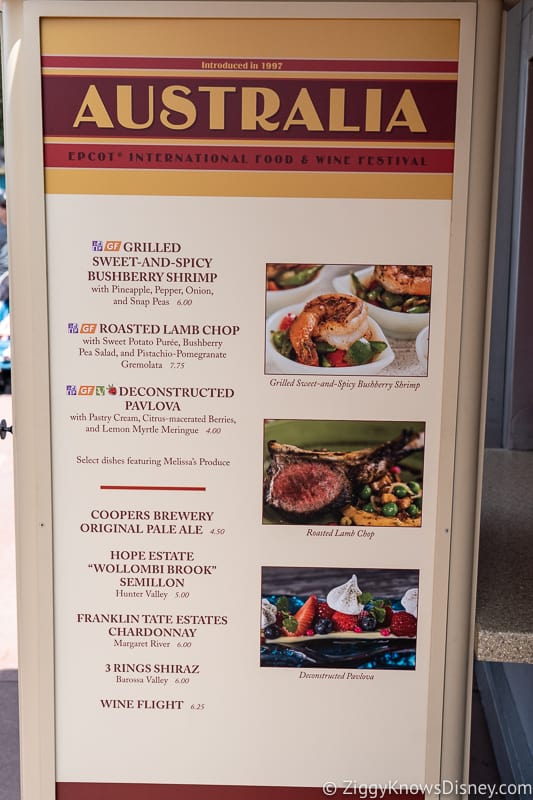 Menu Review:
Grilled Sweet and Spicy Bush Berry Shrimp ($6.00):
What was once one of the best bargains at Food and Wine a couple of years ago has now turned into just mediocre. Yes this dish is incredible as far as flavor goes. The sauce on the Sweet and Spicy Bush Berry Shrimp is packed with seasoning and a lot of heat too. The veggies are all great and some of the best you'll find at the festival.
The problem is that they used to give you 4 shrimp for $5.25, and now you get 2 shrimp for $6.00. I understand inflation, but something just doesn't add up here. Maybe it was a fluke that happened to us, but if not then that's going wayyyy to far! Before I would list it as one of the best dishes, and now I have a hard time recommending it even though the flavor is great…
Here's a picture from 2017 just so you can see: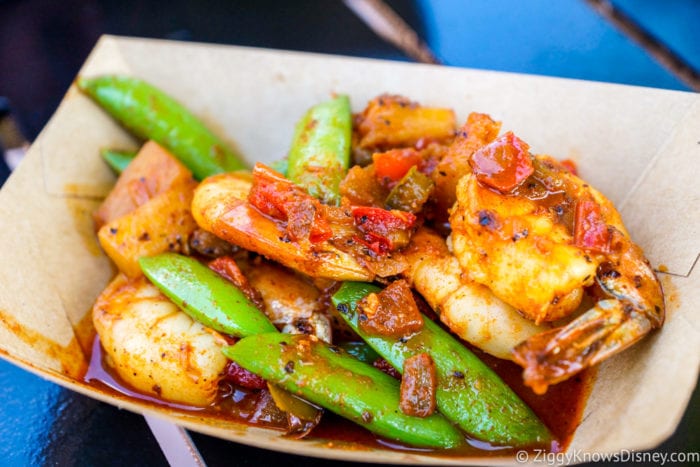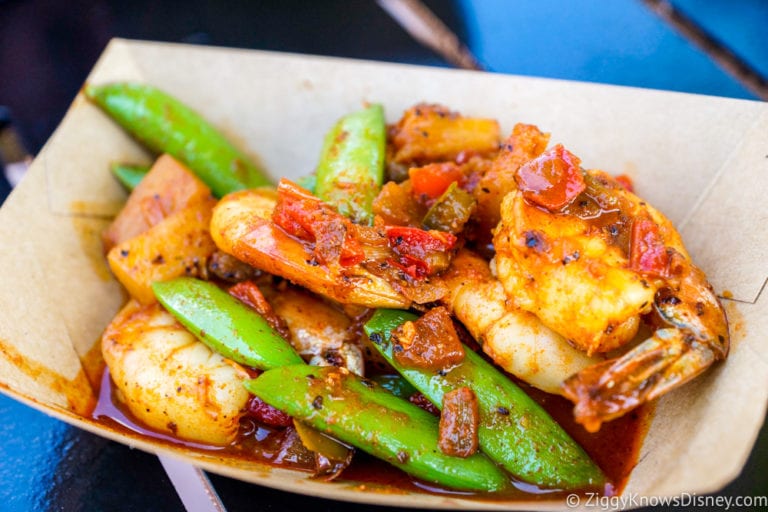 and now 2019: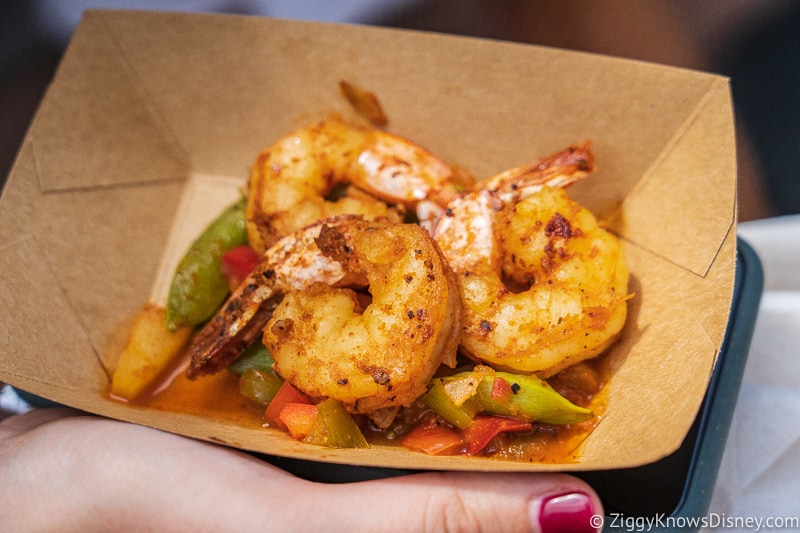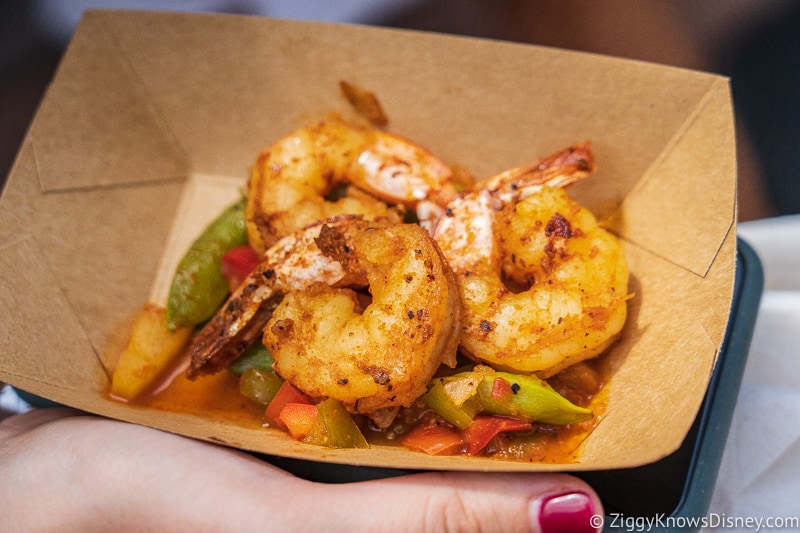 I still like them, but if you are in the mood for shrimp, the ones in Africa cost the same but you get 5 instead of 3.
Roasted Lamb Chop ($7.75):
On the contrary to the shrimp, the lamp chop has gotten BIGGER this year, and the price stayed exactly the same!
I love the Grilled Lamb Chop, I think even though it's hard to make good lamb, they do it excellent here. It's super juicy and they give you a nice fat piece!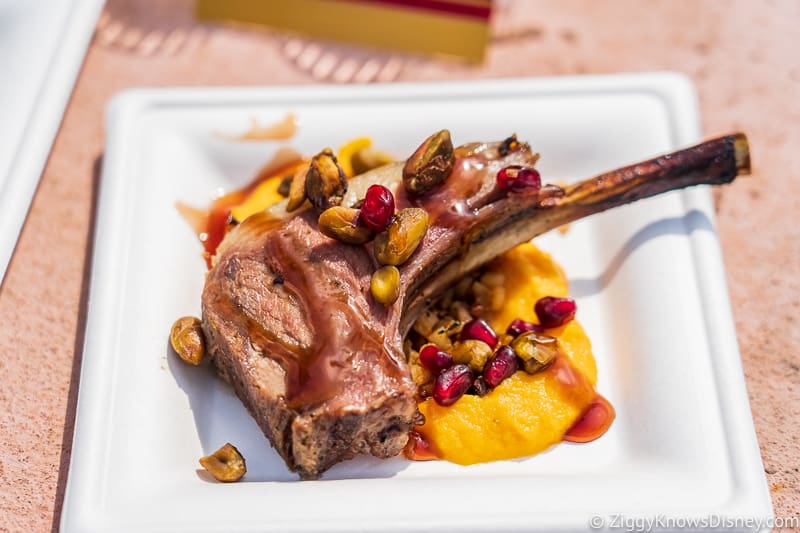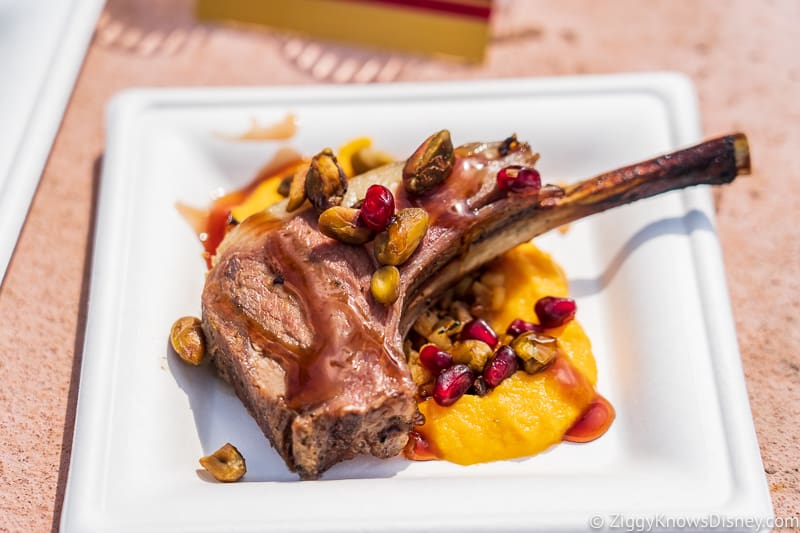 The chop itself was cooked excellently, though I preferred the combo of mint and potatoes crunchies last year. Some in our group weren't happy with the sweet glaze this year, but most were fine with the change. On thing I will say is that the pistachios should have been crushed, instead they were too big..
I'm happy to see them go back to a bigger piece and the lamb chop is now a must-get snack once again!
Deconstructed Pavlova ($4.00):
The Deconstructed Pavlova was a tasty dessert and on the lighter side, especially if you downed the lamb chop and shrimp. I loved the cream which was sweet, but not too much. It was creamy and almost like a custard.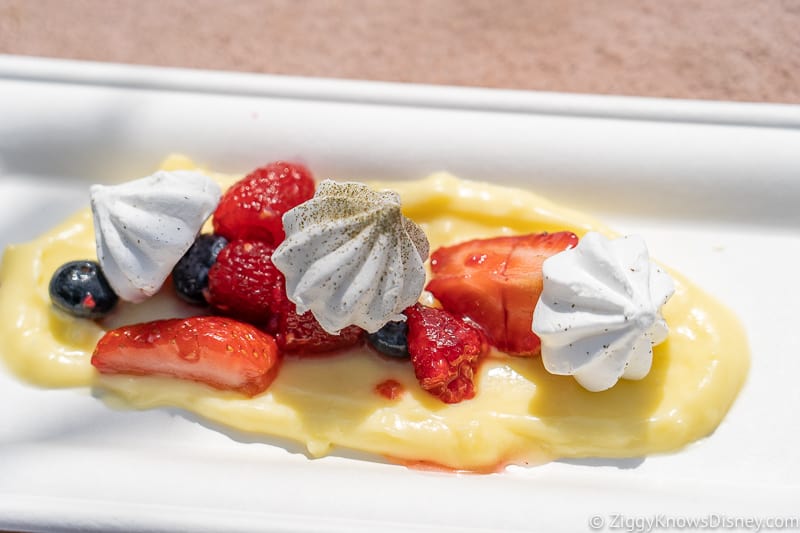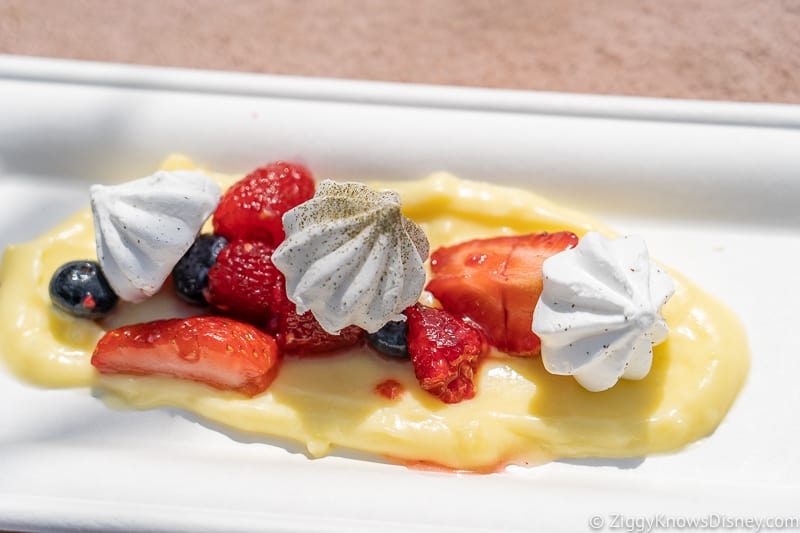 The meringue were good, though standard. I liked the combo of the different fruits like raspberries, strawberries and blueberries. Overall this is a light and sweet dessert which won't weigh you down.
Wine Flight ($6.25):
To drink we had the Wine Flight. This has a Hope Estate "Wollombi Brook" Semillon, Franklin Tate Estates Chardonnay, and a 3 Rings Shiraz.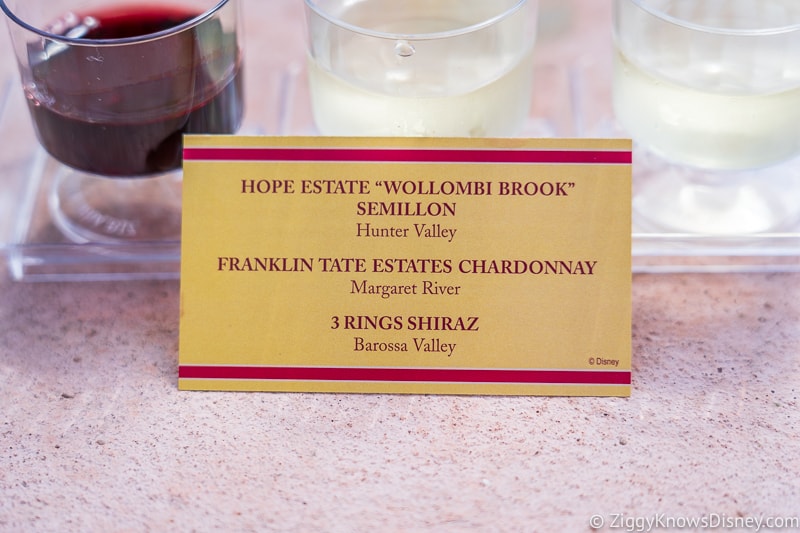 This is your typical Australian wine flight, nothing more. All of them were solid, but nothing really stood out to us above the rest and nothing we'd have to order again.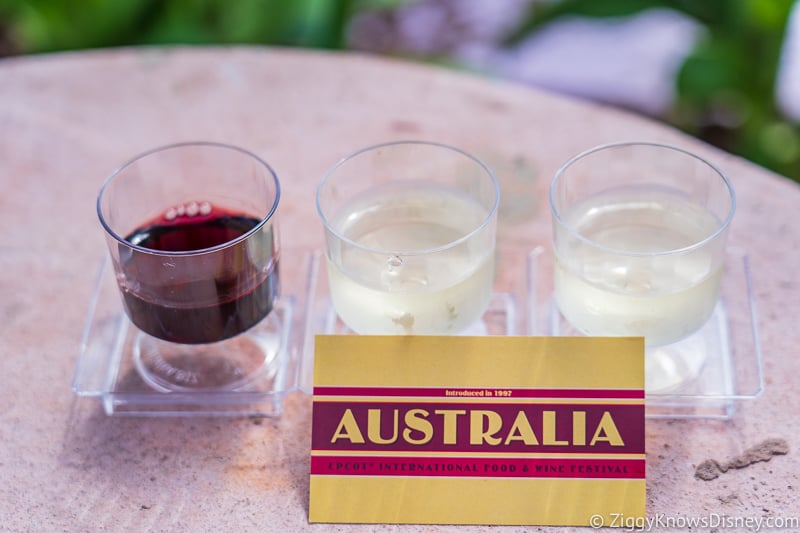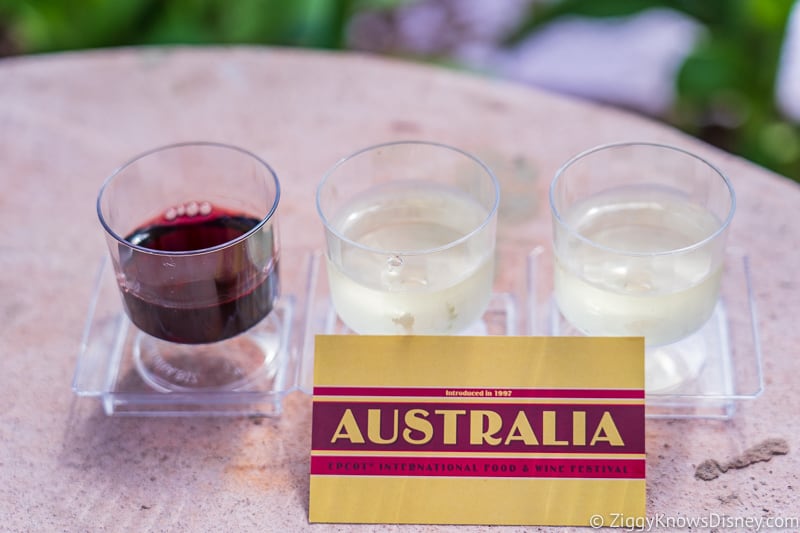 Booth Summary and Grade:
Australia took a small step forward for us this year at Food and Wine, as we loved the bigger lamb chop making its return and the pavlova was solid. I'm disappointed with the shrimp a bit because of the price, and it's still missing a solid drink.
Overall though this is a solid booth and somewhere you definitely can contemplate stopping at.
If you have to get just one thing:
Roasted Lamb Chop
Australia Review

Overall Grade -

7.5/10
I want you to be able to have the best info on the Festival so you have a great time and don't waste your time! Take a look at all of my 2019 Epcot Food and Wine articles including:
MUST-TRY NEW Items at 2020 Food and Wine Festival (Coming Soon)
Top Food and Wine Booths (Coming Soon)
Your Thoughts:
I want to know what you think about the Australia Review at the 2019 Epcot Food and Wine Festival…
Which is your favorite item?
Which do you still want to try?
Let us know in the comments section below!
If you enjoyed this article, as always I appreciate it if you'd share it with others via social media. I work hard at making this website into a useful resource for you and your family to plan your visit to the Disney Parks and I hope it can help you! Thanks 🙂