Ireland is back again at the 2019 Epcot Food and Wine Festival and we're always happy to see what's cooking over there. The Cheddar Cheese Stout Dip is back, along with Roasted Sausages and Warm Chocolate Pudding Cake! Ireland was right there among the leaders in Food and Wine marketplaces last year.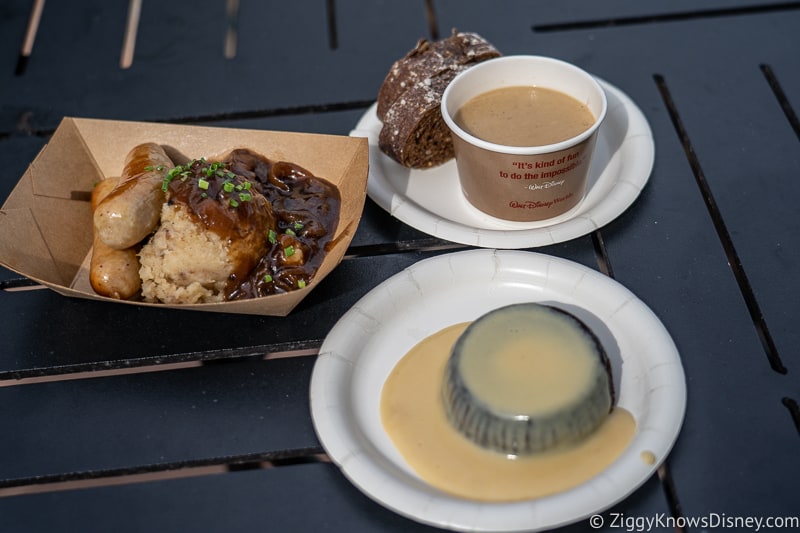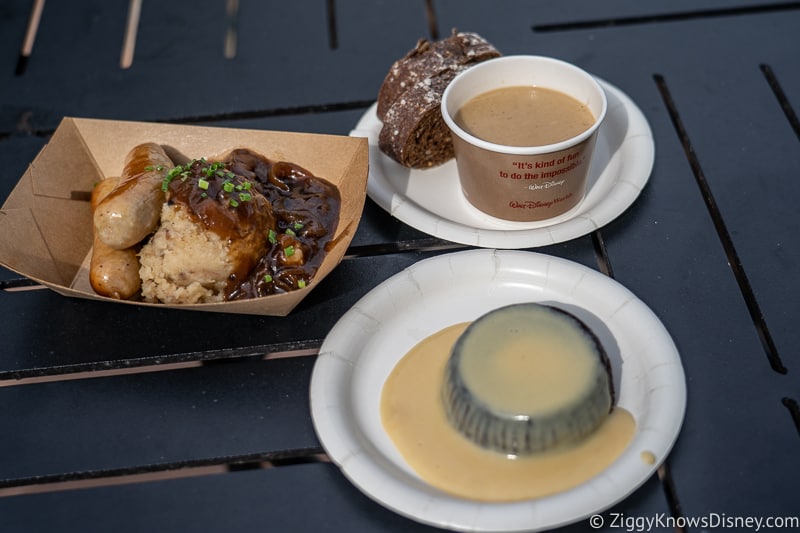 Let's see if they still have the luck of the Irish as we look at my Ireland Review for the 2019 Epcot Food and Wine Festival.
Ireland Marketplace:
I feel like I'm in the green hills of Ireland right now with that thatched roof! Of course green colors accent the booth!
Ireland Menu:
The food items are the same from last year with the Roasted Irish Sauasage, Warm Irish Cheddar Cheese and Stout Dip and the Warm Chocolate Pudding all making their triumphant returns to the menu.
I'm equally excited to see that the Guinness Baileys Shake is back once again and it's the perfect way to finish off your meal here. I'm still wishing the Twinings Pumpkin Chai Tea and Carmel Shake will come back someday!
Food:
Roasted Irish Sausage with Colcannon Potatoes and Onion Gravy ($5.50)
Warm Irish Cheddar Cheese and Stout Dip with Irish Brown Bread (V) ($5.00)
Warm Chocolate Pudding with Irish Cream Liqueur Custard (V) ($4.25)
Beverages:
Brehon Brewhouse Killanny Red Ale ($4.50)
Bunratty Meade Honey Wine ($6.00)
Guinness Baileys Shake ($11.00)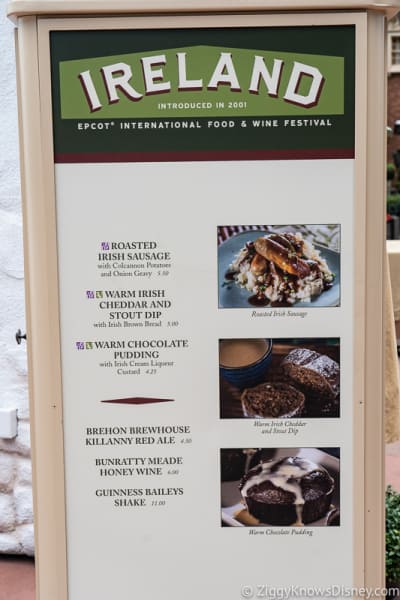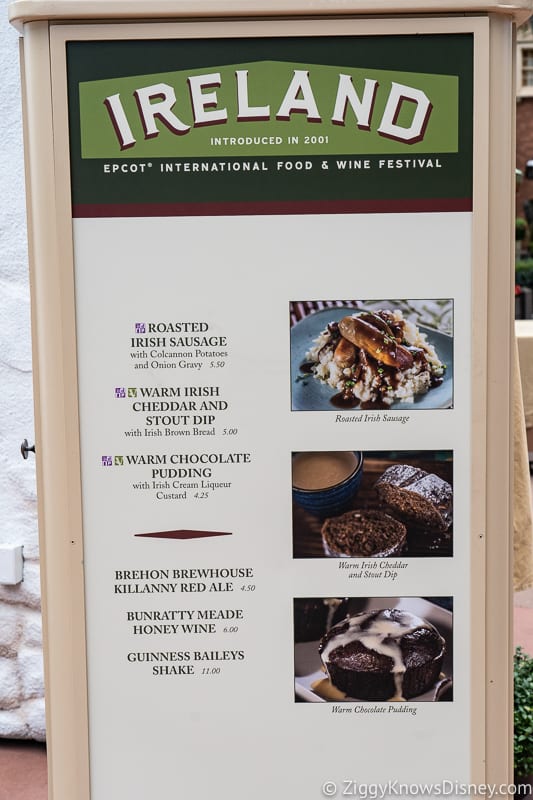 Menu Review:
Roasted Irish Sausage with Colcannon Potatoes ($5.50):
Sausage and potatoes is about what I imagine when I think of Irish food, and this version was actually really good! One thing I loved was that when you bite into the sausage it has a nice snap to it and the flavor just bursts out! Very juicy!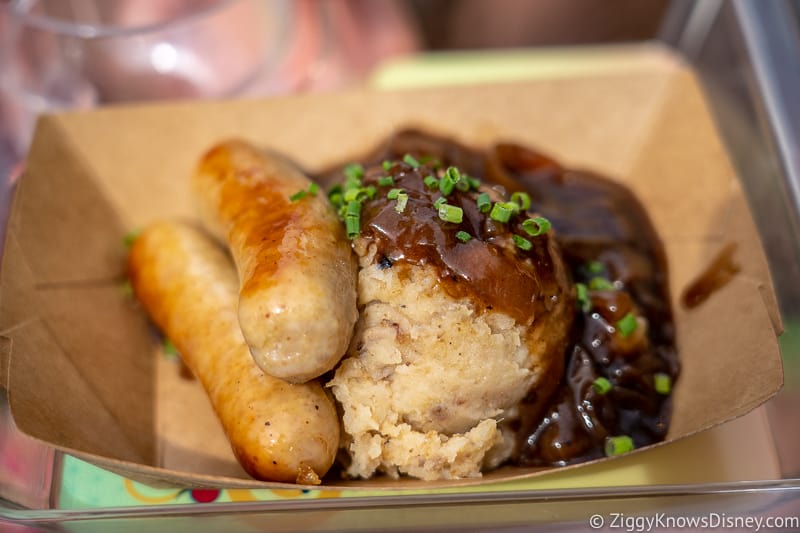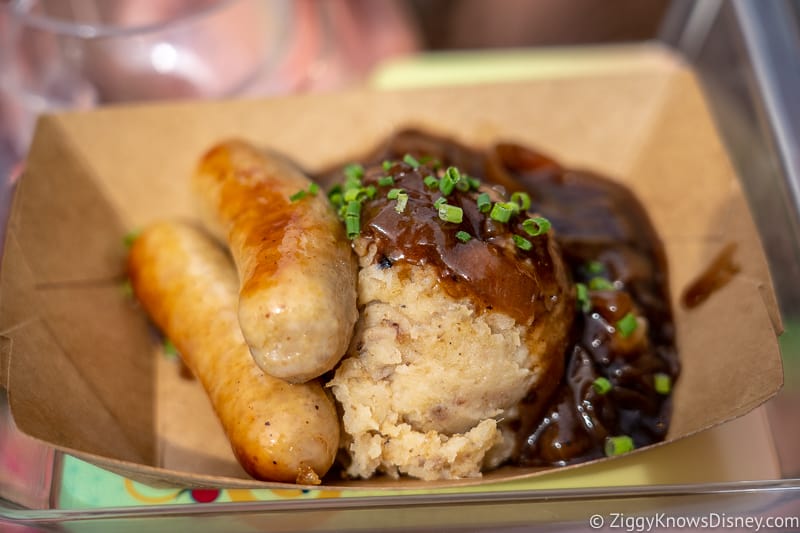 The potatoes though not the color of normal mashed potatoes, we really tasty too, and had a distinct flavor of Guinness in them. Even my friend Jill who doesn't like Guinness couldn't resist these things as they were mouthwateringly good! And the gravy with the caramelized onions takes it to another level! Excellent dish and we'll be back for more soon!
Warm Irish Cheddar Cheese and Stout Dip ($5.00):
Man do I remember how good this was from last year, so I was really looking forward to it again. It did not disappoint! Sure, a hot dip in late Aug/early Sept isn't the best idea in the world, but this was so good we didn't even care.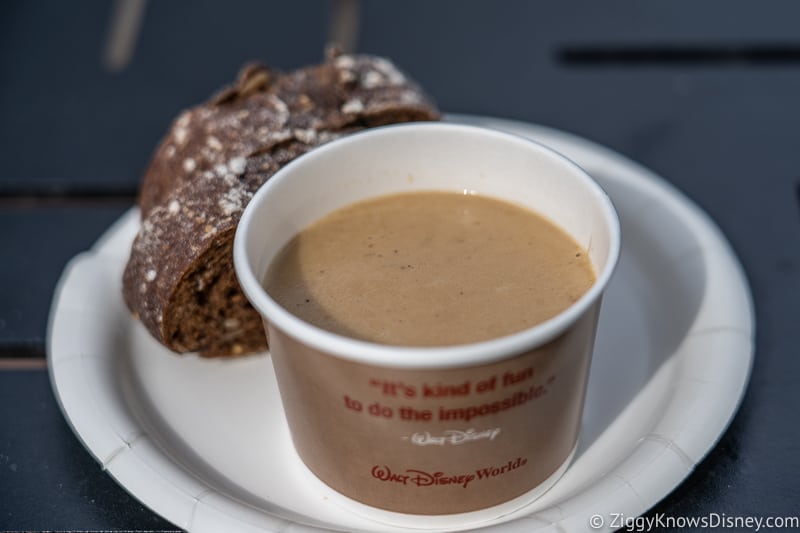 It got guzzled down in about 10 seconds and we were looking for more! It has a sharp cheddar cheese flavor, very rich and creamy. It's up there with the Cheddar Cheese Soup over in Canada, with a little less "kick" to it, which neither good nor bad.
The bread was also really good, very chewy and fresh tasting. Again would have liked another piece but it didn't hinder our finishing of the dip! Can I please get a gallon of this stuff and just sip on it all day with a straw? Do we still have those here in Disney World??
Warm Chocolate Pudding with Irish Cream Liqueur Custard
($4.25):
One of our favorite desserts last year also came back this year in the Warm Chocolate Pudding and we were thrilled to see it again! I'm not a huge chocolate fan, but even I couldn't resist this Warm Chocolate Pudding! It was very soft and had a very rich, dark chocolatey flavor to it.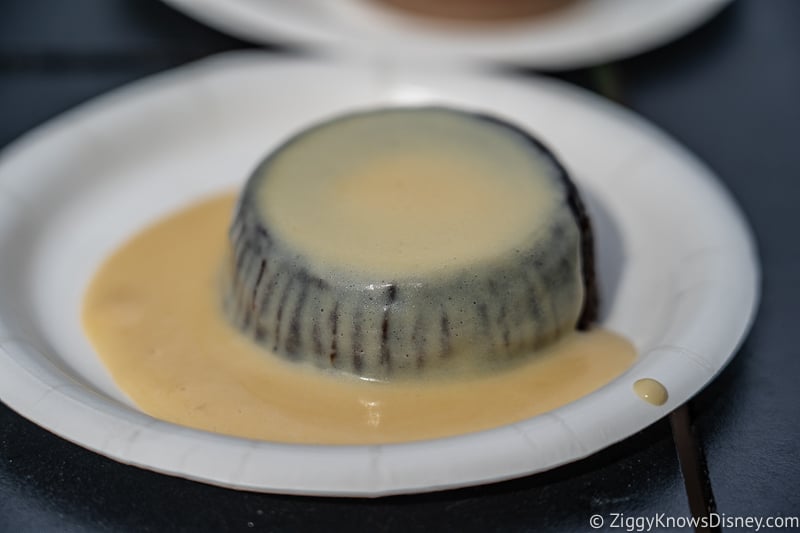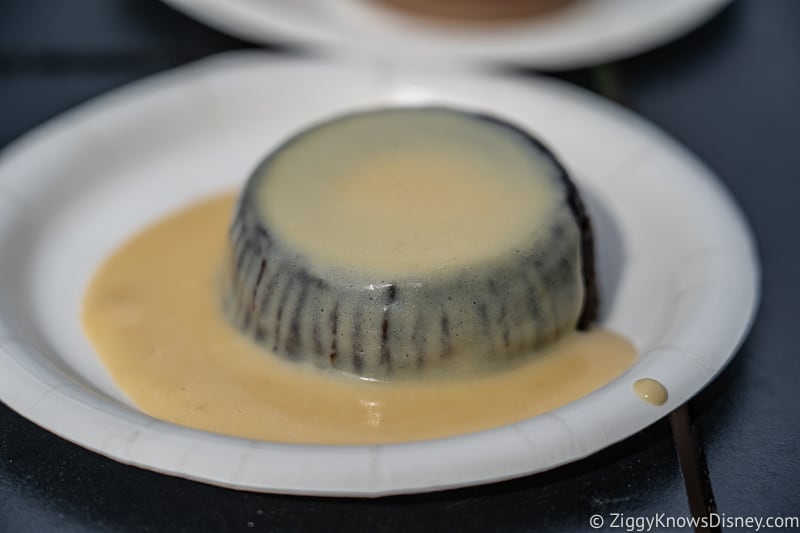 The inside had a liquid chocolate core and just oozed out everywhere. And don't get me started on the Irish Cream Liqueur Custard on top. It was sweet and tasted almost like Baileys poured all over everything. It was a nice balanced to the rich chocolate.
The best part is that it's served warm which gives you a nice cozy feeling inside your belly!! The portion size was just right as this is a very rich dessert, and one you definitely need to try.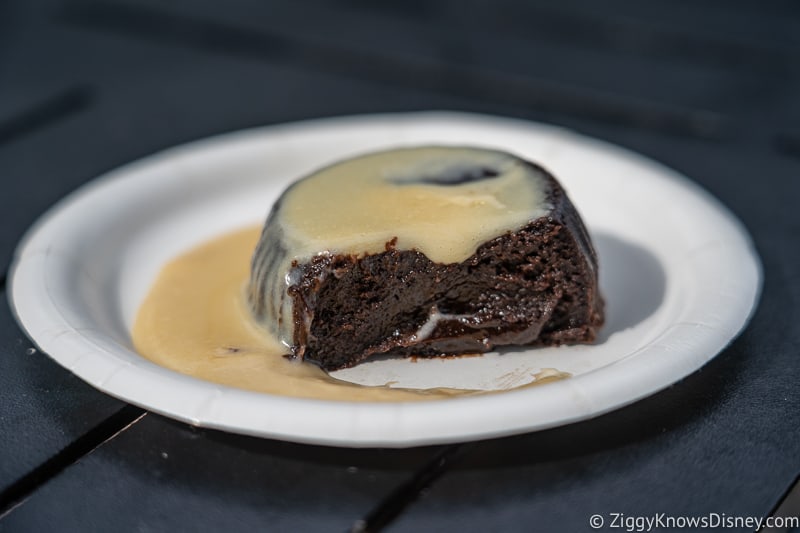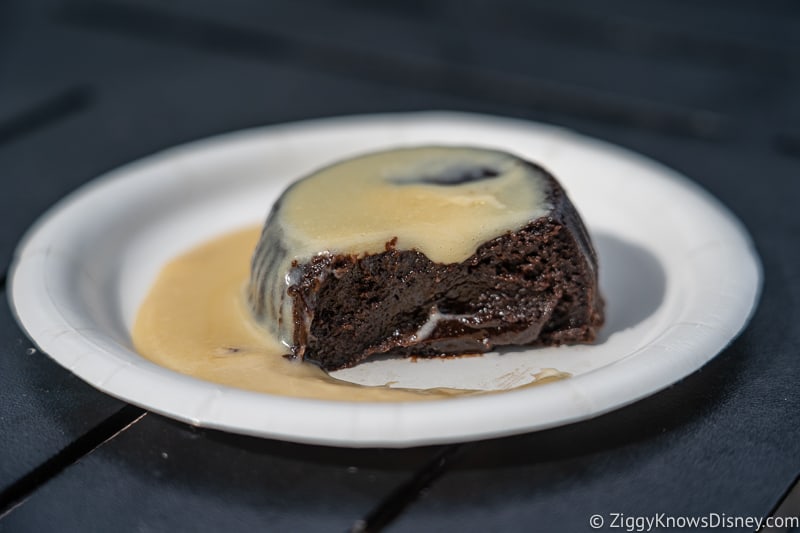 Guinness Baileys Shake ($10.50)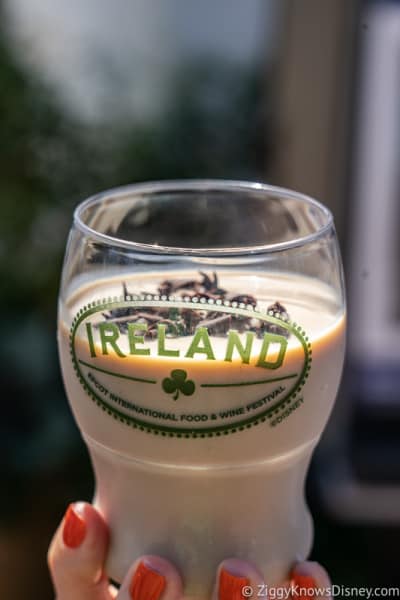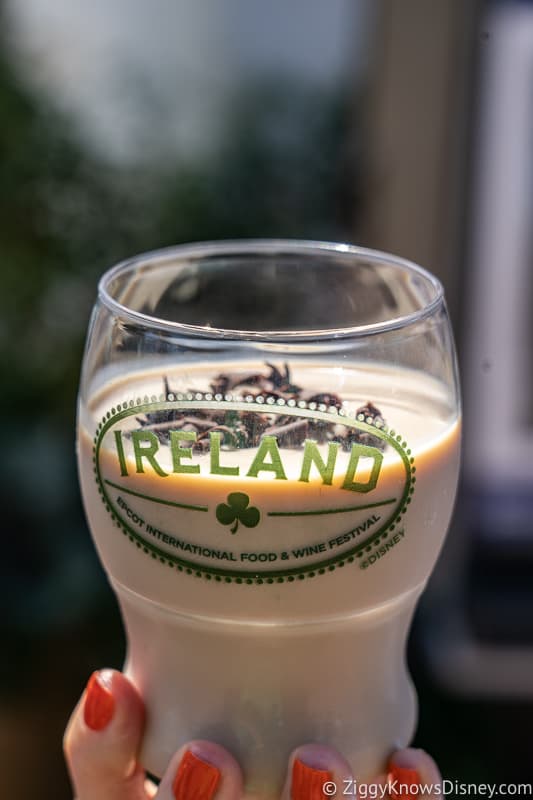 I'm so happy the Guinness Bailey's Shake is back again this year, it has to be one of my favorite drinks at Food and Wine. And just think it took me years to discover this because for some reason I kept not trying it. That is until last year and I've been dreaming about it ever since…
The shake is thick and creamy, a little less than a traditional milk shake, and the Bailey's, chocolate and Guinness together are an unbeatable combo. The chocolate shavings on the top are a nice touch as well!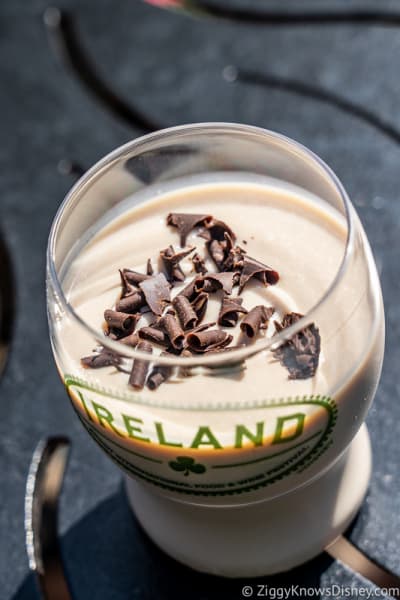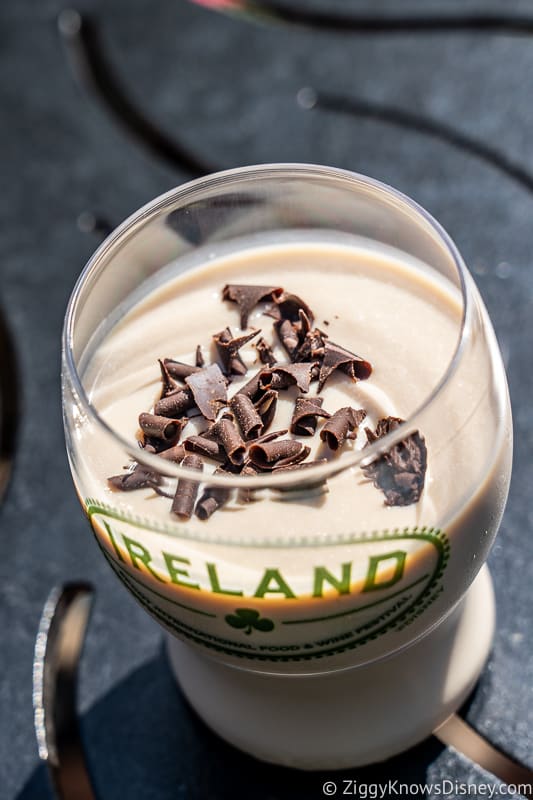 You definitely don't want to skip this when you come!
Booth Summary and Grade:
The Ireland marketplace was a huge success in our eyes and it's again right there at the top of the best Food and Wine marketplaces. We liked everything we tried and it's really hard choosing one item over the others.
We'd for sure come back for the Roasted Irish Sausage, the Warm Chocolate Pudding keeps us up at night dreaming about it, and don't overlook the Guinness Bailey's Shake which is one of the top drinks at Food and Wine. If I have to pick though, I'm going with that super cheesy Cheddar Cheese Stout Dip, which you absolutely can't skip!
If you have to get just one thing:
Warm Irish Cheddar Cheese Stout Dip
Ireland Review

Overall Grade -

9/10
I want you to be able to have the best info on the Festival so you have a great time and don't waste your time! Take a look at all of my 2019 Epcot Food and Wine articles including:
MUST-TRY NEW Items at 2020 Food and Wine Festival (Coming Soon)
Top Food and Wine Booths (Coming Soon)
Your Thoughts:
I want to know what you think about the Ireland Review at the 2019 Epcot Food and Wine Festival…
Which is your favorite item?
Which do you still want to try?
Let us know in the comments section below!
If you enjoyed this article, as always I appreciate it if you'd share it with others via social media. I work hard at making this website into a useful resource for you and your family to plan your visit to the Disney Parks and I hope it can help you! Thanks 🙂