The 2019 Epcot Food and Wine Festival has two new marketplaces, one of them being Test Track Cool Wash. This kiosk promises cool and refreshing treats to help you beat that Florida sun. But is it going to be one of the can't miss marketplaces this year??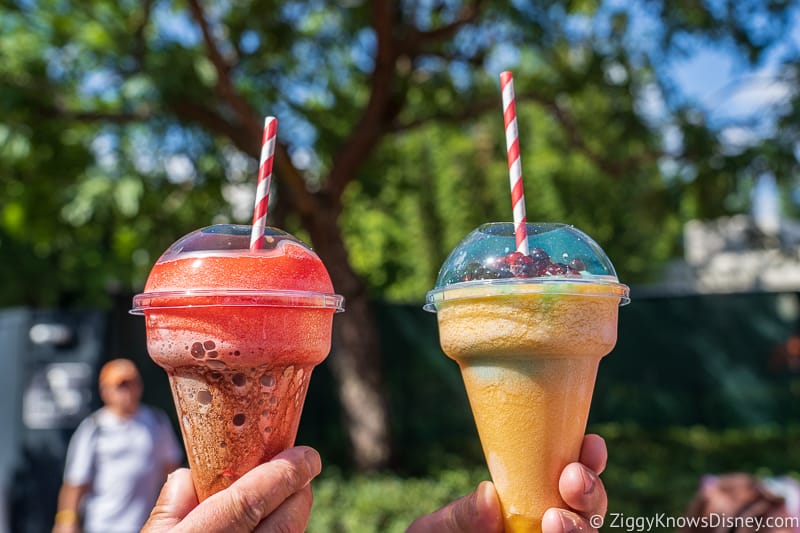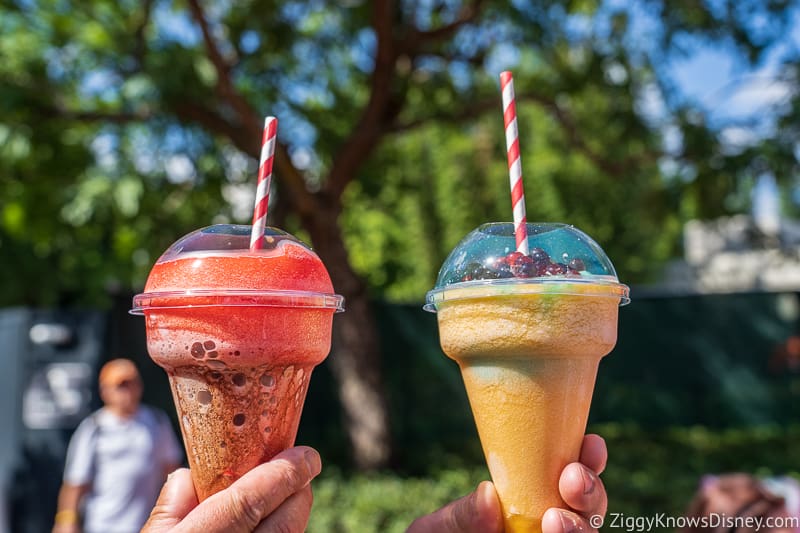 Let's find out in our 2019 Epcot Food and Wine Festival Test Track Cool Wash Review….
Test Track Cool Wash Marketplace:
To get to Test Track Cool Wash, head into Future World and you'll find it between Mouse Gears and Test Track, right next to The Donut Box, which is also new this year.
This marketplace is one of the coolest-looking ones you'll find at Food and Wine and it's essentially a car wash, converted into a quick service dining location. The bright red color attracts your attention walking by as do the blue and red lights (especially at night).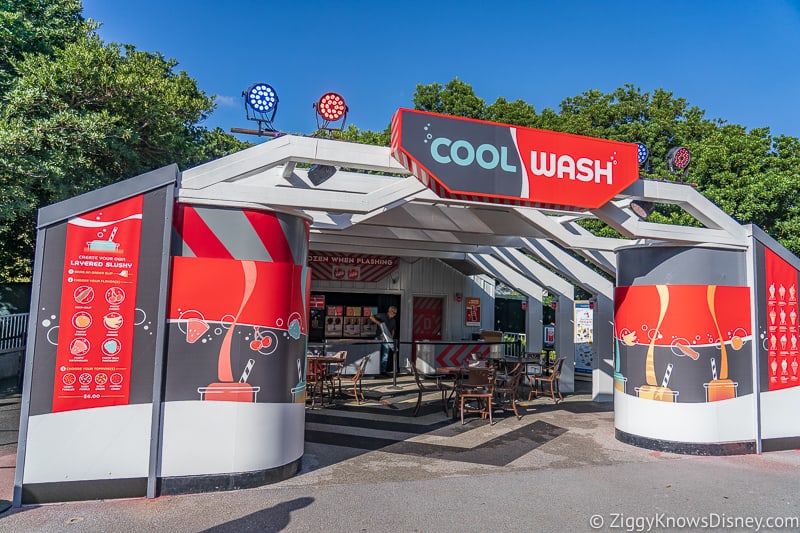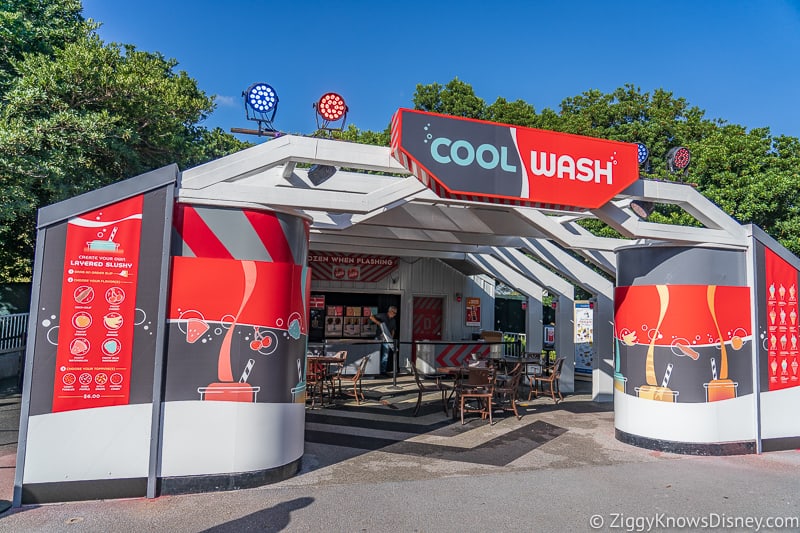 But do you wanna know the best part? All the seating which its pretty much covered from the hot sun! There are a few tables in here where you can kick back at and enjoy your slushy out from the sun!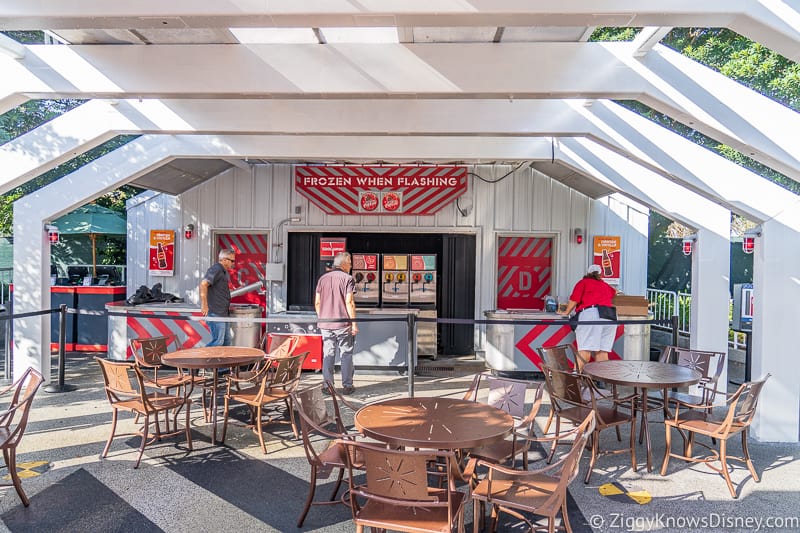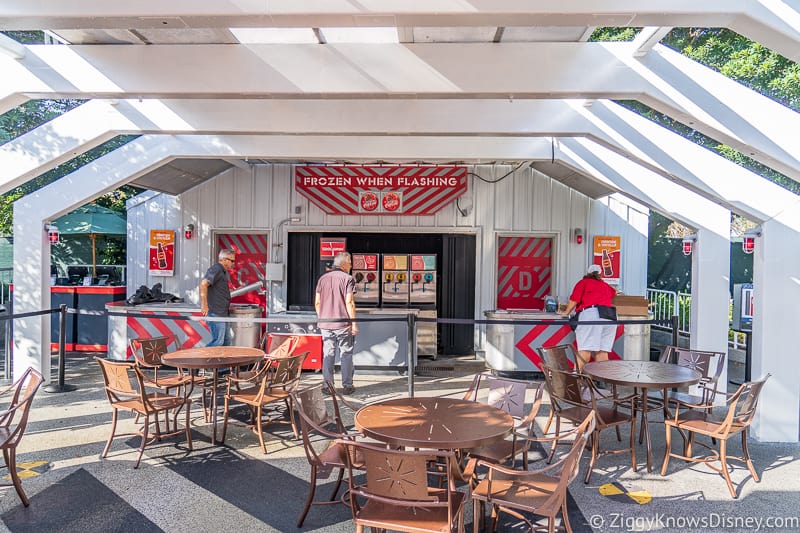 Test Track Cool Wash Menu:
The menu for Test Track Cool Wash in 2019 is brand new and is mostly focused on drinks which have never been on any of the Food and Wine menus before (slushies to be exact).
There isn't much to eat, just some assorted chips, but that's not the reason you come here anyway, it's for those slushies! Cool Wash has some regular drinks to try, and then a special Food and Wine Menu which is what we're here for, including Assorted Coca Cola Slushies.
There are 6 slushy flavors and 4 toppings and you can combine all of them however you want, making limitless combinations.
If you are looking for the adult drinks, they have them too with Coca-Cola® Orange Vanilla with St. Petersburg Gin, to go along with some of the alcoholic frozen beverages they have year-round.
Food:
Food and Wine Festival Beverages:
Assorted Coca Cola Slushies ($6.00)
Coca-Cola® Orange Vanilla with St. Petersburg Gin
Other Beverages:
Frozen Coca-Cola® ($5.50)
Frozen Fanta® Blue Raspberry ($5.50)
POWERade® ($5.00)
Frozen Minute Maid® Raspberry Lemonade ($5.50)
Frozen Beverage with Absolut Vodka ($11.25)
Frozen Beverage with Captain Morgan Original Spiced Rum ($9.50)
Frozen Beverage with Jack Daniel's Tennessee Whiskey ($10.25)
Menu Review:
Assorted Coca Cola Slushies ($6.00):
This is obviously the reason you come to Cool Wash, as they have a totally customizable menu that you can mix and match you own layered slushy. You basically have to choose from your flavors of slushy (you can mix and match) and then your toppings.
Step 1: Grab and Order Slip
Your first step is to get in line and fill out one of the order slips as they are handed to you. You are even provided a pencil.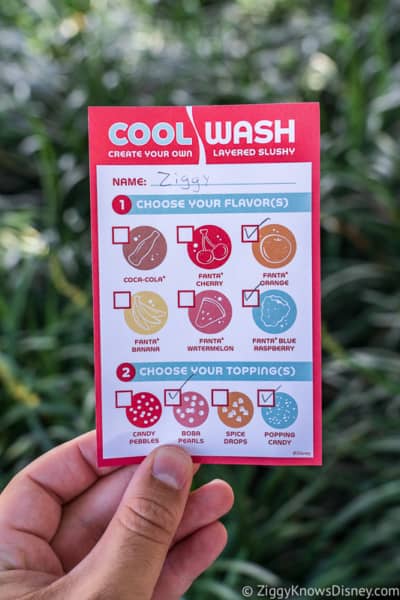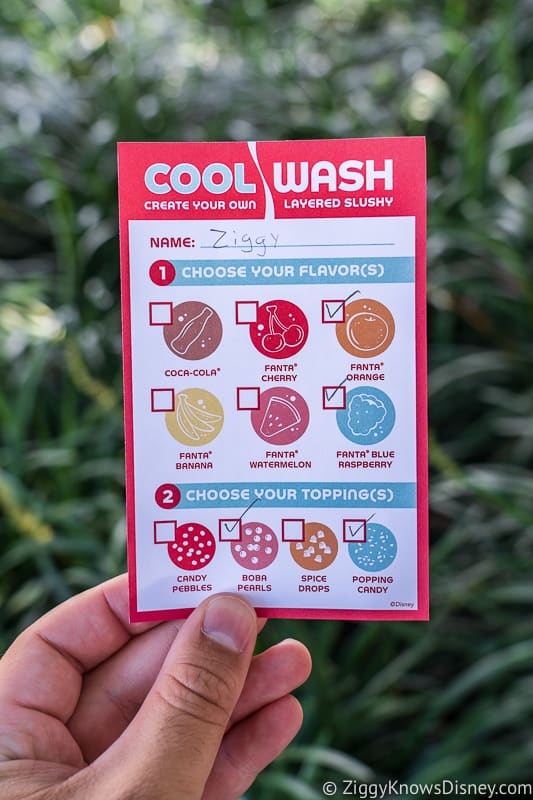 Step 2: Choose your Slushy Layers
There are six flavors to choose from and you can combine multiple flavors too:
Coca Cola
Fanta Cherry
Fanta Orange
Fanta Banana
Fanta Watermelon
Fanta Blue Raspberry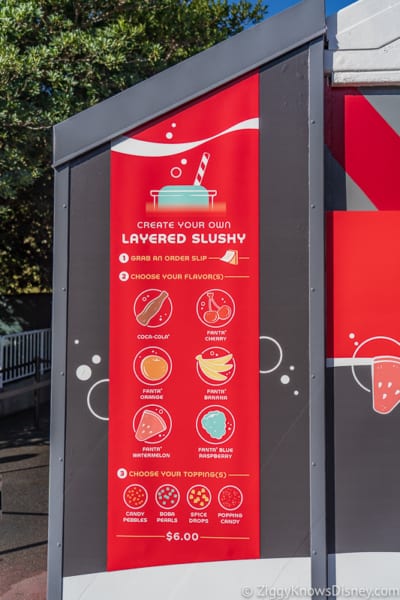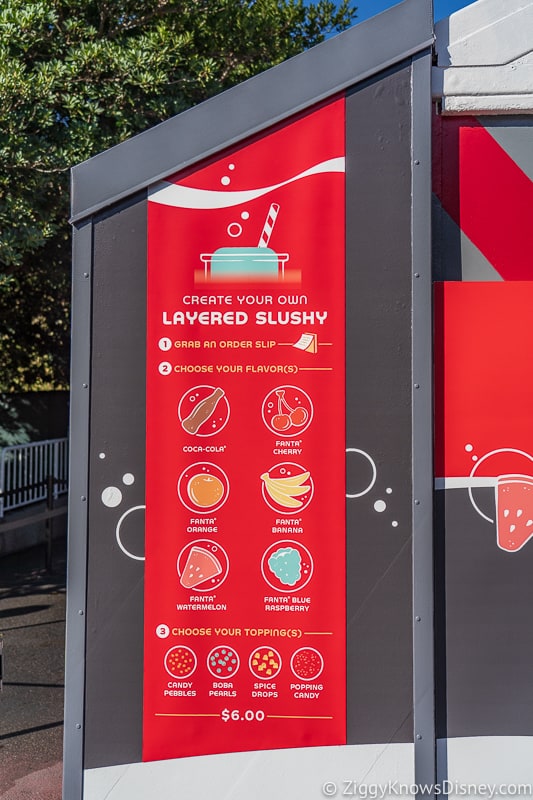 Step 3: Choose your Toppings
Same idea with four toppings to choose from, and you again can combine these however you like.
Candy Pebbles
Boba Pearls
Spice Drops
Popping Candy
Here's an idea of some of the combinations that are possible: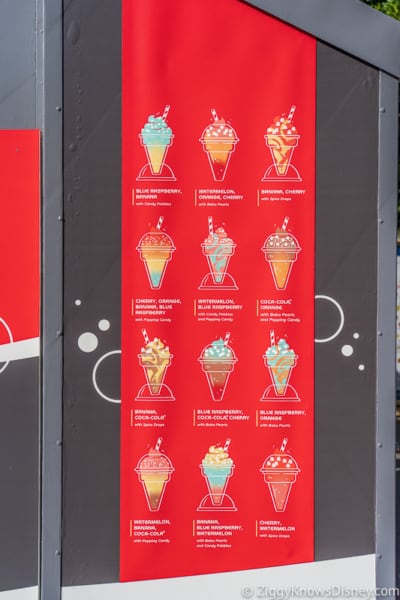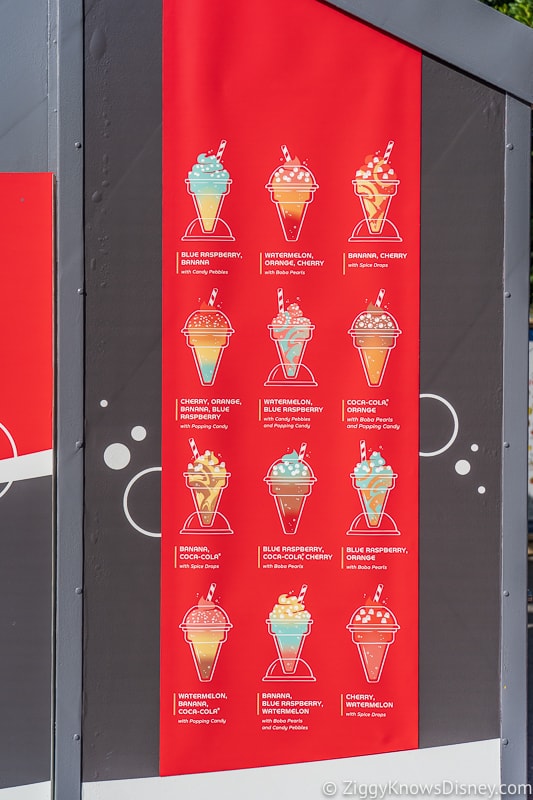 Now that we know our options, let's order!
Step 4: Place your Order and Pick Up
Once you fill out your order card and hand it to the cast member, you then get to watch them make it for you! This is where the magic happens at the Cool Wash slushy machines: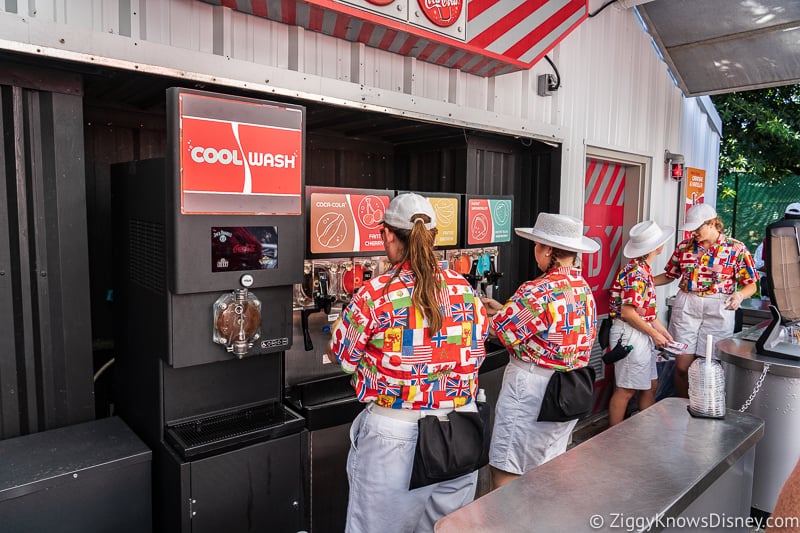 We can't wait to try ours!
Slushy #1 – Coca Cola and Fanta Cherry with Spice Drops
This is going for a traditional Cherry Coke feel with the Coca Cola and Fanta Cherry flavors. The consistency of the slushy was right on, and it was cold! I mean, freeze your throat and brain-type cold. Of course that doesn't sound like the greatest feeling in the world, but when it's 95 degrees out, you'll take it any day of the week.
The size of the slushies was good all around, I thought they were generous in the portion size for $6.00. I like the toppings too. Here we got spice drops, which we had to use a spoon to eat of course.
Slushy #2 – Fanta Orange and Blue Raspberry with Boba Pearls and Popping Candy
I liked this one even better than our first choice, and think the raspberry and orange combo is unbeatable. The popping candy added a nice zing to my slushy and left that tingling sensation on your tongue. I always love boba pearls, but here with all the ice I thought they were hard to suck up the straw and had to wait till the end to eat which takes some of the fun out of it.
Overall we were pleasantly surprised with how good these slushies are and highly recommend them!
Booth Summary and Grade:
Overall I really liked Test Track Cool Wash and thought it was a great idea and executed well.
They have some other drinks here, but the Assorted Coca Cola Slushies is why you come. The possibility to build your own slushy is something very unique to the Food and Wine Festival and a process that we enjoyed and was executed perfectly.
It never gets old because you can come back here time and time again and never try the same thing twice. We loved putting these together and will be back every time we are in Future World I think!
If you have to get just one thing:
Assorted Coca Cola Slushy
Test Track Cool Wash Review

Overall Grade -

8/10
I want you to be able to have the best info on the Festival so you have a great time and don't waste your time! Take a look at all of my 2019 Epcot Food and Wine articles including:
MUST-TRY NEW Items at 2020 Food and Wine Festival (Coming Soon)
Top Food and Wine Booths (Coming Soon)
Your Thoughts:
I want to know what you think about our Cool Wash Review at the 2019 Epcot Food and Wine Festival…
Which is your favorite item?
Which do you still want to try?
Let us know in the comments section below!
If you enjoyed this article, as always I appreciate it if you'd share it with others via social media. I work hard at making this website into a useful resource for you and your family to plan your visit to the Disney Parks and I hope it can help you! Thanks 🙂
Test Track Cool Wash Review
Overall Grade -

8/10