The Donut Box marketplace is brand new for the 2019 Epcot Food and Wine Festival and we're always happy to see new and inventive menus to try! This marketplace is bringing donut flavors to some snack items and drinks too! Is this the next must-try booth at Food and Wine?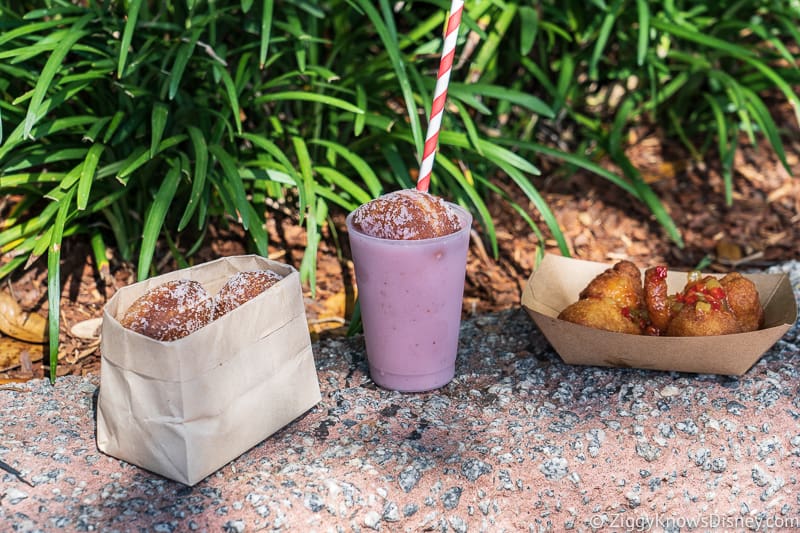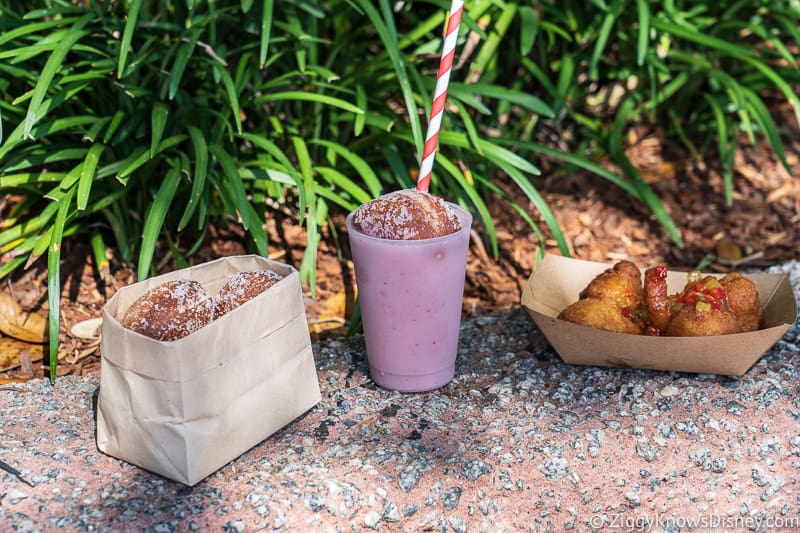 Let's find out in my 2019 Epcot Food and Wine Festival The Donut Box Review….
The Donut Box Marketplace:
The Donut Box is not located in the typical position in Epcot when you think about Food and Wine. In order to get here you have to walk into Future World in between Mouse Gears and the entrance to Test Track.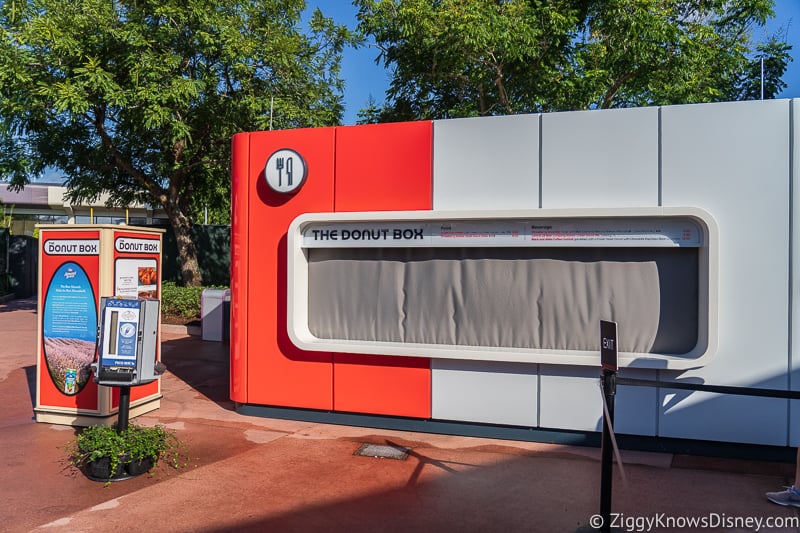 The design of the Donut Box marketplace is simple but much more modern-looking than most marketplaces. It follows a color scheme of red and grey, that's it.
But it's not really about the aesthetics. Why have we come here you ask? That's a silly question, just look at these donuts!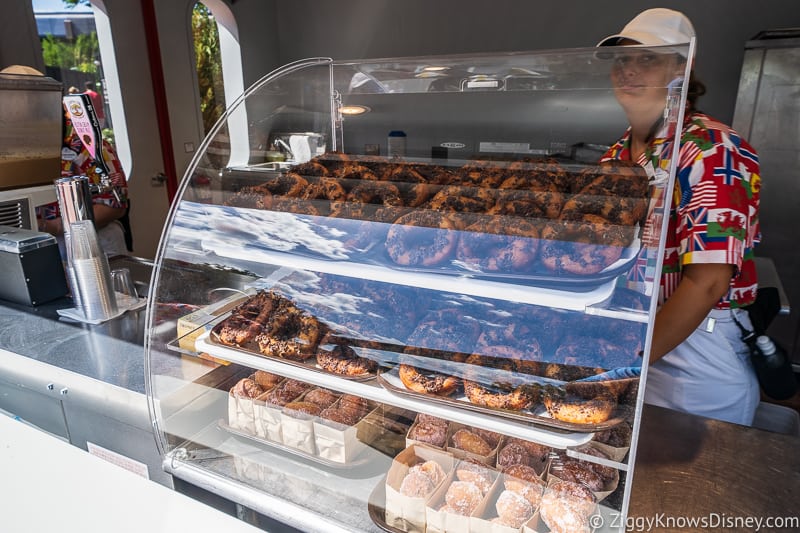 The Donut Box Menu:
The menu for The Donut Box in 2019 is brand new and has 2 food items that have never been on a Food and Wine menu before. The first savory item is the Sweet Corn Fritter with Fresno and Red Pepper Jelly which sounds delightful. Then more a sweeter snack try the Strawberry-dusted Yeast Donut Holes.
There are 3 drinks on the menu too: a Strawberry Smoothie which is probably similar to the one that used to be at Almond Orchard; a Black and White coffee Cocktail with a Fresh Yeast Donut with Chocolate Espresso Bean Crumbles; and lastly the most interesting sounding to me…Boston Cream Donut Ale! YUM!
Food:
Sweet Corn Fritter with Fresno and Red Pepper Jelly (V) $5.50
Strawberry-dusted Yeast Donut Holes (V) (KA) $4.00
Beverages:
Strawberry Smoothie made with Blue Diamond Almond Breeze Almond milk® (non-alcoholic) (KA) $5.50
Central 28 Beer Company Boston Cream Donut Ale, DeBary, FL $4.50
Black and White Coffee Cocktail garnished with a Fresh Yeast Donut with Chocolate Espresso Bean Crumbles $14.00
Here's a look at the 2019 The Donut Box Menu: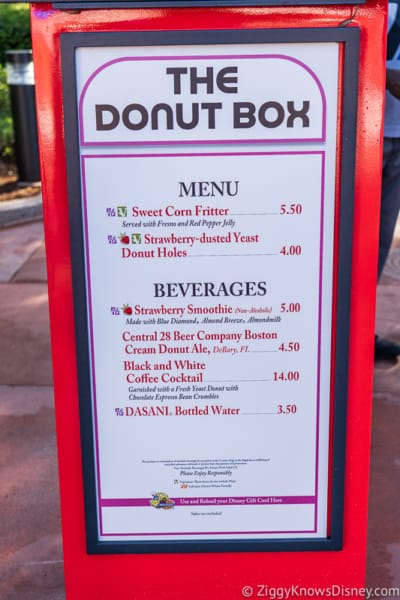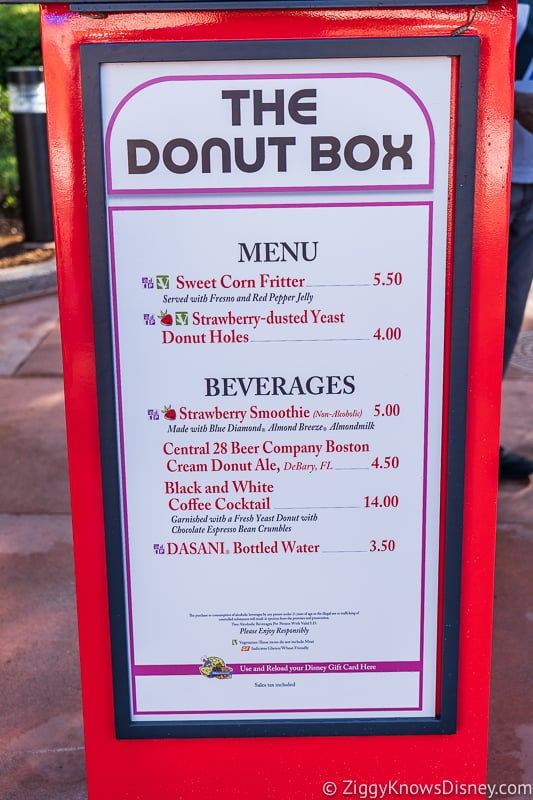 And if you are more of a visual person, we have pictures too!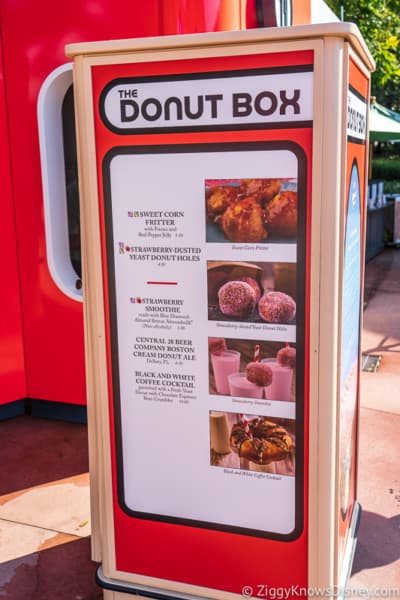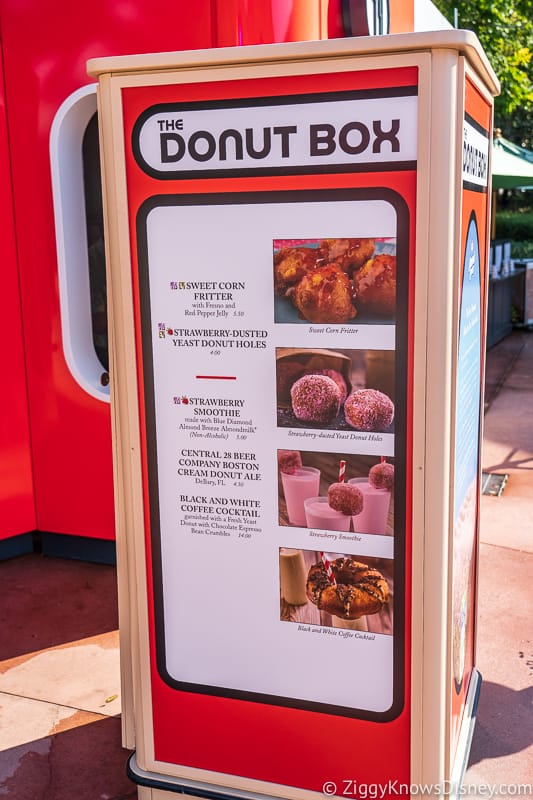 Menu Review:
Sweet Corn Fritter with Fresno and Red Pepper Jelly ($5.00):
I didn't really know what to expect when I ordered the Sweet Corn Fritters. I honestly can say I've never tried corn fritters so I was anxious so see how they would stack up to all the other new snacks at Food and Wine this year!
Actually before I read the ingredients in the dish I assumed that all the options at The Donut Box were sweet. I was wrong. The Corn Fritters actually have Fresno and a red pepper jelly, which is spicy.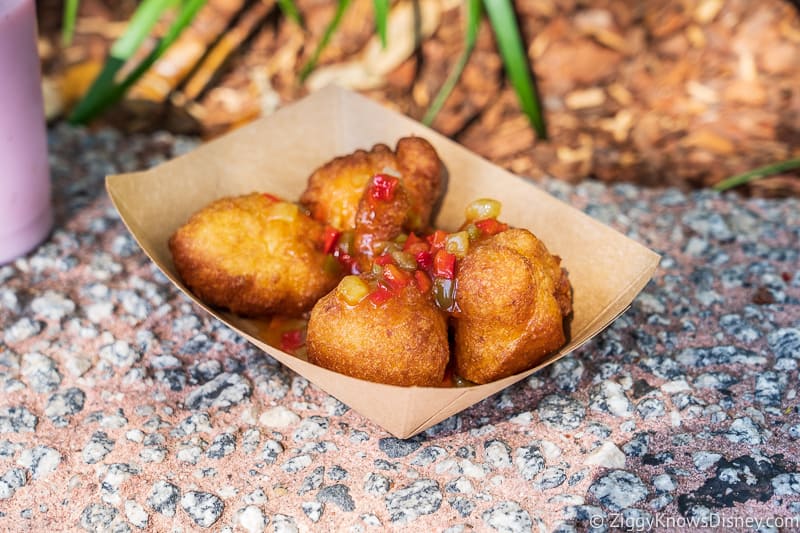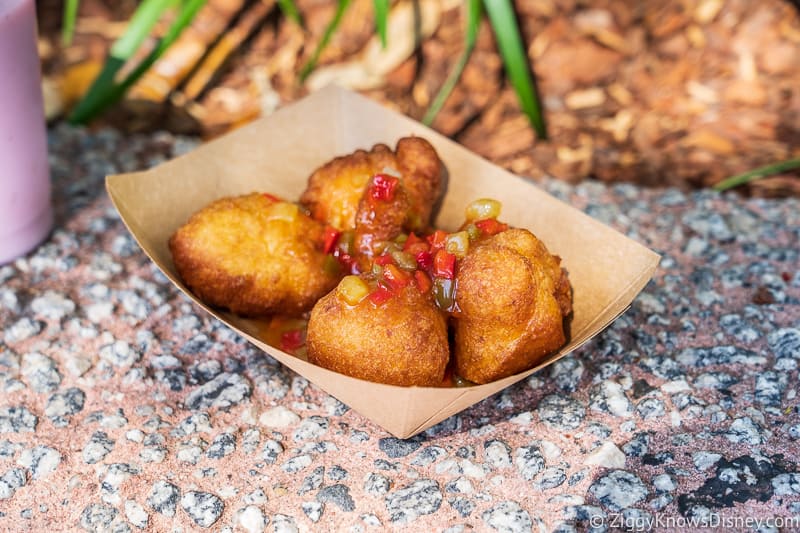 The actual flavor wasn't bad, they had kind of a sweet and savory action going on, and a defined pepper taste no doubt.
The fritters themselves were decent. You get 4 of them with each order. They were small, round fried corn cakes basically, and had a pretty heavy weight to them, not as light as I was hoping. The texture was good though as they were fried nicely on the outside, and slightly doughy on the inside. Even with the relish we found the fritters a bit dry and needing more of the jelly than what was provided.
The thing is, on a hot Florida day, I didn't really want to eat dough and covered in a pepper relish just isn't my thing. If you love corn fritters or pepper jelly then you might like them, but they are a pass for me.
Strawberry-dusted Yeast Donut Holes ($5.00):
Ok, now let's get to the sweet stuff! Also new this year are the Strawberry-dusted Yeast Donut Holes and we couldn't wait to try them out.
First of all right away you'll notice the packaging. They aren't served in a tray, but in a little bag. We thought this was a good idea, and it makes them a bit more portable if you want to eat some and then bring the rest with you for later.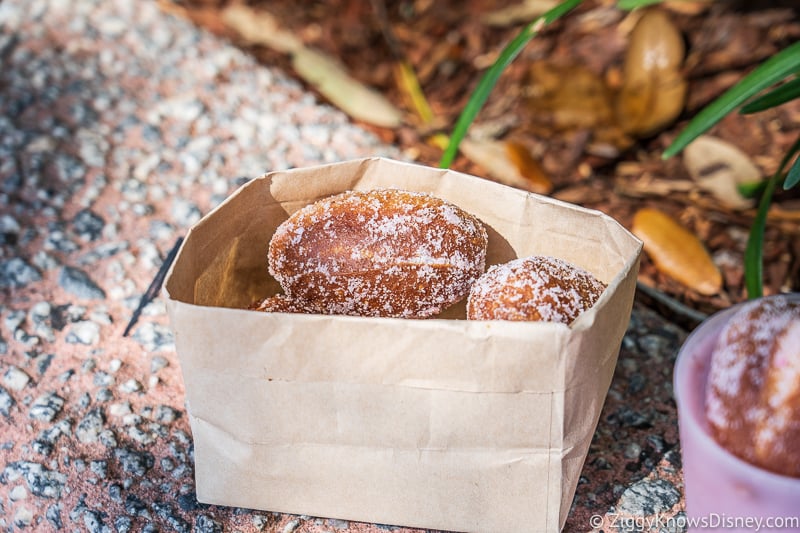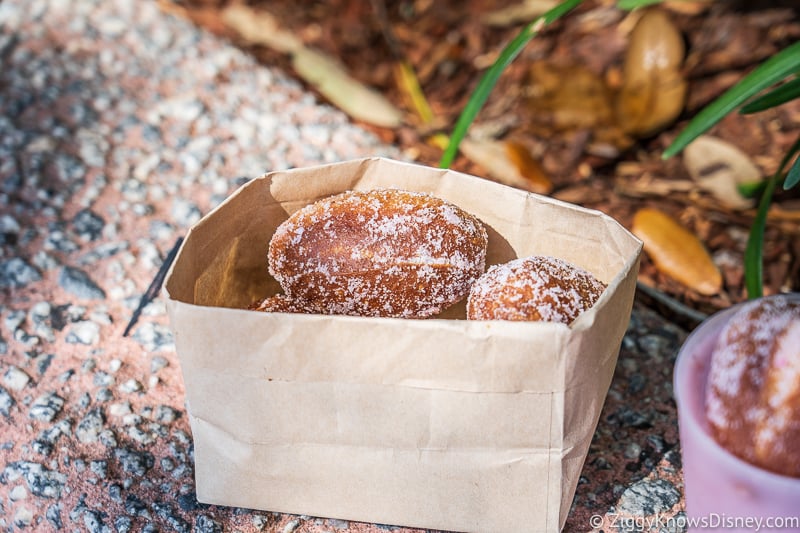 I'll start with the good part, the portion size. There are 6 donut holes inside the bag, and they are big. Much bigger than most donut holes from your neighborhood donut shop. They are tossed in a strawberry sugar dust which hit our sweet tooth nicely.
Ok, now the bad. They didn't taste very good. The dough for the donuts was kind of hard and very dense. These were basically the heaviest donuts we've ever eaten, and we've eaten a lot. They were a bit hard to chew and just lacking a ton of flavor.
Again, bad choice on a hot day when you are in the mood for something more refreshing.
Strawberry Smoothie ($5.00):
We also tried the Strawberry Smoothie, which is a carry over from the 2018 Almond Orchard marketplace. It also coincidentally had one of the previously mentioned donut holes on top of it.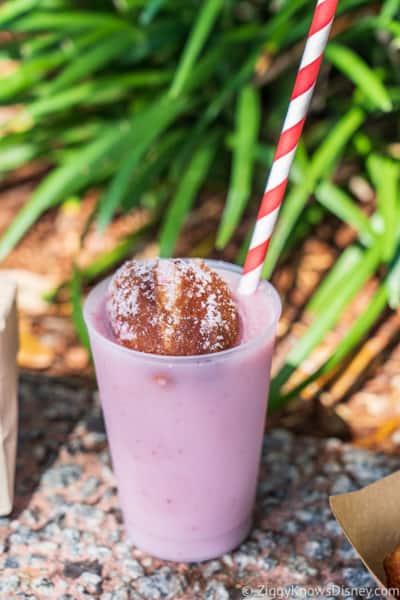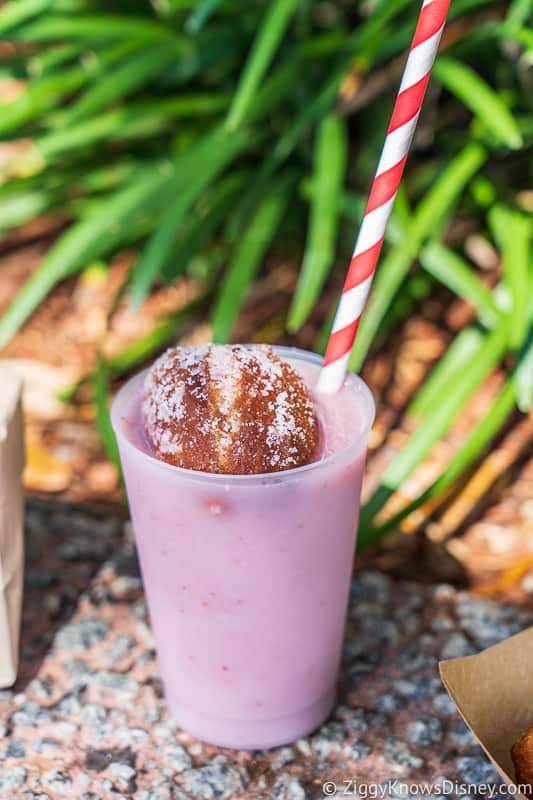 Just like last year, we really like the smoothie, and it easily became the best tasting thing on the menu at The Donut Box for sure! It was very smooth and ice cold which was really refreshing to taste.
The combination of strawberries and cream is one of my favorite flavors anyway, and to see how they use almond milk to pull it off is a nice change from a regular smoothie. The donut on top is the exact same as the pack of donut holes from before, and just as dry.
We had to use the smoothie to wash down the donut holes since they were so dense. It really was the only way to get them down, and kind of a shame because we really liked the smoothy taste on its own.
My only wish is that it could be bigger, since we think the smoothie is a great light and refreshing treat.
Booth Summary and Grade:
Overall I was disappointed in The Donut Box. The fritters were not what we were hoping for and the thing that you come to a place with "The Donut Box" as its name for, is the donuts, and we just didn't like them. Too heavy and too dry which is not a good combo.
The only saving grace The Donut Box has is the Strawberry Smoothie. It was light and refreshing and has a great creamy texture. Next time we're near Test Track we're going to stop in for this, but that's it.
If you have to get just one thing:
Strawberry Smoothie
I want you to be able to have the best info on the Festival so you have a great time and don't waste your time! Take a look at all of my 2019 Epcot Food and Wine articles including:
MUST-TRY NEW Items at 2020 Food and Wine Festival (Coming Soon)
Top Food and Wine Booths (Coming Soon)
Your Thoughts:
I want to know what you think about The Donut Box Review at the 2019 Epcot Food and Wine Festival…
Which is your favorite item?
Which do you still want to try?
Let us know in the comments section below!
If you enjoyed this article, as always I appreciate it if you'd share it with others via social media. I work hard at making this website into a useful resource for you and your family to plan your visit to the Disney Parks and I hope it can help you! Thanks 🙂