By now you know that the 2019 Epcot Food and Wine Festival is Now Open and serving up hundreds of delicious food and drink items. Especially if you've been before you already know your go-to favorites you get every time. You know, the Pork Belly in Brazil, Cheddar Cheese Soup in Canada and Chocolate Liquid Nitrogen at Chocolate Studio.
But sometimes you don't want to keep eating the same things over and over every time, you want to find the best new snacks from the Food and Wine Festival. But with so many to choose from that's a lot of tasting to do!
Luckily we tasted everything already from all 35 Marketplaces for you and we found the 11 MUST-TRY NEW Items from the 2019 Epcot Food and Wine Festival! I hope you're not hungry as you read this, because you WILL BE after!
Here's the list of our 11 Must-Try 2018 Epcot Food and Wine Items in no particular order…
1.) Kenyan Coffee Barbecue Beef Tenderloin – Africa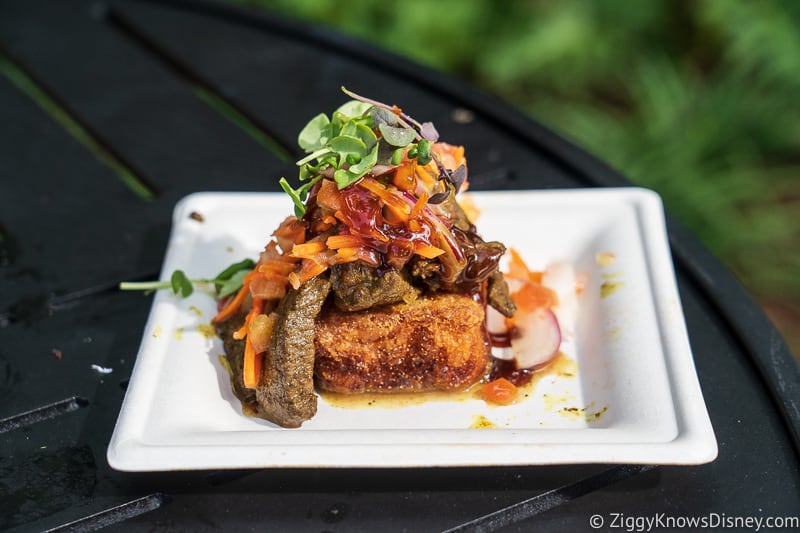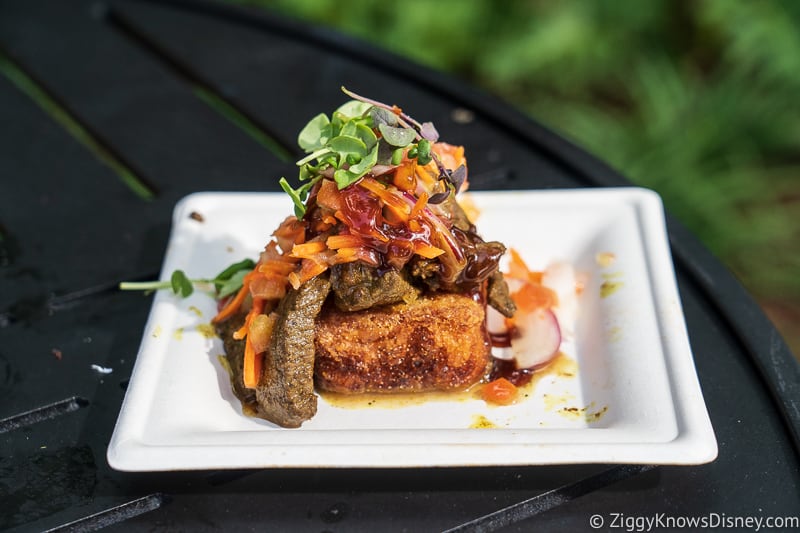 I always love the beef dishes in the Africa marketplace, and the Kenyan Coffee Barbecue Beef Tenderloin is no exception. As usual this dish packs some heat with it, but it also is balanced by the coffee flavor which is unique for a beef dish.
There is a nice portion of steak and it's cooked excellently, nice and tender when you bite into it, and super juicy. The corn cake that it's served on is also interesting and reminds me of a fried polenta cake and goes well with the beef.
At $5.75 it's also one of the cheapest beef dishes at the festival. If you are looking for steak at Food and Wine this year, look no further as this is a must-try!
2.) Blueberry and Almond Frangipane Tart – The Alps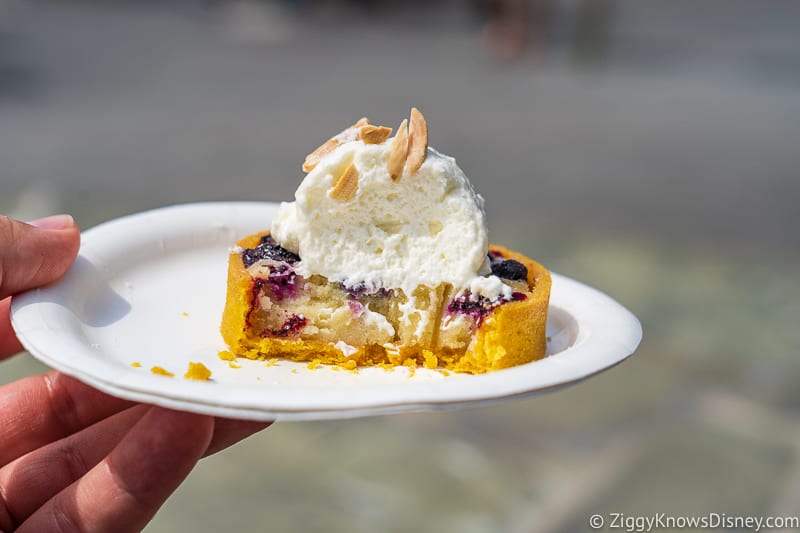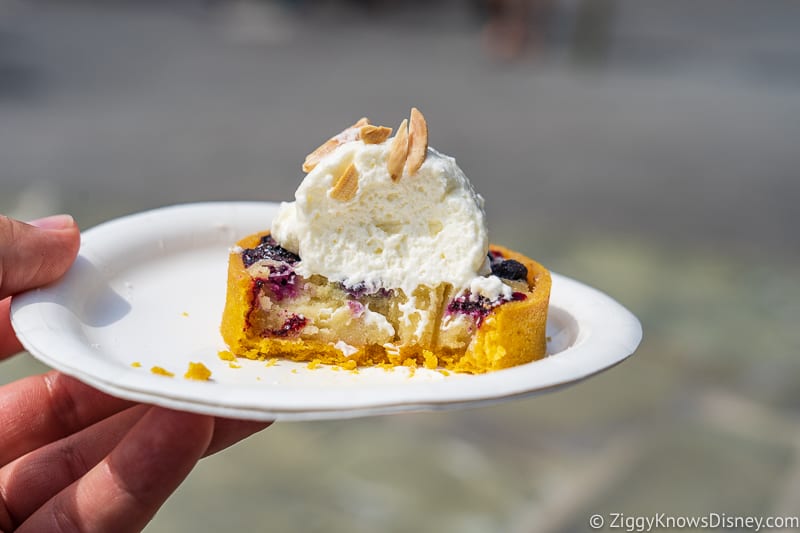 We are always excited to see the new desserts every year at Food and Wine, and right when I saw the Blueberry and Almond Frangipane on the menu for The Alps I knew I was gonna love it!
The tart shell is similar to other tarts around Disney World, very flavorful and buttery. But it's the filling we love most. It's a mix of a creamy almond paste with blueberries mixed throughout. We love both the flavor and texture of it.
Lastly a big dollop of fresh whipped cream is scooped on top, making this a no-brainer, can't-miss new dessert this year!
3.) Duck Confit Poutine – Refreshment Port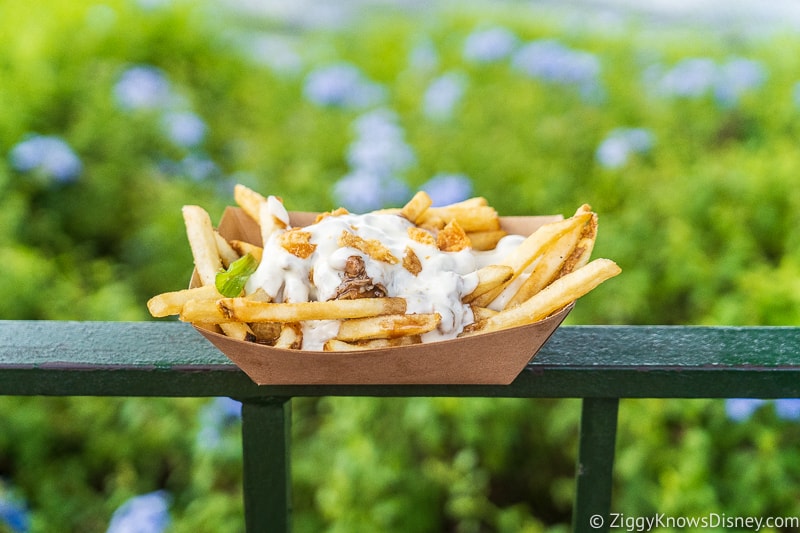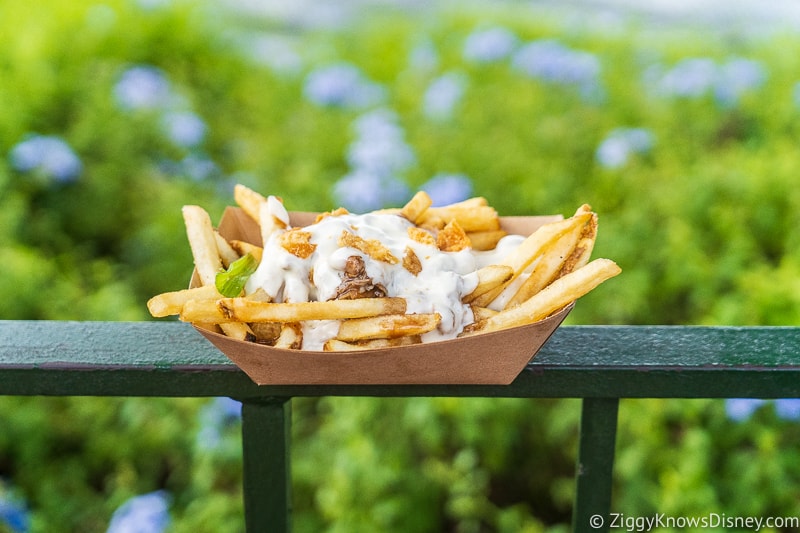 You know that thing a lot of people believe in called "Love at first sight?" I didn't think it existed before seeing the Beef Brisket Poutine last year, and that love was rekindled this year with the Duck Confit Poutine from the Refreshment Port.
First of all they give you a GIGANTIC portion of food here that can easily be split by 2 or 3 people. The fries are abundant and crispy and they are just pilled on by a deliciously moist duck confit, all the while drowned in warm brie cheese fondue. Then it's all topped off with some crispies.
I've been to Canada multiple times for poutine and I know technically this isn't the real thing, but if you don't try this at Food and Wine this year you are missing out, big time!
4.) Taco de Puerco – Mexico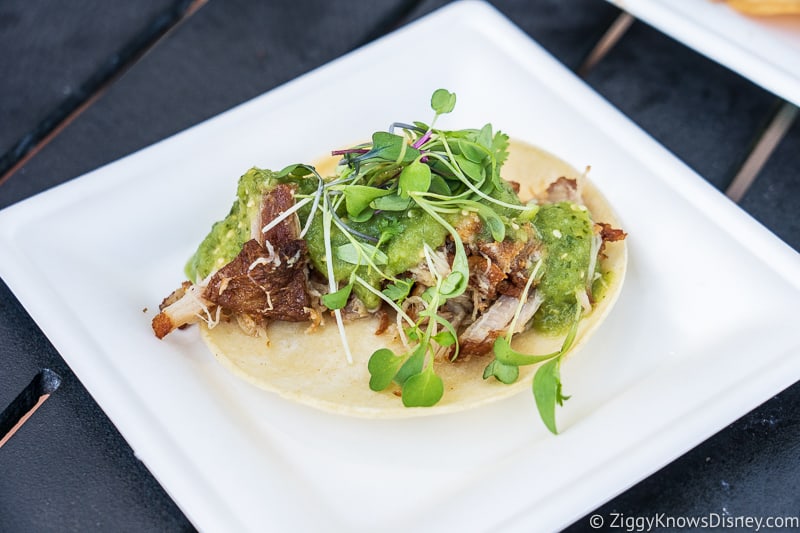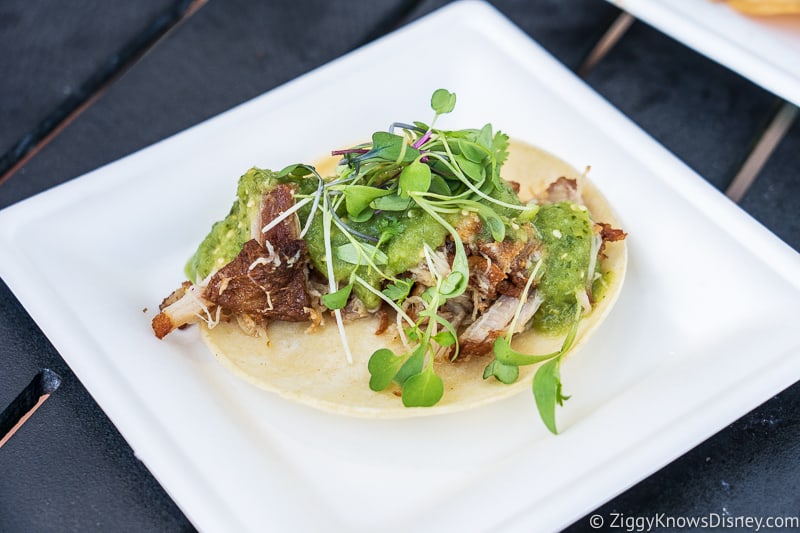 So Mexico is usually one of the more overrated and expensive marketplaces at Food and Wine, mostly a mix of small portions and high prices. However both the items that we've put on this list of the best new snacks buck that trend.
The Taco de Puerco was awesome! It's served in a small flour tortilla, and filled with marinated pork belly. It has a tender inside and slightly crispy exterior which makes our mouth water just thinking of it!
Also we really love the green chili salsa that is put on top, giving is a spicy, tangy flavor. Skip the tostada when going to Mexico and get the Taco de Puerco, you'll love it!
5.) Caramel-Apple Popcorn – Appleseed Orchard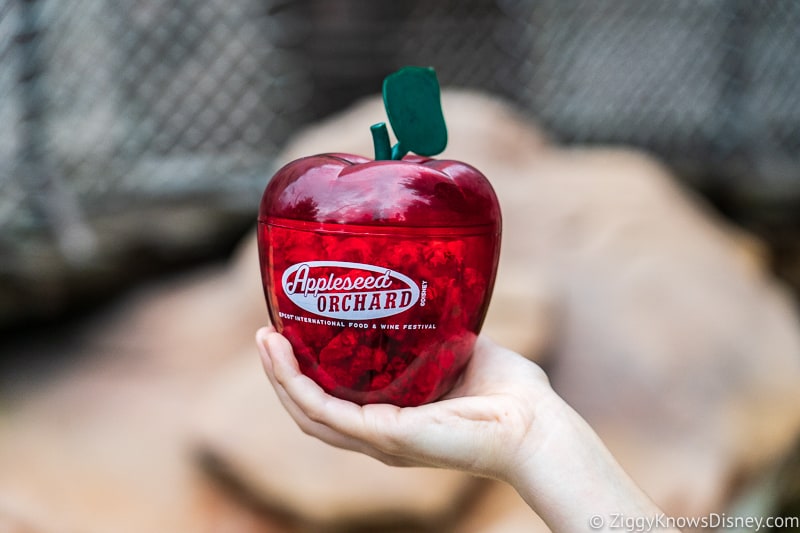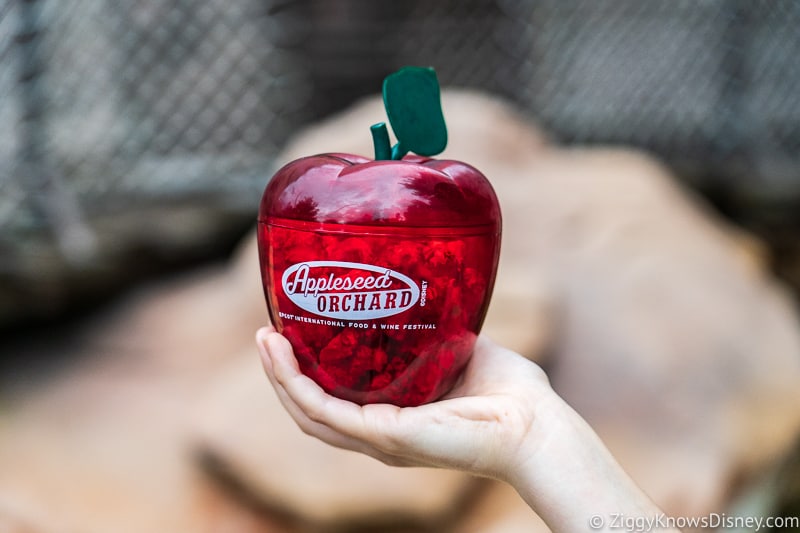 The Caramel-Apple Popcorn gets the nod on our list of the must-try new snacks on two fronts: for its taste, and originality and design.
First it comes in this cool plastic red apple, which opens op from the top and is perfect for Instagram photos around World Showcase. We saw dozens of people posing with it, so it's safe to say the design of the package was a success.
But don't look past the popcorn itself, which has an interesting sweet and tart flavor of apple and caramel. We loved it and it was really addicting.
This probably isn't one that I'd get multiple times due to its $10 price tag (obviously raised a bit because of the shiny apple case), but it's definitely worth getting at least once!
6.) Costine di Maiale, Oven Baked Ribs – Italy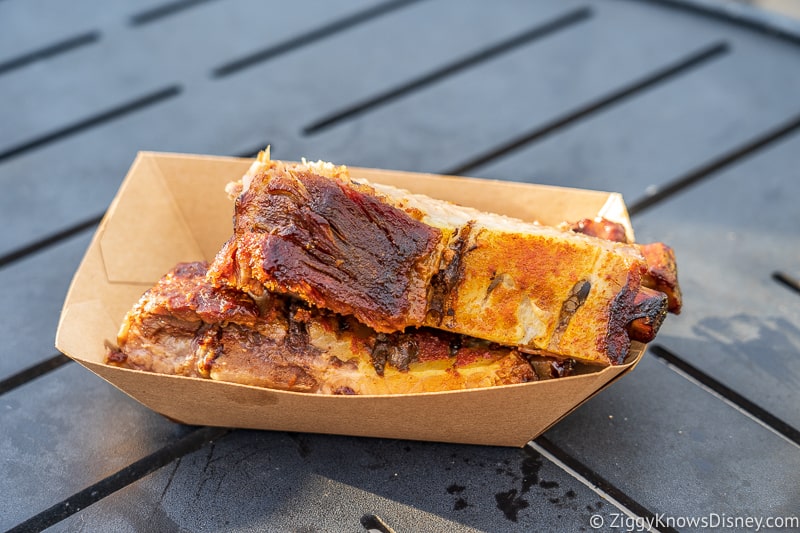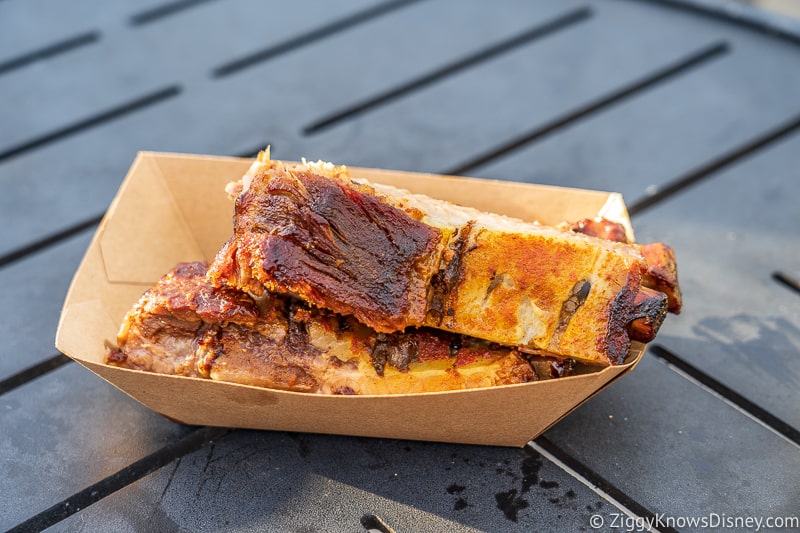 I'm super critical of the Italy pavilion, and Italian food in general since we live most of the year in Italy. Top it off with the fact that I'm also a huge fan of Ribs in general, so I went into this not really knowing what to expect from these.
My worries were eased the second I put one of these huge "Flintstone-like" ribs into my mouth and felt the meat just fall off the bone. The portion of these is huge, 3 giant ribs, which is one more than in China, and they are bigger at the same time.
The meat is exceptional, and as I mentioned, the pork ribs are so moist and juicy, and packed with flavor. There are some other good options at the Italy marketplace this year, but if you have to get one, make it these ribs!
7.) Mala Chicken and Shrimp Bao Bun – China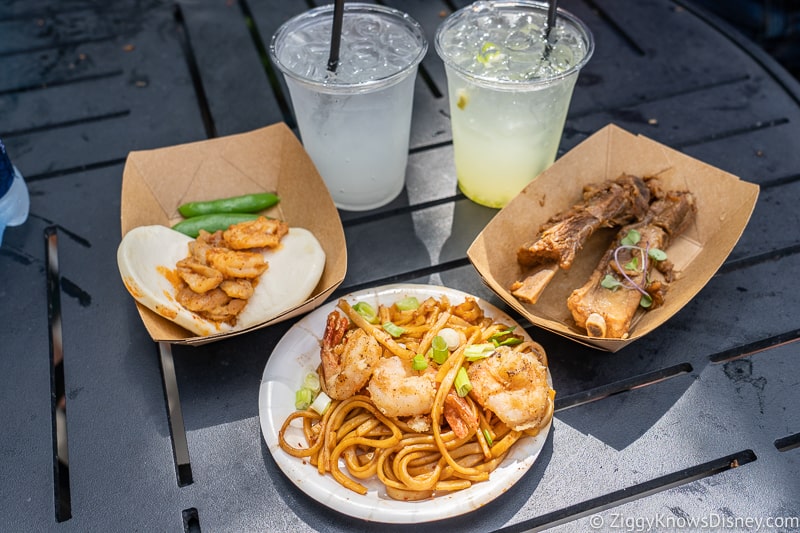 I forgot to get a single shot of the Mala Chicken and Shrimp Bao Bun from China, but I did get this group shot with other food from that marketplace. The bun is the one on the left.
This replaces our Beijing Roasted Duck Bao Bun which had been a Food and Wine staple for years and one of our favorite snacks at the festival. While we don't put it up there quite to the same level, this is still really good.
The Bao Bun is the same as before, and has a dreamy, pillow-like feel to it which just hugs around the chicken and shrimp inside, and melts in your mouth. The chicken and shrimp inside the bun is flavored very well, and both are juicy and not dried out. They also give you a good amount of each.
Overall the new Bao Bun is for sure one of the best new snacks at Food and Wine, and one we're excited to get again.
8.) Piri Piri Skewered Shrimp – Africa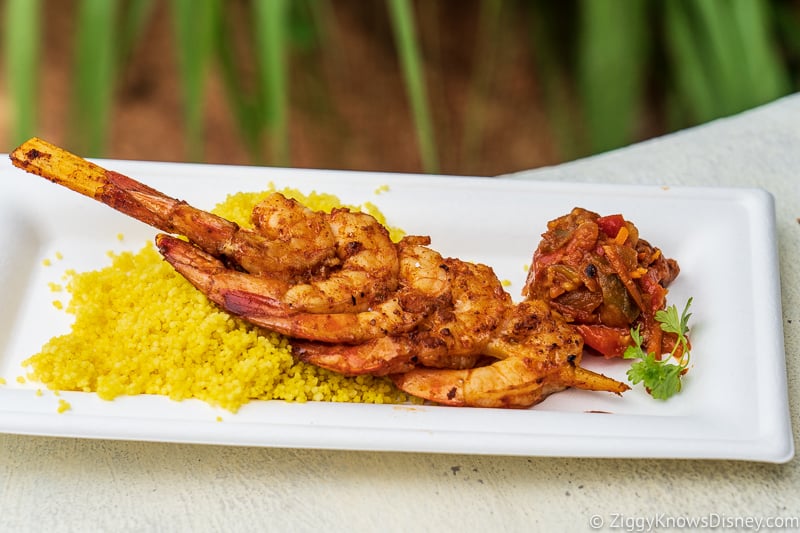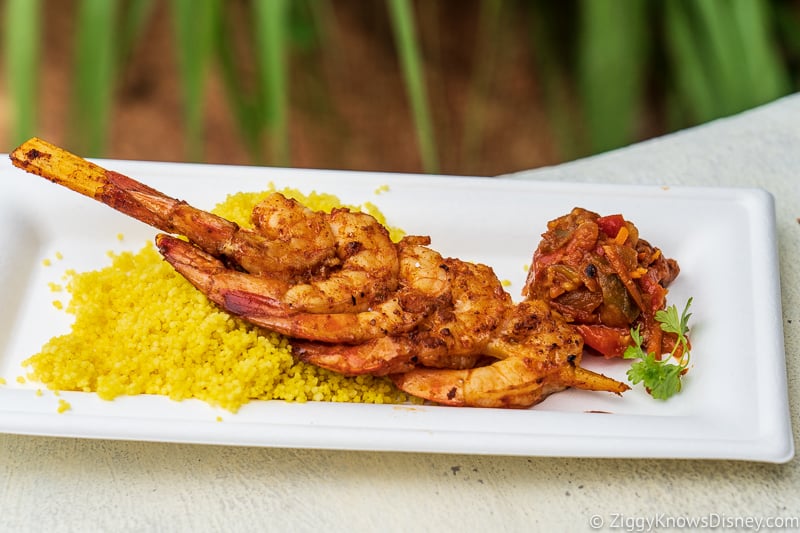 We're back to Africa a second time on our list of the best new snacks at Epcot Food and Wine this year for the Piri Piri Shrimp. There are a bunch of shrimp dishes at the festival this year, but just on the quality and quantity of shrimp that you get here, this may be number 1.
You get 5 good-sized shrimp for $6.75 (which is a better deal than most of the others) and they are well-seasoned, and a little spicy too. I wouldn't cal them too spicy, but they for sure have a kick to them. They are full of flavor and I'd come back again and again for them.
We didn't love the couscous, as I thought it was a little plain for my tastes, but that doesn't stop this dish from being one of the Can't-Miss New items at Food and Wine this year!
9.) Nigerian Meat Pie – Refreshment Outpost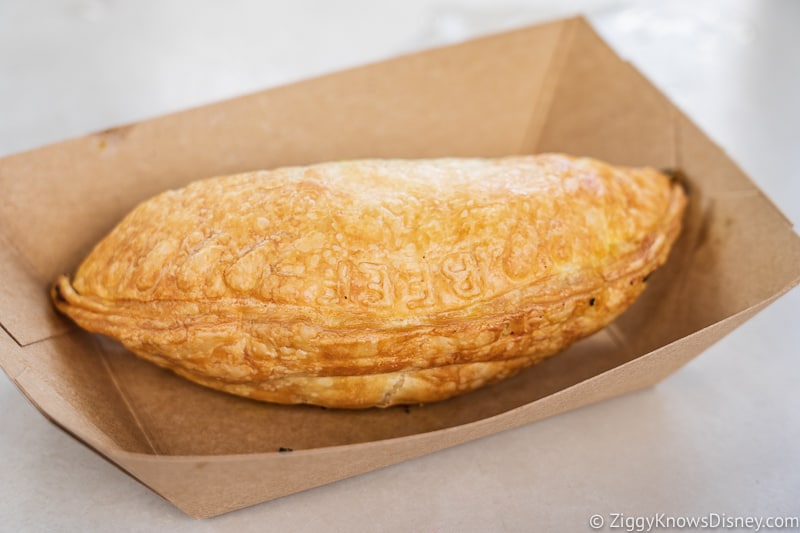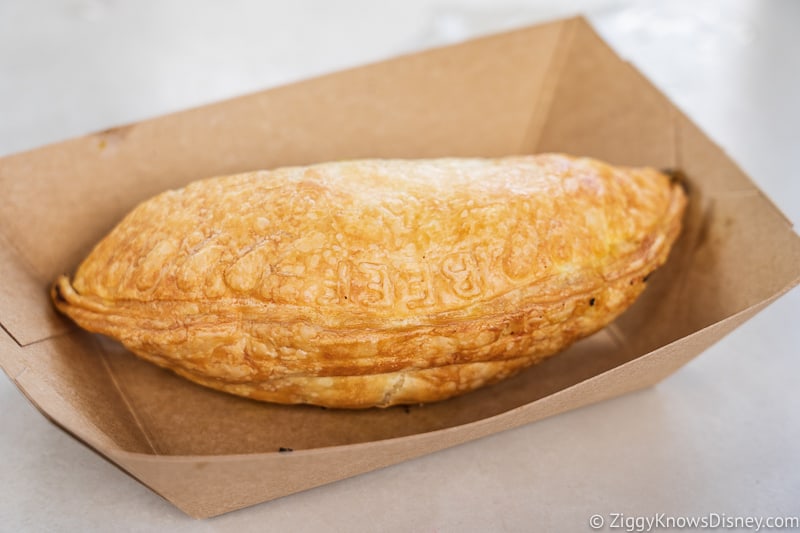 Many people just walk past the Refreshment Outpost without even giving it a second thought, but that would be a mistake this year as the Nigerian Meat Pie is one of the yummiest new dishes this year at Food and Wine.
Think of it as a mix between the empanada from Islands of the Caribbean and the escargot in France. The meat filling inside is similar to the empanada, except it's a little sweeter. The nice thing though is that the meat pie is actually FILLED with the meat without a square inch of space missing.
The shell on the outside is similar to the croissant the escargot is in at the France marketplace, buttery, flakey and delicious. We didn't put in on the list but while you're here grab a Savanna Sunrise to wash everything down as it was our favorite drink at the festival.
10.) Cheesecake Trio Bites – Shimmering Sips Mimosa Bar
You already know that Shimmering Sips Mimosa Bar is a must-stop for a refreshing drink on your way around World Showcase, but it also is home to one of our favorite desserts too: the Cheesecake Trio Bites.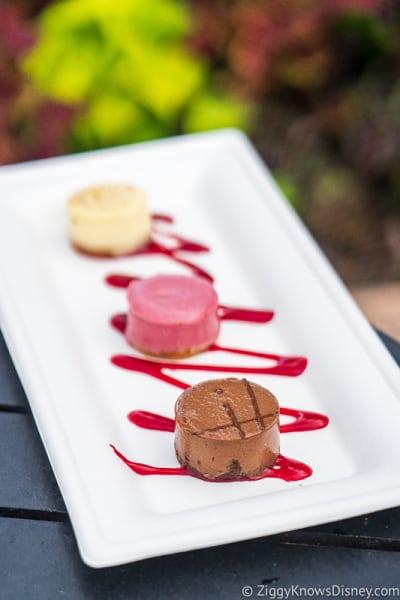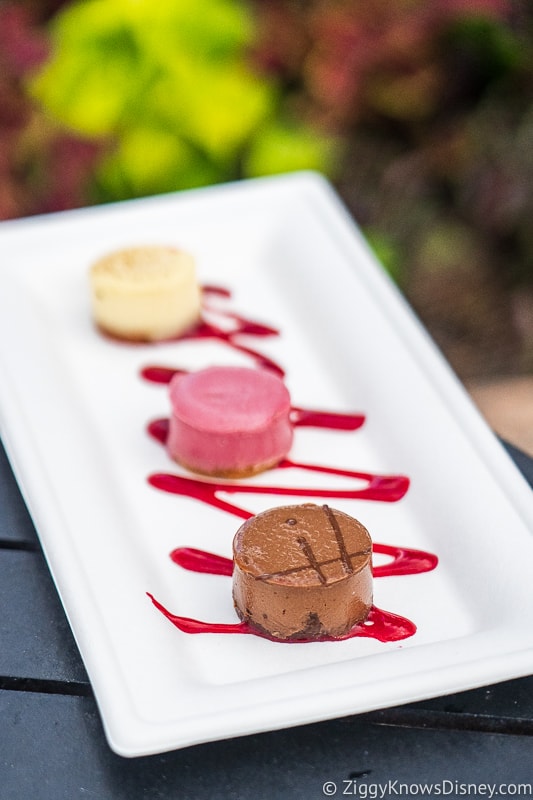 You get three mini cheesecakes, each one a different flavor: Raspberry, Chocolate and NY-Style.
They are all super creamy and smooth and have a unique, yet subtle flavor to them. We love the raspberry drizzle that is also on the plate which is perfect for dipping them into.
This is the perfect accompaniment for a mimosa and a light snack to walk around with, and one of the best new desserts!
11.) Chocolate Bread Pudding – Mexico
We're back in Mexico for our last best new snack, and we're getting the Chocolate Bread Pudding.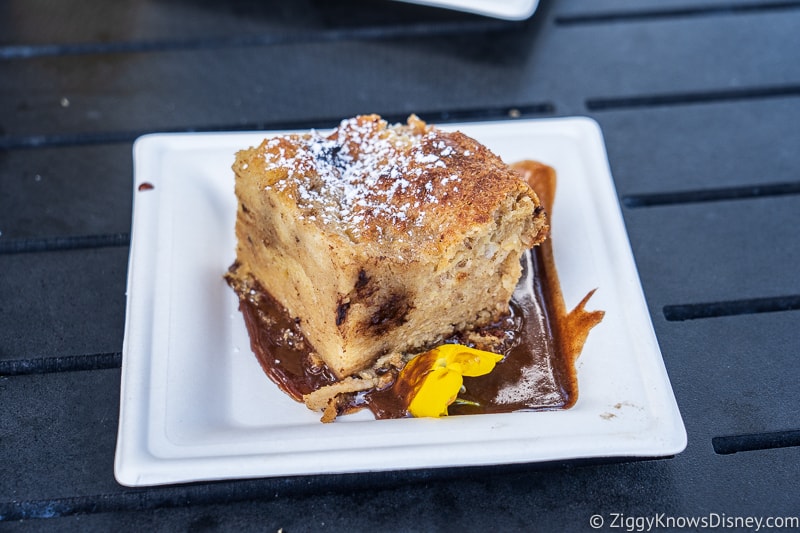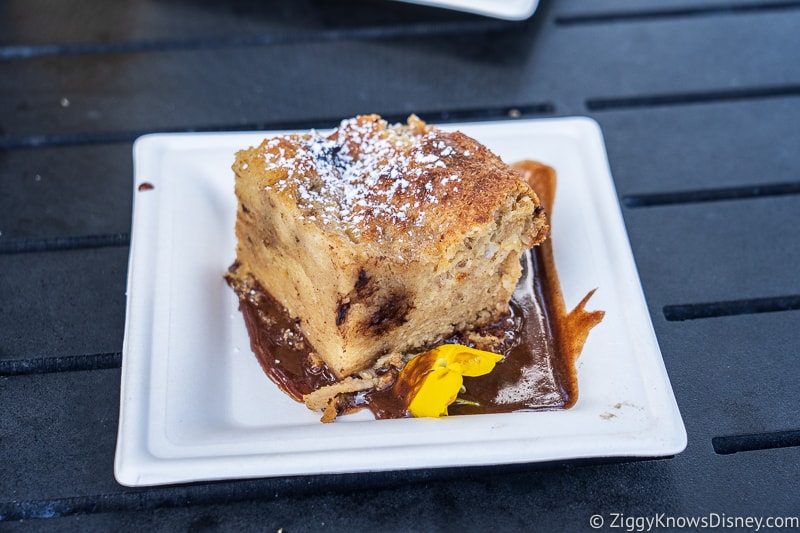 First of all it's $4.75 and a great value for the money because this thing is HUGE! No really, bring a friend to help you, because you'll need it!
We aren't big bread pudding people, but were pleasantly surprised by this. It was a sweet bread, with a a dense consistency, but at the same time very moist. The chocolate flavor was very pronounced and rich. It tasted to me more like dark chocolate and it wasn't overly sweet.
It's not what you want at noon when it's 90+ degrees outside, but it makes for a nice dessert at the end of the nice or with a group.
That wraps up my list of 11 MUST-TRY NEW Items at the 2019 Epcot Food and Wine Festival. I want you to be able to have the best info on the Festival so you have a great time and don't waste your time! Take a look at all of my 2019 Epcot Food and Wine articles including:
MUST-TRY NEW Items at 2020 Food and Wine Festival (Coming Soon)
Top Food and Wine Booths (Coming Soon)
Your Thoughts:
I want to know what you think about my 11 Must-Try Items from the 2019 Epcot Food and Wine Festival…
Which is your favorite item?
Which do you still want to try?
Let us know in the comments section below!
If you enjoyed this article, as always I appreciate it if you'd share it with others via social media. I work hard at making this website into a useful resource for you and your family to plan your visit to the Disney Parks and I hope it can help you! Thanks 🙂