(UPDATED 5/6/19): This is a Pathway Expansion behind Cinderella Castle Construction Update for May 2019 in Disney's Magic Kingdom. Recently we shared with you Disney's plans to make the walkway going from Fantasyland, behind Cinderella Castle and down to The Hub wider. A boring, but important project for guest flow.
Today we're looking at how the moats surrounding Cinderella Castle have been drained too be cleaned and also in preparation of this expansion, and foundations are being installed and concrete poured for the new walkways. We're also going to show you the difference in how it looked before and now.
Big thanks as usual to @Bioreconstruct who is the best at taking construction photos from around the parks, especially the aerial ones! You can get an inside look at all the projects going on in Disney World. Let's take a look…
We're continuing to update this post so scroll down for the latest photos…
(Original Post 3/21/19):
So just to give you an idea of how the moat around Cinderella Castle usually is, here's a shot of what it normally looks like: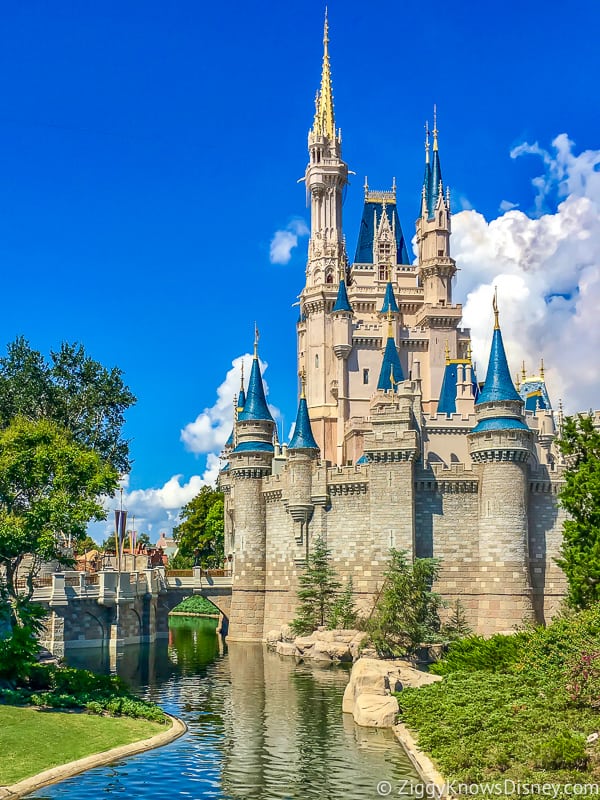 And now here's the castle: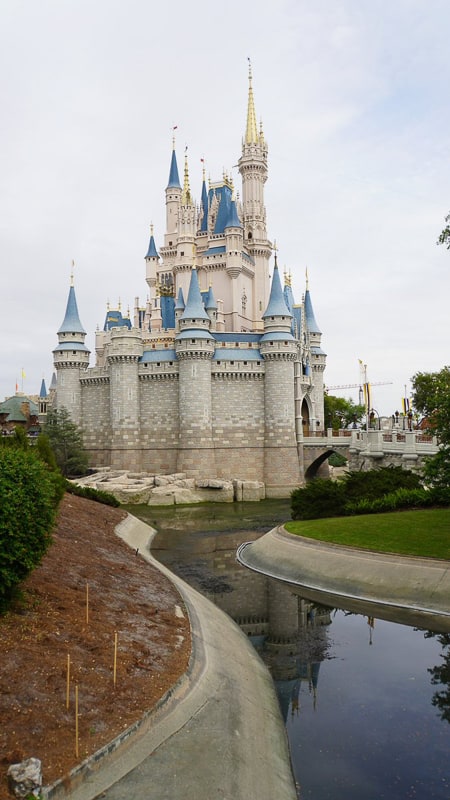 Here's another angle of the moat from the front how it's usually filled with water in front of Cinderella Castle: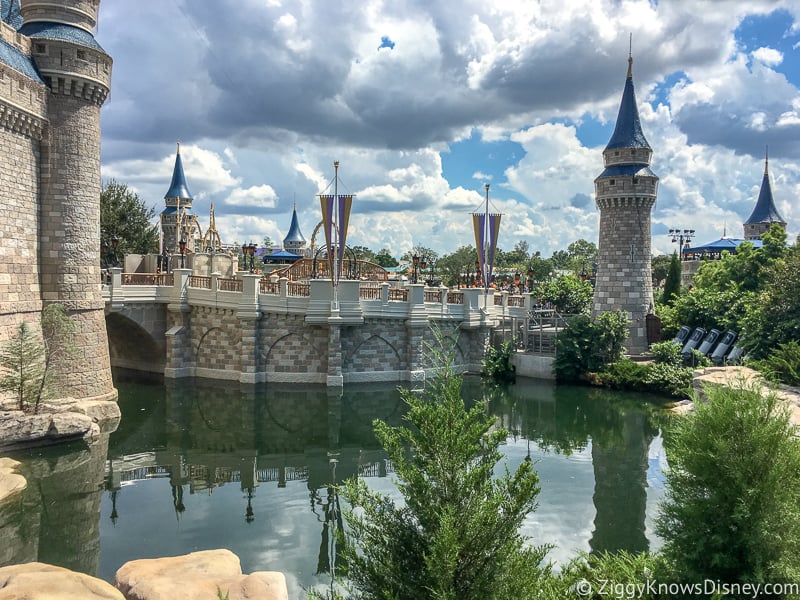 And now it's bone-dry…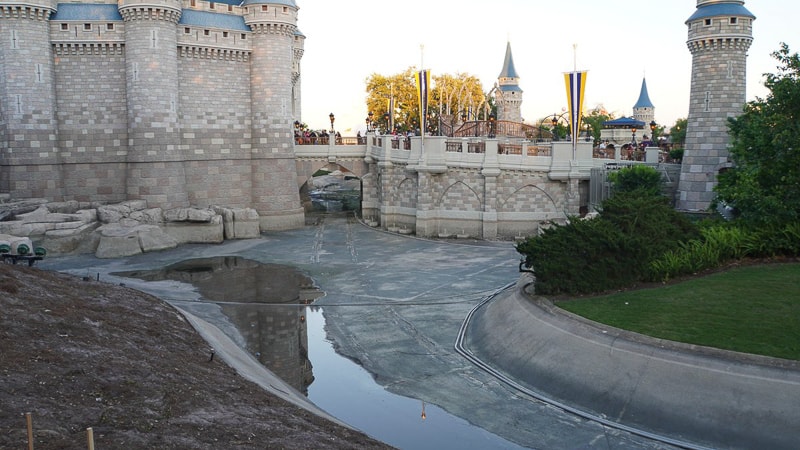 One reason for draining the moat is for the construction to be done on the walkway leading from Fantasyland, but another is just a regular cleaning of the moat which must be done periodically.
Just look at how dirty it gets with all that algae and crud that seeps to the bottom. And don't get me started on the smell either…😱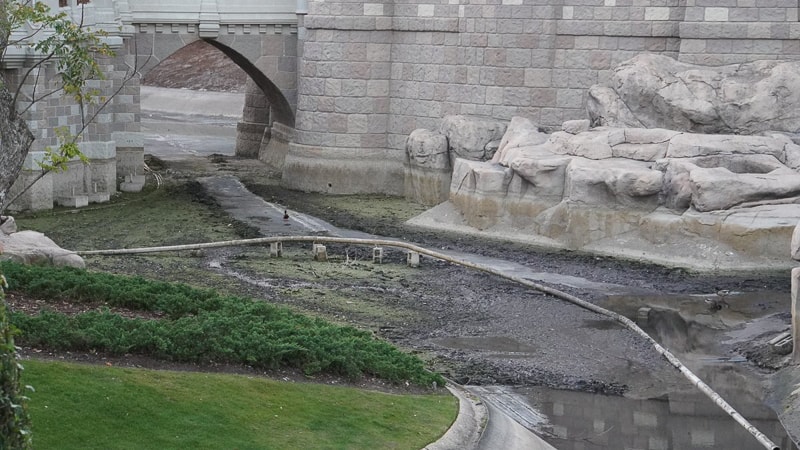 Disney is using a drainage system quite similar to the one they used to drain the water around Tom Sawyer's Island a few months ago when they replaced the tracks at the bottom for the Liberty Square Riverboat refurbishment. You can see here how the water is being backed up in order to drain the moat: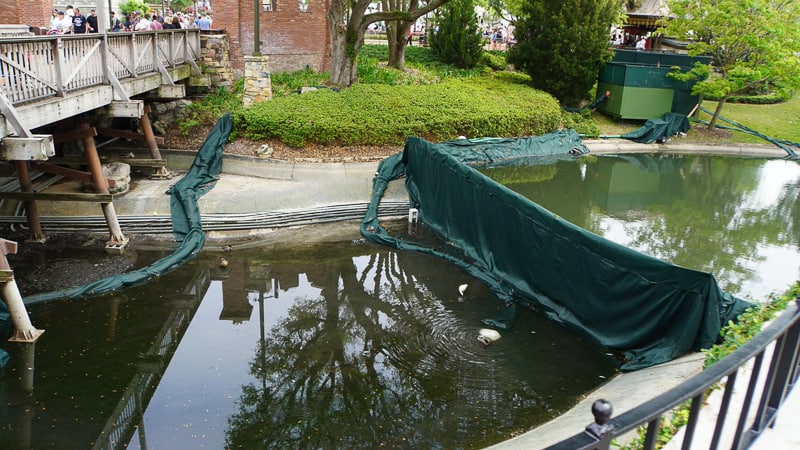 This was a few days ago before it became completely dry, but again you can see how dirty it gets and why it must be drained from time to time: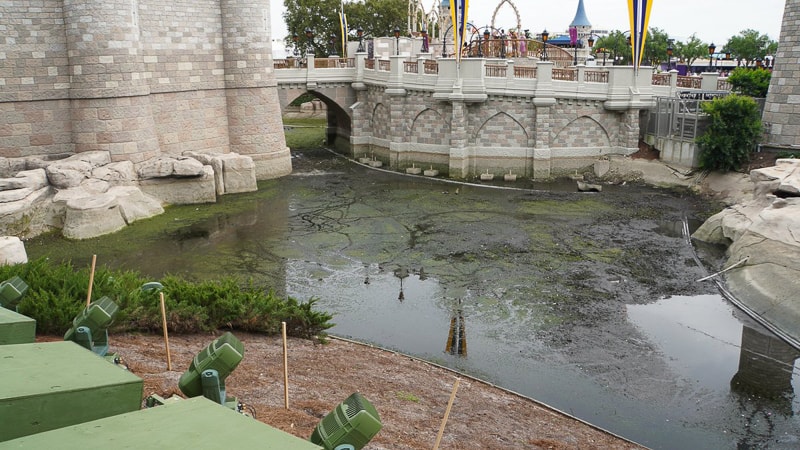 It already looks a ton better as most of the hard work is done to the moat: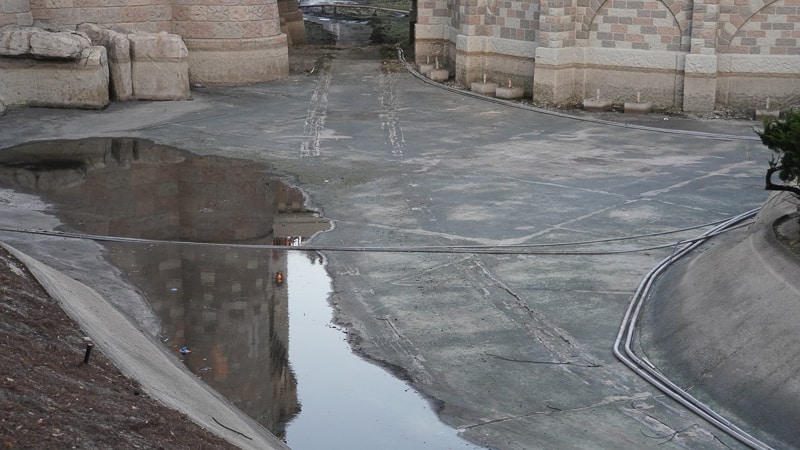 No getting back to the construction of the walkway going to Fantasyland behind Cinderella Castle. Here we can see stakes have already been placed in the ground on the walkway alongside the moat: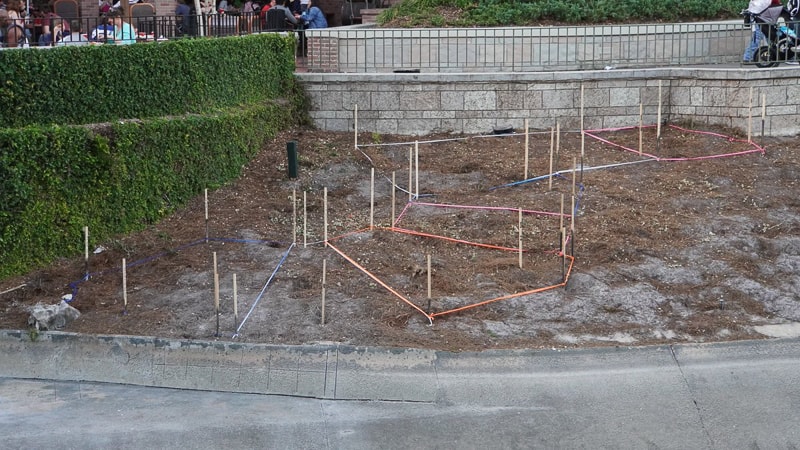 From this angle we can see just how much more the sidewalk is going to be extended once construction begins. It looks like a good couple feet from here. That may not sound like a lot, but it will definitely give more elbow space along the narrow sidewalk: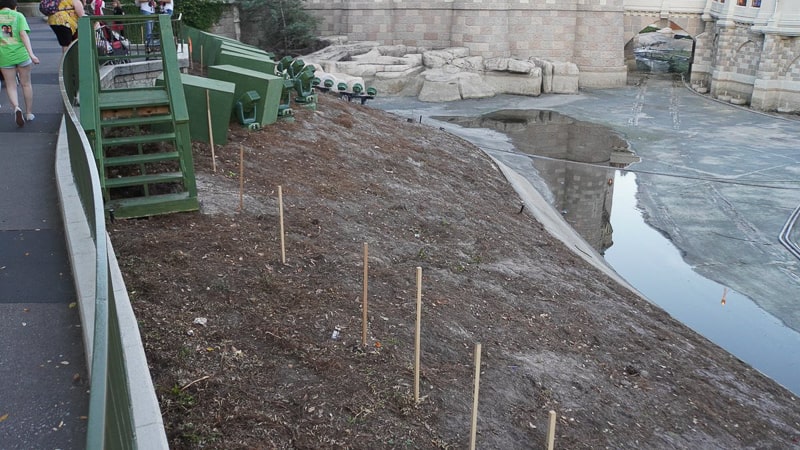 Here is an aerial shot from Google Maps which shows where the pathway will go from Liberty Square to Fantasyland: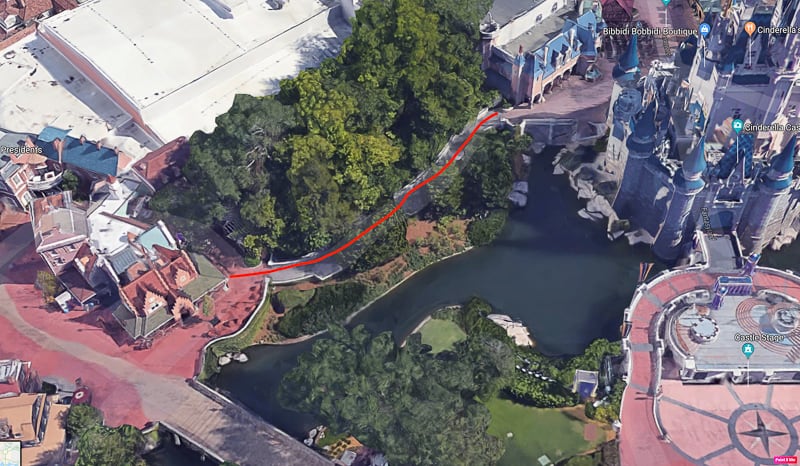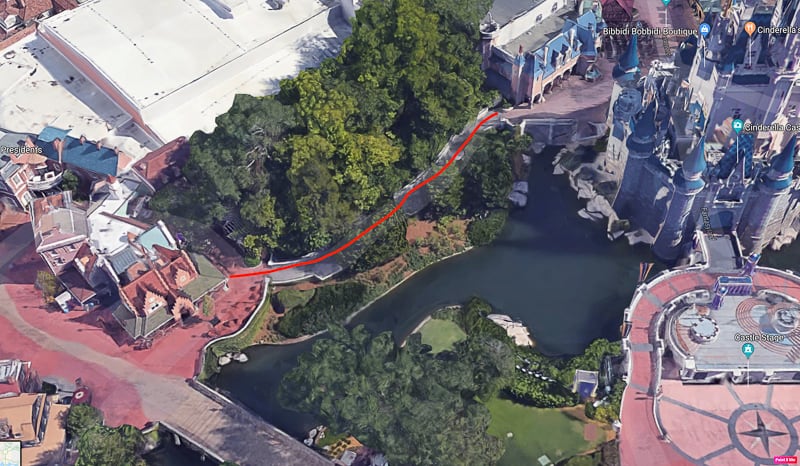 Once this walkway is finished it will be a major upgrade for guest flow through that area of the Magic Kingdom which gets blocked up often.
(PHOTOS 4/21/19):
Since out last look at the pathway behind Cinderella Castle about a month ago, we've gone from stakes in the ground to foundations being installed in preparation for the widening. Let's look at the latest photos:
Here we can see the moat around Cinderella is still drained, though it's a lot cleaner than last time: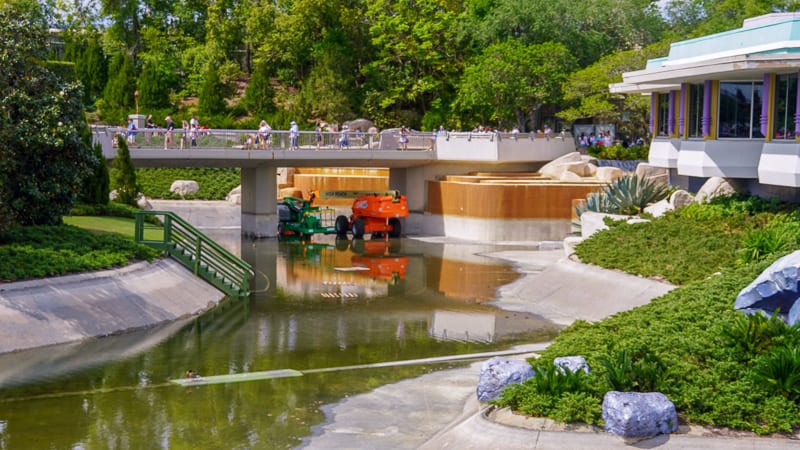 These Cherry Pickers are hidden away from the view of most guests under the bridge going to Tomorrowland. They are used in overnight maintenance for various projects in the area.
Now let's get over to the other side and see the foundations for the new pathway being installed: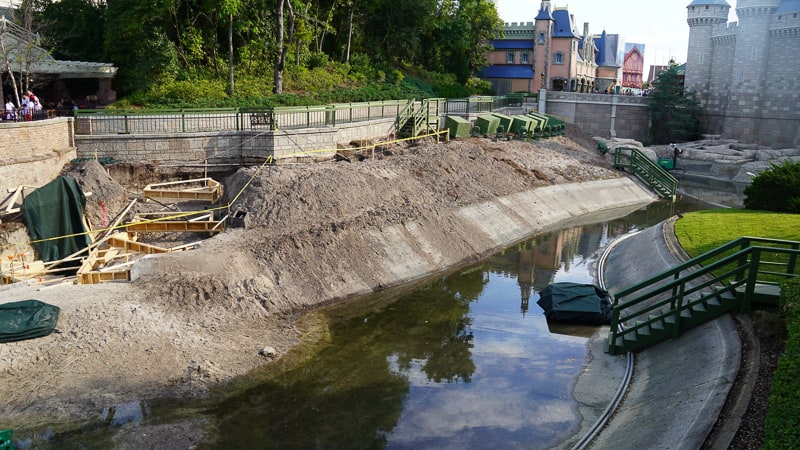 Before this area was mulch and bushes but all that has been cleared out and the construction lines marked with stakes: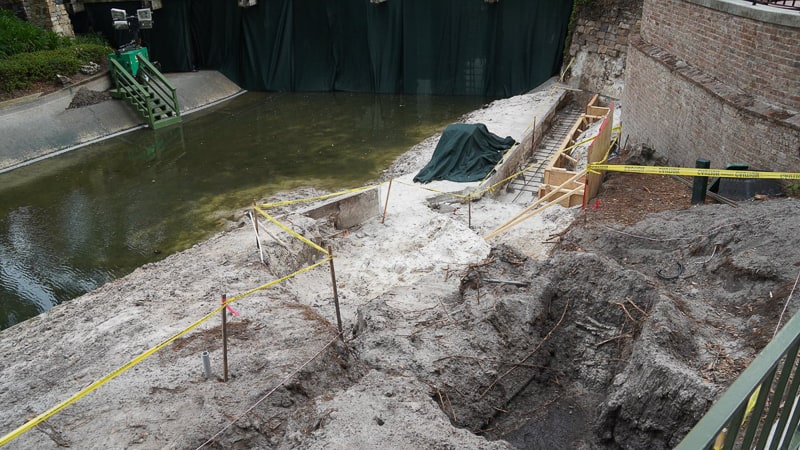 You can see the wood forms which will be used in pouring the concrete are going up:
This photo is even newer and they are even farther ahead in the forms installation. It looks like steps are being built down to the level of the moat, most likely for easy access to maintenance: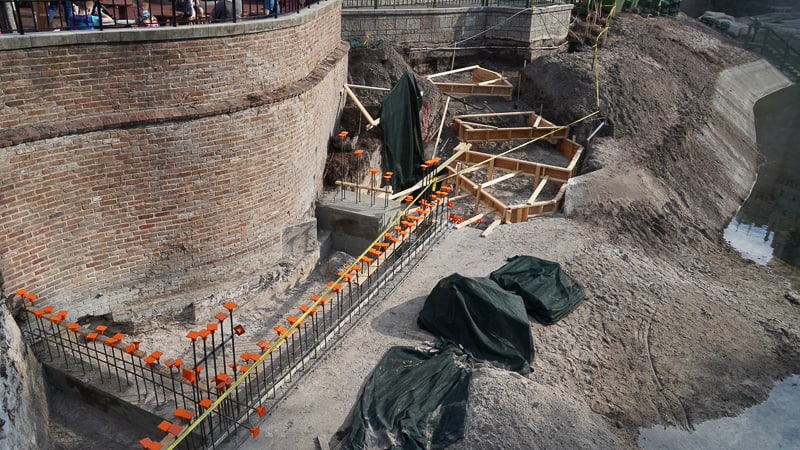 (PHOTOS 4/29/19):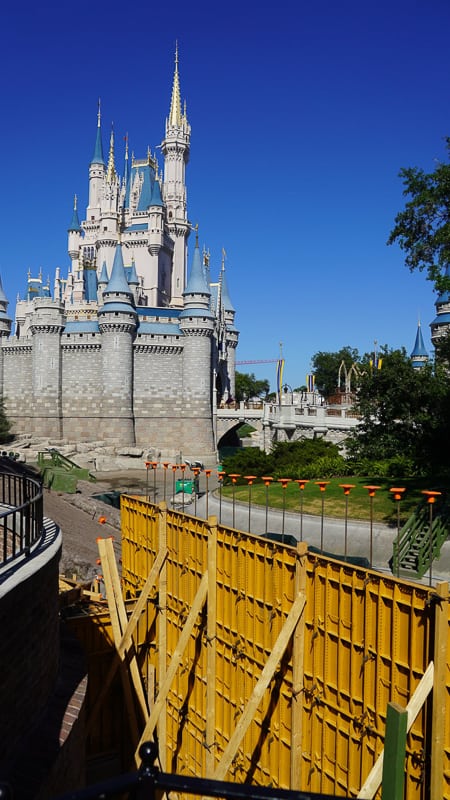 Work is carrying on quite fast for the new walkway and while the small beginnings of the new wall were seen last week, it's much clearer now where the wall is going to go out to: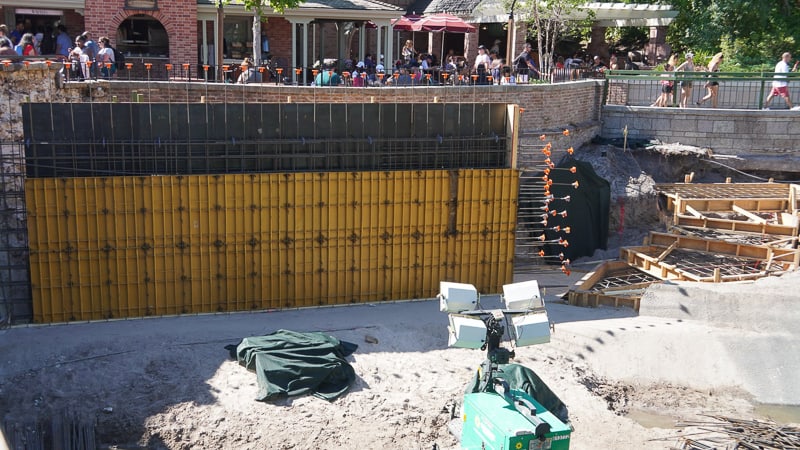 It almost looks like they are building an area which will be enclosed by this new wall. It also looks like steps are going down to it in the above picture.
Here is a better look at the outside wall. Rebar has been placed and concrete will be poured in between: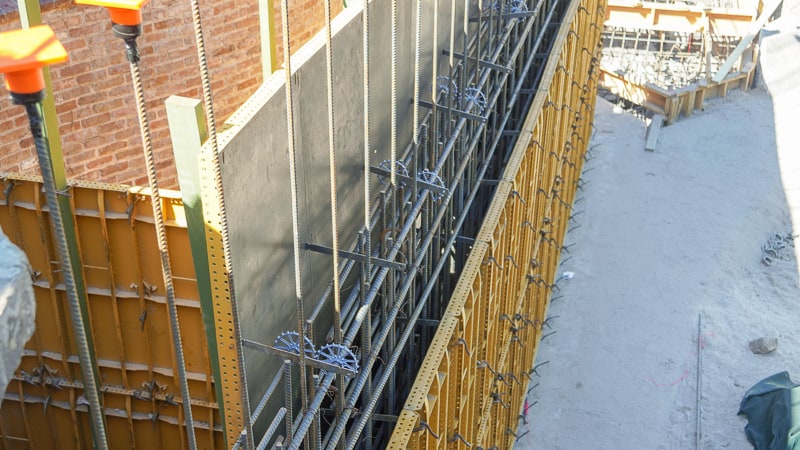 Here is a better look at the steps: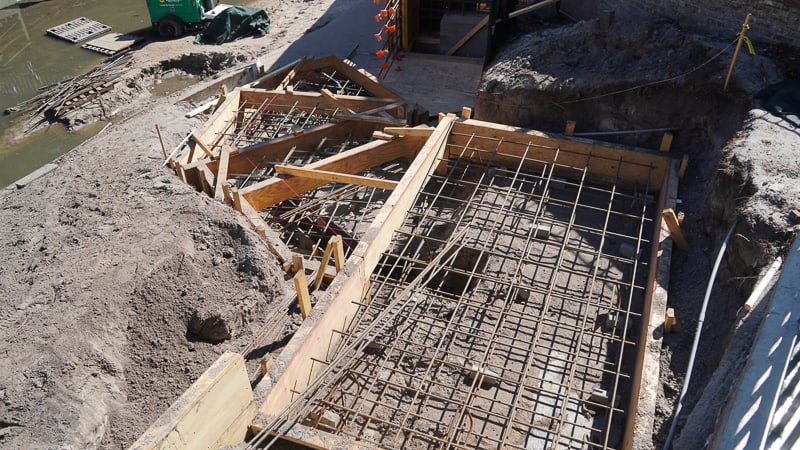 Up a little bit going towards Fantasyland you can see where the concrete forms have been placed which will widen the walkway. From this view it looks like it will be a good 5-6 feet wider than before, which is more than I was anticipating: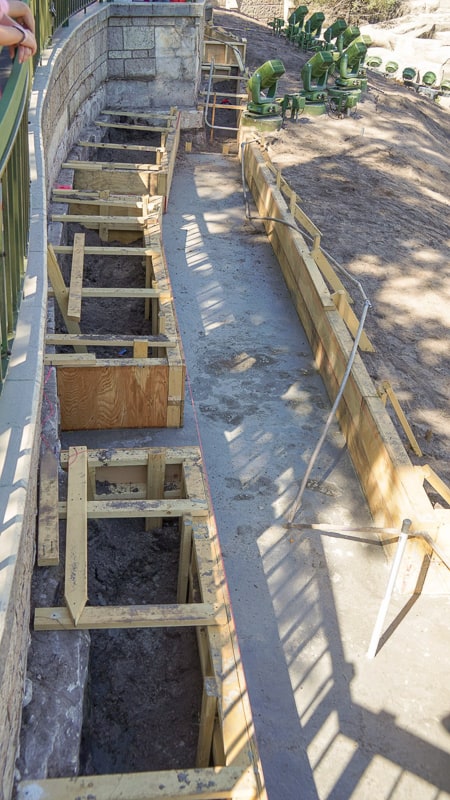 It should be fantastic for guest flow once complete!
(NEW PHOTOS 5/6/19):
It's amazing how quickly things change in a matter of a week, but already we're seeing steps being poured and the retention wall going up as part of this project. Let's check it out…
Last week we saw the forms for the retention wall go up, but now we can see that it's been poured too: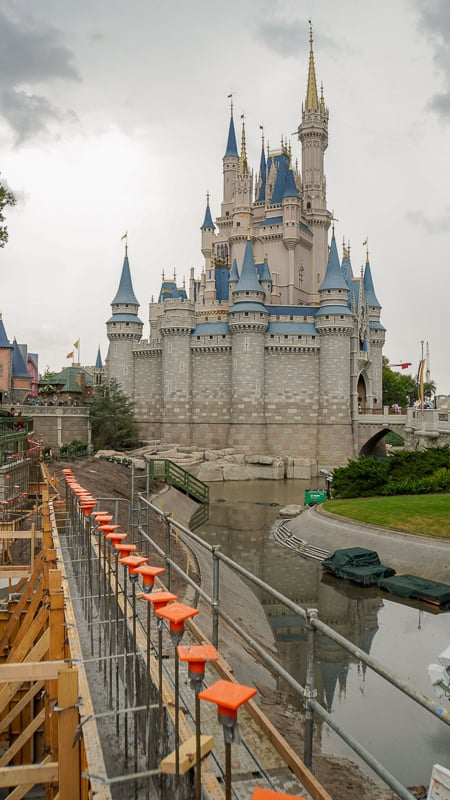 You can see the cement in between the wooden forms, and it looks pretty fresh too!
Just down a bit and from the opposite angle we can see the concrete steps where the forms were last week have now been poured and the steps are in place: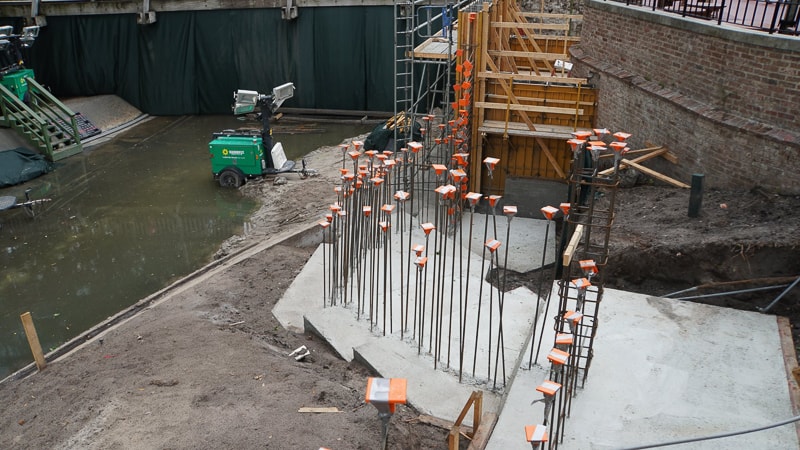 I'm not sure just exactly why they needed the stairs but they will most likely be used for maintenance, giving easier access to the moat: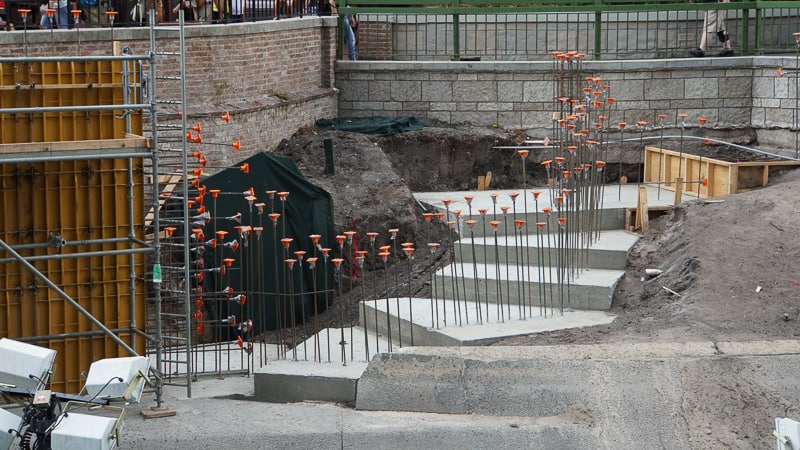 Down even further we see more forms which outline the future width of the pathway: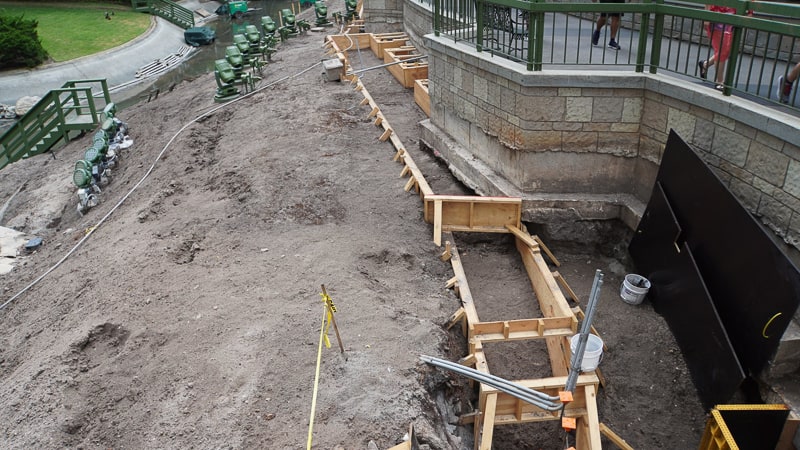 It looks like a solid 4-5 feet are being added which is great news! Keep checking back for more updates as the month goes on…
No word yet on when the walkway is going to be closed, but seeing as they already are getting the foundations in place, we don't anticipate for a super long time. We'll keep you posted as soon as we know more.
Be sure to check out our Construction Updates page for Disney World for more updates on all the projects going on around property as we continue to bring you the latest!
Other Disney World Construction Updates:
Your Thoughts:
I want to know what you think about the walkway behind Cinderella Castle construction…
Do you think this is a good investment?
What other places in the Magic Kingdom need better guest flow?
Let us know in the comments section below!
If you enjoyed this article, as always I appreciate it if you'd share it with others via social media. I work hard at making this website into a useful resource for you and your family to plan your visit to the Disney Parks and I hope it can help you! Thanks 🙂