Being located in Central Florida, Walt Disney World is going to get hit by hurricanes or strong storms from time to time. In recent years, Hurricanes Matthew, Irma, Dorian and Ian have all had an impact on the parks, causing closures and delays.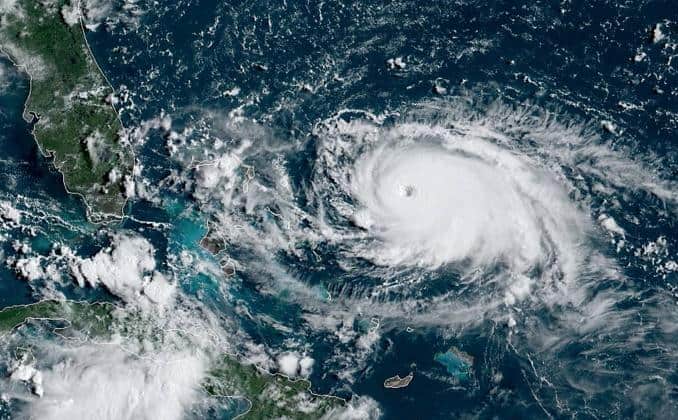 (Update 11/9/22): Florida is bracing for another big storm as Tropical Storm Nicole is expected to become a hurricane later today and is making its way through the Southwest Atlantic toward the East Coast. A Tropical Storm Warning has been issued for the Walt Disney World area.
Read more in the Latest Storm Updates section of this post and in our Hurricane Nicole post.
It was not too long ago that Disney World closed for 2 days due to Hurricane Ian starting September 28, 2022. If you are interested in learning more about what happened during that storm, read the articles in the following links:
So what do you do when an intense storm or hurricane is heading for the most magical place on Earth?
In this article, we'll explain what impact hurricanes and tropical storms, in general, have on Walt Disney World. We'll share with you how often they occur, Disney World hurricane history, and what the current forecast is for 2022.
We'll also share with you how Disney prepares for hurricanes, what happens when there are storms, and what to do if you find yourself in Disney World when it happens.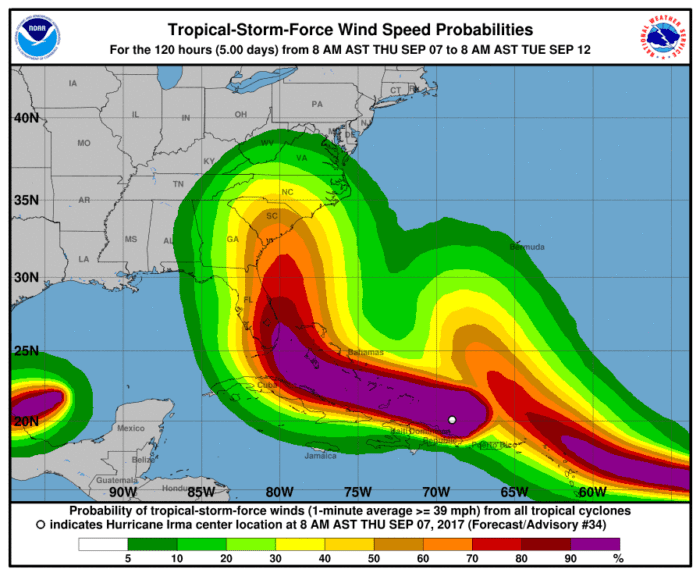 Unfortunately living or vacationing in Florida during hurricane season can be difficult and unpredictable. Anytime during hurricane season (which is half of the year), there can be big storms or even hurricanes, and you need to be prepared in case one does come.
We've been able to see hurricanes first-hand in Walt Disney World, and it definitely is a unique situation, even if you do get stuck in Disney World during a bad storm, it doesn't mean that your vacation will be ruined.
We have plenty of ways to make the best of your time during storms and you will probably have a lot of fun and get to do some experiences that you normally wouldn't be able to do.
Of course, many people don't want to be in Disney World during a hurricane, so you need to know how to cancel your trip and get a refund in that case.
I also want to say that storms are serious business, and families should take the situation under the utmost care. Even though I give some suggestions on what to do during a storm, you need to do what you feel is best for your family, which could mean leaving the Orlando area too. Everyone is responsible for his/her actions and the decisions they make regarding storms.
Before we get started, make sure to sign up for our FREE Weekly E-Mail Newsletter for the latest updates on any hurricanes or tropical storms heading for Walt Disney World. You can sign up here: Join our E-Mail Newsletter!
(UPDATE) Tropical Storm Warning Issued for Walt Disney World
The National Weather Service has now issued a Tropical Storm Warning for the Walt Disney World area ahead of Tropical Storm Nicole's arrival in the next couple of days.
Current models show peak winds of 40-50mph are expected with rainfall between 3-6 inches.
Walt Disney World has not made any official comments at this time but they have suspended new Park Pass Reservations from being made on Thursday, November 10, and Friday, November 11, 2022. This applies to all guest categories including Annual Passholders, Resort Guests, and Regular Ticket Holders.
So far no park closures have been announced but we'll keep you updated as the storm gets closer.
Latest Storm Updates
(Update 11/9/22) – Florida is still just recovering from the devastating Hurricane Ian that hit the state hard at the end of September, and already residents and travelers have to start preparing for another potential storm in the coming days, Tropical Storm Nicole.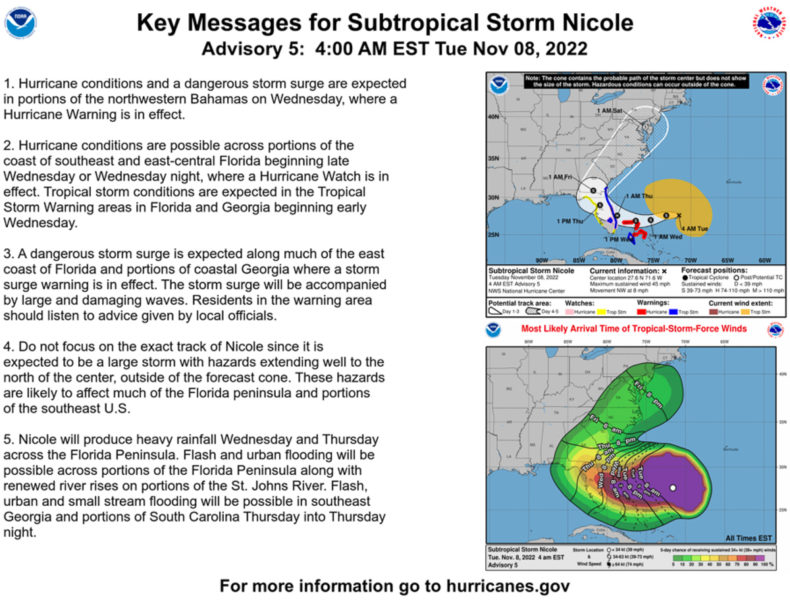 As we get more info on this storm we will update our Tropical Storm Nicole post with the impact it may have on the theme parks and your vacation so stay tuned.
In this article, we wanted to keep it about hurricanes at Disney World in general, how Disney prepares for them, what to expect if you are there during one, and the rest of the hurricane outlook for the 2022 season.
You can also check the National Hurricane Center for the latest updates on any tropical storms or hurricanes that form in the Atlantic or Caribbean over the next few weeks and months.
If you want to see what happened during the last storm and how it affected Walt Disney World, read the article in this link: Hurricane Ian at Walt Disney World.
When is Hurricane Season in Orlando?
Typically, hurricane season in Florida runs from June 1st through November 30th. The worst months when you are most likely to run into a hurricane in Disney World are either August or September.
If you are planning a trip for those months, you need to be ok with the fact that you are more likely to run into storms or even a hurricane. That's why it's important to have a plan first.
Atlantic Hurricane Season Forecast in 2022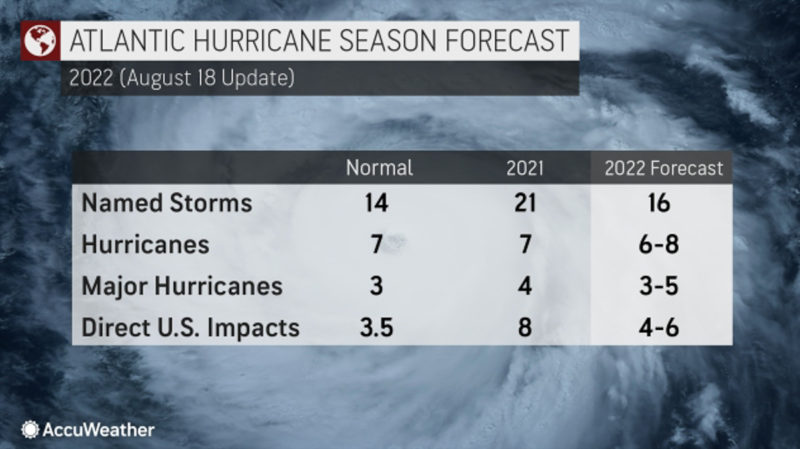 Each year, AccuWeather's Senior Meteorologist Dan Kottlowski and his team put together estimates of the number of Atlantic tropical storms and hurricanes that are expected to happen, and 2022 could be a record year.
In a normal year, on average there are 12 tropical storms, 6 hurricanes, and 3 major hurricanes that form in the Atlantic.
Earlier this year, Kottlowski and his team released their prediction for the 2022 Atlantic hurricane season. He says it will be "another above-average tropical season in the Atlantic Ocean" and we can expect 16 to 20 tropical storms, 6 to 8 of them hurricanes, and 3 to 5 major hurricanes.
Last year in 2021 Kottlowski was predicting 16-20 tropical storms in, with 7-10 predicted to become hurricanes, and 3-5 turning into major hurricanes.
In 2020, Kottlowski predicted "an above-average hurricane season." Kottlowski was predicting up to 14-18 tropical storms in 2020, with 7-9 predicted to become hurricanes, and 2-4 turning into major hurricanes. In the end, it was a record year with 30 named storms, 14 hurricanes, and 7 major hurricanes.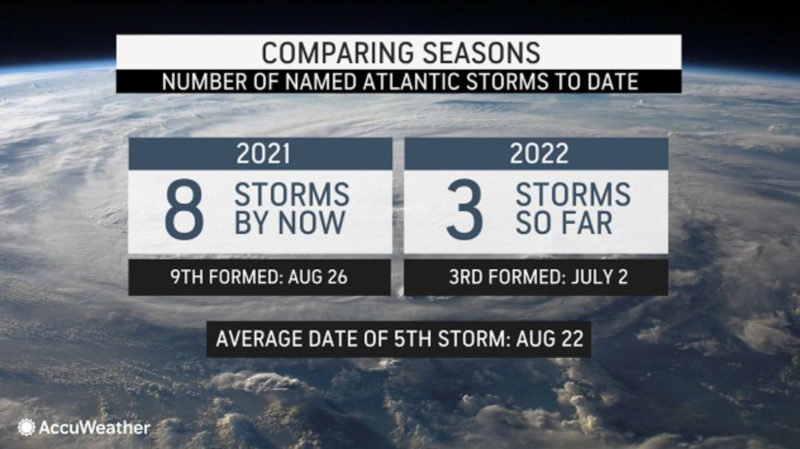 Between four and six storms are expected to make landfall within the continental U.S., Puerto Rico, and U.S. Virgin Islands which Kottlowski says "can translate into high impacts on the United States."
So far, the 2022 Atlantic Hurricane season is off to a slower start than experts were expecting. Up until recently, there wasn't a single tropical depression or storm of any kind in the Atlantic since July 2. As of September 8, there have only been 7 total storms: 4 Tropical Storms (Alex, Bonnie, Colin, and Gaston) and 3 Hurricanes (Danielle, Earl, and Fiona).
The National Oceanic and Atmospheric Administration (NOAA) has also updated their prediction for the 2022 Atlantic Hurricane season, and they are still expecting an above-average season.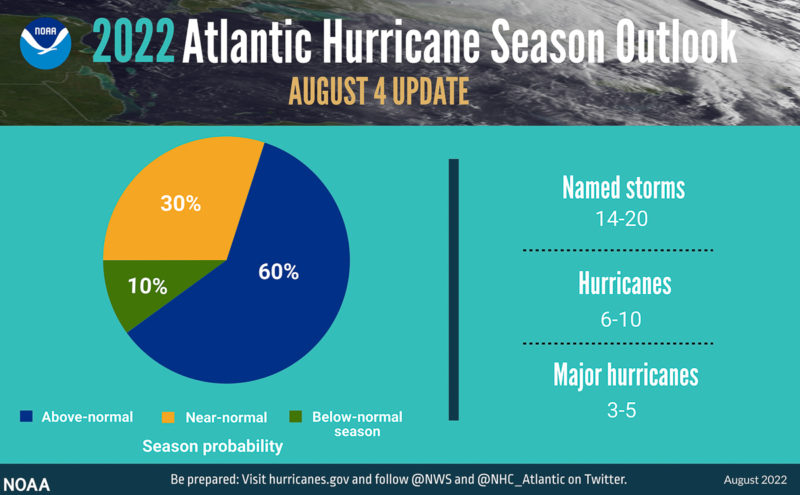 The NOAA is predicting another above-normal Atlantic hurricane season with a 60% chance of an above-average season, a 30% chance of a near-normal season, and a 10% chance of a below-normal season.
Forecasters are predicting 14-20 named storms this year, 6-10 hurricanes with 3-5 of those being major hurricanes.
"Although it has been a relatively slow start to hurricane season, with no major storms developing in the Atlantic, this is not unusual and we therefore cannot afford to let our guard down," said FEMA Administrator Deanne Criswell. "This is especially important as we enter peak hurricane season—the next Ida or Sandy could still be lying in wait."

FEMA Administrator, Deanne Criswell
It's important to note that most of these will not reach Florida or Walt Disney World. Some will hit the Caribbean, others Texas and some stay out at sea and never make landfall. It's impossible for experts to know where the storms will hit, they are only predictions of how many will form.
We'll keep you updated as more storms form throughout the 2022 season and the Nation Hurricane Center issues more advisories.
Disney's Official Hurricane Policy
Since traveling to Disney World during hurricane season might mean running into a storm, it's important to know what your options are. What is Disney's stance on hurricanes?
Disney's Official Hurricane Policy on their website reads:
"If a hurricane warning is issued by the National Hurricane Center for the Orlando area—or for your place of residence—within 7 days of your scheduled arrival date, you may call in advance to reschedule or cancel your Walt Disney Travel Company Disney Resort Hotel Package and most room only reservations (booked directly with Disney) without any cancellation or change fees imposed by Disney."
Basically, if the National Hurricane Center issues a warning either for the Orlando area or where you are traveling from, Walt Disney World allows you to get a refund on any vacation package booked through Disney. This includes hotel rooms, theme park tickets, dining reservations and some special events and experiences you have booked.
Even though hurricanes very rarely affect Walt Disney World, it's good to know that if you need to cancel your vacation you have the option. We've experienced this first-hand and can say that Disney is very good at working with guests to either reschedule or get a refund.
Disney World Hurricane History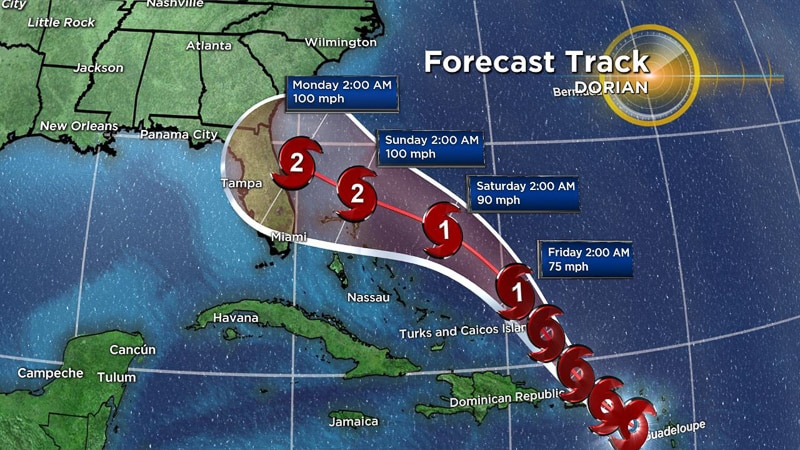 If you are planning on visiting Walt Disney World during hurricane season (especially in September), you have good reason to be at least mildly concerned about the potential for a hurricane or tropical storm.
Even though hurricanes and severe storms don't hit Walt Disney World very often, storms in recent years have hit more often than they use to. The current 2022 Atlantic storm predictions are also concerning and it's definitely become more of a possibility to happen than in the past.
By looking at the recent history of storms in Walt Disney World, we can get a good idea of what to potentially anticipate in any upcoming vacations during that part of the year.
Will Disney World Close?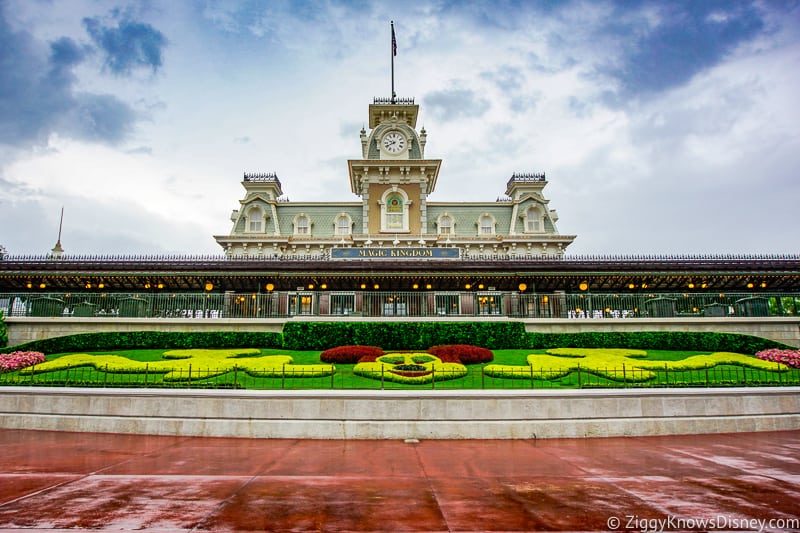 First of all, just because you go to Disney World during hurricane season, doesn't mean the parks will close. Regular storms and rainy days will not close the parks. If there is a bad storm with thunder and lightning, some attractions might get closed, but the parks will stay open until the storm passes.
If there is a hurricane warning in the Orlando area then that is another story. Walt Disney World can close due to hurricanes, and it has actually shut down the parks. The last time the parks were closed for a full day was Hurricane Irma in 2017, which before hitting Florida was a Category 5 Hurricane!
Now it's not an everyday occurrence that Disney World closes its theme parks though, it happens very rarely and the storm has to be a really strong one for them to consider doing it, but it does occasionally happen.
It also depends on what you mean by "Disney World." If you mean the resorts, no they won't close. Even when there have been Category 5 Hurricanes heading that way, the resorts don't close. They just keep everyone inside until the storm passes.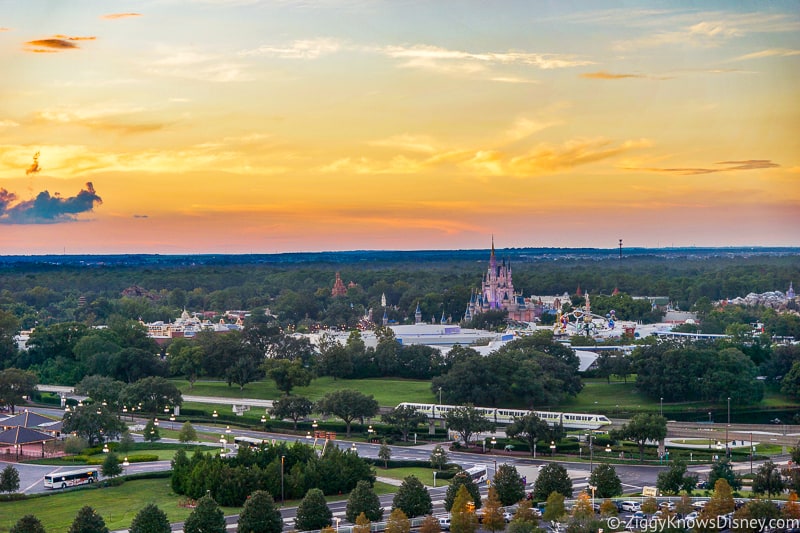 Closing Disney World is a case-by-case situation and Disney will make an evaluation based on the advice from local and state authorities based on the safety and well-being of the guests. In the past when Disney World has had to temporarily close because of a storm, they have also been able to reopen relatively quickly. Usually, things are shut down only for a day or two maximum and then things return to normal.
When Hurricane Irma hit, the theme parks in Walt Disney World were closed for 2 full days due to dangers from the storm, and also a day of cleanup because of all the debris it left behind. We were there during Hurricane Irma and it was definitely an unforgettable experience to say the least.
To read more about what happened, check out our post on Surviving Hurricane Irma. There we go more into detail about our experience during the storm, what Disney does with the guests, and more…
It honestly wasn't a bad experience at all. Actually, we had tons of fun and it was definitely one of the most memorable trips we've ever taken as a family.
How Many Times Has Disney World Closed for Hurricanes?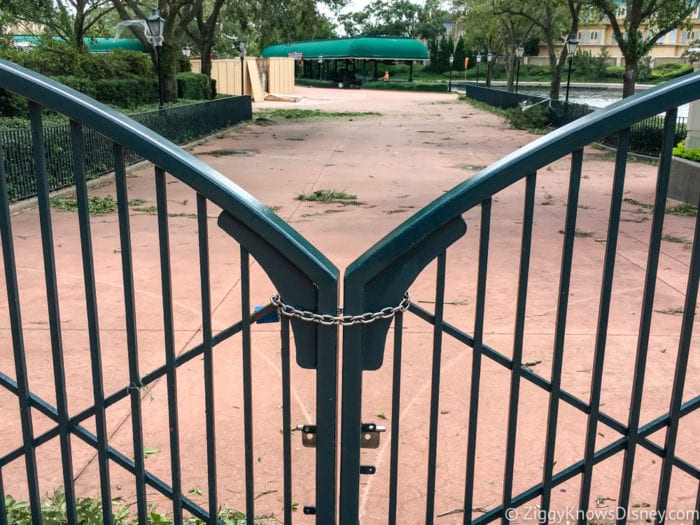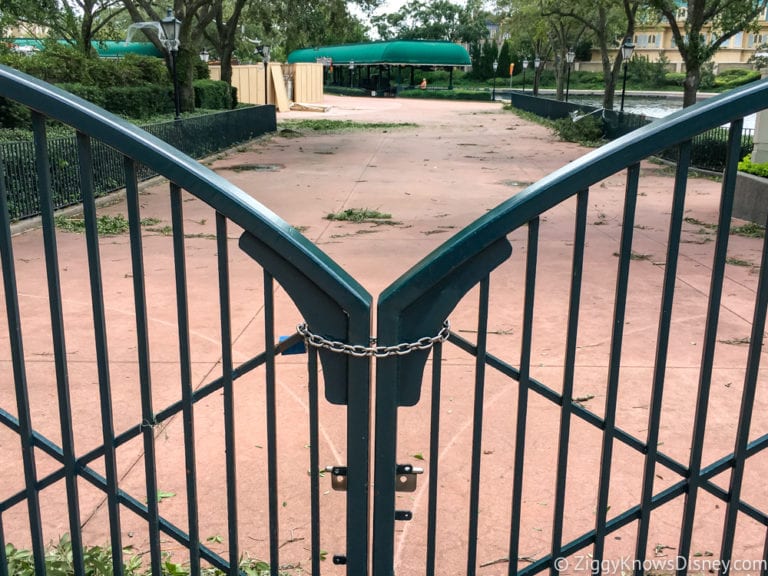 Even though there are plenty of storms in the Atlantic every year, Walt Disney World very rarely closes for hurricanes. Disney has only closed its Orlando theme parks 8 times for hurricanes since opening in 1971 for an average of once every 6 years.
Disney World's location helps isolate it from getting the full brunt of a hurricane. It's located in Central Florida, approximately 40 miles away from the closest shore, where hurricanes always do the most damage.
Once hurricanes make landfall, they lose strength and wind speed, which results in less damage. By the time a storm gets to Orlando, they usually are not strong enough to do extreme, lasting damage to Disney's structures.
That being said, a look at the recent history over the last 5 years with hurricanes Matthew, Irma and Dorian, have all resulted park closures or some damage around Walt Disney World.
Here is a list of the 8 times that hurricanes have forced Walt Disney World to close its parks either early or for an entire day:
Hurricane Elena
Technically, Hurricane Elena was the first time Disney World was forced to close its parks due to storm-related weather. The Magic Kingdom and Epcot were the only parks at the time, and though they weren't closed for the entire day, they each closed early on Aug. 31, 1985.
Hurricane Floyd
There was a long jump from Disney's first hurricane closure to its second, Hurricane Floyd, which forced the Disney World theme parks and water parks to close early on Sept. 14, 1999. They remained closed the next day September 15. Only Disney's Animal Kingdom opened on September 15 after the storm had passed.
Hurricane Charley
The next storm forcing closures came 5 years later in Hurricane Charley. The Disney World parks closed early on August 13, 2004, because of Hurricane Charley and Disney's Animal Kingdom never opened that day.
Hurricane Frances
Hurricane Frances hit Orlando just weeks after Charley and Walt Disney World shut down its parks on September 4th and 5th, 2004. The Magic Kingdom and EPCOT reopened on September 6, while Disney MGM Studios, Disney's Animal Kingdom and Blizzard Beach all remained closed.
Hurricane Jeanne
2004 was a particularly strong year for Atlantic storms and the 3rd hurricane of the year forced Disney World to close its parks when Hurricane Jeanne came to town on September 26, 2004.
Hurricane Matthew
There was another long break from Orlando theme park closures after 2004 until Hurricane Matthew in 2016. Walt Disney World closed early on October 6, 2016, and remained closed on October 7.
Hurricane Irma
Hurricane Irma was a Category 5 and one of the most powerful hurricanes ever at that time. It caused one of the longest Disney World closures as the theme park closed early on September 9, 2017, and stayed shut down on September 10th and 11th.
Hurricane Dorian
The most recent hurricane to affect Walt Disney World was Hurricane Dorian. Most of the parks closed by 3:00 pm on September 4, 2019, except EPCOT which stayed open until 7:00 pm when the storm changed course.
While Disney has had its fair share of experience with handling hurricanes, it doesn't happen often, although it is becoming an increasing trend.
Thankfully, when hurricanes have hit, the majority of them haven't done extensive damage, and closures are typically limited to one day or so. Disney is definitely prepared and is well-equipt to take care of guests should it happen.
How Does Disney Prepare for Storms and Hurricanes?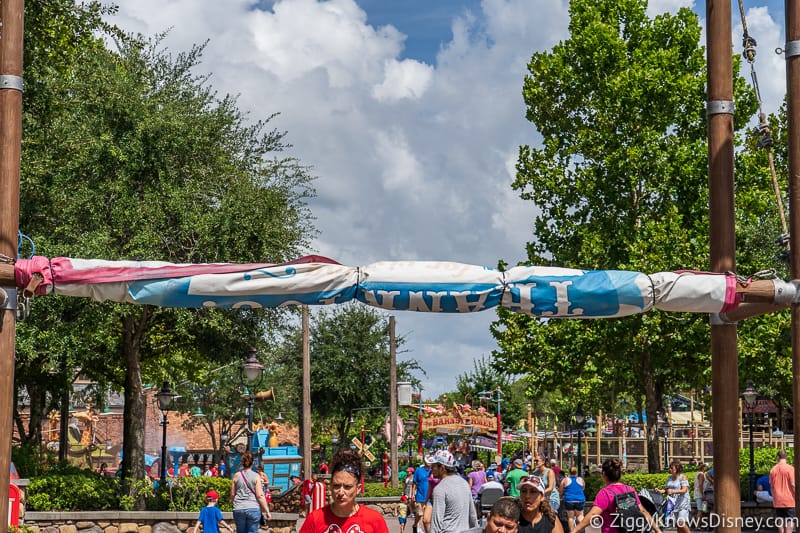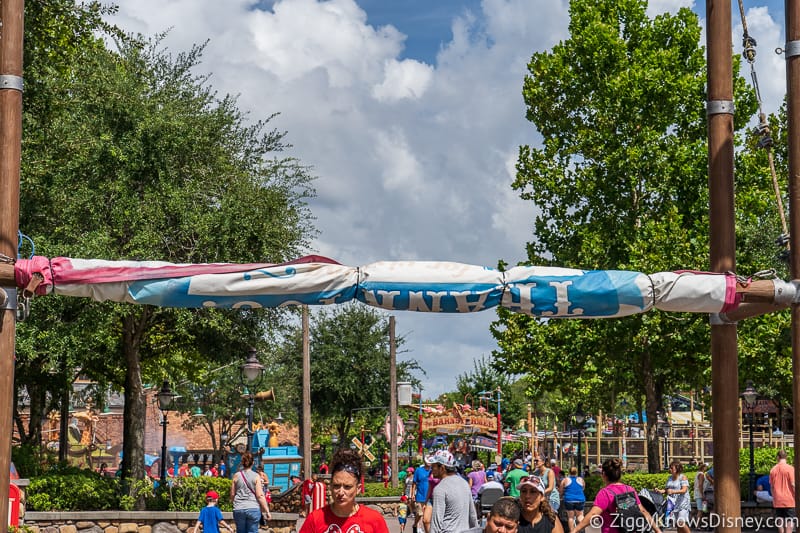 Whenever there is a high possibility of a hurricane hitting Walt Disney World, Disney takes extraordinary measures to prepare its parks, resorts, and other areas on property to avoid damage as much as possible.
Some of the precautions they take are:
Pulling down banners, tarps, flags, or anything attached to a building that could be blown away with the strong wind force and end up causing even more damage.
Putting away any construction or maintenance equipment
Wrapping outdoor light fixtures with plastic in case they break
Disney makes all the hurricane preparations days before the storm arrives and is on top of the situation well in advance. To learn more about how Disney prepares for hurricanes, read our post about what Disney did to prepare for Hurricane Dorian.
How Vulnerable are Buildings in Disney World?
Walt Disney World is one of the safest places to be in the entire state of Florida during a hurricane or tropical storm. The buildings are built in strict compliance with the Florida Building Code and are made with hurricane-strengthened features made to withstand the strongest storms.
For example, when Disney is constructing new resorts or buildings, they run rigorous tests like launching 2×4 boards at the walls at speeds in excess of 100mph to see how resistant the structures would be in the case of a hurricane.
The bottom line is, if you are going to be anywhere near a hurricane in Florida, Walt Disney World is where you want to be.
Cinderella Castle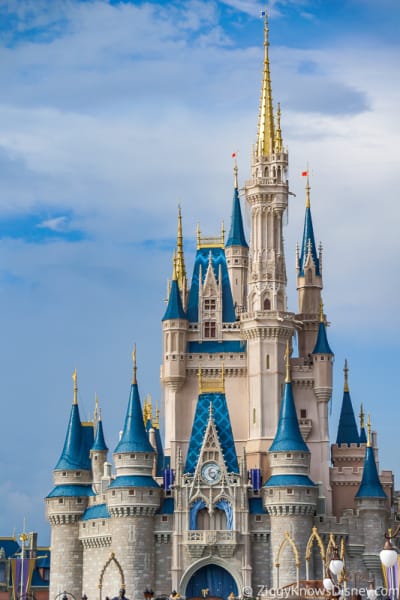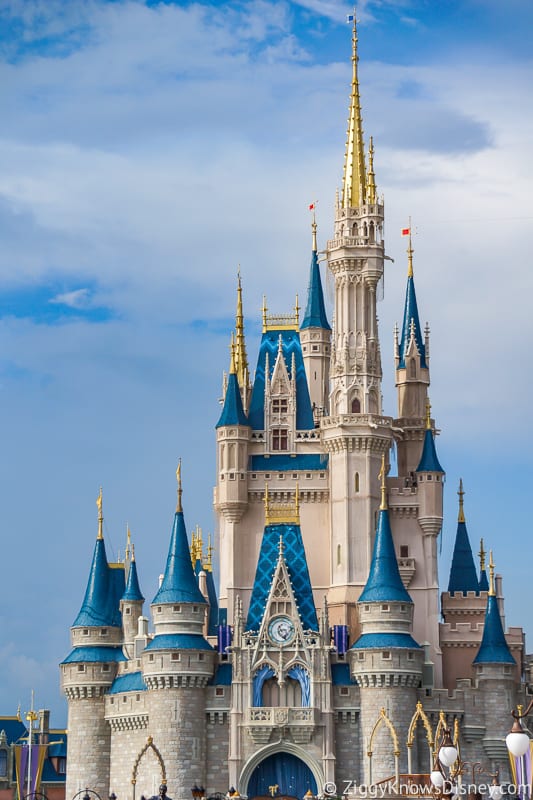 One of the biggest rumors out there is that Cinderella Castle can be dissembled in an emergency such as a hurricane. There are some wild Disney World rumors out there, but Cinderella Castle coming apart or going down into the ground for protection are some of the wildest ones we've heard.
As we mentioned, Disney does do a great job at taking things down that aren't permanently attached to a building and that might blow away. However, Cinderella Castle isn't blowing away. There is no need to disassemble Cinderella Castle for a storm. It is built strong enough to withstand the strongest winds that will ever come to Orlando.
Even if there was a need to disassemble it, it can't be taken apart like a Lego set. It's welded and stuck together with steel, concrete, and fiberglass.
"So what are those cranes for then that I've seen in pictures?" Those are for taking down or putting up lights on the castle during the festival period like Christmas. This happens in September and then the crane comes back in January to take them down. They aren't taking down the castle itself.
I think there's a higher possibility that Walt's Head is being frozen in a cryogenic chamber somewhere than Cinderella Castle folding up like a beach chair.
Other Disney World Iconic Structures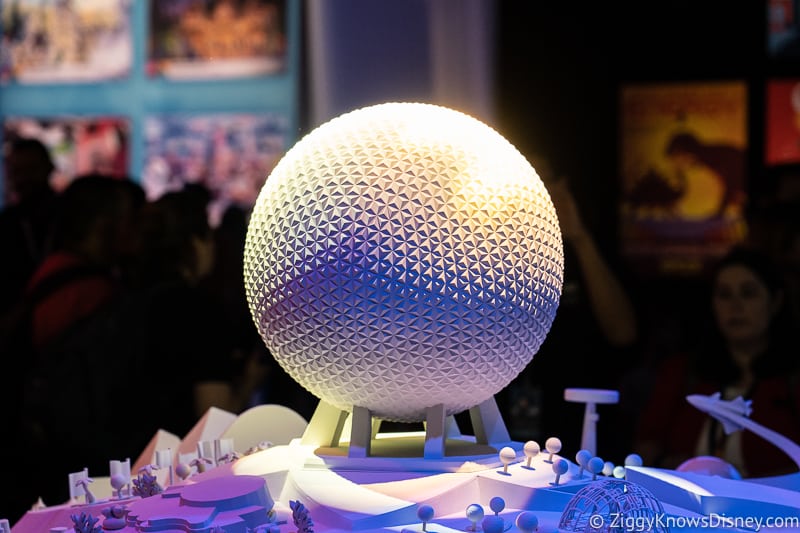 What about some of the other iconic structures around Disney World? Spaceship Earth? The Tree of Life? The Tower of Terror? Are they safe from hurricanes too?
Some people think that Spaceship Earth in EPCOT will blow off of its supports and roll away. Again, we can assure you at all the main buildings in the parks and the resort hotels in Disney World are able to withstand hurricanes.
The buildings on property are made abiding by strict construction codes and they are perfectly safe to be in while you're on vacation so you can rest easy, even if you are in Disney World during a storm.
What Happens When Disney World Closes for a Hurricane?
In the event that you are in Walt Disney World when a hurricane hits, what exactly happens? What is the experience like?
We've been able to witness it first-hand and can tell you that your Disney experience will definitely be different than other trips you may have taken there.
Here are some of the things to know:
When the Parks Close
Though it rarely happens, Disney can choose to close the theme parks due to extremely bad weather. Sometimes when Disney is sure in advance, they will decide not to open the parks until the storm is gone. Other times they might decide to close them in the middle of the day after the park has already been opened.
When that happens, an announcement will be made in the park and cast members will help guests to evacuate the parks in a timely, yet orderly manner.
The Resort Hotels
Even though the parks may close due to extreme weather, the Disney World Resort hotels have always remained open when there is a storm. Disney can't shut down the hotels for a storm because it would mean thousands of people not having a place to go.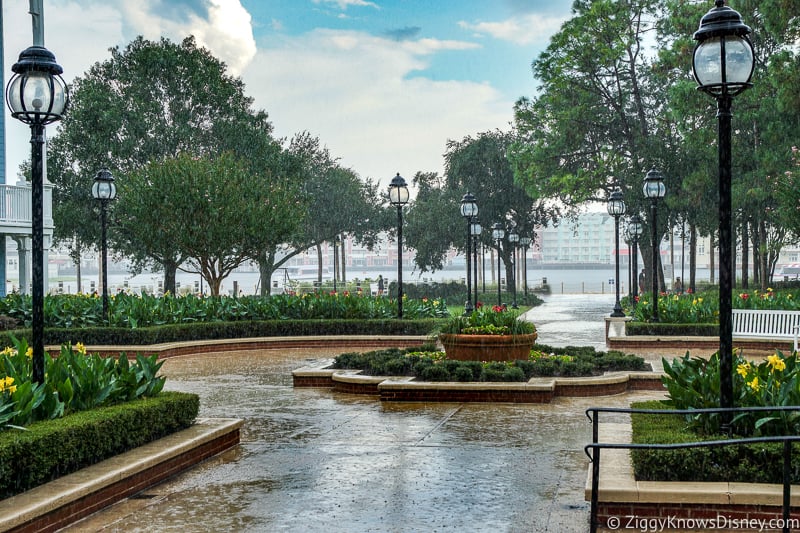 Where Can You Go?
If the rest of Walt Disney World "locks down" for a hurricane, guests are to remain in their hotel, though they can still move around the premises, at least for a while. Often guests can still go outside, go in the pool or take a walk until the storm gets very close to arriving.
Once the storm is close to Walt Disney World, guests are often required to shelter in place in their rooms for the strongest part of the storm. At that point, you aren't able to even go into the lobby or other areas of the resort until the storm passes.
During Hurricane Irma, we stayed at the Beach Club, and while the parks were completely closed on September 10, we were allowed to walk around the hotel, go swimming, eat at the restaurants, etc until about 10:00 or 11:00 pm that evening, at which point we were directed to stay in our rooms until the morning.
Extra Entertainment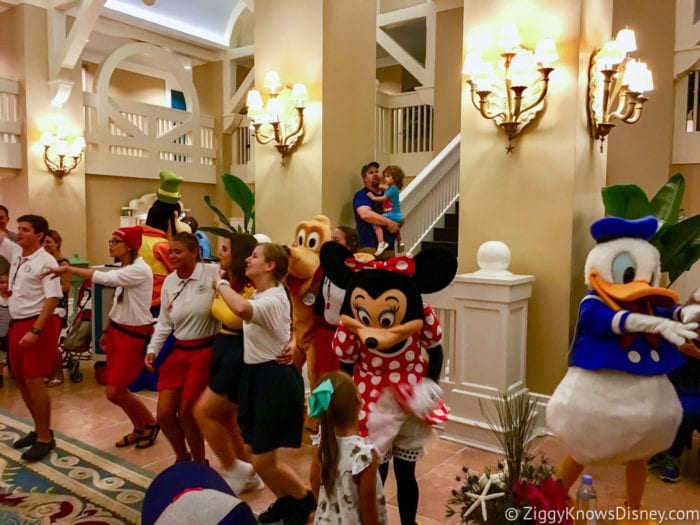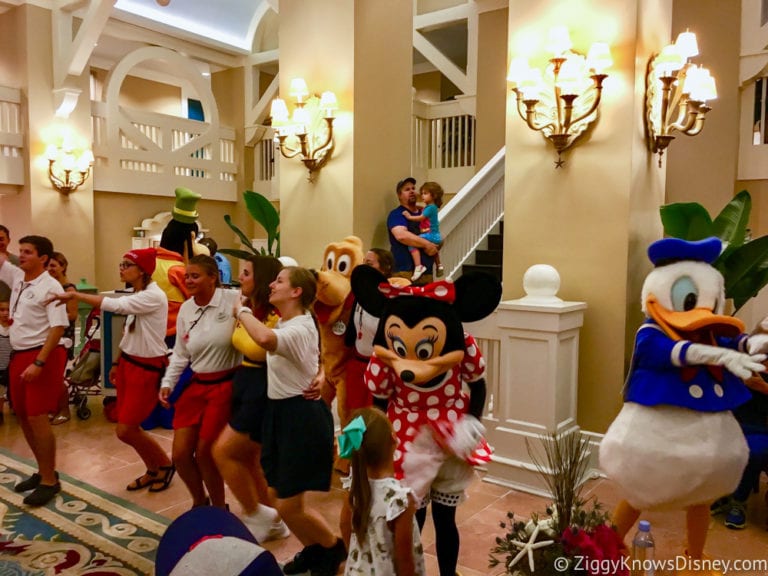 Just because you are stuck in your resort hotel and can't go to the theme parks, doesn't mean you still can't have fun during a hurricane. Disney is great at organizing tons of extra activities and games around the hotel to keep guests occupied and make your trip as magical as possible.
We've seen the Disney characters come around to the various hotels for improvised meet and greets in the lobby, they organize dance parties, Disney trivia games, movie marathons, pin trading, arts and crafts events, and much more. There are so many activities to do that it's impossible to do them all!
Getting Updates
If you are in Disney World when a major storm is coming, we advise you to pay close attention to all the updates and weather coverage on it so that you know what's going on and any safety precautions you should be taking.
Thankfully, Disney makes this easy to do and the safety notices around the resorts keep guests informed up-to-the-minute on whatever situation is going on. You can also check your television as they broadcast any important information to the guest rooms.
We think it's important to get a good feel for the layout of your hotel before the storm comes, so make sure you know where the nearest emergency exits are in your building. If you have any questions, feel free to contact the main desk of your hotel as the cast members there can help answer any questions you might have.
The important thing is to stay informed so you can make the best decisions for the safety of you and your family.
Cast Members
If guests are staying in the Disney World Resort hotels during a storm, it has to be operated by someone and that's where the wonderful Cast Members come in!
In order to ensure the well-being of all guests at the resorts during a storm, Disney Cast Members can volunteer to be part of the "Ride-Out Crew." These Cast Members offer themselves generously to stay and help the guests get through a storm, and are responsible for their safety and to make sure they are having a magical time.
During a hurricane, these Cast Members work for long stretches of time without going home to their families. Because of their sacrifice, are well-compensated for this extra effort and are often put up at the hotel, given meals to eat, and sometimes paid double for this job.
During our Disney World hurricane experience, we can say that the Cast Members have never been friendlier or more helpful than during Hurricane Irma. Everything was handled wonderfully and we hardly felt like we were stuck in our hotel for two days.
What Does Disney Do with all the Empty Rooms?
Since many guests end up canceling their Disney World vacation when a hurricane hits, what does Disney do with all the empty rooms? Since Walt Disney World is one of the safest places to be during a storm many Florida residents, especially ones who live on the coast end up coming to Disney World for a safe place to ride out the storm.
Disney sets aside a large number of these rooms for guests who really need them, offering them at an extremely discounted price to give people affordable options. Disney is very understanding and even allows you to bring pets like dogs into the hotels where it otherwise might not be allowed.
Refunds and Cancellations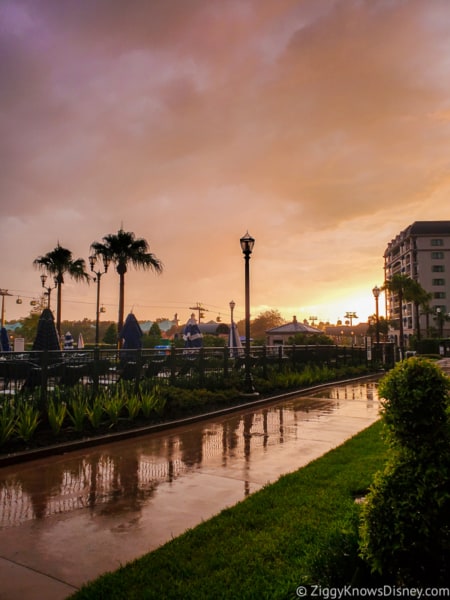 If a hurricane warning is announced for Walt Disney World during your vacation dates, you may decide that the risk of going is too high and you don't want to go ahead with your vacation. Thankfully you have some options.
How Does the 7-Day Hurricane Warning Work?
As we pointed out earlier, if the National Hurricane Center issues a hurricane warning for the Orlando area or your place of residence, you can either reschedule your vacation or get a full refund without any extra fees as long as you booked through Disney.
Basically, this covers anything in your Walt Disney World vacation package including your accommodations, theme park tickets, and dining reservations. Some special events or experiences are not eligible for refunds, so you'll have to weigh that into your decision if it comes up.
Any money you've already paid to Disney for your vacation will be applied to your new reservation if you choose to reschedule.
You can call Disney with any questions about rescheduling your trip due to a hurricane warning at (407) 939-7675.
What about Plane Tickets or Car Rentals?
Since Disney no longer books airfare for its guests as part of the vacation packages, you are responsible for any fees occurred by the airline company.

If you booked your plane tickets, car rental, etc through a third-party vendor, you'll have to contact them separately to find out what their cancellation policy is for hurricanes.
I Didn't Book through Disney. What Now?
You'll have to contact your travel agent or third-party vendors that you booked your Disney World vacation through and see what solutions they can give you. That's one reason we recommend booking directly with Disney or a Disney-certified travel agent.
Can I Still Get the Same Package Offer?
If the same offer is still available from your previous trip, Disney will apply it to your new dates too. If that offer is not available for the dates you choose, an agent will help you to apply any other special offers that might be available.
Depending on which dates you choose and what's available, it might mean your new vacation is more expensive than the original.
If I Reschedule to another Date, Can I Get the Same Hotel?
Disney will work with you the best they can to get your same hotel. It's not guaranteed though that your previous hotel will be available for the future dates you choose. If you absolutely must stay at that hotel then you need to be flexible with your reschedule dates.
Does It Apply to Group or Sport Package Bookings?
Disney's Hurricane refund policy only applies to Walt Disney Travel Company Magic Your Way Packages, as well as rooms and packages for sports groups. Special packages for youth groups, sports groups, meetings, or conventions are not included.
Trip Insurance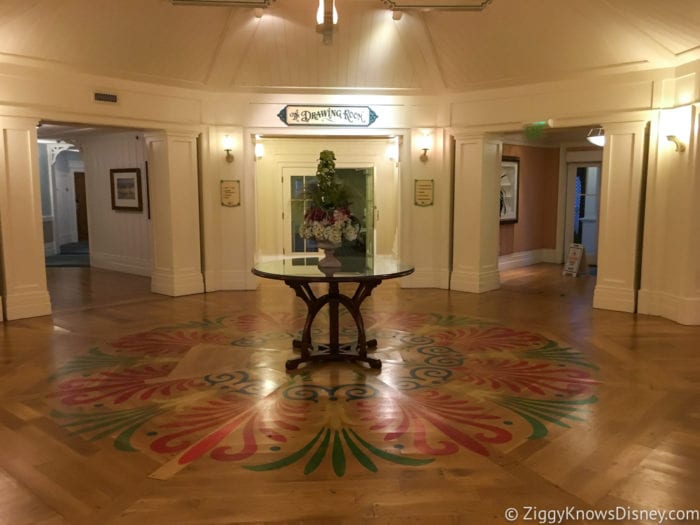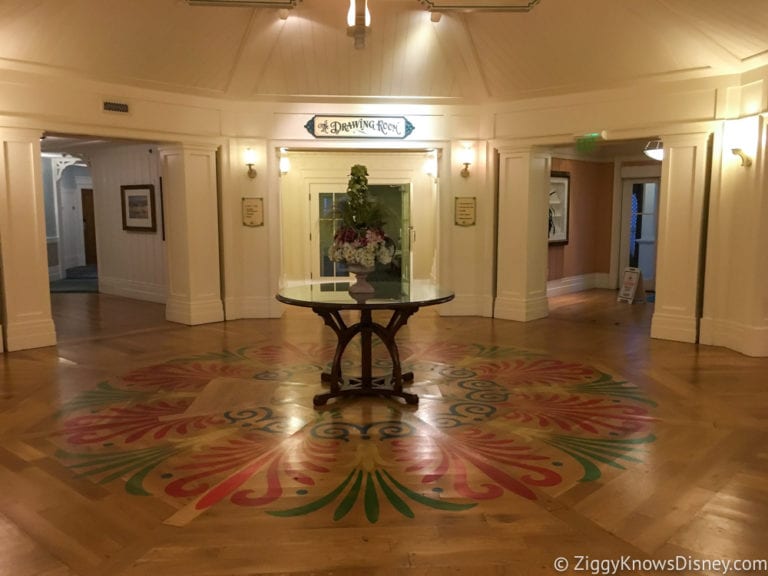 Travel insurance is definitely an option if you are going to Disney World during hurricane season, but it's not always necessary. We have been going to Disney World in September from the time I was born, and my family has never purchased it and we haven't had any problems.
As we mentioned, if there is a Hurricane warning in the Orlando area or in the area you live, Disney will refund you the cost of your trip or let you reschedule without any fees. For that reason, travel insurance just for hurricanes isn't worth it in my opinion.
Now if you are the type that always gets travel insurance anyway then you may want to get it, just make sure you are actually getting insurance that's worthwhile and actually does what you think it does since not everything is always covered.
On Disney's end, you are covered for the hotel and park tickets, the only thing you need to check into is your flight in the event of a storm. That might be worth getting insurance for if your airline doesn't have a good hurricane policy.
If you book your vacation with a good travel credit card, your trip might already be insured automatically, so it's worth looking into.
Use a Disney Travel Agent
If you are booking a trip to Walt Disney World during hurricane season, then we highly recommended using a Disney-authorized travel agent to take care of all your plans for you.
Even though Disney will let you reschedule or get a refund in the event of a major storm, if you don't have a travel agent, you will have to handle all those rearrangements yourself, which can be very confusing and time-consuming. Do you really want to sit on hold on the phone for hours if there is a better way?
Instead, if you use a travel agent who specialized in Disney Destinations, they can handle all the heavy lifting for you like canceling dining reservations so you don't get charged for a no-show or any other changes to your plans.
TIP: We always recommend using a Disney-authorized travel agent anyway, but especially when there is a higher chance of a storm as it will make your life a whole lot easier if changes need to be made to your trip.
Should You Still Go to Disney World When there is a Hurricane?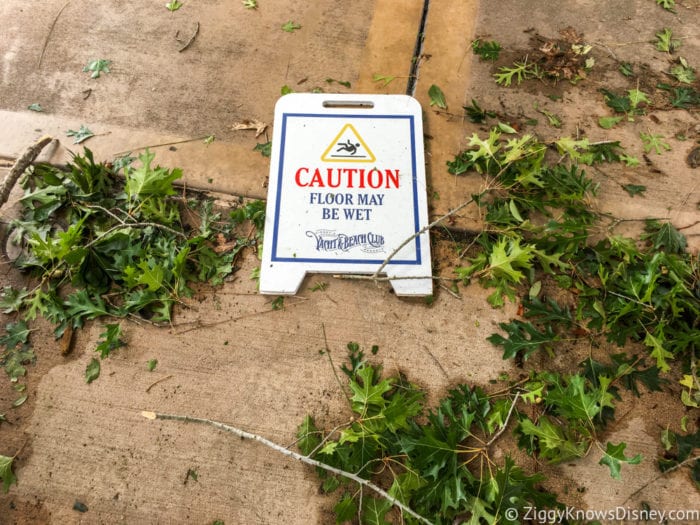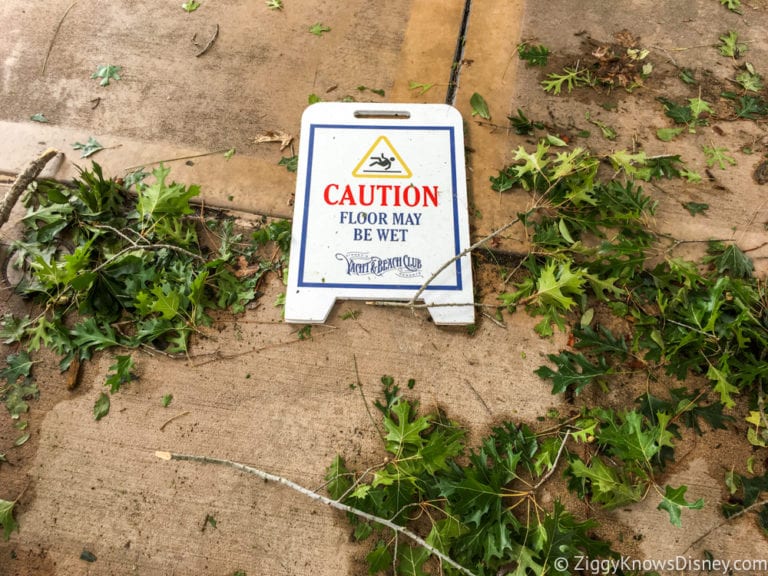 Now I know what some of you are saying already: "Why on earth would you ever go to Disney World when there was a hurricane headed directly for it?" Well, my friend, that's a very good question and to some, it may seem crazy. In fact, that was everyone's reaction to me when we went to Disney World during Hurricane Irma.
Again I'm going to preface this by telling you "DON'T make your decision solely on reading this article. I can't know the circumstances of what the storm will be like during your stay, where you are coming from, etc. You have to make an informed decision for your family based on your comfort level with the situation.
I'm just going to tell you about my experience of being in Disney World before a hurricane.
Now, it is true that Disney does a fantastic job helping people re-schedule their vacations in the case of something like Hurricane Irma. They are very helpful and when there is a hurricane coming they usually make this process more than easy for anyone who wants to back out at the last moment.
When Hurricane Irma was coming to Florida, we thought about backing out. We had very serious discussions about staying home, but in the end, we decided to go to Disney World anyways for a couple of reasons.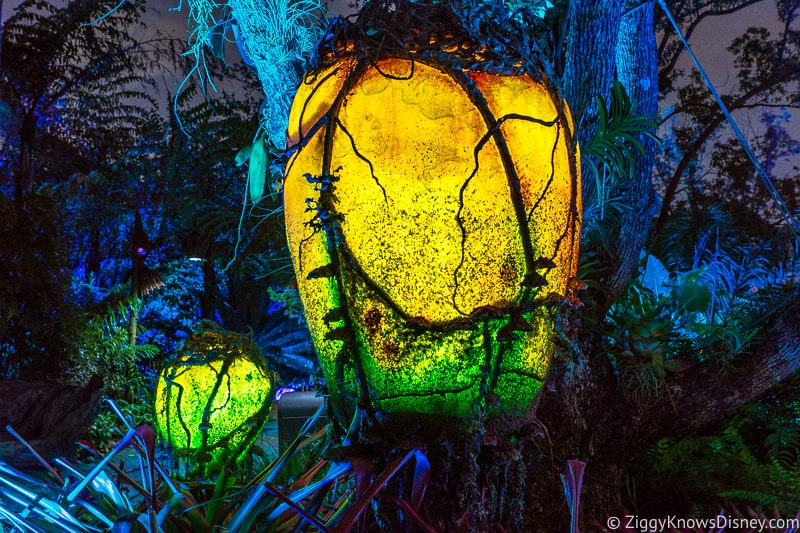 First, while it's true Disney was offering to reschedule peoples' Walt Disney World vacations, unfortunately, we just couldn't re-schedule our trip because of other appointments and obligations. For us, we would have had to put off our trip for a whole year.
Second, after having talked with friends who work inside Walt Disney World, they told us that while hurricanes can be dangerous, Walt Disney World is the safest place to be in all of Central Florida when there is a hurricane. Disney goes above and beyond to make sure its guests are protected first and foremost, and its buildings are the safest in the area, maybe in all of Florida.
Hurricanes can also be unpredictable, and when you are 4 – 5 days away from impact, they can radically change direction and Disney might not even get hit. Lastly, when I went during the storm, I went to cover the news for my readers here at Ziggy Knows Disney and report the impact it had on Disney World. You might not have that same desire obviously.
Pros
Extremely Low Crowds – Going to Disney World during a hurricane can be great if you like to experience the parks with very few people in them. Most of the attractions will be a walk-on and it's a dream come true if you like rides.
Yes, the parks may close for a day or two, but on the other days of your trip you will get the parks seemingly all to yourself.
Unique Experience – Call us crazy, but we actually liked the excitement of being hunkered down for a couple of days in our hotel. There were plenty of characters, tons of activities, and never a dull moment. It was a different Disney World trip than what we are used to, but not a worse one.
Cons
It May Make You Anxious – If you are a normal person, (unlike me), the idea of 100+ mph winds coming to where you are might not be the most pleasant idea in the world. Even though we weren't overly scared, there is some level of anxiety that comes with the unknown of a serious storm.
If that is going to ruin the other days of your trip when you can go to the parks, then it's not worth it.
There Will Be Worse Weather – Even though you may be able to go to the parks in the days leading up to a storm, chances are that the weather will be cloudy and rainy. If you come to Florida for the sunshine, you might not get a ton of it until the storm passes.
I think anyone planning to go to Walt Disney World when a hurricane is expected has to make a decision for his/her own family and do what they think is right. I know many people don't feel comfortable going and putting their family in harm's way, and that is to be commended.
In the end, it's good to know the pros and cons of the situation and whether you decide to go or not, you have options.
Which are the Best Hotels for a Hurricane?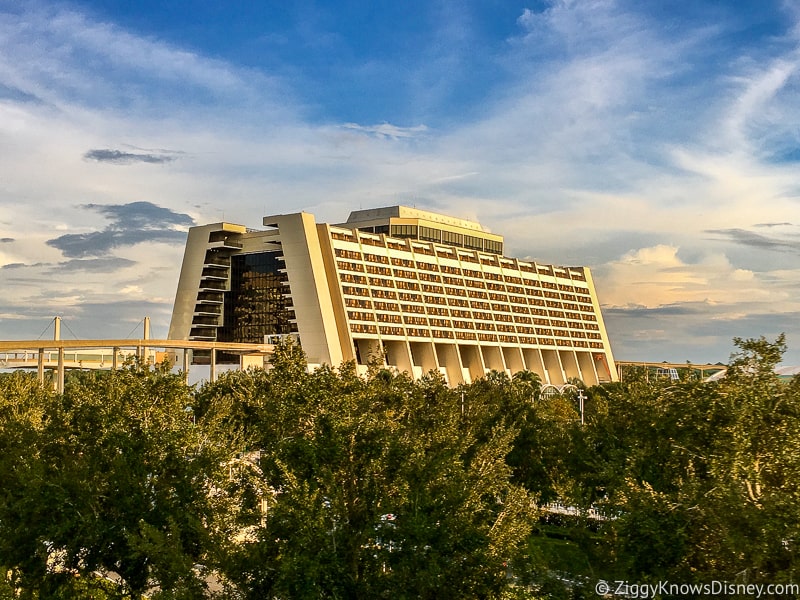 The resort hotel you choose to stay at if there is a hurricane can make a huge difference in making it a wonderful experience or a dreadful one. You need to choose a hotel that has an "ideal layout for hurricanes" and allows you to get around easily.
The layout of the resort hotels in Disney World varies. Some hotels are made up of one or more structures that are all connected together through indoor hallways. These include Disney's Contemporary Resort and Bay Lake, as well as Disney's Yacht and Beach Club Resort.
Other hotels like Disney's All-Star Resorts and Pop Century, have multiple buildings that are spread out without covered access, which means you have to walk in the rain if there is bad weather. When there is a hurricane, guests here have to stay in their rooms and cannot leave for a number of hours.
The best Walt Disney World hotels to stay at when there is a storm are the ones with common areas connected indoors. That way if you are stuck in your hotel or if there is bad weather, you won't be stuck in your room the whole time and have easy access to restaurants, shops, and all the special activities.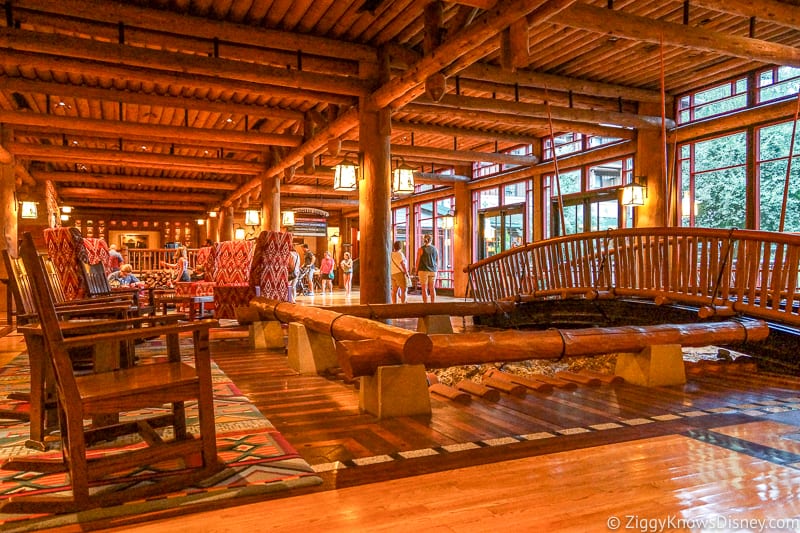 Here is a list of the best and worst hotels to stay at during a hurricane in Disney World:
Best
Disney's Animal Kingdom Lodge (Jambo House or Kidani Village)
Bay Lake Tower
Disney's Beach Club Resort
Disney's Boardwalk Inn Resort
Disney's Contemporary Resort
Gran Destino Tower at Disney's Coronado Springs
Disney's Grand Floridian Resort (only the main building or Villas, the rest are uncovered)
Disney's Riviera Resort
Disney's Wilderness Lodge Resort (all rooms except the waterside cabins which are isolated)
Walt Disney World Swan and Dolphin Resorts
Worst
Disney's All-Star Resorts (Movies, Music & Sports)
Disney's Art of Animation Resort
Disney's Caribbean Beach Resort (Martinique buildings are the closest to the common area)
Disney's Coronado Springs Resort (except for Grand Destino Tower)
Disney's Fort Wilderness Resort & Campground
Disney's Old Key West Resort
Disney's Polynesian Resort (most of the buildings are too far from the lobby, especially the Bungalows)
Disney's Port Orleans French Quarter & Riverside
Disney's Pop Century
Disney's Saratoga Springs Resort
One factor to consider is staying in the DVC Villas gives you an in-room kitchenette. That might come in handy if you get some groceries and cook meals for a day or two during the storm.
Tips for Going to Disney World During Hurricane Season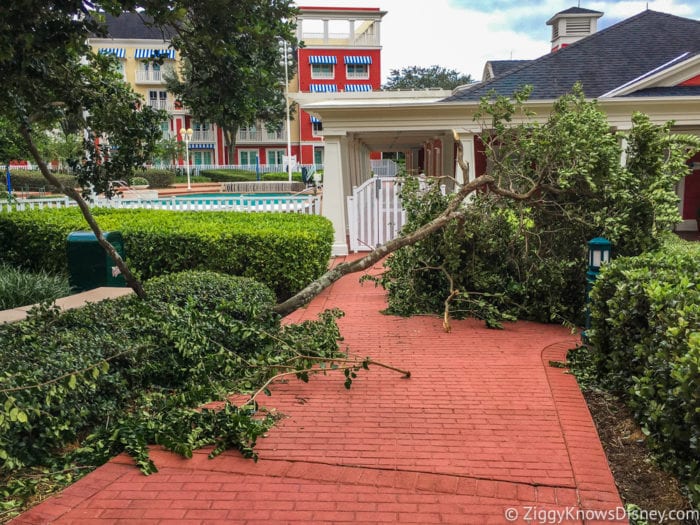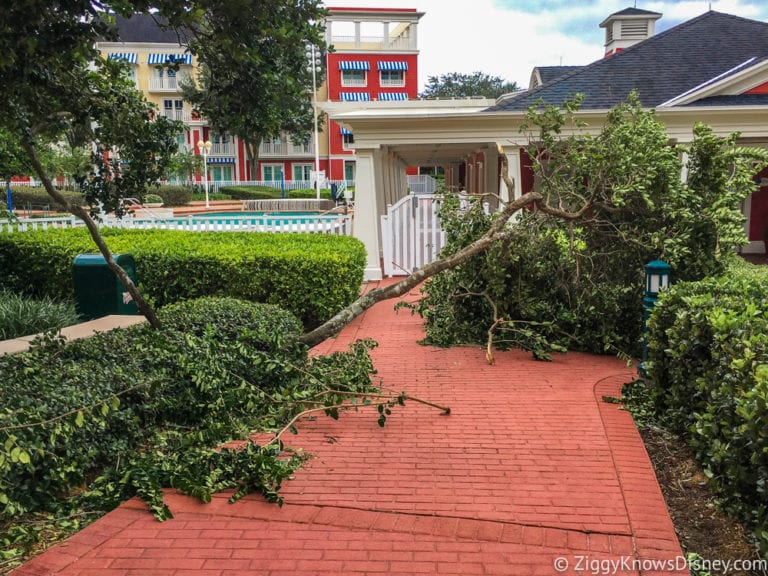 If you decide to go to Disney World during hurricane season or if you decide to stick it out when a storm is coming, here are a few tips that will make it a more enjoyable time.
1. Don't Panic
Even if there is the potential for a hurricane to hit Orlando, that doesn't necessarily mean it will. Keep in mind Disney has only closed down 8 times in its history for storms since 1971, so the odds of it happening when you are there are not very high. You might want to hold off on canceling your trip at the first sign of a predicted storm.
2. Stock Up on Food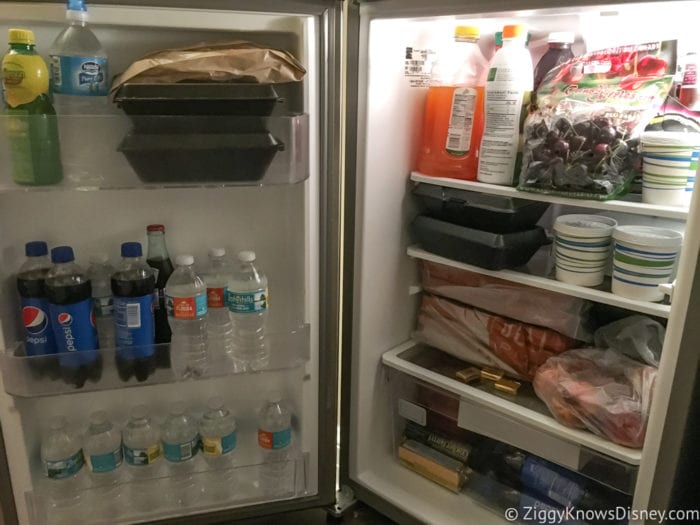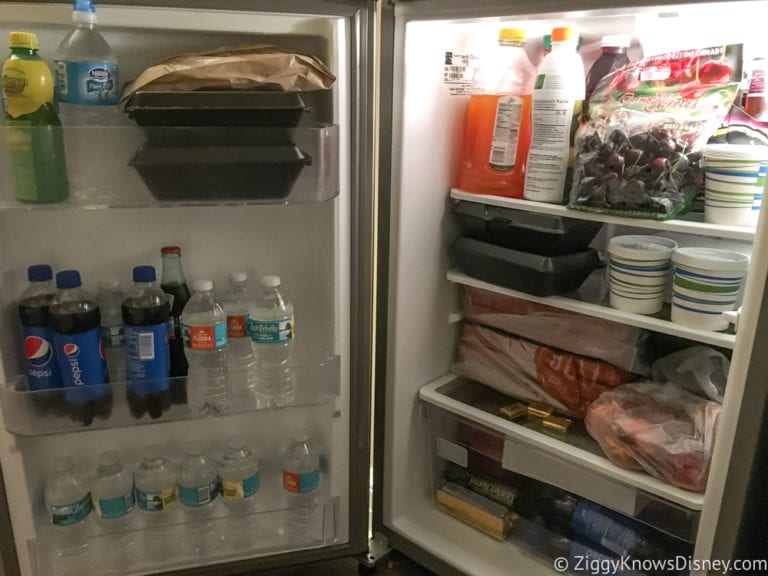 If you are in Disney World and know a storm is coming, buy some extra snacks, water, drinks, and even regular food and put them in the mini-fridge in your room if there is space. Yes, Disney does feed you in your hotel when there is a hurricane, but it has happened in the past that there wasn't sufficient food for everyone, or it just wasn't that good.
Hit up Disney Springs and get some takeout the day before the storm and you can have a full meal the next day! If your hotel room has a kitchenette you can take an Uber to the supermarket and get groceries and prepare your own meals.
3. Other Supplies
Make sure you have a couple of days' supply of medicine or any other necessary supplies you may need. Do this before the storm comes and not at the last minute. Also, make sure your cell phones are completely charged leading up to a storm in case you need them in an emergency.
4. Bring Games
If you are "stuck" in your room for the day, make sure you have something fun to do. We recommend bringing playing cards or a board game you can play with your family. It can be a great bonding experience and get you some quality time together away from the digital screens we are so addicted to.
5. Stay in Touch with the Front Desk
Make sure you are staying up-to-date with the latest info on the storm. Disney makes all the info easily accessible throughout your hotel and channels on your room TV. If you have any questions, call the front desk and they will help answer them.
6. Expect the Unexpected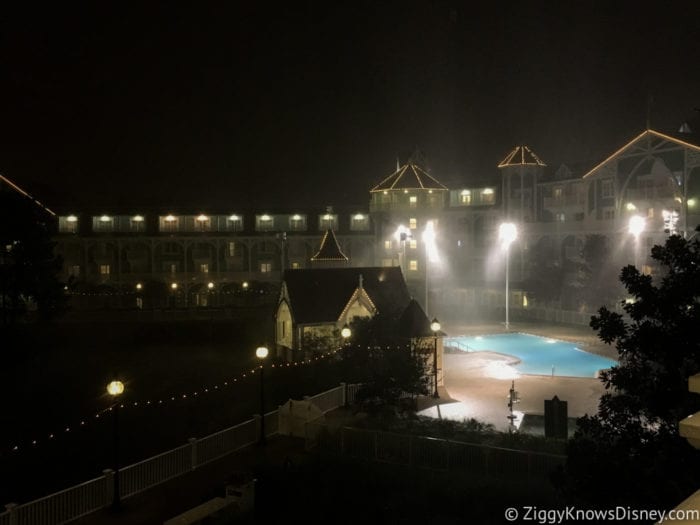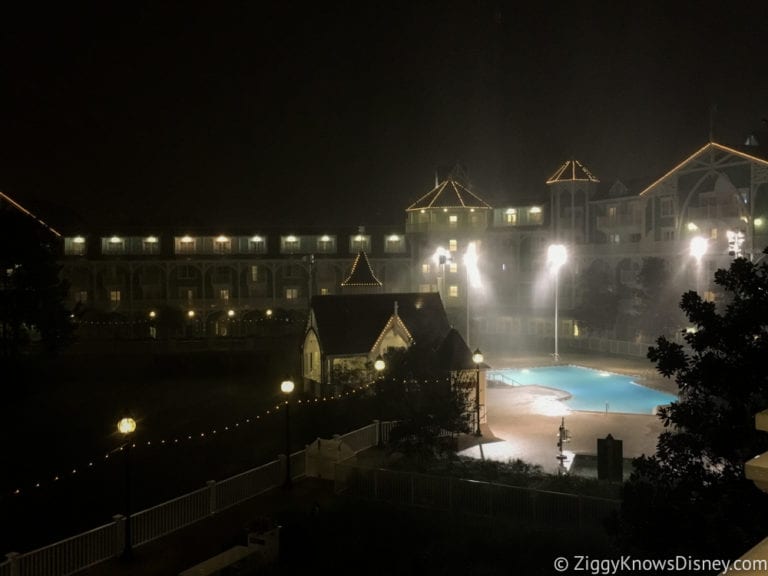 Whenever you are dealing with Mother Nature, you have to expect the unexpected. Things may go better than you think and you might not miss any time in the parks at all. The parks may also have to temporarily shut down for a day or two.
If you decide to go to Disney World during hurricane season, be willing to go with the flow. There will be more rainy days in general in Late Summer-Early Fall so don't be surprised if you have to pull out those ponchos. The more flexible you are with your plans, the easier it will be if something unexpected comes up.
7. Leaving Early
If you decide to leave your trip early, that's no problem, just do it the right way. Don't leave your hotel without a proper check-out. Disney needs to have an accurate count of all guests staying there during a storm and they need to know where you are.
They also can use that room for someone in the area who needs shelter, so again it's best to advise them where you are.
Disney will also help you get some money back for unused days on your park tickets and other experiences like dining reservations that may charge a no-show fee if not canceled properly.
8. Have FUN!
Have FUN! What?? How can I have fun if I'm stuck in my hotel? Just because you can't go to the parks, doesn't mean the show is over and you can't have a good time. Take part in all the games, dancing, scavenger hunts, puzzles, crafts, etc that Disney organizes to keep you entertained. They are a blast, trust us!
Just remember where you are. You're still in Disney World, after all, the most magical place on Earth!
Best Attractions for Storms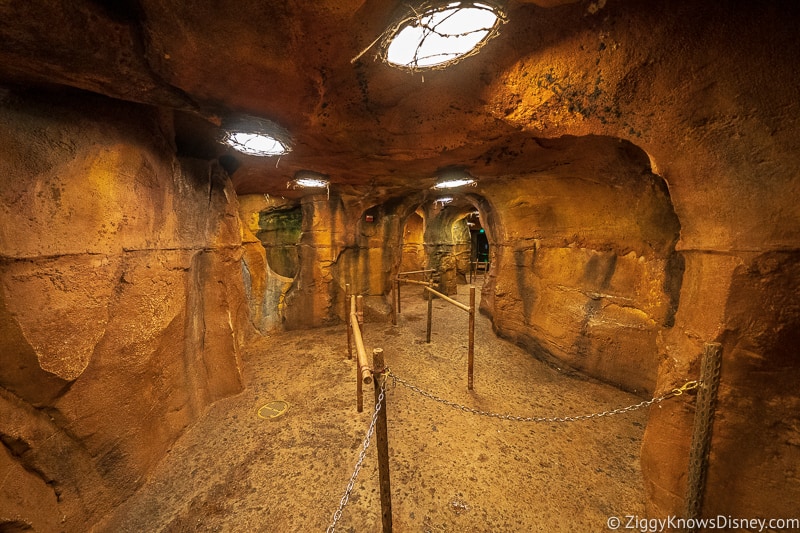 This advice applies not so much during a hurricane since the parks will probably close those days. However, on the days before when the weather is bad, or just any rainy days in Walt Disney World, there are certain attractions that are ideal for visiting and others that are better to avoid.
In general, we think visiting the Disney theme parks in the rain is a good idea. Most attractions will continue running when it's lightly raining out, and the bad weather might scare off some other guests, leaving the park emptier and with lower wait times.
Don't be scared off if there is rain predicted for your park days, use it to your advantage.
This applies especially to the water parks Typhoon Lagoon and Blizzard Beach. I mean, you are going to get wet anyway while visiting the water parks, so what's the difference if you get wet first while going from slide to slide?
Some Attractions Close
It should be noted, however, that during periods of heavy rain, thunder, and lightning, Disney closes the attractions that go outside temporarily until the weather passes. Some of the biggest ones are Seven Dwarfs Mine Train, Test Track, Slinky Dog Dash, and Big Thunder Mountain.
If it is just a passing storm, the closures are usually just temporary and if you wait it out, you'll likely find those rides with zero to few people in line.
What about if you know it's going to be raining or storming for the entire day and you aren't keen on getting wet? What are the best attractions in Disney World for the rain?
Magic Kingdom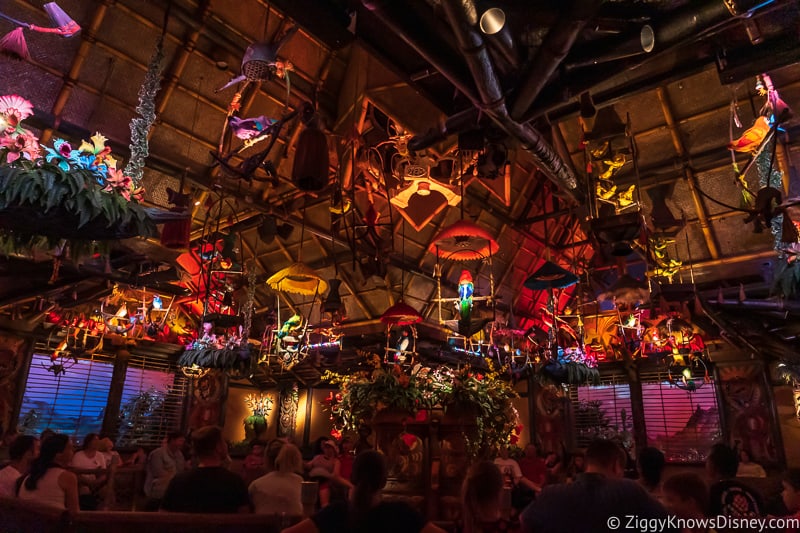 The Magic Kingdom has the most attractions of the 4 Orlando Disney theme parks, and plenty of places to hide from the rain.
Carousel of Progress – One of our favorite shows in Disney World rain or shine, and it will definitely keep you dry.
Country Bear Jamboree – Not an extremely long show at 10 minutes, but you can then stop by Pecos Bill and wait out the rain while having a meal.
Enchanted Tales with Belle – The total time including the queue, pre-show, and the show itself can easily last 30 minutes or more.
Hall of Presidents – 23 minutes long, plus the wait inside the atrium. Learning about history has never been so useful as when you need a good place to hide from a rainstorm.
Haunted Mansion – The attraction itself is inside and decently long at 10 minutes, but the entire outdoor queue is also covered and protected from the rain.
Space Mountain – Most of the queue is inside and it can sometimes be quite long. If you have to wait in line for it, you may as well do it in the rain.
Tomorrowland Transit Authority PeopleMover – You can do this back to back with the Carousel of Progress since they are each close by.
Walt Disney's Enchanted Tiki Room – The rain is a great reason to check out one of the oldest attractions in the park and a personal project of Walt Disney himself.
EPCOT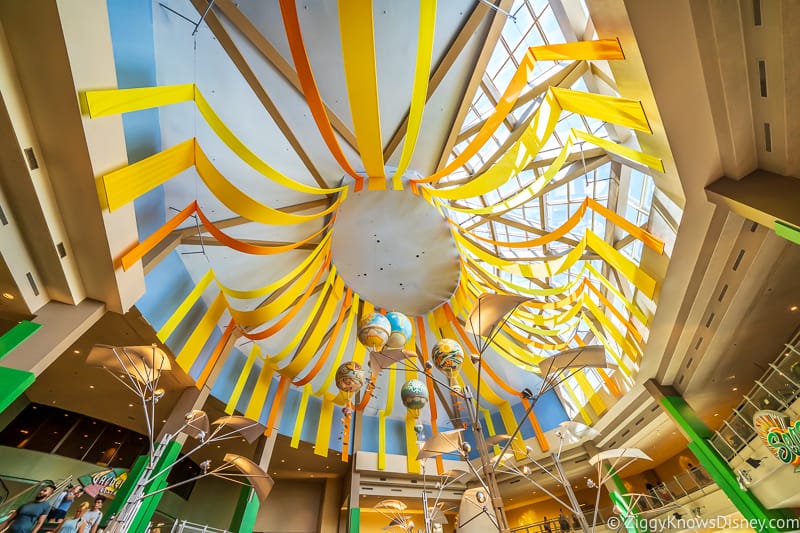 Here are the best attractions in the rain at EPCOT:
American Adventure – Similar to the Hall of Presidents, you can get a nice long history lesson here as you wait for the storm to pass. Catch the Voices of Liberty first and spend some time looking at the artifacts in the lobby too. Stop by Regal Eagle Smokehouse while you are there and get the best BBQ in Disney World.
The Land Pavilion – Between Awesome Planet, Living with the Land, and Soarin', you can easily eat up 1-2 hours in The Land. You can then have a snack or meal at Sunshine Seasons or The Garden Grill and whatever storm was outside is sure to be gone when you leave.
Impressions de France – Hopefully, it's to see the original show, but the Beauty and the Beast show works too. It's air-conditioned and covered and it has comfy seats to take a nap in. After the show, don't forget to stop at Les Halles Boulangerie Patisserie which is in the same building, and get a pastry or two!
The Seas Pavilion – The Nemo-based attraction itself is short, but you can also check out Turtle Talk with Crush and spend time watching the amazing sea life in the giant aquarium. We love watching the dolphins, sharks, and manatees in particular.
Hollywood Studios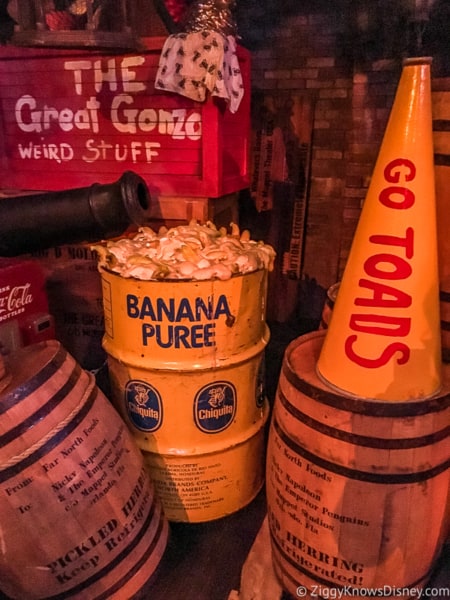 Here are the best options at Hollywood Studios:
Star Wars: Rise of the Resistance – This is the best ride in Walt Disney World anyway, and it always attracts a crowd. However, since the majority of the queue is inside, it gives some nice cover from bad weather.
For the First Time In Forever: A Frozen Sing-Along Celebration – You could include Voyage of the Little Mermaid here too. Both are good shows and a way to stay dry.
Millennium Falcon: Smugglers Run (when the queue doesn't start outside) – The inside queue for Millennium Falcon: Smugglers Run is enormous and there aren't bound to be many people waiting outside if it's raining.
MuppetVision 3D – We have to see The Muppets when visiting Hollywood Studios, and between the pre-show and the show, it's a great place to hide from the rain.
Walt Disney Presents – One of the most overlooked attractions in Hollywood Studios, but a hidden gem. You could spend an hour or more looking at all the old Disney artifacts, and then watching the film which is amazing.
Animal Kingdom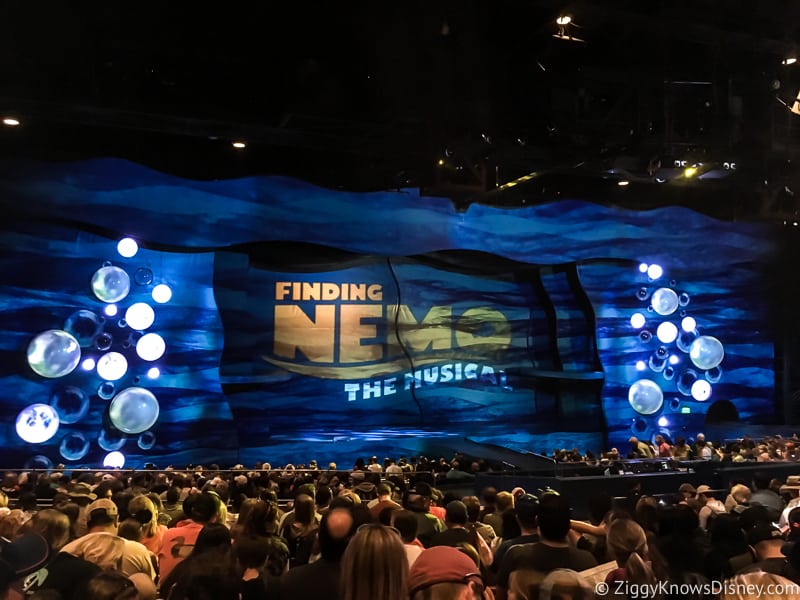 The Animal Kingdom is not the best park to visit when it's raining because of its huge size and distance between attractions. However, there are still a few good options.
Festival of the Lion King – This is an amazing show and a good length. Check out the character meets while you are there.
Finding Nemo: The Big Blue and Beyond – This one is a whopping 35 minutes long so it gives you plenty of time to avoid the rain.
Flight of Passage – The queue for Flight of Passage is mostly indoors and is extremely long. A great combination if you want to stay dry.
Na'vi River Journey – The queues here are sneakily long most of the time and 95% covered.
That wraps up our article about Hurricanes and Storms in Walt Disney World. I hope we gave you some good tips to keep in mind and that help you make a good decision about whether or not to go to Disney World during hurricane season or not and what to do if there is a storm.
If you are taking a trip to Disney World during hurricane season, you should definitely consider the risks, but we feel that it is not nearly enough of a risk to stop us from visiting during one of the best months to go to Disney World.
Your Thoughts
I want to know what you think about Hurricanes and Storms at Walt Disney World…
What experiences have you had with hurricanes at Disney World?
What recommendations can you give?
Let us know in the comments section below!
If you enjoyed this article, as always I appreciate it if you'd share it with others via social media. I work hard at making this website into a useful resource for you and your family to plan your visit to the Disney Parks and I hope it can help you! Thanks 🙂
Meet the Author of Ziggy Knows Disney!