As you already know, Hurricane Ian hit Walt Disney World last night after pummeling the west coast of Florida and then traveling through the center of the state leaving a trail of chaos.
We know that countless homes and other buildings were destroyed across the state, but what was damaged at Walt Disney World?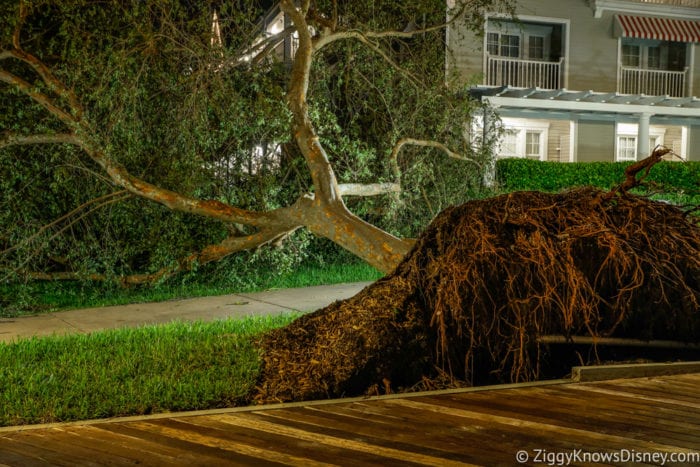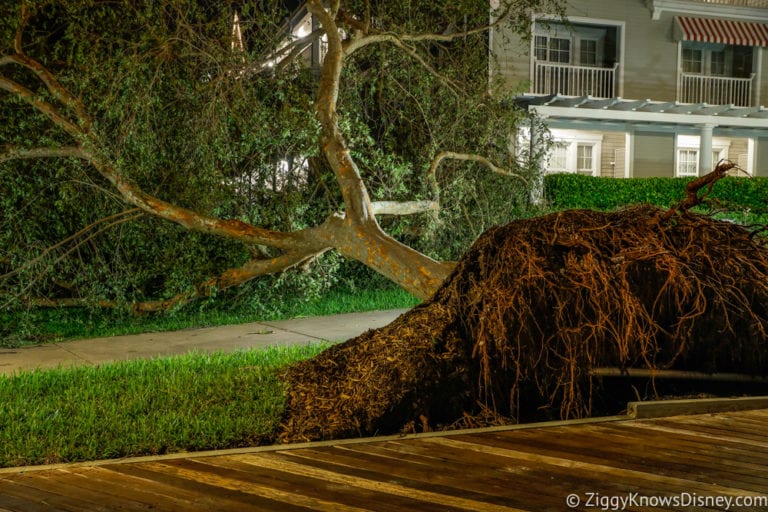 In this post, we are going to look across the Walt Disney World Resort property and give you a first look at the aftermath of Hurricane Ian, one of the strongest hurricanes to ever hit the United States.
If you are looking for info on Disney World reopenings after Hurricane Ian, read our main post, Hurricane Ian at Disney World for the latest.
Also, check out Guide to Hurricanes at Disney World for upcoming forecasts and general info about how Disney handles them.
We'll be updating this article throughout the next few days so you can see exactly what happened and if there are any long-term ramifications from the storm.
The first reports of damage are coming in now, and thankfully they suggest that there wasn't nearly as much damage at Walt Disney World as there could have been and wind gusts weren't bad considering the circumstances.
From what we've seen and heard so far, it hasn't been nearly as bad as some other parts of the state or in the Caribbean. Here's what we found…
Resorts
Here are the first reports from the Walt Disney World Resort hotels…
Disney Swan and Dolphin Resort
One of the scariest scenes was at at Disney World was over at the Disney Swan and Dolphin resort last night when we got a look at the heavy winds moving across the property.
Thankfully nothing happened here except for the wind, heavy rain, and minor flooding, we haven't seen any damage at this hotel so far.
Disney's Contemporary Resort
Here it looks like there was some minor damage to the outside of the main tower where two panels have fallen off the side of the building.
It's also possible there were some minor leaks or wind damage, but everything looks pretty good for now.
Animal Kingdom Lodge
At Disney's Animal Kingdom Lodge there was some leaking in the main building, but nothing too serious.
Not much else happened although there were some fallen trees outside on the savanna.
Coronado Springs
No structural damage to the resort, but there are trees down between te Cabanas and Ranchos buildings, along with some flooding.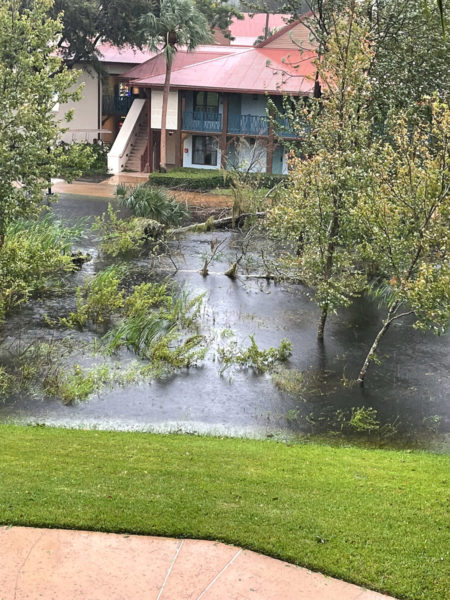 Disney's Grand Floridian Resort
At Disney's Grand Floridian Resort there is some minor damage to the roof as shingles were blown off of one of the buildings.
Some minor damage to the top of the wedding chapel also occurred, but again, just shingles it looks like.
Theme Parks
The Walt Disney World theme parks reopened on Friday, and thankfully, they get too much damage, and there were only a few minor incidents reported.
EPCOT
Over at Test Track in EPCOT, the canopy was ripped off the entrance to the attraction leaving only a metal frame visible:
Just outside the parks, a large exit sign was down blocking the way to World Drive posted by tigervillec on Instagram.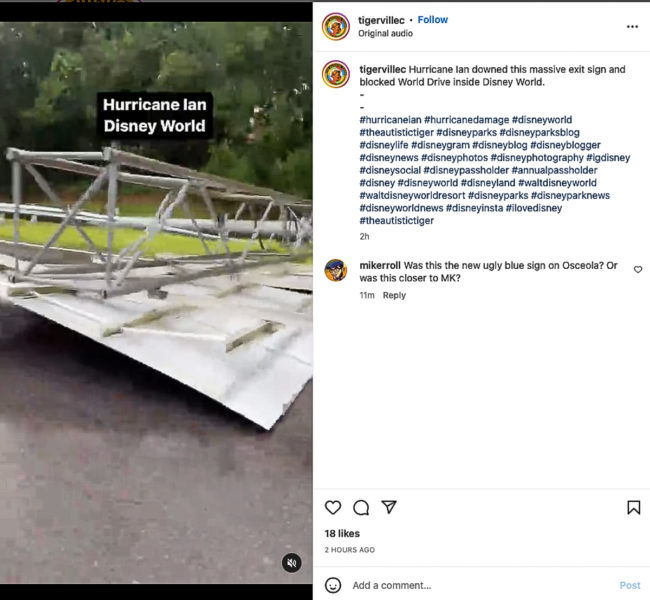 Outside Disney World
Even though the damage from Hurricane Ian at Walt Disney World doesn't seem too bad, outside the parks it was much worse.
In Kissimmee there was major flooding last night with water levels halfway up some of the cars.
Some of these scenes are insane!
Heavy flooding persists in Kissimmee at the moment. In fact, the City of Kissimmee gave a flooding warning to residents to stay sheltered in place until further notice.
This was what it looked like over at the entrance to the Double Tree by Hilton near Universal Studios with water up to the windows of the cars at some points.
There was even more flooding down the street near Universal Studios.
That wraps up our article about Hurricane Ian and Walt Disney World. I hope we gave you some good tips to keep in mind and that help you make a good decision about whether or not to go to Disney World this week and how best to handle the situation.
Here is some more useful reading about Hurricanes:
If you are taking a trip to Disney World during hurricane season, you should definitely consider the risks, and you might want to choose another time of the year. Here is our ranking of the best months to go to Disney World.
Your Thoughts
I want to know what you think about the aftermath of Hurricane Ian at Walt Disney World…
Were you at Disney World during Hurrican Ian?
What was your experience like?
Let us know in the comments section below!
If you enjoyed this article, as always I appreciate it if you'd share it with others via social media. I work hard at making this website into a useful resource for you and your family to plan your visit to the Disney Parks and I hope it can help you! Thanks 🙂
Meet the Author of Ziggy Knows Disney!