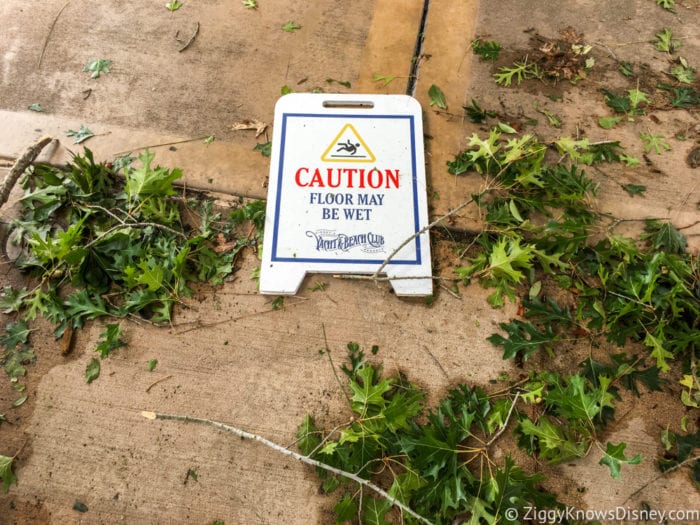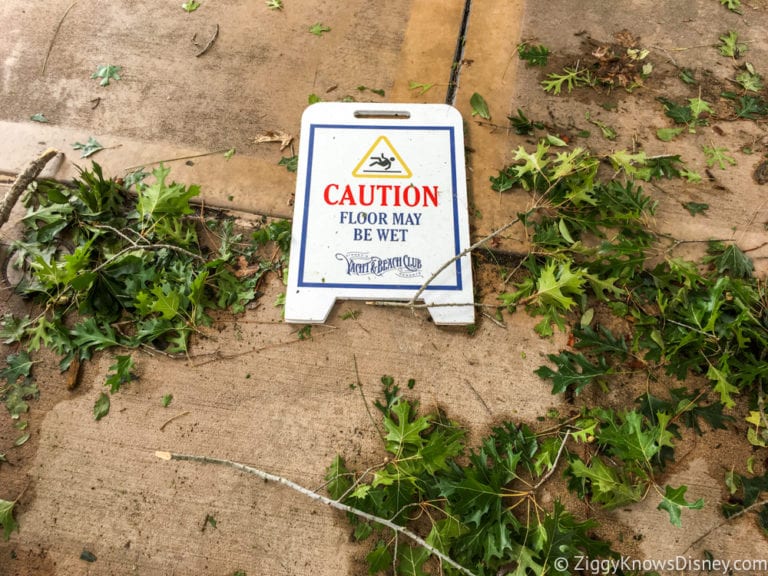 This is a story about how I and my family survived Hurricane Irma in 2017.
Ok so surviving Hurricane Irma might be big words, as neither our lives, nor the lives of other Disney guests were never in real danger, but it wasn't so much of an exaggeration before we left for our trip. Hurricane Irma destroyed thousands of homes throughout the Caribbean and Florida and left a trail of devastation in its path that will be unforgettable for millions of people.
I personally had never experienced a hurricane before up close, and honestly the way the news channels were talking before-hand we didn't really know what to expect. So since this was our first hurricane experience at Walt Disney World, and I know many others who don't live in Florida-year round have never seen one, I wanted to relate our experience while we were there so that you can have a better idea whether going to Walt Disney World in a hurricane is a good idea or not and what to expect.
For more general information with details and tips, you can read our post about Disney World and Hurricanes which will help you plan accordingly.
Before Going:
Now I know what some of you are saying already: "Why on earth would you ever go to Disney World when there was a hurricane headed directly for it?" Well, my friend, that's a very good question and to some may seem crazy. Those were the thoughts that were running through our head immediately when we heard one was coming.
It's true that Disney does a fantastic job helping people to re-schedule their vacations in the case of something like Hurricane Irma. They were very helpful and made this process more than easy for anyone who wanted to back out at the last moment. We thought about this and had very serious discussions about staying home, but in the end, we decided to go to Disney World anyways for a couple of reasons.
First, while it's true Disney was offering to reschedule people's Walt Disney World vacations, unfortunately, we were going in a big group and all of our differing schedules didn't allow us to re-plan anytime in the near future.
Second, after having talked with friends who work inside Walt Disney World, they told us that while hurricanes can be dangerous, Walt Disney World is the safest place to be in all of Central Florida if a hurricane strikes. Disney goes to great measures to protect its guests first and foremost and of course its own property.
When Disney is constructing new resorts or buildings, for example, they run tests like launching 2×4 boards at the walls at speeds in excess of 100mph to at them, to see how resistant the structures would be in the case of a hurricane. We were reassured that while it's a very safe place to be.
We also realized that while Hurricane Irma started as a Category 5, by the time it would reach Walt Disney World, if it reached us it would be significantly less powerful as they lose strength once they make landfall. Also 5 or 6 days out there were no guarantees that Hurricane would even directly hit Disney seeing as hurricanes can change paths quite quickly.
Lastly, I felt it was an important enough story that I had an obligation to my readers to report the story live from WDW, so that they could see what was happening there.
I think anyone planning to go to Walt Disney World when a hurricane is expected has to make a decision for his/her own family and do what they think is right. I know many didn't feel comfortable going and putting their family in harm's way, and that is to be commended. In the end, we evaluated the situation and decided that we would only lose a couple of days vacation and it was worth going.
Arriving at Walt Disney World before Hurricane Irma:
It was a strange feeling arriving in Walt Disney World knowing what would be coming right behind us only a couple days later, and even though we weren't scared about surviving the hurricane, there was a strange cloud of nervousness over everyone. We left on Thursday night, September 7th, with Irma set to arrive Sunday/Monday.
At that time there was still no word if Disney was going to close the parks (although it seemed obvious they would at some point), or when/if the Orland Airport would close. We slept the night in the Orlando Airport and left bright and early for the Beach Club. The way we figured it was that we would have at least Friday as a good day to hit the parks as the weather was set to turn to rain on Saturday.
Day 1 – Friday: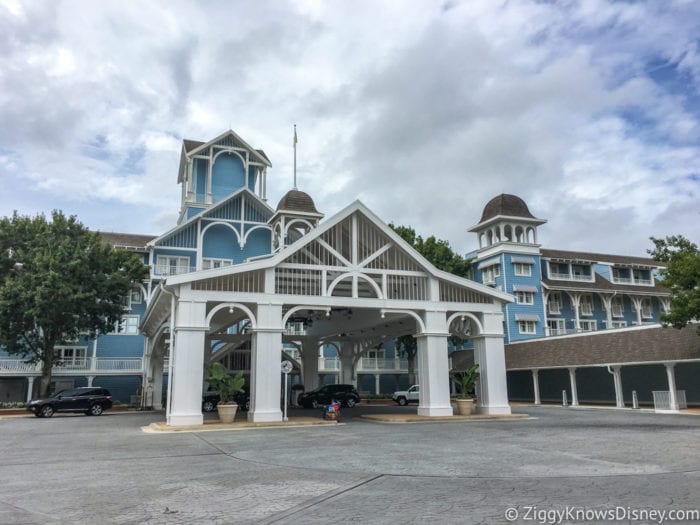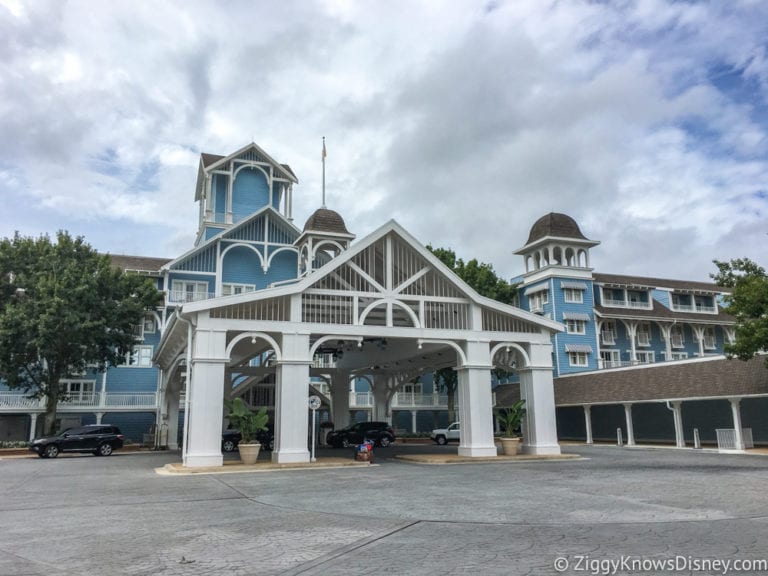 Upon arriving at the Beach Club, everything seemed normal. No one was in a panic, Cast Members were as bright and friendly as usual and were very helpful in keeping everyone calm. They told us that soon they would be informing the guests of the situation and what the schedule for closures would be.
They also assured us that the structures themselves are very strong and they would have plenty of food and drinks, and lots of entertainment to keep us occupied. As you will later see, that was 100% the truth!!
Since Disney's Beach Club is very close to Hollywood Studios, I decided to head over and see how the storm preparations were going. It's incredible the level of detail Disney goes about taking when preparing for a hurricane. For example here are some street lamps on Hollywood Blvd that are covered in plastic bags.
Now at first, I was questioning this because if something smashes into a light a plastic bag won't help. But instead, they're there to keep broken glass from going all over the streets and then having to clean it up. Genius!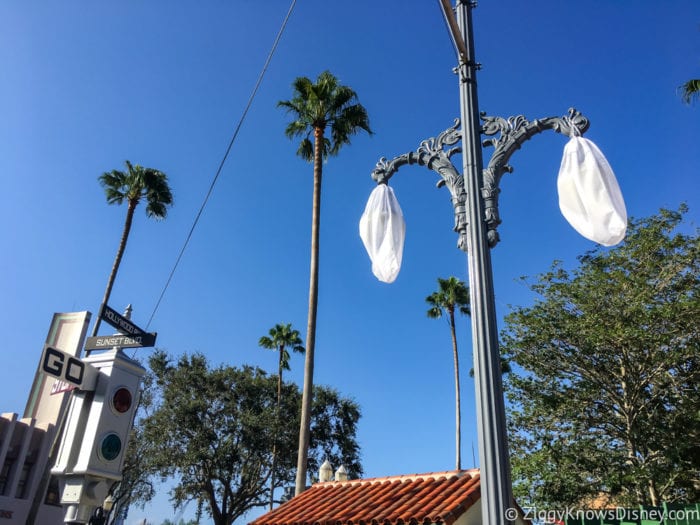 The Star Wars: A Galaxy Far, Far away stage in Hollywood Studios was getting all packed up. Now it's much easier as Disney now has mobile stages that can just wheel away, making it easier in the future.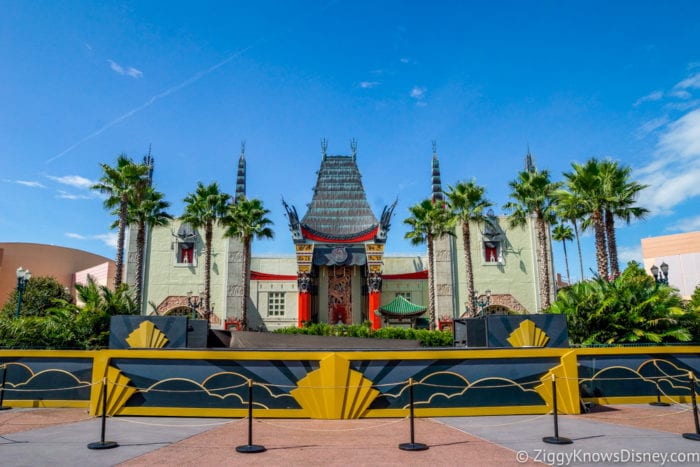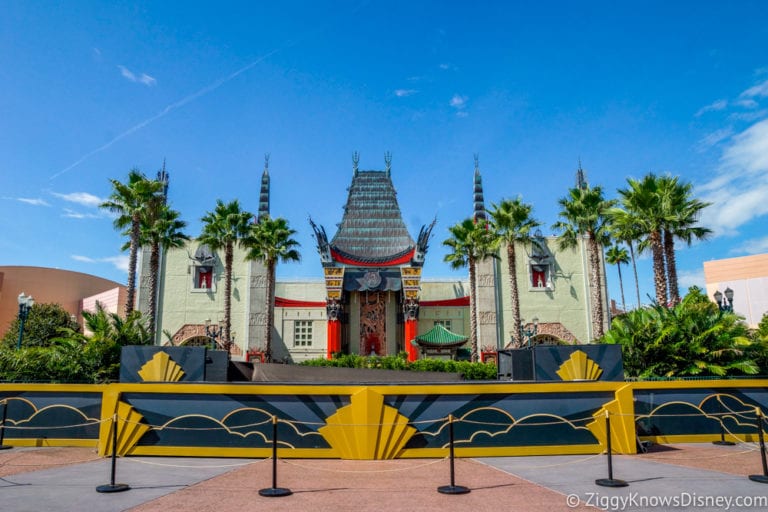 Actually being there waiting for Hurricane Irma to land in Walt Disney World gave the few guests that were there the unique opportunity to experience the parks practically empty. For example, this was the France Pavilion in Epcot at one point in the late morning:
It was an absolute pleasure to have the parks basically to ourselves both in the days before and after hurricane Irma. I mean really???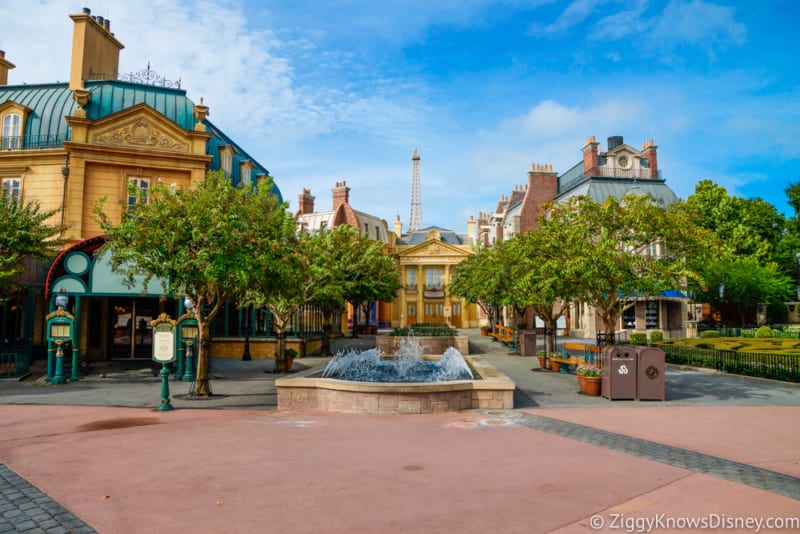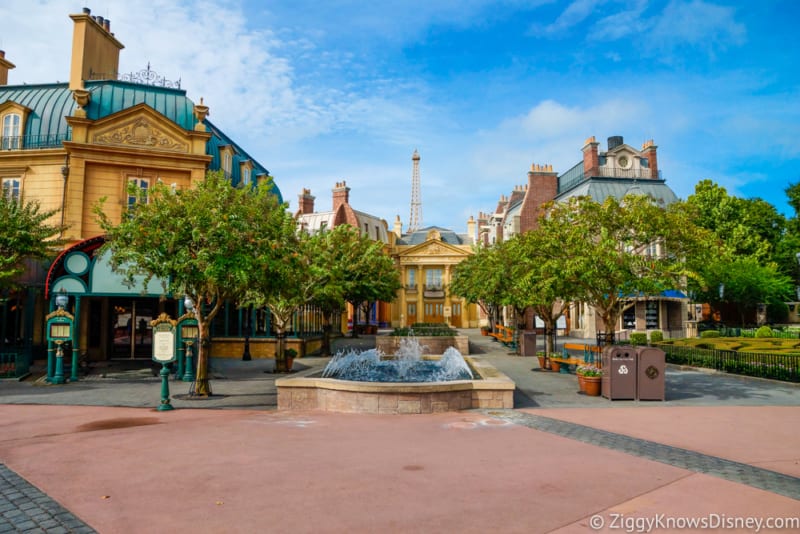 We decided to try our luck over at Disney's Animal Kingdom and Pandora: The World of Avatar as well. We were welcomed with a walk-on line that looked like this in Flight of Passage: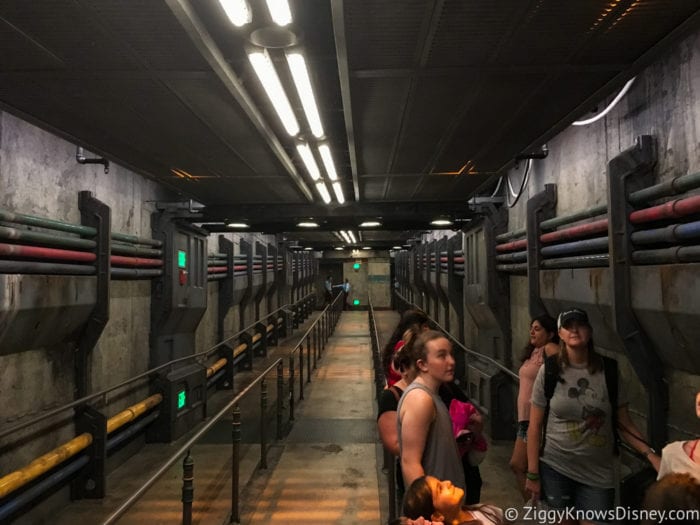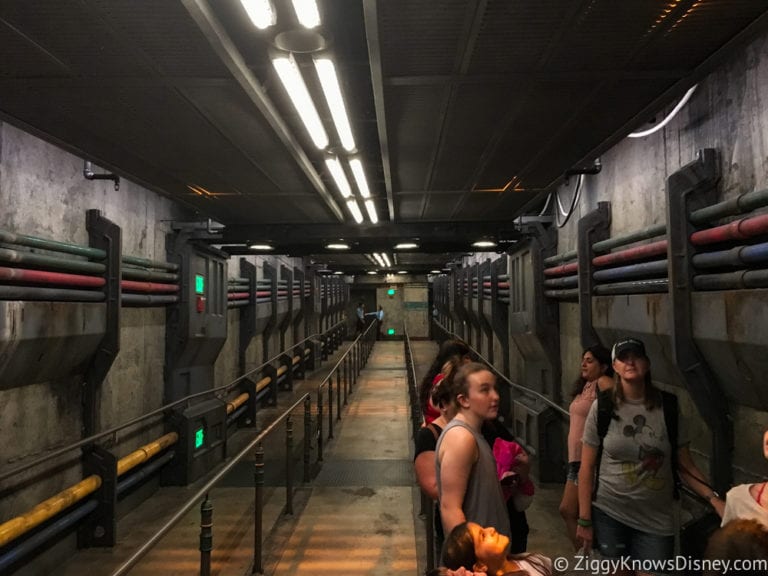 No, really it was like something most guests, unfortunately, will never get to experience and a plus of being there during a hurricane.
When we got home we also found out as we suspected that all the Theme Parks would be closed Sunday and Monday, as Hurricane Irma was expected to make fall in Orlando Sunday night into Monday. Obviously Disney goes to great lengths to keep people safe and we also found out that everyone would be confined to the hotels.
The state of Florida issued a state of emergency and banned all cars from even going on the roads until Irma passed.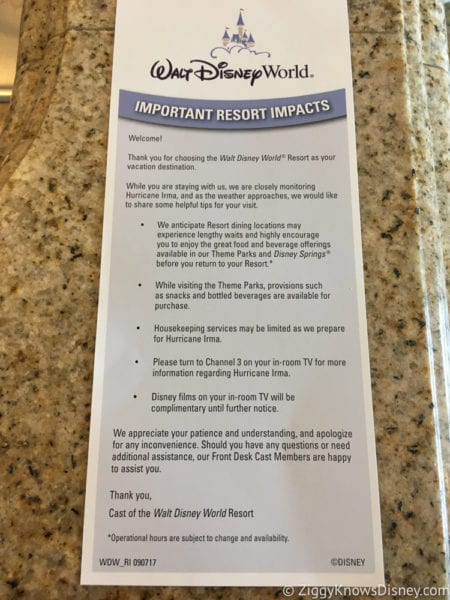 Our stay though at the Beach Club and other resorts around WDW property would be anything from boring though as you will see.
Day 2 – Saturday:
Our plan for Saturday was a laid-back one, sleep in and relax, then head over to Disney Springs to stock up on some food for our fridge since we didn't know how much food Disney would have available during the couple days we were stuck in our resort. The clouds were coming in and Disney Springs was absolutely packed with people. You'd never have known we were one day out from a hurricane: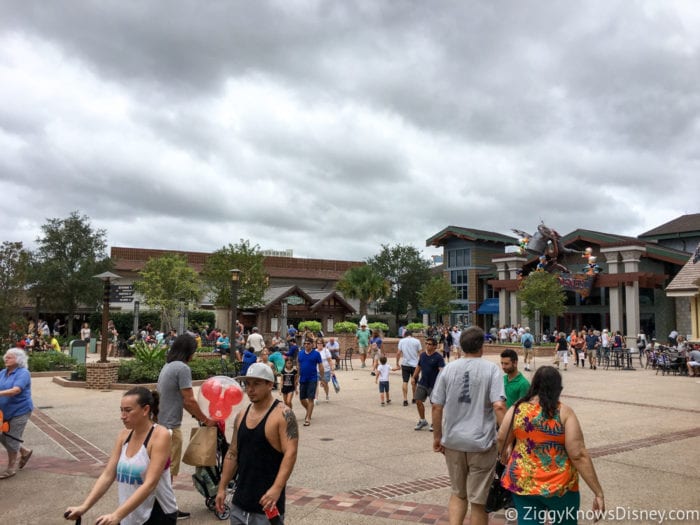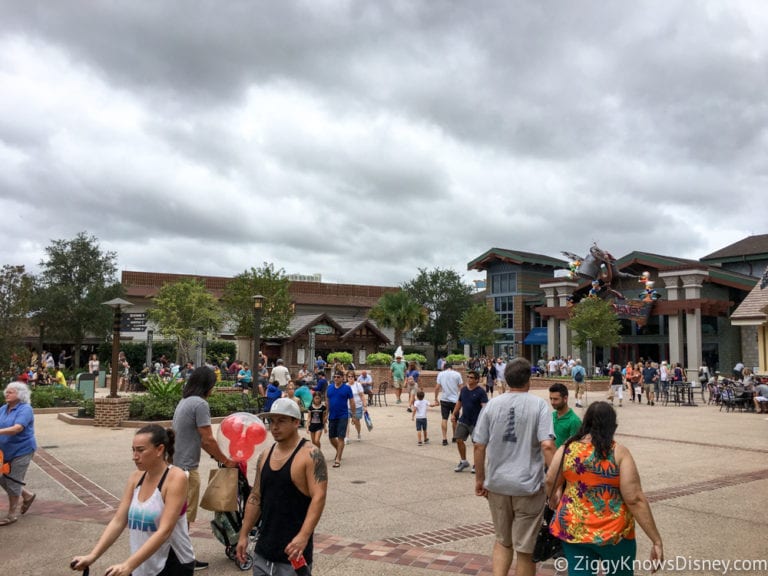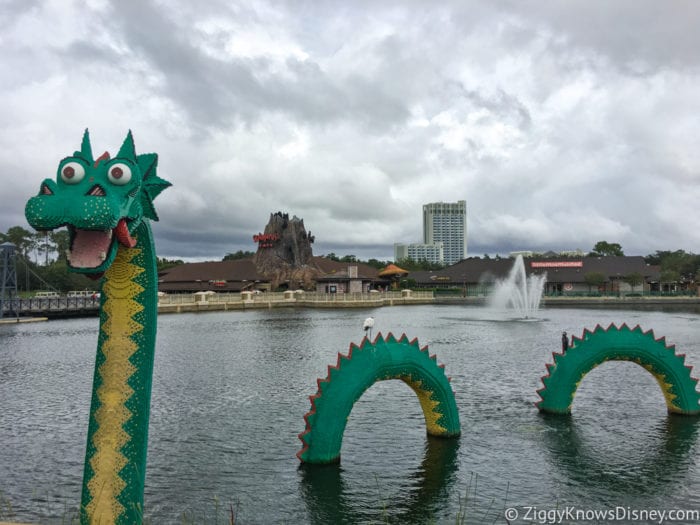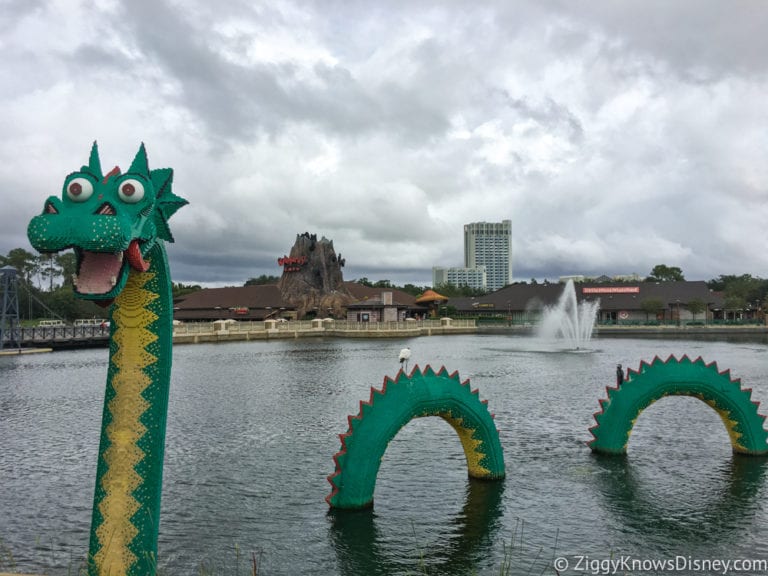 Stores were being prepared for the worst with sandbags in place once the doors closed to prevent flooding over the next two days: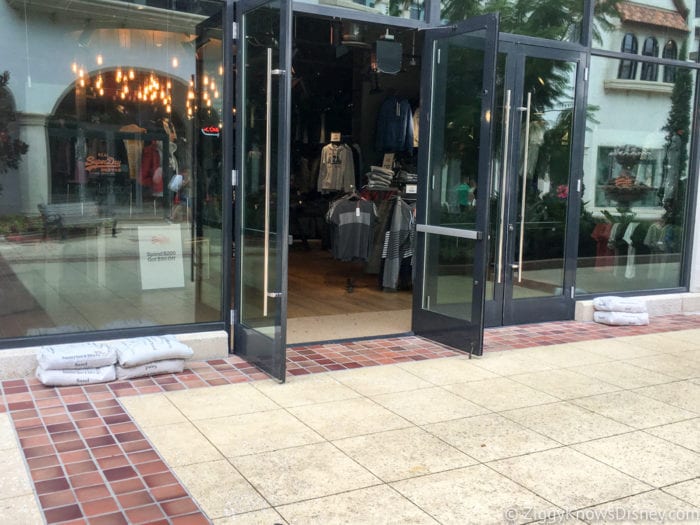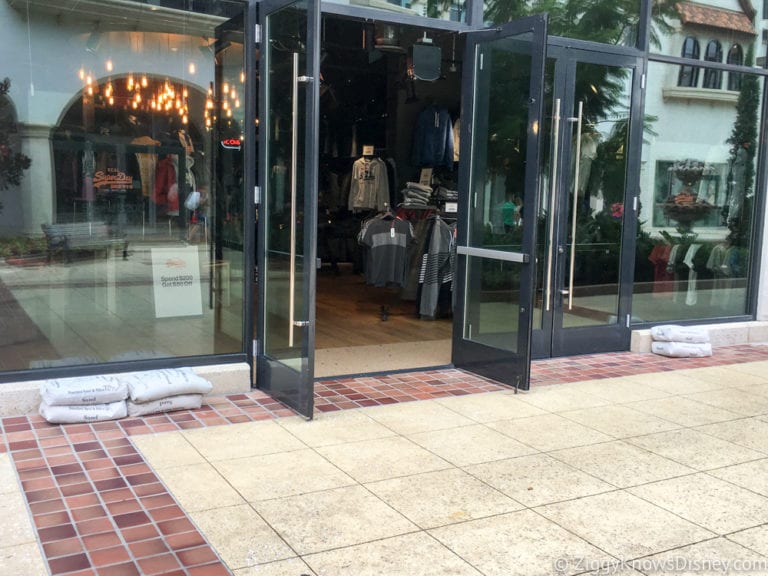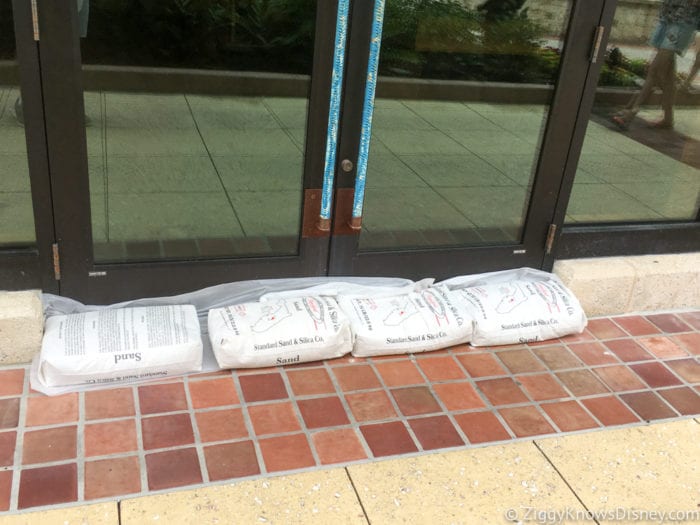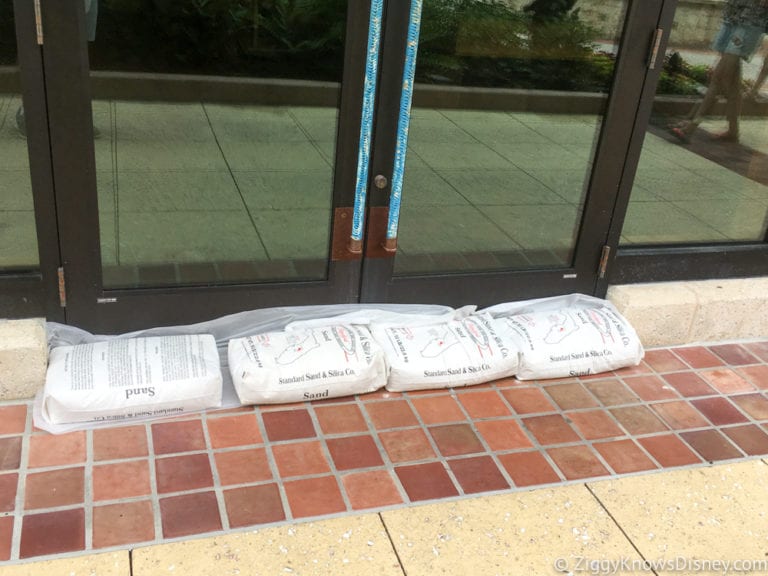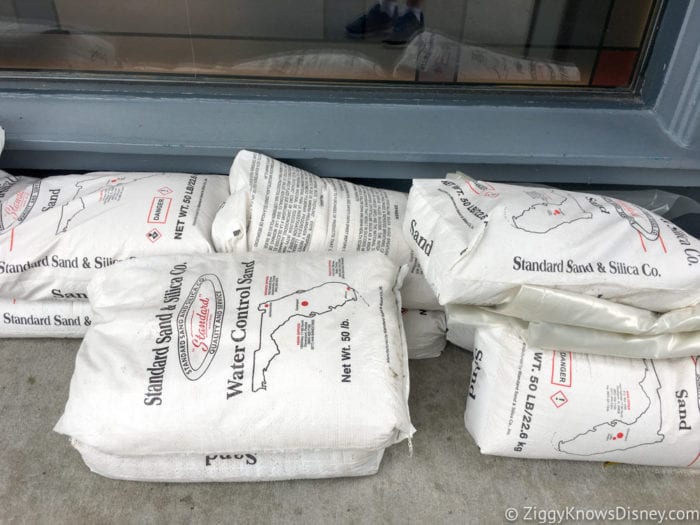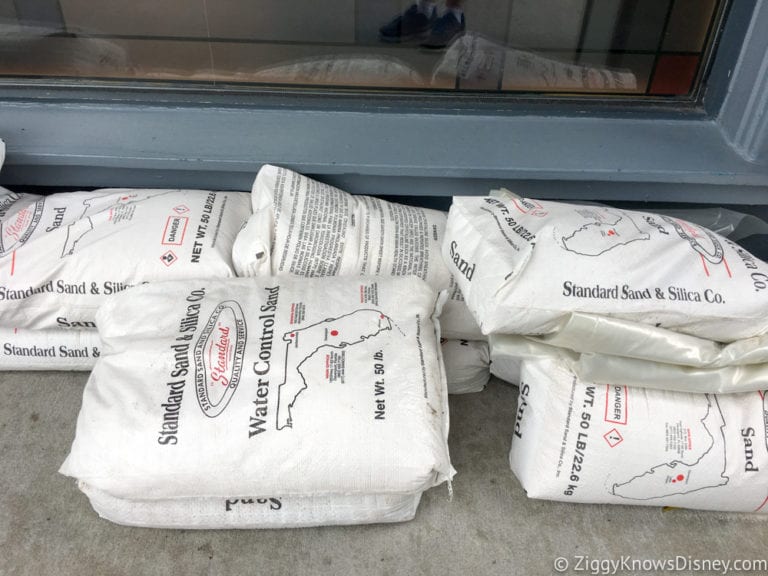 We stopped at Blaze Pizza (which is awesome btw) to pick up some pizzas to put in our fridge for tomorrow: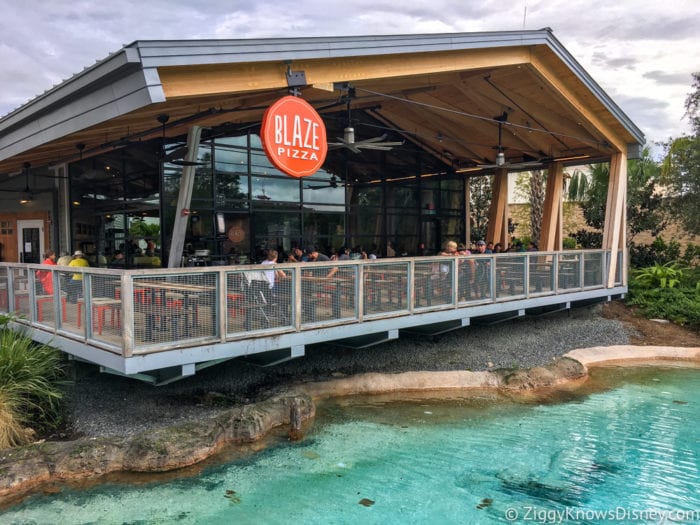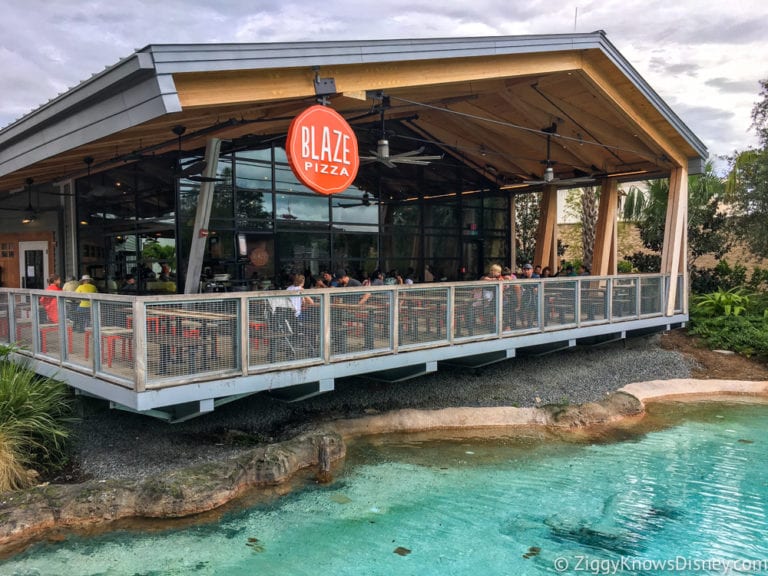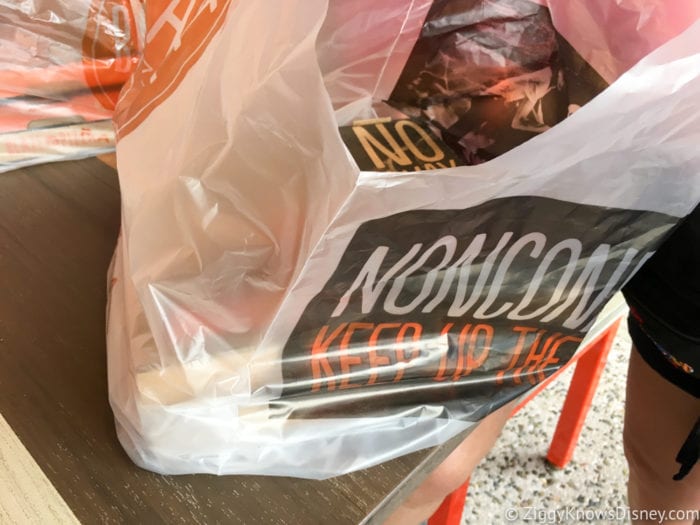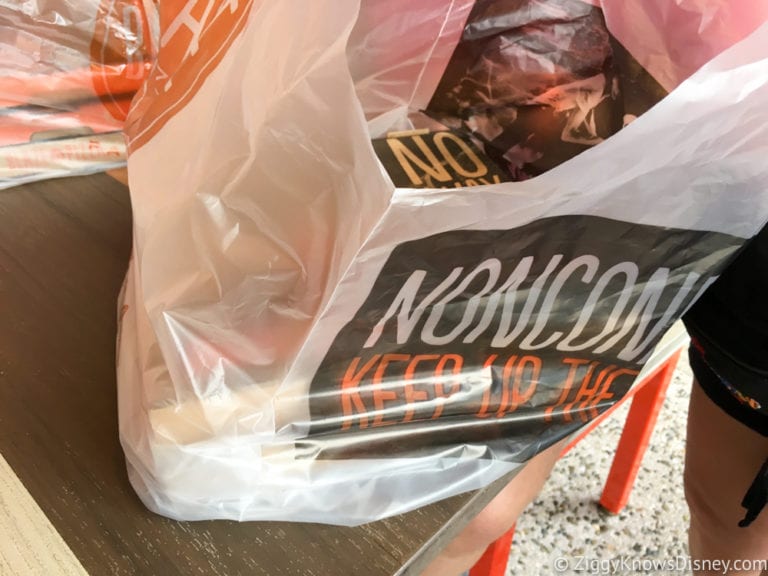 When I get around to my Blaze Pizza review I'll touch on it more but their bags are really terrible. They aren't wide enough to fit the pizza boxes. With a lot of effort we somehow crammed them in:

Our fridge was now well stocked with, fruit, pizza, ham, cheese, soups, water, and enough juice and vodka to last at least a couple days. Hey, you never know when the bar will reopen…. 😉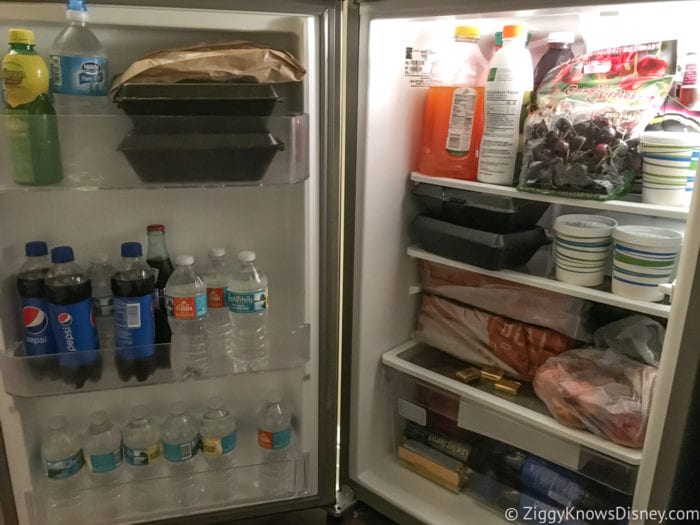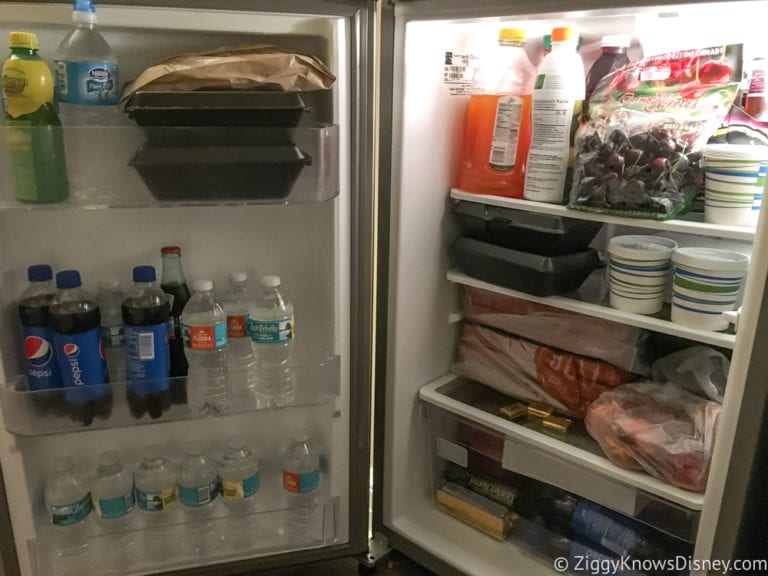 Again we're not from Florida, we're from Connecticut, and my wife from Italy, so none of us had ever experienced a hurricane before, but even though we had a little bit of anxiety, there was a strange calm in the air, helped by the fact the Disney staff was so well organized and prepared for everything, which was really reassuring.
Walking on the Boardwalk Saturday night you'd never even know a hurricane was coming as it was overwhelmingly peaceful…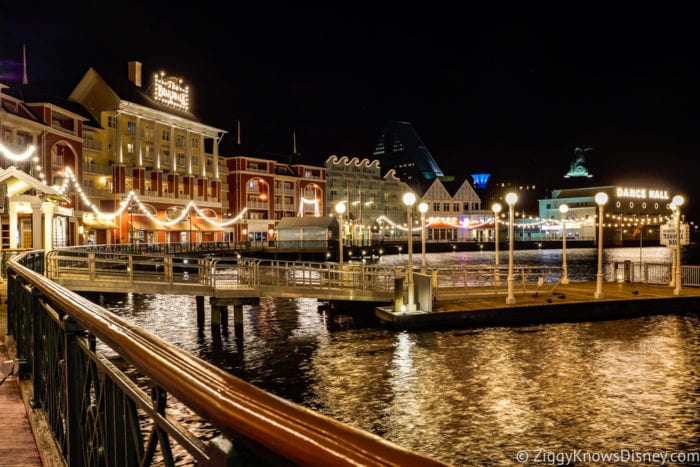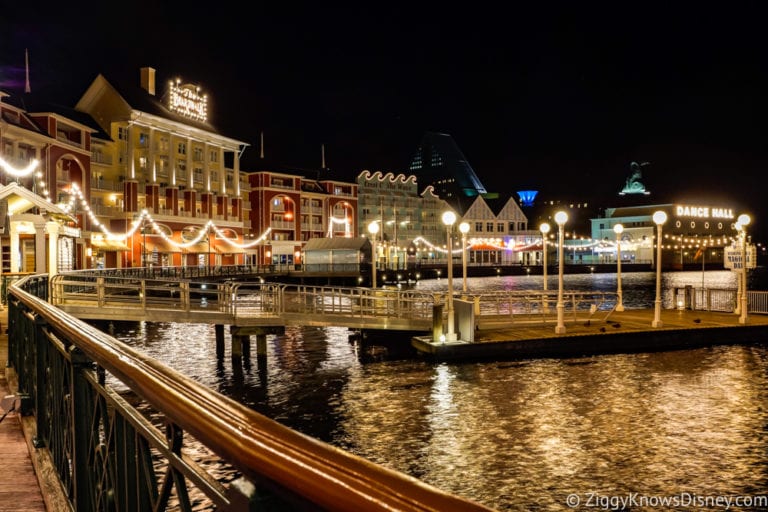 Day 3 – Sunday: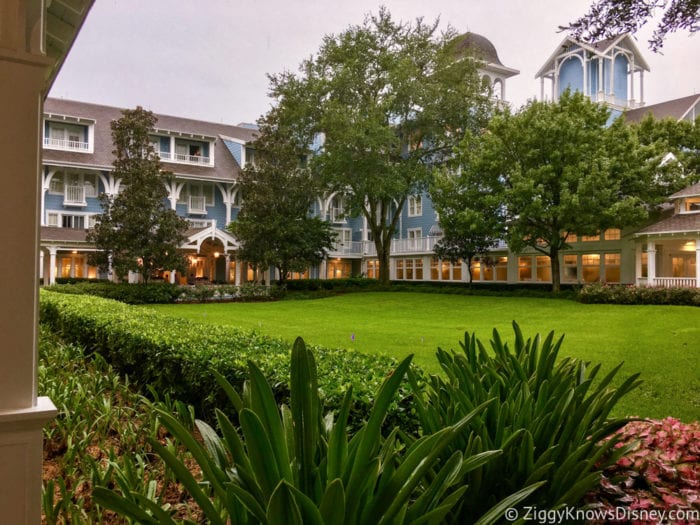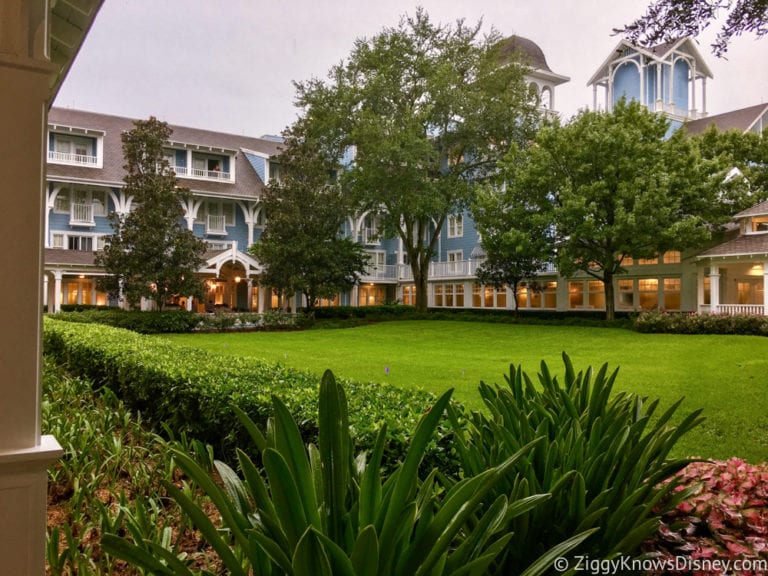 Next morning you could see that bad weather was coming as it was super grey and rainy:

Down in the Beach Club Lobby, the Captain was putting up the activities for the day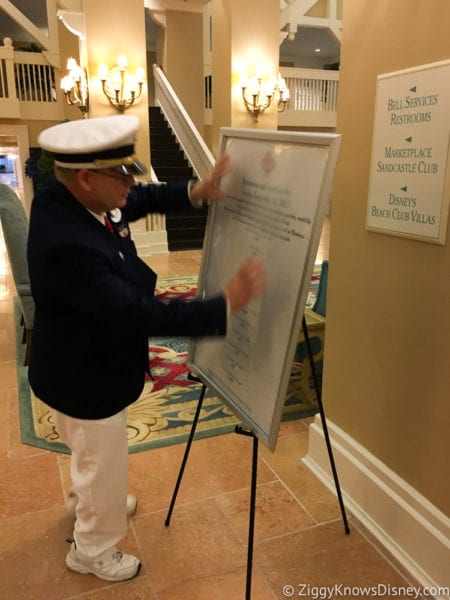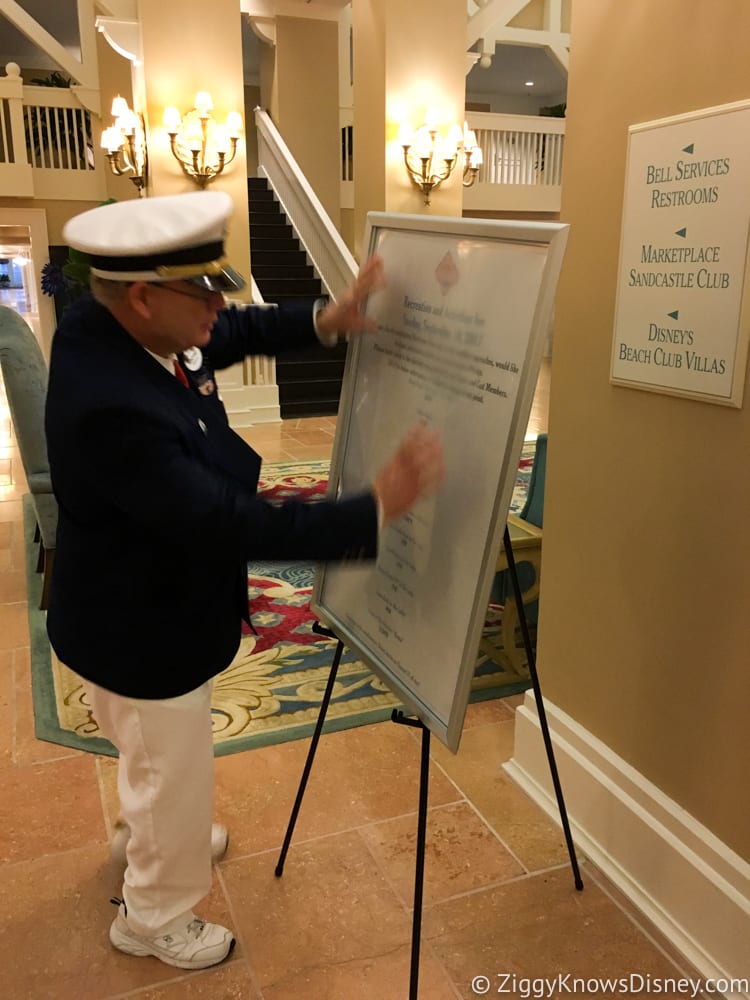 Disney did an excellent time organizing actives for both Sunday and Money, and there were non-stop things to do. Even though the parks were closed, Disney brought the parks to us!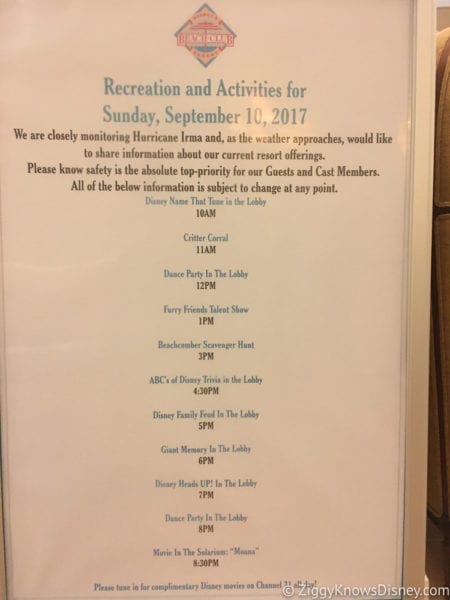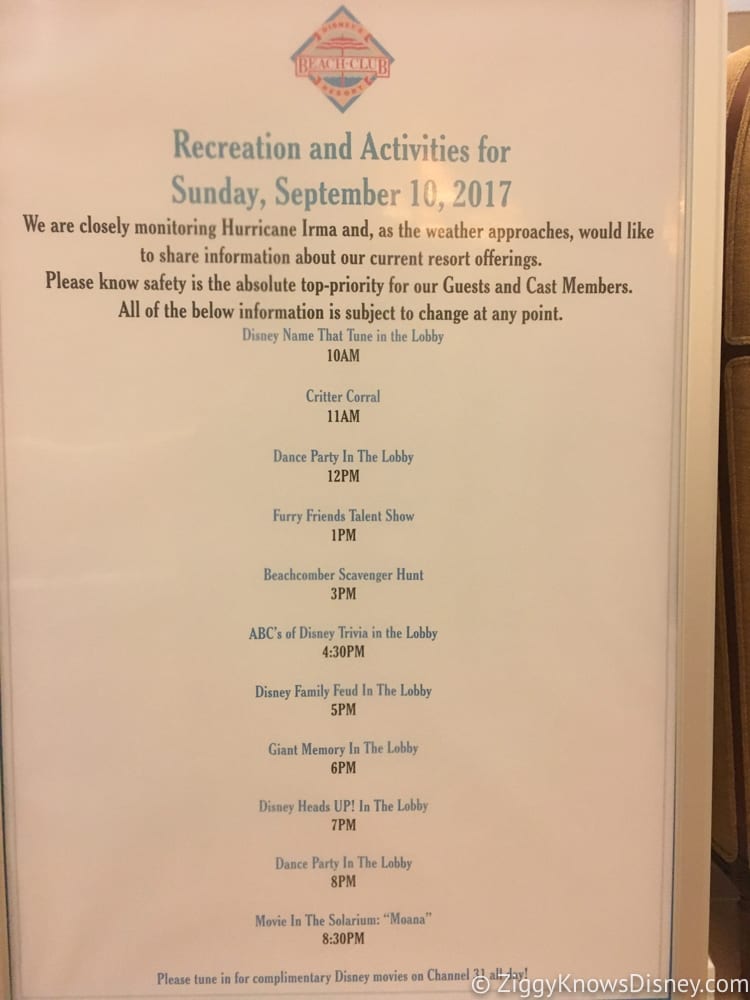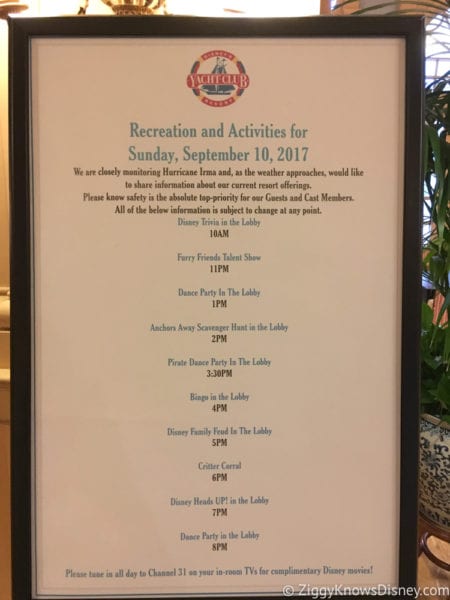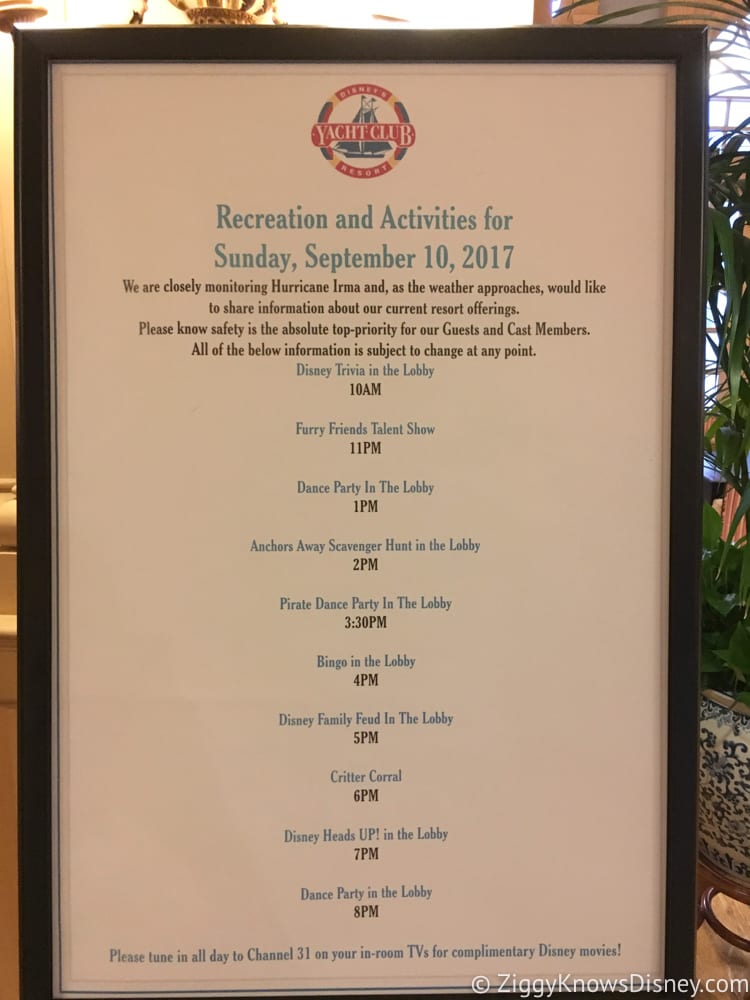 Back when Hurricane Matthew hit, Disney had a hard time getting everything organized, with some people waiting over an hour just to get a sandwich to eat. Not this time. Disney was super organized and learned from the last time and had it all planned out well: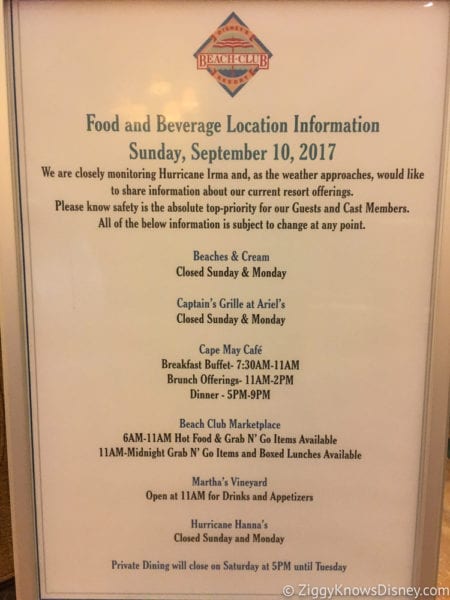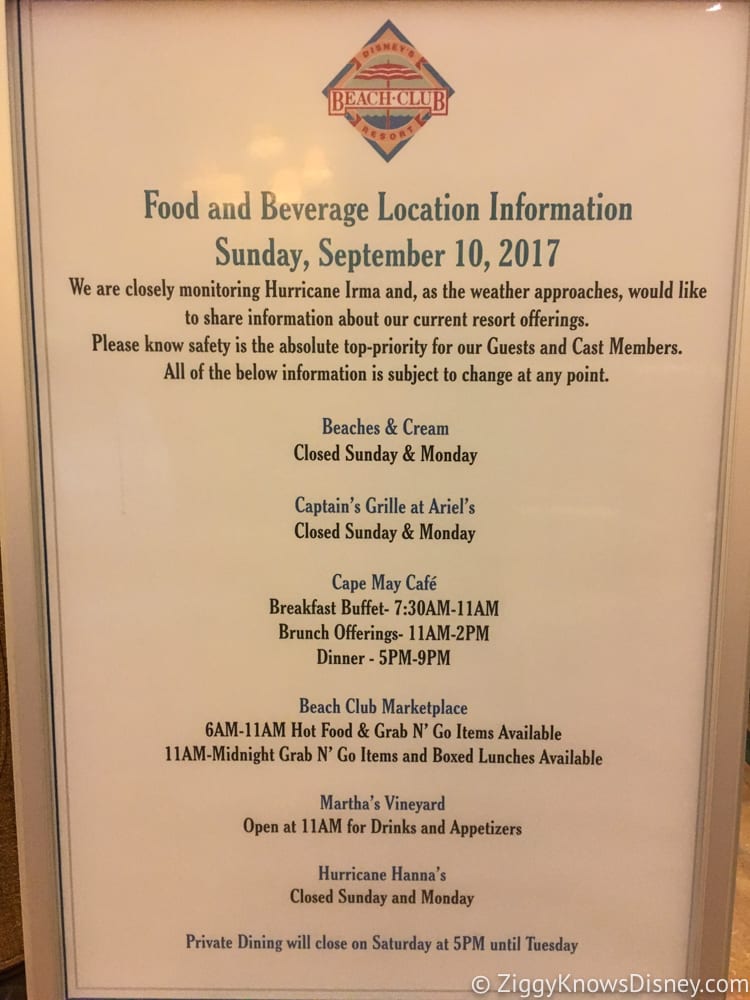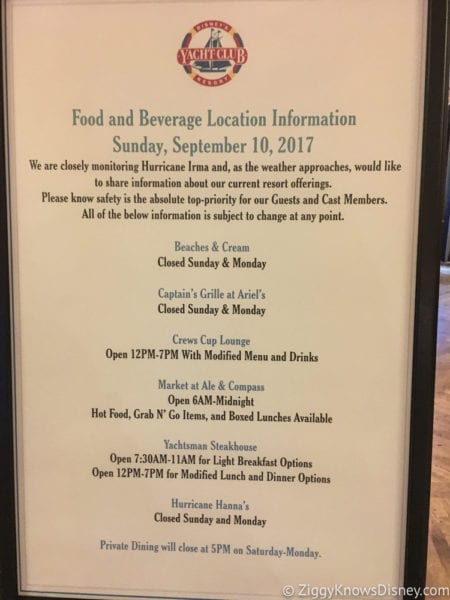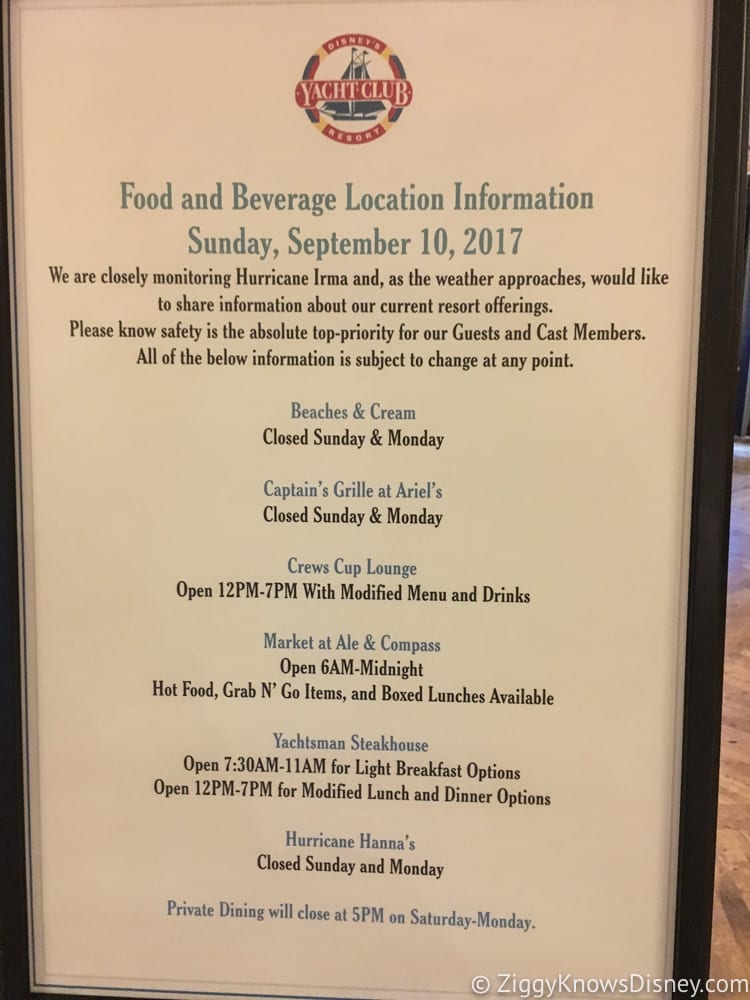 At the Beach Club, even Cape May Cafe was open for Breakfast, Lunch, and Dinner. So much for all that food we had put int the fridge…hahahaha: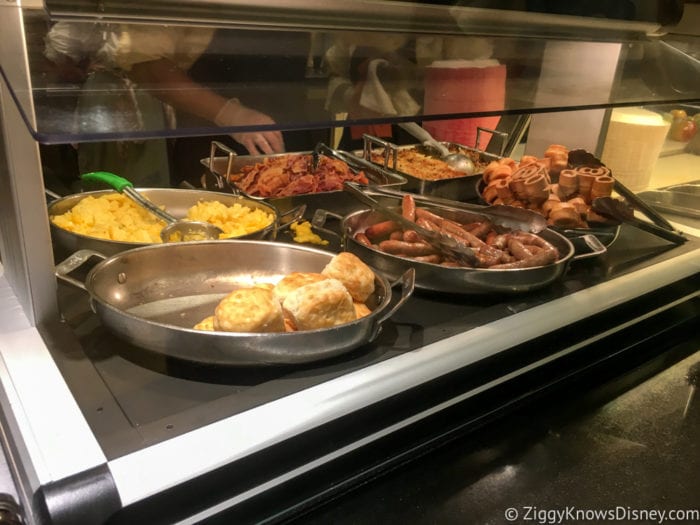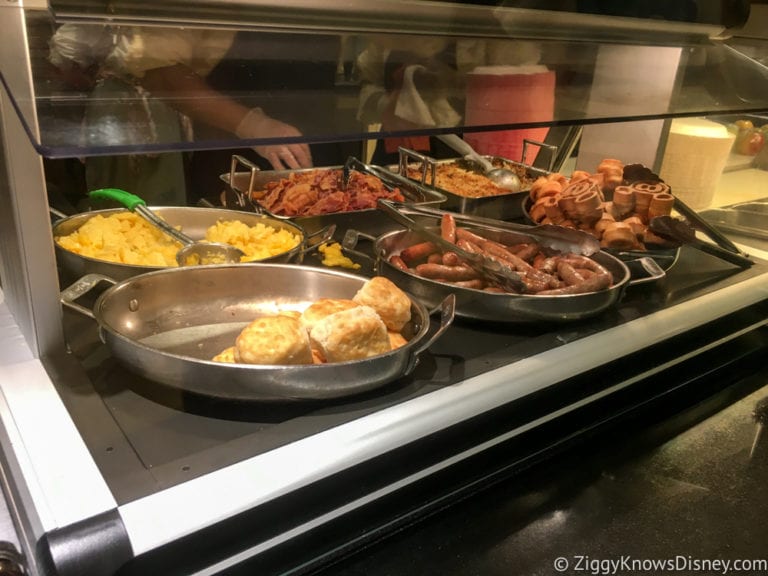 Outside you could see the weather was getting worse and worse: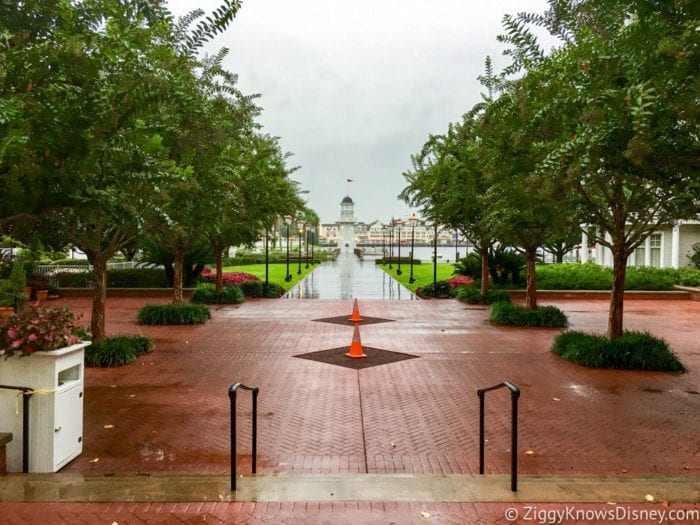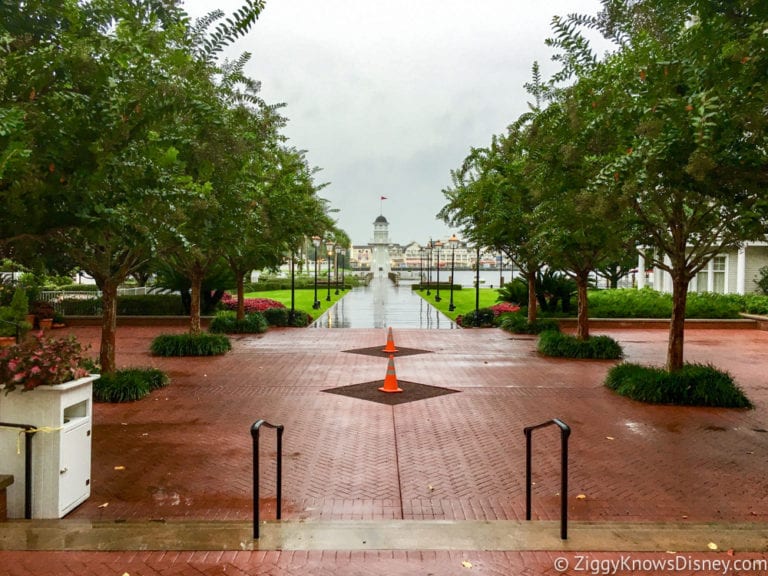 Disney had the pool area all set for Hurricane Irma too, with all the tables and chairs bundled up and ready for high winds: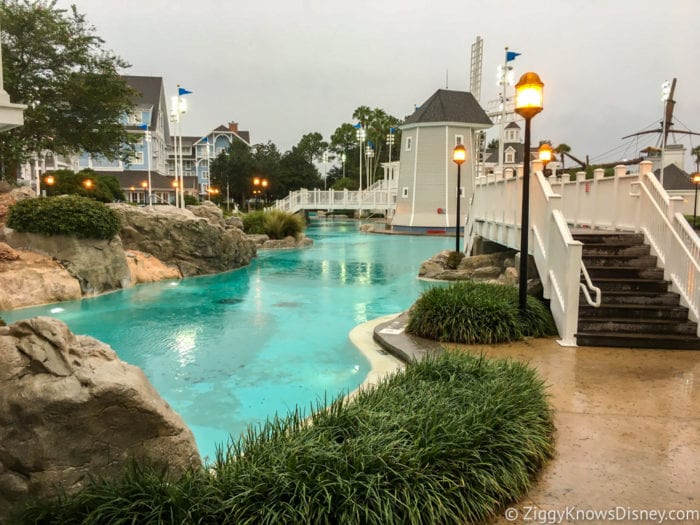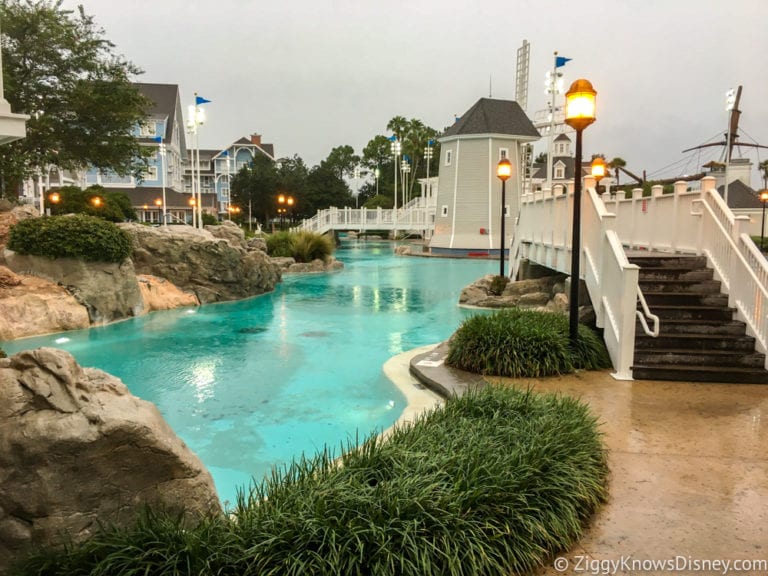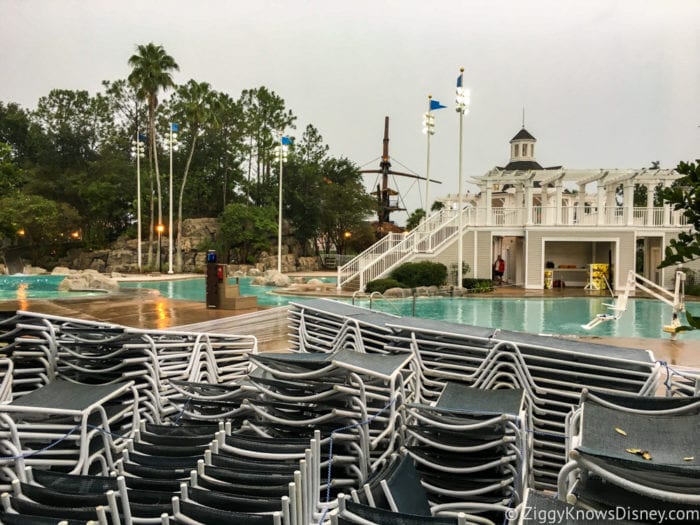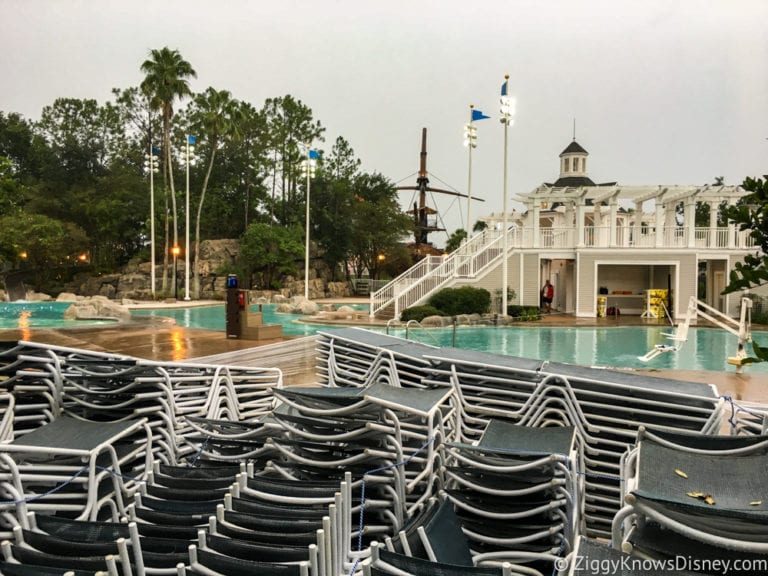 Then at a certain point in the morning we got a surprise. Since the weather wasn't yet dangerous, they decided to open up the pool for a while, and we immediately took advantage of that! 😉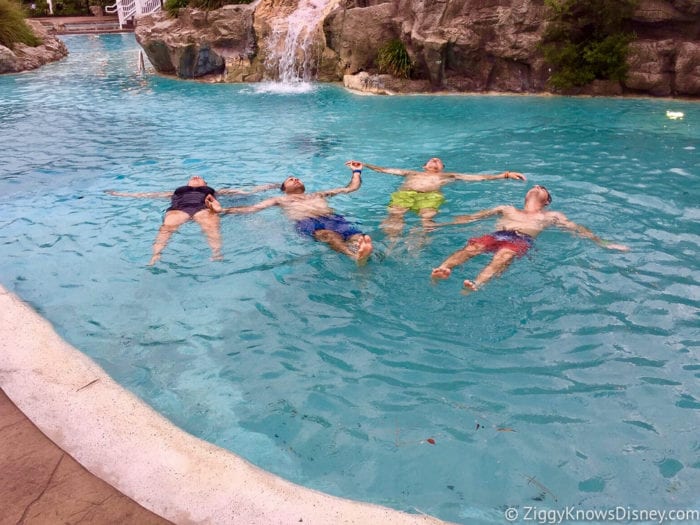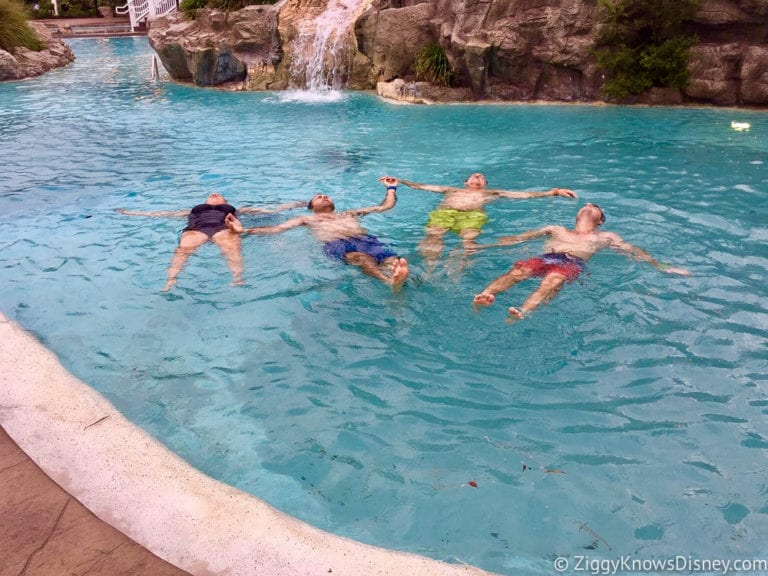 One of the best activities that were made available was pin trading. My mom and sister are huge traders, obsessed really, so it was a great opportunity to make the rounds inside the resort and find the pieces they were looking for: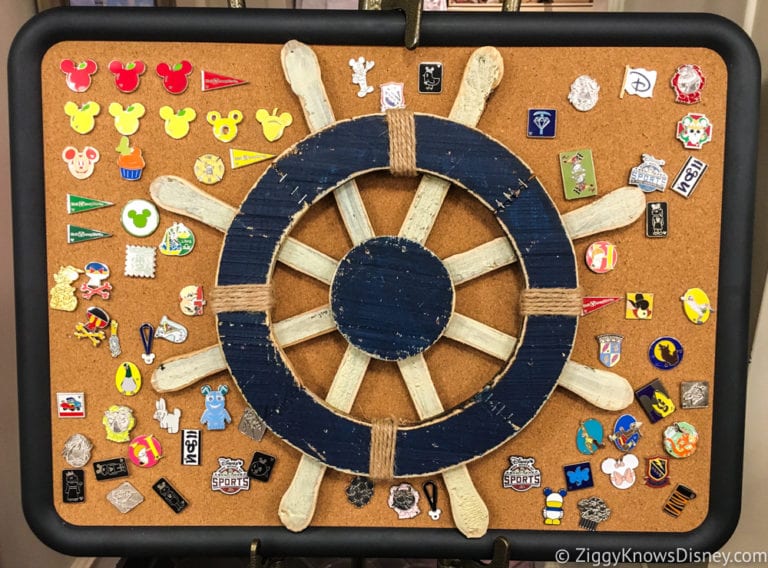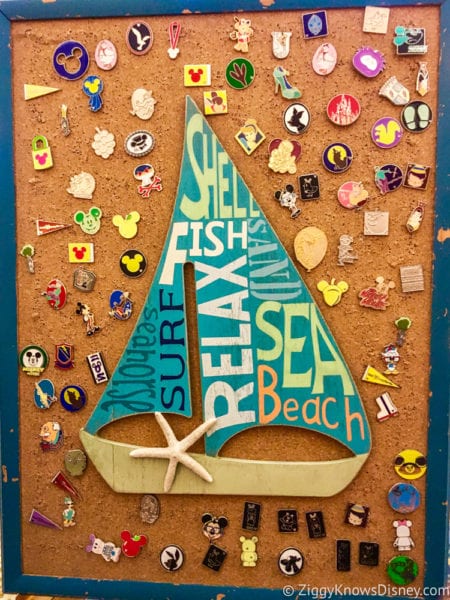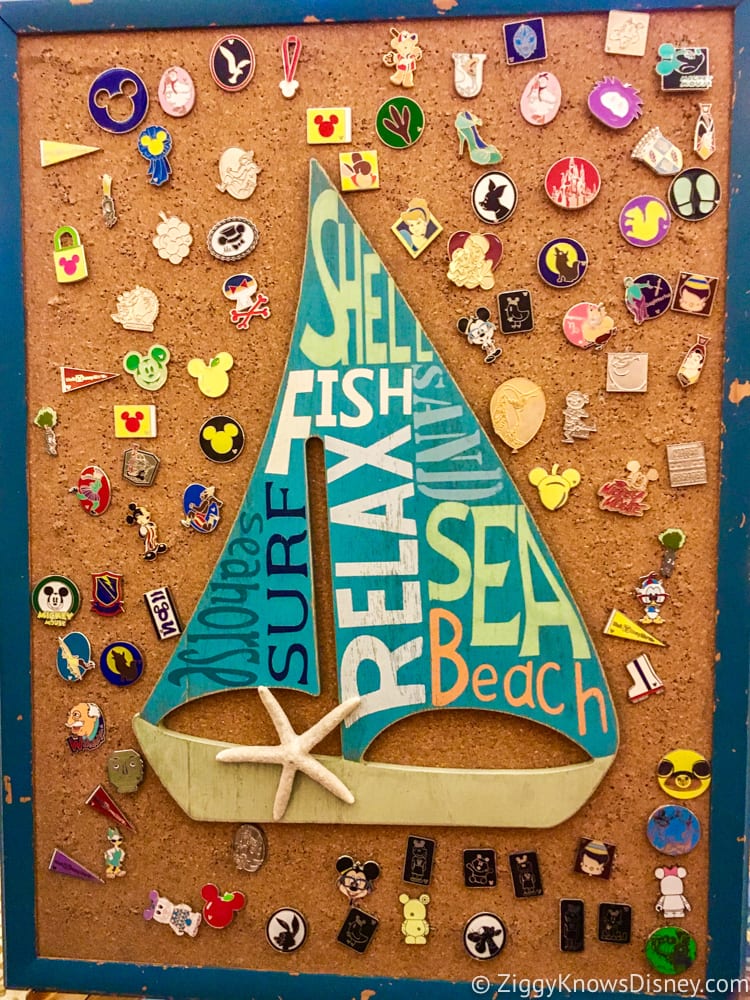 Even the arcade was open to the public and free! It was the first time in years I'd even seen people in there practically!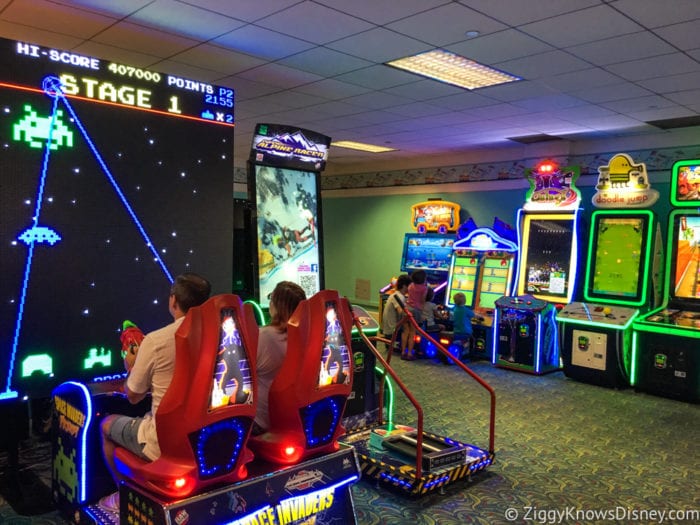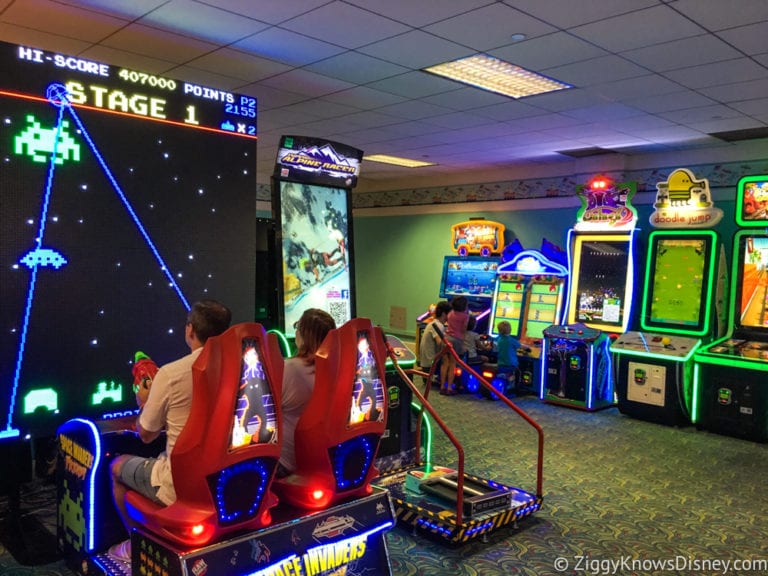 Another highlight of the Hurricane Irma activities was the dog talent show. Since Walt Disney World is one of the safest places to be during a hurricane, many people from south Florida came up for shelter and brought their furry friends with them, which was obviously a precursor on the news that Disney recently opened up some of its resorts to allow dogs to stay on property. How didn't we see that coming??
Anyways Disney was nice enough to organize a dog talent show in both the Yacht and Beach Clubs, and it was a really funny time!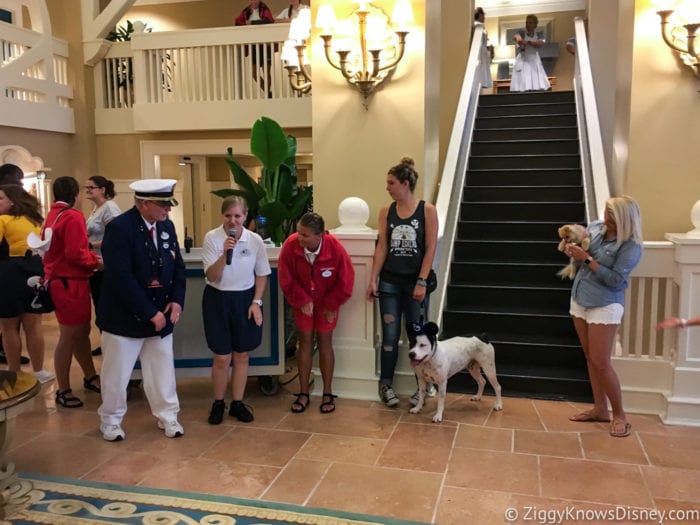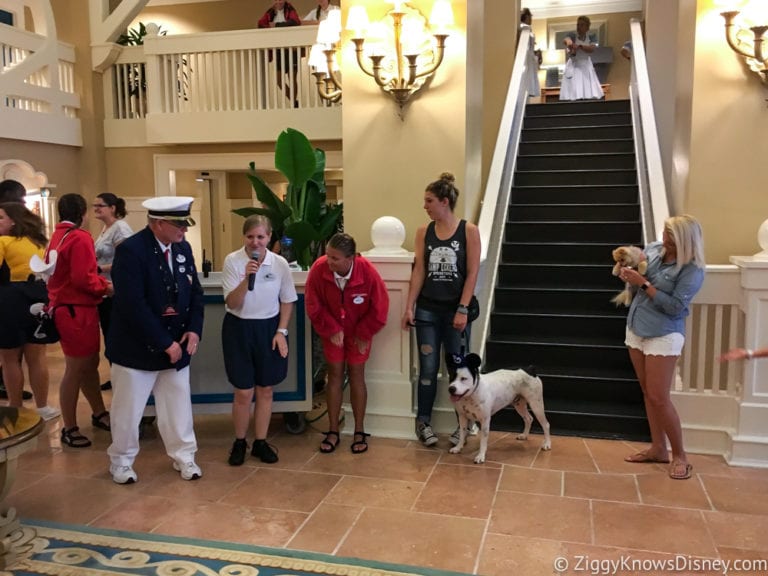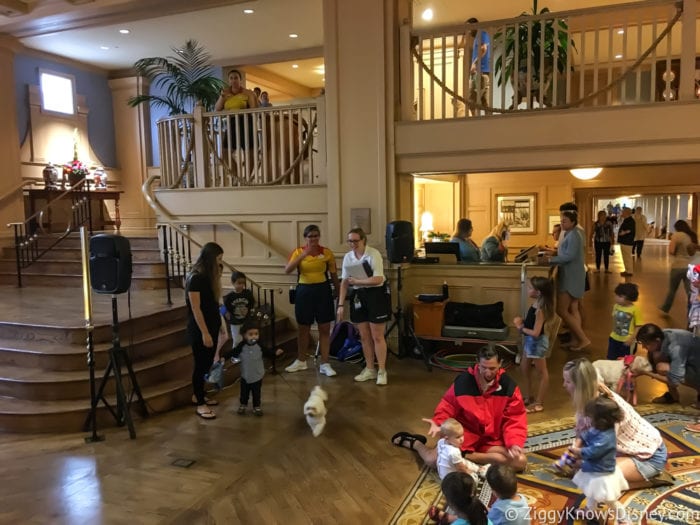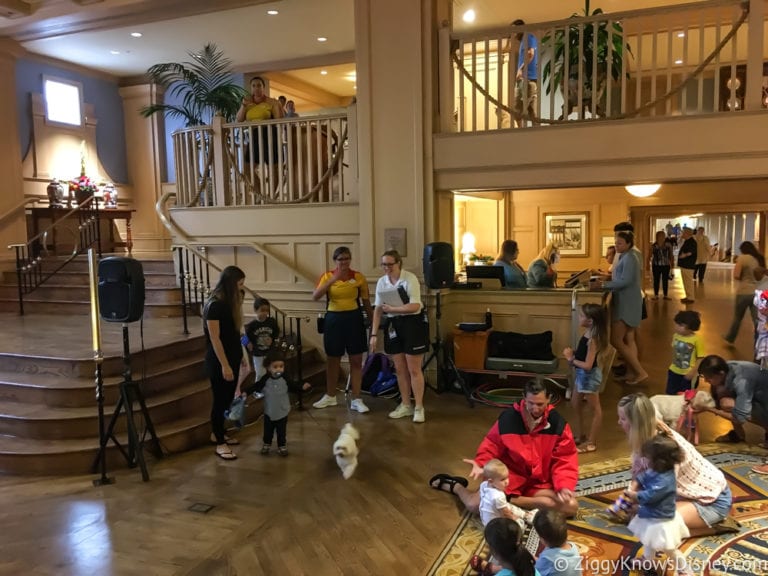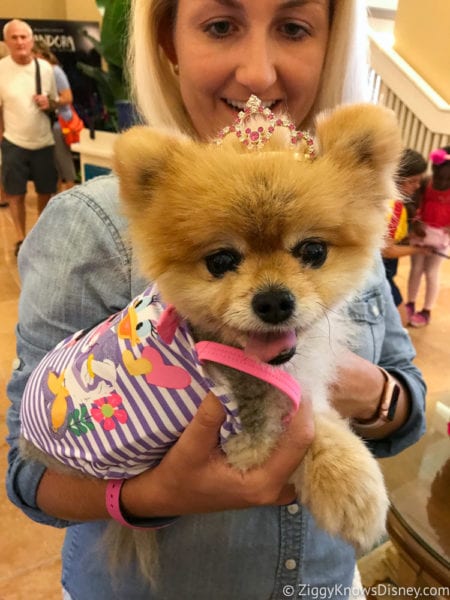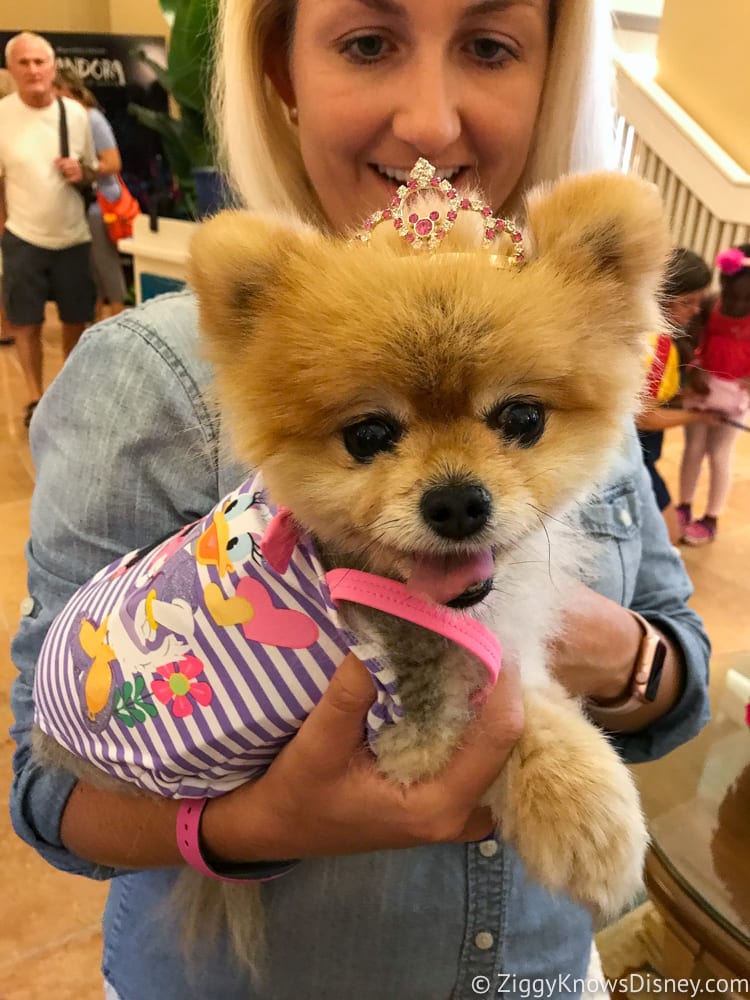 These are some of the cutest ones I saw: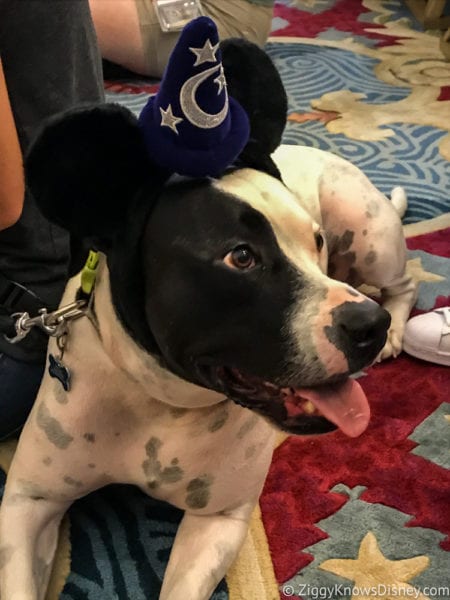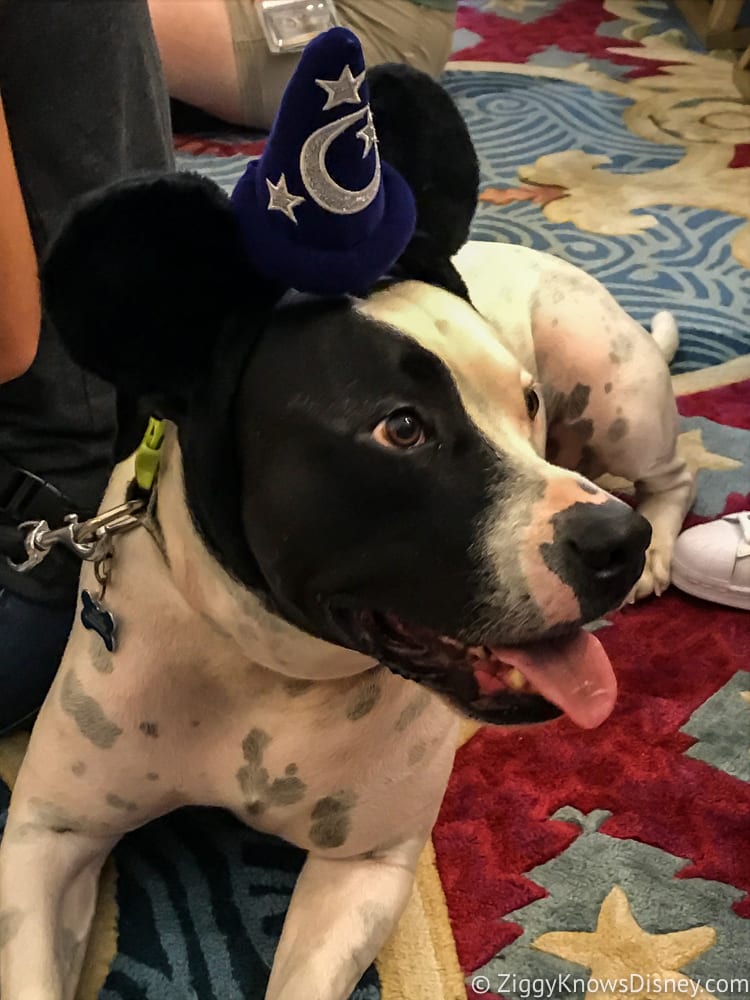 There was also Arts and Crafts events, including Ceramics, where you could choose which piece you like and then paint it yourself: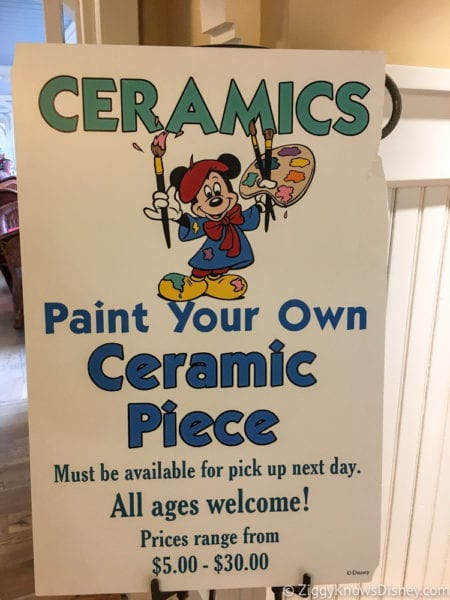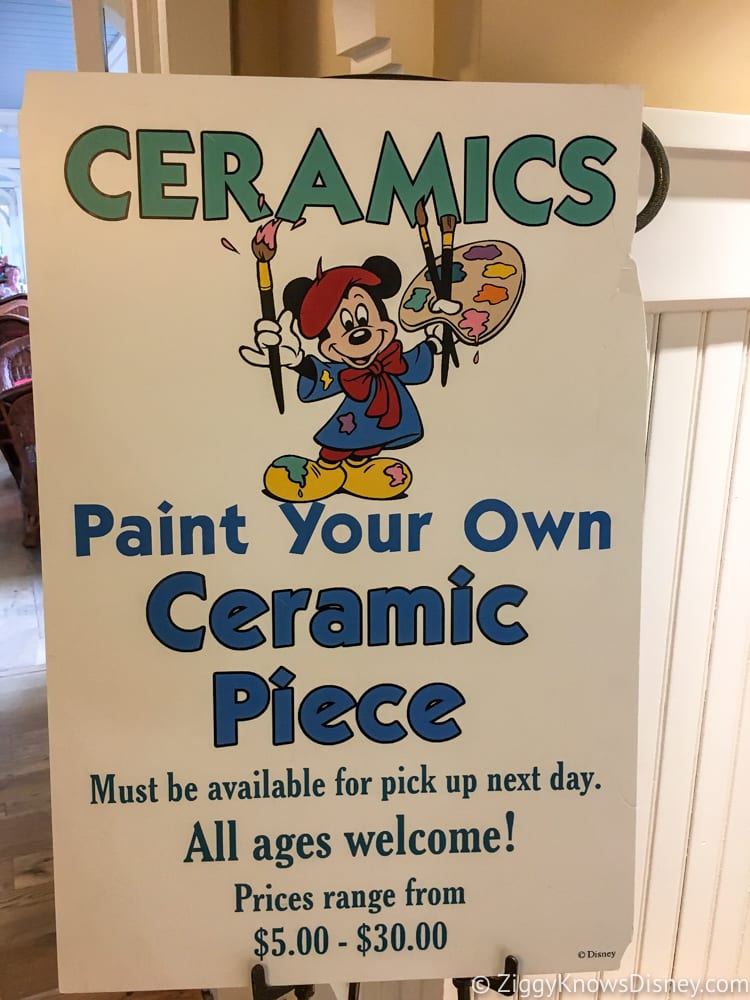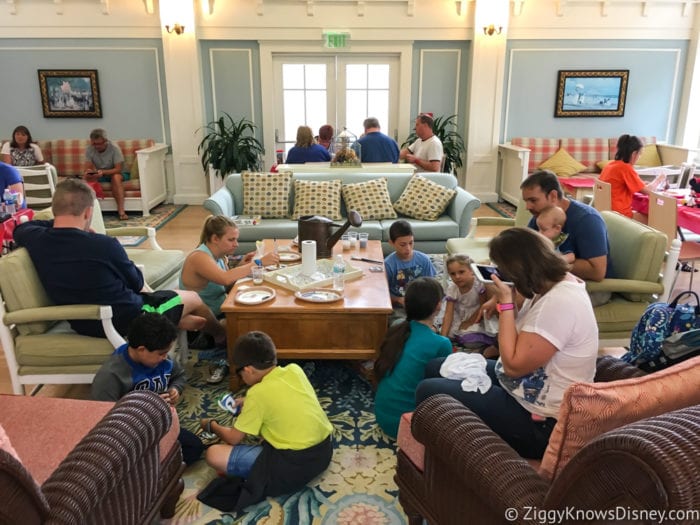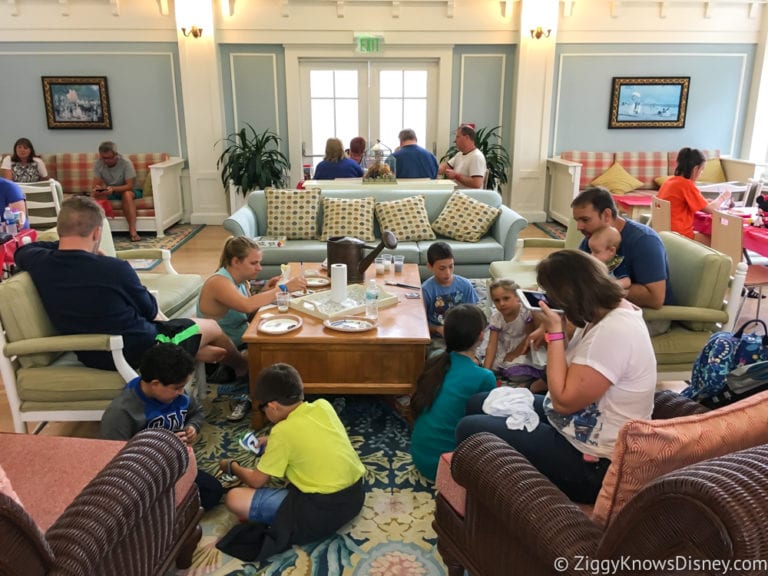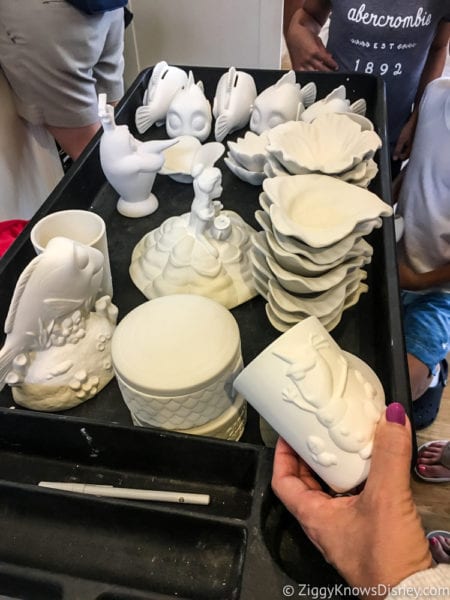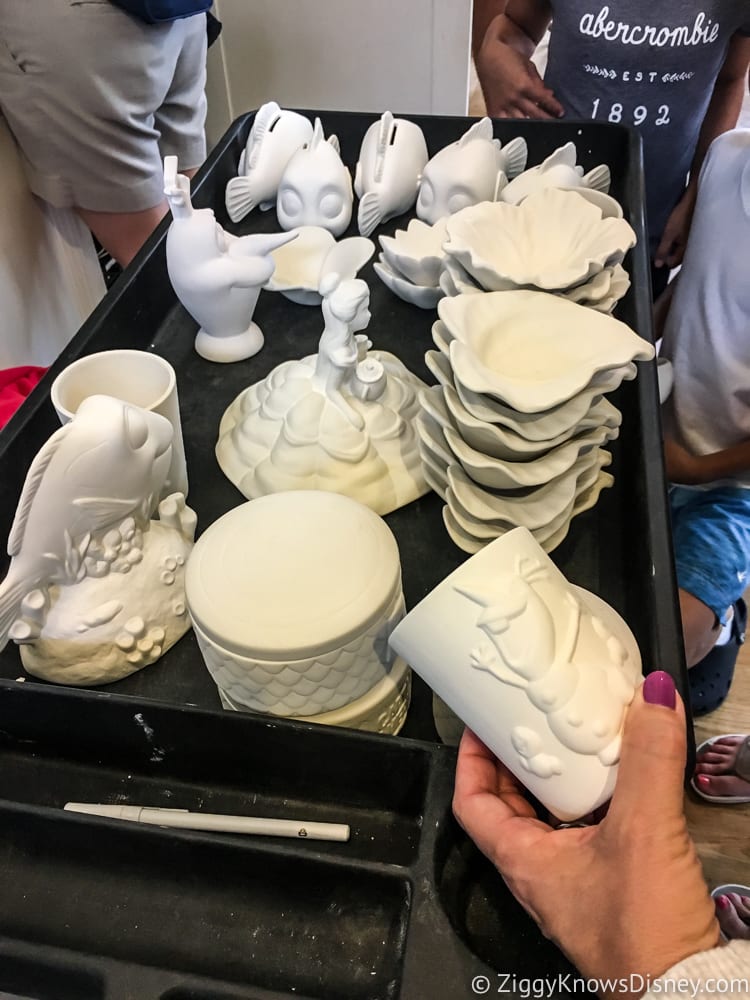 Lots of choices…
We went with a Nemo, a Mickey Cup and a Mickey stand-up figure: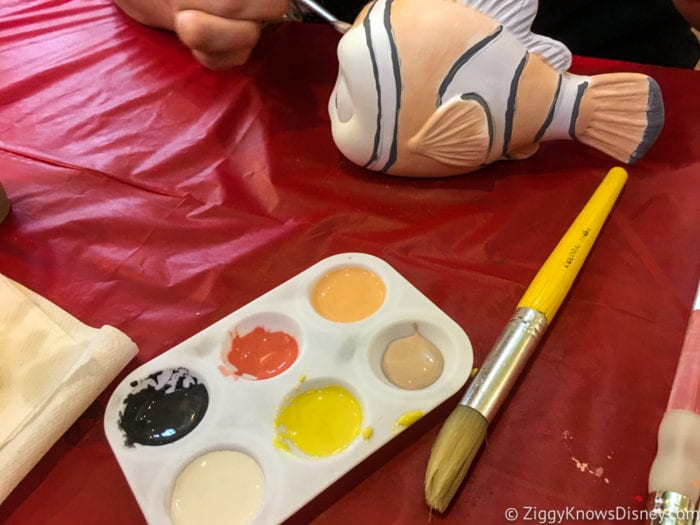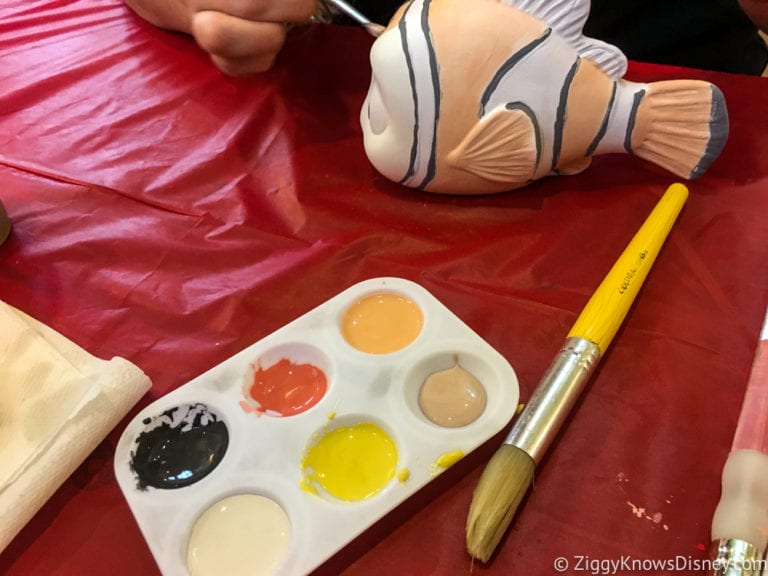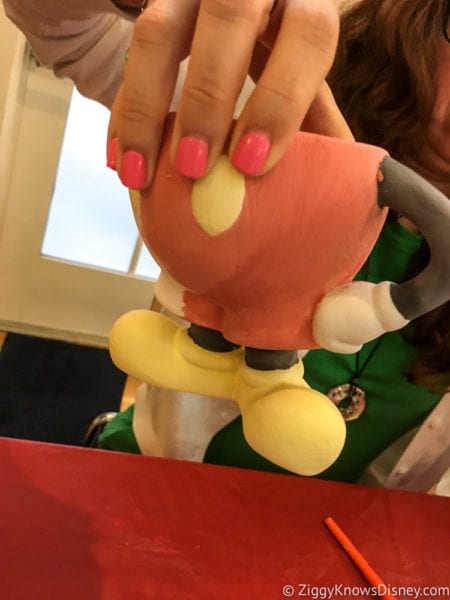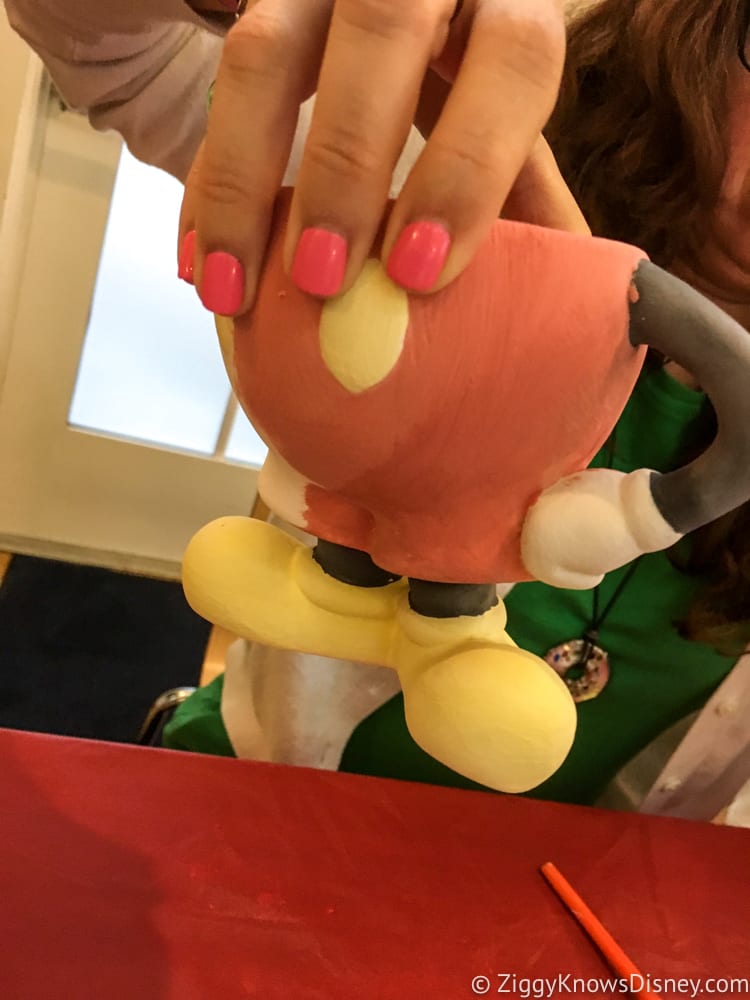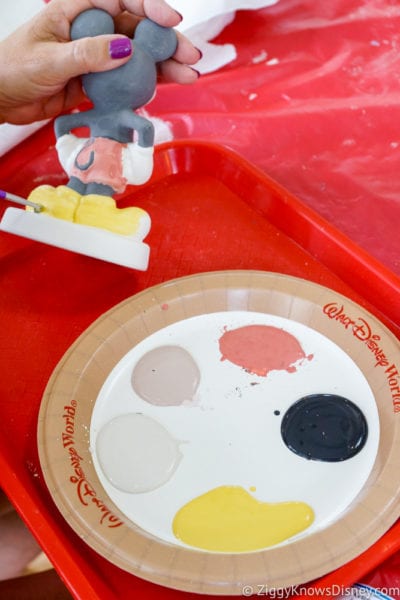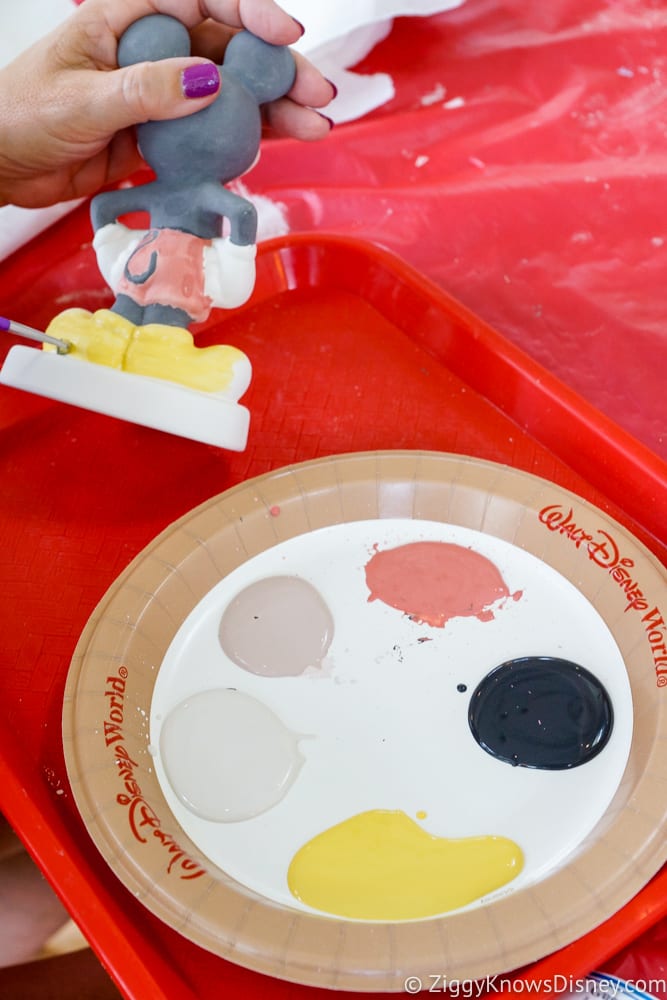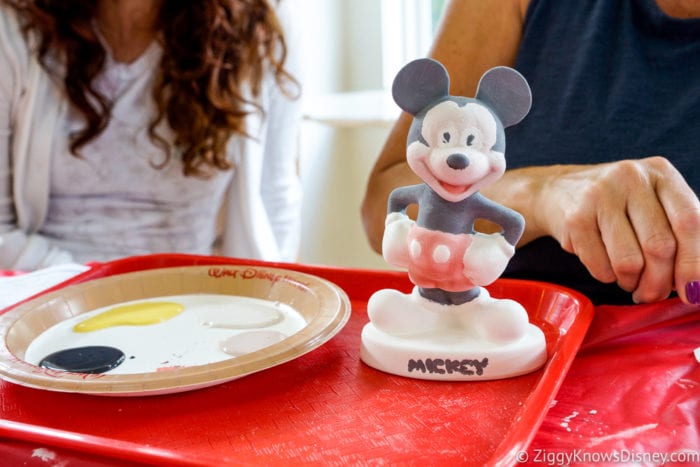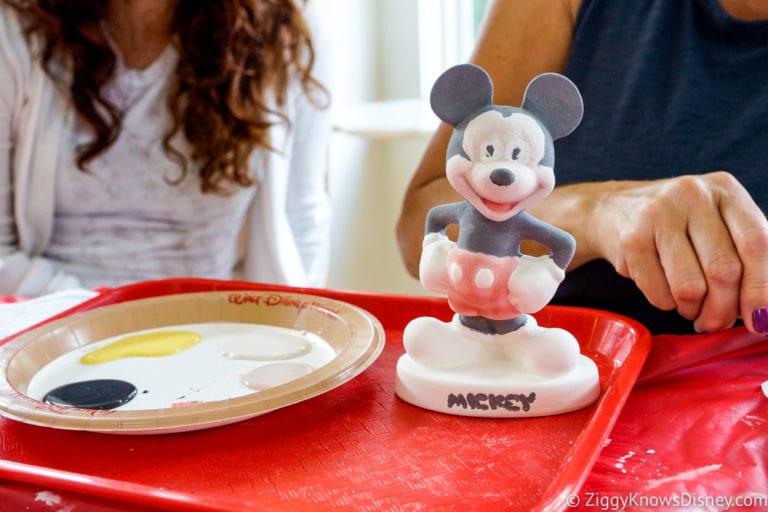 The girls had a blast and kudos to Disney on organizing everything. Once they finished the Beach Club sends them out to be fired in an oven, and the final products were then delivered to us a few days later, ready to take home with us!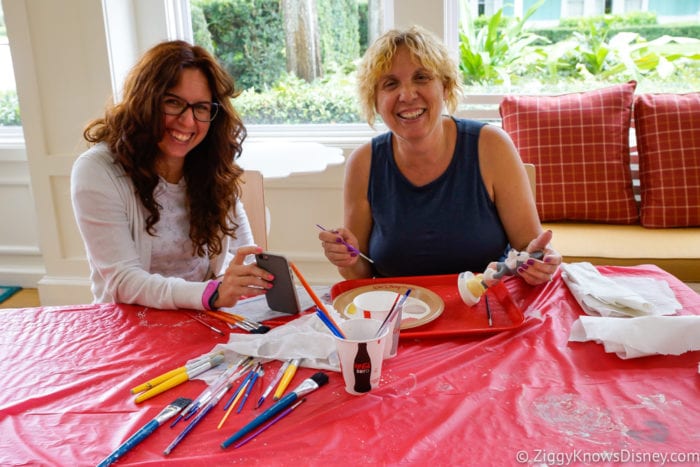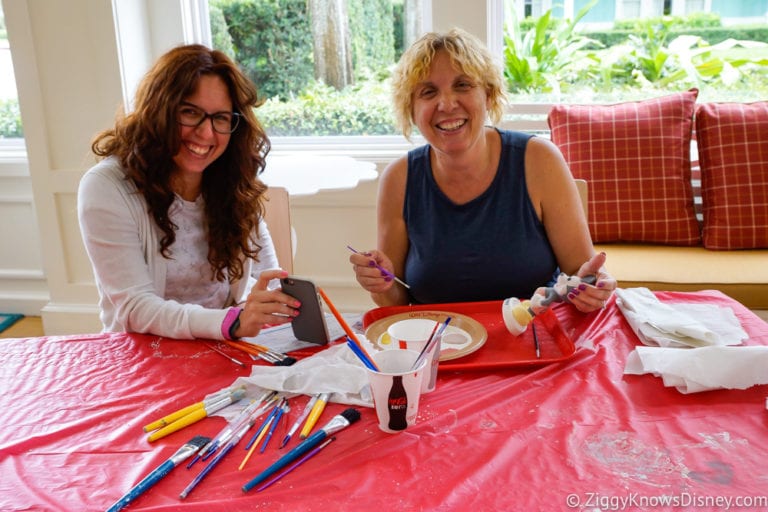 Games and dance parties for the young and young at heart were incredible: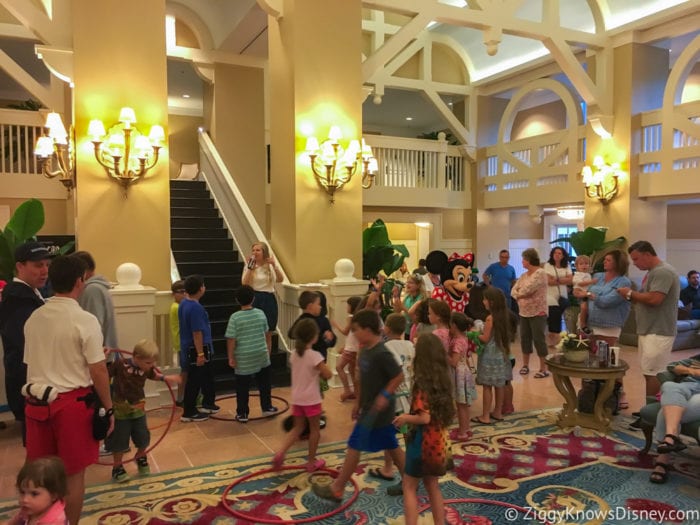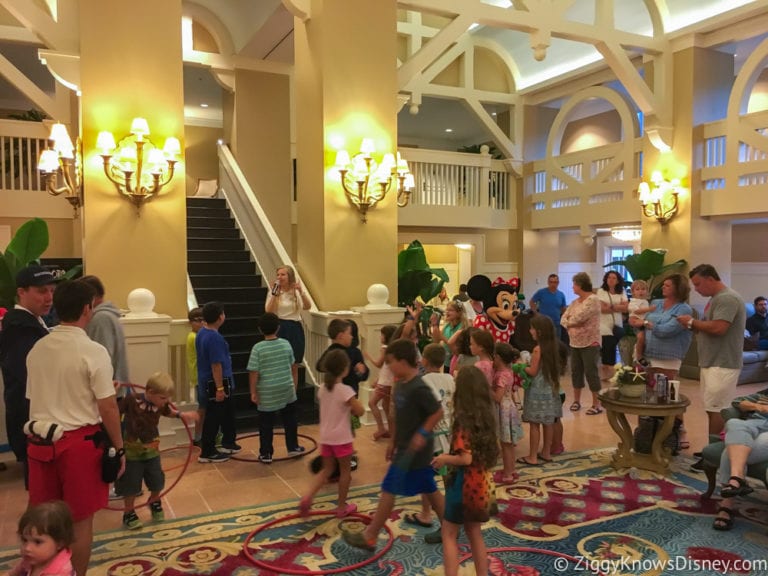 The best part for us though was the guest-character interactions though. Basically, for two days we had Minnie Mouse, Donald Duck, Pluto and Goofy here with us non-stop. They signing autographs, taking pictures, playing games, and just being awesome! Think of how many lines we'd have to wait in to get this much character time…it was awesome!!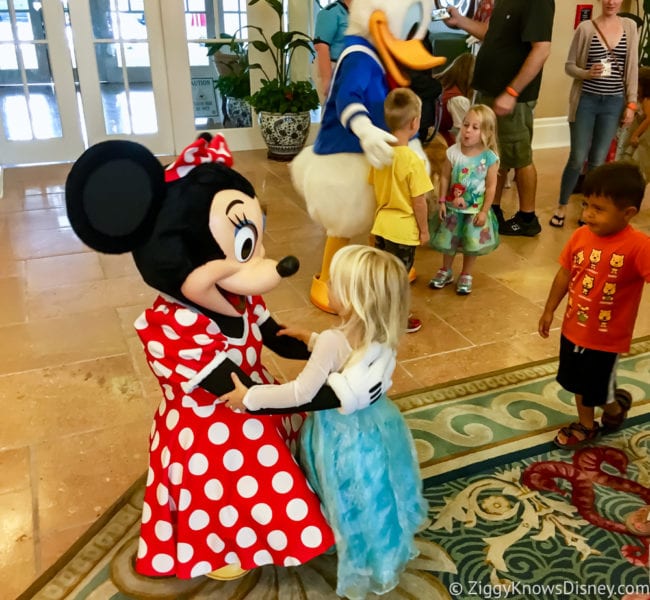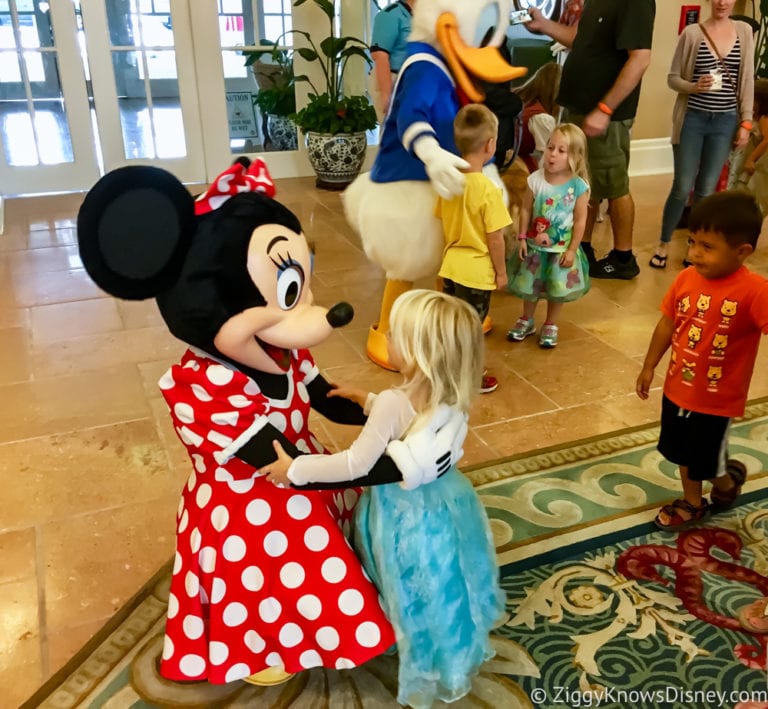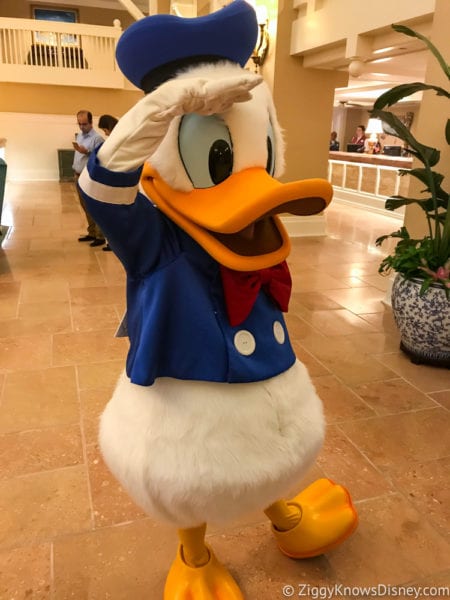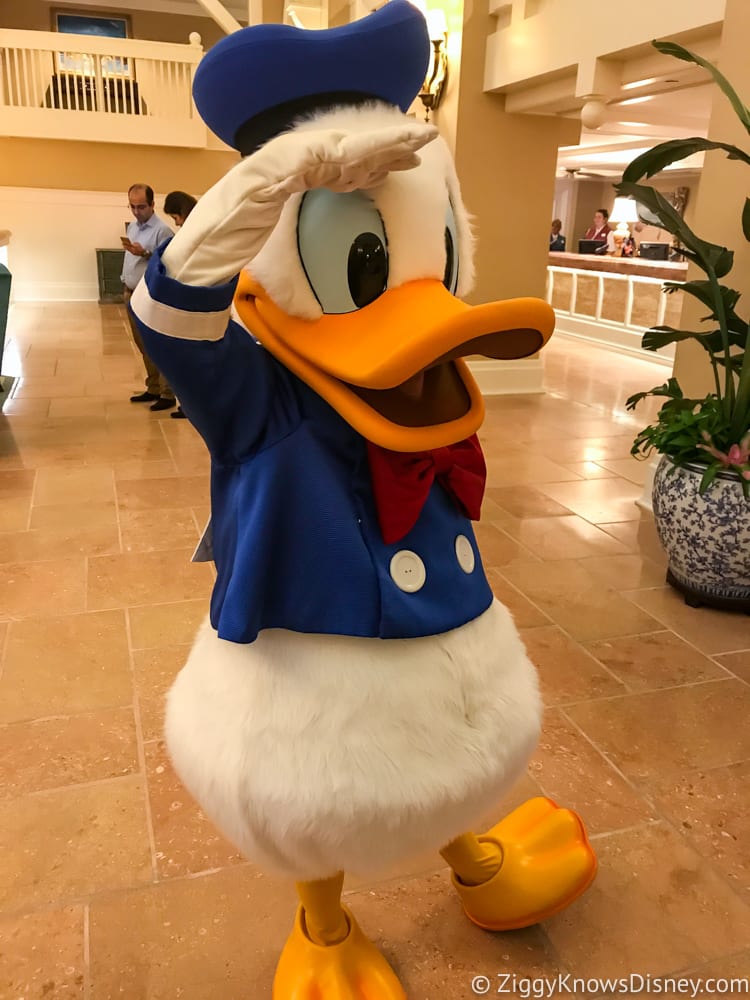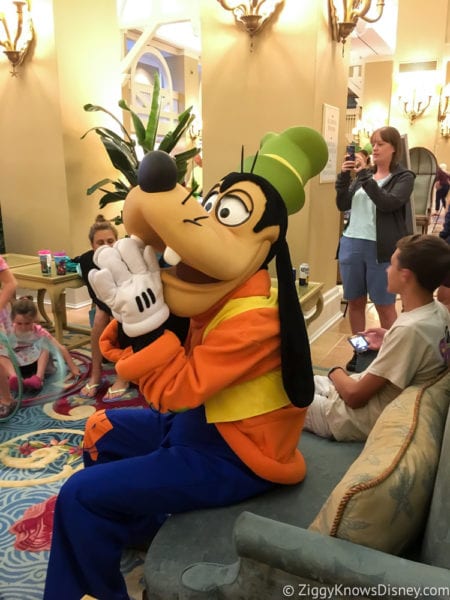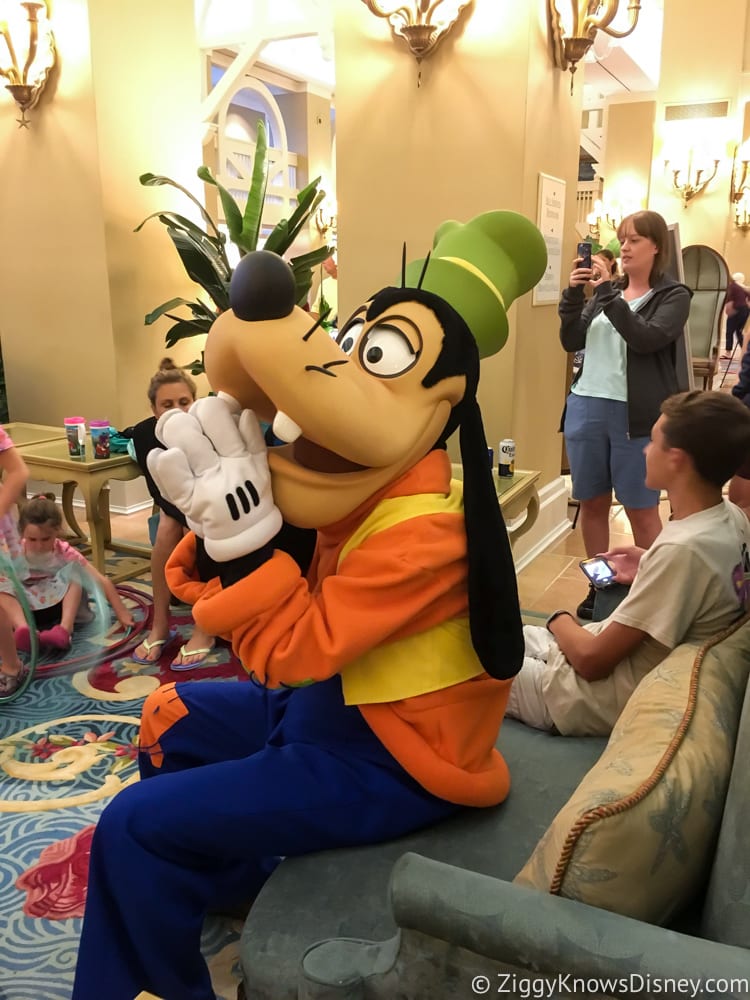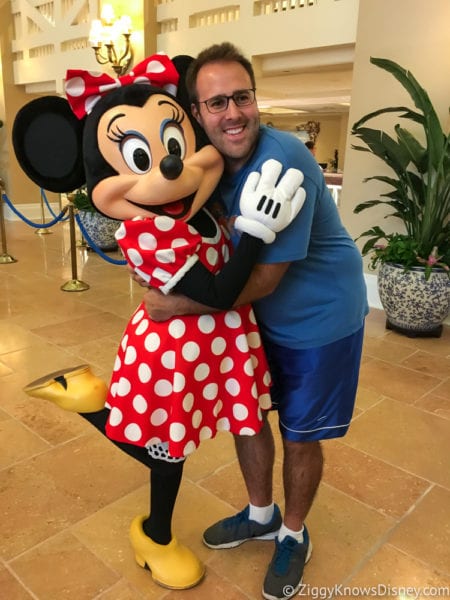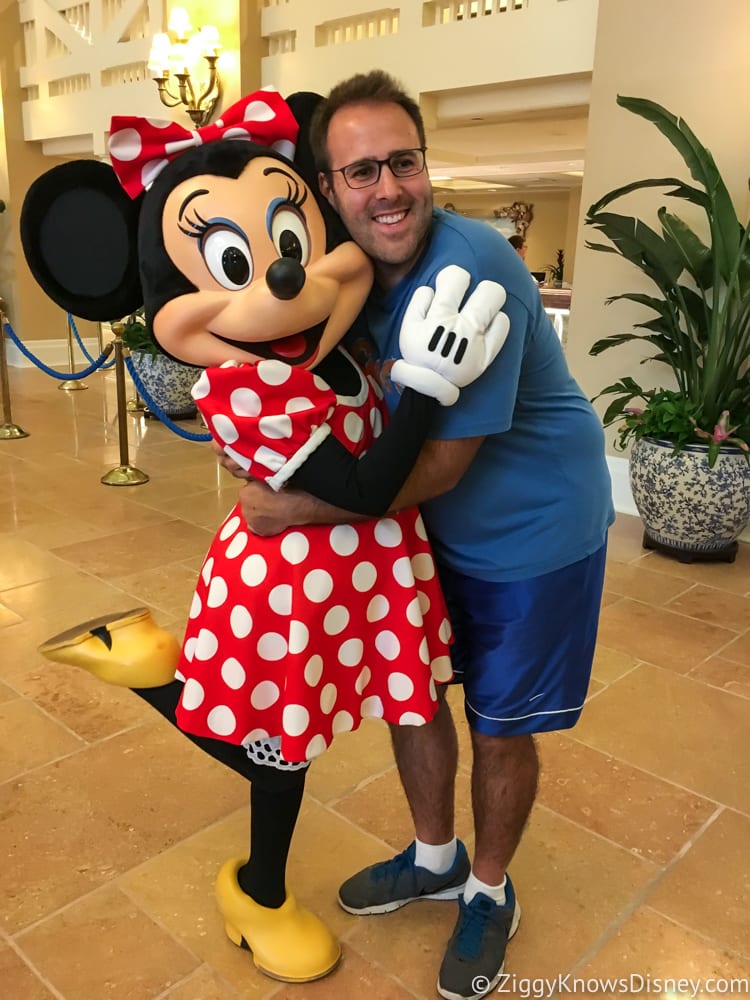 It's dinner time, and Cape May Cafe is packed out!! This was the only semi-gaff that Disney made the entire time because they didn't organize the seating system very well, and some were not able to get dinner there due to capacity. Seriously look at the line, is this Seven Dwarfs Mine Train or Cap May Cafe?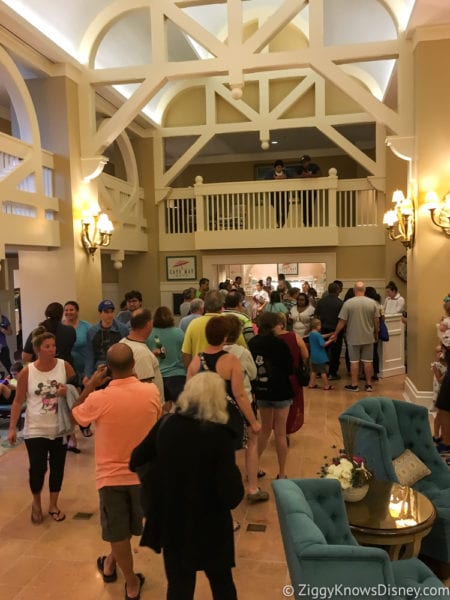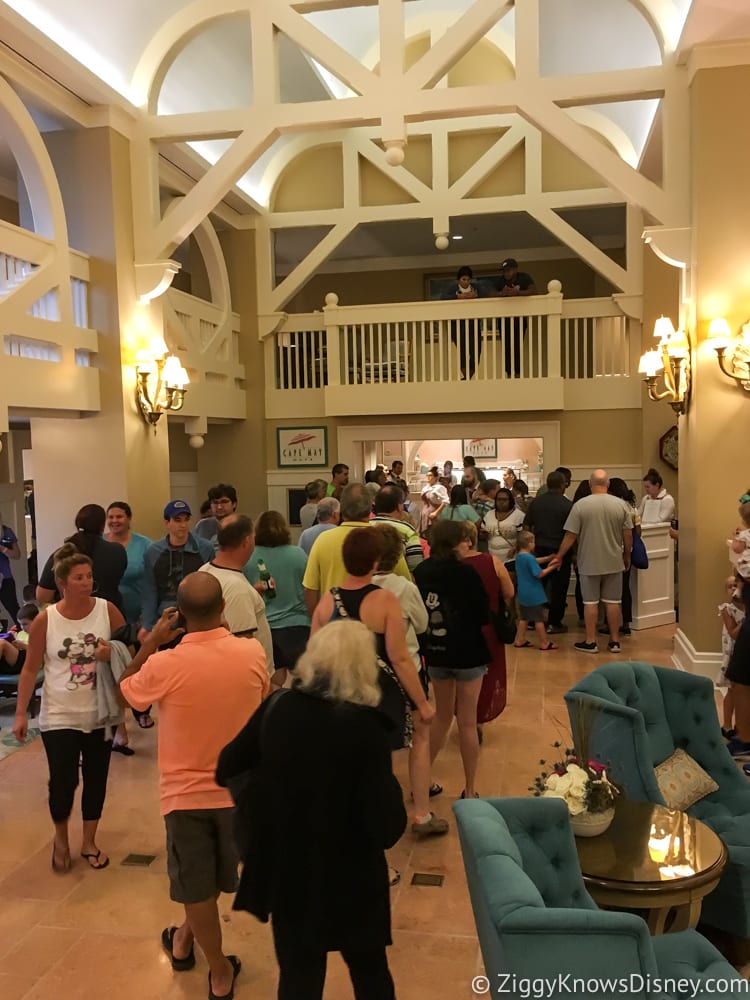 Thankfully we got in!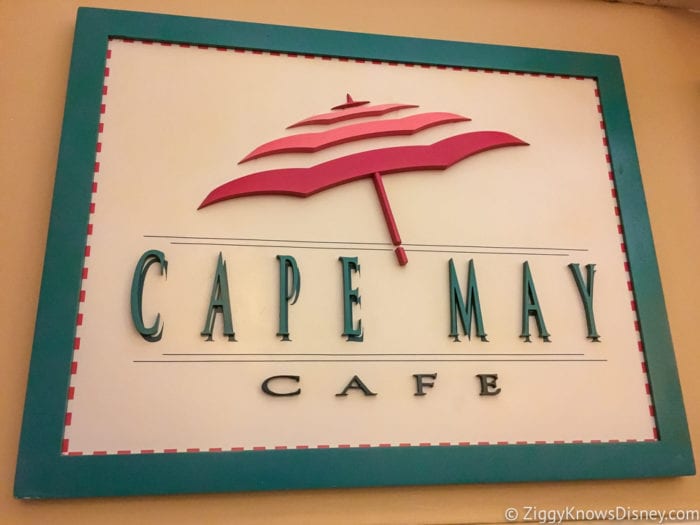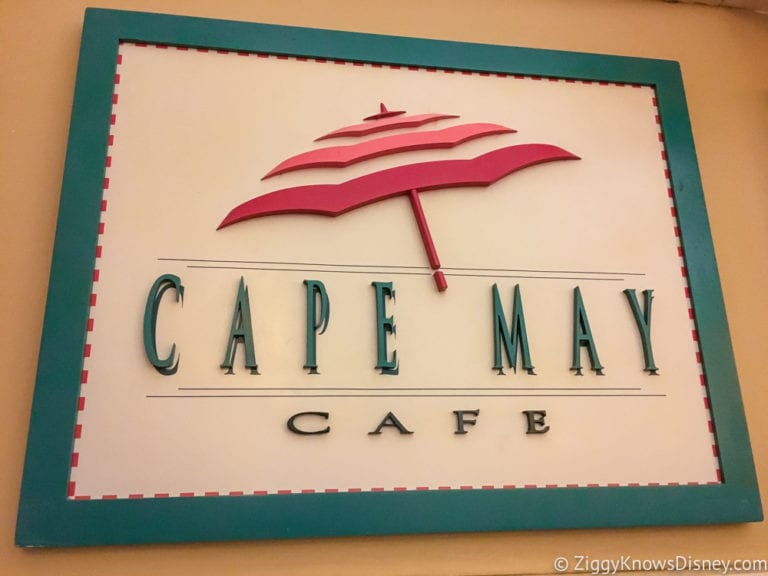 It was almost a totally complete menu, with only a few things like crab legs missing seeing as they weren't able to get ahold of some of the fresh fish due to Hurricane Irma. It was still that awesome buffet dinner though that you know and love!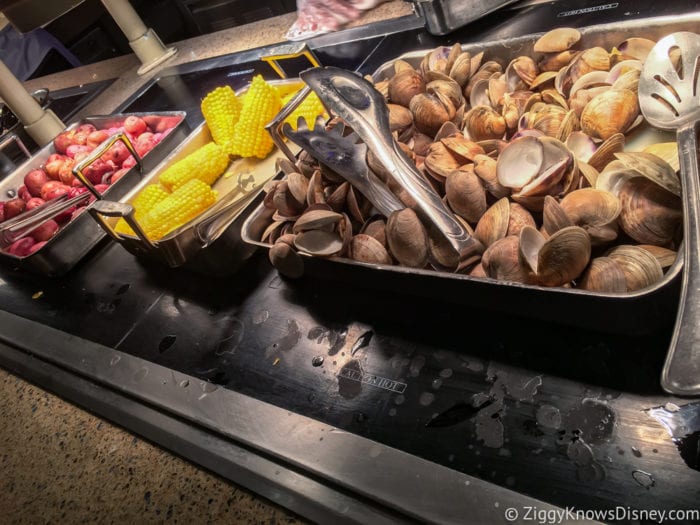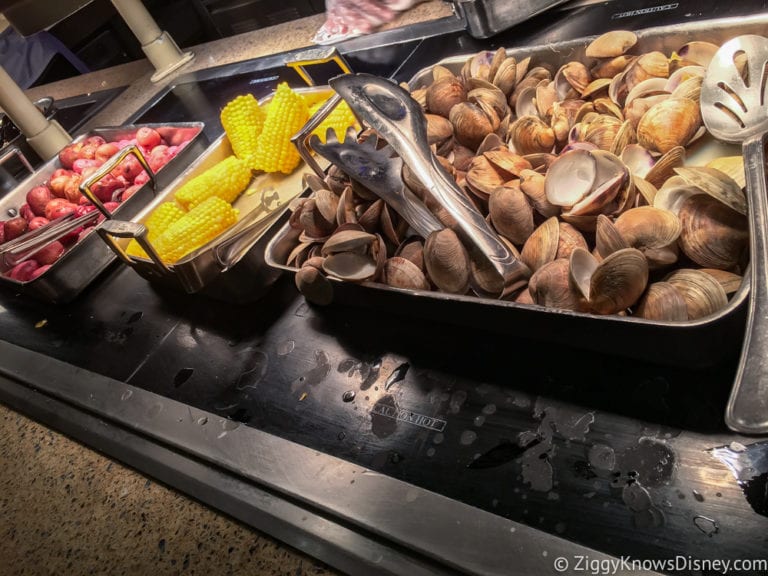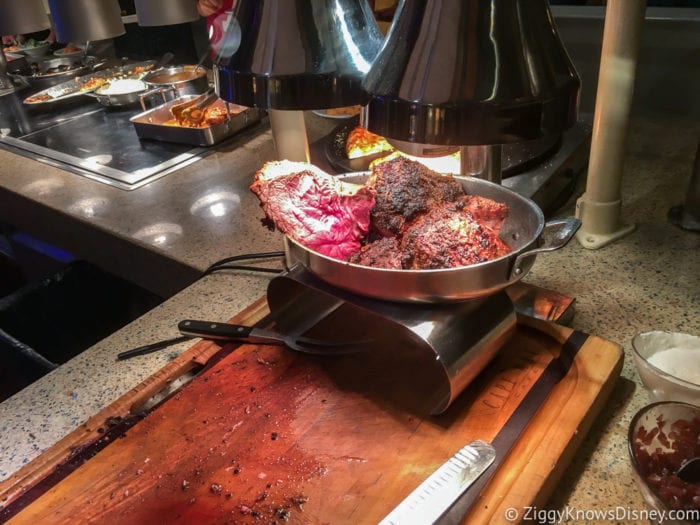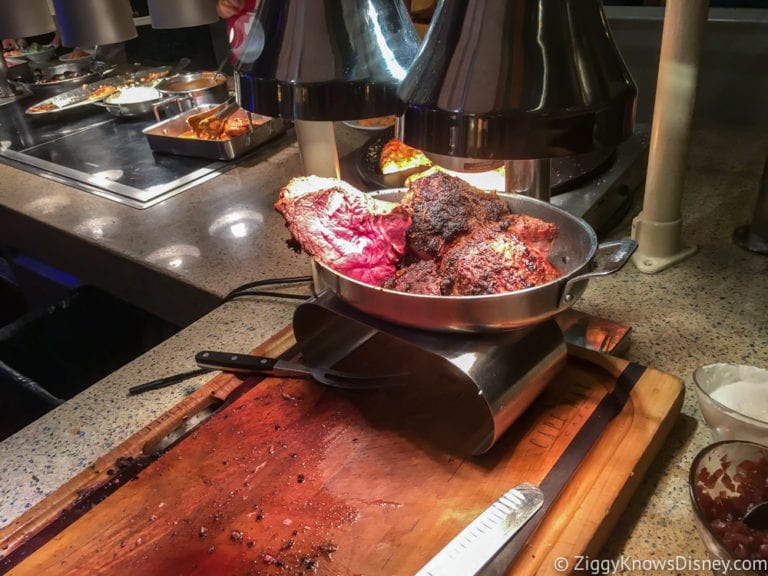 I filled my plate again, and again. I mean hey who knows how strong this hurricane is and if we'll be able to eat for days…?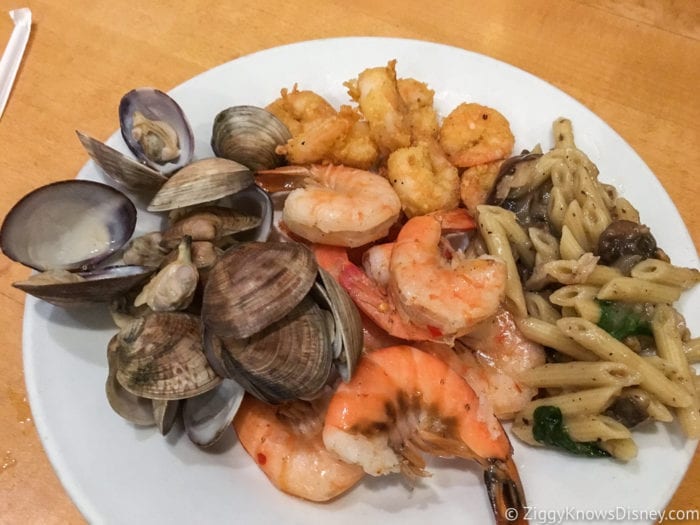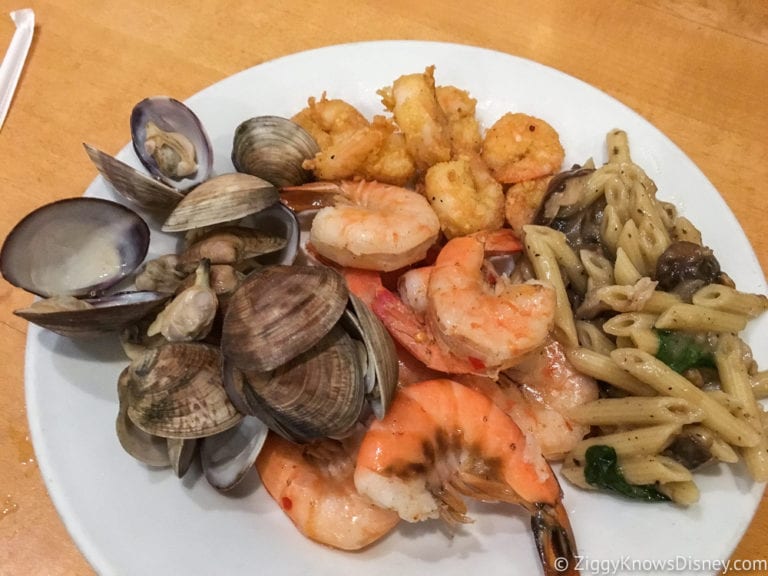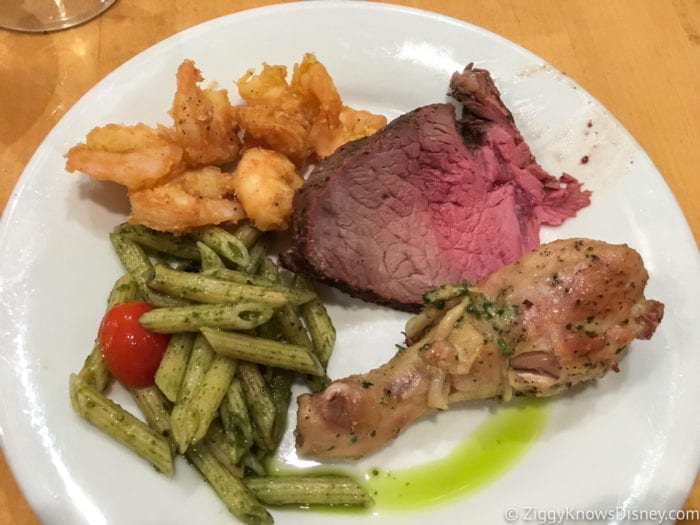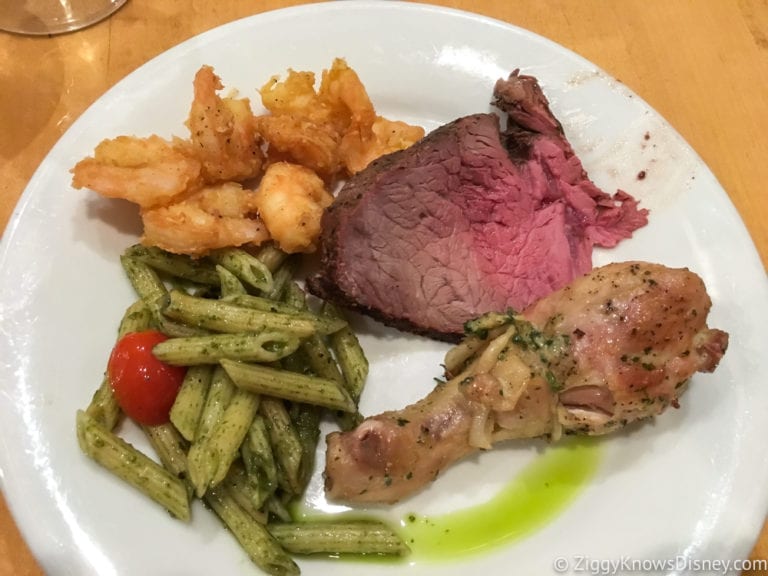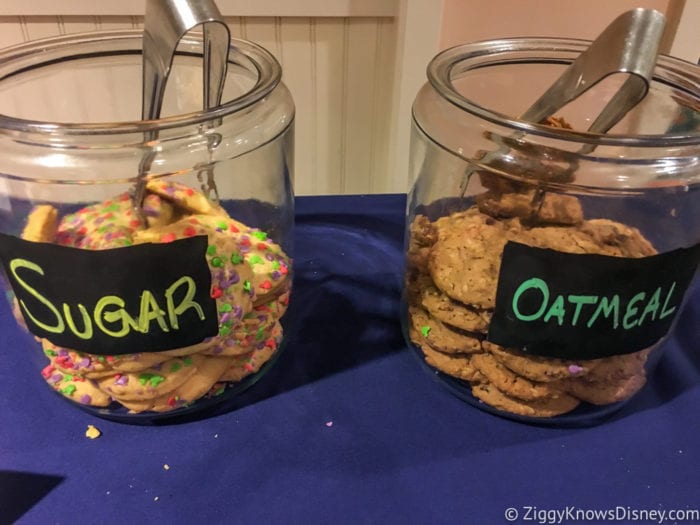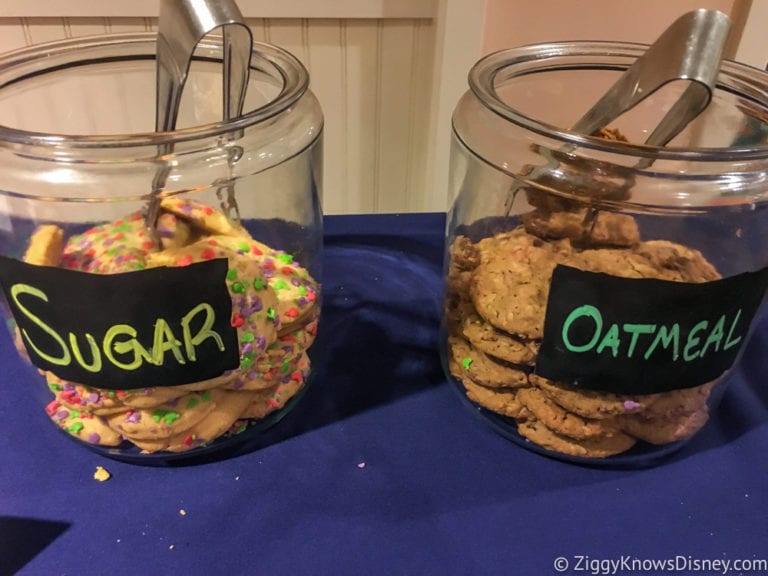 A little dessert…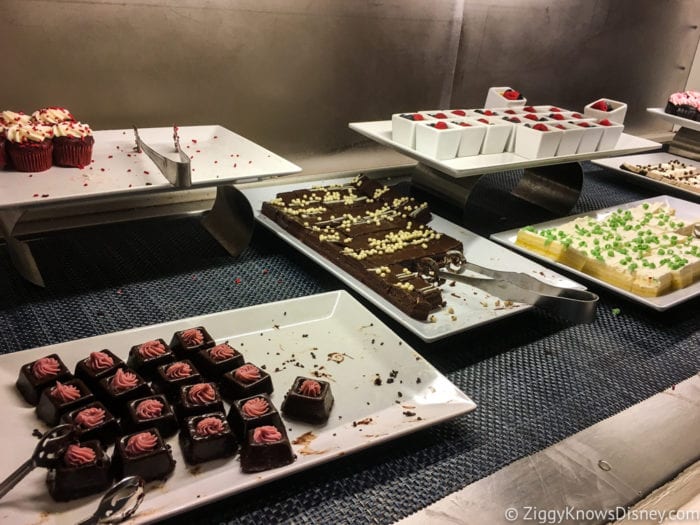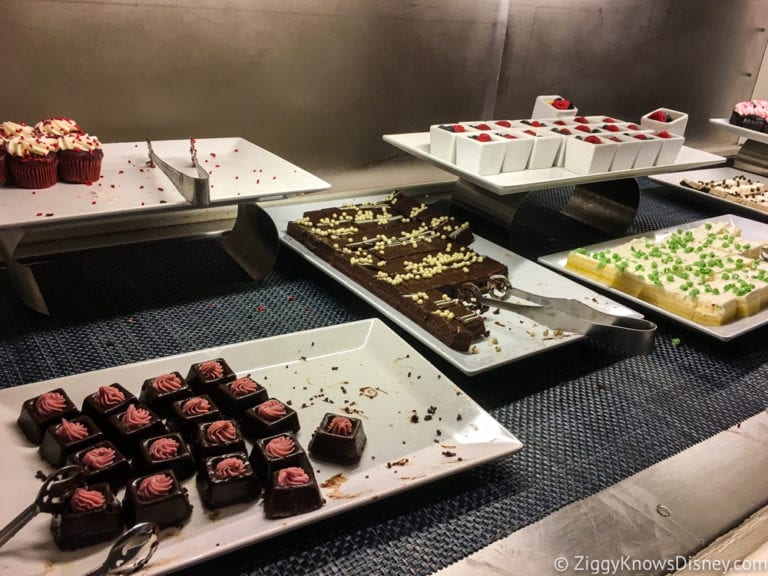 After dinner, the characters were at it again, and had basically been in the lobby for 12 straight hours up to that point. They were dancing and having a great time with everyone. Hurricane? What hurricane?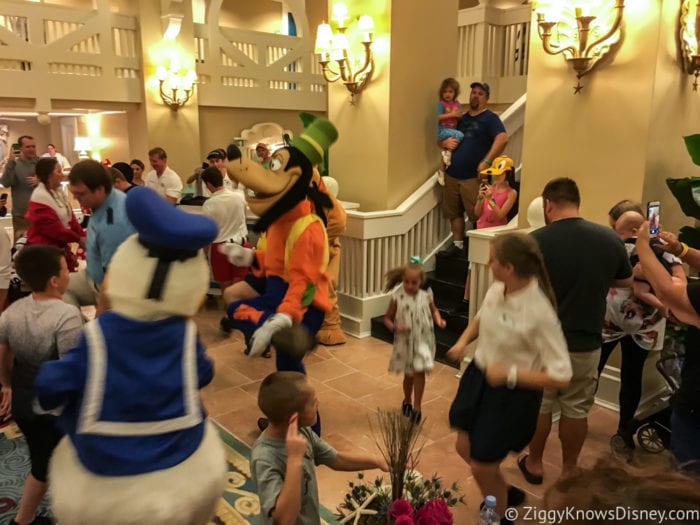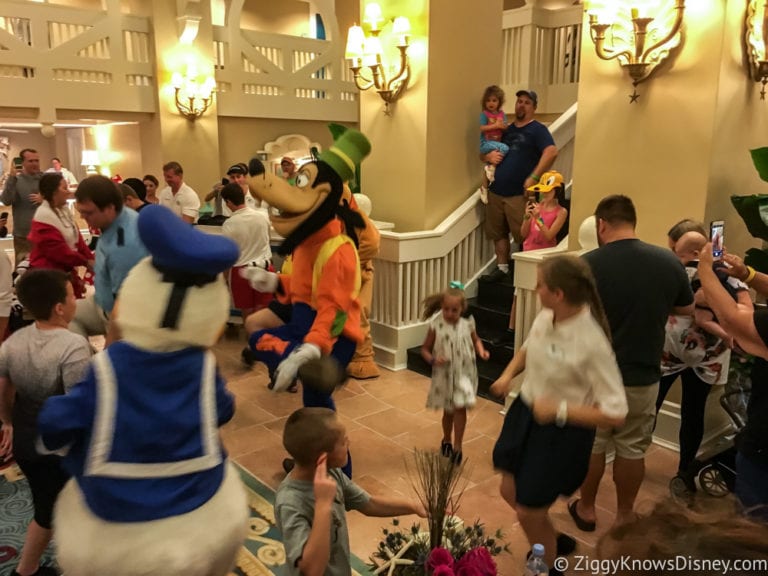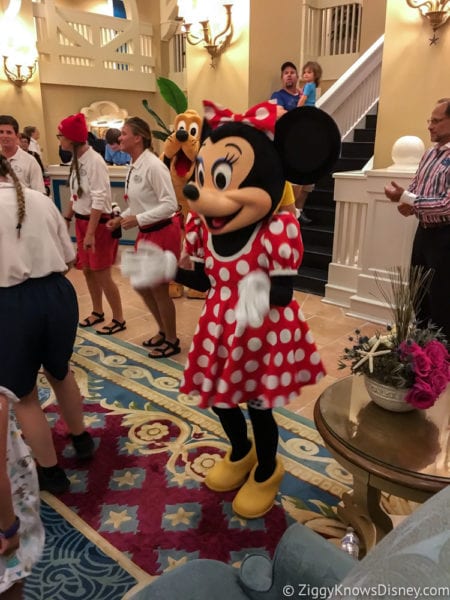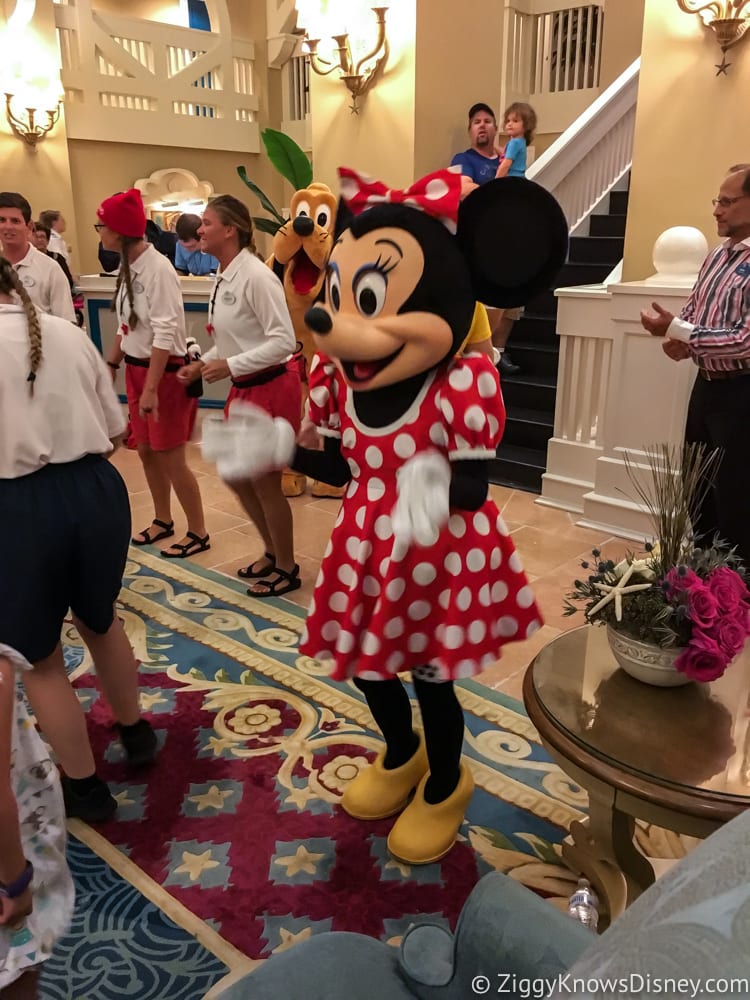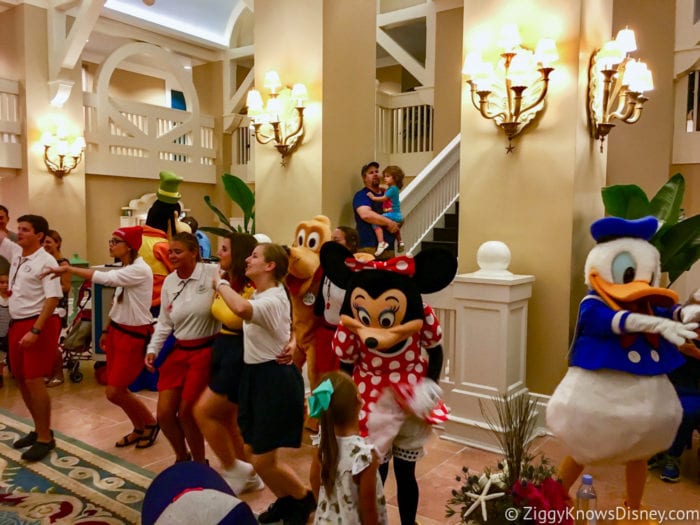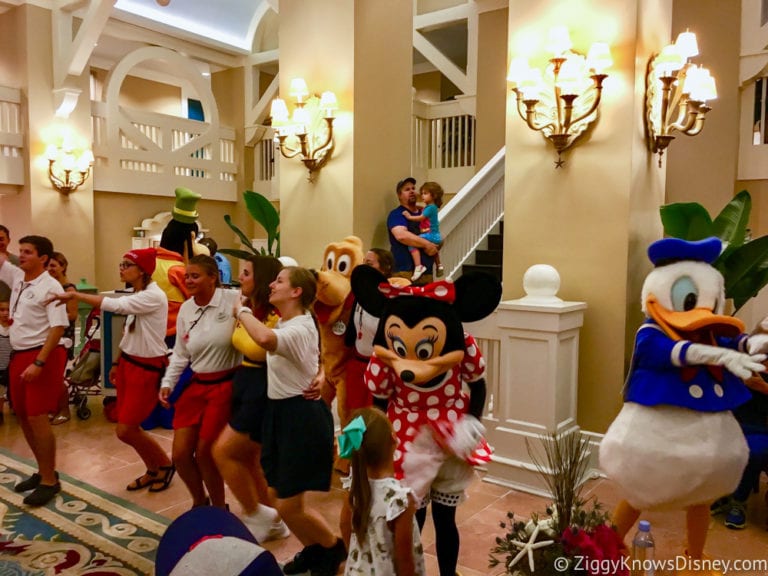 It was an awesome day, and now the serious stuff. As everyone had known all day, Hurricane Irma was heading right for Walt Disney World. Thankfully, by the time was expected to arrive here, it would have slowed down significantly to at CAT 1 or 2 at worst, well within Disney's hurricane safety parameters.
Everyone was sent to their rooms by about 11 pm and were ordered to stay there basically till further notice. I guess due to safety reasons they didn't want people wandering the lobby in case windows were broken in a potentially dangerous situation. We obeyed…mostly! 😉
Back over at the Beach Club Villas I spent some time down in the lobby with a few awesome guests just chatting and waiting. I decided to go onto the balcony during the storm to get some photos and video. Even though the hurricane had slowed down, it was still really strong winds.
The second I opened the door, the wind came whistling through the living room and kitchen, and was so strong it even slammed closed some doors in the room. On our part of the resort, we were a bit more sheltered because of being in an angle, and having a wall of trees blocking some of the wind. You'll see that those near the water weren't as protected…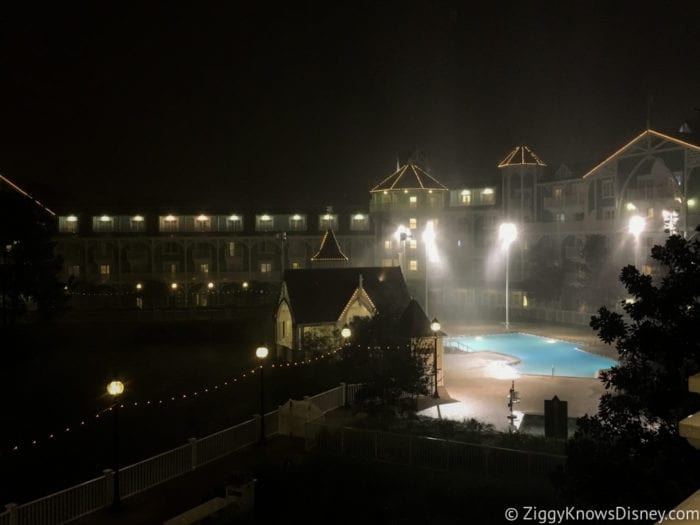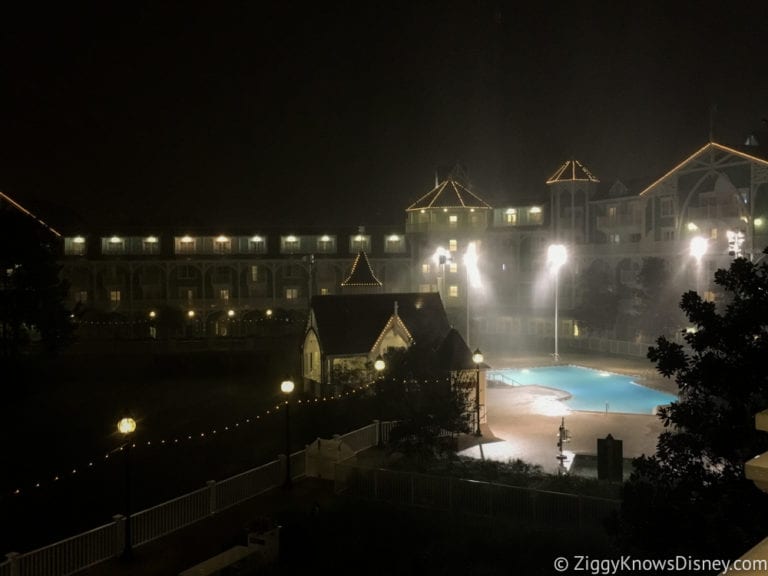 Day 4 – Monday:
Hurricane Irma had come and left Walt Disney World, but what was the damage to the property? We went downstairs early to find out: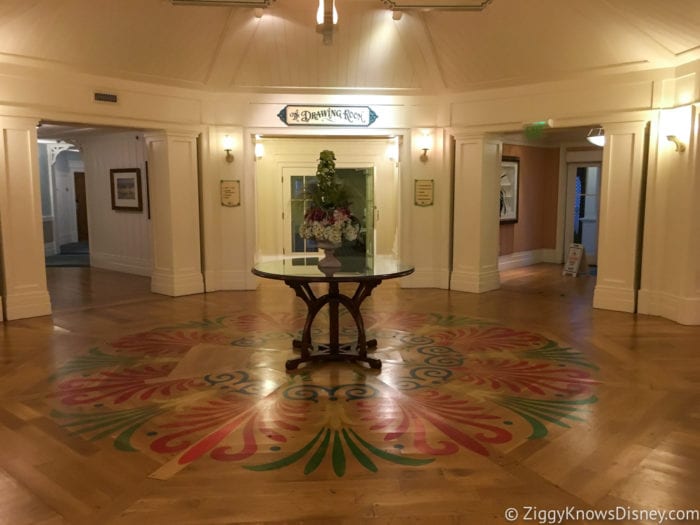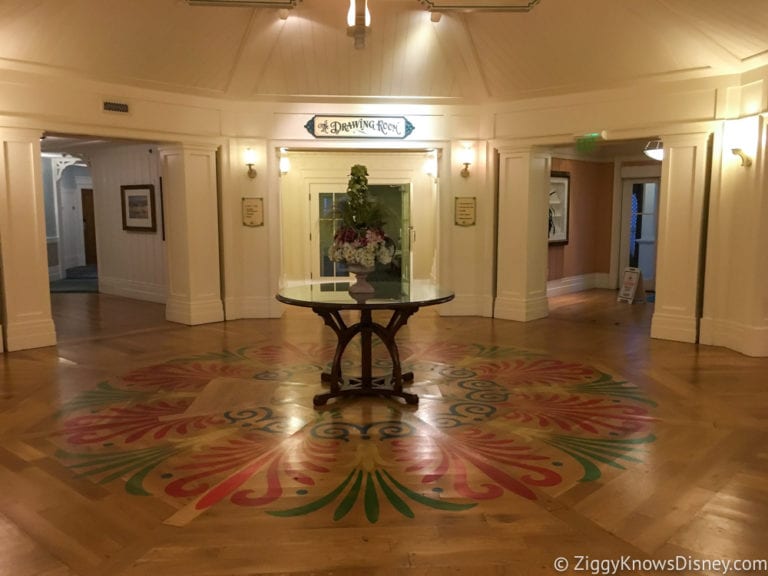 All quiet down here and practically nobody yet up: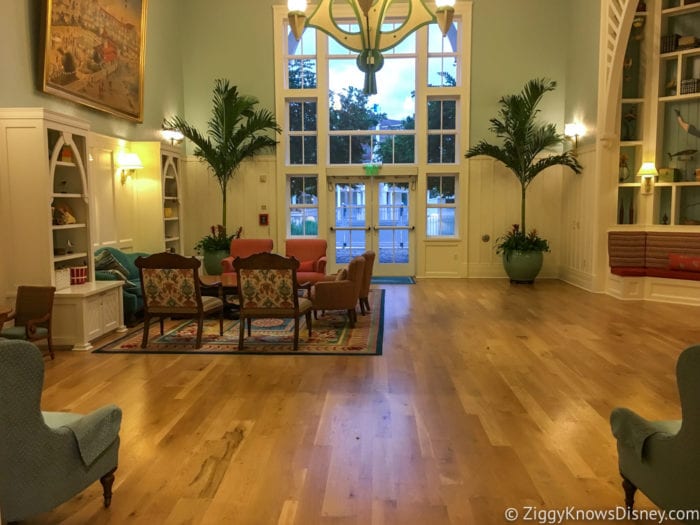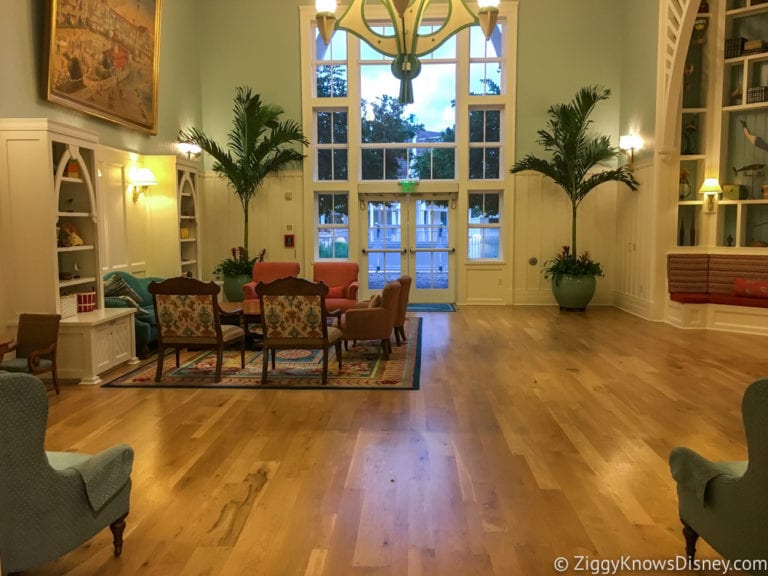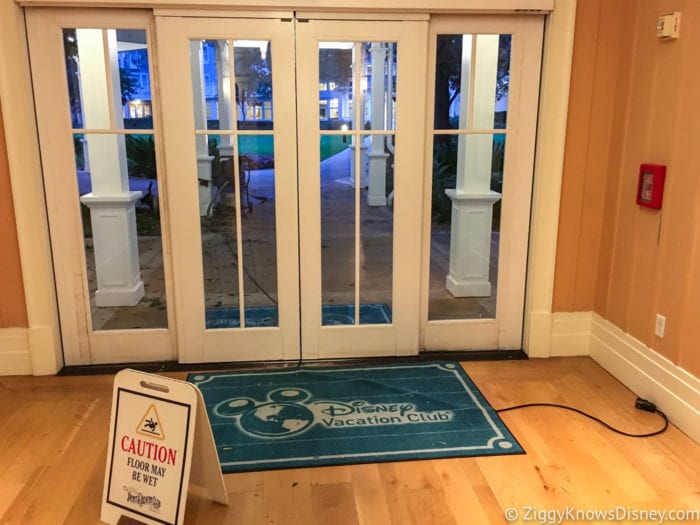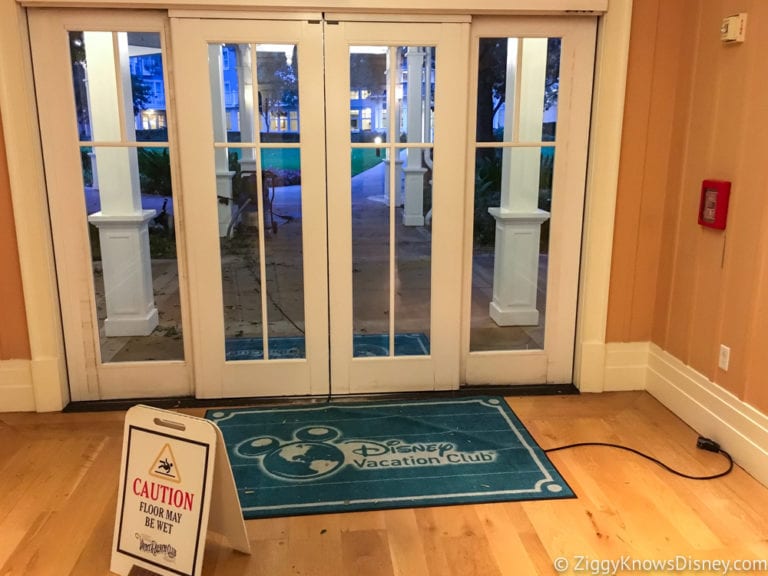 The automatic sliding doors were turned off and we were instructed to still not go outside until Disney gave us the word:

I snuck a peek, just to see if everything was ok, and so far no visible damage: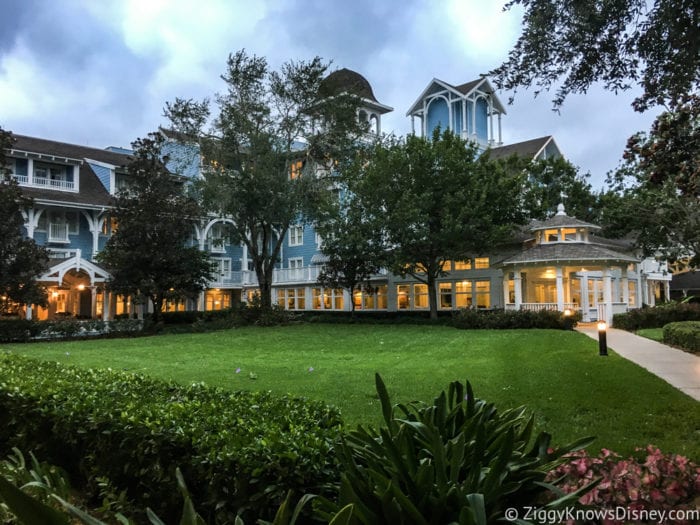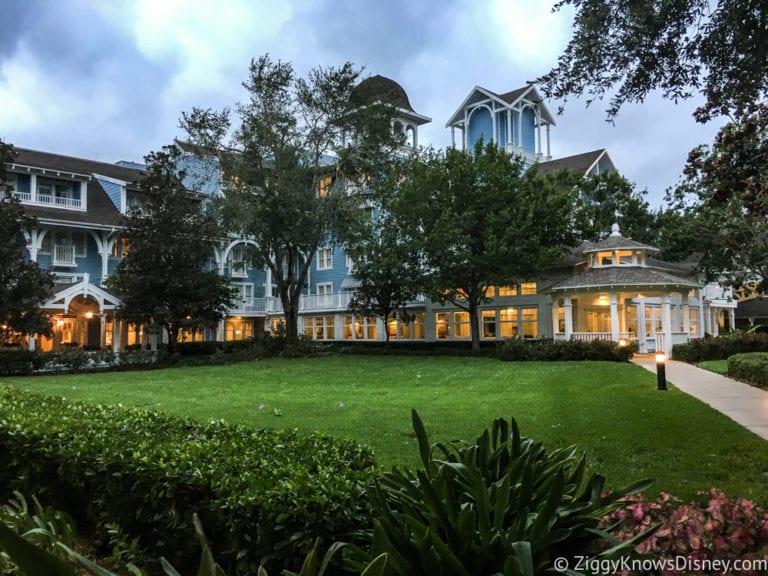 The only bad thing about being over at the Beach Club Villas is that we were far away from the main lobby, and of course the food. Not a problem, Disney took care of us, setting up a free breakfast in the villas for all guests: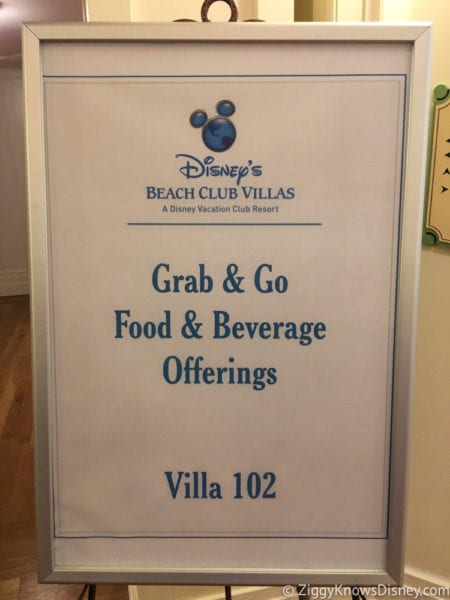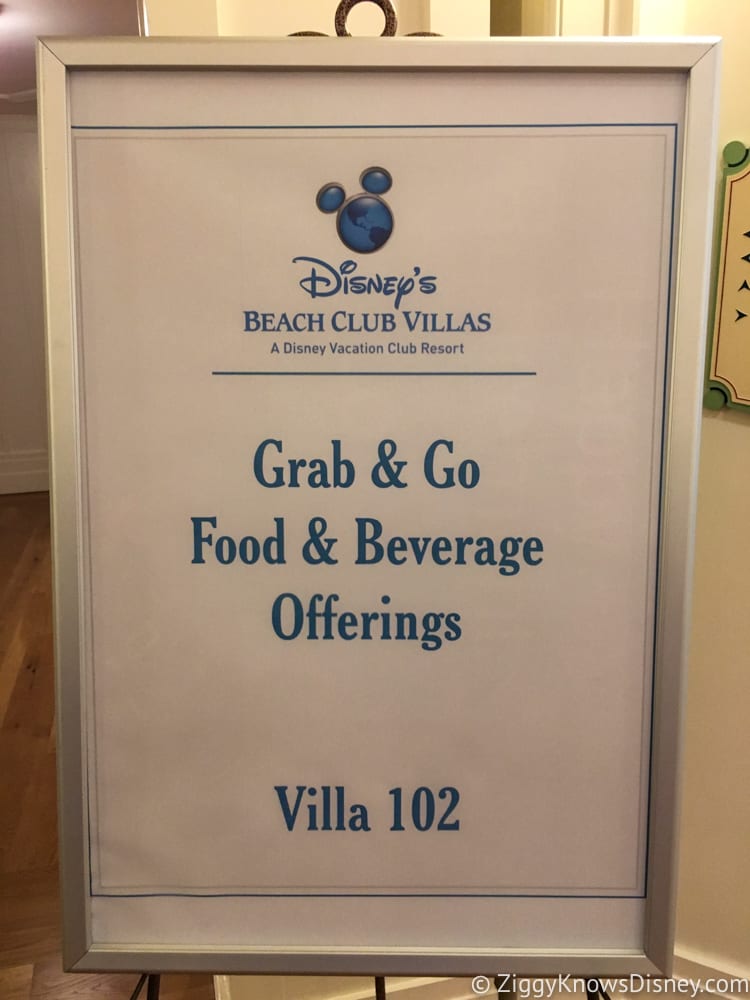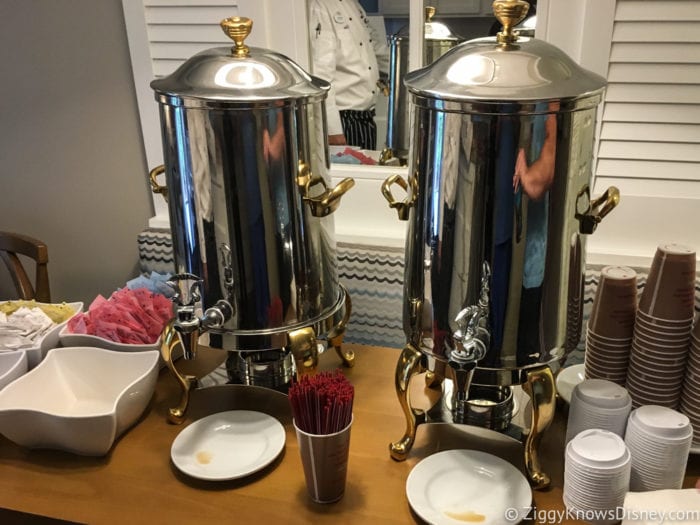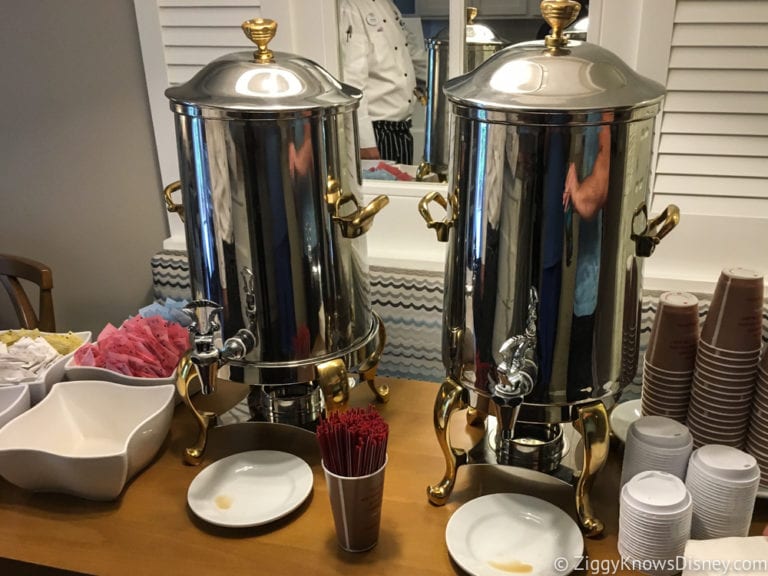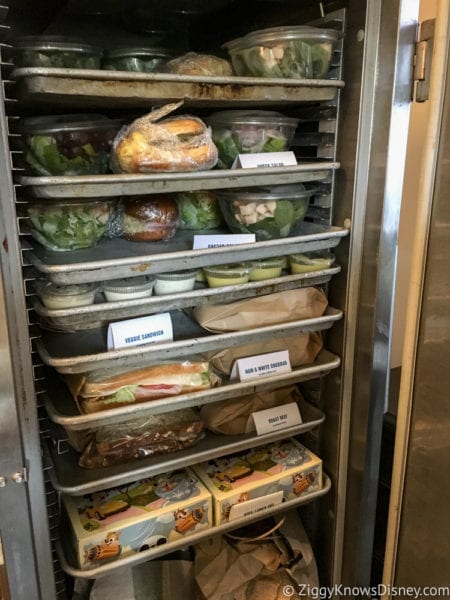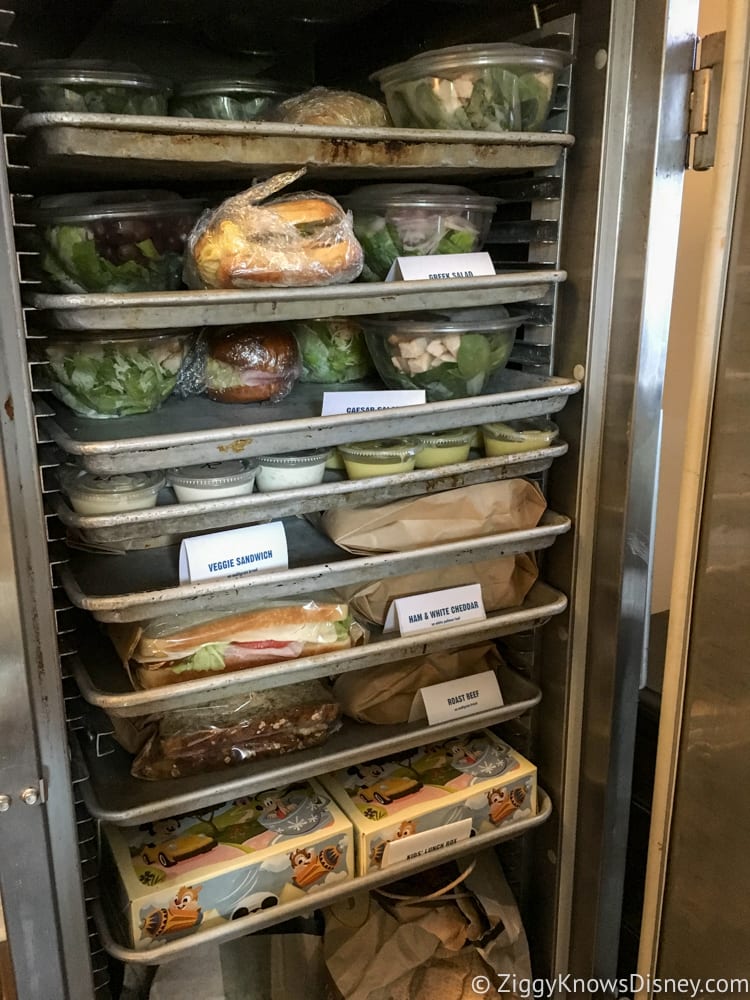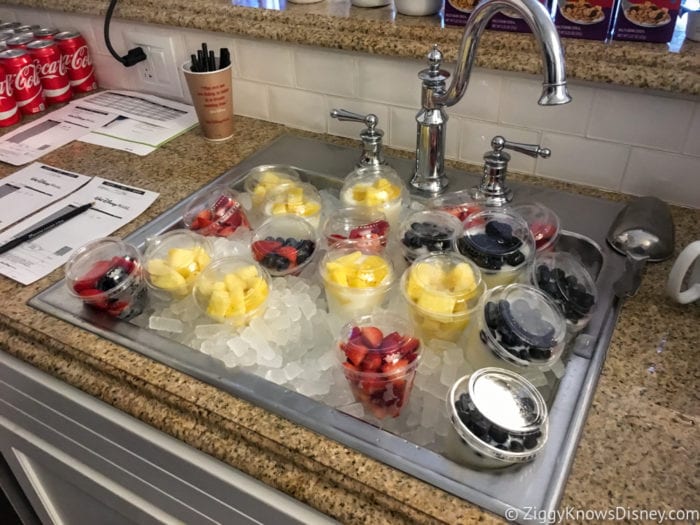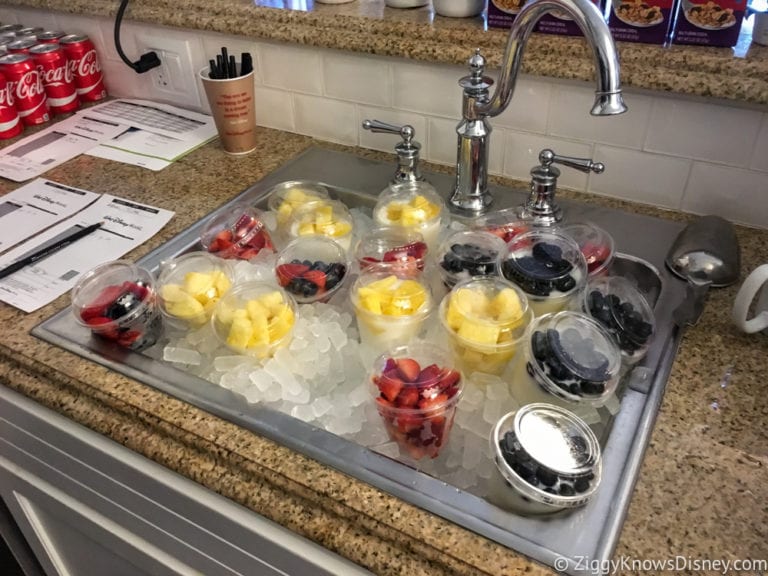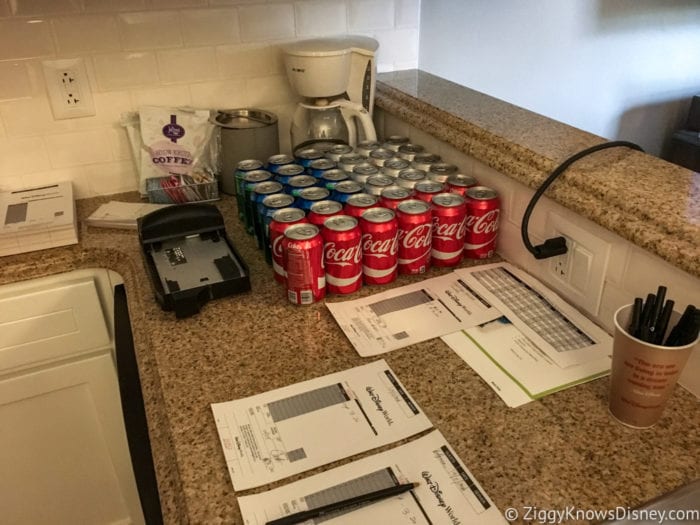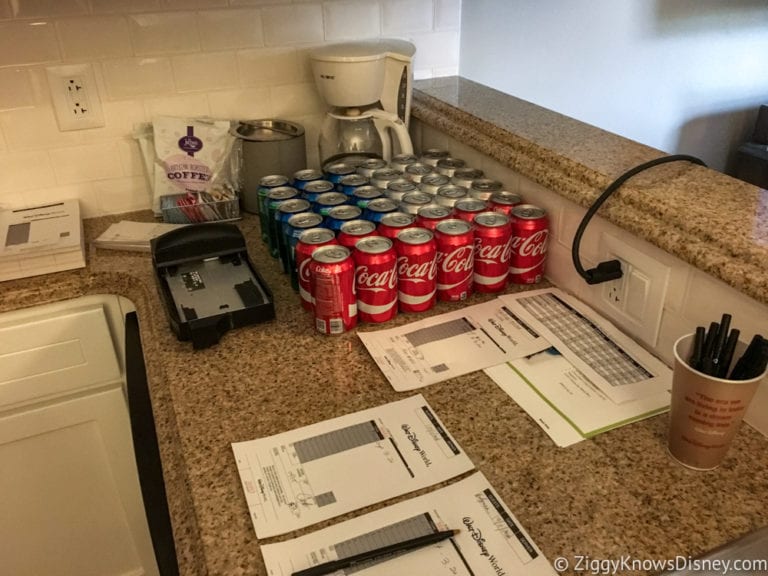 Once Disney gave us the word that we could go out, which was around 11 am or so, we had no idea what to expect. It didn't seem like there was there any damage to the structures or anything, but without seeing anything we couldn't be sure. We ventured out…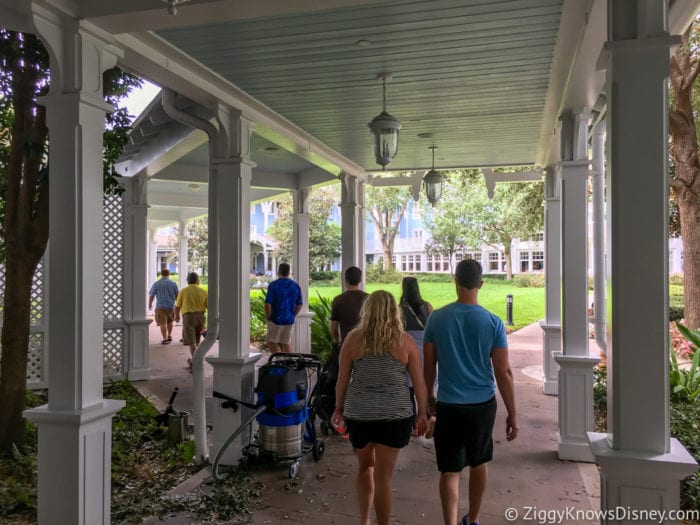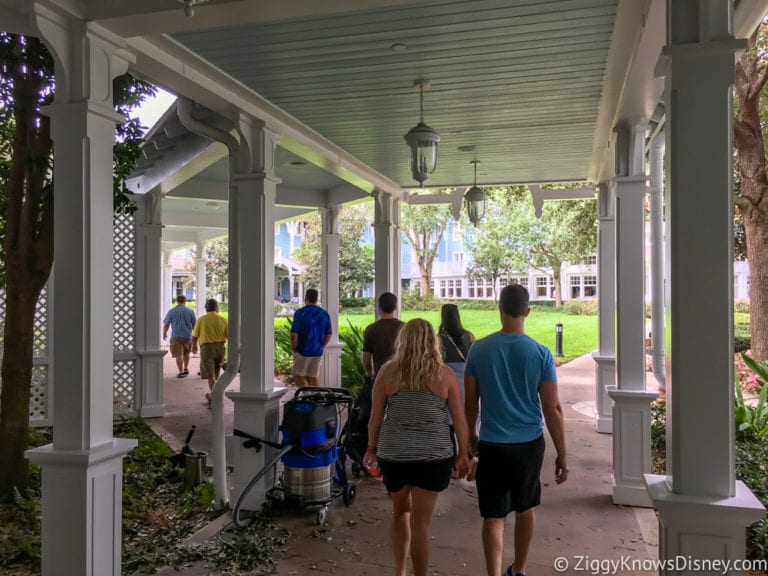 There was a pump put in place, because the night before on the way back from the main lobby, the whole walkway was in fact flooded. Again, a nice touch by Disney to keep everything in order: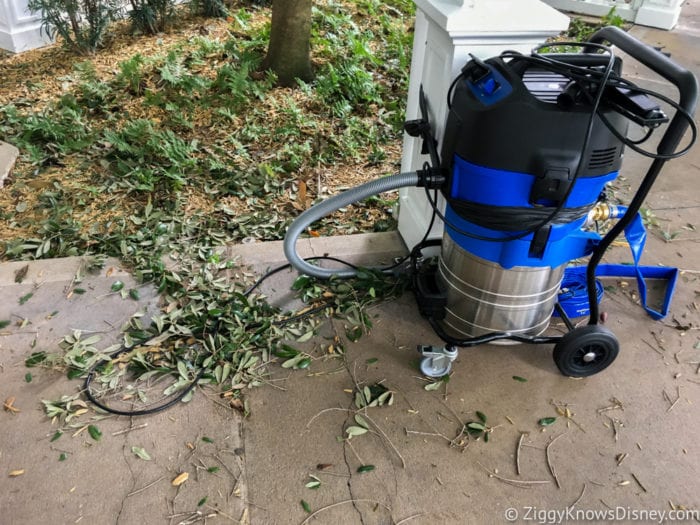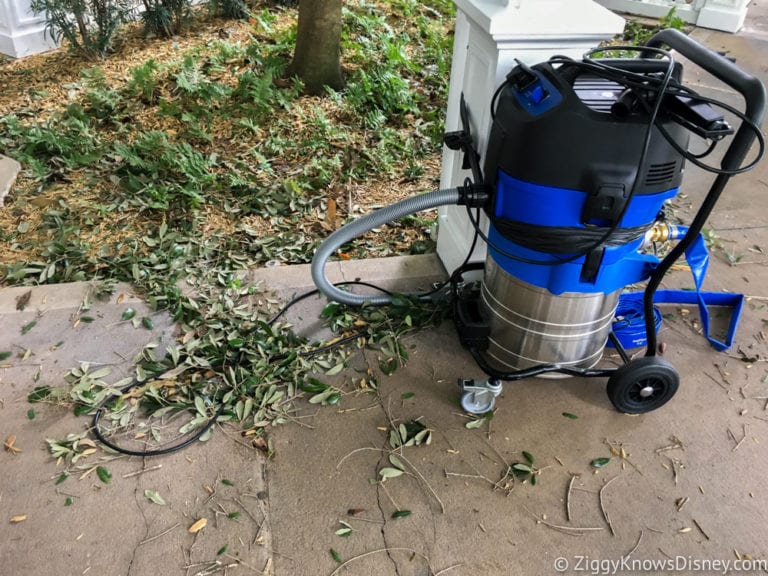 Our first stop was the Beach Club entrance. Seems in tacked, just some downed branches…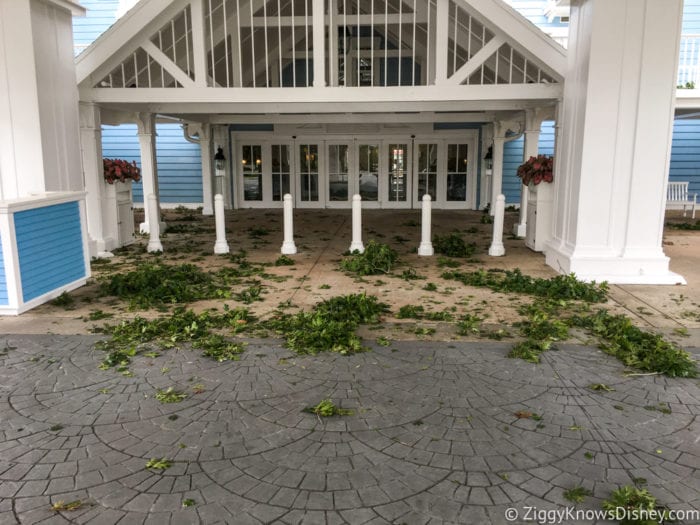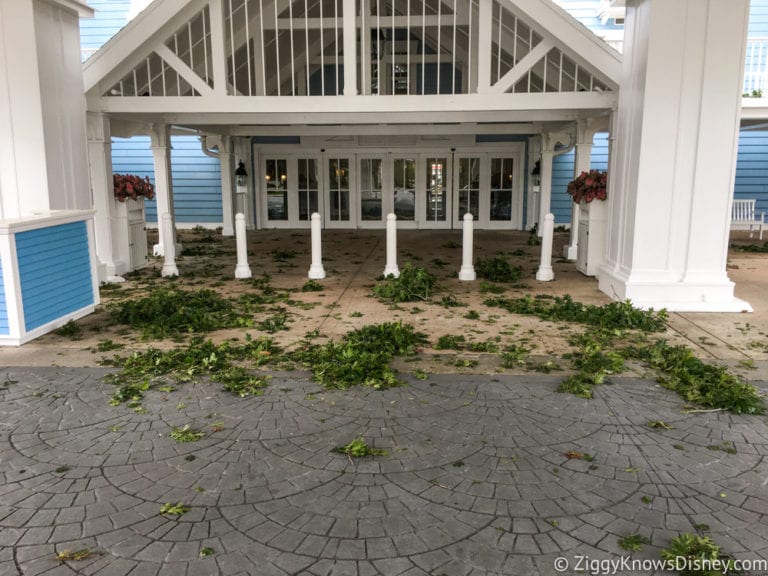 Same with the path down to the bus stops: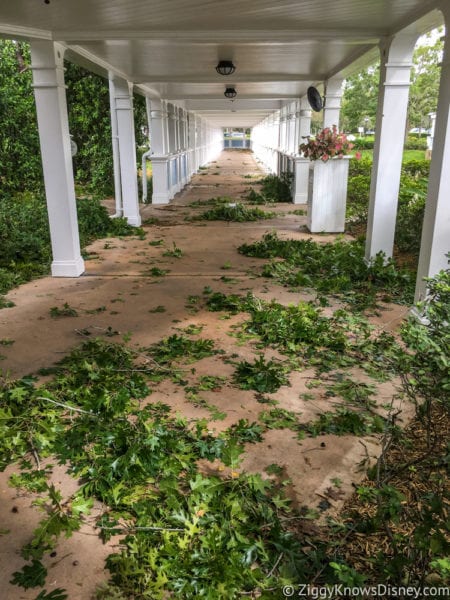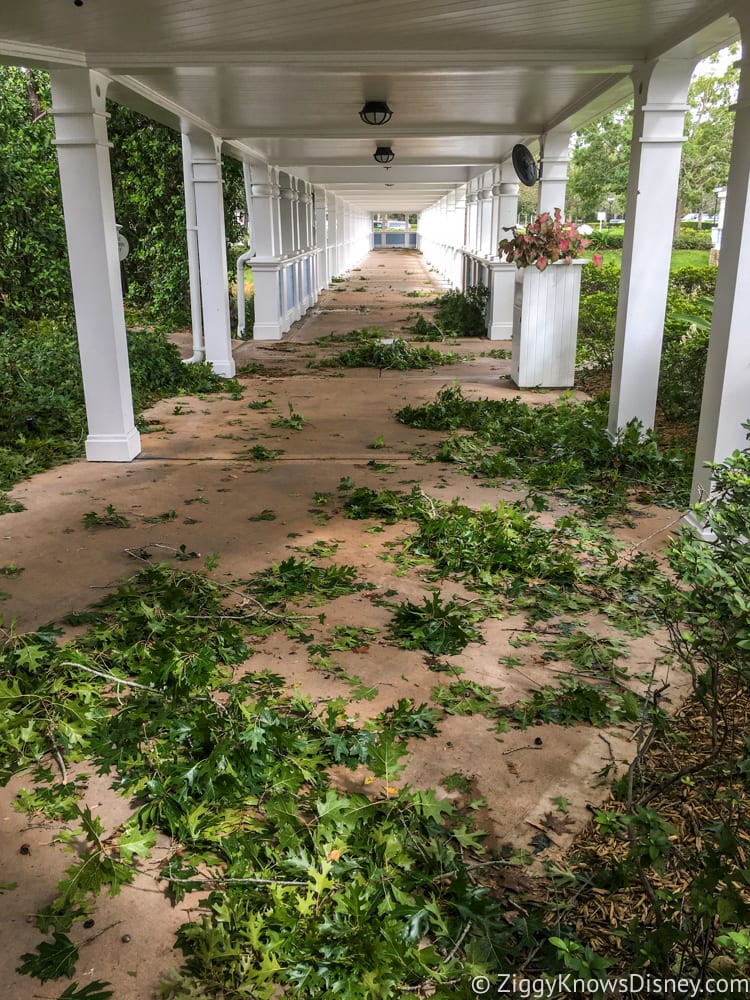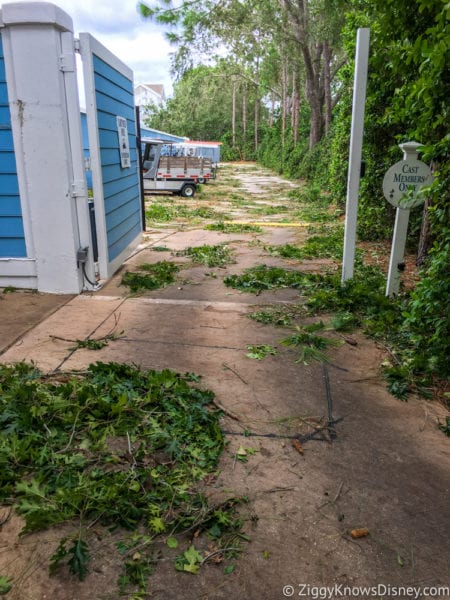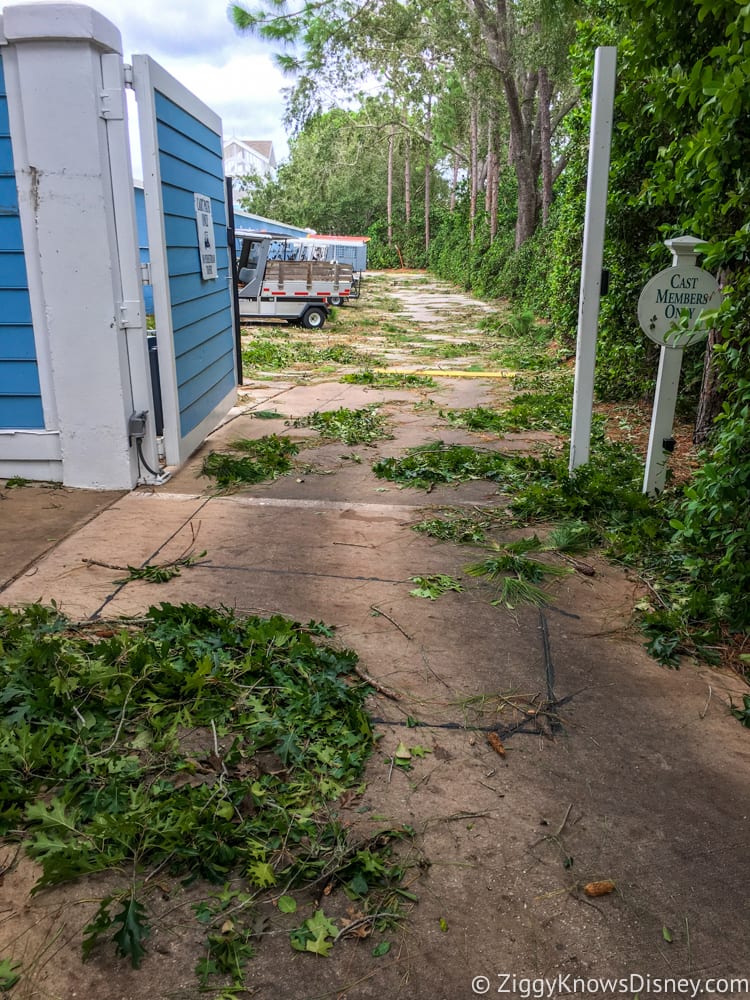 It could have been much worse. So far, so good: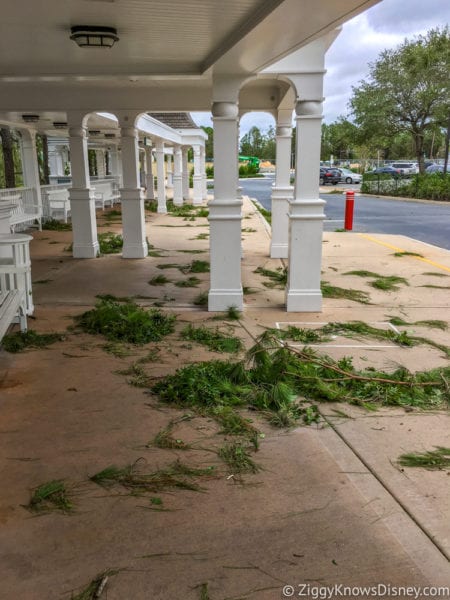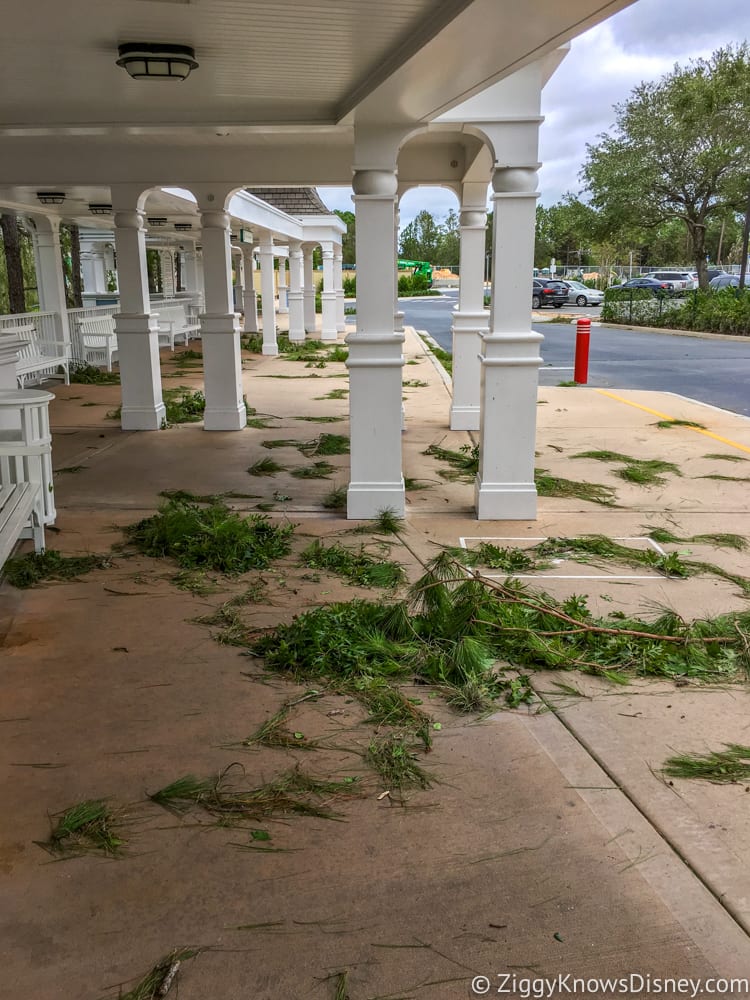 We next started out on a walk around the back of the property near the beach. Here the paths were covered in branches and leaves: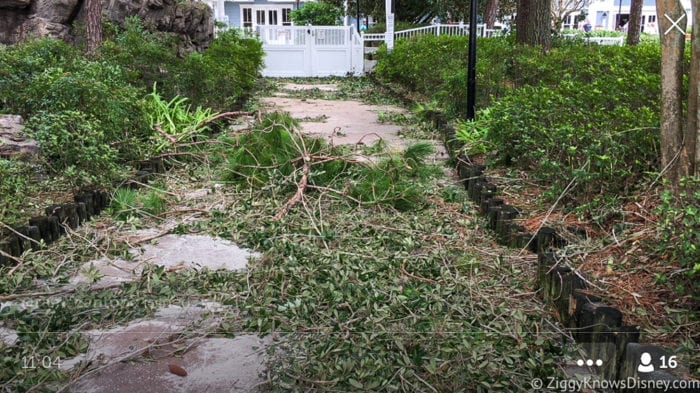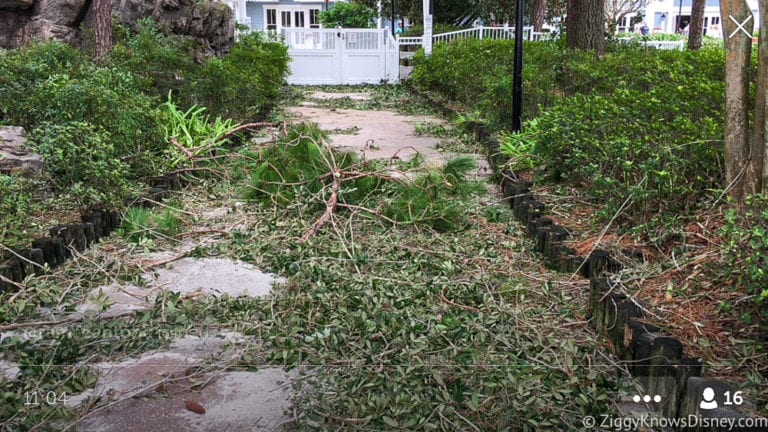 There was a fallen stand too. Must have been a strong wind to knock this down as it's heavy…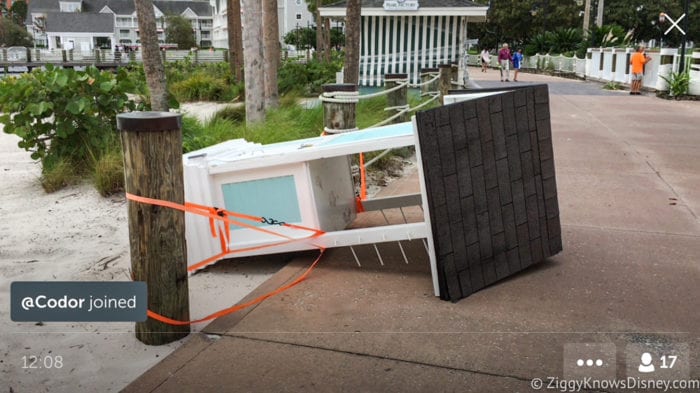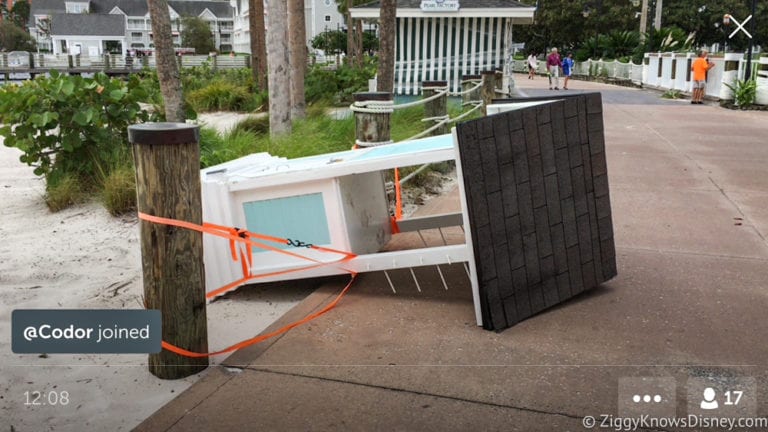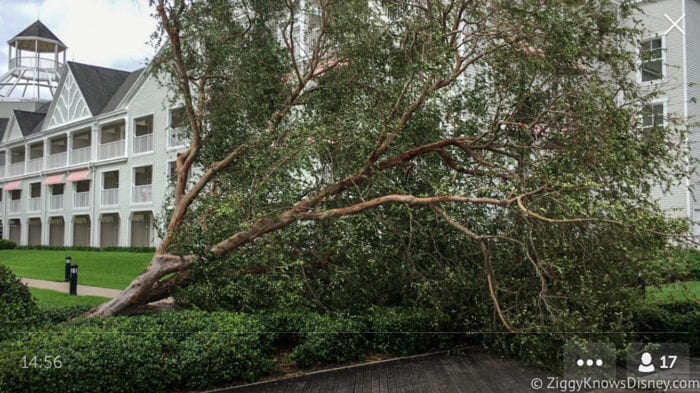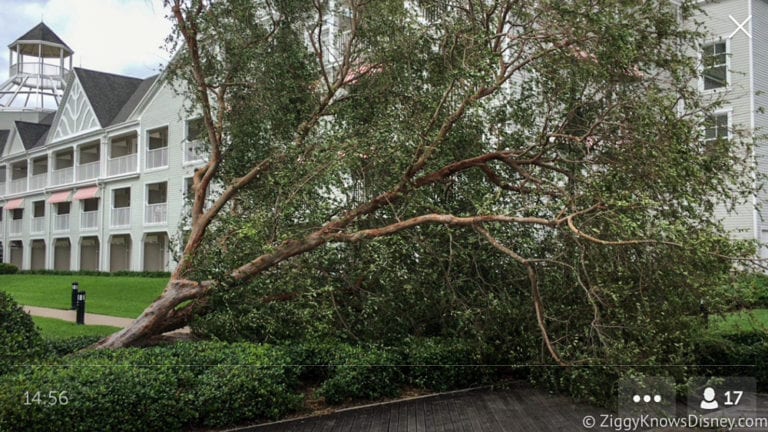 It became very clear that the wind was much stronger on the beach side of the resort and Hurricane Irma came through here and knocked down some decent-sized trees:
There were a total of 3 or 4 big ones down on the Yacht Club boardwalk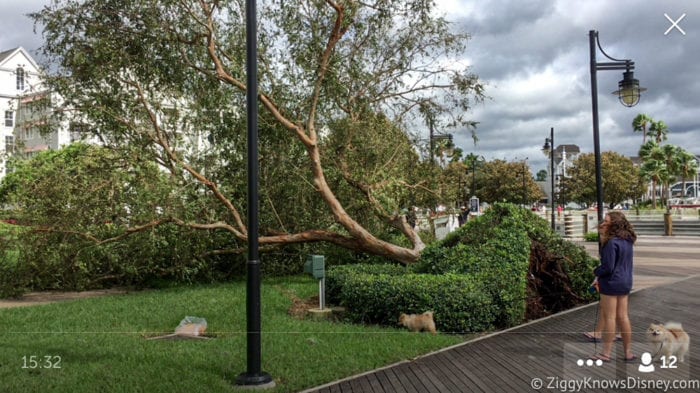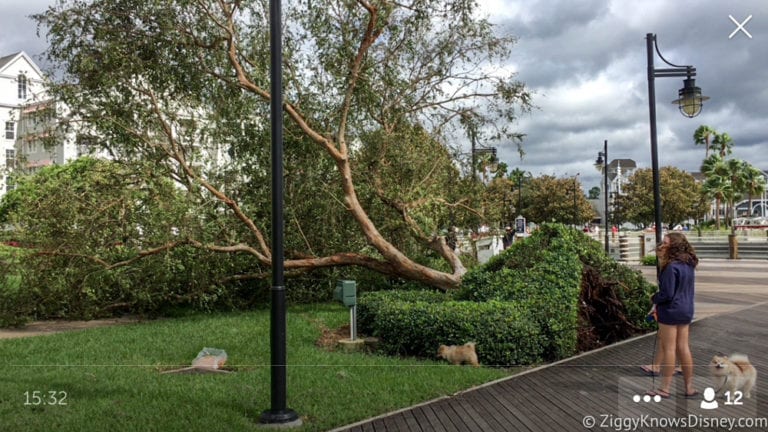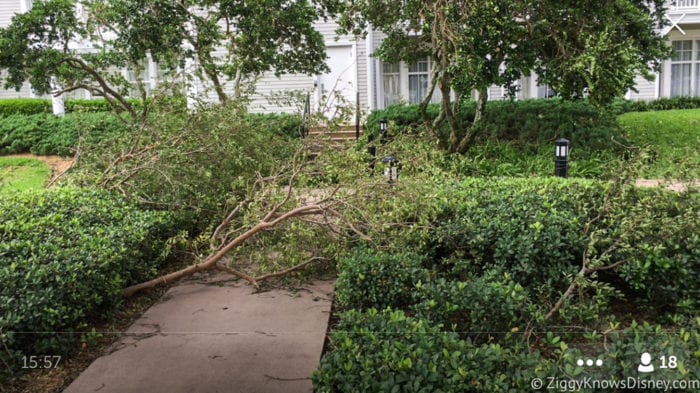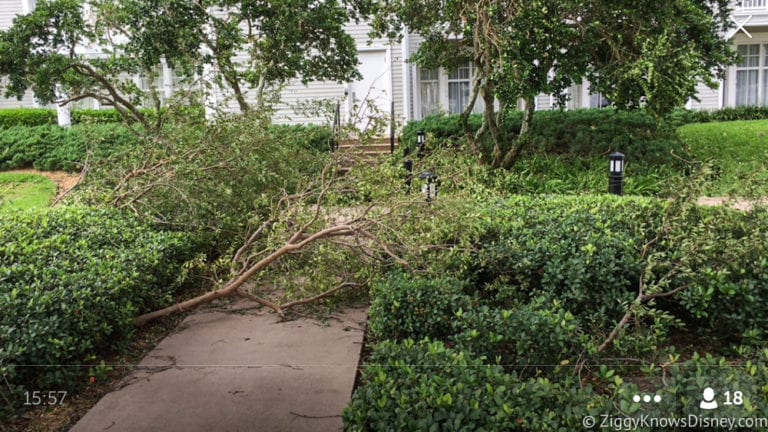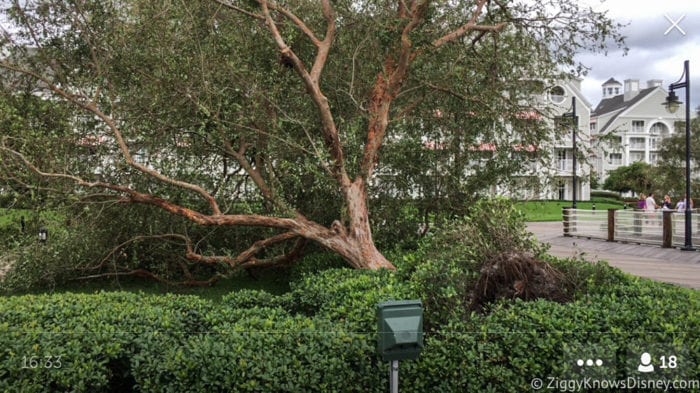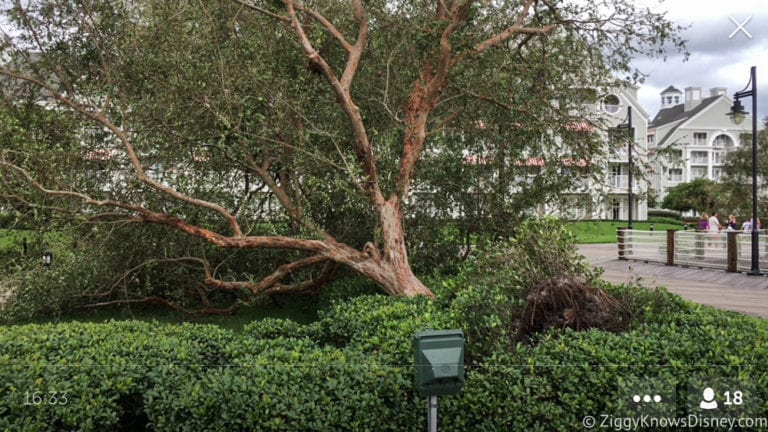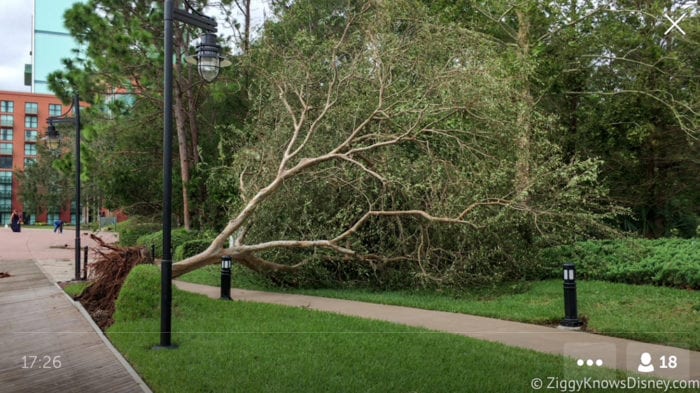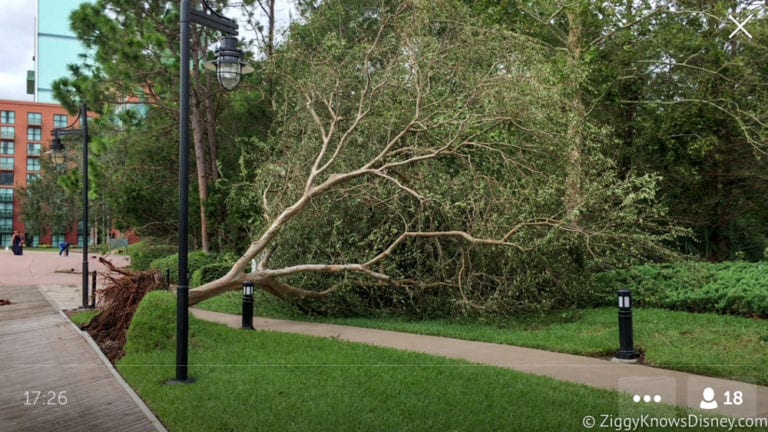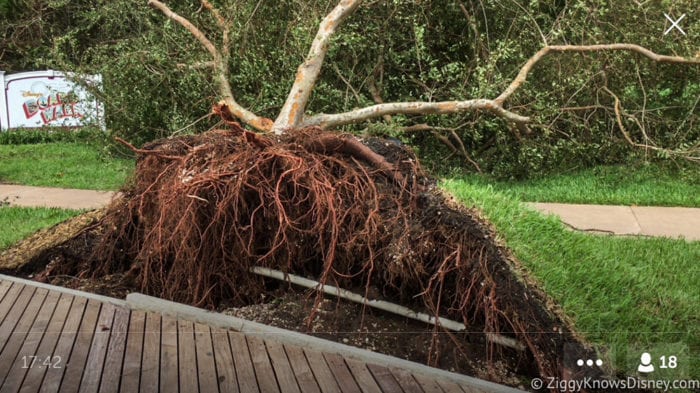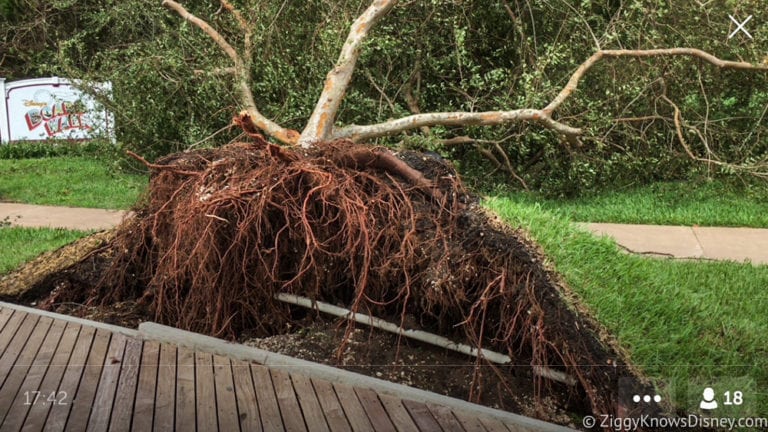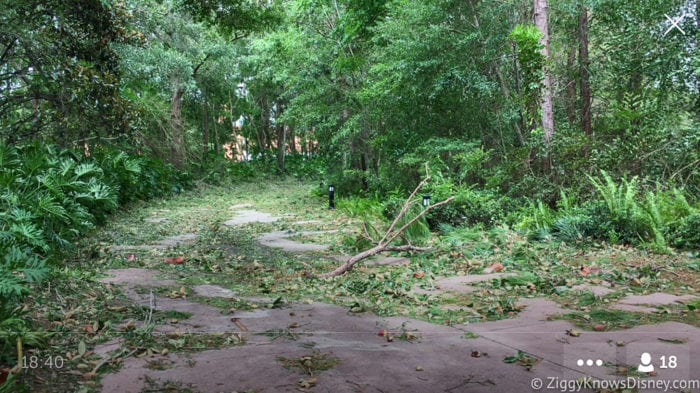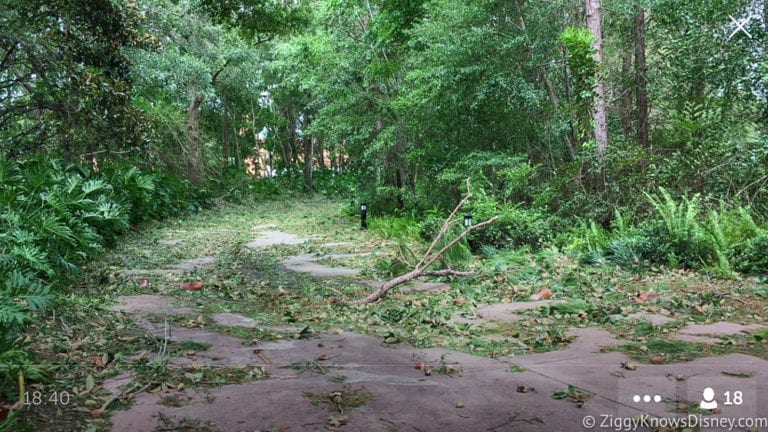 As we walked over to the Boardwalk resort you could see the structure of a canopy over at the Swan was badly damaged…first real damage to any kind of structure, even though it was minor.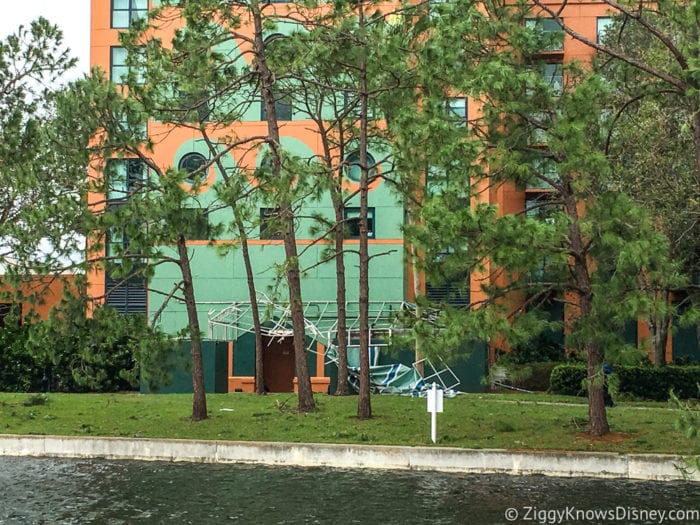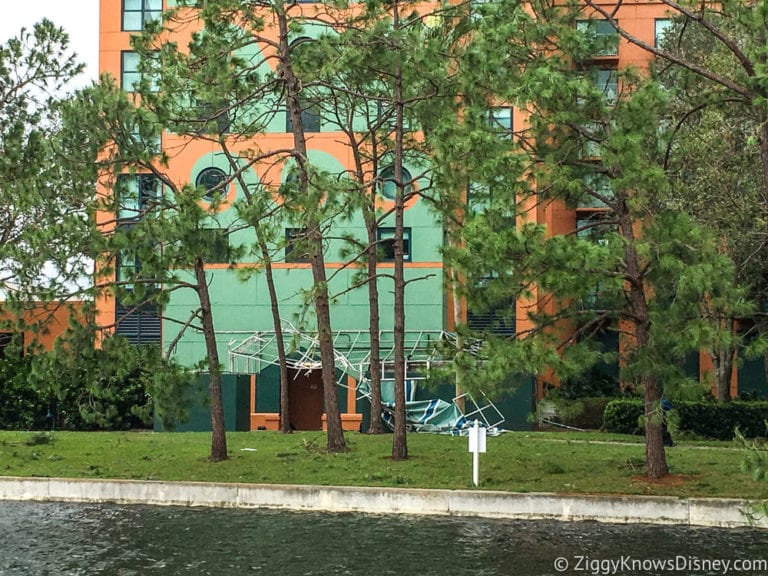 More of the same behind the Boardwalk…lots of branches and trees down…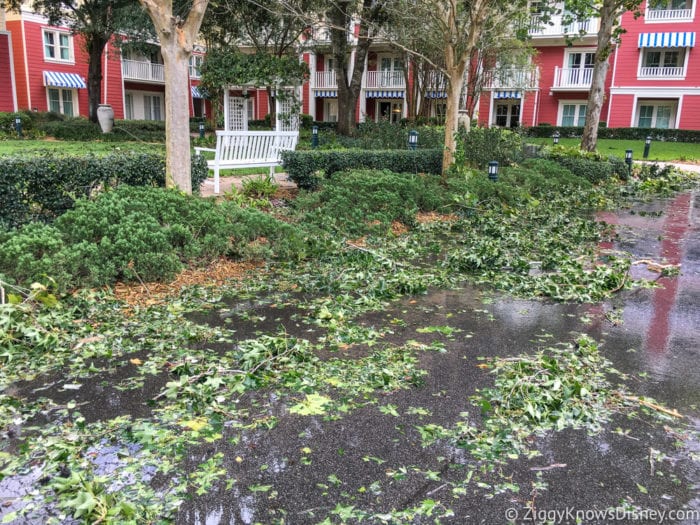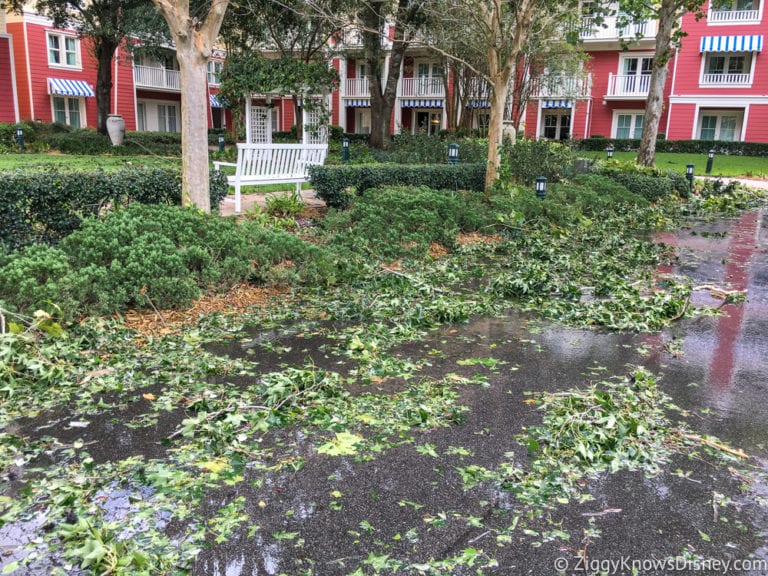 Even a lamp from a light pole was knocked down by the wind: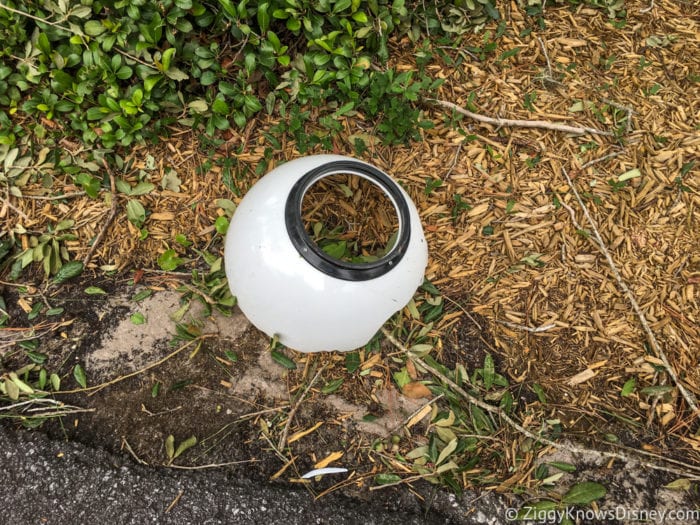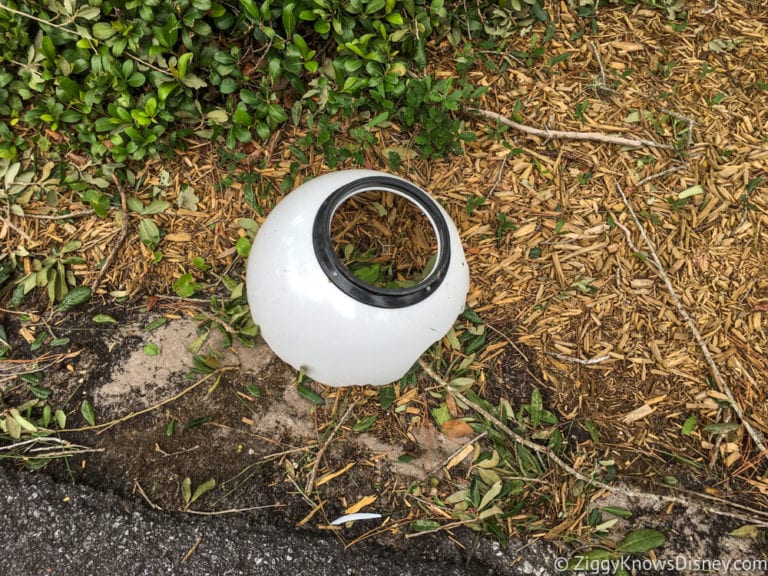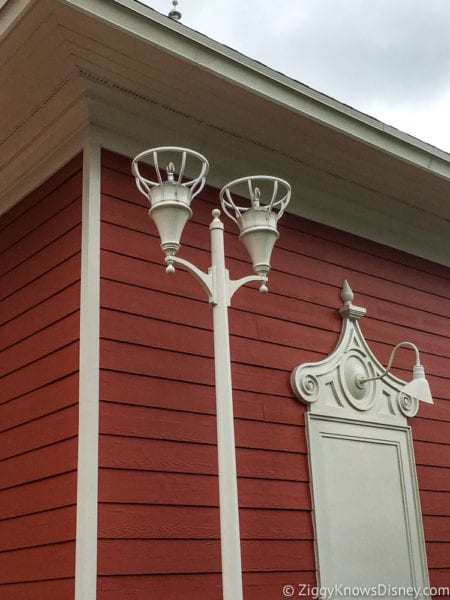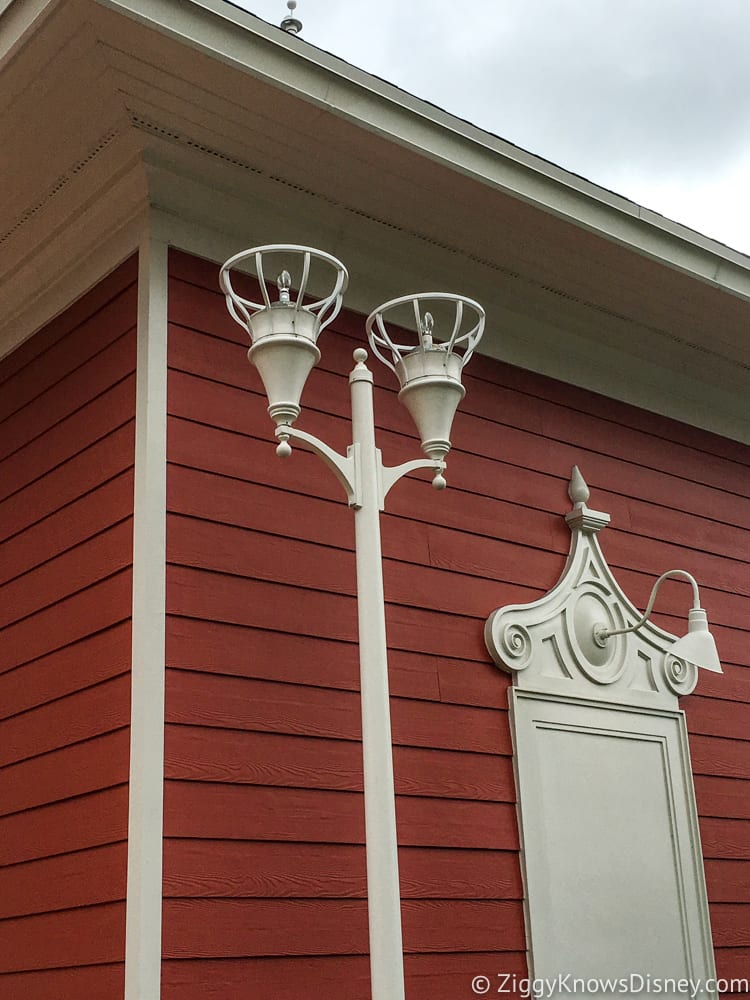 Everything was ok at the Boardwalk pool…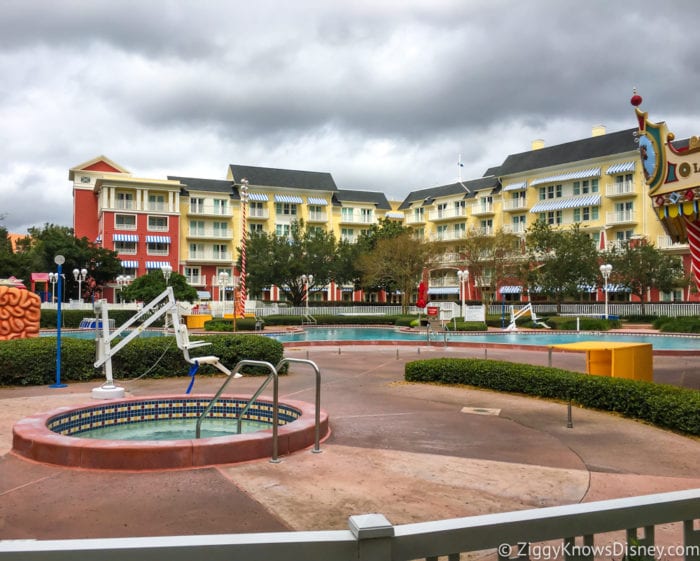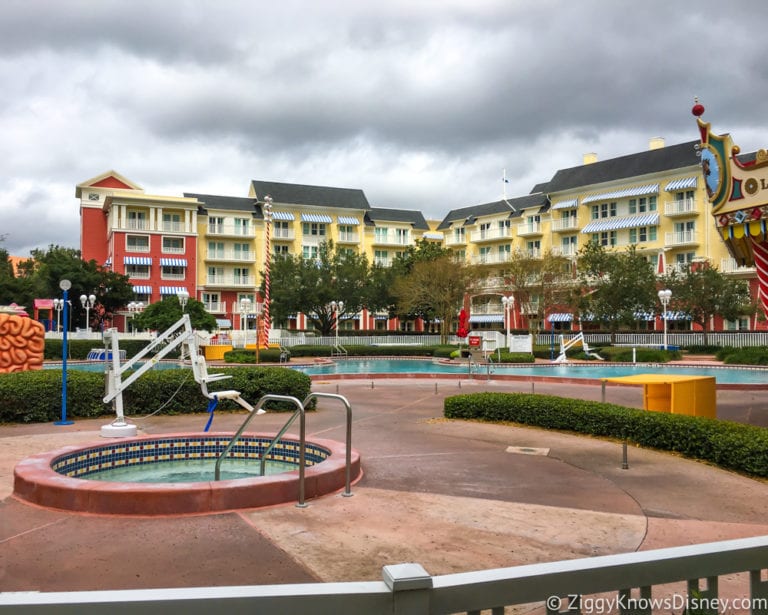 More downed trees near/on the path leading to Hollywood Studios: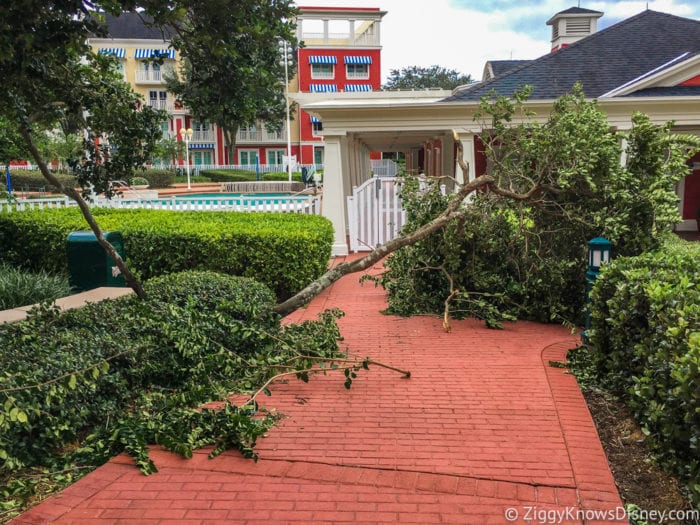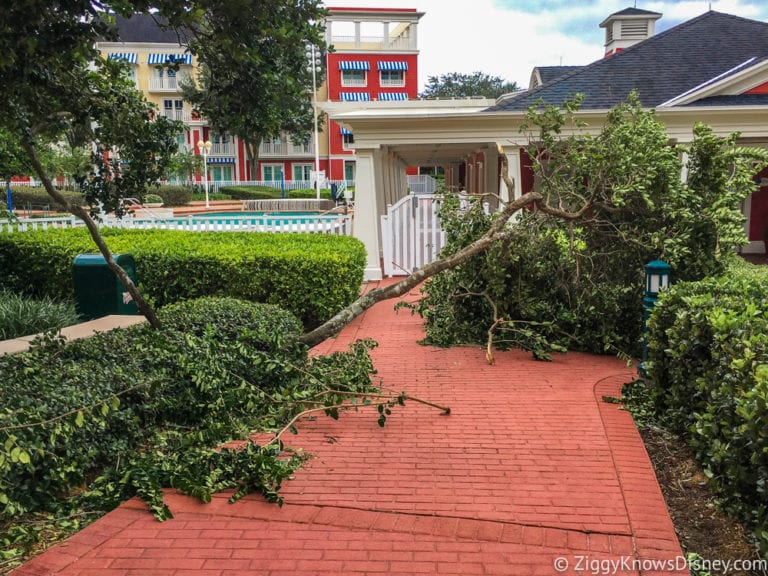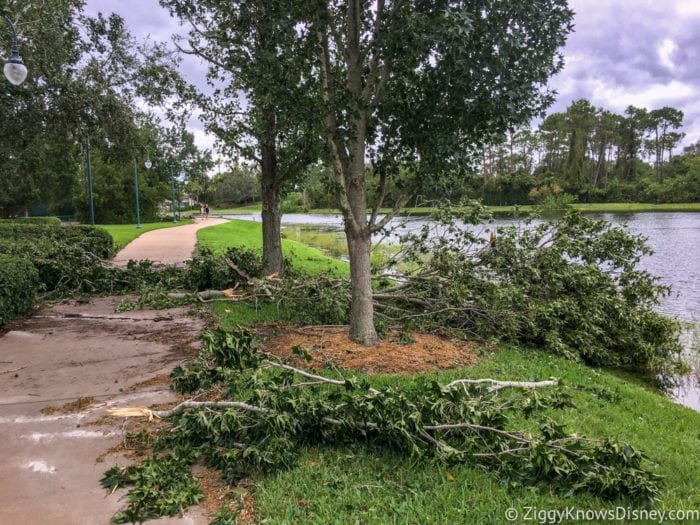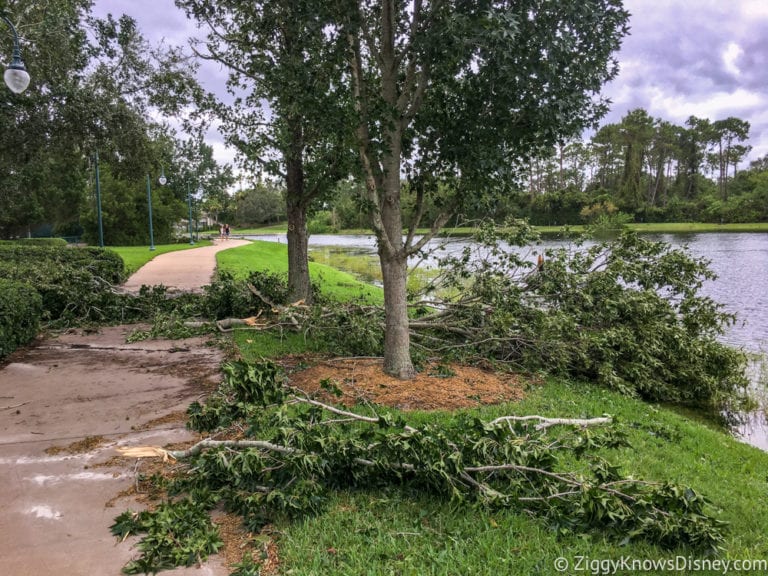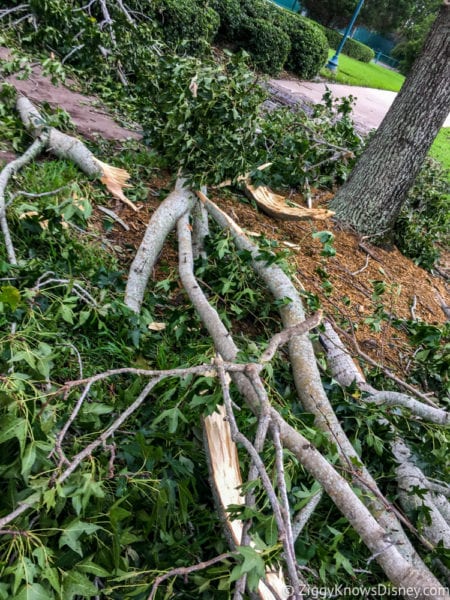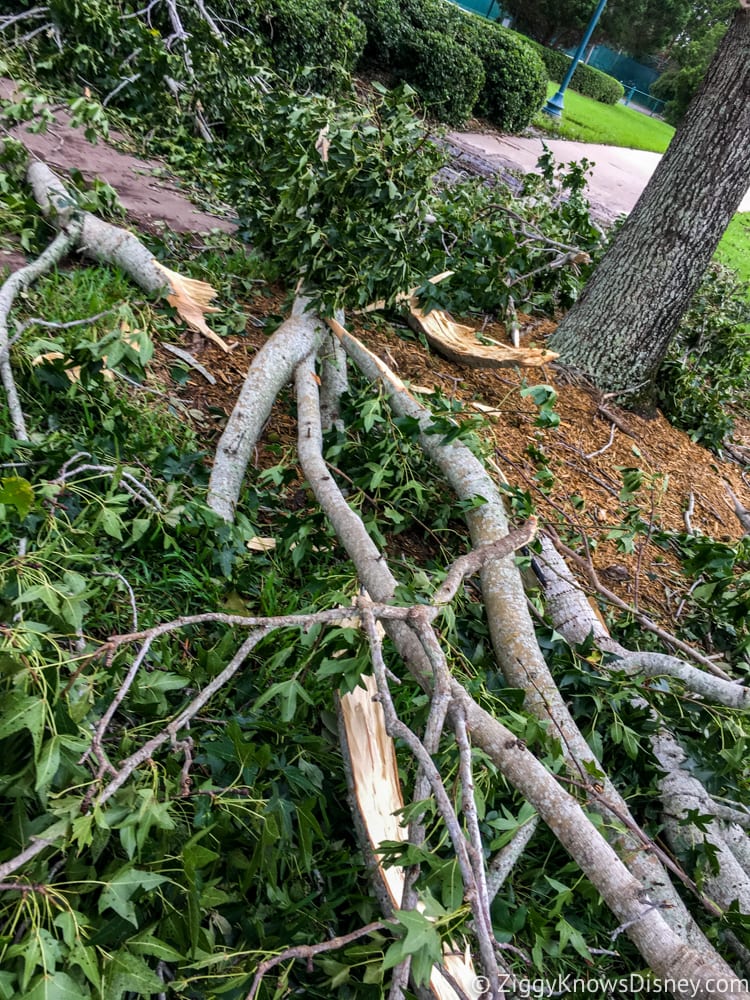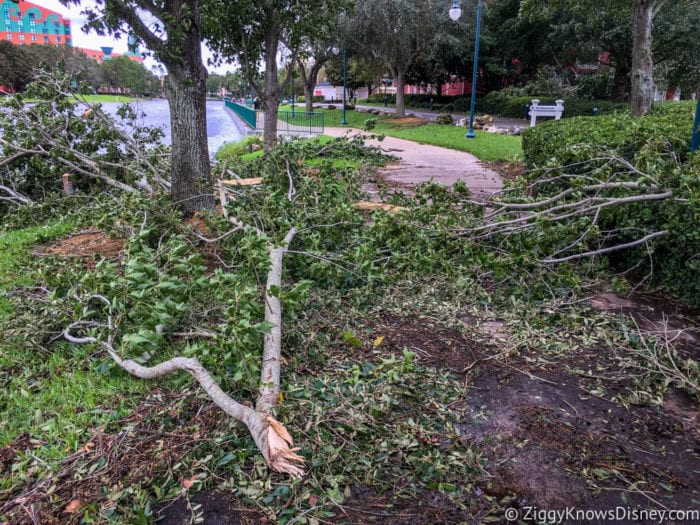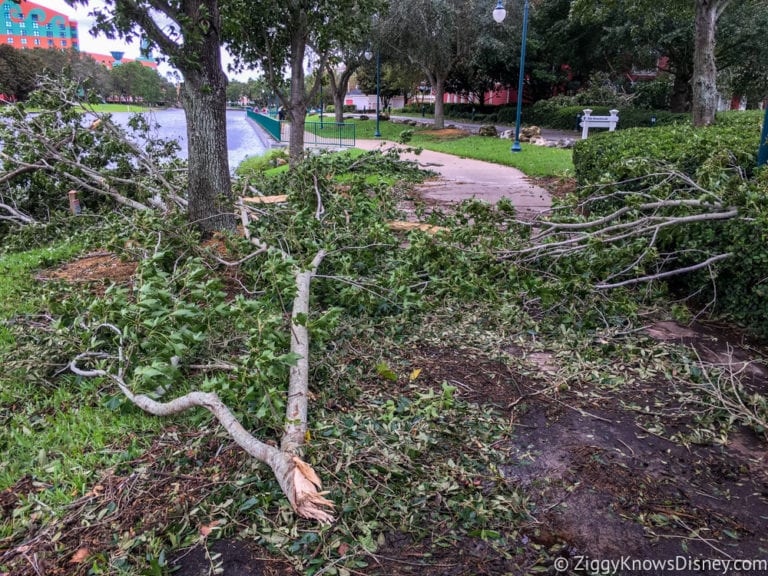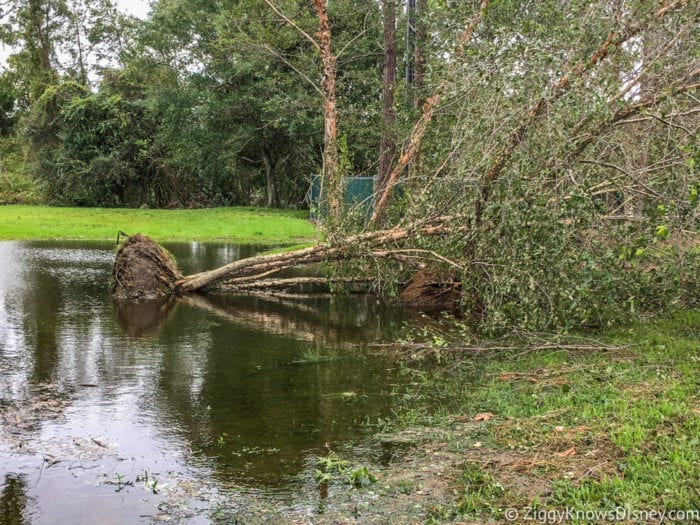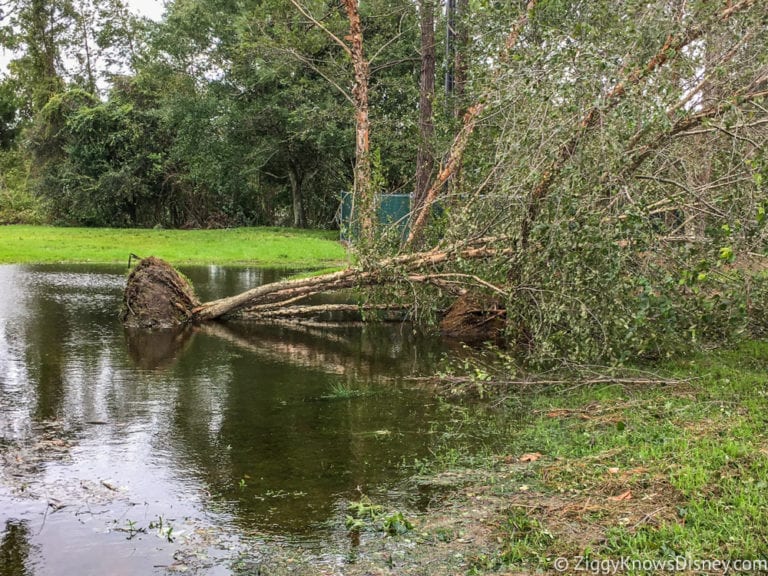 This was the biggest tree of the bunch, and it was totally blocking the path: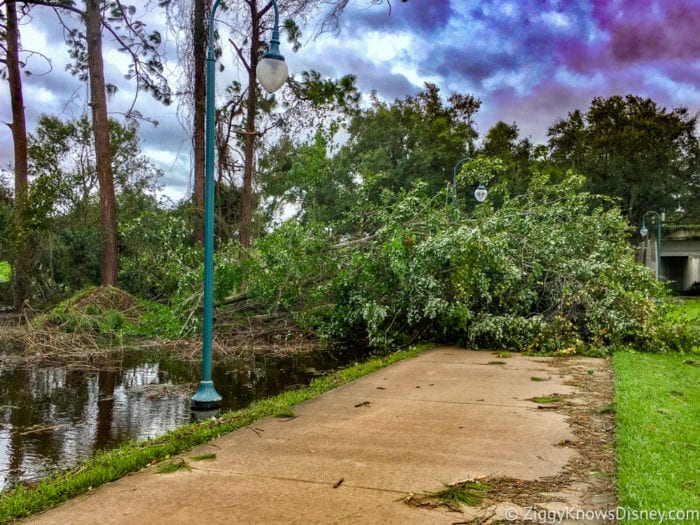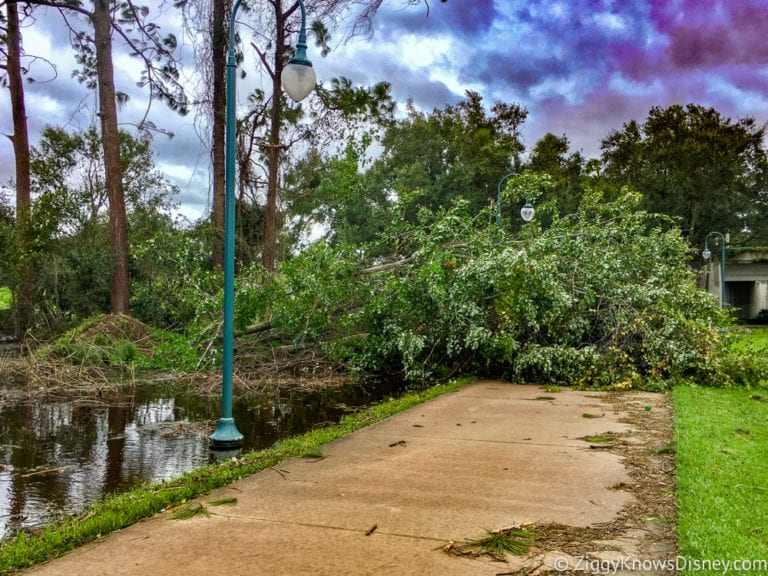 Even though there was some damage to plants and trees, the Disney Ducks were safe and sound…?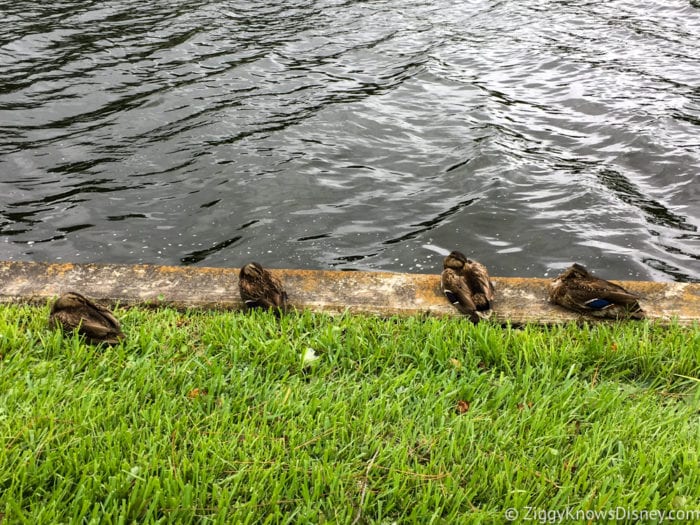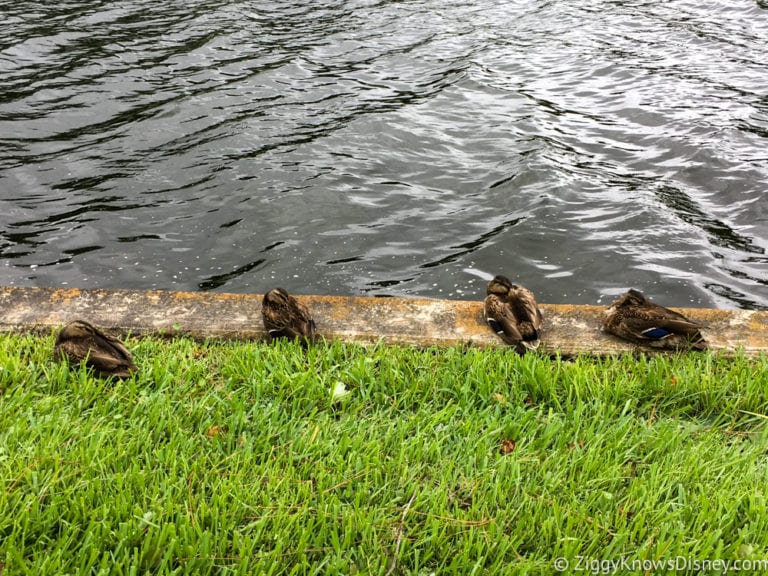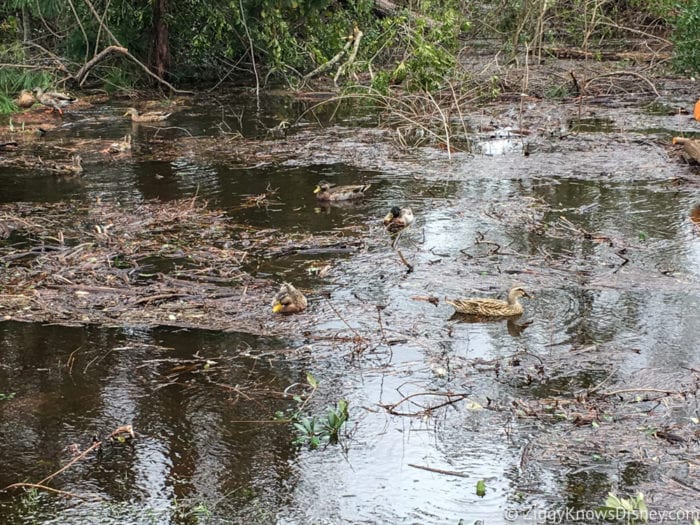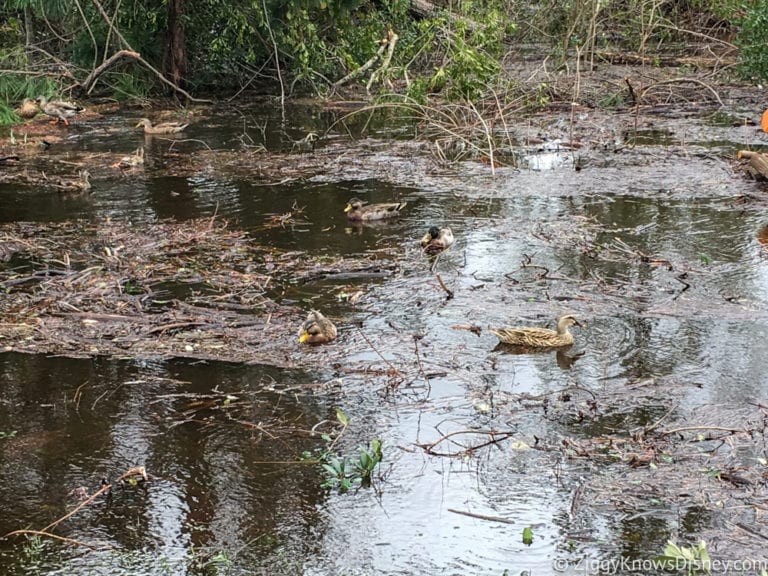 A piece of the wall outside the upcoming Disney Skyliner station, outside of the International Gateway in Epcot was destroyed by Hurricane Irma too…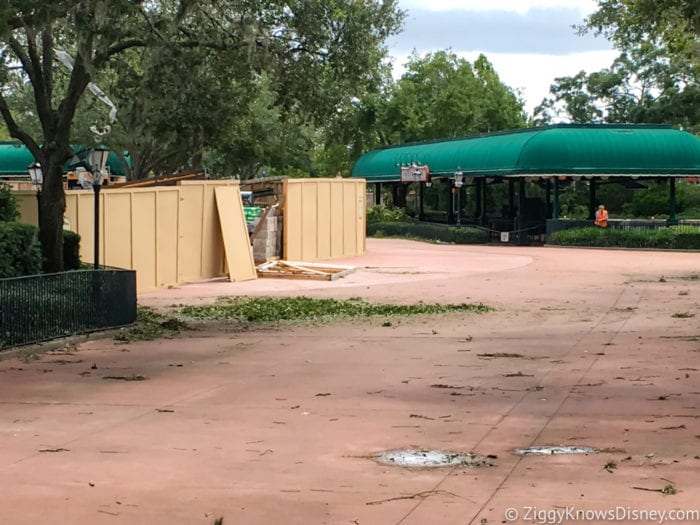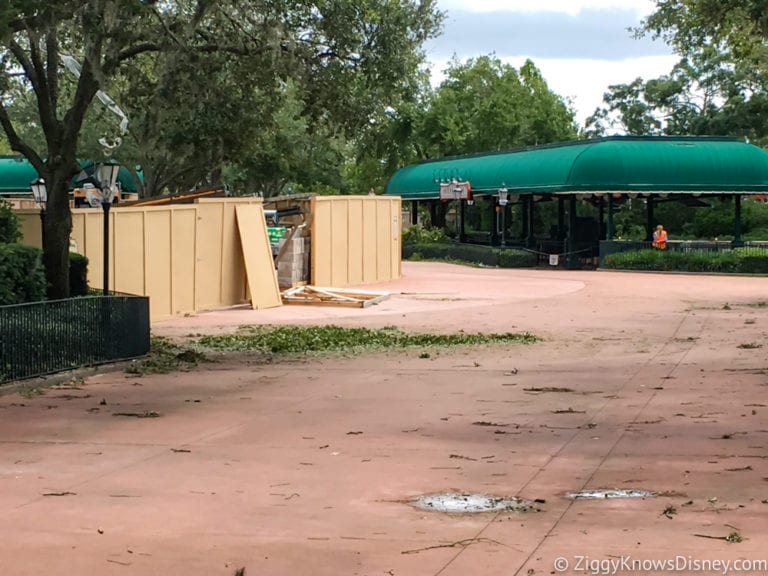 and access to the area outside Epcot was closed: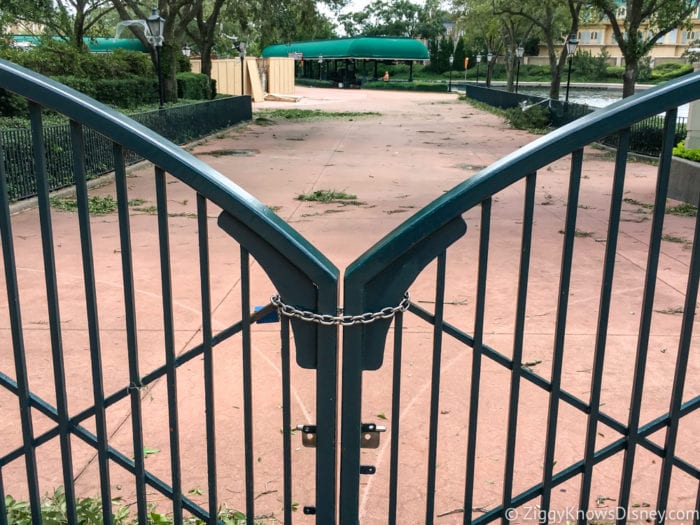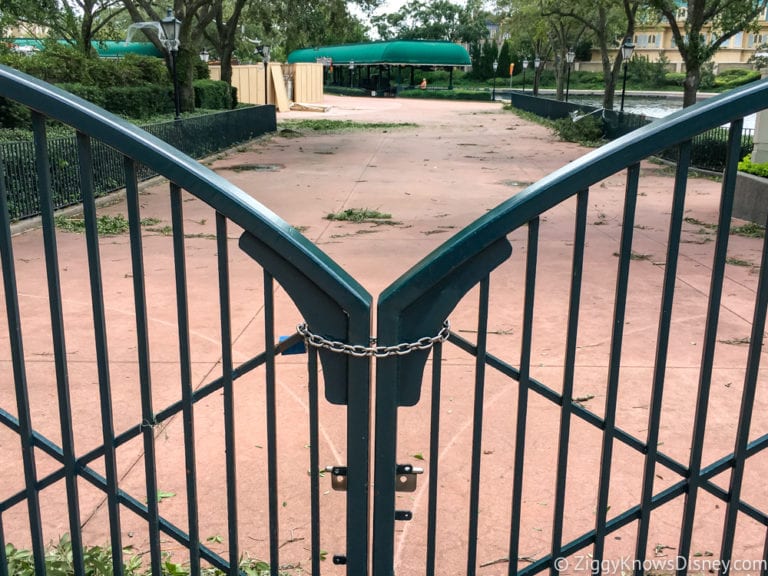 Even though Hurricane Irma had left Walt Disney World, there was still quite a bit of wind in the area. On our way back to the Beach Club we noticed an aluminum cover on one of the chimneys was flying in the wind and looked like any minute it could fly off. It was really large and could have been a dangerous situation if left alone. Thankfully no-one was hurt: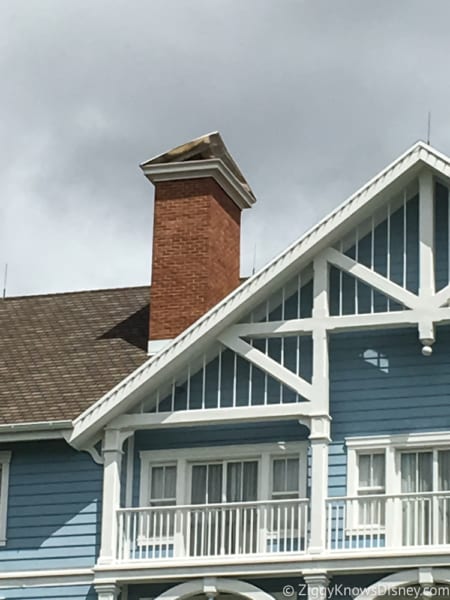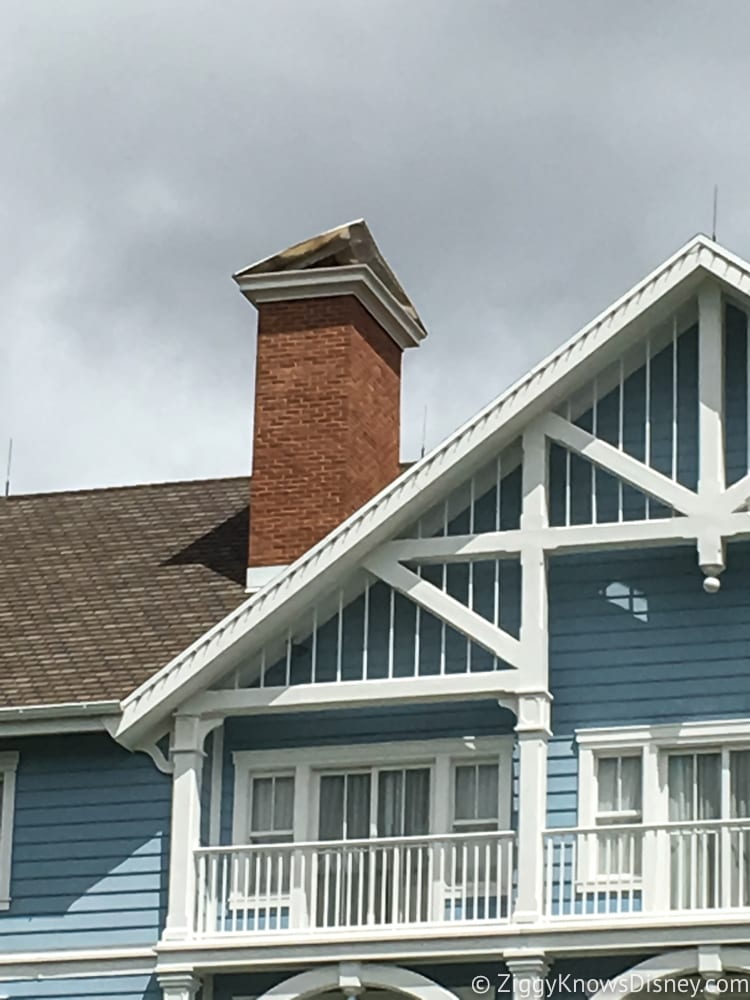 Disney doesn't waste any time with their Hurricane clean-ups, and all day Monday there were grounds crew working frantically to clean up the mess: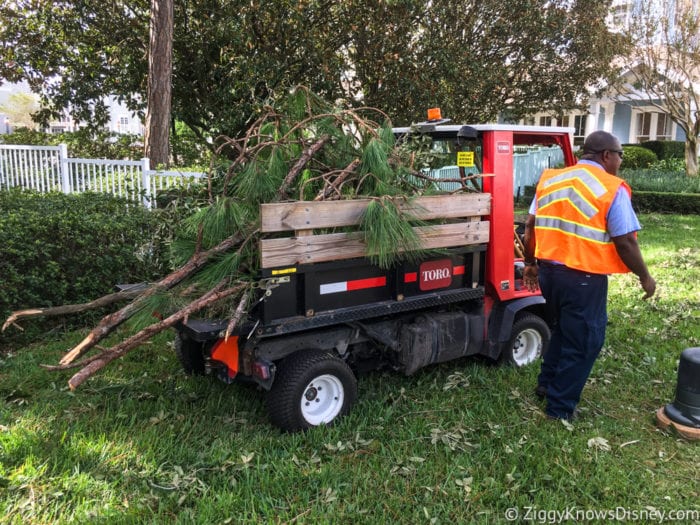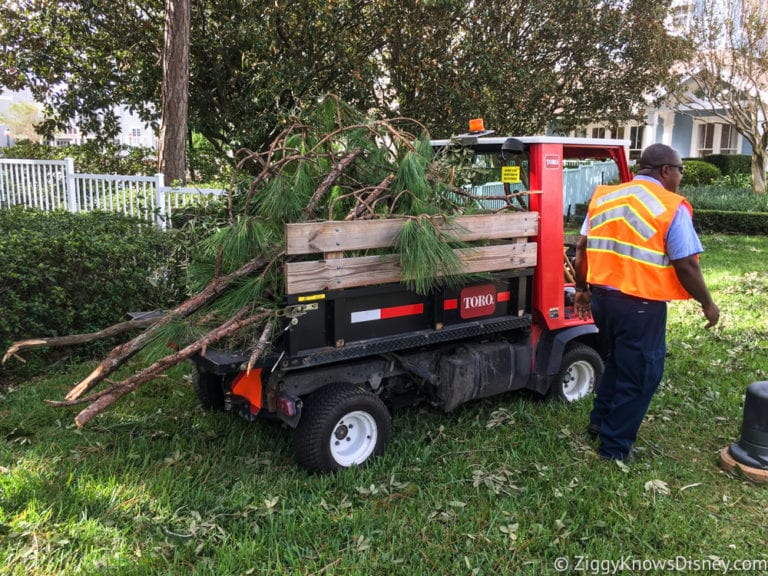 Within a short period of time even the path that was covered by trees at the Boardwalk was cleaned up: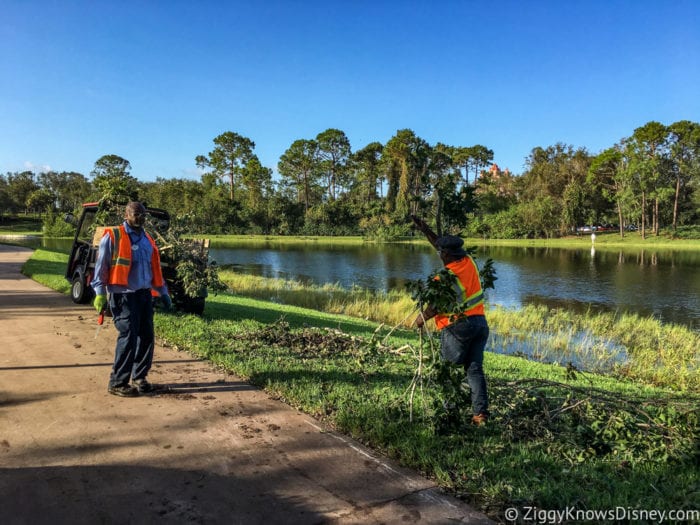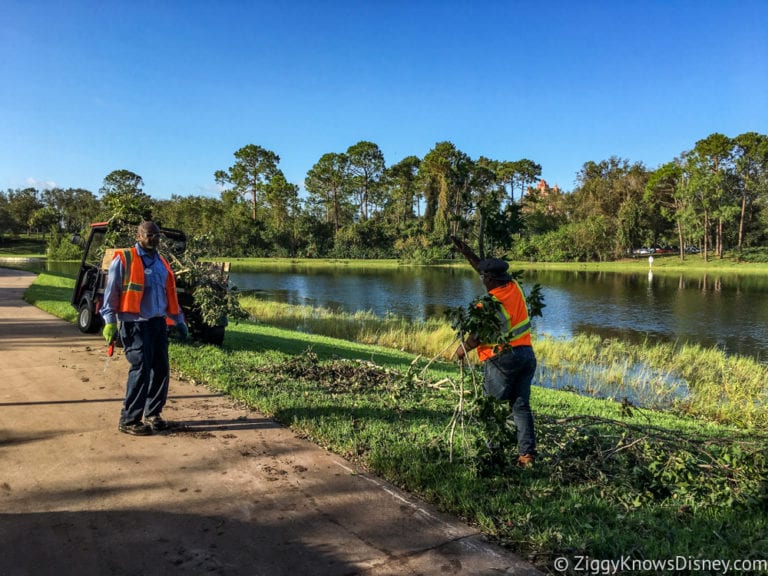 And in a couple of hours all the debris outside of the Beach Club entrance was gone. You'd never have known there had even been a hurricane honestly…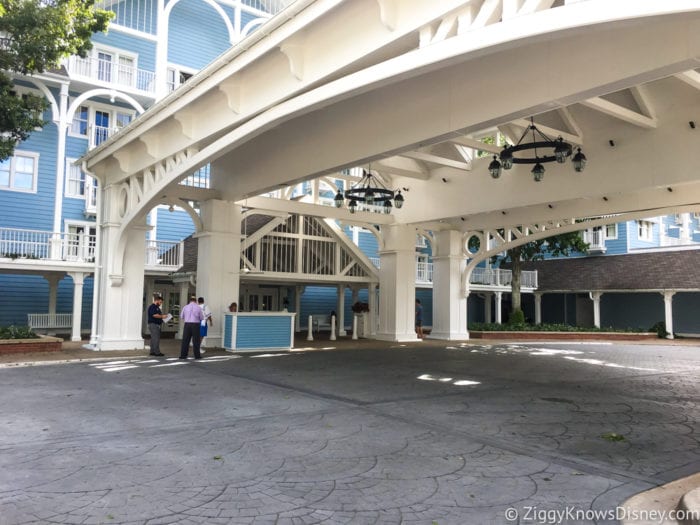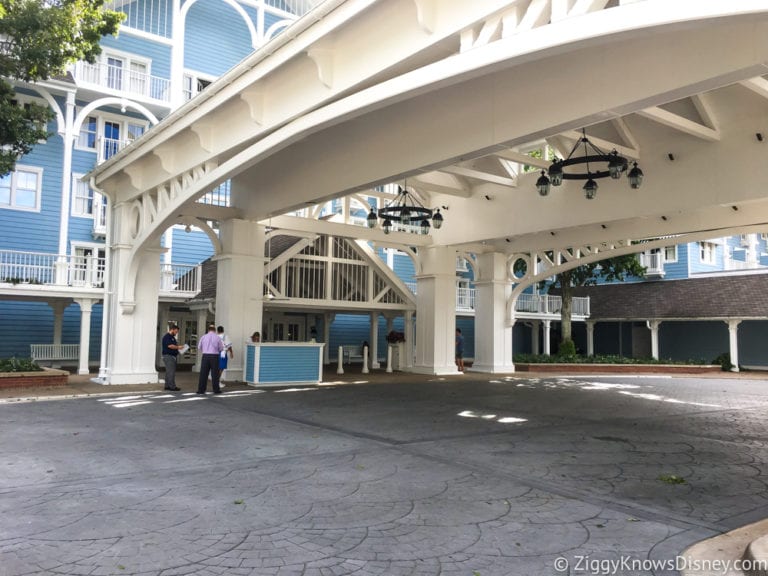 The parks were still closed Monday evening, so Epcot was out of the question for dinner, but the Epcot resort restaurants were open so we headed over to Il Mulino at the Swan. The place was packed out, with many southern Floridians still staying at the Walt Disney World Resort: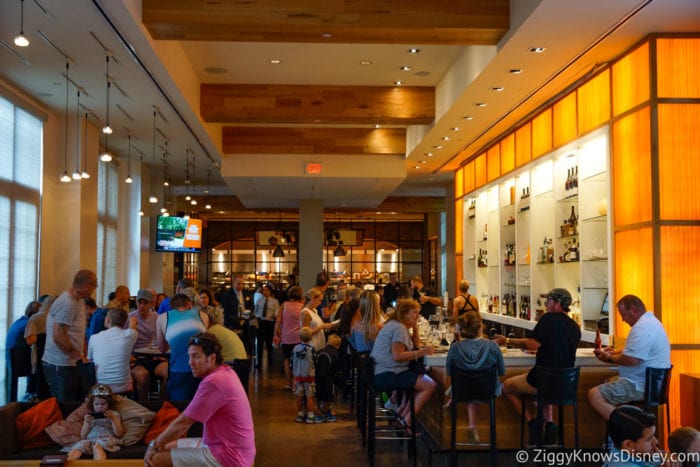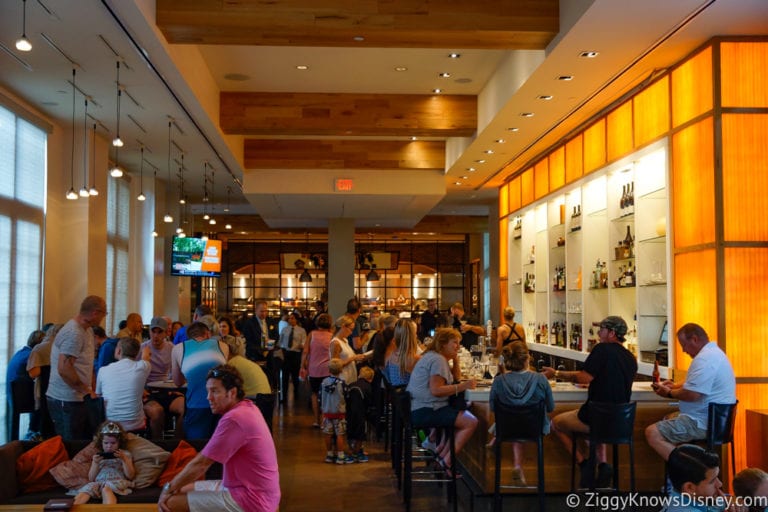 They didn't have the full menu at Il Mulino, nor at most restaurants due to transportation issues, but there still was an impressive selection: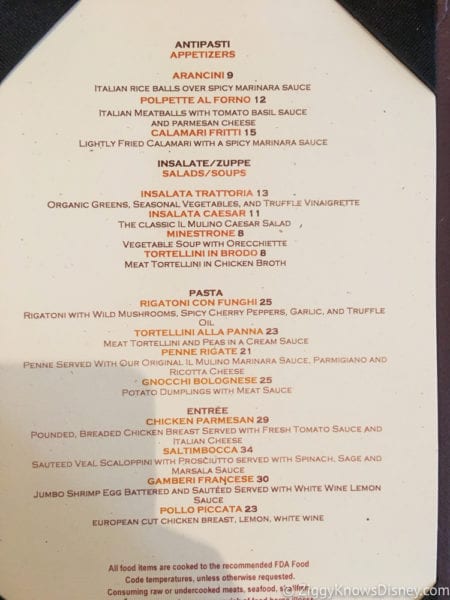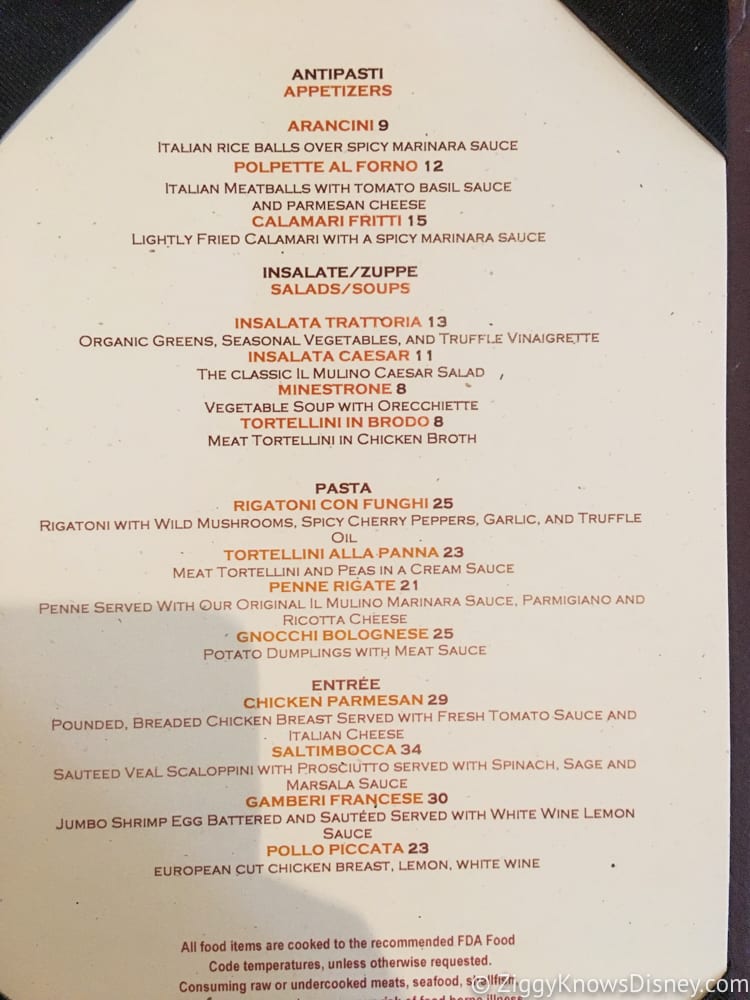 Later that night we took a walk around the Epcot area resorts and the Boardwalk and it was impressive to see the downed trees. They weren't small so that wind had to have been flying pretty strong to knock them over, though you can see they don't have deep roots..but still: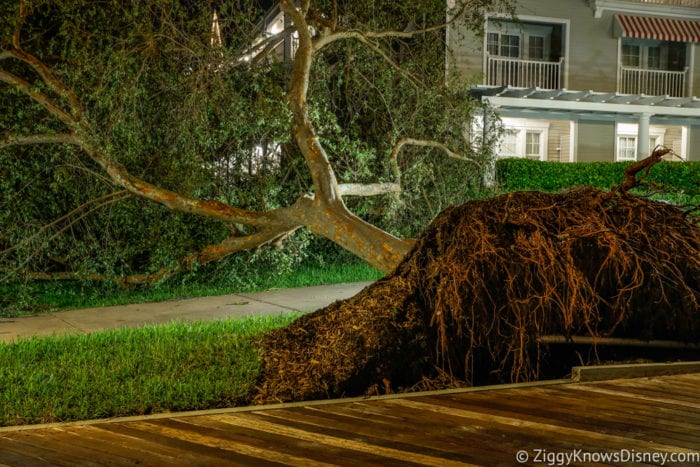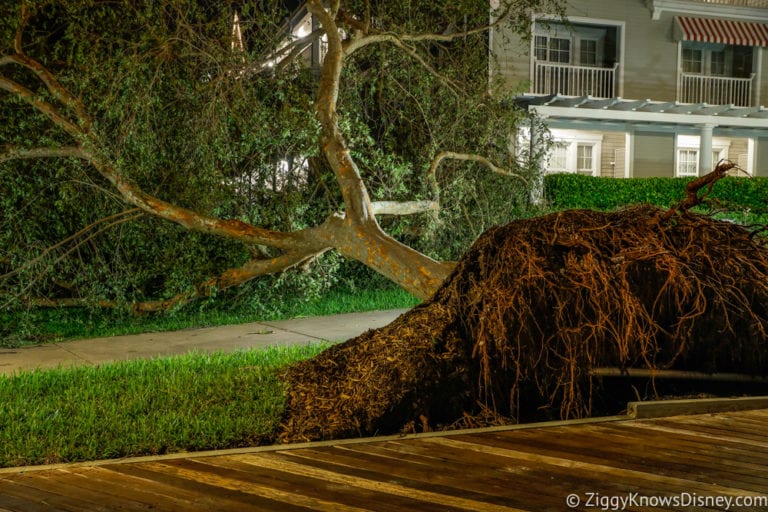 Some of the lights were out on the Boardwalk Sign too…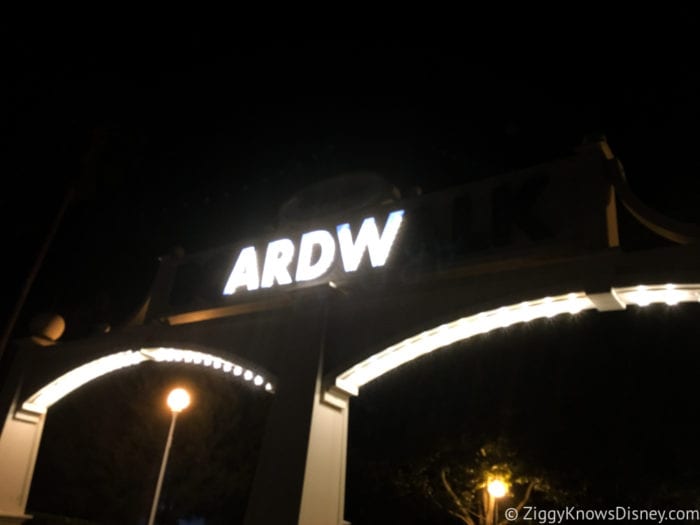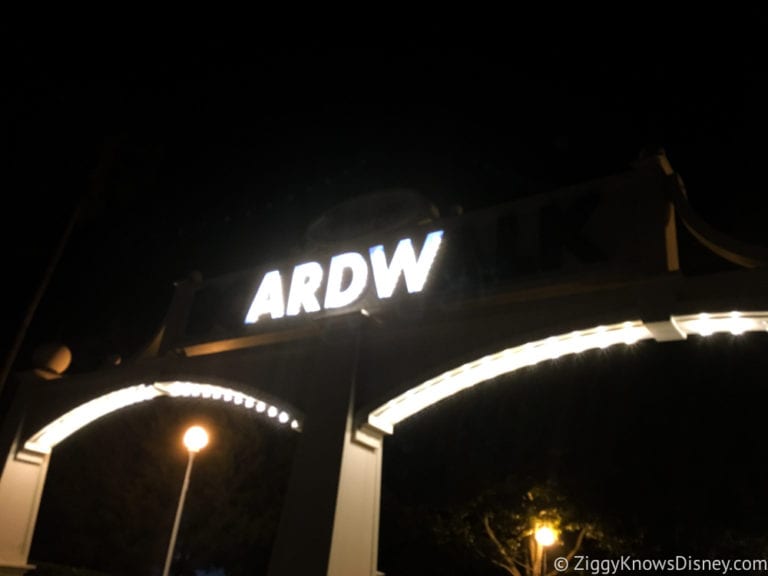 Overall though besides a few trees, by Monday evening you'd never have known anything was even wrong, and it was all back up and running the next day.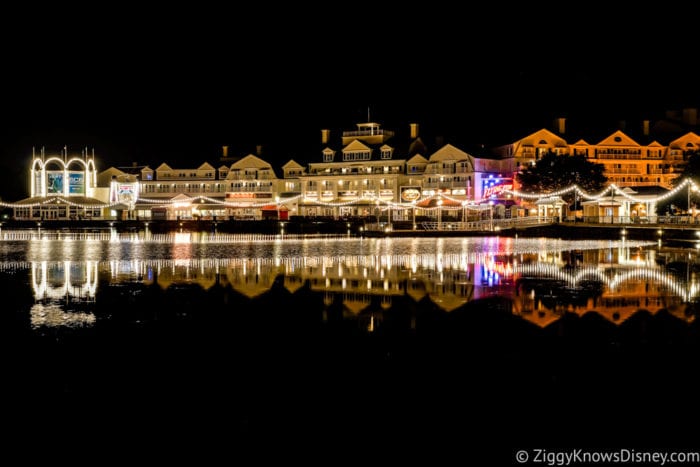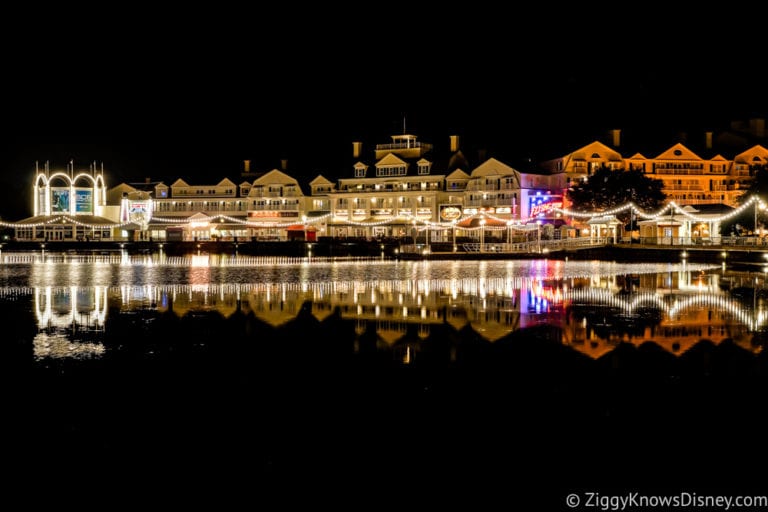 Our Hurricane Irma at Walt Disney World Summary:
As crazy as it sounds, overall our experience was a great one honestly. It was our first time experiencing a hurricane and I now have a greater appreciation for what Floridians have to deal with on a regular basis.
I also got to see first hand what a hurricane at Walt Disney World is like, and how they prepare, entertain and clean-up form such an event.
Where we were at the Beach Club there wasn't any bad damage to any structures or any injuries. There were a few places hit a bit harder, like Fort Wilderness Campground where they stayed closed for about a week after to clean up everything.
In the parks, there wasn't any real damage except a tree that fell over in the Magic Kingdom on a part of the Adventureland Veranda, which is now most likely becoming the spot for Club 33.
I thought everything on Disney's end went fantastically and they couldn't have done a better job keeping everyone safe, happy and entertained. Even though the parks were closed for a couple of days, everyone in the resorts was well taken care of and there was so much to do it was incredible.
There wasn't a free moment all day. Seeing all the characters all day and night interacting with kids and big kids like me was a treat and something I'll never forget. Not to mention all the other cast members who stayed on property for 3 days straight to make sure Hurricane Irma went smooth for everyone.
They are to be highly commended and is why I keep coming back to Walt Disney World again and again.
Is it worth going to Walt Disney World during a Hurricane?
I think if you are in a similar situation where a hurricane is coming to Walt Disney World during your vacation you have some things to think about. Each hurricane is different too so all factors need to be considered.
If your trip is long enough where only a couple days are going to be "ruined", then it still could be a viable option for you and worth doing. The parks on the days around the hurricane were literally dead and you could walk on to some of the busiest attractions in 5 or 10 minutes wait.
Obviously the well-being of your family is first and foremost and everyone has to make the decision which is best for their own family. O obviously its better to not have a hurricane to deal with, but we had a great time and it was maybe my most unique and memorable Disney experience I've ever had.
Your Thoughts:
Let me know if you've experienced a hurricane in Walt Disney World and what you did there in the comments section below!