Have you ever wanted to get take out food from table service restaurants at Walt Disney World? Well, now that's entirely possible with the new Disney World Table Service to Go feature in the My Disney Experience app!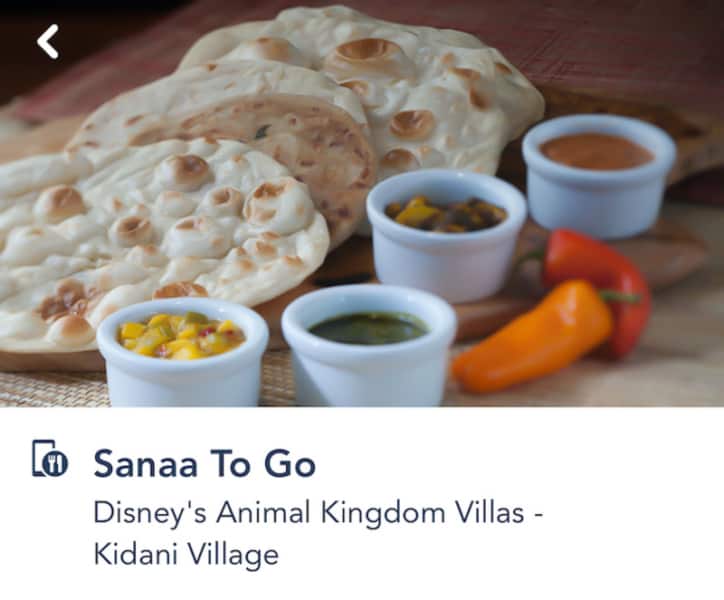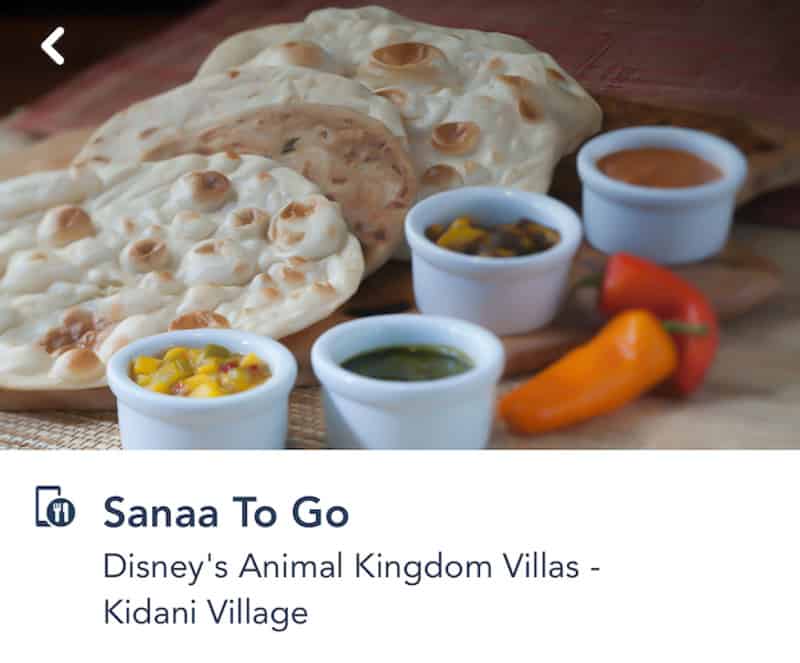 In the post, we are going to share with you how to use the new Disney Table Service To Go and why you'll find it especially helpful right now. We'll also tell you all the restaurants in Walt Disney World that use this new feature and how exactly it can improve your vacation.
Since Table Service To Go is brand new, we caution you that there might be a few bugs in the program, and Disney is going to continue making improvements and adding new features. We'll be here to walk you through all those changes.
What is Table Service To Go in Disney World?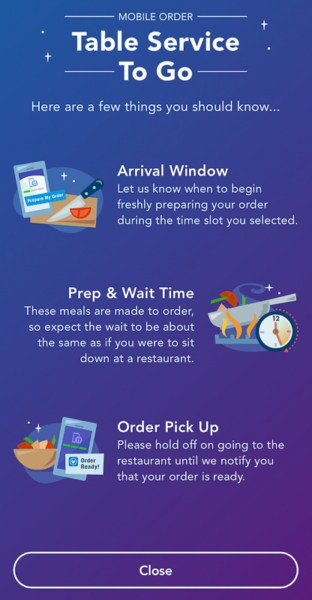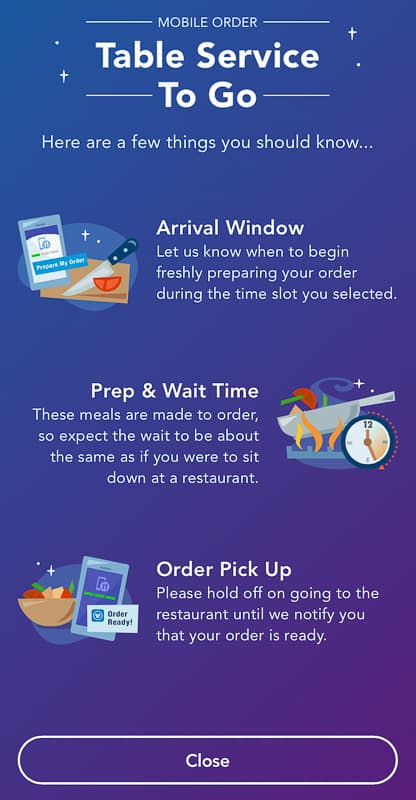 So what exactly is "Table Service To Go?" It's an addition to the My Disney Experience which lets you order take out from your favorite table service restaurants in Disney World, all from your mobile phone. It's basically Disney Mobile Order for table service restaurants.
This means that instead of having to enjoy a table service meal at the restaurant itself, you can get your food to go and bring it back to your hotel room or eat it somewhere else you prefer.
You can order anything from the menu including appetizers, entrees, drinks and even desserts!
The food is made fresh to order and is not sitting around waiting for guests to order. That means you can expect similar wait times as if you were actually in the restaurant eating.
Just select the restaurant you want to order from the list from the list of participating restaurants and choose your pick-up time. Select the food from the menu, place your order and when your food is ready, pick it up! That's it!
We love this idea, after all, sometimes you have a craving for a favorite food but don't have time or the desire to spend 1-2 hours having a formal sit-down meal. This gives you way more options now.
Benefits of Using Table Service To Go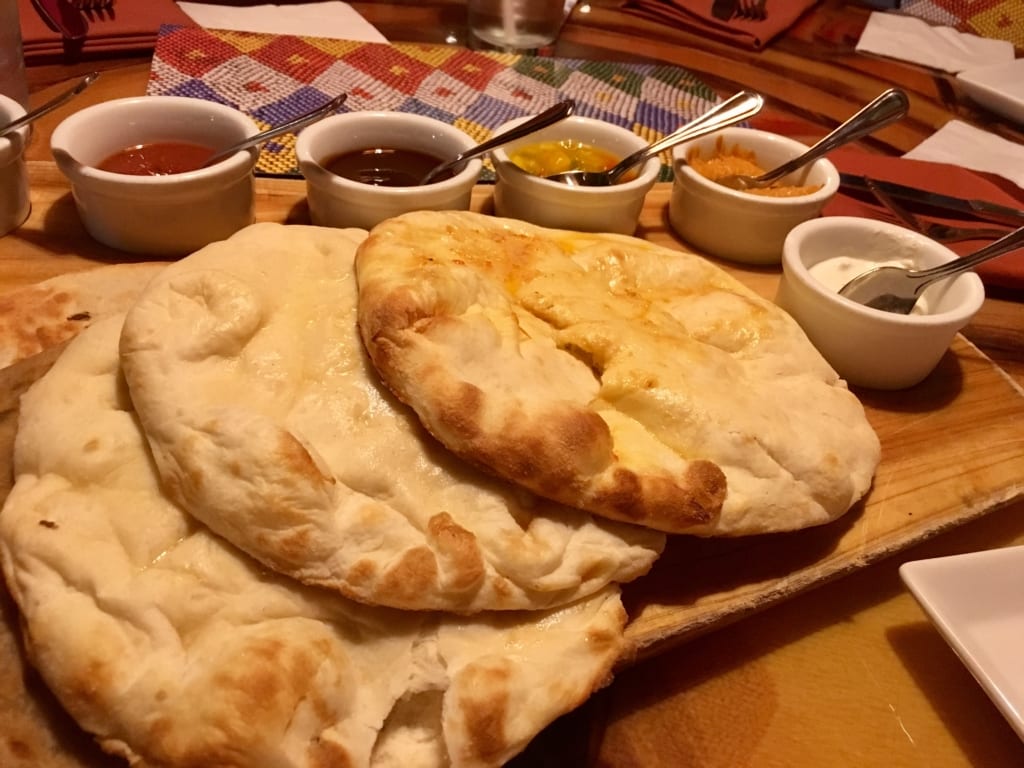 Since the Walt Disney World Reopening, people have rightly been concerned with social distancing, especially at restaurants where you can be in tight quarters with people. This is especially evident at restaurants with indoor seating.
Naturally guests have been looking for ways to experience Disney World, with as little contact with other people as possible. the Table Service To Go app helps you do just that!
That means you don't have to miss out on the better cuisine normally found at table service restaurants, even if you aren't eating there. Everything is done on your mobile phone and you just need to go pick it up. That's it!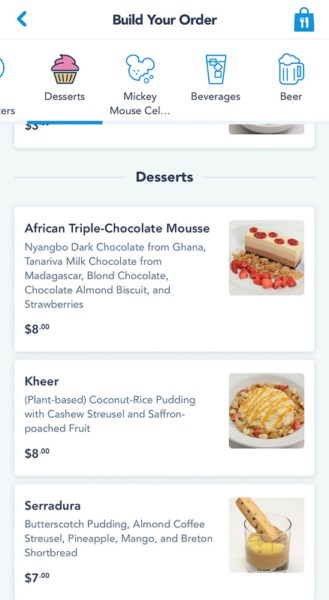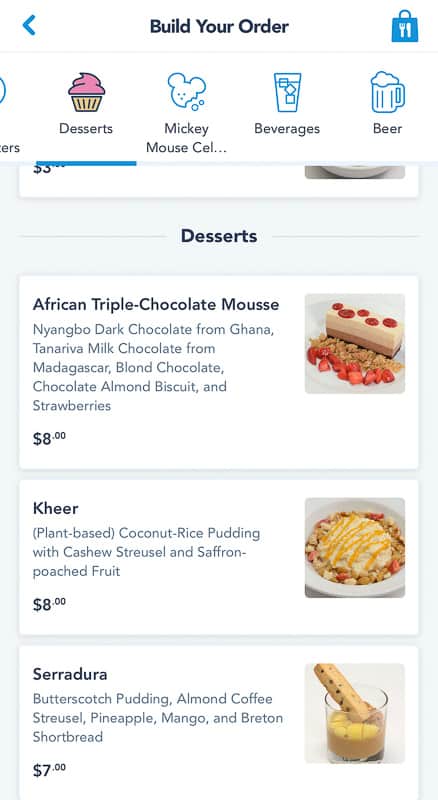 Disney has been incorporating lots of new technology in the parks and resorts lately, with special emphasis put on dining. For example, this integrates with Disney Mobile Ordering, which already let you order food to go from your favorite quick service restaurant.
The Disney Mobile Dine Check-In feature came out a short time ago and lets you skip the check-in process when you go to a table service restaurant, instead you can seat yourself. Also, the Disney Mobile Dine Waitlist tells you how long the wait is at restaurants if you didn't make a prior reservation.
Read our Guide to Disney World Dining After Reopening to see all the changes in the restaurants and what you need to know before going.
Which Restaurants Use Table Service To Go?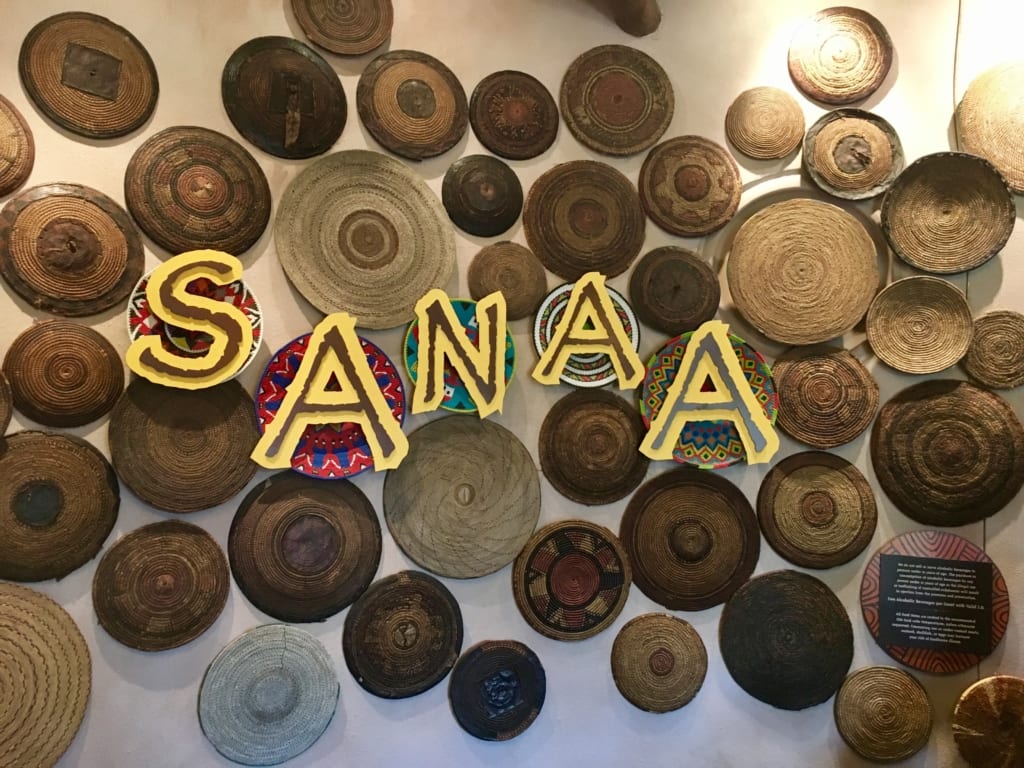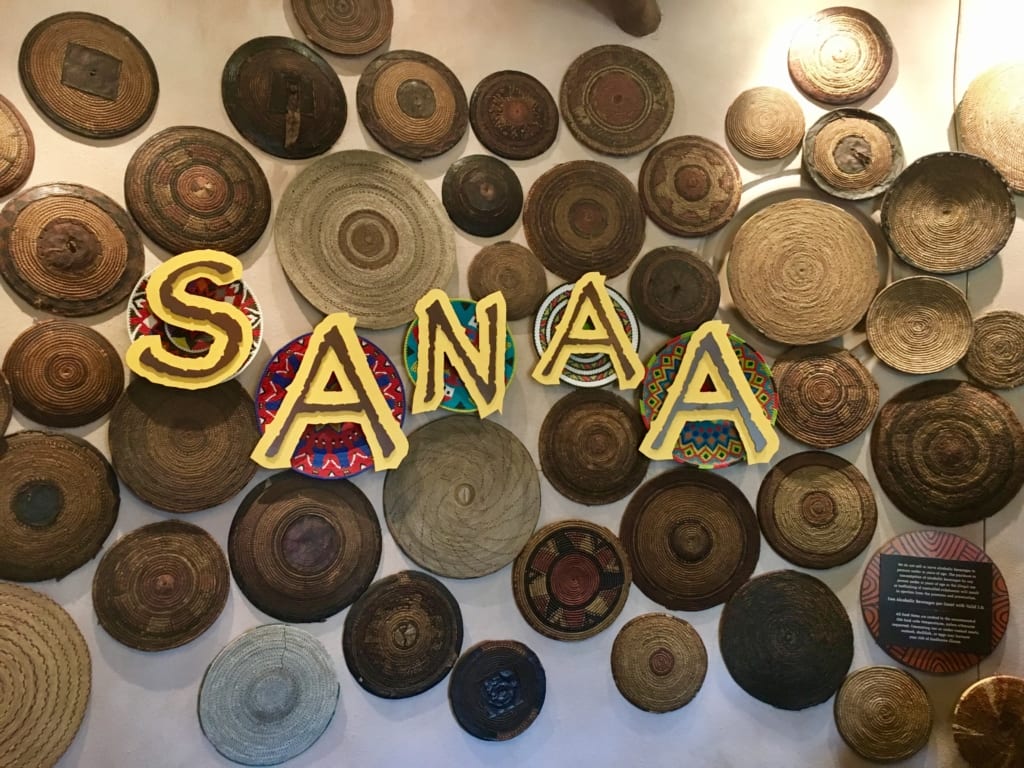 Sanaa in Disney's Animal Kingdom Lodge was the first restaurant to use the Table Service To Go feature of the app. Disney was testing it out here first before offering it at more restaurants.
So far it has been a success and they've already started adding it to more table service restaurants around Walt Disney World. If guests like it, you can be sure that more and more restaurants will adopt this new idea.
The only question is whether or not this will be only available at table service restaurants at the resorts, or if it will work its way into the parks and Disney Springs too.
Here is the current list of Disney World restaurants offering Table Service To Go:
Disney World Resorts
Kona Cafe
The Wave… of American Flavors
How to Use Table Service To Go at Disney World
Using Mobile Dine Waitlist is very easy and if you are familiar with My Disney Experience you should have no problem figuring it out.
What Do I Need?
The only thing you need to use it is a mobile device with Disney's My Disney Experience app downloaded on it. Of course, you then need to log in to your My Disney Experience account.
It doesn't even matter if you are close to the restaurant and the time of your order or not. You could be in the parks or at another resort and then place an order to pick up at a later time in a completely different resort.
Step-by-Step:
How to Use Table Service To Go:
Open the App and Disney Mobile Orders

Log in to your My Disney Experience app and select "Mobile Food Order" from the menu, then tap on "Create New Order"



Select Restaurant

Next, you will see a list of all the restaurants participating in Disney's Mobile Ordering service, both quick service, and table service. Scroll down and select a restaurant. In this case, we chose "Sanaa To Go."



Select Arrival Window

Here you will see a selection of available times you can pick up your food order. If there are no more pick-up windows available that day it will say "No mobile order arrival windows available."



Select Food and Build Order

Browse through the menu and select any food and drink options you want to order. Anything from appetizers, entrees, desserts, and drinks are available. You can select the quantity of each item and customize your selection with add-ons.



Check Out

Review your order and make sure everything you want is included in your cart. Proceed to the checkout area of the app and pay for your meal with a credit card, Disney gift card or rewards redemption card.



Pick Up Meal

Head to the restaurant around the time you selected as your arrival window. Be patient, the food may take a few minutes because it's being prepared fresh for you. Enjoy!
Should I Use It?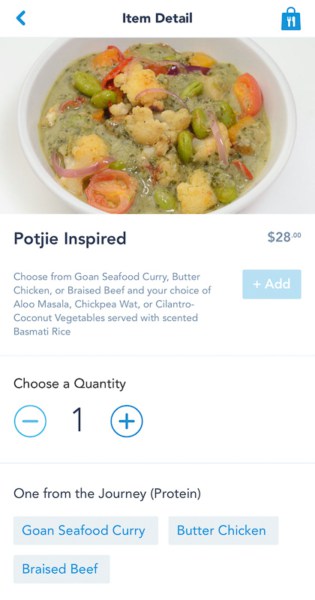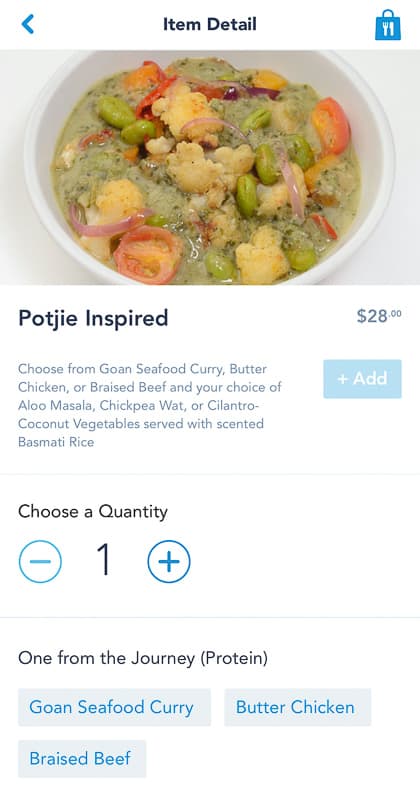 There is very little downside to using the Table Service To Go feature of the app. You may not want to take your food to go and prefer enjoying it in an actual restaurant. But there are some who would love the option to get their food to go and now you can.
From a safety standpoint, it gives guests another option to stay safe while visiting Disney World and can keep you out of dining rooms, avoiding potential germs. Just for this reason alone we think it's a good idea.
Obviously we are going to continue to eat in restaurants, but if you are looking for a speedy meal that is still good quality, this may be for you.
We expect more features and more restaurants to continue rolling out, so stay tuned for updates!
What is Table Service To Go?
It lets you order food from a table service restaurant as take away instead.
Does It Replace Eating at Restaurants?
If you want to eat in a restaurant, you can still have that experience. This just gives people more options if they are in a hurry or trying to avoid as much contact with people as possible.
Your Thoughts
I want to know what you think about the new Table Service To Go feature in My Disney Experience…
Do you think this feature is a good addition?
What improvements would you like to see to it?
Let us know in the comments section below!
If you enjoyed this article, as always I appreciate it if you'd share it with others via social media. I work hard at making this website into a useful resource for you and your family to plan your visit to the Disney Parks and I hope it can help you! Thanks 🙂