Even though you won't find any character meets or parades in the Walt Disney World parks during the reopening phase, you still can enjoy your favorite Disney characters on all-new Character Cavalcades in the parks!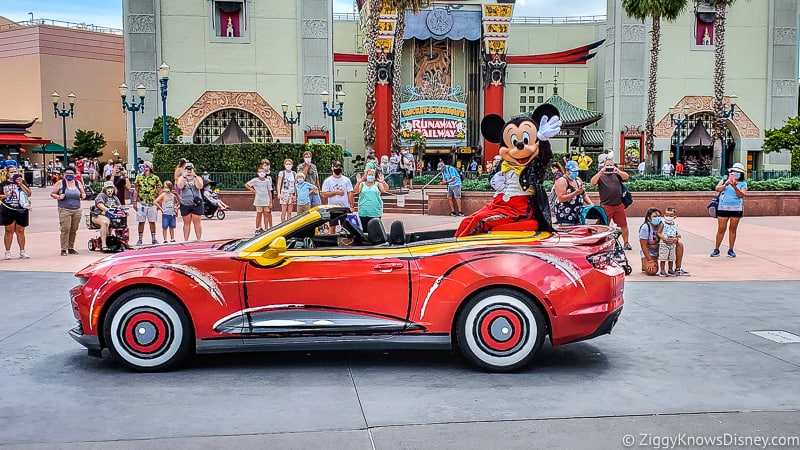 Join Mickey Mouse, Minnie Mouse, Cinderella, Tinker Bell, Donald, Goofy, Anna and Elsa and many more as they make their way through the streets of the Disney Parks on these Character Cavalcades and greet guests.
It doesn't matter if you are going to the Magic Kingdom, EPCOT, Hollywood Studios or Animal Kingdom, the Disney characters will be there, just not how you are used to seeing them!
In this post, we'll show you all the Character Cavalcades in Disney World and show you exactly where to find every character in the theme parks right now. We'll also talk about how long it might be until the regular parades and character meets come back to the parks.
We've had a chance to visit the parks since reopening and spent a few days looking around all 4 theme parks trying to find all the new character locations and how to meet them. While the format is indeed different, most of the character interactions are done in a creative way and are very fun.
Also, don't forget to sign up for our FREE Weekly E-Mail Newsletter. We will keep you updated about the Disney Characters including when character meets are coming back and any changes that happen. You can sign up here: Join our E-Mail Newsletter
Let's take a look…
(UPDATE) Character Cavalcade Show Times Now on My Disney Experience App
Up until now there were no set showtimes for the Character Cavalcades that run through the 4 theme parks. Now however, showtimes for each one can be found in the My Disney Experience app.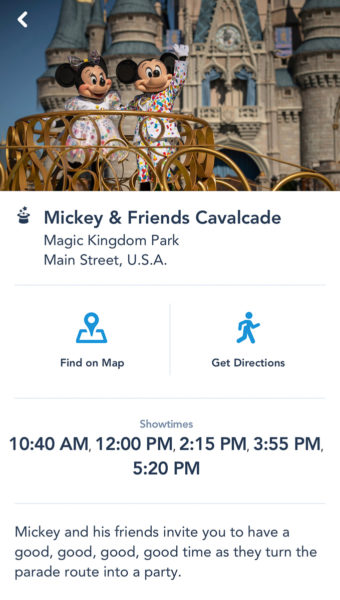 As you can see there is a dedicated page with showtimes for each one: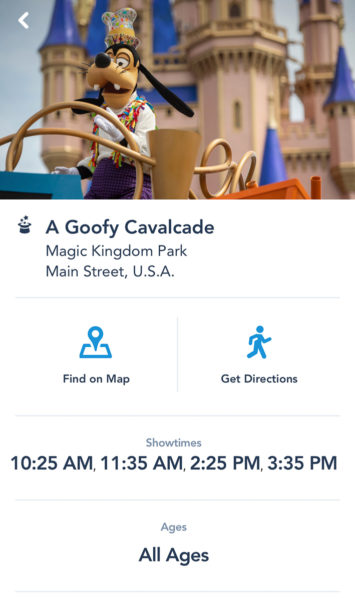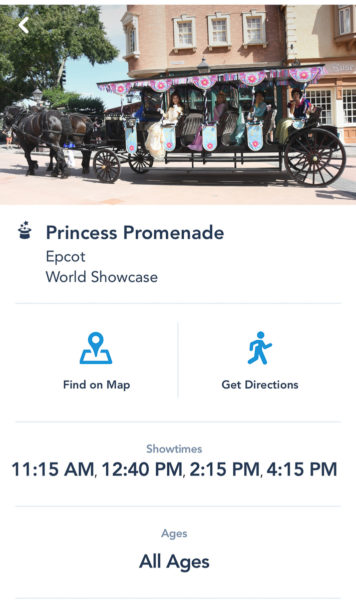 This latest change takes the surprise out of the Character Cavalcades and makes them more like a standard Disney parade. In fact, now that social distancing is no longer a factor in the parks, will Disney just bring back the standard parades or keep the cavalcades around long-term?
We'll have to wait and see…
Why Did Disney Stop Character Meets and Parades?
It's important to note that during the Disney World reopening phase, the theme parks will be without the full lineup of attractions, shows and restaurants. That means some rides might not be running when you go, plus things like character meets, fireworks shows and other entertainment will not be open.
In fact, Disney has suspended all character meets for the time being. That means there is no more getting in line to get your picture taken with the characters and no more autographs.
The reason is because distancing between the guests and characters cannot be achieved in traditional character meets. Signing autographs and giving hugs to the characters would be exactly the opposite of what Disney is trying to achieve by providing a safe environment for guests and Cast Members alike.
I know it's a bummer, especially for families with kids that just love meeting them. It's not all bad though as Disney is still bringing the characters to the parks, they are just putting them in different places than normal.
New Character Cavalcades
Just because there are no character meets, doesn't mean there are no characters in the Disney Parks. In fact, all 4 Disney World theme parks have new Character Cavalcades to make up for the missing character meets in the parks.
What is a Character Cavalcade anyway? A Cavalcade is a procession of people either walking, riding in vehicles or on horseback. The Disney Character Cavalcades in the parks are processions of Disney characters that walk by in an organized way and greet guests.
Think of them as mini-parades where they can still keep a safe distance from guests.
These special cavalcades take place down the Magic Kingdom Park parade route, sailing the waterways of Disney's Animal Kingdom Theme Park, processions along the World Showcase promenade at EPCOT and motorcades on Disney's Hollywood Studios' Hollywood Boulevard.
How Many Character Cavalcades are there in Disney World?
Right now the 4 Walt Disney World theme parks have a total of 19 Character Cavalcades.
Where Can I Watch the Character Cavalcades?
Here is a list of all the Disney World Character Cavalcades throughout the 4 theme parks and where to see them:
Magic Kingdom
The Royal Princess Processional
Mickey & Friends Cavalcade
Fantasyland Friends Cavalcade
A Goofy Cavalcade
Tinker Bell & the Lost Treasure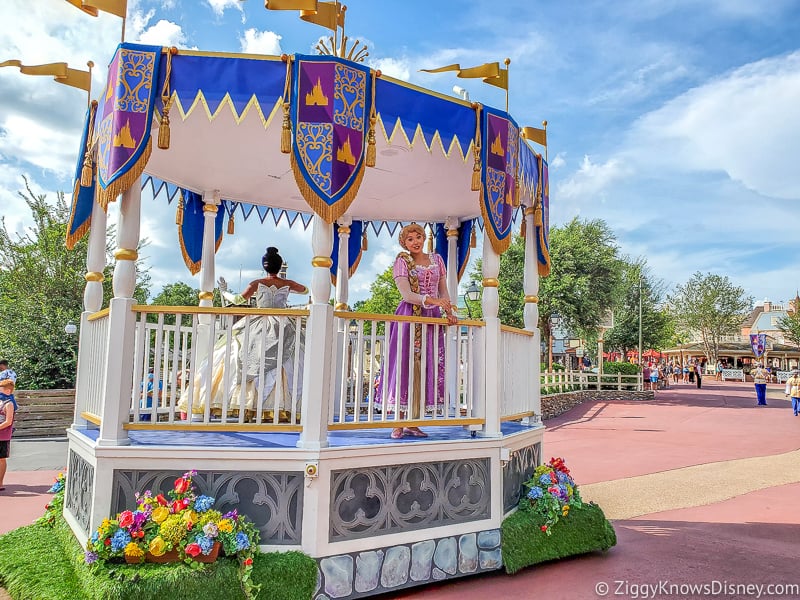 There are also special Christmas Character Cavalcades that happened during the holiday season:
Mickey and Friends Christmas Cavalcade
Disney Princesses 2020 Christmas Cavalcade
Goofy's Scrumptious Cavalcade
Main Street Philharmonic
Santa Claus
EPCOT
There are 3 Character Cavalcades in EPCOT each day. They feature your favorite Disney friends traveling around World Showcase promenade—including:
Frozen Promenade
Princess Promenade
Mickey & Friends World Tour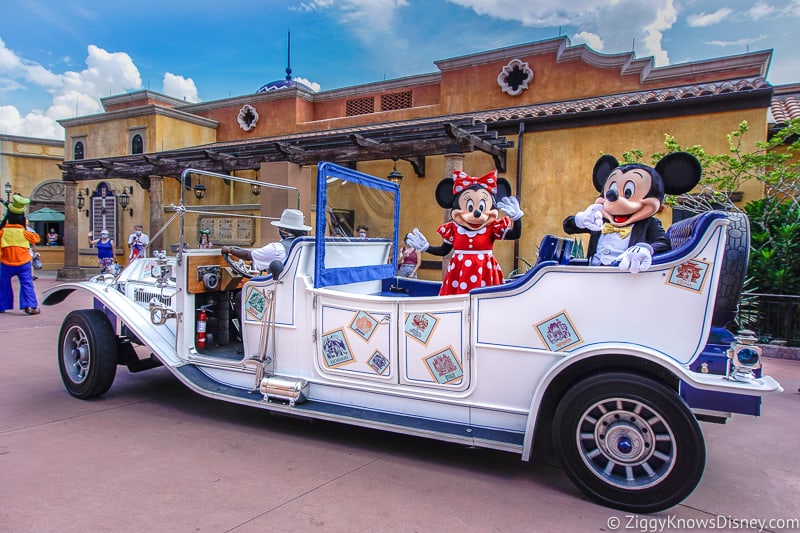 There was also special Christmas Character Cavalcades going on during the holiday season:
Hollywood Studios
Here there are two special character motorcades that make their way down Hollywood Blvd periodically throughout the day.
Disney Junior Stars Motorcade
Pixar Pals Motorcade
Star Wars: Galaxy's Edge – not a motorcade but both First Order and Resistance forces show up in Black Spire Outpost.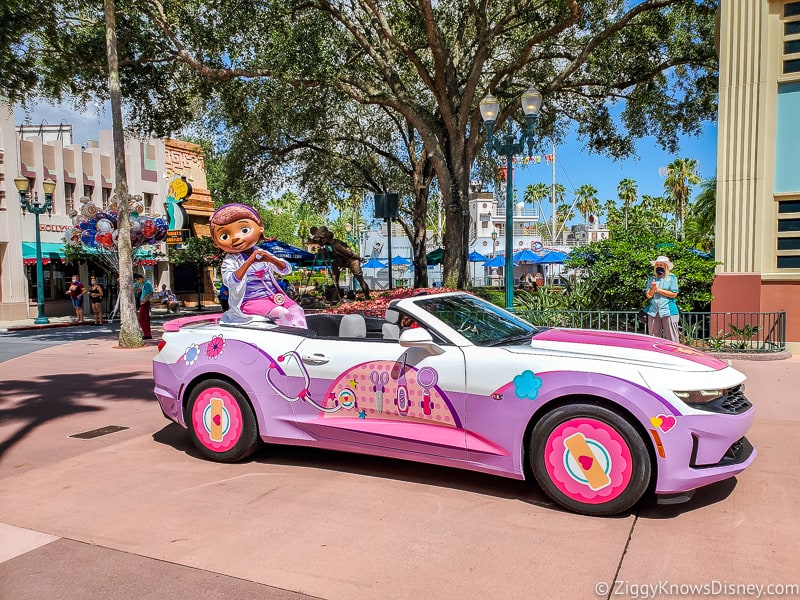 There were also special Christmas Character Motorcades going on during the holiday season with the characters dressed up in Christmas outfits. There is a Santa Claus motorcade too.
Animal Kingdom
In the Animal Kingdom there are 5 Character Cruises throughout the day, with Guest-favorite Disney friends appearing in boats around Discovery River including the following:
Discovery River Character Cruise
Discovery Island Drummers
Donald's Dino Boat Bash!
Mickey & Friends Flotilla
Goofy & Pals Set Sail
Koda and Kenai (for Earth Day)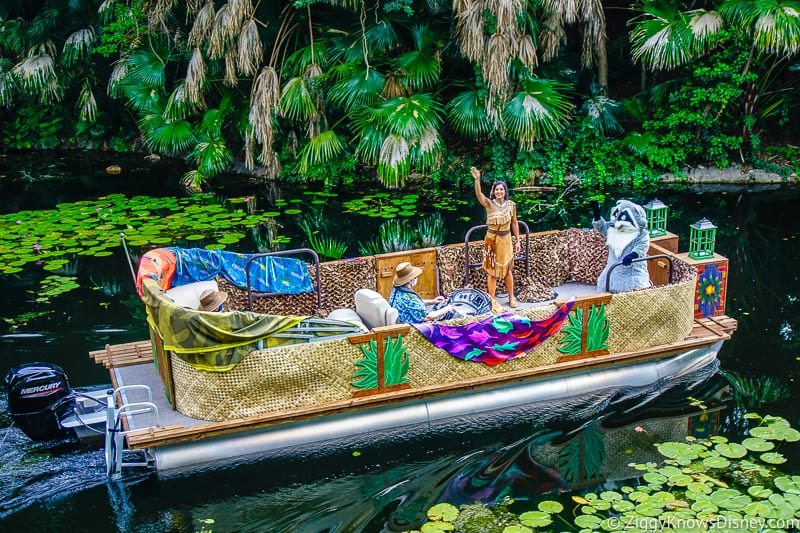 There were also special Christmas Character Cavalcades ("Festive Flotillas") going on during the holiday season with characters in their holiday outfits:
Donald's DinoBash Festive Flotilla (Chip, Dale & Goofy)
Mickey and Friends Festive Flotilla (Mickey, Minnie & Pluto)
Timon & Rafiki
Santa Claus Festive Flotilla (Santa Claus & Reindeer)
Discovery Island Drummers Festive Flotilla
Are Character Cavalcades Different from Parades?
While the Disney Character Cavalcades are similar to the traditional Disney Parades, there are quite a few differences.
Shorter – Disney Parades can last for 15-20 minutes on average, the Character Cavalcades only last 1-2 minutes each.
There are more of them – Normally, the Magic Kingdom only has 1 type of parade. Right now each Disney Park has multiple Character Cavalcades.
They run more often – Usually the Disney Parades run only once per day. Character Cavalcades on the other hand occur multiple times throughout the day.
No Schedule – Parades have a fixed time every day whereas Character Cavalcades do not have a fixed schedule.
What About Character Meals?
Character Meals are a Disney World past time. We absolutely LOVE going to our favorite Disney World restaurants and seeing the characters come around to each table, take our picture with them and even get a big hug from them.
We know character meets and parades are currently suspended, but what about character meals? Can you still go to them in Disney World during the reopening phase?
At first, Disney announced that there were going to be no character meals at all in Walt Disney World during the reopening phase. That however, has changed slightly since the parks opened, and there are a few places to get a character meal in Disney World, but the experience is vastly different from before.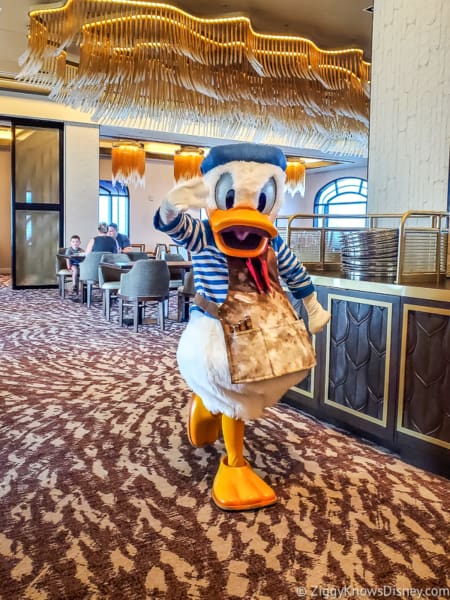 Currently Operating Character Meals in Walt Disney World:
Be Our Guest (Special appearances by The Beast) – Magic Kingdom
Chef Mickey's – Disney's Contemporary Resort
Cinderella's Royal Table – Magic Kingdom
Garden Grill – EPCOT
Hollywood & Vine – Hollywood Studios
Ravello – Four Seasons Orlando
Topolino's – Disney's Riviera Resort
Right now there are only 7 character meals operating on Walt Disney World property, and Ravello isn't technically run by Disney.
How are they different now?
Before the Disney characters would come to your table and greet your traveling party, take pictures, etc. Now, the characters do come around the restaurants, but they keep a good distance between them and the guests, not allowing you to get a real picture with them.
At Topolino's restaurant for example, all the characters walk around the restaurant, the sing and dance to the song, but but they stay a good 15-20 feet from guests at all times.
At the Garden Grill, the characters are above the guests and wave down at you from the balcony, again, allowing them to maintain a good distance.
Where to Find Characters In the Parks Now?
There are still plenty of places to meet characters in the Disney World theme parks. Let's take a park by park look at all the characters you can find and where to find them.
One thing to keep in mind is that some of the characters in the parks are on a rotating basis. Just because you saw one character one day doesn't necessarily mean you'll find that same character on your next visit.
Here are all the places in each theme park you can locate the Disney characters…
Magic Kingdom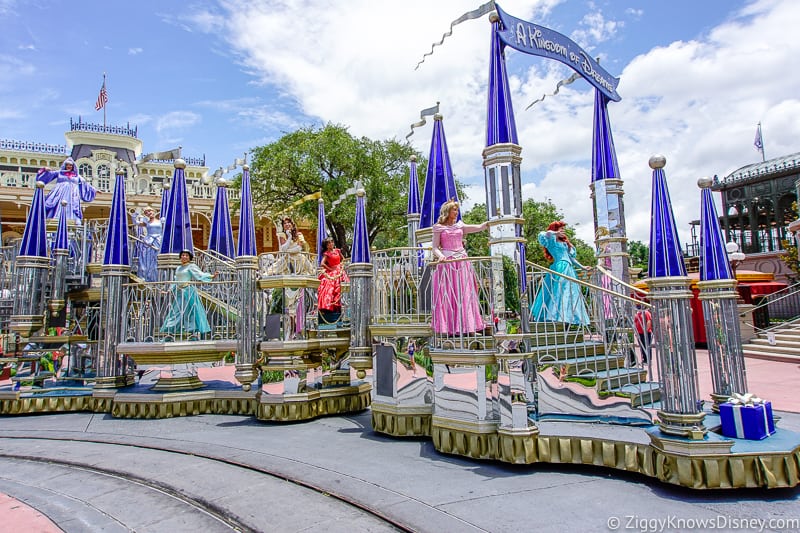 Let's start in Disney's Magic Kingdom. The Character Cavalcades here follow pretty much the same route as the normal parade that goes through the park. Cavalcades start in Frontierland and finish up going down the center of Main Street U.S.A.
Cavalcades here also come with themed background music to help set the mood for the characters. Once the characters start approaching your area, you'll hear the music begin to increase in volume.
Disney has also installed round distancing markers on the ground on Main Street U.S.A. to help guests not stand too close together while watching the cavalcades. The round green markers are spaced 6 feet apart and run all the way up both sides of Main Street, U.S.A. and end at Casey's Corner on one side and Plaza Ice Cream Parlor on the other.
TIP: Almost anywhere along the route is a good place to see the Character Cavalcades. Our favorite place to see them, just like the normal parade is on Main Street U.S.A. There's nothing like seeing the characters passing through the front of the park with the Castle in the background. It's still a magical experience.
Here is a list of the different cavalcades in the Magic Kingdom and all the characters with them. You'll even find some characters in random places around the park, mostly perched up on balconies waving to guests.
Mickey and Friends Cavalcade
Mickey Mouse
Minnie Mouse
Donald Duck
Daisy Duck
Pluto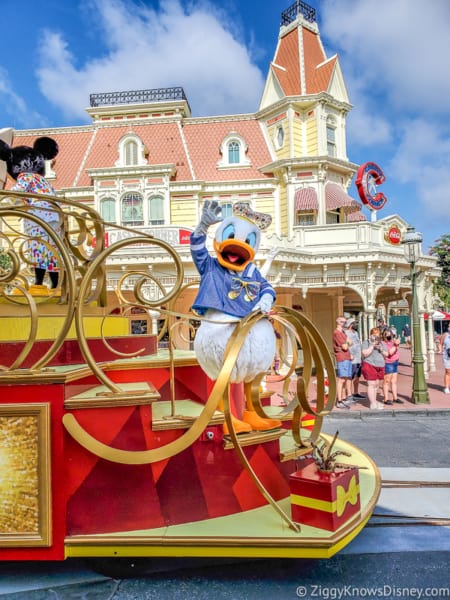 Naturally, the Mickey and Friends Cavalcade is one of the ones you'll see most in the park as it has some of the most popular characters in Disney World. Mickey and Minnie are in their birthday outfits which are still leftover from the 2019 celebration.
Mickey and Minnie are always included on the platform, and so far all the times we've seen it, Pluto, Donald and Daisy are there too. This might change so we'll keep you updated.
The Royal Princess Processional
Merida
Belle
Cinderella
Tiana
Snow White
Rapunzel
Jasmine
Elena
Fairy Godmother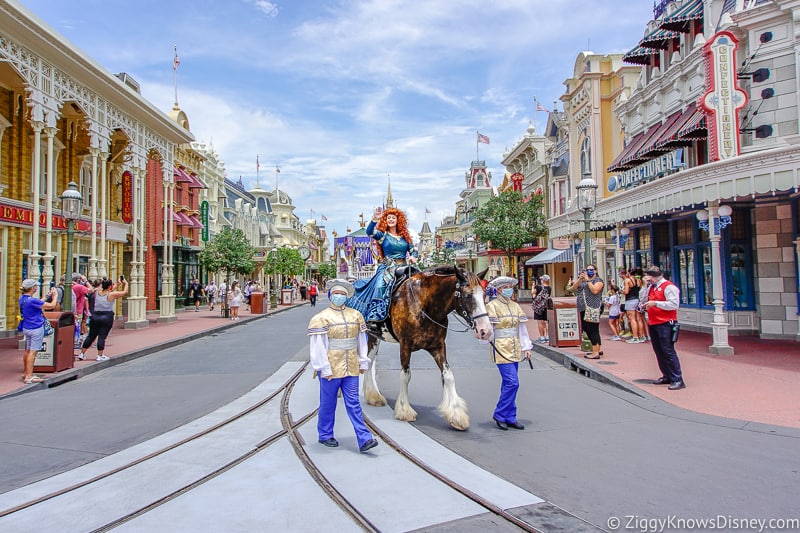 The Royal Princess Processional is the ultimate chance to see princesses right now with no less than 8 of them included. This cavalcade starts out with Merida on her horse and is followed by all the other princesses on a castle-like float waving at and greeting guests. Even the Fairy Godmother is there, on the very top of the float.
This is a great cavalcade because it includes almost all of the princesses you would want to see and the float is especially beautiful. It usually passes through the Magic Kingdom twice a day, once in the afternoon around 1-2:00 pm and then again before park closing.
Fantasyland Friends Cavalcade
Gaston on horseback
Alice
Mary Poppins
Peter Pan
Winnie the Pooh
Tigger
Aladdin
This cavalcade is a nice mix of Fantasyland characters with Gaston taking the lead on horseback. Alice, Mary Poppins, Peter Pan, Winnie the Pooh and Tigger all follow him on the float, which is large boxes of presents.
Fantasyland Friends seems to happen only in the afternoon. It's also possible for it to rotate characters, so you might not see all the ones listed here every time and new characters could also be added.
A Goofy Cavalcade
Goofy
Max
Clarabelle Cow
Jose Carioca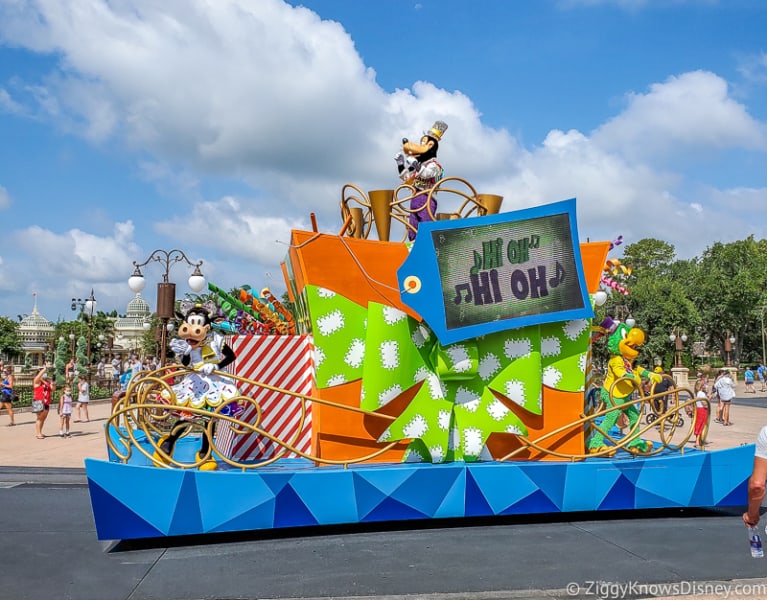 We've seen two forms of the Goofy Cavalcade. The main one is on the open float taken from the Move It! Shake It! dance party. The other version happens when it rains and has Goofy, Max and Clarabelle in the Main Street vehicles.
It's also one of the shorter cavalcades, so it's easy to see and then move on to the attractions.
Tinker Bell & the Lost Treasure
This cavalcade features only Tinker Bell who is perched up high on top of the lost treasure. Tinker Bell is her normal, spunky self and this short procession starts in Frontierland and finishes on Main Street U.S.A.
Hundred Acre Wood Characters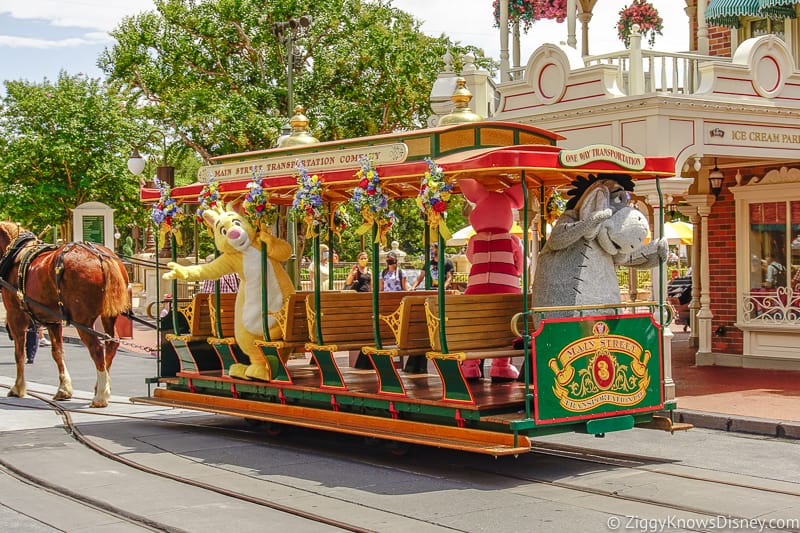 Since Winnie the Pooh and Tigger are already included on the Fantasyland Friends cavalcade, the other members of the Hundred Acre Wood can cue found here. This one is unique because Rabbit, Piglet and Eeeyore ride down Main Street and through the hub on one of the trolley vehicles, and is therefore restricted to areas where the tracks go.
Chip and Dale Raft
If you are in Frontierland, look for Chip and Dale to show up on one of the Tom Sawyer Island rafts from time to time. They are looking great in their cowboy outfits complete with hats!
Other Characters
Buzz Lightyear – Tomorrowland
Stitch – Tomorrowland
Captain Jack Sparrow – Adventureland
Anastasia – Cinderella Castle Balcony
Drizella – Cinderella Castle Balcony
Big Al – Frontierland
Liver Lips – Frontierland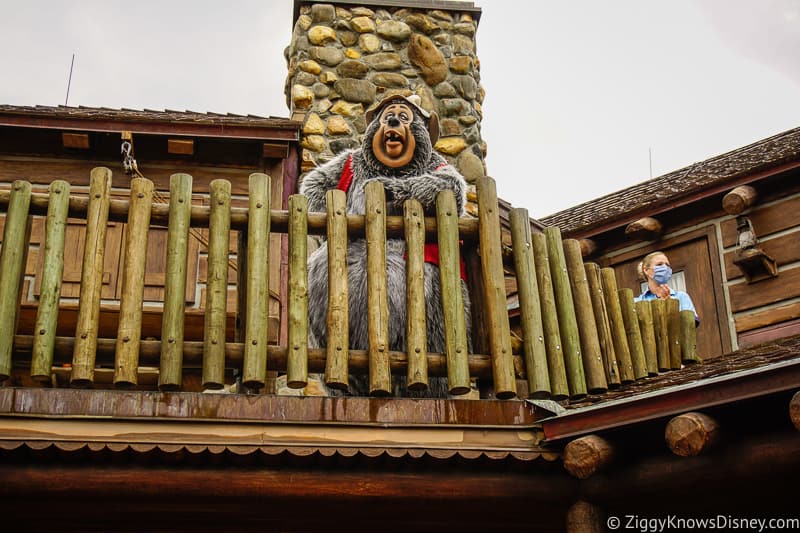 Besides the characters located on the cavalcade processions, there are also some other characters dispersed randomly throughout the Magic Kingdom. You even might be able to get in a distanced selfie with some of them.
Over in Tomorrowland, you can find Stitch and Buzz Lightyear on the stage, appearing at separate times.
In Adventureland, Captain Jack Sparrow sometimes is hiding among the crates and barrels on the stage area.
If you are in The Hub, look up at Cinderella Castle to see the Cinderella's Evil Step-Sisters up on the balcony looking down.
And when you are visiting Frontierland, don't forget to say hi to Big Al who is up on top of the Country Bear Jamboree building, sometimes accompanied by Liver Lips.
EPCOT
EPCOT has 3 different Character Cavalcades, all of which go from country to country around the World Showcase promenade. Like in the Magic Kingdom, cavalcades are random and don't have a set time, so you'll have to be on the lookout.
You can also find some more characters in the gardens of Future World and in the UK pavilion.
Mickey and Friends World Tour
Mickey Mouse
Minnie Mouse
Pluto
Goofy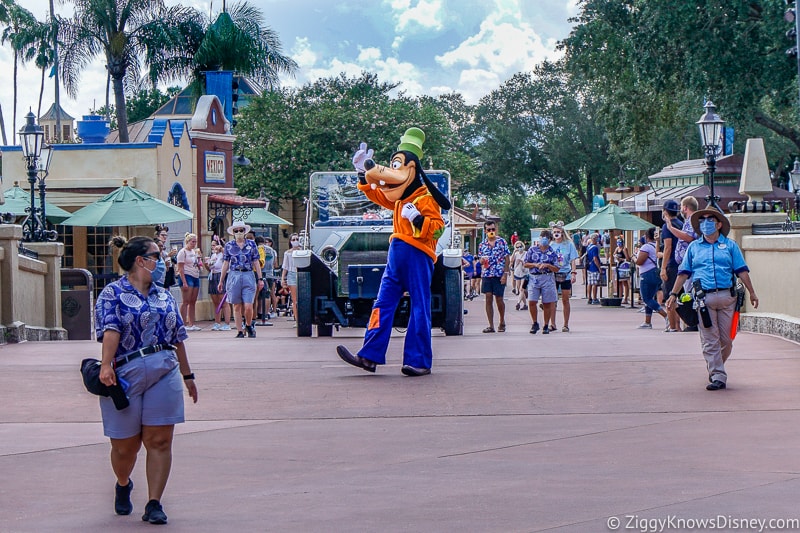 Watch Mickey and Minnie ride through World Showcase in their "World Tour" car, which is covered in passport stickers showing off all the places they've traveled to. Goofy is usually leading the procession and sometimes Pluto is there with him but not always.
Princess Promenade
Snow White
Belle
Aurora
Jasmine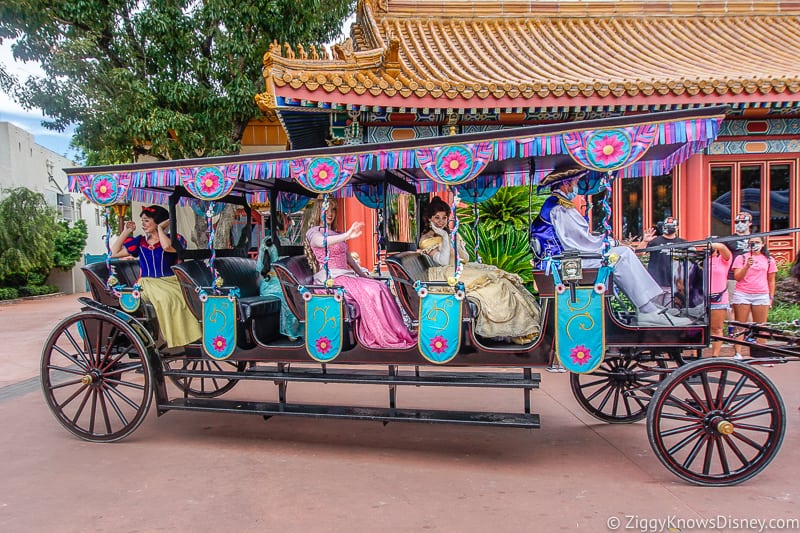 Snow White, Aurora, Jasmine and Belle ride through World Showcase on an extended carriage pulled by horses and accompanied by royal servants. Since this is a Princess promenade, it's possible we will see other princesses rotate in from time to time.
Frozen Promenade
Fans of Frozen will not want to miss Queen Anna in her royal carriage and Elsa who walks on foot greeting guests.
Random Characters in EPCOT
Winnie the Pooh
JOY from Inside Out!
Alice – UK Pavilion
Mary Poppins – UK Pavilion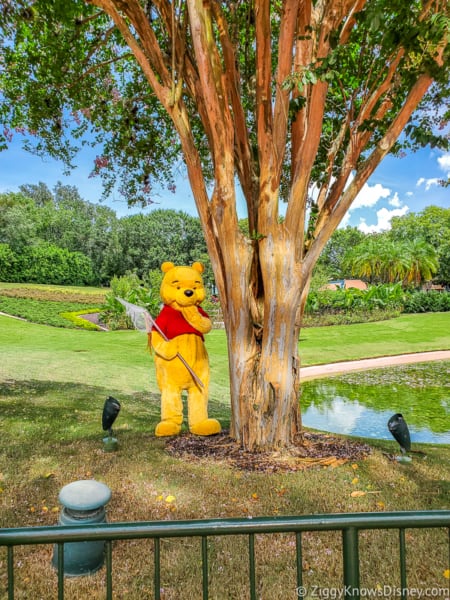 Besides the regular cavalcades, you can also find more characters who are usually found in EPCOT in two other locations.
Over in the Future World gardens, you'll probably see Winnie the Pooh walking around with his honey bee net. He is super cool and he will pose with you for a distanced selfie. It's not as cool as Pooh's normal EPCOT location in Christopher Robin's bedroom, but it's still fun. JOY from Inside Out! is also in the gardens and you get get a photo with her too.
Mary Poppins and Alice are usually found in the UK pavilion, and right now are still located there, taking turns in the gazebo in the back. Both will talk with guests and offer distanced photo opportunities.
Hollywood Studios
Hollywood Studios has one of the largest selections of characters right now and they vary from classic Disney to Star Wars, Pixar, and Disney Junior. All three motorcades start on Hollywood Blvd and head toward the Chinese Theater, which is a great backdrop for photos.
Mickey & Friends Motorcade
Mickey Mouse
Minnie Mouse
Chip
Dale
Pluto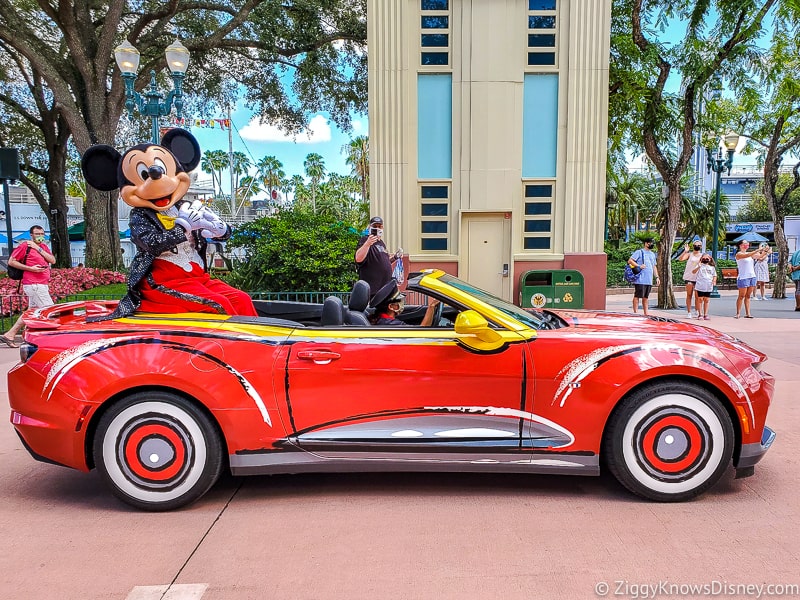 The Mickey and Friends Motorcade is your best chance to see the classic Disney characters in Hollywood Studios.
Watch Chip and Dale as they lead the way, dancing on foot, and are followed by separately-themed cars for Mickey and Minnie Mouse. We especially like the styling on Minnie's car, which resembles her patented polka-dot dress. Pluto is also close behind.
Pixar Pals Motorcade
Buzz Lightyear
Woody
Jesse
Mr. and Mrs. Incredible
Edna Mode
Sulley
Green Army Men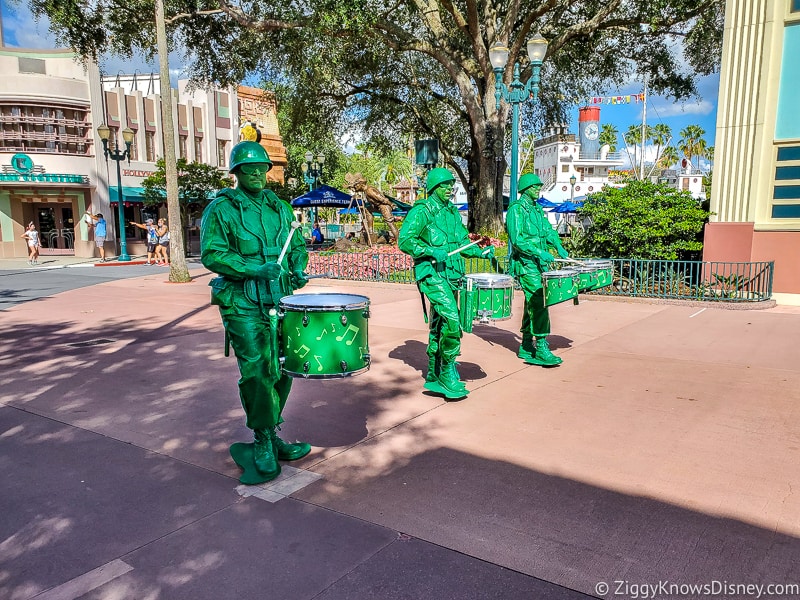 This is where to get your Pixar fix of characters in the park and includes characters from Incredibles, Toy Story and Monsters Inc.
First up is usually Mr. and Mrs. Incredible on foot, and closely followed behind by the fashionable Edna Mode in her car.
Toy Story has a huge representation in this motorcade with the Green Army men marching and drumming away on foot, who are closely followed by Woody and Jesse. Sulley from Monsters Inc. is next and our favorite part of this procession was Buzz Lightyear in his green and white spaceship-themed car.
Disney Junior Stars Motorcade
Vampirina
Doc McStuffins
Fancy Nancy
If you are a fan of the Disney Junior stars, you will love seeing Doc McStuffins, Vampirina and Fancy Nancy.
Star Wars: Galaxy's Edge Characters
Kylo Ren
Stormtroopers
Rey
Chewbacca
Vi Moradi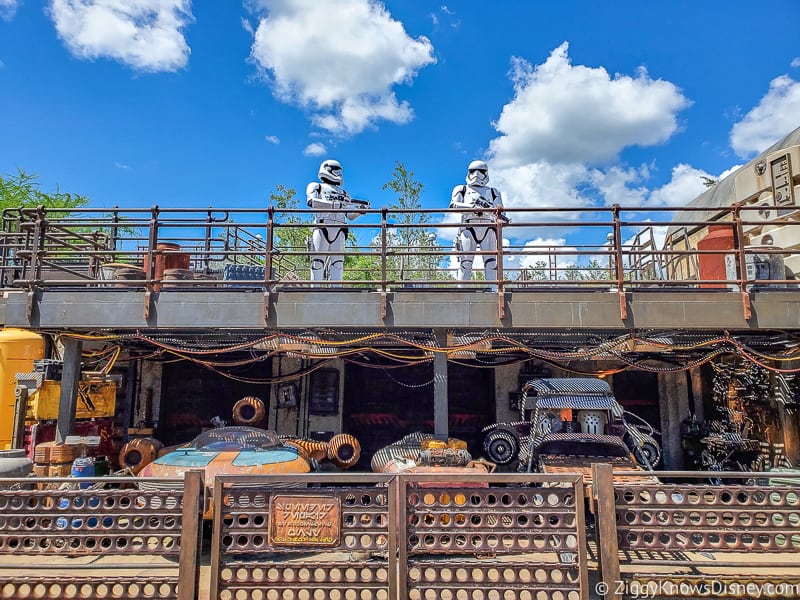 Star Wars: Galaxy's Edge has the same characters it did before the closure, but now Resistance and First Order forces alternate locations throughout Black Spire Outpost.
Resistance forces such as Chewbacca, Rey and Vi Moradi can be found either on the platform above the speeder garage on the main walkway just outside town, or on high above the Millennium Falcon.
If you are looking for the First Order, Kylo Ren and his stormtroopers are looking for spies on the stage in front of the TIE Echelon ship or again, above the speeder garage on platforms.
Animal Kingdom
Disney's Animal Kingdom currently has 5 Character Cavalcades. What makes the character processions so unique in Disney's Animal Kingdom is that they are not in cars or on foot through the walkways of the park, but instead are located on boats going through the waterways.
Music plays as the characters near and they wave at guests up above on the bridges and river banks.
Donald's Dino Boat Bash
Donald Duck
Daisy Duck
Launchpad McQuack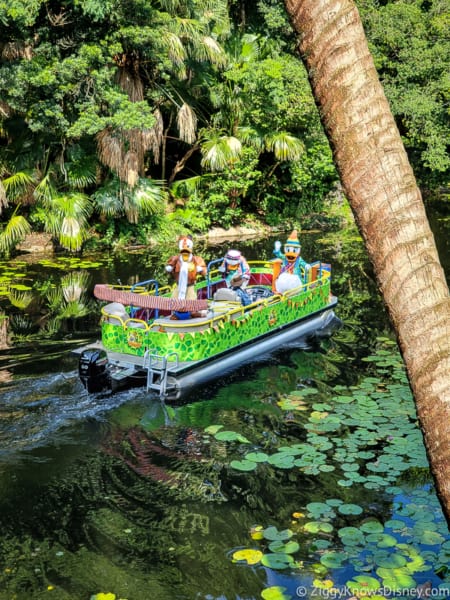 Donald's Dino Bash is now on a boat sailing from Dinoland U.S.A to Discovery River. These boats have Donald, Daisy and Launchpad usually together.
Mickey & Friends Flotilla!
Mickey Mouse
Minnie Mouse
Pluto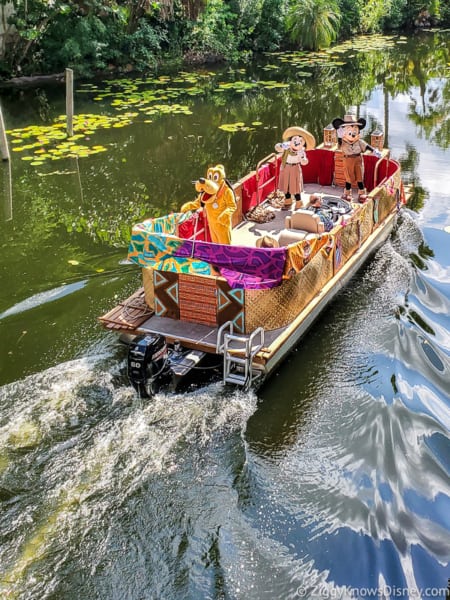 Mickey and Minnie naturally have a presence in all 4 parks, but this might be our favorite as we love the jungle explorer outfits that fit right in at the Animal Kingdom.
Discovery River Character Cruise
Timon
Rafiki
Pocahontas
Meeko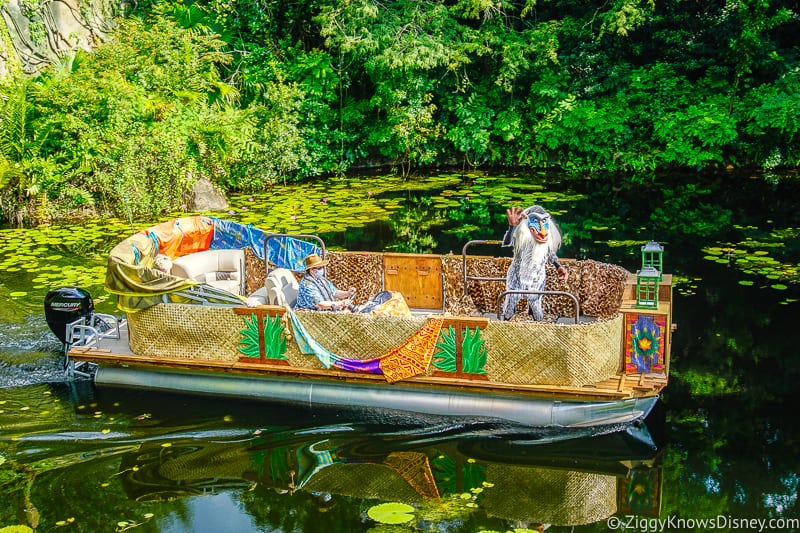 The Discovery River Character Cruise features characters from Disney's Pocahontas and The Lion King, however they are separated into two boats and rotate.
Pocahontas and Meeko are always together, while we've seen some boats with Rafiki only and without Timon.
Goofy & Pals Set Sail
Leaving their home at Donald's Dino Bash, Goofy, Chip and Dale sail down the Discovery River..
"Discovery Island Drummers"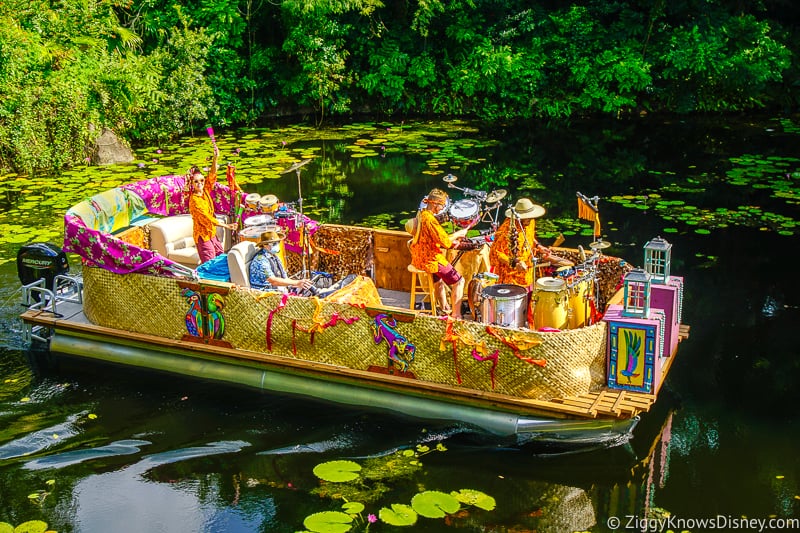 If you're looking a musical procession that will make you want to dance, the Discovery Island Drummers are just the trick. These high-energy percussionists are a blast to watch and the bring the beat to the Animal Kingdom.
Is there a Character Schedule?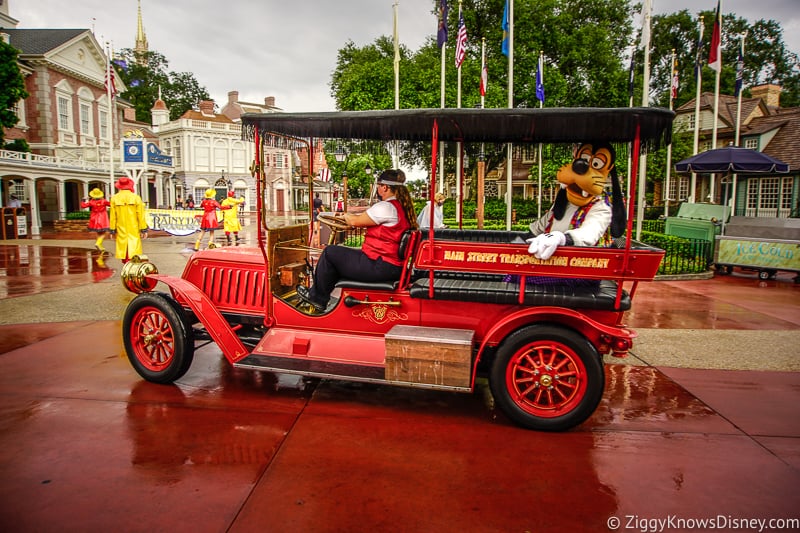 Yes. There is a set schedule for Character Cavalcades in the parks with set show times. Some character cavalcades appear every day and some have days off.
The Character Cavalcades do have a window of time when they run, and each go through the park a few times per day. At first, there were no set times to keep crowds from forming like a regular parade would.
However, with social distancing now eliminated at Walt Disney World, Disney has included a set time schedule for each cavalcade.
The various characters that pop up throughout the parks is another story. These show up and disappear throughout the day at random on balconies, in gardens or other distanced places. These characters are not on a schedule but show up at random times throughout the day.
Is is Hard to Find Characters?
No, not at all. Even when we aren't specifically looking for them, we see characters showing up at all times of the day and in unexpected places.
Character Cavalcade Daily Schedule
The Character Cavalcades do not all run 7 days a week which means you need to know which days togo if you want to see certain ones during your visit.
Below is a general list of which days each cavalcade can be found. However, for specific show times, check the My Disney Experience app.
Magic Kingdom
Mickey and Friends Cavalcade – (Mon-Sun, 7 Days a Week)
A Goofy Cavalcade (Mon-Fri, No Weekends)
The Royal Princess Processional – (Mon-Sun, 7 Days a Week)
Fantasyland Friends Cavalcade – (Sat-Wed, No Thurs or Fri)
Tinker Bell & the Lost Treasure – (Wed-Sun, No Mon or Tues)
At this time Disney doesn't have the daily schedules for the cavalcades in the other 3 parks. We'll update this list as soon as they do.
Estimated Character Cavalcade Times
Magic Kingdom
Mickey and Friends Cavalcade – (Mon-Sun; 9:50 am – 5:50 pm)
A Goofy Cavalcade (Mon-Fri, No Weekends; 10:15 am – 2:45 pm)
The Royal Princess Processional – (Mon-Sun; 1:00 pm – 5:15 pm)
Fantasyland Friends Cavalcade – (Sat-Wed, No Thurs or Fri; No Times Listed)
Tinker Bell & the Lost Treasure – (Wed-Sun, No Mon or Tues; 10:0 am – 2:00 pm)
EPCOT
Frozen Promenade – (11:45 am – 5:45 pm)
Mickey and Friends World Tour – (11:45 am – 5:45 pm)
Princess Promenade – (11:45 am – 5:45 pm)
Hollywood Studios
Mickey and Friends Motorcade – (11:00 am – 5:00 pm)
Disney Junior Stars Motorcade – (11:30 am – 5:45 pm)
Pixar Pals Motorcade – (1:30 pm – 7:15 pm)
Animal Kingdom
Discovery Island Drummers – (10:00 am – 5:00 pm)
Discovery River Character Cruise – (10:30 am – 5:45 pm)
Donald's Dino Boat Bash! – (9:45 am – 4:15 pm)
Goofy & Pals Set Sail – (9:15 am – 3:45 pm)
Mickey & Friends Flotilla – (8:45 am – 3:30 pm)
When Will Character Meets and Parades Come Back?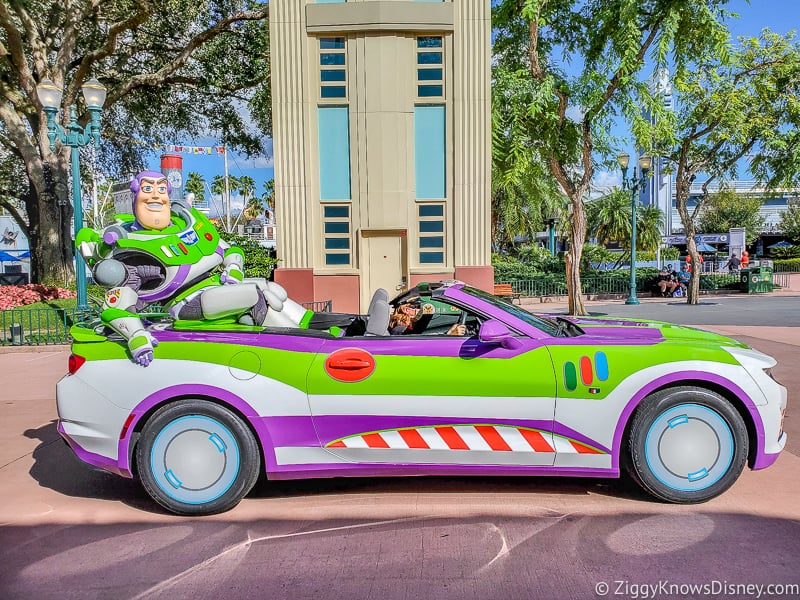 While the new Character Cavalcades are certainly better than nothing, of course, guests would like to get back to having regular character interactions where they can get photos and hug their favorite Disney personalities.
When Will Those Higher-risk Experiences Reopen?
At this time we don't know when character meets are opening back up. It looks like the new safety measures Disney has put in place in the parks are here for the long-term and these rules will be in place at least through the end of 2021. We'll see if they also last into 2022.
Until there is an almost zero-risk with the current health situation, the Character Cavalcades will stay in the parks and regular character meets will stay closed. The same goes for parades.
As more info comes out we'll update you about what is open and what's not and where to find Disney characters now in the parks.
Your Thoughts
I want to know what you think about the new Character Cavalcades and character locations…
Do you like the changes Disney has made given the circumstances?
What other characters would you like to see as regulars in the parks?
Let us know in the comments section below!
If you enjoyed this article, as always I appreciate it if you'd share it with others via social media. I work hard at making this website into a useful resource for you and your family to plan your visit to the Disney Parks and I hope it can help you! Thanks 🙂