Due to the recent outbreak of the coronavirus, Walt Disney World has been doing as much as possible to stop it from spreading through its parks and resorts. To help do that, they've installed hand sanitizing stations and coronavirus information centers which can now be located on My Disney Experience.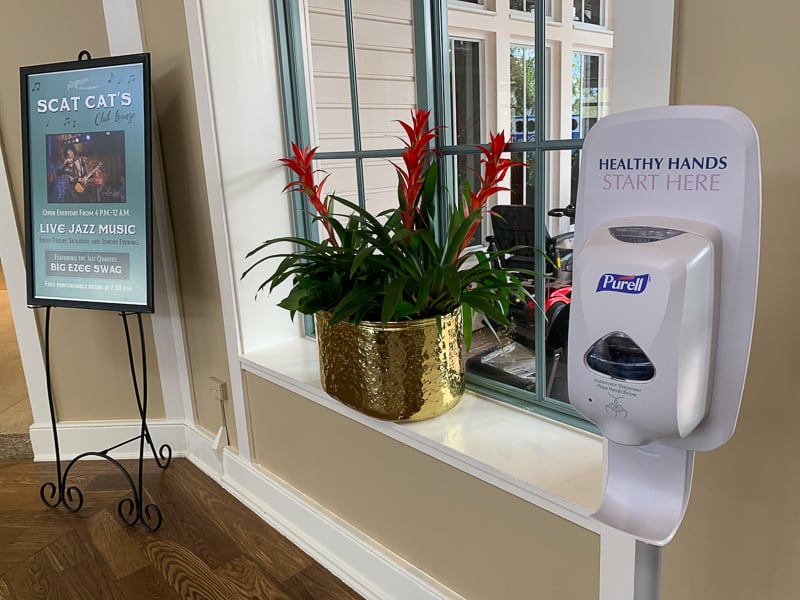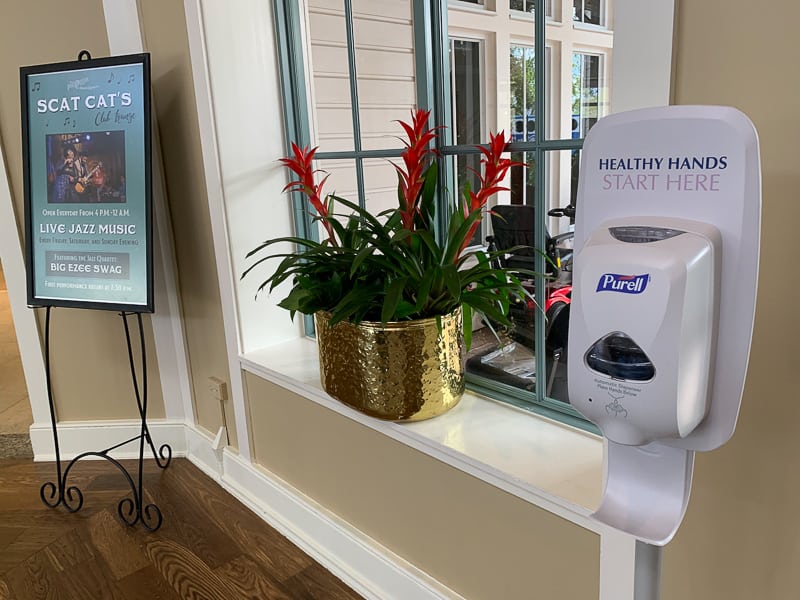 Before we show you how it works, make sure to read our Coronavirus & Disney World guide where we talk about the effect this pandemic is having on the U.S. Disney parks, but also the International ones too.
If you open up My Disney Experience on your mobile device, you can do a search down at the bottom of the screen. Click the magnifying glass (search) and then type the subject of your choice. For this example, we are going to search "Coronavirus."
Once you do that, it will give you any relevant information regarding coronavirus in Walt Disney World that is currently in My Disney Experience. Right now the two options that come up are: "Information on Coronavirus (COVID-19)" and "Hand Sanitizer Locations."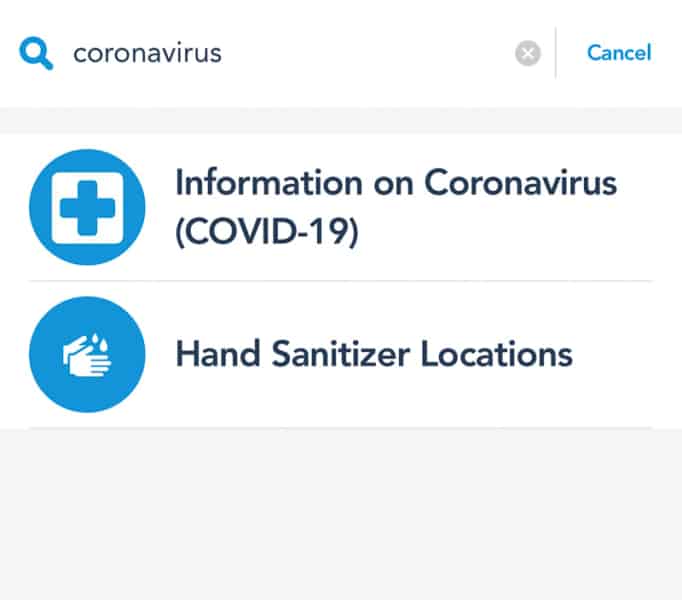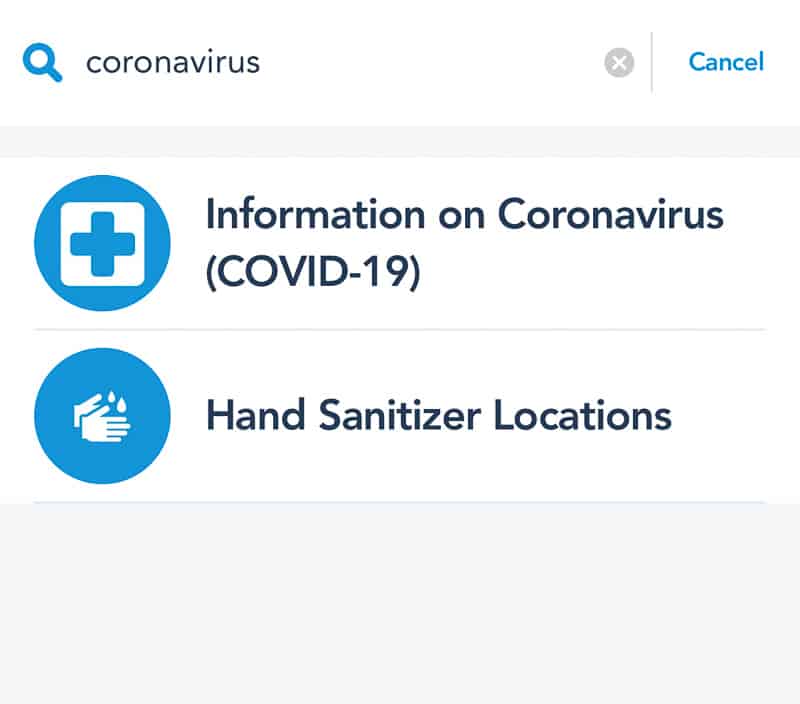 This will help you locate any hand sanitizer stations in the Disney World parks and also at the resorts. These stations are free of charge and complimentary to guests.
If you click on "Information on Coronavirus (COVID-19) this is the page that will come up: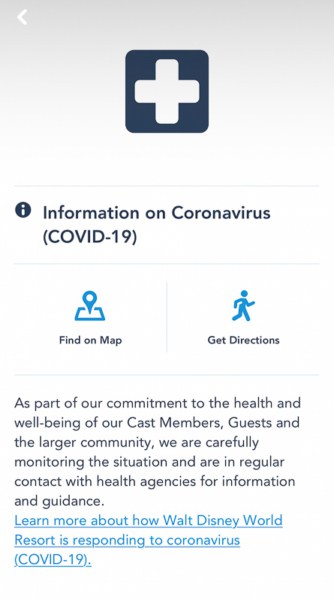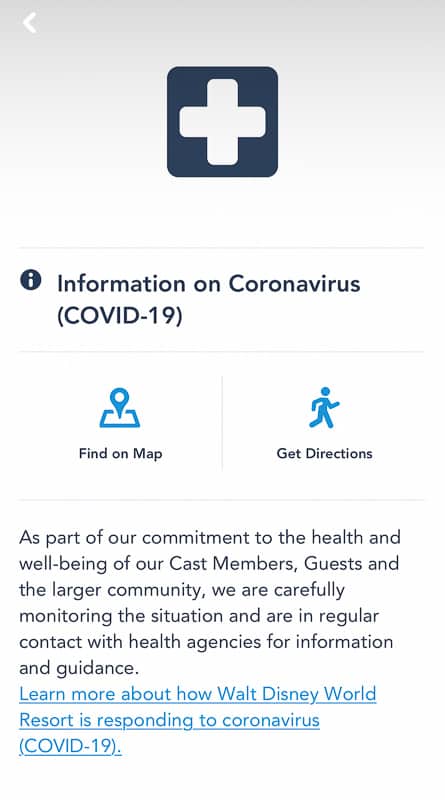 There is a link to find locations on the map, get directions and also a link at the bottom with the latest policies about how Disney World is handling the outbreak.
If you instead click on "Hand Sanitizer Locations" it will take you to a similar page with information on hand sanitizing stations.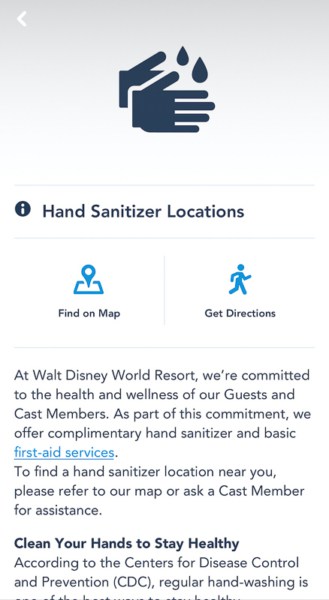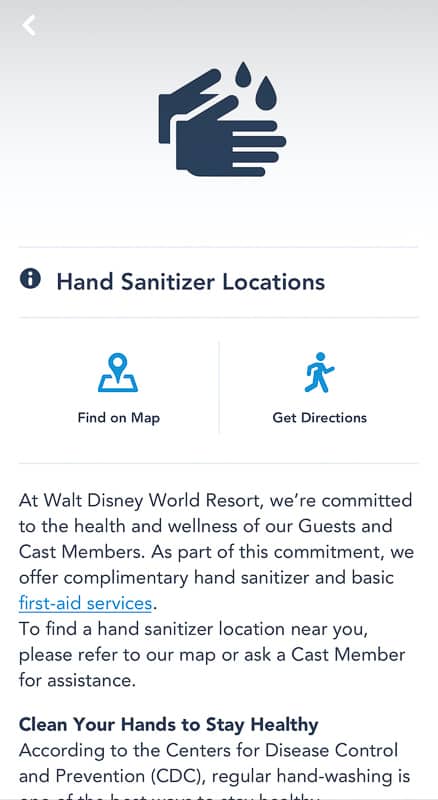 If you click the link to "Find on Map": you will be able to find them on the map wherever you are located in Walt Disney World: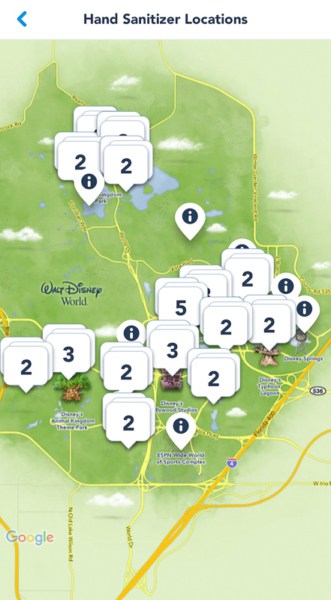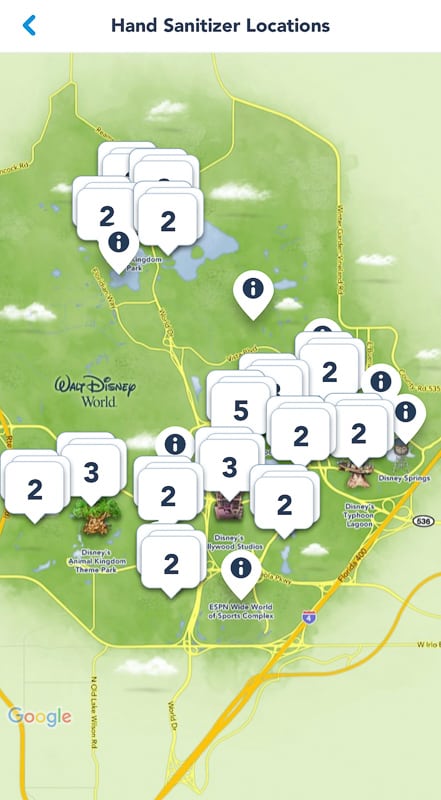 There is also an explanation of where they are located, and how they work and best hygiene practices for guests to follow: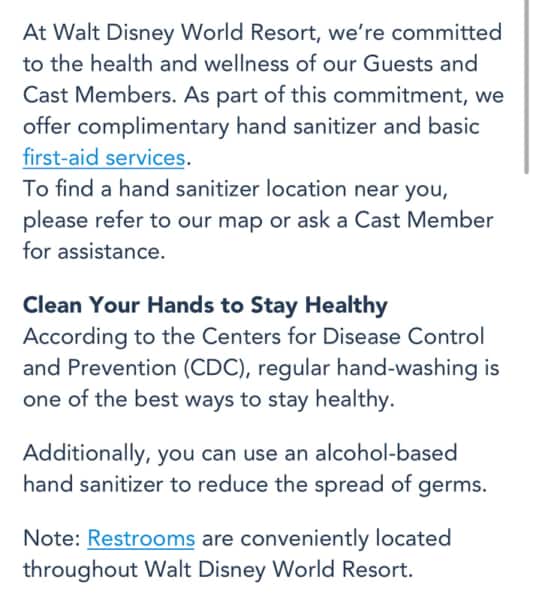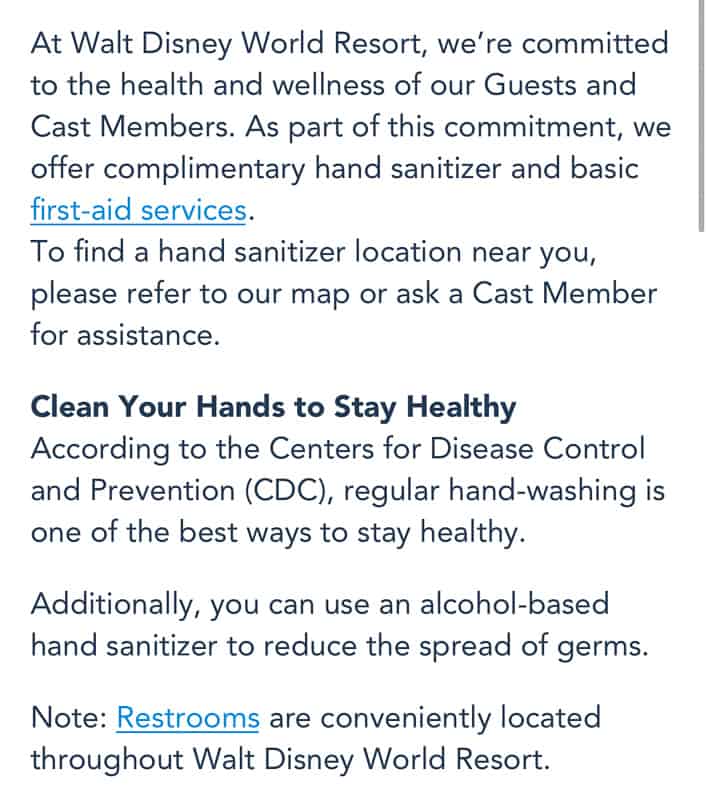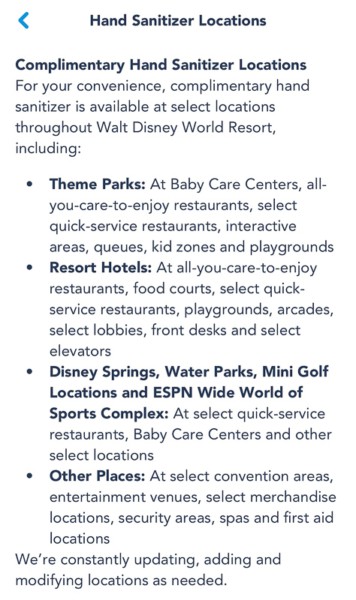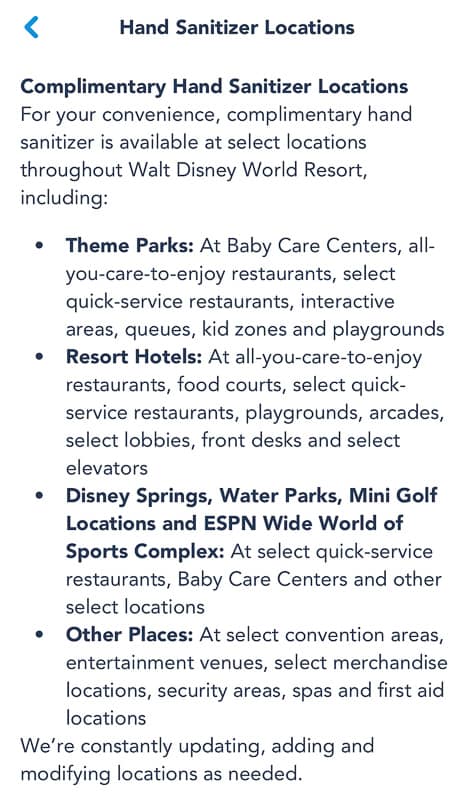 Here is an example when you zoom in to the Magic Kingdom and it shows you Hand Sanitizer locations there: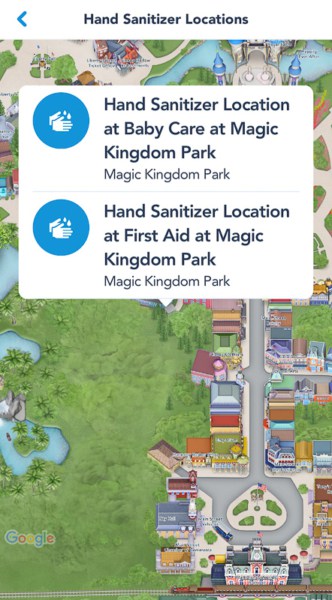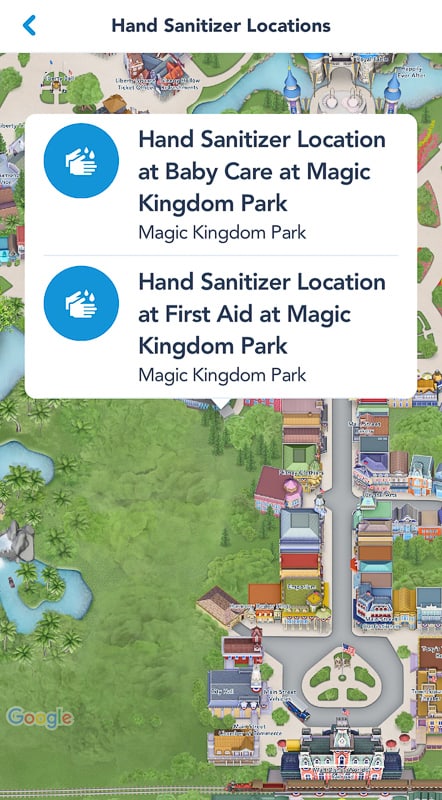 Cast members throughout the resort can also answer any questions you have about finding the nearest hand sanitizing station or point you to the closest First Aid Center where you can get more questions answered.
This is all part of Disney's concerted effort to stop the coronavirus from spreading through the resort and their commitment to the health and safety of their guests and cast members.
As of now, there have been no plans to close Walt Disney World over coronavirus concerns. This is an ever-changing situation however and we will continue to keep you updated with the latest.
In the meantime keep checking our Coronavirus and Disney Parks post where we talk about it more in-depth. Also, read our Coronavirus & Disney Cruise Line if you are thinking about taking a Disney Cruise in the near future.
To make sure you are up-to-date, don't forget to sign up for our FREE Weekly E-Mail Newsletter. There we bring you the latest updates on all the newest updates in the Disney parks, including everything going on with the coronavirus. You can sign up here: Join our E-Mail Newsletter
Your Thoughts
I want to know what you think about Disney's efforts to stop the coronavirus and the addition of hand sanitizing stations…
Have you tried them out?
What other steps can Disney take?
Let us know in the comments section below!
If you enjoyed this article, as always I appreciate it if you'd share it with others via social media. I work hard at making this website into a useful resource for you and your family to plan your visit to the Disney Parks and I hope it can help you! Thanks 🙂