"Are face masks required in Disney World since reopening?" For many guests trying to decide whether or not to take a trip to the most magical place on Earth, the answer to that question is a big factor whether or not to go to Disney World.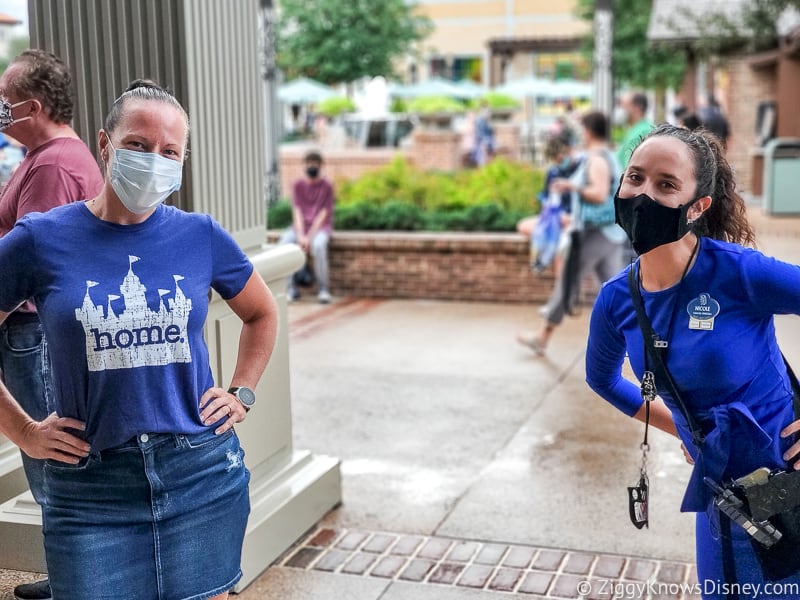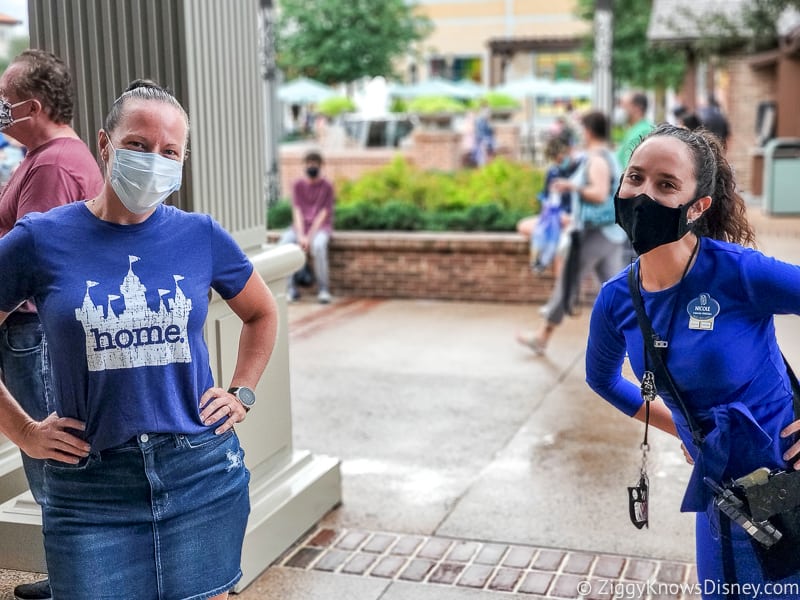 Since Disney Springs reopened in May and the theme parks in July, Disney has made it mandatory for both Cast Members and guests to wear face masks while in the theme parks, restaurants and almost any public place.
UPDATED 2/11/21 – Disney CEO Bob Chapek announced on a company earnings call that he expects face masks to be required at the theme parks for the rest of 2021, but not in 2022.
Disney has also recently updated its Face Mask Policy and has clarified that guests who have received a COVID-19 vaccination are still required to wear face masks at the Disney Parks and hotels.
Read more about this in the NEWS section in this post…
The fan reaction to the Disney mask policy has been an interesting one to say the least. Just the idea of having to wear a face-covering in Walt Disney World has been a bone of contention around the Disney community, with many people already refusing to go.
We get it, we really do. Disney World is your "happy place," as it is for millions of other people from all over the world. We go to Disney World to forget our problems. It's a place where no matter what else is going on in the world, we don't have to think about it. We can just relax and have a good time.
It's only natural then that we don't want that perfect image of Disney World that we have in our mind to be changed in any way. The idea of wearing a face mask in the blistering heat of Florida doesn't help either.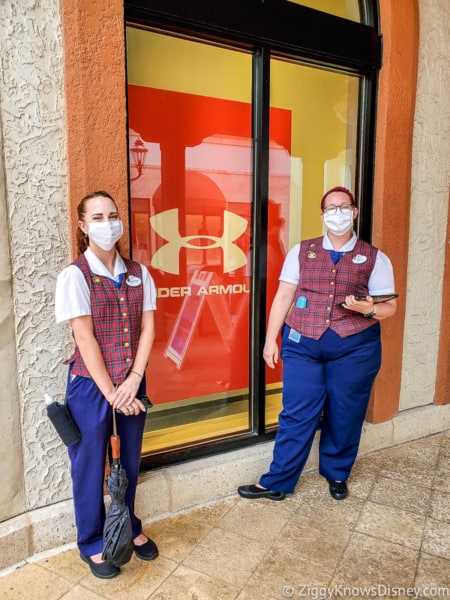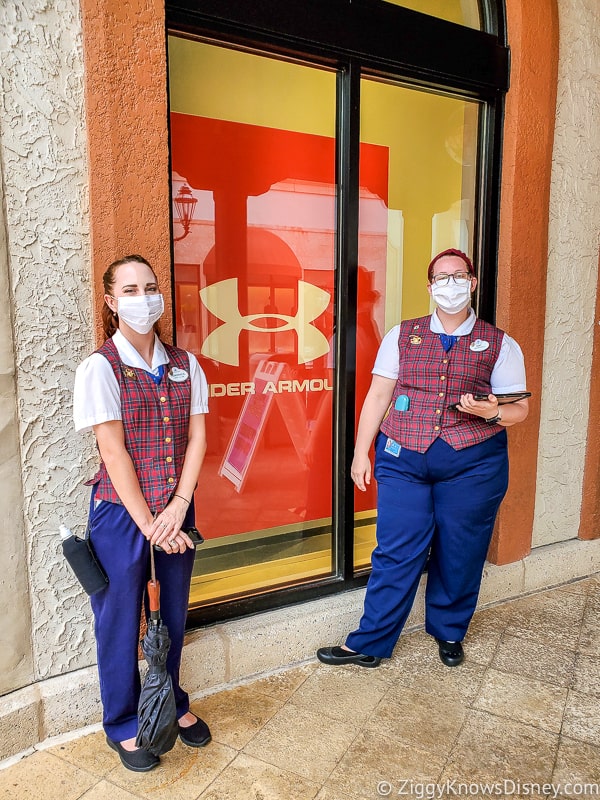 Unfortunately, right now that is out of our control. Disney has made it clear that for the foreseeable future, face masks are going to be an essential part of theme park attire, as much as walking shoes and Mickey ears, if not more.
In this post, we are going to share everything we know so far about face coverings in the Disney parks. We'll discuss the Disney World Mask Policy, who has to wear one, where you have to wear a mask in Disney World, and if you can take them off at all. There are also plenty of places to buy them inside the parks so we'll cover that too.
Many of our readers have also asked: "How Long Will Disney Require Masks?" While we don't have the exact answer to that question at this time, Disney has commented on that recently. We'll do our best to share with you how long we think masks will be required at Disney World.
Lastly, we'll give you our opinion on if in light of this news, if you should still go to Disney World anyway, or if it's better to postpone your trip to a time when face masks are not required.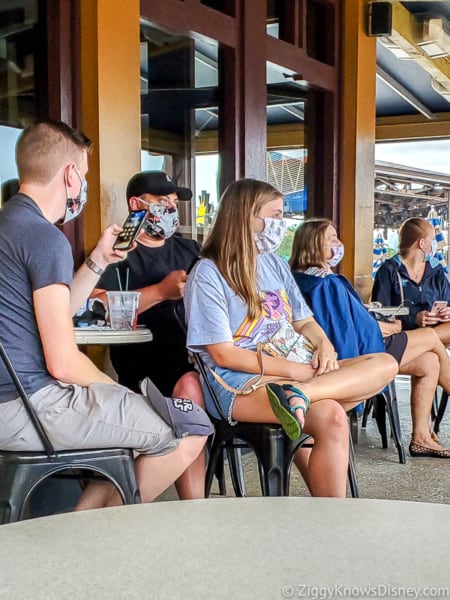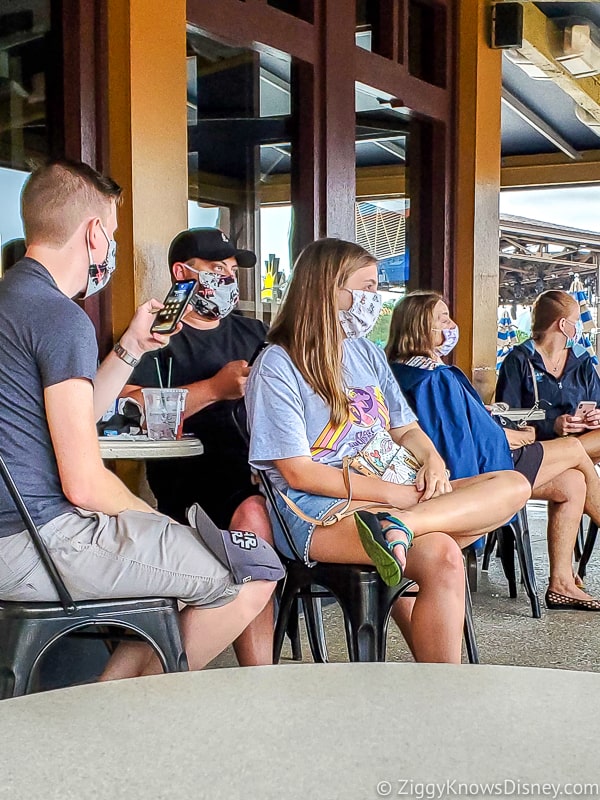 So far, the mask policy at Walt Disney World has worked pretty well, all things considering. 99% of guests have complied and Disney has done a nice job in making it clear what the requirements are and where you have to wear one. While not the most comfortable situation, it seems like it's been working up to this point.
One thing we want to make clear is we are not medical experts. This post is not here to give our opinions on whether we think face masks are necessary for the Disney parks or not. We are only covering what Disney is saying about them and how that affects your trip.
We definitely want to hear your opinion on the matter, but we ask everyone commenting below to keep things to a calm and rational manner. We do not feel the need to insult anyone for their opinion, for or against, and we hope you don't either.
We'll continue to fill in the details as soon as more information comes out about the Disney World face mask policy and any changes to the rules.
If you want the latest info on the Disney World Reopening and all the new guidelines in the parks, don't forget to sign up for our FREE Weekly E-Mail Newsletter. You can sign up here: Join our E-Mail Newsletter
We're going to answer all your FAQs about masks at Disney World, so let's dive in and see what we know so far.
(NEWS 2/11/21): Face Masks Likely Required in Disney World for Rest of 2021 but not 2022
Though we are now all used to wearing face masks in the parks, Disney announced some new information about how much longer they likely will be required.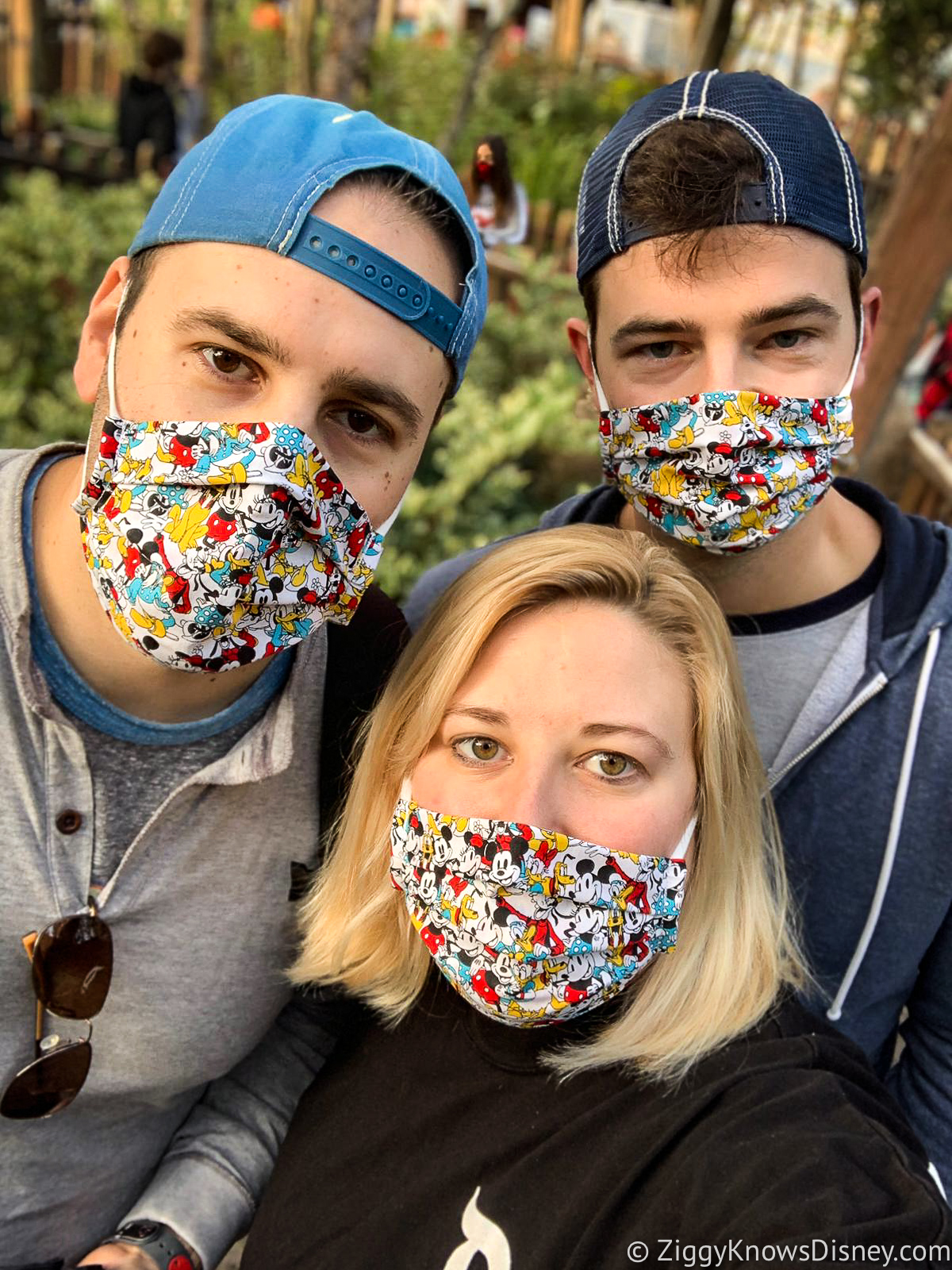 On a Disney company earning call, Disney CEO Bob Chapek was asked how long he expects face masks and the other safety guidelines to remain in place. Chapek said that face masks and social distancing is expected to stick around for the rest of 2021.
While that might not be what you wanted to hear if you have a trip planned later this year, he did some good news. Disney is expecting face masks and the other safety guidelines to be gone in 2022.
That doesn't necessarily mean that starting January 1, 2022 they won't be required. It could be months later. However, it is encouraging to know that Disney is starting to see the light at the end of the tunnel and are anticipating somewhat of a return to normalcy in 2022.
We'll keep you posted as soon as we hear more.
(NEWS 1/28/21): Disney Updates Policy, Guests with COVID-19 Vaccine Still Must Wear Face Masks
Since Disney first announced that face masks were going to be required in The Walt Disney World theme parks, it has been the hottest point of discussion in the Disney community, with some agreeing and some disagreeing.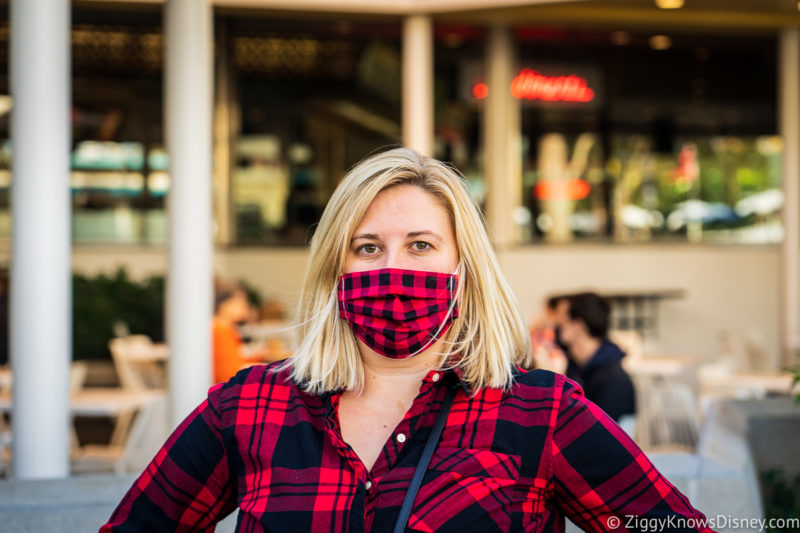 Disney has updated their mask policy multiple times since then, and in its most recent update they have clarified that even guests who have received the COVID-19 vaccine are still required to wear a face mask while in the parks and around the resort hotels.
This latest update to the face covering policy was listed on The Walt Disney World Website:
"Face coverings are required for all Guests (ages 2 and up) and Cast Members, including those who have received a COVID-19 vaccine. Please bring your own face coverings and wear them at all times, except when dining or swimming. You may remove your face covering while actively eating or drinking, but you must be stationary and maintain appropriate physical distancing."
There have been signs throughout the parks since July telling guests to wear face masks, and Cast Members even have been nicely reminding guests to comply when then see guests are not following the rules.
This isn't the first time Disney updated their policy. A few months ago, Disney even added signs throughout the parks that read: "Guests not properly wearing an approved mask will be asked to leave."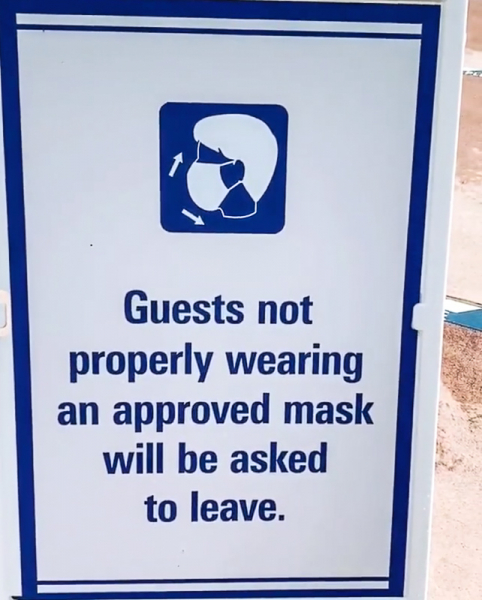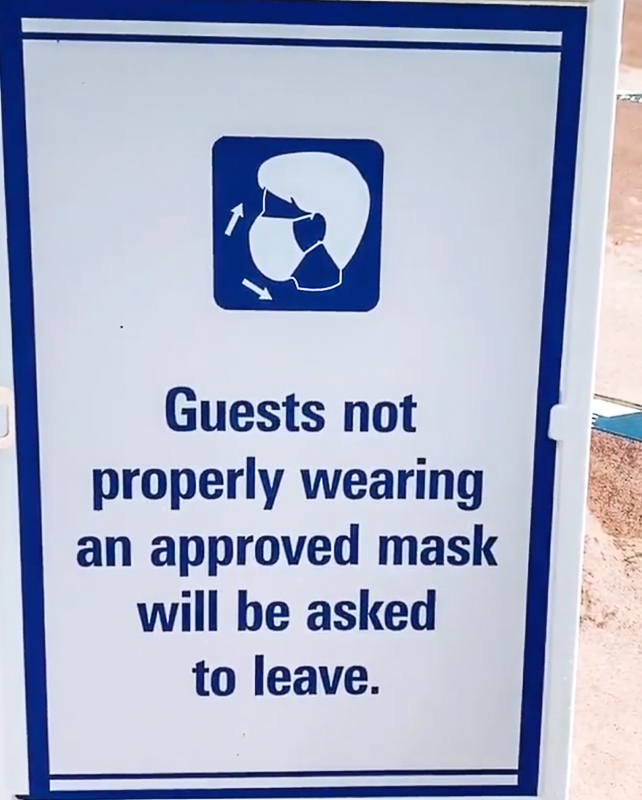 Apparently Disney isn't messing around and have found too many guests not following the rules to find the need to put signs up like this.
Before this latest warning, Disney made other updates to its face mask policy with more specific instructions about when guests can and can't remove their face coverings. While not wearing a mask has always been acceptable while eating and drinking, guests now must stay stationary while doing so, and distanced from others.
The clarification from Disney reads:
"You may remove your face covering while actively eating or drinking, but you should be stationary and maintain appropriate physical distancing."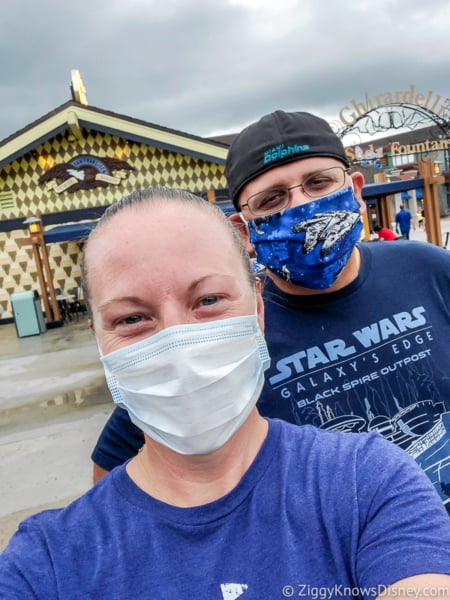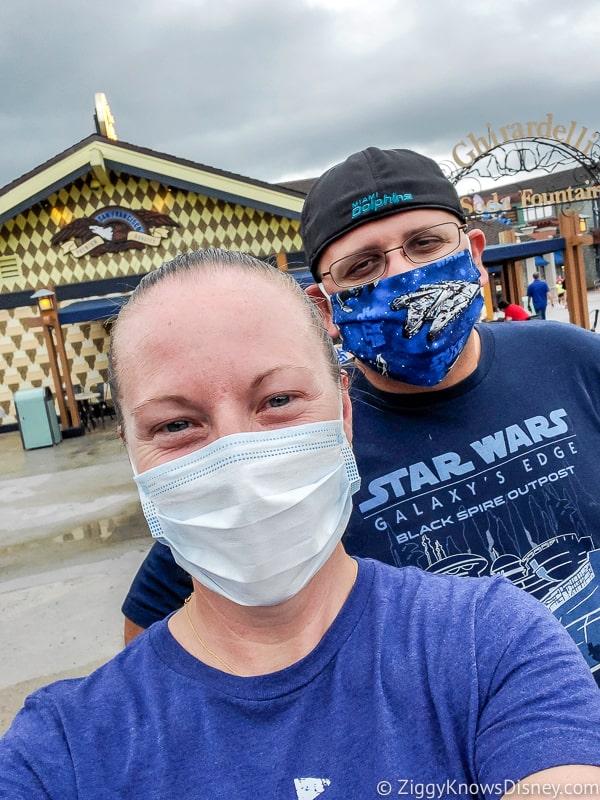 Noticed that the words "actively eating or drinking" are used. This is because some guests have been taking advantage of the face mask policy by walking around with a drink or food item in their hand as an excuse to pull down their face mask.
The moment you stop, you must pull back up your face covering. Guests are also being asked to stand in one place while consuming food or drinks and not walk around through the park at the same time.
If you are moving in the park from one place to another, you MUST be wearing a mask. This is to ensure that guests remain at least 6 feet apart before removing their face masks to eat or drink.
We've already seen Cast Members have to warn guests in the park of this very behavior, so now with the wording updated in the park face mask policy, it should help make things a bit more clear for all parties involved.
Any guests who are non-compliant to the rules will be asked to leave the park.
Disney's Face Mask Policy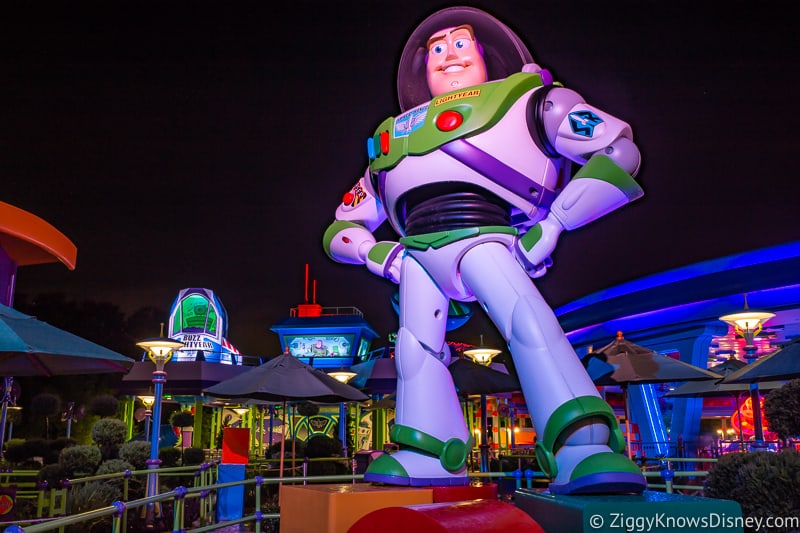 Right now as of this writing, face masks are absolutely, 100% required for guests in the Walt Disney World theme parks.
As we previously heard from multiple executives in the company, and recent agreements with Disney labor union, they are required in the theme parks. They've been preparing people for this eventuality, and there is a strategy behind those announcements.
Right now, face coverings are currently required in Disney World for any guests ages 2 and up.
The Disney World mask policy is confirmed on the Disney World website, and on our first trip to Disney Springs after reopening, and since, we found that everyone is required to wear a mask, no exceptions.
What about the theme parks? How do we know face masks will be required there too? Disney has put a list of requirements for the theme parks on their website, and face masks are clearly included there too.

You can see right there that face coverings are required for guests 2 years and older.
There are also new safety signs located throughout the theme parks and Disney Springs shopping center, and face mask requirements in Disney World are listed on the signs.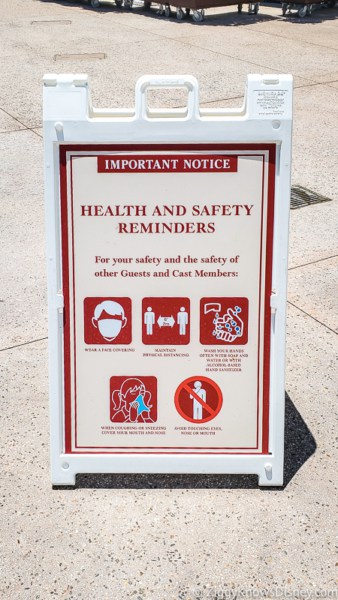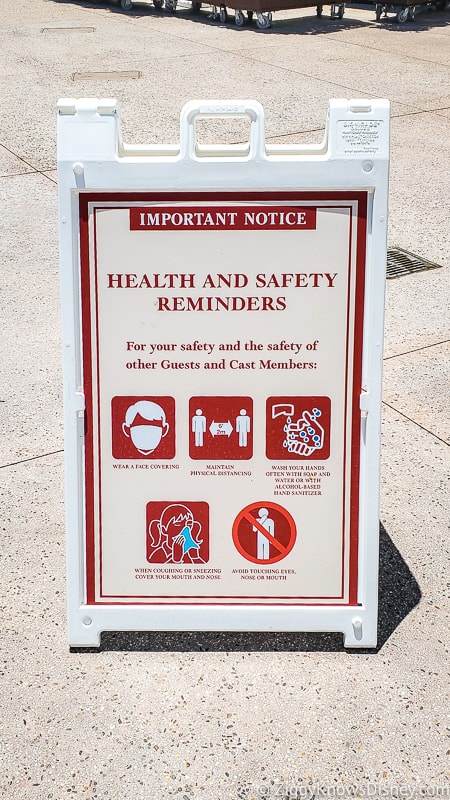 A Disney face mask policy was implemented first in Shanghai Disneyland. The theme park reopened its doors in May 2020, and they put in place a variety of new safety measures for guests and cast members alike, one of which is requiring face masks to be worn while in the parks.
Walt Disney World executives in the states have been working closely with the various government agencies, recovery task forces, and health experts in order to stabilize just exactly what mask requirements should be required in the U.S. parks.
Face masks coming to Disney World was planned for a while as Disney CEO Bob Chapek commented in an interview back in the Spring of 2020 with CNBC about the Disney World parks reopening.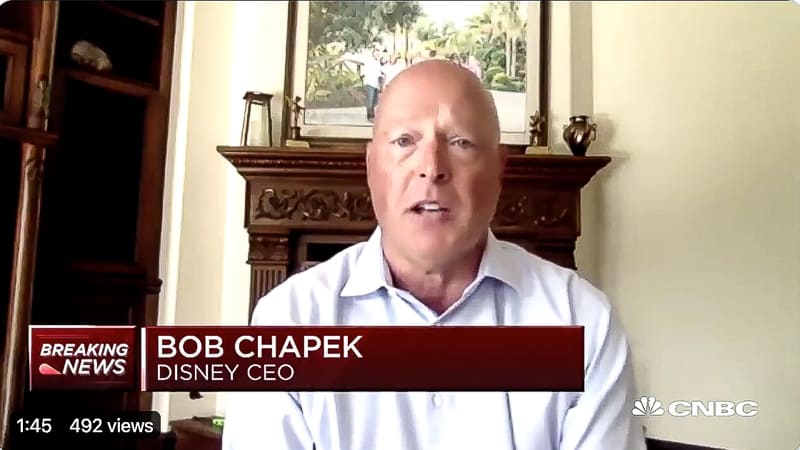 In answer to the question about what the key thing to get the U.S. Disney parks up and running again is Chapek said:
"One of the things we're likely going to require is masks for both the Cast and for the guests. And I think the masks for the guest will be something that culturally is different. In Asia, as you know, it's fairly commonplace for folks to walk around in public with masks on. That is not the case in the United States. So that will be something that will be a little trying for some of the guests, particularly in the hot, humid summers that we tend to have."
Masks are one of the most important new safety guidelines. It is just as important as distancing, which Disney is promoting through new technologies like the Disney Virtual Queue which helps people to keep a distance by staying out of lines.
Who Has to Wear a Face Mask?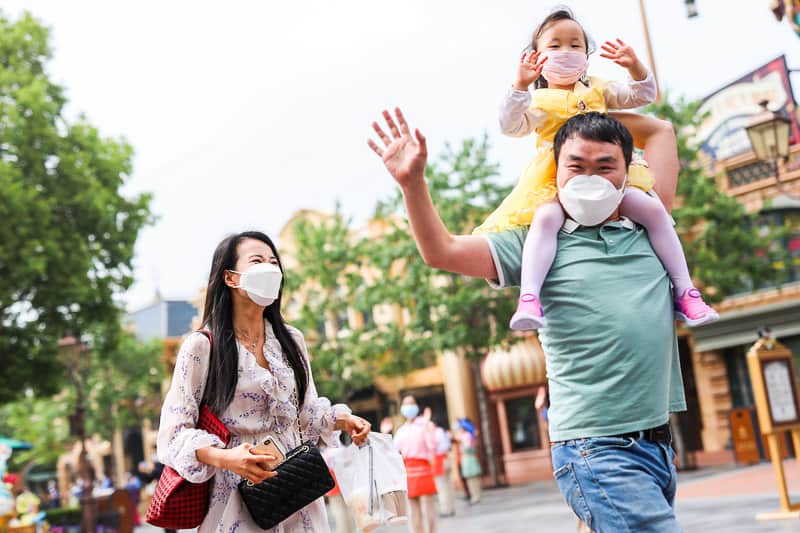 As stated by Disney officials, face masks are required for both Cast Members and Guests. Disney is not distinguishing between anyone entering the parks, as anyone could pass on germs to another person.
Persons required to wear face coverings in Walt Disney World:
All Guests ages 2 years and up
All Disney Cast Members
On the Cast Member side, this makes a lot of sense and it's obvious that since their job is to interact with guests all day, Disney wants to make sure they are extra careful in protecting both parties.
As a surprise to many, guests are also included in these guidelines. You really should not be surprised with Disney's decision however as they are listening to direction from the CDC and other health organizations/experts on the best way to contain and prevent new cases from popping up in the parks.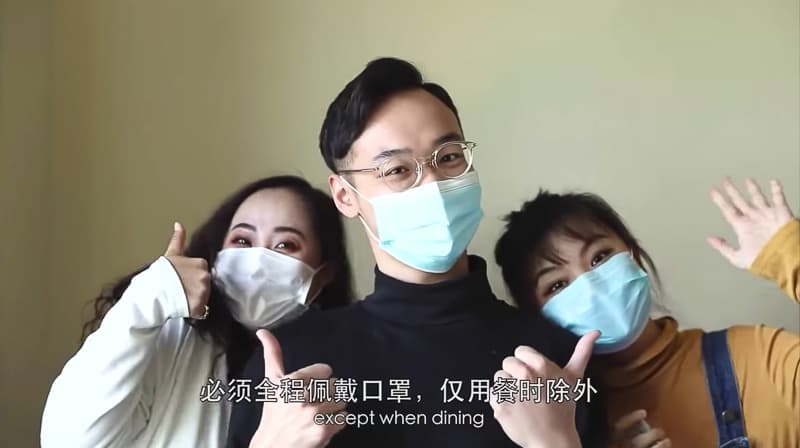 Even children age 2 years and up are required to wear a face mask in Walt Disney World.
Many parents dread the idea of getting their kids to wear a face mask all day long in potentially 90+ degree weather. This requirement however is deemed necessary by the authorities and coincides with the protocols in place in Shanghai, Paris and other Disney park locations. Kids have to be included since they could just as easily spread germs to others.
Do Disney Characters Wear a Face Mask in the Parks?
No, they don't. Disney does not want its characters to be seen wearing face masks which would ruin the character's image and spoil some of that Disney magic. All characters currently in the parks are kept far enough away from guests so they can't come in direct contact with them and risk infection.
Where Must You Wear One?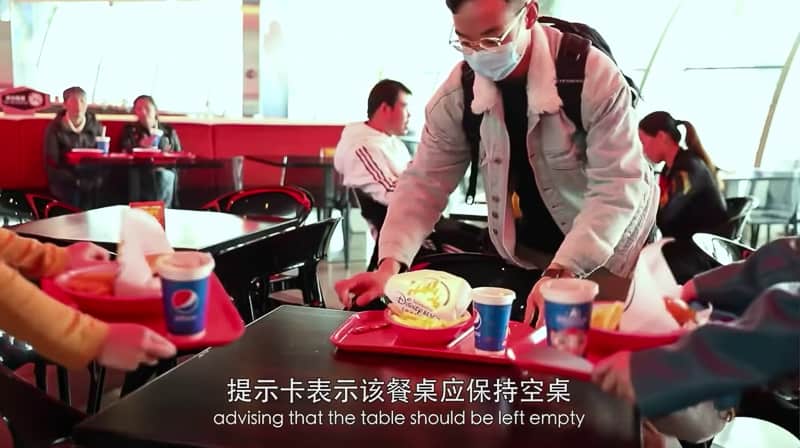 So far since reopening, face masks are required in almost every area of Walt Disney World.
The only three places that you don't have to wear a face mask in Walt Disney World are:
While dining (walking with food or sitting in a restaurant)
Swimming in a pool
"Relaxation Areas"
Obviously guests can't wear a mask while eating, or swimming, so we are glad these exceptions have been made.
That means however that face coverings ARE required in the following locations:
General Public Areas (Walking around the theme parks and hotels)
Shops
On Attractions
Restaurants (not at your table but walking around)
Lounges/Bars
Using Disney transportation
Around the pool area
Dining
You do not have to wear a face-covering while seated at the table of a Disney restaurant, but you will have to wear one if you get up and go to the restroom or just walking around the restaurant.
Do I Have to Wear a Mask While Walking Around with Food or Drink?
Yes, you do. In fact, guests are now being asked to stand stationary off to the side or to find a table or bench at least 6 feet from other guests while consuming food and drink in the parks.
This is a change from the original Disney mask policy where guests were being allowed to walk around with food and drink with face coverings. Some guests were taking advantage of this policy and just would walk all day with a Coke in hand claiming to be drinking so they didn't have to wear a mask.
This is especially a problem at the EPCOT food festivals where everyone has food or a drink in hand about 95% of the time.
Swimming Pools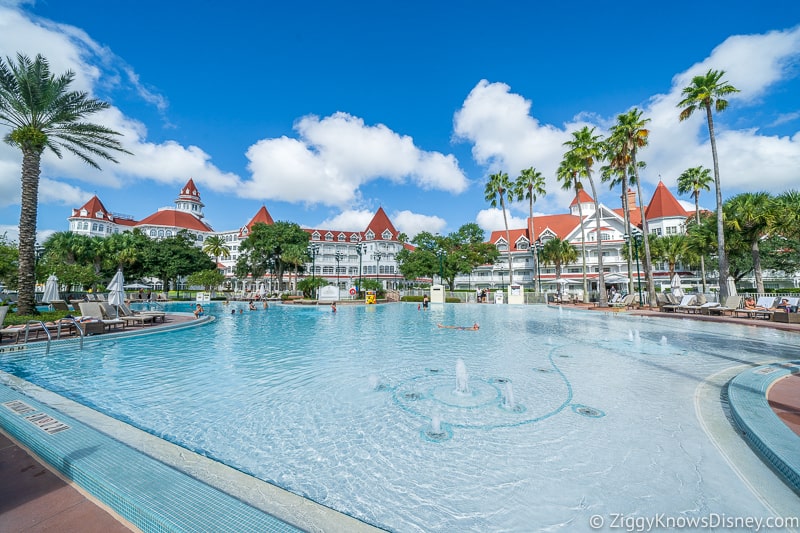 One of the questions on peoples' minds has been what happens to face masks while swimming? Thankfully, Disney has decided that face coverings are NOT be required in the Walt Disney World Resort swimming pools.
In their statement they said:
"All Guests ages 2 and up—along with Cast Members—are required to wear face coverings when visiting Walt Disney World Resort. Please bring your own face coverings and wear them at all times, except when dining or swimming."
Though asking if they would be required in swimming pools sounds like a silly question, Disney did say that they would be required in the Resort Hotels and in common areas.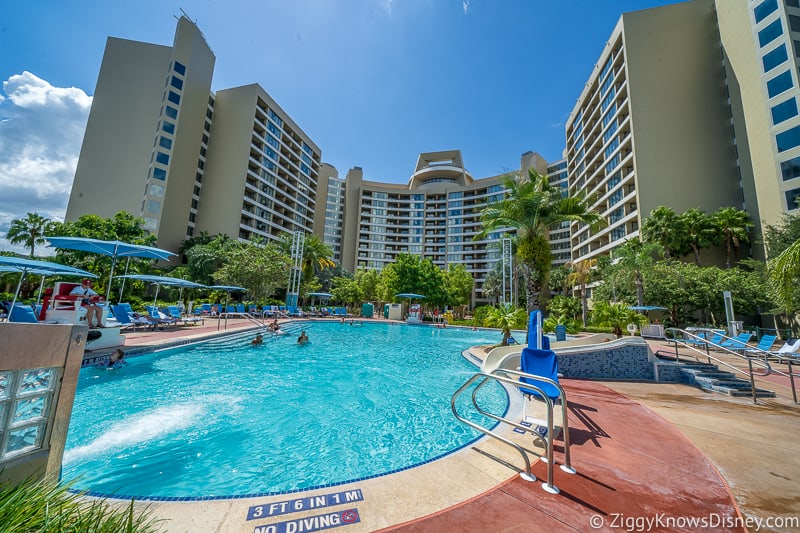 Obviously it would be impossible to wear one in the pool, as they would either fall off or the disposable ones would get ruined instantly. Since Disney is enforcing the face mask policy very seriously, we were afraid that the hotels would have to shut down the swimming pools altogether, so we're glad it didn't come to that.
However, even though you don't have to wear a pool while you are IN the pool, Disney's mask policy does require that guests wear a face covering while in the pool area. We haven't seen this enforced very much and most guests just sitting around the pool area do not wear masks even though technically they should. Just keep this in mind.
Relaxation Stations
Since walking around a theme park for 12 hours with a face mask is an exhausting situation, Disney has made designated "Relaxation Stations" located throughout the parks where guests DO NOT have to wear a face mask.
Some are located indoors and some outside, in both cases, guests can enjoy some time mask-free.
With this addition, relaxation stations now join dining and pools as the only three public situations in Disney World where guests are not required to wear a face mask.
Here are the designated Relaxation Stations in each of the 4 Disney World theme parks:
Tomorrowland Terrace (Tomorrowland)
Golden Oak Outpost (Frontierland)
Pete's Silly Sideshow (Fantasyland)
Akershus Royal Banquet Hall (Norway Pavilion, World Showcase)
Yorkshire County Fish Shop – Outdoor seating (UK Pavilion, World Showcase)
Between Mission: Space and Test Track (Future World East)
Star Wars Launch Bay (Animation Courtyard)
Near Rise of the Resistance (Star Wars: Galaxy's Edge)
Upcountry Landing (Asia)
Pizzafari (Discovery Island)
Of all the Relaxation Stations, we tend to prefer the ones that are outdoors rather than indoors. We don't know how good of an idea it is to get in a room with a bunch of other without masks. Since we tend to play it safe, we will stick to the open-air relaxation stations when we need a break.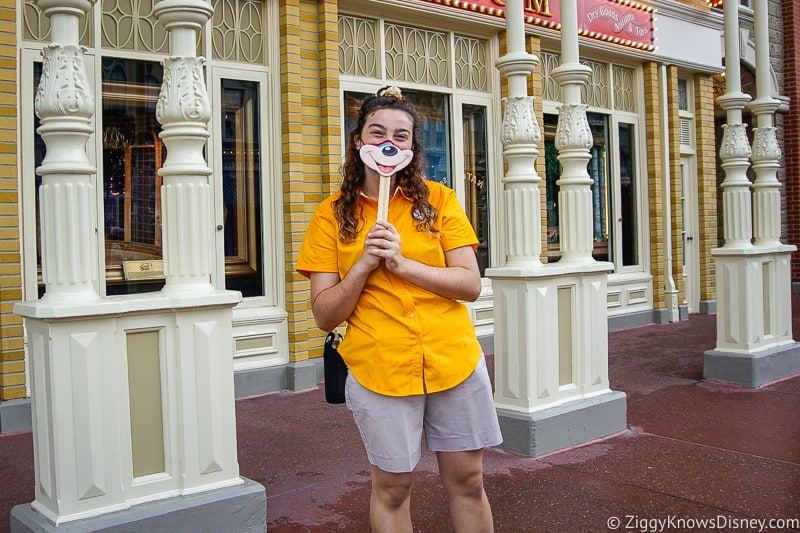 Other Locations in Disney World
Do I Have to Wear a Face Mask Walking Around My Hotel?
Yes, you do. If it is a public space in Disney World that is not a table, pool or relaxation station you need to be wearing a mask. This includes in the lobby and hallways of hotels, outside the hotels and in public restrooms.
Do I Have to Wear a Mask in My Room?
Only if you want to. Obviously, when you are back in your hotel room, you are free to wear anything you want.
How to Wear Face Masks in Disney World
Here are some guidelines for how face coverings should fit when visiting Disney World:
Fully cover an individual's nose and mouth
Fasten face masks securely with ties or ear loops and allow the guest to remain hands-free
Fit snugly but comfortably against the side of the face
Face Masks can be disposable or reusable
Should be made of breathable material
Make sure you avoid touching your eyes and face as much as possible, even if you use hand sanitizer.
The CDC gives good guidelines on how to wear a mask for it to be effective in all situations.
Can You Take Off Your Mask?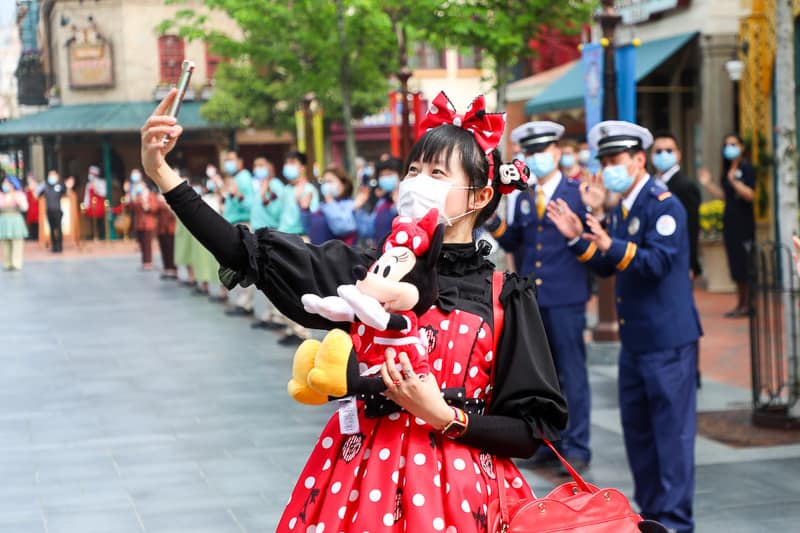 Unless you are sitting down eating, swimming or in one of the relaxation stations, Disney World guests must keep their face masks on at all times. Again, if you just need a break, go to one of the relaxation stations, there are 2 or 3 in each park.
Can I Take Off My Mask to Take a Photo?
No, you can't. Disney is pretty strict about their mask policy and have Cast Members who will tell you to put it back on, even if you are taking a quick photo.
These Cast Members are especially present around park icons like Cinderella Castle where they walk around with a sign to make sure guests keep their masks on. There is even an audio reminder played on the park loudspeaker telling guests not to remove their masks for photos.
Can I Take Off My Mask for a PhotoPass Photo?
No, you can't. The photographer at the PhotoPass location will not take your picture if you take off your face mask. Just leave it on.
Despite these warnings, we've seen many people briefly taking them off for photos. We get it, you might not want to have a mask on while getting your picture taken with the castle in the background. Still, these are the rules and Disney expects that you respect the safety of others and comply with their requirements.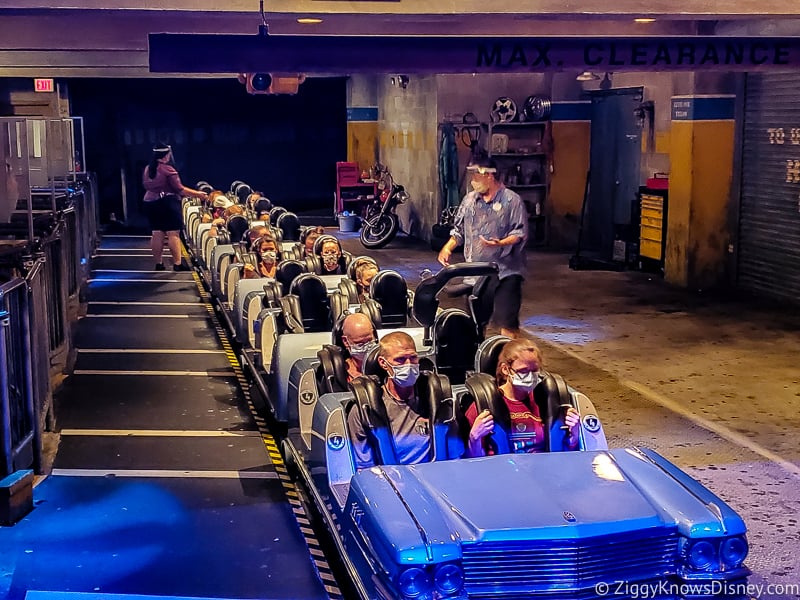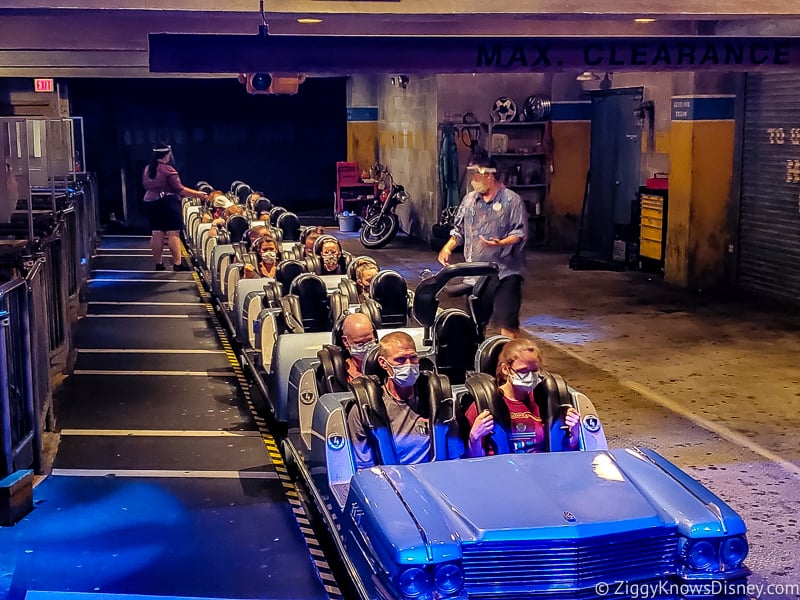 Do I Have to Wear a Face Mask on the Rides?
Yes, you do. All guests are required to wear a face mask on all Disney World attractions, no matter age or what type of ride it is. This includes thrill rides like Expedition Everest, Rock 'n' Roller Coaster and Tower of Terror.
In-Ride Photos
Many guests love the in-ride photos they receive on many of the Disney World attractions. However, if you take off your face mask while riding one of the attractions, you will not receive your in-ride photo in your My Disney Experience account, nor on the screen outside the ride.
Disney already has an existing policy which they can withhold any photos from guests if they are doing something on a ride that is deemed unsafe. Not wearing a face mask falls into this category.
What If You Don't Want to Wear a Face Mask?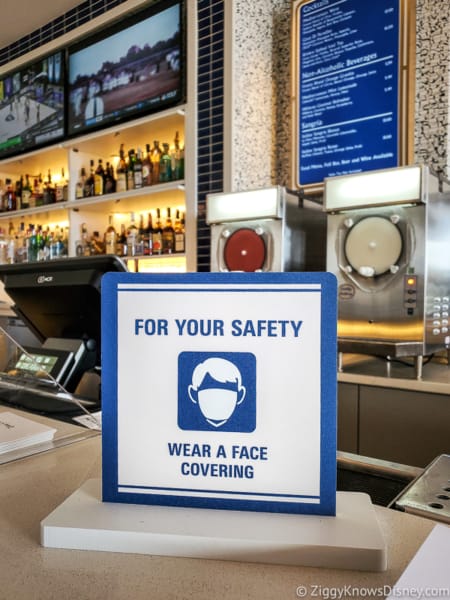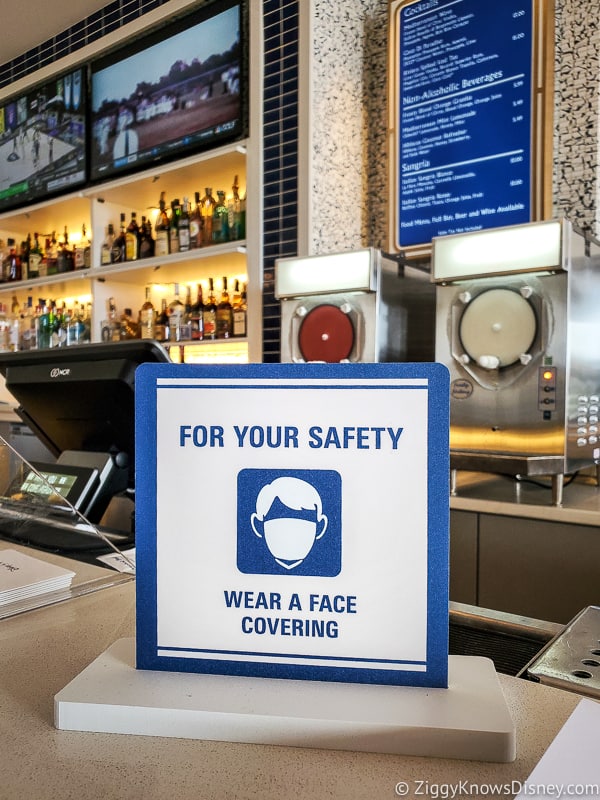 Granted there will be people who show up to the parks and don't want to wear a face covering. What will Disney do at that point? The FAQs from the Disney Springs website make it clear:
What if I don't want to wear a mask?
Here is Disney's response to that question on the Disney Springs website (which also applies to the parks:

Given this unprecedented situation, we appreciate everyone's patience and understanding as we navigate these challenges as responsibly as we can. With our robust measures in place, we believe a key factor in our success in reopening Disney Springs will be our Guests' acceptance and adherence to our new protocols. Guests without masks will not be allowed entry to Disney Springs.
So that's pretty clear. If you don't want to wear a face mask in Disney World you will not be given entry.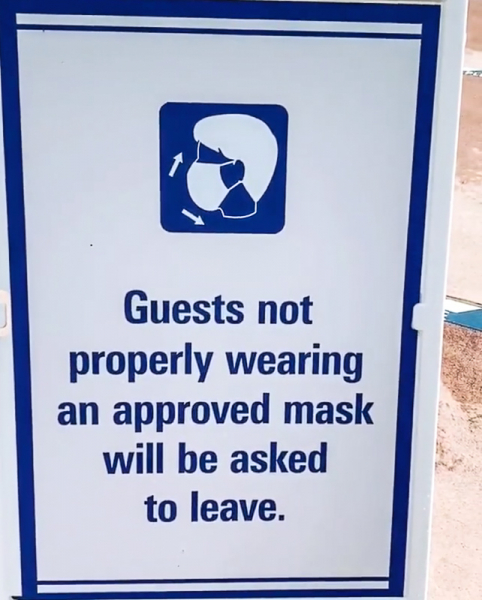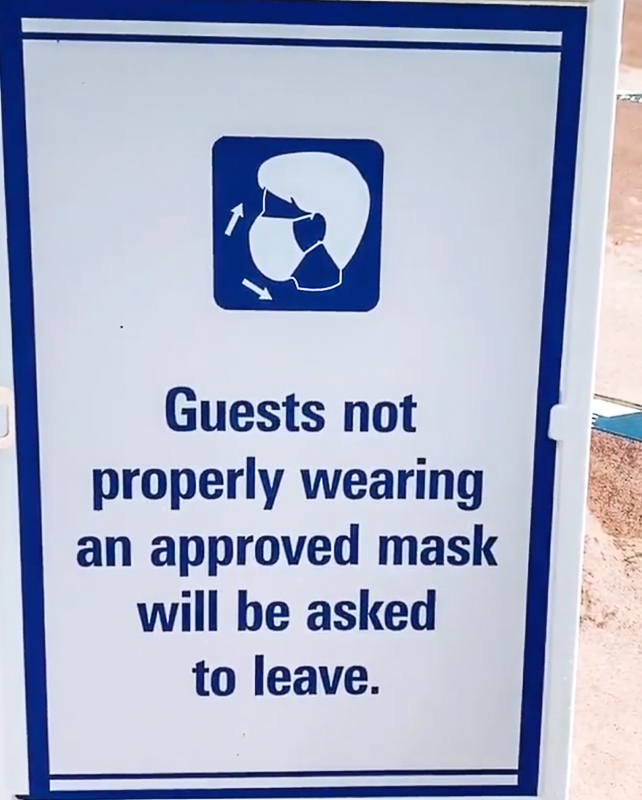 Disney has also recently added more to its policy and started putting signs around the parks that read: "Guests not properly wearing an approved mask will be asked to leave."
Disney obviously isn't messing around and are letting people know up-front that if they don't follow the rules they will be asked to leave. So unless you want to be kicked out of the parks, you don't have much of a choice.
What if I Can't Wear a Mask for Health Reasons/Difficulty Breathing?
The other complication that comes into play is what if people have health exceptions and cannot wear them? What if someone can't breathe? We are again talking about a place where extreme heat is common, which can cause various health complications.
Disney has even made a statement on this, advising people who are not able to wear a mask because of other health reasons, to stay at home for the time being since masks are required for everyone.
Again, according to the health authorities, Disney gets its guidance from, face coverings protect people from a wearer who is infected but not aware yet of their condition and not showing symptoms. Therefore, wearing a mask helps protect both parties when everyone wears a mask. They also have a contractual obligation to protect Cast Members and their union agreement requires this.
Are Free Masks Provided in Disney World?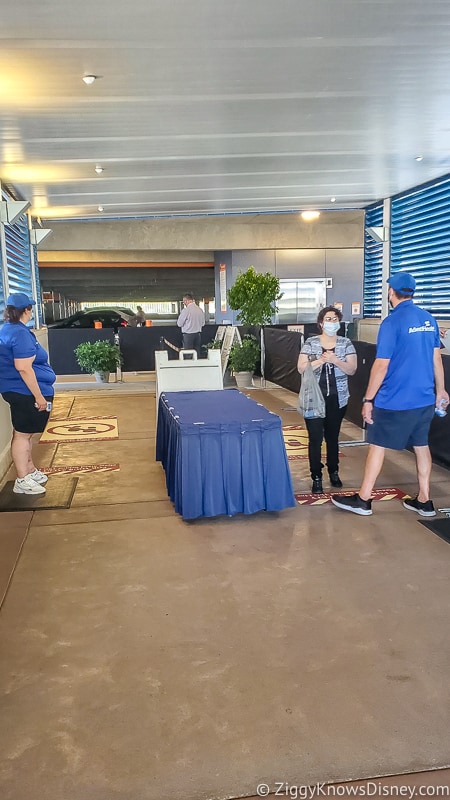 Free face masks are not provided by Disney when you arrive at the parks. They expect guests to bring their own face coverings to the parks and ones that comply with their standards.
We have seen on occasion Disney give guests one of the disposable masks to wear in a pinch, but they don't make a habit of it and they don't always have them to give. The bottom line is not to risk it and just remember to bring yours with you. If you don't, there is a very good chance they won't let you into the park.
What Counts as a "Face Covering?" What Kind of Mask is Acceptable?
Disney says in its list of regulations that face coverings are required in Walt Disney World. But just what exactly counts as a "face covering" anyway?
Disney gives specific information about which types of face masks are acceptable in Walt Disney World and which kinds aren't. According to the Disney World website:
Fully cover an individual's nose and mouth and allow the guest to remain hands-free
Fit snugly but comfortably against the side of the face
Be secured with ties or ear loops
Be made of breathable material, either disposable or reusable
The following count as "face coverings" in Walt Disney World:
Reusable or Disposable Masks
Face Shields
Homemade Masks
Buffs
Whatever you wear, it's important that it covers the mouth AND nose. Face masks should also fit snugly against your face and should be hands-free. You shouldn't have to hold it against your face with your hand.
The following are NOT acceptable face coverings in Walt Disney World:
Neck gaiters and
Open-chin triangle bandanas
Costume masks
Helmets
Bandanas & Gaiters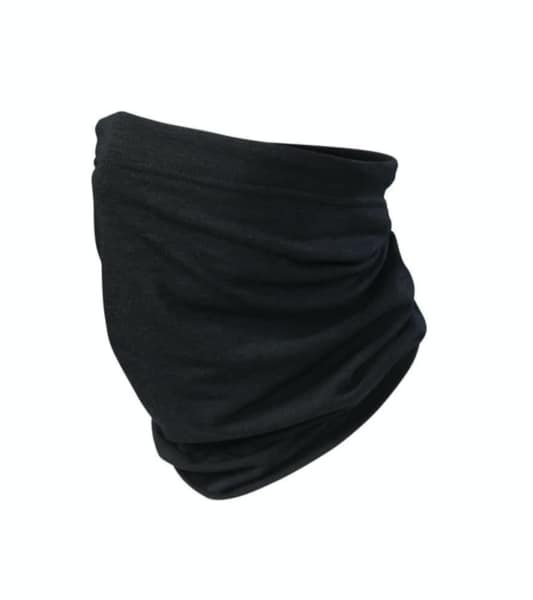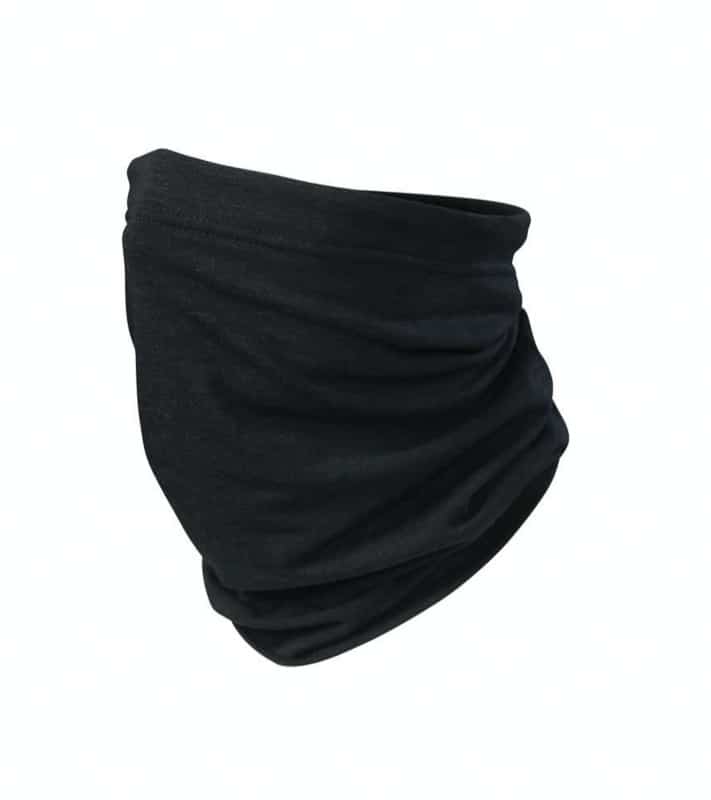 Many have been wondering if they can use neck gaiters with ear loops or bandanas, but has now specifically said that neck gaiters and open-chin triangle bandanas are not allowed. This is because all face coverings must fit securely under the chin and tight enough to the face
Bandanas and gaiters are too loose-fitting to be acceptable. For a while, gaiters were considered acceptable when Disney World first reopened, but they have since changed their stance on that saying:
"At this time, based on guidance from health authorities, neck gaiters and open-chin triangle bandanas are not acceptable face coverings."
Face Shields
You see more and more face shields walking around the park lately, mostly from Cast Members who are issued them. Can guests also wear a face shield in Walt Disney World?
Yes, you can. Face shields are an acceptable form of face-covering while in the Disney Parks, but ONLY if you are also wearing a standard face mask. They are not allowed by themselves.
Costume Masks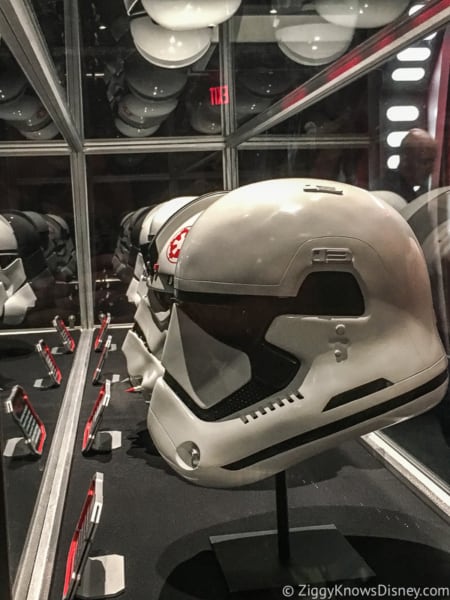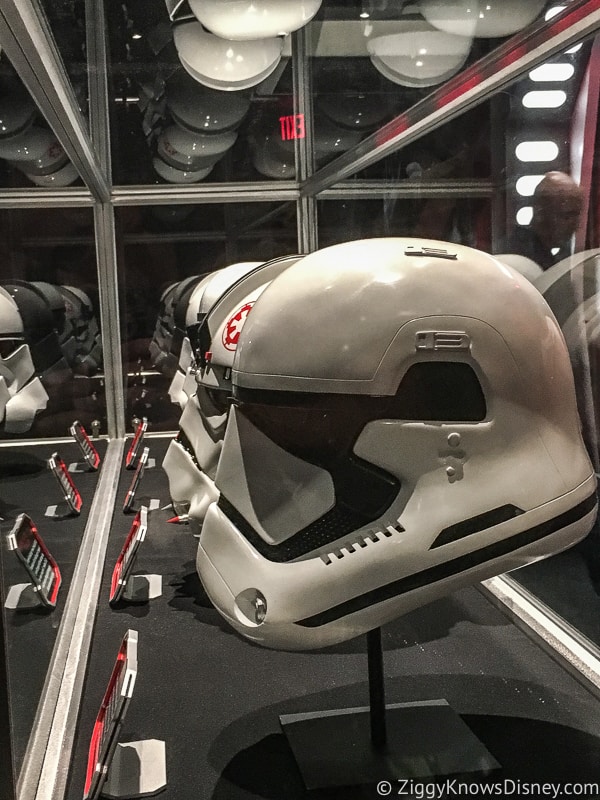 REMINDER: Previous Disney dress code rules still apply, meaning you cannot wear a costume mask, helmet, ski mask or anything else that covers you ENTIRE face. Religious face coverings may be acceptable, however we encourage you to bring a secondary face mask just in case.
There are many different styles of face masks, each with varying rates of success at stopping the spreading of germs, both for the wearer and those around them. Consistently, Medical-grade masks including disposable surgical face masks and N95 respirators seem to work the best.
Disney is following the advice from health officials and the CDC. To get more information you can go to the CDC website and see what they say.
Buying Disney Face Masks