Have you ever wanted to dine on a starship in the Star Wars universe? Well, now you have a chance to do just that at the Crown of Corellia Dining Room restaurant onboard the Star Wars: Galactic Starcruiser.
In this post, we are going to share everything you need to know about the new Crown of Corellia Dining Room which opened on March 1, 2022, with the debut of the Star Wars: Galactic Starcruiser hotel.
We're going to tell you about the menu, if you need reservations, and the seating hours. We'll walk through the restaurant and show you the atmosphere and theming and give you a full tour of the dining room.
We'll look at all the best food and drink options available when you visit and cover all options during Breakfast, Lunch, and Dinner. Don't forget about the Captain's Table, an exclusive dining experience on the Galactic Starcruiser.
The Crown of Corellia Dining Room isn't only a restaurant though, it also has a full dinner show with live entertainment from the Star Wars universe which is what we've been dreaming of since seeing the concept art.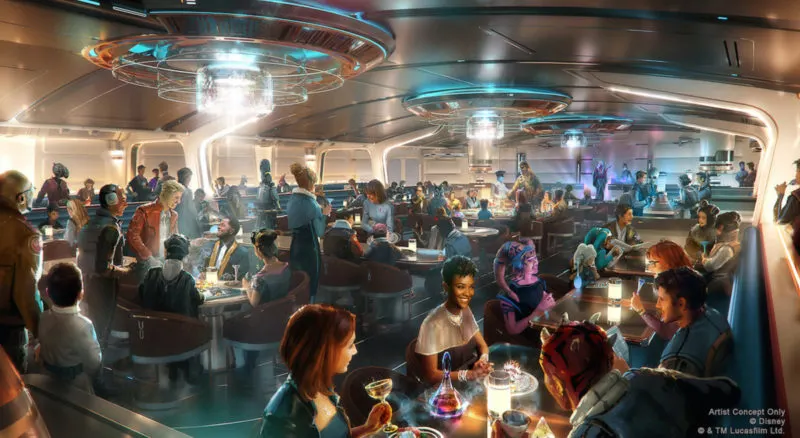 Before we get started, here are some useful links that will help you find out everything you need to know about the Star Wars: Galactic Starcruiser hotel:
Also, don't forget to sign up for our FREE Weekly E-Mail Newsletter. We will update you as soon as we know more about the Crown of Corellia Dining Room, and share the latest Disney vacation planning tips. You can sign up here: Join our E-Mail Newsletter!
Crown of Corellia Dining Room Overview
Location: Star Wars: Galactic Starcruiser Hotel
Status: Now Open (March 1, 2022)
Type: Table Service Dining (Dinner), Buffet (Breakfast & Lunch)
Price: $$-$$$
Cuisine Type: Upscale Star Wars-themed Cuisine
Meals: Breakfast, Lunch, Dinner
Dress Code: Casual, Theme Park Attire
The Crown of Corellia Dining Room is half restaurant and half dinner show with upscale cuisine, unlike anything you've experienced in Disney World before.
This is a one-of-a-kind dining experience that has guests eating foods that truly feel like they are from another galaxy. The chefs behind the restaurant worked hard on the menus to help take Star Wars storytelling to another level.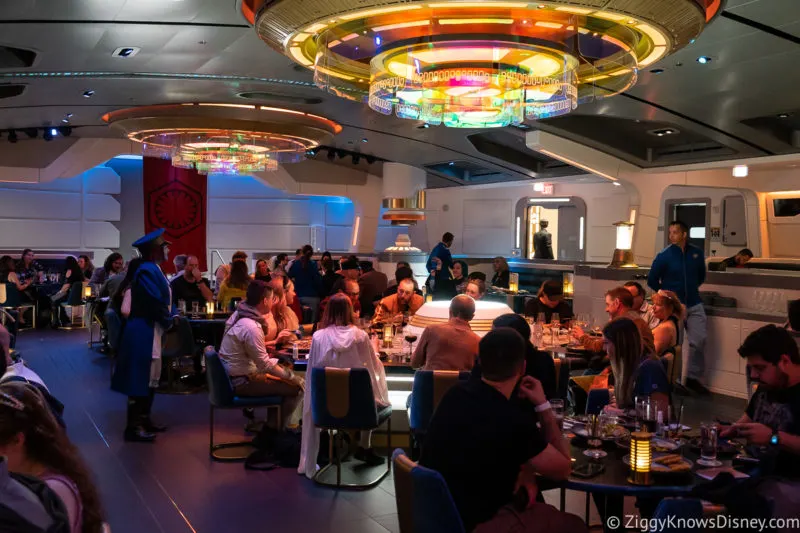 This restaurant was designed to push the envelope of the dining at Walt Disney World, and completely immerse each guest in the experience. Think about what it would be like to dine at a nice restaurant in a Star Wars film, and that is what Disney Imagineers were going for when they created it.
It's one of the two dining locations on the Galactic Starcruiser, the other being the Sublight Lounge.
Let's look at what makes the Crown of Corellia Dining Room so special…
Crown of Corellia Dining Room Menus
*(Last Updated 4/21/22) – If you have any Menu updates or corrections please let us know!
Breakfast Day 2
Food
Chandrilan Waffle, Rolled Omelet, and Roasted Sausage
Egg Bite with Potato Rosti, Bacon Bullet, and Sauce Choron
Kale Porridge
Green Pearberry Toast
Scrambled Eggs
Whipped Egg
Sweet Cakes
Palm Fruit Yogurt
Compressed Fruit Plate
Drinks (Available Both Days)
Apple Juice
Orange Juice
Cranberry Juice
Grapefruit Juice
Blue Milk
Green Milk
Coffee
Cappuccino
Espresso
Latte
Morning Concoctions (Available Both Days)
The Halcyon's Bloody Rancor (Bloody Mary) – $15.00
Espresso Martini – $17.00
Mimosa – $13.00
Breakfast Day 3
Food
Chandrilan Waffle, Rolled Omelet, and Roasted Sausage
Crispy Tuber Waffle with Cheddar Egg Bite and Bacon
Spiced Bobotie
Meteor Egg
Breakfast Meat Pie
Scrambled Eggs
Sweet Cakes
Palm Fruit Yogurt
Compressed Fruit
Lunch Day 1
Food
Fire Melted Cheese Takeaway
Tikka Tip Yip Chicken
Nori-Crusted Redfish
Sorgan's Stew
Pork and Cheese Takeway
Dipped Tip Yip Chicken
Roasted Flora
Chandrilan Salad
Yellow Curry Tip Yip Chicken Salad
Gardengrow Greens
Choco-Whip
Blue Bantha Milk Fruit Whip
Sunflower Butter and Jelly
Daily Sweetbread
Drinks (Available Both Days)
Fountain Soft Drinks
Blue Milk
Green Milk
Lunch Day 2
Food
Kaadu Rib Bites
Bantha Beef and Tuber
Tamarind-Glazed Burra Fish
Blue Focaccia and Sausage Takeaway
Sweet Tuber with Spicy Batuu Curry
Dipped Tip Yip Chicken
Red Fruit Burrata
Marinated Seared Tofu
Chili-Spiced Cucumber Garden Grow Greens
Sunflower Butter and Jelly
Salted Caramel-Chocolate Cake
Cream of Jogan
Daily Sweetbread
Dinner Day 1
Course 1 – Bento Experience
Spiral Dumplings

Tip Yip Chicken – (with Sweet-and-Sour Shredded Chicken)
Bantha Beef – (with Braised Teriyaki Beef)
Flora Vegetables – (with Potatoes and Curry)

Interplanetary Dipping Sauces

Kaadu Cream
Melahnese Curry
Batuu Spice
Barbecue-style

Flora Noodle Salad – (Chilled Salad of Yellow Beets, Diakon, Onion, Carrots, and White Miso Vinaigrette)
Course 2 – Chandrilla Chef's Selections
Bantha Beef Tenderloin – (Tamarind-glazed with Crushed Moon-Rock Potatoes)
Stewed Shrimp – (with Lemon Grass, Lobster Cream, and Coconut-Lime Foam)
Tip Yip Chicken – (Menkooro Bourbon-glazed with Red peppers and Sesame Seeds)
Green Herbed Fluffy Rice – (with Puffed Rice Crisp)
Surabat Spiced Flora – (Vegetables with Harissa Spice)
Course 3 – Dessert
Jogan Fruit and Caramel Whip – (with Yuzu, Passionfruit, and Cardellia Jelly)
Dinner Day 2
Course 1 – Bread Service
Mustafarian Spreads and Breads – (Assorted Breads with Pima-Cheese, Dried Redfruit Spread, Apricot Relish, Roasted Chando Dip)
Course 2 – Shrimp Course
Iced Felucian Shrimp Cocktail – (with Redball Jungle Cocktail Sauce, Pickled Mushrooms, and Ocean Weed)
Course 3 – Entrées
Braised Bantha Beef Short Rib – (with Rich Fig Fruit Demi-glace, Tuber-Tumeric Purée, Nightshade Flora)
Seared Kashyyyk Whitefish – (with Greenpod Purée, Jekka Seed, Cornseed Relish, Yellowfruit Buttercream
Tip Yip Chicken – (with Herbed Porridge, Roasted Flora, Red Onion Vinaigrette) *Available upon request
Course 4 – Dessert
Chandrilan Air Cake – (Chocolate, Cream of Jogan Fruit, Terateak Fruit Jelly)
Younglings' Menu (Both Evenings)
Appetizers
Flora Greens Salad – (with Baby Mozzarella, Tomatoes, Carrots, and Ranch Dressing)
Flora Rice Paper Rolls – (Vegetable Summer Rolls with Sweet-and-Sour Sauce)
Fruit Cup
Entrées
Grilled Tip Yip Chicken Swords – (with Sweet-and-Sour Sauce)
Chedd-Cheesy Beef Spiral Dumplings
Fried Tip Yip Chicken Chunks
Cheese Pizza
Sides
Steamed Green Beans
Buttered Noodles
Steamed Carrot Spirals
Fruit Cup
Crispy Sliced Waffle Fries
Desserts
Jogan Fruit and Caramel Whip – (with Yuzu, Passionfruit, and Cardellia Jelly)
Fruit Salad – (with Baked Masa-Flatbread Cone and Vanilla Yogurt)
Warm Cookies and White Milk
Drink Menu
Specialty Cocktails
Silver Sea Martini (Gin, Lemon, Mint, Ginger, Passion Fruit) – $15.00
Mark of the Huntress (Bourbon Whiskey, Peach-infused Blackcurrant, Orgeat (Almond), Lemon, Sparkling Bubbles) – $23.00
Nysillin and Bubbles "Gin and Tonic" (Gin, Cucumber, Lime, Thyme) – $16.00
Dagobah Vimlet "Vodka Gimlet" (Vodka, Herbaceous Orange Liqueur, Lime, Peppercorn) – $15.00
Mandalore Sling "Manhattan" (Chilled Bourbon, Vermouth, Luxardo) – $16.00
Pod Chaser "Old Fashioned" (Bourbon, Bitters, Orange Zest) – $15.00
Specialty Non-Alcoholic Cocktails
Blue Milk Citrus Fizz (Lychee, Lime, Lemon-lime Soda, Blue Milk Sorbet) – $8.00
Muja Twist (Watermelon, Herbal Garden Blend, Mint, Sparkling Bubbles) – $8.00
Beers on Tap
Bad Motivator IPA (Sierra Nevada Brewing Co.) – $13.25
Trandoshan Ale (Dogfish Head Brewery) – $13.25
Gold Squadron Lager (Blue Point Brewing Co.) – $13.25
Gamorrean Ale (New Belgium Brewing Co.) – $13.50
Wine on Tap
Matua Sauvignon Blanc (Treasury Wine Estates, Marlborough) – Glass/Carafe: $11.00/$55.00
Toniray Chardonnay (Goldschmidt Vineyards, Sonoma) – Glass/Carafe: $13.00/$53.00
Cantonica Pinot Noir (Foley Family Wines, Sonoma County) – Glass/Carafe: $11.00/$45.00
Canto Bight Bac Sauv (Goldschmidt Vineyards, Sonoma) – Glass/Carafe: $16.00/$65.00
White Wine
Martin Codax Albariño (Gallo Family Wines, Rias Baixas) – Glass/Carafe: $10.00/$39.00
Louis Jadot Puligny-Montrachet (Maison Louis Jadot, Côte de Beaune – Glass/Carafe: $32.00/$150.00
Red Wine
Caymus Cab Sauv (Wagner Family Wines, Napa Valley) – Glass/Carafe: $34.00/$160.00
Vina Cobos "Bramare" Malbec (Paul Hobbs Selections, Mendoza – Glass/Carafe: $18.00/$75.00
Sparkling Wine
Nino Franco Rustico (Prosecco, Riva Valdobbia) – Glass/Bottle: $14.00/$49.00
Laurent-Perrier Rosé (Brut Rosé, Champagne, France) – Glass/Bottle: $30.00/$140.00
Veuve Clicquot "Yellow Label" (Brut, Champagne, France) – Glass/Bottle: $22.00/$89.00
Dessert Party
Assorted Cookies
Assorted Popcorn
Minted Fruit Cup
Cream of Jogan
Sweet Ube
Long Fruit Choco Sweet Cake
Redberry Mochi
Blackberry Ice
How It Works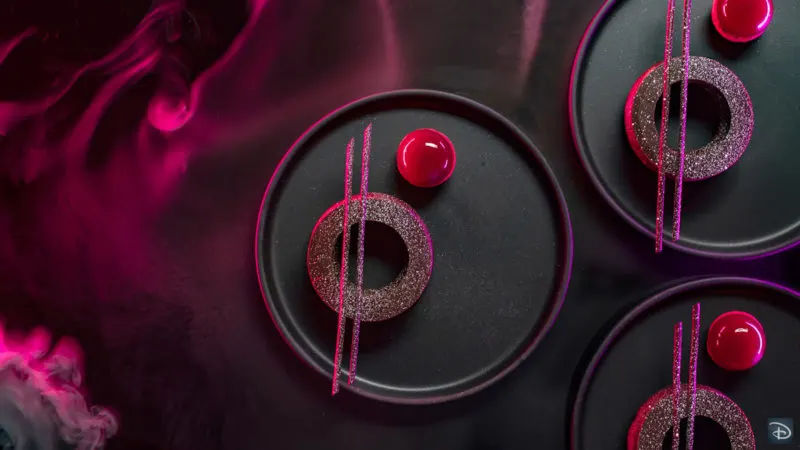 The Crown of Corellia Dining Room operates much in the way dining on a cruise ship works. During the day it serves breakfast, and lunch, while in the evening the restaurant transforms into a supper club-type event with live entertainment.
There are 2 breakfasts, 2 lunches, and 2 dinners during your stay.
The menu changes here depending on which meal you are eating. At Breakfast, you will eat from the full Breakfast Buffet.
In the afternoon there is a Lunch Buffet served here with small individual plates.
And in the evening for Dinner there is a 3-Course Prix Fixe menu that includes appetizers, your choice of entrée, and a specially plated dessert. This is one of the highlights of the entire Star Wars: Galactic Starcruiser experience.
Prices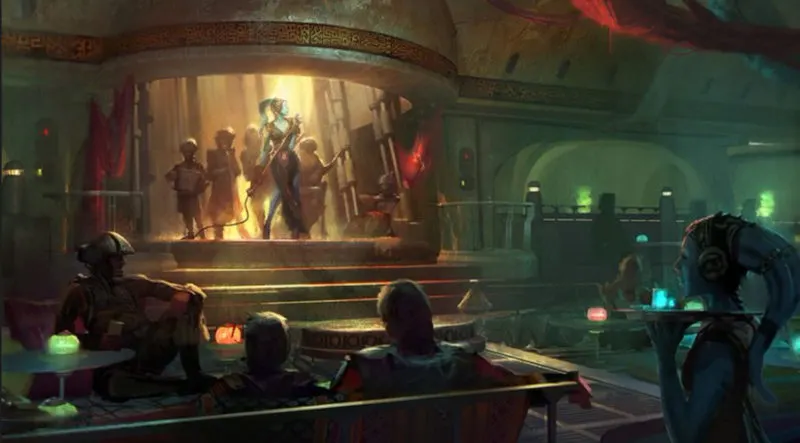 A normal meal in the Crown of Corellia Dining Room does not cost anything. The price of the meal is included in your Star Wars: Galactic Starcruiser vacation package which means you won't have to pay anything extra for the base dinner package.
There are a few extras however that you will have to pay for if you choose to order them. Alcoholic beverages are not included in the package, so you will have to pay extra for those. Cocktails range from $15.00 – $25.00 each.
Also, if you choose to book the Captain's Table dining experience, that is also an additional charge per guest.
Dining Plan
Since the price of your meal is already covered in your vacation package, there is no need for the Disney Dining Plan at the Crown of Corellia Dining Room.
We are happy the Disney Dining Plan is coming back, but you won't need it on the Galactic Starcruiser.
Location/Directions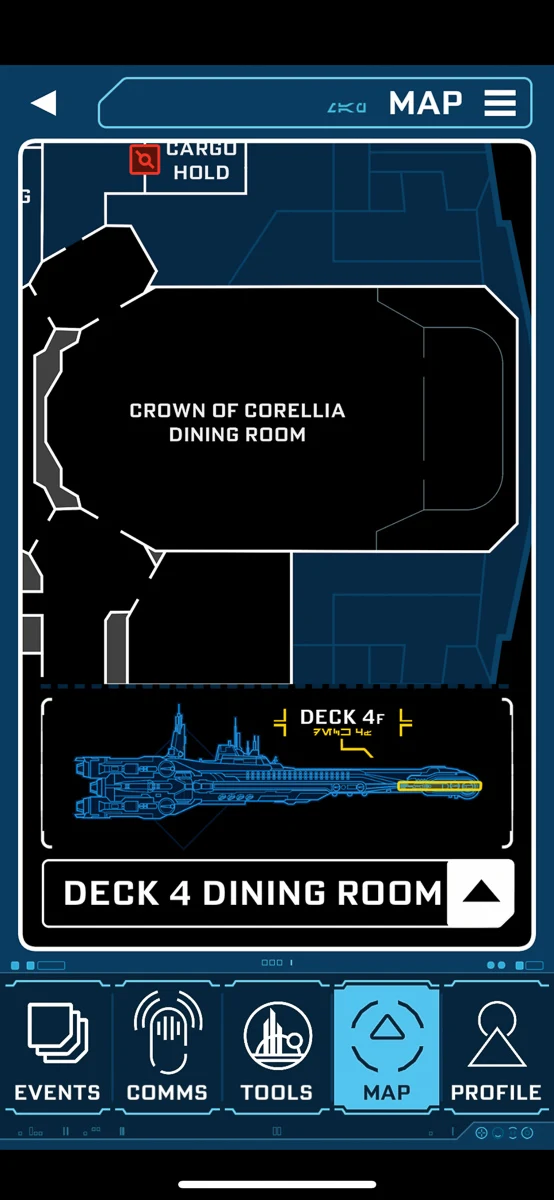 The Crown of Corellia Dining Room is located in the Star Wars: Galactic Starcruiser hotel, near Disney's Hollywood Studios park. It is located on Deck 4 of the starcruiser near the Lightsaber Training Pod and Engineering Room.
Getting to the restaurant depends on which deck you are coming from. If you are already on Deck 4, it's easy to find and located right in the middle of the main space. If you are coming from Deck 5, 6, or 7, you will have to take the turbolift down to Deck 4 and you will see it immediately.
Hours of Operation
Since the Crown of Corellia Dining Room serves 3 meals (Breakfast, Lunch, and Dinner), it is open for essentially the entire day. It's the only restaurant on board, so it only makes sense that everything happens right here.
Crown of Corellia Dining Room Hours:
Breakfast Buffet: 7:00 am – 11:00 am
Lunch Buffet: 11:00 am – 4:00 pm
Dinner Service 1: 6:00 pm – 7:30 pm
Dinner Service 2: 8:00 pm – 9:30 pm
Must-Try Food & Drinks at Crown of Corellia Dining Room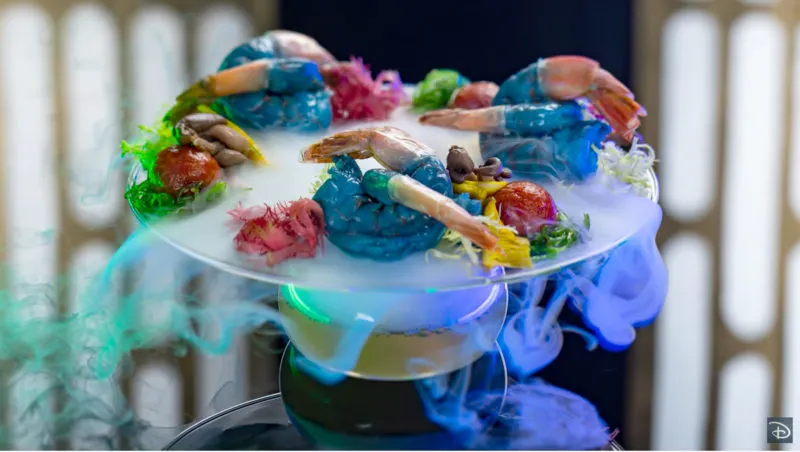 There are so many things to try on the menu at Crown of Corellia Dining Room, but here are a few of our favs for dinner.
Dumplings – All three of these are must-try and similar to the pods at Satu'li Canteen. Don't forget to try the cheeseburger ones on the Kid's Menu too.
Felucian Shrimp – Despite being blue and really weird-looking, they are actually quite delicious. Probably the best presentation of all the dishes served.
Stewed Shrimp – A nice portion of tender shrimp served in a creamy sauce.
Whitefish – This fish was thick and flakey, and cooked perfectly. You will love the white butter sauce to pour on top!
Chandrilan Air Cake – Awesome presentation as the cake comes in the form of the Chandrila Star Line logo. It's a noise chocolate cake with a fruity jelly and a chocolate ring on top, plus that funky ball of fruit jelly/cream on the side.
Reservations
Are Reservations Required?
Advanced Dining Reservations are not required at the Crown of Corellia Dining Room. You are assigned a time slot for dinner when you book your Galactic Starcruiser vacation package. You don't need to wake up early and call the central Disney Dining reservations number or book anything online.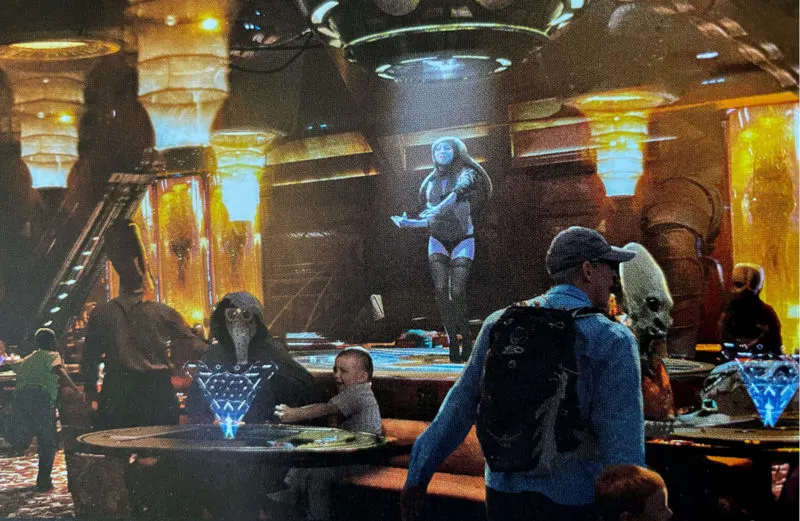 The only thing you need special reservations for is the Captain's Table experience, and that is based on limited availability.
Review
We're happy that we finally had a chance to try the Crown of Corellia Dining Room now that it's open, and we ate there for all 6 meals during our voyage on the halcyon Starcruiser. Now we can give you a full walkthrough of the restaurant and a full review of all the food and drinks.
Atmosphere and Theming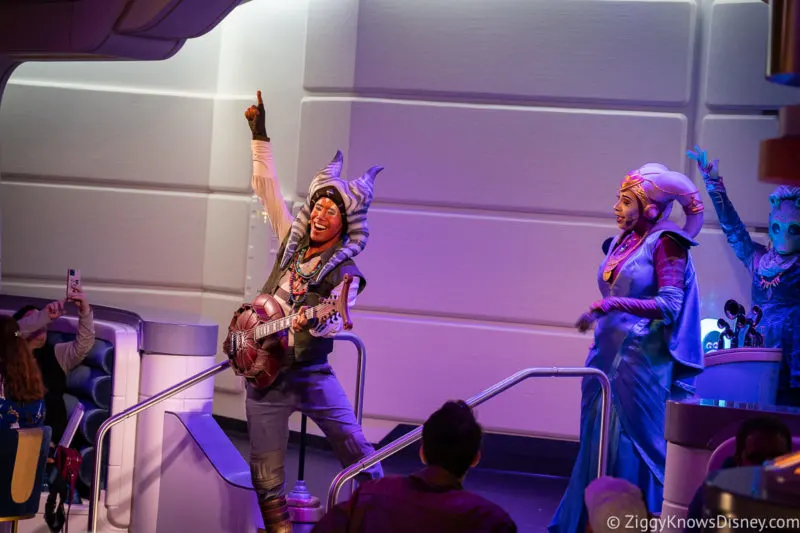 You can get amazing food at plenty of restaurants, but it's the theming and the atmosphere that Disney Imagineers created that makes the Crown of Corellia Dining Room really stand out! From the minute you step in through the door you will be amazed.
The restaurant "Crown of Corellia Dining Room" gets its name from the planet of Corellia in the Star Wars universe.
Corellia is known for its industrial shipyards and is where some of the most famous ships in the Star Wars universe come from. It's where the Millennium Falcon was constructed, as well as the Halcyon starcruiser, the one you are on for this voyage.
Let's take a look inside and see what it's like…
In the front of the room is where the stage is located. After all, at dinner, they put on a full show!
The Crown of Corellia Dining Room is located on Deck 4 of the Halcyon, and when you make your way down to that level, just follow the hallway leading to the entrance.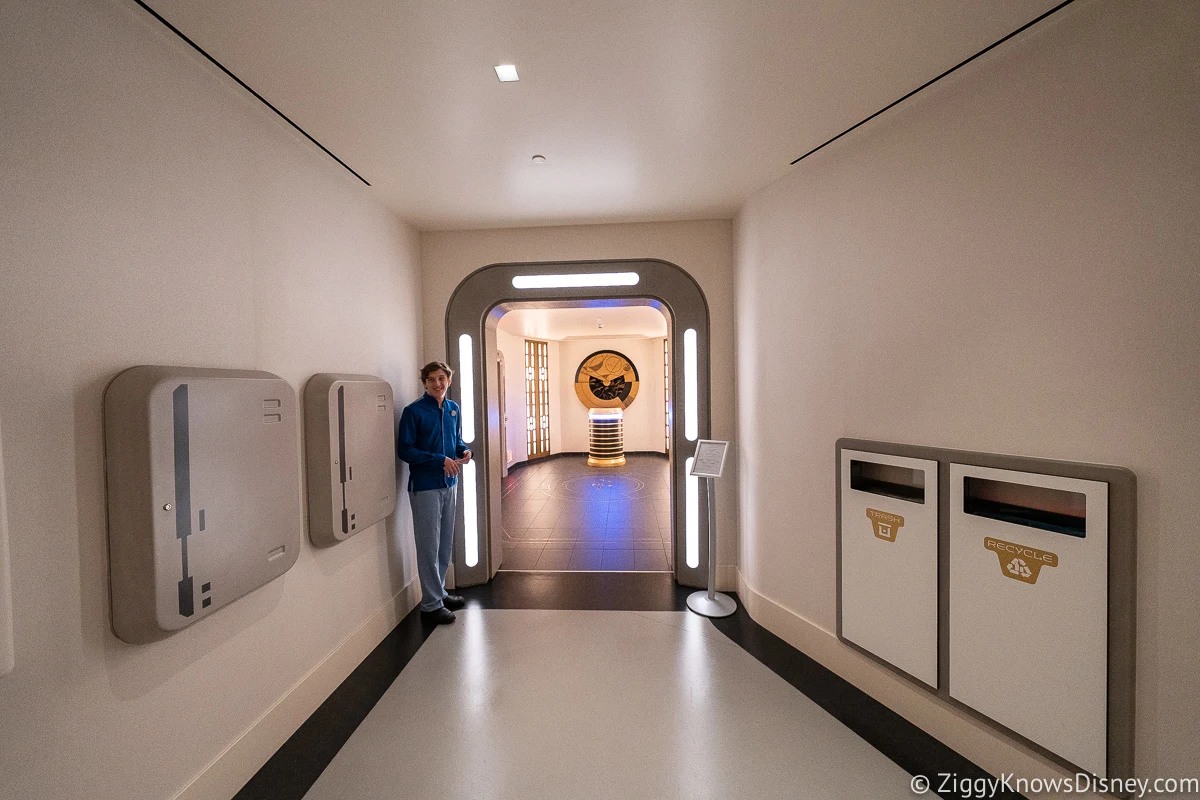 This is the entrance to the restaurant and where you will stand while waiting to be seated.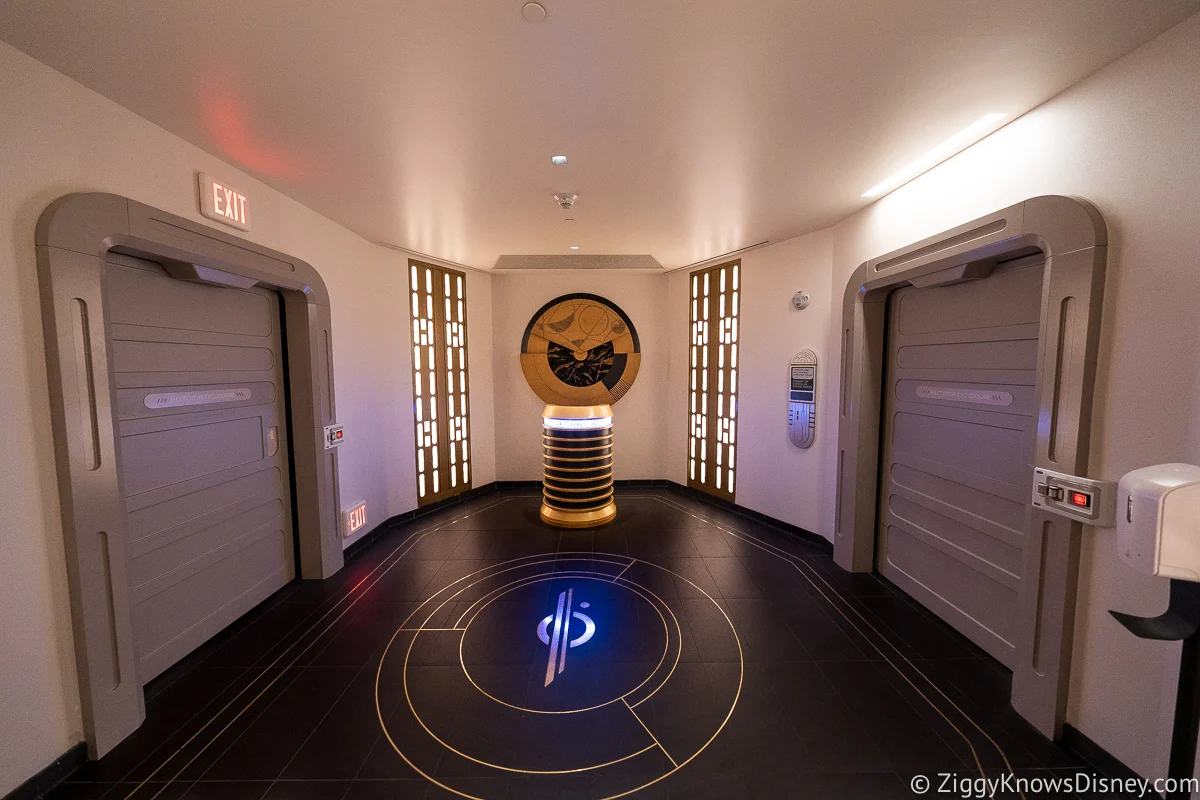 We love the floor and the big Chandrila Star Line Logo right in the middle.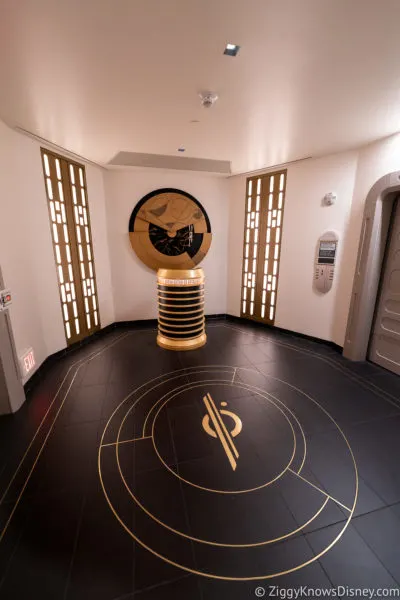 You'll also see the host's stand at the end of the room where a crew member will be waiting to check you in.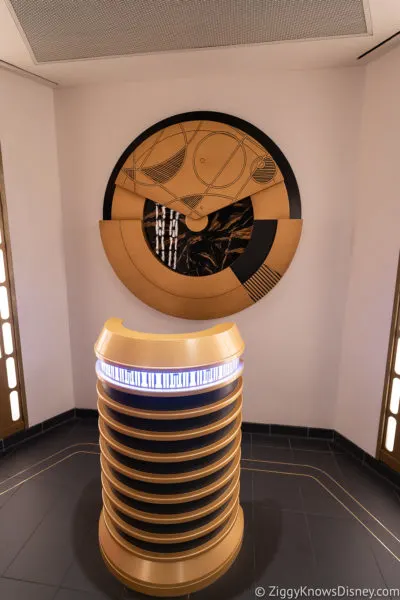 There's a big funky decoration on the wall that looks something like the lightspeed compass up in the atrium or a clock of some kind.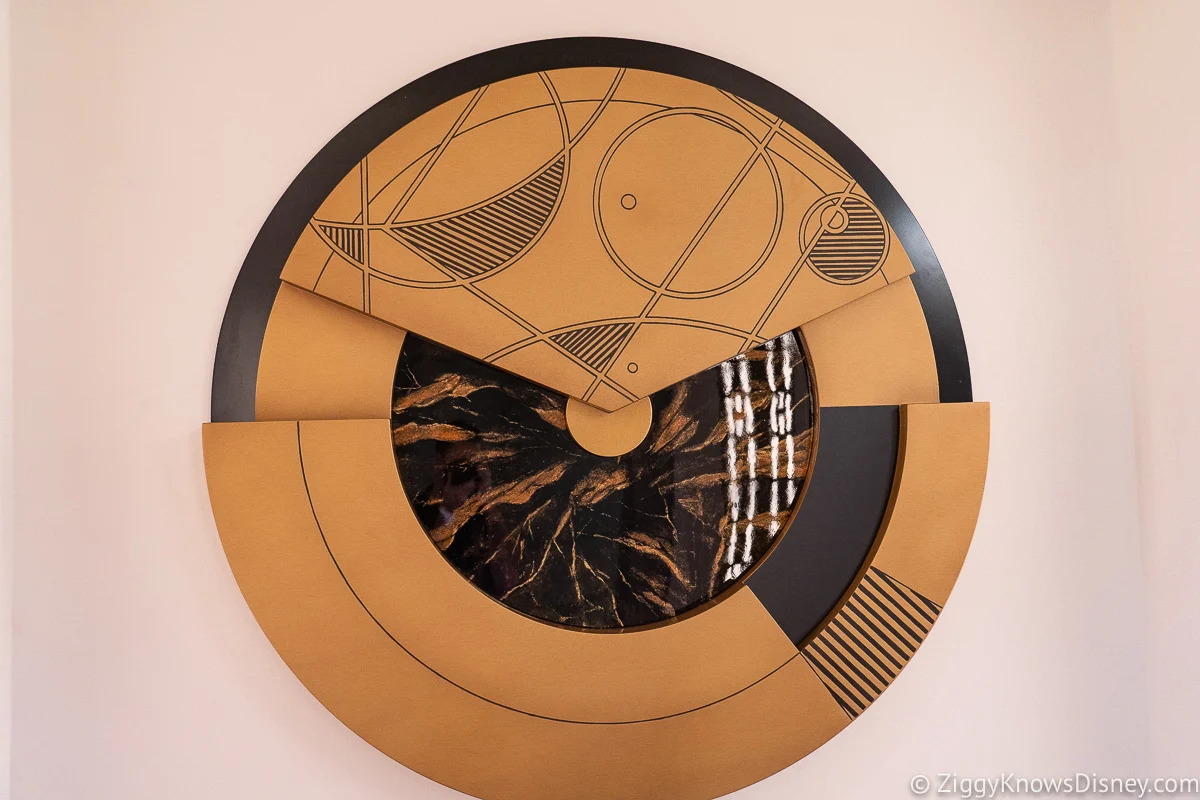 As you step through the doors you head into the dining room.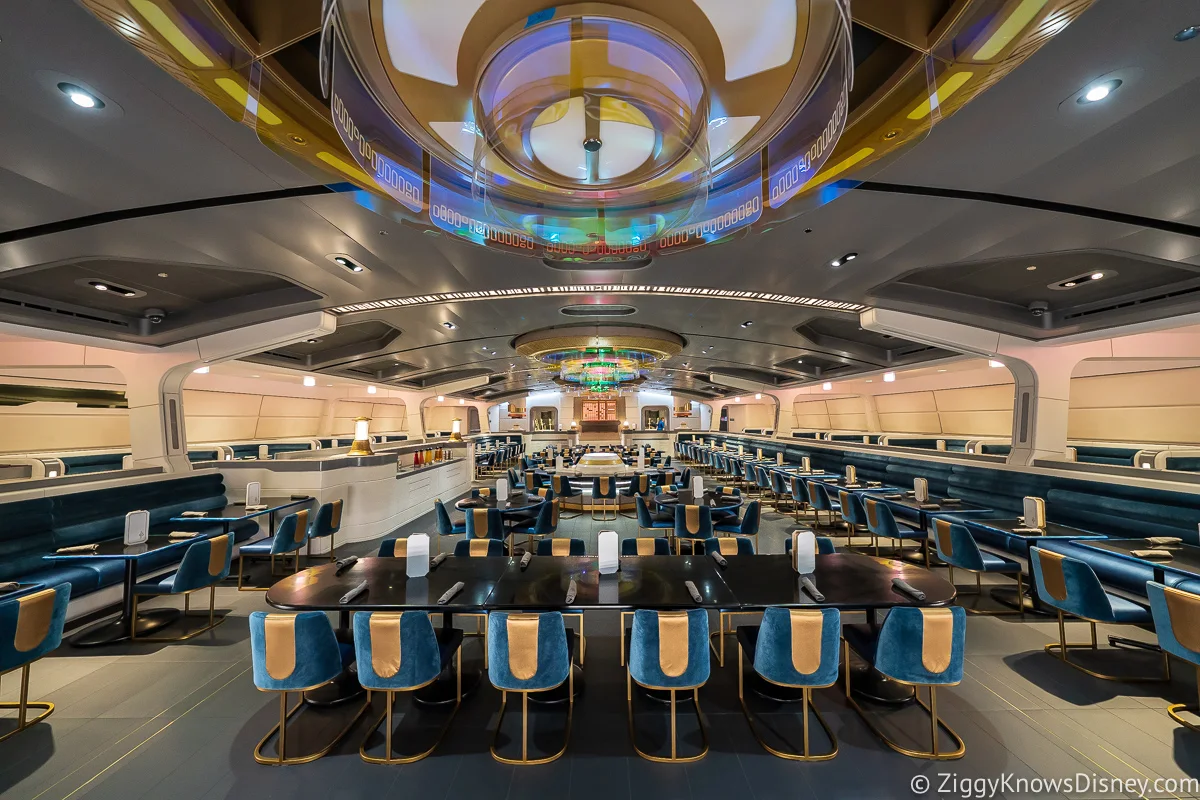 The decor is strikingly elegant and very posh. You are definitely in an upscale restaurant in the Star Wars universe.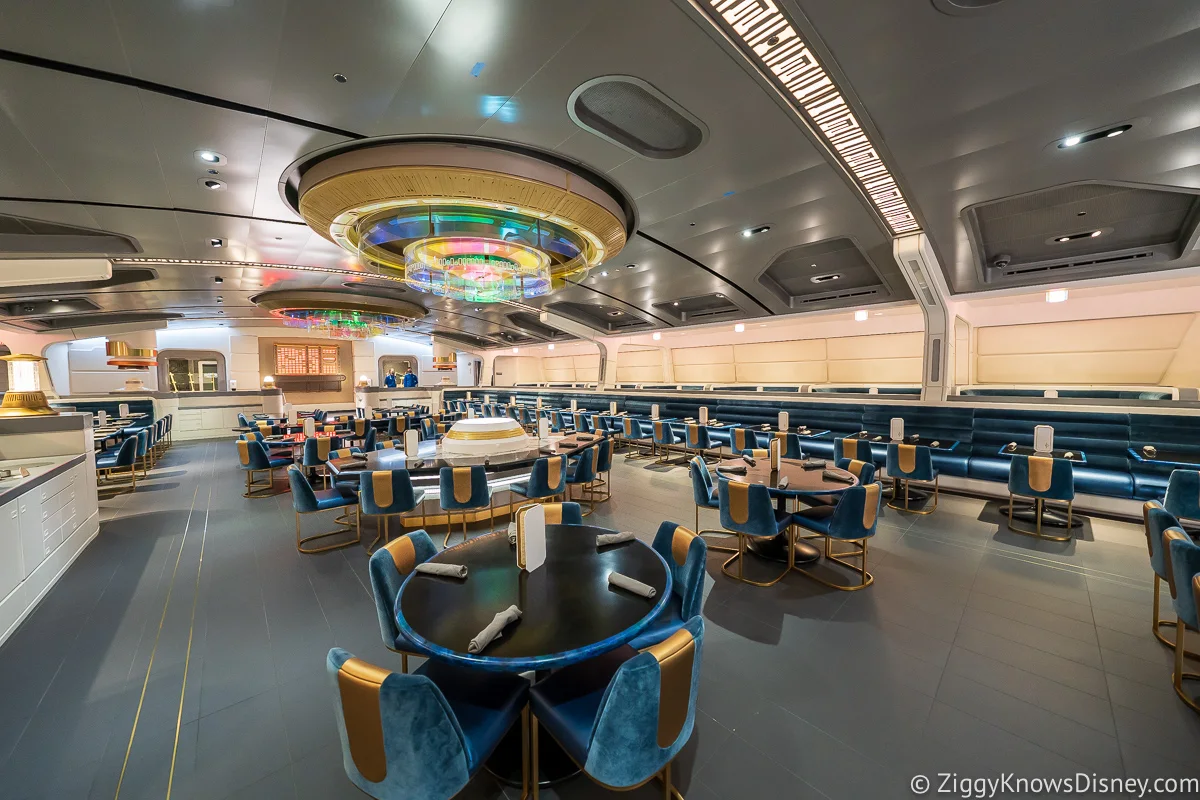 The dining room is a large open space filled with booths and tables around the perimeter and center of the room.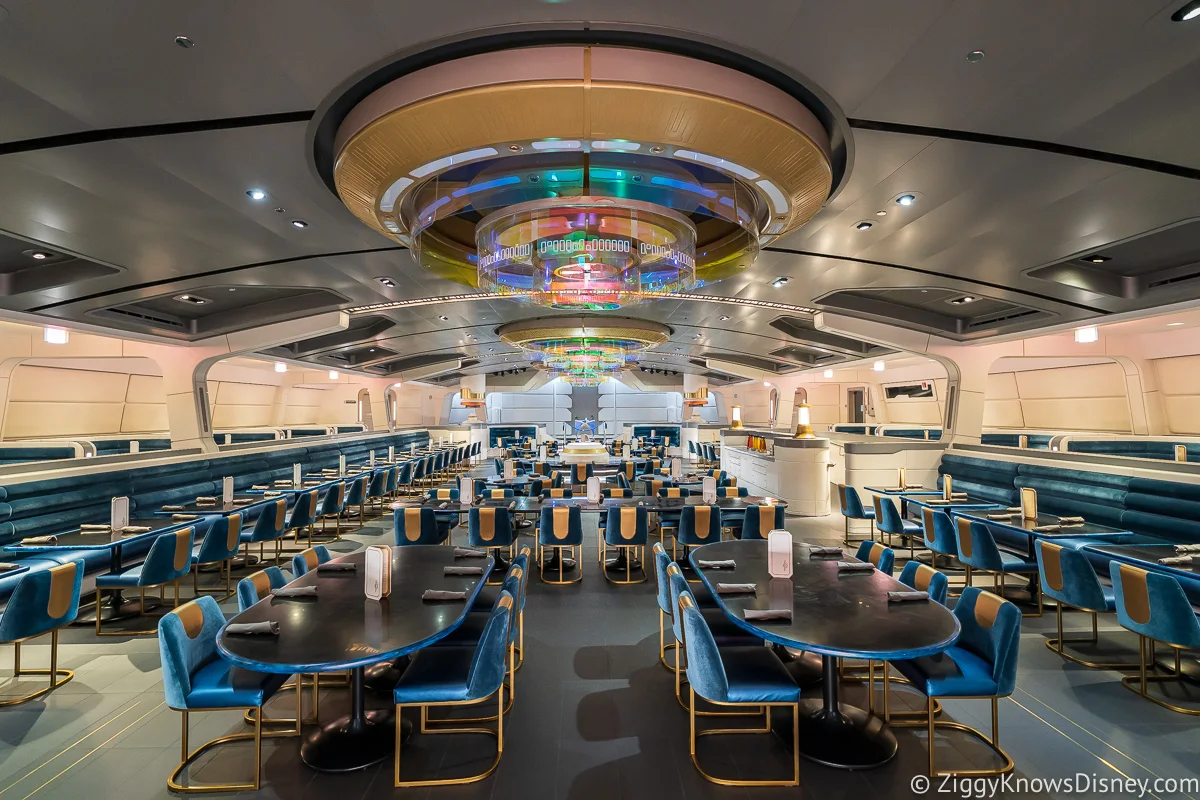 You'll notice the blue velvety chairs and extravagant chandeliers throughout the space. For better or for worse, it definitely gives off that Canto Bight vibe.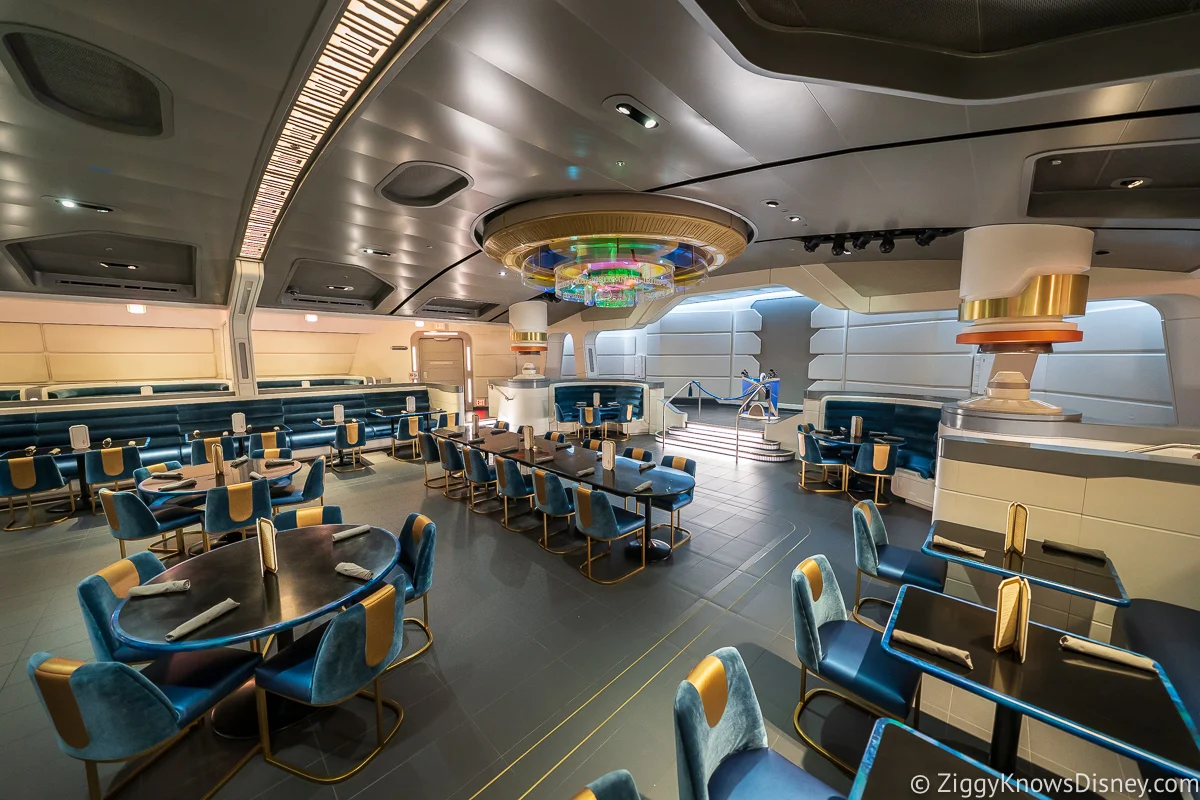 This is the one and only dining room at the Crown of Corellia so you will be seated somewhere in this room.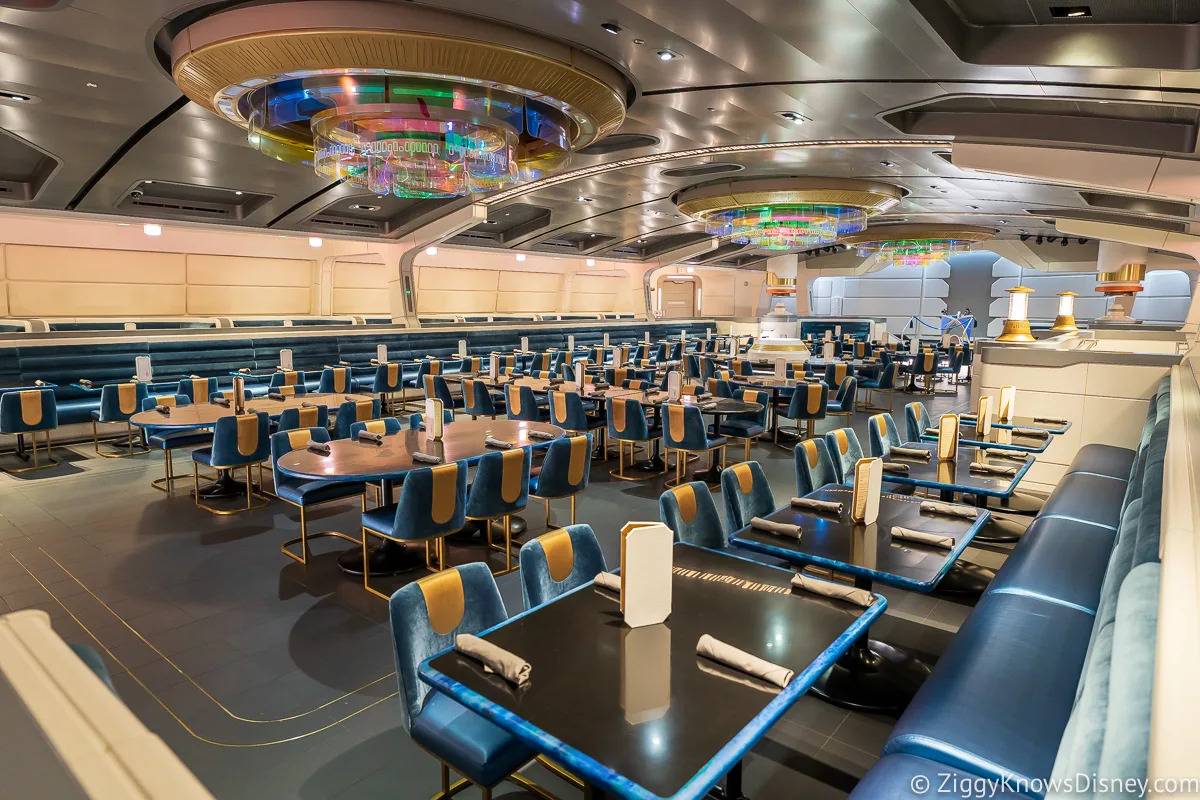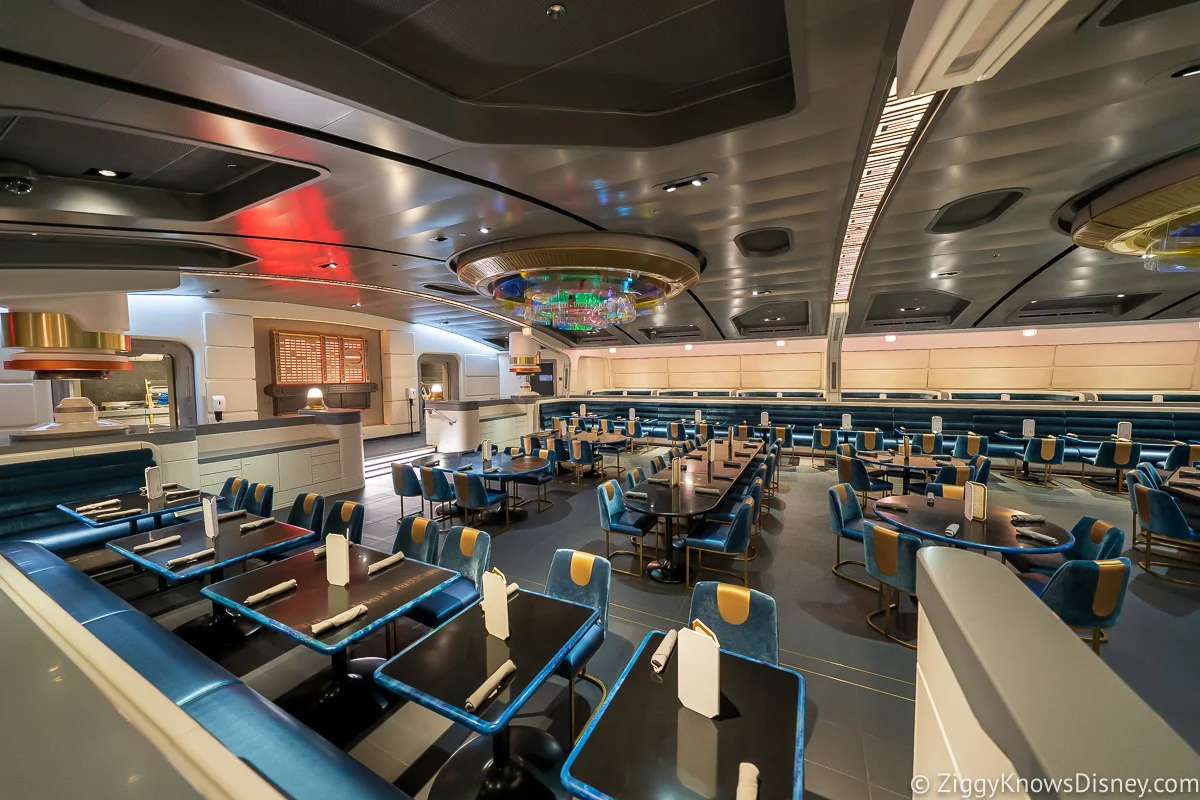 It's an open space and it feels like a room you would find on a cruise ship the way it's laid out.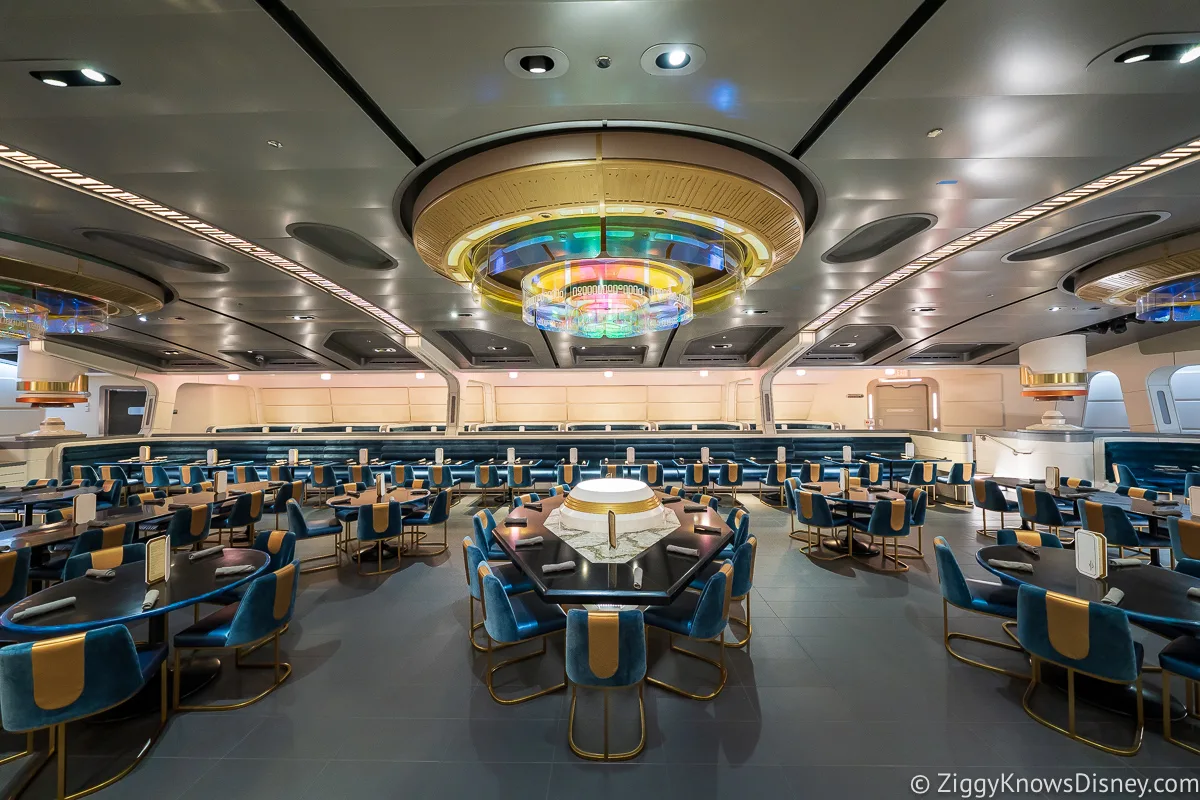 Right in the center of the room, underneath one of the giant chandeliers is the Captain's Table.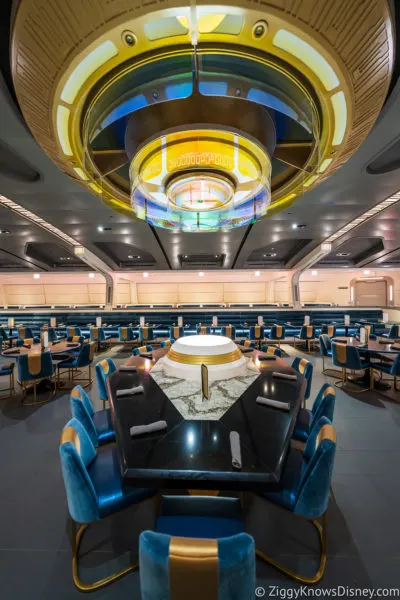 During dinner, the Captain's Table offers an upgraded dining experience over the standard meal, but it also costs extra.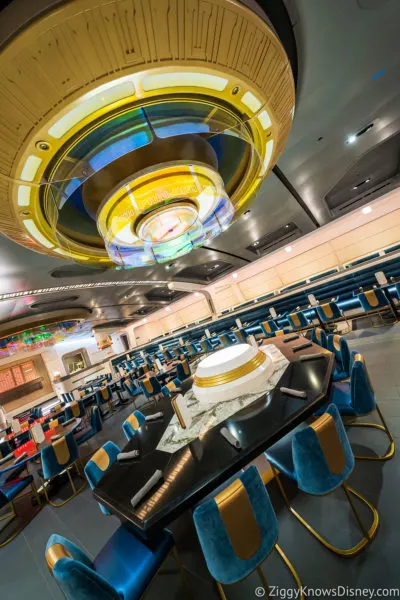 Looking around the room you can see the different table types.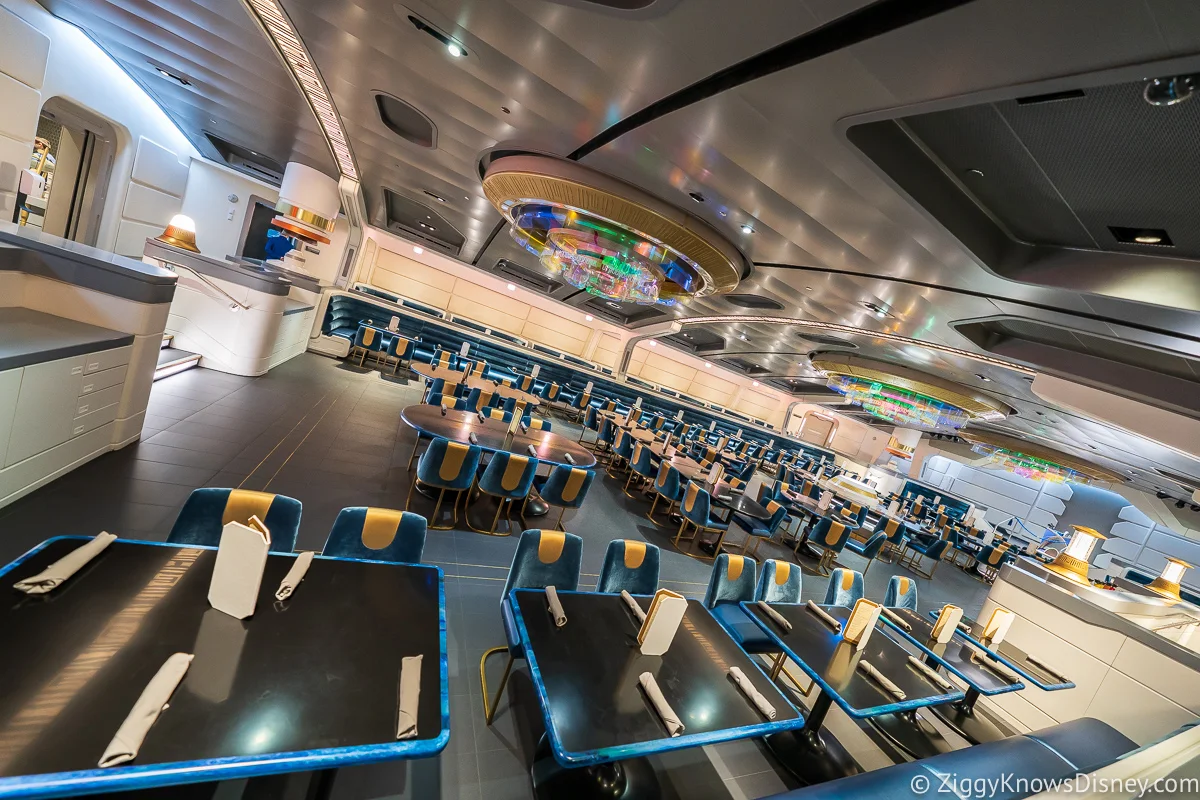 Most of the tables hold either 4 or 6 guests at a time so if you have a party of only 2 people, you can expect to sit with other guests, at least during dinner.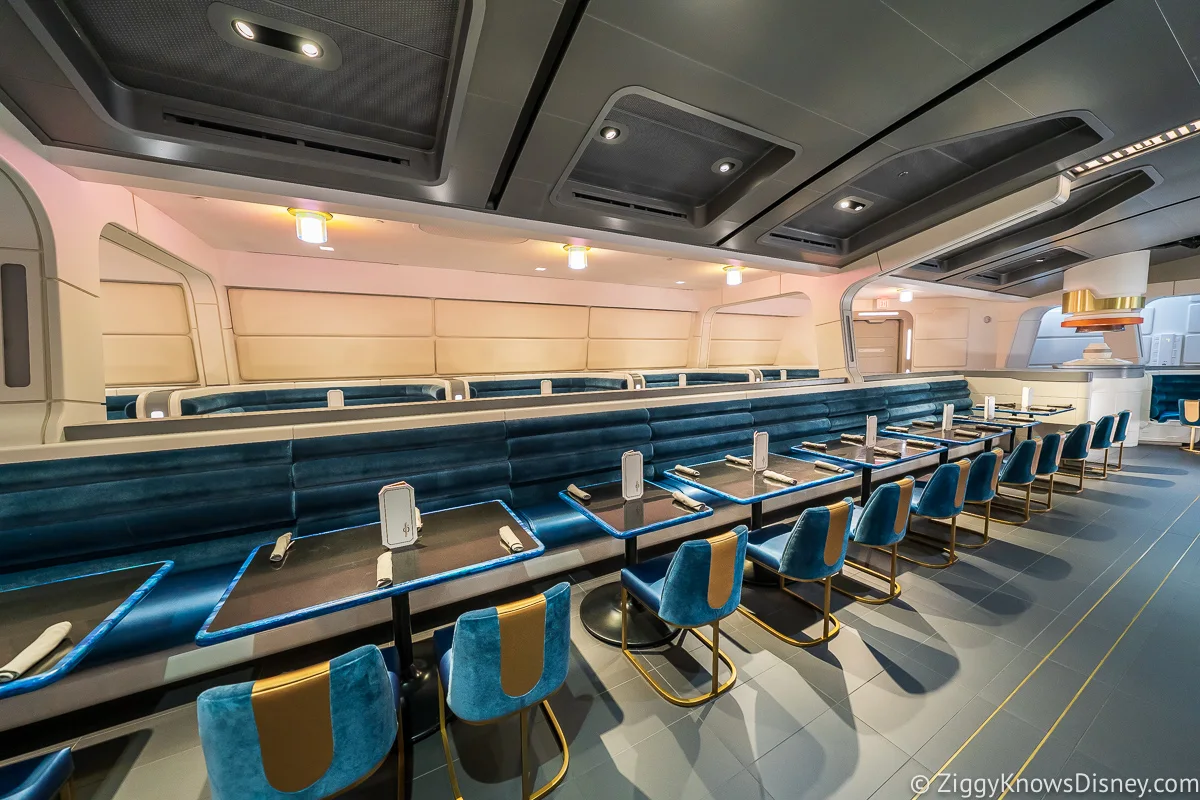 There are some more intimate tables though for only 2 guests.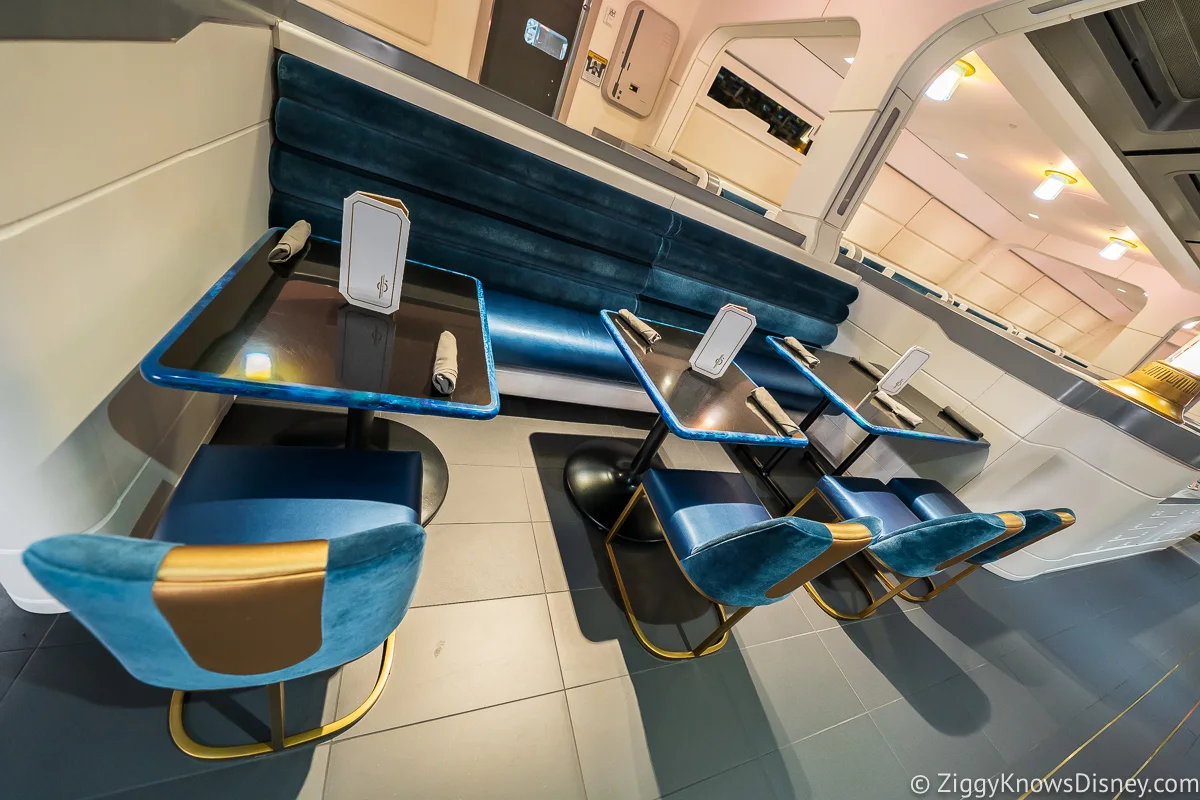 On the floor, we tend to prefer the tables near the edge and the ones that have bench seating.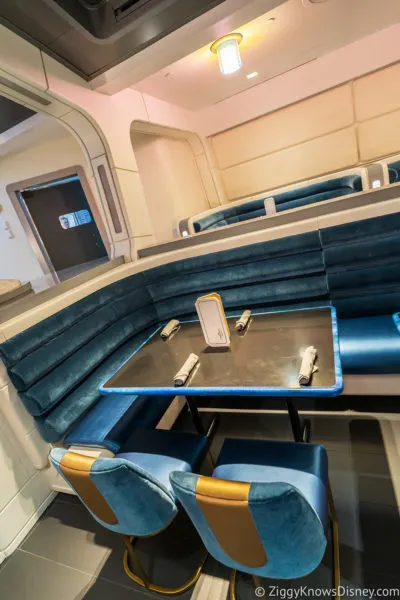 The chairs have faux leather seat bottoms and cushy velvet-like backs on them. They are blue like the accents of the restaurant decor and fit in nicely.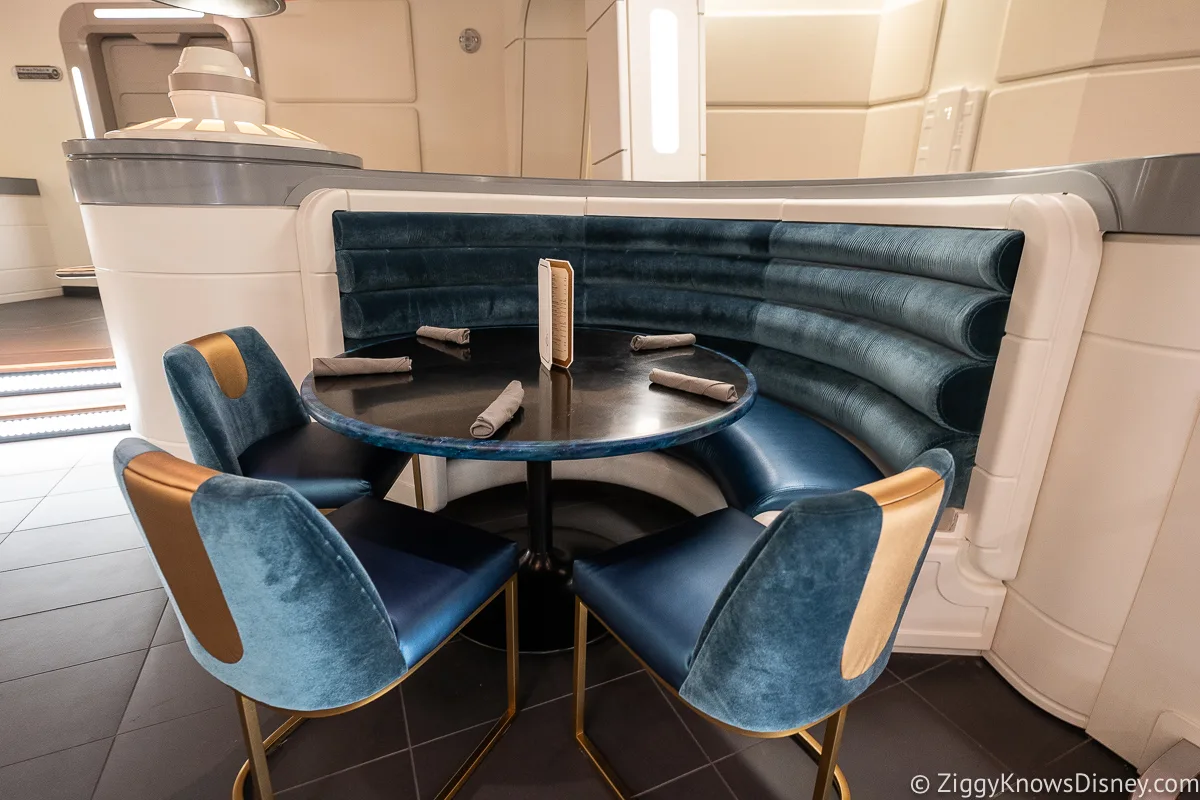 The touch of gold reminds you of the elegance of the Halcyone Starcruiser.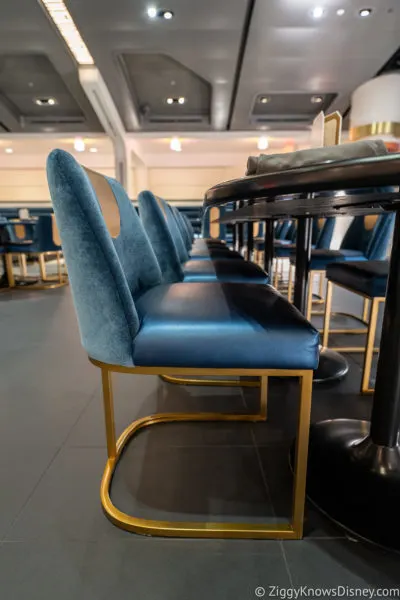 The chairs were definitely comfy and we had no problem sitting here for 1-2 hours at a time.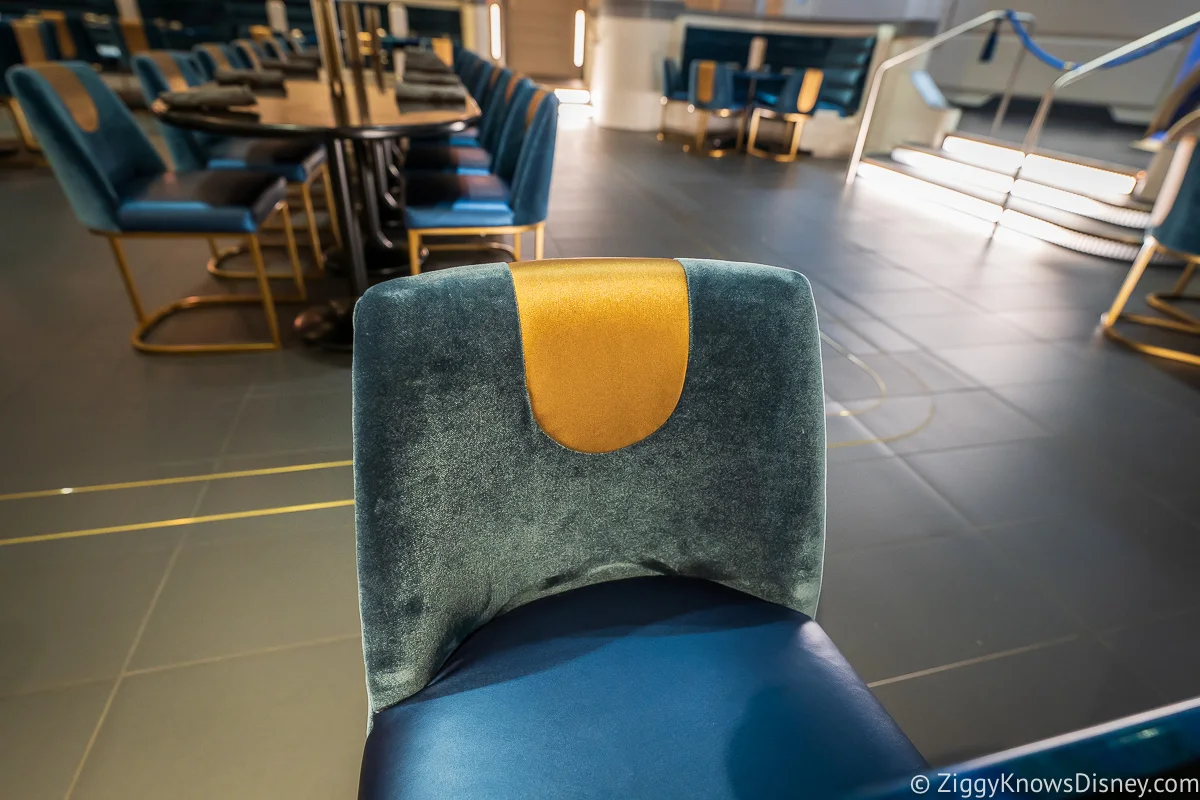 The Floor is ok, but we preferred the booths along the upper sides of the restaurant. You get a much better view of everything going on, which is important during dinner.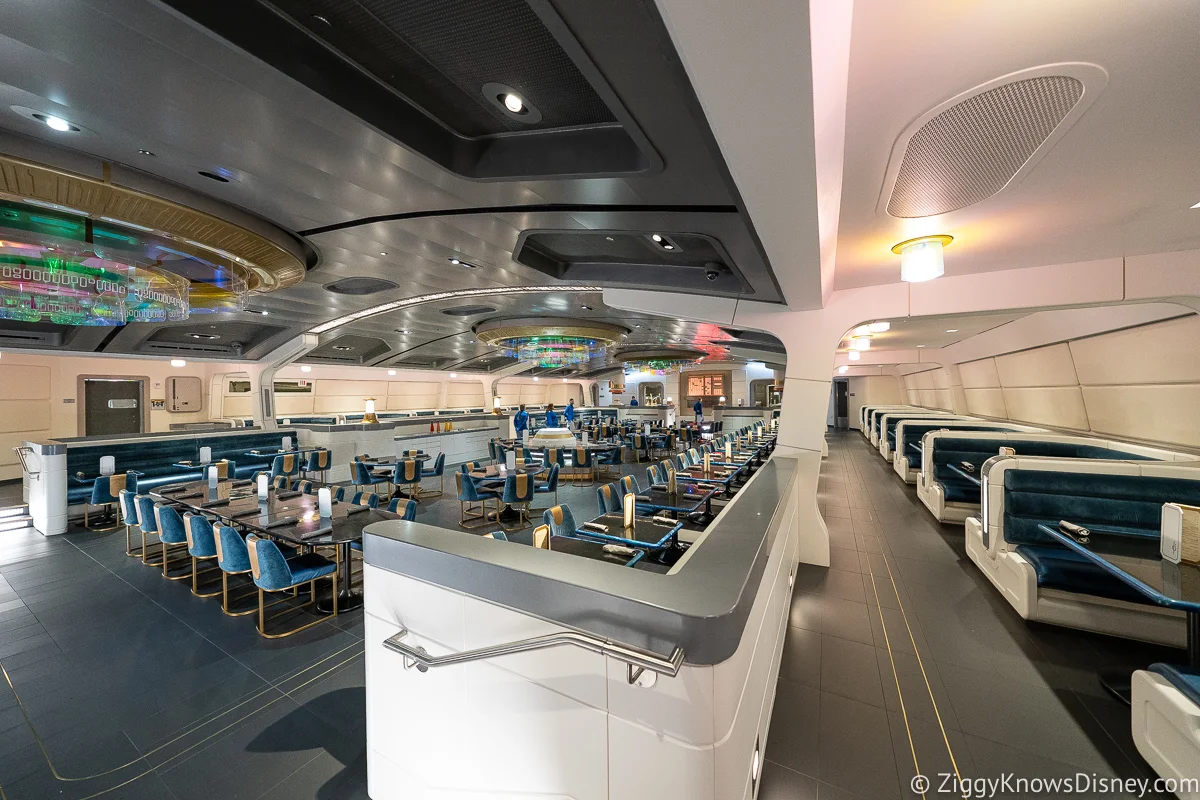 Do you see what I mean? The view is much better here. It's also convenient to stand along the rail if you want to see the performers better and get some photos.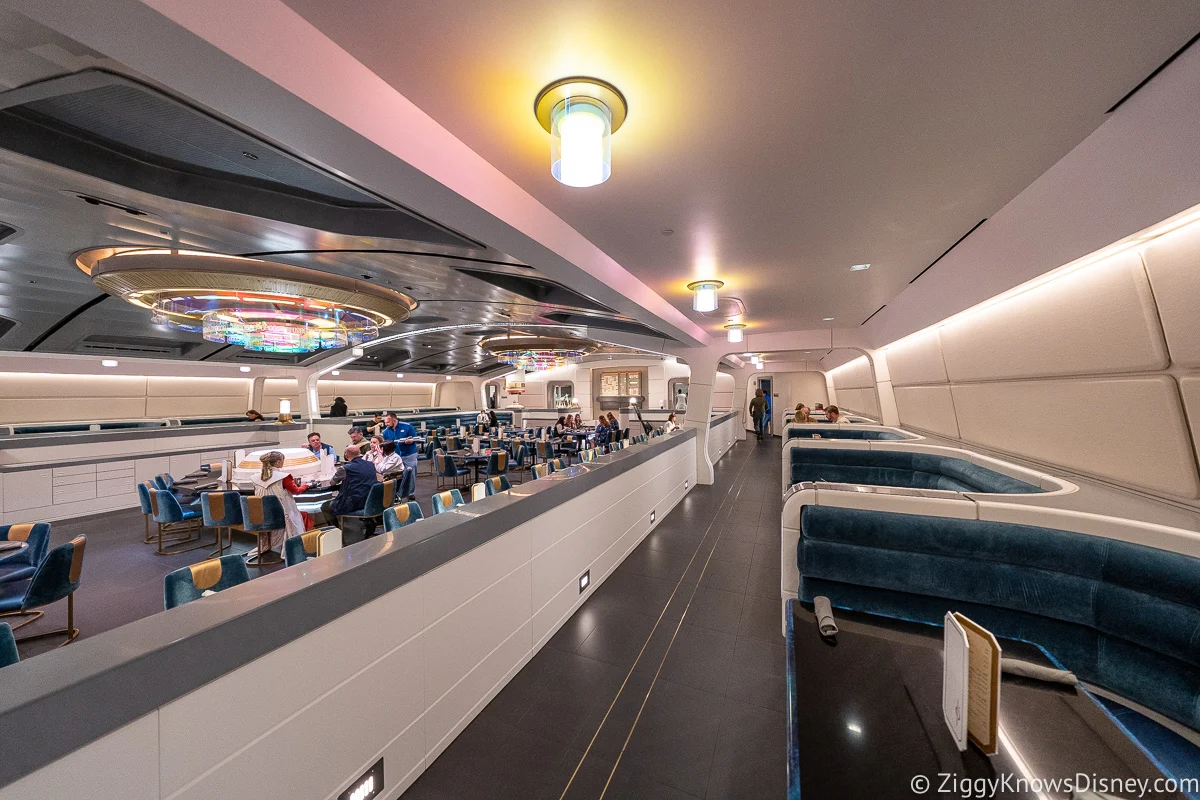 Along each of the sides, there are large booths that hold 4 guests.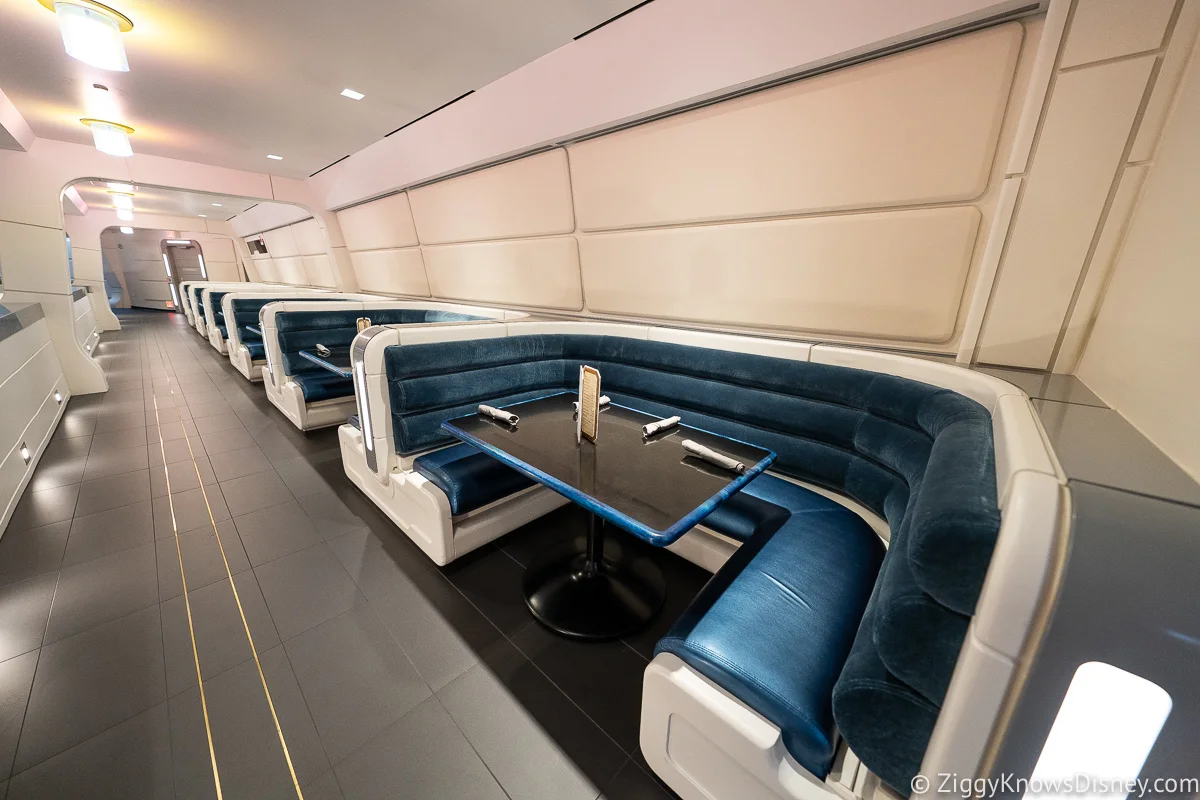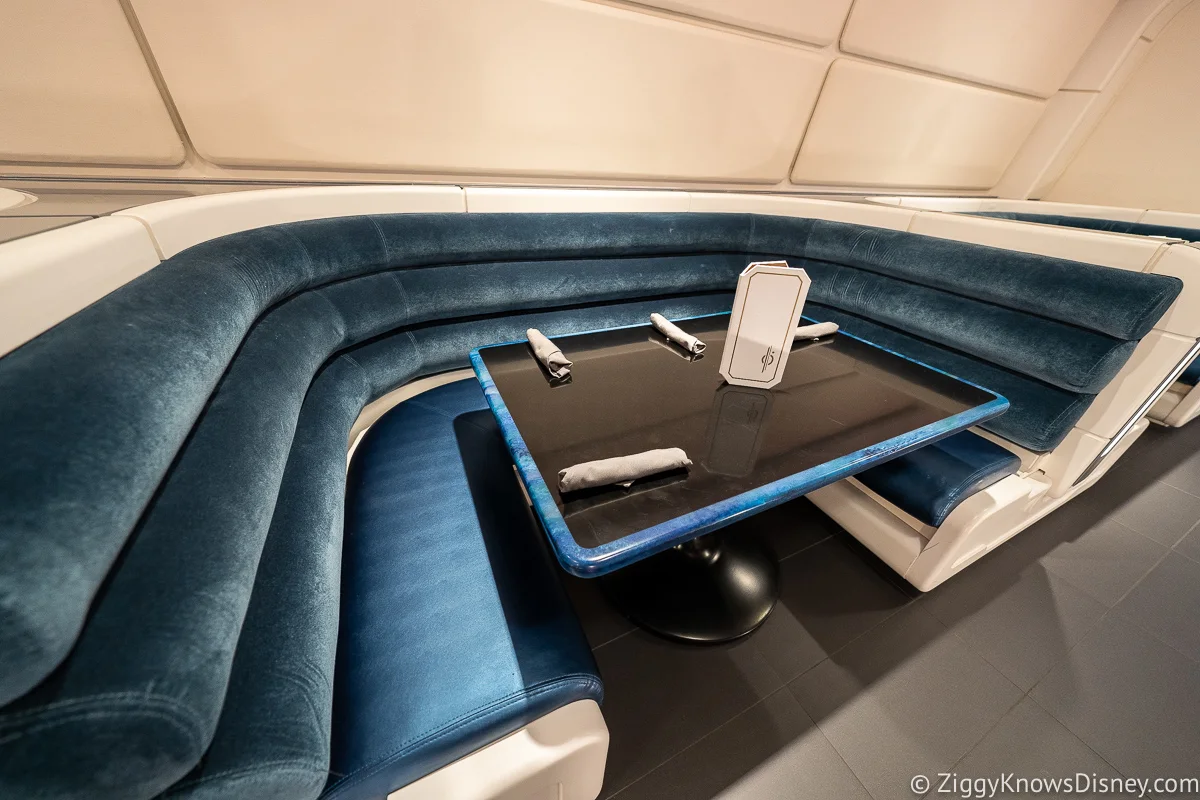 Another cool feature is the aforementioned chandeliers on the ceiling. During breakfast and lunch, the colors are softer and more muted.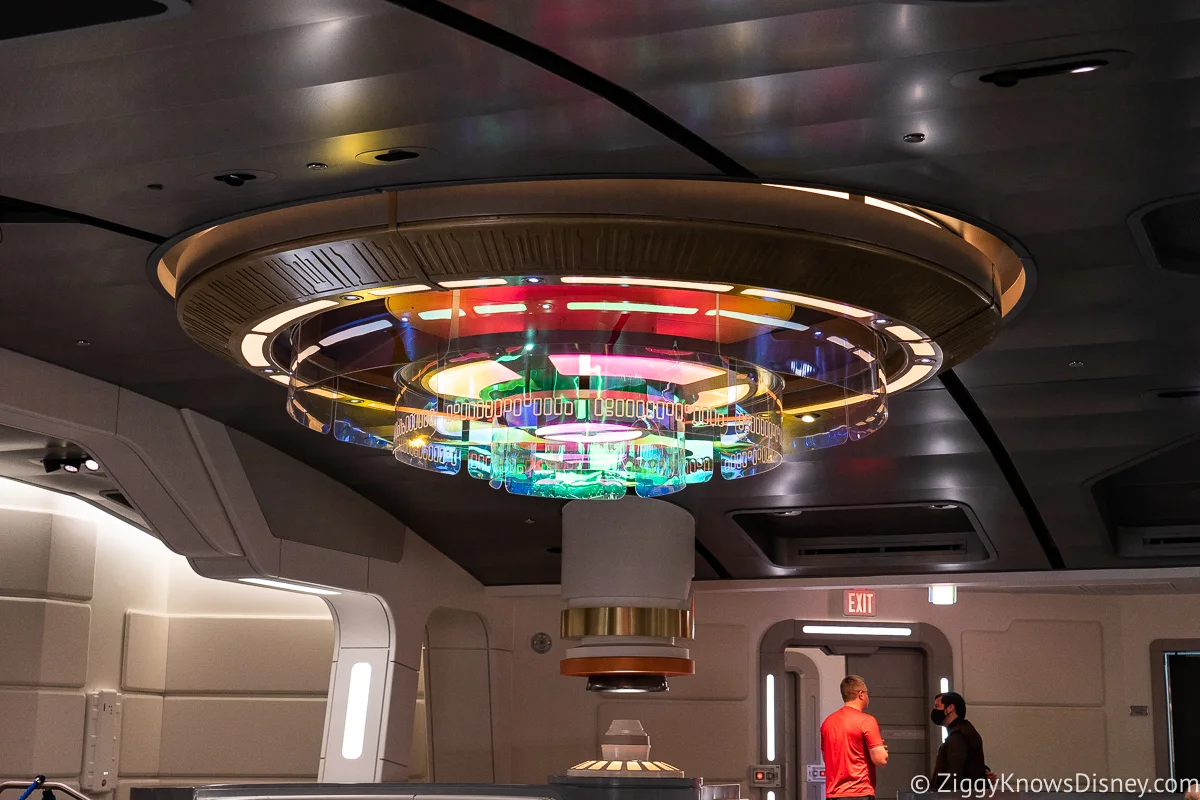 In the evening at dinner, they stand out more and make a really cool effect. They are really out-of-this-world!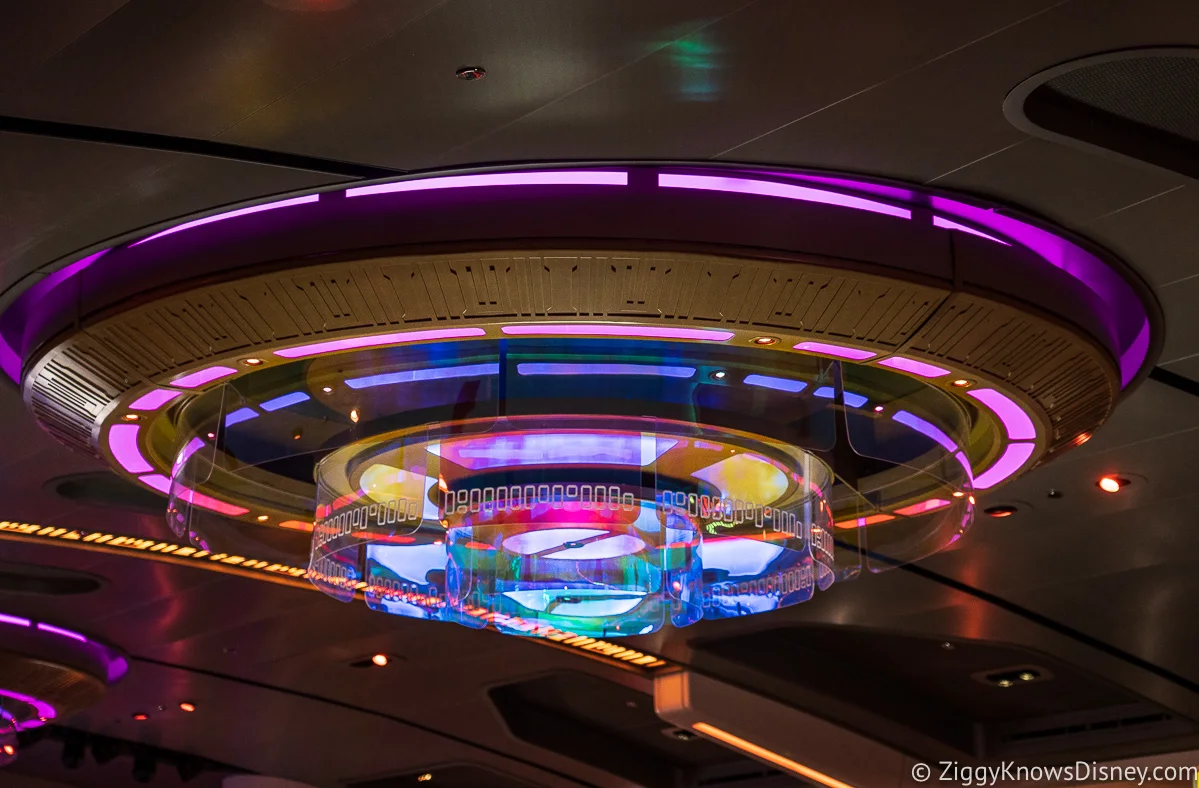 As big as the room is, there aren't that many extra theming details. At the four corners of the room, there are some weird pillars.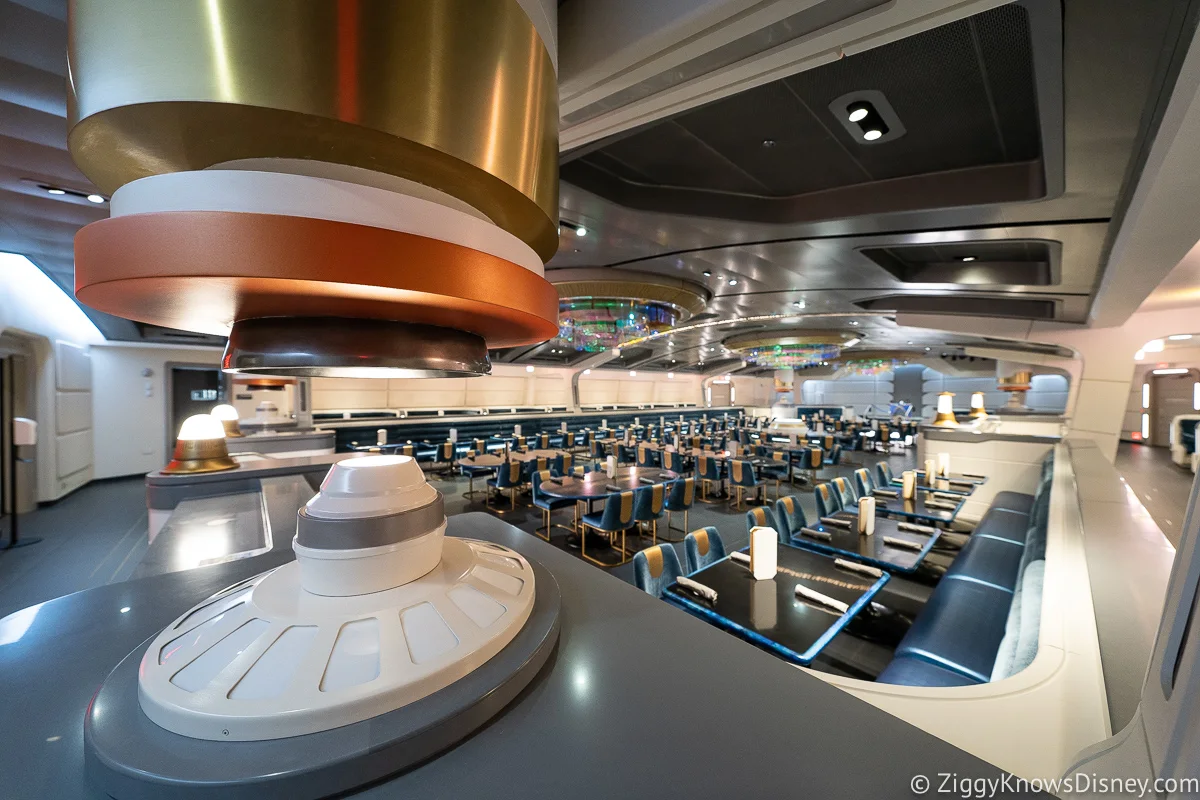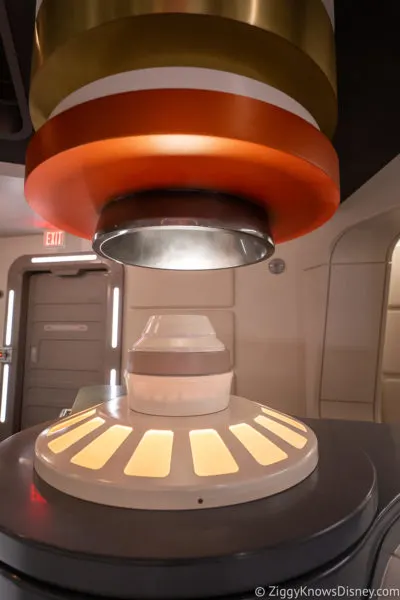 There are some panels on the wall with dozens of lights.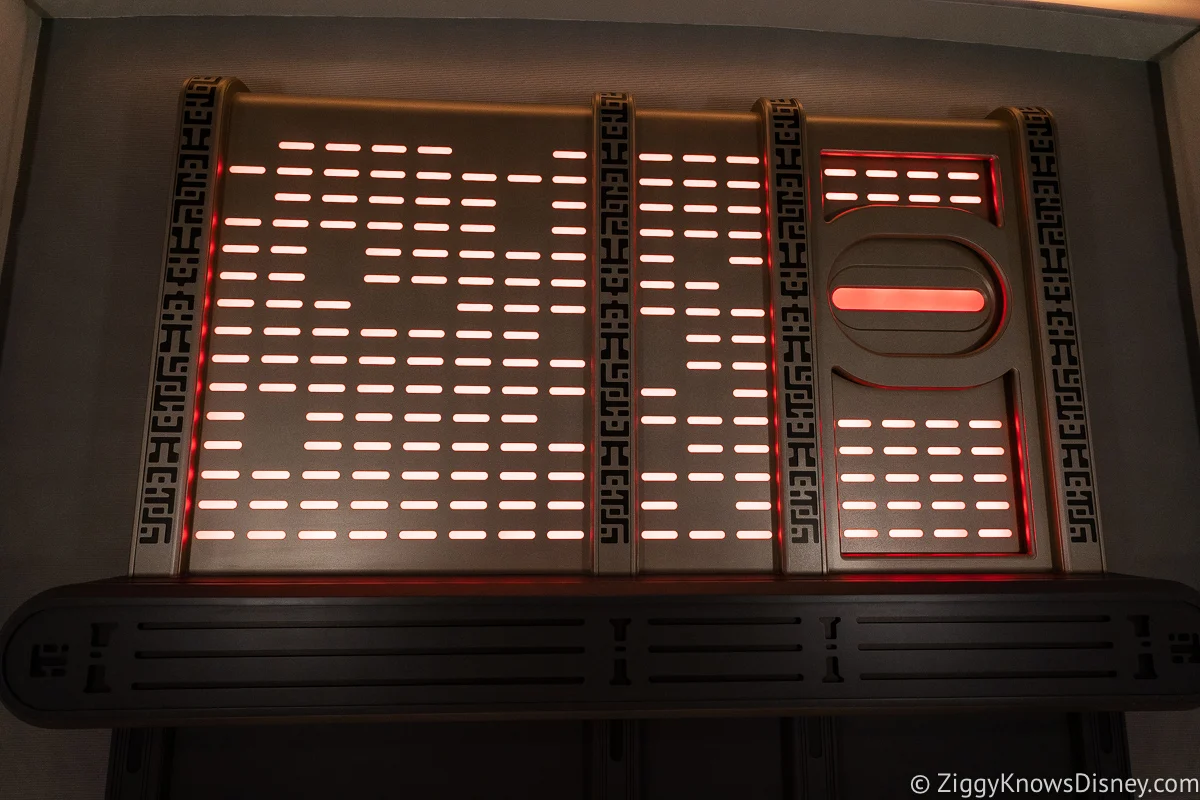 They also give off a better effect at night than during the day.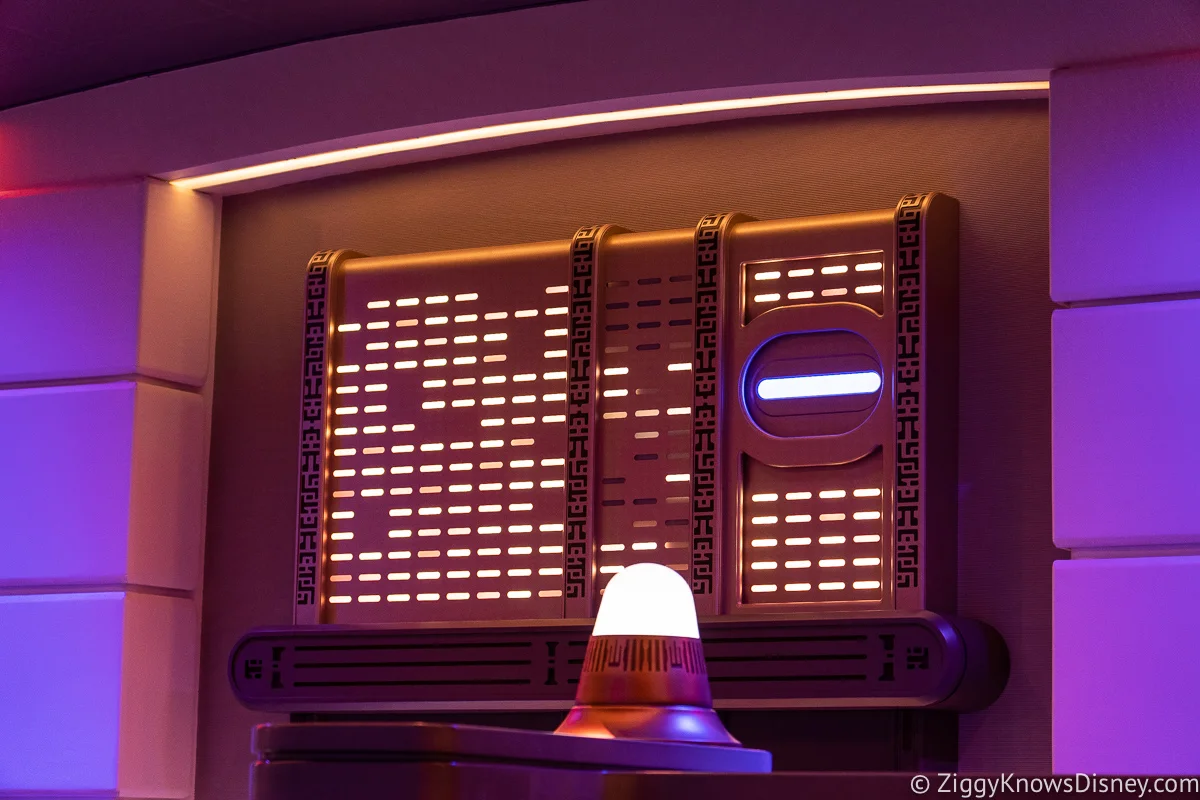 Here are the gold lights on the tables during dinner.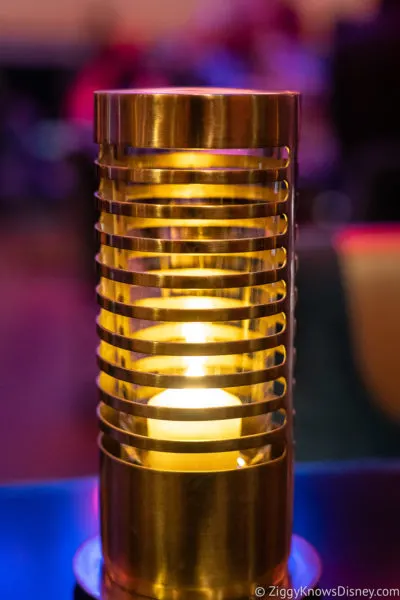 You might run into some stormtroopers in the dining room so stay alert.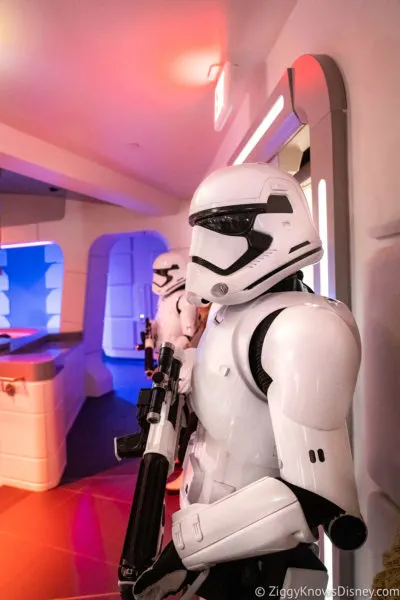 Overall we think the general atmosphere and theming at the Crown of Corellia Dining Room is pretty cool. We are big fans of all the tables and chairs and we think the large open space is well-suited for the performances later on in the voyage.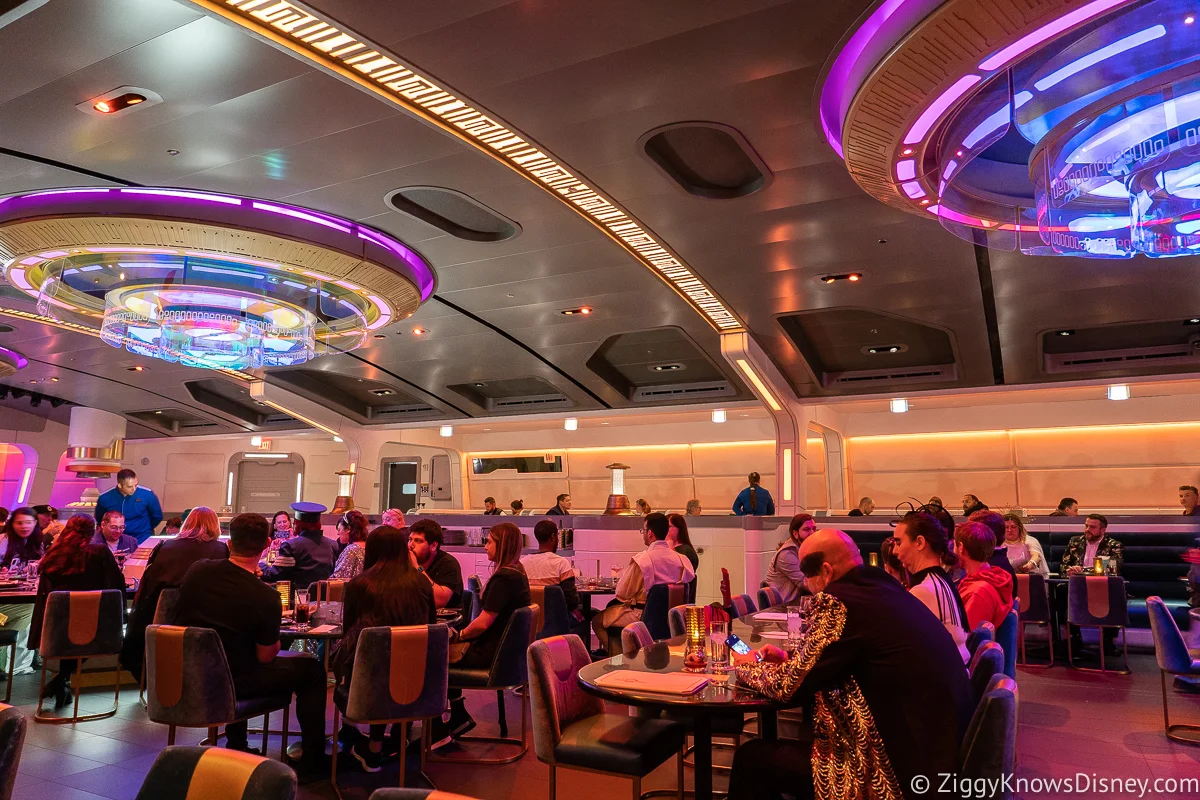 We do wish though that there were a few more "Star Wars" elements built-in. Imagineers could have come up with some more intriguing and unique features to draw guests in. The level of storytelling looked better in the concept art than the final product, but maybe they did have the designs but they ended up as part of the budget cuts.
Entertainment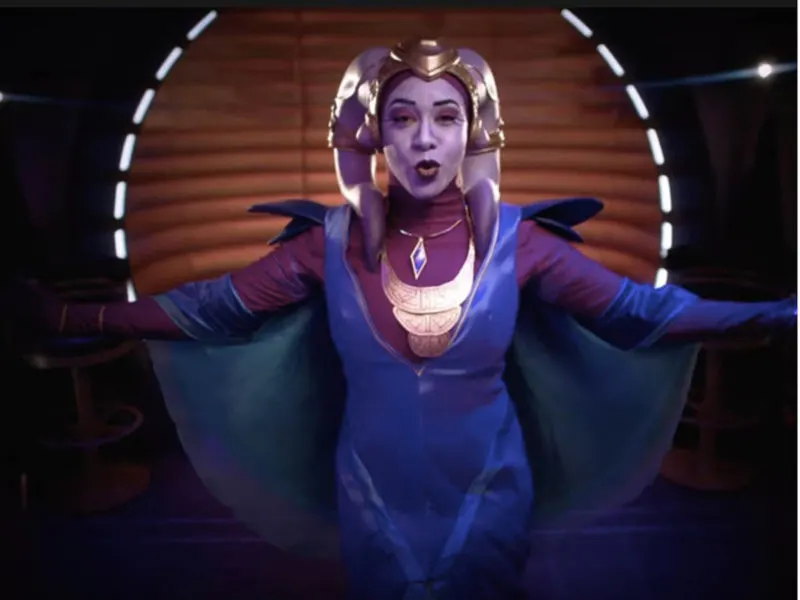 Not only is the Crown of Corellia Dining Room an elegant restaurant, but it also has live entertainment to enjoy. Each evening, guests listen to and watch musical performers from the Star Wars Universe while they enjoy their meal.
We only wish we could get a live version of the Cantina Band from "A New Hope!"
Performers
On the first evening, guests are entertained by a Twi'lek named Gaya, a galactic musical entertainer. She is truly a "galactic superstar who can captivate an entire room with the crook of one jewel-encrusted purple Twi'lek finger."
Besides Gaya, Ouannii and Sandro are also on stage accompanying Gaya on Night 1, and they also sing a few songs during the dessert party on the last night of the cruise.
Even though they don't perform musically, other characters from the Galactic Starcruiser make an appearance during the 2 evenings. Expect to see Lt. Croy, Captain Riyola Keevan, Cruise Director Lenka Mok, Sammie the Mechanic, Chewbacca, and even some Stormtroopers patrolling the restaurant.
Is there Entertainment with Every Meal?
During breakfast and lunch, there is no live entertainment, they are just normal buffet meals. Entertainment is only in the evening for dinner, and it is included in both evenings of the cruise.
Is the Entertainment the Same Every Night?
No, it's not. The entertainment is different on both evenings so there is always something new to see.
Night 1 has the performance from Gaya which was our favorite. Night 2 has a musical show, but it's during the dessert party and not during dinner.
Night 1
Toward the middle of your meal on the first evening, the entertainment, and the party get started!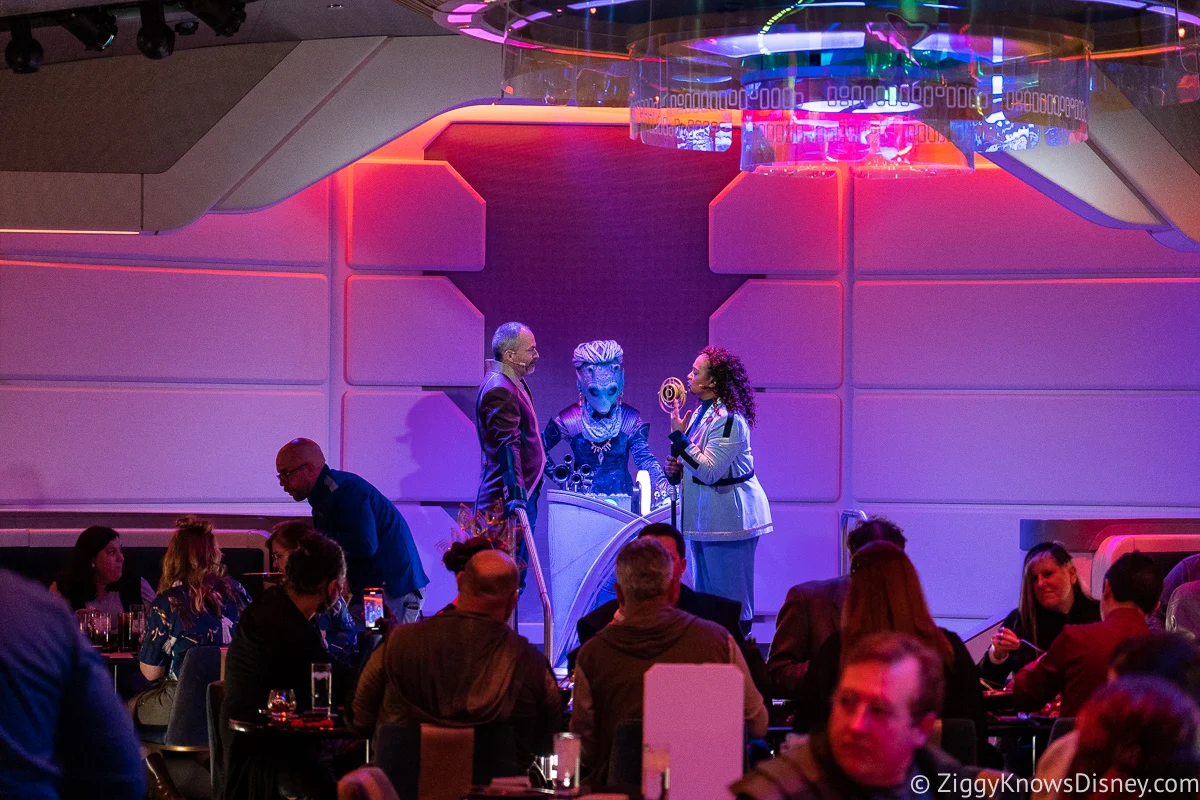 The main attraction is Gaya, the galactic superstar who has come onboard the Halcyon to help celebrate its 275th anniversary.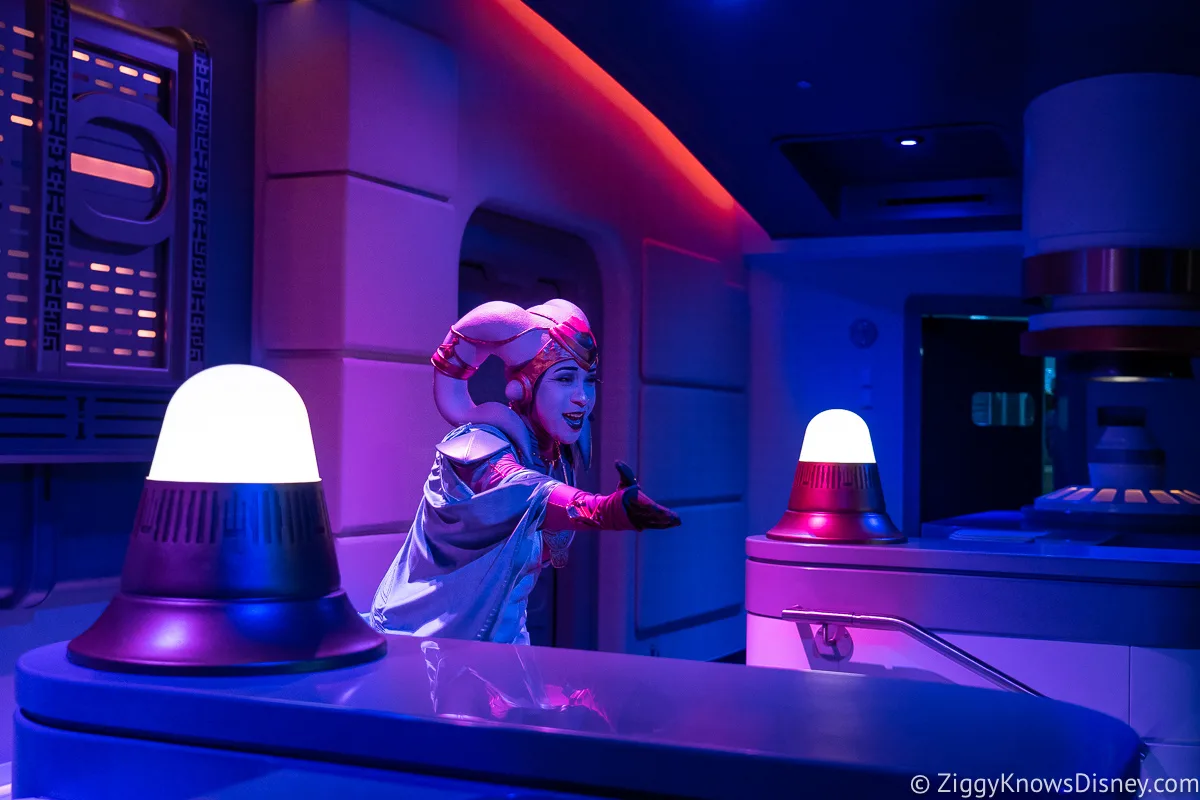 The entertainment works like a dinner show and goes uninterrupted from start to finish. Gaya performs her setlist of songs and the show builds up in intensity and energy as it goes along.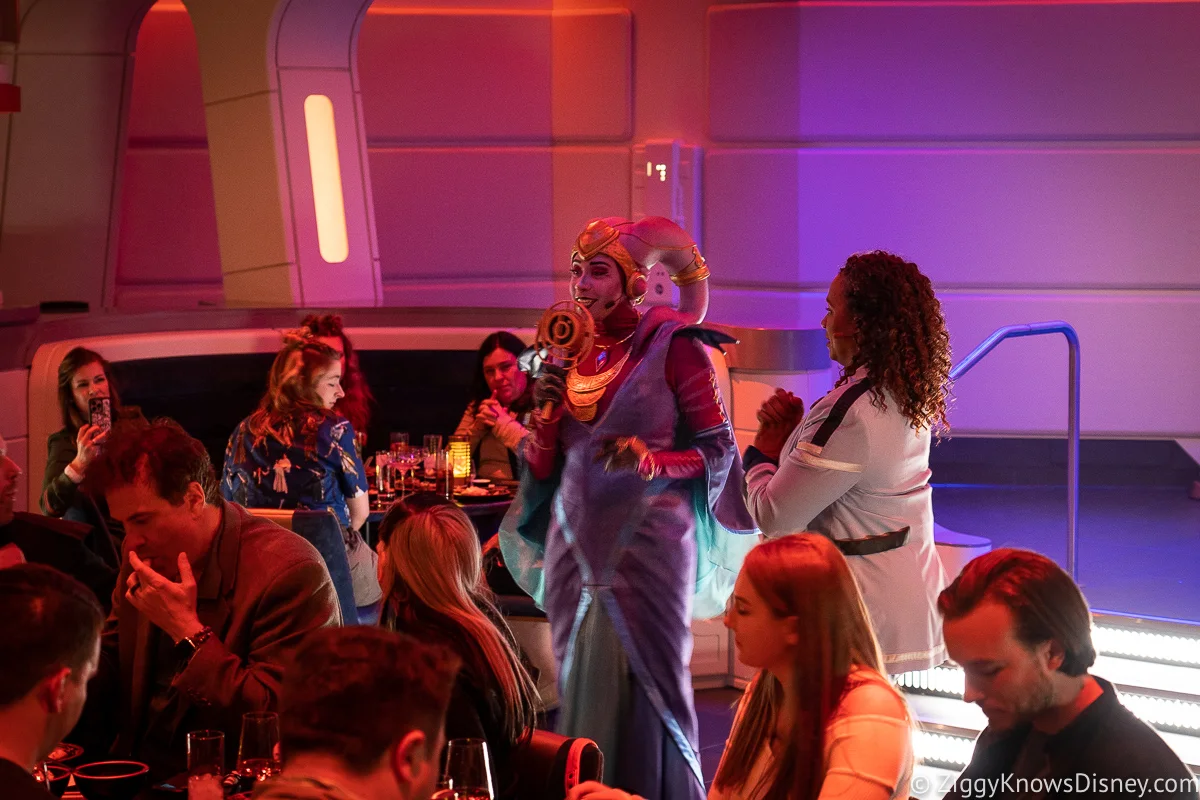 We have to say we were very impressed with Gaya's performance, much more than we thought we would be before our stay at the Galactic Starcruiser.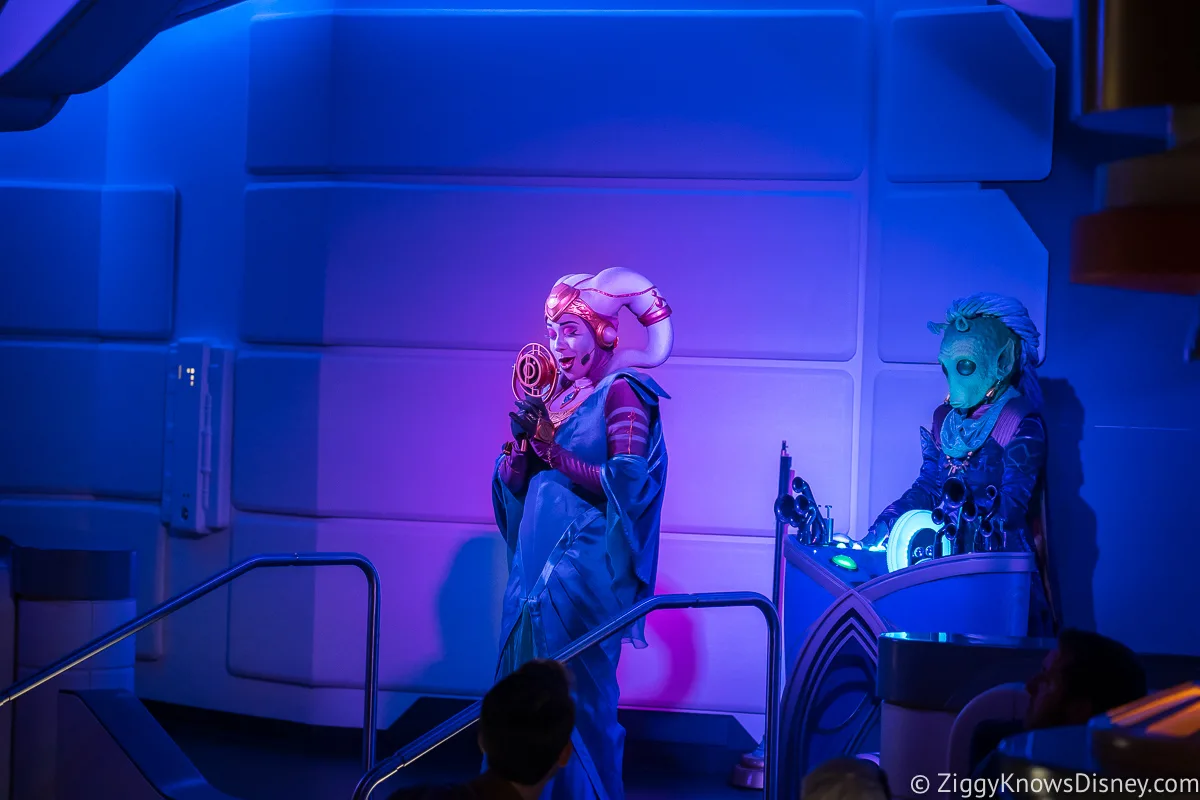 Ouannii and Sandro get involved, but this is all about Gaya. Our version of the character had a great voice and her energy was off-the-charts.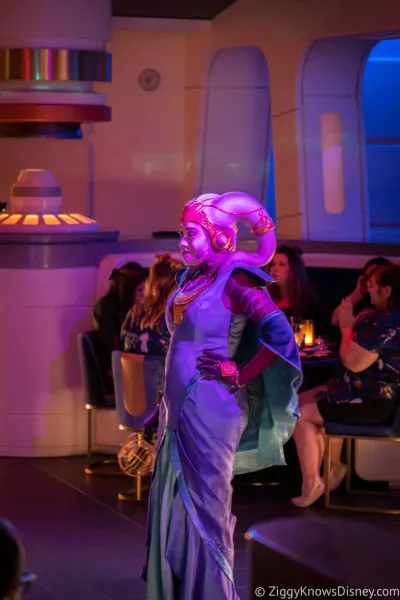 We loved the way she moved around the room and got all the people involved.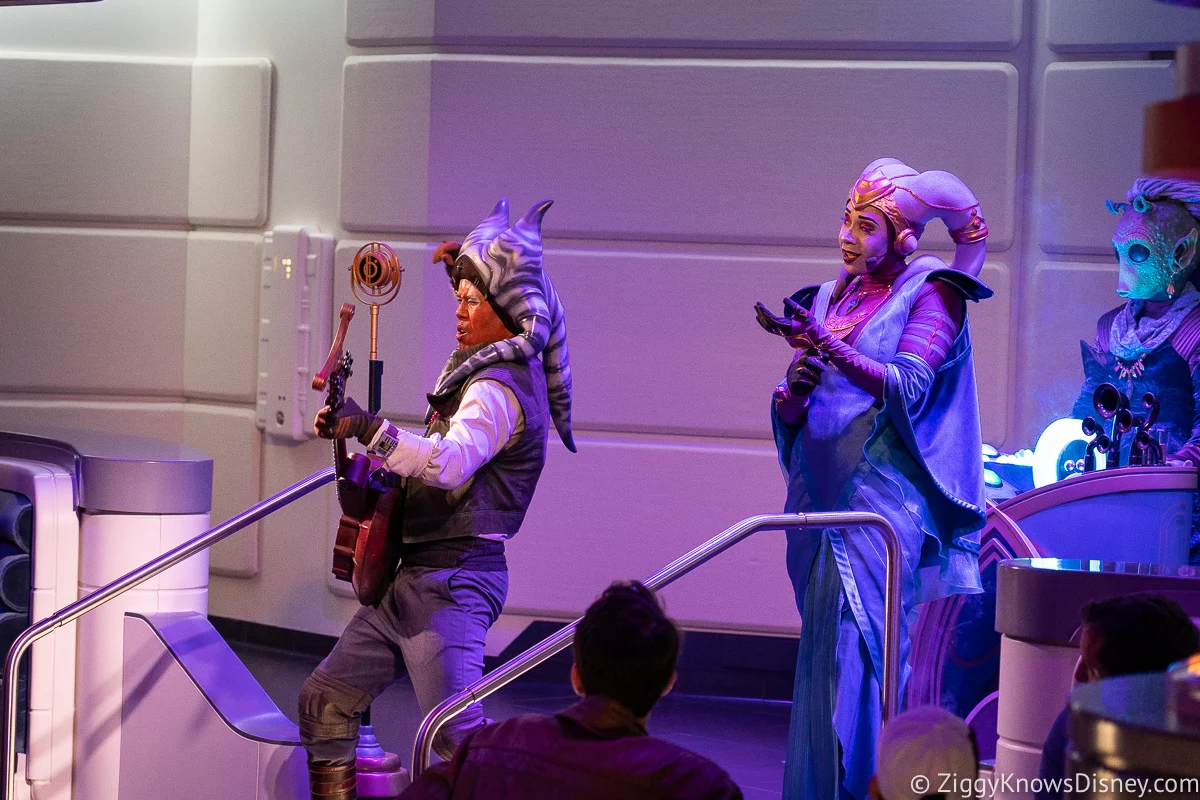 By the end of the show, everyone was on their feet, dancing and clapping along. It was one of the coolest moments of our stay and it was anything but cheesy as many (including us) were expecting.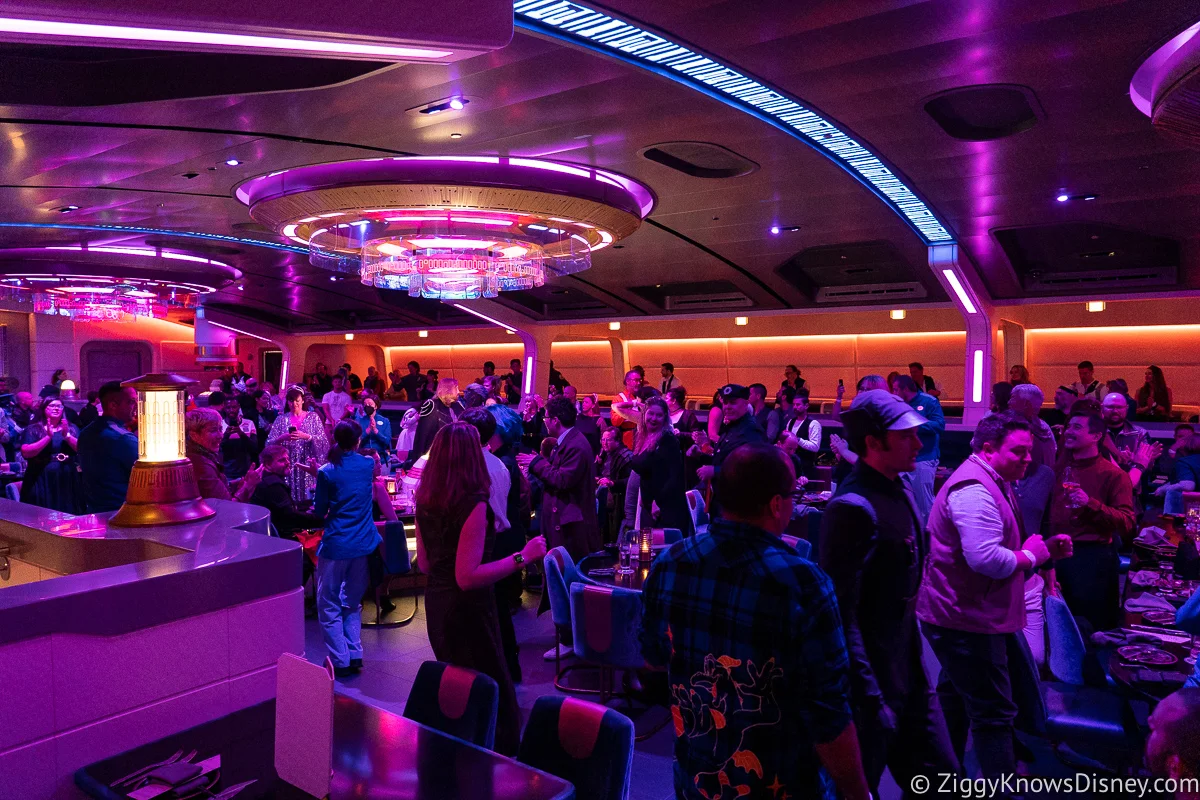 Some of the other characters did get involved, and Lt. Croy showed up at one point.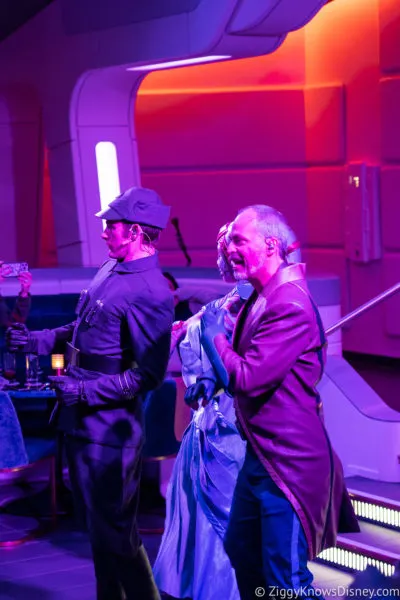 He made his presence known as he had Sammie the Mechanic parade poor Chewbacca through the dining room as a prisoner on his way to the brig to be locked up.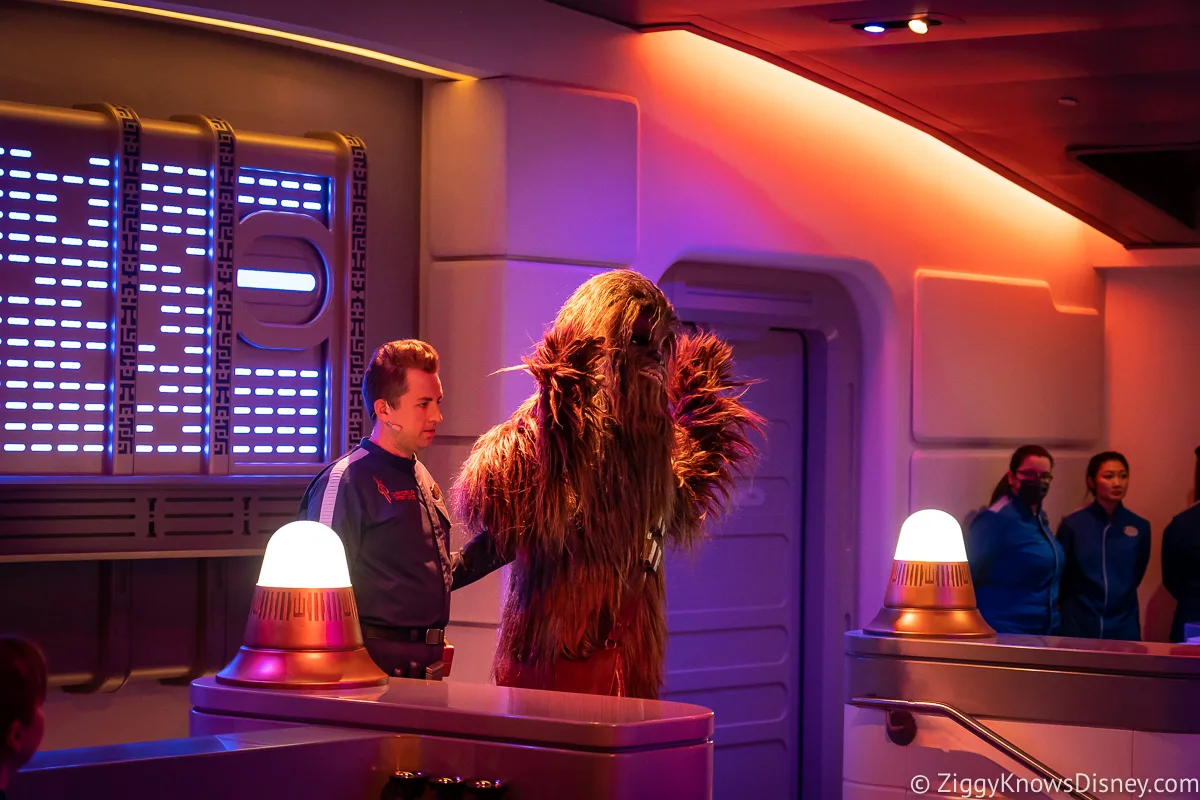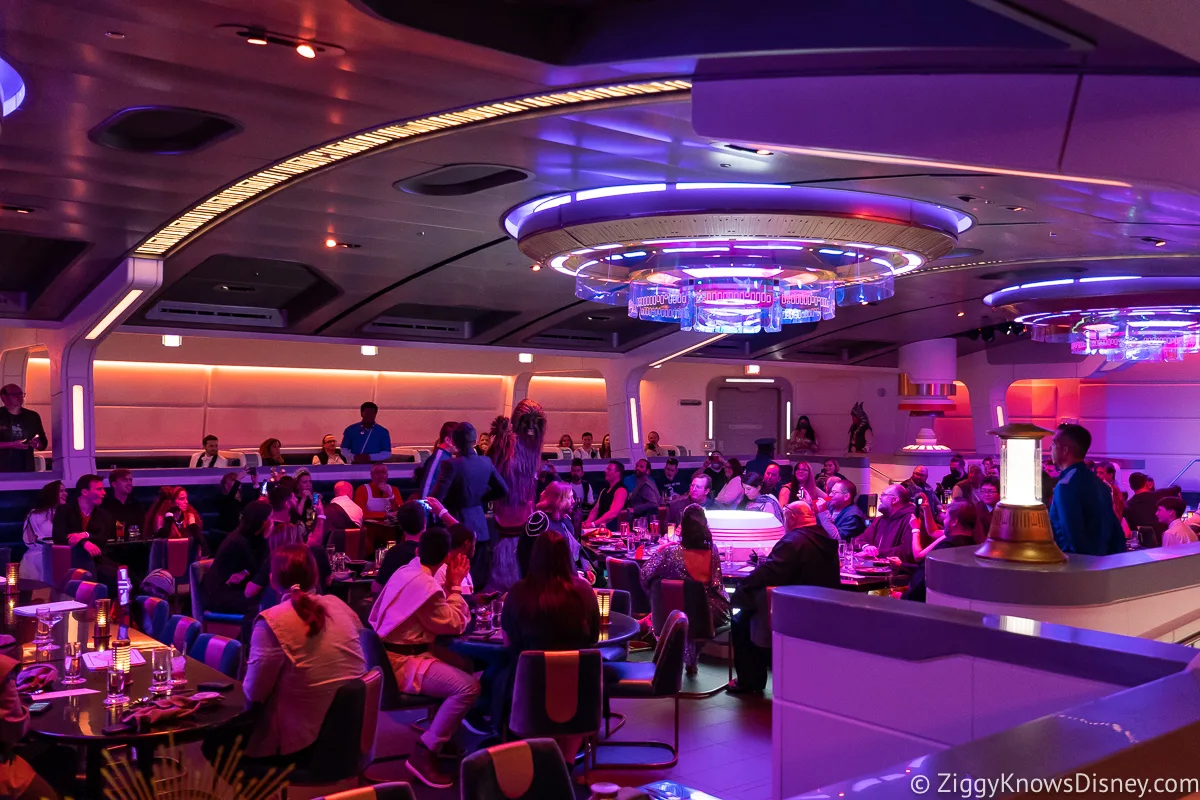 There was also a cool storytelling part at the end of the evening and each table received a secret message that had to be decoded with the other parts of the message given to other guests.
This was a nice touch to keep people engaged in the overall story of the Halcyon even during dinner.
Night 2
While dinner on the 2nd night of the Galactic Starcruiser comes with entertainment, it's on a much smaller scale and a lot more relaxed. It's more focused on the dinner itself and not a show.
Captain Keevan makes an appearance at dinner and mingles with guests, chatting and taking photos with them.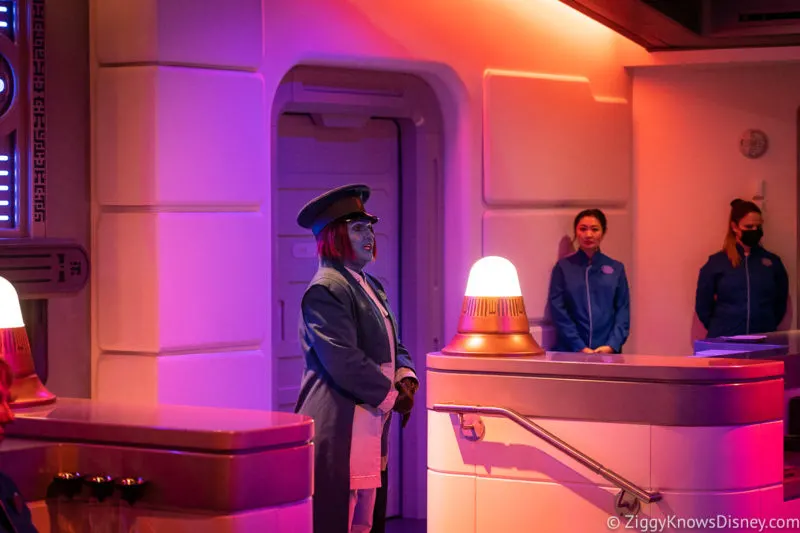 First Order Lieutenant Croy makes a stop by the Crown of Corellia Dining Room and interacts with guests. The actual presentation of the meal is nice with each course being announced and then brought out by crew members.
It's not as important to have a good view on night 2 because there isn't nearly as much action going on.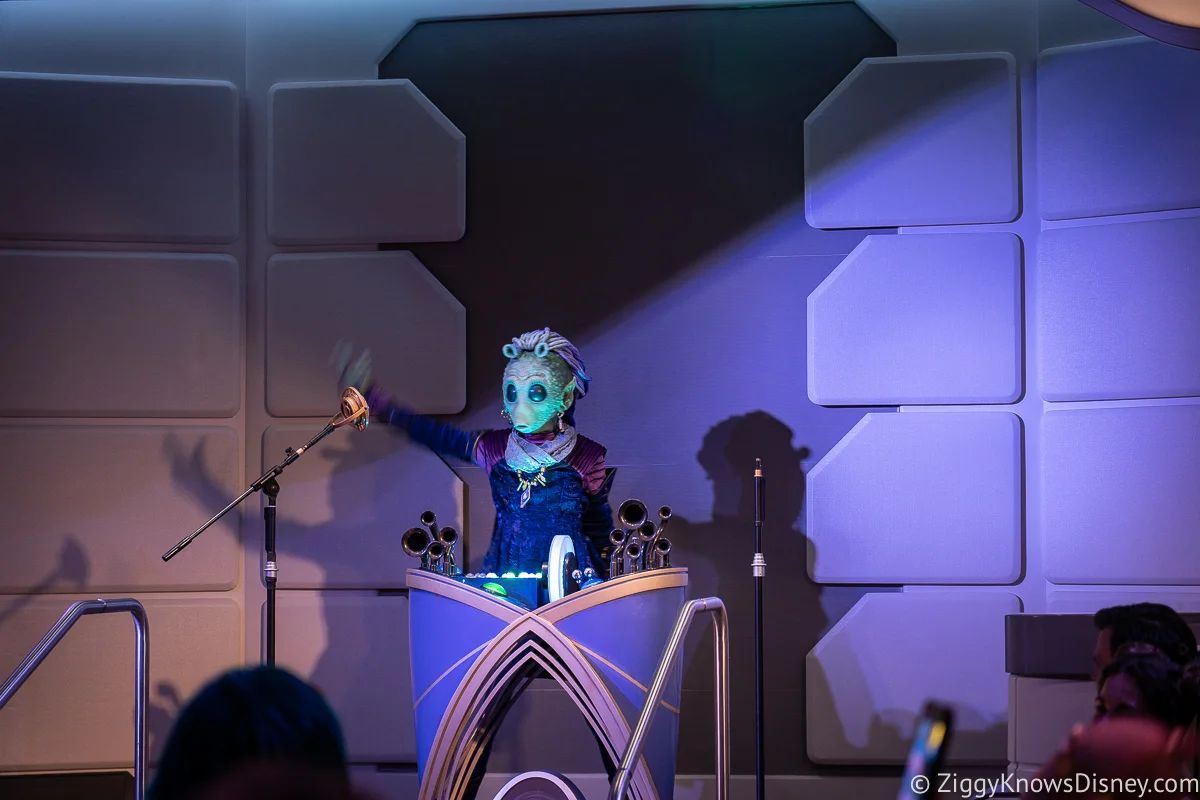 After dinner and after the final show in the atrium, head back down to the Crown of Corellia Dining Room for dessert and the after-party with a musical performance by Ouannii and Sandro.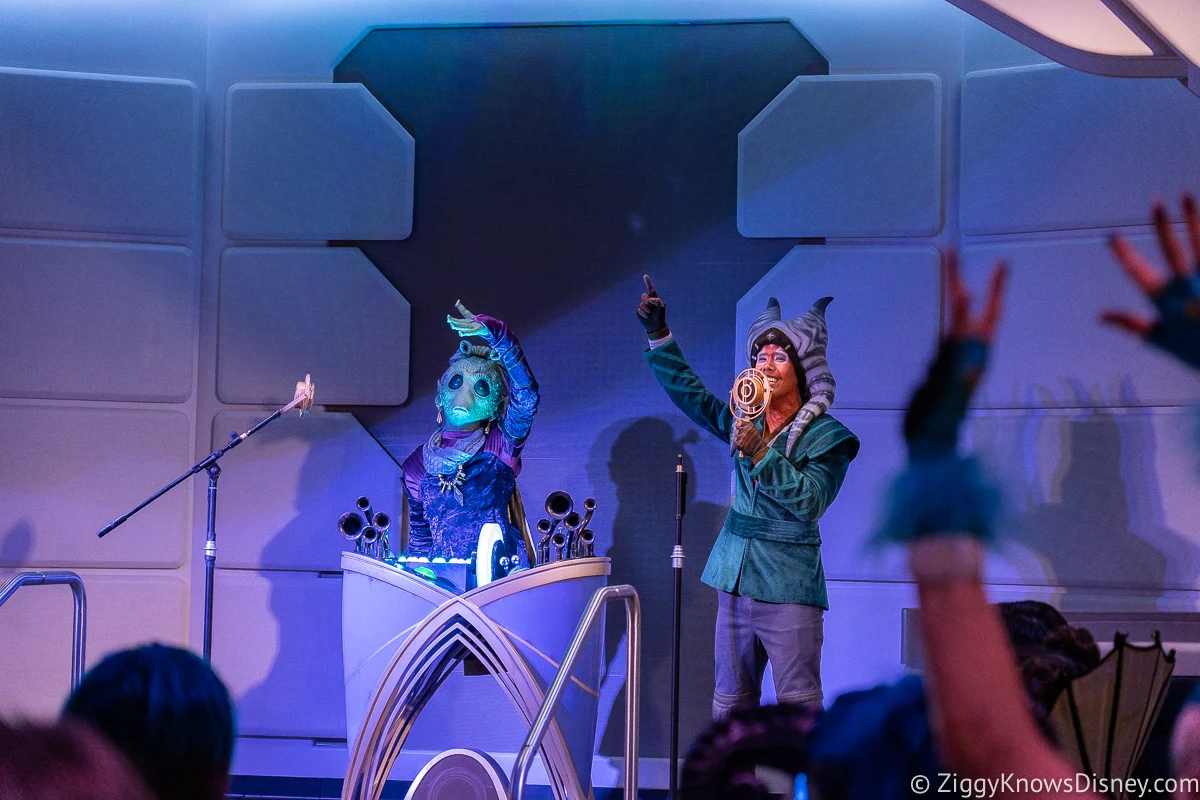 It's an ok performance, but not nearly as interesting or engaging as the one on night 1 from Gaya.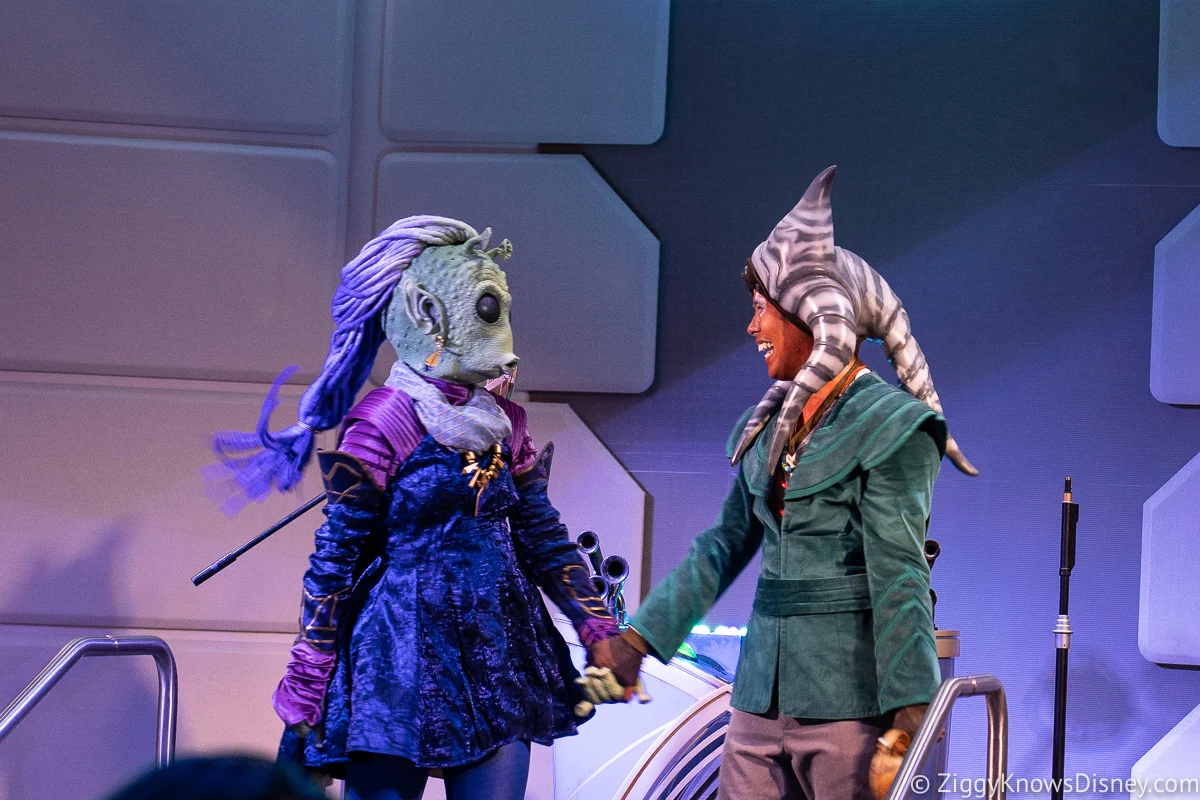 Food and Drinks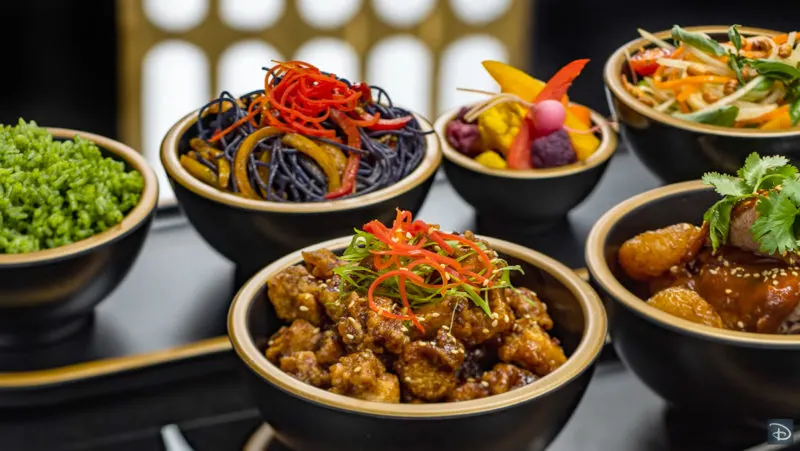 Of course, even though the atmosphere and entertainment are great, we certainly don't want to forget about the food. That is what we are here for after all right?
The Disney chefs behind the cuisine at Crown of Corellia Dining Room really put a lot of time and effort into creating a menu that was complex, delicious, and Star Wars in every way.
In describing the menu Disney said: "We're taking really delicious things and presenting them in unexpected ways" that are "of and kind of inspired by Star Wars storytelling DNA." In fact, the food here is like nothing you've ever experienced before.
One of the Dishes Comes Alive
Yup, it's true. Ok, well, kind of. One of the fish dishes on the menu actually appears to be alive right on your plate. Don't worry, it's not actually alive, it's all for show!
This effect is achieved with steam and a bonito flake (a fish delicacy Chef John Prieto encountered in a five-star restaurant in San Francisco). It's just one of the ways the creative team behind the food here is trying to push the limits of your imagination.
Buffet
Breakfast and Lunch are both served as buffets and guests get up and serve themselves. It's all-you-can-eat so there is no limit on the number of times you can fill your tray.
Here is a look at the room where food is served.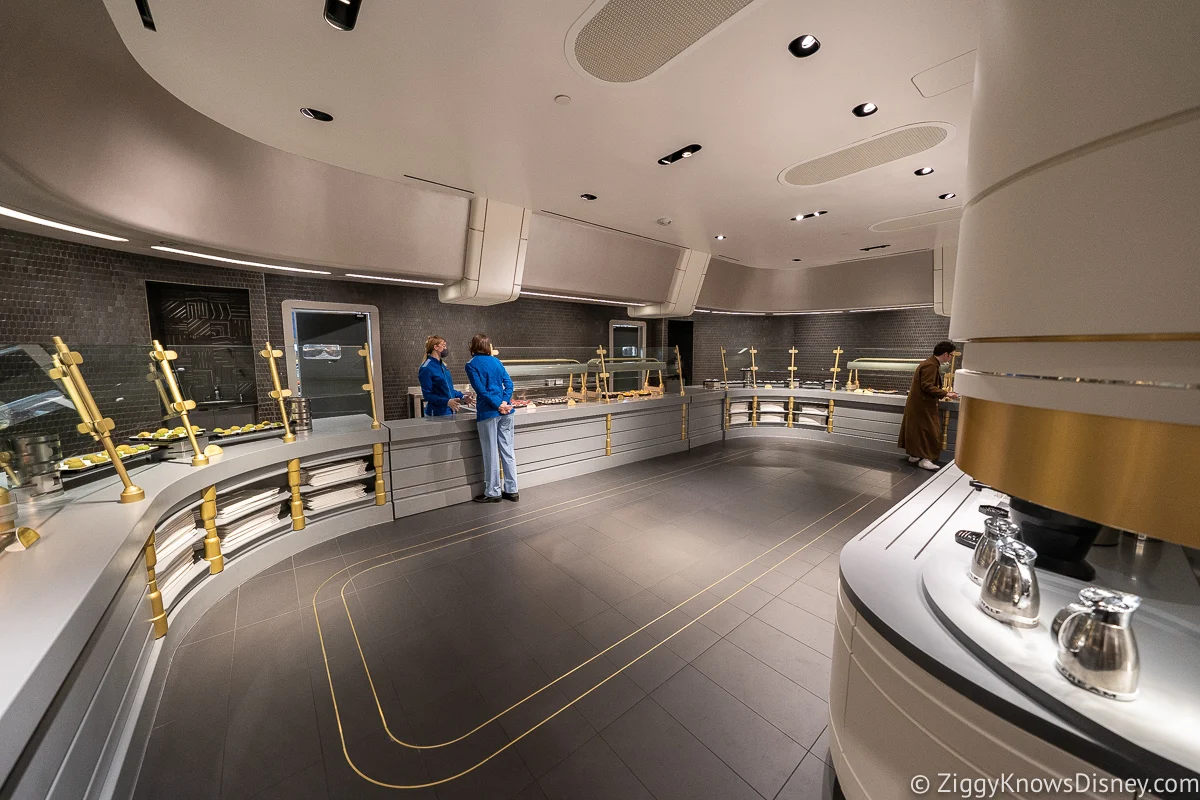 The buffet line wraps around the room and you can enter from either side.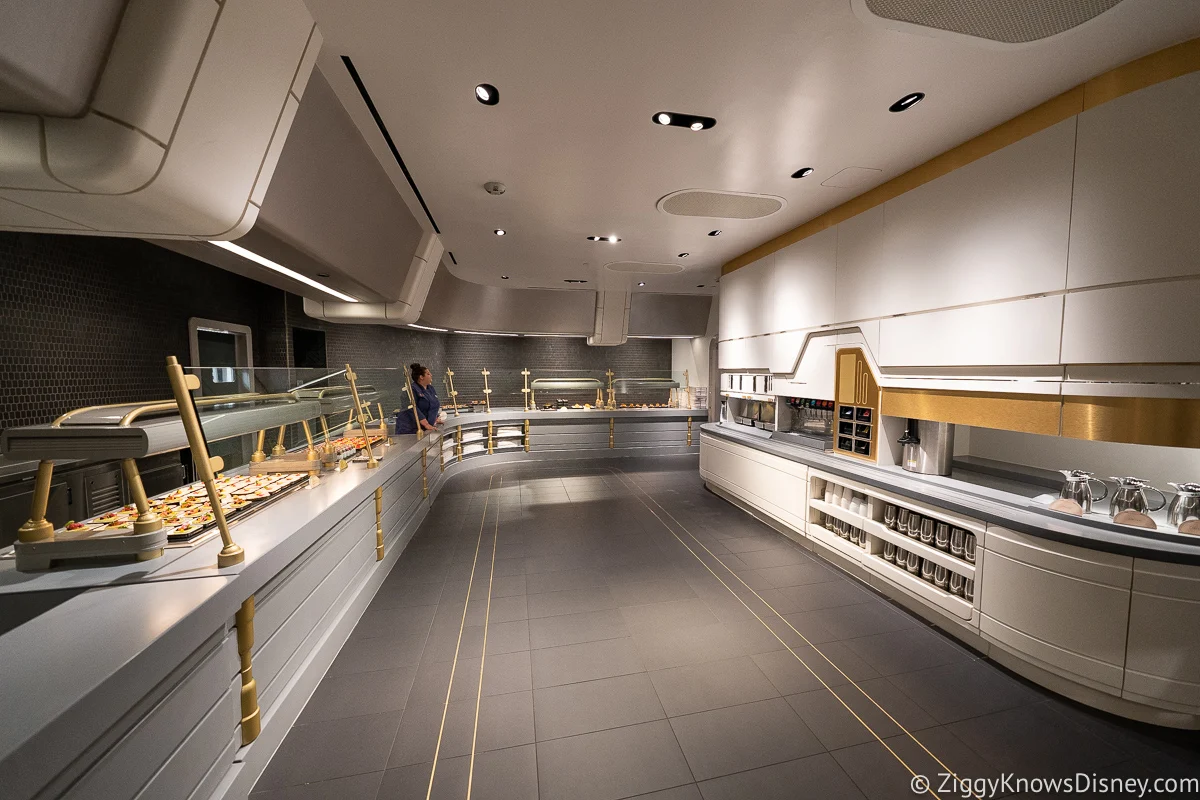 The stations on the two sides of the room tend to have savory items, while the middle is usually more for sweets.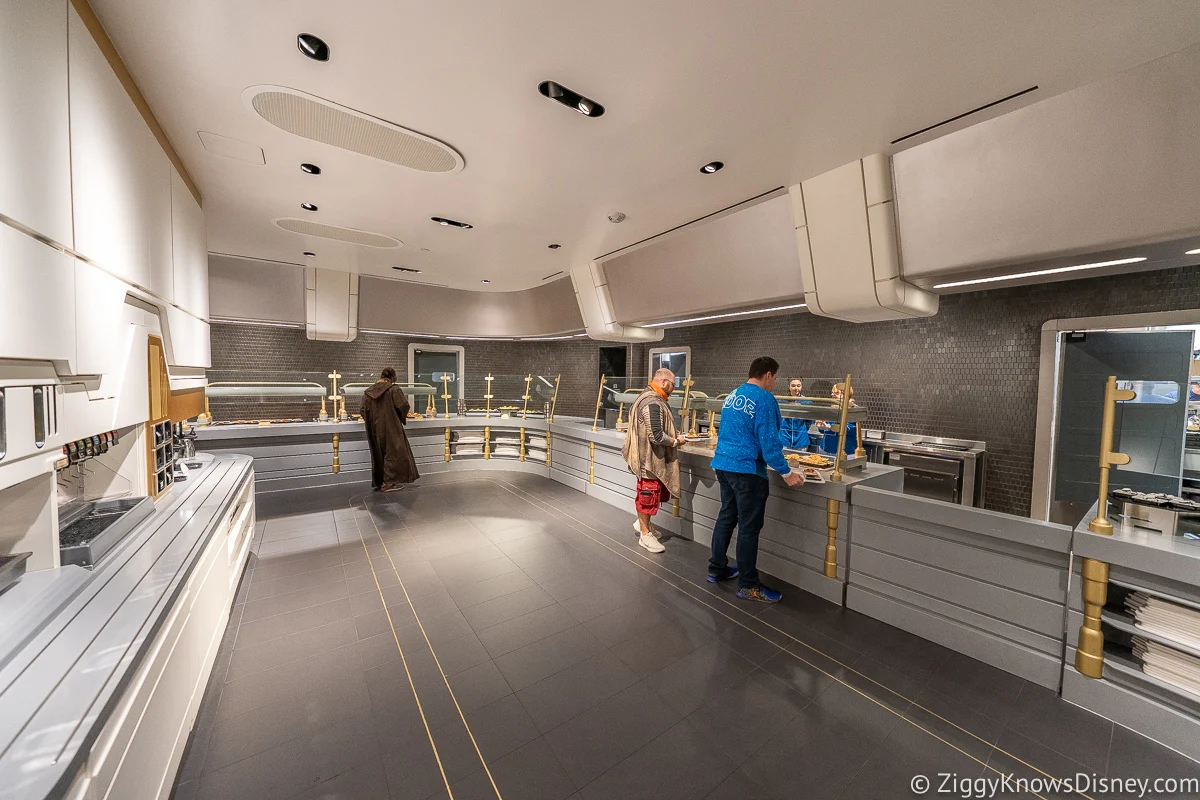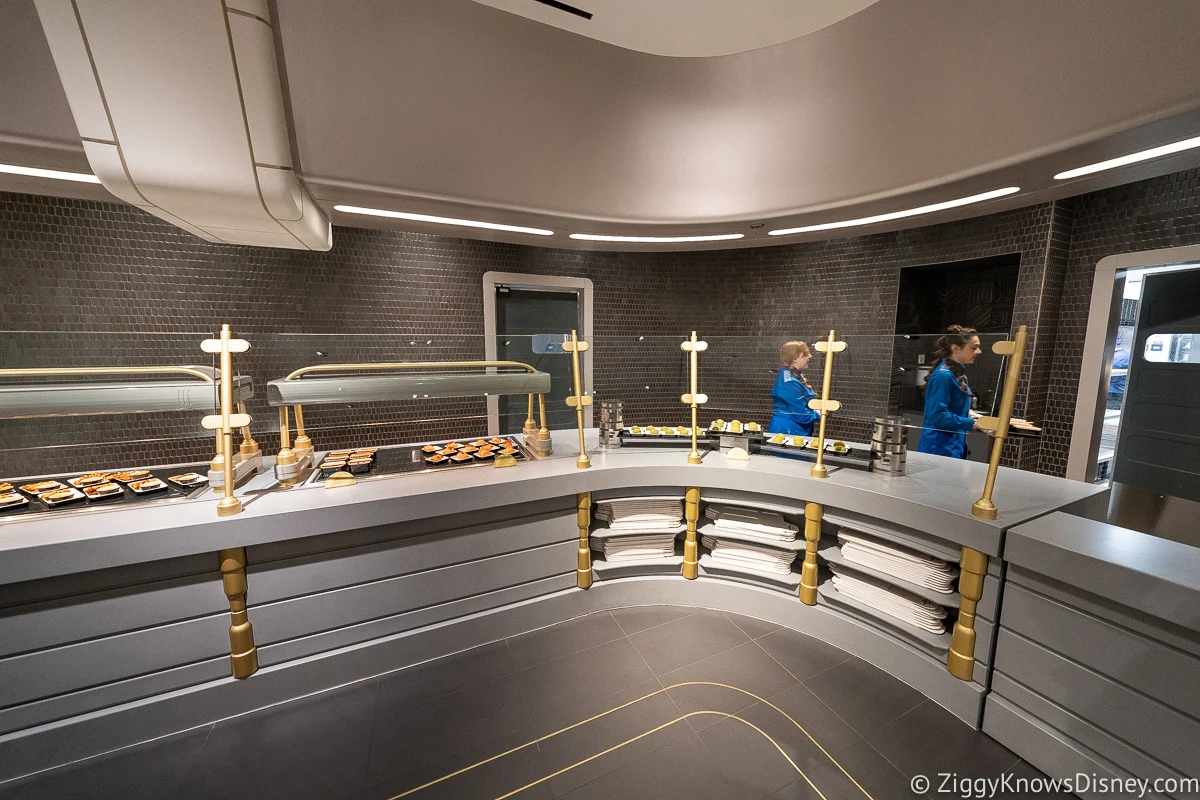 All of the food is prepared in individual-sized portions with the presentation being a key factor. Each tray has space for 3 large items or 6 small items and you can fill your tray however you like.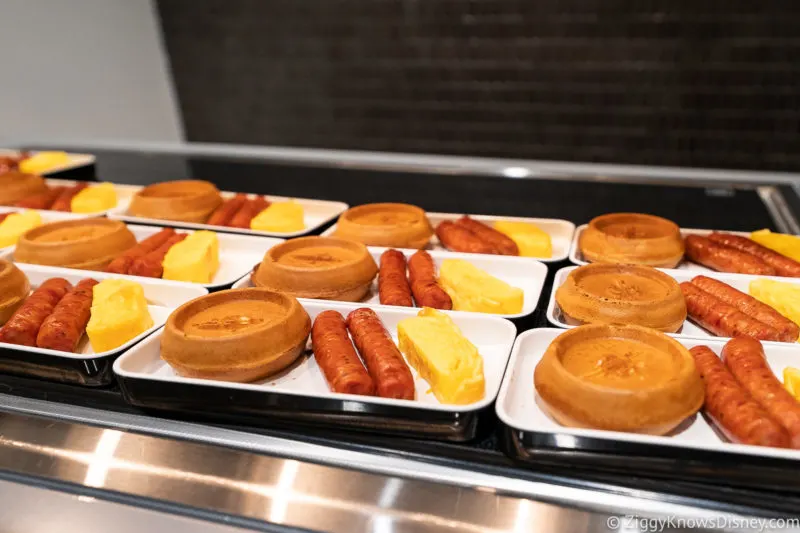 On the other side of the room is the beverage station.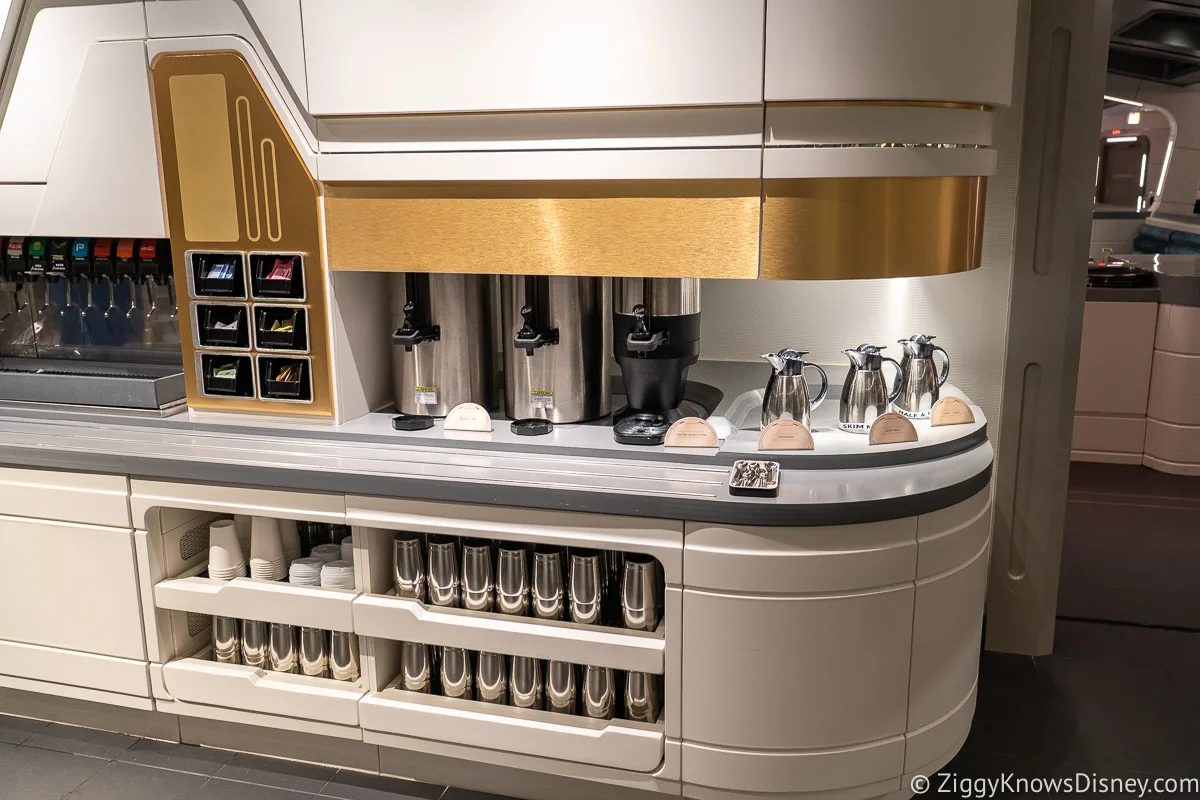 There are pitchers of water: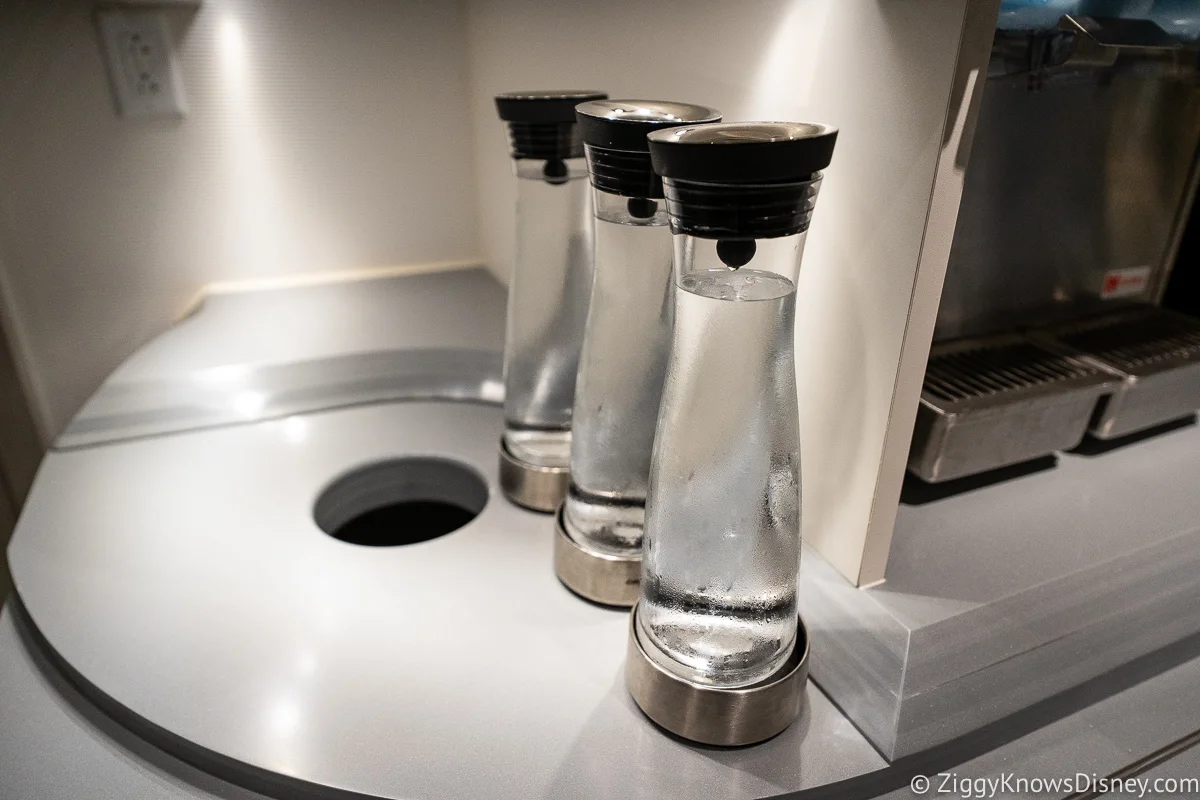 There is also a soda fountain which serves Coca-Cola soft drinks, though the labels are written in aurebesh.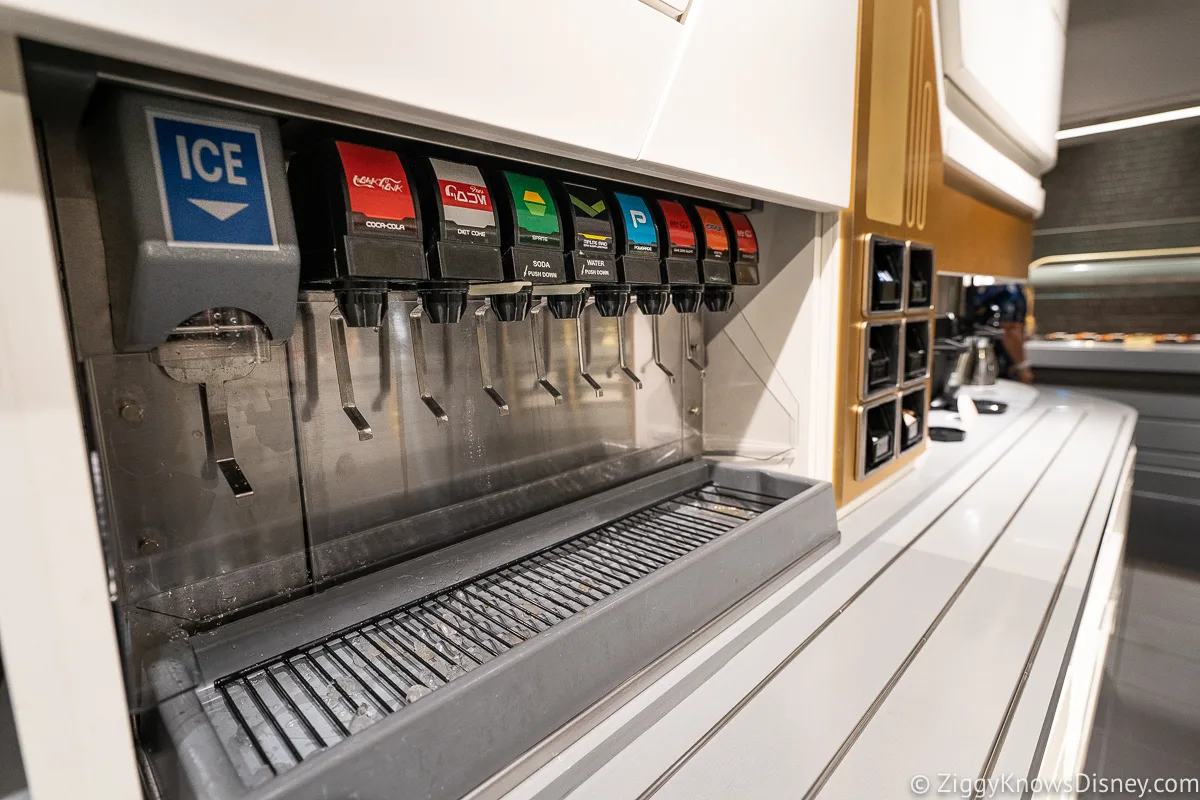 Maybe the highlight of the entire buffet are the Blue and Green Milk machines! That's right, you can serve yourself as much blue or green milk as you want without any additional cost. That's a lot better than the $8-$9 per glass that you pay in Galaxy's Edge!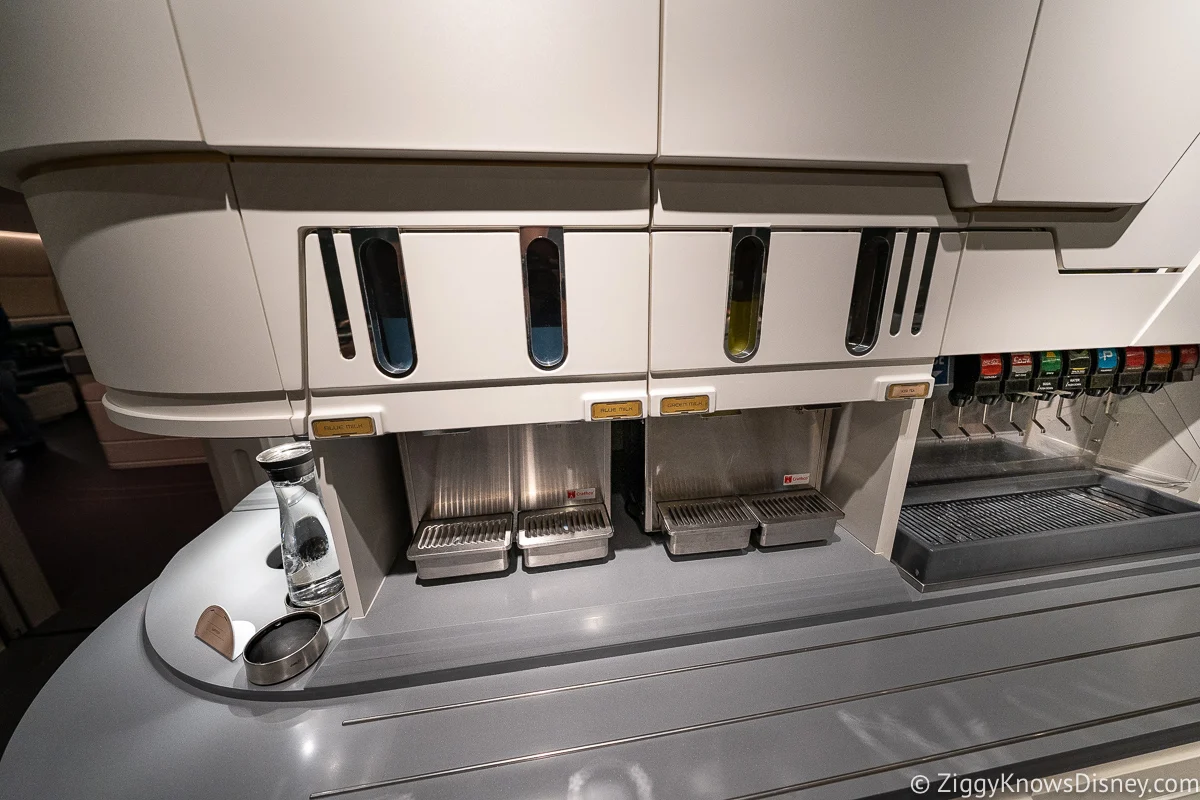 There is fresh coffee to give you a pick-me-up at the start of the day.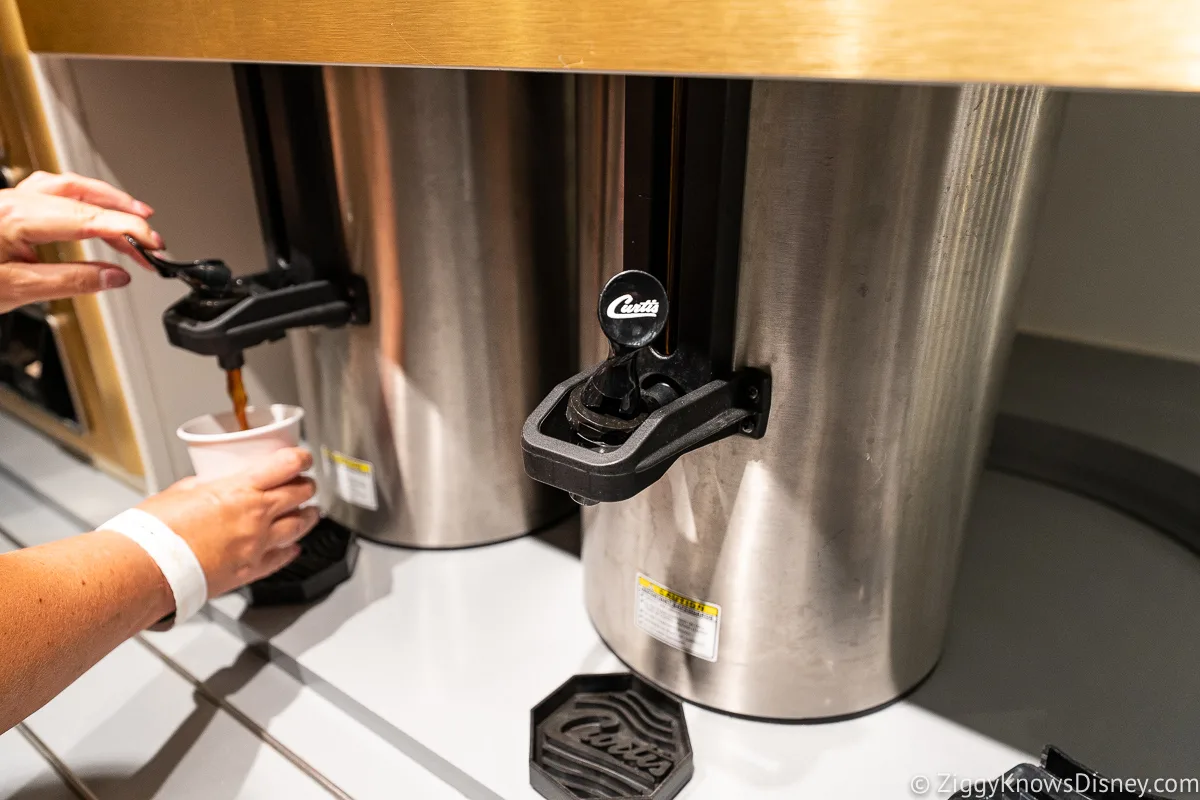 You can add Cream, Milk, and Half & Half to your coffee.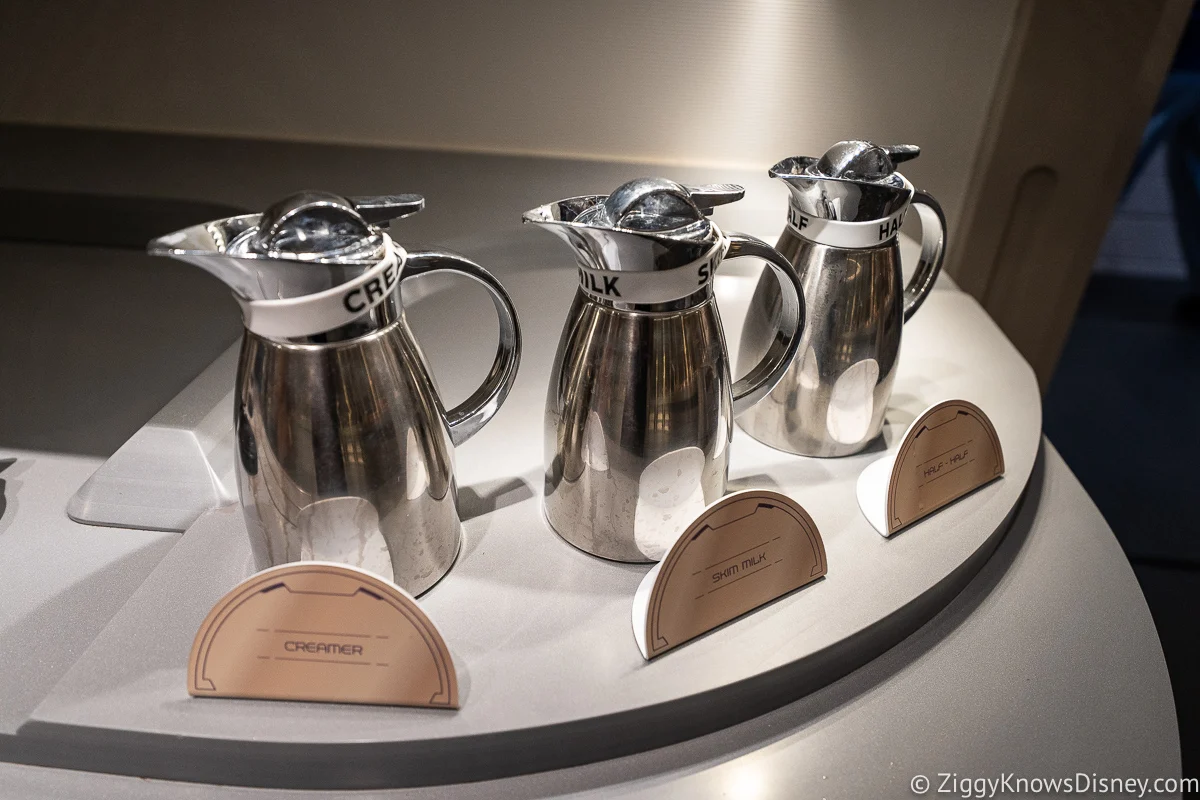 Now let's take a look at each meal and look at what you will be eating when you eat at the Crown of Corellia Dining Room.
Breakfast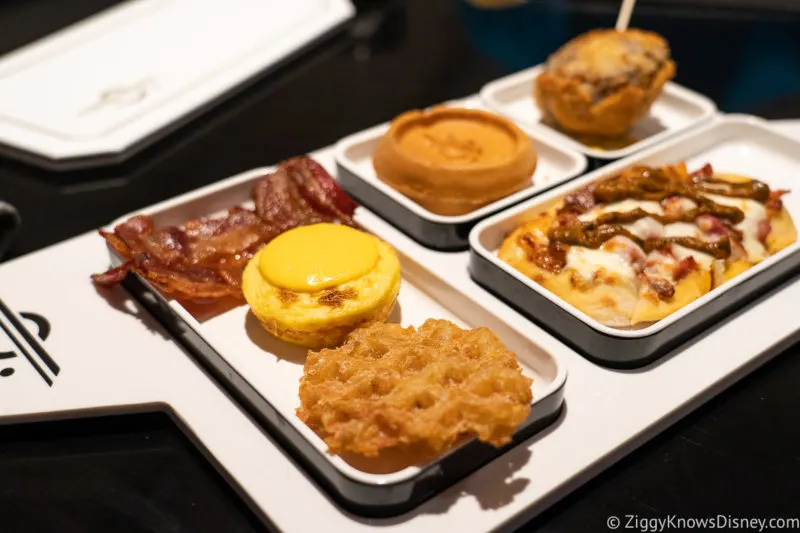 There are 2 breakfasts in the Crown of Corellia Dining Room and it depends if you want something quick or a longer meal. Breakfast is served in the morning on Day 2 before your excursion to Batuu and on Day 3 before departure.
At the Crown of Corellia Dining Room guests can indulge in a Full Breakfast Buffet. Breakfast hours run from 7:00 am – 11:00 am on Day 2 and 7:00 am – 10:00 am on Day 3. Gusts can take as much time between those hours as they like.
Breakfast includes hot and cold small plates and a variety of beverages including juices, fresh-brewed coffee, and Bubo Wamba Family Farms blue milk.
If you just want a quick grab-and-go breakfast, head upstairs to the Sublight Lounge.
Breakfast Day 2
Let's look at the first breakfast buffet on Day 2 of the voyage.
Drinks
In the main dining room, there is a Juice Bar set up with 4 flavors of juice: Apple, Orange, Cranberry, and Grapefruit.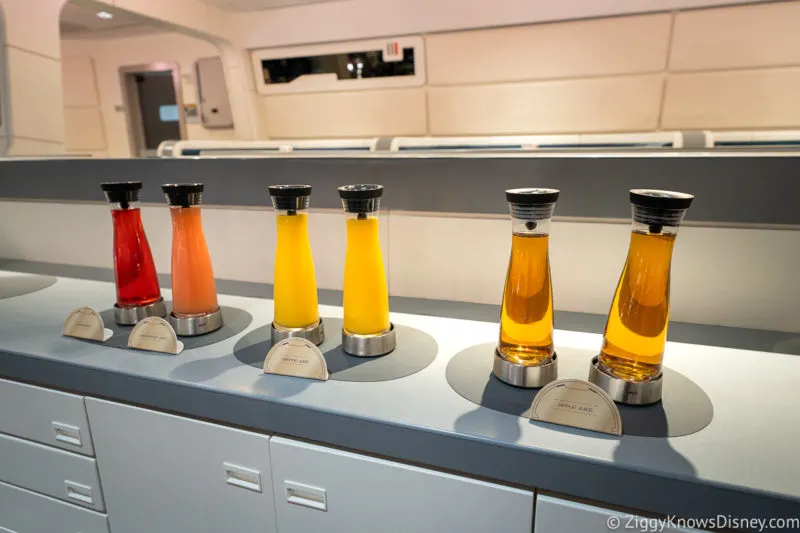 This was set up on both days 2 and 3 at breakfast. The juices themselves were standard, not fresh squeezed or anything, but solid options for juice fans.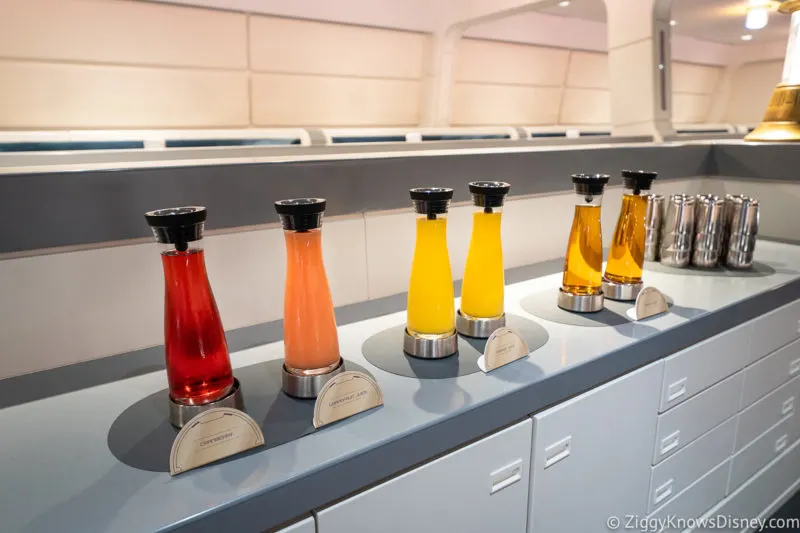 For those who like to get their morning started off with an alcoholic beverage, there is a list of Morning Concoctions on the drink menu. The drink menu also includes beer, wine, mocktails, and other cocktails, but we only tried the morning ones at breakfast.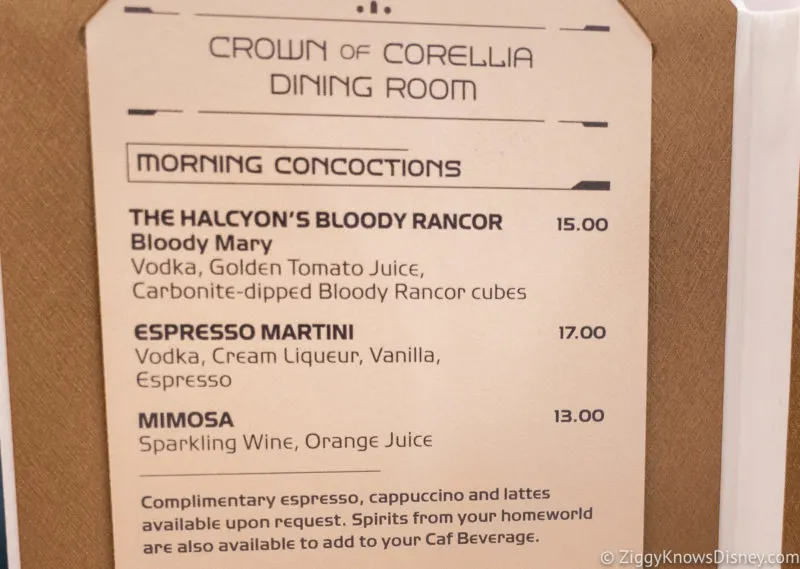 Bloody Rancor (Vodka, golden tomato juice, and Carbonite-dipped Bloody Rancor cubes) – $15.00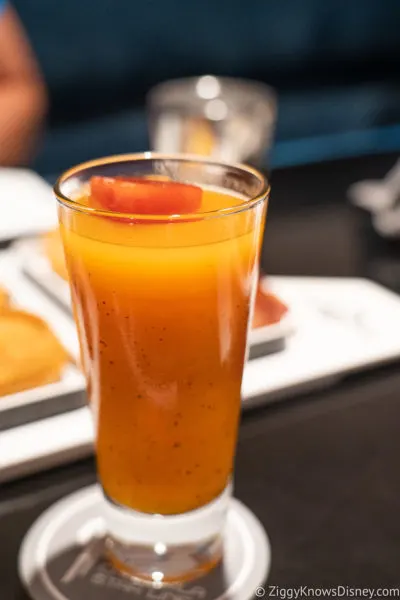 The Bloody Mary was solid if you like them, but nothing special. The only cool part about the presentation were the tomato ice cubes, but it could have used some bacon or shrimp or something else to make it more special to make it worth the extra cost.
Food
We made multiple trips to the buffet, so let's see how everything tasted.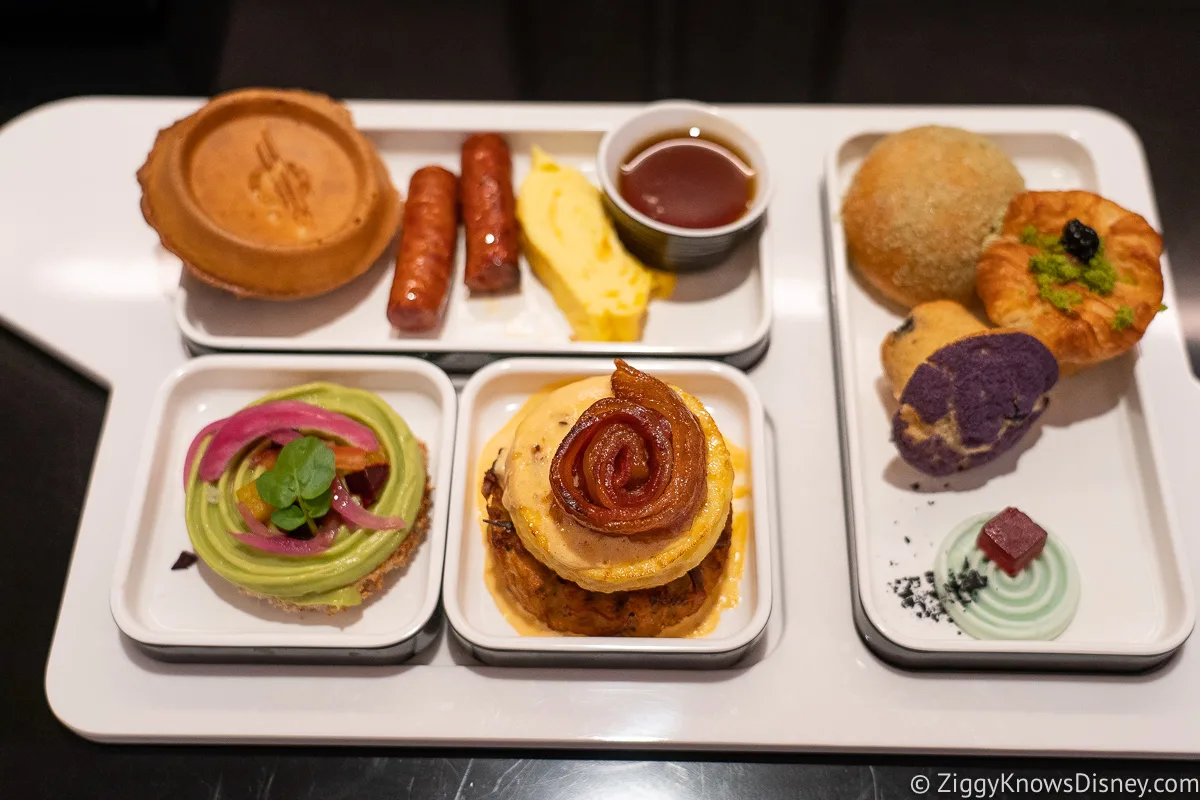 Chandrilan Waffle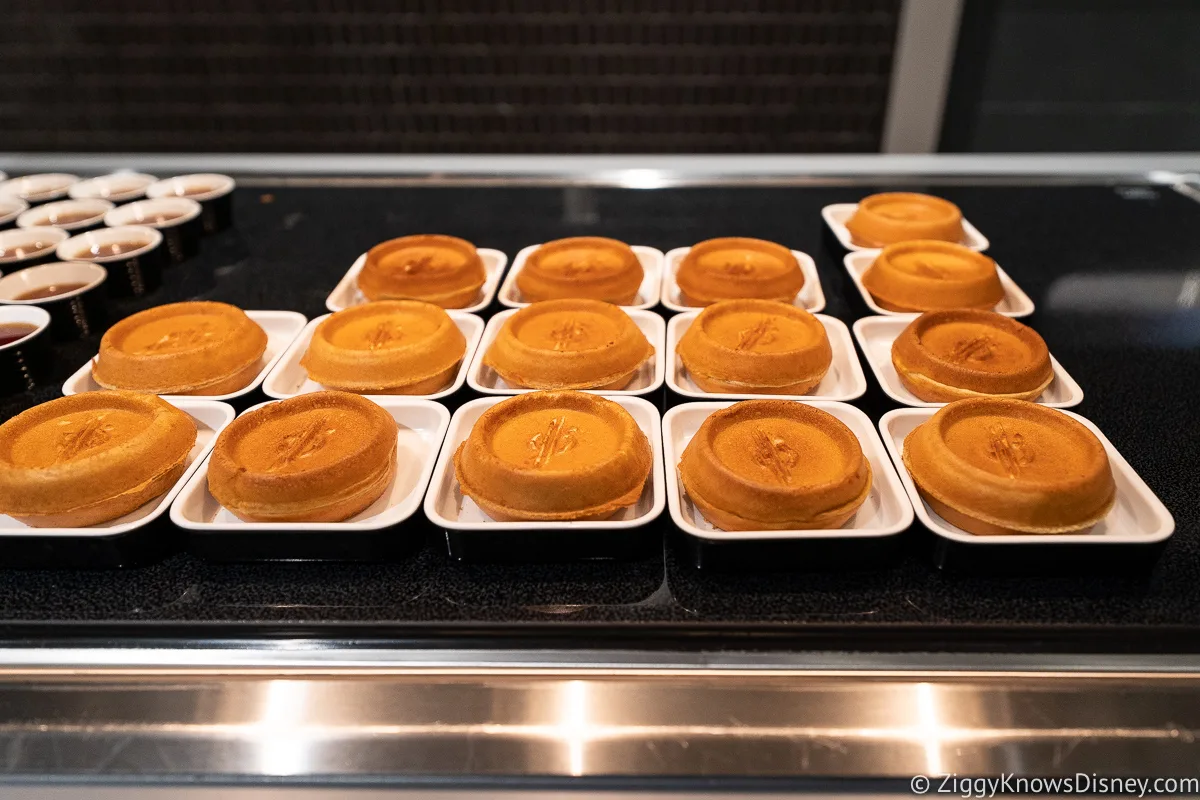 If you are a fan of the Mickey Waffles that you can find throughout Disney World, you will love the Chandrilan Waffle. That's right these are Star Wars-themed waffles with the logo for the Chandrila Star Line on them.
They have the same crispy outside and pillowy-soft inside that you love and that same sweet flavor.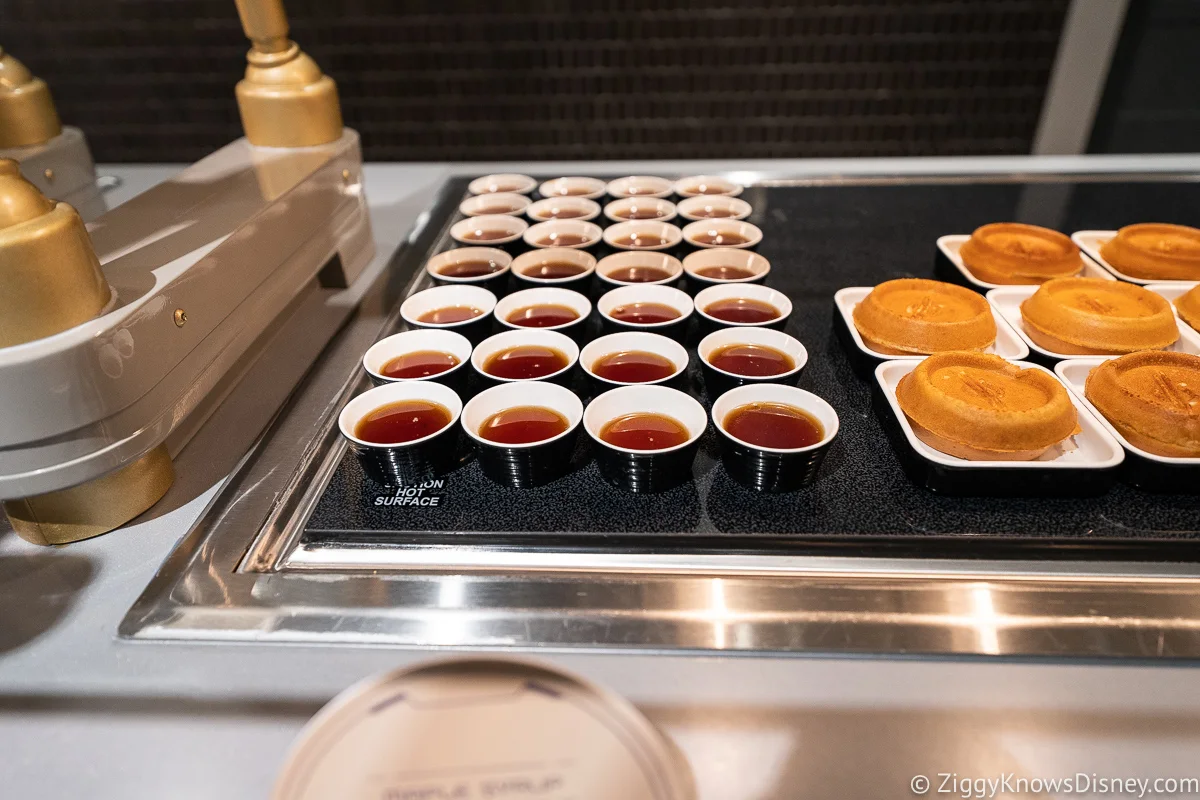 To take it up a notch, you can smother them with Maple Syrup.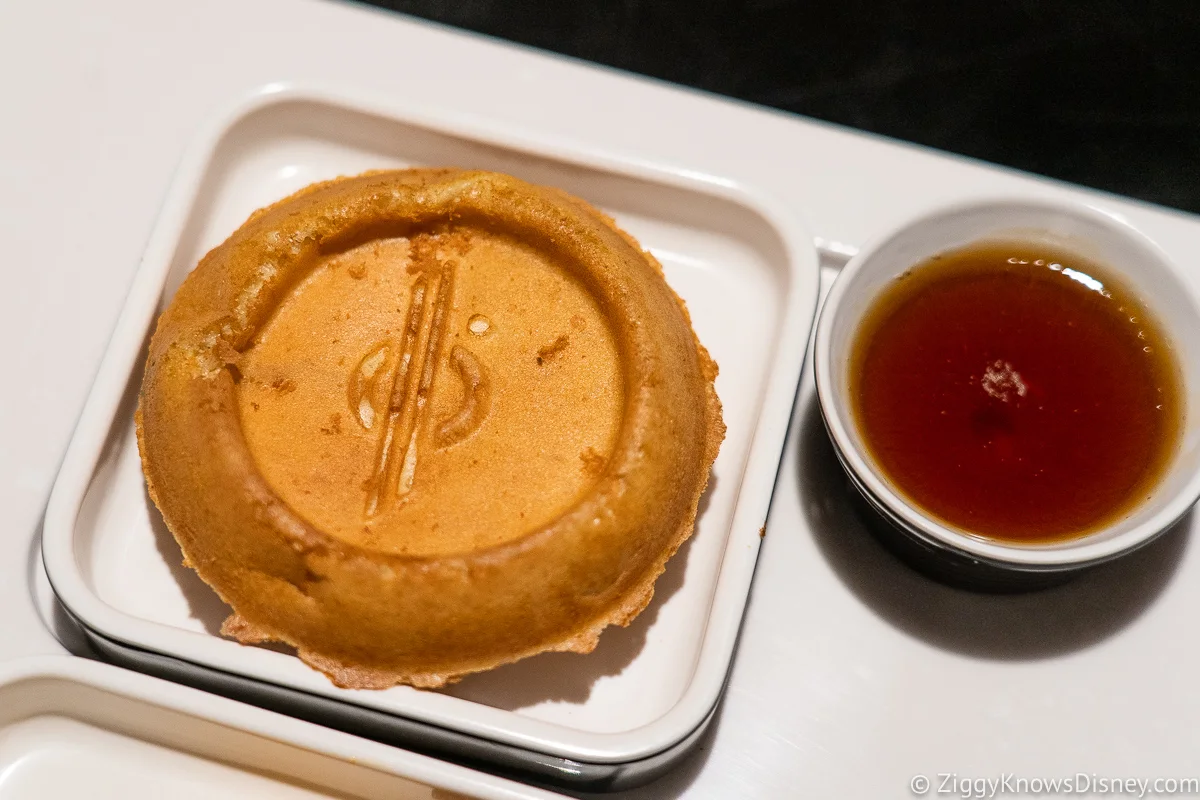 The Chandrilan Waffle, Rolled Omelet, and Roasted Sausage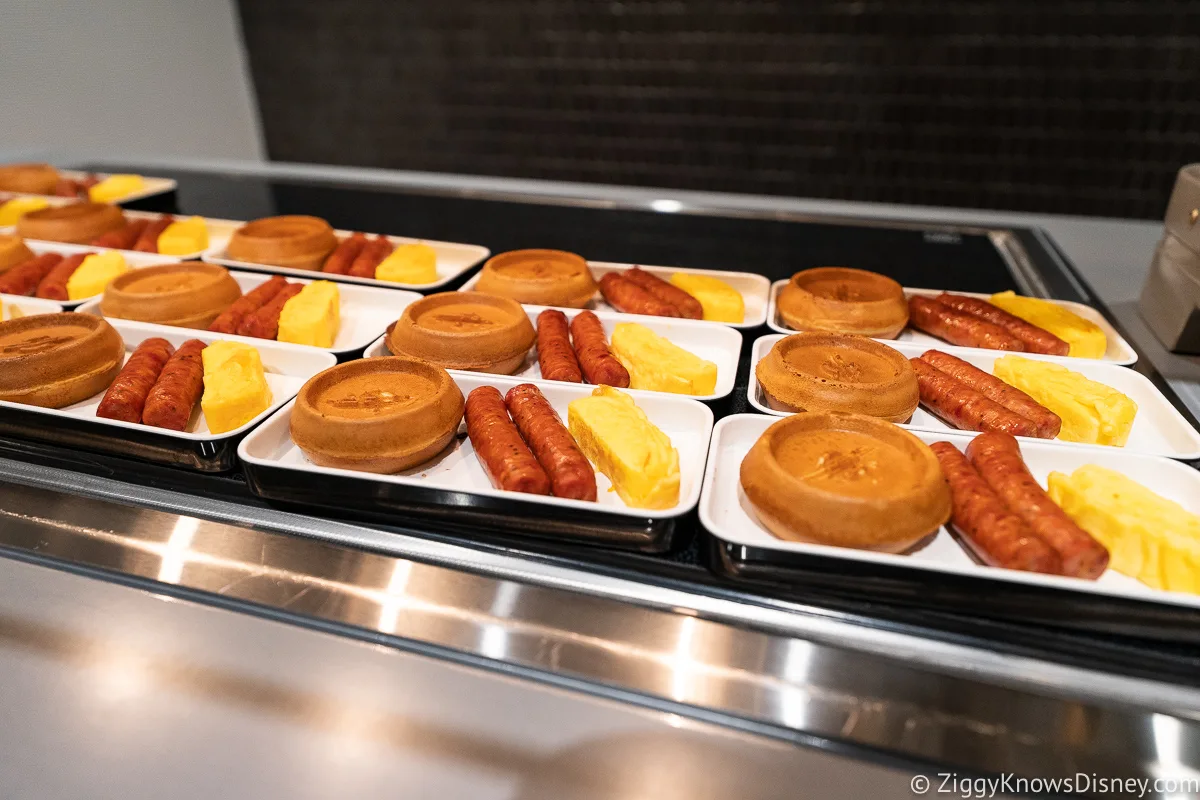 If you are looking for the classic "American" breakfast, look no further. This plate includes the Chandrila Waffle, as well as two links of sausage and a rolled-up egg omelet.
I don't know how they rolled up the eggs like that, but they were awesome. I loved the cheese inside them and they were not overcooked. The sausage was mildly spicy and full of flavor. It was also crisp when you bit into it and had that great "snap."
The combination of the egg omelet and sausage reminded us a lot of the ronto wraps at Ronto Roasters and it wouldn't surprise us if they use the same sausages in both recipes.
Sweet Cakes (Blueberry muffin, croissant, and sweet bun with blue milk butter and strawberry jelly)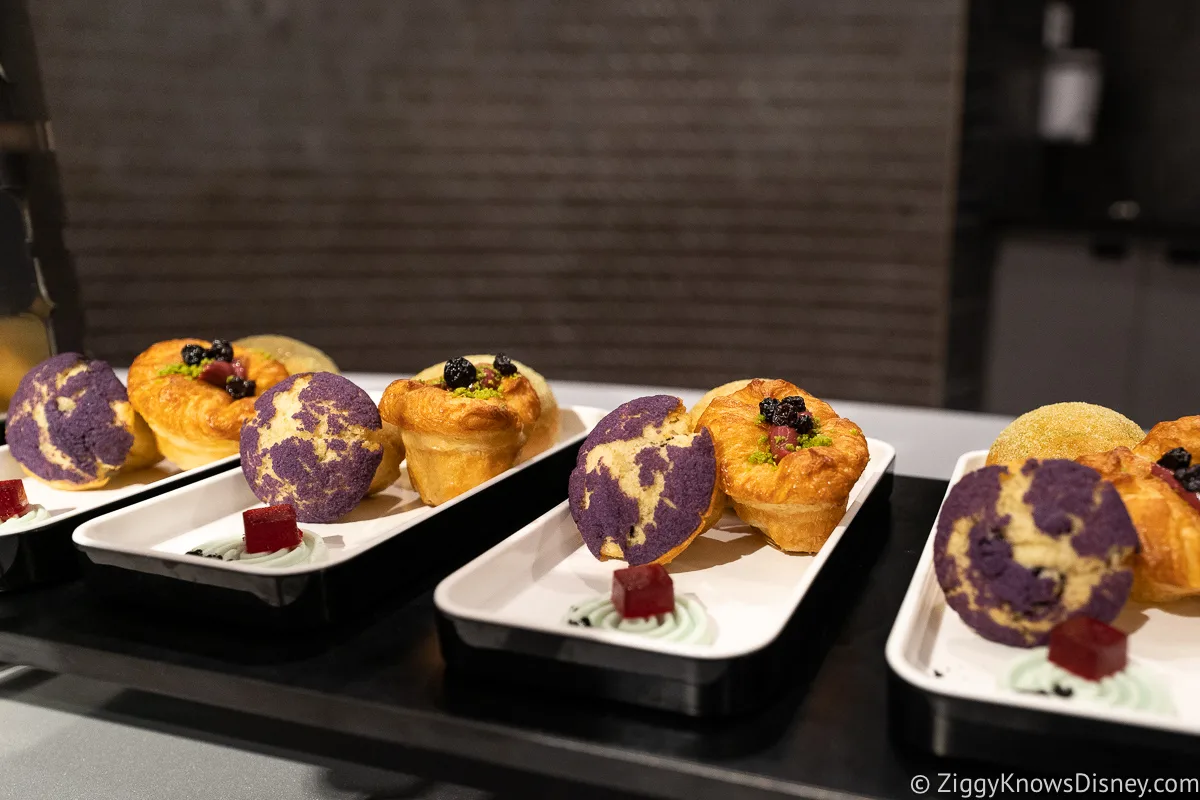 Next is a tray of Sweet Cakes which are assorted muffins and baked goods.
This was a solid option, but nothing special. It was a plate with a mini muffin, croissant, and a roll/donut. The croissant was our favorite of the three and it was slightly crunchy on top and it has a nice tart berry filling.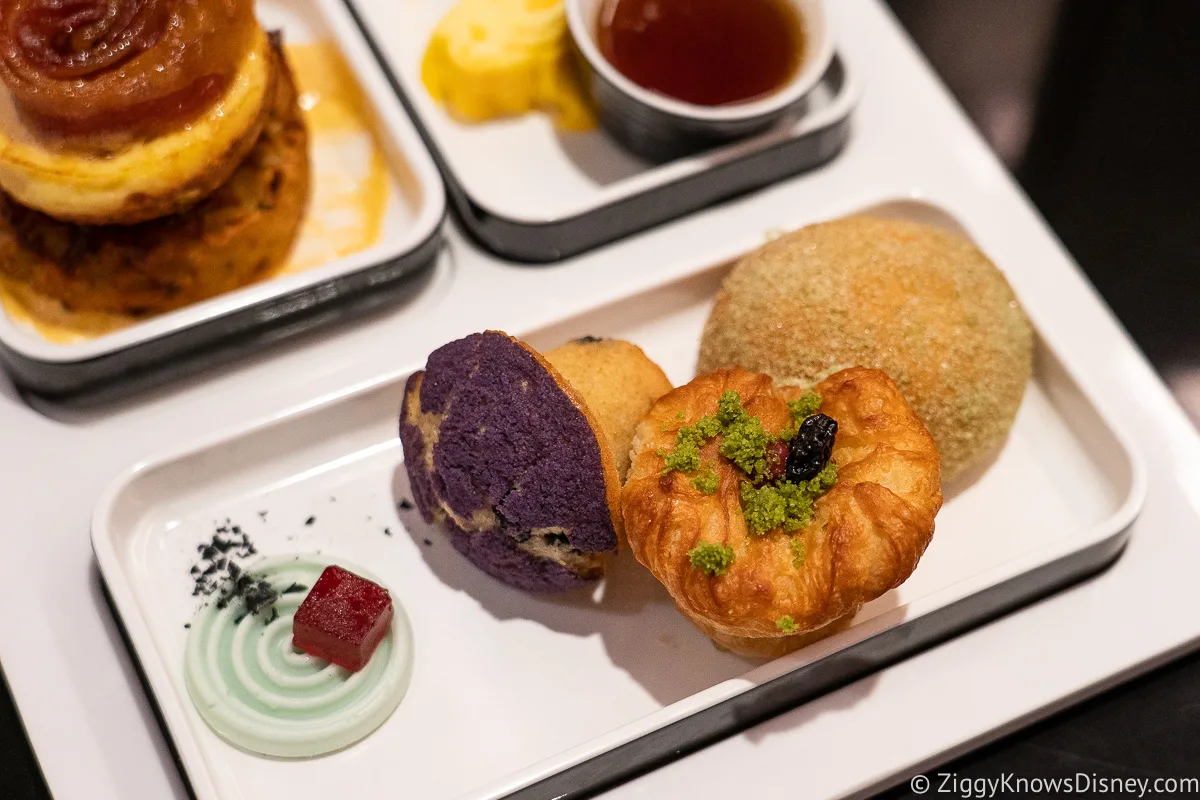 The muffin was ok, just a standard Disney blueberry muffin, but we liked the crunchy top. The roll we could pass on and we didn't like it at all. We couldn't tell if it was a dinner roll or a donut, but either way it didn't have much flavor.
The blue milk butter we didn't really get either. It was more like whipped cream than butter and it didn't taste like blue milk to us. It just didn't work well with the roll at all. The jelly was nice, but super small and it was gone after half of a bite.
Green Pearberry Toast (Whole grain toast with avocado)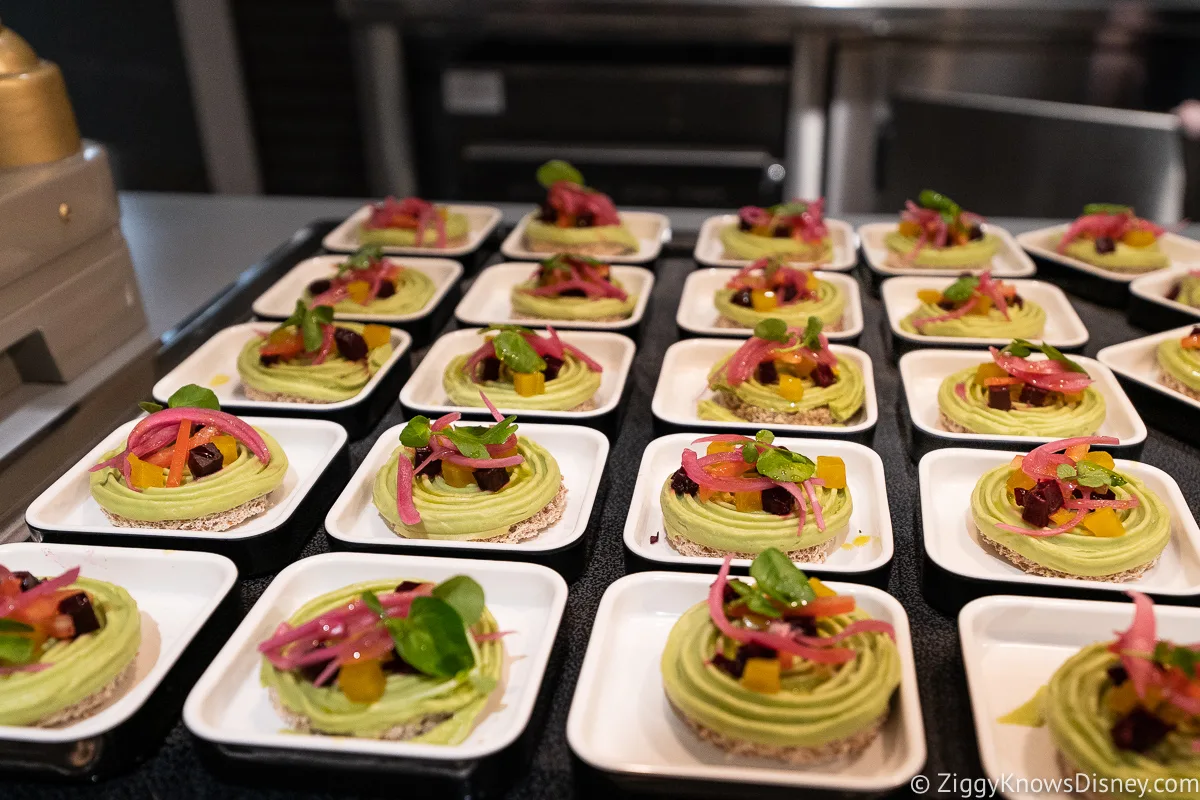 Apparently, green pearberries are code for avocado in the Star Wars universe and it's like getting an avocado toast back in the real world.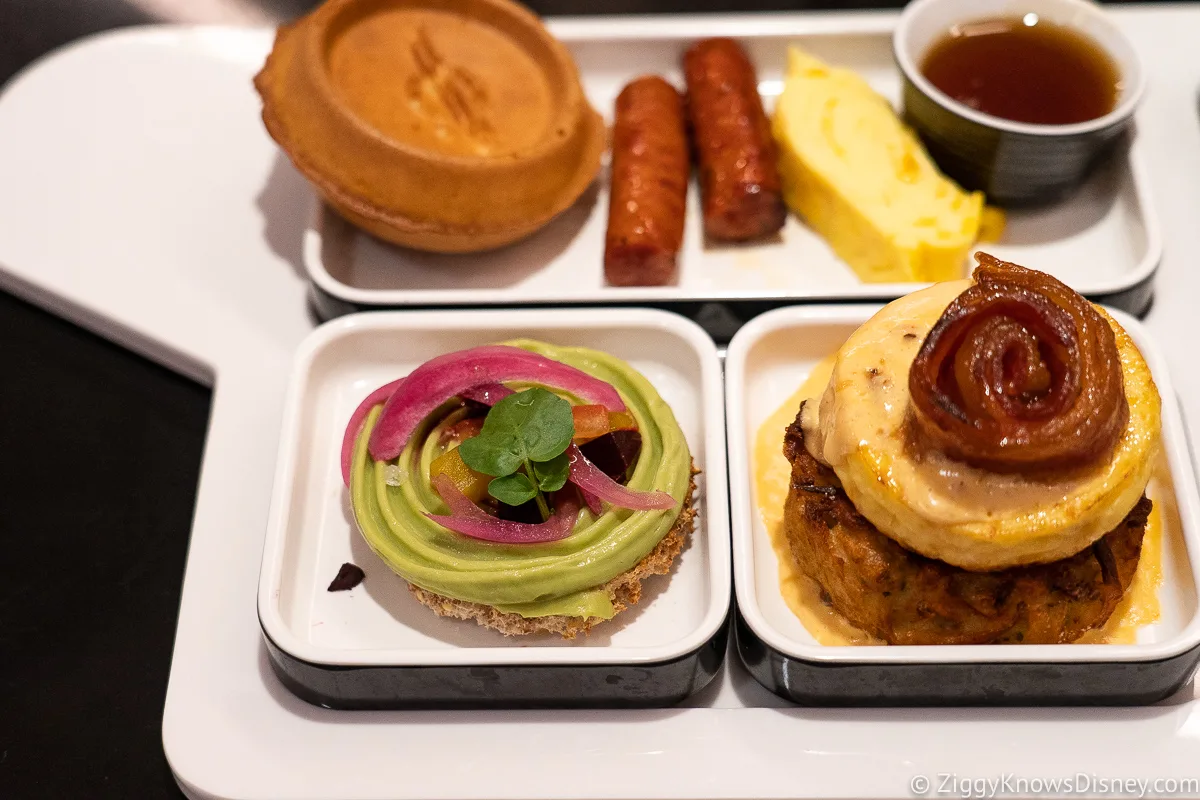 We are split on this item. The avocado cream was definitely fresh-tasting and it was super creamy as we like it. The garnishes on top were interesting and added some nice texture.
Unfortunately, the bread underneath was anything but toast. Actually, it wasn't toasted at all and was just whole grain bread. Also if the bread was toasted more it would hold up the toppings much better. We would probably pass on this next time.
Egg Bite with Potato Rosti, Bacon Bullet, and Sauce Choron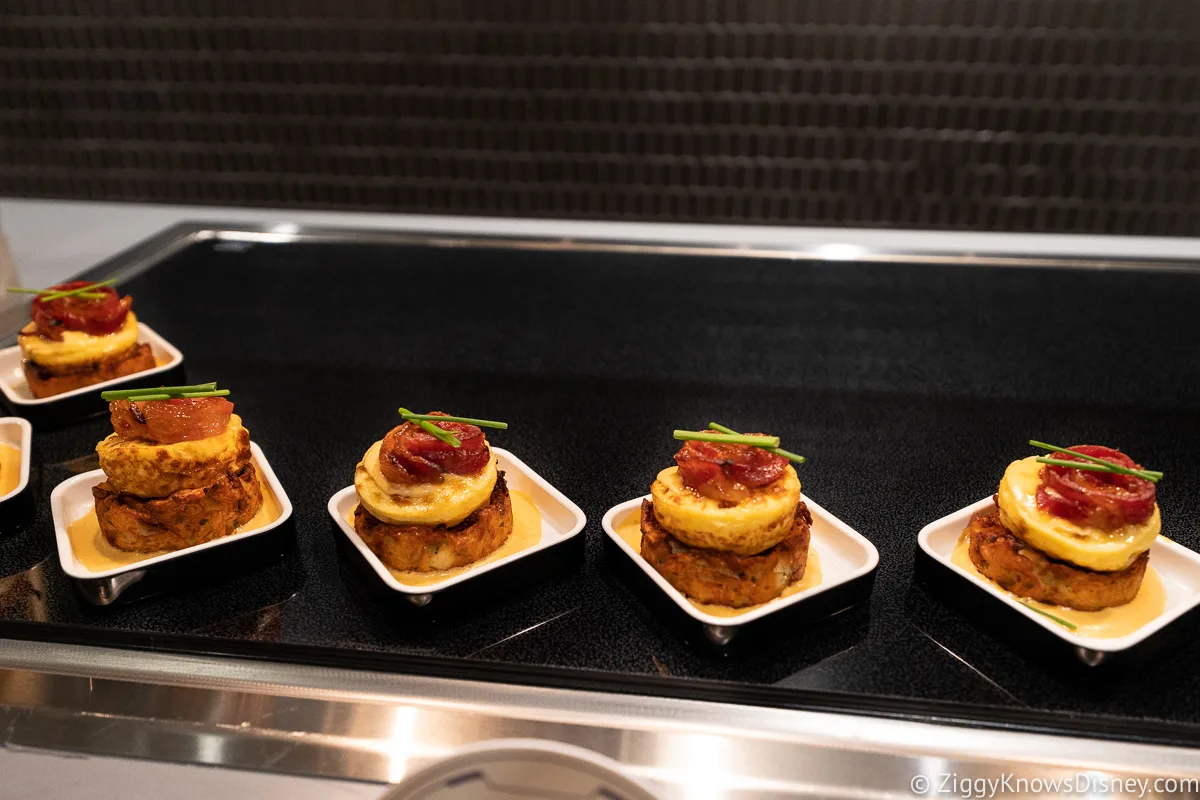 This was our favorite item on the buffet on Day 1. It starts with a crispy hash brown on the bottom layer, then a scrambled egg cup on the next layer, and is topped off with a bacon flower.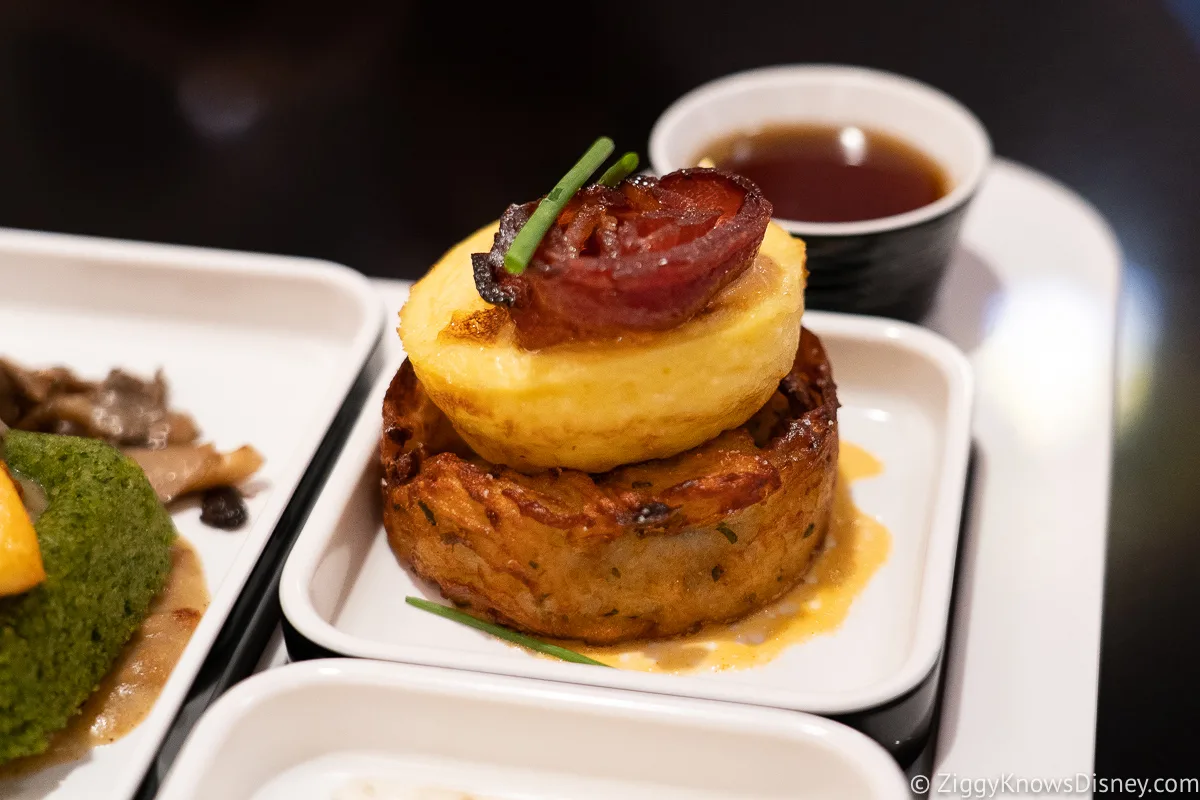 All three ingredients were cooked perfectly and the egg was super cheesy! The flavor here was great and the cheesy, buttery sauce covering it was amazing! Definitely a must-try!
In fact, when we got our next tray of food, you'll notice we went back for the Egg Bite though since it was by far the best thing so far!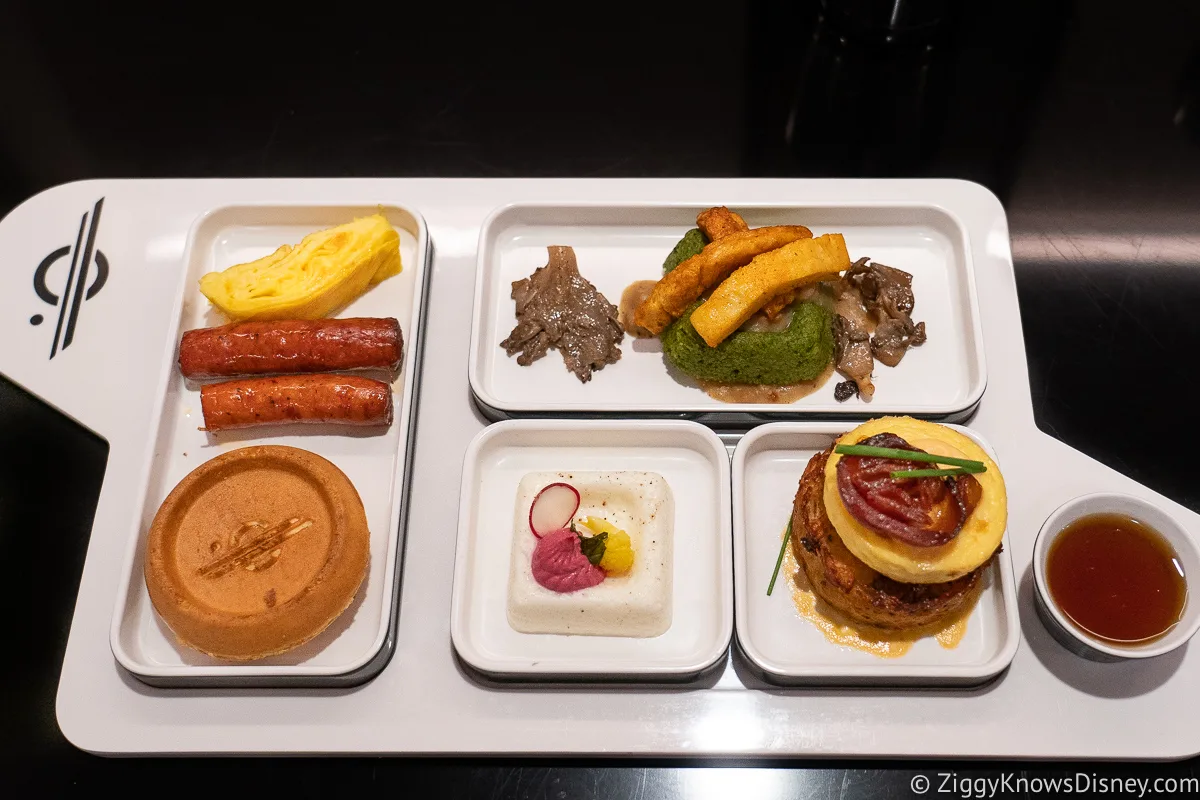 Kale Porridge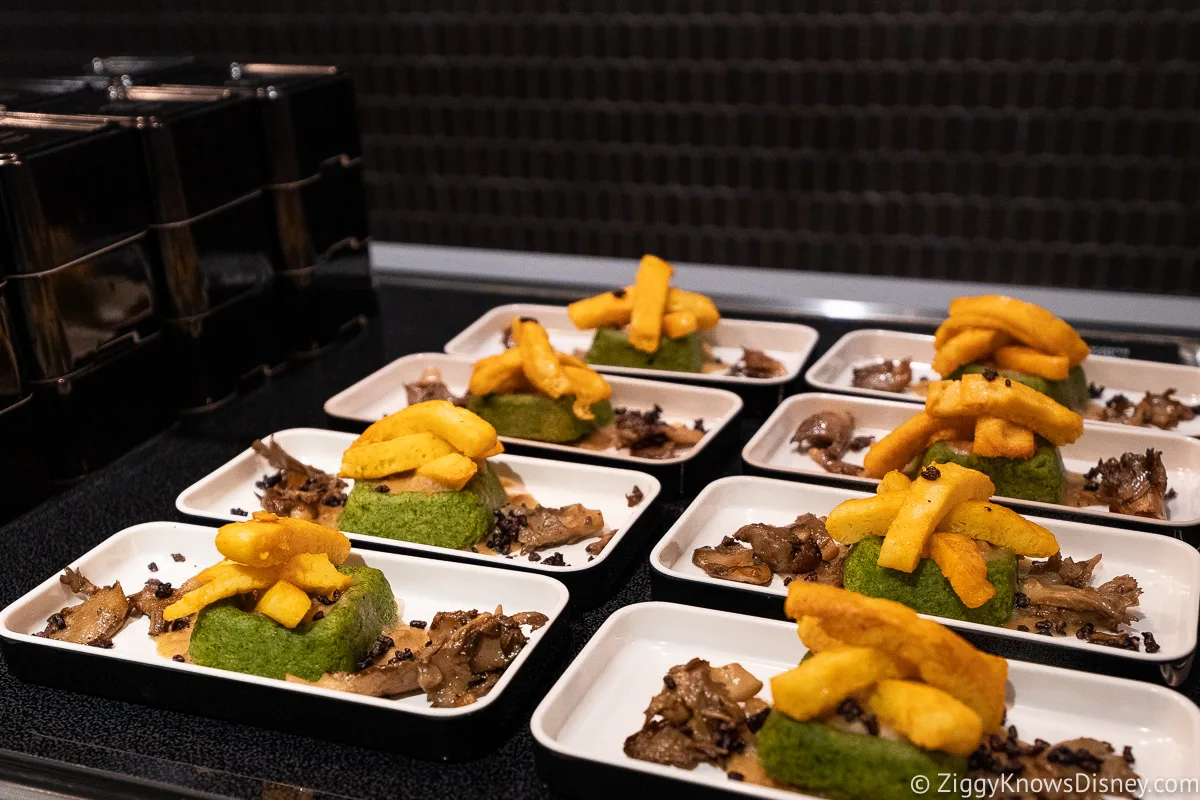 We usually don't run straight for the plant-based food items on a menu, but the Kale Porridge was a rare exception.
The kale porridge had a spongy consistency and was not great on its own. However, when you combined it with the plant-based eggs, "sausage gravy" (really mushroom gravy), and the mushrooms themselves, it was all really quite good.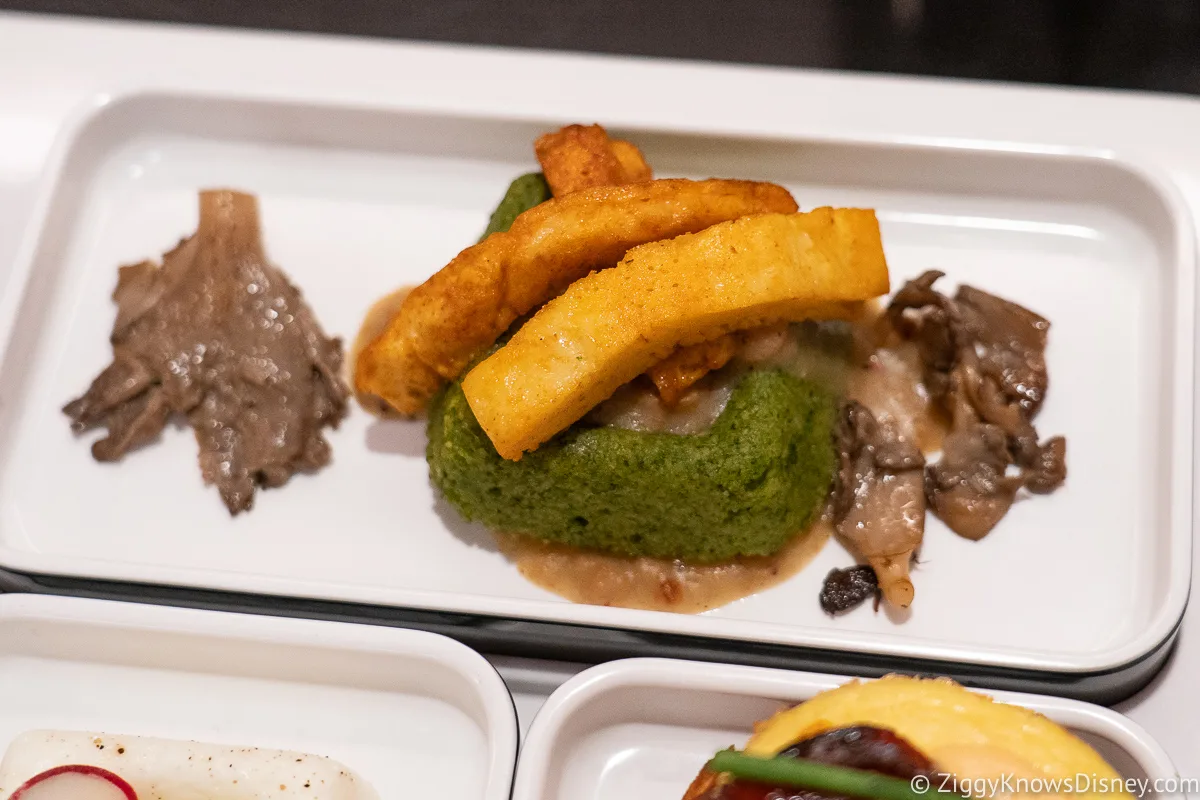 The gravy was actually delicious, definitely a strong mushroom flavor. We thought colors and the whole presentation was beautiful. We aren't big on fake eggs, but this was one exception we would gladly eat again.
Whipped Egg (with Spiced Batuu white sauce)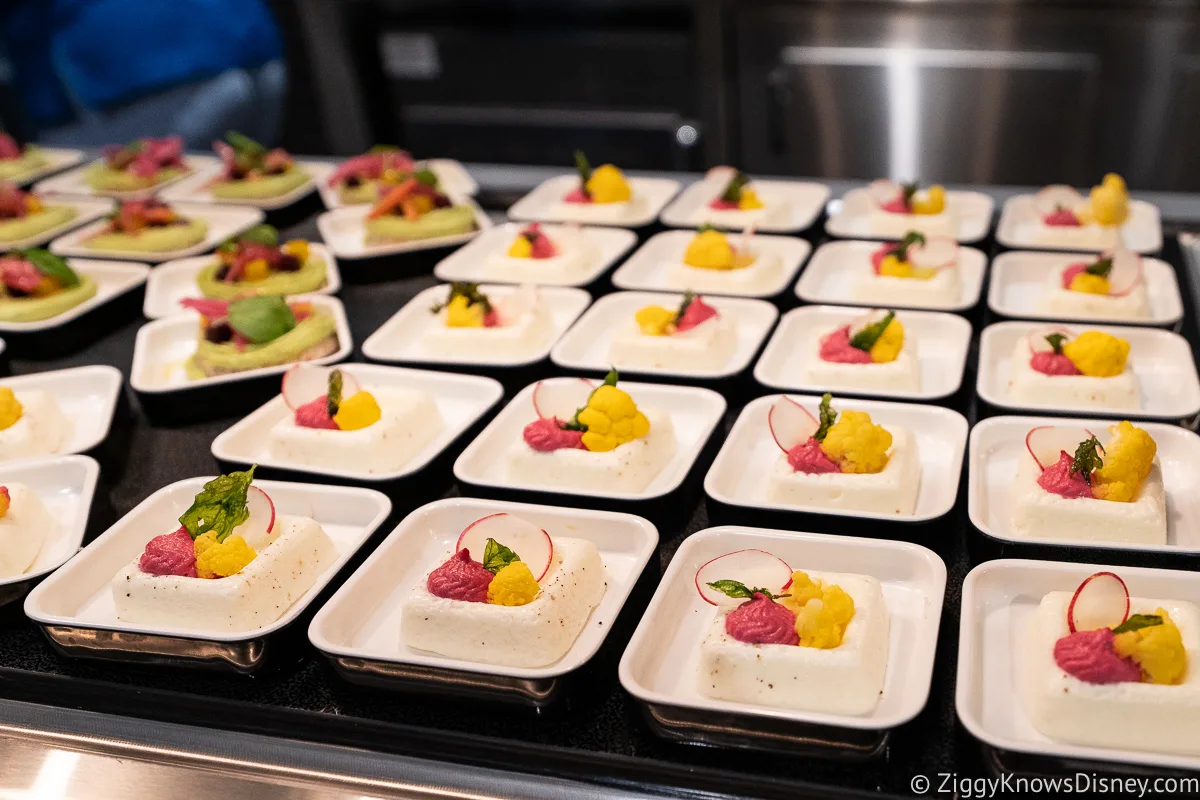 Let's just say we aren't big fans of the whipped eggs, which are topped with a spiced sauce, radish, and cauliflower.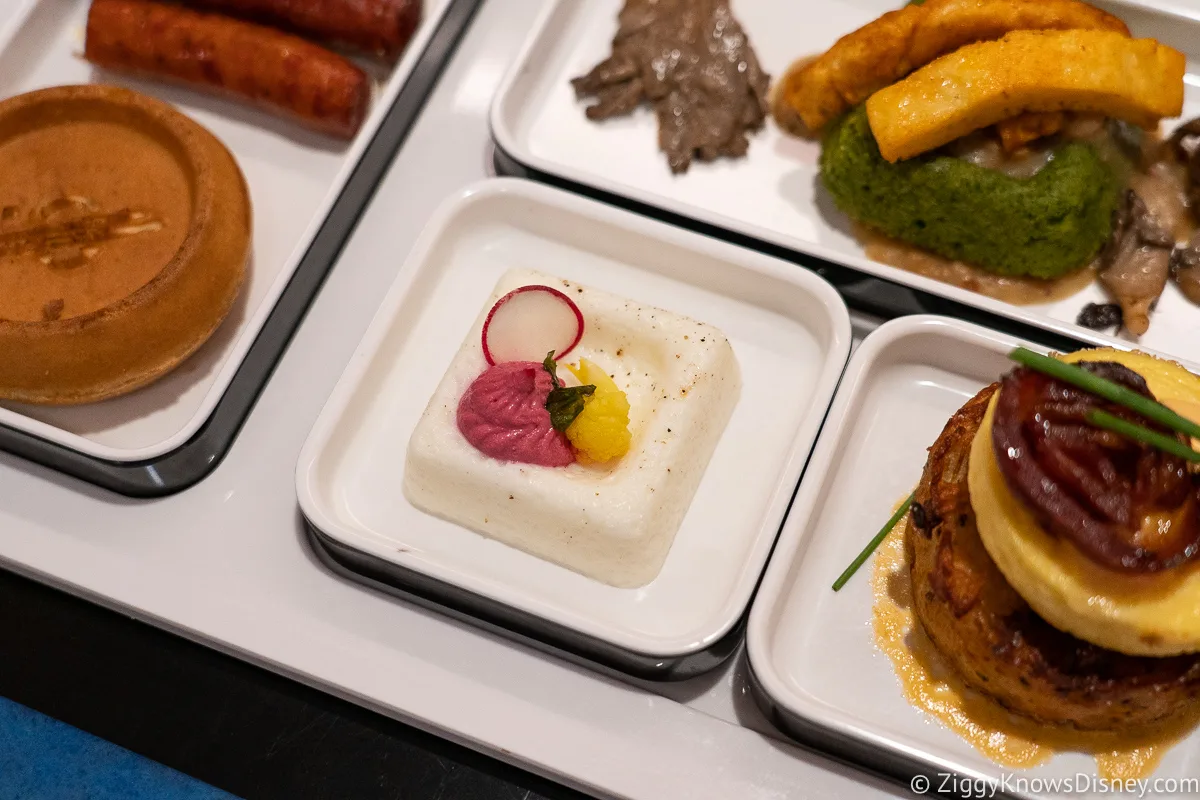 It was basically like taking a chilled egg white and blending it up until smooth and then making a gelatin out of it. Not exactly appetizing imo. It's not overly spicy so don't worry about that, but everything about it from the taste, texture, and cold temperature we just didn't like and would not recommend it.
Palm Fruit Yogurt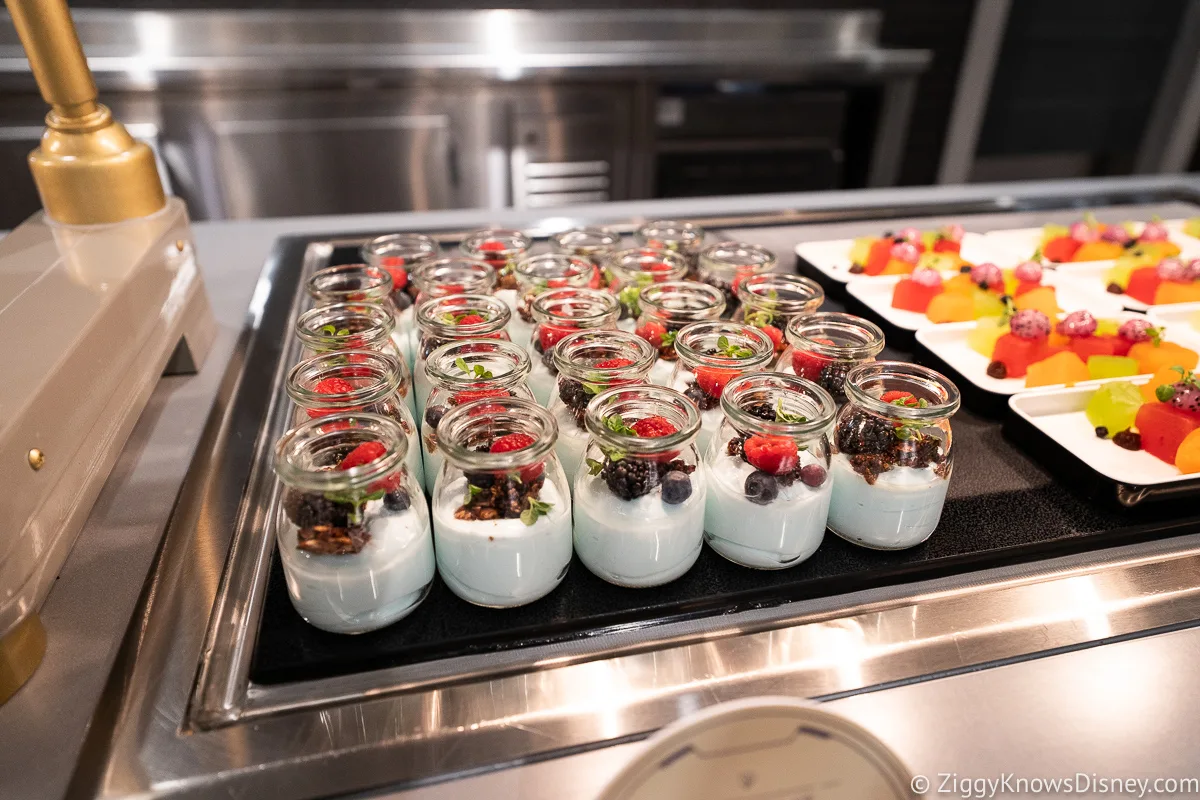 The Palm Fruit yogurt is a great option if you are looking for something really light and healthy to tide you over until lunch. It's a plain Greek yogurt with a slight citrus flavor.
It's then topped with quinoa granola, yuzu jelly, and fresh fruit. What is yuzu you ask? It's a citrus fruit that has a sour taste and looks and tastes a lot like a lemon or lime. Yogurt is not what we are looking for on the Galactic Starcruiser, but if you don't want something heavy it could hit the spot.
Compressed Fruit Plate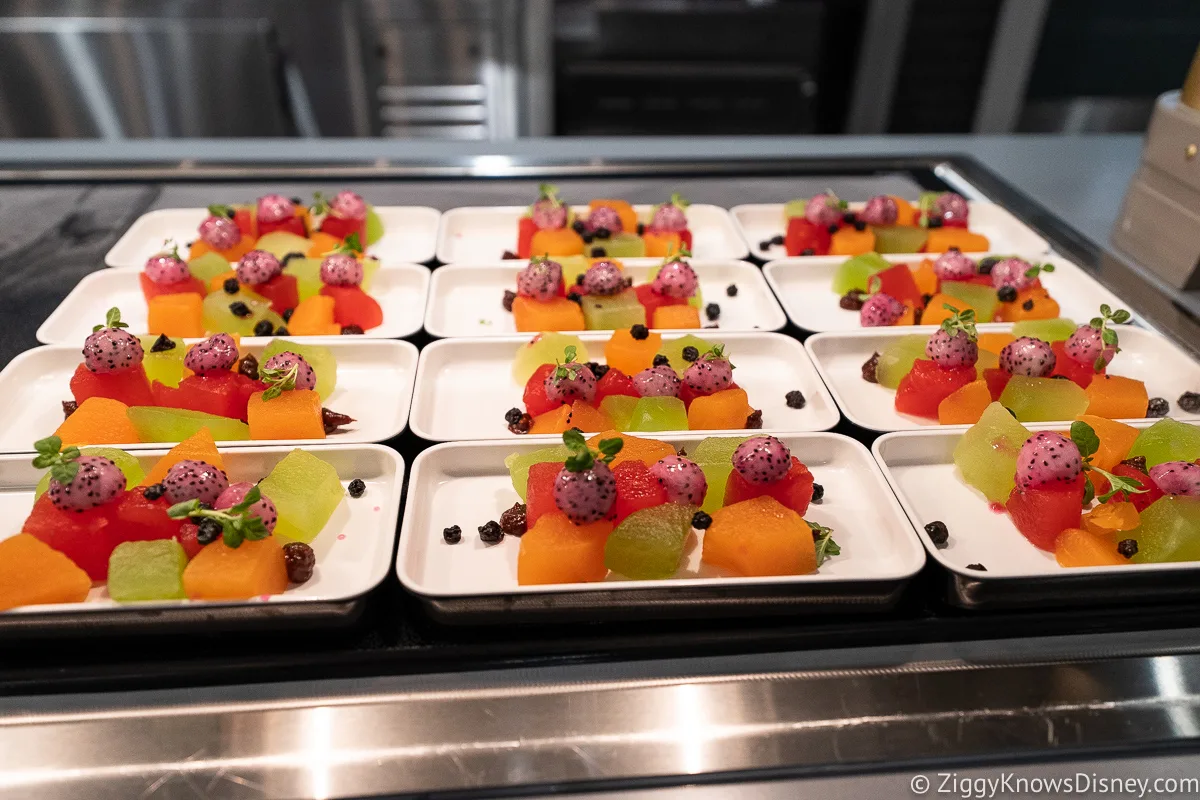 The presentation of the compressed fruit plate was gorgeous and it tasted pretty good too. It had three kinds of melons made to look like they were vacuum-sealed and sent into space. There were also dried blueberries and dragonfruit scoops on top.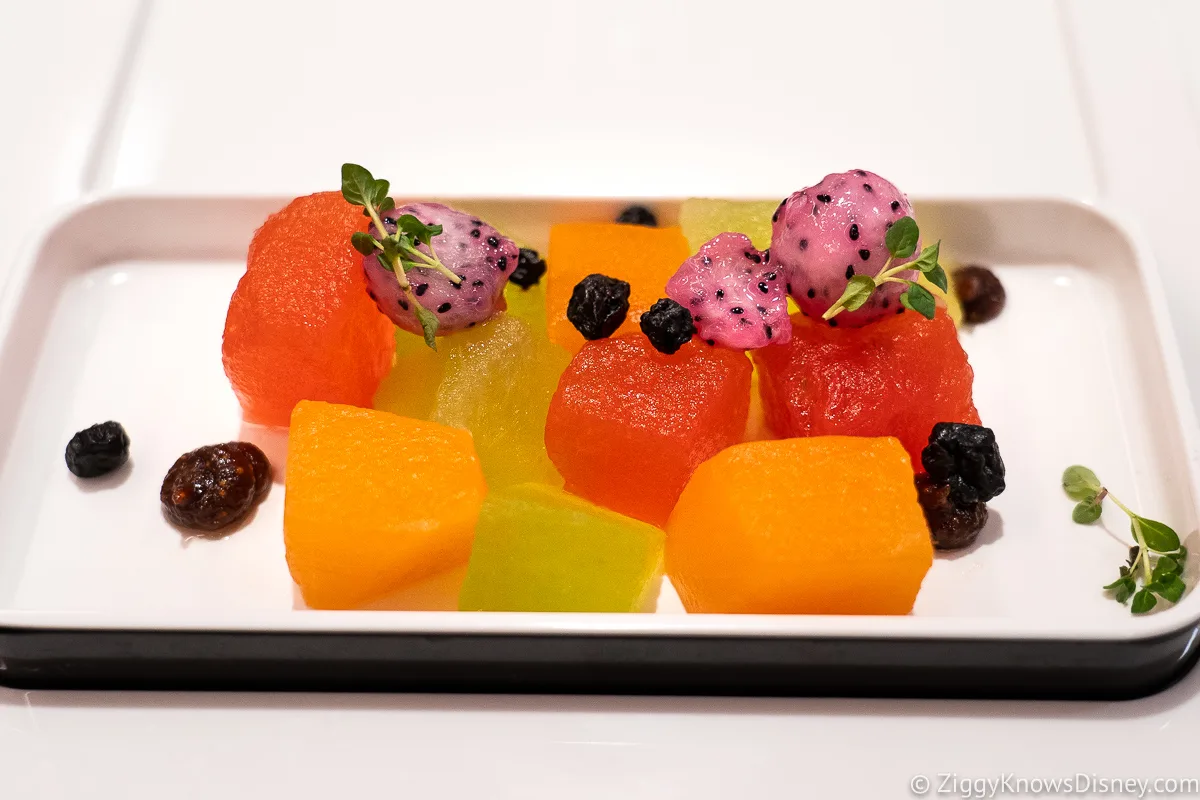 The fruit could have been a bit sweeter, but that also depends on the season in which you visit.
Scrambled Eggs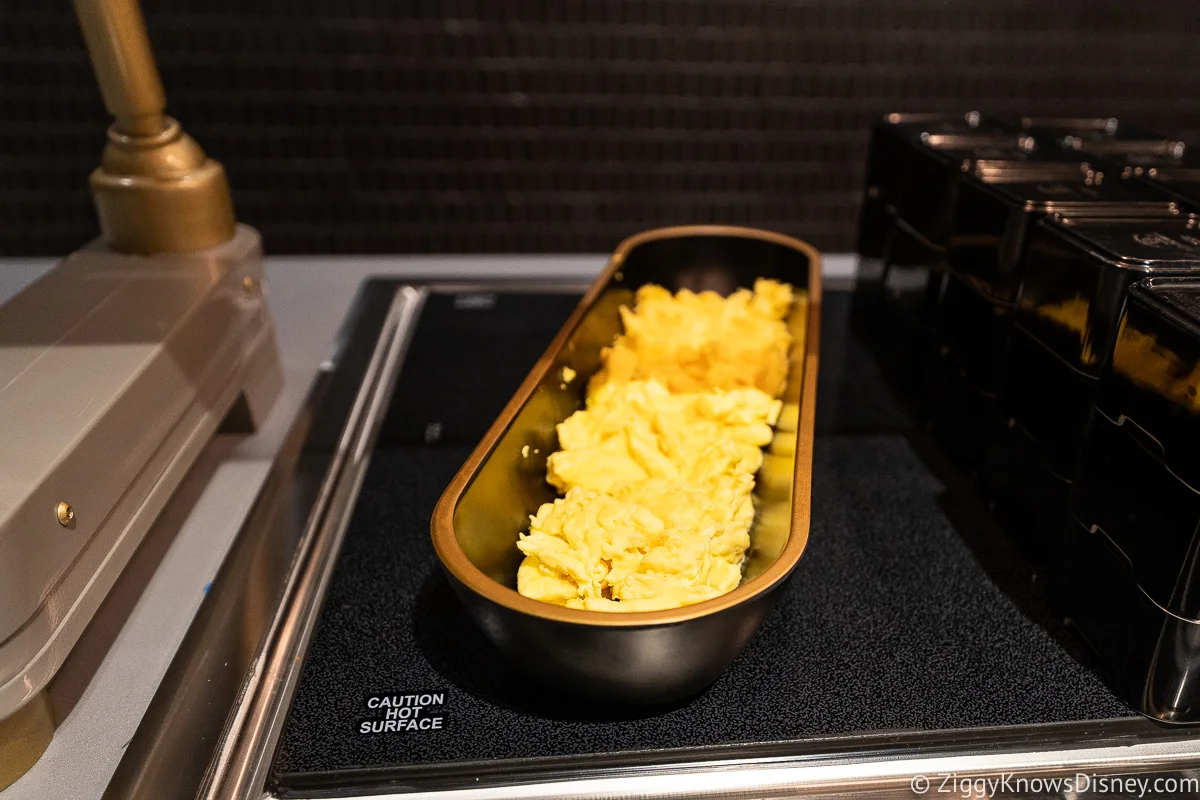 For those who are less-adventurous eaters, you can have some traditional, Disney scrambled eggs. We often steer clear of scrambled eggs sitting in a bowl, but they seemed to be coming often enough to keep them fresh-tasting. Still, there is nothing special going on here.
To eat all this yummy food we are going to need some silverware.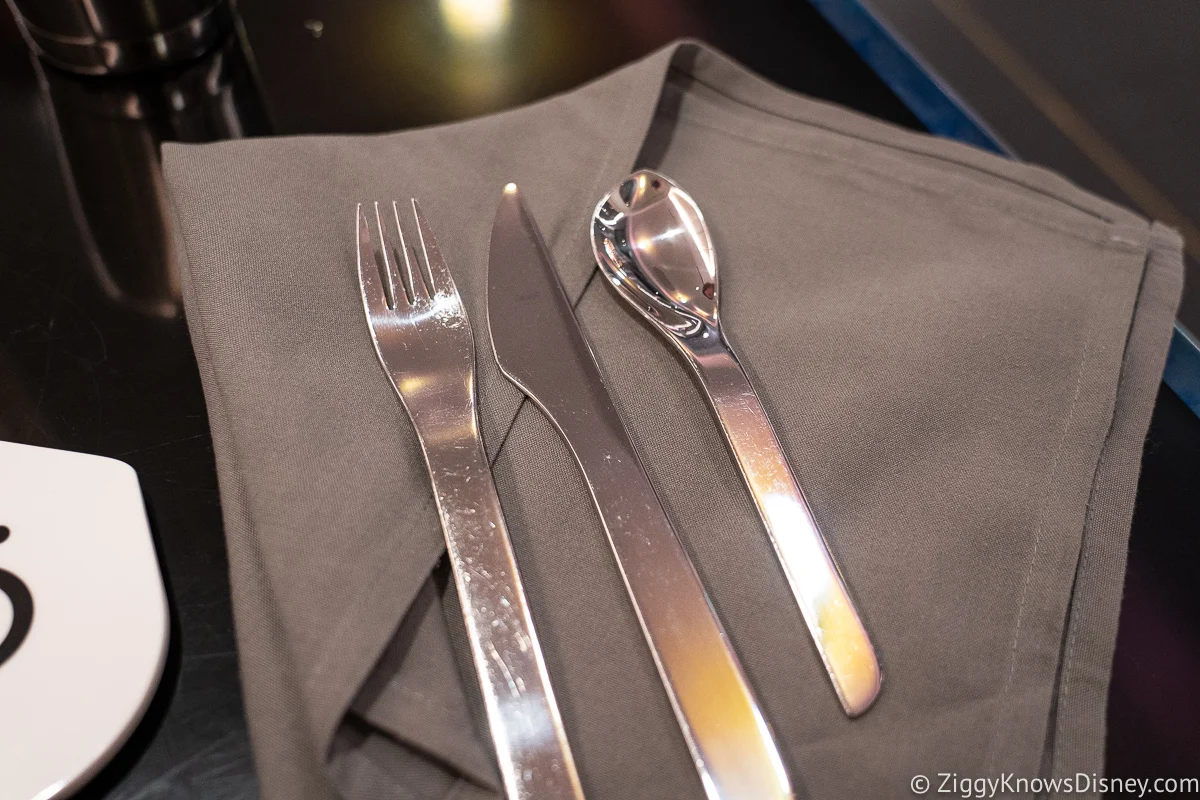 They aren't quite as sleek as the silverware at Space 220, but they are still nice and feel heavy in your hand. Here is the fork…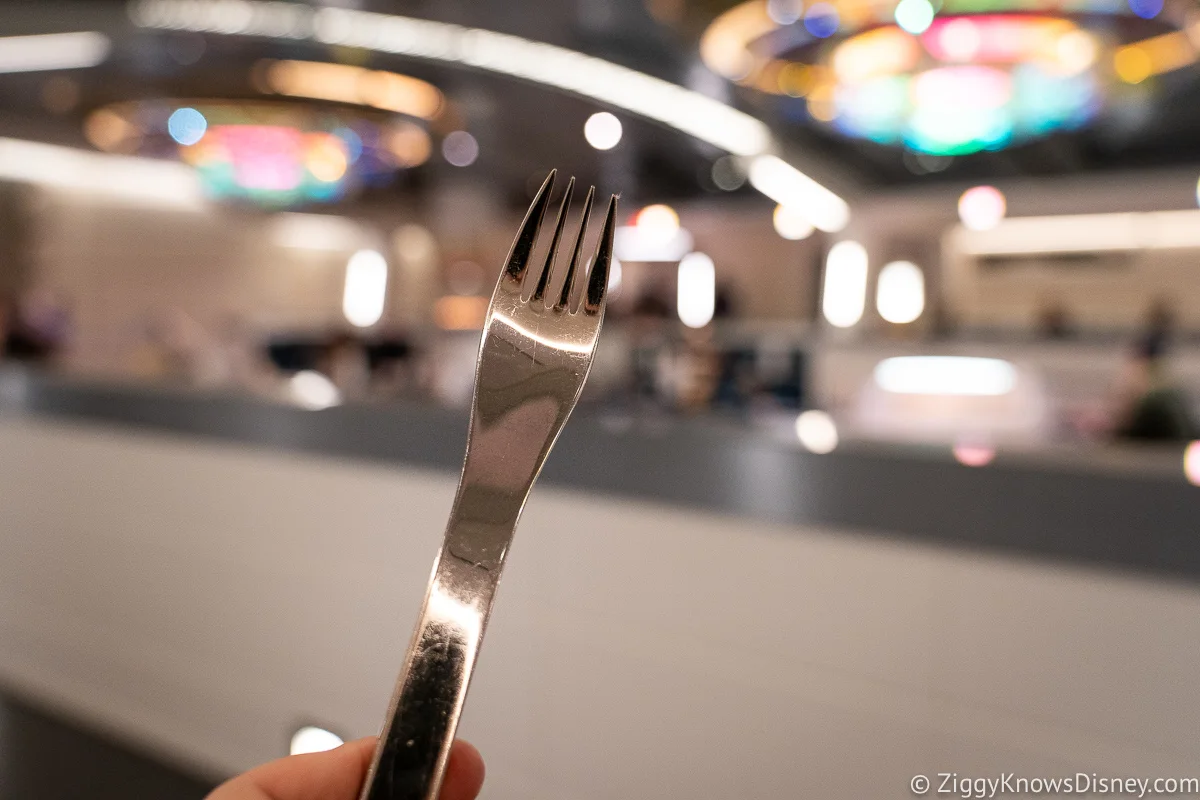 A Knife…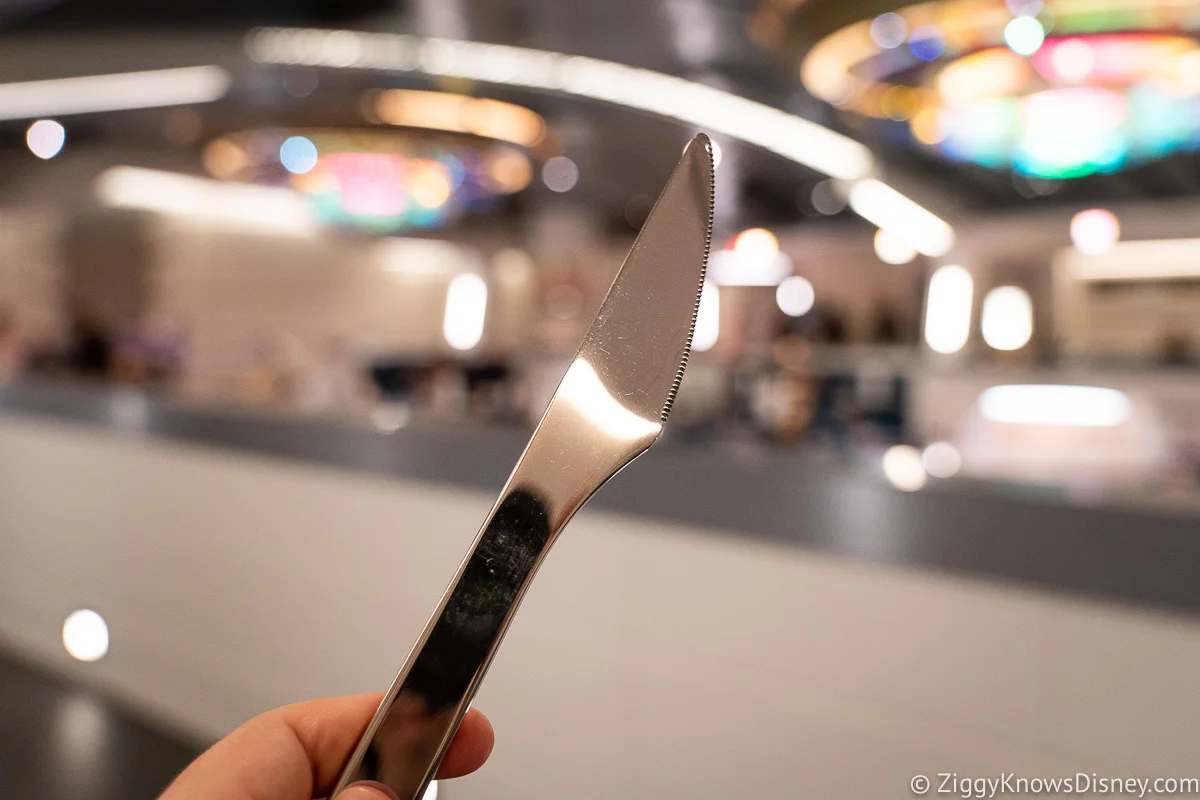 And the spoon…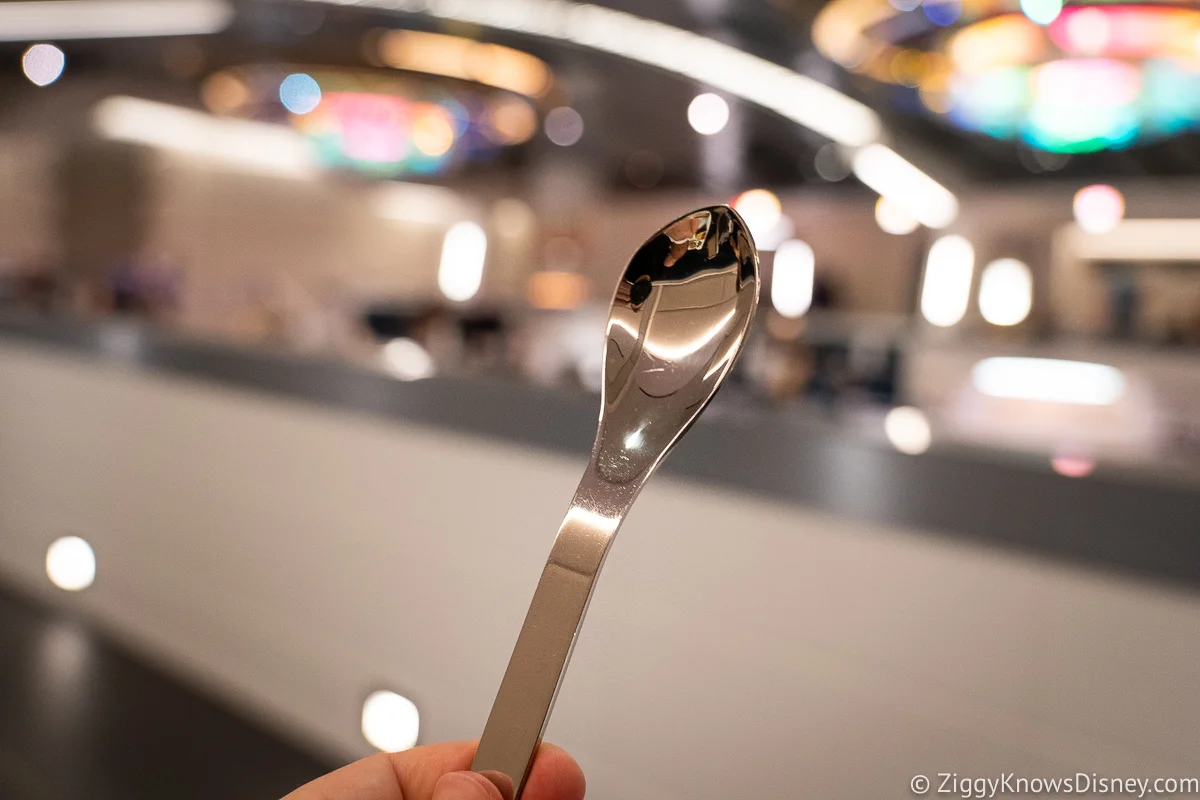 Breakfast Day 3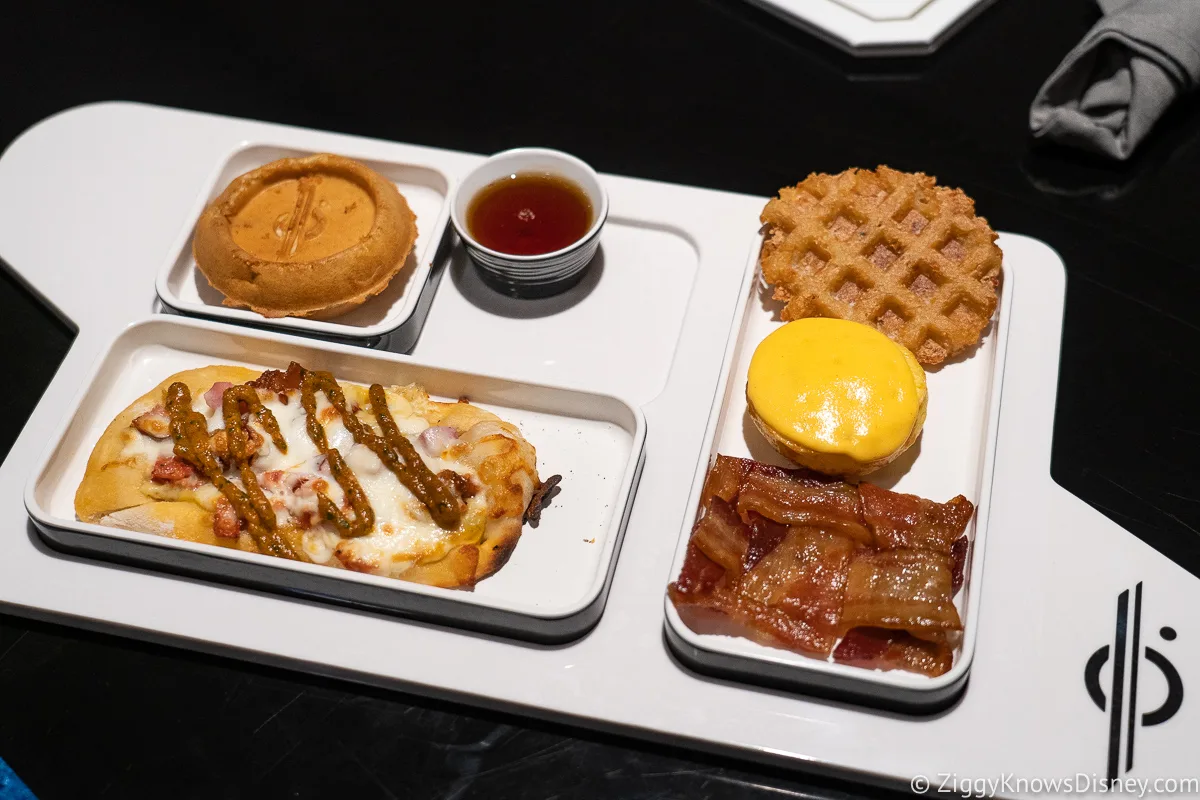 Drinks
Cappuccino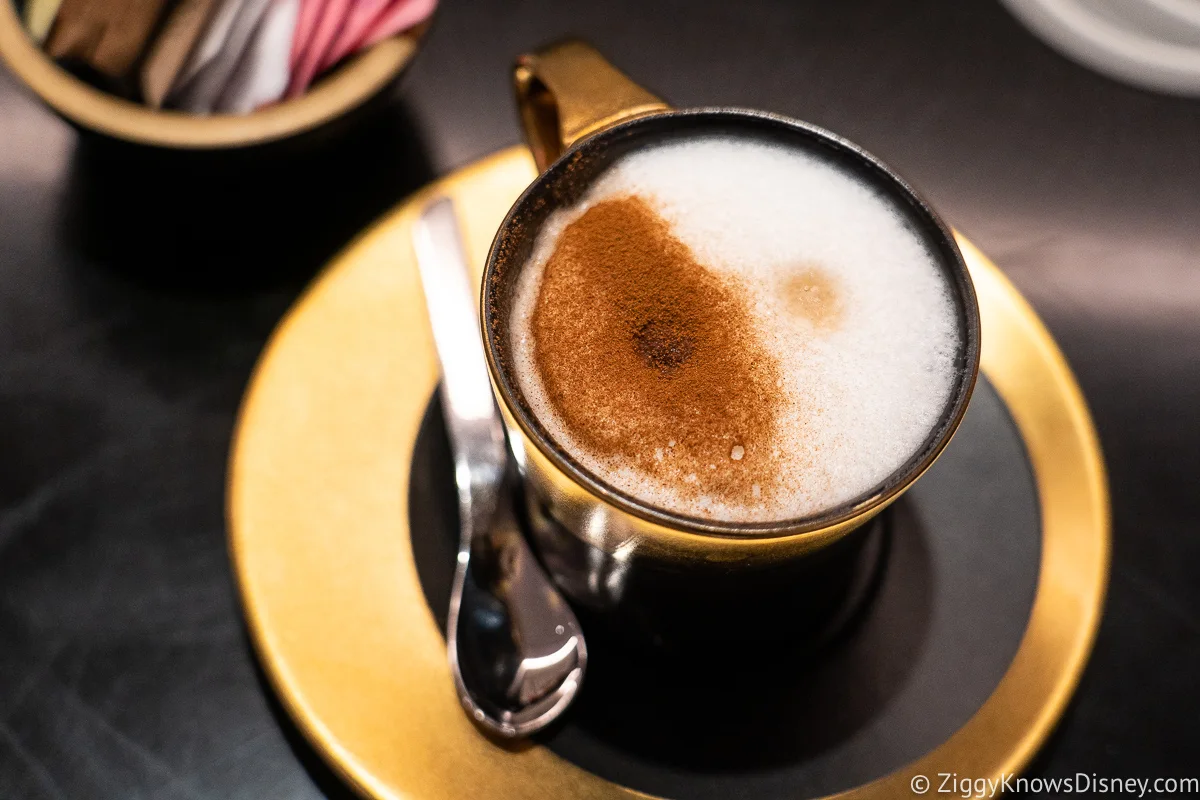 All the coffee drinks were tasty including the cappuccino. The nice thing is that they are all included in the price of your stay so you can order as many as you want for free.
Food
A bunch of the food items were the same as the first breakfast.
Waffle, Sausage, and Egg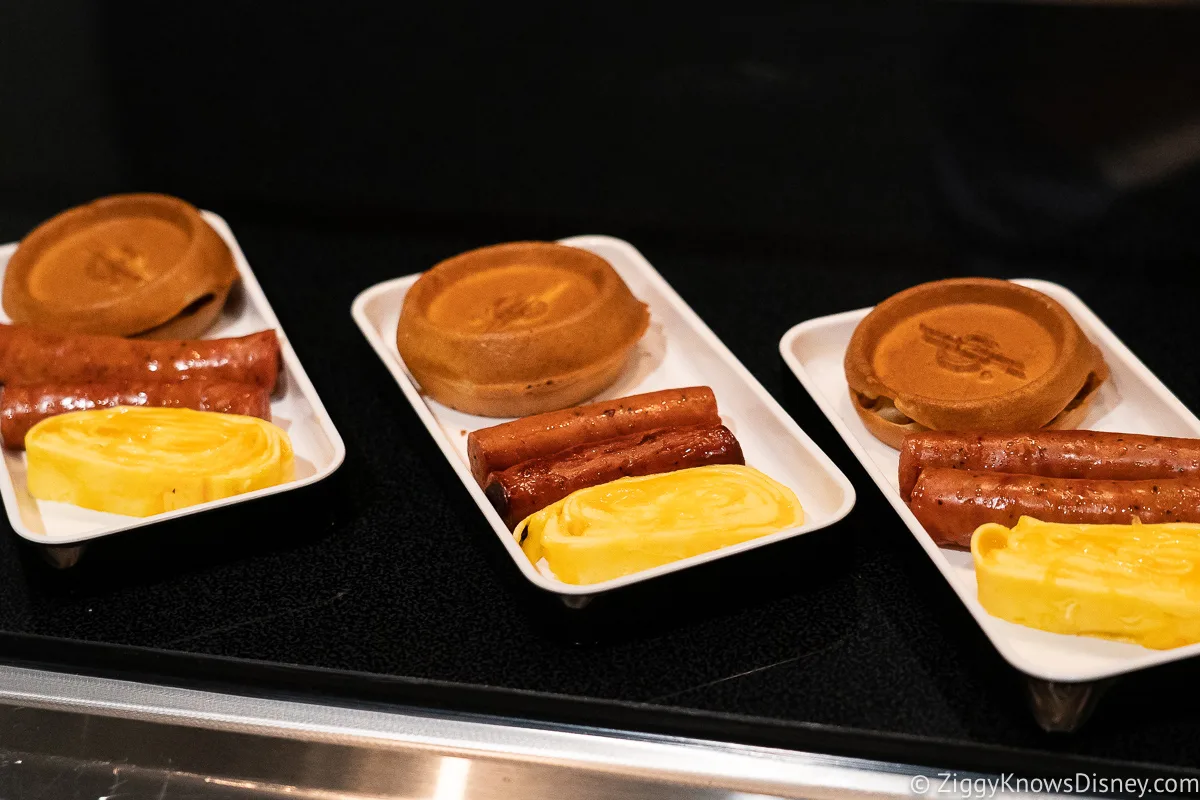 This is the same plate of sausage, egg, and a waffle as on Day 2 and it was just as good here too.
Sweet Cakes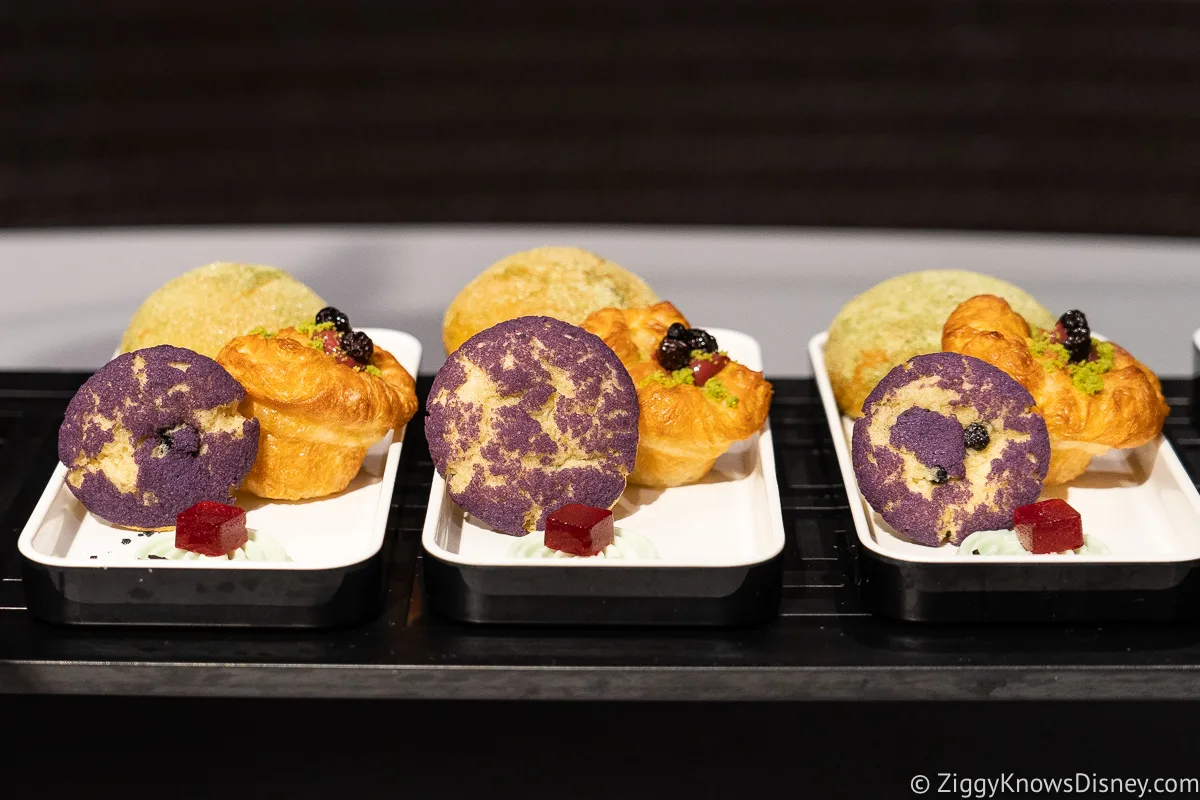 This was the same plate as the day before. Something like this they could have easily changed to give guests some variety.
Palm Fruit Yogurt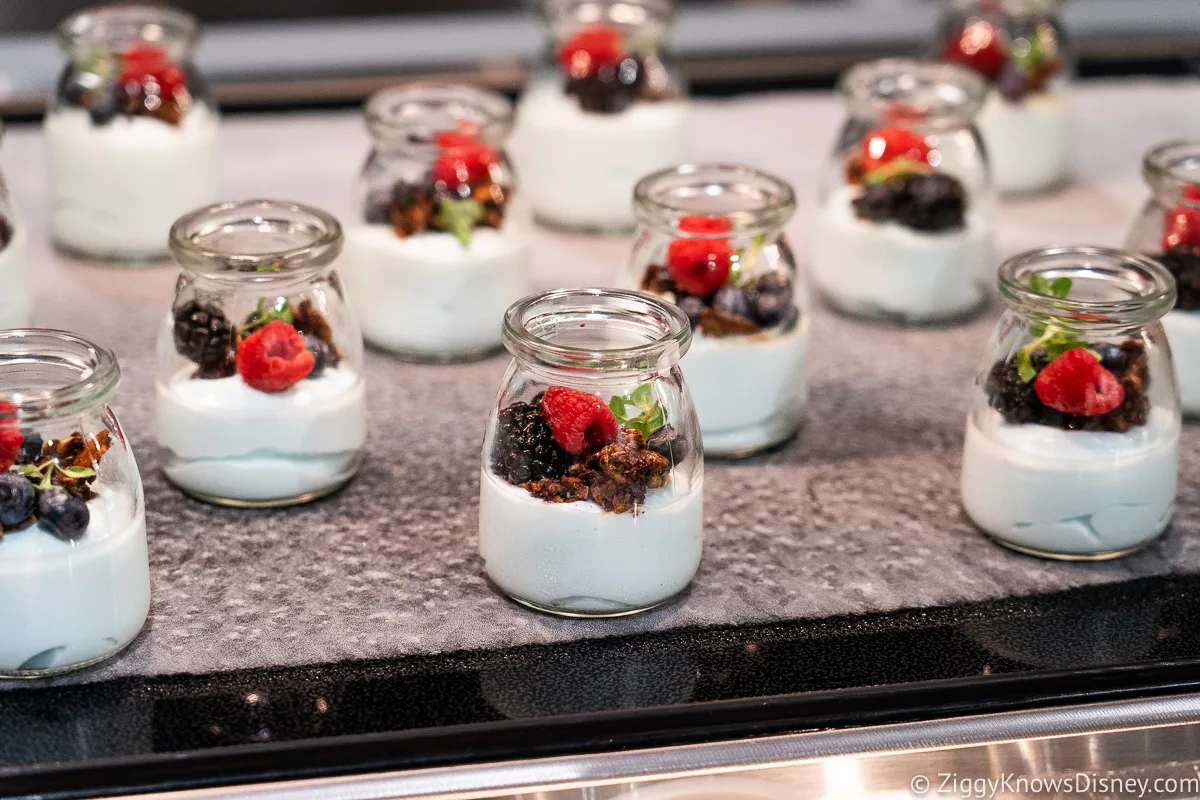 The same as the day before.
Compressed Fruit Plate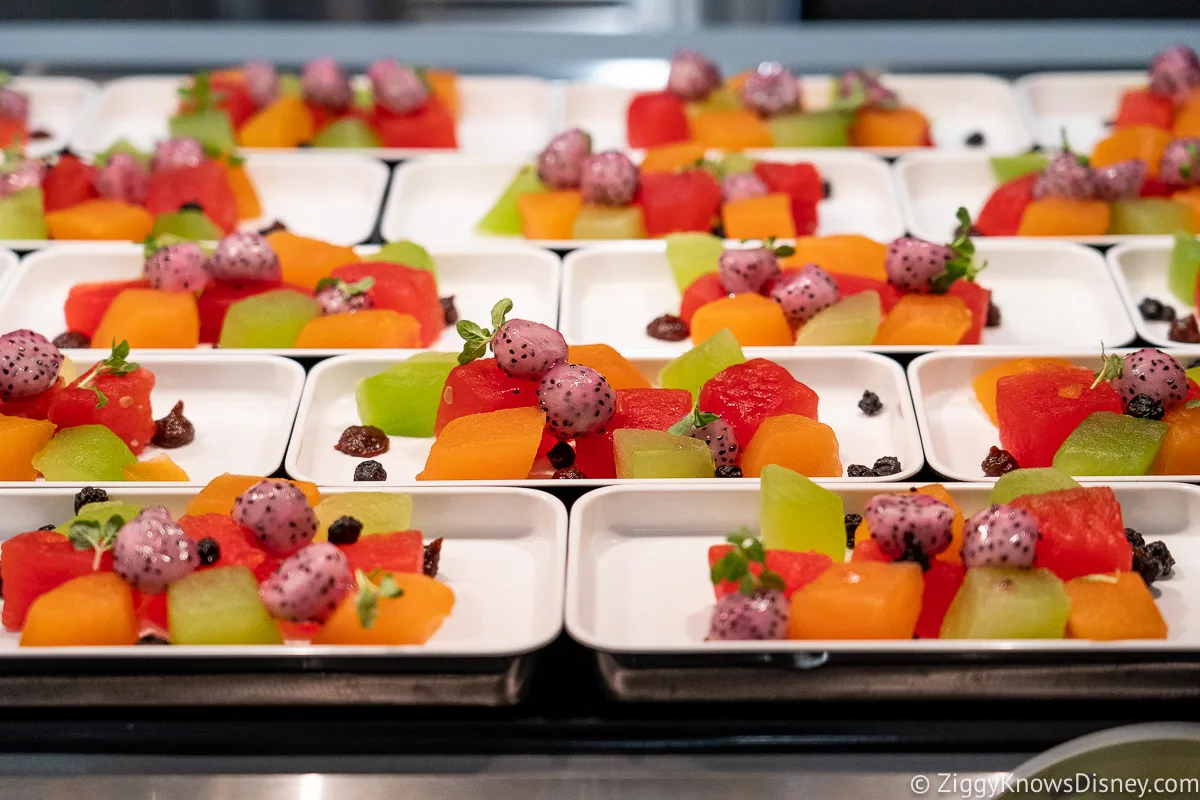 The fruit plate is back also on the second day of breakfast.
Scrambled Eggs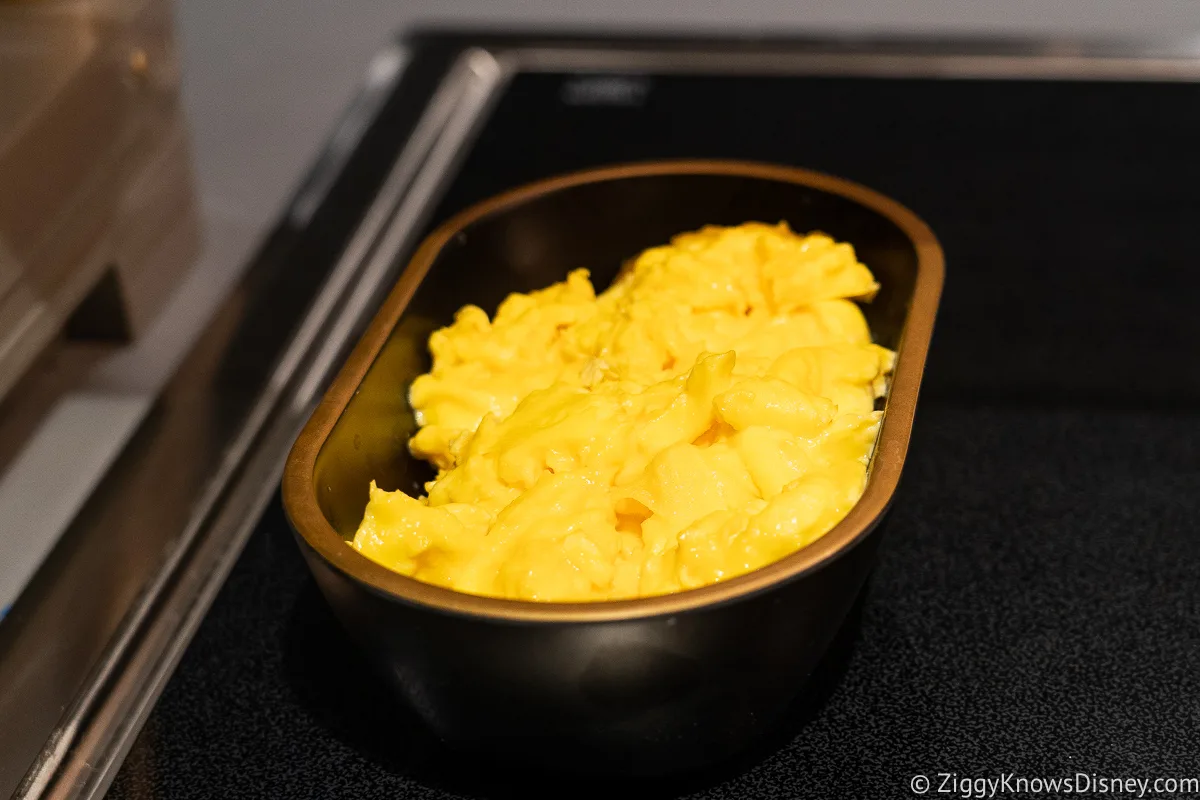 The same from the day before.
Now finally, we get to some new items…
Spiced Bobotie with Red Fruit Jam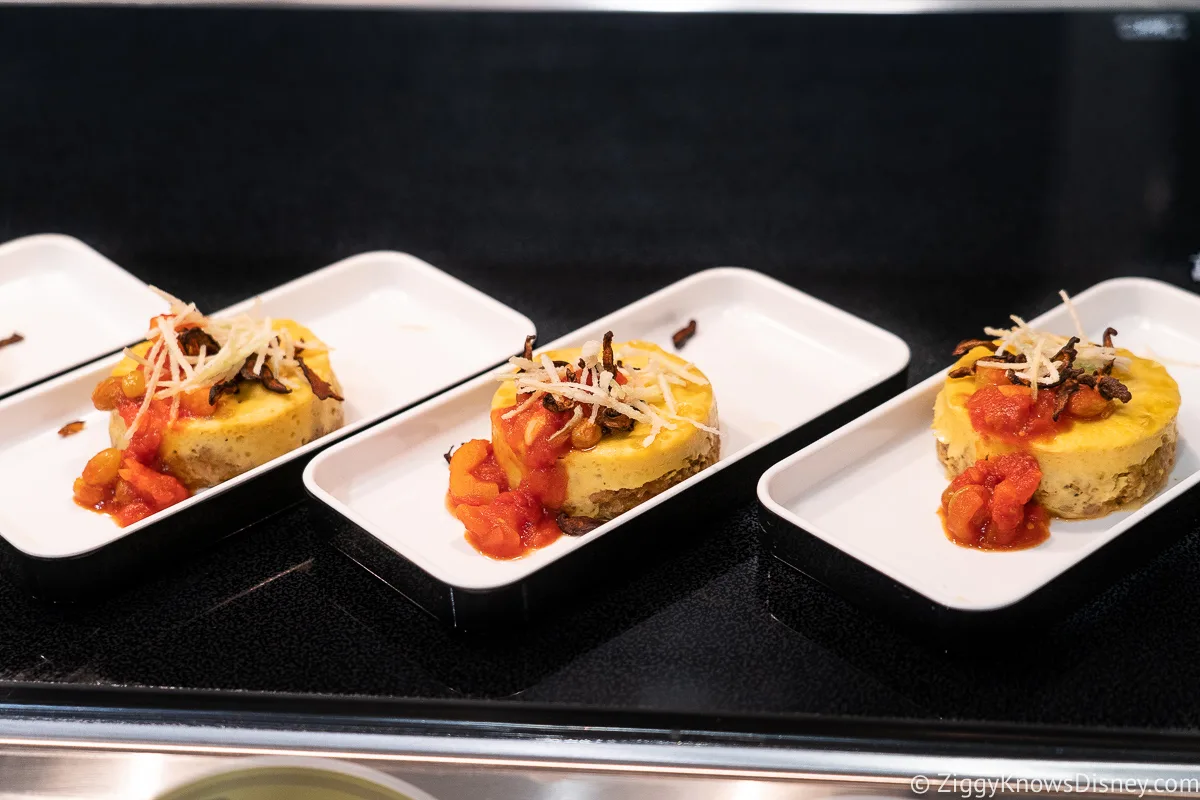 The spiced bobotie with red fruit jam is essentially a plant-based egg with a tomato jam on top. It's very similar to the one you find at Boma at Disney's Animal Kingdom Lodge.
If you are used to "fake" eggs then you will probably like this. It has a weird texture that if you aren't used to you might not like. To our taste buds, it was just ok.
The tomato jam was actually quite good and it had a nice sweet flavor. Overall, we liked the Kale Porridge much better than the Bobotie but if you need a plant-based item it's here for you.
Breakfast Meat Pie (Flatbread with cheese, sausage, and bacon)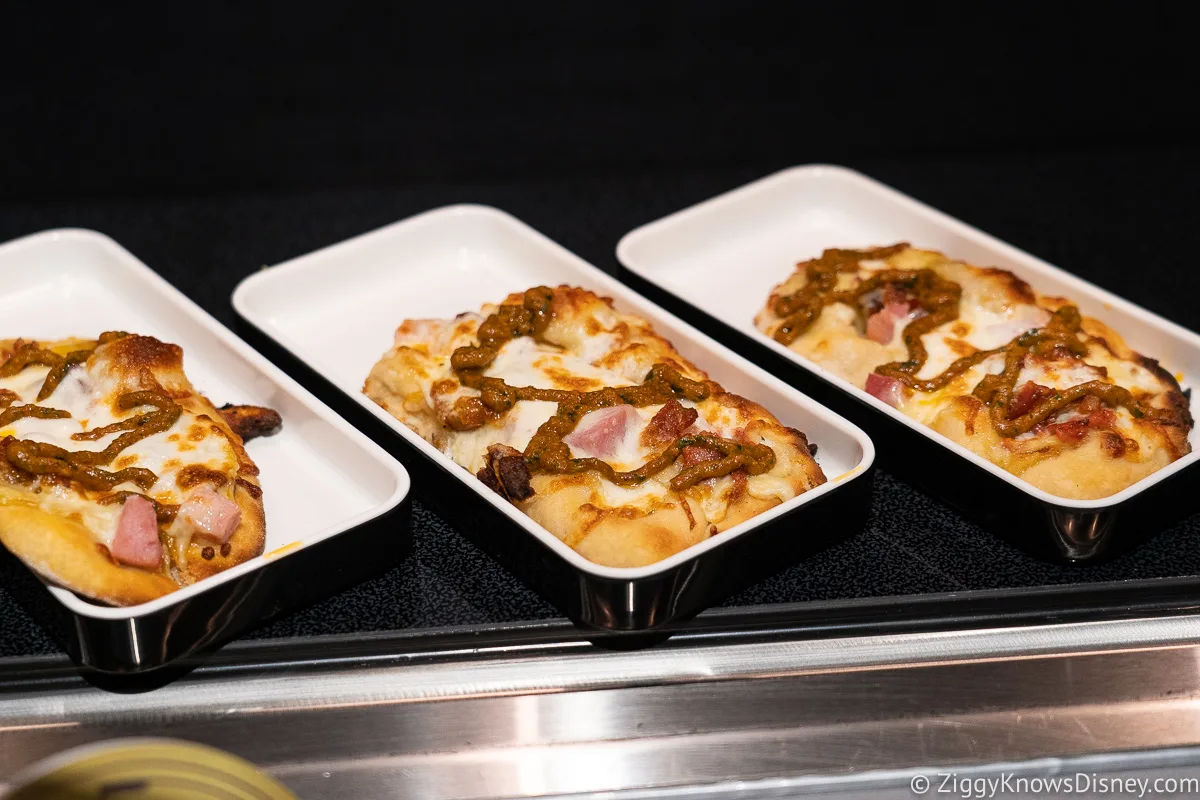 It seemed like there was a flatbread at every breakfast and lunch, but this one was one of our favorites. It was covered with cheese, sausage, and bacon, and then topped with a spicy coriander-based sauce. It definitely tasted like something from the African food marketplace at the Food and Wine Festival.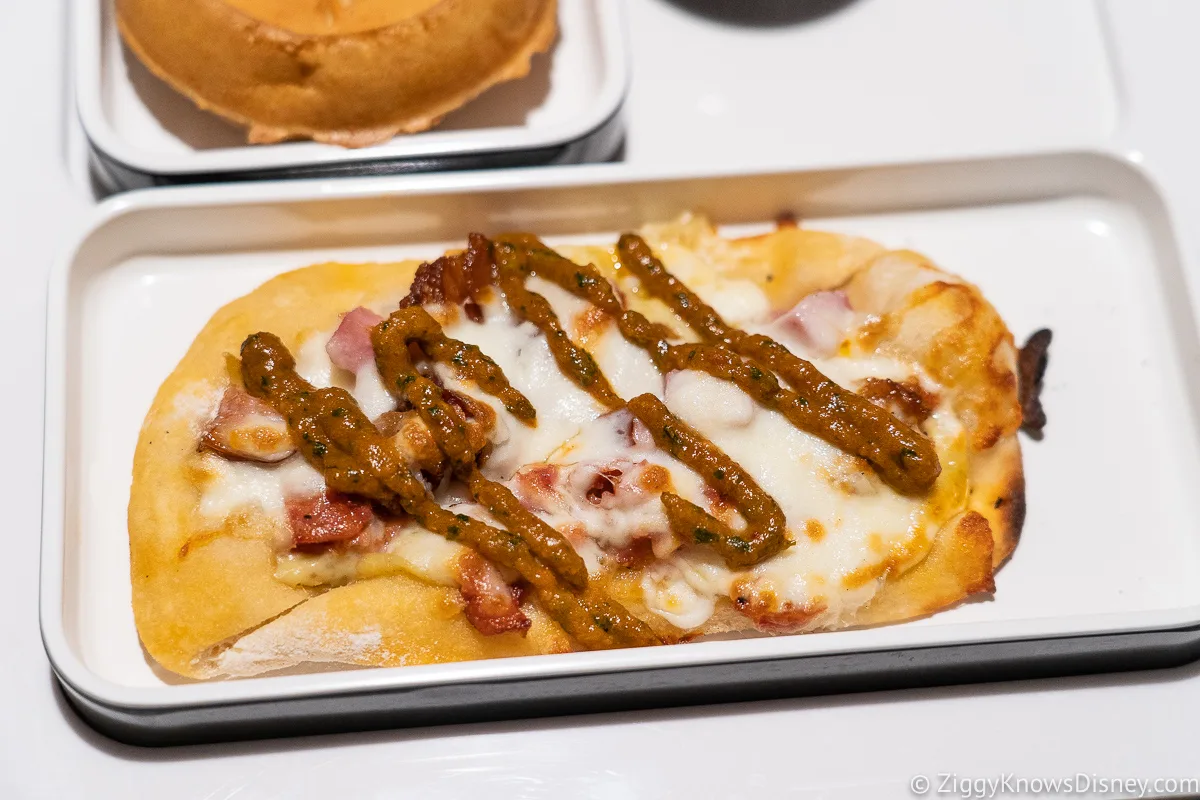 Some of our party didn't care for the sauce, but we thought it was good and mixed things up a bit instead of the same traditional breakfast flavors.
Meteor Egg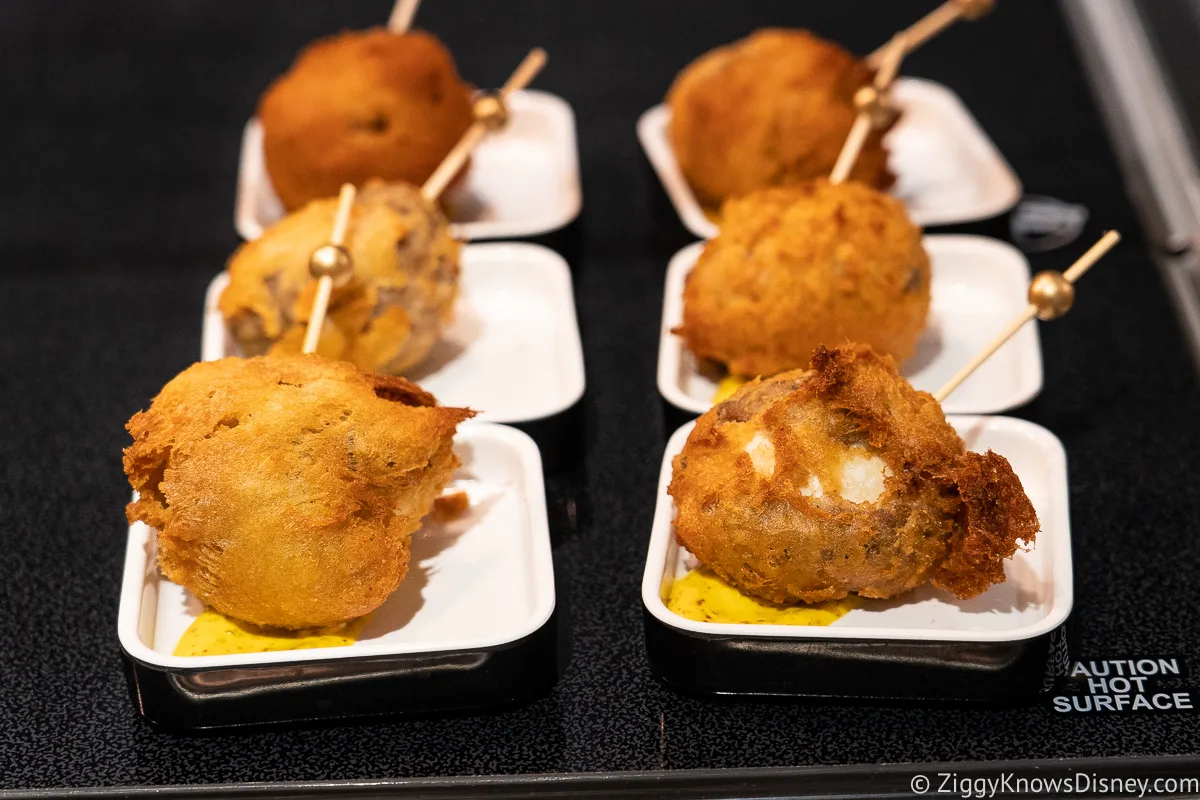 Now we come to one of our favorite food items of the entire voyage, the Meteor Egg! If you like Scotch Eggs, you are going to LOVE this!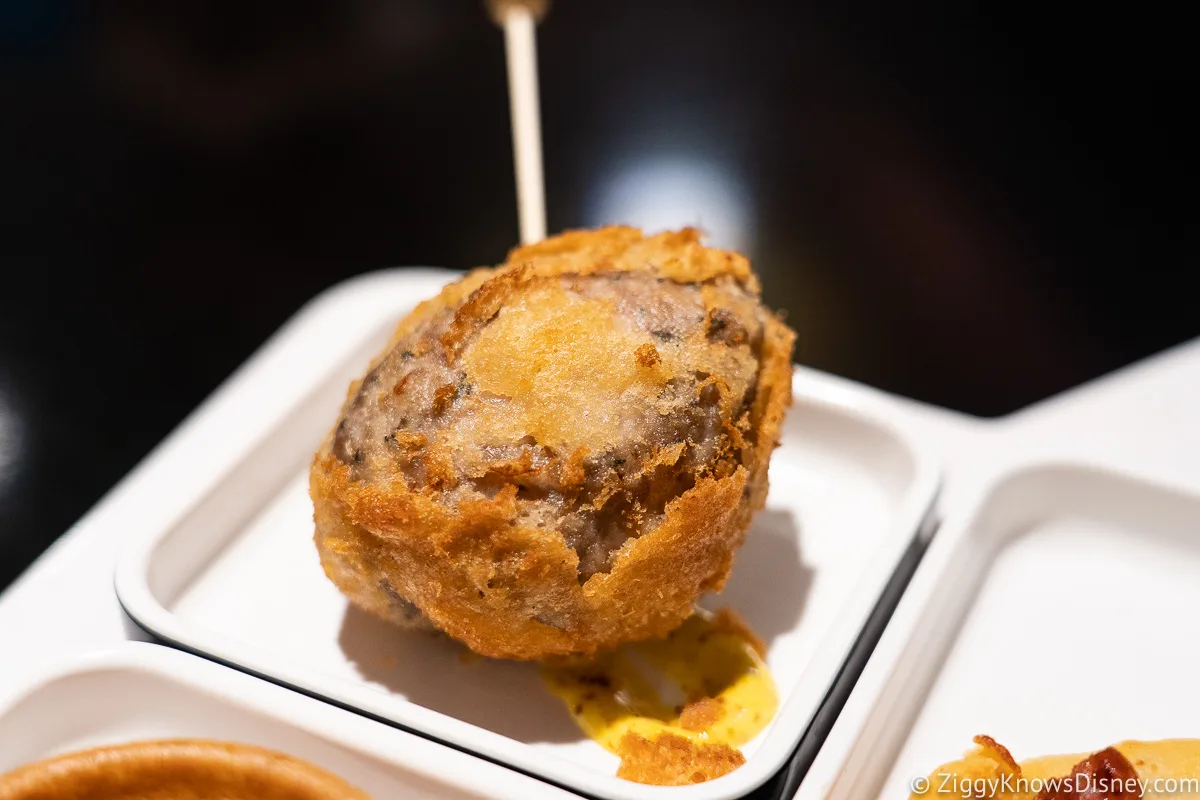 Basically, it's a soft-boiled egg that's wrapped in a breakfast sausage sphere and then covered in a crispy-fried batter. It also comes with a tasty turmeric aïoli to dip it into.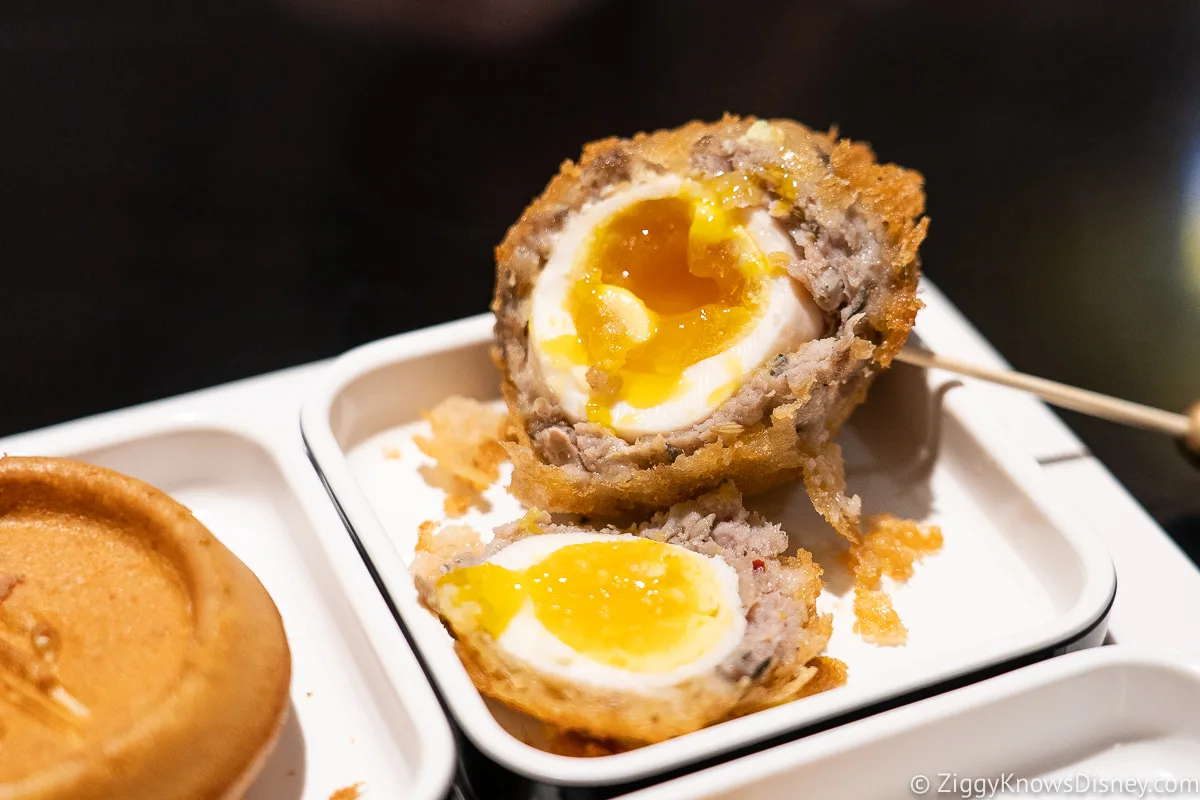 If you don't like soft-boiled eggs you won't like this, but if you do, you are in for a treat. Everything about it was fantastic, but the crispy batter on the outside was truly incredible and not greasy at all.
Crispy Tuber Waffle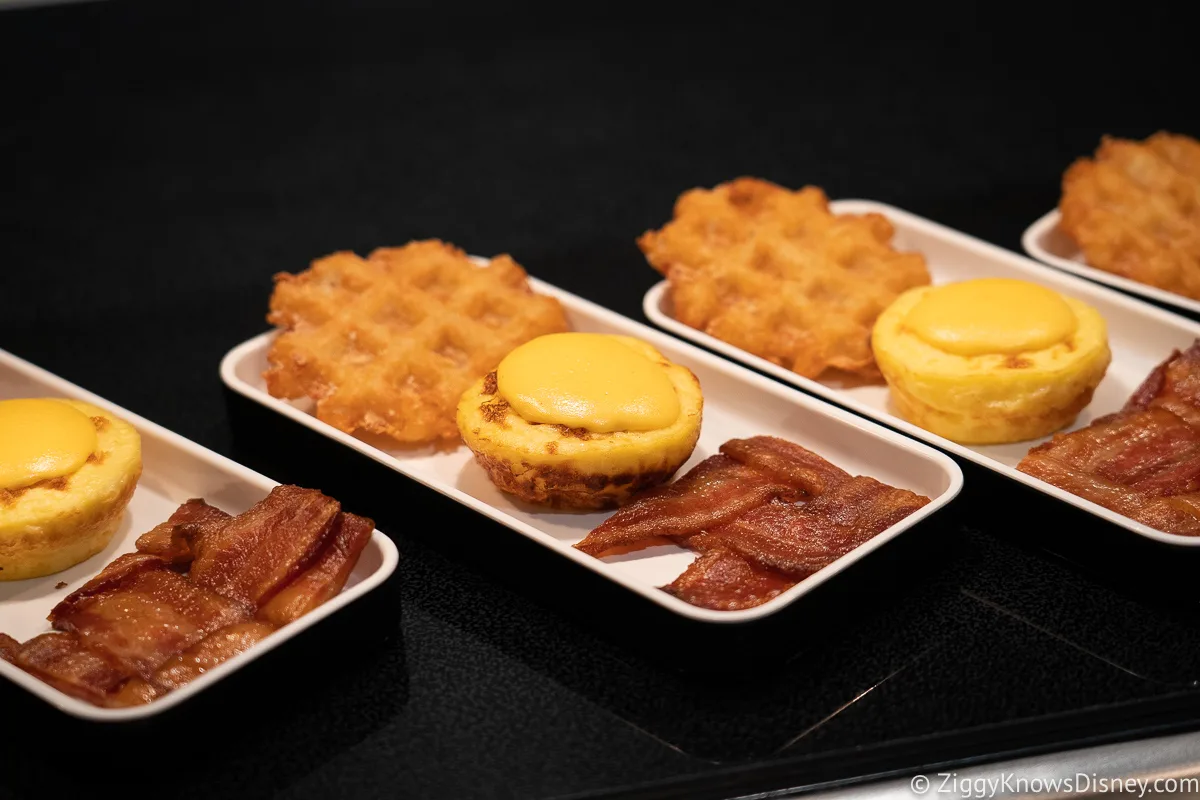 This was another of our favorite items on the breakfast buffet. It was essentially the same ingredients as the potato, bacon, and egg dish from the day before, but in an entirely new presentation.
The egg bite was really good, and it was covered in a delicious buttery sauce similar to a hollandaise sauce.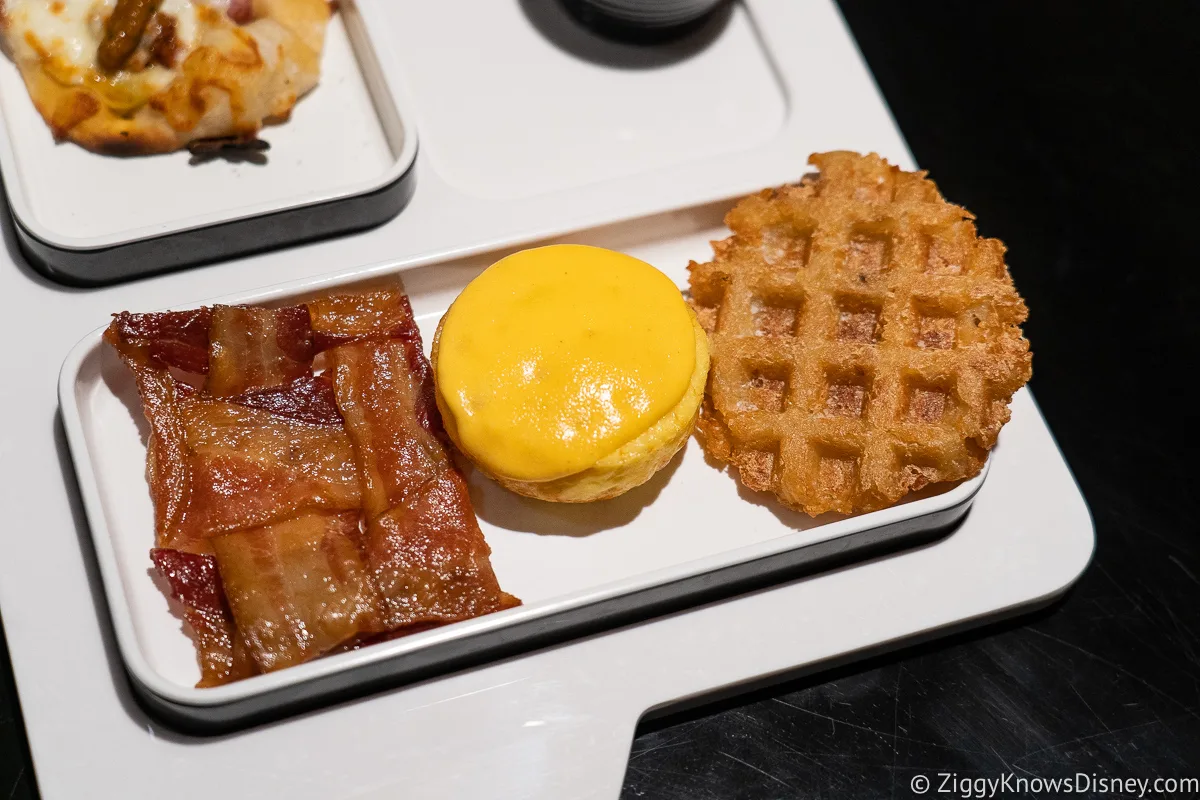 The potato was like a hash brown but in a waffle form and that was nice and crispy.
Lastly, it had a side of bacon that was in lattice form with each pice intertwined. The bacon was amazing, and it wasn't your regular Disney World bacon, you know, those thin, flavorless strips of bacon that crumble apart when you touch them.
No this was thick-cut bacon and it was applewood-smoked. We devoured it so quickly and wanted more so our waitress was so kind to bring us an entire plate of it!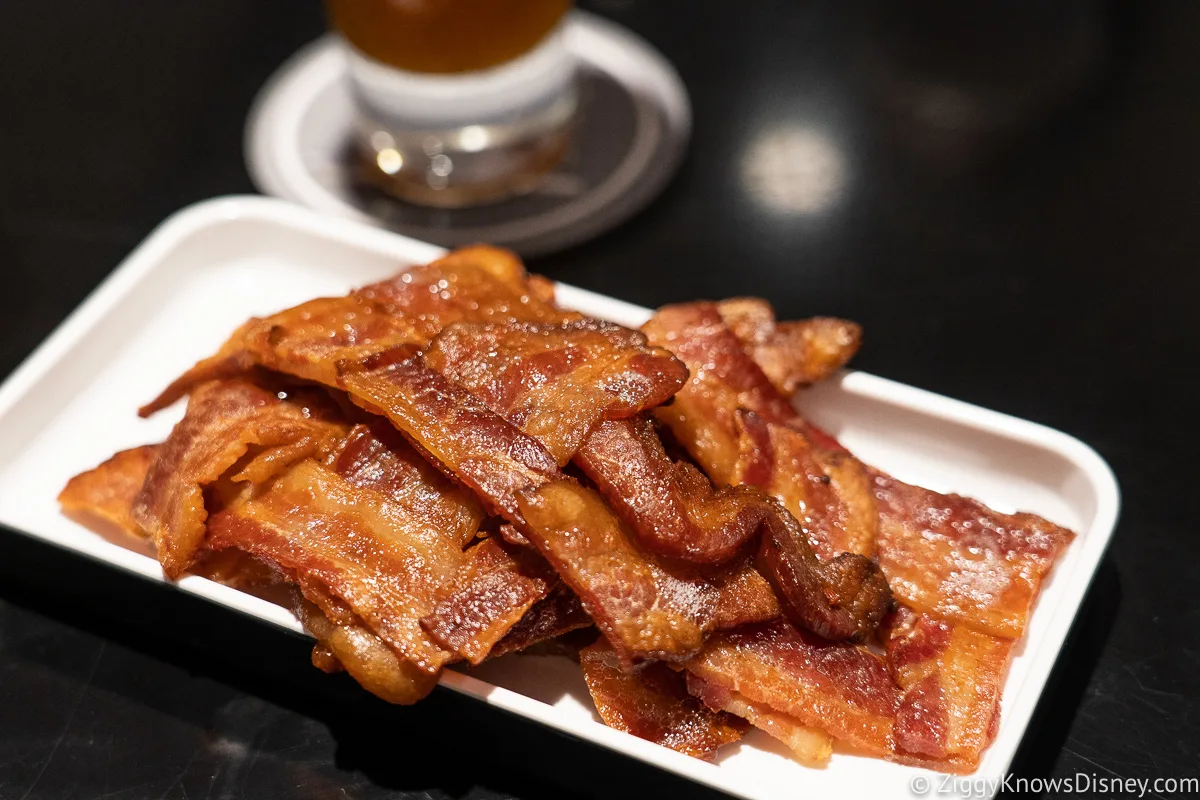 Overall we really enjoyed both breakfast buffets on the Galactic Starcruiser. Yes there were a few things we didn't care for and we weren't happy with so many repeats on the second day, but we really can't complain too much.
The dishes were well-thought-out with creative presentations. Most of them tasted really good too and we happily went back for seconds!
Lunch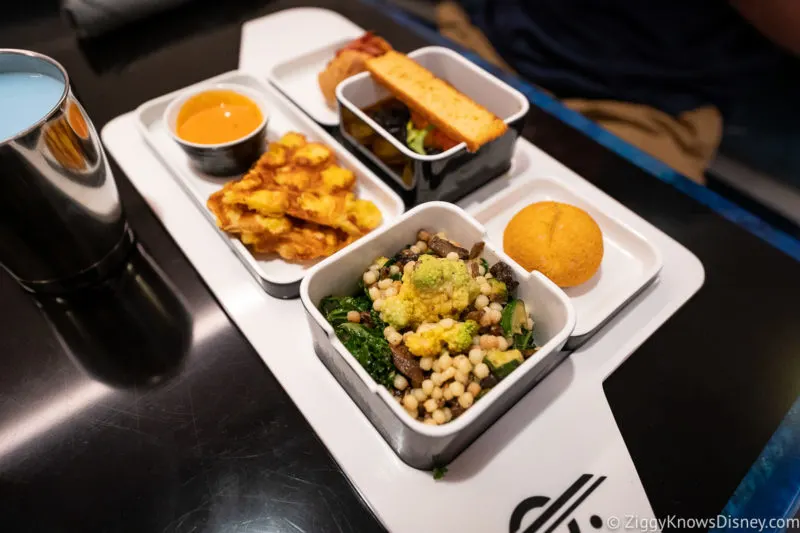 There are 2 lunches served during your stay, and guests can choose from a buffet and quick service. However, only the buffet is held in the Crown of Corellia Dining Room. The quick service is on Batuu in Galaxy's Edge.
The Lunch Buffet takes place on Day 1 upon arrival, and on Day 2. This meal features small individual plates with an emphasis on presentation and works the same way as the breakfast.
On Day 2, you can choose between a lunch buffet on the starcruiser or at a quick service restaurant in Hollywood Studios. You receive a credit for the quick service meal that can be redeemed in any restaurant in the park.
For this review, we are going to concentrate only on the available options at Crown of Corellia Dining Room. Let's get right into it.
Lunch Day 1
Drinks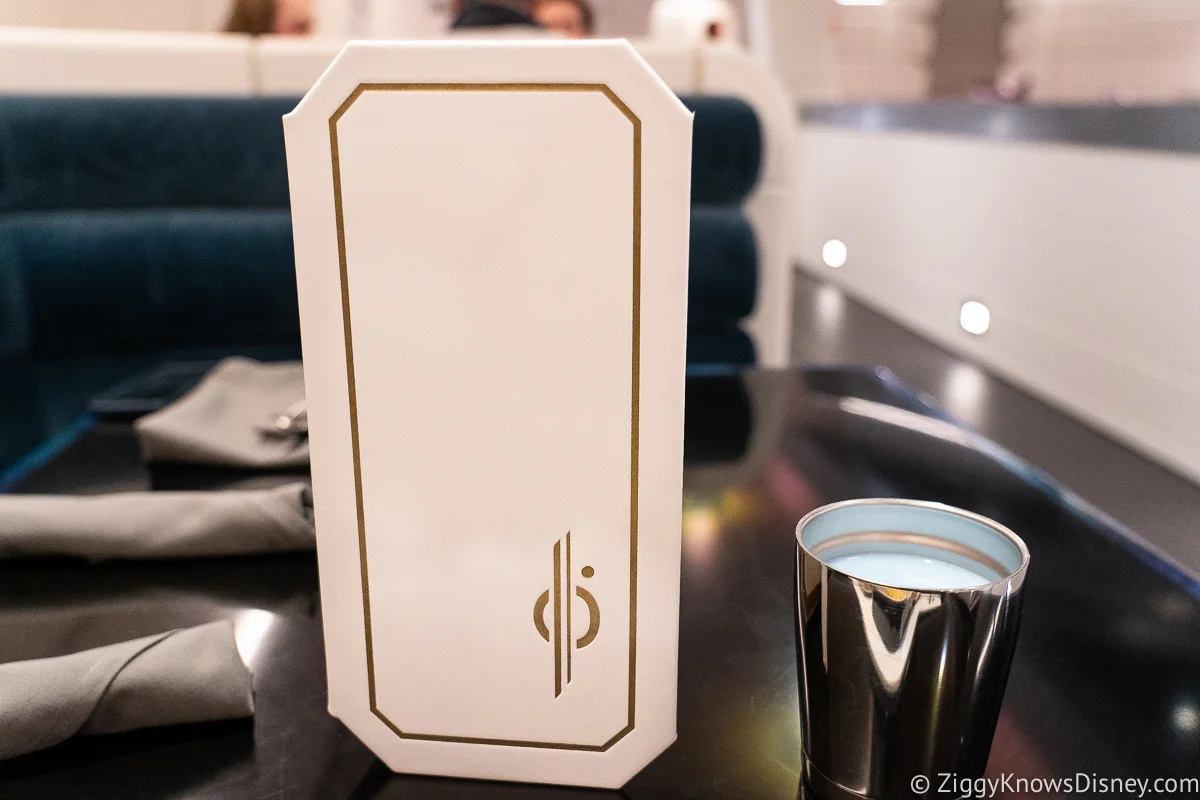 Just like during breakfast, you have access to the available drinks including fountain soft drinks and an unlimited supply of blue and green milk!
Take a look at the drink menu and see if there is anything that looks good: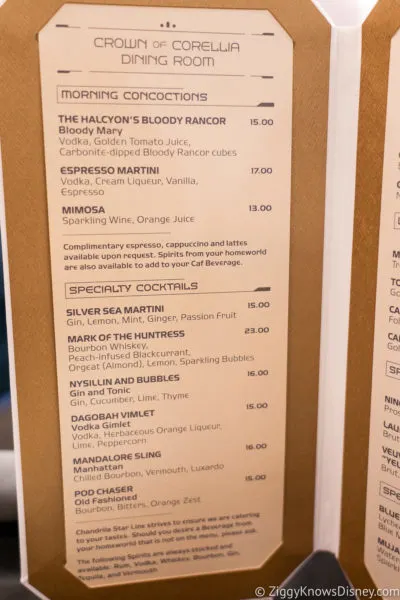 There are specialty cocktails, beers on tap, wine, and specialty non-alcoholic cocktails to choose from.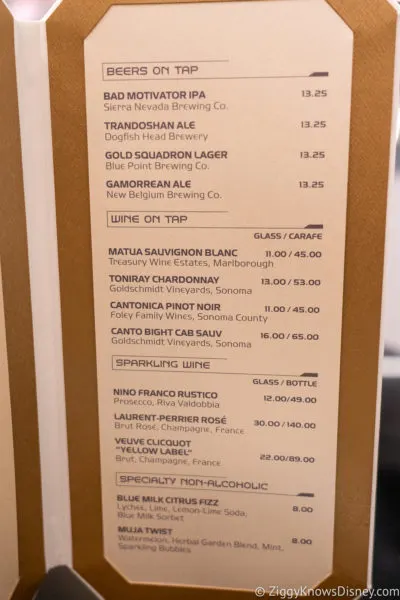 Blue Milk
Here it is…the blue and green milk machine! We came here at least 5-6 times and we found it to be a great value since it's free here unlike in Galaxy's Edge.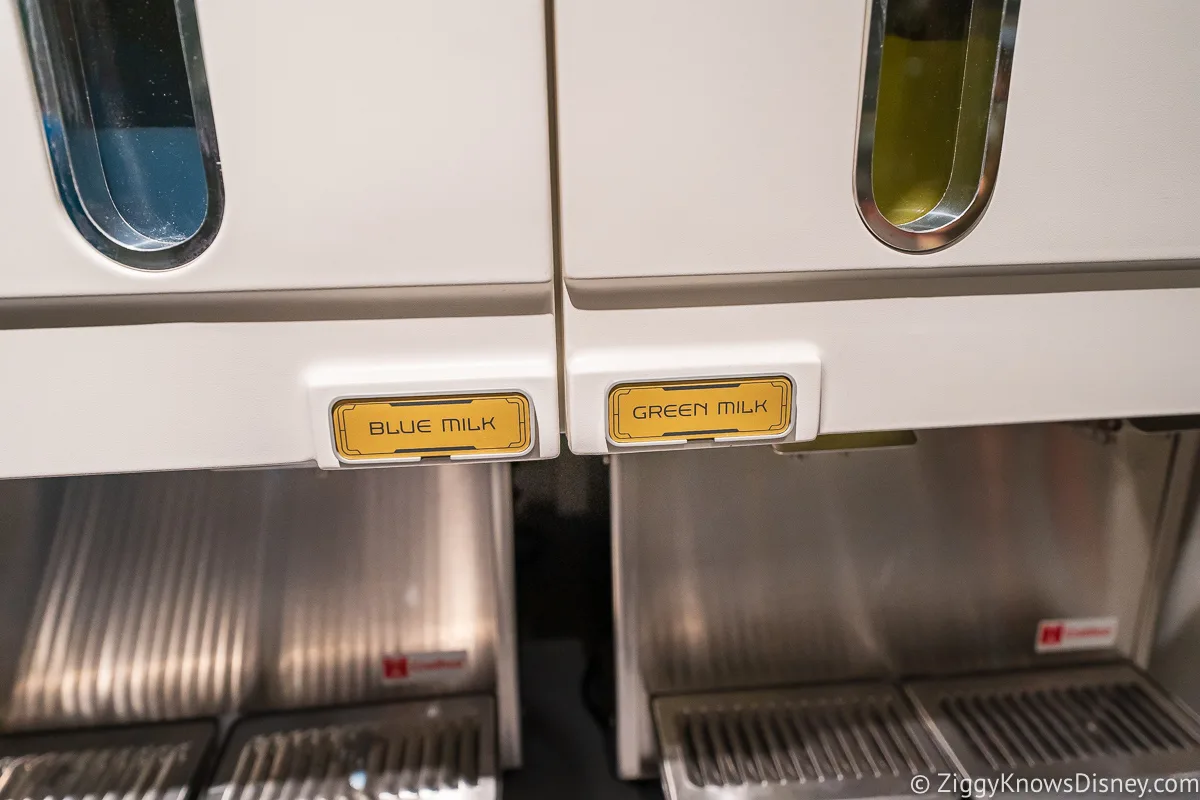 We got the blue milk more often than the green because we prefer its citrusy flavor. It's pretty much the same drink as at the Milk Stand in Galaxy' Edge, but the texture is a bit different. This version on the Starcruiser is more smooth and not as thick. It's more like real milk than the frosty/icy version in Galaxy's Edge.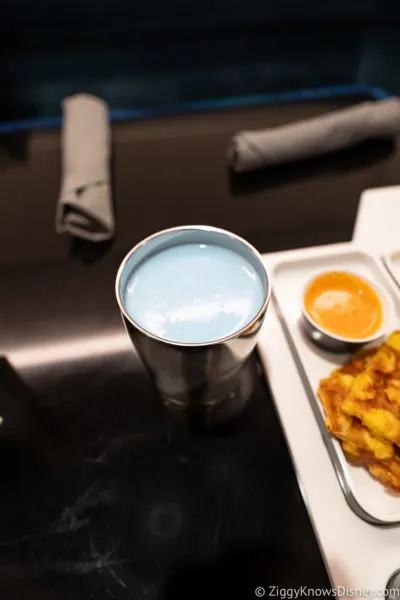 That wasn't a negative to us, in fact, we kind of preferred this version. Just be aware of the difference. You can also put it in one of those legit metal cups which we dig. Now on to the food…
Food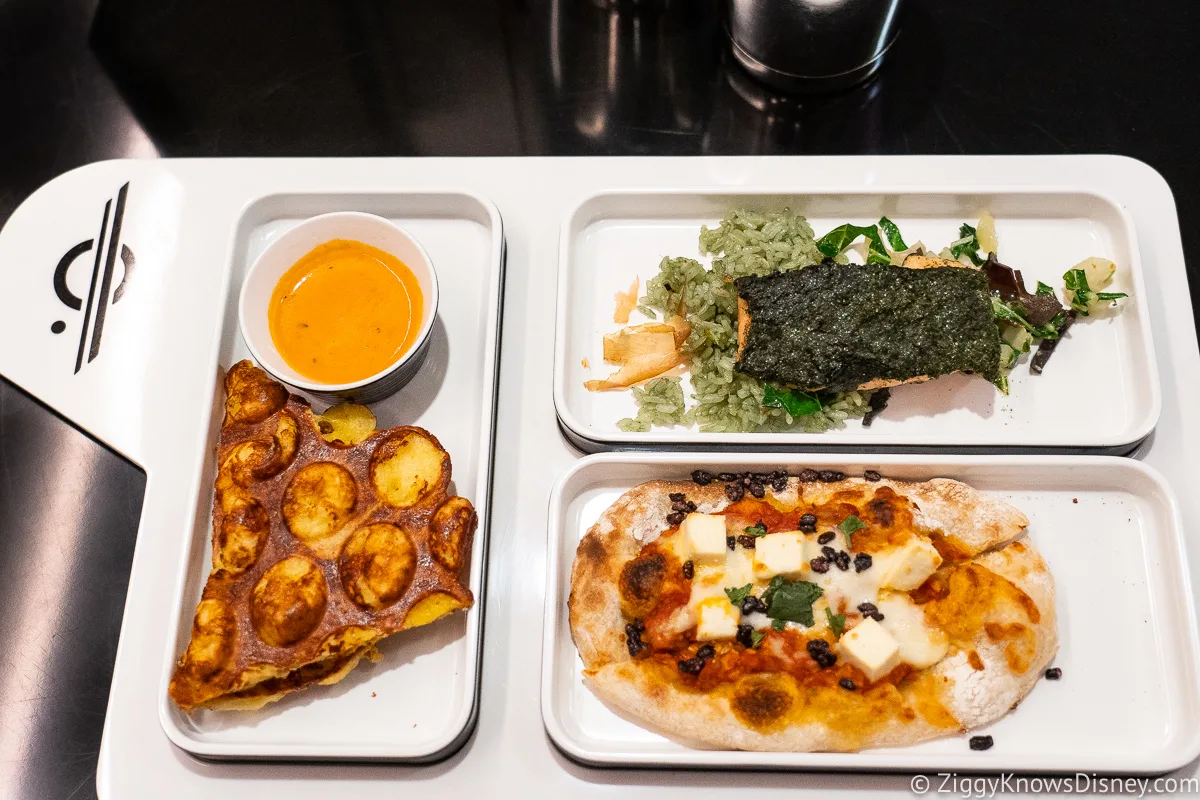 The food here is all-you-can-eat just like at breakfast, so feel free to get up and visit the buffet line as much as you like. The presentation and format at lunch is also like breakfast with small portions of food presented in intriguing ways.
Tikka Tip Yip Chicken with Paneer Cheese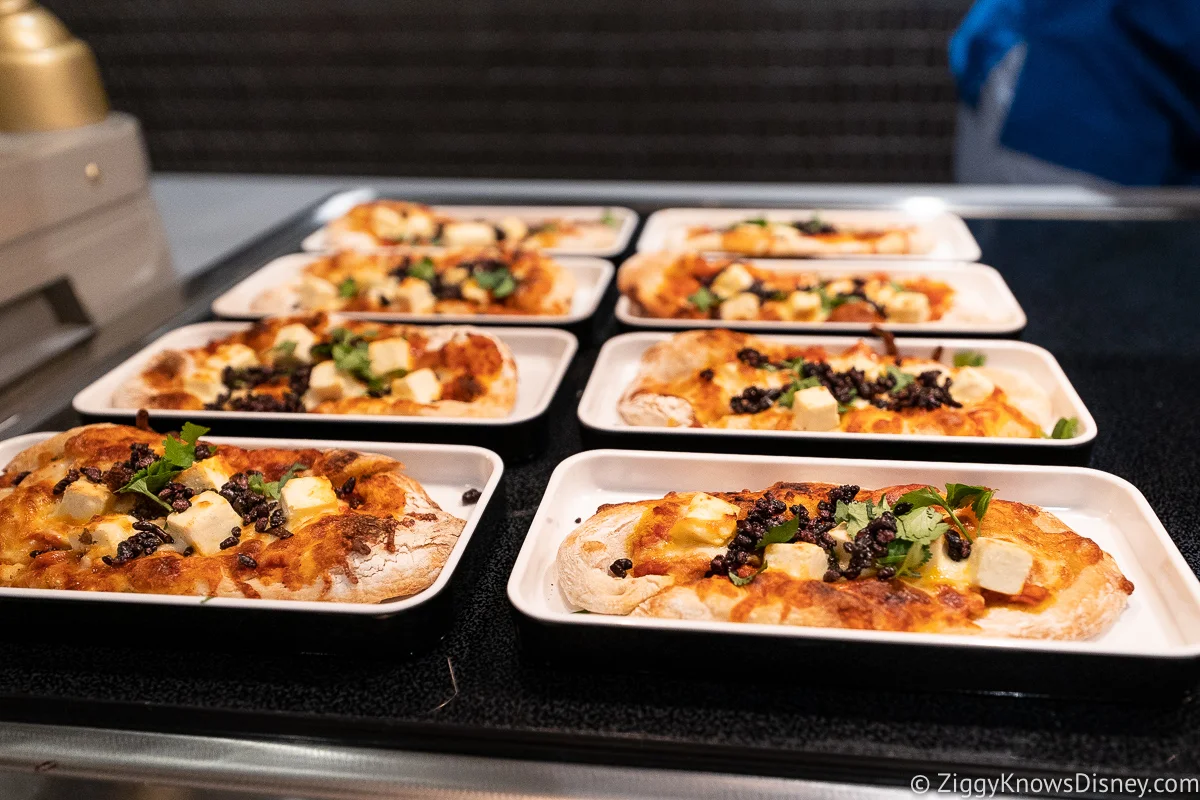 This was another of the many flatbreads on the Starcruiser, and it was another winner to us. You can tell the wood-fired ovens are working out well because the crust came out nice and crispy on the outside but soft inside.
The flatbread itself was pretty simple, but with strong and distinct flavors. The pizza had a definite Indian taste going on, with just a hint of spice like you find in curry and a strong masala flavor.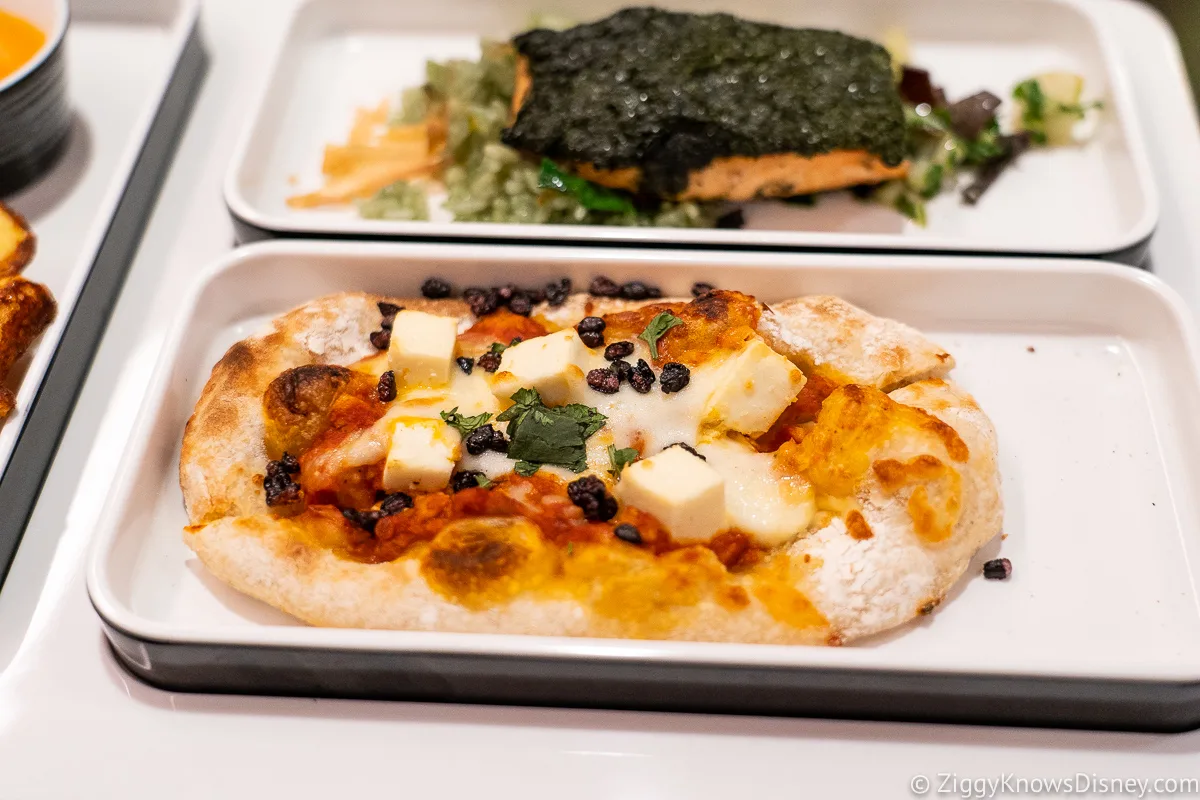 We also liked the chunks of paneer cheese that were cut up and half-melted on top. And are those browned rice krispies on top? Whatever they were, it gave the flatbread a little more crunch. In the end it was pizza, but really good if you like those flavors.
If only the pizza at quick service restaurants around Disney World was this good!
Nori-Crusted Redfish
The salmon came with rice, mushrooms, and red cabbage. The fish was light and buttery, and less fishy than salmon usually is. While we liked the fish, we weren't big fans of the nori crust on top of it. It was a bit too much and overpowered the delicate taste of the fish.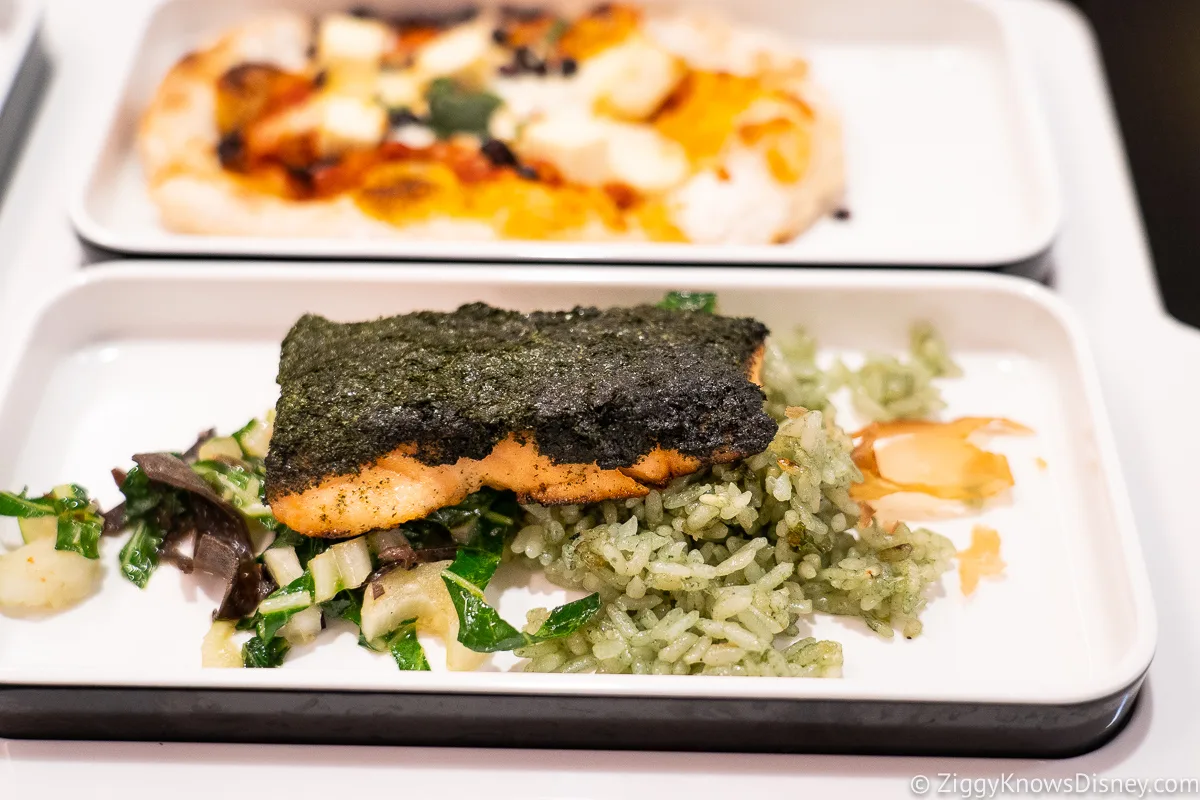 The rice and cabbage were nothing great. There was a strong cilantro flavor to the rice, but it was cooked to the right doneness.
Fire Melted Cheese Takeaway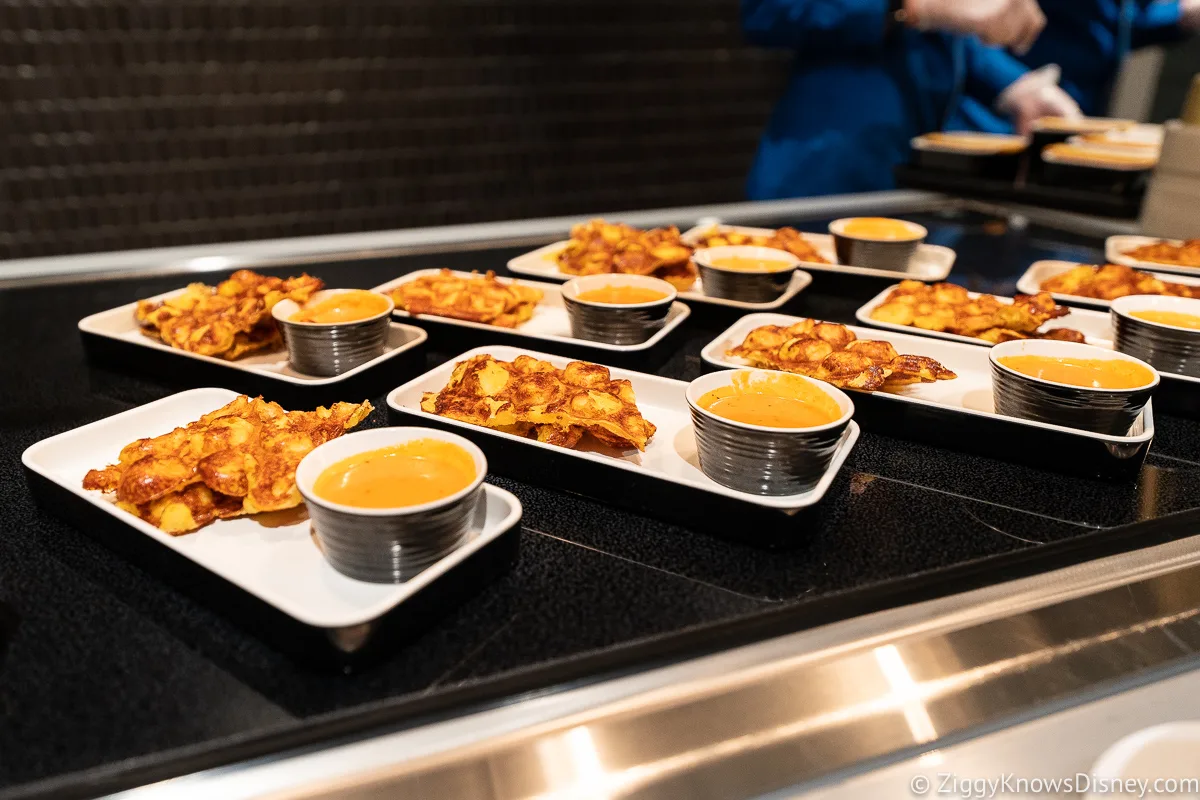 Right when we saw this item, we knew we were going to love it, and it didn't disappoint in the least. This is a new take on a bubble waffle grilled cheese with a side of tomato soup, which Disney calls red fruit.
First the waffle. This was super cheesy and buttery, and those bubbles were filled with cheese too. The texture was dense too, not what we were expecting. It kind of reminded us of the Brazilian cheese bread at the Food and Wine Festival, which was basically a dream come true.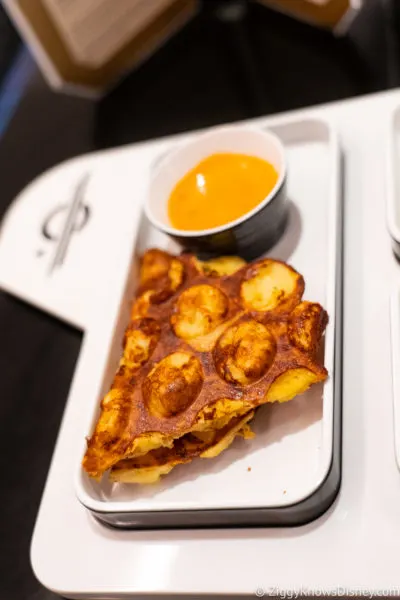 The tomato soup was pretty standard, lots of basil and the tomatoes were sweet. It was awesome for dipping the cheese waffle in and we gobbled it up!
Sorgan's Stew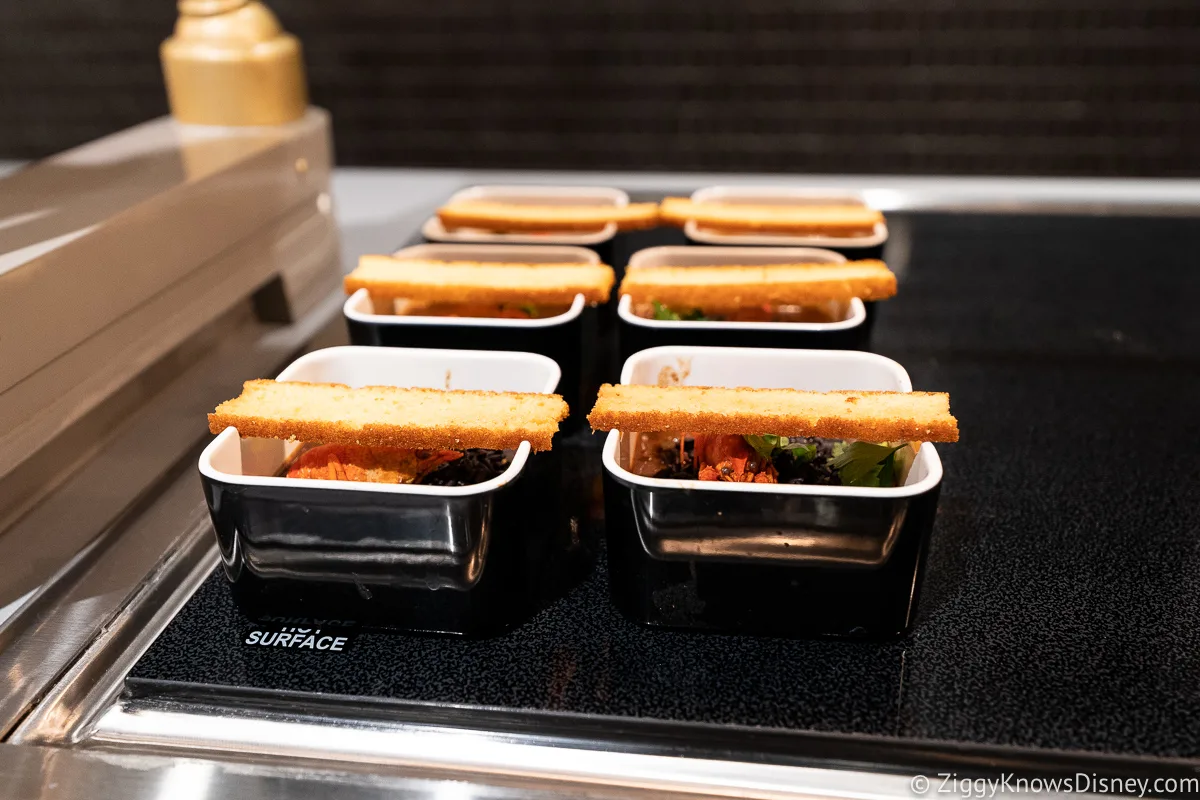 This had Rice, crawfish tails, and yellowseed stick. The name Sorgan comes from the planet Sorgan which was introduced in "The Mandalorian." The crawlfish are really crawfish as you would expect to find, but they are also the name for the crustaceans found on Sorgan in the show. It was tasty, but we hate opening them up ourselves and it got messy.
The soup had a nice flavor (thanks to the crawfish) and it had a little kick to it. The rice was an excellent addition and was great with the soup. The crouton was good for dipping and very similar to the cornbread croutons on the salad.
Chandrilan Salad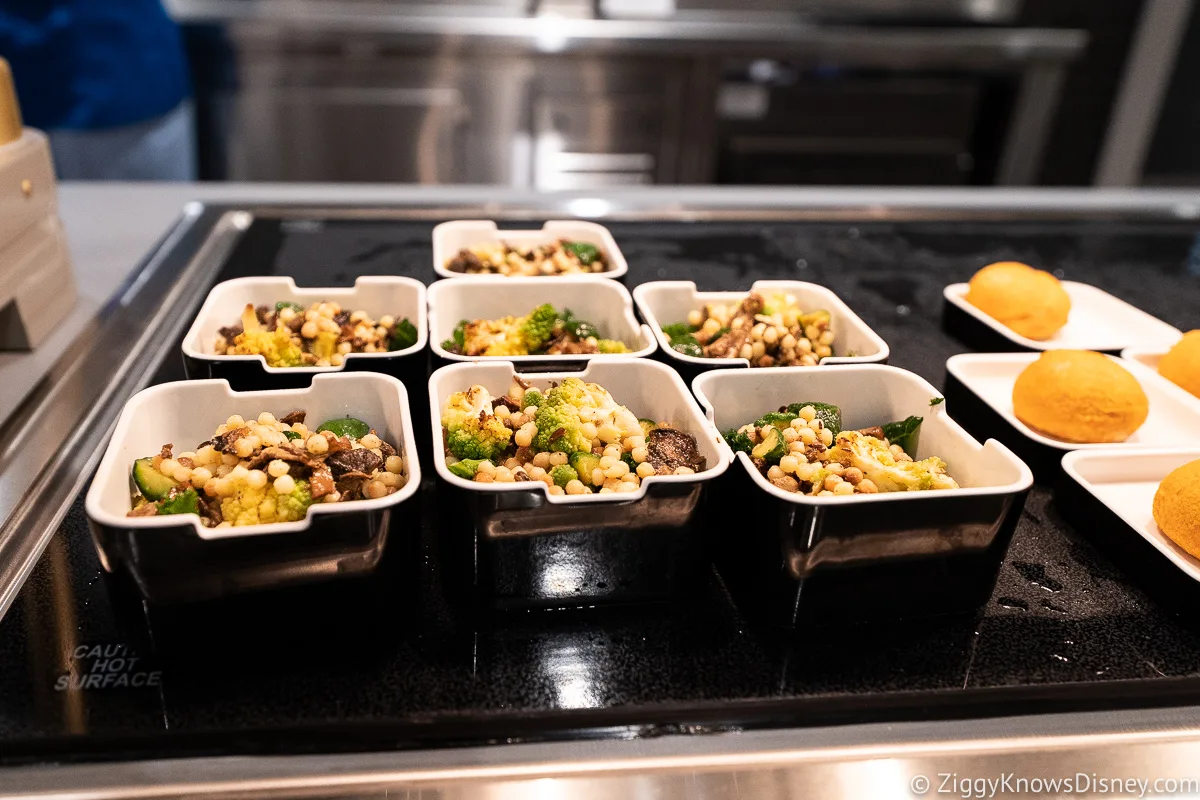 This was a super-healthy option and the bowl is full of kale, mushrooms, squash fruit, olives, and broccoli. All the veggies here were fresh and crisp, not soggy at all. The white berry vinegar dressing was strong, but we love vinegar so it wasn't an issue for us.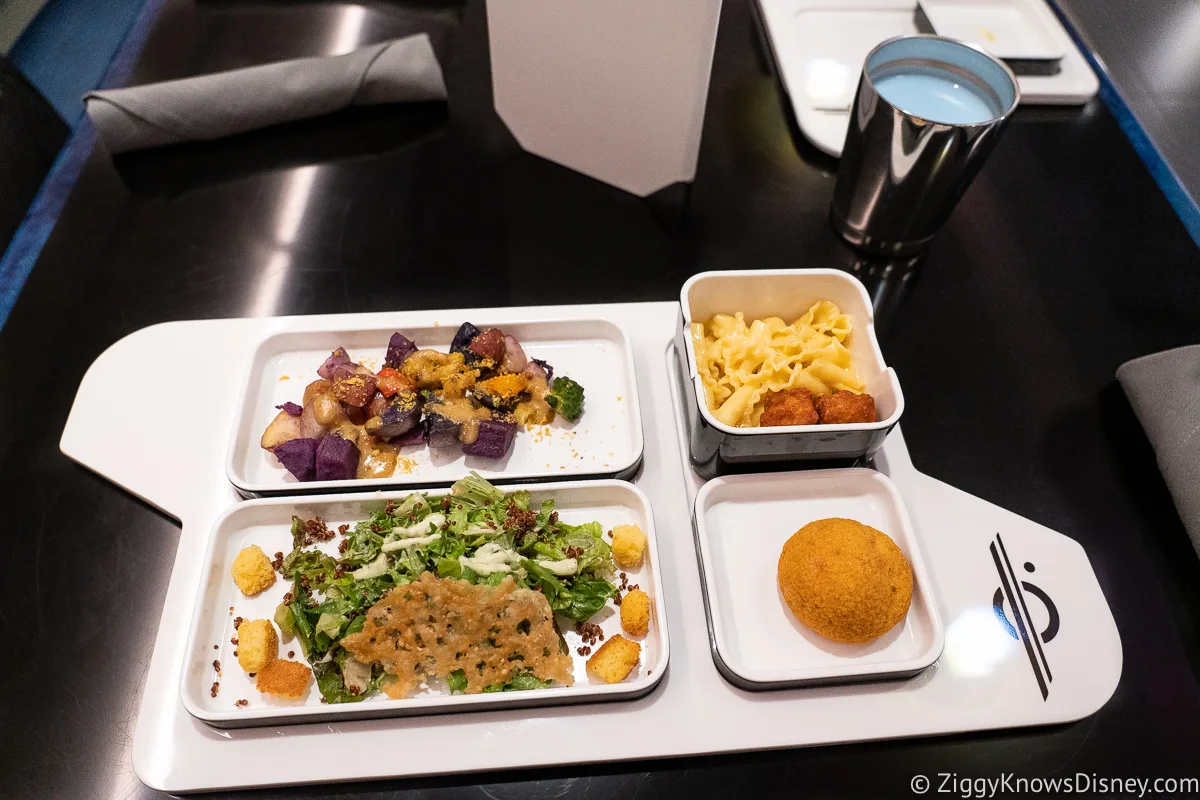 The toasted pearl pasta was another good addition and made it more filling than if it were only veggies. A very solid plant-based offering and pretty hearty.
Yellow Curry Tip Yip Chicken Salad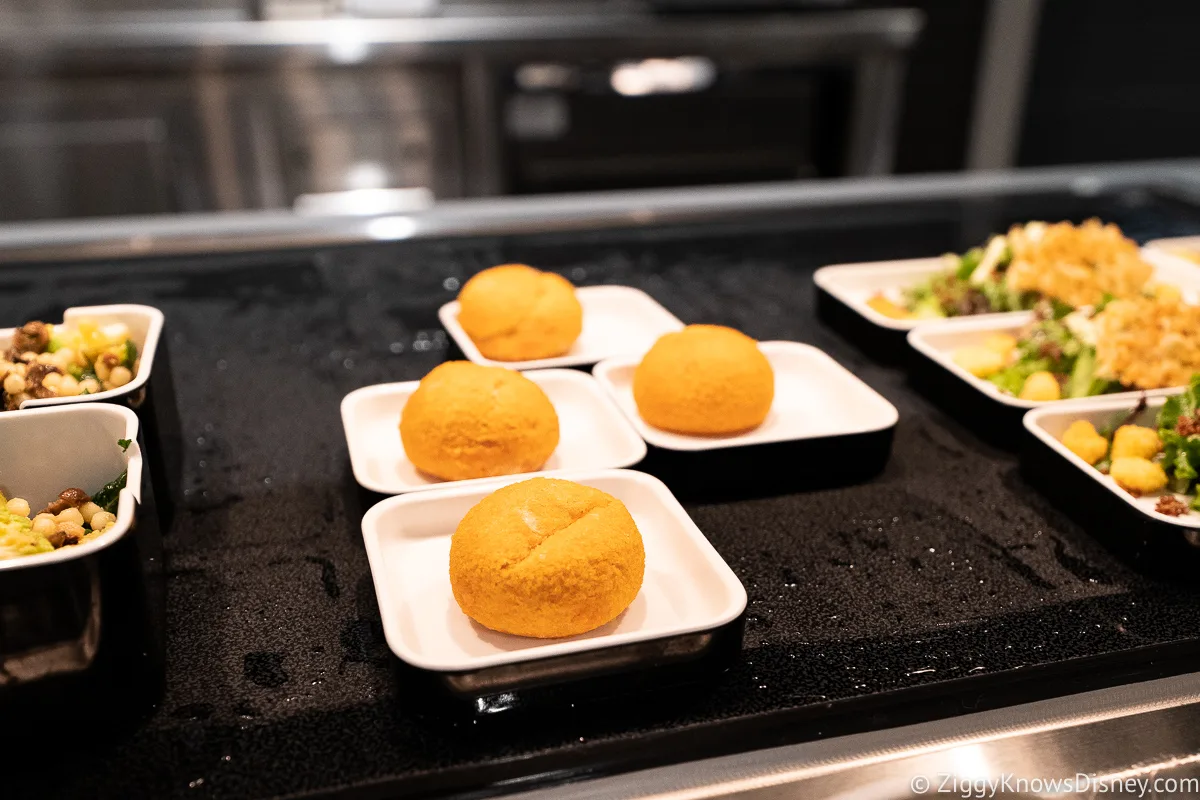 The Tip Yip Chicken Salad is a different take on chicken salad as it comes in a small bread shell with the chicken salad on the inside. We weren't looking at the description at first and just grabbed one and put it on our tray without knowing what it was.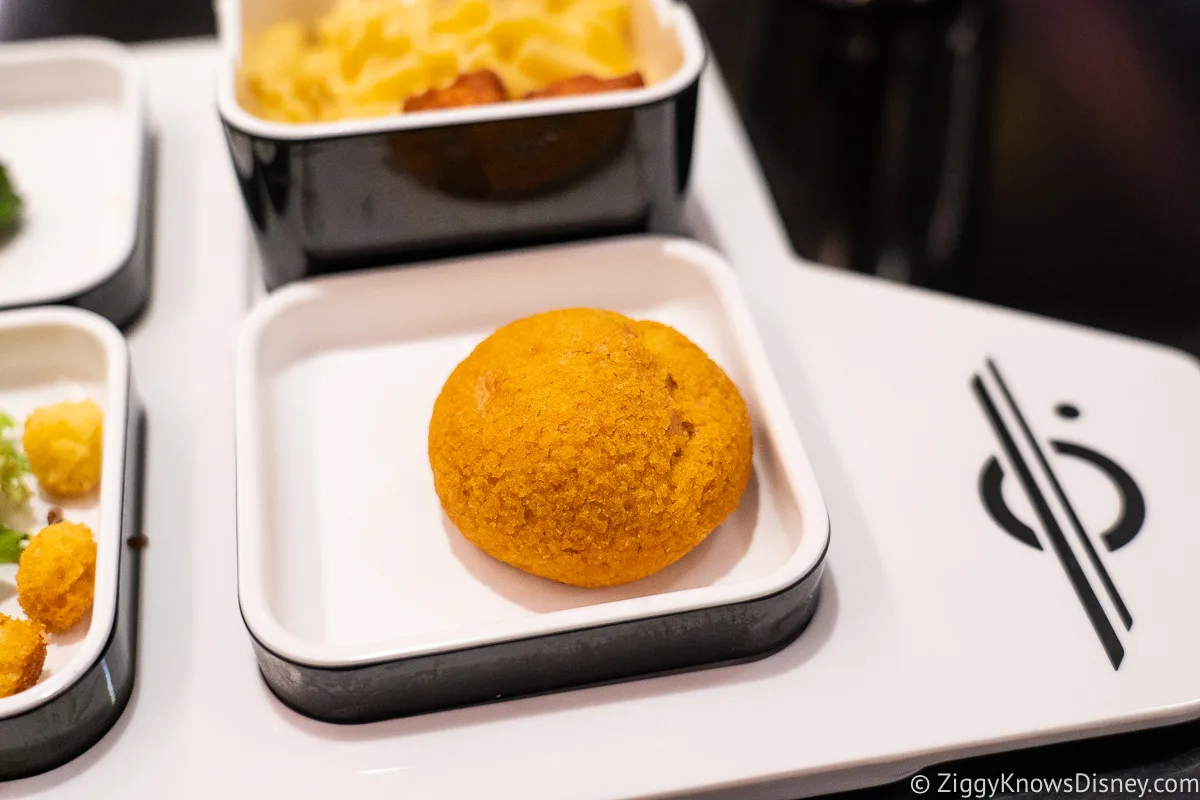 The breading outside was soft and pretty much flavorless. The chicken salad inside was finely chopped and has a strong curry flavor. Normally, we like curry, but this just wasn't doing it for us. We didn't like the consistency or how cold it was.
Honestly, we didn't like it and wished we had never taken it.
Dipped Tip Yip Chicken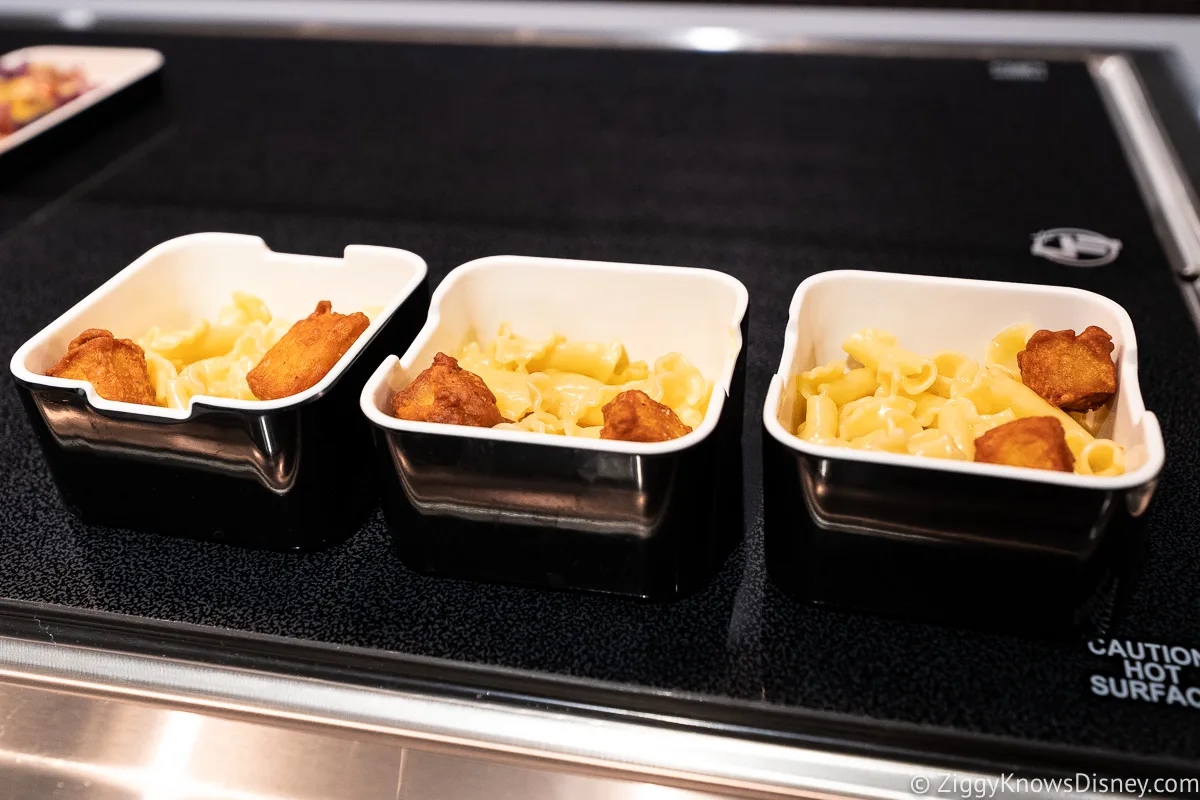 Even though it was on the Kid's Menu, we just had to try the Dipped Tip Yip Chicken with Noodle Cheese. Basically, this was the Star Wars version of mac and cheese served with small chicken nuggets.
We are big mac and cheese fans, connoisseurs I would even say, but we are not fans of most mac and cheese at Walt Disney World, at least the kind found at buffets. This was much better than that.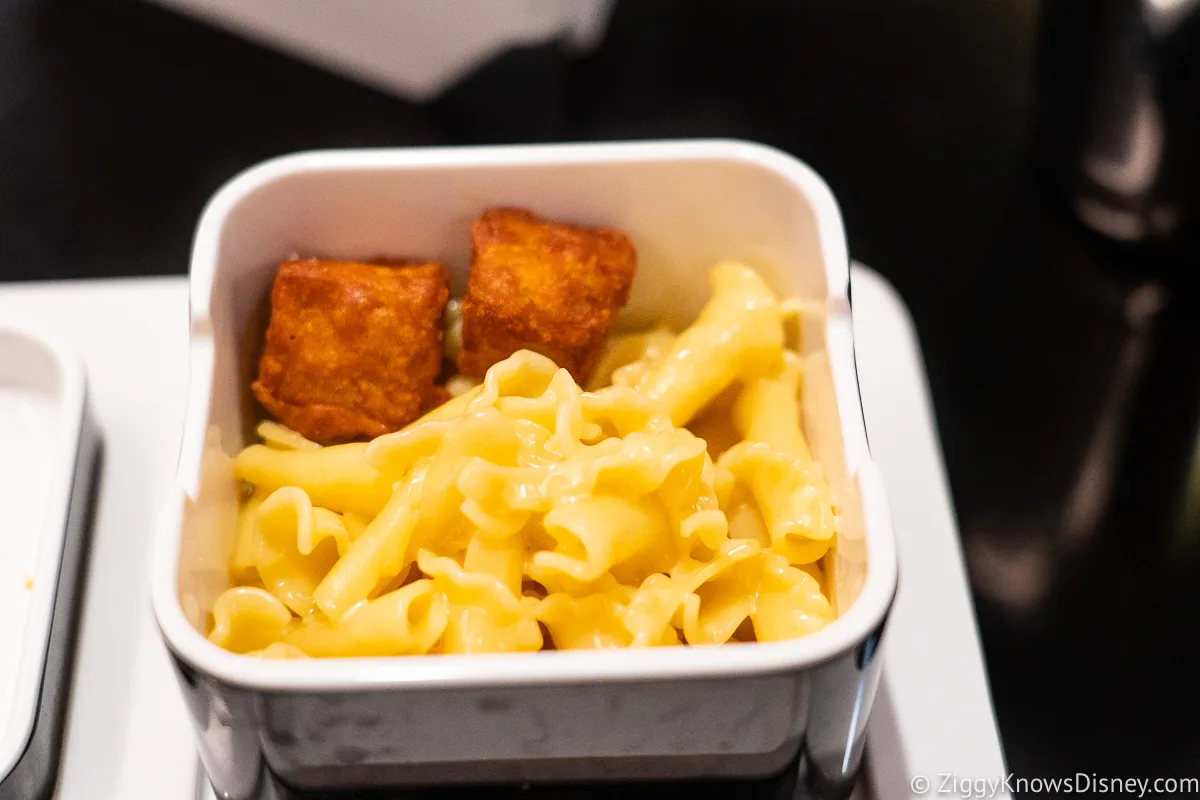 The noodles were creamy and not overcooked like they usually are, and lots of real cheese flavor. It wasn't the best we've ever had, but pretty solid.
The chicken nuggets were good, not great. I liked the crispy breading on the outside, but the chicken was a bit dry inside, unfortunately.
Gardengrow Greens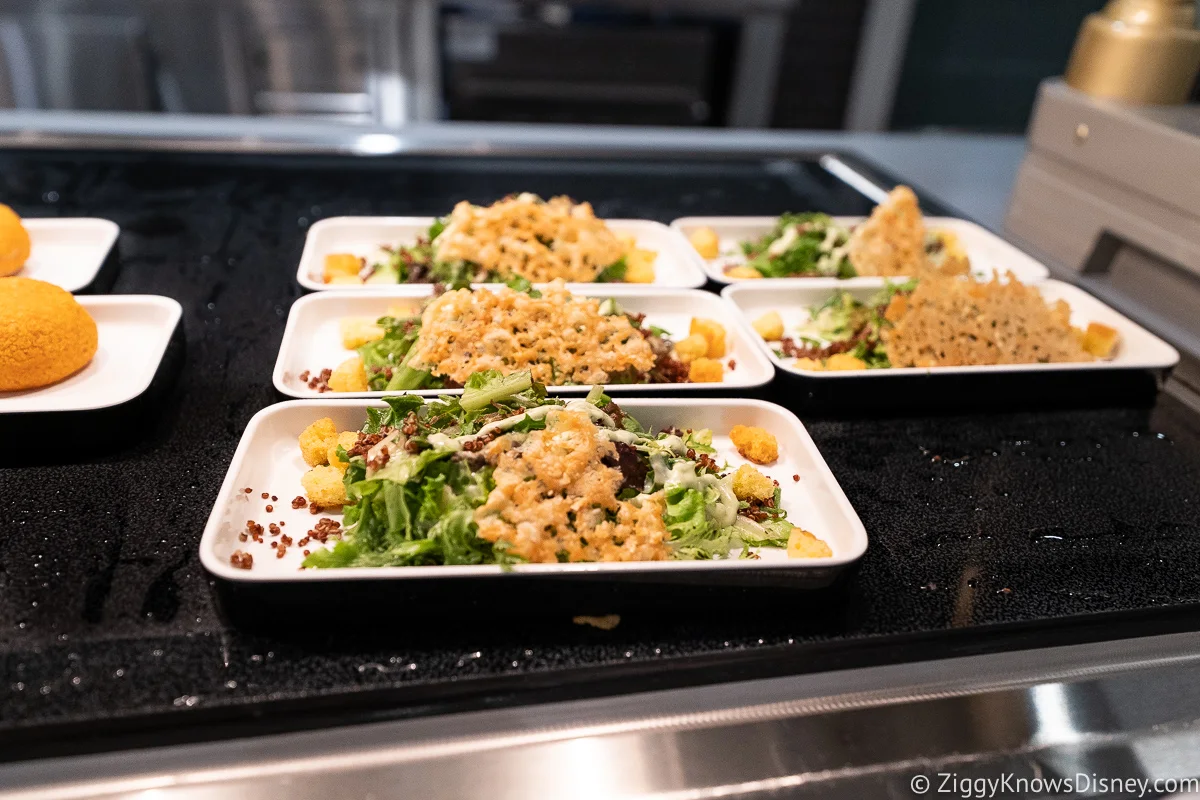 This is the Galactic Starcruiser's version of a Caesar Salad. It's a pretty basic salad, but the lettuce tasted fresh and we liked the quinoa on top for some extra texture.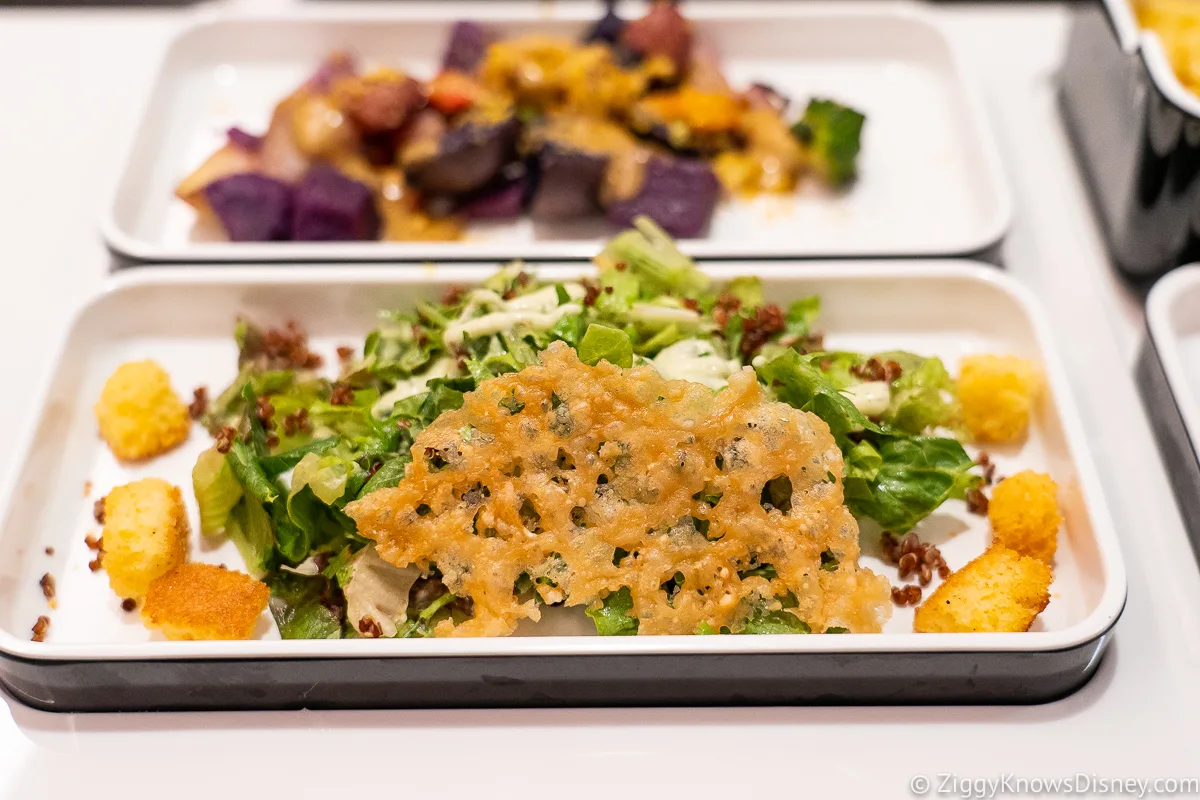 The dressing was similar to a Caesar dressing but a tad sweeter but it also had a nice tag to it. We don't like it as much, but it's still good. The cornbread croutons gave the salad a nice crunchy texture, but they didn't have a ton of flavor.
The parmesan crisp could have been a bit crunchier, but it was pretty big and had a wonderful parmesan flavor.
Roasted Flora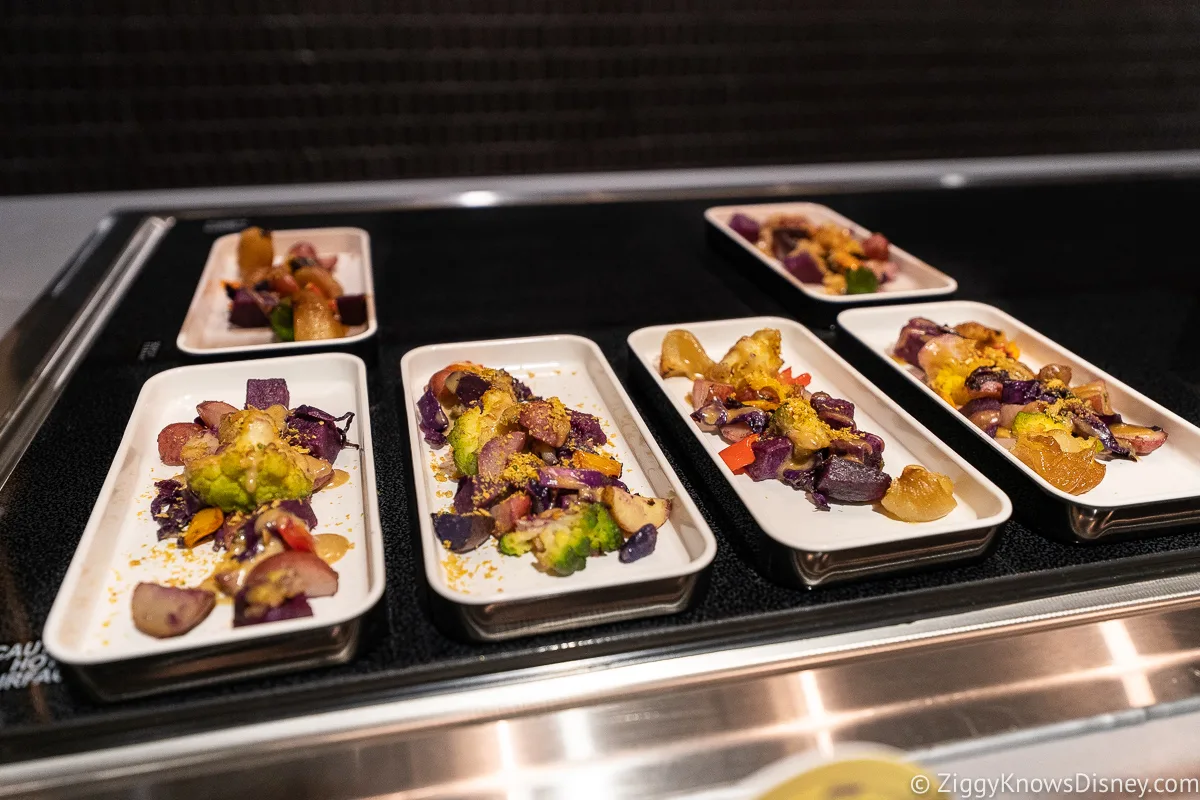 Of all the veggie options, this might have been the best! It had roasted tubers such as potatoes, peppers, onions, red cabbage, and mushrooms. The best part was the "buttery" sauce swirled on top of the veggies and the crumbly topping.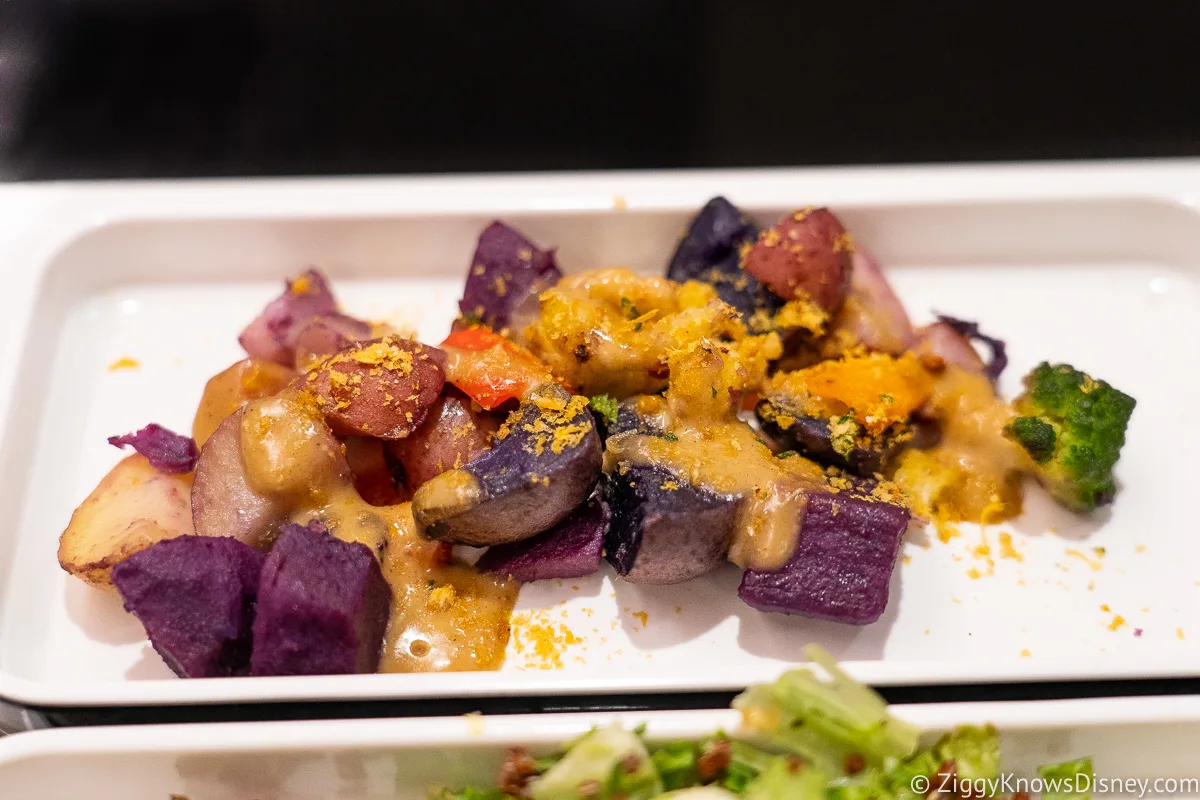 We really tasted the mushroom flavor, which is fine by us, but if you don't like them you may want to skip it. This was an awesome plant-based item and we would go back for more.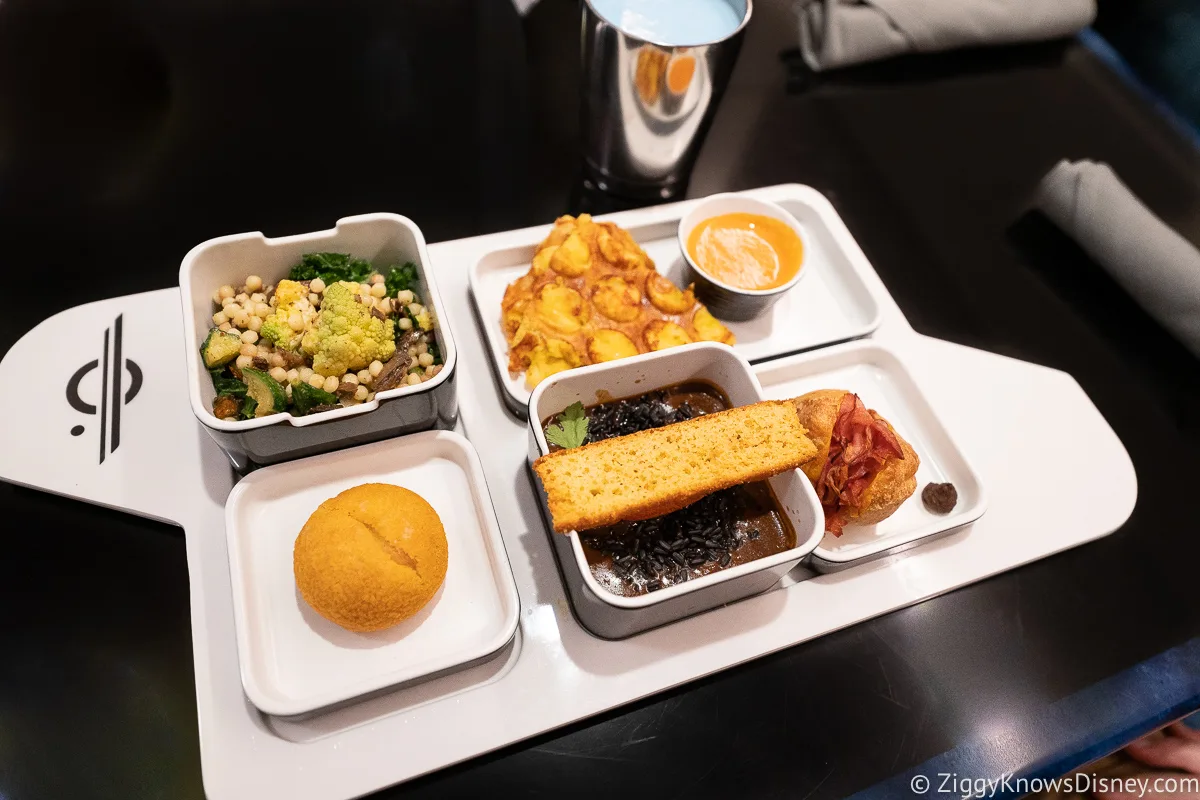 Pork and Cheese Takeway
Ok, now this was exactly like the pão de queijo Brazilian cheese bread from EPCOT! Super dense with the same texture, but the cheese is cheddar which was a nice twist.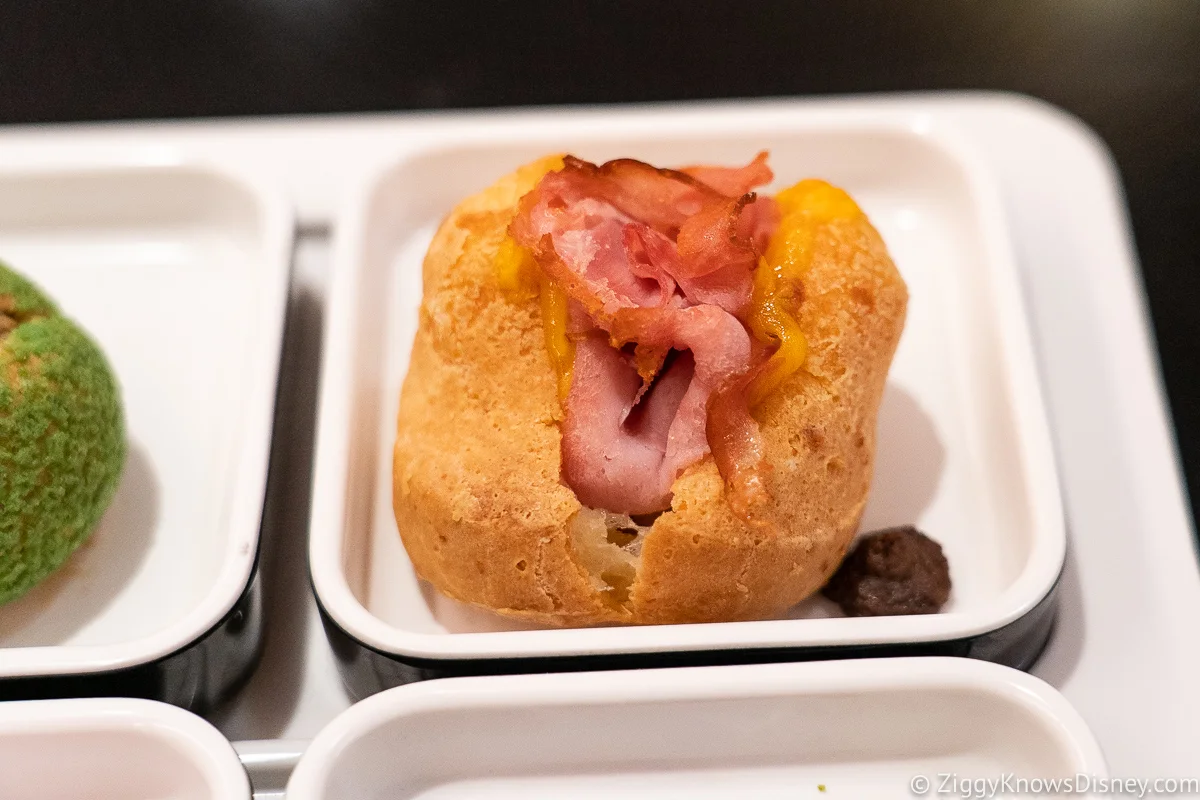 It wasn't the most complicated dish at the buffet, it basically had a piece of ham stuffed inside, but that didn't mean we loved it any less. It didn't need the ham, but it was a great addition.
We weren't fans of the mustard, but you don't need that anyway. It's a great option for kids and guests who are less on the adventurous side.
Desserts
On to the sweets…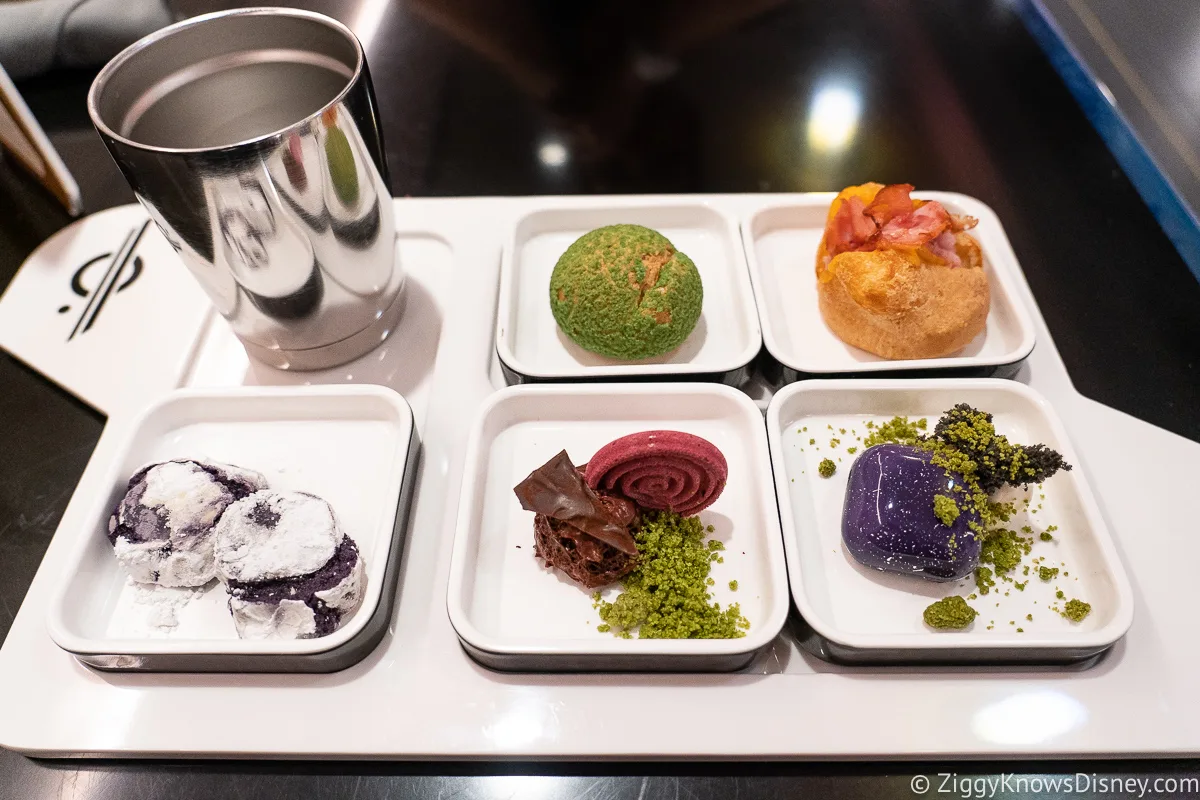 Blue Bantha Milk Fruit Whip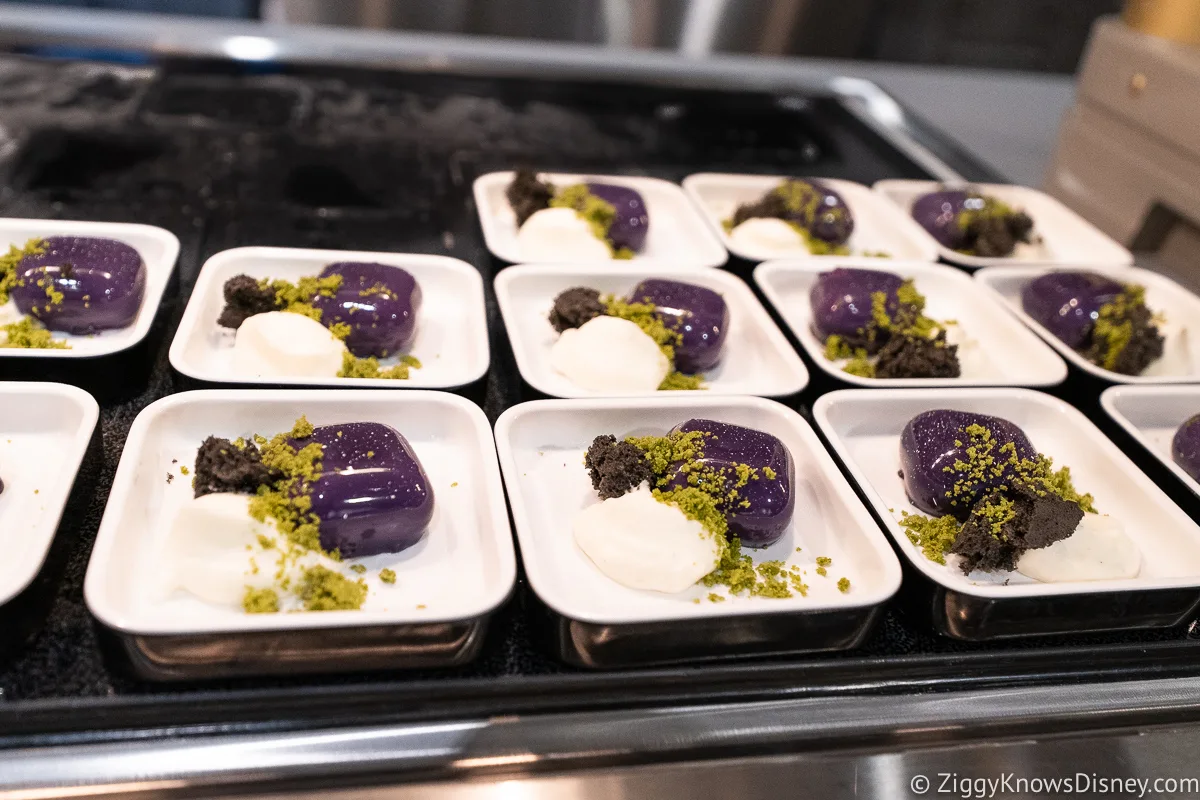 This was a sweet berry mousse, which reminded us a lot of the blue milk. The mousse itself was very creamy and fruity tasting and the crumbles added a nice texture.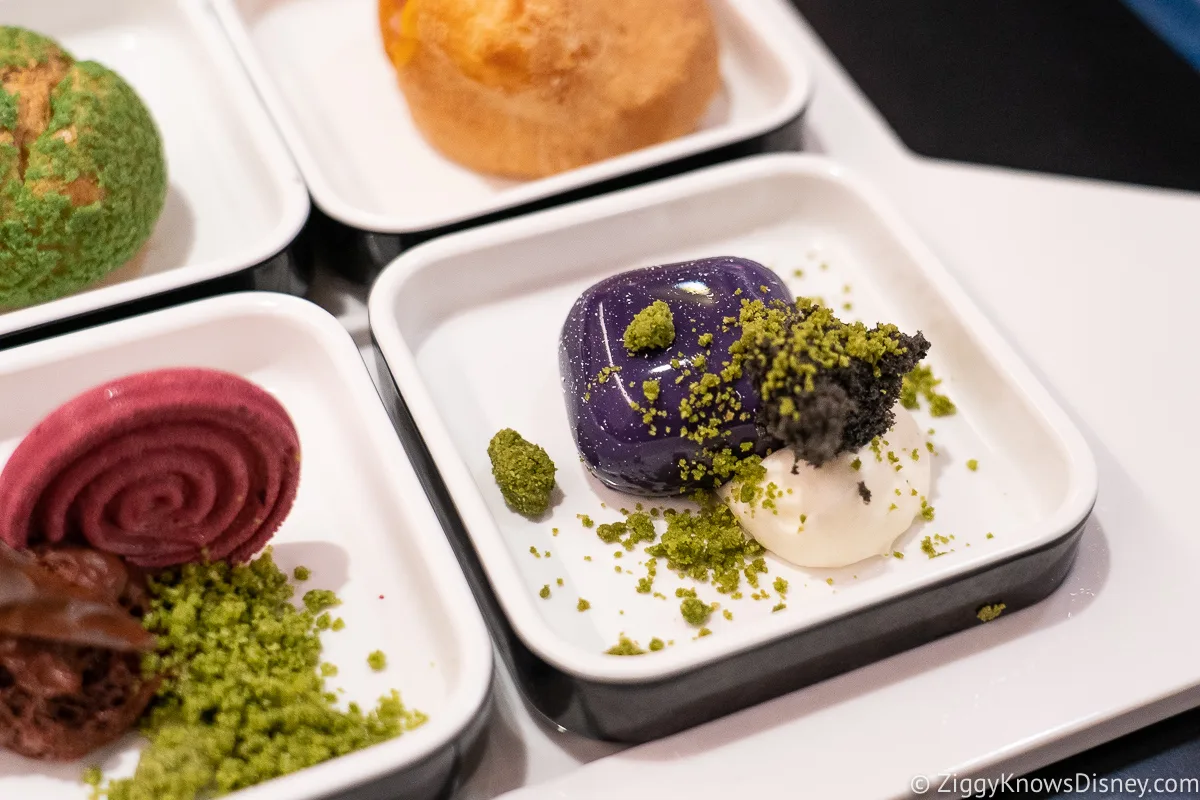 Choco-Whip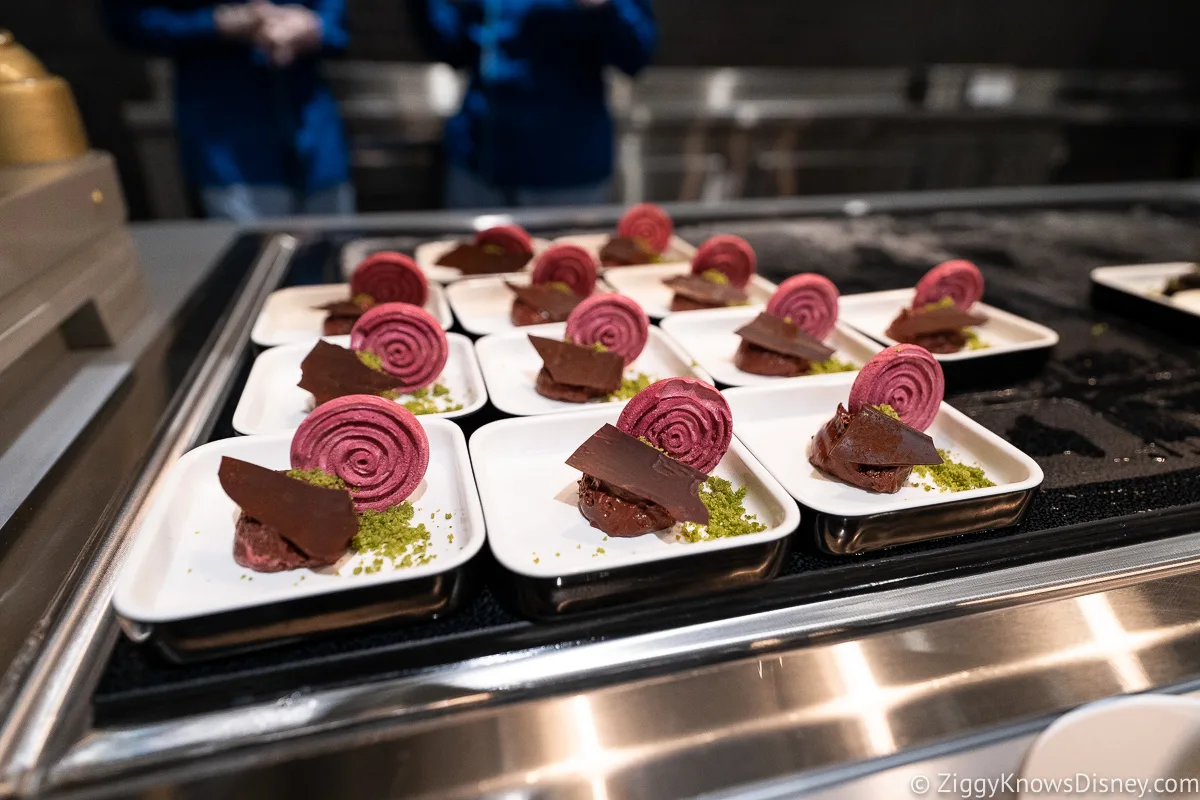 This was a plant-based option made without dairy, animal meat, eggs, honey, or wheat. It was a very rich chocolate flavor with a slight berry flavor, but a little too bitter for us. If you like dark chocolate you might like it.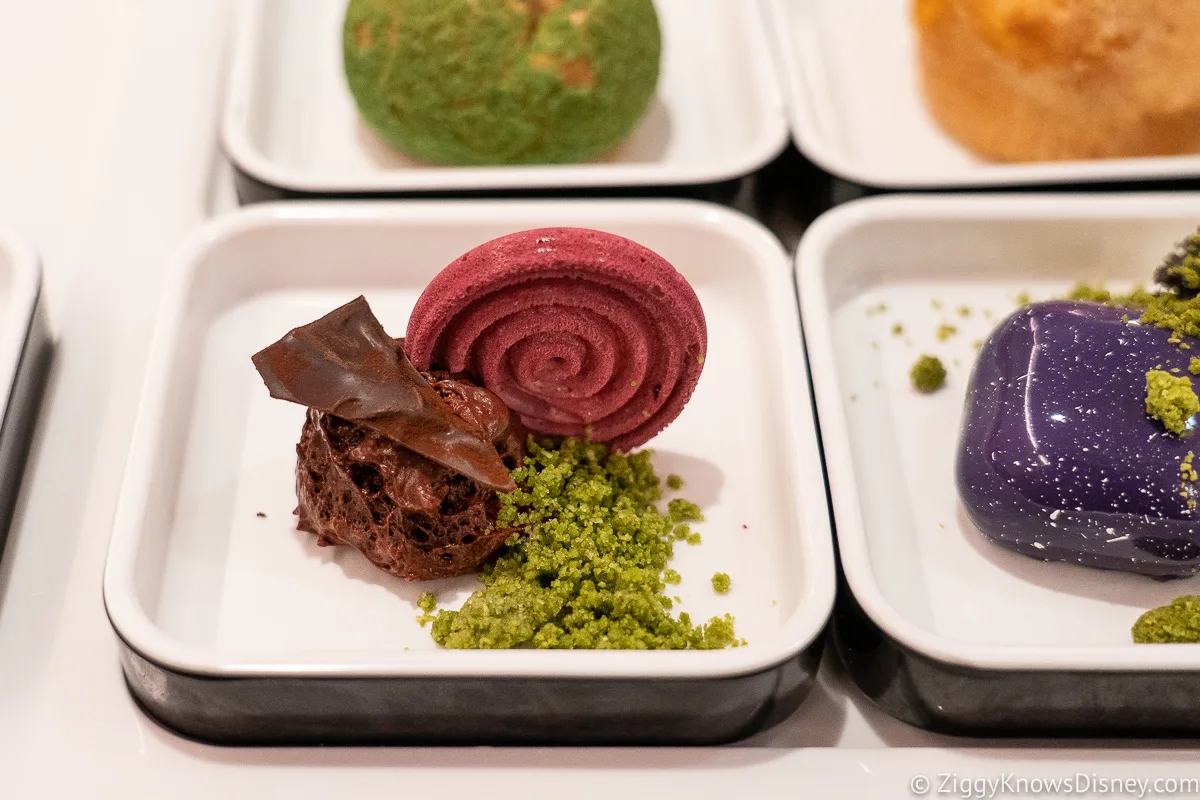 It also had a hibiscus meringue on top which was light and you could taste the floral flavors. The green crumbles have a matcha flavor and add another layer of uniqueness to the dish.
Sunflower Butter and Jelly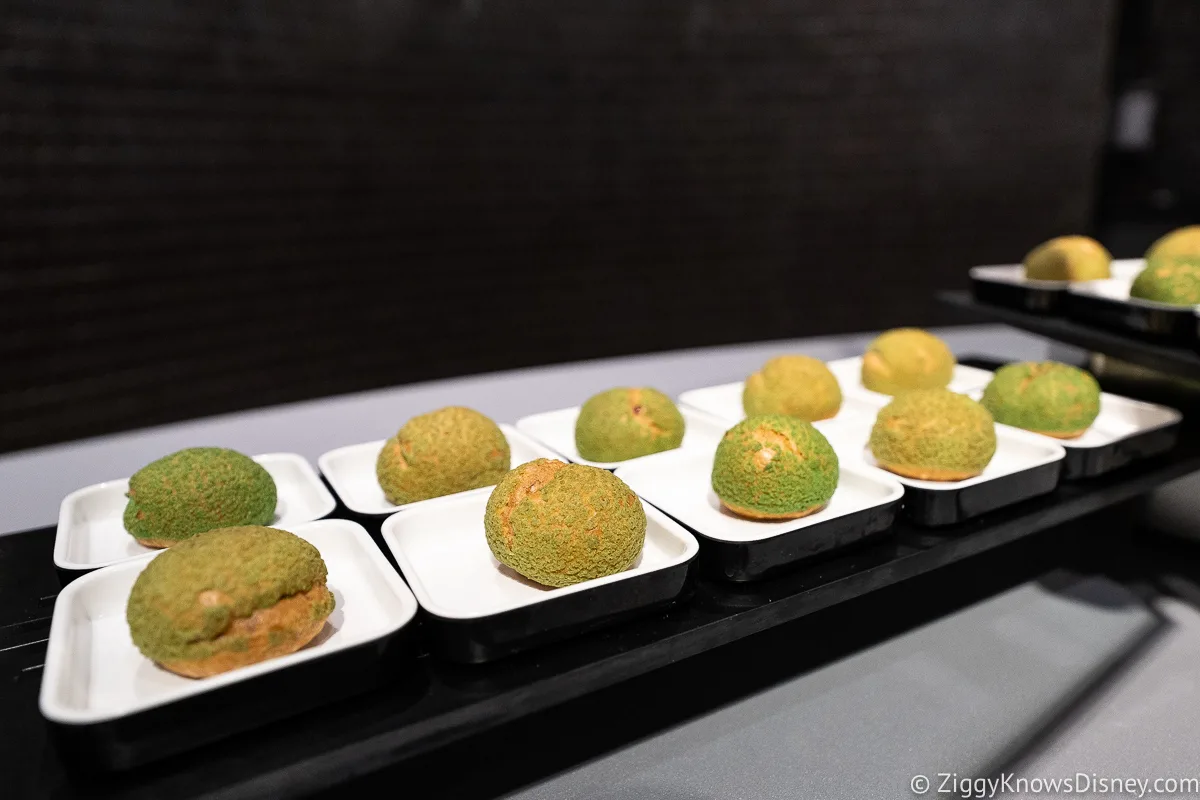 This was easily our favorite dessert, but different than we thought. Looking at it I thought it was going to be a cream puff, instead, it was filled with sunflower butter and jelly. Very reminiscent of peanut butter and jelly.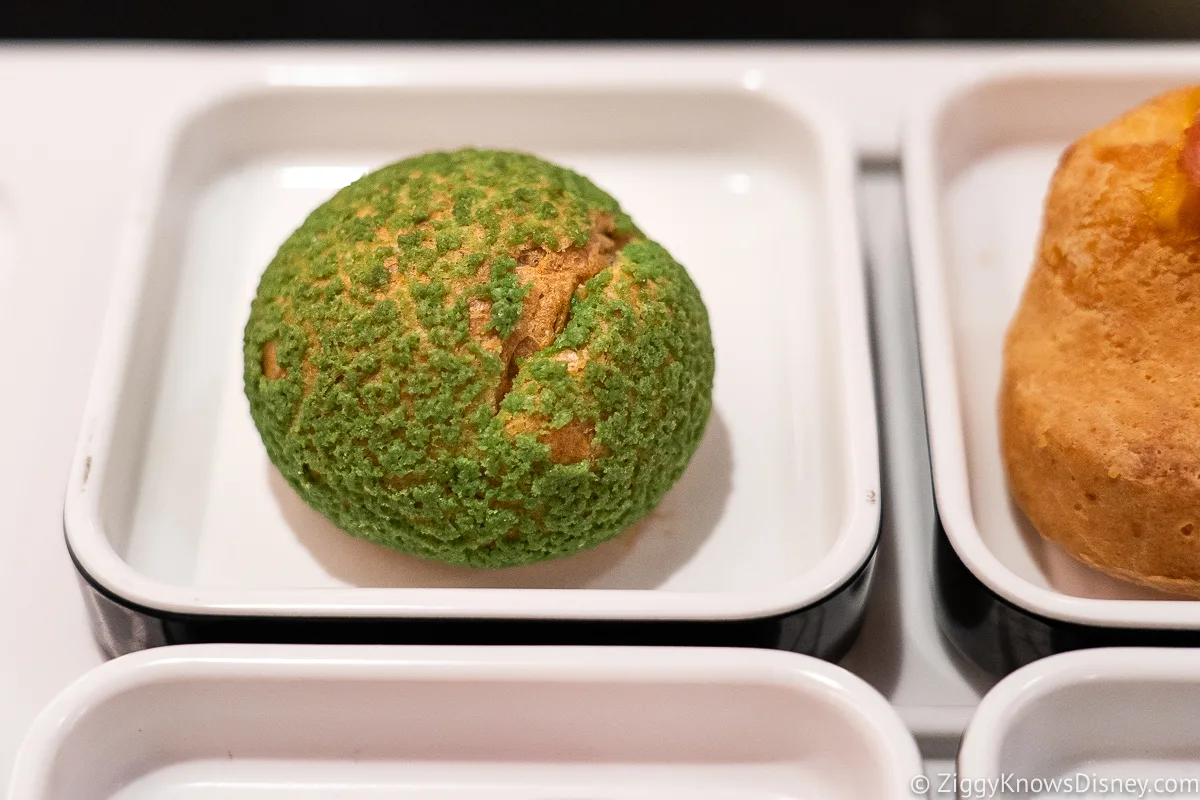 The shell was very thin and hard, but it didn't have much flavor. The prize was inside when you break it open…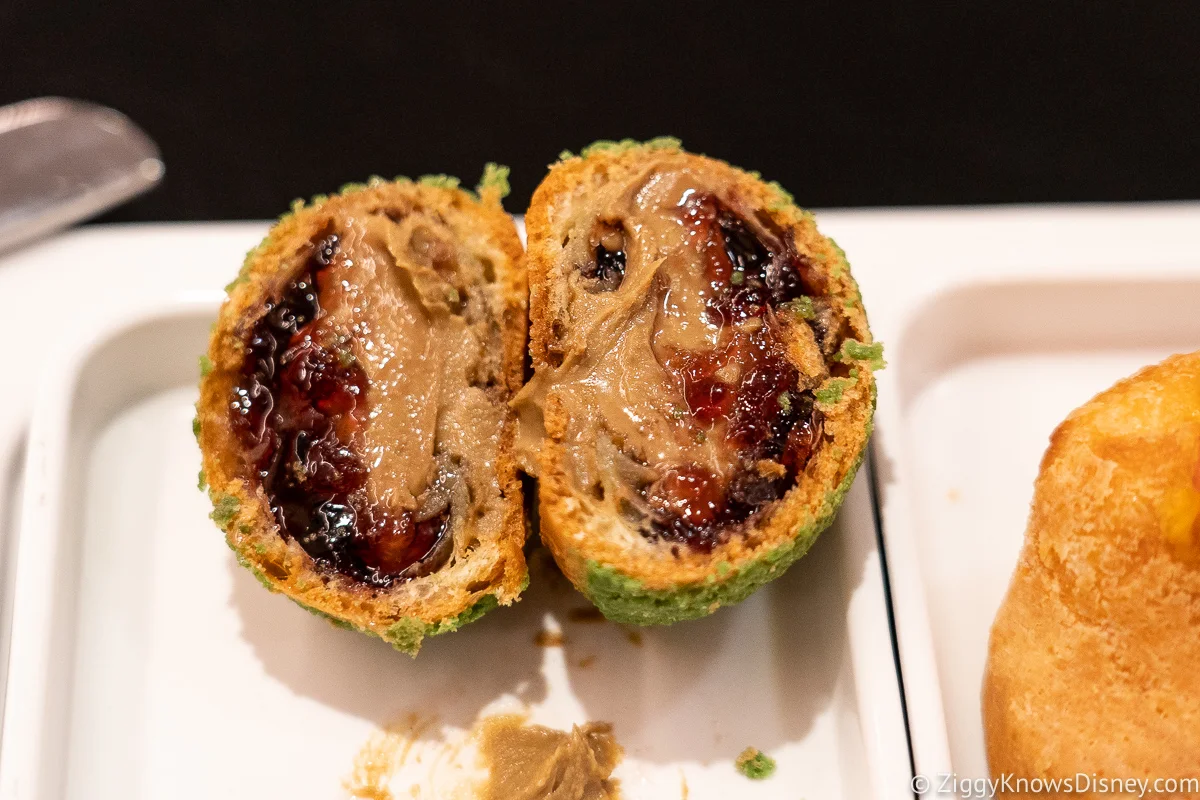 Lots of sticky and rich flavors here. If you are a PB&J fan, you will love this.
Daily Sweetbread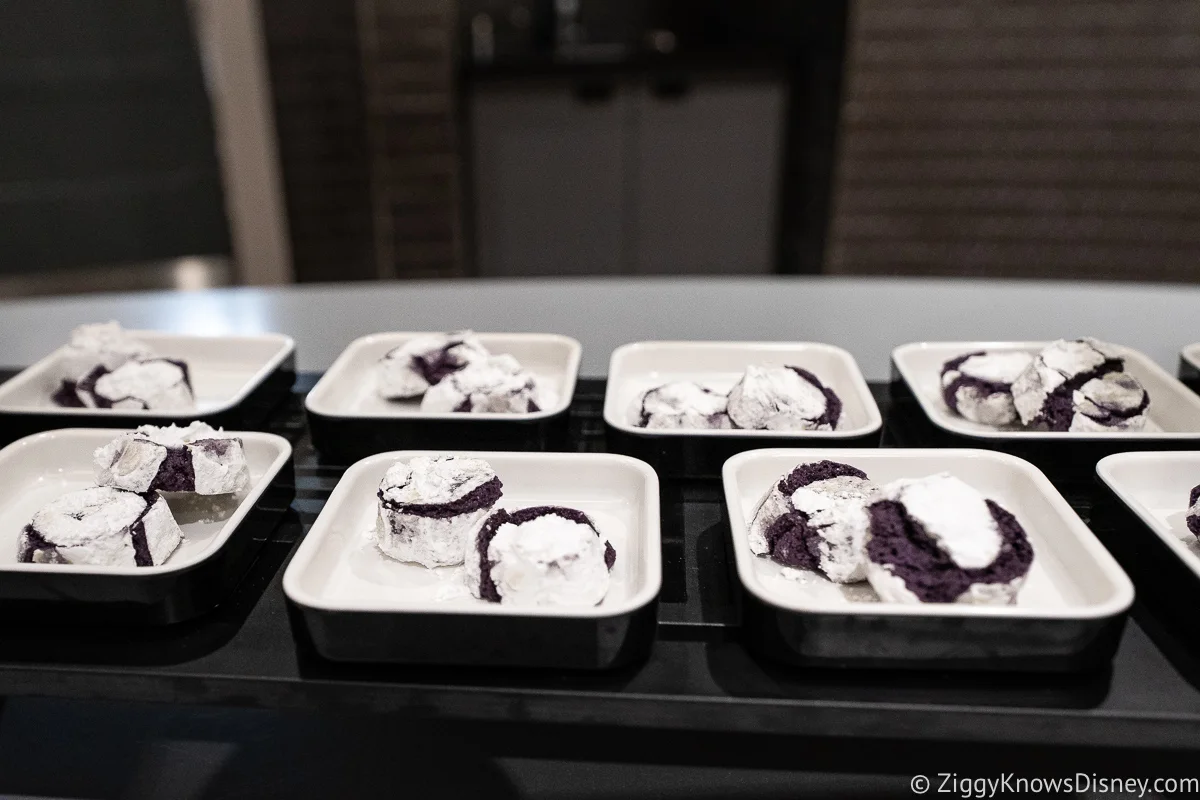 This was another winner, and the best of the many cookies you will find on the Starcruiser. The outside of the cookie is hard like a macaron and covered in powdered sugar.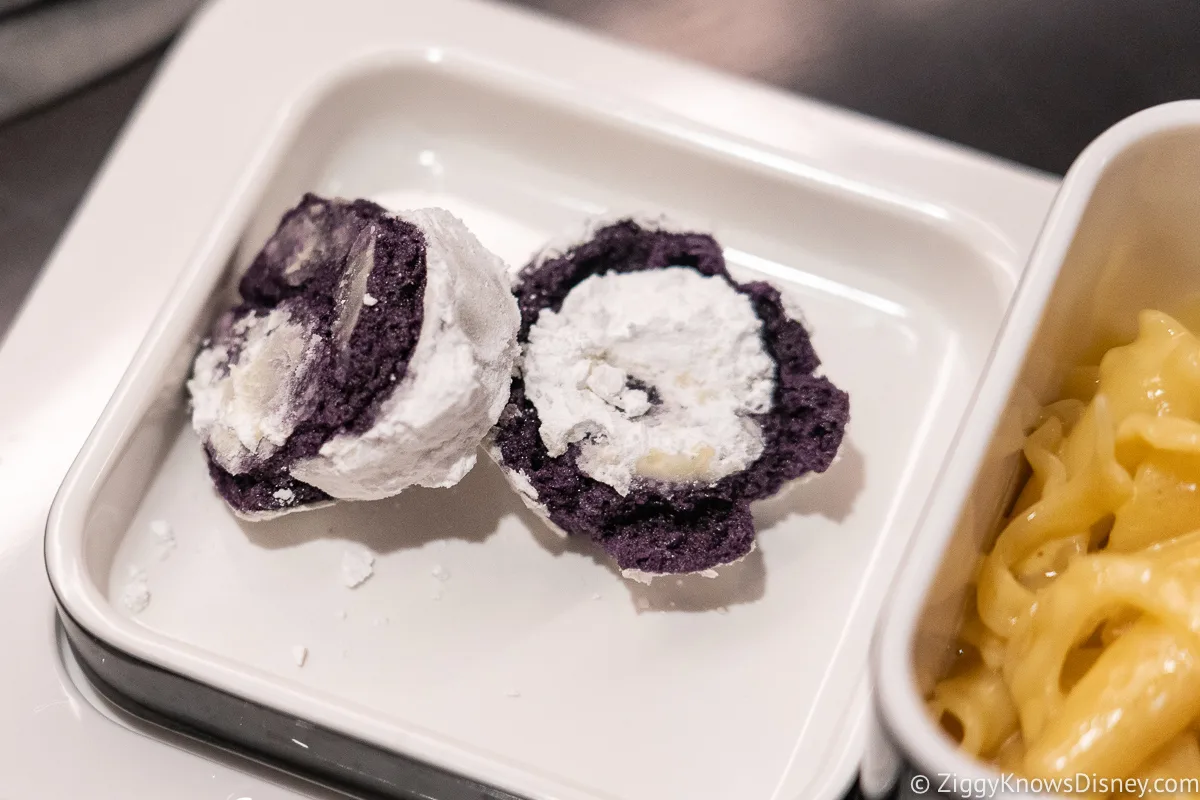 The inside is soft and chewy with an ube flavor which tasted like a cross between vanilla and pistachio.
Lunch Day 2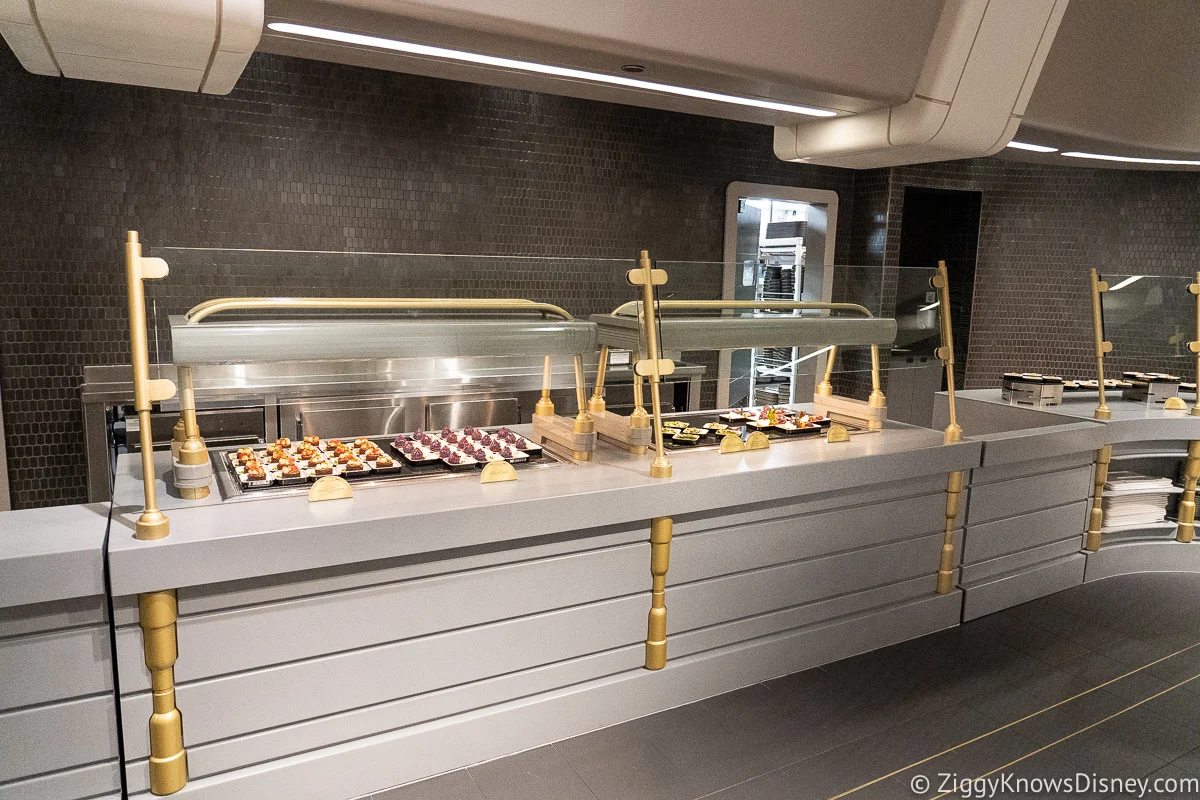 Drinks
Muja Twist – (Watermelon, Herbal Garden Blend, Mint, Sparkling Bubbles) – $8.00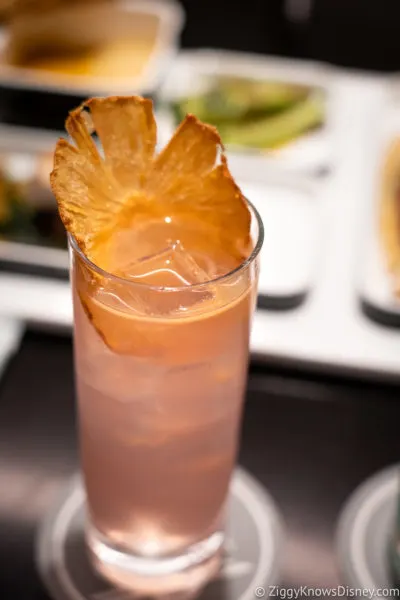 The Muja Twist was our first non-alcoholic drink of the trip, but we weren't really feeling it.
It is said to be a truth-telling beverage. If you're lying, the drink will be too sweet and essentially won't let you speak. However, if the drink is too bitter, then it's proof that you've got pure intentions in making your deal!
To us, it has a tart and bitter flavor yet we felt the mint was a bit too overpowering for our taste. We both took a couple of sips and then left the rest on the table and needless to say we wouldn't order it again.
Blue Milk Citrus Fizz – (Lychee, Lime, Lemon-Lime Soda, Blue Milk Sorbet) – $8.00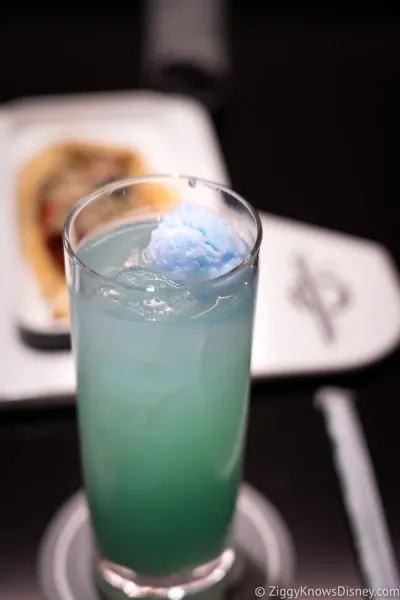 This was much better than the other drink and we actually really enjoyed it. Think of it as a blue milk soda and it had a strong fruity flavor from the lychee and citrus flavors in it.
The best part though was the blue milk sorbet! This is the only place you can get it in Disney World, and it comes scooped into your drink, where it then slowly melts and mixes with the flavors.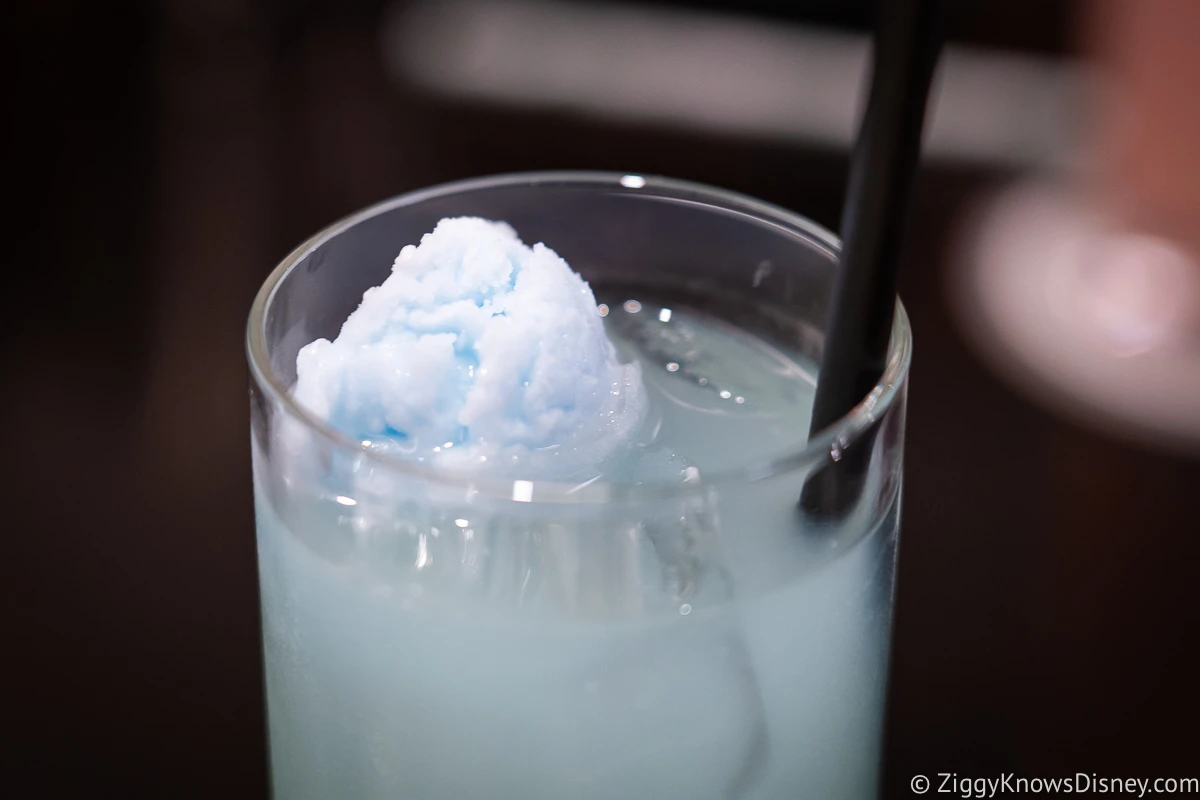 It's icy, pretty tangy, and packed with citrus flavor. We liked it so much, our waitress brought us out a cup of it to enjoy by itself!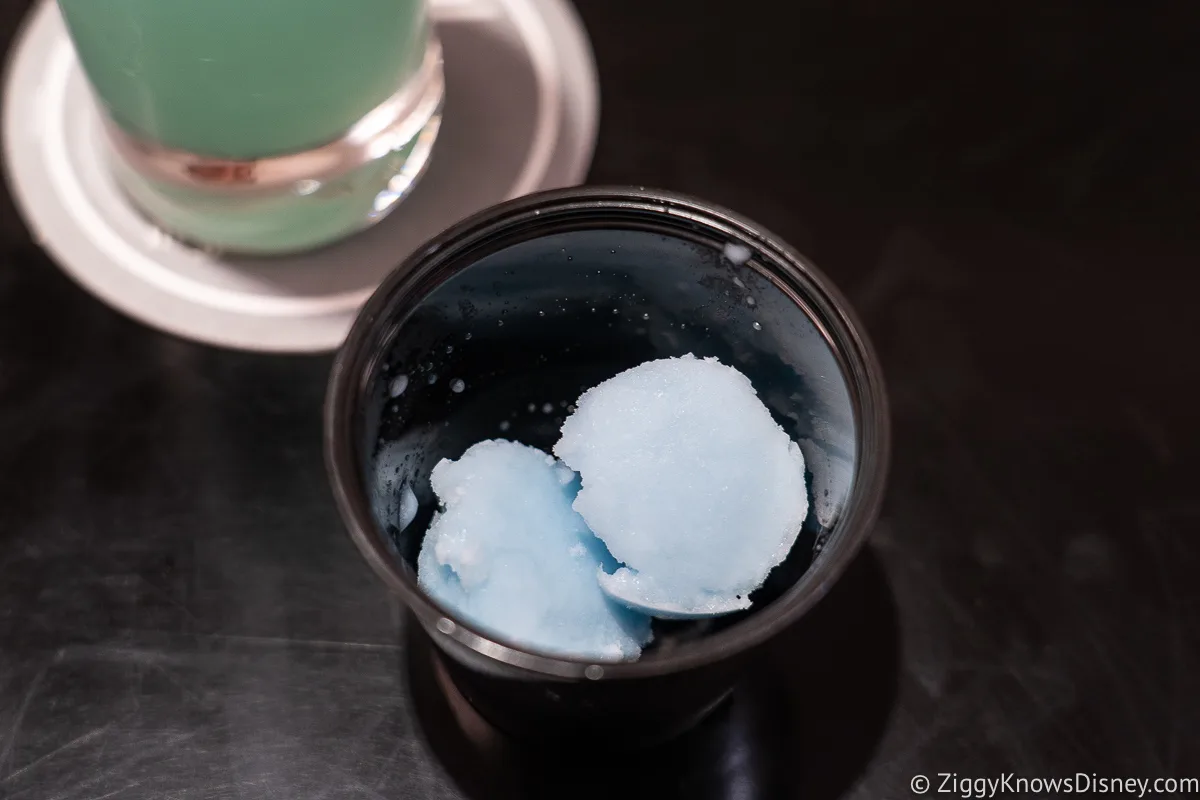 Food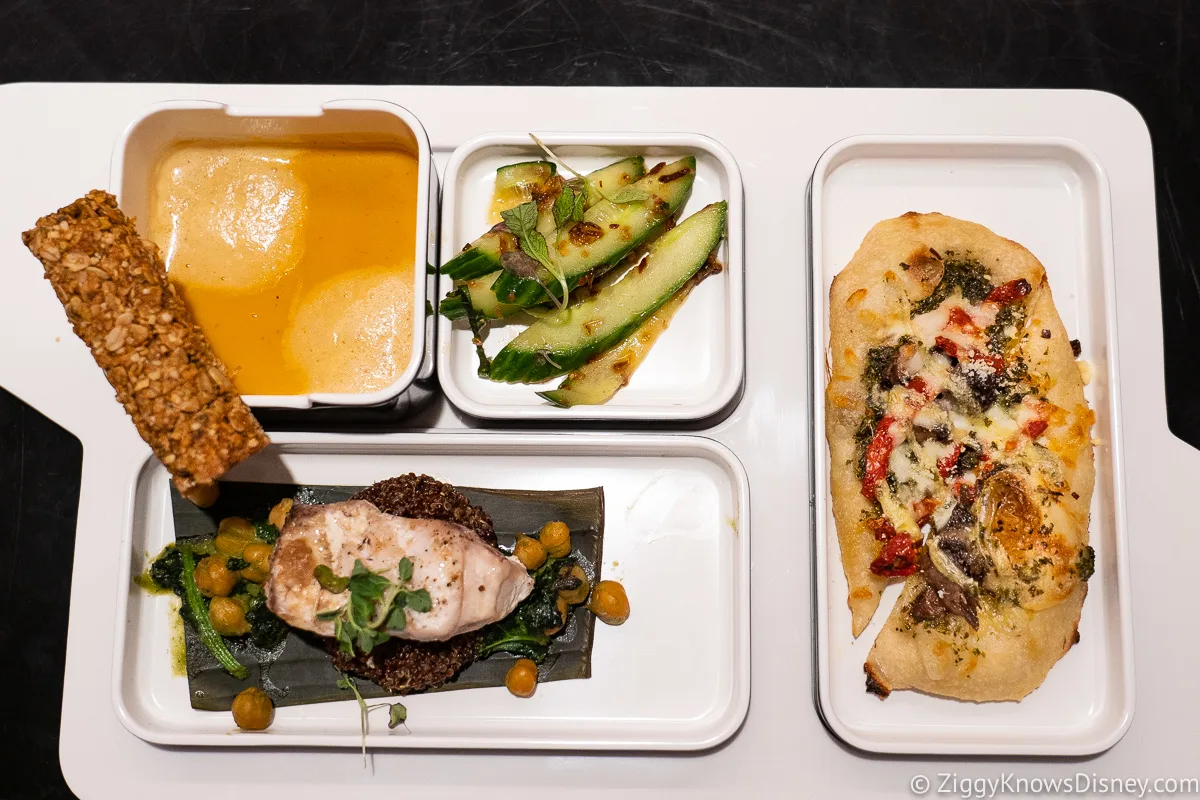 Chili-Spiced Cucumber Garden Grow Greens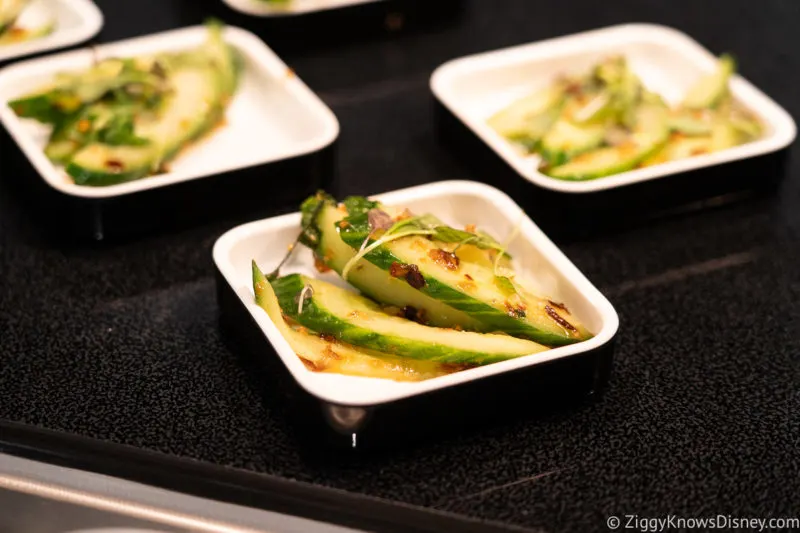 This was a nice way to start off the meal. The cucumber garden salad was light and the marinated cucumbers were fresh and crisp.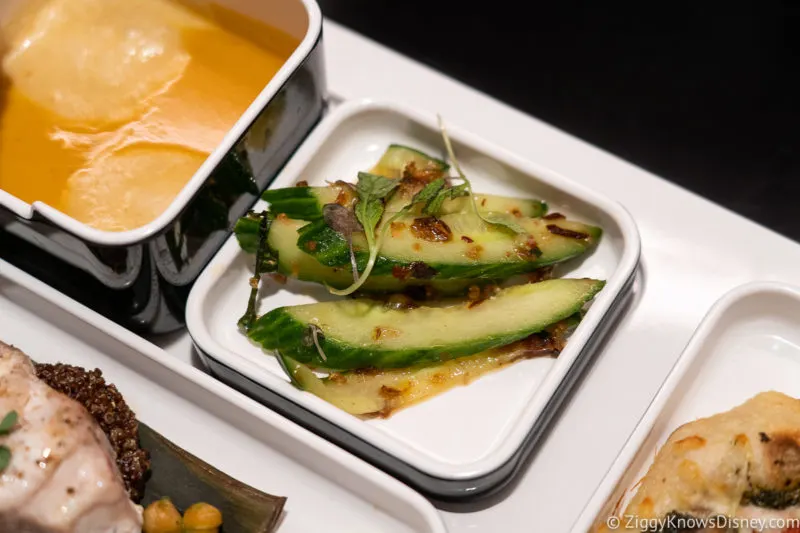 They had something like a chili oil on them, but they weren't too spicy. The heat was just right. This dish could have had more flavor, but overall it was light and refreshing.
Tamarind-Glazed Burra Fish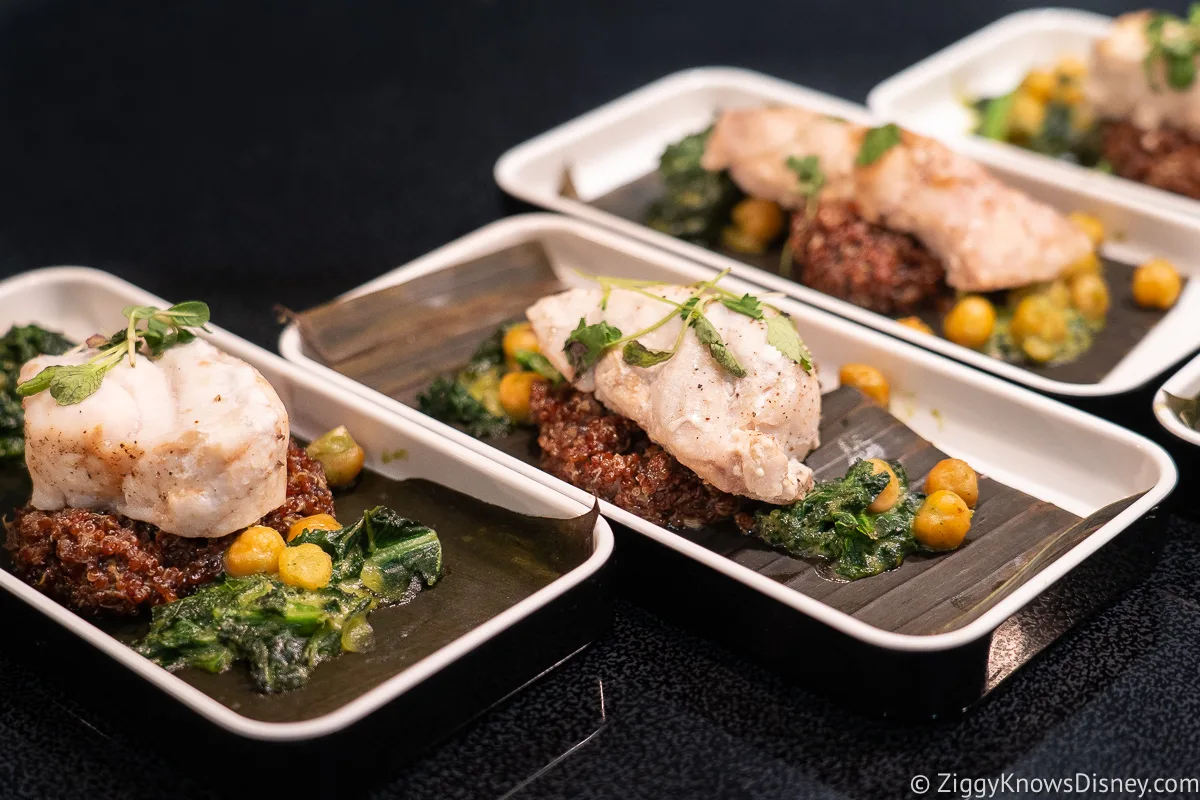 Next up was the Tamarind-glazed Burra Fish with long fruit leaf, braised kale, chickpeas, and curry. This was totally different from the salmon served on Day 1 and we liked it a lot more.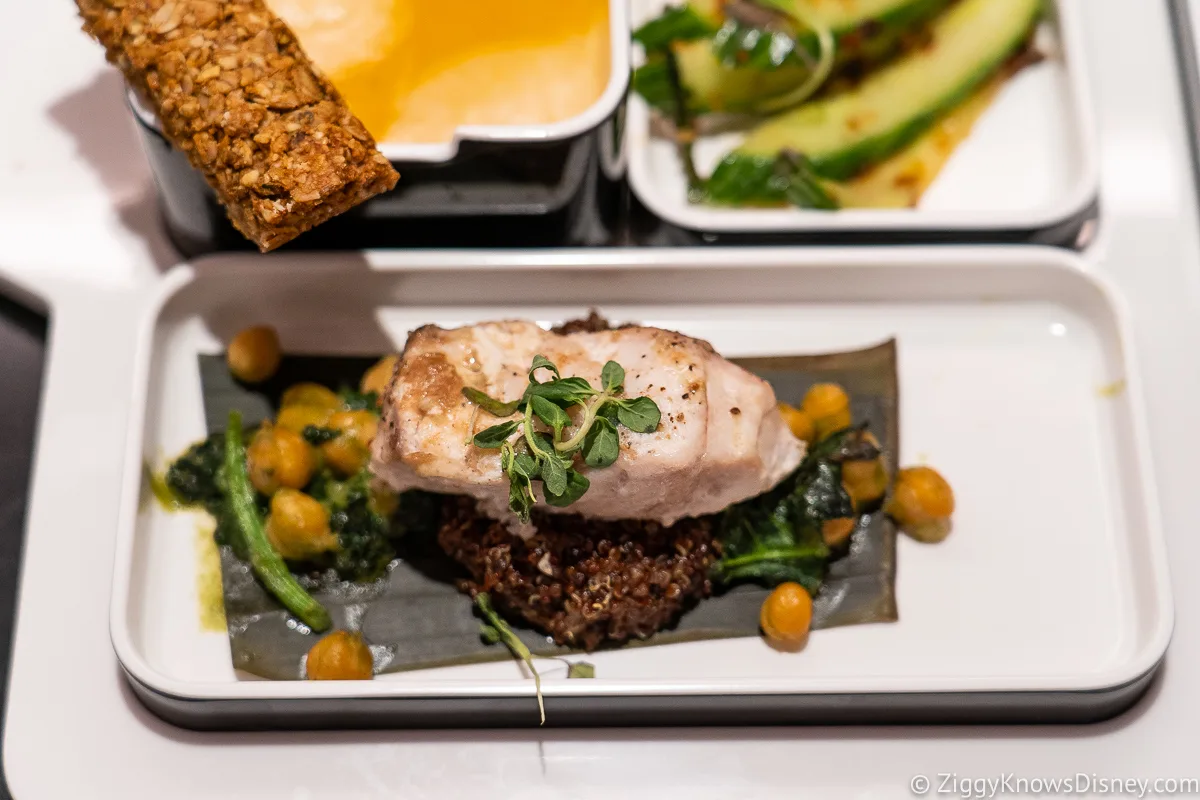 It had a stronger fish taste, but it was perfectly cooked and moist on the inside. The braised kale and quinoa were fine sides and they were sitting in a coconut/curry-flavored sauce which we found complimented the fish as well. If you are a fish fan, this is one to try.
Sweet Tuber with Spicy Batuu Curry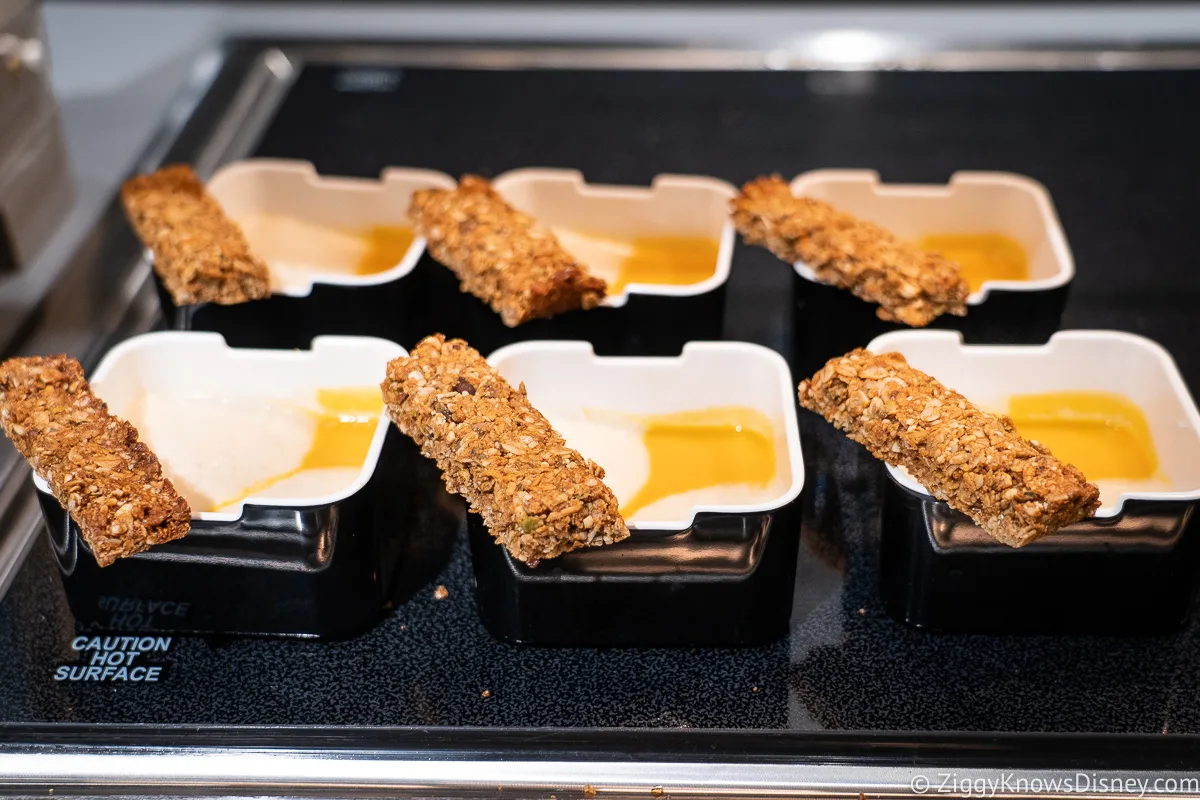 This is a sweet potato soup, served with a granola bar on top. Yes, I said that right. It was like a plain old granola bar you can get at the grocery store. A weird combination to say the least.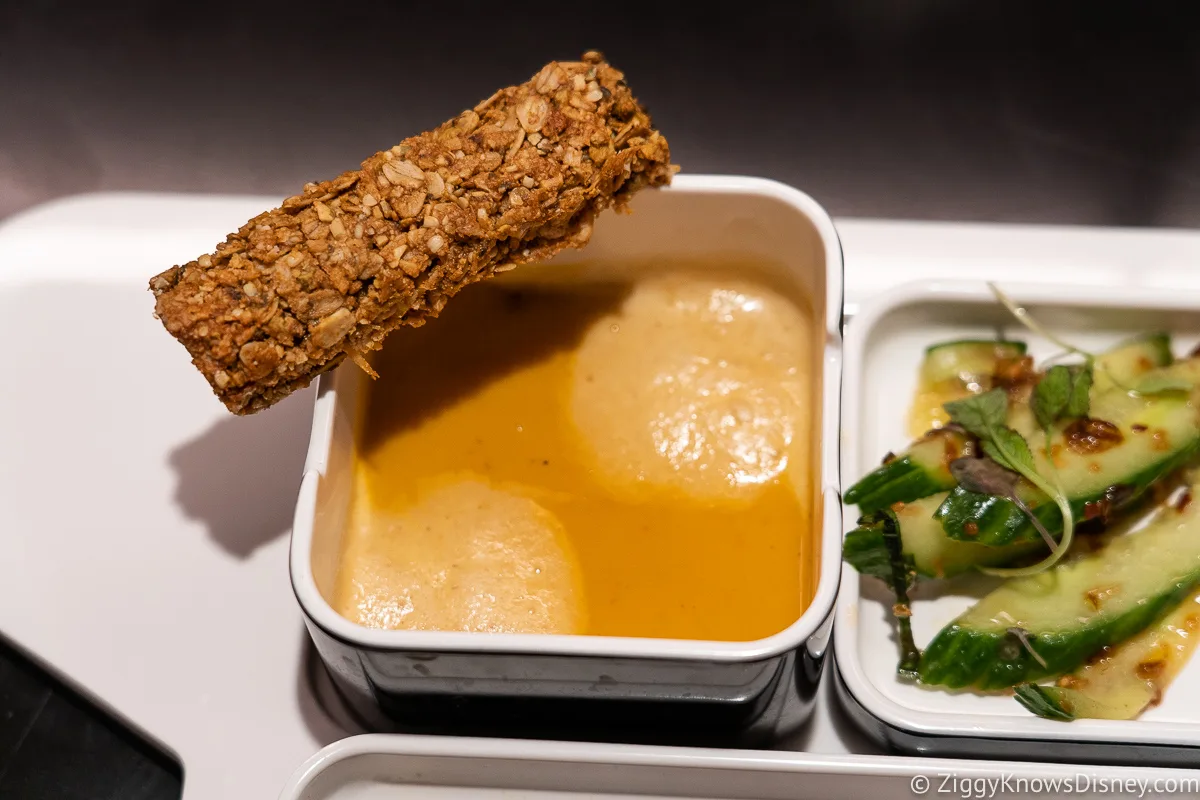 We hated the soup. It had a smooth texture, but it was too sweet for us and we don't like it served cold either. And honestly, who dunks a granola bar in soup?
Dipped Tip Yip Chicken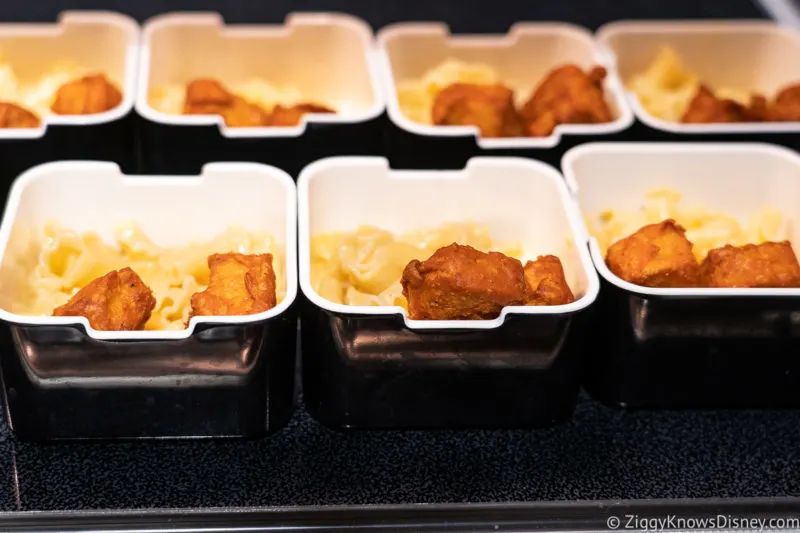 The dipped tip yip chicken was the same mac and cheese from the day before and still a good choice.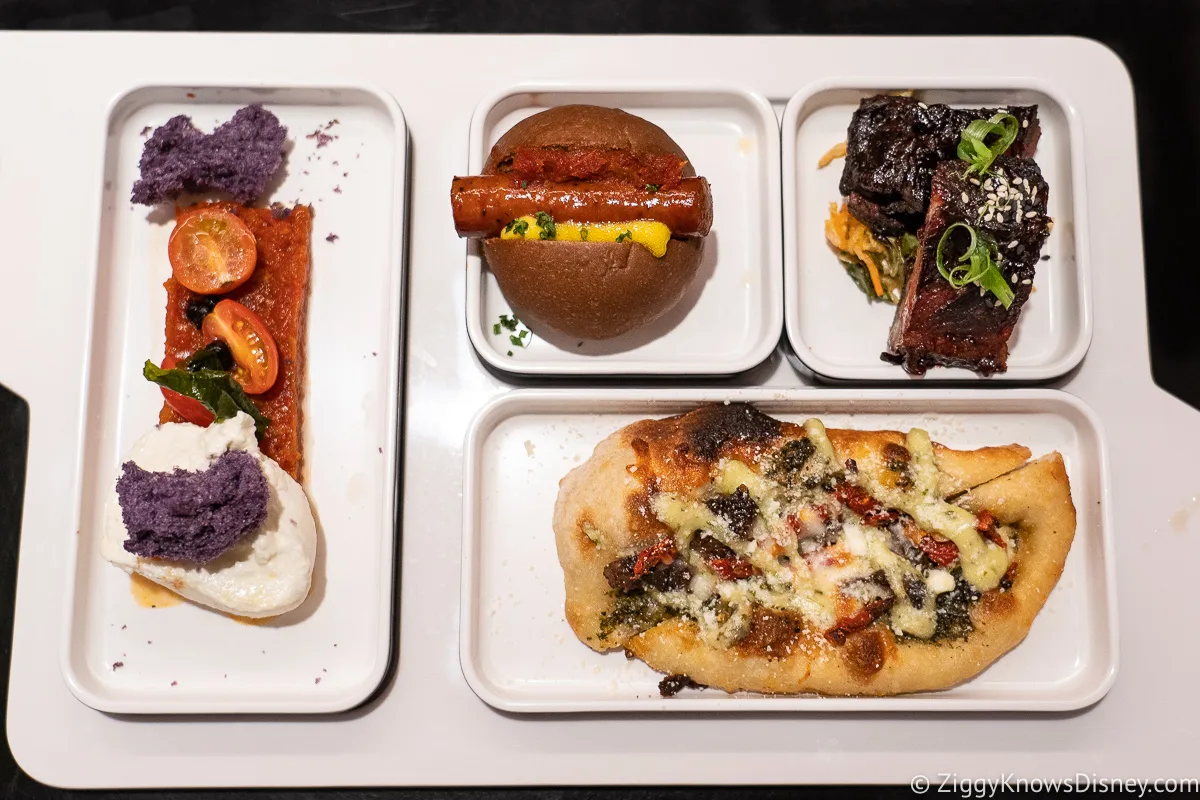 Bantha Beef and Tuber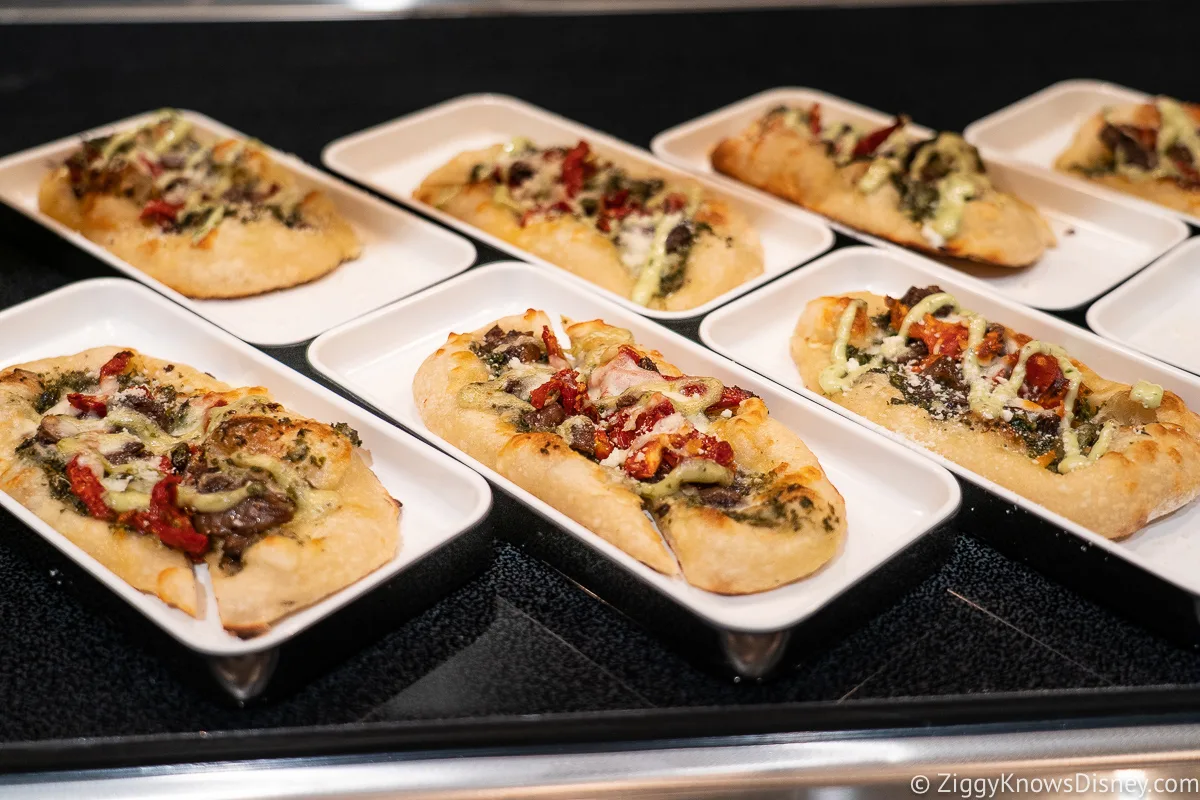 What's that you say? Another flatbread? Yes, it is, but we like this one even more than the one from the lunch on Day 1. It was really incredible!
The crust is that same crispy yet soft dough we love, and this one comes topped with a bantha vinegared herb sauce, red peppers, and coti-cheese. We especially liked the herb sauce which reminded us of a pesto.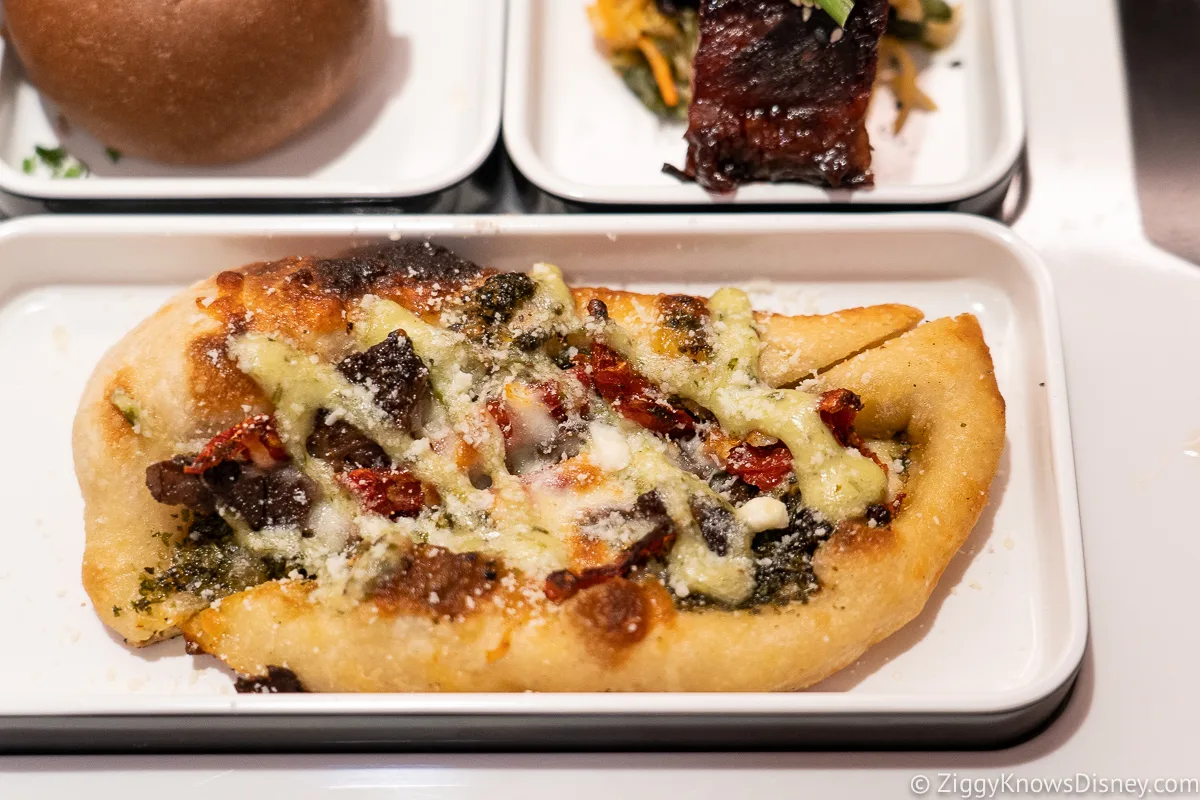 All of these flavors worked well together and we couldn't get enough of it. In the end, we had 3 pieces of it!
Blue Focaccia and Sausage Takeaway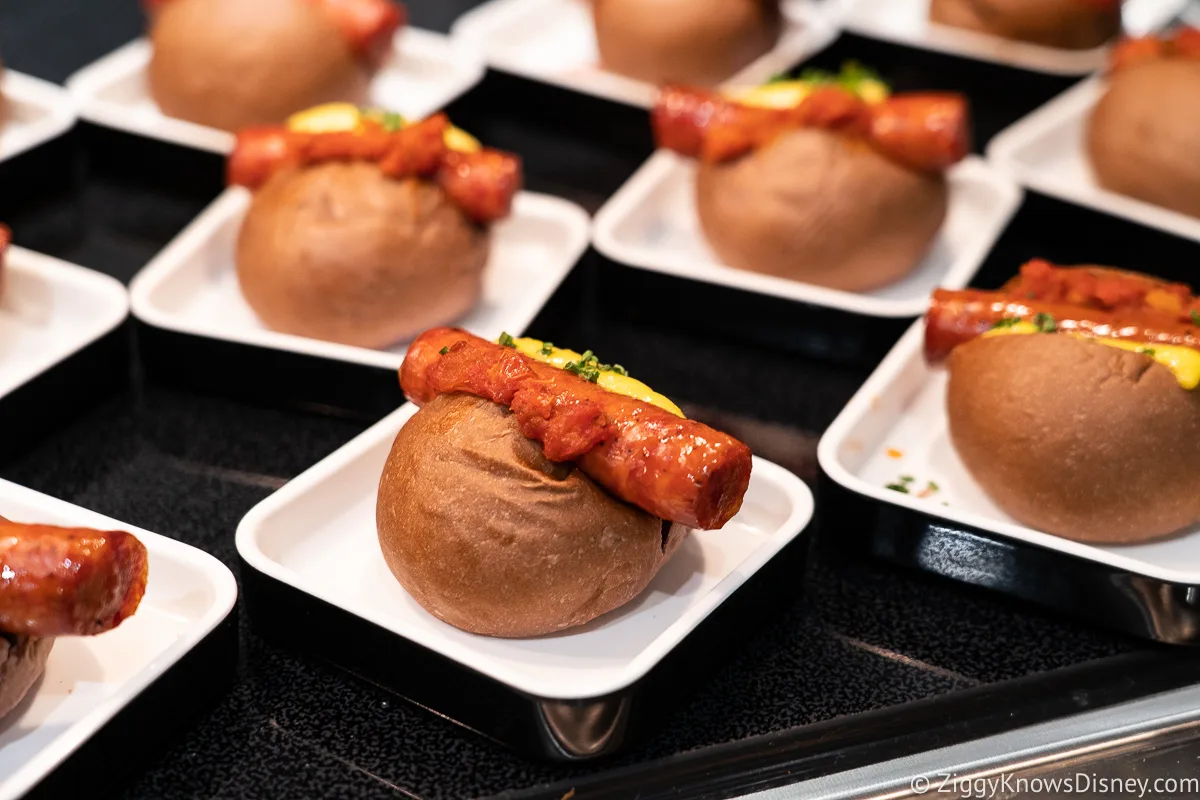 Think of this as a Star Wars hot dog, just not a very good one. The sausage was the only decent part and tasted like a turkey sausage. It had a nice crisp to it, but we were hoping for a bit more flavor.
It is served on a blue focaccia bun which was made from the same bread as on the burrata dish. It wasn't very good though when counted on to be one of the main stars in the dish. The ketchup and mustard were played by the red fruit jam and ahi aioli, but we didn't like either with the sausage.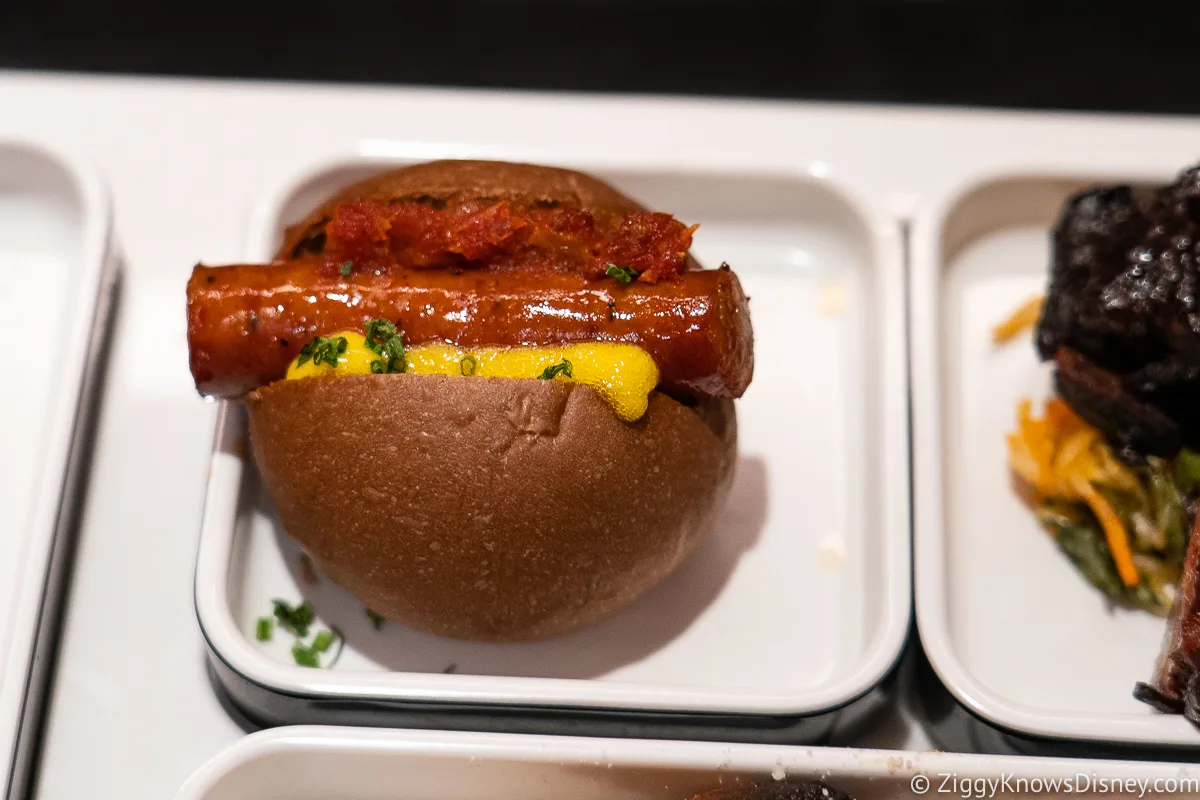 Overall we would skip this, but it could be a good option for the pickier eaters in your group.
Red Fruit Burrata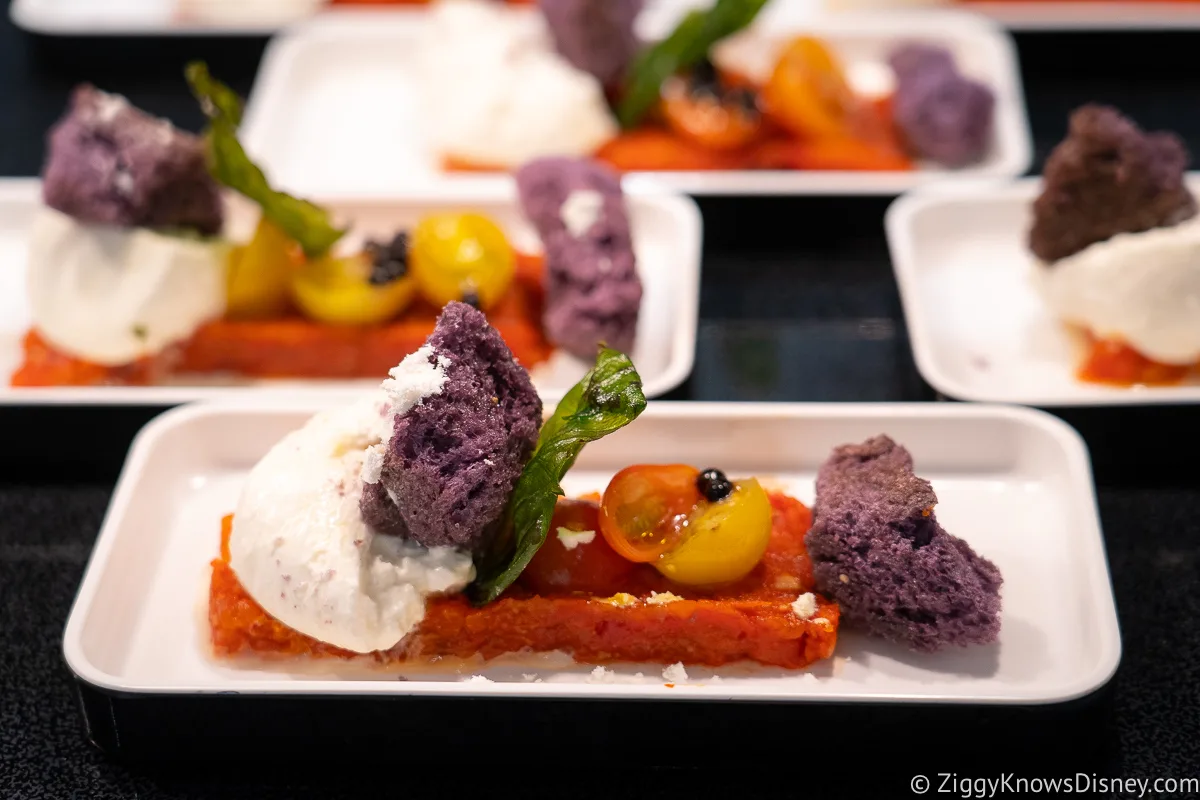 This is similar to a Caprese salad and it's made from tomatoes, basil, and burrata cheese, served with purple bread. Burrata is one of my favorite foods to eat in Italy, so I am always critical of it when I eat it in the United States.
This wasn't nearly as good as what you get over there, but it was decent. The cheese was soft but needed to be served at room temperature and not freezing cold.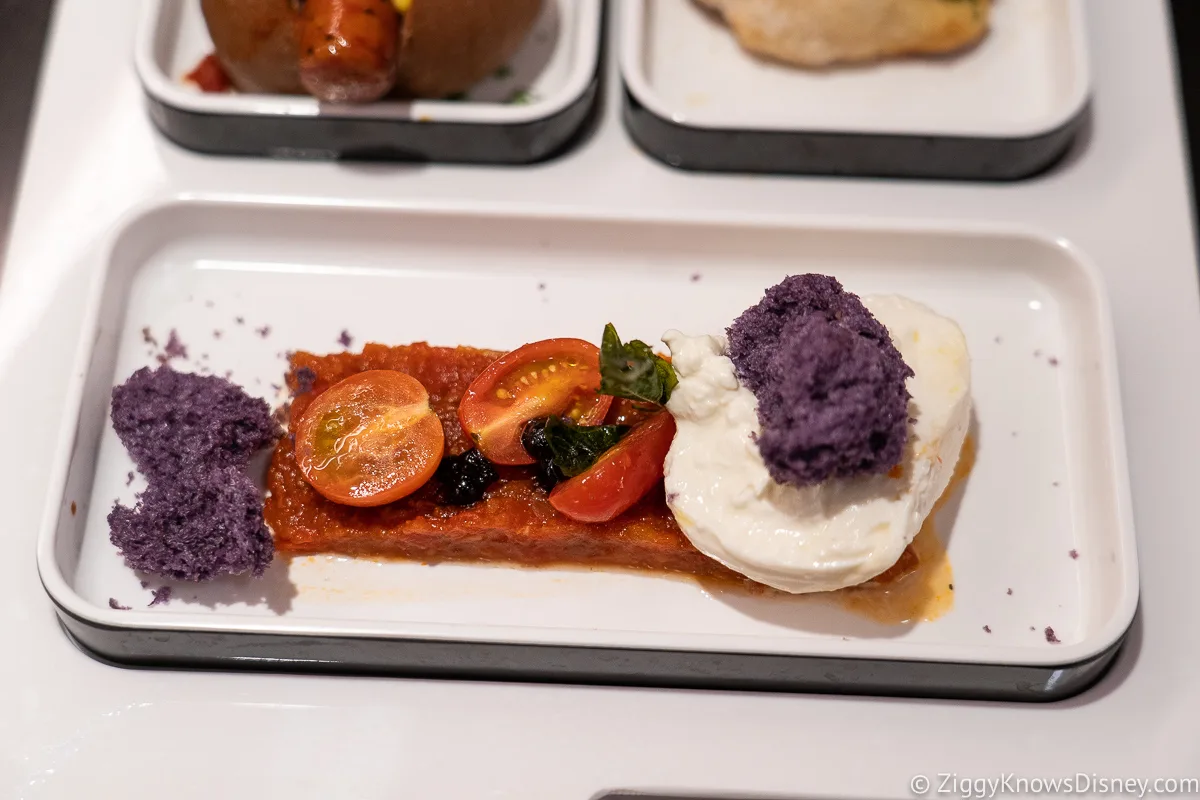 We really like the tomatoes, both the sliced ones and the paste underneath. It was sweet and the texture creamy. The balsamic pearls were a great addition and added some tang to the dish.
On to the next tray…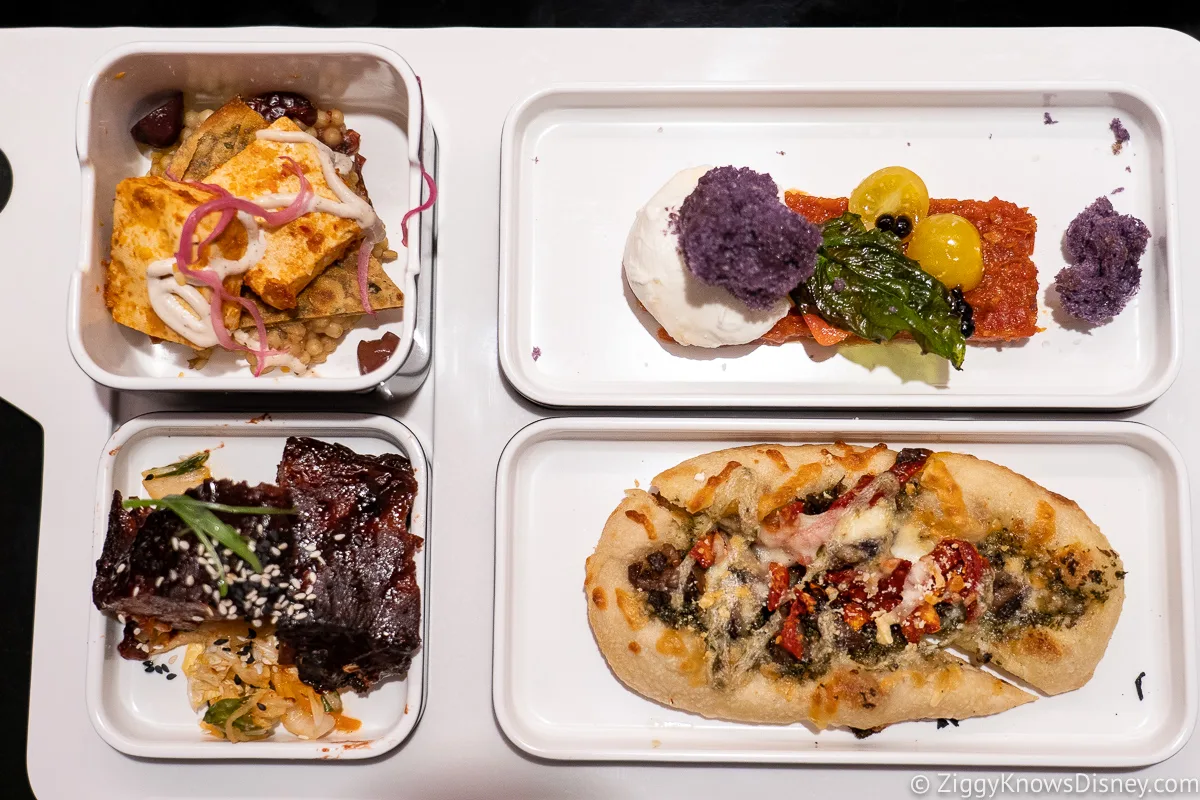 Marinated Seared Tofu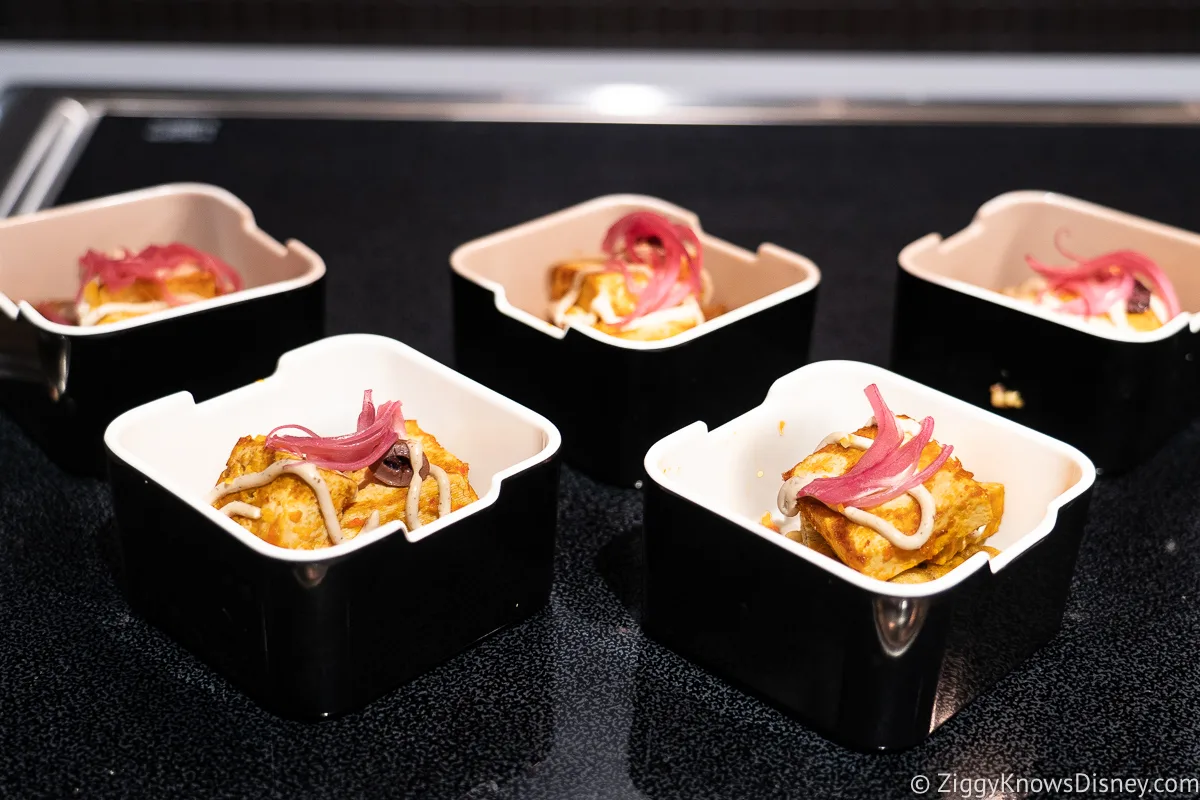 There were plenty of plant-based menu items at the Crown of Corellia Dining Room that we enjoyed, this was not one of them. The tofu was served with saffron rice, peas, sumac, pickled onions, Kalamata olives, aioli, and flatbread, together in a tall dish.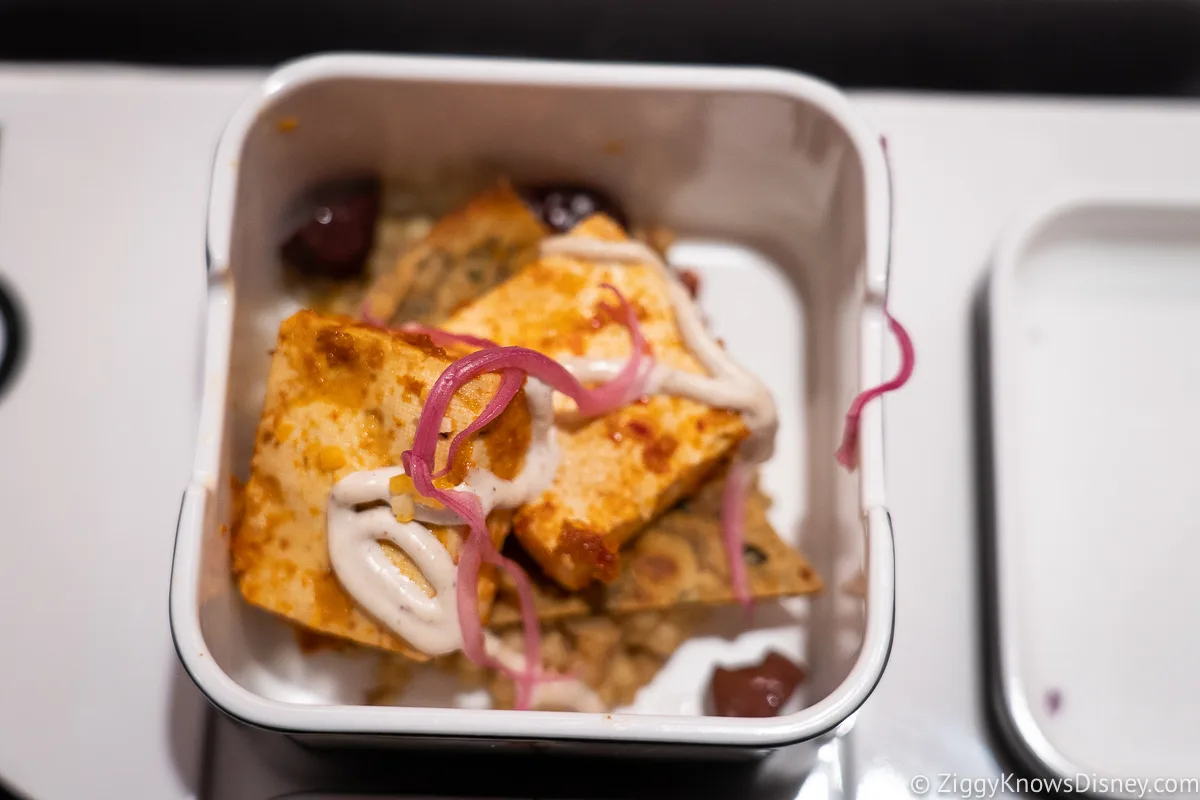 First, the tofu was soggy and not seared and crispy as in the description, and it didn't taste like anything really. The other flavors are reminiscent of the Mediterranean with a couscous base, kalamata olives, and a sauce similar to tzatziki, just not as good.
This dish had a lot of potential, but it let us down big-time.
Kaadu Rib Bites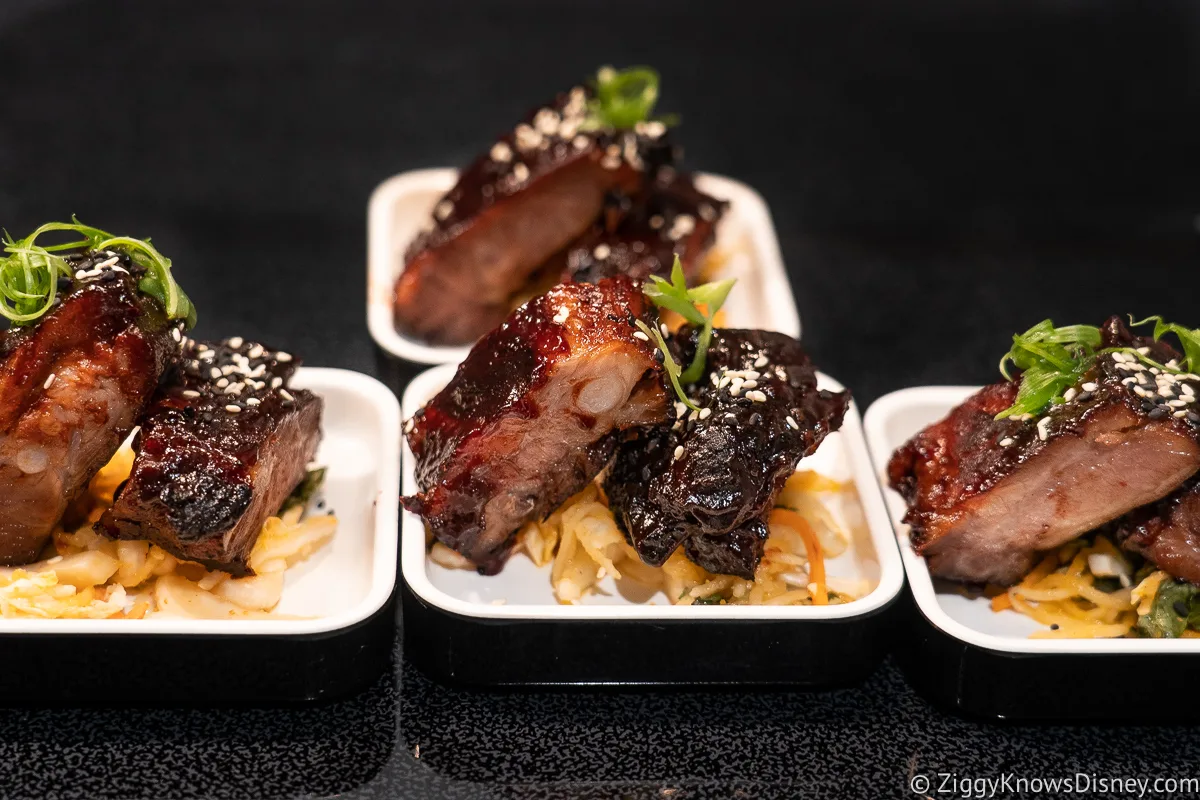 Kaadu is the Star Wars equivalent of pork. The ribs come cooked with a sweet-and-sticky glaze and are similar to the ones you find down at Docking Bay 7 on Batuu. They were small, but packed with flavor and also pretty tender.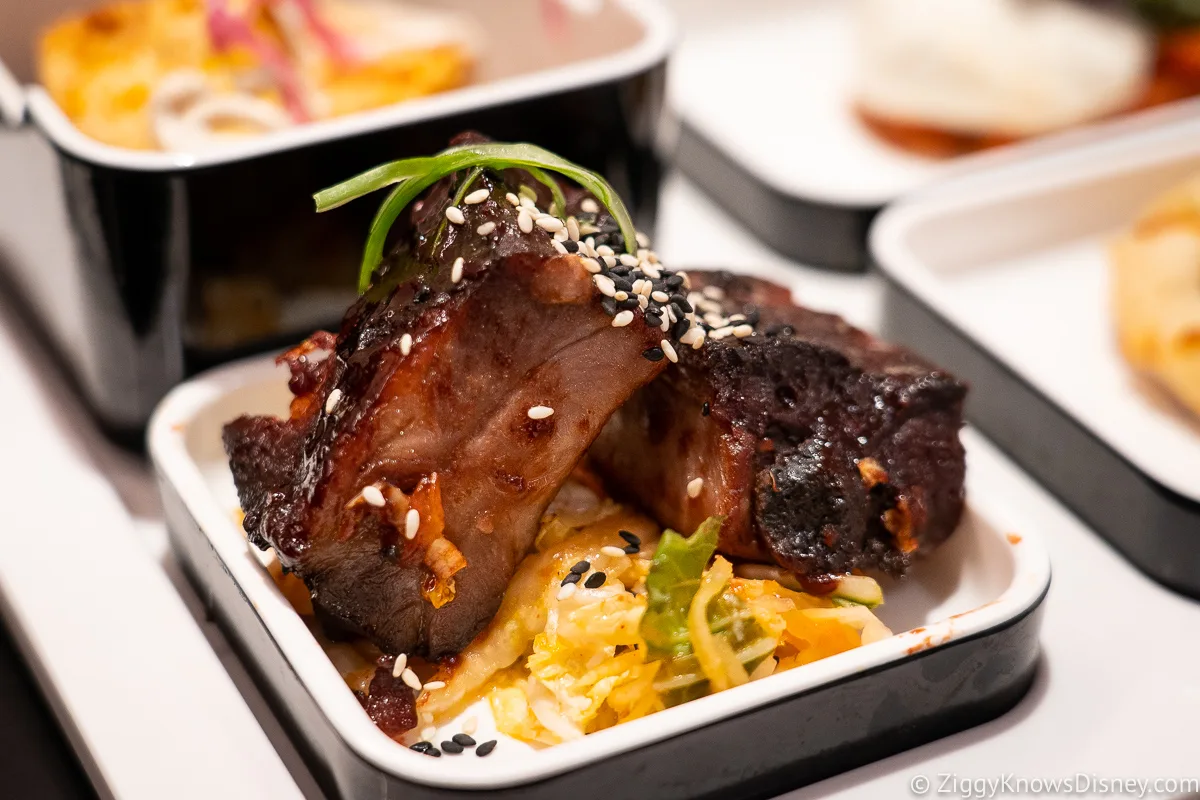 The slaw was definitely Asian-inspired and packed with flavor. A great accompaniment for the ribs. This was one of our favorite items of both lunches and a must-try.
Desserts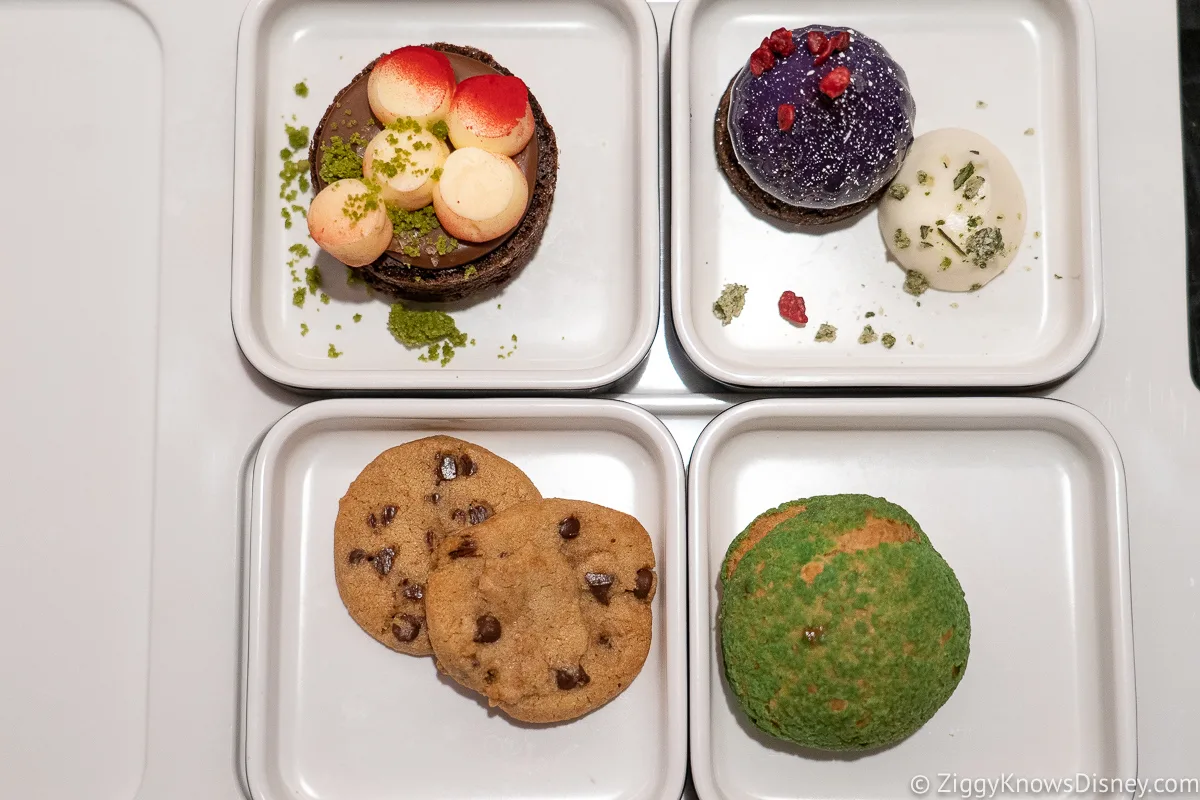 Sunflower Butter and Jelly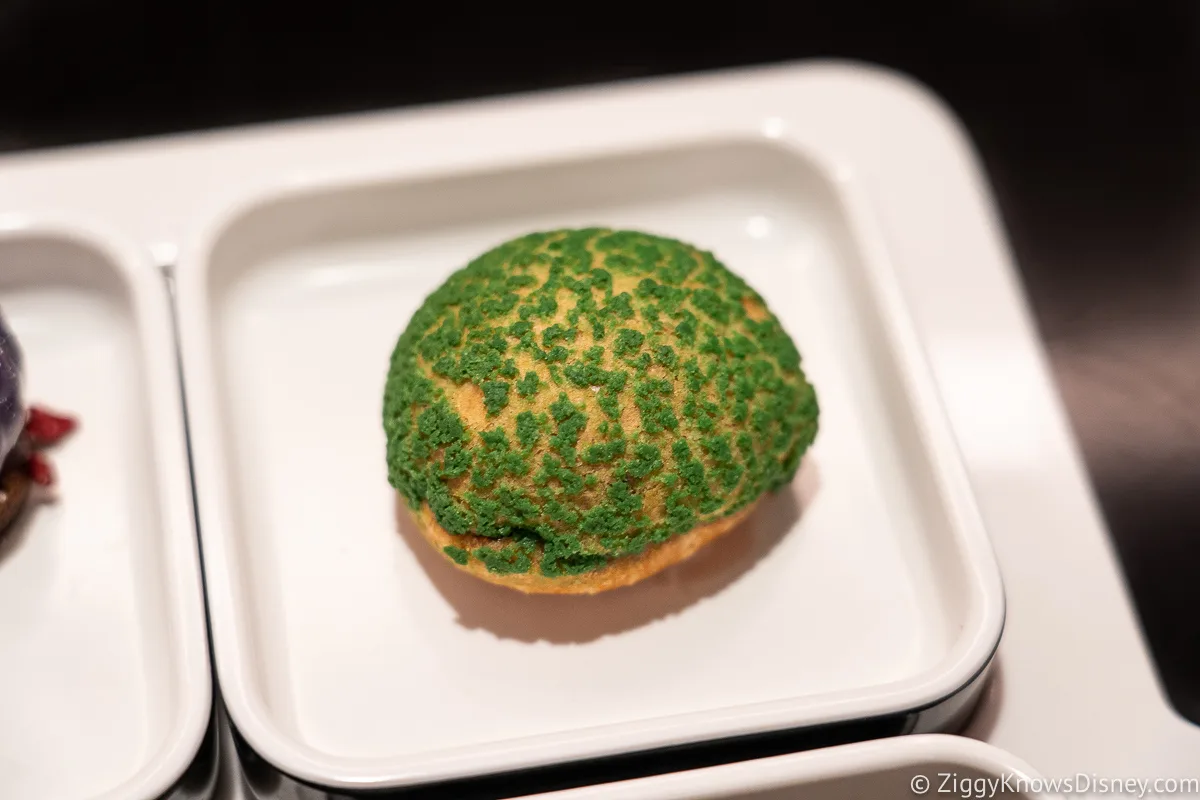 This was the same as the day before, and still amazing!
Daily Sweetbread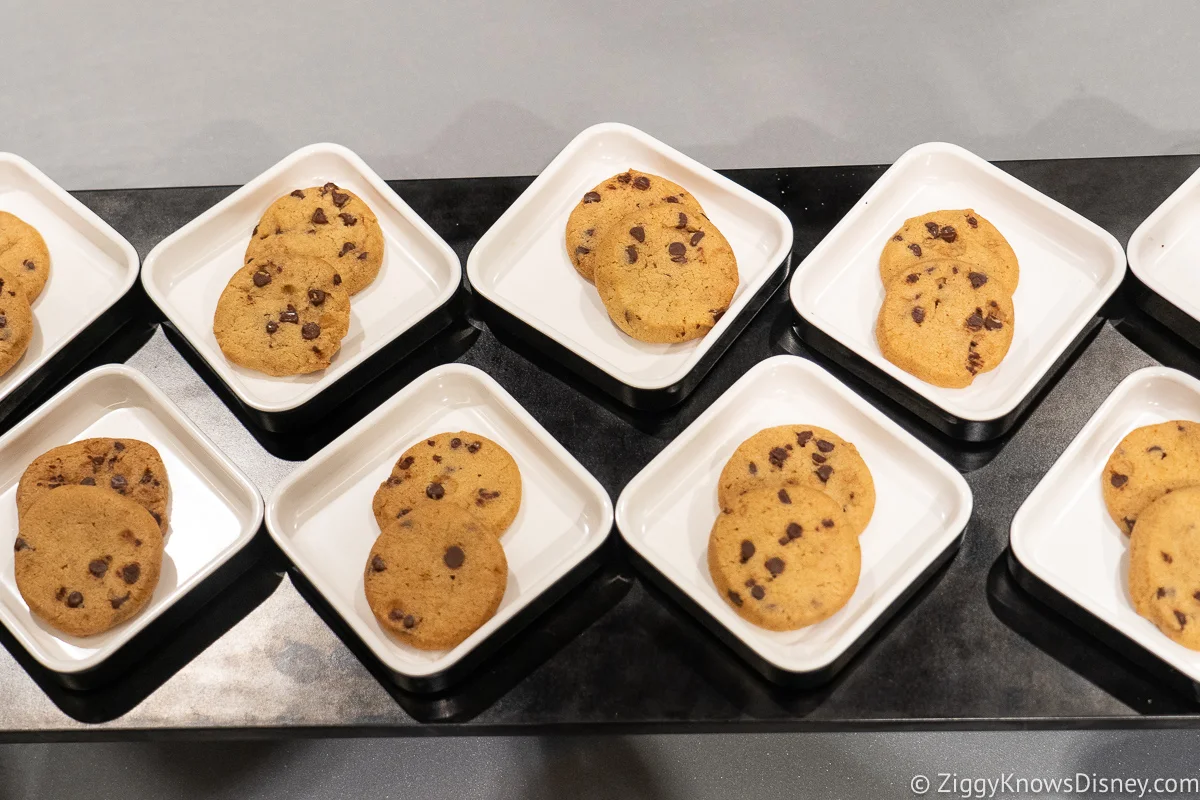 There were cookies with every meal, but the chocolate chip ones were the best. They were nothing out of the ordinary, just good sweet and buttery chocolate chip cookies. The consistency was great, not too hard, and still chewy.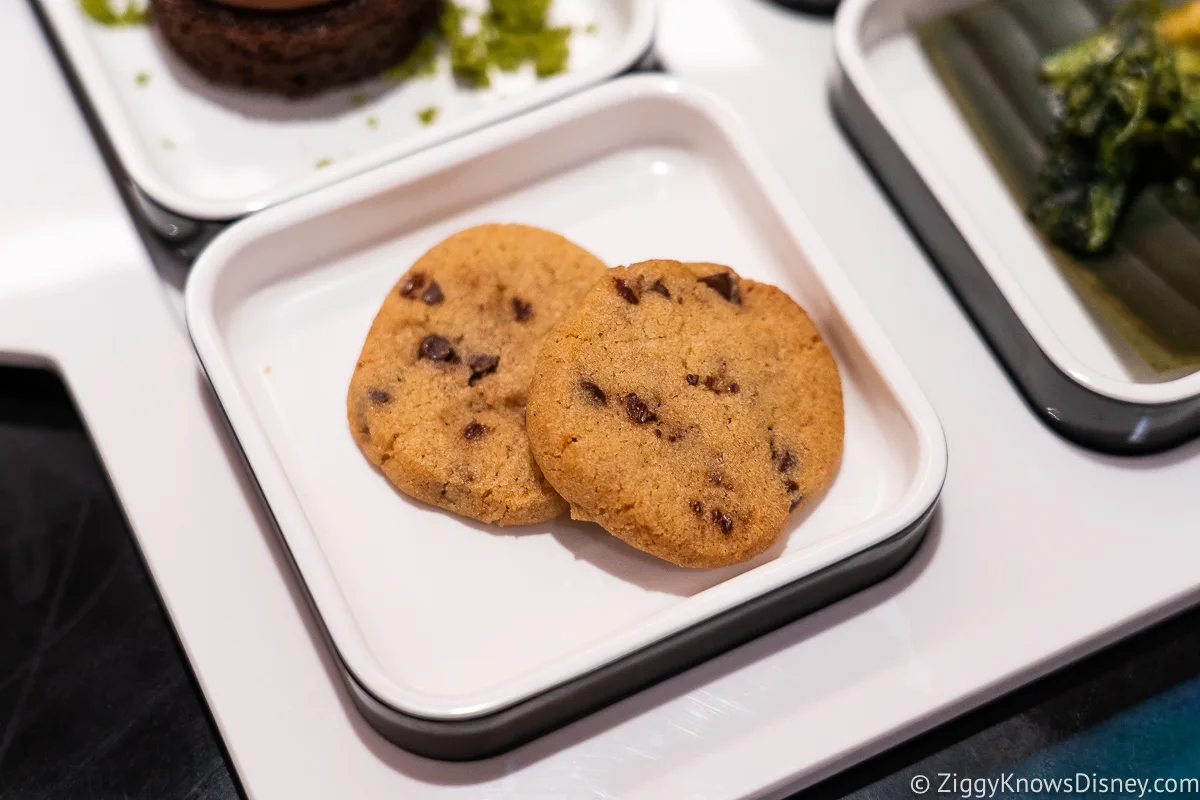 Salted Caramel-Chocolate Cake
The Salted Caramel-chocolate cake was your basic chocolate cake/brownie with a whipped mascarpone cream topping. We found it difficult to taste the caramel though and only tasted the chocolate flavor, even though it was pretty good.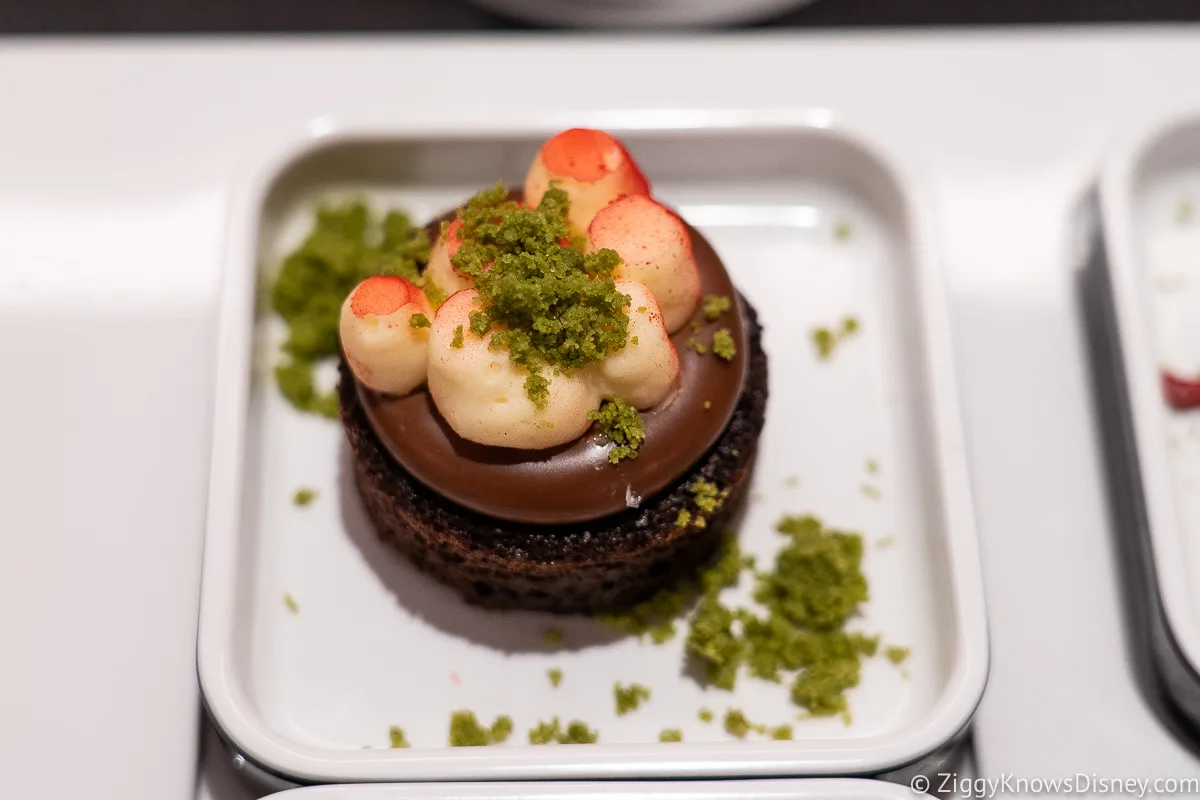 Cream of Jogan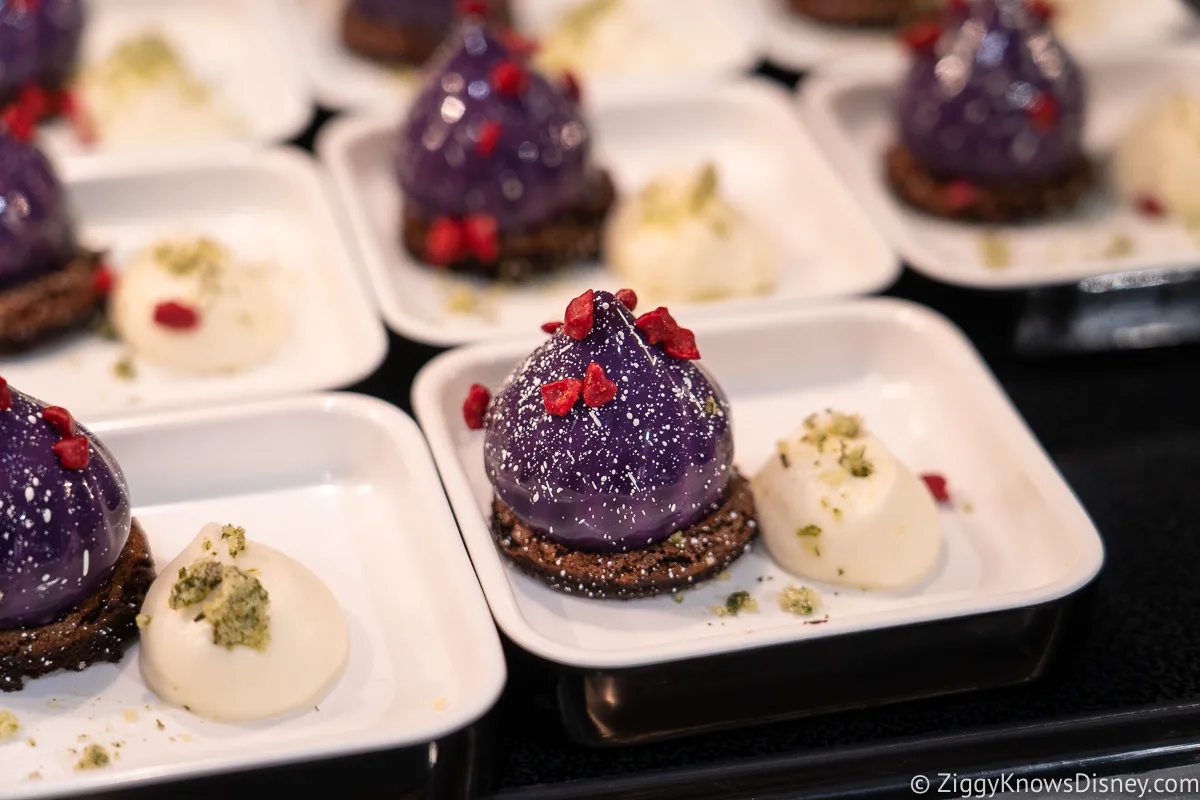 The cream of jogan dessert was a lot like the Blue Bantha Milk Fruit Whip from Day 1.
The dessert was very attractive to look at and it came with freeze-dried raspberries on top. The mousse inside was fruity and creamy. The whipped cream was pretty bland though and could have been sweeter.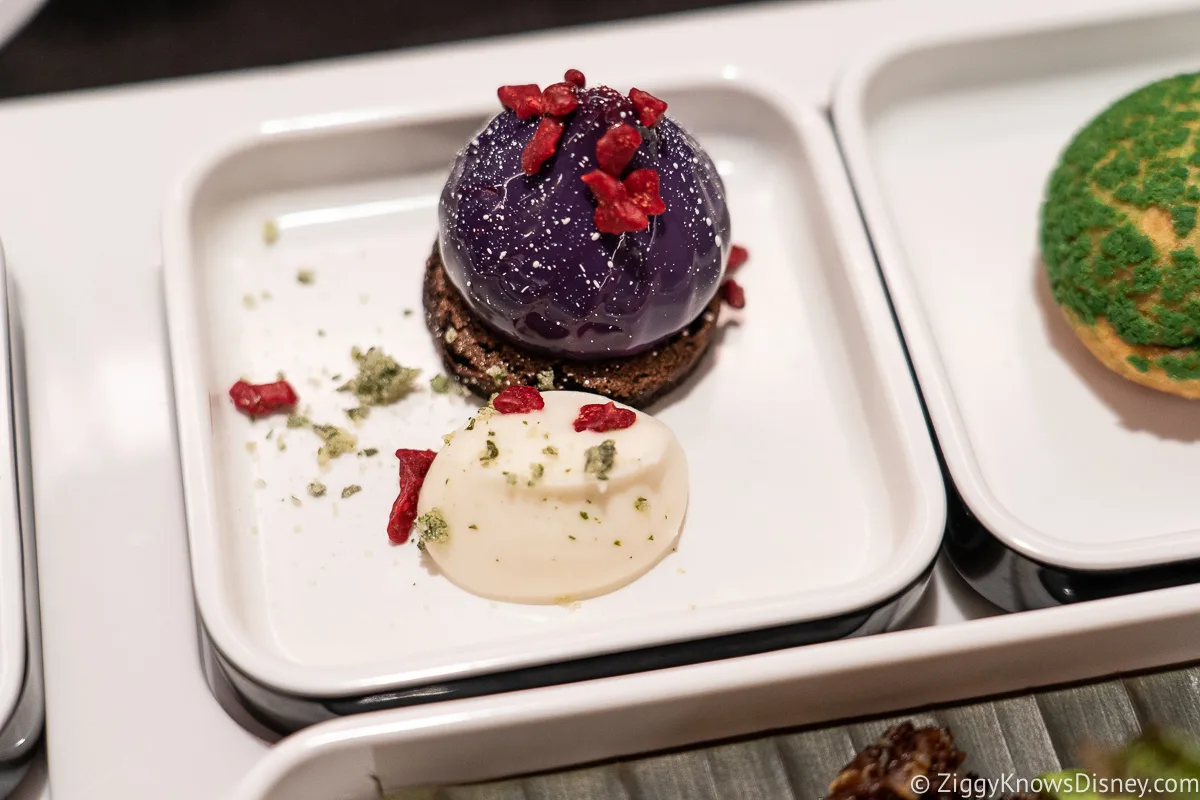 The difference here was the chocolate cookie base at the bottom which gave it a nice contrast to the mousse. Definitely worth getting.
Wow, we are really full from lunch, but let's push on to our last meal…dinner.
Dinner (1st Evening)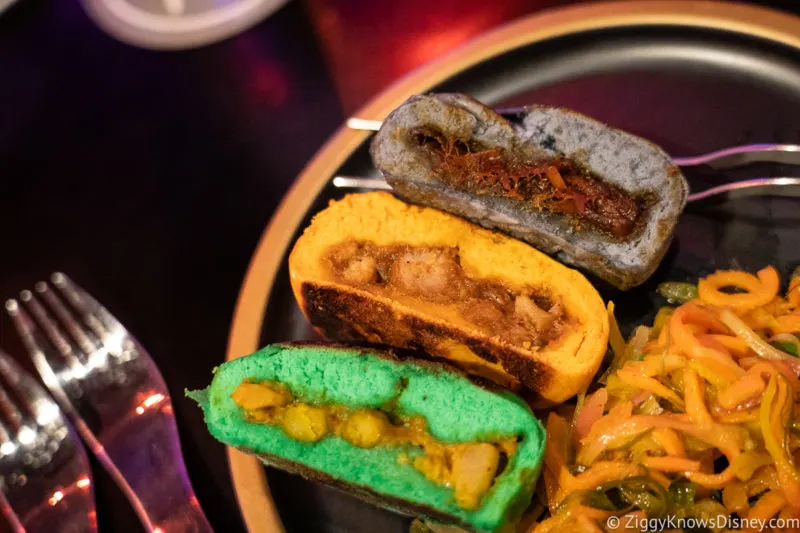 Are you ready for dinner? While breakfast and lunch were good, dinner is the main event. Each dinner is different, yet both are highlights of the voyage.
When dinner begins on the first night, the Crown of Corellia Dining Room transforms into a table service supper club with live entertainment. This is where you will meet Gaya and her and her friends will put on a show.
The dinner itself is served family-style. Appetizers are shared, then each guest has their selection of entrée and dessert. Each item on the menu is inspired by one of the Star Wars planets, giving each one a unique feel.
Let's step inside…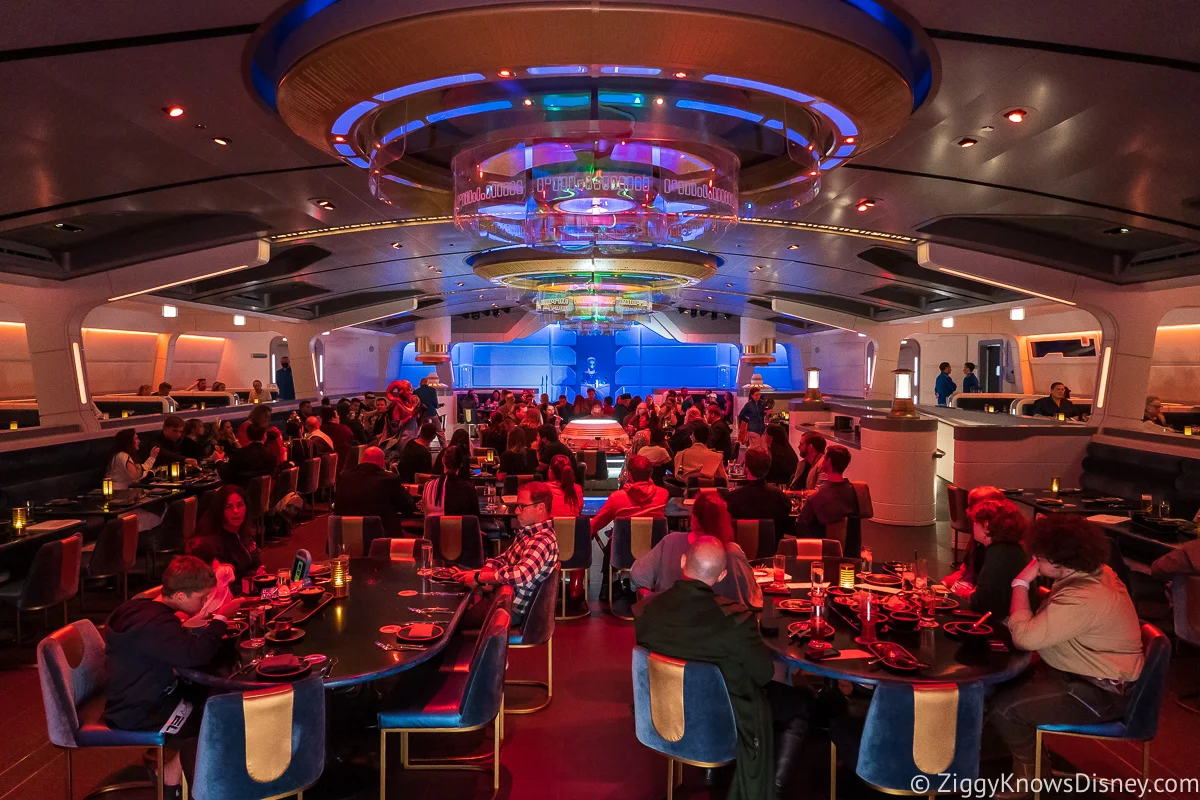 Right away you get a much different vibe in the restaurant for dinner than you do during the day. The lights are down and the colored lights give the place a cool vibe.
The space chandeliers hanging from the ceiling look WAY better at night!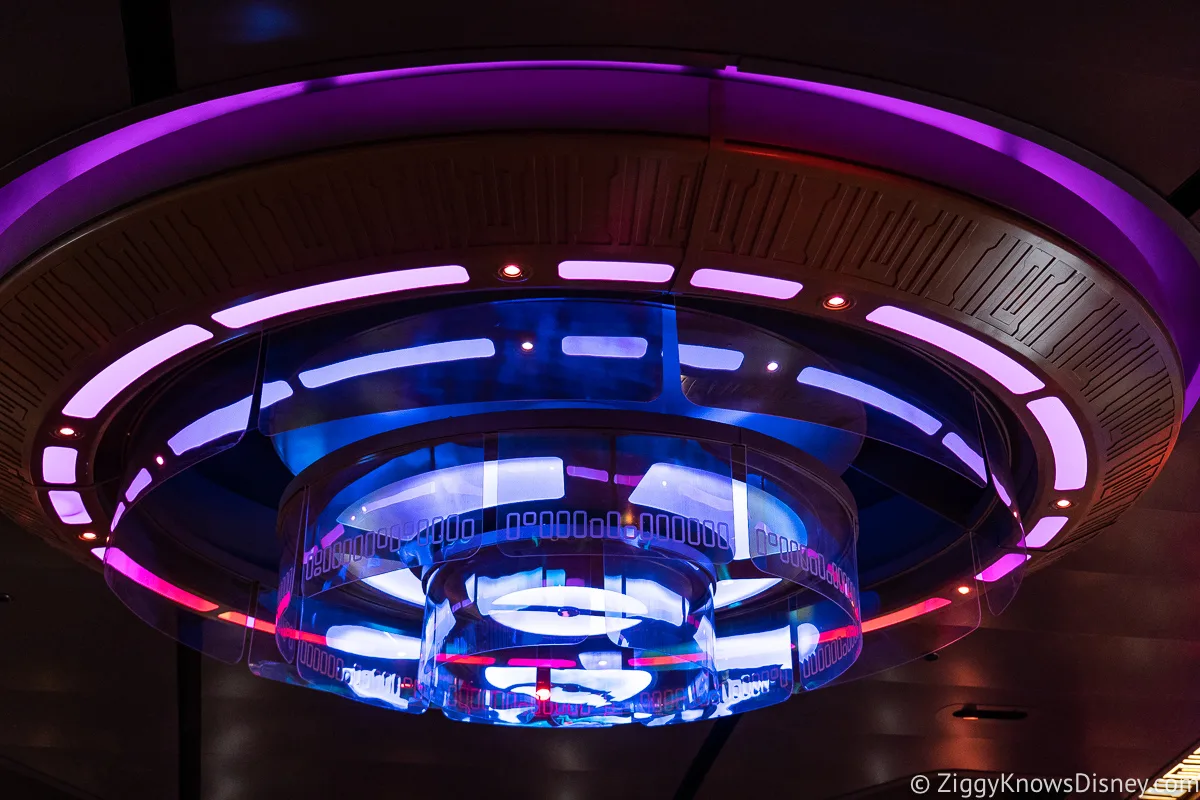 The lights on the tables are pretty awesome too!
When we come to our table, the place setting is waiting for us complete with silverware, a plate, and a drink menu.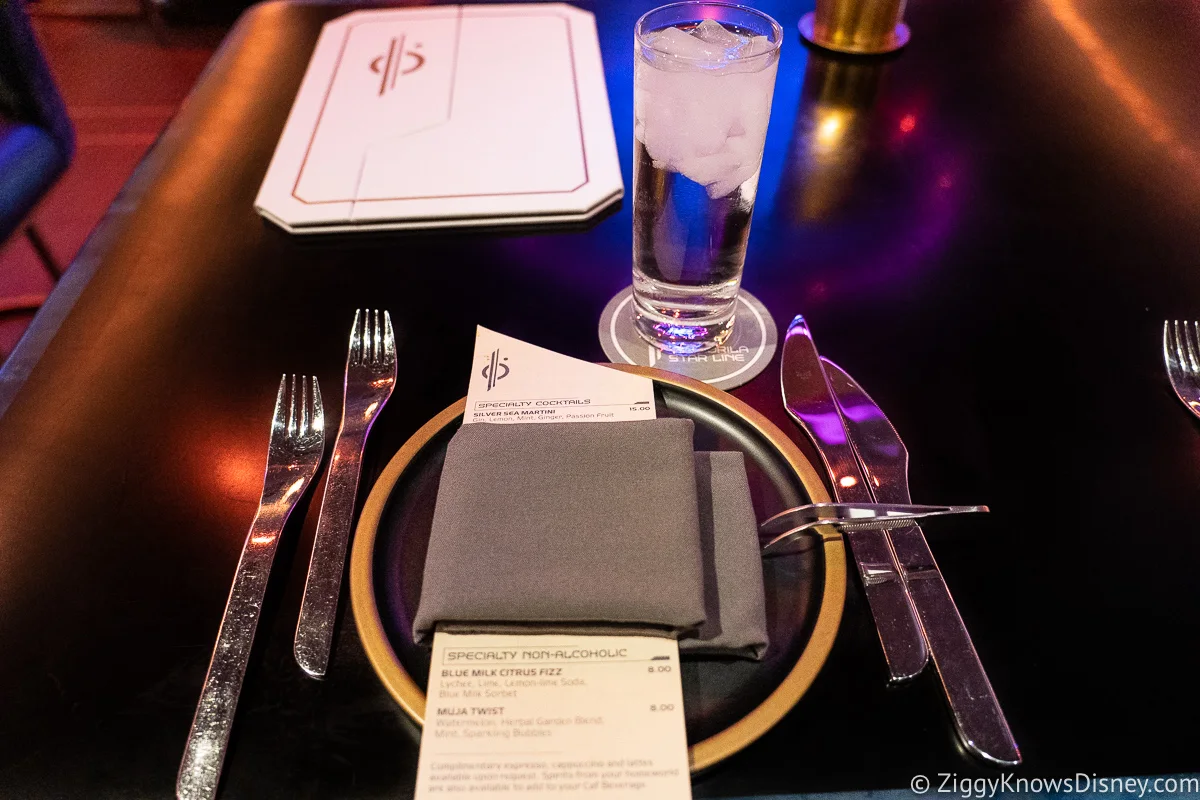 Dinner is served in 3 courses on night 1 and you can see all the items on the menu.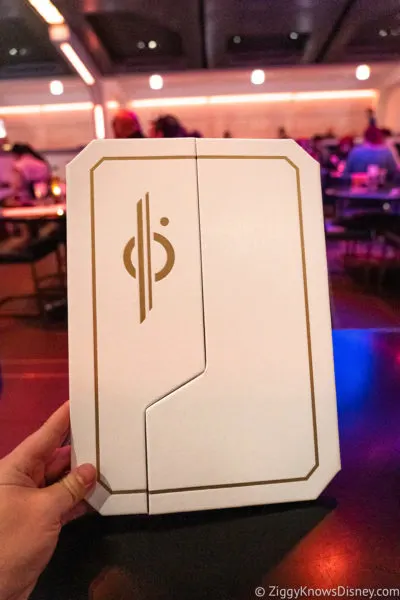 You don't have to order any of these, they all come to the table family-style so you will get to try anything. It also is similar to a cruise in that if you want seconds of something, just go ahead and ask.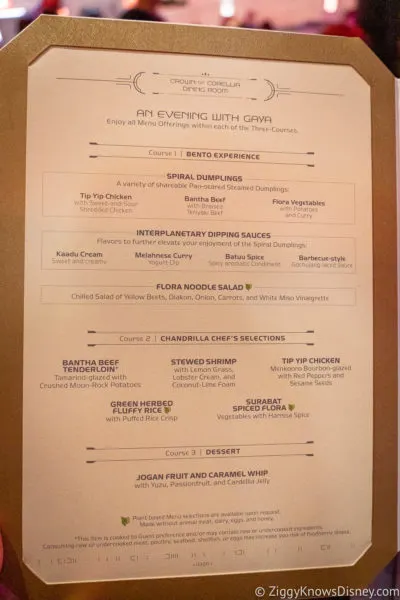 There is also a Kid's Menu available for guests 9 years and younger. Don't let the age stop you though if you want to try any of the items there, just ask your waiter and they will bring it over to you (Chedd-Cheesy Dumplings please).
There is also the usual list of alcoholic and non-alcoholic drinks to choose from, the same one you will find at lunch. These are the only things you have to pay extra for during the meal.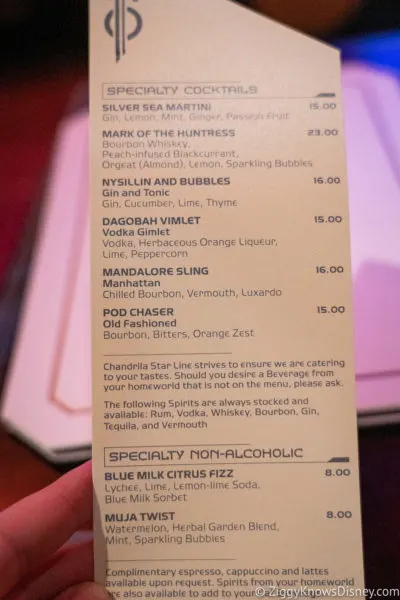 Drinks
Soft Drinks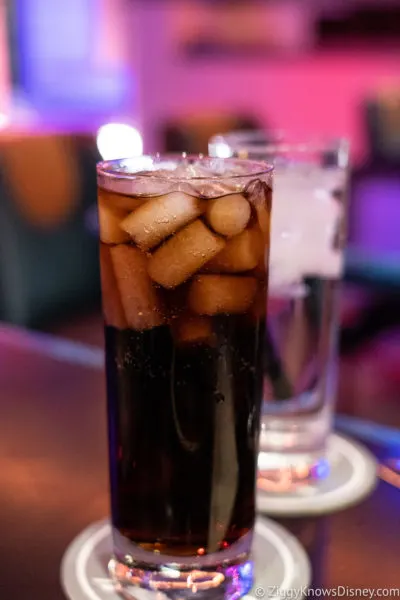 Soft drinks are included with the meal, so you can order Coca-Cola products normally found at a soda fountain machine.
Water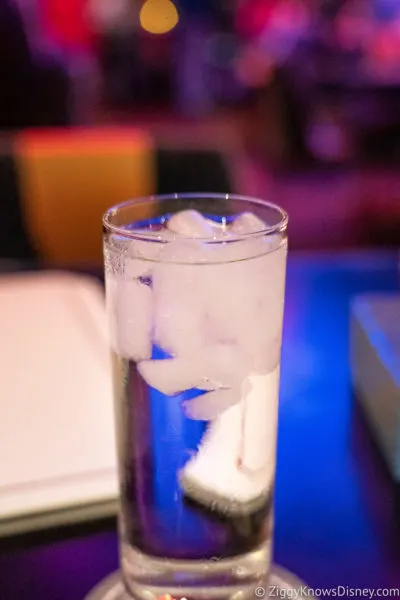 This was just a simple glass of water but I wanted to show you the glass it is served in.
Mandalore Sling – (Chilled Bourbon, Vermouth, Luxardo) – $16.00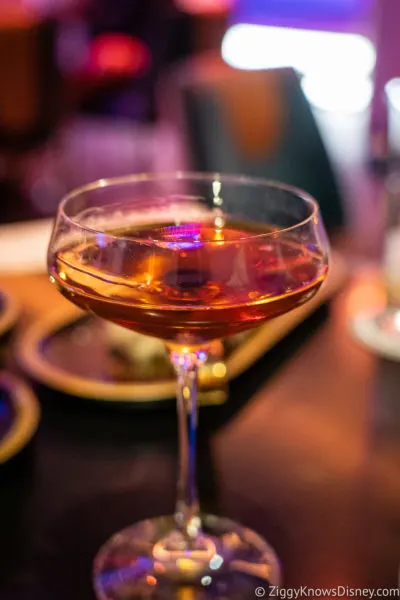 This is your basic Manhattan and there wasn't anything too special about it. We enjoyed it and thought the alcohol quality and quantity were right, but it would have been nice to have something a little more interesting in the presentation.
Dagobah Vimlet – (Vodka, Herbaceous Orange Liqueur, Lime, Peppercorn) – $15.00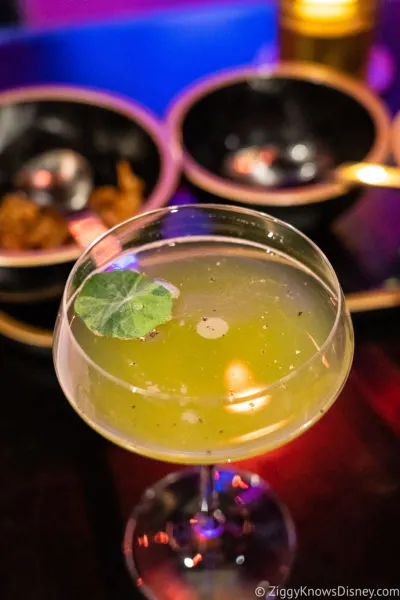 The Dagobah Vimlet is a vodka gimlet and it has a very earthy and herby taste to it. The peppercorn flavor was strong and it tasted something like grass, which I didn't like at all but some of our friends really enjoyed.
If you like herby-flavored drinks then you will probably love it.
Enough drinking, let's get to the food!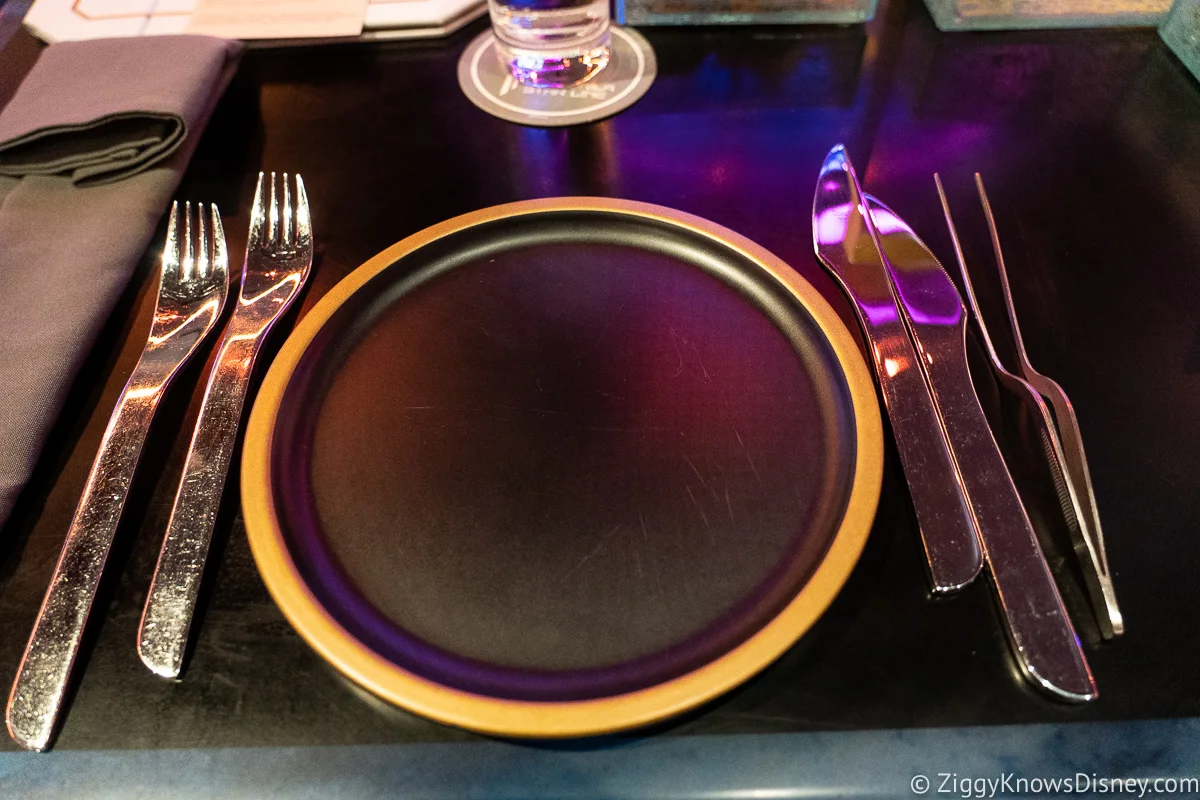 Course 1 – Bento Experience
The first course is the Bento Experience. This comes served in a box with noodles and dipping sauces on top, and pan-seared steamed dumplings with three different fillings inside underneath.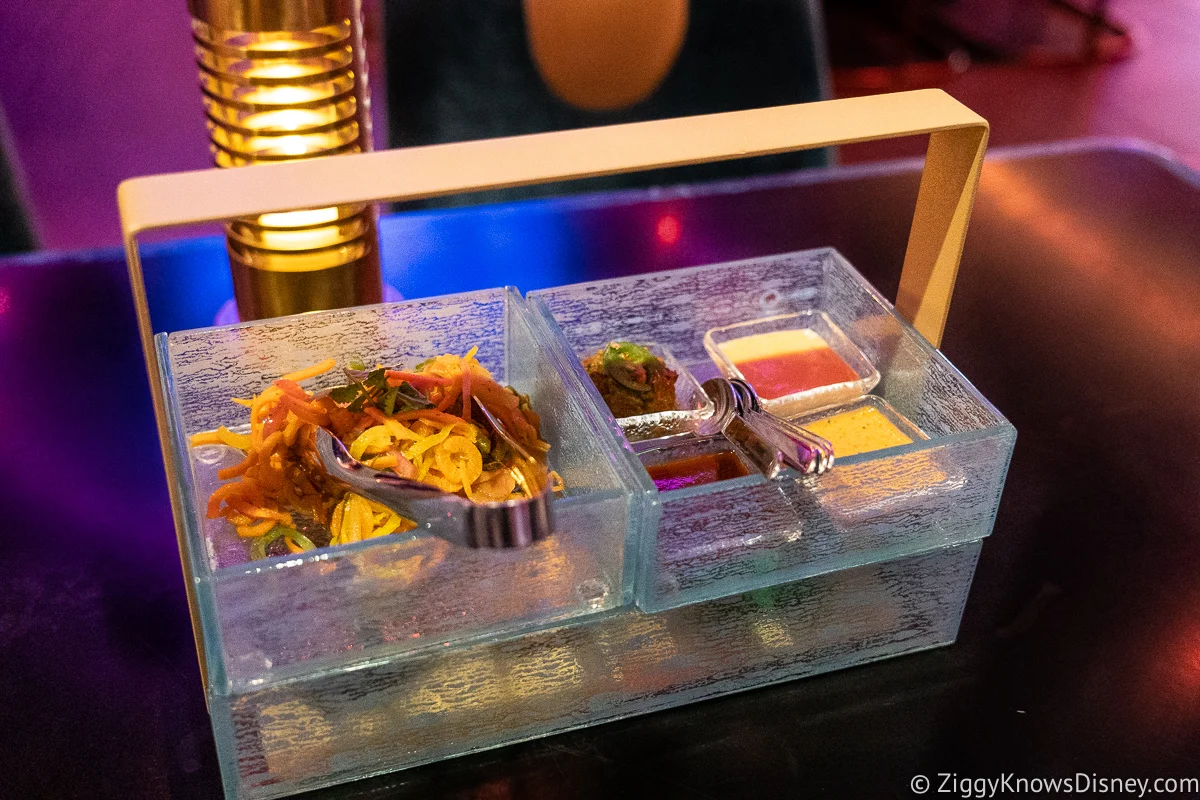 We've got our tongs out and ready to chow down!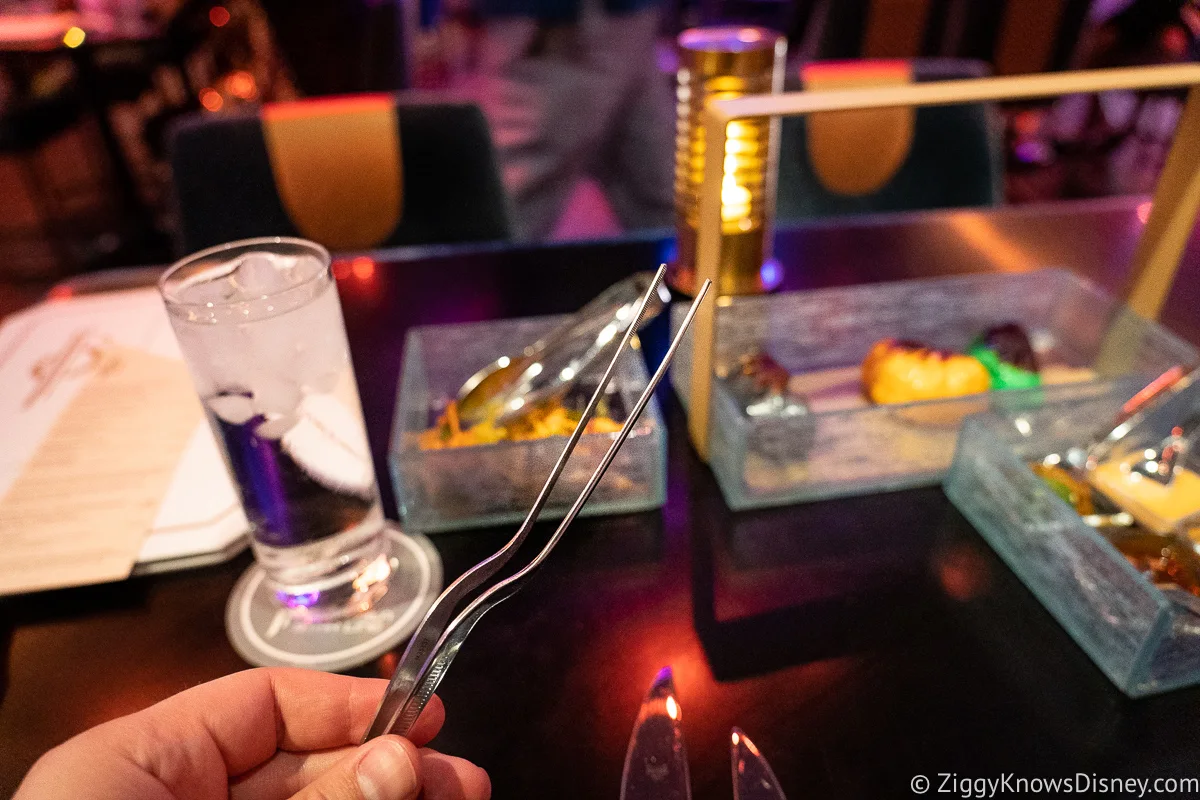 Flora Noodle Salad – (Chilled Salad of Yellow Beets, Diakon, Onion, Carrots, and White Miso Vinaigrette)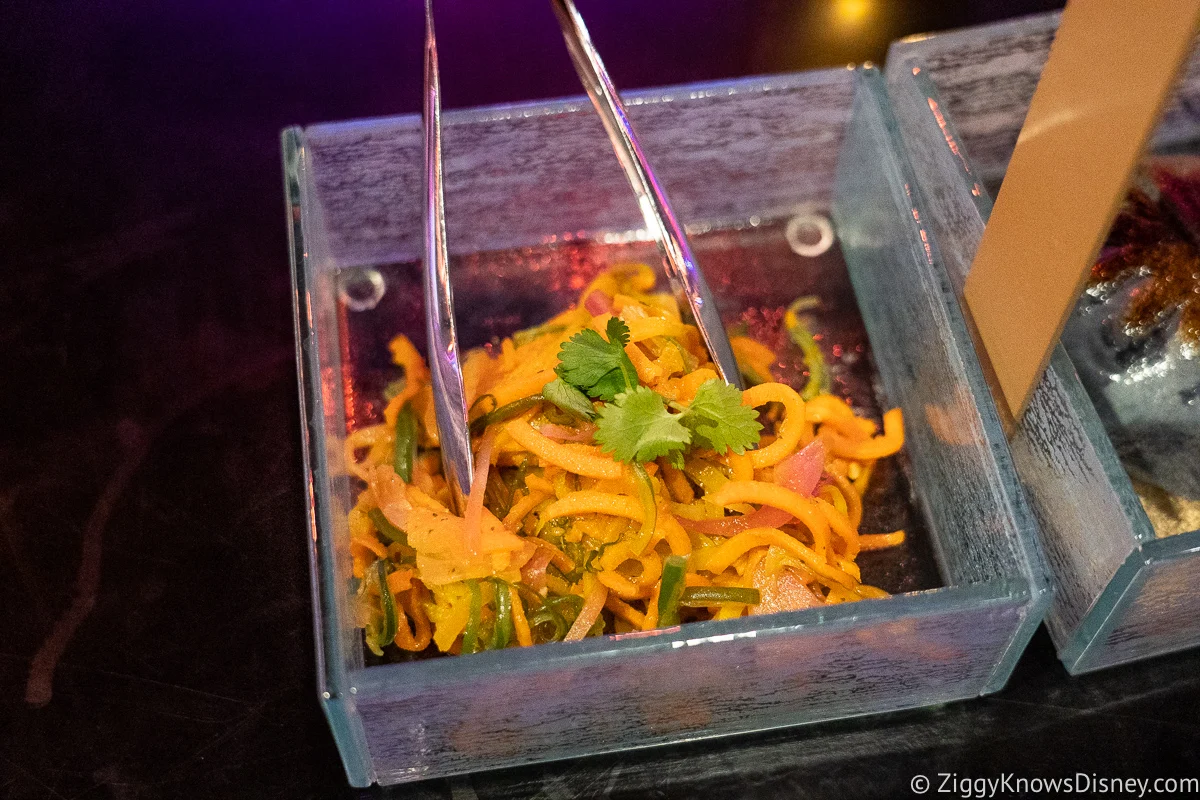 This is a chilled salad and adds the vegetable portion to this dish. There were lots of pickled vegetable flavors going on and it was hard to individualize any of them as they all blended together.
We can't say they were spectacular, but they mixed well with the sauces and the dumplings. We would have preferred something like the noodles from 'Ohana instead but they were ok.
Spiral Dumplings – (Tip Yip Chicken, Bantha Beef, Flora Vegetables)
We opened up the bottom layer of the box to find three dumplings, with three different fillings inside. We loved the presentation of these and the vibrant colors got our appetites ready!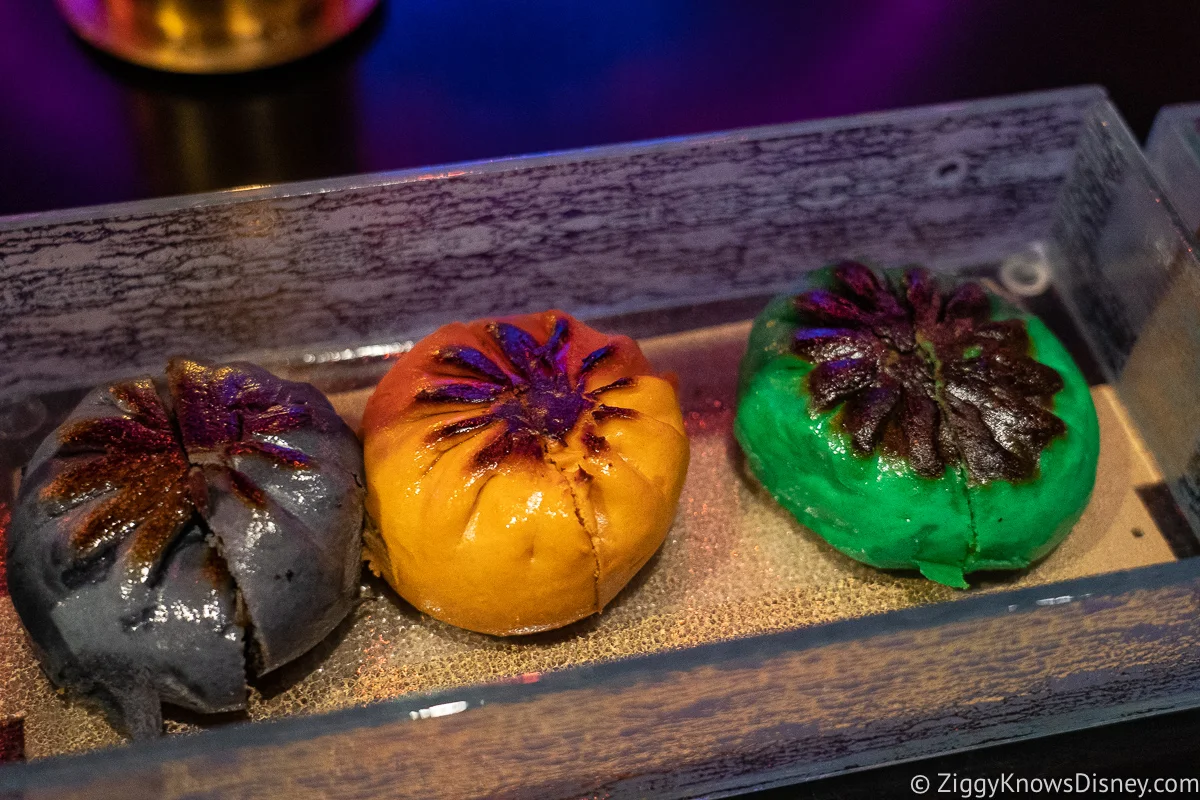 There is one box for every 2 guests at the table, and if you have a 3rd guest you will get another box. The dumplings come already split in half and are ready for sharing. They are very similar to the bao buns at Satu'li Canteen, so if you like those these are right up your alley.
Tip-Yip Chicken – You can't go wrong with the tip-yip chicken. The chicken is shredded and mixed in a sweet-and-sour sauce. This was our favorite, but you have to be a sweet-and-sour fan to like it.
Bantha Beef – The blue dumpling was filled with braised teriyaki beef coming from the bantha creatures on Tatooine. If you like teriyaki then you will love this. The beef was hearty and tender and the whole thing was full of flavor.
Flora Vegetables – This was the green dumpling and it was filled with flora vegetables, potatoes, and curry. There seemed to be a lot of dishes with curry flavors on the Galactic Starcruiser, but this might have been the best. It definitely was the most unique of the three and had nice Indian spices.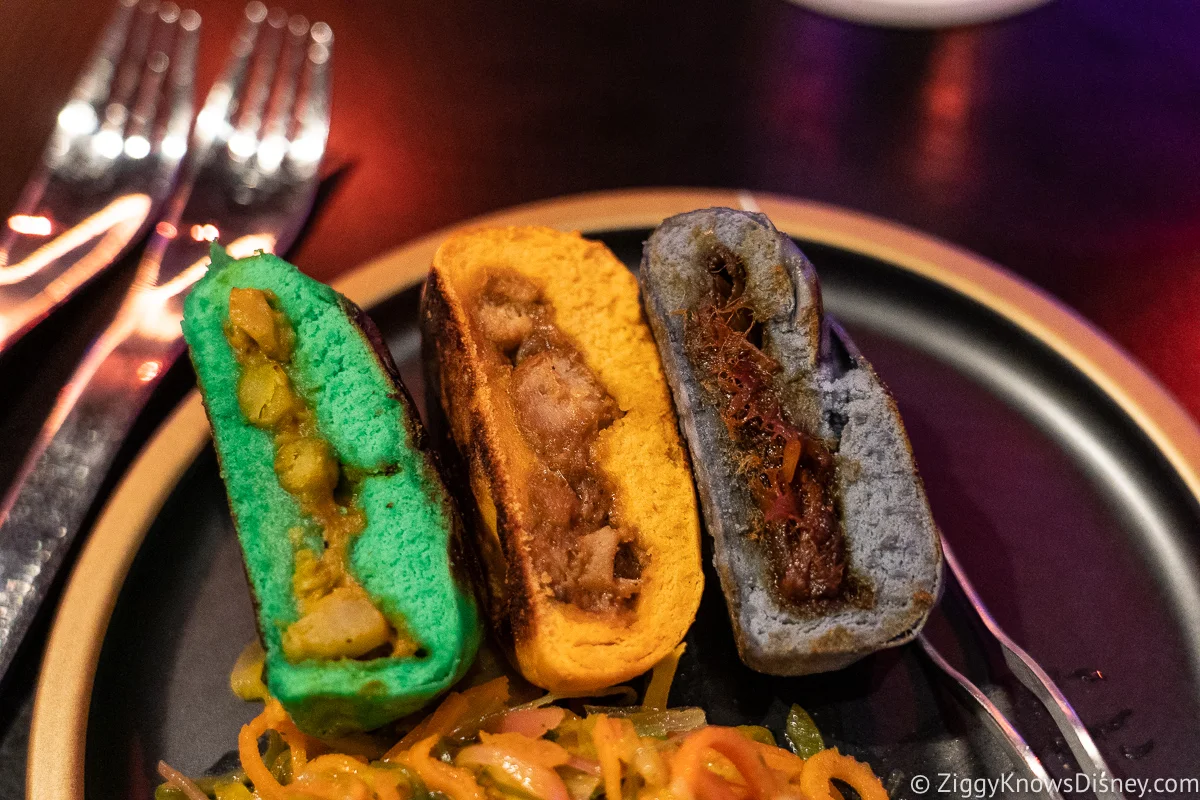 Overall, we loved these dumplings. The buns were soft and packed with flavor. If there wasn't so much more food after this we would have asked for seconds.
Interplanetary Dipping Sauces – (Kaadu Cream, Melahnese Curry, Batuu Spice, Barbecue-style)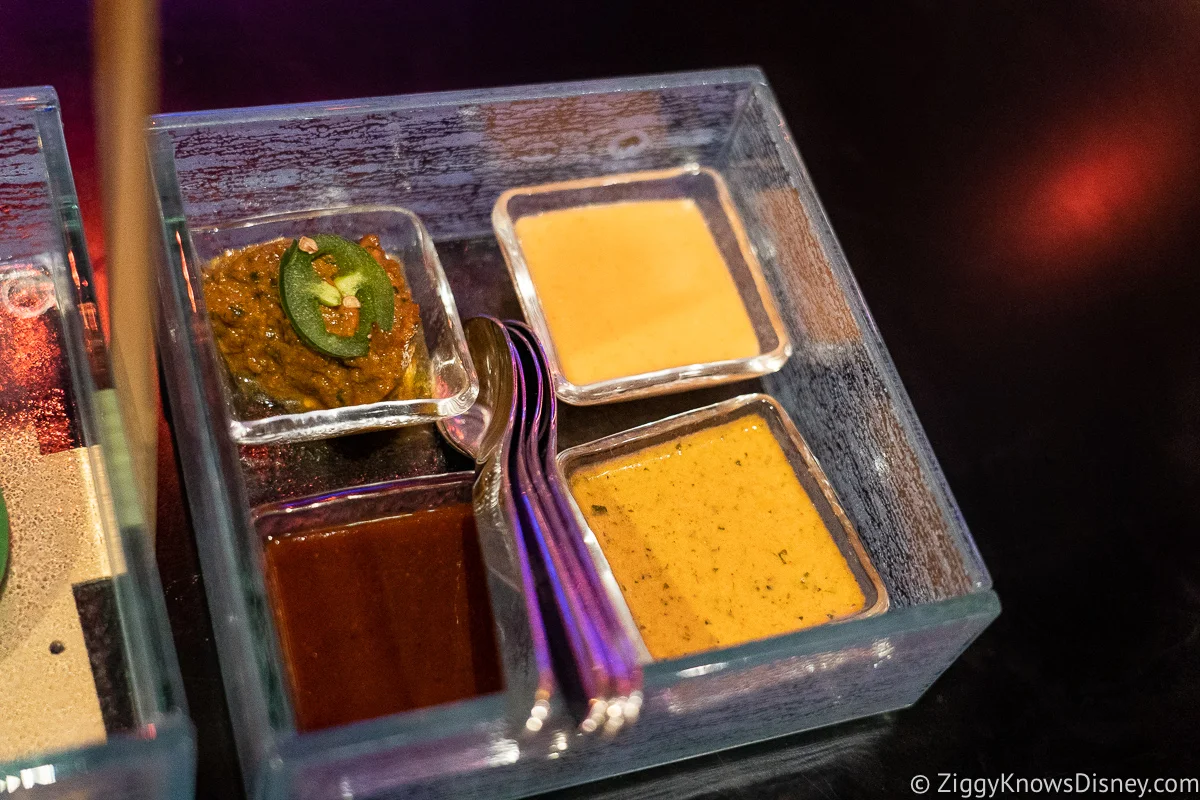 Even though the dumplings were the highlight of the Bento Box, the sauces are not to be forgotten. It came with 4 "interplanetary dipping sauces" and they were all solid to excellent.
Kaadu Cream – This was the mildest of the 4 sauces and had a sweet flavor. If you don't like spicy, then this is the one you want to use.
Melahnese Curry – This is very similar to a yogurt sauce with a hint of curry flavor. It was good, but not our favorite.
Batuu Spice – This is described as a spicy aromatic condiment and we would agree. It was creamy with a complex flavor profile and definitely spicy. The spiciest of the 4 sauces. There was also a distinct jalapeno flavor and we couldn't stop dipping our buns into this stuff!
BBQ Sauce – This was much like a classic BBQ sauce but it had a little heat to it because of the Gochujang flavor.
Course 2 – Chandrilla Chef's Selections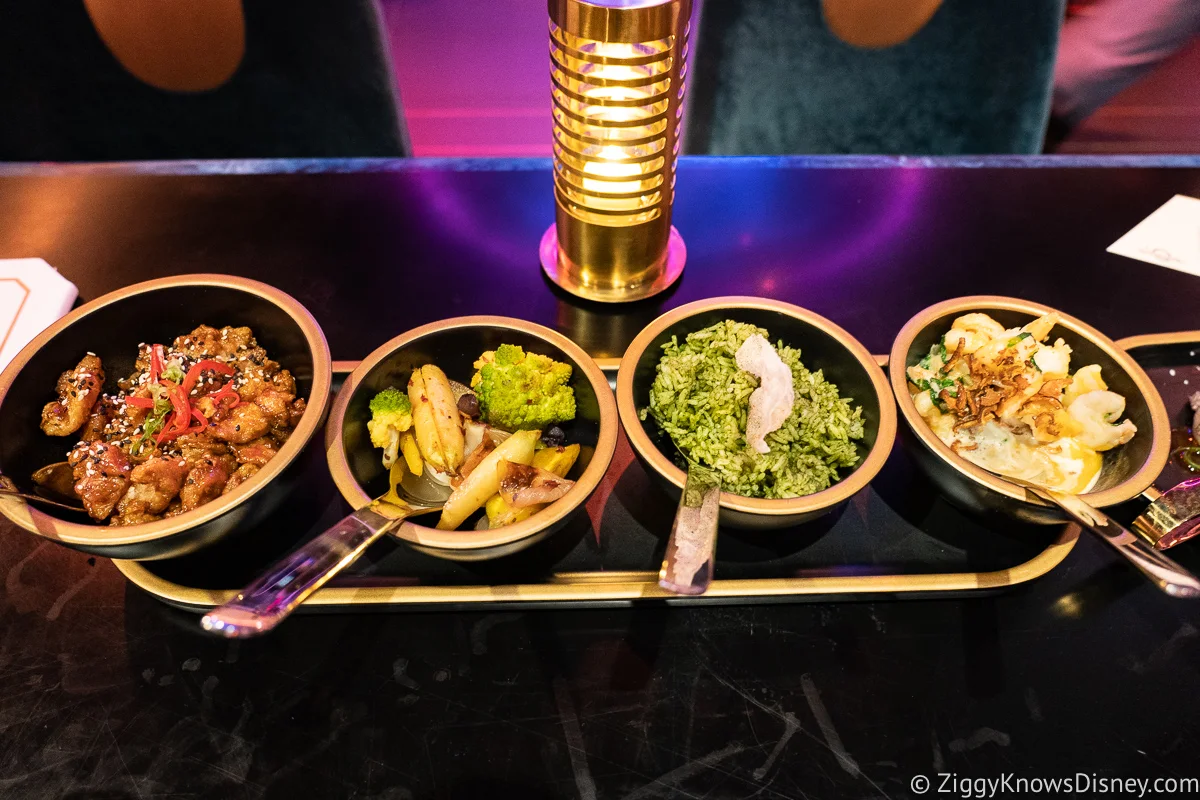 The second course of the night was a combination of 5 dishes (4 bowls and the beef tenderloin) that formed the Chandrilla Chef's Selections. Like the 1st course, these are served family-style for sharing with the whole table.
Tip Yip Chicken – (Menkooro Bourbon-glazed with Red peppers and Sesame Seeds)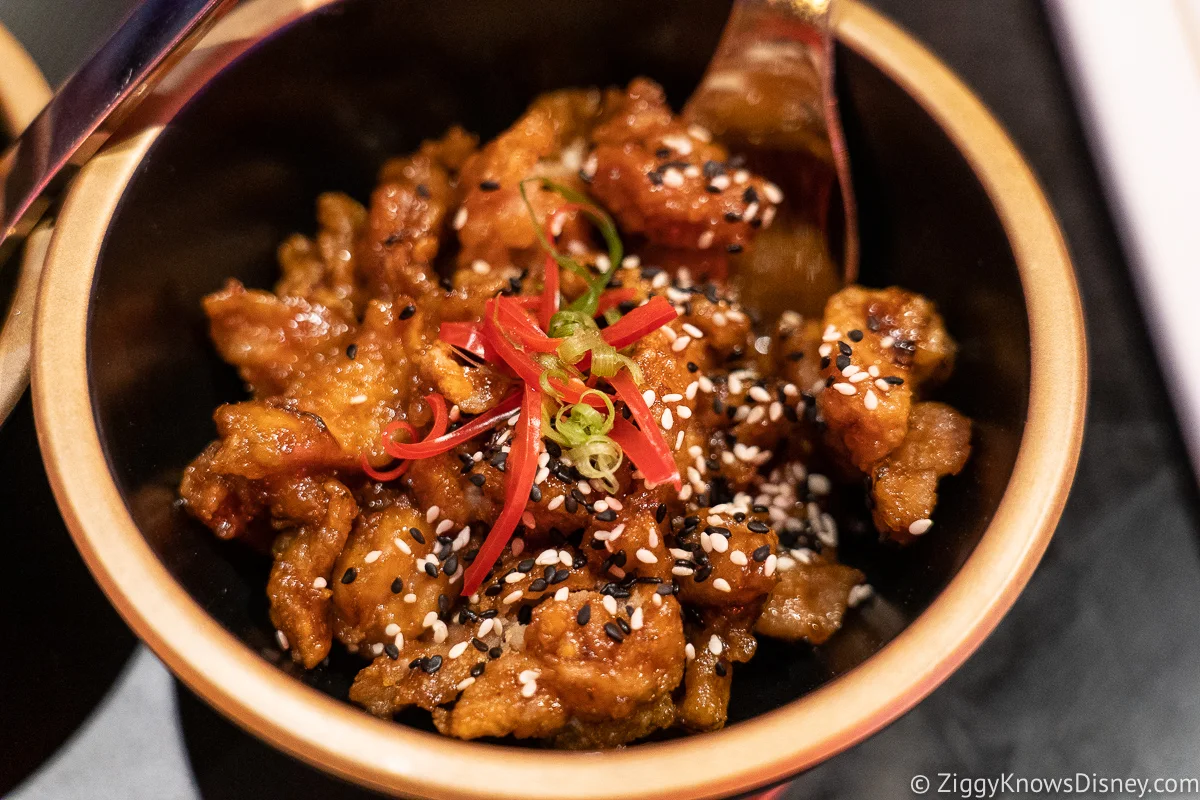 This is an Asian-style chicken similar to something like a General Tso's. The chicken was lightly battered and fried, and then covered in a Menkooro Bourbon glaze. We really enjoyed this, as we are huge General Tso's fans and it should be a hit with the majority of guests.
Stewed Shrimp – (with Lemon Grass, Lobster Cream, and Coconut-Lime Foam)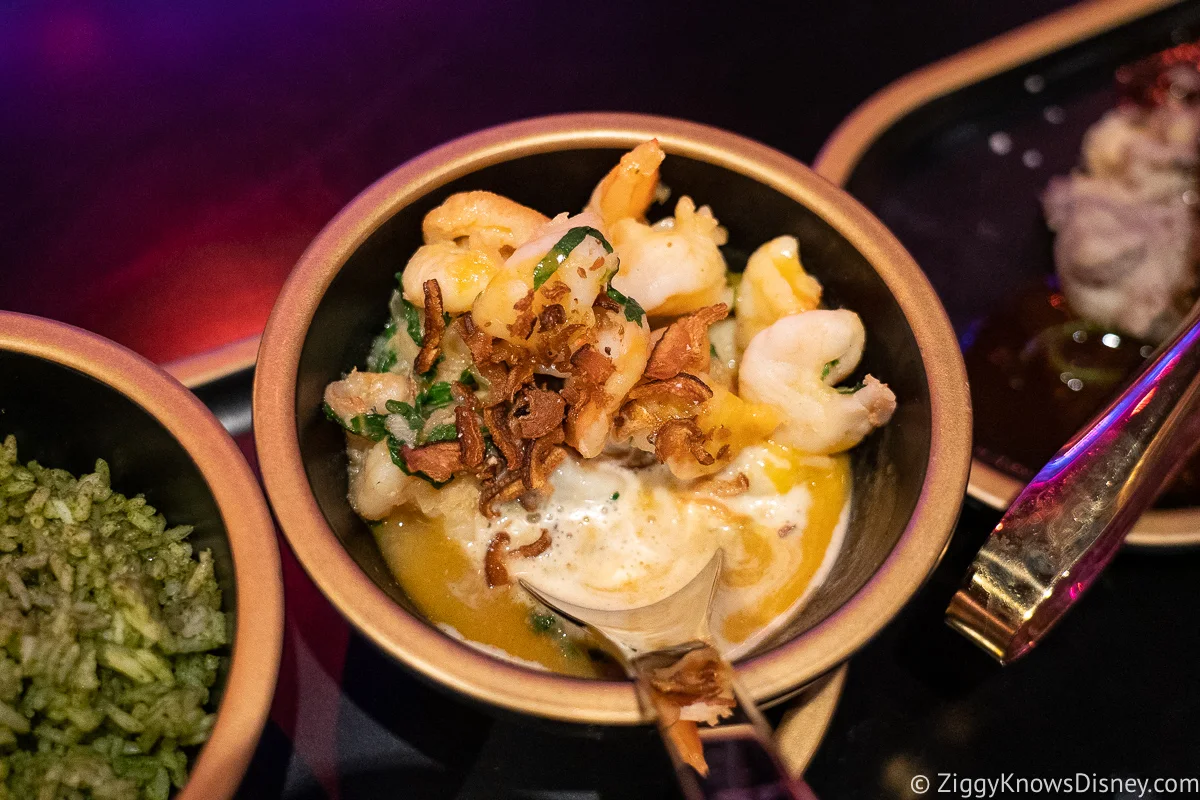 Our favorite dish of this course was the Stewed Shrimp. Our bowl was full of shrimp and they were all cooked perfectly and they were nice and juicy, not hard and chewy.
They were served in a lobster cream, lemon grass, and coconut-lime foam which was amazing! The sauce was very creamy and worked great with the shrimp. Even though there was coconut in the sauce, it wasn't sweet and was actually more savory. It reminded us of Thai food, and everything about this dish just worked!
Bantha Beef Tenderloin (Tamarind-glazed with Crushed Moon-Rock Potatoes)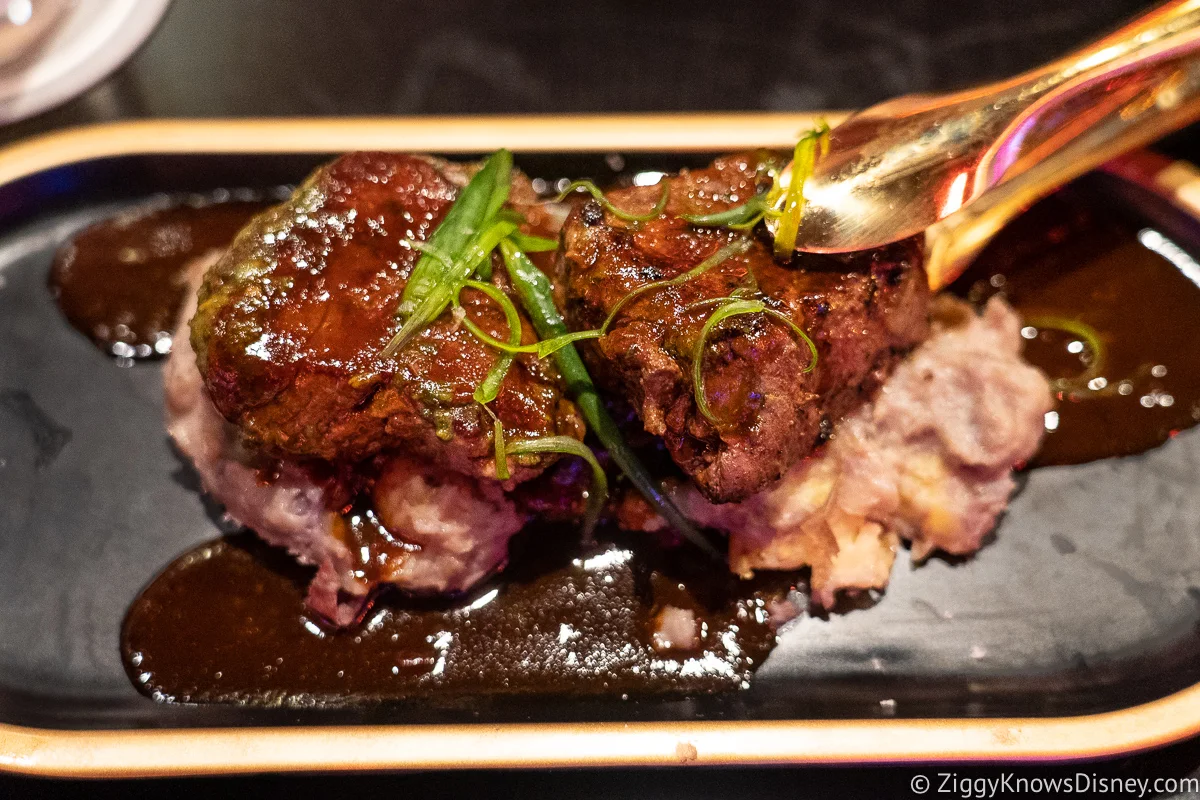 This beef tenderloin was covered in a tamarind-glazed sauce and served over crushed moon-rock potatoes. Naturally, we were looking forward to this dish the most out of the 5 choices, because we are huge carnivores and this is beef tenderloin of course.
There is 1 medium-sized tenderloin per guest. The taste of the meat was great and it had much more flavor than what we were expecting. The sauce was like a tangy glaze and it mixed well with the potatoes too.
Unfortunately, the meat was overcooked. We asked for medium-rare and it came to us more like medium-well. Many others were raving about their tenderloins and how juicy they were, but we were disappointed with ours.
The potatoes were pretty great. They were smashed potatoes, not smooth like mashed but lumpy. They were not bland, they actually had some spiciness to them and they felt different than the usual mashed potatoes in Disney World restaurants.
Surabat Spiced Flora – (Vegetables with Harissa Spice)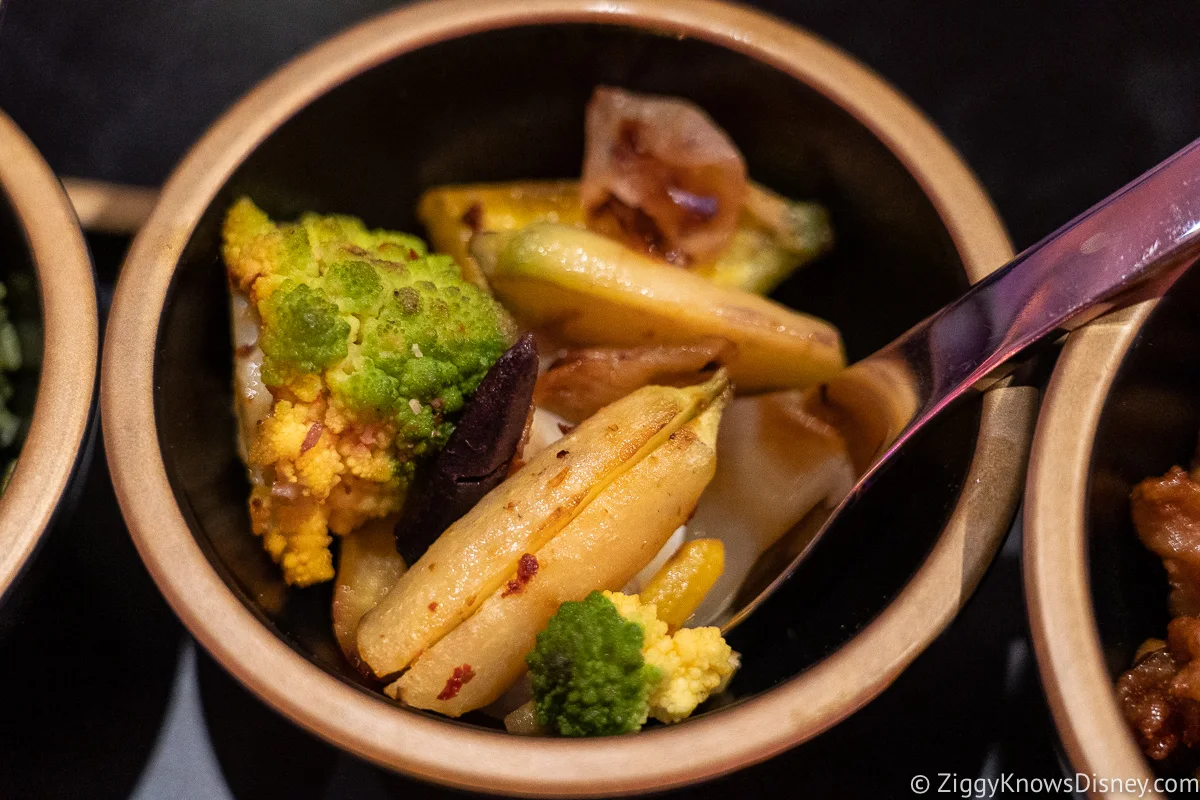 Next up were the veggies. This dish is named "Surabat" which is after the Surabat River Valley on Batuu. They were ok for a veggie dish, but nothing to write home about.
The vegetables all tasted pretty fresh and they came with a Harissa spice which added a uniqueness to the dish. It wasn't overpowering, but it added something different you don't have every day.
Green Herbed Fluffy Rice – (with Puffed Rice Crisp)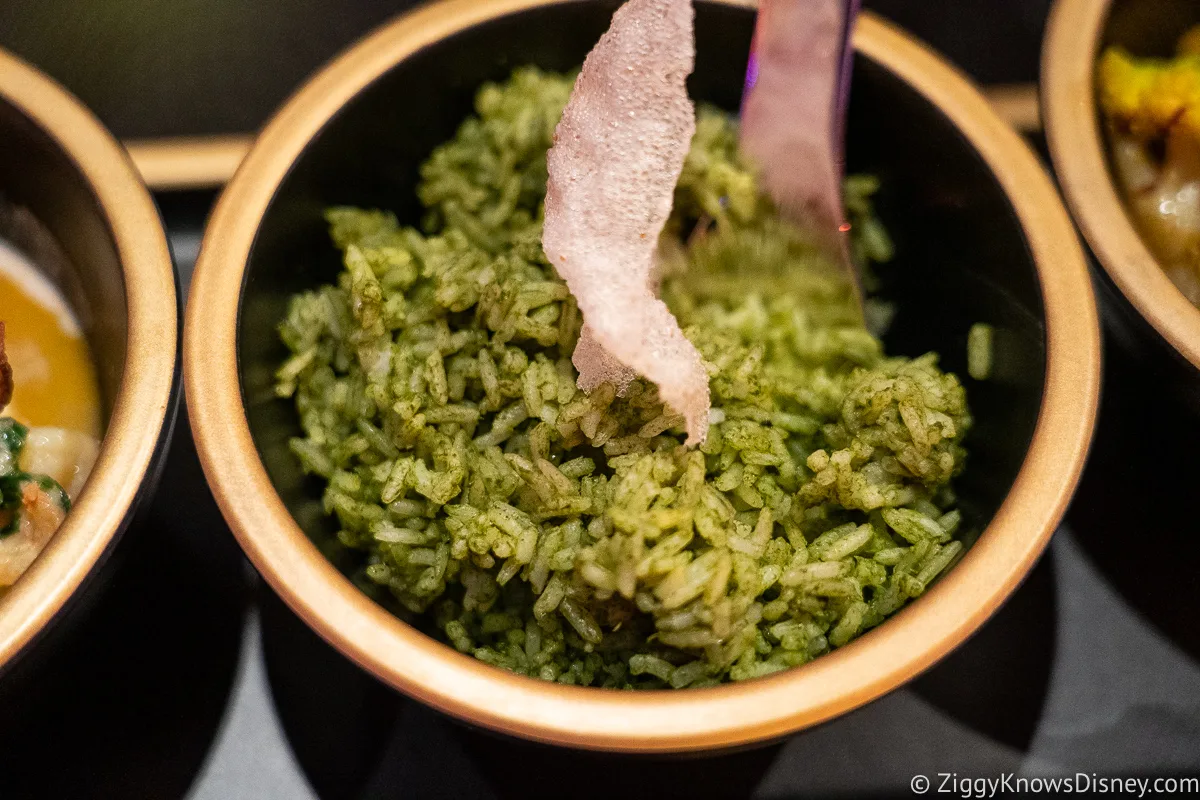 The puffed rice was a nice side dish to the shrimp and chicken and we used it to soak up some of the flavors from the sauce that came with the shrimp. It had a strong cilantro flavor and it was cooked perfectly, not mushy.
Again, it wasn't the highlight of the course by any means, but it worked well with the other dishes.
Kid's Menu
Chedd-Cheesy Beef Spiral Dumplings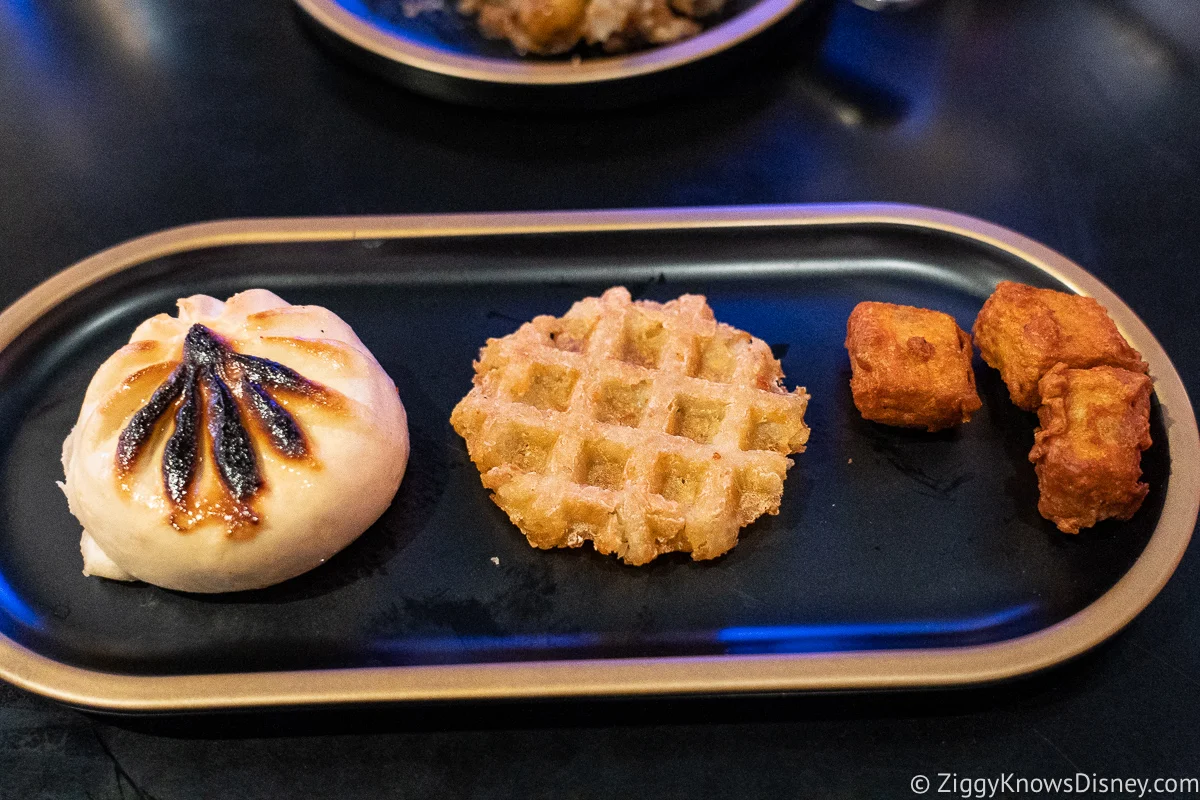 We didn't have any kids with us, but that didn't stop us from trying things off their menu! If you liked the dumplings that came in the Bento Box, you are also going to go crazy over these Chedd-Cheesy Beef Spiral Dumplings.
If you've been to the Satu'li Canteen and had the cheeseburger pods, this is essentially the same thing. In fact, these tasted even better for some reason. The flavor of the beef was slightly different, and there may have been more cheese in these ones.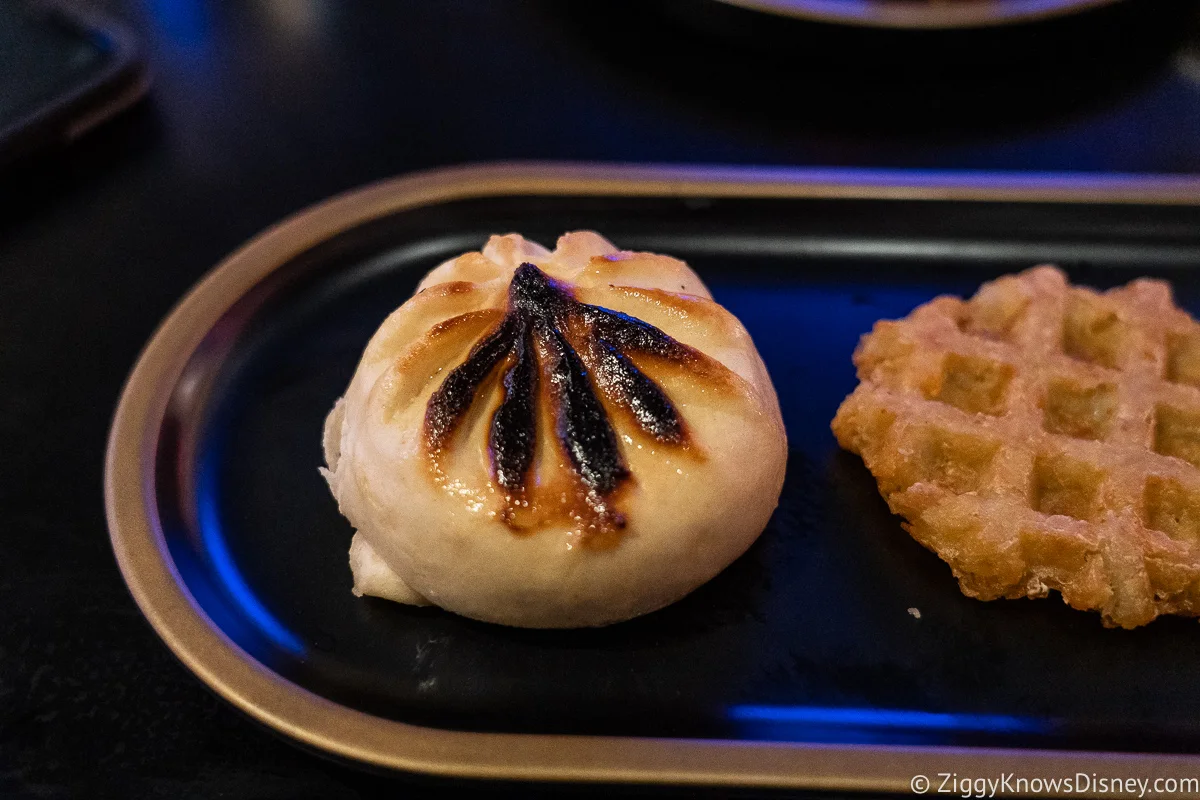 With the pods come a few fried chicken bites, the same ones from the mac and cheese at lunch. As you know, we didn't think these were the best, but we do like that crispy breading, and kids will like them.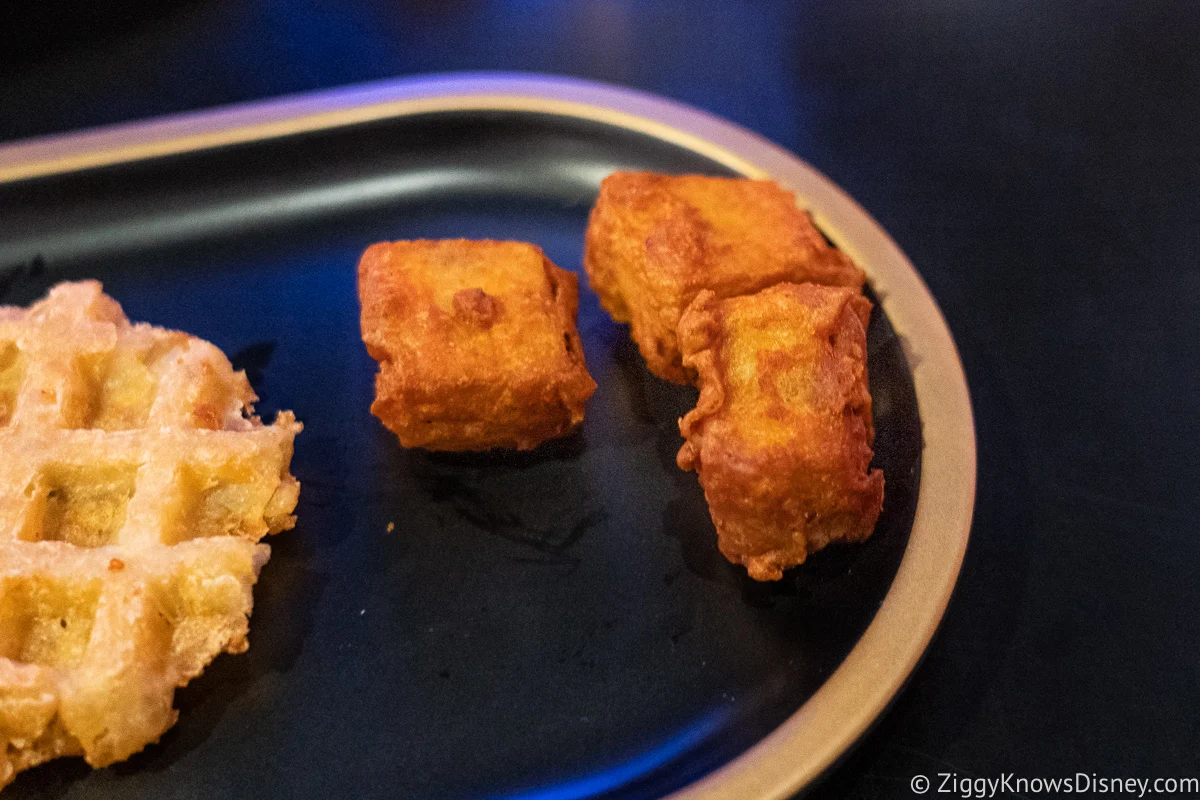 Lastly, it comes with a crispy potato waffle, which was like a big hash brown. This we thought was incredible and it was also cooked fantastically with a nice crispy exterior.
Course 3 – Dessert
Yuzu Chocolate Candies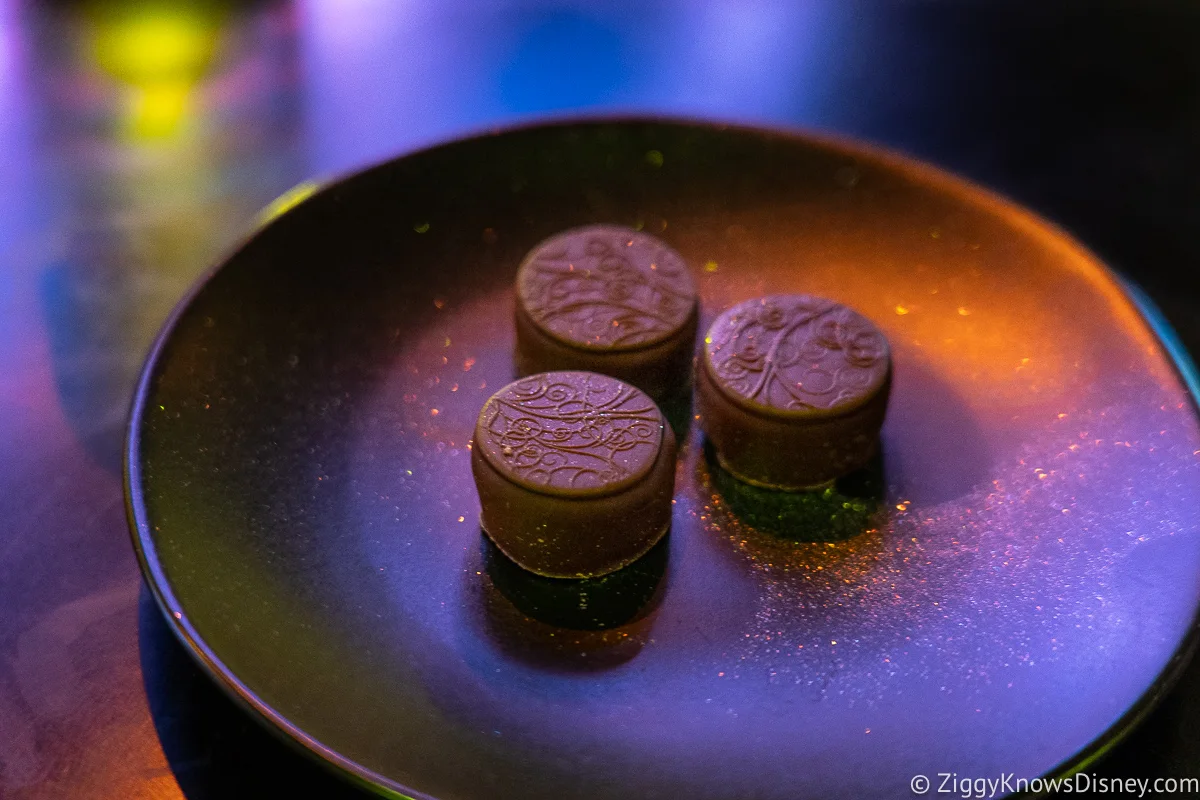 The Yuzu chocolate candies were basic but still really delicious. They had a raspberry chocolate mousse in the center and that is always a welcome combination in our book!
Jogan Fruit and Caramel Whip – (with Yuzu, Passionfruit, and Cardellia Jelly)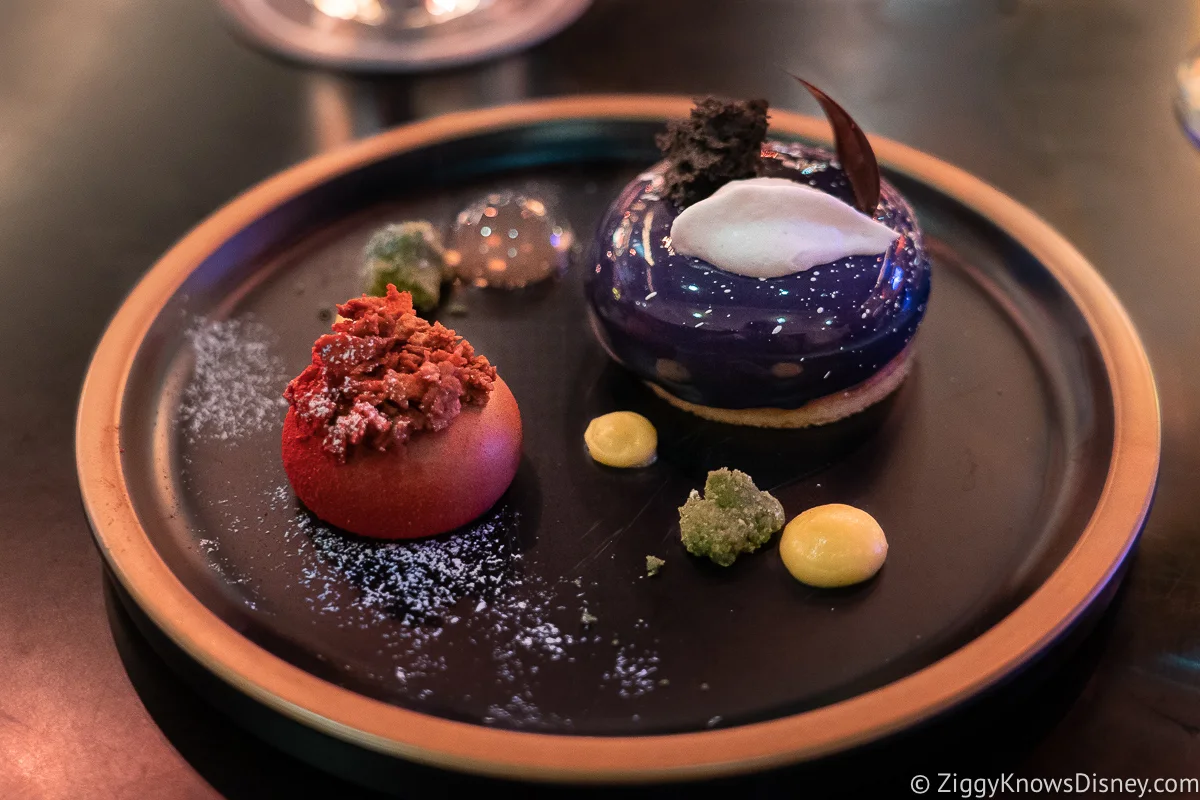 The Jogan Fruit and Caramel Whip are the main event at dessert and served with yuzu, passionfruit, and Cardellia Jelly. The bigger piece was a red berry mousse, pretty much the same one as what is served at lunch. While we liked it, we wish they would have done something a bit different for dinner.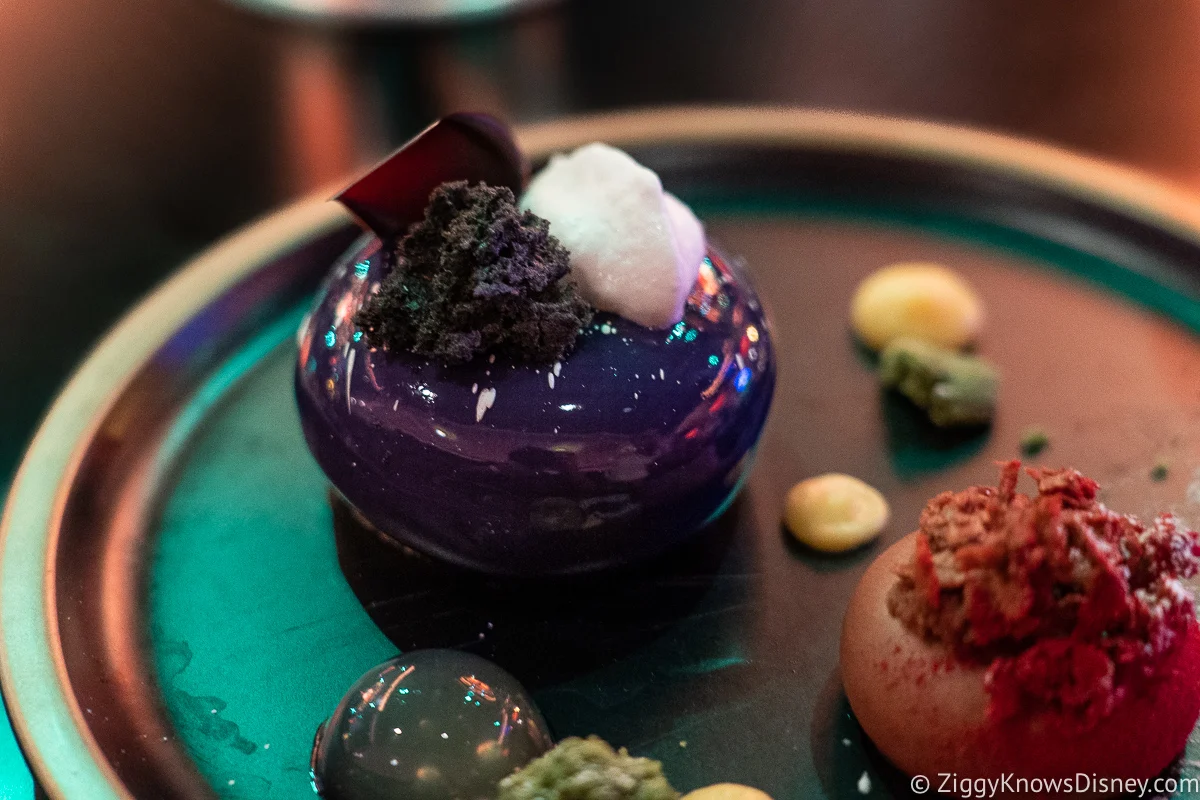 The drops of passion fruit glaze were nice to pair the mousse with. Our favorite was the brown ball which was a caramel whip.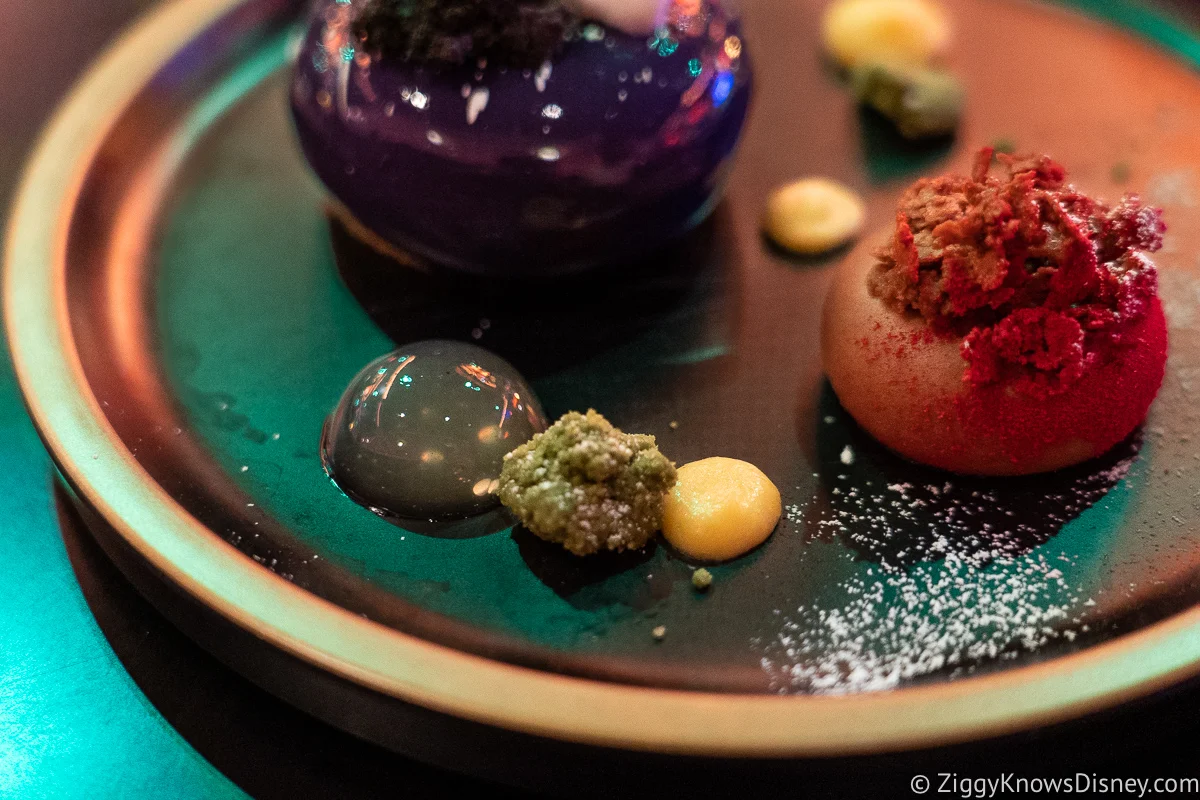 Overall this course was good but not mind-blowing. Again, it was all too similar to Satu'li Canteen or the lunch buffet.
Dinner (2nd Evening)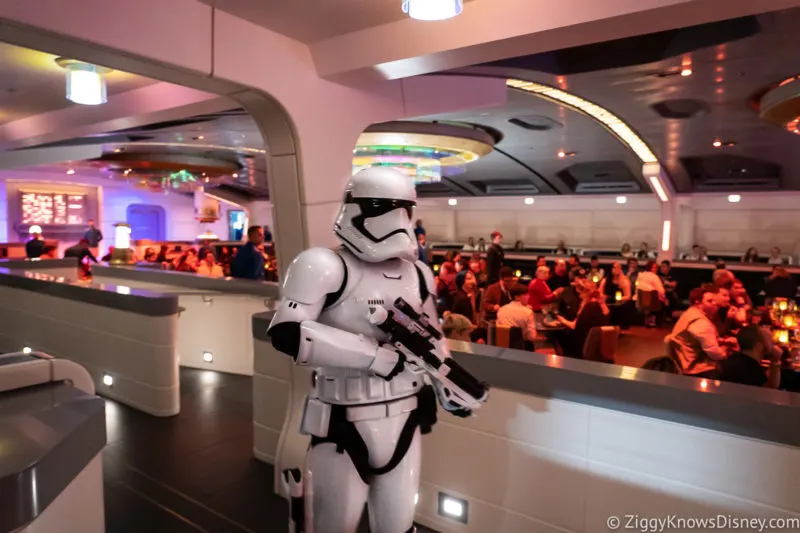 On the second evening "The Taste Around the Galaxy" showcases courses inspired by the geography and environments of iconic destination planets throughout the galaxy.
The meal includes appetizers, and your choice of entrée, as well as a specialty plated dessert. Each course is served with a brief presentation of the name, inspiration, and ingredients.
There isn't a show on the 2nd night, but more attention is paid to the courses as they are brought out and that is a little show in itself. At the end of the last dinner there is a show up in the atrium that you will NOT want to miss, so if you are in the second dining slot, make sure to eat your dessert and head right upstairs before it starts.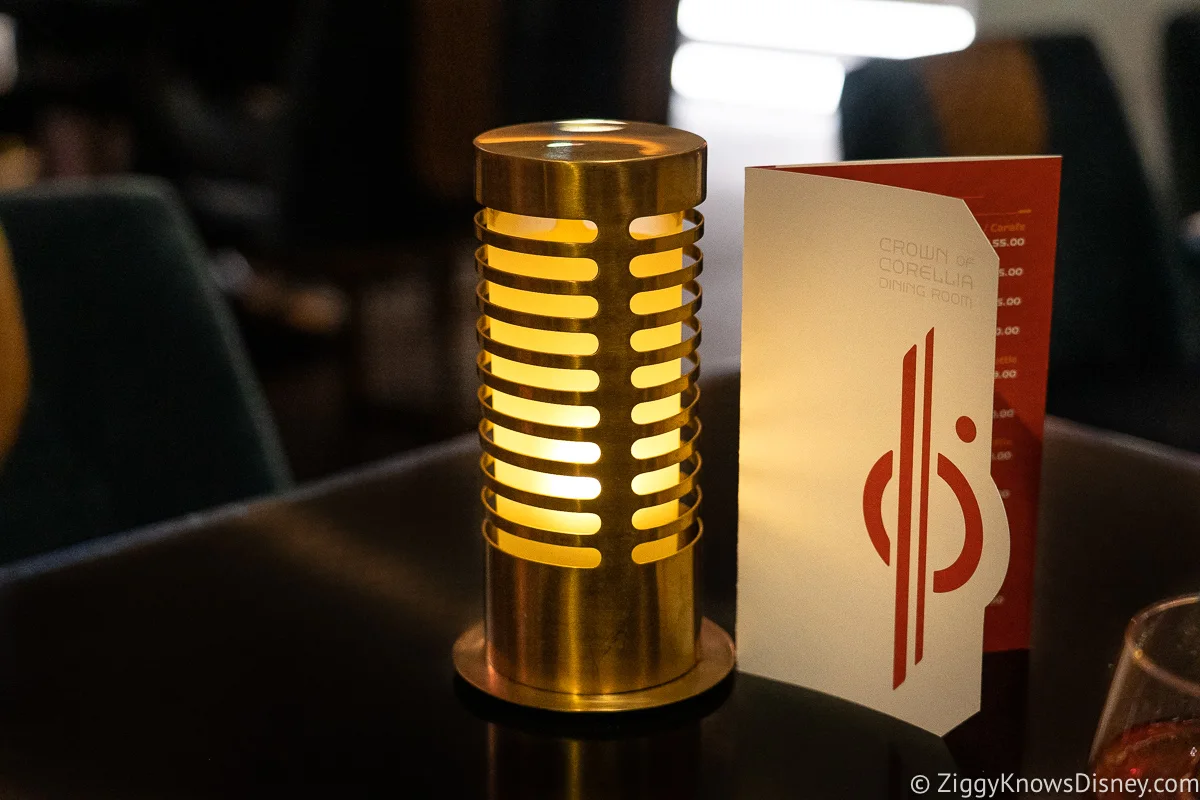 The place setting is similar but different on Night 2. The plate is absolutely gorgeous, reminiscent of a planet. The drink menu and food menu are folded up inside the napkin.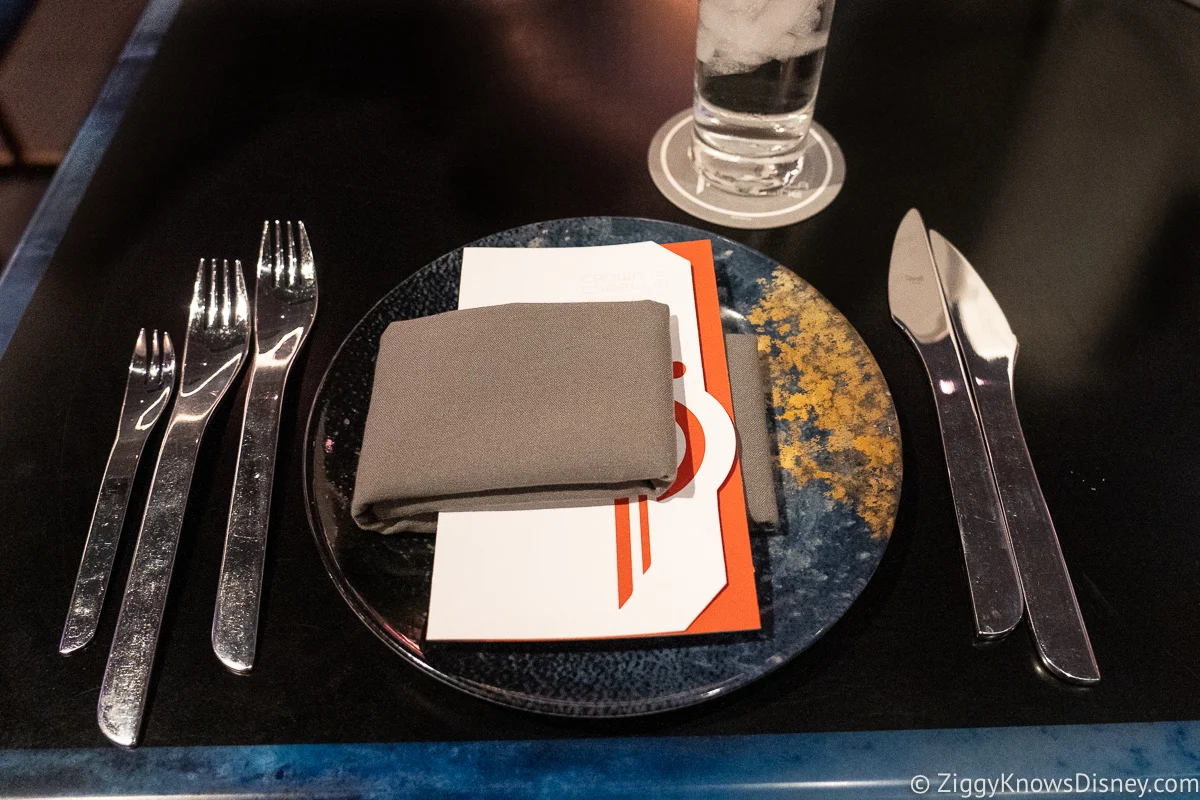 The meal on Night 2 is served family-style like on Night 1, but there are 4 courses instead of 3. There is an announcement before each course with an explanation of the ingredients and the planet it comes from.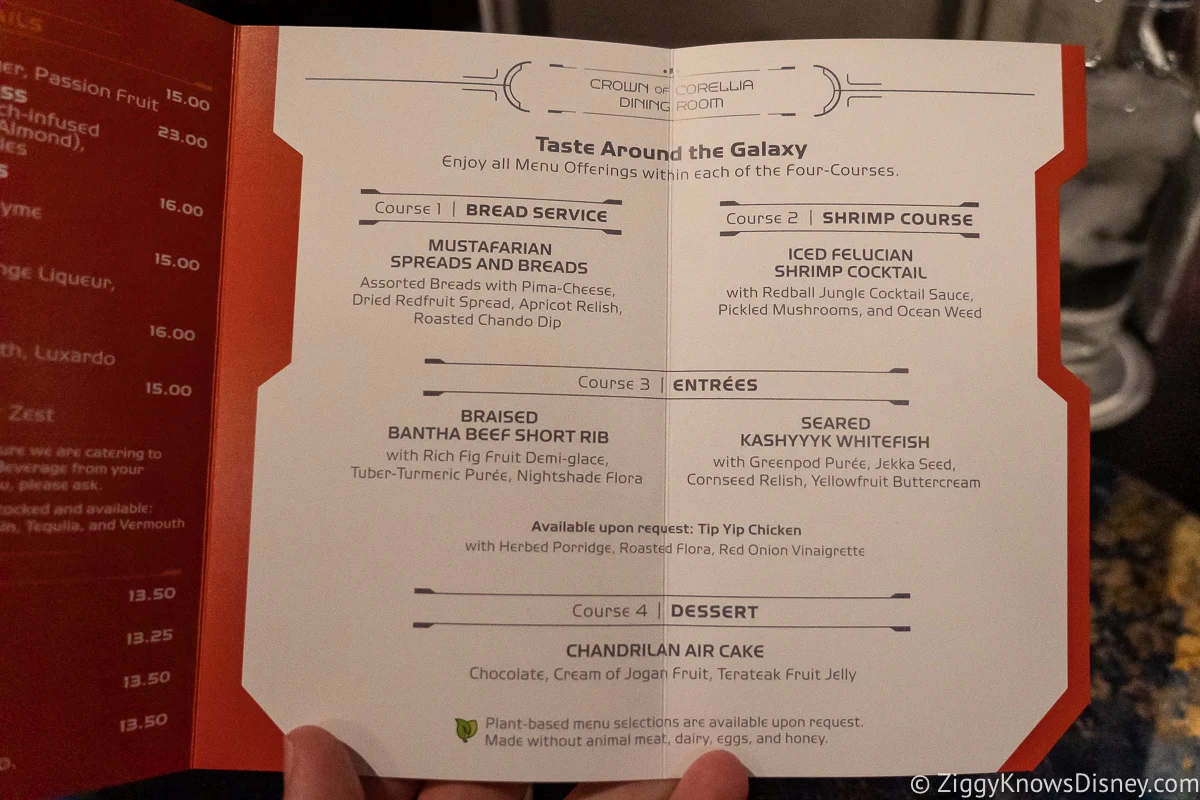 Here is the Kid's Menu…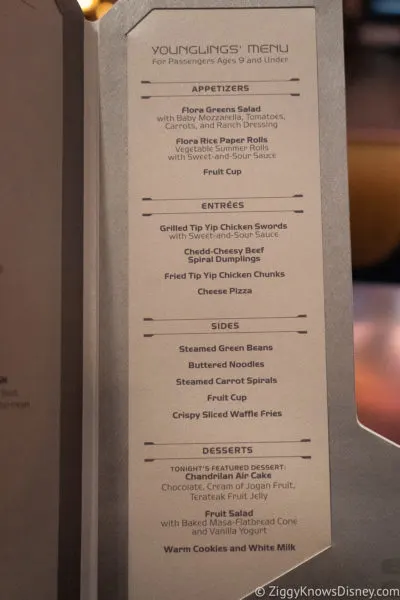 Even if you are an adult, feel free to ask for any items on the Kid's Menu that sound good to you.
As always, if you really like a course and want more of it, just ask your waiter and they will bring you as much as you want.
Drinks