Shanghai Disneyland has been closed since January 24, 2020, and has been suffering big financial losses since the parks shuttered their gates. That, however, has now changed as Shanghai Disneyland reopened on May 11 and will become the first Disney Parks to reopen after the closure of all Disney parks.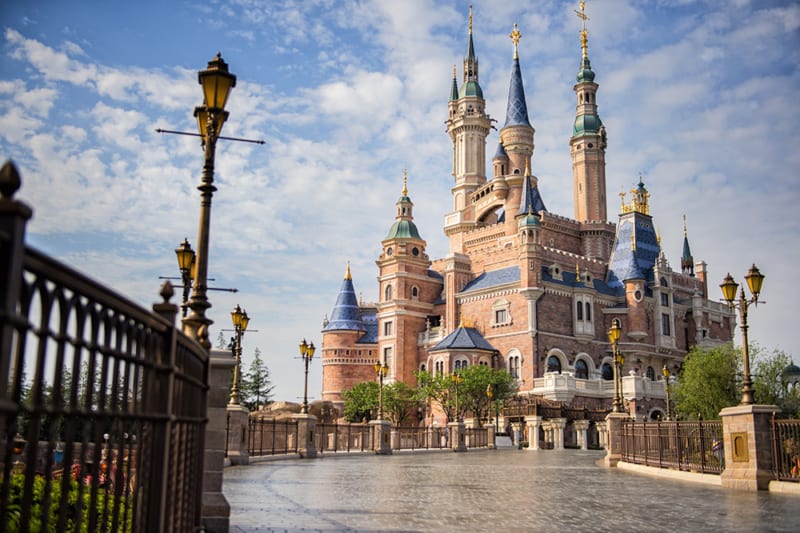 (Update 5/8/20) – Disney CEO Bob Chapek made it official on the Q2 Disney Company earnings call stating that Shanghai Disneyland will start a phased reopening on May 11, 2020. Along with the reopening are a bunch of new safety measures that guests and Cast Members alike will have to follow.
In this post, we'll go over everything you need to know about the Shanghai Disneyland reopening, including dates, which attractions are opening, and all the new guidelines guests need to follow when in the parks.
This is of particular interest even for guests planning on visiting Disney World and Disneyland soon because it gives us a window into the various operational changes that will be in place there and what guests need to do.
Read below for the specific instructions guests will have to follow…
What is Reopening in Shanghai Disneyland?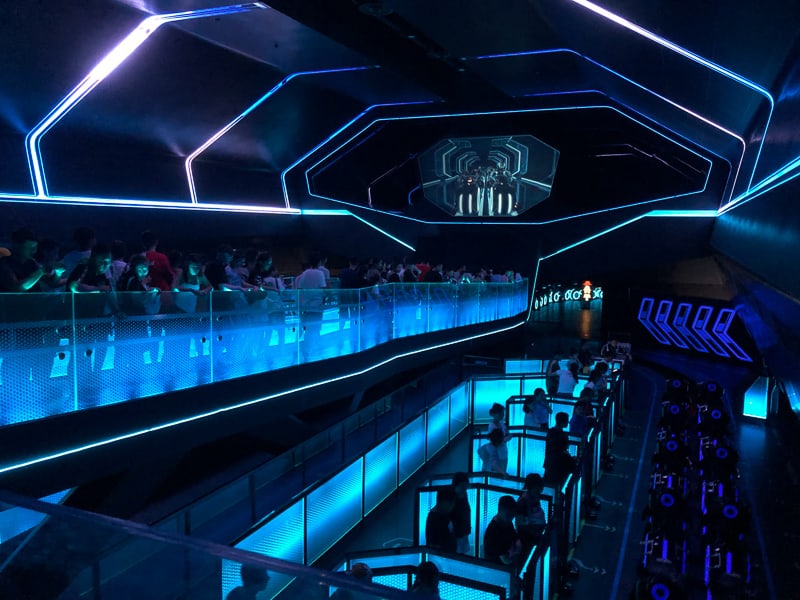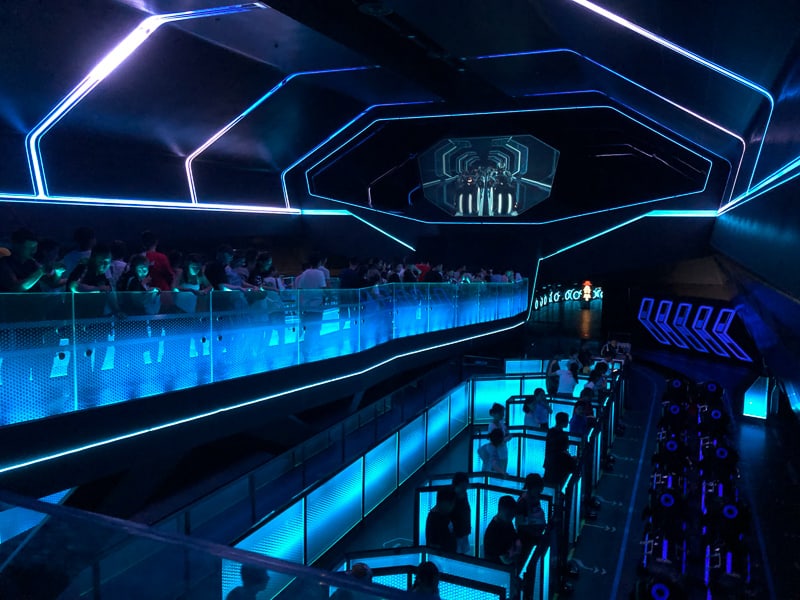 Here is a list of the areas of the Shanghai Disneyland Resort and their reopening status:
Shanghai Disneyland Park – Open
Shanghai Disneyland Hotel – Open
Disneytown Shopping Center – Open
Wishing Star Park – Open
While the Shanghai Disneyland parks have remained closed, parts of the resort including the Shanghai Disneyland Hotel, the Disneytown shopping center, and Wishing Star Park have been in limited operations since March 9.
Starting May 11, however, the Shanghai Disneyland Park will be open, welcoming guests for the first time since January! This is incredibly encouraging news and if things go well the U.S. Domestic parks will have a model to follow.
Attractions, Entertainment & Dining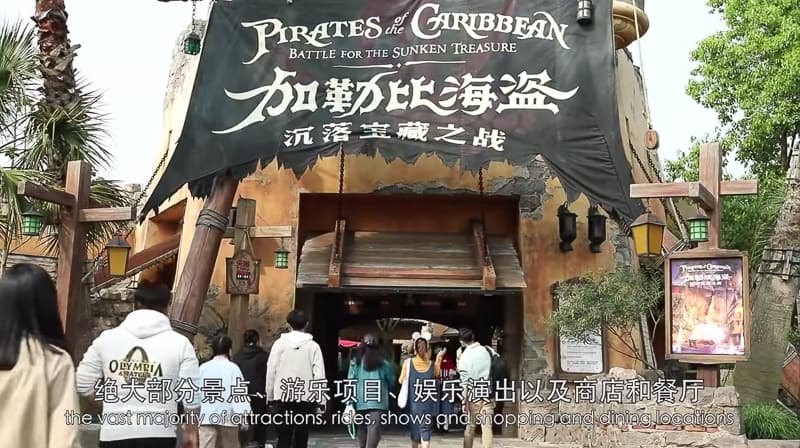 While Shanghai Disneyland is reopening, it's important to note that not all attractions or dining locations will reopen initially. Disney is doing a phased reopening of the resort and will be opening the attractions in groups gradually after that.
Certain entertainment options also won't be available at the outset like the nighttime spectaculars and fireworks show. Those are deemed too high risk at this time seeing that they require guests to assemble closely together for extended periods.
As soon as we know which attractions, shows and restaurants are and aren't opening, we'll update you here.
New Safety Guidelines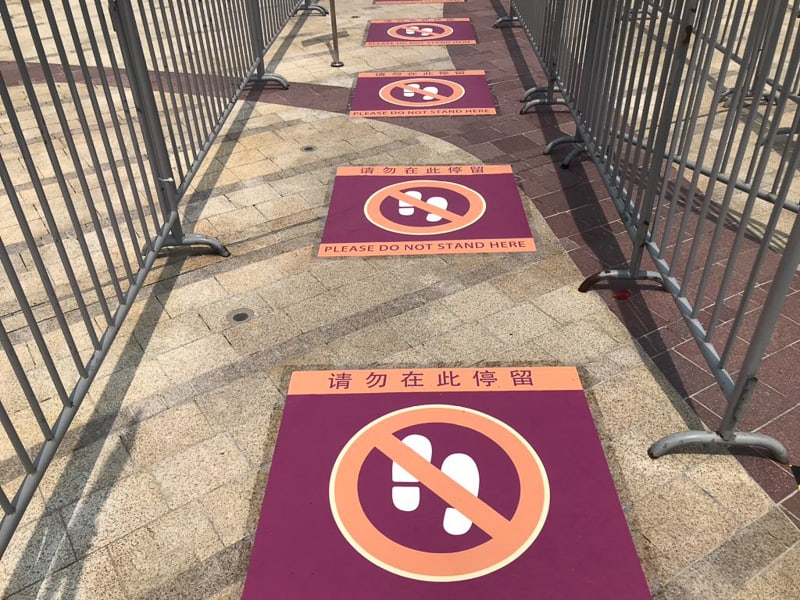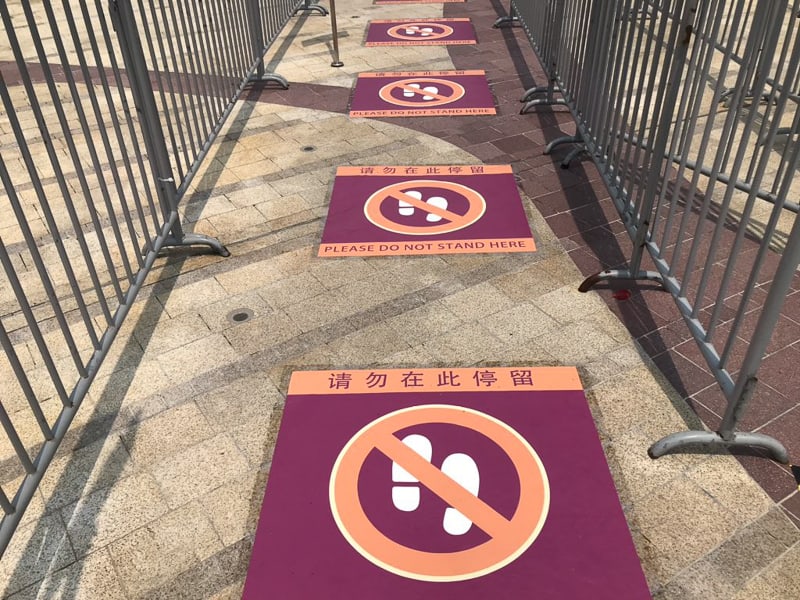 Now as the Shanghai Disneyland Park reopens, they will have to put into practice some of the safety measures that the shopping area has already been following. These guidelines and restrictions are as follows:
Limited guest attendance
Reservations for park entrance booked ahead of time
Distancing between guests in the attraction queues
Limited attractions and shows available at first
No nighttime spectaculars
No character meets or photo ops
Obligation to wear a face mask during the entire visit to the Shanghai Disneyland Resort
Guest temperature screening upon arrival
Personal info for each guest visiting the park
Register for the Health QR Code prior to arrival
So breaking down this list a few things stood out to us…
Limited Guest Attendance
Of course, we had heard about limited park attendance before and Disney said the exact number of guests that will be allowed during the first phase has been lowered from 80,000 guests to 24,000. That's quite a reduction and should help limit guests being too close.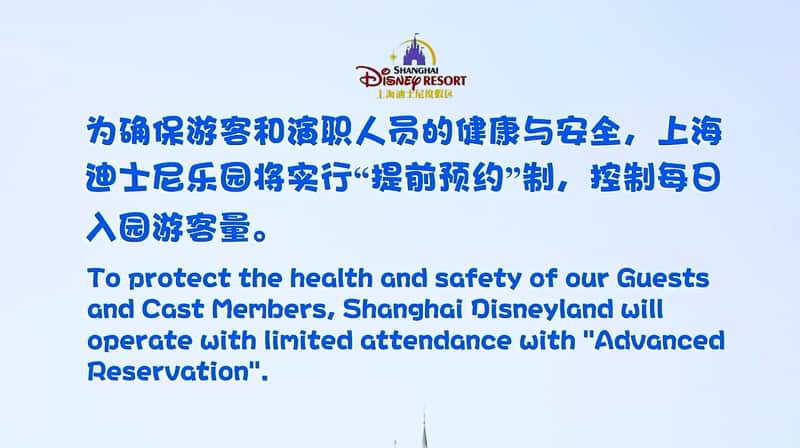 Making Reservations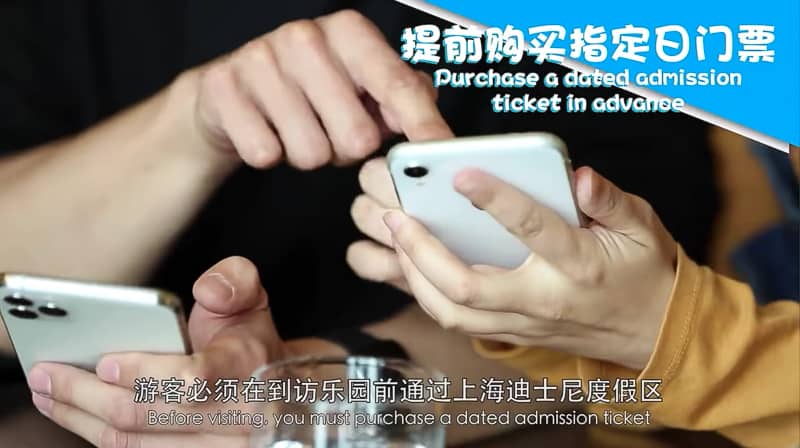 If you want to go, they mentioned that reservations will be required before you leave. That means you can't just show up and expect to gain entrance, you will be denied. These tickets can be purchased online.
Forcing guests to make reservations before going is smart and allows Disney to control the number of people in the park, keeping it within the new operational guidelines.
Any guests visiting Shanghai Disneyland will have to register for the Health QR Code, prior to to their arrival. They will then be required to show that QR Code when entering any location at the Shanghai Disneyland Resort. Only guests with a green code will be given entrance.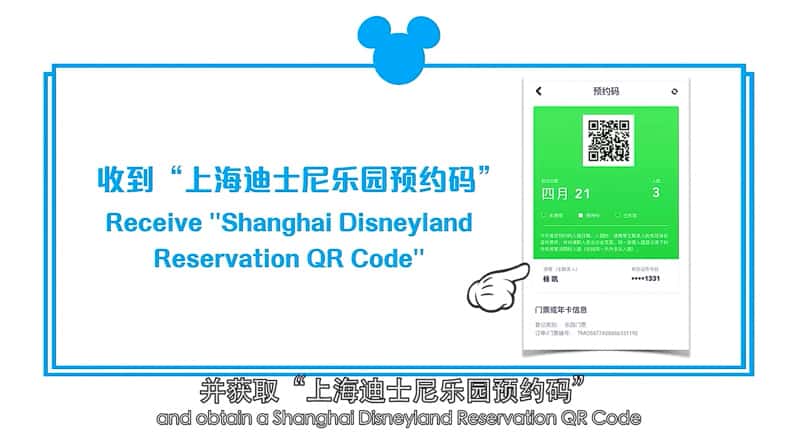 Even Annual Passholders have to make a reservation and get a QR code to enter the parks, and General Admission tickets will not be accepted.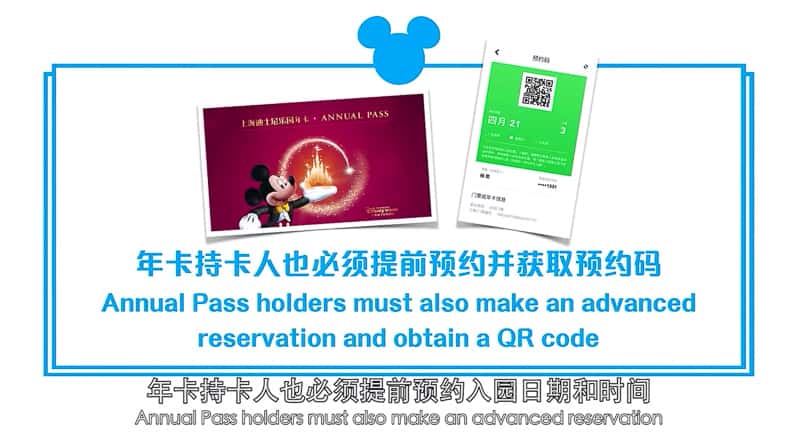 Your "Health QR Code" must be presented when you arrive at the park: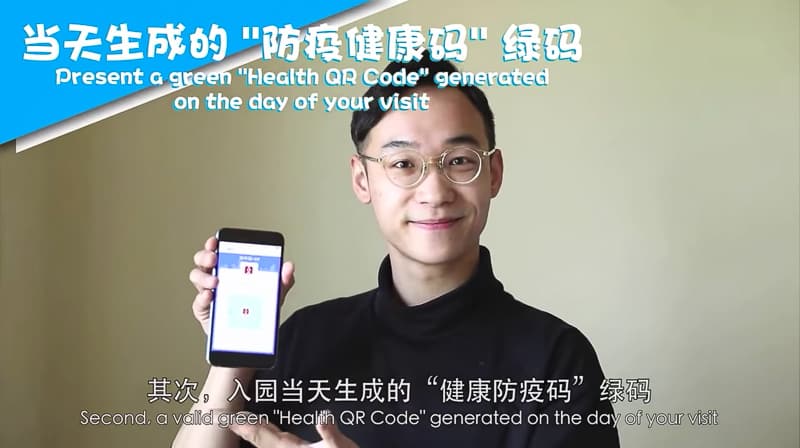 You also need to show an original government ID.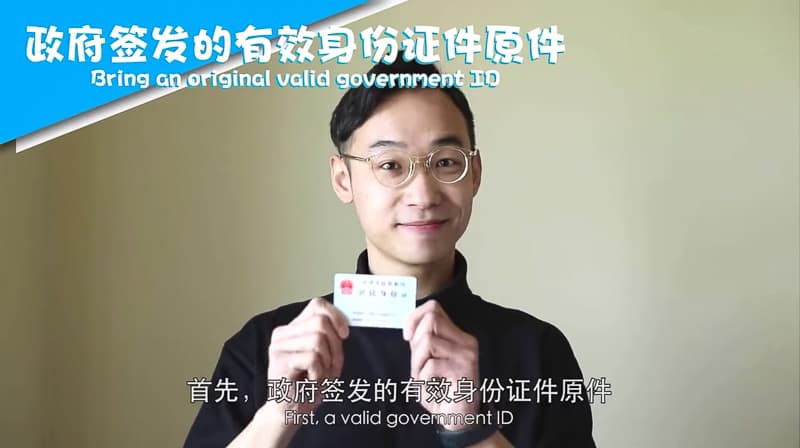 At this time, only Chinese residents will be able to go to Shanghai Disneyland. Once restrictions are eased, international guests will be allowed to return as well.
Face Masks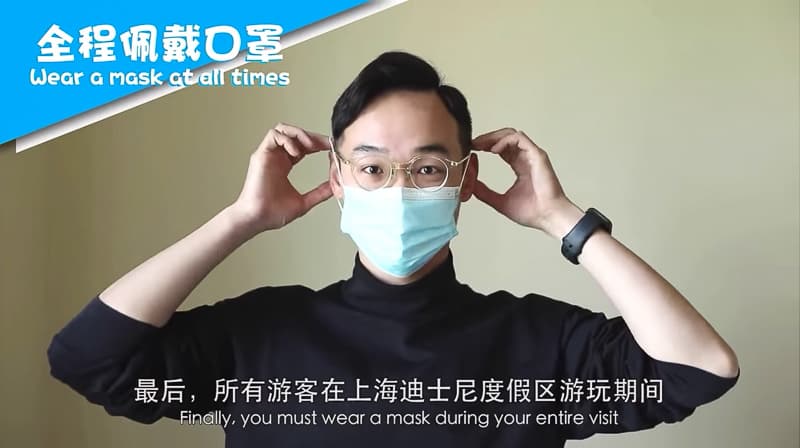 Then when in the Resort, you will have to wear a face mask during the entire visit, with dining the only exception when you don't have to wear one.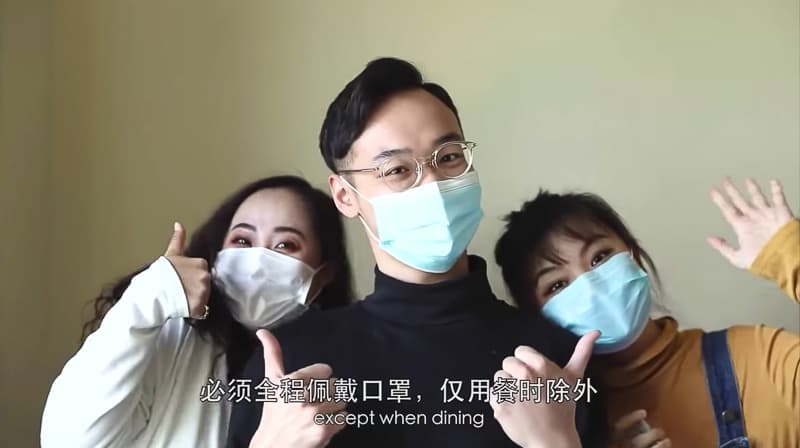 At the end of your day as you leave, there are face mask disposal bins where you will throw it away.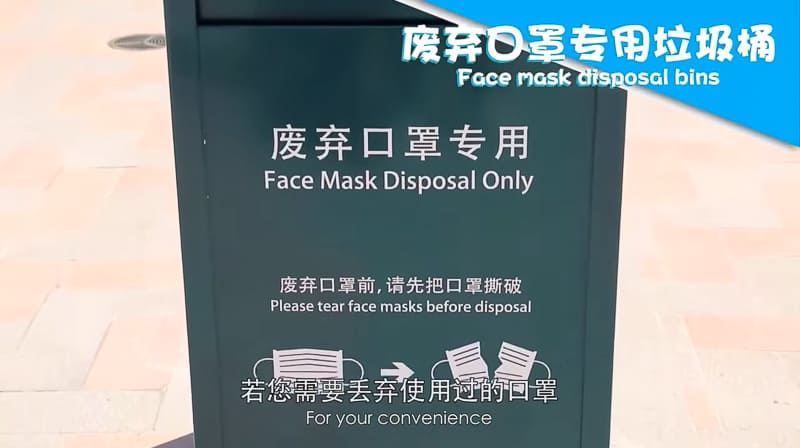 Queue Distancing
Keeping guests distant from each other is an essential part of getting the theme parks to open back up. This will be required in every area of the park, most of all in the queues for attractions and even going through security checkpoints and the park turnstiles.
As guests arrive at Shanghai Disneyland, they will see that distancing markers have been placed on the ground.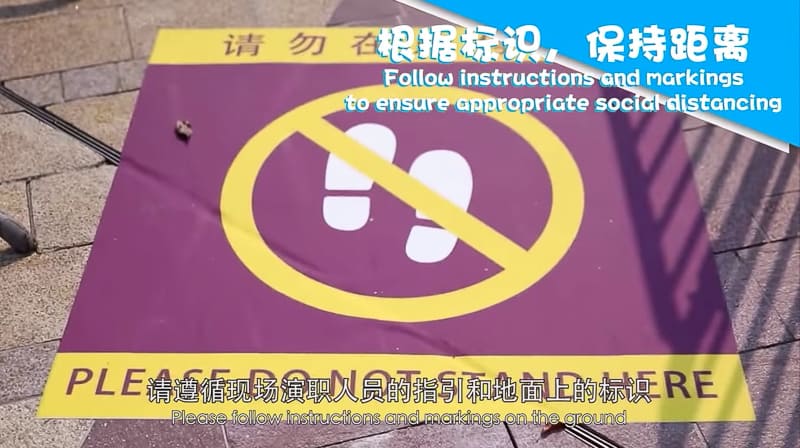 These ground markings have been put in place to tell guests where to stand.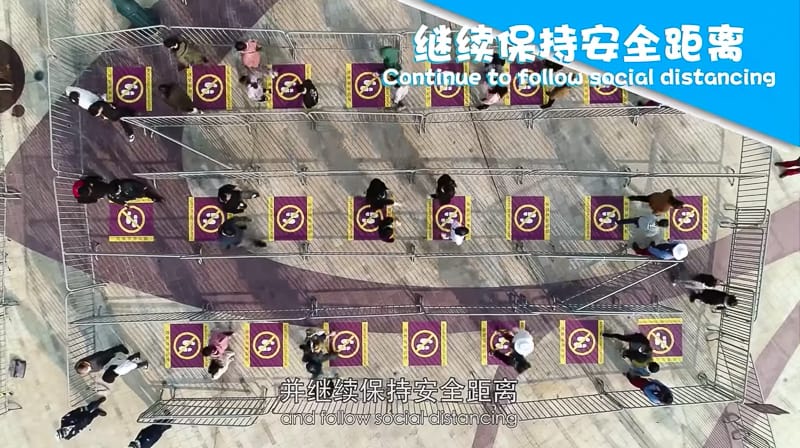 These markings will help guests keep the proper distance from one another when in the queues.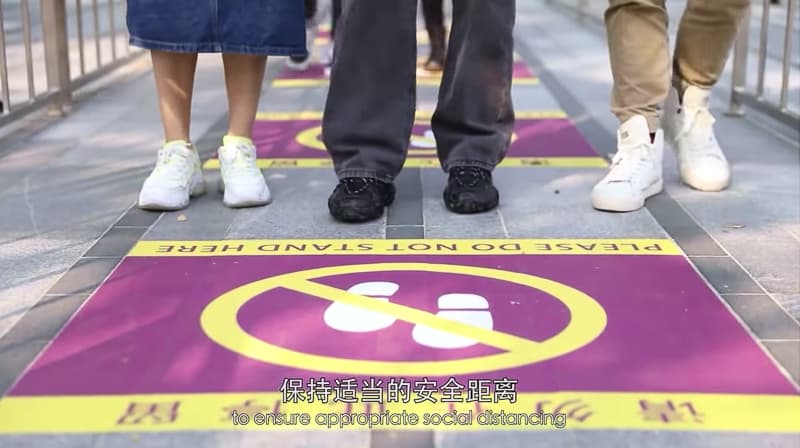 My favorite is that it clearly marks where NOT to stand while in the queue. As long as you don't stand on the sign while waiting, it keeps guests a safe distance away from each other.
Health/Temperature Screening
Guests arriving will also be required to undergo temperature screening, to make sure they aren't showing any symptoms. Special tents with touchless-thermometers have been installed to make this easy.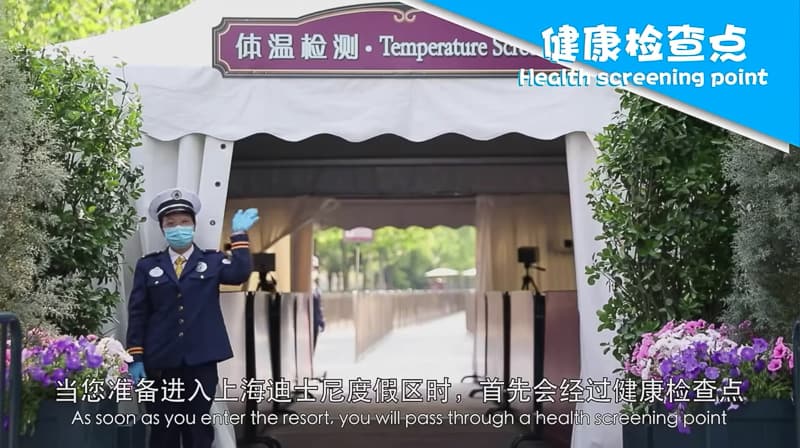 Guests temperatures are checked as you pass through the tent, and anyone who is too high will not be allowed to pass through.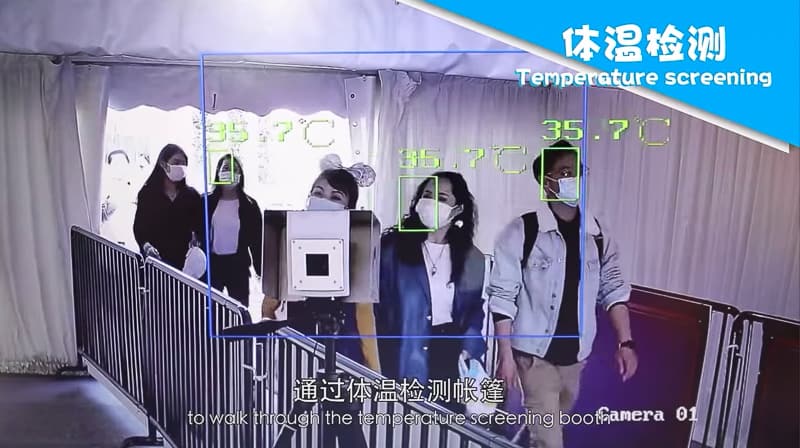 If everything is normal, you will pass through the tent and on to the security screening: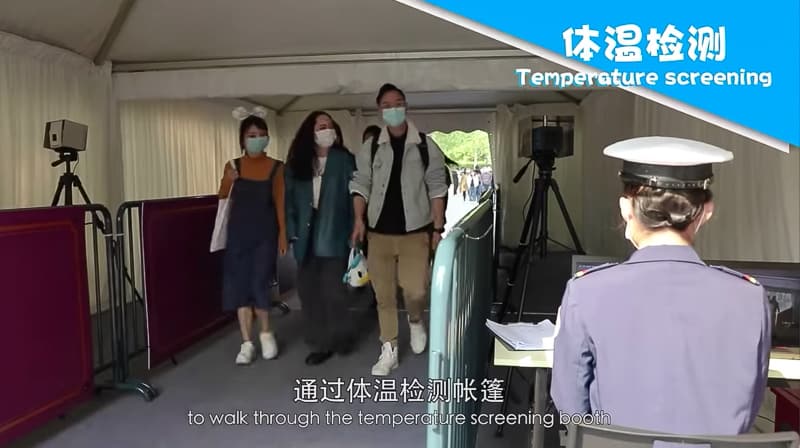 Security Screening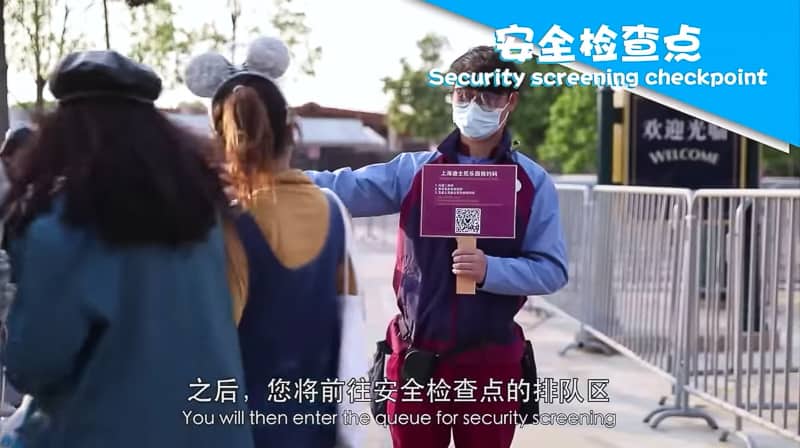 At this point, you must show your reservation with a green QR Code: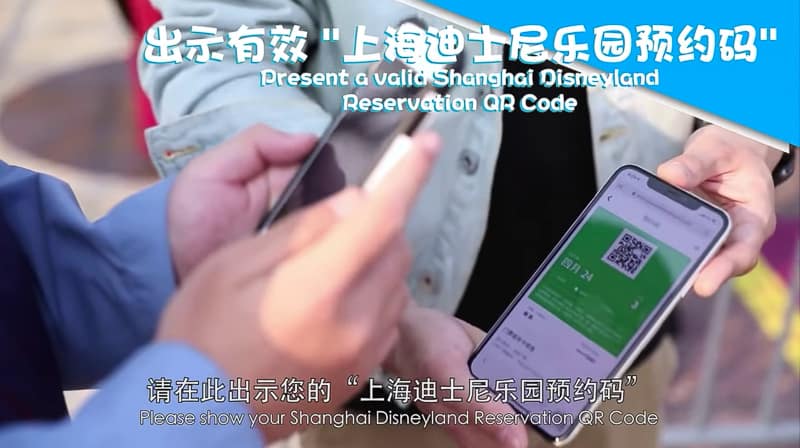 Like with any Disney park, you then need to show the contents of your bag if you have one.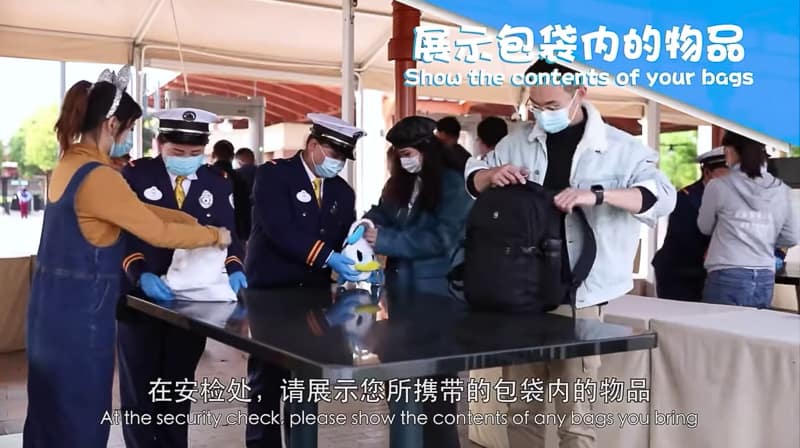 Park Turnstiles
When you get through security, you arrive at the last station before entering: the park turnstiles.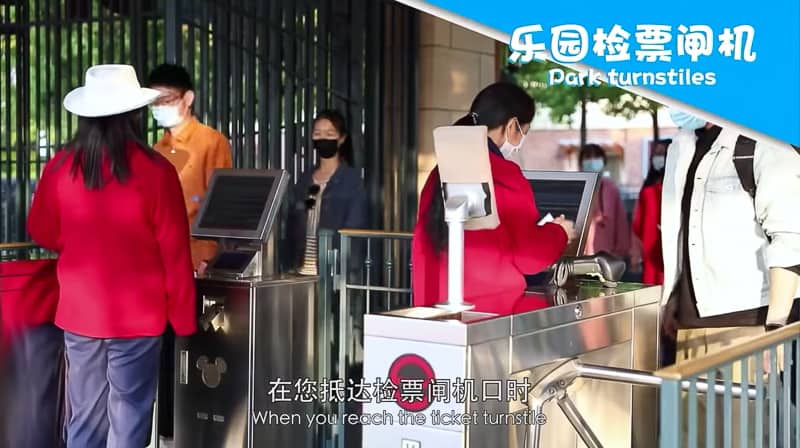 Your ticket and Government ID must be shown to gain entrance: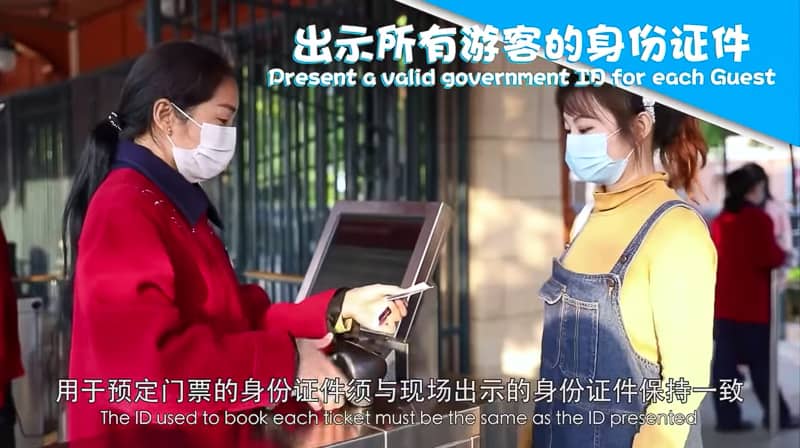 Attraction Queues
We already saw outside the park how the queues work and how people need to keep a good distance from each other. The same is true when you enter the attractions.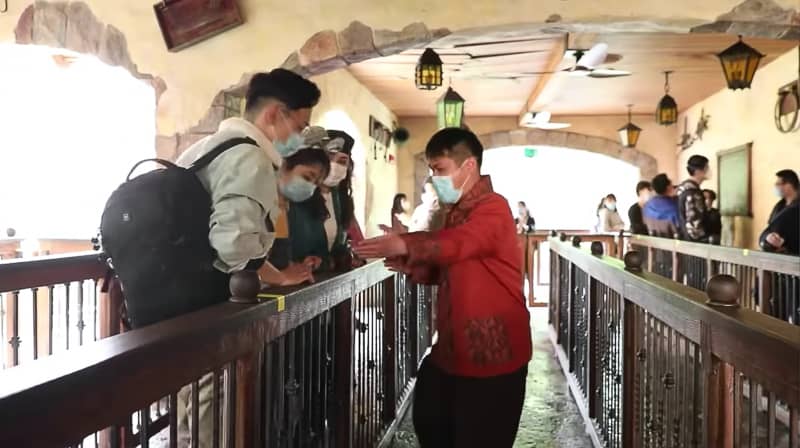 There will be spacing between the rows in the queue, and guests will notice the tape applied to the handrails, again showing how far guests should stand apart.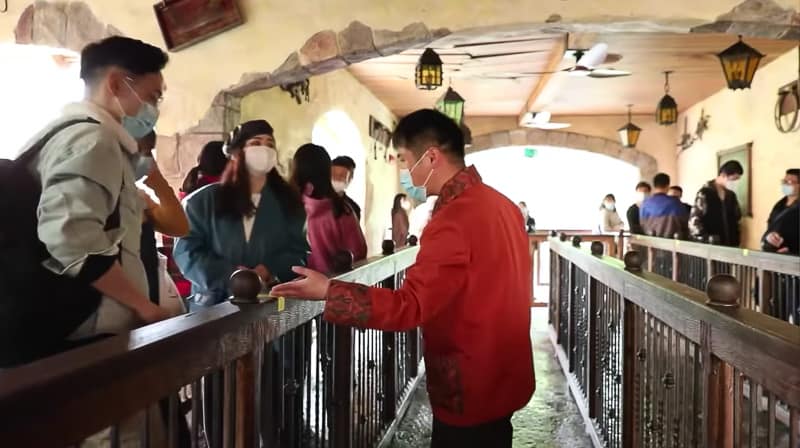 On Attractions
Distancing between guests will even be enforced on ride vehicles.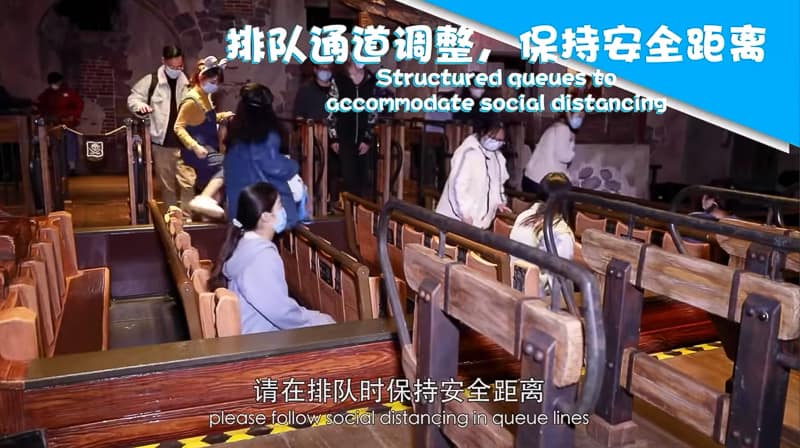 For larger vehicles, rows will be left empty to allow for distance between guests, front and back.
There will also be empty seats between guests not in the same party.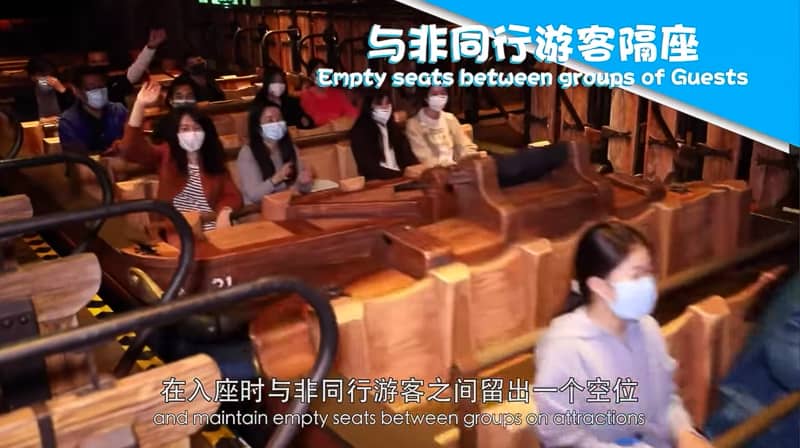 On smaller vehicles, you must ride alone, unless that person is in your party.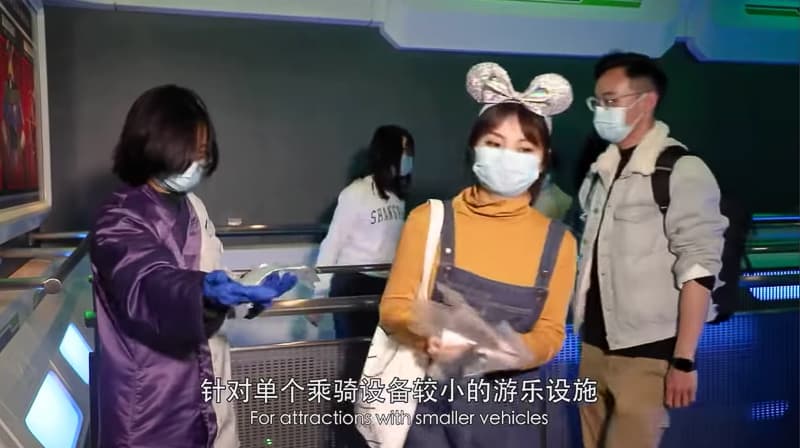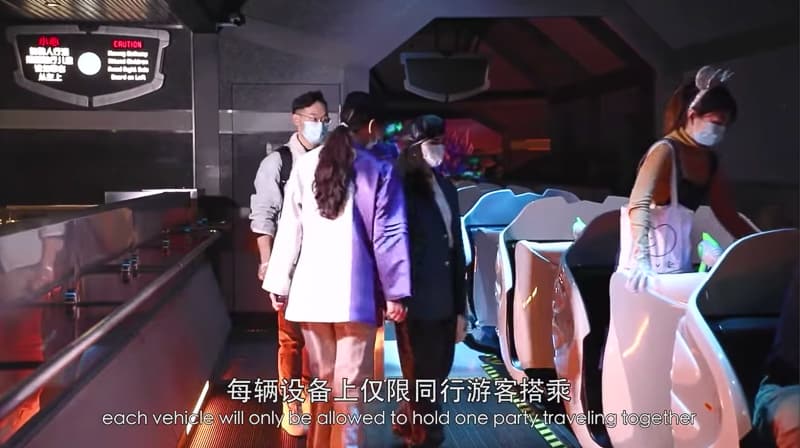 Hand Sanitizer
Hand sanitizer is another incredibly important method of fighting the spread of germs and it will be available in many locations throughout the parks.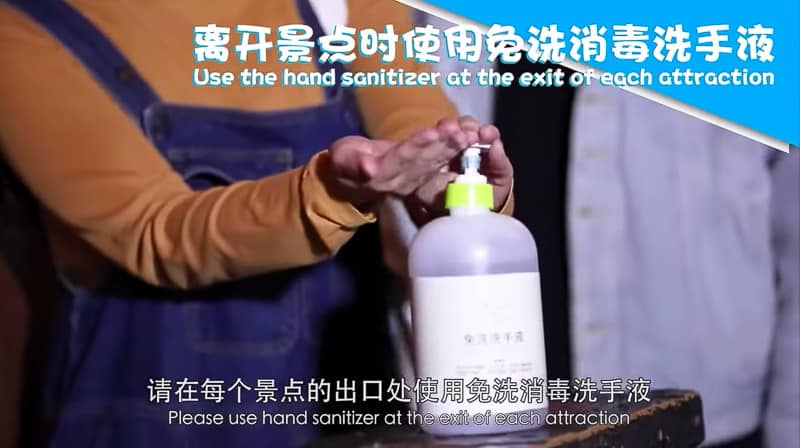 Notably, Disney is putting it at the exit every attraction and asking guests to disinfect.
There will be plenty of other hand sanitizing stations in other places, especially dining locations.
Character Interactions and Photo Ops
While the Disney Characters will make visits around the parks, there will be no character meets at this time nor photo ops to get your picture taken with them.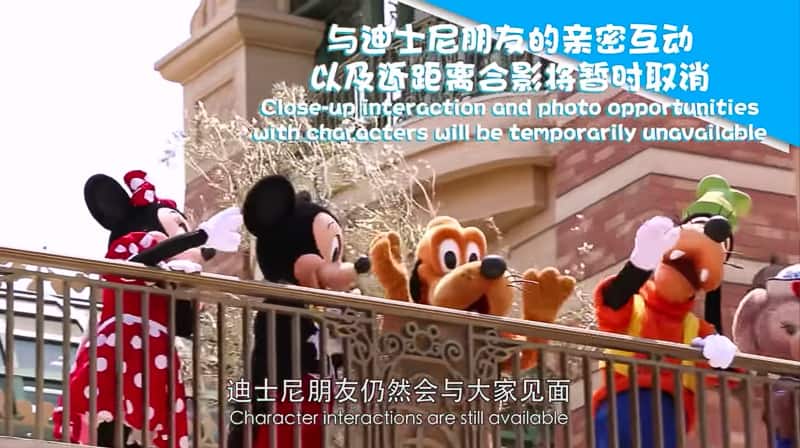 They can be seen from a distance and you can take pictures of them in that way.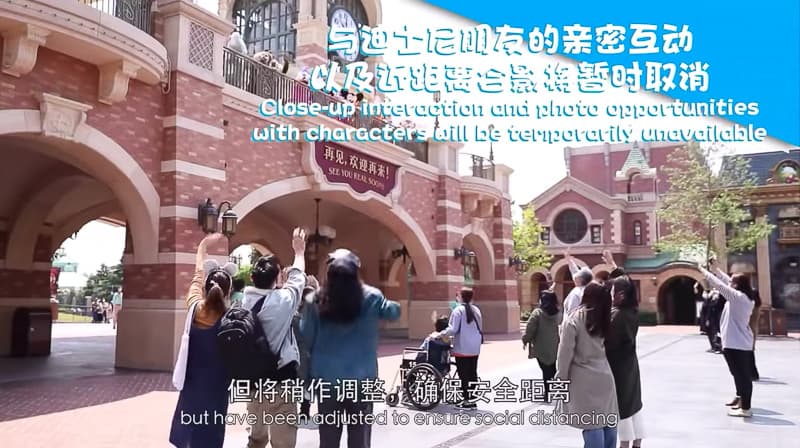 Dining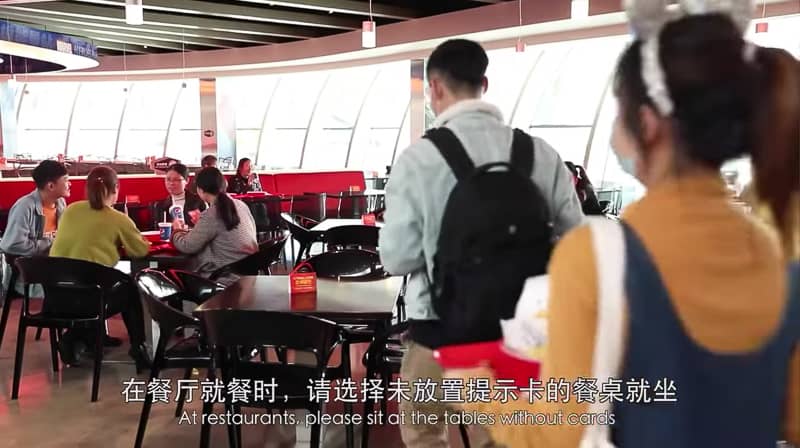 Another area you often find yourself too close to other guests is in restaurants. Disney has made it pretty easy, however, to figure out where to site.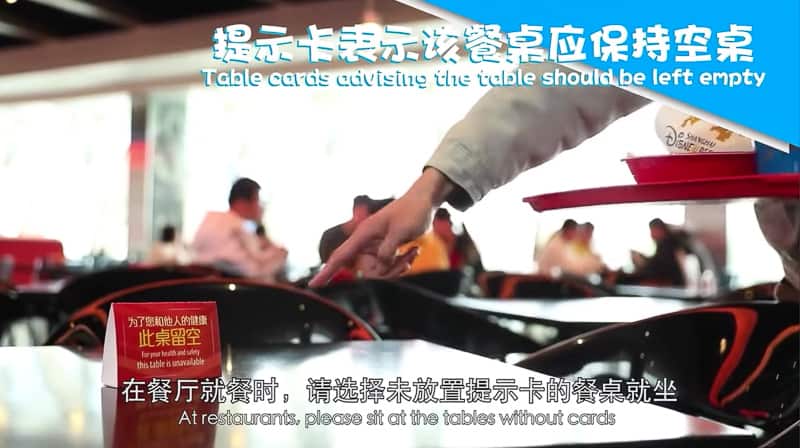 Guests can sit only at tables without a card on them. This way they will be spaced out, allowing for enough space between parties.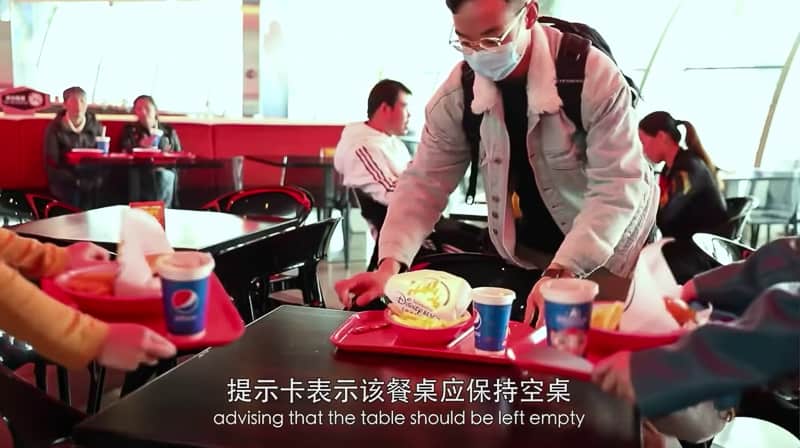 Buying Merchandise
Lastly, distancing and guest safety must be followed in the shops. Guests should only touch the merchandise they plan on buying. That means no going around touching everything, picking it up and then putting it back on the shelf.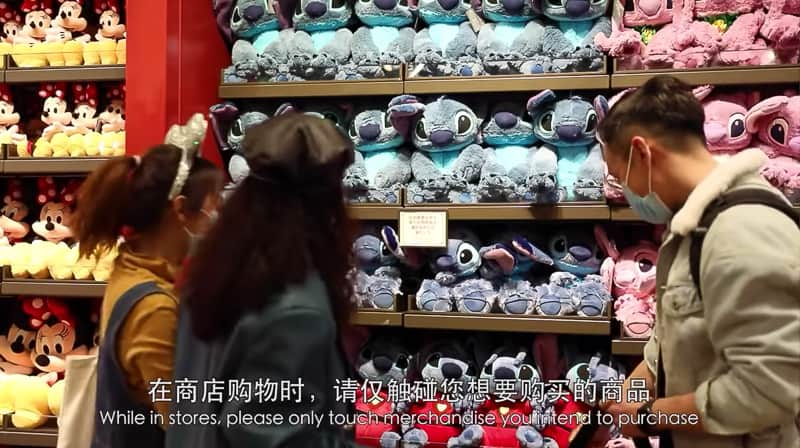 I think this will be the hardest one to follow as people are just so used to touching things while shopping and then putting them back. Disney will have to stay on top of this and disinfect as soon as they see it happen.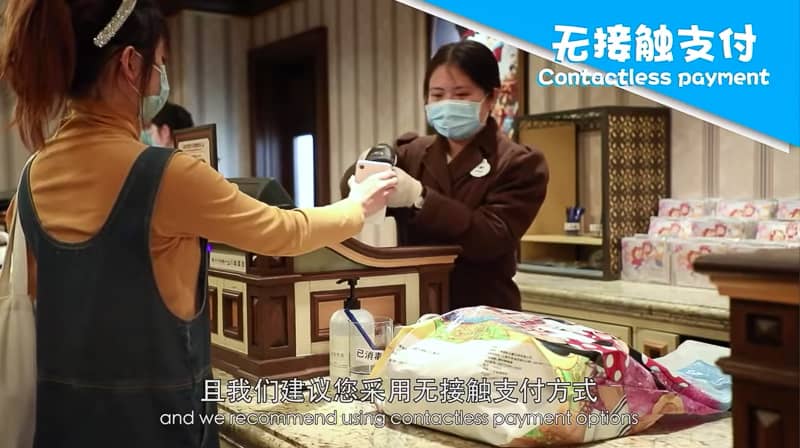 Once you are ready to buy, you will use contactless payment, again helping lower the risk of spreading germs.
The entire instructional video can be watched here:
That's a pretty long list of guidelines, but necessary in order to get the parks back up and running again. We'll keep you updated as soon as other things are added.
Conclusion
We're super excited that Shanghai Disneyland is finally opening after almost 4 months of being closed.
These new protocols give us a clue about how the Disney World reopening could unfold and what Disney can do to keep guests at safe distances there as well. If it works we will start to see these measures installed in the U.S. domestic parks in Disney World and Disneyland.
Obviously the closure of Shanghai Disneyland has had a huge negative impact on local the local economy. Even nearby businesses that rely heavily on foot traffic in and out of Shanghai Disneyland are suffering the consequences of this situation. Hopefully, the reopening works and people can go back to a "somewhat normal" way of living.
Shanghai Disneyland is also in the middle of a brand new Zootopia-themed land, which will most likely still be moving forward, but might end up being delayed because of the attendance drop. We'll have to wait and see what develops once the park reopens.
For information about getting a refund for Shanghai Disneyland park tickets or hotel stays, please contact the Shanghai Disneyland website.
We'll keep you updated as more news comes out from Shanghai Disneyland as they prepare to reopen. Stay tuned.
Your Thoughts
I want to know what you think about the potential safety methods for the Shanghai Disneyland Resort…
Do you think this is a good solution to keep guests safe?
What other policies should Disney implement?
Let us know in the comments section below!
If you enjoyed this article, as always I appreciate it if you'd share it with others via social media. I work hard at making this website into a useful resource for you and your family to plan your visit to the Disney Parks and I hope it can help you! Thanks 🙂