Disney's Hollywood Studios is the next park in our series about The Walt Disney World Theme Parks after reopening. Just like the other 3, expect a completely different experience here from what you are used to, and Hollywood Studios is by far the most difficult and complicated to visit.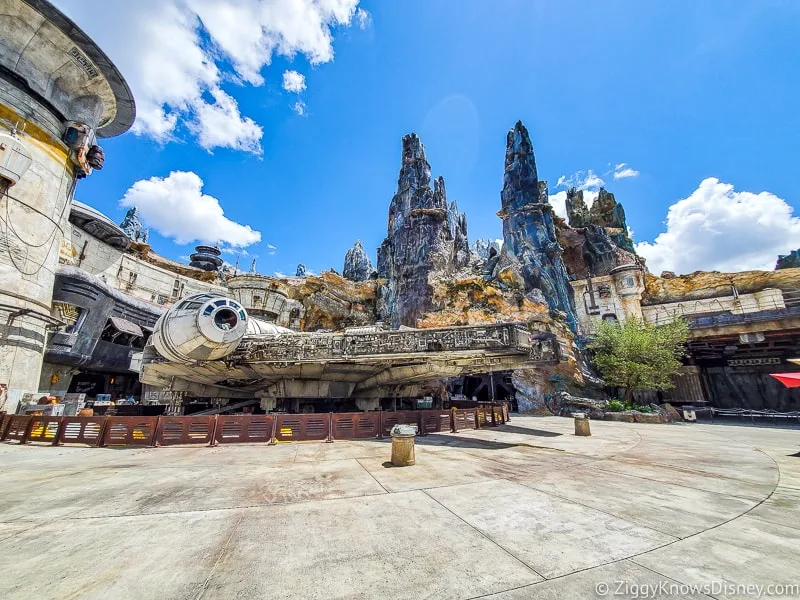 In this post, we are going to explain everything new and changed in Disney's Hollywood Studios since its reopening. We'll help guide you through what attractions and entertainment options are open right now, as well as the restaurants you can visit.
Compared with the other 3 Orlando theme parks, Disney's Hollywood Studios is the hardest to get a grip on. With Rise of the Resistance pulling in the crowds and the park's lack of attractions, figuring out how to navigate you day here can be quite a challenge.
Not to mention all the Disney park basics that have changed since reopening like getting Park Passes before coming and all the new safety measures you have to follow which are harder and harder to keep track of every day.
Since we've had a chance to visit Disney's Hollywood Studios already, we thought it would be a good idea to put together all of our notes and tips so that you can use this post as a guide when you visit. We'll continue to update it with new information and photos as things continue to change.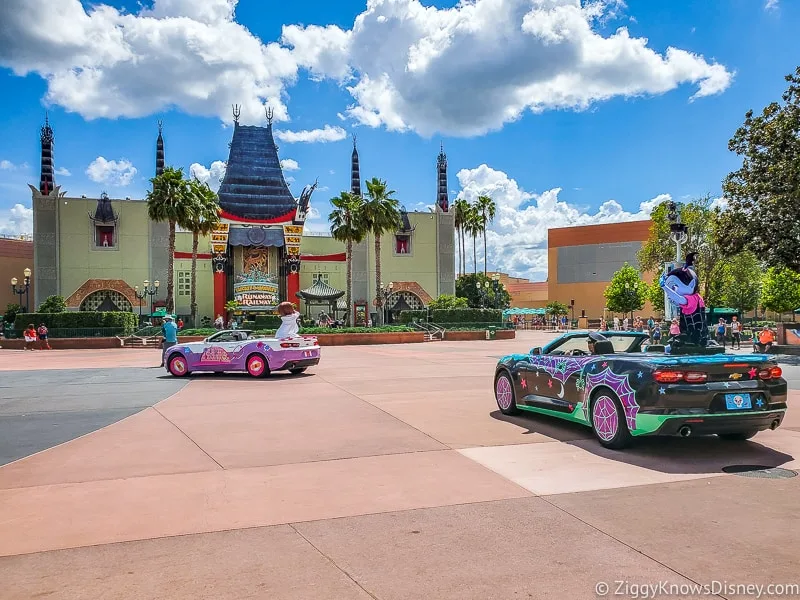 Make sure to read our other guides to the Disney park reopenings before visiting:
If I haven't made it clear yet, I think it's important to highlight the need for patience after the reopening. This is true for all the parks, but especially in Hollywood Studios. Some attractions are not available, and entertainment options are slowly coming back to the park right now. Plus with things changing week after week, it's been a challenging time for both guests and Cast Members.
If you know this going into your visit, you're more likely to have a good time.
Before we get into our look at Hollywood Studios, make sure to read our Complete Walt Disney World Reopening Guide which will answer any questions you have about anything going on during the reopening period in the parks, hotels, and restaurants.
Also, don't forget to sign up for our FREE Weekly E-Mail Newsletter. There we bring you the latest updates on all the latest Hollywood Studios updates as well as our best Disney vacation planning tips. You can sign up here: Join our E-Mail Newsletter!
Are you ready? Because "nothing can stop us now!"
What to Know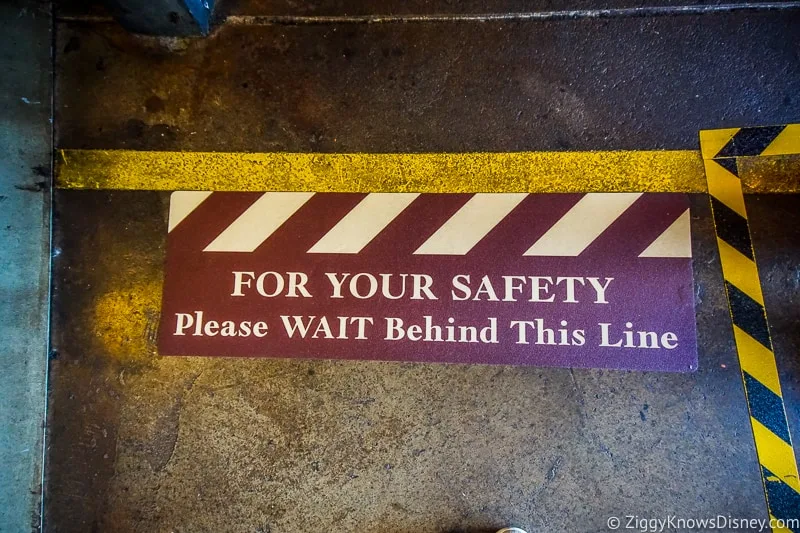 Safety Guidelines
The most important thing you need to know during the reopening phase is that Disney put in place new safety measures in the parks that have been a big part of the guest experience. Many of these safety guidelines have since been removed, but it's important to know the current status of them.
The most basic ones are:
Increased cleaning and sanitation
Wearing face masks (this has been eliminated)
Physical distancing in queues (this has been eliminated)
Currently, face masks are no longer required in any Disney World theme park, including Disney's Hollywood Studios.
Vaccinated & Unvaccinated Guests – At one time, masks were required in indoor areas, on Disney transportation, and on all indoor attractions, including thrill rides like Rock 'n' Roller Coaster and Tower of Terror. That is no longer the case and they are now optional.
Face masks are not required for any guests in outdoor areas or when consuming food or drink.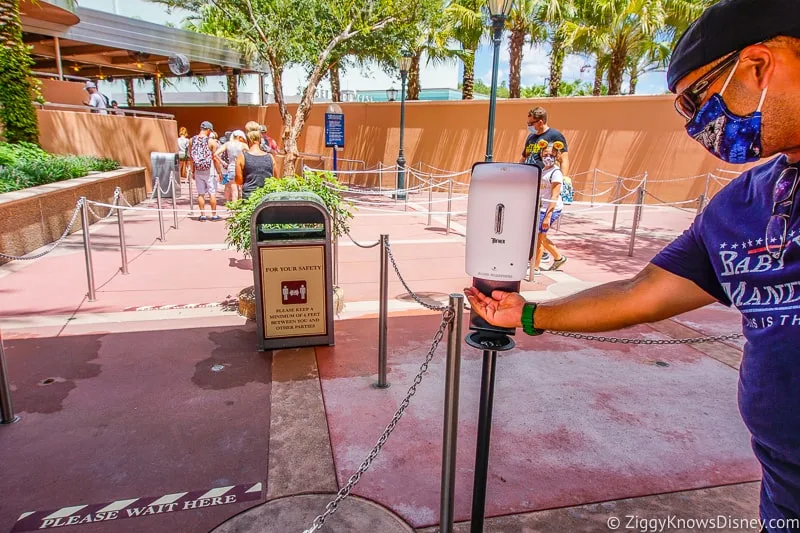 You also need to be aware that Disney has eliminated distancing in the park, including in the attraction queues. The protective barriers and ground markers have been removed from the theme parks and attractions.
These safety measures allow Disney to operate under the current conditions and if you have a problem with any of them it's probably best to postpone your trip to a later date. Disney is very strict about all of them and will oblige you to follow the rules if you aren't.
Read our post on all the New Safety Measures at Disney World which explains them all in more detail.
Limited Capacity
The maximum guest capacity has been greatly reduced for all 4 Walt Disney World theme parks, which means fewer people can enter than normal would if the parks were running normally. This has been on a sharp upturn however in recent months.
Under normal circumstances, the maximum capacity for Disney's Hollywood Studios is around 60,000. While Disney hasn't given out any official numbers about how many guests they are limiting the park to in a day. On most days it's likely 75% or higher compared to normal levels.
From what we've seen, this keeps increasing and could be well over that during the holiday season. Read our post on Disney World Theme Park Capacity for more info.
Not Everything Open
Even though Disney's Hollywood Studios has opened back up, that doesn't mean that everything in the park is open. In fact, a couple of the attractions are not currently running, and an even bigger problem in this park is the lack of entertainment options.
Thankfully, most of your favorite restaurants are now back up and operating so you won't miss them when you visit.
Most Crowded Park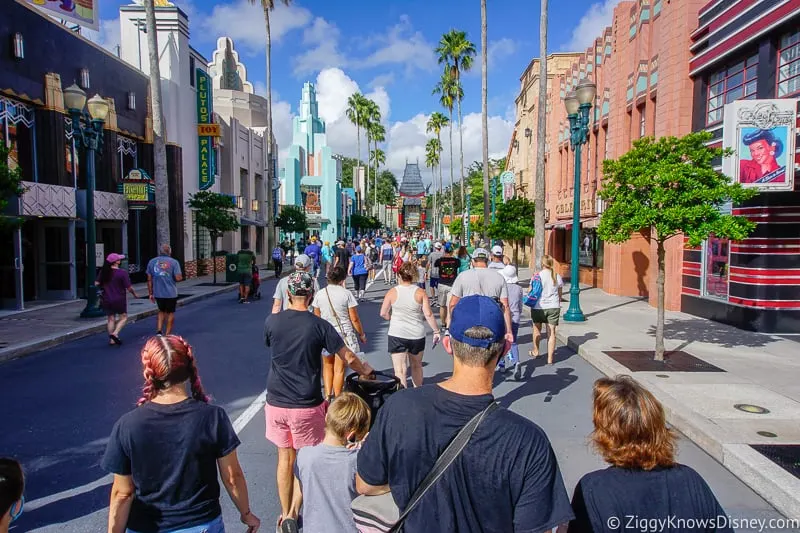 The previous two issues described above about the park having limited capacity and not all the attractions and entertainment open has made Hollywood Studios the most crowded park in Disney World.
Let's face it, everyone still wants to ride Rise of the Resistance, and since it only debuted in December 2019, there are even many Orlando locals who haven't seen it yet. It also doesn't help that the overall stellar attraction is arguably operating with even less reliability at the moment.
This has caused massive surges of guests in the morning when the park opens who then gradually disappear as the day goes on. There is a huge difference here between, Disney's Animal Kingdom, which from park opening to close changes dramatically most days.
Disney Virtual Queue is Paused!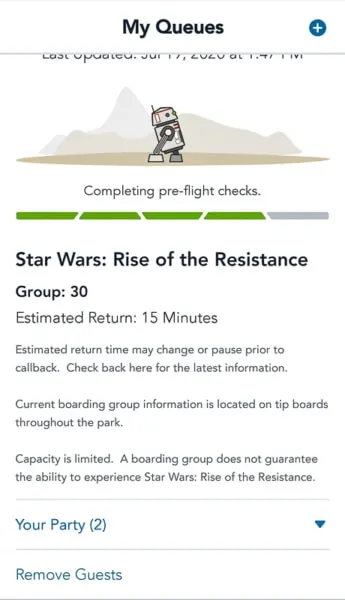 Speaking of Rise of the Resistance, it is now using a stand-by queue and you no longer need to use Disney's Virtual Queue. This completely changes the way you tour the park as you can either rope drop it or wait until later in the evening when crowds dwindle.
Read our guide to Rise of the Resistance with the standby queue for a detailed report on how it's working and our best tips and info.
Disney said the virtual queue can come back so if that happens, make sure you read our updated guide on How to Get Boarding Passes for Rise of the Resistance which explains the whole boarding group process and all the changes since reopening.
The Virtual Queue is being used at Cosmic Rewind in EPCOT, so it is also possible that Disney can still roll out the Virtual Queue to other attractions either in Hollywood Studios or the other parks in the future. That's why you need to stay updated on the latest boarding procedures.
Suspended Services and Experiences
While visiting Hollywood Studios and the rest of the Disney theme parks right now, many of the normal services and experiences you are used to, have been suspended.
Early Theme Park Entry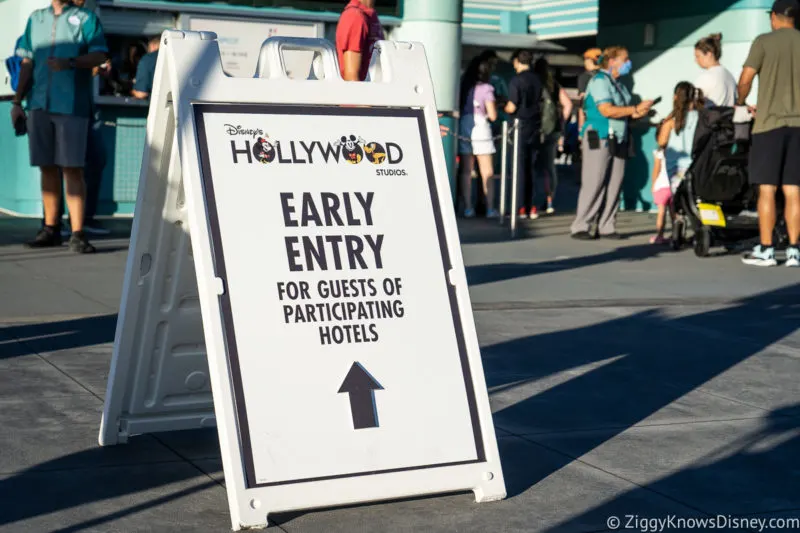 Extra Magic Hours used to be the way Disney allowed guests staying at Disney World Resort hotels more time in the parks either in the morning or in the evening. This would let you experience the attractions with lower wait times than normal.
Disney has eliminated Extra Magic Hours and its replacement is called "Early Theme Park Entry."
With Early Theme Park Entry, all Walt Disney World Resort hotel guests have access to the parks 30 minutes before the scheduled park opening for that day. It is available at all 4 theme parks, every day of the week.
If you are staying on-site, this is one of the best current perks and you should take advantage of it as it will help you get on some of the more popular attractions before the crowds get there for the day.
Disney Genie & Lightning Lane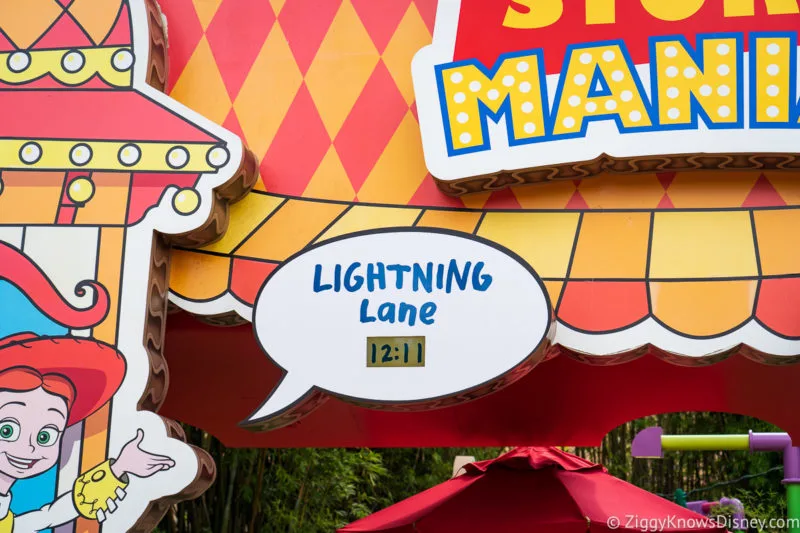 In the past, using FastPass+ in Hollywood Studios was an absolute MUST to get the most out of your day. That has changed, however, and right now FastPass+ has now been permanently discontinued.
Instead, Disney has launched the new Disney Genie system which includes a pay to ride option, letting you skip the ride queue. The old FastPass+ queues are being used for the new Lightning Lanes which is where guests will go if they don't want to wait.
To ride the attractions in Hollywood Studios now you either need to wait in a standby queue or use the Disney Genie+ or Lightning Lane to skip the lines.
This completely changes the way you tour the Disney theme parks and means that you have to have a good plan to know what attractions to do first, and which ones to pay for (if any). It also means you don't have to wake up early 60 days before your trip to book attractions.
Make sure to read our Genie+ and Lightning Lane Guide where we answer all your questions about this new system. We'll let you know of any more changes as they come out.
Dining Reservations
There have been quite a few changes to dining in Hollywood Studios and the other theme parks:
No Disney Dining Plan – This has been suspended so far in 2022 until further notice. That means no more snack credits for a while and guests will not have the option to pay for meals ahead of time. The Disney Dining Plan is coming back, we just don't have a date yet.
Dining Reservations – The Advanced Dining Reservation booking window has been reduced from 180 days to now only 60 days.
Limited Dining Options – Some restaurants are not running at this time.
New Technology – For safety reasons, Disney is using new technology in its restaurants including contactless menus, Mobile Ordering, Mobile Dine Check-In, Mobile Dine Waitlist, and cashless payment.
Special Experiences & Events
As of this writing, most special experience bookings, tours, and events have been canceled in Disney's Hollywood Studios so far in 2022. This includes the popular Disney After Hours events among others.
The good news is more tours are coming back to Disney World and we will have more information about booking these special events and experiences soon.
How to Get Into Hollywood Studios in 2022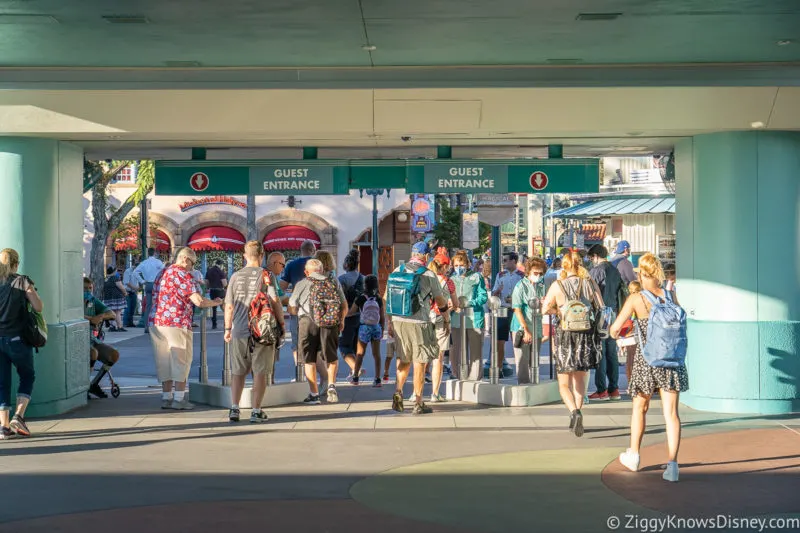 One huge change is that on most days, guests can't show up to the parks right now and just purchase a park admission like always. Tickets must be bought in advance. Besides that, to visit Hollywood Studios or any Disney World park, you'll also need to get used to the new Park Pass reservation to get entrance.
Getting Tickets
The first step to getting into Hollywood Studios is getting your park tickets. For a couple of months, the sale of new tickets was blocked as Disney was re-prioritizing guests with existing park admission.
Now theme park tickets are back on sale and you can purchase single and multi-day tickets to Disney's Hollywood Studios for dates in 2022 and 2023 online on the Disney World website. Tickets are available right now through December 31, 2023.
Annual Passholders can also go to the parks, but you'll need to watch the blockout dates which depend on what type of annual pass you have. Click here to read more details about the new Disney World annual passes.
Getting Park Pass Reservations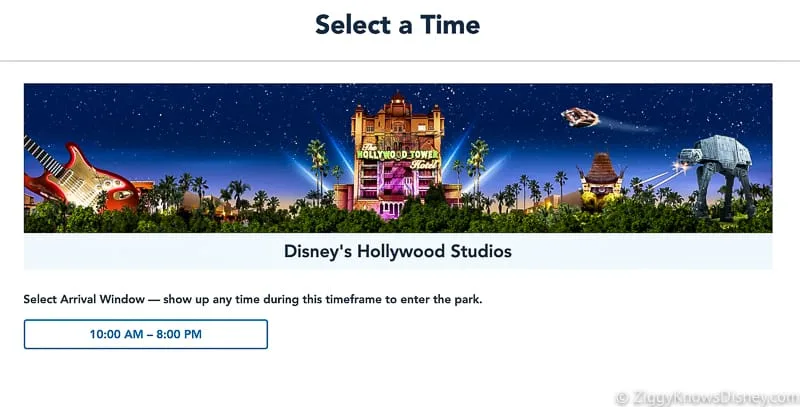 After getting your park ticket, the second step is to get a Park Pass Reservation. This is Disney's park reservation system which helps them manage crowds and keep within the current low park capacity.
It's very important to know that you CAN'T get into the parks without a park pass reservation.
There are some restrictions on how many park pass reservations you can have at once.
Disney World Resort guests can have reservations for each day of their hotel stay.
Annual passholders are limited to up to 5 at a time.
Since Rise of the Resistance is so popular, Hollywood Studios is the hardest park to get reservations for and is sold out for many dates already. Disney has been slowly adding more dates, but it's been difficult especially for Annual Passholders.
You can make reservations on the Disney World website, just remember, you'll need to have a valid park admission before making a park reservation.
Read our post on How to Make Disney World Park Reservations for a detailed walkthrough of the new system.
Park Hopping is Back
One of the things we are most excited about is that park hopping is now back at Disney World. For many months guests were limited to one park per day but that is now over and you can go to one park in the morning and a different one in the afternoon or evening if you like.
There are still some restrictions however as the parks still have capacity limits. To understand the latest changes read our post on Park Hopping at Walt Disney World where we break it all down.
We are obviously happy to have this option back and it's great for Hollywood Studios since we typically rope drop the park for Rise of the Resistance and then find our way over to EPCOT in the evening.
Hours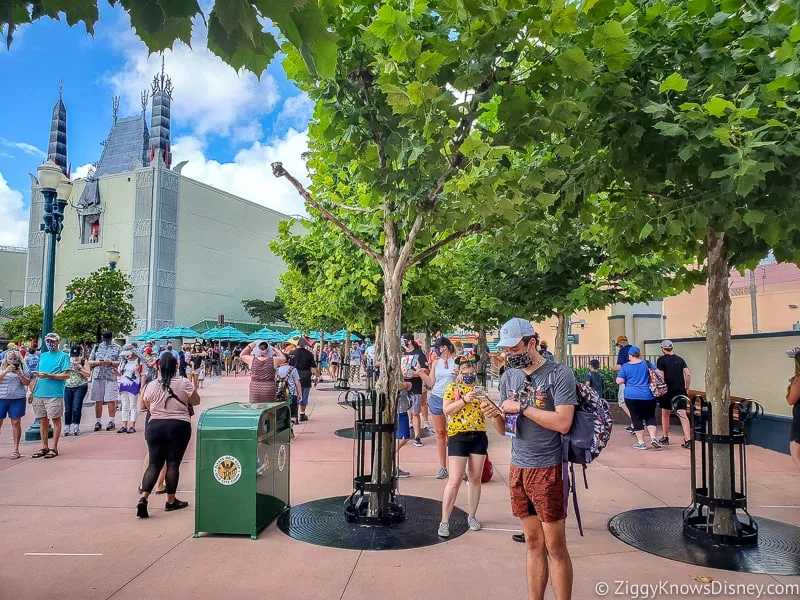 Usually, Disney's Hollywood Studios park hours run from 9:00 am to 10:00 pm or 11:00 pm daily. Right now park hours are reduced, but they are almost back to normal levels.
Here are the upcoming Disney's Hollywood Studios Park Hours:
From Now through July 30 – 9:00 am to 11:00 pm daily
From July 31 through September – 9:00 am to 10:00 pm
For most of July, Hollywood Studios park hours will be increased from 9:00 am to 11:00 pm daily. These are the new Summer Park Hours as Disney is still balancing the right operating hours for all the parks with crowds starting coming back.
In August and September park hours are reduced by one hour and go from 9:00 am to 10:00 pm daily. Those hours could get extended but since that is the slow season we don't think they will be increased more than what they are at this time.
TIP: Disney's new Early Theme Park Entry for Walt Disney World Resort hotel guests allows you access to the theme parks 30 minutes earlier than the scheduled opening time. Make sure to take advantage of this if you are staying on-site.
Even so, the value of staying in a Disney World Resort hotel has been lowered since the time you can spend in the parks before the general public has been reduced to only 30 minutes.
We'll let you know if the opening or closing times change over the next weeks and months.
Entrance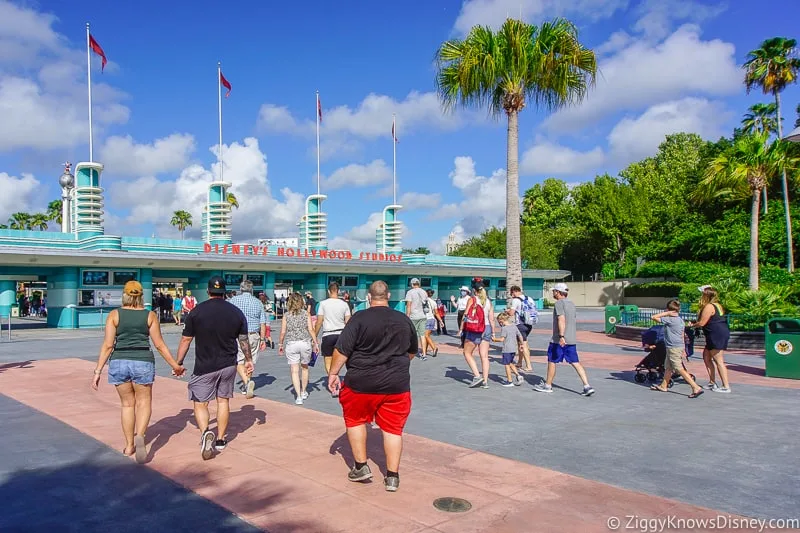 The entrance arrival experience is a bit different now at Hollywood Studios and you'll see signs everywhere warning you of the new safety measures so no surprise there.
Of all the park entrances, this one is definitely the most crowded, again due to all the people wanting to ride Rise of the Resistance. Still, but things move pretty quickly and it's easy to understand where to go and what to do.
Attractions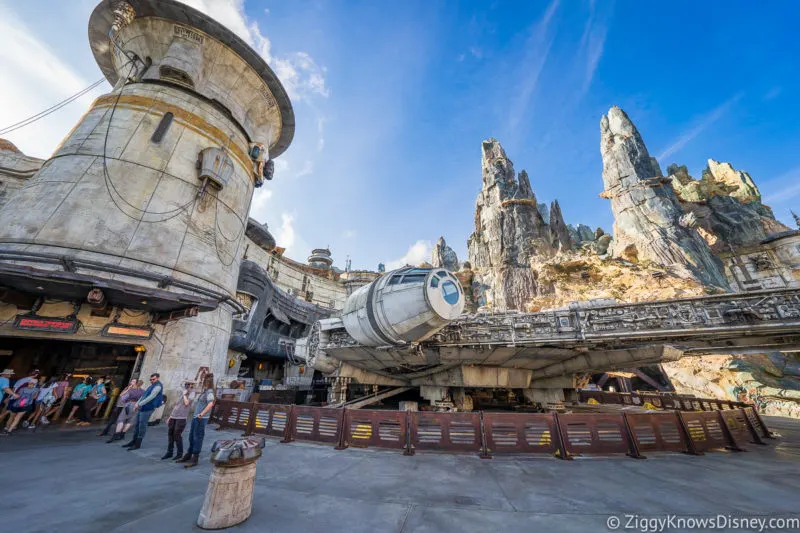 Like in the other parks, most of the attractions in Disney's Hollywood Studios are currently open. Right now there are a total of 13 open attractions on the list, which is the fewest of any Disney World park right now, but all the major rides are running.
However, many of the entertainment options and shows are not running and we are waiting for them to return.
Let's check out what's open, what's not open, and then how some attractions are different after reopening.
What's Open
Alien Swirling Saucers
Lightning McQueen's Racing Academy
Muppet*Vision 3D
Rock 'n' Roller Coaster Starring Aerosmith
Slinky Dog Dash
Star Tours – The Adventures Continue
The Twilight Zone Tower of Terror™
Toy Story Mania!
Vacation Fun (at Mickey Shorts Theater)
Walt Disney Presents
What's Not
Star Wars Launch Bay (Opening in July)
Disney's Hollywood Studios is very top-heavy with its attractions. There are a lot of really good E-Ticket ones, arguably the best top 5 of any park, but there isn't much beyond that.
Star Wars: Rise of the Resistance is the headliner as it has been since December 2019, and the other big attractions in the park are all running such as Tower of Terror, Rock 'n' Roller Coaster, Slinky Dog Dash, Toy Story Mania!, Smugglers Run and the newest one, Mickey and Minnie's Runaway Railway.
The only attraction that is closed at the moment is the Star Wars Launch Bay, but that's basically just one big meet and greet anyway and it's opening in July.
Slinky Dog Dash remains one the park's most popular ride to rope drop, which means long lines and crowds throughout Toy Story Land. This is minimized a bit in the evenings when the crowds disperse but during the day it's packed.
Star Wars: Galaxy's Edge is just as breathtaking as it always is, and it's now full once again. At the beginning of the reopening, it was empty most of the time but it's just as crowded as ever now. It's now much harder to take pictures in front of the Millennium Falcon, whereas last year you could have done so with absolutely NO people in your shot!
Attraction Reports & Wait Times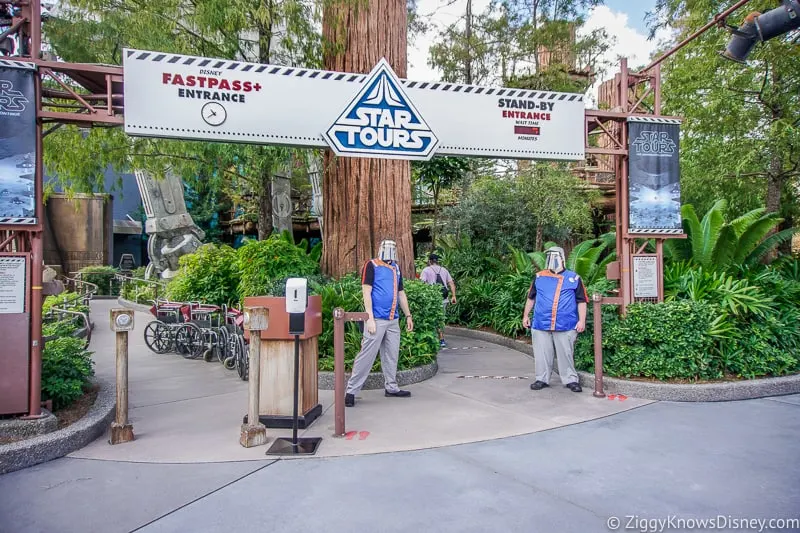 Wait times in Hollywood Studios are by far the longest of any park, and we have seen them rise in current weeks. Out of all the attractions currently running, they have an average wait time of about 40-50 minutes each! That's increased greatly since last year and almost to normal levels.
When you compare with the Animal Kingdom for example where the average wait is about 30 minutes, Hollywood Studios feels like a lot. The difference is drastic from morning to the afternoon and evening. Hollywood Studios is significantly busier in the morning, and then things come to a halt in the afternoon.
Not surprisingly, Rise of the Resistance has had the longest average wait times in the park since it's by far the most popular attraction. Average wait times range from 120 to 150 minutes since switching to the standby queue.
After that, Slinky Dog Dash has the next longest wait times and runs between 70-100 minutes on average. Millennium Falcon: Smugglers Run, and Mickey and Minnie's Runaway Railway have the next longest average wait times in the park, both between 60-80 minutes.
The line for Slinky Dog Dash spikes immediately at park open, and so does Runaway Railway which can get as high as 90 or even 120 minutes. Of course, that falls in the afternoon, so it's better to wait.
Just like in the other parks, we've found the actual wait time is slightly lower than what is listed outside the attractions. A 40-minute wait is usually only 30 minutes max on every ride.
Here are some of our thoughts on the changes to the Hollywood Studios attractions and what you can expect as far as wait times when experiencing them.
Rise of the Resistance
A lot has changed with the most popular ride in the world. Rise of the Resistance is now using a standby queue and use of boarding passes has been paused. This is the most popular ride in the park and even at rope drop it can be 2 hours long.
Unless you arrive before rope drop and have a good spot in line, you are going to wait. One alternative is riding at the end of the night instead of rope dropping it. We've found wait times to be 40 minutes long or even less if you make this the last ride of the evening.
Of course, if you aren't planning on sticking around until park close, you will have to wait in line. The only other alternative is to buy an Individual Lightning Lane purchase for it and skip the line. Normally, we don't like spending the extra money and think it's a waste, but it will save some valuable time here.
If you plan on using the Lightning Lane, you need to make this a priority and book it exactly at 7:00 am if you are a Walt Disney World Resort hotel guest.
In the chance this ride goes back to the virtual queue before we can update this article, read our Guide to Rise of the Resistance Boarding Groups and Virtual Queue for all the details and strategies to make sure you get to ride during your visit.
The ground markers in the ROTR queue for distancing are no longer in place.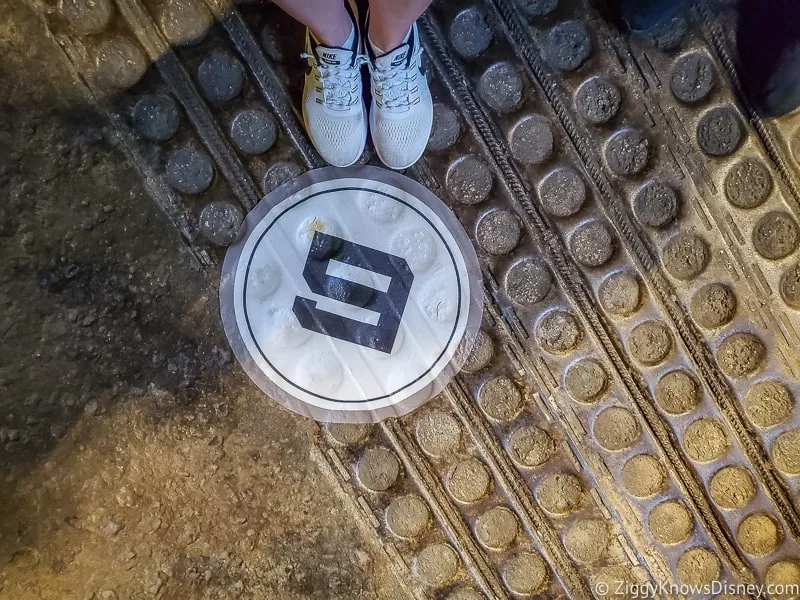 You will, however, still find the plexiglass dividers in the queue.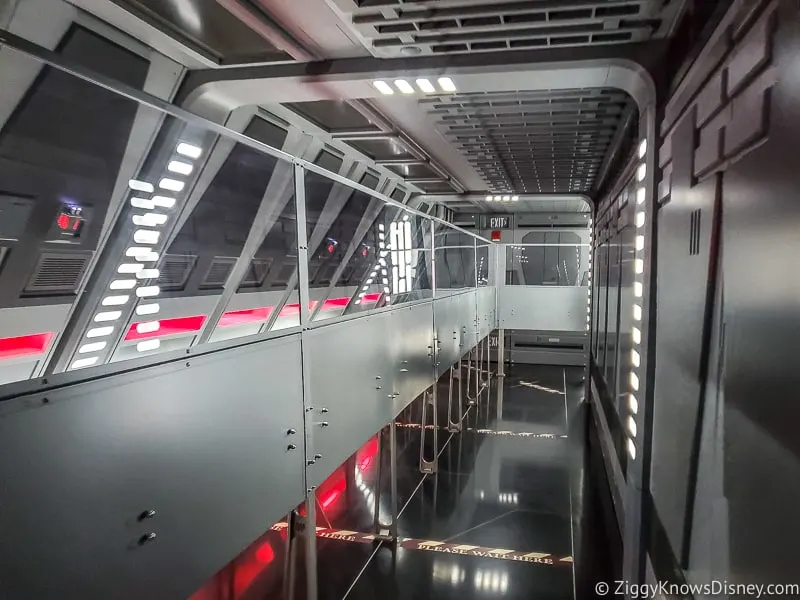 Another big change is that now Disney is loading multiple parties in each ride vehicle. For months they were only loading one party per vehicle and this latest change has helped move the line quicker and increasing ride capacity.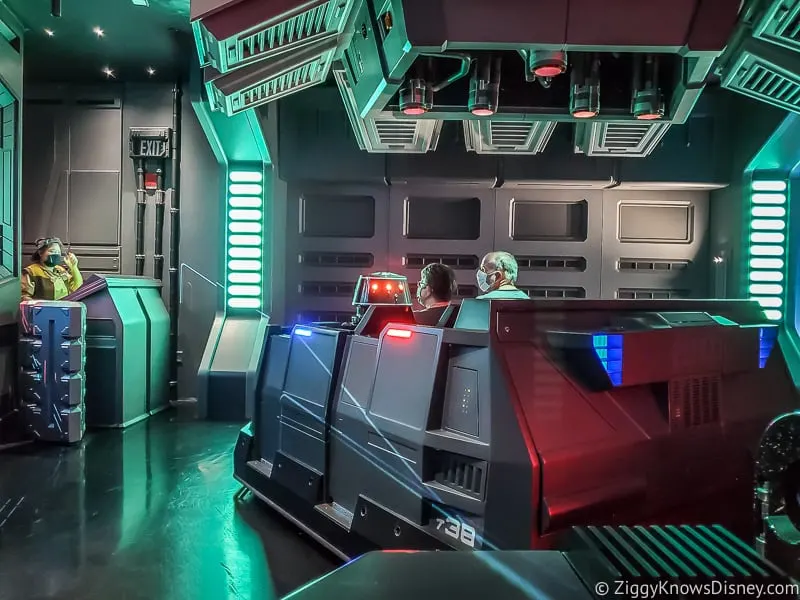 Mickey and Minnie's Runaway Railway
Hollywood Studios' newest ride was only open for a couple of weeks before the park closure, and there have still been long lines to get on it now. Every morning the queue forms outside the front of the Chinese Theater. Disney does a pretty good job of spacing guests and it looks more complicated than it is.
Wait times have been listed as high as 120 minutes, and this is the only attraction in the park that is somewhat true to its listed wait time, instead of overestimating. The best here is to ride later in the day when the wait time drops to 30 minutes or less.
There are also big modifications to the ride queue here with distancing markers everywhere and plexiglass dividers.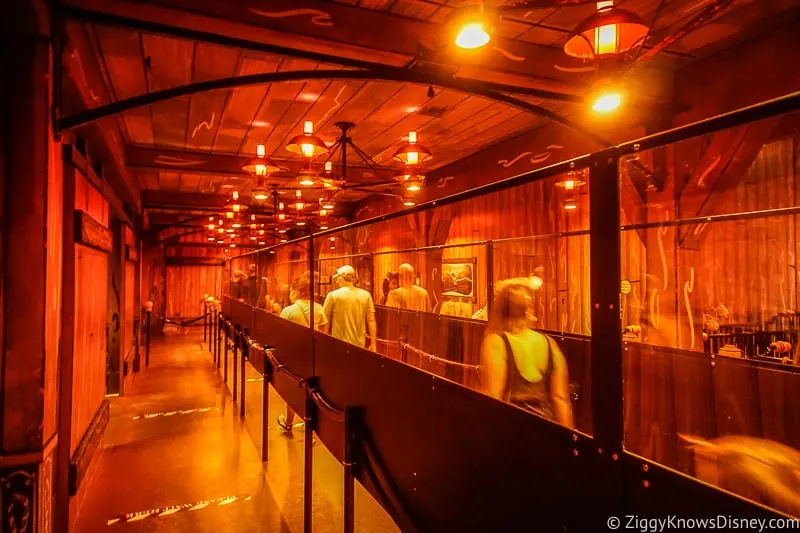 We are happy that the pre-show is back as it really adds a lot to the experience and sets up the attraction quite well. We love the new Mickey short that is normally played and the catchy song "Nothing Can Stop Us Now."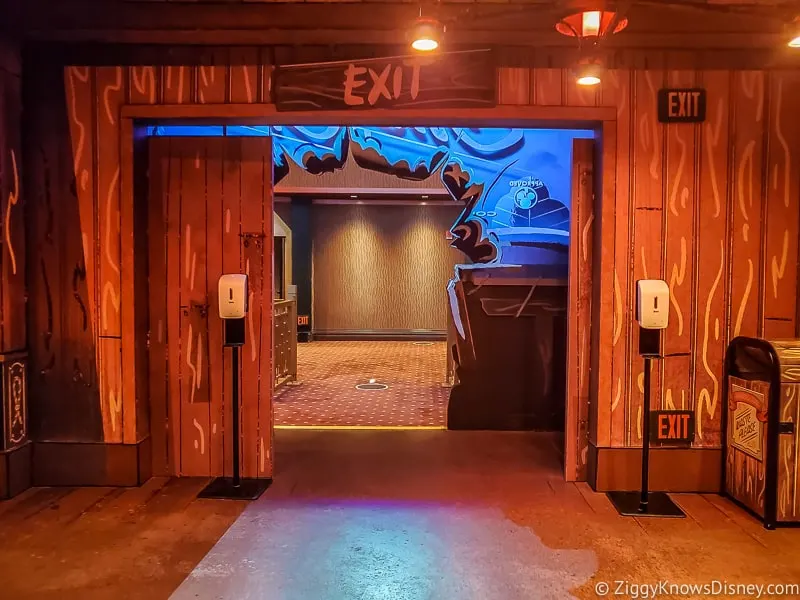 Millennium Falcon: Smugglers Run
Wait times for Millennium Falcon: Smugglers Run are usually 60-70 minutes early in the day, which is about the usual wait time. It has gotten as high as 100 minutes, but those are rare moments in the morning. In the late afternoon and evening, the average is 40 minutes!
Looks are deceiving because even though the line sometimes stretches through Galaxy's Edge, it's all appearance and it moves very quickly.
The ground markers are gone here too, as well as plexiglass dividers.
The cool pre-show with Hondo Ohnaka is now running once again and guests stop in that room to watch him explain the mission.
There are big changes in the cockpit of the Falcon too. Before they were only loading guests into the cockpit who are members of the same traveling party. That was nice because you could choose whatever role you want without taking the role usually assigned to you on the cards.
Now, however, you will be riding with strangers again. This way more guests can ride at a time, as many as 6.
Slinky Dog Dash
Slinky Dog Dash is still extremely popular among guests and guests either run there first if they aren't doing the Runaway Railway. Like Smugglers Run, the queue here is extremely long and wraps back towards the main entrance to Toy Story Land. It also moves very quickly and just looks longer because of its popularity.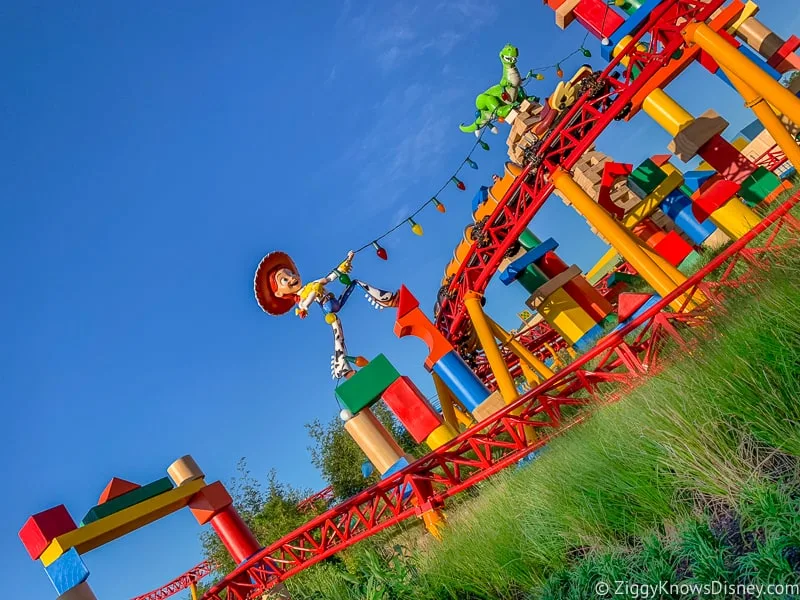 Wait times first thing in the morning can be around 120 minutes, but like the other big attractions, it drops down later in the day. We suggest waiting unless you are going to rope drop it right away.
It's definitely one of the hottest queues in the park with no air-conditioning and we don't recommend going in the middle of the day to avoid the sun.
If you choose to purchase Genie+ while visiting Hollywood Studios, this is a good pick for your first reservation of the day.
The same plexiglass dividers are up here. At least Wheezy is still singing his heart out!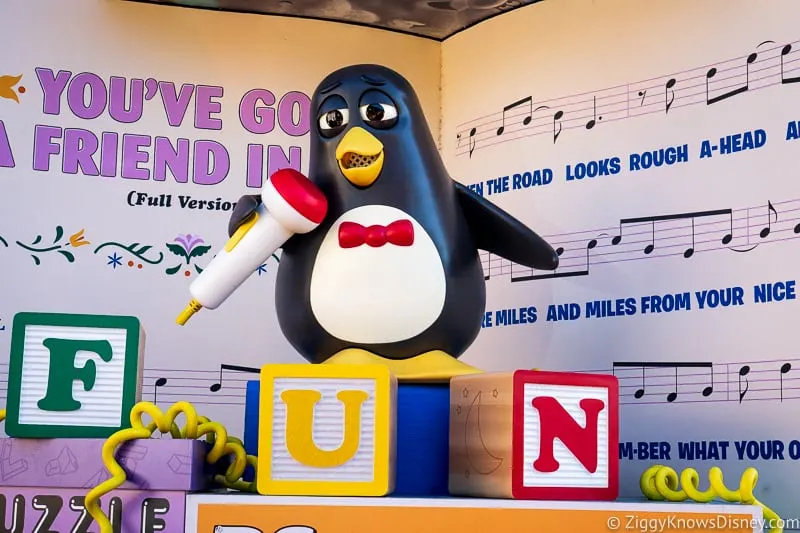 Toy Story Mania!
If you are always trying to break your previous high score on Toy Story Mania!, it might take you a little longer now than a few months ago is a great time to try it. Average wait times are around 60-70 minutes, though late in the day, it is usually around 30 minutes.
Distancing markers have been removed but and plexiglass dividers are still in the stair section of the queue.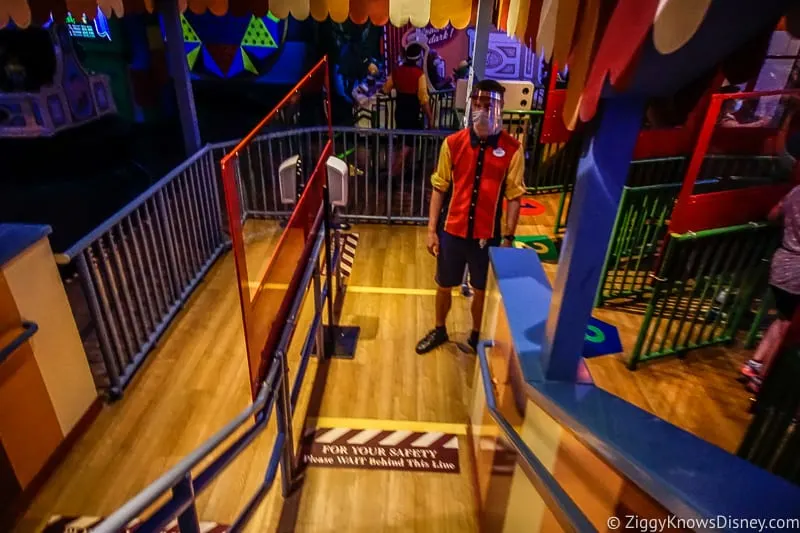 Cast Members are visibly cleaning the cars regularly, and it isn't slowing down capacity at all.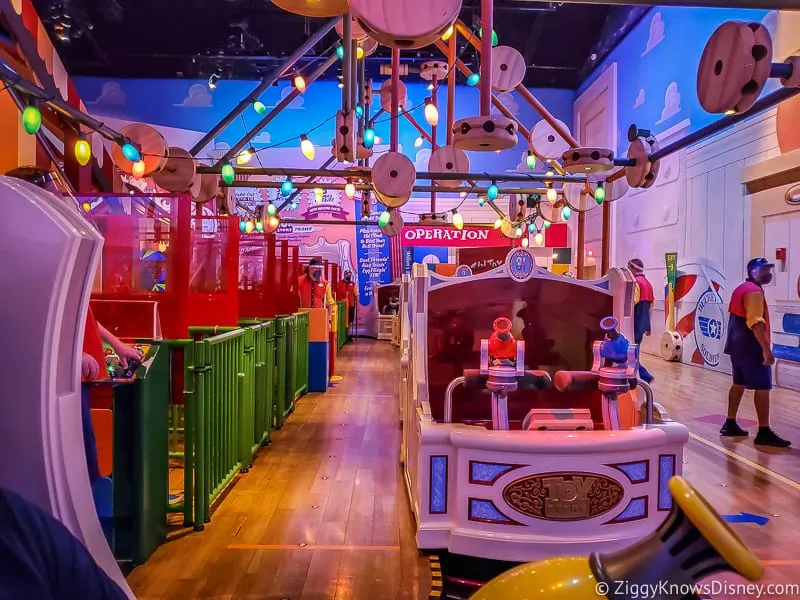 Alien Swirling Saucers
This is our least favorite ride in Hollywood Studios, and with a 40-minute average wait time, we won't be riding any time soon.
Distancing markers have been removed from the queue but the interactive elements are back up and running at this time.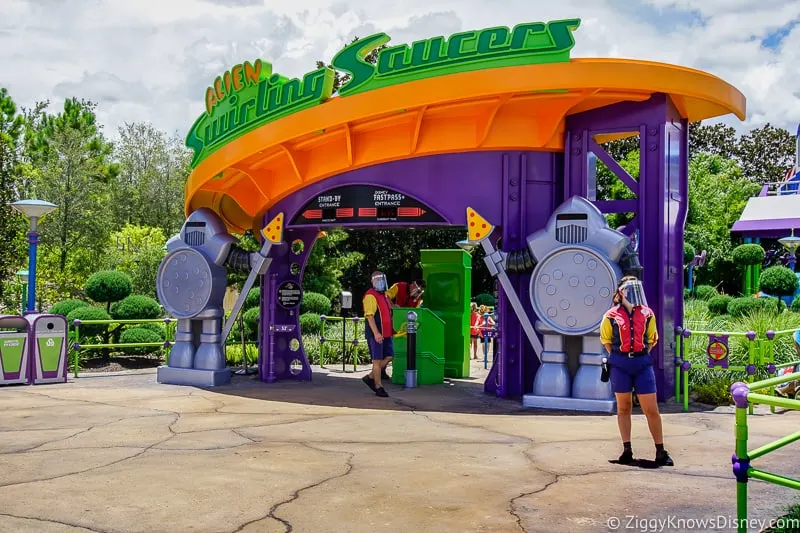 Tower of Terror
Wait times for the Tower of Terror are a lot longer than normal since for much of the year half of the ride system has been under maintenance. It's usually 50-60 minutes but in recent months it's been between 90-120 minutes.
The pre-show is now back which we are really happy about. It definitely sets the mood for the ride, and we really missed it when it wasn't running.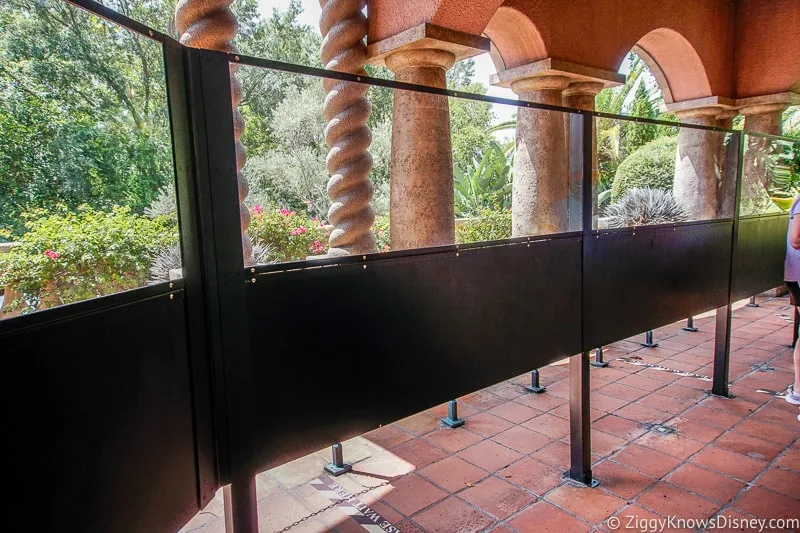 Travel parties are no longer spaced out in the elevator cars and they are each running at full capacity, although not all elevator shafts are working at this time.
Rock 'n' Roller Coaster
There is no Single Rider line right now, so you're going to have to wait in line like everyone else. Wait times for Rock 'n' Roller Coaster are around 60-80 minutes on average, but it feels like a little less. Late in the day is the best time to ride when it falls to only 30-40 minutes.
The pre-show for Rock 'n' Roller Coaster is still operating and all ground markers have been removed.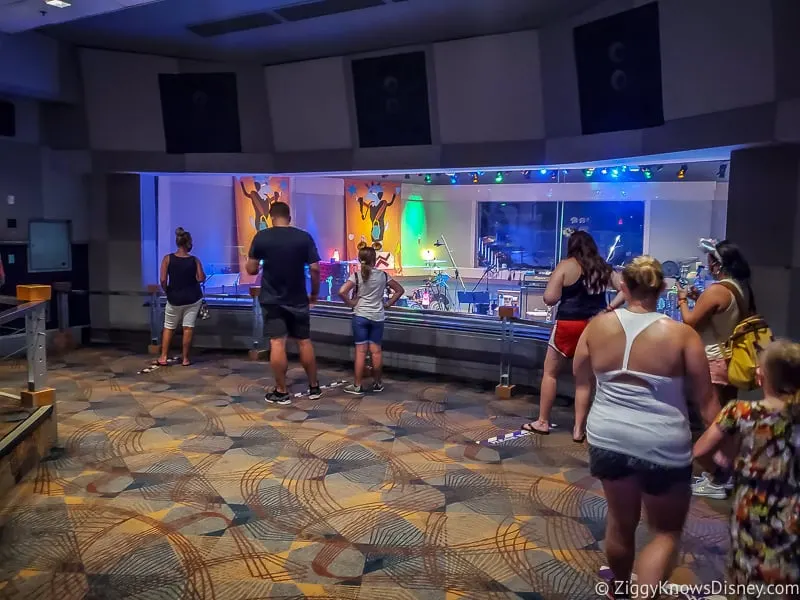 When you get near the loading area, you'll see the plexiglass dividers up.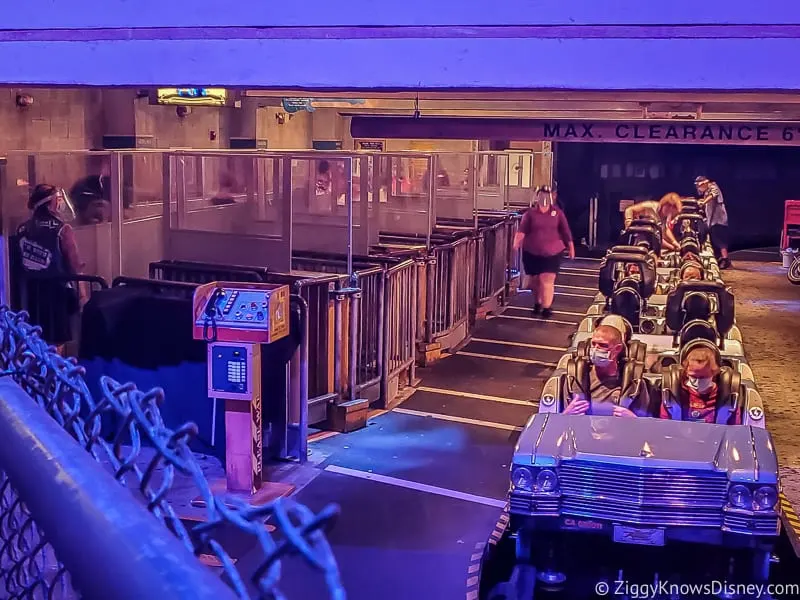 For a while Disney was running the ride with fewer guests in each train, allowing for spacing between rows.
Now, Disney has once again started loading more guests into the ride vehicles and are filling every row. This is one of the hardest rides to keep your mask on for, so make sure it's fastened tightly so you don't lose it!
Star Tours – The Adventures Continue
Star Tours: The Adventure Continues has one of the shortest wait times in Hollywood Studios and averages right around 30-40 minutes.
Distancing markers have been removed throughout the queue, as have the plexiglass dividers in the actual ride vehicle between seats. This means travel parties are no longer separated into groups.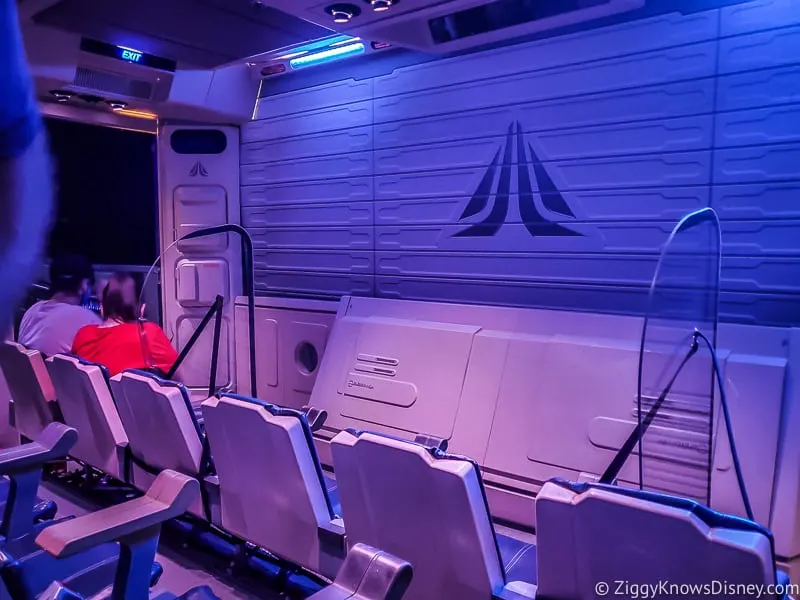 Muppet*Vision 3D
As far as wait times, not much has changed with MuppetVision 3D. Before it averaged just over 10 mounts and that's the same as now.
When you enter the pre-show, these ground markers have been removed.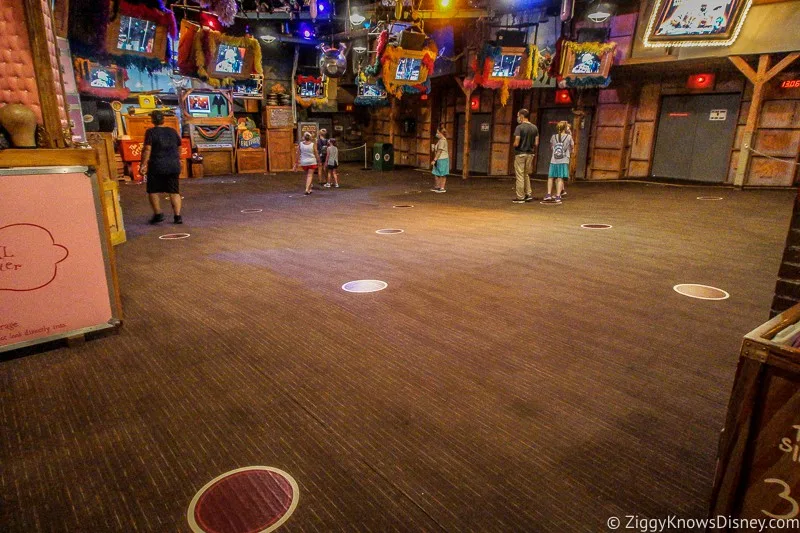 Inside the theater, all the seats are now available once again and the blocks on certain seats and rows have been removed.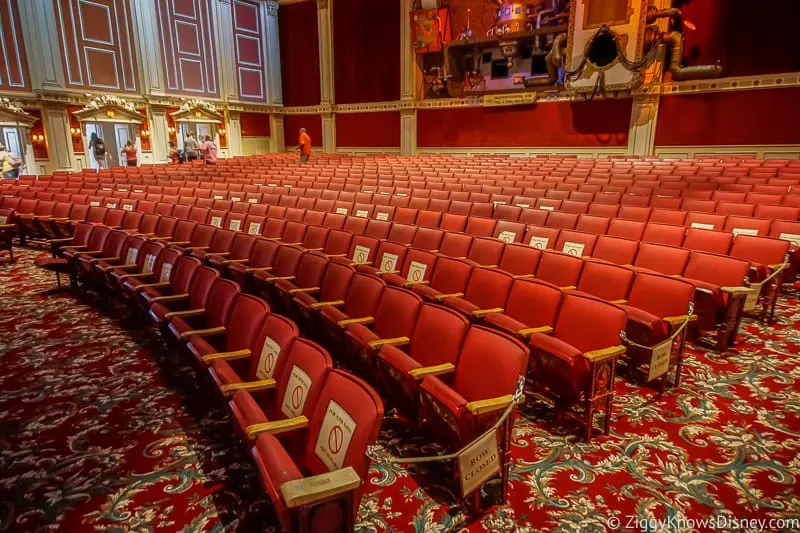 Entertainment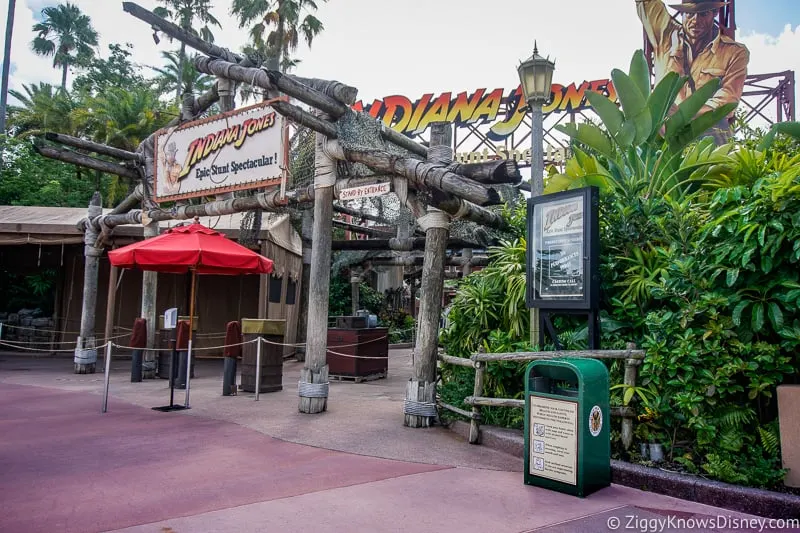 I'm sure you've heard the entertainment offerings for all the parks are extremely different at the moment, and in the case of Hollywood Studios, they have been fewer than the other parks.
First of all, character meets are now back in Disney World, which is a huge improvement. You can once again get their autographs and hug them! This is big for families with kids as seeing the characters is always one of the more popular activities.
Disney has also introduced new Character Cavalcades in each park, and in Hollywood Studios, it's actually three separate motorcades that ride down Hollywood Blvd carrying your favorite characters. Included are Mickey and Friends, Pixar, and Disney Junior Stars.
Over in Galaxy's Edge is your other opportunity to see characters. Your favorites from both The Resistance and The First Order can be found above the speeder garage and interact with guests from a distance.
The stage shows have been improving, with many more open now.
Here is a list of the Hollywood Studios Entertainment you can expect to see during your visit and also what's not opening at this time…
What's Open
Character Cavalcades throughout the day, with favorite Disney friends appearing along Hollywood Boulevard—including:

Disney Junior Stars Motorcade (Discontinued)
Mickey & Friends Motorcade (Discontinued)
Pixar Motorcade

Beauty and the Beast – Live on Stage
Disney Junior Play and Dance
Disney Movie Magic
For the First Time in Forever: A Frozen Sing-Along Celebration
Indiana Jones Stunt Show
Wonderful World of Animation
What's Not
Citizens of Hollywood
Fantasmic!
Jedi Training: Trials of the Temple
Star Wars: A Galactic Spectacular
Voyage of the Little Mermaid
Our Thoughts
By far the park that is suffering the most from a lack of entertainment options is Disney's Hollywood Studios. While it's true that parks like the Magic Kingdom of Animal Kingdom might not have many more options, Hollywood Studios' small number of attractions makes the difference felt even more.
Some of the normal stage shows are currently closed including the Voyage of the Little Mermaid, which is rumored to be shuttered for good and not coming back even when the others do. On a positive note, Indiana Jones Stunt Show Spectacular came back in December which has given the park a nice boost.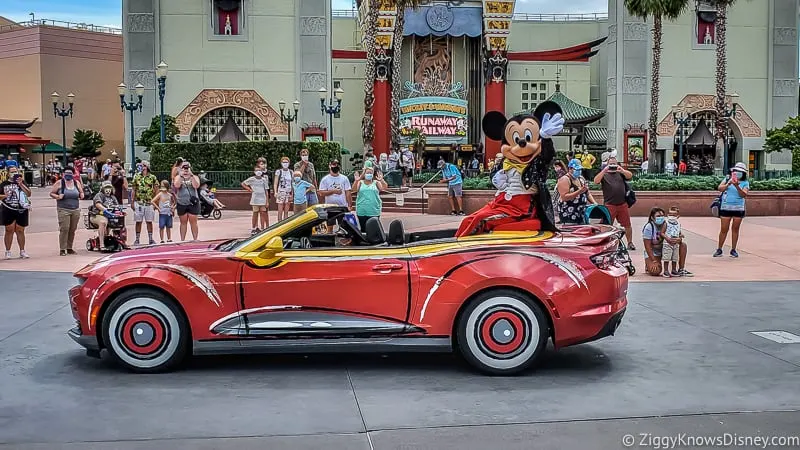 We also have seen the return of Beauty and the Beast – Live on Stage and For the First Time in Forever: A Frozen Sing-Along Celebration which have helped improve the entertainment lineup.
Fans of Disney Junior will like the "Disney Junior Play & Dance!," a temporary distanced show replacing the normal Disney Junior Dance Party!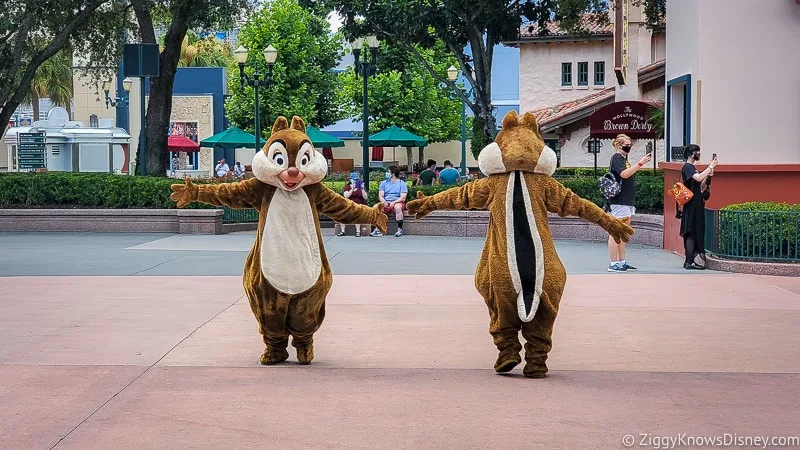 Though fireworks shows are now back at the other parks, you won't find many in Hollywood Studios. Right now there is no Star Wars: A Galactic Spectacular for the time being, while the Wonderful World of Animation and Disney Movie Magic are light on fireworks.
Read our post on "When are fireworks coming back to Disney World?" for more info.
We did get the good news recently that Fantasmic! is coming back in 2022 which should do a lot to increase entertainment offerings in the park.
Another huge difference right now is that character meets are now running. We love that we are once again able to hug our favorite characters and it does a lot to bring back the whole "Disney World-feel" into the parks. Read our guide to character meets coming back to Disney World for more info.
To supplement them in Hollywood Studios there are the new Character Motorcades which are similar to the ones in the other parks, but here the characters come down Hollywood Blvd in cars or on foot instead of on parade floats.
There are also special Christmas Character Motorcades going on during the holiday season with the characters dressed up in Christmas outfits. There is a Santa Claus motorcade too.
Our favorite one in Hollywood Studios is the Pixar Motorcade which has our favorite characters from Toy Story, The Incredibles, and Monsters Inc. Unfortunately, the Mickey and Friends Motorcade is no longer running at this time.
We can honestly say we enjoyed them all though and think they are a good addition. We wouldn't mind if they stay around, especially in Hollywood Studios even after the parks go back to normal.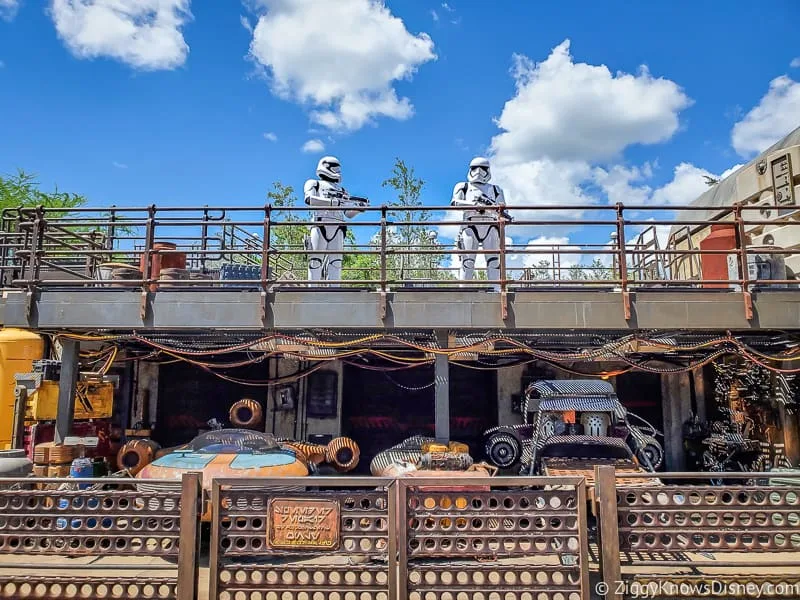 Don't forget to check out all the Star Wars characters in Galaxy's Edge.
Both Resistance and First Order characters are located at the Speeder Garage throughout the day including Chewbacca, Rey, Kylo Ren, Vi Moradi and Stormtroopers still can be seen walking around at safe distances from the guests.
More are also coming back to the Star Wars Launch Bay including Darth Vader, Chewy, and BB-8.
To learn more about how to find all the characters now, read our guide to the Disney Character Cavalcades in the Disney Parks.
Restaurants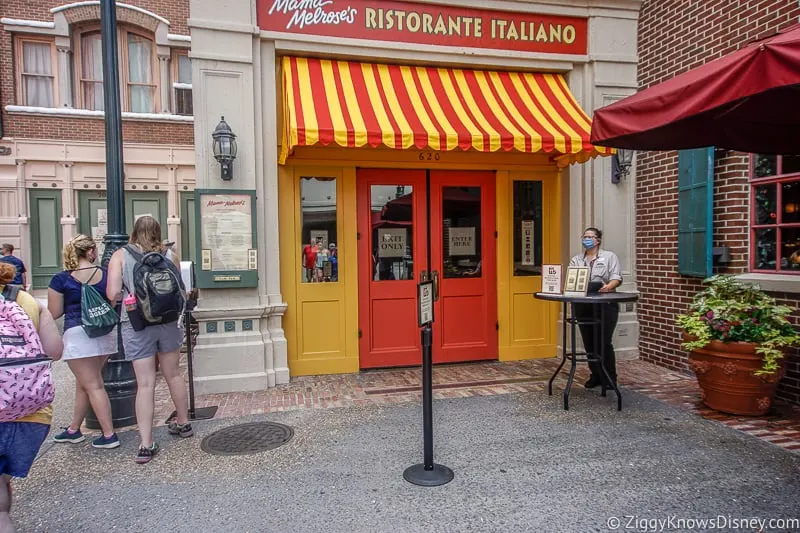 As we mentioned earlier, not all dining locations are currently open in Hollywood Studios, but almost all of them are now back!
What's Open
Right now there are 29 restaurants open in Disney's Hollywood Studios including table service, quick service, lounges, and snack carts.
ABC Commissary
Anaheim Produce
Backlot Express
BaseLine Tap House
Catalina Eddie's
Dockside Diner
Epic Eats
Fairfax Fare
Hollywood & Vine
The Hollywood Brown Derby
The Hollywood Brown Derby Lounge
Hollywood Scoops
Joffrey's Coffee & Tea Company
Kat Saka's Kettle
KRNR The Rock Station
Mama Melrose's Ristorante Italiano
Market
PizzeRizzo
Rosie's All-American Café
Sci-Fi Dine-In Theater Restaurant
Sunshine Day Bar
The Trolley Car Café
Tune-In Lounge
Make sure to consult our post on the Best Hollywood Studios Restaurants so you know exactly where to go and what to order.
What's Not
Right now there is only 1 restaurant in Disney's Hollywood Studios that are not open:
The restaurant we are most happy about seeing return is Woody's Lunch Box. It's still one of our favorite quick service locations and Toy Story Land finally has something to eat once again!
Hollywood & Vine also reopened which means there is now a character meal in the park once again. Two of our favorite places for sweets have also returned in Epic Eats and Hollywood Scoops.
Our Thoughts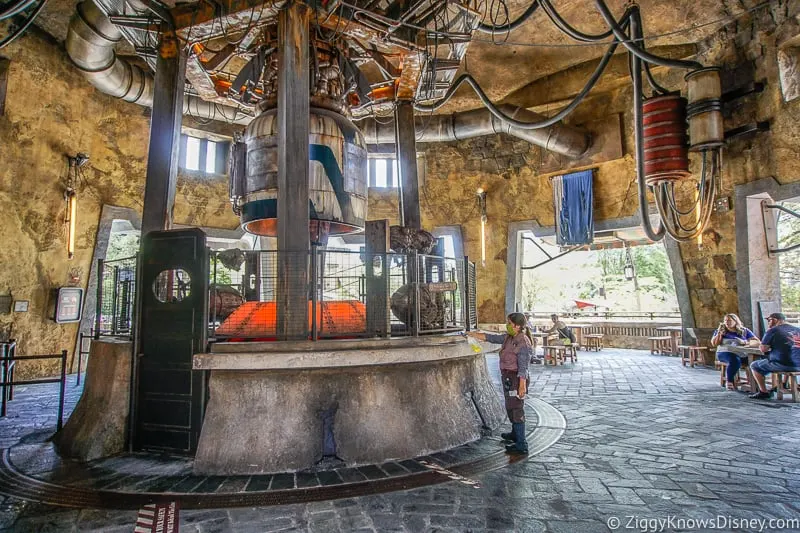 Overall, we're pretty happy with the selections of restaurants that are open right now. The table service restaurants are strong with Mama Melrose's Ristorante Italiano, Sci-Fi Dine-In, 50's Prime Time, and the Hollywood Brown Derby all open.
The open quick service selections are decent too with the majority of them now back and running. If anything I would close a place like PizzeRizzo in place of any other quick service since it is the worst one at Hollywood Studios.
Most of the dining locations have done a good job handling the new safety measures, and are fairly efficient. Using Disney's Mobile Ordering system is highly recommended by Cast Members, and we have had nothing but good experiences with it, making ordering food very convenient. You should be using it, safety measures or not.
The tables are well-spaced in all restaurants, and we didn't feel that other guests we too close to us at any time.
Oga's Cantina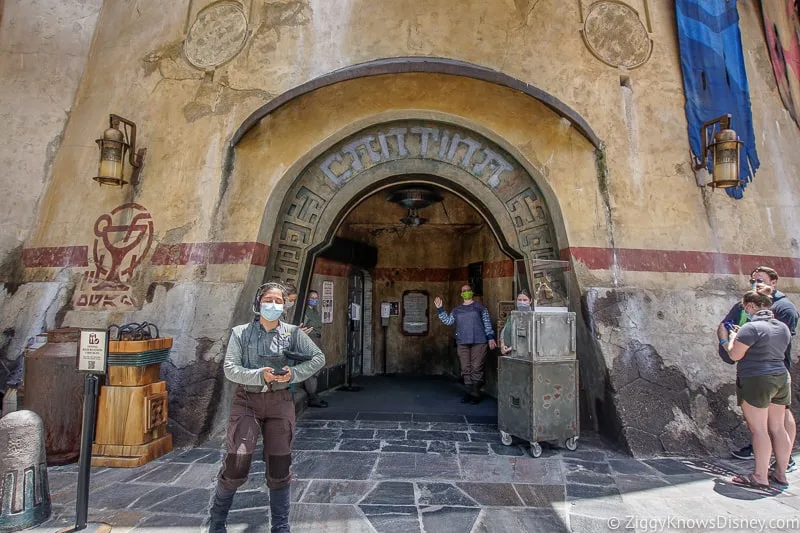 Oga's Cantina is our favorite bar in Disney World, but the experience is a lot different than what you might have experienced in the past. There are no walk-ins right now so you must have an advanced dining reservation, which you can do online as always.
The bar itself feels less crowded when compared to how packed it normally is. That buzz that's normally in the air is slowly coming back and should get better once capacity is 100%.
Standing is now permitted at the bar but guests have to keep their masks on until their drinks are served. They also are being very strict about the 45-minute time limits since they are allowing fewer guests at a time.
Hollywood Brown Derby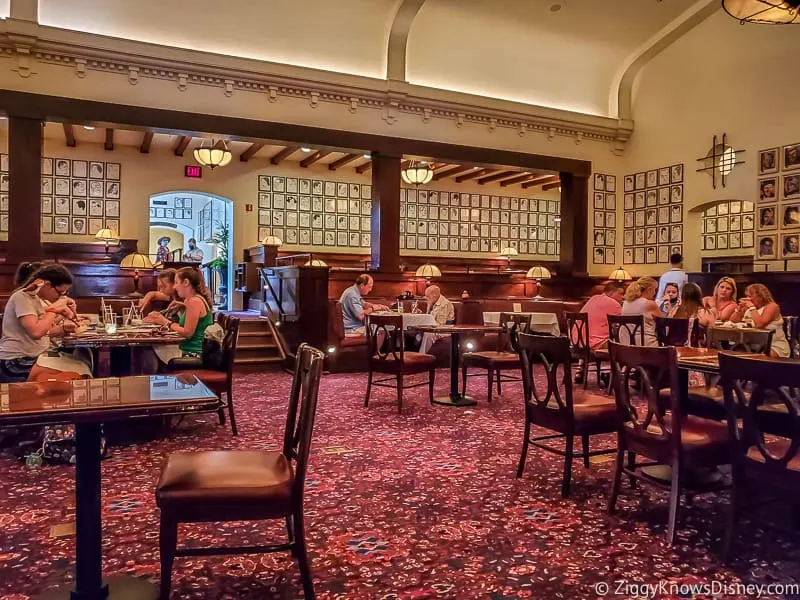 We also visited the Hollywood Brown Derby, which like all restaurants has a limited menu. It was delicious as always though and remains our favorite sit-down in the park. The actual nice thing is it seems like you are getting more attention now with fewer guests in the park, and we felt our meals just had a little extra touch to them.
We also liked the QR code menus which allow you to see the menu on your phone.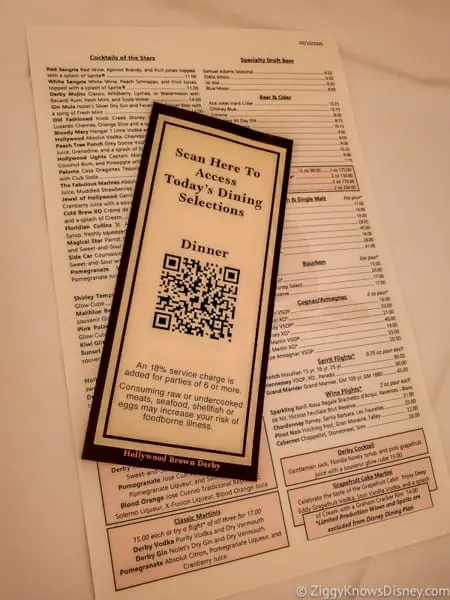 Ronto Roasters
Not much has changed at Ronto Roasters except the Cast Member at the line entrance directing guests to use Mobile Order. The Ronto Wrap is still one of our favorite snacks at Hollywood Studios!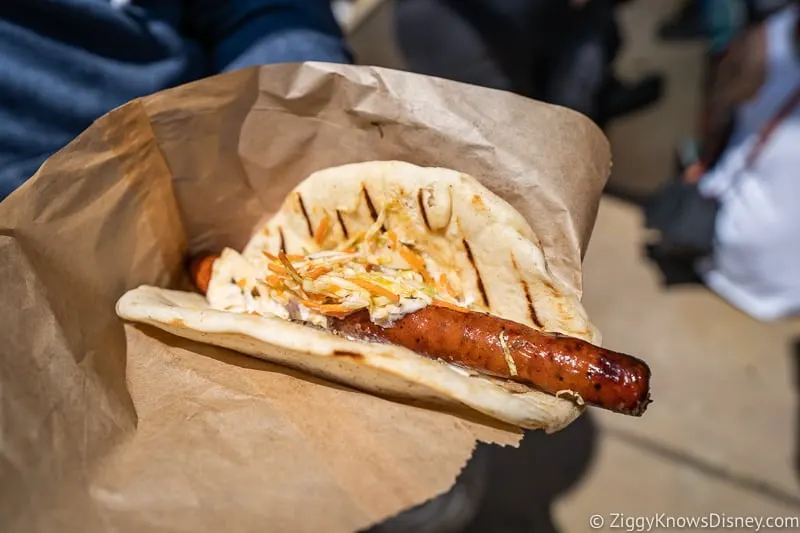 Docking Bay 7 Food & Cargo
Docking Bay 7 is basically back to normal. The distanced queue is gone and all the tables are once again available. Guests must still use Mobile Order-only and unfortunately, the popular Galaxy's Edge Sporks are also not available at the moment.
Milk Stand
The queue is distanced at the Milk Stand, but nothing has changed on the menu. One funny touch is the Cast Members here wearing blue and green face masks that go along with the flavors of milk sold here.
For more info about the changes to dining right now, read our post about Disney World Restaurants after reopening.
Shops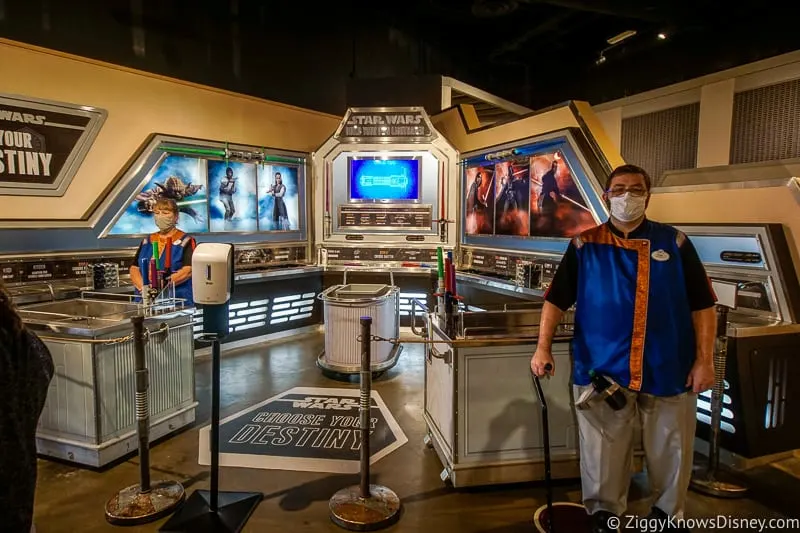 The following shops are open in Hollywood Studios:
Celebrity 5 & 10
Crossroads of the World
In Character
Legends of Hollywood
Mickey and Minnie's Runaway Railway
Mickey's Of Hollywood
Movieland Memorabilia
Once Upon A Time
Sid Cahuenga's One-of-a-Kind
Rock Around The Shop
Rubio Arts
Strollers & Wheelchairs
Tatooine Traders
The Market
Tower Hotel Gifts
Toy Story Mania Shop
Droid Depot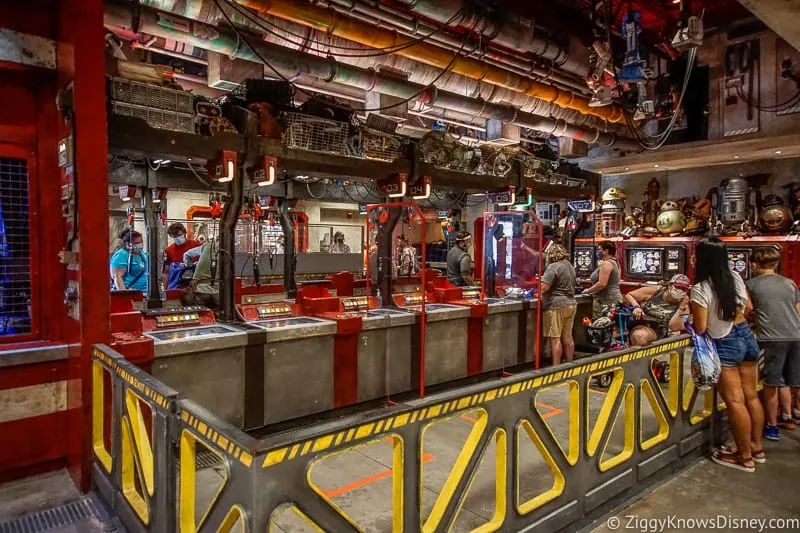 Everything about the droid-building experience in the Droid Depot is pretty much the same with only a few small changes.
Cast Members now help guests choose their droid parts instead of going up to the conveyor belt themselves. There are distance markers on the ground and dividers between the assembly stations while building your droid.
Dok Ondar's Den of Antiquities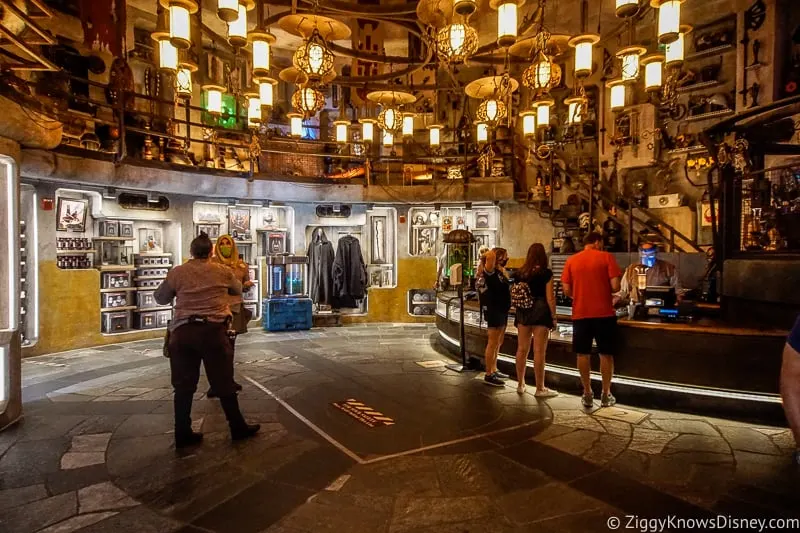 The lines have returned once again to Dok Ondar's Den of Antiquities, which remains the most popular store in the park. Starting outside the shop, guests form a line that runs all the way down to the main walkway in Galaxy's Edge.
The above photo is from when the entrance was restricted to only a few guests at a time, but now it's no longer like that and there are dozens of people waiting to get a look at the lightsabers.
This is our favorite store in the Disney Parks and we're happy the famous Legacy Lightsabers are now back after being temporarily moved to Savi's Workshop.
Savi's Workshop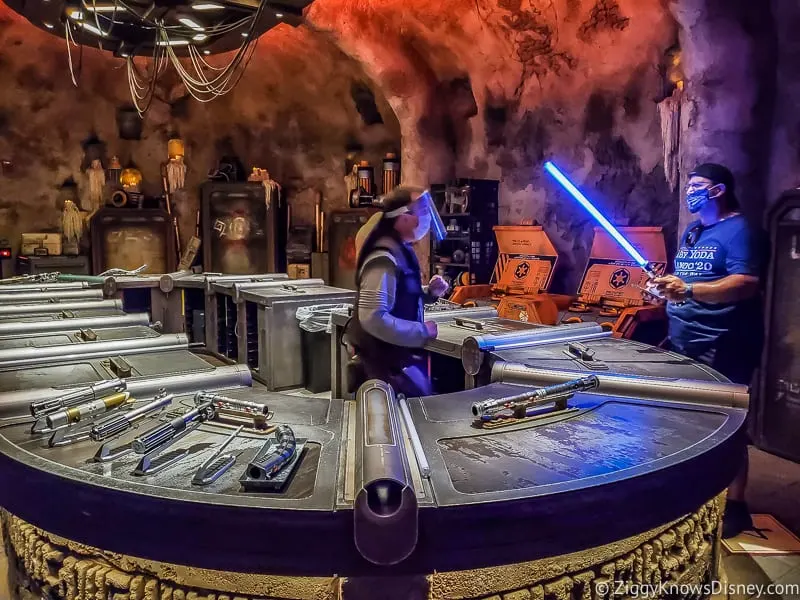 Thankfully, the lightsaber-building experience has now reopened at Savi's Workshop. The space was closed for months since it was too hard to safely run the show with that many people. The legacy lightsabers usually on display at Dok Ondar's were moved here temporarily to keep the space open.
Instead, Disney decided to reopen the traditional Savi's Workshop experience once again and everything is running smoothly.
Relaxation Stations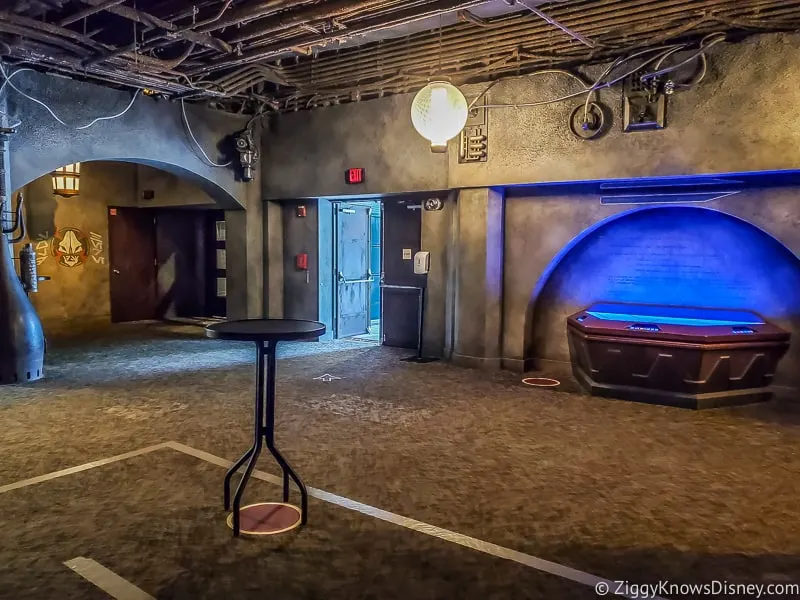 (UPDATE) Disney has since discontinued the relaxation stations in the parks.
As you know, one of the big changes in the parks is the mandatory face mask requirement for guests and Cast Members. The idea of wearing one all day long is certainly not the most magical idea, however, there are certain designated areas in each park where guests can go mask-free.
Guests are not required to wear a face covering in any outdoor area, while eating or drinking or when in designated relaxation zones.
These zones are called: "Relaxation Stations" and there are 2 locations in Disney's Hollywood Studios:
Star Wars Launch Bay (Animation Courtyard)
Near Rise of the Resistance (Star Wars: Galaxy's Edge)
Of the two locations, we prefer the one in Star Wars: Galaxy's Edge since it is outside and if we have to take off our mask it seems like the better choice.
You can take off your masks inside the Star Wars Launch Bay, but if you want to walk around and look at the memorabilia, you need to put your face covering back on.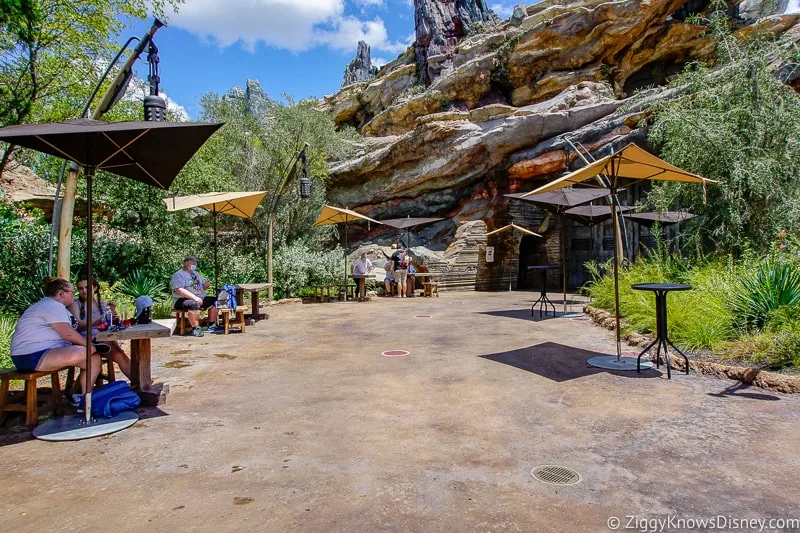 Masks are required in all indoor areas of the parks even when riding attractions. The only exception is when you are outdoors or indoors at a restaurant.
For the most part, we've seen total compliance to these rules in Hollywood Studios, just like in the other parks. There are special Disney Cast Members that go around and warn people if they notice they aren't wearing a face-covering properly, so overall we felt very safe.
To learn more, read our article on Face Masks at Disney World – FAQs and Tips, where we explain everything you need to know about them.
Construction in Hollywood Studios in 2022
2018 and 2019 were huge years in the reconstruction of the park, but thankfully, construction in Disney's Hollywood Studios has come to an end for the time being.
The closest project nearby is the highly anticipated Star Wars: Galactic Starcruiser hotel which was recently built across the street. While not physically connected to Hollywood Studios, guests there will take excursions over to Galaxy's Edge for unique storytelling experiences.
There are rumors of another future expansion to the park, but given the new financial situation of the company, that is years away. Stay up to date with all the construction projects in Disney World here including opening dates.
Transportation to Hollywood Studios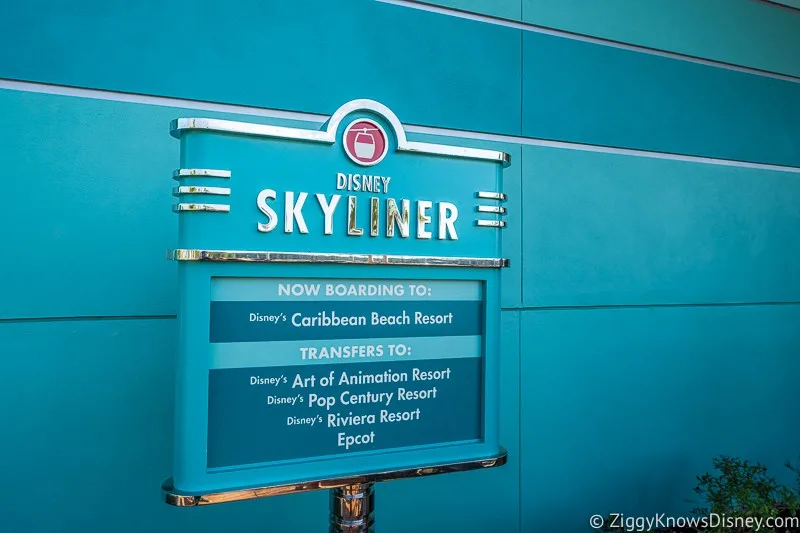 There are a few options for transportation to Hollywood Studios depending on where you are coming from.
Arriving by car is always an option if you are a local or staying at a hotel off-site.
As for Disney transportation, buses are the best option if you are coming from a hotel outside the EPCOT area. Be mindful of the new safety measures on the buses with no standing-room and many seats off-limits to increase distancing.
TIP: Plan on leaving your hotel a good 1 to 1 1/2 hours before your desired arrival time when taking the bus if you are trying to get a boarding pass for Rise of the Resistance in the morning.
The Disney Skyliner is back in action and is the most convenient and fun way to get to Hollywood Studios if you are staying at the Disney Riviera Resort, Pop Century, Caribbean Beach, or Beach Club. Gondolas are limited to one party at a time.
If you're staying at an EPCOT-area resort hotel, the Friendship Boats are a convenient way of arriving at Hollywood Studios.
If you want to get some exercise, you can walk to Hollywood Studios from the Swan & Dolphin, Boardwalk Inn, or Yacht and Beach Club in approximately 15-20 minutes.
Your only other Disney-run transportation methods of getting to Hollywood Studios are Minnie Vans, which are currently running once again.
Read our post on Disney World Transportation changes where we explain everything you need to know.
Best Hotels to Stay for Going to the Hollywood Studios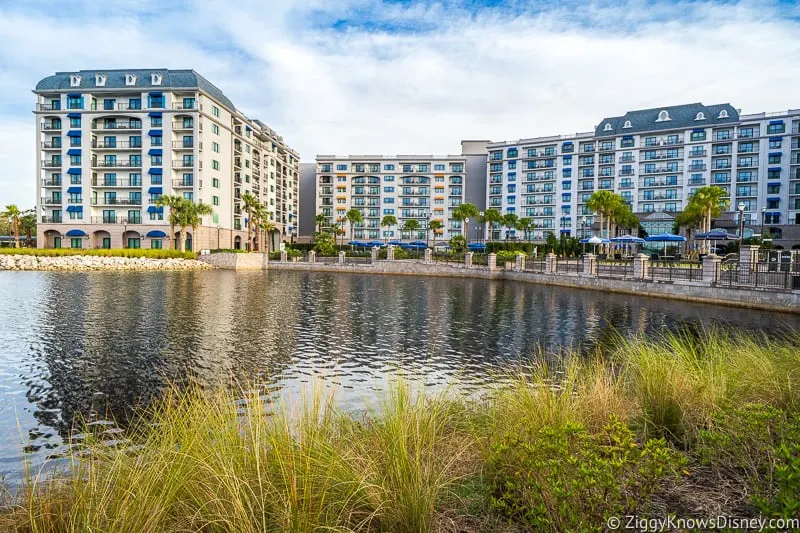 For staying close to Disney's Hollywood Studios there are plenty of options. You can't go wrong at one of the Disney Skyliner hotels, and that is both the easiest way of getting to the park and the most fun!
The Boardwalk Inn Resort is the best if you want to walk and depending on where your room is located it will talk you only 10-15 minutes max. Walking is also possible from Swan & Dolphin and the Yacht & Beach Club Resorts.
Honestly, I don't know that it's really necessary to stay close to Hollywood Studios at this time. You can easily ride all the attractions in one day right now, and even multiple times.
The only reason I would stay close to Hollywood Studios is if I were going multiple days to be sure to get on Rise of the Resistance. Since boarding groups are so limited right now, it's not out of the question that you aren't able to get one on your first try, so going twice gives you more security.
If you aren't worried about that, then Hollywood Studios is a one-day park until the entertainment options come back.
Read more about staying at a Disney World Hotel after reopening in our recent post where we cover all the details.
Hollywood Studios Crowds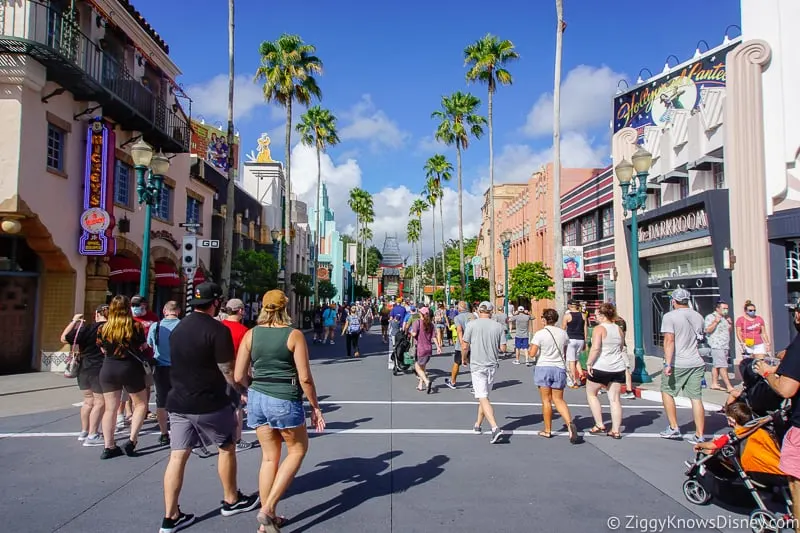 The crowds in Hollywood Studios have been an outlier to the other 3 parks in Walt Disney World during the reopening period. While at times the other parks have all felt well spaced-out and even empty, Hollywood Studios is the only park that has always felt like normal crowd levels.
There are multiple reasons that crowds are higher in Hollywood Studios than in the other parks. For one, Rise of the Resistance and Galaxy's Edge have remained extremely popular among guests visiting Walt Disney World.
This landmark new attraction was only open for a few months before the park closure happened, so even some locals haven't had a chance to ride yet. Hollywood Studios always is the first to sell out of Park Pass reservations, so the demand is definitely still there.
Hollywood Studios' layout is also terrible and makes the park feel like there are more people than there actually are. This is compounded by the lack of entertainment and shows which normally suck up a large portion of the guests wandering in the park. All these factors lead to the feeling that Hollywood Studios is very crowded.
There are however two sides to the Hollywood Studios crowd levels and depending on what time of day you go, you will get two totally different experiences.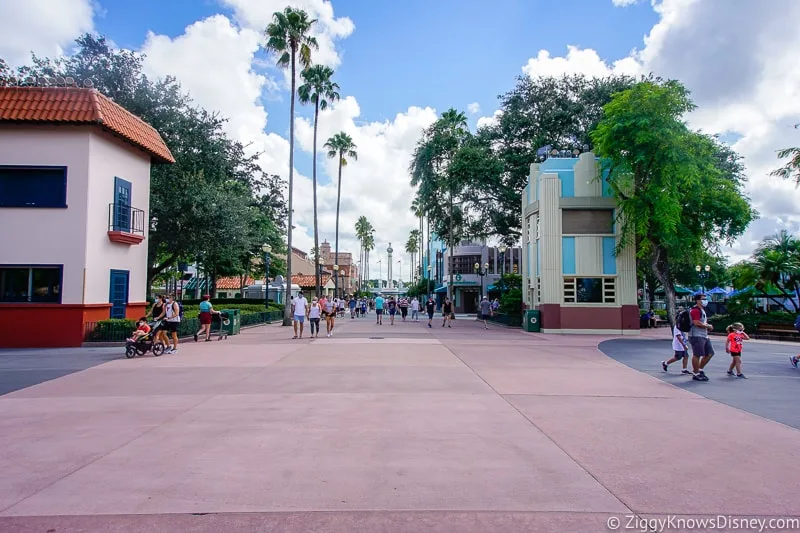 Peak crowds hit Hollywood Studios each day in the morning, right at park opening. There is a massive rush of guests before park opening who are trying to get boarding passes for Rise of the Resistance. Wait times for all rides are at their highest each day within the first hour or two.
After the morning rush things get significantly quieter. If you are coming into the park in the mid-afternoon, you'll notice more people leaving than going in. This is because people come for RotR, do a few more rides, and then leave. Mickey and Minnie's Runaway Railway and Slinky Dog Dash have especially long lines in the morning.
Instead, if you visit Hollywood Studios in the afternoon, you will find the polar opposite of the scenario I just described. From early-evening until park closing, Hollywood Studios appears significantly more less crowded most of the time. All wait times drop dramatically and many E-Ticket attractions have a 40-50 minute max wait time. Sunset Blvd and Echo Lake look empty at times.
If you are nervous about crowds right now, then our advice is either to skip Hollywood Studios or go only in the afternoon when there is much more space on the pathways and guests grouping up is non-existent.
Check our Disney Crowd Calendar for a closer look at crowd expectations for the rest of the year and beyond in all the Disney World parks.
Touring Tips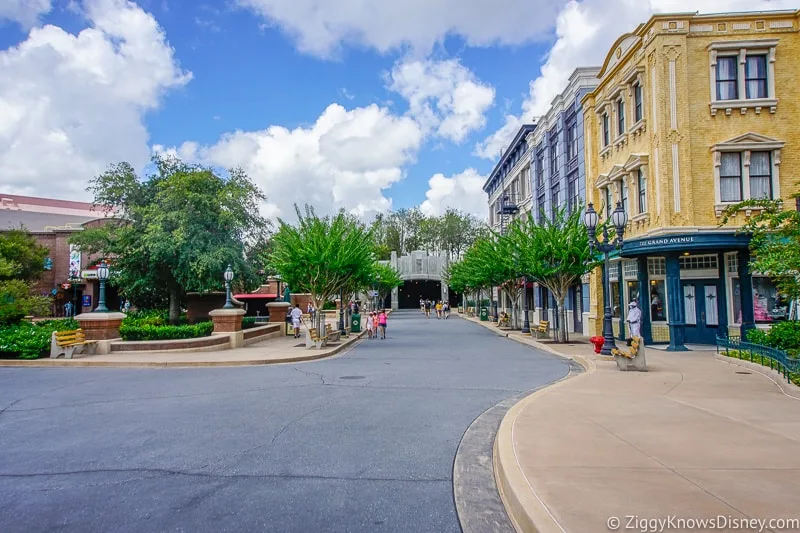 Here are the most important tips to keep in mind when touring Disney's Hollywood Studios during this reopening phase.
Rope Drop Still Important
Now with Rise of the Resistance having switched over to the standby queue instead of the virtual queue, the reality is you still need to go in the morning if you want to have the best chance of riding it.
If you think you can show up and 10:00 am and waltz into the line, think again. By that time the queue will be close to 2 hours long and you will waste precious time in line.
You have two options if you don't want to wait long, either show up for rope drop, or plan on riding this later in the day at park close.
We still highly recommend doing rope drop if you are trying to get the most amount of attractions done in the day. We recommend arriving no later than 45 minutes before park opening to give yourself a chance to go through security, etc.
If you are not interested in Rise of the Resistance, we recommend rope dropping Slinky Dog Dash since that has the second-highest wait times in the park. Knock one of those two out first and proceed to the other E-ticket attractions like Mickey and Minnie's Runaway Railway, Tower of Terror, Rock 'n' Roller Coaster, and Millennium Falcon: Smugglers Run.
Go a Different Way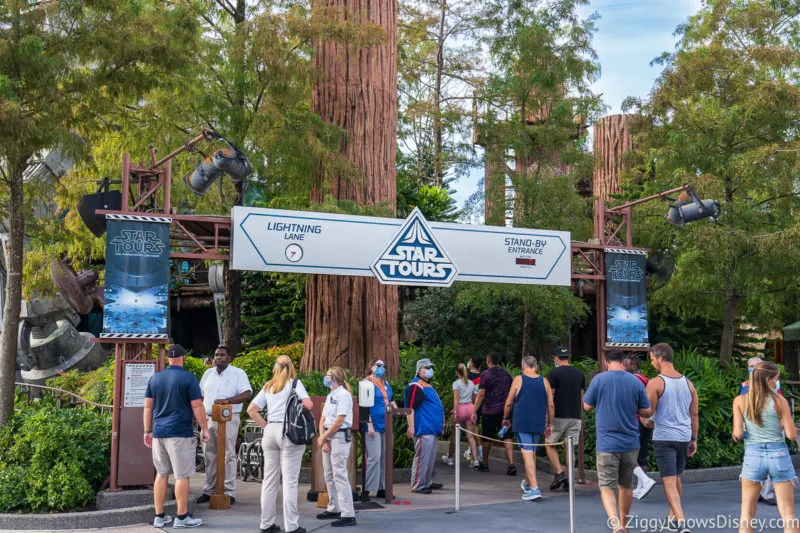 Another strategy in Hollywood Studios is not following the normal rope drop path that everyone else takes. This means doing some of the less popular attractions first while waiting to ride Rise of the Resistance.
Some options include Star Tours, MuppetVision 3D, Toy Story Mania!, Alien Swirling Saucers, Smugglers Run or heading to Sunset Blvd and doing Rock 'n' Roller Coaster and Tower of Terror right away.
Not using Genie+ here hurts the most and people definitely run to the most popular attractions first. That means since everyone goes to Slinky Dog and Mickey and Minnie's Runaway Railway at opening, those are going to have the longest lines in the morning.
Those lines get gradually lower as the day goes on, so if you aren't in the first group to ride those, it might be better waiting until the afternoon.
This advice is definitely true if you don't show up early. Wait until the afternoon and do all the less popular attractions first. You can also get a table service meal at lunch instead of dinner when the wait times are much lower for everything.
Late Arrival Strategy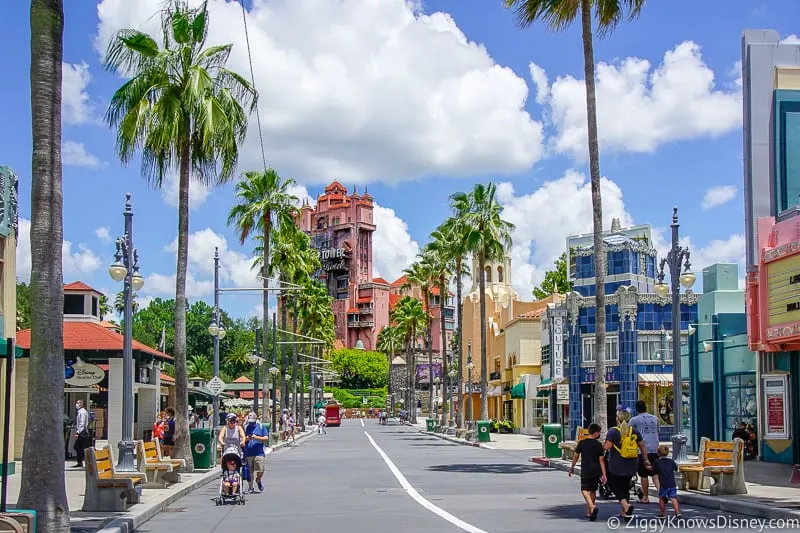 If you aren't interested in riding Rise of the Resistance, planning a late arrival is our favorite Hollywood Studios strategy at the moment. We recommend arriving between 3:00-4:00 pm for best results.
Since the majority of people have left for the day by the late afternoon/evening, you will be able to tour the entire park in about 4-5 hours if you want to. Even Mickey and Minnie's Runaway Railway drops from about a 2-hour wait in the morning to 30 minutes in the last hour or two every day. Most of the other rides will be in the 20-30 minute range.
This can even work for Rise of the Resistance as you can make it the last ride of the day. Often the wait times will be 30-40 minutes by then, much better than 1-2 hours during the day.
Overall, it's a much less stressful park experience. It gives you lower wait times, lower temperatures at the end of the day, and fewer crowded situations that we find it's definitely worth considering.
Best Park for Weekends
If you are visiting multiple parks during your visit, we recommend scheduling Hollywood Studios for the weekend and the other parks during the week.
The reason behind this is simple. All the parks have attendance limits, but not all the parks actually hit those limits each day. The only exception is Hollywood Studios which is always full. Normally, the parks would have higher attendance on the weekends with locals coming, but Hollywood Studios is full every day.
Why go on the weekend then? The benefit comes if you are also planning to go to the Magic Kingdom, EPCOT and Animal Kingdom.
Those parks don't hit the max capacity during the week, but they are significantly more full on the weekends. So it doesn't make sense to do those three on Saturday or Sunday if you can do them during the week. Instead, use the weekend for Hollywood Studios.
Be Patient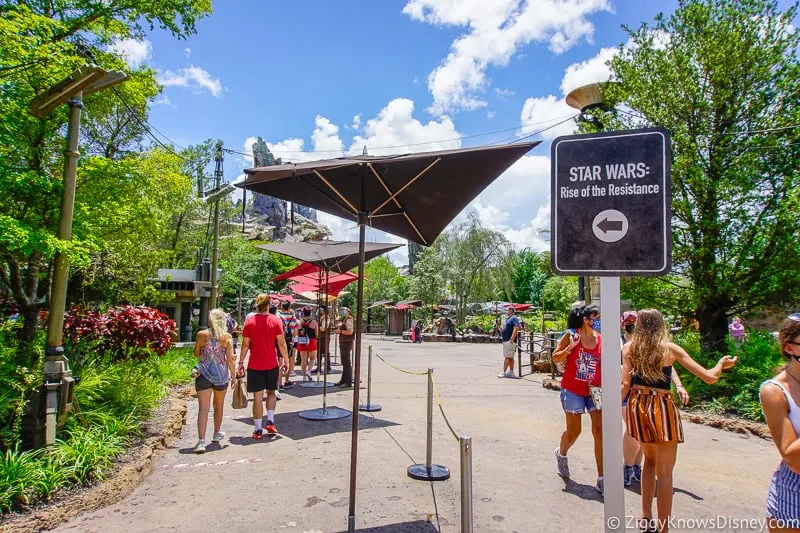 This can be applied to the high morning wait times in the park and also to getting used to the new safety protocols throughout the park. Set your expectations at a reasonable level and don't expect the experience to be like it was during your last visit before the closure.
Also, be patient with riding Rise of the Resistance. It's still a frustrating and nerve-wracking experience trying to rope drop or wait for a long time in the queue, even for Disney World vets. Even paying to ride it with the Lightning Lane is not a guarantee as reservations are hard to come by.
If you really want to make sure you get to ride it, make two Park Pass reservations for Hollywood Studios during your trip. That way if you don't get on the first day, you still will have another chance.
Also, be patient with the Disney Cast Members. It's a strange and difficult time for them as much as you the guest, and 99% of the time they are trying their absolute hardest to make your trip to Walt Disney World a magical one, despite the changes happening at the moment.
Summary
Even though we love the new rides in Hollywood Studios, we have to say this park is the hardest to navigate at the moment. Between long waits in the morning and the overall crowded feel, we aren't super excited about going back at the moment.
Things are different in the evening, and we recommend waiting until the last few hours of the day to visit for the best overall guest experience. Since the park has extremely limited options right now, we think this is the best strategy, at least until more of the shows start coming back.
If there's one thing we've learned over the last few months with Walt Disney World, it's whatever the situation is at the moment, be prepared for things to change. In a couple of months, things could change and we may feel differently about the park.
Until then, we suggest skipping Hollywood Studios if you don't want to deal with the crowds unless you come in the afternoon. In that case, you will probably have a delightful time, taking advantage of the low wait times on some of Walt Disney World's best rides.
Your Thoughts
I want to know what you think about our Guide to Disney's Hollywood Studios after reopening…
When are you going to Hollywood Studios?
Which changes are you most happy/sad about?
Let us know in the comments section below!
If you enjoyed this article, as always I appreciate it if you'd share it with others via social media. I work hard at making this website into a useful resource for you and your family to plan your visit to the Disney Parks and I hope it can help you! Thanks 🙂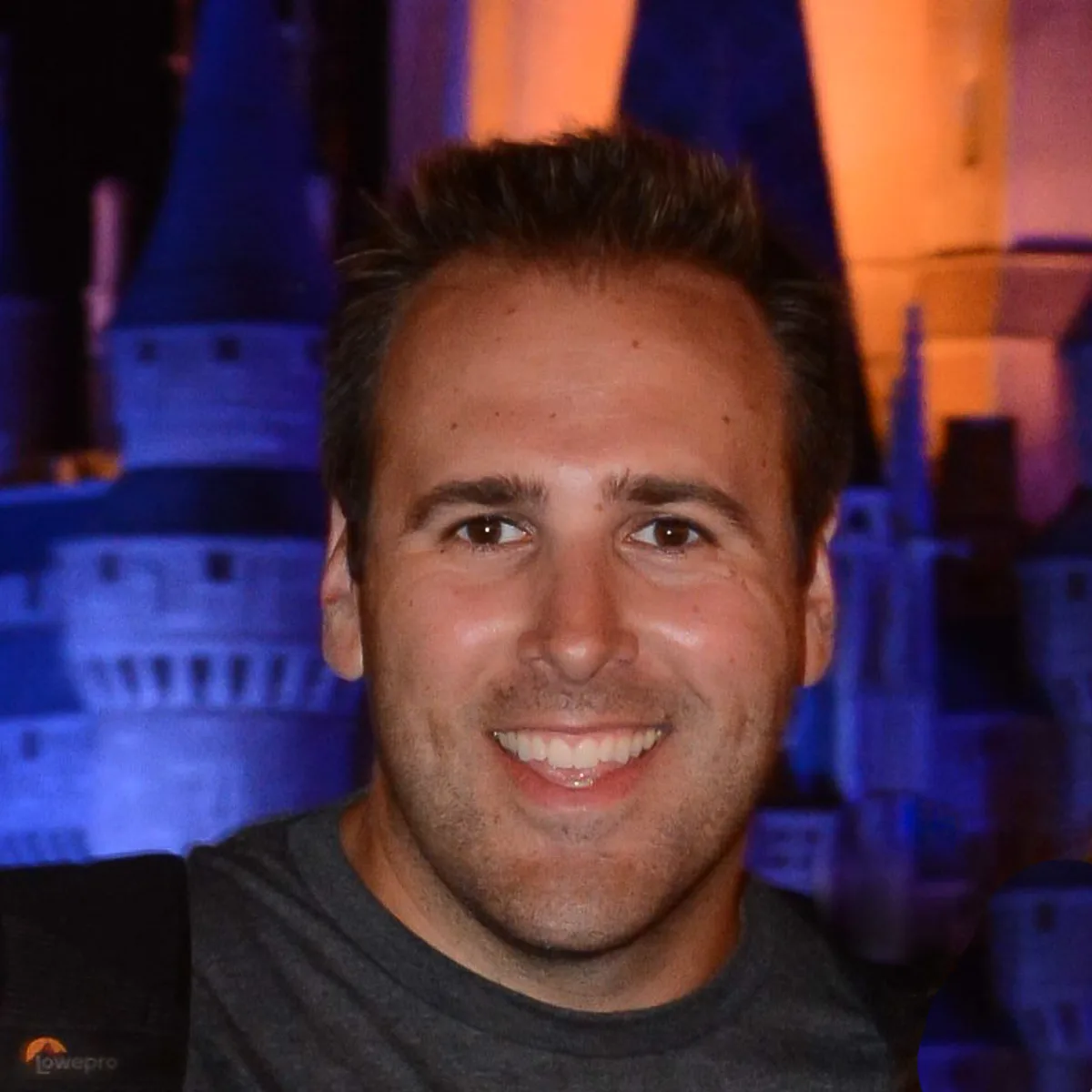 My name is Ziggy and I love Disney, everything Disney! I grew up on Disney and it has and continues to be a huge part of my life. I started young when my parents took me to Disney World when I was 18 months old. Little did they know that would be the first of an uncountable number of trips we would take. I have so many amazing memories going to Disney with my family and friends and it has been interwoven into my DNA.