Our series on The Walt Disney World Theme Parks after reopening kicks off with Disney's Magic Kingdom Park. You may have been here a thousand times before but a trip to the Magic Kingdom in 2021 is going to be much different than you've experienced before.
In this post, we are going to share with you everything that's changed in Disney's Magic Kingdom since it reopened. We'll let you know what attractions are open, what restaurants you can visit, and what entertainment options are open in 2021.
We'll also explain how to get reservations for the Magic Kingdom, the new park operating hours and any touring tips we think might help you on your trip. Now that the park is open, we'll give you a full tour of the park so you can see firsthand how it's different.
Since there is just so much that has changed at the parks since reopening, we wanted to give readers a guide to visiting the Disney World theme parks this year and the Magic Kingdom is first on our list.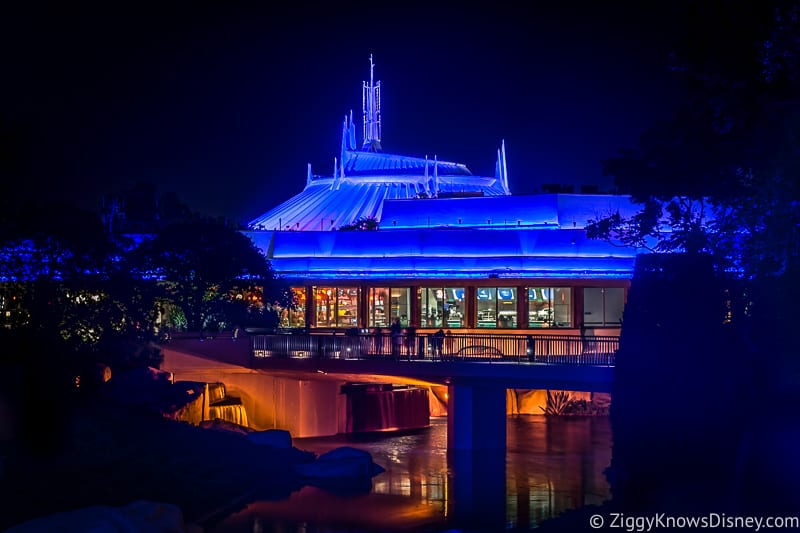 One thing that we want to emphasize with you is that if you are visiting any of the parks in 2021 or 2022, you will need to have patience. If you are seriously planning a trip to Disney World in the next few months, I'm sure you've already had to exercise a lot of it as things haven't been easy to figure out for the average guest.
It's been a struggle just figuring it out ourselves, so we can imagine how others feel right now. That said, we are here to help you understand all the changes so you can have the best time possible in the Magic Kingdom and all the other parks.
Before we get into our look at the Magic Kingdom for 2021, make sure to read our Complete Walt Disney World Reopening Guide which will answer any questions you have about anything going on during the reopening period in the parks, hotels, and restaurants.
I don't know about you, but I'm ready to walk through the tunnel, turn the corner to look right down Main Street U.S.A. and see Cinderella Castle sitting there in front of me! It's going to be a special feeling, so let's go!
What to Know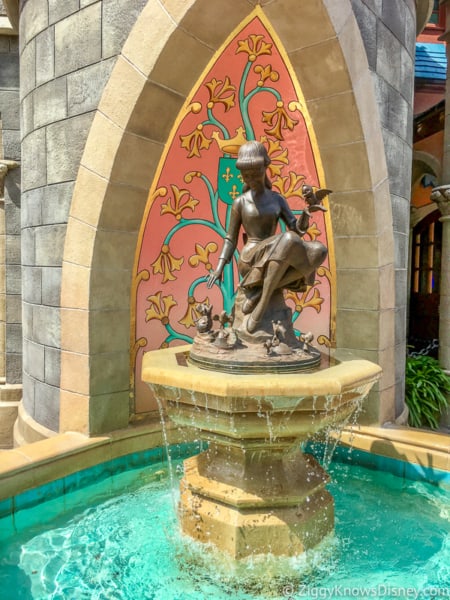 We're going to break down each category of what you need to know when you visit Magic Kingdom now, but here are a few of the most important parts:
Safety Guidelines
The most important thing to know are all the new safety guidelines Disney has put in place. The whole reason that Disney World closed in the first place is because of the current health crisis, and the only reason the parks are even able to reopen again is because of the list of safety guidelines to help protect guests and Cast Members.
Here are some of them:
Increased cleaning and sanitation
Wearing face masks
Physical distancing in queues
Temperature screening
More guest hand-washing and sanitizing stations
The big one of course is that face masks are now required at Walt Disney World in almost every public space. Face coverings are strictly enforced and guests who refuse will be asked to put one on or leave. This even includes on rides.
It might be easy on Pirates of the Caribbean, but I've seen one or two masks getting lost on Space Mountain already.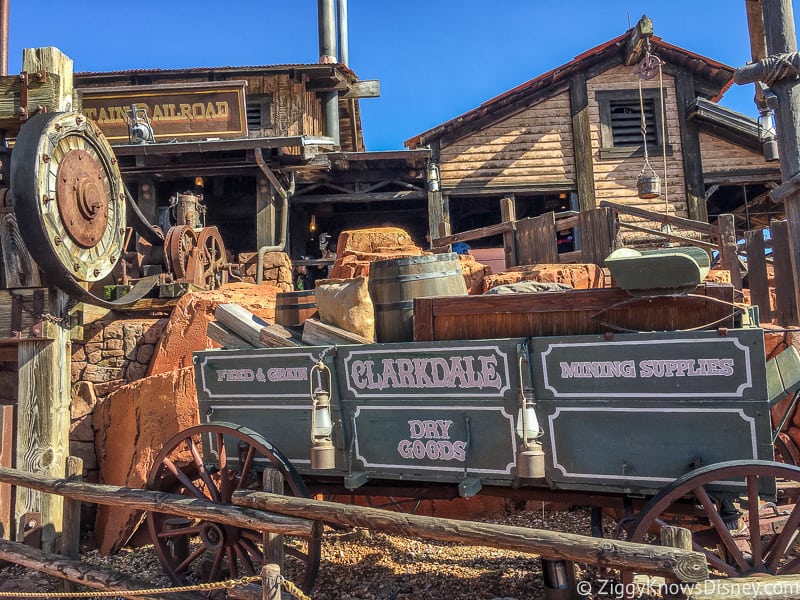 Cleaning and sanitization have been increased throughout the Magic Kingdom with Cast Members passing through every area more often than before. Also, guests are required to practice distancing while waiting in line for the attractions and in all public spaces.
Read our post on all the New Changes and Safety Measures at Disney World which explains them all in more detail.
Limited Capacity
The overall guest capacity for Disney's Magic Kingdom has been greatly reduced, and Disney has announced the park capacity is limited to 35%.
The maximum capacity for the Magic Kingdom is approximately 100,000 people, so 35% means Disney will hold attendance to no more than 30,000-35,000 guests at this time.
Disney's plan is to be able to slowly increase that number and eventually bring capacity as close to normal.
Not Everything Open
Before you go to the Magic Kingdom, it's important to know that not everything is open at this time. Some of the attractions, entertainment, and restaurants will remain closed during this reopening phase.
Some of them are closed because physical distancing would be extremely difficult while it just doesn't make sense to open others, especially at this time while crowds are so low. We'll break down which ones are open now later in the post.
Suspended Services and Experiences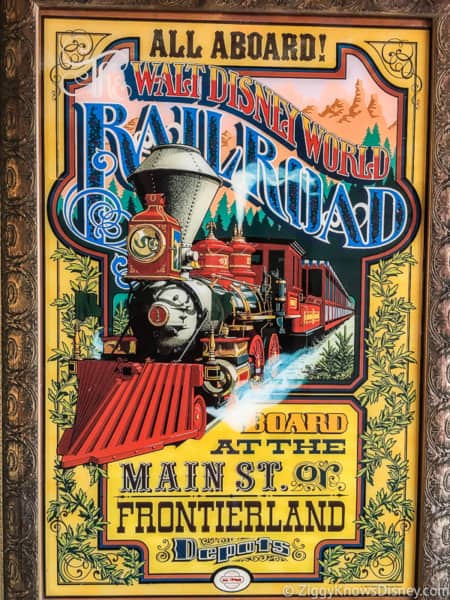 While visiting the Magic Kingdom and the rest of the Disney theme parks right now, many of the normal services and experiences you are used to are not currently running.
Extra Magic Hours
Magic Kingdom Extra Magic Hours are always some of the best times to visit the Magic Kingdom, and usually every week there are morning and evening Extra Magic Hours which let Disney World Resort guests come before other guests or stay later, enjoying the attractions with lower waits.
Right now in 2021, Disney has eliminated all Morning and Evening Extra Magic Hours in the Magic Kingdom Park. This is a huge disappointment if you are a resort guest as Extra Magic Hours were an excellent way to do more in a shorter period of time.
Disney has come up with a replacement for Extra Magic Hours called "Early Theme Park Entry" which debuts later in 2021. It lets all Walt Disney World Resort hotel guests access the parks 30 minutes before the scheduled park opening for that day. It is available at all 4 theme parks, every day of the week.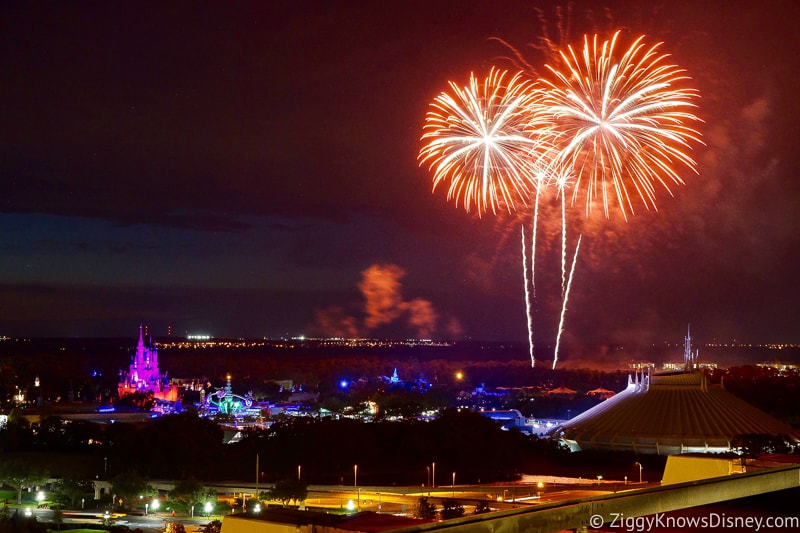 Hard Ticked Events
All of the hard ticketed events that are normally going on in the Magic Kingdom are currently stopped. Here is a list of the big events that have been canceled:
Mickey's Very Merry Christmas Party
Extra Morning Magic
Dessert Parties
It makes sense for Disney to close down these special events as the majority of the activities and experiences in these will not be available. No character meets, no fireworks, no parades, etc.
It just wouldn't be worth it for the guests to pay all that extra money for an event that offers 25% of what it normally does.
FastPass+
The entire FastPass+ system is suspended in all the Disney World theme parks at this time. This is a huge change for how guests are used to touring Disney Parks. Stand-by queues are now the only way to get on the attractions.
To help with capacity, Disney is even using the FastPass+ queues as extra space for the stand-by queue.
Dining
There have been quite a few changes to dining in the Magic Kingdom and the other theme parks:
No Disney Dining Plan – This has been suspended for the rest of 2021. That means no more snack credits for a while and guests will not have the option to pay for meals ahead of time.
Dining Reservations – In the past you had 180 days to make an Advanced Dining Reservation, now that has been reduced to only 60 days.
Limited Dining Options – Not all restaurants will be open right now.
New Technology – In order to help with safety, Disney is using new technology in its restaurants including contactless menus, Mobile Ordering, Mobile Dine Check-In, Mobile Dine Waitlist, and cashless payment.
Special Experiences
At this time, all Magic Kingdom special experience bookings and tours have been canceled through 2021. This includes the popular Keys to the Kingdom tour and all VIP tours. Disney will give more information about booking these special events at a future date.
How to Get Into the Magic Kingdom in 2021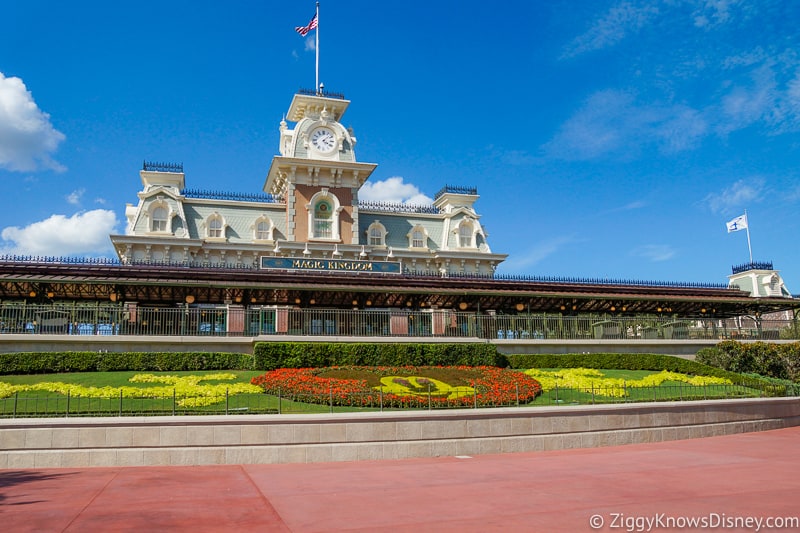 Unlike a normal visit, right now you can't just show up to the Magic Kingdom and buy a park ticket for the day. Park capacity is limited and Disney has implemented a Park Pass reservation system which you will need to use if you want to get in.
Getting Tickets
The first step is getting tickets for the Magic Kingdom. Both Single and Multi-Day tickets are available to purchase dates in 2021 online on the Disney World website. Tickets are available right now through December 31, 2021.
If you are an Annual Passholder, you already have your park admission covered. The only thing to look for is blockout days which limit which days you can go to the parks depending on the type of annual pass you have.
Getting Park Pass Reservations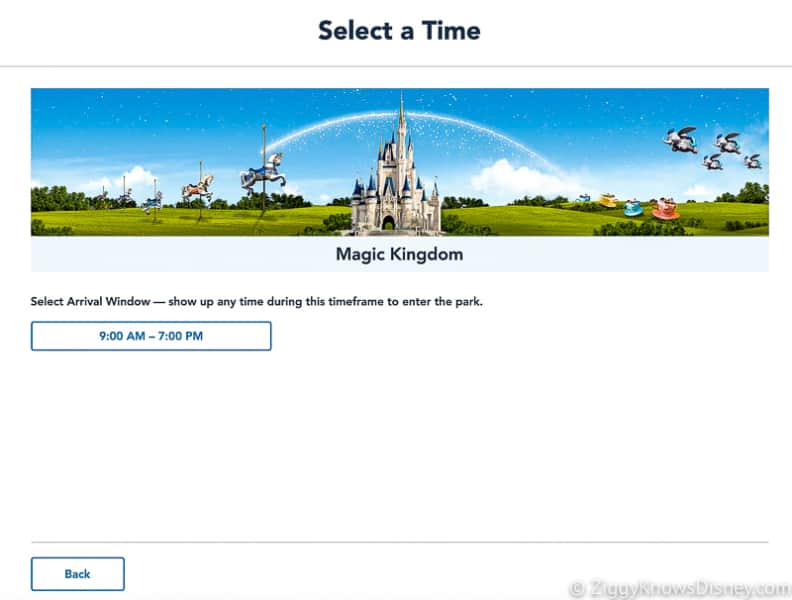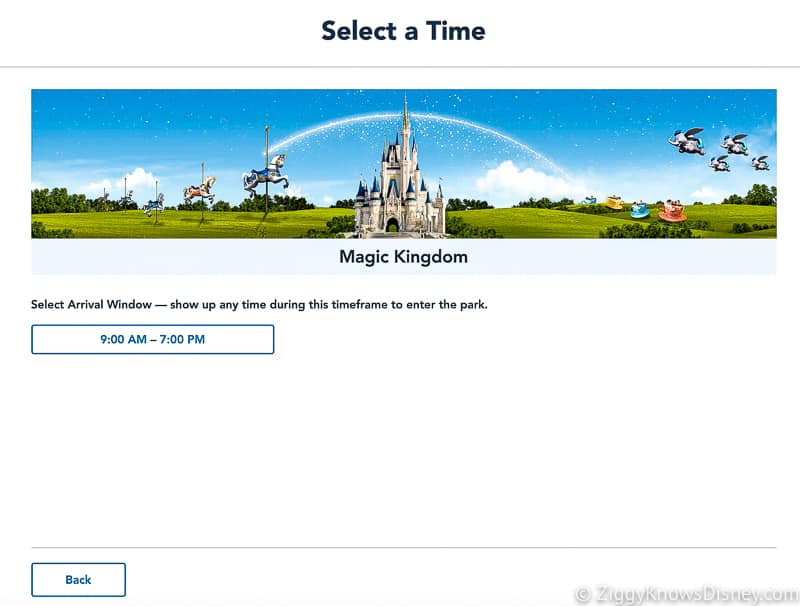 Getting a park admission ticket is only half of the battle. The second step is getting a Park Pass reservation. This is something new in 2021 and it helps Disney manage the crowds, evenly dispersing guests between the four parks each day.
Park reservations are now available on the Disney World website, but again, you'll need to have a valid park admission before making a park reservation.
Read our post on How to Make Disney World Park Reservations for a detailed walkthrough on the new system.
Hours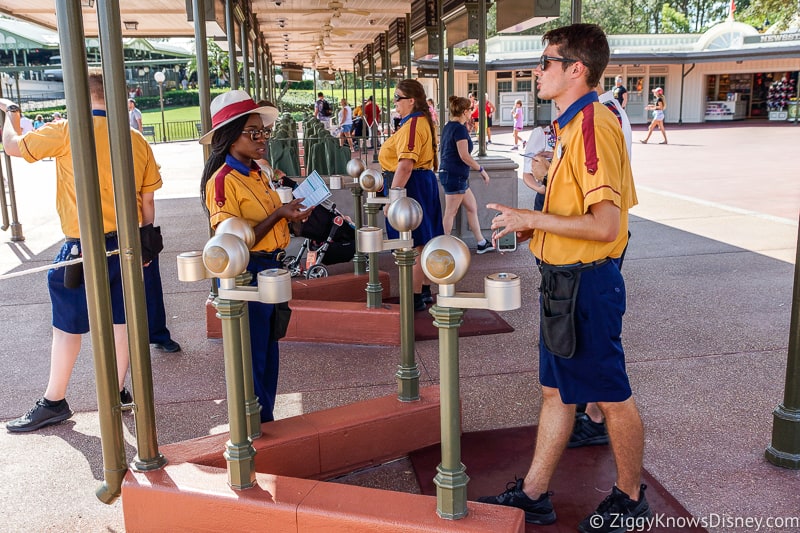 The Magic Kingdom Park Hours have been greatly reduced from normal levels and even the off-season doesn't see these few hours.
Upcoming Disney's Magic Kingdom Park Hours:
From Now through January 9 – 8:00 am to 8:00 pm daily
From January 10 through Jan 23 – 9:00 am to 7:00 pm daily
From January 24 through March 20 – 9:00 am to 6:00 pm daily
For many days Magic Kingdom Park Hours have been reduced from 9:00 am to 6:00 pm daily. These are the new Winter Park Hours as Disney is further reducing operating hours for all the parks until crowds start coming back.
This is even more drastic than the Magic Kingdom schedule was over the Summer when park hours were from 9:00 am to 7:00 pm.
Add that on top of the fact that the Magic Kingdom is not running Morning or Evening Extra Magic Hours means that your overall time in the park will be much less. They have replaced Extra Magic Hours with Early Theme Park Entry, but it only gives you 30 minutes instead of the hour you used to get with Extra Magic Hours.
On the positive side, we've been able to get all the attractions done in a shorter amount of time, minimizing the effect of reduced park hours.
Disney has added a couple of hours each day to the Magic Kingdom park hours in early to mid-January when it will run from 8:00 am or 9:00 am to 7:00 pm or 8:00 pm daily. These are leftover from Disney's holiday season hours when more people were in the parks.
Closing at 6:00 pm is still really early and looks like that's what it will go back to for the near future.
We'll keep an on the hours to see if they change at all over the coming months and also how quickly you can get through attractions.
Attractions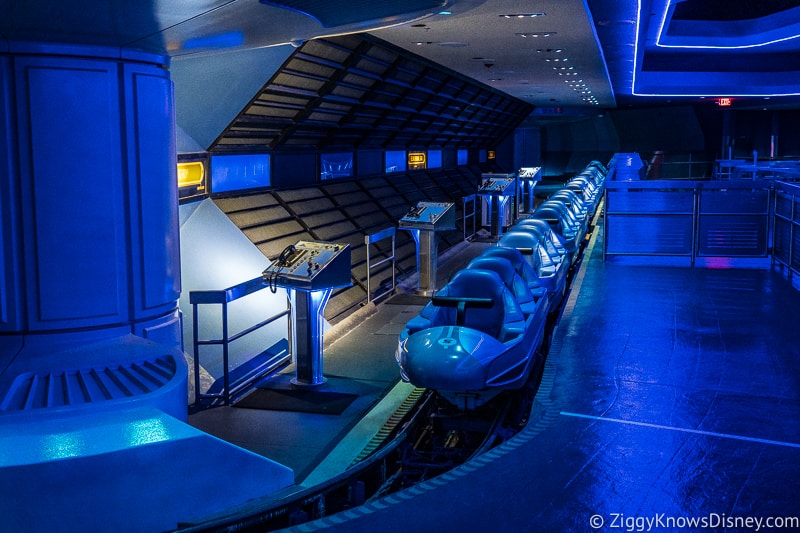 So as you know, not all the attractions in the Magic Kingdom are open, but we are happy to report that the vast majority of them are. Right now, there are 26 attractions on the list. Let's check them out and then give you a run-down of what it means for your visit.
What's Open
"it's a small world"
Astro Orbiter
Big Thunder Mountain Railroad
Buzz Lightyear's Space Ranger Spin
Country Bear Jamboree
Dumbo the Flying Elephant
Jungle Cruise
Mad Tea Party
Mickey's PhilharMagic
Peter Pan's Flight
Pirates of the Caribbean
Prince Charming Regal Carrousel
Seven Dwarfs Mine Train
Sorcerers of the Magic Kingdom
Space Mountain
Splash Mountain
Swiss Family Treehouse
The Barnstormer
The Hall of Presidents
The Haunted Mansion
The Magic Carpets of Aladdin
The Many Adventures of Winnie the Pooh
Tomorrowland Speedway
Under the Sea ~ Journey of The Little Mermaid
Walt Disney's Carousel of Progress
Walt Disney's Enchanted Tiki Room
What's Not Open
A Pirate's Adventure game in Adventureland
Casey Jr. Splash 'N' Soak Station
Enchanted Tales with Belle
Frontierland Shootin' Arcade
Liberty Square Riverboat (closed for refurbishment)
Main Street Vehicles
Monsters Inc. Laugh Floor
Tom Sawyer Island (closed for refurbishment)
Tomorrowland Transit Authority Peoplemover (closed for refurbishment)
Walt Disney World Railroad (closed for refurbishment)
All of the big E-Ticket attractions are up and running. Seven Dwarfs, Big Thunder, Space Mountain, Pirates, Haunted Mansion, etc are all running, so no worries there.
Having 26 attractions running is pretty impressive and gives you plenty to do in the day. EPCOT is the next closest park with 19 attractions open, then the Animal Kingdom with 15 and Hollywood Studios 13. So in comparison, the lineup at the Magic Kingdom will definitely keep you busy.
There are a few attractions of note that are not opening right now. First, you have Monsters Inc. Laugh Floor and Enchanted Tales with Belle. These are indoor shows, but I'm curious to know why Disney thought they weren't able to operate while other similar attractions (Enchanted Tiki Room and Carousel of Progress) are running.
The Tomorrowland Transit Authority PeopleMover and The Walt Disney World Railroad have been closed for refurbishment since the park's reopening and are not available at this time. At least most of the Best Attractions at the Magic Kingdom are open now.
Make sure to check the Disney World Ride Closures List for the latest updates on which attractions are open in the parks.
Attraction Reports & Wait Times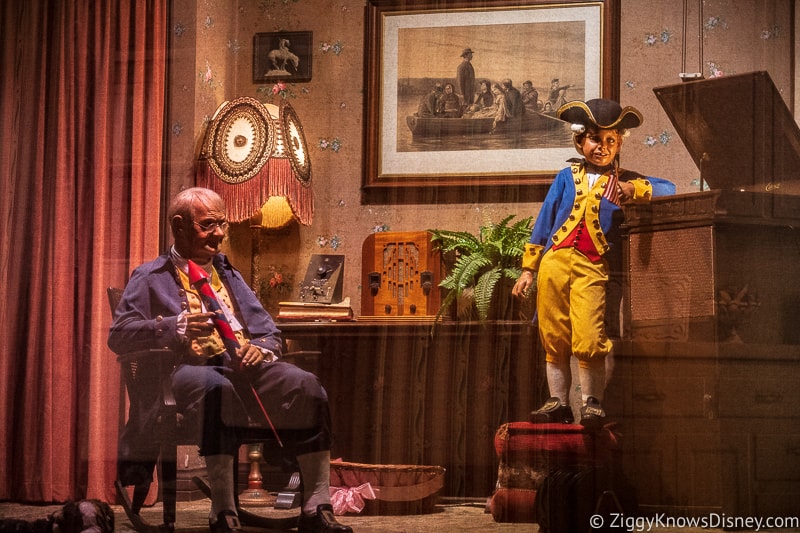 Disney has made heavy modifications to the attraction queues. Besides distancing markers on the ground, plexiglass barriers have been put up as well in many of the queues. This is the case on Big Thunder Mountain, Seven Dwarfs Mine Train, and others. They obviously take away from the ambiance of the ride, but at this time Disney really doesn't have a choice.
Unfortunately, some attraction queues like the Seven Dwarfs Mine Train and Haunted Mansion have had their interactive areas of the queues turned off, that means no stretching room for now.
Ride vehicles have had their own modifications. Splash Mountain is only running one group per log and they have the splash effects turned off and Pirates of the Caribbean is only using rows 1 and 5. The Jungle Cruise even has plexiglass divers installed between guests, significantly altering the experience and center of the boat seats are out of the question.
Overall, wait times at the Magic Kingdom have been beyond low in comparison to what we're used to. The average wait time for all attractions in the park is about 15 minutes per attraction, which means you could do realistically do all the attractions in one day and still have time left.
The Splash Mountain, Big Thunder Mountain and Seven Dwarfs Mine Train are still the most popular in the park after reopening and have the "longest" wait times. On average you have to wait 30-35 minutes for each of them, though the "real" wait time is a little less.
Wait times have increased ever so slightly since July 11, but we expect them to lower again as the Winter continues on and until we get to the Spring. Here is some more detailed info about a few of the Magic Kingdom attractions and how they are operating right now:
Seven Dwarfs Mine Train
Ever since opening in 2014, the Seven Dwarfs Mine Train has been the most popular ride at the Magic Kingdom, and it continues to be so even now. The average wait time right now is about 35 minutes, the longest in the park.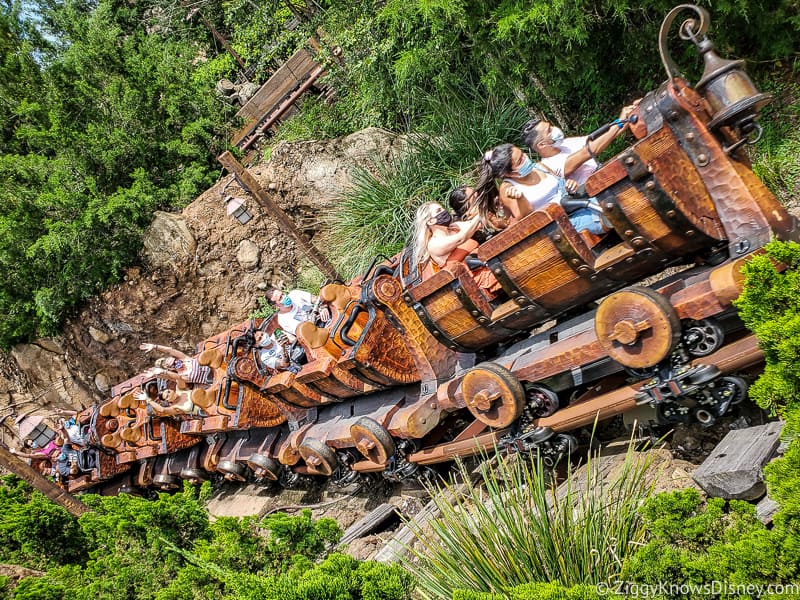 Like all the attractions, guests have to wear masks while riding.
Seven Dwarfs has all the same safety precautions you will see at most of the attractions in the park including ground markers for distancing and plexiglass barriers up in the queues when guest are in tight quarters.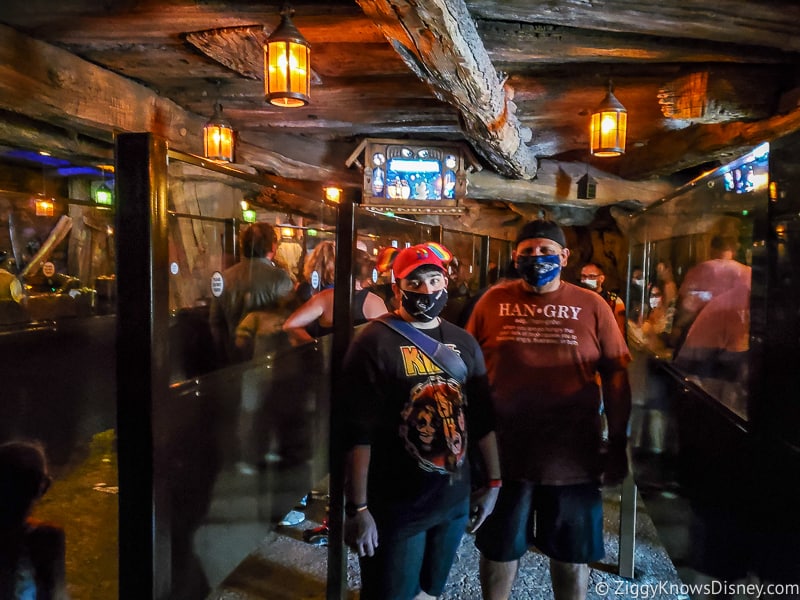 The trains them selves are being loaded with fewer people and many empty rows to create space between guests.
Space Mountain
For being one of the most popular rides in the park, Space Mountain has a short average wait time at just around 15 minutes.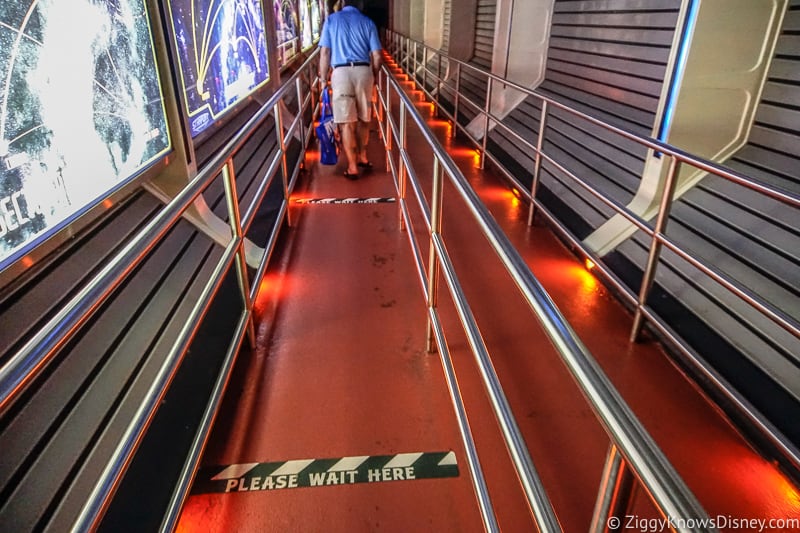 Ground markers are set up throughout the queue and we found a very quiet loading area: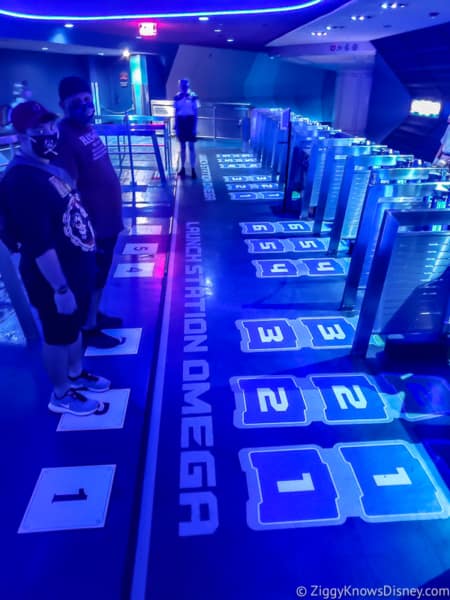 Ride vehicles are cleaned often by Cast Members and only members of your party are loaded into the same vehicle.
Splash Mountain
Besides Seven Dwarfs, Splash Mountain has had the longest wait time since reopening at around 30-35 minutes. That's normal for the Summer season, but we expect it do decrease as we move into the Fall and Winter.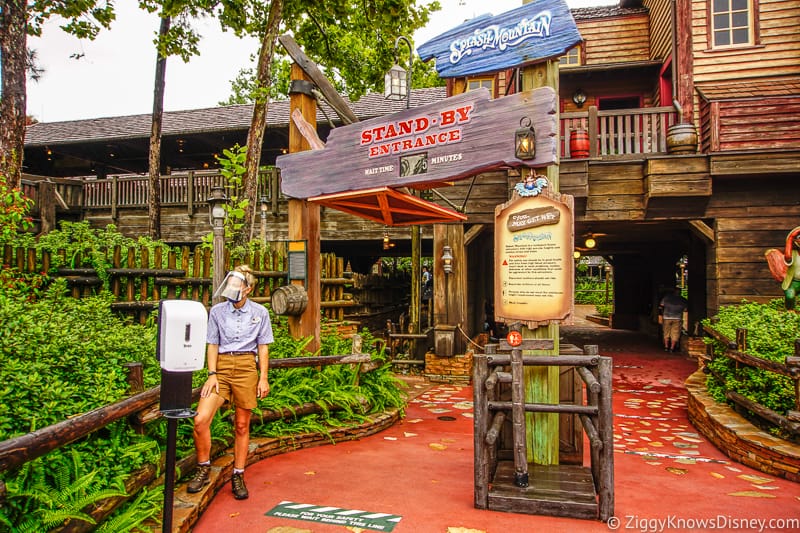 The same safety protocols are set up here too, and only the front and back rows of the logs are being loaded.
Some of the water effects are turned off unfortunately and the ride still continues to have closures periodically due to technical issues.
Big Thunder Mountain
The "wildest ride in the wilderness" has seen average wait times of 30 minutes or so.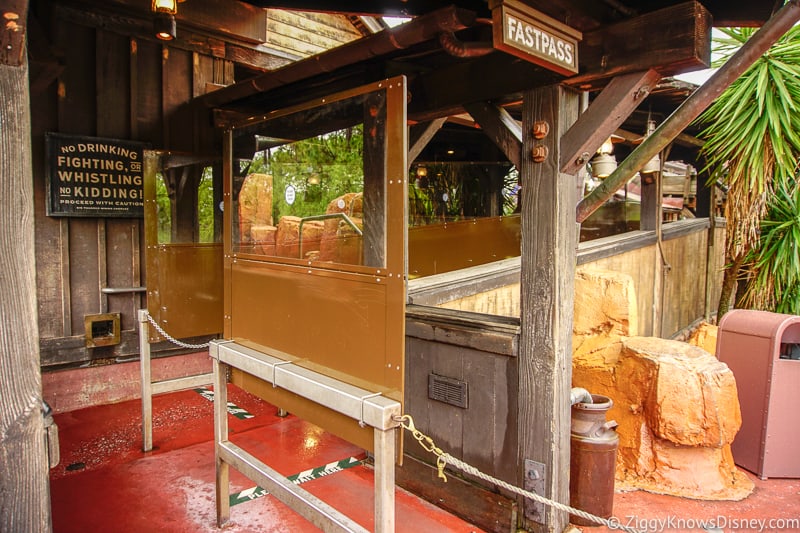 Big Thunder has a lot of plexiglass throughout the inside portion of the queue: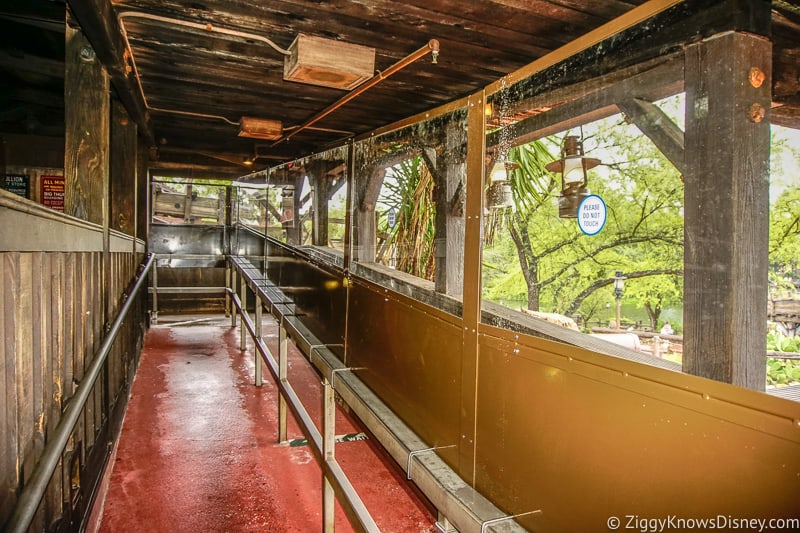 We saw Cast Members cleaning the trains between each load and unload, which is more than in some attractions. Again, expect to have a few rows between you and the next guests.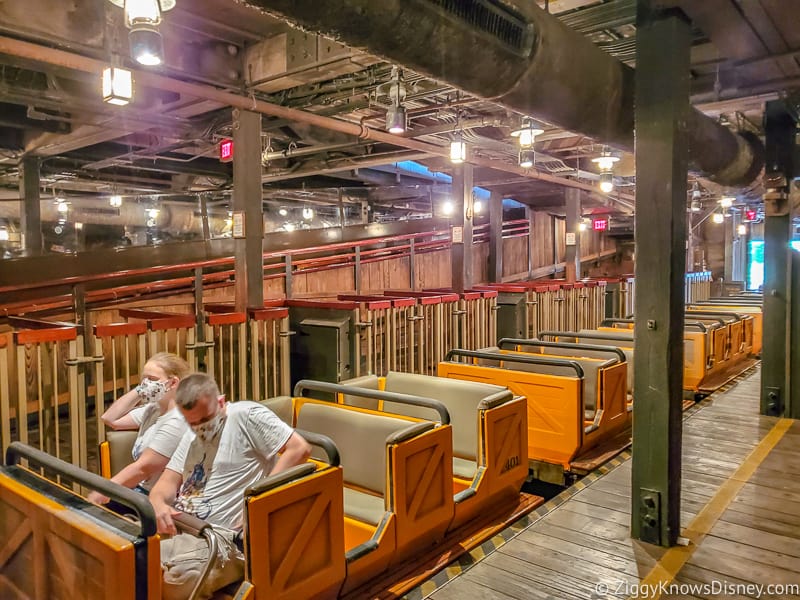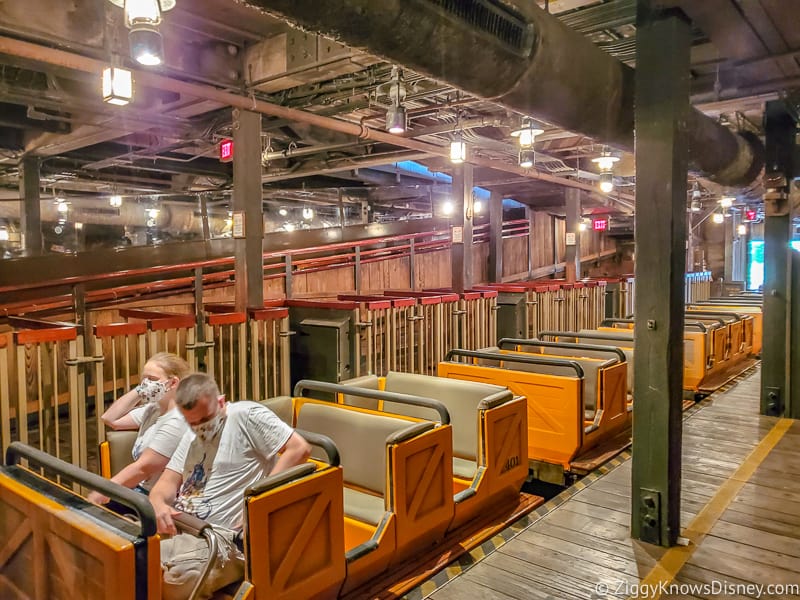 Pirates of the Caribbean
Wait times for Pirates of the Caribbean are modest at around 20 minutes. When we've checked it was usually lower at 10 minutes.
That's to be expected for a people-eating attraction like Pirates, and even though they are leaving two rows empty in each boat, it still can handle a large number of people per hour.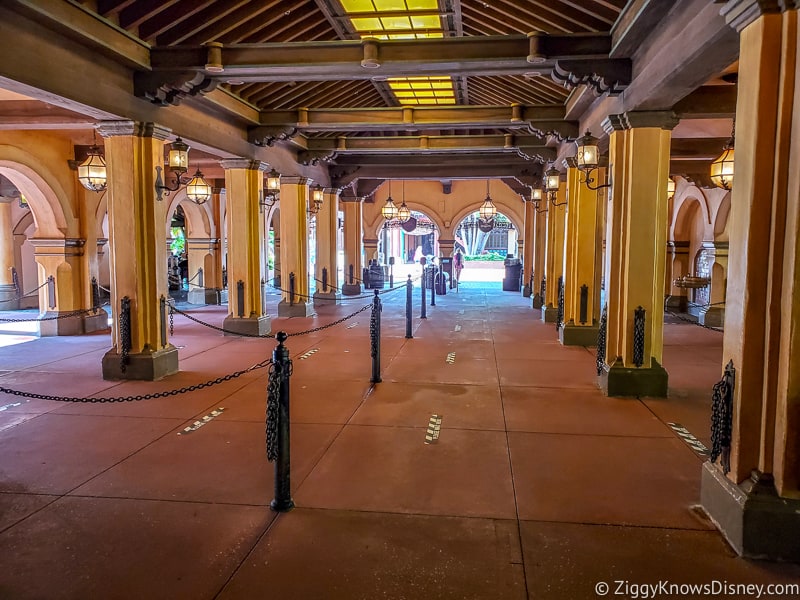 Expect to find all the same ground markers for distancing in the queue.
Peter Pan's Flight
Peter Pan's Flight has greatly benefited from lower than normal crowds and has an average wait time of only 20 minutes.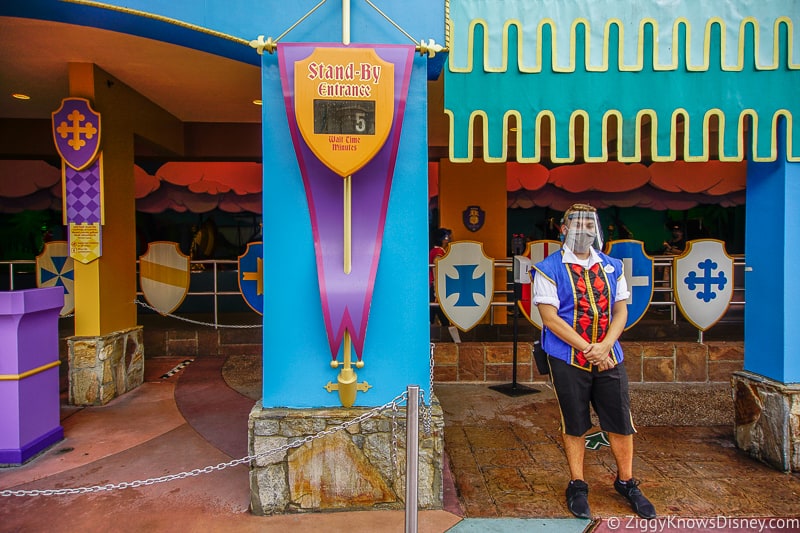 Besides the safety protocols, everything is running as normal and no major changes.
Jungle Cruise
Wait times for the Jungle Cruise have been just under 30 minutes on average, which is basically the same as it was before the reopening.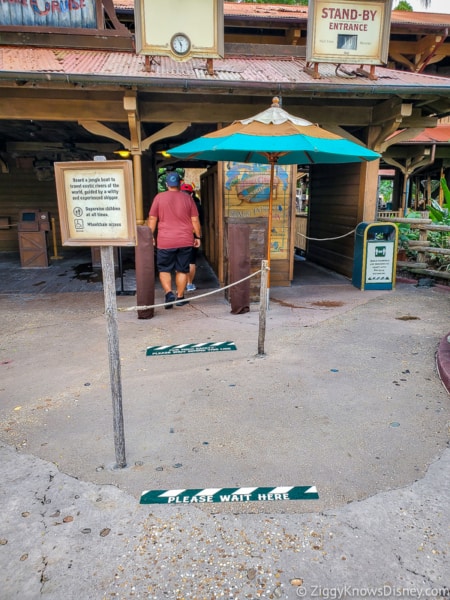 This is likely because the Jungle Cruise is one of the attractions with the most changes since reopening. Besides the ground markers, the boats each have significant modifications to accomodate guests.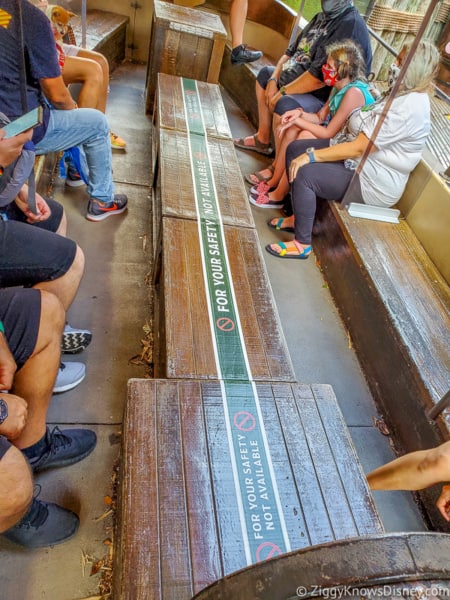 The middle section is off-limits to guests and much of the outer benches too. There are even plexiglass barriers on the boats to help separate guests.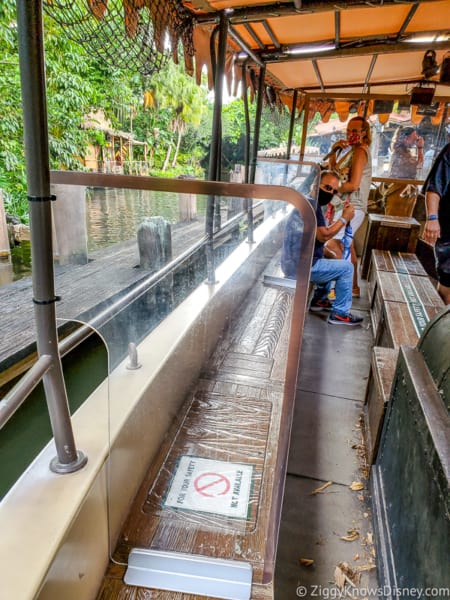 We do have to say we found this to be somewhat distracting as in certain parts of the ride your vision is blocked.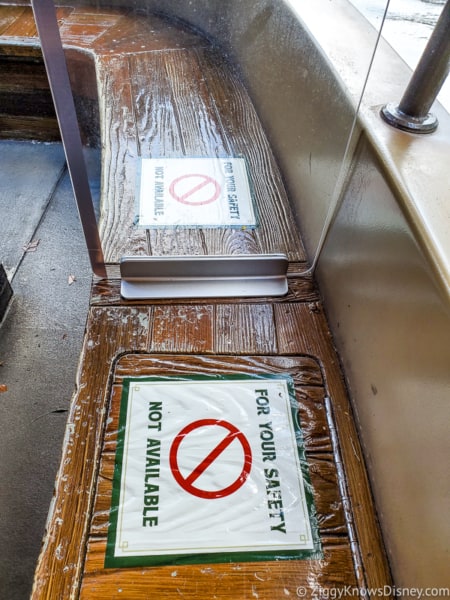 The skippers were all their usual comical selves, and we had a good time nonetheless.
The Haunted Mansion
Wait times at the Haunted Mansion have been listed at between 15-20 minutes, but are usually less.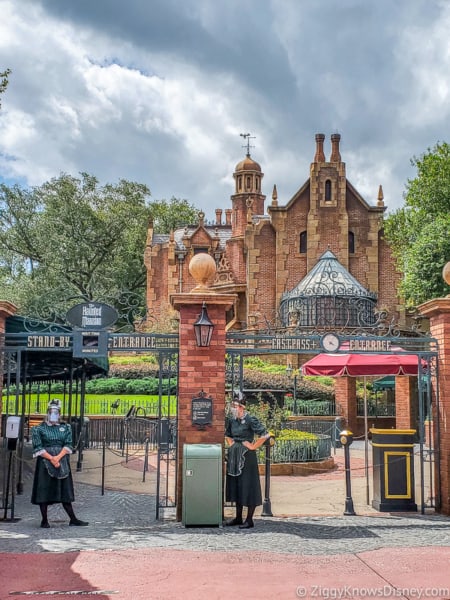 The ride queue starts outside with the typical ground markers for distancing.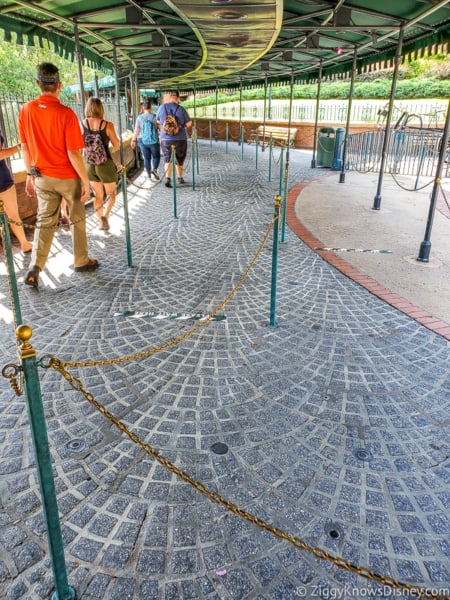 One big difference is the "Stretching Room" is currently not operating. This is too avoid crowds gathering, and in order to do it safely it would mean only a few people at a time, which would really slow down the loading times.
It's a Small World
It's a Small World has on average a 20 minute wait time. Since it is one of the shorter attraction queues, an extended queue has been set up outside: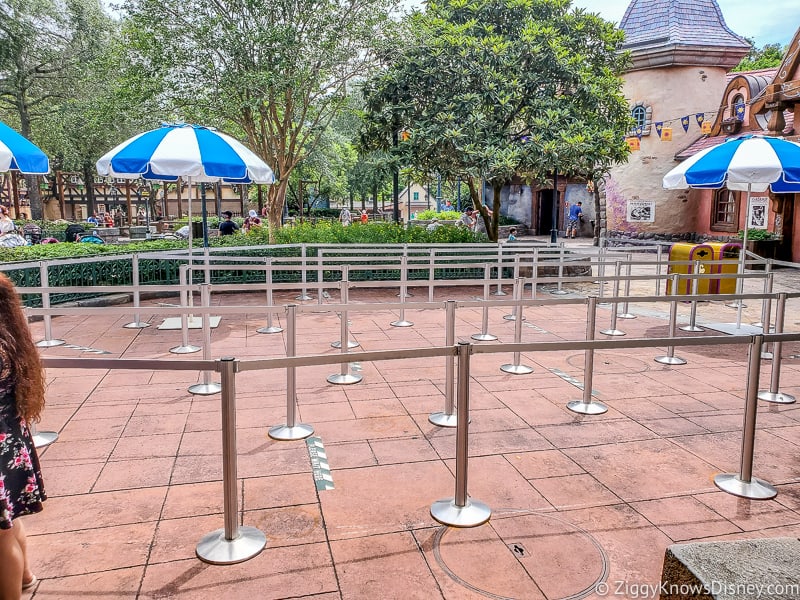 As with most of the rides, you'll find hand sanitizer located in the queue: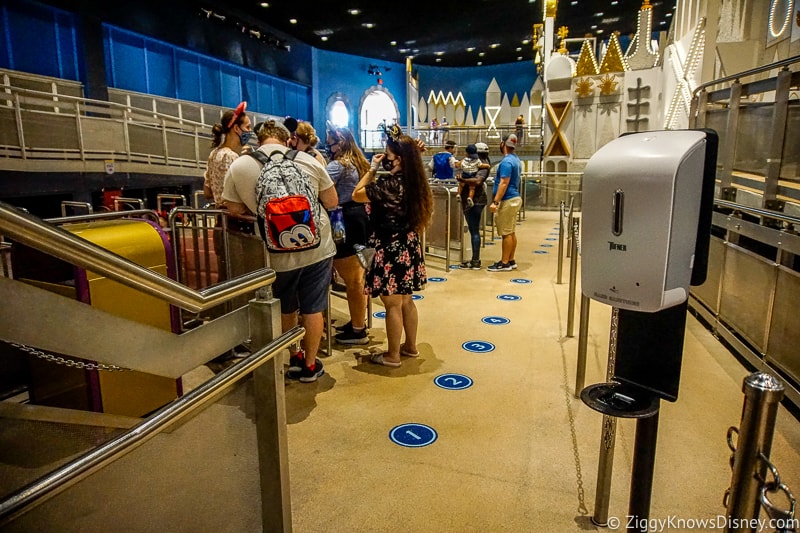 It's a Small World has had one of the most thorough crews as far as cleaning, and we saw boats being disinfected between each ride: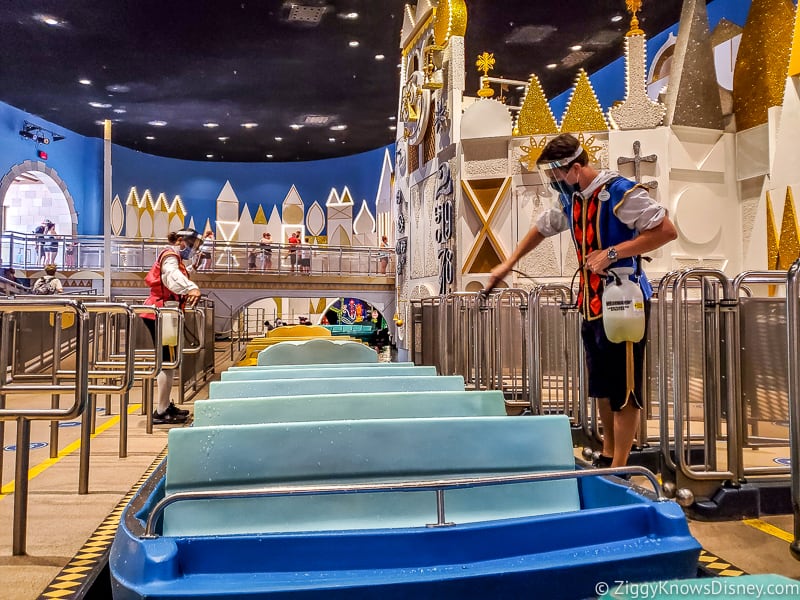 Tomorrowland Speedway
Wait Times at the Tomorrowland Speedway have been extremely low during the reopening phase so far with average waits under 10 minutes. Again, Cast Members clean each car between rides giving guests a bit of peace of mind.
Entertainment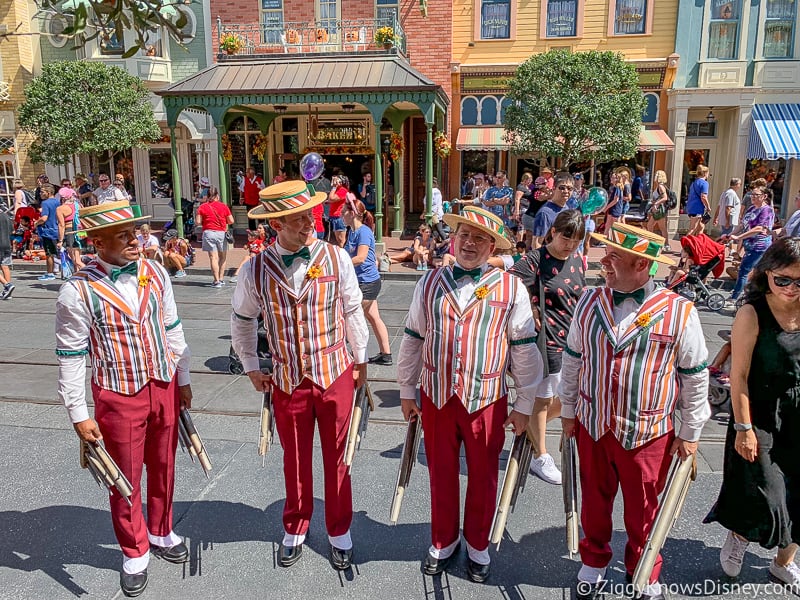 The Magic Kingdom, like the other theme parks, has a limited number of entertainment options currently available. One of the biggest losses in the Disney Parks during the reopening phase is there are No Character Meets happening at this time. This is big for families with kids as seeing the characters is always one of the more popular activities.
They just aren't possible right now as Disney wants to create as much separation between guests and Cast Members as possible and hugs and autographs wouldn't exactly help with that. We don't know when they can come back but we'll be keeping an eye on things to see if there is a way Disney can slowly work them back.
Disney has replaced this with the new Character Cavalcades in each park, and in the Magic Kingdom there are multiple motorcades and cavalcades and ride randomly down throughout the park and down Main Street U.S.A. with your favorite characters. Included are Mickey, Minnie and Friends, plus a bunch of the Disney princesses.
Here is a list of the Magic Kingdom Entertainment you can expect to see during your visit and also what's not opening at this time…
What's Open
Main Street Philharmonic
Character Cavalcades throughout the day, with Guest-favorite Disney friends appearing along the parade route—which will include:

The Royal Princess Processional

Mickey & Friends Cavalcade
Fantasyland Friends Cavalcade
A Goofy Cavalcade
Tinker Bell & the Lost Treasure

Electrical Water Pageant (not really in the Magic Kingdom, but close enough)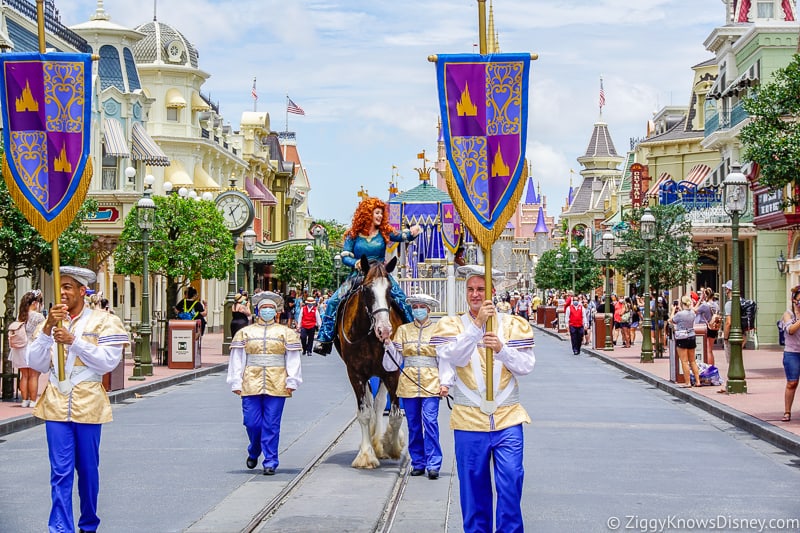 What's Not Open
Dapper Dans
Festival of Fantasy Parade
Happily Ever After Fireworks
Let the Magic Begin
Mickey's Royal Friendship Faire
Move It! Shake It! MousekeDance It! Street Party
Once Upon a Time Projection Show
Our Thoughts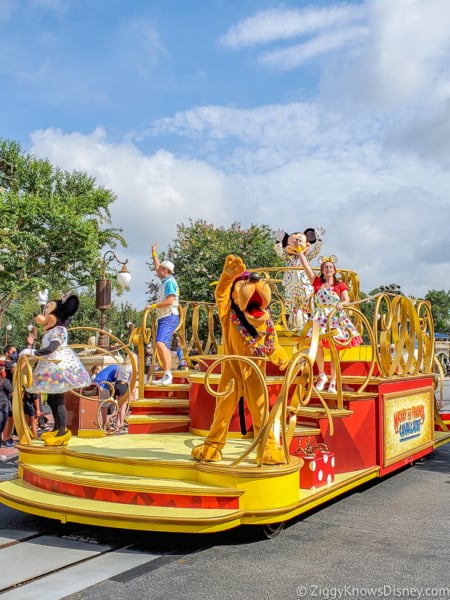 Obviously the loss of Happily Ever After is huge. Thousands of families normally camp out in front of Cinderella Castle to see the fireworks on a nightly basis and we can't like and say the Magic Kingdom experience is diminished by not having the fireworks. Right now it's just not possible to have a show, practice distancing just isn't going to happen here.
The Festival of the Fantasy Parade is also a big loss as it's a guest favorite during the afternoon. Again, it would create too much grouping together on Main Street so it will remain closed for the time being.
Character Cavalcades
The lack of character meets hurts families with kids who make that a big part of their Disney World trip. At least Disney has brought the Character Cavalcades to the park as a temporary fix.
So far we have really enjoyed them in the Magic Kingdom, and we think the ones here are the best in Disney World. The Character Cavalcades have been a nice addition and pass through the park regularly. In fact, we really hope they stick around when things go back to normal, though that's doubtful.
Here is a look at the Character Cavalcades currently running at the Magic Kingdom:
The Royal Princess Processional – The procession starts with Merida on her horse. It continues with princesses like Ariel, Aurora, Belle and more make their way down Main Street U.S.A. on floats and waving at guests. Even the fairy godmother is there.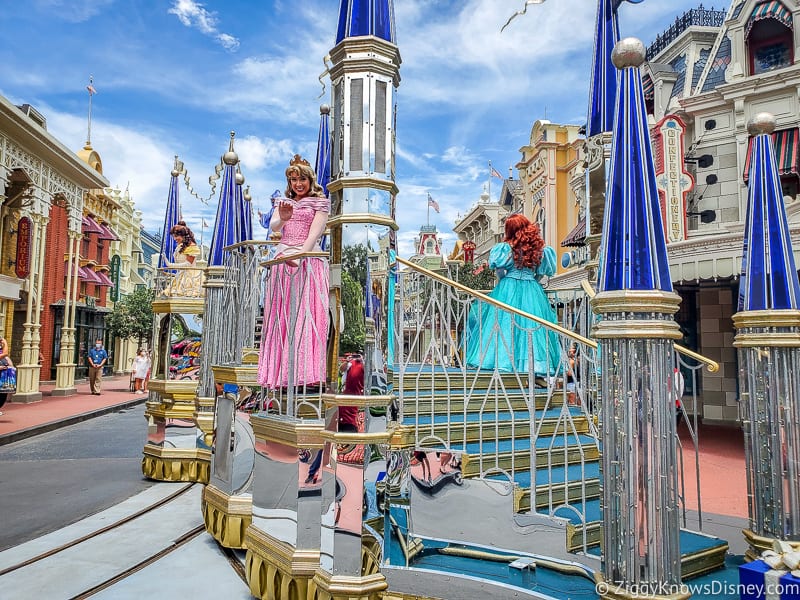 This is the biggest of all the processions at the Magic Kingdom and worth seeing if you are a princess fan.
Mickey & Friends Cavalcade – Mickey Mouse, Minnie Mouse, Donald Duck, Daisy Duck and Pluto all wave from their party float. Mickey and Minnie are still wearing their birthday outfits from 2019.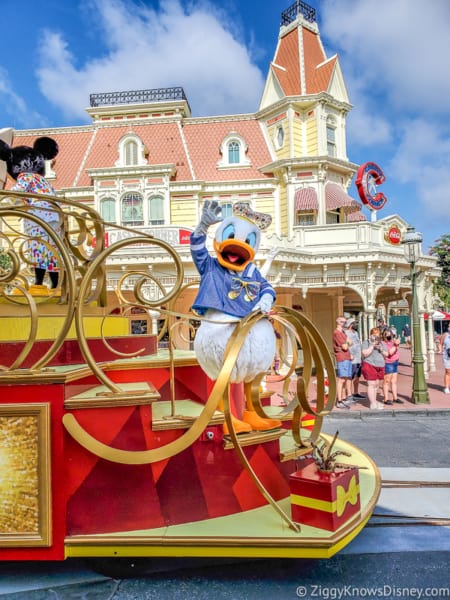 Fantasyland Friends Cavalcade – Gaston on horseback leads the charge, followed by Alice, Mary Poppins, Peter Pan, Winnie the Pooh, Tigger, and Aladdin.
A Goofy Cavalcade – This procession includes Goofy, Max, Clarabelle Cow and Jose Carioca on the floats from the MoveIt, ShakeIt street party.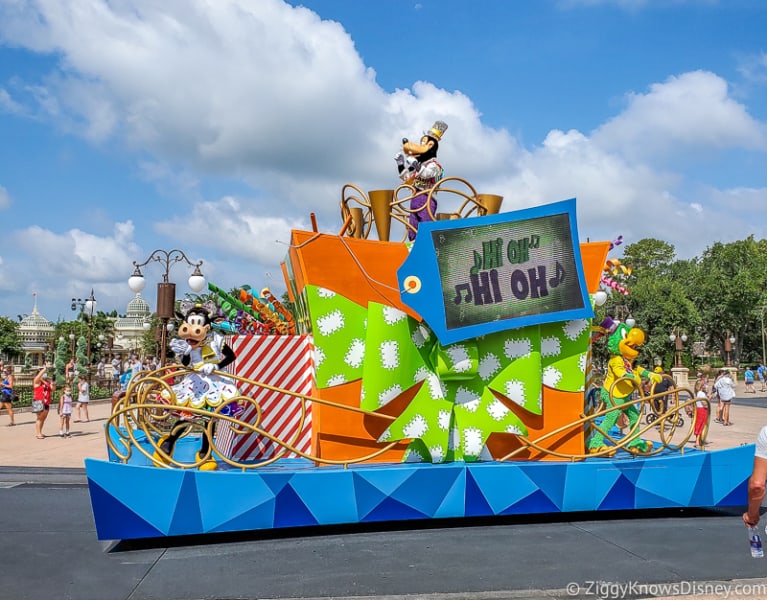 Tinker Bell & the Lost Treasure – This cavalcade features only Tinker Bell who is perched up high on top of the lost treasure. This short procession starts in Frontierland and finishes on Main Street U.S.A.
There were also special Christmas Character Cavalcades going on during the holiday season:
Mickey and Friends Christmas Cavalcade
Disney Princesses 2020 Christmas Cavalcade
Goofy's Scrumptious Cavalcade
Main Street Philharmonic
Santa Claus
Other Characters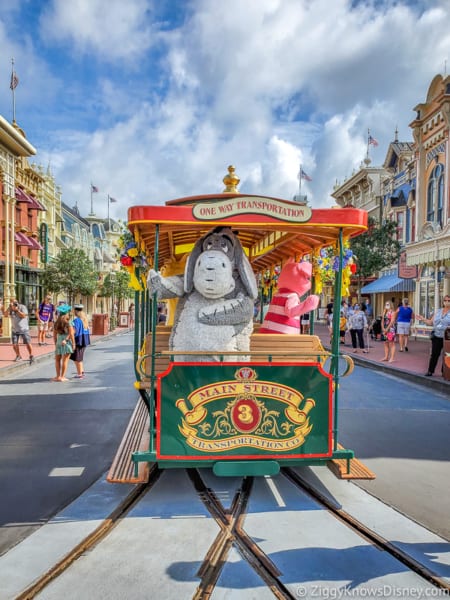 Even if you don't catch a character procession, there are a couple more opportunities to see characters in Magic Kingdom.
Hundred Acre Wood Characters – Rabbit, Piglet, and Eeyore make their way down Main Street U.S.A on a cable car.
Chip and Dale Raft – Out in Frontierland near the boats to Tom Sawyer Island, you'll find Chip 'n' Dale rowing along on a raft in their country clothes.
Here are the other characters you can find around the Magic Kingdom at this time:
Buzz Lightyear – Tomorrowland
Stitch – Tomorrowland
Captain Jack Sparrow – Adventureland
Anastasia – Cinderella Castle Balcony
Drizella – Cinderella Castle Balcony
Big Al – Frontierland
Liver Lips – Frontierland
To learn more about how to find all the characters now, read our guide to the Disney Character Cavalcades in the Disney Parks.
Restaurants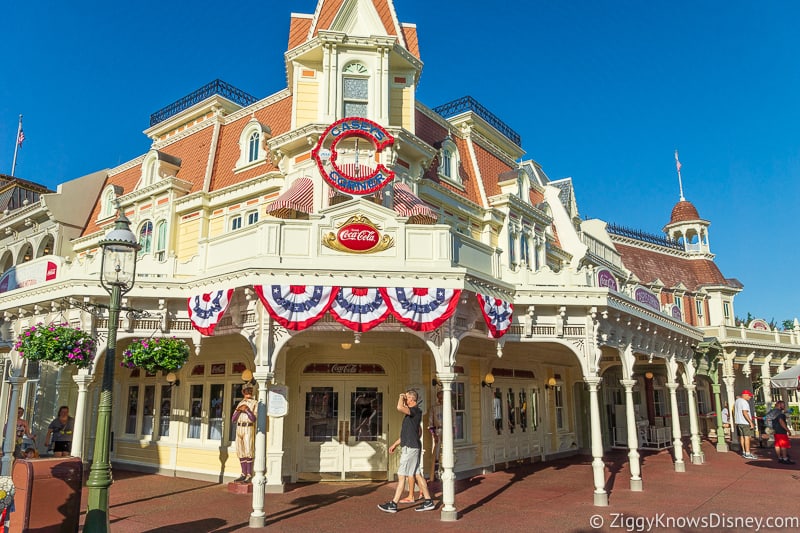 As we mentioned at the start, not all dining locations are currently open in the Magic Kingdom, and unlike the attractions, it's a significant number for the time being.
Even if you don't like the choices of restaurants, you could always just snack your way through the Magic Kingdom, one of our favorite pastimes!
What's Open:
Aloha Isle
Auntie Gravity's Galactic Goodies
Cinderella's Royal Table
Cosmic Ray's Starlight Cafe
Friar's Nook
Gaston's Tavern
Joffrey's Coffee & Tea Company
Liberty Square Market
Liberty Tree Tavern
The Lunching Pad
Main Street Bakery
Pecos Bill Tall Tale Inn and Cafe
Pinocchio Village Haus
The Plaza Restaurant
Sleepy Hollow
Storybook Treats
Sunshine Tree Terrace
Tomorrowland Terrace Restaurant
Tony's Town Square Restaurant
What's Not Open:
Casey's Corner
Cheshire Cafe
Columbia Harbour House
Cool Ship
Diamond Horseshoe
Golden Oak Outpost
Plaza Ice Cream Parlor
Prince Eric's Village Market
Tortuga Tavern
Westward Ho
Looking at the lists we have 22 open restaurants and 10 still closed. About 2/3 of the Magic Kingdom restaurants are open right now.
Some of the ones that were closed in the Summer are now open like Cinderella's Royal Table and Crystal Palace. They are either not offering character meals or they have a modified version. This was no surprise but nice to see two of the most popular restaurants in Disney World return.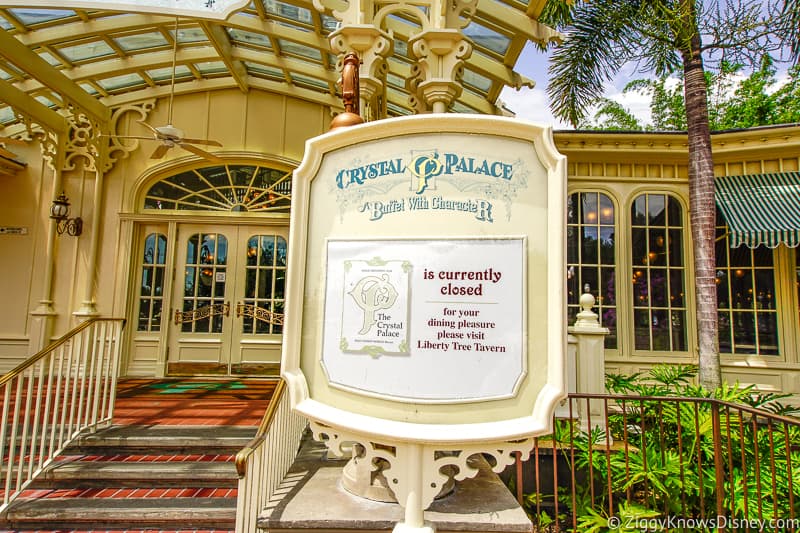 Some of the others, like the Tomorrowland Terrace and Golden Oak Outpost, are being used as "Relaxation Areas," the only places in the parks where guests don't have to wear a face.
We are really missing Casey's Corner and can't understand why Disney would choose to keep it closed, especially with abundant outdoor seating. With other restaurants with primarily indoor seating open like Pecos Bill and Be Our Guest, it's likely a matter of low demand.
In our opinion, even though some additions were made recently, the Magic Kingdom is still a bit light on dining options unless they start reopening some of these others.
At 22, the Magic Kingdom has one of the highest number of restaurants open in Disney World when comparing to Hollywood Studios (17), Animal Kingdom (20) and EPCOT (31). Considering the Magic Kingdom holds the most amount of guests, it's good to see the number trending upward.
If you can find a restaurant with open air seating, we suggest that at this time. Heck, we mostly just walk around with a big Turkey Leg in hand to avoid germs altogether! 😉
One more tip is to make sure you take advantage of Disney's Mobile Ordering system while in the parks to avoid any waits in line. This will speed up the process and help guests distance better.
Here is a look at some of the restaurants around the Magic Kingdom at this time:
The Plaza Restaurant
The outside tables at The Plaza Restaurant are fixed into the ground, so the ones you can't sit at are missing chairs and have a sign telling guests seating is not allowed there.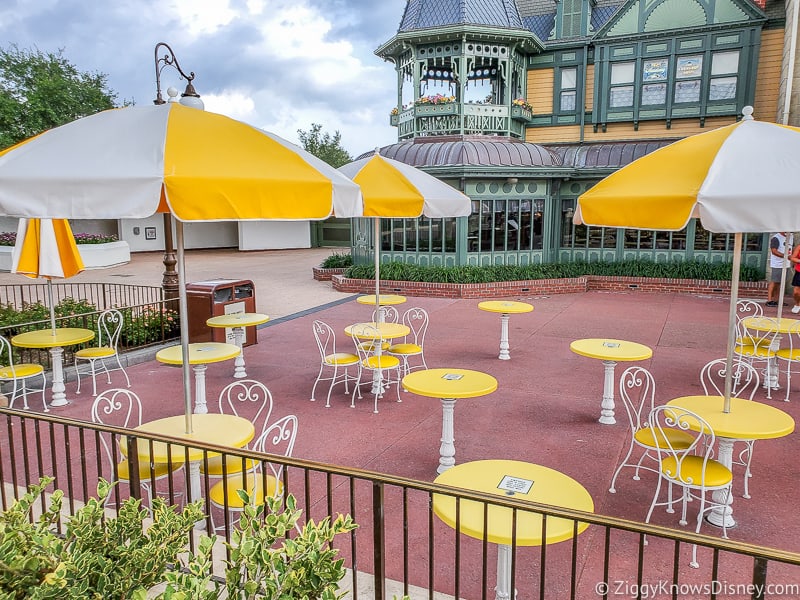 Aloha Isle
Aloha Isle remains one of the most popular quick service/snack stands at the Magic Kingdom. Thankfully, you can utilize the Disney Mobile Order feature in the My Disney Experience app. No more waiting in line for your dole whip!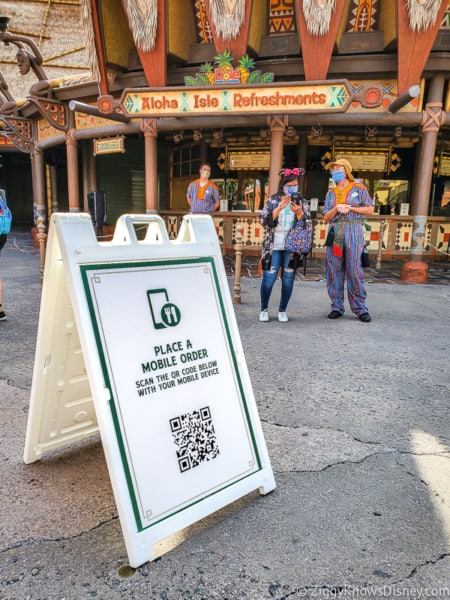 Liberty Square Market
Here too you'll see many of the tables normally used for seating marked off as unavailable to guests due to spacing restrictions.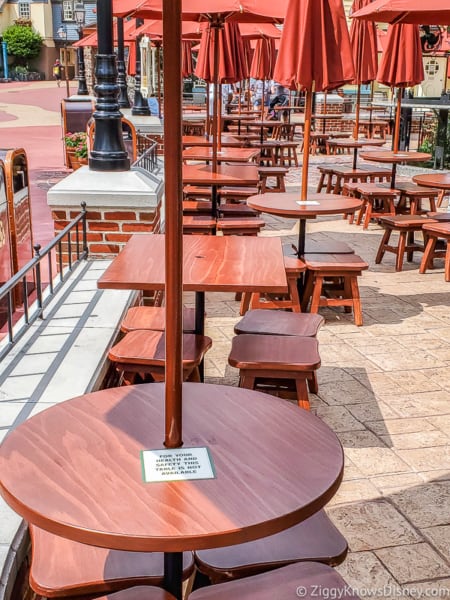 Cosmic Ray's Starlight Cafe
Cosmic Ray's like all quick service restaurants have ground markers for distancing between guests.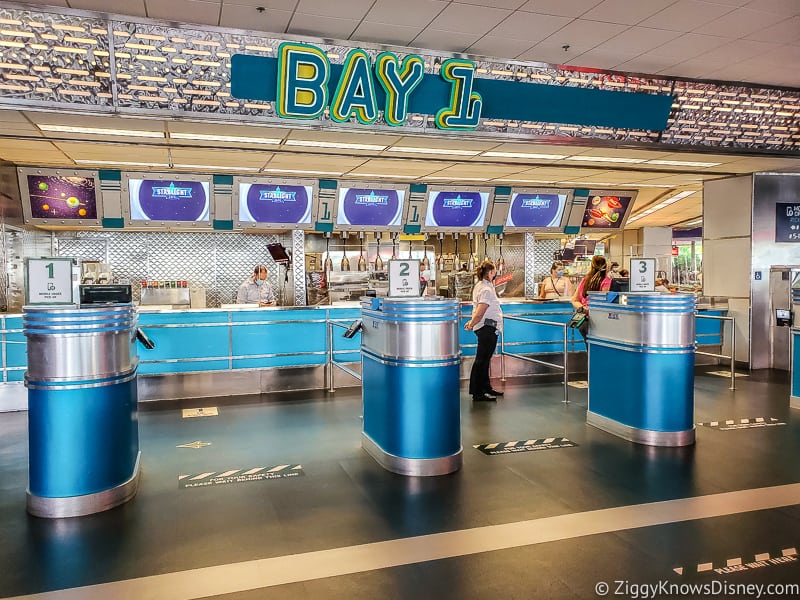 Storybook Treats
You'll even notice hand sanitizer in most locations, like here at Storybook Treats: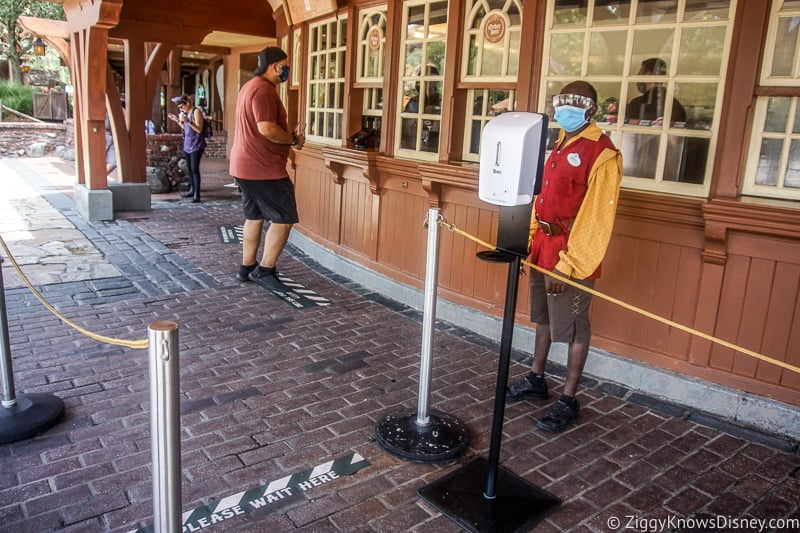 Jungle Navigation Co. LTD Skipper Canteen
Table service restaurants are still operating at this time, like the Skipper Canteen. Disney has introduced two new features to help eliminate guests waiting at the entrance to restaurants.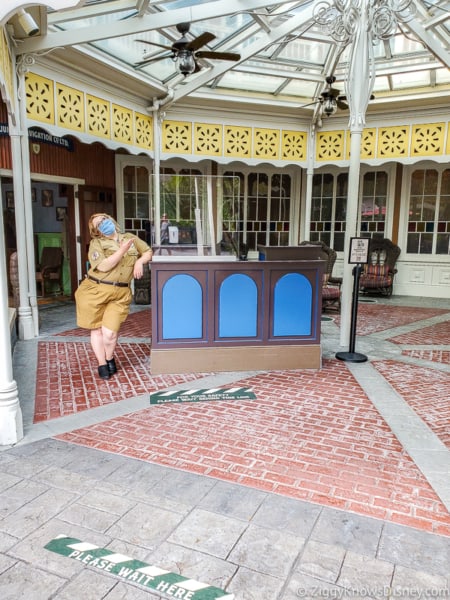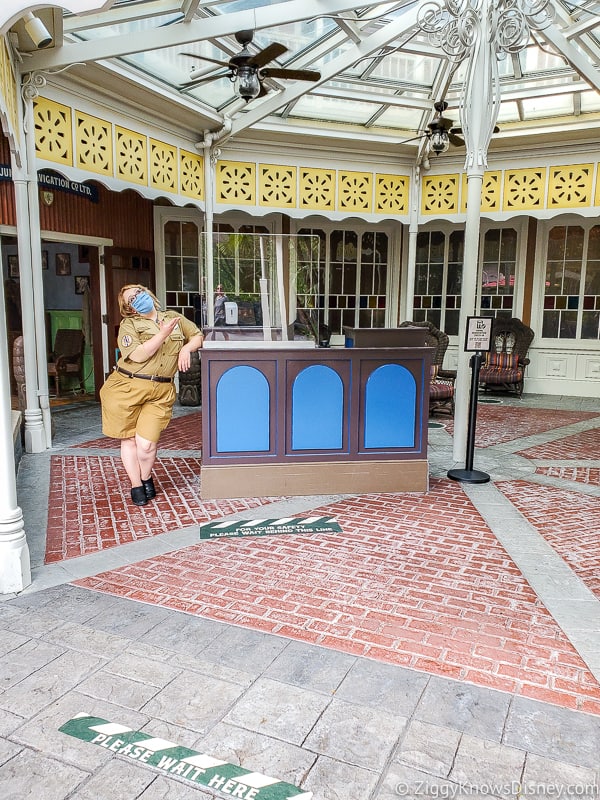 The Disney Mobile Dine Check-In lets you seat yourself when your table is ready so you don't have to ask help from a Cast Member. The Mobile Dine Waitlist lets you enter a virtual queue if you don't have a reservation and tells you how long the wait will be and when to arrive.
For more info about the changes to dining right now, read our post about Disney World Restaurants after reopening.
Shops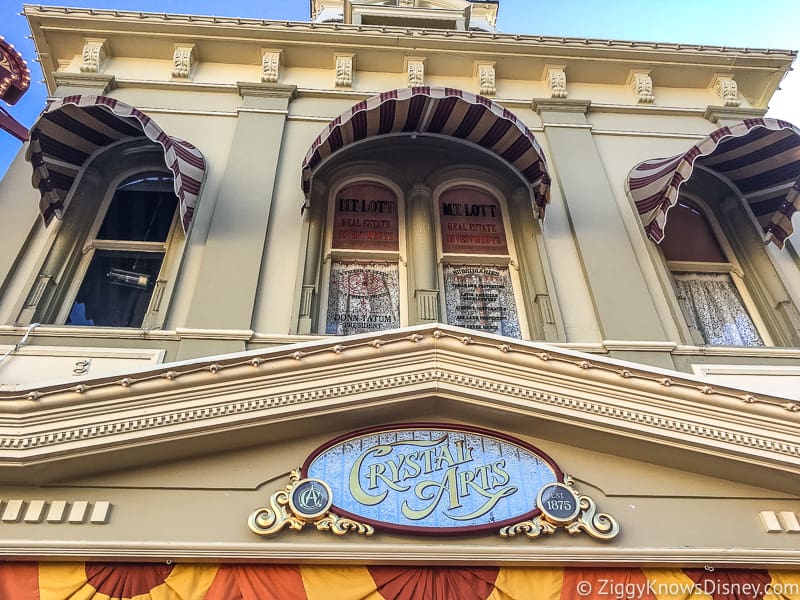 Shopping will always be a big part of any Disney park experience, this is definitely true in the Magic Kingdom while walking down Main Street U.S.A. Here are the shops that are currently open:
Arribas Brothers
Baby Care
Big Al's
Box Office Gifts
Buzz Lightyear's Space Ranger Spin Photos
Crystal Arts
Emporium
Fantasy Faire
Hundred Acre Goods
Island Supply by Sunglass Hut
Main Street Confectionery
Memento Mori
Mickey's Star Traders
Plaza del Sol Caribe Bazaar
Rubio Arts
Sir Mickey's
Splashdown Photos
Strollers & Wheelchairs
The Chapeau
Tomorrowland Light & Power Co.
TTC Cart / Wheelchairs
Uptown Jewelers & Cinema
Ye Olde Christmas Shoppe
The shopping experience has totally changed in Disney World as shoppers now have to wait in a distanced queue to enter the stores or even a virtual queue in some cases.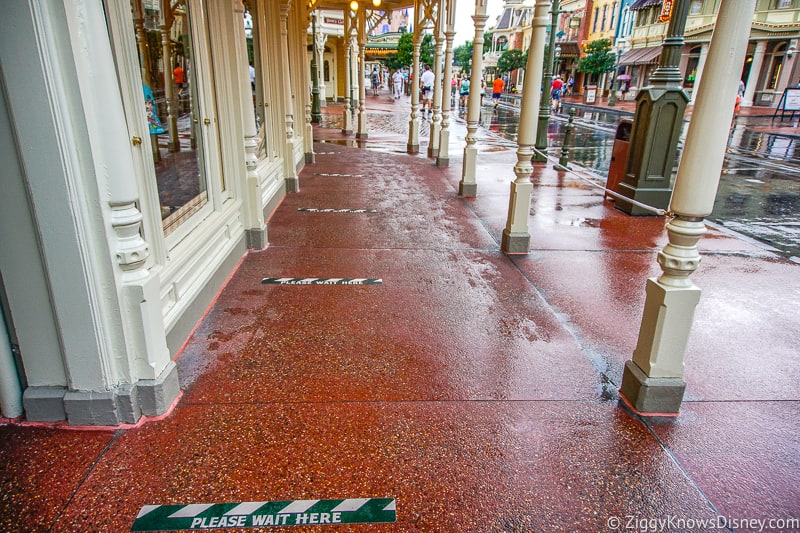 Once you enter the shops you'll see signs telling you to practice distancing: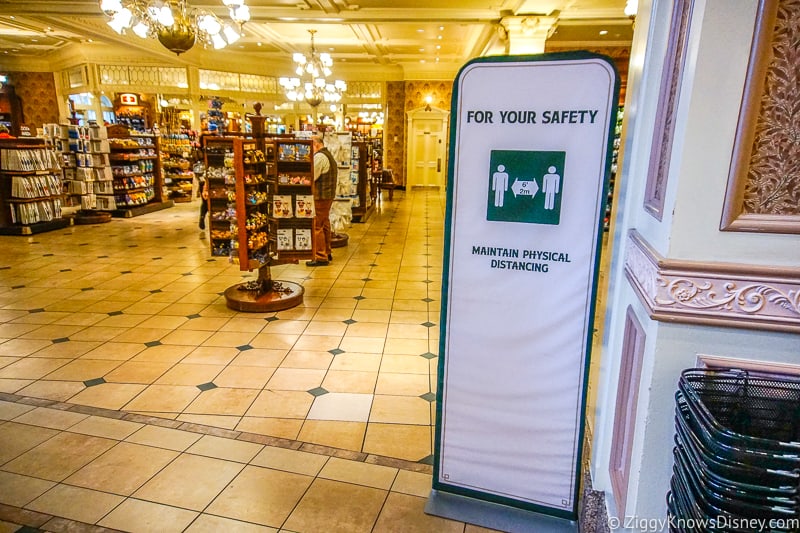 Shoppers are encouraged not to touch the merchandise unless you are seriously considering buying it.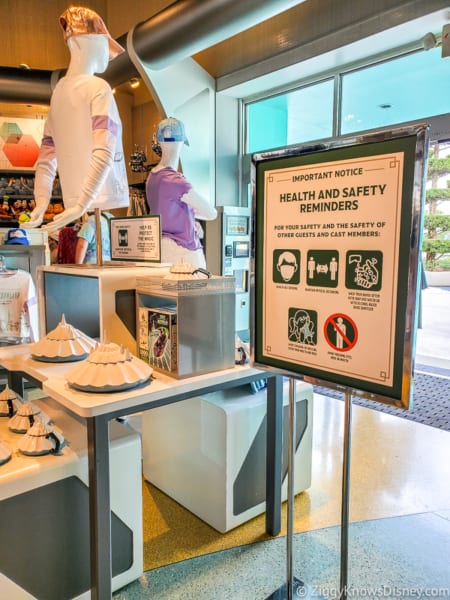 Once you are ready to make your purchase, head to the checkout, following the ground markers and always keeping distance.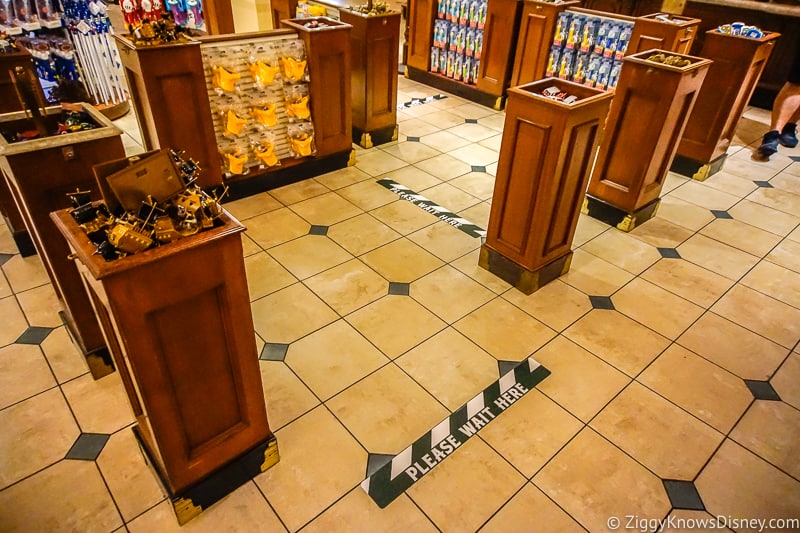 Contactless forms of payment are accepted and plexiglass shields are up at the cash register between Cast Members and guests.