In our 4th and final article in the series, we take a look at EPCOT and what it's like since reopening. Out of all 4 theme parks in Walt Disney World, EPCOT has changed the most and will give you a very different experience than what you are used to when visiting.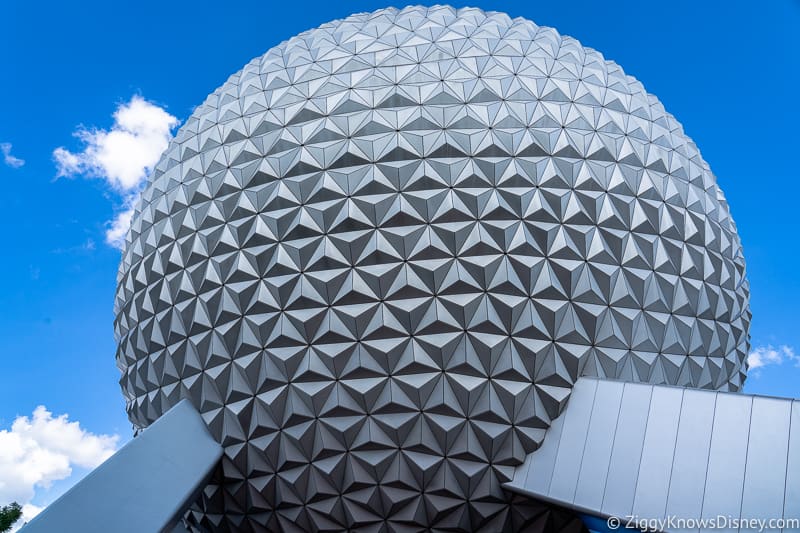 In this post, we are going to explain what's changed in EPCOT since reopening on July 15, 2020. We'll cover everything including which attractions are open, what entertainment is running and which restaurants are available to dine at.
While other parks are harder to plan from a touring perspective (Hollywood Studios), EPCOT isn't difficult to figure out. There aren't a ton of rides anyway, and once you decide when to go on the top 3 rides, the rest of the planning stage is easy.
What's different about EPCOT is the feel of the park. With everything currently going on there, it sends off a vibe at times that doesn't feel the same in either Future World or World Showcase.
Of course, you'll need to know about all the changes to the Disney park guidelines before going and how to get your park passes so you can actually get in. We thought it would be a good idea to share some first-hand photos from the park, discuss what the crowds and wait times are like, and let you know the best way to visit right now.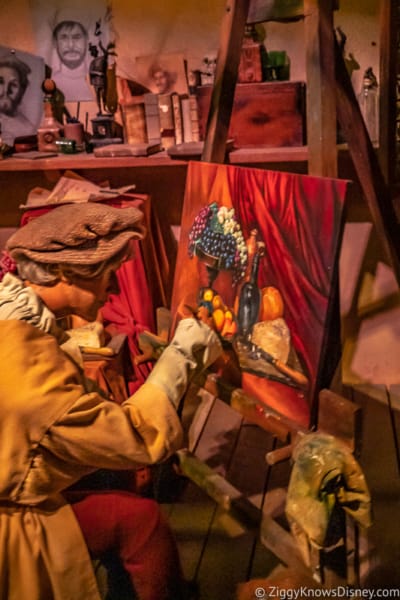 Make sure to read our other guides to the Disney park reopenings before visiting:
Also, before we look at EPCOT, make sure to read our Complete Walt Disney World Reopening Guide which will answer any questions you have about anything going on during the reopening period in the parks, hotels, and restaurants.
Keep checking back as we will continue to update this post with the latest news from EPCOT and anything else you need to know during this reopening phase.
What to Know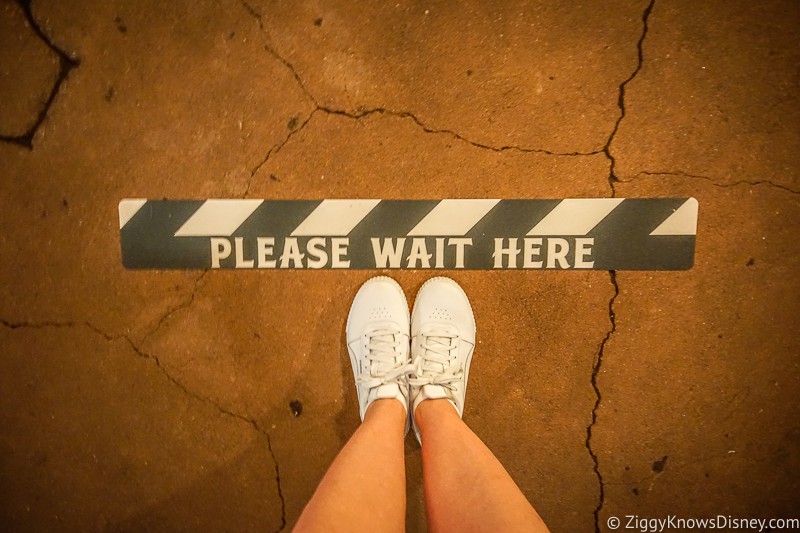 Safety Guidelines
The most important thing you need to know during the reopening phase for any of the Disney parks is all the new safety and health guidelines guests have to follow in the parks. Even if you didn't know, it's hard to miss all the signs around EPCOT.
Here are the most important ones to know about:
Increased cleaning and sanitation
Wearing face masks
Physical distancing in queues (this has been eliminated)
Some of them are common sense and easy to follow (hand-washing), while others are more cumbersome and test guests' patience (face masks).
Currently, face masks are required in all Disney theme parks, including EPCOT, though with some exceptions.
Vaccinated & Unvaccinated Guests – Masks are required in all indoor areas, including all indoor attractions like Test Track and Soarin' and on Disney transportation.
Face masks are not required for any guests in outdoor areas or when consuming food or drink.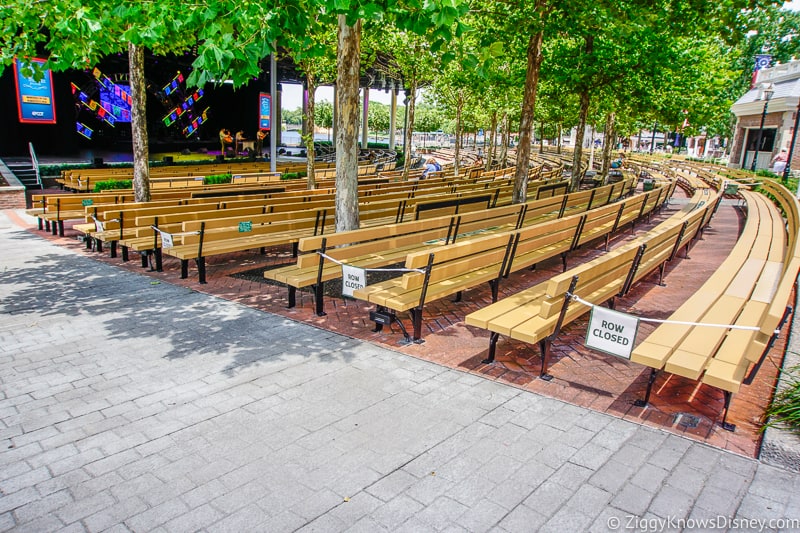 You also need to be aware that distancing is currently not being practiced in the park, nor in the attraction queues. You may have seen the distancing markers on the ground to space guests out in the past. Those have been removed in recent weeks and the protective barriers and ground markers are now gone from the parks.
While we know these changes can be annoying, try to have patience while visiting Disney right now. They are the only reason the parks are allowed to operate, and the better things run, the sooner we can have more of a "normal" experience there.
If you want to get more details on the heath and safety while visiting, read our post on all the New Safety Measures at Disney World.
Limited Capacity – How many?
All 4 Disney World theme parks have limited capacity from what they normally have. That means many fewer guests each day are allowed entrance.
EPCOT has the highest park capacity, and under normal circumstances, it can hold as many as 100,000 or slightly more. That of course is not happening right now, and Disney has announced they are limiting it to somewhere above 35% of the normal capacity.
From what we've seen ourselves, EPCOT has been getting increasingly busier and it is probably somewhere near half capacity on most days.
Not Everything Open
As in the other parks, not everything is open in EPCOT, so expect some closures while visiting during this period. Some of the attractions are still closed (though very few), entertainment options are fewer (but increasing), and still some of the restaurants in World Showcase have yet to open their doors.
EPCOT Festivals Still Going On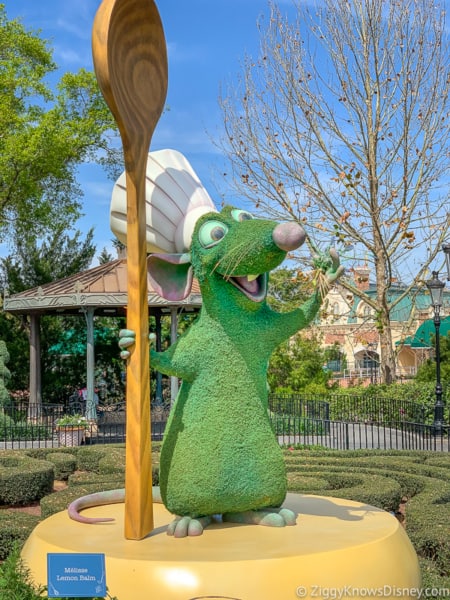 Let's face it, most of our visits to EPCOT are during one of the 4 yearly festivals, so we were happy to learn that Disney is still running them going forward.
The EPCOT Food and Wine Festival took place last year and is happening in 2021. In fact, Food and Wine started on July 15, and it is one of the longest-running festivals the park has ever had.
Last year there was a reduced number of food marketplaces and each of the menus was missing a few items that in a normal year would be there. These have both increased this year and are almost back to normal.
As for the other festivals in EPCOT, Disney ran all of them in 2020 and the Festival of the Arts and the Flower and Garden Festival also ran in 2021, though in a reduced form. The EPCOT Festival of the Holidays is also happening in November 2021.
Not the "Culturally Authentic" EPCOT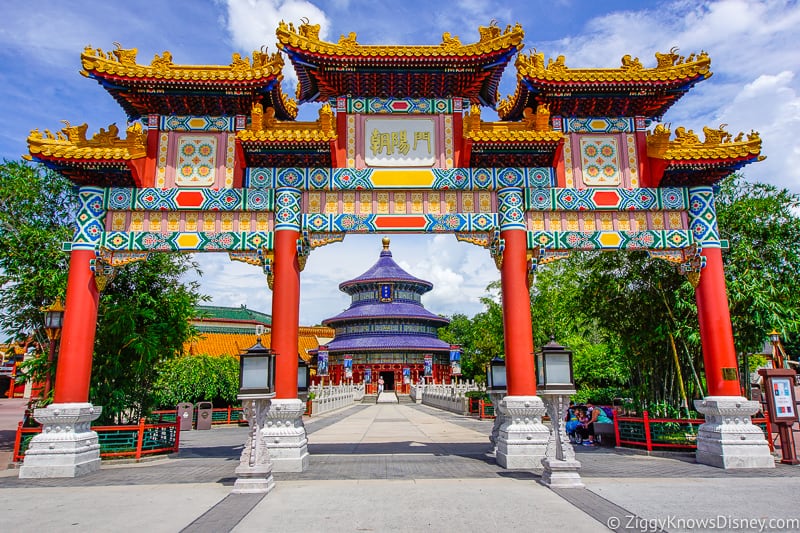 One of the beautiful things about EPCOT is the cultural diversity throughout the countries in World Showcase and the fact that you normally find representatives from each specific country actually running the shops and restaurants in those pavilions.
Unfortunately, that's not the case right now as most of the international Cast Members were forced to go home shortly after the closure.
While all the Cast Members have been super-friendly, there's just something strange about walking into the Japan pavilion and seeing mostly Americans working there. It kind of takes away some of the immersion the experience should give you. I guess you don't appreciate what you have until it goes away, as is usually the case.
It looks like the countries might be getting members from the International Program back soon, but Disney hasn't made any announcements yet which means we are still many months away.
Lots of Construction
Not that this was much different before the closure, but the construction is EVERYWHERE in EPCOT and is impossible to miss. Future World at this point is mostly a maze of construction walls and work is visible from almost every vantage point in the park.
We'll get into the specific projects happening later on, just know before you go that it is a major factor when visiting, and we still have a few years left ahead of us before it's finished. That doesn't mean it still can't be fun, but construction is very present.
Suspended Services and Experiences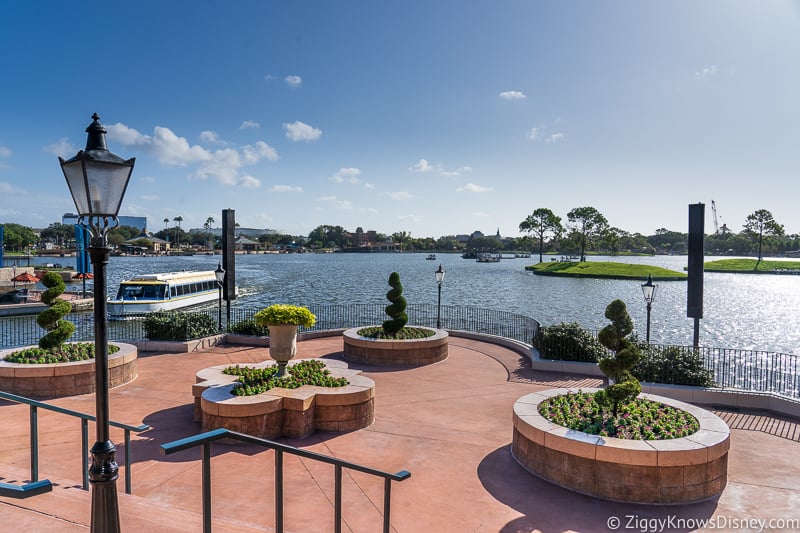 Many of the normal services and experiences in EPCOT are not currently running at this time and have been suspended. Here is what to expect:
Extra Magic Hours
Disney still isn't running Extra Magic Hours in the parks at this time. This includes both Morning and Evening Extra Magic Hours. Instead of keeping the parks open extra time, they have actually been reduced even further into the Winter.
Disney has come up with a replacement for Extra Magic Hours called "Early Theme Park Entry." It lets all Walt Disney World Resort hotel guests access the parks 30 minutes before the scheduled park opening for that day. It will be available at all 4 theme parks, every day of the week once it debuts sometime later in 2021.
It's better than nothing, but it's not as good as Extra Magic Hours and doesn't give incentive nearly as much when deciding to stay on-site or off-site.
FastPass+
One essential key to touring EPCOT is usually FastPass+, however, that has all changed now with the introduction of Disney's new paid system, Disney Genie and Lightning Lanes. That's right, Disney has eliminated FastPass+ for all 4 theme parks and it's not coming back.
To get on the attractions in EPCOT you either need to wait in a standby queue or use the Disney Genie+ service and pay to skip the lines.
The queues that were previously dedicated to FastPass+ are now being used for the Lightning Lane so guests can pass by the regular queue. Right now it's not as important as wait times have been relatively low, but when park attendance picks up it will make a big difference.
Dining Reservations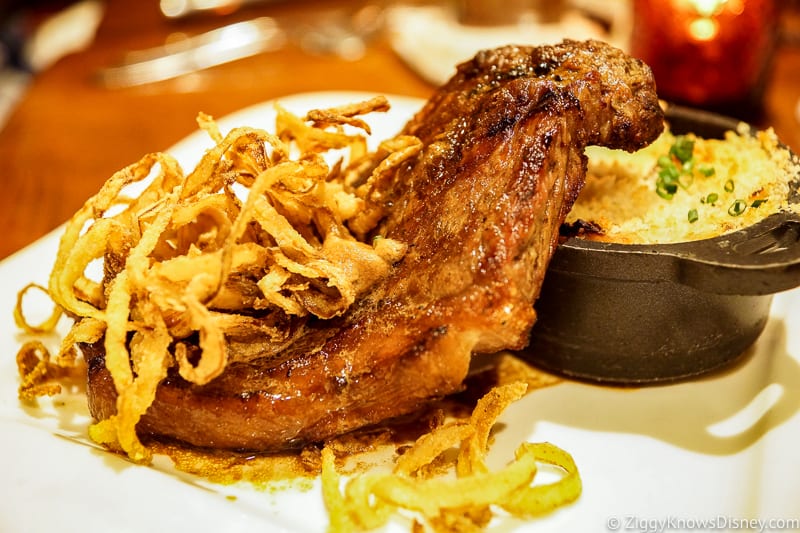 Of all the procedural changes in the parks, dining and restaurants have perhaps been the most affected. Here are some of the changes you should be aware of:
No Disney Dining Plan – This has been suspended for the rest of 2021 with no word for 2022. That means no more snack credits for a while and guests will not have the option to pay for meals ahead of time. The Disney Dining Plan is coming back, we just don't know when yet.
Dining Reservations – The Advanced Dining Reservation booking window has been reduced from 180 days to now only 60 days.
Limited Dining Options – Some restaurants are not running at this time.
New Technology – For safety reasons, Disney is using new technology in its restaurants including contactless menus, Mobile Ordering, Mobile Dine Check-In, Mobile Dine Waitlist, and cashless payment.
Special Experiences
As of this writing, all special experience bookings, tours, and events have been canceled in EPCOT for now in 2021. Disney will release more info soon on when we can expect these experiences to return.
How to Get Into EPCOT in 2021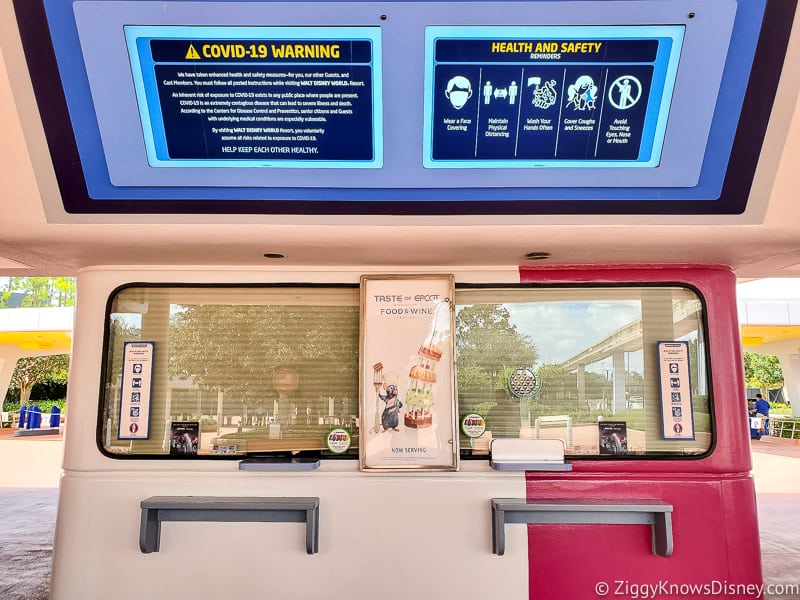 A huge change in the park-going experience is the fact that you must buy tickets in advance, and they must be accompanied by one of the new Park Pass reservations.
Getting Tickets
First, you need to buy your park ticket for EPCOT if you don't already have one. Both Single and Multi-Day tickets are available to purchase for dates in 2021 online on the Disney World website. Tickets are available right now through December 31, 2022.
If you are an Annual Passholder you already have your park admission covered, just remember to check blockout days depending on the type of annual pass you have. Read our Disney World Annual Pass Guide for more details on the new system.
Getting Park Pass Reservations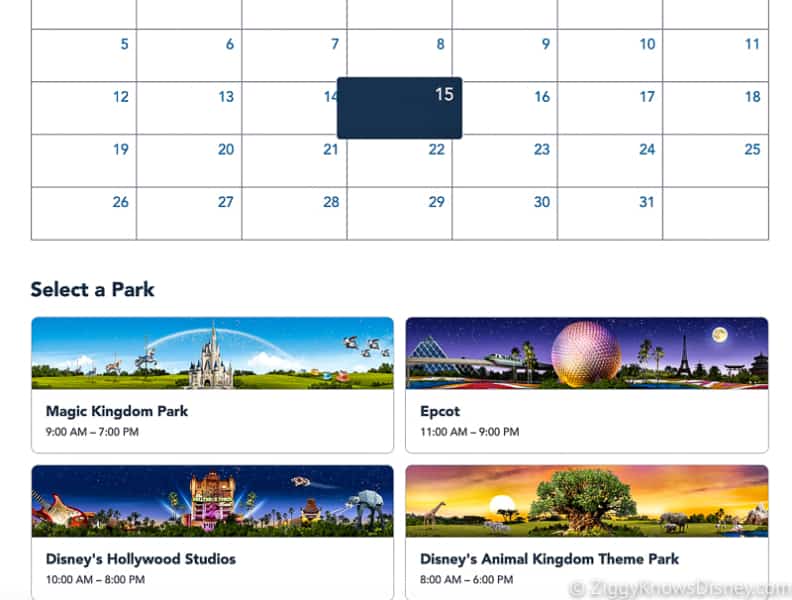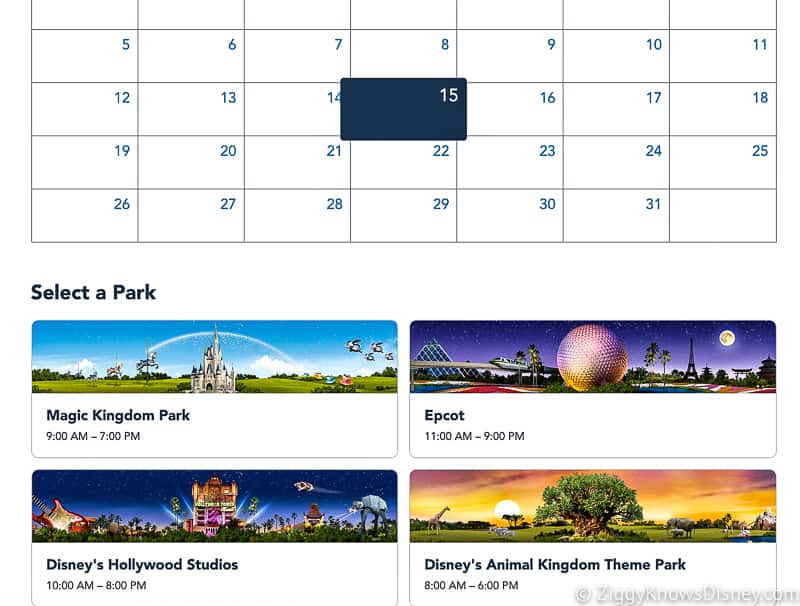 Once you have your park admission, you also need to make a Park Pass reservation. These are two separate things and the reservations are free, but both are required.
It's very important to know that you CAN'T get into the parks without a park pass reservation.
Disney started the Park Pass system due to the current limited capacity of the theme parks. It's necessary to control the number of people they let in each day, and it's a much better system than just waiting until a theme park hits its limit at which point you are forced to send people away.
There is different availability depending on which type of park ticket you have (Annual Pass, Regular Park Ticket, or Disney Hotel Guest), but for the most part, EPCOT usually isn't sold out.
There are some restrictions on how many park pass reservations you can have at once.
Disney World Resort guests can have reservations for each day of their hotel stay.
Annual passholders are limited to up to 5 at a time.
You can make reservations on the Disney World website, just remember, you'll need to have a valid park admission before making a park reservation.
TIP: EPCOT is the easiest park to make last-minute park pass reservations to, so if you are a local, use this to your advantage
Read our post on How to Make Disney World Park Reservations for a detailed walkthrough of the new system.
Park Hopping is Back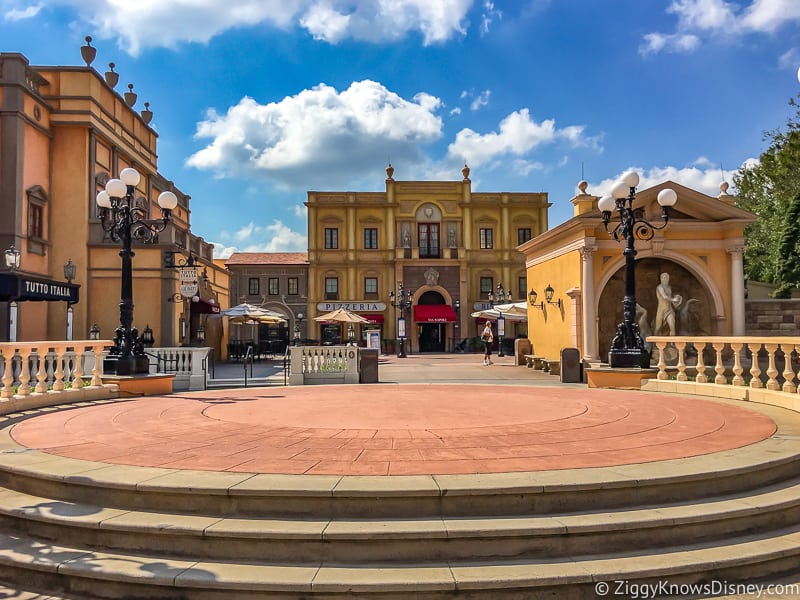 One of the biggest bummers when the parks reopened, was that Park Hopping was temporarily suspended.
This was bad news for anyone like us that like to go to one of the parks in the morning, head back to the room for a nap, and then over to EPCOT in the evening for dinner.
That however has recently changed and Park Hopping has now returned to Disney World starting January 1, 2021.
There are still some restrictions however as the parks still have capacity limits. To understand the latest changes read our post on Park Hopping at Walt Disney World where we break it all down.
We are obviously happy to have this option back and EPCOT especially will benefit from thousands of guests who like to come to the park in the evening for the many dining options after visiting a different park the same day.
Hours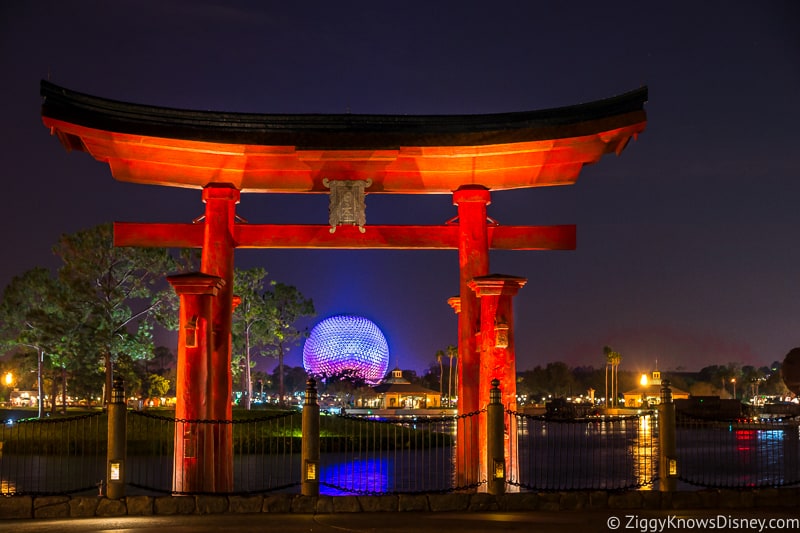 Usually, EPCOT has 9:00 am openings and 9:00 pm closing times, with the park staying open even later on days with Extra Magic Hours or during the busy season. However, like all the other Disney Parks right now EPCOT has generally reduced hours.
Here is the upcoming EPCOT Park Hours:
From Now through November 7 – 10:00 am to 10:00 pm daily
From November 7 through December 18 – 11:00 am to 10:00 pm daily
During the Fall EPCOT hours have been reduced with openings at 10:00 am or 11:00 am and closings at 10:00 pm daily. These are the new Fall Hours starting up at Walt Disney World with all parks getting an extension for now.
In November things change, however, with the park opening one hour later at 11:00 am. We don't know if those will be the final hours for EPCOT or if park times will be changed again and possibly extended as the weeks go on and into the holiday season.
TIP: Disney's new Early Theme Park Entry for Walt Disney World Resort hotel guests allows you access to the theme parks 30 minutes earlier than the scheduled opening time. Make sure to take advantage of this if you are staying on-site.
We'll keep an eye on it and let you know as soon as we find out more.
Entrance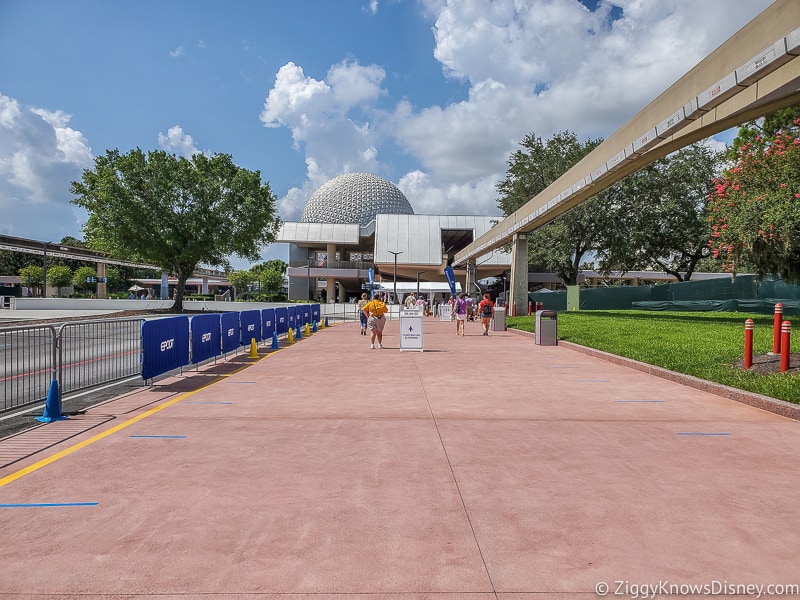 Are you ready to head into EPCOT? Let's see what it's like…
The entrance arrival experience is definitely different than before. The first thing before even leaving the parking lot, you will notice the face mask dispensers set up in case you forgot yours at home. They cost $2 each.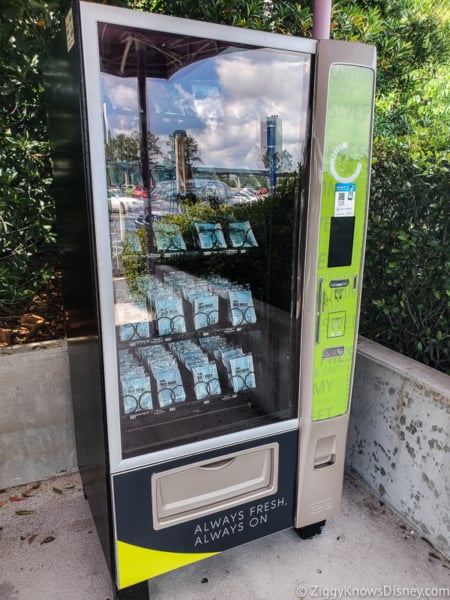 Signs are up all along the walkway as you approach the entrance telling you about all the new safety and health measures in effect.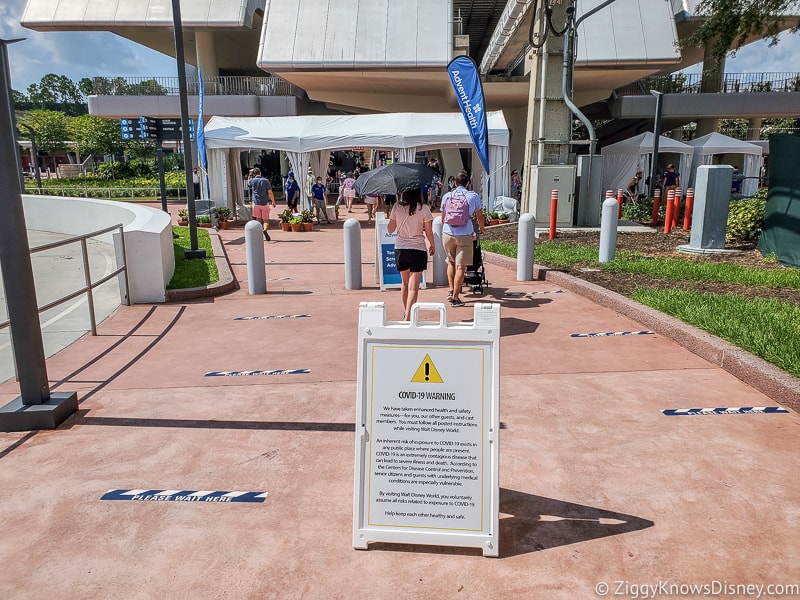 Now that we're through security, let's head to the turnstiles.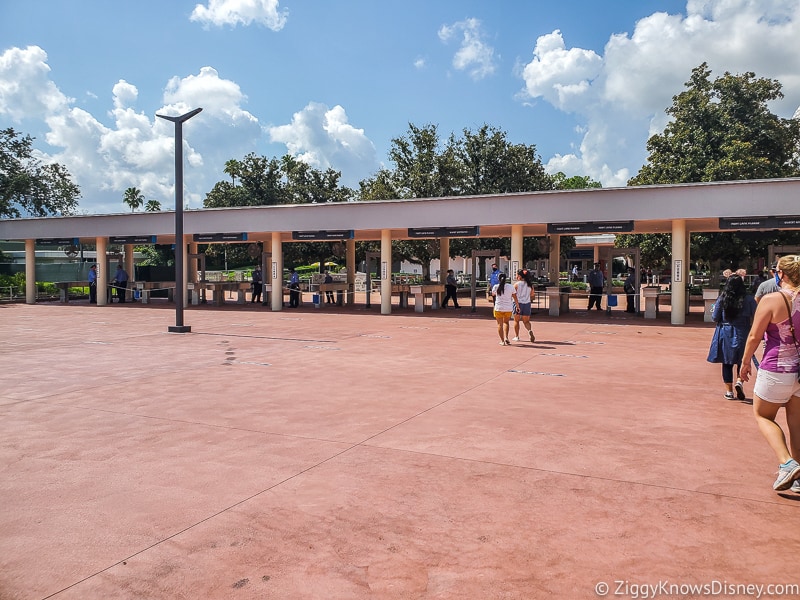 On our trips to EPCOT crowds were low and there wasn't much crowding at all to get in.
If you haven't been to EPCOT in a while, the whole entrance to EPCOT has been re-done and it is now a much smoother experience. The new security checkpoint at the EPCOT entrance is working and guests were moving through quickly without many holdups.
The turnstiles are just as quick and unless you are there at rope drop you shouldn't find many people in front of you at all.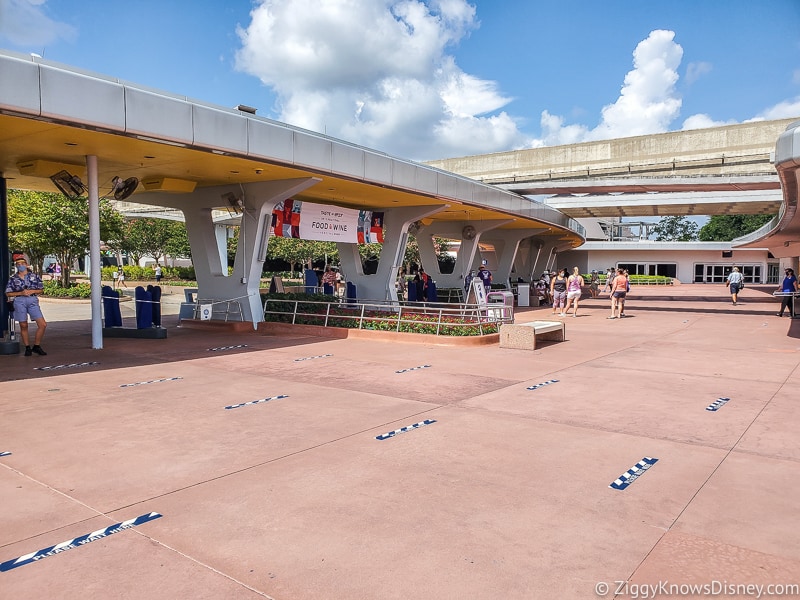 Once you tap in and enter the park, you find yourself in the new EPCOT Entrance Plaza. Work has been going on here for over a year now and the layout is completely different.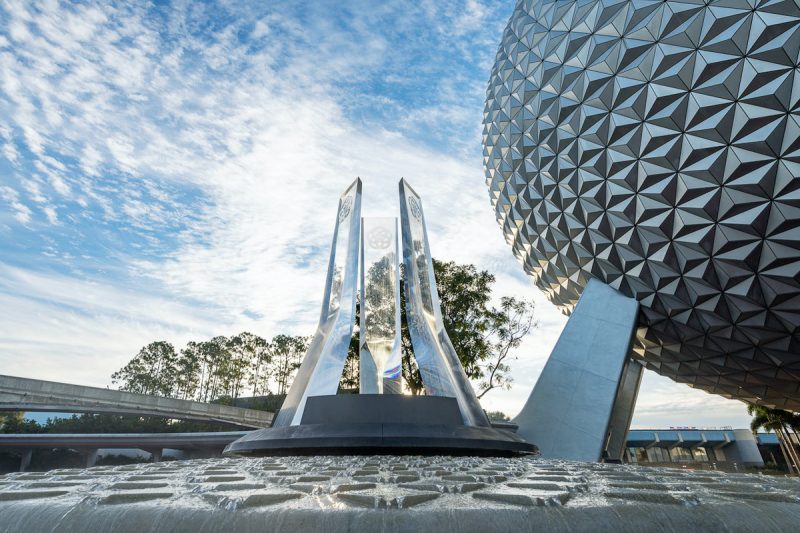 You may notice the huge Leave a Legacy monuments are gone, and Disney is putting more emphasis into making the entrance green with lots of trees and flower beds.
The centerpiece of the plaza is the re-done fountain right before reaching Spaceship Earth. It's a throwback to the original EPCOT fountain and we couldn't be happier with the way it's turned out. We just love those old-school acrylic prisms!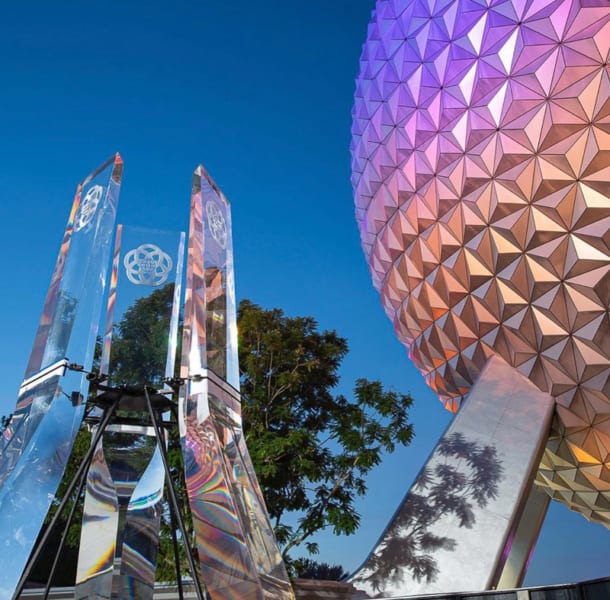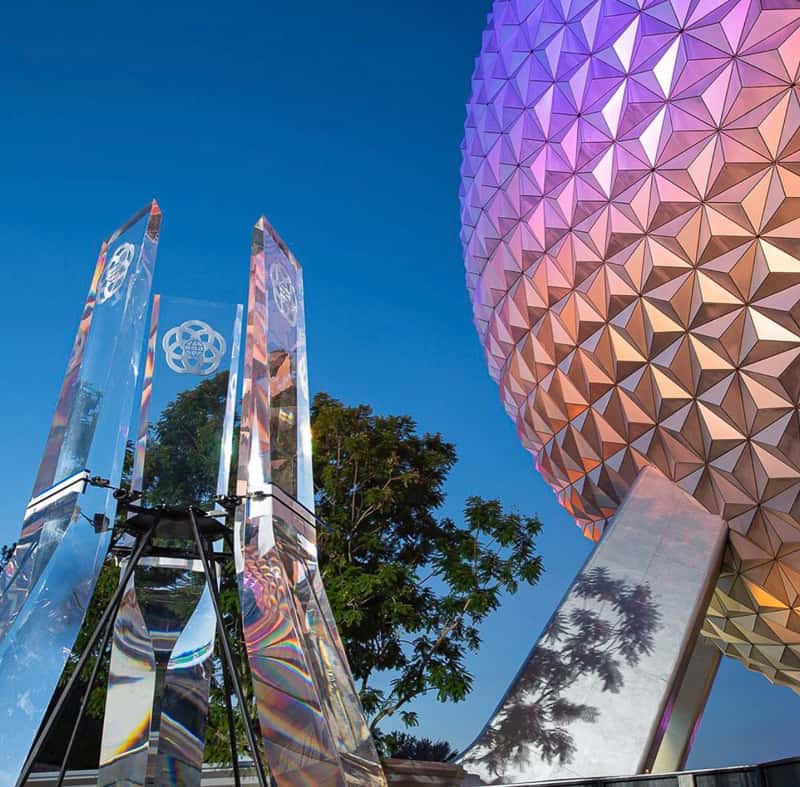 The fountain is now open and it offers so many awesome photo opportunities both during the day at night (when we can actually still be here at night).
Attractions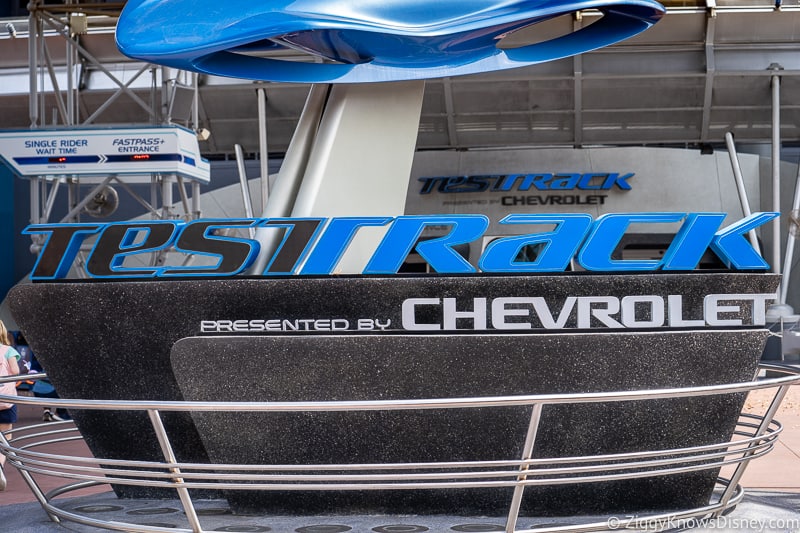 Just like in the other parks, not all of the attractions in EPCOT are currently open, though most of them are. Right now there are a total of 19 open attractions on the list, meaning you can visit all but 2 right now. Attractions have never been EPCOT's strong suit, but at least almost everything they have is open right now.
Let's check out what's open, what's not open, and then how some attractions are different after reopening.
What's Open
Advanced Training Lab
Awesome Planet
Beauty and the Beast Sing-Along
Bruce's Shark World
Canada Far and Wide
Disney & Pixar Short Film Festival
Friendship Lagoon Boats
Frozen Ever After
Gran Fiesta Tour Starring The Three Caballeros
Impressions de France
Journey Into Imagination with Figment
Kidcot (modified)
Living with the Land
Mission: SPACE
Project Tomorrow: Inventing the Wonders of the Future
Reflections of China
Remy's Ratatouille Adventure
Soarin' Around the World
Spaceship Earth
Test Track
The American Adventure
The Seas with Nemo & Friends
Turtle Talk with Crush
Walt Disney Imagineering presents the Epcot Experience
What's Not
Even though EPCOT doesn't have the most attractions of all the parks, everything is now back up and running. the big ones are open and running fine for the most part, though some like Frozen and Test Track have had small maintenance issues.
The only attractions closed at EPCOT right now are Turtle Talk with Crush and Project Tomorrow (if you want to consider it an attraction. Turtle Talk should be coming back soon but we expect Project Tomorrow to stay closed until a refurbishment happens to Spaceship Earth.
We're happy that at least most of the best rides at EPCOT are open once again and will now stay that way.
Attraction Reports & Wait Times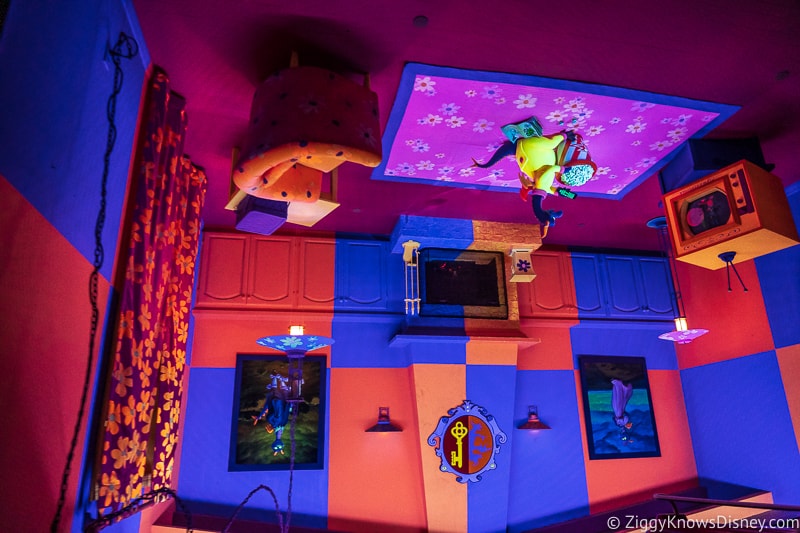 When EPCOT first reopened, wait times were extremely low. In fact, it's the park with the second-lowest wait times behind only Animal Kingdom. That changed in the Spring when things were very busy, but the crowds have since come back down to earth.
The Big 3: Test Track, Frozen Ever After, and Soarin' Around the World are all on average 45 minutes or less making it doable even multiple times per day. Of all the rides in EPCOT, Test Track has the highest wait times at around 50-60 minutes and Frozen Ever After averaging 45.
For the most part, wait times have gone up since the reopening, and since we are in the Summer with crowds increasing, expect to see wait times keep going up too.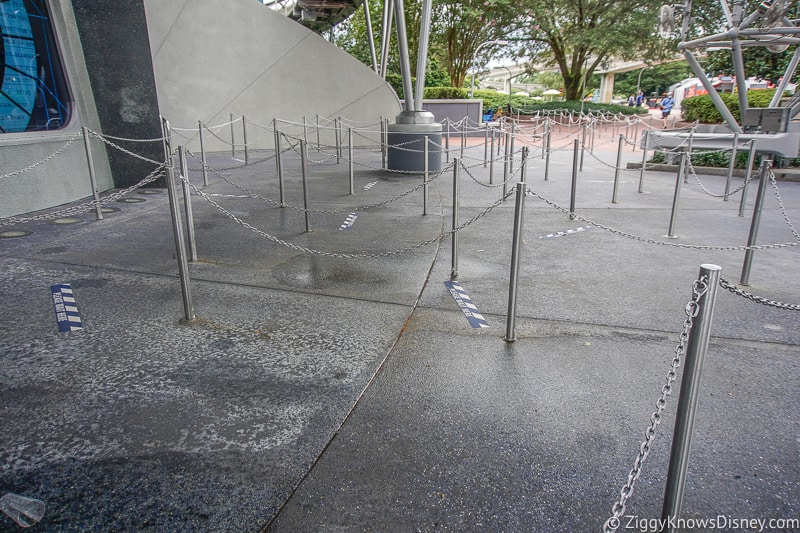 Beyond those 3 rides, you don't have to worry much about wait times in the other attractions. The majority never go above 20-25 minutes, and many are walk-ons outside the "busy" period from 12:00 pm – 3:00 pm.
Park-wide, wait times are lowest in the first hour of EPCOT opening, then they spike for a few hours until mid-afternoon and then drop lower until closing. As we now have increased park hours we're interested to see what this will do.
We've also discovered that wait times are usually much lower than what they are listed at when you enter the queues, and often a listed 30-minute wait, in reality, is only 20-25. This has been consistent with all 4 parks.
Frozen Ever After
This has steadily been one of the two most popular rides in EPCOT since it opened in 2016, and it remains that way after reopening.
We've seen average wait times of 45-60 minutes which seems strange since the line is often out the door and into the plaza. That's due to the distancing set up in the attraction queue and everything moves very quickly.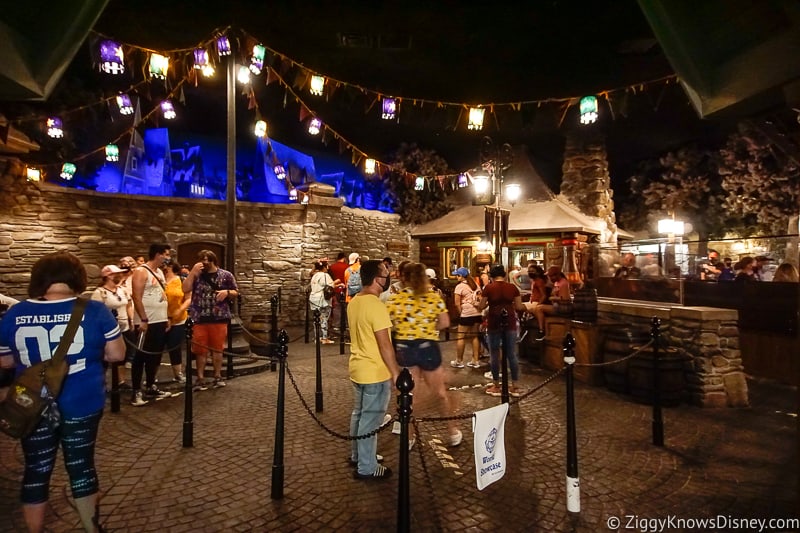 There are also protective plexiglass barriers set up in the queue since it's indoors and in a small space. Get used to these because most attractions have them.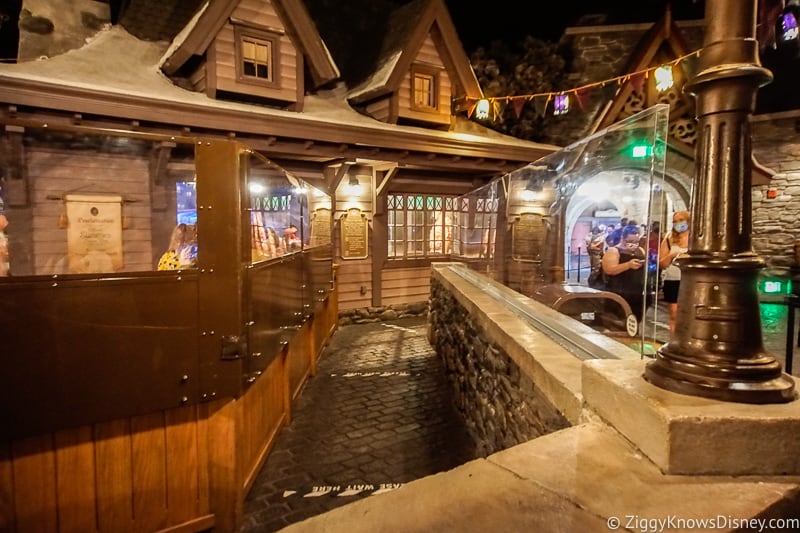 The boats are being loaded with fewer guests, only the front and back rows are being used with the middle rows left open.
Test Track
Test Track is the other most popular ride in EPCOT, and like Frozen it's been averaging about 60 minutes, but less first thing in the morning or later in the day.
The queue here also has plenty of plexiglass barriers: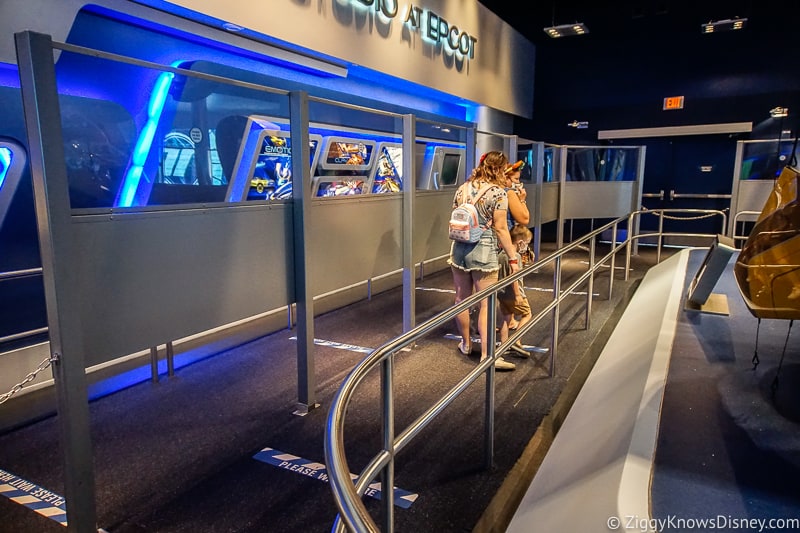 The interactive pre-show where you build your car has been re-enabled at this time for guests to use.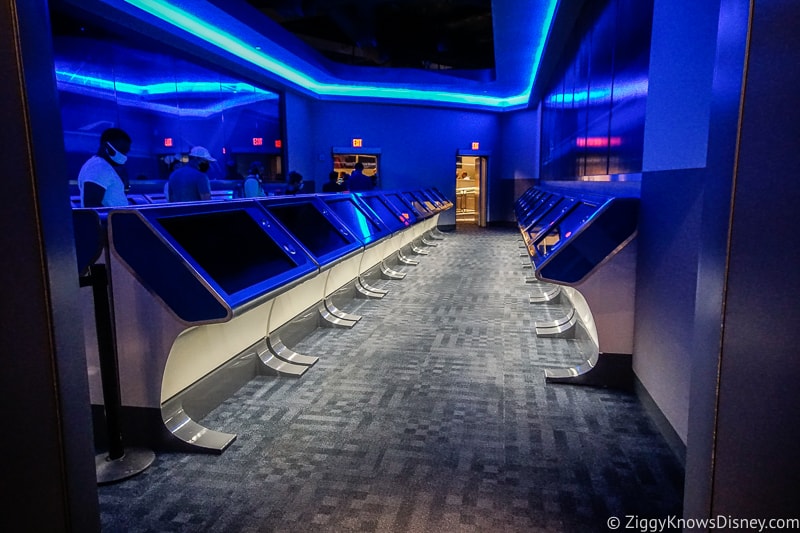 Let's head into the ride loading area where distancing was set up.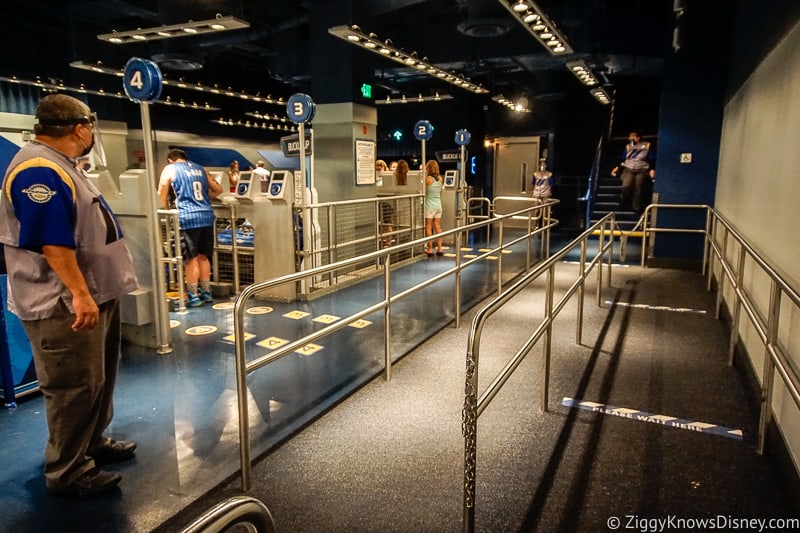 Like on many other attractions, the ride vehicles for Test Track are being cleaned frequently. Guests from multiple parties are now being loaded in the same ride vehicle.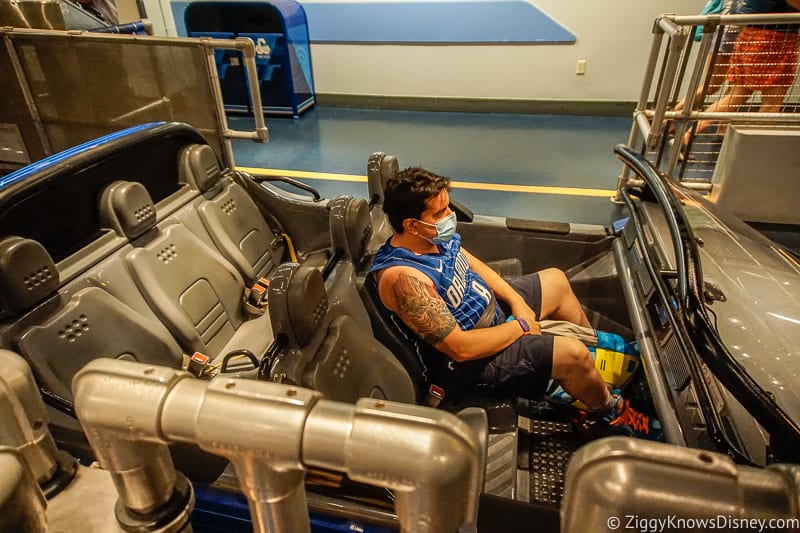 Yes, masks are obligatory even on thrill attractions like this one.
After the ride is over, we find the interactive features of the post-show also turned off, but the cars are still viewable.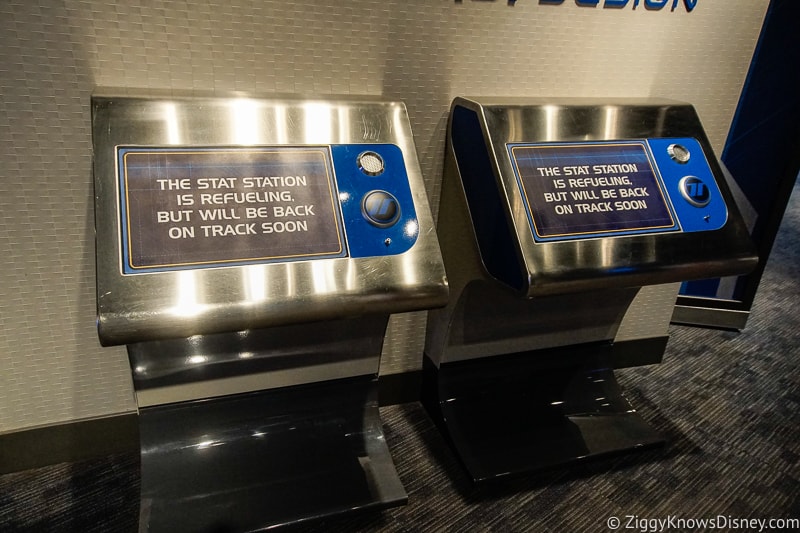 Soarin' Around the World
For a while Soarin' Around the World had significantly lower wait times than the other "Big 3" but it too has seen increased wait times in recent months. The average wait time is usually around 45 minutes but closer to 20 minutes later in the day.
The queue had plenty of distancing markers but those have now been removed: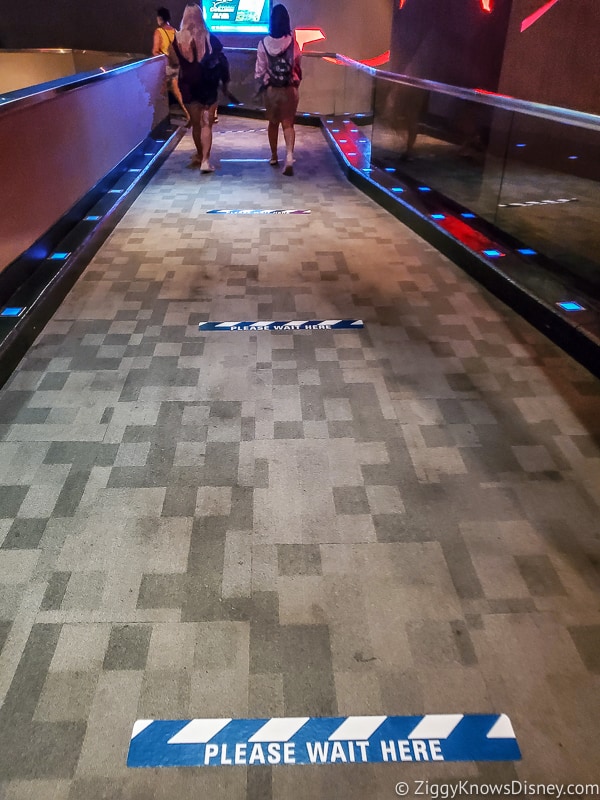 And those plexiglass barriers are here too once you get to the loading area: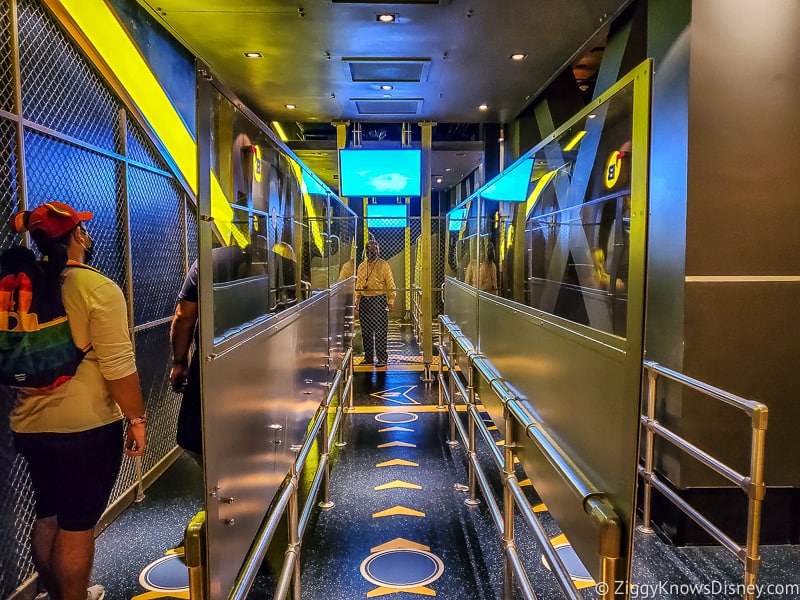 Even the plexiglass dividers on the ride vehicles have been removed.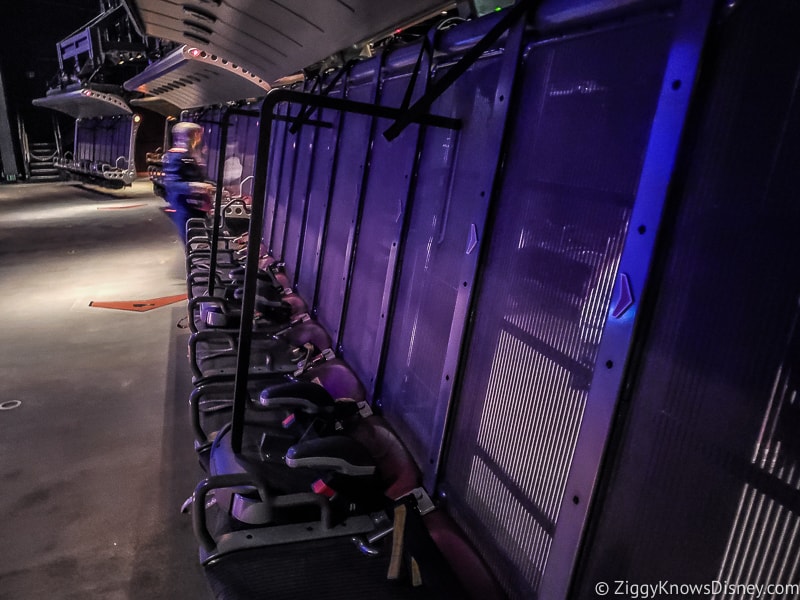 Another big change is the scents are now back in the various scenes which is a huge part of the ride imo.
Spaceship Earth
Spaceship earth was supposed to close down in May 2020 and start a massive refurbishment project, completely overhauling the classic ride. Due to budget cuts, that isn't happening right now and Spaceship Earth is back open once again. At least we can ride it a few more times again before the change.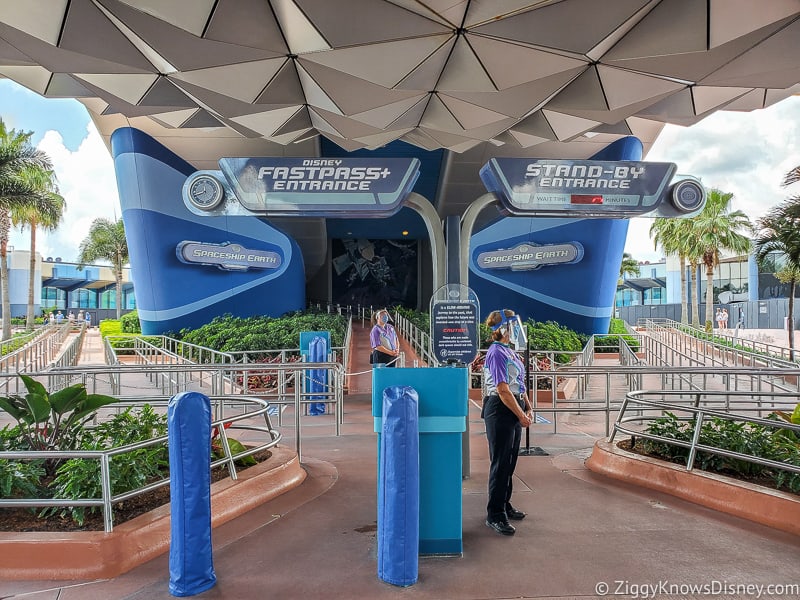 Waits for Spaceship Earth are almost inexistent and rarely have wait times more than 20 minutes. The ride itself is pretty much the same except the scent in the Rome scene had been turned off, but is now back again.
Once you leave the ride, Project Tomorrow is totally shut down. Before the closure, most of the machines here weren't working, though many have now been turned on once again. It looks like they are going to keep this area running until they ever get around to starting the refurbishment.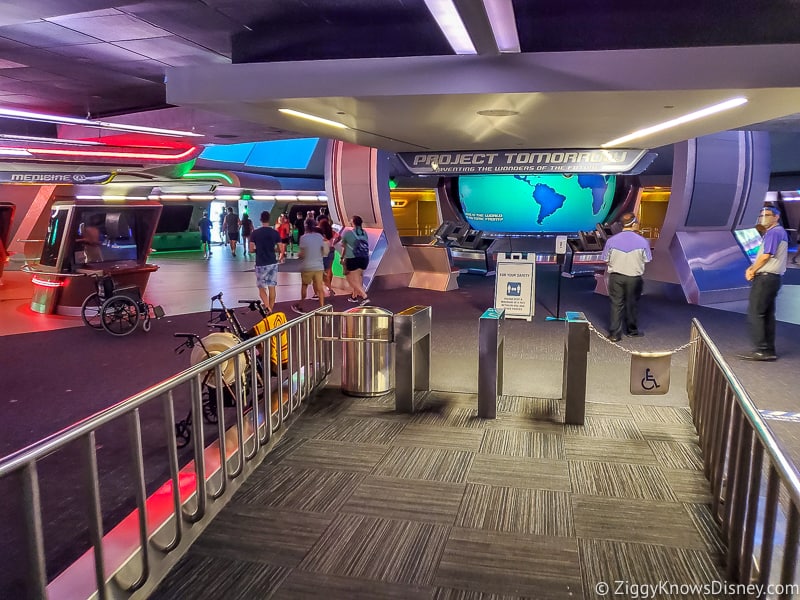 Living with the Land
The Living with the Land queue is like all the others with a socially distanced queue and plexiglass barriers up throughout.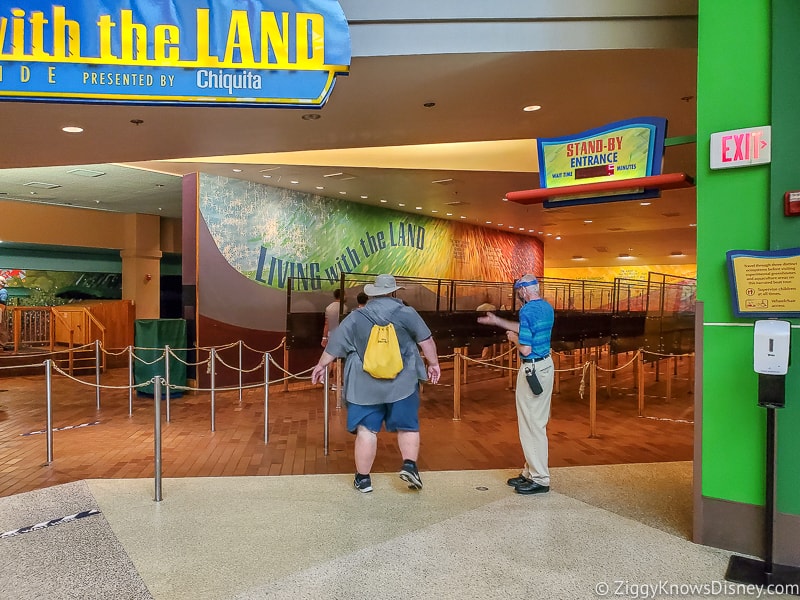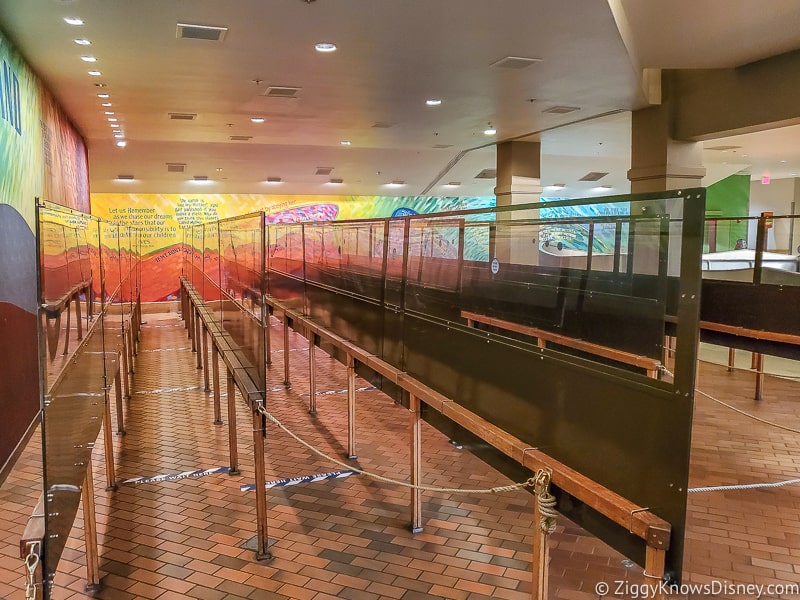 The boats had been modified with plexiglass dividers between rows, though they have since been removed. It was a little cumbersome and we found it distorted your view somewhat. It's all good now since they have gone back to normal once again.
Mission: SPACE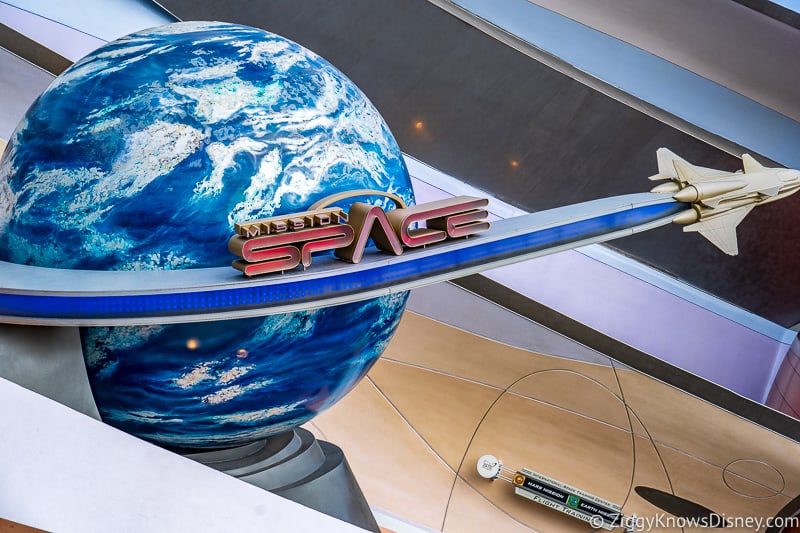 The biggest change with Mission: SPACE besides the distanced queue is they only load from the same party into each ride vehicle. The interactive Advanced Training Lab has been turned back on.
Gran Fiesta Tour Starring The Three Caballeros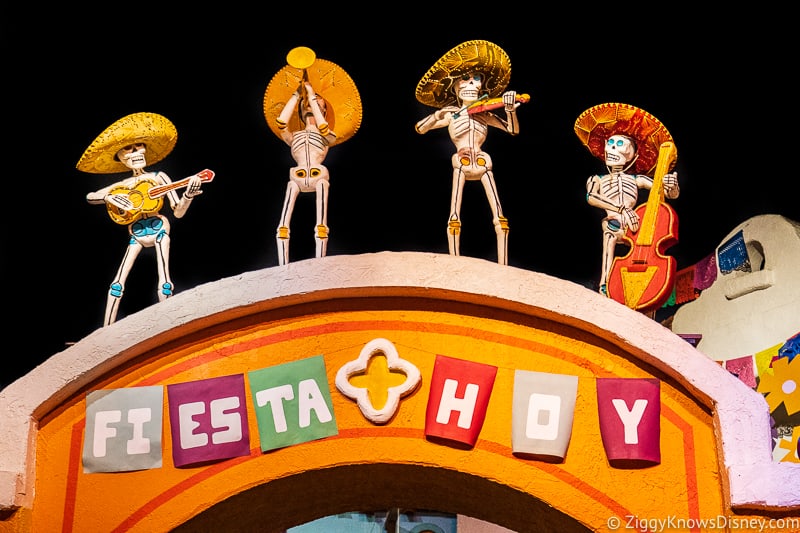 The Gran Fiesta Tour had an interesting start as the José Carioca animatronic was having mechanical problems and went missing for a couple of weeks. The problem was fixed and he's now back in place once again.
The small queue utilizes the plexiglass dividers and the boats are loaded with fewer guests and cleaned before each new loading. Wait times are usually 10 minutes.
The Seas with Nemo & Friends
Another super easy ride to get on with waits between 10 and 15 minutes. The queue had distanced markers on the ground for guests but they have been removed: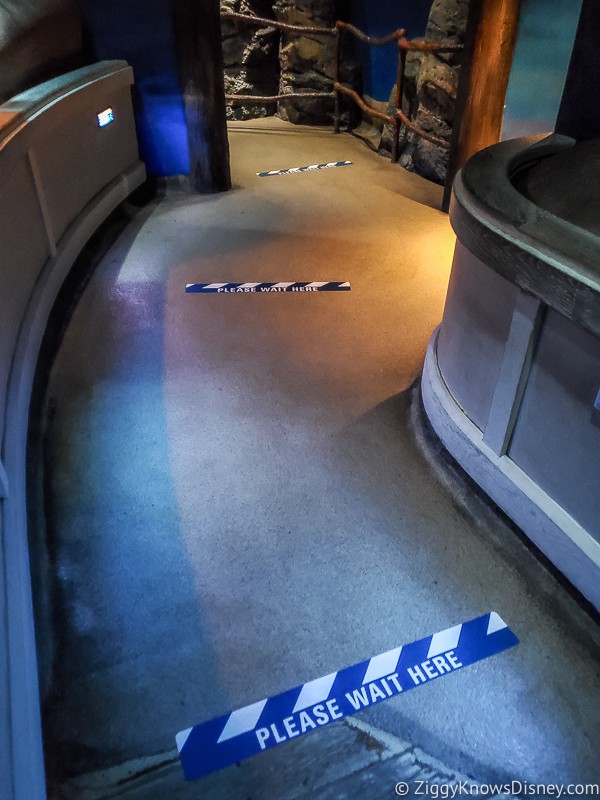 It still has plexiglass dividers: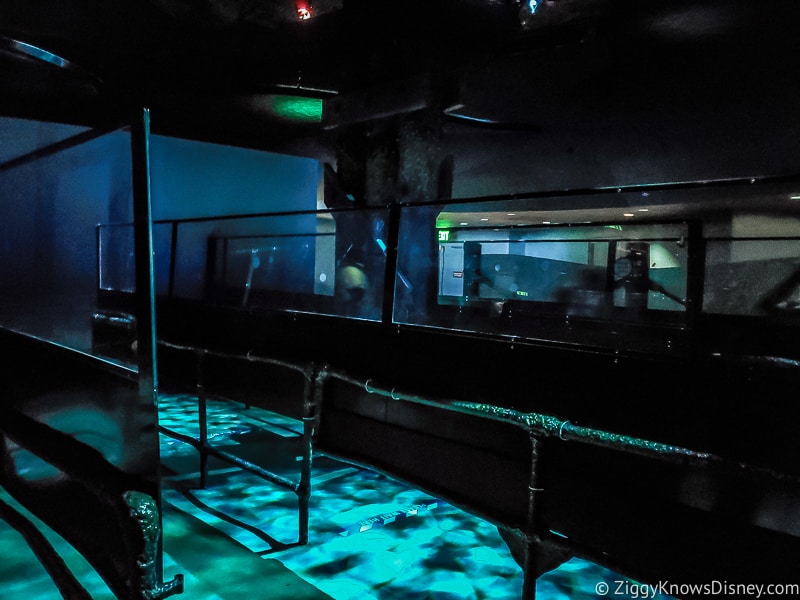 The other exhibits in The Seas pavilion are cleaned often by Cast Members, especially in the high-touch areas.
Journey Into Imagination with Figment
Journey Into Imagination with Figment averages less than a 10-minute wait to get on, and we have been getting on even faster.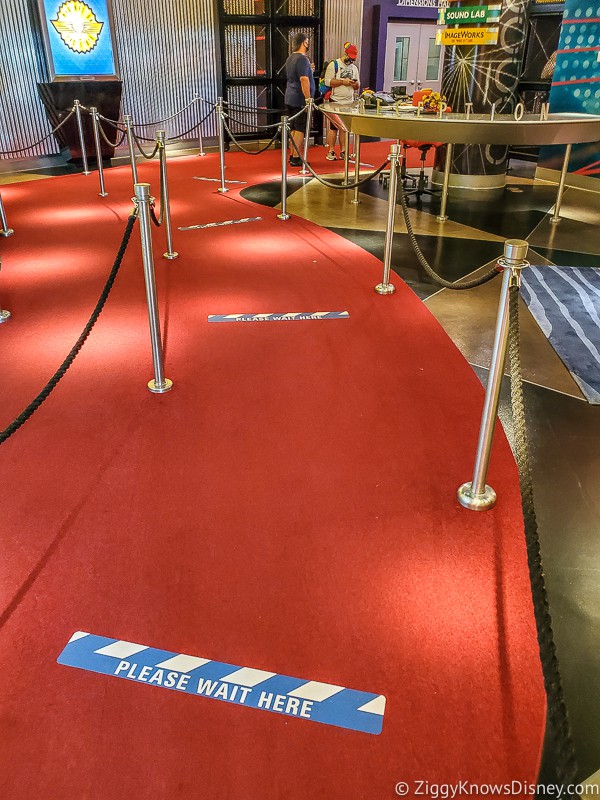 Guests are loaded multiple groups per ride vehicle as distancing is no longer enforced in the parks.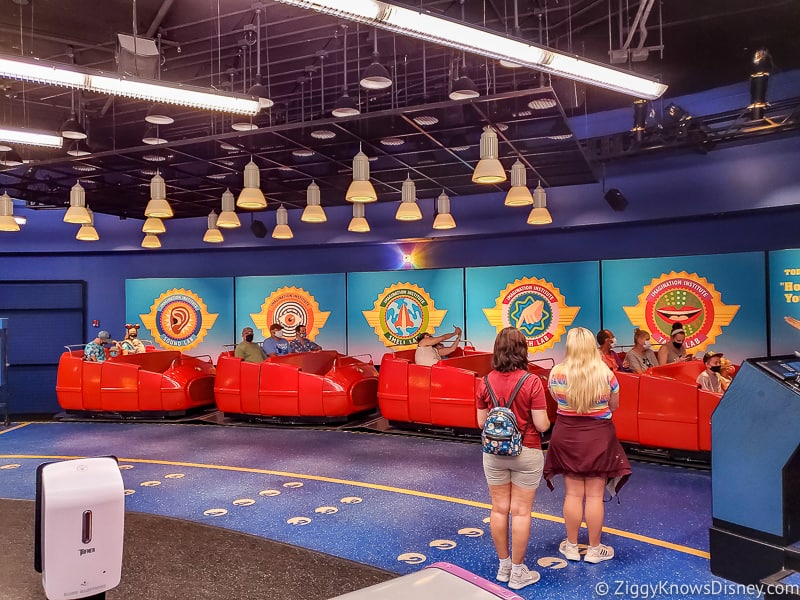 All the interactive areas of the post-show are turned off at the moment.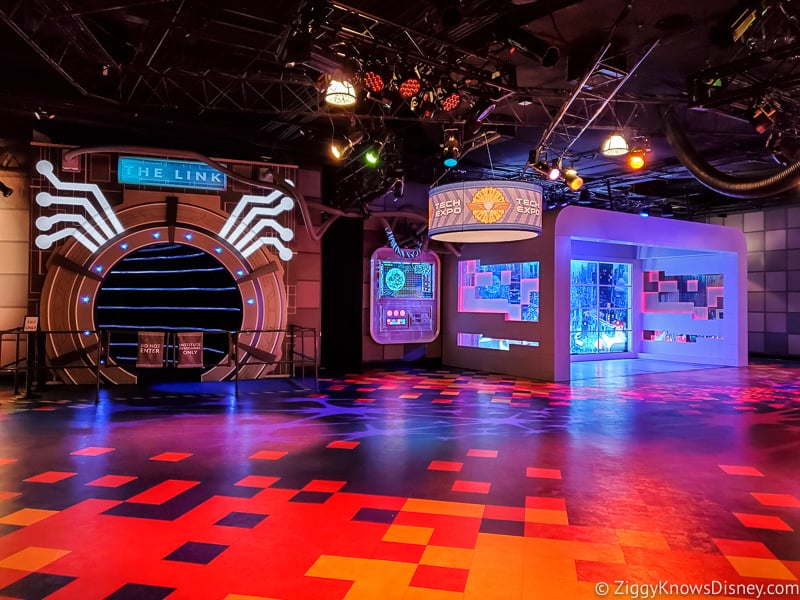 Impressions de France/Beauty and the Beast Sing-Along
Right now this is a split attraction with Beauty and the Beast Sing-Along running for most of the day and Impressions de France only available for a few showings during the last hour of each day. Don't get us started on that one…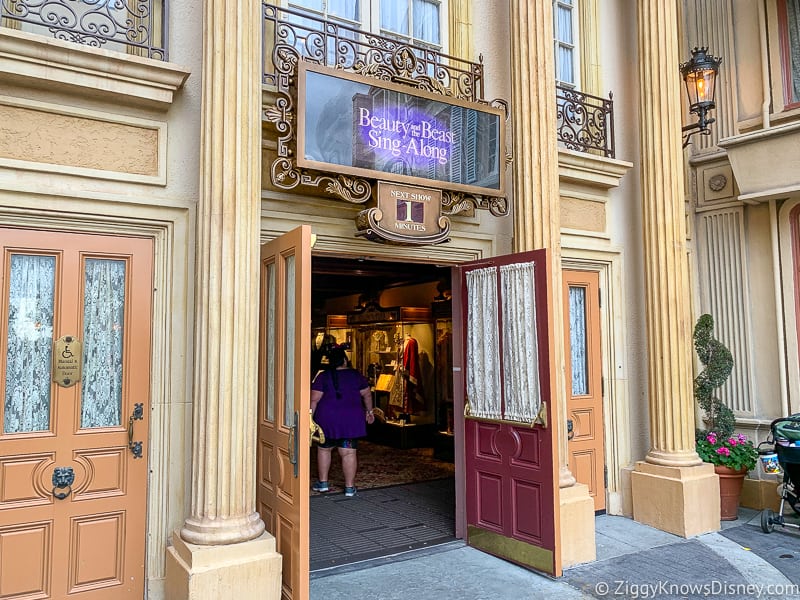 Both the theater and the lobby have greatly reduced capacity.
Awesome Planet
Awesome Planet is running in The Land pavilion.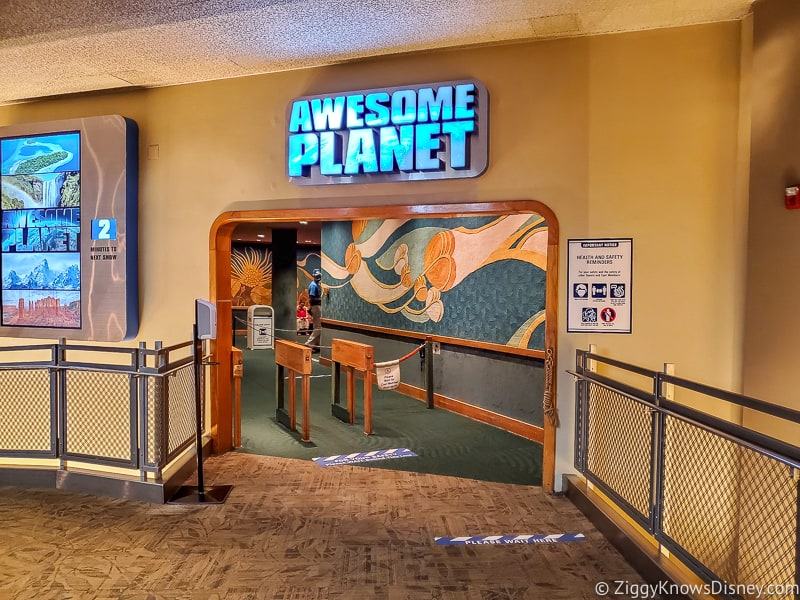 There was a distanced queue leading into the lobby area where places to wait were clearly marked, though they are gone now.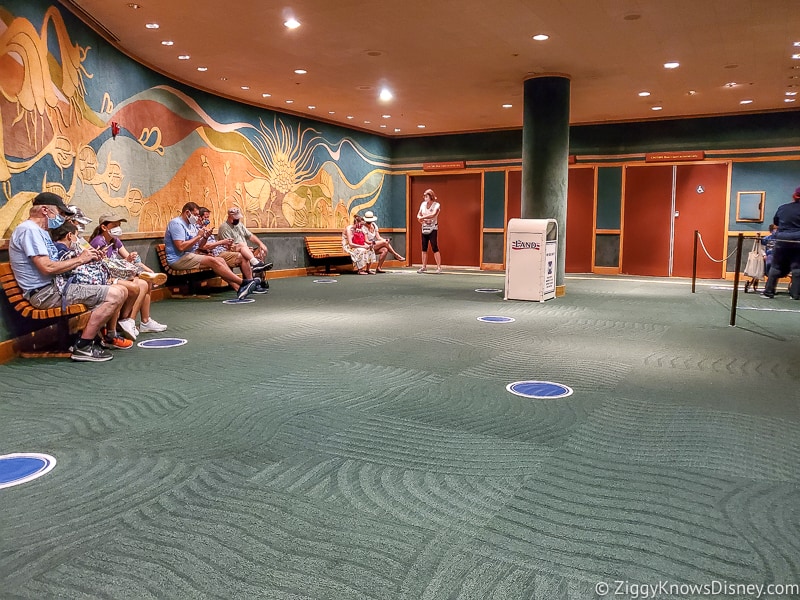 Inside the theater, all of the seats are now open and you can sit wherever you like.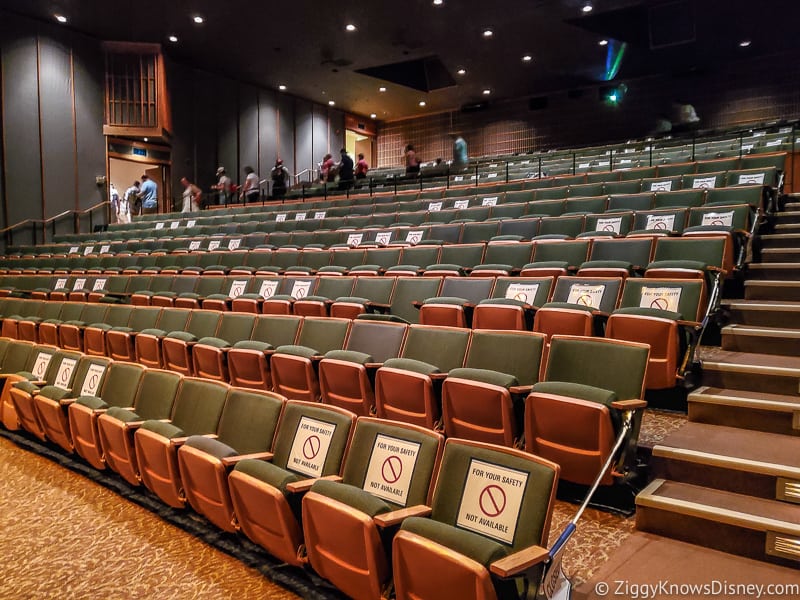 Changes to World Showcase Pavilions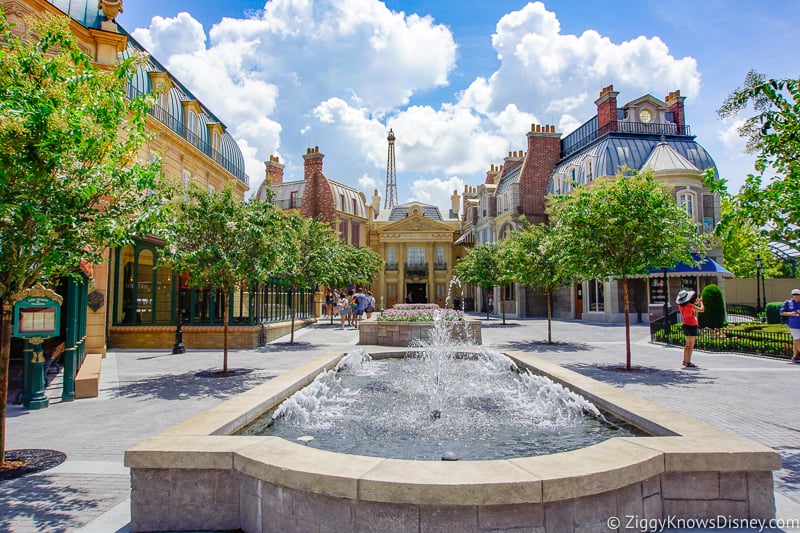 All 11 of the EPCOT World Showcase pavilions are "open," but we're using that word lightly since many of them are like walking through a ghost town.
The problem is as we brought out earlier is that almost all of the international Cast Members were sent home months ago, leaving the World Showcase pavilions understaffed as less immersive than they once were.
In the beginning, China was one pavilion where the change was felt most as the restaurants were all closed along with many shops. The only thing that was open at the time was Reflections of China. It was like stepping into an alternate universe…very weird indeed! Things are open now, but in the beginning, it was weird!
The lack of cultural representation is felt in all the other countries too…France, Japan, Morocco, etc. Not saying that it's still not fun to quietly stroll through World Showcase, it's still one of our favorite places in Disney World.
However, with no international Cast Members and some restaurants closed, it just doesn't have the same feel to it as before. Maybe we'll get used to it the more we go, but here's hoping they come back soon.
Entertainment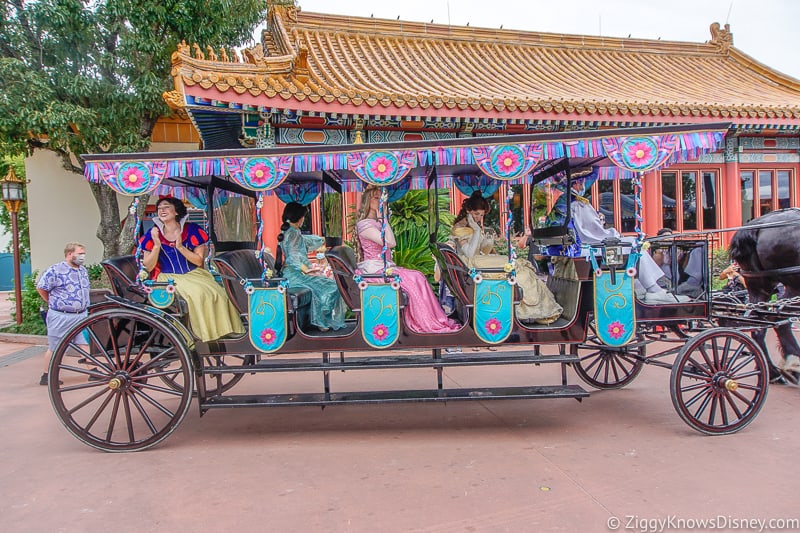 EPCOT like the other parks has very limited entertainment choices at the moment. Again, you take the simple things for granted once you don't have them anymore.
Something simple like strolling the World Showcase promenade and stopping at the numerous street performers has always been a favorite EPCOT pastime. Unfortunately, for most of the last year+ they haven't been performing.
Only just recently have we seen the return of some of the street entertainment such as Sergio the mime in Italy, the Matsuriza drummers in Japan, and Alberta Bound in Canada.
Besides some performers not being available, character meets are limited throughout the park. You will have opportunities to see them and take selfies, but from a distance and not close enough to hug them or to get an autograph.
Disney has added the new Character Cavalcades in each park, and in EPCOT there are three separate motorcades and ride randomly down the World Showcase promenade with your favorite characters. Included are Mickey, Minnie and Friends, plus a bunch of the Disney princesses.
Thankfully, Mariachi Cobra and the JAMMitors play throughout the day at the America Gardens Theater.
Here is a list of the EPCOT Entertainment you can expect to see during your visit and also what's not opening at this time…
What's Open
America Gardens Theatre Presents… featuring popular EPCOT performers such as:

JAMMitors
Mariachi Cobre
Voices of Liberty

Character Cavalcades throughout the day, featuring favorite Disney friends traveling around World Showcase promenade—including:

Frozen Promenade
Mickey & Friends World Tour
Princess Promenade

EPCOT Forever (Closed September 28)
Disney Harmonious (Debuted October 1)
World Showcase Street Entertainment

Sergio Italian Mime (Italy)
Matsuriza (Japan)
Alberta Bound (Canada)
What's Not
Character Meets
British Revolution
Jeweled Dragon Acrobats
Rose & Crown Pub Musician
Serveur Amusant
Viva Mexico
Our Thoughts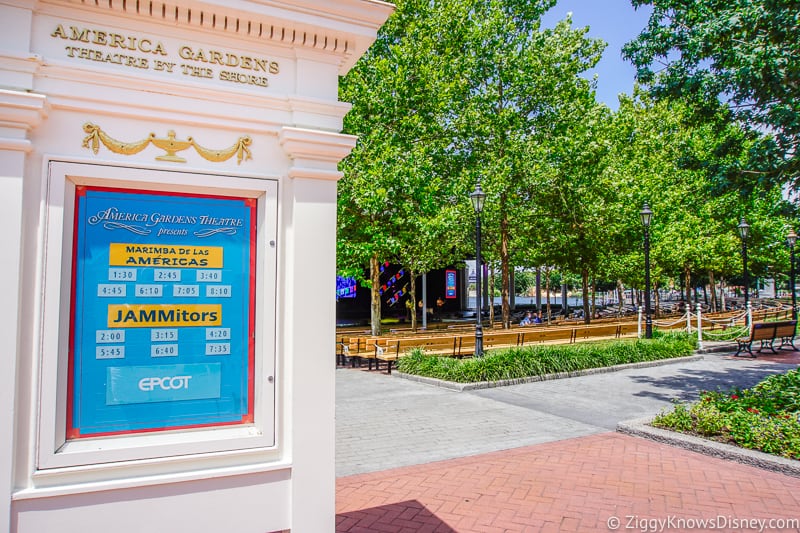 Families will be upset about the reduced character meets, and unfortunately at this time, we have no idea when they will be fully coming back. At least the distanced meets are an improvement over not having them at all like before. If it's a big part of your family's theme park experience, you might want to wait and book your next trip when they are running again.
During festival season we definitely miss the Eat to the Beat concert series, but we are happy that there is still live music going on in the America Gardens Theater. They are so much fun to watch and bring a lot of energy into World Showcase which for a while was pretty dead. Some guests like it that way, and we do too at times, but we also enjoy grabbing some food, a drink, and watching the nightly shows.
We also really miss the Awesome Live Mix featuring the Guardians of the Galaxy which is one of the most high-energy shows EPCOT normally does.
At least nighttime spectaculars have returned to Walt Disney World, and that means the new show Disney Harmonious. This is great news as we love to grab a spot around World Showcase Lagoon and watch the fireworks off to finish our night anytime we visit EPCOT.
For more info read our post on when fireworks are coming back to Disney World for more on all the nighttime shows.
Character Cavalcades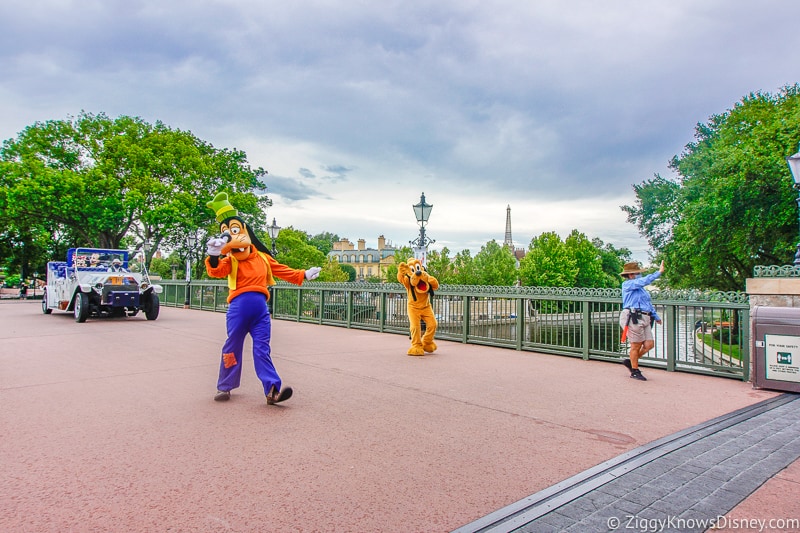 As we mentioned, there is still a way to see the Disney characters even though there are no character meets. The Character Cavalcades. These have been a pleasant surprise in all 4 parks and we hope they stick around in some for even after things go back to normal, especially in a park like EPCOT which doesn't have a formal parade.
The three motorcades in EPCOT are Mickey & Friends World Tour, the Frozen Promenade, and the Princess Promenade.
Mickey & Friends World Tour – Goofy leads the way here with Mickey Mouse and Minnie Mouse in a travel-themed Rolls Royce and Pluto following not too far behind.
Princess Promenade – Princesses like Belle, Aurora, Snow White, Jasmine and more ride along in a horse-driven caravan greeting guests.
Frozen Promenade – Lastly, Anna and Elsa make their way down World Showcase Promenade, Anna from her caravan and Elsa on foot.
There were also special Christmas Character Cavalcades going on during the holiday season:
Other Characters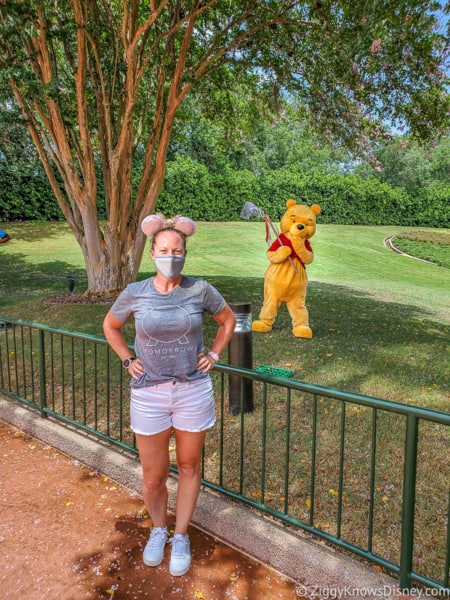 Even if you don't catch a character procession, there are a couple more opportunities to see characters in EPCOT.
Winnie the Pooh and Joy from Inside Out – These two can be found in Future World hanging out and playing in the grass. Winnie the Pooh over by the Imagination! pavilion and Joy in the butterfly gardens. They are both hit or miss and no schedules are posted, so keep checking throughout the day.
Alice and Mary Poppins – Both of these lovely ladies can be found in the gazebo, in the back of the U.K. pavilion. They alternate appearances and you might be able to get a distanced selfie with them.
Aurora from Sleeping Beauty – She can be found in the France pavilion near the water.
Snow White – She is located in Germany near the Food and Wine marketplace.
To learn more about how to find all the characters now, read our guide to the Disney Character Cavalcades in the Disney Parks.
Restaurants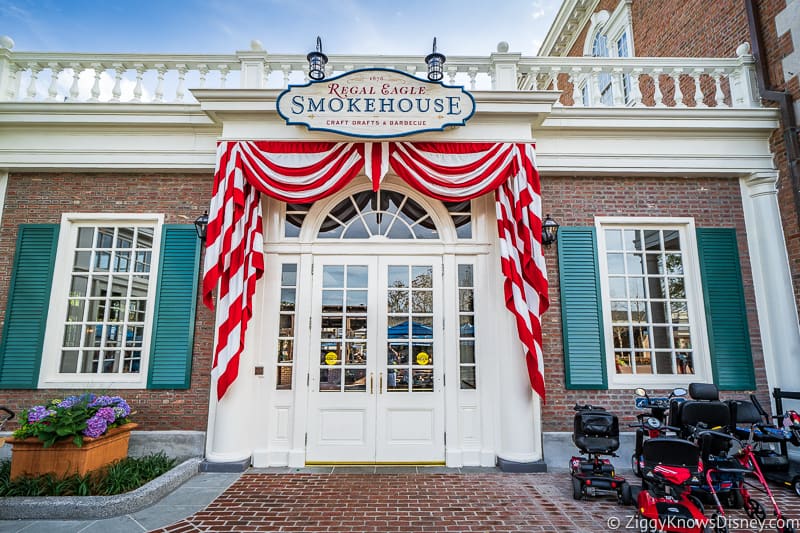 As we mentioned earlier, not all dining locations are currently open in EPCOT, but it still has three-quarters of the 50+ restaurants available.
If you aren't in the mood for a meal, you can always just snack your way around World Showcase, which is what we are guilty of doing more times than not.
What's Open
Right now there are 45 restaurants open in EPCOT including table service, quick service, lounges, and snack carts.
Biergarten Restaurant
Block & Hans
Chefs de France
Choza de Margarita
Coral Reef Restaurant
Crepes des Chefs de France
Fife & Drum Tavern
Funnel Cake
Garden Grill Restaurant
Gelateria Toscana
Joffrey's Coffee & Tea Company
Joy of Tea
Kabuki Café
Katsura Grill
Kringla Bakeri Og Kafe
La Cantina de San Angel
La Cava de Tequila
La Hacienda de San Angel
The Land Cart
Les Vins des Chefs de France
Lotus Blossom Cafe
Nine Dragons
Popcorn in Canada
Refreshment Outpost
Refreshment Port
Rose & Crown Dining Room
Rose & Crown Pub
San Angel Inn Restaurante
Sommerfest
Spice Road Table
Sunshine Seasons
Tangierine Café (Open for Food & Wine Festival)
Teppan Edo
Tokyo Dining
Traveler's Café
Tutto Gusto Wine Cellar
Tutto Italia Ristorante
UK Beer Cart
Yorkshire County Fish Shop
What's Not
Right now there are only 5 restaurants in EPCOT that are not open:
Akershus Royal Banquet Hall
Cool Wash
Monsieur Paul
Restaurant Marrakesh
Most of the best places to eat at EPCOT are open once again, but there are still a few restaurants we are missing a lot right now.
An EPCOT without the original Tangierine Cafe is a sad EPCOT, and we hope it comes back soon. Also, Tokyo Dining is also a personal favorite and we are happy it's back.
Our Thoughts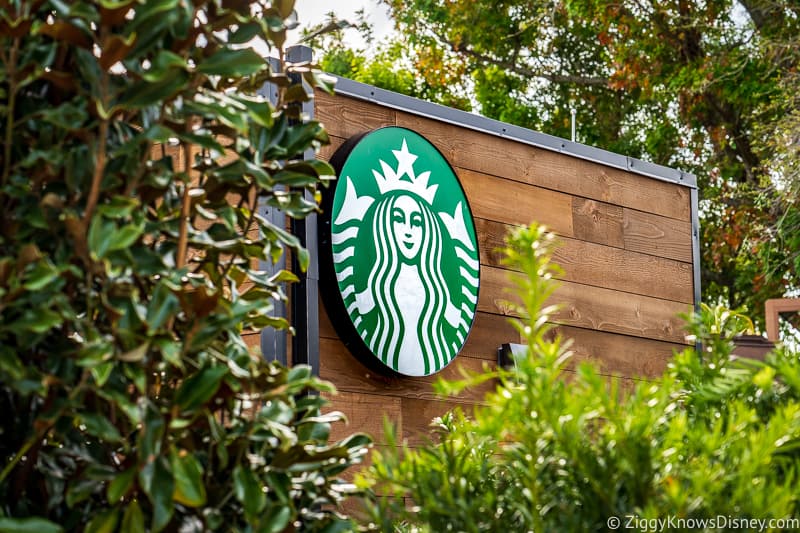 Overall we can't complain too much about the selection of restaurants in EPCOT at this time. 45 is certainly enough to cover the needs of the greatly reduced crowds in the park right now.
Most of our favorite EPCOT table service restaurants are open. Le Cellier, Biergarten, San Angel Inn, Garden Grill, Rose & Crown, Via Napoli, and Teppan Edo are all solid choices and give variety depending on which type of cuisine you are in the mood for.
EPCOT Quick service restaurants are fewer to come by, but Katsura Grill and Regal Eagle are two of your favorites and would be our first stops. Regal Eagle is seriously good and it's vaulted up into the top 10 quick service restaurants in Disney World.
Katsura has a revamped menu and if you are looking to get away from people, the secluded garden in the back of the Japan pavilion still is one of the most peaceful places in any of the parks.
Here are a few of the other restaurants of note since returning.
Sunshine Seasons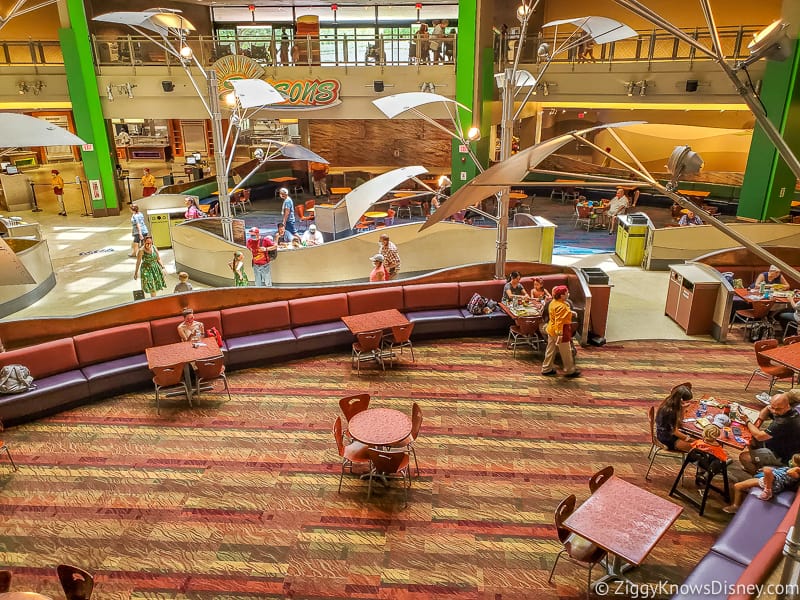 Thankfully, Sunshine Seasons have a huge seating area, so finding a table is not a problem, and as you can see from the above photo, the tables are well-spaced from each other. The only bad thing is the somewhat limited menu right now.
Garden Grill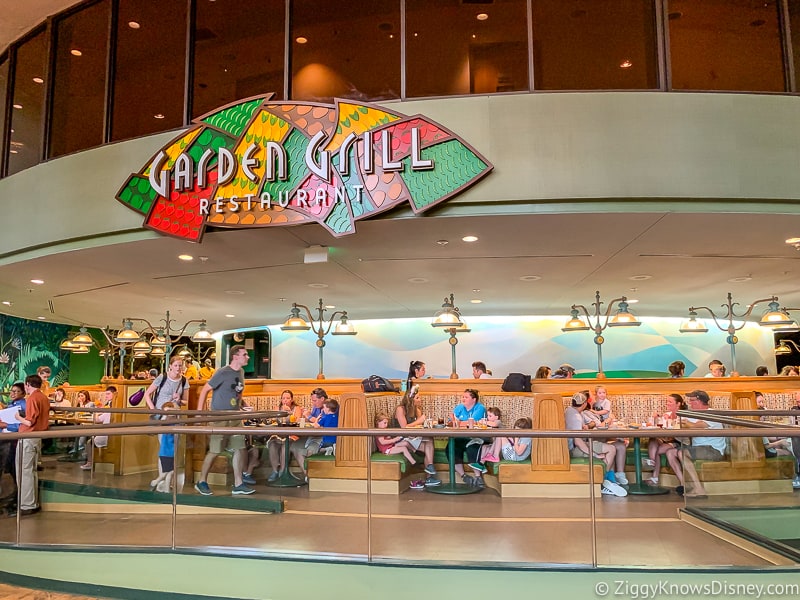 The Garden Grill is one of the only character meals still running in Disney World right now, but the experience is different than normal. Characters here don't come to your table, but they wave down at guests from above at a safe distance.
The characters include: Mickey, Pluto, and Chip 'n' Dale.
La Cava del Tequila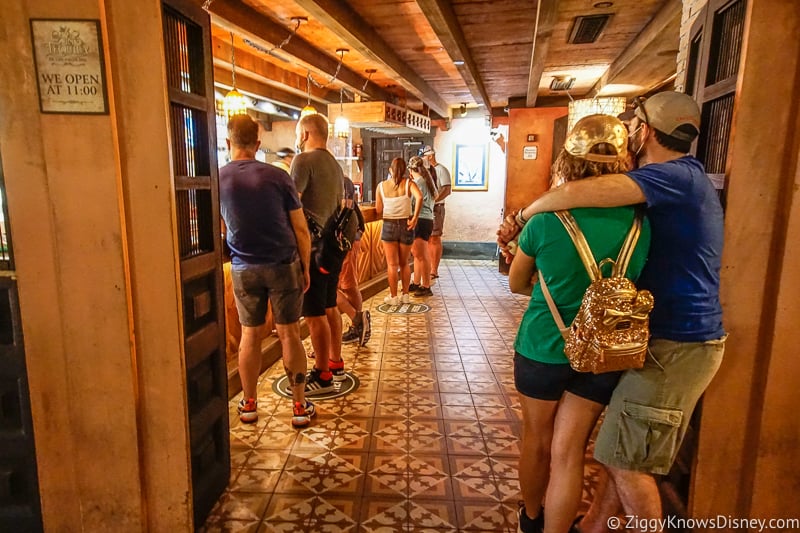 This is always a must-stop on our trip around World Showcase as they serve the best tequila drinks in Disney World. All drinks are to-go now and drinks are served in plastic cups. If you can find an empty spot inside the pyramid you can stay there, otherwise, you can take it outside.
This is just one of the many restaurants that have the menu available to guests by QR code so you can scan and read it on your phone.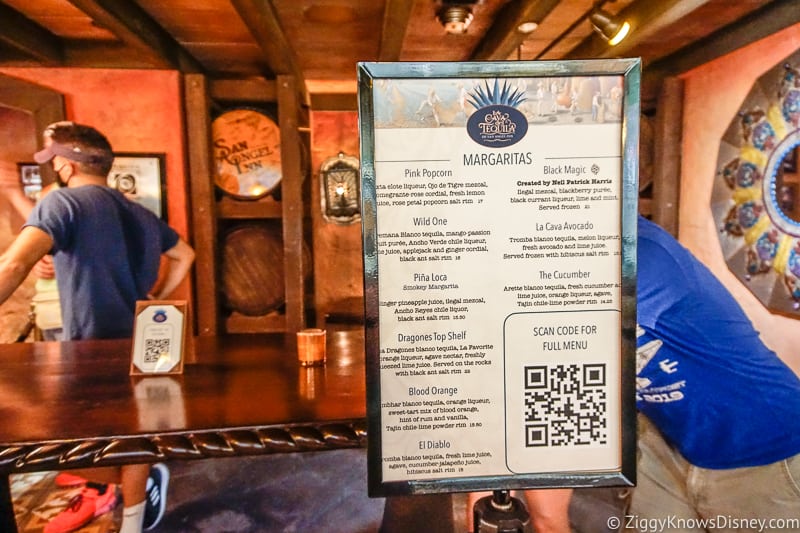 Tangierine Cafe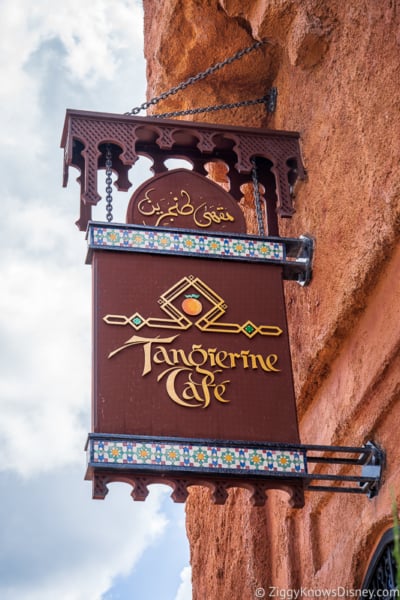 The biggest disappointment with EPCOT dining has been the closure of Tangierine Cafe. The restaurant is run by a third-party company and there just hasn't been enough foot traffic to keep the restaurant open at this time.
Let's hope the closure is only a temporary one and we'll be having some delicious shawarma again very soon!
For more info about the changes to dining right now, read our post about Disney World Restaurants after reopening.
Shops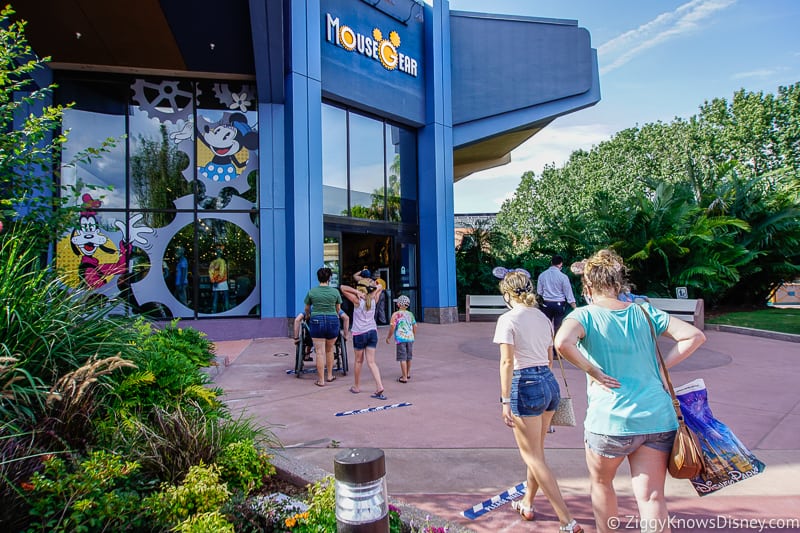 Just walking through EPCOT, you notice many of the stores are not open at this time. The shopping experience has changed in Disney World as shoppers have had to wait in a distanced queue to enter the stores, or a virtual queue in some cases. Disney is slowly eliminating the distanced queues so it might be back to normal by the time you go.
Shoppers are encouraged not to touch the merchandise unless they are seriously considering buying it. Contactless forms of payment are accepted and plexiglass shields are up at the cash register between Cast Members and guests.
The following shops are open in EPCOT:
African Heritage
Arribas Brothers
Art of Disney
Baby Care
Canada Cart
China Kiosk
Disney Traders
Galerie Des Halles
Gateway Gifts
Glas Und Porcellan
ImageWorks
Karamell Kuche
La Bottega Italiana
Mexico Indoor Plaza
Mission: SPACE Cargo
Mitsukoshi
Mouse Gear Temporary Location
Pin Traders – Camera Center
Port of Entry
Puffin's Roost
Sea Base Alpha Gift Shop
Strollers & Wheelchairs
Tea Caddy
Test Track Simporium
Wood Carver
World Traveler
Creations Shop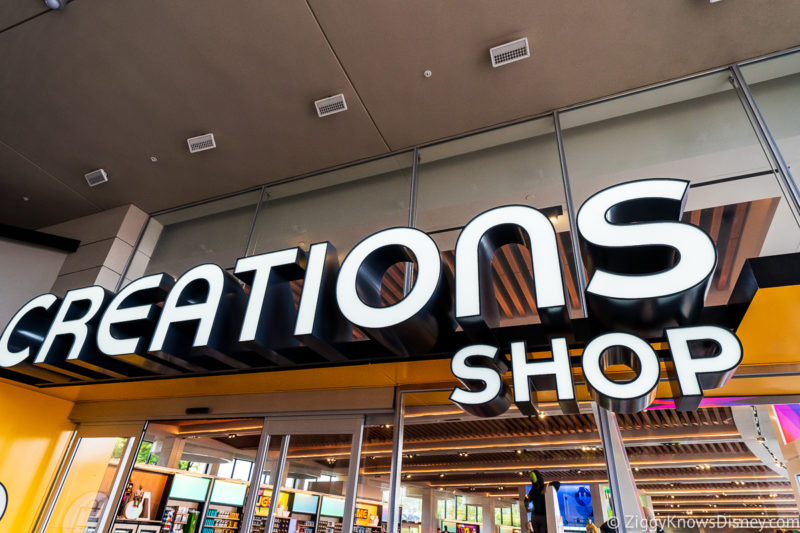 Since construction started on World Celebration in 2019, the popular merchandise store Mouse Gear closed down in its original location and has now been replaced with the Creations Shop.
This new store is a breath of fresh air for shopping in the park and will be a main component of World Celebration when the EPCOT construction finishes.
Here are a few photos from the new store: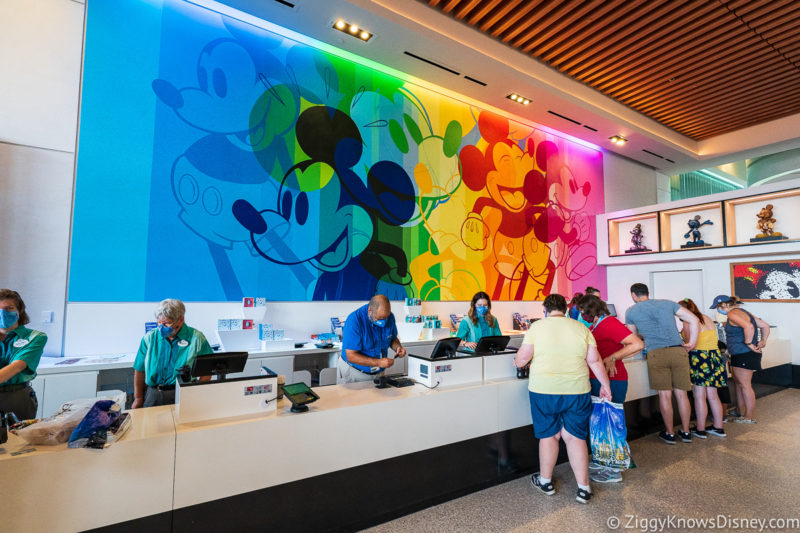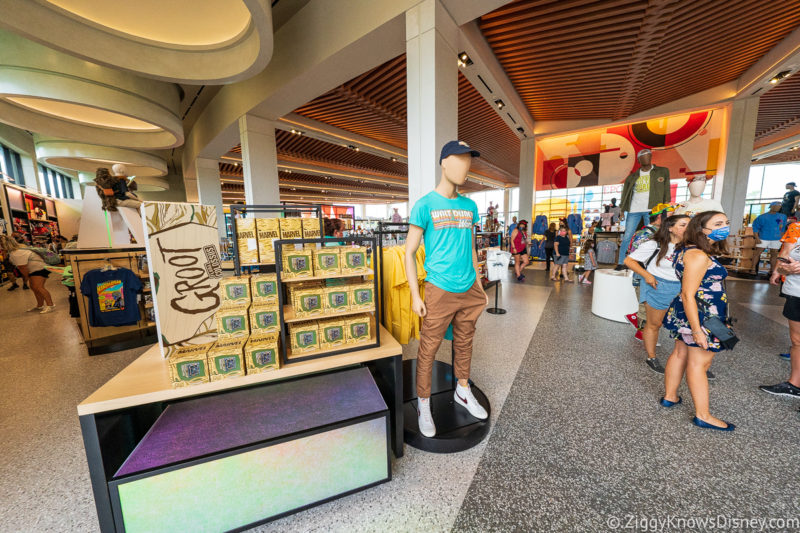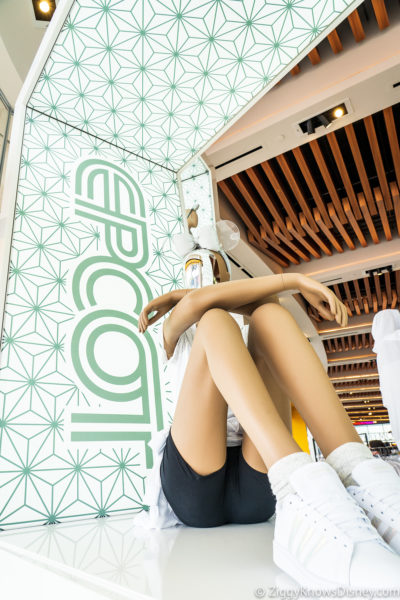 You can still find most of the same merchandise in the temporary store as you could the old one, but there is also a ton of new stuff to see. It's also laid out every differently and it has way more natural light. Read our post on the Creations Shop for a full tour of this new space.
Club Cool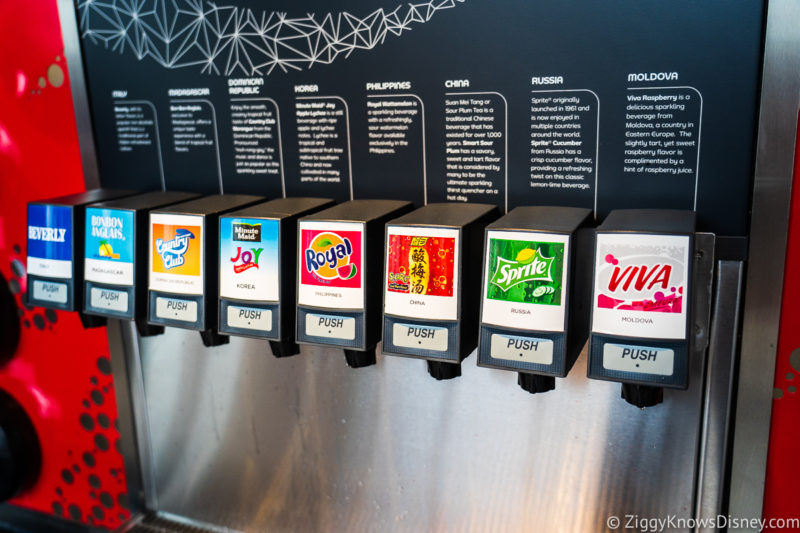 Another new addition to EPCOT (even though it's really an oldie) is Club Cool. This is the popular store where guests can taste different Coca-Cola products from around the world. The best part is that you can drink as much soda as you want, and do it for free!
The famous Beverly from Italy is back as well as new sodas such as Viva Raspberry from Moldova and the Cucumber Sprite from Russia (our favorites). We highly recommend you stay away from the Smart Sour Plum from China unless you like the taste of BBQ soda!
Read our Guide to Club Cool including a review of every soda available.
Pin Trading Headquarters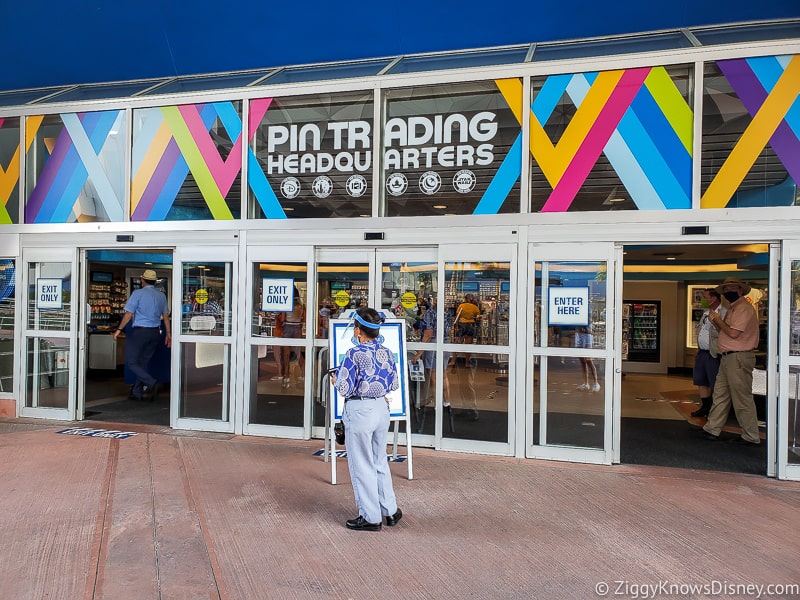 Long-time EPCOT fans remember this as the Camera Center. Now it has turned into Pin Trading Headquarters. There is a queue starting outside the shop.
Relaxation Stations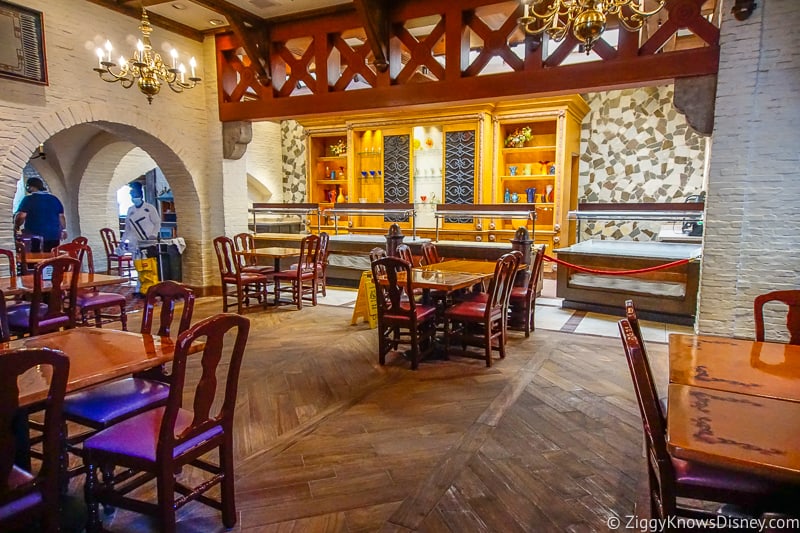 (UPDATE) Disney has since discontinued the relaxation stations in the parks.
Having to wear face masks while visiting EPCOT is probably the biggest and most cumbersome change for guests. Anticipating that not all guests will be able to go all day in a theme park without a break from face coverings.
Face masks are not required however in outdoor areas, when consuming food or drink or when in one of the new "Relaxation Stations."
There are 3 Relaxation Stations in EPCOT and they are located at:
Akershus Royal Banquet Hall (Norway Pavilion, World Showcase)
Morocco Pavilion
Between Mission: Space and Test Track (Future World East)
Yorkshire County Fish Shop – Outdoor seating at UK Pavilion, World Showcase (Closed)
Hand sanitizer is located in all three locations, as well as plenty of signage and distancing markers.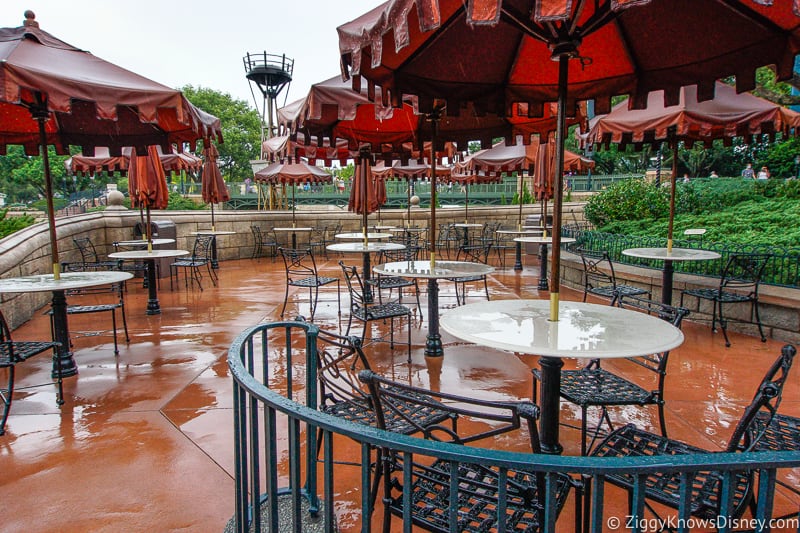 Out of the three locations, we prefer the section between Mission: SPACE and Test Track since staying outdoors when taking off your mask seems like the better choice.
The one in the U.K. pavilion offered more shade and tables to sit at, whereas the one in Future World is standing tables and little shade. If you want A/C though, head to Akershus.
Overall mask-wearing in EPCOT has been on par with the other Disney Parks. 99% of the people follow the rules and are respectful of others, and there are a few who you find every now and then trying not to wear them.
For the most part, the Cast Members have been good at telling people who aren't following the proper mask-eating rules to change what they are doing. Most of the time it goes well except for the man who attacked a security guard who was told his family needed to change masks.
To learn more, read our article on Face Masks at Disney World – FAQs and Tips, where we explain everything you need to know about them.
Construction in EPCOT in 2021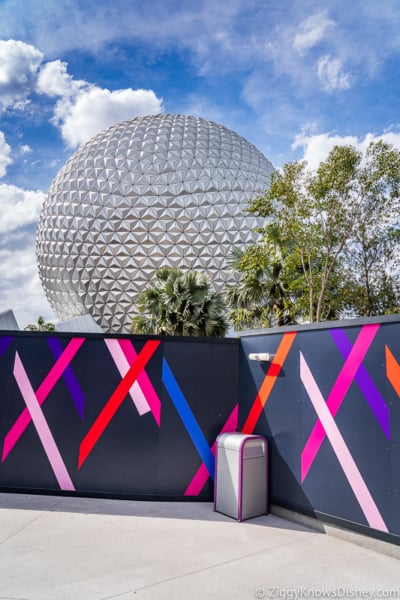 It's no secret that a massive overhaul is going on in EPCOT right now with much of the park behind construction walls. We aren't going to sugar-coat anything here, it's unmissable how much work is going on and in the front half of EPCOT it's impossible to get a real sense of immersion at this time.
Hollywood Studios just went through a similar situation being tied up in construction for 4+ years before getting to the point they are now. EPCOT is going through a similar phase and right now, unfortunately, we are still near the beginning of the work.
The biggest part of the work is focused in the old Future World, which has been split up into three separate lands. Construction walls are up everywhere here and if you get the feeling of being a rat with all the mazes, at least Remy is in good company.
The closure set things back, especially the budget, and you can expect to see construction in EPCOT into 2023 at this point. Here is a list of the biggest projects underway right now in EPCOT:
Entrance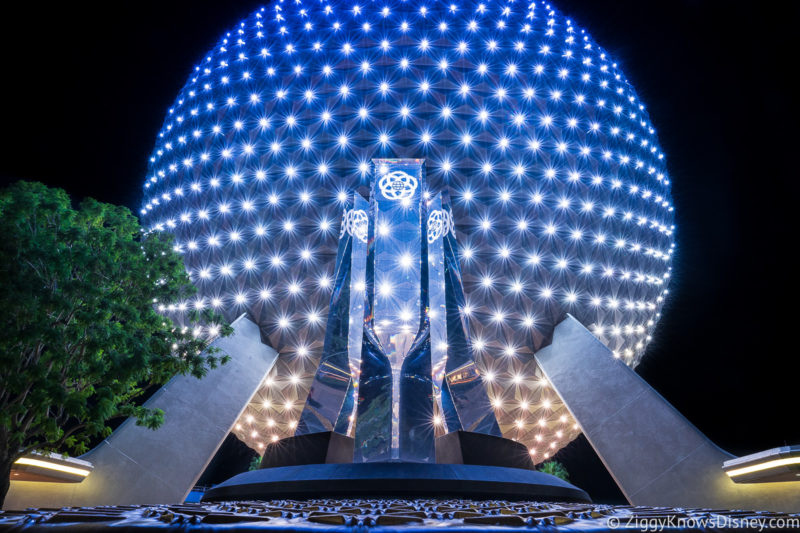 The entrance to the park has been under construction since 2019 but is now complete. When you see the new fountain and the lighting package for Spaceship Earth you are going to be floored. We absolutely love both of them and they add a futuristic vibe to EPCOT that reminds us of the glory days of this park.
The new drop-offs for the trams are finished, along with the new and improved security checks, making the process much simpler now.
We like the way Disney got rid of the ugly stone monuments in the entrance plaza. We know many families had their names on them, but they were horrendous to look at and we dig the new green look much more. Disney has transferred all those names to another location outside the entrance if you want to see them.
World Celebration/Future World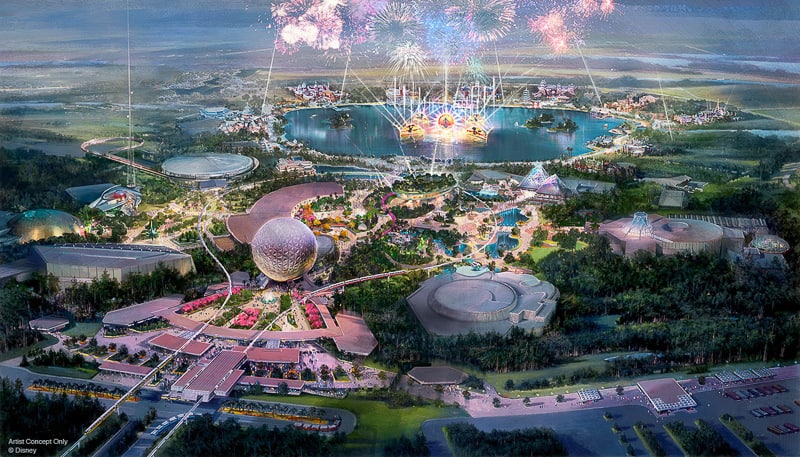 This is where things get really messy. World Celebration is one of the now 4 neighborhoods in EPCOT, as it has stopped using Future World as a title for the front half of the park.
Mot of this area is surrounded by walls and inaccessible right now. Guests are routed around the middle, either to Future World East or West and to the desired attractions there.
Since Disney announced the budget cuts, a lot is up in the air for World Celebration and Disney hasn't updated us yet on what is getting cut. You can say goodbye to that multi-story festival center though as Disney has already removed the model from the EPCOT Experience. What will replace it remains a mystery.
Guardians of the Galaxy: Cosmic Rewind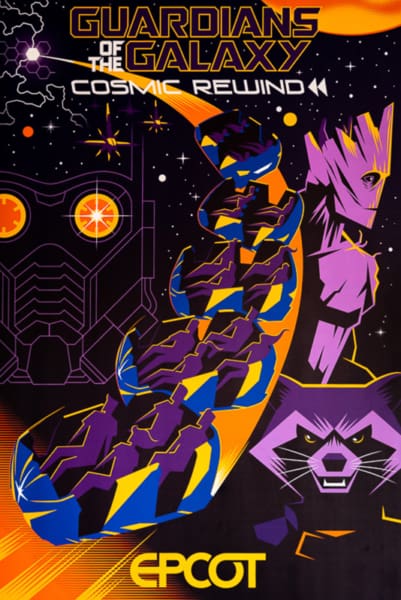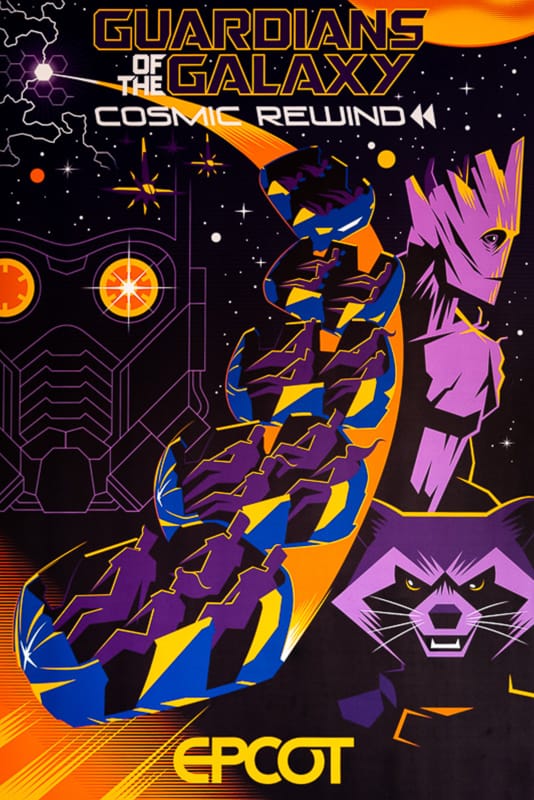 This is EPCOT's biggest and most exciting new attraction. Progress on the Guardians of the Galaxy: Cosmic Rewind coaster is now back up and running as Disney continues to prepare this highly anticipated E-Ticket attraction.
It was supposed to be ready to open in 2021, but now it won't be opening until 2022. This will be the crowning jewel of the park during the 50th Anniversary celebration so Imagineers will be working around the clock to make this happen.
Remy's Ratatouille Adventure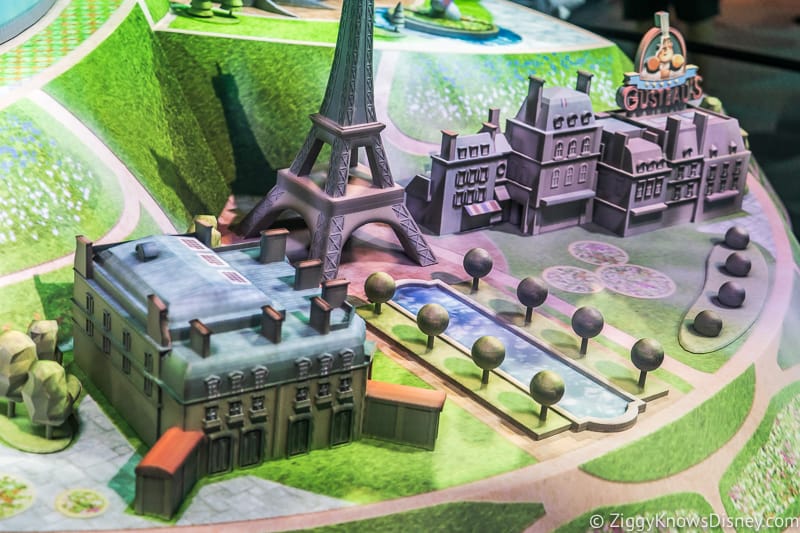 The entire section of land behind the France pavilion has gotten an addition including a new restaurant, shops, and of course a ratatouille ride brought over from Disneyland Paris. This was supposed to debut in Summer 2020, but it had some setbacks due to budget cuts.
Remy's Ratatouille Adventure opened on October 1, 2021, and is a great addition to a park starved for family rides.
Play! Pavilion
Little is known about the Play! Pavilion at this time, only that it will be a group of virtual experiences in the former home of the Wonders of Life pavilion. Most of the construction is happening inside, so it's hard to see how far along it is.
One of the details was revealed recently as it looks like we could be getting a monorail attraction of some kind when it opens. No opening date has been given yet.
Space 220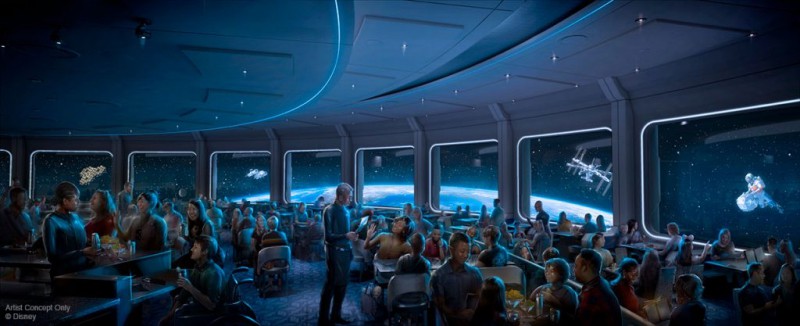 The World Discovery side of EPCOT is light on restaurants, but one that just opened up is truly out-of-this-world…the Space 220 restaurant.
The premise of Space 220 is that you are blasted up to a space station and get to enjoy the most unique dining experience in Disney World.
We've had a chance to visit Space 220 multiple times and our experience has been special each time. The unique mix of theming and top-notch cuisine makes this easily one of the best restaurants in EPCOT!
Stay up to date with all the construction projects in Disney World here including opening dates and more.
Transportation to EPCOT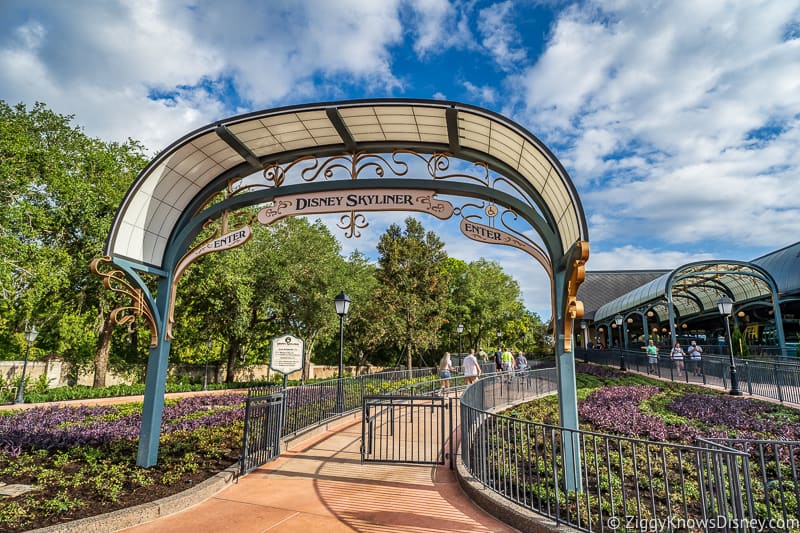 There are a few options for transportation to EPCOT depending on where you are coming from and if you are staying off-site or not.
Going to EPCOT by Car is easy enough and you will have no problem finding a parking spot. Car is by far the best way to travel at the moment if you are trying to minimize contact with others, which isn't always possible on Disney transportation.
If you are staying at an EPCOT-area hotel (Boardwalk Inn, Yacht & Beach Club or Swan and Dolphin), or on the Disney Skyliner route (Pop Century, Caribbean Beach, Riviera Resort and Art of Animation) then you have a few options.
If you are in that first group, it means you are within walking distance of EPCOT and that is your only choice at the moment. The Friendship boats are also back up and running from these hotels if you prefer.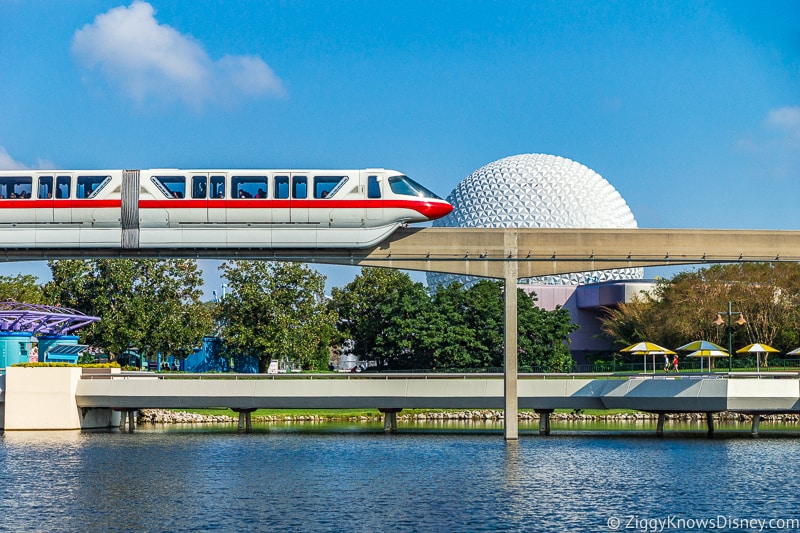 If you are on the Skyliner route, then that is the best option and we recommend it since it's our favorite form of transportation right now in Disney World.
The Monorail is also back up and running between the Magic Kingdom and EPCOT. That means if you are staying in one of the Magic Kingdom hotels you now can choose whether to take a bus to EPCOT, or the monorail.
Read our post on Disney World Transportation changes where we explain everything you need to know.
Best Hotels to Stay for Going to EPCOT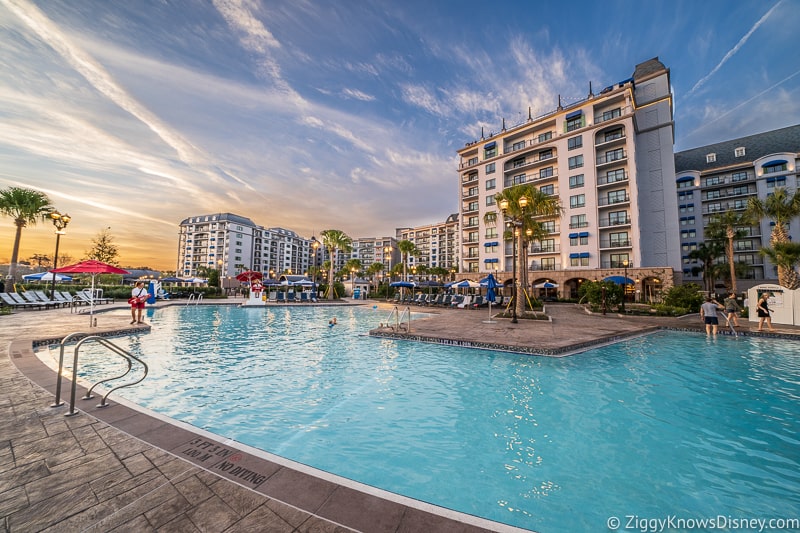 Of course, if you plan on spending a lot of time in EPCOT during your stay, you should opt for one of the EPCOT-area hotels or one on the Skyliner route. This makes it convenient and easy to get to, and since guests are only being loaded one group at a time on the Skyliner, your risks are minimized.
Staying close to EPCOT means you can go back and forth as many times as you want to the Food and Wine Festival (as long as you have a Park Pass for EPCOT that day). We do this often from the Beach Club and that way we can try as many snacks as possible.
Another nice thing about staying near EPCOT, it means you are also close to Disney's Hollywood Studios. Since Rise of the Resistance is such a big draw, you're going to want to dedicate a significant portion of your trip there and exploring Star Wars: Galaxy's Edge.
Read more about staying at a Disney World Hotel after reopening in our recent post where we cover all the details.
EPCOT Crowds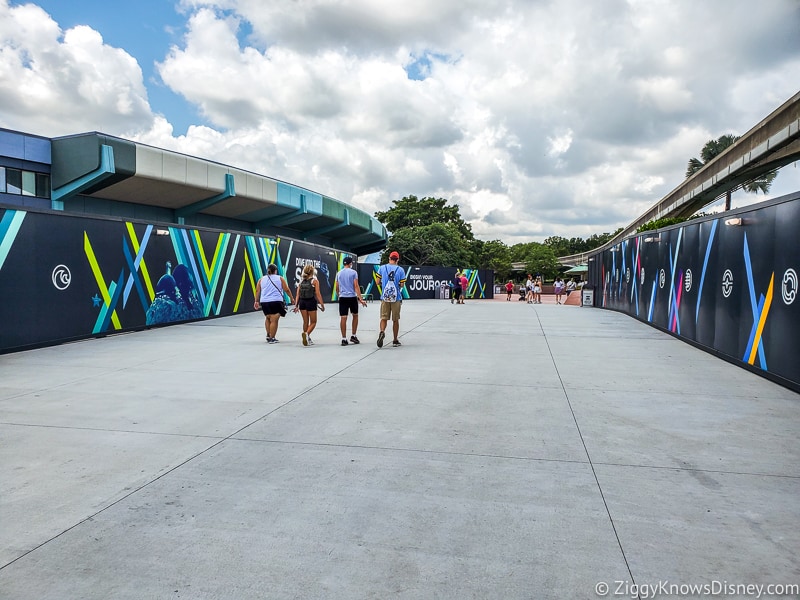 Like all Disney World parks not named Hollywood Studios, EPCOT has experienced extremely low crowds in 2020. At times it was even difficult to get anyone but locals to come to the park.
The first reason for that is the same as it is for the other parks, people just weren't coming to Disney World. There was some traffic during the summer and things picked up even more during the holiday season, but it was mostly from Orlando-area residents who are looking for something fun to do after being stuck at home for so long.
So far in 2021 things have made big strides forward with more and more guests coming to the parks. It got busier in the Spring and the Summer, but things have slowed down once again in the Fall. We expect things to pick up once the holiday season starts with the 50th Anniversary celebration happening and lots of pent-up travelers that want to visit.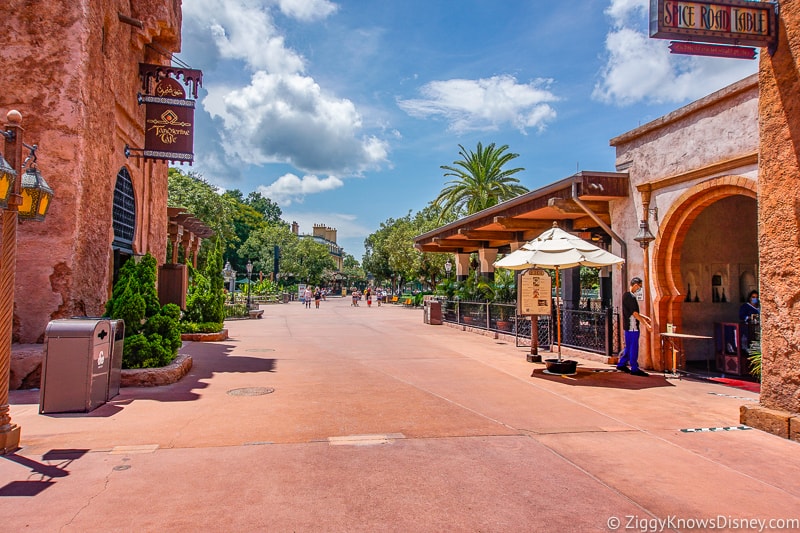 That said, EPCOT has been right there with the Animal Kingdom for the lowest attended park. Just to show how crazy things have been, the average wait time across the board for EPCOT attractions since the reopening has been only 20-25 minutes.
Since there have been festivals almost every month World Showcase traffic has picked up and it's no longer the empty wasteland it was in 2020.
As usual, the weekends are more crowded. Locals tend to come more for the festivals, making the EPCOT feel a bit more full. Wait times also increase by about 50-60% on average on Saturday and Sunday. For that reason, we would suggest visiting during the week for the least crowds, especially early in the week is best.
As far as times of the day, the first hour after opening is always the least busy, then things get more crowded until about 4:00 pm-5:00 pm before dying down again until park closure. Again, EPCOT is not quite as busy compared to normal times, and unless you come on the weekend and in the middle of the day, crowds will be significantly lower than what you're used to.
Check our Disney Crowd Calendar for a closer look at crowd expectations for the rest of the year and beyond in all the Disney World parks.
Touring Tips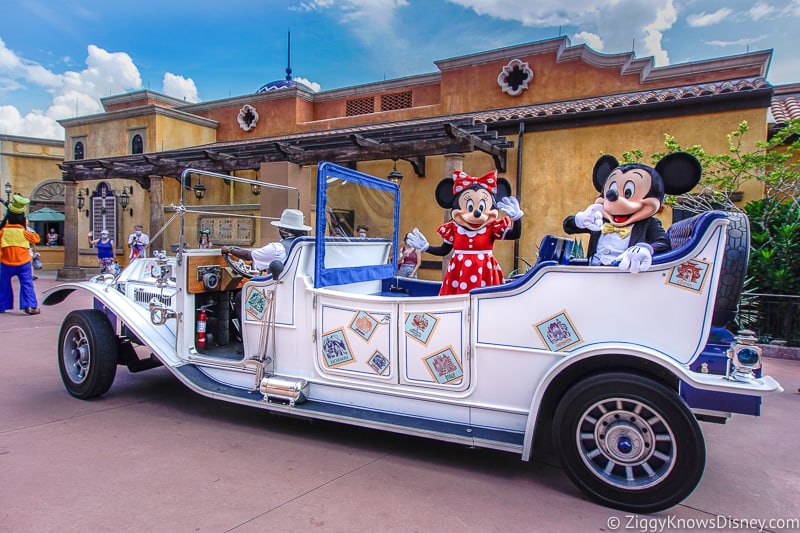 I'll be perfectly honest, having a specific plan right now just isn't as important as it usually is. You can just show up at EPCOT with no touring plan at all and still have a fantastic day. That being said, we've put together some tips that will help you get the most out of your day in the current situation.
Rope Drop Now More Important
For a while it wasn't that important to rope drop EPCOT as it was the other parks like Hollywood Studios and Magic Kingdom. You could wander into the park at midday and still get all the main attractions done that you want.
That has changed somewhat with the opening of Space 220. Since it's extremely hard to get reservations for, many people's only chance is to rope drop EPCOT and get in the stand-by line immediately to get a seat in the lounge.
Remy's Ratatouille Adventure is also now open which will eventually bring big crowds at park opening once it stops using the virtual queue and goes to a traditional stand-by queue.
I will say that Test Track at times has had maintenance issues since reopening, and it might be better to go early just in case it breaks down later in the day and doesn't come back online.
If you are going to rope drop EPCOT right now, the ride you go for first will depend on which entrance you are coming from. In both cases
Main Entrance – If coming from the main entrance of the park, head to Test Track first then over to Frozen Ever After.
International Gateway – If coming from the Disney Skyliner or EPCOT Resort area and in through the International Gateway, head to Frozen Ever After first and then Test Track.
In both cases these two attractions are going to be your first two, just invert the order depending on where you come in.
Wait Times Drop At the End of the Day
If you aren't there at rope drop, no worry. You should be able to do everything no problem anyway and especially in the last couple of hours of the day the lines die down even more. So if you didn't do one of the big ones early on, you can get it before going home.
Stay Late for Dinner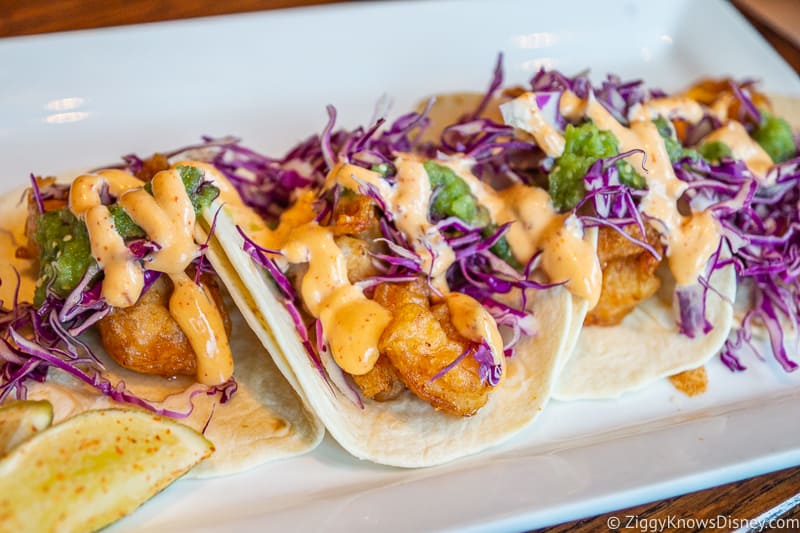 Since EPCOT is opening late now, your time in the park is greatly reduced. The Fall hours are going to be 11:00 am to 10:00 pm, which means you can get a late start.
When you book dinner depends on if you care to see the new Disney Harmonious show or not. If you want to watch the fireworks then we suggest an early dinner around 5:00 or 5:30 pm. That should give you enough time to eat and then find a viewing spot for the show.
If you don't care about fireworks then you can book a later dinner. We suggest booking after 8:00 pm, that way you still have plenty of time to ride the attractions while most guests are trying to get a spot for the fireworks.
EPCOT Best on a Weekday
While not as big of a difference as normal, weekdays are still much less crowded in comparison to weekends in EPCOT. That means lower wait times and fewer people to deal with. This is also true for the Magic Kingdom and the Animal Kingdom.
If you are here for a week and doing multiple parks, put Hollywood Studios on the weekend since it always is full, and leave the other parks for the weekdays.
Have Patience
Visiting any of the Walt Disney World theme parks right now requires a level of patience. There are a bunch of new rules to get used to, face masks to struggle with, and not to mention the Florida heat.
Everyone, including Cast Members, is still trying to get used to the new changes, so go into your trip knowing that things will be a little different than usual and possibly not as convenient as they usually are.
Summary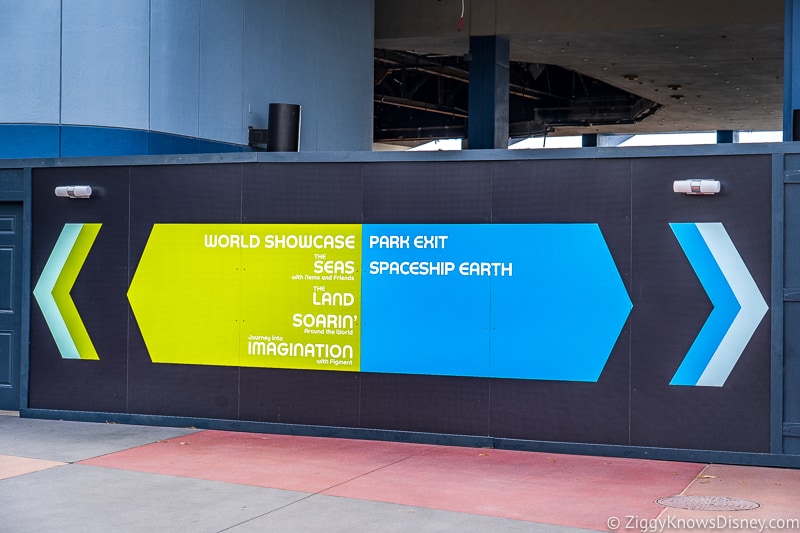 Our overall experience at EPCOT since reopening has been a good one, though still the strangest out of the 4 parks. We love the atmosphere of World Showcase, and there is some advantage of having it seemingly all to yourself as you stroll through. EPCOT to me is also the safest-feeling park with the wide walkway around World Showcase Lagoon.
We also love the low wait times that are here pretty much all the time, and having Food and Wine open is always a draw that keeps us coming back. We also hope the character cavalcades stick around, they add some needed fun to the park.
The biggest downer for us is the lack of international Cast Members, who we feel do a tremendous job in creating the wonderful environment in EPCOT that we are so used to.
The construction is a negative too, but if you spend your time in World Showcase and come for dinner, it is easier to overlook. We definitely will be coming back to EPCOT more in the coming months so stay tuned.
Your Thoughts
I want to know what you think about our Guide to EPCOT after reopening…
When are you going to EPCOT?
Which changes are you most happy/sad about?
Let us know in the comments section below!
If you enjoyed this article, as always I appreciate it if you'd share it with others via social media. I work hard at making this website into a useful resource for you and your family to plan your visit to the Disney Parks and I hope it can help you! Thanks 🙂