Our series on The Walt Disney World Theme Parks after reopening continues with Disney's Animal Kingdom Park. Like the other parks, Disney's Animal Kingdom is going to be a different experience in 2020 than what you are used to, but it may be our favorite park to visit during this time.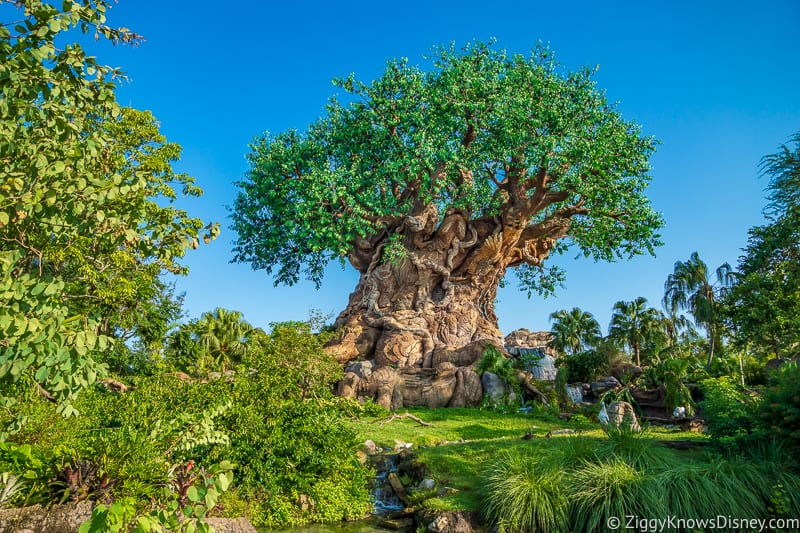 In this post, we are going to explain everything new and changed in Disney's Animal Kingdom since reopening July 11, 2020. We'll let you know which attractions and rides are open, which restaurants you can eat at and what's going on with the various entertainment choices in the park.
There are a lot of new basics any visitor has to learn before going, like how to get park pass reservations, and all the new safety measures that guests have to follow.
Since we've had a chance to visit the Animal Kingdom already, we wanted to give you a guide that you can use while visiting and we'll include as many new photos since the reopening so you can see firsthand what to expect.
Make sure to read our Magic Kingdom Fall 2020 Guide, EPCOT Fall 2020 Guide, and Hollywood Studios Fall 2020 Guide where we explain everything you need to know about each park since reopening.
Before we get started with the tour, we want to ask you to have patience while visiting the Animal Kingdom at this time. Some attractions and restaurants aren't available, plus the guidelines you need to follow keep changing every week.
It hasn't been easy from a trip-planning perspective on our end, and it's not easy for you as the guest either. If you go into the experience knowing this, you'll be able to handle the frustrations that come up much easier.
Before we get into our look at the Animal Kingdom for 2020, make sure to read our Complete Walt Disney World Reopening Guide which will answer any questions you have about anything going on during the reopening period in the parks, hotels, and restaurants.
Point us in the direction of Everest or the Floating Mountains of Pandora and let's go!
What to Know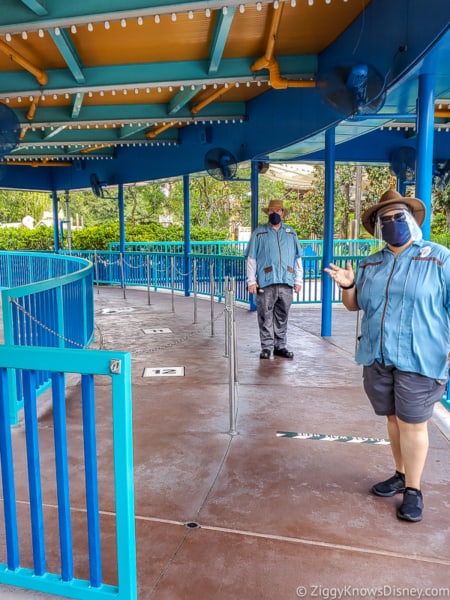 Safety Guidelines
The first thing you need to know right now during the reopening phase is all the new safety measures Disney has put into place. The only reason Disney is able to operate during a health crisis is because of the extreme care they take to protect guests and Cast Members.
The most basic ones are:
Increased cleaning and sanitation
Wearing face masks
Physical distancing in queues
Temperature screening
More guest hand-washing and sanitizing stations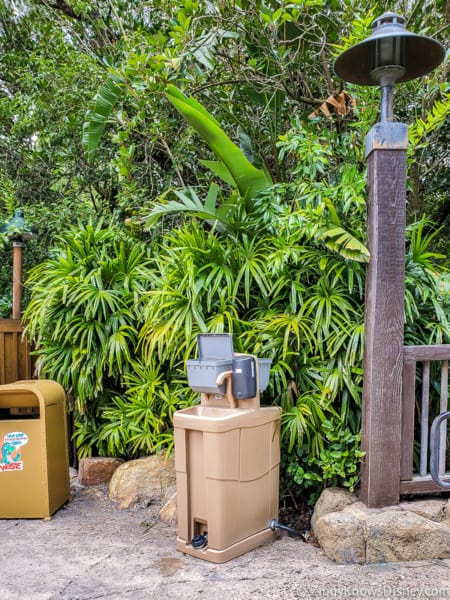 As in many public places across the country, face masks are required in all Disney theme parks, including Disney's Animal Kingdom. Masks are required on all attractions, including thrill rides like Expedition Everest and Flight of Passage even. Only when consuming food or drink or when in one of the new "Relaxation Stations" is it possible to take them off.
You also need to be aware that distancing is practiced throughout the park, including in the attraction queues, many of which have been fit with new protective barriers to keep guests separated.
Disney has gotten pretty strict about it and they are cracking down on guests who aren't abiding by the rules. Read our post on all the New Safety Measures at Disney World which explains them all in more detail.
Limited Capacity
In all 4 Disney World theme parks, the maximum guest capacity for each park has been greatly reduced, meaning fewer people can enter the parks each day compared to normal park capacities.
Under normal circumstances, Disney's Animal Kingdom park has a maximum capacity of approximately 60,000. Right now the maximum capacity is 20-30% of that, but from our experience, it's likely not much more than 10% at the moment.
Not Everything Open
Even though Disney's Animal Kingdom is currently open, not everything in the park is open right now. Some attractions are not running and about half of the restaurants and food carts are not open. Also, entertainment options are few with many shows not operating.
Recently Closed Attractions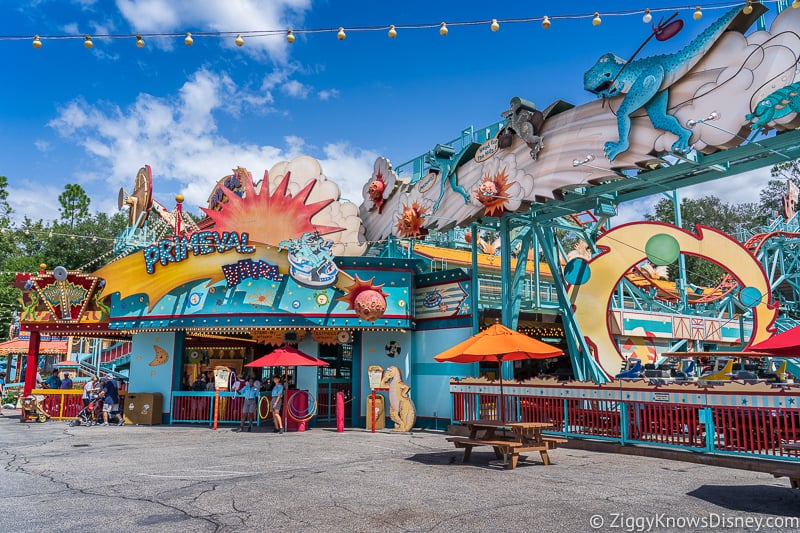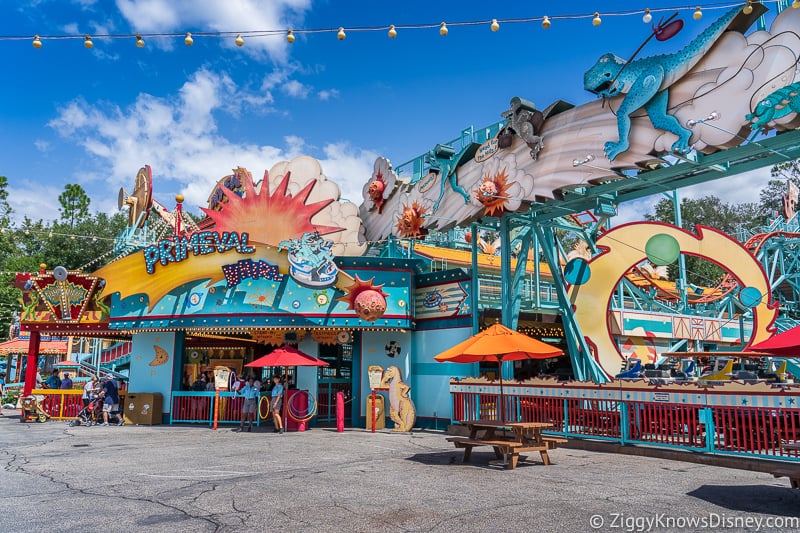 One of the bigger surprises after the Animal Kingdom reopened was that Disney has canceled 2 attractions, and they will be closed for good.
First, we knew that the River of Light nighttime spectacular wouldn't be running, which is the same thing happening in all parks. The big news was when Disney said the show is not coming back even after the current health crisis, and it will eventually be replaced by a new show.
Secondly, Disney announced that Primeval Whirl in Dinoland USA has also closed for good. Last year the spinning roller coaster started having problems and moved into "seasonal operation." It didn't take long for Disney to pull the plug altogether.
We aren't super upset about these cancellations, but losing a show and a ride does hurt. It's not a huge problem for Rivers of Light since they can't run it anyway, and maybe gives them a jump-start to working on the new show. Primeval Whirl was not a "must-do" in our touring plan, but being down one ride is not ideal.
Suspended Services and Experiences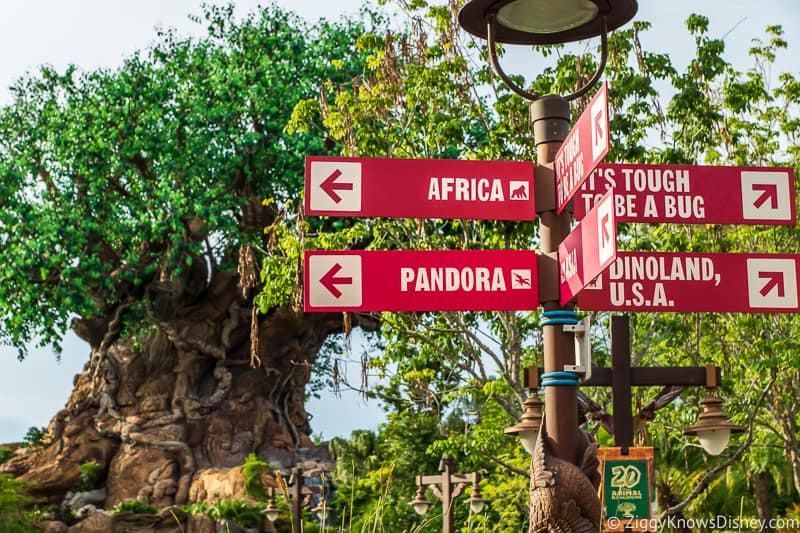 While visiting the Animal Kingdom and the rest of the Disney theme parks right now, many of the normal services and experiences you are used to are not currently running.
Extra Magic Hours
During the reopening phase, there will be no Extra Magic Hours in the Disney Parks, including the Animal Kingdom. This is less important at the Animal Kingdom than in other parks since the new opening time is the same as the old Morning Extra Hours time.
There were usually no Evening Extra Magic Hours for the park, so no big loss there. We're happy you can still get an early jump when visiting the Animal Kingdom since we like to go on the Kilimanjaro Safaris early in the morning when the animals are most active.
FastPass+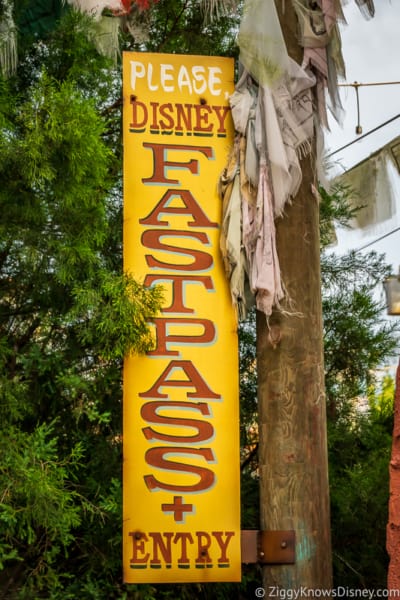 Right now, the popular FastPass+ system is suspended in all the Disney World theme parks at this time. Of course, this totally changes how you go about touring the parks as stand-by queues are the only way to ride the attractions. The FastPass+ queues will be used for extra space to get guests in line while keeping a distance from each other.
This means you won't have to wake up early 60 days before your trip to get those coveted Flight of Passage FastPasses!
Dining Reservations
There have been quite a few changes to dining in the Animal Kingdom and the other theme parks:
No Disney Dining Plan – This has been suspended for the rest of 2020 and into 2021. That means no more snack credits for a while and guests will not have the option to pay for meals ahead of time.
Dining Reservations – The Advanced Dining Reservation booking window has been reduced from 180 days to now only 60 days.
Limited Dining Options – Not all restaurants will be open right now.
New Technology – For safety reasons, Disney is using new technology in its restaurants including contactless menus, Mobile Ordering, Mobile Dine Check-In, and cashless payment.
Special Experiences & Events
As of this writing, all special experience bookings, tours, and events have been canceled in Disney's Animal Kingdom for the rest of 2020. This includes the popular Wild Africa Trek and Disney After Hours events in the Animal Kingdom.
Disney will release more info soon on when we can expect these experiences to return.
How to Get Into the Animal Kingdom in 2020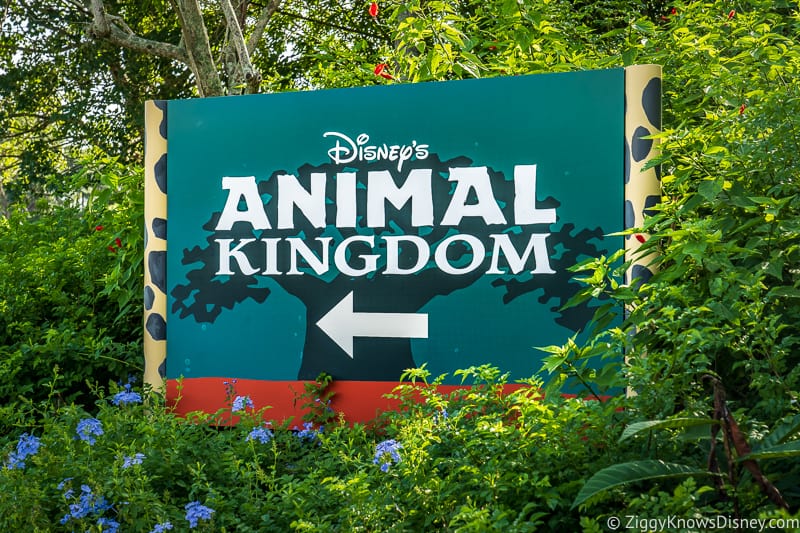 If you like waiting until the night before to decide which park you are going to visit the next day on your vacation, I have some bad news for you…that's not possible right now. In fact, you can't even show up at Disney's Animal Kingdom and buy a ticket for the day. Also, all guests must use Disney's new Park Pass Reservation system to get access.
Getting Tickets
The first step to get into the Animal Kingdom is getting your park tickets. For a couple of months, Disney had blocked new ticket sales in order to give priority access to the parks to guests with existing tickets.
Now theme park tickets are back on sale and you can purchase single and multi-day tickets to Disney's Animal Kingdom for dates in 2020 or 2021. Tickets are available right now through September 26, 2021. If you have an annual pass that will also still work, though there are some blockout dates depending on what level annual pass you have.
Getting Park Pass Reservations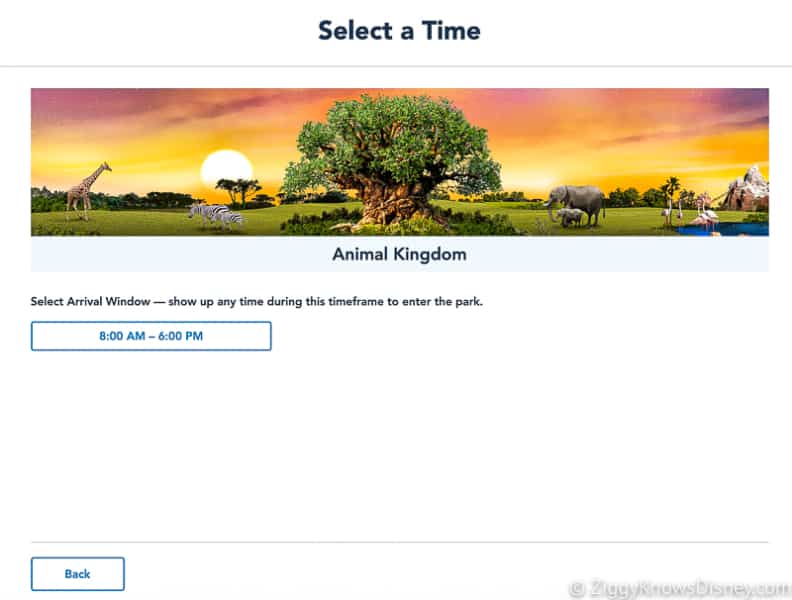 Once you have your regular park admission, the next step is to get a Park Pass Reservation. This is Disney's new reservation system designed to help manage crowds and help keep the parks to a limited capacity.
Park Passes are limited to the number of days on your park admission ticket, and also limited for Annual Passholders. Even though park passes are limited, the Animal Kingdom is not very hard to get a reservation for and unless you try booking at the last minute, it should be easy to get into.
You can make reservations on the Disney World website, just remember, you'll need to have a valid park admission before making a park reservation.
Read our post on How to Make Disney World Park Reservations for a detailed walkthrough on the new system.
Hours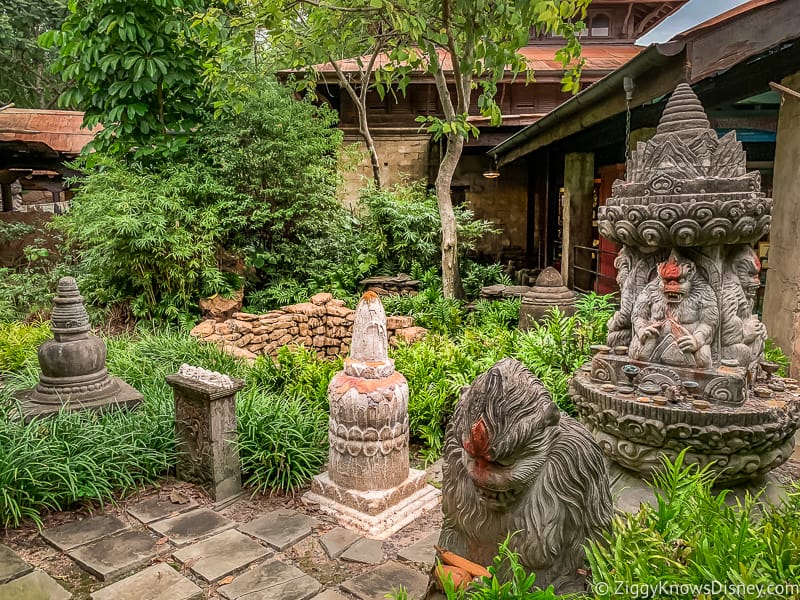 Disney's Animal Kingdom has never been the park that stays open the latest in Disney World, and now its hours have been reduced even further.
Upcoming Disney's Animal Kingdom Park Hours:
Thanksgiving Week – 8:00 am to 8:00 pm daily
Weekdays from November 30 through December 17, 2020 – 9:00 am to 5:00 pm daily
Weekends from November 29 through December 19, 2020 – 8:00 am to 7:00 pm daily
December 20 through December 30, 2020 – 7:00 am to 7:00 pm
Most days in January and February 2021 – 9:00 am to 5:00 pm daily
Park hours for Disney's Animal Kingdom schedule right now are all over the place and ranging from 8:00 am of 9:00 am in the morning to 5:00 pm or 7:00 pm daily.
With these changes, the opening time is still pretty early, and Disney has extended the closing time on some days to make room for the holiday crowds.
Christmas and New Year's Week hours are extended and will be from 7:00 am to 7:00 pm.
Starting in January and February, Animal Kingdom Park Hours will be reduced back from 9:00 am to 5:00 pm daily. We expect crowds to be extremely low again after the holiday period and Disney is further reducing operating hours for all the parks until crowds start coming back.
Besides reduced normal operating hours, Disney's Animal Kingdom will not be running Morning or Evening Extra Magic Hours for the time being. That lowers the value of staying in a Disney World Resort hotel where you normally get some time in the parks before the general public.
So far wait times have been so low that the reduced operating hours haven't been an issue. We'll let you know if the opening or closing times change over the next weeks and months.
Entrance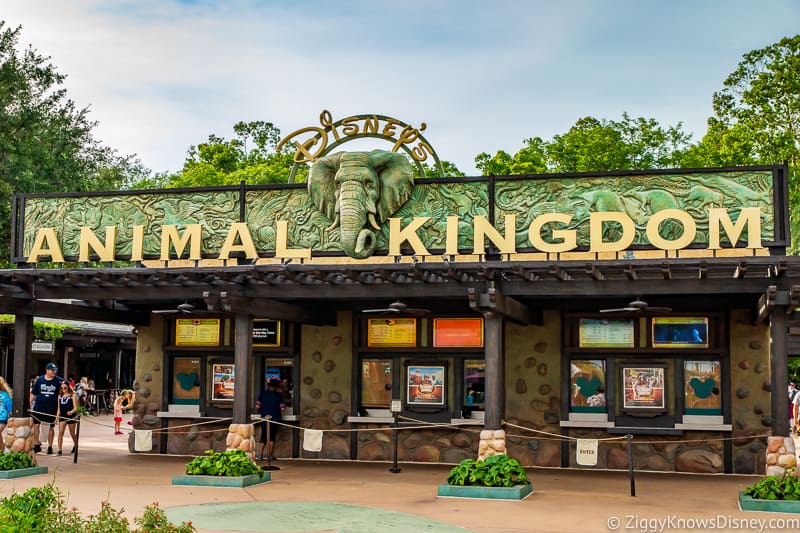 While you do have to take into consideration the temperature checks when arriving at Disney's Animal Kingdom, overall entering the park is a breeze. We honestly thought it would be much more difficult but there is no rope drop crowds like usual even when arrival in time for the park opening.
There were hardly any waits and everything moves very quickly from the toll booth in the parking lot to the bag-check and finally at the turnstiles.
Attractions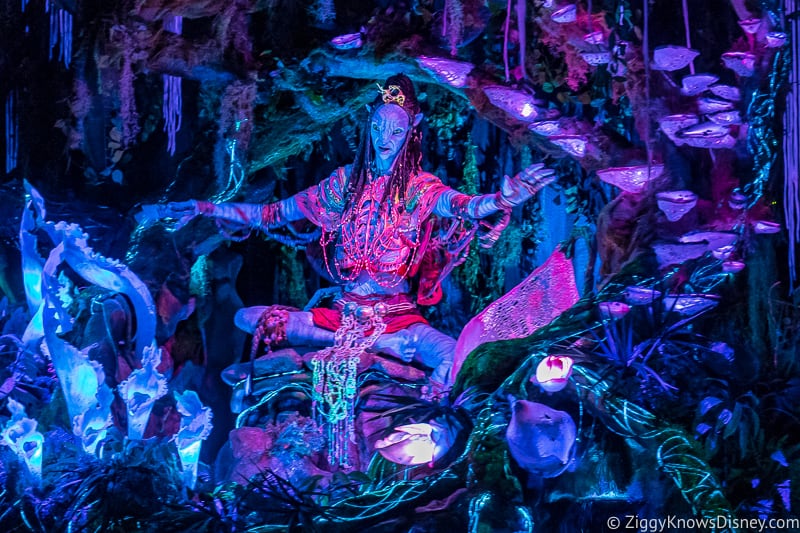 Like in the other parks, not all of the attractions in Disney's Animal Kingdom are currently open. Right now there are a total of 17 open attractions on the list. Let's show you what's open, what's not open and then how some attractions are different after reopening.
What's Open
Affection Section
Avatar Flight of Passage
DINOSAUR
Discovery Island Trails
Expedition Everest – Legend of the Forbidden Mountain
Gorilla Falls Exploration Trail
It's Tough to be a Bug!
Kali River Rapids
Kilimanjaro Safaris
Maharajah Jungle Trek
Na'vi River Journey
Rafiki's Planet Watch
The Animation Experience at Conservation Station
The Oasis Exhibits
TriceraTop Spin
Wilderness Explorers
Wildlife Express
What's Not
The Boneyard
Fossil Fun Games
Primeval Whirl (Permanently Closed).
All of the "important" E-Ticket attractions are currently running in the Animal Kingdom. This includes Flight of Passage, Kilimanjaro Safaris, Expedition Everest, Dinosaur and Na'vi River Journey.
It does however feel somewhat empty without some of the big shows and the park's 17 attractions are easily tackled in a day, with plenty of room to spare. It's one thing when you visit the Magic Kingdom and there are close to 30 attractions running, but 17 is very doable.
As you may have heard, Primeval Whirl has closed permanently, which makes Dinoland USA even more barren. Really, this whole area of the park needs to be taken down and built from scratch because there were no more than 10 people in the whole land every time we walked through.
Walking through Pandora is even super quiet, and great for snagging some photos of the Floating Mountains with no people around I might add. It's too bad though that the park isn't open past sunset right now because we really miss the bioluminescent lights.
Attraction Reports and Wait Times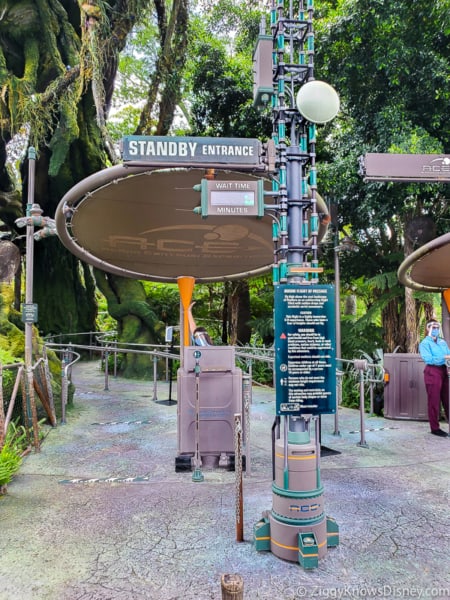 Wait times in Disney's Animal Kingdom are at an all-time low right now. Out of 14 attractions currently running, they have an average wait time of 14 minutes each! Think about how crazy that is! We also want to point out that wait times in all the parks right now feel inflated and whatever reads as a 20-minute wait is likely closer to 10 maximum.
Here are some of our thoughts on the changes to the Animal Kingdom attractions and what you can expect as far as wait times when experiencing them.
Dinosaur – Mostly a walk-on with no more than 5 minutes most of the day.
The Dinosaur pre-show isn't running right now, so when you get to that point in the queue, you'll walk right through to the loading area.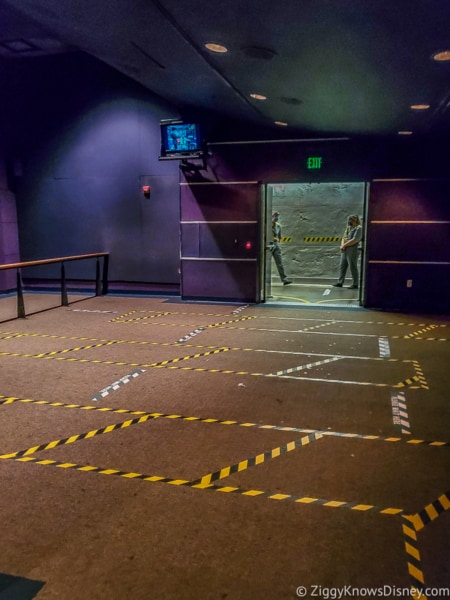 There is also plexiglass on the ride vehicles separating each row.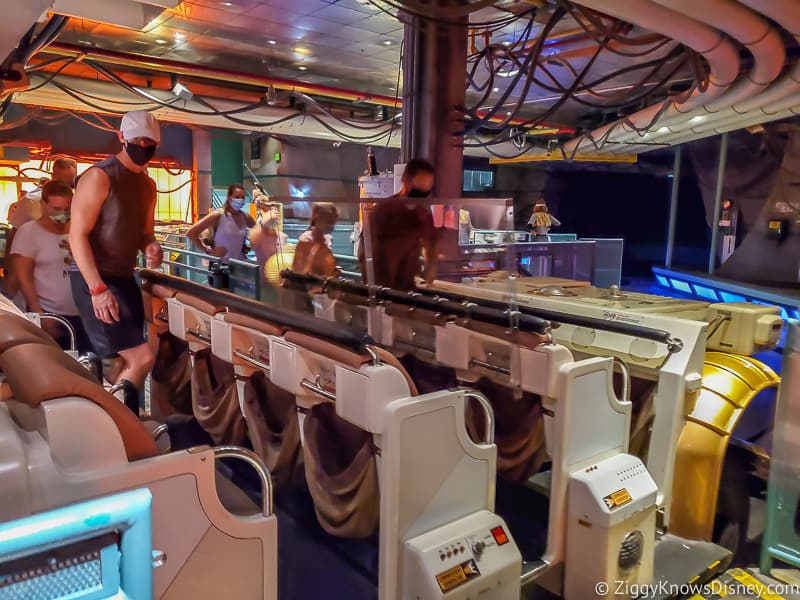 We didn't find them to be super distracting since most of the action is happening on either side of the vehicle.
Flight of Passage – These are by far the lowest wait times we've EVER seen for Flight of Passage. Most of the day the wait times never get more than 20 minutes or 30 minutes max. Even so, the lines are actually 10-15 minutes most of the time which is basically enough time to walk through the entire queue up until the pre-show areas.
Throughout the queue, you'll notice the ground markers telling guests where to stand.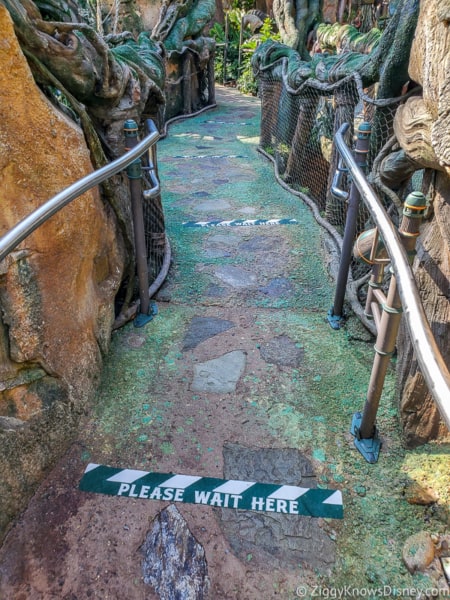 You'll also see plexiglass up to distance guests doing the switchbacks in the queue.
We didn't actually run into crowds until the last part before the pre-show rooms.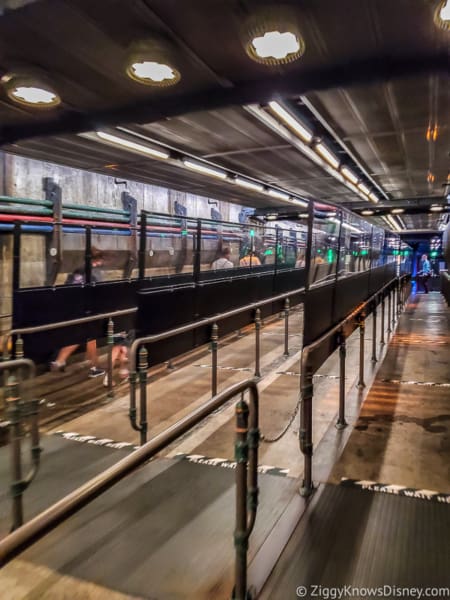 We would have like to see more spacing on the actual attraction. Guests not traveling in the same party are distanced with only 1 vehicle between them. We would have liked to see at least two.
Na'vi River Journey – Believe it or not, the Na'vi River Journey has a longer average wait time right now than Flight of Passage does, but still it's not long by any means. Expect to wait 20-30 minutes in the morning and watch it get progressively lower throughout the day.
Plexiglass is up in part of the queue like the others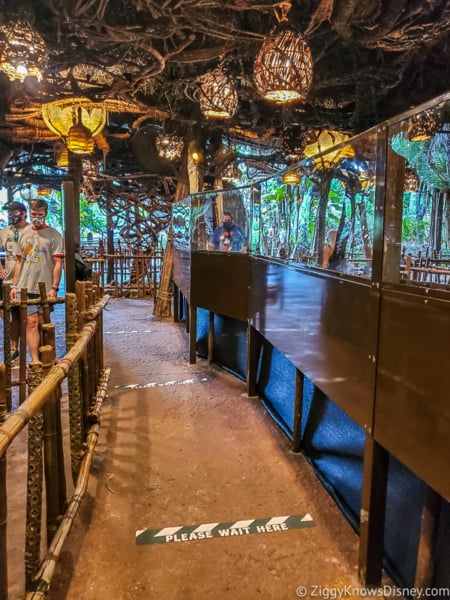 We think the reason is because of the time it takes to get in each boat and disinfect them after every couple of uses, while Flight of passage is quicker to clean since they can rotate which theaters are in use.
Expedition Everest – This usually has the "longest" wait times of all the attractions in the park at the moment, but for the first couple of hours per day it is only averaging 5 minutes. Even when it increases later in the day it's been maxing out at around 30 minutes.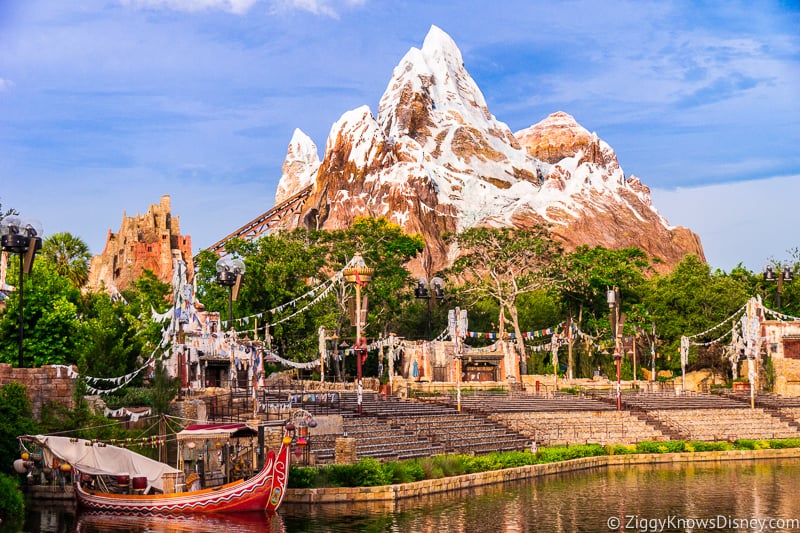 Kilimanjaro Safaris – 10 to 15 minutes is the most you will wait right now for Kilimanjaro Safaris.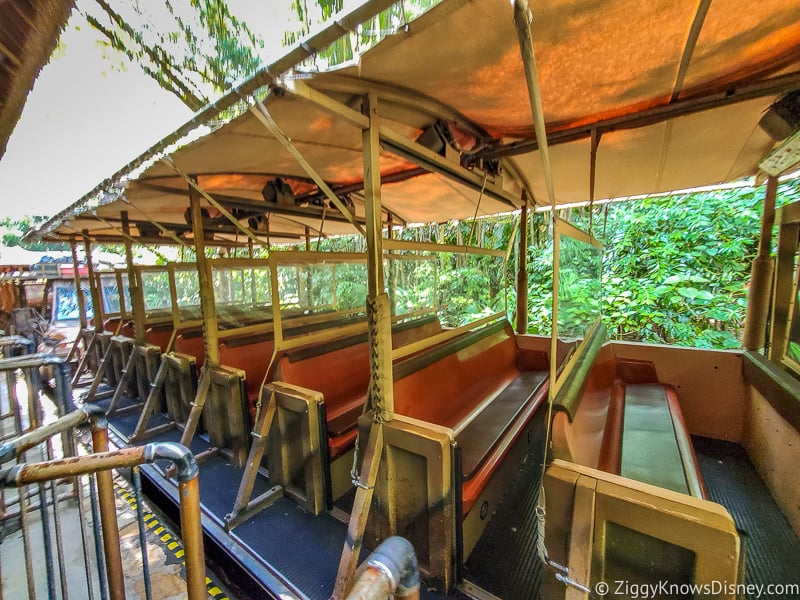 The safari ride vehicles have been fitted with plexiglass dividers between each row of the vehicle. Though a large part of the action happens on the sides of the vehicles, we found it kind of distracting and it gives you a 'closed-in" feeling.
Kali River Rapids – Kali River Rapids might have the shortest wait time of any ride in the Animal Kingdom right now and you'll find it's only 5 minutes most of the time. Guests have even been invited to get right back on a raft at times when there are no guests waiting in line.
It's Tough to be a Bug – The wait is not longer than 5-10 minutes, just enough time for the show in progress to finish.
The entire theater is sectioned off with many seats blocked so guests can distance properly.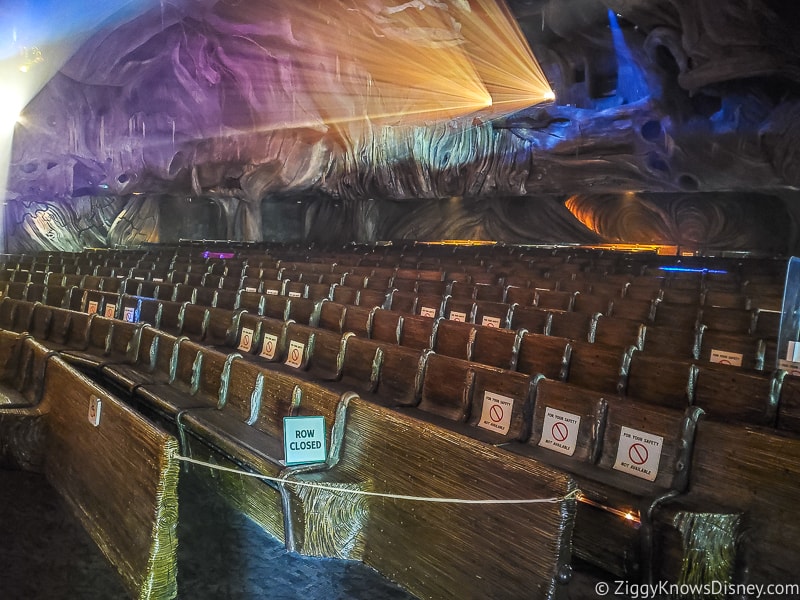 Maharajah Jungle Trek – There are no wait times for the Maharajah Jungle Trek and we think it's a great attraction to visit at the moment since it is mostly outdoors.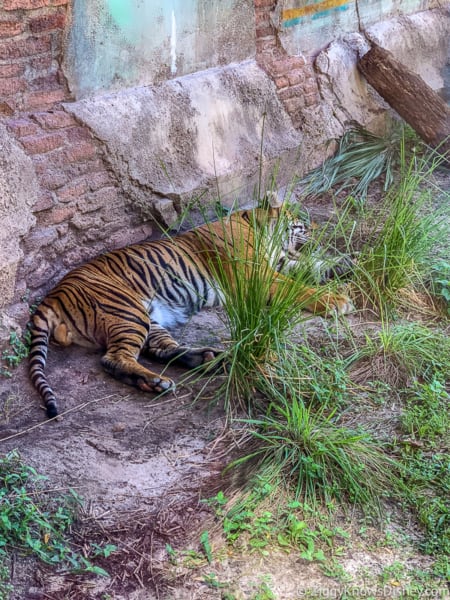 Gorilla Falls Exploration Trail – The same thing with the Gorilla Falls Exploration Trail. It's great because of the open-air factor, besides the fact that we love to watch the gorillas! We recommend doing this right after Kilimanjaro Safaris since you are right there.
Check here for the full list of Walt Disney World attractions that are currently open.
Entertainment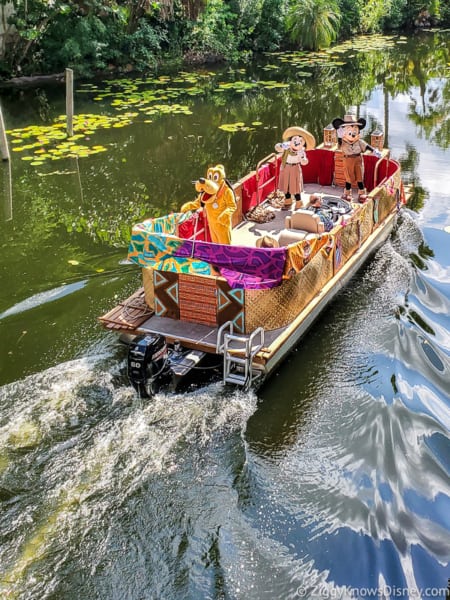 As you might of heard already, during this reopening phase, there are no character meets in the parks and very few ways to see the characters. If you have kids this might be a big problem since the character meets are extremely popular with children.
This means that in the Animal Kingdom meets like Donald's Dino Bash and the characters on Discovery Island are not available at this time.
Other popular Animal Kingdom entertainment is also not running such as the drummers in Pandora and the street band in Harambe village. Stage shows have also been affected with Festival of the Lion King and Finding Nemo – The Musical also closed for the time being.
Here is a list of the Animal Kingdom Entertainment you can expect to see during your visit and also what's not opening at this time…
What's Open
Character Cruises throughout the day, with Guest-favorite Disney friends appearing in boats around Discovery River—including the following:

Discovery River Character Cruise
Discovery Island Drummers
Donald's Dino Boat Bash!
Mickey & Friends Flotilla

Animal Encounters: Winged Encounters – The Kingdom Takes Flight
There are also special Christmas Character Cavalcades ("Festive Flotillas") going on during the holiday season with characters in their holiday outfits:
Donald's DinoBash Festive Flotilla (Chip, Dale & Goofy)
Mickey and Friends Festive Flotilla (Mickey, Minnie & Pluto)
Timon & Rafiki
Santa Claus Festive Flotilla (Santa Claus & Reindeer)
Discovery Island Drummers Festive Flotilla
What's Not
Festival of the Lion King
Finding Nemo – The Musical
Pandora Drummers
Pandora Rangers
Rivers of Light (Permanently Closed)
Tam Tam Drummers of Harambe
Tree of Life Awakenings
UP! A Great Bird Adventure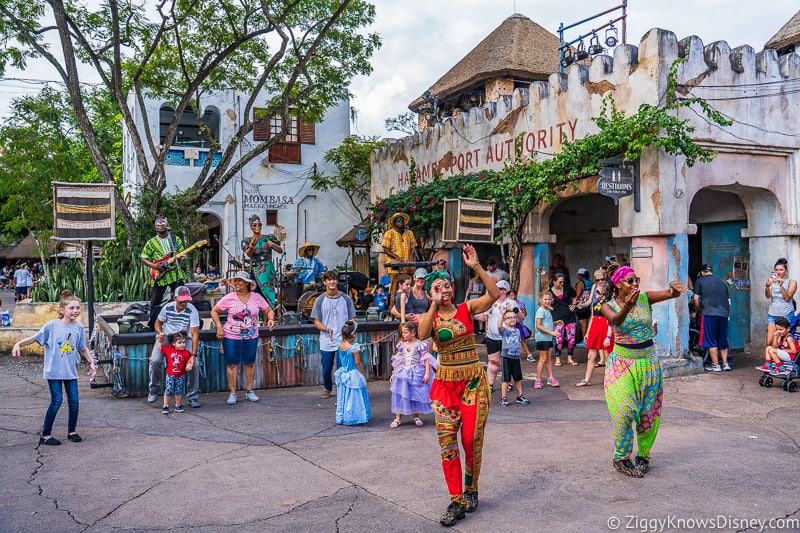 Our Thoughts
Entertainment options are hurting right now in the Animal Kingdom, much like all the Disney World parks.
It's obviously a bummer not having any nighttime spectaculars in the park for the time being. This is the same as with all the nighttime shows in the Disney Parks right now as they create groups of people that are too big when watching them.
Once Disney deems it possible they will bring back the Tree of Life Awakenings, but Rivers of Light is gone for good. The show never really gelled with audiences and Disney already is working on a replacement show. Since we can't have any nighttime spectaculars right now anyway, it was a good time to pull the plug and start working on the next one.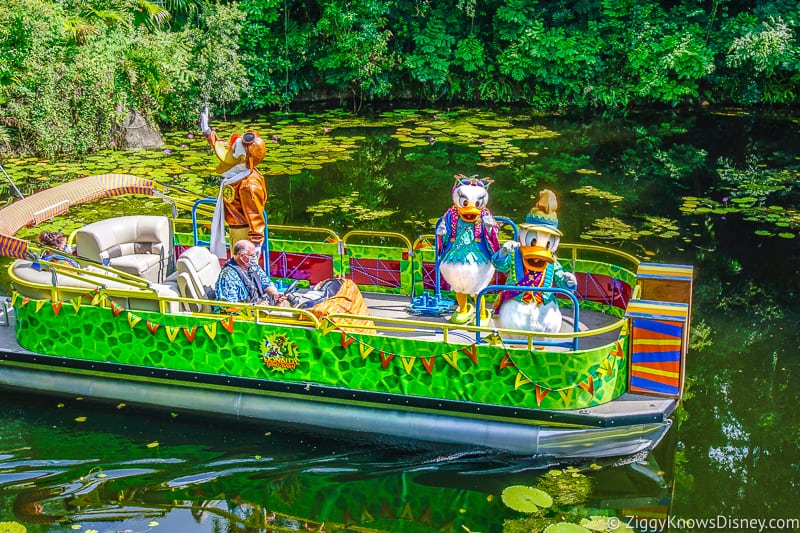 We think the park is really missing The Festival of the Lion King and Finding Nemo – The Musical. These are arguable the two best stage shows in Walt Disney World and they would make the park feel much more complete than it feels right now.
Even though there are no character meets right now, we love the uniqueness that the Discovery River Character Cruises bring to the park over the traditional parade floats or cars in the other parks.
To get the best view of the characters, we recommend watching them pass by from one of the Flame Tree BBQ outdoor seating areas. The area is spacious and usually not too crowded. We also spent some time at the Nomad Lounge and this gets you really close to the characters too.
Our favorite characters in the Animal Kingdom are Donald, Daisy and Launchpad McQuack who have moved from Dinoland to Donald's Dino Boat Bash! Really all of them are fun though. For something completely different, be sure to check out the Discovery Island Drummers who bring a ton of life to the park, which right now feels a bit dull.
Read our detailed guide for more about how to find characters in the Disney Parks now.
Restaurants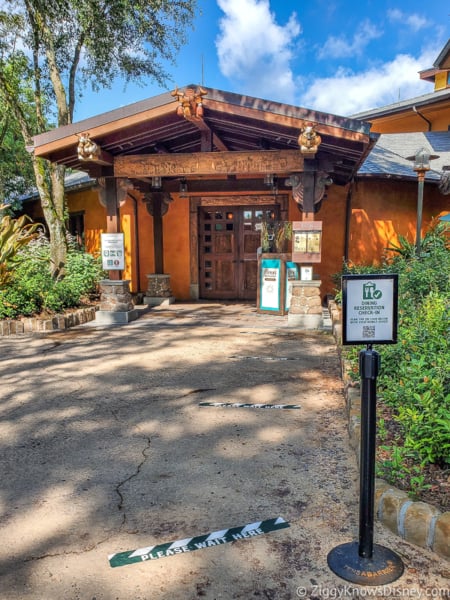 As we mentioned earlier, not all dining locations are currently open in the Animal Kingdom, though right now we think it offers one the best selections of restaurants, especially quick service.
What's Open
Right now there are 21 restaurants open in Disney's Animal Kingdom including table service, quick service, lounges and snack carts.
Anandapur Ice Cream Truck
Creature Comforts
Dawa Bar
Dino-Bite Snacks
Flame Tree Barbecue
Harambe Fruit Market
Harmabe Market (Opening Nov 14)
Isle of Java
Joffrey's Coffee & Tea Company
Mr. Kamal's
Nomad Lounge
Pongu Pongu
Rainforest Cafe® at Disney's Animal Kingdom
Restaurantosaurus
Tamu Tamu Refreshments
Thirsty River Bar & Trek Snacks
Trilo-Bites
Yak & Yeti™ Local Food Cafes
Yak & Yeti™ Restaurant
What's Not
Right now there are 12 restaurants in Disney's Animal Kingdom that are not open:
Caravan Road
Dino Diner
Drinkwallah
Eight Spoon Cafe
Mahindi
Pizzasafari
Restaurantasaurus Burger & Sundaes
The Smiling Crocodile
Terra Treats
Tusker House
Warung Outpost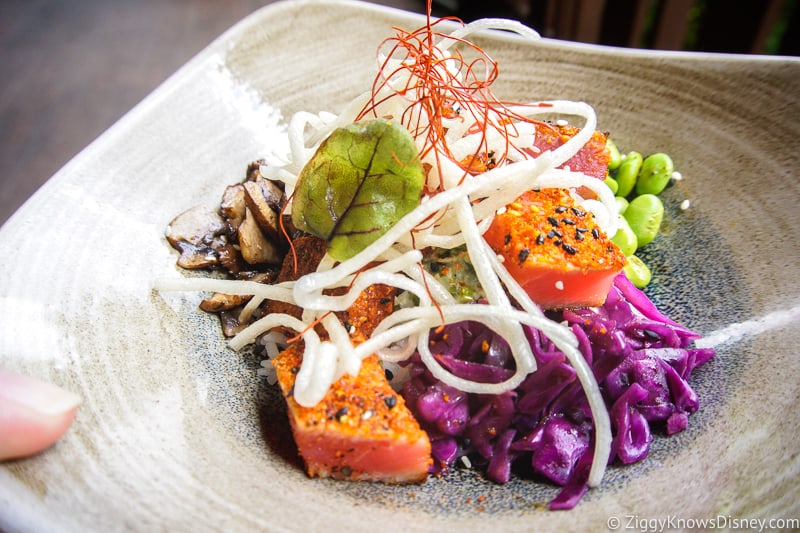 Of these, the most notable are Pizzasafari, Restaurantasaurus Burger & Sundaes and Tusker House. We love Tusker House and consider it one of the best character meals in Walt Disney World, but since character meals are mostly not running at the moment, it's understandable that it's missing.
Besides the two quick service locations we already mentioned, most of the other locations are snack carts located throughout the park. Many of those don't open except for the busy season, so it's no surprise that Disney has them closed right now.
Our Thoughts
Overall we think Animal Kingdom has the second-best selection of open food locations in Disney World. The only one that beats it is EPCOT, and we'd say the Animal Kingdom is definitely ahead of the Magic Kingdom and Hollywood Studios.
Dining in the Animal Kingdom was fairly enjoyable and we noticed that even the most popular locations like Flame Tree BBQ and Satu'li Canteen are running fairly efficiently despite the challenges. We'd definitely recommend using Disney's Mobile Ordering system when you go as it will save you a bunch of time and spare you the experience of waiting in line.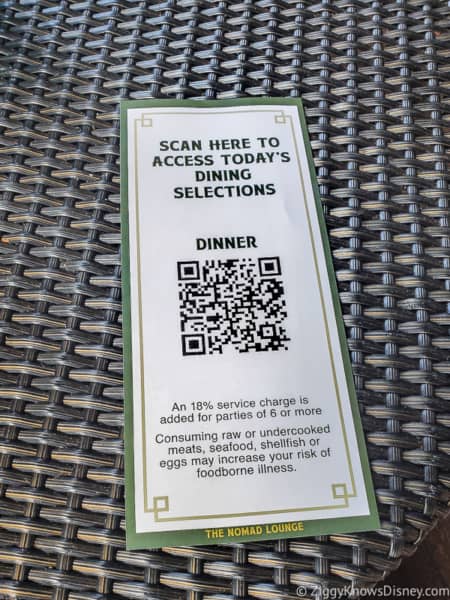 Some technologically challenged guests were still getting in line, but the others were all being encouraged to use Mobile Ordering.
We also noticed that the tables and chairs are spaced out well, with plenty of distance between you and the next table. We recommend the Flame Tree BBQ since there are plenty of outdoor spots to choose from.
Remember that Disney is requiring guests to wear a mask at all times unless you are eating and drinking. However, you cannot do that while walking around the park and need to be stationary to do so. Most guests we saw complied with this rule and we've even seen some asked to cover up.
For more info about the changes to dining right now, read our post about Disney World Restaurants after reopening.
Shops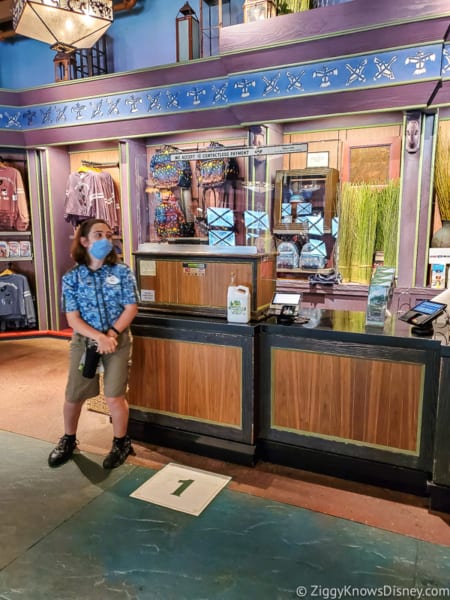 The following shops are open in the Animal Kingdom:
Africa Hub Cart
African Heritage Wood Carving
Baby Care
Chester and Hester's Dinosaur Treasures
Discovery Trading Company
Garden Gate Gifts & Strollers
Kilimanjaro Safari Cart
Mandala Gifts
Mombasa Marketplace
Out Of The Wild
Serka Zong Bazaar
The Dino Institute Shop
Windtraders
Relaxation Stations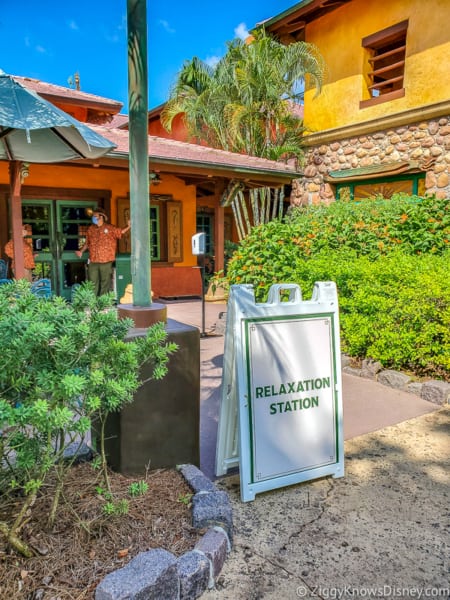 Since there are not too many guests excited about wearing face masks in Disney World, there are designated areas in each park called "Relaxation Stations" where guests don't have to wear a face covering.
Distancing is strictly enforced in these relaxation stations, but guests can kick back and get a break from the heat of wearing a mask all day. Outside these designated areas approved face coverings must be worn at all times, except when consuming food or beverages.
In Disney's Animal Kingdom there are 2 Relaxation Stations in the park. They are located at:
Upcountry Landing (Asia)
Pizzafari (Discovery Island)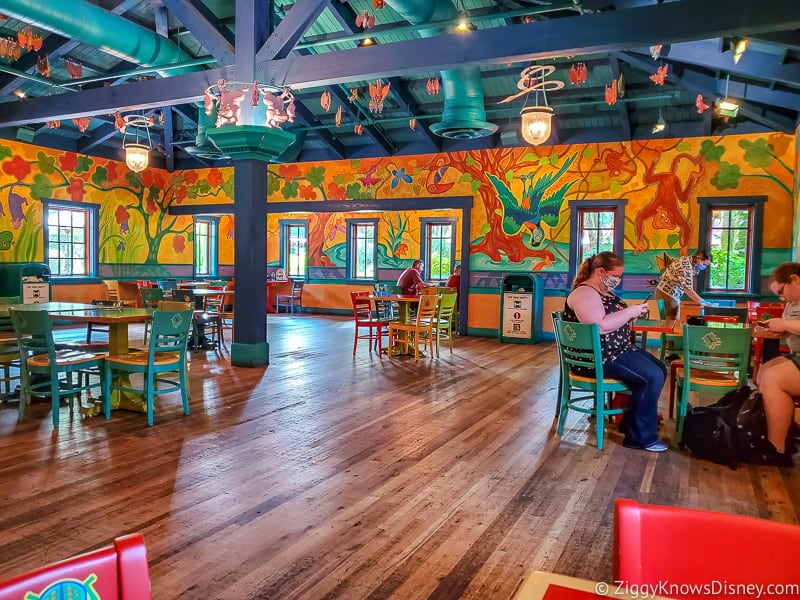 Of the 2 areas, we prefer the Upcountry Landing relaxation station due to its open-air location which makes us feel a bit more comfortable if we are going to take off our face mask around other guests. It also has a great location right on the river.
Pizzafari is indoor which is great for air conditioning, but not great from a safety perspective if you are in a full room with other people taking off their masks. This is just a personal preference and if we want to get some air conditioning, there are plenty of other places in the park to go.
Construction in the Animal Kingdom in 2020
Construction in Disney's Animal Kingdom right now is very minimal as most of the big projects over the past few years have already been completed.
The only thing of real interest right now is the revamped entrance to the Animal Kingdom. All the theme park entrances either have got or are getting their entrances updated including new bag check areas which will allow for better traffic flow.
The Animal Kingdom's entrance is the last one to be finished and it's almost ready to go. The addition will result in a large bag check area closer to the parking lot, and a revised tram loop. The new bag check area will be better equipped to deal with longer lines that could form during this phased reopening.
Transportation to the Animal Kingdom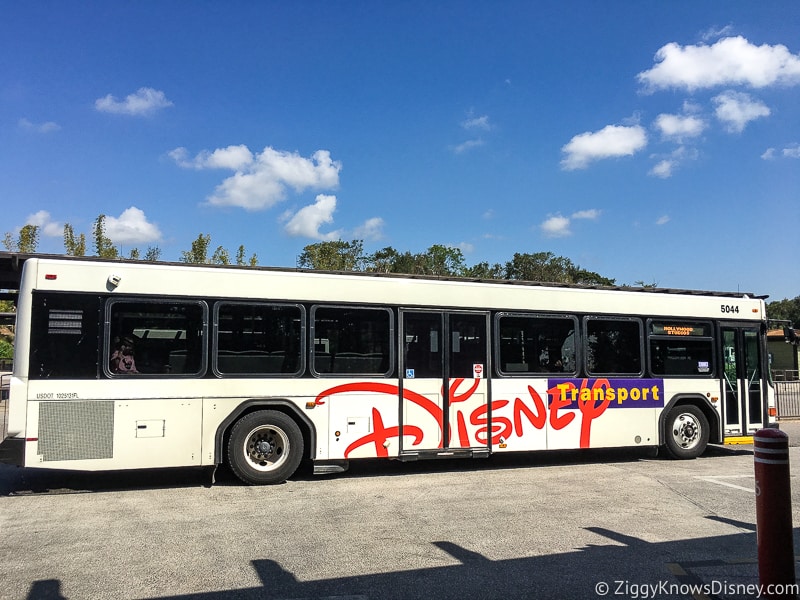 There is only ever one way to get to Disney's Animal Kingdom by using the Disney World transportation system and that is by Bus. Buses are one of the slowest ways to get around property, but in this case it's our only choice.
Because of the extra safety measures now being taken on the bus system, overall bus capacity is much lower than normal which may increase travel times. Right now, depending on which hotel you are staying at, you need to plan to leave your hotel 1 to 1 1/2 hours before your desired arrival time at the Animal Kingdom.
Your only other Disney-run transportation method of getting to the Animal Kingdom are Minnie Vans, which are currently not running.
Read our post on Disney World Transportation changes where we explain everything you need to know.
Best Hotels to Stay for Going to the Animal Kingdom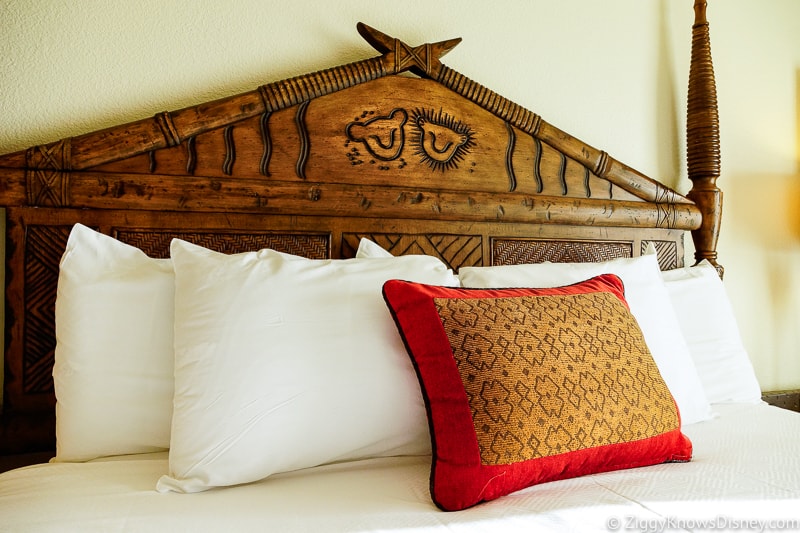 There is no question that the best Disney World Resort hotel to stay at for visiting the Animal Kingdom park is Disney's Animal Kingdom Lodge.
So far during the reopening phase the Animal Kingdom Villas, both Jambo House and Kidani Village are open and taking reservations. Both of these locations are perfect for getting to and from the Animal Kingdom quickly.
The next closest hotels are Disney's Coronado Springs Resort and the Gran Destino Tower, along with all the All-Star Hotels. Unfortunately, these are not an option at the moment and you'll have to wait until they reopen.
Honestly, if you are going right now, we don't think it's necessary to stay close to the Animal Kingdom park. There are so few things to do there right now that you can easily do the entire park in one day.
We love staying at the Animal Kingdom Lodge, and if you want to stay there for the hotel then by all means. If you want to make the most of the parks then I would stay closer to Hollywood Studios or Magic Kingdom right now, which is what you should be booking multiple park pass reservations for.
Read more about the Disney World Resort Hotels after reopening in our recent post where we explain everything you need to know.
Animal Kingdom Crowds
From our experience so far, the Animal Kingdom has been the quietest park of the 4. It probably has the same capacity as Hollywood Studios but the combination of that park's footprint being smaller and crowds there being more crowds makes Animal Kingdom seem empty in comparison.
The Animal Kingdom is typically the last park to fill up in the Park Pass reservation system, and the excess inventory is often given to the Annual Passholder distribution group. I've never seen the park this empty and even in normally high-traffic areas like Pandora or Harambe village, the often looks like a ghost town.
It doesn't really matter what time of the day it is, all hours of the day have very low crowds. From what we've seen, this is especially true in the late afternoon when most of the people have already left the park and almost every ride is a walk-on.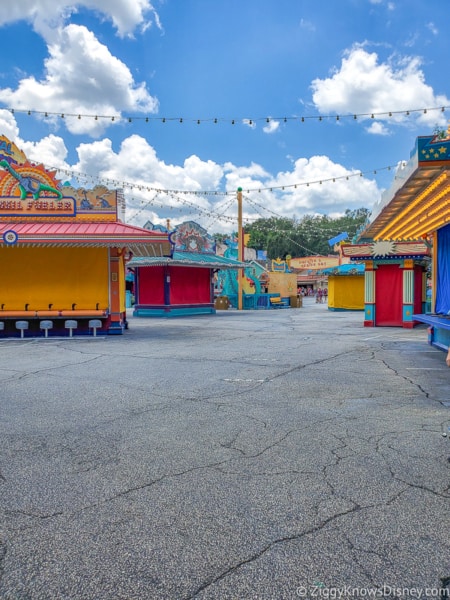 How the crowds react now is partially up to Disney. If they decide to take some of the existing reservation inventory and move it over to Annual Passholders, you might see an uptick in attendance in the park. Out-of-town visitors are just not coming right now and we don't see that changing in the near future.
Disney might be throttling the capacity of the Animal Kingdom right now and we suspect it isn't more than 10% at the moment, so if Disney decides to open up some more reservations, that might allow for more locals to get in.
The bottom line is crowds at Disney's Animal Kingdom are extremely low right now. Will it last? That remains to be seen. But if you like the idea of walking through the park with the nearest person hundreds of feet away at times, then this might be a good time to visit.
Check our Disney Crowd Calendar for a closer look at crowd expectations for the rest of the year and beyond in all the Disney World parks.
Touring Tips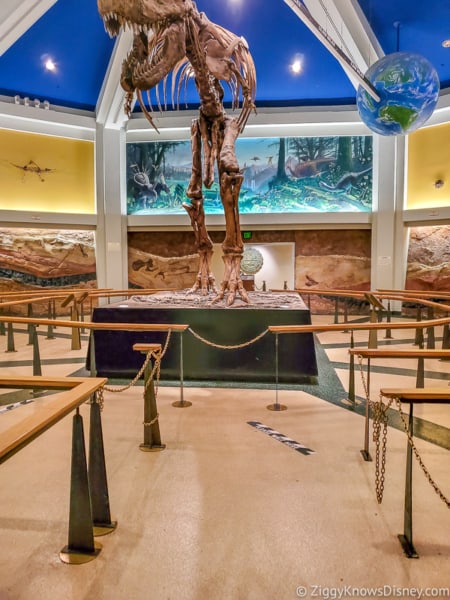 Normally, we would have a bunch of touring tips for you when visiting the Animal Kingdom. We would tell you which rides you need to do first, which one second and so on. We would lay out a touring plan so you could make the absolute most of your day and not miss a thing.
Honestly, right now, it just doesn't matter all that much what you do and in which order. The wait times are so low right now that you can point your finger at the map with your eyes closed to pick attractions and it wouldn't make any difference in wait times.
The only difference choosing rides at specific times makes right now is about the weather. You want to do the hottest attractions early in the day and save the ones with air conditioning for the middle of the day when the sun is the hottest.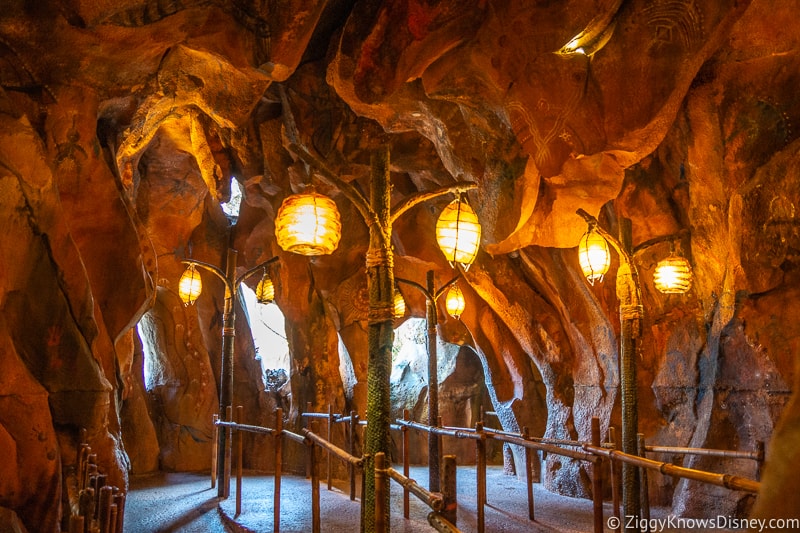 As always, we recommend riding the Kilimanjaro Safaris in the morning, as early as possible. This is when the animals are the most active for the whole day and it will give you the best chance to see them.
This used to be a problem when Flight of Passage was our recommenced rope drop option. But with wait times for Flight of Passage usually no more than 20-30 minutes (as opposed to the normal 120 minutes), you may as well wait until later to do it as it's well air-conditioned.
Both rides in Pandora can be done in the middle of the day since there is plenty of shade. Dinosaur is also a great option from 12:00 pm to park close since the queue is mostly air-conditioned.
Kali River Rapids is a water raft ride, so another good option when it's hot out.
If we were planning an itinerary for Disney's Animal Kingdom right now, we'd do Kilimanjaro Safaris first, followed by the Gorilla Falls Exploration Trail while you are there and then head over to the Maharajah Jungle Trek which is all outside. After than, you can pretty much just pick whatever you feel like riding and go for it.
Summary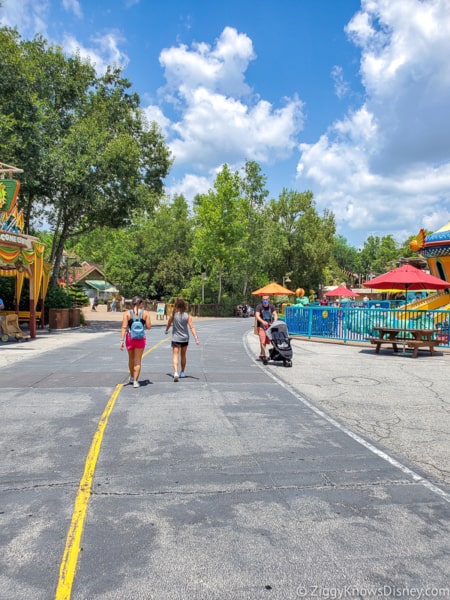 Overall we had a great time at the Animal Kingdom, despite the unrelenting heat at this time of the year. We thought that people were doing a good job respecting the rules regarding face masks and distancing and we didn't find ourselves in any situations with tight spaces surrounded by tons of people.
In general this was the emptiest park of the 4 and at times it really felt like we were alone, which is cool, but eery at the same time. One thing you can't complain about are the short wait times. If you like attractions, this is a dream come true and you could probably do Flight of Passage 3 times in one hour during certain times of the day.
You can realistically do everything in the park and be done by mid-afternoon, which is great from a check-list point of view. The Cast Members were friendly, but we did notice slightly less enthusiasm than what we experienced over at the Magic Kingdom.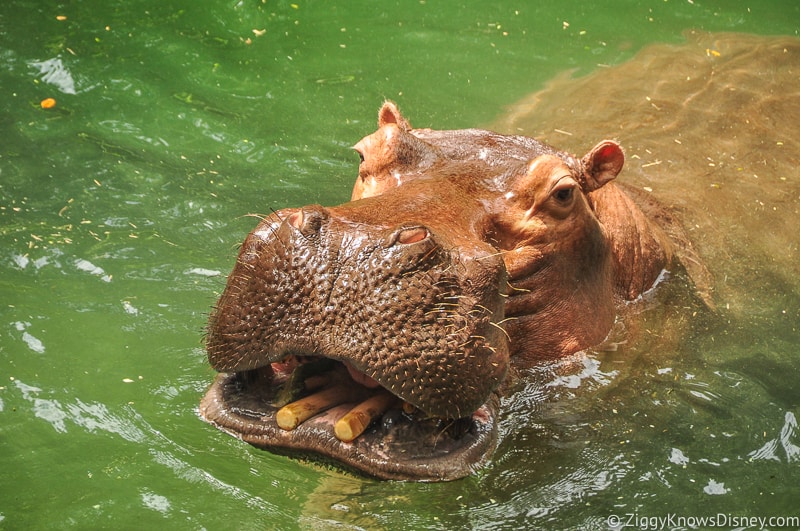 If you are a fan of the Animal Kingdom in general, this is a good time to experience like you never have before and with the lowest crowds you will probably ever see in your life.
Sign Up For Our Newsletter Today!
Your Thoughts
I want to know what you think about the Animal Kingdom now after reopening…
When are you planning on going?
Which changes are you most happy/sad about?
Let us know in the comments section below!
If you enjoyed this article, as always I appreciate it if you'd share it with others via social media. I work hard at making this website into a useful resource for you and your family to plan your visit to the Disney Parks and I hope it can help you! Thanks 🙂