Transportation in Walt Disney World is changing with the reopening of the parks and there is a bunch of new information you need to know. Whether you're planning on taking the Monorail, Disney Skyliner, Buses or Boats, there are a lot of changes the next time you ride on one of them.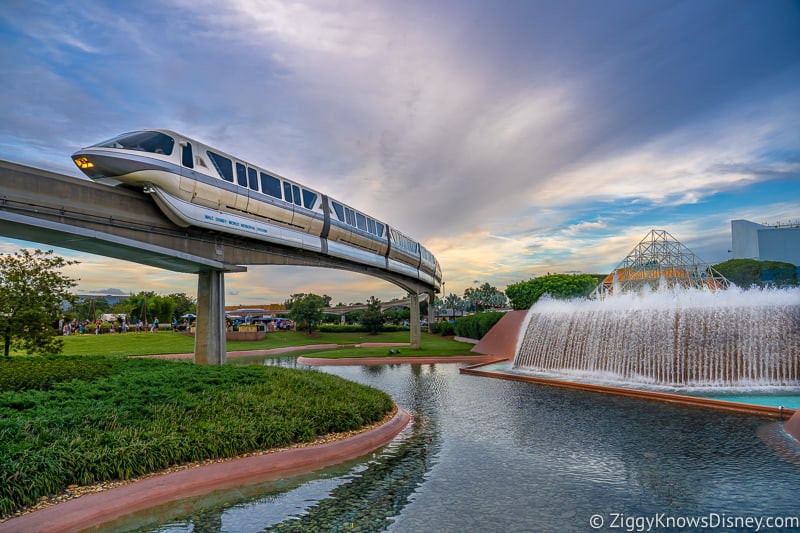 In this post we'll bring you up to speed on all the different Disney World transportation methods and what you need to know before you go. We'll let you know the opening dates for each transportation method, and the best way to get from your hotel to each of the parks.
We'll also let you know how transportation wait times have changed and if any of them are a better choice given the current health situation.
What we want to point out is that patience is going to be required on your next trip to Walt Disney World. If you go at all during the phased reopening, it's going to be a much different experience than you are used to in Disney World. With new safety measures, it's going to take some time do get used to the changes.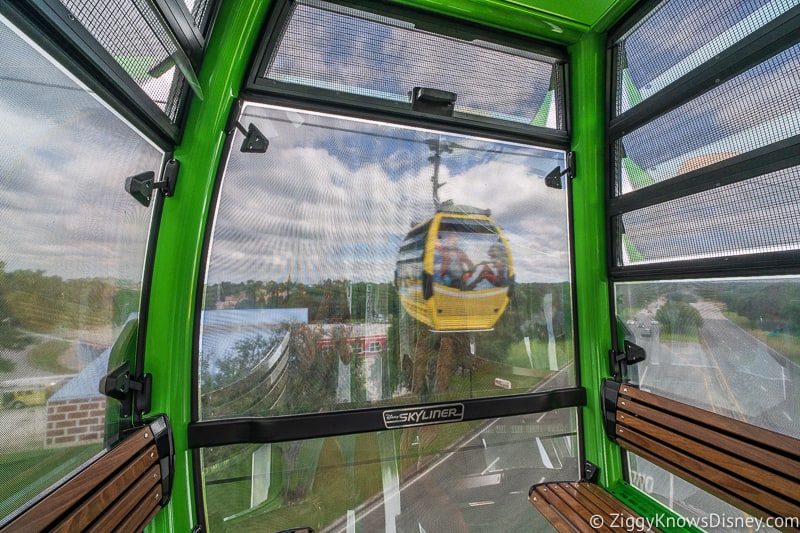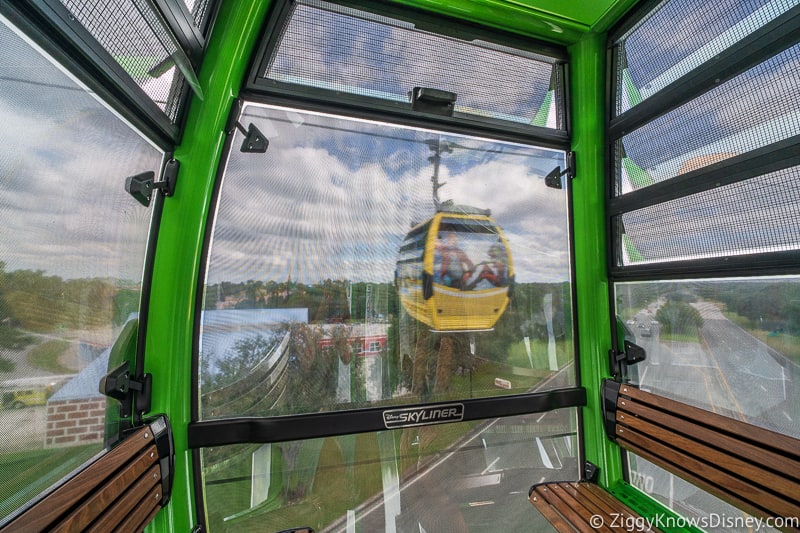 We also want to warn you that things are bound to change between now and the coming months, and guests need to adapt to whatever new rules Disney decides to implement in the various transportation systems across property.
We hope that we will be able to answer any questions you have and let us know if we leave something out. Thankfully there aren't that many changes to transportation as there are with the parks, hotels and restaurants.
Before we get started, here are some other recent posts that will help you with all your planning needs for the Disney World reopening period:
Also, for more updates about Disney World transportation and other reopening info, don't forget to sign up for our FREE Weekly E-Mail Newsletter. You can sign up here: Join our E-Mail Newsletter
Which Disney World Transportation is Open?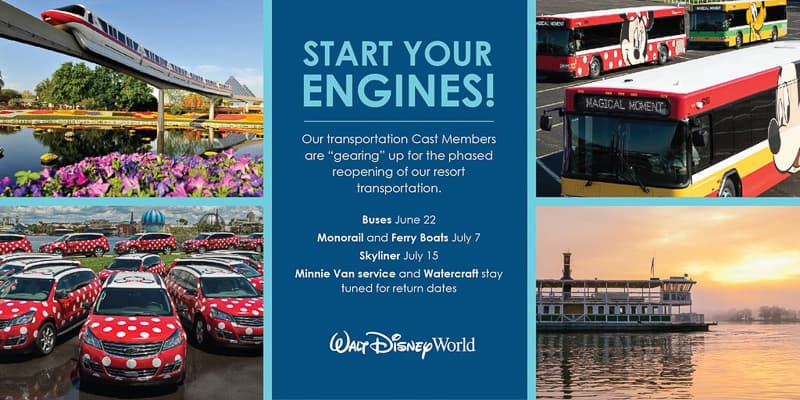 Disney World transportation started operating on June 22, 2020, with the bus service currently running for Walt Disney World Resort hotel guests only. Disney is reopening the other transportation methods in phases.
For a while, it was unknown which transportation options would be open for guests. We were sure that not all of the methods would be available right away, but we are pleasantly surprised that the majority of them will be running when the parks open.
Here is a list of reopening dates for Disney World transportation:
Buses (Now Open)
Monorail (Now Open)
Magic Kingdom Ferry Boats (Now Open)
Disney Skyliner (Opening July 15)
Friendship Boats (Opening July 29)
Minnie Vans (Opening TBD)
Disney World buses are now running to take guests to Disney Springs. Other transportation methods will begin on July 7 with the Monorail and Ferry boats running to the Magic Kingdom.
The Disney Skyliner will begin running again on July 15, 2020, when Disney's Hollywood Studios and EPCOT reopen. Testing for the Skyliner has already begun and you can see the gondolas on the line going from station to station.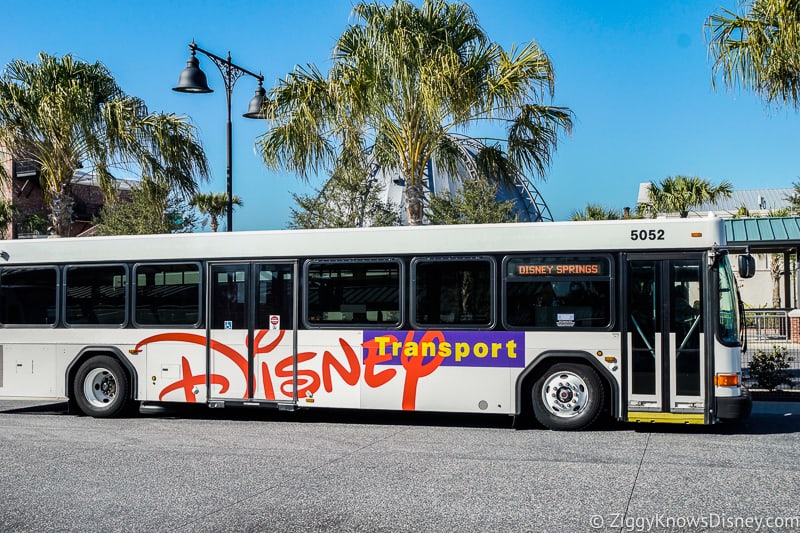 The Friendship Boats that bring guests to EPCOT and Disney's Hollywood Studios from the Crescent Lake Resorts will begin operations July 29.
What about for Annual Passholder Previews?
The Magic Kingdom and Animal Kingdom are running preview events for annual passholders on July 9 and 10 and according to Disney, guests will have to provide their own transportation.
This is from the registration email: "If you are staying at a Disney Resort hotel, Disney transportation will not be available for this limited event. You will need to provide your own transportation to the Theme Park parking lot."
However, with the monorail and the ferry boats reopening July 7, both of these transportation systems will be running to bring guests back and forth from the Ticket and Transportation Center. Guests staying at a Disney Resort will have to find their own way to the parks that day though.
What to Know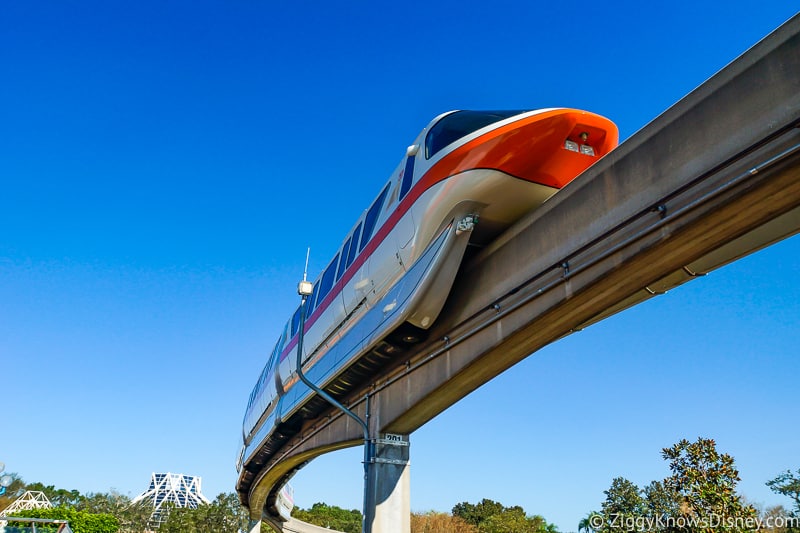 While there are definitely many changes to Disney World transportation, here are the most important things to know.
Safety Guidelines – Guest Safety is a huge priority with Walt Disney World transportation reopening, and there are some new guidelines that have been put in place you need to know about:
Guests will need to practice physical distancing while riding transportation vehicles.
Increased cleaning and sanitization to vehicles.
Face Masks will have to be worn while riding transportation. (See our Face Masks at Disney World post for more info).
Some seats are blocked off.
Some transportation like the monorails have partitions set up between cars.
Lower Capacity – If you've been on Disney transportation before then you know you are usually crammed in as tight as can be. That has now changed and one big priority is reducing the number of guests allowed per transportation vehicle.
The vehicles have markers letting you know where you should be standing or sitting and most guests will be separated by traveling party.
Potentially Longer Waits – Because they are putting fewer guests in each transportation vehicle, you can also expect to have longer waits to get to your destination. Expect each vehicle to hold around 30% of its normal capacity, and it's doubtful Disney will be running the same amount of vehicles as before.
All of this means you might end up spending a bit more time at the bus station than usual.
Now, let's break down all the info you need to know about each transportation method including the buses, monorail, Disney Skyliner, boats and more.
Buses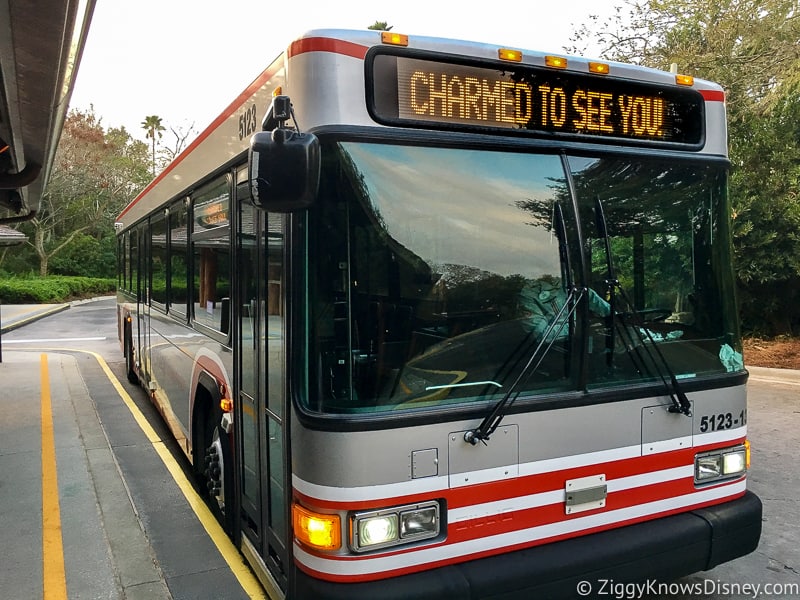 The Walt Disney World Bus system has been running for DVC Resort guests back and forth to Disney Springs since June 22. Once the theme parks reopen, the majority of bus routes will also reopen bringing guests there too.
So far guest reports have been good and seats on the buses are easily marked letting you know where you can and can not sit. Because of distancing, the buses are running on reduced capacity and guests are not allowed to stand.
Once the parks reopen, we'll get a better feel for how wait times have been affected, but no doubt there are fewer buses running than normal.
Right now it seems like the bus service will not be running to EPCOT or Hollywood Studios if you are staying at one the Disney Skyliner hotels. This includes the Boardwalk, Yacht and Beach Club, Riviera Resort, or Pop Century (Disney's Caribbean Beach and Art of Animation don't have reopening dates yet).
If you remember, bus service from Skyliner hotels was already reduced before the closure period and for the time being, it looks like the Skyliner or walking are the only options.
Monorail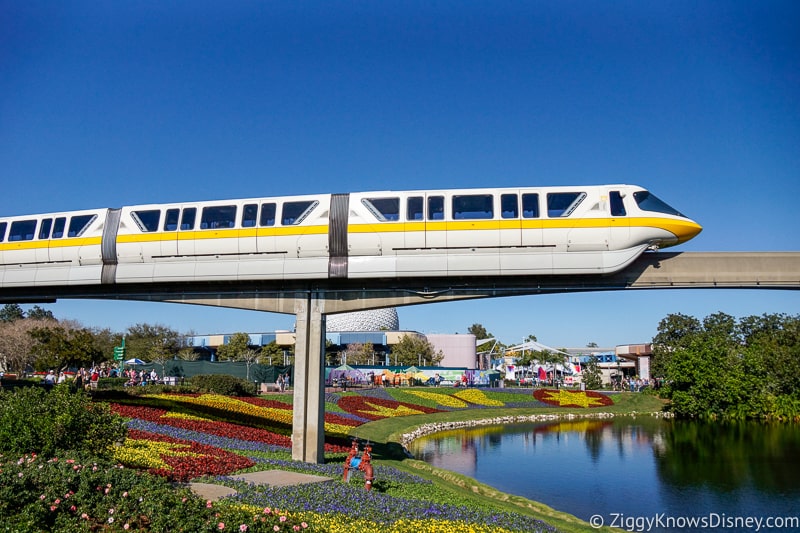 Originally, the monorail was supposed to reopen July 11, but it actually has been running since July 7. Both the Express and Resort routes are running on the Magic Kingdom loop. This provides easy access to the park from the Contemporary, Polynesian and Grand Floridian Resorts.
At this time the EPCOT monorail line is NOT running and Disney has not yet announced when it will start up again. Guests staying on the monorail loop will need to take the bus system to get to EPCOT.
Just like the buses, expect fewer monorails overall to be running at a time, and monorail cars will hold many fewer guests than before. Disney has installed partition dividers between compartments and will be separating guests by traveling group in each car.
Wait times are going to depend on how many guests are staying at the monorail resorts. At least for a while there will be fewer guests staying at the Grand Floridian since many rooms are being occupied by NBA players, and that should help keep usage down some.
Boats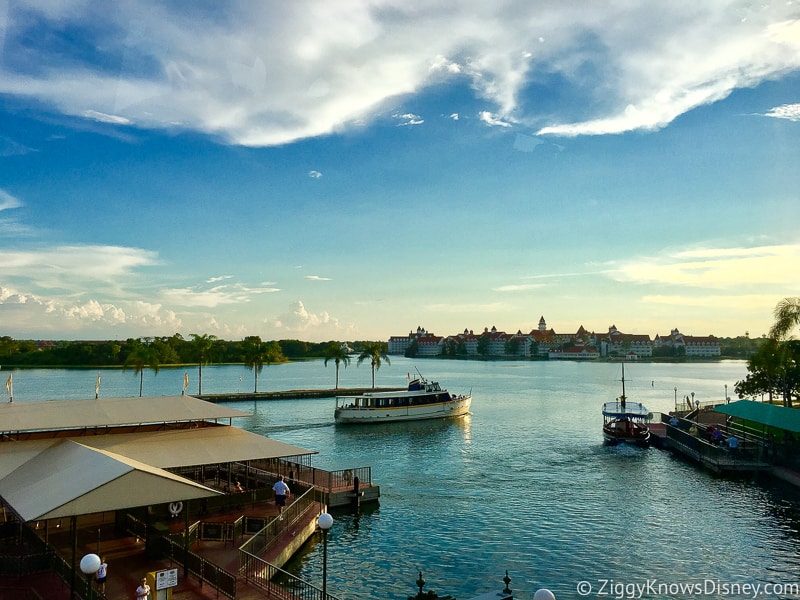 Boat service has been running since July 7, however, not all boats and ferries are currently running.
Boat Service to the Magic Kingdom – So far, boats from Disney's Wilderness Lodge, Fort Wilderness and the Polynesian Village are running with service to the Magic Kingdom.
At this time ferries from the Grand Floridian will not be running due to the NBA staying at the resort. If you are staying at the Grand Floridian Villas you can either walk the the Polynesian to take a boat from there or take the monorail.
Resort to Resort ferries are also not operating since there isn't really a need considering Disney isn't allowing guests to visit resorts other than where you have a reservation.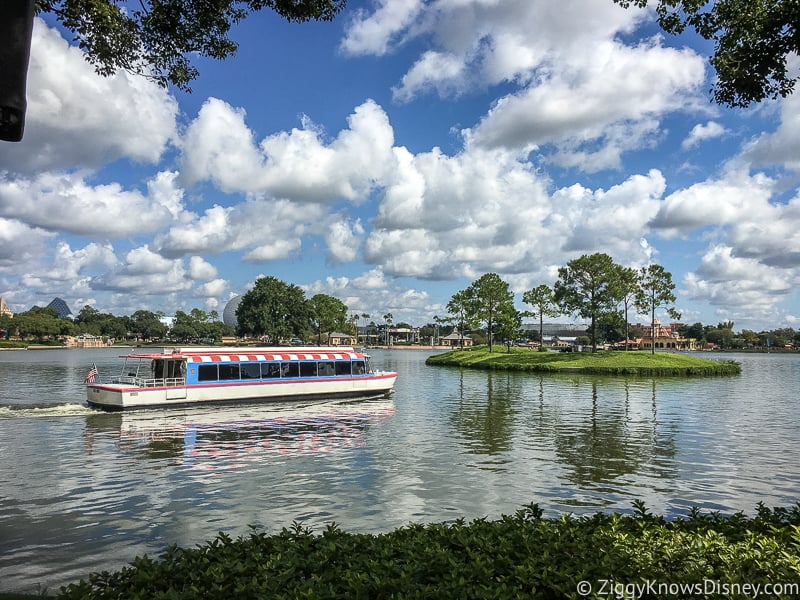 Friendship Boats – The Friendship Boats which operate between Disney's Yacht and Beach Club, Boardwalk Inn and Swan & Dolphin will begin operating for service to EPCOT or Disney's Hollywood Studios on July 29.
Right now you can't even get to the Yacht Club dock since the NBA is staying there, so we'll se how they handle this.
Until then, your only option to get to EPCOT from those hotels is to walk. If you are going to Hollywood Studios, you can walk or take the Skyliner instead.
Sassagoula River Cruise – This is the ferry that takes guests from Disney's Port Orleans Riverside and French Quarter to Disney Springs. There is no reason to take this boat as both hotels are currently closed and without a reopening date.
Disney Skyliner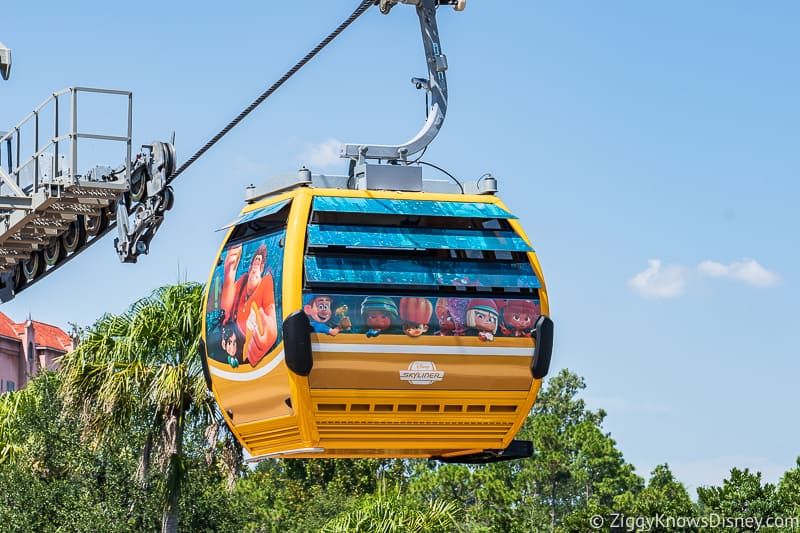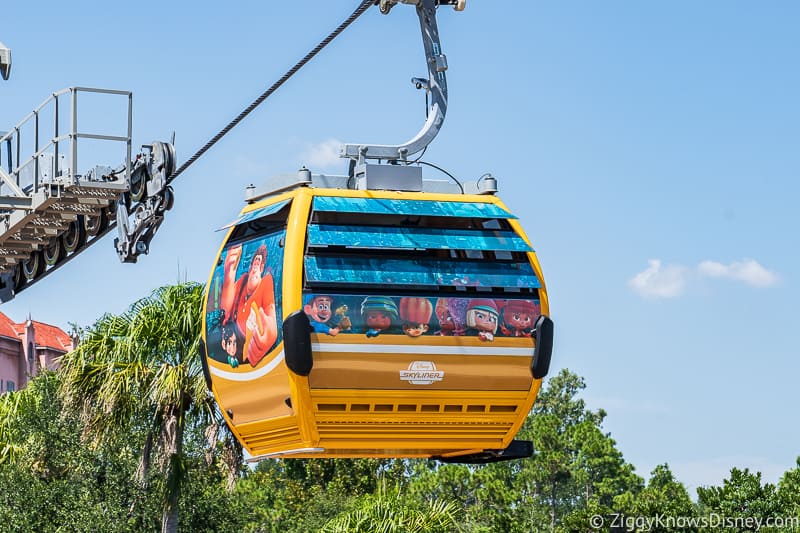 Our favorite Disney World transportation, the Disney Skyliner, is reopening July 15 with the reopening of EPCOT and Hollywood Studios. Both Skyliner lines will be operating and the Skyliner will make stops at every station along the routes.
At the start of the reopening Disney's Art of Animation Resort and Caribbean Beach Resort will be the only two hotels on the Disney Skyliner route not open. Guests will still get out and transfer at the Caribbean Beach station however since it is the main Skyliner hub.
Disney is limiting ONE traveling group per Skyliner gondola, but that shouldn't affect wait times very much as it's already a very efficient system and the number of guests using it will be low since there is no park hopping for now.
For a more detailed look at Disney's newest transportation system, read our Guide to the Disney Skyliner Gondolas.
Minnie Vans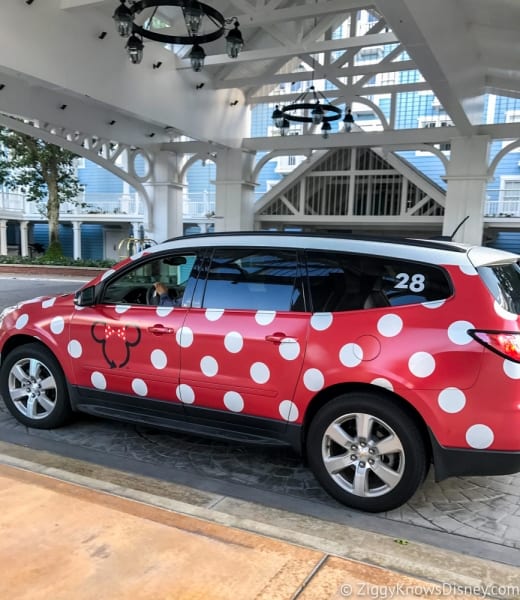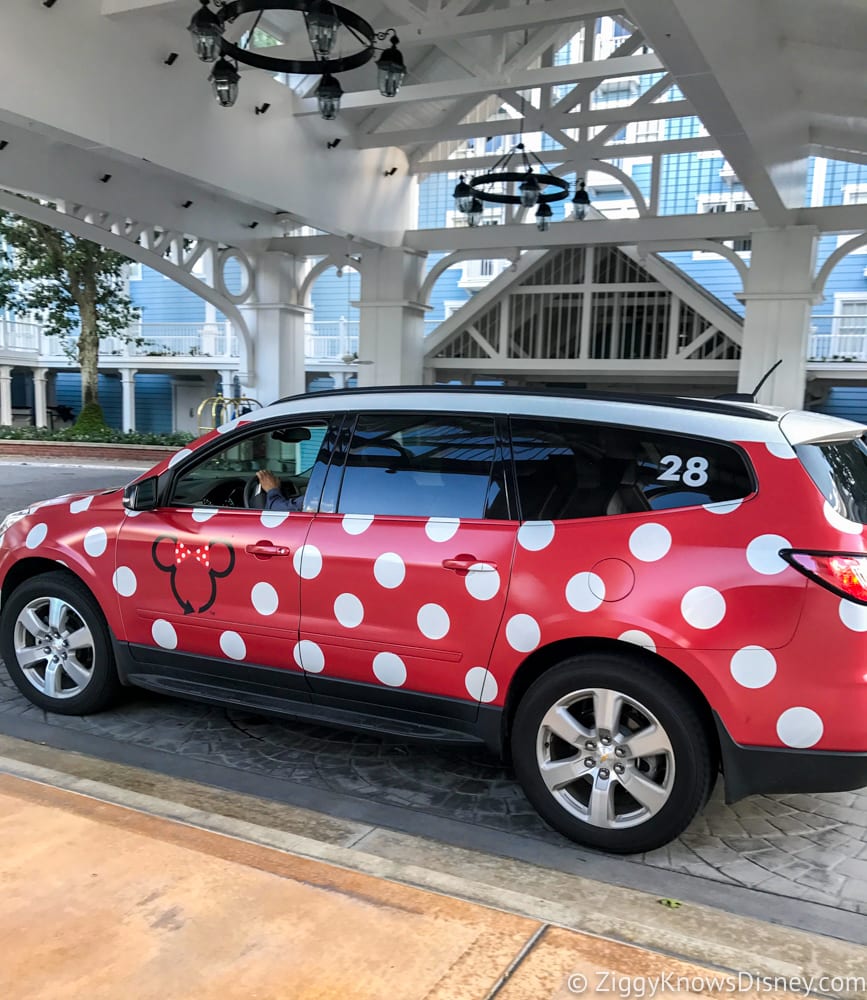 Disney's Minnie Van service will not be operating when the parks begin reopening. Disney has not commented on an opening date yet, saying just that Minnie Vans will return at a future date.
This makes sense as demand for Minnie Vans will probably be lower with fewer out-of-town visitors and it's a lot harder to enforce distancing inside a Minnie Van. It seems like the smart choice to keep the service closed for the time being.
Magical Express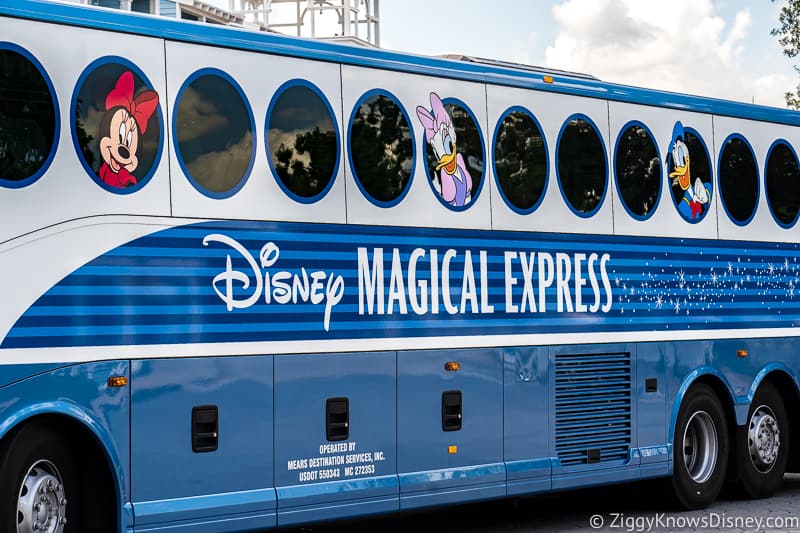 Disney's Magical Express shuttle service is now open. Getting to Walt Disney World from the airport is still be possible on Disney's Magical Express for resort guests.
Wait times might be slightly longer due to reduced capacity on each bus, but the service works mostly the same way as it did before the closure.
One big change is that luggage delivery service will not be provided for those arriving to and departing from Orlando International Airport. Guests can use the Magical Express to bring checked-in bags to their hotel, but guests will be required to pick up and drop off their own luggage from the airline baggage claim.
The Airline Check-In service is also not available form your Walt Disney World Resort hotel at this time. That means your wait time at the airport could be longer than normal.
Temperature Screening on Disney Transportation
Temperature screening is currently required on the following methods of Disney World transportation:
Monorail
Boats/Ferries (from Ticket and Transportation Center)
All guests arriving at the Ticket and Transportation Center are required to go through temperature screening before proceeding to Disney's Magic Kingdom. This means all guests taking the ferry or the monorail will need to get their temperature checked first.
Also, guests getting on the Disney World Monorail system from any of The Walt Disney World Resort Hotels (Contemporary, Polynesian or Grand Florida) also have to go through temperature screening before boarding a monorail car.
Temperature screenings are not required leaving the Magic Kingdom on the way back, nor is it required to ride the Disney World Bus system.
Which Disney Transportation is the Safest?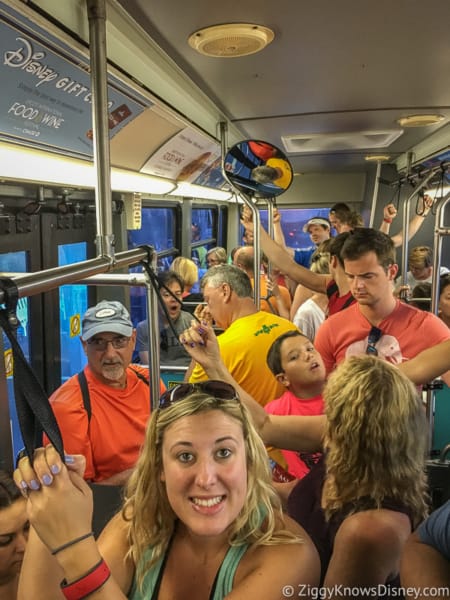 I don't know if there is an easy answer to this, and it's not something that we feel qualified to answer considering we aren't in the medical field.
We will say Disney has been working extremely hard to make the entire Disney World experience as safe as can be, including transportation. From what we've seen so far, all the transportation vehicles are being sanitized much more than usual.
If you haven't yet, we suggest reading our post on All the New Safety Measures and Guidelines at Disney World which breaks down exactly what has been implemented.
As far as the safest transportation method to take at this time, we would say that anything that carries passengers in the open-air is always going to be a safer bet. That means that taking a ferry boat to the Magic Kingdom for example is probably a better idea than the monorail.
Our best advice to give if you are concerned about limiting exposure to germs is to walk to the parks whenever possible. That might be an added incentive to stay at one of the Crescent Lake hotels like the Yacht and Beach Club or Boardwalk Inn to be near EPCOT and Hollywood Studios, or at one of the Seven Seas Lagoon hotels for the Magic Kingdom like the Contemporary Resort. You'll also be able to walk to the Magic Kingdom from the Grand Floridian!
I think you'll realize that Walt Disney World is still safe to visit and they've done an excellent job with the transportation.
Which Transportation System is the Fastest Now?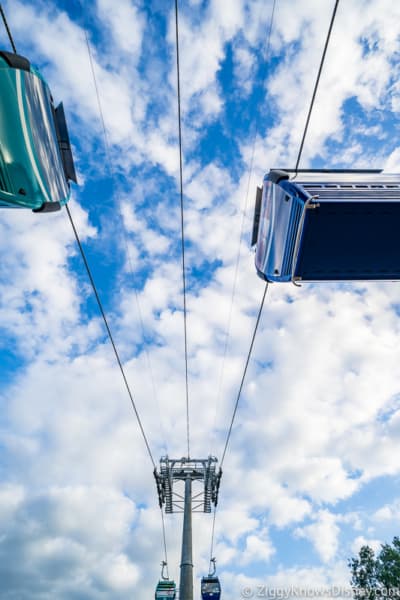 Of course, transportation wait times are going to change dramatically once the parks reopen. Distancing, new safety measures and reduced operating schedules will all have an impact on wait times, which we're guessing will be longer.
Our first reaction is to avoid the buses when possible since they are always the slowest and most unreliable form of transportation in Walt Disney World. This will depend on where you are staying though and how many other guests are in that hotel.
We'll know more about how wait times have been affected once the parks reopen.
How Long Will These Changes Last?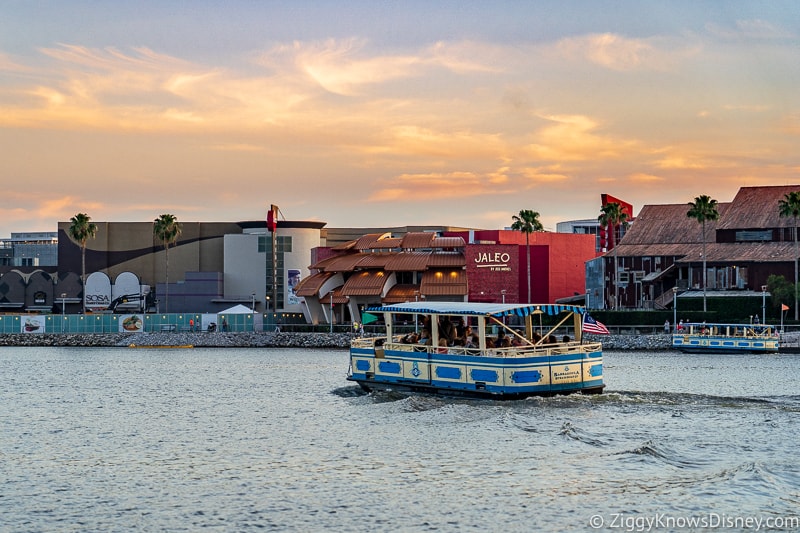 Unfortunately, these changes to The Walt Disney World Transportation systems are going to be in place for a while. It's a pain, but if you want to visit Walt Disney World right now you're going to have to get used to and follow the new rules.
Expect things to be different throughout the entire reopening period and beyond. How long is that going to last? Your guess is as good as mine. Not even Disney knows the answer to that question and the situation is constantly changing. Things will remain in place as long as is necessary to keep guests safe while visiting.
Expect these changes to stay in place throughout the rest of 2020 and into 2021. We suggest you read our post on "Should I Visit Disney World in 2020 or 2021?" to get a better idea of what to expect over the next couple of years.
Sign Up For Our Newsletter Today!
FAQs
Is Disney World Transportation Running?
Yes it is. Right now the Disney World Bus system is operating. The monorail and ferry boats reopen July 7 and the Disney Skyliner opens July 15.
What changes have been made to the way guests use Disney transportation?
Capacity for each transportation system is lower than normal meaning fewer guests in each vehicle. Expect to find distancing guidelines onboard and travel parties could be separated from other groups.
If you are planning a trip to Walt Disney World, don't forget to check out our Disney Crowd Calendars which will help you decide the least-crowded time to visit.
Your Thoughts
I want to know what you think about Disney World Transportation during the reopening phase…
What has been your experience after the reopening?
What suggestions do you have?
Let us know in the comments section below!
If you enjoyed this article, as always I appreciate it if you'd share it with others via social media. I work hard at making this website into a useful resource for you and your family to plan your visit to the Disney Parks and I hope it can help you! Thanks 🙂