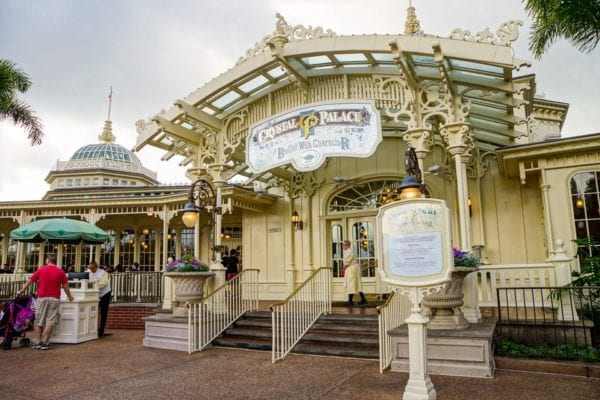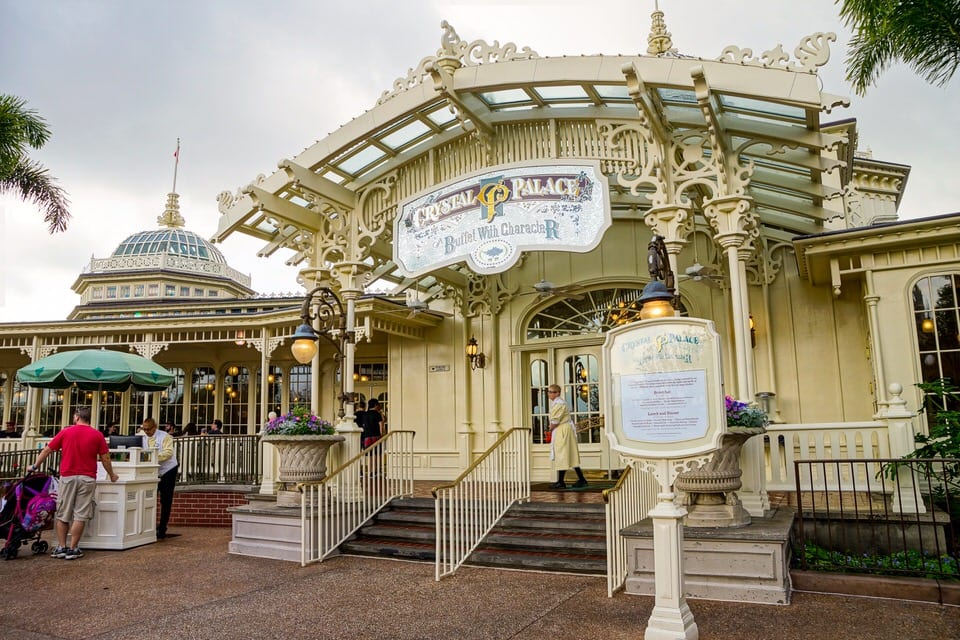 If you're into Character Meals then my Crystal Palace Breakfast Review is going to be perfect for you, as we got a chance to go recently to one of the best character meals in WDW. Let me start by just saying that if you haven't yet experienced a Character Meal, then you are really missing out on one of the essential Disney World experiences, and it's something you need to book right away, with or without kids is fine! 😉 The Crystal Palace is a Magic Kingdom institution, so let's find out what sets it apart from other Character Meals…
Crystal Palace is a Table Service Restaurant in Disney's Magic Kingdom, but not only that it's also an all-you-can-eat Character Buffet. Enjoy Winnie the Pooh, Tigger, Piglet and of course Eeyore as they come around to your table and take pictures and sign autographs for you and your family.
If you are using the Disney Dining Plan then like most Character Buffets it takes 1 Table Service Credit. It does participate in Tables in Wonderland which gives you a 20% discount on your food and drinks, which will surely come in handy. If you want to dine at the Crystal Palace I recommend you make your ADR 180 Days in advance as it's a very popular restaurant with families as you can imagine, and being located right in the Magic Kingdom makes it even more popular.
TIP: At $29.99 per adult and $17.99 per child (ages 3-9), Crystal Palace is one of the cheapest Character Meals on property.
The Buffet is pretty standard and has most of the options you would expect from a Disney Breakfast Buffet, but also has some interesting options you won't find anywhere else in Walt Disney World. Let's stop wasting time and get in there to see what the Crystal Palace is all about!
Atmosphere:
The Crystal Palace is located right in the heart of Disney's Magic Kingdom at the end of Main Street and heading towards Adventureland. As you are walking towards Cinderella Castle, you get to Casey's Corner on the left and then turn left and go through the gardens until you see the Crystal Palace.
TIP: One of my favorite things about going to the Crystal Palace is that it opens at 8:00 am. That means even if the Magic Kingdom doesn't open until 9:00 am, you can enter the park early for your reservation but you'll also find yourself practically alone on Main Street USA which will give you some awesome photo opportunities!
Take some time as you're approaching to notice the beautifully manicured gardens and flowers that surround the Crystal Palace. Here's a great shot of the building across the river:
This is a view that can't be beat!
As you approach the beautifully designed white, Victorian-style building, you'll certainly notice it blends right in with Main Street USA! The Crystal Palace has an important place in the history of the Magic Kingdom as it's one of the original buildings that was there for Opening Day in 1971!
Take a short walk around the outside of the building to take in all the beautiful flower gardens on property:
If you get a bit tired after looking around or are waiting for your party, take a seat on this neat old bench:
When your whole party arrives, go right up to the check-in desk on the left and let them know you are ready!
This menu outside gives you a sneak peak at some of the options for Breakfast, Lunch and Dinner:
Step up and take a trip back in time to the late 19th century:
Tigger and Piglet are sure happy to see you!!
As you notice, our theme characters are Winnie the Pooh and gang. I really like these models of them placed in the flower beds:
They've even created a banner for your arrival:
The first thing you'll notice about the Crystal Palace besides the Victorian time period, is how well-lit the building is. When it's a nice day the high skylight windows really make it a light and happy atmosphere to eat in:
Here's are some of those big windows I speak of:
It's a huge and open space, easy to see when the characters are coming:
Speaking of the characters, there's Piglet making the rounds greeting some families:
There are 2 Dining areas, one to the left of the entrance and one to the right. They are nearly identical:
Here's a far corner of the dining room. Look how beautiful it is to eat over next to those huge windows. You have a great view of The Hub from there and even the Castle, or just to watch passers-by…
Throughout the restaurant you'll find many pictures hanging on the walls, mostly of flowers, and also of the Victorian-style architecture:
More flowers everywhere, making it a cheerful environment:
more characters making their way around the restaurant:
The tables are pretty standard and nothing fancy. Besides the chairs which have Victorian-style backs, they table and place setting seems almost like a diner-style setting:
Characters:
Before we get into the food, what makes the Crystal Palace such a special experience are the characters. In Walt Disney World there are a variety of character meals, here expect visits from the characters from the Hundred Acre Wood including: Winnie the Pooh, Tigger, Piglet and Eeyore. Just like any Character Meal, they will come around to the tables taking pictures with you, signing autographs and just goofing around with you and your family!
Besides 1900 Park Fare, the Crystal Palace is the only character meal on property you will find Pooh and Tigger, and THE only meal period that you will find Piglet and Eeyore. So if you love these guys, this is the place to be! (this is true as of writing, but as always is subject to change).
TIP: Besides getting you into the Magic Kingdom before the others, the earlier the reservation, the better because generally the crowds show up a bit later in the morning. This way you'll have more time with the characters and be out and enjoying the attractions before the others.
Piglet:
Piglet was really sweet, taking time with the girls…
Eeyore:
He was just as nice, bending down for a big hug!
Winnie the Pooh:
Is there anyone who doesn't like Pooh honestly??
Maybe we found one here….
Maybe he was just a little nervous, that's all… 😉
Stefy had no problems on the other hand!
Tigger:
Of course we couldn't forget Tigger, he's the man!
I found a way to get my selfie in with him of course too!
Overall we found the characters here to be quite good. It wasn't a super crowded day or anything, but still they took a decent amount of time with us, which doesn't always happen. Every so often the characters do a "Friendship Parade" with the kids where they all get up and follow them. Really cool interactive thing for them!
Food:
Ok, here we are. My favorite part of any of the Crystal Palace Breakfast review…. the food! You may think that you'll find only the standard breakfast buffet items, but that is a mistake, there are plenty of unique options here to tempt your taste buds!
Even though it's a buffet, your drink order is taken at the table by your waitress. Feel free to choose from the selection of Fruit Juices, Milk, Coffee and Tea.
Let's get up and take a tour around the buffet…
Carbs!!! Here you'll find White and Wheat bread, Multigrain and Regular Croissants, and there will always be an assortment of Danishes and Pastries:
These are Chocolate Croissants and a variety of Muffins:
Our healthier readers will be happy to know you can stay on your diet at the Crystal Palace. An interesting option you don't always see are the Hard-Boiled-Eggs. Good if you're laying off the carbs and sticking to protein!
More protein-packed options: Ham, Cheddar Cheese and Pastrami Smoked Salmon:
There's a Yogurt Bar:
and Fresh Fruit including Melon, Strawberries and Pineapple:
Enjoy Hot Oatmeal and all of the fixings including Maple Syrup and Brown Sugar:
Of course I'm not on a diet, I'm looking for the other stuff! 😉
For all the carnivores out there we found the meat!! My dad loved the Kielbasa and Onions dish, which was really juicy and tender! Bacon and Sausage were plentiful as you'd expect.
One thing though that was nice was there were 2 separate bacon trays: 1 Crispy and 1 Tender! Thank you Crystal Palace!! Now I don't have to listen to the complaints of those in my party who are divided on this debate, there's bacon for everyone!!
p.s. We all know that tender bacon is the only way to go though! 😉
There of course was lots of sausage, your standard breakfast sausage.
One of the absolute stars though was the Philly Cheese Frittata! Wow was this good! A vast improvement on your standard buffet scrambled eggs, which are never very good, the eggs were really cheesy, and the addition of the steak put them over the top! A must-try here!
Pancakes were pretty standard:
It wouldn't be the south without Biscuits and Gravy of course..
I absolutely LOVED this next one too, the Potato Casserole! Basically shredded potatoes in a creamy, cheesy sauce, with more cheese on top…tell me what's not to love!
Here are 2 more unique Crystal Palace breakfast options: Cinnamon Pull-A-Parts, and the Breakfast Lasagna, which I warn you is not for the faint of heart!! Take Layers of Waffles, Pancakes, and Pound Cake, top it with Bananas, Strawberries, Peaches, Pastry Cream and Caramelized Sugar and you get Breakfast Lasagna! It wasn't really my thing, but many raved over it!
I'm always in the mood for Pizza, and now kids can have their wish and get pizza for breakfast with this Western Breakfast Pizza:
Even though the Philly Cheese Frittata was out-of-control-good, I'm a big eggs eater, but most of the time buffet ones just aren't very good. I was really happily surprised to see there was an Omelette Station where you could create your own omelette!
There are a load of toppings to choose from including: Sausage, Bacon, Ham, Mushrooms, Broccoli, Tomatoes, Green Peppers, Onions, Cheddar and Swiss Cheeses.
This is a beautiful thing!! Just one of many trips up to the buffet:
Everything in this shot I loved, except for the Western Pizza, I thought it was a little bland and had a strong peppery taste. That Philly Cheese Frittata was amazing, and you can see the big hunks of steak in there too! Potato Casserole was so creamy and delicious. Even the normal Roasted Potatoes were outstanding, perfectly seasoned and onions were great!
Nice big piece of Bacon, tender of course!
We literally destroyed this buffet and kept going back for more. Don't judge, theme parks are tiring and you need to have energy! That Kielbasa was one I kept returning to as well…
As for the Omelettes, I was super excited to see them available, but they came up short I have to say. They were paper-thin and fell instantly apart almost, which make everything fall right out. I mean it's all going to the same place, I know, but a decent omelette should be able to hold together on the fork. Disappointing.
One thing I forgot to get a photo of on the Buffet, was perhaps my favorite thing about the whole experience. No scratch that, it WAS my favorite thing, that was the: Puffed French Toast!!
Think about a crispy, cinnamony sugar donut fried up and puffy! So stinkin' delicious! I wanted to eat the whole pan! Look at that inside. Such a great texture being fluffy and crispy all together, and that cinnamon sugar!!!
Of course you know me by now…it wouldn't be a Disney Breakfast without Mickey Waffles!! I can never say no to these guys, no matter how many times I've eaten them or how full I am! 🙂
And because I'm watching my figure, obviously I finished everything off with some Strawberries and Pineapple. The fruit was average, not exceptionally sweet or juicy, but it did the job!
Summary:
It's been a while since we've been to the Crystal Palace and overall I was pleased. For a normal breakfast outside Disney it's expensive but being a Disney Character Breakfast it's actually it's a bit cheaper than most others which is nice, and being located in the Magic Kingdom means you can finish your meal and start having fun right away after. You can't beat the fact you can come early too and get to walk around Main Street USA and The Hub virtually alone.
The atmosphere is really pretty, classy Victorian theme, big open spaces, and plenty of light coming from the gigantic skylights and atrium windows. Plenty of flowers and stained glass windows are a nice touch, seemingly transporting you to another time and age! I thought the service could have been just a bit more friendly as some of the hostesses were a little crotchety!
The food I thought was really good for a breakfast buffet, with many unique items to choose from. The Philly Cheese Frittata, Potato Casserole, Roasted Potatoes and Kielbasa were all outstanding. And I've perhaps found my new favorite breakfast item in all of Walt Disney World in the Puffed French Toast! Don't go to Crystal Palace without trying it! I thought the buffet could have been just a little bigger and omelette much better, but I can't complain overall.
The characters here are a must and we loved seeing Winnie the Pooh and Co, one of the only places on property to do so.
As far as where it ranks against the others, I'd put it in the upper third of Character Breakfasts with 1900 Park Fare and Akershus Royal Banquet Hall. And if they added a few more items to the menu it could pass them both imo.
Anyone who is looking for a Character Meal inside one of the theme parks and is a Winnie the Pooh fan make Crystal Palace a no-brainer! You'll enjoy yourselves a lot! I can't wait to come back and do it again!
Crystal Palace is open for Breakfast (8:00 – 10:45) Lunch (11:30 – 2:45) and Dinner (3:15 – 9:00) Daily. The Disney Dining Plan is accepted, it's a 1 Disney Dining Credit Restaurant. Reservations can be made via the Disney World website or by calling (407) WDW-DINE.
Click here for the Crystal Palace Breakfast Menu
I love to write Restaurant Reviews of Walt Disney World and I hope you found this one to be informative and helpful. If you liked this review then please visit my Disney Dining Reviews Page where I have many other Restaurant Reviews. I'm happy sharing with you what I love doing best…eating! ? I try to bring you the most thorough and unbiased reviews about the food and restaurants at Walt Disney World, so that as you are planning your vacation, you know the "can't be missed" places, and where you shouldn't waste your time. Hope you enjoyed this one and will enjoy many others in the future!!
Your Thoughts:
I want to know what you think about my Crystal Palace Breakfast Review. Have you been there before? What was your experience like? What's your favorite item on the buffet? Let us know in the comments section below!
If you enjoyed this article, as always I appreciate it if you'd share it with others via social media. I work hard at making this website into a useful resource for you and your family to plan your visit to Walt Disney World, and I hope it can help you! Thanks 🙂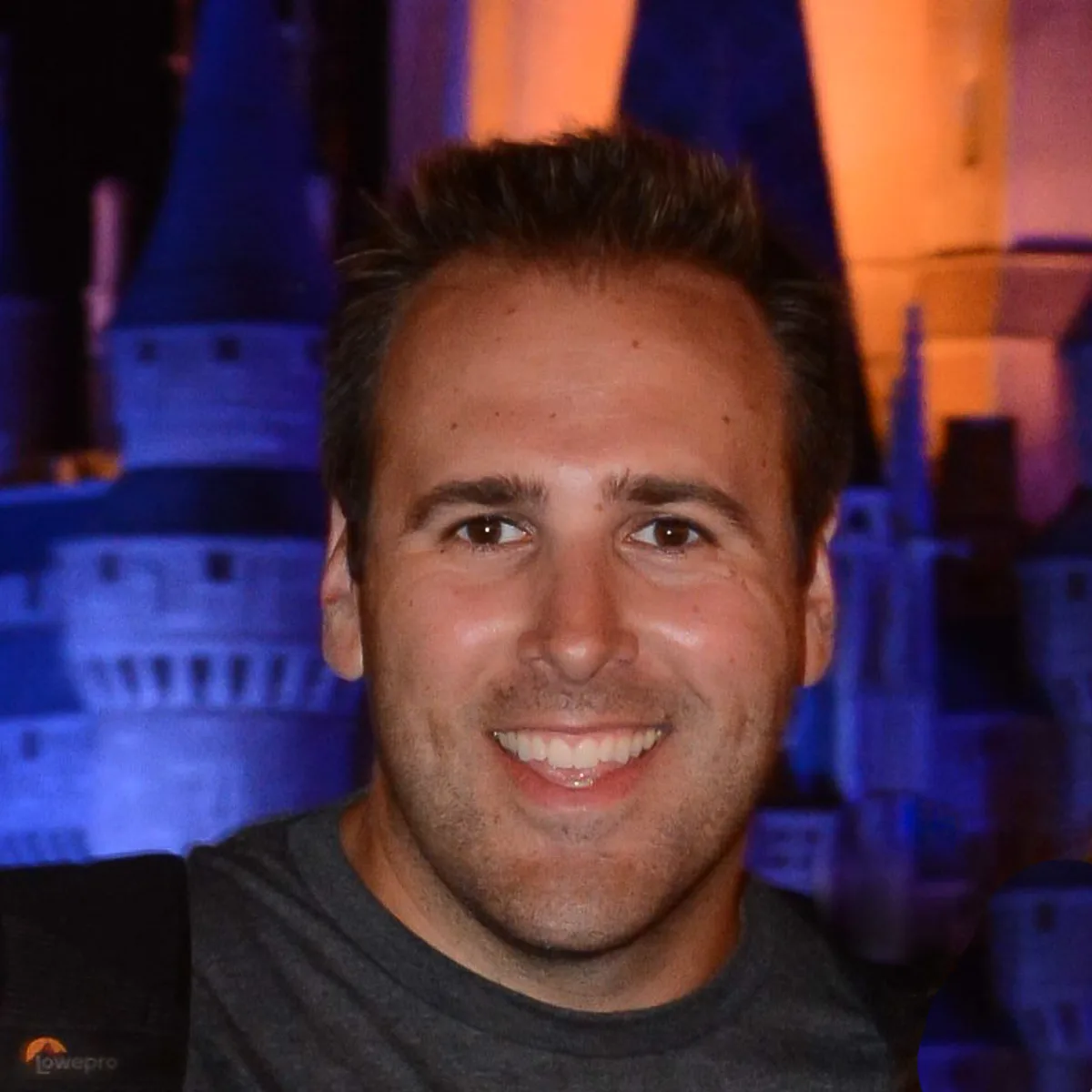 My name is Ziggy and I love Disney, everything Disney! I grew up on Disney and it has and continues to be a huge part of my life. I started young when my parents took me to Disney World when I was 18 months old. Little did they know that would be the first of an uncountable number of trips we would take. I have so many amazing memories going to Disney with my family and friends and it has been interwoven into my DNA.