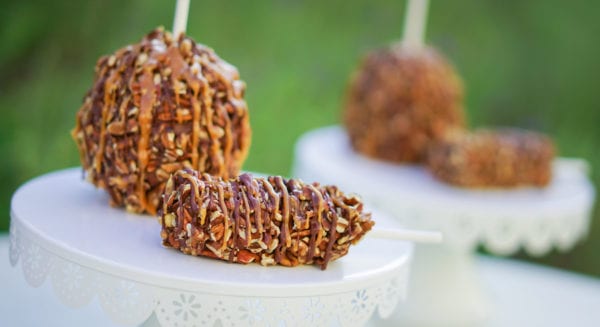 I LOVE to snack my way through the Disney Parks and in the month of June it just so happens to be National Candy Month, that means there are some awesome must-try snacks including cupcakes, candied apples and more!! So check out these Disney Parks Sweet Treats June 2017:
Disneyland Resort:
Disneyland is full of hand-crafted confectionary treats that are made in house every day. Some of the things you'll find are: English Toffee, Peanut Brittle and a variety of Fudge. On top bof that you know Disney Parks are famous for their Candied Apples, and the ones in Disneyland are no exception! This month try the Pecan Turtle Gourmet Apple: a Caramel-covered apple, which is then covered in milk chocolate. Pecan pieces are then attached to it, along with a caramel drizzle over the top!
You can find this special treat at Marceline's Confectionary in the Downtown Disney District, Candy Palace and Hunny Spot in Disneyland park, and Trolley Treats in Disney California Adventure park.
Magic Kingdom: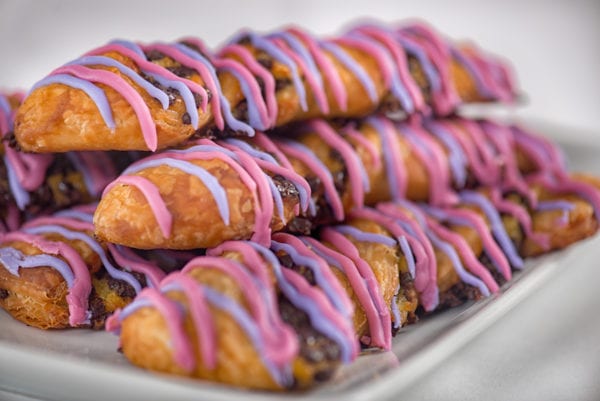 Over at the Cheshire Cafe we often find unique snacks, and this month feast your eyes on the Cheshire Cat Tails. They are a pasty twist, filled with chocolate chips, and drizzled with purple and pink icing…remind you of anyone? 🙂
Animal Kingdom: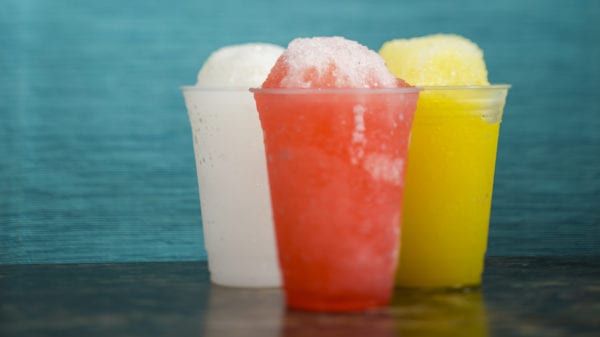 There may not be a Hawaii section in Disney's Animal Kingdom, but that doesn't stop them from selling cool and refreshing Shaved Ice at the Harambe Fruit Market. Try a variety of flavors such as: Watermelon, Pina Colada or Mango-Passion Fruit! I don't know if it's going to be as good as the authentic stuff, but you'll have to give it a try for yourself and see. At least it's something to cool you down while you're sweating bullets in the Florida heat!
Hollywood Studios: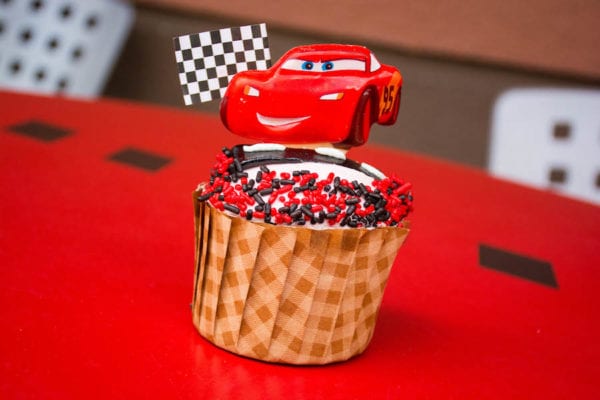 Of course we have the release of Cars 3 coming up in a few days, and now there's a new Cars 3 Cupcake to celebrate the event. It has strawberry cake, and topped with vanilla buttercream frosting and a white chocolate Lightning McQueen on top. You can find it at ABC Commissary, The Trolley Car Café, Rosie's All-American Café, Catalina Eddie's and Fairfax Fare.
Disney Springs:
If you've ever been to the Ganachery in Disney Springs you'll know it's hard to walk out of there without trying at least something. I know what I'm getting next time… the new Made-to-Order S'Mores treats. Using both made in-house graham crackers and vanilla bean marshmallows, it's then topped with salted caramel ganache and a custom piece of dark chocolate on top! Count me in!!
Disney Resorts: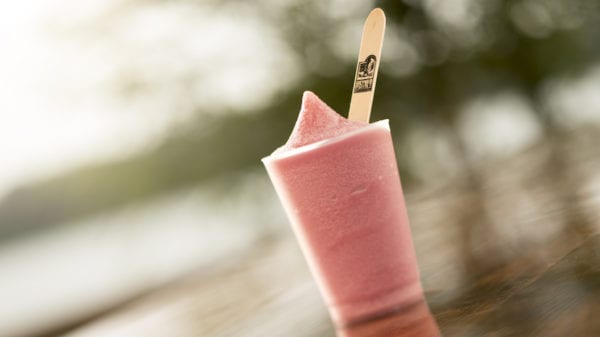 The brand new Berry Whip at the Geyser Point Bar and Grill at Disney's Wilderness Lodge is supposed to be amazing! I haven't tried it personally yet, but it's next on my list, especially at this time of the year! Perfectly refreshing treat! And I love me some berries!!
At the Contempo Cafe at Disney's Contemporary Resort, there are 3 brand new cupcakes:
First, is a Key Lime Cupcake, which uses graham cracker-flavored cupcake with key lime filling and topped with key lime buttercream frosting before being garnished with graham cracker crumbs.
Second, there's a Cookies and Cream Cupcake which has vanilla cupcake with cookies and cream filling, and topped with cookies and cream buttercream frosting, and garnished with mini chocoalte chips and cookie ears. Probably not as good as The Grey Stuff, but it's worth a shot!
Third, there's a special Father's Day Cupcake with vanilla cake, peanut butter filling and icing, and topped with caramel crispy pearls! I don't know any father who can resist that! 😉
Those sure do sound like some amazing new Disney Parks Sweet Treats June 2017, I can't wait to try them and tell you what I think!
Your Thoughts:
I want to know what you think about the new Disney Parks Sweet Treats June 2017 edition. Which yummy treat do you want to try the most? Have you already tried any of them? If so tell us how they were! Let us know in the comments section below!
If you enjoyed this article, as always I appreciate it if you'd share it with others via social media. I work hard at making this website into a useful resource for you and your family to plan your visit to Walt Disney World, and I hope it can help you! Thanks 🙂
Photo Credit: Disney Parks Blog