I'm actually surprised it took this long to be quite honest. After removing them from Docking Bay 7 in Star Wars: Galaxy's Edge, the Sporks are back, just not how you think. Disney is now selling sporks and you can buy them on your next visit to Batuu.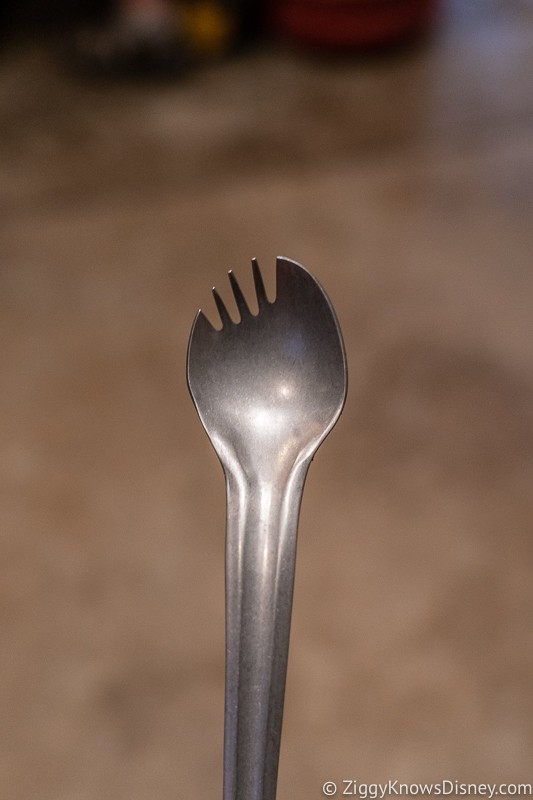 (Update 2/10/20): If you go on to the Docking Bay 7 website, you will now see a new "Cargo" section listed under the menu. This is where merchandise in this store will now be sold under.
Looking there you can see Sporks being sold for $10.99 together with a travel bag.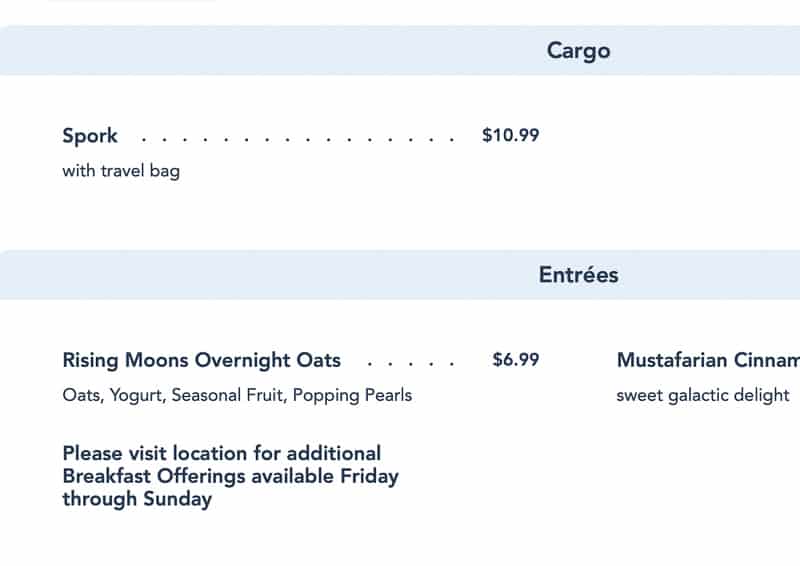 So far it seems like the sporks are only being sold in Disneyland's version of Docking Bay 7 Food and Cargo, and they have not yet officially made their way to the Hollywood Studios version.
Over the weekend the Sporks did show up on the online menu for Docking Bay 7 in Hollywood Studios, but they haven't yet been available to buy. Since then Disney has taken them down from the website.
We expect them to show up soon, however. We'll update you as soon as we have more info!
Here is what the sporks look like alongside the new bags: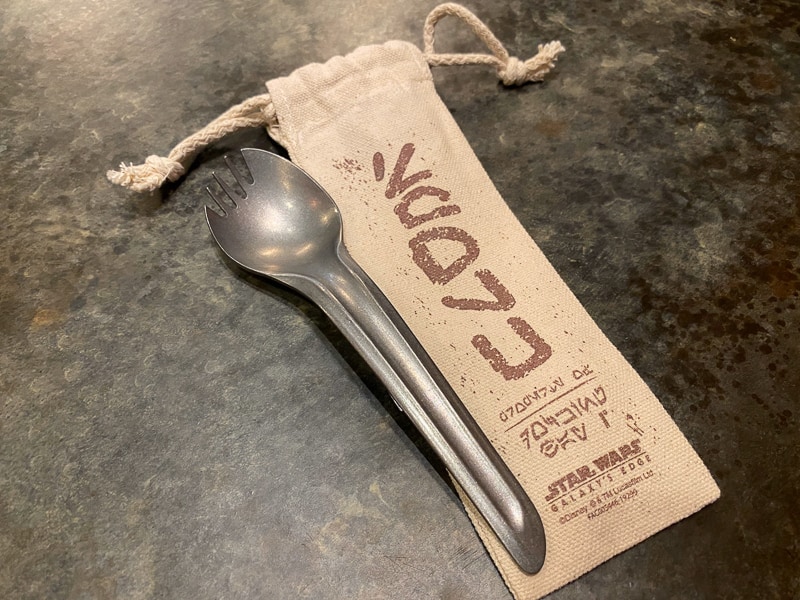 If you aren't familiar with the whole story, Sporks were being given for guests to use at Docking Bay 7 Food and Cargo, in both the East and West coast locations upon opening. Shortly after however, guests started stealing the sporks which made Disney discontinue them.
I don't know if they will such a hot item now that you can actually buy them, but there is no doubt they were a hit with the fans. I guess now you can buy your own spork and bring it to Docking Bay 7 on your next trip.
If you want to hear the whole story about what happened, scroll down and keep reading…
(Original Article 9/11/19): After less than 2 weeks in operation, the infamous sporks have now been removed from Docking Bay 7 Food and Cargo in Star Wars Galaxy's Edge in Disney's Hollywood Studios.
This picture below which was taken yesterday, September 10, 2019, shows that forks are now being offered for use with meals at Docking Bay 7 instead of the sporks:
Instead, here is a picture form the opening of Galaxy's Edge on August 29, 2019. Sporks served with everything: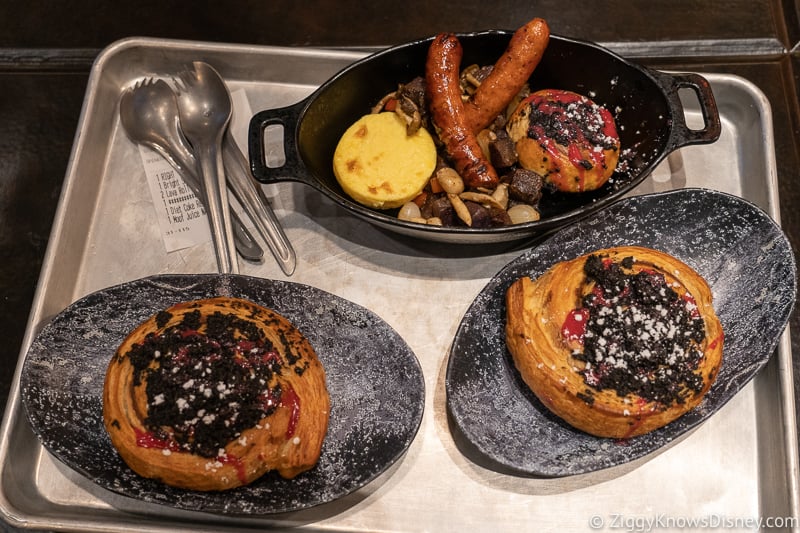 Honestly after sporks were being stolen at the Disneyland version of Star Wars Galaxy's Edge and re-sold on eBay for ridiculously high prices, we weren't even expecting them to appear in the Hollywood Studios version of Galaxy's Edge. It seems though now that their time is up and the same problem of theft has reared its head in this version of Docking Bay 7 too.
Right now you can see original Disneyland sporks from Docking Bay 7 are being listed on eBay for $180: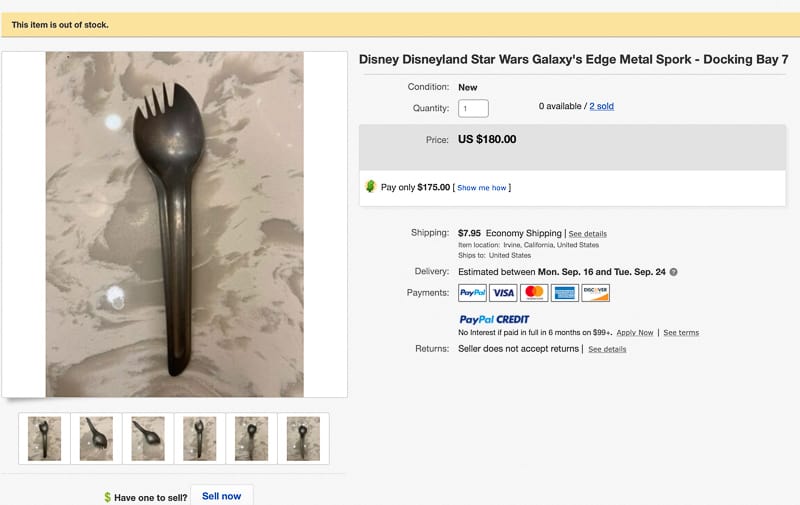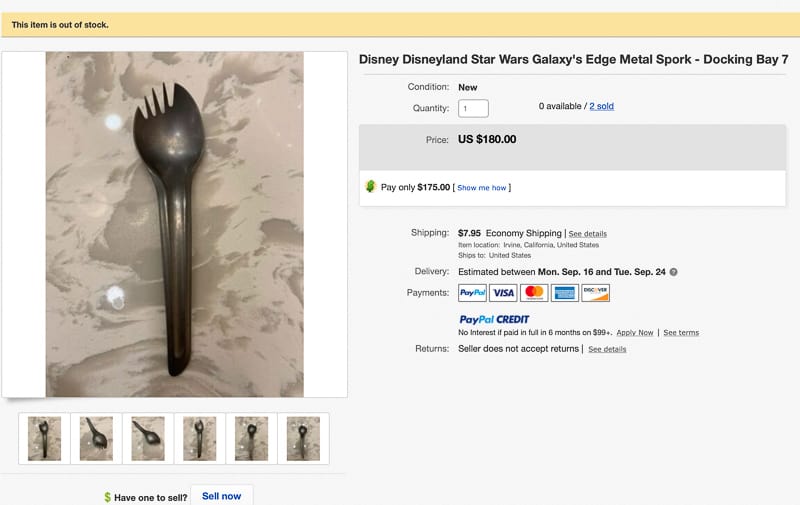 With a markup like that, you can see why people are stealing these and why Disney had to shut it down.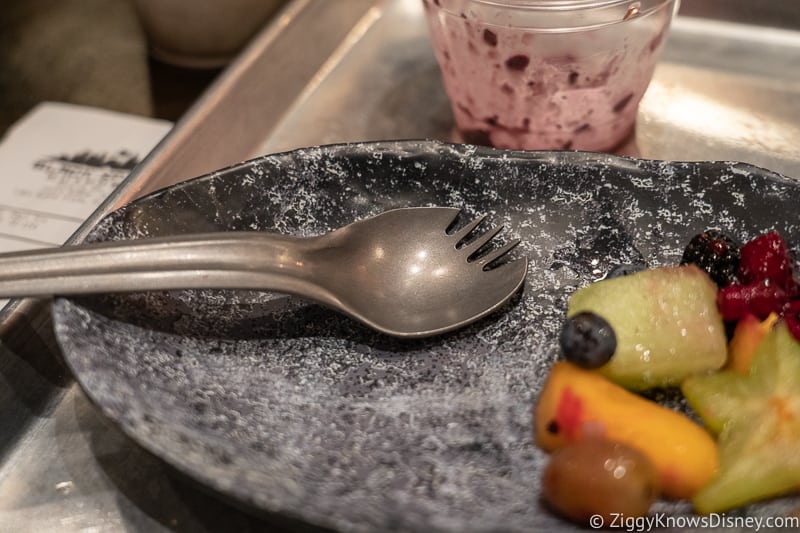 It's a shame things like this have to happen and people have to go so far as stealing silverware, therefore ruining part of the experience for others, but this is the cash-grab society we are living in unfortunately.
We'll continue to monitor the story and see if the sporks ever make their return to Galaxy's Edge in the future. At this point it doesn't look likely…
Your Thoughts:
I want to know what you think about the sporks being removed from Galaxy's Edge…
What else can Disney do about this problem?
Do you want to see the sporks return?
Let us know in the comments section below!
If you enjoyed this article, as always I appreciate it if you'd share it with others via social media. I work hard at making this website into a useful resource for you and your family to plan your visit to the Disney Parks and I hope it can help you! Thanks 🙂