One of the most important questions to answer when planning a Disney Vacation is: "How much does it cost to go to Disney World?" Figuring out the average cost of park tickets, hotels, food and transportation are important to know when setting up your budget.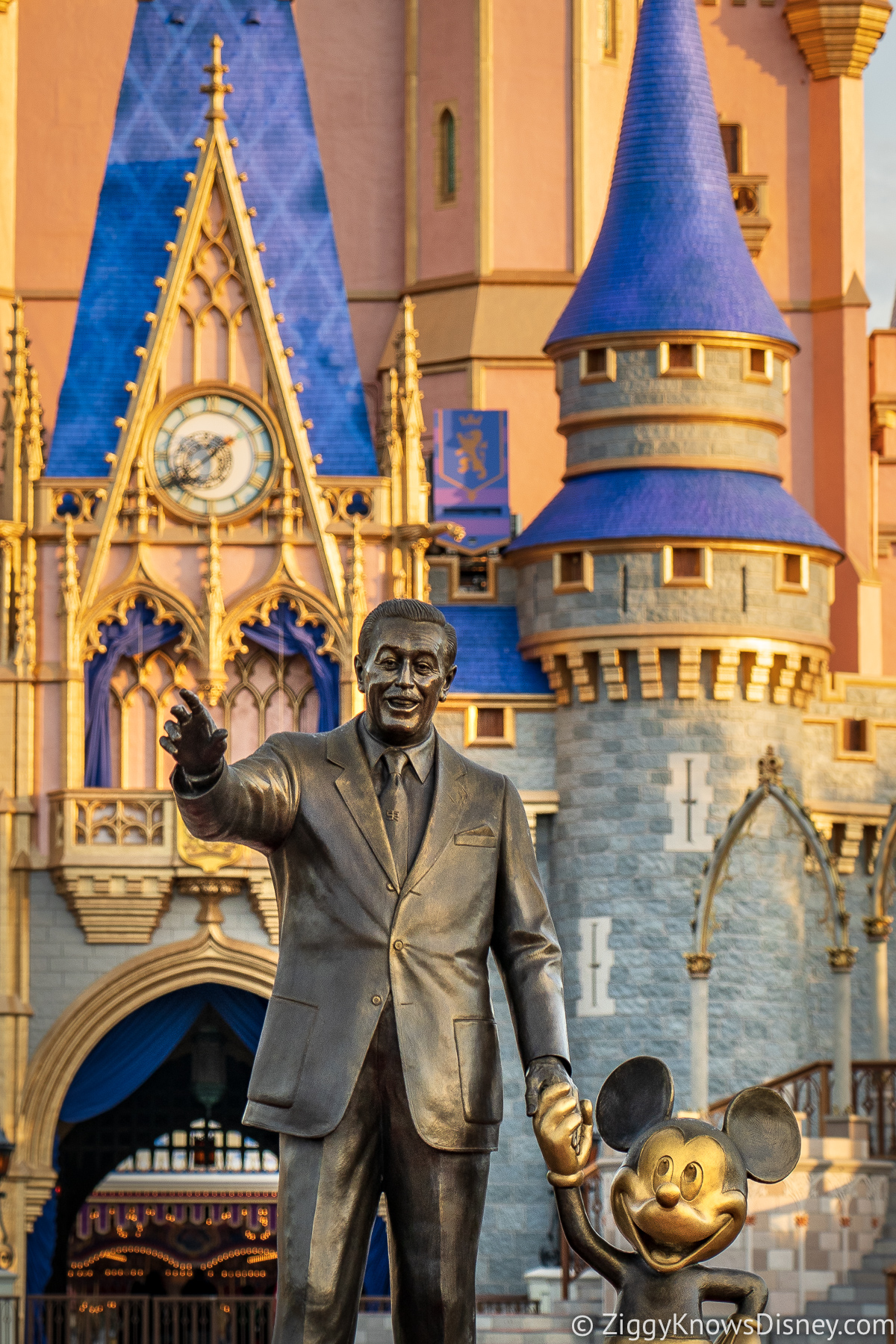 You probably know the cost of a trip to Disney World is high, but just how expensive is it really?
In this post we will explain the price ranges and break down all the expenses you will have on your trip. Since everyone has a different budget, we will give you options no matter if you are doing a Disney World Vacation on a value, moderate, or expensive budget.
If you have never been to Walt Disney World before, then you should know upfront that it's not a cheap vacation. The average price per person has been rising for years and it's not slowing down anytime soon. That's not to say it's not worth it, but you should be prepared ahead of time that it isn't going to be a cheap trip.
For a family of 4, the average Walt Disney World vacation in 2021 costs: $4,789.00 ($239 per person per night), $5,709.10 ($285 per person per night), or $7,444.00 ($372 per person per night).
These prices are based on a 6-Day/5-Night stay during the Regular season. They take into consideration all the major expenses you will have on your vacation and correspond to 3 vacation categories: Value Budget, Moderate, and Expensive.
Of course, pinning down an exact price is almost impossible since people have different circumstance and want to do different things at Disney. There are so many variables to take into consideration like the number of people, the ages of each traveler and when you go. We'll give you a broad range of costs and then let you customize the trip based on your needs.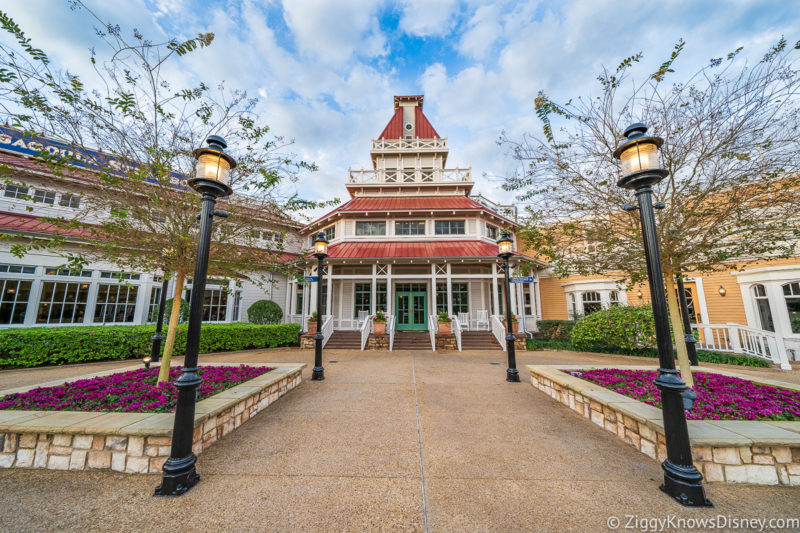 If you are on a really tight budget, we'll explain how to cut down our prices even more by eliminating some unnecessary things for your family. Airfare and hotel rooms can vary greatly depending on when you book them and your travel dates and you can get the costs down a lot that adjusting those.
If you aren't traveling in a group of 4 that's ok, at the end of this post we have some examples for groups of 2, 3, 4, or 5 people in the various budget classes, so check those out.
Before we get started, we suggest reading our 2021 Disney World Vacation Planning Guide where we cover every aspect of your trip and walk you through each step.
Disney World Costs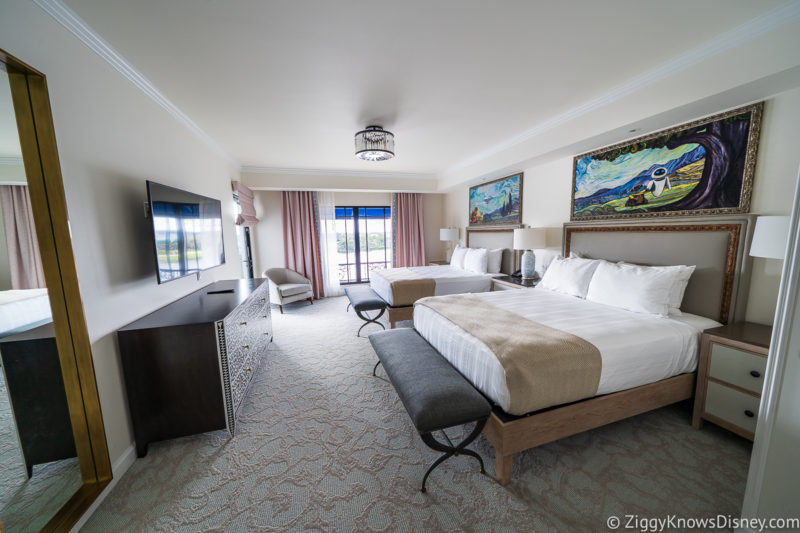 So what are the costs when going to Disney World? There are a variety of factors that will determine how much your vacation costs and it will vary from family to family.
Here is a list of the biggest expenses you will have to pay for during your Disney World trip:
Park Tickets – Depending on where you stay this could be the biggest expense of your trip.
Hotel Room – Another huge expense which will be affect by what level of resort you stay at (Value, Moderate, or Deluxe).
Food – Another item that varies from family to family depending on how much you eat.
Transportation – Airfare tickets are the most convenient but also the most expense way to get to Disney World. Parking if you have a car.
Souvenirs/Merchandise – You can't leave Disney World without bringing something home to remember the trip.
Extra Events & Experiences – Hard-ticketed events, dessert parties and tours.
Out of this list, the three factors that increase costs the most are park tickets, accommodations and what you eat. If you can make adjustments to these three things you will save the most money.
Biggest Determining Factor for Cost
The biggest factor in determining how much your Disney World Vacation will cost is when you go. Walt Disney World can be greatly more expensive or economical depending on the dates of your trip.
When is the Least Expensive Time to Visit? Disney's prices for hotel rooms, vacation packages and park tickets all follow the projected attendance levels in the theme parks. When the parks are expected to be full, prices are higher. When there are fewer people, prices are cheaper.
Most of this info we cover in greater depth in our post on the Cheapest Times to Go to Disney World.
Typically the crowds in Disney World follow the school calendar and holidays. Whenever there is a holiday, Spring Break or Summer vacation, your trip to Disney will be more expensive. If you are able to go when kids are in school, that is where you will get the biggest discount.
The cheapest times of the year to visit Disney World are August, September, and January after New Year's is over into early February.
The most expensive times of the year to Visit Disney World are in March and April during Spring Break and Easter, at Thanksgiving, and in late December between Christmas and New Year's.
We also suggest looking at our Disney World Crowd Calendar so you know ahead the least busy times of the year. Once you figure that out you will have a better idea of when is the Best Times of the Year to Visit Disney World are.
Setting a Budget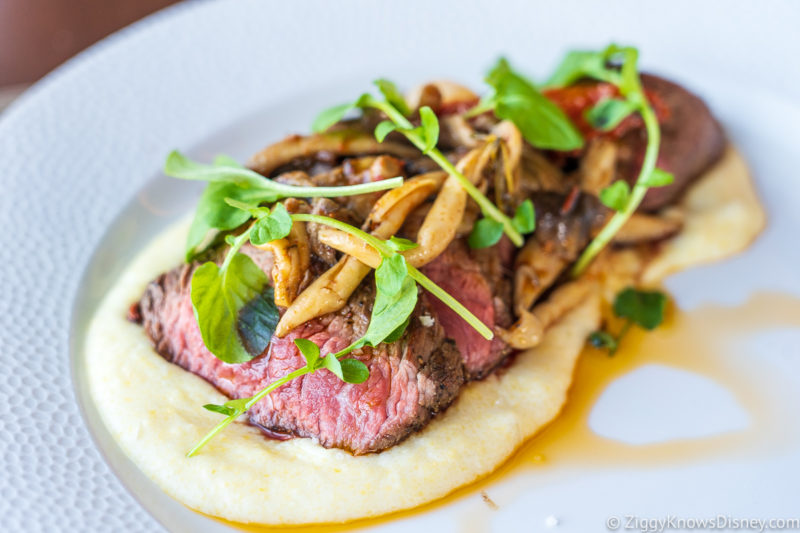 Before you start picking out which resort hotel you want to stay at or which restaurants you want to eat in, it's important to set a budget ahead of time. If your overall budget for your trip is $5,000, then it's much easier to build your vacation around that number.
Your budget will determine not only when you go to Disney World, but also where you stay, and how many days you will spend in the theme parks.
The nice thing about a Disney vacation is it's not a one-size-fits-all trip and one family can do it on a tight budget, while another can go all-out and enjoy all the extras that the resort has to offer.
Important Considerations
Some other factors to consider when planning your trip are:
Start Saving Now – A trip to Disney World is expensive so the sooner you start saving, the higher you can make your budget and the quicker you will reach that total. Start a Disney savings fund and put that money aside.
Go for the Special Events – There are plenty of seasonal events year-round at Walt Disney World that you might want to go to. You can attend one of the hard-ticket parties at Disney's Magic Kingdom, or one of the 4 yearly festivals at EPCOT.
Kids' School Schedule – It's a tough decision whether or not to take your kids out of school and bring them to Disney World or not. If you go when school is in session, it will cost less and there will be fewer crowds, but you have to be sure your kids will be able to catch up. My parents brought us every September and it wasn't a problem, but each family is different.
Prepare for the Weather – Disney World in the Summer is extremely hot, humid, and rainy, so if you go then because your kids are off from school, be prepared for some tough weather.
Check Refurbishment Calendar – Disney shuts down some of its rides for weeks or more for maintenance. Consult the Disney World Refurbishment Calendar to make sure your favorite rides are up and running for the dates you are thinking of.
Tickets
Let's face it, you come to Disney World for the theme parks. It just so happens that park tickets are one of the most significant costs of a trip to Walt Disney World, especially if you are going with kids. How much do they cost?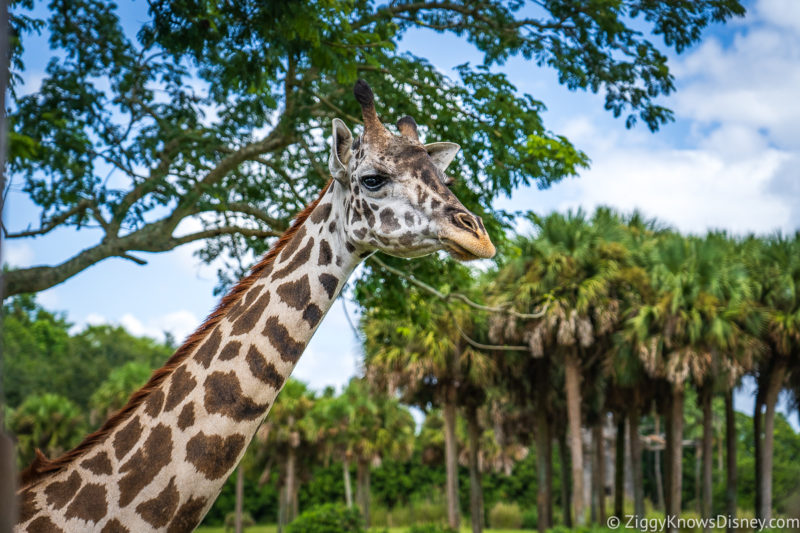 In 2021, a 1-Day standard Disney World Adult Theme Park ticket costs between $109 per day and $159 per day depending on the dates of your vacation.
Theme park tickets have drastically increased year-over-year. Back when Walt Disney World first opened in 1971, one adult general admission ticket was only $3.50, and a 7-ride attraction ticket book only another $4.75. Now a one-day pass costs more than an annual pass did back in 1982 when they were introduced!
One important decision is how many days to spend at the theme parks. You need to decide this ahead of time so you don't end up wasting money by buying tickets with too many days. If you are trying to save money, you can always knock off a day or two which will bring down the ticket price signficantly.
Buying Tickets from Disney
The first way to buy park tickets is to get them directly from Disney. There is no difference in price between parks, and tickets to all 4 theme parks cost the same (Magic Kingdom, EPCOT, Hollywood Studios, and Animal Kingdom).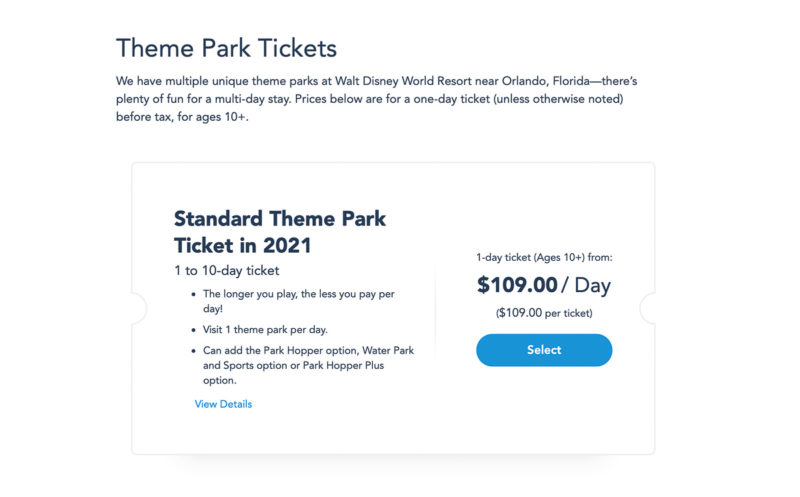 Disney's price system is based on the dates you choose for your theme park admission. If you go during the off-season the tickets will cost less. If you go during the busy season(Holidays, Summer, and Weekends), they will cost more.
Single-Day Adult park tickets in 2021 range from $109 to $159 each (ages 10+).
Single-Day Child park tickets in 2021 range from $104 to $154 each (ages 3-9).
That means on average you can expect to pay about $135 per adult and $130 per child for one-day tickets.
Multi-Day Disney World park passes on the other hand reward you the more days you go and the longer your pass, the less you pay per day. This is always the best value.
A One-Day Ticket starts at $109 per day, however, a 5-Day ticket starts at $88 per day, and a 10-Day ticket starts at only $52 per day. You can see the advantage of going for multiple days in your trip.
Here are the 2021 prices for Multi-Day Park Tickets:
2-Day Ticket Cost: $107 – $155 per day ($214 – $310 total)
3-Day Ticket Cost: $105 – $149 per day ($315 – $447 total)
4-Day Ticket Cost: $103 – $141 per day ($412 – $564 total)
5-Day Ticket Cost: $88 – $120 per day ($440 – $600 total)
6-Day Ticket Cost: $75 – $103 per day ($450 – $618 total)
7-Day Ticket Cost: $67 – $91 per day ($469 – $637 total)
8-Day Ticket Cost: $61 – $82 per day ($488 – $656 total)
9-Day Ticket Cost: $56 – $75 per day ($504 – $675 total)
10-Day Ticket Cost: $52 – $69 per day ($520 – $690 total)
If this is your first time going to Walt Disney World then I suggest you buy at least a 4-Day park ticket and spend one full day in each of the 4 theme parks.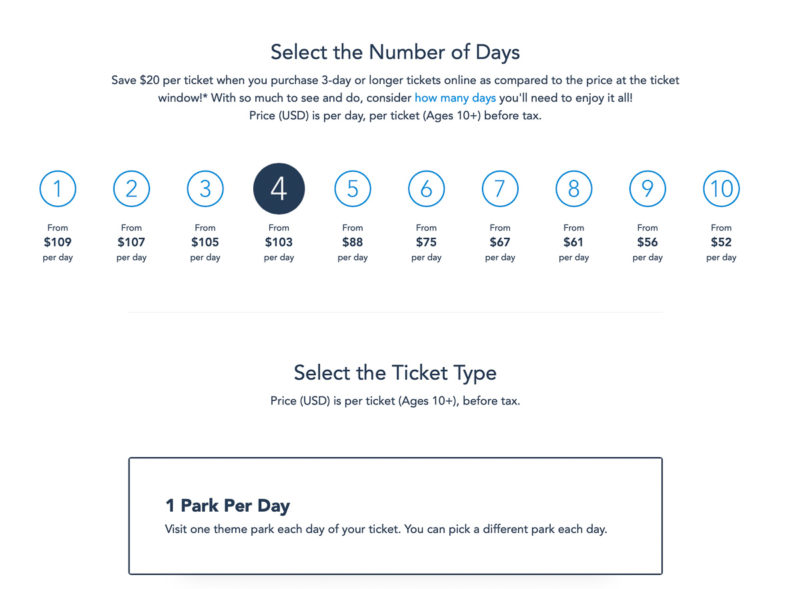 Buying Discount Tickets
Buying tickets directly from Disney tends to be the most expensive option, but thankfully you can also buy your passes from discount sellers which will potentially save you a bunch of money.
To save money on your park tickets, always use one of the authorized resellers online such as Undercover Tourist or Get Away Today. They are legit resellers so you don't have to worry about being ripped off like other places online.
Depending on what type of ticket you are buying, these options can save you as much as $50-$70 per ticket! That's a huge savings, especially if you are traveling with a family of 4 or more.
Park Hopper Option
A standard Disney World park ticket allows you to visit one park per day. However, there is also a Park-Hopper option available which lets you visit multiple parks each day, "hopping" between them as you please.
The park hopper feature is an added cost and will increase the total price of your tickets.
Cost:
$85 per ticket for 1-day tickets
$95 per ticket for 2 to 3-day tickets
$105 per ticket for 4 to 10-day tickets
The big question is if the park hopper option is worth it? This changes from family to family and depends on your park touring habits.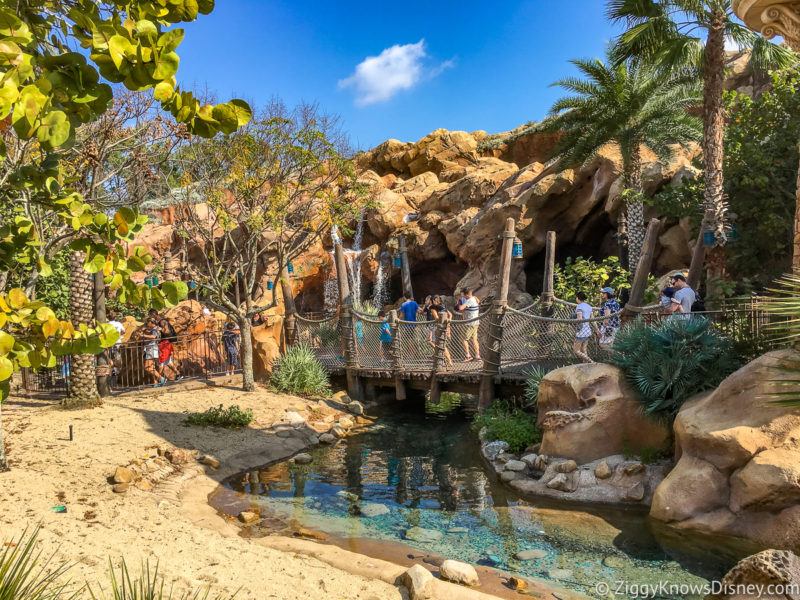 If you are the type of family that stays in the parks for a good majority of the day and evening, then it could be. On the other hand, if you have small kids, you won't get your money's worth if you need to return to your hotel for a nap every day and you are probably better off sticking to a one-park-per-day ticket.
Florida Residents
If you are a Florida resident you can get WDW park tickets at a special discount. Right now you can get a 4-Day Floridan Resident Disney Flex Magic Ticket for only $50 per day, plus tax ($199 plus tax.
This ticket is good for one park per day and gives local families flexibility being able to go on consecutive or non-consecutive days. There is also a Discover Disney Ticket that includes the Park Hopper option
Do Kid's Get in for Free?
Depending on what age your kids are, they can get into Walt Disney World for free. Children from birth until they turn 3 get free park admission. Children ages 3-9 must purchase a Children's ticket which has a very small price difference from an Adult ticket.
When to Buy Park Tickets?
You should buy your WDW park tickets as soon as you can. Park tickets only go up in price over time, so we recommend buying them as soon you decide your vacation dates.
You also need to already have purchased a park admission before making Disney Park Pass reservations, or any FastPass+ selections so it doesn't pay to wait.
Hotel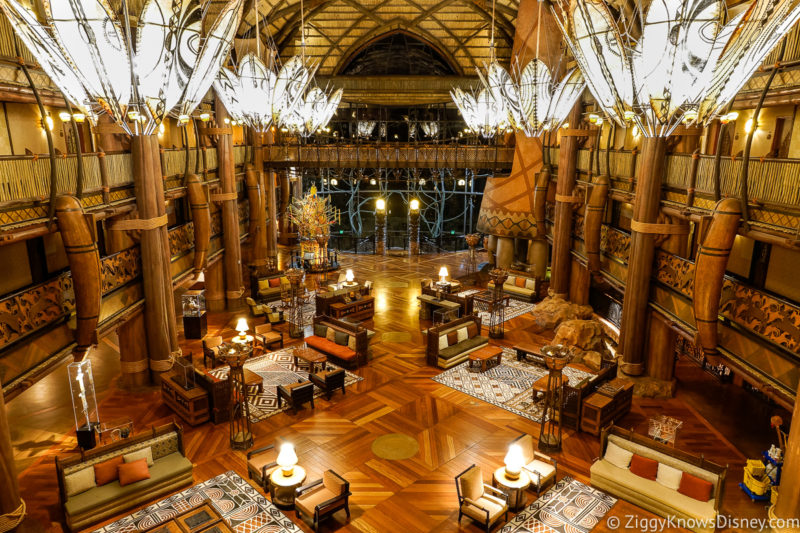 Your hotel is another huge expense on your trip to Disney World. Even more so than park tickets, where you stay can greatly change the total price.
Accommodation costs are decided by:
Staying on Disney property or off-site
How many nights you stay
What tier resort you stay in
What dates you visit
On average, hotels at Walt Disney World cost between $200 – $400 per night. It could be a little more or a little less, but that is a safe number to budget. That means for a 7-Day vacation you should plan on spending $1400-$2800 for your hotel depending on where and when you stay.
Disney Resorts
Walt Disney World has 25 resort hotels split up into 3 hotel classes according to cost: Value, Moderate, and Deluxe. You can pay as little as $118 per night in a Value Resort, or as much as $700-800 per night in a Deluxe Resort.
When comparing apples to apples, Disney Resort hotels are always going to be more expensive than their off-site equivalent hotels. This is because of the convenience in staying on-property and the time you will save.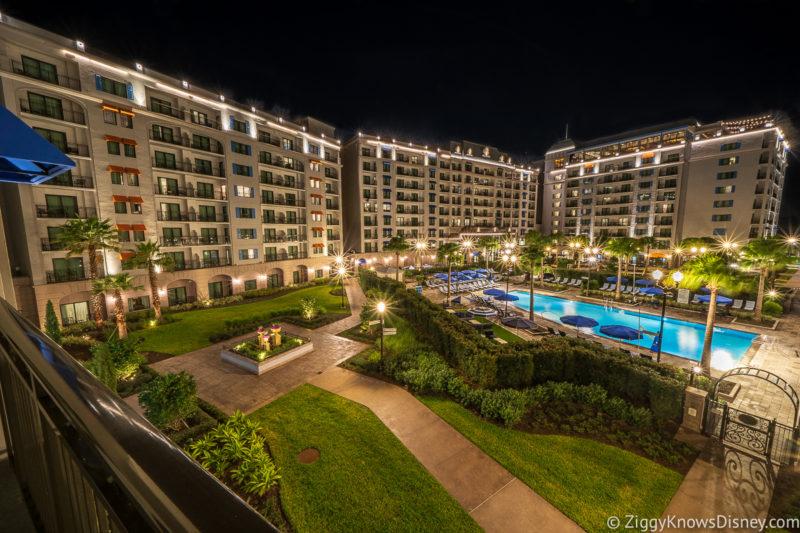 Here is what you can expect to pay per night for a standard room at each Disney Resort tier:
Value Resorts: $118 to $353 per night
Moderate Resorts: $232 to $434 per night
Deluxe Resorts: $424 to $1995 per night
Our favorite WDW Resort Hotels in each tier and the cost per night:
Value – Disney's Pop Century Resort: $162 to $330 per night
Moderate – Disney's Coronado Springs Resort: $232 to $460 per night (stay at the Gran Destino Tower)
Deluxe – Disney's Beach Club Resort: $504 to $883 per night
Remember, the prices of Walt Disney World Resort hotels is greatly affected by the dates you are staying. If you go during the off-season you will get the best discount, if you go during the holiday season, expect to pay 2 to 3 times more per night.
If you are on a budget and going to be spending most of your days in the theme parks, we recommend choosing one of the value or moderate resorts since it doesn't make sense to spend the extra money for deluxe if you aren't going to be using the amenities.
Off-Site Resorts
Staying at a nearby off-site hotel is usually the cheaper option instead of staying at a Walt Disney World Resort hotel. However, it may not save you as much money as you think.
Extra costs required by staying in a non-Disney World hotel need to be factored into your decision. While the nightly rate will definitely be lower off-site when comparing 2 hotels of the same class, you'll spend more on transportation, it will take more travel time each day and you will miss out on some perks for WDW Resort guests like Extra Magic Hours and earlier FastPass+ bookings.
Each family should do research on the benefits and negatives of staying on-site or off-site and then weigh those agains the extra cost or potential savings.
Our recommendation is that if it is your first time to Walt Disney World, it's a better experience staying on-site at a Disney Resort hotel. The location, convenience and the extra magic inside the "Disney bubble" is worth the extra cost.
If you do stay off-site, there are plenty of options in the $150 per night range within 5-10 minutes of Disney World. Some popular locations to find hotels are Apopka Vineland Rd., Winter Garden Vineland Rd, and International Drive.
Renting DVC Points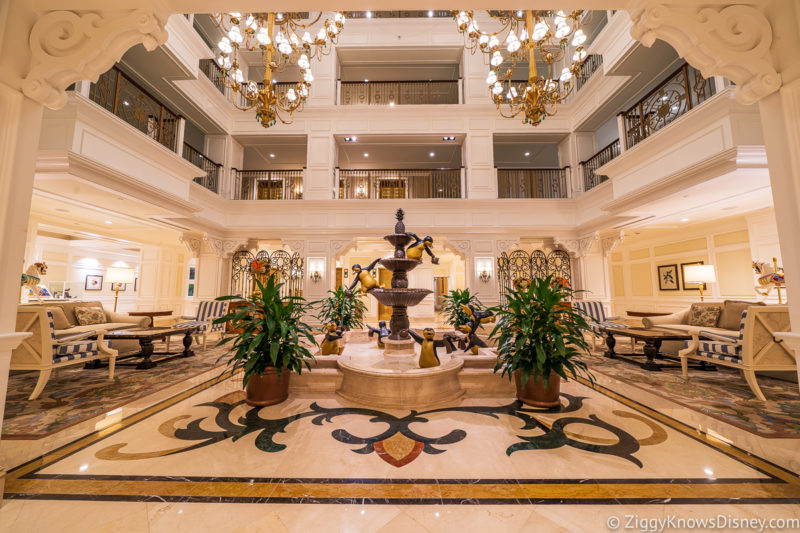 One of the best ways to save money on Disney World Resort hotels is by renting DVC points. The Disney Vacation Club is like Disney's version of a time share program and the nice thing is that members can rent their unused points to other travelers.
DVC points can only be used on resorts that are Deluxe Villas, but they will save you a significantly amount of money per night instead of booking and paying for a standard hotel room at one of those resorts. The price can be 50% or less of what it would normally cost, and it's the cheapest way to stay at a deluxe resort.
If you don't know anyone to rent you points, try a trusted reseller like DVC Request or DVC Rental Store.
AirBnb
Another cheap option is to skip staying at a hotel and book an Airbnb nearby. There are a lot of Airbnbs available in the Orlando vicinity for $100 per night or less, great for staying on a budget.
Just remember, you will need a rental car as you won't be able to use Disney World transportation to get to and from the parks. That extra cost makes it less attractive, but if you are planning on doing other things besides the Disney Parks, it make be a good choice.
Vacation Homes
If hotels are not your thing, another option is renting a vacation home. This is going to be the best option if you have a big family or are traveling with a group. All homes come with full kitchens which is great for saving money on meals.
Vacation homes in the nearby Celebration neighborhood are a popular choice, as well as Kissimmee. Both are conveniently located requiring only a 10-minute drive to Disney World.
Vacation homes can range greatly in price and size, so first determine how many bedrooms you will need and go from there.
Food
You are no doubt wondering: "How much should I budget for food at Disney World?" This varies greatly from family to family and depends on your own eating habits. Depending on which restaurants you go to, food can cost even more than your hotel at Disney World.
First, you need to plan out your meals during your trip. The three places you will be spending money on food are:
Table Service Restaurants: These are the most expensive places to eat and will cost $30 – $100 per person, per meal.
Quick Service/Counter Service Restaurants: This is Disney's version of fast food and on average you will pay $10 – $30 per person, per meal.
Snacks: There are dozens of places to get snacks in the parks and they cost approximately $4 – $10 per snack.
How many sit-down meals are you going to have every day? Are you going to eat at any character meals? Do you like fancier, up-scale meals or something more low-key? Will you be getting the Disney Dining Plan or paying out of pocket? You answer to these questions will determine how much you spend.
On average food at Walt Disney World costs between $50 – $125 per person, per day.
You can potentially get the cost lower than $50 per day, but that means no alcohol, no snacks, and only quick service meals. You could also spend more than that if you drink a lot and go to signature restaurants.
A family of 2 should budget $100 – $250 per person, per day
A family of 3 should budget $150 – $375 per person, per day
A family of 4 should budget $200 – $500 per person, per day
A family of 5 should budget $250 – $625 per person, per day
Check out all the restaurant menus online ahead of time so you have a good idea of how much you will be spending each day.
Dining Plan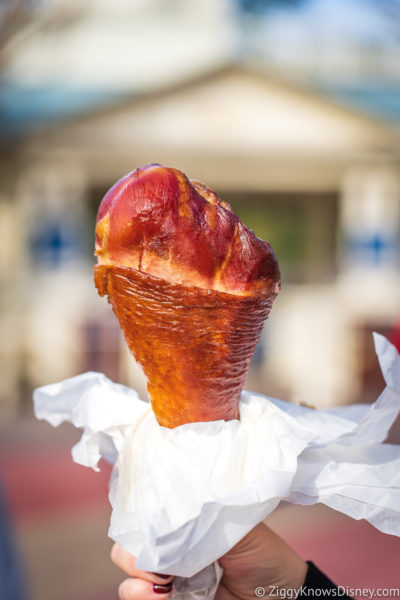 While we are not fans of the Disney Dining plan, many guests prefer to use the program to pay for their food while visiting Disney World. The dining plan lets you pay ahead of time for your meals and snacks so you don't have to pay for food out of pocket during your trip. (The Disney Dining Plan is currently canceled for 2021 so all meals must be paid out-of-pocket.)
There are 4 levels of the Dining Plan at Disney World (Quick Service, Standard, Plus, and Deluxe), each of them has a different cost per day based on how much food your plan includes.
In 2020, the Disney Dining Plan cost between $55 – $119 per adult, per day, and $26 -$47.50 per child, per day.
Quick Service Disney Dining Plan – $55 per adult, $26 per child ages 3-9 (per night)
Standard Disney Dining Plan – $78.01 per adult, $30.51 per child (per night)
Disney Dining Plan Plus – $94.61 per adult, $35 per child (per night)
Deluxe Disney Dining Plan – $119 per adult, $47.50 per child (per night). During peak season the price is more expensive.
In most cases, the Disney Dining Plan is not worth the price. Most families will not be able to eat all the food that is included in the cost, and you only get value out of it by ordering the most expensive things on the menu each time.
If you have any light eaters in your group, or adults who don't drink alcohol, the dining plan is definitely not worth it. Even though it is very convenient, you will save more money paying out of pocket for the food you actually want to eat.
If the Disney Free Dining promotion is running when you book your resort, that could make it worthwhile since it's included free in your package.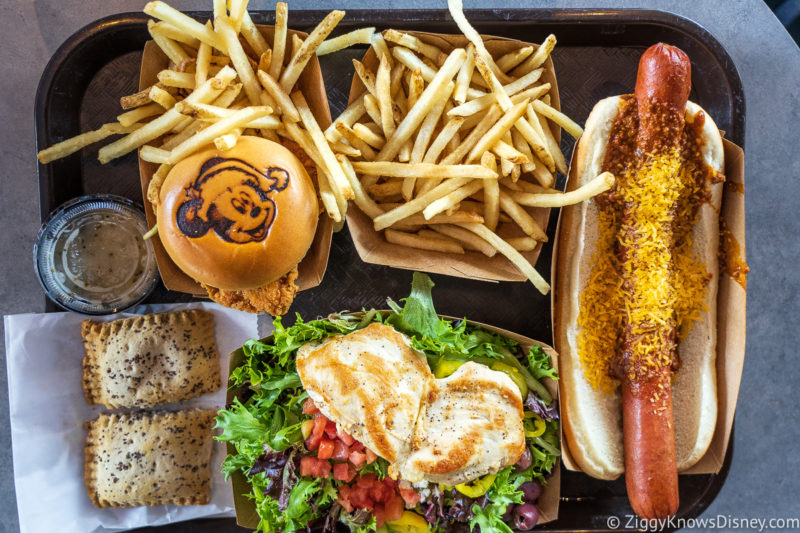 Examples of Snack Prices
Here are the prices for some of the most popular snacks at Disney World:
Mickey Pretzel – $7.25
Popcorn – $5.25
Mickey Premium Ice Cream Bar – $6.00
Dole Whip – $5.00
Nachos and Cheese – $9.00
Hot Dog and Chips – $9.50
Cotton Candy – $5.00
Chips/Pretzels – $3.25
Turkey Leg – $12.00
Carrots and Ranch Dressing – $4.50
Churro with dipping sauce – $6.50
Fruit (apple slices, pineapple, etc) – $4.00 – $5.00
Coca Cola/Soft Drinks – $4.50
Bottle of Water – $3.50
Coffee – $3.29
Orange Juice – $5.00
If you are not on the Disney Dining Plan, budget about $10 per person, per day for snacks.
If you are on the Disney Dining Plan, make sure you use your snack credits on the most expensive eligible snacks to get the most value.
Save Money on Dining
One way to save money on dining at Disney World is to stay at a hotel with a kitchen and cook some of your meals there. Getting groceries delivered to your resort and doing one meal a day there will be a big savings.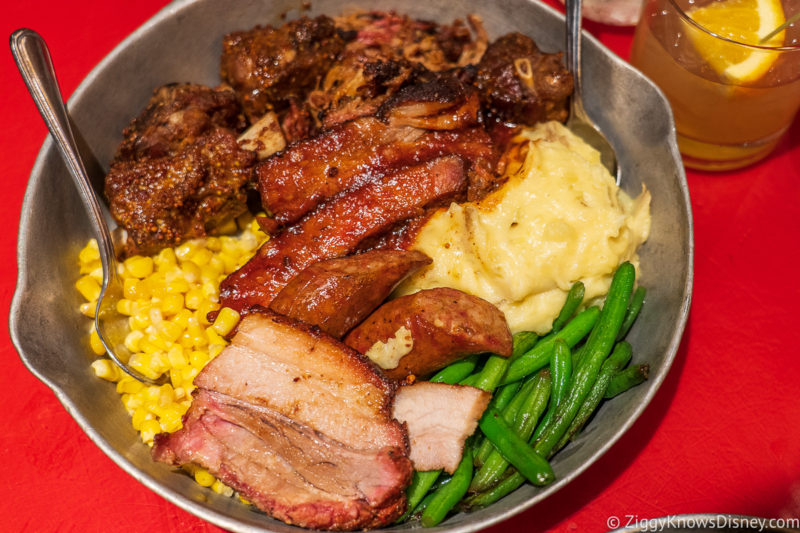 Instead of paying exorbitant prices on snacks in the parks, bring your own snacks from home or have them delivered, and then bring them to the parks in a small backpack.
Of course, we love dining at Disney World too, and you'll want to do a lot of that on your vacation. Disney dining locations are all more expensive than equivalent restaurants in the real world, but here some of our favorite "cheap" restaurants:
Beaches & Cream (Beach Club Resort) – Old-fashioned 50s-style soda shop with amazing burgers, onion rings, and ice cream sundaes.
Flame Tree BBQ (Animal Kingdom) – Big portions of good-quality barbecue ribs, chicken, and pulled pork make this a must stop for saving money.
Pecos Bill Tall Take Cafe (Magic Kingdom) – Reasonable prices and good portion sizes for this Mexican quick service. Tacos, fajitas, and bowls are all good.
Sanaa (Animal Kingdom Lodge) – It might not be the cheapest on this list, but it is the highest quality for sure. The Indian and African dishes let you mix and match meats, veggies and grains for some of the most flavorful meals you can have at WDW.
Sci-Fi Dine-In Theater (Hollywood Studios) – Cheap sandwiches with an awesome ambiance. You've always wanted to eat dinner in your car right?
Trail's End (Fort Wilderness Resort) – This is by far the best value meal at WDW with an all-you-can-eat buffet for half the price of other buffets. You must try the fried chicken!
Woody's Lunch Box (Hollywood Studios) – One of the best quick service at Disney World. Great quality grilled cheese sandwiches, totchos, and we love the lunch box tarts! They serve breakfast, lunch and dinner.
Transportation to Disney World
Depending on where you live, getting to Walt Disney World can be a big expense. The most popular options are flying by airplane or driving, although soon you will also be able to arrive by a high speed train.
Flights
Orlando International Airport is one of the best connected airports in the country and you can get a flight there from almost anywhere in the United States and many international locations.
Domestic flights to Orlando cost between $150 – $400 per person. Depending on what time of year you are traveling and where you are coming from you might even find a better deal. We've flown from Connecticut many times for under $100 when there is a special offer.
International flights to Disney World are more expensive and cost on average $500 – $1000 per person.
Transportation from the Orlando Airport
If you are arriving in Orlando by plane, you need to figure out a way to get from the airport to your hotel. Your options will depend on whether or not you are staying at a Walt Disney World Resort hotel or not.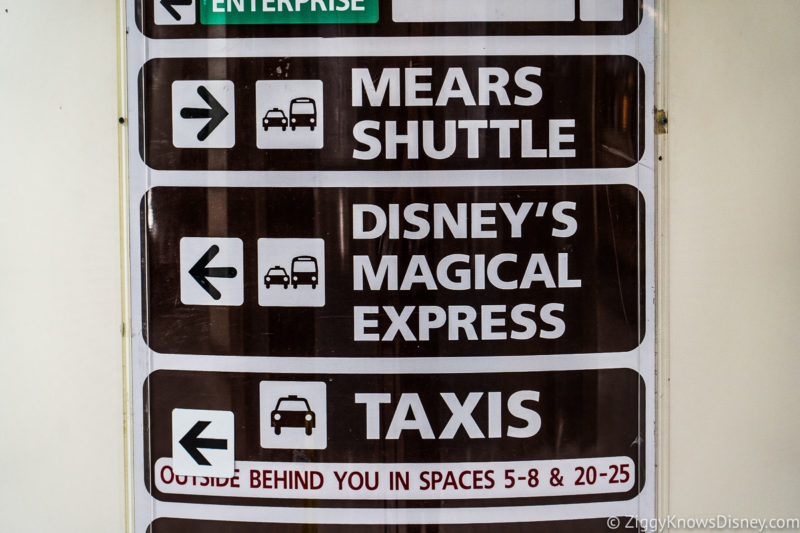 Staying On-Site: If you are staying at a Disney World hotel, you can use Disney's Magical Express. This is Disney's free bus shuttle from the airport at the beginning of your trip and back at the end. The Magical Express is only running through 2021 and then being discontinued.
Staying Off-Site: This one is more complicated and it depends what your plans are for your trip. You can rent a car, take a taxi, or use a ride-sharing program like Uber or Lyft. Obviously, these all cost money and are not ideal if you are on a strict budget.
Taxis are by far the more expensive choice and will cost around $50-$60 each way plus tip depending on where you are going.
Uber is a much cheaper option and will cost between $25-$30 each way.
Some off-site hotels offer free shuttle service to and from the Orlando International Airport, so make sure to ask when booking your room.
Driving
If you live close to Orlando, driving will be the least expensive way to get to Disney World. You need to calculate gas, and any highway tolls you may encounter.
While we prefer flying to Disney World, driving may be the cheapest option if you have a big group or if flights to Orlando are expensive from where you live.
Getting Around Disney World
Once you get to Walt Disney World, you need to know how to get around. Disney has their own complimentary transportation system guests can use and if you have your own car, you can park it at the hotel, or drive it to the parks.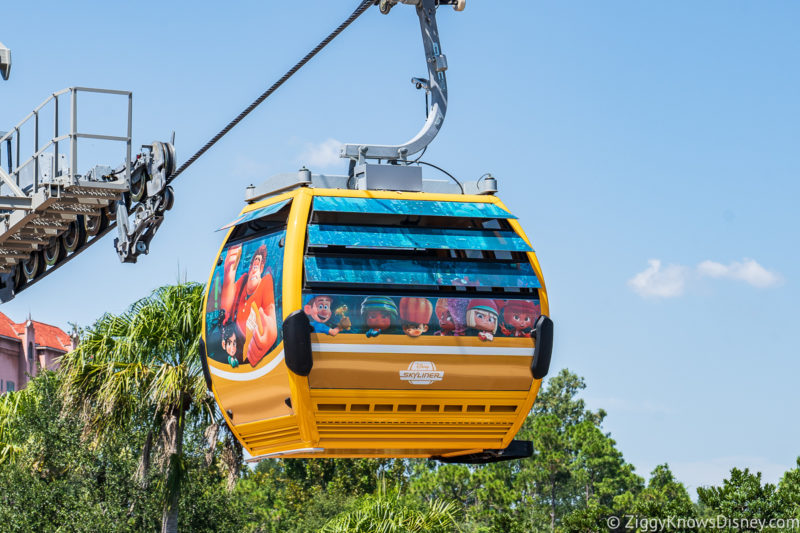 Transportation costs are sneaky at Disney World, and all the fees and parking can really add up quickly. Here are your options…
WDW Transportation
Using the Walt Disney World transportation system is definitely the cheapest option and it will take you anywhere in Walt Disney World you want to go. Transportation methods include buses, monorails, watercraft, and the Disney Skyliner.
We recommend using WDW transportation if possible as there really is no need to rent a car unless you plan on spending a good amount of time outside of Walt Disney World. It will save you the most money and it is by far the easiest solution.
Renting a Car
If you must rent a car because you are going to visit some of the other Orlando vacation destinations during your trip, that option is available to you. You can rent a car at the Orlando International Airport and all the major rental car companies are located there.
A compact car will cost you about $30 – $40 per day. A bigger car like a mid-size, SUV, etc will cost $50 – $60 per day. Make sure you factor in trunk space for your luggage when choosing which size car to rent. Choose a car that gets good gas mileage for the most economic solution.
Uber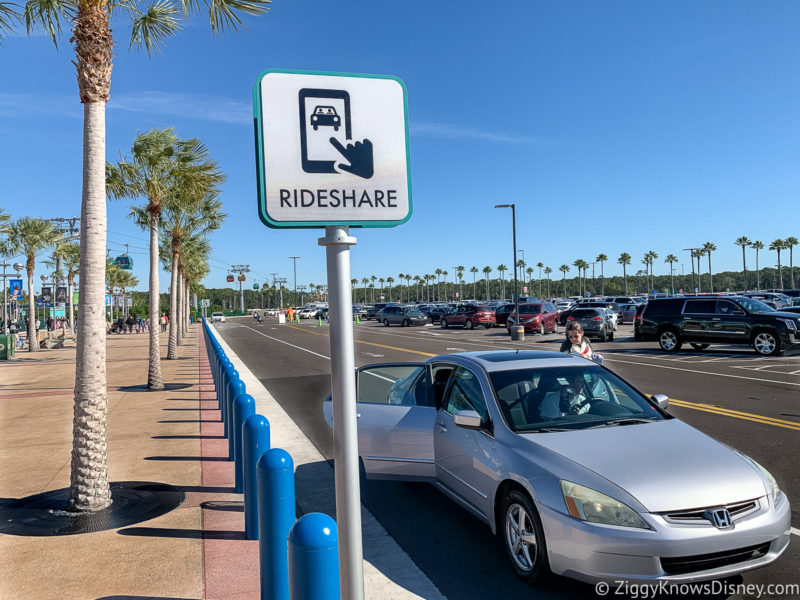 Ride-sharing services like Uber and Lyft have become super popular in the Orlando area over the last few years and there are more than enough drivers to service the millions of tourists that arrive each year.
We try to use Walt Disney World transportation as much as possible, however, we suggest using Uber if you are in a hurry to get somewhere. We do this often when we have dinner reservations at another hotel instead of using Disney transportation which can be unreliable at times.
Just be aware those Uber fees can add up quickly as a one-way trip around property will cost you between $10 – $20 depending on where you are going.
Parking
Parking fees are one of the biggest reasons we don't suggest renting a car at Disney World. Even if you get a good deal on a rental or save some money by taking your own car, you must factor in the parking cost during your trip.
There are parking fees at Walt Disney World both at the theme parks and overnight parking at the hotels. Here are the prices:
Disney World Theme Parks Standard Parking: $25 per day
Disney World Theme Parks Preferred Parking: $45 – $50 per day
Disney World Resort Hotel Overnight Parking: $13 – $24 per night
If you have your own car, we do not recommend taking it to the parks as it costs a minimum $25. There is no reason to do so when you can use the free Disney World transportation from your resort hotel.
The price of overnight parking depends on what level hotel you are staying at. On average you should calculate about $20 per night. That means a 7-day trip will cost roughly $140 total. Again, it's better to avoid parking fees by not bringing a car if possible.
Souvenirs & Merchandise
Going to Walt Disney World is a once-in-a-lifetime trip for many, and you are definitely going to want to bring something home with you to remind you of your magical vacation. It's impossible to resist all the stores filled with tempting merchandise, so set aside a budget for souvenirs before you go.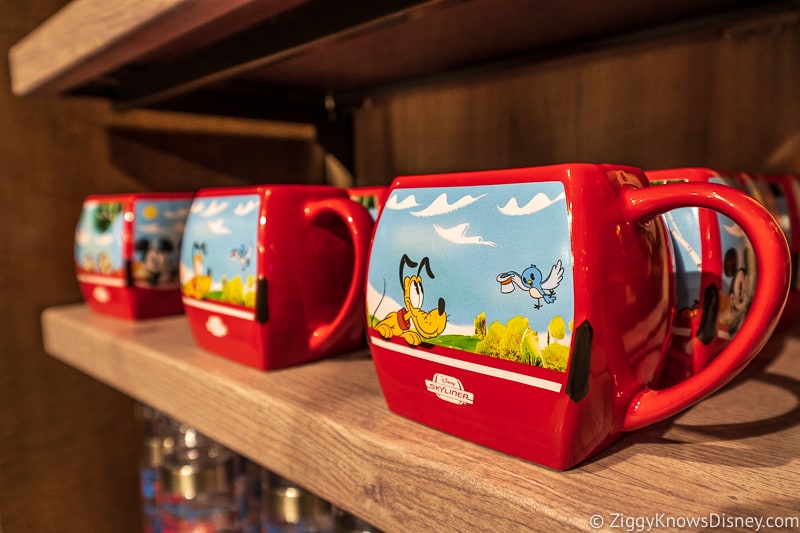 How much spending money for souvenirs will vary from family to family, but $50 – $100 per person for the trip is not an unreasonable amount. You can tell your kids exactly how much they can spend, and let them pick out whatever falls in that price range.
Here are prices for some of the more popular Disney World souvenirs:
Autograph Book: $9.99
Mickey and Minnie Mouse Ear Headbands: $29.99
Mickey Mouse Ears Hat: $27.99 adults, $19.99 kids
Mugs: $15.00 – $25.00
Ornaments: $19.99 – $22.99
Plush Dolls: $12.99 – $20.99 medium size
Pins and Lanyards: $10.00 – $20.00 each
Pressed Pennies: 50 cents each
Spirit Jerseys: $69.99 adults
T-Shirts: $24.99 – $34.99 adults, $19.99 – $24.99 children
One idea to save money is doing some shopping online for Disney merchandise BEFORE your trip. You can get some really creative Disney shirts online for half the price you will pay in the parks.
Also, check out the shopDisney website and look under the "Parks" section for some discounted merchandise from the theme parks.
Special Events and Experiences
Similar to souvenirs, you have total control over how much you spend in this category. You can go all-out in this category and enjoy some of the many special events and high-end experiences, or you can spend nothing.
Hard-Ticket Events
Multiple times per year Disney puts on special hard-ticket events (mostly at the Magic Kingdom) which are extremely popular with guests. Some of the most popular ones include:
Extra Experiences
Savi's Workshop Lightsaber Building: $199 per lightsaber
Droid Depot Build a Droid: $99 per droid
Bibbidi Bobbidi Boutique: $75 – $450 per child
Tours: $25 – $299 per person
VIP Tours: $450 – $750 per hour
Golfing: $35 – $75 per person
If you or someone in your family is a Star Wars fan, you have to bring them to Savi's Workshop to build their own lightsaber, or next door at the Droid Depot to build a customized droid. We've done both of these experiences and they are two of our all-time favorite Disney souvenirs.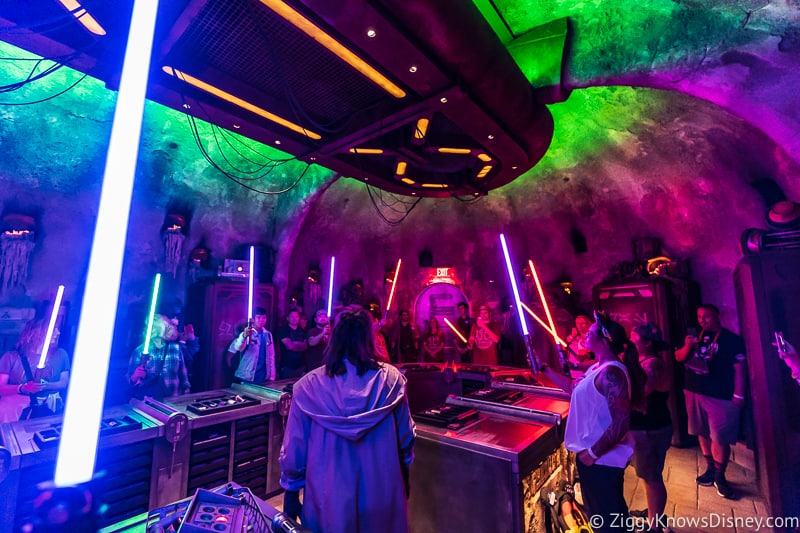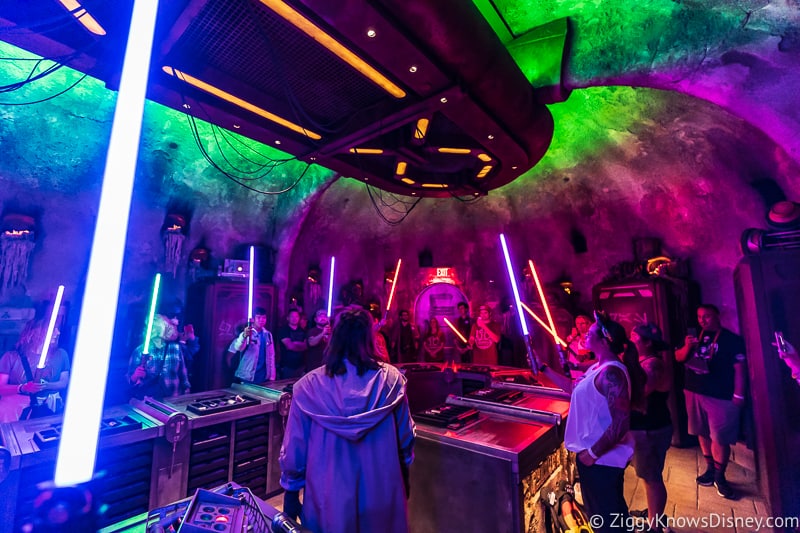 You can also bring them to Dok Ondar's Den of Antiquities to get a Star Wars Legacy Lightsaber which are modeled after ones belonging to their favorite characters from the films. Prices range from $129 to $199 plus tax
You little princess (or prince) will love a stop by the Bibbidi Bobbidi Boutique for a complete makeover. There are multiple packages that include costumes, make-up, manicures, and hair-styling. Packages range from $75-$450.
We love most of the tours at Walt Disney World, and let you go behind the scenes and see the parks in ways you never thought of before. Our favorites are the Wild Africa Trek at the Animal Kingdom ($189 – $249 per person plus tax) or the Keys to the Kingdom tour at Disney's Magic Kingdom ($99 per person plus tax)
Example Trips
So in the end, how much does a trip to Disney World really cost? We've come up with some example trips to give you an idea of the total cost of your vacation.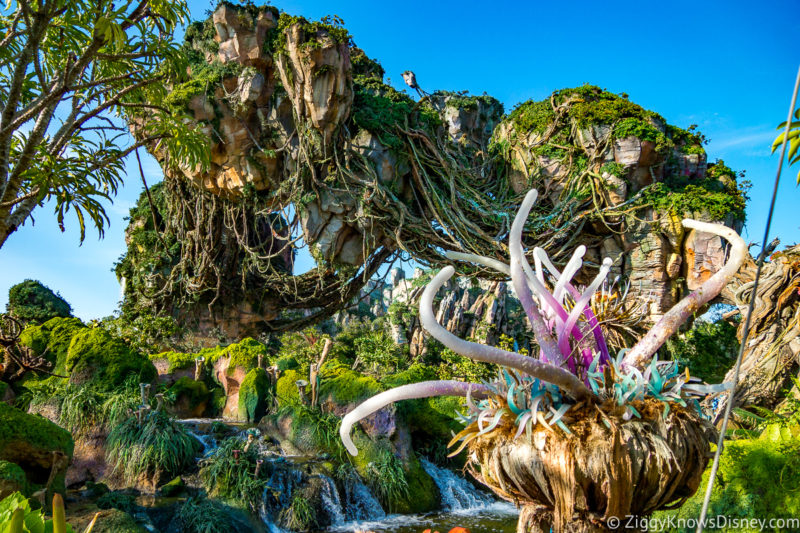 We've broken each trip down into one of three categories: Value, Moderate or Luxury. Within each group we've calculated the average prices for food, hotel, airfare, park tickets, and extra shopping money.
We then have example trips with 2, 3, 4, and 5 people. The trip for 2 is for 2 adults, while 3, 4, and 5 are assuming the added guests are children. If you are going with all adults the prices will be slightly higher.
Even though we are not fans of the Disney Dining Plan, for this exercise we are going to include it in our examples since it gives a rough estimate how how much the average guest spends on dining each day. (The Disney Dining Plan is currently canceled for 2021 so all meals must be paid out-of-pocket.)
We are also going to assume you are staying on-site at one of the Walt Disney World Resort hotels and have only included prices for those resorts. To save extra money you can stay off-site in a nearby hotel.
To make the comparison fair, we've made each trip 6 days and 5 nights since that is the average length of a Disney World trip. Obviously you can add more nights which will increase the price. We wouldn't recommend a shorter trip however for first-timers since this schedule gives you 4 full days to experience the parks (1 per day).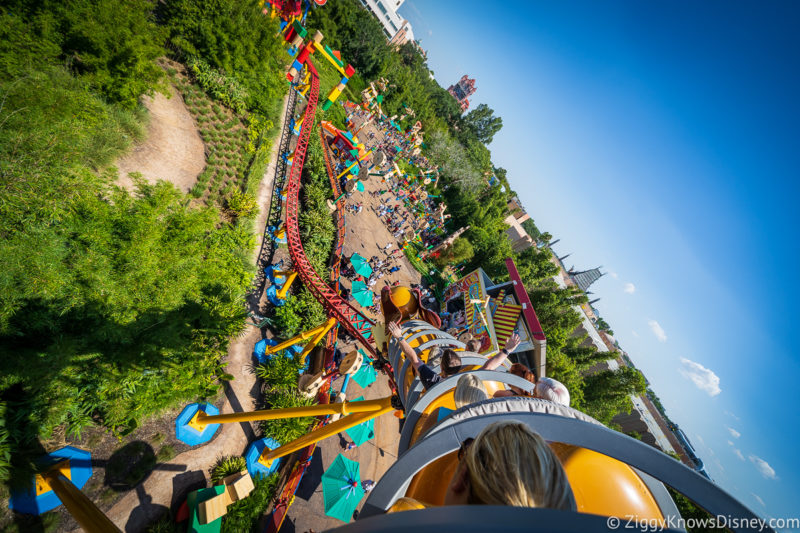 For all examples we've only estimated prices for 4-Day theme park passes. With a 6-day trip the first and last days are travel days and not great for visiting the parks and getting full value. Those days can be used to relax around your hotel, go swimming or other activities.
Keep in mind, these are only examples, and they can be adjusted to you and your family's needs. With some cost-cutting in the dining and hotel categories, you will be able to save even more money than what we list, so feel free to modify the plans.
Value
I chose Disney's Pop Century Resort for our value hotel. In our opinion, it gives you the best value for the money due to its great location on the Disney Skyliner route and better quality accommodations when compared to the All-Star Resorts. You can save about $40 – $50 per night there, but that option is only for dire circumstances.
Unfortunately, if you have 5 guests in your party, you will have to upgrade to the family suite at Disney's Art of Animation Resort since there are no other value resort rooms that hold 5 guests. This is a big price increase and more than doubles your hotel cost for the vacation.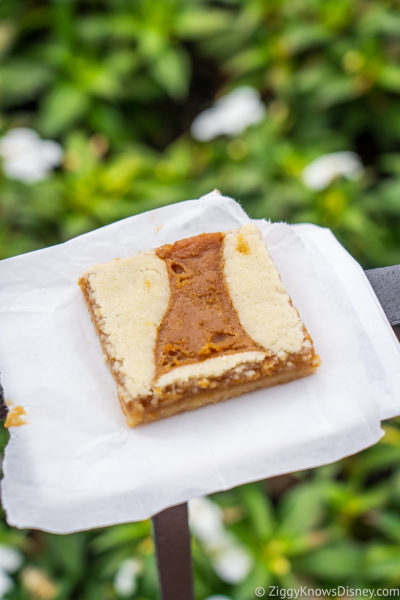 For food, we got the Quick Service Dining Plan. This gives each guest 2 quick service meals and 2 snacks per day. It's not ideal not having a sit-down meal and added just to save money. If you wanted a character meal or other table service restaurants, you could forget the dining plan and pay for meals out of pocket.
We limited extra spending money to $50 per person, which won't get you much but you can buy a couple of souvenirs each.
These prices are far from the lowest you can go. With some date changes and some cost-cutting, you can drop these prices down a few hundred dollars each. Go in value season for maximum savings.
Trip for 2 | 6-Day/5-Night stay in Summer 2021:
Park Tickets: 4 Days of theme park passes, one day each park = $888 ($472 per person including tax)
Hotel: 5-night stay at Disney's Pop Century Resort = $1,125 ($562.50 per person)
Food: Quick Service Dining Plan = $550 ($275 per person)
Airfare: 2 Tickets to Orlando Airport = $400 ($200 per person)
Shopping/Extra Experiences: Very limited shopping money = $100 ($50 per person)
Total Cost = $3,119.00
Trip for 3 | 6-Day/5-Night stay in Summer 2021:
Park Tickets: 4 Days of theme park passes, one day each park = $1,399.00 ($466 per person including tax)
Hotel: 5-night stay at Disney's Pop Century Resort = $1,125 ($375 per person)
Food: Quick Service Dining Plan = $680.00 ($226 per person)
Airfare: 3 Tickets to Orlando Airport = $600 ($200 per person)
Shopping/Extra Experiences: Very limited shopping money = $150 ($50 per person)
Total Cost = $3,954.00
Trip for 4 | 6-Day/5-Night stay in Summer 2021:
Park Tickets: 4 Days of theme park passes, one day each park = $1,854.00 ($463 per person including tax)
Hotel: 5-night stay at Disney's Pop Century Resort = $1,125 ($281 per person)
Food: Quick Service Dining Plan = $810.00 ($202 per person)
Airfare: 4 Tickets to Orlando Airport = $800 ($200 per person)
Shopping/Extra Experiences: Very limited shopping money = $200 ($50 per person)
Total Cost = $4,789.00
Trip for 5 | 6-Day/5-Night stay in Summer 2021:
Park Tickets: 4 Days of theme park passes, one day each park = $2,308.00 ($461 per person including tax)
Hotel: 5-night stay at Disney's Art of Animation Resort in Family Suite = $2,485.00 ($497 per person)
Food: Quick Service Dining Plan = $940.00 ($188 per person)
Airfare: 5 Tickets to Orlando Airport = $1000 ($200 per person)
Shopping/Extra Experiences: Very limited shopping money = $250 ($50 per person)
Total Cost = $6,983.00
Moderate
For our moderate trips we upgraded hotels and dining plans, which should make for a more enjoyable trip.
While Disney's Caribbean Beach Resort is not our favorite moderate resort at Disney World, the location can't be beat since it's right in-between EPCOT and Hollywood Studios on the Skyliner. If you don't mind taking the bus everywhere, the Gran Destino Tower at Disney's Coronado Springs is a little more expensive but by far the best quality for the price.
Since there are no 5-guest standard bedrooms at the moderate resorts, we chose the Art of Animation family suite for groups with 5 guests, but it does increase the price a lot.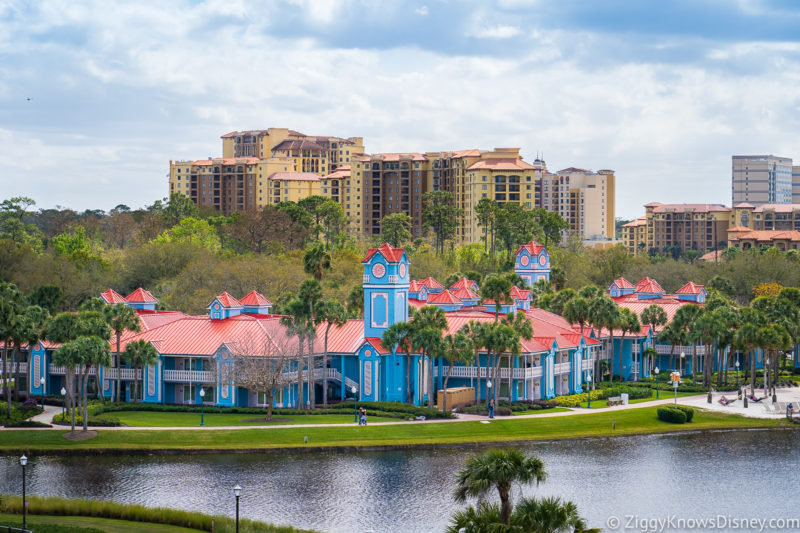 The big upgrade here is the food being on the Standard Disney Dining Plan. You still get one quick service meal per day, but you also get 1 table service dining credit which can be used in many good restaurants around property. It isn't great if you want to dine at signature dining restaurants and it will probably be cheaper out of pocket.
We also have a bit more spending money for merchandise with $100 per guest. Most first-timers will be perfectly fine going with something similar to these vacation plans.
Trip for 2 | 6-Day/5-Night stay in Summer 2021:
Park Tickets: 4 Days of theme park passes, one day each park = $888 ($472 per person including tax)
Hotel: 5-night stay at Disney's Caribbean Beach Resort = $1,570.00 ($785 per person)
Food: Standard Disney Dining Plan = $780.00 ($390 per person)
Airfare: 2 Tickets to Orlando Airport = $400 ($200 per person)
Shopping/Extra Experiences: Very limited shopping money = $200 ($100 per person)
Total Cost = $3,894.00
Trip for 3 | 6-Day/5-Night stay in Summer 2021:
Park Tickets: 4 Days of theme park passes, one day each park = $1,399.00 ($466 per person including tax)
Hotel: 5-night stay at Disney's Caribbean Beach Resort = $1,570.00 ($523 per person)
Food: Standard Disney Dining Plan = $932.55 ($310 per person)
Airfare: 3 Tickets to Orlando Airport = $600 ($200 per person)
Shopping/Extra Experiences: Very limited shopping money = $300 ($100 per person)
Total Cost = $4,801.55
Trip for 4 | 6-Day/5-Night stay in Summer 2021:
Park Tickets: 4 Days of theme park passes, one day each park = $1,854.00 ($463 per person including tax)
Hotel: 5-night stay at Disney's Caribbean Beach Resort = $1,570.00 ($392 per person)
Food: Standard Disney Dining Plan = $1,085.10 ($271 per person)
Airfare: 4 Tickets to Orlando Airport = $800 ($200 per person)
Shopping/Extra Experiences: Very limited shopping money = $400 ($100 per person)
Total Cost = $5,709.10
Trip for 5 | 6-Day/5-Night stay in Summer 2021:
Park Tickets: 4 Days of theme park passes, one day each park = $2,308.00 ($461 per person including tax)
Hotel: 5-night stay at Disney's Art of Animation Resort in Family Suite = $2,485.00 ($497 per person)
Food: Standard Disney Dining Plan = $1,237.65 ($247 per person)
Airfare: 5 Tickets to Orlando Airport = $1000 ($200 per person)
Shopping/Extra Experiences: V