As you know, food can be really expensive at Walt Disney World, and after a week or more on vacation, those costs can really add up. To counter that, getting groceries at Disney World is one of the best ways to save!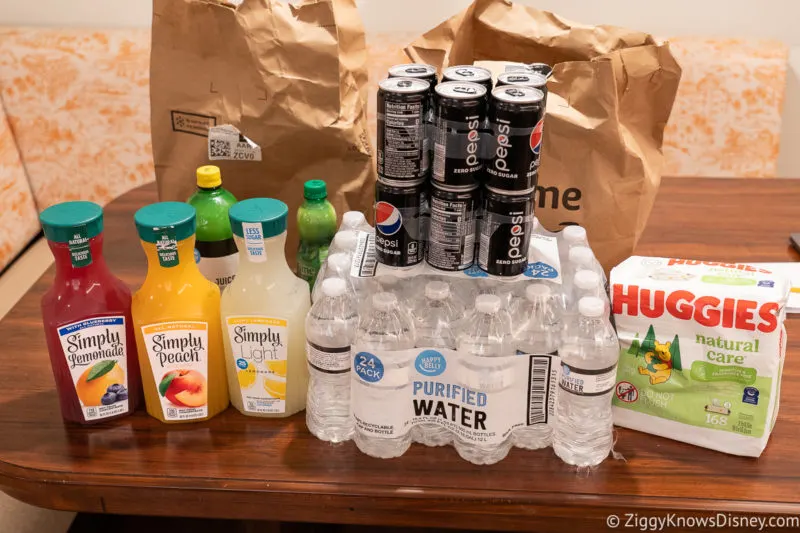 In this post, we are going to explain everything you need to know about getting groceries at Walt Disney World and rank the best companies to do get them from, rating all the pros and cons.
We'll talk about all the grocery delivery services in the area, how much they cost, how to place your order, and how to pick up the groceries when they arrive at your Disney World Resort hotel.
Over the years, we've almost always off-set our food costs by getting groceries upon arrival. Sometimes we've stopped at one of the local grocery stores on the way, but more recently we've found it really convenient just to get them delivered. No work required and it doesn't take away from our precious vacation time.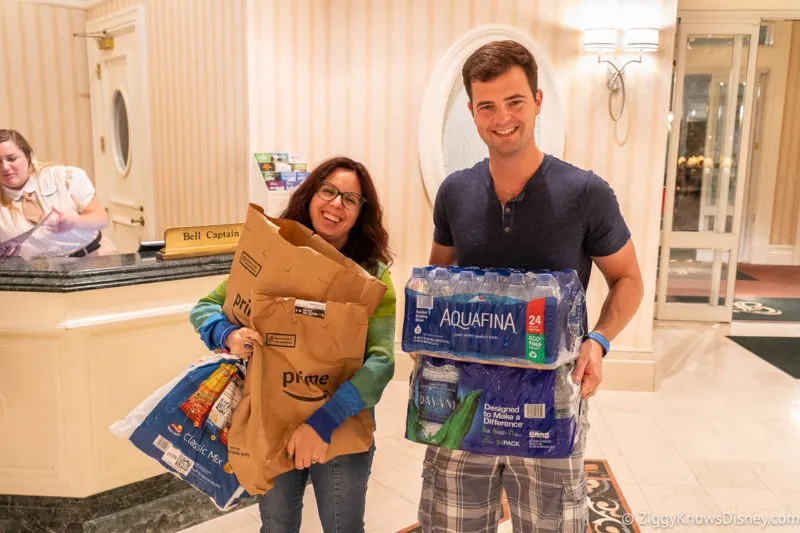 Just keep in mind that not all Disney World resorts come equipped with full kitchens if you plan on cooking meals in the room. Not all of them have adequate-sized refrigerators either. In that case, you will want to stick with things that are easy to prepare and store.
If you opt to get groceries delivered as we do, there are plenty of options to choose from. Walmart, Amazon, Instacart, Target, Garden Grocer, are just a few to consider, and we'll share our experiences with all of them so you get the best service and save the most money possible.
Before we get started, don't forget to sign up for our FREE Weekly E-Mail Newsletter. There we bring you the latest Disney vacation planning tips including how to save money, where to stay, and the best things to do. You can sign up here: Join our E-Mail Newsletter!
Options for Getting Groceries at Disney World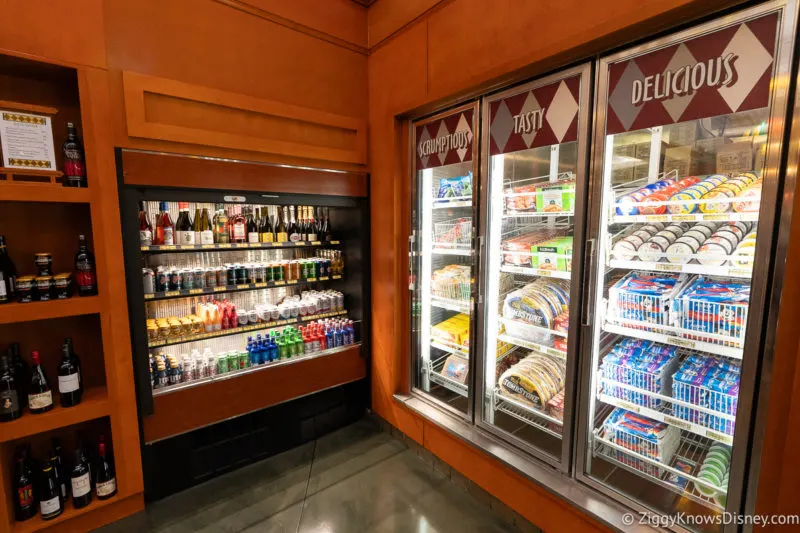 While getting groceries has changed and certain companies have come and gone, there are still a number of reliable options for guests longing to order some during their stays at Disney World. And thankfully, Disney has still made it possible for guests to order their groceries from outside of the Disney World Bubble.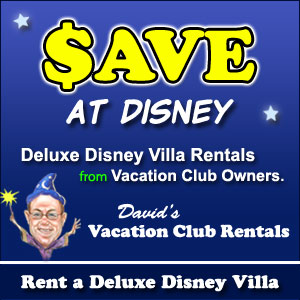 With food costs getting more and more expensive due to inflation, both inside and outside of Disney, it makes sense for guests to save significantly on their Disney budget by ordering food from a variety of different grocery services. So what are your main options for getting groceries?
1. The first main option you have to get groceries at Disney World is through your Disney World Resort hotel. Every gift shop inside the hotel's lobby area has a little area where you can get simple things such as essentials and certain refrigerated things.
This is an easy last-minute option for guests that are looking for just one or two things for their room. Keep in mind, these are Disney prices and the choices are limited and the costs are high.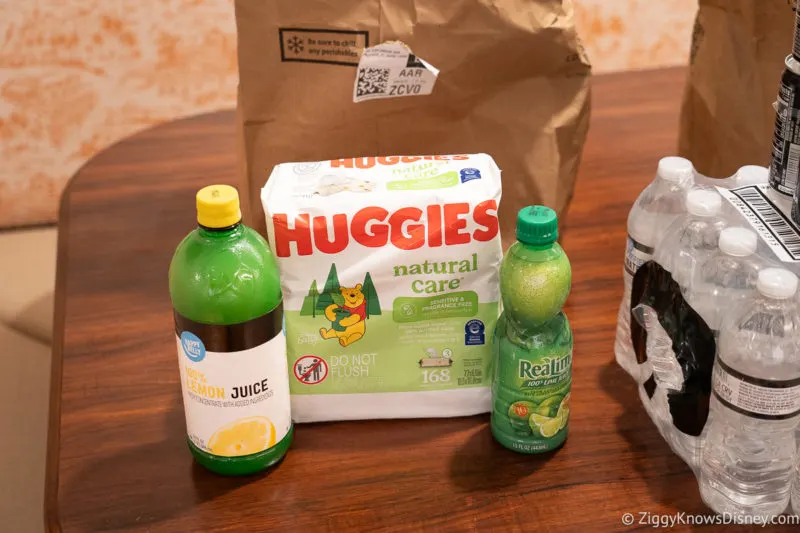 2. The second option you'll have is getting the groceries yourself. With nearby Walmarts and Publix Grocery Stores around the Walt Disney World Resort, getting groceries yourself could be an easy proposition.
You can do this yourself IF you have a vehicle, or you can utilize a service such as Uber or Lyft to bring you to the grocery and bring you back to your resort.
3. And lastly, you can use one of the large variety of different grocery delivery services. These different services range substantially in terms of options, costs, the time it takes, etc. These distinct services are innumerable and new ones are popping out fairly regularly.
We will touch on these different options in this article and help you decide which one makes the most sense for YOU.
Benefits of Grocery Delivery at Disney World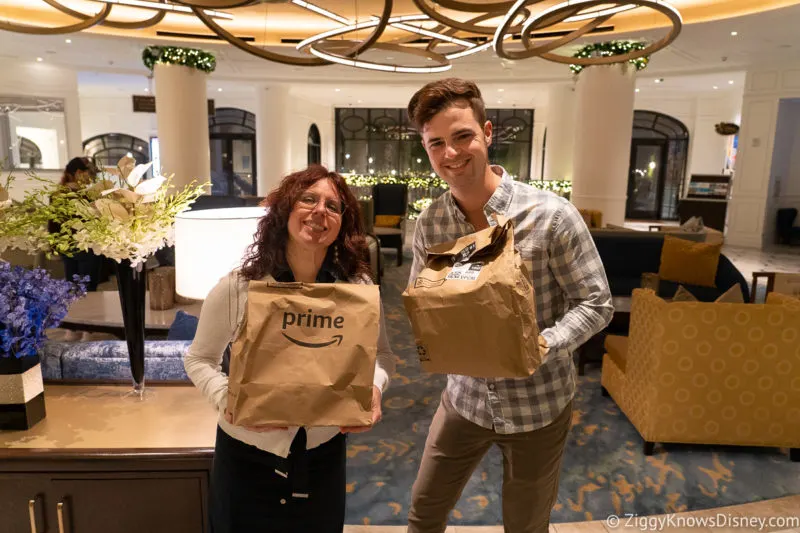 Ordering groceries has gotten more and more popular over the last handful of years, and it shows with the variety of different services that have sprung up recently.
But why has grocery delivery turned into a more and more popular option for families? And why should our family consider using one of these services? Here are a few reasons:
Cost – If you haven't noticed, the cost of everything in the United States has gone up exponentially over the last few years and Disney World is certainly not immune. And food is incredibly expensive at Disney and one of the most expensive parts of a vacation.

However, the costs of a Disney World Vacation can be reduced greatly if you purchase food OUTSIDE of Disney. By ordering groceries, your food costs could technically be in line with what you'd spend at home by using a grocery service.

Dietary Restrictions – Disney does a great job of catering to the needs of guests with a large variety of different dietary needs, but it's still not the same as getting the things you need yourself. With the possibility of a grocery store, you'll have whatever you need to meet your needs.

Comforts from Home – Many guests just prefer certain things you can't get inside the Disney Bubble, whether it be gum or a Pepsi! There are a ton of things that guests could want for their vacation and didn't think was possible while staying inside a Disney Resort.

Ease – There's something nice about just having everything you need inside your hotel room. This gives you additional options for late-night snacks, early morning breakfasts, etc… It also limits your "NEED" to have to get something immediately when you enter a Disney World Park.

Lighter Meals – Some guests just want a lighter snack or an easy breakfast that doesn't consist of a large portion of food. Rather than spending $10-$15 on a quick-service meal, just order something light that you can keep in your room and eat when you return back.

Better Options – Unfortunately your options are limited at Disney, especially if you're a pickier eater. By having a grocery store at your disposal, you don't need to be limited. You can get WHATEVER you want and need.

Cook Inside Your Room – Many guests staying in larger rooms, such as those at the DVC Villas, enjoy cooking their own food. With grills on hand at many Disney World Resorts and full kitchens in some rooms, cooking can be easy! It's one of my favorite tips to save you a TON of money at Disney World.
Disney World Grocery Delivery Explained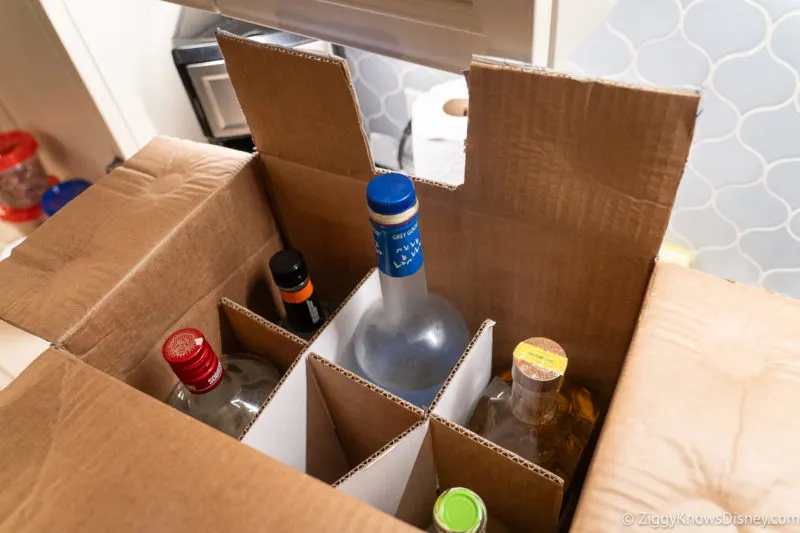 If you've never utilized a grocery delivery service, here's just a quick synopsis of how it works. The different services allow you to utilize either a smartphone app or a website to order your list of groceries from their website. While you may not have access to everything that they sell in-store, the options are usually pretty plentiful. (You can also place special orders, and these are often fulfilled as well)
Once you're done ordering everything and have added everything you want to your shopping cart, you check out and pay for your order.
Then, once you're done placing your order, your grocery delivery driver will pick up your items and drop them off at your location, which in this case would be a Disney World Resort.
You can't get groceries delivered directly to your hotel room by the company, but they will drop off your items at the hotel bell service area, located underneath the carport outside. If you have refrigerated items, the Disney Cast Members working at the resort will refrigerate them prior to your picking them up.
Once your items are delivered, simply go down to bell services and pick up your items to bring back to your room. Or you can pay a small delivery fee to bell services, and they will bring them up to your room for you.
Disney World Official Food Delivery Policy
There is NOTHING wrong with ordering food from an outside company for food delivery. Disney even allowed it during the earlier stages of the pandemic in 2020. What things do you need to keep in mind when placing an order?
All food orders will be delivered to Bell Services at your Disney World Resort
You do NOT need to be there upon arrival
Disney Bell Services Cast Members will ensure the refrigerated things stay cold
Make sure you add the Disney World Resort address that you are staying at to your order, which can be found here. Click the resort you will be staying at and in the 'Overview' section, you will see the full address.
Make sure that you add your name as well as "GUEST ARRIVING (Insert mailing date)"
Placing Your Order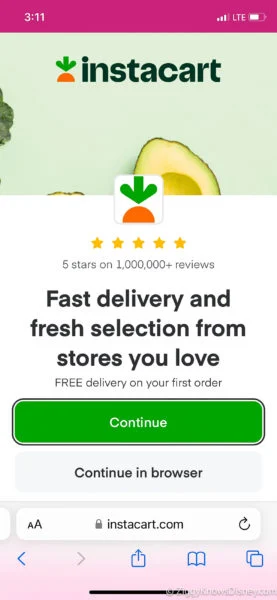 The very first step of getting groceries is placing the order! If you're ordering directly through a service, you'll want to download the necessary app onto your smartphone. Some of the companies also allow you to place your order over the Internet on their website as well.
Keep in mind there are additional costs for these grocery services, as you will pay a delivery fee anywhere normally from $1 – $10. They also sometimes have additional service charges, which can be as high as 18%.
Some delivery service companies also expect you to meet minimum order threshold limits, which means you have to spend a certain amount of money in order to place an order. And it is generally expected that you will tip the individual driver that is dropping off your items.
We will go over more specifics of each of the companies in just a minute….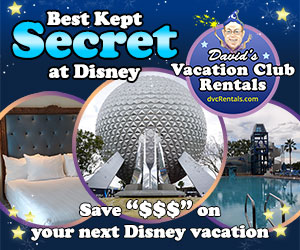 When You Get Grocery Delivery Where are they Sent?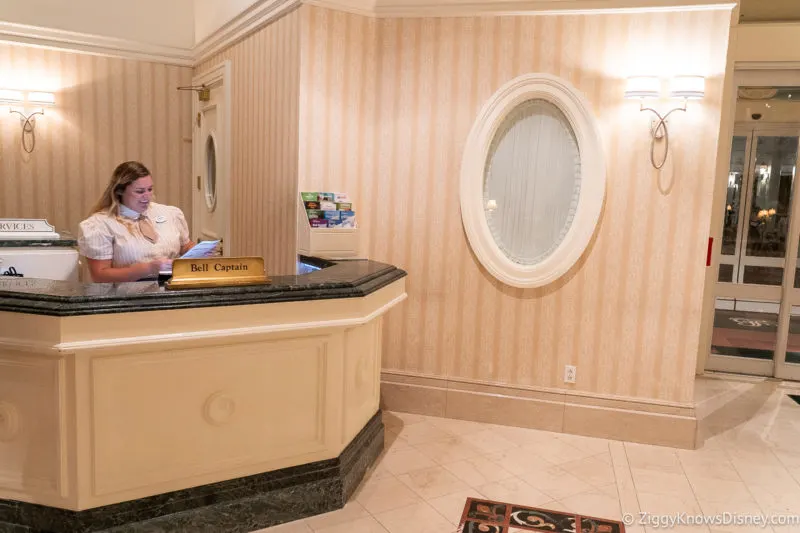 When placing your order, the delivery driver will be instructed to visit the resort address, with which you gave them. Make sure you leave any additional notes that are necessary for them to find your resort.
In most instances, the drivers get lost and will be contacting you! So be sure to leave your cell phone number while also putting on notifications on your phone.
The groceries will be delivered to the bell services at the front of your hotel. They will NOT be delivered to your resort hotel room directly.
How Much Does Disney Charge for Grocery Delivery?
Disney does NOT charge any money for deliveries that are picked up yourself. So if you go down to bell services and pick up your own groceries, you won't have to worry about any additional costs.
IF you want the groceries or packages delivered to your room, you will be required to pay a $6 per package handling fee by Disney.
And while this can be disappointing, I assure you it still is significantly less than buying food at Disney. And if you want to save money, just go take a few minutes to get the groceries and bring them back to your room.
Do You Need to be Present for Grocery Deliveries?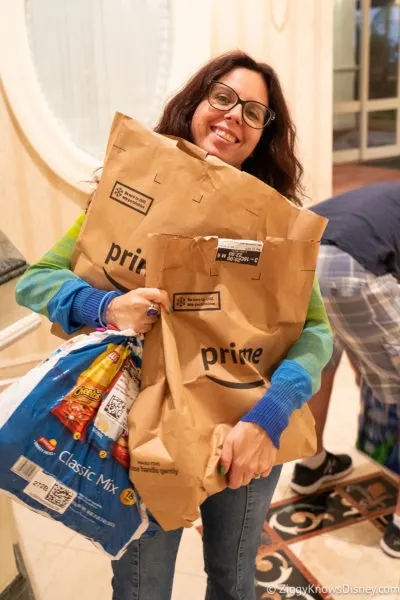 As long as you don't have any liquor on your order, you won't need to be there. If you have liquor, you will need to meet the driver and show ID upon arrival. Just go pick it up upon your arrival at the hotel. If you need it delivered to your room, you will need to pay a delivery charge.
Do All Disney Resorts Accept Food Delivery?
Yes! There are no limitations to food delivery at Disney World Resorts. They accept deliveries at all of the different resorts.
Do All Grocery Services Deliver to Disney World?
Yup! Essentially all of the grocery services deliver to Disney World. However, the fees can vary depending on which service you use.
What Should I Do If I Am in the Parks When the Delivery Comes?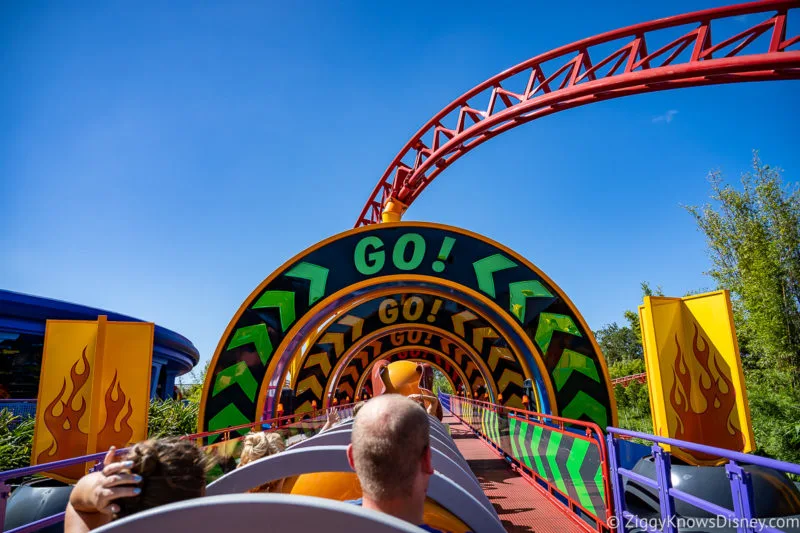 If your delivery comes when you're at the parks, there is NO need to worry. You can notify bell services before you leave that you are expecting an order if you'd like extra peace of mind.
All you have to do is go down to the Bell Services desk and pick up your groceries. Or call them from your resort room phone and have them delivered, if you're wanting to pay the additional costs.
If you're expecting something, such as alcohol, that requires ID and possible signature verification, you will need to be at your resort for the delivery.
Do I Need to Leave a Tip?
While it's not technically "required" to leave a tip, just as with using a ridesharing service, it's expected. It's customary to leave anywhere from 5% to 20% tip for a driver delivering your items. It's your choice, and do what you feel comfortable with.
Grocery Delivery Services Compared at Disney World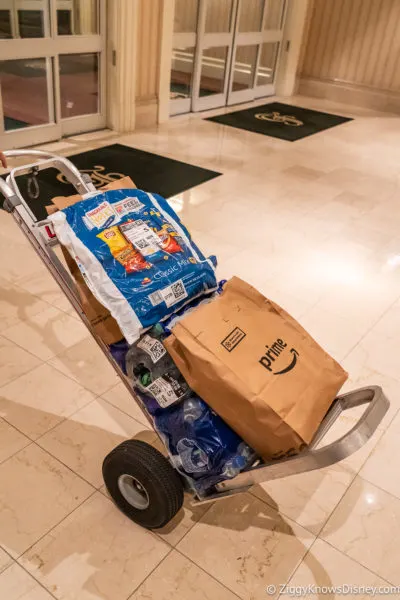 In this section, we are going to review the many grocery delivery services. We will go over OUR views on each of these services, the basics of how each of them works, who should use them, and the additional costs of utilizing these services.
The main options for Grocery Delivery services at Walt Disney World are:
Amazon Fresh
Walmart Grocery Delivery
Instacart
Garden Grocer
Dizzy Dolphin Delivery
Shipt
Orlando Grocery Express
We Go Shop
Water Butlers
Vacation Grocery Delivery
With that in mind, let's get into each of them…
Amazon Fresh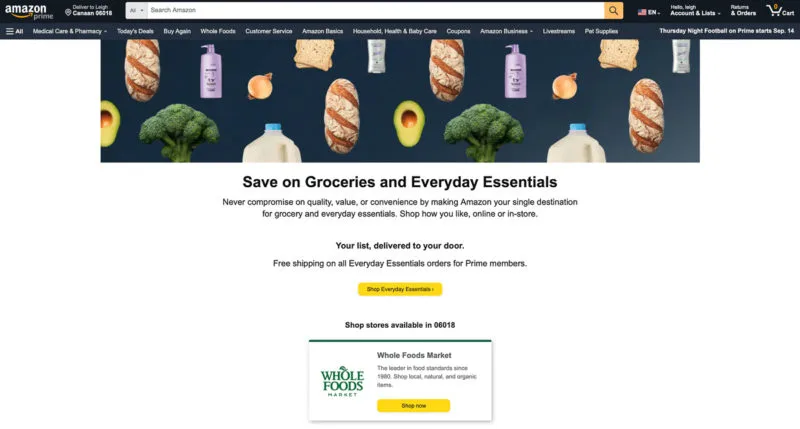 Delivery Fees:

$9.95 for orders under $50
$6.95 for orders between $50 and $100
$3.95 for orders between $100 and $150.
No fees for orders over $150 for Prime Members

Service Fees: Requires Amazon Prime Membership OR additional costs without a Prime Membership.
Minimum Order: No minimum amount
Does Amazon Deliver Groceries to Disney World Resorts?
Yes, Amazon delivers groceries to the Disney World Resorts.
Basics:
Amazon is constantly structuring and adjusting its grocery delivery service, and it's recently been rolling out its service to both Prime Members and non-Prime Members nationwide. It has different agreements with its Fresh Delivery Service via a number of different grocery chains such as Whole Foods and other local stores.
Your options might be more limited with Amazon, due to most of its sourcing coming from Whole Foods, which can be costly and far more expensive than some of the other options. Not to mention there is an additional $9.95 fee for getting things through Whole Foods.
Costs for Amazon have gone up substantially in 2023, as there were no fees on orders over $35 for all Amazon Prime Members. Sadly, that has changed….
It can be a little confusing ordering with Amazon, as we were confused as to make sure we ordered things through the same supplier. Otherwise, you can incur additional fees. You will often notice that many of the items come through Whole Foods, which allows for faster shipping. Often within a couple of hours.
The more plentiful and reasonable options through Amazon Fresh take far longer for delivery so make sure you order far enough in advance so that you can get your groceries in time for your arrival.
To order, you can do so through the Amazon app or by going to the website and putting in the Disney Resort address you are staying at.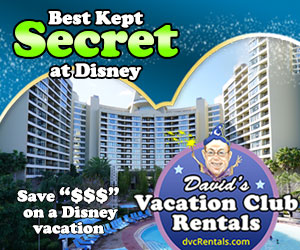 Pros:
Quick delivery options, often getting groceries within 2 hours
A large number of selections
Easy order process that guests are familiar with
Healthy products readily available through Whole Foods
Cons:
Can be complicated for orders, making sure you order from the same supplier
Costs are no longer free or minimal for Prime Members
Whole Foods groceries can be very expensive
Tips:
While Amazon recently got rid of its Prime Now app, you'll often still find faster delivery through Whole Foods orders than you will through Amazon Fresh direct. Unfortunately, this can be expensive!
We like Amazon for larger orders, ideally over $150 so you don't incur any additional fees. Amazon has a terrific selection of prepackaged offerings. Amazon is a solid option, albeit not our favorite pick anymore with the increased costs.
Walmart Grocery Delivery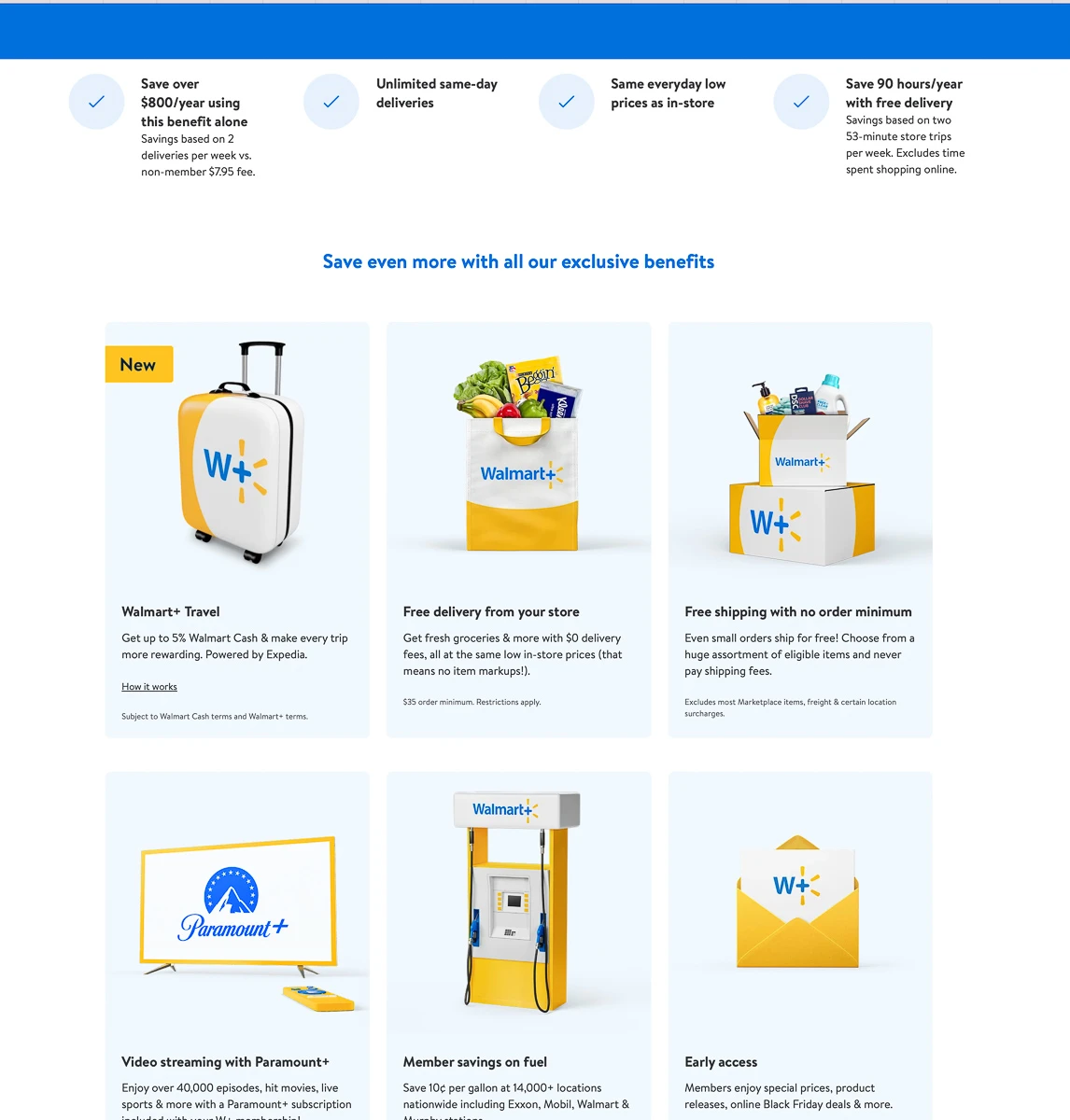 Delivery Fees:

Free if you're a member of Walmart+ and your order is at least $35. (The cost is $12.95 per month or $98 per year. You can get a 30-day free here to sign up)
If you're a Walmart+ Member and your order is less than $35, you will be charged a $7 delivery fee.
If you're NOT a Walmart+ Member, your delivery fees will range from $7.95 to $9.95.

Service Fees: N/A
Minimum Order: No minimum amount
Basics:
Walmart is a terrific option for guests visiting Disney World, as it gives additional options with reasonable offerings where they can save money.
While the Walmart+ service can feel like a waste of money, especially if you're not planning on using it after your trip, the good news is you can just sign up for the trial and then abandon the service before you get charged.
The costs of Walmart delivery are highly reasonable, as you'd expect with the superstore's typical offerings. There are multiple Walmarts in the Disney area, so it's generally fairly simple and efficient as an option. There aren't a lot of surprises here or additional fees and costs, which is very nice.
If you're used to shopping at Walmart, the prices in the Disney area are essentially what you'd pay back home, so it's easy to plan for and you'll likely know their available options. To order through Walmart you can download the Walmart app or you can visit Walmart's grocery website.
Simply add your items to your cart and then check out. You'll be able to leave a tip for your driver upon checkout. Deliveries through Walmart we've found to often be quick, with them frequently offering same-day delivery.
Walmart does real-time tracking through their app allowing you to monitor the progress of your order. Just make sure you keep your phone on you in case the store is out of options, and your driver needs to find an alternative option.
Pros:
No hidden fees
Great options and fair prices
Generally very quick ordering time
Real-time tracking through the app
Cons:
Have to sign-up and purchase Walmart+ service
Walmart doesn't have a great selection of "healthy options"
Tips:
Walmart is a solid and reliable option for guests visiting Disney World. We've had terrific experiences with them, and we'd recommend you try to place your order a day or two in advance, if at all possible. You'll get more desirable time slots for delivery, which is key around a busy Disney World schedule.
Instacart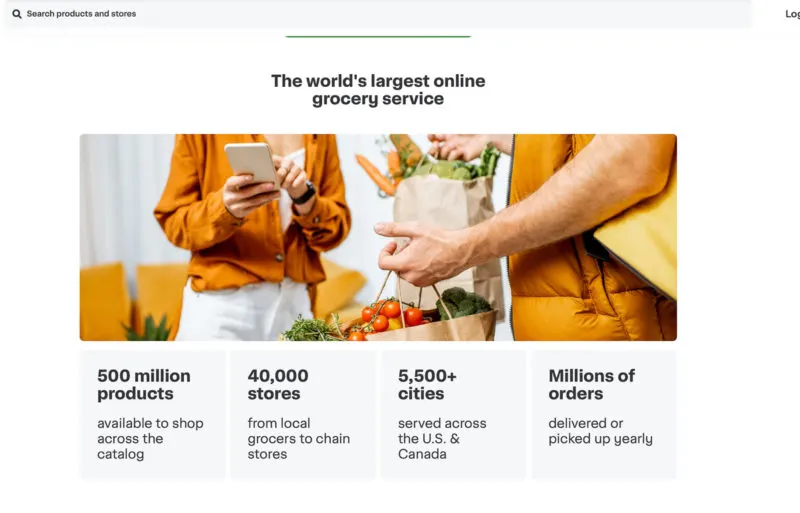 Delivery Fees:

$3.99 for non-Instacart+ Members when orders are at least $35. If orders are less than $35, or you are looking for one-hour delivery, the fees can be additional.
If you'd like or have Instacart+, delivery on orders is free, (Instacart+ costs $99 per year)

Service Fees: 5% service fee for non-Instacart+ members, 2-3.5% for Instacart+ members

Heavy order fees for orders equaling $50 or more. These are generally between $5-$15 extra.
Alcohol service fees can range substantially depending on how much alcohol you order. Usually, it'll be between $2-$5 additional.
Additional fees are also possible such as Long-distance fees, priority fees, pickup fees, bottle deposit fees, etc….

Minimum Order: Must be at least $10
Basics:
As you can see, Instacart could be a good option, but there are a lot of different fees. Though this can seem overwhelming and make your orders seem outrageous, we've generally found them to be reasonable.
To use Instacart, download the Instacart app or go to their website, and you get to select where you'd like to order your groceries from. We love this, as it gives you additional options and you aren't reliant on just one store.
Once you type in your address, you'll be given a list of nearby stores in which you can order from.
Once you pick your store, you'll be shown the available options for everything you'd like to order at that particular store. Check out as you would a normal order, and leave a tip upon checkout.
Instacart suggests a 5% tip that they can give to the delivery person. Keep in mind, the additional fees from Instacart do NOT go to the driver. The only thing your delivery person receives is the tip you give them.
Make sure you keep your phone on because it's highly possible your Instacart shopper will need to text you or reach out to you about your order and possibly replace items that are not found in the store.
What we do like is that Instacart is generally very fast and unlike some of the other services, you'll normally be paired with a shopper quickly and could potentially have your order in your room within an hour or two.
Pros:
Real-time updates on your order and you can follow along through the app
Tons of options, including a significant amount of stores in the Disney area
Very fast orders, and you can pay additional for 1-hour delivery if you need
Cons:
Not much transparency in regard to additional fees which can be confusing for guests
A lot of canceled orders
Tips:
Instacart is great if you need to order things that are NOT at a grocery store. You'll find pharmacies and other stores on the app. This gives you additional options.
You might also want to consider giving a higher tip on the order at checkout, as your order will likely be in more demand by other Instacart shoppers and it's unlikely your order will be canceled.
Garden Grocer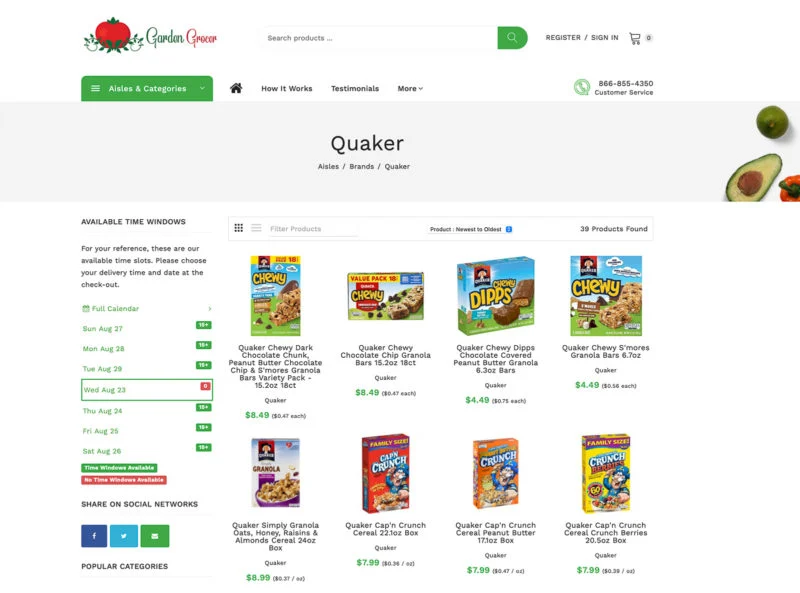 Delivery Fees: Orders less than $200 will be subject to a $15 delivery fee. For orders over $200, delivery is free.
Service Fees: N/A
Minimum Order: $40
Basics:
A locally owned and operated business in the Orlando area that has been delivering to Disney World guests for over 15 years. They are highly experienced and knowledgeable about delivering to Disney World Resorts, and we've found them to be helpful.
Unlike many of the other services with Garden Grocer, you can actually talk to someone and ask questions, which a lot of people prefer. We've found their team to be highly competent and useful.
The main problem with Garden Grocer is that they are expensive and slow.
They'd like their orders placed at least 2 days prior to you needing them, if not, they will charge additional fees. Same-day deliveries are an additional $30 per order and next-day delivery is an extra $20 per order.
To order from Garden Grocer, you download the Garden Grocer app and you'll have the option of 5,000 different grocery items. The team at Garden Grocer will go handle your shopping for you by picking up the items and then returning them back to your resort.
You won't know where they purchased the items, at what stores, or at what prices. This means that their markups can be exorbitant and we've found them to be much more costly than what the other stores are charging them at.
Pros:
Highly experienced at delivering to Disney World with over 15 years of experience
Good customer service team that can assist if you need help
Cons:
Less delivery options and will need to book earlier
Very expensive delivery costs and extreme mark-ups on items
Limited selections of items in comparison with other options
Tips:
While we've liked Garden Grocer in the past and we appreciate their vast expertise in delivering to Disney World, unfortunately with the amount of competition in the market these days, we'd recommend steering away from Garden Grocer at this time.
Their costs can be significantly higher than viable alternatives and their quicker delivery options leave something to be desired.
Garden Grocer Delivers to the Following Resorts:
All Walt Disney World Resort Hotels
Four Seasons Orlando at Walt Disney World
Hilton Orlando Bonnet Creek (Must be Present to Accept Delivery Between 8 am and 4 pm)
Club Wyndham Bonnet Creek (Must be Present to Accept Delivery Between 8 am and 4 pm)
Wyndham Grand Orlando Resort Bonnet Creek (Must be Present to Accept Delivery Between 8 am and 4 pm)
Dolphin Resort
Swan Resort
Swan Reserve Resort
All Universal Studios Resorts (Must be Present to Accept Delivery Between 8 am and 4 pm)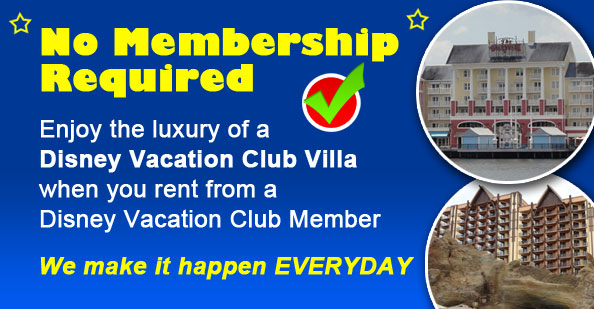 Dizzy Dolphin Delivery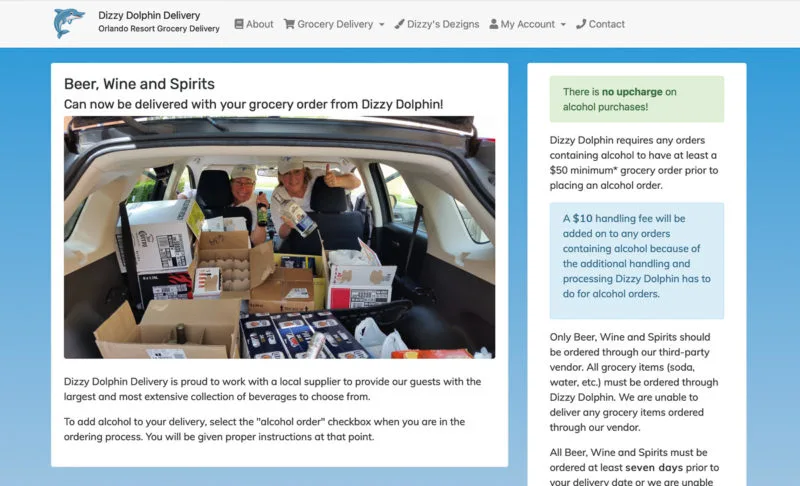 Delivery Fees: $14 for orders that are under $250. If over $250, there is no delivery fee.
Service Fees: No
Minimum Order: $50 minimum subtotal
Basics:
Dizzy Dolphin is a service that has recently gotten more and more popular and is owned and operated by fellow Disney lovers and DVC owners Chris, Laura, and Ron. Similar to Garden Grocer, Dizzy Dolphin Delivery is a service in which you build your order and they handle the rest.
They are a more traditional offering that allows you to get assistance and help from a knowledgeable team member. We've found their customer care and assistance to be terrific. You'll simply go to their site here, sign up for an account and begin placing your order.
You can customize your order and be as specific as you'd like to be. They more times than not will accommodate your needs and do their best to fulfill them.
We've found them to be more reasonable in prices than Garden Grocer and with better delivery options. You can put a tip on the order at checkout if you'd like, or you can of course tip the driver upon delivery.
Pros:
A great family-run company that has a fun atmosphere that previous customers love
Very helpful and knowledgeable when dealing with Disney Resorts
They work hard to get what you want and aren't reliant on one store
Can order groceries and liquor
Cons:
There is no app and you will need to place an order on the site
Requires additional planning time
Don't always get high-quality items, sometimes cheap alternatives
Will be more expensive still than other alternatives as mark-ups can be expensive on items
Tips:
We think Dizzy Dolphin is a great all-in-one option that provides guests with a great planning option prior to their trip. They will give you a quote with all of the items that you requested and you don't have to have any additional planning or thought about what you want or need upon arrival.
While their prices will be more expensive than Walmart and Amazon, if you want an all-in-one option that will be there to assist you every step of the way, we've experienced and heard nothing but great things about Dizzy Dolphin.
Shipt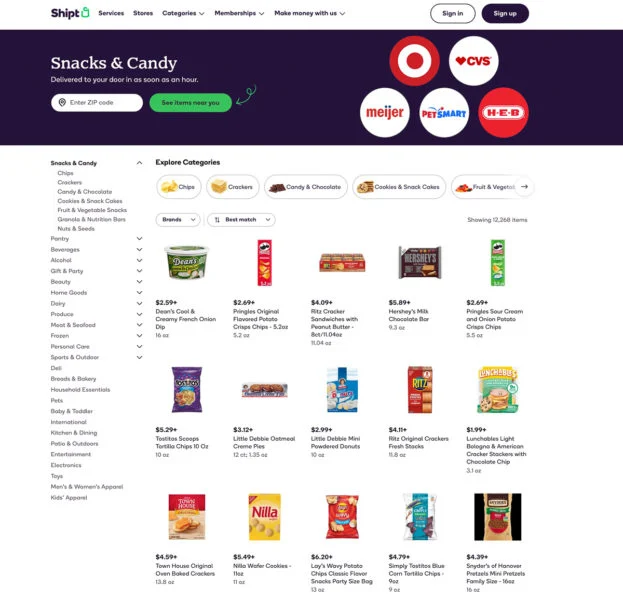 Delivery Fees: Free for Shipt Members on orders over $35. It's $7 for Shipt Members on orders under $35. A flat fee of $10 for non-members. (Shipt membership costs $99 a year or $10.99 a month)
Service Fees: Applicable service fees depending on the order
Minimum Order: No minimum amount
Basics:
Shipt is the official delivery partner of Target Stores, in addition to working with several other chain retailers as well. They are an Instacart competitor with very similar offerings and a similar pricing structure.
What's great about Shipt is that there are no markups on orders placed at local Targets, which means you'll get the same prices through the Shipt app as you would if you were actually in the Target location. This makes pricing more predictable and easier to plan and budget.
There are still markups when ordering from the other stores through Shipt though.
The sign-up process is practically identical to Instacart, you can download the app or go to the website. You'll type in your location and the list of stores will pop up. In the Disney area, you'll see options such as at Target, Publix, and CVS.
Once you select your store, you will be able to begin adding items to your cart. When you're ready to check out, you are given a delivery window with when you'd like to receive your order. You'll also be able to select the tip amount that you'd like to submit to your shopper.
Pros:
Convenient and easy
Fast delivery times allow you to get your items quickly
Can order from multiple stores at a time
Great prices if ordering through Target
Cons:
Expensive delivery costs without a membership
Service charges that aren't listed and dependent on the store and items ordered
Fewer store options than Instacart
Tips:
We like Shipt and find it great if you're used to shopping at Target. Their pricing structure is similar to Instacart, but we find the service fees are generally less.
Orlando Grocery Express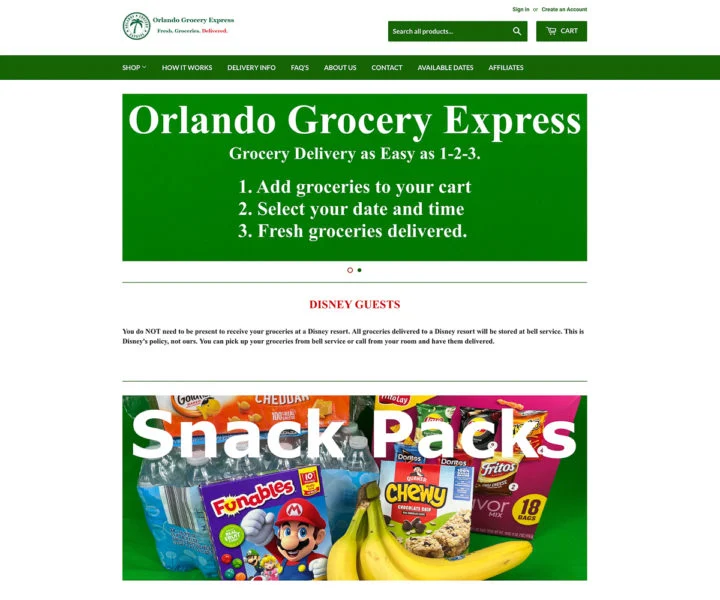 Delivery Fees: $14 for orders that are under $200. If over $200, there is no delivery fee.
Service Fees: N/A
Minimum Order: No minimum amount
Basics:
Orlando Grocery Express is another full-service option that is comparable to Dizzy Dolphin or Garden Grocer in terms of what it offers. However, their fees and costs are actually slightly less than both alternative options.
They are a local and highly experienced company that has been providing Disney World Resort guests with groceries for over 20 years. They will deliver to all Disney World Resorts in addition to several other outside of Disney options.
And while their prices have gone up in the last couple of years, we find that they are still reasonable and competitive with alternative options. We also love the fact that there is no minimum order for groceries through Orlando Grocery Express, so if you want just a few things, you can order through them!
Placing an order through them is easy, as you'll simply go on their site and signup. Once you are signed up you can begin adding items to your cart. Once you're done finding everything you want, you then select your delivery time and date.
Pros:
No minimum order amount
Been in business and have delivered to Disney World Resorts for over 20 years
Very easy ordering process and great customer care team
Cons:
No options for same-day delivery
Better to plan days or even weeks in advance
No app and orders must be placed on the website
More expensive than using services such as Walmart or Amazon
Tips:
It's best to plan and book as soon as possible, although they do offer next-day delivery now, times can options can fill up fast. It's best to book Orlando Grocery Express several days or even weeks in advance of when you will need your groceries.
Deliveries Can Be Made to:
All Walt Disney World Resort Hotels
Four Seasons Resort at Disney World
Hilton Grand Vacation Club, SeaWorld, I-Drive, and Parc Soleil
Hilton at Disney Springs
Hilton Orlando Bonnet Creek
Holiday Inn at Orange Lake Resort & Country Club
Orange Lake Resort & Country Club
Shades of Green
Waldorf Astoria Bonnet Creek
WorldQuest
We Go Shop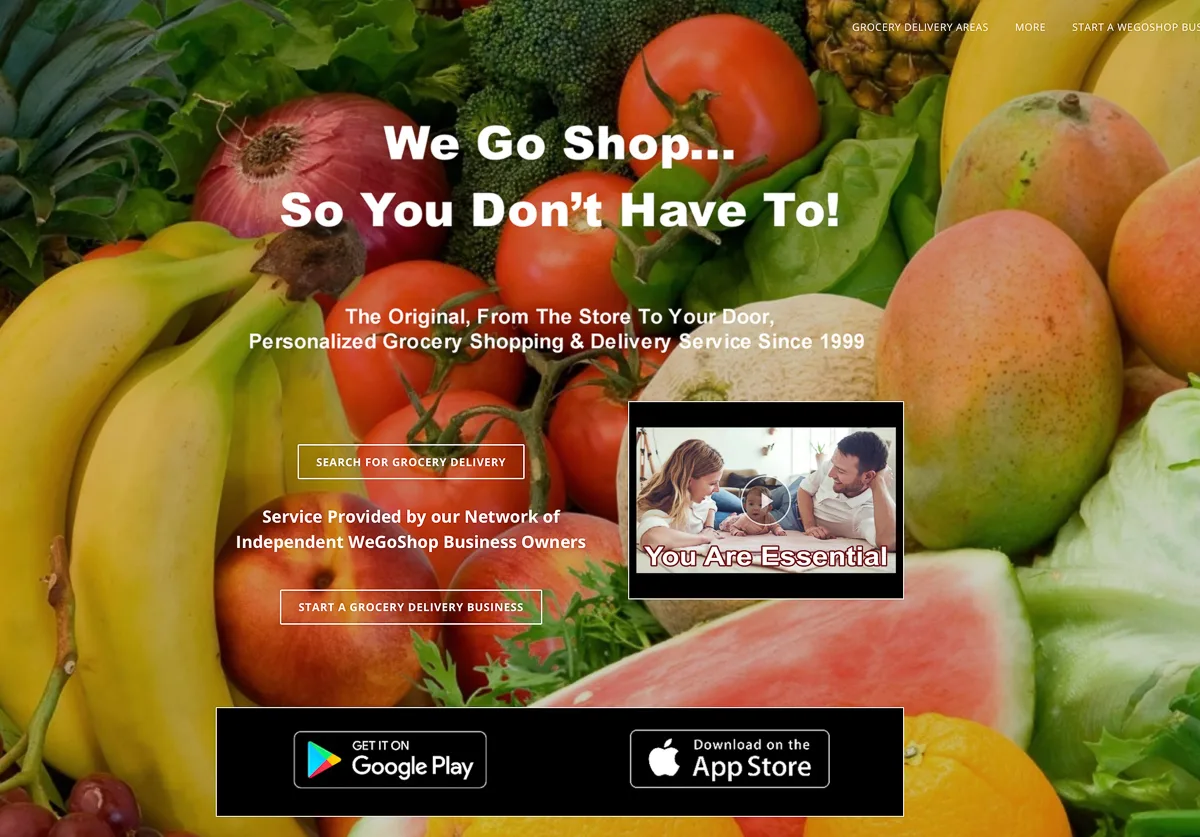 Delivery Fees: $15 per order
Service Fees: For orders between $0 and $150 the service fee is $25

For orders between $150 and $300, the service fee is $35
For orders over $300, the service fee is 18% of the receipt total

Minimum Order: No minimum amount
Basics:
Priding itself as being the original personalized grocery store service since opening in 1999, We Go Shop is a no-frills but vastly experienced service that will deliver to all Disney World Resorts as well as other nearby hotels.
Placing an order can be done by visiting their website here.
Similar to the other grocery delivery services, We Go Shop will pick up your items from your favorite grocery stores in the area and deliver them to your resort hotel's bell services.
Unlike the other options, they do NOT mark up the prices on items purchased by guests nor do they require expensive memberships or minimum order requirements, which is quite nice. But the main problem with We Go Shop is that their service fees can add up quickly.
They don't have minimum order requirements, but it's not exactly ideal to purchase just a few items and be hit with a $25 service fee plus an additional $15 delivery fee.
Pros:
No minimum order fees
Been serving customers since 1999 and are equipped to assist and help customers
No markups on items and you'll pay in-store prices
Cons:
Not as great of customer service as the other options
No online app and orders must be done on their website
Expensive fees that can equate to $50+ for a larger order
Limited options for quicker delivery
The order process is old and outdated and a little clunky through the website
Tips:
While we appreciate We Go Shop's experience in dealing with customers, their fees can be insanely expensive for guests not ordering large quantities of food.
It's nice getting the actual prices of items without having to deal with markups for everything, but this is truly only advantageous when you're placing a larger order. If you're getting only a few things or need something quickly, We Go Shop isn't likely going to be an ideal option.
Water Butlers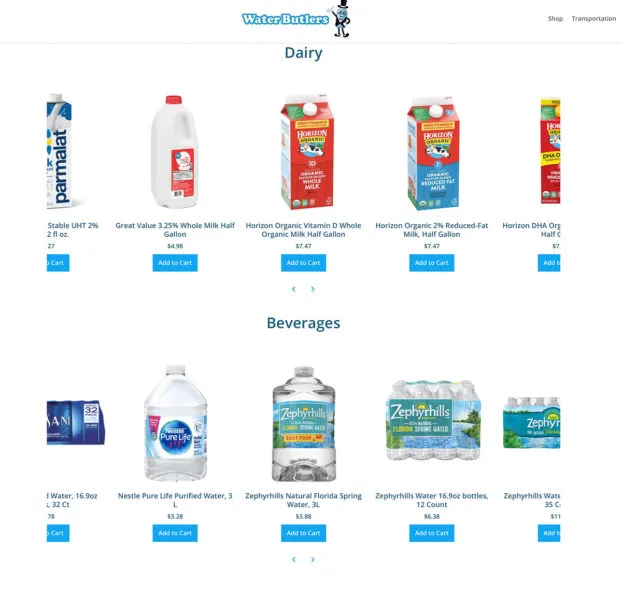 Delivery Fees: $9.90 under $150, free for orders over $150
Service Fees: N/A
Minimum Order: No minimum amount
Basics:
Water Butlers is a do-it-all service that will pick up and deliver everything your family needs for an upcoming Disney World Vacation. They have terrific reviews and customers seem to really appreciate the service they offer.
While they might not be as expedient as some of the other services, they are competitively priced and deliver terrific customer service time-in and time-out. We also love the fact that there is no minimum order amount required, unlike most of the other full-service grocery delivery services.
To place an order with Water Butlers, simply go to their site and begin shopping and add items to your cart. At the completion of your order check-out and leave instructions for delivery and which Disney World Resort you will be located at.
With Water Butlers it's often best to place your order at least a couple of days in advance, although they will sometimes accommodate same-day or next-day requests on smaller orders. They show their prices right on the website, and give outstanding transparency on their items, even if they are a bit marked up.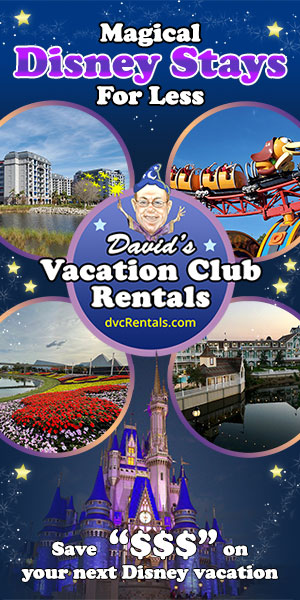 Pros:
Easy order process that anyone can do through the website
Minimal and transparent fees without any hidden "gotchas"
Terrific customer service and care
Very reasonable delivery fees and no additional service fee charges
No need for any expensive membership
Cons:
They do NOT deliver alcoholic beverages
There are clearly markups on items ordered as that appears to be the way they make money since delivery costs are minimal
No app to place orders and must be done through the website
Better to place your order at least a couple of days in advance
Tips:
If you're looking for a full-service grocery delivery service, Water Butlers is up there at the top of the list. The fact that there is no minimum order amount and their charges are incredibly reasonable whether you get a few or significant amounts of items.
Vacation Grocery Delivery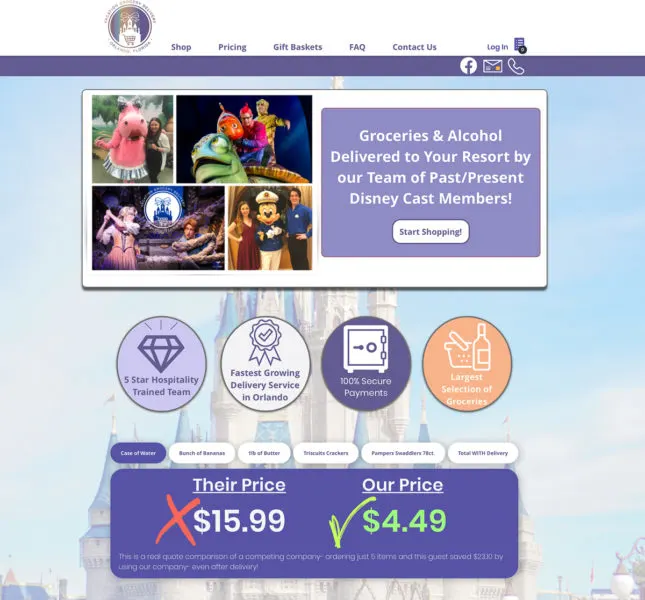 Delivery Fees: $25
Service Fees: 5% of the order

If alcohol is ordered there is a $10 handling fee plus an additional 5% service charge

Minimum Order: No minimum amount
Basics:
Vacation Grocery Delivery is a newer full-service option that opened during the pandemic and was started by former Disney World Cast Members that were laid off during the pandemic. It's a do-it-all grocery delivery service that delivers to all the Disney World Resorts in addition to other nearby hotels and resorts.
Their business model is significantly different from the other available options as they have higher delivery costs and service charges. But they do NOT mark up the costs of the groceries at all. This means that you'll pay exactly what you would if you were in the store.
They even go out of their way to make sure you are taking advantage of all available store sales, coupons, and other stacked deals. In fact, they go as far as guaranteeing that you will pay less than any other regional service.
They also work hard to give full transparency to the cost of all of the items purchased, which gives you full clarity on what you are paying for. This is vastly different from many of the other services that can charge you high mark-ups without telling you or showing you how much they mark up the items.
Pros:
Full transparency on prices and NO mark-ups for costs of items
Terrific service and they go out of their way to save customers as much money as possible
Guarantees on costs that they will be the cheapest option
You can order alcohol through them
No minimum order amount which allows you to get as few or as many items as you'd like
Cons:
A newer service that doesn't have as much experience as some of the alternatives
Expensive delivery and service charges
Tips:
With a $25 delivery fee, it likely doesn't make sense to use Vacation Grocery Delivery if you're only getting a few items. But, if you are getting a larger order, you will likely find their costs to be amongst the cheapest available options.
Grocery Price Comparison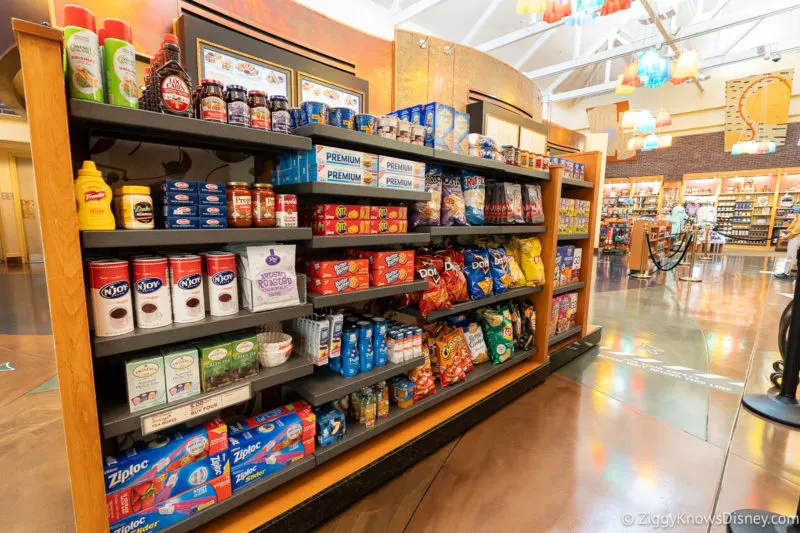 So what happens when we compare the costs of each of the different services? How do they compare when it comes to overall total costs with all applicable fees?
We will for the sake of this comparison assume that you do NOT have any paid memberships such as Walmart+, Shipt, or Instacart.
Also, we will use 10 different common grocery items to consider the costs. These items are 24-pack of water bottles, crackers, apples, bread, peanut butter, cereal, a gallon of milk, plastic cups, Ziploc bags, and plastic utensils.
While we will try to make them as close to apples-to-apples comparisons, it's possible it won't be a perfect comparison due to certain brands not being in stock or available. We will also NOT include an optional 5-15% tip on these orders to keep things fair.
Here is what we found for costs utilizing the different services:
Amazon Fresh

Grocery Total: $57.48
Delivery Fees: $6.95 or $10.95 (If a non-Prime Member)
Service Fees: N/A
Total Costs: $64.43 or $68.43 (If a non-Prime member)


Walmart Grocery Delivery

Grocery Total: $40.62
Delivery Fees: $9.95
Service Fees: N/A
Total Costs: $50.57


Instacart

Grocery Total: $64.14
Delivery Fees: $3.99
Service Fees: $4.50
Total Costs: $72.63


Garden Grocer

Grocery Total: $76.97
Delivery Fees: $15
Service Fees: N/A
Total Costs: $91.97


Shipt

Grocery Total: $46.32
Delivery Fees: $10
Service Fees: N/A
Total Costs: $56.32


Orlando Grocery Express

Grocery Total: $72.62
Delivery Fees: $14
Service Fees: N/A
Total Costs: $86.62


Water Butlers

Grocery Total: $72.42
Delivery Fees: $9.90
Service Fees: N/A
Total Costs: $82.32


Dizzy Dolphin Delivery
*Do NOT show individual prices of items

We Go Shop
*Do NOT show individual prices of items

Vacation Grocery Delivery
*Do NOT show individual prices of items
These are of course generalities and due to our sample order being a smaller order, they tend to favor the companies with lesser fees. The total costs of course can fluctuate pretty greatly, especially with larger orders, but this will give you a good idea of the costs and the comparison of the differing options.
Best Way to Get Groceries Delivered at Disney World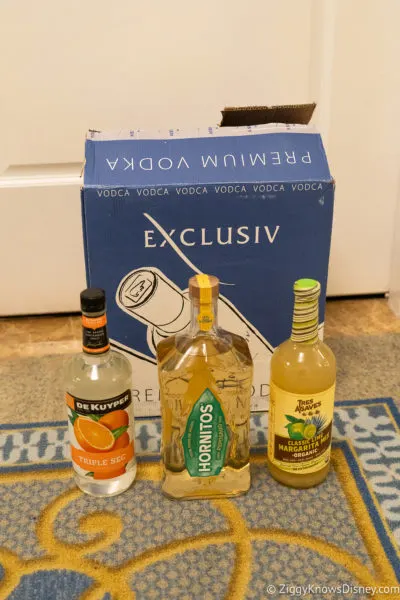 When carefully evaluating the different options to get groceries at Disney World, in our opinion the best Disney World grocery delivery service is Walmart. Between an easy order process, incredibly reasonable prices, a massive selection, and reasonable delivery windows, it's the clear-cut winner for us.
If you don't want to use a grocery delivery service, you can always get the groceries yourself! This is a very cut-and-dry experience, but if you don't have a vehicle it can be difficult.
What grocery store options do you have in the Disney World area? In this section, we will touch on the different options that you have on Disney World Property or nearby.
What Supermarkets are On Disney World Property?
There are a few grocery stores just outside of Disney World Property and within a few minutes of the gates. Your main options are:
Target Grocery at Disney's Flamingo Crossings

204 Ruby Red Pl. Winter Garden, FL 34787
Located just behind Disney's Coronado Springs Resort

Publix at the Water Tower Shoppes Celebration

29 Blake Blvd. Celebration, FL 34747
Located near Disney's Art of Animation Resort and Pop Century Resorts

Publix at Celebration Pointe

1723 Future Way. Kissimmee, FL 34747
Located by the ESPN Wide World of Sports Complex and the All-Star Resorts
Disney World Speedway Gas Stations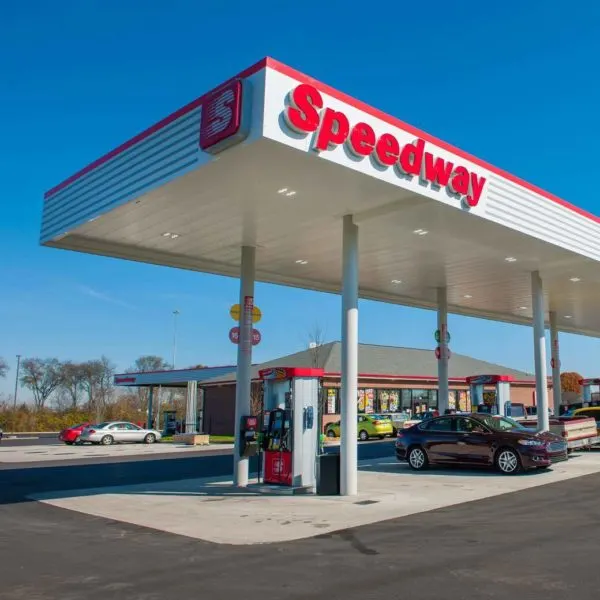 There are two Speedway gas stations on Disney World Property. One is located just across the street from Disney Springs, and the other is located right across the street from the Boardwalk Inn Resort.
While these options aren't quite full-service as a grocery store they will have more options than the hotel gift shops. And they'll be a lot cheaper!
Publix
In addition to the two Publix locations we mentioned, there is another option that is located nearby as well. You'll have three different Publix locations that are all within a few minutes. You're three options are:
Publix at the Water Tower Shoppes Celebration

29 Blake Blvd. Celebration, FL 34747

Publix at Celebration Pointe

1723 Future Way. Kissimmee, FL 34747

Publix at Regency Village Shopping Center

8145 Vineland Avenue, Orlando, FL 32821
On-Property Gift Shops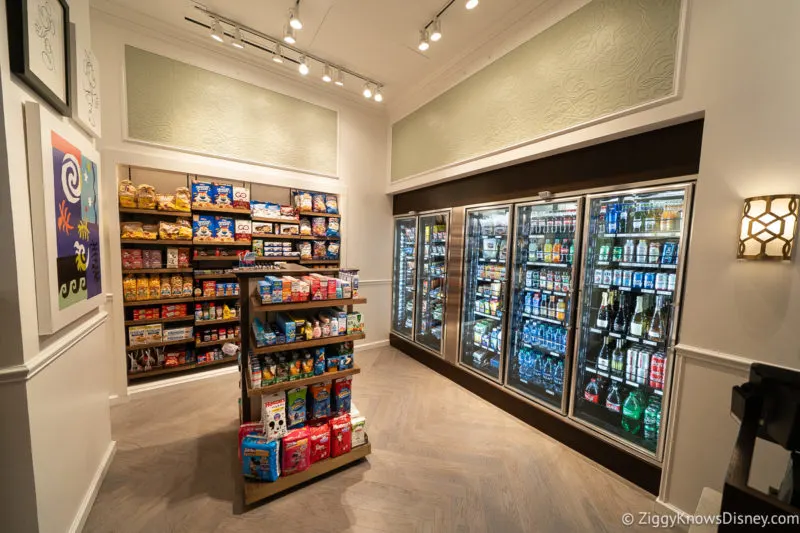 For guests that just need a few basic items for their resort room, the Disney Resort gift shops have your standard items. You'll be able to get things such as simple breakfast items, snacks, chips, drinks, alcoholic beverages, and even meats and cheese.
While the selections aren't huge and the prices are high considering what they are, it's an easy option for guests looking to just grab a few simple items.
Target
In addition to the newer location that we mentioned above at the Target Grocery at Disney's Flamingo Crossings, there is also a larger SuperTarget. So you have:
Target Grocery at Disney's Flamingo Crossings

204 Ruby Red Pl. Winter Garden, FL 34787

SuperTarget

4795 W Irlo Bronson Memorial Hwy. Kissimmee, FL 34746
Walmart

There are two main Walmart locations for Disney World guests that are within a 10-15 minute drive of Disney World. They are:
Walmart Supercenter

3250 Vineland Rd. Kissimmee, FL 34746 – Located just east of Disney World property, not far from Disney Springs

Walmart Supercenter

2855 N Old Lake Wild Rd. Kissimmee, FL 34747 – Located near Animal Kingdom and the ESPN Wide World of Sports Complex
Other Supermarkets Near Disney World
There are a few other popular supermarkets that are within a few minute's drive of Disney World that offer guests different types of alternatives that are quite popular with Disney World guests are:
Whole Foods which is located at 8003 Turkey Lake Rd, Orlando FL 32819
Trader Joe's which is located at 8323 West Sand Lake Road, Orlando FL 32819
Winn-Dixie which is located at 11957 S Apopka Vineland Rd, Orlando FL 32836
Using Taxi and Uber Services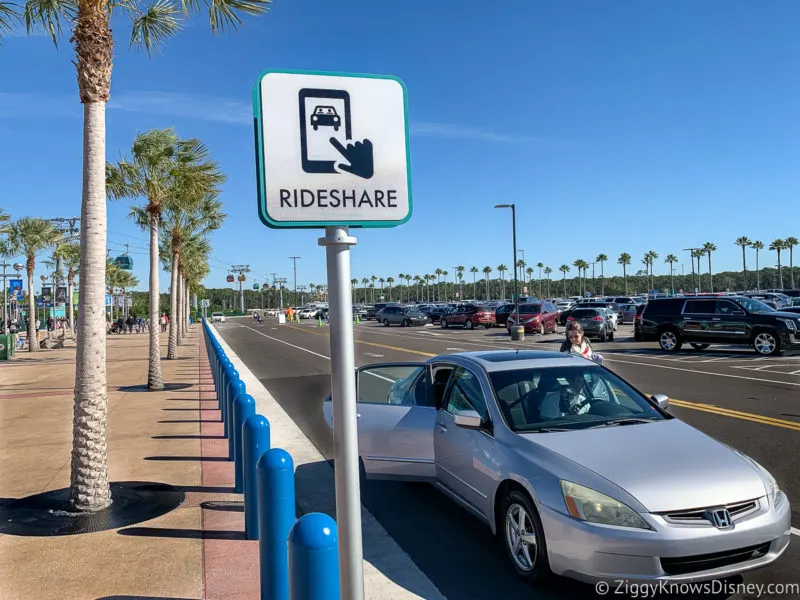 If you don't have a vehicle and you're looking for a convenient way to get to a grocery store to get a few items, a solid option is calling either a Taxi or an Uber. We prefer Uber when we are in Disney because we've found them to be incredibly reasonably priced, and we haven't had one bad experience using them.
Just call for an Uber at your resort and they'll pick you up underneath the carport of your hotel. Have them drop you off at the nearest grocery store, and then call another Uber when you're finished to bring you back.
We've done this a number of times and it can allow you to save significantly from having to get food in Disney the entire time of your stay and it's a good backup option if you don't have a car.
Just make sure you are getting enough groceries to make it worth the cost of an Uber.
Should I Rent a Car?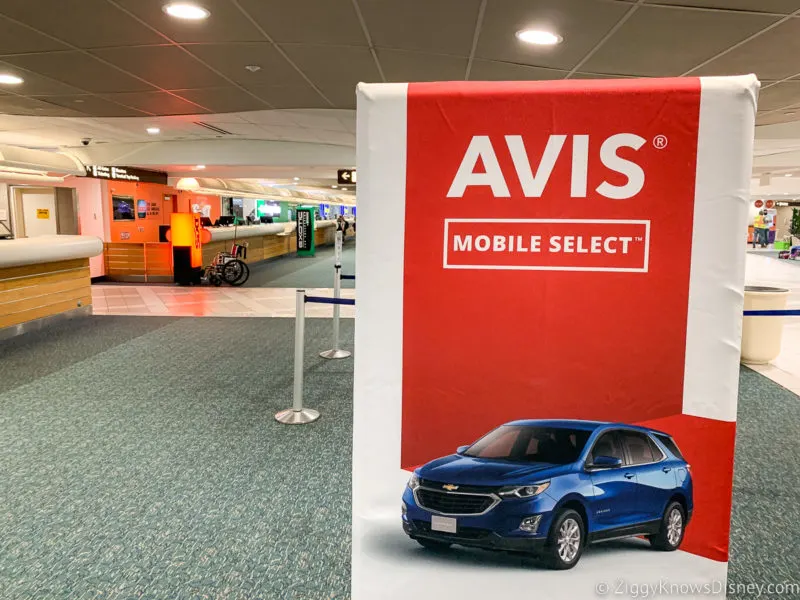 The debate whether to rent a car or not can be challenging. We certainly wouldn't rent a car JUST because you need groceries. Utilizing a grocery delivery service or getting the groceries yourself won't offset the costs of renting a vehicle for a period of time.
Car rentals in Disney World can be expensive, especially during peak times of the year, so you'd really need to get a lot of groceries to make it worth it specifically for that.
Now, we aren't saying renting a car is always a bad idea. If you're planning on staying off-site or planning on doing other things besides Disney, it's certainly worth a strong consideration. If you will have a car no matter what, you may as well stop by the supermarket to pick up what you need on your way to your resort.
If you do decide to rent a car or if you're on the fence about the best ways to do it, read our post here on renting a car in Orlando.
Can I Take Disney Transportation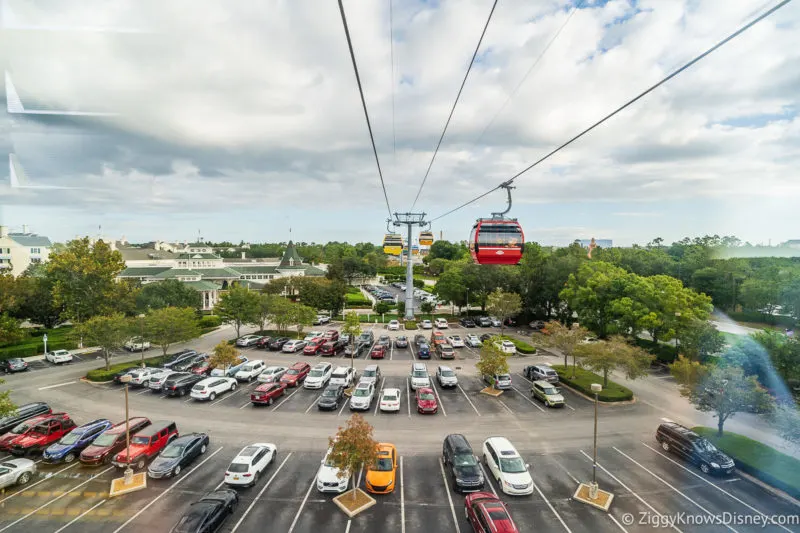 While you can't take Disney transportation directly to a grocery store, you can get very close to convenience stores. Both of the Disney Speedway Gas Stations are within walking distance away from popular Disney World spots.
If you're at Disney Springs, you can take the crosswalk across the street to the Speedway Gas Station there and get a few things, and just walk back.
If you're staying at or near the Disney BoardWalk, such as at the BoardWalk Inn, Swan, Dolphin, Swan Reserve, Yacht Club, or Beach Club Resorts, you can easily walk over to the other Speedway Gas Station as well.
And while these aren't grocery stores, they will have more items at far better costs than the Disney Gift Shops. Your best bet, if you need to go to a full grocery store, is to take an Uber. But these days, we prefer utilizing one of the grocery delivery services such as Walmart, Amazon Fresh, or Instacart.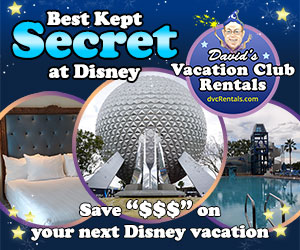 Must-Get Groceries for a Walt Disney World Vacation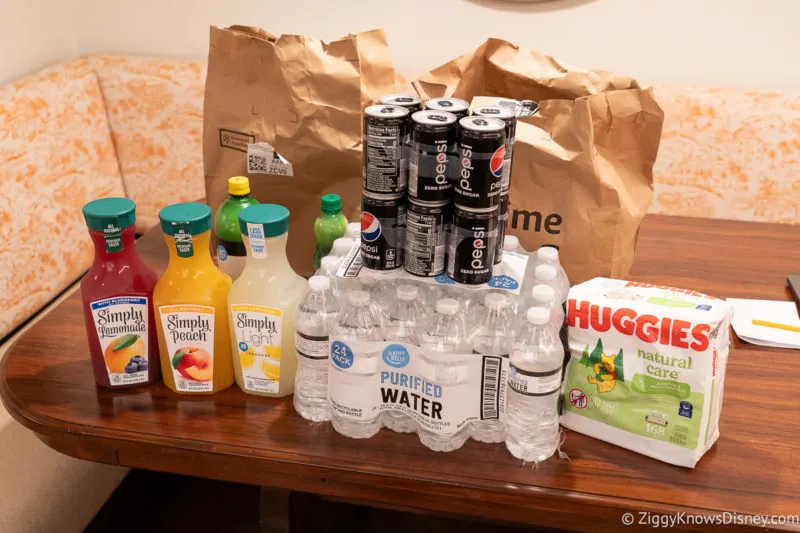 Ok, so you like the idea of getting groceries for your Disney World Resort room but you aren't quite sure what you need. Here are the things we'd recommend for the average Disney vacation:
Breakfast Foods

Items such as Cereal, Milk, Orange Juice, Protein Bars, Fruit, Yogurt, Prepackaged Foods

Lunch Foods

Items such as Bread, Cold Cuts, Cheese, Condiments

Snacks

Whatever snacks the family eats regularly and things such as Chips, Pretzels, Candy, Crackers, Cookies, Goldfish, Applesauce, Gum

Drinks

Bottled Water, Seltzer, Soda, Alcoholic Beverages, Juices, Juice Packs, Capri Sun for kids

Other Household Items

Hand Soap, Plastic Utensils, Plastic Cups, Disposable Plates, Ziplock Bags, Sun Screen, Ponchos, Diapers, etc….
While it's impossible to know what your family likes and doesn't like, these are some of the things we've ordered during previous trips and will give you a good idea of the types of things you should look into getting for your trip.
Grocery Storage in Your Hotel Room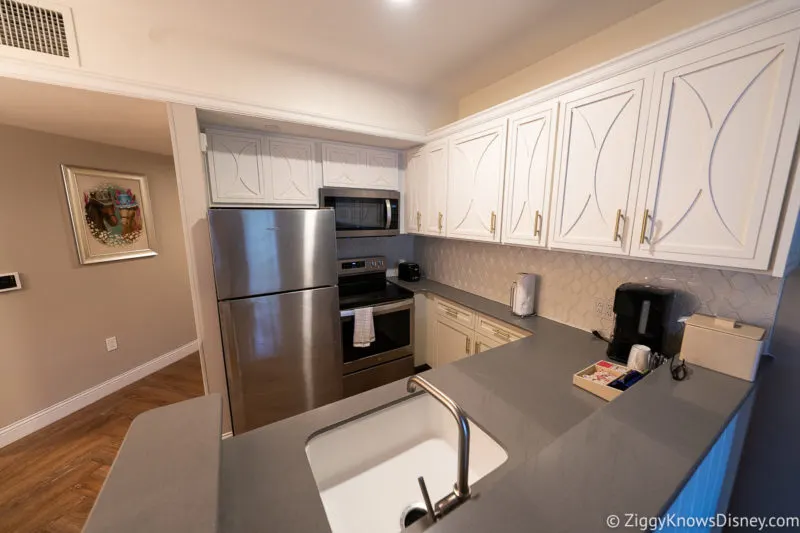 One thing that is worth considering is storage space in your hotel room. Getting bags full of groceries to have a minimal storage area in your room isn't really a wise decision. If you are getting groceries, it's best to have a kitchen so you have space.
The good news is that every single room at a Disney World Resort has at least a mini-fridge for you to put in refrigerated items. While these mini fridges are small, it at least gives you something.
If you're staying in one of the Vacation Club Units at one of the DVC Villa Resorts, you'll likely have some additional storage area. The Deluxe Studios in these units have a mini-fridge, a microwave, and a toaster in addition to some counter space. The larger 1 and 2-bedroom units have a full refrigerator and a fully-equipped kitchen.
The family suites at the All-Star Music Resort and at the Art of Animation Resort also have a mini-fridge and a microwave. Check out our Guide to Disney World Suites to see all your options if you have a big family.
Bringing Food to the Disney Parks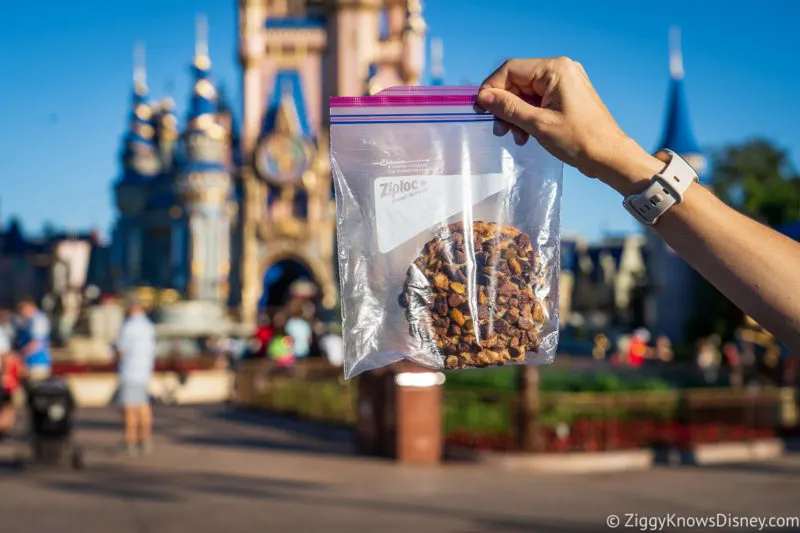 Bringing food to the Disney Parks can sometimes be a REALLY wise idea. Although there are certain rules and certain things you CAN and CANNOT bring, it can save you a lot of money. So what kinds of things should you consider bringing into the parks?
Rather than spending big money on bottled water, you can bring your own bottled water into the parks! You can also do things such as bring different juices and sodas into the park and put them in refillable cups so that you have something else to drink other than water without having to pay the Disney Park prices.
If you're on any kind of dietary restrictions or need specific foods, feel free to bring them as well.
The main thing you want to keep in mind when it comes to bringing your own food is that you cannot bring alcohol into the parks nor can you bring any kind of glass containers.
Disney's official policy states:
"Guests are allowed to bring outside food and nonalcoholic beverage items into the park for self-consumption, provided they are not in glass containers and do not require heating, reheating, processing, refrigeration or temperature control and do not have pungent odors. Inform a Security Cast Member of any food items when you enter the park."
If you're looking to save money and bring your own groceries or even have your own picnic in the parks, this can be a terrific idea! Find a comfortable place to relax and enjoy a nice meal without having to worry about spending Disney's prices on every meal.
While we are big fans of Disney food, bringing some snacks from your hotel room can prevent you from spending money unnecessarily in the Disney Parks when you're just looking for a little snack.
Does Getting Groceries at Disney Really Save You Money?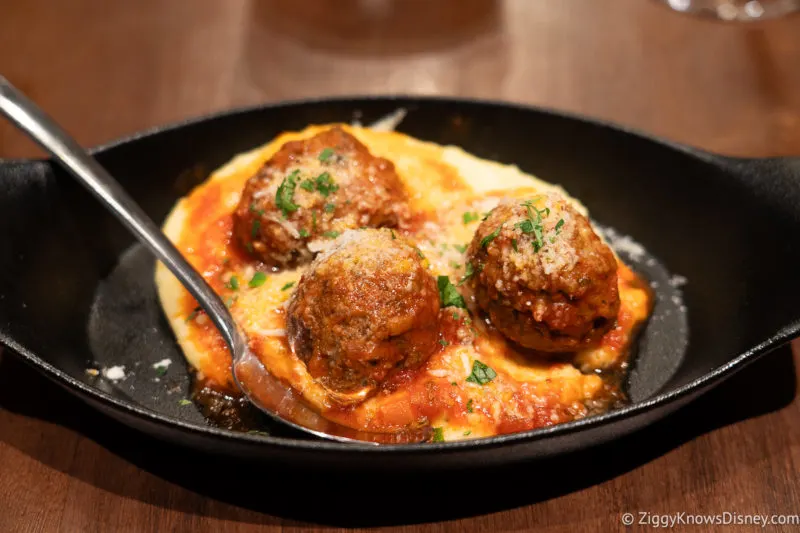 Absolutely! Food, in general, these days is expensive, let alone at Disney World! So having the option to have food for all members of the family can save you considerably!
Whether it's wanting snacks around the room, or having a simple breakfast without needing to purchase an undesirable breakfast option in the parks, getting groceries is a great way to save money!
Our family has for years paid the costs of utilizing private transport to stop at a grocery store on our way to our Disney Resort from the airport.
Now with the various different grocery delivery services, there just isn't a need to do it anymore! It actually saves us money as opposed to paying a driver to give us time to grocery shop ourselves.
And if you have pickier eaters in your travel party or if you just have constant snackers or ones that love to eat nonstop, having groceries in your room can be invaluable! Even if it's just for snacks and for an occasional breakfast here and there, it's worth it.
And if you want alcohol, it can save you even more money. With Disney Drinks often costing $13+ for every type of mixed drink, it can add up quickly! By purchasing liquor outside of Disney, you can make drinks in your hotel room and bring them to the pool area as opposed to purchasing them at the pool bar.
After all, the Disney Refillable Mugs are good for more than just soft drinks!
Ordering Take Out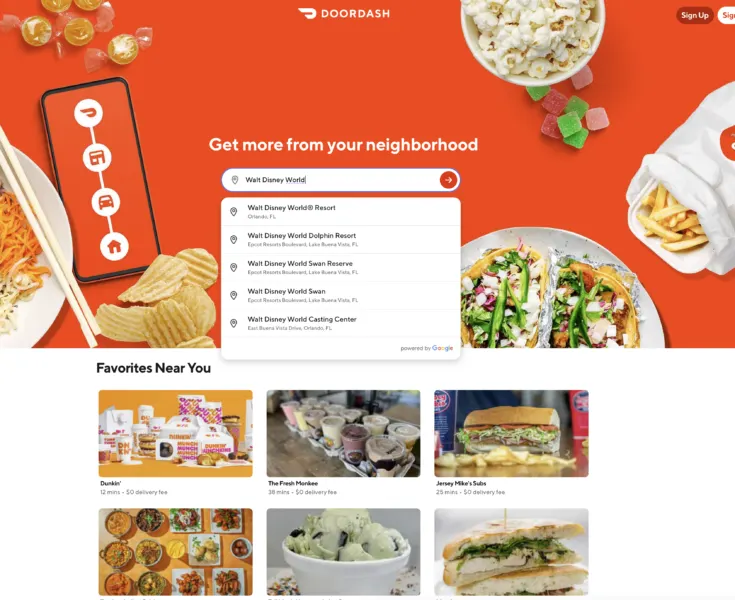 Ordering takeout in Disney World is very similar to grocery delivery. The only real difference is the apps used are different.
To order take-out food, you'll want to utilize a popular app such as GrubHub, DoorDash, or Uber Eats. Each of these services essentially works the same.
After downloading the app or visiting their website you'll be prompted to enter the address of the resort you are staying at. It'll show you the nearby options to order food from. You'll be charged a delivery fee that typically ranges from $1 to $10, depending on the time of day, quantity of food, and where you go.
Some of the options will have additional fees such as service fees or be required to spend a certain amount of money on an order. These can be referred to as 'Minimum Order Fees' or 'Small Order Fees.' There is an expectation of tipping with ordering take-out food, just as with ordering groceries.
There are a number of additional ways for you to get the most out of using grocery delivery for your trip to Disney World. In this section, we will talk about our favorite tips for you so that you can maximize your grocery delivery options.
How to Save Money
Saving money on a Disney World vacation is always a top priority for us. Here are some ways to do it with groceries:
Check Online for Coupon Codes – Many of the popular grocery delivery services such as Walmart, Instacart, etc… often have online coupon codes that you can utilize to save some money!

Take Advantage of Promotions and Sales – If you're not hung up on getting certain items, check to see if the different services have sales on items. This could alter your buying plan but save you some money.

Make Sure You Meet Minimum Spending Thresholds – Most grocery delivery services offer free delivery AFTER you meet minimum threshold requirements. If it makes sense, consider staying above that limit so that you don't have to pay additional.

Consider Signing Up for Membership – With paid memberships available for Amazon Prime, Walmart+, Instacart, etc… it could make sense to sign up for a membership. Several of them also offer free trials for the first month. Doing this can allow you to cancel after the trial is over and get free delivery while you're in Disney.
Consider Breakfast in Your Room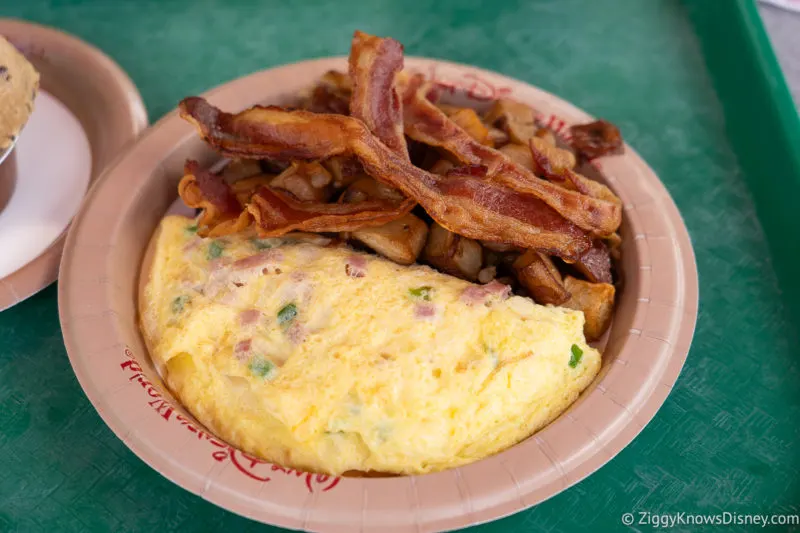 While Disney World certainly has some amazing breakfast options, especially when it comes to sit-down table-service meals, it still is the least desirable meal in Disney World. This is especially the case when it comes to quick-service offerings in Disney Parks.
You might want to consider getting groceries in your room so that you can have a quick breakfast before you leave your room in the morning. This allows you to go straight to the rides, without worrying about satisfying those in your room by stopping to grab food quickly.
Think ahead of what you might need so that you enjoy breakfast in your room. Things such as bagels, toast, pastries, muffins, etc can allow you to grab something quick in the room and help you to hold off until lunch so that you can grab something more satiating.
Resort Limitations
While you'll have a mini-fridge in your Disney Resort Room, it certainly won't be enough space if you have extensive items that need to be refrigerated. This could limit 'how much' and 'what' you get when considering getting groceries.
In addition to the lack of fridge space, you'll also have a lack of counter space in the rooms. You likely don't want all of your counter space to be filled with food items, especially if you're in a simple hotel room or a studio at one of the DVC Villas Resorts.
The caveat to this is if you're staying in a larger suite or a 1-bedroom, 2-bedroom, or 3-bedroom unit at the DVC Villas Resorts in which you'll have a full refrigerator and no restrictions to what you bring or get.
Bring Food from Home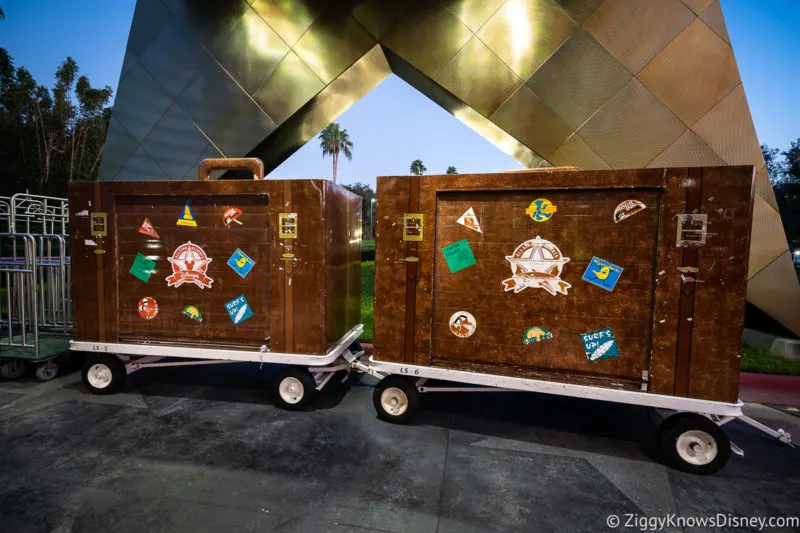 Grocery stores in Florida can differ greatly from what you might expect at home. If there are certain things that you NEED or would truly enjoy having from home, bring them!
Airlines allow you to check up to 50 pounds of luggage for your checked bags, so you'll likely have plenty of room to bring some of your comforts from home if you're flying.
Some airlines like Southwest give you two checked bags with the price of your ticket, so you may as well take advantage of that and fill an extra bag with food and other necessities instead of buying them when you get there.
If you're driving, you'll be able to pack your car with things that you'd like to have for your trip. This way don't need to worry about weight restrictions or any other kind of limitations. While this might not work for refrigerated items, it at least will allow you to bring your non-perishables.
And lastly, you can ship items directly from home. If you want to ship groceries or items from home directly to the resort without worrying about packing them or bringing them in the car, just send the package directly to your resort's address.
Just note that there is a $6 per package handling fee for all packages that are received from the Front Desk and delivered to a Disney Resort room.
Don't Shop Like You Do at Home
While you will have grocery stores accessible, most home shoppers will tell you that "there's no shopping like the shopping at home." And that's certainly true when it comes to being someplace new, such as at Disney World.
Grocery stores are different everywhere and items you'll find will likely be slightly different. You'll be more limited in what you can buy, and that might be a good thing!
Stay By Your Phone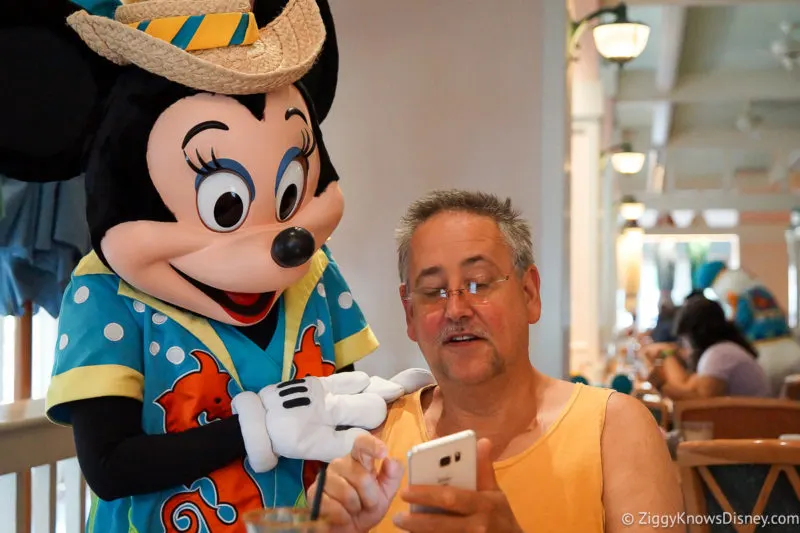 If you order groceries through one of the grocery delivery services, it's important to keep your phone on you. When your grocery delivery driver is at the store, it's quite possible that they will need to get in touch with you for one reason or another.
It could be that they don't have a particular item and they want to know what replacement item you'd like. Or it could be that they are waiting for you at the front desk, and they need you to sign off on the alcohol that you ordered.
Whatever it is, make sure you keep your phone by you when your delivery is on its way so you can answer them immediately.
I've had orders canceled in the past due to the fact that I didn't check my phone and my driver had a question for me, and after a period of time, they canceled the order. This can be incredibly frustrating and result in you not getting your delivery when you want it.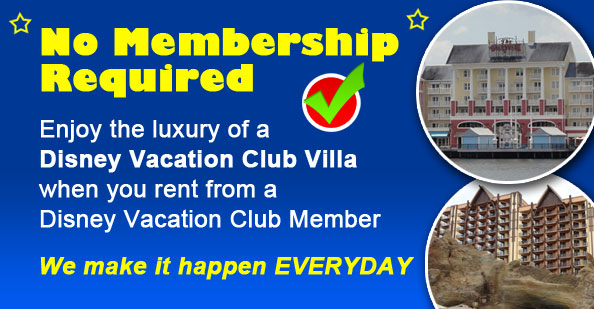 Don't Order Too Many Groceries
While it's awfully convenient these days to get groceries delivered to your Disney World Resort, I still wouldn't recommend you shop like you're at home. With space limitations in your room and the fact that you'll have food surrounding you in Disney, sometimes food can get wasted if you order too much.
This has happened to us on a number of occasions where we just order too much food, thinking we will use it all, and we just don't. Order only the necessities and if you get less than you need, you can always order more food towards the end of your trip.
Don't Eat All Your Meals in Your Room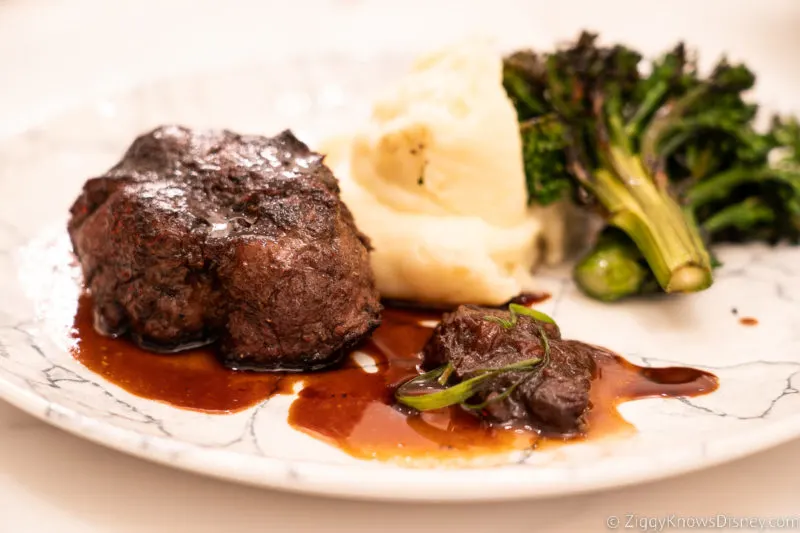 While grocery delivery can be a great cost saver for an expensive Walt Disney World Vacation, we'd highly recommend NOT doing it for all of your meals.
It's great for an occasional breakfast here and there, and even a picnic lunch in the parks, but make sure you still enjoy some of the wonderful offerings that are found throughout Disney.
Start here with our favorite restaurants in all of Disney World. If this doesn't get your mouth to water, nothing will!
You Can Save on Alcohol Costs
As we mentioned earlier, the costs for alcohol in Disney are on ANOTHER level. We love an occasional cocktail or pool drink, but it can truly destroy your family budget if you're getting a few drinks each day in Disney World.
By ordering alcohol ahead of time through one of the grocery delivery services, you'll easily be able to save money and still enjoy a nice cocktail or two.
This is ideal whether you want a nice nightcap at the end of a long day, or if you want to make yourself a nice poolside cocktail to bring down to the pool area for yourself. We do this all the time, and it's a great way to save significantly!
Best Time for Ordering Groceries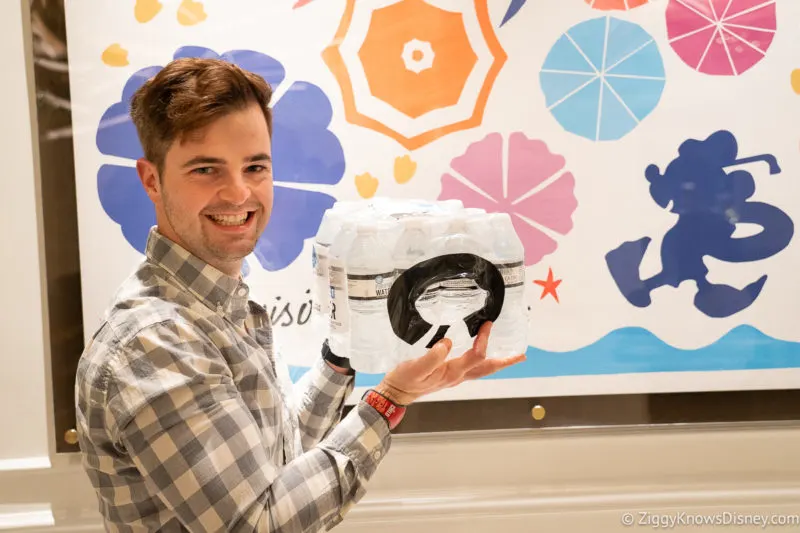 It's generally best to order your groceries a day ahead of time, this can work great with services such as Walmart and Amazon Fresh as you'll have several different options for timing available for you to select.
If you're going to order with one of the other full-service companies such as Garden Grocer, it's best to order at least a few days in advance especially if you have a larger order.
If you're going to utilize one of the quicker services such as Instacart or Shipt, you can technically wait until you arrive, as it'll likely arrive within a few hours.
You're going to want to select a time of day that you will be nearby, especially if you're ordering alcohol or items that need to be signed off on. We prefer to be around when the items are delivered. That way we can immediately pick them up and situate them in our room, and refrigerate the items that need refrigerating.
But obviously, it's not 100% necessary to do this, as Disney Bell Services Cast Members will ensure the items get refrigerated and they'll store the items until you arrive. It's just a personal preference.
So in short, pick the time of day that best works for you. If you do it in advance, you can always change the time if need be.
Best Hotels to Stay at for Getting Groceries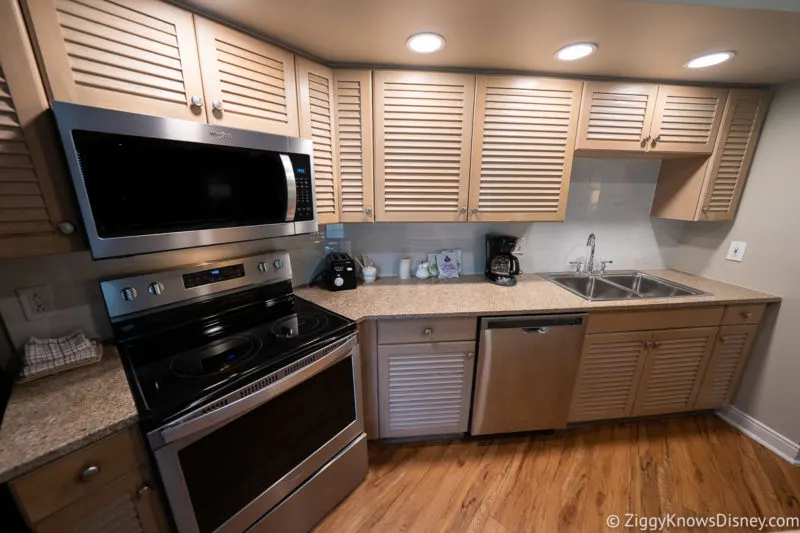 The best hotels if you want enough room for a more significant amount of groceries, is to stay at one of the DVC Villas Resorts. These are:
Beach Club Villas
Boardwalk Villas
Old Key West
Saratoga Springs (including Treehouse Villas)
Villas at Animal Kingdom Lodge (Kidani Village and Jambo House)
Villas at Wilderness Lodge (Boulder Ridge and Copper Creek)
Bay Lake Tower (Contemporary Resort)
Ideally, stay in one of the 1 or 2-bedroom units at these resorts as you will have a full kitchen area and a full refrigerator and freezer for you to store everything you need.
For information on how to stay at a DVC Villas property, take a look at our post here. We highly recommend utilizing David's Vacation Club Rentals. You can really save thousands of dollars on your Disney World Vacation!
Another solid option is to stay in one of the Cabins at Fort Wilderness Resort, which also has full kitchen areas and even grills for you to cook outside.
Cheaper options include the family suites at both the Art of Animation Resort and the All-Star Movies Resort, which have smaller kitchenette areas and smaller fridges.
READ: Disney World Suites for Big Families
Can You Have Groceries Delivered to the Swan & Dolphin?
While they will allow you to deliver groceries if you're staying at the Swan, Dolphin, or Swan Reserve, unfortunately, they do NOT accommodate refrigeration.
So if your items need to stay cold for a period of time, you will need to be there upon arrival for your groceries so that you can utilize the mini fridges in the hotel rooms.
Do You Really Need Grocery Delivery?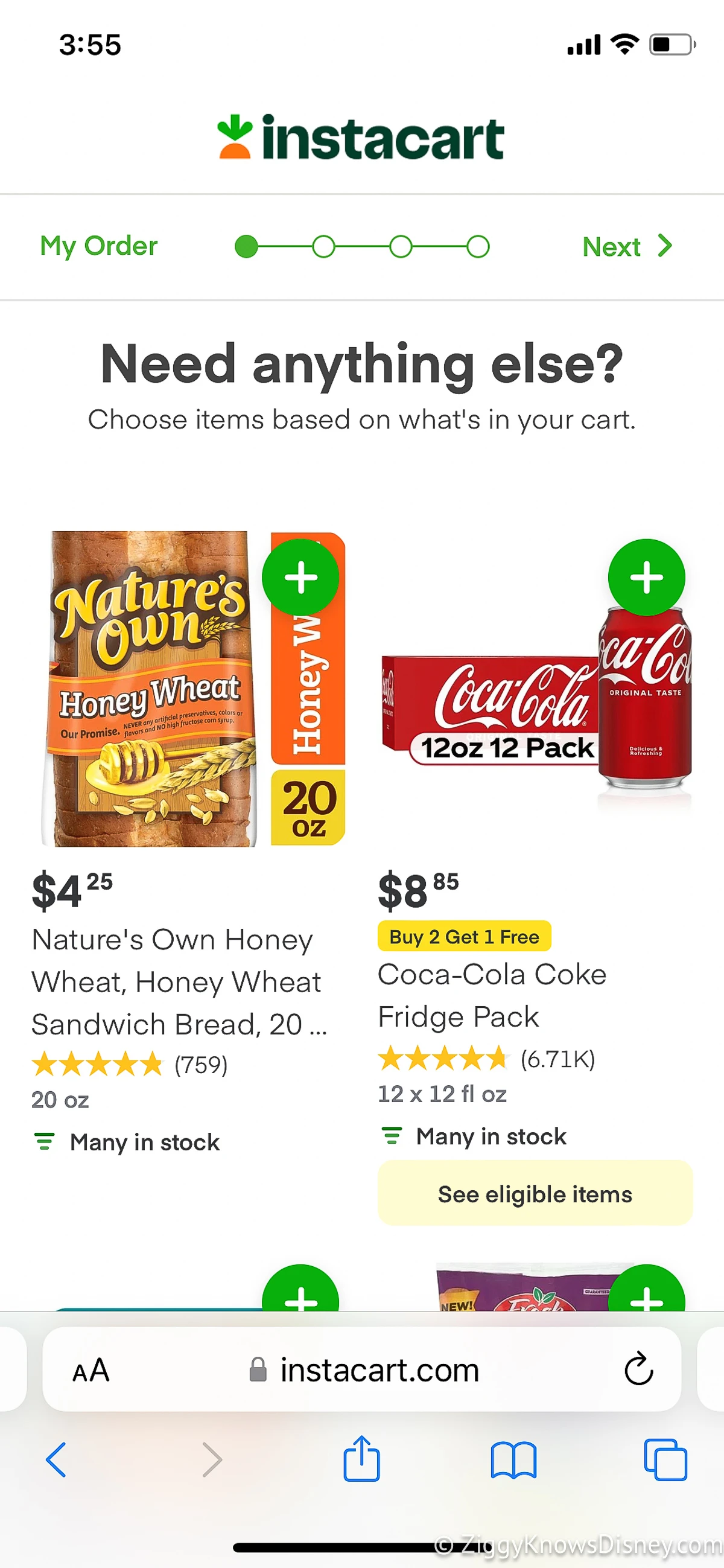 Whether you need grocery delivery is completely a personal preference. We go both ways, sometimes we do and sometimes we don't. Most of the time, due to how simple and easy it is, we tend to order anywhere from a few things to a more significant amount of items.
We base this on how long we are staying for and who is in our travel party. Some family members of ours are pickier eaters and they have dietary restrictions or preferences, such as getting enough protein, etc…
Due to this, we often end up getting things delivered to our room for us to snack on such as meats and cheeses.
We also generally order drinks, especially bottled water, since the Florida tap water is not very good! And quite frankly, it's just nice to have some snacks in the room, especially if we are back in our room in the evening and just want something to munch on.
If you're looking to save money, grocery delivery is one of the easiest ways to do it. While it isn't essential, if you plan right, you can easily save hundreds of dollars on your vacation by ordering groceries and offsetting some of the costs of Disney Meals and snacks.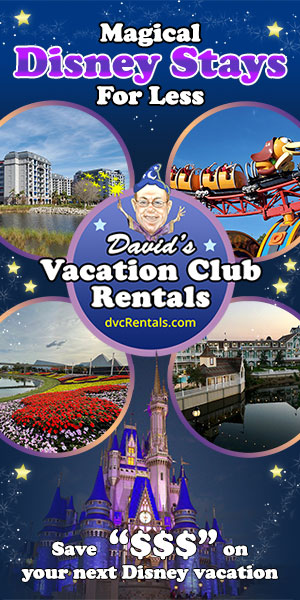 FAQs
Can I Have Groceries Delivered to My Disney World Resort Hotel?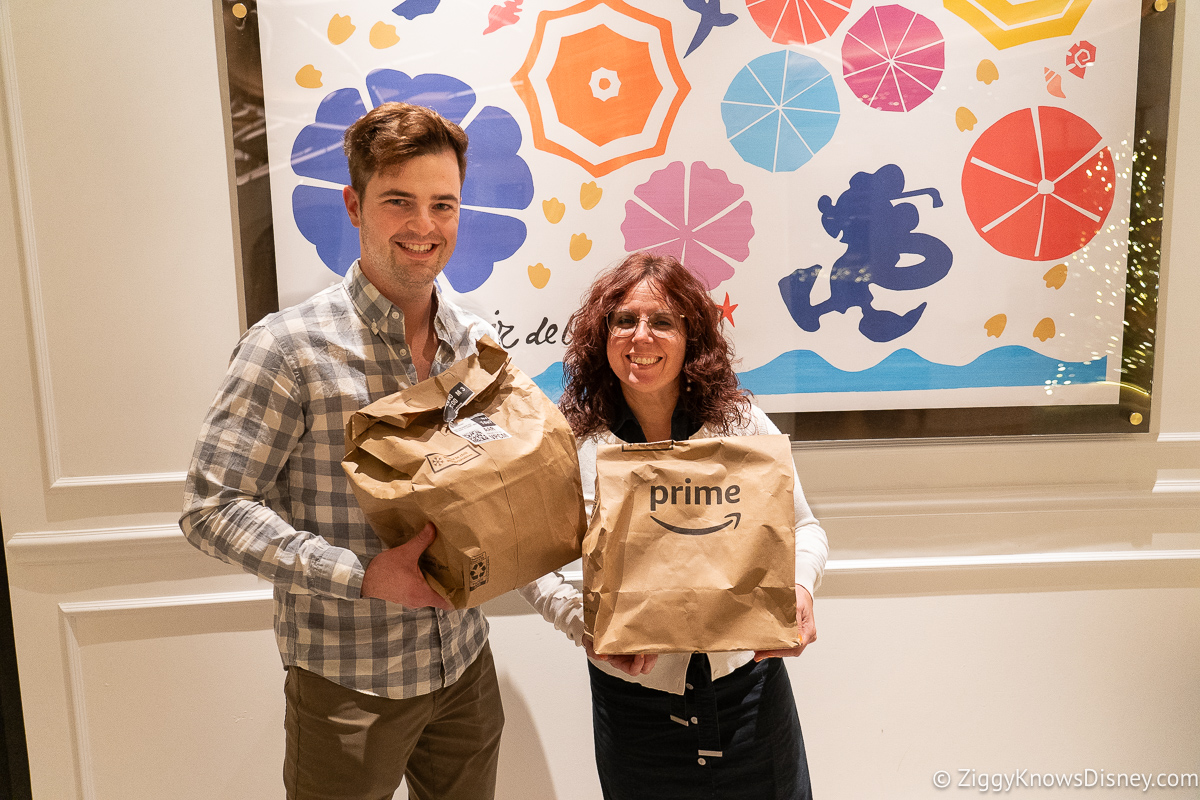 Yes! It's simple and easy and bell services at your Disney World Resort will hold on to your groceries until you arrive or until you pick them up. You can also have them delivered.
Is there a Fee for Grocery Delivery to My Disney World Hotel
If you choose to have your groceries delivered by bell services to your Disney World Resort Room you will be charged a $6 fee. You can avoid this fee if you pick up the groceries yourself.
Does Disney World Have a Grocery Store?
Unfortunately not. They have gift shops in all of the Disney World Resorts that will have some basic items that you might need or possibly forgot from home. These can be simple groceries items, cosmetic items, etc…
It certainly isn't extensive but it will give you a few essentials if you just need a couple of things.
Are there Refrigerators in Disney Hotel Rooms?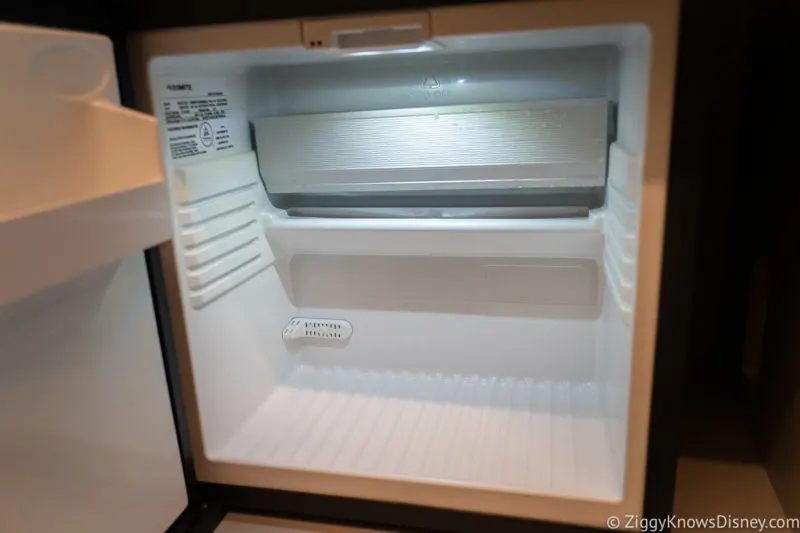 There are mini-fridges in all of the Disney World Resort Rooms. The larger full refrigerators are only found in the larger rooms found at the DVC Villas properties. They are only in the 1-bedroom, 2-bedroom, and 3-bedroom units and not in the Deluxe Studio rooms.
Is there a Kitchen in Every Disney Resort Hotel Room?
Sadly, there isn't. You'll only find kitchens in the DVC Villas resorts. You might also see kitchens in the larger expensive suites in the hotels as well.
Can Disney World Resort Hotels Accept Deliveries?
Yes, they do! There will be a $6 per package handling fee for all packages that are received through the Front Desk.
Just make sure you include the resort name and the address of the resort. You'll also want to make sure you include the word "Guest" on the front of the package and the date of your arrival.
Where Can I Find My Disney Resort Address for Deliveries?
The Disney Resort addresses can be found here. Underneath the resort you will be staying at click 'Resort Overview.' It'll show you the address for that resort on the right side of the screen.
What is the Zip Code for Disney World Grocery Delivery?
All of the Disney World Resorts are found at Zip Code 32830.
Can I Use Disney Dining Plan Credits for Groceries?
Unfortunately not. You can only use Disney Dining Plan Credits at eligible Disney Restaurants and Quick-Service locations.
READ: Disney Dining Plan Guide
What If I Have Dietary Restrictions?
If you have dietary restrictions, ordering groceries can actually be a really wise decision. While Disney does a terrific job at catering to guests with different dietary concerns, getting some of your favorite items at a local grocery store can be really smart.
The local Whole Foods, which is located at 8003 Turkey Lake Rd, is a really popular location for guests with concerns. It's not far from the Disney Gates at all!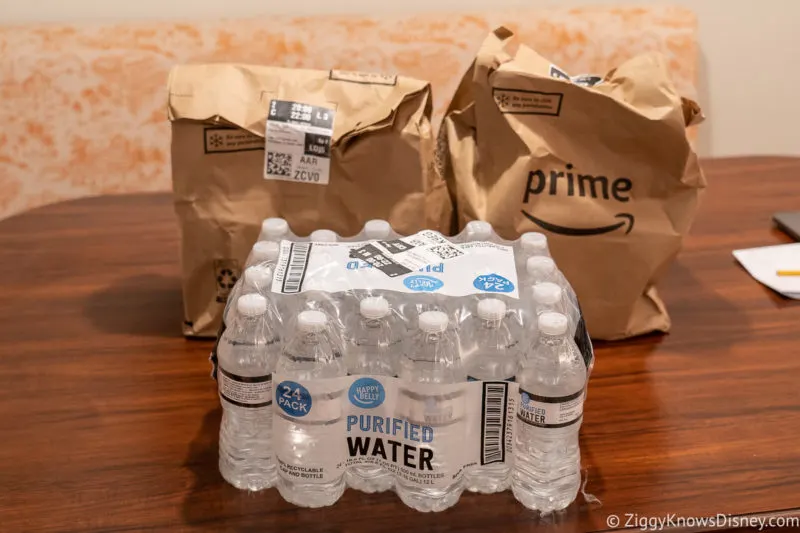 That wraps up our look at how to get groceries at Walt Disney World. We hope that this guide helps you pick the best service for your family and helps save money getting what you need.
If you are thinking about going to Walt Disney World in the coming future, here are some other popular articles where you will find all the info and tips you need to plan your trip.
Ready to Start Planning Your Disney Vacation?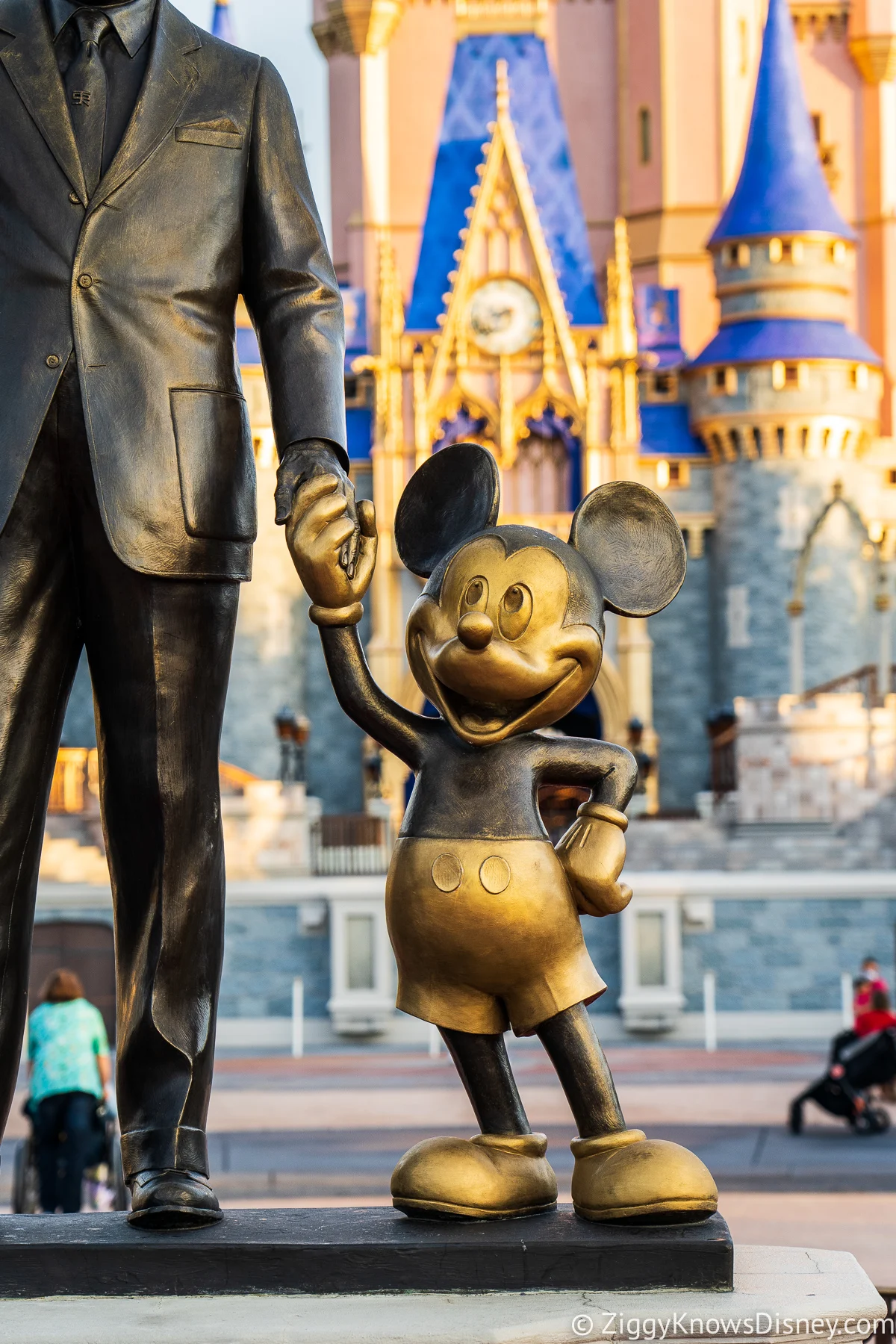 Your Thoughts
I want to know what you think about our guide to getting groceries in Disney World…
What is your favorite way to get groceries?
What tips have you learned over the years that can help others save money?
Let us know in the comments section below!
If you enjoyed this article, as always I appreciate it if you'd share it with others via social media. I work hard at making this website into a useful resource for you and your family to plan your visit to the Disney Parks and I hope it can help you! Thanks 🙂