It's finally HERE! Star Wars: Galaxy's Edge is now open and that means we got to step into this unreal new land inside Disneyland. We got to go on opening day and it was beyond any of our wildest expectations. Because of that we wanted to give you a full walkthrough tour of Star Wars Galaxy's Edge in Disneyland so you can experience all the magic for yourself!
Let's go!
This is the Resistance area of Galaxy's Edge and where you are first brought when entering Galaxy's Edge. It's on the total opposite side of Black Spire Outpost where most of the action is..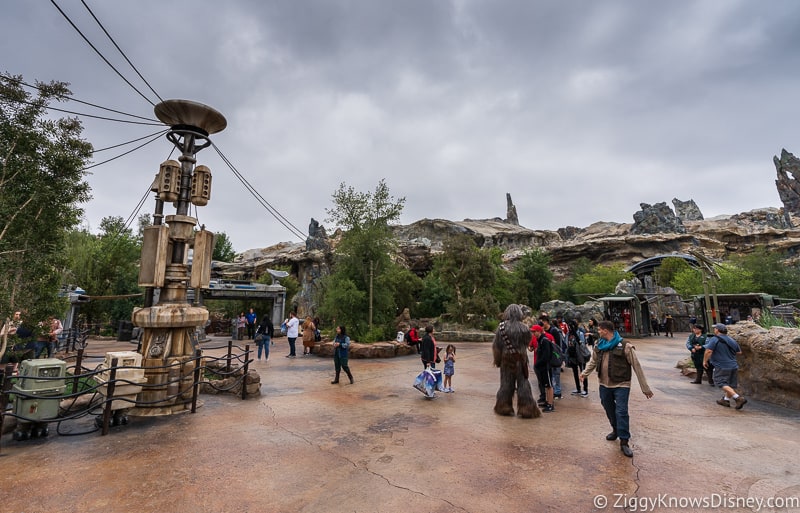 Chewbacca and other Resistance fighters are there greeting new recruits!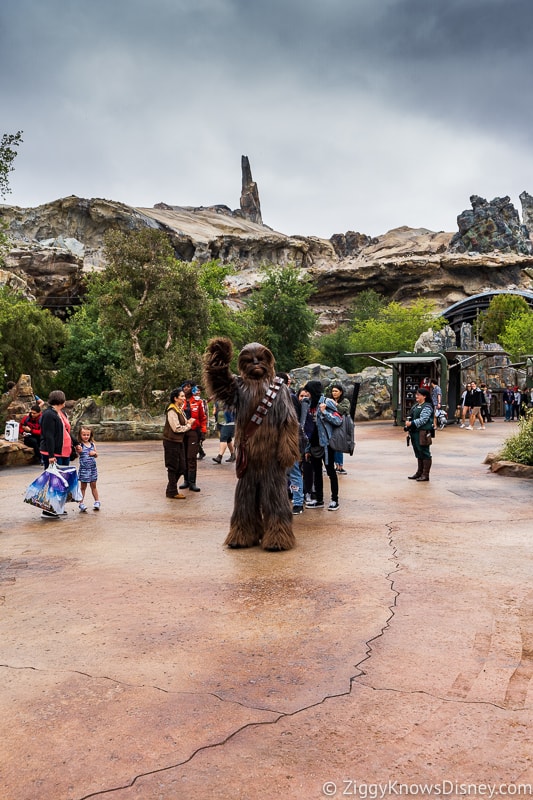 This area is also the first look you get at some of the ships in Galaxy's Edge. Straight ahead there is a parked X-Wing: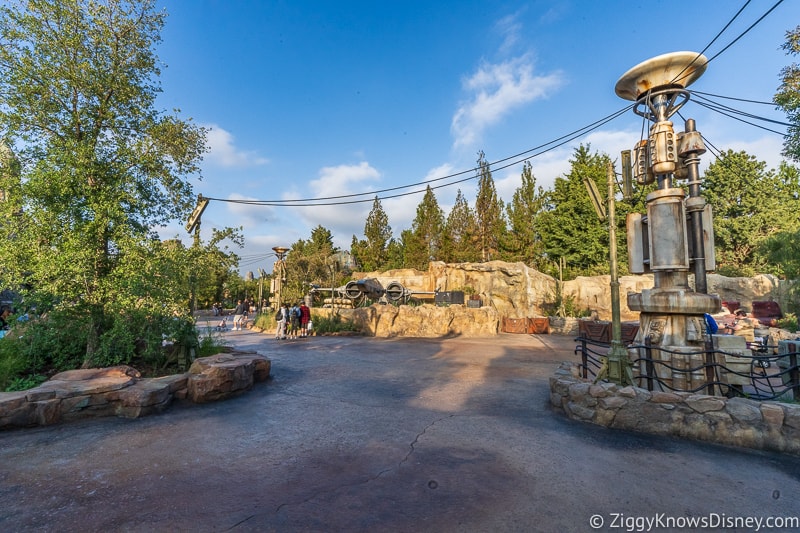 My mouth was on the floor!!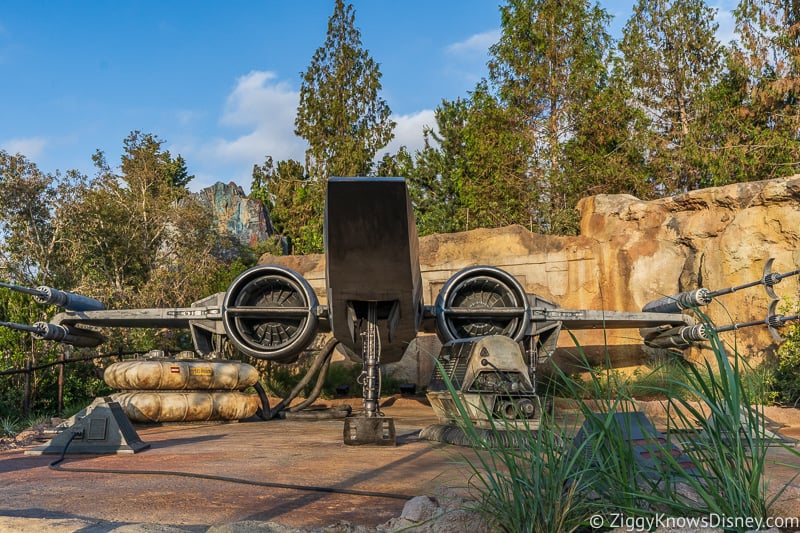 Right next to it an A-Wing:
These are very impressive and tons of detail!
Right away one of the first things I noticed are the droid tracks in the ground. A resistance friend has been here and leading the way: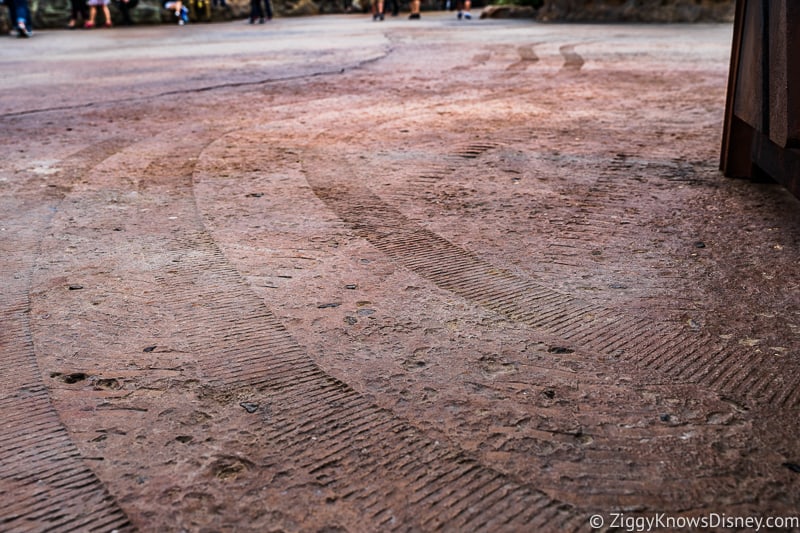 Unfortunately Star Wars Rise of the Resistance isn't open yet, but we have a look at where it will be with the entrance here: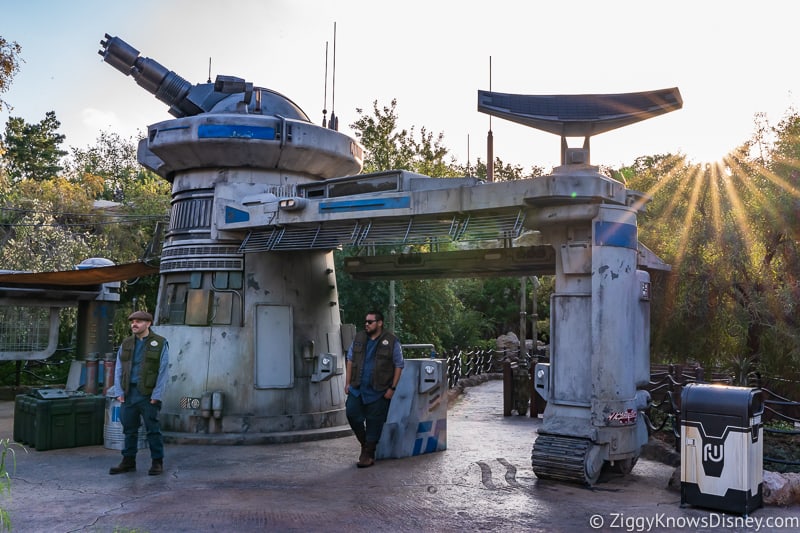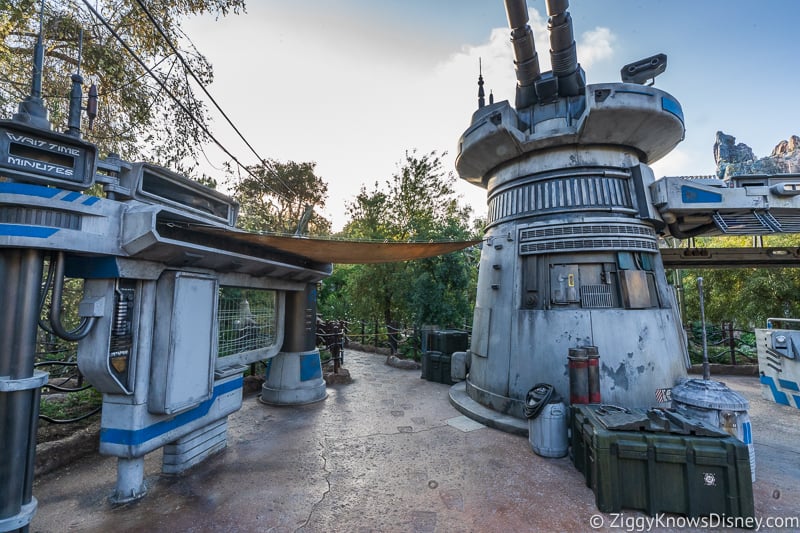 This will be open later this year and from what we hear, it will be life changing! For now let's head over to Black Spire Outpost: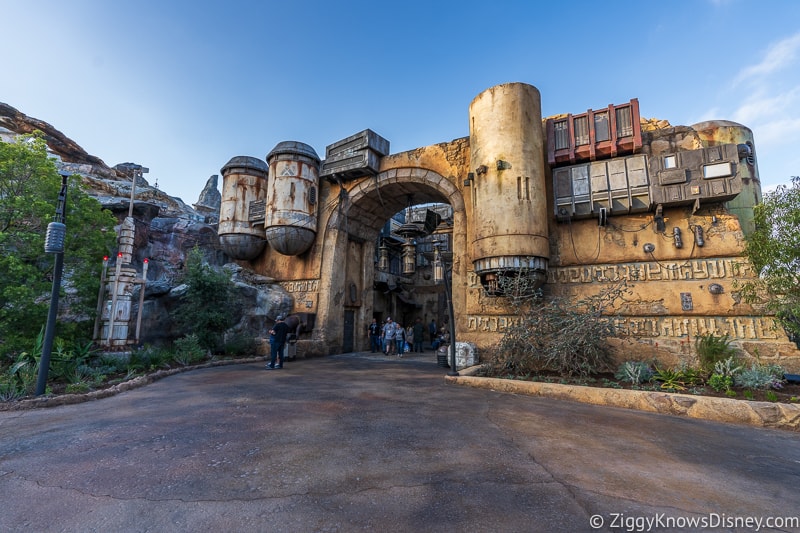 It immediately hits you like a ton of bricks at how big this place is: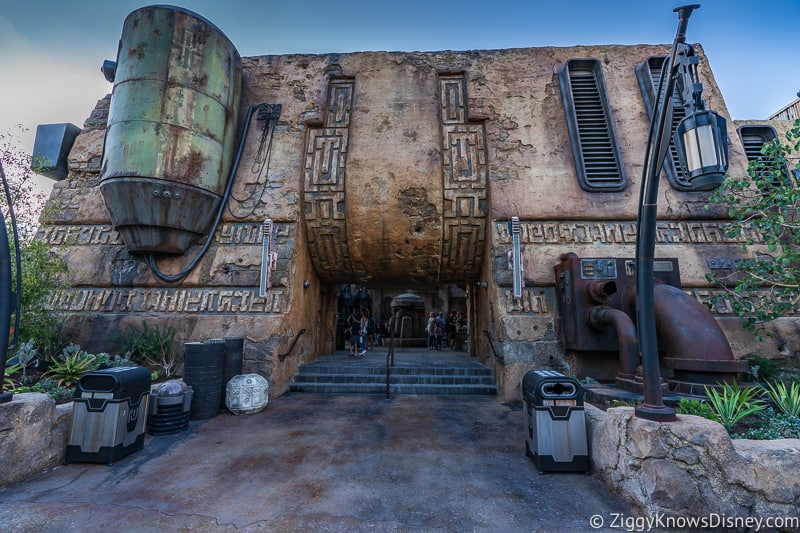 When you step inside the marketplace in Black Spire Outpost things are so alive and you're on information overload: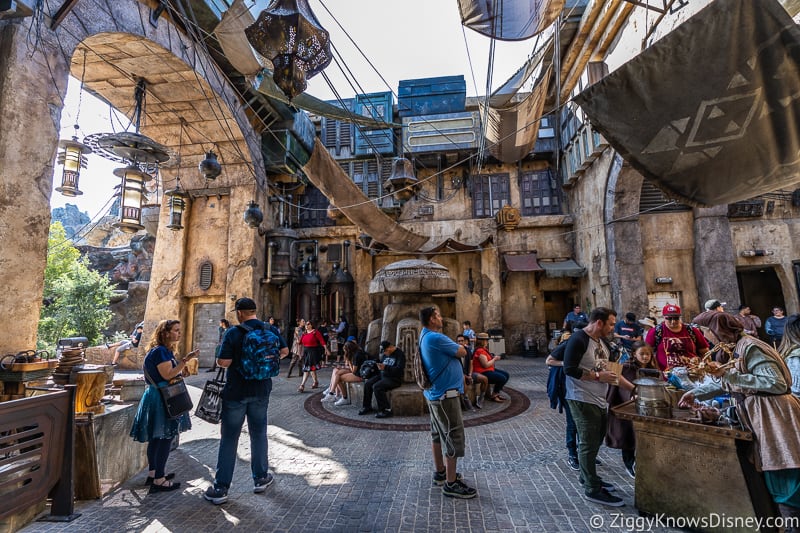 Like a real-life marketplace: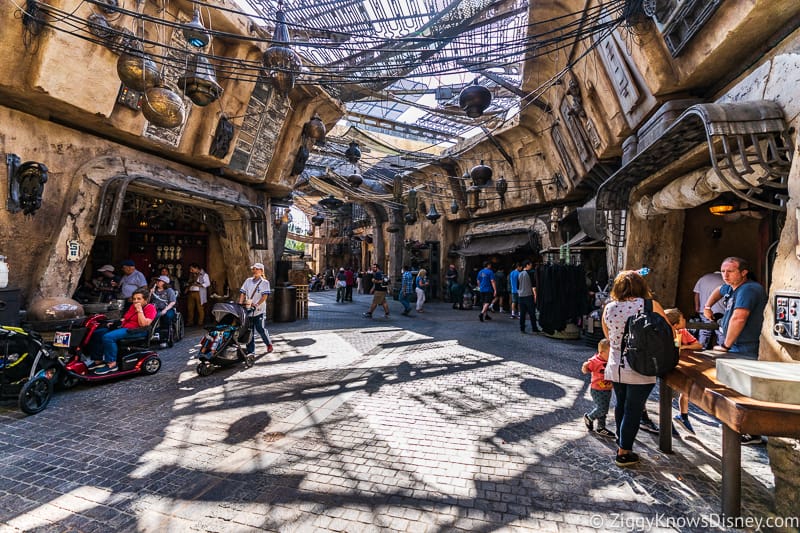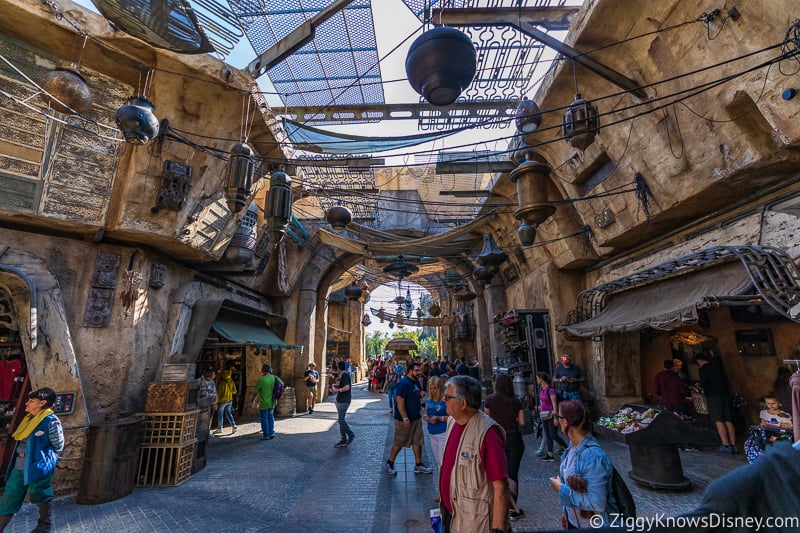 Look up:
You neck will hurt staring at everything: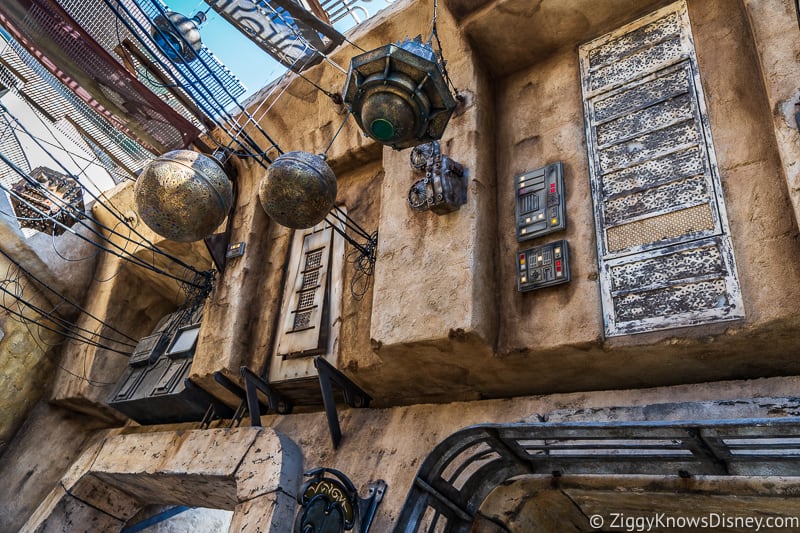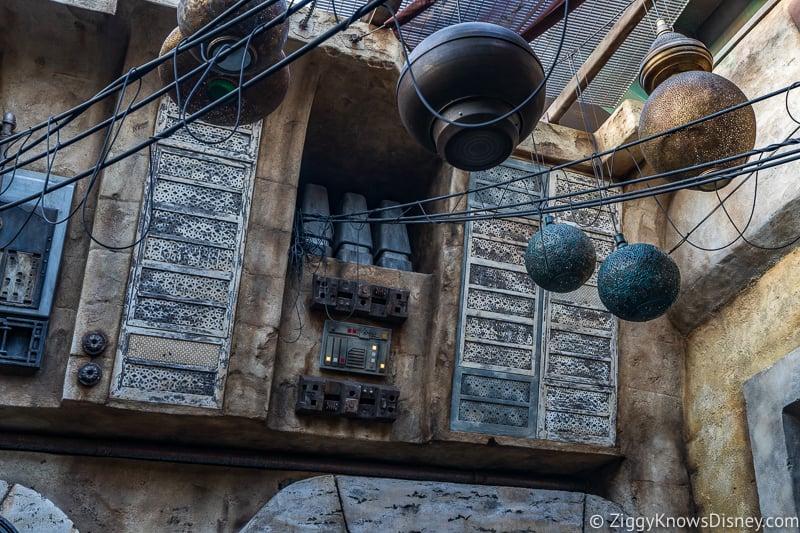 A woodworking shop where figures are being created and sold: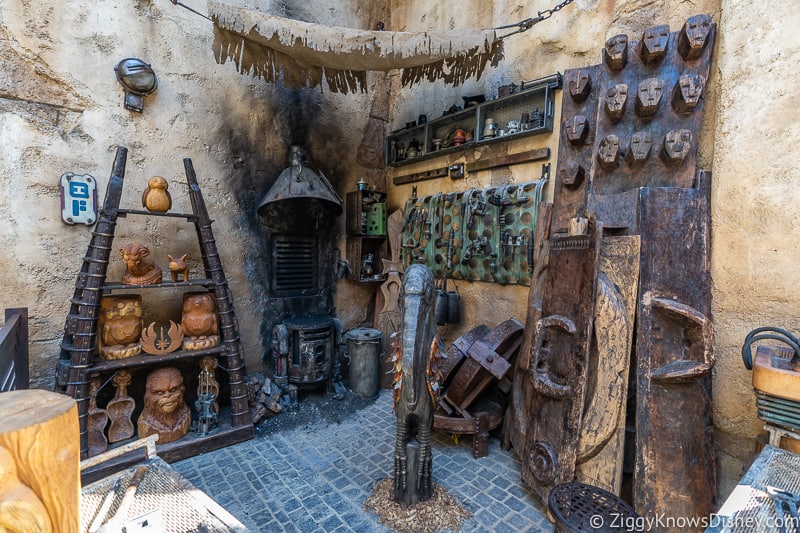 Impressive stuff. Come back later when there are people working and they'll have a fun time with you: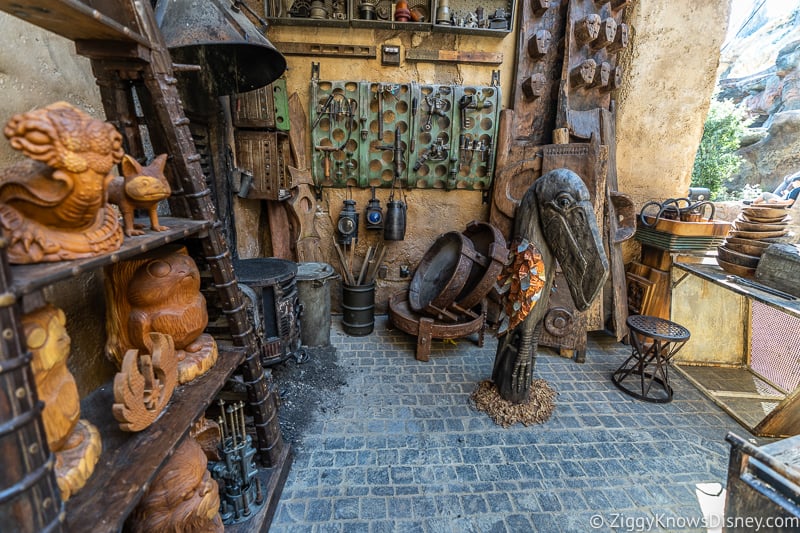 A windy staircase leading up to the marketplace from the side: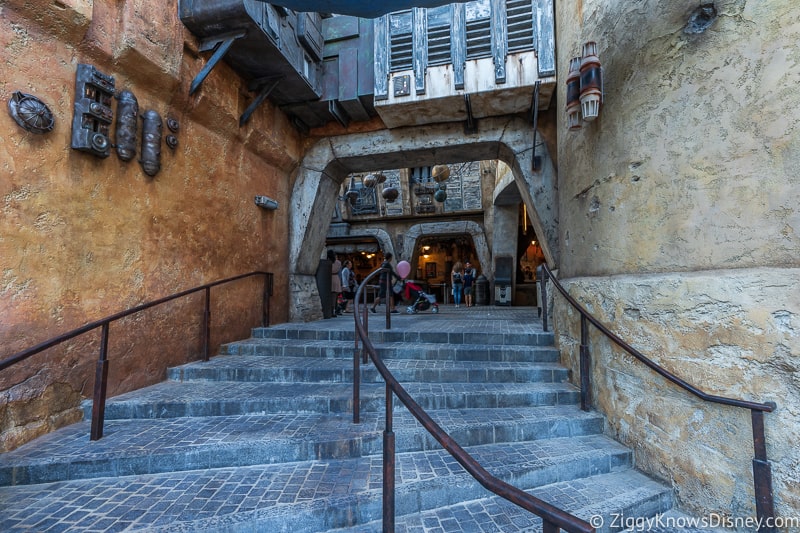 Shops line the inside of the Marketplace: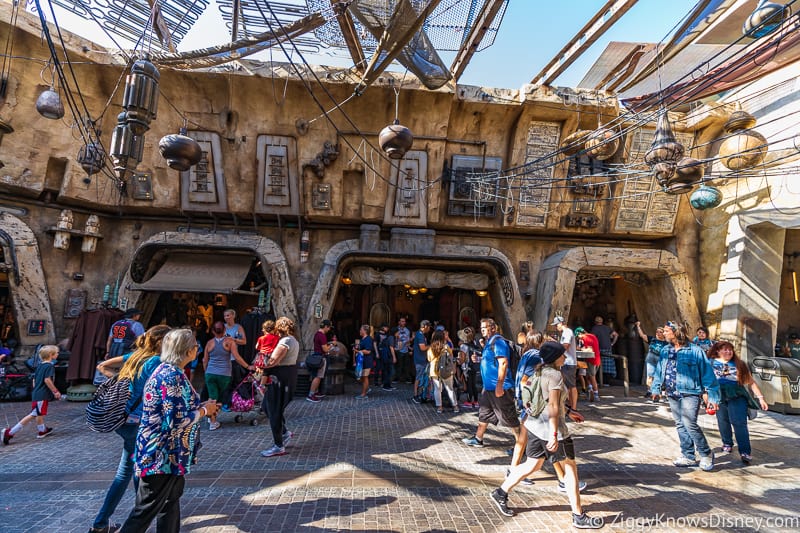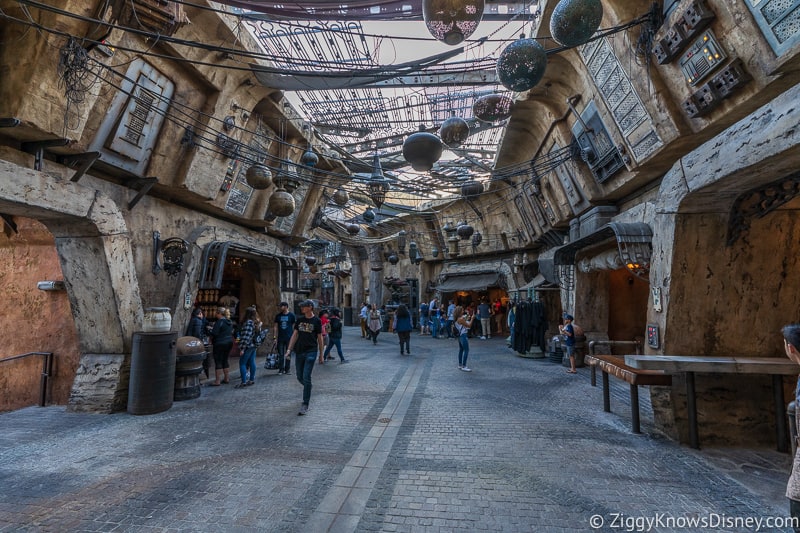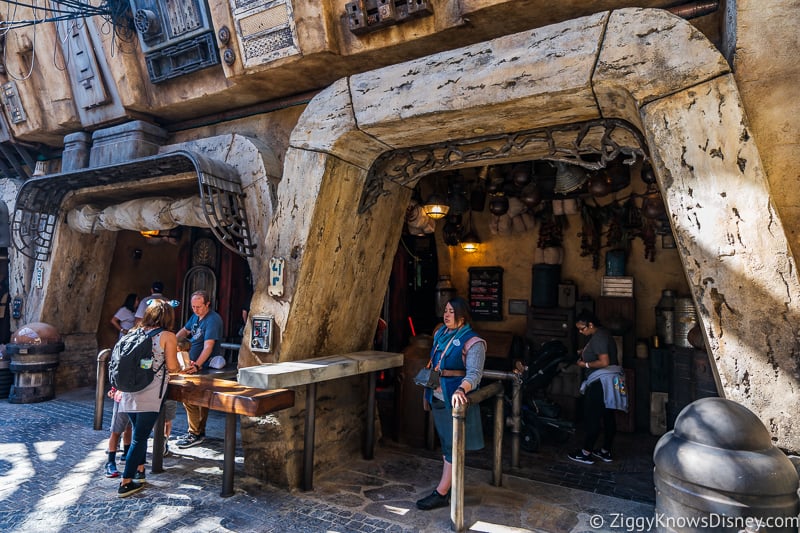 You can get a glimpse of some of their wears and merchandise from outside which draws you in: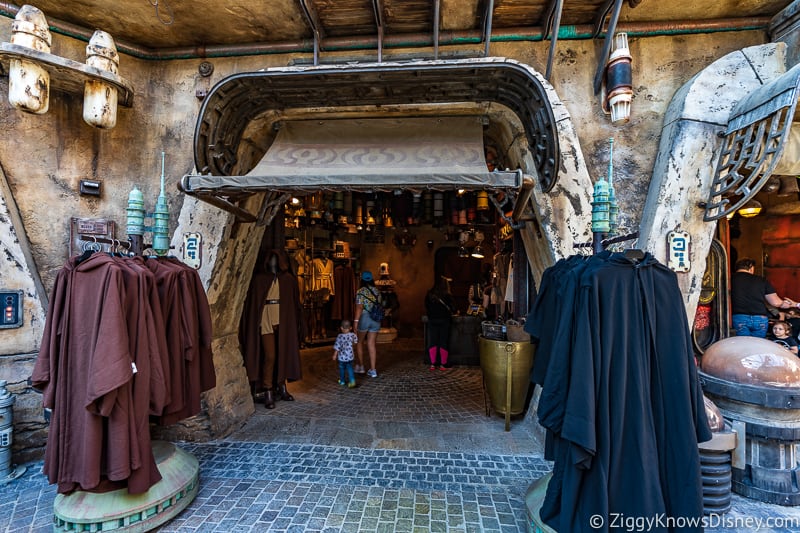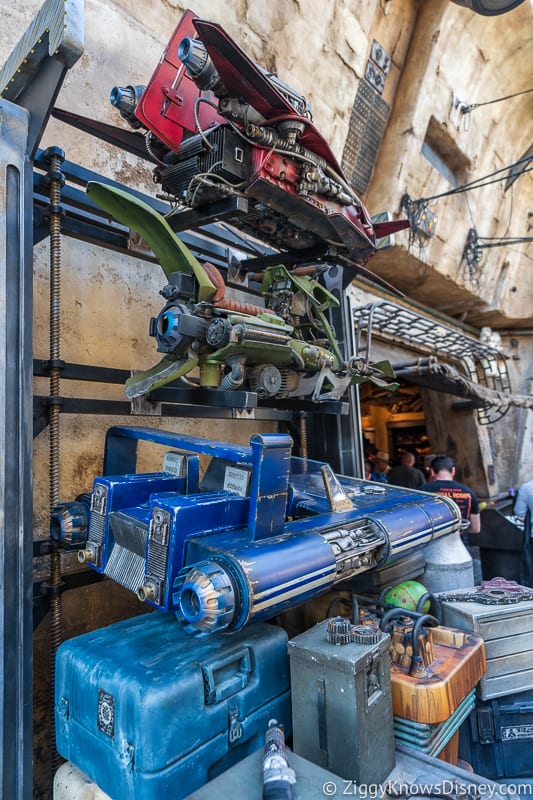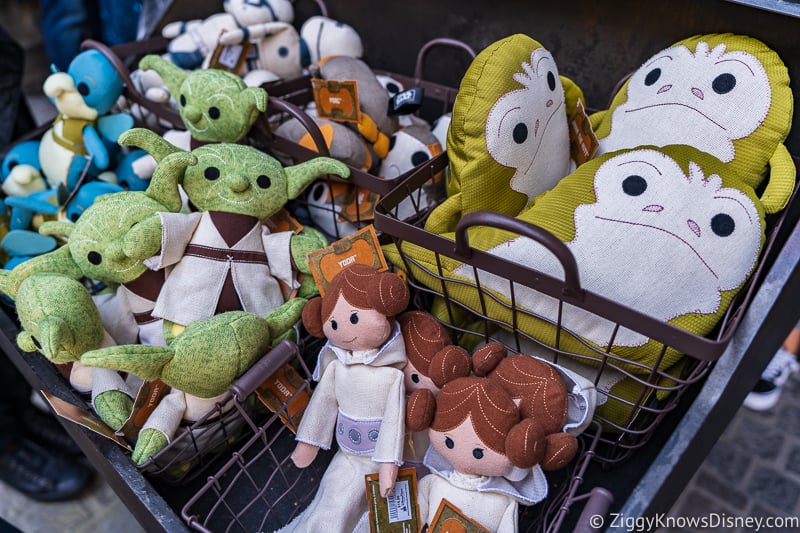 Another cool thing are all the many doors found throughout Galaxy's Edge. Thinking about them more for the Hollywood Studios version, they will be part of the story that guests staying at the Star Wars Hotel will use to complete various missions: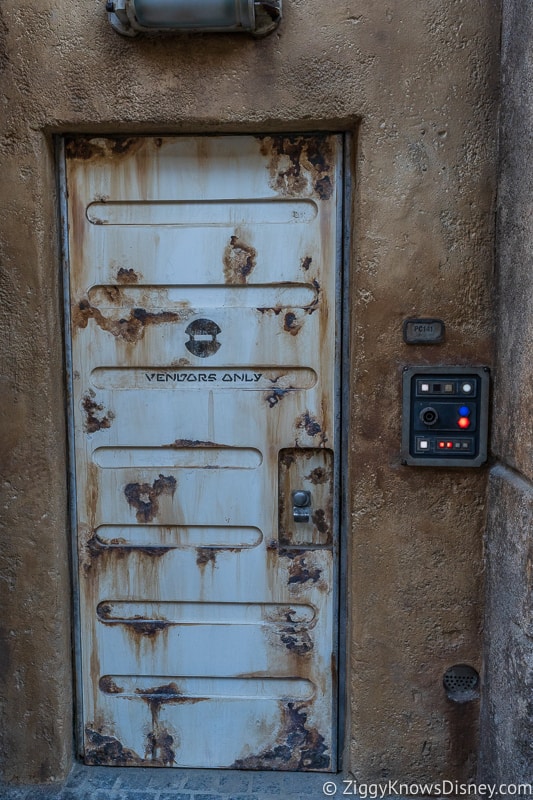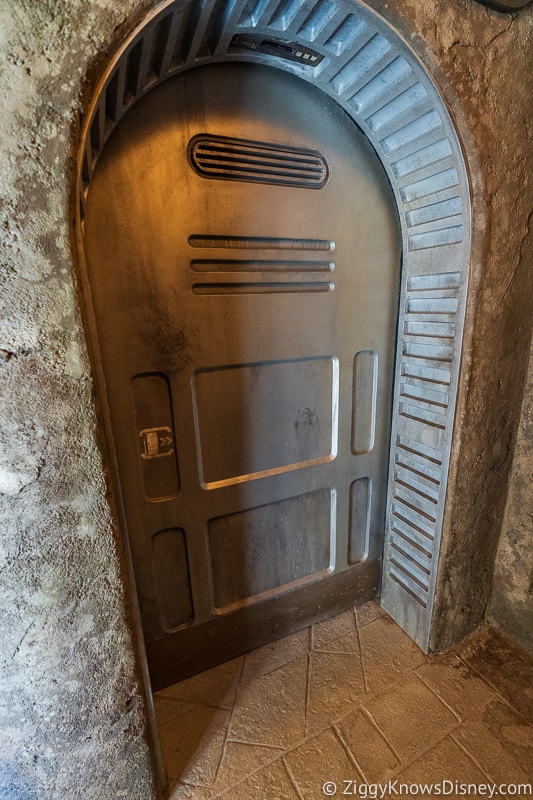 These panels can be hacked with the Play Disney Parks app for galactic credits: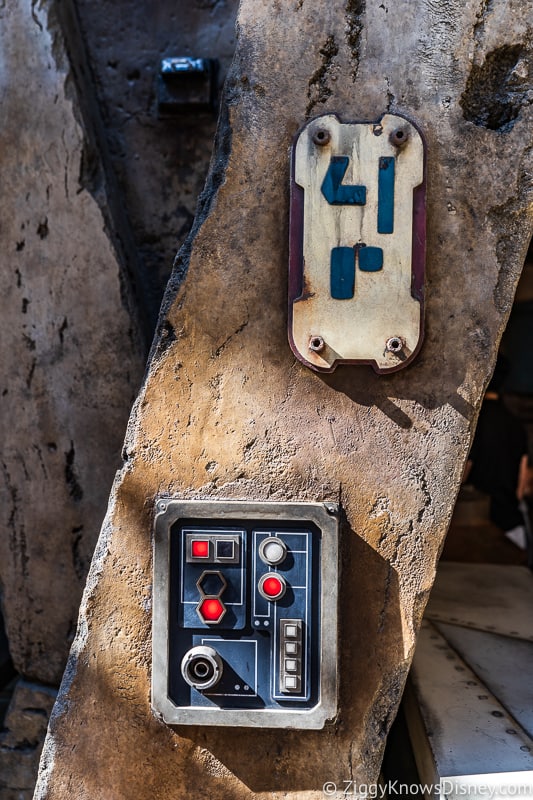 When you see these tanks, walk closer and a surprise is waiting for you in the right one: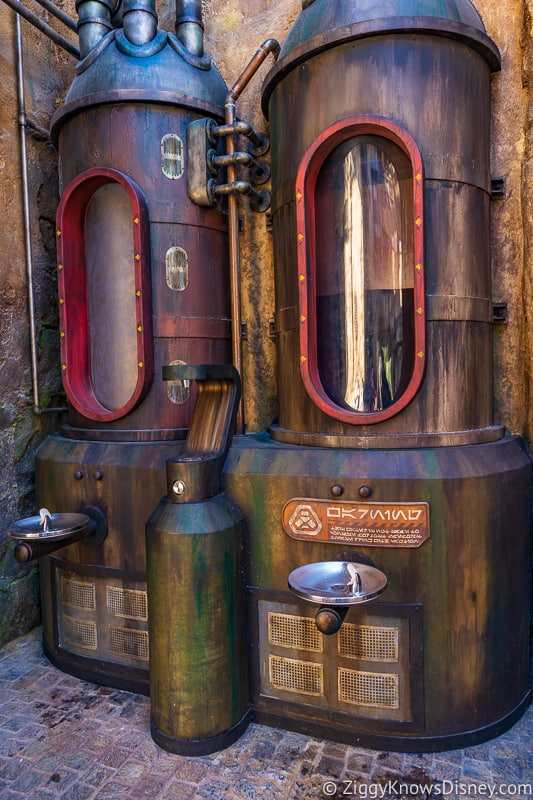 The Marketplace was exceptional, now let's head down the right side for a walk around the outside: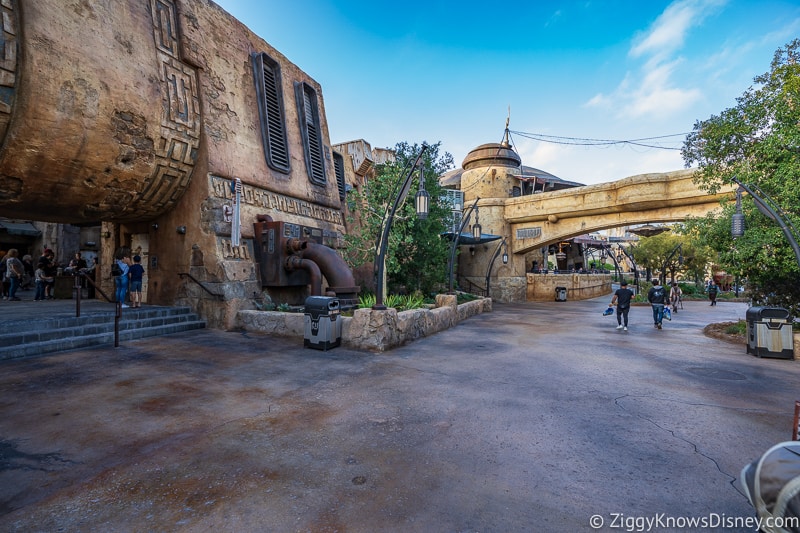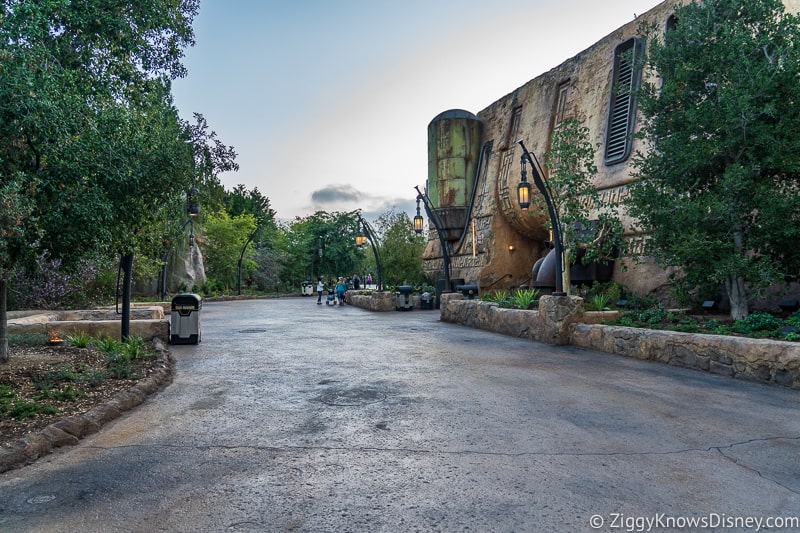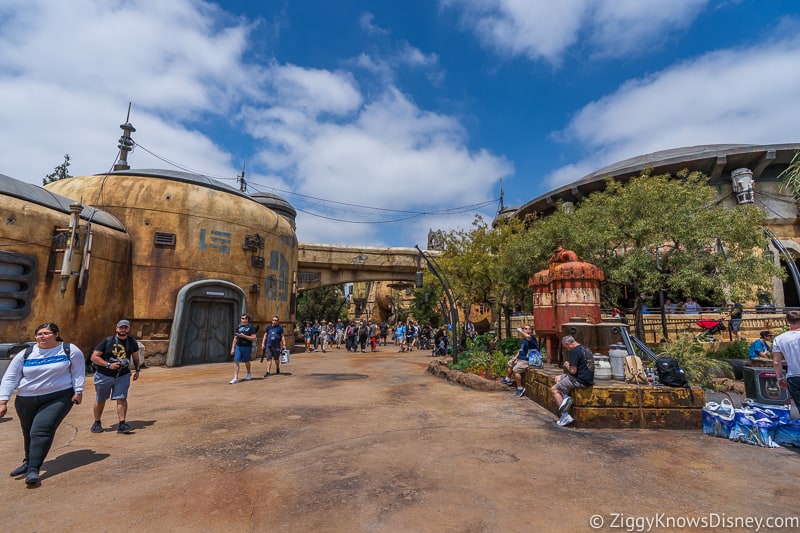 Eventually you'll find the second entrance into Galaxy's Edge, this one near Big Thunder Mountain: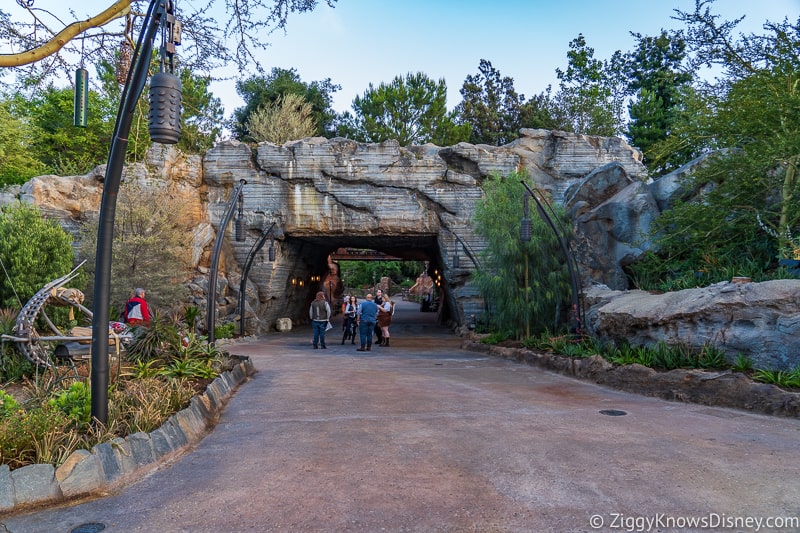 So realistic looking!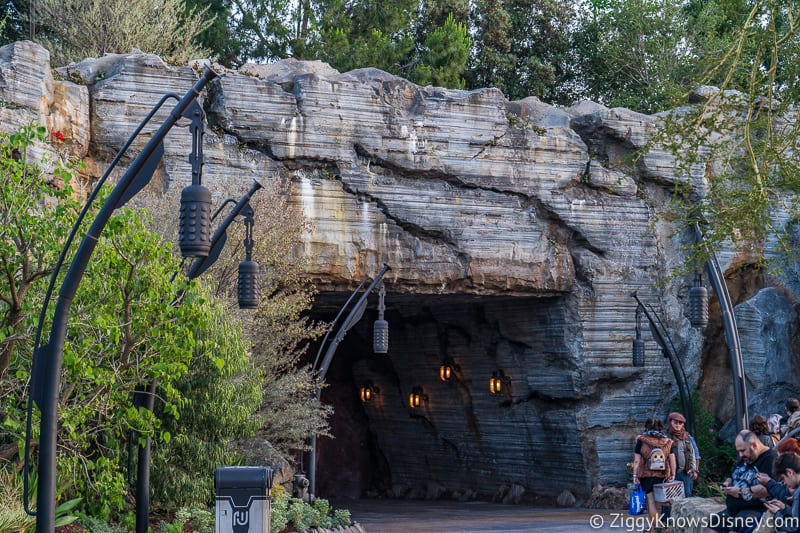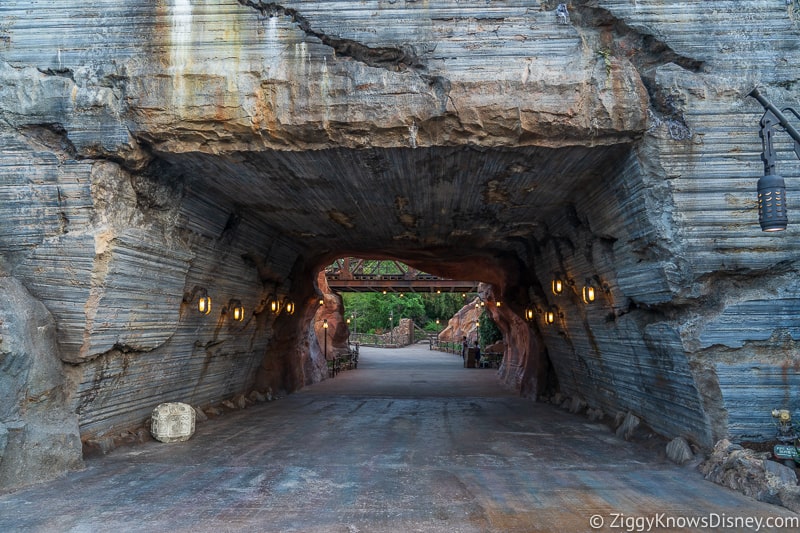 Details everywhere: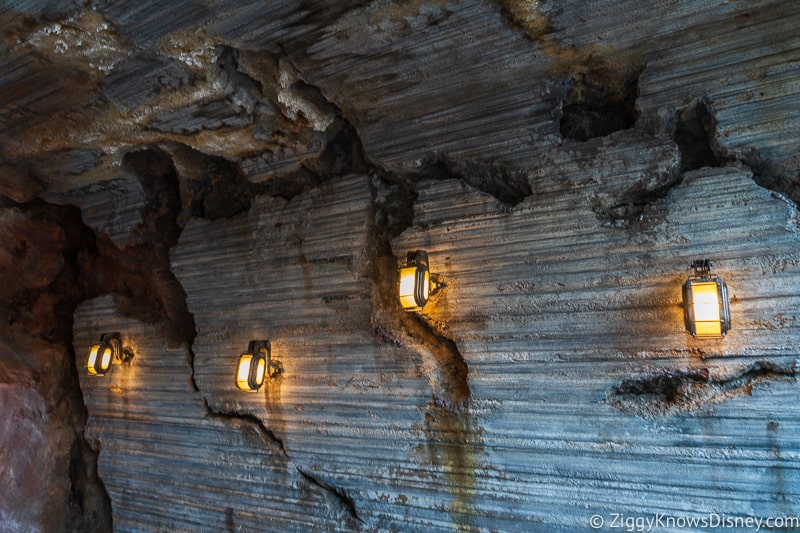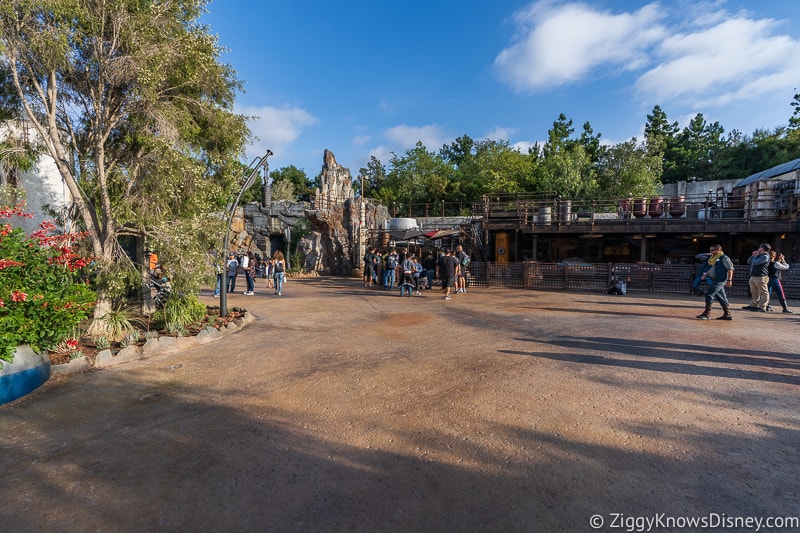 A surprise is waiting on the right in the shop: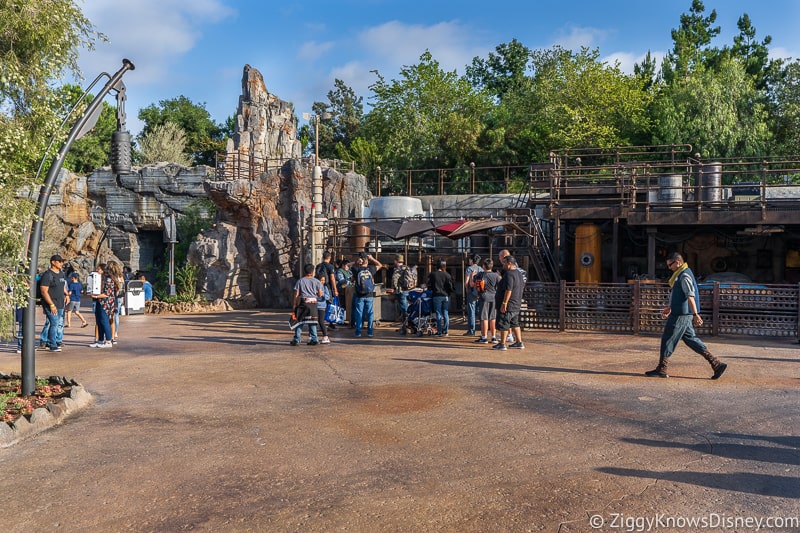 Some speeders are being worked on in this mechanic's shop: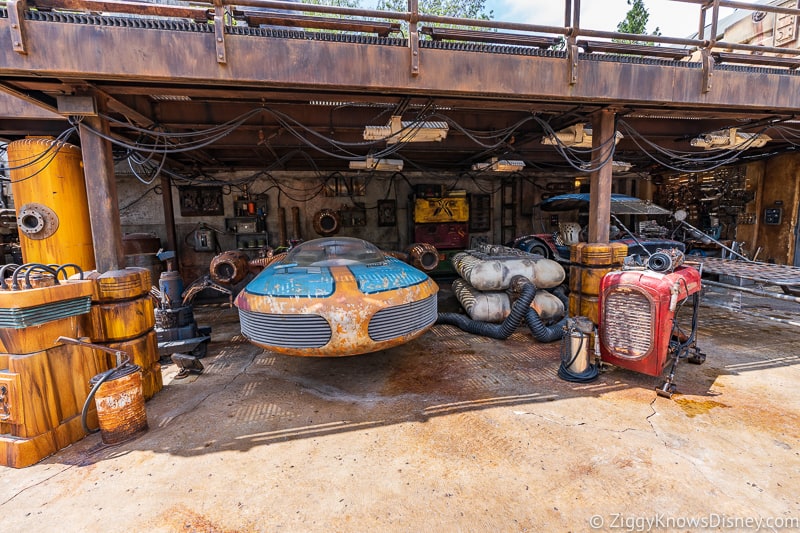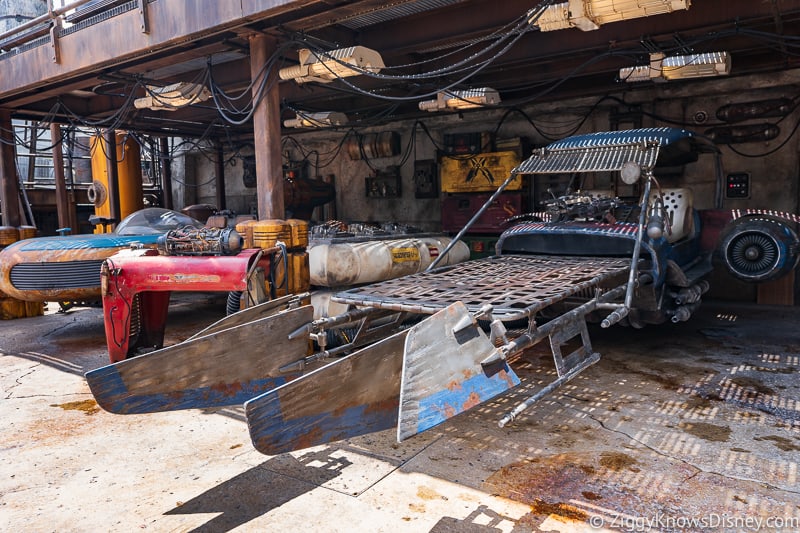 I want this one with the blasters mounted on the front: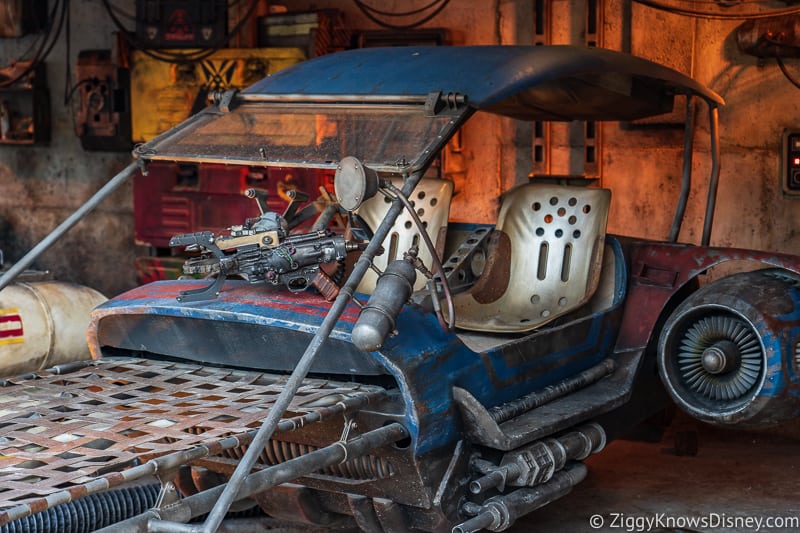 So from this angle you're on the total opposite side of the marketplace and we can come at it by going up those stairs: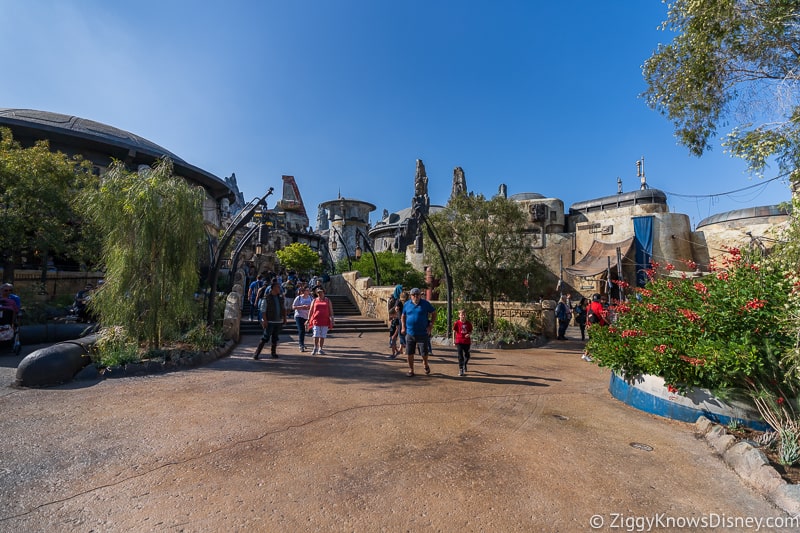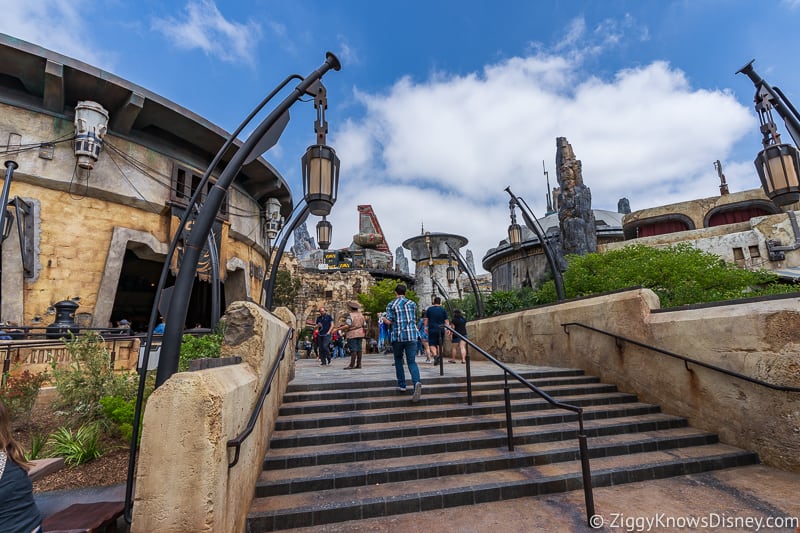 A view from the top: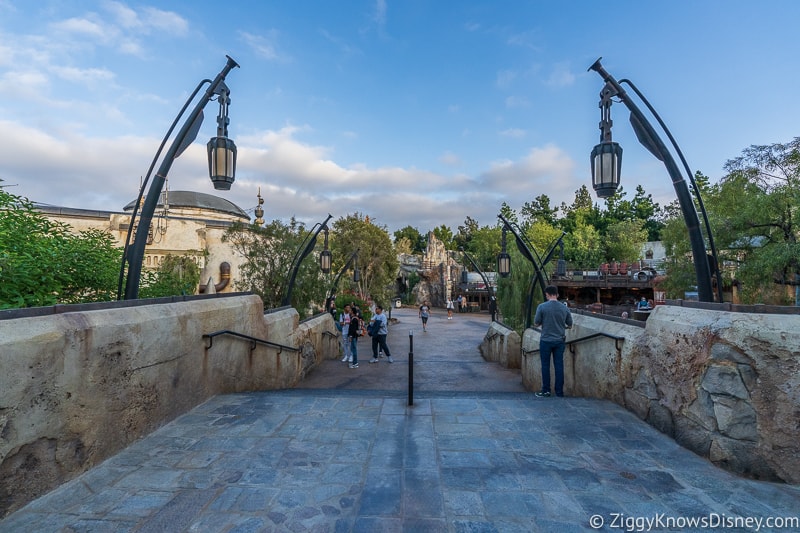 This feels like one of the most crowded areas of Galaxy's Edge because they were dropping groups off here and it's a major intersection of Black Spire Outpost. The building in front is Ronto Roasters, a unique snack stand in Galaxy's Edge: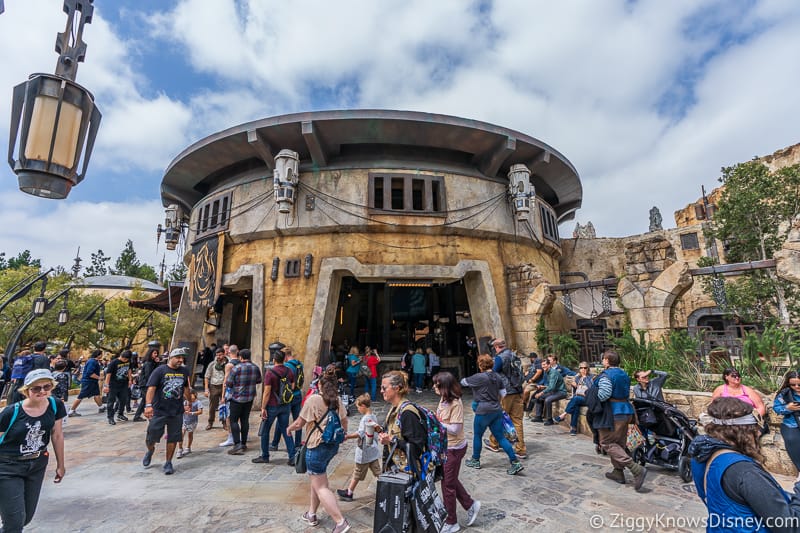 Let's go in: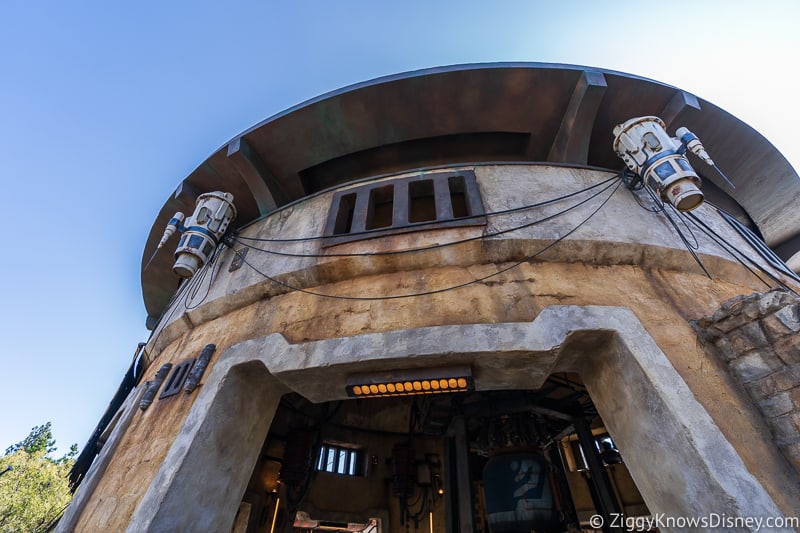 This is one of my favorite spots in all Galaxy's Edge, mostly due to the huge pod-racing engine hung up and being used to roast the meat you will soon be eating: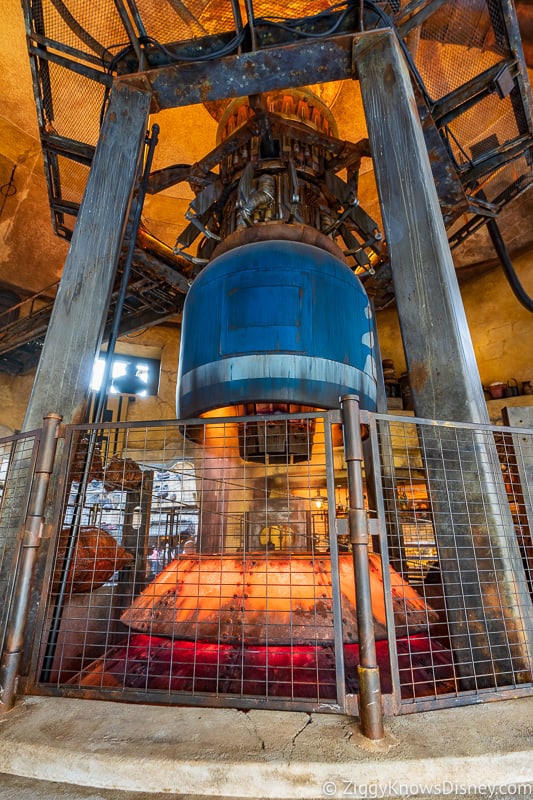 This droid is doing the work, turning the meat on the spit round and round, all day. A really special touch!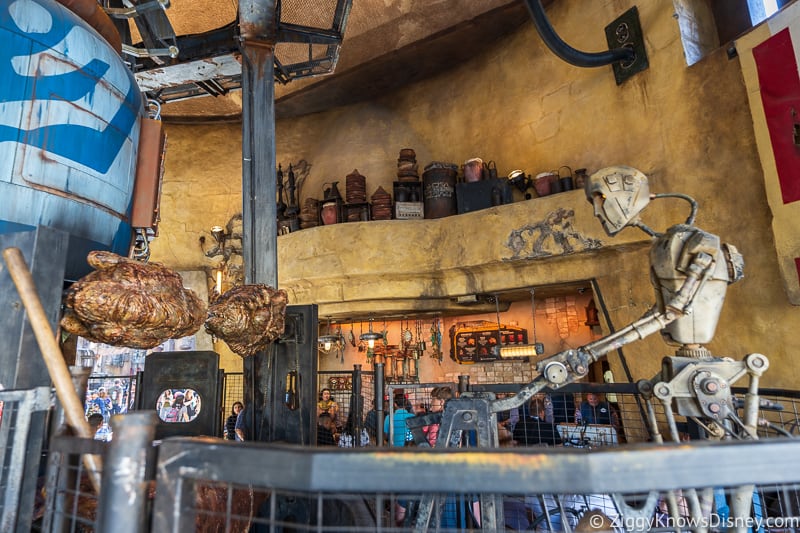 This little workshop in Ronto Roasters is where the meat is prepared either as a roast, sausage or jerky: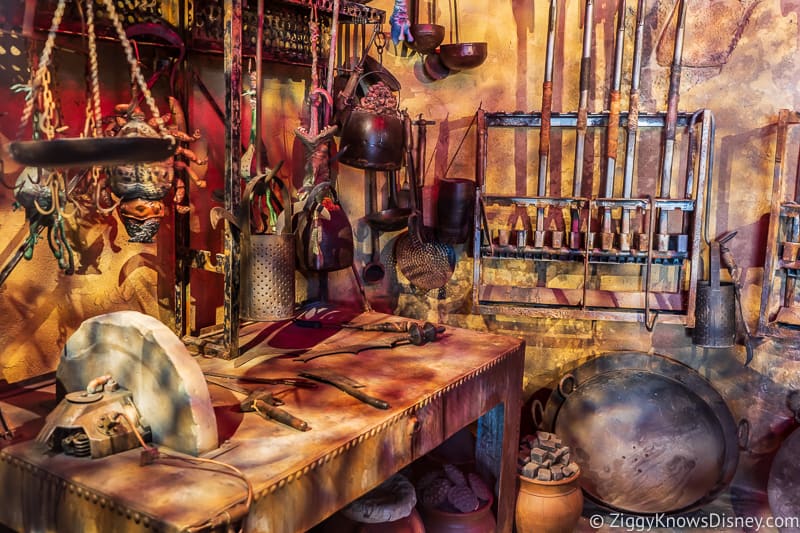 And some of the animals you'll be eating: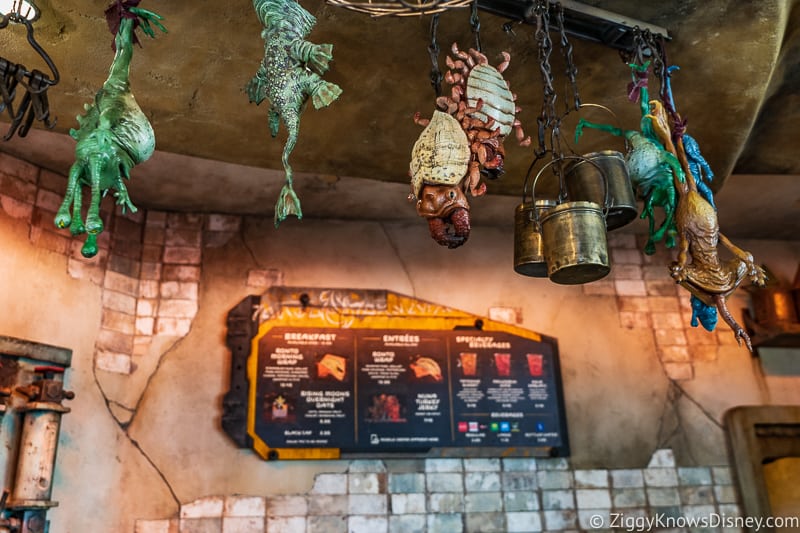 Let's head back outside and explore more of Galaxy's Edge: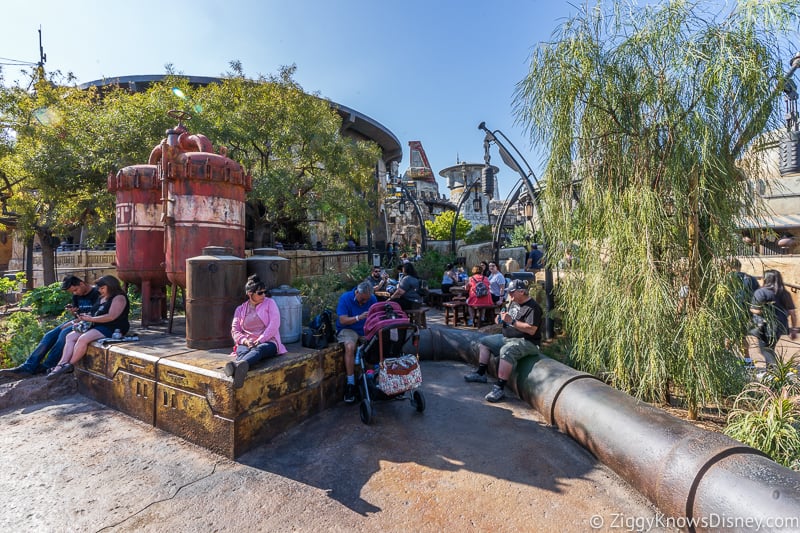 There are many different types of floors in Galaxy's Edge, this is an example of a mix-match stone one: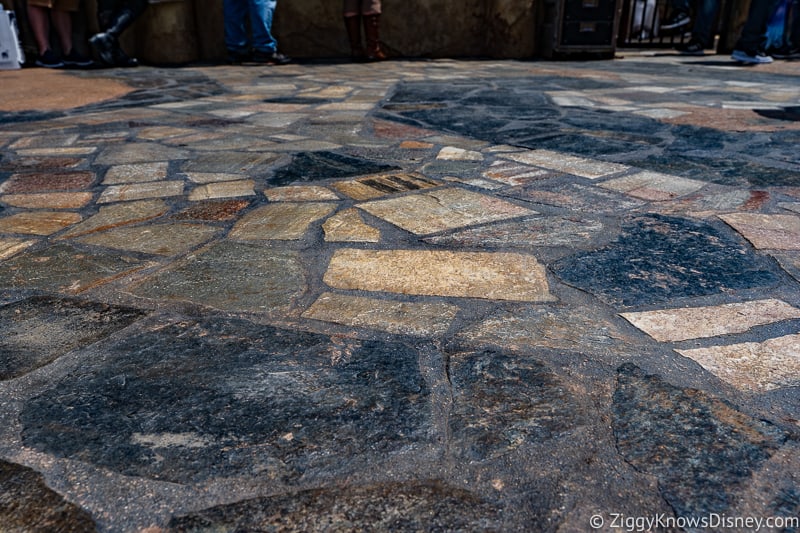 Signs directing you if you get lost. Hopefully you speak Auerbesh when visiting Galaxy's Edge, all of the signs are loaded with it and just one of the many things that makes you feel like you are really in another world: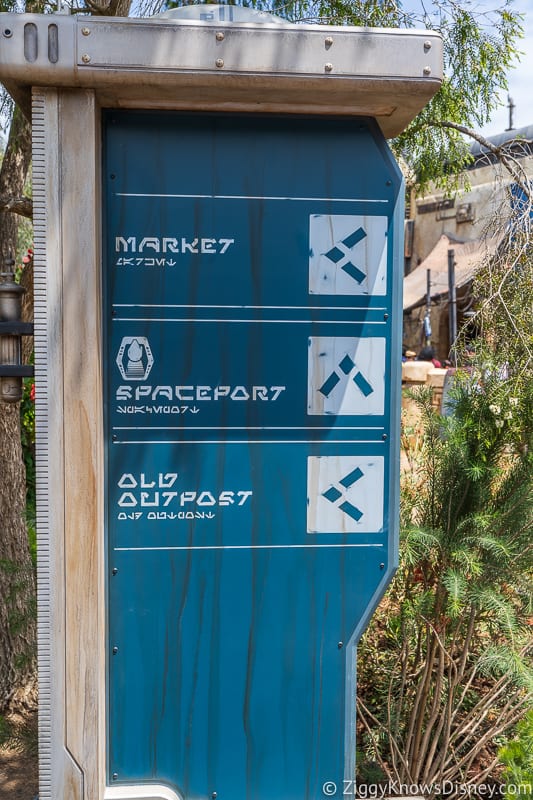 Better get used to this site as it's gonna be crowded for some time…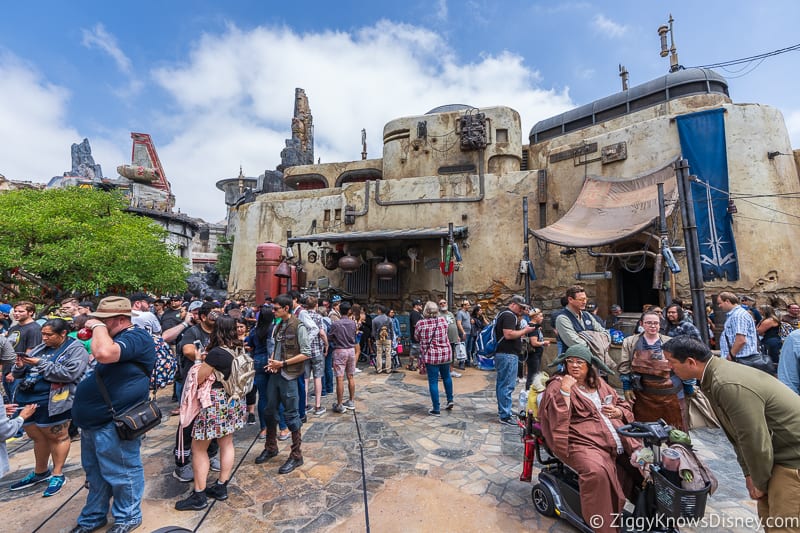 Around the center is the quick service location in Galaxy's Edge: Docking Bay 7 Food and Cargo: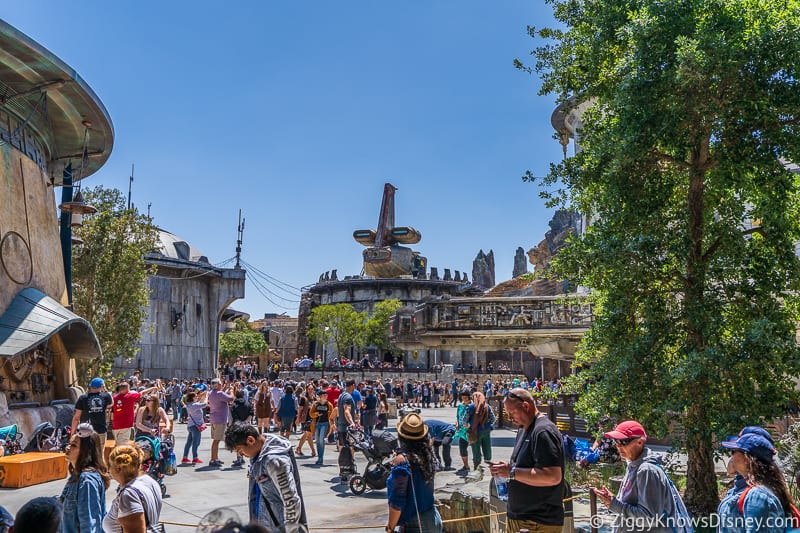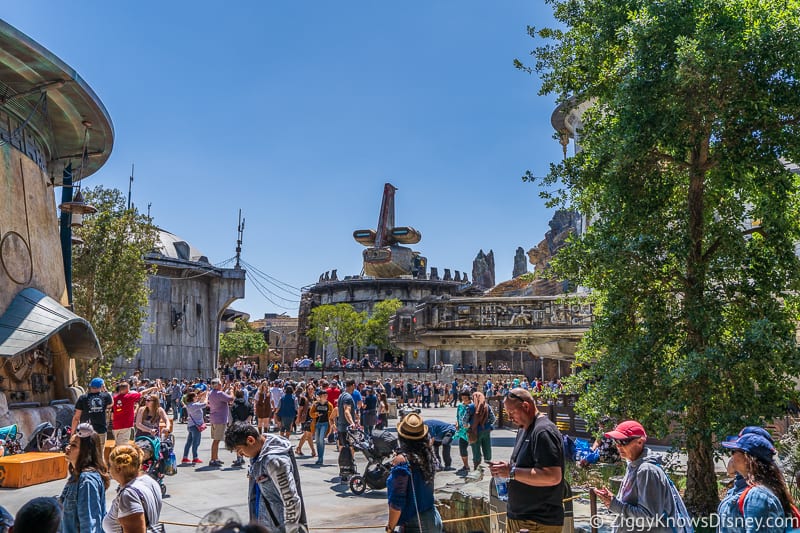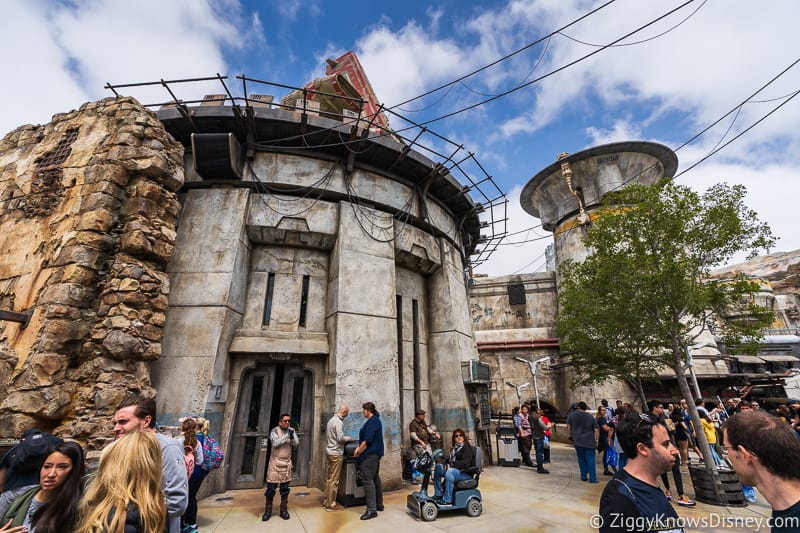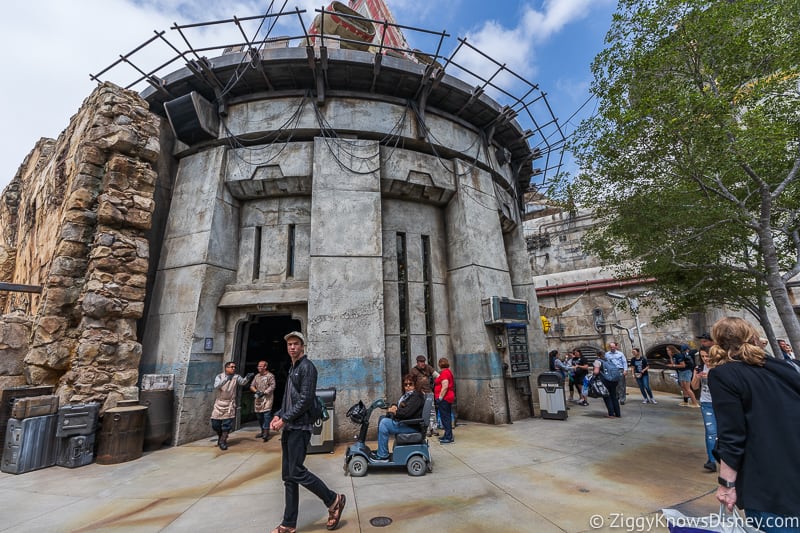 You'll recognize this place as the building with the space shuttle on top.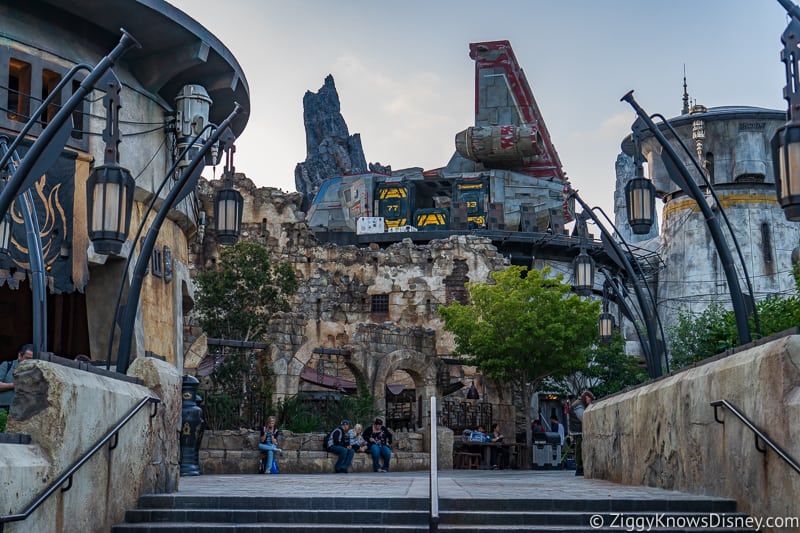 It's used to "ship" (more like smuggle) cargo in and out of Black Spire Outpost: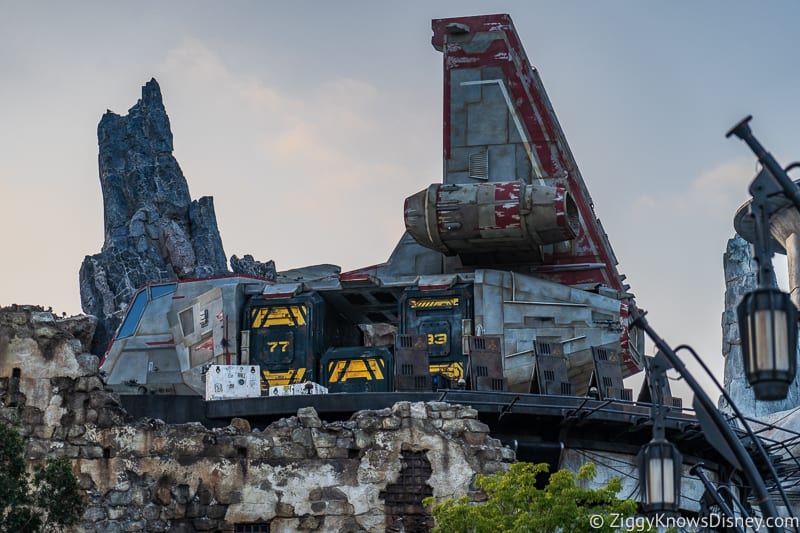 The details are down even to the jet engines revving up ready to take off: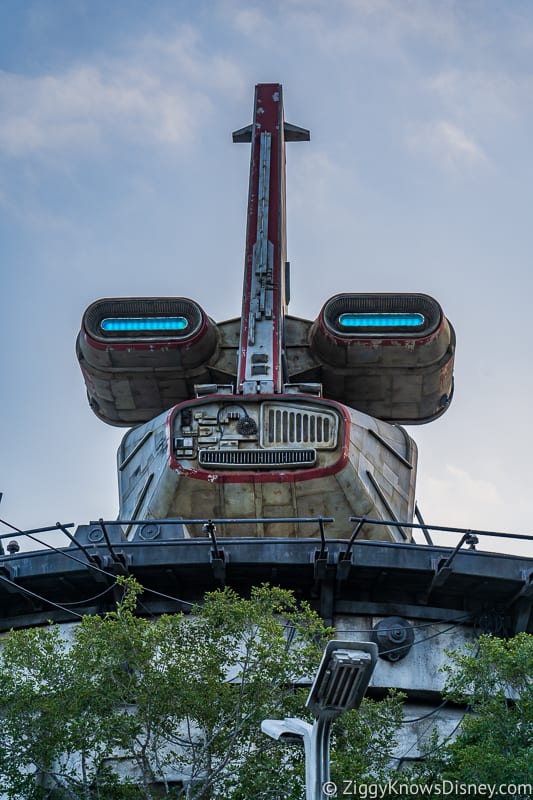 This place is awesome inside: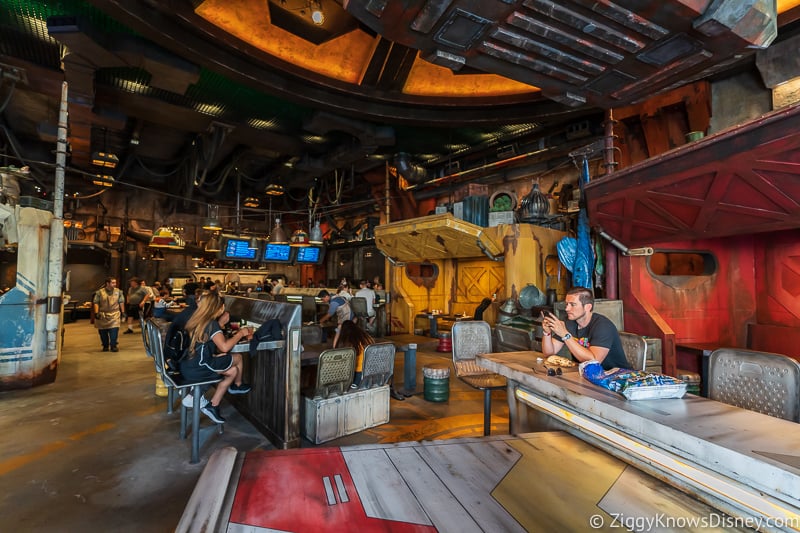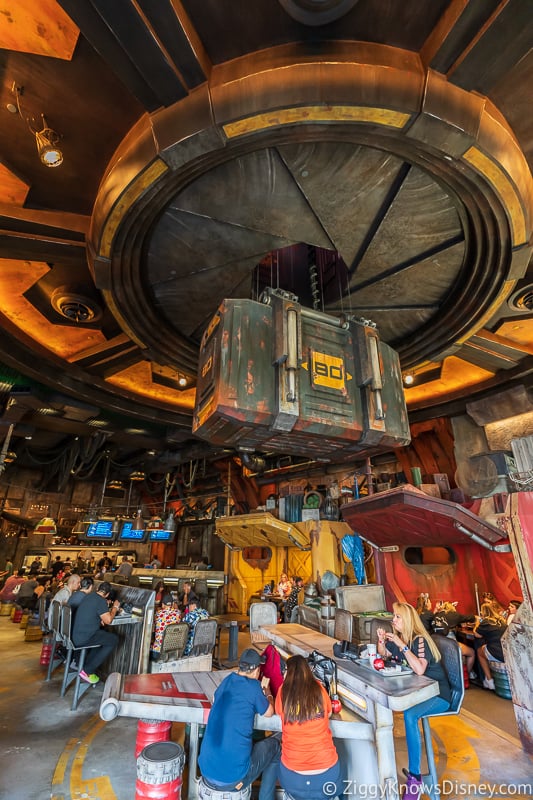 Cargo is loaded up through the hatch in the ceiling and ready to go in the shuttle: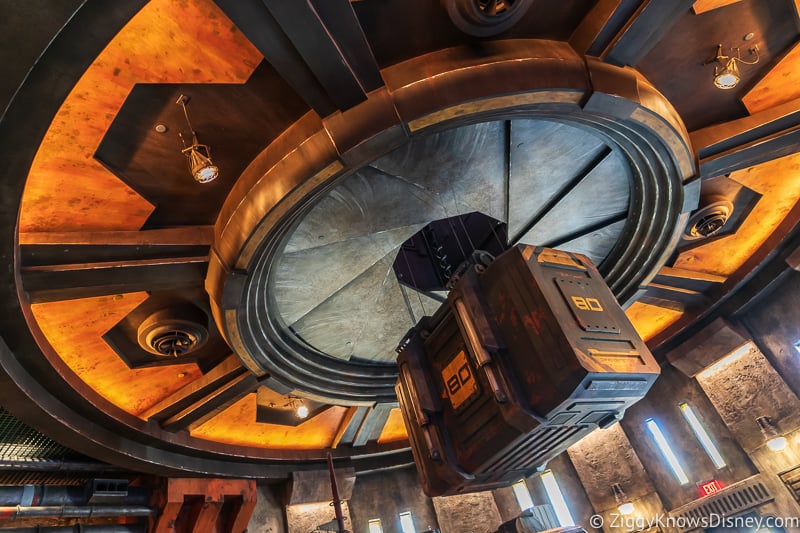 You find lots of cargo coming and going: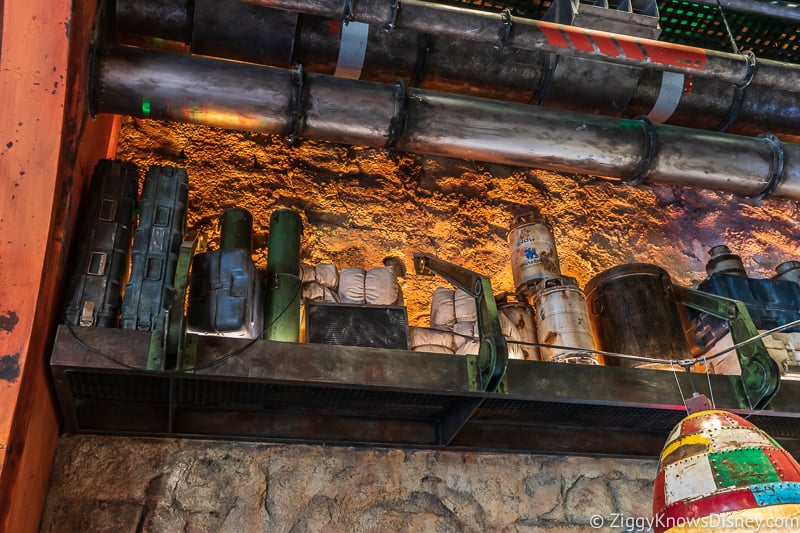 The tables and booths are big open shipping containers that you eat inside: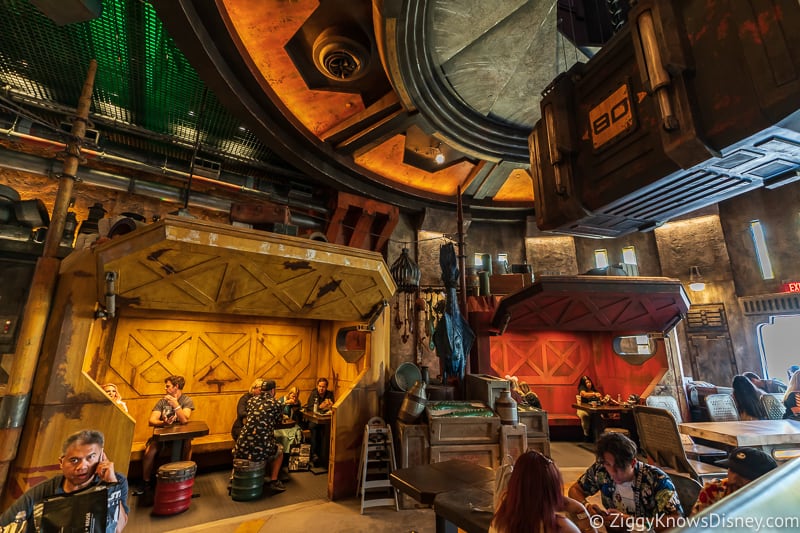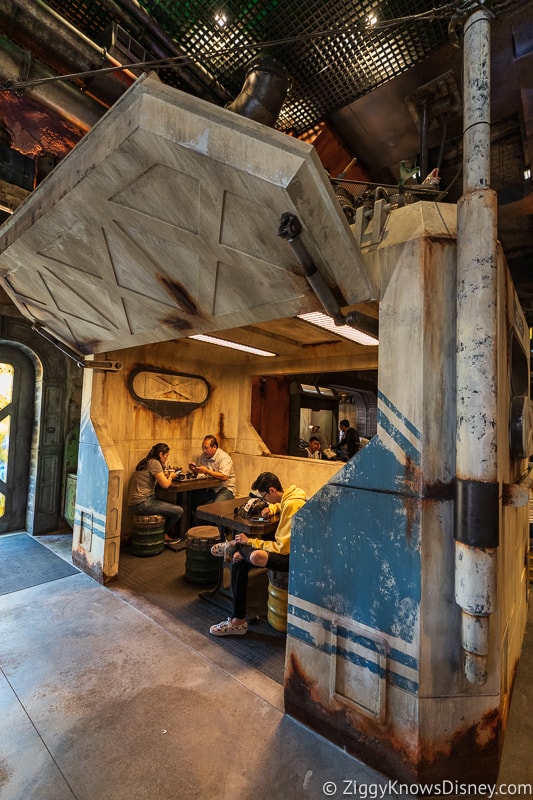 The stools are shipping canisters: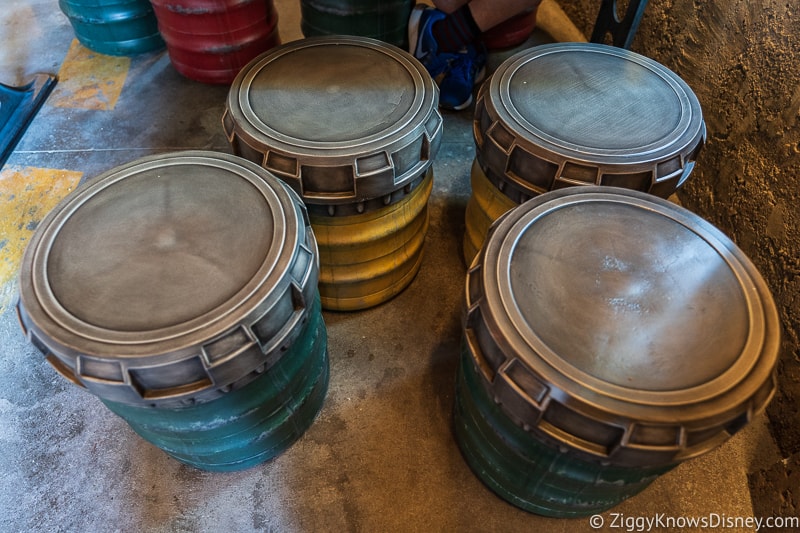 The trash bin: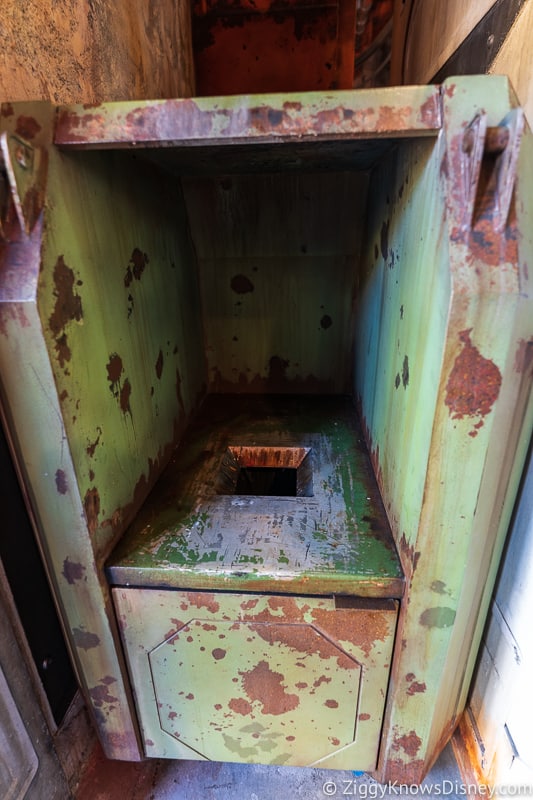 The seating outside is equally as beautiful: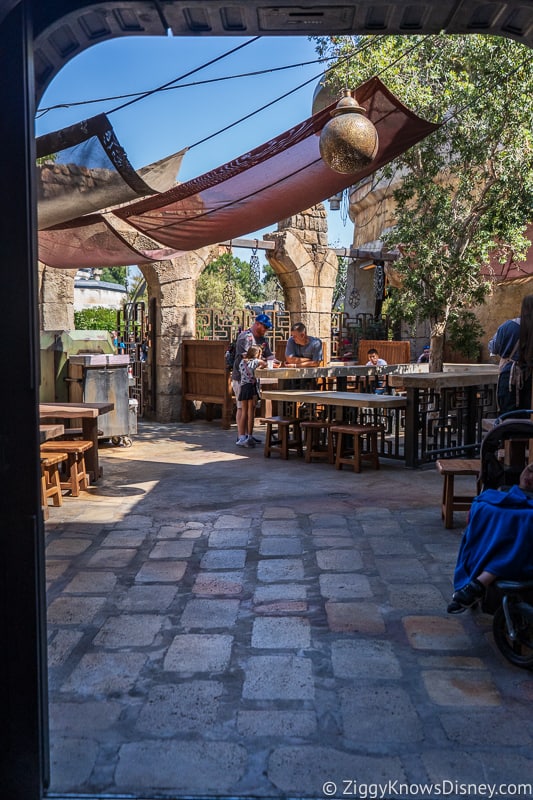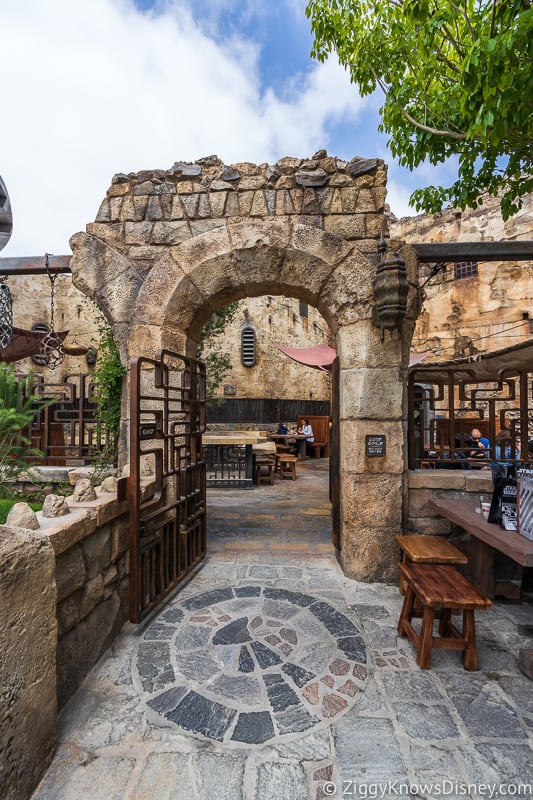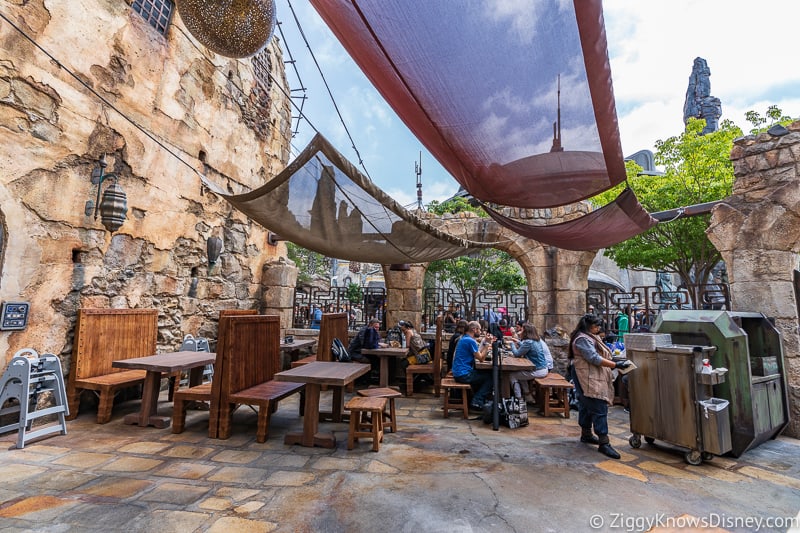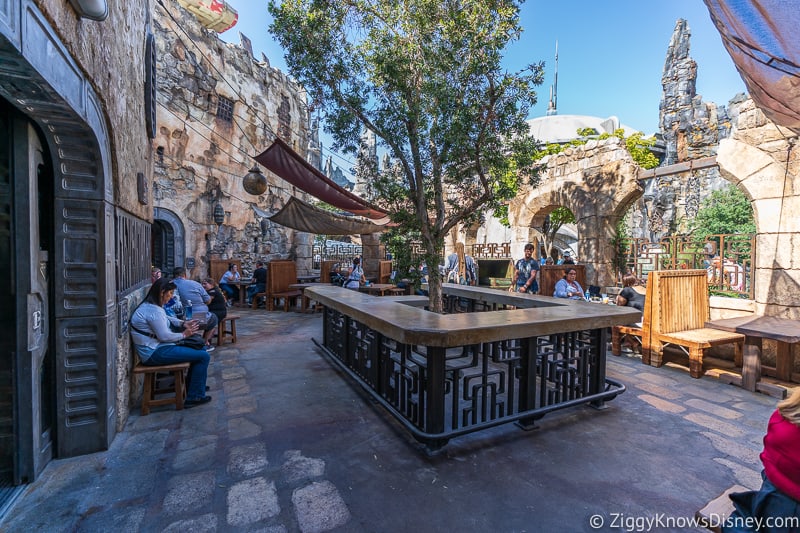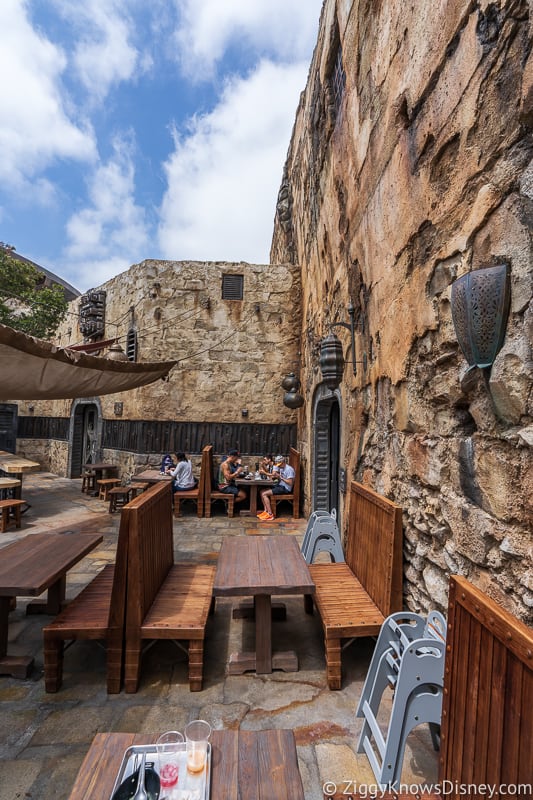 These containers are ready to go: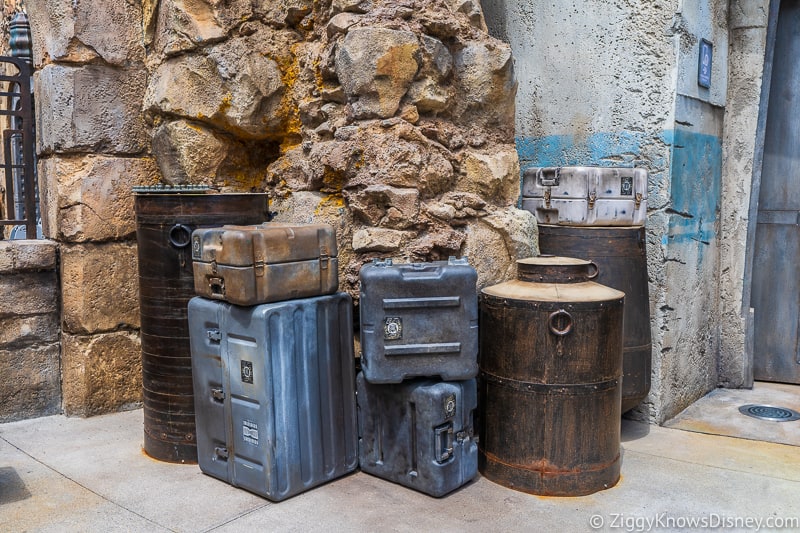 Next on our list is the hottest spot in Galaxy's Edge, Oga's Cantina!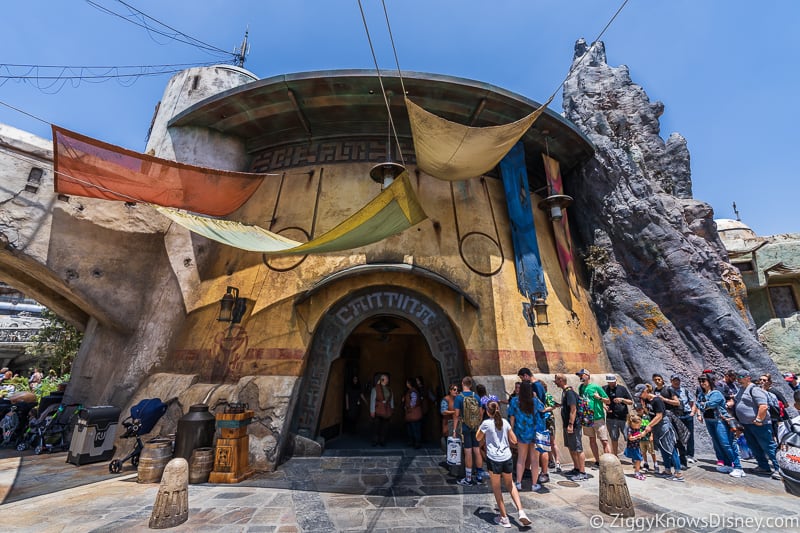 Expect to wait in line for some time before getting in, the line is almost always 1 Hour+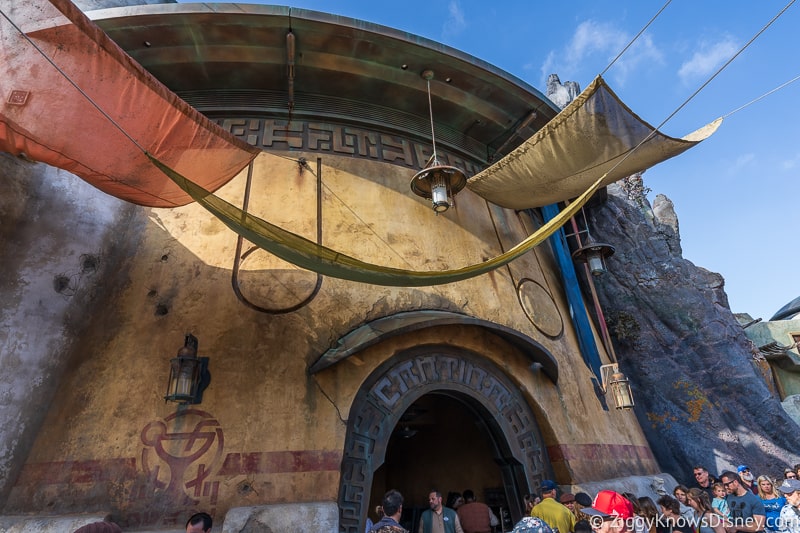 Can you translate for me? I think they want to keep out the riff raft: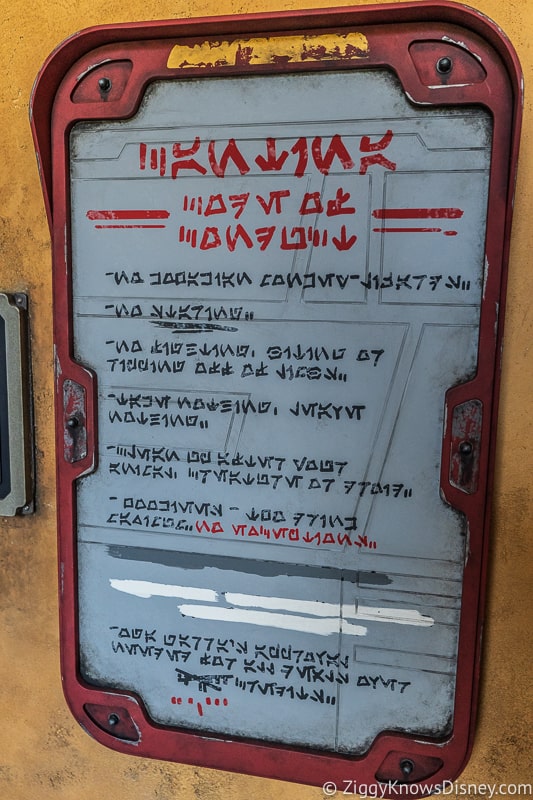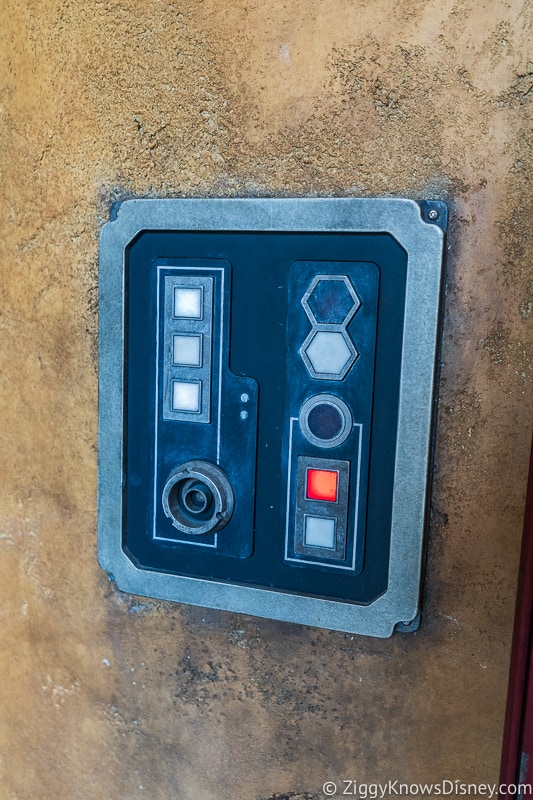 This is what I've always dreamed about!!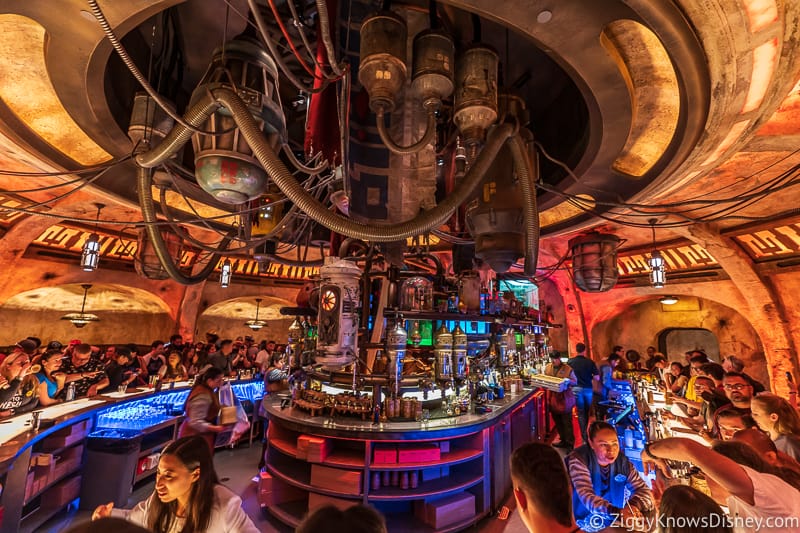 Just stare at these photos and try to comprehend how much time and effort went into designing Oga's Cantina…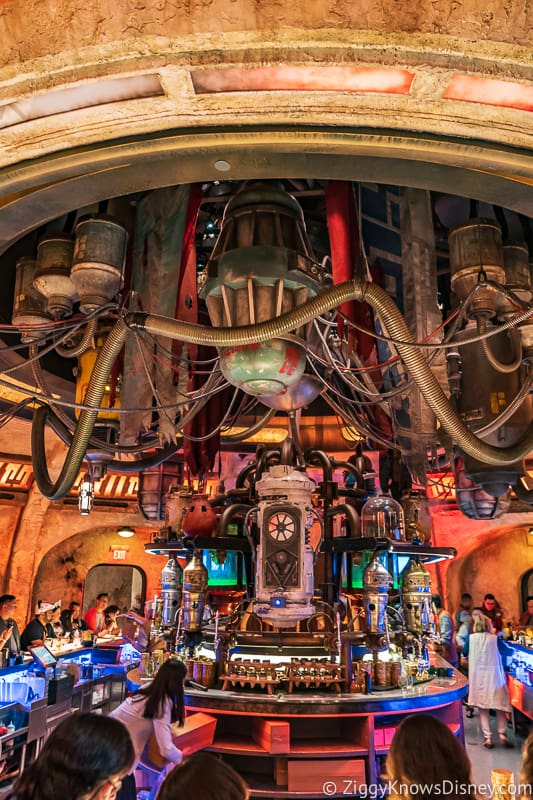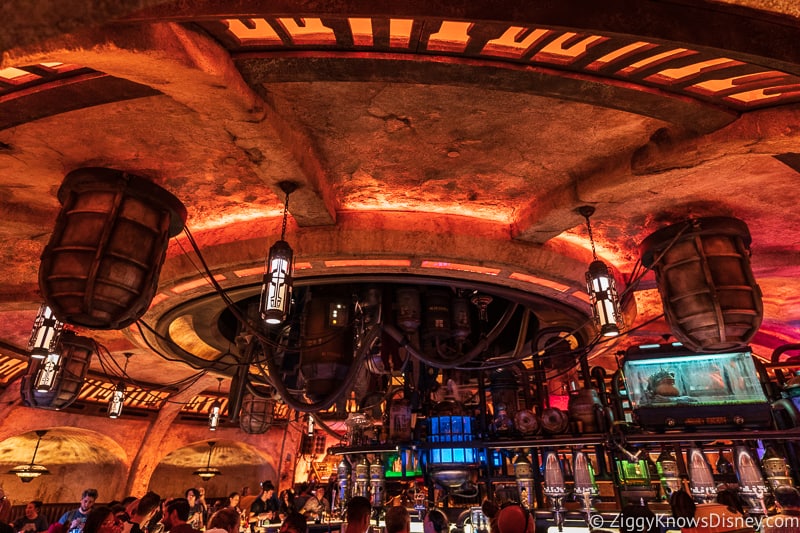 Guests line up around the bar placing their orders: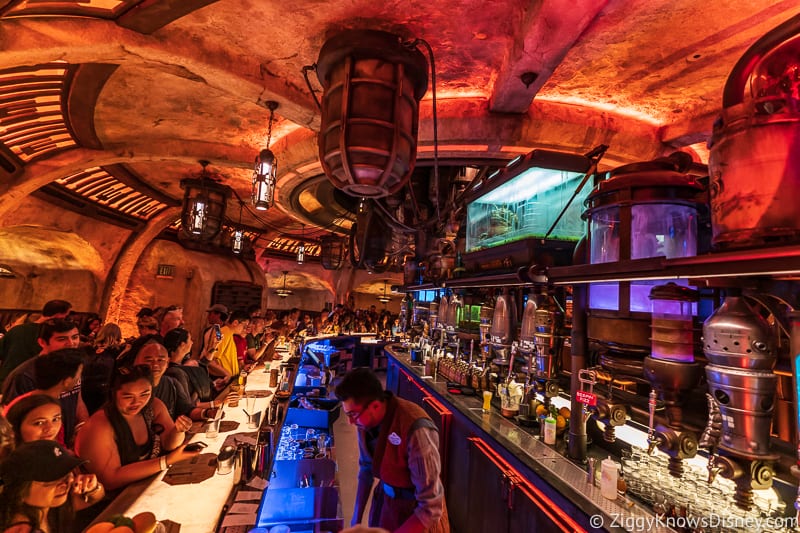 Or in one of the few booths located around the sides of the building: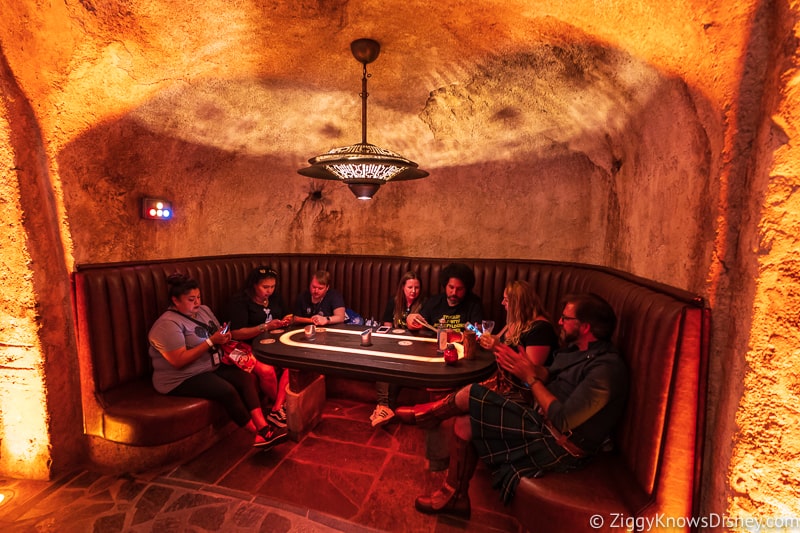 Drinks flowing: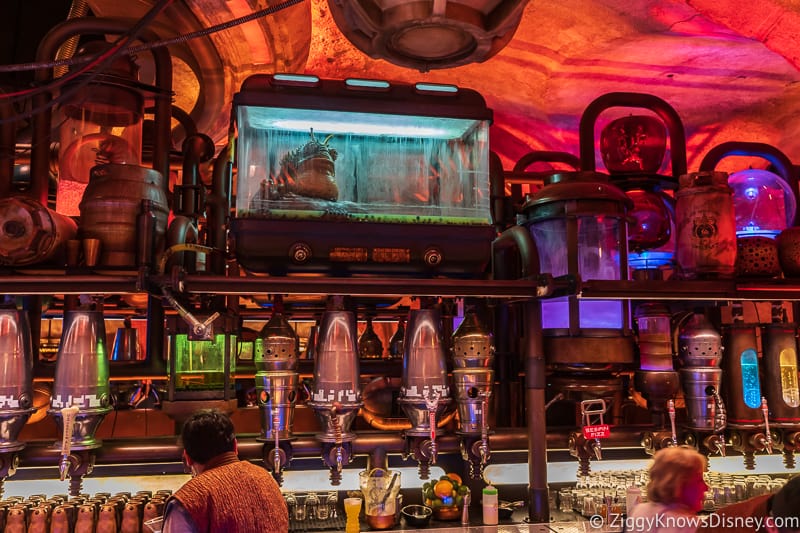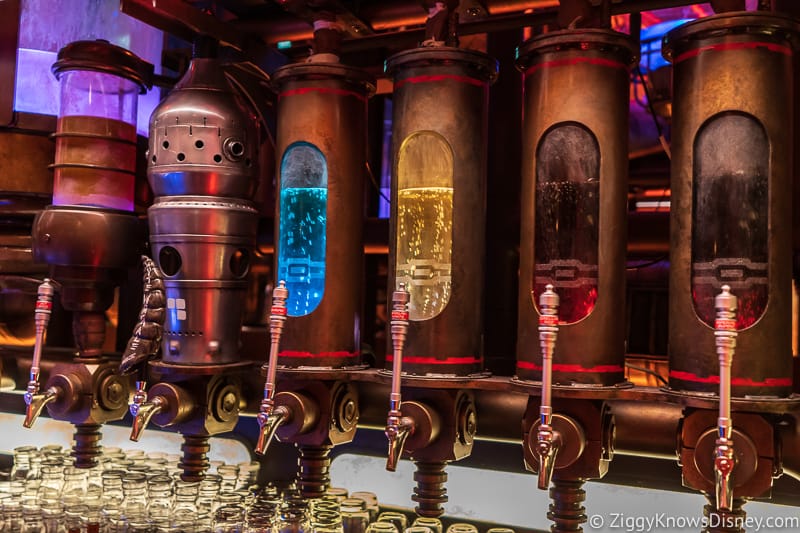 DJ Rex is handling all the music in Oga's and he was spot on with the music, really adds to the theming and environment. Love him!!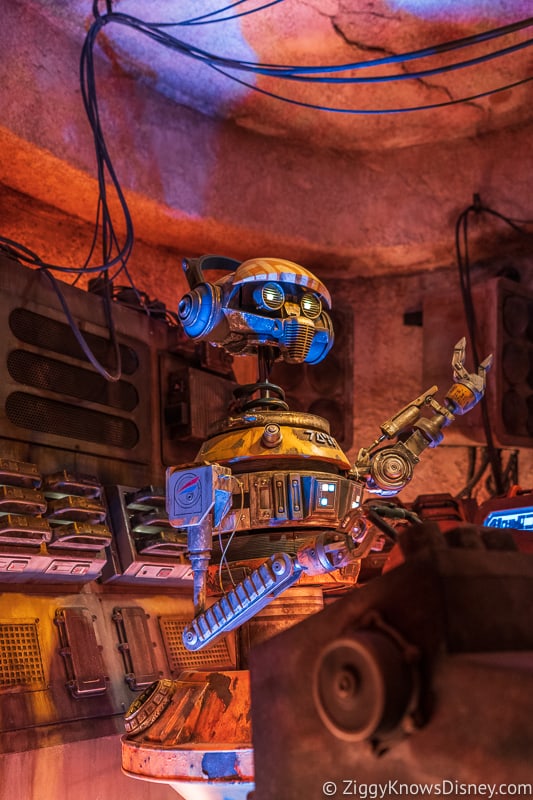 Here's a sampling of the food and drinks. We have a full review of Oga's Cantina coming so stay tuned…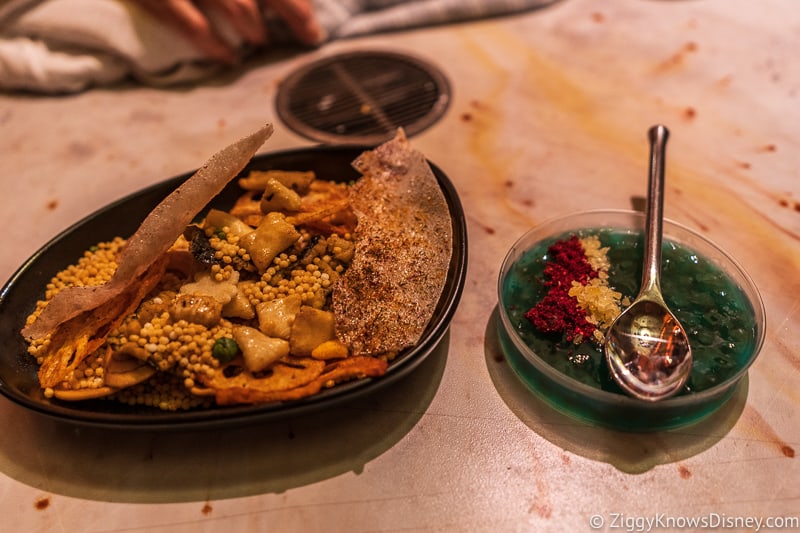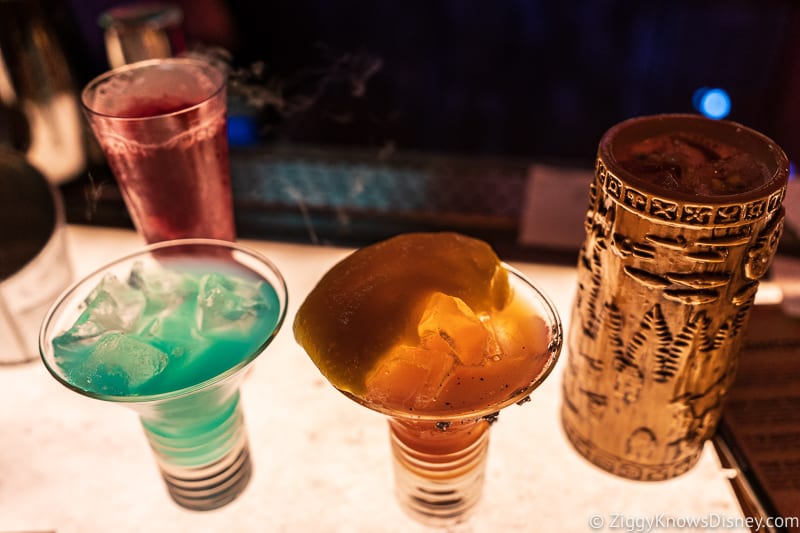 Another hot spot in Galaxy's Edge is Savi's Workshop – Handbuilt Lightsabers: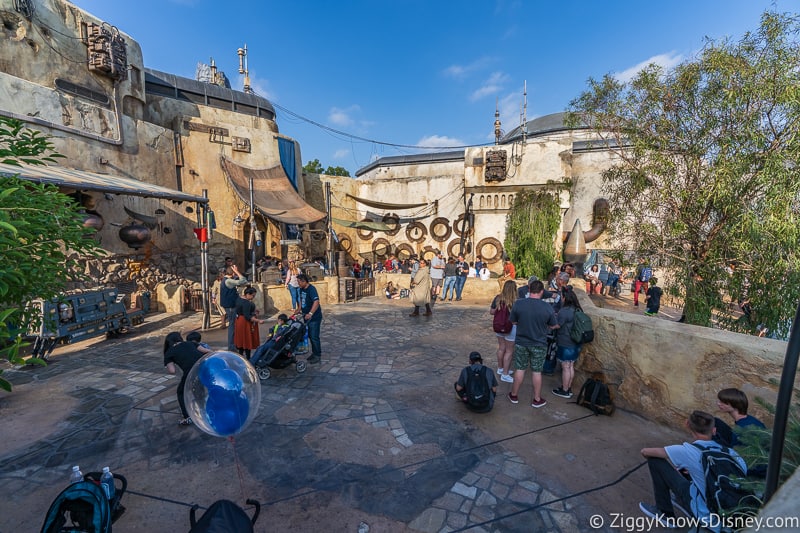 Just be ready to wait in some lines to get in…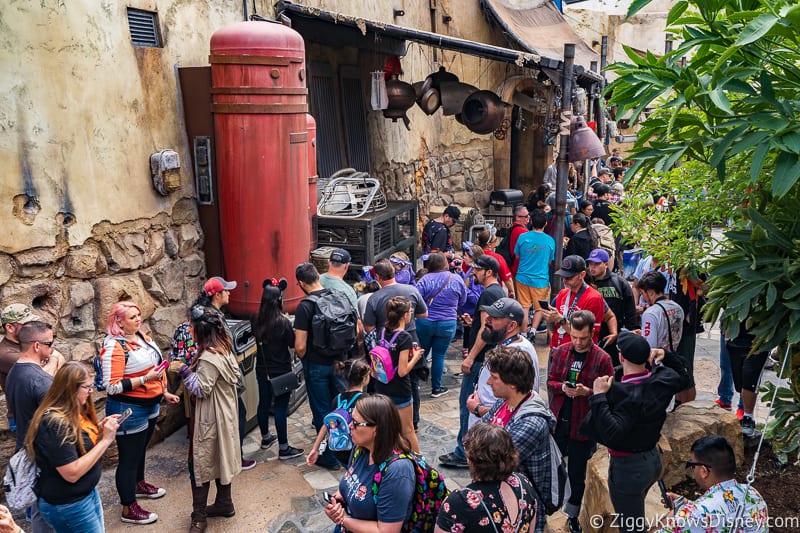 Like really long lines….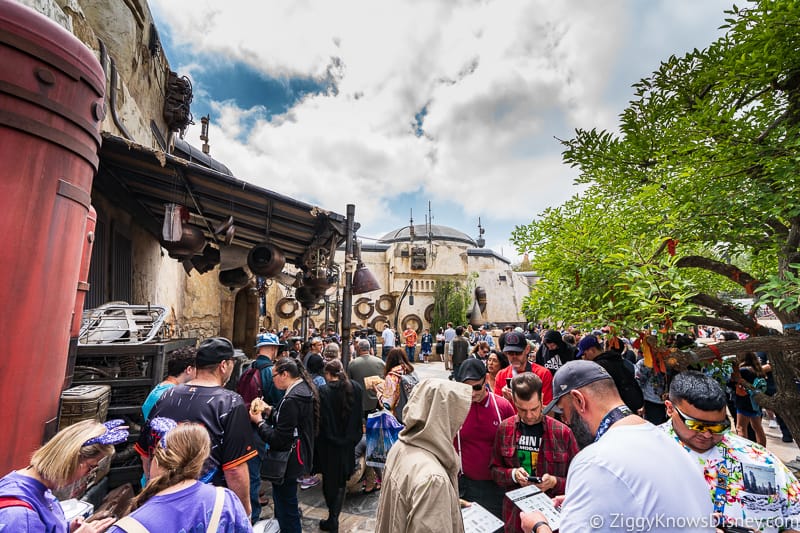 At least the cast members were hilarious and keep you entertained the whole time! It's scrap metal, just scrap metal….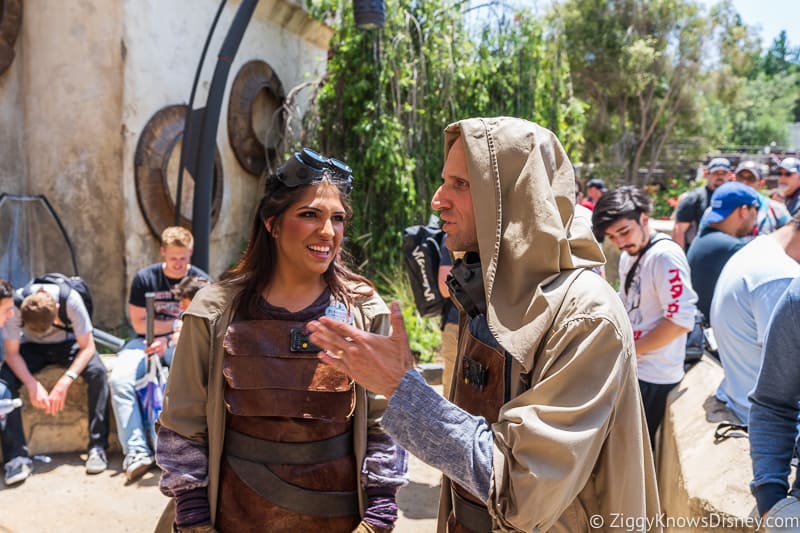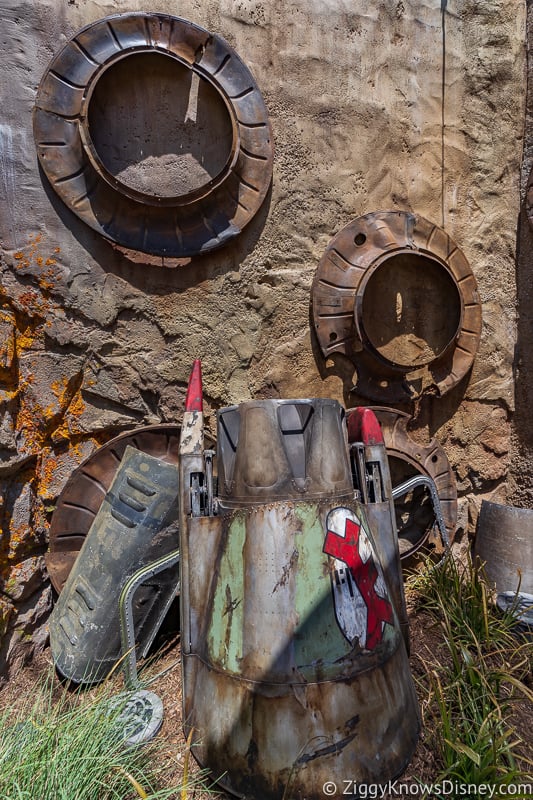 Be prepared for another amazing experience which is one of a kind. Customize and build your own lightsaber in Savi's and then become one with it.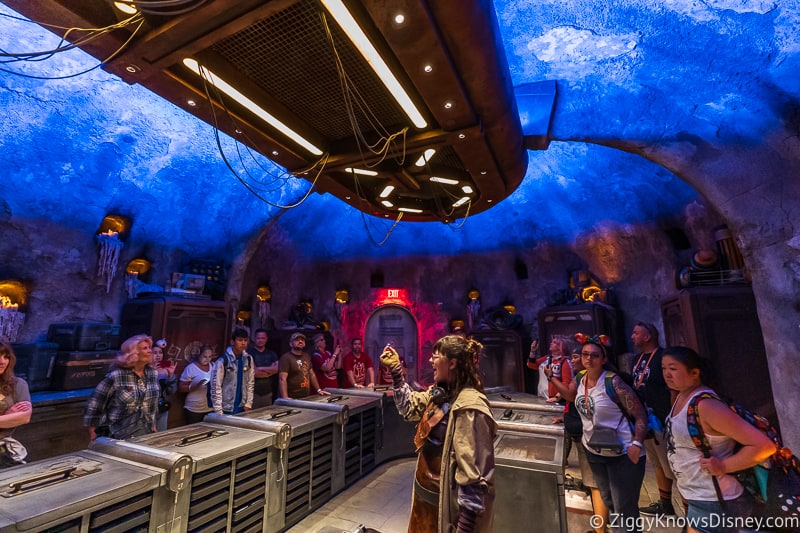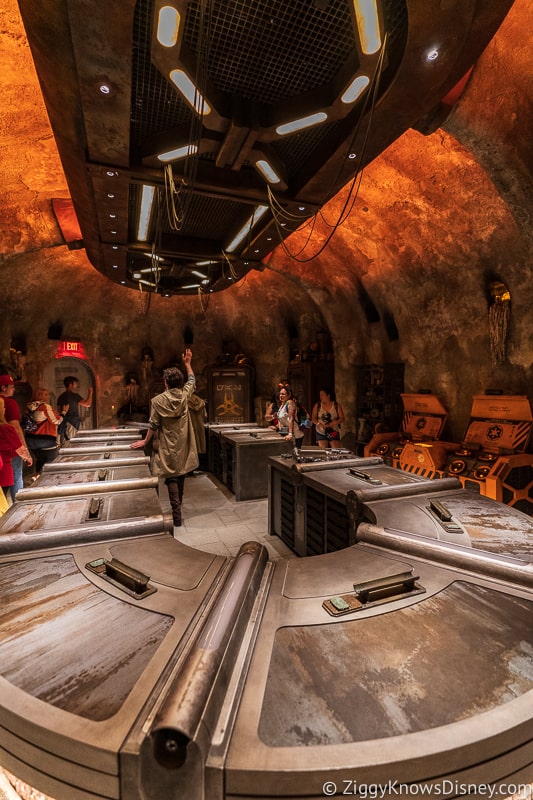 There are too many hidden details throughout Galaxy's Edge to even try. to show you all of them, you're just going to have to visit yourself. However we really seeing the droids. These guys were involved in a wreck: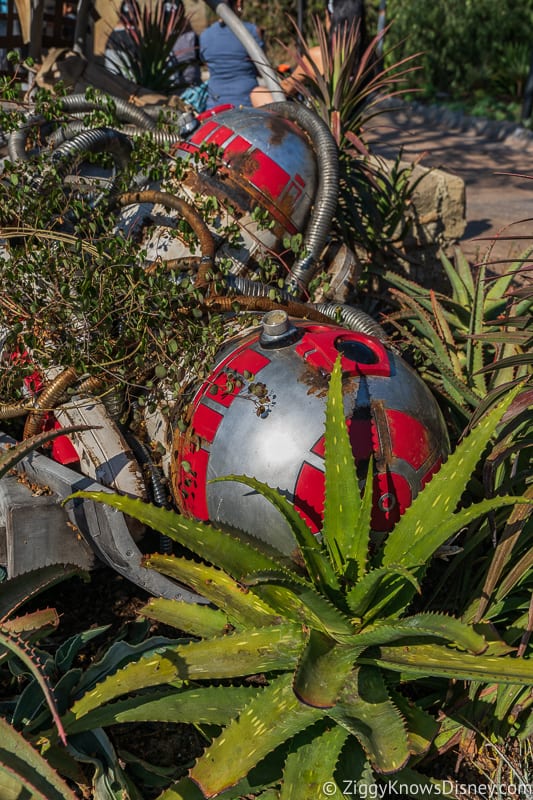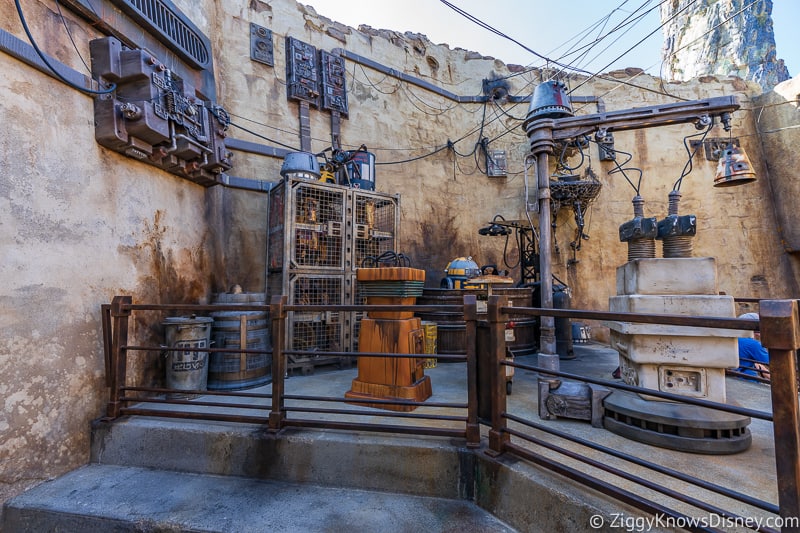 New droids are lined up outside the Droid Depot where you can customize and build your own working droid: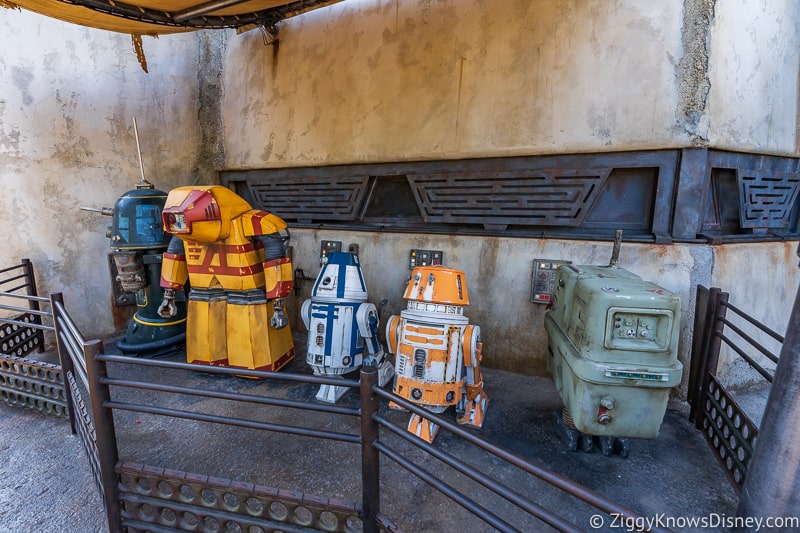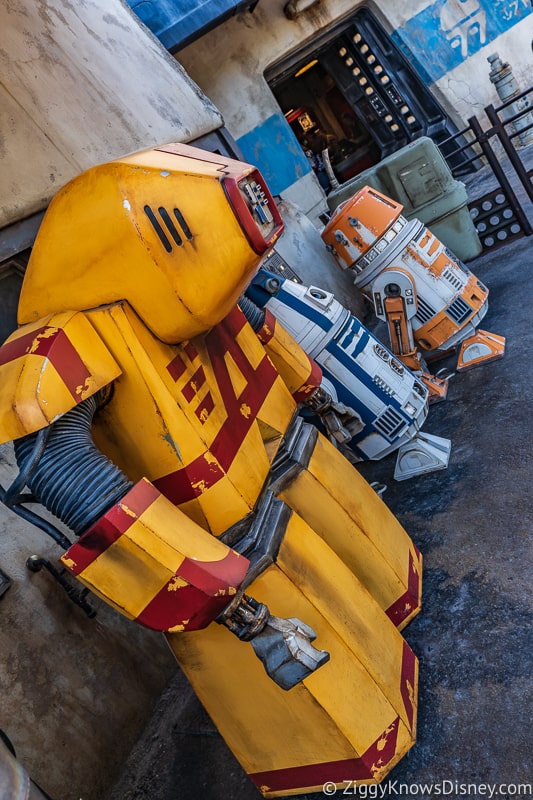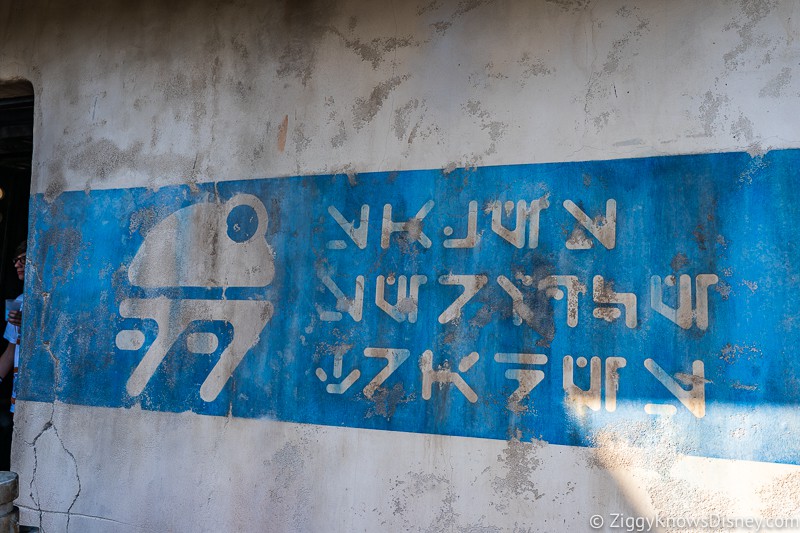 Stepping inside here is truly an experience: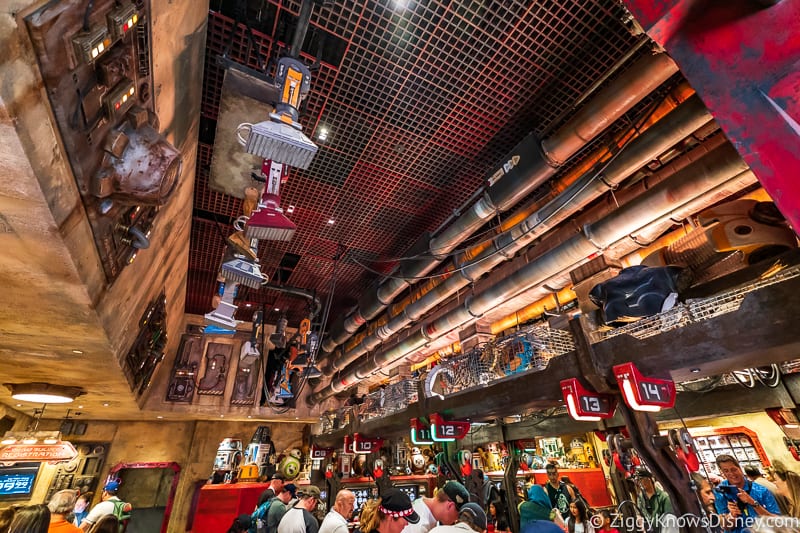 A conveyor of droid parts hangs on the ceiling above: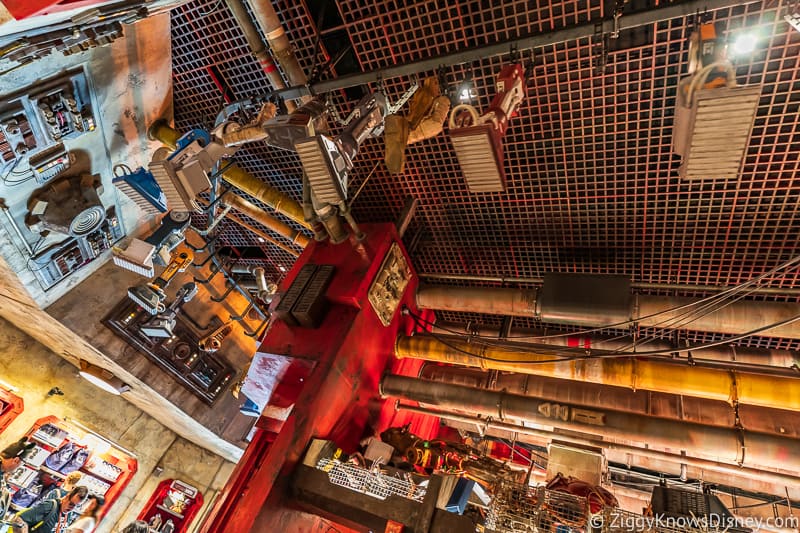 Here are some of the not so finished droid projects: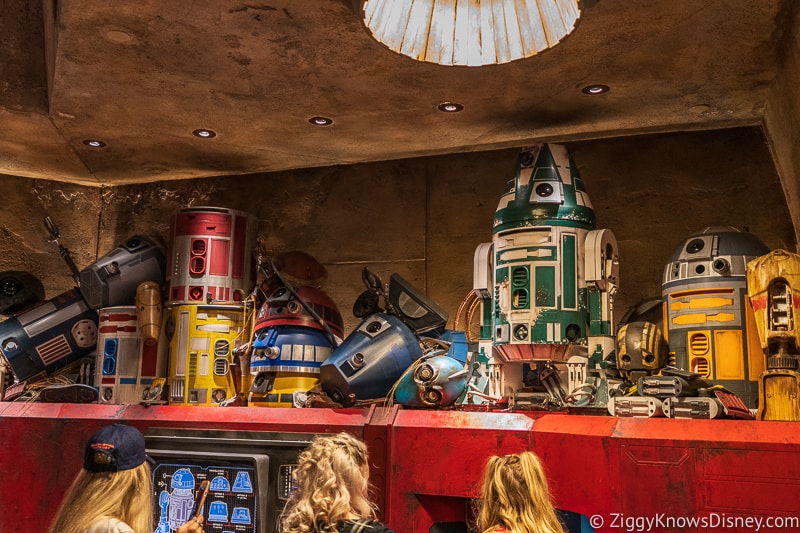 Another conveyor passes on ground level where you pick your droid parts to build: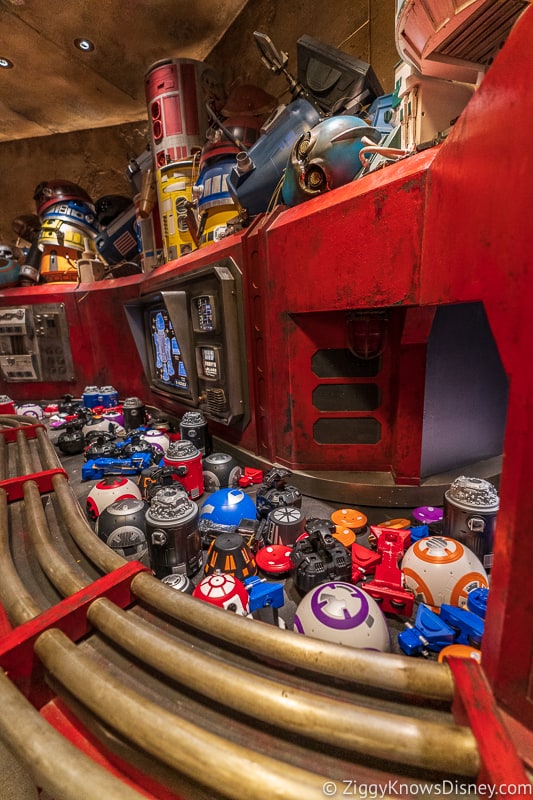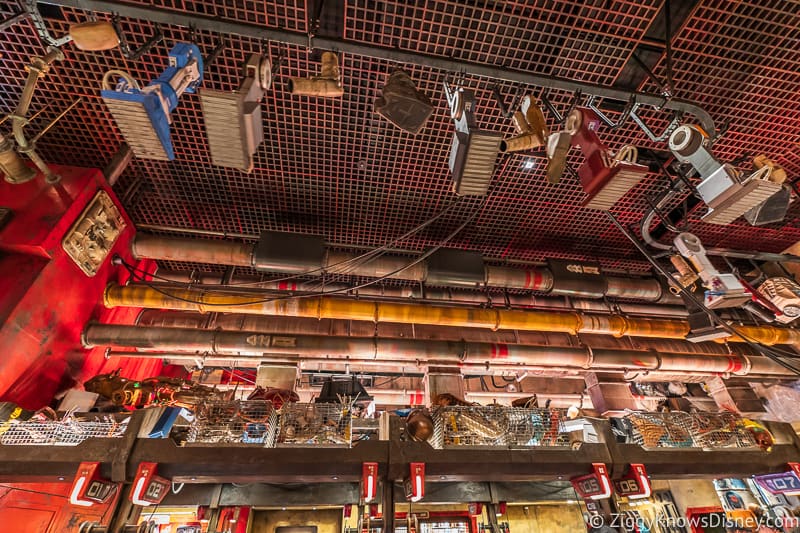 Here is the famous Milk Stand where you can buy some of the famous Blue or Green milk…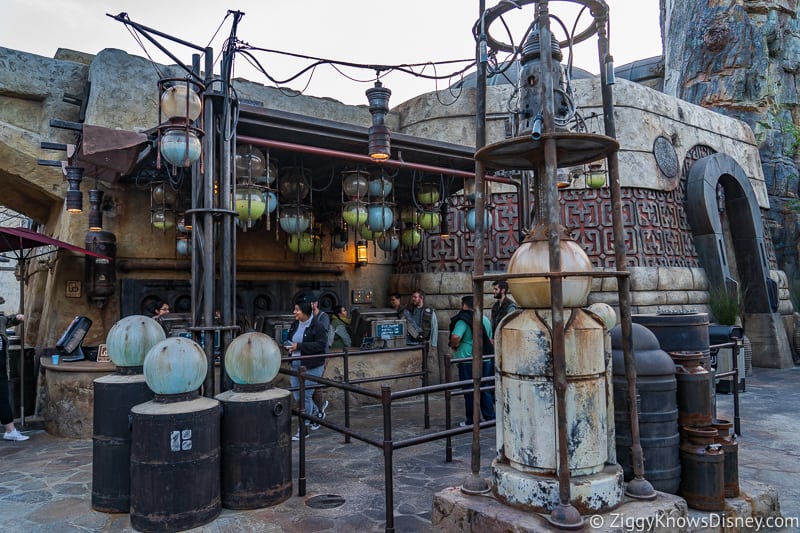 Doesn't it look appetizing??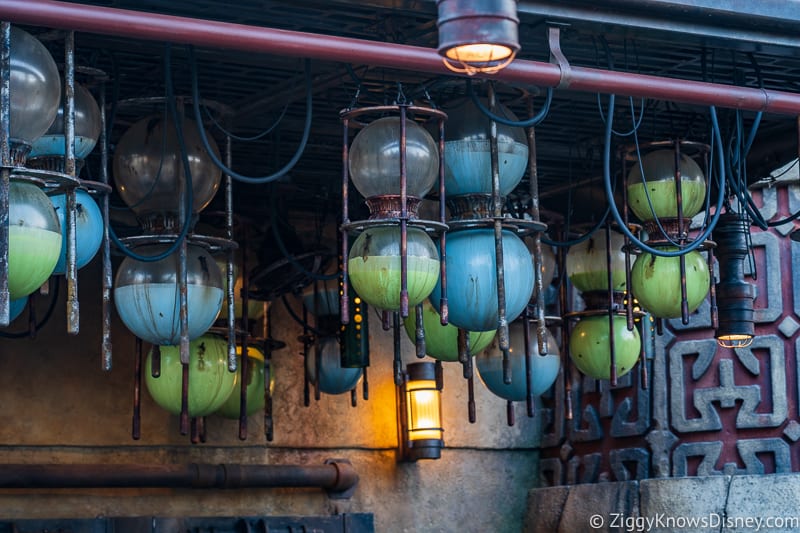 There is some nasty milk in here that actually bubbles up and makes noises when you walk by: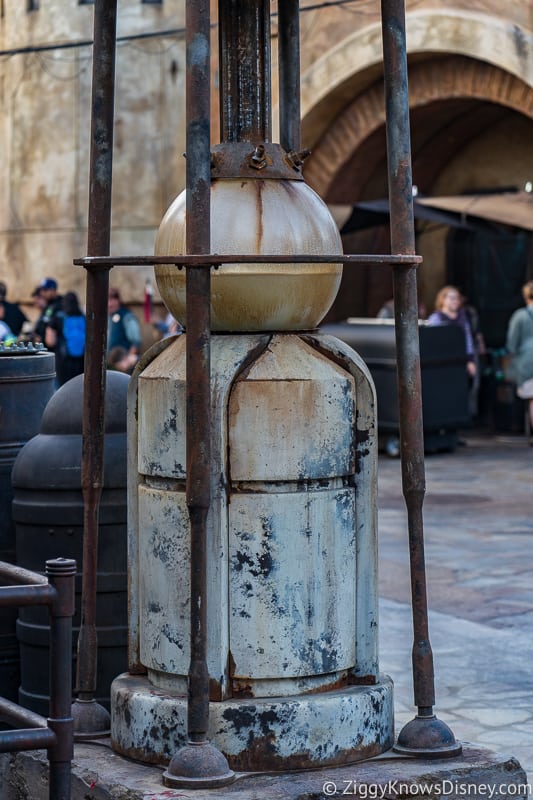 The last and final entrance to Galaxy's Edge is where the First Order have made their camp since they've landed: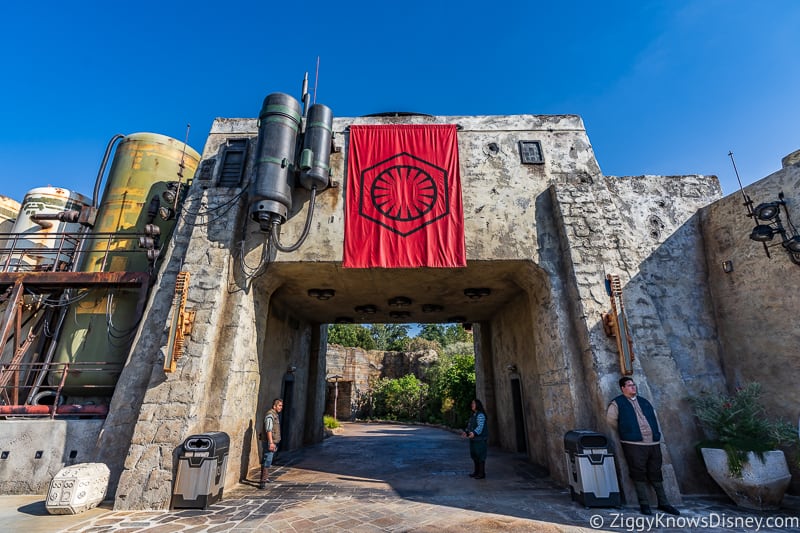 At times you'll see stormtroopers walking on the walls above: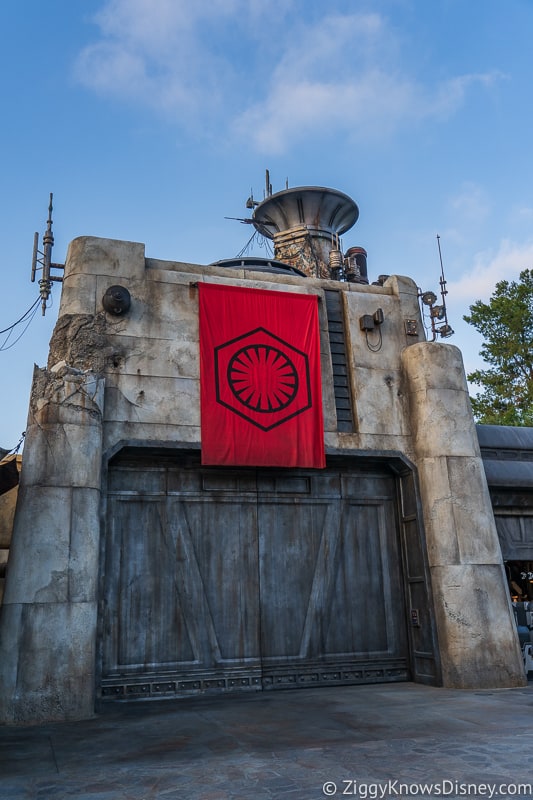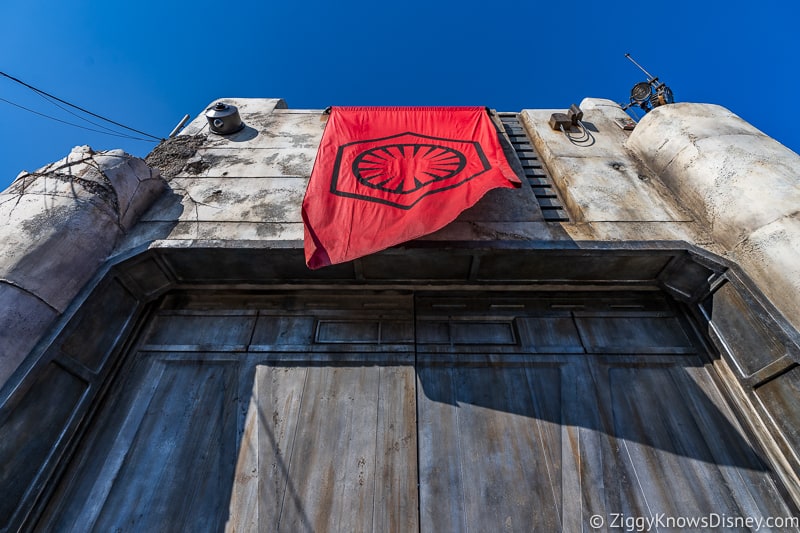 The new TIE Echelon is a sight to see: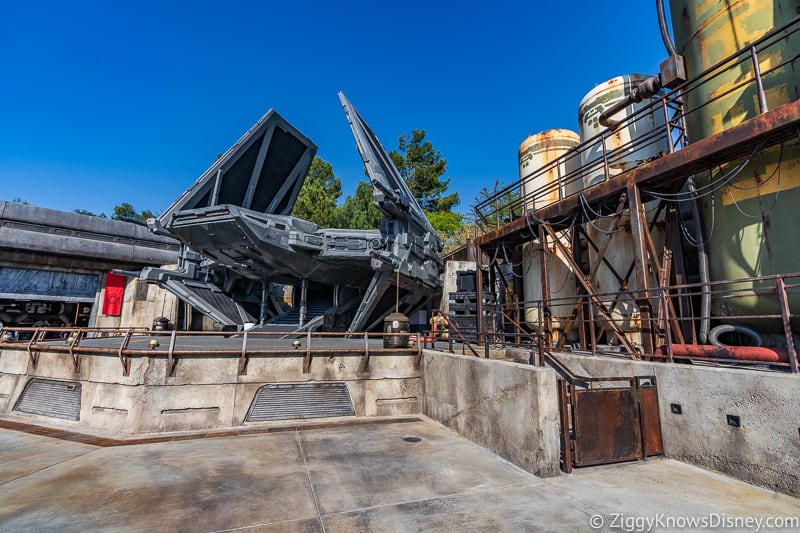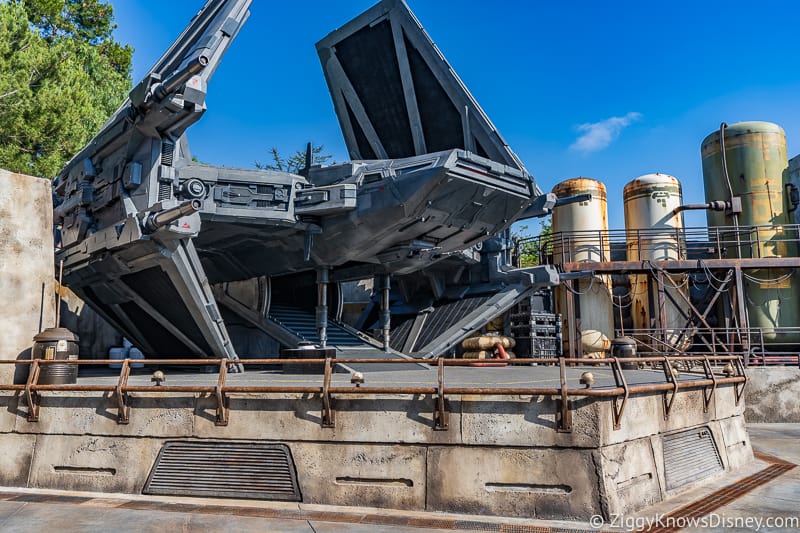 And it holds a special visitor to Black Spire Outpost, Kylo Ren: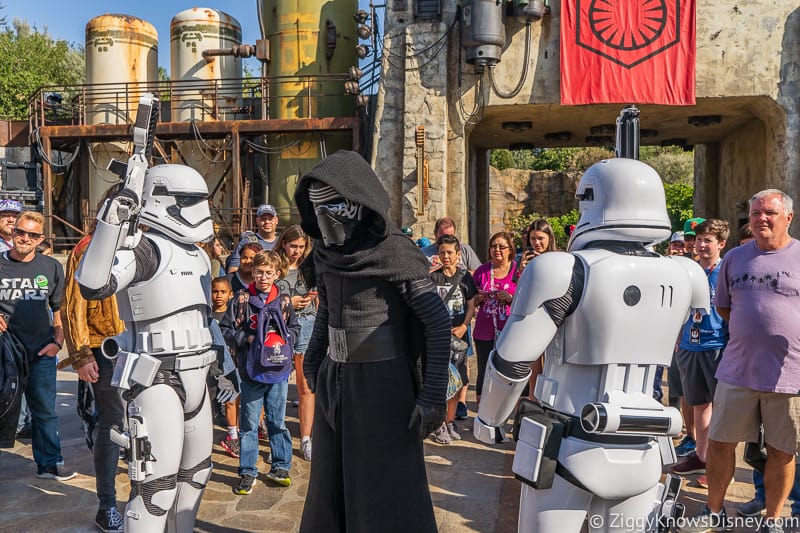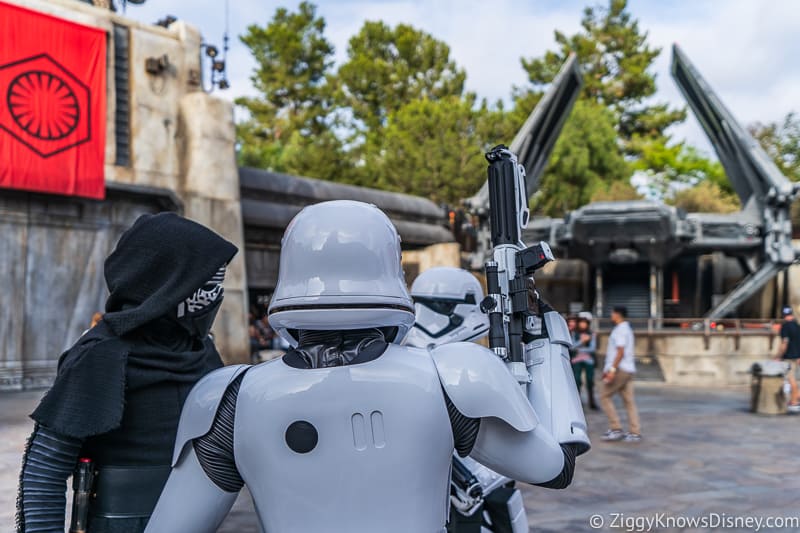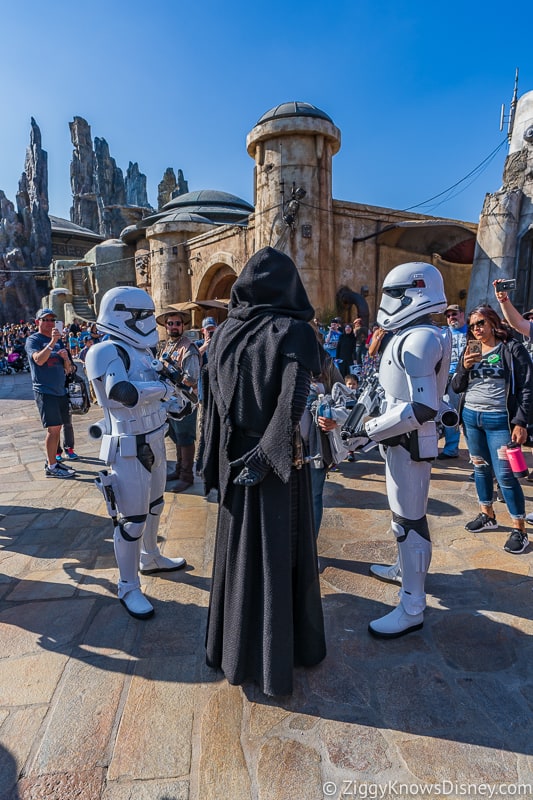 He and the stormtroopers are looking for a resistance spy in Black Spire Outpost, so try to keep a low profile: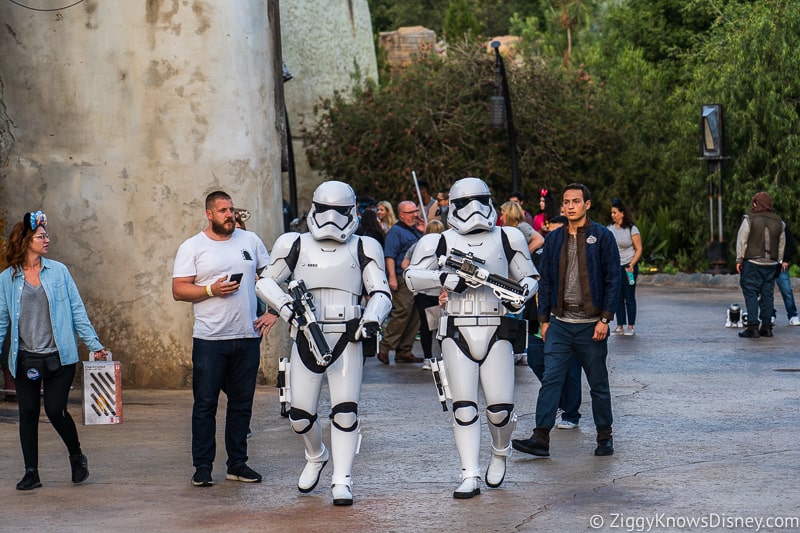 Otherwise they might come after you: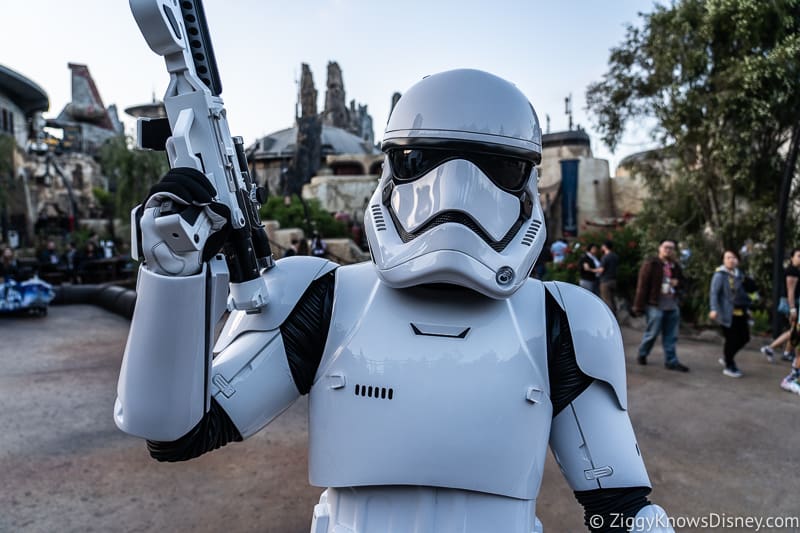 This is Dok Ondar's Den of Antiquities where the rarest merchandise is held in Galaxy's Edge: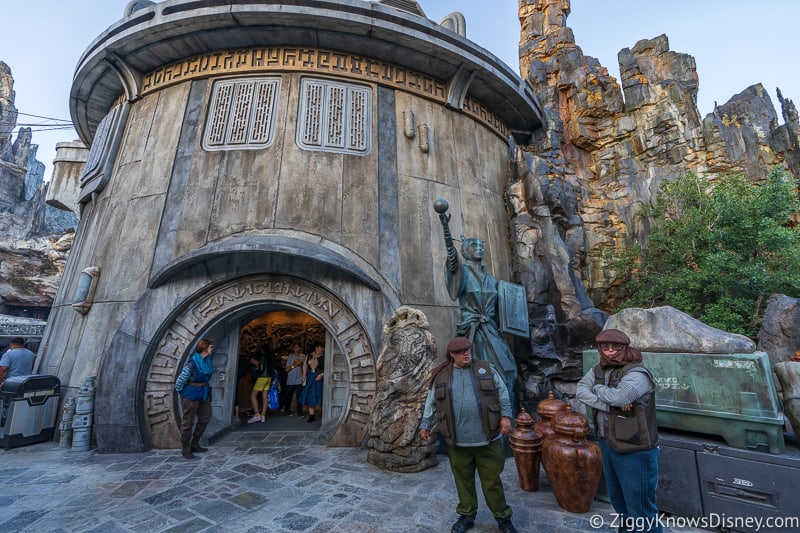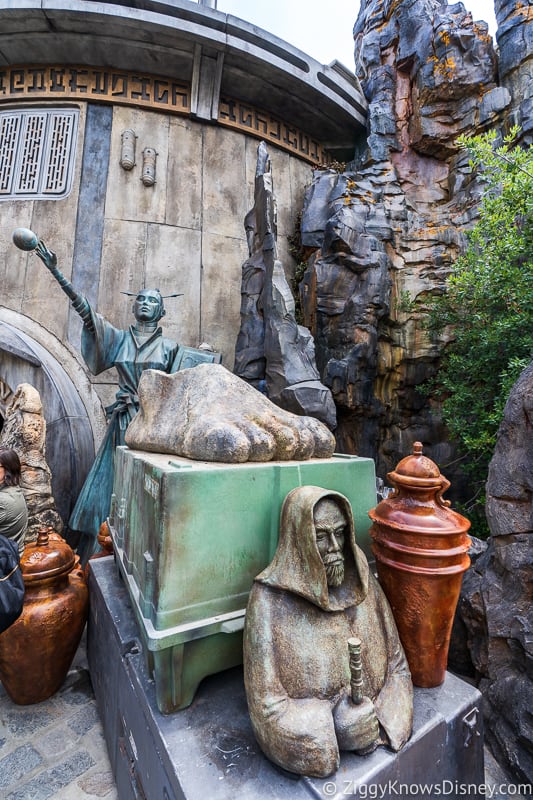 More hidden. passages and doors: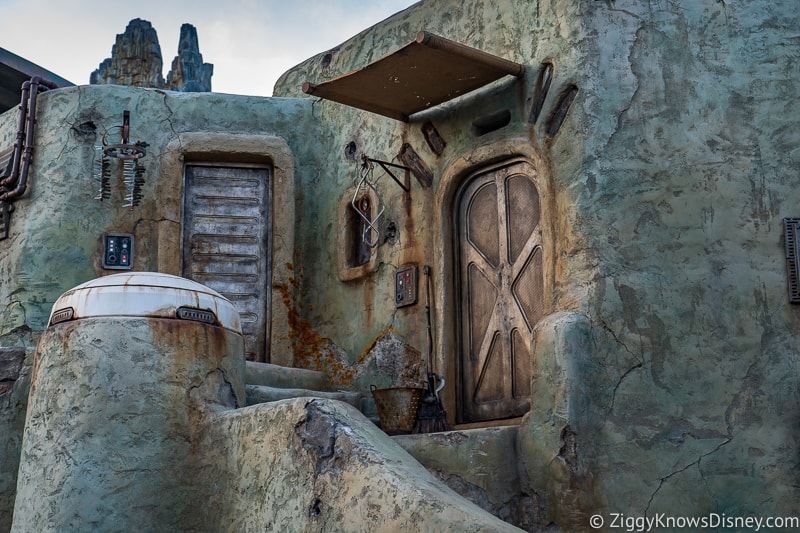 Seating is abundant, and there are lots of containers you can use to take a load off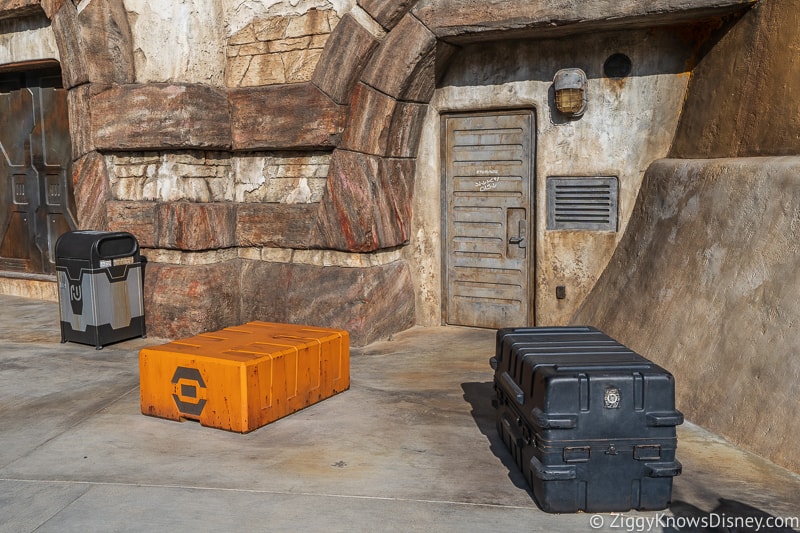 A look at the restrooms in Galaxy's Edge. They are located in two sections, here near the First Order base, and on the other side in the marketplace: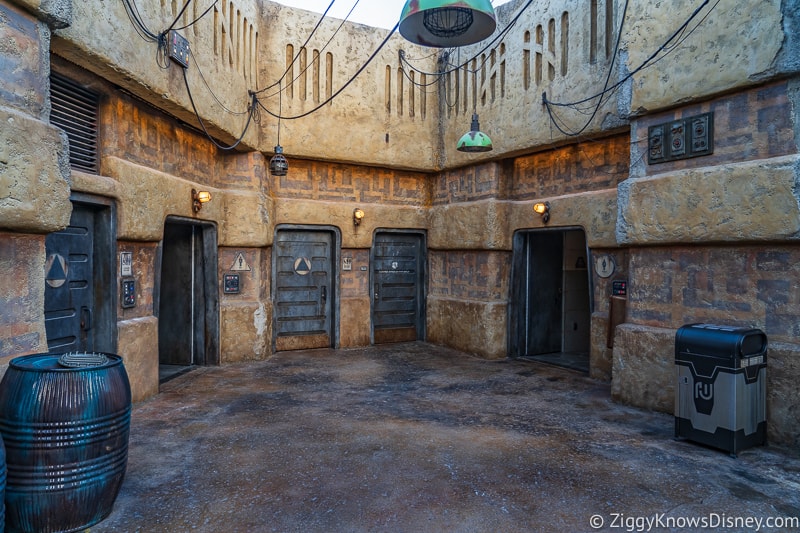 Going to show you just a few of the other details in Black Spire. I really liked this cool cage filled with confiscated resistance gear, helmets, blasters, etc: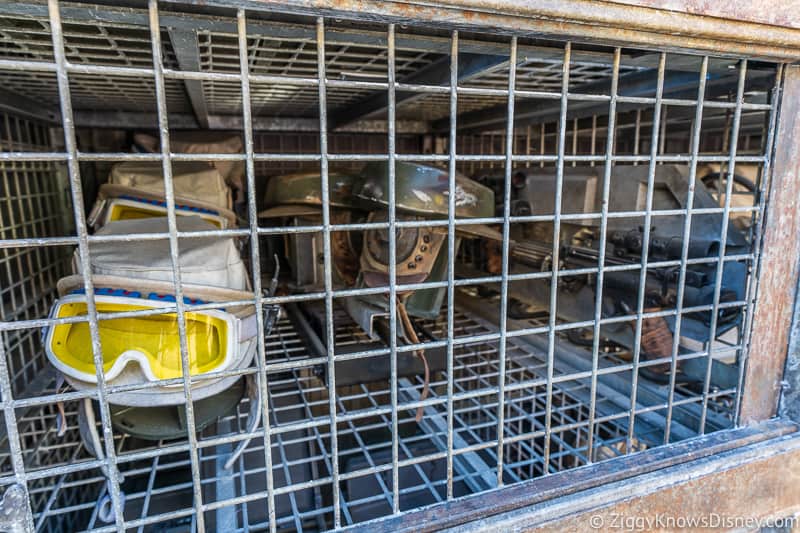 The walls are incredible and this one looks like it's been splattered with alien blood. Too bad for that guy!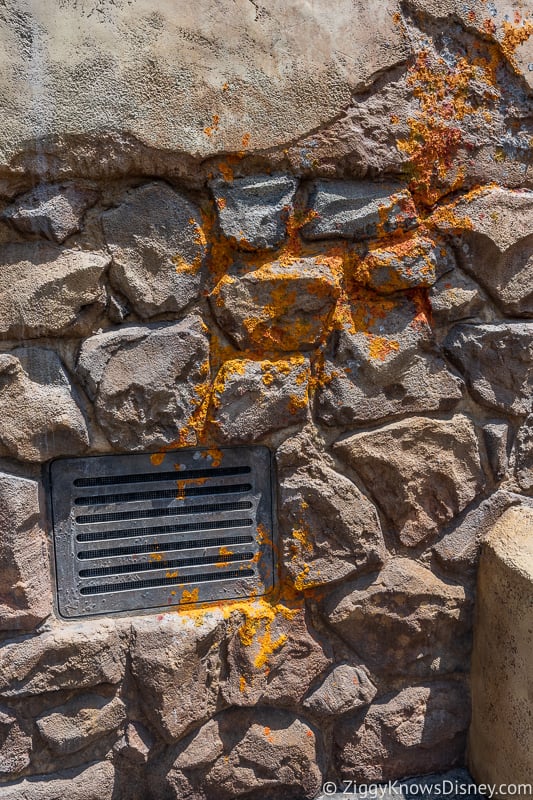 More of the many electronic transformers and circuit breaker boxes: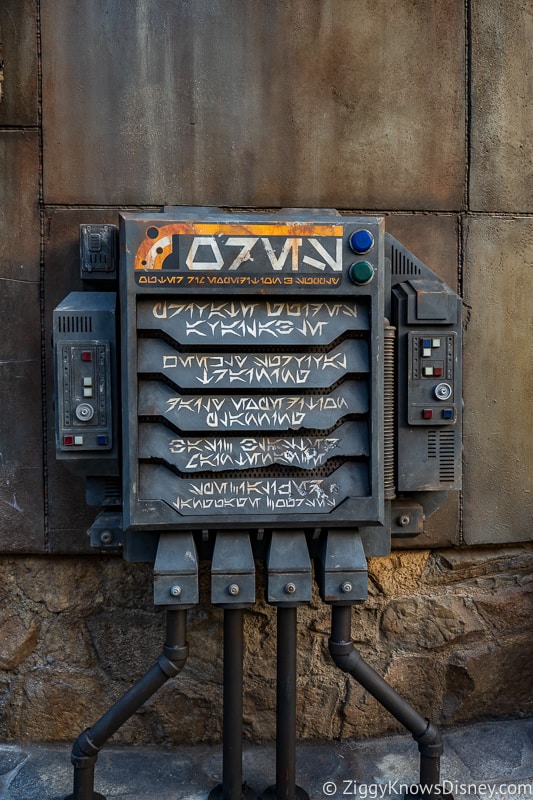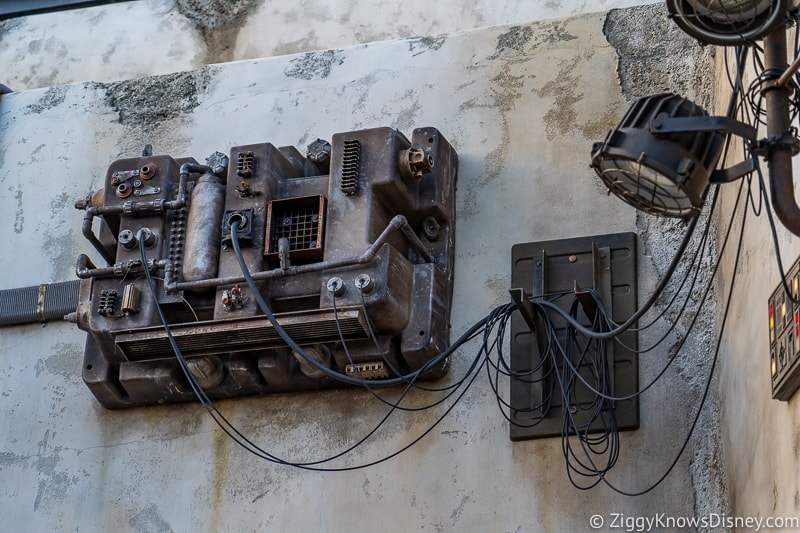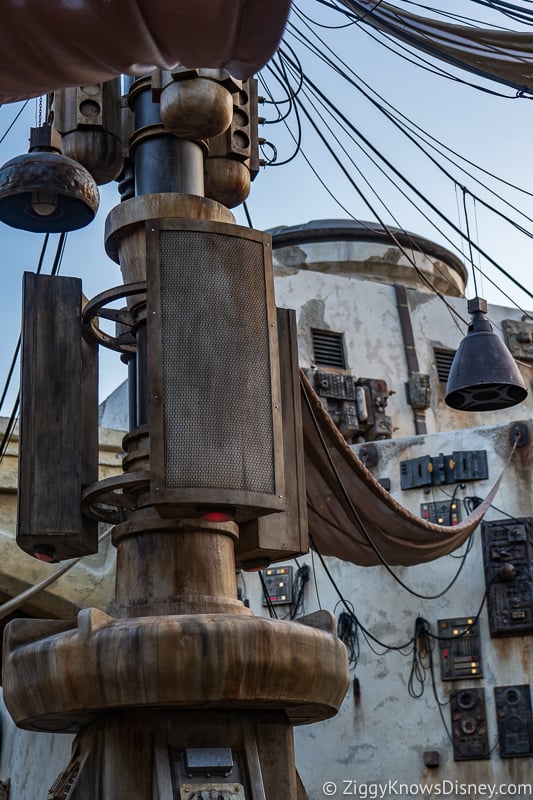 The garbage cans in Galaxy's Edge are legit, not flimsy: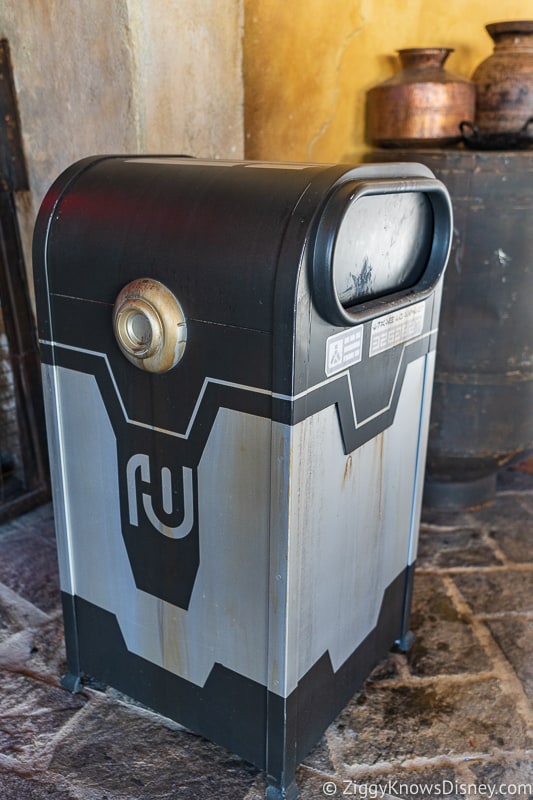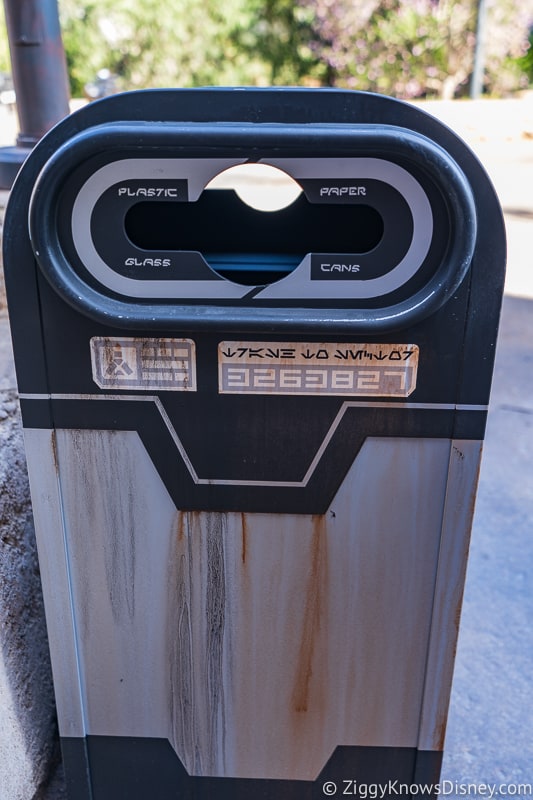 Another wall which is wearing with age and reveals an. older one inside: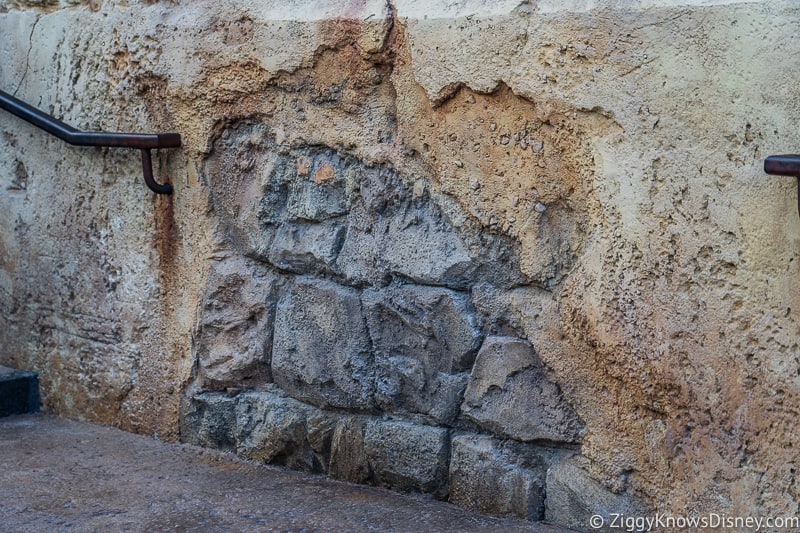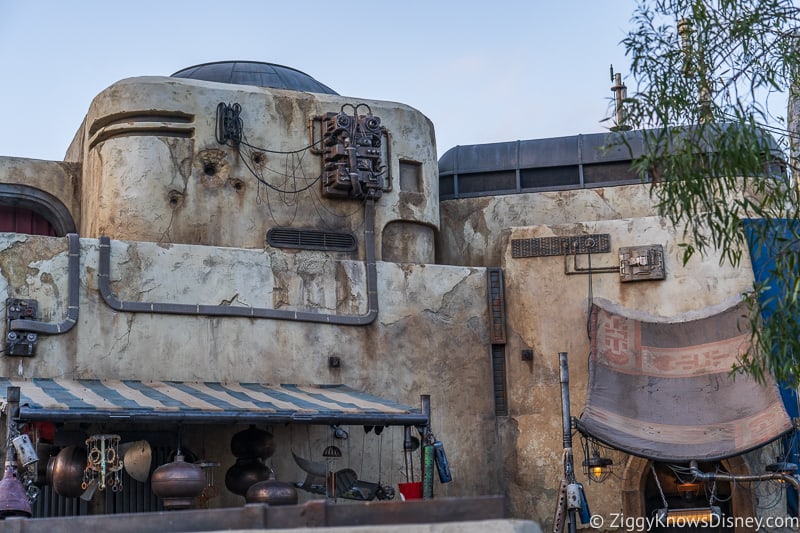 What did Black Spire Outpost get its name from? The Black Spires of course!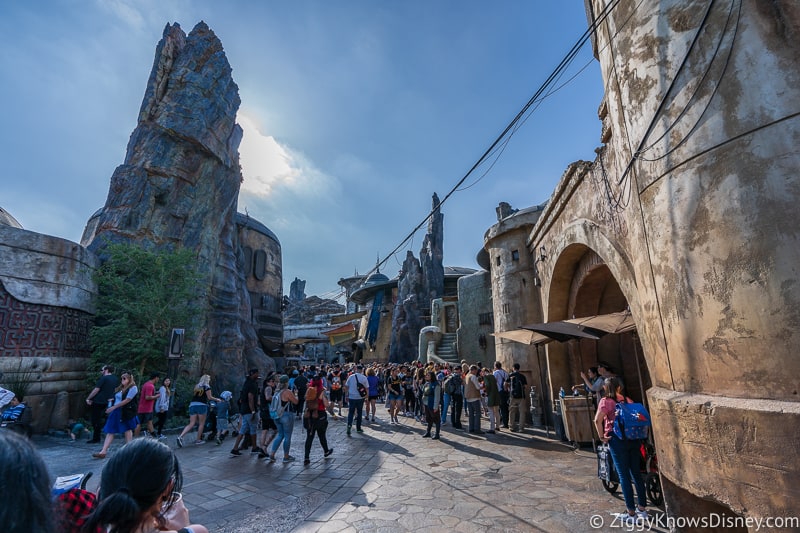 You can't tell at all that this isn't real rock: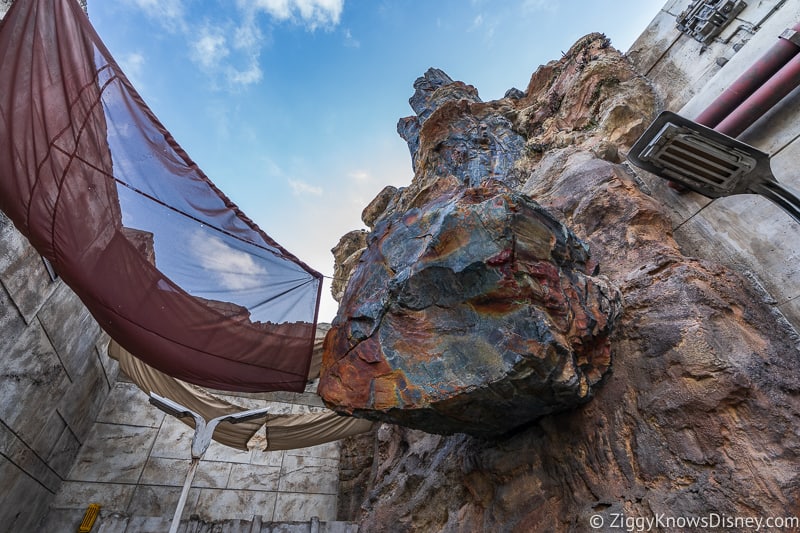 Disney keeps getting better and better at this and the spires dominate the skyline: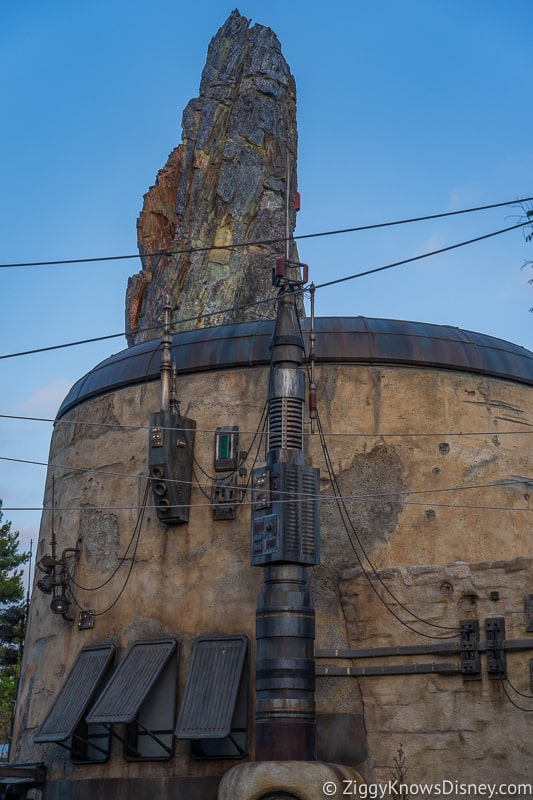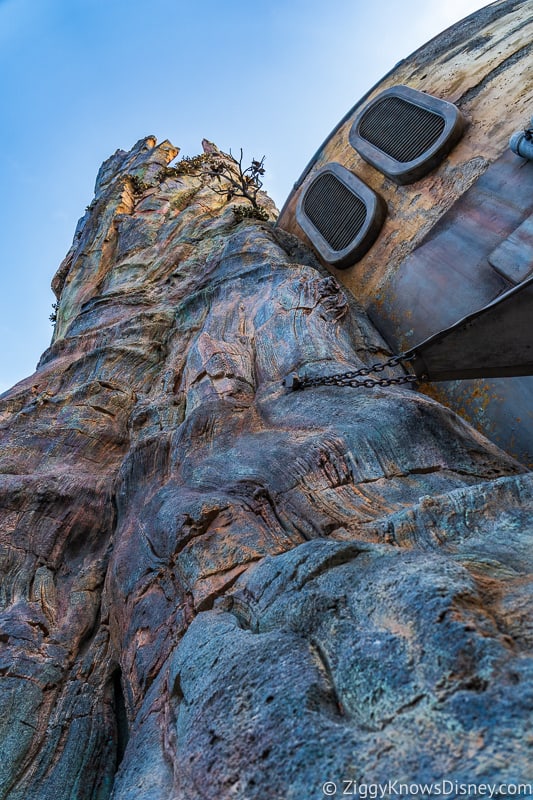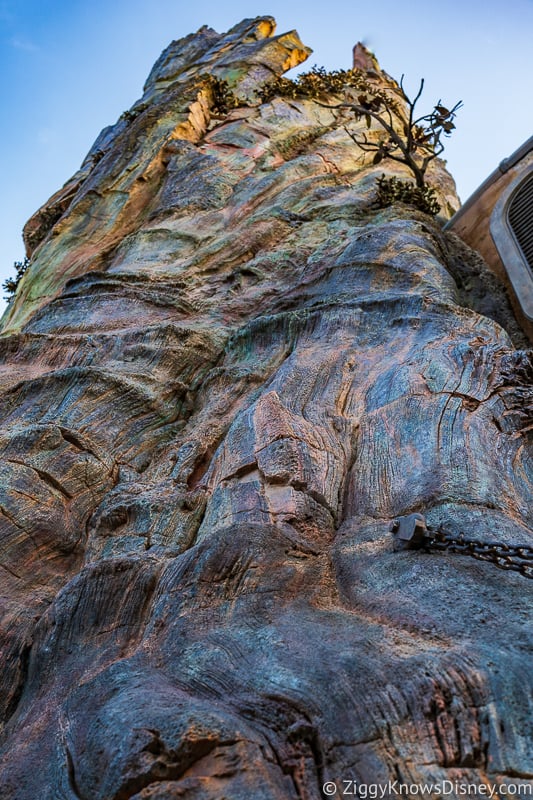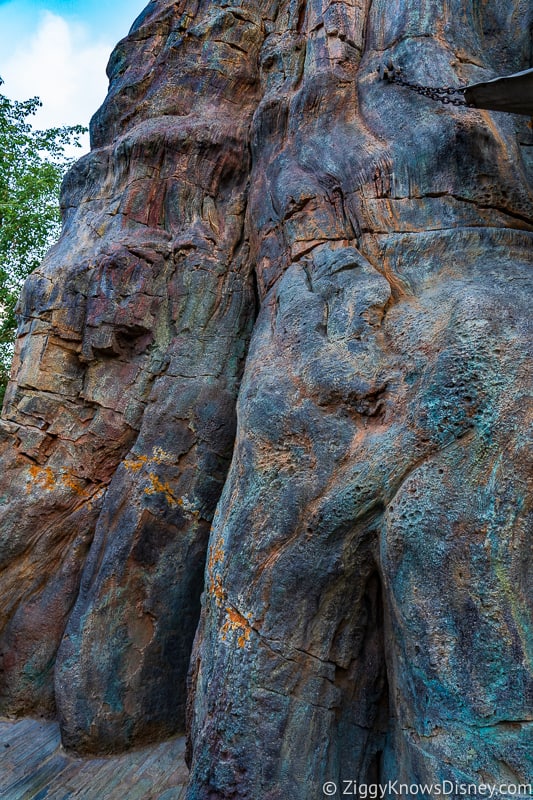 Very cool looking and majestic: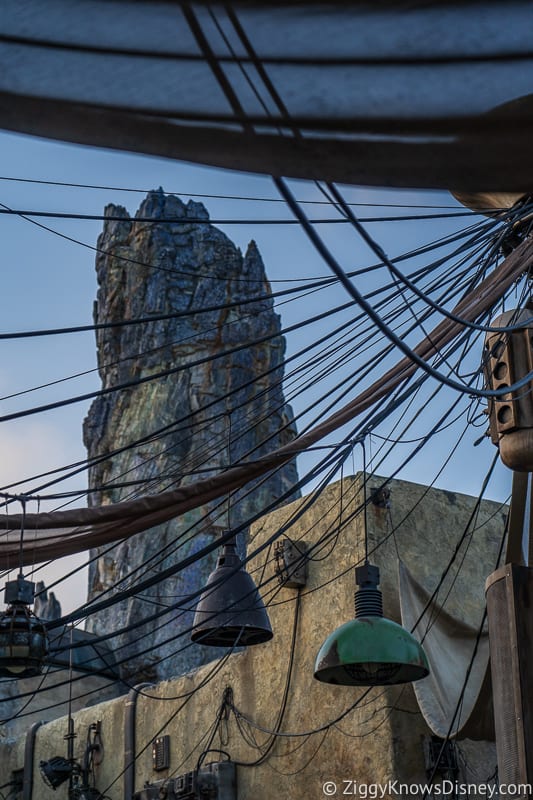 Honestly it seems like I'm in Yosemite, not Disneyland, and I mean that in a good way!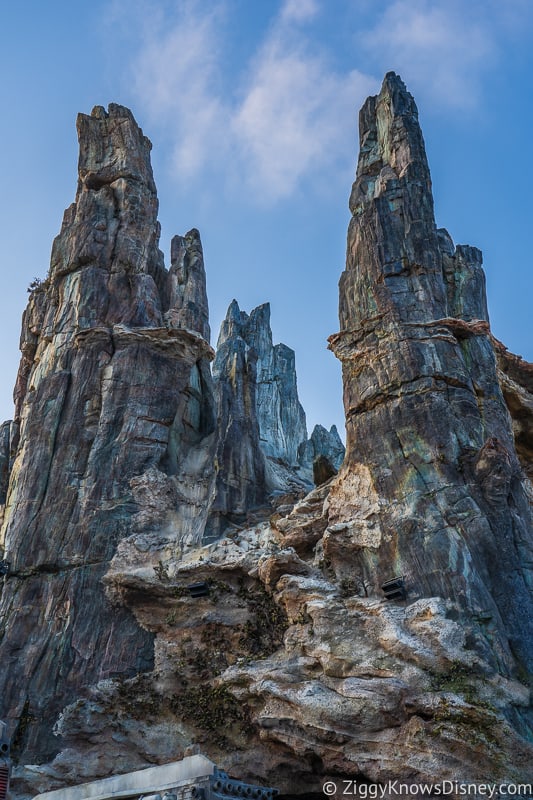 So everything up till now has been great, but what we're really here for is this: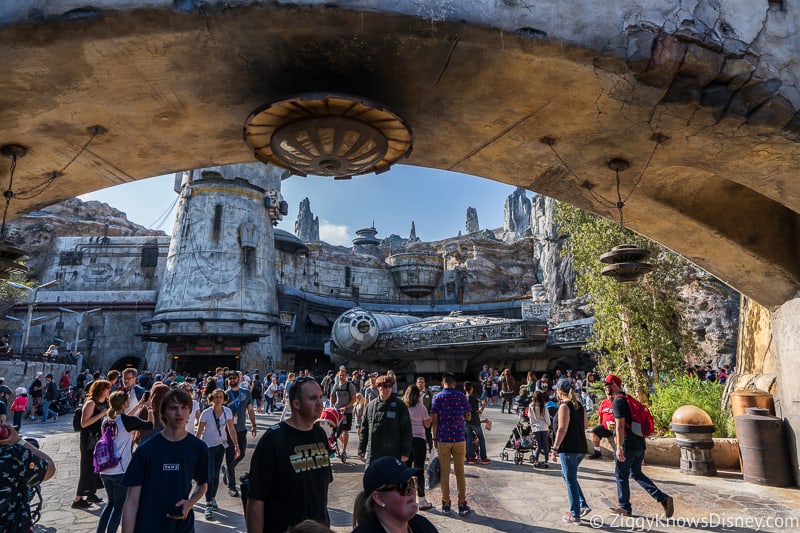 That's right, the Millennium Falcon!!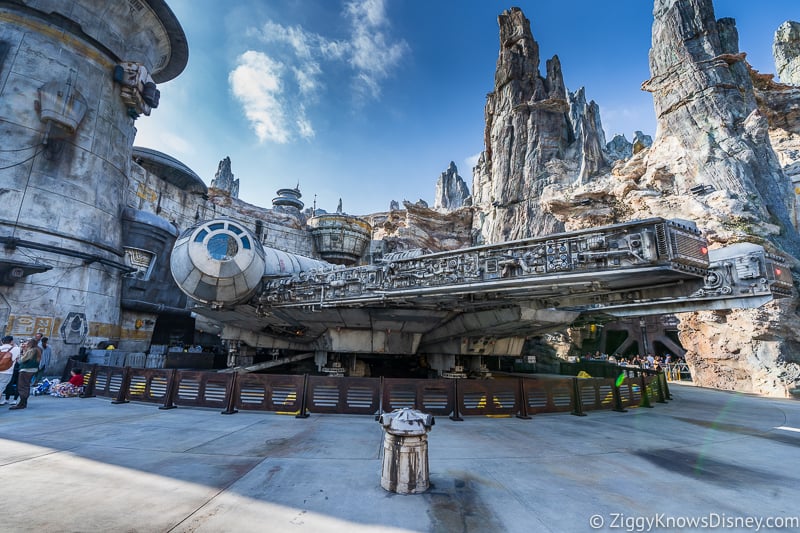 It doesn't matter what angle you look at it from, it's always gorgeous: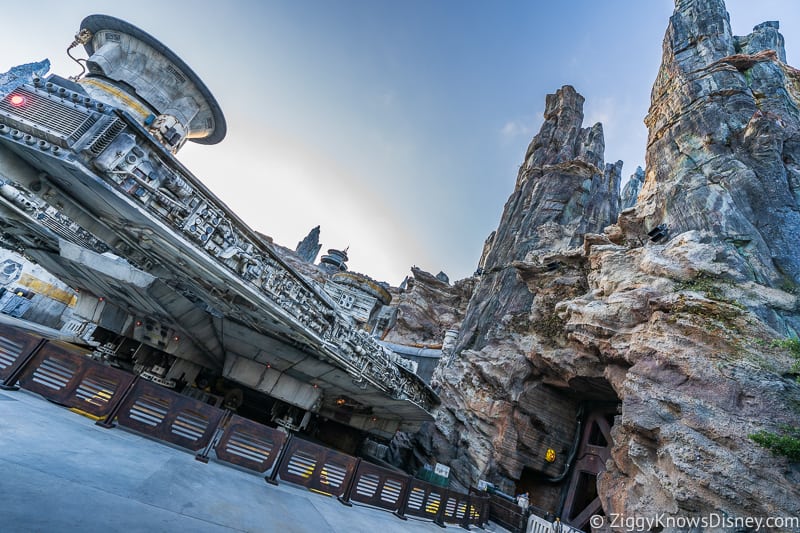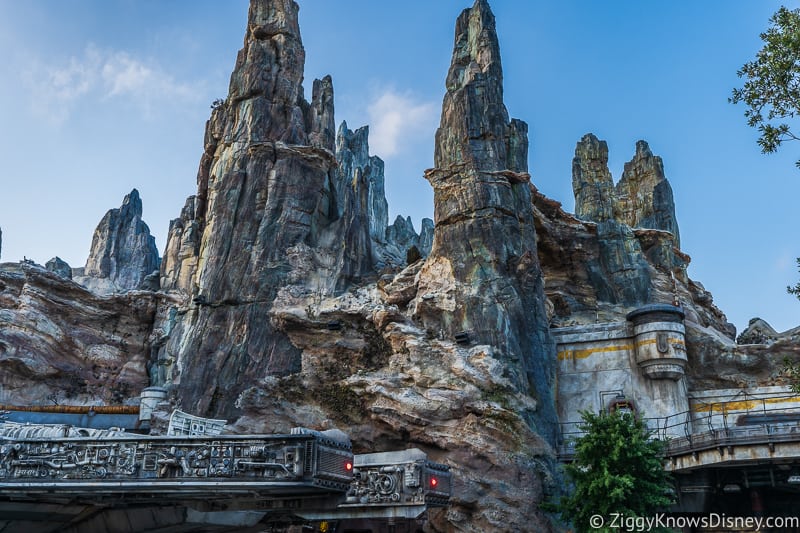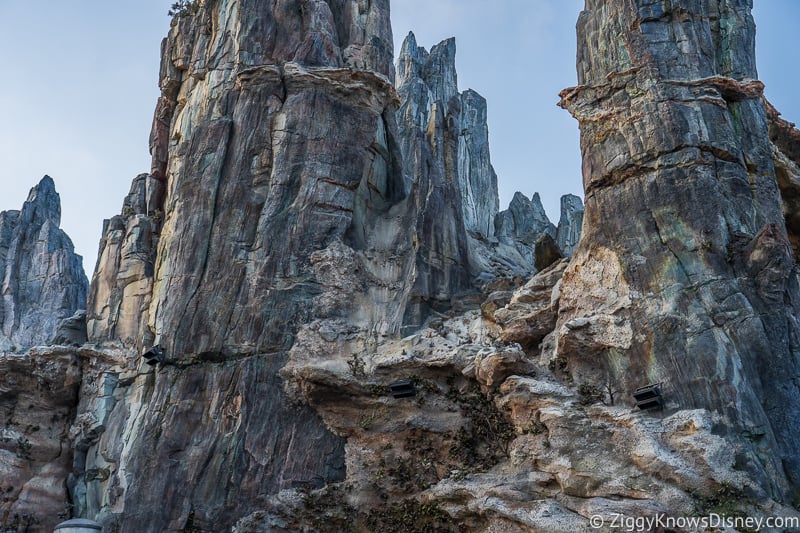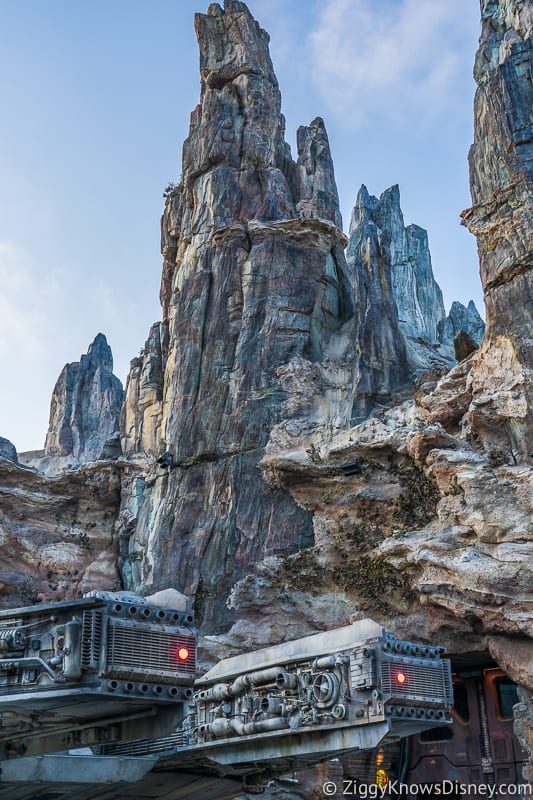 Try to tell me that's not real plant-life growing on the outside of the rock: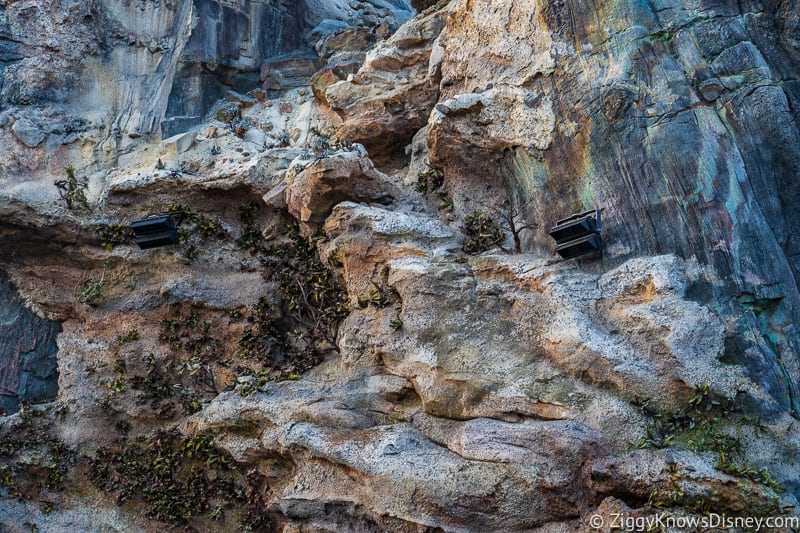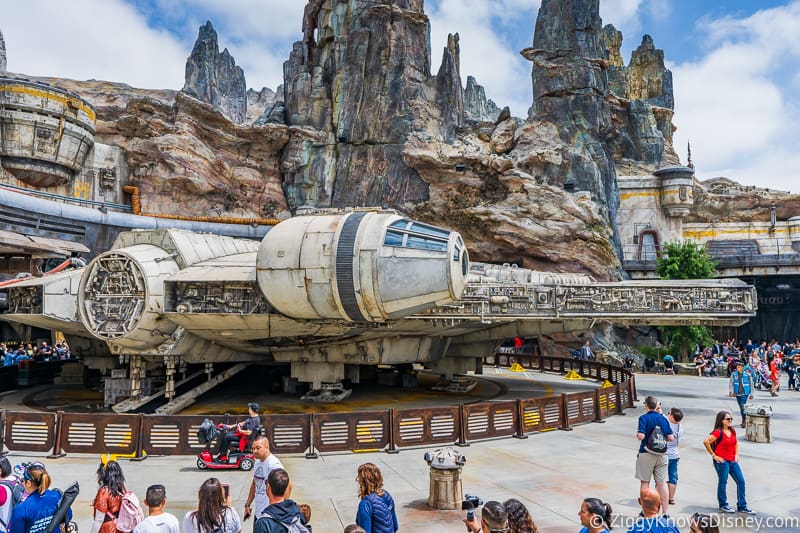 Seriously, look at how high that is above the Falcon!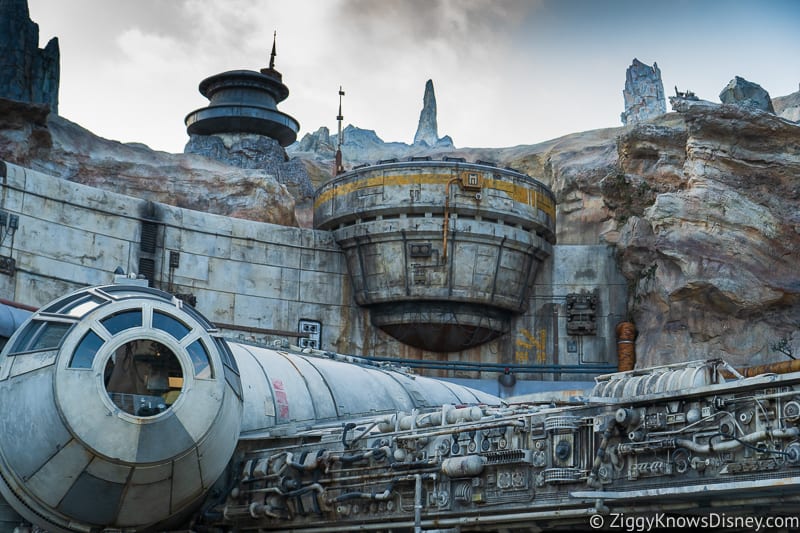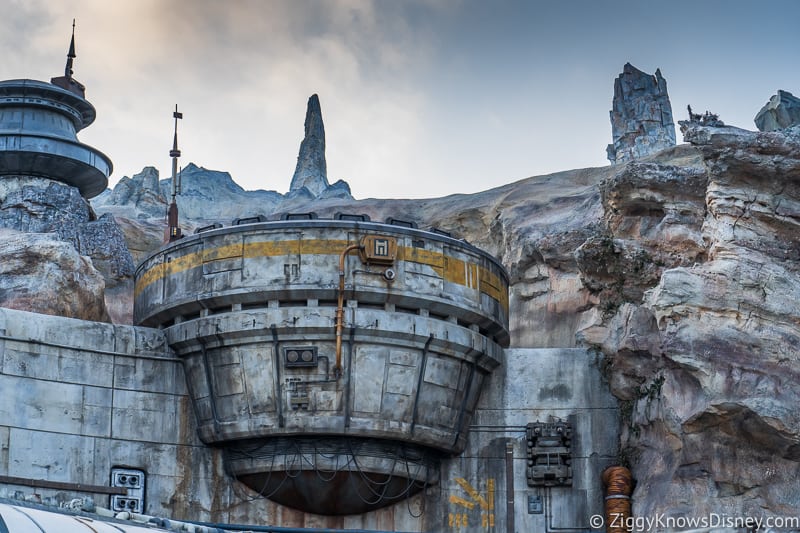 Disney went above and beyond with the detailing: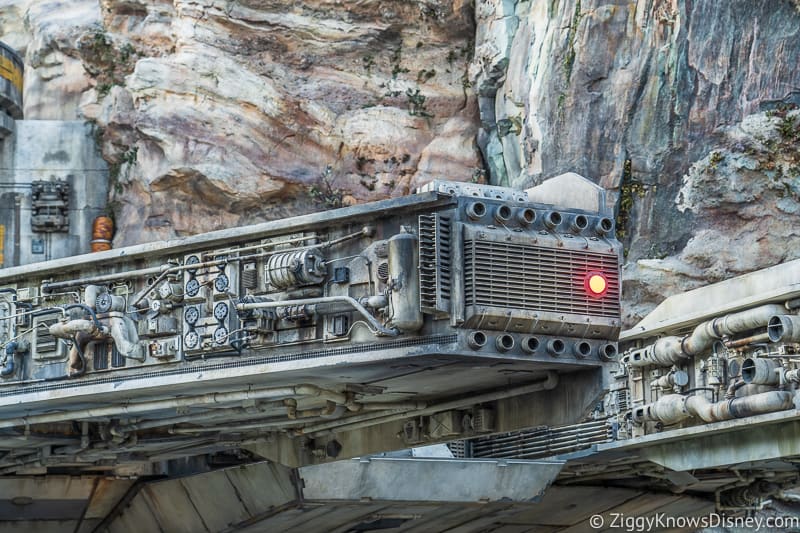 The crowds are pouring in to ride Millennium Falcon: Smuggler's Run: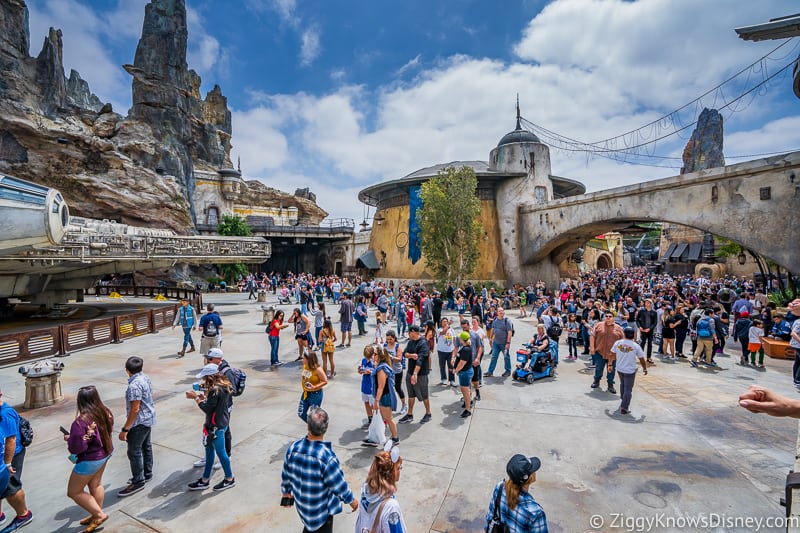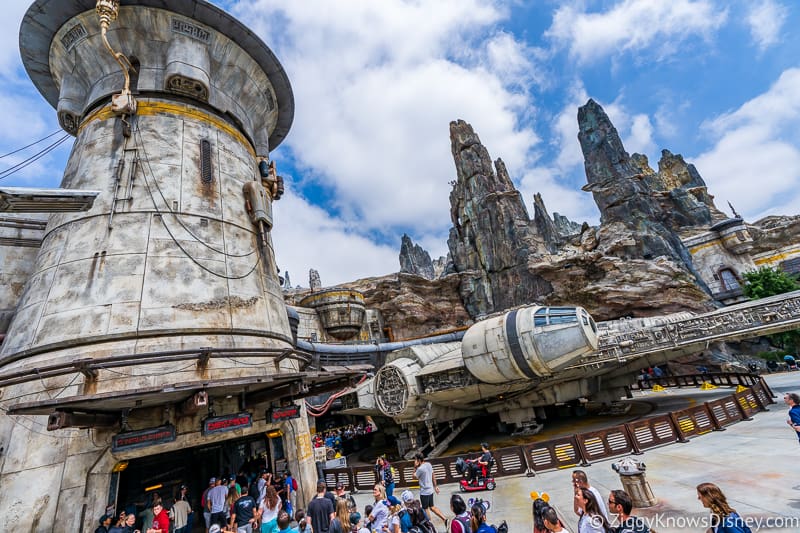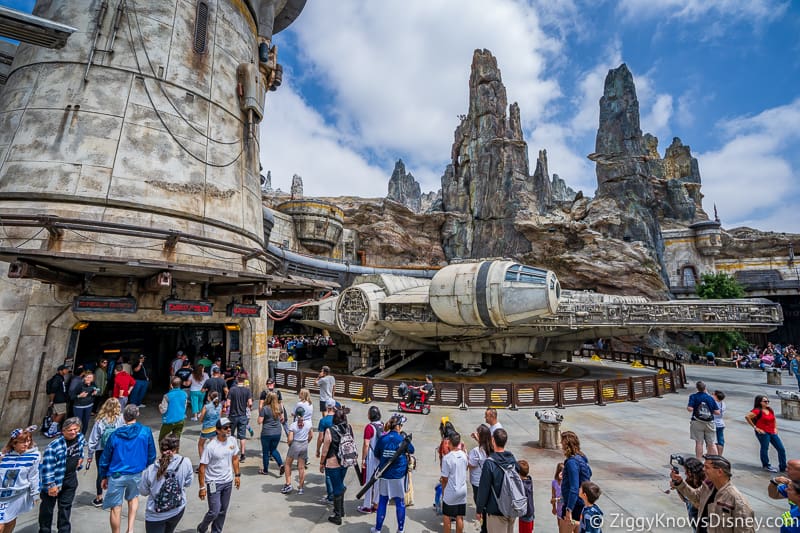 I love the Flight of Passage queue, but Smuggler's Run might be even better!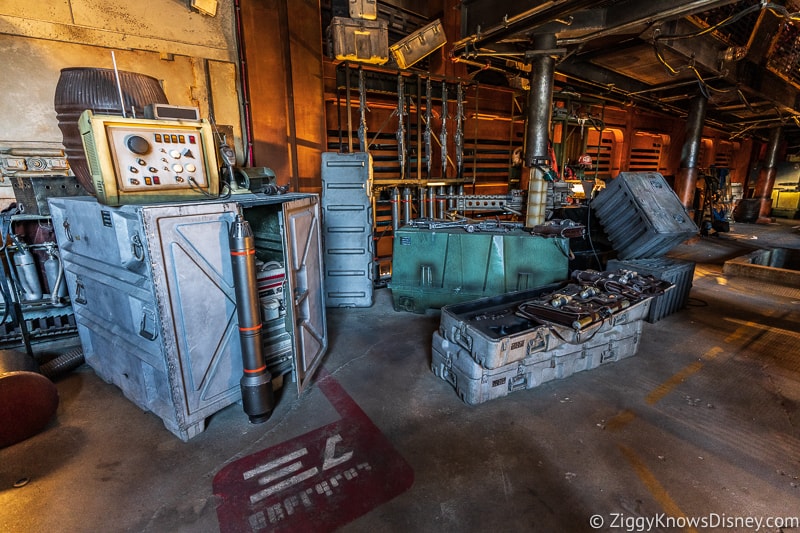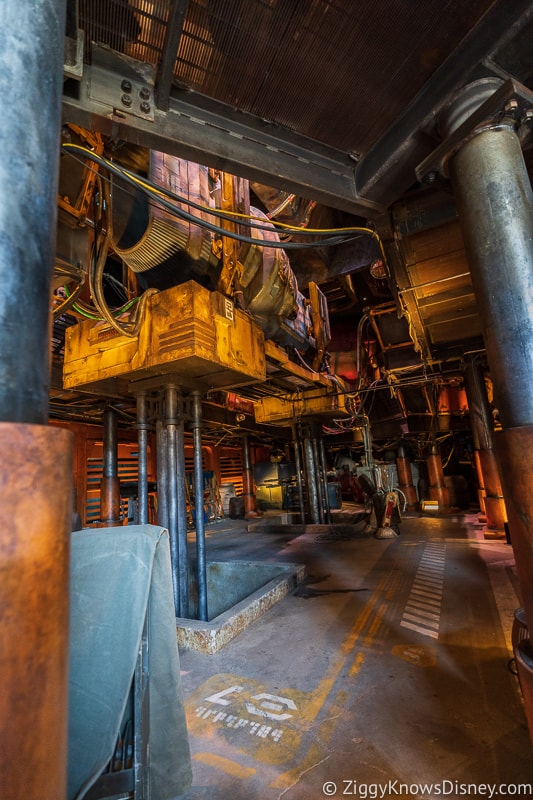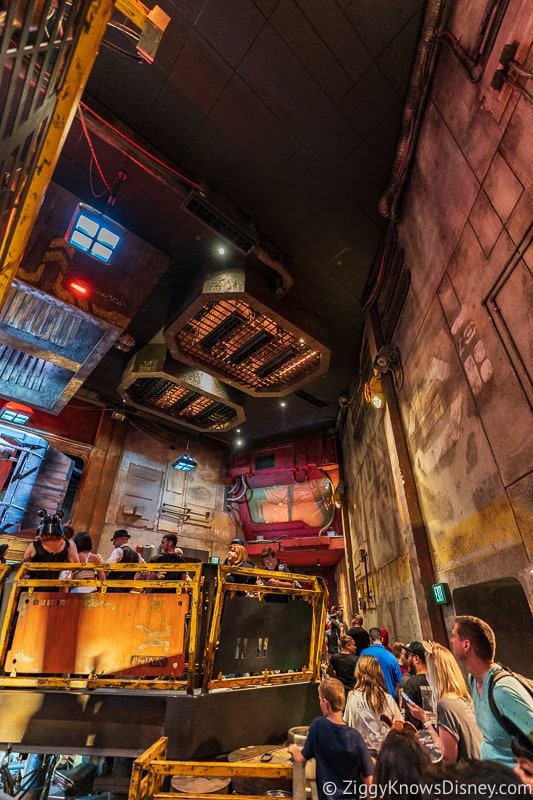 There's a full engine being worked on in the shop: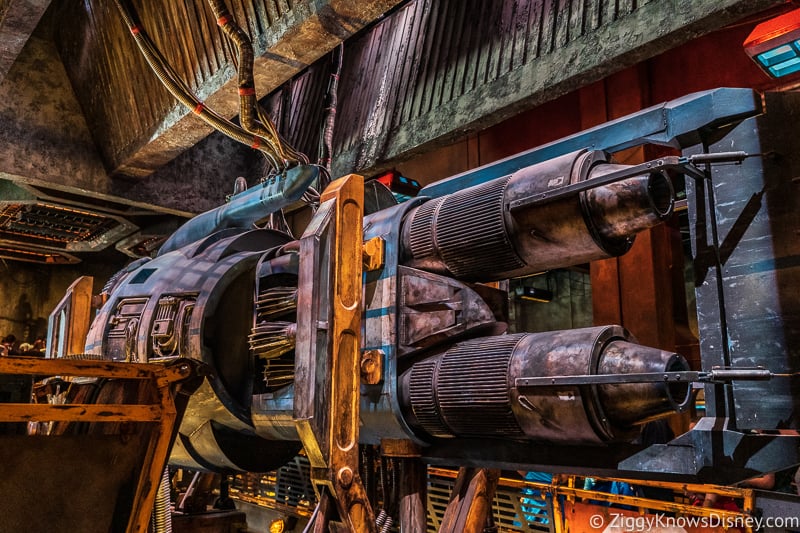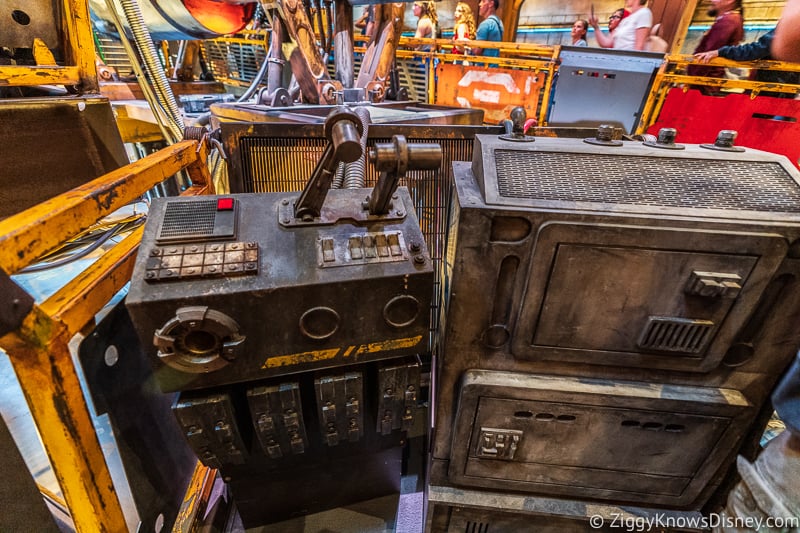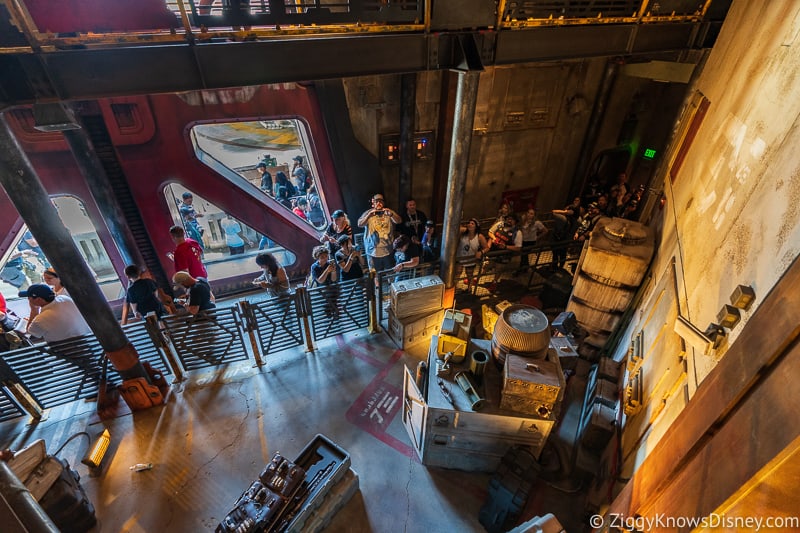 At a certain point you can see the Millennium Falcon through the window: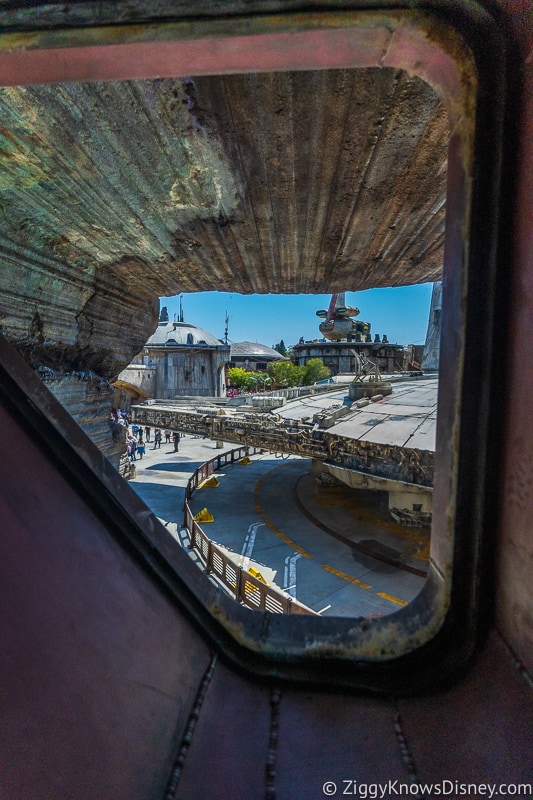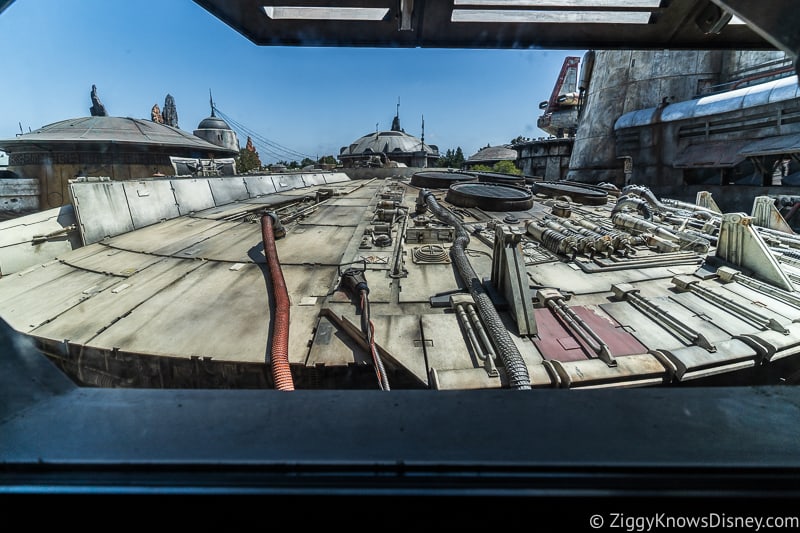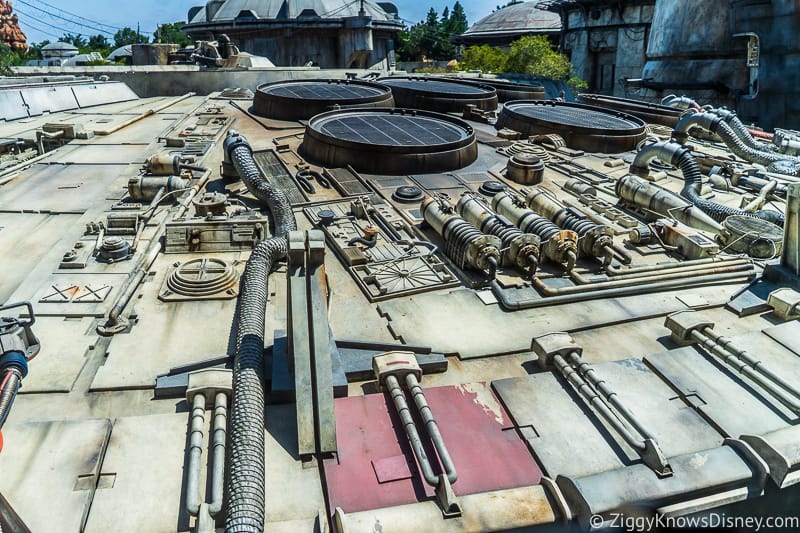 The Hondo animatronic doesn't disappoint, just as good if not better than the Shaman of Songs in the Na'vi River Journey: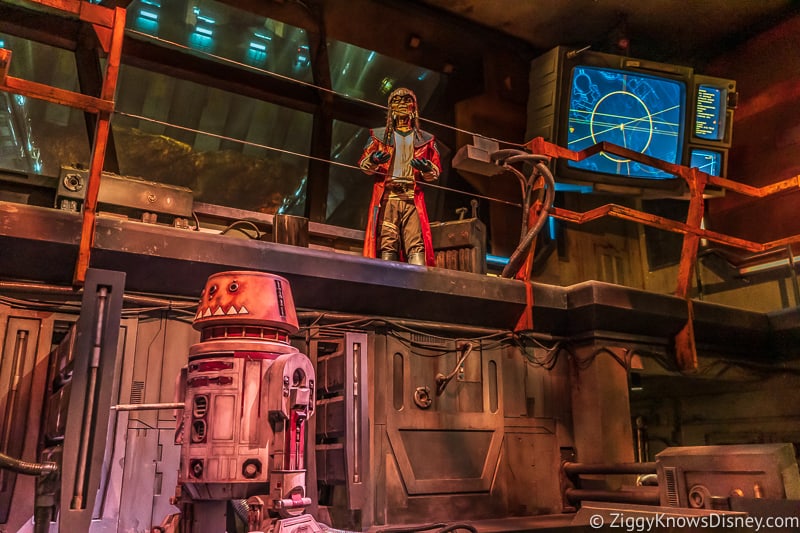 This was the moment that made it for me though, stepping through the halls of the Millennium Falcon was a surreal experience: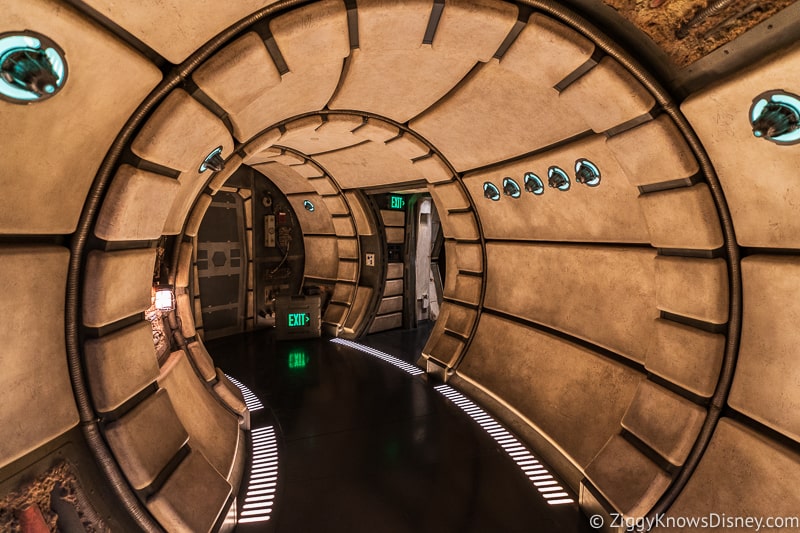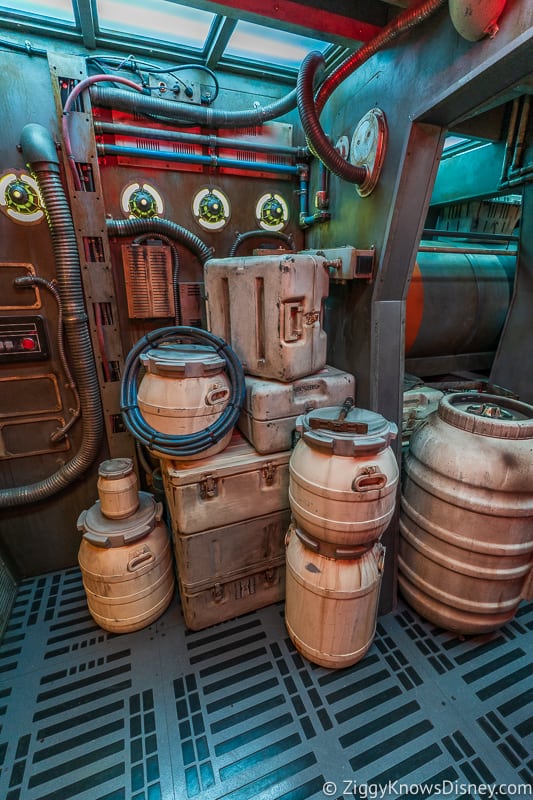 A game of Dejarik while we wait??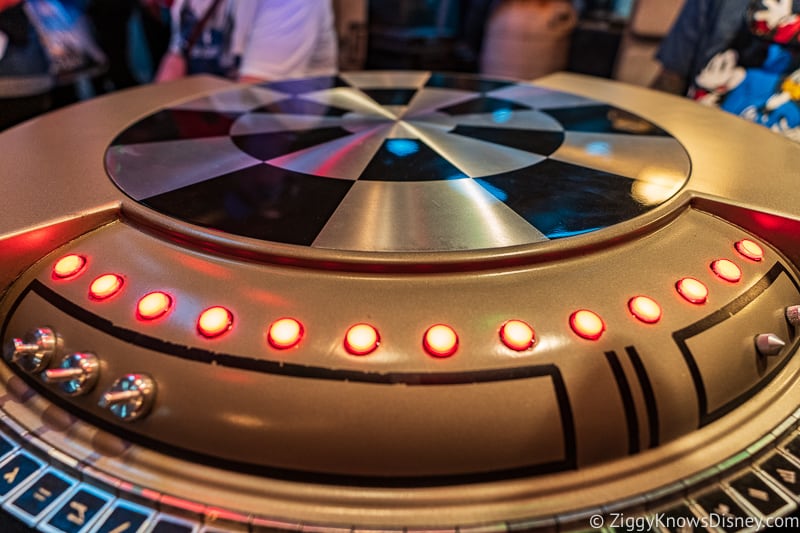 The buttons and switches all work so play away!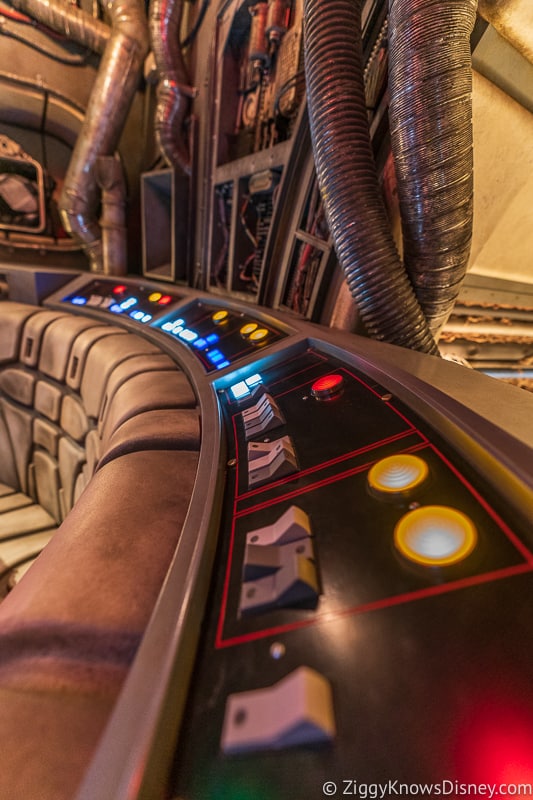 This is where you get your mission debriefing: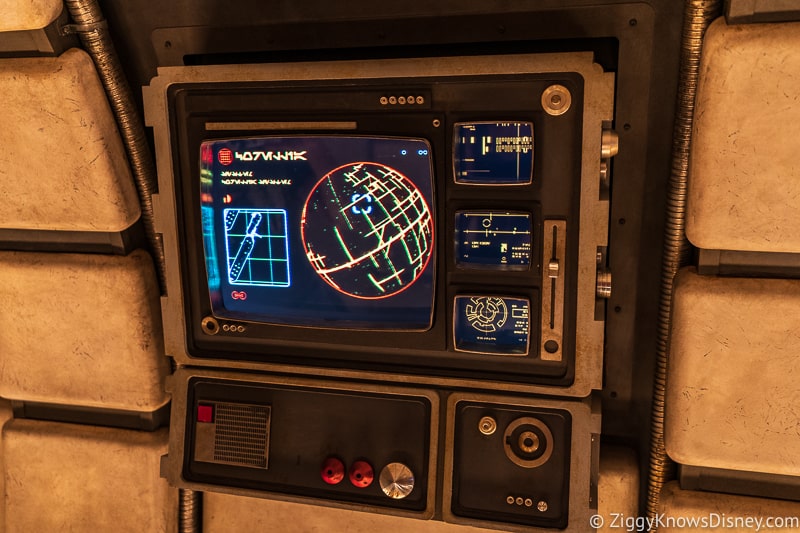 And the moment you've all been waiting for…..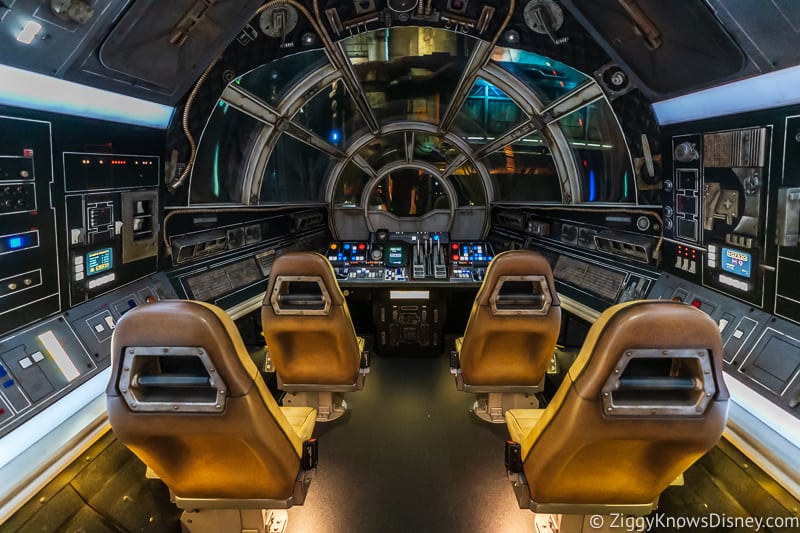 That was our walkthrough of Star Wars Galaxy's Edge in Disneyland, we hope you've enjoyed it! For a deeper look at our experience in Galaxy's Edge then read our full review here.
If you want to learn more about Star Wars: Galaxy's Edge read our complete guide for a detailed look at the attractions, dining, planning and touring strategies.
Your Thoughts:
I want to know what you think about my Star Wars Galaxy's Edge walkthrough tour…
Are you impressed with Galaxy's Edge?
What is your favorite thing so far?
Let us know in the comments section below!
If you enjoyed this article, as always I appreciate it if you'd share it with others via social media. I work hard at making this website into a useful resource for you and your family to plan your visit to the Disney Parks and I hope it can help you! Thanks 🙂