This is The Boathouse Restaurant Review in Disney Springs. Over the last few years Disney Springs has been going under a massive overhaul and adding literally dozens of new restaurants to the property. One of the first new restaurants was The Boathouse, so as it was being built we followed it's progress the whole time. Once it was done and people were telling us how good The Boathouse is, our mouths were watering just at the description given to us and we had to do a review. Since that first time The Boathouse has become a family favorite of ours and a can't-miss restaurant, not just in Disney Springs, but Walt Disney World.
The Boathouse is a Table Service Restaurant and is owned by the Gibson's Restaurant group. If you aren't familiar with Gibson's they are consistently ranked one of the best steakhouses in Chicago, and the first time they've left Chicago to go anywhere else! It's listed as Fine/Signature Dining with a Seafood focus, but it isn't a place that's stuffy, you can come down in your shorts for a burger and fries or some oysters and not feel out of place at all. The Boathouse has a wonderful spot right down on the water in Disney Springs and offers great views and has a wonderful atmosphere.
If you want to use the Disney Dining Plan at The Boathouse then being a Signature Restaurant it requires 2 Table Service Credits. If you are a Tables in Wonderland cardholder, I'm sorry to tell you that The Boathouse isn't participating at this time. However they do Annual Passholder Discounts of 10%, which isn't as good but at least it's something. Just keep in mind it's only for Dinner. They do accept ADR's 180 Days in Advance at The Boathouse, but it's such a big restaurant you can usually get a table unless you have a big group. In that case book a reservation anyways.
Let's dive into our The Boathouse Lunch Review so we can find out if it is truly as good as everyone says:
Atmosphere:
As you can see on the map, to get to The Boathouse just head down to The Landing in Disney Springs by the water and look for the dock:
Once you are there, it's really a grand entrance with a beautiful brick courtyard leading to door. We went at lunch and it was a perfect sunny day:
Right this way please…
Leading up to the Boathouse entrance you'll find the Captain's Wheel:
You can give it a turn if you want, but it's heavy!
So one of the most interesting things about The Boathouse (besides the food of course) is the fact that they have an actual dock for speedboats, and even cooler, Amphicars! Amphicars are cars that are able to drive on land, and also go on water like a boat. Here is the landing:
One is more gorgeous than the next. There were less than 4,000 of these Vintage Amphicar vehicles produced during the 1960's and now less than 400 exist worldwide today!
Wow would I love to take her out! 😉
It just so happens you can take a Captain's Guided Tour in a vintage Amphicar out onto the lake. While this is an incredible experience no doubt, come with your wallet cause it's not a cheap one. It's $125 for 20 min and the cars hold 3-4 passengers depending on the size. That even blows away Gondola rides in Venice, which is now easy task to do.
Either way I'd love to do it some day so maybe the next time down we will. If you have been out on the Amphicars please let us know your experience in the comments section below the Boathouse review.
Let's go inside:
So The Boathouse restaurant is HUGE!! There are 3 Bars, 3 beautiful nautically Themed Rooms and 2 Private Dining Rooms with a total seating capacity of up to 600 Guests!
When you walk in you'll see the Oyster Bar directly ahead of you. Here you can get a drink and also check out the Raw Bar so you have an idea for later!
The Bar here is very big and spacious. There are TV's right there if you are looking for the game. Pull up a stool and make yourself comfy. The whole room here is beautifully decorated in warm wood, from the rafters, right down to the floor. Very welcoming and homey:
Of course since this is The Boathouse, you expect to see boats. Well before going out to the back patio, you can take a look at the motors up on the wall for decoration, along with the many pictures of these beautiful machines:
The inside bar however should only be used on extremely hot days, instead let's go out the back door and check out the amazing terrace on the docks:
If you really are looking for a good view, then the Dockside Bar is the spot. Grab a chair here and relax as your wife is out spending your money in the Disney Springs shops. Trust me, you'll need the drink!
This whole area back here is just amazing and quite possibly the best seating area in all Disney Springs, which is hard seeing there are so many amazing spots by the water:
The patio is really huge too and there are a ton of tables. Thankfully they are shaded for those hot days, and there are also heated lamps for the chilly Winter nights:
Eat your heart out!
Finally we see some actual Boats at The Boathouse! Here you can find Retro Dream Boats or Italian Water Taxis, truly remarkable machines:
TIP: If you are looking for a really romantic time, book a Venezia Champagne Cruise out on the water. These Captain-guided tours of Lake Buena Vista put you in a 40-foot Italian water taxi, perfect for a special occasion like an anniversary, engagement or other celebrations. Each ride comes with Chocolate-covered Strawberries and Champagne. For 30 Minutes: $75 per adult, and for 60 Minutes $115 per adult.
If you like boats a lot, how about eating lunch in one too? But not on the water this time, inside The Boathouse restaurant!!
This awesome custom-built Chris Craft Boat Table holds 6 people and is gorgeously crafted:
Wonderful spot for a really unique lunch!
This is the first dining room near the bar where the boat-table is located:
Many evenings you can find live entertainment here at The Boathouse, and musicians get up on this stage to perform. That makes for a really fun atmosphere and a lot of the entertainers are actually quite good!
Don't forget the BOATIQUE Gift Shop for some nifty nautical presents to take home!
Going past the bar area, we come across another dining room. Boat theming is everywhere, so either you're in your happy place or running for the door right now! ??. I really like the spinning fans on the ceiling in the shape of paddles:
Here there are a lot of regular tables and also some comfy booths too. Again, not too stuffy for a signature restaurant and most guests were dressed casually.
On to the next dining room, this is where the Admiral's Bar is located. This room is a bit more reserved but carries the teal-color scheme and tasteful nautical photos on the walls. Reminds us a bit of Paddlefish theming. A totally different feel from the all-wood rooms before:
The Admiral's Bar:
So far all the seating we've seen has been more on the casual side. Now we move into the Private Dining Rooms where they use when The Boathouse is really packed or when someone books a private party. Onto the Regatta Dining:
Just stepping in you can tell that this dining room is more upscale and fancy:
The chairs carry the color-scheme from the previous rooms, but the walls are a richer red color. Notice the huge round tables as well as the smaller square ones:
This is where the good stuff is stocked:
Beautiful stained-glass lamps adorn the ceiling:
This is the second private dining room, The Trophy Room, and can be used in conjunction with the other or complete separated:
Same color scheme and design as the Regatta Room:
Of course what's a trophy room without trophies??
Really beautifully crafted boat replicas are on top of the shelves in the room:
These must be some famous catches or something! 😉
Food:
So the atmosphere is top-notch, and if you are a boat lover this will be you new favorite spot! But let's get to why we are really here, and that's to eat!! We were able to score this perfect table outside on the patio, in a nice shady spot with a breathtaking view of the water!
So again, The Boathouse restaurant is a great place for Surf and Turf, in that no matter if you are a seafood lover or a meat lover, you are going to love the options available to you! The Boathouse prides itself on quality and that means the fish is brought in fresh daily and anything breaded is done that day.
They have an amazing Raw Bar with Oysters, Shrimp, Lobster, Tuna and Crab; Fresh Fish of the Day, Fried Seafood, Lobster Roll, etc. But even though it's known for seafood, having the Gibson's name means that it also excels in Steak, and the options from the land are just as good. Steaks, Chops, Burgers and even award-winning Baby Back Ribs. In fact The Boathouse restaurant is part of the Gibson's restaurant group and therefore has access to their USDA Blue Star Heritage Angus, one of the highest quality pieces of meat you can find anywhere!
I really love that The Boathouse has it's own Specials Menu which changes everyday. Often times when visiting our favorite items have come from here:
And with 3 Bars in the restaurant you know they are going to have an extensive drinks menu:
So here we go! First we really enjoyed the pitcher of Ice Water and lemons they brought to us and left on the table. That was great because we drink almost as much water as camels do so it was nice to not have to pester the waiter every 10 minutes for a refill:
But we weren't going to stop there. First up was a Cucumber Cooler ($12):
We really enjoyed this. It was light and refreshing with a strong cucumber taste, so if you like them, you'll love this! It is what it's supposed to be…doesn't hang with you and doesn't have a heavy boozy feel to it. Very enjoyable!
Next was a Pineapple Rum ($12):
This was pretty straightforwardly too, but really good. The sweetness of the juice and alcohol were perfectly blended together and it too was really refreshing. Very islandy.
Next was the the Blueberry Lemondade ($15), which has more in it than just blueberry and lemonade! 😉
This is one of The Boathouse's more expensive drinks, but it's significantly bigger than the previous two. If you want to bring home the signature glass as a souvenir then it's $6 more. Being a hot Florida day, all of our drinks were perfect for the weather, and this had a strong blueberry and lemon taste that again we just loved!
Lastly was probably our favorite drink, the Margarita ($15):
Like the Blueberry Lemonade, this was gigantic too! Usually the Margarita costs $15, but since we never ordered it and the waiter made a mistake, we got it for free! It has a perfect blend of sour and sweet and you can tell the ingredients are top-notch! We absolutely love this margarita and have gotten it multiple times at the Boathouse, and we put it right up there with Frontera Cocina as one of the best margaritas in Walt Disney World.
Onto the Bread Service:
Ok, if you like bread then prepare to be blown away by this stuff! It comes to you in a loaf that is easy broken into smaller squares. It was served hot, right out of the oven, and has a very soft inside which is pulled apart so easily. It has a little sweet taste to it and the top is brushed with butter making every bite incredible! Go ahead a put some more of that butter they serve to you on top. The only bad thing about this bread service is you could easily eat all of it and not have room left for your meal!
You have to try something off the Raw Bar and if you are an Oyster fan, then The Boathouse also has you covered in that area! They carry no less than 9 types of Oysters flown in fresh from the northeast and as far as Canada:
We got a platter with 4 types of Oysters as well as some massive Shrimp Cocktail:
We tried the Malpeque Bay, Thatch Island, Irish Point and Wellfleet varieties. Everyone was spilt on their favorite ones. The Malpeque Bay were very clean and just a little salty and briney. Excellent! The Irish Point were great too, you couldn't even tell they were out of salt water they were so clean. On the other hand, Jessie loved the Wellfleet because "you could really taste they were out of salt water." So it just depends on your tastes! The Thatch were our least favorite, but not because they weren't good, they just didn't stand out quite as much as the others.
We didn't forget those colossal Shrimp Cocktail!
The shrimp were super fresh, really big! They were very fresh tasting, and they weren't chewy like they had been forzen, but tasted like they were caught only hours before. We loved the whole plate, the food and the awesome presentation on ice! It's something any Boathouse visitor has to try!
Knowing what was coming next we tried to convince ourselves that we are somewhat healthy by ordering a Garden Salad ($8):
This was pretty simple. A mix of iceberg and romaine lettuce, grape tomatoes and cucumbers with some croutons on top. Came with an herb vinaigrette dressing which was pretty decent but there wasn't enough of it. Overall it's a garden salad so let's not get our hopes up here, but the veggies were all crisp and it made us at least think we were doing the right thing! 😉
Now we're having some fun! Maine Lobster Bisque ($8):
We settled for the cup of Lobster Bisque, though we later regretted it seeing how absolutely delicious it was! It wasn't too liquidy, but thick and creamy, and incidentally it's thickened with rice so it's Gluten Free! Very creamy with a strong lobster flavor. It was my dad's favorite this trip and he probably had lobster bisque at every restaurant we went to! Highly recommend it!
Another one of our favorites that we have to get every time are the Firecracker Shrimp ($16):
The shrimp themselves are small and lightly battered and fried. They aren't called "firecracker" for no reason so expect a bit of kick to them from the Serrano chilis and sweet pepper mix. Stefy kept going on and on about the shrimp and saying how amazing they were and that she'd never eaten shrimp like this before. They were really addicting and had heat without burning or overpowering the other flavors. Must-try!
Next we tried the Hoisin Chili Calamari ($16):
I'm usually not a Calamari guy, but these were unbelievable, putting them neck and neck with the Calamari at Palo on the Disney Cruise Line. The calamari was very tender and not chewy and had the most perfect light batter on them. What made them different was the mix of Bell Peppers, Serrano Chilis and Jalapeños which again added some spice to the dish without overpowering everything else. Very well done and would get them again in a heartbeat!
Now to some Entrées. First up were the Fried Wild Caught Atlantic Surf Clam Strips ($16):
We love fried clams, well basically anything fried, but these were really great. Like all the seafood baskets, the portion size was huge! Like all the seafood we tried, they were super fresh and not fried too much. They didn't have an over-greasy feel to them or anything. The French fries were amazing! They were like pomme frittes fries, being well seasoned and the perfect thickness and cooked perfectly. These didn't come from a package as we found out that The Boathouse cuts their fries fresh every day.
We had shrimp just about in every form today so why not go for the Panko-Fried Wild Pacific Shrimp ($18):
Again anytime you take amazingly fresh seafood and perfectly deep fry it, you're going to have a great meal, and these were no exception. We loved the panko breading and the shrimp they gave us were huge. It only came with 4 shrimp, but because they were jumbo in size and by this time we were starting to get full, it was plenty. Another winner!
Really one of the only things we weren't crazy about (strangely enough) was the side of Mac and Cheese ($9):
Mac and Cheese is one of my favorite things in the world and I've probably tried 1 million different versions, but I just wasn't feeling this one for some reason. I did n't like the water texture and felt it was too runny. I al so just wasn't crazy about the flavor of the cheese used, it was a little funky and just not what I was expecting. One small complaint for an otherwise outstanding meal.
At this point we were greeted by The Boathouse;s Chef Ramos who stopped by for a few min and chatted. He was great, super friendly and explained a lot about the dishes we were eating and how they are prepared. Nice touch!
One of the things I really wanted to try so as to deviate away from the seafood theme were the Award-Winning Full Rack of Competition Style Baby Back Ribs ($29.50):
Ironically, The Boathouse was actually doing a competition that day and had entered the same ribs in the competition. Chef Ramos is certified Kansas City judge, and they use this recipe in the competition where they also enter their brisket, chicken and pulled pork. Brined for 24 hrs, then smoked for a few hours in a slow cherry wood smoker. After that they get rubbed with a special seasoning and voila!
They were very big and very good, maybe best in Walt Disney World, but not best I've had. If I had to critique them they were just a tad on the dry side but still excellent. The sauce was really amazing, tangy and finger licking good. Slaw wasnt great cause too much mayonnaise for me.
Ok, yeah that was a pretty intense meal and it's safe to say we are full. But we absolutely can't leave our Boathouse lunch review without trying dessert!
Even though we've since been back and tried other fantastic desserts, we couldn't leave here without getting The Boathouse's most famous dessert of all……
S'mores Baked Alaska !! ($40):
The S'mores Baked Alaska is basically a huge tower of Chocolate Ice Cream, with a deliciously crumbly Graham Cracker Crust bottom, and line with a perfectly toasted Marshmallow exterior full of chocolate bits!
Now you don't even have to say it, I already know what you're thinking. "Are you serious Ziggy?? $40 for dessert?" I've already seen many people make comments about that fact, but let me get this out of your way right to start…they're wrong, and let me tell you why…
1. The S'mores Baked Alaska is GIGANTIC!!!! I can't put that any other way to make you understand better. It says on the menu it serves 4 people, so when you split it, it only comes out to $10, which is exactly as much as the other desserts o the menu. But The Boathouse lies on the menu, because it doesn't serve 4, not even close…more like 10!!! Literally. We had 8 people and only managed half of it. Now, we were pretty full, but we took some big slices out of the thing and it wouldn't give in. In that moment I imagined what it would feel like to go one-on-one with someone like The Hulk, and I think I'd have a better chance abasing him!
So if you go with a group even 10 people, the S'mores Baked Alaska is more than enough for everyone to share. Heck, we asked our waiter to find another table considering ordering it, and we gave our other half to them. The kids w ere so happy!
2. But maybe even more important than the size is that this thing was REALLY GOOD!! I'm a big s'mores lover and this was like a dream to me.
I loved everything about it. I thought it had just the right balance between marshmallow and chocolate flavors. The marshmallow exterior was perfectly toasted and very gummy inside. I loved that the chocolate ice cream had bits of marshmallows inside it too! The graham cracker crust bottom was swimming in a chocolate sauce and itreally tied everything together and it was just perfect!
I'm not joking when I say that this might be my favorite dessert now in all Walt Disney World. I think the only one that's competition is the Almond-crusted Cheesecake from Narcoossee's, but they are totally different desserts. Bring a team of hungry eaters and get the S'mores Baked Alaska, you won't regret it!
Summary:
Well after all the hype, our review of The Boathouse didn't let us down, it was everything we hoped it would be and then some! It has everything you're looking for in a restaurant. If you was fine dining, they have it. If you want fine dining but in a more relaxed atmosphere, it's yours. If you want to come sit at the outside bar in your shorts and watch the boats speed by and the sun set into the water, it can't be beat. Also as far as the cuisine, they have the best of both worlds, Seafood is king as the name suggests, but the Turf options are plenty and though we didn't try one this time, their steaks are phenomenal too! Heck, just come down after dinner with friends and see if you can polish off the S'mores Baked Alaska!
I didn't mention it earlier, but our service was incredible too. Our waiter Chamonix was really friendly and helpful, and was accommodating to even our pickiest eaters in the group. That really added to what was already a fantastic dining experience. We've been back again since and The Boathouse has really become one of our must-visit spots in Walt Disney World, right up there with Narcoossee's and Flying Fish for best Seafood on property. Overall I think The Boathouse was a great addition to Disney Springs, and when I do my next list of top restaurants it will come very close if not #1 in Disney Springs, and a place you absolutely have to try!
The Boathouse is open for Lunch and Dinner (11:00 AM – 11 PM Daily). The Disney Dining Plan is accepted, it's a 2 Disney Dining Table Service Credit.
Click here for the The BOATHOUSE Restaurant Menu
I love to write Restaurant Reviews of Walt Disney World and I hope you found this one to be informative and helpful. If you liked this review then please visit my Disney Dining Reviews Page where I have many other Restaurant Reviews. I'm happy sharing with you what I love doing best…eating! ? I try to bring you the most thorough and unbiased reviews about the food and restaurants at Walt Disney World, so that as you are planning your vacation, you know the "can't be missed" places, and where you shouldn't waste your time. Hope you enjoyed this one and will enjoy many others in the future!!
Your Thoughts:
I want to know what you think about my The Boathouse Lunch Review. What have your experiences there been like? What's your favorite menu item? Let us know in the comments section below!
If you enjoyed this article, as always I appreciate it if you'd share it with others via social media. I work hard at making this website into a useful resource for you and your family to plan your visit to Walt Disney World, and I hope it can help you! Thanks 🙂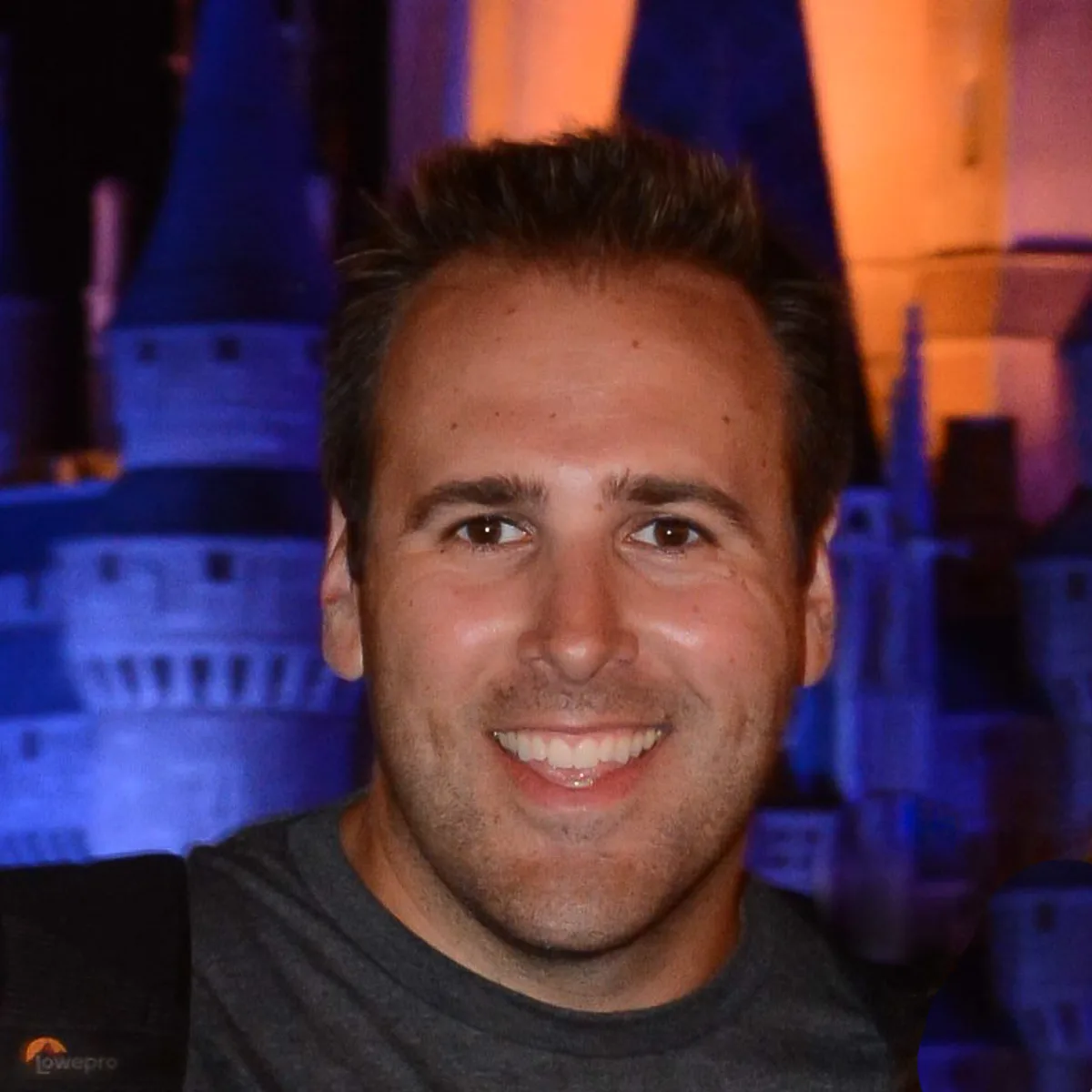 My name is Ziggy and I love Disney, everything Disney! I grew up on Disney and it has and continues to be a huge part of my life. I started young when my parents took me to Disney World when I was 18 months old. Little did they know that would be the first of an uncountable number of trips we would take. I have so many amazing memories going to Disney with my family and friends and it has been interwoven into my DNA.